Coronavirus Blog UK

Comment | Opinion | Questions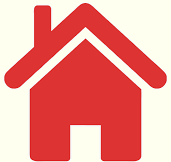 [Entries are in reverse date order, newest at the top. Comments and contributions are welcome, to the email address at the bottom.]



Thursday 31st December


Some good, some bad. The Oxford University/AstraZeneca vaccine has been approved and can be rolled out. Meanwhile, the rapid growth of the virus continues. Stroud moved into Tier 4 today along with most of England.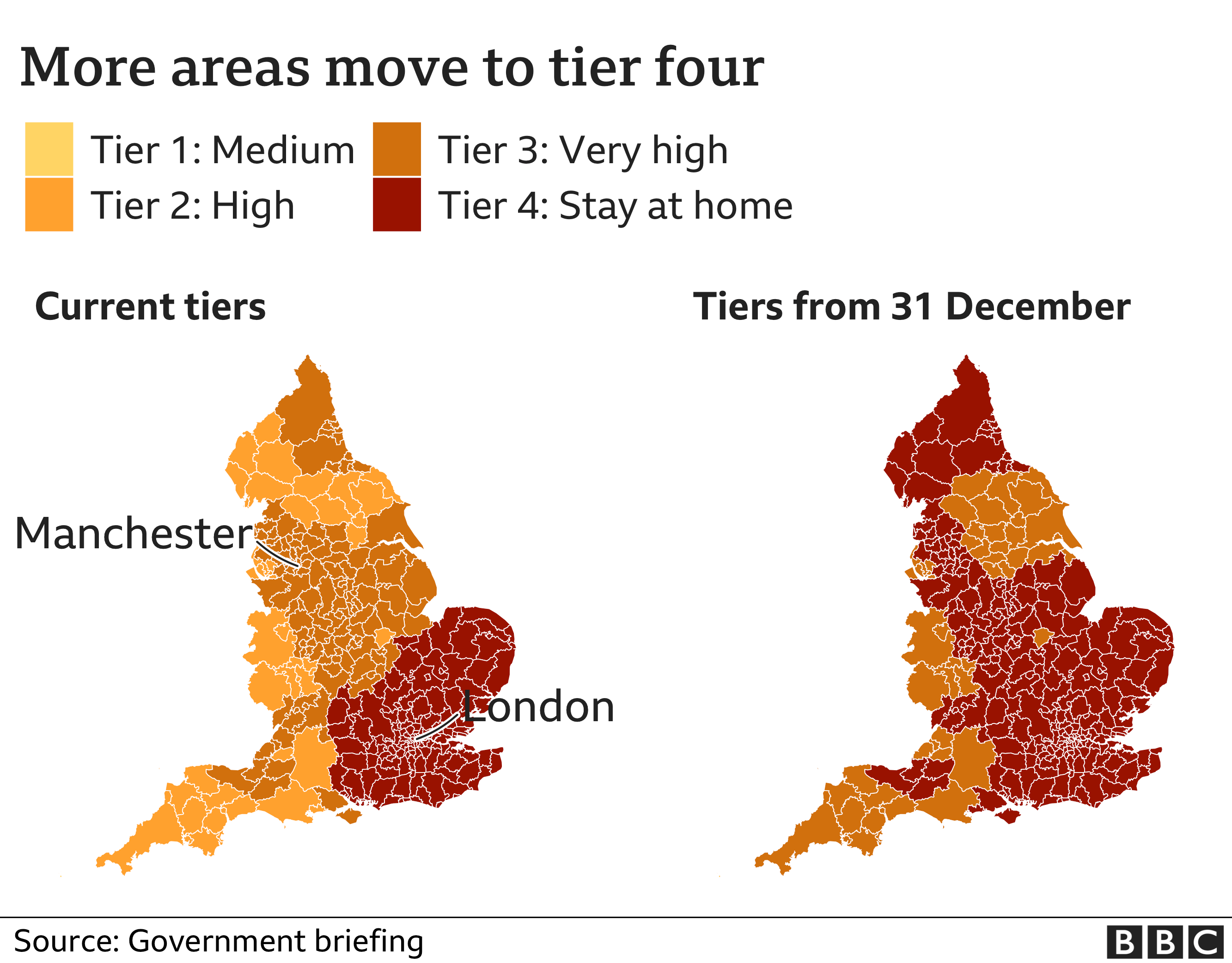 Quick visit to Gloucester Royal Hospital this morning. The social distancing in the queue at the coffee shop (off to the right out of shot) is rigorous; you have to hug the wall, presumably to make way for essential through traffic of beds and wheelchairs.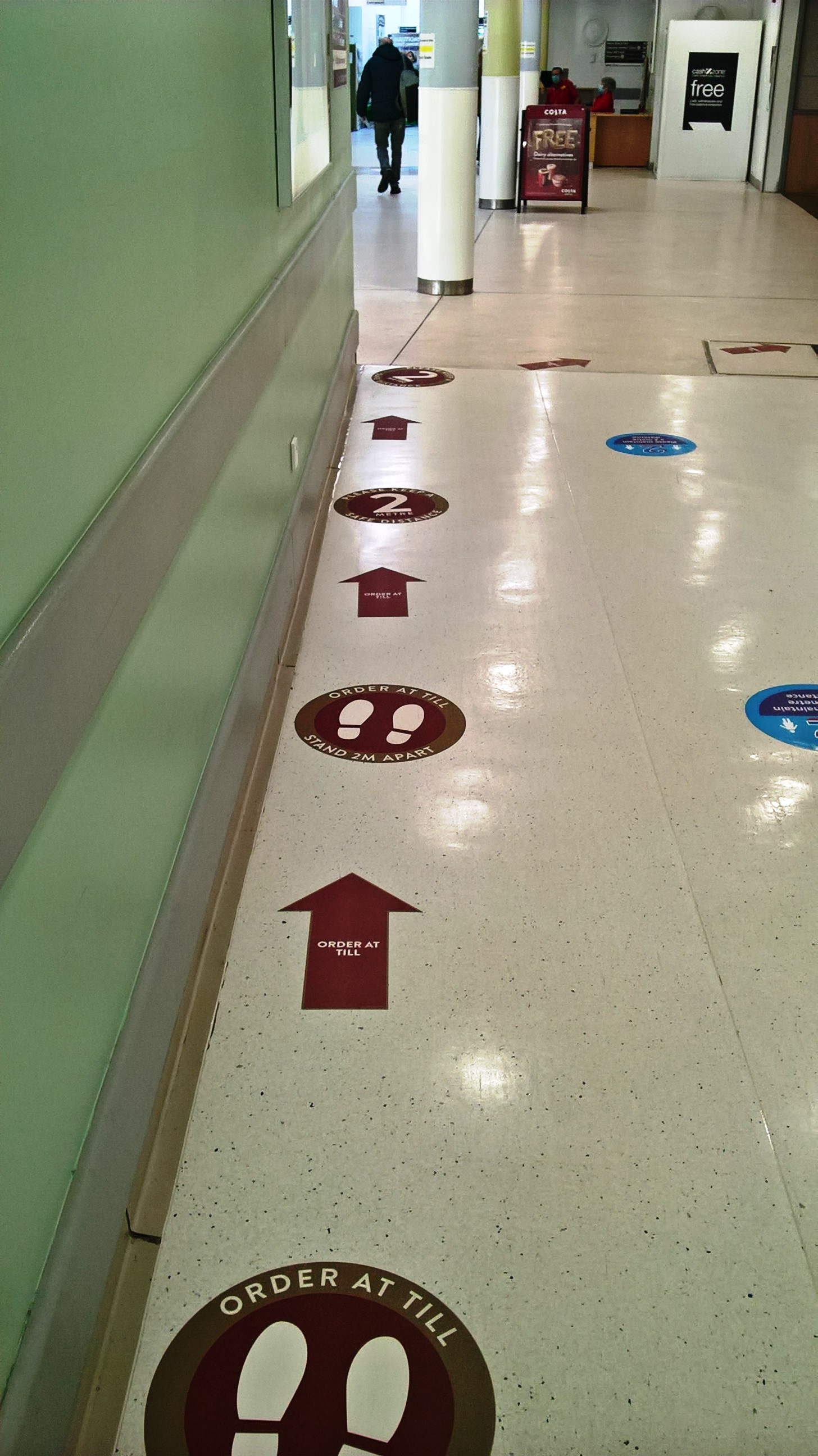 Just outside the entrance to the shop is an offer that warrants frequent future visits to Gloucester.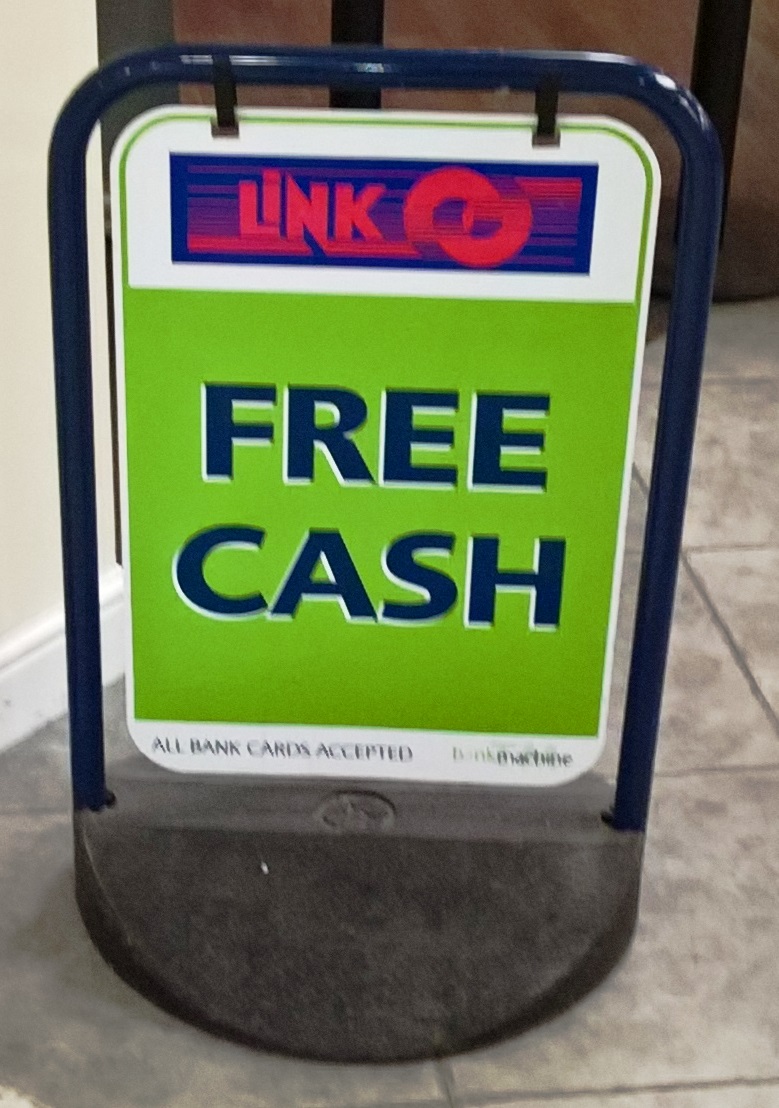 The Brexit deal is signed. One vowel has changed in Boris' (or Cummings'?) election winning slogan: "Get Brexit Done" becomes "Got Brexit Done".

We can expect some crowing. Boris was close yesterday.


"[The critics said] you couldn't have free trade with the EU unless you conformed with the EU's laws; that was having your cake and eating it. That has turned out not to be true. I want you to see that this is a cake-ist treaty. [The UK can] not only exploit the advantages of zero tariffs, a zero quota deal with the EU, do things differently, take back control of our money, our borders, and our laws, but also do free trade deals with other countries around the world."


Have you noticed how his language has subtly changed to imply that Brexit isn't really a withdrawal at all? He almost gushes about our "friends" and "partners" in the EU. "We now seize this moment to forge a fantastic new relationship with our European neighbours based on free trade and friendly cooperation." It feels like a clever little ruse to get the Remainer dissident onside. "Don't worry," he appears to cajole, "it's going to be fine. We're still part of Europe."

Wednesday 30th December


A Covid silver lining at Christmas. I'm a bit hesitant about this as it smacks of "Bah humbug!" It isn't just me; I've read a lot of similar views. What do I mean? The whole "festive" period, all the run-up and the day itself, was more stress-free than any I can remember. Of course, we regret not having had children and grandchildren here and seeing Marlie open his presents. Ben has been over from Bilbao helping out his sister in Bristol and expressed his disappointment at not coming to Stroud. We saw Nikko and toddler Ellie only via video-chat. The absence of family was sad. I'm hoping we can get together properly in the spring or early summer when there may at least be some sunshine and warmth rather than the relentless grey and chill of winter. Coronavirus progress willing?

But I didn't miss the hype and consumerisation of the event. The compulsion to buy far too much food and drink. We watched cars heavy loading at Waitrose click-and-collect, those green trays stacked almost head-high. I'm not sure who was going to consume it all given the guidelines on contact, intensified so recently. We only bought the ingredients for a cooked breakfast, smoked salmon for a lunchtime snack and a couple of lamb shanks for an evening meal. Boxing Day lunch was a pearl barley and diced left-over vegetables stew using the stock from the shanks. None of the usual most-of-the-day preparation for the Christmas Day blowout.

More time for quiet reflection. A chance to do the "gratitude" thing so highly recommended in the beat-the-Covid-blues articles I've read, and to consider the less fortunate.

There's a danger here of "Be careful what you wish for". I wouldn't choose these experiences above an end to the crisis. Nobody wants more infections and loss of life and yet we're certain to witness exactly those. There's nothing appealing about seeing neither friends nor family and being restricted in the places we can go. It's possible to get through days like these if you're among the blessed, but for how long? The statistics are grim. We can only hope that continued restrictions and the vaccine roll-out begin to turn the tide.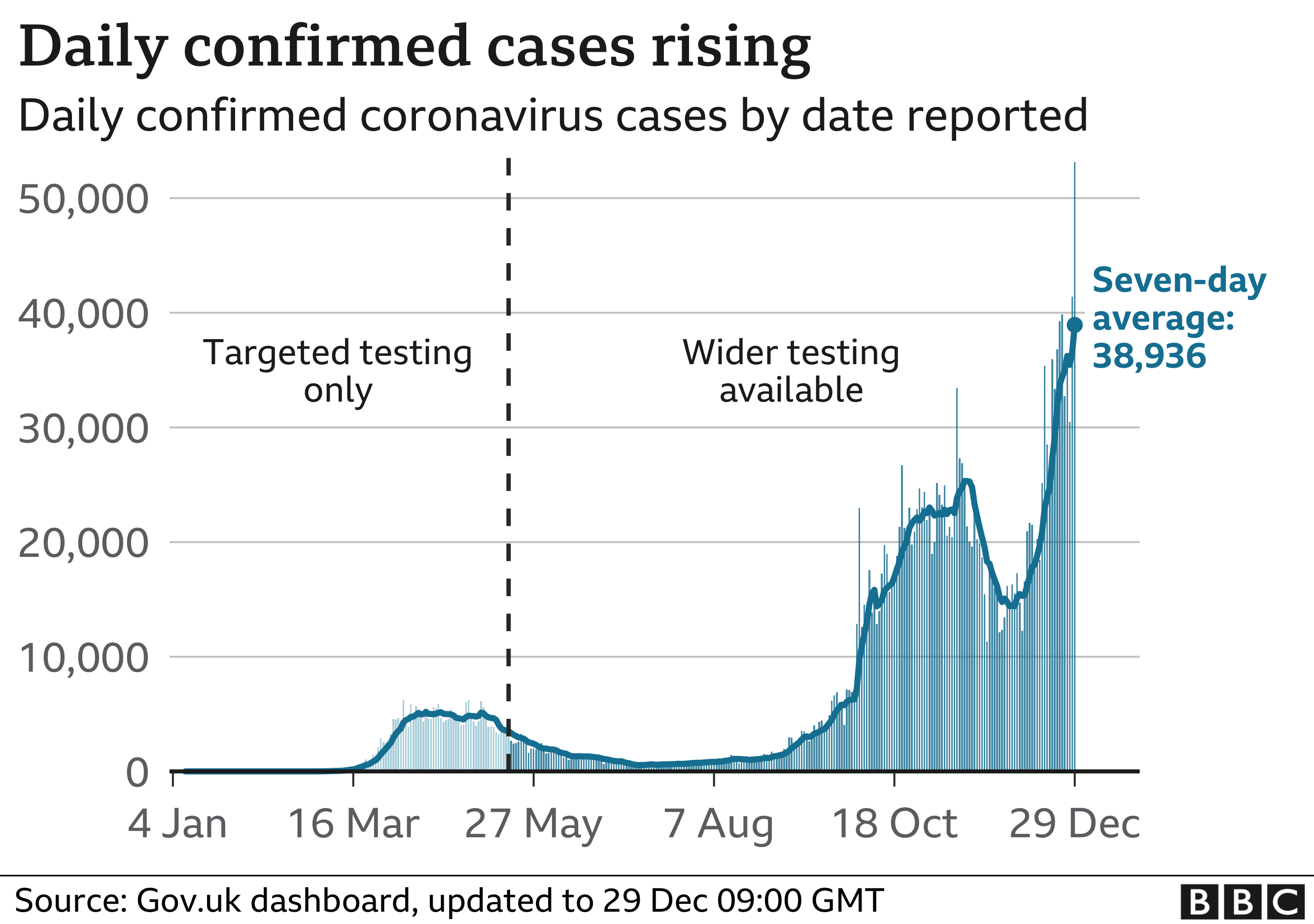 Tuesday 29th December


Section "5.4 Protocols and Standards to be used for encryption mechanism: s/MIME and related packages" is on page 921 of the Brexit withdrawal agreement document. It states:


"s/MIME functionality is built into the vast majority of modern e-mail software packages including Outlook, Mozilla Mail as well as Netscape Communicator 4.x and inter-operates among all major email software packages."


Modern? Mozilla Mail is long gone. The last release of Netscape Communicator was in 1997. Netscape itself was acquired by AOL in 1999. Ho-ho!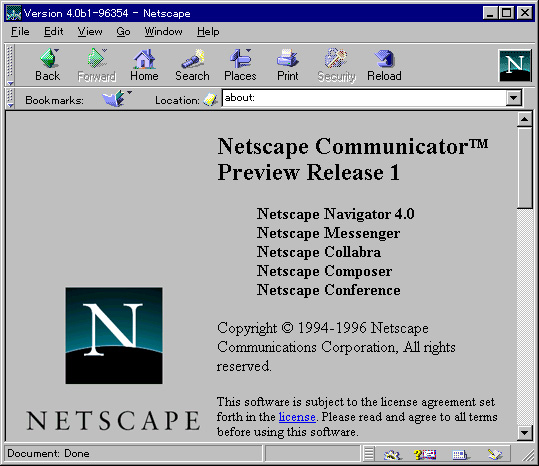 Monday 28th December


Following my discourse on the Brexit deal yesterday, my attention was drawn to this web report from Raidió Teilifís Éireann (RTÉ), the Irish public service broadcaster.


Third level students from Northern Ireland colleges will continue to be able to study in Europe under the Erasmus+ scheme after the UK leaves the EU because the Irish Government will fund them. The estimated cost will be around €2.1m per year. Last year, 649 students and staff from Northern Ireland took part in the scheme. Funding will be available to all full-time students attending third level institutions and will not be limited to those with an Irish passport, so British passport holders will also qualify.

Minister for Further and Higher Education Simon Harris said, "The Government of Ireland made a very solemn commitment to Northern Ireland that, even after Brexit, we would make sure that there were still ways for us to cooperate and collaborate in relation to higher education. I think it would have been a real missed opportunity if Brexit had happened and we didn't have this ability to collaborate across the European Union. It's really important that students in Northern Ireland can continue to access Erasmus+."


Thank goodness somebody is taking the altruistic path, not the all-too-common stance of fighting only one's own corner. Professor Gabriel Scally, Northern Irish public health physician and member of the SAGE committee, thinks and tweets so too:




Sunday 27th December


Time to have a go at understanding what's involved in this Brexit deal. I haven't read the 1,246-page document (836 pages of annexes) titled "TRADE AND COOPERATION AGREEMENT BETWEEN THE EUROPEAN UNION AND THE EUROPEAN ATOMIC ENERGY COMMUNITY, OF THE ONE PART, AND THE UNITED KINGDOM OF GREAT BRITAIN AND NORTHERN IRELAND, OF THE OTHER PART". I'm sure it's a real page-turner but I lack the appetite even to start. This is my ha'penny selective summary. It's gleaned from the BBC and the Financial Times, which means that it includes interpretation rather than just pure factual extraction from the document, more subjective than I would like. Still, it's a first stab. If you really want to dive into the full agreement, it's here: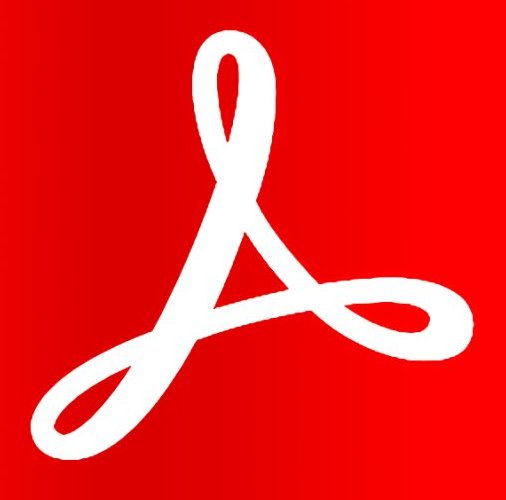 There will be no extra charges on goods or limits on the amount that can be traded between the UK and the EU from 1 January. However, there will be extra checks at borders such as safety checks and customs declarations. The overall policing of the trade agreement also means that tariffs can be targeted at a specific sector as a result of a dispute in another. There will be a binding arbitration system involving officials from both sides. It means that even 'though this is a tariff-free agreement the threat that tariffs can be introduced as a result of future disputes will be a constant factor in UK-EU relations.
The UK becomes an independent coastal state and can decide on access to its waters and fishing grounds. The value of fish caught by the EU in UK waters will be cut by 25%. The UK initially wanted an 80% reduction while the EU proposed 18%. There will be a phase-in transition period of five-and-a-half years.
UK nationals will need a visa for stays of longer than 90 days in the EU in a 180-day period and there will be extra border checks for UK travellers. European Heath Insurance Cards (EHIC) cards will remain valid until they expire. After that they will then be replaced by a proposed "UK Global Health Insurance Card". British citizens will not need an International Driver's Permit to drive in the EU unless they still have a paper licence or a licence from the Isle of Man, Guernsey, Jersey or Gibraltar. They will need to carry a Green Card to prove they have the right vehicle insurance.
The UK will not be bound by judgements made by the European Court of Justice. The EU has dropped its demand that the ECJ should play a direct role in policing the governance of the overall agreement in future. The ECJ will still play a role in Northern Ireland, which has special status under the terms of the agreement.
The UK will cease to participate in the Erasmus exchange programme which helps students study in other countries. A new scheme is proposed, named after the mathematician Alan Turing.
There will no longer be automatic recognition of professional qualifications. For example, doctors, nurses and architects will have to apply to individual countries to get their qualifications accepted.
The UK will lose automatic and immediate access to a variety of EU databases which the police use every day, covering information such as criminal records, fingerprints and wanted persons. Security cooperation will no longer be based on "real time" access.
There are the elements of sovereignty and separation here to please the Brexiteer. The Remainer will mourn the loss of benefits accorded by EU membership; in some cases there is the promise of future replacement, as in the new health insurance card and the Turing scheme, but we must wait to see them materialise.

The government side talks the deal up. Lord Frost, Chief Negotiator of Task Force Europe since January 2020, calls it "the beginning of a moment of national renewal". He said, "There's no more role for the European Court of Justice, there's no direct effects of EU law, there's no alignment of any kind, and we're out of the single market and out of the customs union just as the manifesto said we would be. All choices are in our hands as a country and it's now up to us to decide how we use them and how we go forward in the future."

Saturday 26th December


Brian Robathan has sent me some pictures taken during a bookshop visit.

"I was in Waterstones in Bristol and happened to look at the games section. Their marketing wizard had clearly had a good think about topical board games:

'Pandemic'

and

'Plague Inc.: The Board Game'

. In

'Pandemic'

you're the good guys, scientists fighting to save humanity from the deadly virus; 'the fate of humanity is in your hands'. A bit boring compared to

'Plague Inc'

where you ARE a virus and your aim is to wipe out humanity; 'a strategic game of infection, evolution and extinction' ensuring 'repeat infections for years to come!'. I thought it was impressive that you could buy a Virus Expansion Pack which would allow you to develop new disease types and mutate your virus. You can 'infect the Olympics, trigger a nuclear strike and more!'. It's encouraging that they don't recommend it for the 0-3 age group as 'it contains small parts which could be swallowed or inhaled'."


Pandemic is a cooperative board game designed by Matt Leacock and first published by Z-Man Games in the United States in 2008. Plague Inc.: The Board Game was released in 2017 based on Plague Inc. the real-time strategy simulation video game developed by UK-based independent games studio Ndemic Creations, published in 2012 for iOS and Microsoft Windows.

Brian comments, "Be careful what you wish for, eh?"

Click to enlarge and see the product blurb on the covers below. It's worth a good look.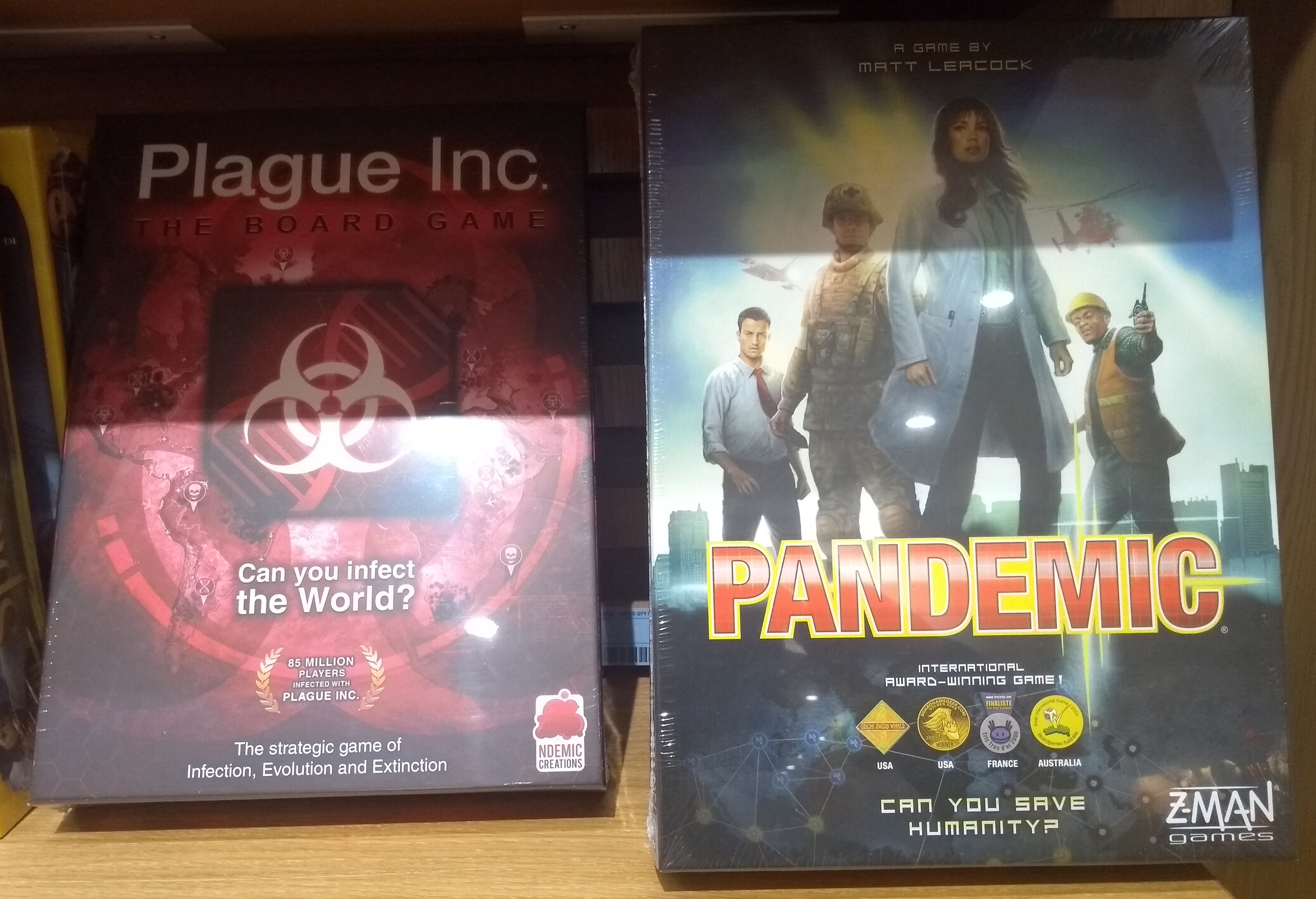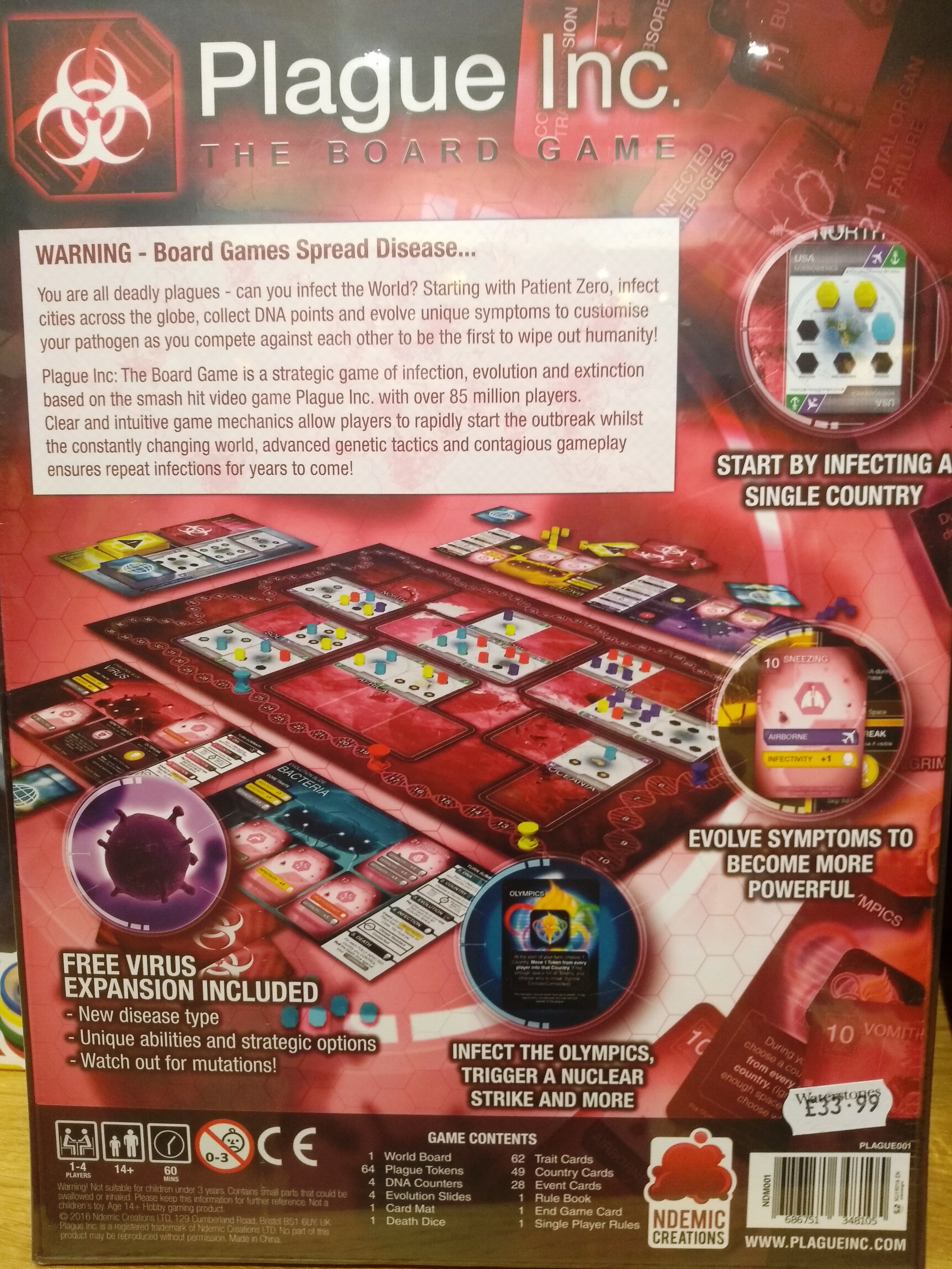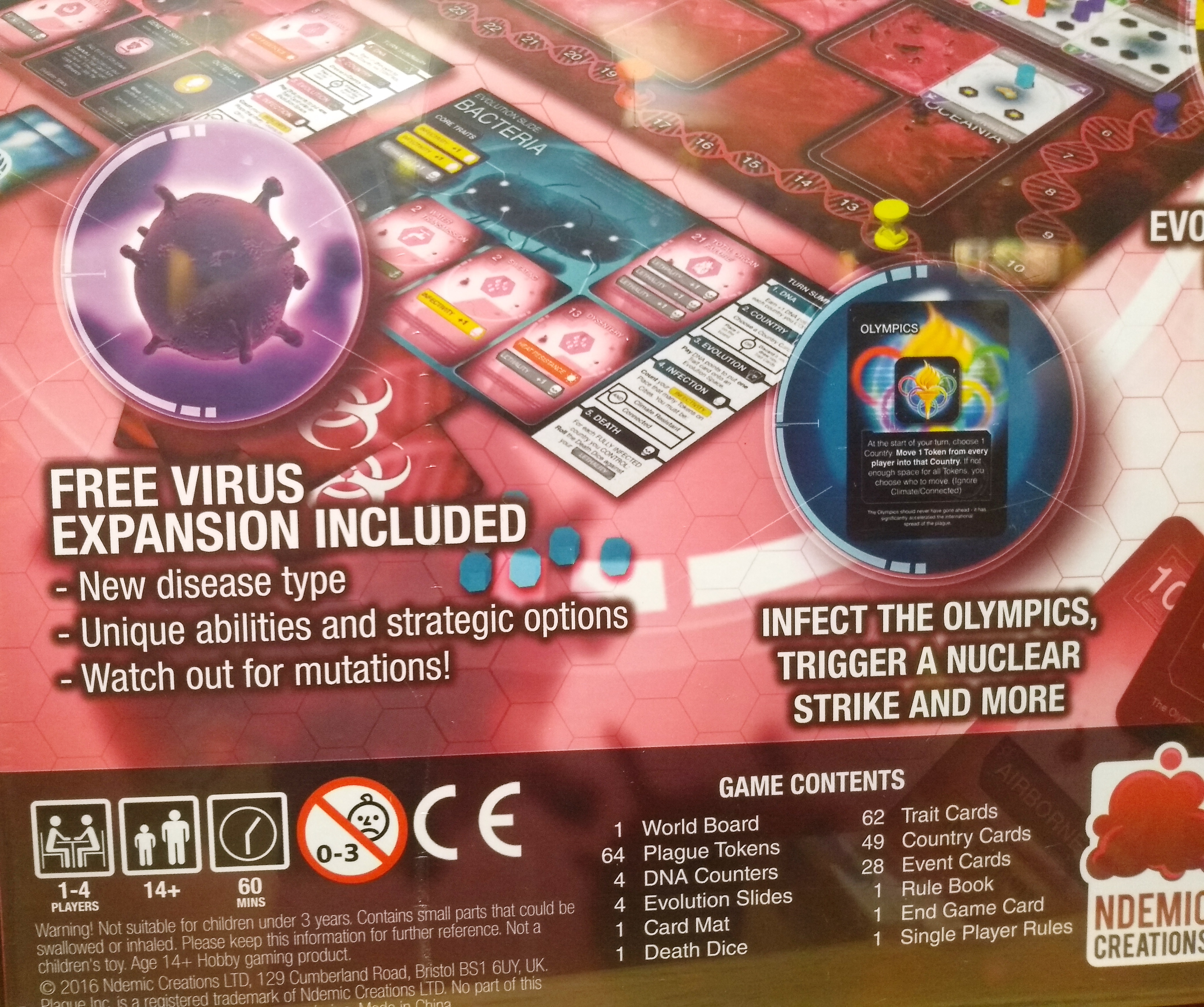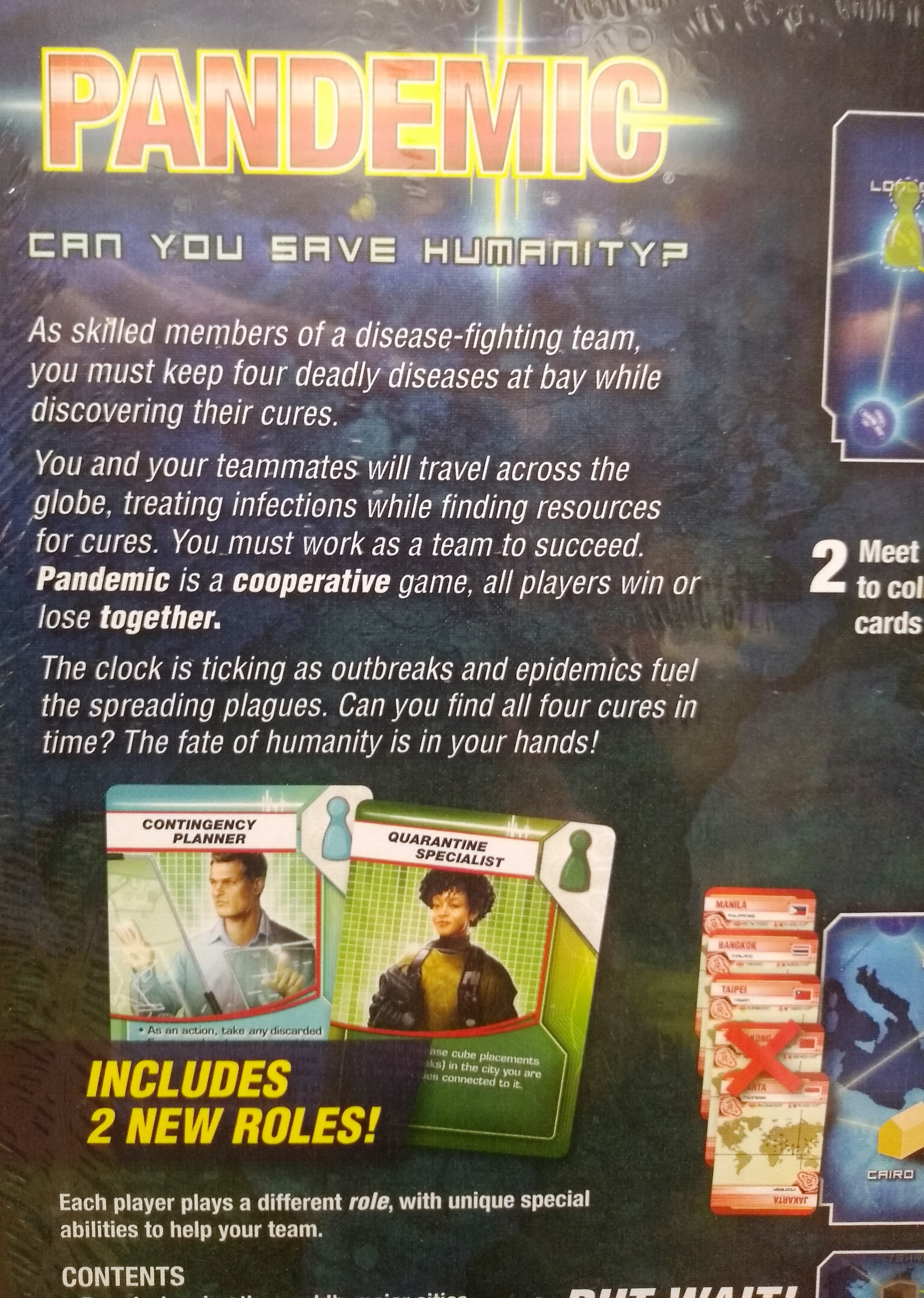 Ndemic Creations is evidently a company with an eye for contemporary issues. It also has a game called Fake News. Here's some publicity from the website: "Players can create their very own Fake News story and deceive the world using modern tools and psychological tricks. From wild conspiracy theories to election campaign mudslinging, we now live in a post-fact world where falsehoods and misinformation can spread like a disease." Quite so.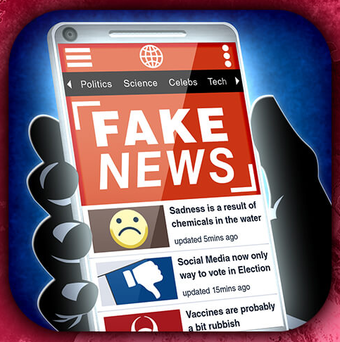 Friday 25th December


Merry Christmas to all our readers!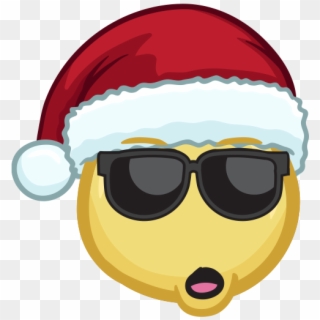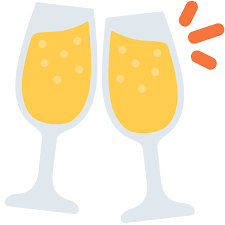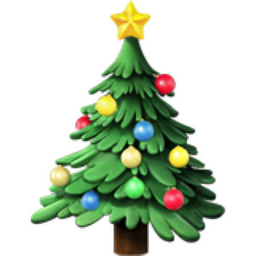 As I mentioned earlier in the month, Middle Street residents have made an Advent calendar of our windows, now complete. Here is Sarah's very original display. Not actually our three cats, who 'though very sweet exhibit scant wisdom. Their biggest fans are the toddlers passing in pushchairs who scream "Cats!" and oblige their Dads to take a photo :-)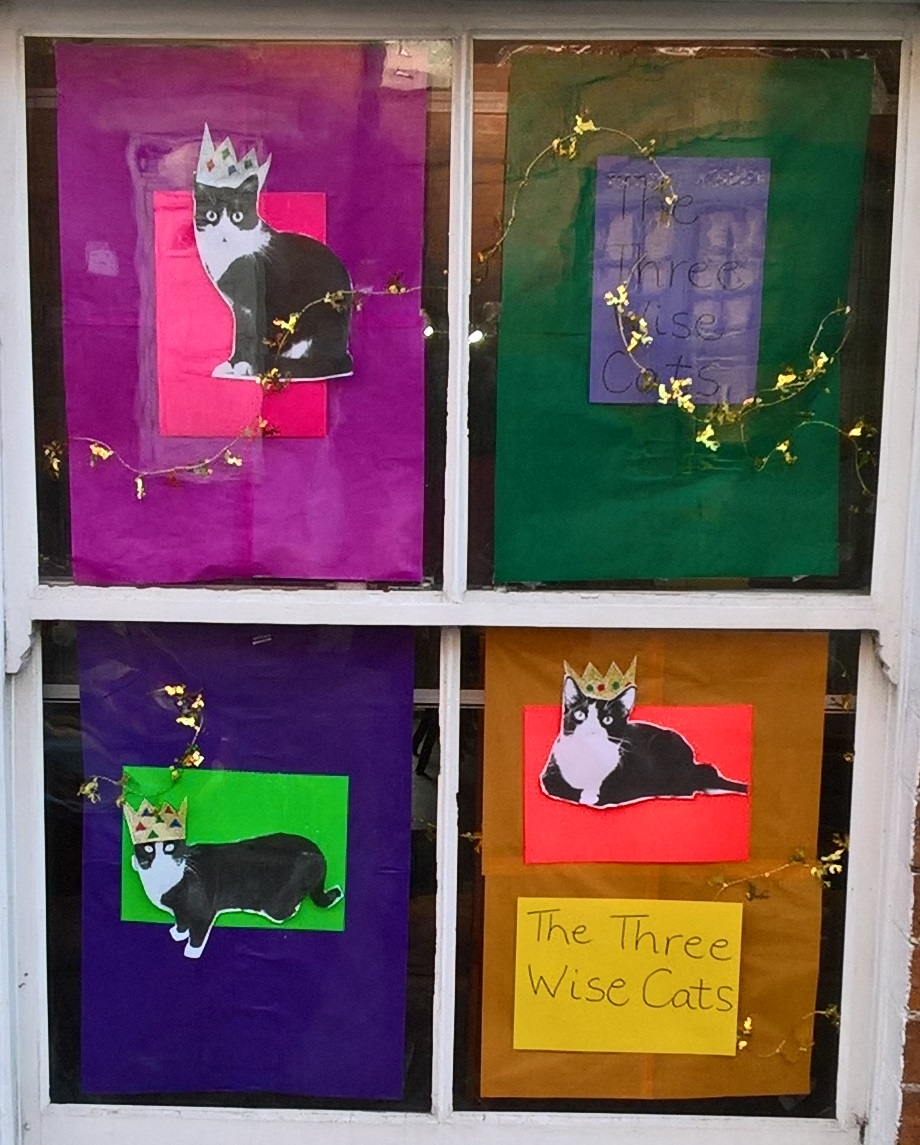 Most importantly, I wish you all a better 2021.

Thursday 24th December


Bill Gates has just published his latest Covid summary on his GatesNotes blog titled "These breakthroughs will make 2021 better than 2020". If you want an informed, technical but accessible analysis I recommend that you take the time to read it. Forget that he's accused of being part of the evil elite and enjoy his clear and comprehensive review. He may be viewed as an ex-computer-geek but he reads and researches deeply and is intimately connected to key players; his foundation has given money to most of them. He cares about this stuff. You can find the post here: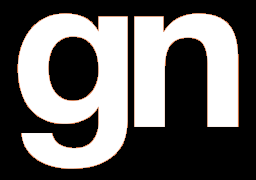 Here are some headline (and less technical) snippets, repeated here mostly because of their positive outlook.


There is good news coming in 2021.

I spent most of my time this year working with colleagues at the foundation and around the world on ways to test for, treat, and prevent COVID-19. When I think back on the pace of scientific advances in 2020, I am stunned. Humans have never made more progress on any disease in a year than the world did on COVID-19 this year. Under normal circumstances, creating a vaccine can take 10 years. This time, multiple vaccines were created in less than one year.

There are two main reasons to be hopeful. One is that masks, social distancing, and other interventions can slow the spread of the virus and save lives while vaccines are being rolled out. The other is that in the spring of 2021, the vaccines and treatments you've been reading about in the news will start reaching the scale where they'll have a global impact. Although there will still need to be some restrictions (on big public gatherings, for example), the number of cases and deaths will start to go down a lot - at least in wealthy countries - and life will be much closer to normal than it is now.

You might not have read that the success of the first two vaccines also bodes well for many of the other candidates. Virtually all of the vaccines now undergoing efficacy studies attack the same part of the novel coronavirus as the first two do. (It's the protein that spikes out of the virus, giving the coronavirus its crown-like shape as well as its name.) Now that researchers know attacking that particular protein can work, they have reason to be optimistic about other vaccines that do the same thing.

I am glad to report that the optimistic view that the world would come together to fight COVID-19 has largely turned out to be right (with some notable exceptions). There's no way we would be as far along as we are if governments, companies, and scientists around the world weren't, more often than not, working closely together.

This global cooperation is one reason why I see promise in the year ahead - and not only the promise of getting the pandemic under control. I believe the world also has a chance to take concrete steps on one of the other great challenges of our time: climate change.


These top-level comments may seem a little bland. "I know all this", I hear you say. The detail in the full piece is anything but bland.

I've said this often but I'll say it again. What must he feel like to have predicted the virus threat and recommended preventative measures five years ago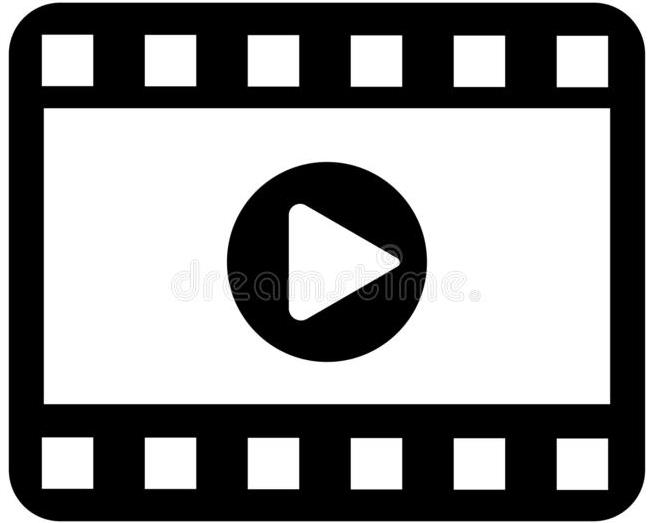 ? Few listened. The accuracy of his talk at TED is chilling. He said that there was no need to panic but we had to get going. We didn't. We're panicking now.

Tuesday 22nd December




Spare a thought for the truckers stranded in this madness. Marooned far from home. Sleeping in their cabs. I've not seen evidence of facilities to support them. Operation Stack/Brock has been in the planning for months. Have essential requirements like food and toilets been included? We could have diverted the burger vans of Kent to be deployed at regular intervals along the route. Hired the Portaloo providers, who have presumably had a lean summer after the cancellation of music festivals and other big events, to do the same. Has this happened? I'm not sure this government is up to that kind of forward-thinking. Please correct me if I'm wrong.

Monday 21st December


After extolling the Taiwanese virtues of stringent Covid control, I was reminded by a CNN article yesterday that there have been other approaches which have met with success.


Finland had Europe's lowest average of infections and deaths per capita in recent months, Johns Hopkins data shows. It managed to contain local outbreaks while sticking to some of the most relaxed restrictions on the continent. Internal movement was not restricted, those who needed to could attend school and workplaces in person, and mask-wearing was not mandatory.

"There is nothing magical about doing this - we just have a pragmatic approach," said Pekka Nuorti, an epidemiology professor at Tampere University who has worked for public health agencies for more than 25 years.

Cultural, political and geographic factors - such as low population density, less travel and high trust in government - were helpful, Nuorti said, but it was the work of the country's health agencies that made a difference.

During the summer, Finland built up "tried-and-true field epidemiology practices," Nuorti said: Testing, isolating, contact tracing, quarantining and preventing superspreading events on a local level.

The average daily testing volume nearly quadrupled from 2,900 samples in May to 11,300 in August, health ministry data shows. In late November, Finnish laboratories performed up to 23,000 tests a day, or 90% of the current capacity.

Finland used the summer to prepare for the new wave by responding with preventative measures instead of a lockdown, said Mika Salminen, director of health security at the Finnish Institute for Health and Welfare. Restricting international travel for most of the summer added to Finland's success in the fall, he said.

To help people isolate and stay home, the government provided economic support. Thousands of people who were exposed could quarantine because the government offered compensation for their lost income, Salminen said.

"It's not that we haven't had outbreaks," Nuorti said. Finland had local flare-ups and super spreader events, but local health authorities, coordinated by the central government, were able to contain them using real-time data, he said. But as case numbers rise, it becomes increasingly difficult to identify all transmission sources, Nuorti said.

If the situation deteriorates, Salminen said, a full lockdown has not been ruled out.


The two key elements here are preparation and fully-developed "epidemiology practices". Sadly, contrast them with our own "world-beating" track-and-trace efforts.

Sunday 20th December


Scary and distressing Covid news.

My humble and simple contention is that it all (or most) could have been avoided if we had followed Taiwan's lead. Look at today's FT chart of new confirmed cases in selected countries from 1st February to now. You will need to click on the top graph to enlarge and see the full story. The lower image shows detail of the last two months' data.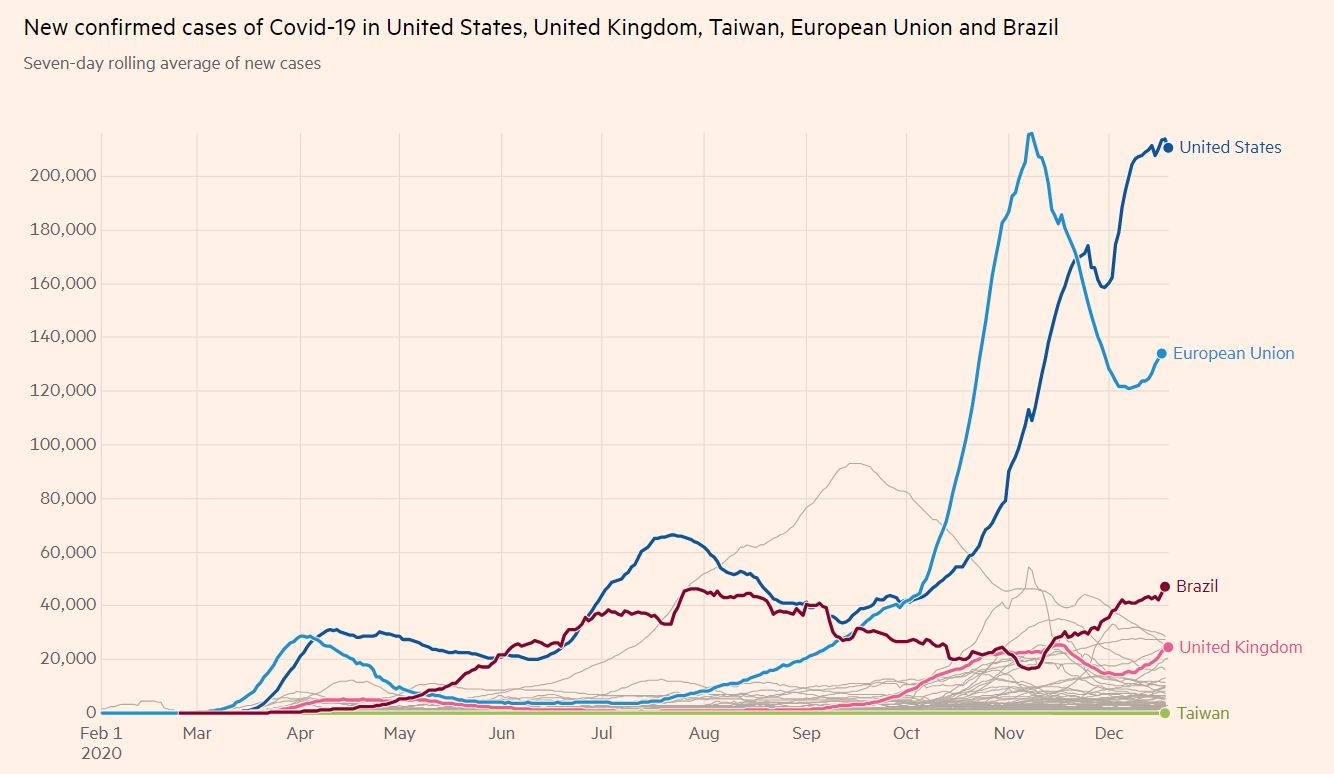 You might also want to read Adam Hopkins' article that I posted on Saturday 7th November titled "What It's Like Living in a Country Where Coronavirus Isn't a Worry".

Dithering has undone our response. Allowing R to hover around 1.0 has been no solution. The only target should have been R=0. I'm acutely aware why the government has tried to tread the economy-versus-mortality line. However, I wonder what the difference in financial cost would have been between funding total lockdown for three months (virus suppressed?) and partial measures for nine (clear failure). The nation was motivated to support the first lockdown, Dunkirk spirit awakened. We're now exhausted. The human toll of prevarication is clear. In March Patrick Valance said, "If we can get this [the number of UK deaths] down to 20,000 and below, that is a good outcome." Today the total is 67,075.

Saturday 19th December


More rumination on Brexit.

The whole process is a conundrum to me. I try to understand. Why did the majority vote Leave in the 2016 referendum? What was at the heart of such a decision? I think of two key words, sovereignty and individuality. Maybe even superiority. There is surely a nostalgic gene in the Brexiteer, that obsession with the word "Great", the behaviour associated with a long-lost Empire when the Brit believed he stood above other nations. The demand for respect as a right rather than something to be earned. That old joke: when Johnny Foreigner doesn't understand your order, just shout it louder. The EU somehow offended this visceral belief. Delightful and laudable as Captain Tom was, the Middle England response was extraordinary: a knighthood, 150,000 birthday cards, fly-pasts, appointed as honorary colonel of the Army Foundation College. Most telling was the award of a cap to make him an official member of the England cricket team. That's proper harking-back to the glory days of yore, to a decent Rule Britannia credo and world order. Captain Tom allowed the Brexiteer to stand tall with chest proudly puffed out.

I'm puzzled by this fear of losing one's individuality. It's not shared by the 27 EU member states bar maybe a few of the disgruntled. I can't see the French feeling the same way. Is their revered classic cuisine diminished? Is the work of Monet and Matisse devalued? Elsewhere, the great automobile marques of Mercedes, Volkswagen and Porsche are still German-owned. Land Rover has been a subsidiary of India's Tata Motors since 2008. Even my cherished Morgan Motor Company was acquired by the Italian InvestIndustrial group in March 2019.

45% of the UK's exports went to European Union member states in 2018, totalling some $372.5 billion. Does the notion of sovereignty justify the secession from this partnership in the unproven hope of gaining better deals with others? All we're anticipating at the moment are truck jams, port delays, increased prices.

What about the "special relationship"? Obama warned us in April 2016 that the UK would be at the "back of the queue" in any trade deal with the USA if the country chose to leave the EU. He said, "It could be five years from now, 10 years from now before we were able to actually get something done." Biden comes from the same stable. What's more, his heart lies in County Mayo, not with a departed Britain.

This hasn't really got me anywhere. Still all gloom. I shall have to return to my more positive thoughts of the last few days. Europe hasn't gone away. I can visit and celebrate its charms.

Friday 18th December


Here's a gone-viral dark humour video about Covid Christmastime featuring the senior Tory buffoons. Unfortunate arm gesture, Boris ;-)



Thursday 17th December


I know, silence for a few days. Mostly, I think, because of tiredness with our government. "We're giving you five days to relax over Christmas. There again, try to use only one of them and, oh, don't stay overnight." Utter shambles. Our forlorn Union is, of course, divided.

Then Brexit. We had a deal once, you twats. It was called being a member of the EU. Anyway, I'm going to consider another brighter topic - language. One of the great joys of visiting Europe is making a stab at the local tongue. I have a better chance with those that have a Latin root - Italian, Spanish, French. When we went to Berlin and Vienna to visit Nikko I had a go at German, helped by a quick preparation with Duolingo. I found it very useful, I like its methodology. Not that I could do much more than order food and buy a tram ticket. By chance, I had an email reminder from them this morning :-)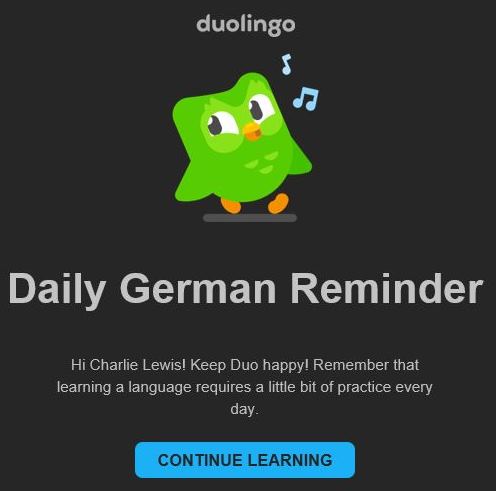 There's one language that is definitely a step too far - Basque. Son Ben lives in Bilbao and has taken an interest in the history and culture. I'm a sucker for a separatist or autonomous region so it also fascinates me. There are seven provinces, four in Spain (Bizkaia, Gipuzkoa, Araba, Nafarroa) and three in France (Lapurdi, Nafarroa Beherea, Zuberoa). Independence is declared everywhere. Here's a photo from our 2018 visit, mother and son in Plaza Unamuno. Look at the banner behind.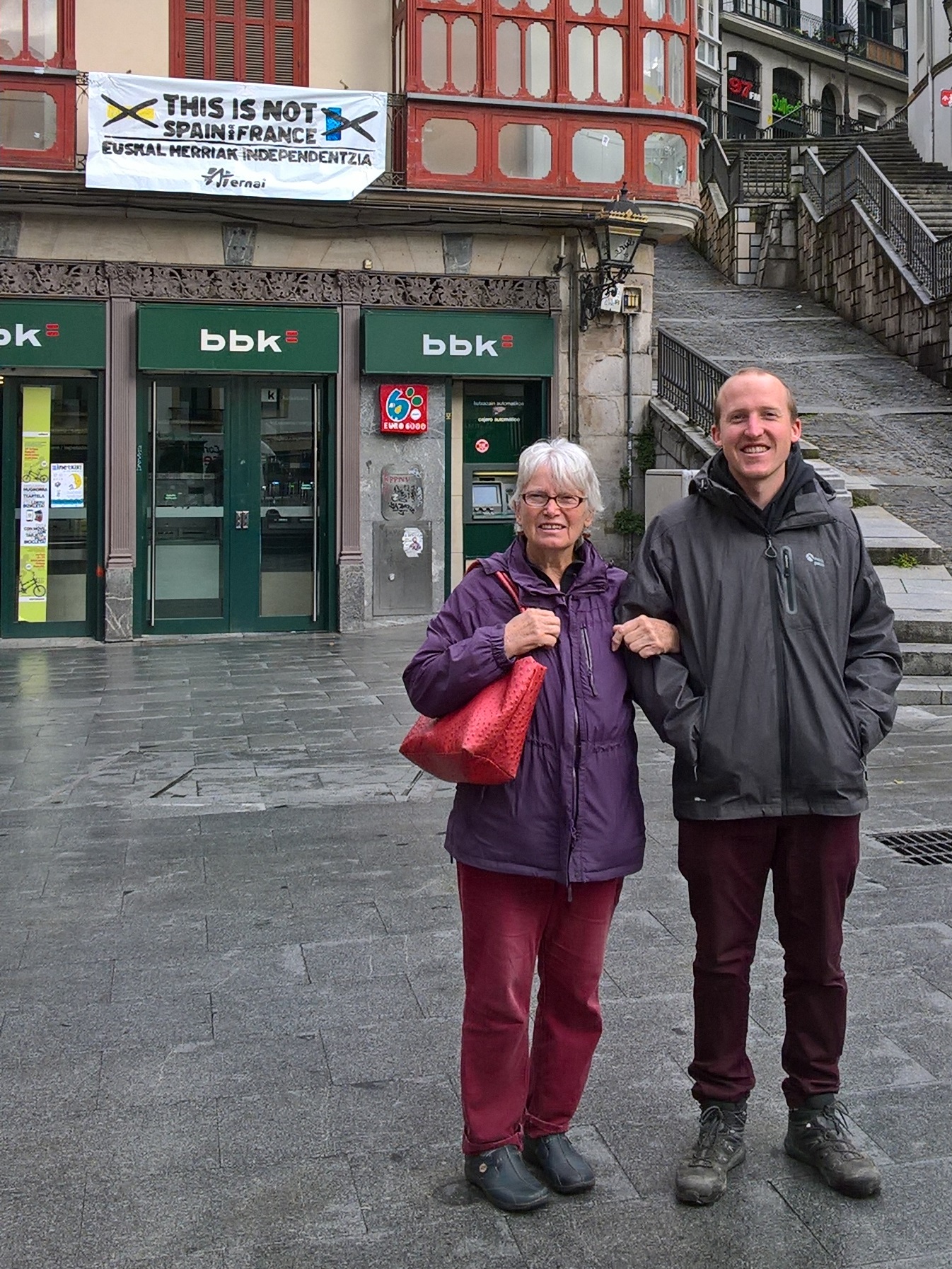 The language is something else, unrelated to the other languages of Europe, indeed (it is alleged) to any other known living language. Certainly not Spanish. Just so you get a flavour, here's a little table of some simple words and phrases.
| | | |
| --- | --- | --- |
| Good morning | Buenos días | Egun on |
| Good afternoon | Buenas tardes | Arratsalde on |
| Thank-you | Gracias | Eskerrik asko |
| Goodbye | Adiós | Agur |
| Dog | Perro | Txakur |

Txakur? What? As Dorothy says to her dog in The Wizard of Oz, "Toto, I've a feeling we're not in Kansas anymore." Ben's Finnish friend Emilia, who must be a considerable linguist, specialises in Finno-Basque translation. Not a huge market, I hear you say. Maybe not, but it's all hers.

I love the way the street names in the Casco Viejo are in both Spanish and Basque. Here are the pretty blue-plaque signs below and opposite our delightful B&B in "Hatmaker's (or Milliner's) Street".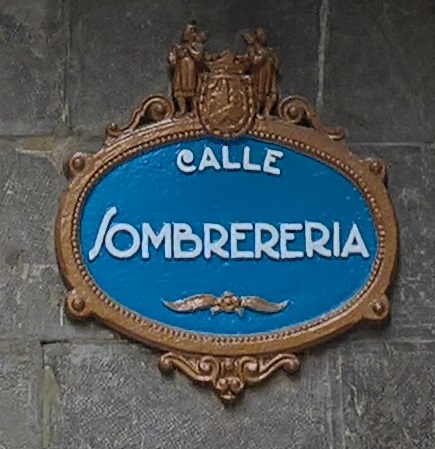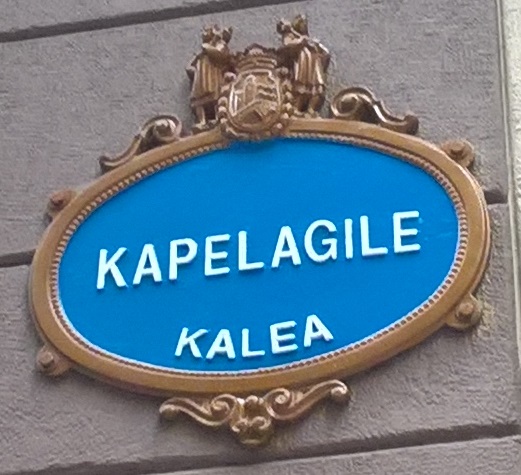 Brexit can't deny me this pleasure. Yet there is an irony. Brexit is about separation and sovereignty. And the Basque Country? Hmmm.

Saturday 12th December


Just been thinking about modern digital access, the things I can do now despite Covid constraints. This week I have: re-insured our house, sent presents to son Nikko in Vienna, bought bus tickets for Sarah's Salvadoran asylum seeker mentee in Cheltenham, booked a slot at the local recycling centre, sent and received emails to/from dear friends, ordered a Waitrose delivery, arranged medical appointments ... and more. All from my desk.

I'm not a big fan of the power wielded by tech giants. However, I do love Google Earth. While we can't travel I use it to visit favourite places and new ones I read about. I can walk the streets of these places: my cousin Richard's house in Cassagnes near Perpignan (he told me about it in our Christmas conversation); Nikko's new flat in Vienna; the Mojave desert site of Virgin Galactic (looks a grim place to live). It's a window on the world closed to us at the moment.

Where can I go when restrictions are lifted? I really don't want to fly again; I can't stand the airports, let alone the environmental issues. We could drive to European destinations, but I now don't like being in a car for more than an hour. I love trains and boats, so maybe that's the answer. But not the cheapest. Or I could just enjoy the beauty of the Cotswolds and not go anywhere at all.

Friday 11th December


Those of you who have read this blog for a while will know that I like a good graph. Today the BBC has a serious chart-fest of a global Covid update. Three graphical representations stand out for their interactive and/or dynamic qualities, all courtesy of Johns Hopkins University: "Coronavirus mapped", a click-on-a-country statistics tool; "Coronavirus data in detail", a table where you can manipulate the data by country, deaths, death rates and total cases; "How confirmed cases of coronavirus have spread", which shows how different regions have fared over time on the "leader board". If you like a worldwide perspective I recommend you take a look:


Thursday 10th December


The ludicrous and unnecessary Brexit negotiations have stalled. The whole process has cast a shadow across us for over four years, a criminal waste of time and money. I can let it continue to weigh me down - or look at it differently.

I can still go to Europe, just as I did before the UK joined the EEC in 1973. In the summer of 1969, aged just 17, I took a train from Victoria to San Sebastian with my Worcester boyhood friend John Rayer. We found a hillside campsite out of town. After pitching our tent we went down to the city where a jazz fiesta was in full flow. The streets of the old centre were thronging, music everywhere. We bought a bottle of red wine for 10 pesetas, just over an old English shilling then or €1.48 equivalent in today's money. Roaming through the narrow streets with their high tenement buildings we came across a secluded square. On a small stage at one end a black guitarist was playing and singing. It was John Lee Hooker. In the small hours four of us got a taxi back to the campsite. None of us understood the driver's fare demand so we emptied our pockets of every coin on the passenger seat. It was clear from his wide grin that we had not fallen short.

We hitched a loop down to Pamplona, west to Burgos (where by chance I met my sister Vicky, also travelling), north to Reinosa in Cantabria and on up to the Asturian coast and the village of Llanes. At times it was hard to get a lift as the traffic was sparse. That year the number of cars on the road in Spain had just passed a million; today there are 54 million. I went back to Llanes not long ago and like in many Spanish towns there has been an explosion of apartment blocks. In 1969 it really was a tiny fishing village. We settled into a neighbourhood bar above the port. One peseta for a glass of wine. The only Englishmen in the village. Nobody spoke English, except for "Bobby Charlton". What's more, John was a rather useful attraction, half-Faroese, 6'3" tall and blonde, a vivid contrast to the stocky dark regulars. They couldn't stop buying us drinks. Around 1am two fishermen invited us out on their boat for the nightly shift. We returned to harbour at dawn. They gave us two large merluza or hake which we later cooked on sticks over our campfire.

What's my point? This trip was full of surprise and wonder. Even Brexit can't take that away from me. I will still go to discover the jewels of Europe, to refresh that affinity sparked so long ago. Just a few needless barriers in the way but that was the case with the adventure above. I shall wear an EU badge, try to speak the language, scour the markets, eat the local delicacies.

It's easy for me to think and do this. The curtailment of current freedoms, the loss of benefits for work and residence, the undoing of significant progress in scientific research and human rights will be felt most by the young, not least our sons Nikko and Ben. That makes me REALLY angry.

Wednesday 9th December


This is more cheerful, if a little twee. We residents of Middle Street (and surroundings) are making an Advent calendar of our houses by putting lighting displays in the windows. No, that isn't weird numbering to baffle the postie, they're dates. A new illumination every day until Christmas Eve. We (at No. 67) are scheduled for the 20th.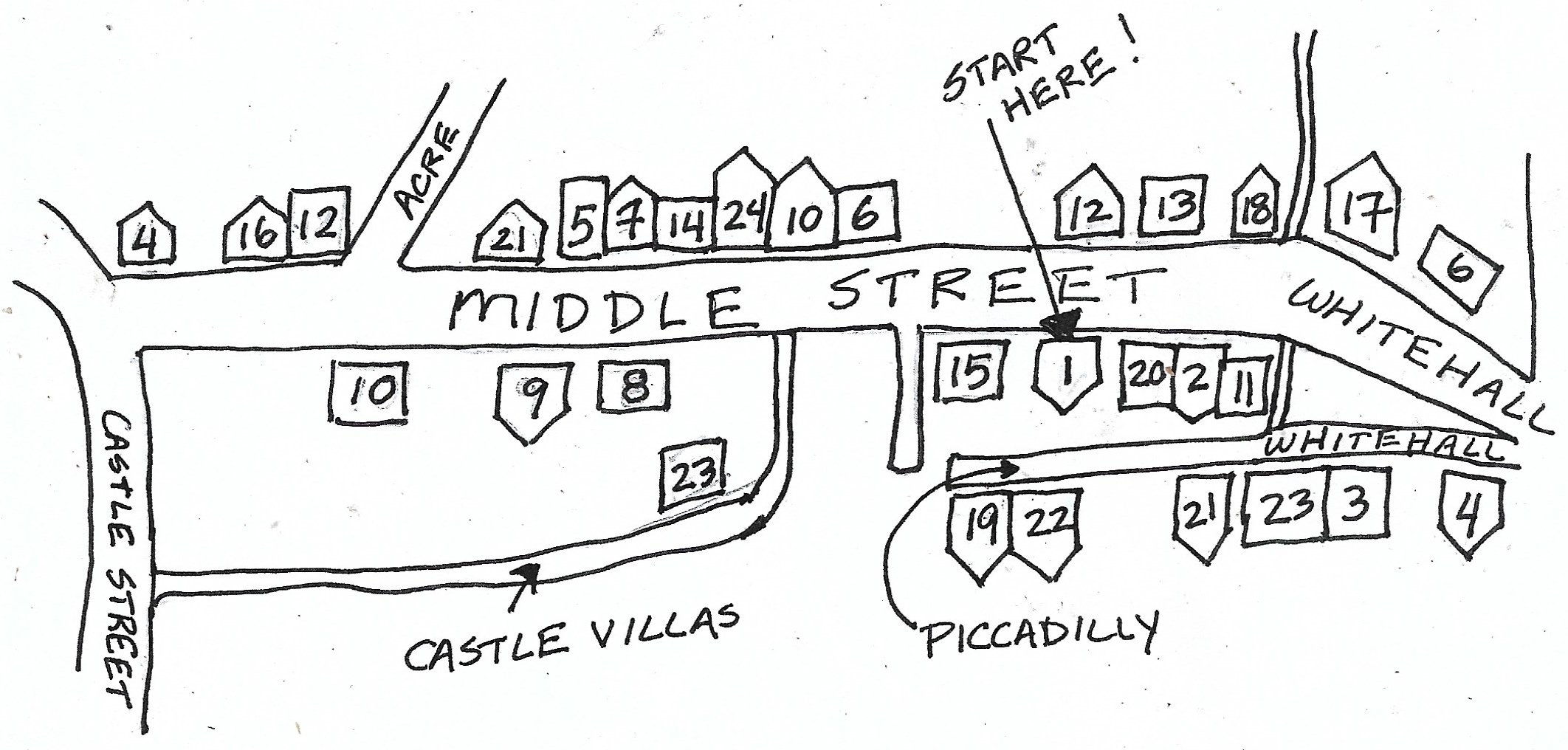 For some reason, I've always struggled with sending Christmas cards. What to say that means anything? Do they really want to hear chapter and verse on the kids? I'd get in a panic, leave them too late and miss the last posting dates, make a completely unnecessary pig's ear of the whole process. A few years ago, I thought, "This is stupid, what can I do?" and came up with the idea of telephoning. My relatives find it amusing. "Aha, Christmas must be coming!" This year so far I've had lengthy conversations with five cousins and four old friends, two of them from ~40 years ago. I get so much out of it. A real tonic.

Here's another positive thought. Has Covid protected the NHS for the next generation? Would anybody question its funding now? Boris has admitted that it saved his life. He even honoured the two Doctors Nick instrumental in his recovery with one name of his new-born.

Tuesday 8th December


The return of Brexit to the headlines to join Covid, Trump and climate change has left me feeling rather gloomy. I suppose I should have reasons to be optimistic. The first vaccines have been administered in the UK. In just 43 days, if all goes according to plan, Trump will no longer be in the White House.

It's just that the Brexit wrangle and what Brexit represents are not what we require to improve the world. We need partnership on a global scale. Why should we want to be separate from our European neighbours when cooperation is the key to the future? Covid won't be over until it is eradicated and the vaccination of 7 billion people will demand massive collaboration and generosity. The climate challenges can only be addressed if we all pitch in. Trump's isolationism defies belief. He's still tweeting about "the China virus". Thankfully Biden declares an entirely different set of values.

Both UK and USA administrations have proclaimed a desire to be "great" again, harking back to Empire, political and economic dominance. The game has changed. Every dog has its day and today's dog is more likely to be found in Delhi and Beijing. And Brussels.

Sunday 6th December


It's over a month since the USA presidential elections and still Trump rages. He attended a rally in Georgia after reportedly demanding that Governor Kemp run an audit of absentee ballot signatures, according to the Washington Post. Mr Kemp - who has no power to order such an audit - turned down the requests, a source told the newspaper. Trump tweets away:


"I will easily & quickly win Georgia if Governor Brian Kemp or the Secretary of State permit a simple signature verification. Has not been done and will show large scale discrepancies. Why are these two "Republicans" saying no? If we win Georgia, everything else falls in place!"


Does it? Georgia delivers 16 electoral college votes. Biden is ahead overall by 74. Kemp replied:


"As I told the President this morning, I've publicly called for a signature audit three times (11/20, 11/24, 12/3) to restore confidence in our election process and to ensure that only legal votes are counted in Georgia."


Trump retorted:


"But you never got the signature verification! Your people are refusing to do what you ask. What are they hiding? At least immediately ask for a Special Session of the Legislature. That you can easily, and immediately, do."


Look at Donald and Melania entering the rally. Listen to the words of the accompanying song. Social distancing?




Melania then spoke to introduce the president to the crowd. Team Trump tweeted:


"We will not bend.
We will not break.
We will not yield.
We will never give in.
We will never give up.
We will never back down.
We will NEVER, ever surrender!"


33 days since the election. It's an insult.

Meanwhile, a USA Covid-19 update (WHO). Yesterday there were 218,671 confirmed cases, a daily increase of 22,902, a daily change of +11.7%. There were 2,844 deaths.

Saturday 5th December


We've just had the uplift of the vaccine news and now what creeps back into the headlines ... yes, it's our old friend Brexit. More arguing. Haggling for a deal. We had one not long ago.

What on earth is the point of this Boris photo-opportunity? Does he really think we'll believe he knows what to do with these things? I can't imagine he did motor vehicle maintenance at Eton.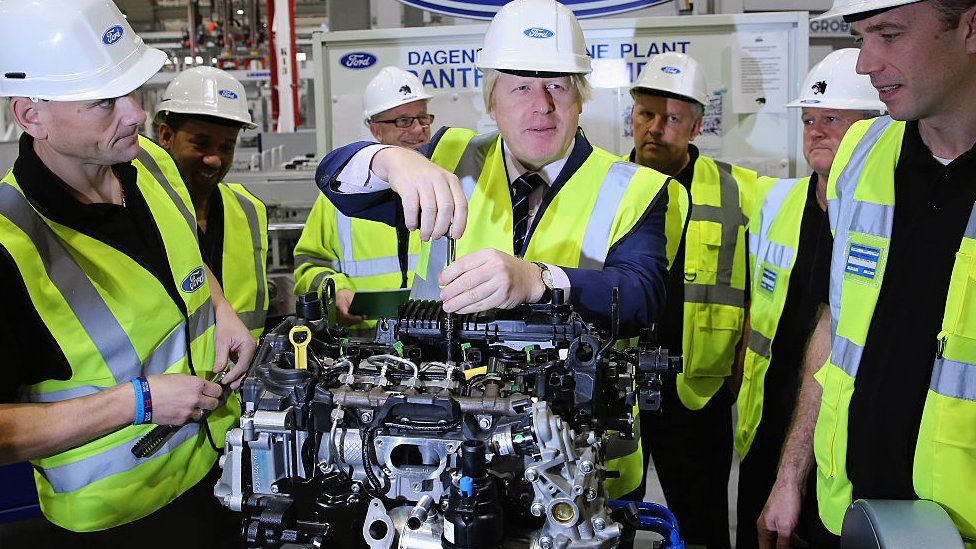 Friday 4th December


I'm enjoying click-and-collect at Waitrose. We've never done a weekly shop. I've not been able to anticipate the taste of meals over such a long period. I go down at about 5:30pm every day and look at what's on offer, the flavours imagined in my mouth. "Hmm, those special Old Spot pork chops look nice. What would go with them? Baked on slices of a Bramley. Half a glass of white wine. Lemon juice. Maybe a pinch of cinnamon. Ground peppercorn, sea salt. Finished off under the grill." I buy those things only - or those I haven't already got in the store cupboard - for the evening dish.

Now I've got the hang of the extended purchase. Almost. I put in my online order last Friday and we drove down to collect it on Monday at the allotted time of 11am. Parked in a reserved bay and called the telephone number displayed on a board. A staff member came out and said he couldn't find our order. He went to investigate and returned to inform me that I'd chosen delivery rather than collection. Doh! Wrong button, operator error. I asked him when the order would arrive and he said, "In the same time window. The driver's out now." We legged it home and fortunately the van had just pulled up as we arrived.

On unpacking the bags, Sarah asked me about the potatoes. I'd requested the small kind. They normally come in a bag and I'd ordered one. But these were the loose variety and that's exactly what I got. One small potato. "Computer says."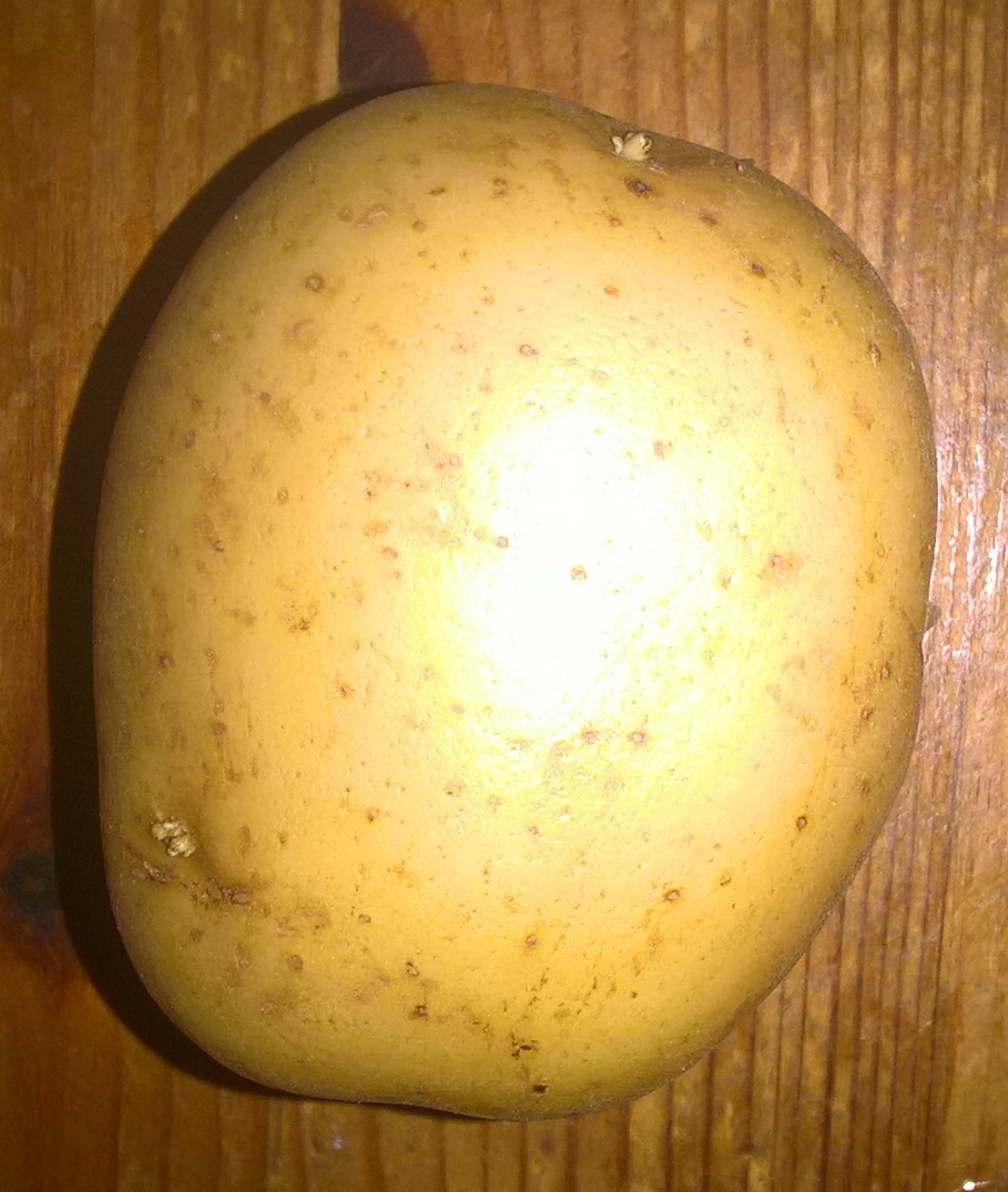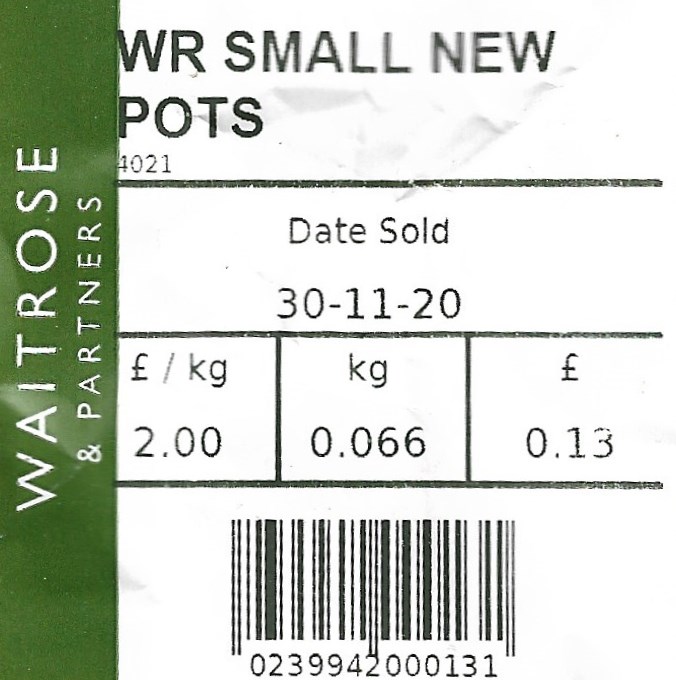 I have a little way to go, then. And surprisingly expensive? But a plausible way to moderate carb intake ;-)

Wednesday 2nd December


Very positive news today. The UK has become the first country in the world to approve the Pfizer/BioNTech coronavirus vaccine. The Medicines & Healthcare Products Regulatory Agency (MHRA), says the jab, which offers up to 95% protection against Covid-19 illness, is safe to be rolled out. The first 800,000 doses will be available from next week.

The priority order of distribution has been announced, at least for the most vulnerable. The Joint Committee on Vaccination and Immunisation (JCVI) has advised this order, saying these groups cover 90%+ of those at risk of dying from Covid-19. I think it's a bit muddled (BBC reporting), but you can get the idea.
Residents in a care home for older adults and their carers
Everyone aged 80 and over and frontline health and social care workers
Everyone aged 75 and over
Everyone aged 70 and over and those who are clinically extremely vulnerable
Everyone aged 65 and over
People aged 16 to 64 with underlying health conditions which put them at higher risk of serious disease and death from Covid-19
Everyone aged 60 and over
Everyone aged 55 and over
Everyone aged 50 and over
The first doses are likely to be given via 50 hospital hubs next week, which means healthcare staff and patients will probably be immunised first, rather than care home residents.

Tuesday 1st December


I'm not writing anything today, in honour and loving memory of our young friend Martin, who died yesterday evening after a long illness.

Monday 30th November


I'm going to remain off-piste for a bit, still distracted by the Dale Vince diamond story. I thought, like all the others, "Come on, Dale, you've gone too far this time. You're having a laugh, aren't you?" Not according to his Facebook post of 29th October:


"We're launching a mad idea today.

"So mad that some of the media we've talked to just don't believe us - and to be fair, everybody I've ever told about this - in the 7 years we've been working on it - has looked at me in the same way. Like maybe they didn't hear me right or I'm not being serious ... but they did and I am ...

"Today we're launching a new kind of diamond - one made entirely from carbon taken from the atmosphere, from the air.

"We're calling these Sky Diamonds. Not least because everything we use to make them (everything) comes from the sky.

"We use the wind and the sun to power the equipment (sky mining and diamond mills), rainwater to make hydrogen and the most important piece - something we have too much of - carbon dioxide.

"Our process isn't just low carbon or zero carbon, it's negative carbon. It may be the first industrial process where the air coming out of our chimneys is cleaner than the air we take in.

"For me this is exactly how industry in the 21st Century needs to be - super low impact, addressing the climate crisis and general sustainability issues and at the same time enabling life as we know it.

"The green revolution that we need is held back by the idea it's about giving stuff up - it isn't, it's doing things differently. We've been pushing for change in the big areas of life - energy, transport and food - for years. Football has been an amazing platform to communicate this. Diamonds are a new frontier.

"But it's the same principle, there's 'another way' to do everything."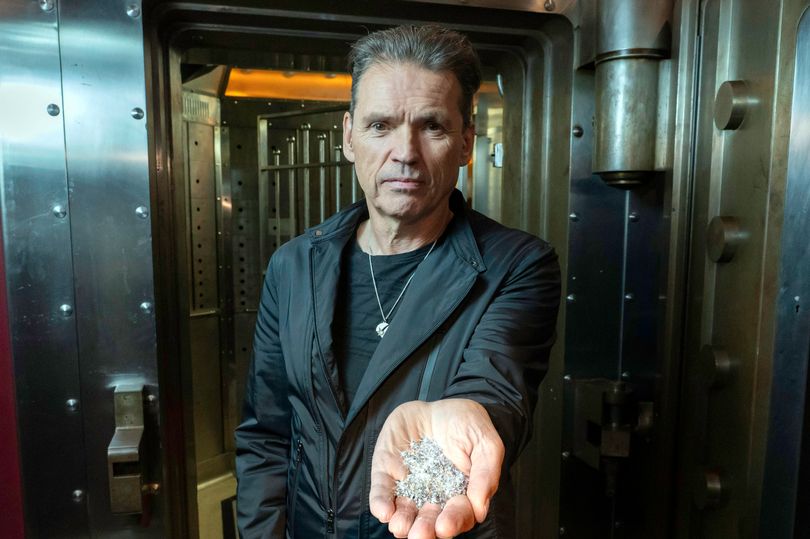 You can find out more on the Skydiamond website:

Sign up to buy the diamonds when they're available! The strapline sub-text to the Skydiamond title name on the site is "Another Way". The feeder road leading to the Forest Green Rovers ground at the top of Nailsworth is called ... "Another Way". Geddit? It's his mantra.

Can I really begin to believe this? I like many things about Dale. He gets an idea and pursues it until it's real, this time over seven years. One of his favourite statements is "we crunched the numbers" - and he's good at it. He challenges the accepted way of behaving. This is disruptive technology, a game-changer. The pricing is going to be critical. The traditional diamond cartels must be livid, hopefully quaking in their boots. What will happen to their market if Dale undercuts? Presumably they would try to demean his product. "Don't be fooled. These aren't proper diamonds." If he gains some traction, who knows?

Sunday 29th November


I'm going off-piste again today. Because I want to, it's Sunday and I can :-) I have to admit also that as I'm retired and we're in lockdown I have rather more time to indulge in Twitter-led wandering.

First, it's climate change, which at least is one of, indeed THE challenge of our times. Local celebrity entrepreneur Dale Vince, founder and CEO of green energy provider Ecotricity, has this week published a book titled Manifesto, "part biography, part blueprint for the future". He explores his life as a New Age traveller in Thatcher's Britain, the "happy accident" of becoming chair of Forest Green Rovers (our Nailsworth-based League Two team, the world's first UN certified carbon-neutral football club) and the impact of veganism on the planet.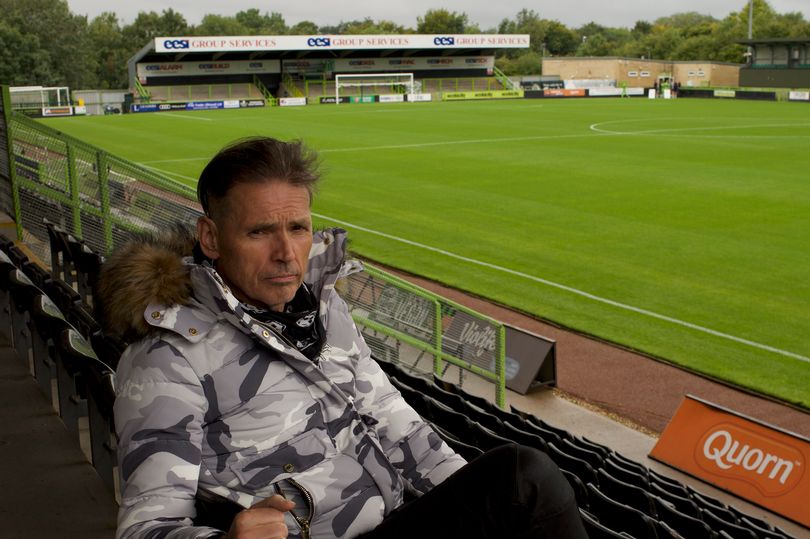 Dale believes that the climate crisis is a "much bigger deal" than COVID-19. Here are further thoughts.


"When you look at what it takes to get to zero carbon, we've got the technology, there's some behaviour change required but not that much. Actually, it's more economic to use renewable energy, electric cars, plant-based eating. People are starting to make those decisions, business is starting to follow and produce things that people want and need to live that greener life; the sector that's lagging behind is government. I've lived this life and I've lived it through business. Electric transport is coming. Cars are available in abundance now; there must be fifty different models to choose from and within ten years nobody will make a conventional car.

"With food, we just have to stop eating animals. It's very simple. It's much cheaper, it's much healthier and we can free up 75% of farmland and give it back to nature, creating great carbon sinks as well as nature habitats."


In another unusual move, he has just appointed Bristol band Massive Attack founder Robert Del Naja as artistic director of the football club. Vince said, "I'm a fan of Rob's work, it's engaging, innovative and climate focussed - a perfect combo. This is great new direction for FGR and, give it a few more years, for football more generally." Del Naja responded - it's definitely a love-in - saying, "Football has a fan engagement issue and I got really interested in Dale's work at the club when I saw how FGR was communicating about climate change to a huge global audience - there's no other team in the game doing this." During spring 2020 and first lockdown Massive Attack made a political audiovisual EP called Eutopia, created across 5 cities with documentary filmmaker Mark Donne. Each of the tracks discusses a political issue - the climate crisis, tax havens, and universal basic income.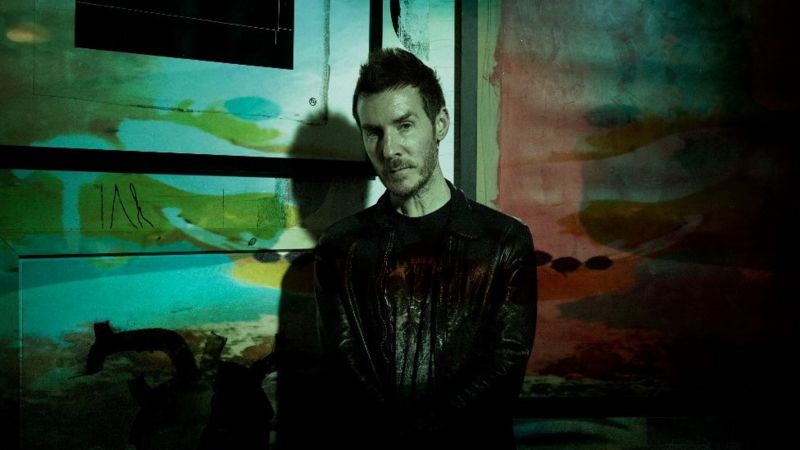 My second - and real - digression is just because I like it. Well, we deserve time off and a bit of fun amidst all the weirdness. Motor racing again; I really don't know why. It's 1956 footage of the UK's first Formula One World Champion driver (in 1958), Mike Hawthorne, recording a preview of the Le Mans circuit in a D-type Jaguar with on-board camera and microphone (look at the size of them). One extraordinary aspect is that the course wasn't closed to the public at the time. He had to dodge pedestrians, cyclists, motorcycles, delivery vans, even a car that was coming the other way straddling the central white line. Hawthorne says in commentary, "I've got to be a little careful today as there's quite a lot of traffic on the road" and "Somebody in the way - never mind - cyclists everywhere - [chuckle] - typical French".




Back to Dale Vince and even more wackiness. I saw this poster just now outside our corner shop (not straying too far these days):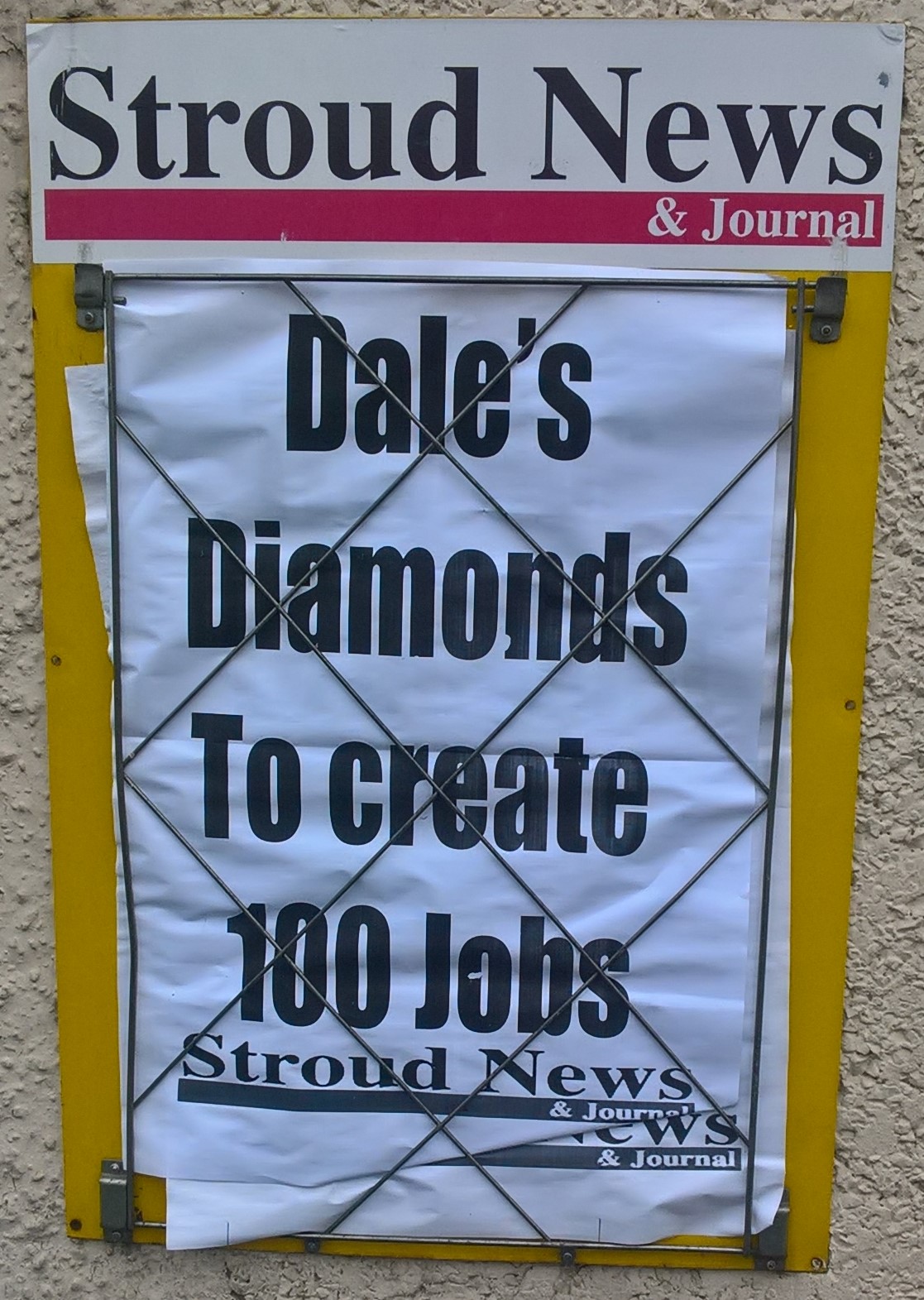 "What's all this, then?" I thought. Here's the report from the Stroud News and Journal:


Ecotricity founder Dale Vince is planning to make lab-grown diamonds 'from the sky'. The multi-millionaire claims to have created the world's first diamonds to be made from carbon, water, using wind and solar energy at a facility in Stroud. The technology uses carbon dioxide captured from the atmosphere to form diamonds which are chemically identical to those mined from earth. Mr. Vince said, "Making diamonds from nothing more than the sky, from the air we breathe, is a magical, evocative idea; it's modern alchemy. We don't need to mine the earth to have diamonds, we can mine the sky." The entrepreneur has said he wants to challenge the traditional diamond mining industry with his new 'sky diamonds'. The gems have been accredited by the International Gemological Institute. A price is yet to be set on the new diamonds by Mr Vince.


Before long anything will be possible in Stroud :-)

Saturday 28th November


We have a new vaccine Roll-Out Supremo, Nadhim Zahawi. I think it's a GOOD THING. His background looks competent. I hope there's not an unhappy portent in the title of the 2011 book he co-wrote with Matt Hancock called Masters of Nothing. Nor the "mistake" of a £5,822 expense claim in 2013 for electricity at his Warwickshire riding school stables and a yard manager's mobile home. Essential to the execution of his MP duties, surely? I know, what scurrilous suspicion. Anyway, it looks like he's thick with Carrie, so he'll be OK.



Friday 27th November


Joe Biden is keen to celebrate his Irish ancestry. In return, the town of Ballina in County Mayo toasted the US president-elect, one of their own. Families gathered under a pop-art-style mural of Biden in Market Square to open bubbly and clink glasses. His plumber cousin Joe Blewitt had even decorated his van in the run-up to the election.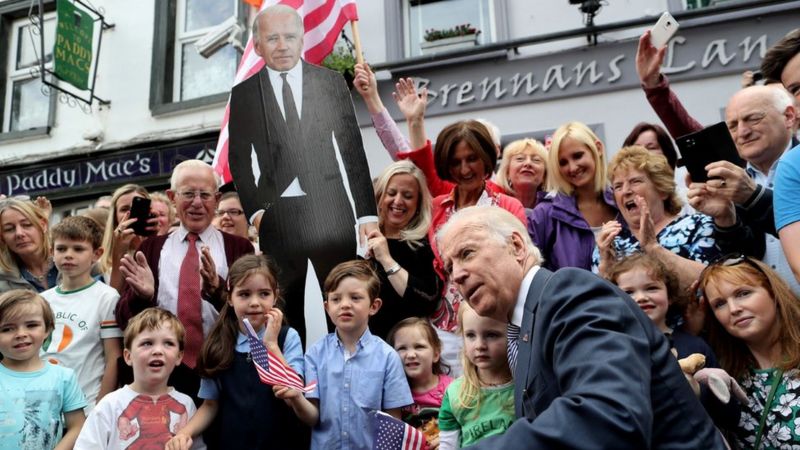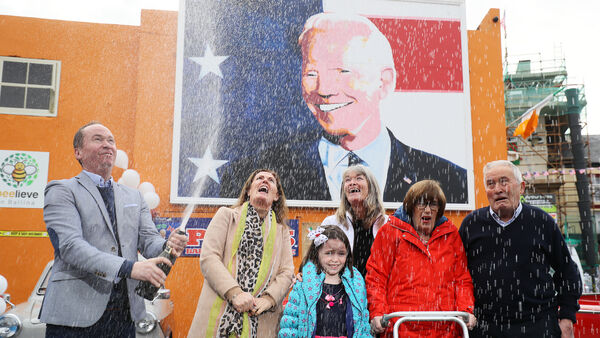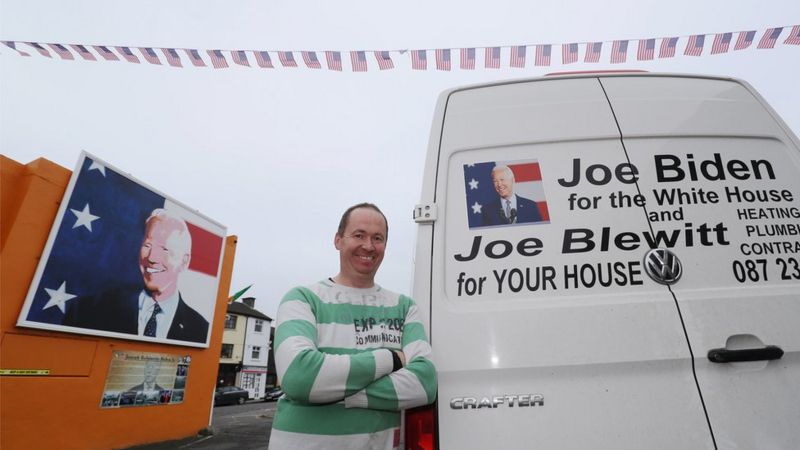 This is better news about R (from GOV.UK). It still only means that the UK rate is roughly flat-lining. We need to go way lower. It will surely rise again with December relaxation.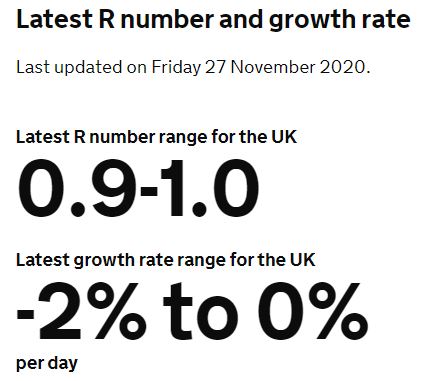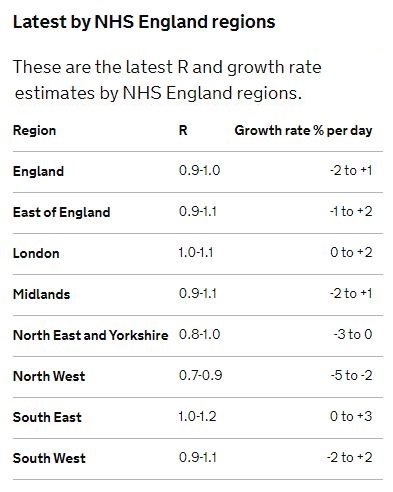 Thursday 26th November


Rishi Sunak has recognised the political suicide of "clap in spring, freeze in winter" and committed money to the NHS in the spending review.
More than a million doctors, nurses and other NHS workers will get a rise.
Health budget in England to rise by £6bn, including an extra £3bn for the NHS to cope with Covid pressures.
£1bn to tackle treatment backlogs and enable delayed operations to go ahead.
£500m for mental health services in England.
He outlined the gravity of the economic situation.
Economy set to contract by 11.3% in 2020, the largest fall for more than 300 years.
Unemployment is expected to reach 7.5% next spring, with 2.6 million people out of work.
Borrowing forecast to hit £394bn this year, equivalent to 19% of GDP, the highest ever in peacetime.
UK debt will be equivalent to 91.9% of GDP this year and rise to 97.5% in 2025-26.
I thought the UK debt-to-GDP ratio had gone above 100%, so that's better. In comparison, spare a thought for Greece, whose ratio is expected to reach 192% by the end of 2020. But there you can get a cracking calamari, chips and chilled retsina meal at a sunny harbourside taverna for €15 a head.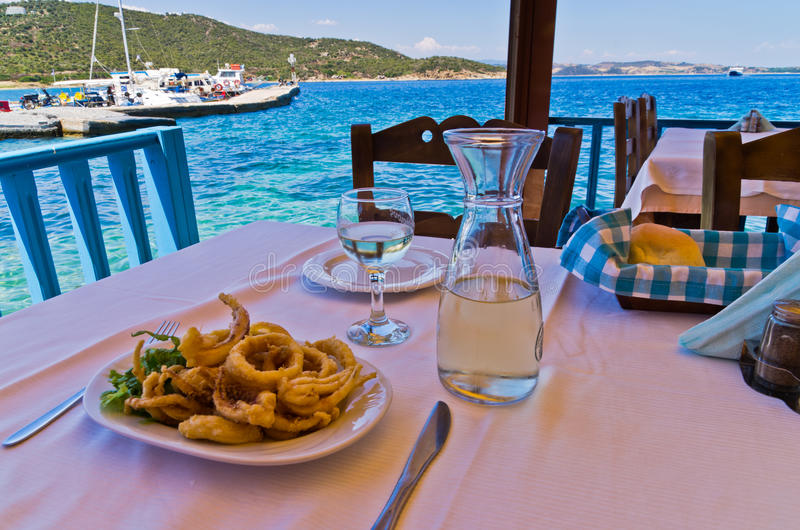 Wednesday 25th November


As Trump appears to begin to accept the Biden-Harris transition, he's still tweeting away.


"In Wisconsin, somebody has to be indefinitely confined in order to vote absentee. In the past there were 20,000 people. This past election there were 120,000 ... and Republicans were locked out of the vote counting process."

"Poll: 79 Percent of Trump Voters Believe "Election Was Stolen" They are 100% correct, but we are fighting hard. Our big lawsuit, which spells out in great detail all of the ballot fraud and more, will soon be filled. RIGGED ELECTION!"

"Should President Trump concede to Biden? Poll Results: No: 190,593 (98.9%) Yes: 2,181 (1.1%) Total Votes: 192,774. For the good of our Country we must prevail!"

"AMERICA FIRST!!!"


The source and accuracy of his statements are unclear. That's the most generous I can be. Three of these tweets were tagged with a Twitter platform warning:





In a pre-recorded speech for the virtual G20, which he allegedly left early to play golf, he said:


"The Paris accord was not designed to save the environment, it was designed to kill the American economy. I refuse to surrender millions of American jobs and send trillions of American dollars to the world's worst polluters and environmental offenders, and that's what would have happened."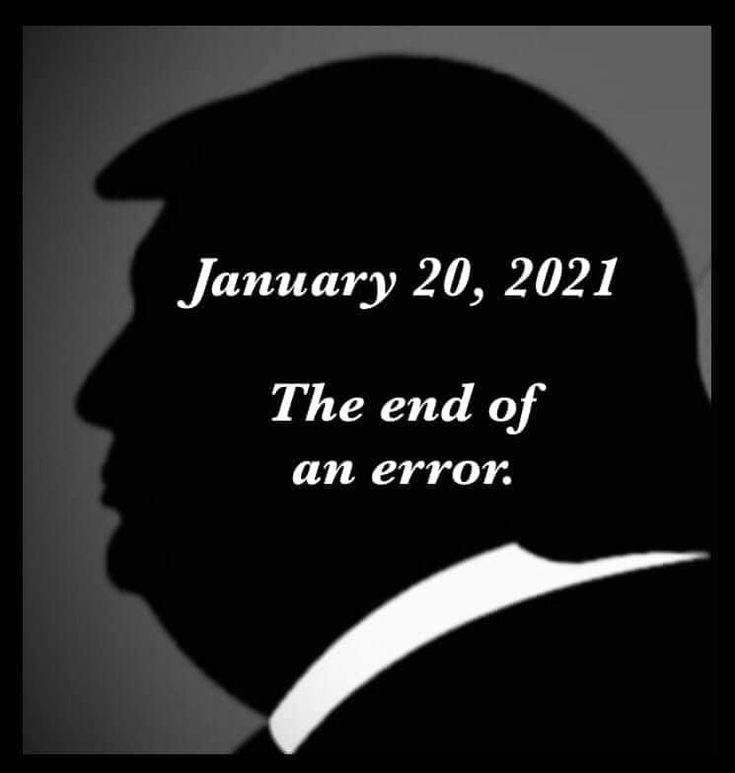 Tuesday 24th November


Time for a global update. Back to the FT's daily death toll "bulge" chart, for me a marvel of data visualisation. Click/tap to enlarge, then zoom as you wish.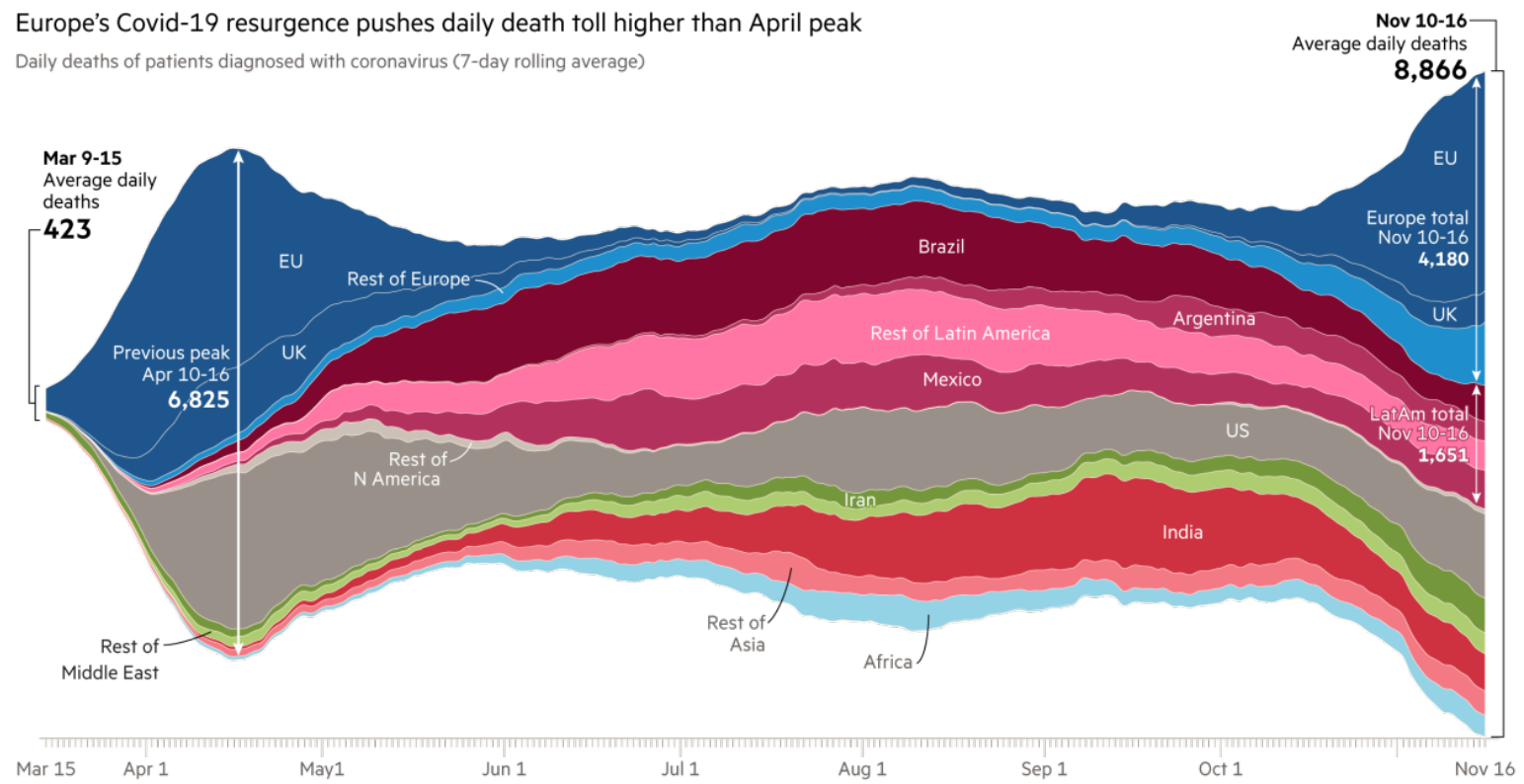 I'm quite shocked at what I see. The peak of daily deaths in mid-April was 6,825. In mid-November it was 8,866. A 30% increase from first wave to second. I hadn't realised how the European total had exploded in the last two months to 47% of global daily deaths. Compared with the middle of July, it's dramatic. I've been focussed on the US election with news of Trump's denial and neglect of Covid, yet the rate of increase there is significantly lower than in Europe. We have so far to go. It seems that proper lockdown is the only solution, at least for mortality if not for economies. What on earth will happen with planned relaxation in December and over Christmas? The vaccine reports are promising, although distribution is a worry; we haven't got a good record there.

Marvin Rees has used his Twitter feed and Bristol mayoral website to publish a piece on public sector pay titled "Clapping in spring, freezing in winter".


"After clapping for our keyworkers this spring, it appears that their wages will be cut in real terms this winter.

"There is no doubt that keyworkers in Bristol right across the public sector deserve a meaningful pay rise - rather than the freeze being discussed ahead of the Chancellor's spending review on Wednesday.

"Our care workers continue to look after the most vulnerable, police officers have patrolled our streets and, after building new temporary hospitals, our armed forces will surely support the logistics of rolling out any vaccine. Yet reports now appear that after clapping keyworkers in the spring, the Government will be cutting their wages in real terms this winter.

"For all their talk of not returning to austerity, and with councils facing a funding gap of billions due to broken promises during the pandemic, this Government risks repeating the economic mistakes of austerity - and making some five million people worse off in the process."


Looking back on my post about Covid debt two days ago, it's interesting that we are prepared to fund war (WWII close to 250% debt-to-GDP ratio, Napoleonic > 250%) but not deserving causes in "peacetime" with the aim of enabling a more just and equitable society, and in this case merited reward for those who lead the fight against the coronavirus.

Monday 23rd November


At some point in the night Sarah asked me, "What does 'COVID' stand for and why 19?" I thought I knew after all this time, particularly as my friend Brian Robathan had written a piece for this blog on the virus background (25th April), but on reflection decided I wasn't sure. What follows is a brief summary of some Google-digging. If unlike us you have been more inquisitive and know the answers, skip this.

"CO" stands for "corona", "VI" for "virus" and "D" for "disease". 19 comes from the date of the first reports of the outbreak in Wuhan in December 2019. The disease was also referred to as "2019 novel coronavirus" or "2019-nCoV", novel because it was a strain scientists hadn't seen before.

Coronaviruses are so named for the characteristic club-shaped spikes that project from their surface, which in electron micrographs create an image reminiscent of the solar corona, an aura of plasma that surrounds the sun (and other stars).

The name comes from the Latin and before that the ancient Greek "κορωνη" meaning garland or crown.

Arthur Schalk and M.C. Hawn in 1931 made the first detailed report of a new respiratory infection of chickens in North Dakota. New-born chicks were afflicted by gasping and listlessness. Well over half died. Human coronaviruses were discovered in the 1960s using two different methods in the UK and USA. E.C. Kendall, Malcolm Bynoe, and David Tyrrell working at the Common Cold Unit of the British Medical Research Council collected a unique common cold virus designated B814 in 1961. Dorothy Hamre and John Procknow at the University of Chicago identified a novel cold in medical students in 1962. They isolated and grew the virus in kidney tissue culture, assigning it as 229E.

That's it, I'm better now. Please feel free to go back to the crossword ;-)

Sunday 22nd November


The cost of Covid. My mind strayed back today to the underlying question, "How are we paying for this?" Government borrowing of course, the debt to be repaid by future generations.

Do you remember feeling smug when we saw Greece's Debt-to-GDP (Gross Domestic Product - the goods and products we've sold) ratio at 146.2% in 2010 when ours in the UK was still the right side of breaking even at 81.7%. Italy too was above at 115.4%. Flaky southern economies, we smirked. Even better was Japan at 207.9%. That'll teach 'em to flood our market with imitative motor cars, soulless motorcycles and mass electronic gadgetry.

We've now joined the "100 Club". Our Debt-to-GDP ratio is 100.8%. By the end of October 2020 the cumulative debt was £2,076.8 billion, up £276.3 billion since the start of the financial year. Lest we lose all hope, it's worth remembering that it has been much higher in the past; by this I mean the percentage ratio not the absolute sum of money ;-) In the 1920s and 1930s the ratio hovered around 150%. The post-WWII peak crept up to 250%. The debt went above that when paying for the Napoleonic Wars. We've always borrowed heavily to fulfil our financial obligations, whether unforeseen, planned or self-inflicted.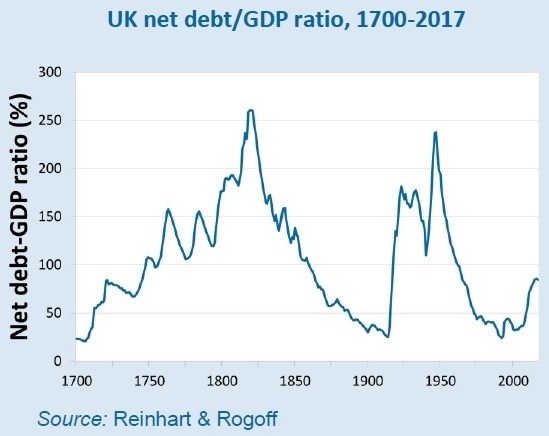 Saturday 21st November


Trump's election validity challenge fades every day. Georgia has gone; Republican Governor Brian Kemp signed the paperwork yesterday that officially grants the state's 16 electoral votes to Biden. Nevada too; Biden's victory was certified on Friday afternoon by Republican Secretary of State Brad Raffensperger. Michigan Senate Majority Leader Mike Shirkey and Speaker of the House Lee Chatfield, both Republicans, issued a press release: "We have not yet been made aware of any information that would change the outcome of the election in Michigan and as legislative leaders, we will follow the law and follow the normal process regarding Michigan's electors, just as we have said throughout this election." And so it goes on.

Meanwhile, Trump's Press Secretary Kayleigh McEnany accused the media and Democrats of hypocrisy:


"While in 2016 President Trump became the duly elected president, many sought to undermine him, discredit him, de-legitimise him and deny his victory. There were no calls for unity, there were no calls for healing. So while every legal vote is counted let us not forget the inexcusable transition, or lack thereof, that President Trump had to endure in 2016 and for years into his presidency."


It is so "poor me". Biden has called Trump's resistance embarrassing and irresponsible. I would add unedifying, self-obsessed, an insult. While Donald rages, this week the total number of Covid-19 deaths in the USA exceeded 250,000. On November 3rd election day there were 75,888 new cases. Today there are 184,191. Appropriately his oldest son Donald Trump Jr. has tested positive and been quarantining at his hunting cabin. Alongside his father and brother Barron demonstrating the effectiveness of the family's social distancing strategy.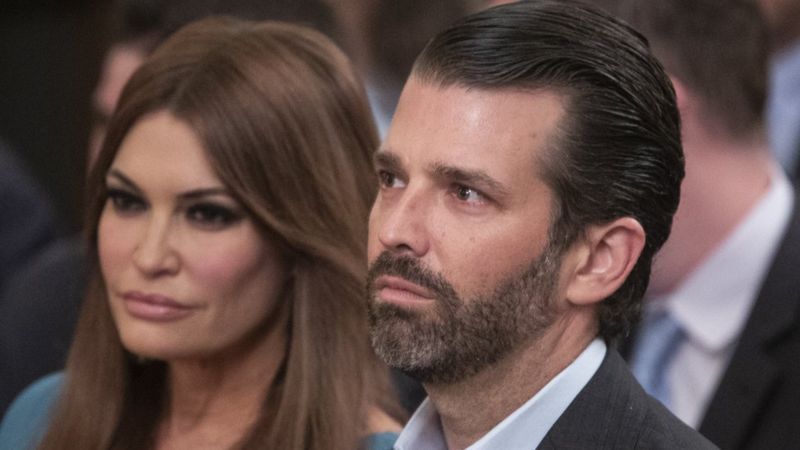 No, that's not Melania, it's Junior's girlfriend Kimberly Guilfoyle, who tested positive for the virus in July and recovered. Father and son go for the same look, don't they?

The election denial even passes a cost to the incoming administration. Biden tweets:

"Here's the deal. Because President Trump refuses to concede and is delaying the transition, we have to fund it ourselves and need your help. If you're able, chip in to help fund the Biden-Harris transition."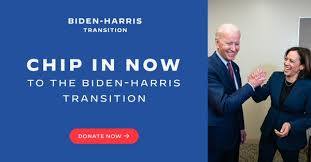 Friday 20th November


I can't settle on anything to write today. Of course there must be a suitable and important topic, but I'm stuck. So I'll have to post something else, scraped from obscure Twitter feeds.

A vet encourages a food-refusing dog to eat. Or it it Jay Leno?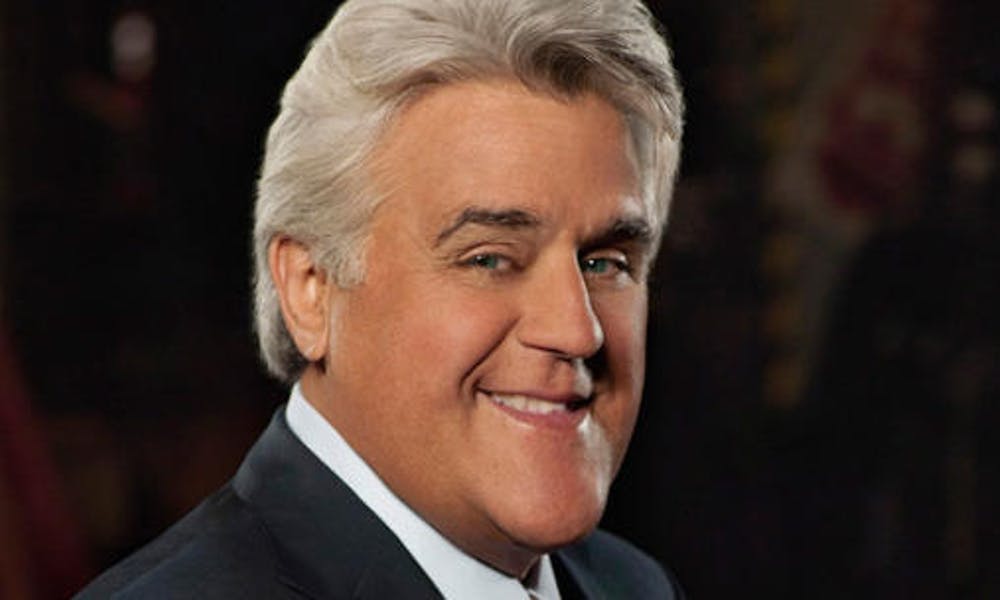 Now for a clever goat. This was tweeted by Sean Ono Lennon; he must be struggling too, with composer's block.




I thought, "Oh come on, he's just turned the camera on its side." But if you look closely, there's another black goat at the bottom left, standing upright on the ground partially hidden by vegetation. The video operator does turn the camera a bit, maybe a rotation of 20&deg. At the beginning the goat defies physics.

I'm sorry, this is where desperation takes you.

Thursday 19th November


Another Stroud (or wider region) chart. After coming bottom of the death toll table, the south-west is top of the house price increases. A pandemic-driven escape to the country.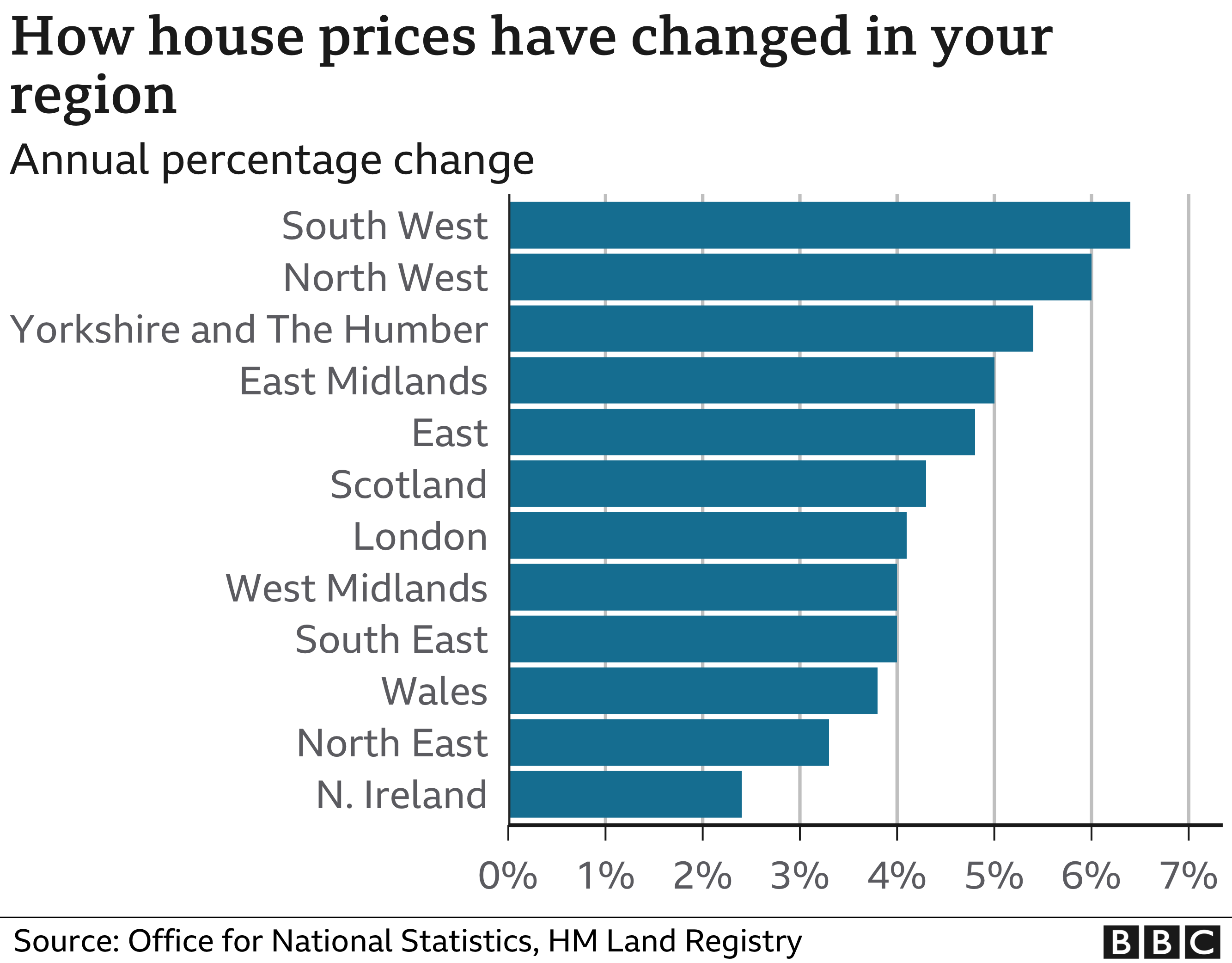 More on Covid and financial gain. After Spanish businessman Gabriel Gonzalez Andersson was reported to have made $28m brokering a PPE supply deal from China to the British government for Florida-based jewellery designer Michael Saiger, I've been following tweets from Jolyon Maugham, barrister and director of campaign group the Good Law Project.

"I wonder why anyone should bother working at all, when the government sprays around our taxes in this fashion. This is real money that will be paid for by the young, in future debt interest payments and higher taxes."

"Looking at the published contracts, the first two Saiger won are (1) for $42.68m of hand sanitiser and (2) for $43.71m of gloves, a total of $86m. $28m is quite a rake from $86m. And one assumes Saiger made profit too ..."

"The right question is, why did we buy, without any proper governance at all, and at all-time high prices, so much PPE, five years worth, that we are having to store it in fields in the middle of nowhere?"


Some people will make money out of anything, won't they? Snouts in the trough. Fingers in the till.

Keir Starmer challenged Johnson in the Commons:



Wednesday 18th November


On 1st June, when considering the future of public transport capacity amidst social distancing, I wrote, anxious about the wacky nature of my suggestion:


"Could we not develop a personal travel helmet with its own sealed air supply? Suitably sleek and portable. We're happy to wear a helmet if we ski or ride a motorcycle. Put it on before you enter the railway station or airport. Our defence is then a personal wearable item, not a piece of expensive infrastructure re-engineering. Two metres distance between travellers is no longer required."


Now inventors have gone and done it! Toronto-based Yezin Al-Qaysi has developed a PAPR (powered air purifying respirator). Valhalla Medical Design, based in Austin, Texas, has launched a product called NE-1.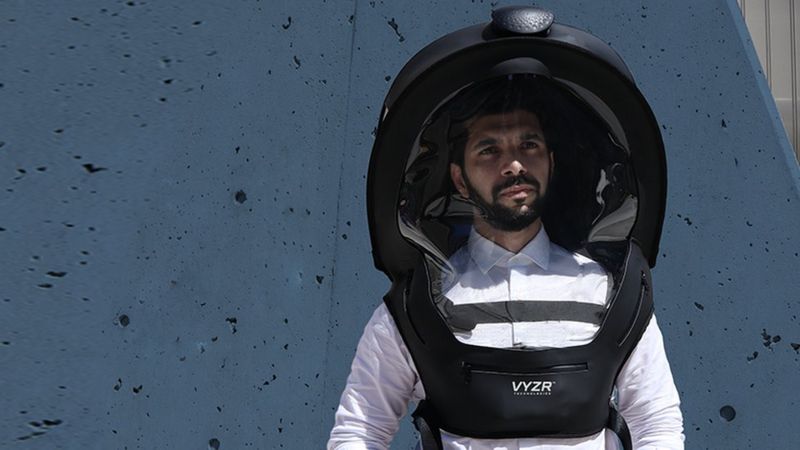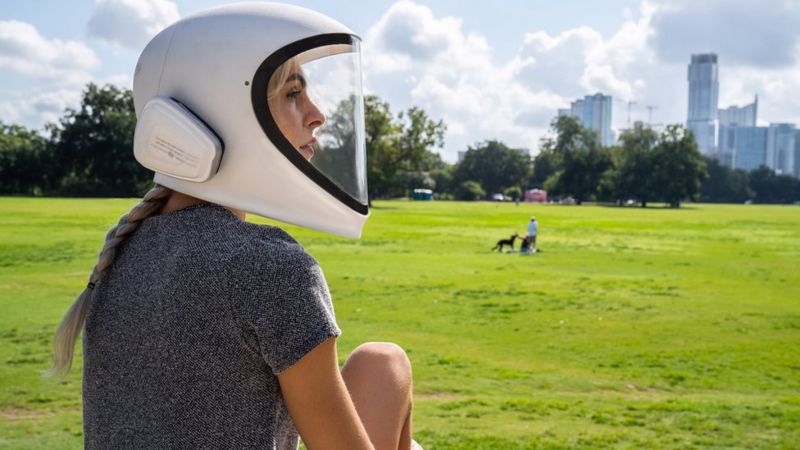 Barack Obama's new book "A Promised Land" is just out. The Guardian's review makes my point for me:


"To read Barack Obama's autobiography in the last, snarling days of Donald Trump is to stare into an abyss between two opposite ends of humanity and wonder once again at how the same country came to choose two such disparate men."


He made a video to accompany the launch. I love the fact that he acknowledges the difficulties of his early life and hopes that the young will gain strength from his story.




There's also a music playlist. Quite soft choices, but as far from Trump as you could imagine. There's a Bruce Springsteen number; Obama once said that he would never have entered politics if he could have been "The Boss". Space for the Beatles' "Michelle", of course.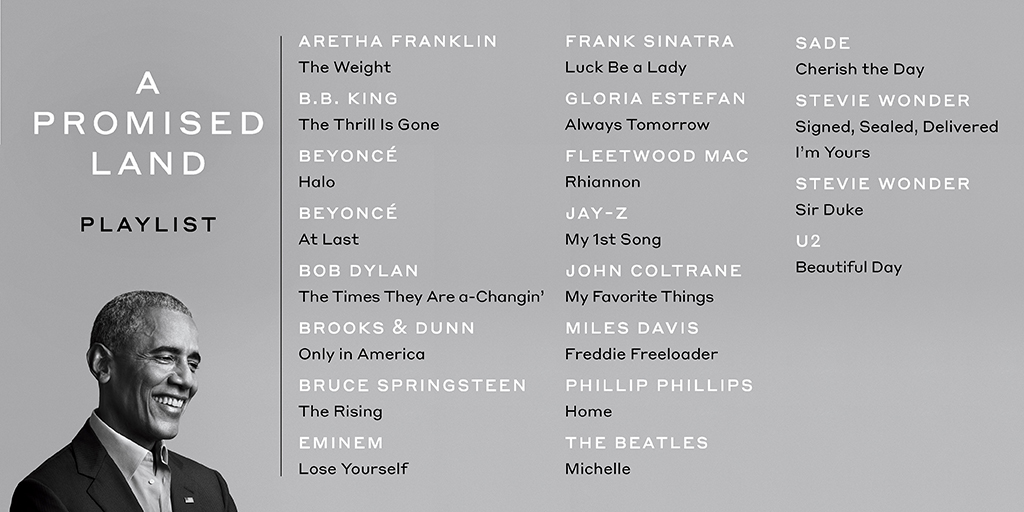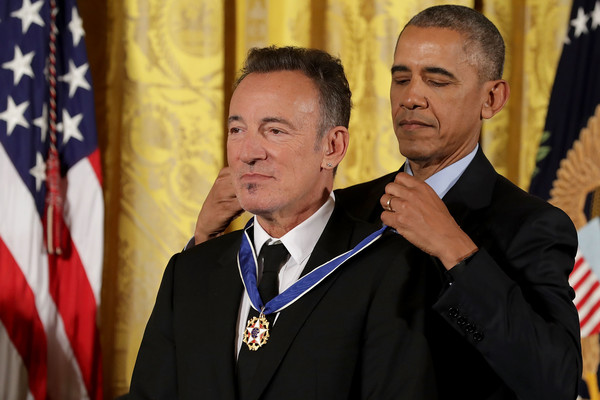 Tuesday 17th November


With lockdown comes more online shopping. I bought a new laptop yesterday from PC World, picked up via click n' collect. I can't get the external HDMI video connected. The next thing with Covid is that you use the telephone a lot more to get help. I've worked through the menu system at PC World and reached an extension that isn't answering. On to chat, which I usually find quite effective. After initial contact, nobody's paying any attention to me there: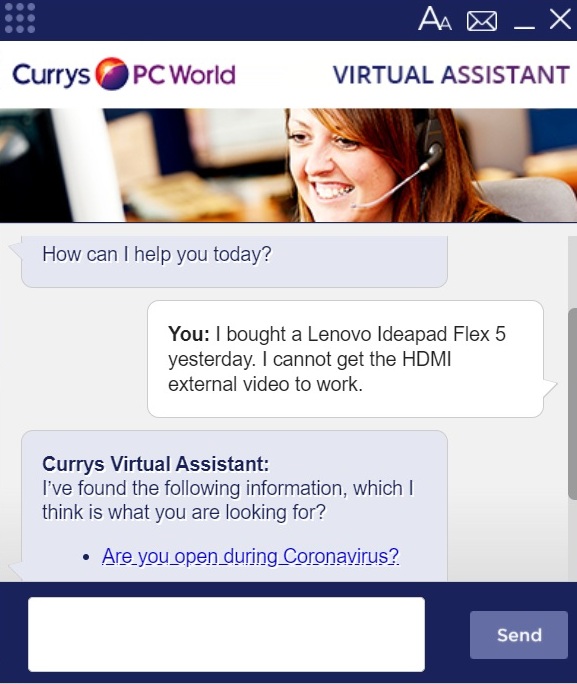 No, PC World, not the answer, nor a question I wanted to ask. Thrown back on my own devices (no computer pun intended), I've applied many of the zillion Windows updates that await a new installation (evidence that my purchase had been on the shelves for some time) and lo and behold, the external monitor is up and running. Looks very good too :-)

Monday 16th November


A different kind of post today. Something for a Brit to celebrate in these weird and gloomy times.

Formula 1's not very politically correct. Cars going round and round burning expensive fuel. Elite entry barriers, boys with rich dads, white- and male-dominated. Private planes flying all round the world.

I'm not even very interested in cars. But Lewis Hamilton is something else and I'd like to acknowledge him today. Seven World Championship titles (tied with Michael Schumacher), then the most in all these categories: wins (94), pole positions (97), podium finishes (163), points finishes (227), career points (3738) and points in a season (413). He's won 10 of 14 races this season and clinched the championship with 3 races still to go. The greatest of all time. First and only black driver in F1. Humble beginnings in Stevenage supported by his family. Critics say he's had the best car but he made the difficult decision to join the Mercedes project from the safety of Maclaren in 2013. His work with the Black Lives Matter movement this year has been very influential. He's not just a one-dimensional sportsman.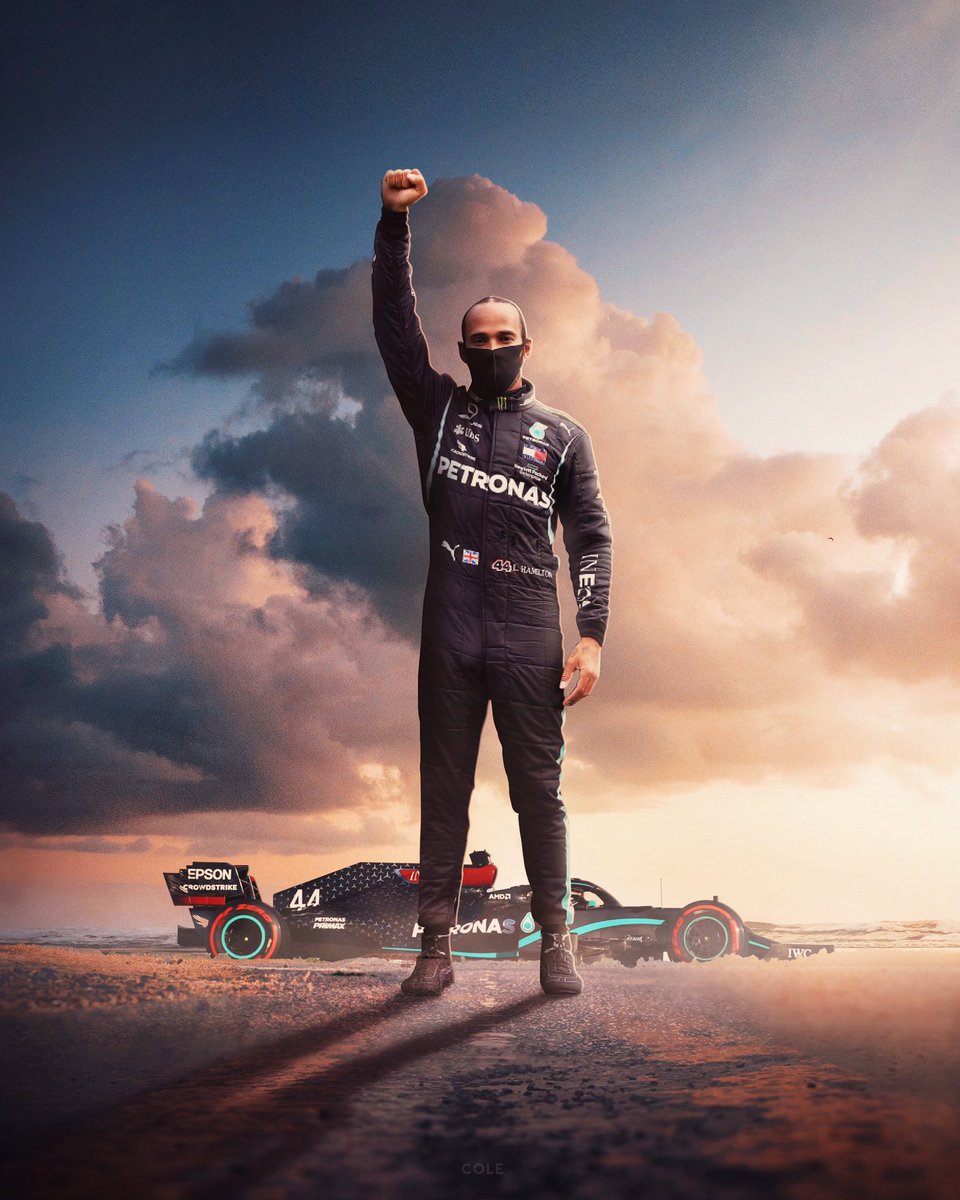 Friday 13th November


News fatigue this morning. Too much of the same. Denial in the White House, turmoil at Number 10, pandemic everywhere. Then we got ...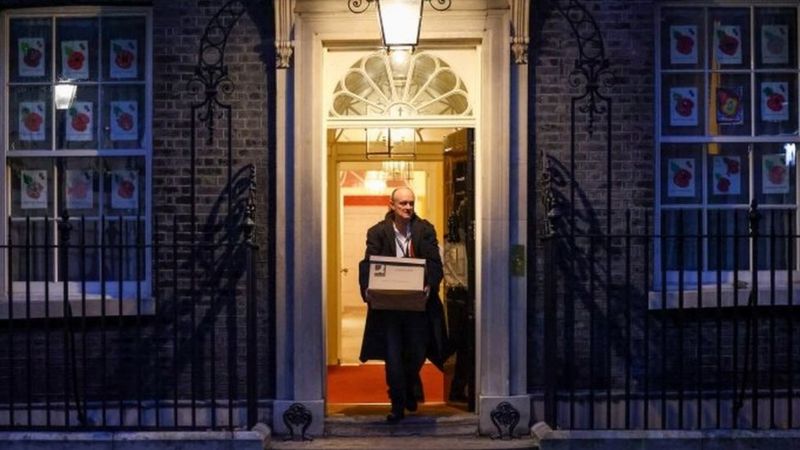 ... and ...




Better.

Thursday 12th November


On 17 March, Sir Patrick Vallance, the government's chief scientific adviser, said, "if we can get this [the number of UK deaths] down to 20,000 and below, that is a good outcome in terms of where we would hope to get to with this outbreak." Yesterday we hit 50,000, the 5th country to do so after the United States, Brazil, India and Mexico, with the bulk of the second wave still ahead.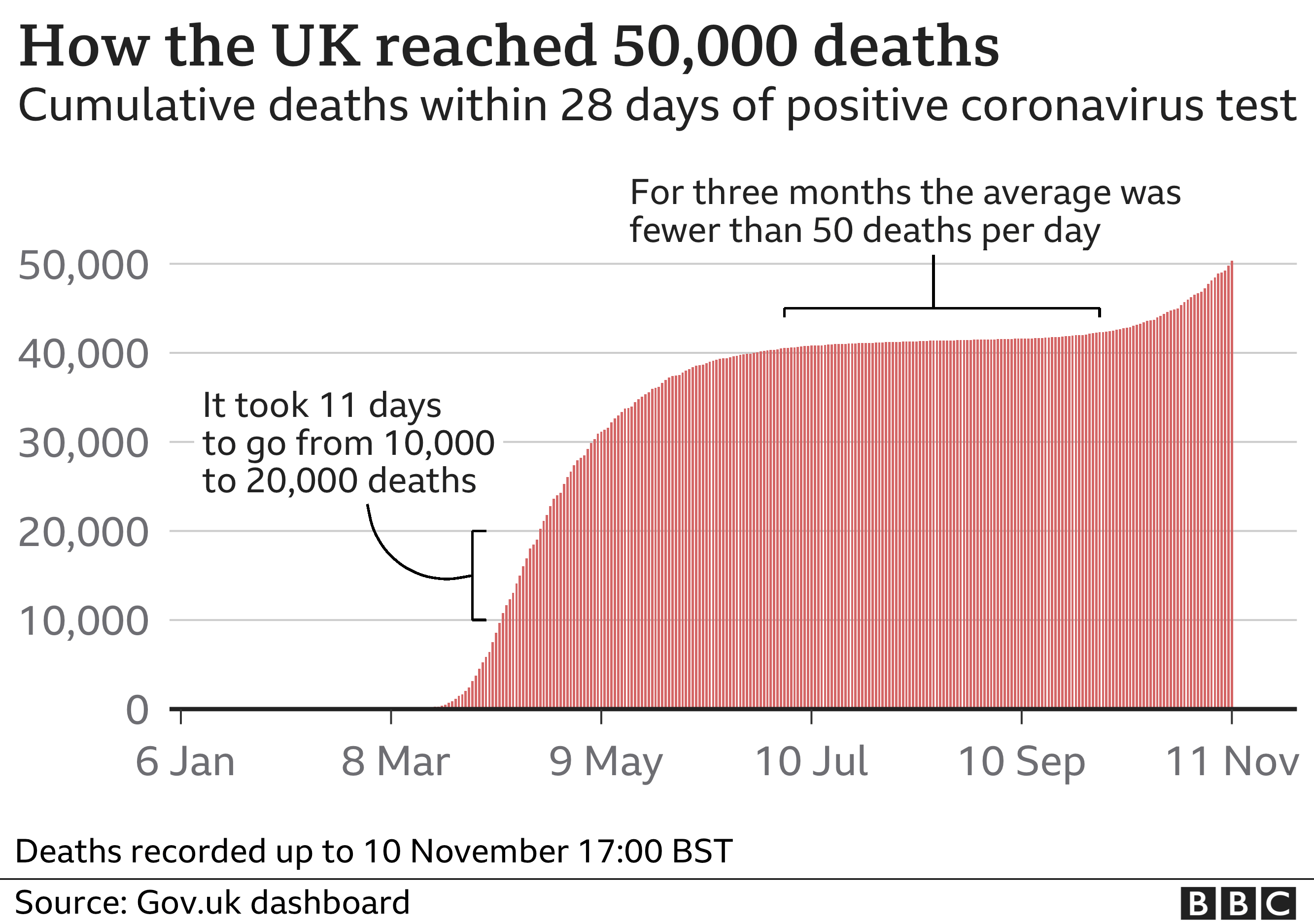 A terrible tally. I feel quite numb. So sad for so many families. It feels both distant and close, as you can't see the virus and I don't know those affected, yet the statistics don't lie. The young Kurdistani man living opposite who works in Stroud Hospital only 150 yards away tells me that there are a lot of Covid patients on the wards (he couldn't or wouldn't put a figure on it). We in the south-west are bottom of the fatality table.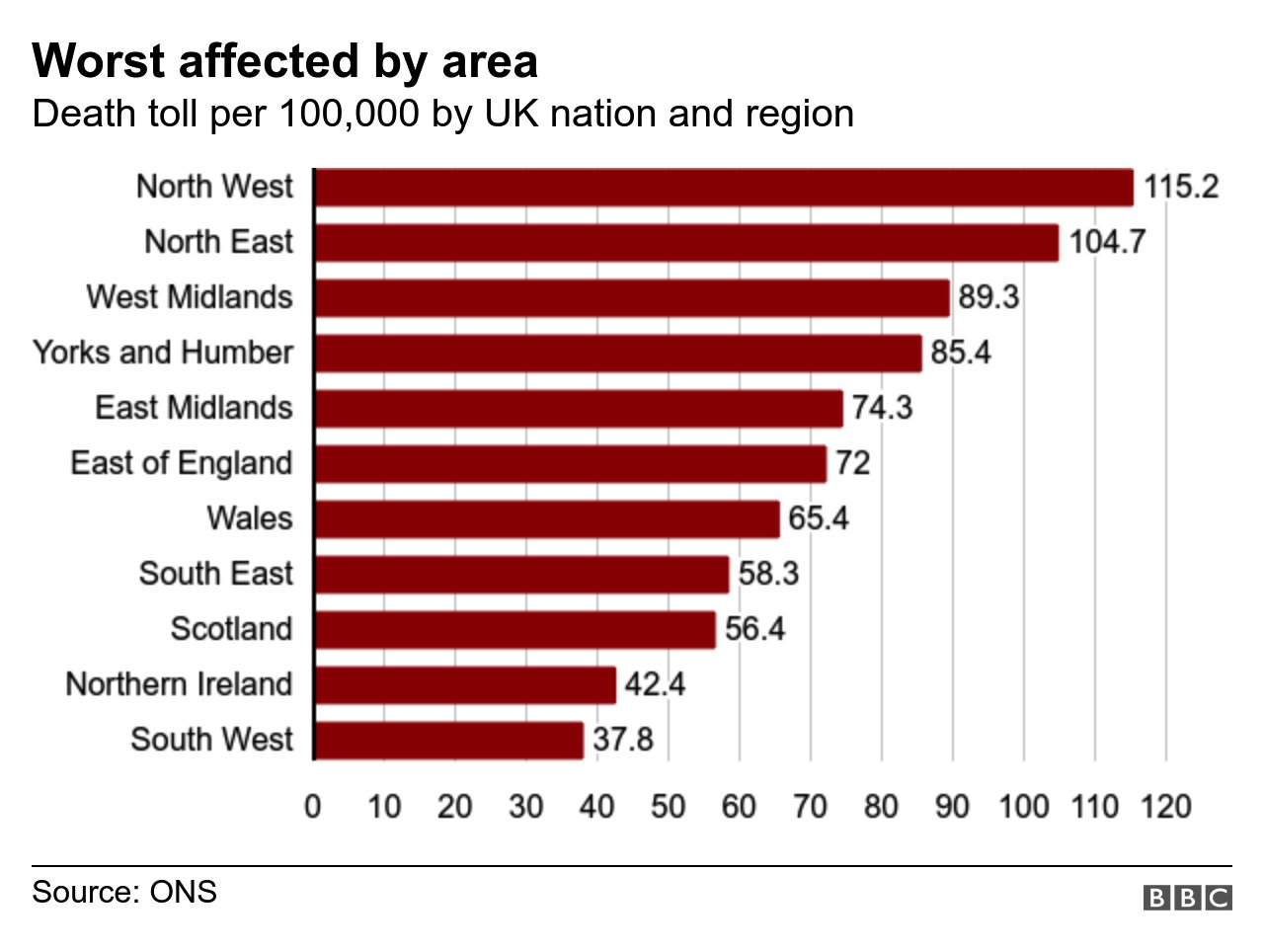 Wednesday 11th November


I wondered about the selection process for vaccine recipients and originally wrote a slightly whimsical piece, but took it down when I saw that James Gallagher, health and science correspondent of the BBC, had posted a brief explanation in a piece titled "Covid: Who will have the Pfizer vaccine first and when can I get it?"


In the UK, older care home residents and care home staff are top of the preliminary priority list. They are followed by health workers such as hospital staff and the over 80s. People are then ranked by age, with people under 50 at the bottom of the list. The first jabs may take place before Christmas if everything goes smoothly. The vaccine will be delivered through care homes, GPs and pharmacists as well as "go-to" vaccination centres set up in venues such as sports halls.


I'm still wondering where the data comes from. The NHS must have it all. I'd like to see the database query that extracts the result. Will other filters be applied, such as regions with the densest Covid risk? He's also missed people with co-morbidities - is that not taken into account? The vaccine's not compulsory, so we could refuse. It's a bit scary to accept a mini-dose of Covid. But perhaps that's a bit ungrateful.

There's a temptation to take your foot off the loud pedal. "Good, a vaccine's coming and we don't need to worry too much about lockdown." In truth, the pandemic is a continuing severe threat; just look at yesterday's 532 UK deaths or 1,263,844 fatalities worldwide. The pressure on the NHS is voiced by medics here.


"It's getting very busy. It felt like it had reached capacity last night and it looks like it's going to be worse - it's Covid on top of winter illnesses. As a team, I've noticed that we are bracing ourselves, and we are all coming down with aches and pains. We've talked about backache when we get home. There's just tension and we are all feeling it. The mood has changed. At the beginning it was "Come on we can do this!", but now it's "Have we got to do this again?""

"I went to live in a flat in Bradford for the first few months of the pandemic to be nearer the hospital, and because it was safer - my partner has multiple sclerosis and my daughter has learning difficulties and special needs, and I didn't want to take Covid back home. This time round I've got a caravan in between where I live in Lancashire and the hospital, so that I can be at the hospital quicker."

"When you run at something and think you're going to win it and you don't, you have nothing left really. But we know this is our life until we get a vaccine. There's a lot of stress, a lot of people off with episodes of work-related stress. The counselling we were getting ended in August, but in the last two weeks it started again, because I had staff just crying - staff texting me to say they're crying in the car, on the way home. It's the relentlessness of it. I've cried. You just cry as the day is over."

Tuesday 10th November


"Stop The Steal" is a right-wing conspiracy theory in the US supporting Trump in his claims of electoral fraud. It had a Facebook page, taken down on 5th November when the social media giant declared the group "organized around the delegitimization of the election process". It seems to me that Trump's proposed legal challenge is typical of the man. Disrespectful and self-obsessed. It casts doubt on the integrity of all the ordinary staff who counted the votes. It ascribes blame without evidence. I listened to a Trump fan on Emma Barnett's BBC Radio 5 Live's show this morning. He insisted that the claims came from "multiple people and multiple media outlets". Asked persistently by Emma to name any of these, he couldn't or wouldn't. He said that what mattered to him was that there was doubt and that the election result would not be valid until that uncertainty was cleared. The only thing that's close to certain is that the votes recorded were actually cast and that they are valid. It's like picking a fight with an imaginary opponent, triggered by an insubstantial vapour trail, flailing at thin air. In the meantime, it hobbles the transition.

Can Boris get anything right? His congratulatory tweet about Biden's election was corrupt. The mischievous website Guido Fawkes manipulated the colour saturation of the message to reveal the alternative Trump version behind. The words "Trump on his", "second term" and "on the future of this" are just visible within the red ellipses below, better if you click to enlarge.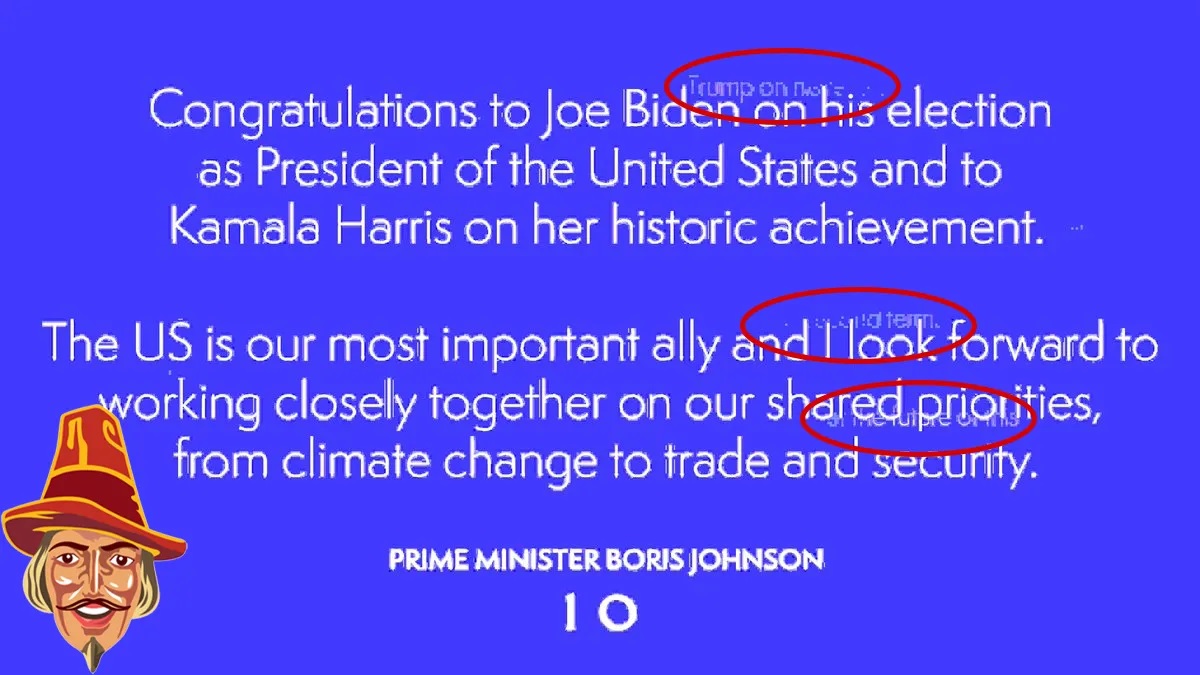 Even-handed, I suppose ;-) Unfortunate in the face of Boris' need to get on with Biden, who is reported to have called Johnson a "physical and emotional clone" of Trump last December. Others have been harsher. Former Barack Obama spokesperson, Tommy Vietor, tweeted: "This shapeshifting creep weighs in. We will never forget your racist comments about Obama [Ed: namely, the assertion that his "part-Kenyan heritage" had given him an "ancestral dislike of the British empire"] and slavish devotion to Trump."

Monday 9th November


I read that President Trump has gone quiet. He has no appointments in his diary for today. That sounds a bit ominous, but hopefully we can turn our attention from the USA back to the UK - or another part of the world.

It's time for an update on R.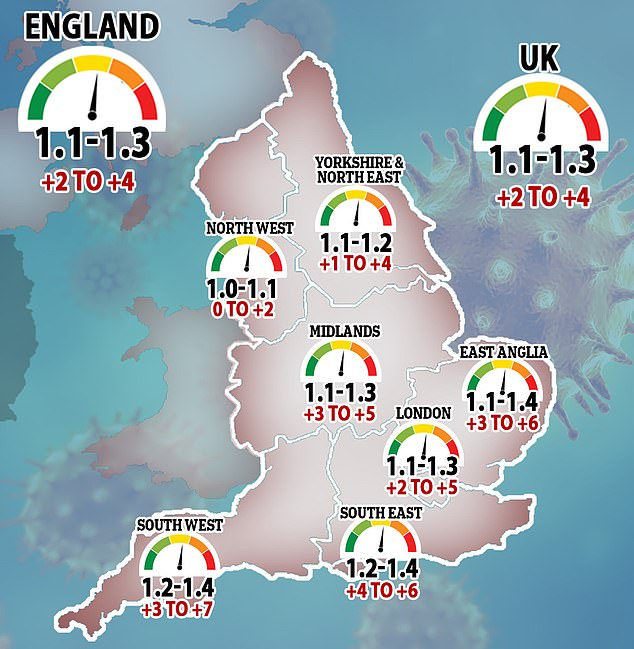 It's still the wrong side of 1, so remains in exponential growth territory. I sincerely hope lockdown will have an effect. We've known how to get R down for a very long time.

There's vaccine race news. Pfizer claims bragging rights. Here's today's New York Times report.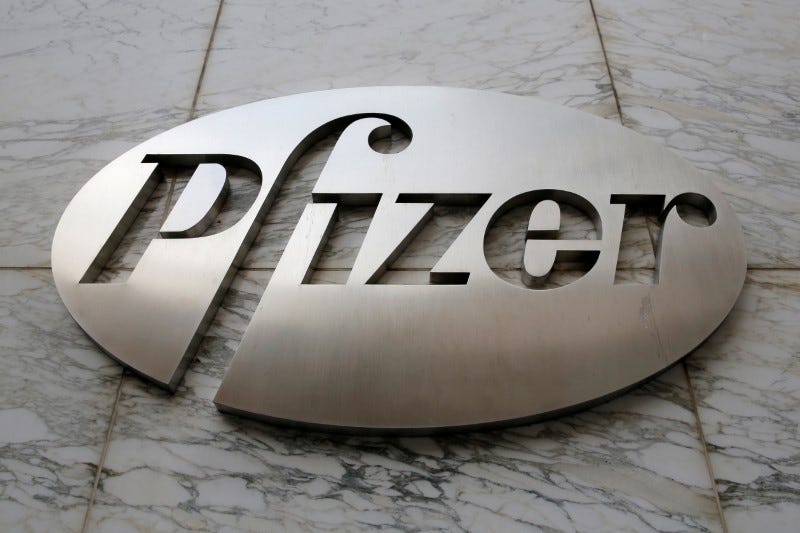 The drug maker Pfizer has announced that an early analysis of its coronavirus vaccine trial suggested the vaccine was robustly effective in preventing Covid-19, a promising development as the world has waited anxiously for any positive news about a pandemic that has killed more than 1.2 million people.

Pfizer, which developed the vaccine with the German drugmaker BioNTech, released only sparse details from its clinical trial, based on the first formal review of the data by an outside panel of experts.

The company said that the analysis found that the vaccine was more than 90 percent effective in preventing the disease among trial volunteers who had no evidence of prior coronavirus infection. If the results hold up, that level of protection would put it on par with highly effective childhood vaccines for diseases such as measles. No serious safety concerns have been observed, the company said.

Pfizer plans to ask the Food and Drug Administration for emergency authorization of the two-dose vaccine later this month, after it has collected the recommended two months of safety data. By the end of the year it will have manufactured enough doses to immunize 15 to 20 million people, company executives have said.

'This is a historical moment,' Kathrin Jansen, a senior vice president and the head of vaccine research and development at Pfizer, said in an interview. 'This was a devastating situation, a pandemic, and we have embarked on a path and a goal that nobody ever has achieved - to come up with a vaccine within a year.'

Independent scientists have cautioned against hyping early results before long-term safety and efficacy data has been collected. And no one knows how long the vaccine's protection might last. Still, the development makes Pfizer the first company to announce positive results from a late-stage vaccine trial, vaulting it to the front of a frenzied global race that began in January and has unfolded at record-breaking speed.


You can't keep the departing US administration from getting in on the act. Mike Pence tweets:

"HUGE NEWS: Thanks to the public-private partnership forged by President

@realDonaldTrump

,

@pfizer

announced its Coronavirus Vaccine trial is EFFECTIVE, preventing infection in 90% of its volunteers."


I'm sure vaccine evangelist Gates approves. Mind you, he's moving on to even bigger challenges. His new book is published on February 16th.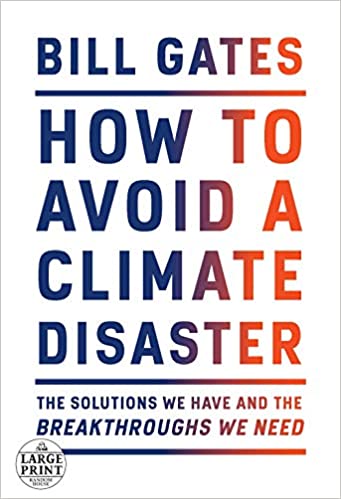 I'm glad to see that he acknowledges the older among us with failing eyesight.

I wonder if he's got a fix ready for world peace.

Sunday 8th November


It's all over bar the shouting ;-)

The relief is huge. Listening to Biden supporters, you hear an outpouring of the characteristics, values and aspirations that he represented to them: light, compassion, unity, healing, decency, equality, justice. Words you would never associate with the Loser (he's going to hate that tag).

The biggest concern is the damage he can do in the 73 dog-days of his presidency. His niece Mary Trump expressed her worry in an interview on Friday's Channel 4 News: "If he thinks he's going down, he's going to try to take the rest of us down with him."

He has indeed started shouting. Here's his tweet from last night, bellowed in all uppercase:


"THE OBSERVERS WERE NOT ALLOWED INTO THE COUNTING ROOMS. I WON THE ELECTION, GOT 71,000,000 LEGAL VOTES. BAD THINGS HAPPENED WHICH OUR OBSERVERS WERE NOT ALLOWED TO SEE. NEVER HAPPENED BEFORE. MILLIONS OF MAIL-IN BALLOTS WERE SENT TO PEOPLE WHO NEVER ASKED FOR THEM!"


I don't want to set much store in the marital condition of politicians - in fact, I feel a bit sleazy commenting, and who can ever really tell from the outside - but there is a visible and resonant difference between the Trump and Biden relationships. Joe and Jill appear to have a decent, respectful partnership. Melania is Donald's trophy wife.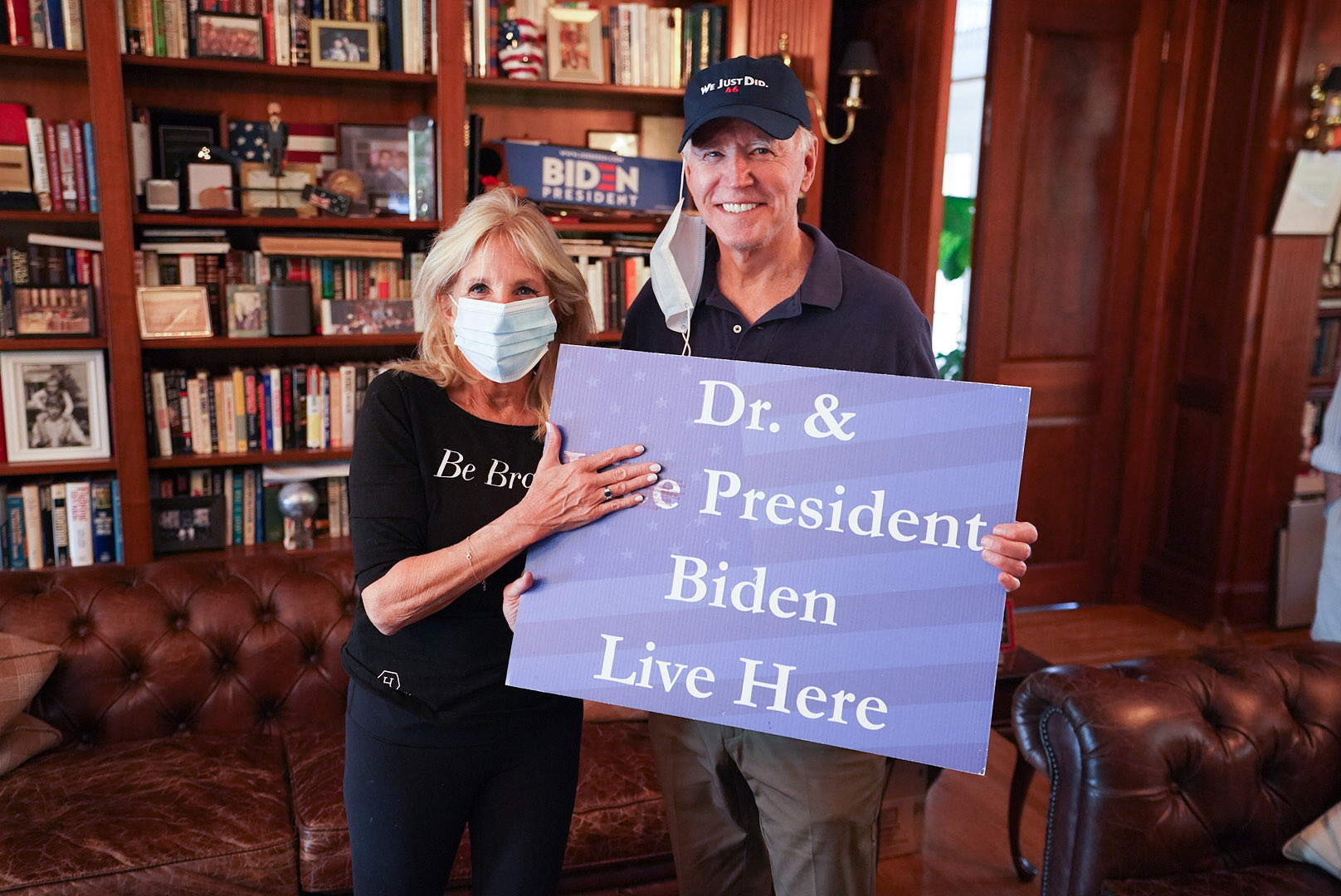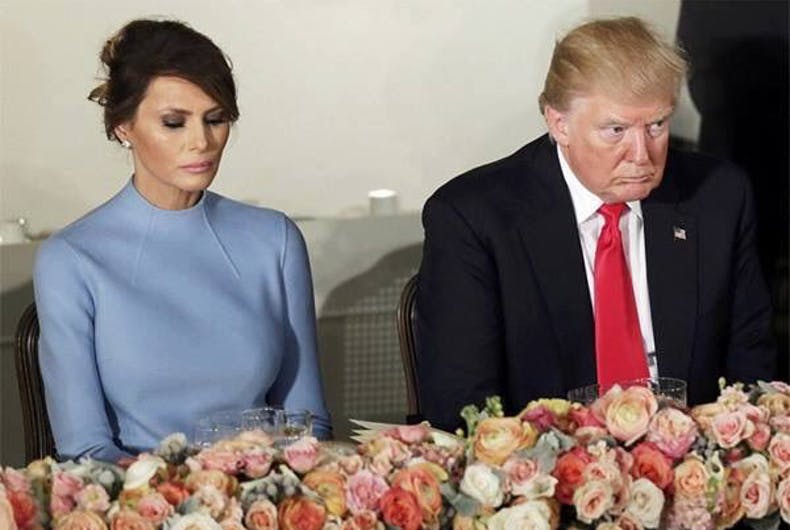 The Biden administration-elect even now looks more coherent and organised than its predecessor, although that's not hard. There is a transition website already fuller of policy detail than when I looked yesterday: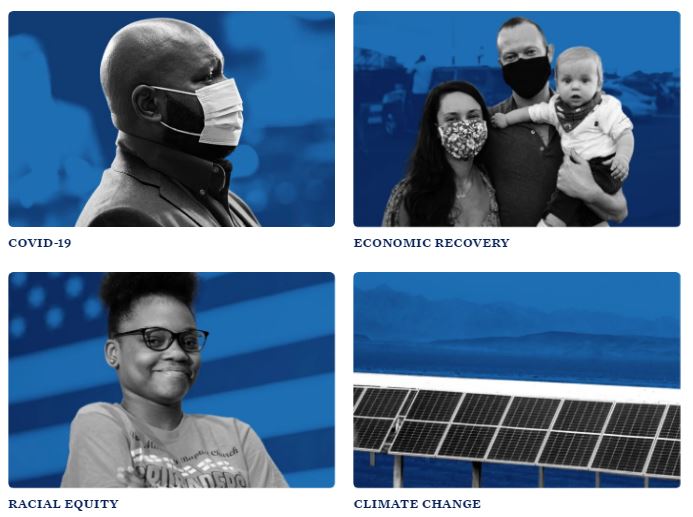 Oh the absurdity of our ruptured Union! The village of Llanymynech straddles the border between Powys and Shropshire. Bob Hedley of the Bradford Arms Hotel on the English side closed his doors on Wednesday and now looks across the road at The Dolphin pub in Wales preparing to reopen on Monday. Will English drinkers be allowed to travel?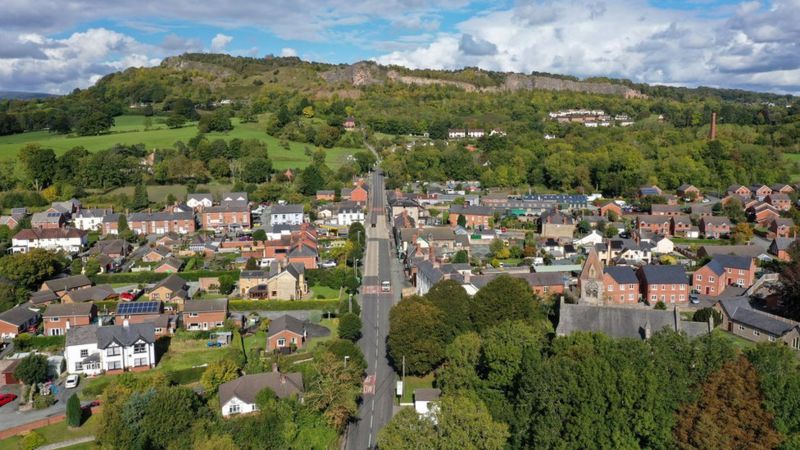 Saturday 7th November


Still waiting [at 9am, but see below]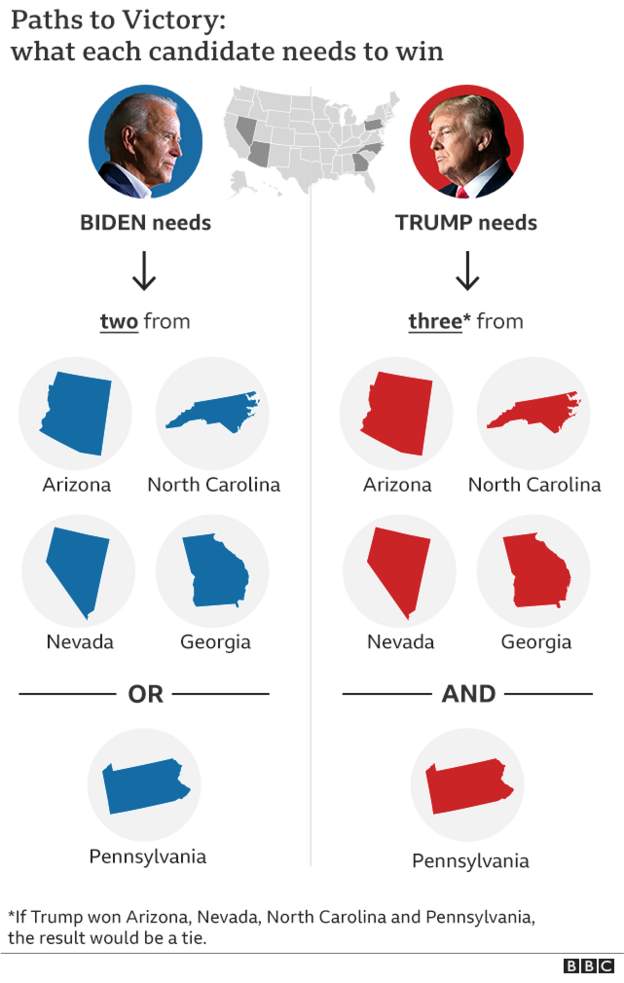 These campaigning flyers have dropped on our doormat.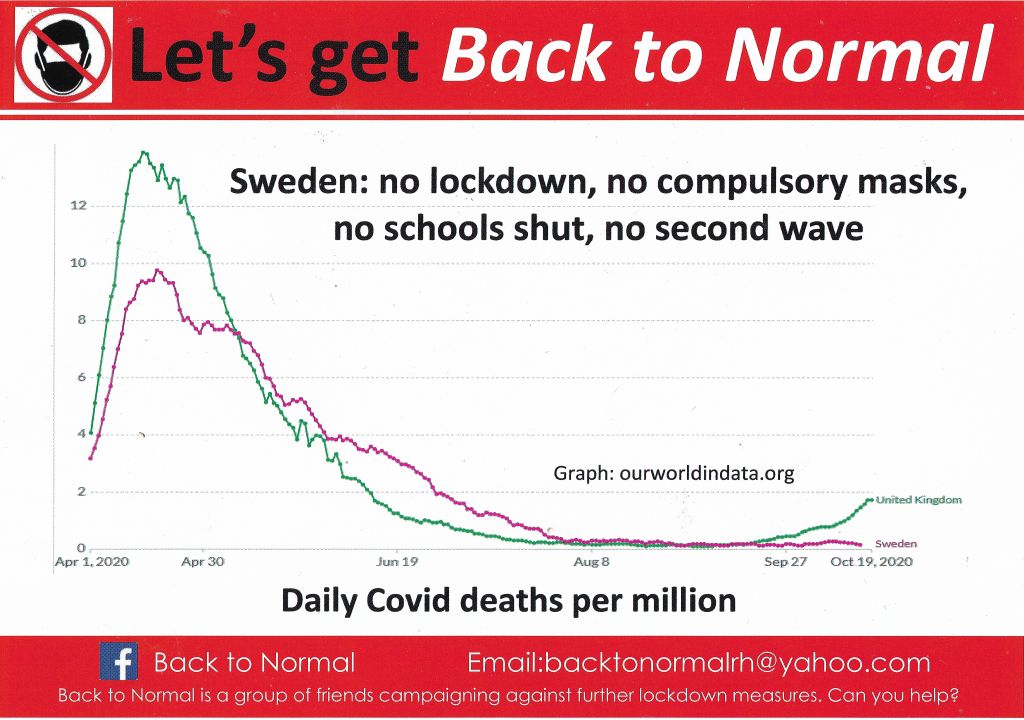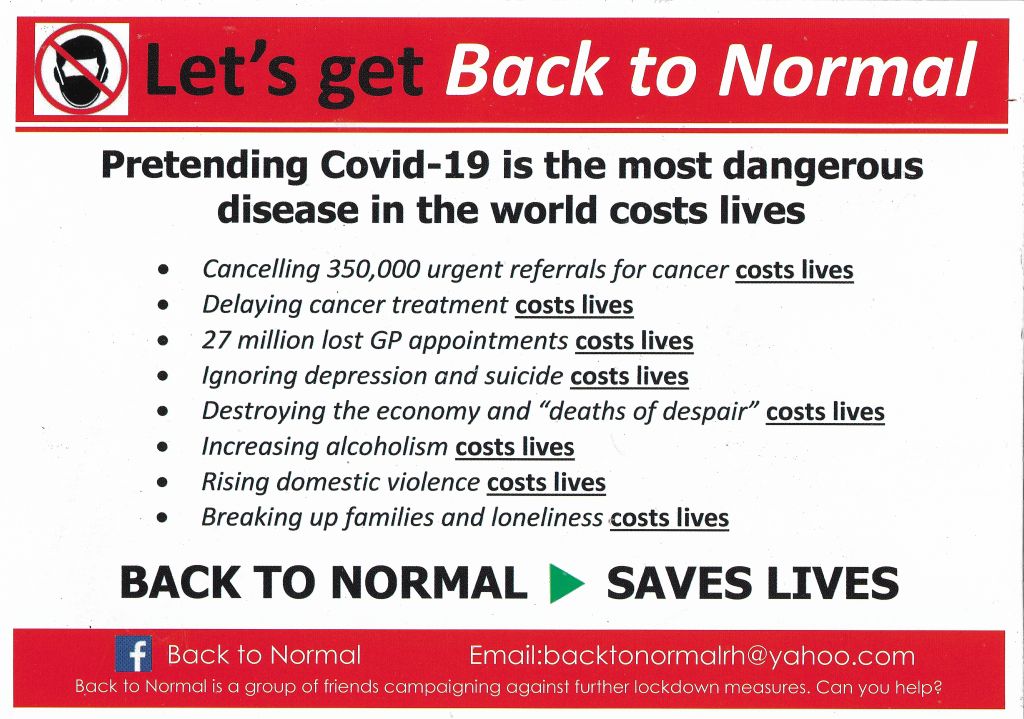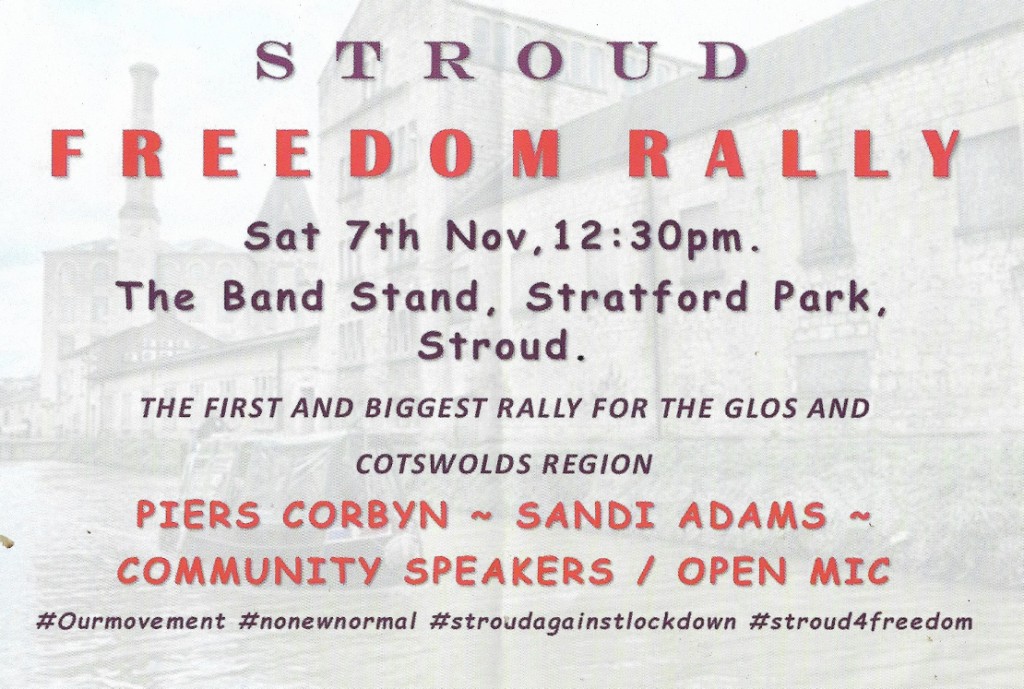 What can these people be thinking? In complete contrast, I've been re-reading Adam Hopkins' article of 22nd October on the VICE website titled "What It's Like Living in a Country Where Coronavirus Isn't a Worry". (Vice Media Group LLC is an American-Canadian digital media and broadcasting company). He has been resident in Taiwan, a country which has a remarkable record in this pandemic.


Taiwan announced its first confirmed case of COVID-19 on January 21 - a day after the United States confirmed theirs. Since then, the island nation has reported fewer than 600 cases and just seven deaths. Shops, cinemas, bars and clubs are open and the level of worry among the public is at a minimum. Daily life in Taiwan is a glimpse into the future: a "post-COVID" world in which precautions are still taken, but the fear of catching the virus, for many, is non-existent.

With almost 24 million residents and a population density of 671 people per square kilometre (far greater than the density of the UK or US), and not to mention its proximity to China, you'd expect Taiwan to have been hit far more severely by the pandemic. To sum up the success of Taiwan's COVID-19 response as simply as possible, it's down to preparation, proactive leadership and the willingness of the public to comply with all enforced virus prevention regulations. In 2003, Taiwan lost 73 lives to SARS - the highest mortality rate in the world from the virus. Since then, the country has been prepared for the next big outbreak and rolled out its response as soon as the first cases of COVID-19 were discovered in Wuhan last December.

Enforcing the wearing of masks on public transport, limiting the size of public gatherings, closing the borders to non-nationals and residents, and introducing mandatory 14-day quarantines for everyone entering the country, Taiwan managed to quickly curb the spread of the virus without the need for lockdowns or great change to everyday life.

For the majority of this year, life here has been, dare I say, normal. No known outside cases of the virus have infiltrated the local population for more than six months. Out of Taiwan's 548 confirmed cases (correct as of the 22nd of October), less than 100 of them have been transmitted domestically, with most coming from overseas. In the last few months, I've been to restaurants, bars, clubs, exhibitions, cinemas and gig venues, basically worry-free. Of course, it only takes one sick person in the wrong place at the wrong time to turn back the clock, but there are times here when you genuinely forget that we're in the middle of a global pandemic.

One strange side effect of living in Taiwan at this time is a weird sort of guilt. For a while, uploading a picture to Instagram of me at the beach or out for dinner caused a little pang of guilt in my stomach when I thought of those in other countries being unable to do the same. Obviously, I don't want to be going through any of the lockdowns or furloughs that come with a virus pandemic, but, at times, I can't help but feel that my freedom is undeserved.

Of course, my guilt is irrational and unnecessary. I'm not receiving any special treatment. I just happen to live in a country where those in charge and those living here took the situation incredibly seriously from day one. Taiwan is a glimpse into the future. A future where the virus still exists, but is being handled expertly, efficiently and empathetically.


We could have learnt from this. Why didn't one of our epidemiologists pick up a 'phone and talk to an expert in Taiwan? Surely they all meet at international conferences? Why didn't we in the UK listen to Gates' TED predictions of 2015 when he warned of the virus threat and advised preventative strategies? Instead, we faffed around and delivered half-cock measures reluctantly and late. Too busy with Brexit.



BREAKING NEWS!



BBC @ 16:45pm: "Joe Biden has won the race to become the next US president, defeating Donald Trump following a cliff-hanger vote count after Tuesday's election. The BBC projects that Mr Biden has won the key battleground of Pennsylvania, propelling him over the 270 electoral college vote threshold required to clinch the White House. The Trump campaign has indicated their candidate does not plan to concede. The result makes Mr Trump the first one-term president since the 1990s. The BBC's projection of Mr Biden's victory is based on the unofficial results from states that have already finished counting their votes, and the expected results from states like Wisconsin where the count is continuing."

CNN @ 17:00pm: "Joe Biden will become the 46th US President, CNN Projects, after his native Pennsylvania puts the Democrat over 270."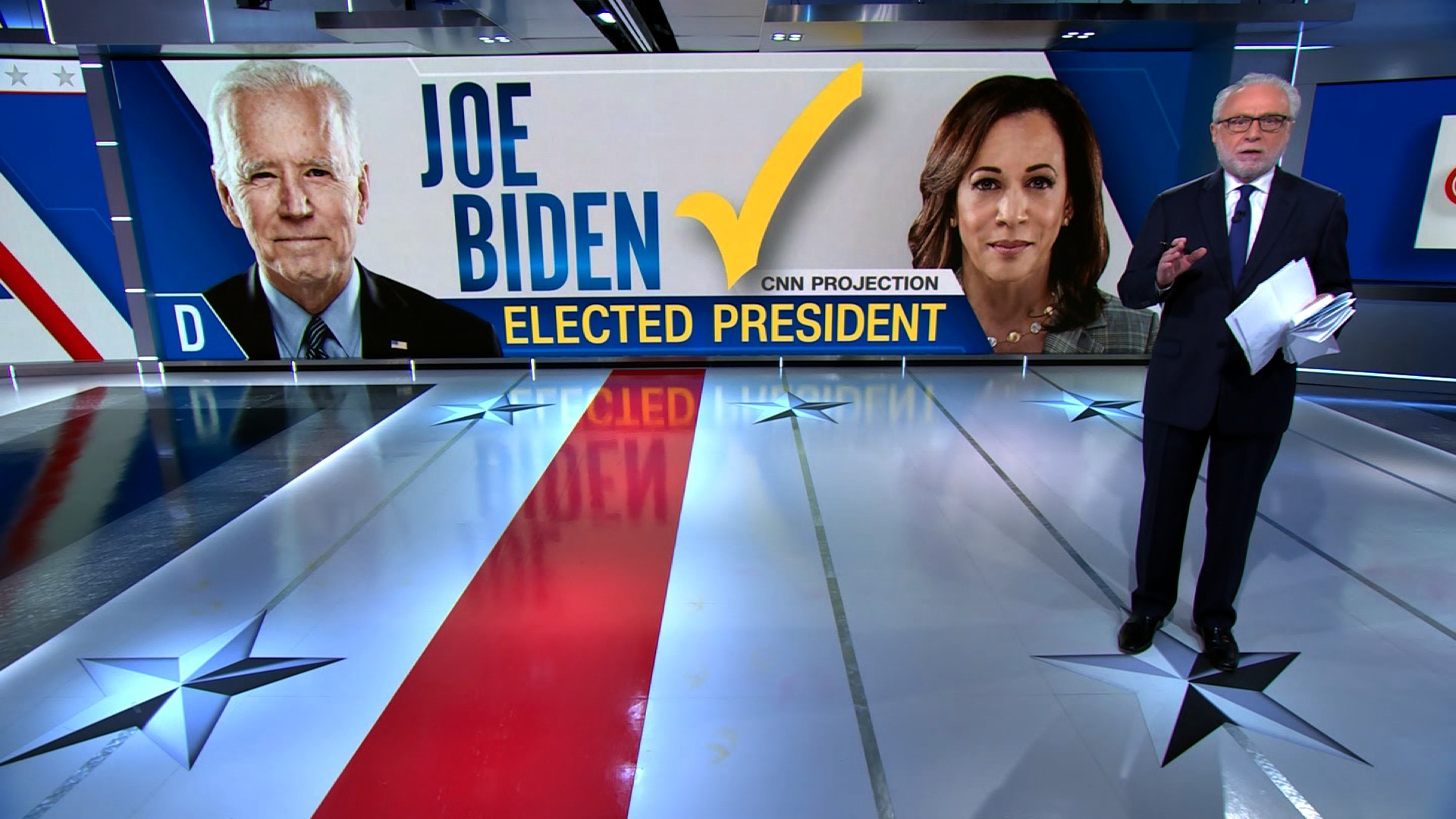 Joe Biden: "It's time to put the anger and the harsh rhetoric behind us and come together as a nation."

Kamala Harris: "This election is about so much more than Joe Biden or me. It's about the soul of America and our willingness to fight for it. We have a lot of work ahead of us. Let's get started."

Hilary Clinton: "The voters have spoken, and they have chosen Joe Biden and Kamala Harris to be our next president and vice president. It's a history-making ticket, a repudiation of Trump, and a new page for America. Thank you to everyone who helped make this happen. Onward, together."

Friday 6th November


Lovely sunny day. Very good sleep untroubled by gradually receding post-procedure pain. (I spare a thought here for my new friends in the ward at Cheltenham General who are still waiting for a conclusion to their visit.) It looks like Trump really isn't going to win; the BBC is projecting Biden 253 / Trump 214 after 44 states. Waking up to that news is a relief, such a contrast to the mornings after the Brexit vote and the Boris election victory.

Of course, it's still not officially over. These concluding days could be fascinating, where we see post-election shenanigans we've never seen before. Trump carries on challenging the current results:




Should Trump be confirmed as loser, what on earth will he dream up in the fag-end days of his presidency?

The student experience in new Covid lockdown is so sad. At Manchester University Fallowfield campus a 7-feet-high barrier was erected. What possible benefit was intended?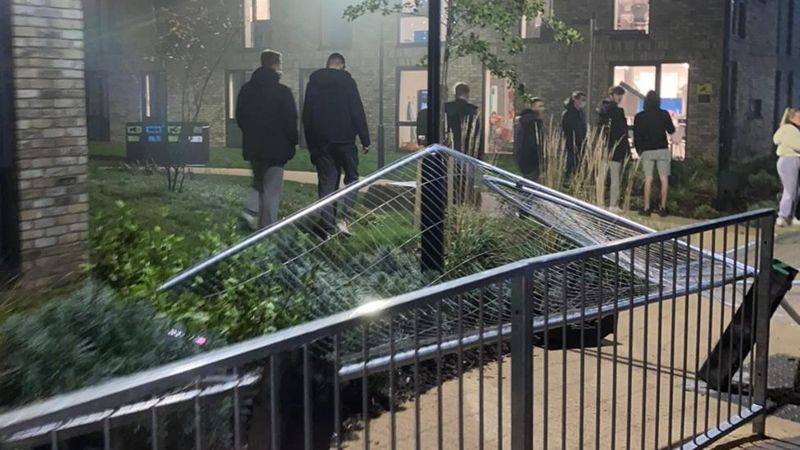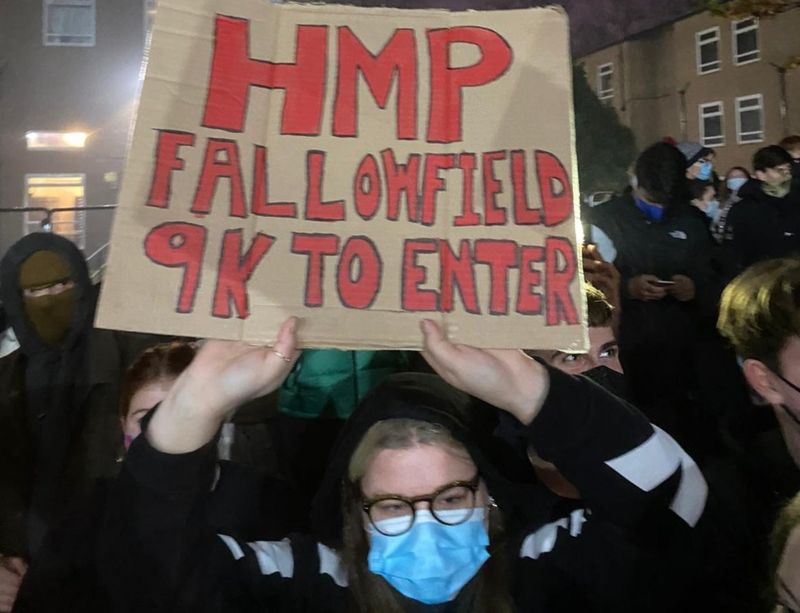 Comments from students:


"Morale is really low, we're really disappointed we didn't hear about this beforehand and about the fact it went up without any explanation. They're huge metal barriers, they're connected to one another and there's literally no gaps. There is fencing around the whole outside, we feel like it's completely unnecessary. It makes it feel like we're in a prison."

"It's not like living at home, we don't have a sofa, we have a kitchen and plastic chairs. There's no way you can relax there. You're in a completely different city and you do feel lonely there and trapped."


The fences (£11,000 to put up) have now been pulled down. The University of Manchester insists that they were to keep people out of the Fallowfield campus. Yeah, right. This pandemic scrambles the brains of many in positions of authority.

Observing Boris at yesterday's press briefing, I sensed that he's relieved to have declared another lockdown. At least it's something he can understand and remember. None of the complexity of three tiers.

BBC: "Biden appears close after taking the lead in Pennsylvania with 98% of votes counted. If he wins Pennsylvania, he wins the presidency."

Thursday 5th November


Happy Birthday to our lovely daughter Ellie!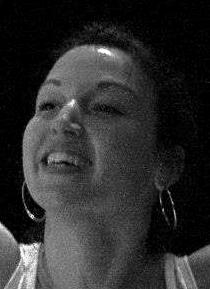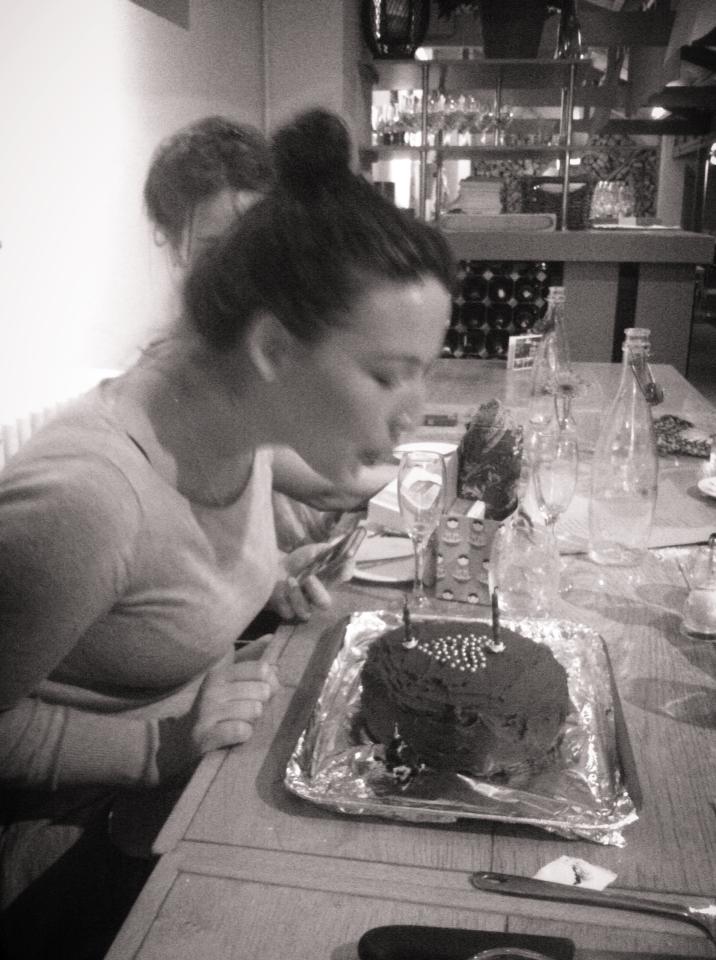 Shame that it's the first day of lockdown. I find this picture of last-ditch revellers in Soho significant. It's why we need the maximum restriction. That urge to get out in numbers in the face of a spiralling pandemic.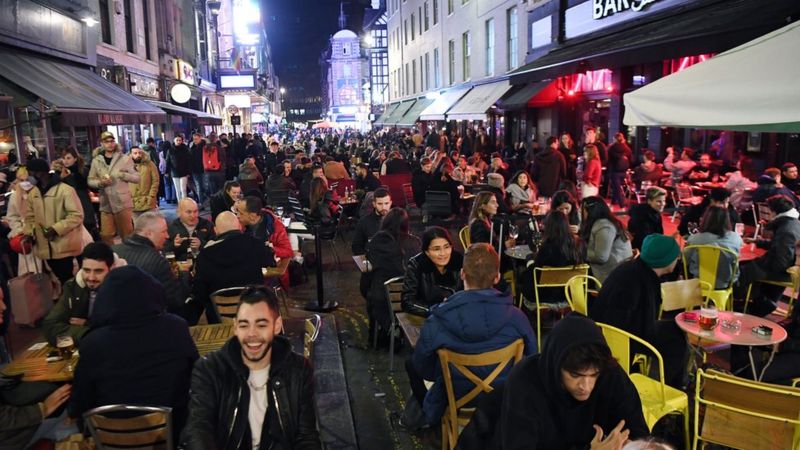 The US election drags to a close. Another component of our strange days. Trump rages away at the projected result. As Obama has said, the lowest (un-)presidential behaviour imaginable. Mind you, I still blame Obama for unintentionally goading Trump into running in the first place. That humiliating speech at the 2011 annual White House Correspondents' Association dinner. Watch Trump's face.




If Trump wants to go to court, here's the process: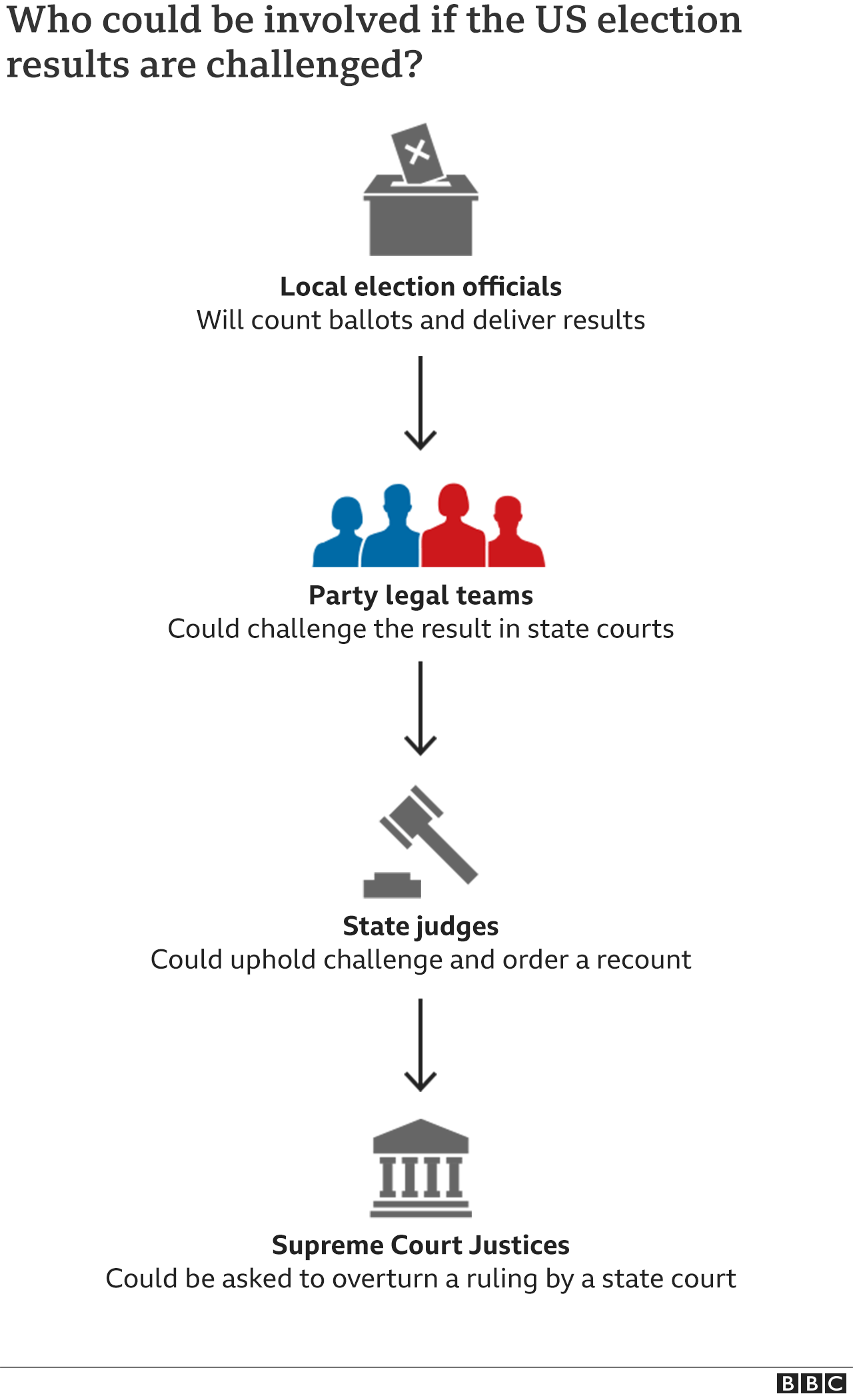 Wednesday 4th November


12:01am

I'm staying up late to watch BBC coverage of the US election.

One of the reasons I'm doing this is that sleep may be a bit difficult. My left shoulder is quite sore after the medics pushed the muscle around to fit the CRT-D. Not impossible pain but nagging. The great news is that the op is over. I've been looking ahead at this event for a while. Now it's behind me except for recovery and adjustment. I'm back on the ward without a heart monitor attached. My last cannula has been taken out; unless something untoward happens, I don't need any medication drips. I'm expected to go home today at 2pm. Before lockdown :-)

02:45am

That's good. I must have dropped off for a couple of hours.

Far too early to get a picture. BBC: "Fox News is projecting that Democrat John Hickenlooper has unseated Republican incumbent Cory Gardner for US Senate. The Colorado race marks the first flip of a Senate seat: Republican to Democrat." There you are, it's going to be Biden ;-)

06:35am

Phew. That's the night sorted. Shoulder pain manageable.

Still too early to tell. The press coverage is all fluff and prediction. Trump 11, Biden 3 in terms of electoral college votes secured already? I'm interested to see the strength of the Latino Trump vote in Florida; Cuban-American fear of socialism. Texas and 38 college votes projected for Trump.

11:20am

I've been trawling through Trump's Twitter feeds. Yes, some of it is quite odd, mostly grim.


"A vote for Sleepy Joe Biden is a vote to give control of government over to Globalists, Communists, Socialists, and Wealthy Liberal Hypocrites who want to silence, censor, cancel, and punish you. Get out and VOTE tomorrow!"

"The Amish are not playing around today:"



"A parade for me in Nigeria, a great honor!"


15:15pm

The Biden camp is beginning to express optimism, 224 to 213.

Slovenia's Prime Minister Janez Jansa - a close ally of Hungary's Viktor Orbán - disagrees. He has tweeted:

"It's pretty clear that American people have elected

@realDonaldTrump

@Mike_Pence

for

#4moreyears

. More delays and facts denying from

#MSM

, bigger the final triumph for

#POTUS

. Congratulations

@GOP

for strong results across the

#US

."


Trump is cranking up his cry-fraud response:


"Last night I was leading, often solidly, in many key States, in almost all instances Democrat run & controlled. Then, one by one, they started to magically disappear as surprise ballot dumps were counted. VERY STRANGE, and the "pollsters" got it completely & historically wrong!"


16:10pm

Got my marching orders and discharge papers. Sarah's picking me up at 5pm. As ever, big thanks to the NHS. What an organisation. Unbelievably skilled and committed staff: consultants, nurses, health care assistants, domestic auxiliaries, porters. I shudder at how much it has cost to keep me going, starting with the 20k CRT-D.

19:15pm

Home before lockdown :-) Last diners at Toni's Kitchen over the road. Stroud youth is on the move for the final gasp of freedom. Crackle of fireworks. The corner shop strong lager lags are barking at each other and the stars. Good to be back ;-)

Trump keeps on tweeting:

"How come every time they count Mail-In ballot dumps they are so devastating in their percentage and power of destruction?"

"They are finding Biden votes all over the place - in Pennsylvania, Wisconsin, and Michigan. So bad for our Country!"

"Wow! It looks like Michigan has now found the ballots necessary to keep a wonderful young man, John James, out of the U.S. Senate. What a terrible thing is happening!"

Tuesday 3rd November


Can we really hope that Biden will oust Trump? It's very close. I normally put a small bet on things that I don't want to happen, like Wales beating England at rugby, so that if we lose the pain is eased by taking the family out for Sunday lunch. The best odds for Biden among UK bookmakers are from William Hill at 8/15. Betfair and Paddypower have the best for Trump at 15/8. It's not worth betting at that level of return. Anyway, the hospital network blocks access to any sites related to betting. My bedside neighbour Martin tells me it's because gambling is an addiction, although that's not the explicit error message: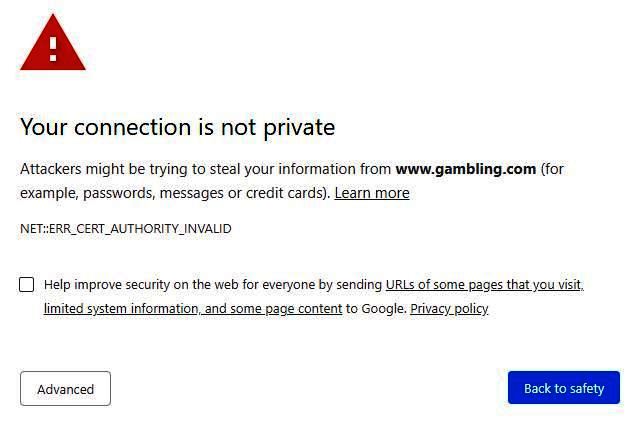 A big concern is that Biden is not much of a Democratic candidate. He lacks oomph and coherence. Is he really the best the party can offer? Turning 78 this month, he's too old to be starting this job. OK, Trump is 74, but the median age upon accession to the presidency is 55 years. Even Ronald Reagan was only 69. I'm surprised that the young Joe Kennedy III hasn't been brought forward by the Democrats. Then I find out that he challenged Senator Ed Markey for the Democratic primary nomination in the Massachusetts U.S. Senate election - and lost, on 1st September 2020. Who's Ed Markey? Kennedy is the first member of his family to lose an election in Massachusetts. It seems that Kennedy lacked clarity in his reasons for running and Markey, a 44-year incumbent, had unexpected support from progressive and young voters who were the very target of his opponent's campaign. Maybe the Kennedy name is viewed with suspicion now, representing old Irish Catholic wealth and clannishness. Joe's net worth is ~$43 million, making him among the richest members of Congress. Perhaps it's for the best. I fear that a gun-toting Trump fan might have had a pop.

If Trump doesn't win, what might happen? Will he challenge the result? Will there be civil unrest? We hear that Trump is creating "Fortress White House" with a "non-scalable fence". Retailers are boarding up their shops.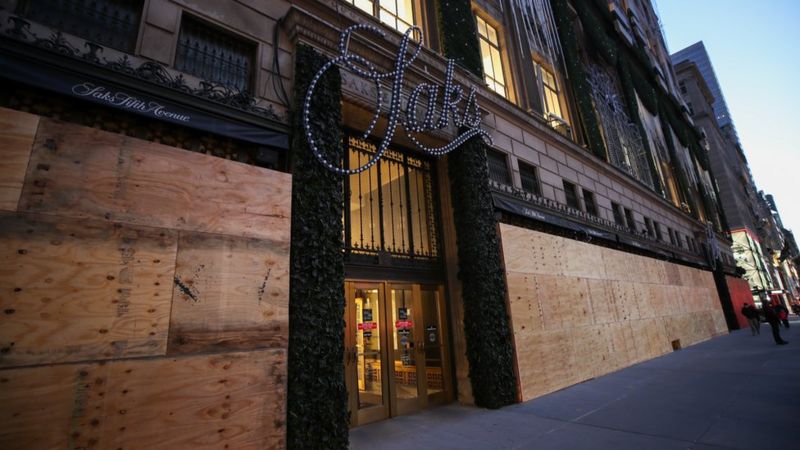 12:30pm - Pacemaker procedure booked for this afternoon. It's a bit cruel of somebody to ignore the sign and leave a banana when I'm not allowed to eat.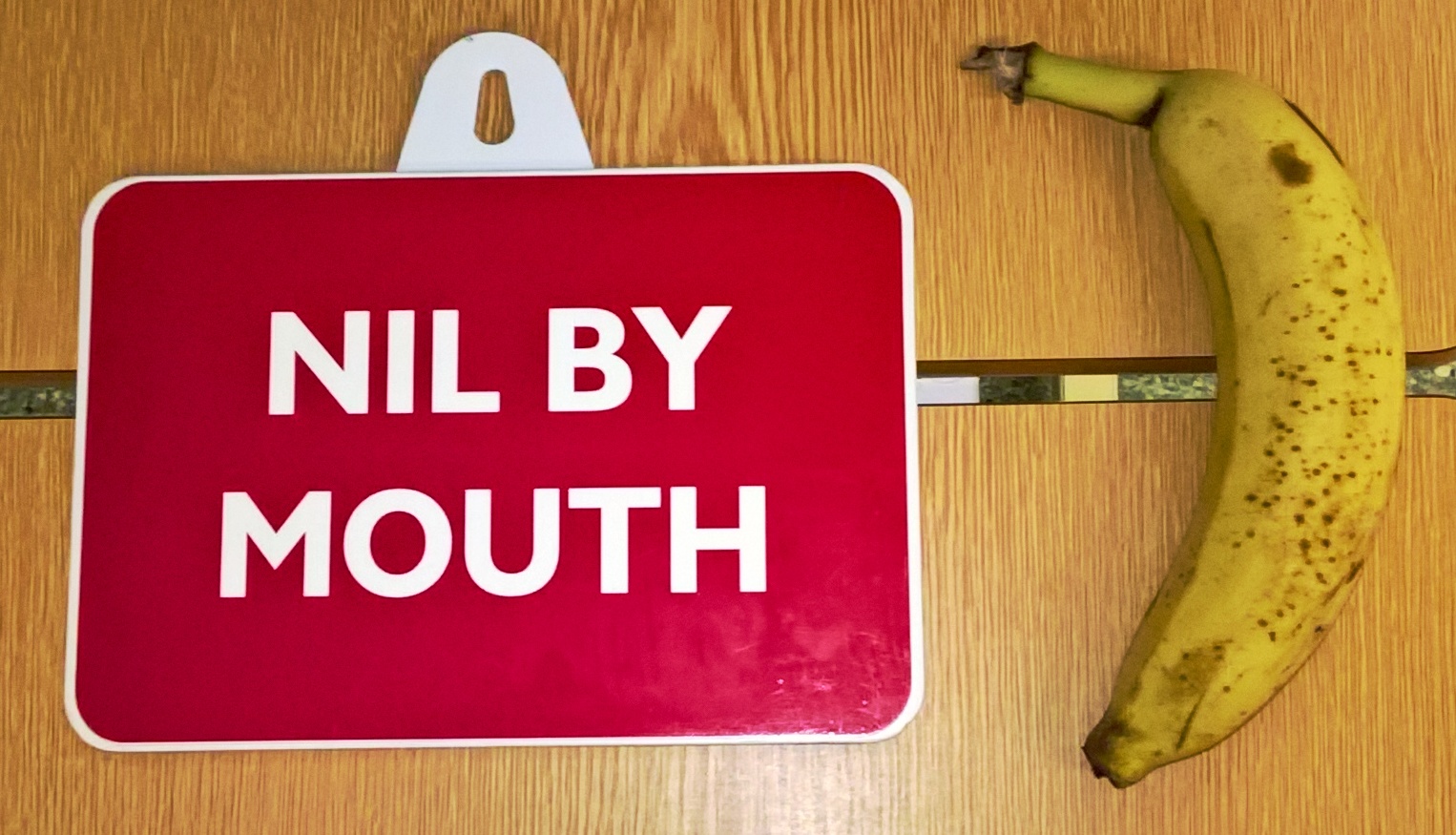 17:55pm - Returned to ward as bionic man, armed with a Cardiac Resynchronisation Therapy-Defibrillator (CRT-D). Keeps the heart beating, helps it pump and stops it racing. Just the job.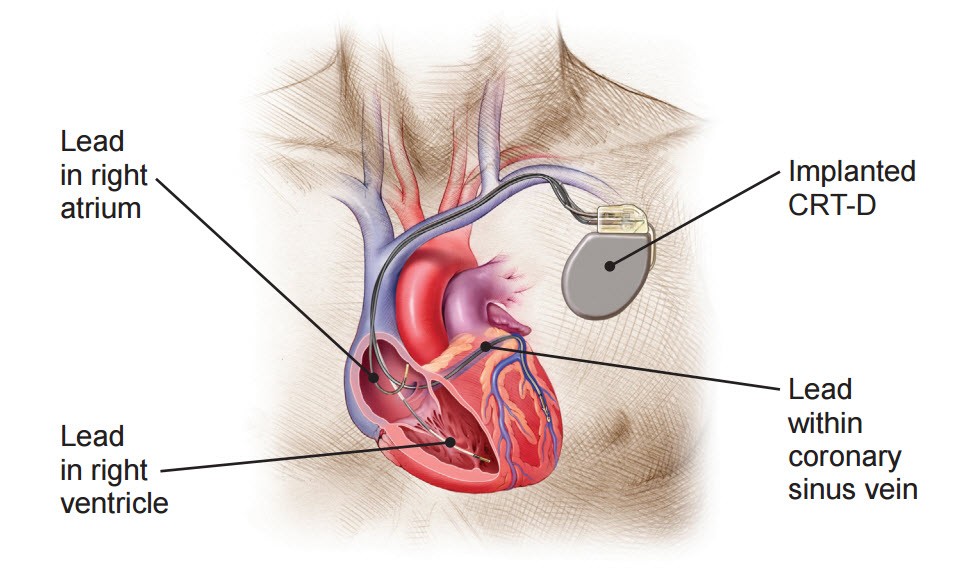 Monday 2nd November


It's well over a week since I wrote anything in this blog. I'm wondering why, because I normally enjoy it very much. I wrote this about a week ago but never got round to posting it:

I think it's because of a sense of dwindling hope. Back in the early summer, it looked like we'd got some control of the virus - despite late surges in countries like Brazil and India - and that further efforts, supported by greater knowledge and experience, would bring rewards. Today, not so. I find the graph below dispiriting. Look at July 1st and then from October 1st onwards.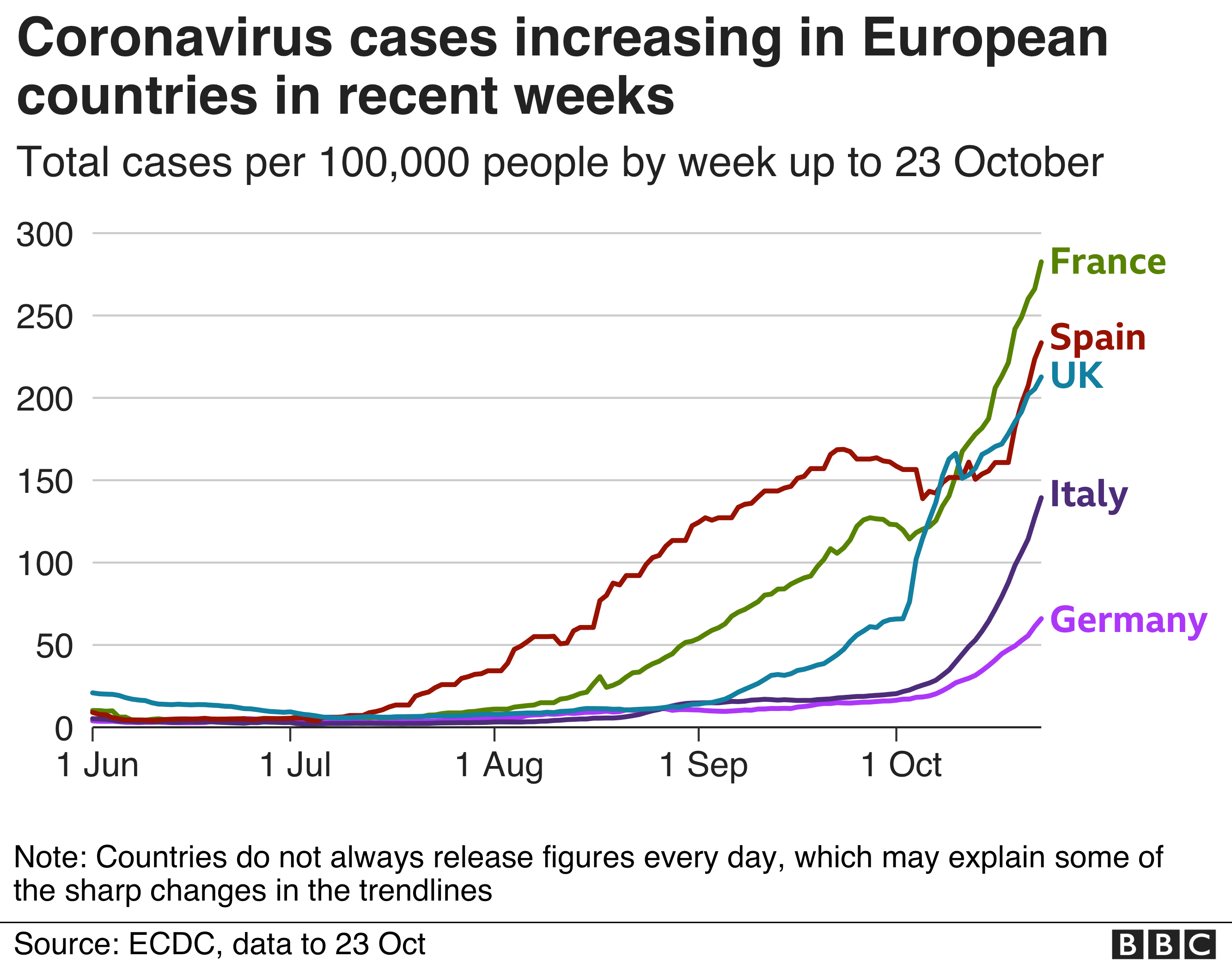 Today, we're heading for a Thursday national lockdown. Oddly, that lightens my gloom a bit. I've always thought it was the only thing that might save us. At least it's unambiguous (if this government is capable of that).

Another factor in my autumnal mood is that I'm in hospital. Just over a week ago, my heart stopped briefly, registered by the ambulatory 24-hour recorder fitted a day earlier. The medics called me into Gloucester Royal, insisting that they needed to monitor me while deciding on treatment. The "ventricular standstill" hasn't reoccurred, but they're going to fit a pacemaker some time this week. The thing about your heart stopping is that usually it only happens once and you're toast. So I'm getting a device to make sure it keeps going. Top-of-the-range, programmed wirelessly - the consultant said "it costs more than my car". If they gave me the software, could I control my own heart? Maybe not. Too much risk of operator error.

Hospital has been a pre-lockdown preparation. Days and nights stretching ahead while confined to the ward. No sense of the outside world. Thank heavens for NHS wi-fi. Also the meal times; the food is only tolerable but we all look forward to the break it provides.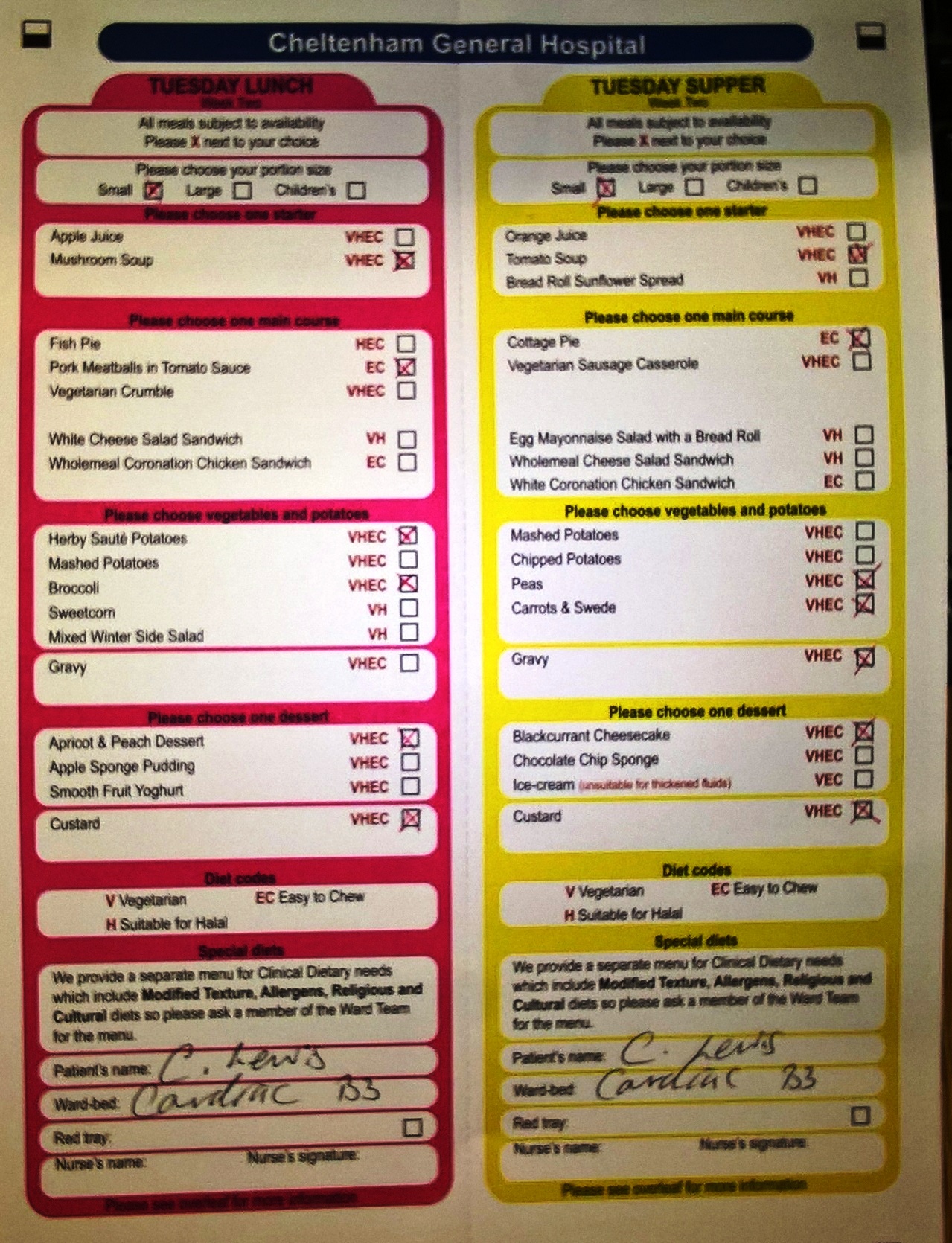 Will I get out of here if I'm still around on Thursday? Whatever the rules say, I'm going to walk out of the entrance to the main road and catch the bus to Stroud. Tested negative twice in hospital, wearing a mask and respecting social distancing, with the intention of staying at home.

Thursday 15th October


I commented a few weeks ago that the crisis seemed to have shifted into a new phase, one in which we now have to live with coronavirus. That certainly seems the case now. We're not at the beginning of a difficult event, we're right in the middle of it. We have a past as well as a present, where we can describe an idea of "long Covid", the experience of those who have suffered. John Crace says today in the Guardian:


"We're seven months on and it feels as if we are almost back where we started. Only this time the nights are closing in and people have less hope that the government knows what it's doing. The country has done everything that has been asked of it and been repaid with one of the highest death rates in the world and a £12bn test-and-trace system that the government's own scientists regard as marginally effective at best. Worse still, the prime minister has abandoned the science. He is saving neither lives nor jobs. His moral authority is shot."



Gone is "we're all in this together". Keir Starmer moves from "constructive opposition" to "circuit breaker". Tory MPs rebel. Central government is pitted against region. Andy Burnham protests on the steps of town hall. We can't go to Wales. Nicola Sturgeon tells Scots not to go to Blackpool.

Monday 12th October


Doctor Daisy Fancourt, Associate Professor of Psychobiology & Epidemiology at UCL, is leading a Covid-19 research project there called "Understanding the psychological and social impact of the pandemic". You can take part and read weekly reports here: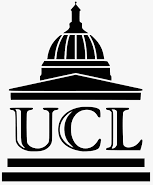 . This video introduces their work:




Here is Results Release 22, dated 7th October: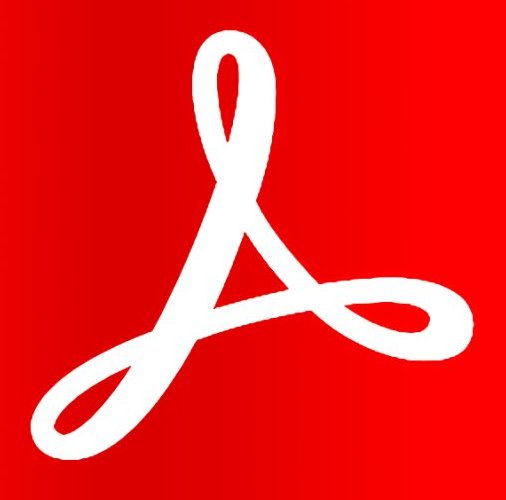 . This is based on 715,019 observation findings (England 583,744; Wales 86,004; Scotland 45,241). There are 51 pages of charts and statistics. That's a lot, so I'll make a selection. The first graph, as it reflects on yesterday's statement from Professor Jonathan Van-Tam about the need for public compliance with government Covid-19 guidelines, is a good starting point. Answers to questions on topics such as social distancing and staying at home range from 1 (not at all) to 7 (very much so). Participants are self-reporting their compliance, which relies on their understanding the regulations and being honest. It shows the percentage of people who followed the recommendations "completely" (with a score of 7) or to a large extent (with a score of 5-7; described below as "majority" compliance).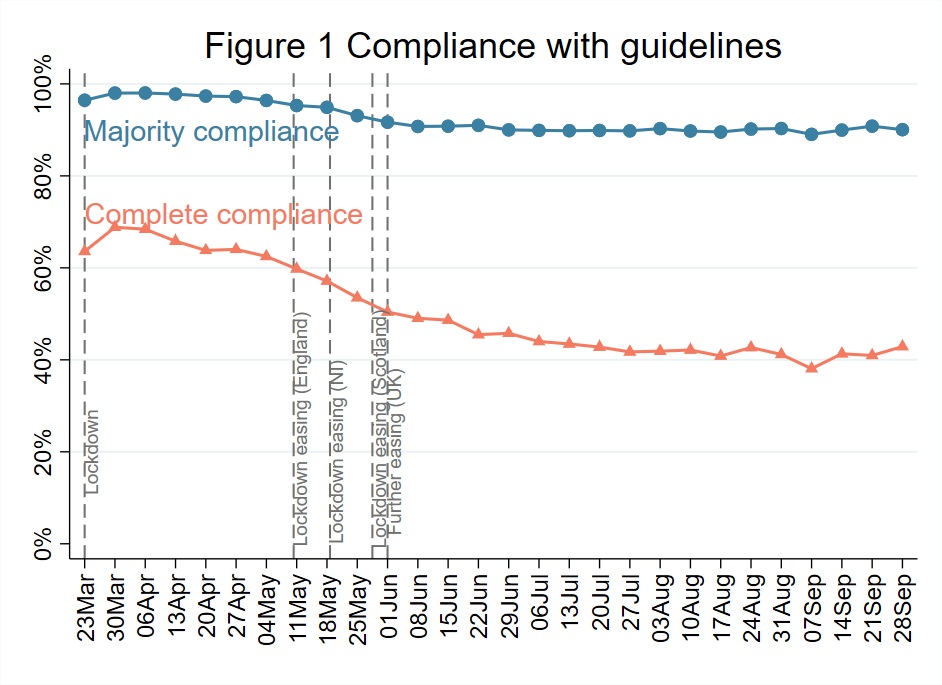 Majority compliance (5-7) has slipped since March lockdown from around 98% to 90%, lowest (70%-80%) amongst adults under 30. I'm surprised it's that high. Complete compliance (7) has dropped in the same period from 61% to 41%, just 20%-30% in adults under the age of 30, 40%-45% in adults aged 30-50 and 50%-55% in adults over the age of 60. Ideally, we need R=0. 40% just isn't good enough.

Some other interesting - but not unexpected - findings are:

The number of people who on balance do not have confidence in the government's handling has more than doubled in the last 6 months from 25% to 56%. Whereas 15% had full confidence in the government when lockdown started, this figure is now less than 5%, still lowest in those under the age of 30.
12% are concerned the health service will not be able to cope with Covid-19, but 78% still think it will.
85% have confidence that access to essentials (e.g. food, electricity and water) will be maintained as the pandemic continues, but 6% are concerned they will not.
There has been an increase in the number of people who are feeling stressed about catching or becoming seriously ill from Covid-19, with this figure now at 45%, up from 37% a month ago.
Sunday 11th October


Deputy Chief Medical Officer Professor Jonathan Van-Tam has published a "guidance and support" statement on the GOV.UK website. It's a mixture of good and bad. The bad recognises the conditions I mentioned yesterday, the "winter plus coronavirus" effect. The good argues that a positive outcome is possible if we do the right things. Here are some extracts. No rocket science.


"In our national fight against Covid-19, we are at a tipping point similar to where we were in March; but we can prevent history repeating itself if we all act now. People have relaxed too much. Now is the time for us to re-engage and realise that this is a continuing threat.

"ONS data show that an estimated 224,000 people have the virus - up from 116,000 last week, hospital admissions for Covid-19 are rising again, as are intensive care admissions. Sadly, just as night follows day, increases in deaths will now follow on in the next few weeks. The R for the UK is between 1.2 - 1.5. The doubling time in the UK for new infections is between 8 and 16 days and is even faster in some areas.

"We are now going into the colder, darker winter months. We are in the middle of a severe pandemic and the seasons are against us. Basically, we are running into a headwind.

"We need to help the NHS by keeping Covid-19 numbers low; and in turn the NHS will be there for us, our families and loved ones. The principles for how we keep transmission low have not changed. By restricting our contacts we reduce the number of opportunities for the virus to spread. It is an unfortunate scientific fact that the virus thrives on humans making social contact with one another. We now have much-improved testing capabilities, we know in more detail where the disease is, and we have better treatments. Earlier in the year we were fighting a semi-invisible disease, about which we had little knowledge, and it seeded in the community at great speed. Now we know where it is and how to tackle it - let's grasp this opportunity and prevent history from repeating itself."



In short, he's making a plea for us to "get a grip". We know that: coronavirus is here for the foreseeable future; it's getting worse at the moment; we can reduce transmission with the right behaviour. Get on with it.

Saturday 10th October


There's an intensified anxiety in the air as we move through autumn. Many of us start to get edgy at this transition time of year, faced with the prospect of a British winter. This time we are threatened by Covid-19 too as infections rise, local lockdowns spread, travel restrictions harden. Do you remember the first outbreaks during a glorious spring? The presence of a virus seemed at odds with such intense sunshine, but the heatwave helped endure privation. We ventured into the outdoors, broke out our bicycles. Not now. Bikes go back into the shed. We're going to have to brave the pandemic as days shorten and temperatures fall. What is Christmas going to be like? Will we be re-united as families for the festivities?

Friday 9th October


I'm probably guilty of giving Trump too much airtime, but I can't stop now. The vice-presidential debate between Kamala Harris and Mike Pence on Wednesday was an unremarkable event, certainly not the undignified and mud-slinging contest of the first presidential encounter, yet Trump reacted to it with unrestrained bile. He called into Fox Business with a long rant.


"I thought that wasn't even a contest last night. She was terrible. She was ... I don't think you can get worse ... and totally unlikeable ... and she is ... and this monster who was on stage with Mike Pence who destroyed her last night by the way ... but this monster ..."



No reviews have entertained the idea that she was "terrible". "Unlikeable" is way off the mark; most would say the opposite, that's she's charming. "Monster" is absurd; in fact, it's just plain wrong. He'd be better off using the term for himself.

How does Trump even think these things? How does he dare to voice them on public media? Has he no concept of ideas like "balanced", "fair", "statesmanlike"? Leader of the "free world"? God help us.


Wednesday 7th October


The number is rising of inner circle White House staff who have tested positive for coronavirus. Not surprising if you don't practise social distancing at Rose Garden events. Pack 'em in a sealed limo to do the drive-around out of hospital. Follow the President's lead in any way.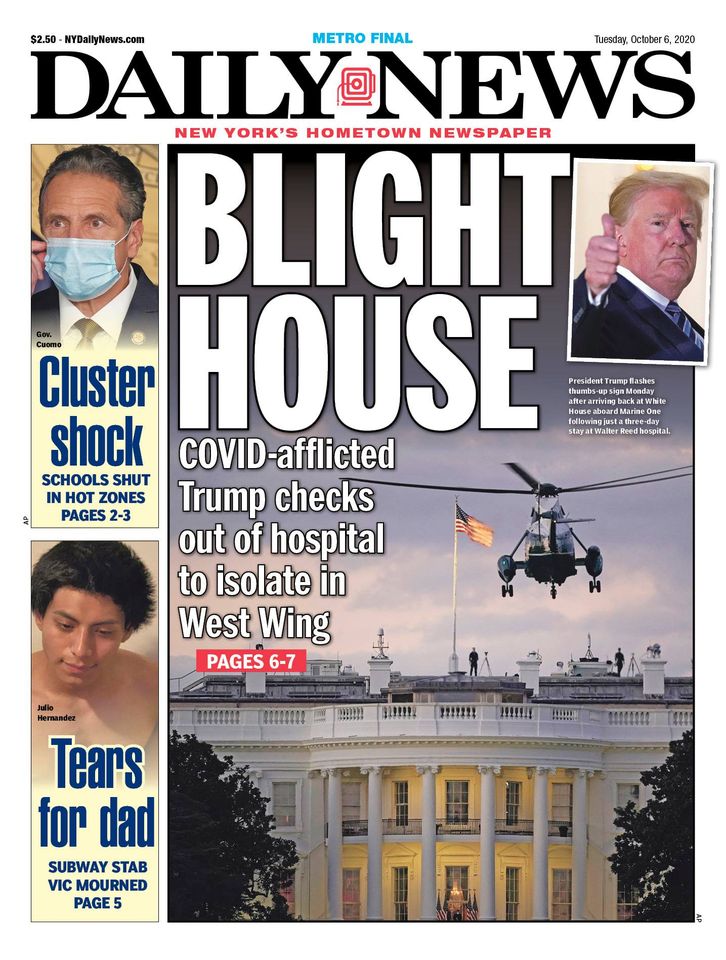 Apparently Public Health England lost nearly 16,000 coronavirus cases due a computing error. 15,841 positive tests were left off the official daily figures, meaning that 50,000 potentially infectious people may have been missed by contact tracers and not told to self-isolate. The reason was the use of .XLS files, the old Microsoft Excel file format dating back to 1997, rather than the current .XLSX. When source .CSV files (Comma-Separated Values, one of the simplest forms of text data you can get) are loaded by the antique Excel97, the programme jettisons anything after 65,536 rows (containing each record). The limit is 1,048,576 rows in the latest version. All this in a "world-beating" system. Was the government department or gravy-fed IT consultant too cheapskate to update the software?

For no reason at all, here's a Dublin video story behind the Father Ted joke:



Tuesday 6th October


Trump makes it out of hospital. He starts with a triumphant homecoming video tweet:




Then we have to put up with wisdom like this:


"You're going to beat it. We're going to be out front. As your leader, I had to do that. I knew there's danger to it, but I had to do it. I stood out front, and led. Don't be afraid of Covid. Don't let it dominate your life. We have developed under the Trump Administration some really great drugs and knowledge."



Tell that to the families and friends of the 210,028 Americans who have died from coronavirus on his watch.

Doubts remain about his health. Dr Zoe Norris, from Beverley in East Yorkshire, told BBC Breakfast:


"If you look at the video from the balcony of the White House he is clearly in some distress with his breathing. That is not a man who is better. He's very braced, his shoulders are very square because he's trying to keep his lungs slightly inflated and not let them go down and then he's pulling on the neck as well. You can see at one moment he opens his mouth to take a gasp to try and keep those lungs a little bit fuller than normal, so it's very clear from a medical point of view."

Saturday 3rd October


As with Boris Johnson, is Donald Trump sicker than we're being told? Do we believe the latest tweet, or is he hiding something?


"Doctors, Nurses and ALL at the GREAT Walter Reed Medical Center, and others from likewise incredible institutions who have joined them, are AMAZING!!! Tremendous progress has been made over the last 6 months in fighting this PLAGUE. With their help, I am feeling well!"



We watch and wait.

Friday 2nd October


Trump and Melania tested positive yesterday. He tweeted:

"Tonight,

@FLOTUS

and I tested positive for COVID-19. We will begin our quarantine and recovery process immediately. We will get through this TOGETHER!"

Why wouldn't you use your wife's name in such a personal message? Even Vice-President Mike Pence did better:

"Karen and I send our love and prayers to our dear friends President

@realDonaldTrump

and

@FLOTUS

Melania Trump. We join millions across America praying for their full and swift recovery. God bless you President Trump & our wonderful First Lady Melania."

Predictably, the Twittersphere is awash with polarised responses.


"The American people are praying for our POTUS and FLOTUS! Get better, we need you!"
"You have the love and prayers of all of us. May God watch over you both."
"This is a way for him to cancel the debate and downplay the severity of Covid when they come out of their fake quarantine."
"You caused this. You and you alone. You could have stopped it. You could have saved so many lives. And if you're looking for sympathy now, you're def not getting it from me."



And much, much uglier from the left. Plus the Simpsons: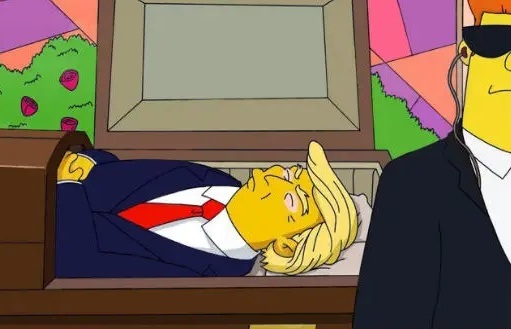 Here's a breaking-news "told-you-so". Joe Biden tweeted:


"I'm happy to report that Jill and I have tested negative for COVID. Thank you to everyone for your messages of concern. I hope this serves as a reminder: wear a mask, keep social distance, and wash your hands."


Thursday 1st October


Bill Gates (I know, him again) has published an opinion piece in Tortoise Sensemaker called How to eliminate Covid-19: A three-part plan. It's positive, clear, accessible and informed. It describes the hurdles to be surmounted to achieve victory. He's adamant that this is not a rich-nation-only solution. Funding from them is essential for global success, and they can only be freed from the virus if everybody is freed.

Here are some snippets in summary. There's a link to a full PDF at the end.

The world is on the brink of a scientific achievement:

a safe, effective Covid-19 vaccine

will likely be ready by early next year. In fact, there will probably be more than one vaccine available. This is the development that will finally give the world the chance to eliminate the threat of the pandemic - and return to normal.

Right now, most of the world's supply of Covid-19 vaccines is slated to go to rich countries. These nations have been making deals with pharmaceutical companies, securing the right to buy billions of doses as soon as they're produced. But what about low- and lower-middle income nations of the world, everywhere from South Sudan to Nicaragua to Myanmar? These nations are home to nearly half of all human beings, and they don't have the purchasing power to make big deals with pharmaceutical companies. As things stand now, these countries will be able to cover, at most, 14 percent of their people.

A vaccine can make Covid-19 a preventable disease, and no one should die from a preventable disease simply because the country they live in can't afford to secure a manufacturing deal. But you don't even have to care about fairness to see the problem with the "rich-country-only" scenario. We'd all become like Australia and New Zealand. Both have gone long stretches with very few cases inside their borders, but their economies remain depressed because their trading partners are on lockdown. And occasionally, a new carrier of the virus makes his way across the South Pacific, creating new clusters of the disease. Those clusters grow and spread. Schools and offices are shut down again. Even with an oversupply of vaccine, wealthy nations risk re-infection in this way because not everybody will choose to be vaccinated. The only way to eliminate the threat of this disease somewhere is to

eliminate it everywhere

.

We need the

funding

to pay for billions of vaccine doses for poorer nations. This is where the ACT (Access to COVID-19 Tools) Accelerator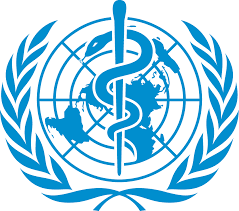 can help. It's an initiative supported by organizations like Gavi and the Global Fund. Not many people have heard of them, but they have spent two decades becoming experts in the task of financing vaccines, drugs, and diagnostics. Pharmaceutical companies have made the financing easier, foregoing profits on any Covid-19 vaccine and agreeing to make them as affordably as possible. But public funding is needed, too. The United Kingdom is a good model for what other wealthy nations should do. It has donated enough money for the Accelerator to procure, probably, hundreds of millions of vaccine doses for poor countries. I hope other nations are as generous.

Even when the world has the manufacturing capacity and funding lined up, we'll need to

strengthen health systems

- the workers and infrastructure that can actually deliver vaccines to people around the world. Spotting Covid-19 cases in the poorest parts of the world will take a similar network of primary health workers - one that can reach places where even roads can't. With good diagnostics, these workers can also sound the alarm if another disease jumps from a bat - or bird - to a human. In other words, in eliminating Covid-19, we can also build the system that will help reduce the damage of the next pandemic.

One thing I've learned studying the history of pandemics is that they create a surprising dynamic when it comes to self-interest and altruism: pandemics are rare cases where a country's instinct to help itself is tightly aligned with its instinct to help others. The self-interested thing and the altruistic thing - making sure poor nations have access to vaccines - are one and the same.

The full text is here: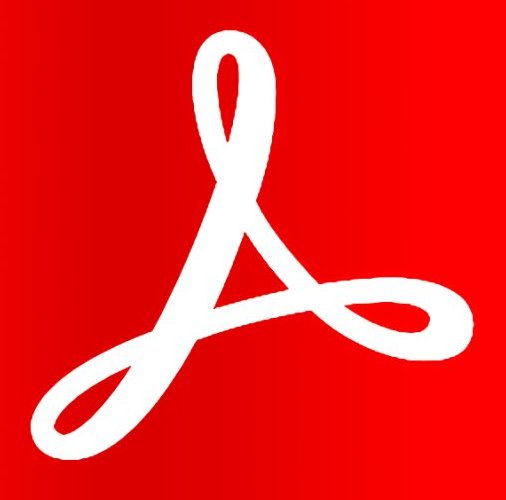 Monday 28th September


Sacha Lord, Night Time Economy Adviser for Greater Manchester (who? what?), tweeted yesterday: "It's very clear, across the UK, that this ill thought out 10pm curfew, has pushed everyone out of venues with socially distanced measures, into the streets, into off licenses, supermarkets, overcrowded public transport and house parties. Every operator predicted this. Shambolic."

Greater Manchester Mayor Andy Burnham told Radio 4 that people gathering after closures was "the opposite of what local restrictions here are trying to do. My gut feeling is that this curfew is doing more harm than good. I think there needs to be an urgent review of the emerging evidence from police forces across the country." One option might be to impose a 21:00 cut-off on alcohol sales in shops to prevent the rush to off-licences after the pubs close.

Nicola Sturgeon absolved students of blame:


"I am so sorry, so heart sorry, that this time of your lives is being made as tough as it is just now - I really feel for you, but I feel especially for those of you starting university for the first time and, of course, living alone for the first time. This is an exciting time in your lives but I remember from my own experience that it's also a time of adjustment and it's also a time of home sickness as well, and that's the case for students every year without Covid-19 but it is much more difficult given the circumstances you are all facing right now. It's not your fault. I've spoken personally this morning to university principals to stress their responsibilities to you and I know it is something they take seriously, but I also know that it's something that parents will want to be assured of. Student services already have special arrangements in place including 24-hour helplines, support for food deliveries and additional mental health counsellors for those who might need that support."



Would Boris have managed a response like this? Leadership honours go to Scotland.

Once again, our young people are copping the force of coronavirus. Their experience at university to go along with vulnerability in employment. We retirees didn't face this, and we don't suffer now.

Sunday 27th September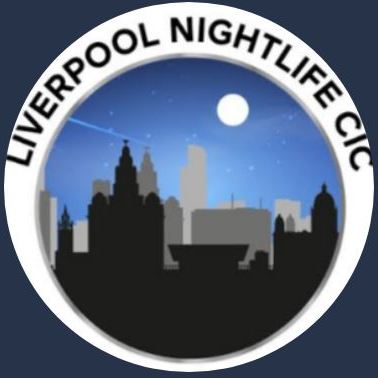 Twitter presence Liverpool Nightlife CIC, or

@NightlifeCIC

, claims it is "working to make Liverpool the most vibrant & safe place to go for a night out." Early this morning, it showed what's happening with the 10pm pub closing. People go to Bargain Beer for off-licence sales and then party in the street.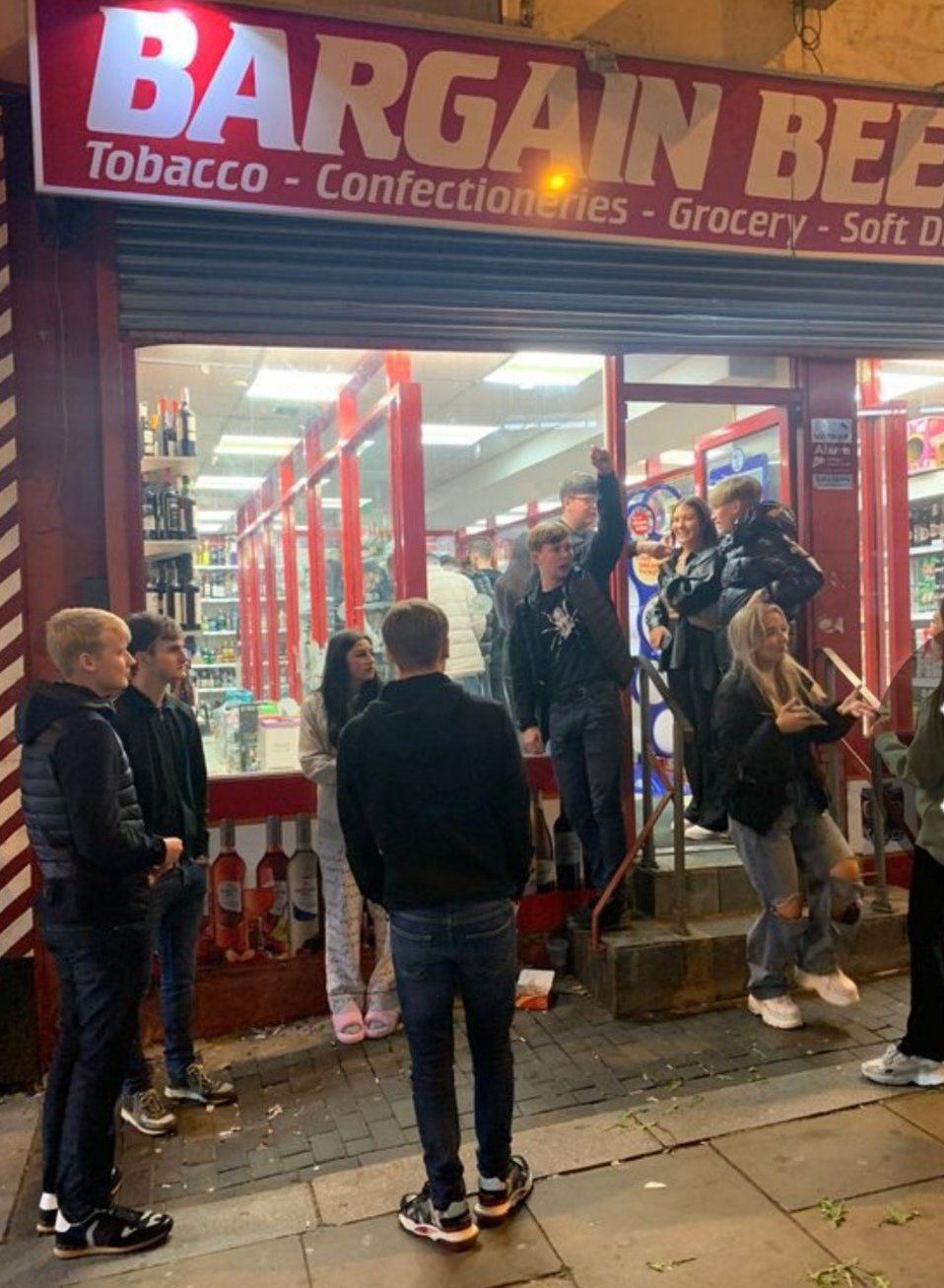 Saturday 26th September


We've lost control of R. UK values are now mostly between 1.0 and 1.6, in estimates based on numbers up to the end of last week. We can assume that the situation has worsened since then. Exponential growth of infections awaits.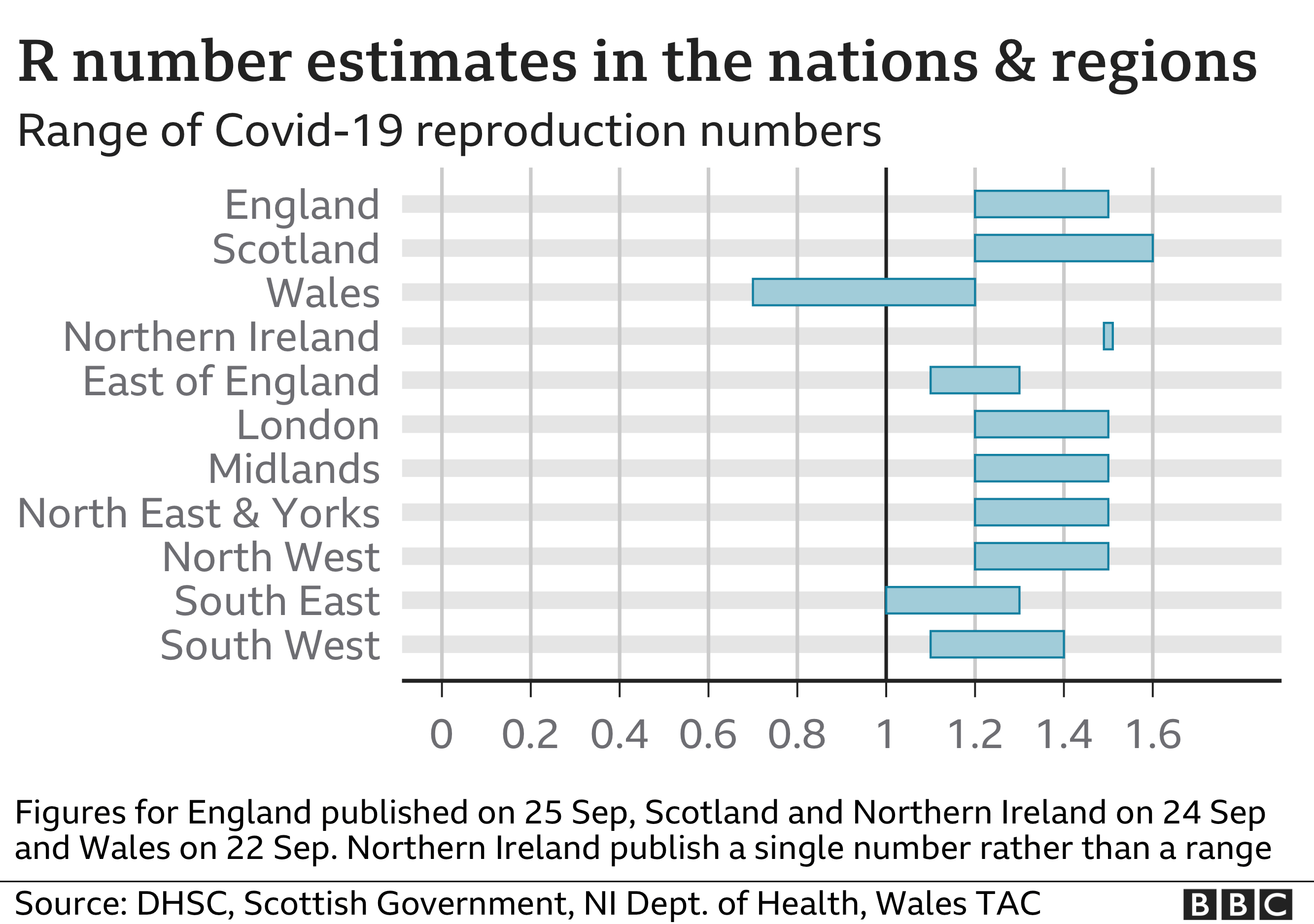 I had a post-hospital check-up booked at our GP surgery on Thursday afternoon. Sadly I woke up with a cold and cough (not coronavirus, not even man 'flu, no fever, just a cold which is already better today). I called the practice to warn them and they asked me not to come in. Their on-line booking system shows only 14 appointments available in the next 3 weeks and they're all for 'flu vaccination.

Friday 25th September


I wrote at the end of August about using the simple computing statement N = N + 1 to describe our relationship with the virus. For those of you who aren't familiar, this is not an equation. That would be patently untrue. It's an assignment statement, where the value of the right-hand calculation is transferred to the left. We add 1 (coronavirus) to the old value of N (the current "normal") and place the sum in the value of N on the left (the "new normal"). In words, we absorb Covid-19 into our daily lives rather than specifically trying to eradicate it. The latter seems to be beyond us. We can't beat it, so we must live with it. The virus is integrated into our view of public health just like 'flu or AIDS. It is not an external force. It's not going to disappear.

This view has been around for some months, alongside encouragement to take a long-term approach. WHO official Dr. Michael Ryan said in a press briefing on Wednesday 13th May: "This virus may never go away. I think it's important to put this on the table. This virus may become just another endemic virus in our communities." On 27th May Tom Frieden, former director of the Centers for Disease Control and Prevention, said: "It's like we have attention-deficit disorder right now. Everything we're doing is just a knee-jerk response to the short-term. People keep asking me, 'What's the one thing we have to do?' The one thing we have to do is to understand that there is not one thing. We need a comprehensive battle strategy, meticulously implemented." On the same day Michael T. Osterholm, director of the University of Minnesota's Center for Infectious Disease Research and Policy, maintained that people won't make the shift toward long-range thinking until the infection spreads more widely and affects someone they know. "It is like people who drive too fast. They come upon the scene of an accident, and for a little while, they drive more carefully, but soon they are back to speeding again. Contrast that with people who have lost someone to drunk driving. It mobilizes them and becomes a cause for them."

Samuel Earle picked up these themes in Monday's Guardian:


"Seven or so months ago, at the start of the pandemic, many of us found it easy and natural to imagine a time when all of this would be over: a single, obvious moment when society's recreational life resumed to normal, when friends and family welcomed us into their homes with hugs and kisses, and we all talked, with excited, wounded relief, about how hard it had been, and how happy we were that the virus was behind us.

"We would do better to abandon the fantasies of a quick-fix entirely. This is not a race, not even a marathon: there's no finish line to cross, no shorter route to take. As we brace ourselves for a second wave and a second lockdown, we need a more realistic appraisal of where we are and where we're headed, a rough map to see us through the darkening winter days without taunting us with illusions that only end in disappointment. Our desire to put the pandemic behind us makes sense, but the virus and its unsettling associates - masks, social distancing rules, hand-sanitiser dispensers, quarantines, lockdowns - aren't going anywhere anytime soon. Our future plans must begin from this fact."

Thursday 24th September


We're doomed. UK cases up a quarter yesterday at 6,178. 40,000 cases by mid-October (not a prediction). 485 positive virus tests in Scotland, 124 positives (for starters) at a Glasgow University hall of residence. Ten ambulance staff in Northern Ireland. 34 positive cases at the Royal Glamorgan Hospital. 14 cases linked to an awards evening attended by 80 held at Drefach Cricket and Football Club in Carmarthenshire.

What do we get from Boris? A Churchill-derivative rallying call. I'd rather he fixed the testing cock-up. "The return of this virus, and the return of restrictions, are not an act of God. They're a failure of Government", said Keir Starmer. I enjoyed John Crace's Guardian piece on what he calls Boris' "impostor routine":


"It's not entirely clear if even Johnson knows who Johnson is these days, given that his performances are becoming increasingly erratic and confused. Never more so than at prime minister's questions, where Starmer continues to make the mistake of overestimating Johnson's real emotional age. He used to treat Boris as a 10-year-old, only for Johnson to act like a toddler. Now Keir has lowered his sights and treats him as a toddler, Boris has regressed further into a pre-verbal baby. At this rate of decline it won't be long before we have a prime minister who has yet to be born."



Then Sir Van says that restrictions are enslaving the population. He thus moves from all-time-great to complete tosser at "the flick of a switch" (see Days Like This).

What else are we offered? 7,000-lorry 2-day delays in Kent in January (not a prediction). Business will be struggling with Covid anyway, now let's add in an entirely avoidable blockage for exporters. Road hauliers will experience one mitigating factor, that few passenger cars will be trying to cross the channel. The truckers will have the ferries to themselves. And remember this. We chose to do it. There wouldn't be a problem if we had Remained.

I'm planning voluntary lockdown. I can't see that anything else will work.

Friday 18th September


These numbers are simply grim. More testing, I know, but still. What is the way out of this? Total lockdown? Then what? Ah, the vaccine.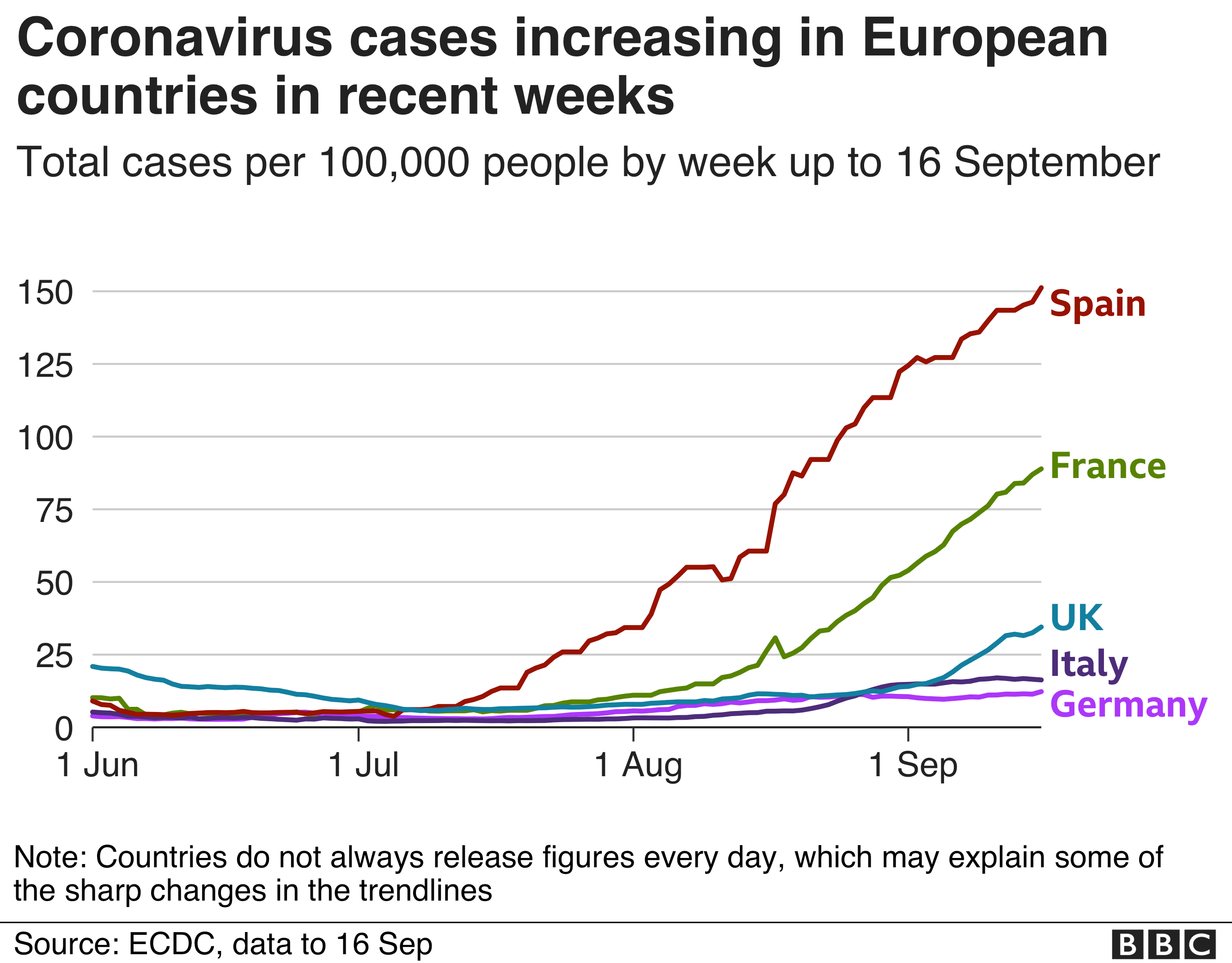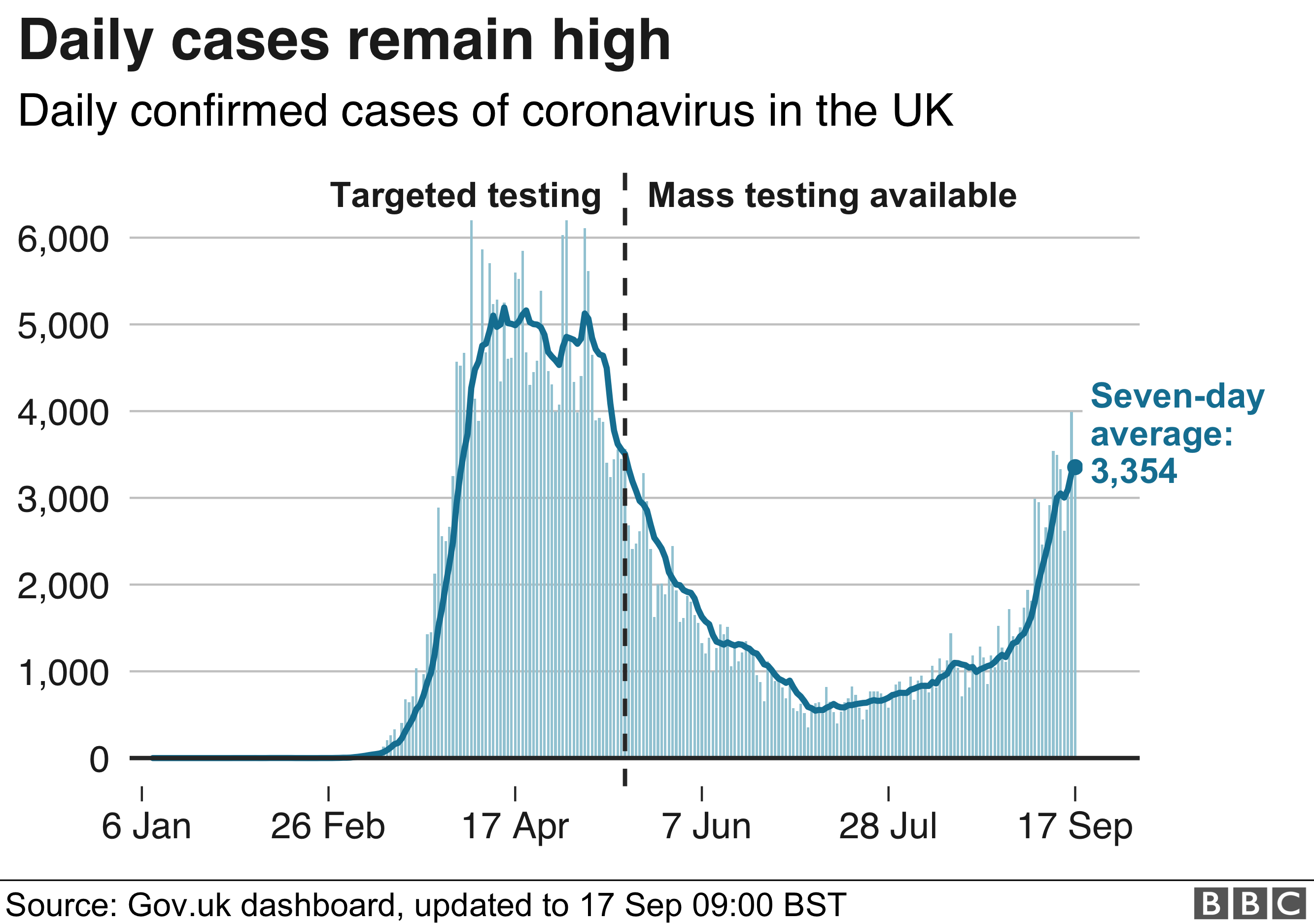 The R number in the UK has risen to between 1.1 and 1.4. That's into exponential growth. What do we need it to be? R=1 is just treading water. R<0.5 would change things.

What are our local Stroud statistics? 10 new cases in the latest week 8-14 September. 312 total cases to 17 September. 92 coronavirus-related deaths registered to 4 September.

Thursday 17th September


The staff smiles may be not so ready today in Waitrose. They will not receive a bonus for the first time since 1953.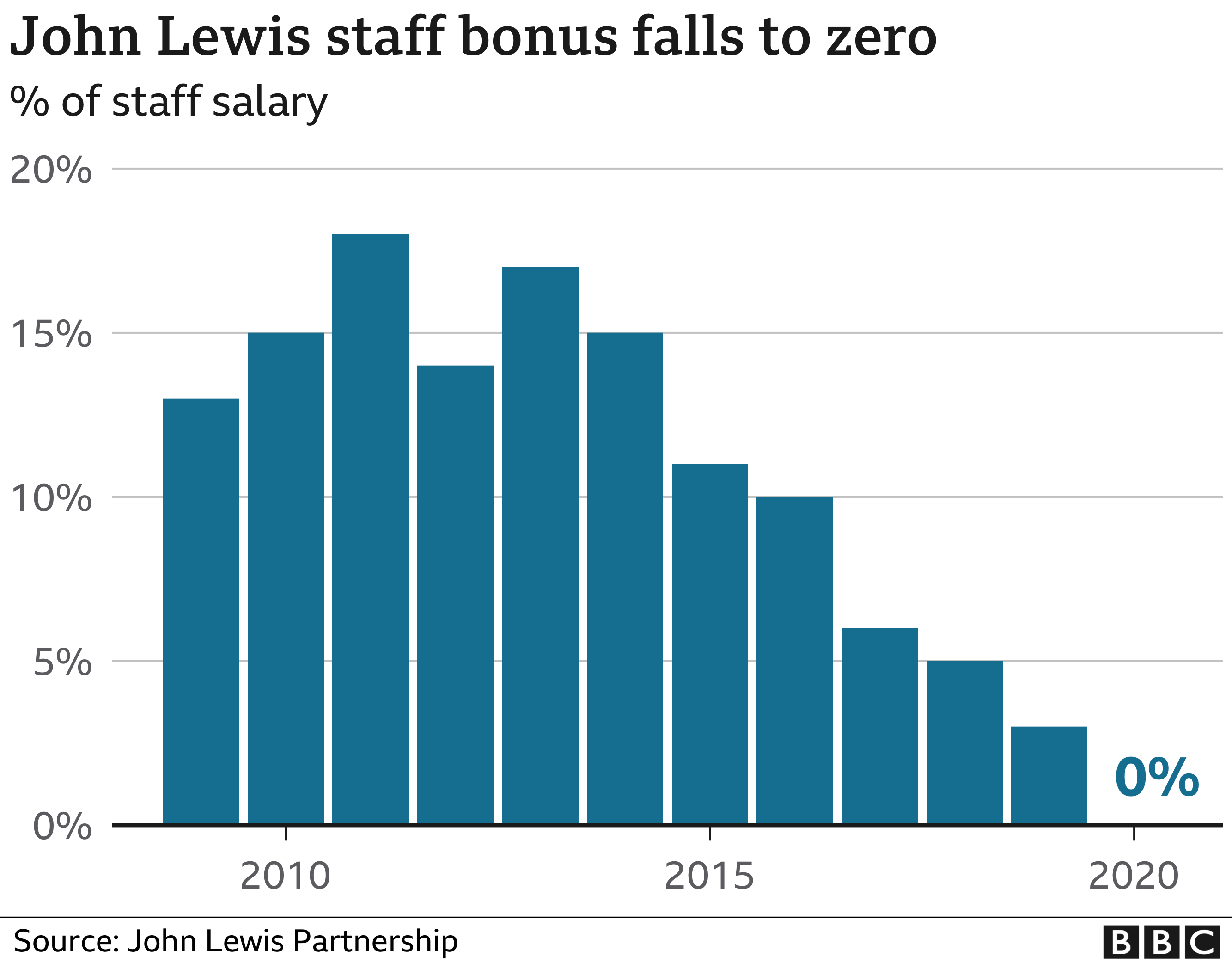 Been heading that way for a while, with coronavirus arriving on top. That's the whole of John Lewis, of course, which posted a £635m pre-tax loss for the six months to 25 July. This included exceptional items, the biggest of which was a £470m write-down in the value of its stores. The trading loss was £55m. Despite announcing the closure of four "un-profitable" stores yesterday, Waitrose had seen like-for-like sales up 10% year-on-year. It is now delivering about 170,000 weekly food orders - up from 60,000 pre-lockdown - and the demand had risen since its partnership with online grocer Ocado ended in August. Staff bonuses, sadly for my friends down the road, are presumably based on full-group performance. I could ask later today, although it might not be the question of choice.

Wednesday 16th September


If you want a break from Covid, go to hospital. I've just returned from 10 days in Gloucester and Cheltenham Hospitals. I went in for a check-up on Thursday 3rd September to find out that my pulse rate was 170 (normal 60-80, over 100 alarm bells). It turns out this was the reason I'd been feeling exhausted. I hadn't noticed the heart rate. They gave me a tiny pill the size of a pin-head and the rate went down to 60 within 30 minutes. Investigations revealed no causes. An angiogram showed my coronary arteries were clear. I feel a hundred times better, getting great sleep, my breathing quiet and regular. I have to keep taking the pills, hey-ho.

Nobody mentioned Covid, or only when I asked staff about their experiences of the peak. Otherwise, the most noticeable thing was the exceptional quality of the NHS service. Thorough and approachable consultants, wonderful nurses.

My friend and customer Miranda has had to close her business (I did her website), my first personal experience of a coronavirus economic casualty. She bought Buckenhill Manor in Herefordshire and opened as a B&B in 2015 with great success. Two years ago she began letting the entire manor for large parties, again to rave reviews. Not any more, the regulations don't permit. She's having to sell up. If you're interested, let me know ;-)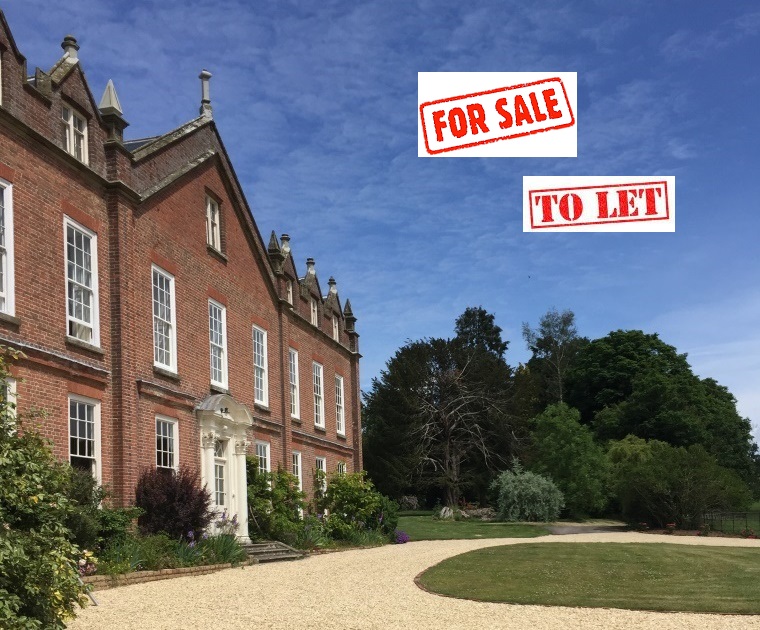 We've heard plenty about the economic boost to companies like Zoom and Amazon. Now Lego. Something to do during lockdown, right? The firm announced revenues of £1.8bn for the first half of the year, up 7%, while operating profit grew by 11%. They are planning to open 120 new shops this year. "When our stores have reopened after lockdown, there have been queues," boss Niels Christiansen said. The adult market has grown, and the big family project sales of large sets. Jon Opstad, with the help of his six-year-old son Ollie and four-year-old daughter Alice, has been recreating famous James Bond moments. Their stop-motion animation of the jet-pack scene from "Thunderball" has been shared almost 400,000 times on social media, including by Lego, the official James Bond account and celebrities such as David Walliams and James Corden.



Wednesday 2nd September


We've seen a number of major sporting events return in the last few weeks: the snooker World Championship, F1 Grand Prix motor racing, Test and T20 cricket between England and Pakistan, the football FA Cup and more. All of it without fans present, behind closed doors, except for a much-reduced audience at the snooker final.

Apart from the weird absence of crowd noise, the most obvious issue is that of lost match-day ticket revenue and associated hospitality sales. However, this revenue has decreased as a proportion of overall income with time. In the first season of football's Premier League it accounted for 43%; 27 years later it's 13%.

The biggest contribution comes from television and sponsors. Lockdown clearly closed the shop window for months and carried a financial hit estimated at £500m (Deloitte). Gary Lineker's main offering has been to host a Top-10 competition with his mates Ian Wright and Alan Shearer on every aspect of football imaginable: strikers, central defenders, goal keepers, managers and (much) more. While I don't mind playing a Top-X game, this was very dull. Now the merchandise is coming back on display again. Will viewing figures be bolstered by the physical match-goers who have had to switch to television? The pandemic period has emphasised just how much we get our sports fix through a screen. In the last 12 months I've only been to three live events: rugby at Gloucester, cricket at Worcester and football at Forest Green Rovers. The rest of my consumption has been through TV or Internet. How odd.

There are other ways to mitigate the shortfall. Players have been asked to accept lower wages and deferred payments; most famously, Lionel Messi took a 70% cut at Barcelona. The rich clubs have financial reserves; according to its most recent accounts the Premier League is sitting on cash reserves of £1.5bn, enough money to guarantee the entire pyramid several times over if it so chose. But would it do so? The likelihood is that some less fortunate clubs will go to the wall, particularly if they can't rely on owner generosity. But I'm sure Abramovich will bail out Chelsea.

You'd think that sponsors would be getting a-better-bang-for-their-buck again as sport returns, yet many are cutting their budgets in the face of the overall challenging business climate, poor performance in their own markets. Global sports sponsorship spend in 2020 is set to take a US$17.2 billion hit as a result of the coronavirus pandemic, according to sports marketing agency Two Circles.

OK, here's one recovery to note. Sales in the first half of 2020 were down 30%, but Rolls-Royce boss Torsten Müller-Ötvös said that markets in Asia, Europe and the US were now "more or less back to normal". It's all about the new Ghost.




I'm sure the £250,000 price tag poses no coronavirus-induced hardship to the target buyer group. Apparently, the car is so quiet Rolls-Royce have injected some ambient noise called "The Whisper". Sealed off from the outside world with a light hiss of the door. Social distancing plus.

Monday 31st August


Following on from the "blended learning" concept in education mentioned yesterday, I suspect we will see "blended something" in all areas where we seek to regain output and behaviour closer to pre-Covid levels.

The government is launching - has already announced - a campaign to encourage people back to their offices.

One of the main drivers has been the damage to the surrounding eco-system of supply businesses such as delis and newsagents. Sandwich chain Pret a Manger relies on a lunchtime work crowd and said in June it was shutting 30 outlets and cutting 1,000 jobs amid a slump in demand. It has also cut its staff's hours. Dame Carolyn Fairbairn of the CBI said "The costs of office closure are becoming clearer by the day. Some of our busiest city centres resemble ghost towns, missing the usual bustle of passing trade. This comes at a high price for local businesses, jobs and communities. It's time for the UK to bring its workplaces back to life or we will look back with regret at the jobs lost, training missed and communities harmed."

There are of course many internal benefits for both a business and its employees in having staff or teams working together face-to-face. Creative progress is more easily generated in groups. Work is supervised and validated. You have the water-cooler conversations, the "Shall we do lunch? There's something I'd like to discuss with you." If you're not visible at work, do you disappear from others' consciousness? Does it affect your chances of promotion? Will you make fewer friends and even lose the chance to meet your future spouse? For many, working at home is an unwelcome option: lack of space and lesser equipment, interruptions from others in shared accommodation, physical discomfort generated by poor work areas like beds, damage to mental health through lack of social interaction.

In contrast, workers and businesses may gain from home-working. A report by academics at Cardiff and Southampton universities suggests the majority of people working from home are as productive, if not more. Professor Alan Felstead of Cardiff University said, "Our analysis suggests there will be a major shift away from the traditional workplace even when social distancing is no longer a requirement. What is particularly striking is that many [90%] of those who have worked at home during lockdown would like to continue to work in this way even when social distancing rules do not require them to. These people are among the most productive so preventing them from choosing how they work in the future does not make economic sense."

Potential cost savings for business are huge. The law firm Linklaters said this week that all of its 5,300 staff could spend up to 50% of their time working remotely from now on. Outsourcing firm and major government contractor Capita - it manages London's congestion charge - is to close over a third of its offices in the UK permanently, terminating leases on almost 100 workplaces. The decline in management suspicion of home-working is enabling this bottom-line benefit. Lloyds Banking Group is reviewing its office space needs and working practices after concluding that most of its 65,000 staff have worked effectively from home during the crisis. Chief Executive Peter Cheese of the Chartered Institute of Personnel and Development (CIPD) said, "It's the biggest experiment we've ever had in homeworking. Bosses are starting to shift towards judging output, rather than the number of hours spent in front of the computer. Working from home has proved to be a great success for many individuals and organisations. Recent CIPD research found that a majority of employers believe that homeworkers are either as productive as other workers, or more productive. However, it's important that all employers take steps to support their employees' mental health and address concerns they may have while they work from home."

So, what are the challenges for the government's campaign?

The first is getting to work. I don't go near a bus, tube, train or office lift these days, but I have a mental picture of congestion: rush-hour body-to-body squeezes on the underground, queues and crowds at railway stations and then standing-room-only, the bus-driver cry of "Move along inside please!", trying to get that last place in a lift. This was how we got everybody to work but none is now allowable. Transport for London (TfL) stated in May: "As is the case with national rail services, this does not mean a return to the transport network that existed before the crisis. The national requirement to maintain 2m social distancing wherever possible means that TfL will only be able to carry around 13-15 per cent of the normal number of passengers on the Tube and bus networks even when 100 per cent of services are operating once again over time."

When you get to the office, which I don't, the normal social distancing rules apply. My friend Fod retired last week and went up to his City office to clear his desk. One-way systems. What looked like a skeleton staff. The lifts, designed for a maximum of 20 people, could take only two at a time, standing in diagonally-opposite corners on a designated marker.

There has to be some kind of "blended" solution. It now seems that acceptance of home-working is part of the cure. Remote conferencing is another. If you extend the TfL 15% to 20%, you could allow teams to come in once in a 5-day week, lifting the burden on public transport and your office building. You offset those who need to come in to the office, either for personal reasons or company requirements, with those who prefer being at home.

The only thing that would change this is for R to hit 0 and stay there. You cannot abandon social distancing until there is no risk of infection.

Sunday 30th August


We're entering a period now of trying to make our society work again. In his piece from Udine yesterday Chris Taylor asked the questions about schools in Italy re-opening on September 14th. Ours start going back this week. The driver is the negative impact of kids missing out on their education, a risk considered far greater for them than that of contracting coronavirus. Education Secretary Gavin Williamson says, "If a child is not in school, they stand to lose far more than just a few months of learning. It could well put a huge dent in their future life chances. Education is a birthright, so let's make sure we get all children back - back to learning, back to playing and back to being kids again." The question is: will we be able to handle full volumes of pupils and maintain social distancing?

Similar misgivings exist for the new university academic year. Jo Grady of the University and College Union (UCU) has said, "Moving a million plus students around the country is a recipe for disaster and risks leaving ill-prepared universities as the care homes of a second wave. It is time for the government to finally take some decisive and responsible action in this crisis and tell universities to abandon plans for face-to-face teaching." The Sage group backs this opinion, stating in a report published on 21st August that "Universities should focus on providing excellent quality remote learning rather than on opening up campuses that are likely to close again." There is an extra dimension to the university return not found in schools in the effect the student population has on the host town or city. Cardiff has a population of 346,000. During the university term this number is swelled by 33,200 students or an additional 9.5%. These are predominantly young people, the most likely to be drawn to Covid-sensitive locations in the city centre. Many will be tempted; it's not an attractive idea to spend your university years constrained by a virus, particularly as you are among the least vulnerable age group.

It's most likely that we won't see a full-on everybody-in return to education, but a combination of part-time attendance and "blended learning", i.e. a delivery mixture of regular teaching but with reduced class sizes, remote classrooms and self-study. We won't see close-knit seminars, we will see capacity restrictions on libraries and coffee shops. Professor Carl Heneghan, director of the Centre for Evidence-Based Medicine at the University of Oxford, has suggested delay; universities could put back face-to-face teaching until the end of the academic year in spring or summer 2021.

Saturday 29th August


It's impossible to put a bright spin on the leaked Sage report. It stresses that the numbers and measures are part of a "reasonable worst-case scenario", not a prediction. Even so ... 81,000 Covid-19 deaths over the coming winter? Double the current number of fatalities. It's an implicit acceptance that we now don't beat the virus; we co-exist with it.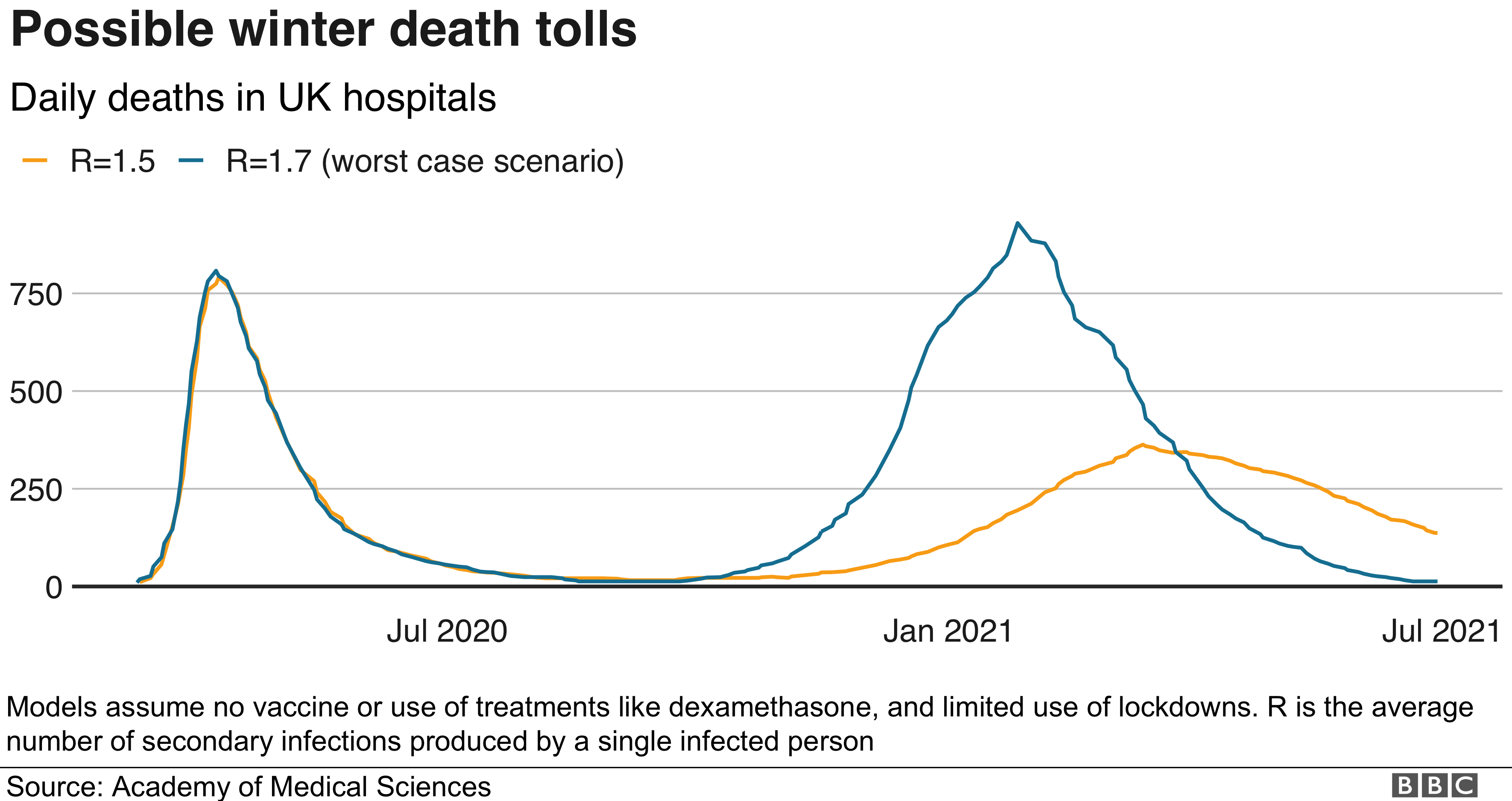 New normal? There's nothing normal (yet) about the above scenario of virus deaths. It's an anticipation of an abnormal co-existence. We push ahead with the reduction of control measures to re-enable the economy and everyday life, but reverse those actions when the balancing act between health and the economy swings too far towards intolerable levels of mortality, a seesaw of restrict and release. What is acceptable? My idealistic assumption at the outset was that we'd fight until R reached 0 and there were no more deaths, no more new cases. This is clearly now a broken dream. We will accept a trade-off and the tipping point is negotiable. How far will we be prepared to go? It all becomes a managed public health process, in the same way that we address regular flu, tobacco and alcohol, road safety. Maybe it is a new normal, a normal-plus-one which becomes just normal. N = N + 1. We've just absorbed coronavirus into the list.

Since I posted about Ken Robinson on Monday, a further 606,914 people have viewed his 2006 TED talk.

A welcome contribution from Chris Taylor in Udine:



"Back in the day (as they'll say in years to come of the Covid

pandemia

), in Italy we got hit first and hard. Blame was even attached, but over the lockdown scenario Italy went from being pariah to role model, 'though cases are now mounting up again. One of the reasons for this, following the easing up of restrictions, has been the 'movida'. I don't know whether this term has caught on in the UK but it was coined in Italy actually before the Covid mess. What is the 'movida'? It is essentially a pub crawl, taking place on Friday and Saturday nights until the early hours in all Italian towns and cities (and in Spain, apparently with the same name-tag). Although the youngsters who take part don't reach the levels of head-banging mayhem found in the Anglo-saxon equivalent, they do lead to endless letters of complaint to the local papers from residents along the route. And of course it leads to large congregations of maskless revellers apparently believing themselves immune to the effects of Covid.

"The dreaded Salvini has been instrumental in the no-mask campaign, believing it to be a mortal threat to civil liberty. So he goes around kissing babies in selfies. Meanwhile Berlusconi's old mate Briatore, owner of the exclusive club Billionaire on the Costa Smeralda, and promoter of the "open the discotheques" campaign, has been diagnosed positive. As with Boris Johnson, we can't wish him harm, but it seems a certain rough justice is being meted out.

"On September 14

th

the schools go back. There is some confusion here. Are there enough new single desks for everyone (the figures run into the millions)? Can pre-school kids be expected to wear masks? It seems not. What about separation on the school buses? What if one child proves positive - does the class go home or the school close down? These questions are giving the present government a hard time. The right-wing opposition are calling them all the names under the sun, but I doubt they could do any better. And anyway who wants Salvini and his ex-fascist allies in power? Lots of people, apparently, and that's the sad thing.

"What with this and Brexit (which I had almost forgotten about) is there anything to be happy about? Well, on this side of the channel Udinese avoided relegation and on the other side, Leeds got back to the big time. All is not lost!"

Monday 24th August


This isn't coronavirus news, but I can't just let it go by.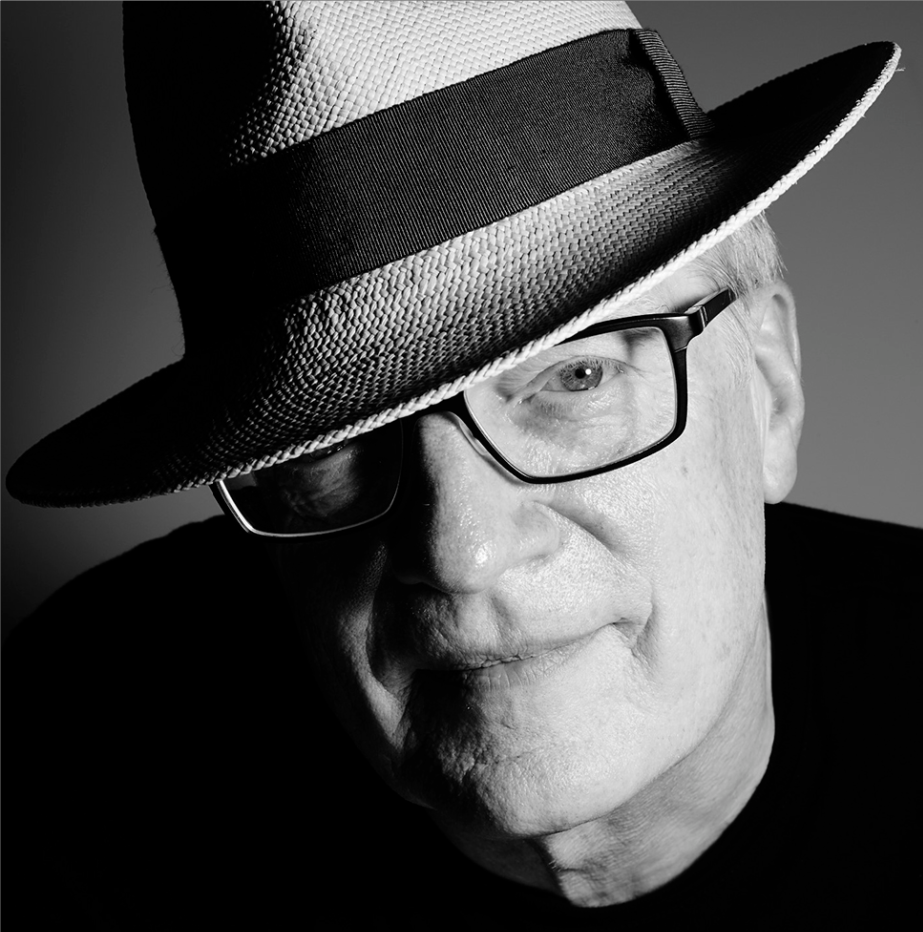 Our old friend Ken Robinson died from cancer aged 70 in Los Angeles on Saturday. Sir Ken, as he became in 2003 for services to the arts, was a world-renowned speaker, writer and project leader on creativity in education. He is most famous for an 18-minute speech: his first TED (Technology, Entertainment and Design) talk in June 2006, "Do schools kill creativity?", with 66,290,561 online views at the time of writing.

We first met in the mid-1970s while living in a London squat in Burton Street WC1, at the northern border of Bloomsbury just south of the Euston Road, a row of six houses built in the early 1800s, each with five storeys including a basement. Our friends Linda Clarke and Jo Barnes had been tenants of a private landlord in one of the flats. When the street was close to being demolished, all shuttered with corrugated iron, the original squatters tore down the iron, painted the house fronts and moved in. I believe Linda managed the relationship with Camden Council that enabled us to stay. Quite a number of the residents had graduated from Bretton Hall, the teacher training college in Yorkshire, including Ken. I lived at the top of Number 40, the end house on the right in the picture below; Ken's room was at the bottom.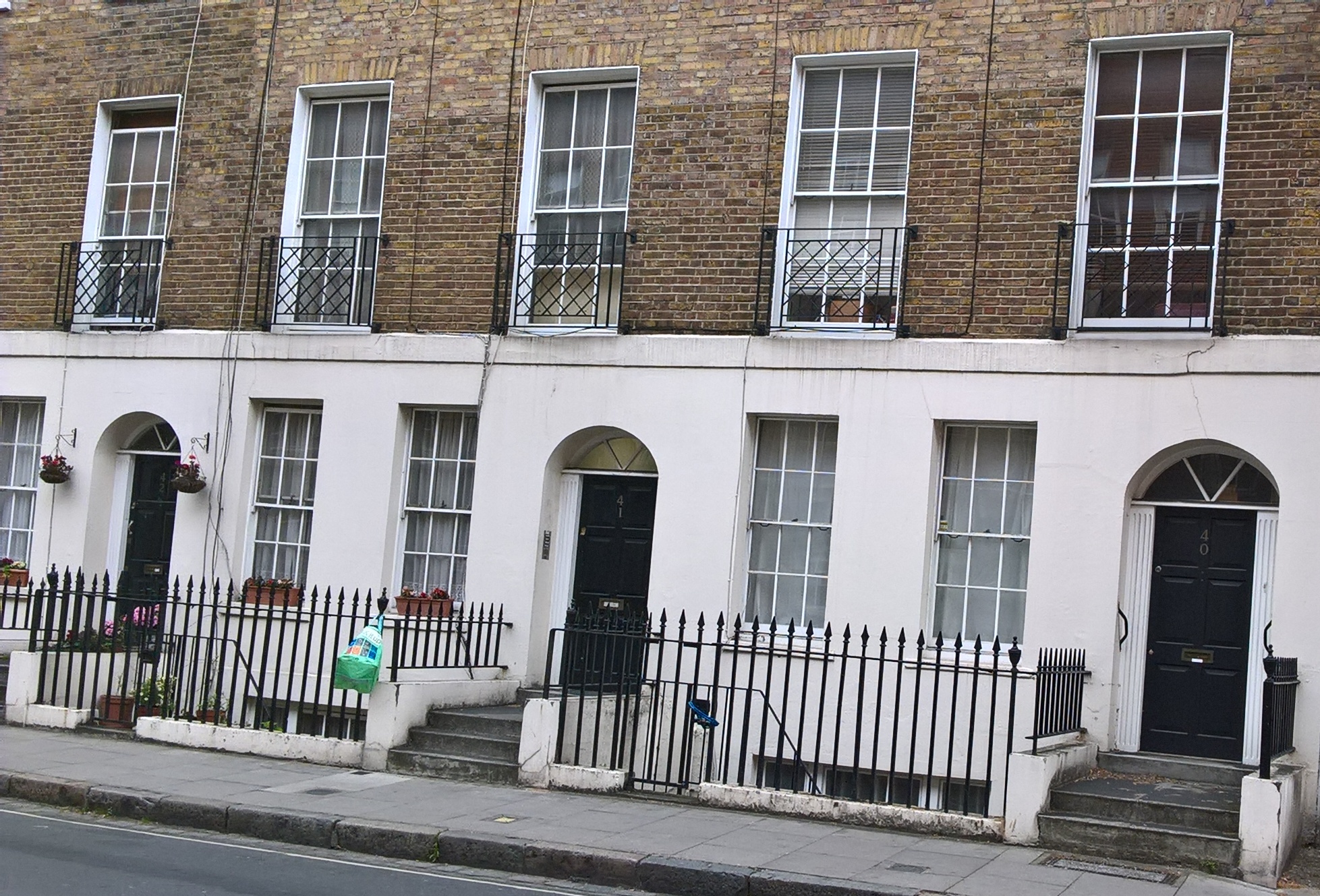 Ken was working on his PhD at the University of London at the time, researching drama and theatre in education. He could entertain us even then. On certain evenings - based on a rota I imagine but no longer remember - up to 20 of us would eat together in the basement room. Ken and his great friend Roger Selves would keep us in stitches for hours. I'm proud to say that I co-invented a game with him. It involved a yellow washing-up bowl and three tennis balls. The basement door led out into a small yard facing the rear wall of the house in the parallel street, four stories high. The challenge was to bounce a tennis ball high up off the wall and catch it in the bowl. The next challenge was to repeat this success with a second ball, taking care not to dislodge the first. Then again to complete the trio, a "clutch". We called the game "Bassin".

I'm going to post a few videos now of Ken on stage. It's probably what he did best: a clear assertion, no notes, no slides, humour, stories, warmth - Ken was a maestro. The first is a 20-second clip from his 2006 TED talk, in which he summarises his three - Ken believed in the magic of 3 - main themes: children have talent, we educate them out of it, creativity is vital for the future.




Ken believed that anybody could achieve fulfilment and success if they found the right "element", where natural talent meets personal passion. In his book "The Element: How Finding Your Passion Changes Everything" he wrote of people as diverse as Paul McCartney and Matt Groening, creator of "The Simpsons", to physicist Richard Feynman. The clip below is about Gillian Lynne, choreographer of "Cats" and "The Phantom of the Opera." She was considered hopeless - "ADHD wasn't an available condition" - until she met an empathetic doctor. Ken mentions "Epiphany" here - it must have been a working title for "The Element".




We've seen that he liked to use a story to illustrate a point. As I'm sure many others do, I re-tell them all the time. A favourite of his - and mine - is about the little girl in a drawing class. It's a celebration of children's potential again, their risk-taking.




R.I.P. Ken Robinson. Thank-you.

Friday 21st August


Joe Biden has delivered his first major speech of the 2020 election campaign. Steady stuff, based on the contrast of what he will offer with what Trump represents. Light not darkness, hope over fear, facts over fiction, fairness over privilege. I don't think I've witnessed before such a personal denouncement of the incumbent president. Mind you, we've not seen anybody like Trump before and it would be odd not to have a go at him.

Two more video snips following on from yesterday's post. The first is from Trump's pre-buttal (he was commenting on an early release of the speech) to Obama:




Then Miles Taylor, former Chief of Staff of the Department of Homeland Security. He made some clear and emphatic statements about the president's lack of interest in security, his dismissal of the California wildfires, policies of zero-tolerance at the border separating children from their families, how ill-equipped he was to do the job and how a second term would be even worse. Not a Democrat, but compelled to support Joe Biden.




Trump tweeted in response: "Many thousands of people work for our government. With that said, a former DISGRUNTLED EMPLOYEE named Miles Taylor, who I do not know (never heard of him), said he left & is on the open arms Fake News circuit. Said to be a real "stiff". They will take anyone against us!" Sometimes I don't even understand what he means.

Alistair Haimes tweeted: "NHS shows

#Covid

deaths in English hospitals at zero in the past 24 hours [19th August] for the first time since the epidemic began."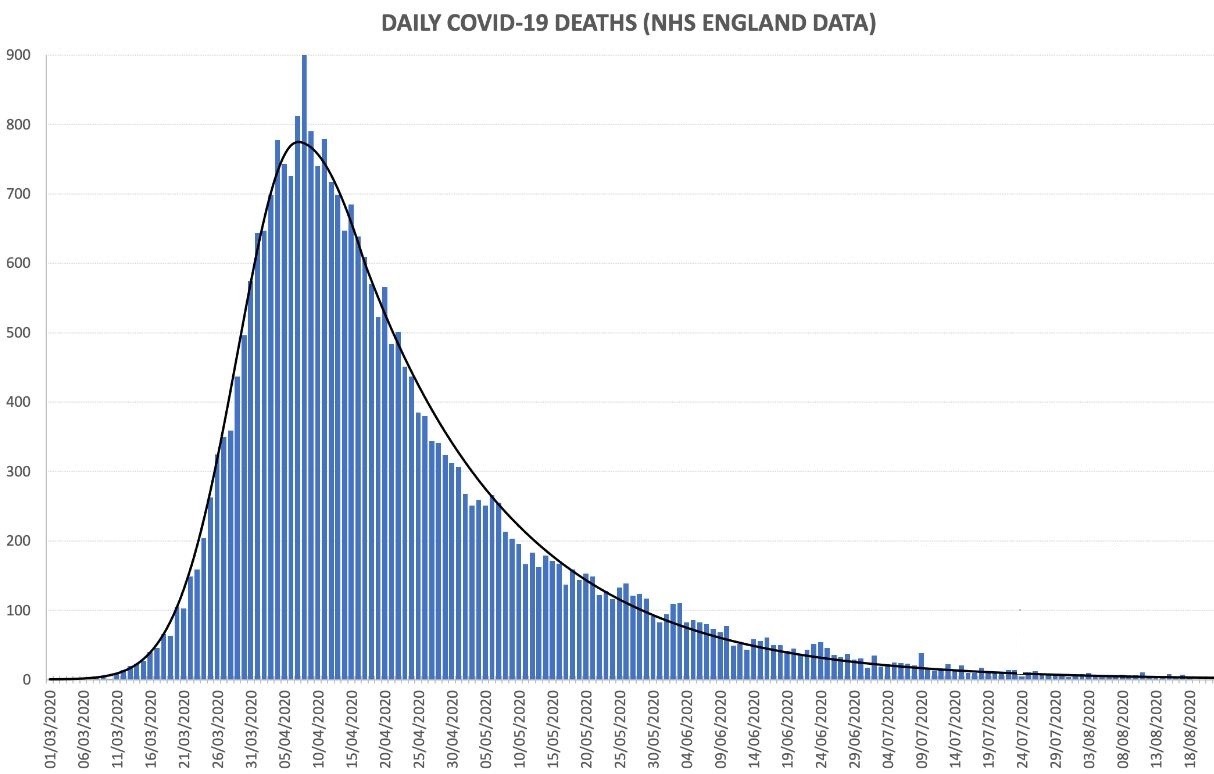 There were two further deaths (in English NHS hospitals) yesterday.

Thursday 20th August


A Waitrose poll has found that 77% of us now do at least [Ed: What does this mean?] some of our grocery shopping online compared with 61% last year. The biggest shift was in the over-55 age group, where regular online shopping nearly trebled, a direct reflection of the venerable and vulnerable cohort's response to lockdown and self-isolation. The trend looks set to stay. Waitrose & Partners executive director James Bailey said: "Because online shopping quickly becomes habitual - these changes are irreversible." Ocado's sales jumped 27% to more than £1bn during the first half of 2020. Chief executive Tim Steiner said: "The world as we know it has changed. As a result of Covid-19, we have seen years of growth in the online grocery market condensed into a matter of months; and we won't be going back. We are confident that accelerated growth in the online channel will continue, leading to a permanent redrawing of the landscape of the grocery industry worldwide."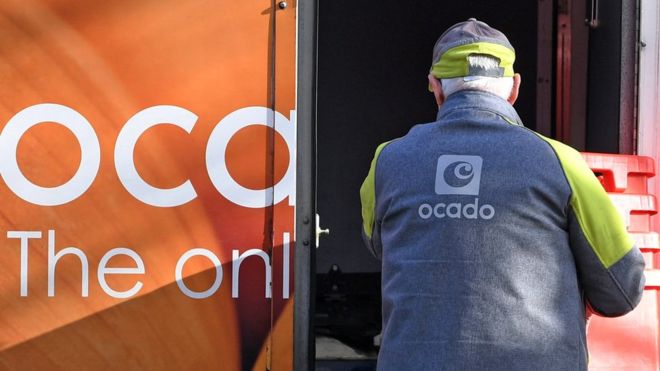 The gloves are off. Barack Obama climbed into Donald Trump at the Democratic Convention with direct and personal criticism of his successor that you don't usually see from an ex-president. Damning at a very basic level. He asserts that Trump has shown no interest in "taking the job [the presidency] seriously" and "putting in the work ... Donald hasn't grown into the job because he can't." Trump had earlier issued a pre-buttal in which he talked of the "horror" Obama had left for America, of the "stupidity" of his actions.



Wednesday 19th August


The doors have been open from noon to 10pm at Toni's Kitchen across the road for the last three days.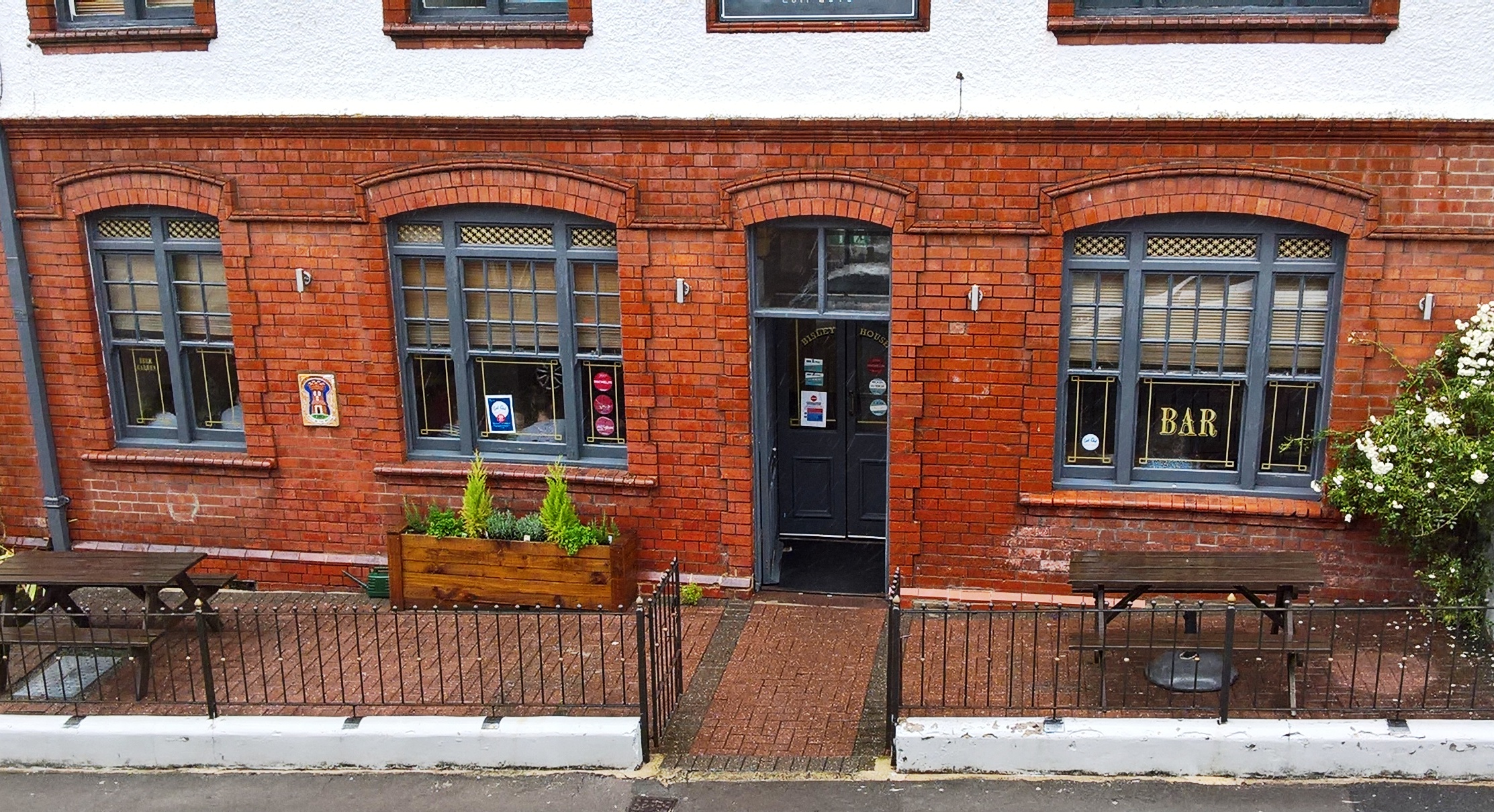 They're usually closed on Mondays and Tuesdays, so these are sittings for "Eat Out to Help Out". Fully booked, restricted of course for social distancing. Dreadful weather today, so they lose the six tables in the lovely back garden where I had lunch with my friend Alastair yesterday. It's delicious food and very good value right now because they offer a 3-course meal for £20 before you apply the 50% discount. Not the full menu, but sufficient and tasty.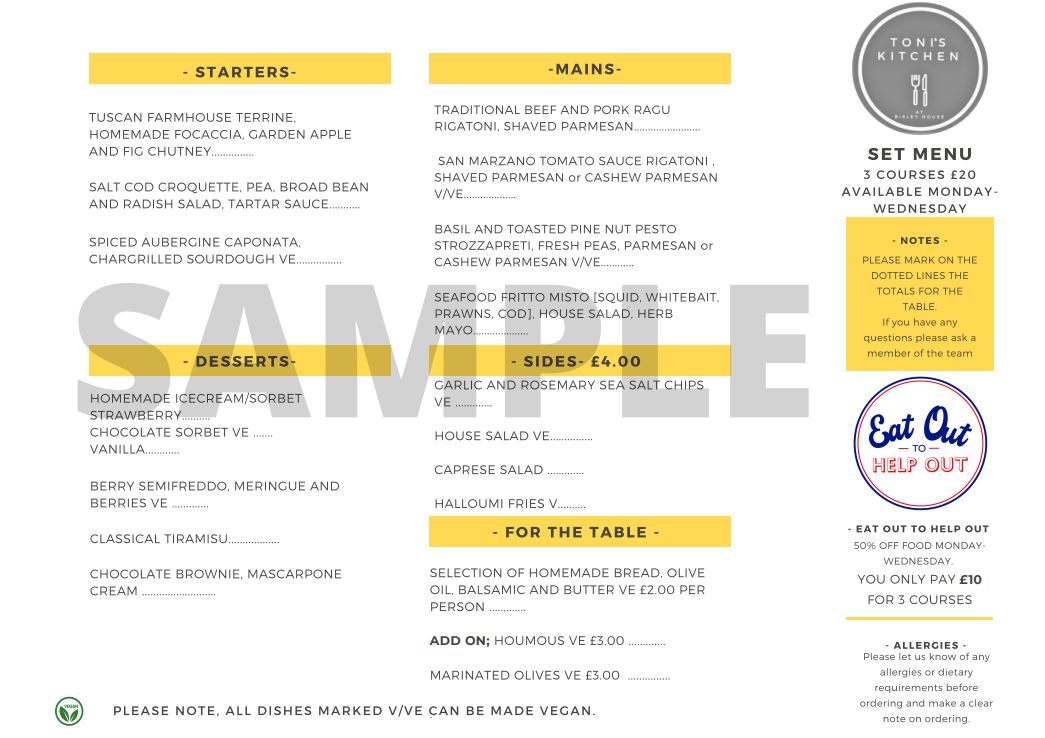 I'm not sure what the profitability will be for their running the scheme alongside their own price reduction. It helps when families or groups come in; with couples the revenue-per-distanced-table drops seriously. They're serving all day, rather than just lunchtime and evening, presumably to counter the reduction in covers at those times. Proprietor Jason Orsi is probably not too bothered. The Orsi family have two very popular pizza takeaways which have boomed during lockdown. Their delivery manager tells me he has had to hire up to 18 drivers on peak nights to fulfil demand. The Kitchen has always been a bit of a plaything. The scheme at least reminds customers that they are open for business.

Elsewhere, government figures say that 85,000 restaurants have joined the scheme and served 35,000,000 meals in the first two weeks. Some participants have pulled out. Meeting demand has caused unwelcome pressure, even as far as the public abusing staff when turned away. One diner stunt seemed a bit cheeky. A group ordered only starters and then asked for the bill, which included the £10-per head saving. They moved tables for their main course, re-ordered and asked for the discount all over again.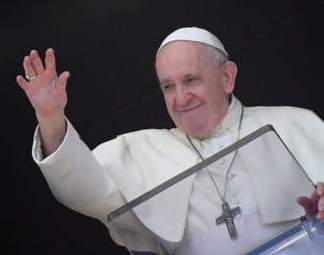 Good on yer, Pope. "How sad it would be if access to a Covid-19 vaccine was made a priority for the richest and not universal for everyone. On the one hand, it is imperative to find the cure for a small but terrible virus which is bringing the whole world to its knees. On the other hand, we must cure a great virus: that of social injustice, inequality of opportunity, marginalisation and lack of protection for the weakest."

Sunday 16th August


Three days without writing. I will admit to feeling less than optimistic. Now today's news. The WHO says 294,000 people tested positive for Covid-19 yesterday, the highest daily increase of the pandemic so far.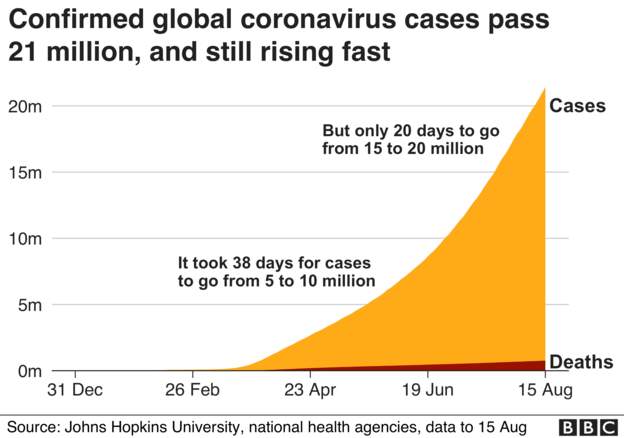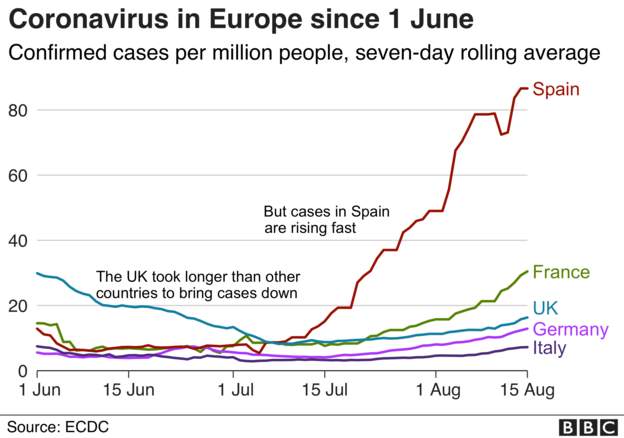 I'm a fan of lockdown, and can afford to be. I'm surprised to see I'm not in a minority. King's College London has released results from a survey which reveal that 86% believe that, until a vaccine is found, workers should be able to decide whether they returned to the office. Experts said the results show people are prioritising public health over the economy and their social lives. 87% of people questioned said that they would accept local lockdowns being imposed in the future. I couldn't agree more.

Wednesday 12th August


Sent by Dave Lovegrove ...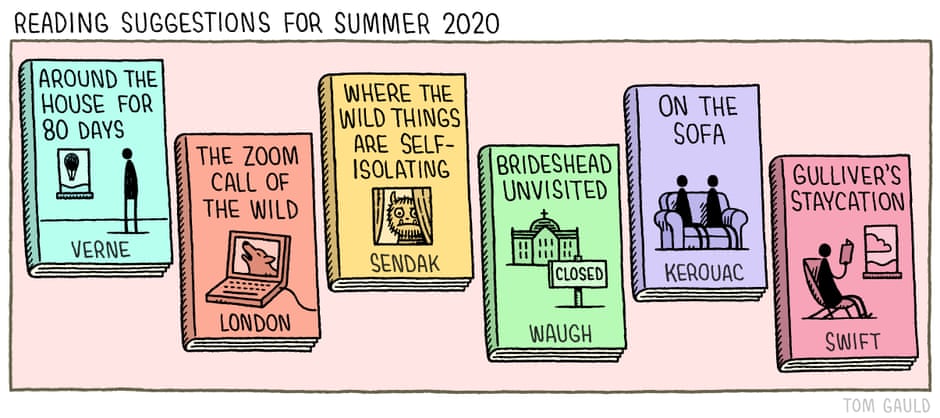 Anecdotal news from our local GP practice, to whom I just spoke. They have been handling the majority of enquiries by 'phone during the coronavirus crisis. Recently they have had "exponential" growth in the number of patients asking for face-to-face consultation. The surgery thinks that most have held back in awareness of the pressures on the NHS, but now feel a pressing need to address their medical problems more energetically.

Tuesday 11th August


The case numbers I posted yesterday make clear that we are not winning. James Gallagher, BBC Health and science correspondent, said yesterday, "It is little more than six months since the World Health Organization (WHO) declared the arrival of a new virus a global emergency. Since then the world, and our lives, have changed profoundly. So how are we faring in this battle between the human race and the coronavirus? If we take the planet as a whole, the picture is looking rough." WHO doctor Margaret Harris added, "We're still in the midst of an accelerating, intense and very serious pandemic. It's there in every community in the world."

I said on Sunday 2nd August that I detected an "eerie acceptance" of the virus. It's here. It's growing fast in parts of the world, in others there are spikes of re-infection. We tweak our protective measures against the latter, reverting to local lockdown as required. We allow the R number to hover around 1. I know we play the balancing act of trade-offs to encourage the economy, but I'm not convinced it's the right thing to do. It leaves us with a drip of contamination, never clear of threat. Doctor Elisabetta Groppelli of St George's University of London said, in criticising world leadership, "they're discovering it's more challenging coming out of lockdown than going in. They haven't thought about how we can co-exist with the virus." And co-existing is just about all we're doing. Personally, I'd favour the go-for-broke approach of Jacinda Ardern, apply the "hammer" to extinguish Covid-19, force R down to 0. We know her situation in NZ is different to the UK. I can argue for her approach quite easily because I don't have to go to work. My income and expenditure roll in and out regardless of coronavirus. How much more would it take the Treasury to fund eradication of the virus? And have done with it? Rather than endure the lingering persistence of today.

Is there another stage of co-existence in which we recognise Covid-19 as a "fact of life"? It's going to be there. We carry on normal lives and factor in death from the virus as part of them. We take risks all the time: smoking, alcohol consumption, riding a motorcycle. Coronavirus just becomes another public health issue to be addressed within budget limitations. Doctor Margaret Harris again: "It's the perfect pandemic virus of our time. We are now living in the time of coronavirus. Leaving lockdown does not mean back to the old ways. It's a new normal. People have not got that message at all."

Of course, the vaccine is just round the corner ...

Monday 10th August


I haven't had the motivation to write about coronavirus since last Thursday. Why is that?

Back in February, I think most of us expected that the pandemic and our response would follow this pattern: severe initial outbreaks → radical lockdown and control of the R number → release of lockdown and introduction of social controls → steady reduction of virus cases → elimination of virus with R close to 0 → back to normal by August. Lockdown was met with "Dunkirk" steadfastness, helped by the assumption that the crisis was temporary; we felt capable of tolerating discomfort for a period we expected to end soon. There was much talk of "silver linings": lower pollution, community togetherness, taking stock of our lives, the opportunity to shape a better world.

Six months on, Johns Hopkins' chart looks like this: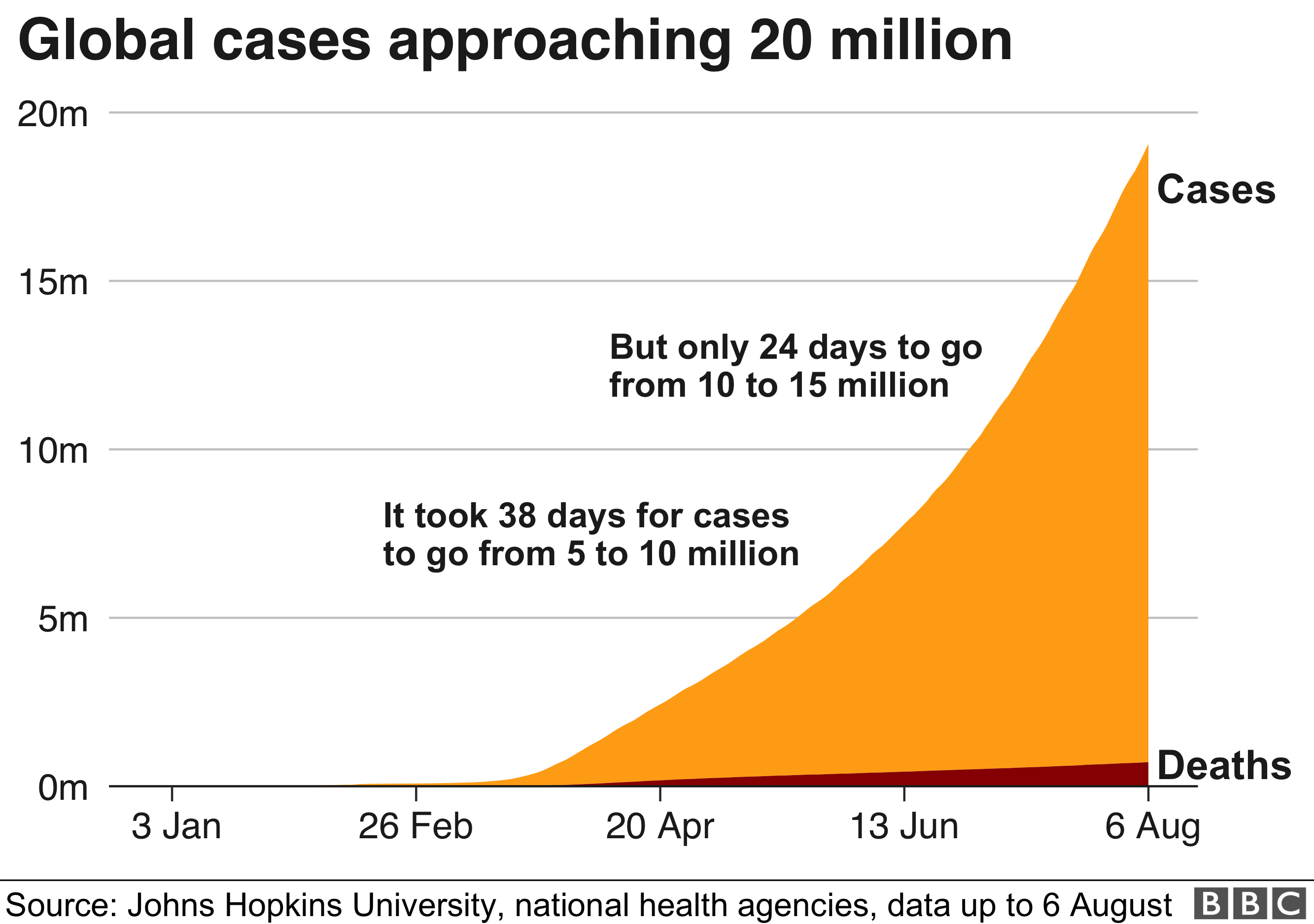 Click to enlarge


Below is yesterday's FT new cases chart with 6 countries highlighted. Yes, the UK is bumping along the bottom. Yes, the USA and Brazil are out of steep climb. But India continues to head north-east. The numbers are still shockingly high. On August 8th, these were 7-day-averaged new daily cases: India 57,469; USA 52,511; Brazil 43,505.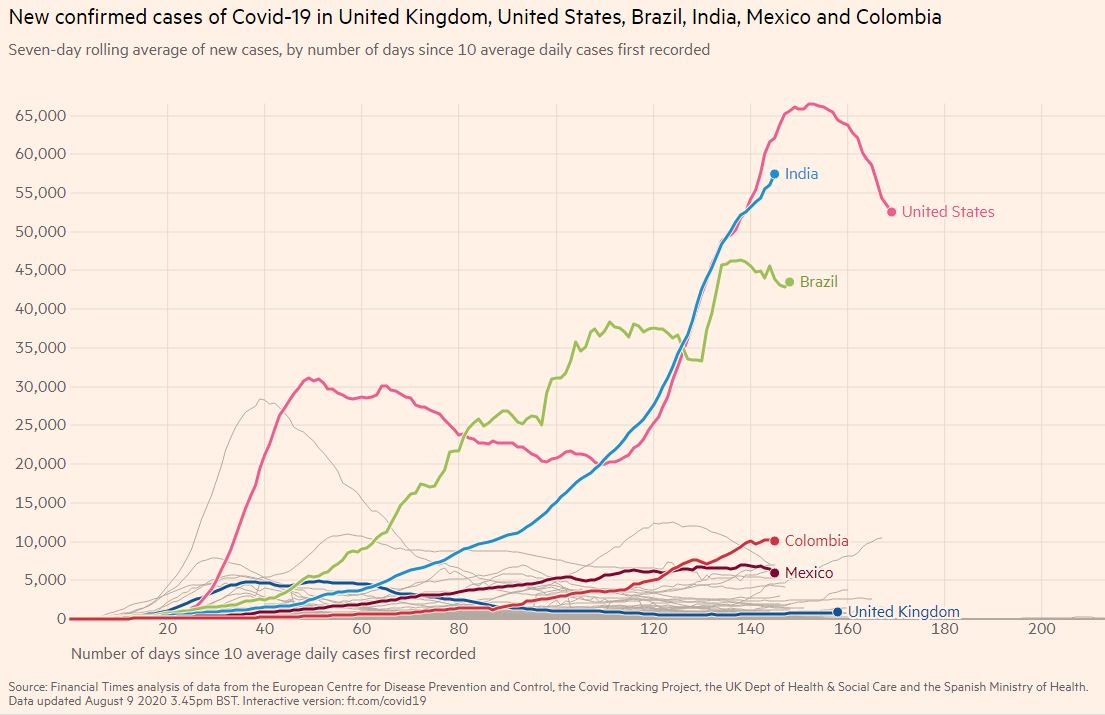 Click to enlarge

Thursday 6th August


Billy No-Mates? Lewis tweeted before his last victory: "Isolation ... social distancing ... the challenges of this current time are different personally for all of us but we are all in this together. We have a long way to go with Covid but we will get through it together. I'm sending you positivity as we head towards this weekend's race."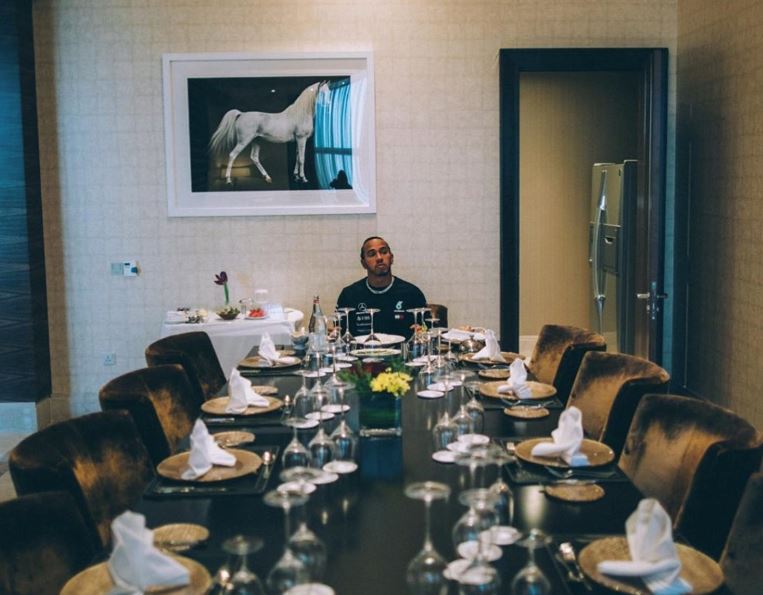 Couldn't a couple of people have joined him safely at his table?

I'm enjoying "Eat Out to Help Out", so I thought I'd try another initiative, the "Fix your Bike Voucher" scheme. I have an unused mountain bike in the shed which I'd like to use alongside my electric bike - better exercise. Sadly,


The voucher scheme has been hugely popular and all vouchers in the first batch have now been allocated. We will be working closely with the cycling industry during this pilot stage to monitor the scheme's impact. Further vouchers will be released when we are confident people will be able to get their bikes fixed at a wide range of retailers without significant waiting times.



I'm trying to find some sort of email/SMS notification thing to avoid missing the next one.



Wednesday 5th August


New Spitting Image puppets out this autumn :-)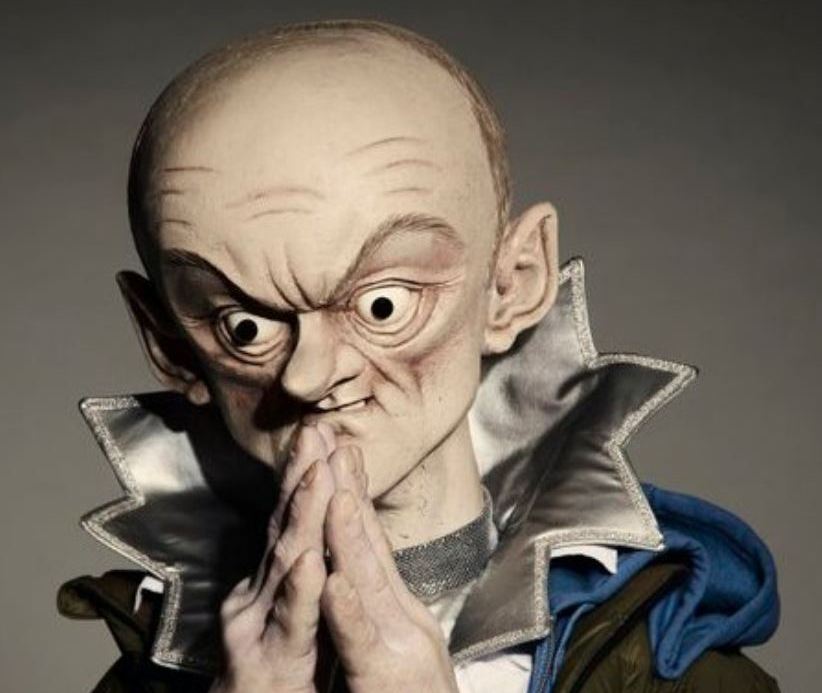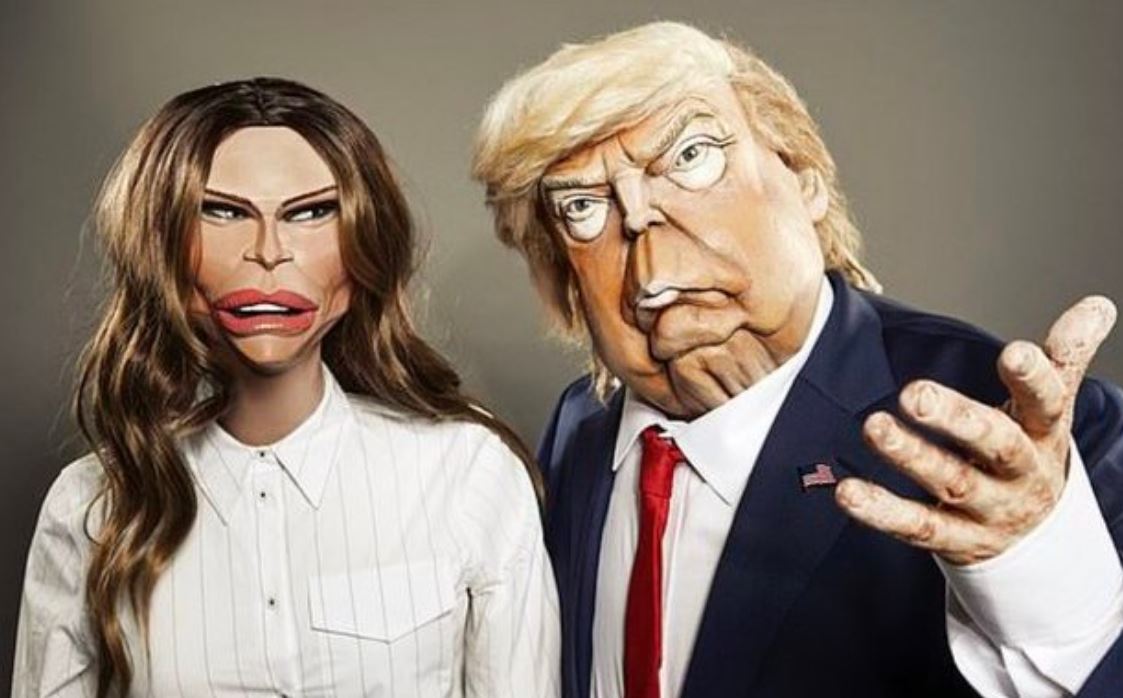 Tuesday 4th August


After banging on about sticking to the restriction rules, I do hope the "Eat Out to Help Out" initiative is not going to backfire. I'm having lunch today under the scheme with my friend Martyn and next Monday Sarah and I are going to the just-reopened Toni's Kitchen opposite our house. Weather permitting we'll sit outside. Toni's last night was as full as it could be with social distancing on a Monday when they don't usually open. Both restaurant and diners taking advantage.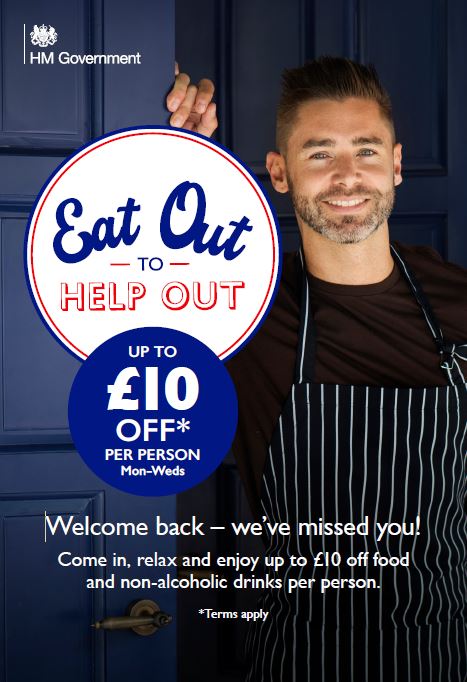 To save you looking them up, here are the scheme details:



Use the Eat Out to Help Out Scheme at a participating establishment:
to get a 50% discount on food or non-alcoholic drinks to eat or drink in (up to a maximum of £10 discount per diner)

every Monday, Tuesday and Wednesday between 3 and 31 August

as many times as you like

You do not need a voucher to use this scheme and you can use it at the same time as other offers and discounts.

There is no minimum spend.

You cannot claim discount on alcoholic drinks or service charges.

The discount will be automatically available to you at participating establishments. Establishments will then claim a reimbursement from the government for the discount they've given you.

All diners in a group of any size can use the discount.
Participating establishments may include:
restaurants, cafés, bars or pubs

work and school canteens

food halls
Monday 3rd August


The list of repeat outbreaks around the world grows daily. If you don't pay attention to this virus, it comes back. Oddly, it can return strongly in countries that have been successful in controlling a previous occurrence. Look at the chart for the state of Victoria from the Australian Government Department of Health.






Click to enlarge


The current numbers far exceed those of April, and that's after a 3-month period of bumping along the bottom. Victoria has declared a state of disaster and imposed new lockdown measures. Residents of capital Melbourne are subject to a night-time curfew from 8pm. The state borders are closed.

In the USA Deborah Birx, White House coronavirus task force coordinator - lambasted by House speaker Nancy Pelosi for misinformation collusion with Trump - has spoken of the changing nature of the virus.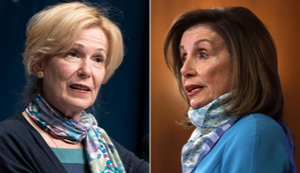 "What we are seeing today is different from March and April. It is extraordinarily widespread. It's into rural as well as urban areas. To everybody who lives in a rural area, you are not immune or protected from this virus. If you're in multi-generational households, and there's an outbreak in your rural area or in your city, you need to really consider wearing a mask at home, assuming that you're positive, if you have individuals in your households with comorbidities. If you have high case load and active community spread, just like we are asking people not to go to bars, not to have household parties, not to create large spreading events, we are asking people to distance learn at this moment so we can get this epidemic under control."


Masks. Don't go to bars. No large spreading events. This doesn't sound like recent Trump-approved American libertarianism. But it is the only way. In all the cases of coronavirus resurgence, the relaxation of restrictions - when mis-managed and ill-observed - has led to outbreaks. As we expected, ease-up is so much harder to manage than full lockdown.

How has Trump reacted to this? He tweeted this afternoon:



"So Crazy Nancy Pelosi said horrible things about Dr. Deborah Birx, going after her because she was too positive on the very good job we are doing on combatting the China Virus, including Vaccines & Therapeutics. In order to counter Nancy, Deborah took the bait & hit us. Pathetic!"


"Crazy", "horrible", "pathetic": this is a child speaking, right? "Very good job": how can he possibly claim that? "China Virus": just using a country's name can divert all responsibility from him? God help us.

Tedros Adhanom Ghebreyesus, head of the WHO, spoke from his Geneva HQ today:



"A number of vaccines are now in phase 3 clinical trials, and we all hope to have a number of effective vaccines that can help prevent people from infection. However, there is no silver bullet at the moment, and there might never be. For now, stopping outbreaks comes down to the basics of public health and disease control: testing, isolating and treating patients and tracing and quarantining their contacts. Do it all."

Sunday 2nd August


It now feels that there's some sort of eerie acceptance of the crisis. There is no cure. This is how it is. We can only seek to stem its growth and mitigate its impact. Government statements this week show as much. Johnson said: "The only real utensil we have controlling the spread of this new virus is human behaviour and the only way we can encourage people to behave in one way or the other is through advice." He could choose methods other than advice. He could pass laws. But he's unwilling to do so.

Professor Chris Whitty, the UK's chief medical adviser, said: "I think what we're seeing from the data from ONS, and other data, is that we have probably reached near the limit or the limits of what we can do in terms of opening up society. So, what that means potentially is that if we wish to do more things in the future, we may have to do less of some other things."

The term "trade-off" appears frequently. The core dilemma is: save lives or save the economy. It's a shared view, restricted neither to government alone nor just the population. I get that, but I can't believe that the protection of lives is not paramount.

How is human behaviour going to shape up? The photos I posted yesterday are beyond my understanding. What sort of decision process allows somebody to take a standing-room-only train to a crowded beach? "The risk of me getting Covid-19 is very low, it's summer and I want to live normally." Is that it? It looks like a complete failure of imagination to me. We can't see coronavirus, anybody who has a severe dose will be in hospital and we do not witness the acute illness and fear that precede death.

What's been going on with the R number? I've always liked it. It explains the rapid growth of outbreaks, the exponentiality. We can derive a sense of individual responsibility; anything I do should aim to support the target of R<=1.

Cambridge University has been tracking it for some time. The MRC Biostatistics Unit COVID-19 Working Group published an update on 29th July, of which the headline points are:
Our current estimate of the number of infections arising each day across England is 3,000 (1,600-5,520, 95% credible interval).

We predict that the number of deaths each day is likely to be between 43 and 84 by mid-August.

We estimate it is very likely that R is close to 1 in most regions of England.

The South West and the South East have the highest probabilities (62% and 57% respectively) that R is above 1. The probability of exceeding 1 is less than 20% only for the East of England and the Midlands.

The regional R rate, highest to lowest, is: South West 1.04, South East 1.02, London 0.92, North West 0.92, North East and Yorkshire 0.90, East of England 0.88
The Daily Mail published a colourful graphic based on the above numbers: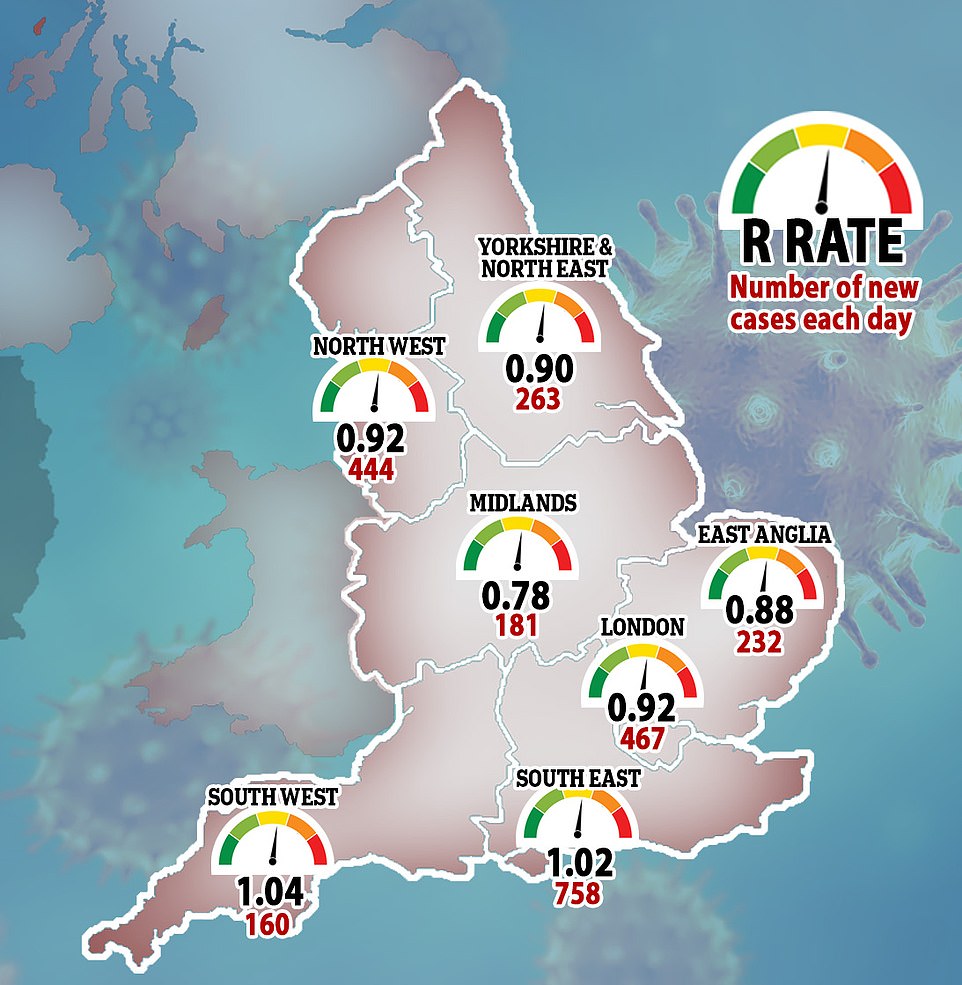 Hmm, I'm not sure I need anything this garish to understand 7 instances of R.

R=1 means marking time. R>1 is bad news, as we're entering exponential territory. I suspect R<0.5 is required to make significant progress against the virus.

Saturday 1st August


It's evident that Boris is convinced that the "magic of 3" is the key to popular communication. He's had some success with this formula - "Take Back Control" and "Get Brexit Done" - and now we have "Hands - Face - Space". He was clearly chuffed when he used the phrase regularly in the Thursday briefing session; "that was pretty punchy I think". He then slightly spoiled it by adding the test and self-isolate extension. None of the message is in fact new; we have been advised to take this action for some while.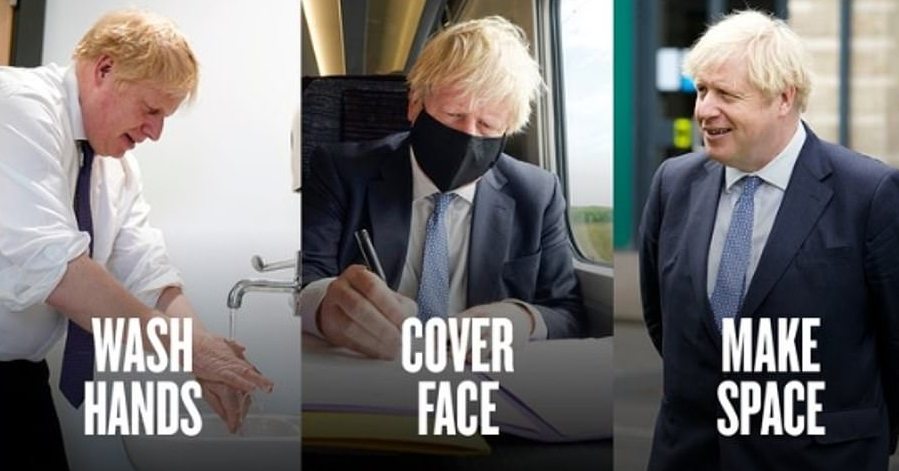 How did the nation respond? On the hottest day of year so far and not even at a weekend, people once again rushed to the coast. Police were turning sunseekers away from Sandbanks by 11am. Poole Council's beach app was showing red by afternoon, indicating "avoid, safe social distancing not possible".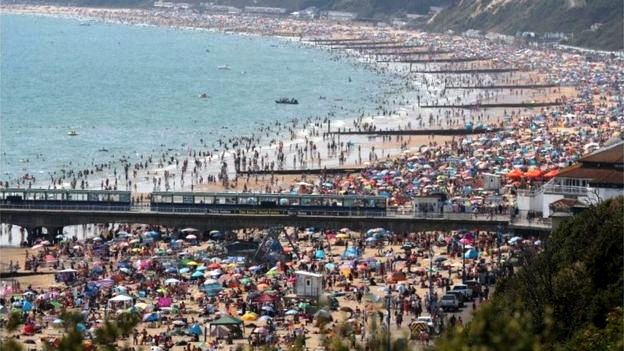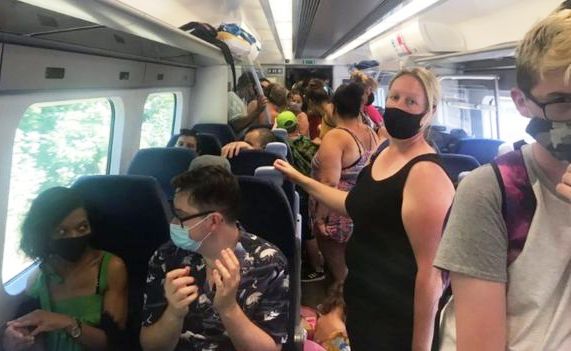 Thursday 30th July


I haven't been in a crowded space since Covid-19 kicked off, certainly not indoors. Low on my wish list would be a snooker tournament, trapped for most of a day in a darkened room away from the open air. The World Championship starts on Friday at the Crucible Theatre in Sheffield. 300 fans will be admitted, seated in maximum-two-household "bubbles" of 4. Masks are to be worn around the venue but may be removed in the auditorium. Two players at least seem to share my concerns.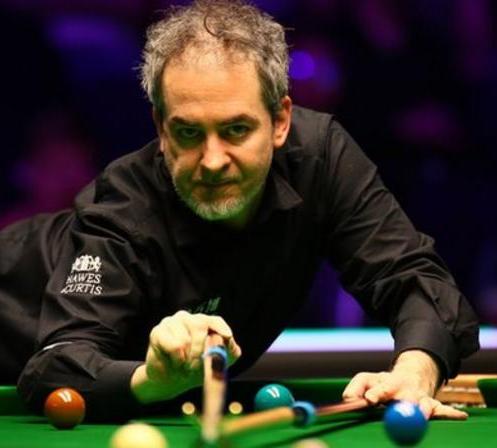 World number 48 Anthony Hamilton called the mask rule "a mad thing". He added, "Let's say one person gets ill and dies from the Crucible, that is one person who has died for no reason, just for entertainment. I won't be comfortable in there personally, I don't know why anybody would be comfortable, we all know it is airborne."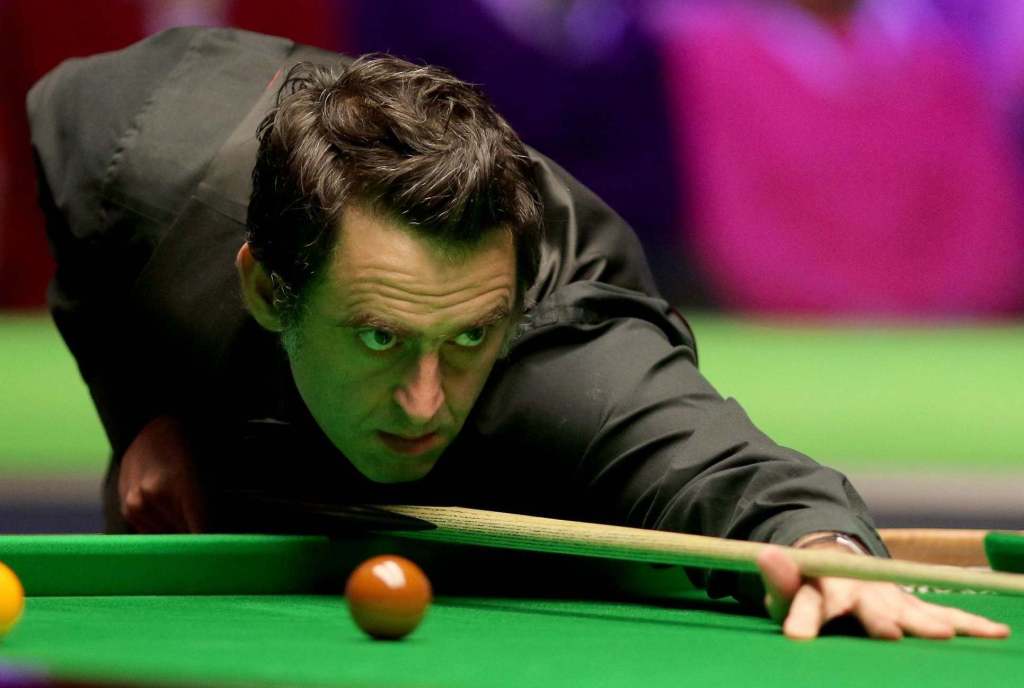 Five-time world champion Ronnie O'Sullivan had plenty to say:

"I defy anybody if they have been keeping their distance from people for four months to say, oh right, now you've got to go into a room full of people - unless you have got a death wish, and some people have in many ways and they just don't care. But if you are one of these people that happens to care about your health and are taking it seriously, I totally get how he feels. I would feel a bit strange walking in a room with 10 people I don't know, and I have done. I didn't feel comfortable. So I totally respect where Anthony is coming from, and where other people are coming from - they want crowds in there, they want things back to normal. We have a choice we don't have to go and play. We all run a bit of a risk. I have the option not to play but I've decided to play. Maybe with 5,000 fans I could see it's a bit of an income you're going to lose, but 200 fans, is it really? Maybe they have to start doing a test on crowds at some point and I've heard people say they're treating the snooker event a little bit like lab rats - you've got to start somewhere, start with snooker players. Less insurance to pay out for Anthony Hamilton than there is for Lewis Hamilton. It's not until you've had people close to you that have gone through it

[he has]

, and know someone who has died. I've had nurses who I have spoken to and they say, 'People have come in with Covid-19 and they think they are going to be alright and it's not until they can't breathe that they say "please don't let me die".' Grown men and women crying their eyes out because they can't breathe. It's only when something like that happens and you hear those stories that you go 'hold on a minute, this is serious'. I don't think it has been taken seriously enough."

Wednesday 29th July


Chris Anderson, curator of TED (Technology, Entertainment, Design), had a virtual conversation with Bill Gates at the end of June titled How the pandemic will shape the near future. It's a good "state of the union" discussion looking back over the crisis so far and then into the future, particularly this coming winter. I've posted the full video (43 minutes) and a transcript (15 pages), worth a look if you can spare the time. Gates is quite difficult to listen to - speaking is not his greatest attribute - but he is most definitely "on the money".

There's nothing terribly new in the comments and conclusions, just more detail and authority. The relaxation of protective measures has not gone well. Mask-wearing is haphazard. Isolation at home is the best idea, not banging around with lots of other people (mobility, he calls it). There's good progress on vaccine development, but it's not there yet.

Gates is quite guarded in his responses. This isn't to do with the strength of his opinions. I think he just doesn't want to get into tit-for-tat slanging matches; he sees them as very counter-productive. The discussion moves to leadership and Anderson expresses some distress about the lack of a global strategy devised by nations working in harmony. Who will look after developing countries, rather than buying up vaccines for inward-looking requirements? We know who we're talking about, right? Gates, a firm believer in the WHO, will not be drawn. No cheap shots.

Anderson asks Gates about the level of personal criticism he has suffered. Social media - yes, Gates has criticised them - has delivered a torrent of abuse: he's evil, part of the controlling elite, he's going to microchip us all, what right as a computer man does he have to pontificate on a virus? Gates' response is measured, hesitant; "I am caught a little bit, unsure of what to say or do, because the conspiracy piece is a new thing for me, and what do you say that doesn't give credence to the thing?"




You can read the transcript here: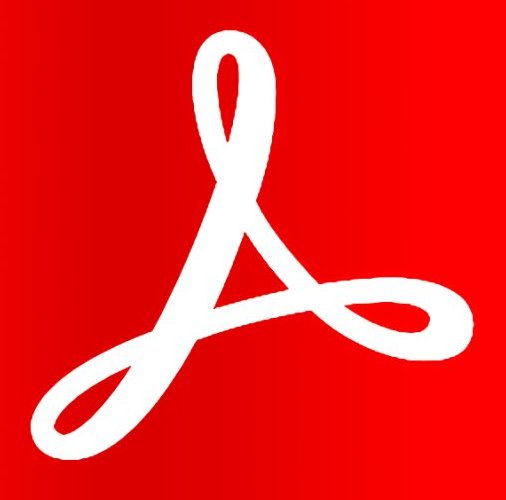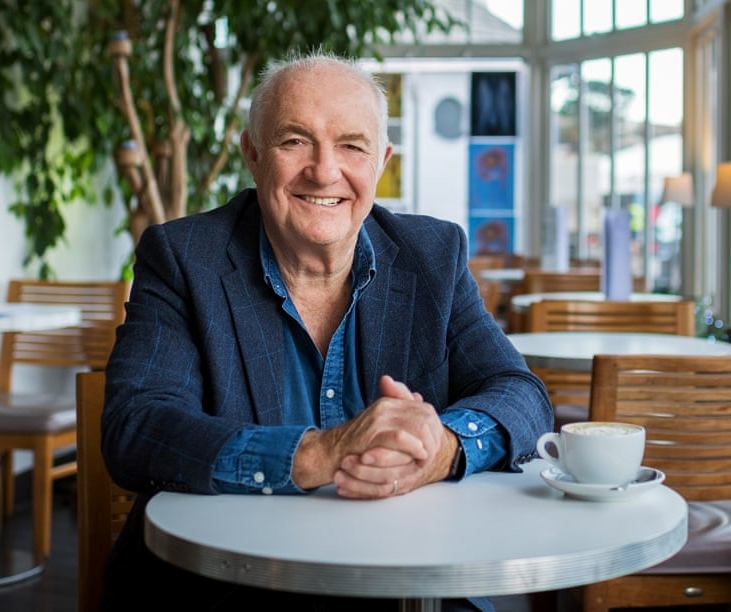 Rick Stein - interviewed in Guardian G2 last Monday - is stuck in Sydney. He went out in March to check on restaurants he has there, intending to return after a couple of weeks only to have his flights cancelled. Meanwhile he has closed two of his six UK restaurants and gone to the bank for a loan to keep other businesses running. "We still don't know whether we'll make it or not because, cash-wise, the worst time for us will be next January and February. Thank goodness the government has seen fit to let us open for the two busiest months in the summer." One problem is particular to the restaurant business - no-shows. The company had more than 900 in just over a week at an estimated cost of £46,000. "Normally, we get no-shows, of course, but to get them now when everything is so precarious is quite tough." He has charged a deposit in the Australian restaurants but not in the UK. "We've always ummed and ahed about doing it because it's a balance between making the right money and being agreeable and amenable. At the moment when our cashflow is so parlous, I think we should have done."

All this of course reminds me of our visit to Laugharne last week, where the pubs weren't open, seven out of eight restaurants were closed and we were the only guests in our B&B. No income or shrunk to break-even. Communities are so vulnerable when the bulk of the money from your most significant business - in this case tourism and hospitality - is shut off. Stroud doesn't feel the same, I presume because it has a relatively mixed economy. The Cotswolds are a popular visitor destination, but Stroud is not a typical tourist magnet; it's not a Stow-on-the-Wold, it's not chocolate-box.

Tuesday 28th July


Look at the New York and California curves in yesterday's FT new cases chart.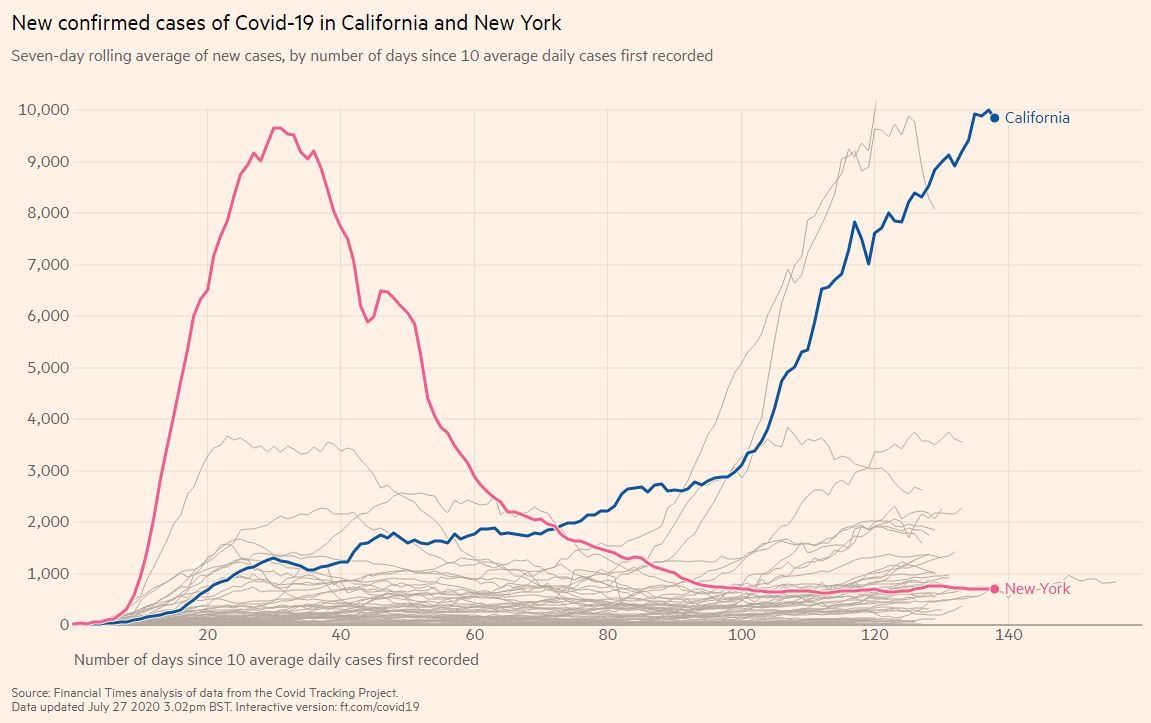 The east coast peak coincided with Europe's worst at ~30 days after the initial outbreaks. The west coast at ~140 days matches most closely the southern Americas. It's almost two separate crises. Why is that? It appears that one part of the country has failed to learn lessons from another.

What has happened in California? It's a familiar tale. A few months ago California looked like a success story. The Covid-19 death rate was less than a tenth of New York's. The state then let its guard down. George Rutherford, an epidemiologist at the University of California San Francisco, said: "Our original response was right on. The politicians really stuck their necks out on it. And I think it paid off, with thousands of lives saved. [However] there's a playbook for what to do, but not a playbook for how to undo it." That last statement strikes a chord with me; I always felt that ease-up was going to be harder than lockdown.

The Californian public has over-embraced the relaxation of restrictions, particularly further south and among young people, of whom Lee Riley, epidemiologist at the University of California Berkeley, said "maybe they feel invincible, so they go out to bars, they gather in big groups but then they can spread the virus to their grandmas and grandpas, their parents, their buddies with asthma or diabetes, who are more vulnerable." Riley said the public thought "they were safe to just have parties, go to overcrowded beaches, to get close to other people and take off their masks. People began to fixate on individual liberties without understanding that one of the most fundamental civil liberties in the US is the right to health - the right to stay alive."

There is also an ethnic and social dimension to the growth of infections. Here's Maanvi Singh in The Guardian three weeks ago.

Among the hardest-hit regions are rural counties in the south and the Central Valley, where farmworkers have been toiling through each stage of this pandemic. California is referred to as "the breadbasket of the world" for good reason; it is the world's fifth largest supplier of food and agricultural commodities.

As more Californians emerged from their homes, crowding restaurants and public spaces, "it really put our essential workers most at risk", said Ninez Ponce, director of the University of California Los Angeles (UCLA) Center for Health Policy Research. The vast majority - more than 90% - of farmworkers in California are Latinx, working in precariously crowded environments. More than 60% of workers involved in food preparation are Latinx as well. And it's those workers, many of whom lack access to healthcare and can't afford to stay home, who have the most to lose as the virus barrelled through the state, Ponce said.

Latinx, Black and other minority groups are disproportionately infected with and dying of Covid-19 according to a tracking tool designed by UCLA and early metrics suggest that the state's reopening has exacerbated disparities. Devastating outbreaks in California's prisons and homeless shelters have further fuelled inequities.

The many complicated factors driving the surge of coronavirus in California have all collided in Imperial County, a rural community along California's southern border with Mexico and Arizona. Out of every 100,000 people in the county, more than 3,700 have been infected with the coronavirus - that's several times higher than the state-wide average of 600 infections per 100,000.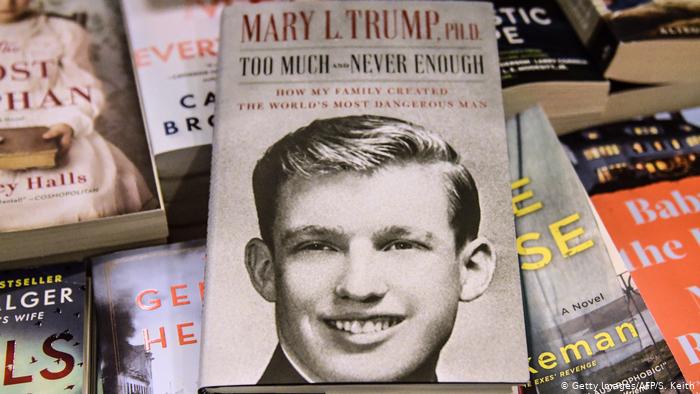 What has happened to Mary Trump's book about Donald (see post on 8th July)? I had expected to hear a lot more and when I didn't ... thought that perhaps it really wasn't a very good book, as indicated by at least one critic. Not having read it, I still don't really know. It's had some sales success. It's Amazon's #1 best-seller. It sold 950,000 copies on the first day of its release, a record in Simon & Schuster's history.

I've just read a review by Peter Conrad in The Guardian of 21st July: Too Much and Never Enough by Mary L Trump - a scathing takedown of Uncle Donald. He seems to be celebrating her hatchet job. Here are a few snippets from the review (so Peter's words, not Mary's directly).
Like America, Trump claims to be unique, exceptional, a shining self-creation. This book by his estranged niece demolishes that myth. Mary Trump's ruthless memoir blames their family for creating him: she sees it as her patriotic mission to "take Donald down", and she does so by showing how derivative and dependent the ultimate self-made man has always been.

Sleaze and graft, we here discover, are Trump's genetic heritage.

Never having received affection, he bestows it on himself in orgies of preening and boasting; the life partners he serially selects seem to have been chosen from a mail-order catalogue. His first wife, Ivana, is summed up by Mary as "all flash, arrogance and spite", with a telling "penchant for regifting". Melania is a trophy, destined to occupy a glazed niche in a display case.

Once at the Mar-a-Lago pool, Donald disgusted Mary by sizing up her breasts: "Holy shit," he remarked, "you're stacked." This wicked uncle is all slavering id, with no superego to restrain the fingers that itch to tweet, to toy with a big red nuclear button, or to "grab 'em by the pussy".

As viewed by Mary, he is an undeveloped human being, who instantly passed from whiny infancy to doddery old age, missing out the intermediate age of reason and responsibility where the rest of us spend time.
On a different note ... RIP Peter Green (29 October 1946 - 25 July 2020). Thank-you :-)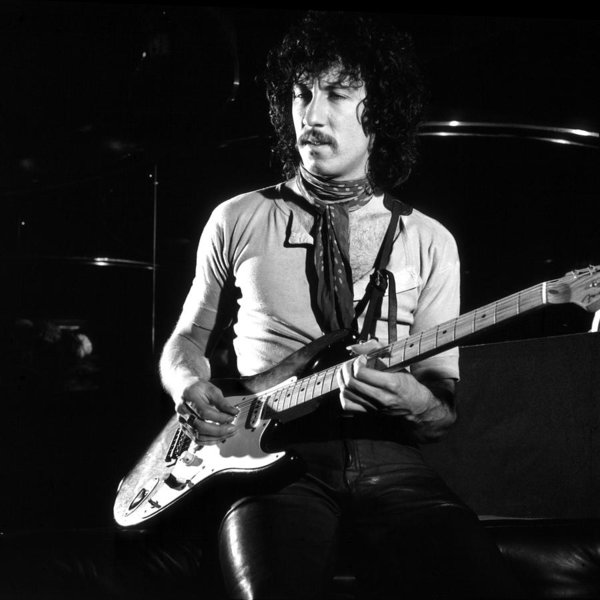 "Need Your Love So Bad" - The Pious Bird of Good Omen - 1969
Monday 27th July


I was celebrating son Ben's trip round Galicia in yesterday's post. Then I caught up with the news about quarantining visitors from Spain. Ben has an Easyjet ticket from Bilbao to Bristol for 11th August, the start of a two-week holiday in the UK. Or quarantine? It's a bummer.


Sunday 26th July


It was my 68th birthday on Friday and Sarah's birthday yesterday. Two of the vulnerable cohort making it through ~150 days of coronavirus, for which we are thankful. Particularly when you look at the USA in the FT new cases chart.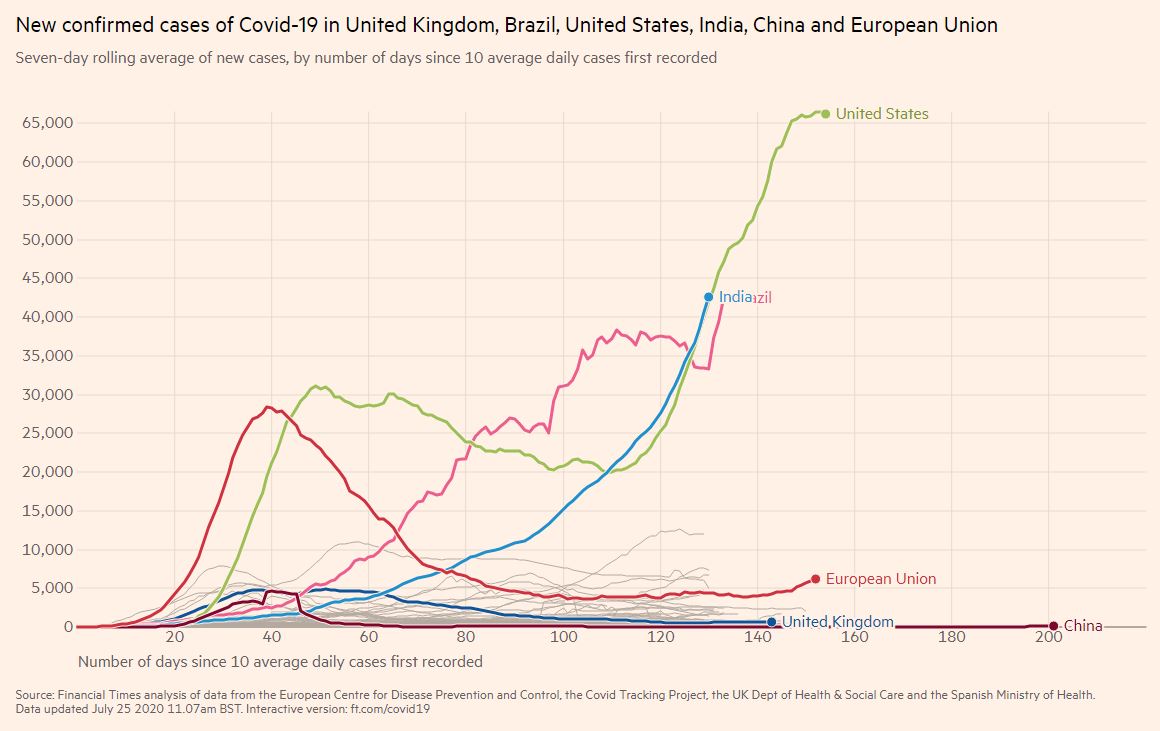 Our friends Fod and Clare took us out for lunch on Friday at the Thistledown Café on Tinkley Lane between Nympsfield and Nailsworth. Delightful organic meal in an airy setting above the Woodchester Valley, open and safe.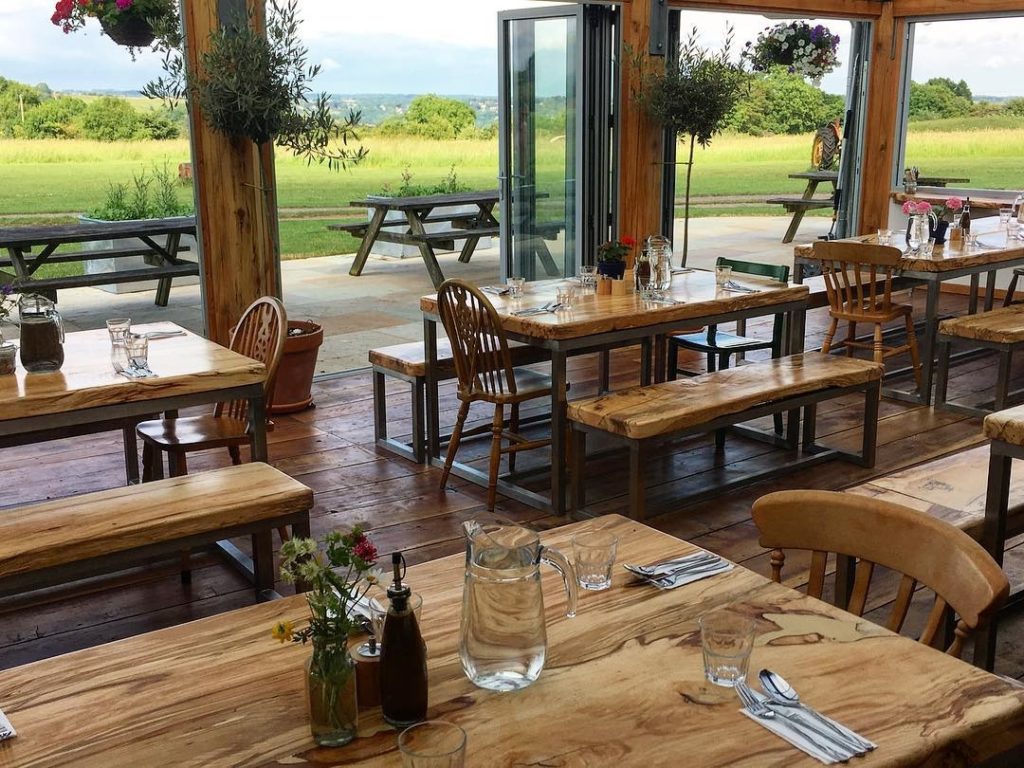 Fod and Clare gave me a lift home as Sarah was going on to Bristol to pick up grandson Marlie for the weekend. It was effectively National Mask day. Three over-65s wearing face coverings; I never anticipated such a moment in the 50 years of our friendship. But ... once again we are the lucky ones.

I noted on 12th June that Stroud authors Pam and Peter Keevil were publishing a self-help book Finding Happiness after Covid-19. It's now available and I've been skimming, more accurately swiping through the Kindle edition. The "after" in the title is not quite right at the moment, as we're going to be "during" for a long time to come. Nonetheless, the book addresses mental health issues posed by the crisis. The Keevils talk about our "internal wealth, the experience that our life is worth living." One of its components is "a sense of gratitude". I've always thought of gratitude as a reflex action rather than a practised intent. Maybe it's time to re-consider. "Count your blessings" and "thank your lucky stars" have long been popular responses to adversity. Adopting the concept in a more rigorous and mindful way could be interesting.

I'm happy to have received colourful birthday cards from old friends.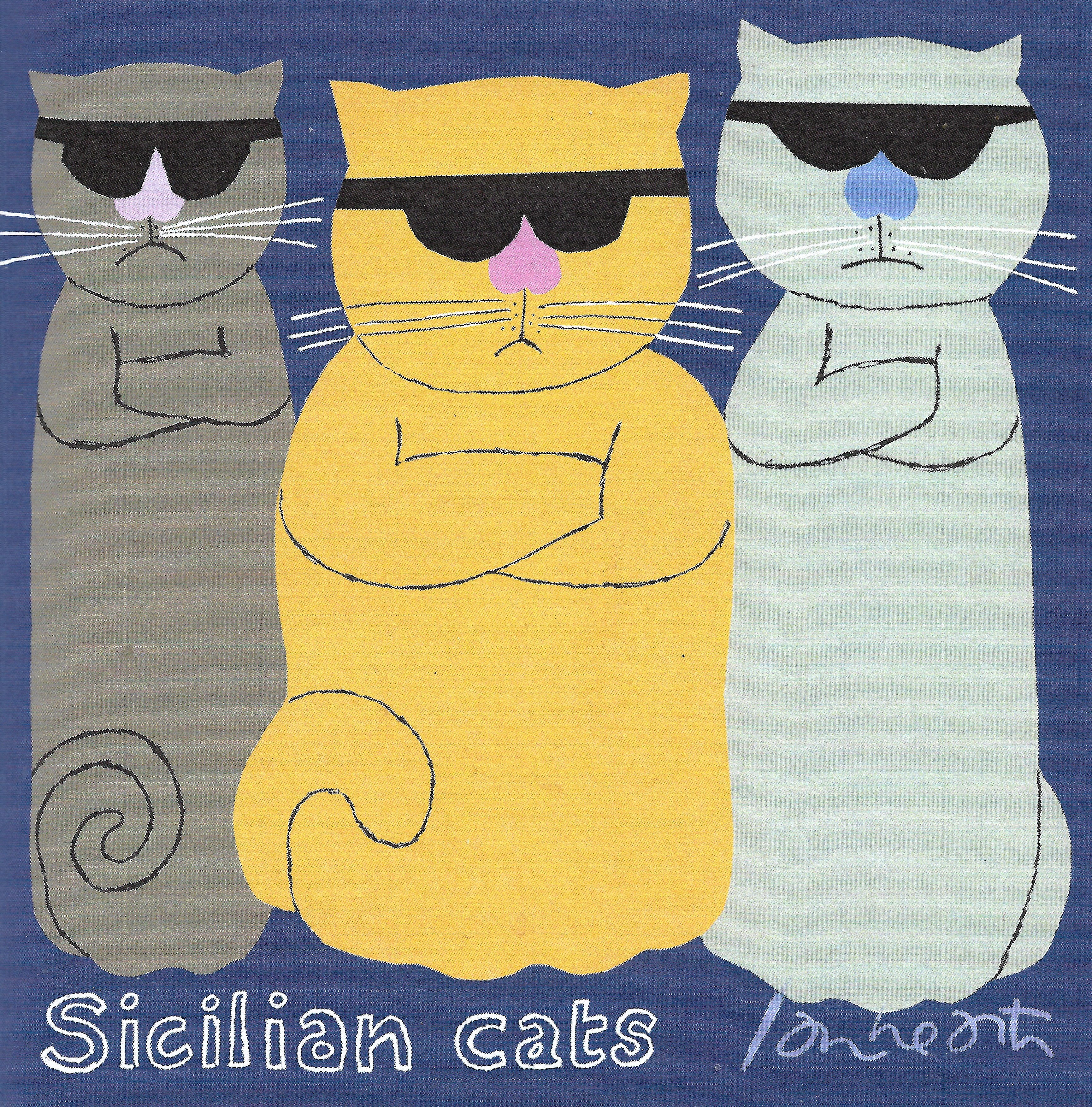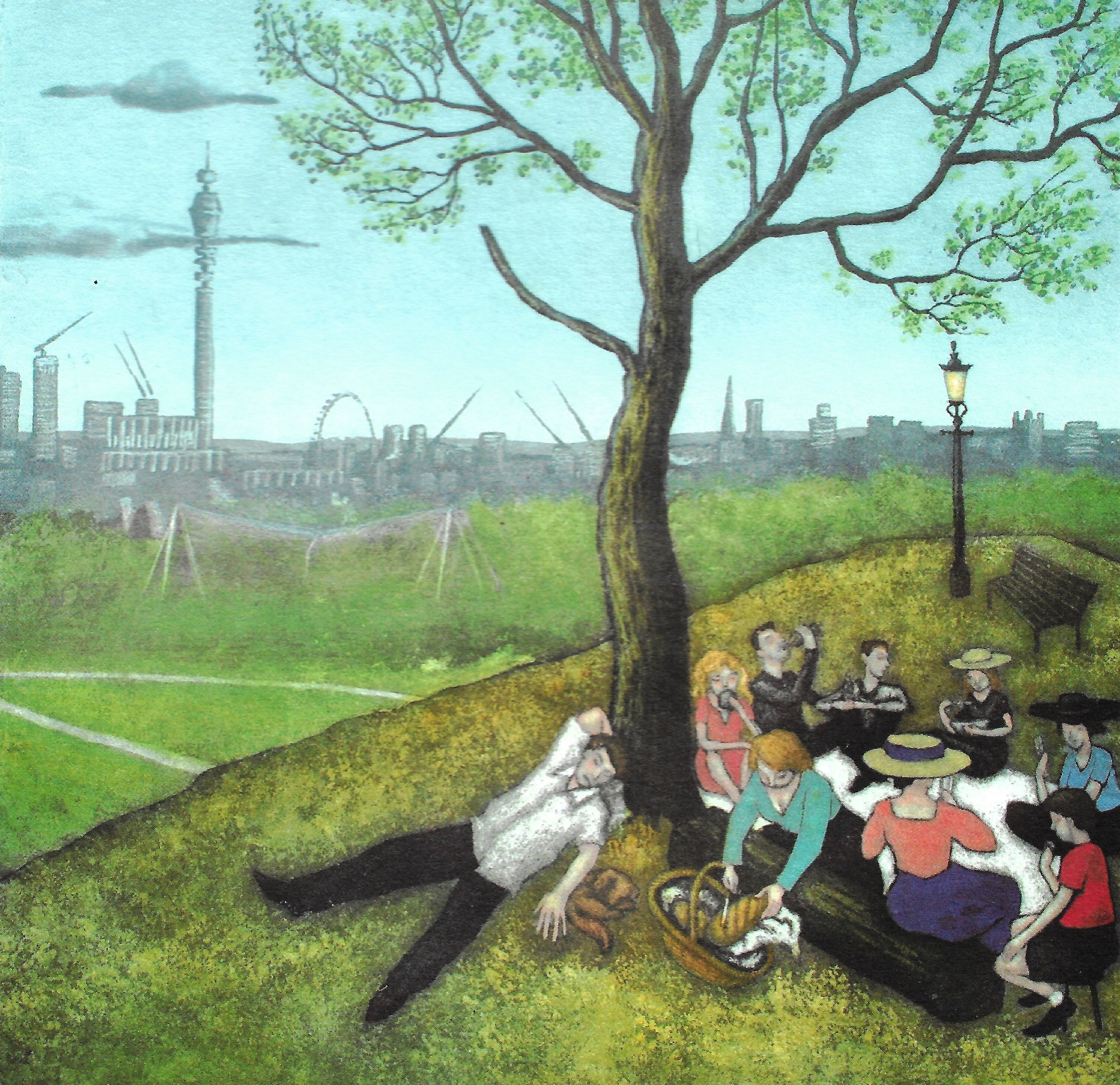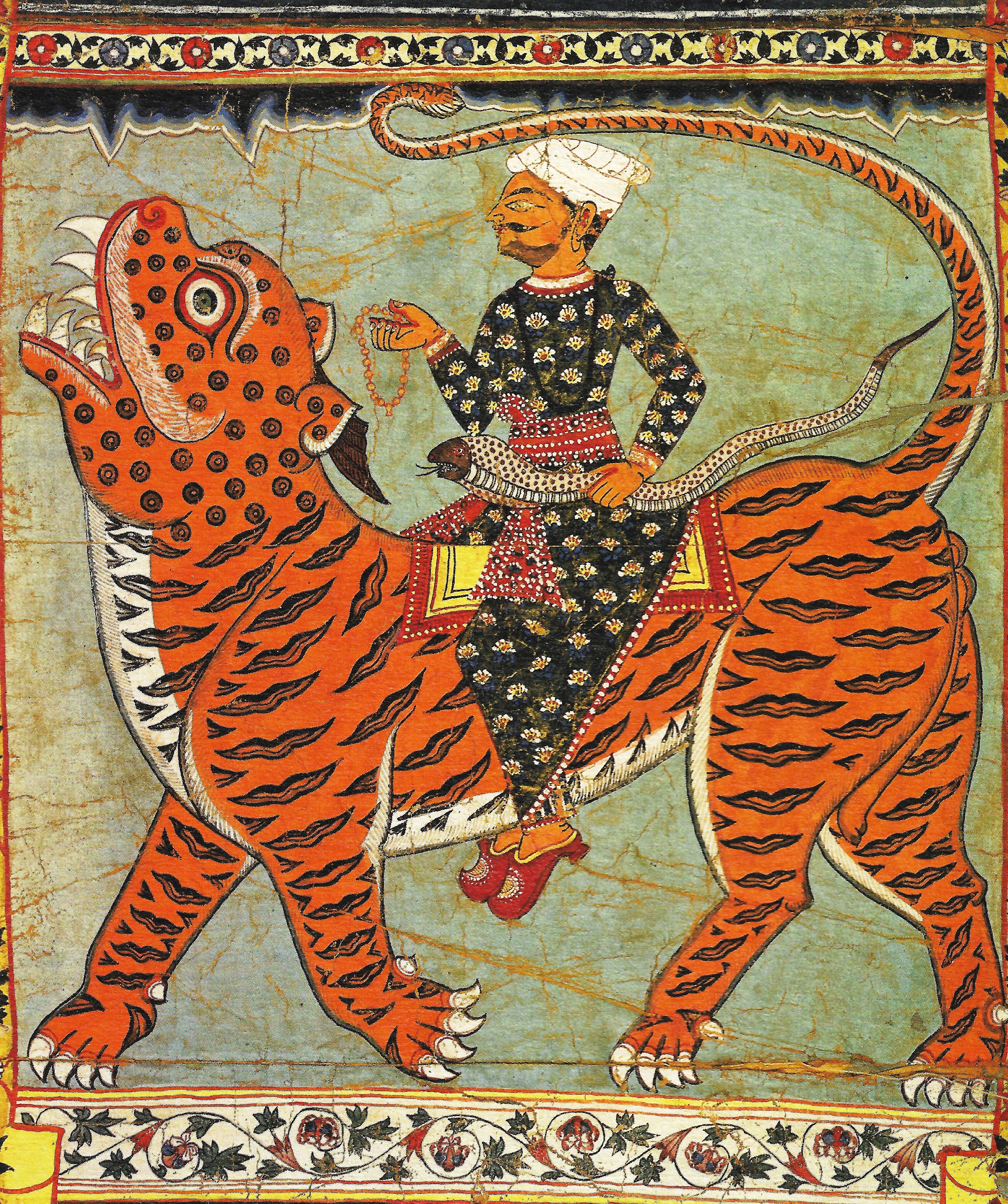 Telephone calls have come in from family: sister Vicky, Ellie in Bristol, Nikko in Vienna, Ben in Spain :-) Ben and his girlfriend Soph are on a month-long tour of Galicia with friends in their converted van. His call came from their pitch at the edge of a pine forest on a beach. Last week they bought and cooked octopus, foraged for mussels. I'm pleased they're having such an adventure.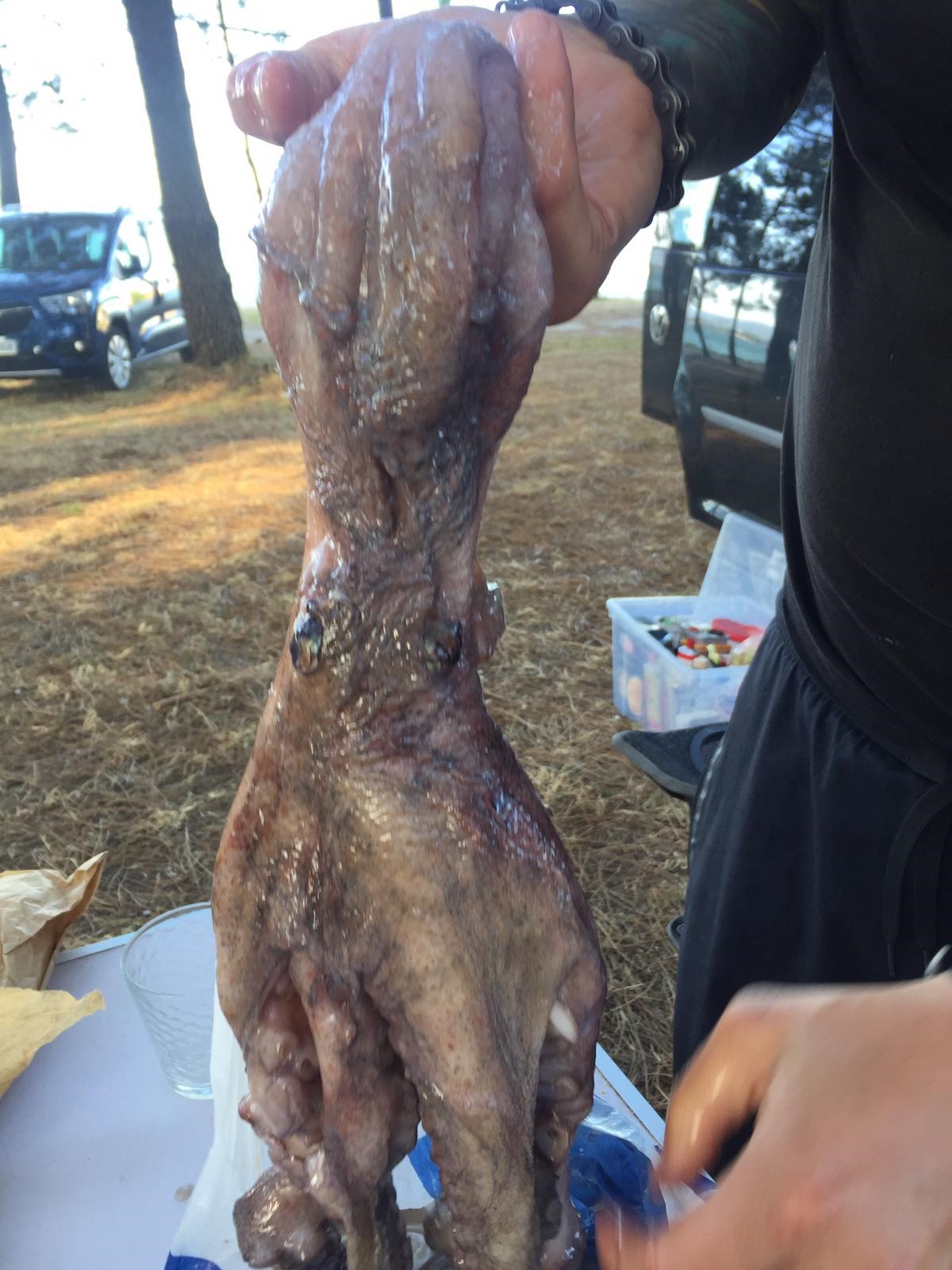 And after preparation ... here's Galego 'polbo á feira' served traditionally with potatoes and sweet paprika. Heaven :-))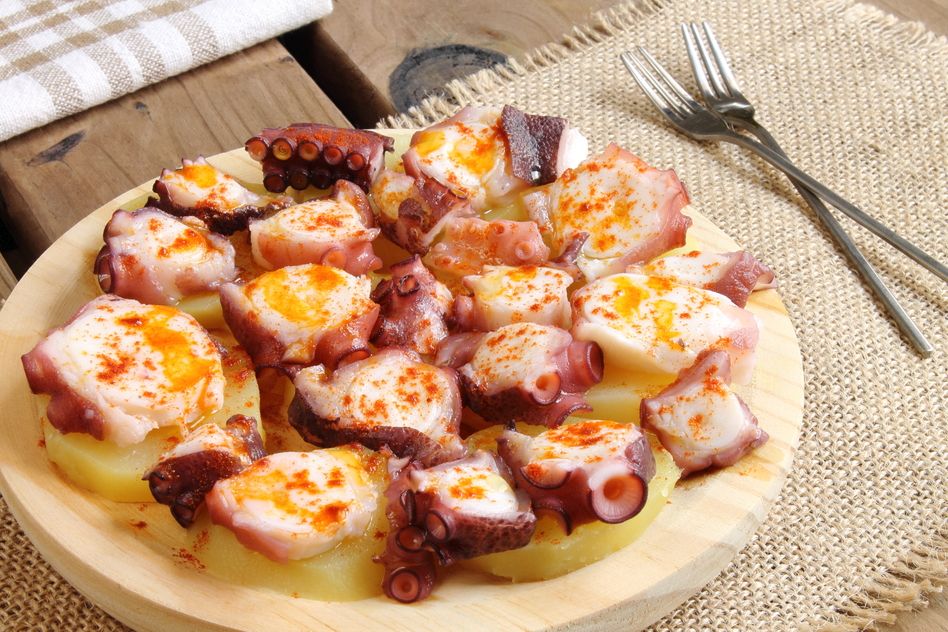 Thursday 23rd July


We got back yesterday from a short 2-night stay in Laugharne (Welsh: Talacharn), Carmarthenshire, a town of 1,200. It's on the west side of the tidal estuary of the River Tâf. We stayed at the delightful Boat House B&B right across from the estuary foreshore and castle; the latter was just visible from our bedroom window. Dylan Thomas lived in Laugharne from 1949 until his death while on tour to New York in 1953, famously describing it as a "timeless, mild, beguiling island of a town". It is generally accepted as the inspiration for the fictional town of Llareggub - read that from back to front - in Under Milk Wood. His home, another Boathouse, is along the path to the side of the castle heading north up the river. He had his famous writing hut there. Sadly, neither was open during our stay, casualties of coronavirus. The castle and nearby seashore feature in the S4C/BBC thriller Keeping Faith (Welsh: Un Bore Mercher). Faith Howells, played by Eve Myles, lives in a charming architect-modified house overlooking the estuary. The third series will be broadcast this autumn in both Welsh and English; they film the two language versions back-to-back. Highly recommended.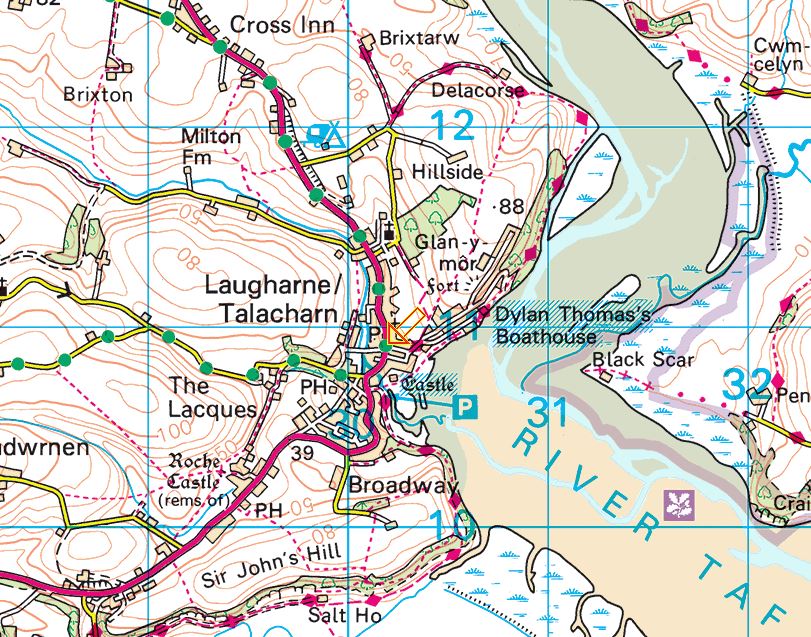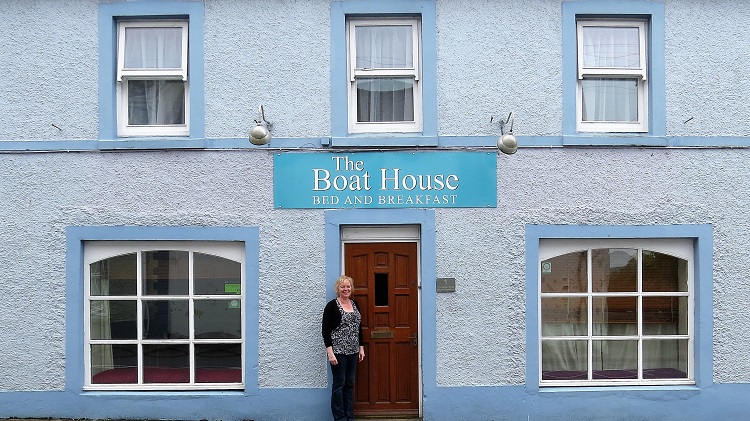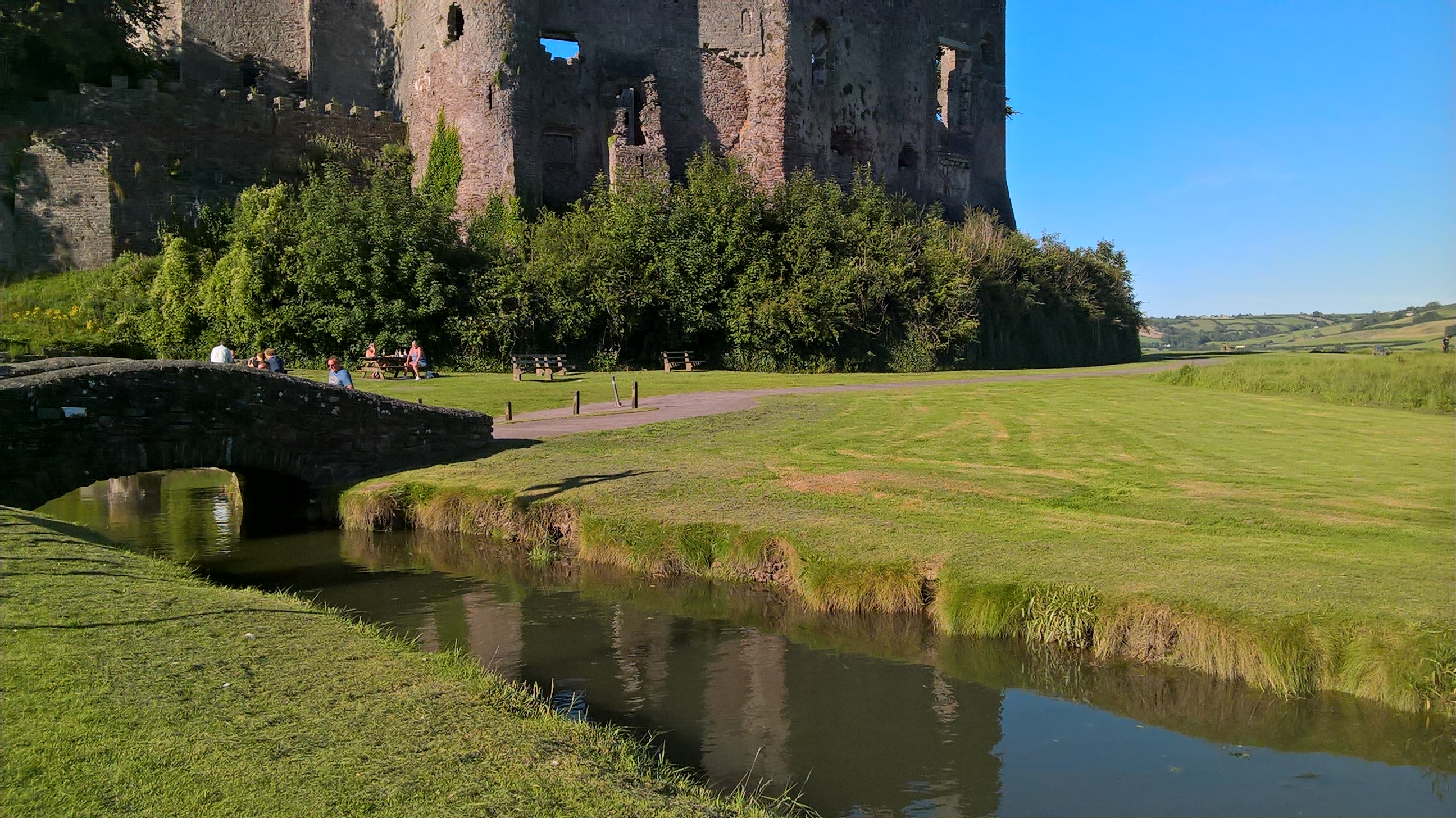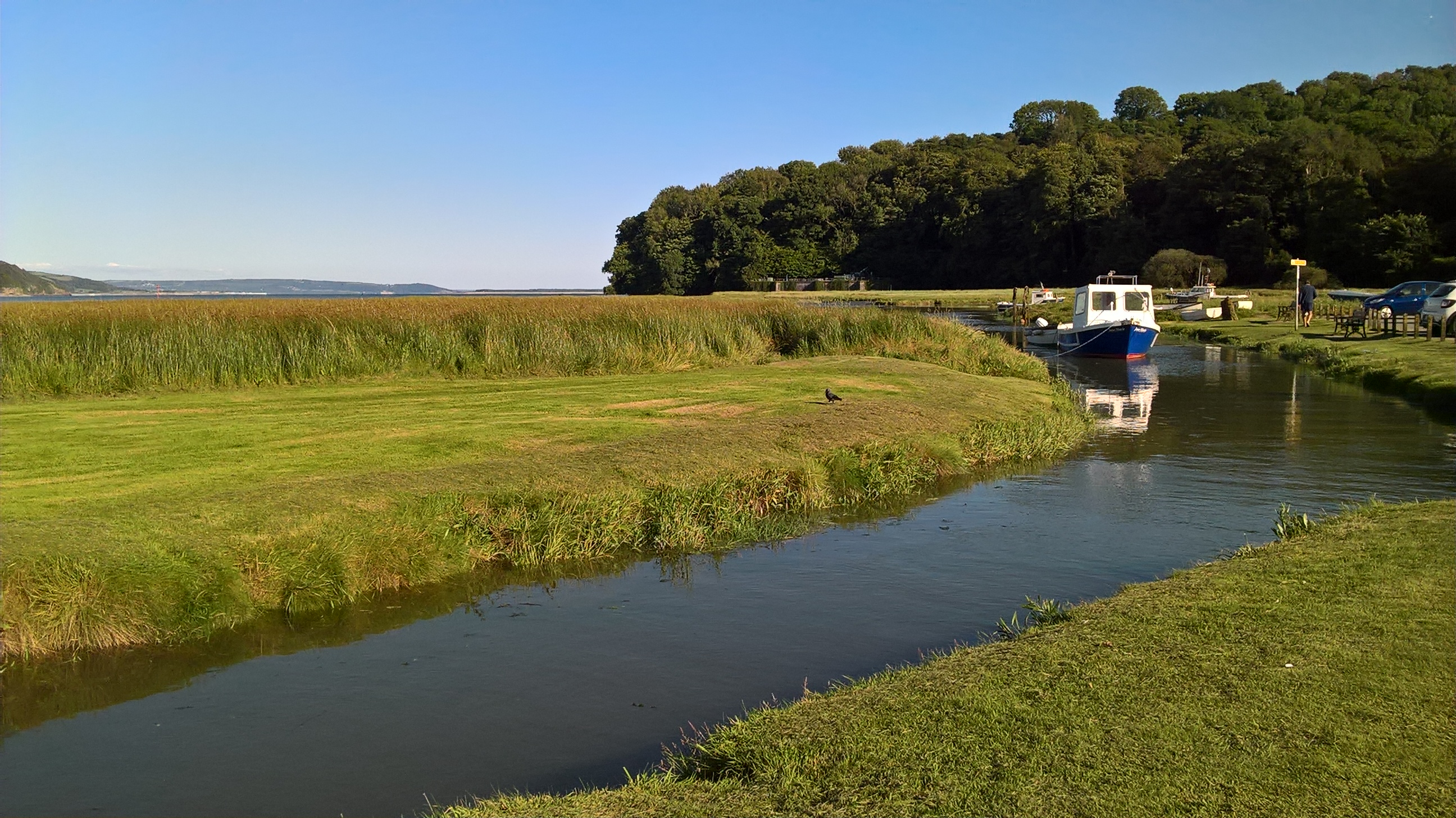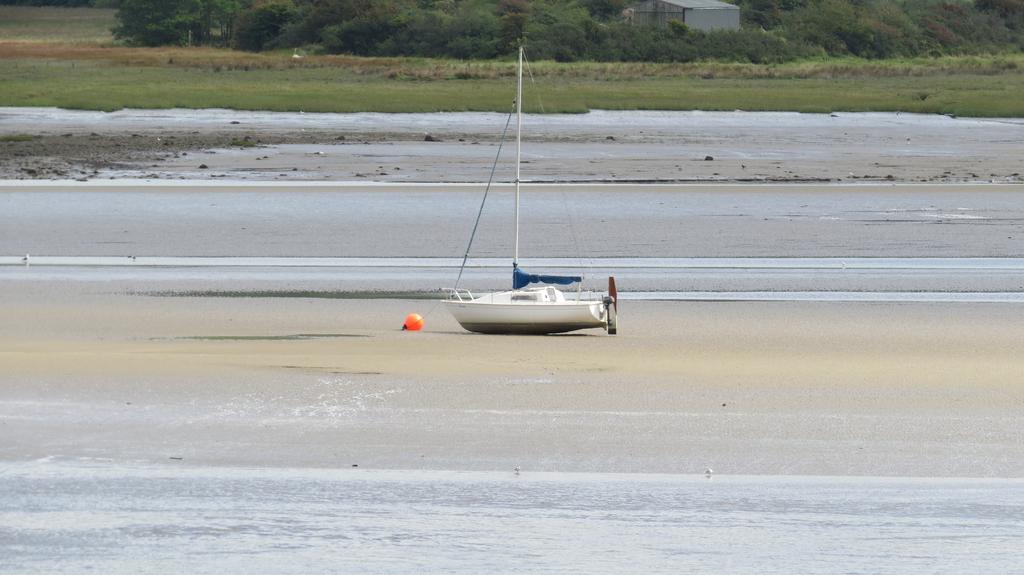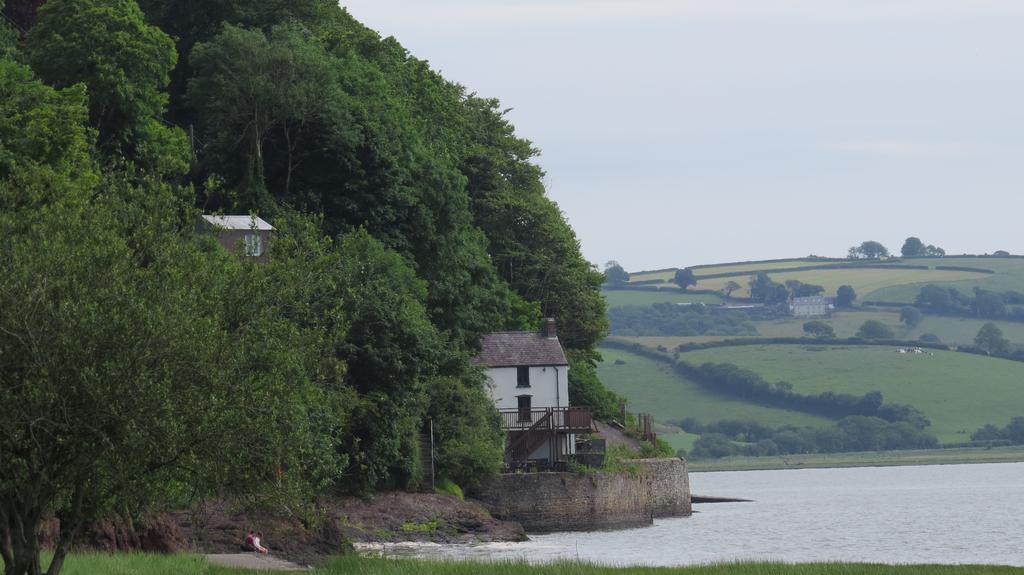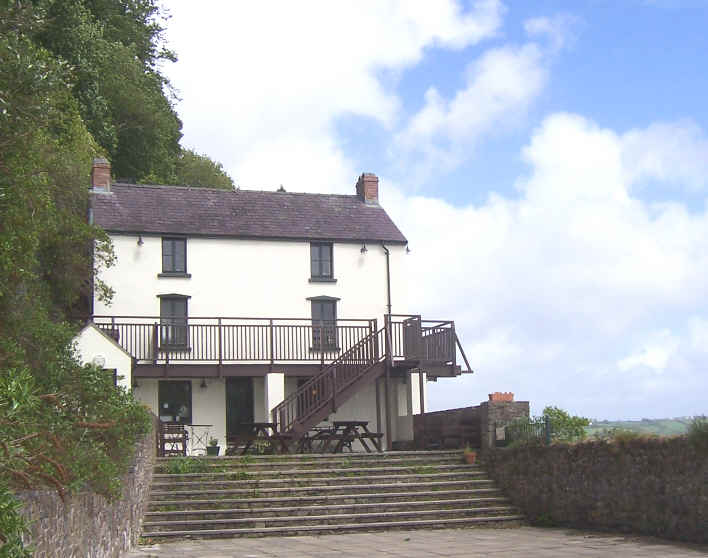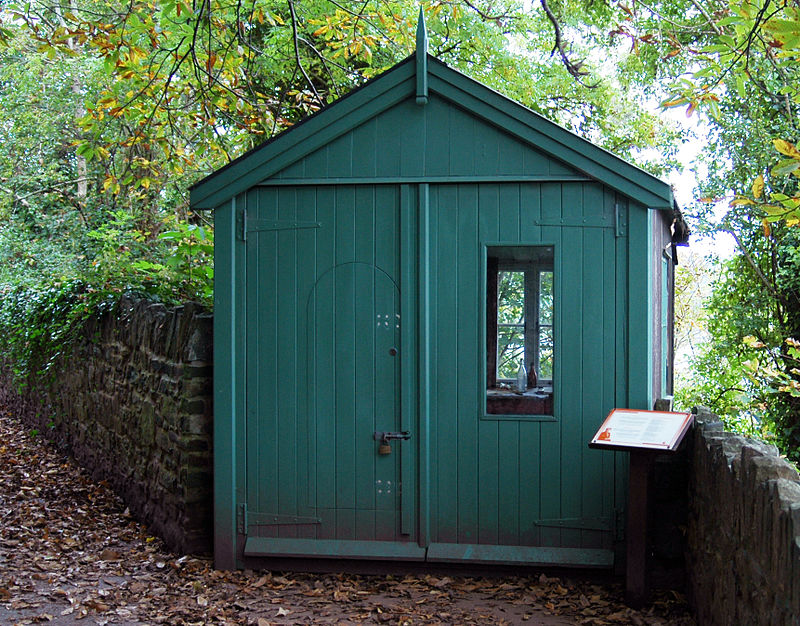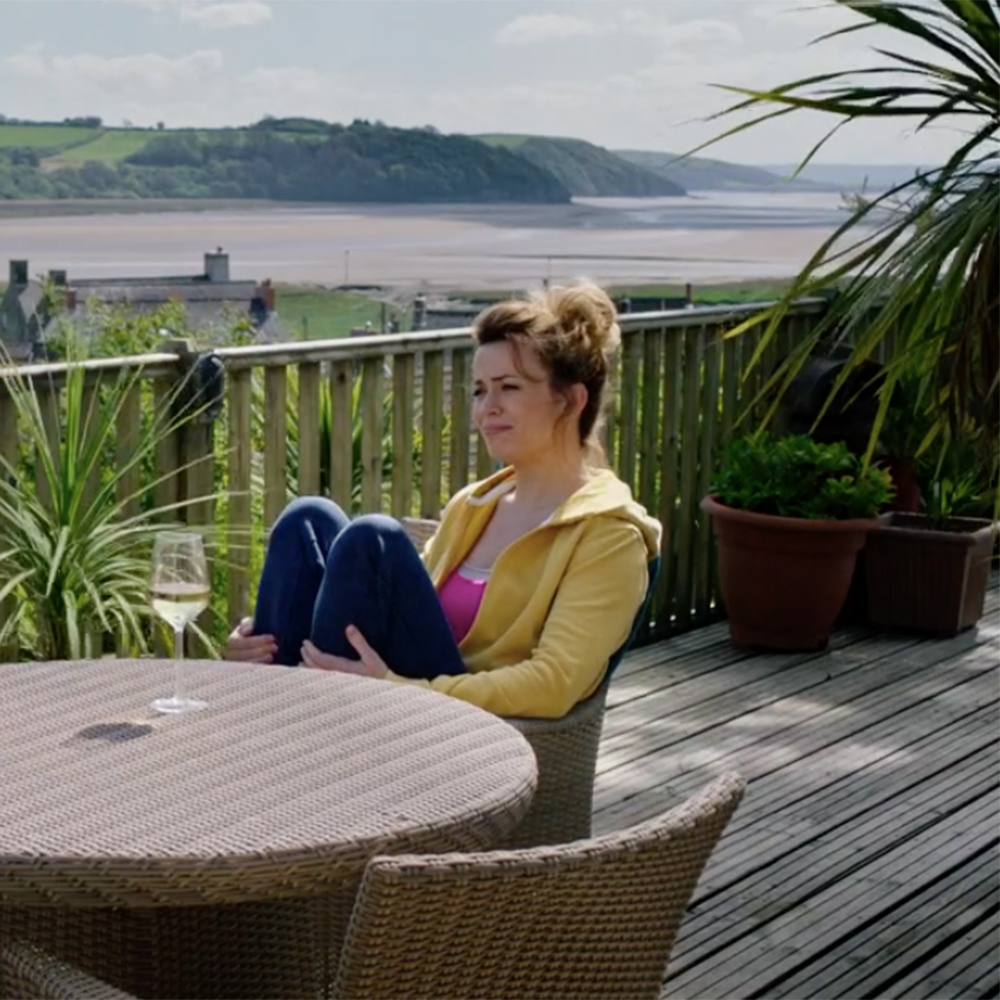 This was our first trip out of Stroud since the virus broke in the UK. Its effect in the area is marked. We were the only people staying in the B&B. Our hosts Jane and Keith have lovingly restored the ex-pub in their three-and-a-half years there, building up the business to be the most popular of its type in the Laugharne area, #1 in Tripadvisor. Then Covid-19 hit. They have bravely kept going, confident that they have the reserves to survive. The same is not true of the rest of the town. The grand Brown's Hotel is up for sale. The pubs are closed. I had checked out restaurants before leaving home and only one was still serving dinner, outside to a diminished clientele. The fish-and-chip shop is thriving, as is Poon's the Thai street-food takeaway. Visitors - the castle car park was full - eat their fare down on the foreshore.

On our first night, Jane and Keith directed us to the Carpenters Arms just beyond the town limit at Broadway. The pub had a large white gazebo covering the car park with well-spaced tables. Inside, a huge area that felt suitable for a good bar room brawl, there was no one. We dined in the company of four other couples or groups, offered only a slimmed-down menu.

Finishing well before sunset, we drove the five remaining miles to Pendine Sands, famous for its motor racing and land speed record attempts in the first part of the 20th century on its 7-mile beach. Major Sir Malcolm Campbell raised his own record to 174.22 mph in February 1927 with his second Blue Bird. On 3 March 1927 John Godfrey Parry-Thomas attempted to beat Campbell's record in his car Babs. On the final run while travelling at about 170 mph Babs went out of control and rolled over killing Parry-Thomas. Landlord from our Stroud local Crown & Sceptre Rodda Thomas rode his 650 Triumph on the sands a couple of years ago. Slipped third gear. But he survived.




Pendine is a typically British resort with beachfront cafes, restaurants and pubs lining a promenade. There are large holiday parks of static caravans in serried ranks; most look rather like those rectangular building-site offices you see being delivered on wide-loaders. A lovely warm evening in the second half of July, schools are out, in terms of visitor numbers it could have been a winter Sunday or an early Easter Day. A handful swimming. Which virus effect is responsible? Families hard hit financially? Crowd anxiety? We went to Saundersfoot the following day and it was packed. I can't explain. At Pendine, I couldn't really ask the people I saw ... because they were there; I needed to speak to those who were absent!

Sunday 19th July


Taking a few days off. See you next Thursday.

Saturday 18th July


[Continued from yesterday, Friday, below. But not for long. This topic of second outbreaks is running into its third day so I'm going to kill it off. Two remaining points.]
Governments have mismanaged responses. Much has been said already on this matter. Both UK and US administration actions have lacked clarity and timeliness. Trump's interventions have been plain counter-productive. Boris Johnson has for the first time committed to an "independent inquiry" into the pandemic handling. Acting Lib Dem leader Sir Ed Davey has said the UK has "suffered one of the worst death rates in the world and Europe's worst death rate for health and care workers".

Food processing (and handling) operations are fertile ground for outbreaks.
More than 2,000 people contracted Covid-19 in the Gütersloh area of North Rhine-Westphalia, the vast majority linked to the Tönnies meat processing factory. There have been 21 deaths. Professor Martin Exner, who's leading the task force studying the causes of the plant's outbreak, told reporters that the ventilation system, designed to keep temperatures between 6C and 10C "continually recycled the same untreated air into the room". The 7,000 workers are almost entirely migrant labourers from Bulgaria, Poland and Romania, living clustered together in poor accommodation; now they are living under strict quarantine.
The 2 Sisters chicken plant on Anglesey had 200 cases in June. Workers claimed "social distancing was not implemented in production areas with groups of three working side by side, often rotating. The two-metre rule was enforced in corridors and the canteen but staff were only there for very short periods of the day. There was no two-metre safety provided in the production areas and staff were forced to work within inches of others. The visors given to them had holes cut in to prevent 'steaming'".
Against this backdrop, how seriously do we take Boris' plans for a "more significant return to normality" by Christmas? Further relaxation of control measures balanced by local lockdown if it all goes wrong.

Friday 17th July


[Continued from yesterday, Thursday, below ... why have there been secondary outbreaks ... not enough respect for Covid-19 ...]

Some people have behaved poorly since the relaxation of lockdown.
In Melbourne, Premier Daniel Andrews of Victoria has pointed the finger at private security workers overseeing hotel quarantines. More than 20,000 travellers have gone through 14-day quarantine in the state. Andrews described cases of illegal socialising between staff, listing examples of workers sharing a cigarette lighter or car-pooling. Local media also reported claims of sex between guards and quarantined travellers. Professor John Matthews from the University of Melbourne said that individual hotspots seeded the population and there were enough cases out there when the precautions relaxed. "Once the feeling got around that it was over - when it really wasn't - Victoria copped it."

Young people are often flouters of the regulations. A person attended a coronavirus party in Kentucky and then tested positive for the virus, Governor Andy Beshear said at a news conference on Tuesday. "This is one that makes me mad," the governor said. "We have to be much better than that." Bashear later said the "coronavirus party" was a group of "young adults" who intentionally got together, "thinking they were invincible" and purposely defying the state's guidance to practice social distancing.

A video went viral a few weeks back showing students partying on a Miami beach, despite government guidance to socially distance from one another. One student, Brady Sluder, even justified himself to CBS, saying: "If I get corona, I get corona, at the end of the day I'm not gonna let it stop me from partying." He said sorry on Instagram on Sunday. "I would like to sincerely apologize for the insensitive comment I made in regards to COVID-19 while on spring break. I wasn't aware of the severity of my actions and comments. Our generation may feel invincible, like I did when I commented, but we have a responsibility to listen and follow the recommendations in our communities." The earlier video is less than apologetic. Priorities all wrong? Partying or corona? One girl complains that the virus is "messing with her spring break."



Thursday 16th July


We're seeing repeat coronavirus outbreaks all over the world. Why is that?
This is a tenacious and pervasive virus. It's not just a Bolsonaro "sniffle" but attacks the whole body often in ways doctors don't yet understand (look at quotes from medics posted on 3rd July) and which can leave seriously-affected but recovering patients in a grave condition. Only the severest measures curb its growth. We do not yet have a cure.

Most of the second occurrences have come after the lifting of initial lockdown. All of the countries affected had success in lowering the rate of infection, then they reduced the stringency of protective measures and the rate began to climb again. Community infection has risen where pubs/bars, restaurants, shops and tourist spots have been re-opened and mask-wearing has not been mandatory. In some instances the new outbreaks have been dramatic. Look at the FT chart below of USA cases. The current wave exceeds the original.


Click to enlarge

Too many people do not give Covid-19 the respect it deserves. In the USA this has been part of a social and political statement spearheaded by the president who all the time maintains "We have it totally under control. It's one person coming in from China, and we have it under control. It's going to be just fine." Witness a selection of his counter-productive positions:
February 28th: "Now the Democrats are politicizing the coronavirus ... one of my people came up to me and said, 'Mr. President, they tried to beat you on Russia, Russia, Russia.' That didn't work out too well. They couldn't do it. They tried the impeachment hoax. They tried anything, they tried it over and over ... and this is their new hoax."

March 23rd: "America will again, and soon, be open for business - very soon - a lot sooner than three or four months that somebody was suggesting. A lot sooner. We cannot let the cure be worse than the problem itself. We're not going to let the cure be worse than the problem."

March 24th: "Easter is a very special day for me. And I see it sort of in that timeline that I'm thinking about. And I say, wouldn't it be great to have all of the churches full?"

April 3rd [on mask wearing]: "It's going to be, really, a voluntary thing. You can do it. You don't have to do it. I'm choosing not to do it, but some people may want to do it, and that's OK. It may be good. Probably will. They're making a recommendation. It's only a recommendation."

April 13th: "I'm going to put it very simply: The president of the United States has the authority to do what the president has the authority to do, which is very powerful. The president of the United States calls the shots." [And ...]

April 17th: "LIBERATE MICHIGAN!"


[Continued tomorrow, Friday, above ...]

Wednesday 15th July


I made an assumption at the outset of this blog journey. The crisis would end. We'd take all the right steps and be left with zero infections. In time we'd have developed the holy grail of a vaccine. It was just a matter of rising to the challenge, which we did with Dunkirk alacrity.

Recent news has turned the assumption on its head. The shop mask-wearing change was the start, a toughening of regulations rather than easing up, a hint of greater permanency. Then Kings College London released details of a study of immunity. We thought that if you got the virus once you wouldn't get it again. Not true, says the study. 60% of participants developed a strong response at the height of their infection, but only 17% had retained that potency three months later. Antibody levels fell as much as 23-fold and were even undetectable. Lead author Dr Katie Doores said:

"People are producing a reasonable antibody response to the virus, but it's waning over a short period of time and depending on how high your peak is, that determines how long the antibodies are staying around. Infection tends to give you the best-case scenario for an antibody response, so if your infection is giving you antibody levels that wane in two to three months, the vaccine will potentially do the same thing. People may need boosting and one shot might not be sufficient."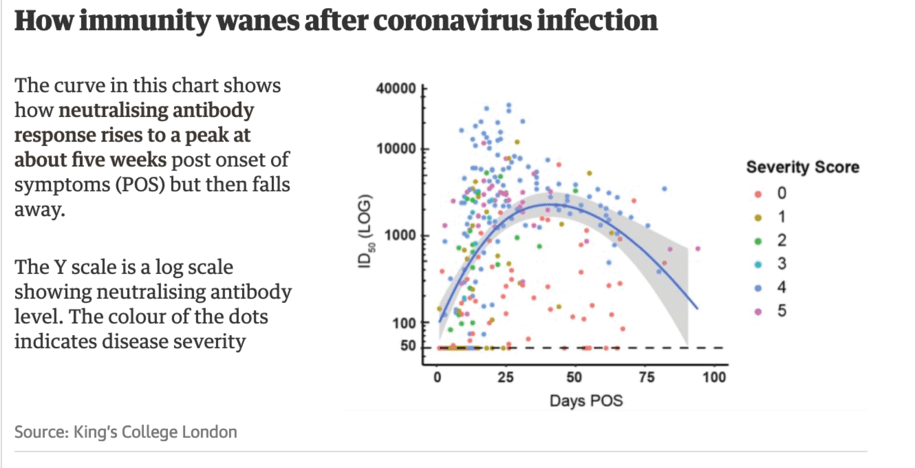 Click to enlarge


Next, the UK's chief scientific adviser Sir Patrick Vallance requested a report from the Academy of Medical Sciences modelling a second wave of infections in the coming winter. You can read the introductory abstract here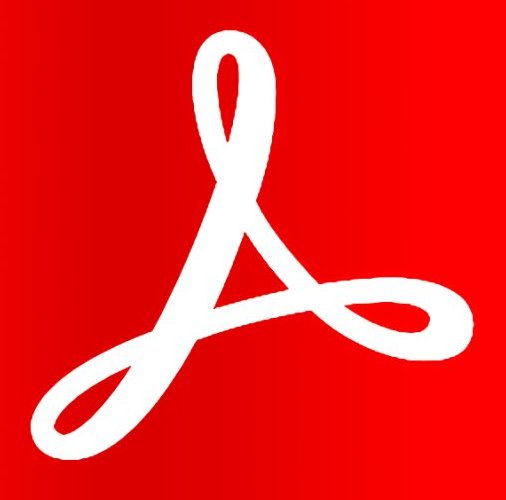 and the full 80-page report here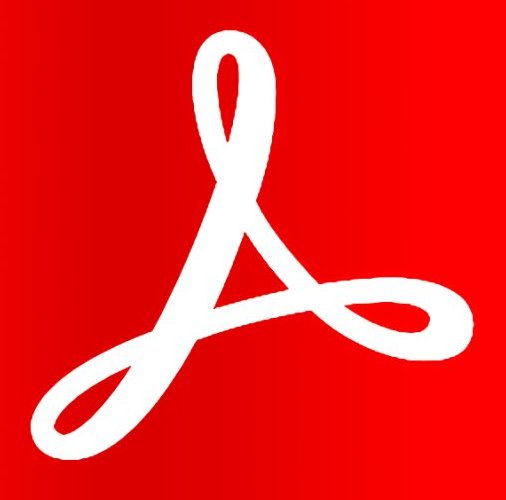 . It suggests that 120,000 deaths are possible in hospitals alone. That's with a health service already severely disrupted in the aftermath of the first pandemic wave and a waiting list that could stand at 10 million by the end of the year. We went into lockdown earlier this year with a heatwave. Imagine a second outbreak in the short days of a cold and wet winter.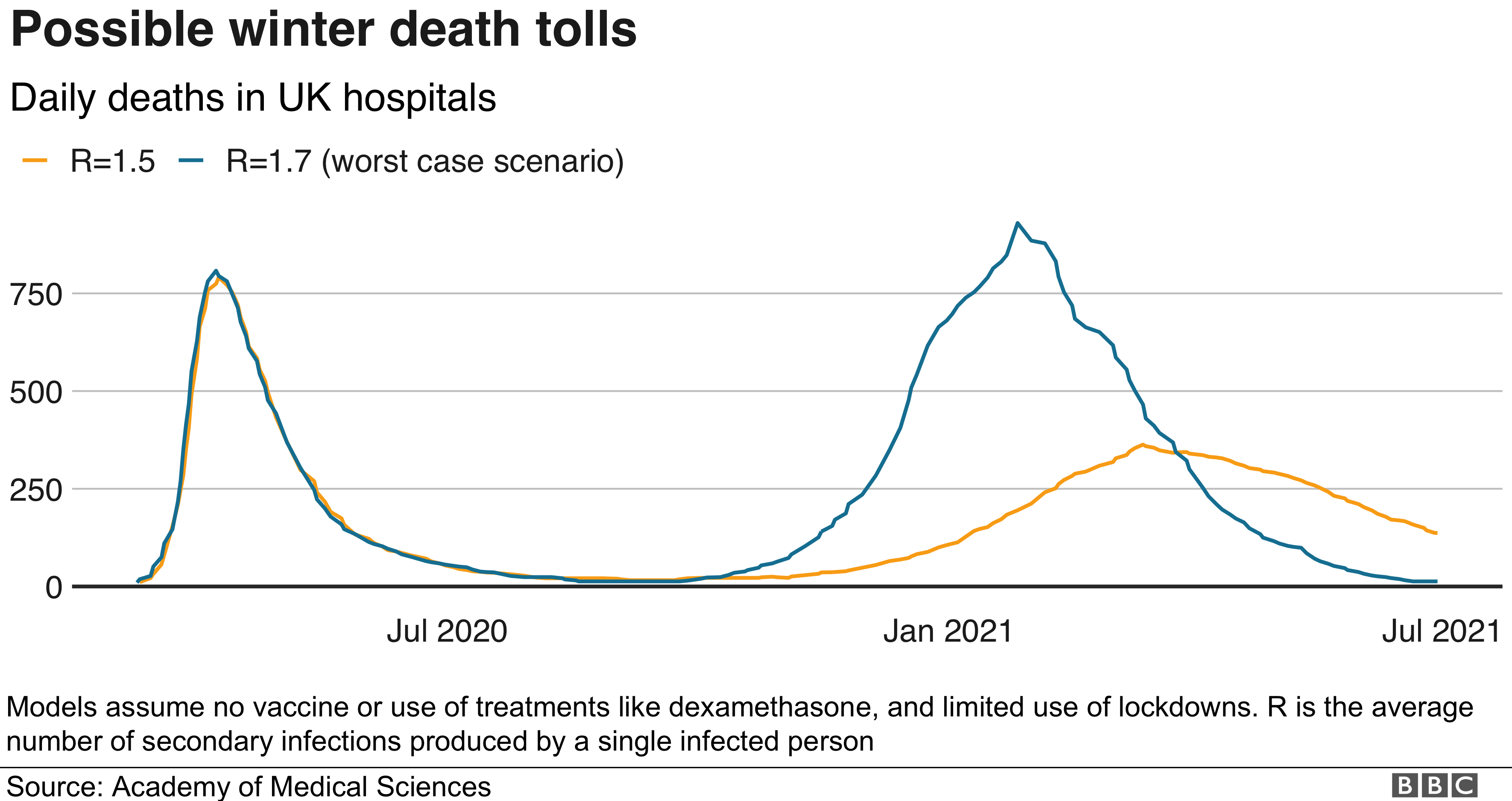 Click to enlarge

Tuesday 14th July


Thanks to Alf Florio for pointing me at this. Naomi Klein's book On Fire: The Burning Case for a Green New Deal (Simon & Schuster September 2019) is published by Penguin on 24 September. She was interviewed by Katharine Viner for a Guardian event; the transcript was printed yesterday in the newspaper. If you'd like to read the full thing, click on her picture below.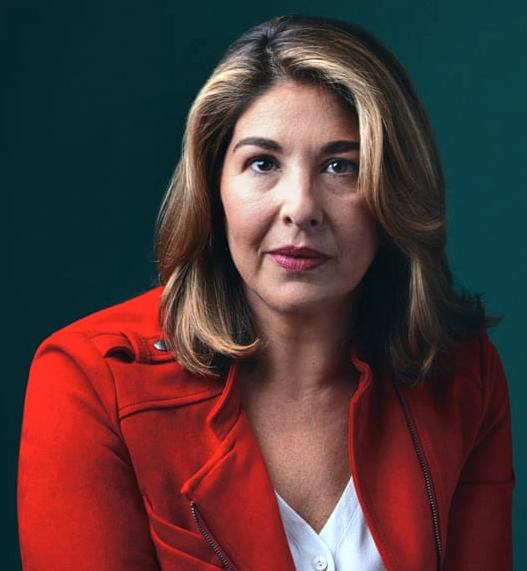 I commented a few days ago on how the late Clive James could turn a phrase. Naomi Klein can turn an idea. Themes from our times rotated a little in the light. Reflecting our thoughts, adjusting the focus. Simply expressed. I've included 4 sizeable chunks here in-line.

"Silicon Valley had this pre-existing agenda before Covid that imagined replacing so many of our personal bodily experiences by inserting technology in the middle of them. So for the few spaces where tech is not already mediating our relationships, there was a plan - to replace in-person teaching with virtual learning, for instance, and in-person medicine with telehealth and in-person delivery with robots. All of this has been rebranded, post-Covid, as a touchless technology, as a way of replacing what has been diagnosed as the problem, which is the problem of touch. And yet, on a personal level, what we miss most is touch. And so we need to expand the menu of options about how we live with Covid, because we do not have a vaccine; it is not about to arrive. Even if there is a breakthrough, it's going to be many, many months, possibly years before it can be rolled out at the scale we would need it."

"There is always this discourse whenever disasters hit: 'Climate change doesn't discriminate; the pandemic doesn't discriminate. We are all in this together.' But that is not true. That is not how disasters act. They act as magnifiers and they act as intensifiers. If you had a job in an Amazon warehouse that was making you sick before, or if you were in a long-term care facility that was already treating you as if your life was of no value, that was bad before - but all of that gets magnified to unbearable now. And if you were disposable before, you're sacrificial now."

"We have this really bad track record in the climate movement of winning gains when the economy is doing relatively well, because the kind of climate solutions we get from governments tend to be these neoliberal, market-based solutions, like climate taxes or renewable energy policies that are perceived to make energy costs more expensive, or carbon taxing that makes the price of petrol more expensive. As soon as you have an economic downturn, the support for these policies reliably evaporates. We saw that after the 2008 financial crisis. Climate has got a reputation as being a bourgeois thing - the issue that you care about if you don't have to worry about putting food on the table."

"It is a very small percentage of the population that wants to just fling the doors open. It is a majority that actually is much more concerned about returning to work before it is safe, sending their kids to school before it is safe. It's sometimes framed as giving people what they want, but this is not what the polling shows. There are similarities between the way Donald Trump has handled it and the way Boris Johnson has handled it. They are turning it into some test of masculinity, even in Johnson's case after having the virus. Jair Bolsonaro was talking about how he was an athlete so he knows he will handle it. Trump was talking about his good genes."


It now turns out that we haven't been doing the right thing with face masks. The risks do not come just from "projectile" infection by sneezing or coughing, but also from general airborne suspension. In March England's deputy chief medical officer Dr Jenny Harries said it was "not a good idea" for the average member of the public to wear a face mask as they might not use it properly. Coverings will be mandatory in shops from 24th July (not before?). The chart below shows how the UK lags behind other countries. I'm surprised to see the USA at double our adoption rate, given the widespread protests and particularly after hearing one American woman's claim that masks interfere with God's sacred breathing passageways.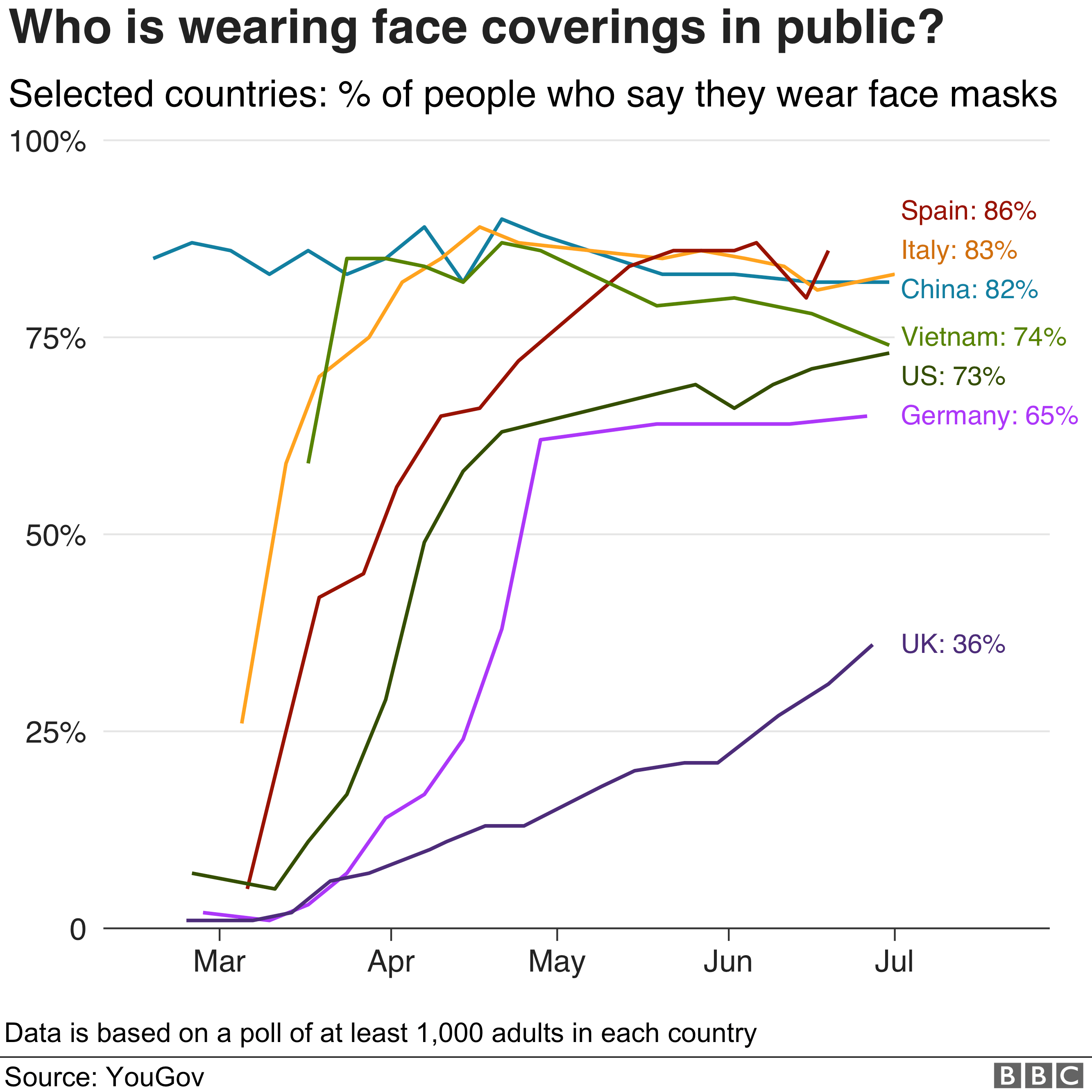 Monday 13th July


I'd been waiting for my barber to open this week. Unfortunately, she had been instructed ("It's not us, it's the government.") not to do beard trims; I guess it's too in your (rather, her) face. Down to Argos for a new set of clippers, cost equal to three shop visits.

The following defies belief; I cannot think of a bigger disconnect right now. Florida has declared a state record of 15,299 new coronavirus cases in 24 hours, a quarter of all US daily infections, with just 7% of the US population. And yet ...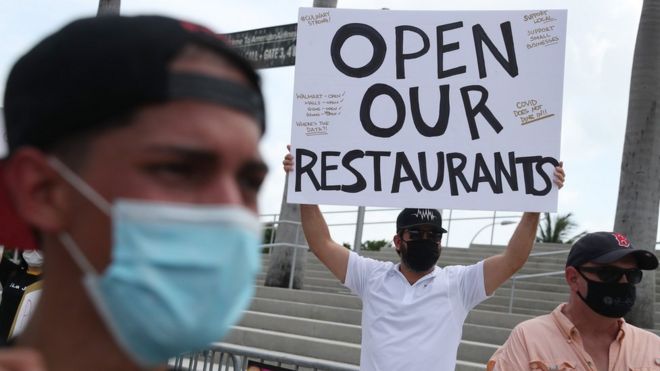 Let's revisit that special chart from the Financial Times, the global daily deaths as a 7-day rolling average up to 9th July. Click to enlarge and see detail.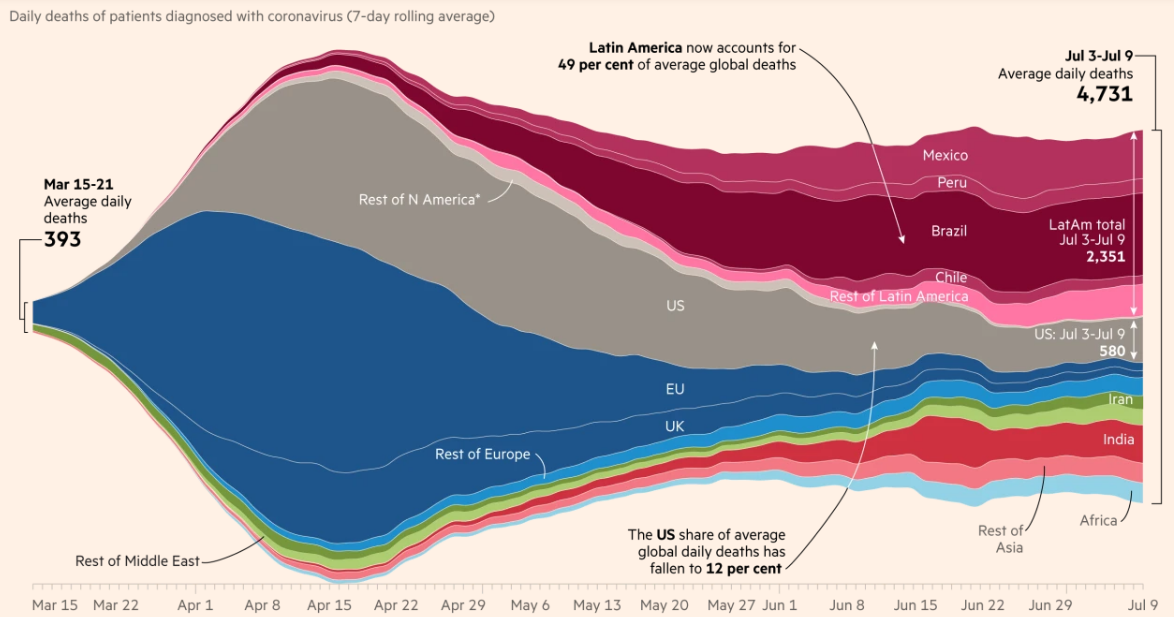 What can we say about it?
The chart shows 4 months of coronavirus data.




Peak global daily deaths occurred 3 months ago around April 15th.




The virus has not gone away. Deaths world-wide have been increasing since the end of May.




European fatalities have shrunk to a fraction of those in mid-April. While EU and UK numbers have been diminishing slowly for the last month, there has been quiet growth in non-EU European nations.




Latin America accounts for 49% of global deaths.




Africa still has a relatively small proportion of deaths.
Sunday 12th July


We're not done with Coronavirus, but it's time to spend more money on Brexit. The government has announced a £705m funding package for support and staff, including new border control posts and 500 extra Border Force personnel. £235m is for IT staff. Work on final arrangements will continue during the transition period, due to finish on 31 December 2020. But will it? Michael Gove said:


"With or without further agreement with the EU, this £705m will ensure that the necessary infrastructure, tech and border personnel are in place so that our traders and the border industry are able to manage the changes and seize the opportunities as we lay the foundations for the world's most effective and secure border."



"Opportunities", so that's what it's all about, is it? Nothing to do with more complex mechanisms required to maintain traffic that was already moving perfectly well. Just what is needed as we seek to recover from the economic wounds of Covid-19.



Saturday 11th July


Despite official relaxation measures, I've expressed my reluctance to venture where others go in number, particularly indoors. It appears I'm not alone. The Office for National Statistics (ONS)

has published a survey posing the question "How comfortable are people about visiting a restaurant or a cinema?" Grey (very uncomfortable) and pale blue (uncomfortable) claim over 50% of gainsayers in indoor restaurant and cinema conditions. The bad-->better order is cinema, restaurant indoors, restaurant outdoors. I'd be interested to see this response split by age group. My friend Martyn asserts that the nation is now divided into the young who don't give a damn and the old who are too frightened to go out. Perhaps the two ends of a scale.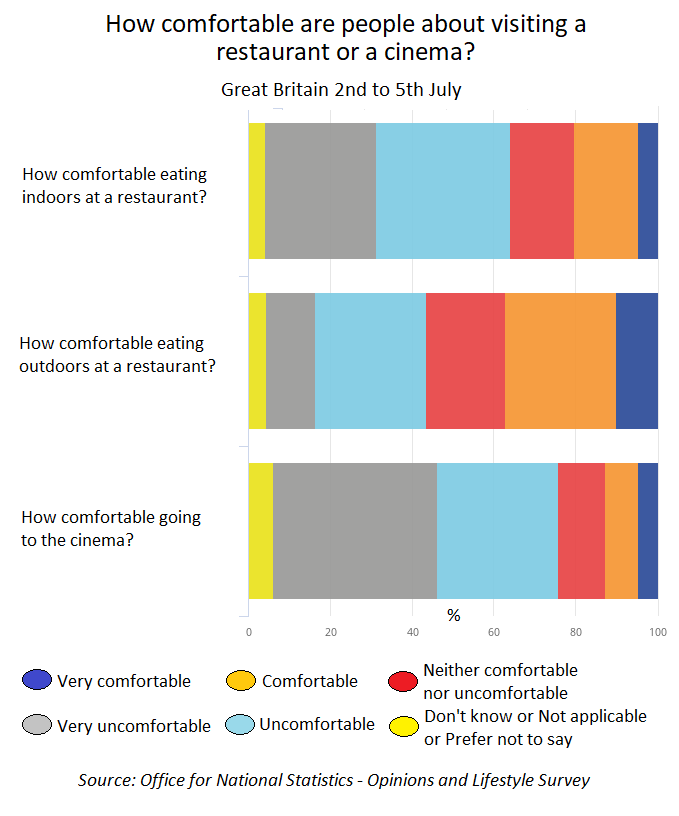 Yesterday I posted a photo of the Test players taking a knee - both sides, English and West Indian. A show of solidarity; it's an issue that concerns all. I got this tweeted to me this morning: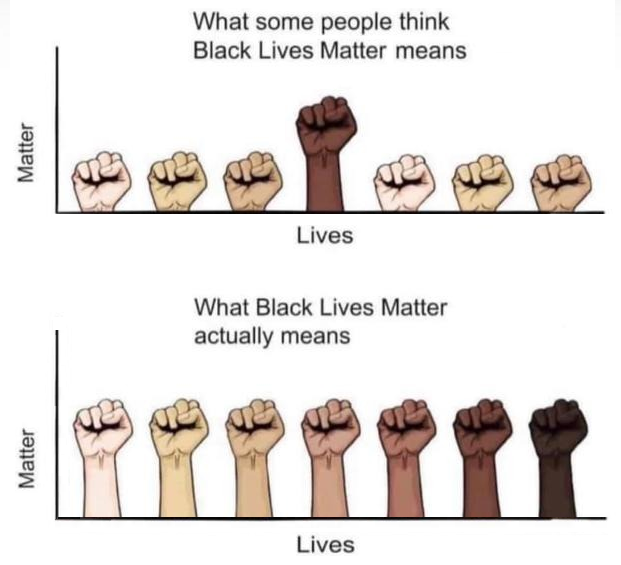 Friday 10th July


Echoes of our times at the Aegeas Rose Bowl First Test in Southampton. Cricket is back. The ground capacity is only half that of Lords ... but the game's being played behind closed doors so no problem. For a while you could stage test matches at your local club. The players took a knee before the start.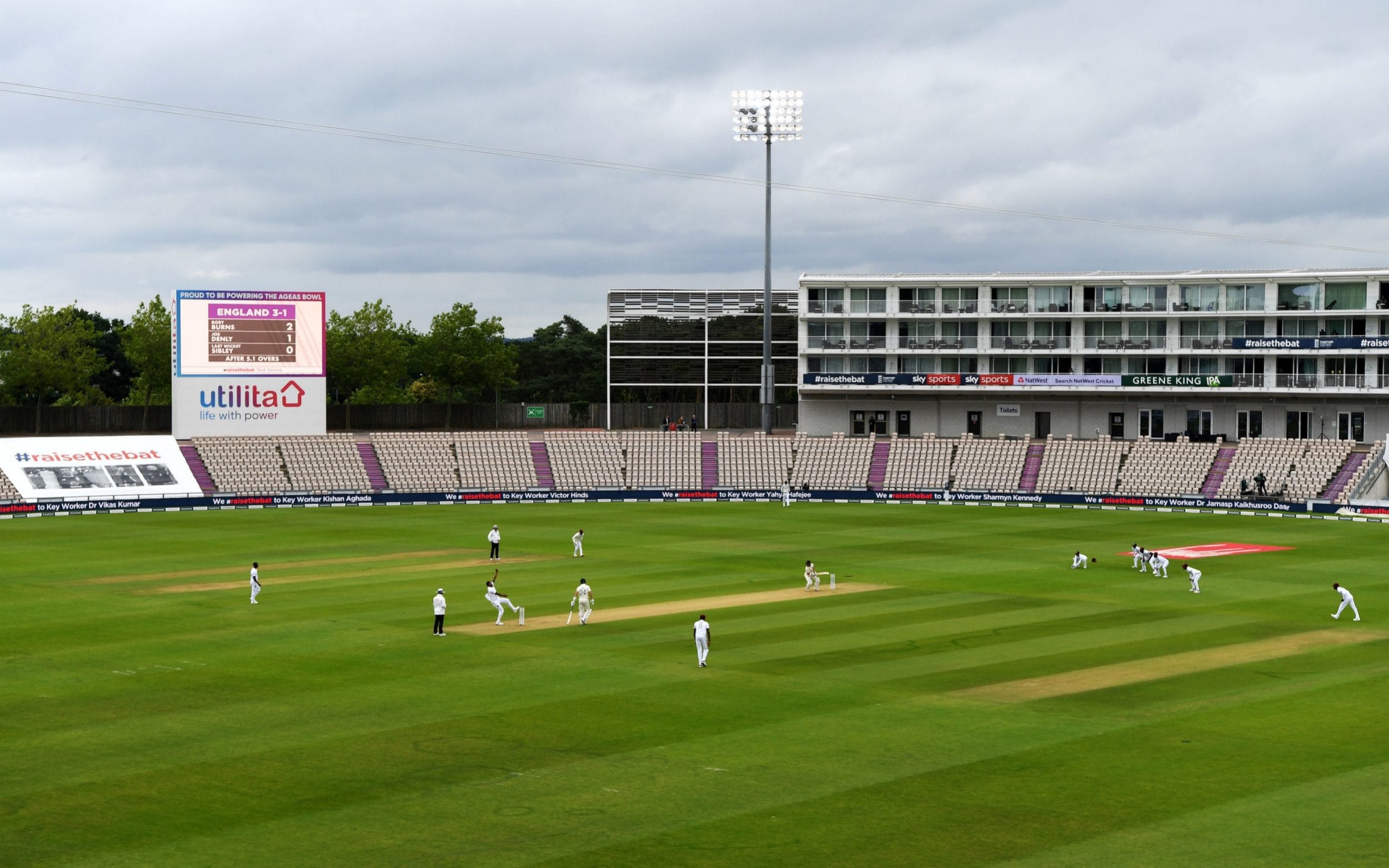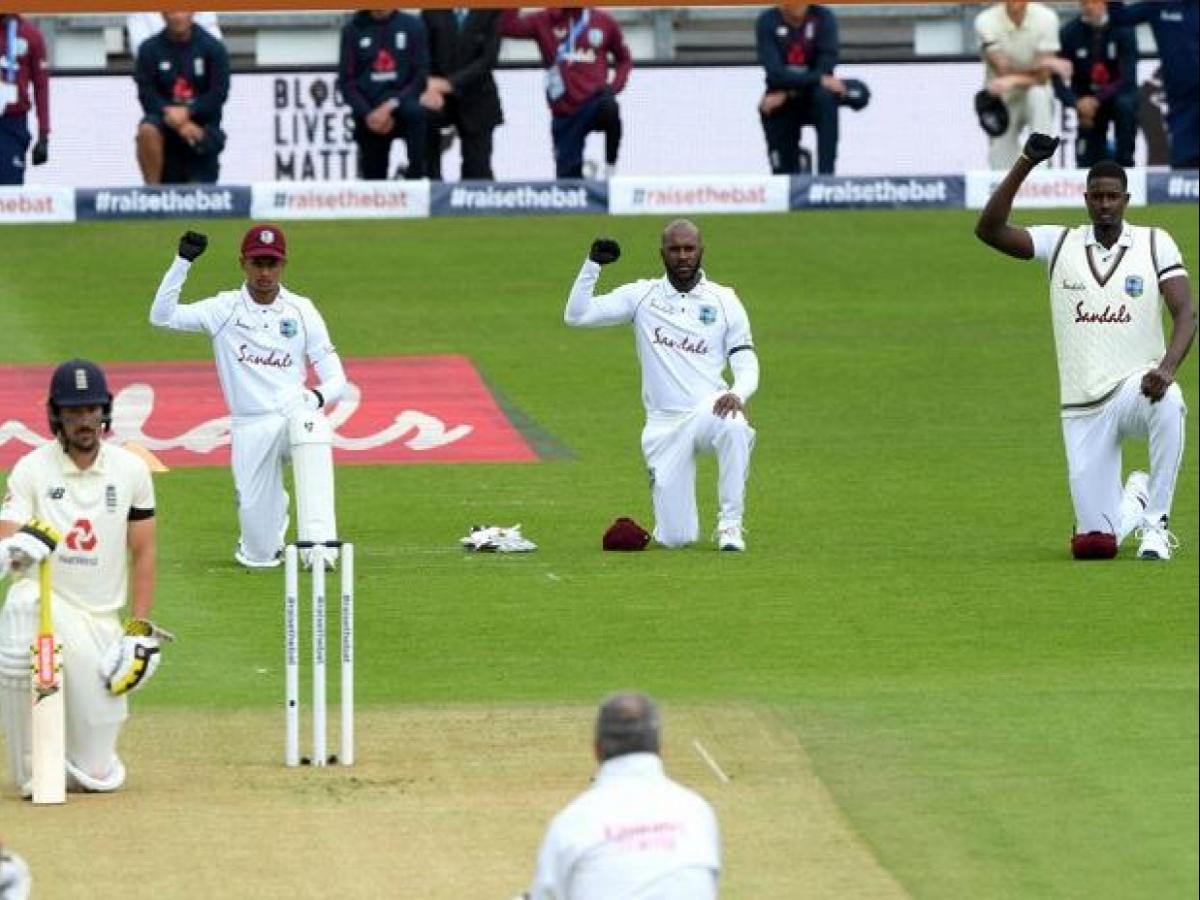 Don't forget to tune into Test Match Special when you're at your desk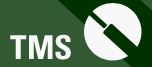 Wednesday 8th July


This should be fun.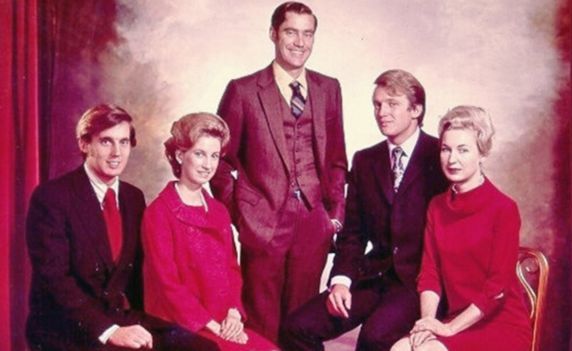 Donald Trump's niece Mary, daughter of elder brother Fred Jr. (left), is about to publish a tell-all book titled "Too Much and Never Enough: How My Family Created the World's Most Dangerous Man." The family has sued to block its release on 14th July. The White House press secretary, Kayleigh McEnany, said the president had "no response, other than it's a book of falsehoods ... ridiculous, absurd allegations that have absolutely no bearing in truth". Here are some pre-release quotes from Mary, a trained clinical psychologist, courtesy of the BBC, The Guardian and Business Insider.

"Child abuse is, in some sense, the expectation of 'too much' or 'not enough'. Donald directly experienced the 'not enough' in the loss of connection to his mother at a crucial development stage. Having been abandoned by his mother for at least a year, and having his father fail not only to meet his needs but to make him feel safe or loved, valued or mirrored, Donald suffered deprivations that would scar him for life. The personality traits that resulted - displays of narcissism, bullying, grandiosity - finally made my grandfather take notice but not in a way that ameliorated any of the horror that had come before."

"Nothing is ever enough. This is far beyond garden-variety narcissism. Donald is not simply weak, his ego is a fragile thing that must be bolstered every moment because he knows deep down that he is nothing of what he claims to be."

"Donald, following the lead of my grandfather and with the complicity, silence and inaction of his siblings, destroyed my father [Fred Jr., often Freddy]. I can't let him destroy my country."

"The only time Donald went to church was when the cameras were there. It's mind boggling. But that's all about his base. He has no principles. None!"

"[He hired Joe Shapiro] a smart kid with a reputation for being a good test taker to take his SATs for him. Donald, who never lacked for funds, paid his buddy well."

"[For Freddy,] lying was defensive - not simply a way to circumvent his father's disapproval or to avoid punishment, as it was for the others, but a way to survive. [For Donald ] lying was primarily a mode of self-aggrandizement meant to convince other people he was better than he actually was."

"He's a clown - this will never happen," Mary says her aunt Maryanne, Donald's sister, commented soon after Donald announced his presidential bid.

"[The day after Trump's election victory] I was wandering around my house, as traumatized as many other people but in a more personal way; it felt as though 62,979,636 voters had chosen to turn this country into a macro version of my malignantly dysfunctional family."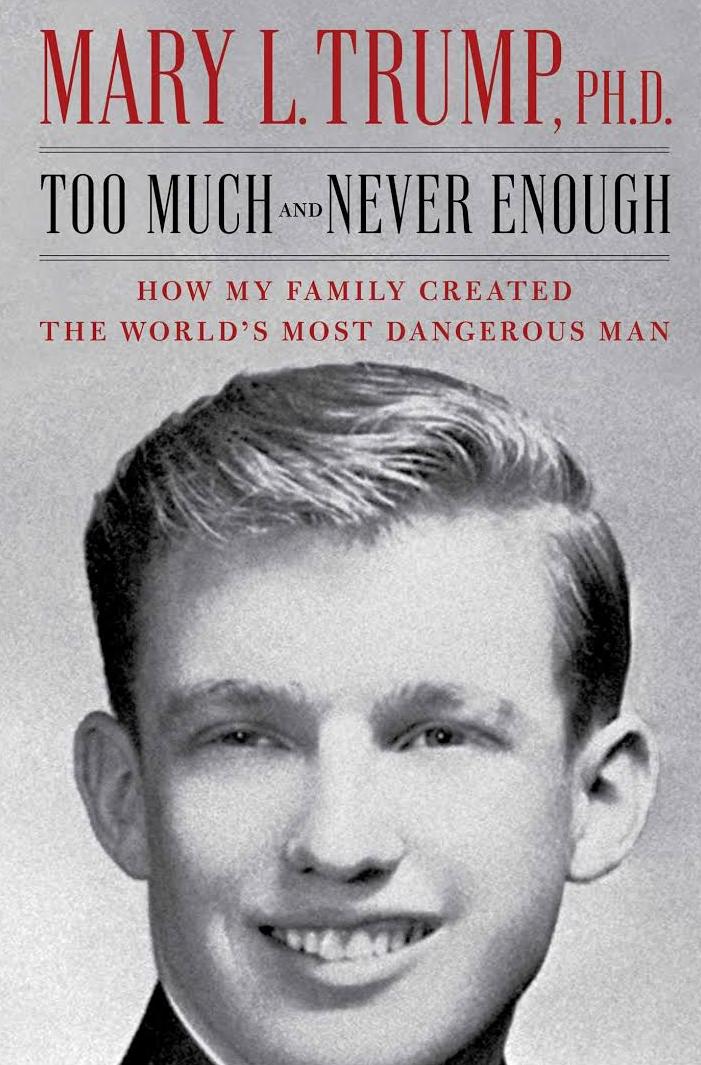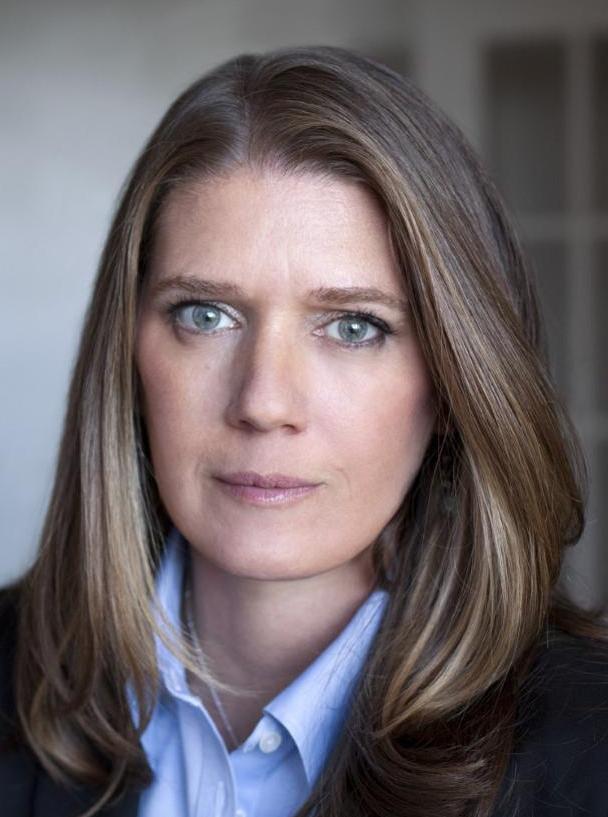 Will this run and run? Or be swept under the carpet? It's a test for Trump's ability to reject criticism and discredit the source.

Tuesday 7th July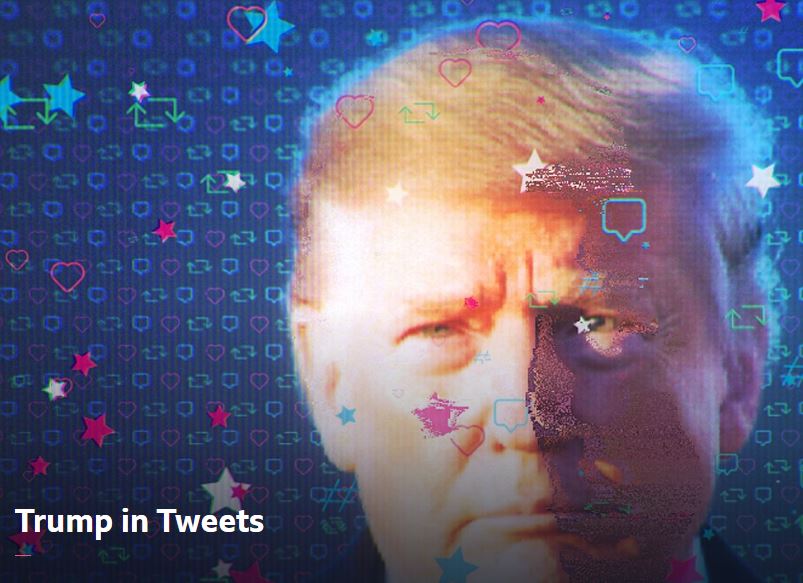 We watched this on iPlayer last night. Click above to go to the page. Worth a view. It's a well-described and reasonably in-depth study of how Trump has adopted Twitter as a tool to promote himself. Nobody else comes close. At first sight, why would the leader of the free world use such an open short-form medium to get his message across? It suits his if-you-have-a-go-at-me-I-will-retaliate character; it fits his limitations. If someone criticises him, he insults them. Robert de Niro: "a very Low IQ individual, has received too many shots to the head by real boxers in movies. I watched him last night and truly believe he may be "punch-drunk." Meryl Streep: "one of the most overrated actresses in Hollywood ... a Hillary flunky who lost big." He has a knack for coining a pejorative description which sticks regardless of accuracy, such as the campaign-winning: "Crooked Hillary".

Is this skill a right-wing gift? Simple ideas, maybe not wholly justified nor verified, condensed into a memorable phrase. We had a couple in the UK that helped to bring about a change in our political and national landscape.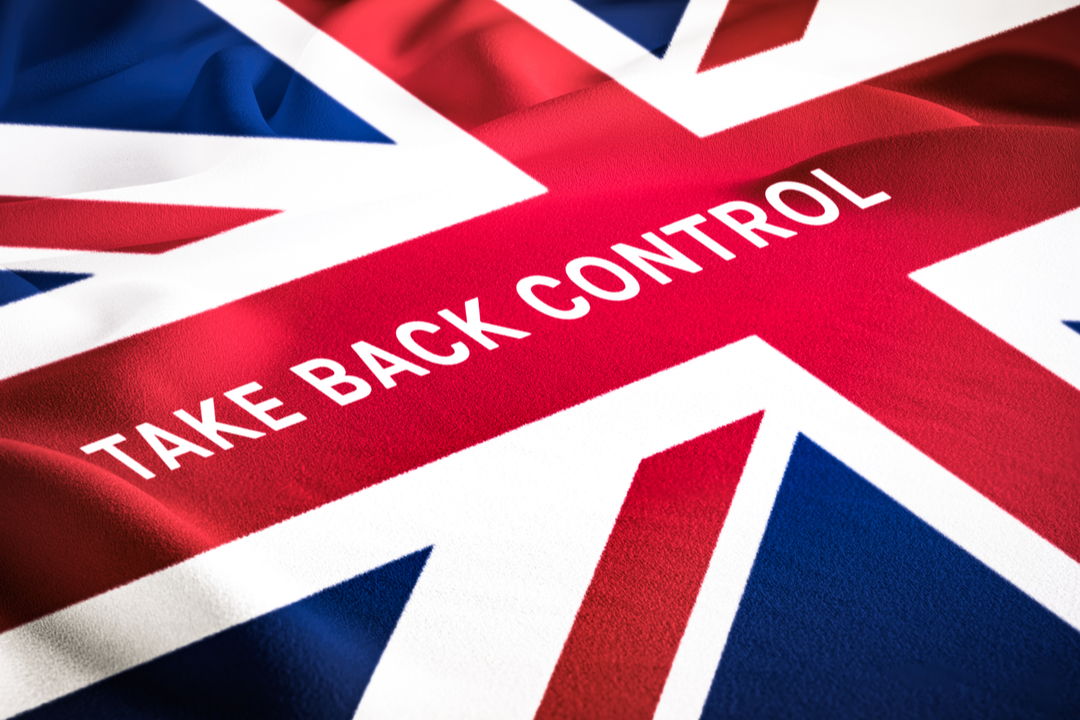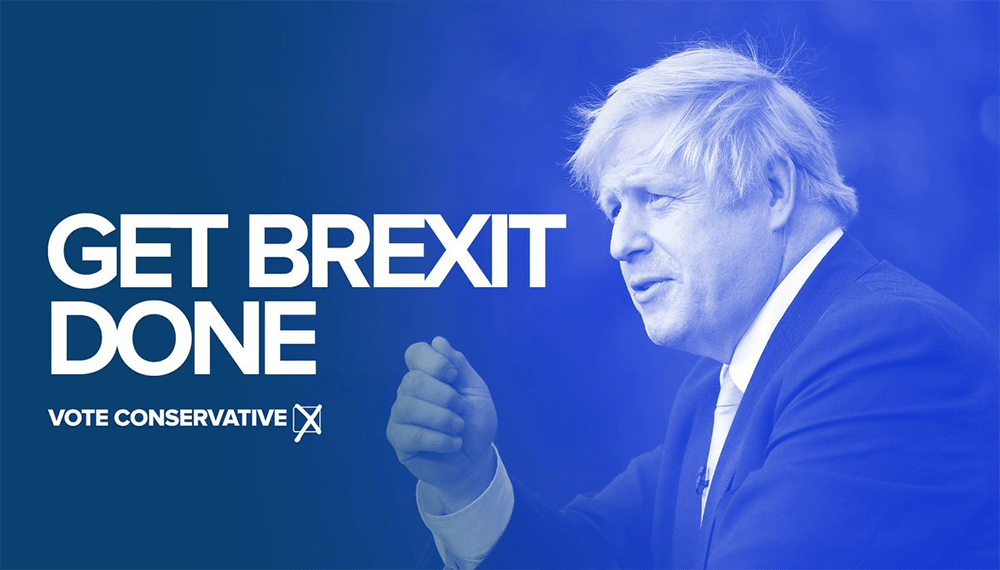 Is it true that the UK had really lost control to the EU? Was that a problem, or did it bring benefits in return? Was the General Election truly a single-issue debate? It doesn't matter. The clever little catchphrases crystallised support for the winners, went closest to the desires and frustrations of their supporters. No complex understanding required.

Time for a chart update on yesterday's UK numbers: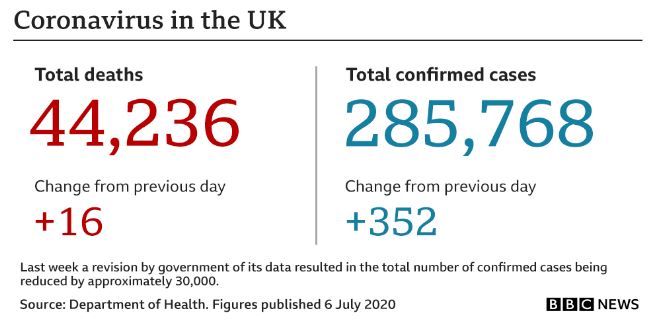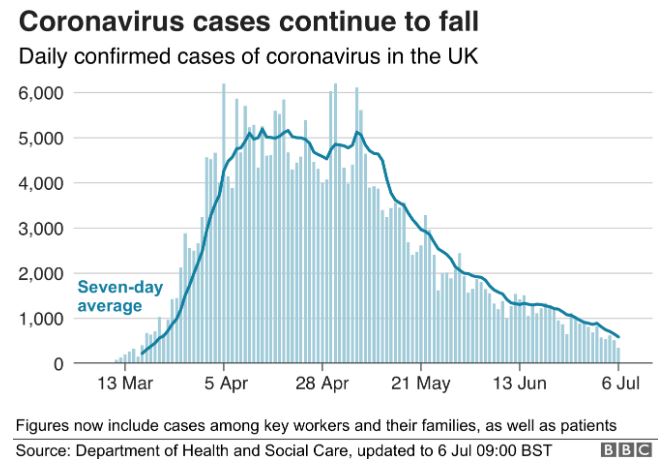 We have the same slow descent from peak levels. No spikes from last Saturday's landmark re-openings, but there hasn't been enough time to see that effect. Some pubs have re-closed immediately after customers have tested positive - and informed the pubs. Personally and anecdotally, I see some reluctance among licensees to take the risk of opening. I'm told only two pubs were open in the centre of Stroud on Saturday night. I called a favourite pub outside Worcester, the Mug Inn at Claines, to arrange a garden lunch with a friend. The landlady told me that they won't open until mid-August; they believe it's too early to feel safe. I applaud that caution :-)

Sunday 5th July


The state of the Union in meeting regulations. Acting together to beat the pandemic.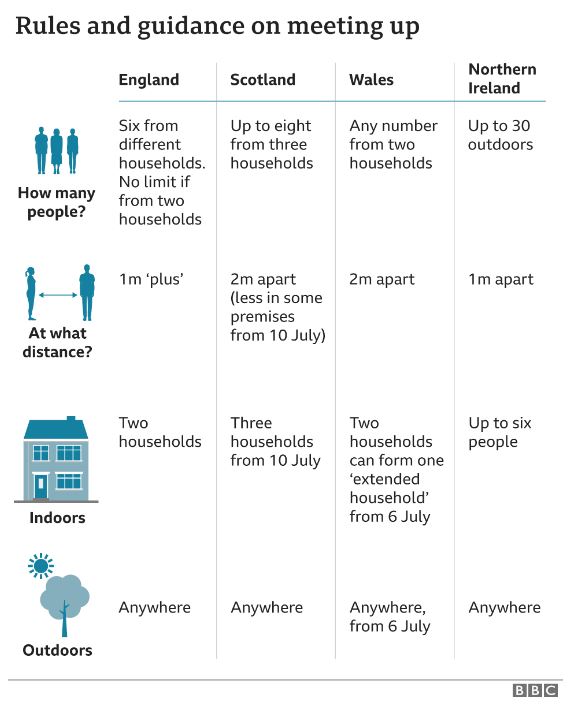 Social distancing on first visit back to pub. No chance of infection.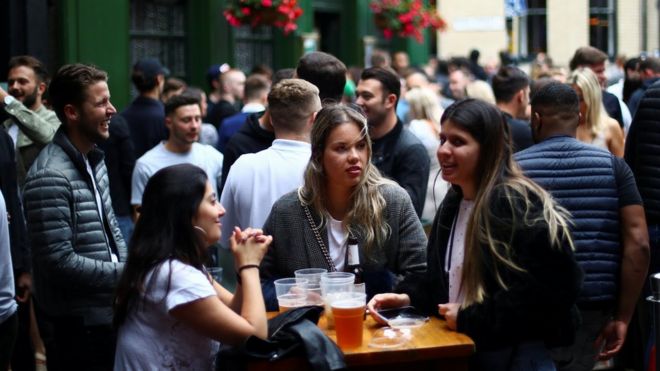 Friday 3rd July


If you take 31st December 2019, when the World Health Organisation was first informed by China of "pneumonia of unknown cause", as a starting point we've had 6 months of coronavirus now. Commentary has increased exponentially in line with the virus. It has also changed. The bare numbers and events are still published, but we seem to have reached a taking-stock period, where the theme is a more reflective "how did we get here?" The coverage is going deeper and we're learning more behind-the-scenes detail. We're used to the numbers, we know about the responses being discussed and implemented; the latest output is adding flesh to the bones and filling out our understanding.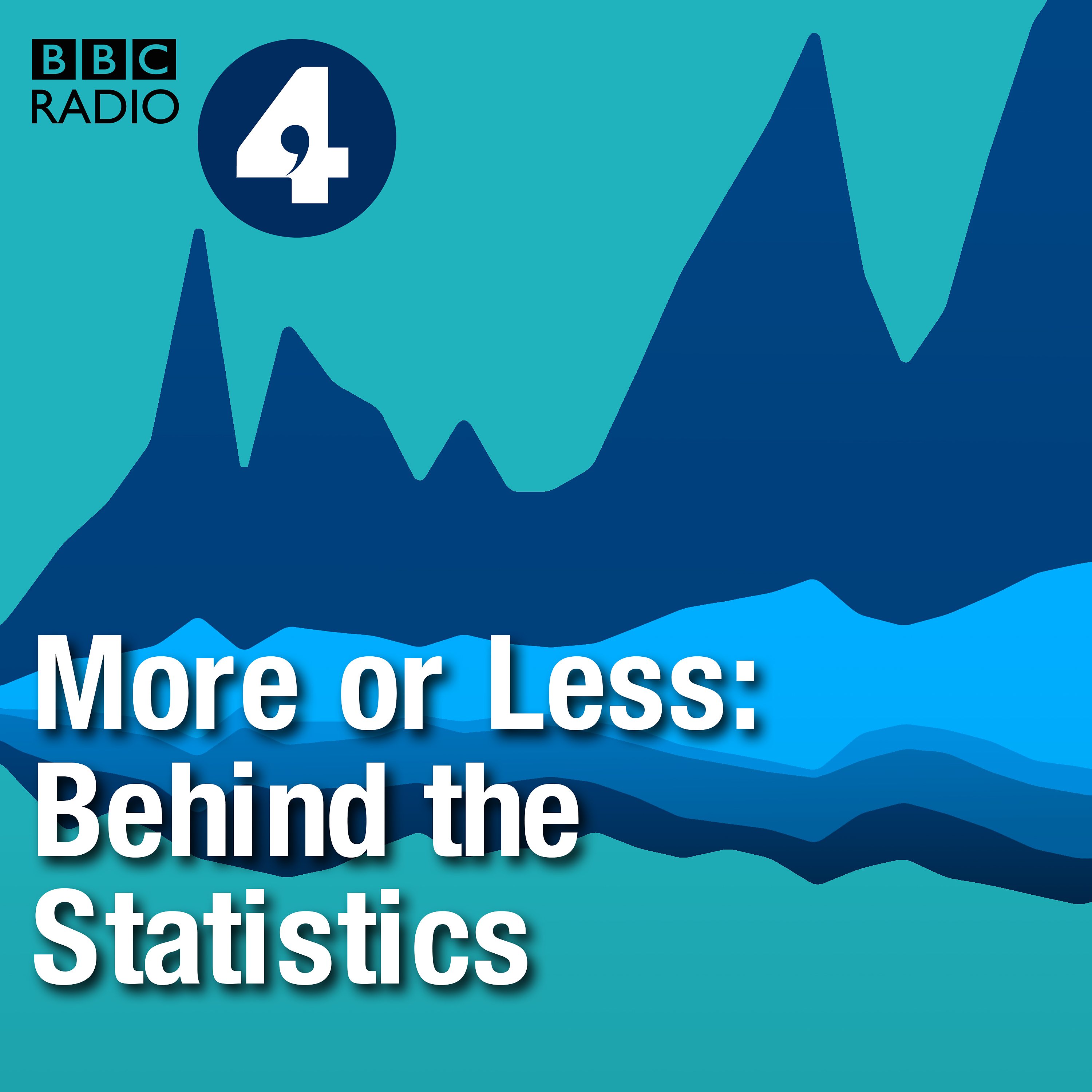 My sister Vicky pointed me at this programme at the beginning of the week. I hadn't heard of it, because I'm not a committed Radio 4 listener. Click on the picture above to go to the main website. It's a numbers programme, which appeals to me. They originally did a one-off coronavirus broadcast which then became several. You can listen to last Monday's "Why Did the UK Have Such a Bad Covid-19 Epidemic?" below. I've searched unsuccessfully for a transcript and failed to extract one of my own that makes any sense. If you're interested, listen here.


BBC Radio 4 More or Less 'Bad Covid' podcast 1-7-2020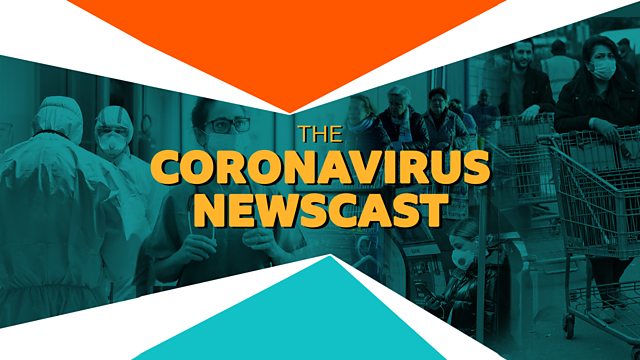 This is a BBC Sounds podcast series which has largely turned to covering the pandemic. It must have been re-branded from Brexitcast as it stretches back over 280 available episodes to 19 June 2017. Click on the picture above to go to the website.

The BBC again has published two pieces titled "Coronavirus: Why surviving the virus may be just the beginning"

and "Coronavirus: 'Baffling' observations from the front line"

.

Both make frightening reading, the first about the depth of suffering experienced by seriously-affected patients, the second about the complexity of the virus and the bewilderment of ICU staff. The detail goes way beyond our daily fare of headline soundbites.

I had no idea of the effects felt by someone emerging from a major attack. Here's a piece from the BBC patient article.


Abraham Raskin's family were told in late April that it was unlikely he would survive. On 12 June he finally left the Royal London Hospital after more than 50 days in intensive care, a tracheostomy, and a month in a medically induced coma. "The very fact that I'm alive now is a miracle," he says, "I was nearly a goner." On a video call arranged by nurses on 18 May his family saw his face for the first time since he was taken into hospital in early April. He wasn't able to say anything, but he did raise an eyebrow. Abraham was severely delirious for some time after waking up. "I was talking all kinds of rubbish", he says. "Afterwards when I heard about what I was saying, I felt like I was mad or something. It's not pleasant." He is now back at home, still very tired, and following a basic exercise programme planned from him by a physiotherapist. With support from family members, he can get upstairs to sleep at night. "Some people can't really walk anymore when they come out of this," he says, "and some take months to recover. I hope I'm not one of them."



Let me quote the medics. One phrase emerges time after time: "We've never seen anything like this before."
Barbara Miles, clinical director of intensive care at Glasgow Royal Infirmary: "It felt in some ways like we were trying to prepare for the D-Day landings with three weeks to get ready and not a great deal of knowledge about what we would be facing".




Ron Daniels, intensive care consultant at hospitals in Birmingham: "The volume of this is, of course, unprecedented in the era of modern medicine. But it's also the type of illness which is so distinct, and the way it's really different from almost every other patient that we've ever seen before."




Beverley Hunt, professor of thrombosis who works in intensive care at a leading London hospital: "As a doctor it seems at times quite horrific, we have had so many very, very sick patients who are having these profound changes in their body en masse. We're all struggling to understand it better and it's absolutely key that we get more research done so we can understand what is going on."




Barbara Miles again: "The disease appears to go through different stages and so knowing more about how to use the breathing machines on these patients at different stages of the illness would be something I hope we will learn as time goes on."




Professor Danny McAuley, ICU consultant at the Royal Victoria Hospital in Belfast: "We've been seeing people on a ventilator for much longer than [a week] and we don't quite understand why that is. It may be that there is still untreated virus continuing to cause damage. Or it may be that it's a response to the virus, with all the excessive inflammation causing multiple problems in the body."




Professor Hugh Montgomery, consultant in critical care at the Whittington Hospital in north London: "We find small clots in the small arteries of the lungs but also big clots in the big arteries of the lungs. More than 25% of patients have significant clots and this is a real problem."




Beverley Hunt again: "You're much more prone to having deep vein thrombosis. And pulmonary embolism, when one of the deep vein thromboses travels around the body and blocks the blood supply to the lungs, adding to the problem of the pneumonia."
Why don't people get this? I'm filled with dread about how lightly many treat the virus and what the outcome of lifting restrictions will be.

Wednesday 1st July


This is certainly dramatic: the increase in new cases in the USA. Look in the FT chart below at the curve for the last 20 days. It almost matches that of the country's original outbreak up to day 40. Groundhog Day. It's not a blip. It's the same all over again.

Click to enlarge



Dr Anthony Fauci, director of the National Institute of Allergy and Infectious Diseases (NIAID) and lead member of the White House Coronavirus Task Force, told the Senate, "Clearly we are not in control right now." Really? The surge has forced at least 16 states to pause or reverse their reopening plans. Surely not. Republican Senator Lamar Alexander has appealed to President Donald Trump to wear a face mask. "Sadly this simple life-saving practice has become part of the political debate. If you are for Trump you don't wear a mask, if you are against Trump you do. The president has plenty of admirers that would follow his lead." You couldn't make it up.

Elsehere, continued growth in three distinct territories: Brazil, India, South Africa. The UK continues its shallow elongated descent. China has been bumping along the bottom for more than 100 days.

Tuesday 30th June


I've not written for a few days. The first entry of this blog was on Sunday 22nd March, just over 13 weeks ago. I think that passage of time is the first pointer to my slow-down. There's no longer anything new going on. We may read about new outbreaks, new lockdowns, new cases, new deaths, new relaxations. They're new in their effect on individuals but as newsworthy events seen through the filter of our world-wide experience of the last four months? That's right, we're used to them.

I am bored, or is that weighed-down? There's plenty to do, much of it rewarding, so bored isn't quite right. Coronavirus is the common theme in our lives now - past, present and future. Decisions have to be made every day about our response, and those vary, but the source is still Covid-19. Death hangs in the air. My interest in avoiding things that increase the risk is like a background hum, ever-present and wearying.

Plans have turned to holidays. A big question is "will I be quarantined on my return?" Today, anyone arriving from the Common Travel Area (CTA) - the Republic of Ireland, the Channel Islands, or the Isle of Man - will not have to enter quarantine, as long as they have been in the CTA for at least 14 days. That's it. The government wants to relax the rules in early July for some other countries, with a series of "travel corridors" or "air bridges", destinations like: France, Italy, Spain, Greece, Belgium, Germany, Norway, the Netherlands, Turkey and Finland. EasyJet resumed some flights on 15th June. Travellers have already left without knowing what the quarantine rules will be at the end of their holiday.

Not my idea of a stress-free trip. You can still catch Covid-19 when you're there. Few countries on earth could promise zero contact with the virus and they would be unlikely to admit you. Tourists visit busy places where there are other tourists so they present your biggest risk. I can't see the attraction of a ghastly 'plane journey to a resort where you have to mind your back. Spend the air fares on lobster, fillet steak and chilled white, I say.

Nor am I convinced by pubs re-opening. Landlord Rodda at our Crown & Sceptre has been planning his event very carefully. It goes something like this. Enter the pub through the front door. Go up to the bar and order drinks. There's no drinking indoors, so go out of the back door and down to the garden where there are numbered tables; you have to book in advance. Rodda has covered half the garden with a marquee for poor weather. Hmmm. It's great to have such a community pub open again, but it sounds a bit regimented, however much I respect the need for safety. If you didn't, the public bar at Last Orders on a Saturday night would be a great place to catch the virus. Pubs just aren't good places for restricting contact. Anyway, I'm on the wagon and off the fags so sadly the C&S is not the place for me.

For years I thought I lived in a place called Great Britain. Now I find out I live in a federation. The ease-up regulations and travel rules during Coronavirus vary across the four home nations of the Union; the laws governing public health are devolved. Bearing this in mind, you may want to have a go at the BBC quiz below: "Do you really know Britain's lockdown rules?"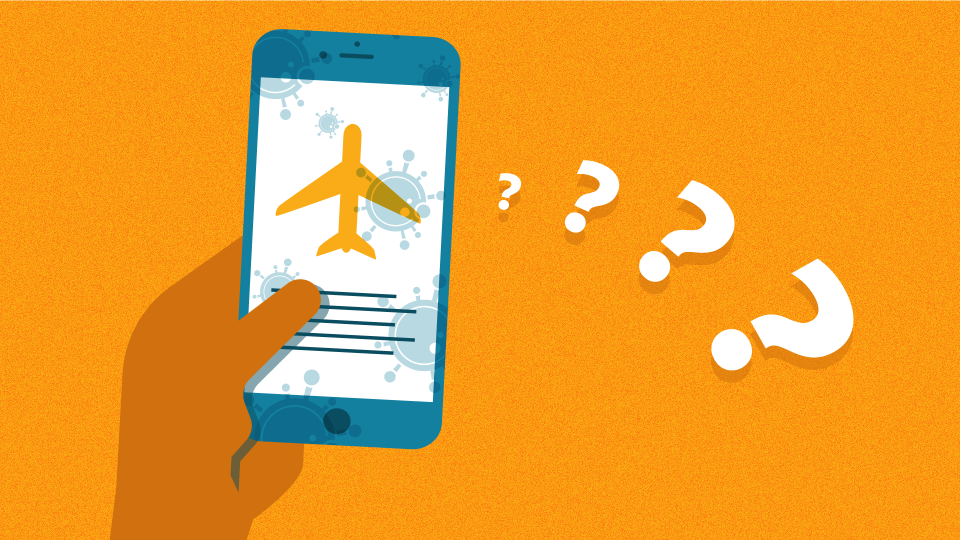 Friday 26th June


Once again it's been too warm for writing a lot today.

I'll stick to a couple of pictures.



Crowded Dorset beach last Wednesday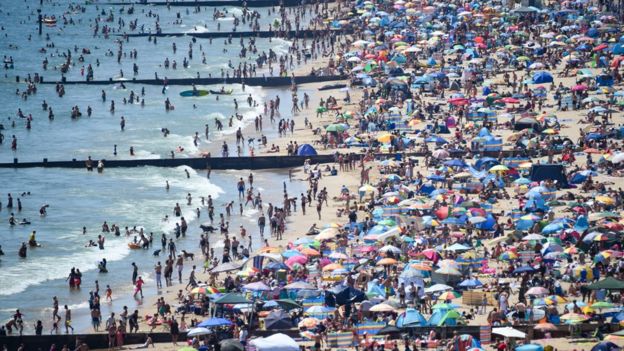 Uncrowded socially distant camping in Norfolk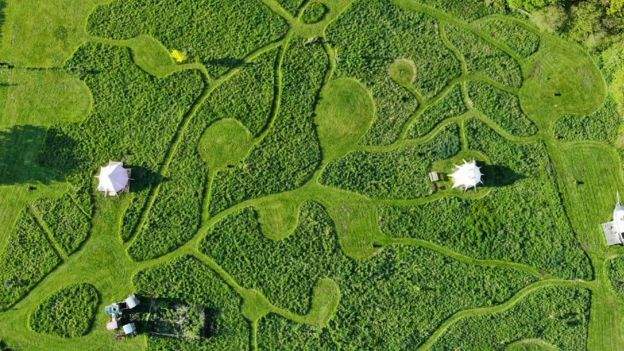 Thursday 25th June


Please forgive this little digression. Last week, 1) Brian Robathan sent me a piece about Albert Camus and La Peste and 2) I mentioned how much Clive James made me laugh. This morning I stumbled upon this from James' Cultural Amnesia: Notes in the Margin of My Time (2007). He comments, "In this book can be heard the merest edge of an enormous conversation. As they never were in life, we can imagine the speakers all gathered in some vast room, wearing name tags in case they don't recognize each other (although some recognize each other all too well, and avoid contact). My heroes and heroines are here."


"When I first read The Rebel, this splendid line came leaping from the page like a dolphin from a wave. I memorized it instantly, and from then on Camus was my man. I wanted to write like that, in a prose that sang like poetry. I wanted to look like him. I wanted to wear a Bogart-style trench coat with the collar turned up, have an untipped Gauloise dangling from my lower lip, and die romantically in a car crash. At the time, the crash had only just happened. The wheels of the wrecked Facel Vega were practically still spinning, and at Sydney University I knew exiled French students, spiritually scarred by service in Indochina, who had met Camus in Paris; one of them claimed to have shared a girl with him. Later on, in London, I was able to arrange the trench coat and the Gauloise, although I decided to forgo the car crash until a more propitious moment. Much later, long after having realized that smoking French cigarettes was just an expensive way of inhaling nationalized industrial waste, I learned from Olivier Todd's excellent biography of Camus that the trench coat had been a gift from Arthur Koestler's wife and that the Bogart connection had been, as the academics say, no accident. Camus had wanted to look like Bogart, and Mrs. Koestler knew where to get the kit. Camus was a bit of an actor - he thought, in fact, that he was a lot of an actor, although his histrionic talent was the weakest item of his theatrical equipment - and, being a bit of an actor, he was preoccupied by questions of authenticity, as truly authentic people seldom are. But under the posturing agonies about authenticity there was something better than authentic. There was something genuine. He was genuinely poetic. Being that, he could apply two tests simultaneously to his own language: the test of expressiveness, and the test of truth to life. To put it another way, he couldn't not apply them."



What line leapt from the page?

Wednesday 24th June


Too hot to sit in my office writing today. At 4pm, my laptop overheated and shut down. At 5:45pm it was 36℃ in Waitrose car park on our way to picnic on glorious Minchinhampton Common with friends Nell and Dave. Grandson Marlie rode up and down the grassy paths on "new" bike donated by neighbour in Middle Street.

Tuesday 23rd June


The Football Premiership is back, behind closed doors. Strange. No sound of the fans; no crescendo of action, no roar of triumph. The pundits say the canned music is annoying; it's meant to stimulate the fans but there are none. You can hear the players shouting which confirms the leaders on the pitch. In the Liverpool-Everton derby draw on Sunday, it was no surprise to find Virgil van Dijk and Jordan Henderson barking the orders. You might have hoped to catch words of tactical erudition from the coaches at this top level - "Gegenpressing now please boys" - but it was more the banal fare of a Sunday morning scrap on Hackney Marshes.

I used to be a sports fan, not so much now. I still scan some of the results, read in-depth articles about star teams and players. There are two notable exceptions. I wouldn't miss any of the England games in the Rugby Union 6 Nations, nor the autumn internationals, nor the World Cup, down at the Crown & Sceptre where there is a passionate following. Then there's cricket. Every year my friends Guy and Graham join me for a full day at New Road Worcester, hamper and all. On 14th July last year I saw all of England's Cricket World Cup victory against New Zealand at the Crown & Sceptre.

I wrote back on 10th April: "Cricket might be a game suitable for social distancing. Most of the fielders are a long way from one another, except the slips, where we'd have to adopt the Australian approach of spreading the cordon wider, or only have a second slip and gully. Wicket-keepers not allowed to stand up to the stumps. Crowd attendance at county championship matches is so poor that you could put 50 metres between spectators." We'll see how it goes on July 8th, when England meet the West Indies in the 1st Test at the Rose Bowl, Southampton.

I haven't missed sport and I'm not delighted that it's returning. It's interesting to see how each type handles the current conditions. I hadn't realised that footballers would keep a distance at corners. Those normally to be found side-by-side on the bench sit apart in the empty stands. I haven't yet found out what will happen at cricket. As for a contact sport like rugby, surely there's nothing that they can do.

Here's a few relevant photos. The distances in these are still 2 metres.



Danish football stand with social distancing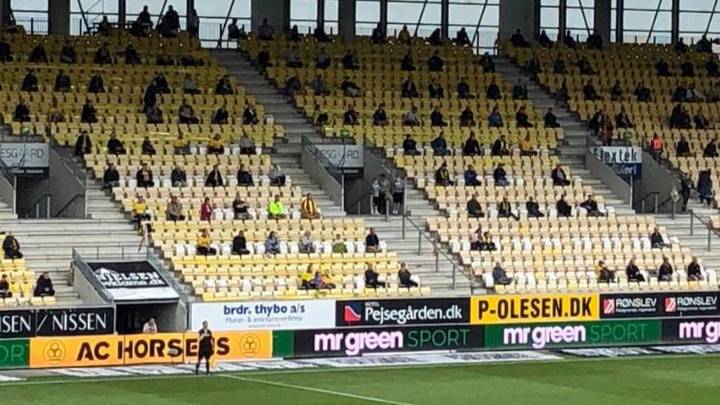 Footballers observe social distance at corner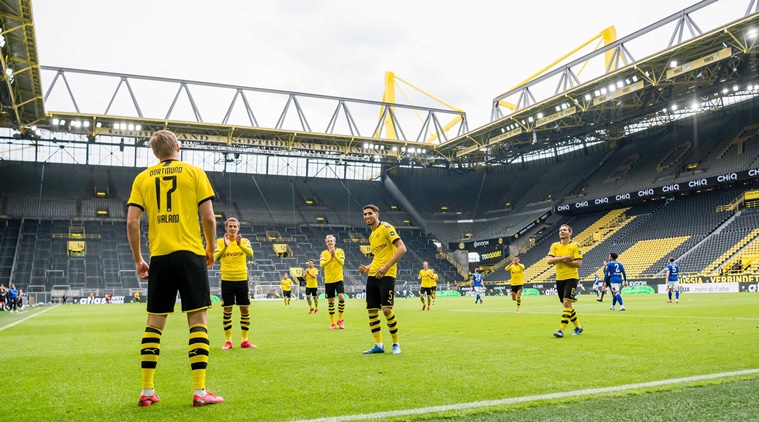 Cricket slip cordon before social distancing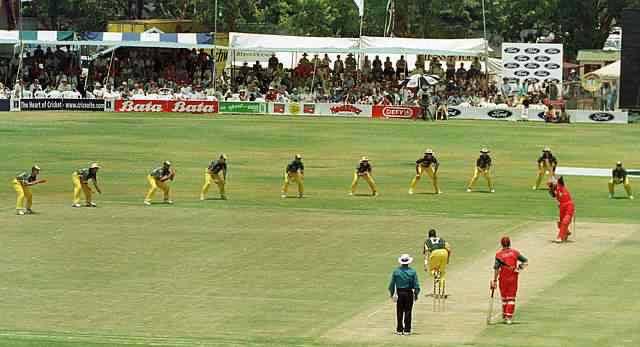 Explaining social distance to cricketers with familiar objects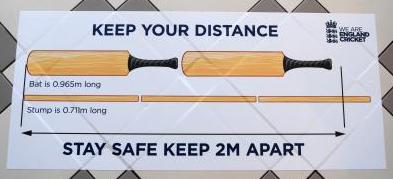 Cricket World Cup 2019 losing New Zealand batsman Martin Guptill shows correct social distance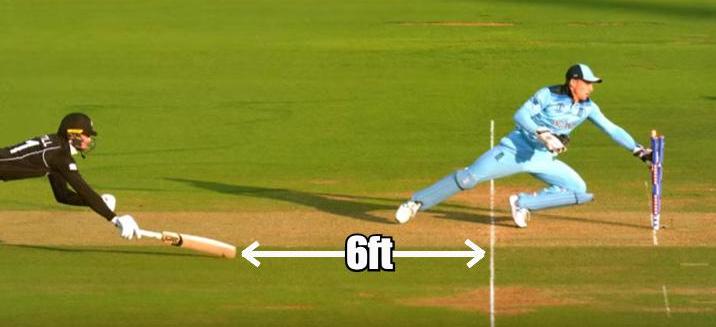 Finally, artist Juan Delcan uses matches to explain why social distancing is important

Sunday 21st June


A bit more on John Crace, other authors and acting.

I'm impressed by authors where you can't see the writing. In fiction, the characters, story and message shine through without you ever thinking, "I know how he's/she's done that." Content rather than style. I first became aware of this with Nick Hornby and Fever Pitch, the writer invisible behind the son and father protagonists. It's the same with film and theatre. Some actors are always the same regardless of whom they're playing. Some are simply too clever for their own good. I remember watching John Mortimer's A Voyage Round My Father on ITV in 1982. Laurence Olivier played opposite Alan Bates in the lead roles. Olivier was breath-taking and yet he somehow got in the way. He'd do something remarkable and I'd shout out loud, "you old bastard, how did you come up with that?" Brilliant but intrusive.

We've been lucky that during coronavirus there has been some very good drama on TV. Two series come to mind, both of which exhibit the "hidden" acting I've described above. We've been watching a Broadchurch repeat, the 2013 first series, starring Olivia Colman and David Tennant. Colman has gone on to become a huge star, so we know what a magnificent actor she is. In Broadchurch, she is subtle, throttled-back, empathetic, quiet. I see Detective Sergeant Ellie Miller, a compassionate and even vulnerable police detective, not Olivia Colman.

Normal People is a 2018 novel by Irish author Sally Rooney. The television adaptation first aired on 26th April 2020. The story starts with Marianne Sheridan and Connell Waldron at secondary school in County Sligo. They are played by Daisy Edgar-Jones, 22 last month, and Paul Mescal, 24. How did anybody get to be so good by that age? I've never before witnessed such assured, distinctive, complex, true and believable performances from two so young. Gifts from above. The heat of their young love against a gloomy Atlantic coast, peer-group and family constraints blisters the screen. "Oh please", I kept saying, "Tell her now! Don't let the moment pass. You two are made for each other." The relationship, rickety from the outset, unravels as they move on to Trinity College Dublin. Daisy and Paul do all that very well too. Connell hits a brick wall of depression. He goes to see a counsellor recommended by a friend. In a dialogue, mostly his monologue, that must last close to ten minutes he decomposes before your eyes. Throughout the series what you see is the real Marianne and Connell all the time, not Daisy and Paul.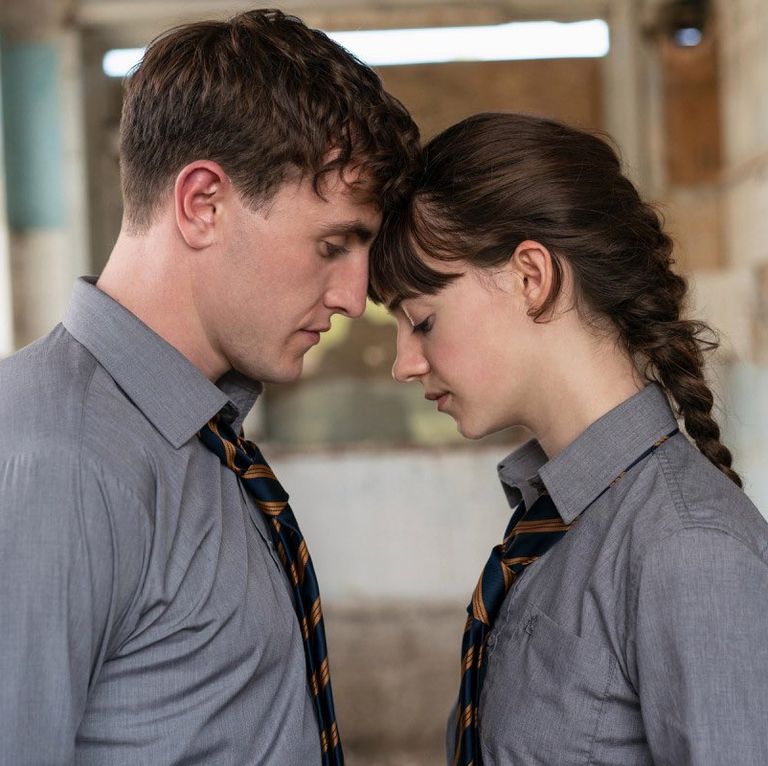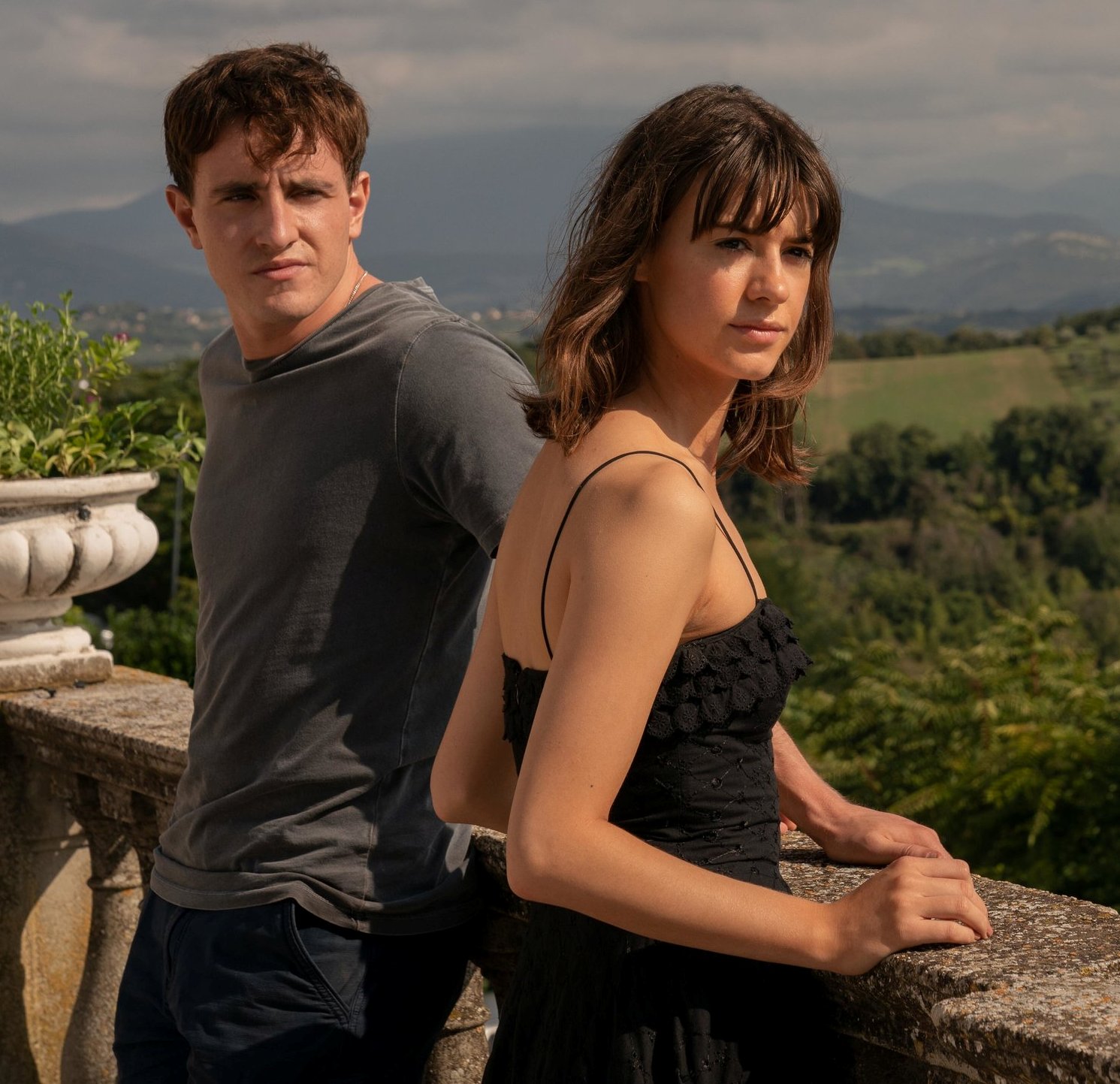 John Crace may not aspire to these heights of invisibility. Indeed, it would probably be inappropriate in the rough-and-tumble of political satire. But he's travelling the same road unearthing truth with clean prose. The article I quote here goes rather against the grain of my "author-in-background" thesis in that it's personal. He has always been open about his own mental health issues, indeed about losing his twenties to heroin addiction. I wanted to include a piece on mental health and Covid-19 and this is the best. It's not self-indulgent, but invites you to see if his experience resonates.

Here's my typical early morning routine. I wake up around 7am and for a few seconds I experience a moment of calm. Then I remember the coronavirus and the anxiety begins. Not just the usual free-floating anxiety that has been ever-present for much of my adult life, but something not far short of a full-on panic attack. The anxiety is physical as well as mental. It manifests itself as a gnawing ball of fear in my stomach and muscle pain in my arms, shoulders and legs. Frequently, I roll into a foetal ball.




I close my eyes, hoping to go back to sleep and wake up to find the world has returned to normal. I know it's pointless, but I do it anyway. I want some escape from the inescapable. This can go on for the best part of a couple of hours. I keep telling myself that the way to beat this is to break the cycle, get out of my bed and attempt to get on with the day, but it takes me an age to get to the point where I'm able to do this. Once up, I invariably feel a bit better, though the fear never really goes away. It lingers within me, waiting to be reignited at any moment.




This is where it gets weirder still. During previous episodes of acute anxiety, I have been able to take some bizarre comfort from the knowledge that it's me who is out of sync with the world. Part of me has been rational enough to know that I am the one that is mentally ill, even if I'm not well enough to do much about it. Now, though, reality has disturbingly caught up with my own anxiety. There are hundreds of thousands - if not millions - of people who are feeling the same as me. I take no comfort from that.




The coronavirus is the scariest thing I have experienced in my 63-year-old lifetime. Maybe I should have been more worried about nuclear annihilation during the Cold War, but I had the blind optimism of youth that neither the US nor the Soviet Union would be stupid enough to embark on mutually assured destruction. Or maybe the only way I could cope with the consequences of such a war was total denial.




Often in times of mental illness, I have found some comfort in my work. A distraction that somehow proved the mind-body split of dualist philosophers. But it's that much harder now, as the very thing I have to write about as the political sketch-writer for the Guardian is what is making me anxious. There have been a couple of days when I have just been unable to write and, on many others, hours when I have just had to switch off the news. Not to read a book, as my concentration isn't up to that - I seem to have read the first four pages of Hilary Mantel's The Mirror And The Light about five or six times now - but to watch mindless TV. Or go out on my wife's crap bike and ride up and down the same local hill ten times.

Saturday 20th June


The coronavirus crisis has provided fertile ground for political sketch writers, none more so than John Crace of The Guardian. I hadn't been aware of him until my partner Sarah, a devoted fan, mentioned his name. My ignorance is probably due to no longer reading the print version. We don't have the paper delivered, which means I never browse it over breakfast; I don't automatically turn to his page out of preference or habit. I have now subscribed to his Twitter feed so that I don't miss anything.

He writes well - liquid, fluent - and has that gift of matching my thoughts. "Quite right, that's exactly it, just what I was thinking." Which probably only works with a dyed-in-the-wool Grauniad reader. I'm sure Nigel Farage would read his material without the same ringing bell of recognition. I've been looking for some snippets to quote but they don't readily leap out. The late Clive James could turn a two-liner that would make me ache with laughter. I recently discovered David Sedaris and Me Talk Pretty One Day; he can do the same thing. Crace not so much. He makes me smile, but it's more of a slow burn. Each piece grows on itself, multiplying paragraph-by-paragraph.

Here's a chunk from Tuesday:


It's just as well the government thinks everything it has done to combat the coronavirus is "world beating". Given that the UK already has one of the worst coronavirus death rates in the world, I'd hate to think how many more people would have died if our response had only been "good enough". Most would think that the only area where the government is truly "world beating" is in its incompetence. It's going some to have made three major policy U-turns within a month. This week's U-turn on free school meals was a collector's item. Even if there is someone inside No 10 who believes it's genuinely a good idea for 1.3 million children to go hungry over the summer - maybe Dominic Cummings has written a 40,000-word blog on the positive effects of a poor diet on future life chances - saving £100m seems a strange hill to die on when you've already committed hundreds of billions of pounds to bailing out the economy.



He gives Boris and his cronies a proper kicking, not only criticism but as befits his column ridicule too. All richly deserved, just what they need given their performance so far. I would say that, wouldn't I? Yes - and I'm right. Anyway, John's attacks lift my spirits, for which I am grateful.

You can read his articles here: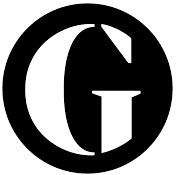 Friday 19th June


Today is devoted to a piece by Brian Robathan, a review of the 1947 novel La Peste (The Plague) by Albert Camus.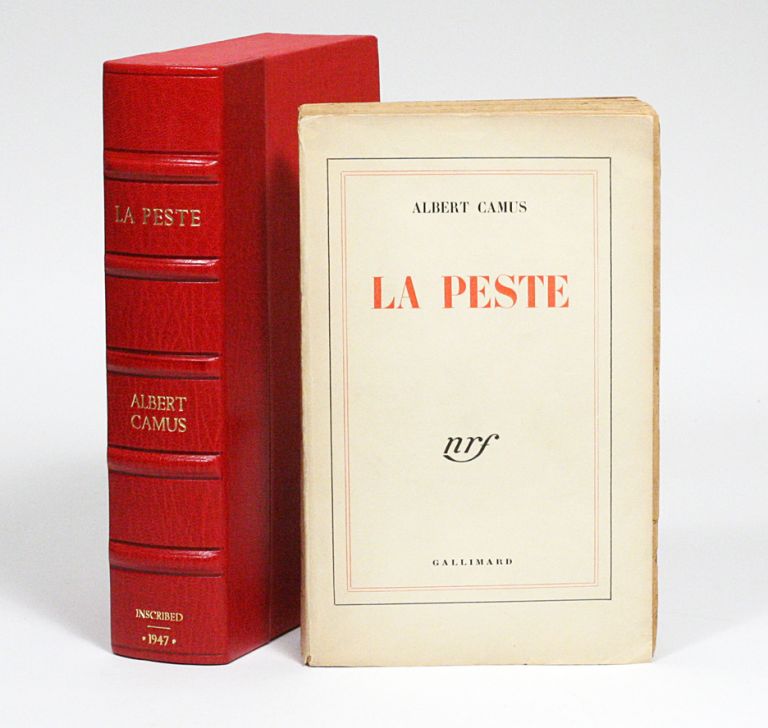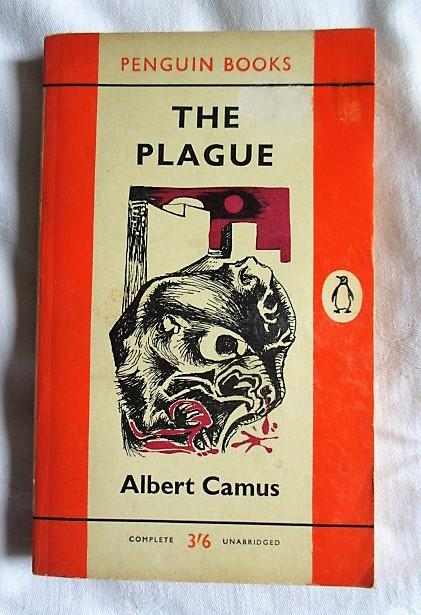 It's hard not to think that this book has something to say to us in the present circumstances when the last paragraph reads:
"Indeed, as he listened to the cries of joy that rose above the town, Rieux recalled that this joy was always under threat. He knew that this happy crowd was unaware of something that one can read in the books, which is that the plague bacillus never dies or vanishes entirely, that it can remain dormant for dozens of years in furniture or clothing, that it waits patiently in bedrooms, cellars, trunks, handkerchiefs and old papers, and that perhaps the day will come when, for the instruction or misfortune of mankind, the plague will rouse its rats and send them to die in some well-contented city."
I bought the book at the beginning of lockdown but have only just read it. It was my A-level set text in French, it impressed me then aged 18 and I was pleased to find that it had lost none of its power. It was published in 1947 which was a "sweet spot" between the end of the Second World War and the start of the Cold War, when France was coming to terms with Nazi occupation and the role of Vichy France, and where Camus, an Algerian, was having treatment for tuberculosis. The book, on the surface at least, tells the story of a (fictional) plague in the town of Oran in Algeria.
From the quote above, it is clear that Camus is using the plague as a metaphor, on many levels. It can be referring to the "plague" of Nazism, and the choices an invaded people make to resist, collaborate or be passive, and the reaction of the authorities. Here the "plague" is a metaphor for dogma, conformity, compliance and cowardice in all their forms. On another level it can refer to the "plague" or collective guilt that exists in all members of society when an unethical act is committed in their name. For Camus this was the death penalty, which he vehemently opposed; one of his characters says "I have been ashamed of having been - even at a distance, even with the best will in the world - a murderer in my turn. I learned that we are all in the plague." Although we do not have the death penalty in the UK, Camus's point is good if we feel that selling arms to dictatorships, extreme rendition etc. are morally wrong acts. On yet another level, it can refer to the human condition, that we are all born with the "plague" of the knowledge that we will die sometime and have to decide how we will live knowing this. The book's hero/antihero/main protagonist, Dr Rieux, is a doctor who feels that his work fighting the plague is an endless defeat, but that is no reason to give up the struggle. He is a man who "faced with suffering and a common crisis does what he must and becomes a leader and an example not out of heroic courage or careful reasoning but rather from a sort of necessary optimism."
However, it is also the story of the progress of a physical plague and particularly the reaction of the inhabitants to it; I found this interesting as it seemed to mirror much of our experience of dealing with coronavirus. First there was
denial
; a lack of acceptance that it is the plague, or its seriousness, as the authorities know that by declaring it officially "plague" they will shut the town down with all the attendant economic consequences. Then there was a
gradual realisation
; the inhabitants had not really accepted the idea of the disease and were annoyed and irritated as it upset their personal habits. They blamed the authorities for not relaxing the shutdown. However, then there were a number of initiatives by the authorities: increased quarantining, people trying to break out of the town and being shot at by the guards at the gates, a curfew, and a speedy system of burials and cremations with relatives not allowed to attend. This was followed by a feeling of
resignation
where the greatest suffering was of exile or separation from friends, family and lovers in the outside world. However, a
sense of solidarity
developed, and Rieux organised "health teams" - volunteers who helped with general rescue work despite an increased danger of catching the plague. People got
tired and careless
and started to neglect rules of hygiene and disinfecting, which made them more vulnerable to the plague; "in short, they were gambling on chance and chance is on nobody's side."
In time there is a decline of the plague and a sense of
cautious optimism
among the people, although "everyone agreed that the amenities of former times would not be restored overnight". But even in this time, the plague would have surges and kill people who were "the unfortunates of the plague, those who were killed when hope was high ... the coming deliverance was two-faced, combining laughter and tears." Finally, there is the
"official" end of the plague
and the town is full of scenes of rejoicing. "The whole town rushed outside to celebrate this crowded minute when the time of suffering had ended but the time of forgetting had not yet begun."
A really interesting and thought-provoking book, uplifting. The main character continues to do his best and does his job despite all the difficulties, with "necessary optimism"; as he says, "it may seem a ridiculous idea, but the only way to fight the plague is with decency."
So, to end with another quote that I would like to think is true, referring in the book to the volunteer health teams: "Most people are better than you think - you just need to give them the opportunity."

Thursday 18th June


The Bank of England is going to print more money, pump an extra £100bn into the UK economy to help fight the downturn. It believes Q2 will demonstrate a 20% contraction, less than the 25% predicted in certain quarters, but still an unprecedented number.

Inflation is down to 0.5%, well below the BoE target.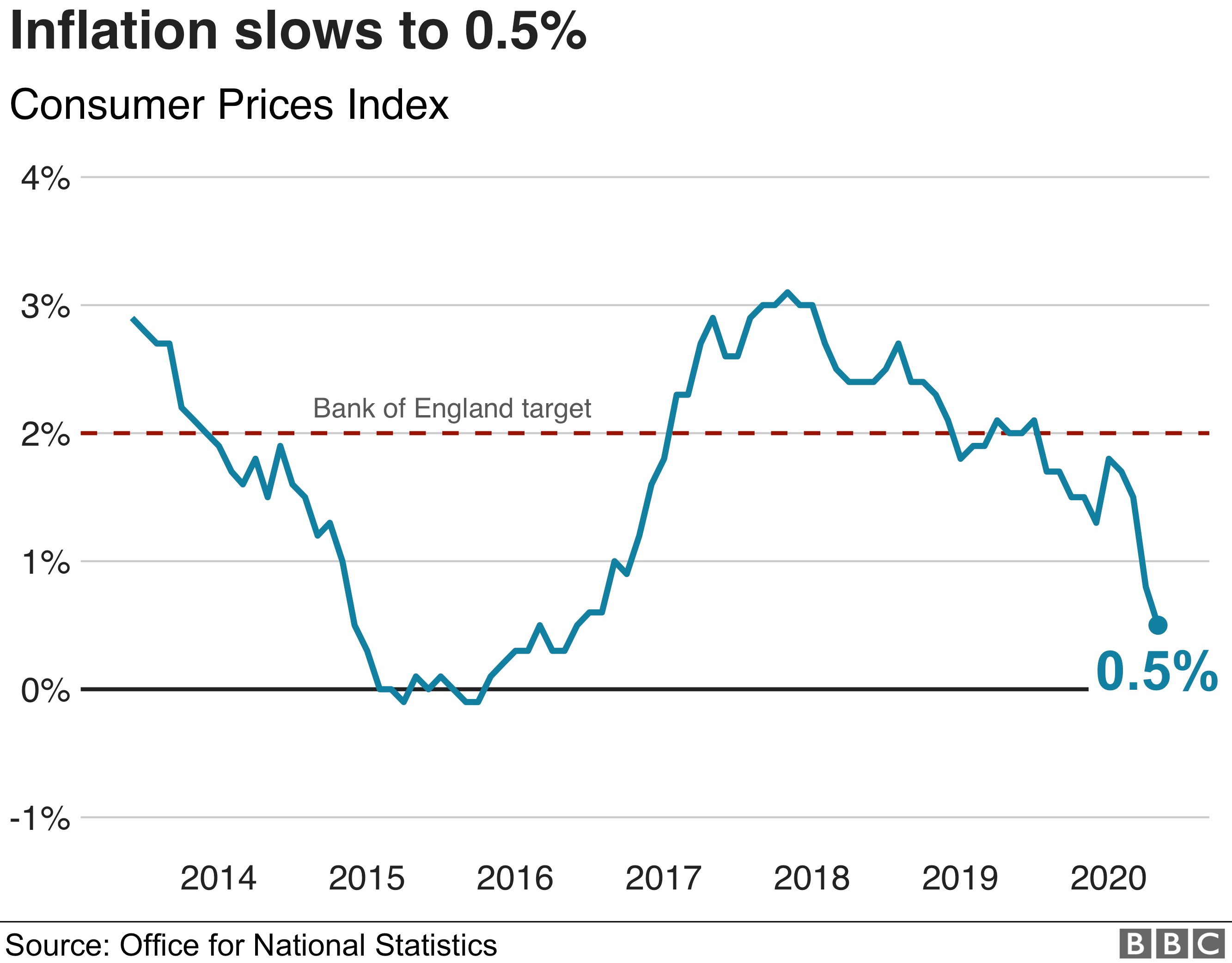 Compare the above with inflation rates in the 1970s. I remember them well.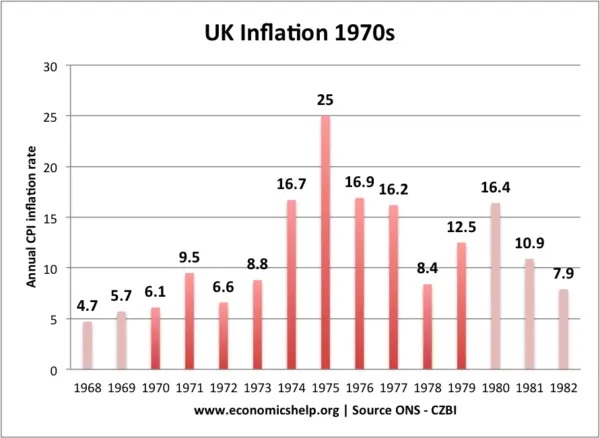 I fled the UK in 1975 to work abroad, and while I can't remember inflation being the catalyst, the prospect of fun in Italy was more attractive than British gloom. Soon after I arrived, I was having a discussion with a new Italian friend about our respective economies. He explained the difference between the two countries: "In England the economic situation is serious but not grave. In Italy, it is grave but not serious." I had made the right decision.

This has all set me thinking so I've tried to develop my Inflation 101 summary, with help from the World Economic Forum in collaboration with The Conversation.

In a healthy economy, prices tend to go up - the process called inflation. 2% inflation is seen as the sweet spot. This moderate level is generally considered a sign of health because as the economy grows, demand increases. More demand pushes prices a little higher. Workers benefit because this economic growth drives an increase in demand for labour and wages usually increase. These workers go out and buy more, so the "virtuous" cycle continues. When inflation is too low or too high a "vicious" cycle can take its place. Too much inflation can cause equivalent problems to low inflation.




If left unchecked, inflation can spike or overheat, causing the economy to slow down quickly and unemployment to increase. The combination of rising inflation and unemployment is called "stagflation" and is feared by economists and central bankers, indeed most of us. It's what can cause an economic boom to turn suddenly to bust as we saw in the 1970s.




Very low inflation usually signals that demand for goods and services is lower than it should be, and this tends to slow economic growth and depress wages. This low demand can even lead to a recession with increases in unemployment. Deflation, or falling prices, is particularly bad. When prices are decreasing, consumers will delay purchases. For example, why buy a new washing machine today if you could wait a few months to get it cheaper? Deflation also discourages lending because lenders can't achieve rates that give them a good return.

The clear and present worry is very low inflation. Hence the desire to get people back to work, stimulate demand and re-encourage growth.

Wednesday 17th June


I have a sense of a new phase in the crisis. If phase 1 was the outbreak, phase 2 lockdown and phase 3 the introduction of social measures, phase 4 is: Covid-19 is here to stay and we have to live with it until a vaccine is successfully implemented.

I'll start with a chart, the FT's new confirmed cases of Covid-19 highlighting six countries.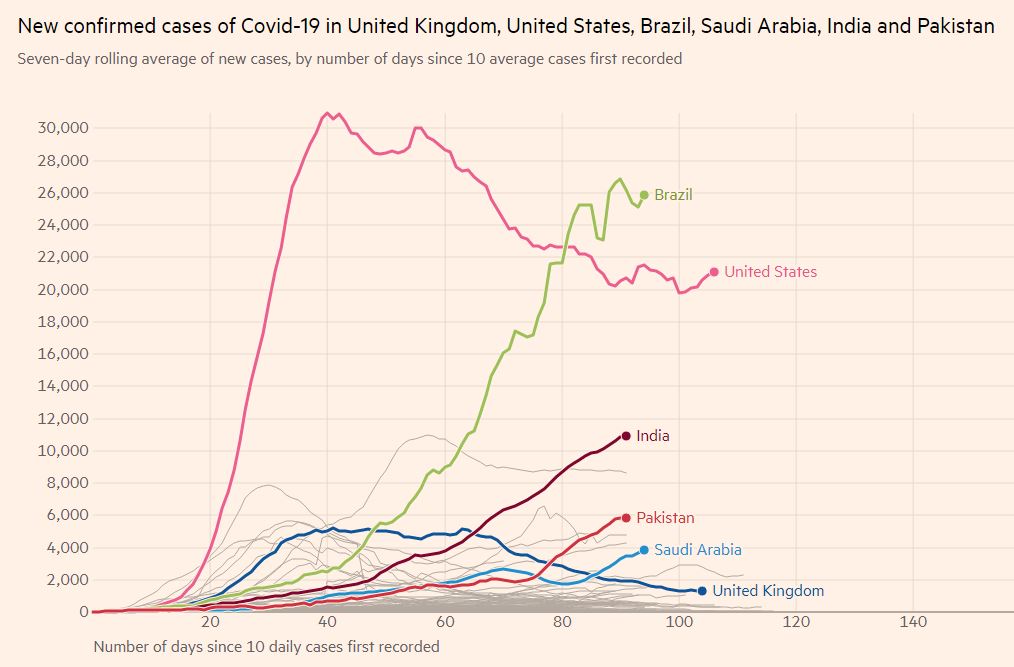 Brazil is the epicentre, setting a new record of daily cases; 34,918 patients were registered as having coronavirus in the past 24 hours. There are now more than 920,000 cases in the country, second only to the US. Nearly 1,300 deaths were registered, taking the death toll to 45,241. The infection rate is showing no signs of slowing and Brazil is likely to register a million cases by the end of the week.

India, Pakistan and Saudi Arabia all show steady growth in daily cases.

The UK continues a shallow descent. The US curve shows downward movement for 60 days and then a sharp upturn. On Tuesday, Arizona (2,392), Florida (2,783) and Texas (2,622) reported their largest daily increases in infections. Florida Governor Ron DeSantis brushed aside claims that the spike in cases was being caused by businesses reopening and said the state would not be closing parts of its economy again. "We're not shutting down," he said. "You have to have society function." Business Insider reports:


Vice President Mike Pence on Tuesday announced the federal government's "success" in containing the US's coronavirus epidemic and slammed the press for "sounding the alarm bells over a second wave'" of Covid-19 infections. "Such panic is overblown," Pence wrote in a Wall Street Journal op-ed about recent reports that the country could see a resurgence of the virus. Pence celebrated that the daily average infection rate has dropped to about 20,000 new cases per day, down from a high of about 30,000 in April. "Thanks to the leadership of President Trump and the courage and compassion of the American people, our public health system is far stronger than it was four months ago, and we are winning the fight against the invisible enemy," he wrote. But the vice president failed to mention that coronavirus cases are on the rise in over 20 states, many of the same places that were quick to loosen social distancing orders and reopen businesses. Overall, new Covid-19 cases in the US have begun to plateau, not decline. "The media has tried to scare the American people every step of the way, and these grim predictions of a second wave are no different," he wrote. "We've slowed the spread, we've cared for the most vulnerable, we've saved lives, and we've created a solid foundation for whatever challenges we may face in the future. That's a cause for celebration, not the media's fear mongering." Despite Pence's claims, there is significant evidence that states across the country are seeing spikes in both infections and hospitalizations in part as a result of loosening social distancing policies.



After world-wide painful and expensive responses, this virus is far from being eliminated. It's true that US infections have fallen from 30,00 to 20,000 per day, but that's still a huge number. There may be success in many countries, but in other parts of the world growth is the current norm, in South America, in the Middle East, the Indian sub-continent.

There is willingness to put up with this as background noise, for me a very loud one. A significant infection rate is acceptable as - and as long as - we re-open? Deaths are to be tolerated, the cost of lockdown not? The shrinkage of the economy and irreversible loss of businesses carry more weight than the preservation of life? Is it really a binary choice, a balancing act between two evils? If so, phase 4 is going to be longer and tougher than any other. I've been trying to work out why I feel weary and down, and I think this is the nub.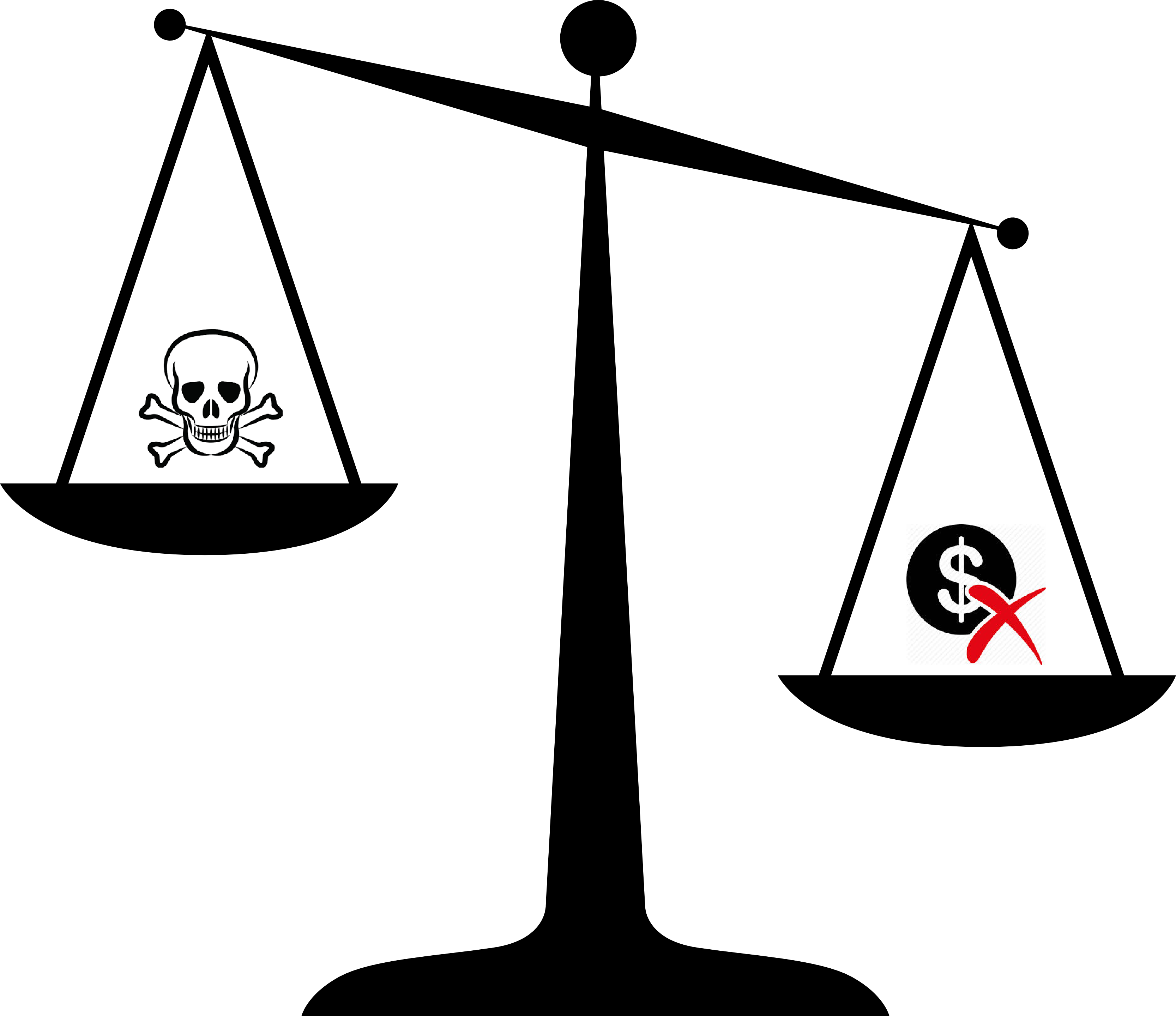 Tuesday 16th June


[ ... continued from yesterday, Monday, below]

You may have sensed yesterday my fondness for the Orwell quotes, so it won't be a surprise to learn that I'm against re-writing history. That way lies madness. We need history to be accurate, truthful, complete and brave. Anything less and our trust is undermined, to the extent that history becomes worthless. Which bit do we believe? Orwell again: "The past was erased, the erasure was forgotten, the lie became the truth." The slave traders existed and committed those crimes. However difficult and uncomfortable, the events took place. If we airbrush them out, we can forget, which is the very worst outcome. There is a difference between recording and celebrating. Marvin Rees' suggestion that the statue be put in a museum is a good one. We retain the right to remember and study, but don't affront those for whom a daily passing of the statue was an ugly reminder of bitter experiences.

Asked about Churchill's statue in Parliament Square, Marvin carried on (most of his words come from yesterday's podcast with Radio 1 DJ Annie Mac):


"One of the things I think that we're having to contend with is that history is complicated and contradictory. There can be lots of things true at the same time. Churchill was a Second World War hero. I'm not an expert, but clearly, he played a pivotal role being prime minister against Hitler and fascism. Yes, Churchill was a racist. Yes, these things are true. Our job is as a population to say rather than just trying to emphasise one and hide the other, why don't we recognise all of them and then decide the extent to which we celebrate all, give places of honour or even record them as public figures?"



Rees has been criticised for not taking down Colston's statue himself. He gave a balanced response, something I'm beginning to expect from him.


"One of the quips I've made recently is that I'm the first directly-elected black mayor in Europe and I turn up and suddenly the statue is my fault. How do we get to that? I was elected in the middle of austerity. You would have had to expend incredible amounts of political capital to enter into the debate over the statue. And that political capital would then take time and resource away from delivering affordable homes that are central to tackling race inequality, tackling education inequalities, tackling food poverty; we have about 20% of our kids experiencing food insecurity in Bristol. That is a pathway to tackling race inequality that we probably would have been pulled away from if we'd have put all of our resources into the statue. Conversations go on about the name of the Colston Hall and the statue but what we're not doing is saying it's on our list of top 10 activities to deliver a fairer, more inclusive, sustainable city - removing a statue is not on that list."



He praised the local police for the way they handled the protest. In contrast, he was extremely dismayed by the comments of Home Secretary Priti Patel who had described the toppling of the statute as "mindless" and "disgraceful".


"You may not like what they did but it wasn't mindless. What we had was one piece of criminal damage and 10,000 people went home. They've left us in a situation now where we can have a constructive conversation in Bristol about how we build for the future, how we deal with the legacy of Bristol slavery."




In an interview in The Guardian yesterday Marvin talked about his black and mixed heritage, born in Bristol to a Jamaican father and white mother. As a boy growing up in a working-class area of the city in the 1970s and 80s, racism was a common occurrence.


"It didn't cause us any surprise for people to drive past and call us coon. It used to happen outside my school, it used to happen if we were in the wrong place at the wrong time. That was just life. My primary caring family are white. That didn't cause me confusion or sleepless nights, it was just the reality I lived with. That's informed my approach to identity, belonging, conflict, reconciliation. You live with difference; you live with contradiction. That's the city I navigated. One of my friends said to me: 'Marv, in a war between black and white whose side are you going to be on?' I couldn't answer that. I was a 13-year-old. In many ways it wasn't a real question, in many ways it was a ferociously real question because physical threat, physical conflict was a reality of race in the city at the time."



Marvin had to resolve the question. He integrated himself. An enormous strength when confronted by the current situation. I will not be surprised to see him take on larger national roles if and when he feels he's done in Bristol.

If you'd like to see a short video excerpt from the podcast with Annie Mac, you can watch it here:



Monday 15th June


A day off yesterday as we had grandchildren Lola and Marlie for the weekend, the first time in two-and-a-half months. A delight. They've survived lockdown really well, a credit to their mother Ellie and themselves. Marlie was very calm, building railways for hours. Lola played second mother to him, organising showers and bedtime, sorting out his clothes. She even went down to Waitrose for us to check the queue before calling to say the coast was clear.

This is a coronavirus blog. I feel a mild need to excuse my extensive attention to racism. There are obvious links between the two topics, particularly the increased likelihood of infection and death in black communities. For me, they are bound together in recent experience; both pose a major threat and unbalance our society.

I've been impressed by the articulate interviews given by young people at protests. They've shown depth in their understanding of the origins of racism, the history, previous struggles, the names. On Blackout Tuesday, when normal music industry and radio activity was suspended, Maurice Delauney (BBC 1Xtra DJ and producer Seani B) spoke out alongside his colleagues, all of whom had a passionate point to make.


"This isn't from four years ago, ten years ago, twenty years ago, it's not just my father going through it, my grandfather, ancestors have been going through this all the time. One of the things I always say to people is that my name is Maurice, it begins with an M, what the hell can I do when three great Ms before me have done so much? But do we see that change? I'm talking about Marcus Garvey, Martin Luther King Jr. and Malcolm X, look at all the work they did, and so many others, but in 2020 we're still facing this."



The past is informing and reaching right through to the present mood of enough-is-enough. Retired police officer Paul Dennis called into one Blackout Tuesday show:


"The system needs to be addressed right from the heart of the people that work within it. It does take courage and integrity to stand up and say no this is not going to happen. The people who call the shots don't like people who are 'other', and it doesn't matter what your culture is, your sexual orientation, what your religion is, it's that otherness, and that's what angers me. I became a police officer in the 1980s because I wanted to make a difference, I wanted to make the world a better place, and I still don't see it happening. It's not your fault you have to protest because another one of your friends was murdered, it's the system that's put you there, and that system needs to be addressed right from the heart of the people that work within it. Every single person is an individual, and everything that you do echoes in eternity, and you cannot stand by and let this just happen."



I particularly like "everything that you do echoes in eternity." Past into present into future. How have the young learnt about this past? It's been a process of self- and community-education. It's certainly not from our national curriculum. In the Department for Education, National Curriculum in England, History Programmes of Study Key Stage 3 there are ~45 example topics. Only one is directly relevant: Britain's transatlantic slave trade, its effects and eventual abolition. OK, that's a tick against the topic, but I suspect that the coverage will be neither sufficient nor deep nor broad enough. Awareness, news, opinion, discussion and understanding of the coronavirus crisis have been hugely enhanced by Internet technology and services. The same must be true of today's protests against racism. The perfect match between thirst for knowledge and available resources. No Department for Education control required, free, click-and-learn. Outside the formal education system, which faces challenges in the use of virtual classrooms and on-line delivery, the technology poses no threat, only benefit.

I was as delighted as any to see Colston's statue topple into the harbour, although it leaves me weak on criminal damage (along with Marvin Rees the Mayor). It seemed a fitting end to an inhumane and inglorious career. How could it ever have happened? The same man who was a prominent benefactor could be responsible for 20,000 deaths, with the 84,000 who survived the passage sold as chattels. He must have truly believed that black Africans were not human, and felt no guilt. The true affront was not the statue, but the inscription below on the south face: "Erected by citizens of Bristol as a memorial of one of the most virtuous and wise sons of their city AD 1895".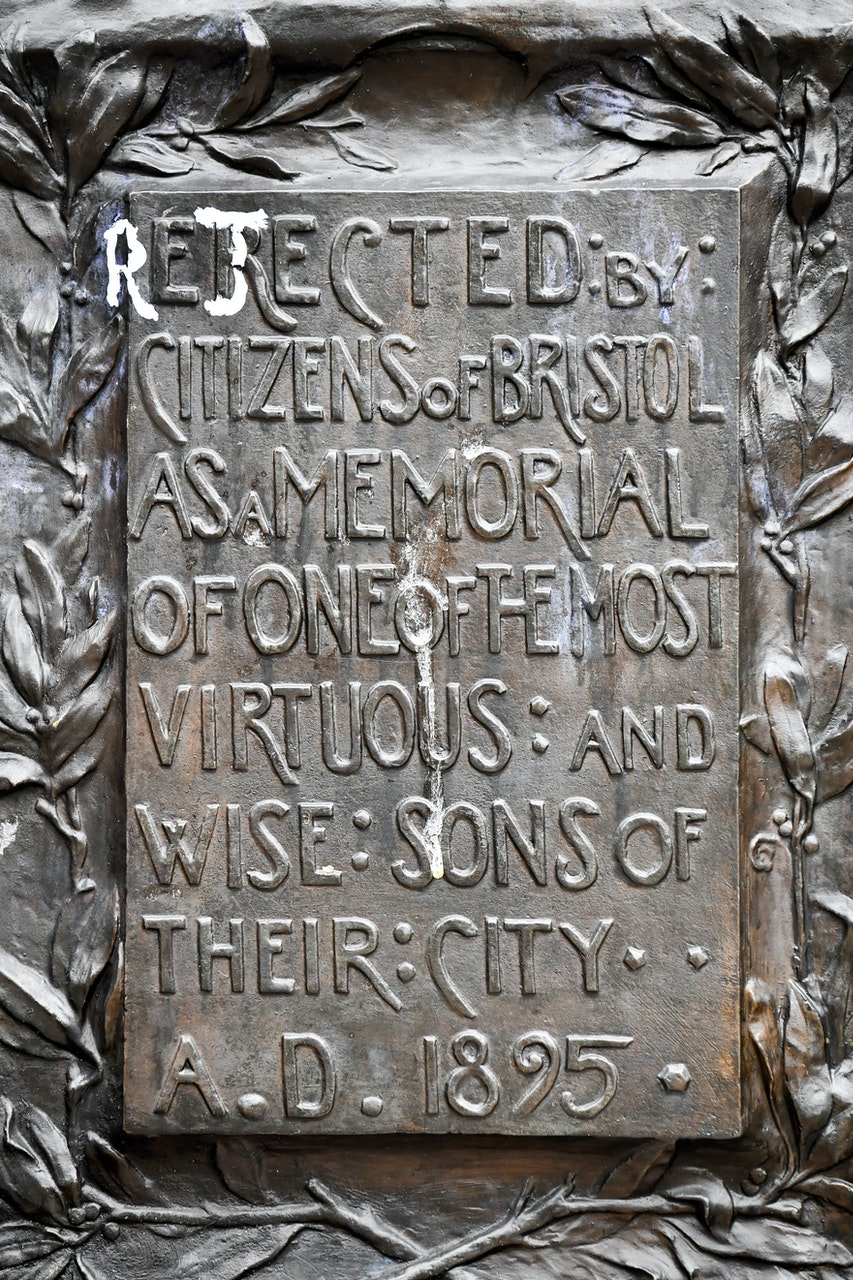 Not only was he celebrated, but he went unpunished; no charges of murder, not even of neglect. He wasn't out of line. He behaved according to the beliefs, mores and economic norms of the time. Slavery was abolished in the UK by the Slavery Abolition Act 1833, 112 years after Colston's death. The USA abolished slavery in all states (the northern ones had done so in 1804) in 1865 with the 13th Amendment to the U.S. Constitution.

Now for the re-writing of history. Should the slave trader statues be removed? Possibly the most famous work of fiction on the topic is George Orwell's 1984. Here are some quotations.

"Who controls the past controls the future. Who controls the present controls the past."




"Doublethink means the power of holding two contradictory beliefs in one's mind simultaneously, and accepting both of them."




"Power is in tearing human minds to pieces and putting them together again in new shapes of your own choosing."




"Reality exists in the human mind, and nowhere else."




"Orthodoxy means not thinking - not needing to think. Orthodoxy is unconsciousness."




"We do not merely destroy our enemies; we change them."




"The past was erased, the erasure was forgotten, the lie became the truth."




"Don't you see that the whole aim of Newspeak is to narrow the range of thought? In the end we shall make thoughtcrime literally impossible, because there will be no words in which to express it."


[Continued tomorrow, Tuesday, above ...]

Saturday 13th June


Here we go. No surprise. Not much economic light for a while.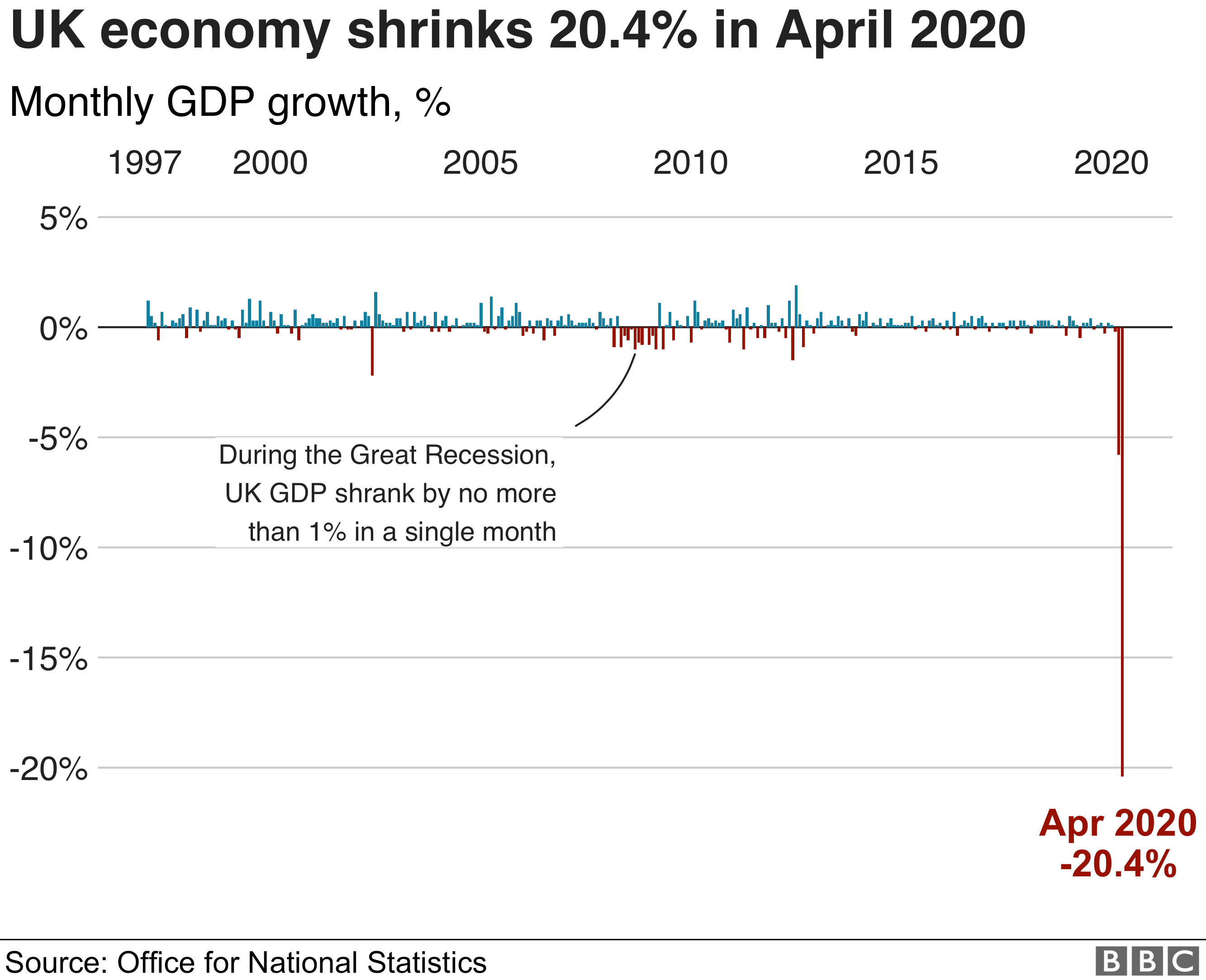 April is only the first month of Q2. We have to add in May and June, then the full Q2 results will cast a shadow over the rest of the year. Cash flow problems will deepen. From an employee perspective, when does furlough become redundancy? Every company must be asking itself the question, "Do we need everybody to come back?"

Here is a selection of comments.

Boris Johnson:


"The UK is heavily dependent on services, we're a dynamic creative economy, we depend so much on human contact. We have been very badly hit by this. We are also amazingly resilient and creative, we will bounce back."


Tej Parikh, Chief Economist at the Institute of Directors:


"Emergency loan schemes have helped stop firms collapsing, but left many saddled with debt. Businesses will be reluctant to hire and spend on new projects as they repair their finances, particularly as social distancing eats into demand and productivity. Firms will continue to face cashflow challenges in the months ahead."


Joel Hills, ITV:


"We have never seen anything like this. In April the economy contracted by 20.4%. In the twenty years leading up to lockdown the economy has grown, month-on-month, by an average of 0.2%. The scale and the pace of this downturn is unprecedented."


Neil Birrell, Chief Investment Officer at asset manager Premier Miton:


"All the economic data out of the UK for April showed the economy to be in awful shape - in fact, worse than expected. Other countries' data is improving as lockdown eases and the concern is that the UK is getting left behind and, as we are currently witnessing, equity markets are very sensitive to any threat to recovery."


Ken Clarke, former Chancellor:


"We're in the middle of the worst recession in the lifetime of anyone living. It's quite different to any previous recession we've had, we have little to go on. We haven't had a plague causing the economy to stop before so this is a very grave crisis. I think we all realise that April was going to show up just how bad it was. Most of the rest of this parliament is going to be taken up with this struggle to get the economy back to decent health. The idea we're going to have a quick bounce back, I personally would be very, very surprised if that were to happen."


Anneliese Dodds, Shadow Chancellor:


"What particularly concerns me is that actually we're not just looking at one month of economic damage. There was a report that came out a couple of days ago from the OECD and it suggested that the drop in GDP for this year for the UK would actually be worse than for every other industrialised nation. We're in a very, very difficult situation as a country and we will need strong action to help us climb out of this as quickly as possible."

Friday 12th June


Education and mental health are two areas of concern in this crisis. I was prompted yesterday by contributions from old friends (one a colleague, the other two customers).

In the first, the uptake of technology in addressing social distancing has taken a hold, through virtual classrooms and other remote/autonomous learning solutions. I've long been interested in the area, going back 25 years to when I was involved in research in learning management systems (LMS).

In the mid-90s I worked with David Wilson, who went on to found eLearnity in 1996, a research and consulting company in the Learning and Development (L&D) or corporate education sector. He later re-branded the company as the Fosway Group

. Their main intent is to put business clients on the right track as they choose, purchase and implement systems. To that end they have a tool called 9-Grid™. It condenses all the Fosway research and experience into a 3x3 grid of key players and their position in the market. Impressed, you will have to invite Fosway to your site to do more work and you will start to pay ;-)

That's enough background. What I stumbled upon while traversing the Internet was Fosway's response to the coronavirus threat and opportunity, a summary 1-page document titled "How is COVID-19 Changing Learning?". There's a lot of detail about technologies, roles, spend. The big message is this: there's no going back.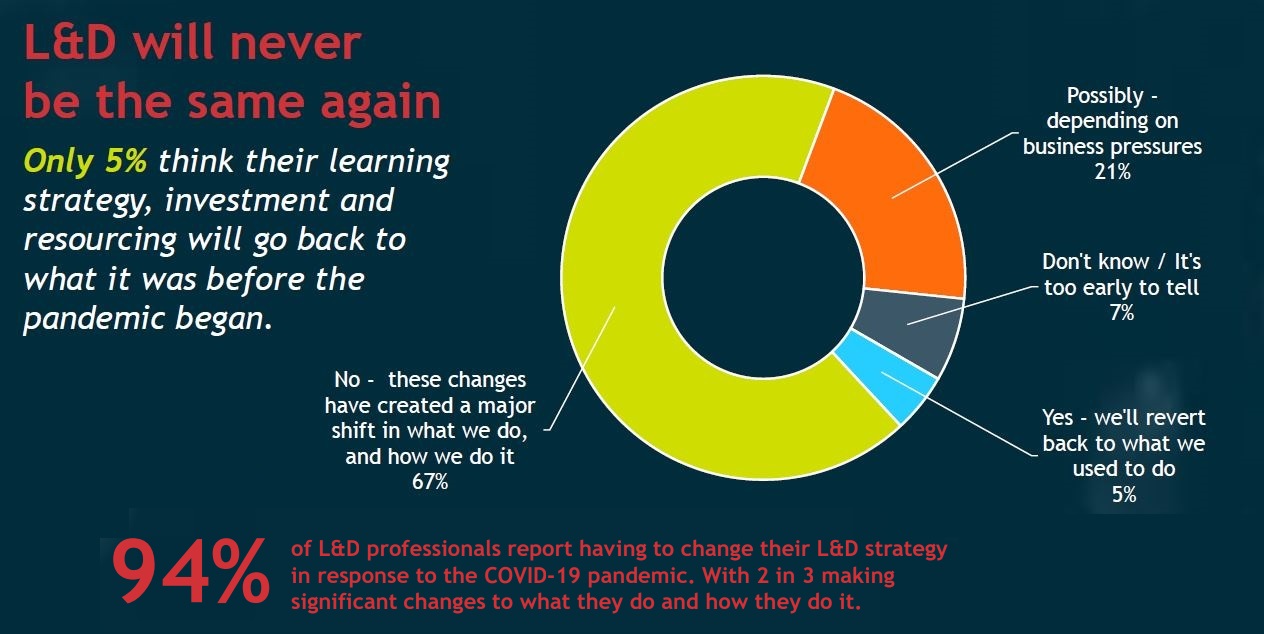 Click to enlarge

You can look at the full document here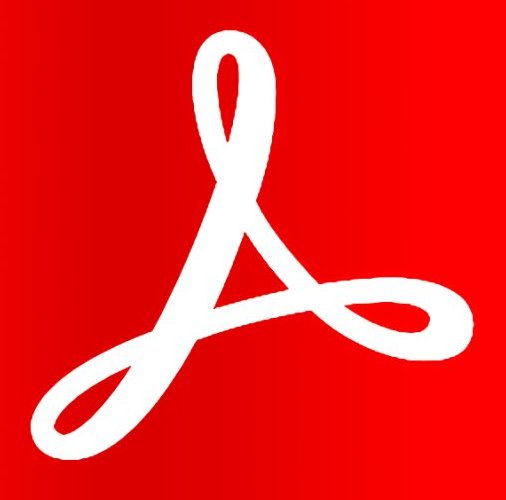 .

This crisis has been an emotional shake-up for many people, much more for those who have lost loved ones. Local Stroud authors Pam and Peter Keevil have addressed the challenges and changes brought by coronavirus in a new book titled "Finding Happiness after Covid-19". Will we create a better "normal"? One which recognises the relationship between ourselves, others and the planet.

In terms of technology and with our dominant mindset, we're so powerful, so all pervasive, the mechanisms we have for destruction are so wholesale and so frightening that we can exterminate whole ecosystems without even noticing it. We already know that, for example, the plastics problem in the seas is wreaking appalling damage to marine life. Now the human species can go everywhere: we can go to the bottom of the sea, we can go into space, we can use drones. We can use, intrude, invade and pollute almost every aspect of the living world.




Gregory Bateson, anthropologist and social scientist, said in 1972: "The major problems in the world are the result of the difference between how nature works and the way people think." Inger Andersen, Under-Secretary-General of the United Nations and Executive Director of the UN Environment Programme, says: "Nature is sending us a message that if we neglect the planet, we put our own wellbeing (and therefore happiness) at risk."




At the heart of "Finding Happiness after Covid-19" is a Happiness Toolkit, consisting of eight tools with practical exercises. The Kindle edition will be released on 1st July.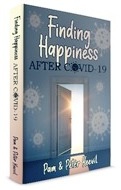 Thursday 11th June


Should the UK move to 1 metre social distancing? The Worldometer graphs show the right progress. It's not mandatory, is it? I'm sticking at 2 metres.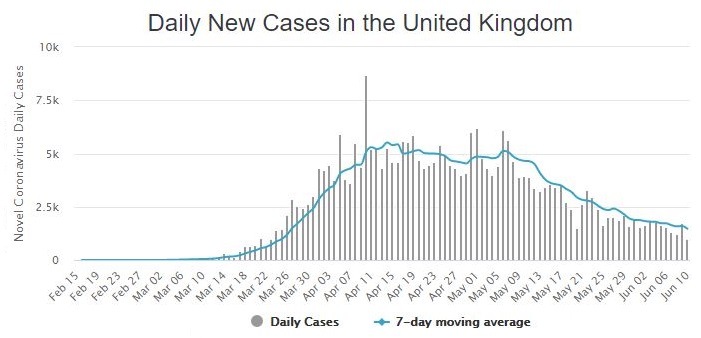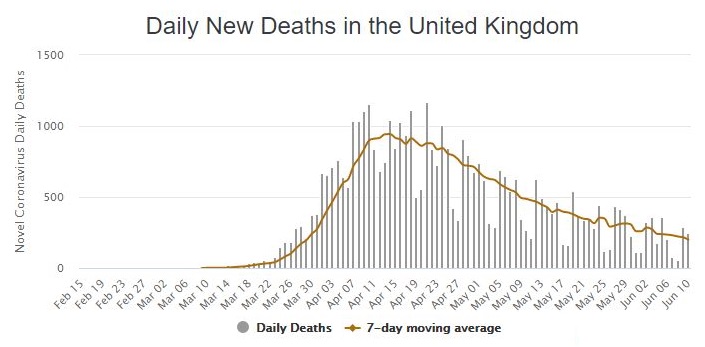 I'd feel OK here.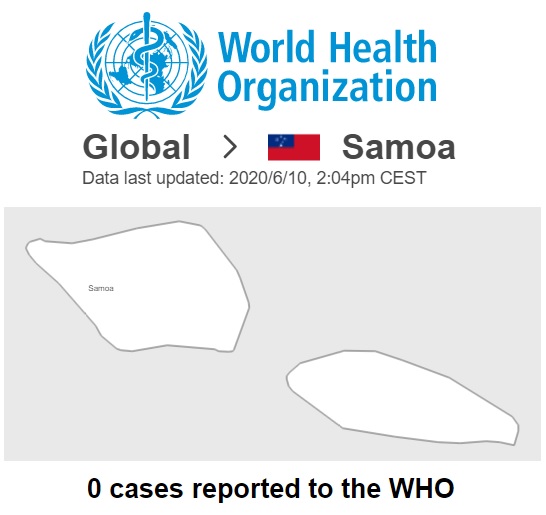 Wednesday 10th June


Discuss: "The days of queuing for fish and chips are gone."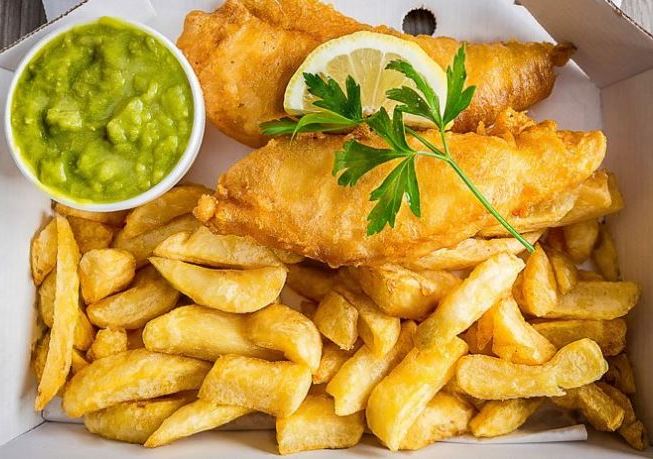 Business resilience has been a topic for concern. The Chesterford Group (Churchill's is a sub-brand) owns 40 fish and chip restaurants in Britain serving 50,000 people a week. Lockdown threatened revenue losses of £150,000 per week for the foreseeable future. "When you're faced by the closure of your business you suddenly make very quick decisions", said CEO James Lipscombe. Within two weeks they had engineered the change from a walk-in over-the-counter model to a technology-led service. Customers order with a smartphone app and receive their meals through click-and-collect or deliver-to-door.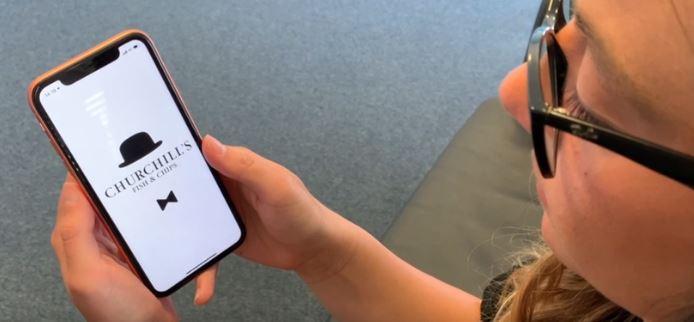 Business saved. 70% of staff have worked as normal. Lipscombe believes it will alter forever the nature of the shops: "The days of queuing for fish and chips are gone." I'm not sure. It's unlikely that The Big Chippy in Nelson Street Stroud has the will or resources to move to online delivery. Customers enjoy going down to the chip shop. I like inspecting what's on offer, sometimes choosing exactly the pieces I want. Meet a friend by chance, have a chat. An excuse to drop into The Golden Fleece for a pint. Do we really want to transform all purchases into order-by-device and receive-on-the-doorstep? See nobody, go nowhere? Sometimes yes, but not all the time. I think there'll be a mix of offerings, both-and. The important thing here is the ability to adapt.

My friend Graham Powell from Cirencester has sent me a letter published by The Independent just over a week ago. It's headlined "Nothing about Johnson's approach is 'well prepared'."


"On 2 March the prime minister said that "this country is very very well prepared ... with a fantastic testing system, amazing surveillance of the spread of the disease". We now know that little had been learnt from earlier warnings and that our tracking and tracing would be abandoned until three months later. We are being spun lines of UK exceptionalism, fed rhetoric about being "world class" when all we need is to learn from and work with others.




"In order to cloak these outrageous distortions and the unacceptable actions of Dominic Cummings, the electorate is being thrown scraps to hide the terrible truth: that we are on the edge of an even worse public health disaster than the one our execrable leadership has bequeathed us already.




"Without an effective test-track-trace system, we cannot know where the virus hot spots are and isolate it before its inexorable spread. That system is not in place and the much-vaunted app to support it will not be available until the end of June. And yet we are being "eased" into work, school and barbecues without the benefit of a strategic plan.




"As far as I'm concerned, Johnson has no experience or understanding of proper planning and is incapable of thinking in such a responsible way. Surely, we should have track and trace securely in place before sending children back to school or loosening checks on social distancing?




"We, of course, need to get the economy moving but this must come from a plan that is properly scheduled and not as a result of knee-jerk reactions that cover up the dreadful reality. We are as just as much in danger of a catastrophic spread of the virus as we ever were and we are being led by crowd-pleasing populists who want power without the exercise of proper responsibility. We need careful, considered, honest and open leadership but we are being deceived, presented with distorted information and led over a precipitous cliff-edge by careless opportunists."

Tuesday 9th June


We haven't had a chart for a while. This is from the FT's analysis of data from the European Centre for Disease Prevention and Control and the Covid Tracking Project, data updated June 8 2020 2.23pm BST. It shows a 7-day rolling average of new deaths attributed to Covid-19 with focus on the UK, USA, Brazil, Mexico, Italy and Spain. The Y-axis is linear not logarithmic and shows raw numbers. It looks like Mexico is lagging strangely behind, but that's because the X-axis displays the number of days of reporting since 3 daily deaths were first recorded, not actual dates; Mexico started latest of these six. As ever, click to enlarge.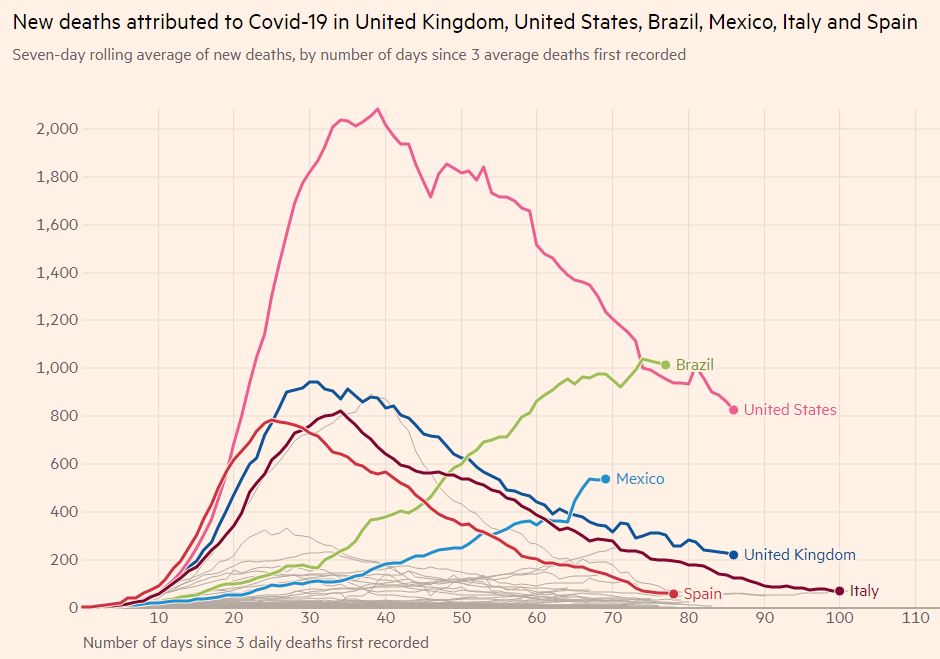 The good news is the downward trajectory of four of the curves. That said, the USA still has over 800 average deaths per day and the UK over 200. The growth has moved to Brazil and Mexico; the profile of their curves is much flatter, slower to peak. Spain and Italy are almost out of the woods.

Back to Edward Colston and more light. Vanessa Kisuule writes (and recites) on Twitter: "I've never been prouder to be Bristol City Poet and to offer a poem to my adopted city than I am today. This piece is called Hollow and I hope you like it. I've captioned it and everything! Rust in shame, Eddie."



Monday 8th June


Well, it's not about coronavirus, but it is about light and hope. The Black Lives Matter protests in Bristol yesterday. The dethroning of Edward Colston.

We have a strong connection with Bristol. All of our children have lived in the city at some time, our daughter Ellie still does with grandchildren Lola and Marlie. I sang in a band there for fifteen years.

I have always felt uneasy about the wealth generated by the slave trade. The shameful history leaks out at you from many different places. Colston's name is reflected in buildings (I wish they would pull down the Colston Tower), schools, alms houses, charities, churches, streets. Yes, he was a benefactor, but in his time with the Royal African Company (1680 to 1692) shipped 84,000 Africans to the Americas. Another 20,000 died during the journey.

I've said so already, but these events in the USA and the UK have deep roots. 400 years of subjugation, never properly escaped. You could sense the long-standing pain in how people on the march in Bristol talked about the event. Triumph, anger, relief, justice and hope were palpable as Colston's statue was consigned to the harbour.




The mayor spoke, Marvin Rees, the first directly elected (by constituents) black Mayor in the UK. Marvin is family. He's our grandson Marlie's uncle, takes him to football practice. I know through chats with his mother Janet of difficulties he occasionally had with police even as an exemplary (so said proud Mum) young black man. There's balance in his words below.

"I think circumstances came to a head and people felt the need to take the statue down. As an elected politician I cannot condone criminal damage. I can't and won't pretend the statue of a slave trader in a city I was born and grew up in wasn't an affront to me and people like me. People in Bristol who don't want that statue in the middle of the city came together and it is my job to unite, hear those voices and hold those truths together for those people. We will get the statue back and it will highly likely end up in one of our museums. What's happened to this statue is part of this city's history and it's part of that statue's story."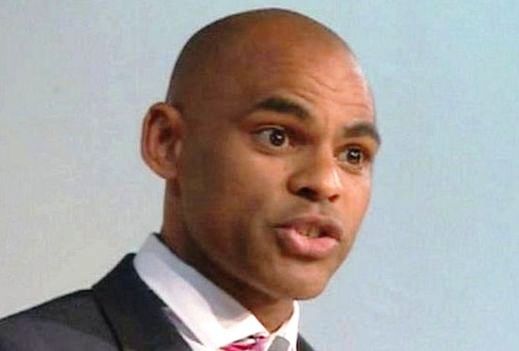 Police didn't stop protesters who toppled the statue. Superintendent Andy Bennett said arresting protesters on the spot would have caused more disorder and disruption. He understood the frustration and anger many Bristolians have felt towards the statue over the years. He told the BBC: "We know that it has been an historical figure that has caused the black community quite a lot of angst." Intelligent policing.

Sunday 7th June


A blast from the past. Here is Nelson Mandela's one-sentence reply to an American journalist intent on stitching him up about human rights.




Private correspondence below, but I'm going to publish anyway.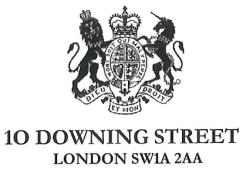 7th June


Dear Rachel,




Sorry to bore you with all this on a Sunday but I've got to get it off my chest and can't think of anybody else.




I've had enough. I'm bloody knackered, especially since Madam decided I have to do at least two of the night feeds. "Sweetie," I said, "Let's go away. Borrow that place of Dom's. I'll pack the car and we'll go before it gets light." Got a withering look, so I agreed maybe not. Damn pity.




It wasn't meant to be like this. Brexit, the general election, I was on a roll. Got the job at last, spanking majority, I could have been here for years. Top of the tree in new-look Blighty. Tea with the Queen every week. Two fingers at Macron and Merkel.




Now look at me. Brain addled by the ghastly Chinese pox, I still don't feel right. Keep forgetting things. Half the time at PMQs I sit there wondering "what are they going on about?" before wheeling out the trusty bullshit.




Nothing seems to work, damned if I do, damned if I don't. Lock the bastards down and all you get is Treasury emails about debt. Take your foot off the loud pedal and the nation heads for the beach.




I hate Jacinda Ardern. Stupid name. How come everybody admires her so much? She's tough and they love it. She's cute and they love her even more. What did she say to the NZ kids, that both the tooth fairy and the Easter bunny are essential workers? Vomit.




All the experts have stopped talking to me. Experts in what, I ask you? They don't seem to know. Some virus wallah publishes a paper every day. None of them agrees. What chance have I got?




So, Sis, put on your thinking cap. Find me a way out.




Love to Ivo,




B


Saturday 6th June


I'm going to counter the 40,000 UK deaths milestone - too grim for more words, other than expressing deep sympathy - with a "silver lining". It was World Environment Day yesterday. The United Nations Framework Convention on Climate Change (UNFCCC) launched the new "Race to Zero" campaign, which will run until the UK (with Italy) hosts the 26th UN Climate Change Conference of the Parties (COP26) at the Scottish Event Campus (SEC) in Glasgow on 1 - 12 November 2021.

This is a chance to make a positive link between this crisis and the future, to embrace the greening of our planet. COP26 President Alok Sharma spoke at the campaign launch.

"All of us here know that failing to act on climate change will cause irreversible consequences. As temperatures continue to rise, droughts and heatwaves will become more common. This will devastate nature and biodiversity. And exact a catastrophic economic cost. It is great to see cities and countries, businesses and investors, uniting against this global threat. COP26 can be a moment where the world unites behind a fairer, greener recovery from the effects of Covid-19. A recovery which delivers for both our people and our planet.




"In recent years, the UK has shown that green growth is absolutely possible. Since 1990 we have grown our economy by 75% whilst cutting emissions by 43%. And in doing so, we have built entirely new industries. 20 years ago the UK had two offshore wind turbines powering just 2,000 homes. Fast-forward to 2020, and the UK has more offshore wind capacity than any other country in the world. Earlier this year construction began at the world's largest offshore wind development, Dogger Bank. A project which, when complete, will be able to power 4.5 million UK homes. Globally, the cost of wind power has fallen by 49% and that of solar power by 85% since 2010. Renewables are already cheaper than coal power in two-thirds of all countries in the world.




"This progress was made possible by the countries, companies, cities and regions who led the way. Shifting investment, spurring innovation, scaling-up technologies and driving down costs. And in the lead up to COP26, we have defined five areas which need particular attention: clean energy, clean transport, nature-based solutions, adaptation and resilience and, bringing it all together, finance. From releasing capital for green projects, to making electric cars cheaper to buy, the opportunities of the green economy are broad.




"And by working together, we can make progress faster. That is why the UK, in partnership with Chile and the UN, is leading the Climate Ambition Alliance. Bringing together 120 countries, 1,000 businesses, 36 investors, nearly 500 cities and regions, and more than 500 universities. The Alliance is the largest ever coalition of leaders committed to reaching net zero by 2050. It already represents over half of global GDP and covers nearly a quarter of CO2 emissions.




"But we must go further. So today the High-Level Champions for the UK and Chile, Nigel Topping and Gonzalo Munoz, are launching the 'Race to Zero'. Urging businesses, investors, cities and regions around the world to commit to reaching net zero by 2050. We are off to a great start. It is great to see big names like Diageo and Rolls-Royce joining the 'Race to Zero' today.




"Ladies and gentlemen, whether we live in the South, the North, the East or the West, we share one life-giving but fragile planet. As we recover from the Coronavirus, the world has an opportunity to not just rebuild what went before, but to build back better. Uniting behind a green global recovery. We must all do our part. I would urge everyone involved in today's event to join the 'Race to Zero' and commit your region, city or company to reaching net zero by 2050 at the latest."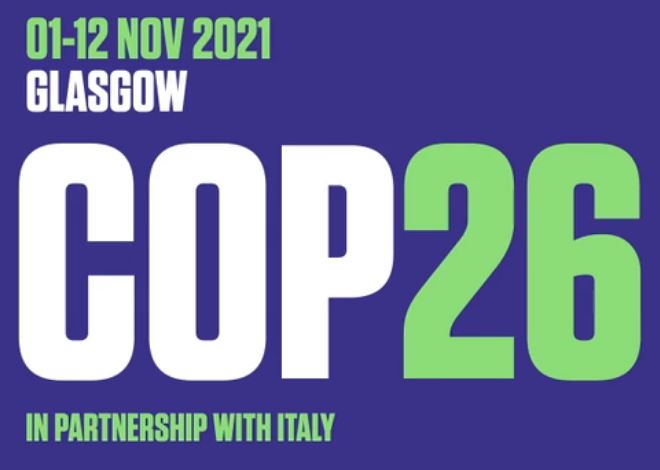 Friday 5th June


The Manuma Samoa rugby team set off for an away match on 23 February and have still not all made it home. They've returned to Samoa but are in quarantine. They played a game in Australia, went to New Zealand and then Samoa shut its borders. They slept 20-to-a-room in an Auckland church compound, played 50-cent bingo, cooked outside in Samoan "umus" (stone ovens), kept fit and didn't touch alcohol the whole time. 103 days. Samoa has had no virus cases.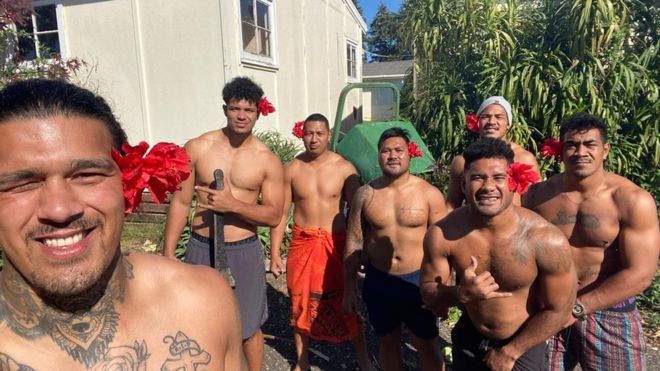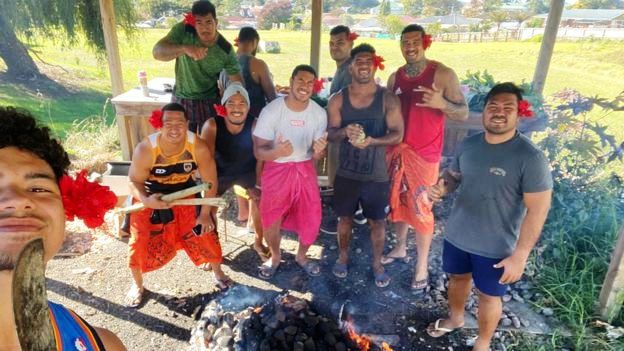 I'm glad that the light I felt around the USA protests is persisting today. I mentioned how UK black athletes were getting involved, with an enhanced level of purpose. Today it's a 5 Live News interview with Michael Johnson, legend of the athletic track. He feels the same optimism from recent events.

"I'm hopeful that a year from now we are not looking back at this time and nothing has happened, I'm hopeful that change truly does come. We've seen black men killed by police before, we've seen those police convicted and sent to prison, that's happened and it still didn't change anything.




"The difference this time is that you have so many people talking about this issue, the protests continue, the conversation is only about this issue, and the momentum continues to grow. This is not only black people who are sounding this alarm, everyone who understands and appreciates fairness is fed up and they are demanding change.




"It's the most momentum around this decades-old issue that I've ever seen in my lifetime. From that perspective, I've found it hopeful and promising that this murder of George Floyd has highlighted an issue that has been with us in this country and something that we have been dealing with as a country for over 50 years now. That is the systemic and institutionalised racism that happens every single day in this country.




"I'm hopeful that we can sustain this through the November elections when a lot of people who typically support this type of movement have not voted, and that's a problem. I'm hopeful that they understand that the biggest hammer you can swing at this is going to the ballot box and voting."

I hope the same thing about the November elections. The worry is that Trump is as slippery as they come and has a bunch of followers who actually seem to like his brainless excesses.

Thursday 4th June


I've been feeling out of sorts today. Not coronavirus symptoms thankfully, just an overall lethargy. Some of it is due to the relentless march of the virus. Mexico has reported more than 1,000 daily deaths for the first time. Brazil has registered a record 1,349 deaths in 24 hours. Public faith in Swedish authorities has dropped to 45% from April's 63%. Another 3,574 cases have been confirmed in Iran, the highest daily figure since the outbreak began in February. Globally there have now been 6.4m infections and 383,000 deaths. I've been trying to hunt down reports of breakthrough progress in vaccine development, but have found none.

I promised myself more light. Where does it come from today? An odd place, the "Black Lives Matter" protests in the USA. A terrible event to trigger them, but their nature and substance suggest the potential for a profound shift to the better in how we view issues of race. I'm sure Donald Trump and his supporters have a snapshot image of blacks as menace and threat. Groups of feckless youth in stolen trainers assembled on street corners intent on nothing but violence and crime against the white majority. Listen to Spike Lee and you get a longer view. His ancestors were ripped by force from Africa 400 years ago and delivered to Virginia in slavery, actually subjugated and owned by plantation bosses. In the UK, the relatively recent attention paid to the Windrush generation redrew the truth about black immigration. No, they didn't come over here to steal our jobs. They were actively encouraged by British Government campaigns to address severe labour shortages in the wake of the Second World War. London Transport had an office in Barbados. From the launch of the recruitment drive in 1956 to the day it was formally closed in 1970, more than 4,000 Caribbean staff came to work on the network. If you listen to young black English athletes and footballers, they simply cannot believe that such a history extends to the present and still racism blights their lives. I'm hoping that a deep view makes change more likely.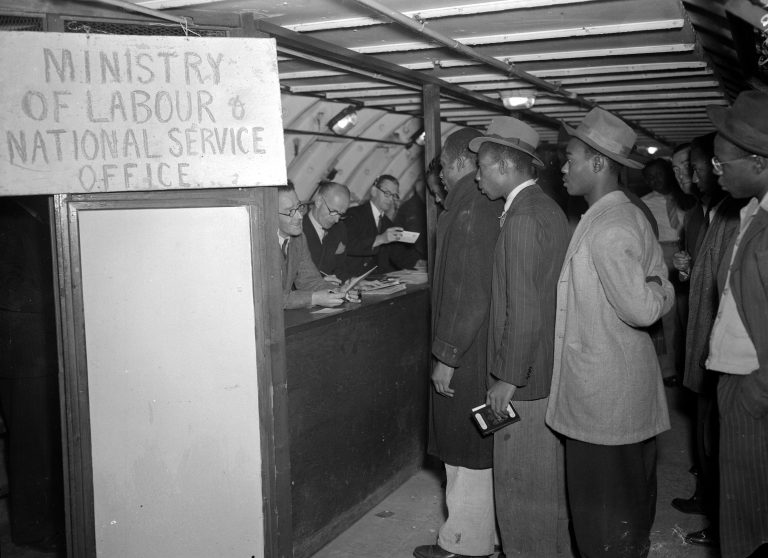 Trump always looks in the wrong direction, watches the wrong thing, extracts the wrong conclusion. The USA topped the world coronavirus infections and he took it as a "badge of honour". "When we have a lot of cases," he continued, "I don't look at that as a bad thing, I look at that as, in a certain respect, as being a good thing because it means our testing is much better." As President, he might have witnessed the protests and asked, "Why are my people in such pain?" Nope. "When the looting starts, the shooting starts." Looting is sadly an inevitable by-product of inner-city meltdown. It's not the main event.

Where's the light here? If he persists with such idiocy, surely at least the centre-right will move left. I was pleased to see the bishop's comments on Trump's visit to St John's Episcopal church. This is from her Facebook page: Bishop Mariann Edgar Budde, Episcopal Diocese of Washington, Response to the President.

The President just used a Bible and one of the churches of my diocese as a backdrop for a message antithetical to the teachings of Jesus and everything that our church stands for. To do so, he sanctioned the use of tear gas by police officers in riot gear to clear the church yard.




I am outraged.




The President did not pray when he came to St. John's; nor did he acknowledge the agony and sacred worth of people of color in our nation who rightfully demand an end to 400 years of systemic racism and white supremacy in our country.




We in the Diocese of Washington follow Jesus in His Way of Love. We aspire to be people of peace and advocates of justice. In no way do we support the President's incendiary response to a wounded, grieving nation. In faithfulness to our Savior who lived a life of non-violence and sacrificial love, we align ourselves with those seeking justice for the death of George Floyd and countless others through the sacred act of peaceful protest.

Here's a heartwarming clip:



Wednesday 3rd June


I'm going to change emphasis in this blog. Since mid-March we've been looking at problems and it's wearing me down; probably you too. If possible I'm going to switch to solutions or at least identify the light behind any situation.

Before we go on, I think it's worth considering where we are and what we have learnt.
The UK has been slow and disorganised in its response to the crisis. We need to be more committed to long-range forecasting of major threats - and opportunities.
There have been some "silver linings". The transport shutdown has brought us hard evidence of how rapidly pollution levels can be reduced.
We have supported one another. Long may it continue.
We are more resilient than we thought, tolerating lockdown.
A Tory government is spending as if austerity never existed. The NHS has transformed from wasteful bureaucracy into national treasure. In future, let's be truthful about investment.
There is flexibility in our system and society. Diverse manufacturers have re-tooled to address the PPE challenge.
Trump is mad, bad and dangerous. 108,059 US deaths from Covid-19. Surely he will have done enough by November to make himself unelectable. Sadly, that may be too much to hope.
Coronavirus has and will continue to cost a packet. Q2 financial results will be dire and markets will fall off a cliff. Hide your money under the mattress.
Now for something I'm certain you didn't expect. Yesterday we took Marlie to Cherington Pond, actually a small lake set in woodland about 7 miles away. While Marlie went off paddling, I talked to a fisherman who was using one of these (an earlier model).




This device looks like the solution to a problem I didn't know existed. My point is about innovation. We're capable of creating the new, of an imaginative response. In this case, probably a money-making idea too, given the 2.9 million anglers in England and Wales (National Rivers Authority).

There's been a huge reaction in the USA to the death of George Floyd. In the UK the music industry joined "Blackout Tuesday". BBC Radio 1Xtra hosted a series of discussions and debates in support of the black community with song choices that reflect black pride and identity. One warming feature of the events is that they have been pro-black, but not just by-black. In the interview below Spike Lee notes this broad support. He takes a big view of the origin of the protests, including Britain's involvement in the slave trade. It all feels like a step-change response.




I was impressed with Liverpool FC "taking a knee" after training: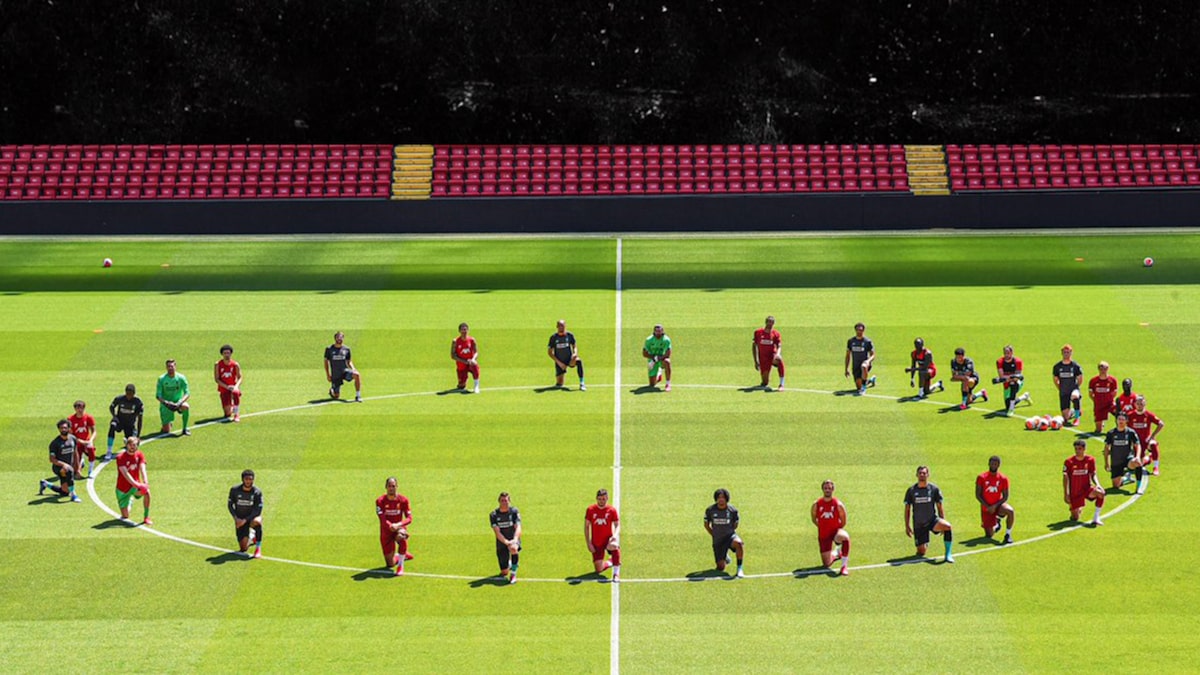 Tuesday 2nd June


When you send in riot police and threaten to deploy thousands of troops against your own people, something has died, hasn't it?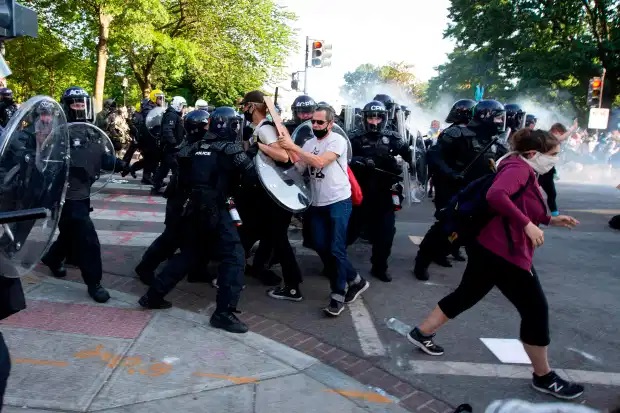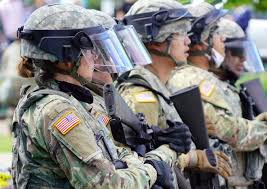 Monday 1st June


Today is transition day. We move from lockdown into phase two, the introduction of ease-up. June will see the first roll-out of measures intended to get the country moving again.

The last fortnight has, for me, felt pretty gloomy. Virus infection levels are still high in the UK. The threat of death persists. We've had three long months of crisis. Like many, I'm tired of it. Our government's performance has been disappointing at best; action taken too late and without adequate preparation. Some sections of the public fail to recognise the responsibility for R, the behaviour necessary to arrive at R=0; witness the beach crowds. There is fear that the release of restrictions is coming too soon, that we risk new outbreaks. The management of ease-up will not be straightforward. The sun may be shining, but the realities of Covid-19 remain cloudily ominous.

Problems rain down on us. To brighten the horizon, we need solutions, affordable and workable, which address core issues in such a way that we can return - or move forward - to a recognisable "normal", not to a partially-functioning version of what went before. One key area is transport. Aeroplanes are parked up. Trains and buses can only operate within a restricted service. My weekend fanciful dalliance with departure for New Zealand was accompanied by the genuine question: "when and how will I ever be able to make that journey?"

Please indulge me as I consider the transport conundrum. Some of the suggestions will seem wacky, but we may need to go through wacky to find innovative yet achievable. I'm not yet ruling out teleportation ;-)

Until a vaccine solves all and the virus is extinct, the problem revolves around social distancing and capacity. Individuals must be kept two metres apart and transport operators can only meet a fraction of pre-coronavirus demand. Can we re-design the physical characteristics? You may have seen photos of a restaurant in Amsterdam which has individual greenhouse pods to isolate its diners. Could we have small pods in trains? Most have open carriages seating 60-odd people. Do you remember when we had compartments, doors opening directly onto the platform? No need to encounter others on the long squeeze down the central aisle. Revert to compartments and install personal pods within them? Costly.

We need to look further than social distancing. Coronavirus transmission on public transport is enabled by the passing of virus droplets through the air in confined spaces. The same applies to restaurants, pubs, cinemas and shops, anywhere indoors where many congregate and share the environment, often at close quarters. I was struck by two details yesterday. The first was the new NASA/SpaceX astronaut suits and helmets, much simpler and lighter than those worn on Apollo 11 fifty years ago. The other was a neighbour's relative who has to carry an oxygen tank everywhere. Could we not develop a personal travel helmet with its own sealed air supply? Suitably sleek and portable. We're happy to wear a helmet if we ski or ride a motorcycle. Put it on before you enter the railway station or airport. Our defence is then a personal wearable item, not a piece of expensive infrastructure re-engineering. Two metres distance between travellers is no longer required.

Yes, we need more solutions. I listened to Radio 5 Live's Science Podcast yesterday morning. Dr Chris Smith discussed the latest scientific developments. Plus a special look at how we're adapting to the "new normal" for GP appointments, education and transport. The latter two are certainly in my Top 5 list of thorny topics ripe for resolution. It's a brightly optimistic programme, perhaps not as juicily satisfying as some of the papers mentioned in this blog, but presumably that's in line with 5 Live's mission. An hour long, you may want to listen as background to the washing up or ironing.


BBC Radio 5 Live Science Podcast Sunday 31st May 2020

Sunday 31st May


New coronavirus project. We've started growing cats.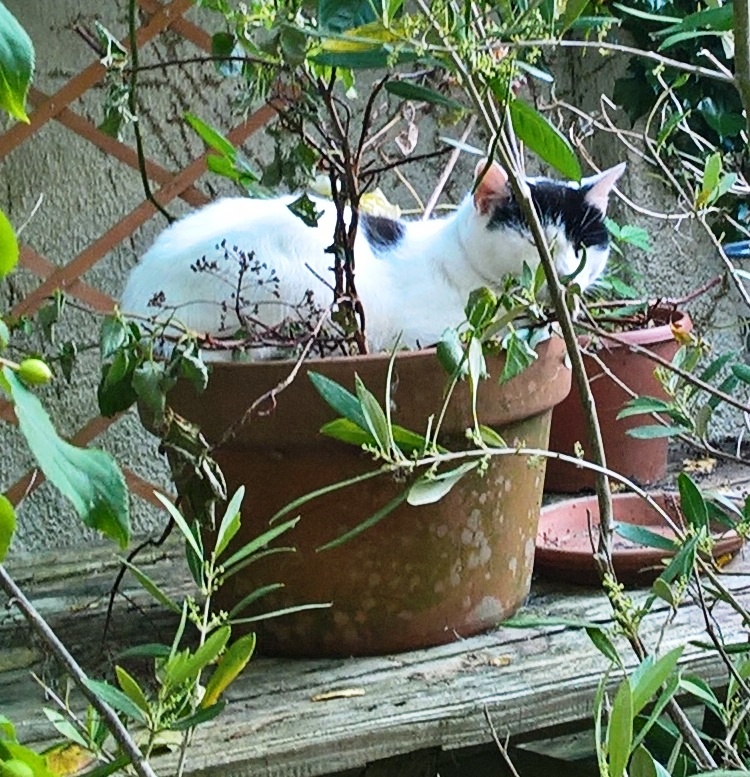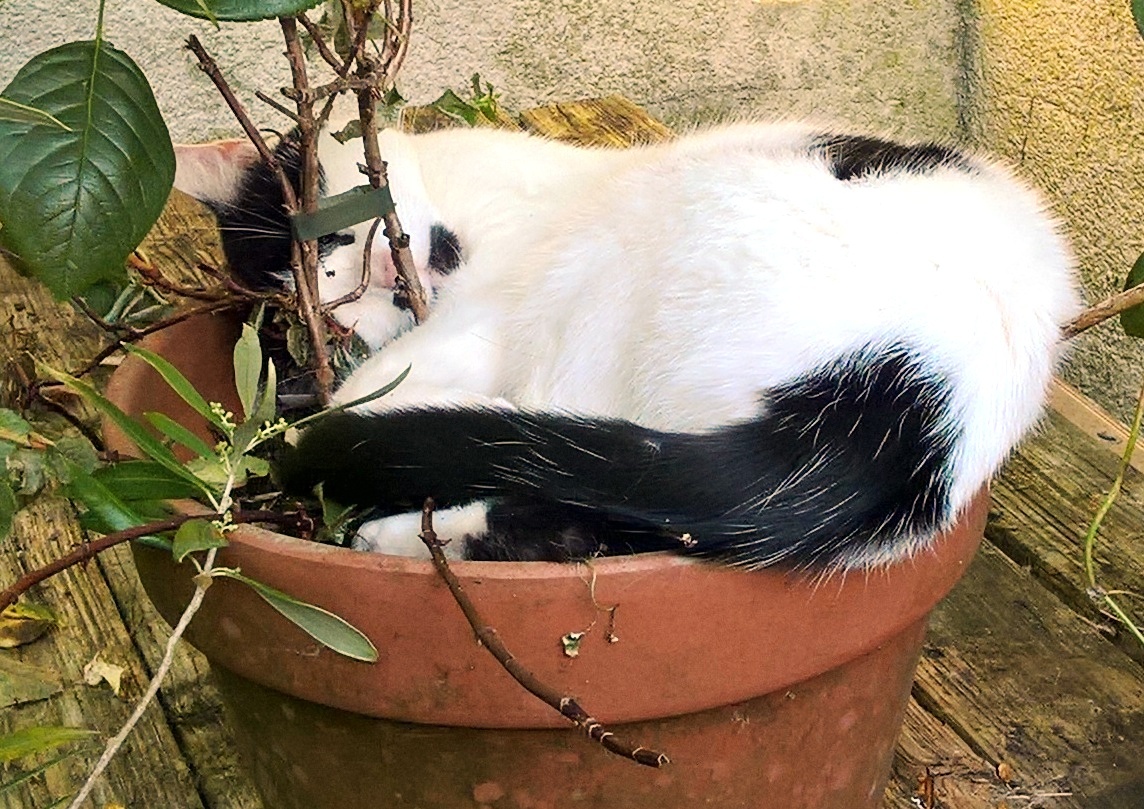 Fod Barnes has quite rightly asked about our travel arrangements to New Zealand. No aeroplanes allowed. 40 days by sea the minimum on a container ship, an eye-watering £6,000 one-way for two passenger berths. It's noses-to-grindstone for research into a coronavirus vaccine at the moment. Transport, and aviation in particular, is a huge issue coming out of lockdown. Perhaps we need to ramp up time-travel (or teleportation) research? H.G. Wells did some pioneering work in the late 19th century. Kirk and Spock led the way in the 1960s. The Doctor launched the Tardis in 1963. Not much progress since. The time (no pun intended) is right to build on those early-adopter achievements. We need a solution.

Saturday 30th May


[Continued from yesterday ...]

I acknowledge that New Zealand has a population of 4,822,233, 7% of the UK's 67,886,011. The density in people/km2 is 18 in NZ, the UK 281. This has presented a lesser challenge than ours. Regardless, the situation has been handled very well - ours could have been handled much better - and coronavirus is nearly behind them. Look at the April 30 - May 30 section, the right-hand end of the NZ curve (chart repeated from yesterday):




In the last month they have had a handful of new cases, in the last 10 days none. Of 1,504 cases 1,481 have recovered. 22 have died, leaving just 1 active case. It would be bad luck to run into him/her, right? The UK had 2,091 new cases yesterday.

New Zealand has no need to embark on the complexities of an ease-up programme. Maybe a very watchful eye. Given the country's success so far I suspect they will have planned something thorough, intelligent and sensitive. Their leadership could not be more popular, the politics more harmonious. Trust abounds.

Oh dear. We are facing a very different few months. As I keep saying, ease-up is hard. Its introduction is unfortunately accompanied by fractures in the establishment. Richard Horton, editor of The Lancet and outspoken critic of our current leaders, wrote in The Guardian last Wednesday about the now ambiguous, possibly dissolving relationship between scientific advisers and the government.

This sad episode

[Ed: he's referring to Cummings and Durham]

shows a regime that has lost its moral compass. And by regime, I don't only mean politicians and their special advisers. I mean the regime of doctors and scientists shoring up this dysfunctional government.




Every day, government scientific advisers stand next to increasingly discredited politicians, acting as protective professional shields to prop up the collapsing reputations of ministers. Why did Yvonne Doyle from Public Health England agree to stand next to Johnson when he was defending Cummings on Sunday? Why did John Newton, who leads the UK government's Covid-19 testing programme, stand next to Matt Hancock as the secretary of state for health and social care again sought to defend the indefensible?




Every day a cast of experts - led by the chief scientific adviser, Sir Patrick Vallance, and the chief medical officer, Chris Whitty - lends credibility to this government by annealing their reputations with those of ministers. This fusion of character works when we believe the collective interest is being put first. But when the government places the instincts of an individual above the tragedies of a people, it is surely time to step away. Tying the reputation of advisers to a government that is now an international laughing stock seems a mistake. It cannot be a coincidence that Vallance and Whitty have not been seen for a few days. But even so, government scientific and medical advisers should now disengage from these daily briefings immediately and completely.




The relationship between scientists and ministers has become dangerously collusive. Scientists and politicians appear to have agreed to act together in order to protect a failing government. When advisers are asked questions, they speak with one voice in support of government policy. They never deviate from the political scripts.


It wasn't always thus. In the very first post in this blog, on Sunday 22nd March, I wrote about Boris' press briefings: "It's a clever move to be flanked by scientific and medical chiefs; it delegates authority to them and takes the burden off him." Not any more.

Are the scientists breaking ranks today, stung perhaps by Richard Horton's criticism? In the last 24 hours two have spoken out against ease-up. John Edmunds, a professor of infectious disease modelling at the London School of Hygiene and member of Sage, said: "Many of us would prefer to see the incidence [of infections] driven down to lower levels. That means that we have fewer cases occurring before we relax the measures. With relatively high incidence and relaxing the measures and also with an untested track and trace system, I think we are taking some risk here." Jeremy Farrar, Sage attendee and director of the Wellcome Trust, tweeted: "Covid-19 spreading too fast to lift lockdown in England. Agree with John & clear science advice. TTI [test, trace and isolate] has to be in place, fully working, capable [of dealing with] any surge immediately. Infection rates have to be lower." I agree with them. I'm fearful of what we might see in the sunshine this weekend.

Off to New Zealand then.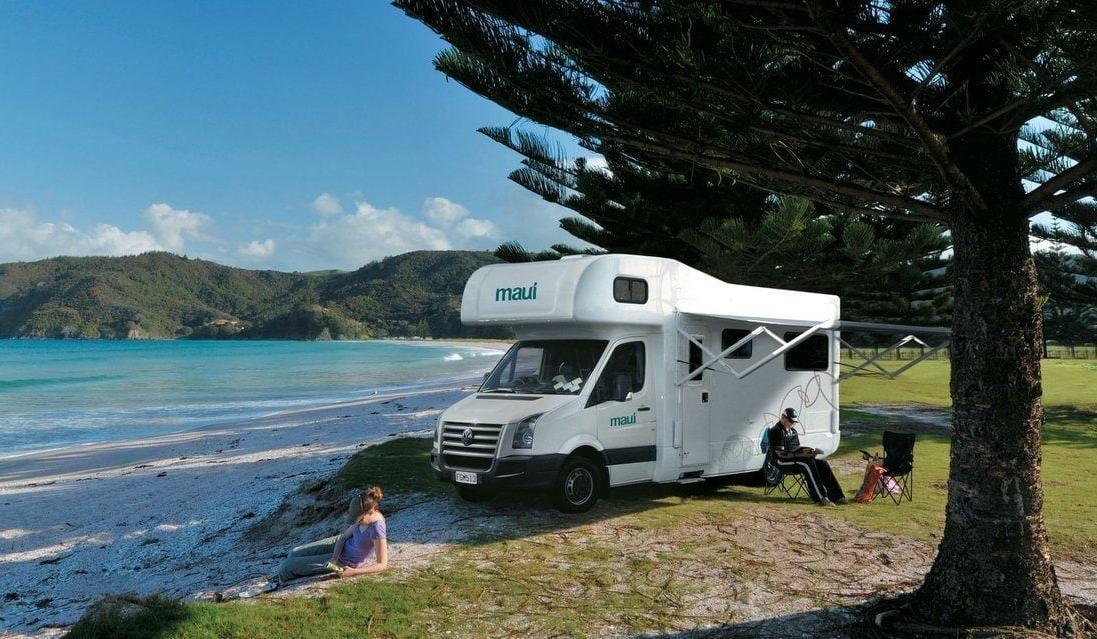 We're visiting a number of campsites like this one. There's no need to book. Plenty of space, not overwhelmed by crowds. At the far end of the beach there's a superb seafood restaurant. I can't wait to get stuck into green-lipped mussels washed down with a chilled Chablis. There's also a dock from which you can hire a boat to go pottering round the coastal inlets. The nearest town has a charming market in the main square, stocked with artisan bread, local cheese and cured meats. A couple of bars on the square promise an evening of blues and Americana bands on their terraces. Behind the trees on the right of the picture is a well-kept municipal golf course. You can get to lots of pretty spots by bike. The air is genuinely clear and fresh. As I said at the top of this post, you would be very unlucky to cross paths with the one remaining active case of coronavirus in 263,310 Km2 of land.

Friday 29th May


It's difficult to imagine how the last months would have been without the weather we've had. Not easy for those confined with kids to a high-rise flat, but for many of us with either a garden or access (legally) to open spaces it's been a huge bonus. The thought of one friend in particular makes me smile. Judith has a beautiful plot in West Sussex. She's a madly keen gardener. Earlier this year she retired and could throw herself into it. The only thing that she's previously considered wrong with her house is its proximity to Gatwick. Not a problem any more :-) I understand the garden has never looked more opulent. Result.

I wouldn't be happy if it were raining every day. At the same time, I can't enter fully into the sunshine. I find it difficult to explain. A spring like this would normally have me singing, it's my favourite season. In my imagination, I associate it with those glorious summers during WWII, women in floral dresses, strong youth in the fields. Yet ... fighter planes above, bomber squadrons sweeping in over the south coast. So it is now, blue skies, shorts and T-shirts, kids on bikes. But ... the coronavirus is in the air. The natural world may be blooming, bursting into life. But ... not the human race.

At the start of our resistance to Covid-19, we were gung-ho. Captain Tom got a knighthood. "We're all in this together." Italy and Spain were experiencing worse hardship. It's affecting the world, I thought, I don't particularly want to be anywhere else. Now cracks have appeared: Cummings the cheat; Boris all-at-sea; rifts in the cabinet; UK second in the death lists; selfishness at the beach. Today I read that social media have erupted into abuse and aggression over parents choosing whether to allow their children back to school or not - on both sides of the divide. Ease-up is going to throw many similar flash-points at us.

Today I do want to be somewhere else and I bet you've guessed. New Zealand. Let's start with a couple of charts from Worldometer. Look at the timing and the Y-axis scales.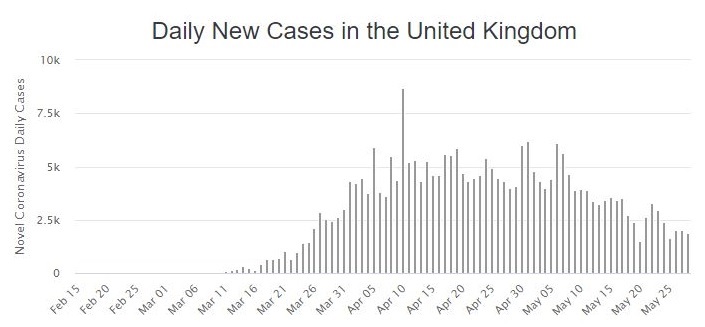 [Continued on Saturday, above ...]


Thursday 28th May


I need to revise my argument about Dominic Cummings, that we bothered ourselves too much about him, that there are more important things deserving of attention. That view still stands, but some other triggers have drawn me back to the story.

Today, it looks like he's got away with it. The intense public scrutiny of the last few days has evaporated. That in itself annoys me, in the same way that Boris' insistence that "we need to move on" gets my goat. "No, Boris, we'll move on when WE say. Please don't brush OUR concern under the carpet. It is not in your gift to do so."

Almost as a quiet aside, away from all the detail of Durham travel, Cummings claimed, "last year I wrote about the possible threat of coronaviruses and the urgent need for planning."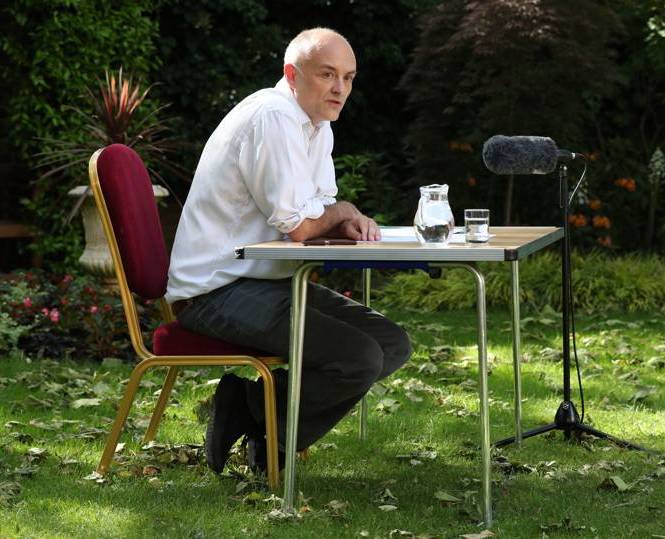 Not quite, Dominic. You are undone. Cummings sees himself as the ultimate Big Data man, sharp-witted amidst the blunt intellects of Whitehall time-servers. He places "super-forecasters" on a pedestal. He needs to understand that prediction takes place before an event, not after. He's been caught tampering with what he said a year ago. Wired ran a great article yesterday titled "Cummings tried to rewrite history. The internet had other ideas."


Cummings' latest inaccuracy was spotted by Jens Wiechers, a data scientist, who ran Cummings' blog posts through the Internet Archive's Wayback Machine.




The Wayback Machine works by sending out web crawlers to a huge number of websites and capturing what each page on that website looks like on any given day. The snapshots are then stored by the Internet Archive, a US-based digital library, and are accessible to anyone who types in the address. Not every page on the world wide web is captured by the Wayback Machine, but Cummings' blog just happened to have been captured. Yvonne McDermott Rees, lecturer in law at Swansea University, calls the Wayback Machine a vital tool for investigators. "It can be used to look up how webpages appeared in the past, even where they have since been amended or deleted, or where the domain name has expired," she says. "It's like a digital form of time travel."




The Wayback Machine shows that Cummings added two paragraphs about Ebola and SARS to a post on his blog between April 9 and May 3. Another open source intelligence (OSINT) tool - and a tantalising trail of digital breadcrumbs - narrows down the data even further. XML data, generated when a page is changed, indicates that the change was made on 14 April, the day Cummings returned to London from Durham.


This reveals an Orwellian light-fingeredness with truth. Adjustment of the past to make him look better today. We're going to have to refine and strengthen our veracity filters for Cummings-Johnson future output.

Why is Cummings still there? Does Boris believe his own statements about Cummings' integrity? Is he so intensely loyal to those who have served him well before? Or - the bookies' favourite - does Johnson feel that he cannot do without his chief adviser? That's scary. An unelected lieutenant driving government action. A Prime Minister who's not up to the job, which has just become more difficult as he has alienated support in his own party and within the cabinet.

OK, to lighten up here's a great lip-sync re-work by comedian Sarah Cooper of Trump's disinfectant blather:



Wednesday 27th May


I'm struck by how little seems unusual today. Maybe we've learnt so much over the last three months that there's nothing new to see. If you look at the recent UK deaths chart below, the consistency of the descent is marked. I've looked at that shape frequently. It's what we now expect and fits with the hope or expectation that this crisis will pass.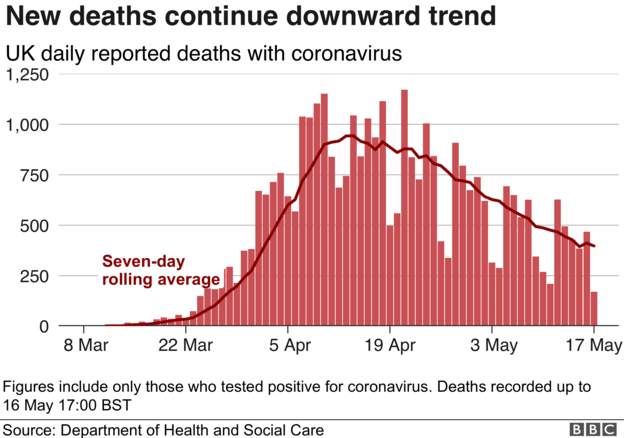 That applies in the UK. Brazil has now registered 24,593 deaths - a "little flu", said President Jail Bolsonaro - and pushed up towards the 1,200 daily death mark a week ago. It's an odd feature of this global pandemic, the variations of time and place. Some Asian countries are now bumping along the bottom of the exit curve. New Zealand no longer has ANY coronavirus patients in hospital. Central and South America are ballooning at the top of the graph. In a Mercator projection view of the world, the virus has been travelling west. Following the rotation of the earth ;-)

Part of the numbness must be a denial of death. What else is Covid-19 about? 352,753 fatalities world-wide. We acknowledge the profound impact on partners, families and communities. Yet it's not there at the front of our minds. I busy myself with statistics and charts. Why have we spent so much time worrying about Dominic Cummings? He's not the Grim Reaper. He's just an arrogant shit who cheated us. While we did our best to stay home, he went for a long drive.

We have adapted. No flying, making do without trains and buses, no public entertainment, keeping separate from family and friends, no visits to pubs and restaurants. It's not been easy for many, particularly the impact from loss of earnings, the risks to and demands on essential workers. For one who has recently retired, I'm not sure that I could tell the difference.

These changes have been forced upon us, a necessary reaction to circumstances. If we have that ability to change, could we not apply it voluntarily to the big global challenges we've been neglecting for years? We've seen the reduction in pollution. Might we choose to build on that? We show the 2-metre respect. Could we not extend that attitude in our treatment of others? I suspect the answers lie in the interim hybrid period we now enter. If the wheels fall off the future may look bleak.

Tuesday 26th May


A bit more on masks. We know there are (at least) two problems with them. First, they obscure a person's speech, muffling the sound and hiding lips. Even if you can't lip read, it's easier to decipher words when you can see the mouth move. Second, lower-face expressions help to clarify or modify meaning. A smile may prevent misunderstanding of ambiguous statements. What's the answer? A clear, see-through mask. These two popped out at me this morning.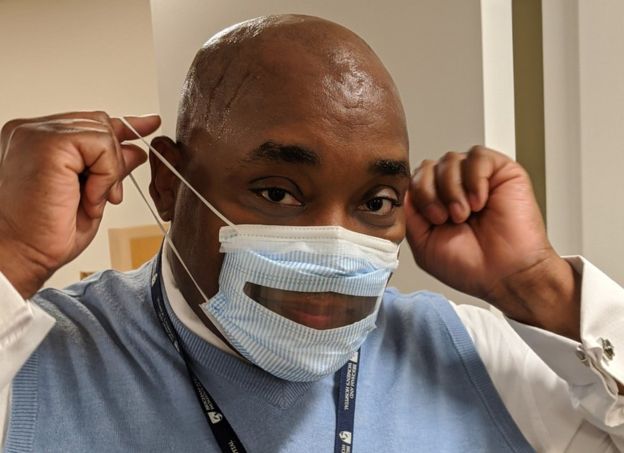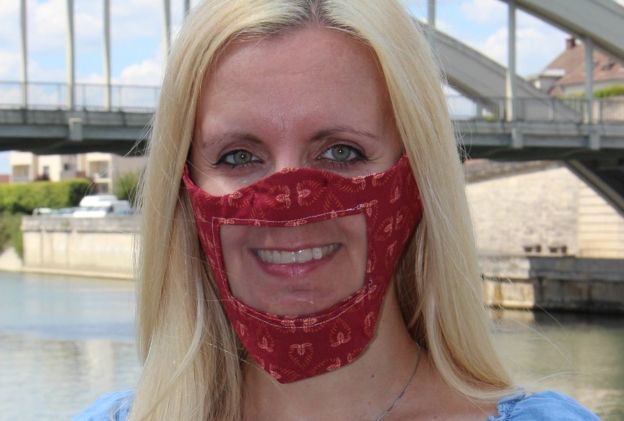 The next challenge in our new practices is Zoom burnout. Its use, or that of other vendors, has shot up to counter the constraints of lockdown: no leaving home, no close contact, restricted travel. It has brought great benefits. Families forced to isolate or even just separated geographically have been able to keep in touch. The elderly particularly love what video-conferencing gives them, that contact with children and grandchildren. Businesses have been able to conduct meetings with staff and customers.

You can however have too much of a good thing. If you're heavily dependent on Zoom for your work, you may overload with it in your social life. Do I really want to attend yet another on-line drinks party? If people have access to your electronic diary, they will see a lot of space vacated by real appointments that no longer exist. Let's pop a Zoom invite in there, eh?

Many find Zoom quite stressful. Like all fresh media, we have to learn to manage it. How do we take turns on a call? An old-fashioned raised hand? It may seem very odd to see your own face on screen, indeed some may not even like how they look on Zoom. We don't see our own faces in a normal meeting. It's distracting. We usually concentrate on the faces of others. There are ways round this and other differences. If we move beyond the personal, the challenge becomes even greater. Very soon the majority of students' classroom time will be conducted in this way. Next month. What a huge leap. How will we compensate for the loss of intimate contact in a group? How do we deal with classroom management, and discipline? This change is going to have a massive effect on how young people learn to co-exist with others.

Then we have FOMO. Not new, it was first identified in 1996 by Dr Dan Herman; the term was coined by Patrick J. McGinnis. Fear Of Missing Out. It's a social anxiety that stems from the worry that others are having fun while you're not there. It's not just about Zoom. It applies to most of the products with which we now run our lives: Facebook, WhatsApp, Instagram, TikTok - it's a long list. It's one of the reasons we are compelled to go on-line, to make sure that we're not being excluded. We know we really don't need to check email or social media as regularly as we do, but it's hard to resist.

Monday 25th May


It's hard to get a lockdown-exit strategy right. Social distancing presents all sorts of challenges. One is to do with capacity. The public transport system can only offer a much-reduced service, in some cases as little as 10% of pre-coronavirus levels. Schools can't pack their premises as tightly as they did. Restaurants and pubs - when they return to use - will have to exploit available space imaginatively. Lock-down is straightforward, ease-up is complex. It's hard to understand, open to interpretation and prone to abuse. The government message was that we could drive longer distances for recreation. People flocked to the beaches in their thousands, upsetting anxious and angry locals.

The public needs to comprehend the guidance given and trust that it's there for a serious purpose. Westminster has not been doing a good job, particularly compared with Scotland. How do you improve? First, your chief adviser drives hundreds of miles to self-isolate. Not illegal, he says, but certainly against the spirit of what most of the nation thought was right. Next, as his boss you publicly defend his action, even implying that he was being a good dad. Trust? Goodbye.

There are other complications - "nuance" seems to be the popular word now - ahead in the new practices we adopt.

Masks. I associate them with cowboy movie baddies and bank robbers. The Venetians have used them for hundreds of years at the festival of Carnevale between St. Stephen's Day (December 26) and midnight on Shrove Tuesday. The disguises allow wearers to escape the rigid shackles of class and profession. Mascherari (maskmakers) enjoy a special position in society with their own laws and guild. Perhaps the most famous is also most appropriate to this crisis, the Medico Della Peste, the plague doctor.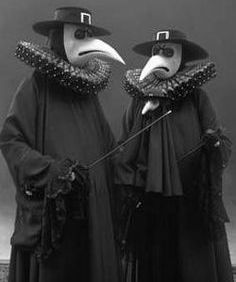 Disguise is the original purpose of these masks. You don't want to be recognised. The mask is a barrier between you and the onlooker. In these times of Covid-19, recognition is not the issue, but protection. However, masks alter our exchanges with others, often in negative ways.

Mark Frank, PhD, a professor and chair of the Department of Communication at the University at Buffalo says:



A huge percentage of communication is nonverbal. If I say, 'You're being a jerk', but you can see my smile, you know that I'm kidding. When you walk past someone or have an interaction where they can't see that smile because of a mask, you're losing something that conveys to other people that you're friendly and polite and approachable.



David Matsumoto, PhD, a professor of psychology at San Francisco State University, talking about "social smiling", the kind you offer at the supermarket checkout, asserts:



There are some emotions that are expressed solely in the lower part of the face. People discount these smiles, but they play an important role in greasing the rails of politeness.



He goes on to recommend ways to diminish the damage done by suggesting the use of more gestures: waves, thumbs-ups, head nods. These improve the odds that you and whoever you're talking to stay on the same page.

Take the specific and relevant context of health care. A paper titled Effect of facemasks on empathy and relational continuity: a randomised controlled trial in primary care, published 2003 in PubMedCentral, U.S. National Institutes of Health Library of Medicine, states in its conclusion:



This study demonstrates that when doctors wear a facemask during consultations this has a significant negative impact on the patient's perceived empathy and diminish the positive effects of relational continuity. Consideration should be taken in planning appropriate use of facemasks in infectious disease policy for primary care and other healthcare professionals at a national, local or practice level.



Now, most patients in our hospitals will be pleased to see doctors and nurses wearing masks. They know it's a strategy to keep them safe. However, it's worth all of us bearing in mind what wearing a mask may do to our communication. We can then compensate as appropriate. I hate masks. They anonymise people. I don't feel properly connected, even antagonised. Given the current circumstances I'm going to have to make an effort :-)

Sunday 24th May


I don't feel inclined to write about coronavirus today, least of all comment on the misdemeanours of Dominic Cummings and Boris' defence of his actions. Maybe it's because we're several months into the crisis and I have the sense of a dark cloud shadowing us. Behind it all is the threat of death. And, like most of us, I'm wondering how and when it will end and where we will find ourselves.

What did pop up was a poem, in the middle of the night, the first I've ever written. This feels risky, but so be it. He's finally gone mad, I hear you say.



Beyond




I can't look beyond

Feel the other side

I sense only yesterday

The fear and the loss

Oh to move forward

To the bright blue ahead

I'm stuck in the memory

Of what's done

What might have been




The doorbell rings

On the step he's smiling

From the other side

Free and unbound

He takes my hand

Come if you want

It's not hard over here

No pain nor regret

Just you and your dreams




It's a journey of inches

That make up a mile

Of small steps and changes

To cross the divide

Hold the light in your palm

Trust the soul

Shut your eyes

Look back in wonder

From the other side

Saturday 23rd May


Fod Barnes has pointed me at great charts from the Financial Times. The first is of daily deaths, showing the bulge just after mid-April when Europe was the viral epicentre ahead of the USA's acceleration. You can see the Brazilian and Latin-American growth in May. The success of Asian countries in tackling the outbreak is evident in the red section bumping along the bottom. I'm still surprised by the relatively small part played by Africa. As ever, click to expand.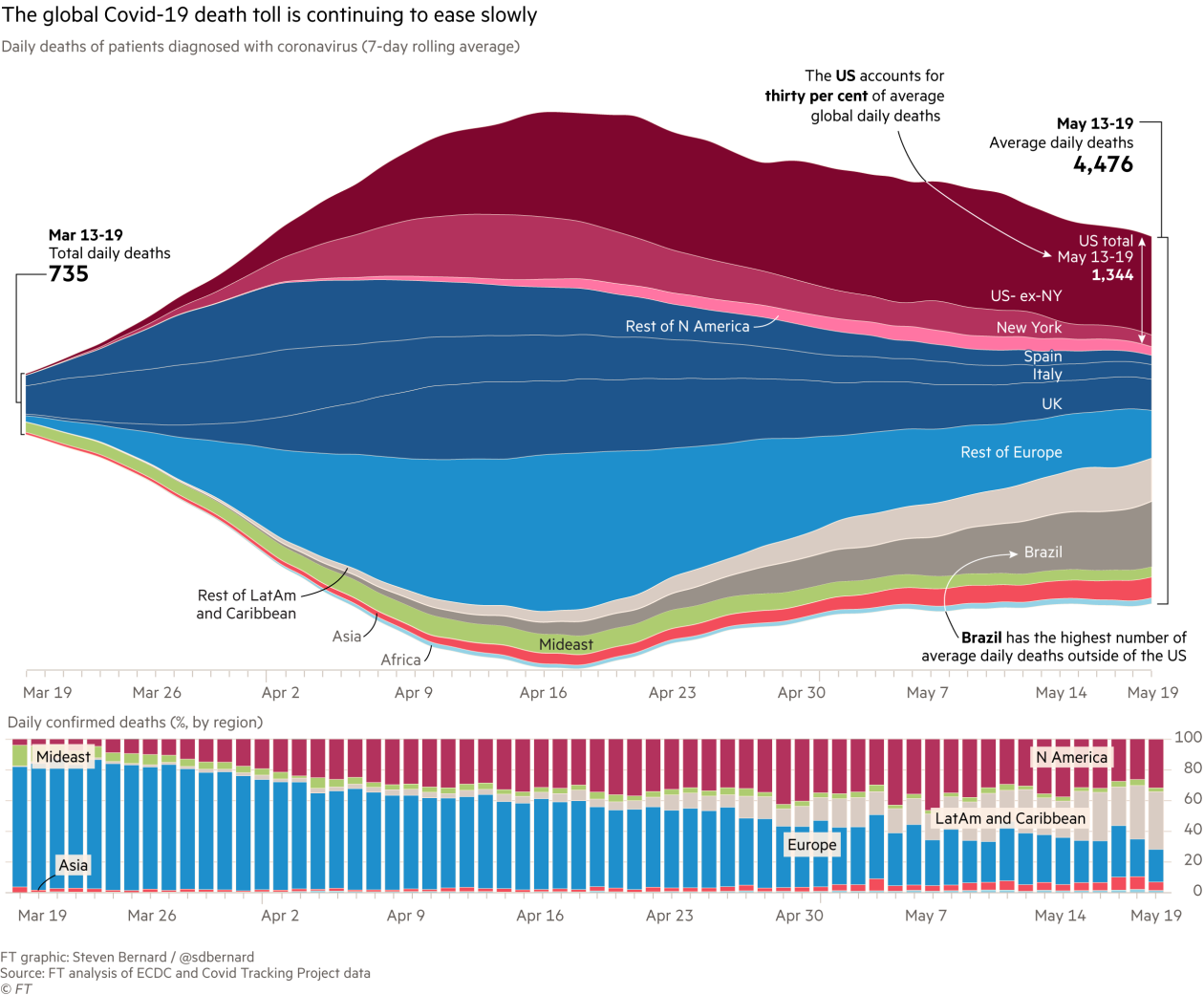 Even better for a chart-nut like me is the interactive epidemic trajectory tracker which allows you to manipulate the data in a variety of ways: deaths vs. cases, new vs. cumulative, raw vs. per million, logarithmic vs. linear, selecting up to six countries at a time. It doesn't benefit from being displayed as a screenshot. You need to experiment here

.

I find it darkly amusing that in all the months and years prior to this crisis we were missing the point. All the small-minded and insular thinking around the Brexit debate and the general election ignored a global phenomenon. We should have had our eyes on the horizon. Johnson vs. Corbyn was a sideshow. Europe wasn't the big threat. In early March 2019, Chinese scientists published a paper titled Bat Coronaviruses in China online

at PubMed Central, a repository of the U.S. National Institutes of Health Library of Medicine. They were convinced a major epidemic was round the corner and that China was a likely hotspot. If we'd been aware of and attuned to this kind of intelligence, we might just have noticed developments in Wutan. Then we could have done a proper job: tracked the virus' progress; monitored and assessed the risk; closed our borders when the threat level demanded, as early as we wanted; locked down as required. R=0 from the start.

No chance. There was only one item on our agenda: "Get Brexit Done". The OBR estimates that the final coronavirus bill could be as much as £298bn just for this financial year (April 2020 to April 2021). That's 22.5 times the most recent annual British contribution to the EU budget. How could we have been so stupid?

Friday 22nd May


A bit more on the beach mayhem. Norfolk Chief Constable Simon Bailey has said he feared there was a perception that lockdown was "done and dusted". He was concerned at the "lack of respect" for communities who had "done their best to protect themselves". He added, "we're dealing with far more people heading to the coast, and with the beautiful weather we're having that's not surprising. What I do find surprising is a sense that lockdown has been lifted, we can do what we want and the coronavirus challenge has passed. I'm really concerned. That is simply not the case." A walker in Southend said, "hundreds die every day yet people think it's OK to have a jolly on the beach."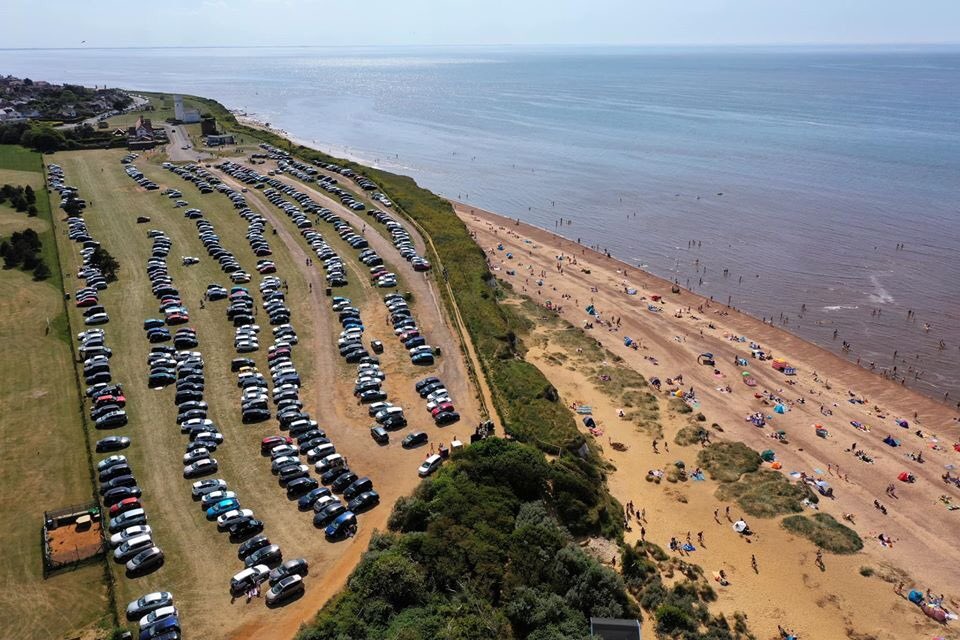 What's Boris up to? I haven't got a sense of his hand on the tiller. He's now done a welcome U-turn on the health immigration surcharge on non-EU migrants, but for all I can tell he may have issued the directive from the broom cupboard under the Number 10 stairs. Last week Laura Kuenssberg voiced the suspicion of a rift in the cabinet. She suggested that decision-making lay in the hands of a central cabal, those outside it excluded from the process, although they still had to defend the government to the world. Or, conversely, is Boris becoming isolated?

The beach behaviour is fuelled and encouraged by the lack of clarity shown in describing a release from lockdown. In contrast Nicola Sturgeon has bided her time, refusing to be steam-rollered by Westminster. Only now has she announced her lockdown-exit road map, supported by strong speeches and an enormous amount of detailed documentation on the Scottish government website. The journey ahead is still extremely complex, but she's packaged it up for consumption by the public.

Phase 1: Virus not yet contained but cases are falling. From 28 May you should be able to meet another household outside in small numbers. Sunbathing is allowed, along with some outdoor activities like golf and fishing. Garden centres and drive-through takeaways can reopen, some outdoor work can resume, and childminding services can begin.




Phase 2: Virus controlled. You can meet larger groups outdoors, and meet another household indoors. Construction, factories, warehouses, laboratories and small shops can resume work. Playgrounds and sports courts can reopen, and professional sport can begin again.




Phase 3: Virus suppressed. You can meet people from more than one household indoors. Non-essential offices would reopen, along with gyms, museums, libraries, cinemas, larger shops, pubs, restaurants, hairdressers and dentists. Live events could take place with restricted numbers and physical distancing restrictions. Schools should reopen from 11 August.




Phase 4: Virus no longer a significant threat. University and college campuses can reopen in full; mass gatherings are allowed. All workplaces open and public transport is back at full capacity.

Sturgeon has attached some indicative rather than firm dates to each phase, sensible given that moving to the next involves a realistic current assessment of Covid-19 status. The situation will be reviewed every three weeks, with further phases of easing being introduced if enough progress is being made on keeping the virus under control.

Her management tells us something about the progress of devolution. Scotland now appears to have a more competent and coherent government than England. The fragility of the union has been exposed.

Thursday 21st May


This is why the current planning for release from lockdown in England will not work.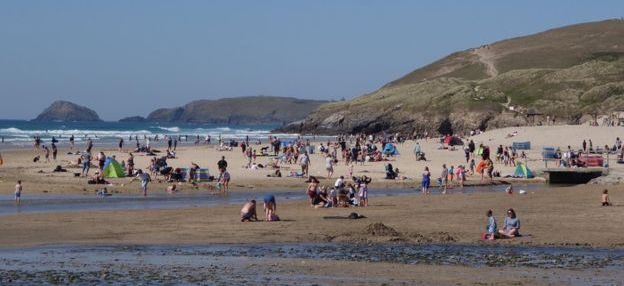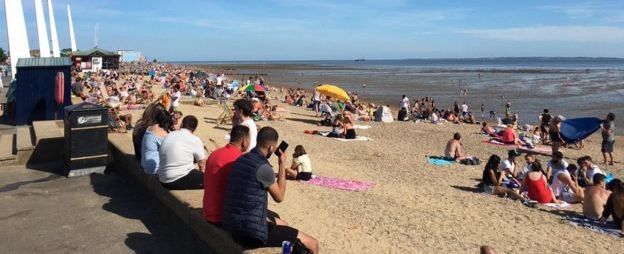 Here are some police tweets from Devon:


Woolacombe: Sadly every double yellow line from Woolacombe to Mortehoe is covered with cars and vans. Cars mounting pavements to get by whilst pedestrians try to cross the road. All the offences have been recorded and will be processed in due course.




Barnstaple: Traffic wardens are running out of tickets. Do not abandon your cars! Emergency vehicles can't get through. Cars will be towed away.




Ilfracombe & Braunton: Roads towards the North Devon coast are now gridlocked. There are no amenities open or toilets. We have vehicles from all over the country identified, please do not travel here. We will still be here when this is over so come back when it's safe to do so. Our valuable resources are now having to be used for traffic control all over the coastline such is the volume of traffic. We have an elderly population in this part of the world who will now be very anxious over the selfish actions of these individuals.


The scenes above show lack of concern for others, little imagination and a refusal to accept that each of us has a contribution to make in fighting the virus. Responsibility is at the heart of an article by Jessie Lau in yesterday's Spectator. She is an international journalist from Hong Kong (death toll: 4).



To Hongkongers, Britain's coronavirus response is nothing short of a disaster. Since I began self-isolating in London days before the official lockdown started on 23 March, I've received dozens of messages from loved ones back home in Hong Kong expressing their concern - and incredulity.




Despite advance warnings since January of how serious the situation was in Asia, the UK's initial approach was slow and lax even compared to many of its European counterparts. The choice to offset infections by mitigating rather than controlling the virus allowed it to spread unchecked and likely condemned the economy to a protracted lockdown, as well as a tragically higher death toll. Confusion over the government's stance on herd immunity, reluctance to implement harsher restrictions, PPE shortages, disinformation and the recent lack of clarity over updated social-distancing advice have since made a spectacle of Britain for all the wrong reasons.




The death toll has risen to over 40,000 in the UK - the highest in Europe - and 5,782 in London. By contrast, in Hong Kong - a densely-populated city with over seven million people (approximately two million less than London) bordering mainland China where the initial outbreak took place - the death toll is four.




One key difference between Hong Kong and the UK is that Hongkongers did not wait for the government to respond. From the get-go, residents spontaneously adopted near-universal masking and began grassroots organising to spread public hygiene messages and fix medical shortages without prompting from the government.


Here's a scurrilous question. What percentage of the adults in those beach photos voted for Brexit?

Wednesday 20th May


Today's entry is devoted to oldies and their money. Not to those young people who may have lost their jobs, not to mid-lifers struggling to support children and pay the bills, but to the retired. The following is courtesy of Which?


The coronavirus pandemic is piling pressure on financial markets around the globe. How is it affecting the health of your personal investments and pensions, and how can you keep them safe? The FTSE 100 - which measures the performance of the biggest companies in the UK - stood 4% (6,049 points) higher when markets closed two days ago. This is the first time the FTSE 100 has finished the day above 6,000 points this month, and the second time since early March. The economy is contracting at the fastest rate since the financial crisis over a decade ago. According to the Office for National Statistics, it plunged by 2% in the three months to March, following no growth in Q4 2019. The FTSE 100 index alone has fallen by a fifth since the start of the year so far, from 7,604 points. The Bank of England (BoE) says the coronavirus pandemic will push the UK economy towards its deepest recession on record. It said the economy was on course to shrink 14% this year, based on the lockdown being relaxed in June.




Should I be concerned about my savings in the long term? The short answer is no. While the coronavirus will likely continue to rattle markets, this doesn't necessarily mean long-term investors should be overly concerned. This is because volatility in the stock markets is normal and markets often rebound quickly once immediate issues are resolved. Jonathan Raymond, Quilter Cheviot investment director, says: "The world always carries uncertainty and there is enough of it about. Markets generally trend upwards over the longer term, even though it's not unusual for them to fall by 10% over a short time. The FTSE 100, for example, has regularly fallen by 10% since 1990, although it's relatively rare for it to fall by more than 20%." Tom Selby says that at times like this "it's important for investors not to panic." He adds: "Anyone investing in the stock market should be thinking in terms of five years or more, rather than weeks or months, and that is the context through which to view the current turbulence." Furthermore, Chancellor Rishi Sunak announced a series of now well-reported measures to protect the economy on 11 and 20 March, although it isn't clear how much of a positive impact this will have. Tom McGillycuddy, Tickr founder, says: "Unless the UK and US governments embark on a big fiscal program, like in some of the Nordic countries, we are in for multiple quarters of retraction. But, with some big fiscal intervention and proper short-term hardcore social distancing, we could bounce out of this much quicker. Ultimately, the long-term impact of the virus on investments is impossible to predict."


Here are three views of today's FTSE market summary: 6-month, 5-year and long historical.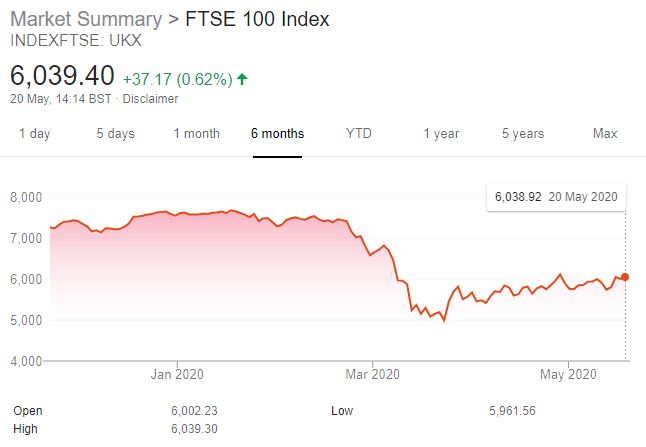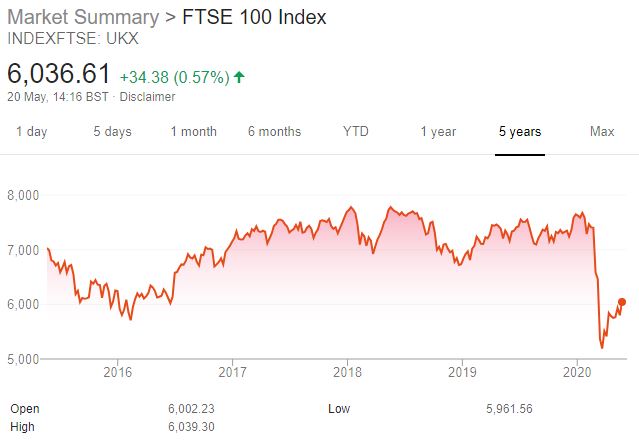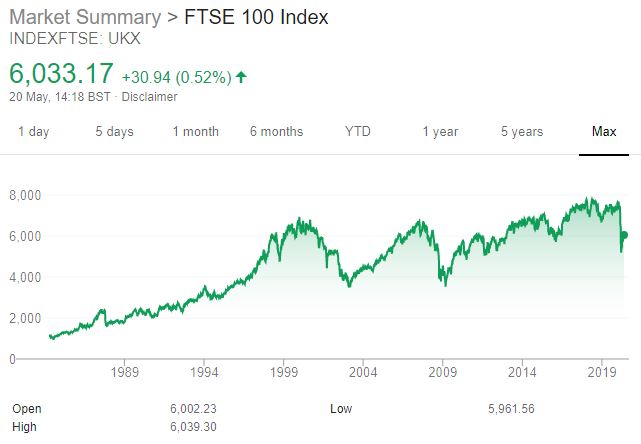 The Which? piece suggests that a fifth of the value of savings may have been lost this calendar year. The article is nonetheless quite upbeat about how markets recover, borne out by the max-term FTSE graph. Take the long view. The problem is that the older you get the shorter the view becomes. The way things look there is an awful lot worse to come, including particularly nasty Q2 results round the corner. We've seen plenty of near-term suffering already but nowhere close to all the pain this crisis can bring, its depth and extent. Part of me worries that the damage will be so severe that we never recover fully. If you're 70 (and beyond) it may be unattractive to wait longer. Time for "hide-it-under-the-mattress"? Assuming you have something to hide.

Tuesday 19th May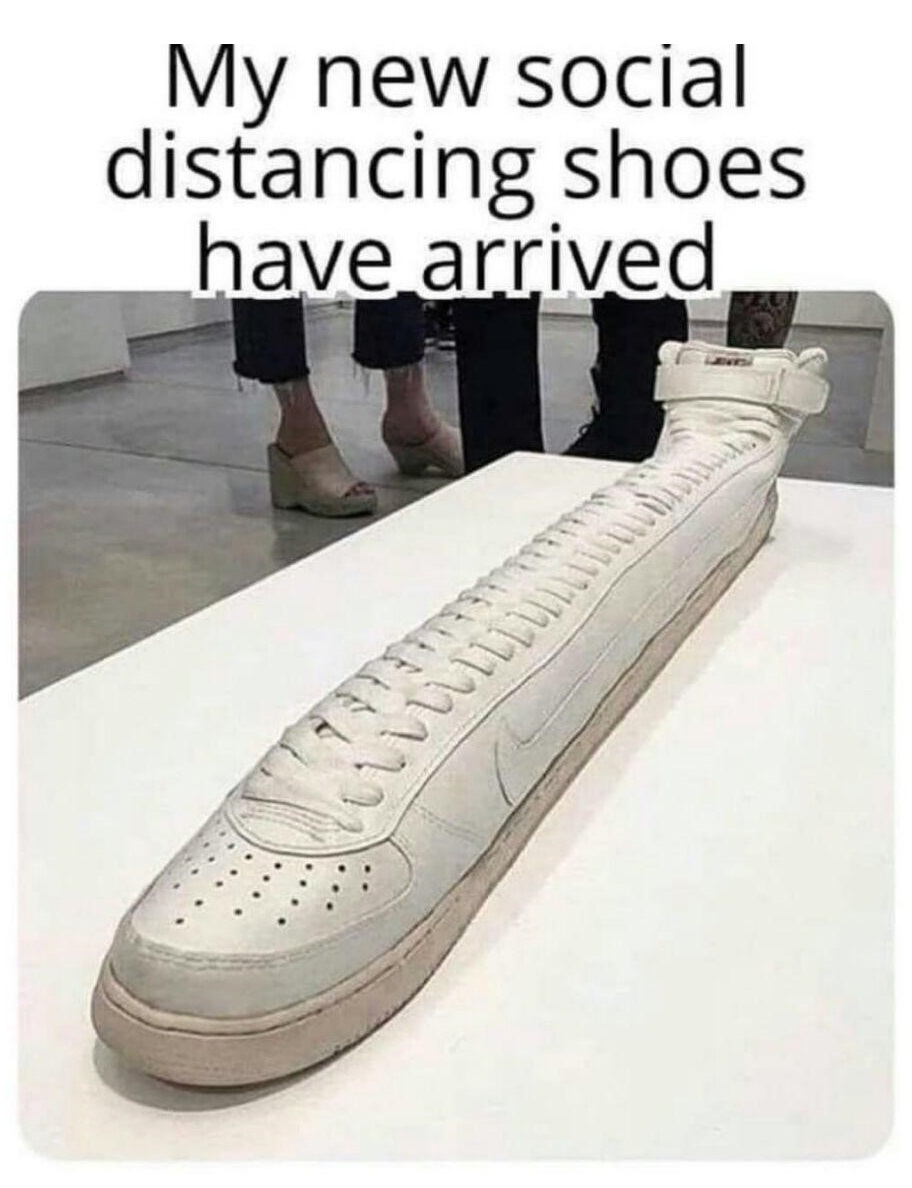 Covid-19 has overshadowed Brexit these last months. It's something we can look forward to when the crisis passes ;-) Today it popped up, not directly but by (dis-)association. Yesterday Emmanuel Macron of France and Angela Merkel of Germany announced they are backing the creation of an EU bond to raise €500 billion to boost the European economy, severely weakened by the pandemic. The two leaders, who unveiled their proposal in a joint video press conference, said that work is still needed "to bring together all the member states" as the measure is expected to raise objections in several, including the Netherlands and Denmark who have previously opposed the creation of so-called "coronabonds".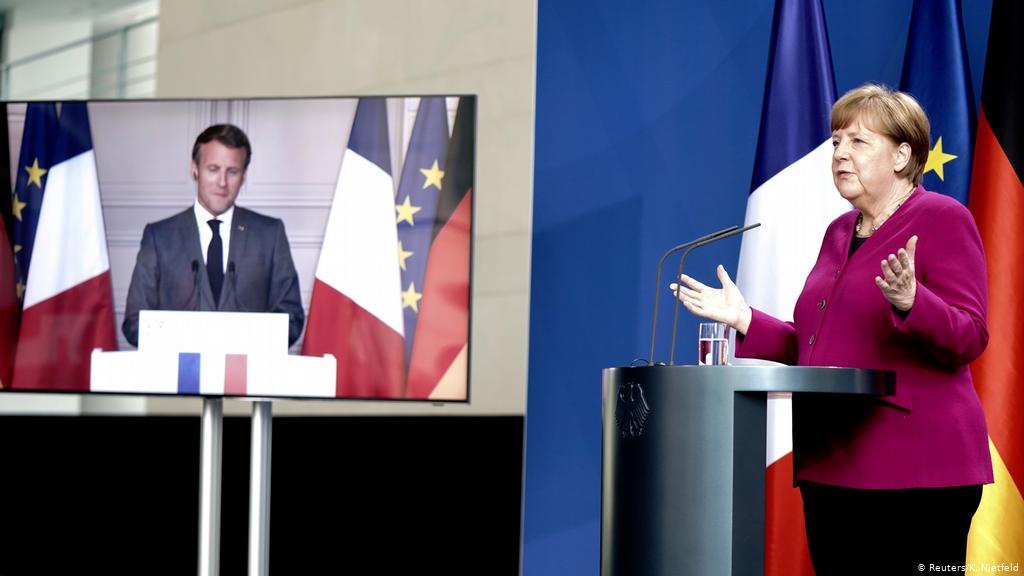 It's nothing to do with us. We've not been involved in the discussions. I'm assuming that although we're still in the transition period we won't be contributing funds nor receiving any. We won't be instrumental in raising the cash.

The EU has not been a shining beacon of leadership during coronavirus. A north-south divide has emerged between the prosperous and the struggling. This initiative is applauded by many as the first to bring the community together in recent times. Spain's Prime Minister Pedro Sanchez wrote on social media: "We welcome the proposal by France and Germany to establish a €500bn European Recovery Fund based on grants." Italian Prime Minister Giuseppe Conte described the proposal on Twitter as "an important first step in the right direction along the lines intended by Italy".

Time to get down to the Crown and Sceptre corner shop. Open all hours?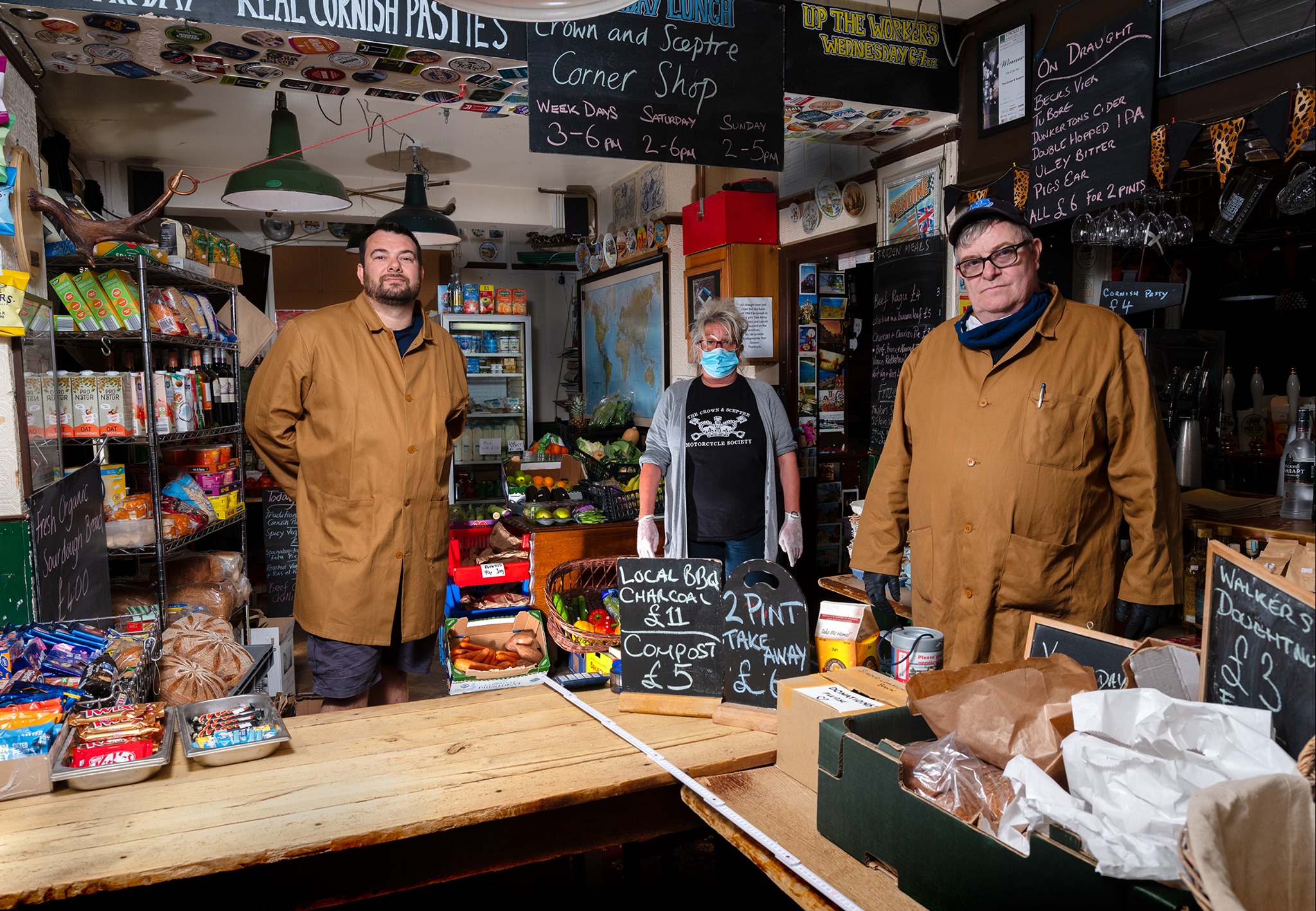 Monday 18th May


This phase of the crisis feels very uncomfortable, neither one thing nor another, caught between lockdown and a return to "normal".

The united front has slipped, the Dunkirk resolve worn thin, even to the extent of differences across Britain's political union. On this topic at least, Westminster is now the seat of government for England alone.

The recent photographs of visitors to the coast were disturbing. Queues on the narrow paths down to the beach, no chance of proper social distancing. On Saturday morning, Stroud's popular Farmers' Market day, it was difficult to navigate the narrower streets.

How can a partially-functioning public transport system support a working economy? If all passenger trains were to follow the LNER guidelines discussed two days ago, we'd only have a 10% service. The only way 90% of commuters could get to work would be by car. Even with imaginative car-sharing and staggered hours congestion and journey times would shoot up. There's no guarantee that businesses would actually see sufficient employees make it to work.

The latest death statistics have been published: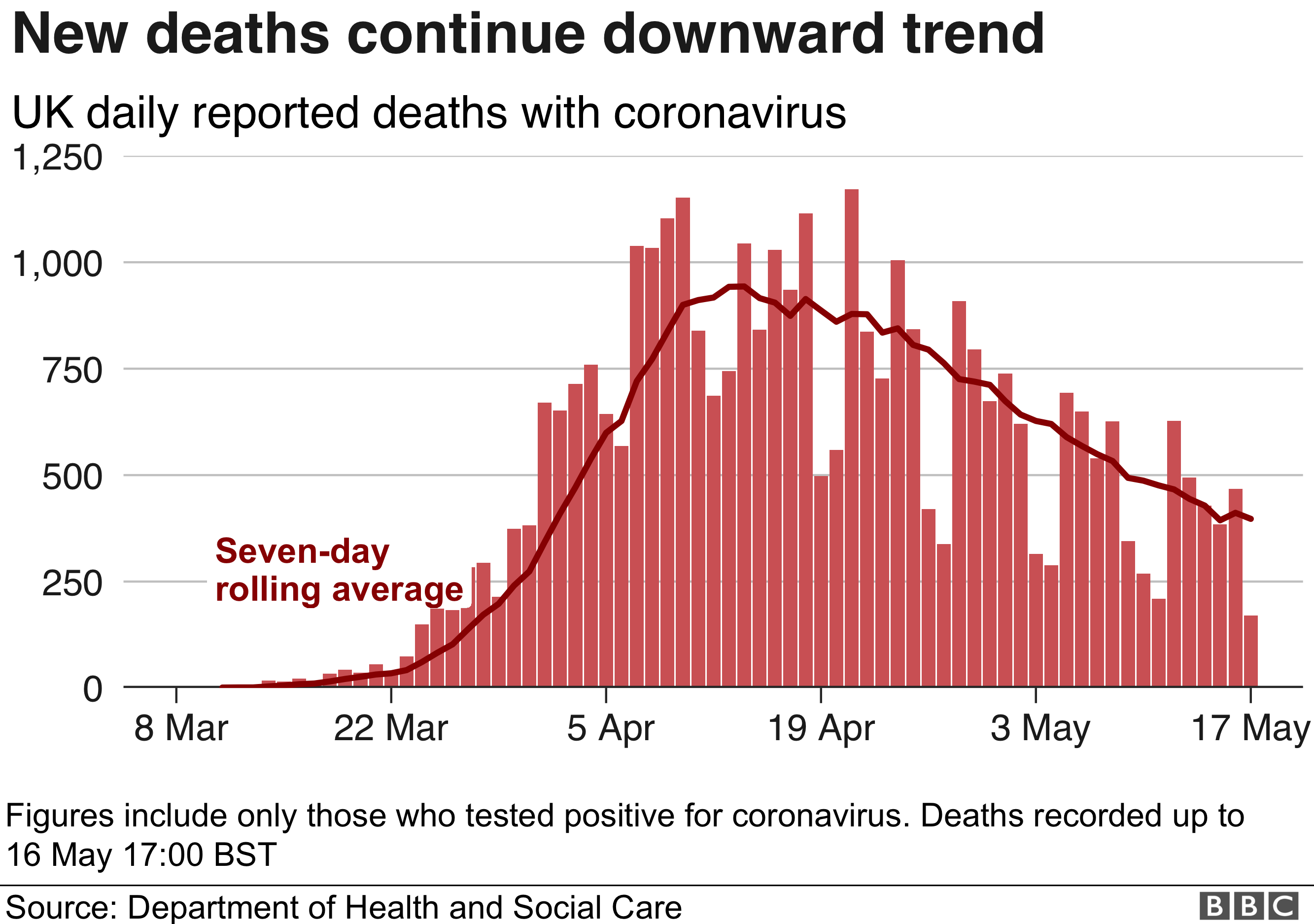 The UK's daily figure for coronavirus deaths has dropped to 170, the lowest since the day after lockdown began, albeit a Sunday figure, when reporting lags. The graph shows a consistent straight-line descent over the last month. That's good, it's going in the right direction.

Why risk an upturn of infection by releasing restrictions? Lockdown has successfully enabled this control. Why not go for broke (hmm ... perhaps an unfortunate word)? We've come this far, so finish the job? For the economy and society to function at 100%, isn't the only valid infection target 0%, R=0?

There are of course counter-arguments. The longer the shutdown, the greater the debt. If you are out of work and struggling to fund a family, you're going to be desperate to earn again. Mental health problems multiply and deepen. We retired are very fortunate.

Yet people are still dying. Today's number of new cases in the UK is 3,450 (WHO). The pain continues and the risks of reinfection remain. There is 1 new case in New Zealand and there have been no deaths since 7th May. Jacinda Ardern decided that NZ should take its pain fast and early. The hard approach was easy to explain. The nation knew exactly what is was doing. Even when they had seen the back of the community outbreak, she said she intended to continue the hunt for every last instance of the virus. A commitment to national health not wealth. The pay-off is clear. Our prolonged and varied tactics are more difficult to follow, open to interpretation and distressingly easy for some to ignore.

Sunday 17th May


A reminder of some outstanding Trumpisms here:




Where Trump goes, the UK follows. Lacking his brazen idiocy, but still negligent. I remain gobsmacked by how little we have learnt from nations whose approach and timing bore such good fruit. Vietnam, Taiwan, New Zealand. Here, no really big "hammer" was wielded early. We await the level of testing and contact tracing core to success. Sadly, the time for all that was then. Now we're just clearing up.

Saturday 16th May


The east coast railway operator LNER has published guidelines, tips and a video to assist travellers wishing to use its services. Here's a list.
Keep 2 metres apart where possible
Avoid facing other passengers
Wear a facemask if you cannot keep your distance
Seat reservations are mandatory from Monday. However, ignore the seat number on your ticket and choose your own seat, remembering ...
Use the window seat
One person to a row unless travelling as a household
In standard class leave two empty rows and one in first class
Finally, "Can you travel another way? Help us keep the trains clear for those who really need them."
Book a seat and then forget about it? How odd. Presumably the mandatory reservation ruling is used to control the number of people who get on a train, but the booking software is not clever enough to do the social distancing calculation for you automatically.

You have to select your own seat, which involves some possibly tricky decision-making and negotiation with other customers.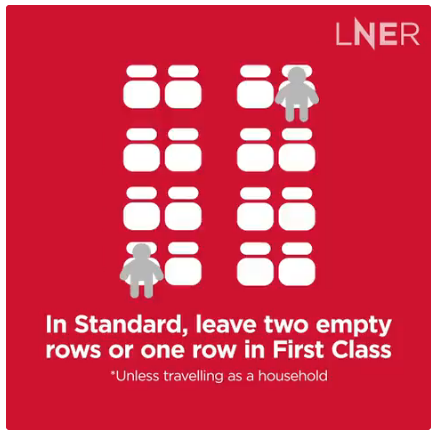 In the above carriage layout, only one seat in 12 must be used. What does this mean for the busy Stroud-London morning and evening trains (assuming the GWR rules are similar). 11 regular commuters per 12-seat block will be unable to travel, roughly 500 passengers. How will they get to London? By car? The rush hour jams will start at Swindon rather than Reading. Such a journey might take three times as long. The operator will suffer a 90% loss of revenue. A standard single fare next Monday from Stroud to London at 7:24am is £84.90. £42,450 total shortfall for one 90-minute train journey. Maybe halve that in reality (season tickets, early booking etc.). Do we add the cost of a coronavirus government rail bailout to that of furloughs and job-loss benefits? As for the last LNER tip, have you ever seen a transport company seeking to discourage custom?

On a family note, it's grandson Marlie's 6th birthday today. We had a Zoom party: Sarah and I in Stroud; Ellie, Lola and Marlie in Bristol; Ben and Soph in Bilbao; Nikko and toddler Ellie in Vienna.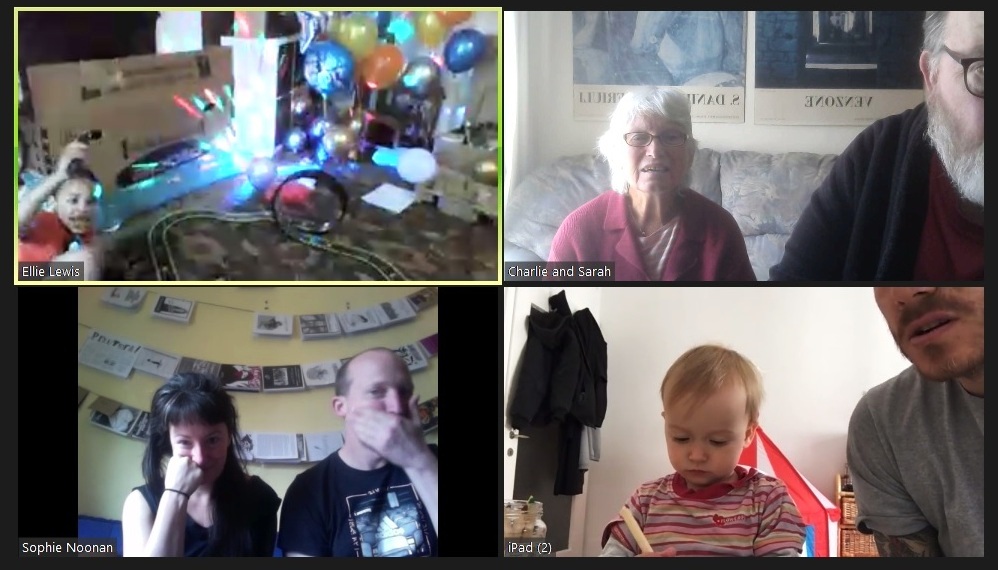 Friday 15th May


The questions have been lurking: "How much is this all costing? Who's paying for it?" Yesterday the government started publishing the answers.

The OBR has forecast a 35% drop in GDP for the second quarter of 2020. Borrowing could rise to around £273bn, or 14% of GDP, our biggest peacetime budget deficit. Furlough costs are huge. Loss of tax revenue accounts for a third. No wonder there is a desperation to get Britain back to work. Even with collateral loss of life?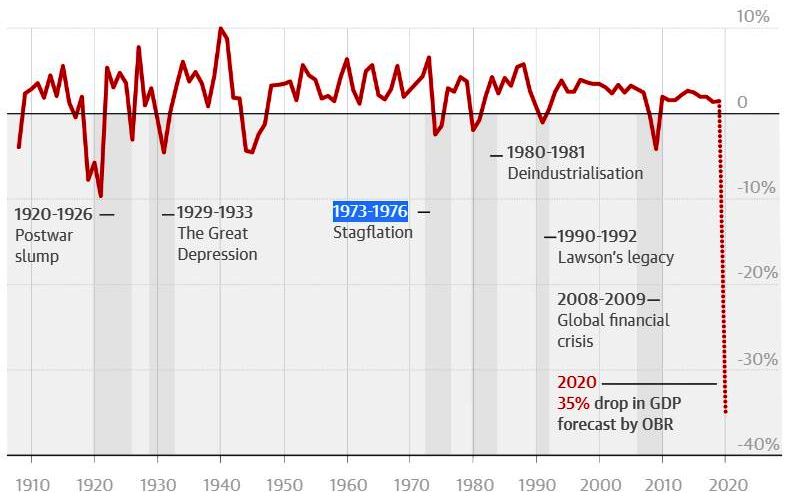 As the economy crashes and public borrowing balloons, Britain's national debt is expected to spiral to more than 100% of GDP this year. Here's a World Economic Forum (WEF) chart from the end of 2018. The UK moves up 16 points from 84.7%. We could all catch up with Greece.





We - should I say our children? - will be paying off this debt for a very, very long time. Unless Trump can prove that China is to blame and so foot the entire bill? Their debt-to-GDP ratio is only 50% ;-)

I hope we can expect more detail soon.

Giggle for the day:



Thursday 14th May


Before we return to Erin Bromage's coronavirus risk exploration, let's look at warnings from the WHO at a virtual press conference in Geneva yesterday. WHO emergencies director Dr. Mike Ryan said, "It is important to put this on the table. This virus may become just another endemic virus in our communities and never go away." He said he doesn't believe "anyone can predict when this disease will disappear." WHO Director-General Tedros Adhanom Ghebreyesus stressed it was still possible to control the virus, with effort. "The trajectory is in our hands, and it's everybody's business, and we should all contribute to stop this pandemic." He warned that there was no guaranteed way of easing restrictions without triggering a second wave of infections. "Many countries would like to get out of the different measures, but our recommendation is still that the alert in any country should be at the highest level possible." Dr. Ryan added: "There is some magical thinking going on that lockdowns work perfectly and that unlocking lockdowns will go great. Both are fraught with dangers."

Quite. Over to you, Dr. Bromage. As he said, "[reopening] is going to happen if I like it or not, so my goal here is to try to guide you away from situations of high risk."

At the heart of his risk thesis is this formula:



Successful Infection = Exposure to Virus x Time



The first important distinction is outdoors vs. indoors. The risk of infection outdoors (e.g. from going for a run or taking the dog for a walk) is very low. Most encounters are going to be fleeting and at a distance. The virus "plume" will dissipate in a breeze. This would change of course if you packed fans shoulder-to-shoulder at a music festival, which also introduces the time element. You're in contact for several hours. Indoors is a different matter: offices and workplaces, classrooms, church choirs, indoor sports, restaurants, pubs, buses, trains. They will clearly vary in density of occupation. Social distancing needs to apply, which is why public transport usage is so threatened and the re-admittance of staff such a headache for office managers. Again, there's the time dimension. You might be on a train for a few hours. You'll be in the office all day. Yes, it's common sense, isn't it?

The other big factor is the force with which the virus is projected by a Covid-19 carrier. Estimates say that you need 1,000 particles to become infected. A breath releases as few as 50 droplets, most of which are low velocity and drop to the ground. A single cough releases about 3,000 droplets and droplets travels at 50 miles per hour. A single sneeze releases about 30,000 droplets, with droplets traveling at up to 200 miles per hour. Laughing and singing are also bad news.

It's a variable and inexact science, but we can see the difference between good and bad places to be, and for how long. The problem with the release plans issued this week is that they reduce clarity and blur our decision-making.

Yes, it's still only band-aid stuff. We need the vaccine. And that's a massive endeavour, not only in discovery but also implementation.

Right, complete change of tack now. Light-hearted and personal. In common with most kids across the country, our grandchildren Lola and Marlie have been in the kitchen. Here's a video. There's some evidence of lockdown-induced stir-craziness and sibling tension but they do pretty well given the eight-year age difference. Little Marlie declares himself "host" of this session.



Wednesday 13th May


I'm really not convinced by the strategies proposed by the government for leaving lockdown. There is confusion. The telephone switchboard at Radio 5 Live was jammed for the last two days with callers needing clarification on a huge range of issues. Not surprising after the initial communication, a speech and a 50-page document woefully thin on the detail needed. Even the expert panellists in the studio (or their kitchens) had few answers, mainly because they were not privy to government thinking (whatever that might be). There is bound to be difficulty when you shift from a simple "Don't leave your home except for these four reasons" instruction to a more nuanced model which among other things says "Continue to stay at home unless you can't and if you do leave don't go on public transport". A plethora of decisions and interpretation is required by the public and business. We're led to believe that something called "post-lockdown anxiety" is now an available condition. People felt safe in their homes. Now they're venturing out into a world where coronavirus still exists on the streets. Already anxious, they have to make some often subtle choices. If they are returning to work, they may have awkward discussions with their employers about how the opening-up is managed.

We can understand the desire to loosen up the economy. The longer business is closed the more damage is inflicted. If you're now skint, the chance to earn some money is more than welcome. However, the level of coronavirus cases out there is huge. The risk of a renewed spike is real, witness Japan. Graham Gibbs has pointed out a blog entry from Erin Bromage, Comparative Immunologist and Professor of Biology at the University of Massachusetts Dartmouth, posted a week ago and titled The Risks - Know Them - Avoid Them

. He's doubtful about the numbers too, in this case from the USA.


It seems many people are breathing some relief, and I'm not sure why. An epidemic curve has a relatively predictable upslope and once the peak is reached, the back slope can also be predicted. We have robust data from the outbreaks in China and Italy, that shows the backside of the mortality curve declines slowly, with deaths persisting for months. Assuming we have just crested in deaths at 70k, it is possible that we lose another 70,000 people over the next 6 weeks as we come off that peak. That's what's going to happen with a lockdown.




As states reopen, and we give the virus more fuel, all bets are off. I understand the reasons for reopening the economy, but I've said before, if you don't solve the biology, the economy won't recover.




There are very few states that have demonstrated a sustained decline in numbers of new infections. Indeed, as of May 3rd the majority are still increasing and reopening. As a simple example of the USA trend, when you take out the data from New York and just look at the rest of the USA, daily case numbers are increasing. Bottom line: the only reason the total USA new case numbers look flat right now is because the New York City epidemic was so large and now it is being contained.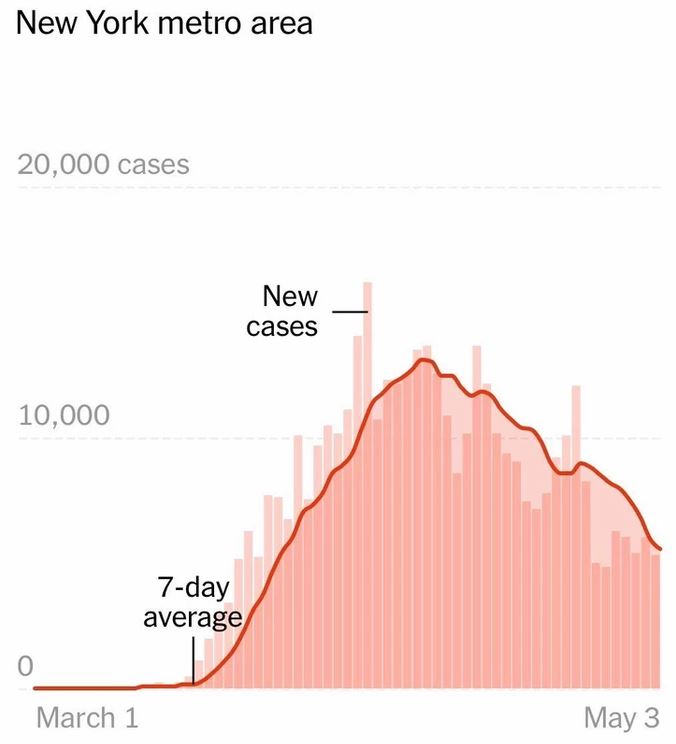 Here are some charts/graphs from the BBC to illustrate what's going on in the UK. Yes, the curves are going in the right direction. No, the threat has not gone away. Infection is still out there big time. It doesn't seem right to become too enthusiastic with restriction release. During lockdown some of the population, admittedly a small proportion, did not respect the rules. In the ease-up, will people transgress purely because the rules are much harder to understand? Will we stretch and say, "Phew, that's all over." It doesn't take much to tilt the balance of R.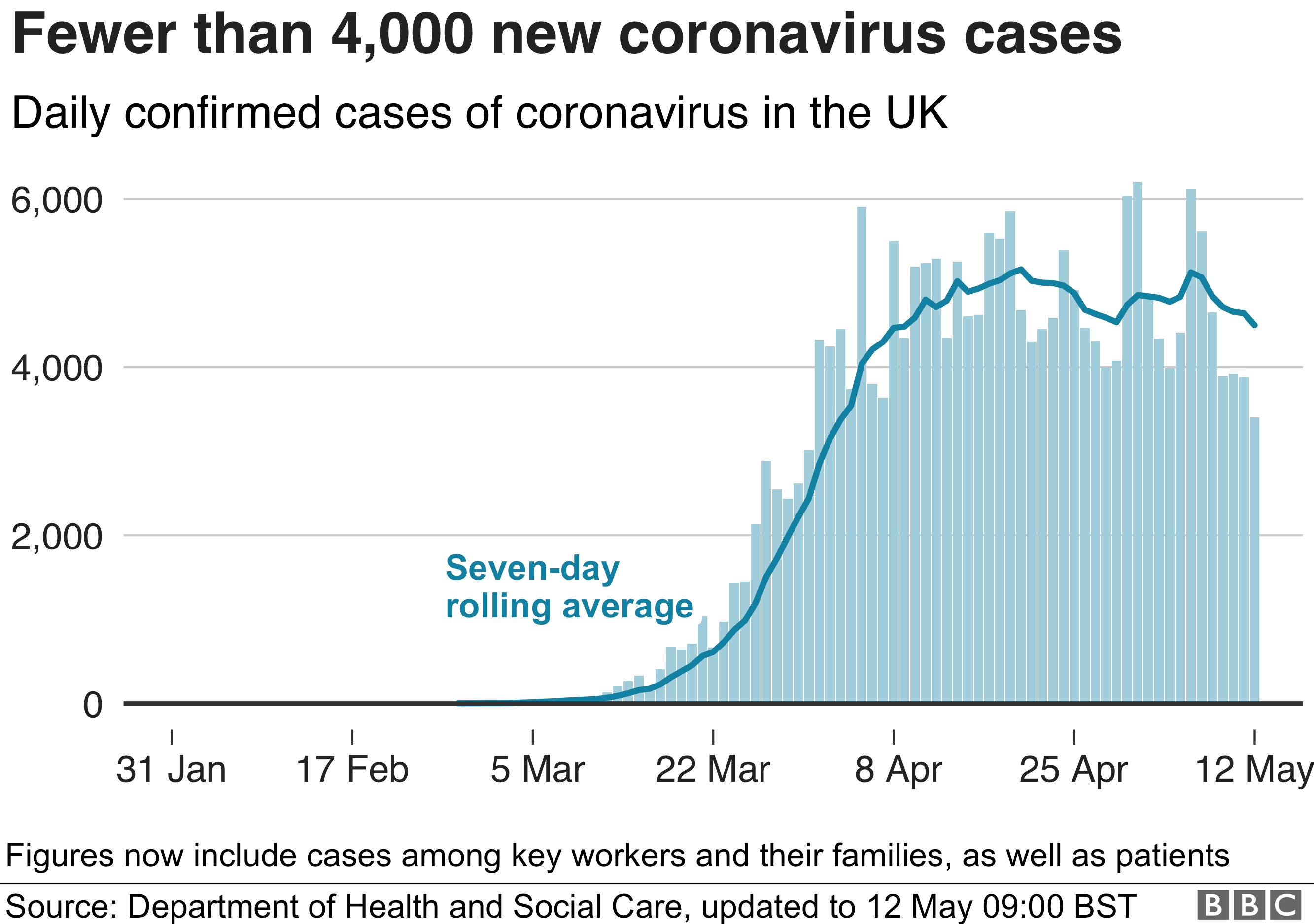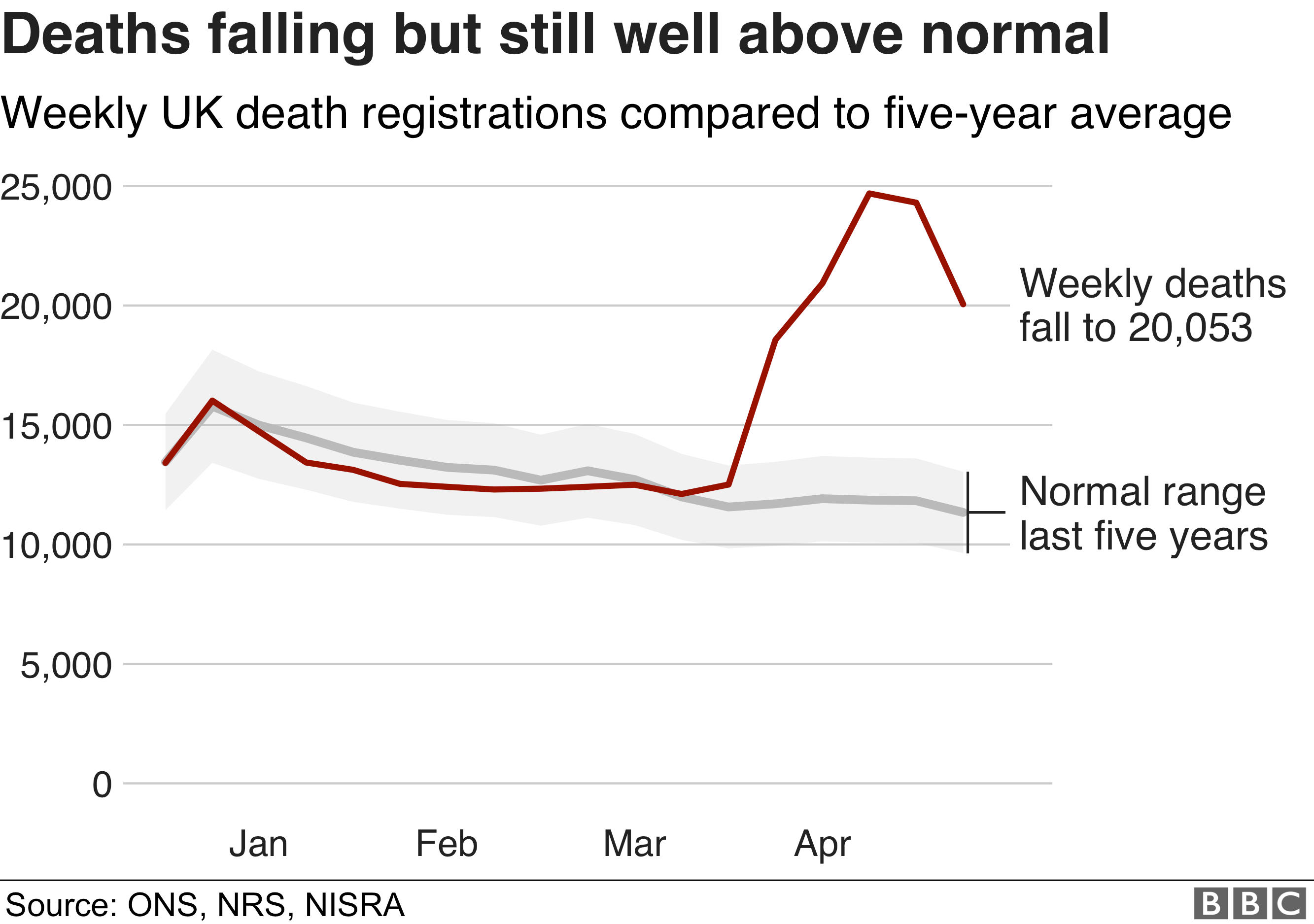 Erin finishes his stats analysis:



So throughout most of the country we are going to add fuel to the viral fire by reopening. It's going to happen if I like it or not, so my goal here is to try to guide you away from situations of high risk.

Tuesday 12th May


Day off today. Not impressed with the exit-from-lockdown planning. More on that tomorrow.

Monday 11th May


Alf Florio has alerted me to an article by historian Margaret MacMillan of the University of Toronto published in The Economist on May 9th, titled Covid-19 as a Turning Point in History. It's about lessons of the past, the qualities that make leaders in crisis, how we might arrive at a better future. I like the piece so much it gets pride of place today.



The crisis exposes our weaknesses. Will our leaders choose reform or calamity?




In the winter of 1788-89, the desperate government of Louis XVI asked the French people to send in lists of their grievances. It was a fatal mistake. The

cahiers de doléances

served to articulate the public's unspoken discontent and, equally important, its hopes for a better world. A crucial psychological barrier had fallen; it became possible to imagine a very different France. And the times - the moral and actual bankruptcy of the

Ancien Régime

, widespread crop failures and hopeless leadership - gave shape to the public's aspirations. The fuse was lit for revolution.




France in 1789. Russia in 1917. The Europe of the 1930s. The pandemic of 2020. They are all junctures where the river of history changes direction. The Covid-19 crisis may be a pivotal rather than a revolutionary moment but it, too, is challenging the old order. Like France's

cahiers

, the coronavirus forces questions about what sort of future we want, what the proper role of government is and what makes a healthy society. We face a choice: to build better ways of dealing domestically and internationally with this challenge (and prepare for inevitable future ones) or let our world become meaner and more selfish, divided and suspicious.




Long before Covid-19, popular thinkers like Thomas Piketty, the late Tony Judt and Paul Krugman were warning about deep social inequalities and the shortcomings of globalisation. There were sporadic protests like Occupy Wall Street or France's

gilets jaunes

. Most of us (such is human nature) carried on living. We worried from time to time about climate change, that our children couldn't afford houses and that there seemed to be more obscenely rich people along with more homeless ones. Covid-19 has turned a spotlight on the dark sides of our world. We have become aware of the fragility of international supply lines, the disadvantages of offshore sources for critical goods and the limits of international bodies. The chaotic responses and blame games of certain governments have exacerbated divisions in and among societies, perhaps permanently. America has withdrawn from moral and material leadership of the world. It and China have grown more hostile to one another, not less. Rogue states such as Russia gleefully make more trouble and the UN is increasingly marginalised.




When you name things - grievances, say, as the French did - you give them form and make it harder to ignore them. We are doing that now with the flaws in our world and spelling out our hopes for something better. As the French looked at Britain and America as models, we can see that South Korea, Denmark and New Zealand have controlled the pandemic more effectively than other countries, in part because their peoples have faith in the authorities and each other. Without trust - that the water is clean, medicines are safe, or thugs won't get away with it - societies are vulnerable. Covid-19 has caused fewer deaths proportionately in Germany than elsewhere because of the country's well-funded health system and its competent state and federal governments. As history shows, those societies that survive and adapt best to catastrophes are already strong. Britain rose to the challenge of the Nazis because it was united; France was not and did not.




Much also depended then, and depends now, on leaders. As weaknesses are exposed, do leaders fix or exploit them? While Franklin Roosevelt was promising Americans a better tomorrow in the 1930s, Adolf Hitler was destroying the Weimar Republic and intoxicating Germans with promises of revenge for the Treaty of Versailles. As we know, that ended in a world war.




For every Jacinda Ardern or Angela Merkel, the leaders of New Zealand and Germany who are talking to their citizens about the difficult road ahead, there is an illiberal, populist demagogue playing to baser fears and fantasies. In Brazil President Jair Bolsonaro dismisses Covid-19 as "the sniffles". In India the ruling Bharatiya Janata Party blames it on the Muslims. President Donald Trump claimed he had "total" authority, demonstrating something about his instincts if not his knowledge of the American constitution.




Wise leaders in the past have been able to steer away from danger. In 1830 Britain was coping with unrest in Ireland, violent strikes at home and demands for more power from the growing commercial and industrial middle classes. The enlightened aristocrats of the new Whig government believed that they had a choice between revolution and reform, even if the latter was at the expense of their own power and privilege. In 1832 their Great Reform Act widened the franchise for Parliament. The Whigs did not remove all grievances, but they muted them. A century later another child of privilege, Roosevelt, brought in the New Deal which helped to save American society and capitalism.




The present crisis could be the opportunity for strategies to produce essential public goods and ensure that citizens have safe, decent and fulfilled lives. People coming out of a calamity are open to sweeping changes. Governments will find it hard to resist demands for improved social programmes now that they are spending as though John Maynard Keynes were in the room. Will the British again accept an underfunded National Health Service? And countries could invest in key organisations like the World Health Organisation and give it greater power to protect the world from disease. Perhaps, just perhaps, bodies such as the G7 and G20 could become forums for unity and not dissent.




Future historians, if there are any who can still research and speak freely, will analyse the choices that individual countries and the world made. Let us hope the story shows the better angels of our nature, in Abraham Lincoln's words. Enlightened leaders and publics creating together sane and inclusive policies, and strengthening our vital institutions at home and abroad. The alternative story will not have a happy ending.

Sunday 10th May


The last two days my thoughts have mostly turned to the end of lockdown, reviving the economy, transport in particular. I'll carry on.

Capacity is crucial to most businesses or services. None of those which rely on footfall or the presence of numbers close to capacity will be able to make decent profits or cover costs while social distancing is needed, and we've seen in the UK that it's essential to the goal of R≤1. Restaurants, pubs and cafes rely on filling available space and revenue-per-table. Supermarkets need greater throughput than they see in today's controlled conditions; my man on the entrance to Waitrose with a clicker says they are admitting around one-third of their usual customer numbers. Planes 50% full? The same issues with trains and buses. Grant Shapps has said that even if the UK transport network were running at full capacity, social distancing rules would mean only one in 10 passengers could travel.

Who bears the cost of the shortfall? The supplier or provider (lower wages, cheaper raw materials), the customer (higher prices) and the government (bailouts). After 10 years of Tory austerity we witness a Tory spending spree. The chart below, from the BBC and Minnesota economist Ceyhun Elgin, shows current international packages. The UK is off the list at 5% of GDP. However, if you look at measures beyond spending such as central bank loans and government loan guarantee pledges, the UK moves into fifth place instead of 47th.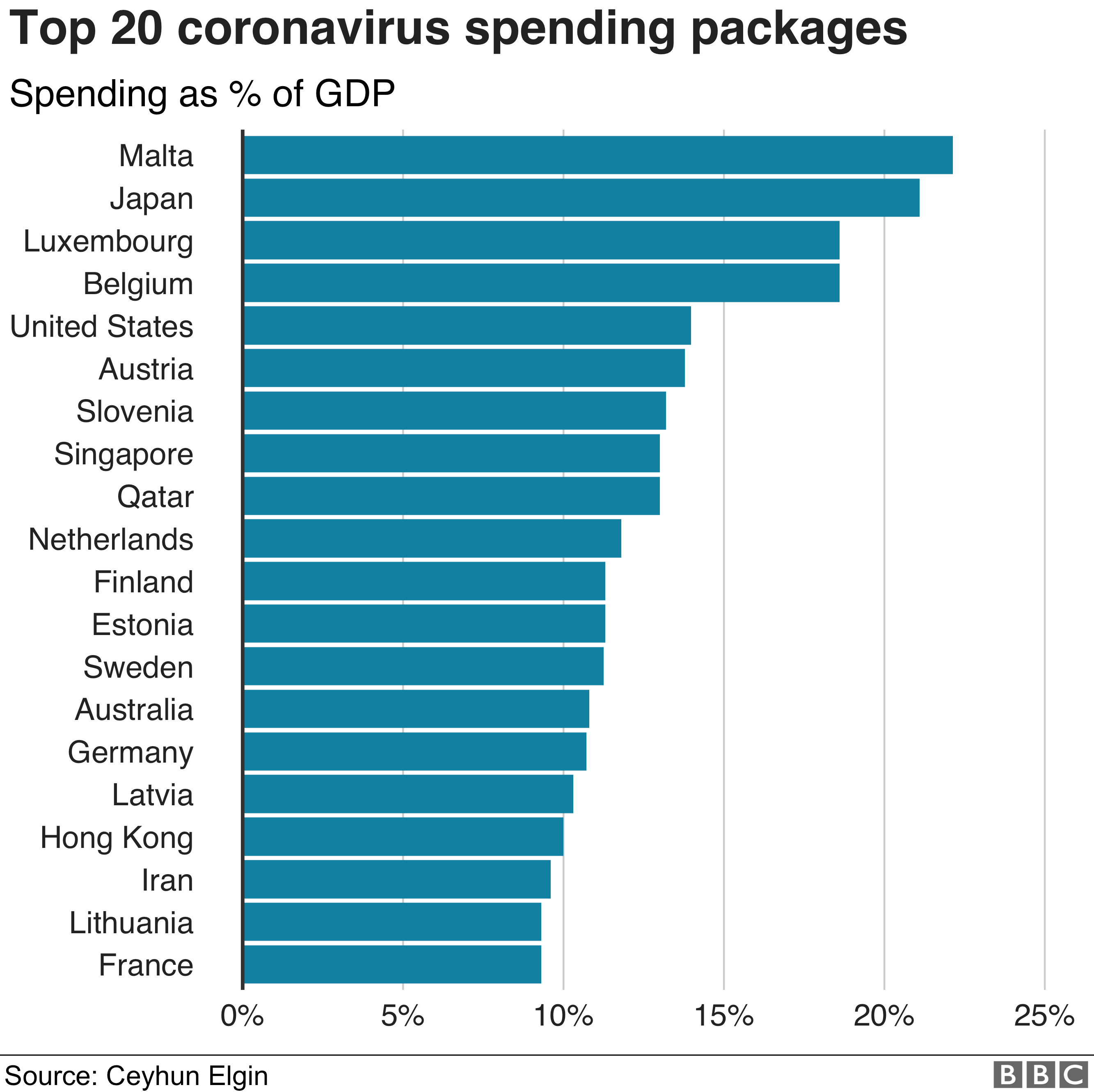 In transport, there is the real opportunity to make the changes that will heal our planet. The government has introduced funding for improvements in cycling and walking infrastructure. It now formally encourages working from home, or commuting by bike. Given that most journeys in the UK are short - 68% are under five miles - you'd hope that all this could have an impact. The worry is how the reality will play out. People like the idea of cycling to work during the lengthening daylight hours and recent sunny days. Ask them again in mid-January. With tubes and buses, it's capacity once again. The BBC suggests:



In London, the Tube will be able to handle less than 15% of its pre-pandemic rush hour peak: 50,000 passengers every 15 minutes, compared with 325,000 before.



So, it's raining hard, it's freezing cold, it's still dark, there will be no spaces on the bus, what do you do? The BBC again:



There are signs people will turn to their cars in greater numbers than pre-lockdown. 56% of drivers currently without a car intend to buy one post-lockdown, according to car sales company AutoTrader. In Wuhan, China, private car usage nearly doubled when lockdown ended, rising from 34% before the outbreak to 66% after lockdown. "There is an avalanche of private car usage coming if we don't do something about it," says Leo Murray from climate action charity Possible, which campaigns for green transport.



I hate to be so gloomy. Perhaps we can mitigate such a boom in car usage with clever and mandatory car-pooling. Maybe the technologies we have all used this last month can make a big dent in travel habits.

What is at the heart of this problem? We can't risk cramming people together. No shoulder-to-shoulder on the tube. Social distancing demands. When will we able to abandon it? When we have a cure. It's back to the vaccine. I'm assuming that the treatment will genuinely remove the risks of being close to others. There's a challenge of delivery here; we have to get the preventative medication out to 7 billion people.

Preparation is the other factor. We have to learn our lessons and be ready for the next Big One. Early warning systems, an agile response framework, readiness of supplies, pre-trained personnel, rapid deployment capability, crisis management techniques. It would be delinquent not to have these in place next time.

Saturday 9th May


One of the debates of the moment is whether to release lockdown restrictions. It has prompted me to review our experience of recent weeks.

The word on Middle Street says that the lockdown has been much more bearable than we anticipated. Many of us are retired. Some have continued working outdoors as landscape architects, gardeners or builders. The software developers have always worked at home. Those who are furloughed have enjoyed the break. The drunks stock up at the corner shop as usual. Everybody has been enjoying the sunshine, the lack of traffic, silence. Young families are out on bikes. Home projects are getting completed. Lots of friendly chats at a respectful distance. Clapping on Thursdays. Dancing at Saturday noon. Good turnout today. Our neighbour Hugh gives a nod to VE Day.




When we turn to the lifting of restrictions, nobody wants lockdown to end if it means the risk of a new coronavirus blip. We've come this far, people say, and adapted. It would be senseless to wreck what has been achieved. Majority opinion says that the UK has not done enough to warrant a release. The numbers aren't right yet. If you look at today's WHO graphs of England and New Zealand (click to enlarge both), the contrast is marked. New Zealand's grief is behind them. The UK has much still to come. By the way, don't be fooled by the death graphs looking vaguely similar, particularly in terms of volume. The scales are very different. The tallest spike in the NZ chart represents 4 people. There have been 1,458 times as many fatalities in the UK compared with NZ.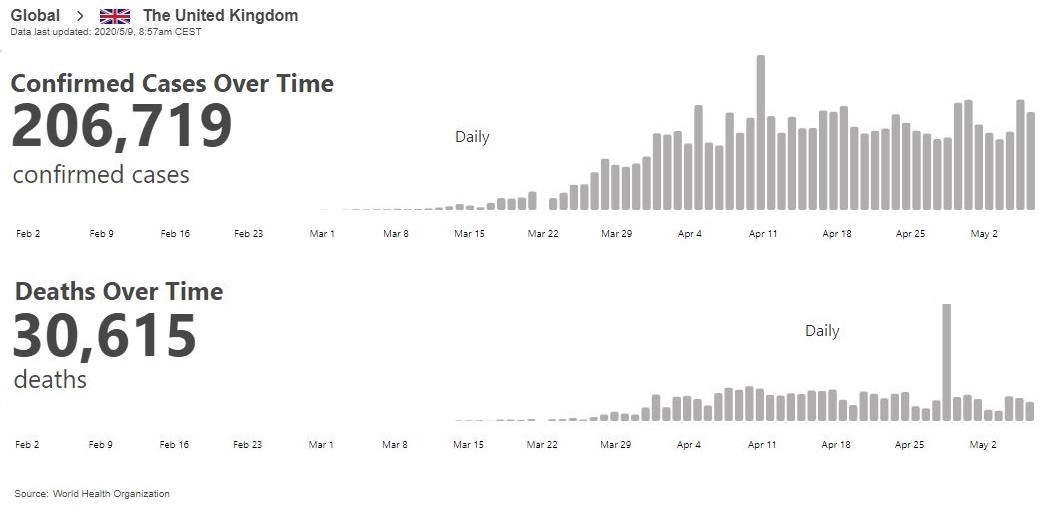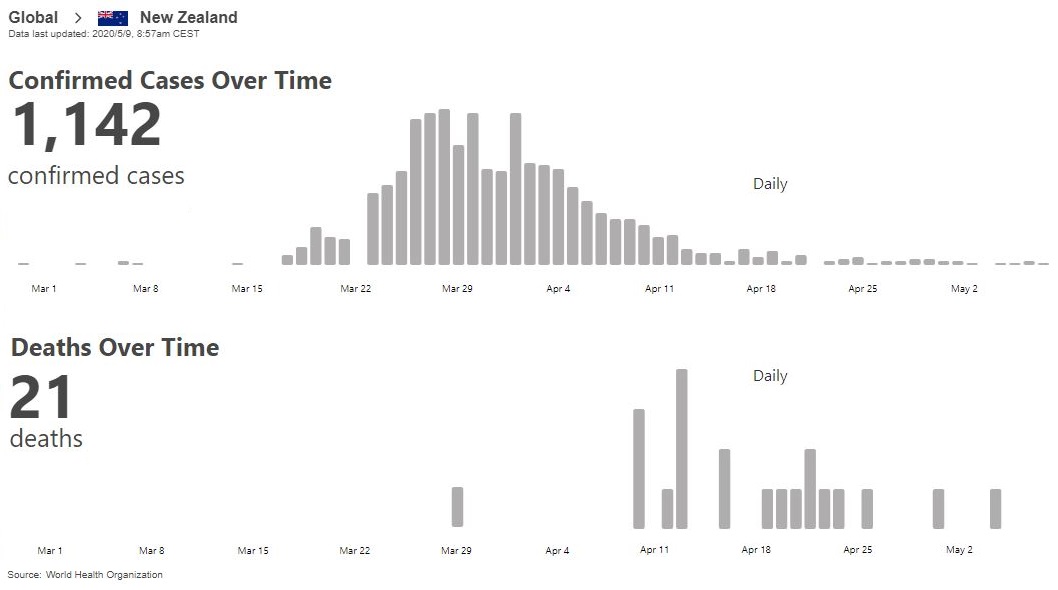 This is not an argument to prolong restrictions more than is necessary. Many are suffering. Those without the benefit of employment-provided furlough need businesses to return to normal. I saw the oddest example two days ago. I went into the centre of Stroud for the first time since lockdown, to collect a prescription from Boots. The High Street was deserted. I was one of two bona fide shoppers, both of us waiting to be admitted to the chemist. The only other group was the homeless and derelict, congregating round street benches. The problem was that their usual source of income was entirely absent. No loose change to be seen. They need the town to be trading and the punters back.

Friday 8th May


I was talking to my friend Ian Barnes yesterday evening, catching up on news. We agreed there wasn't much, at least at a personal level. Most days are similar. One significant change in our lives has been a kind of reverse news, an absence or lack. We don't see our children and grandchildren. Ian's son Stephen lives in Boston USA with his wife and two small boys. Our eldest son Nikko is in Vienna with his daughter. Youngest Ben is in Bilbao. Ellie and her children in Bristol don't pose the same problem, although we haven't seen them either. Are relationships only to be maintained by Zoom?

It's aeroplanes, innit? When will they fly again? Over the years it's been so easy and cheap. We wanted to see Ben? Logged in to easyJet and booked. Not anymore. How long will that go on for? It's about time for our latest visit and not seeing the boys is going to get more distressing. When we emerge from the crisis - I'm assuming "when" - will aviation and other transport forms look the same? Not for a while, if ever.

I've probably reached the limit of my tolerance of air travel. Our trip to see Ben in Cadiz last January was horrid. We had to change at Barcelona airport. It's now vast, effectively two large airports joined by a 15-minute bus ride. Miles of duty-free to navigate even when you don't want any of the inessential crap they sell. Unending halls with no seats. Queues at every stage: check-in, security, departure gate, the shuttle bus, the door into the 'plane itself. Do you take off your backpack at each halt? Why does your easyJet flight always leave from Gate 421, somewhere in the next county? And that's all before you're crammed into a seat with too little leg room after fighting to place your bag in an overhead locker.

The only problem is that air travel has been cheap and relatively quick. I love trains and would much rather travel that way. But not until the social distancing problem is resolved and prices come down. Of course, they're not going to help Ian's trip to Boston.

Robert Goddard has written again from Germany, about movement and transport. More romantic and existential than my pragmatic take.


"There is no question that the enforced immobility coronavirus has imposed upon us has set my mind travelling to earlier days of movement. Being in motion makes me feel alive, rejuvenated. Looking through a train window, the fleeting glimpse of towns both walled and towered, of markets with canvas and scent, all gone in an instant with the blow of a whistle and a shrill goodbye. I sometimes think that I am at my best while in motion and at my worst when I am static, like now in this Covid-19 lockdown. Perhaps being static forces me to think of death while movement is always bringing me to the light of somewhere new. Like a gypsy. Yet many people object to gypsies; they remind them perhaps that they are no longer in motion or worse, that they are already dead.

"I have been dreaming of movement in general and trains in particular. Perhaps trains will enjoy a renaissance when this crisis is over. Instead of taking a one-hour flight from Frankfurt to Venice why not consider the night train? Clattering through the darkness, the possibility of adventure or even danger. It could happen at any time, always out of sight and round the next unseen-but-felt curve."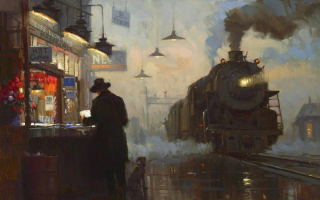 Robert Louis Stevenson said (Virginibus Puerisque, 1881), "To travel hopefully is a better thing than to arrive."

Thursday 7th May


This section is a bit of a digression. It also feels like heaping gloom on gloom. However, although it's not directly related to coronavirus, its unfairness has the same resonance. The poor and disadvantaged get the worst of any situation. We should witness this event. I don't feel able to pass by without giving it some air time.

Locusts.

East Africa, particularly the Horn, is experiencing its worst plague in 25 years. It's not enough to go through drought, floods, war, the threat of coronavirus. Locusts as well.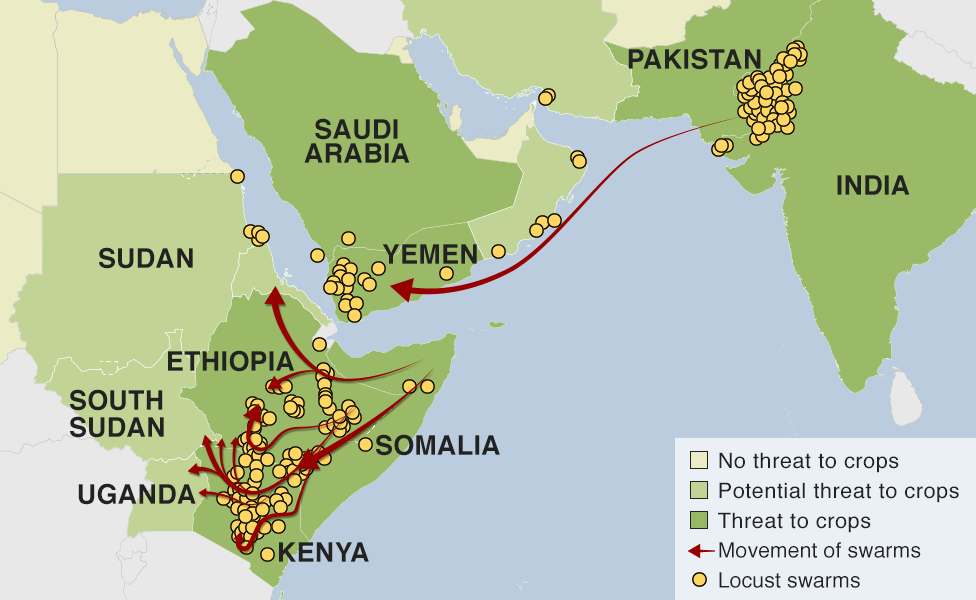 The BBC and the FAO (Food and Agriculture Organisation of the United Nations) have published a lot about the plague. I'll extract some bullet points here.

A desert locust, a type of grasshopper, usually likes to live a shy, solitary life. It develops from an egg into a young locust, known as a hopper, and then into a flying adult.
When they get crowded together, such as on diminishing areas of green vegetation, they stop being solitary creatures, change colour (from beige into bright yellow) and form groups that can develop into swarms of ravenous pests.
Such swarms of locusts are huge. They can contain up to 10 billion individuals and cover up to 120 miles in a day.
An average swarm can destroy crops sufficient to feed 2,500 people for a year (FAO).
The last major upsurge in West Africa in 2003-05 cost $2.5bn in harvest losses.
The FAO estimates the desert locust affects the livelihood of one in 10 people on the planet, making it the world's most dangerous migratory pest.
This is the worst infestation in Kenya for 70 years and the worst in Somalia and Ethiopia for 25.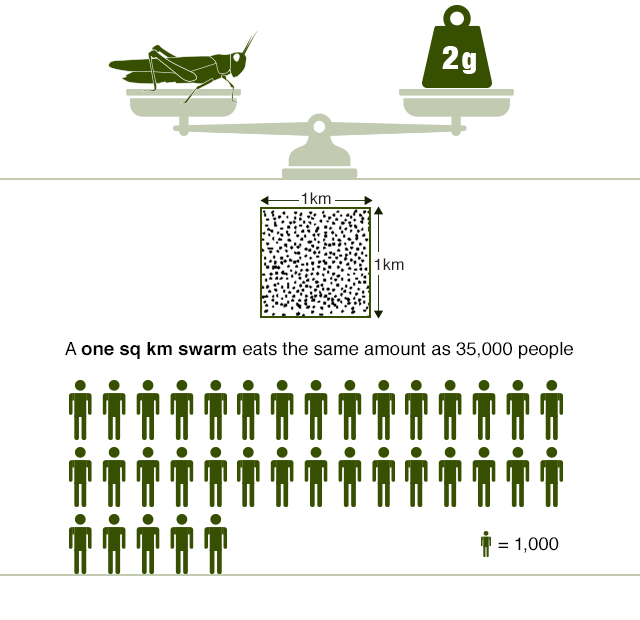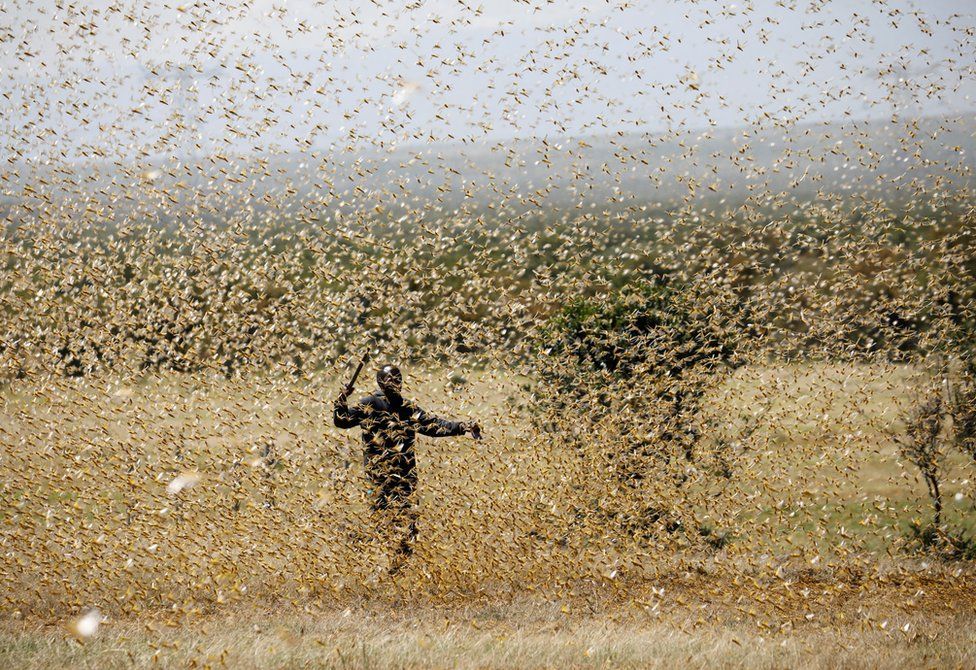 Yes, all this on top of everything else. Imagine if the recent lovely blue-sky spring days in the UK had been darkened by locusts. Your food destroyed. Covid-19 has brought great losses, but it doesn't affect our crop production.

Wednesday 6th May


Let's start the day with charts. UK deaths (sadly now close to 30,000), inevitable economic decline, but also some silver linings. PMI is the US Purchasing Managers Index, a pointer to manufacturing activity. Click any to enlarge.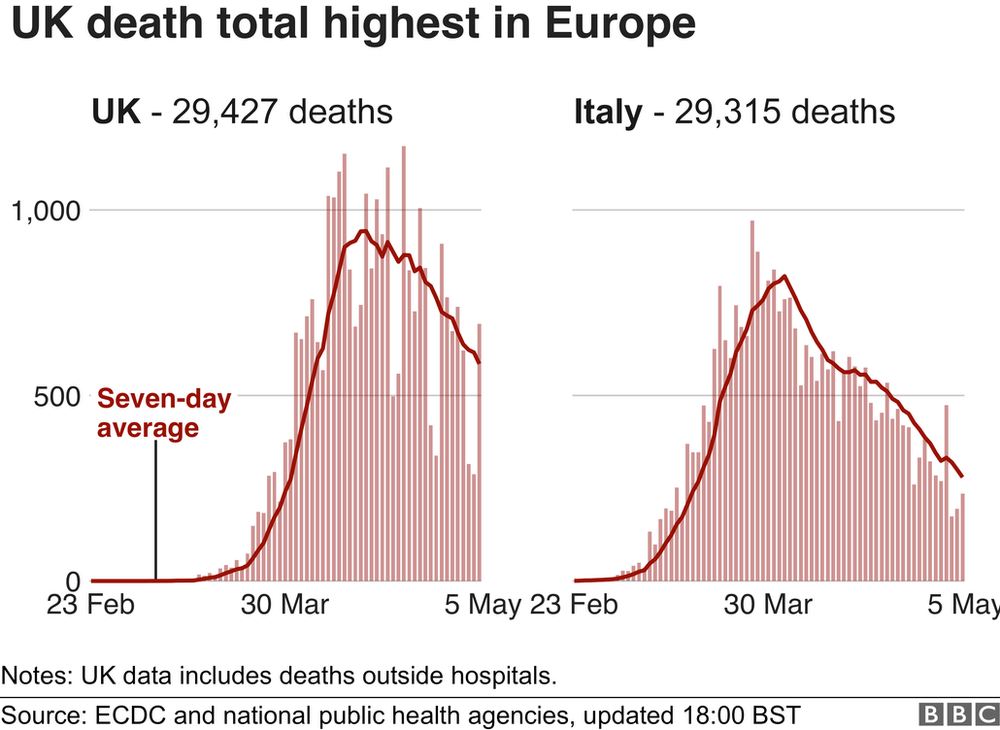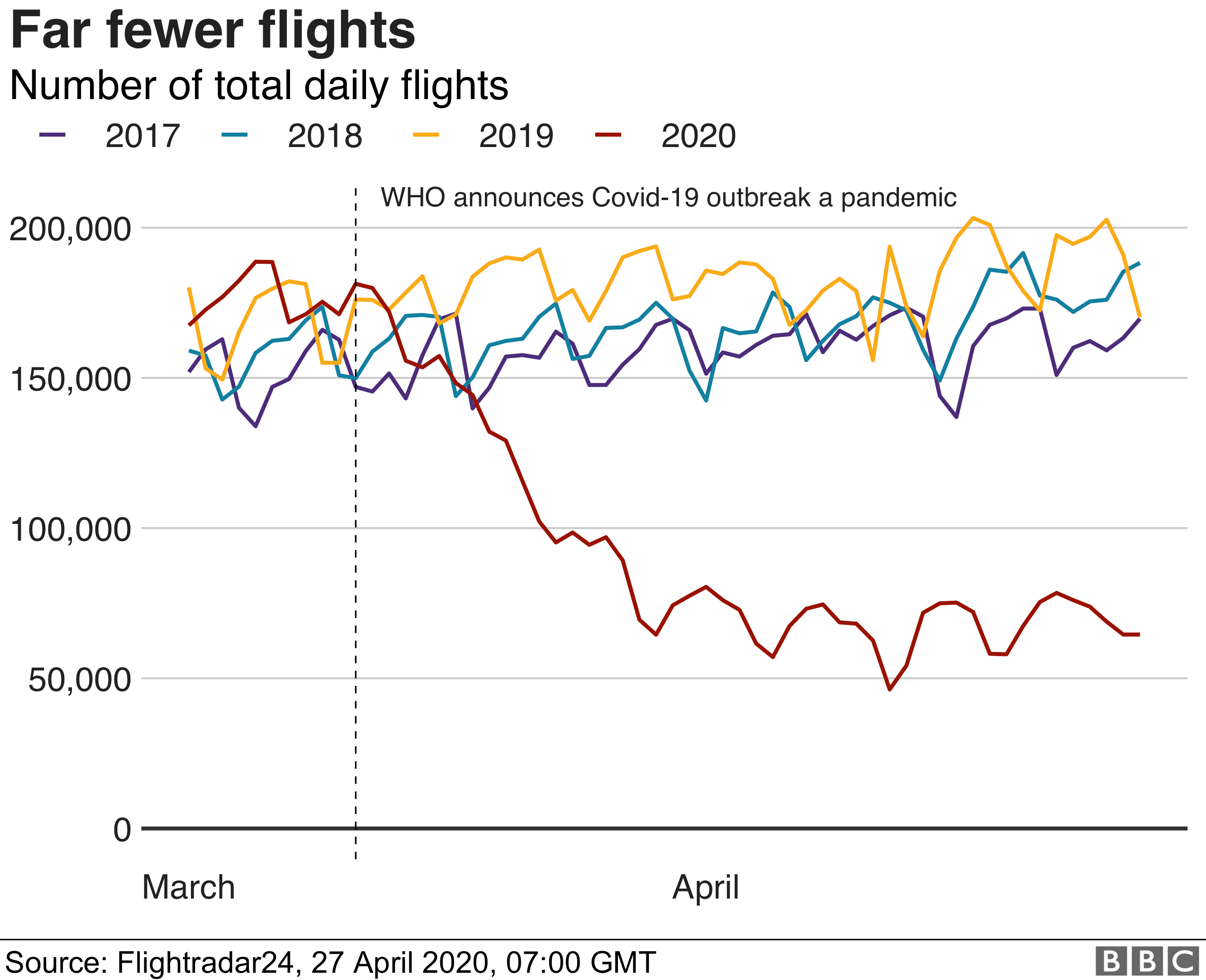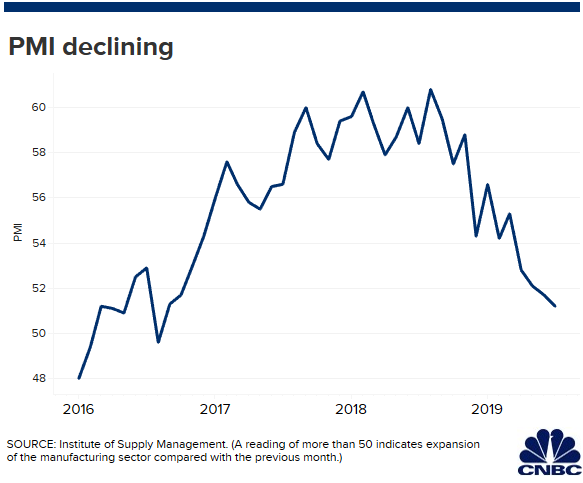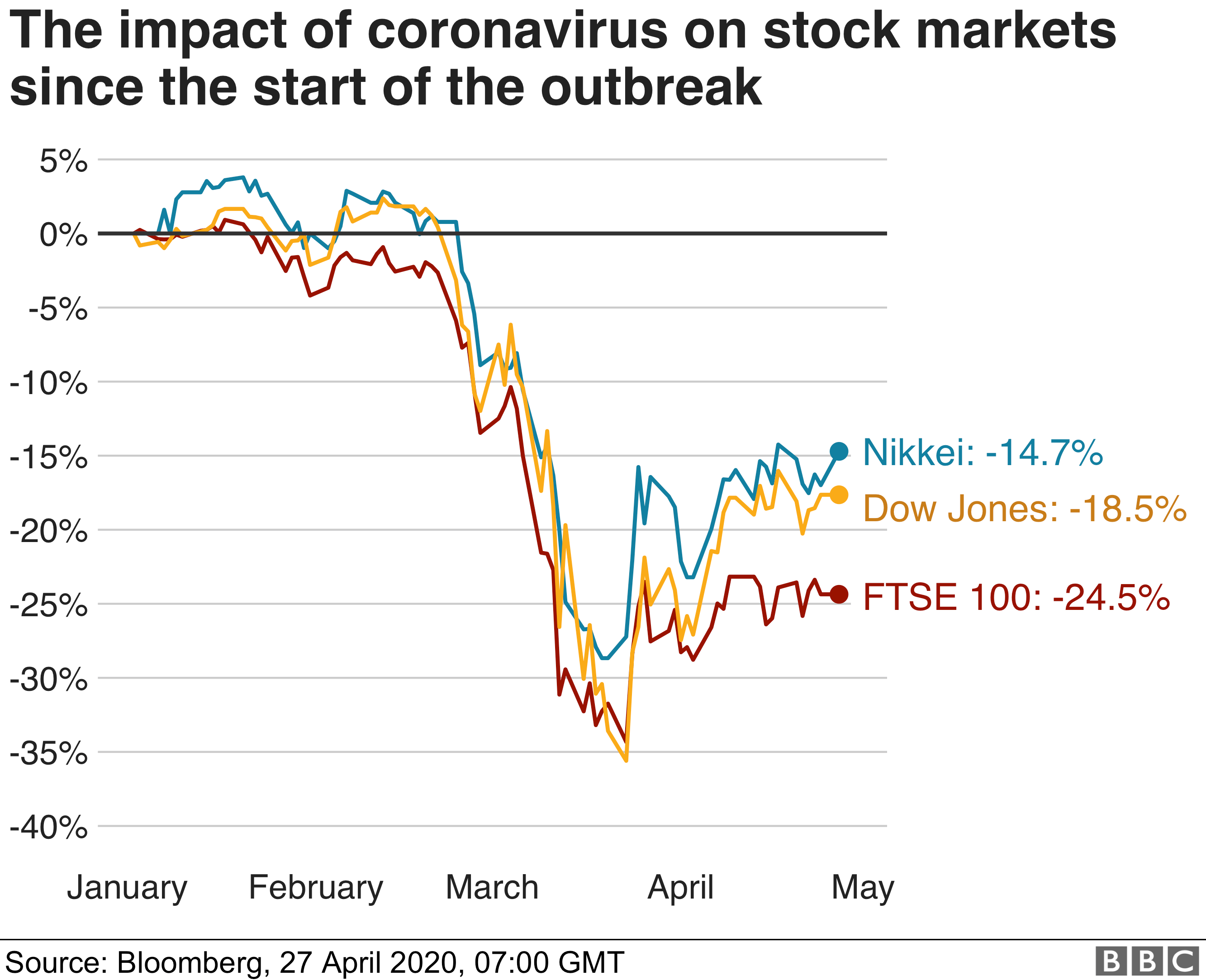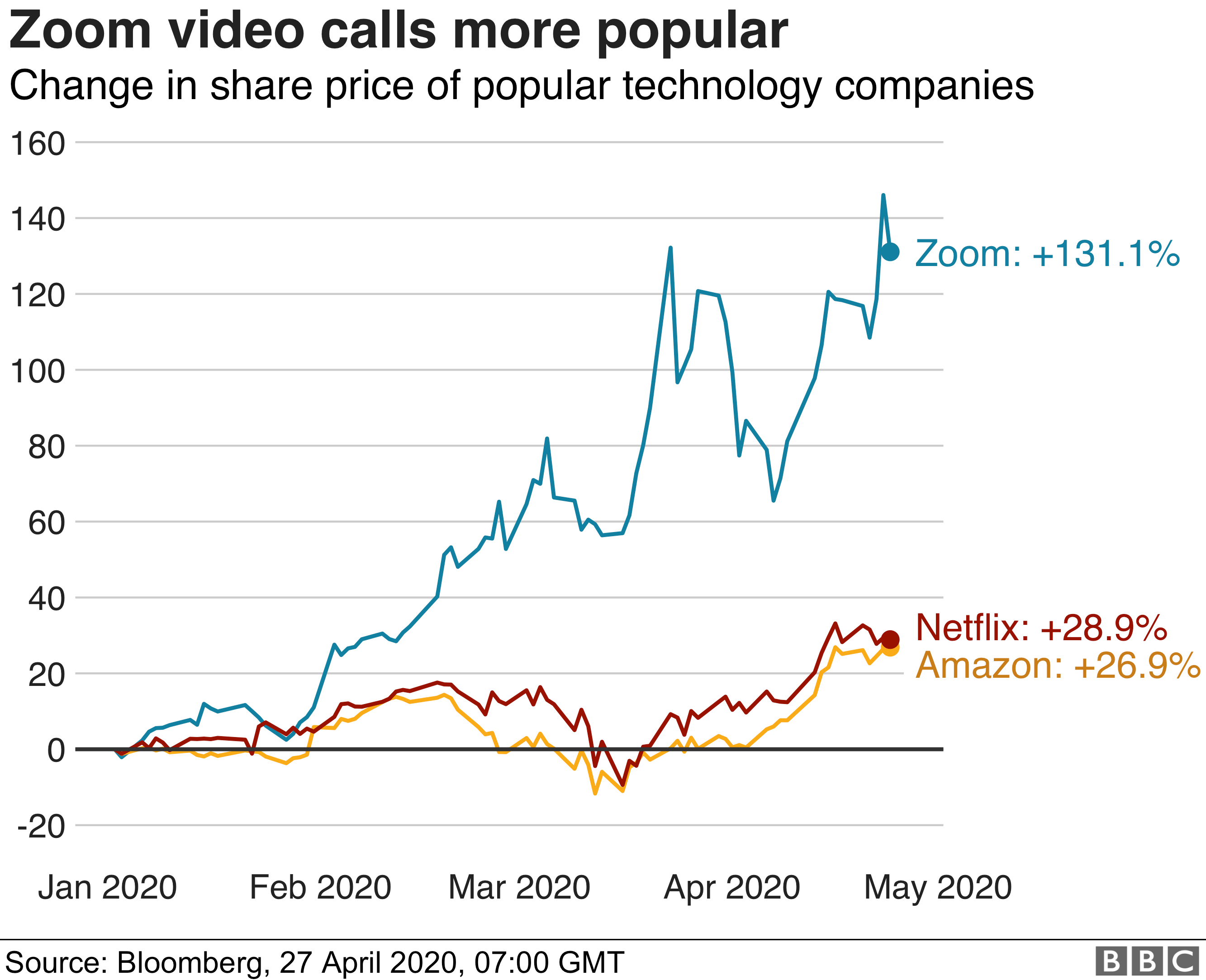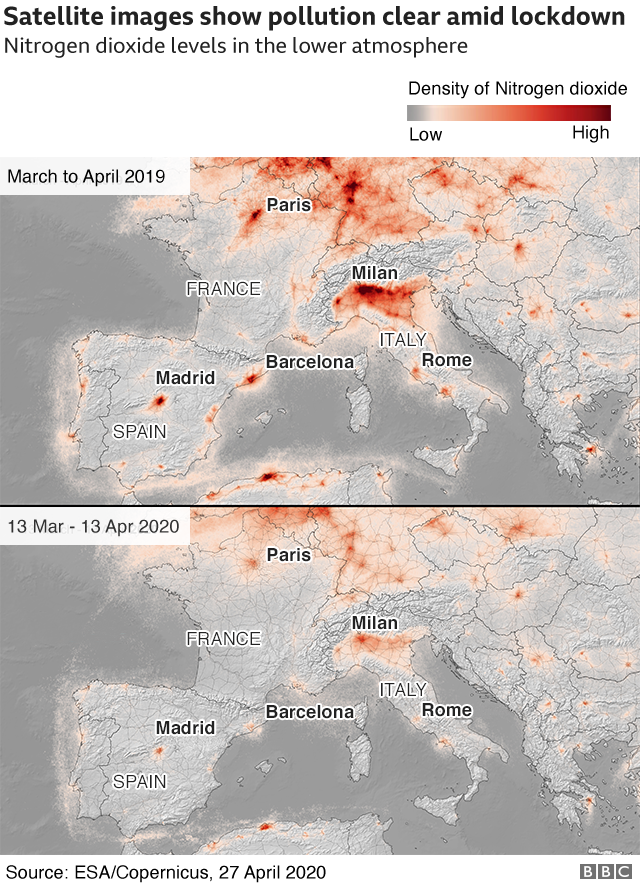 Sweden has tamed its R. This is contrary to some expectations. The Spectator printed the following two days ago.


The virus was shown to be spreading far faster in Sweden, said Imperial College, "not because the mortality trends are significantly different from any other country" but because "no full lockdown has been ordered so far". Nor was a full lockdown ever ordered. So what did this imply for Sweden? Imperial didn't translate the above graph into deaths, but when its assumptions were published others joined the dots. A Lund university academic warned that it meant 85,000 deaths for Sweden. An Uppsala team, feeding Imperial's parameters into its own study, agreed. The modelling envisaged Sweden paying a heavy price for its rejection of lockdown, with 40,000 Covid deaths by 1 May and almost 100,000 by June.

The latest figure for Sweden is 2,680 deaths, with daily deaths peaking a fortnight ago. The virus, it turns out, has been spreading at a fraction of the speed suggested.

As Johan Norberg wrote, Imperial's model "could only handle two scenarios: an enforced national lockdown or zero change in behaviour. It had no way of computing Swedes who decided to socially distance voluntarily. But we did." Anders Tegnell, Sweden's state epidemiologist, has seen his trust ratings soar. Some Swedes are even having his face tattooed on their arm. Sweden's Prime Minister has said he relies on

Folkvett

- people's wit, or common sense.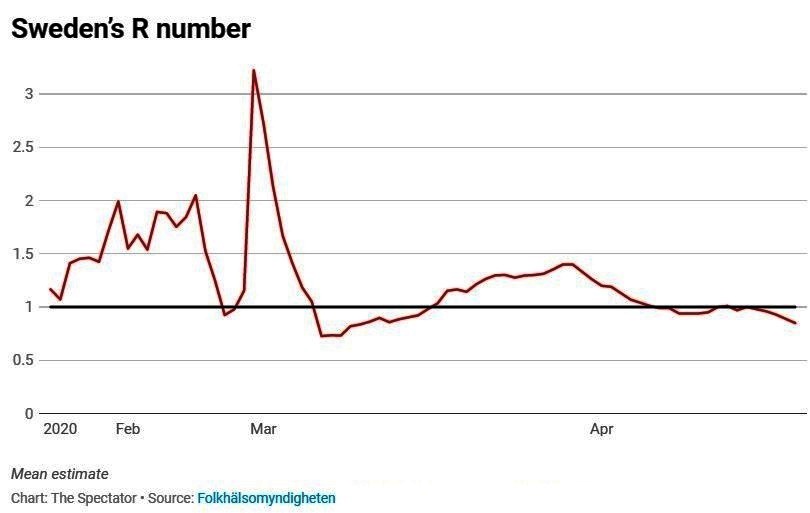 In contrast, it's the UK that hasn't got new cases under control, even with an un-Swedish lockdown. We are not ready to ease restrictions. You have to demonstrate R<1, convincingly, heading towards R=0.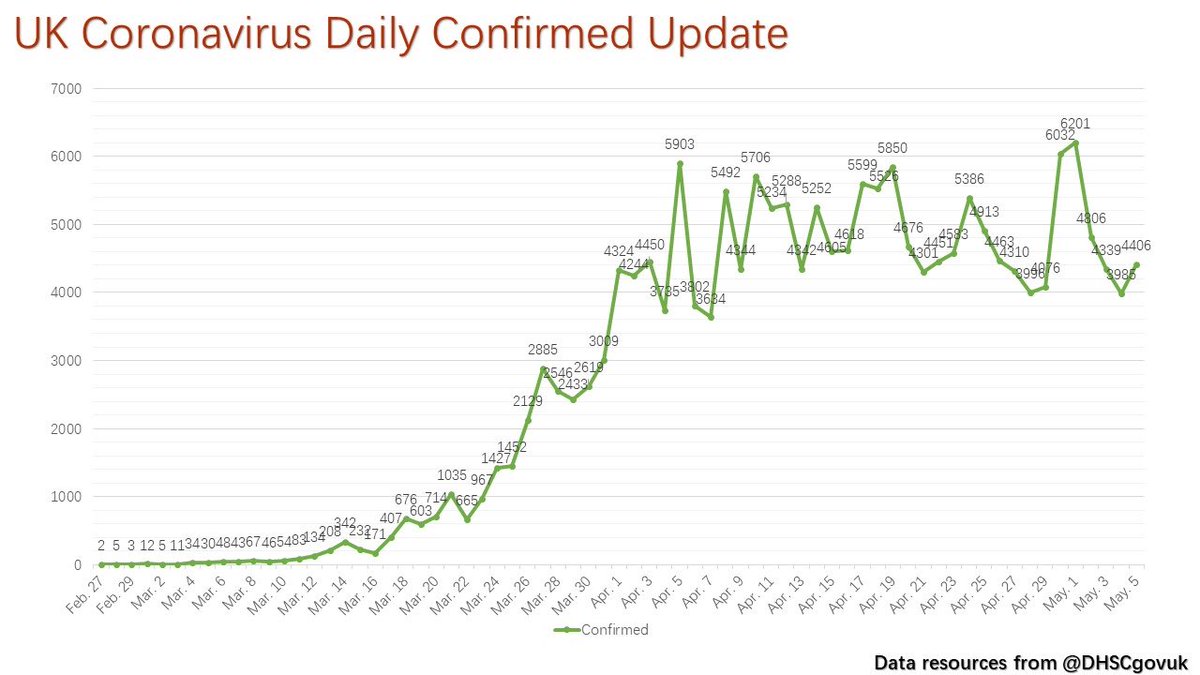 Tuesday 5th May


My old friend Mike Franklin has written of work and family pressures brought by the crisis. We were colleagues in Cirencester in the 1990s. He has a school photo reproduction business and lives in Garve north-west of Inverness.



"Not too much changed for me until a week ago. I already worked from home and still am. Our business is pretty much at a standstill; not a lot of school photography is going on right now. Our staff of four is all furloughed. My business partner has to do a little work, maybe half a day a week, enough that we're not allowed to furlough him. Even dormant like this I must still maintain the finances, bills and salaries must be paid and furlough money and loans applied for, and, of course, the need for new and modified software for the business is always there so I'm still pretty much working as normal.

"My biggest worry was my Mum who was effectively in solitary confinement. I was just too late by a few days in fetching her up here before the lockdown began. She lived in sheltered accommodation in Ludlow where she had her own flat. Since the lockdown she hadn't really dared to go out (she's 89) and all the other residents, naturally, were all staying in their own flats so almost no interaction at all between them. I had been ringing her to chat on almost a daily basis but it's not the same. Last Tuesday however her doctor rang me up concerned with her mental and physical well-being and suggested, if I was willing, that I should take her home to Scotland to stay with me. Finally, I had legitimate permission to go and fetch her which I duly did the next day. Bit of a marathon really as there was nowhere on route or in Ludlow where I could stop the night. I left home at 5am, picked my Mum up from Ludlow, turned around and started back. I arrived at 11:30 pm. A bit of a harsh 1000-mile drive in one day.

"Now I've still got to work and look after my Mum at the same time. I genuinely think she wouldn't have lasted more than another few weeks on her own down south. She was losing weight quite rapidly and getting very depressed."

Monday 4th May


Two things stick out today. First, R is the most popular letter in the alphabet. Second, the hunt for a vaccine is the most important and urgent scientific research project going on in the world. One is about control, the other is the cure, the two prongs of the battle against coronavirus.

The BBC headlined overnight on its website with Coronavirus R: Is this the crucial number? Imperial College has just published Report 13: Estimating the number of infections and the impact of non-pharmaceutical interventions on COVID-19 in 11 European countries, which is mostly about R. The report is intense (you can find it here if you want to have a go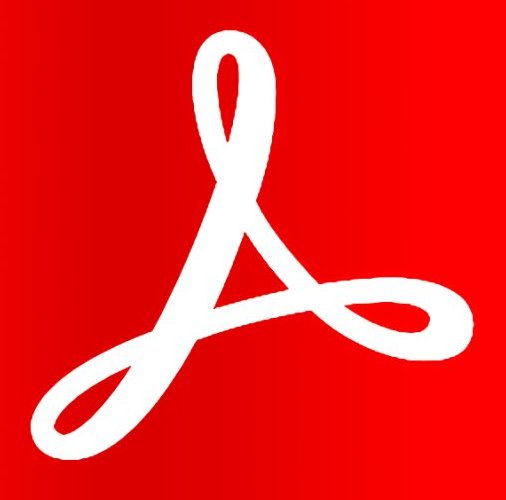 ), with more formulae per column-inch than most of us can ingest. For that reason, and as the BBC page tells this blog little new, I'll stick to a couple of graphs or charts that we haven't seen before.

Imperial College has a graphical representation of when the 11 countries introduced restrictions. The UK tends towards the right-hand side, lagging behind. Click to enlarge.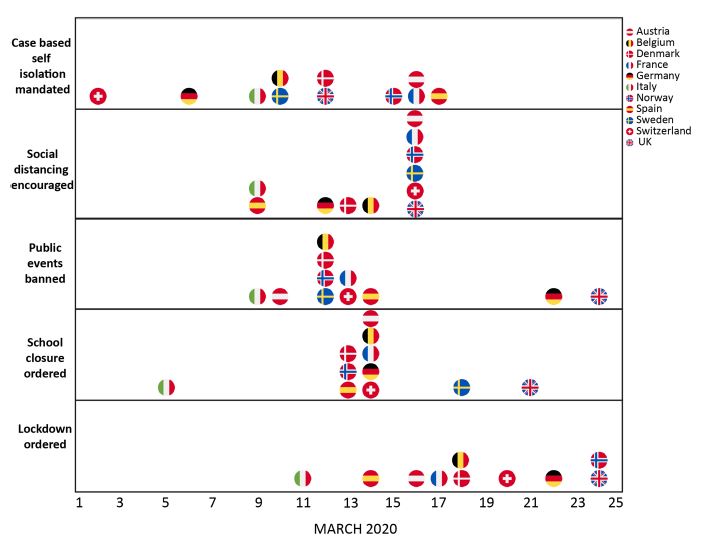 The BBC has a graph of how lockdown affected R; its source is Imperial. Click to enlarge.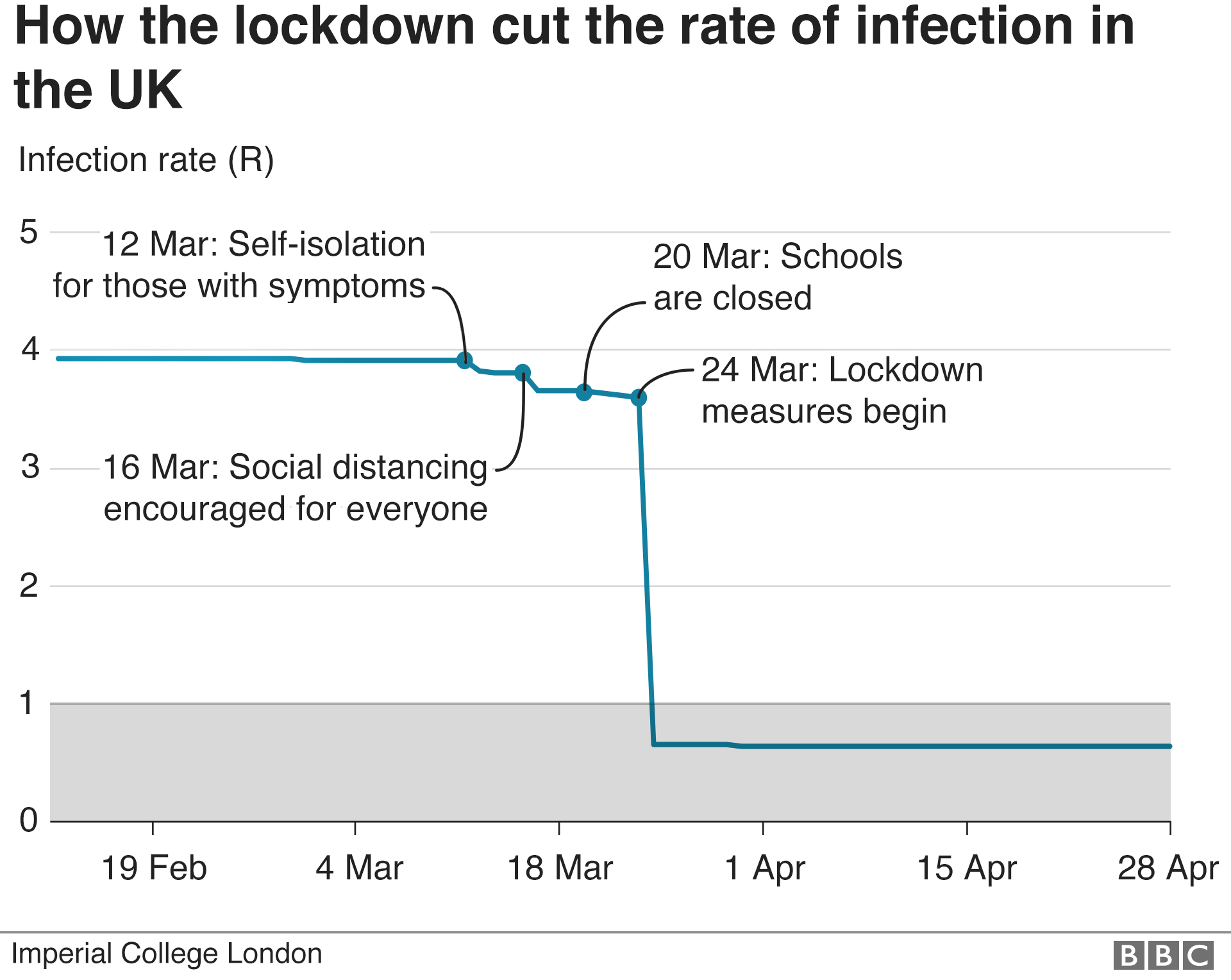 I think the above is an illustration rather than accurate. I can't believe that the fall in R and the effect of lockdown was that dramatic. One day it was 3.6, the next it's 0.7. The average for an infected person went from transmitting to nearly 4 others down to less than 1 overnight? But the graphic makes the point, the importance of R<1.

While we're still on R, congratulations to Jacinda Ardern and New Zealand :-)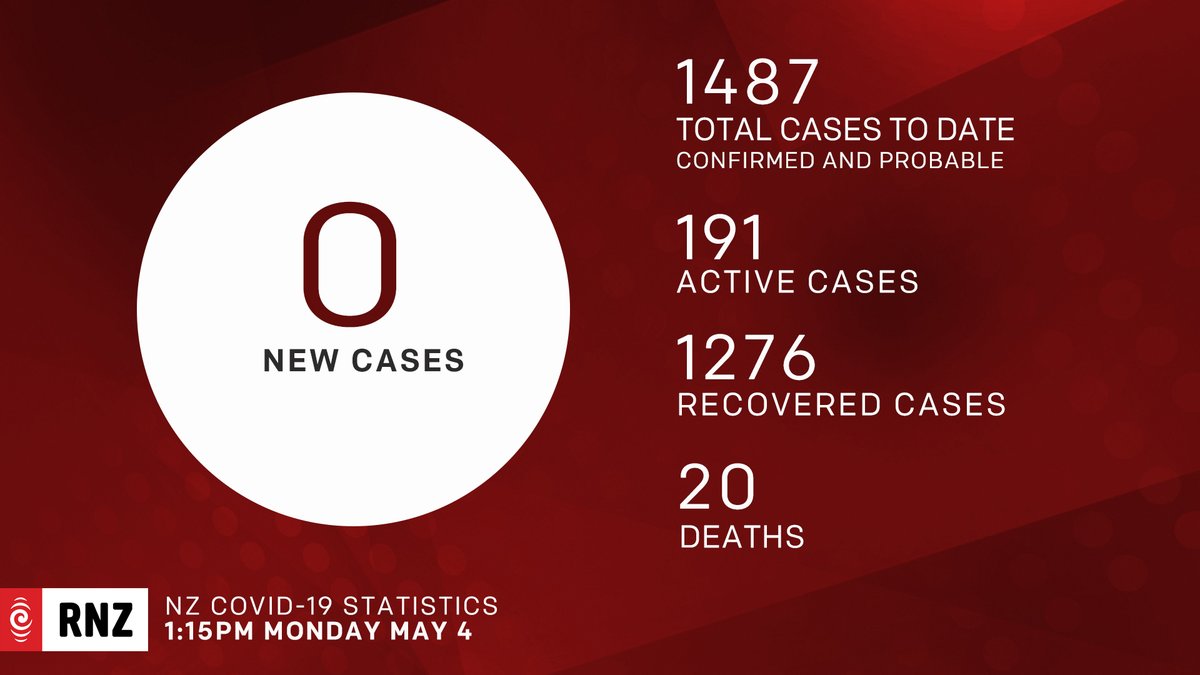 On 30th April Bill Gates published on his GatesNotes blog The vaccine race explained: what you need to know about the COVID-19 vaccine. I know, Gates again. He's taken a lot of flak. "Bill Gates, you're not a doctor, what right have you to talk about viruses?" Some go further, accusing him of being part of a malevolent elite seeking to subjugate and control the rest of us. I see him as a very bright and energetic man who, had he not been a successful software engineer and entrepreneur, might have chosen almost any career. His blog is well-written and informative. He covers the stages of vaccine development; how to accelerate the process; how the human immune system works; RNA and DNA vaccines; safety and efficacy; manufacturing. I've scraped the text into a PDF here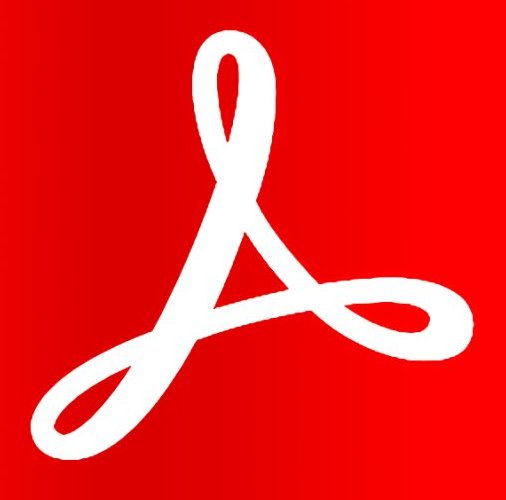 . Please don't set the lawyers on me, Bill.

One of the crucial issues given the urgency is how to shorten the development lifecycle. Here is his chart; click to enlarge.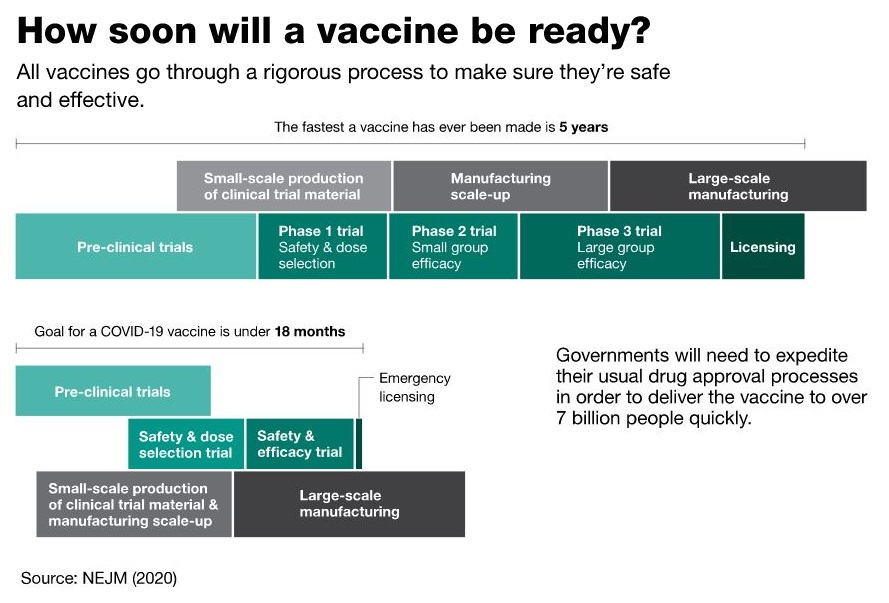 What is a vaccine? He gives a short video tutorial. Nice jumper, Bill.



Sunday 3rd May


I scrapped my plan overnight, although some of you may have seen it for a few hours yesterday evening. I had intended to look at the major ways in which we might change our world for the better. Far too grandiose, hardly the stuff of a modest blog, which would cease to be a daily commentary on the coronavirus. There are lessons and opportunities that the crisis has highlighted, but the switch to a magnum opus on profound change was a silly idea.

As if by chance, the BBC website published a page headlined How will coronavirus change the way we live? It's a start. Here are the main points it raised and my comments.
Dependence on technology. Internet infrastructure, video conferencing, social networks - all have been lifesavers and adoption will grow.
Will we stop buying new clothes? I'm not sure about this one. We may all have dressed down during isolation but I can't see people taking less of an interest in clothes. The already suffering High Street will however undergo more changes.
Rush hour confined to history? Probably not, but home-working and tele-commuting have worked. There's an opportunity for companies to cut costs - and achieve greater productivity?
Fewer flights and higher prices. The airline industry has taken a hammering and many players may not return. EasyJet has proposed keeping that middle seat in a row free and emptier planes will force prices up.
Fossil fuel frenzy or green recovery? We've seen pollution levels and oil prices fall dramatically. Will we see the release of pent-up demand or learn the green lessons?
Sport returns to normal? How long will social distancing remain an issue, on the terraces and in contact sports like rugby?
Cinemas and theatres. There's the question of social distancing here too. On-line delivery like NTLive's showing of

One Man Two Guvnors

will gain traction.
Will we still be neighbourly? All these good things have happened: helping others less fortunate, streets more friendly, applause for the NHS, respect for others' space. Will they carry on or will we lapse into more selfish ways?
The care sector will get more attention after the number of deaths in homes has been exposed.
Other more essential concerns have been missed in the above, and in some cases the questions are not deep enough. The crisis has highlighted inequality. Poor people have suffered more. The number of deaths among black people has been disproportionately higher. Fewer flights? What about a substantial shift to other forms of transport, with reduced prices to match the level of cheap airlines? Are we going to drift back to the "old normal" or take on the challenges of real change?

Boris clearly had a difficult time in hospital. Contingency plans were made for his death. "It was a tough old moment, I won't deny it," he told the Sun on Sunday. He acknowledged nurses Jenny and Luis a fortnight ago and has now given the name Nicholas to his son after the two Doctors Nick instrumental in his recovery. Will this experience of vulnerability alter his leadership? Will we see a greater understanding of and commitment to the less fortunate?

Saturday 2nd May


What are we going to do differently after coronavirus? It's demonstrated that change is possible. 80% of the world's commercial aeroplanes are parked up. CO2 emissions are way down, 40% in places. The Grand Canal in Venice has turned clear. Beyond the environment, has society changed? Has government learned any lessons?

We can start the day with a song, the Allstar Foo Fighters performing Times Like These as a fundraiser on the BBC Stay Home Live Lounge. It knocked Colonel Tom off the Number 1 spot.





It's times like these you learn to live again
It's times like these you give and give again
It's times like these you learn to love again
It's times like these time and time again


There's no doubt we have to do something. While Covid-19 has been a shock, climate change will finish us off altogether. Our generation has rather let it slip. The world's population has increased 2.8 times in my lifetime. In the UK, the number of miles travelled by car has grown 13-fold in the same period. We bought all the houses cheap.

Brian Robathan has sent me a poem by Beryl the Feral of Totnes:



My Grandma

My Grandma ate a mango every morning in her day

each one wrapped in a plastic pack that she'd just throw away

she had strawberries in winter and apples in the spring

she must have been quite special to deserve so many things




Grandma's house had many rooms but she resided all alone

and a hideout in the countryside made up a second home

she had energy to burn at the flick of any switch

if everything she says is true she must have been quite rich




The garden of my Grandma was the prettiest you've seen

she never grew a single grain or vegetable or bean

she never had to work the land and get her clothes all mucky

she never had to lift a hand; how could she be so lucky?




Grandma had her very own car to go just where she liked

she didn't have to walk so far or take the bus or bike

she didn't need her neighbours, she knew city folk instead

I hope that she was grateful for the amazing life she led




Gran would get on aeroplanes if she fancied taking flights

She'd disappear once every year for maybe just a fortnight

She must have been contented when her life was so carefree

I like to hear her stories and pretend that it was me


Right, that's enough mea culpa. What's to be done? Sadly, I'm not sure I have the imagin-eering ability to answer this, but I may have a plan ...

Friday 1st May


R is now in the UK mainstream. The transmission rate. Yesterday, Boris Johnson said "driving down the R" is the country's "collective endeavour". There have been mentions in this blog already which acknowledge its use by Tomas Pueyo (25th March) and Angela Merkel (17th April). An exponential function is at the heart of every nation's battle. Not only that, but mathematical modelling overall. We now know that R<1 - and substantially less - is the target to enable us to beat the virus, or control its spread while vaccines are unavailable. If one person infects less than one other person the number of new cases will decline. If R>1, the number will grow, exponentially. That's why the cases and deaths have increased so frighteningly fast. Yet it's not a new idea. George MacDonald introduced the concept into the epidemiology literature from the 1950s, first as director of the Ross Institute and later as president of the Royal Society of Tropical Medicine and Hygiene. In 1993, Klaus Dietz of the University of Tuebingen Faculty of Medicine published a paper titled The Estimation of the Basic Reproduction Number for Infectious Diseases. Here is an abstract of the paper.


The basic reproduction number R0 is the number of secondary cases which one case would produce in a completely susceptible population. It depends on the duration of the infectious period, the probability of infecting a susceptible individual during one contact, and the number of new susceptible individuals contacted per unit of time. Therefore R0 may vary considerably for different infectious diseases but also for the same disease in different populations. The key threshold result of epidemic theory associates the outbreaks of epidemics and the persistence of endemic levels with basic reproduction numbers greater than one. Because the magnitude of R0 allows one to determine the amount of effort which is necessary either to prevent an epidemic or to eliminate an infection from a population, it is crucial to estimate R0 for a given disease in a particular population. The present paper gives a survey about the various estimation methods available.


Dietz wrote that 27 years ago. The question screaming at me is this: why did it take until April 30th 2020 to hear the concept expressed by a member of the UK government? Apart from anything else I find the idea of R very useful in understanding why self-isolation and social distancing really matter. It's a focus for doing the right thing, acting responsibly. What you do as an individual has a consequence for others. Without respect for R, it all goes badly wrong. Successful control has been the reward for those who have grasped its importance.

Thursday 30th April


My friend Angela Ayton has written from Ealing.

"These are strange and unsettling times indeed - 'though I find myself slightly less disturbed that I might have expected. There's even part of me that is quite intrigued to be part of what is clearly a major global disturbance, and yet to be able to observe and carry on with some sort of normality. And I am of course relieved that my children though far flung seem reasonably safe. Today was grand-daughter Alice's 9th birthday in Kathmandu and we had a video call and admired her presents and the cake. We speak to them and to Emily and her lot in Leeds very regularly.




"So what's it like for us? Well pretty quiet. We have no visitors and we only go out as far as the local parks. We have become much more observant, watching the trees blossom and leaf (if that's what you call it - nature never much my thing before). Occasionally we have little conversations with people about the ducklings or the trees, now and then we see someone we know (saw Cee Roberts last week and had long conversation with her) - though all obviously at a distance. And at 8pm on Thursday evenings we come out and wave at everyone in our street.




"Phones and electronic links have become much more important. Generally one or two calls a day, catching up with more distant family and friends. Most seem to be managing pretty well, though one old friend whose husband has Alzheimer's is clearly struggling, and my brother whose wife died last year is finding it all very hard. He has a dog to take for daily walks and a large family who keep in close contact. I suppose it makes you realise how important all these relationships are. We are also part of WhatsApp groups for the two orchestras we play in and we have chats with them too. We even recorded the parts of one of our pieces to a click track, and someone's son has promised to put it together for us. Obviously the concerts we were preparing for have been cancelled - or at least postponed indefinitely.




"We read a lot. Mike's just finished the new Hilary Mantel and I'm reading the Philip Pullman. We watch films on TV, and because I'm a member of BFI we have access to some of their archive so we have a pretty wide choice. We've been watching the National Theatre productions too which have been excellent. I also read the papers - the good old Guardian of course. It makes me angry and depressed. Even when we get over this current crisis - which we will, although how much it will continue to affect us I'm not sure - we will still have Brexit to deal with. And though I know the EU is far from perfect, our reasons for leaving and the alternatives that we are presented fill me with nothing but gloom.




"So that's roughly where we are. Do keep in touch. Maybe one day we'll even manage to meet again!"


There's lots here that I'm sure resonates with us all. Pretty quiet, no visitors, children distant, the saving telecoms, reading, feeling less disturbed than expected, virtual music, Brexit still to come.

Captain Tom's 100th birthday. Lovely old chap, and well done to him for raising so much money. But 70,000 birthday cards, a colonel title, honorary England cricketer, a Number 1 single and a fly-past? This outpouring is so British.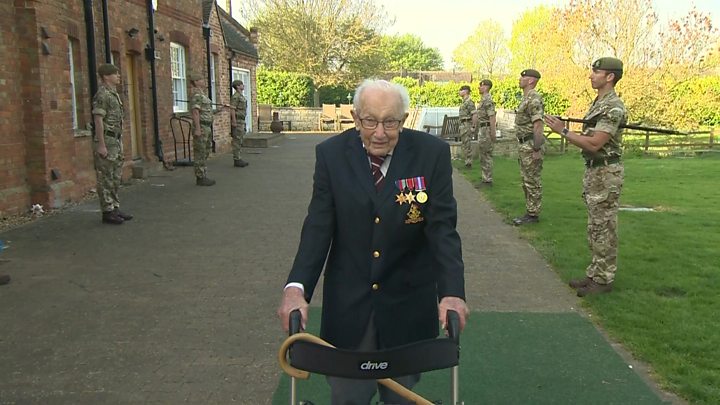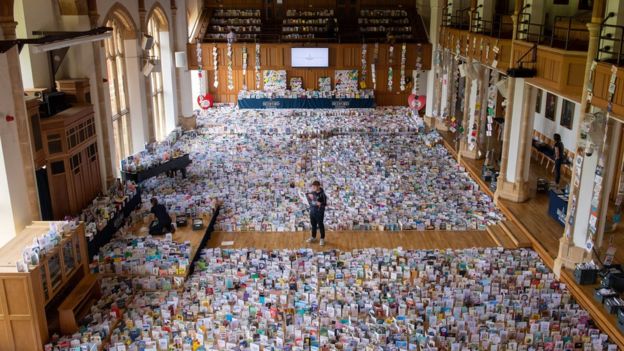 Graham Gibbs writes of an American politician showing great sense in these disinfectant days:

"While browsing the New York Times I came across a presidential candidate that should have Trump quaking in his boots, standing on a platform of legalising pineapple pizza. It's good to know that the Libertarian Party have their eyes on the ball, even if I could not support their culinary preferences."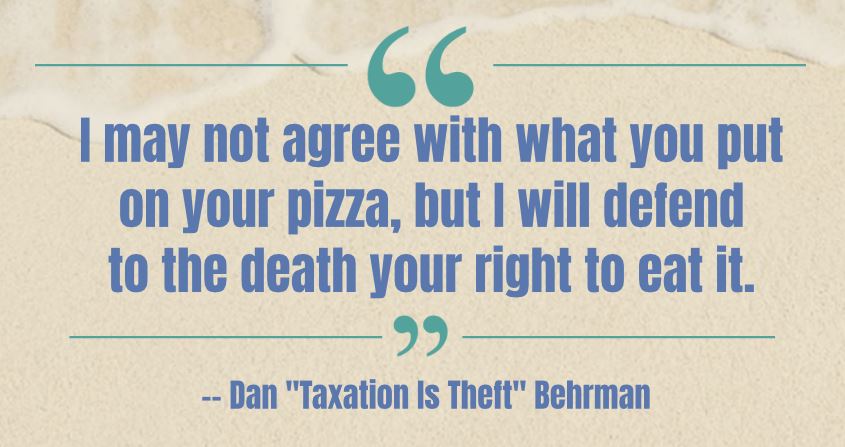 Who has to answer for Donald Trump being where he is today? All those misguided voters? Putin? No, I and many others lay the blame at the feet of Barack Obama. At the 2011 annual White House Correspondents' Association dinner, Obama mercilessly made fun of and humiliated Trump, who was there in the audience. His reaction tells a story. The New York Times reported, "That evening of public abasement, rather than sending Mr. Trump away, accelerated his ferocious efforts to gain stature in the political world." He must have been thinking, as the laughter rang out around him, "I'll show them all. I'm gonna be President."



Wednesday 29th April


More on country performance. I'm astonished by Vietnam: population 97,338,579, cases 270, recovered 222, deaths 0. Yes, ZERO. The USA in contrast: population 331,002,651, cases 1,035,765 (32.89% of world cases), recovered 142,238, deaths 59,266. Cases that have recovered: Vietnam 82.22% (will be 100% if they maintain the 0 death rate), USA 13.73%. Vietnam has reported no new cases for 12 days. Ironically, more Americans have died from Covid-19-related illness than the 58,220 Americans who died over two decades in the Vietnam war.

It's the State Control v. Personal Freedom debate again. Seen as an uneven football contest, the score is SC 15 - PF 0. The Vietnamese state acted early, tested, imposed fierce mass quarantines, used contact tracing. The people obey. The Michigan protests would have been unthinkable. Look at the two queues below, one for testing, the other for free rice.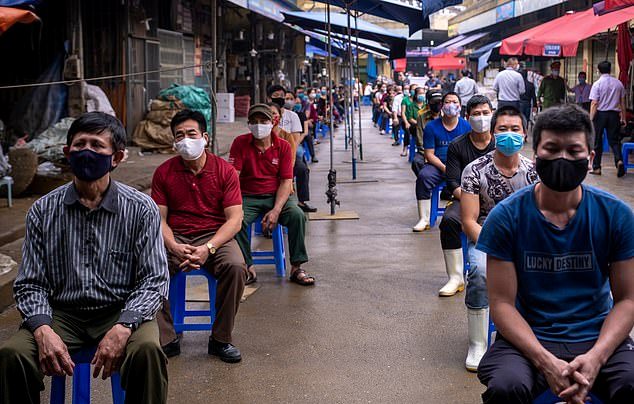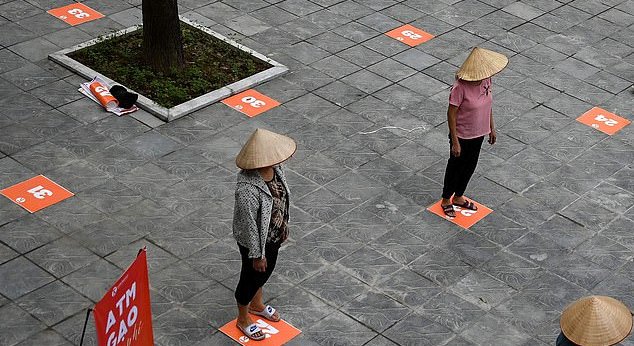 Such submission to authority does not sit well on American shoulders. But some discipline is acceptable, right? Or even common sense. Why does vice-president Mike Pence think it's OK to flout hospital rules and shun a mask. A bit of elbow-banging, but no social distancing either.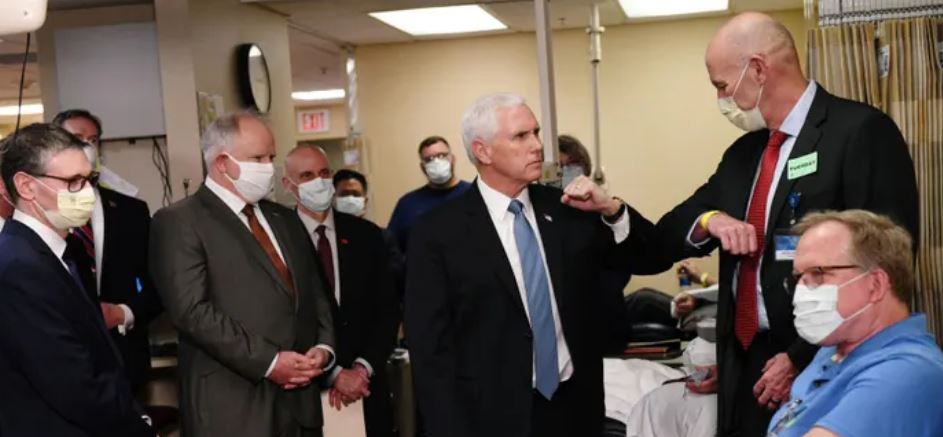 Boris Johnson seems to find any way to get out of PMQs. First he carelessly contracted Covid-19. Now he and Carrie have had a baby boy. What next? There's a job to be done, Boris.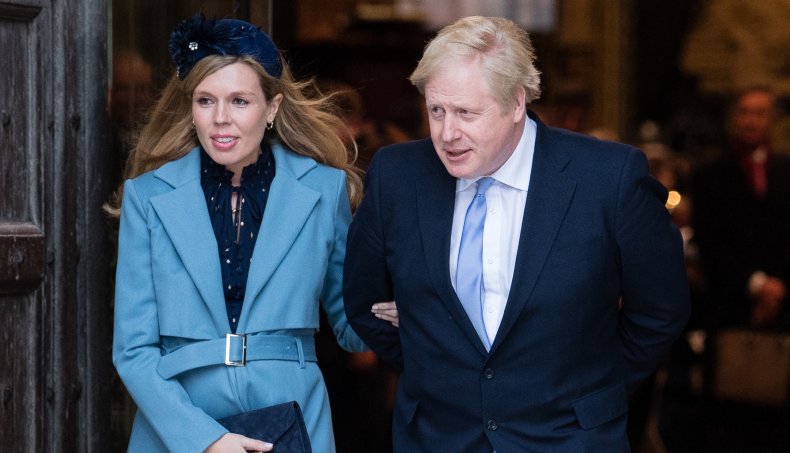 Tuesday 28th April
New Zealand is out of the woods of its first outbreak, with transmission rate R under 0.4. They've won the battle against "community transmission", now taking care to hunt down and eliminate every last occurrence of the virus. Deaths stand at 19 on a population of 4,822,233. The USA has suffered 56,521 fatalities on a population of 331,002,651. If the USA had experienced the same death/population ratio as New Zealand, they would have lost 1,304. Proportionally, the number of US deaths is 42 times higher than that of New Zealand.

Jacinda Ardern's measures of "we go hard, we go early" have paid off. Barack Obama tweeted last Saturday, "In moments of crisis, we look out for one other. And we need leaders with empathy who will bring people together rather than drive them apart." Ardern has been human and understanding with her nation, but also clear, tough and decisive. In contrast, Trump bangs around his cage. He refuses to take any responsibility for the spike in health service calls about disinfectant. As always, he seeks to deflect blame. He's now accusing China of failure to deal with the virus at source, so becoming answerable for all the deaths worldwide.

The guarded but still welcome evidence that the UK has passed through the peak of the deaths-per-day curve has sadly been offset by news from care homes. Government official reports have focussed on coronavirus mortality in hospitals, significantly under-representing the overall death toll. Indeed, hospitals and the NHS have been at the centre of energy and action, understandably so, but at the expense of care homes.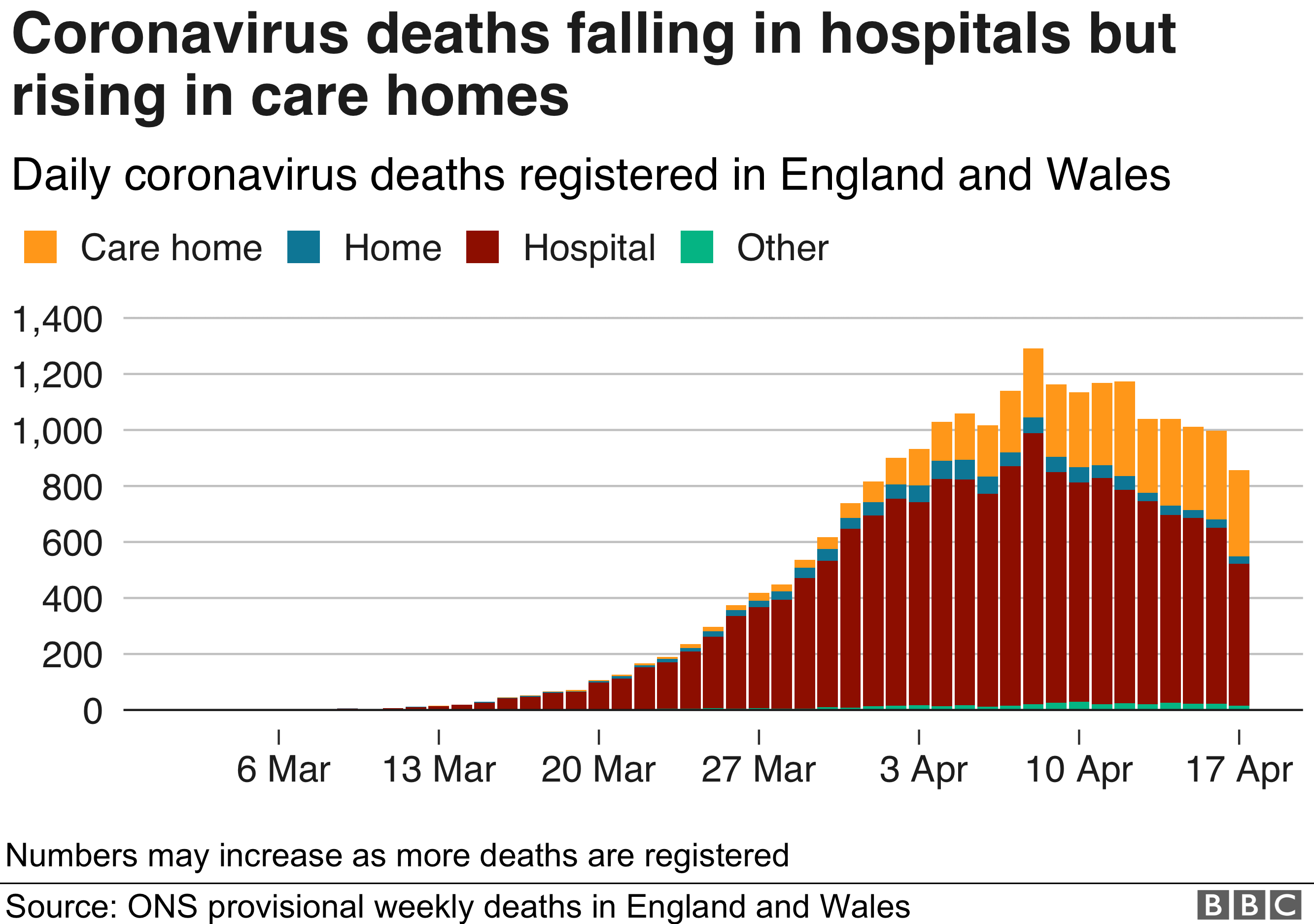 Good grief, we need something lighter. Here's a video from Trump's disinfectant briefing. Do you remember he kept looking to his right for acknowledgement? Apologies for the bad language.



Monday 27th April


The success of Taiwan and South Korea in minimising the virus impact is all about trade-off, the balance of state control v. individual liberty. How many deaths have there been in Trump's libertarian USA (population 331,002,651)? 55,415. In state-controlled Taiwan (population 23,816,775)? 6. Yes, SIX. I can't quite believe it. That's even with Taiwan having a population density 18 times that of the USA. If the USA had achieved the same death/population ratio they would only have suffered 83 deaths. Have I really got that right? It would seem that in the coronavirus crisis the only liberty claimed in the USA is the right to die.

It looks like the UK has passed the peak of the new-death curve.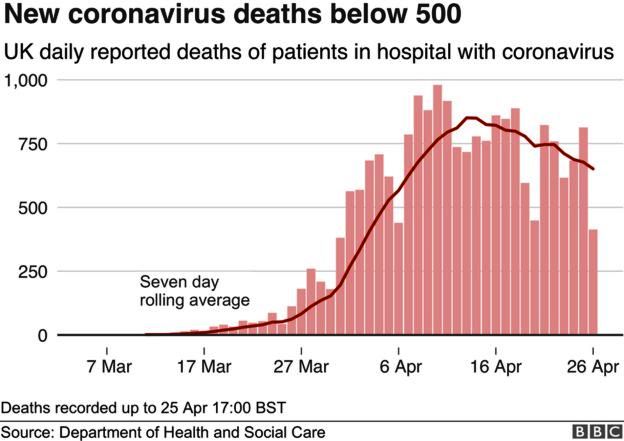 We enter a different phase and consider the release of lockdown. Not too fast or we risk a second spike or wave, as seen in Japan and Singapore. We retain some measures and even extend their application. Yes, it's time for masks. They have received a mixed press but now the weight of opinion is behind their adoption. I don't like them. They anonymise people. They're a reminder that these times are abnormal. But I guess I'll have to accept them. Over 25% of countries have now mandated their use.

Tomas Pueyo (you must know him by now, the amount I bang on about him) is a big fan and has written about them exhaustively in the second part of Coronavirus: Learning How to Dance, namely Coronavirus: The Basic Dance Steps Everybody Can Follow, published on 23rd April

. He has a summary of why they are a must:

The coronavirus can spread not just through coughs within 2 meters, but even through singing or talking, and maybe much farther than 2 meters
Most people are infectious before they even know they're sick
Wearing masks prevents sick people from infecting others by keeping their droplets inside the mask
They protect healthy people from being infected
You can have 100% of your population wear house-made masks within a matter of a few days
If a majority of people wear house-made masks that are reasonably effective, that measure alone could stop the epidemic
It's one of the cheapest things any country - or person - can do
Given the cost (nothing) and the benefit (huge), mandating them is a no-brainer.
Being Pueyo he naturally has a colourful graph. Click (and rotate?) to enlarge.




If you can't buy masks, he recommends making them yourself. Their quality and therefore effectiveness depend on four factors: material, density, number of layers, combination of layers. His top 5 fabrics are: surgical-mask-type, vacuum cleaner bag, tea towel, cotton mix and antimicrobial pillowcase :-)

He posts a short tutorial:



Sunday 26th April


Tomas Pueyo, author of The Hammer and the Dance (see 25th March) has been busy again, this time with Coronavirus: Learning How to Dance, a series of articles about the later phases of coronavirus action. Today's post draws from Part 1: A Dancing Masterclass, or What We Can Learn from Countries Around the World, published on April 20th



Here is a neat "where we are now" summary. Click (and rotate?) to enlarge.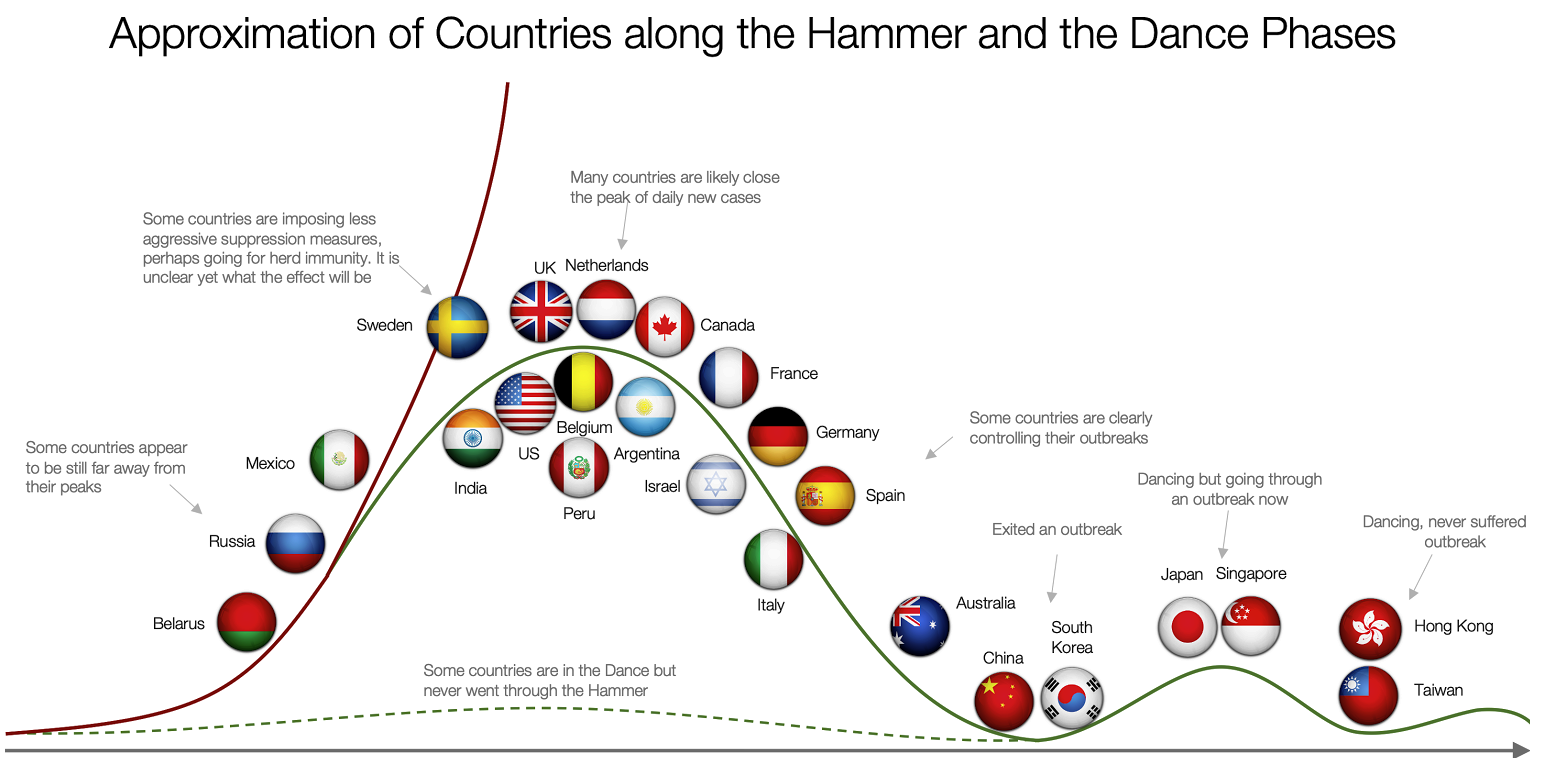 Tomas shines a light on South Korea and Taiwan and asks why they have been successful. First, preparation: "Taiwan's level of preparedness was jaw-dropping. This is a list of measures they took BEFORE Wuhan even shut down":

Early and strict travel bans, updated every day.
They centralised the management of mask production, starting at 2.4 million per day (twice their need of 1.3 million at the time).
They set the price to avoid profiteering, initially at USD $0.50 per mask.
The penalty for price gouging for masks and other key items became 1-7 years in jail and a fine up to USD $167,000.
The spread of fake news could be fined with USD $100,000.
Proactive detection of cases. They tested all people who had previously had flu symptoms but tested negative for flu, finding some coronavirus patients.
The second factor was surveillance, enabled by a widespread interconnected technological infrastructure and exploited by a matching political will. In South Korea, Doctor Ki Moran, professor at the National Cancer Centre's Graduate School of Cancer Science and Policy, said, "We had laws revised to prioritize social security over individual privacy at times of infectious disease crises." Pueyo states:


The South Korean government has access to mobile phone data

[Ed: There are approximately 860,000 4G and 5G transceivers densely covering the whole country]

, credit card data, and CCTV data

[Ed: In 2014, South Korean cities had over 8 million CCTV cameras, or one camera per 6.3 people]

during epidemics. With that information, they know where people go. They then release that information publicly (stripped of personal identifiers) so that other people can figure out if they might have crossed paths with an infected person. They detail hour-by-hour, sometimes minute-by-minute, timelines of infected people's travel - which buses they took, when and where they got on and off, even whether they were wearing masks.


Pueyo quotes a visitor to Taiwan, Jonathan Chen, in conversation with the authorities. You can see Chen's full March 20th post on Facebook here

.


8:30am the next day, I was woken up by an early morning call. It was from the local government council to confirm where I am, that I am who I am, and check my travel history and current health issues and symptoms.




14:30 Afternoon, another random call came from local council checking with me. "Standard random checking Mr. Chen. A local officer will do an initial home visit to your place at 15:00. You feel well?"




"I'm fine. So you do random calls to ensure we stay home?" I asked.




"Yes, we do, 2-3 times per day. Please do not leave your address and take necessary precautions to protect your family. If you leave home, I am afraid the police will be on their way soon."




"But how do you know people leave home? I was not GPS-tracked as I did not receive any tracking mobile phone device to carry at the airport?"




"No. The mobile phone only will be given if you do not have one. Since you've got your own phone, please make sure you have it on at all time for the next 14 days. If you lose your signal, please contact us by other means immediately otherwise it might trigger police attendance at your door step".




"You mean I am tracked already?"




"Yes, you gave us your number and that was enough."




A message was received later at 20:30, asking me to report back to an after-hours number. I rang back and asked why as I had not breached any rule.




"You might have lost signal temporarily or did not make any movement for an extended period of time, so the system thought you might have left your phone at home and we cannot risk you going out", the after-hours service officer told me. Their system can detect you're idle if you don't move as much as expected.

Saturday 25th April


I've been thinking for some days that I really don't know much about viruses. Brian Robathan, 50 years a friend, must have thought the same because he's done some research. He has sent me the resulting document titled A report from our Bristol correspondent. It's 4 pages long, too much to post inline, so I've put the full PDF here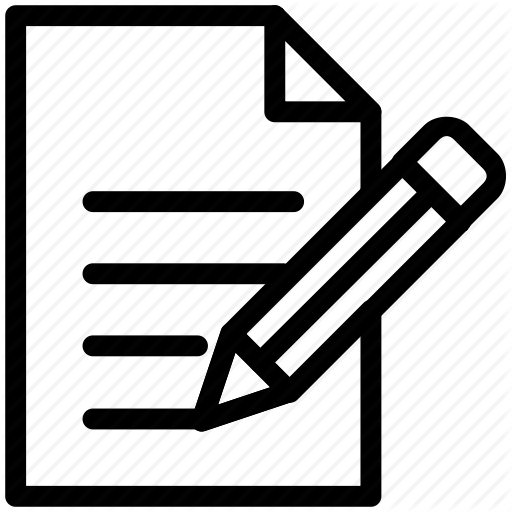 . Enjoy. I find it very useful and informative.

If you're still planning to drink some disinfectant, look at this:




There are many Americans who follow Trump with a blind passion. Imagine if they actually decided to take his advice.

Friday 24th April


[Irony of ironies. I've heard that some of you may have been warned about this site carrying a virus. I'm sorry if that's so. It's highly unlikely. The site is written in raw HTML apart from the tiniest bit of Javascript. It only contains plain text, images and video processed and saved here at my desk, links to reputable sites. However, I've taken it up with the site hosting provider, McAfee and TalkTalk. The first indicated that some BBC components - and the BBC provided the link code - were dodgy, so I've removed them. Google Chrome reported problems yesterday but doesn't now. I believe there is little risk should you click on through to the site, but you need to stay safe digitally too, so I understand if you're cautious. I'll keep you posted. Update 20:30 - working OK now with Chrome, Edge, Firefox, DuckDuckGo]

Perhaps I should pour disinfectant on the computer. The ideas and recommendations from the USA today stretch my gullibility. You mean I only have to reach under the kitchen sink for the cure?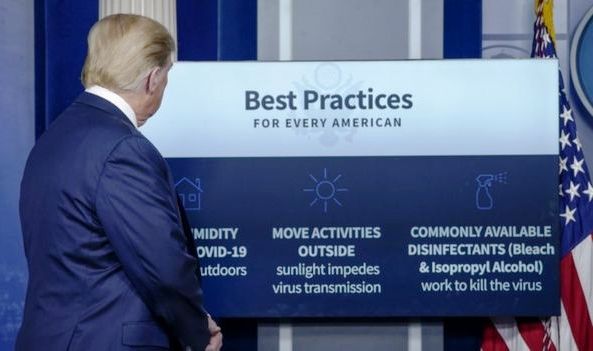 Marianne Faithfull was discharged from hospital yesterday 22 days after being admitted with coronavirus symptoms. Phew, that sounds a tough stint. She's a fighter. Underlying health problems? You name it: fags, booze, heroin, pneumonia, arthritis, hip injury, breast cancer, hepatitis C. She's 73. A beacon for the old and vulnerable high-riskers.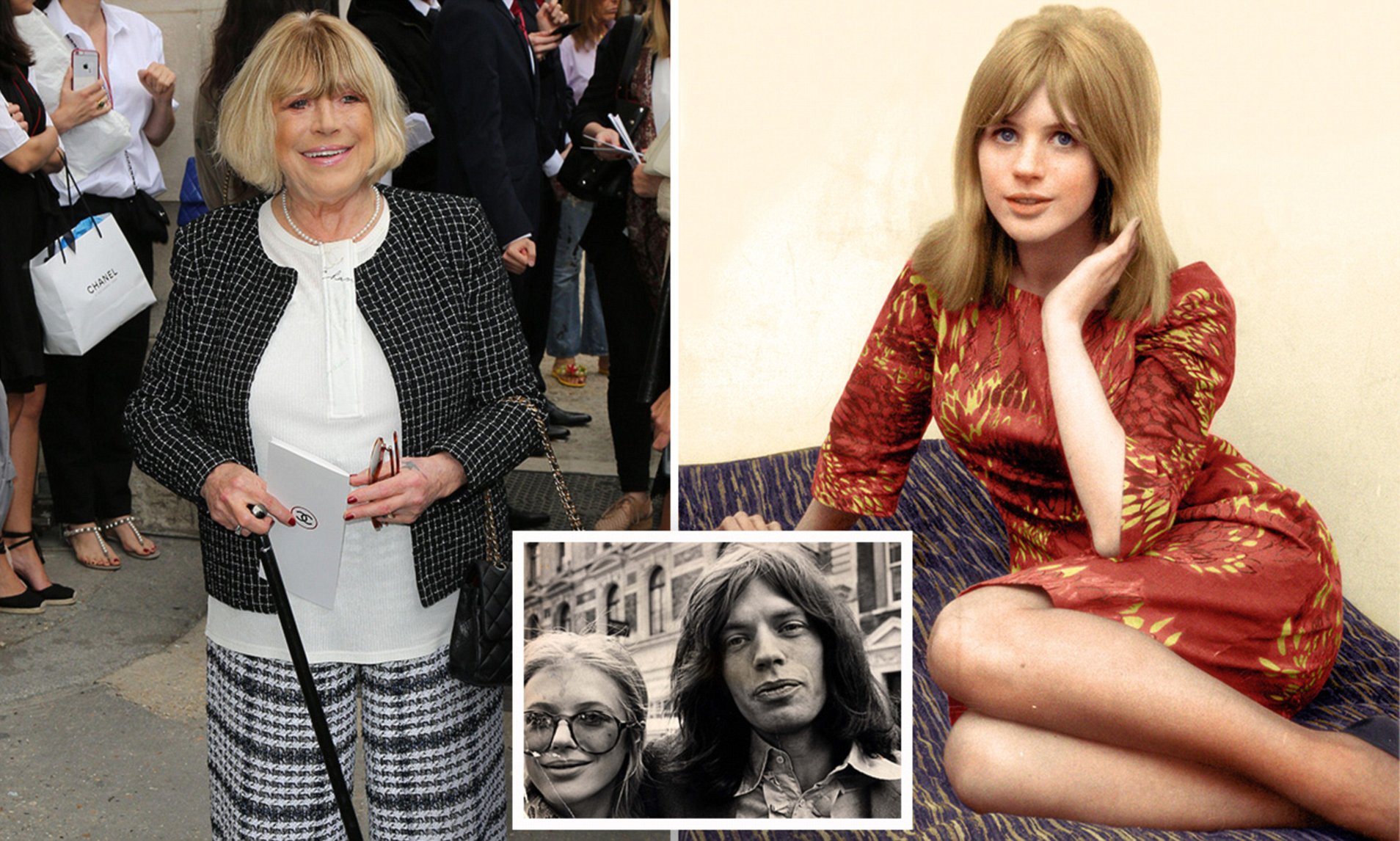 First new song from the Rolling Stones in eight years, Living In A Ghost Town. Geddit?



Thursday 23rd April


Keir Starmer had his first stab at PMQs in a socially distanced House of Commons yesterday. He couldn't have a go at Boris, of course, so had to make do with Dominic Raab.




Round 1 to Starmer on testing, I reckon.

The uncertainty of coronavirus time was evident yesterday. It's elastic. There was the good news of vaccine virus trials starting. Then chief medical adviser Professor Chris Whitty warned that the chance of having those vaccines within the next calendar year was "incredibly small". Trump wants to open up the USA now and countries in Europe like Denmark are relaxing lockdown. Then Whitty says social restrictions will remain for rest of year. "This disease is not going to be eradicated, it is not going to disappear", he said at the government's daily briefing, "we have to accept that we are working with a disease that we are going to be with globally for the foreseeable future." That's 2020 gone.

How can the economy survive, and the population with it? At one end, Branson has put Necker Island up as collateral to help get a UK government bailout of the stricken Virgin Atlantic. At the other, we have low-paid staff without work from restaurants, retail, hotels and tourism. Sole traders, partnerships, small businesses - hard-working people all shafted by coronavirus. It's one thing to withstand the hardship for a few weeks. But months, a year?

A silver lining - hardly compensation for the above - has been reduced congestion on the roads. TomTom has released data (Sky News

). In the first chart, there are 4 levels of congestion; red is the highest, grey the lowest.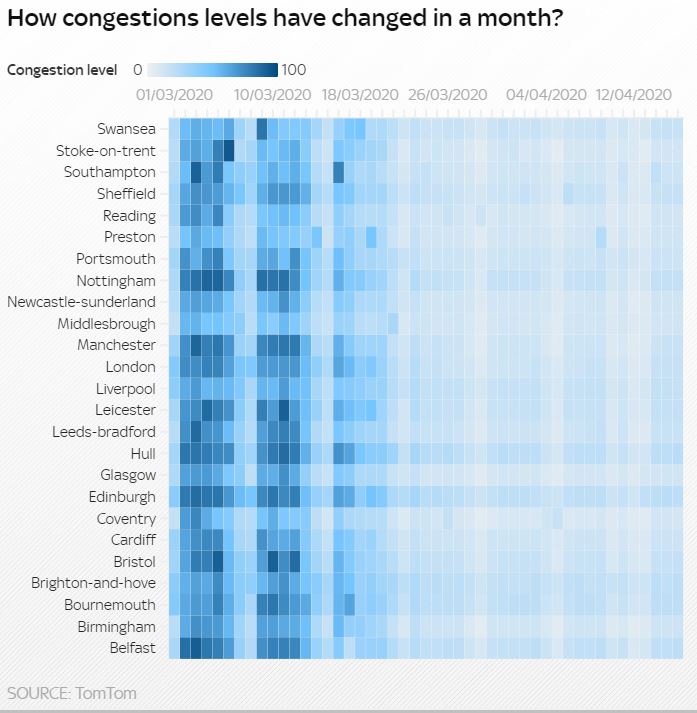 Some motorists have used the empty roads to break the shackles of lockdown. One driver was recorded at 134mph in a 40mph limit in London, while another was clocked at 115mph on a 40mph road in Greater Manchester. Not clever. Police estimate a major accident can pull in 20 front-line support and rescue workers.

Wednesday 22nd April


A little light relief. Fod Barnes has sent this naughty Trump video, created and performed by Randy Rainbow with a nod to Gilbert and Sullivan. Trump has often used the phrase "stable genius" to describe himself. A Very Stable Genius: Donald J. Trump's Testing of America is a 2020 book by Washington Post reporters Philip Rucker and Carol Leonnig.




There is something horribly inspired about his new 60-day green card ban. Very appealing to his support base. He surprises us - or maybe not - every day. Who else would act so brazenly? It's a weird kind of clarity. When is Boris coming back? I never thought I'd bemoan his absence but Trump seems to fill his space.

If we are to change how we live post-coronavirus, we need to get stuck in now. Traffic levels in Italy have been reduced by up to 75%, which presents an opportunity. Milan has made a move by announcing the Strade Aperte ("Open Streets") plan to reconfigure 22 miles of roads this summer for walking and cyclists. Appropriately, one of the chosen areas is the Lazzaretto, once a refuge or quarantine zone from the plague.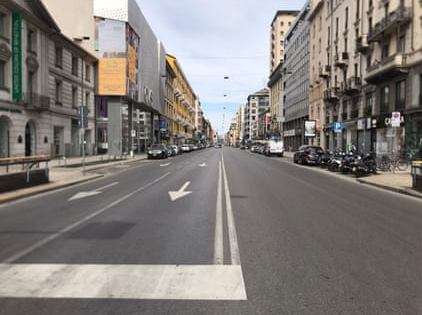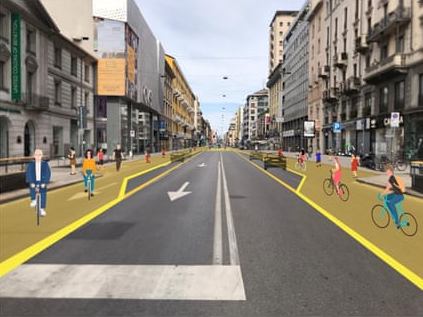 Vaccine trials are starting! Really, so soon? Yes, in the face of previous warnings that we could be months and years from a solution. The trials follow Oxford research, a joint effort between the Jenner Institute and the Oxford Vaccine Group

. Recruitment of participants was launched on March 27th, a milestone which passed me by (no, I wasn't going to volunteer, I'm not eligible). I've included quite a chunk from the launch website. It's important.



University of Oxford researchers working in an unprecedented vaccine development effort to prevent COVID-19 have started screening healthy volunteers (aged 18-55) today for their upcoming ChAdOx1 nCoV-19 vaccine trial in the Thames Valley Region. The vaccine based on an adenovirus vaccine vector and the SARS-CoV-2 spike protein is already in production but won't be ready for some weeks still.

The team will enrol healthy volunteers aged between 18 - 55, who, if they pass screening, will be the first humans to test the new vaccine, called ChAdOx1 nCoV-19. The trial will provide valuable information on the safety aspects of the vaccine, as well as its ability to generate an immune response against the virus. Interested individuals can volunteer to participate on the COVID-19 vaccine website.

The trial, a collaboration between the University's Jenner Institute and Oxford Vaccine Group clinical teams, will recruit up to 510 volunteers, who will receive either the ChAdOx1 nCoV-19 vaccine or a control injection for comparison. Whilst the team will start screening people now to see if they are eligible to take part in the study, participants will not receive the vaccine for some weeks. Detailed preclinical work is being done and the vaccine is being manufactured to clinical grade standard at the Clinical Biomanufacturing Facility at Oxford University. The trial has been approved by UK regulators and ethical reviewers. Researchers are working as quickly as possible to get the vaccine ready to be used in the trial, which includes further preclinical investigations and production of a larger number of doses of the vaccine.

Professor Adrian Hill, Director of the Jenner Institute at the University of Oxford, said, 'The Oxford team had exceptional experience of a rapid vaccine response, such as to the Ebola outbreak in West Africa in 2014. This is an even greater challenge. Vaccines are being designed from scratch and progressed at an unprecedented rate. The upcoming trial will be critical for assessing the feasibility of vaccination against COVID-19 and could lead to early deployment.'

Professor Andrew Pollard, Chief Investigator on the study, said, 'Starting the clinical trials is the first step in the efforts to find out whether the new vaccine being developed at Oxford University works and could safely play a central role in controlling the pandemic coronavirus that is sweeping the globe.'

Scientists around the world are working hard to develop a vaccine to prevent COVID-19, but there is a lot to be done. The Oxford team led by Professor Sarah Gilbert, Professor Andrew Pollard, Professor Teresa Lambe, Dr Sandy Douglas and Professor Adrian Hill started work designing a vaccine on Friday 10th January 2020.

The vaccine is an adenovirus vaccine vector (ChAdOx1) and was developed at Oxford's Jenner Institute. It was chosen as the most suitable vaccine technology for a SARS-CoV-2 (COVID-19) vaccine as it can generate a strong immune response from one dose and it is not a replicating virus, so it cannot cause an ongoing infection in the vaccinated individual. This also makes it safer to give to children, the elderly and anyone with a pre-existing condition such as diabetes. Adenoviral vectors are a very well-studied vaccine type, having been used safely in thousands of subjects, from 1 week to 90 years of age, in vaccines targeting over 10 different diseases.

Coronaviruses have club-shaped spikes on their outer coats. Immune responses from other coronavirus studies suggest that these are a good target for a vaccine. The Oxford vaccine contains the genetic sequence of this surface spike protein inside the ChAdOx1 construct. After vaccination, the surface spike protein of the coronavirus is produced, which primes the immune system to attack the coronavirus if it later infects the body. Professor Gilbert and team have previously developed a vaccine for another human coronavirus disease, which is Middle East Respiratory Syndrome (MERS), and this has shown promise in early clinical trials.

Tuesday 21st April


Returning to the WWII posts of yesterday, Robert Goddard has added another measure to the war/coronavirus comparison - the perspective of time.



When we look back at WW2, most of us are aware of the major battles, the high points and the low points and, above all, we know that the Allies emerged as the winners. No such luxury of retrospect for those who lived through the war. They had no idea what was going to happen. They did not know if they would survive. It was always in the here and now, a constantly shifting reality without the context that retrospect can bring.


Robert's right. Imagine that you're standing in the market square of a small English country town in 1942. You cannot know that the war will end in 1945. The surrender at Stalingrad, Monte Cassino and the advance through Italy, D-Day, Hitler's suicide and Mussolini's execution - they all lie ahead. Nobody would have predicted the annihilation at Hiroshima and Nagasaki.

The "shifting reality" is part of the Covid-19 journey, a key element of its weirdness. We don't know when and how it will conclude. The UK has entered the second 3-week block of restrictions. Did we think it would all be over after the first? How many will die? NHS England medical director Professor Stephen Powis warned of 20,000 on 28th March. Professor Anthony Costello of University College London's Institute for Global Health suggested on 27th April that the UK "could see 40,000 deaths in this wave". Most of the action taken has been band-aid, halting the spread, suppressing the "curve". We haven't found or implemented a cure. We are told that vaccines are the answer - and they will take 18 months to deliver.

This is a big one. The price of US oil has turned negative for the first time in history.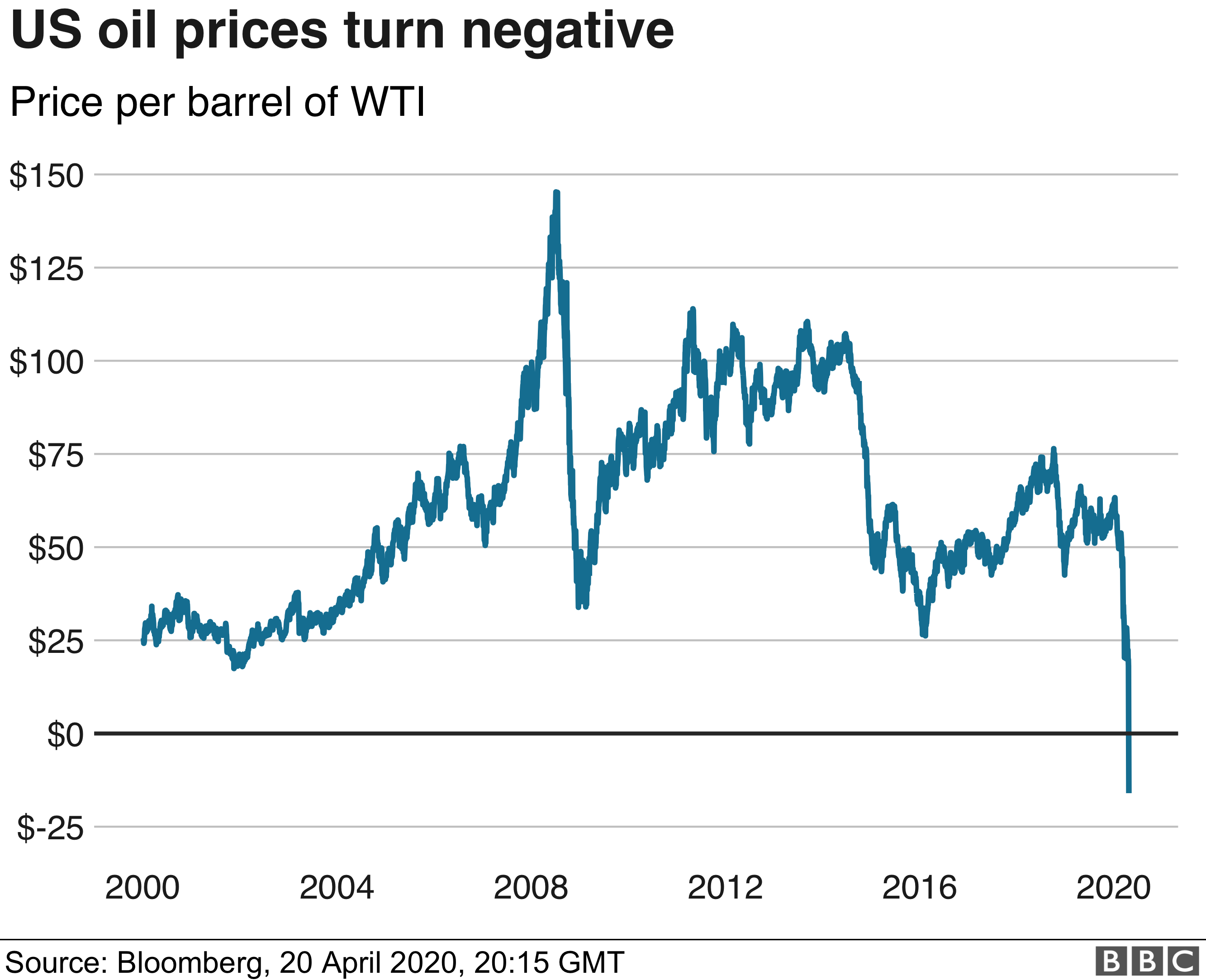 The BBC reports:



Oil producers are paying buyers to take the commodity off their hands over fears that storage capacity could run out in May. Demand for oil has all but dried up as lockdowns across the world have kept people inside. The price of a barrel of West Texas Intermediate (WTI), the benchmark for US oil, fell as low as minus $37.63 a barrel.


Much has been written about how life could be different after Covid-19. Is a reduced consumption of oil one example? Hmm ... the cynic in me thinks not😒

We sent a family tree kit to our granddaughter Lola, cut-up cards and a wad of Blu Tack. Look what the clever girl has done.



Click to see larger version

Alf Florio has sent me a link to an Economist article titled "Why countries can't meet the demand for gear against Covid-19"

The part that caught my eye is about the dismaying trade blockages:



The world economy's sudden halt has caused bottlenecks. Flexport, a freight forwarder, says that normally half of all air freight cargo (on some routes, up to 80%) travels in the holds of passenger planes that are no longer flying; shipping lines, meanwhile, have cancelled sailings or dropped ports from their itineraries. Vendors' commercial terms have become tighter too. Crooks are trying to get in on the act as hospitals have become desperate and prices have shot up. The FBI has warned buyers against dodgy brokers taking advance payment for non-existent equipment. International goodwill has been in short supply too. Amid several reports of jiggery-pokery, French officials claimed that American buyers redirected masks from China destined for the Grand Est region, after stopping the shipment on the tarmac at Shanghai airport and offering three times the original price. Several countries are using more conventional methods to keep hold of what they have. The European Union has restricted exports of essential goods to most non-members (some countries had even blocked exports to fellow members until the EU stepped in). On April 3rd President Donald Trump ordered restrictions on American exports of PPE, including respirators, masks and gloves. Such curbs run the risk of starting a retaliatory, beggar-thy-neighbour spiral.

Monday 20th April


Comparisons of this crisis with World War II have been widespread. People of my age haven't had to go to war; coronavirus might be our equivalent. The Queen's recent address to the nation was deeply resonant of the earlier conflict, indeed she even referred to her first broadcast in 1940, made with her sister.



I am speaking to you at what I know is an increasingly challenging time. A time of disruption in the life of our country: a disruption that has brought grief to some, financial difficulties to many, and enormous changes to the daily lives of us all. Together we are tackling this disease, and I want to reassure you that if we remain united and resolute, then we will overcome it.

I hope in the years to come everyone will be able to take pride in how they responded to this challenge. And those who come after us will say the Britons of this generation were as strong as any. That the attributes of self-discipline, of quiet good-humoured resolve and of fellow-feeling still characterise this country. The pride in who we are is not a part of our past, it defines our present and our future. The moments when the United Kingdom has come together to applaud its care and essential workers will be remembered as an expression of our national spirit; and its symbol will be the rainbows drawn by children.


Our traditional reaction is that of plucky Englander, the Dunkirk spirit. Strange, because it's not a war between nations, but a global challenge. An old friend and colleague from the 1970s Friuli days

, Robert Goddard, has written from Jugenheim, a small town in Hesse, Germany, where he lives with his German wife and son. He recognises the default British response. "Captain Tom with his WWII medals on his chest, walking to raise money for the NHS, has become a national hero. The Thursday clap takes place in order to honour the ordinary boys and girls" working in the essential services, or reserved occupations as they were called back then. Will later generations ask, "What did you do in the Great Pandemic, Grandad?" Little England displays scant shame in harking back with nostalgia to the war years. He notes the cultural contrast in Germany: "Ever terrified of producing another strong man, focus is on those elements of society we can trust, that is, numbers and statistics."

George Allan, whose comments on science I posted yesterday, extends the experiences of the war generation to disease, appropriately enough given the threat today.



I realise that my parents grew up in the 1920s when infectious diseases were still a terrible scourge, particularly in childhood. It was the world of the 1960s TV series "Dr Finlay's Casebook". My mother's father was a pharmacist. He lost his wife, i.e. my grandmother, and their first child. My mother herself survived scarlet fever in an isolation hospital and diphtheria, the latter after a tracheostomy performed on the kitchen table. No wonder she then lasted 93 years!

We can now, just, deal with bacteria, but not viruses reliably. I suddenly got pneumonia in 2003 and spent a pretty miserable week in hospital but recovered well. That was a bacterial infection that could be treated with antibiotics.

Sunday 19th April


As part of my lockdown strategy, I've been contacting old friends, sharing this blog when appropriate. I've been richly rewarded by interesting replies.

Graham Powell has pointed me at his letter to The Independent published last Monday. It starts with an imaginary statement from Priti Patel, the words that she should have used last week.



"There have been failings in the provision of adequate resources for those people who are working hard to protect all of us from the viral pandemic. We are profoundly sorry that this has led to the deaths of our health professionals and the pain this is causing their families, friends and colleagues. Although this does not help them, I hope they - and the rest of NHS workers and the public in general - can derive some comfort from knowing that we are determined to learn from any shortcomings and take action immediately to make sure that we do not put people at further risk in the future. May I reiterate my heartfelt apology and thanks to all who have suffered on our behalf."


Graham's letter continues:



Or words to that effect. We teach our children to take personal responsibility for their actions or inactions, own up to their mistakes, learn from them and try to put other people first. We do this through our belief that such behaviours underpin a civilised, moral and empathetic society. For the home secretary to say she is "sorry if people feel" is to signal that she is incapable of doing those things we expect of our children. These weasel words suggest that she is ducking responsibility and is prepared to blame others. As distressing as this is, it is the lack of a truly empathetic response that I find the most upsetting. The level of leadership we were getting before the pandemic crisis was questionable. In the last four weeks, it has been shown to be catastrophically threadbare.


George Allan writes from Islington.



Many thanks for sending me the link to your blog, which I think is a very interesting take on the daily, almost hourly, developments these days. I am taking a keen interest in these, but I think I need to ration my exposure to the 24-hour news channels, which seem to me to trivialise everything. Instead I think some of the most interesting stuff is going on in the scientific world. I am fed up with government politicians saying they are following scientific advice. The question is: whose scientific advice? It's as split on this as everyone else is politically.

I follow on Twitter a South African former doctor and ultramarathoner/coach called Tim Noakes. He's a bit of a contrarian but his posts keep me supplied with re-tweets of whistle-blowing scientific developments in this field and on, one of his other areas of interest, low-carb nutrition. His posts are peppered with links to scientific papers which contradict the received wisdom. The latest was a paper titled

Antimalarial Drugs as COVID-19 Therapy

by professor of biology J. Scott Turner

on the utility of chloroquine and why it seems to work (although no-one quite knows why) and how it has been used with success for years as an antiviral, including the last coronavirus epidemic. So, irony of ironies, there was at least something in what President Trump has been saying even if it's not the miracle cure he made it out to be.


Plenty of virtual music being made. The Rolling Stones took part in the One World: Together At Home show live from their respective country piles. The eight-hour event was run by the Global Citizen movement and the WHO to raise funds for Covid-19 relief. Keith's got a beer. Charlie is drumming on cases and an armchair, but sounds authentic, so they must have a backing track somewhere. You can click on the full-screen symbol bottom-right to see better.




Dedicated sports fans everywhere must be wondering what to do with themselves. Football, rugby, Formula 1, cricket - all major events have been cancelled or postponed. There's no mainstream television or radio coverage. Match of the Day has resorted to top 10 quizzes (strikers, goalkeepers, midfielders ...) with Lineker, Shearer and Wright. Radio Five Live has cut-down Question of Sport shows with Tuffers and Dawes in the afternoon. In both cases the sports celebrities compete from their kitchens. An exception (in that competitions are still played) is the Professional Darts Corporation (PDC). It has launched Darts at Home which you can watch online; the competitors play virtually.

Saturday 18th April


Banksy has followed the rest of us with retreat indoors from the streets. Rats misbehave in the bathroom. I like the one counting off the days of self-isolation.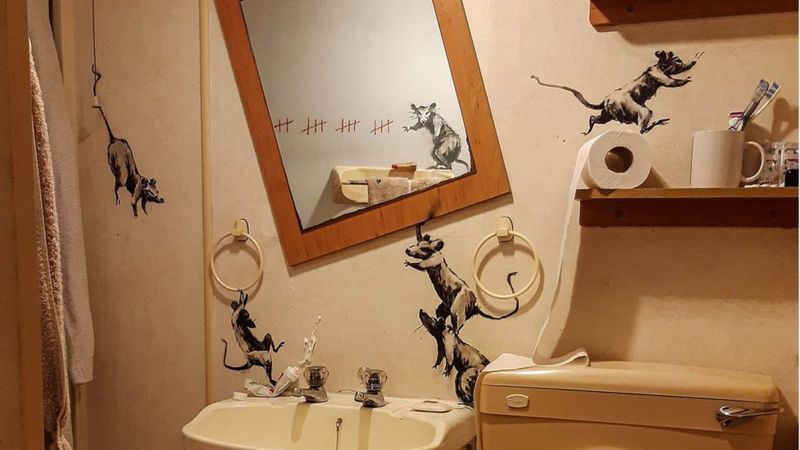 We know that testing is at the heart of beating coronavirus. Robert Peston tweeted yesterday, "This is the best measure I've seen of quite how few Covid-19 tests the UK has done. It is an international league table of countries ranked by percentage of population tested, compiled by Julian Ozanne (who was on FT with me in another life)."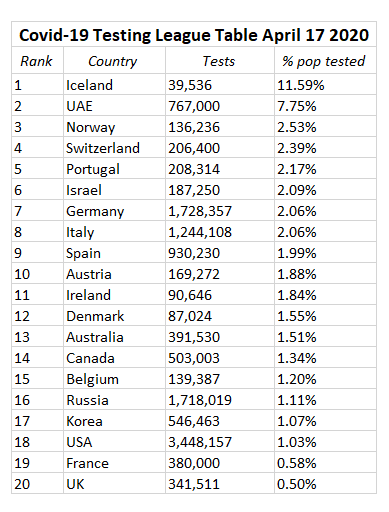 Ozanne's original table looked a bit dodgy (I've tidied it up), he didn't quote a source, so I thought, "Hmm, what credibility has Gillian Anderson's estranged partner got in this field?" and started to dig around. It looks like the data came from Worldometer

. I downloaded a full set of data and it's pretty similar (apologies, Julian). One country should be above Iceland, the Faroe Islands with 12.24%, although on a population of only 48,863. The UK's effort is poor. I'm even more surprised that nobody has exceeded 12.24%. How can you expect to get on top of the virus with such a low proportion? What were we doing in the PGTT (Post Gates TED Talk) period? For three-and-a-half years of it, our government was discussing nothing but Brexit.

Trump gets better every day. He tweeted support for the protests against lockdown, like "LIBERATE VIRGINIA, and save your great 2nd Amendment. It is under siege!" Naturally, the governors he targets are all Democrats. How distant from "statesmanlike" is that? We're in the middle of a killing crisis and his eyes are fixed on November elections. Remember the last president? Here he is in video conversation with Chicago community leaders.



Friday 17th April


Here's a cheerful idea!




So, China revised its death toll up by 1,290 to 4,642. Donald Trump will be having a laugh, won't he?

And Jacinda Ardern, world leader of the moment, will have done well to manage a smile about the cake baked by comedian Laura Daniel as a tribute to her heroine.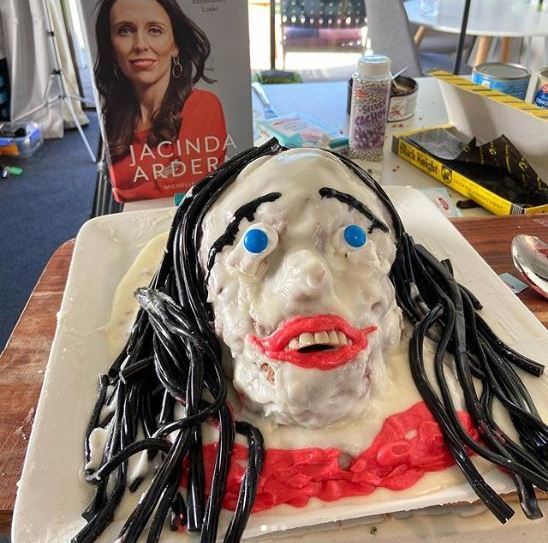 Trump is not the only one considering the relaxation of lockdown, although the others usually find themselves further along the "curve". In Denmark, children aged 11 and younger return to schools and nurseries from Wednesday after a month of closures. Compared with other European countries, Denmark was an early mover. A raft of restrictions was announced on 11th March, 12 days before measures were introduced in the UK. Total numbers of hospital admissions and patients in intensive care have fallen since the beginning of the month. They have achieved the R<1 target put forward by Tomas Pueyo (see The Hammer and the Dance post on 25th March

). Here is his explanation of R:

It all turns around the R, the transmission rate. Early on in a standard unprepared country it's somewhere between 2 and 3; during the few weeks that somebody is infected they infect between 2 and 3 other people on average. If R is above 1 infections grow exponentially into an epidemic. If it's below 1 they die down. The goal is to get R as close to zero as fast as possible to quench the epidemic. In Wuhan it is calculated that R was initially 3.9 and after the lockdown and centralized quarantine it went down to 0.32. Once you move into the Dance

[the period after initial hard crackdown or Hammer]

you don't need to do that anymore. You just need your R to stay below 1. You can remain below R=1 with a few simple measures.


Angela Merkel showed her understanding of R and emphasised its sensitivity in this press conference yesterday:




Queue out of the car park at Waitrose, so back to The Crown and Sceptre, the "corner" shop with a difference.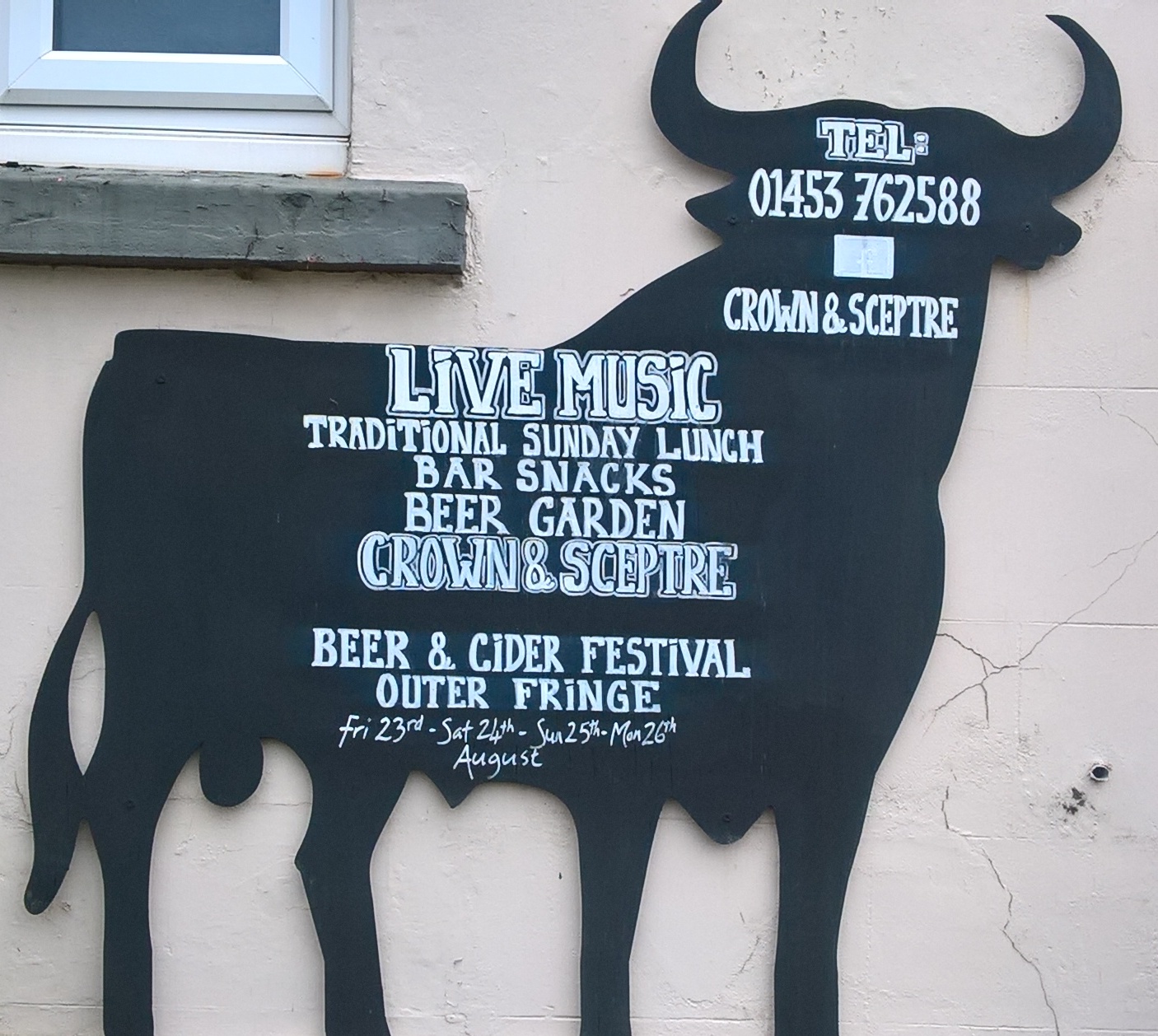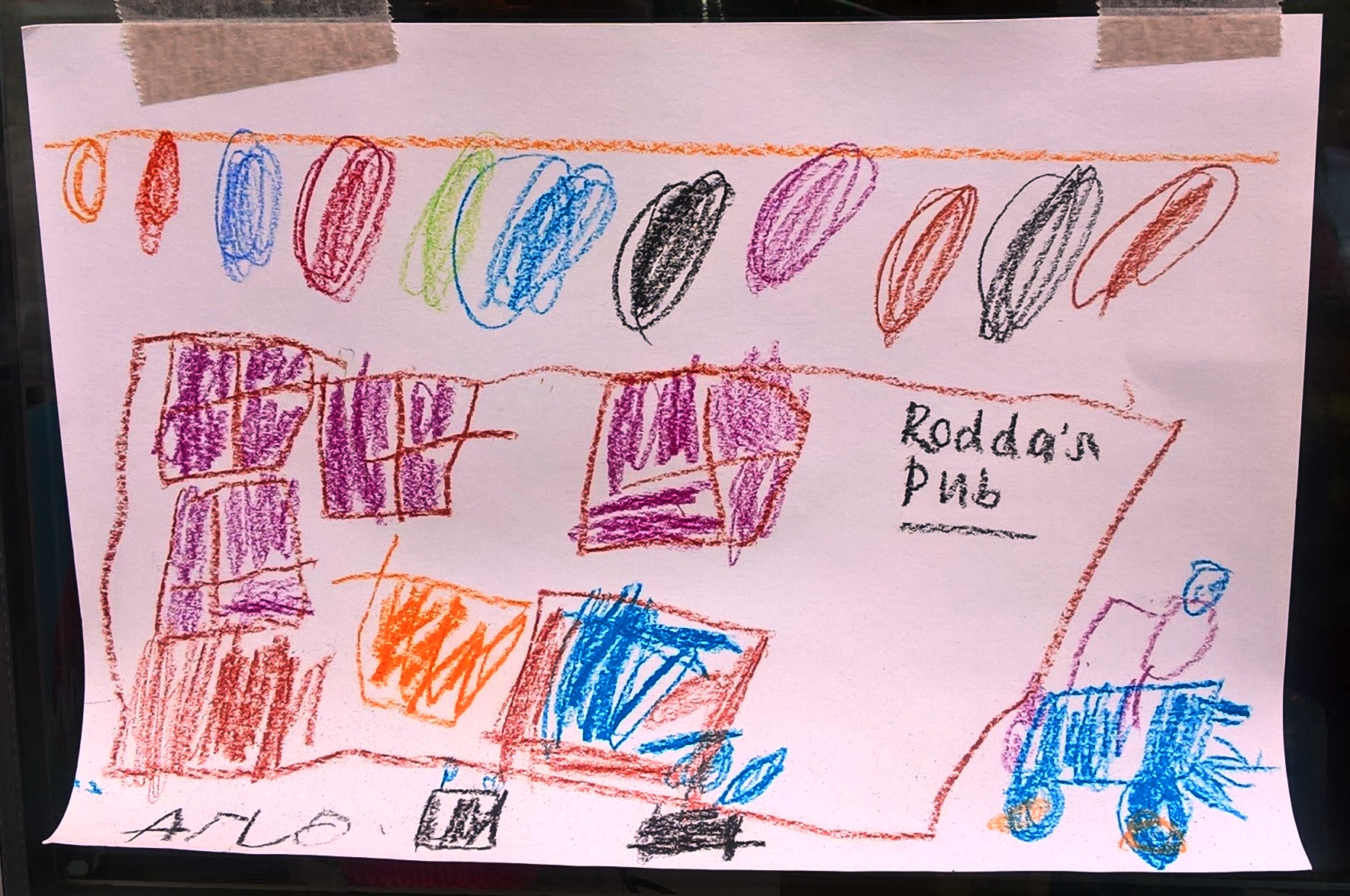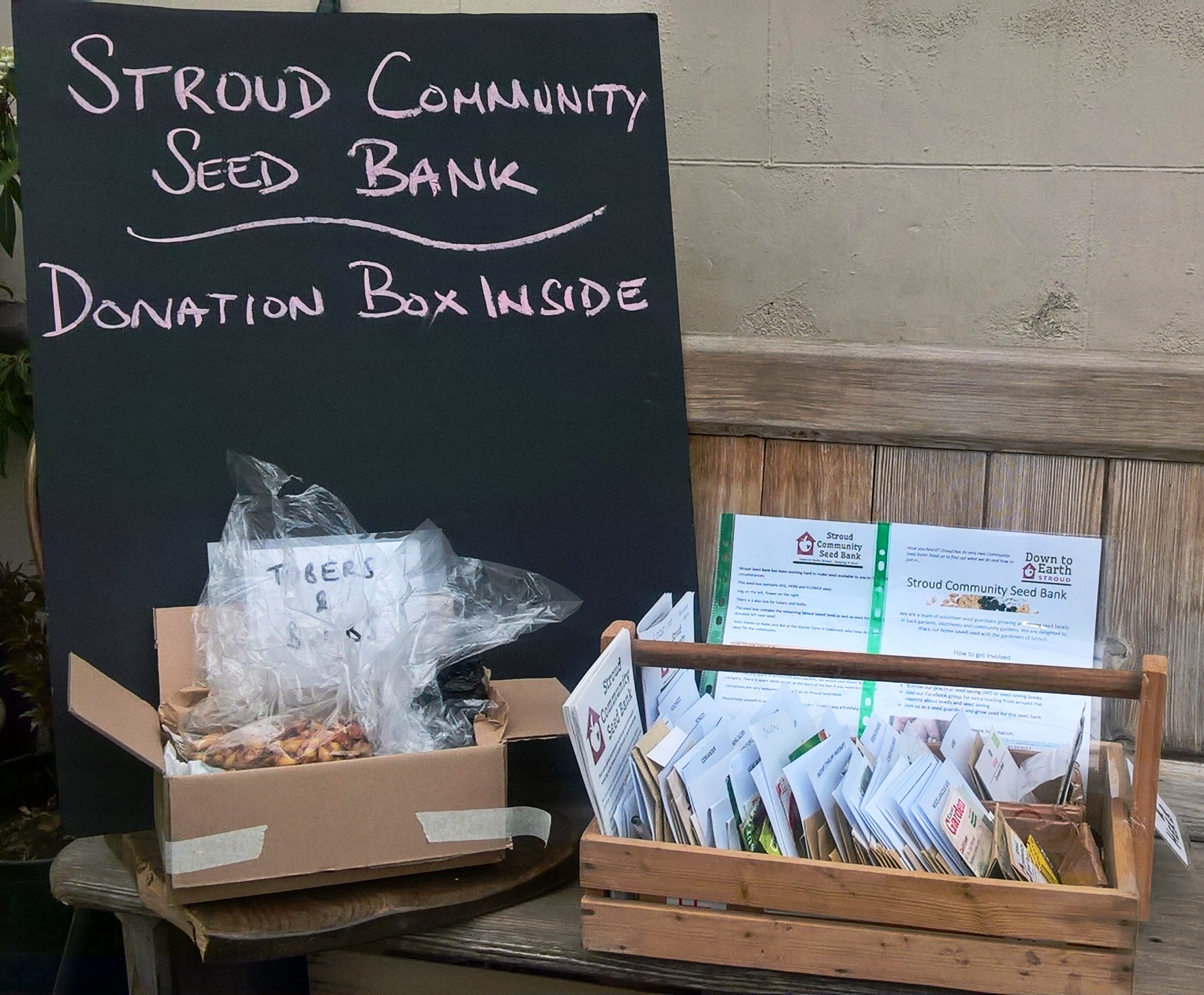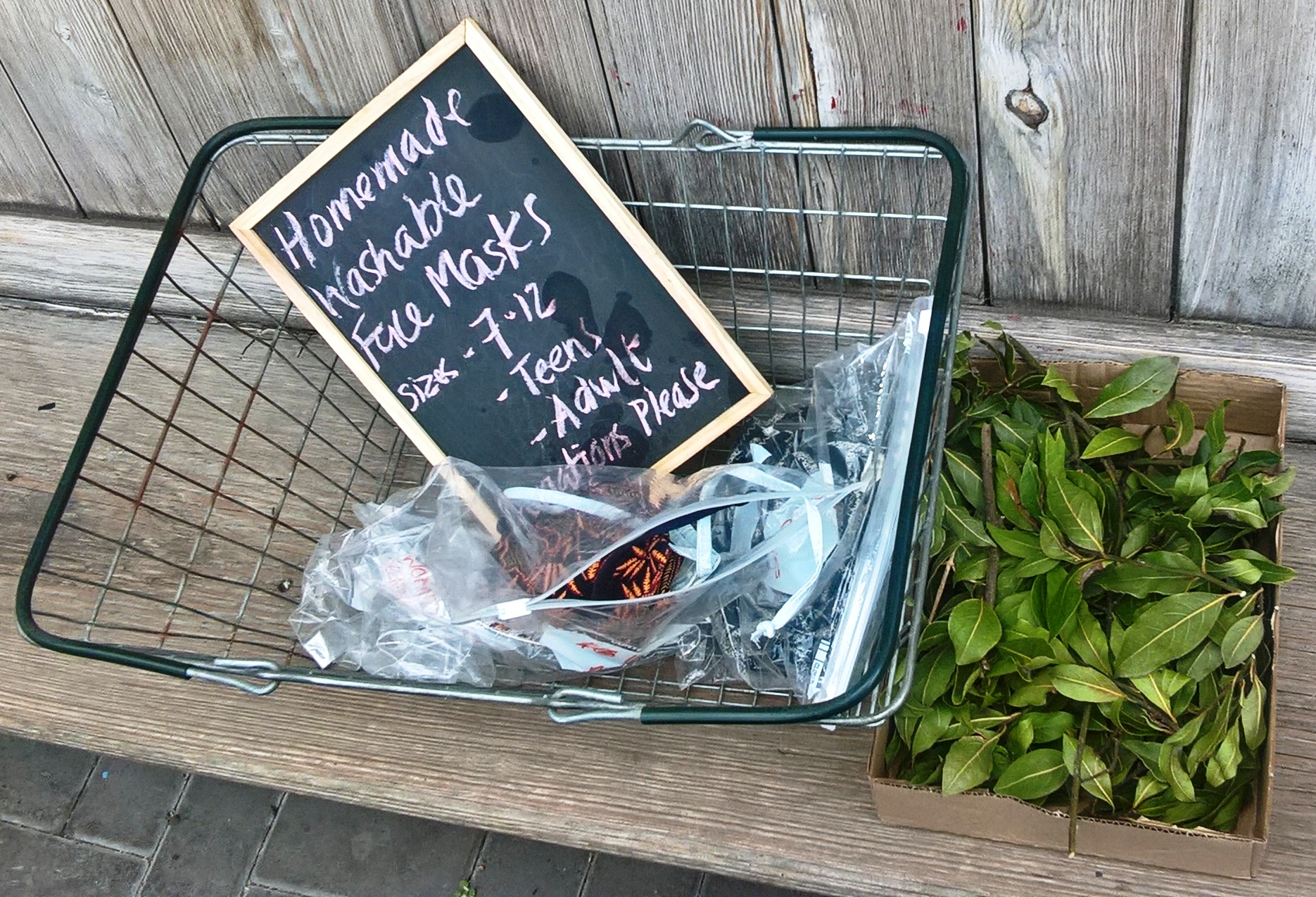 Thursday 16th April


The USA appears to be living in a parallel world, led and encouraged by its president. Trump says new re-opening guidelines will be announced. The US has passed the peak. "We'll be the comeback kids, all of us. We want to get our country back." Michigan residents followed suit by filling the streets to protest against the stay-at-home orders of their own governor Gretchen Whitmer (of course, she's a Democrat). Gun stores are deemed essential and remain open.

Now he has picked a fight with China using the story that Covid-19 started in a Wutan virology lab allegedly guilty of faulty protocols. It's a familiar ploy. When under attack for his own mismanagement, he points the finger at somebody else. In the same way that his language is childish, his reactions are those of a threatened kid. Other world leaders talk of pulling together to heal the coronavirus hurt. Not Trump.

Here Dominic Raab (when's Boris going to be back?) has announced a 3-week lockdown extension. Health Secretary Matt Hancock said yesterday, "We can see that we're reaching a peak, that is good news, but the numbers are not yet coming down, therefore we can't make a change. If we just released all the measures now then this virus would run rampant."

The "New Normal"? I'm quietly surprised by how the phrase gets more appropriate every day. I no longer expect to hear kids walking past our back gate to school. There's almost nobody going off to work. Cars rarely move from their parking spaces in the street. It's only ten minutes' walk into the middle of town, yet I'm used to not going. I haven't visited a coffee house in a month. I apply a 2-metre distance to others without a second's thought. It's become a weird but accepted inverse way of life, not quite measuring your days by the things you haven't done, but something similar. That said, I don't relish its continuance. The social and economic impact of isolation will become ever more serious.

The pubs are closed. Although we don't go that often any more - pensioner middle-class Merlot-drinkers at home - it's a truly odd thing. Our excellent local The Crown and Sceptre

has responded by setting up a "corner" shop in the bar. They keep a wide range of good quality and fresh products, including delicious takeaway curries and 2-pint cartons of ale. It's lovely shopping in the community, much better than going to an anonymous supermarket, another strange bonus of our altered state. Ruan, son of landlord Rodda, posts a daily promotional video on Facebook and the residents' WhatsApp group before opening at 3pm. A healthy blend of innovation, opportunity, service, local, modern technology and social media :-)




I just overheard the (still working) roofer opposite talking to his mate down at street level. "The whole thing's a f****** disgrace. Why do millions have to go through all this hardship to protect the NHS? Because they spent 10 years running it into the ground to pay for bailing out the bankers. Now they're pouring in money and will take all the credit for the NHS recovery." Nuff said.

More NHS support clapping in Middle Street this evening. Richly deserved. If you believe our roofer above, it should never have been necessary.



Wednesday 15th April


I can't find the words. Trump cuts funding for WHO.

The tweets are coming in. Here's a couple.

Richard Horton, Editor-in-Chief of The Lancet:
President Trump's decision to defund WHO is simply this - a crime against humanity. Every scientist, every health worker, every citizen must resist and rebel against this appalling betrayal of global solidarity.
[New York Times: https://t.co/7hTwUZ4lJV]

— Richard Horton (@richardhorton1)
Bill Gates, of course:

Halting funding for the World Health Organization during a world health crisis is as dangerous as it sounds. Their work is slowing the spread of COVID-19 and if that work is stopped no other organization can replace them. The world needs @WHO now more than ever.

— Bill Gates (@BillGates)
It will/would leave a big hole. Who fills it? China? Trump is right about China's current contribution, not even on the donor list below. The problem with throwing your toys out of the pram is that you don't get to play with them anymore. Somebody else can pick them up, and others flock to the one now with the toys.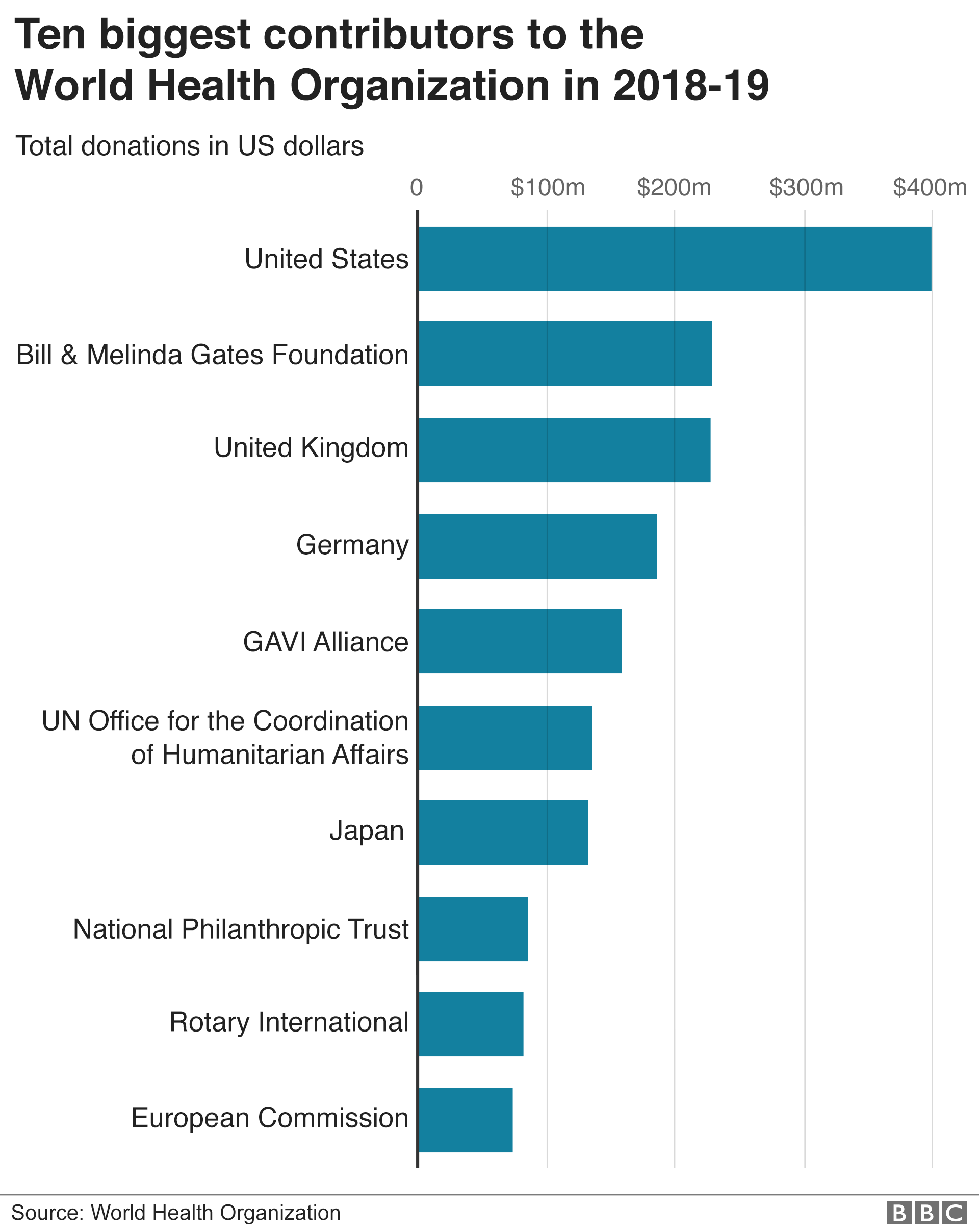 Tuesday 14th April


Since thinking yesterday about different countries' performance in response to the virus, I've started to experiment with comparison tables. The two sources I've used so far are the WHO's COVID-19 dashboard

, where you can download a raw CSV file of the data behind the graphics, and Worldometer's

population figures. There are many ways to slice this cake. I've begun by taking the top (it's not quite the word, is it?) ten countries in terms of cumulative deaths to date. I've matched those against their total populations to get a deaths-to-population % ratio. Here's the table ordered by lowest-to-highest ratio.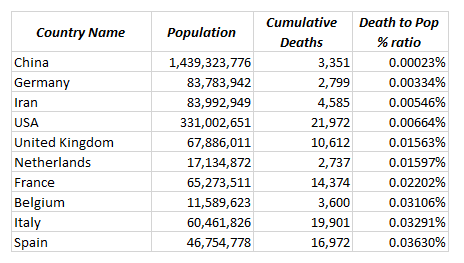 It's strange how the same or related number looks different in another format. 21,972 sounds a dreadful US toll (and it is). 0.00664% looks very small. The largest ratio in this table is 0.036%. But it does tell us (and I'm ignoring factors like geography, population density and date-of-first-case) that if the UK had the same percentage as China there would have been 158 deaths here, not 10,612.

I know, this is all a bit dry and heartless, but it's one of the ways I cope.

My brother-in-law Graham Gibbs has written to me at length. Full of interesting data and perspectives.



"I've been watching Worldometer closely for three weeks and it throws up some interesting phenomena which I have been trying to understand by reading around. This was written a couple of days ago so some of the numbers need updating.

"Finland and Germany have a small fraction of our deaths (per million) despite (in Germany's case) similar infection rates (per million). Finland was well stocked with equipment, and had full plans long before the virus reared its head as part of a long term investment to be prepared for a virus (something Bill Gates warned governments about, in detail, some years ago). And Germany got organised very quickly to test enormous numbers of people early on and has undertaken about three times as many tests (per million) (and at the start six times as many), using tests to screen, isolate and treat very quickly. Germany has a lot of people categorised by Worldometer as seriously ill, far more than the UK, but very few of them die, presumably because they identified them early enough. In contrast there has been almost no testing of staff or residents in care homes in the UK at all, and most residents in care homes who die do so without having experienced any intensive care of any kind. Germany's death rate is currently 34 per million, Finland's is 9, the UK's is 145 per million. The UK has screwed up on almost everything. We were not prepared, we didn't get organised, we didn't test, we didn't lock down early enough, and we didn't protect medical staff.

"There is another interesting contrast between Norway (whose population seem as willing to follow rules as the Swiss) who compulsorily locked down without demur early on, and have kept infections and deaths very low, and Sweden, whose PM said "We are a grown up country and our people are grown ups, and it is not necessary to order people to behave sensibly", and Sweden now has four times the death rate (88) of Norway (22) (both with similarly brilliant health systems). So much for being grown up!

"Despite careful health advisors saying 'this is very much more dangerous than the flu' the 2015 flu outbreak in the UK killed more people than this virus has - at least up to the 12th April.

"An epidemiologist made an interesting point the other day. He said umpteen thousand people die every year in the USA from road accidents, and a high proportion of those are innocent people killed by others. But the government does not tell everyone not to drive or ask the police to enforce this. There are serious risks associated with lots of behaviours that are legal. And, until now, our societies would not tolerate any government taking our liberty to take risks away from us. At what point the deaths from a virus are so high that the population changes its ground rules about what the government can reasonably do is a tricky question. In Finland far more people are dying from car accidents and drinking too much at the moment than are dying from the virus, but everyone seems to be respecting a total lockdown rather than banning driving and alcohol. In the UK we have a lockdown but off licenses are considered 'essential' and are staying open, and alcohol consumption has soared. And in the USA far, far more people are dying from 'deaths of despair' (suicide, drugs, alcoholism) than are dying from the virus, but no-one has suggested throwing $4 trillion dollars at the problem. In the USA the right to own an armoury of automatic weapons is defended despite more people being shot each year than are likely to die of the virus, and as the virus has become more deadly, more people are buying more guns.

"So we have currently changed our assumptions in a quite radical way about the appropriate role of government, at least in relation to the virus, and governments have responded (to varying extents) to this change of attitude in order not to be blamed and lose the next election. We should not pretend that either the government or the population are behaving rationally."

Monday 13th April Easter Monday


Letter from America. My friend Sue Boardman now lives in Los Angeles and sends this report.



"All pretty bleak in the US. An idiot at the helm and horrendous, unimaginable numbers of deaths in NY. I have a mate in DC where it's quieter. She is able to work from home, exercise and make occasional trips to the shops. Here in our little bubble of Orange County, the entitled of Ladera Ranch (not a ranch at all, but a 'community', a sort of estate of around 36,000) pretty much carry on as normal. Social distancing? Huh? Gangs of tiny kids career around the paths and parks on their bikes, neighbours walk the dog and stop to chat with other neighbours, teenagers hang out in groups. I try to walk for exercise a few times a week and return tense and thoroughly pissed off at having to regularly climb into bushes by the side of the path to avoid people coming towards me, totally oblivious to the situation and the restrictions. We went on a drive yesterday, north along the Pacific Coast Highway. Stunning ocean views, folk hanging out on the closed beaches. Shuttered hotels, restaurants and bars, evidence of a collapsed tourist industry. So sad.

"The REALLY scary thing is that millions of people now don't have any health insurance, as it is usually attached to jobs. So, lose your job, lose health coverage for yourself and all members of your family. How can a so-called developed country tolerate this? What it means in the current situation is that if you or any member of your family is hospitalised due to the virus you will incur a debt that you'll be paying off for life. With interest of course. How unbelievably cruel and inhuman.

"We have a great governor in California who has been on the ball from the start. This is when the US system of state and federal law comes into its own. Despite the fact that Trump has first been a denier and then more recently totally useless at leading the nation in fighting the virus (there are still 11 states which have given no guidance at all to residents), we have always had sensible compassionate support from our guy. The levelling off of the curve is still somewhere in the future for the US."


Boris is out of hospital and recuperating at Chequers after an experience much dicier than reported at the time. He posted a video thanking the NHS for saving his life. The twittersphere has responded quite harshly:



The media sycophancy towards

@BorisJohnson

as his

@Conservative

government slaughters our

#NHSheroes

with lack of

#PPE

tells you all you need to know about our corrupt, billionaire-owned mouthpiece media.

Over 10,000 people have died from

#Covid19

in the UK and that doesn't include those who have died in care homes and the community. In Germany, just over 3000 have died. Why the difference? Could it possibly be anything to do with

#BorisJohnson

's mismanagent!?

#TooLittleTooLate

As

#BorisJohnson

heads to

#Chequers

, I do wish him well but those of us with an uncharitable mind might ask if travelling to a second home is essential under his own guidelines?

Glad to see you back

@BorisJohnson

. But if you really have learned a lesson and now appreciate that nobody deserves to die by this ghastly disease, pick up the 'phone and sack the man who advised you that a few old and sick people dying was acceptable collateral to keep markets ticking.


What do you think?




Mousetraps and ping-pong balls? The Ohio Department of Health has used them to explain why social distancing is a good thing:




More on smartphones and contact tracing. Matt Hancock has announced that the NHS is "working closely with the world's leading tech companies" on the initiative. Presumably Apple and Google, who announced on Friday that they were working on a software API to make it easier for others to build contact tracing apps. So late? As I blogged yesterday, Bill Gates spelt out the virus dangers five years ago.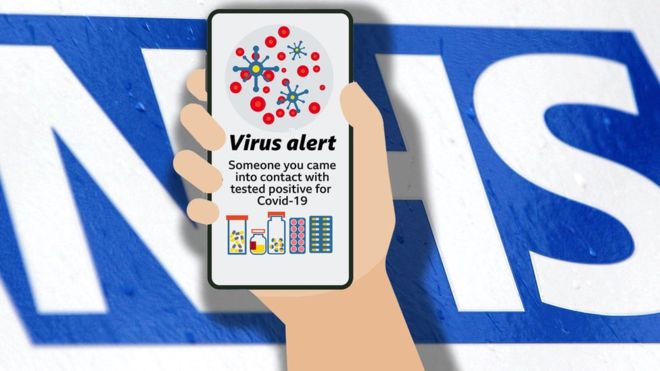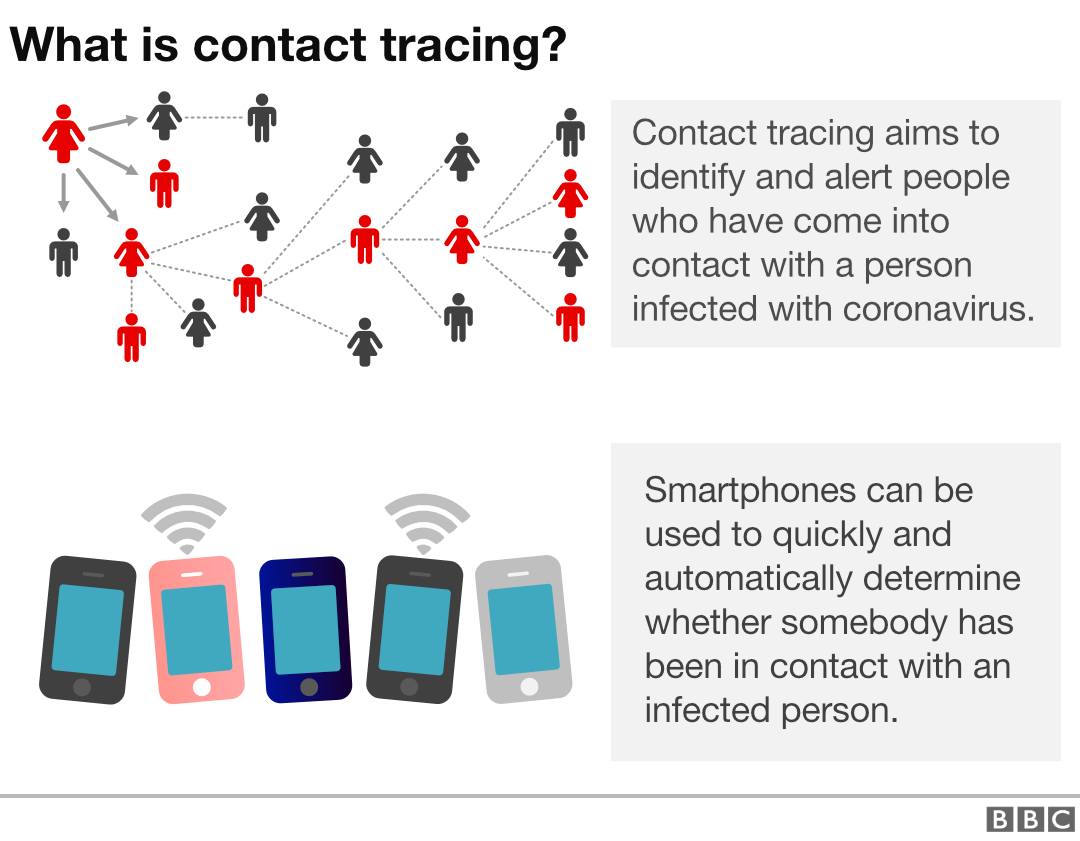 The dismay and anger at late response is growing. We won't know for many months how well each country has performed. Gates has said few will get an A-grade. As you might expect there has been praise for how the crisis has been handled in New Zealand. After the mosque attack of March 2019 in Christchurch which claimed 51 lives, one journalist wrote: "This is what leadership looks like." Jacinda Ardern has displayed the same clear, decisive and empathetic touch with coronavirus. There have been only 1049 confirmed cases and 4 deaths, although she has warned that the numbers will inevitably go up. She is using the "window of opportunity" missed by others: "We go hard, we go early." [This is the land of the All Blacks] Restrictions have been tough from the outset, as she is not prepared to tolerate more deaths than necessary through delaying measures. The contrast with Trump could not be greater.

Sunday 12th April Easter Day


There are now plenty of acknowledgements of Bill Gates' TED talk of 2015 in which he warned that a virus would be the next big threat and that being prepared was key. His prediction is startlingly close to today's situation. Oh dear. If we'd all listened five years ago, we would probably not now be in thrall to Covid-19. It must be frustrating when you are used to having "vision" - remember "A computer on every desk and in every home"? - and people don't listen.




There is also his article "Responding to Covid-19 - A Once-in-a-Century Pandemic?" published on February 28 2020 by the New England Journal of Medicine at NEJM.org

. He gives us a second chance to learn. Will we? He finishes,"These are the actions that leaders should be taking now. There is no time to waste."

Saturday 11th April


Self-isolating job #2. Eamon McAteer (70) lives and works at Fanad Head lighthouse in Donegal. He's been keeper there for 20 years and has lived in the adjoining cottage all his life. He is unchallenged by social distancing. "I don't like crowds. Anytime I go to Dublin I can't wait to get home to the peace." The nearest town is 26 miles away.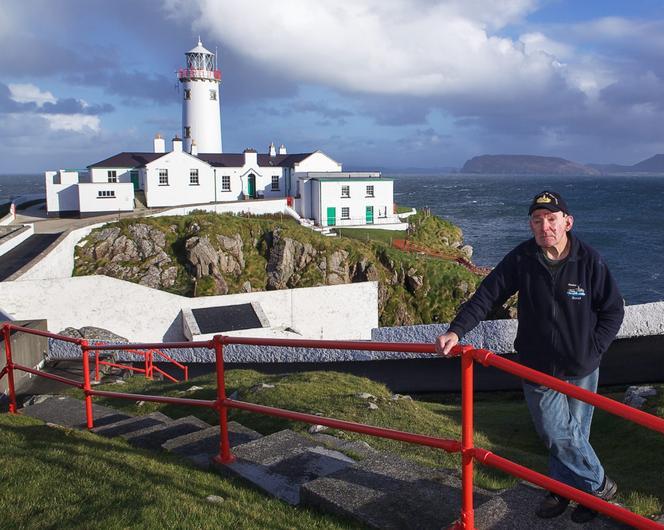 Try as I may to find some lightness I get floored by the big numbers and what they mean. Sorrow for many and anxiety for us all. There were 980 coronavirus deaths in the UK yesterday, and that excludes care homes. If that many fatalities were announced in a context unconnected to the virus, such as fans in a football stadium disaster, there would be a huge reaction. Part of enduring the crisis is the dumbing-down of our senses. We can't afford to succumb to the weight of statistics. We can't let our imagination run loose on the potential mayhem ahead. If you look at the chart below, the lockdown has had an effect, but the trendline still heads up to the top-right corner. I think most of us unscathed so far have a question lurking in our minds: how long before the virus touches my family and friends?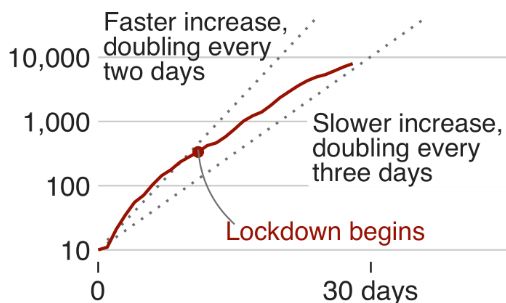 And in contrast, our street just stepped out for a bop.




Self-isolating job #3 (and the last). Maxime Qavtaradze is a monk who has lived on the 131-ft Katskhi Pillar in the Caucasus Mountains of Georgia since 1993 after giving up his job as a crane-driver. He doesn't make a trip out for food essentials as they are winched up to him by his followers. Exercise? He makes the 20-minute climb down a ladder twice a week to offer his prayers in the monastery at the bottom. And up again - ouch. Is that recycling in the porch?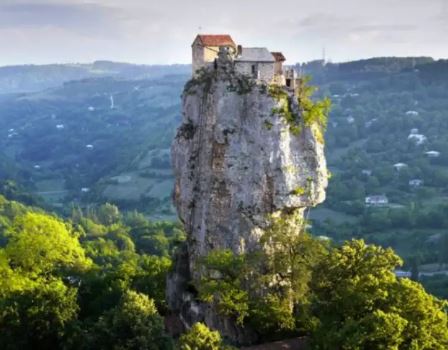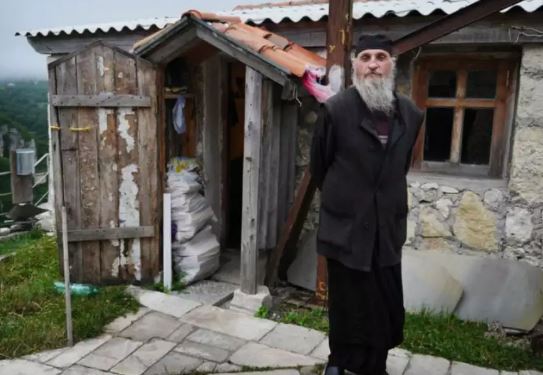 Trust the technogiants to pile in. Altruistic motives, of course. Apple and Google are jointly developing technology to alert people if they have recently come into contact with others found to be infected with coronavirus. It works like this: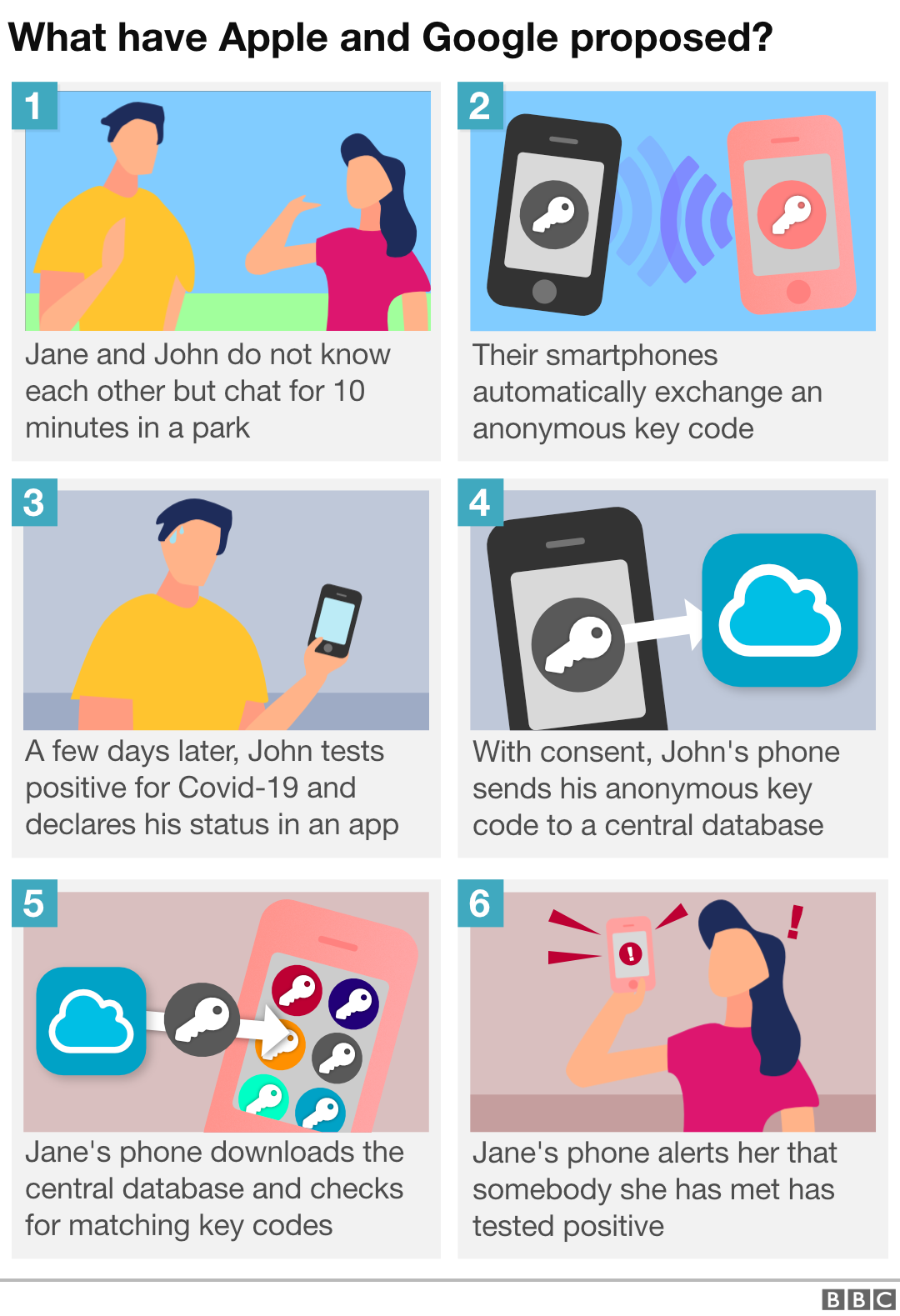 Friday 10th April Good Friday


There's nothing Good about this Friday's statistics. Yesterday's economic growth forecasts look like they've been hit by a sledgehammer. They vary considerably, from JP Morgan's predicted 7.5% shrinkage up to Capital Economics' 24%. But they're all HUGE numbers and they're all red. Contrast the 2019 full year, in which Britain's economy expanded 1.4%, following 1.3% in 2018 and 1.9% in 2017 [Source: Trading Economics]. "There will be blood."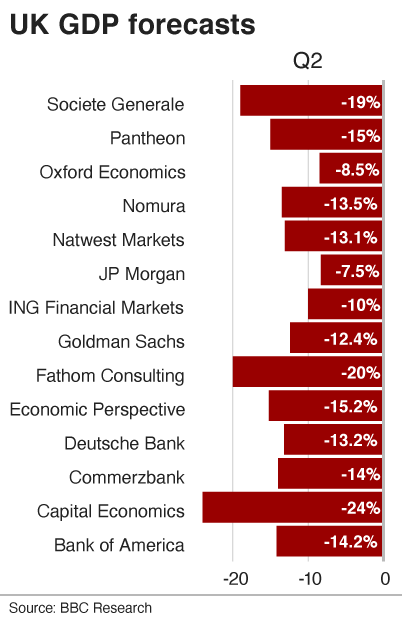 In the fight back against coronavirus, the issue of testing remains centre stage. The UK has lagged behind, our original softly-softly approach exposed. Abject. The South Korean and British "first death" starting dates are the same, yet the former has tested nearly 4 times as many people.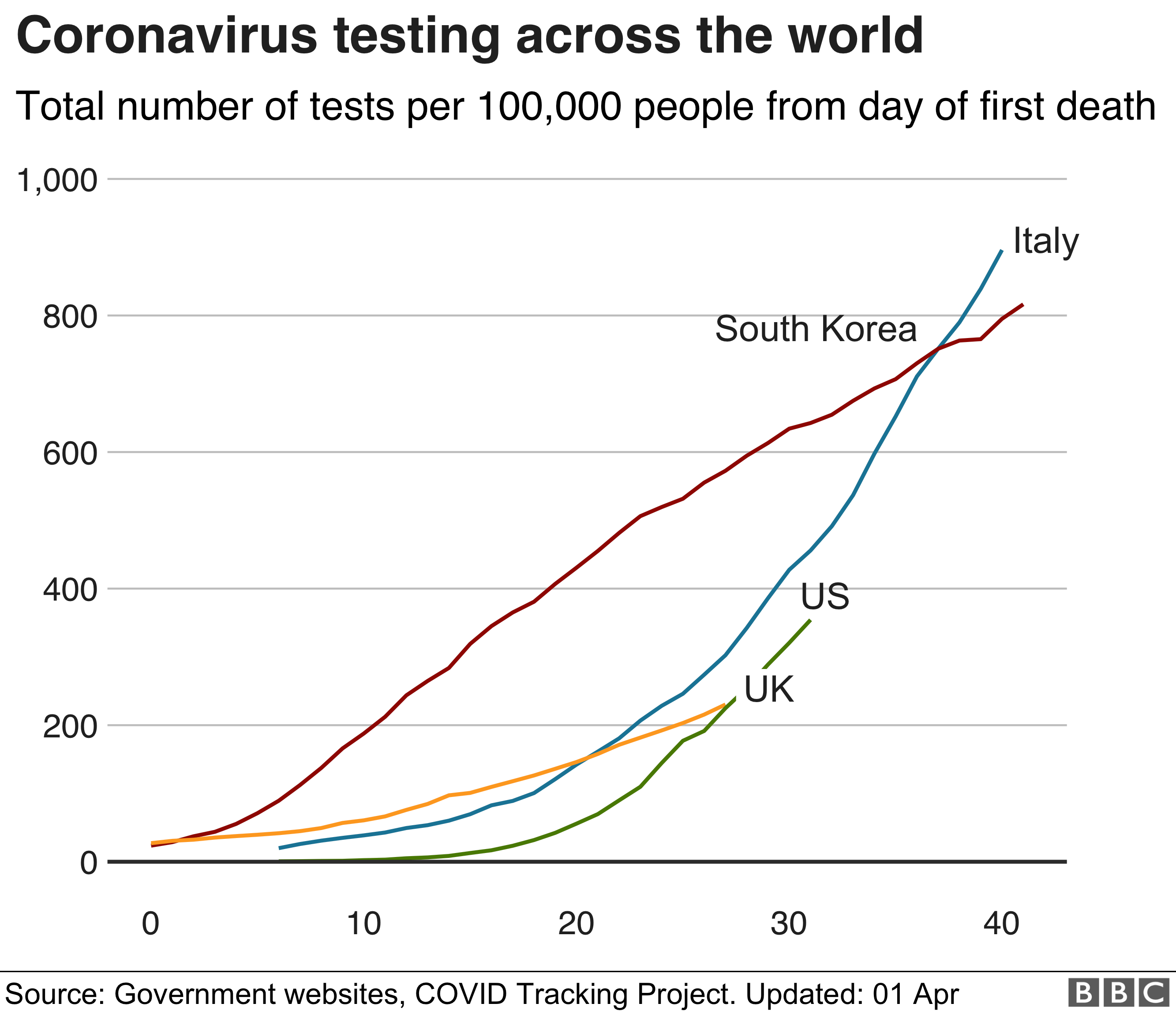 Naturally self-isolating jobs? Here's my first example, head groundsman at Lord's cricket ground Karl McDermott, who's working on his own during the restrictions. "It's every cricket lover's dream to be locked inside Lord's." No commute as he lives inside the ground with his young family. Hour after hour either sat on the lawn mower or the heavy roller. One unenviable task is clearing up the grass cuttings without the usual assistance.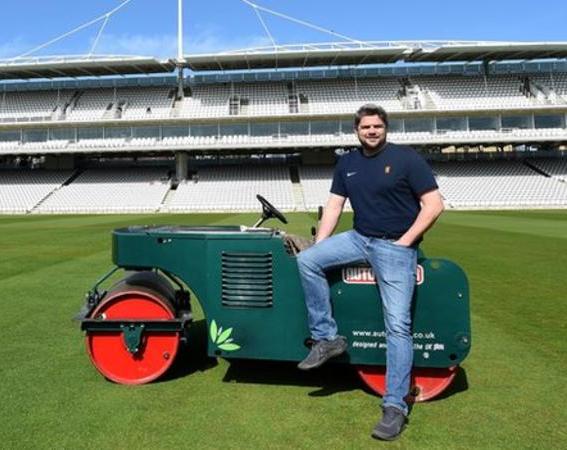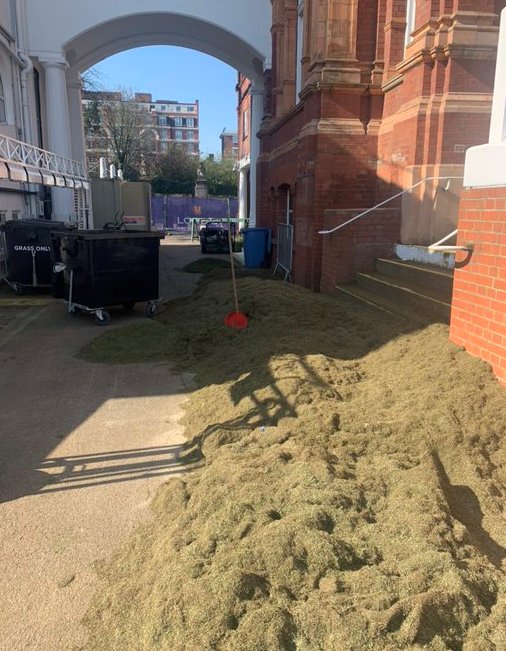 Cricket might be a game suitable for social distancing. Most of the fielders are a long way from one another, except the slips, where we'd have to adopt the Australian approach of spreading the cordon wider, or only have a second slip and gully. Wicket-keepers not allowed to stand up to the stumps. Crowd attendance at county championship matches is so poor that you could put 50 metres between spectators.

Thursday 9th April


How well IS Boris Johnson? Chancellor Rishi Sunak said yesterday that the PM was sitting up in bed and "engaging positively" with the clinical team at St Thomas' Hospital. Does that mean he couldn't sit up and was unable to communicate satisfactorily before? 10 days of self-isolation and then 3 days of intensive care doesn't sound like the relatively easy ride experienced by others who have had mild symptoms and recovered. He's had oxygen support but not been hooked up to a ventilator. Sunak also said, "The prime minister is not only my colleague and my boss but also my friend and my thoughts are with him and his family." Isn't there an undercurrent of worry in that statement? What does "steady progress" mean? I get the impression that this has been more of a struggle than we're being told.



21:10 BBC newsflash: Prime Minister Boris Johnson has been moved out of intensive care but remains in hospital, Downing Street has said. Mr Johnson has been receiving treatment for coronavirus at St Thomas' Hospital in London since Sunday. No 10 said he "has been moved this evening from intensive care back to the ward, where he will receive close monitoring during the early phase of his recovery".


The crisis has seen some distinctive and marked outcomes, most of which are unsurprising:

Ethnic minority communities are more affected than others. The city of Chicago reports that 70% of coronavirus victims are black despite representing only a third of the population. In the UK, data from the Intensive Care National Audit and Research Centre (ICNARC) suggests that 35% of critically ill coronavirus patients are from black or minority ethnic backgrounds.
Care homes are especially vulnerable. Fifteen residents at Castletroy Residential Home in Luton have died during the pandemic although only five have been confirmed as having Covid-19. Seven residents have died at a care home in east London, eight at one in Dumbarton and twelve at another in Glasgow.
Record numbers of people in the UK are looking for farming jobs. Totaljobs says it has seen 50,000 searches in the past week alone. Company spokesman Steve Warnham said workers "who have been temporarily displaced due to Covid-19 are now looking for roles in other sectors". Seasonal fruit-pickers from eastern Europe are subject to travel restrictions.
The holiday cruise industry has gone from being worth $46bn (£37bn) a year with 26 million passengers per annum to an almost total standstill overnight. The people of Venice will be pleased.
Dreadful numbers from the Institute for Health Metrics and Evaluation (IHME) at the University of Washington's School of Medicine:


Deaths in the UK are forecast to peak the third week of April, with an estimated 2,932 deaths on April 17. The model shows that the UK will not have enough beds and ICU beds to meet demand, with the shortage peaking at 23,745 ICU beds on April 17, and predicts 66,314 total deaths in the country by August 4.


Exhaustion of UK hospital ICU beds in 7 days' time. Nine times the current cumulative death toll by August. Ye Gods. I'd be happy if this were fake news.

Good to see that Manchester is making a big effort: "Greater Manchester Police warning after 660 parties shut down".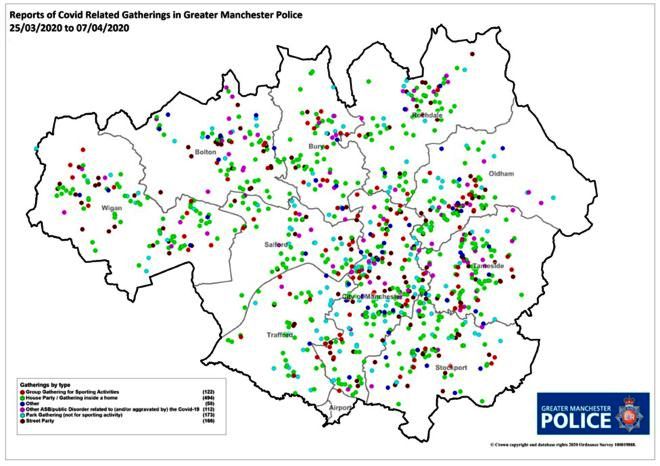 Wednesday 8th April


Liverpool FC really missed a trick with the application for government funds to support the furlough of its lower-paid staff, although the club has since reversed that decision (see the letter from CEO Peter Moore to Liverpool fans here

), swayed no doubt by the intensity of protest from fans and ex-players. What if the millionaire stars had simply offered to foot the bill (no pun intended) out of their 8-figure annual salaries? All resolved in-house, no burden on the national purse, brownie points galore, a shining social example to put alongside the football the team has played this season. Instead, despite the change of heart, people won't forget the meanness of the original request.

Contrasting pandemic trajectories. Wuhan lockdown lifted. Japan declares state of emergency.

New York Times headline: "The data says it all: Staying home during coronavirus is a luxury."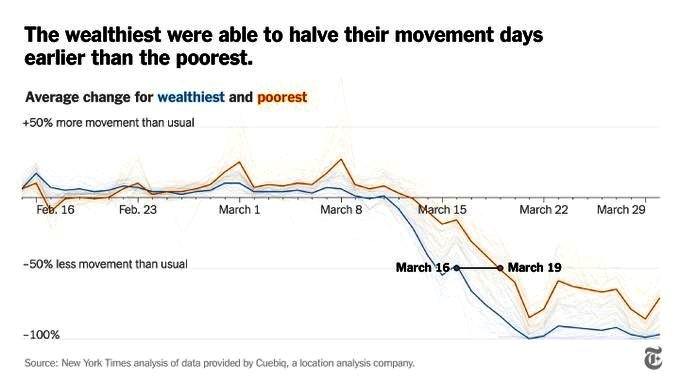 27 ℃ this afternoon. My favourite temperature at the best time of year. It was similar in the picture below of friends helping in the ruined village of Montenars after the Friuli earthquake of 1976 (see my account of that disaster here

), perhaps a little hotter as it was late May in northern Italy. I show the picture here because of the vines beyond the hut. Plants didn't care about the collapse of buildings and human loss.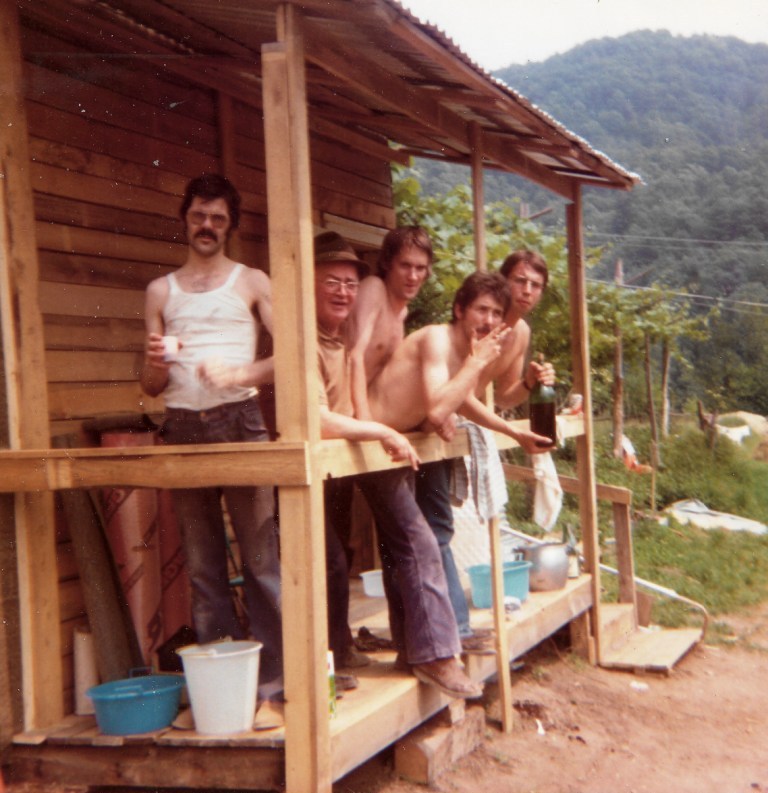 Here the magnolia is out in neighbour Liz's garden. The trees are sprouting their first bright green shoots. Oblivious to coronavirus.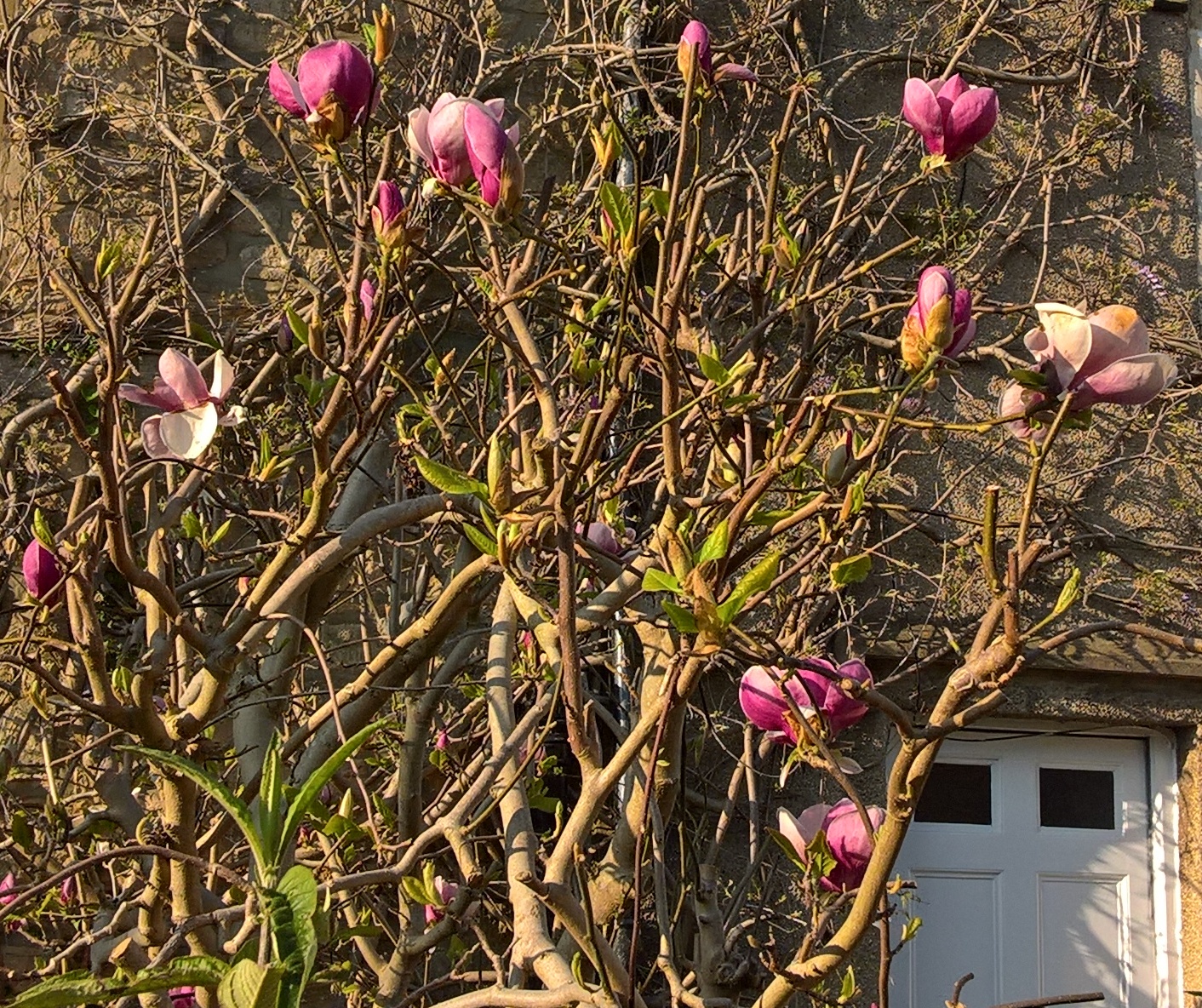 Tuesday 7th April


Boris is to stay in hospital for a second night. I can't think of any other national leader who has fallen sick as a result of the very crisis his/her country is facing.

Monday 6th April


We're lucky in this country that we can achieve effective social distancing. Even in the capital, heavily-populated and busy with visitors and commerce, we have cleared the streets. Look at a photo of Oxford Street by Sophie Raworth (see yesterday's blog), free of all shoppers, tourists and traffic.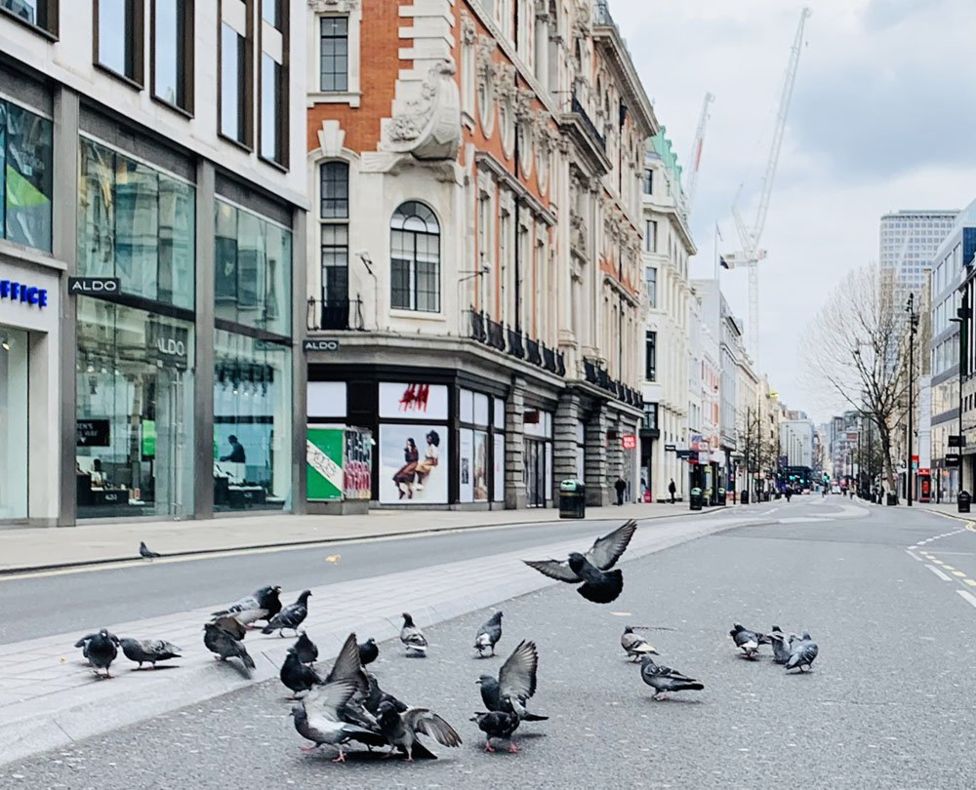 In some other parts of the world such an outcome is unthinkable. I've chosen three examples: the Dharavi slum in Mumbai, the Moria refugee camp in Lesbos and the Syrian city of Idlib. Fall-out victims of long-standing poverty and armed conflict, they now face the coronavirus in the least favourable conditions.

Dharavi, first established in 1884, has a population of 700,000 living in 2.1 square kilometres. It has regularly suffered epidemics and disaster, including a plague which killed over half of the population of Mumbai.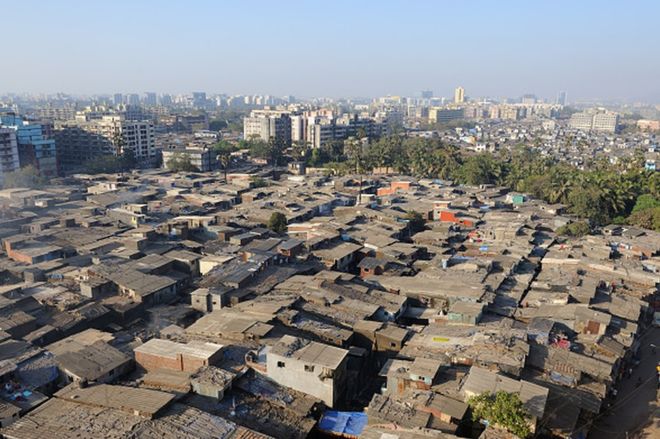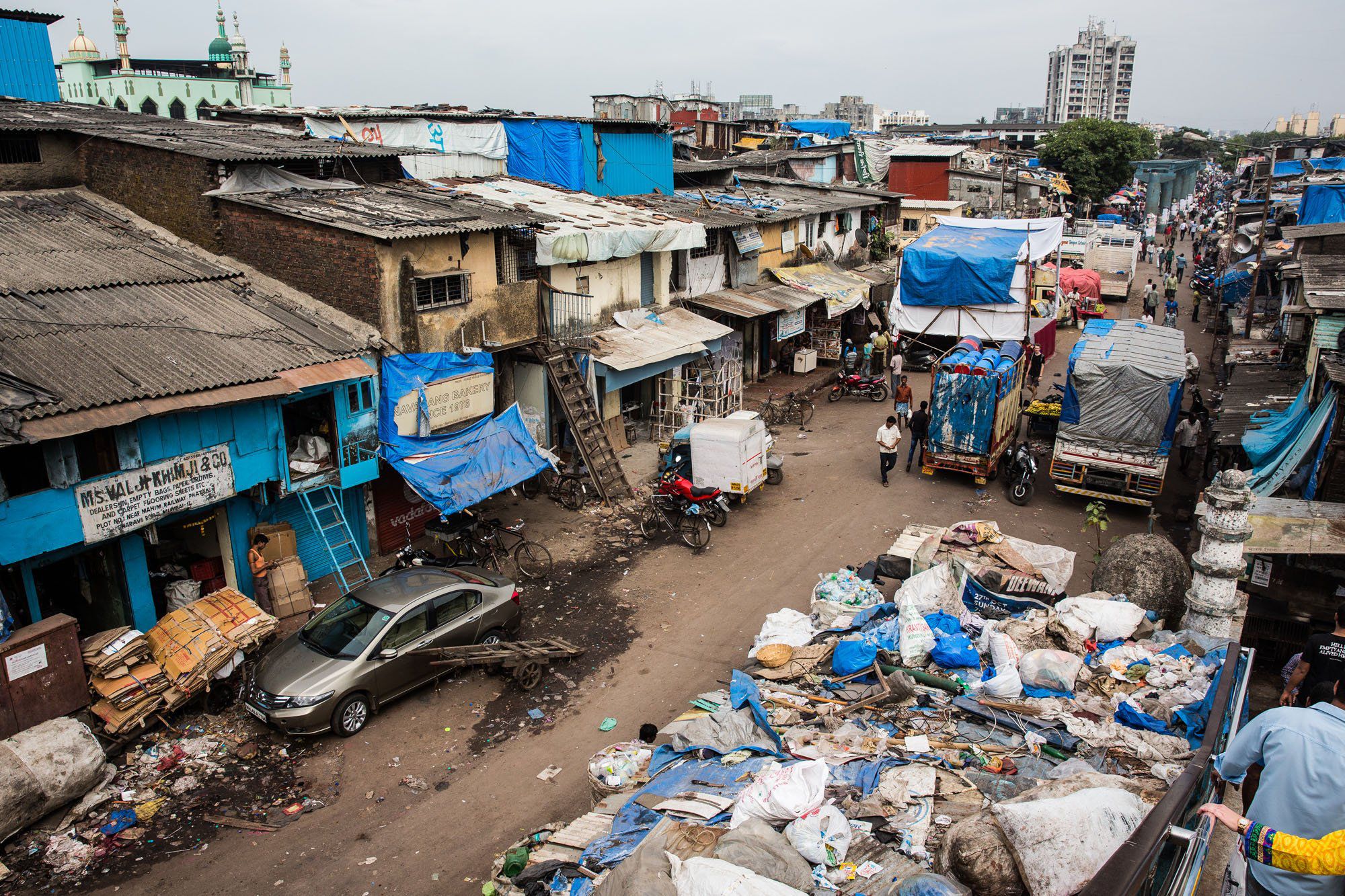 20,000 refugees live in and around the Moria camp. Crowded conditions with little hygiene and few services. Volunteer doctor Hana Pospisilova commented:



"I saw many people with respiratory problems and even though it's cold, it's winter, we are sending these people back to wet tents in an overcrowded camp. I am worried about a pandemic breaking out. They don't have hot water, they have to wait three hours in the cold for food, they aren't getting enough vitamins so many have bleeding gums. If you read about Spanish flu it was exactly like this; it began to spread in overcrowded facilities where people had a viral infection that became a bacterial infection that killed them."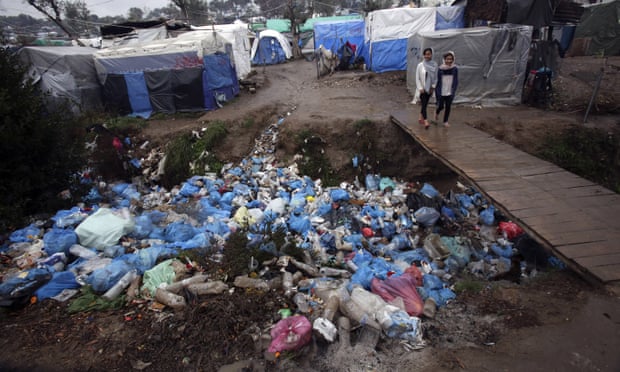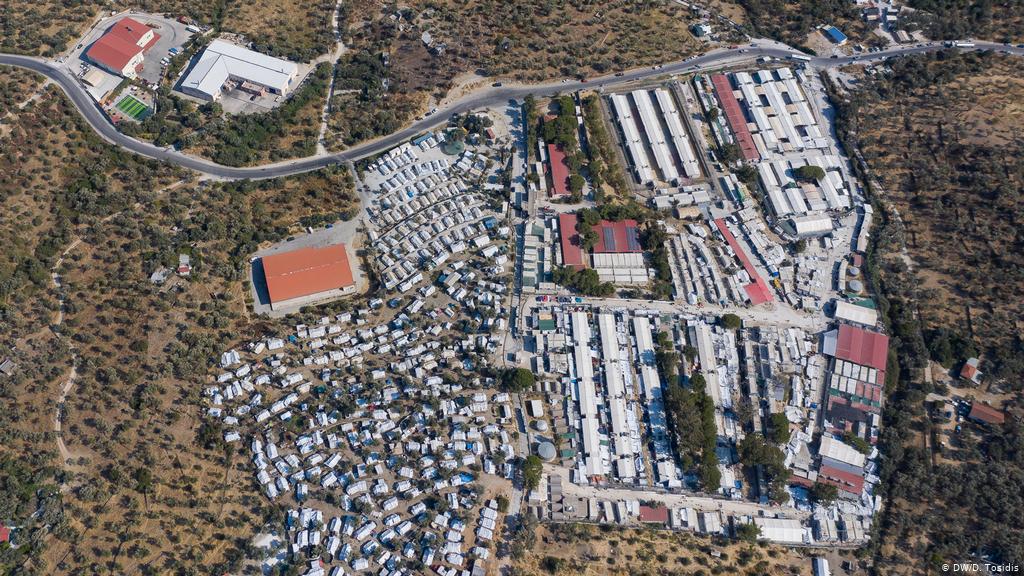 The camps at Idlib suffer the same. After conflict, destruction and evacuation comes poor temporary accommodation - and now the threat of coronavirus. The surprise is that we haven't yet heard of a major outbreak.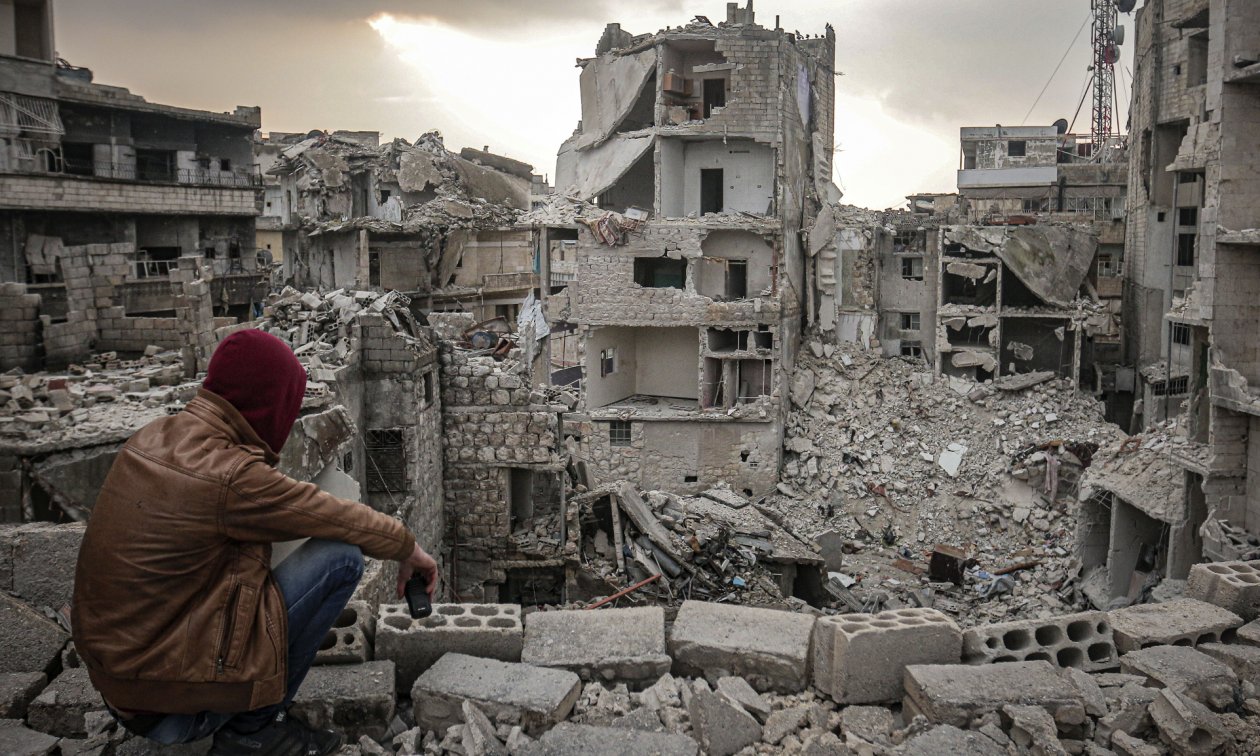 Sunday 5th April


Concern persists that social distancing guidelines are not being fully observed. Brighton and Hove City Council has tweeted in response: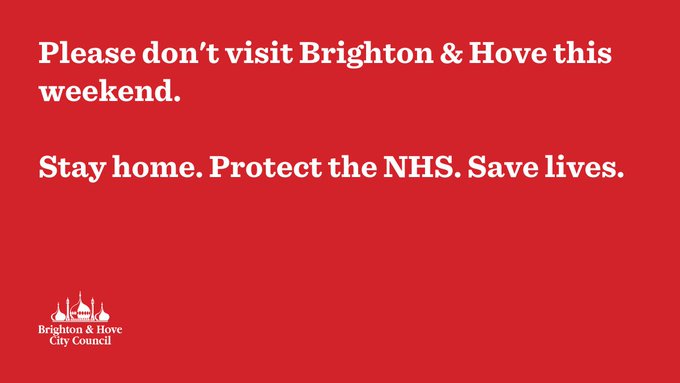 Others dispute any transgression and have sent in pictures of the sea front. Mind you, in the second picture can you see (if you zoom in) some small groups at the far end of the beach? Country-wide a small percentage is flouting the regulations. Difficult to understand. When people might die.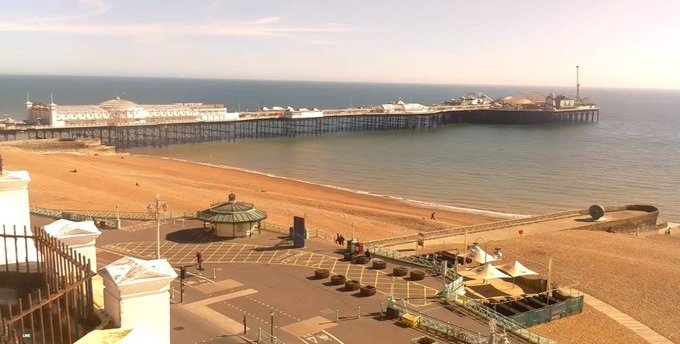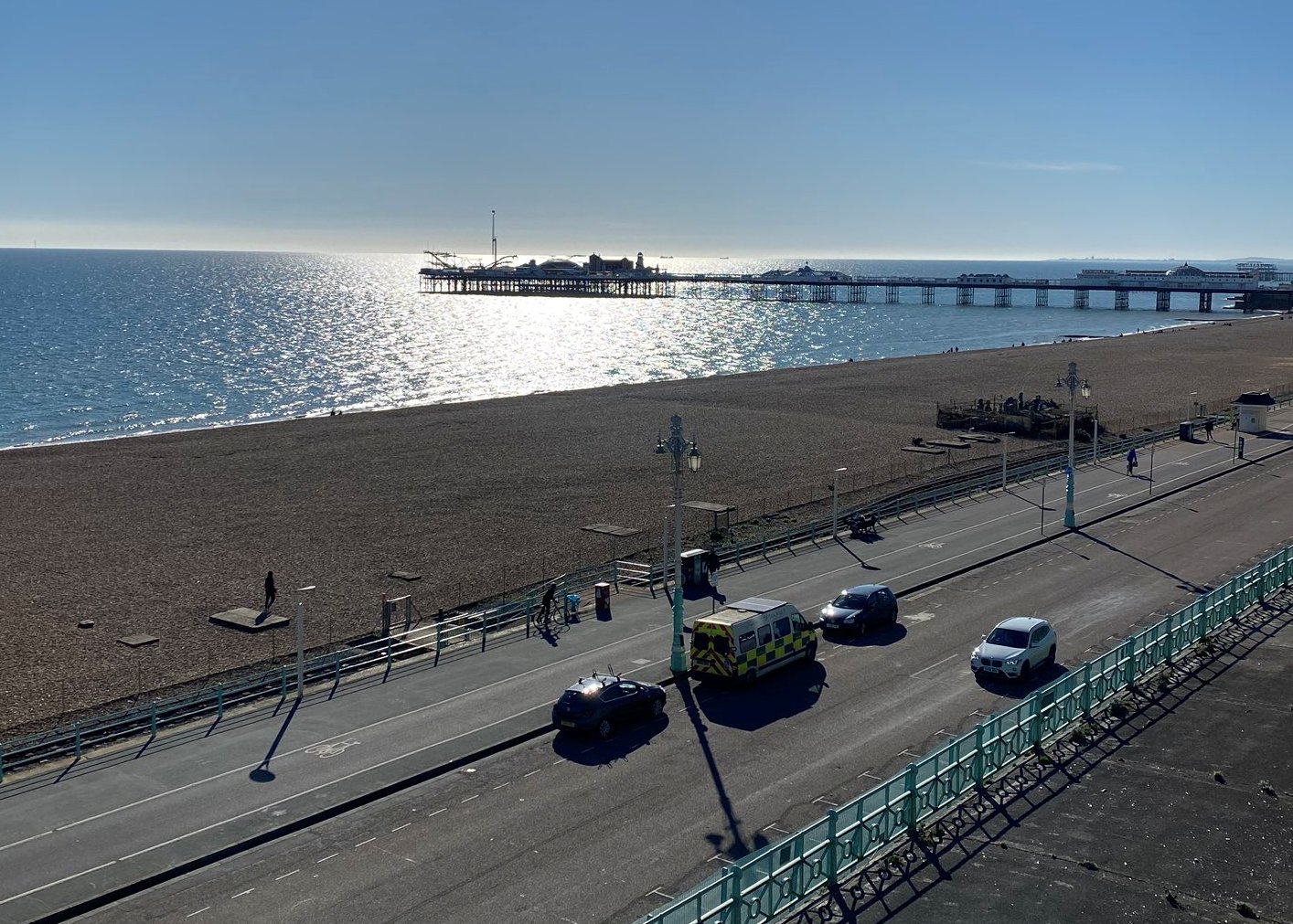 Journalist and broadcaster Sophie Raworth runs to work at the BBC. On her way she's taken pictures of London's empty streets:


Saturday 4th April


I'm getting more and more angry about how we've fallen short at coronavirus testing in this country. In this age of Big Data we really should have known how important it was. It allows fierce, targeted and effective intervention, the kind recommended by Tomas Pueyo's paper "Coronavirus: The Hammer and the Dance" (see post here on 25th March

). The world of commerce has for years benefitted from the manipulation of vast data pools, usually acquired without us even knowing. Business can hunt us down via email, social media and cold-calling to sell us more than we want or need. But having the data to save our lives?

Eminent statistician David Spiegelhalter, with The Moment production company, has a charming little video animation (almost too playful and pretty given the context) on the BBC website titled "What would Florence Nightingale make of big data?"

Here's an excerpt from the video transcript:


We know her as a nurse, the lady with the lamp, gliding through blood-soaked army hospitals. But maybe we should call her the lady with the bar chart, because she was at least as illuminating in the world of statistics. So, what would she think of big data? Florence loved statistics. She said she found them "more enlivening than a novel". And a friend said, "However exhausted Florence might be, the sight of long columns of figures was perfectly reviving to her." For Florence, statistics were God's work. She said, "To understand God's thoughts we must study statistics, for these are the measure of his purpose." So, although she's famous now as a nurse, she actually trained first as a statistician.


My anger grows as medical staff succumb. Two nurses died in the UK yesterday, Areema Nasreen and Aimee O'Rourke, both mothers of three children. All such health professionals throughout the world are exposed to these terrible risks as they tend to the rest of us, frequently - at least - without the right levels of scientific and physical support to make themselves safe.

Friday 3rd April


Brexit? Remember that? One of the redeeming (not really, but it's something) features of the coronavirus is the absence of the B-word. All those years of divisive politics, a split nation, insular and small-minded thinking. Barely a whisper now. This crisis is international. Borders may be closed, but empathy transcends them. We look outwards from Blighty with concern for other nations, not just ourselves. We're all saving our own skins but there's an increased acknowledgement of and compassion towards the less fortunate.

Thursday 2nd April


More on Zoom, this time security. The Register

comments "Zoom's end-to-end encryption isn't actually end-to-end at all. Good thing the PM isn't using it for Cabinet calls."



UK Prime Minister Boris Johnson sparked security concerns on Tuesday when he shared a screenshot of "the first ever digital Cabinet" on his Twitter feed. It revealed the country's most senior officials and ministers were using bog-standard Zoom to discuss critical issues facing Blighty. The tweet also disclosed the Zoom meeting ID was 539-544-323, and fortunately that appears to have been password protected. That's a good thing because miscreants hijack unprotected Zoom calls. Crucially, the use of the Zoom software is likely to have infuriated the security services, while also raising questions about whether the UK government has its own secure video-conferencing facilities. We asked GCHQ, and it told us that it was a Number 10 issue. Downing Street declined to comment.


Here's a rapid change of tack, the kind of wandering shift made allowable by self-isolation. Which countries have the fewest cases of coronavirus? There may be as many as eighteen with no cases at all. That's the number of UN member states who have not confirmed their statistics for the reason that no data is available or they have no formal reporting mechanisms. So they don't count. Three countries have confirmed 1 case to the WHO: East Timor, Papua New Guinea and Saint Vincent and the Grenadines. I believe the East Timor case has recovered :-)

Wednesday 1st April


So Boris has conducted his first cabinet meeting via video conferencing. Hmmm, somebody - just visible beyond him - isn't social distancing ;-)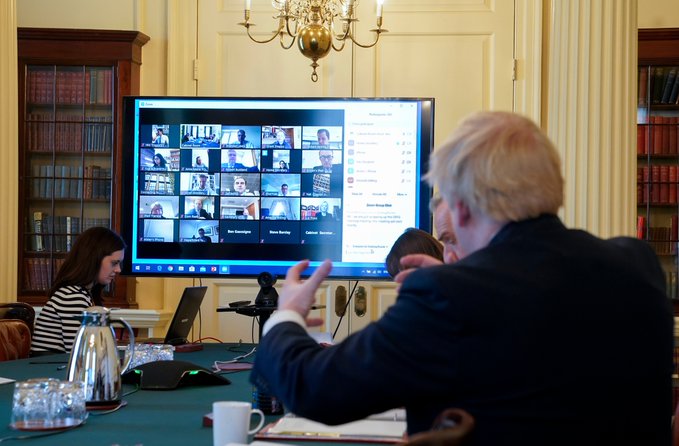 Looking down at the telephone socket by my desk, I'm prompted to reflect on what I can now do down the wire. During the last week I have:



Made free calls to friends and family; made video calls; paid bills and invoices; made bank transfers; bought a new shower head on-line (click-and-collect from store car park); read the news; maintained this website; exchanged video and photos; downloaded software; downloaded articles; booked a medical appointment; proofread an article by my son in Bilbao; watched Netflix films; caught up with iPlayer; posted queries on IT forums; and more besides ...


Consider Zoom's stock price. Faltering in recent days, perhaps because of doubts about their ability to scale to demand, but overall 115% growth in 3 months ...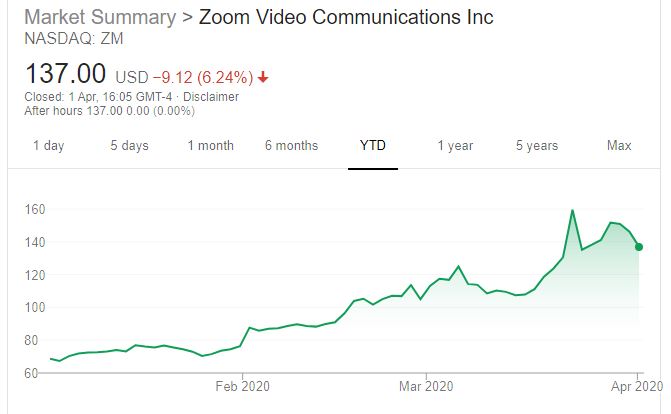 Tuesday 31st March


After a dose of gloom yesterday, it's "Silver Lining" Tuesday. A lot is being published about beneficial changes brought about by the arrival of the virus. People helping others less fortunate, NHS volunteers, pollution falling, even the possibility of significantly different approaches to climate and economics. Here's Caroline Lucas in address-to-the-nation mode:



The Guardian continues the theme in this article: "Covid-19 economic rescue plans must be green say environmentalists"


The economic rescue packages to deal with the impact of the coronavirus must also be green, a growing chorus of environmental campaigners have urged, concerned that hasty measures will lock the world into a high-carbon future.

"Governments need to put huge amounts of money into trying to sustain jobs and livelihoods," said Mary Robinson, a former Irish president and UN high commissioner for human rights, who served twice as UN climate envoy. "But they must do it with a very strong green emphasis. The threat from climate change is as real as the threat from Covid-19, though it seems far away."

"Money has poured into the fossil fuel industry since the Paris agreement [of 2015]," she said. "That can't continue."


On The Conversation website, Simon Mair discusses our economic outlook in "What will the world be like after coronavirus? Four possible futures"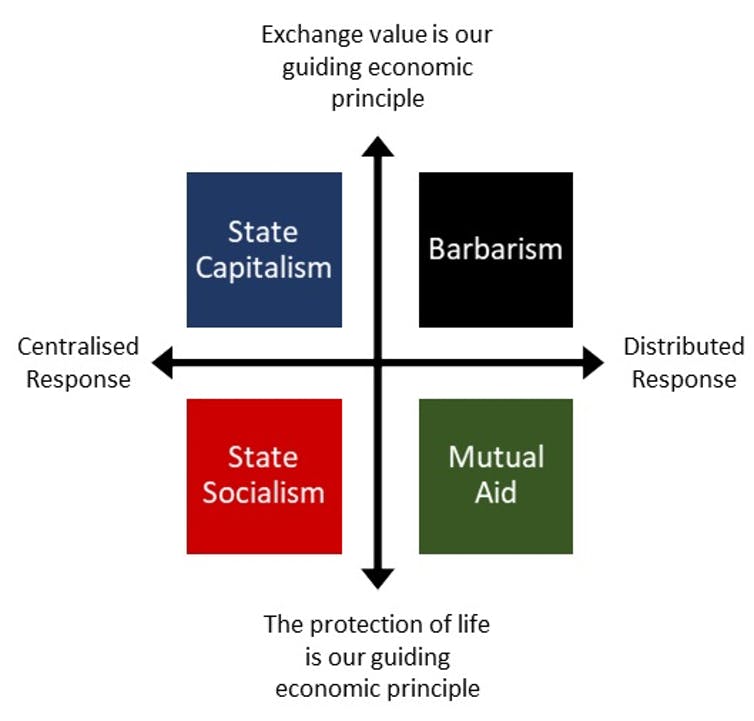 His glossary of terms may help:



Exchange value: The key to understanding responses to COVID-19 is the question of what the economy is for. Currently, the primary aim of the global economy is to facilitate exchanges of money.
State capitalism: State capitalism is the dominant response we are seeing across the world right now. Typical examples are the UK, Spain and Denmark. The state capitalist society continues to pursue exchange value as the guiding light of the economy. But it recognises that markets in crisis require support from the state.
Barbarism: This is the bleakest scenario. Barbarism is the future if we continue to rely on exchange value as our guiding principle and yet refuse to extend support to those who get locked out of markets by illness or unemployment. It describes a situation that we have not yet seen.
State socialism: State socialism describes the first of the futures we could see with a cultural shift that places a different kind of value at the heart of the economy. The key here is that measures like nationalisation of hospitals and payments to workers are seen not as tools to protect markets, but a way to protect life itself.
Mutual aid: Mutual aid is the second future in which we adopt the protection of life as the guiding principle of our economy. But, in this scenario, the state does not take a defining role. Rather, individuals and small groups begin to organise support and care within their communities.


Monday 30th March


Monday doesn't feel very different to Sunday. Our street's empty. No kids walking down to school this morning, nobody going off to work. Social distancing queue at Waitrose.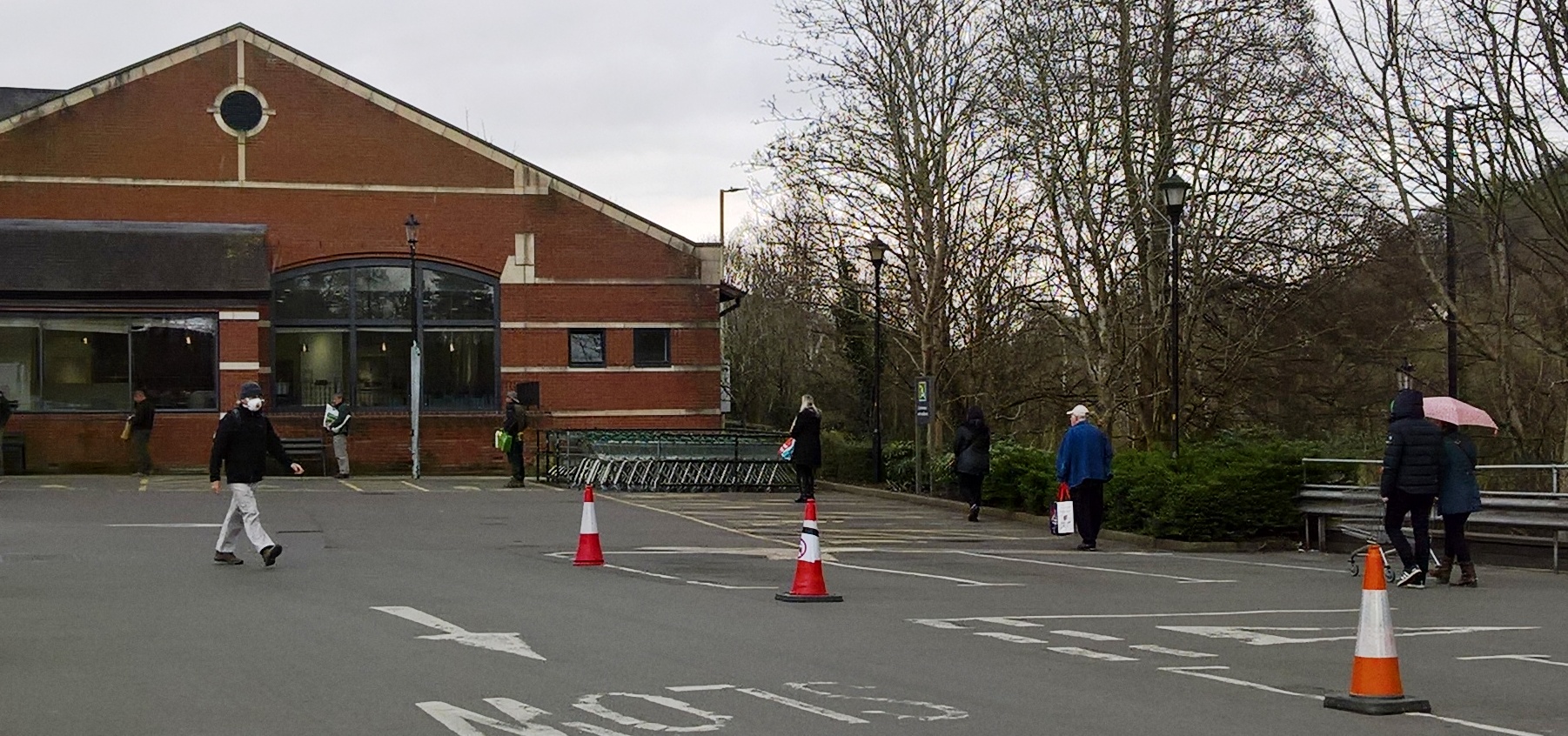 I've had some practice at this. As a self-employed IT consultant, I've sat at this exact desk alone for over ten years. Of course, I've made visits to customers, but most of the time I've been able to do development or configuration work here. No commute to the office, no boss, no colleagues, no employees. Just me and a task to complete. Same as today.

It's difficult to acknowledge that death from this virus hovers over us. Not just that it's here today, or even tomorrow, but for weeks and months to come, bringing a minimum of 20,000 UK fatalities.

Sunday 29th March


I've had no inclination to write today. The coronavirus statistics (deaths and new cases) are too horrid. The long haul and worse numbers to come.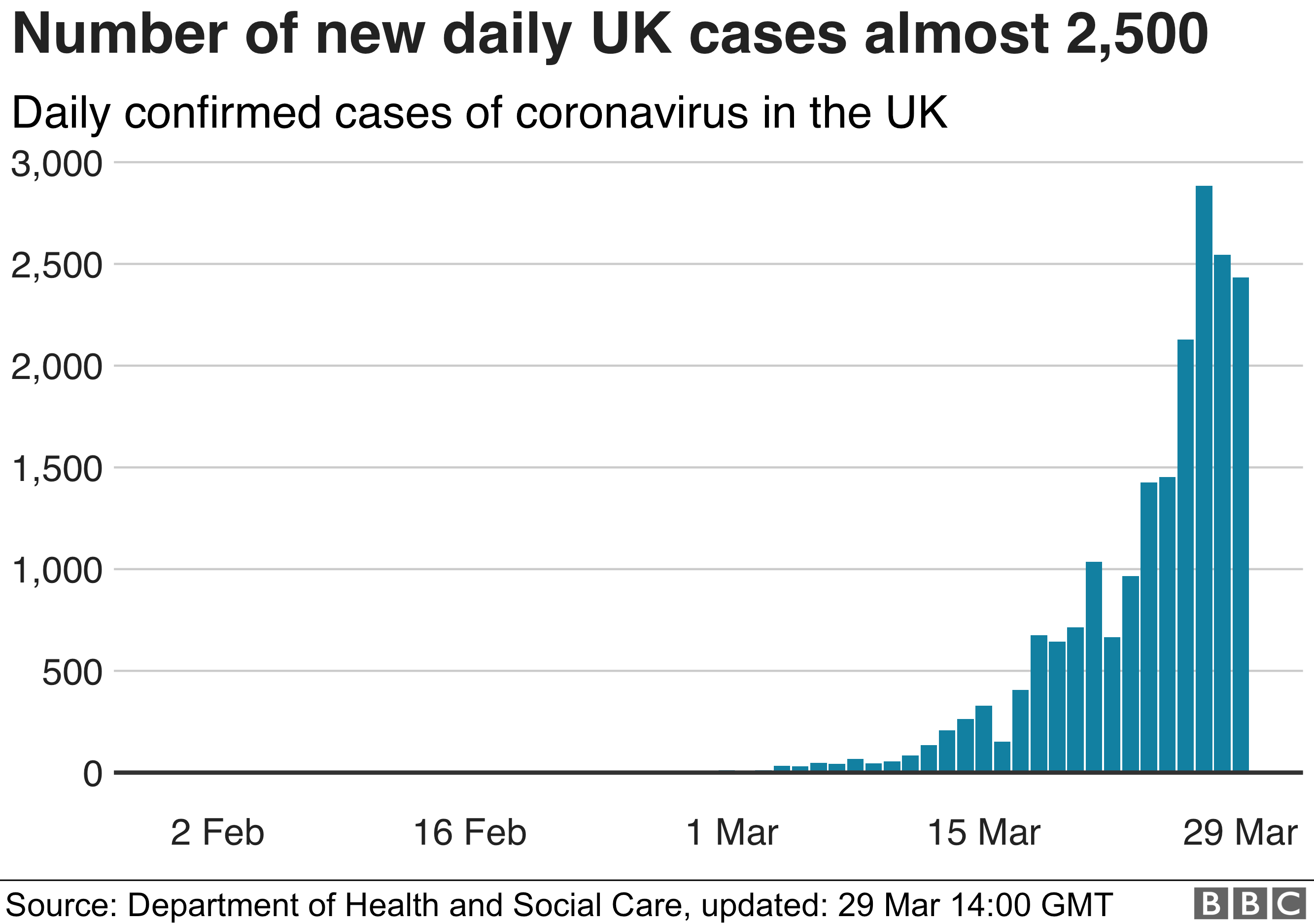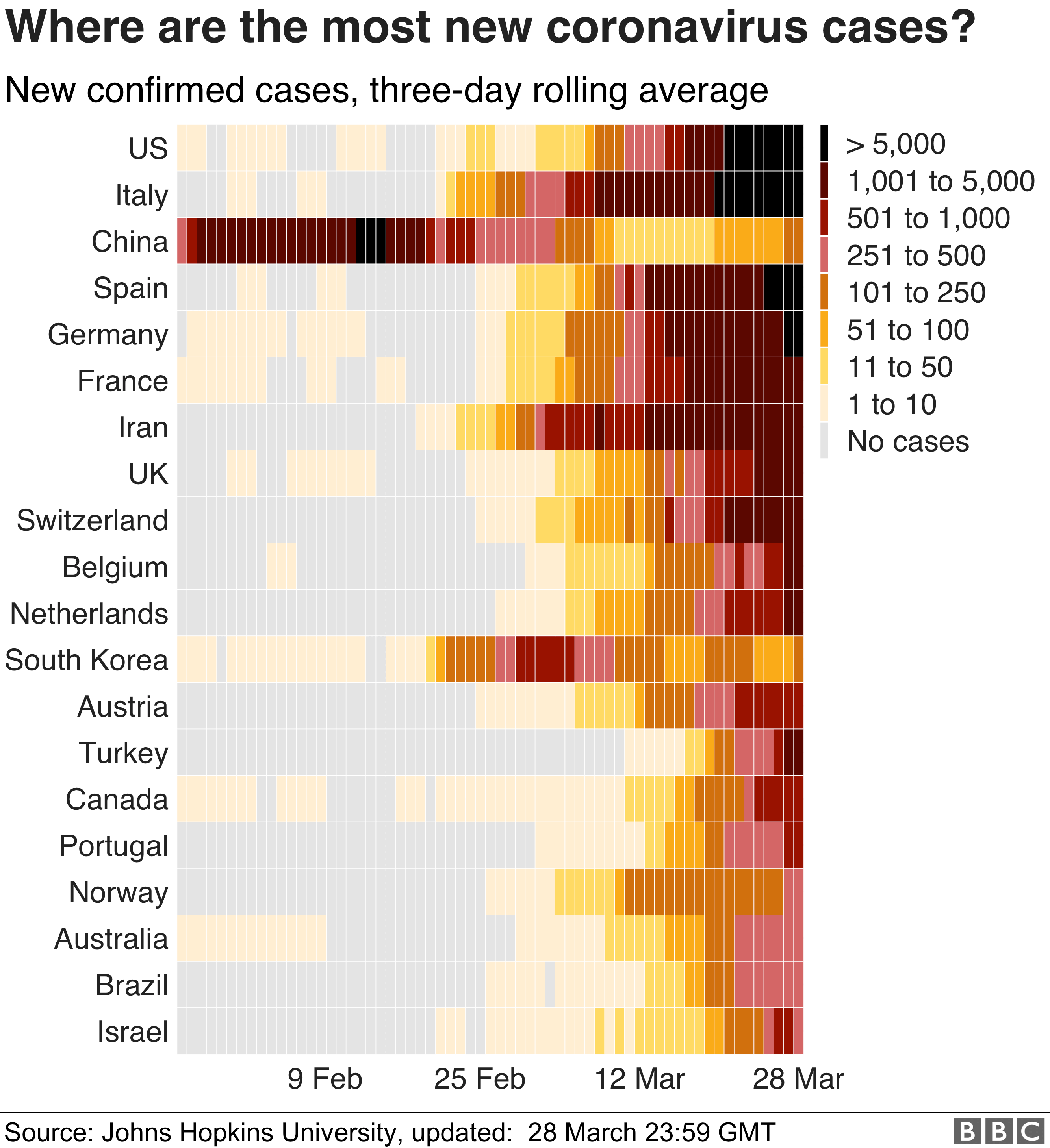 USA now leads on new cases per day. Note "glimmer of light" China and South Korea.

Another glimmer is the reduction in pollution, see Chinese NO2 comparisons:




Check out this New York Times article

"What the Coronavirus Means for Climate Change".

Saturday 28th March


Fighting gloom today as the numbers are so grim. Spain's death toll rose by 832 cases overnight to 5,690, marking a new high in the daily rise in fatalities there. Obvious concern for son Ben.

The predictions for the future really hit home. In the UK, it's not just the number today that shocks but what it will look like in 3 weeks' time. The curve in western European nations heads ever up, the curse of multiplying cases. Action is taken, but its benefit is not reflected at once. Turbo lag.

South Korea is receiving plaudits for its response to the virus. For the first time it has more people who have recovered than are still infected. Test, trace and isolate.



16:21 BBC newsflash

NHS England medical director Professor Stephen Powis says if the death toll in the UK is kept below 20,000, "we will have done very well".

Friday 27th March


I've been reflecting overnight on the crisis experience.

It's beyond weird. Another lovely day and there's nothing remarkable on show outside. You can't see the virus. Yet 7,505 people have died in Italy, nearly eight times the toll for the earthquake I witnessed in Friuli in 1976. There was then plentiful physical evidence of the loss, buildings destroyed, body bags outside makeshift field hospitals. From my window this morning I can see only clear blue sky.

There is inequality in the experience. We're retired. Our income is not dependent on going out to work. We have assets and no debt. Meanwhile young people are losing their jobs, just at the moment when they are making their way in the world. Friends have large houses and gardens and can continue with their regular activities, gardening, writing or painting in their creative sheds, enjoying the space. The British royals each have a castle in which to self-isolate. In contrast, poor families with children remain trapped in high-rise blocks.

Our daughter Ellie is 24/7 single-parenting 5-year-old son Marlie and 13-year-old daughter Lola at home in Bristol and doing a great job. School work, activities in the garden, dance sessions. Here's a routine devised by Lola:



Thursday 26th March


Yesterday Spain recorded 738 deaths in the previous 24 hours, overtaking China's toll in rising to 3,434. Madrid is worst affected, followed by Catalonia and the Basque Country, where our son Ben lives. We are naturally very worried.

The acceleration has been rapid despite a severe lockdown delivered too late. Ben paints a bleak picture on the 'phone. The police sweep his area regularly to control lockdown transgression. A friend was recently fined €600. Ben lives in the Bilbao barrio or auzoa of San Francisco, just across the river Nervión from the Casco Viejo or old town. It's a busy immigrant area and probably attracts more than its fair share of police attention. Most people live in flats and are now denied the traditional release of hanging out on street corners or sitting outside bars. Small businesses, heart of the local economy, are under severe threat. Ben found one of his local shopkeepers in tears the other day. She couldn't get any beer delivered; it was all going to the big supermarkets.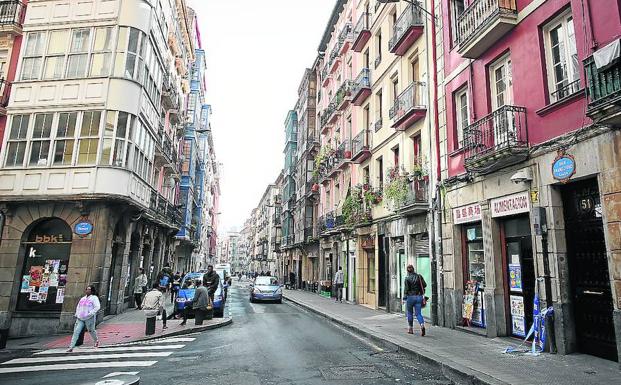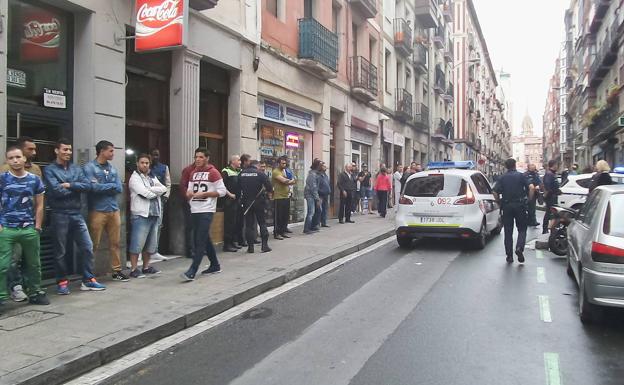 The virus has summarily halted the adventure that Ben and his girlfriend Soph have been enjoying for the last eighteen months. They didn't go to Spain to stay indoors, avoid restaurants and suspend friendships. I asked if they'd thought about coming home and of course they have. It's not a simple decision. Ben says he has all his "stuff" there, books, musical instruments. What would they do if they came back to the UK given the conditions here? How do they get back? They've just bought a Mercedes van and I understand that you can still drive through France with the correct documentation. Neither has an income now. What happens when the money runs out?

Wednesday 25th March
My brother-in-law Graham Gibbs has sent me a link to a must-read paper called "Coronavirus: The Hammer and the Dance" written by Tomas Pueyo with support from many co-contributors.

He argues that action to fight the virus should be immediate and intense, the "hammer" of fierce suppression rather than half-hearted "mitigation" (as in the UK up to now) or worse "do nothing".


"Strong coronavirus measures today should only last a few weeks, there shouldn't be a big peak of infections afterwards, and it can all be done for a reasonable cost to society, saving millions of lives along the way. If we don't take these measures, tens of millions will be infected, many will die, along with anybody else that requires intensive care, because the healthcare system will have collapsed."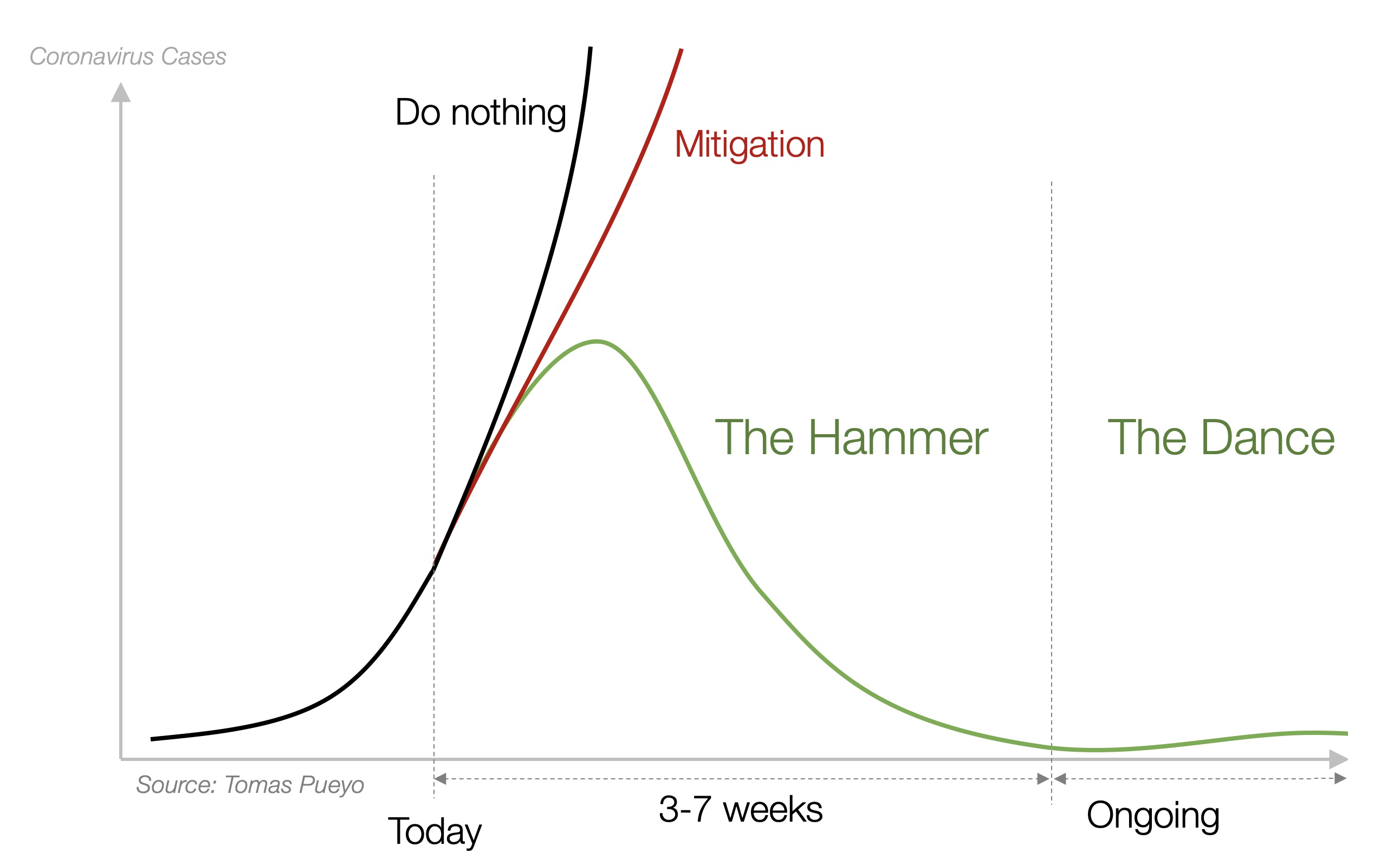 Pueyo also tweeted about the UK lockdown:

"Great news! The UK finally announces a country-wide lockdown. They could have done it 10 days ago, but the epidemiological advice the govt received was bad. It will lead to hundreds, maybe thousands of unnecessary deaths.

#HammerAndDance #coronavirus

"

Tuesday 24th March


Yesterday's numbers have already changed significantly by 7am this morning. UK deaths have grown from 281 to 335, an increase of 54 or 19%. Boris' softly-softly approach has been ditched. We're in lockdown now.

My thoughts have immediately turned to how we might optimise our freedom. We'd better make that one dose of exercise count. Is a single but all day bike ride allowed? Can I go up on the common all morning for golf practice?

I nipped down to Waitrose to take advantage of the first-hour old-and-vulnerable priority. I estimate the queue will take over an hour to clear. There are as many people again between this shot and the entrance. The store's operating a one-out-one-in policy. Social distancing evident at the front. Not so many elderly, and they're not being given preference.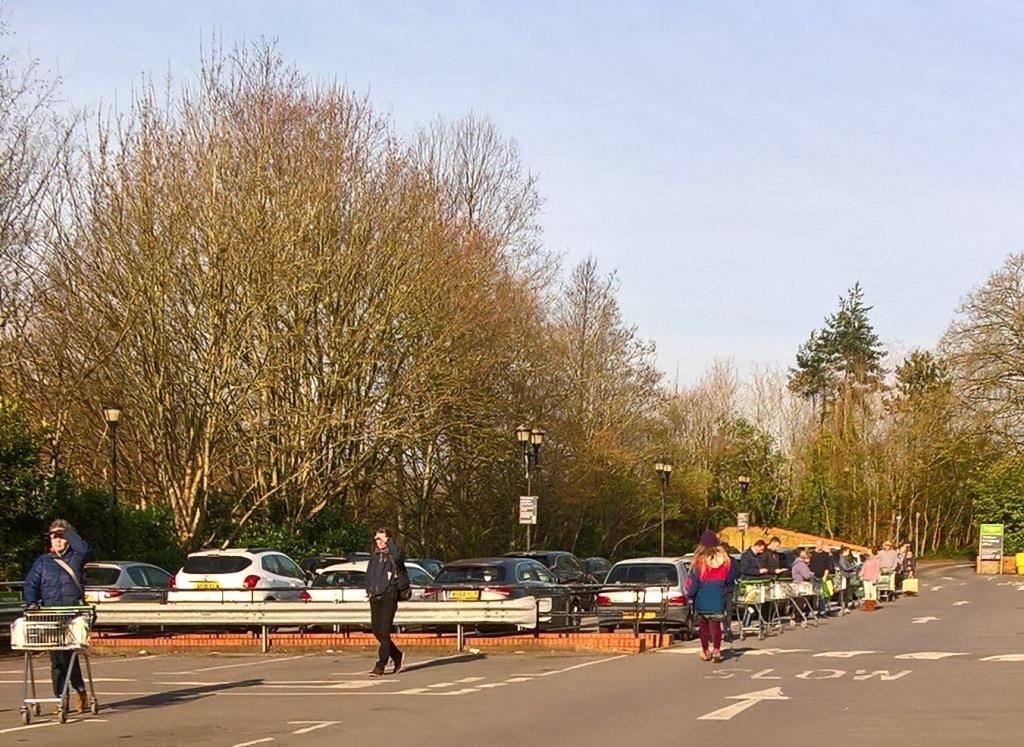 I went home. Fortunately there was no queue when I returned at 5pm, the store was only half-full and there was plenty of produce.


Monday 23rd March


As we're well into this pandemic and I'm late writing about it, I'll show some historical trends and state current numbers.

Here is yesterday's WHO global summary of cases, deaths and territories:




The number of cases in the top 10 affected territories is: China 81499, Italy 53578, Spain 24926, Iran 21638, Germany 21463, USA 15219, France 14296, Republic of Korea 8897, Switzerland 6077, United Kingdom 5018.

The chart below is from Public Health England via the BBC: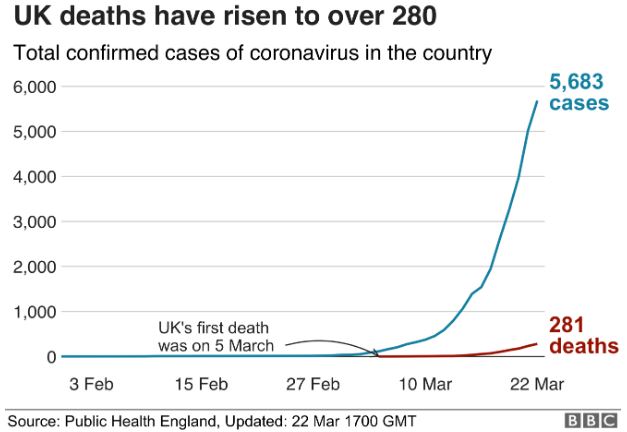 Sunday 22nd March


I had originally decided not to write a blog on coronavirus. There is so much already published every day throughout the media. My friend Alf Florio has now convinced me that I should. He enjoyed my general election blog

even 'though he read it after the event. So, here we go. I may be starting late ... but we have plenty ahead of us :-(

The same personal, rather selfish motivation applies here as for the election piece. I found that writing about and inviting comments on that miserable period helped me withstand it. So many thoughts and concerns were rattling around in my head at that time and confronting them head-on by writing allowed me to process and dissipate them. I suspect that the size and severity of the pandemic means I will be even better served by this blog's focus. It is at least one thing I can be doing to counter the effects of self-isolation.

There's a family angle to it all, a European one. Son Nikko is locked down in Vienna with his baby daughter. Son Ben is confined in Bilbao. I also have friends in the badly-affected Veneto and neighbouring Friuli. It will be good to stay in touch with them, hear their experiences. Chris Taylor in Udine (Friuli) has sent the first contribution:



"Yes, the situation is dire. We are not allowed to go outside our 'comune'. For us, that's the city of Udine. If you live in, say, the village of Cerneglons, your movements are very limited. We're told to stay indoors except for food shopping, newspaper buying, going to the chemist's - and walking the dog! So I can't go anywhere near the centre of the city, otherwise I can be stopped by the police and sanctioned. In any case, there's no point. All bars, restaurants, shops, cinemas, etc. are closed. Udine without osterie! This, as you can imagine, is tedious, but as these draconian measures seem to have worked in China, we'll follow the rules and hope for the best. May the UK avoid the worst! But don't count on Bojo."


I'm torn by Boris' handling of the UK situation. Everything I feel about him and the Tories suggests that I should tear into their approach, but I'm not inclined to criticise. The daily press briefings are a good idea, keeping communication lines open between PM and people. His presentation is honest and natural. He's prepared to voice difficult ideas. He knows he has to throttle back his extreme gung-ho-ness. It's a clever move to be flanked by scientific and medical chiefs; it delegates authority to them and takes the burden off him. Of course, the proof will be in the outcome of the policy to "suppress the curve" rather than go straight to full Italian or Spanish lockdown.

Chris reflects my thoughts of a few evenings ago. "Udine without osterie?" All across Europe, bars and restaurants are closed or closing. Unimaginably weird. They were a big part of why we took holidays or worked in those countries in the first place.