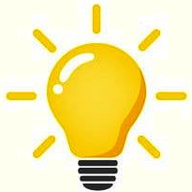 Whatever I Fancy Blog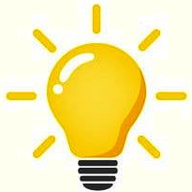 incorporating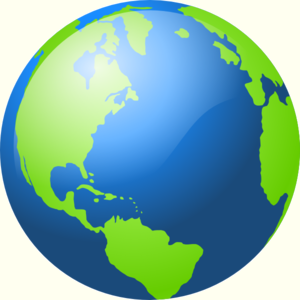 Climate Blog UK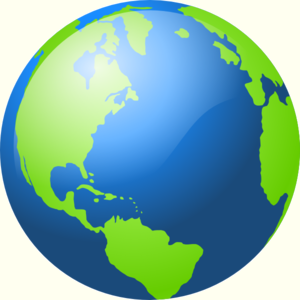 and 'living with'

Coronavirus Blog UK

Comment | Opinion | Questions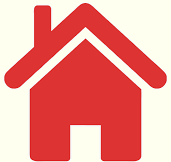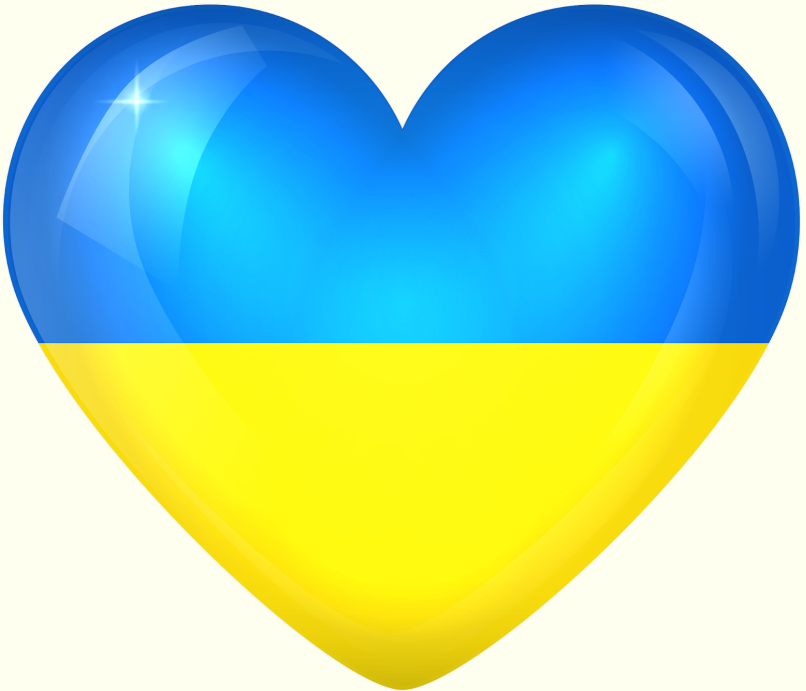 [Entries are in reverse date order, latest at the top. Comments and cont­ri­but­ions are welcome to the email address at the bottom.]



Sunday 25th December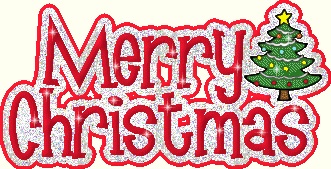 Saturday 24th December


The final round of Middle Street Advent windows: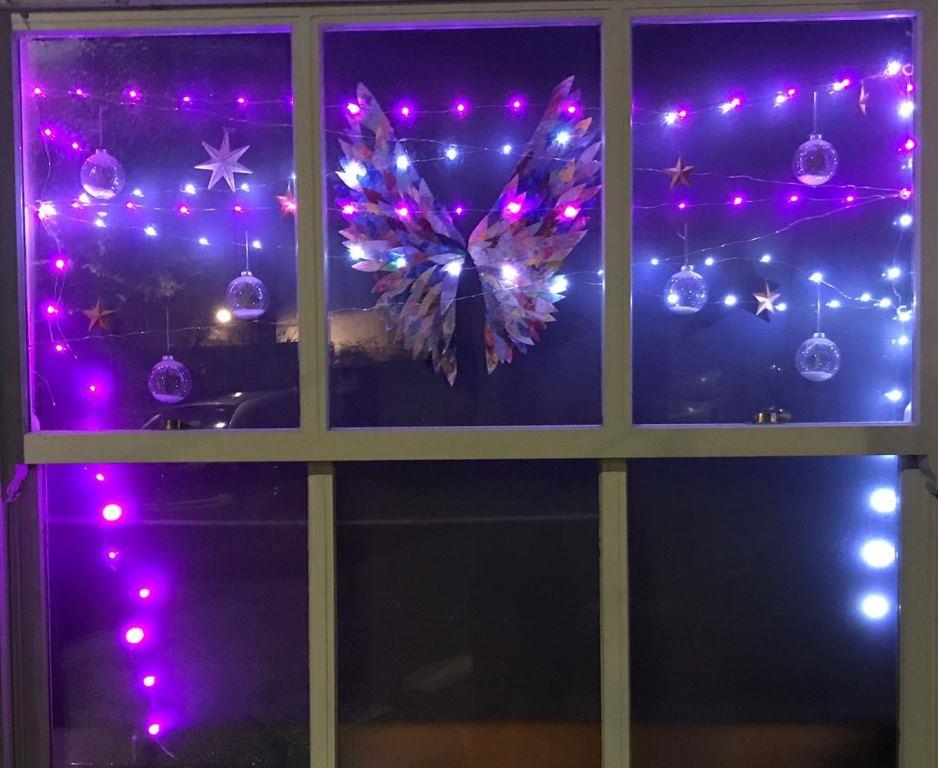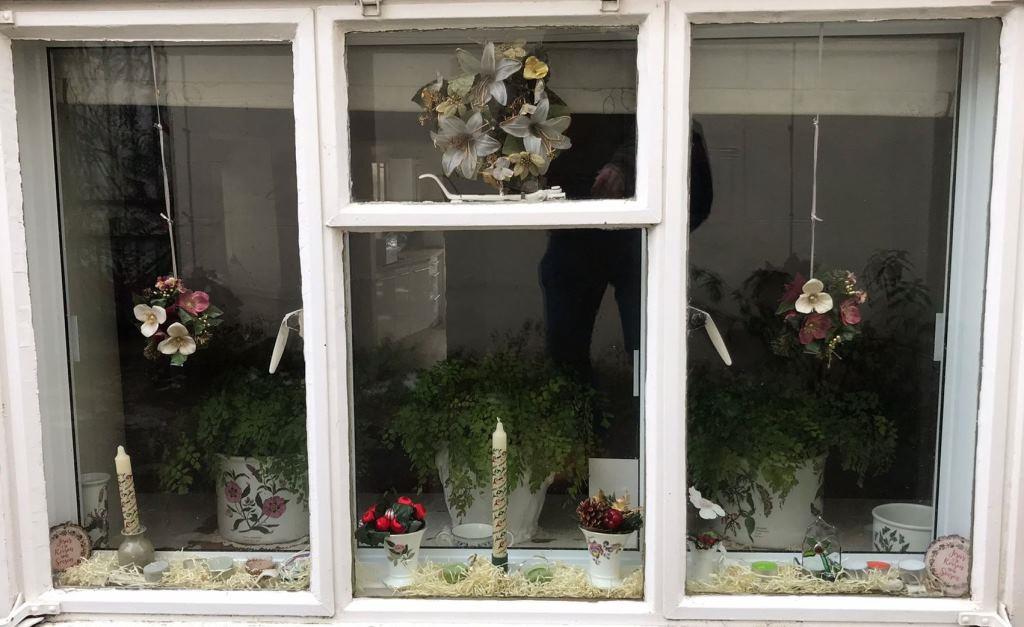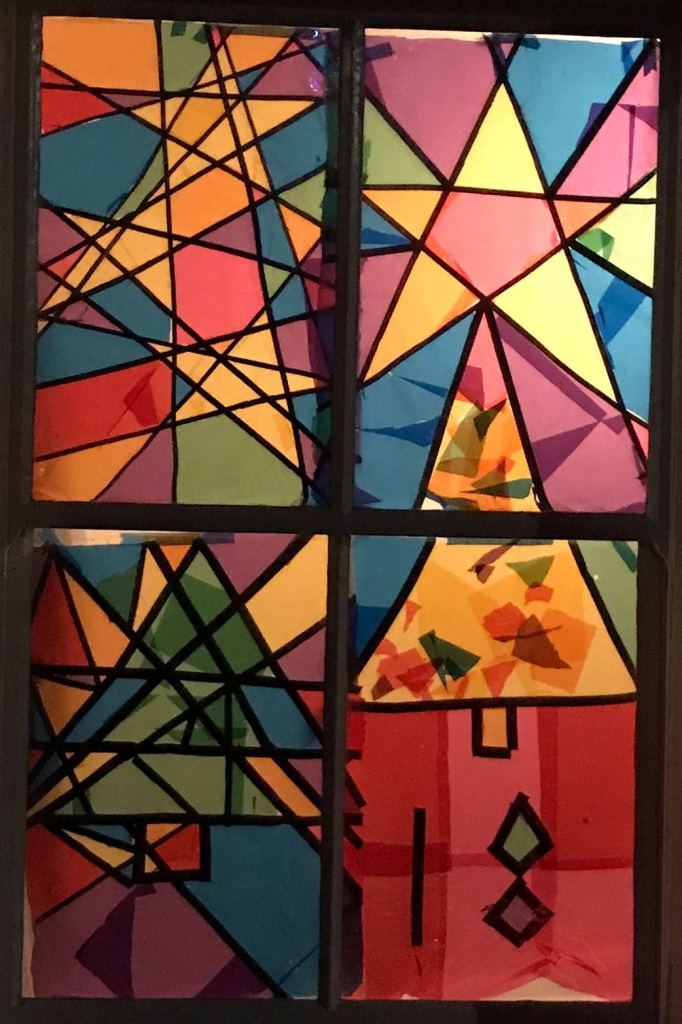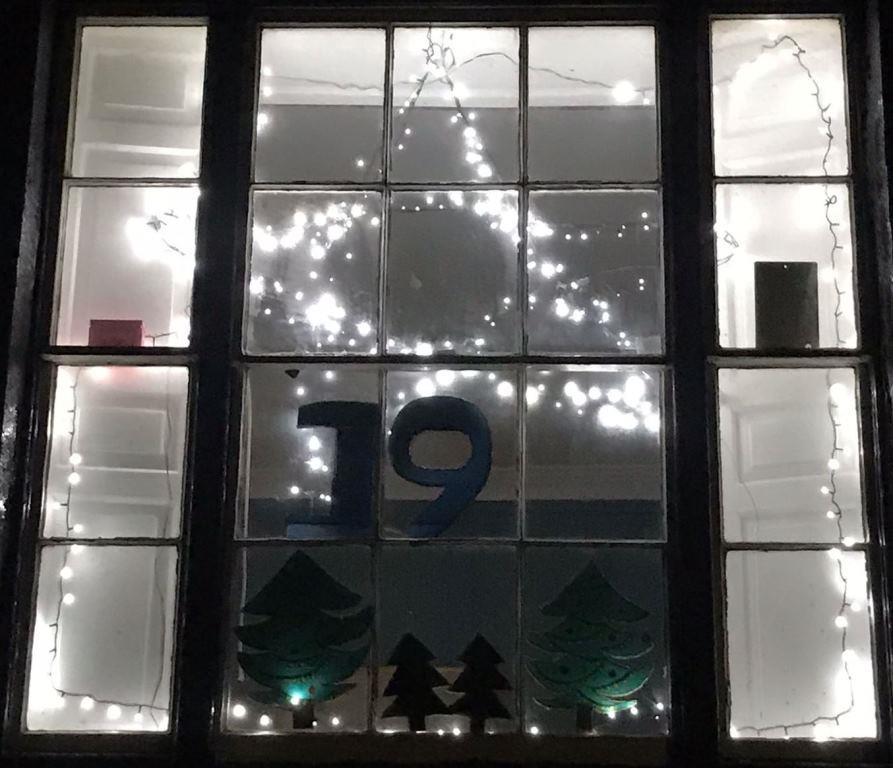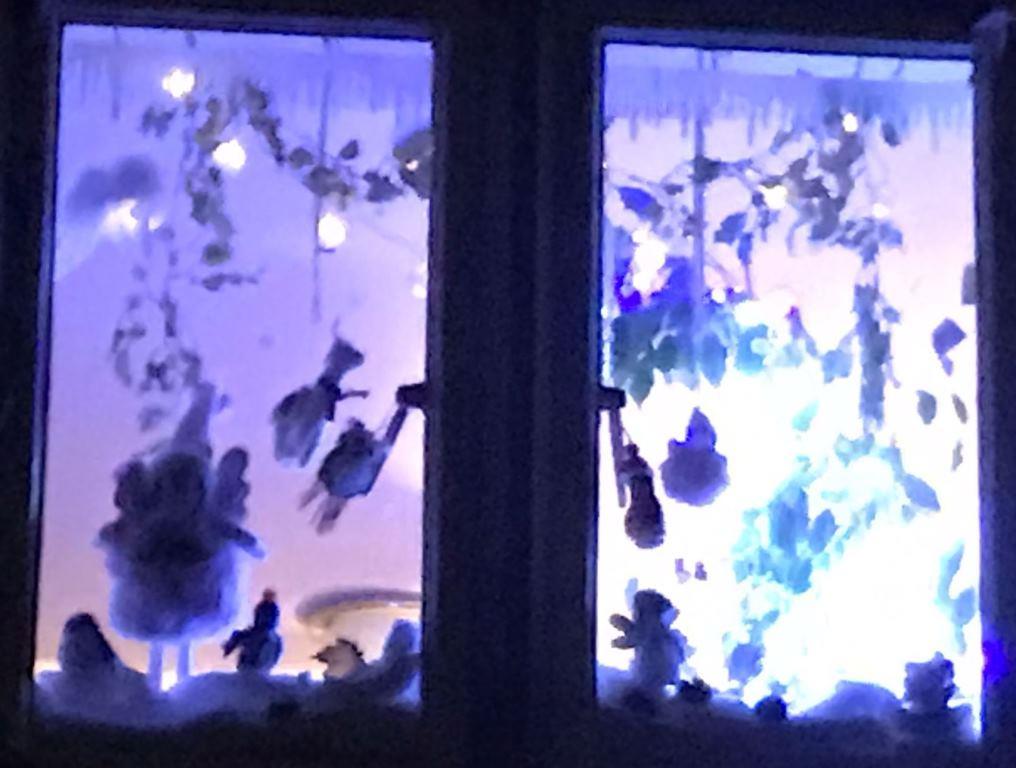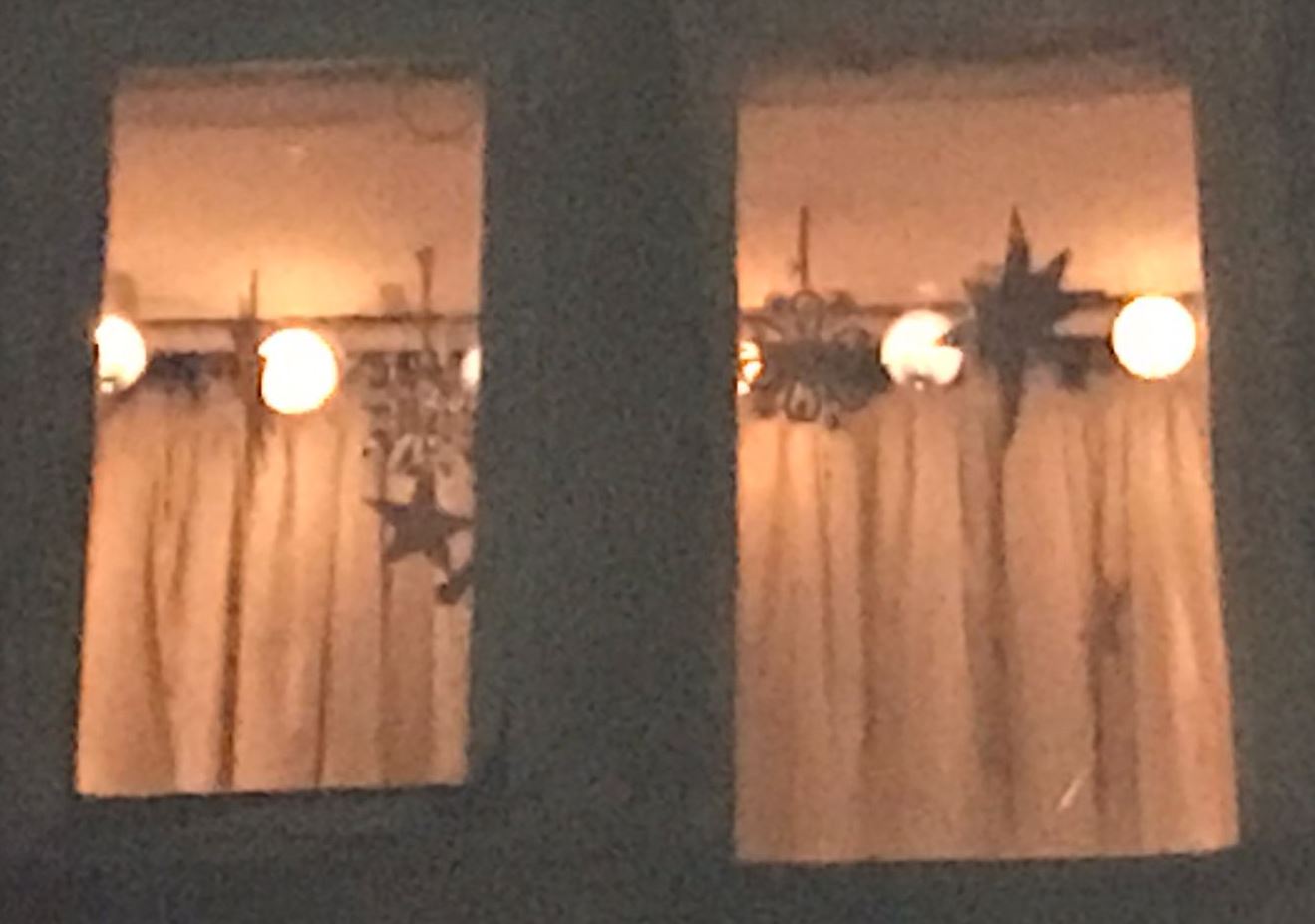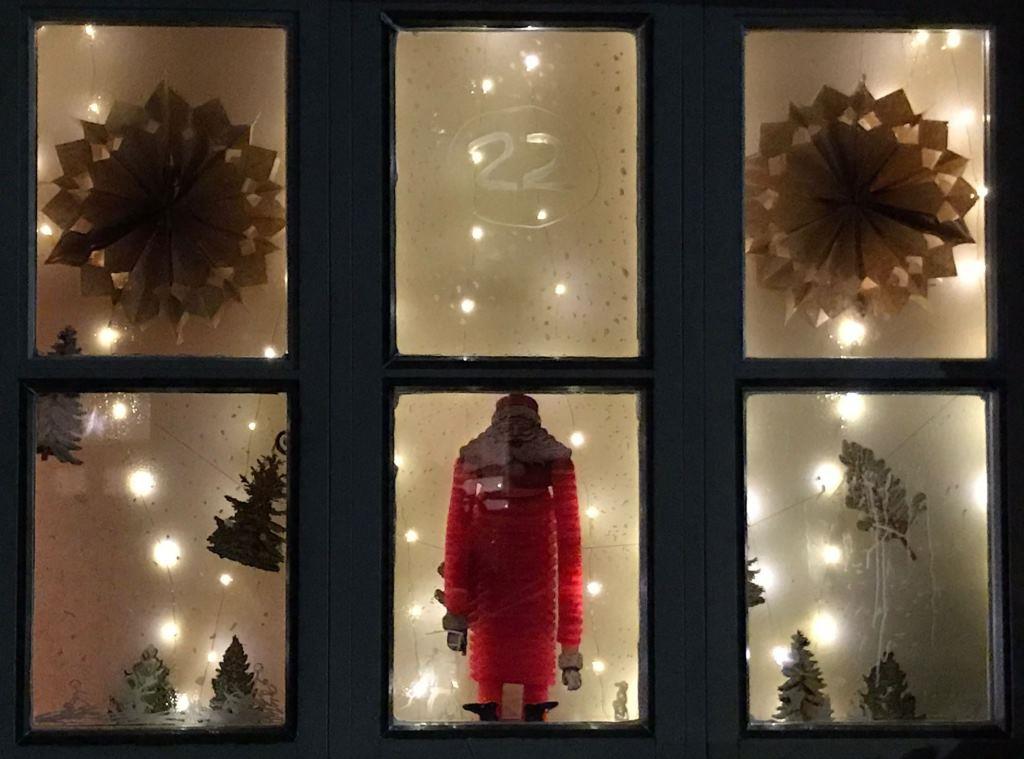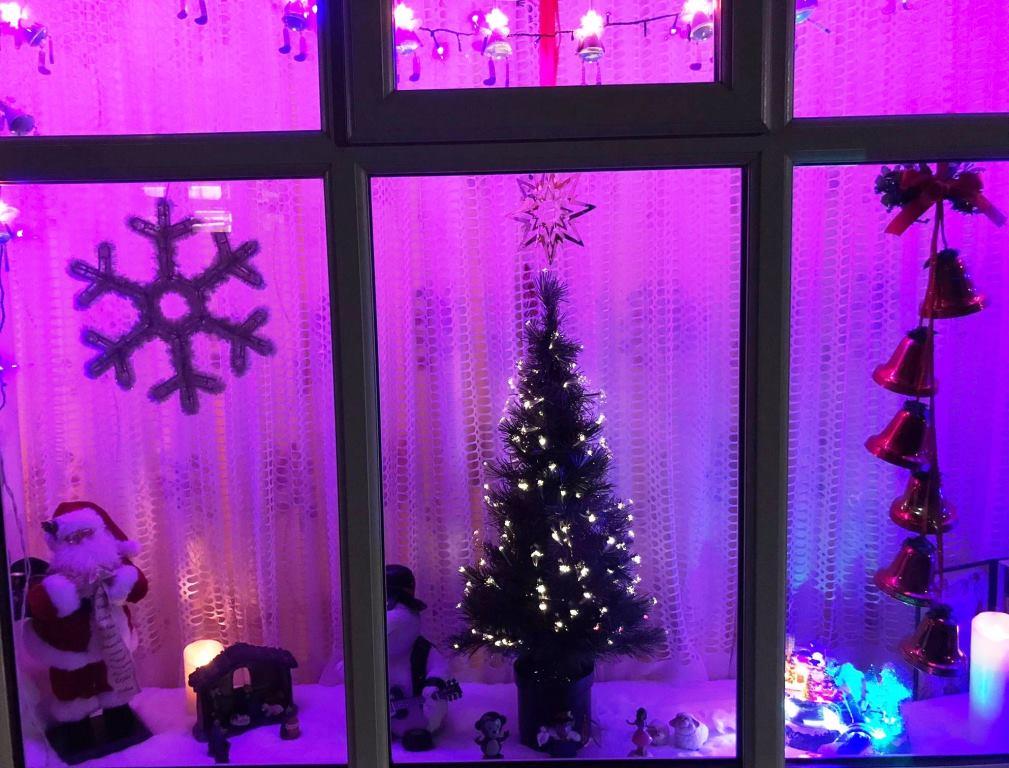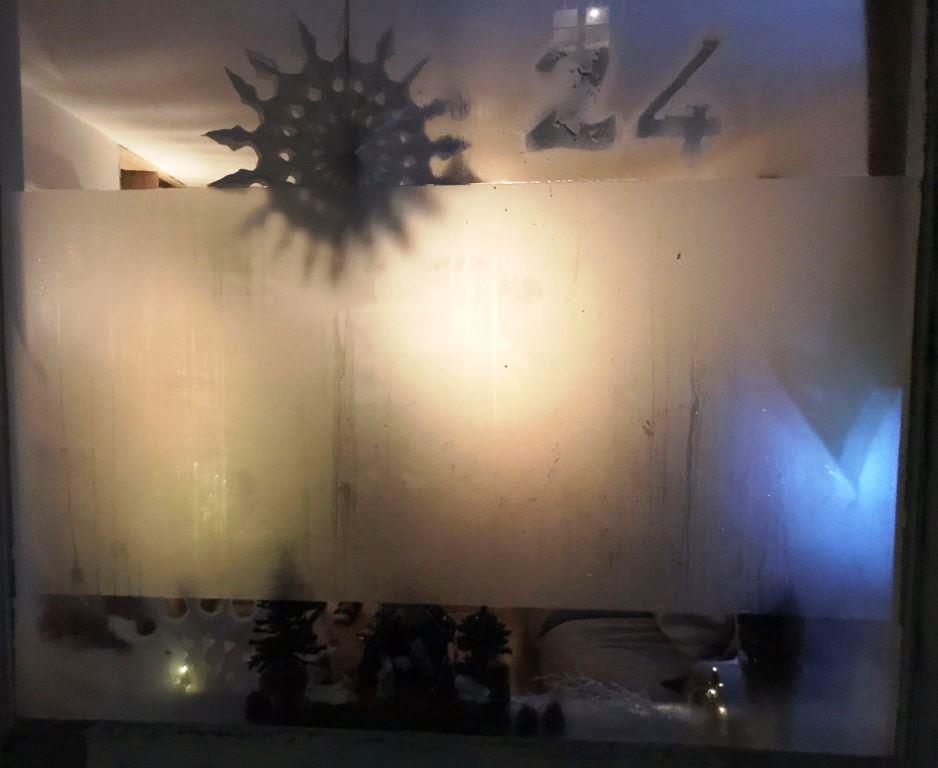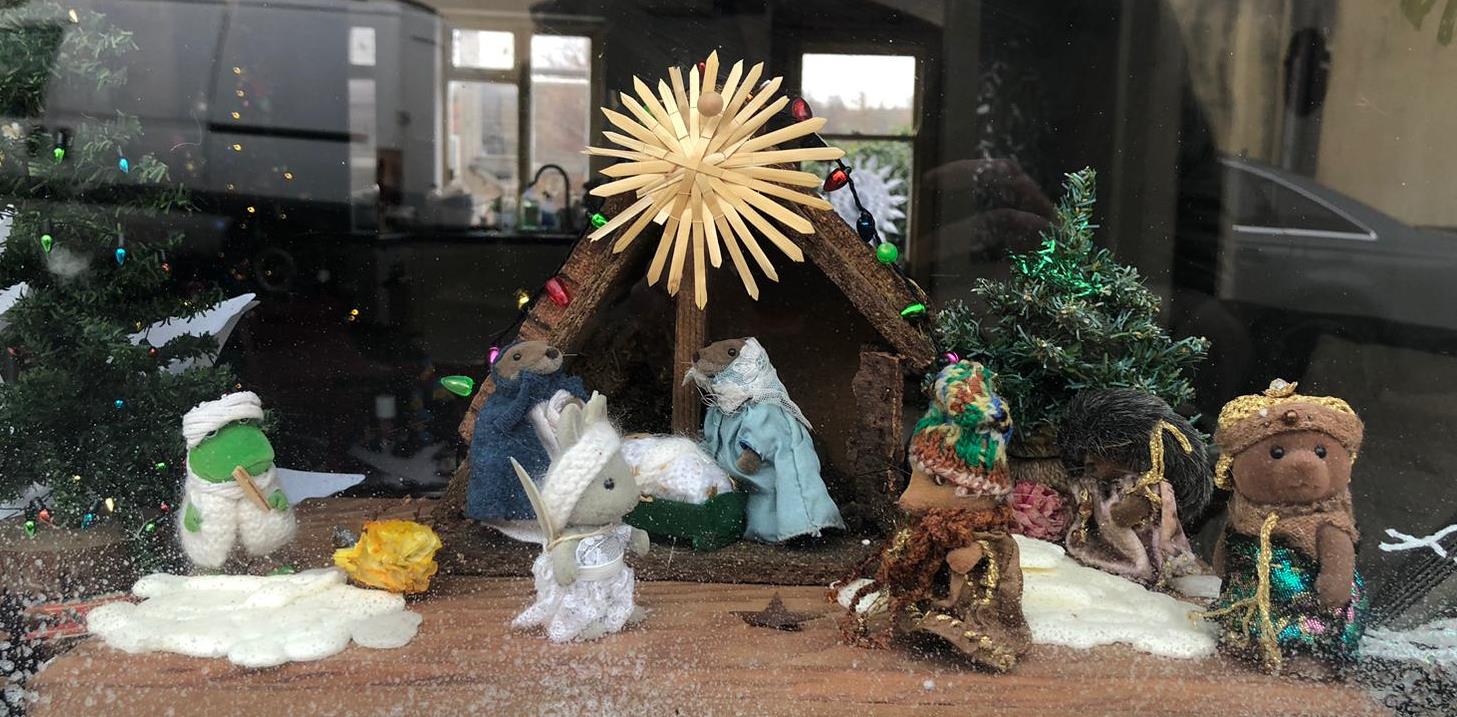 The best thing about the windows is the kids' enjoyment. If you live at the top of the street or beyond it's been a great way to entertain your children on the trudge home from the primary school at the bottom ... "Let's find the next window" ...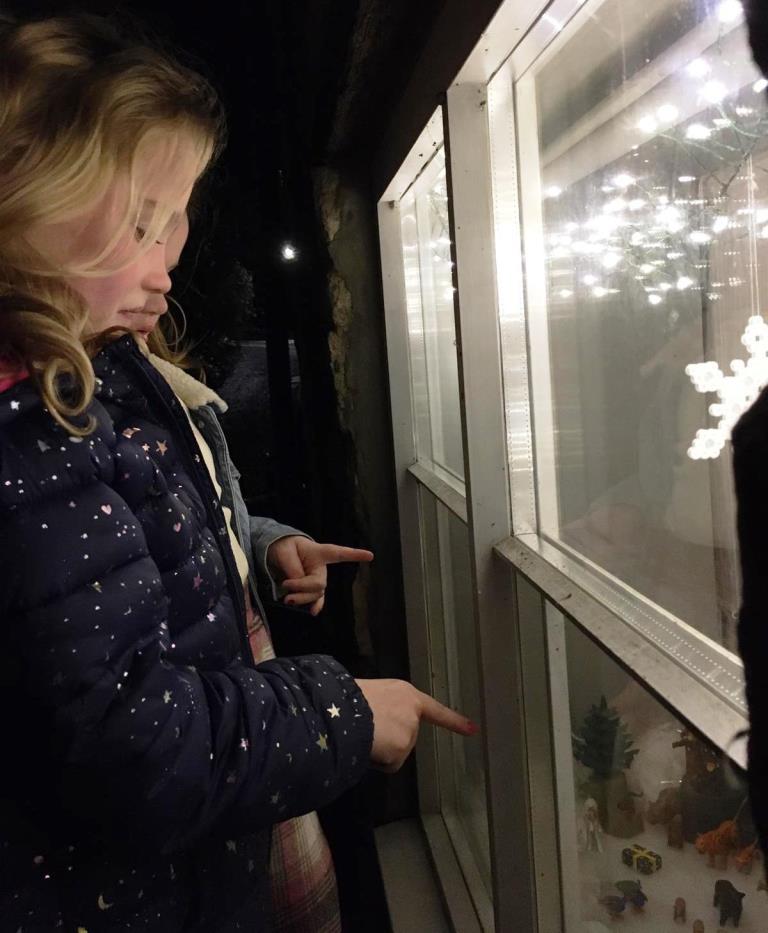 Friday 23rd December


Not much time for blogging as the family Christmas is in full swing.

It started with an infuriating hiccough. Son Nikko and his daughter Ellie suff­ered a delayed flight from Vienna and emerged at Bristol airport at 1am on Thursday morning; we got home around 2:30am. Ryanair lost their suitcase - all their clothes, all their care­fully chosen presents. No staff around to exp­lain. We're waiting to hear news. Yest­er­day after­noon was spent scour­ing Stroud for repl­ace­ment ward­robes.

The house now hosts 13 sentient beings: 5 adults, one teen­ager, 2 child­ren, 2 dogs and 3 cats. The last-itemised have ret­reat­ed up­st­airs.

I've had the unusual experience of being excluded from the kitchen. Very odd, but a great pleasure. Son Ben and grand­daughter Lola made a delic­ious mush­room las­agna and sweet-and-sour pump­kin salad last night.

Two trivial updates ...

Musk now promises:





Was this picture of the Argentine hero really posted on Instagram? Mes­sage from his wife.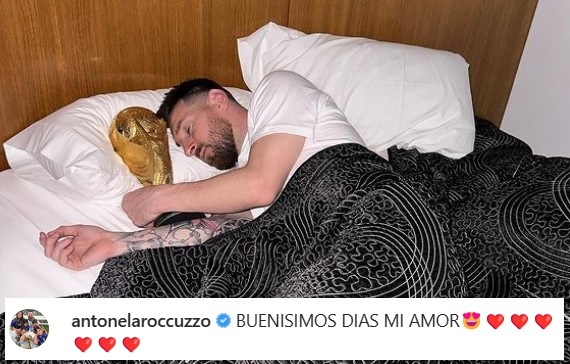 Wednesday 21st December


I don't want to dwell on this, but I can't help thinking that the run-up to Christ­mas 2022 from an Engl­ish pers­pect­ive (round the world I'm sure it's both bet­ter and worse) has been one of the most troub­led in my liv­ing mem­ory. Maybe the 1970s Win­ter of Dis­cont­ent is a chal­len­ger, but I was much less aware in those days and pretty happy to get back to Worc­ester for my mot­her's cook­ing and many pints with mates in fav­our­ite pubs.

The tone in this week's stream of political cartoons is rel­ent­lessly grim, a cat­al­ogue of gal­lows hum­our. So I won't inf­lict the coll­ect­ion on you, lim­it­ing myself to just one dyst­op­ian view from Chris Rid­dell:




We've received no Christmas cards via Royal Mail. Our friend Ang­el­ika hand-del­iver­ed this one, cour­tesy of artist Cold War Steve, real name Chris­toph­er Spen­cer: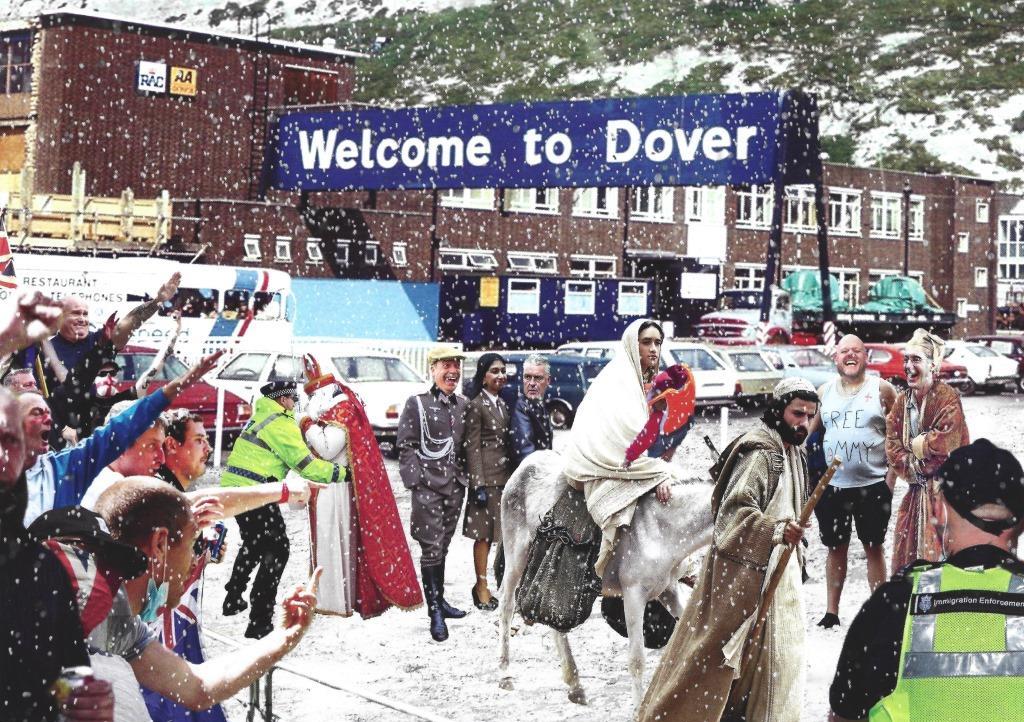 Christmas cheer? See what I mean?

Still, we're more fortunate than many. All the family desc­ending on us today from Vienna, Bilbao and Bristol. Loads of chefs to assist with the week's cooking. Trips to the Crown & Sceptre. Winter walks.

Tuesday 20th December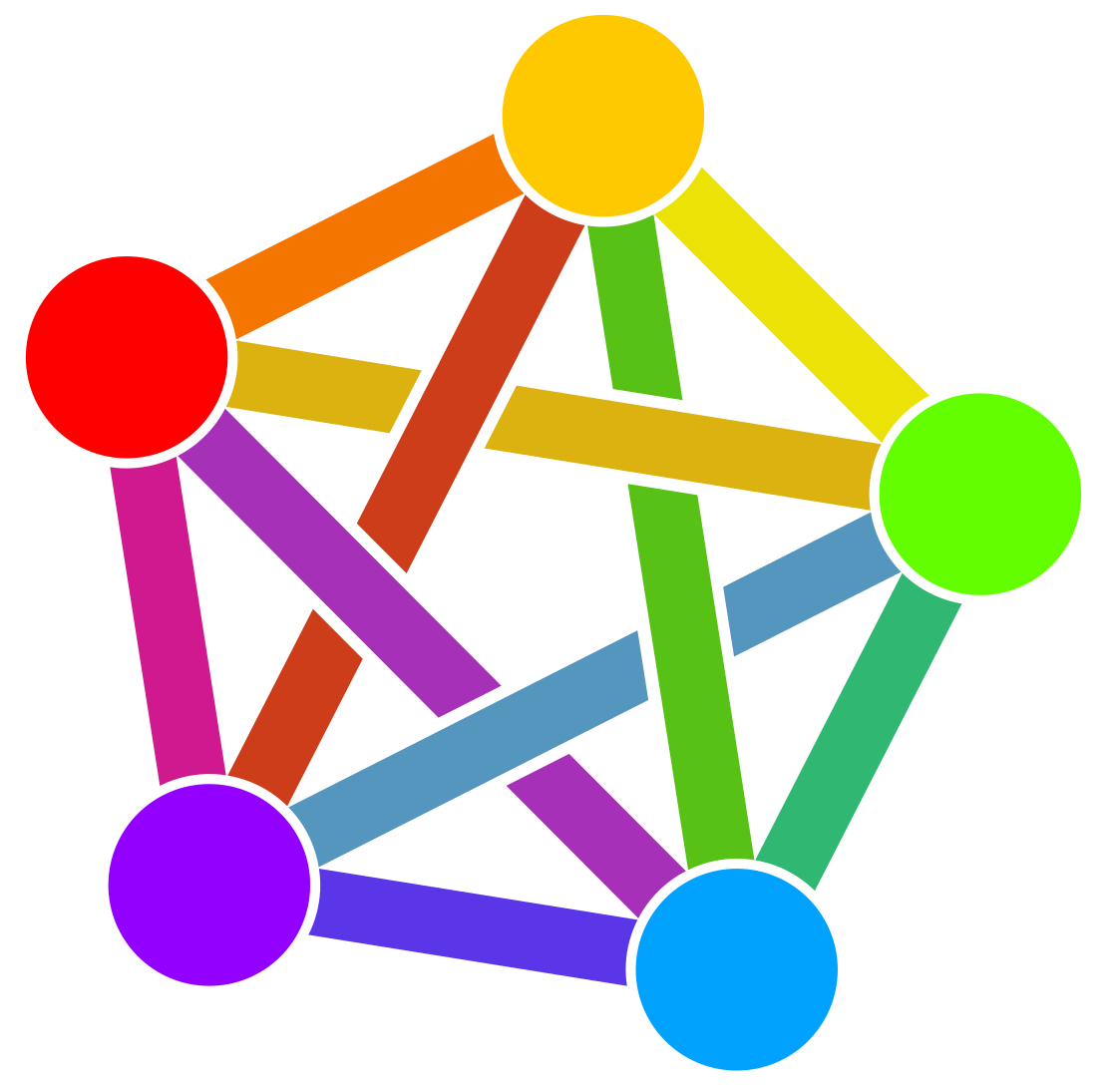 Another bit about Twitter and Mastodon. Apologies for more semi-tech ramb­ling if it's not your bag. However, there is the broader issue for you of the right-on versus the mor­ally un­acc­ept­able. Twitter, we know, is mut­ating with Musk. Masto­don is part of the Fedi­verse (logo above, the port­mant­eau name der­iv­ed from "fed­er­at­ion" and "univ­erse"), an ens­emble of loosely conn­ected compu­ters prov­id­ing inter­net serv­ices such as web­site host­ing, blogs, mess­aging, social net­works and file exch­ange; inde­pend­ent ent­it­ies, self-governing, built on free open-source soft­ware, not owned by any mon­ol­ith­ic corp­or­at­ion. Hence it is a Good Thing.

Musk has decided to take action to stem the outflux from Twit­ter to Mast­odon. The latter had an account (well fol­lowed) on the former spec­ifi­cal­ly to fac­il­it­ate the emi­gra­tion of the Musk-averse.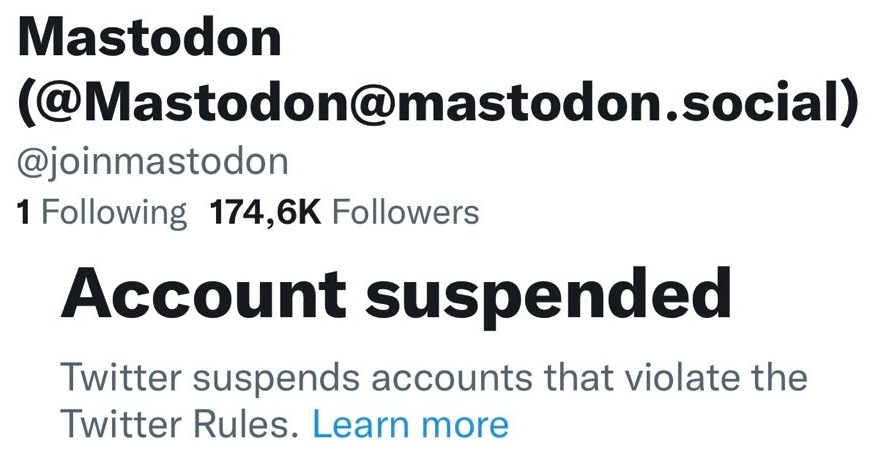 One issue with leaving Twitter is that you may not find your fav­our­ite sour­ces of in­form­at­ion on Mast­odon. On join­ing Mast­odon I was immed­iate­ly pinged by the self-app­ointed "help centre" user Fedi.Tips with rec­omm­end­at­ions on how to add­ress this problem.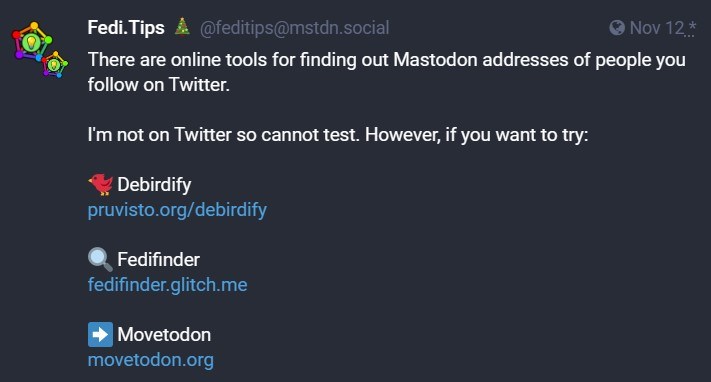 Twitter will seek to block any content that prom­otes Mast­odon on its plat­form. Sur­prise. This evad­ing work­around was tooted: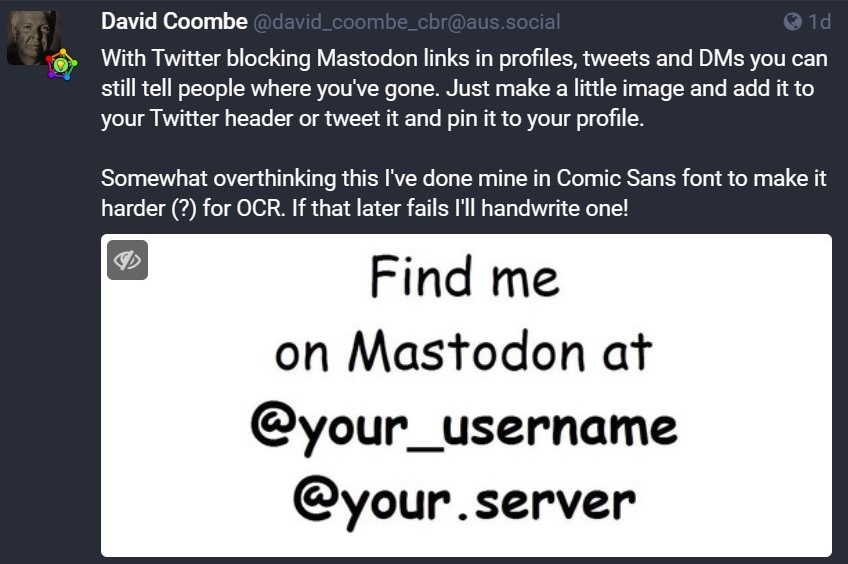 So I did. Here's my revised Twitter banner. I haven't tried the hand­writing trick yet. And yes, I'm afraid I haven't finally closed down the T-account.





Can Mastodon really challenge Twitter? It is just one of the comp­et­ing plat­forms. I haven't seen many of my foll­owed Tweet­ers make the switch. There's no stampede. Demand Sage est­im­ates that Twit­ter has 450 mil­lion month­ly act­ive users. Mast­odon itself states that it has around 2.6 mil­lion.

You only hear from these people on Twitter:




Could be a compelling reason to move to Mastodon.

7:00am STOP PRESS (I've been slow to catch on here). Just seen this tweet from the boss, posted on Sunday night. Will he? He's been quiet since.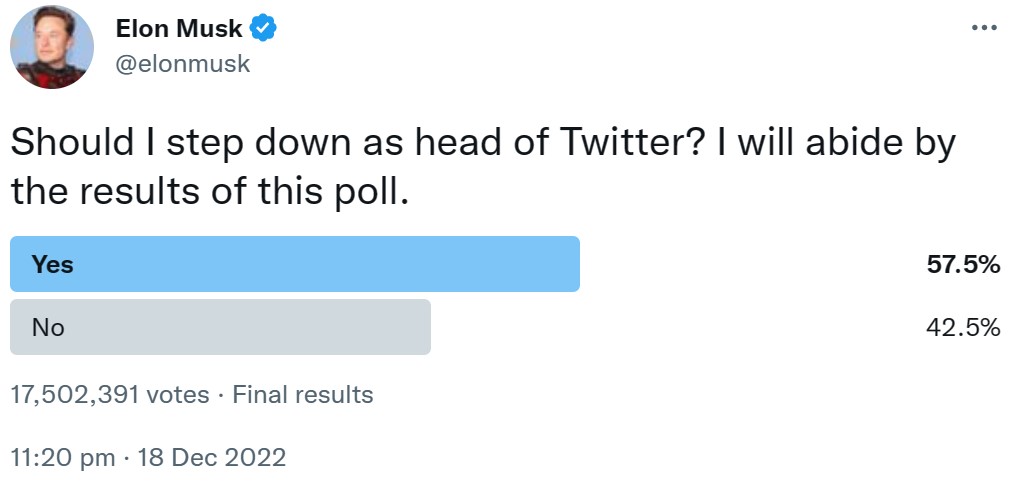 I've only real­ised this minute one reason why I've been rel­uct­ant to kill off my Twit­ter acc­ount (is this guilty self-just­if­ic­at­ion?). It would mean that I'd be cut off from dir­ect state­ments made by the people I DON'T like. Musk isn't like­ly to move to Mast­odon, is he?

Monday 19th December


Did you watch, boycott, ignore? The best world cup final ever? A thril­ling con­test of twist-and-turn? The fairy­tale cor­on­at­ion of a great play­er (obl­iged bizar­rely to don a bisht cloak for the award cer­em­ony)? A geo­pol­it­ic­al scand­al of gross ($220 bill­ion) ex­pense, flag­rant corr­upt­ion and human rights abuse? All of the above?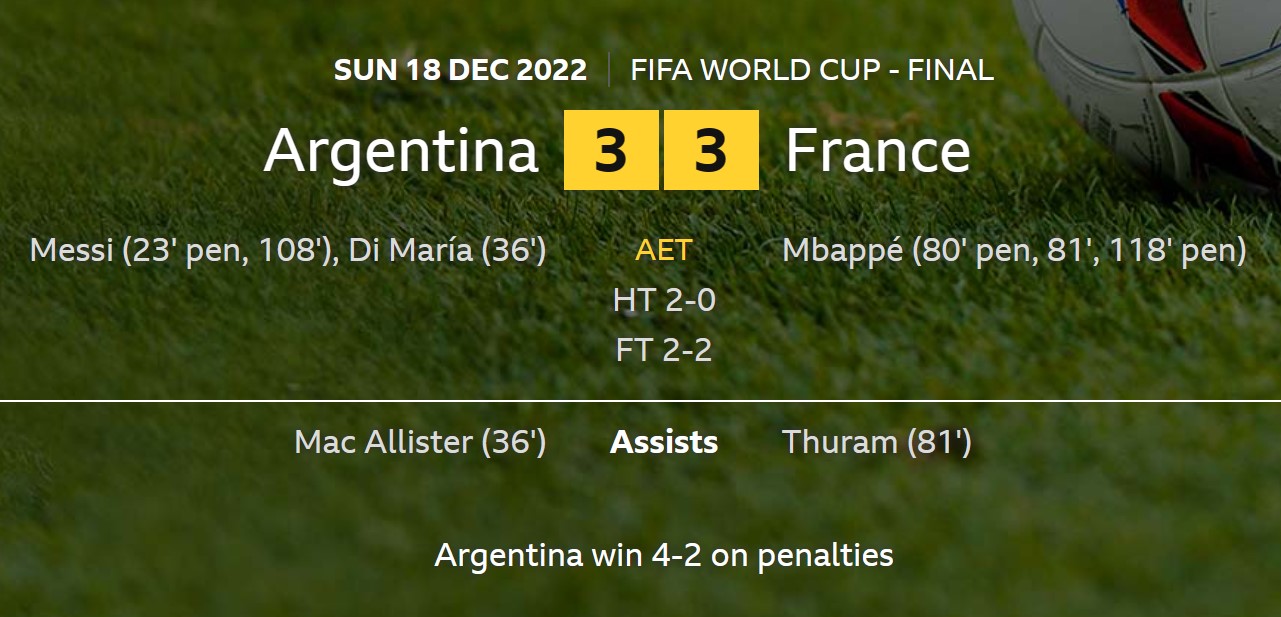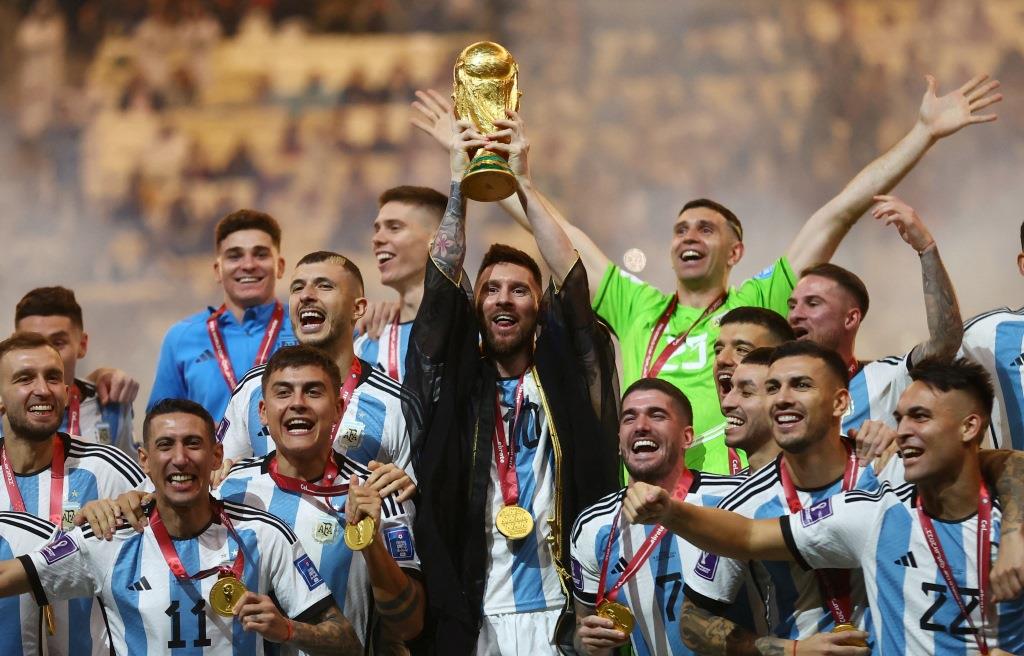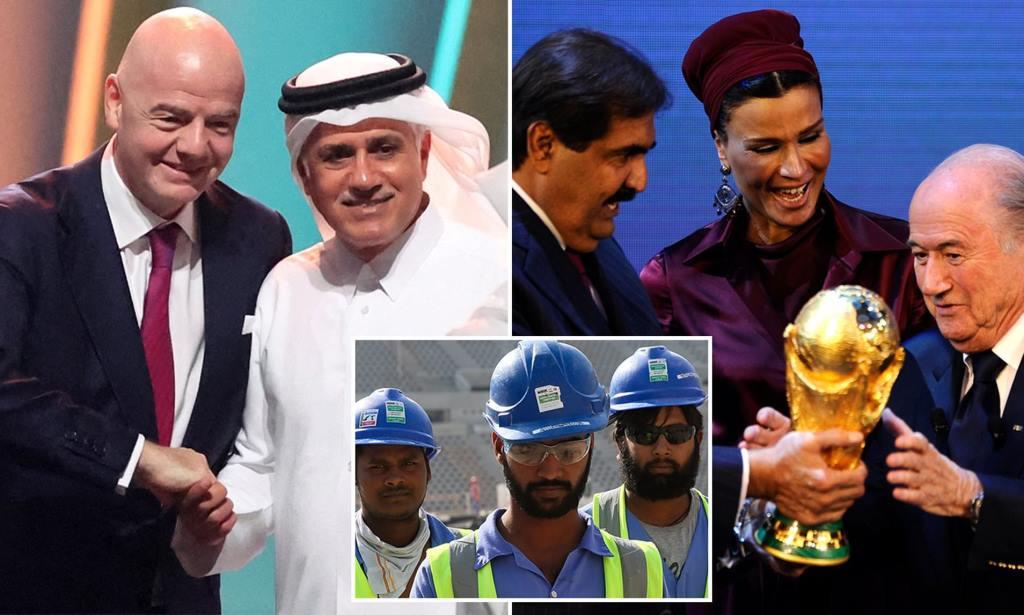 Sunday 18th December


The second round of Middle Street Advent windows: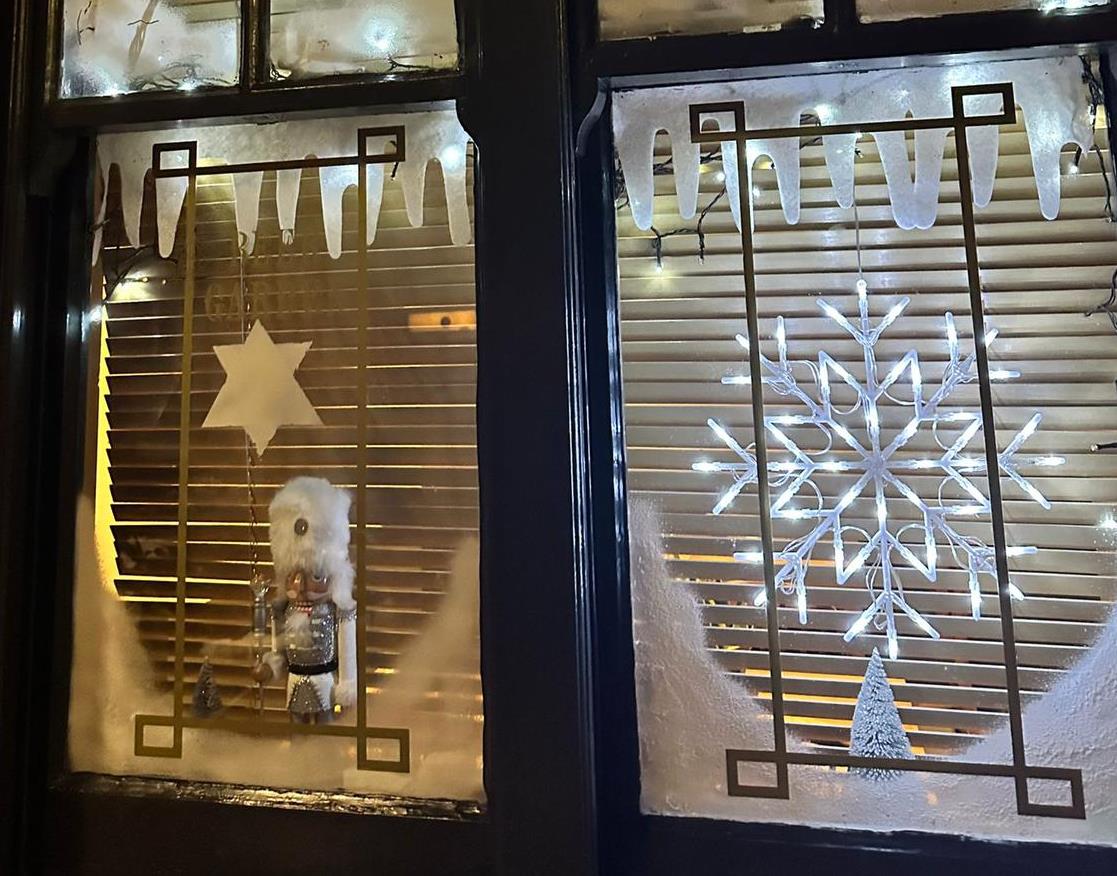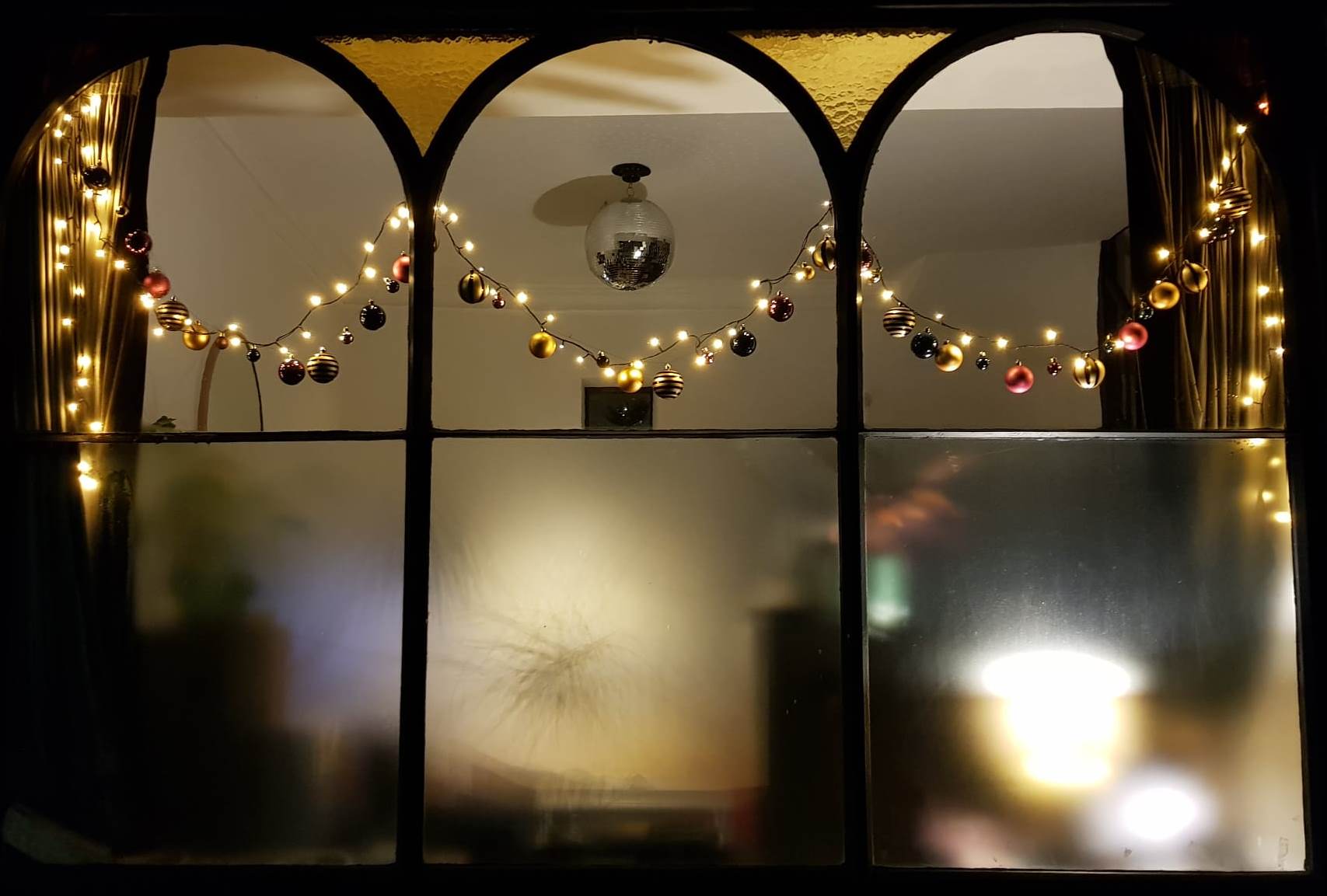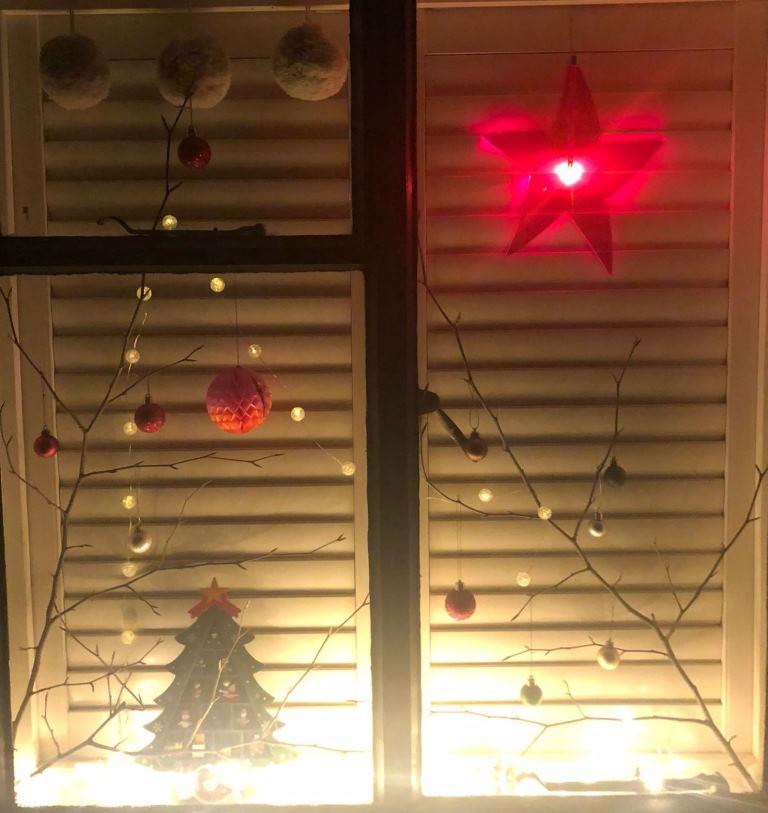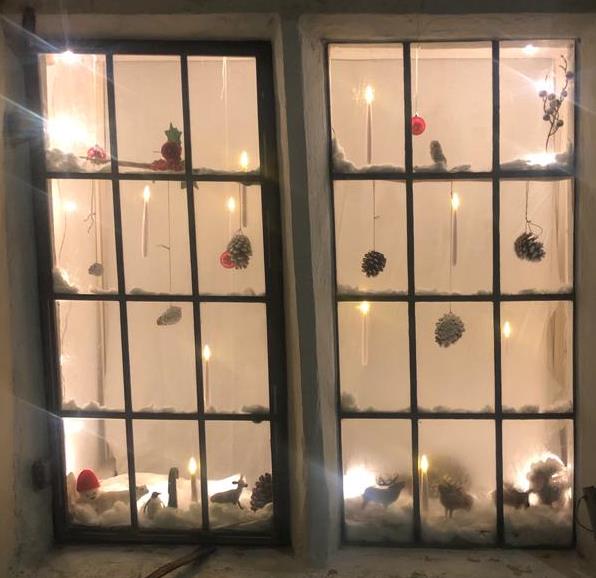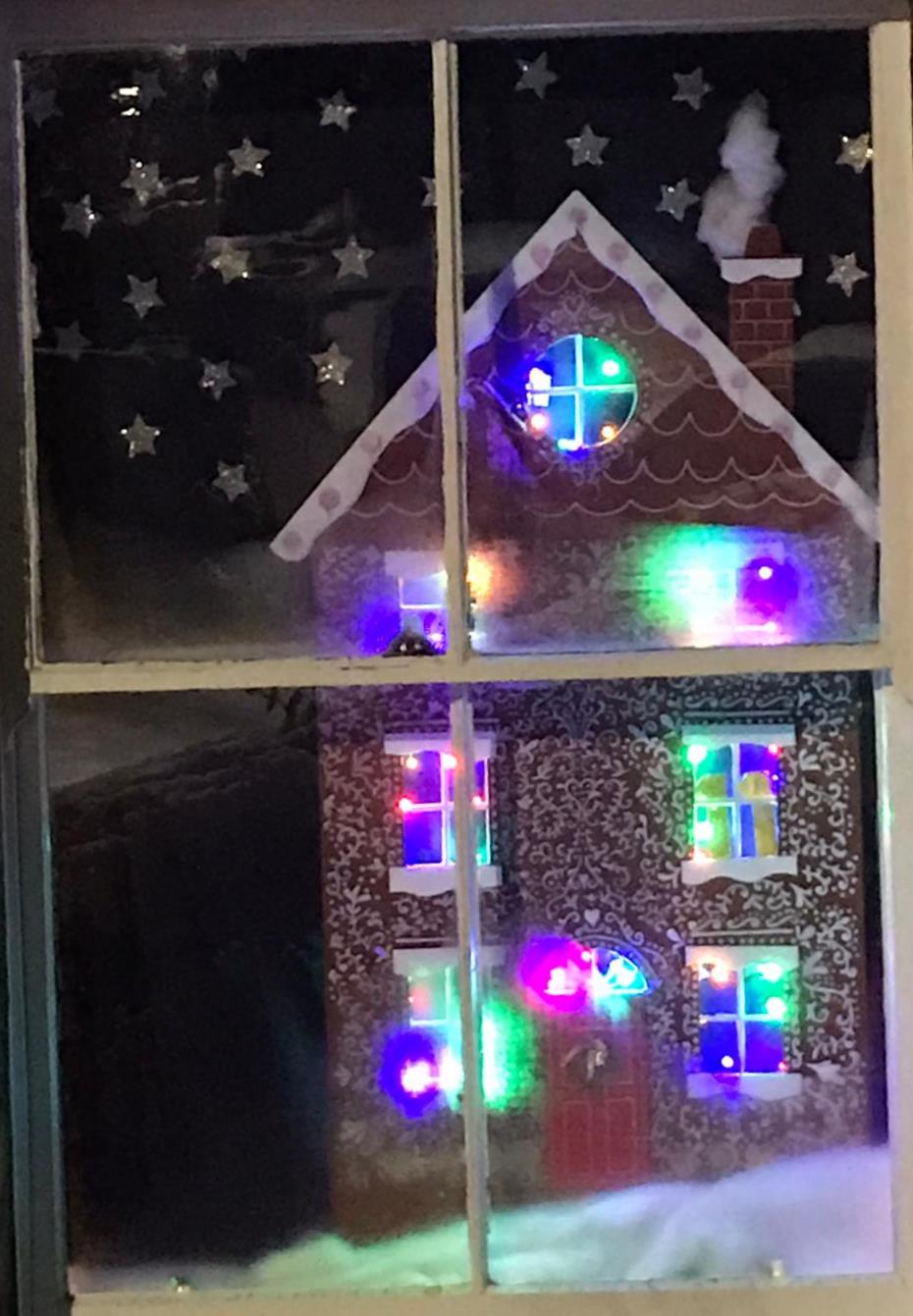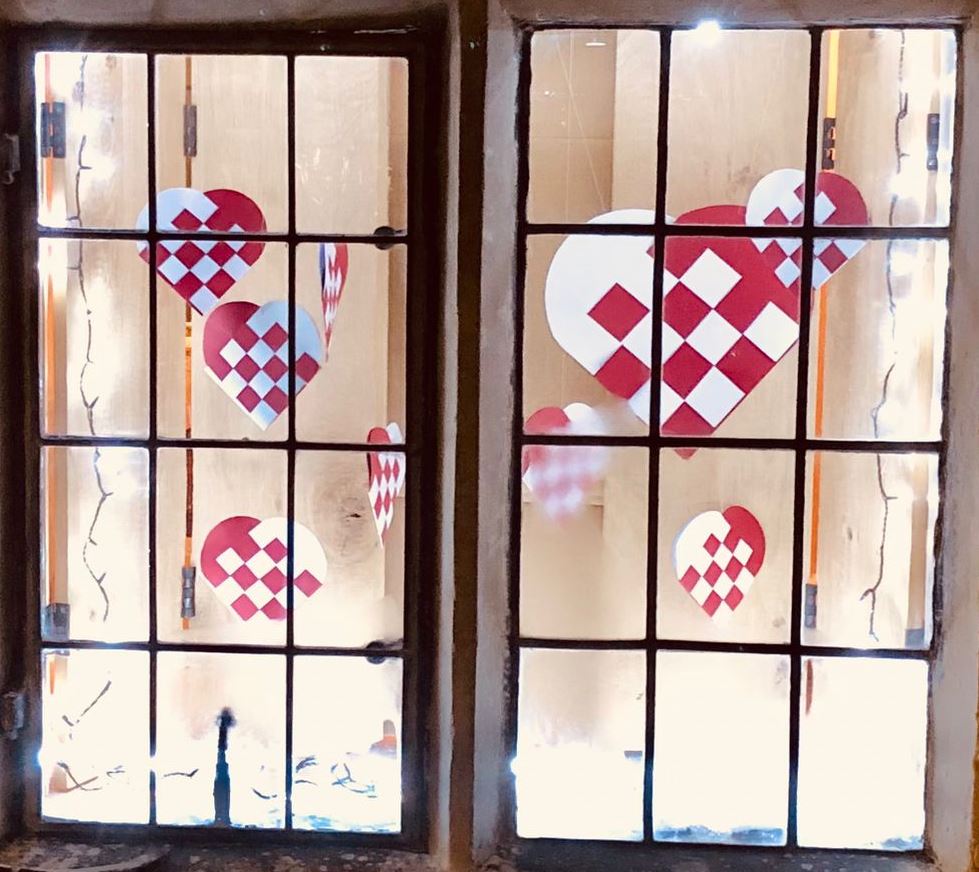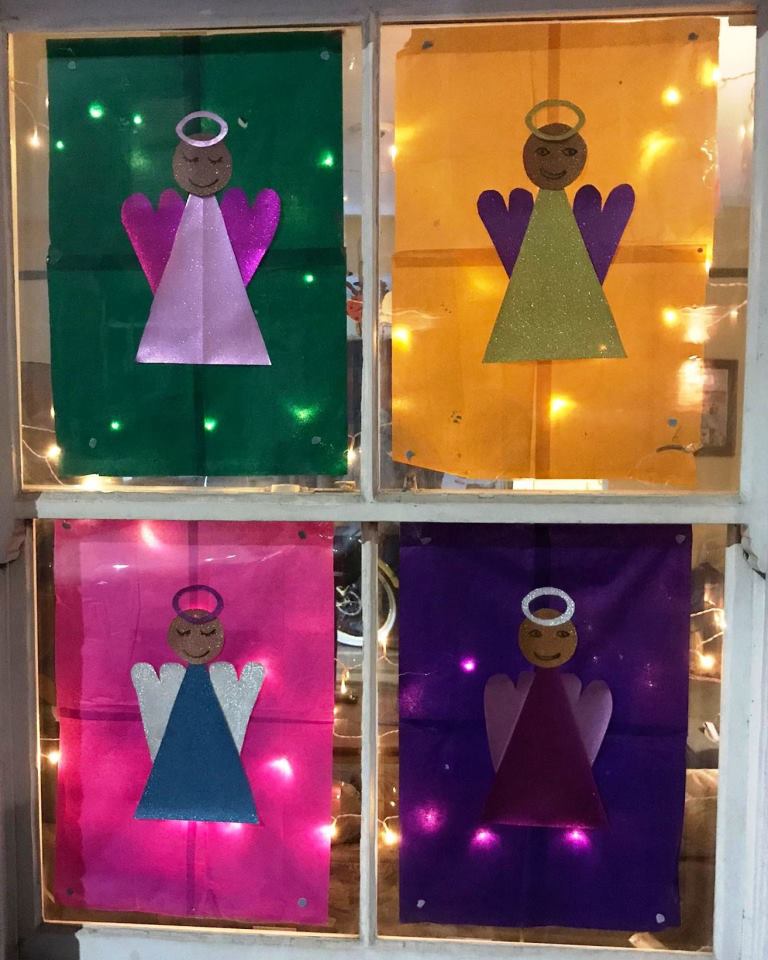 Saturday 17th December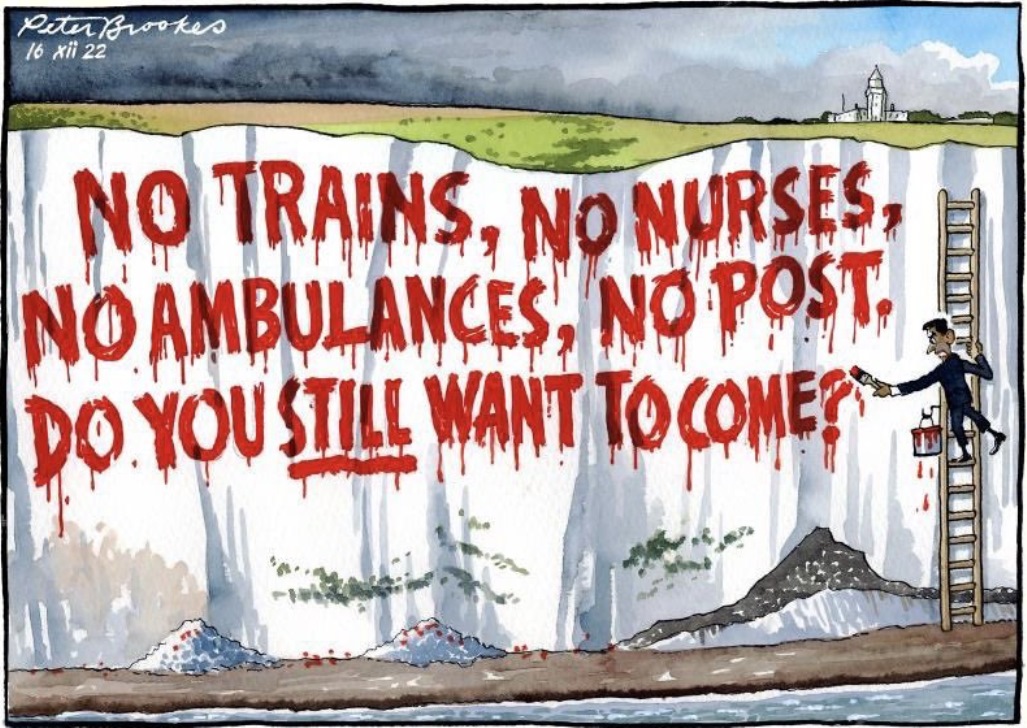 Yes, Sunak, they do. Despite your best efforts to dis­mantle the serv­ices we have, we can still offer safe haven to those aff­ected by war, clim­ate dam­age, rel­ig­ious dis­crim­in­at­ion and pol­it­ic­al opp­ress­ion.

In that context we had some good news here yesterday. Councillor Cath­er­ine Braun, Green Leader of Stroud Dist­rict Coun­cil, emailed the Stroud Dist­rict To­geth­er with Ref­ug­ees group, to reac­tions of cons­ider­able del­ight:


"Pleased to announce that Stroud District Council last night appointed Cllr Doina Cornell (who's part of this group) as our first 'Migrant Champion' for the district. This is a new role and will involve Doina joining the JCWI Network for councillors, the Migrant Champions Network."


I'm pleased too, as you may have read in these pages that I was appalled that Doina's application to stand as parliamentary candidate was waste­ful­ly rej­ect­ed by Labour HQ, trig­ger­ing her res­ign­at­ion from the party and dep­art­ure as leader of the council (see my post here: 👉).

Catherine went on to explain:





"The role of the Migrant Champion is to work with Stroud District Council and where appropriate, Gloucestershire County Council to:





a) Be a point of contact for migrant residents, and organisations supporting migrants;

b) Review policies and procedures to ensure migrants have adequate access to services;

c) promote council resolutions to promote migrants' rights;

d) take up cases across the authority that involve migrants' rights;

e) ensure that the needs of vulnerable migrants, especially children, are met by council services; and

f) ensure that all migrants entitled to vote are asked to register and helped if they need it, and that the information provided by relevant officers is accurate and appropriate."






You can read about the Migrant Champions Network here:


Friday 16th December


A little diversion today. A while back my brother-in-law Graham sent me a set of lockdown haikus written by a poet called Brian Bilston. It turns out that he is actually Paul Millicheap, a former academic publisher from Oxford; Brian is a fictitious "45-year-old divorcee leading a 'quiet half-life' who ... spends his evenings reordering his book collection by ISBN code while scarfing custard creams" (courtesy The Guardian review 21st July 2019). Whatever ... I now follow Brian on Mastodon (previously on Twitter, but no more) and thus receive frequent "toots" of poems. Here are four of his pieces, three light and playful, the last carrying a serious message (so make sure you read right to the end and follow the instruction). There's also a link to his web­site further down.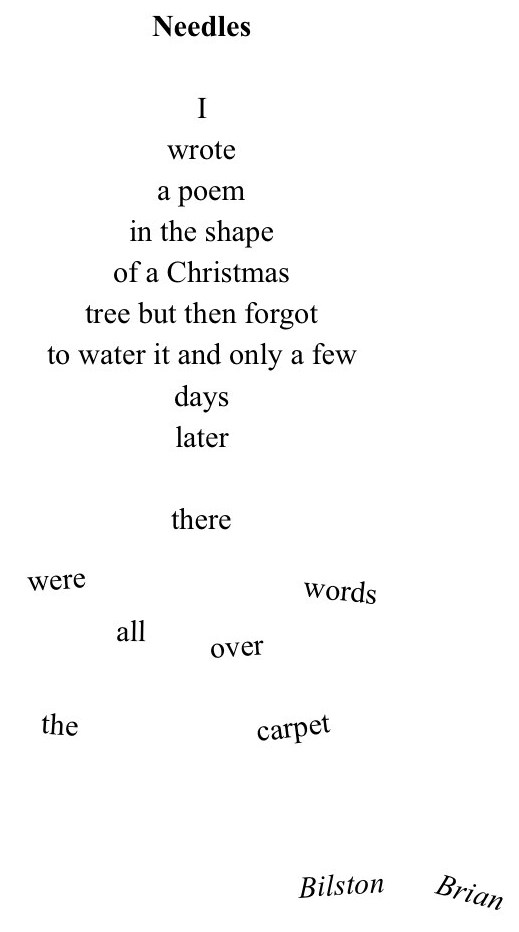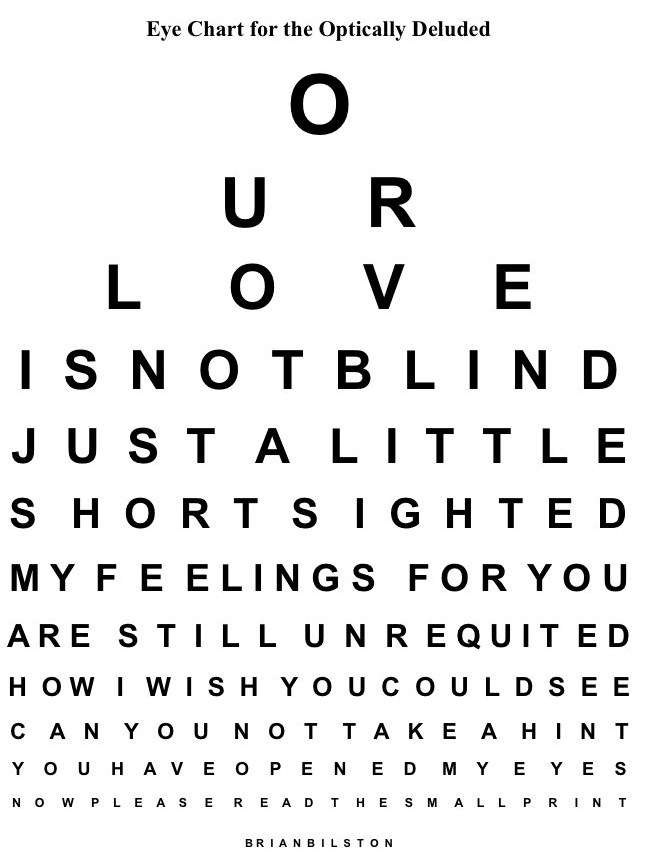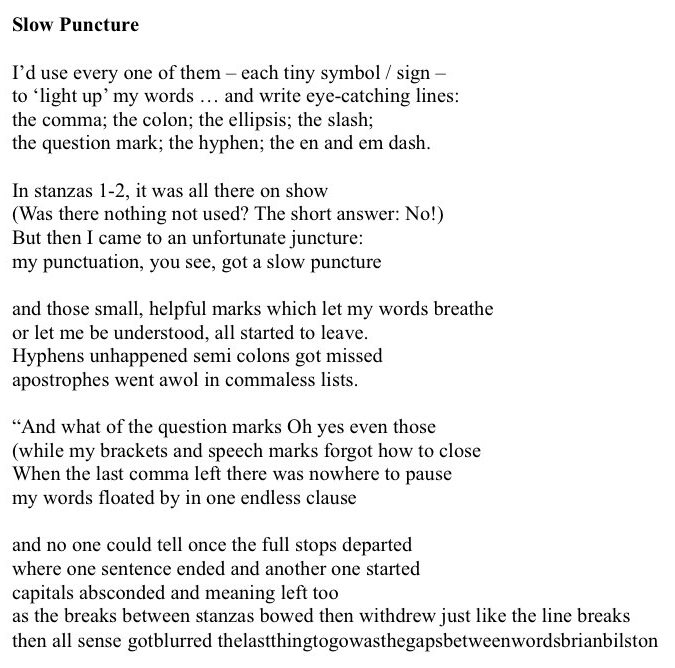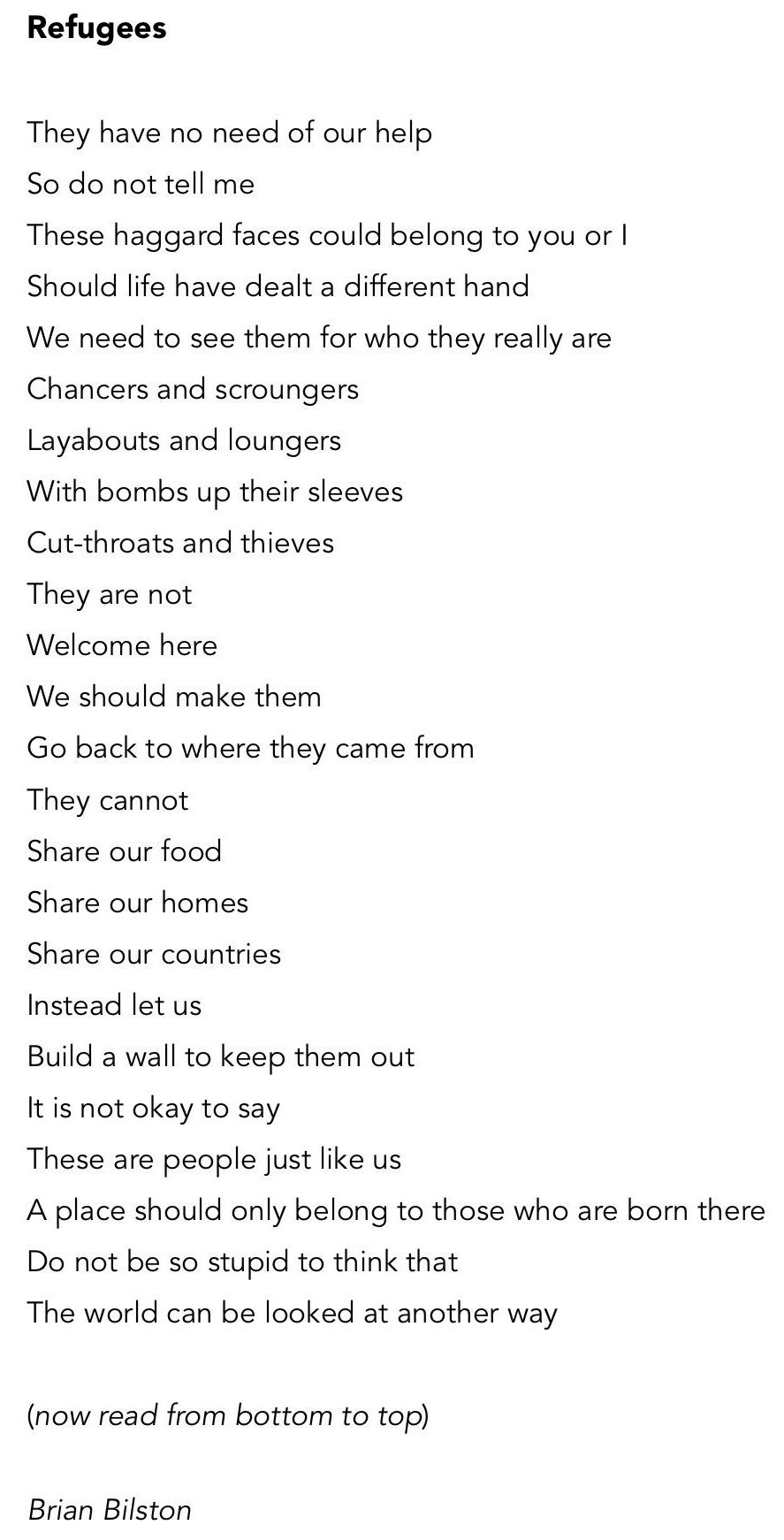 You can learn about Brian/Paul, see more poems and - most importantly - find out how to buy his work here: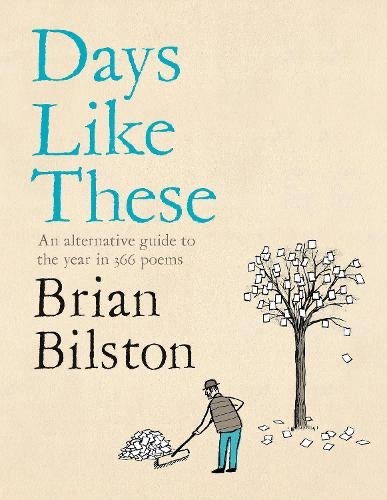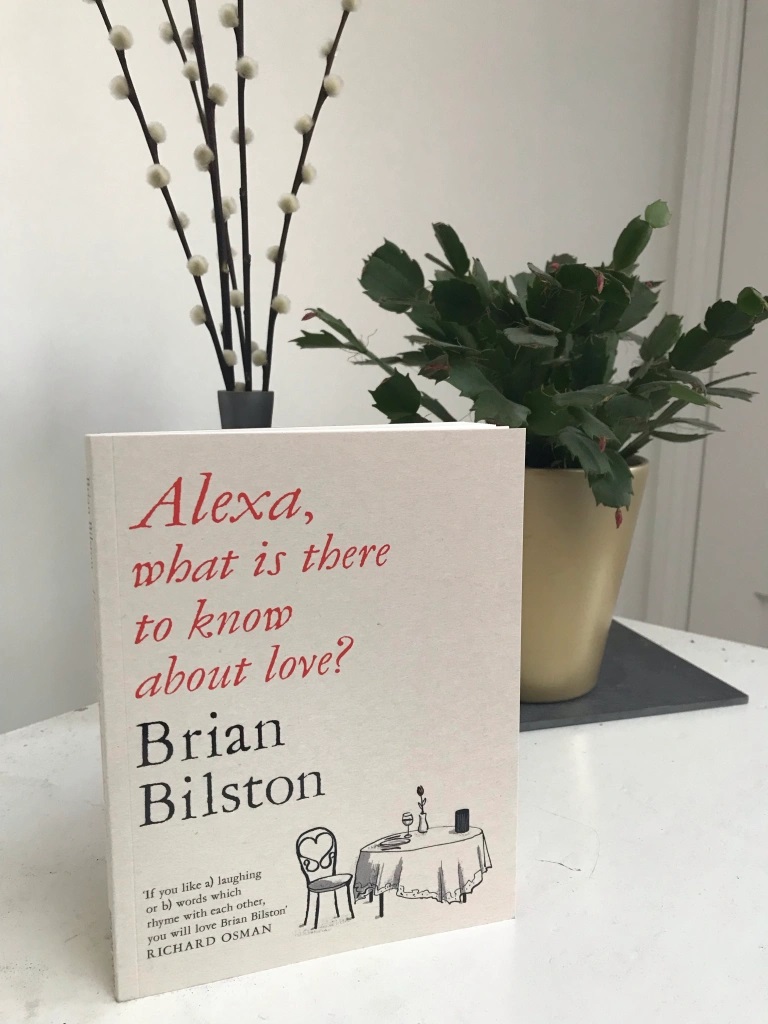 Thursday 15th December


Forgive me, I'm cost-of-living-crisis smug this morning. I rarely have a chance to celebrate doing things right, so I'll take this brief opp­ort­un­ity.

To ward off the sub-zero temperatures last night, this was the warm­ing stew for supper (and two more meals of left­overs). Delicious txistorra, a chorizo-like Spanish sausage from Navarra (Nafarroako Erresuma in Basque - what a lang­uage!) brought home from Bilbao by son Ben; butter beans; chick­peas; barley; chop­ped tom­at­oes; chil­lies; gar­lic; gin­ger; onion; stock (from veg peel­ings); thyme; pep­per­corns; tur­nip; Hen­der­son's Relish. Total cost of ing­red­ients (the sau­sage came free) less than £3 - for 4-6 portions.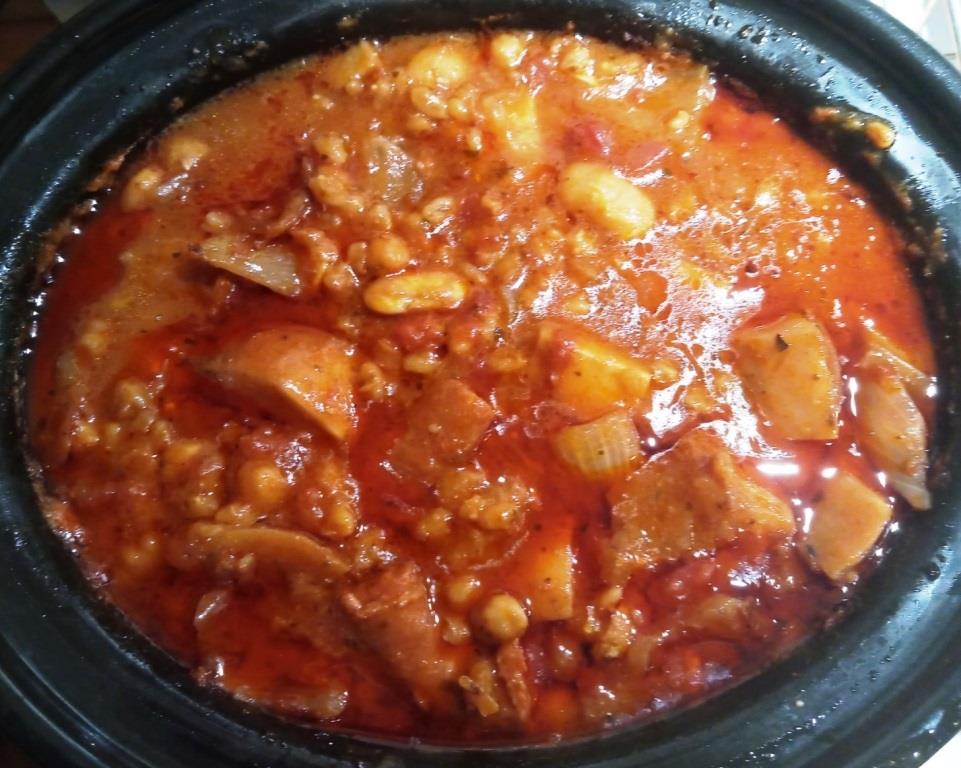 Then I saw this headline. No effect on me, I've passed the 18-month mark with­out a drop. Our water bill is 97p per day. The quan­tity drunk daily prob­ably accounts for under 10p.





There, that's my self-con­grat­ul­at­ion done. Now a reminder of the imb­al­ance of our society, a couple of ob­serv­at­ions from earlier this year. These people haven't a clue.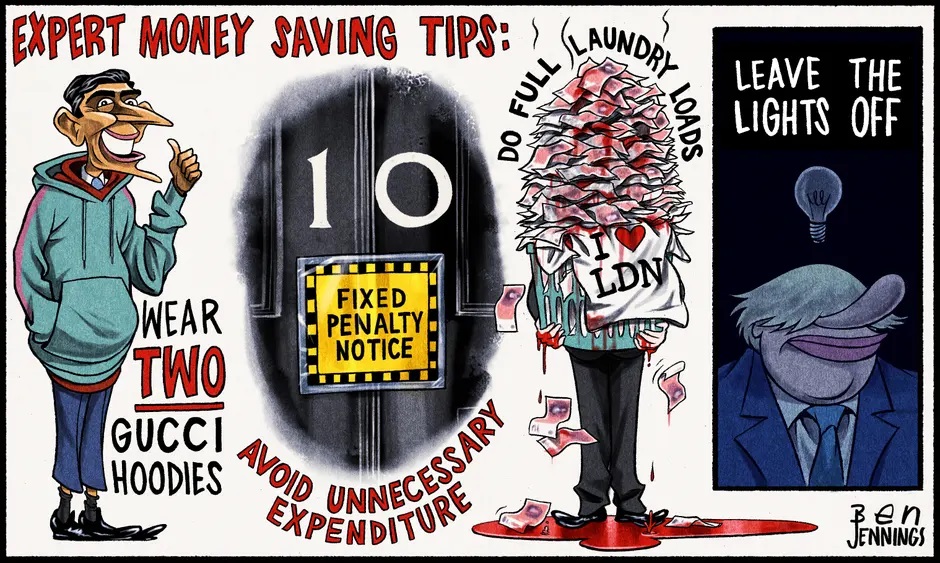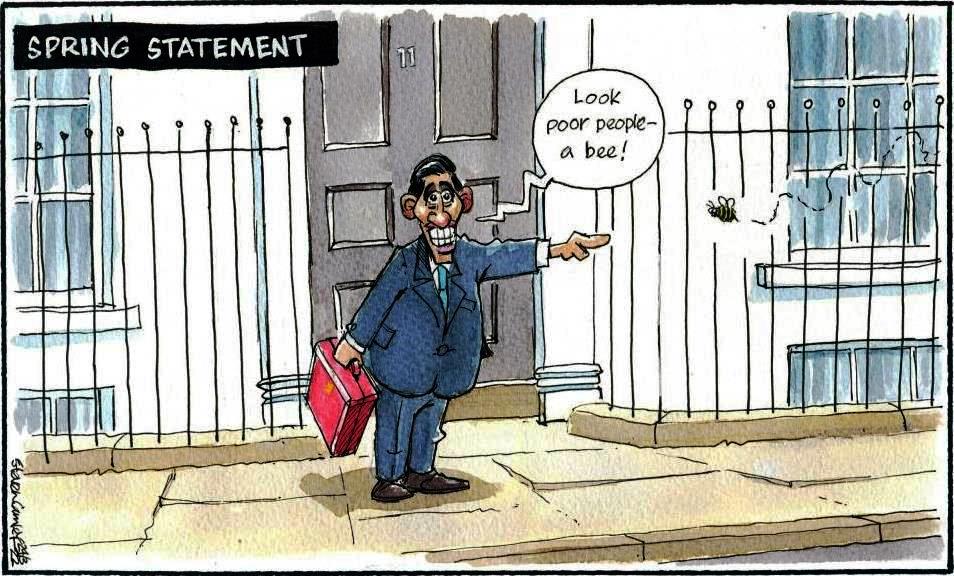 Wednesday 14th December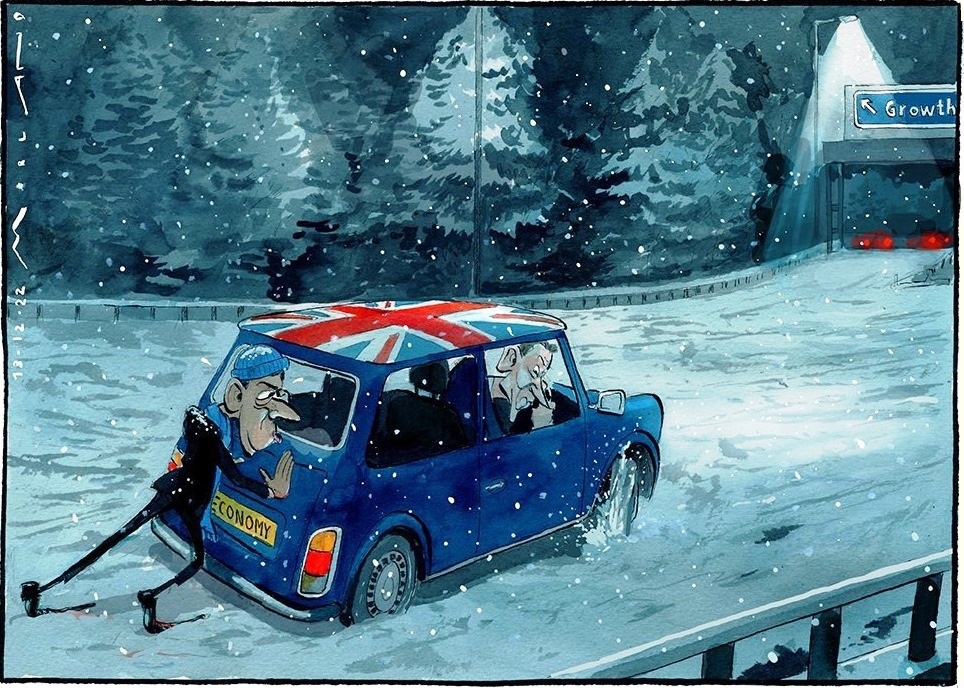 Perfect. Undone by the snow, undone by everything. Hunt at the wheel, Sunak out in the cold trying to push the iconic Brit car (it's the Issigonis Mini, not the one now built by BMW). Towards the holy grail, the alluring siren of growth.

I like this one too, something about the simplicity and clarity of Christian Adams' cartoons. But I need help; I'm not sure I altogether get it. Snow, cancelled trains ... OK. But the £bags of swag? Is it the RMT "holding the country to ransom"? Answers on a postcard, please.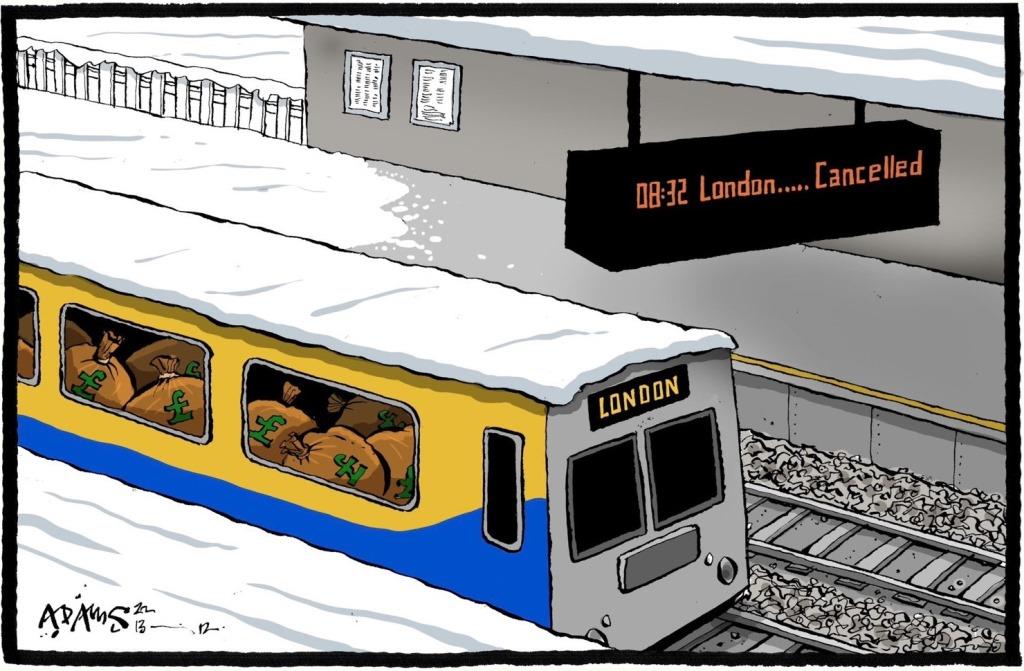 Tuesday 13th December


Will we get out of the street today? Icy under-foot and -wheel.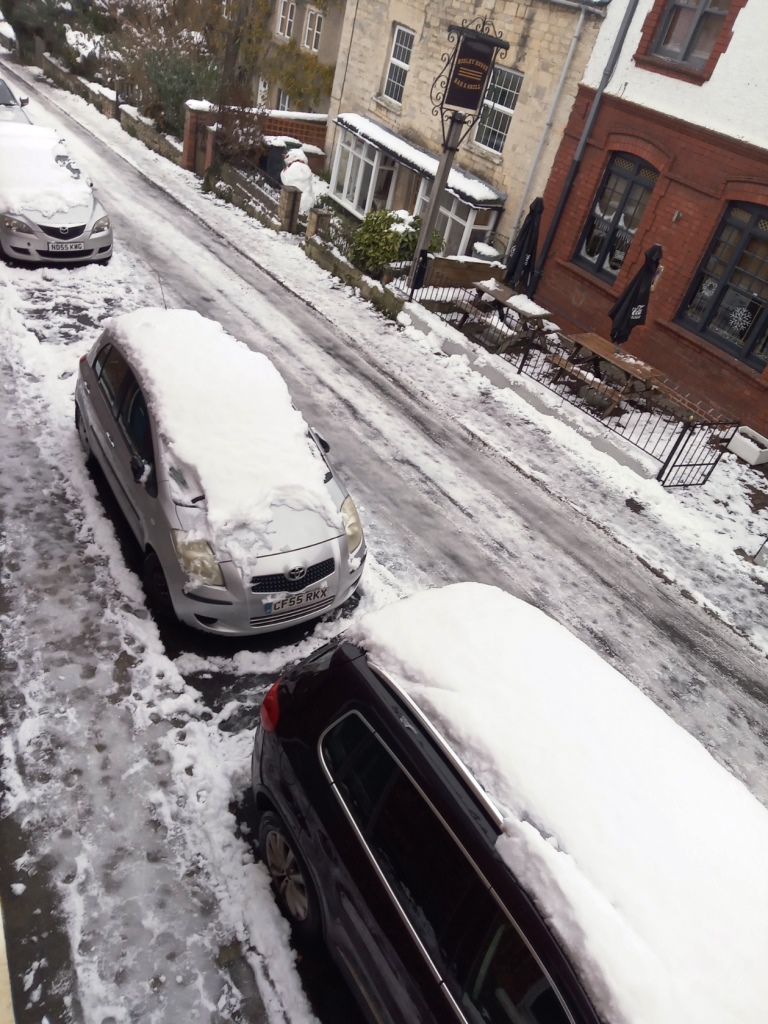 Landlord Danny opposite was prepared to try anything yesterday: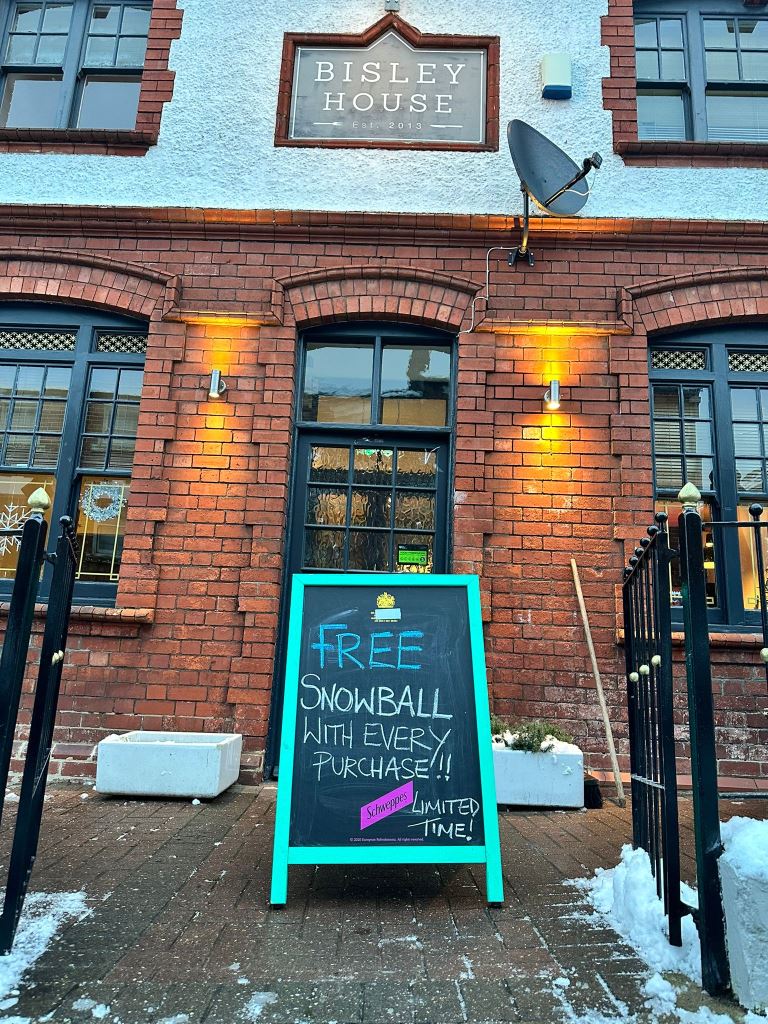 Monday 12th December


Back from the old gits' annual dinner (46 years and counting) in Norfolk ...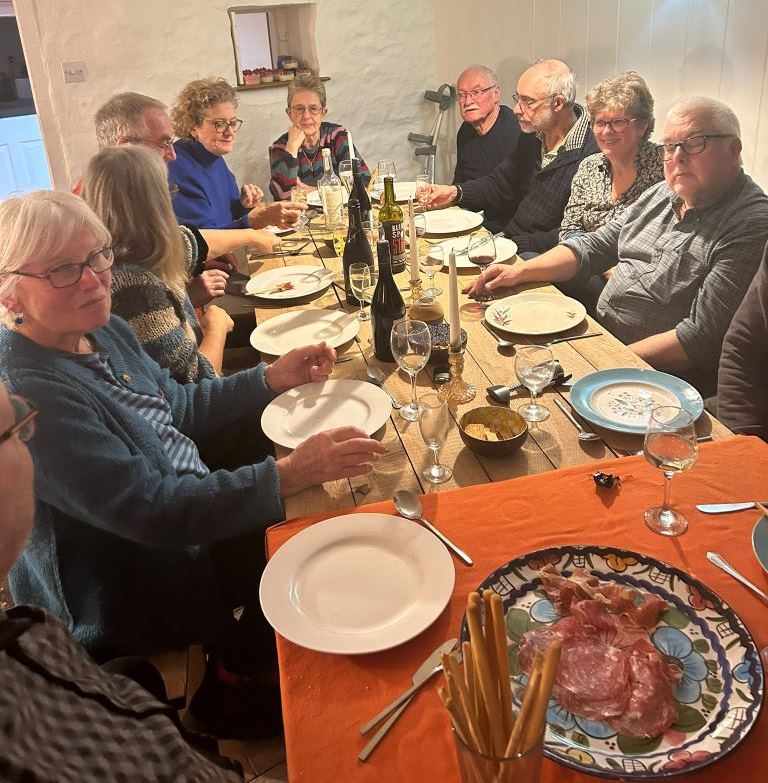 ... to snow in Middle Street: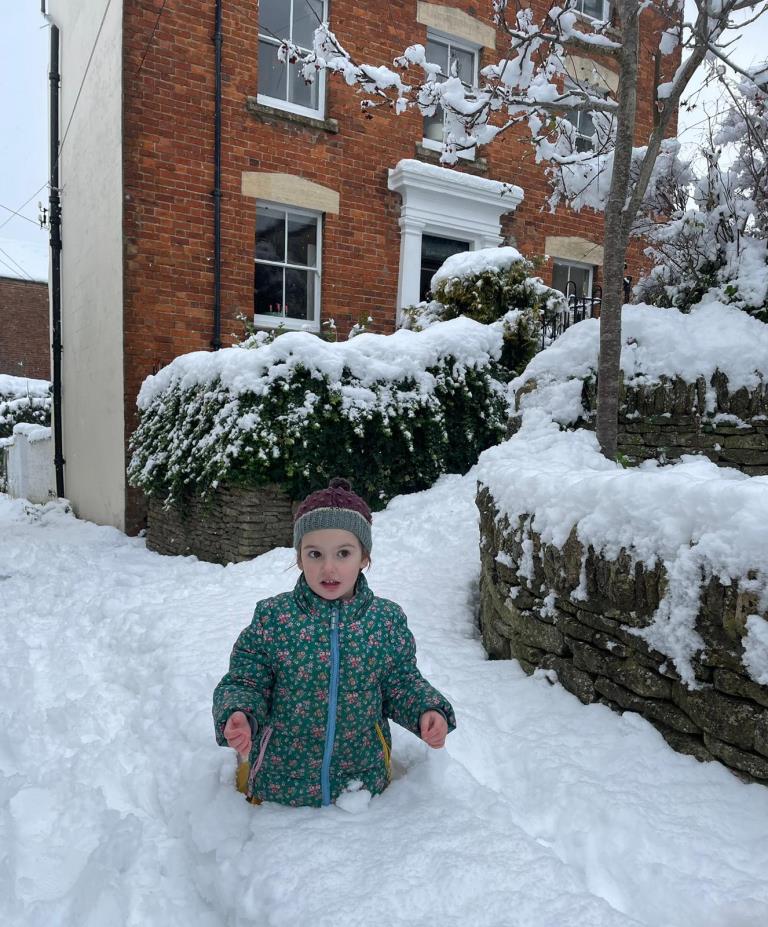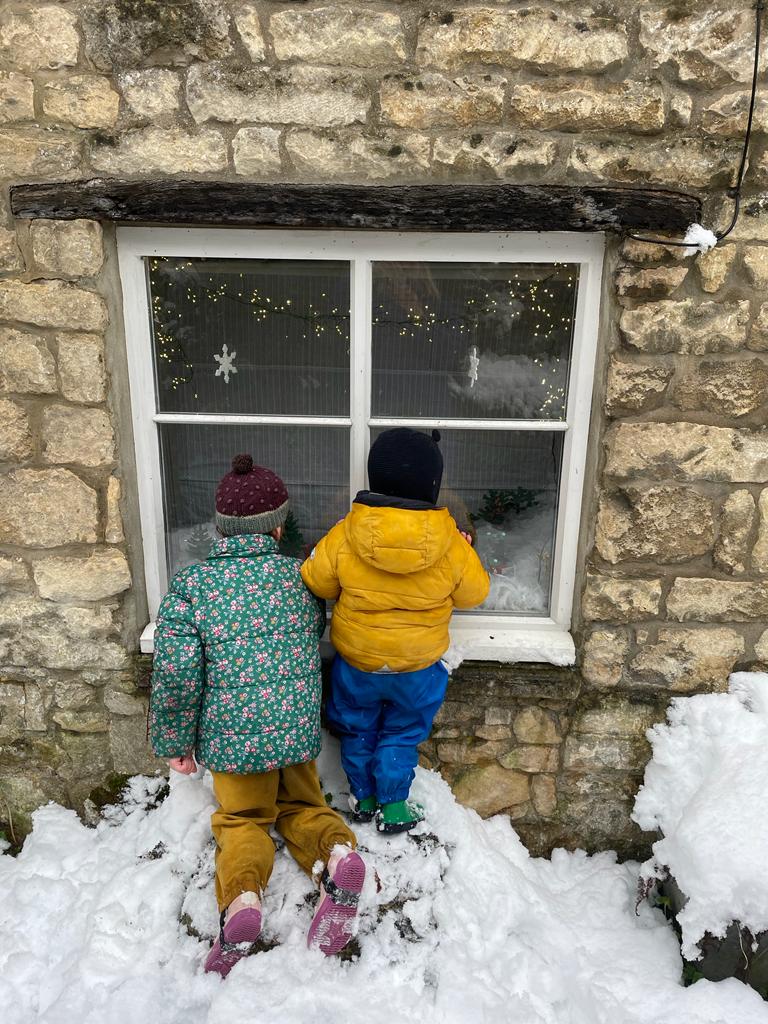 Saturday 10th December


The Middle Street Advent windows are coming along nicely: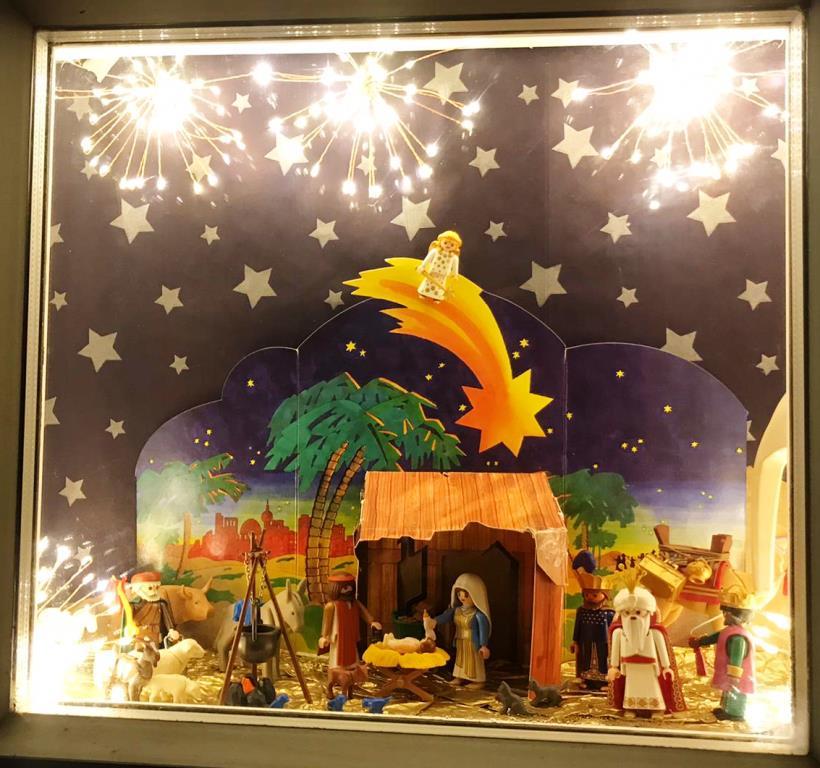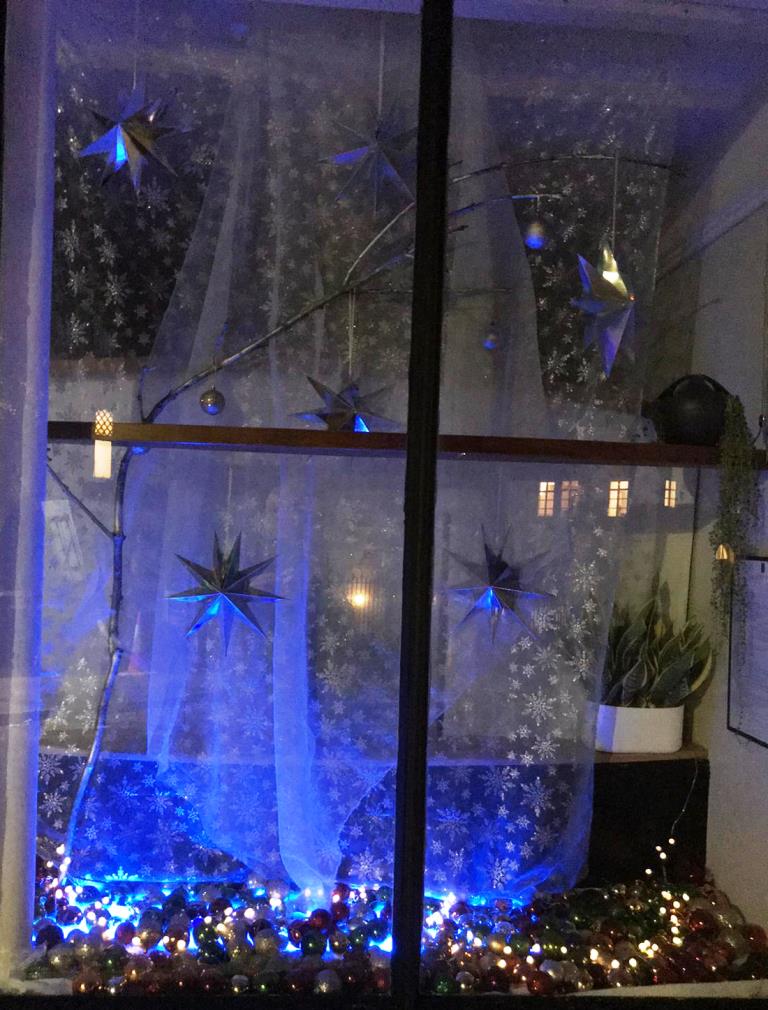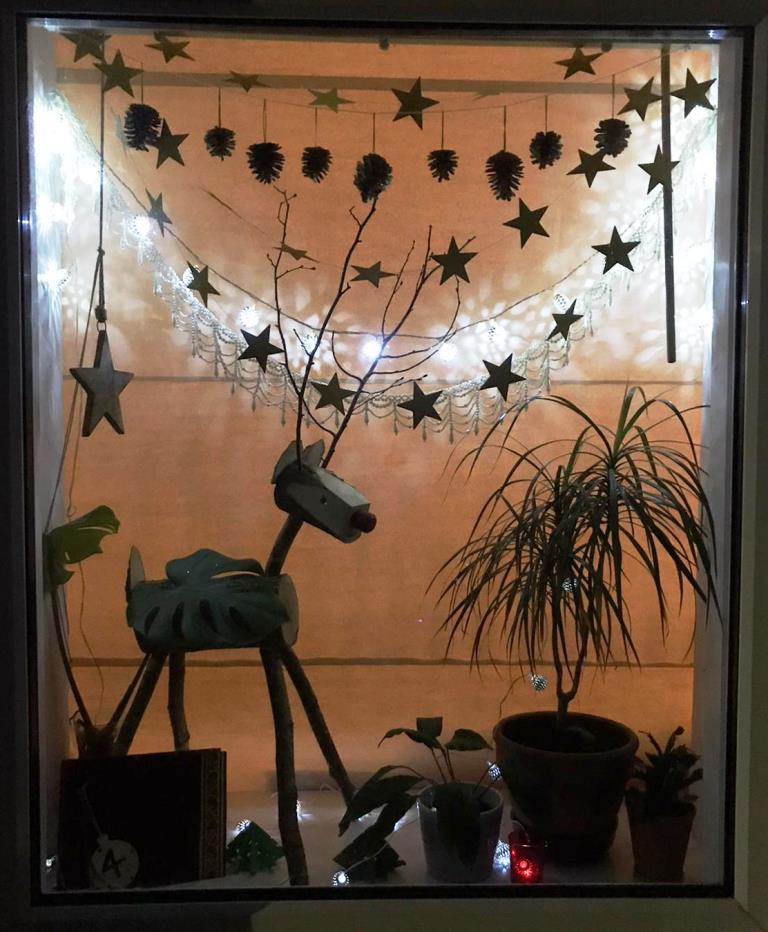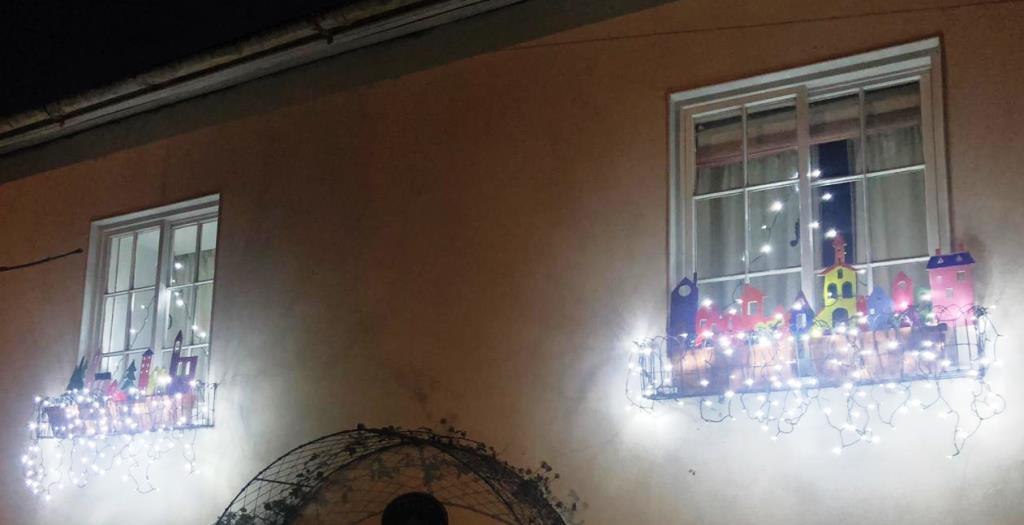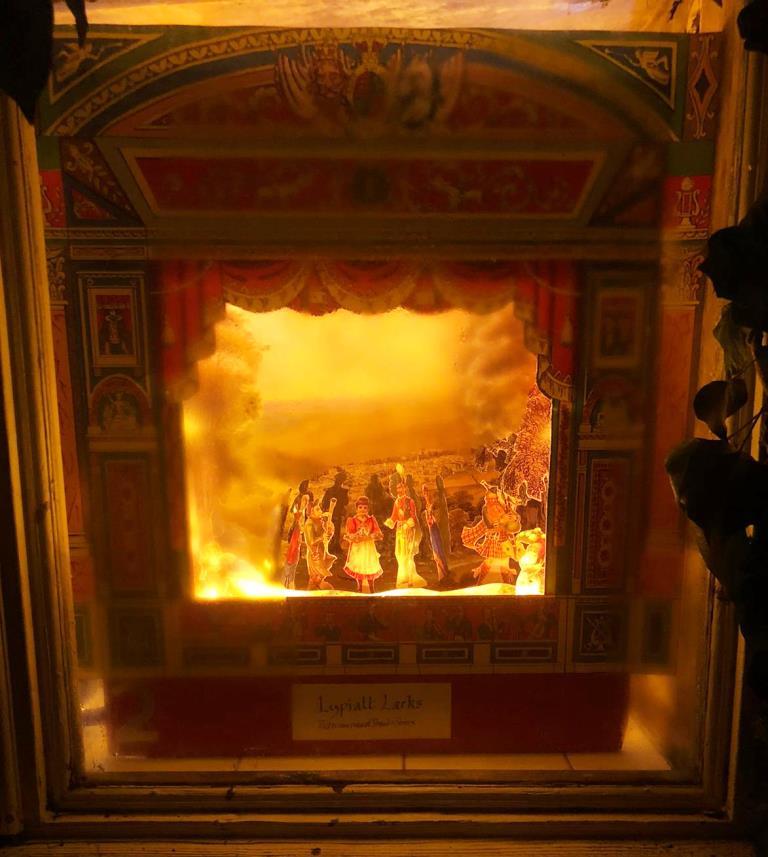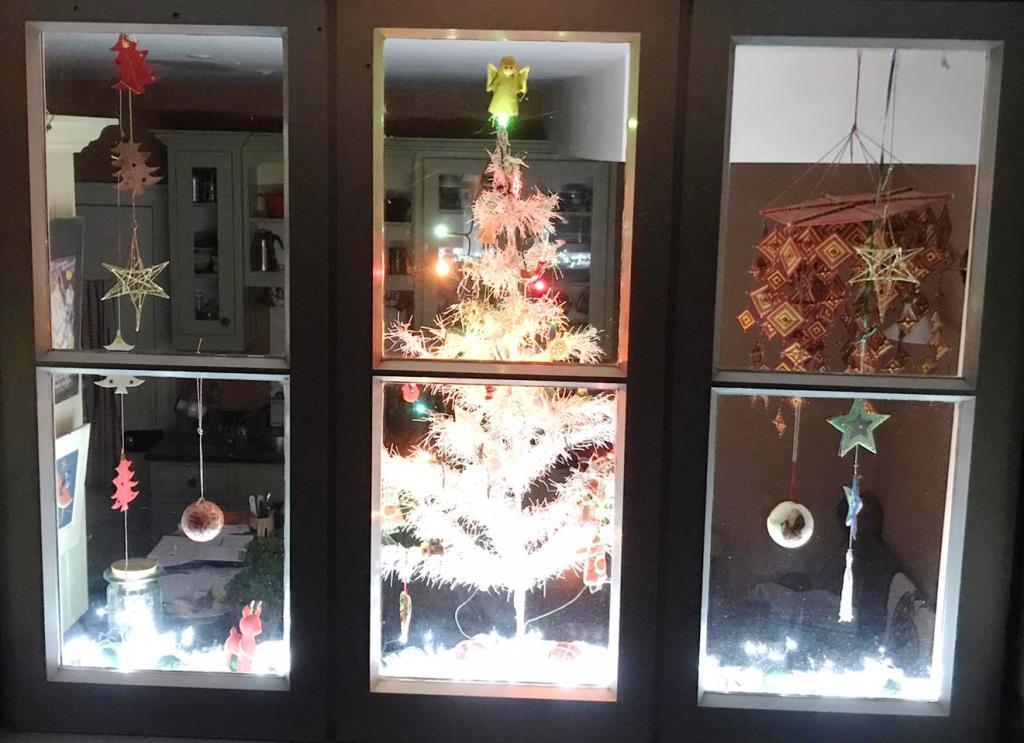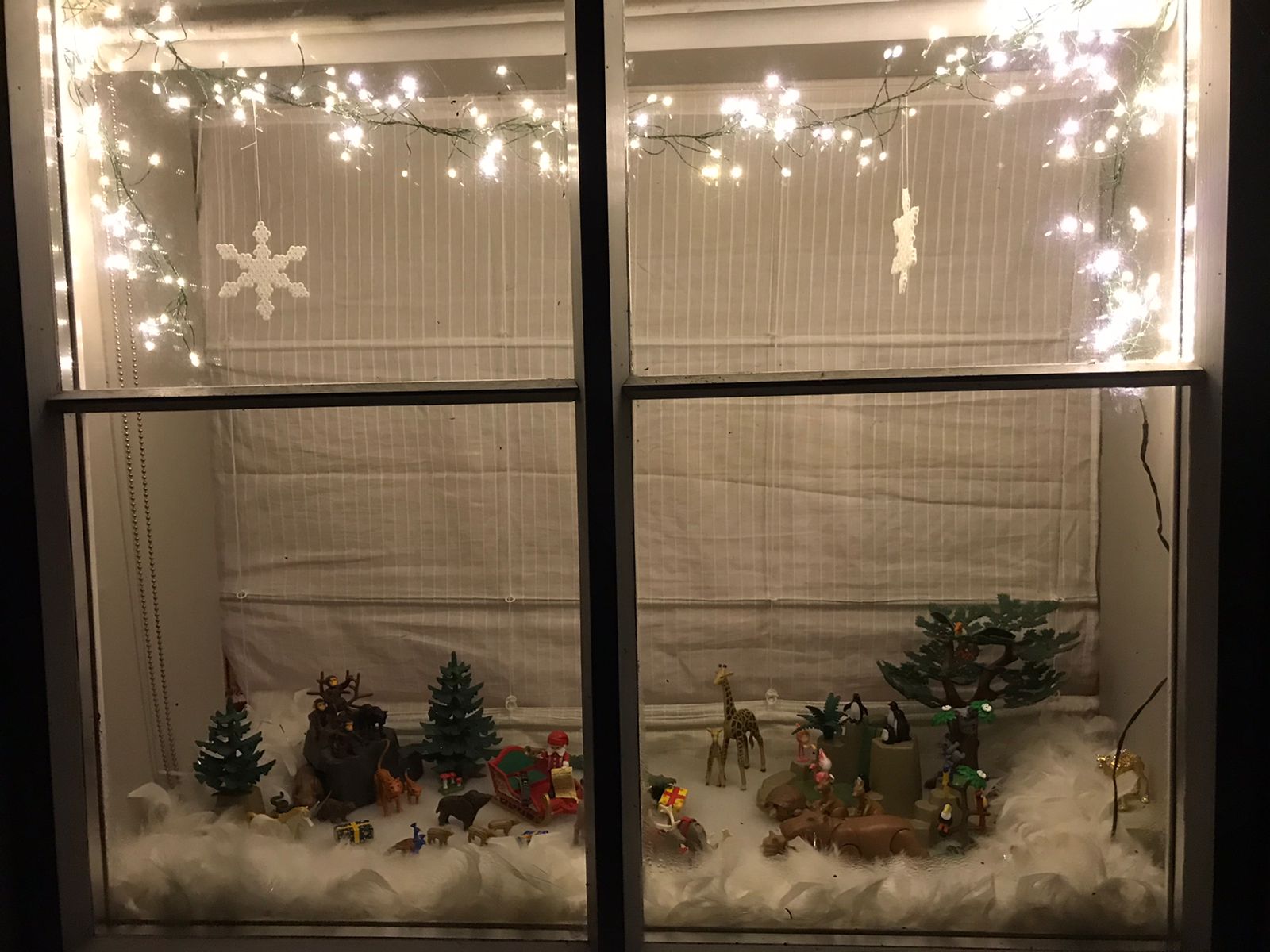 No more blogging this weekend as I'm going to be here for the annual old mates' dinner:





Friday 9th December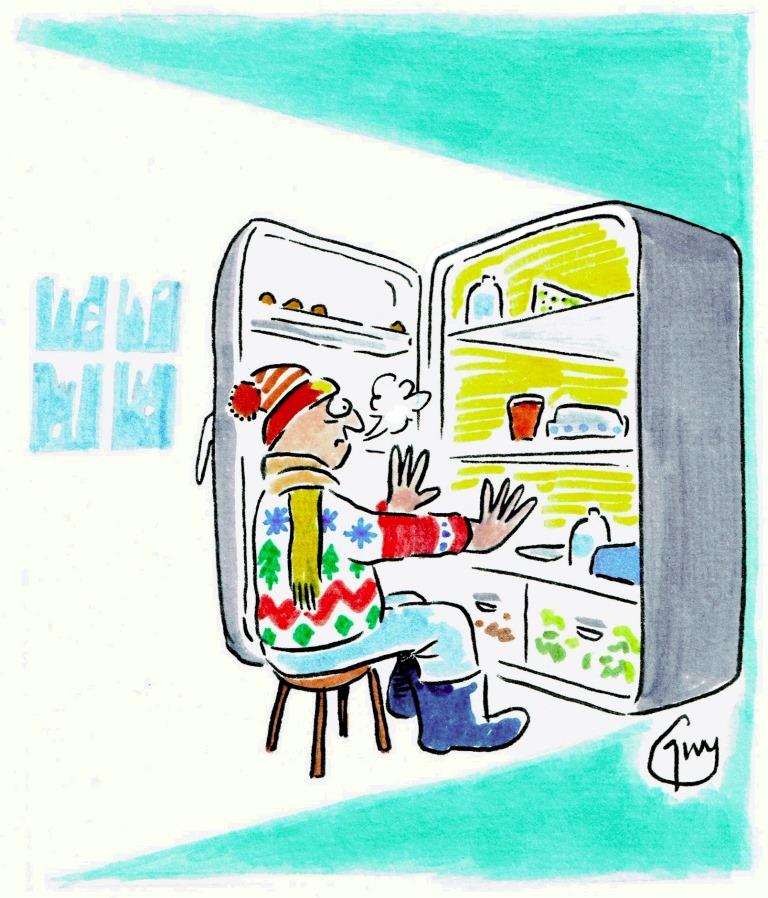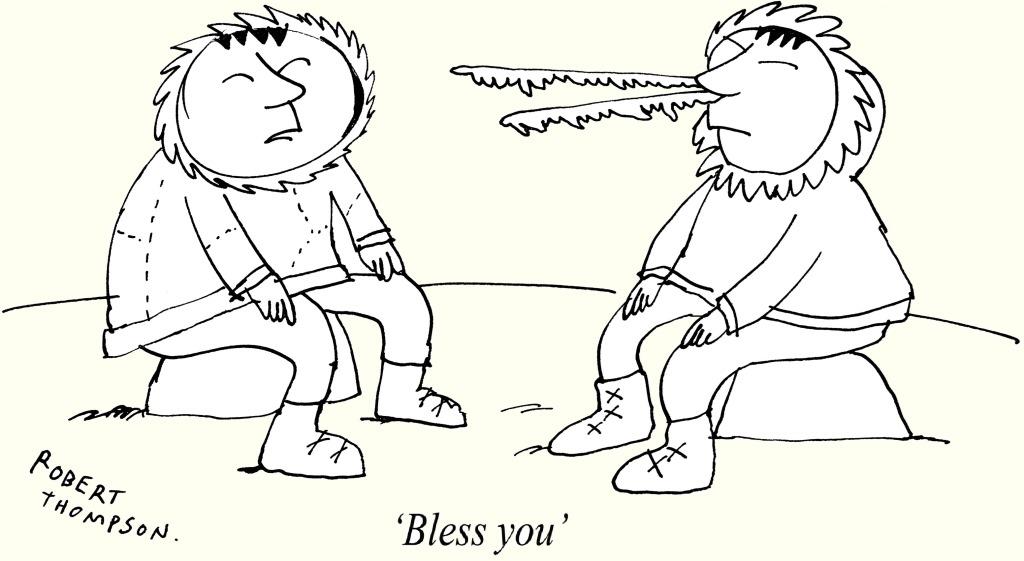 Light relief today. I like maps as much as cart­oons. New­bie-tink­ering with Mast­odon yest­erday I came across two sources, Amaz­ing Maps and Ter­rible Maps. From both their names and server add­resses I imagine that they're one-and-the-same; indeed, it's hard to tell the dif­fer­ence. Here's an early sel­ect­ion for Christ­mas - rather like festive cracker jokes. Click to en­large any.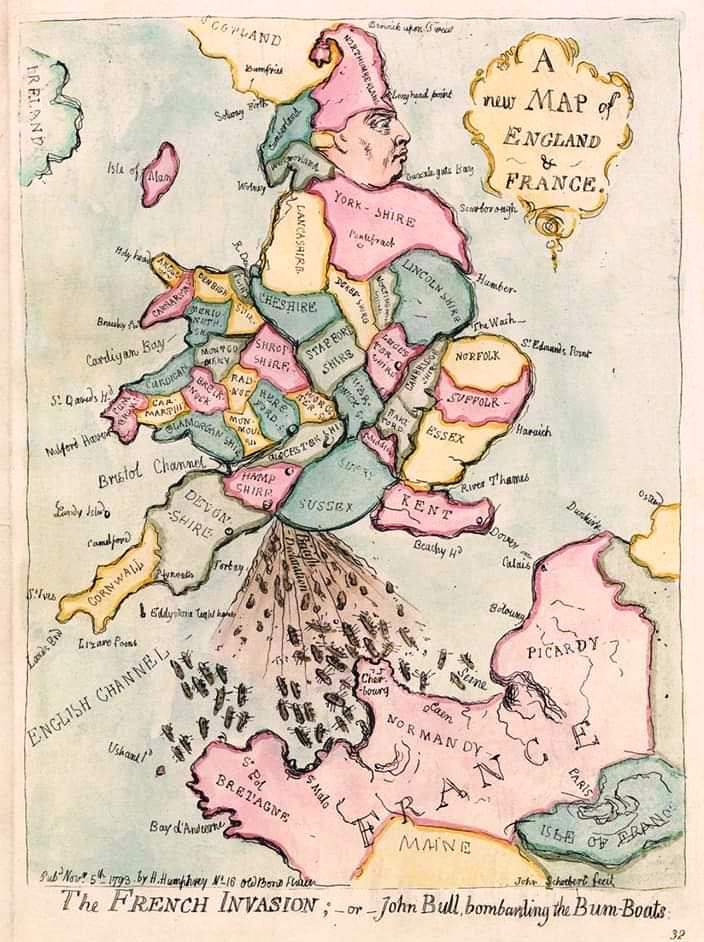 Amazing Maps - A new map of England and France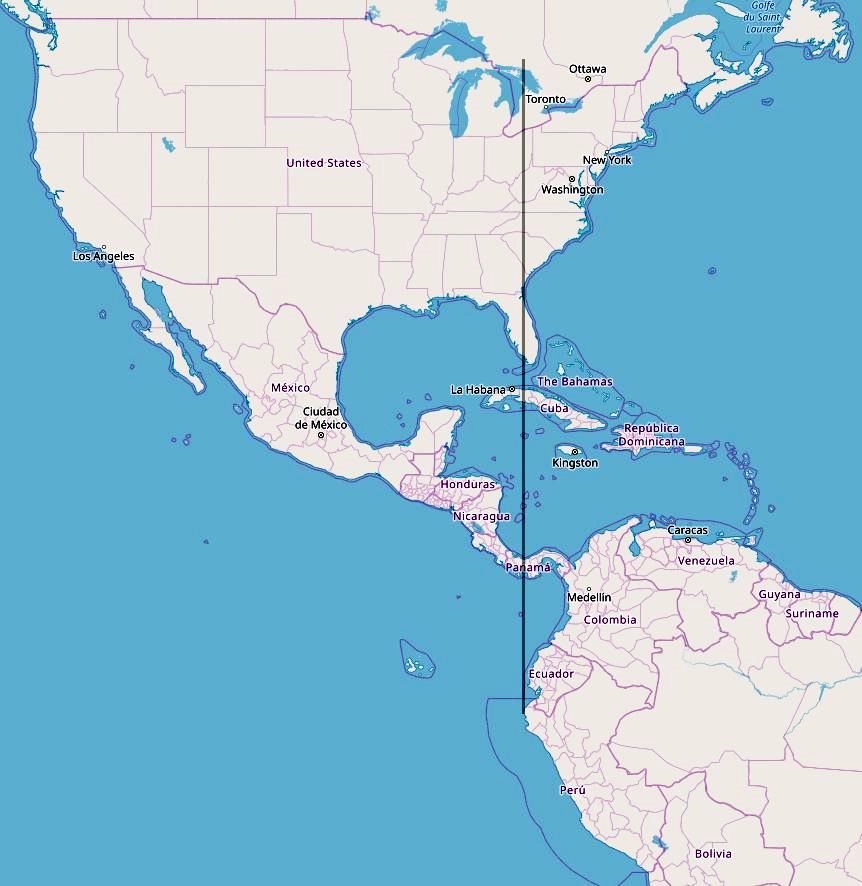 Amazing Maps - Entirety of continental South America lies east of Michigan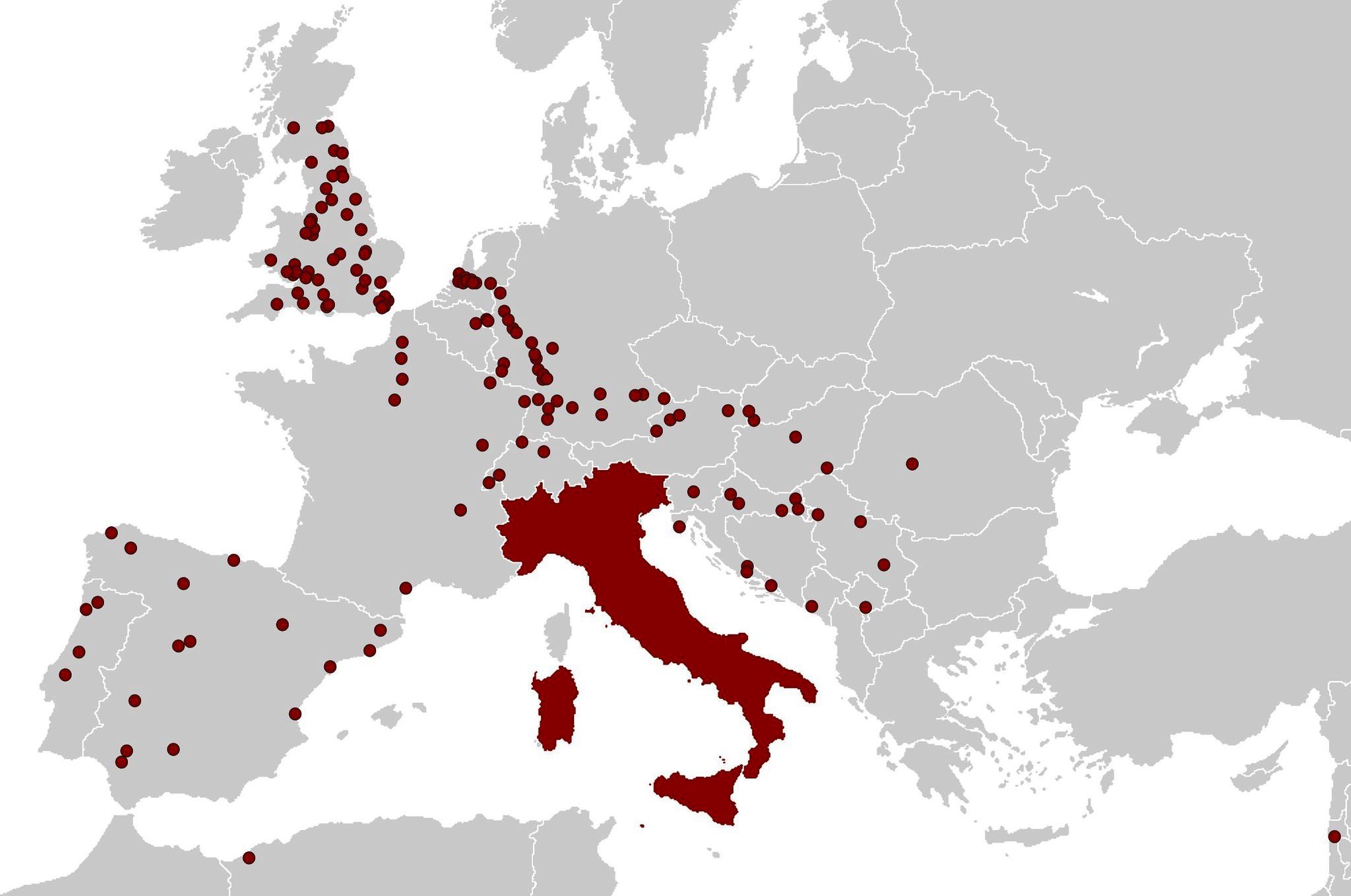 Amazing Maps - Location of every city founded by the Roman Empire outside Italy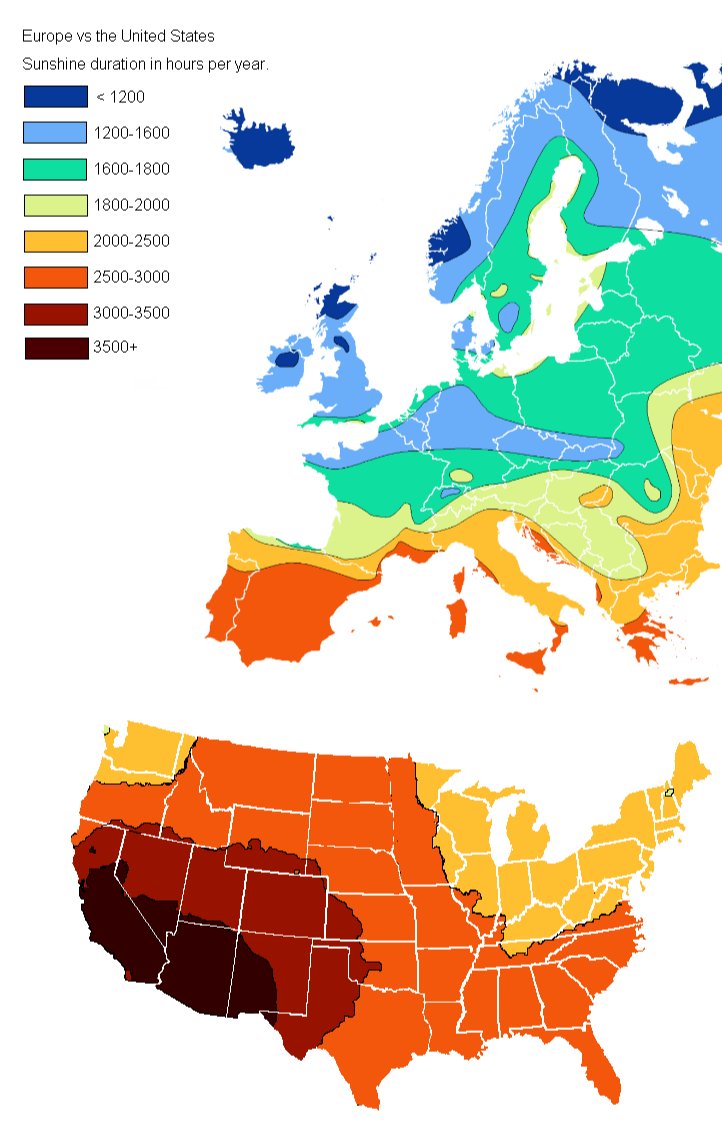 Amazing Maps - Sunshine duration in hours per year USA and Europe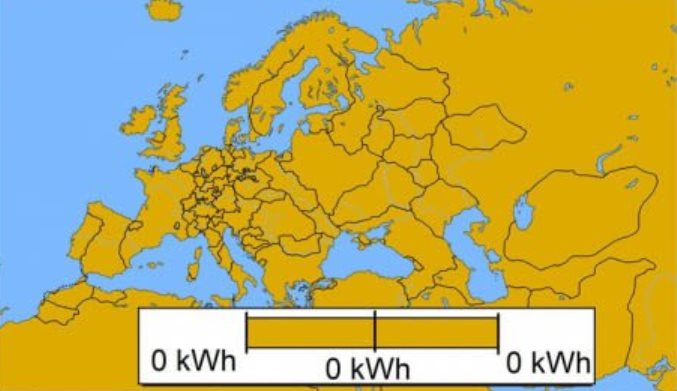 Terrible Maps - Electricity consumption in Europe in 1507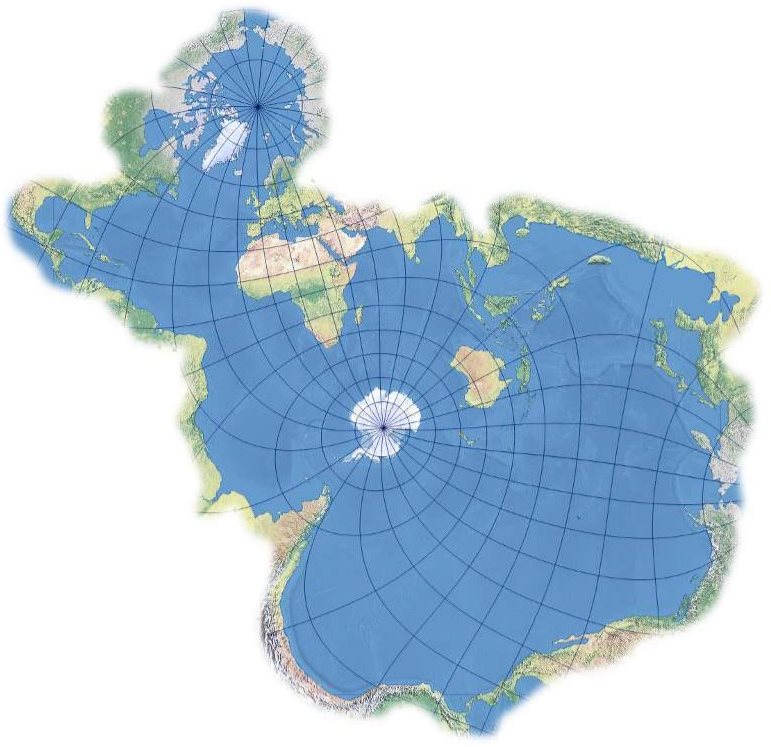 Terrible Maps - World map according to fish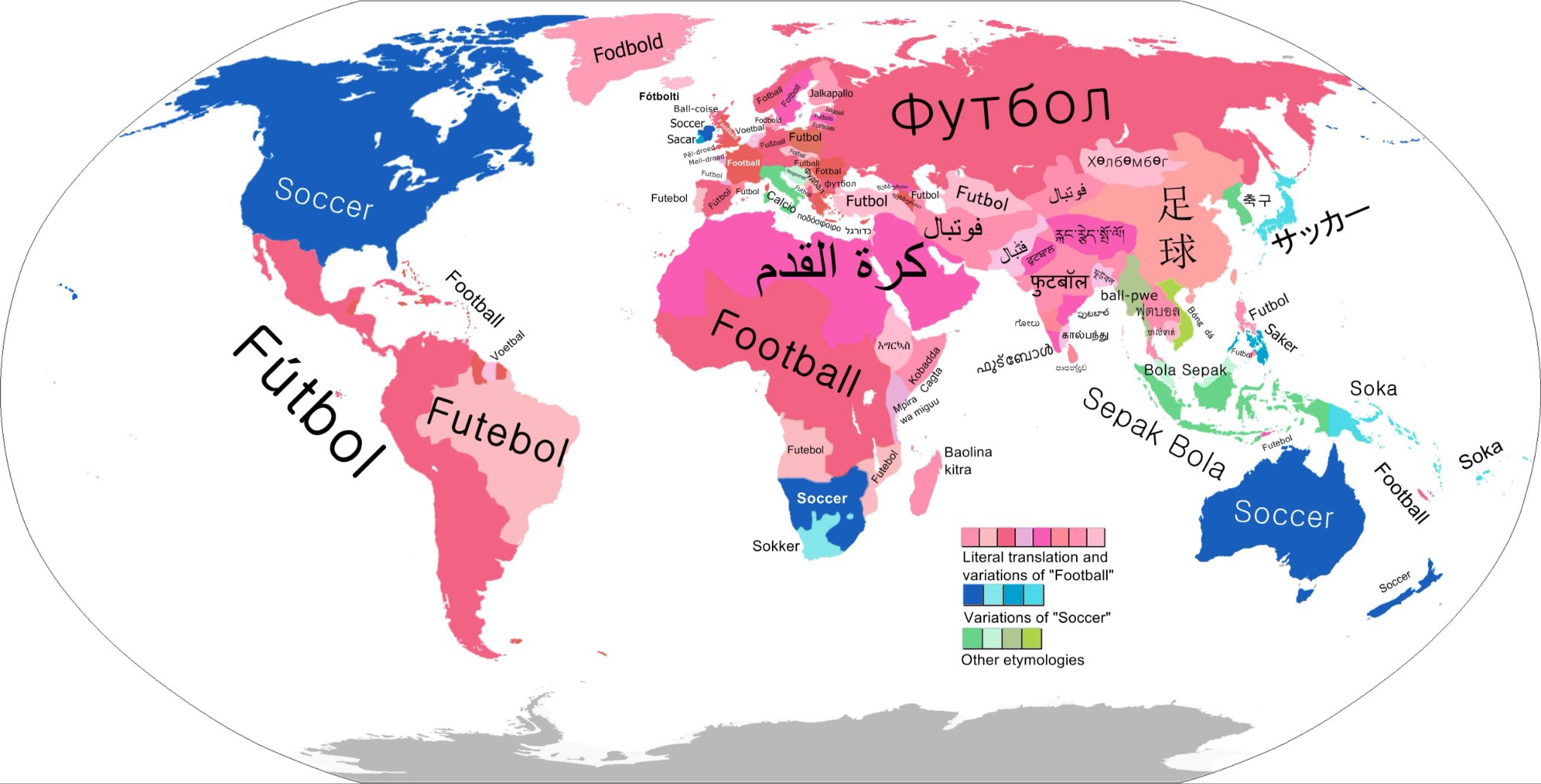 Terrible Maps - Words for football
Terrible Maps - Map of the French Revolution

Thursday 8th December


You may want to skip over today's piece. It's all rather inward-looking meta-blog stuff, namely about the value to me of Twitter as a tool, and what to do if I abandon it. Also some tech background that may leave you cold.

I've agonised, as you will have seen in recent posts, over continuing to rely on Twitter since the Musk takeover. So useful for this blog, but at what cost to the soul? Here was a reminder: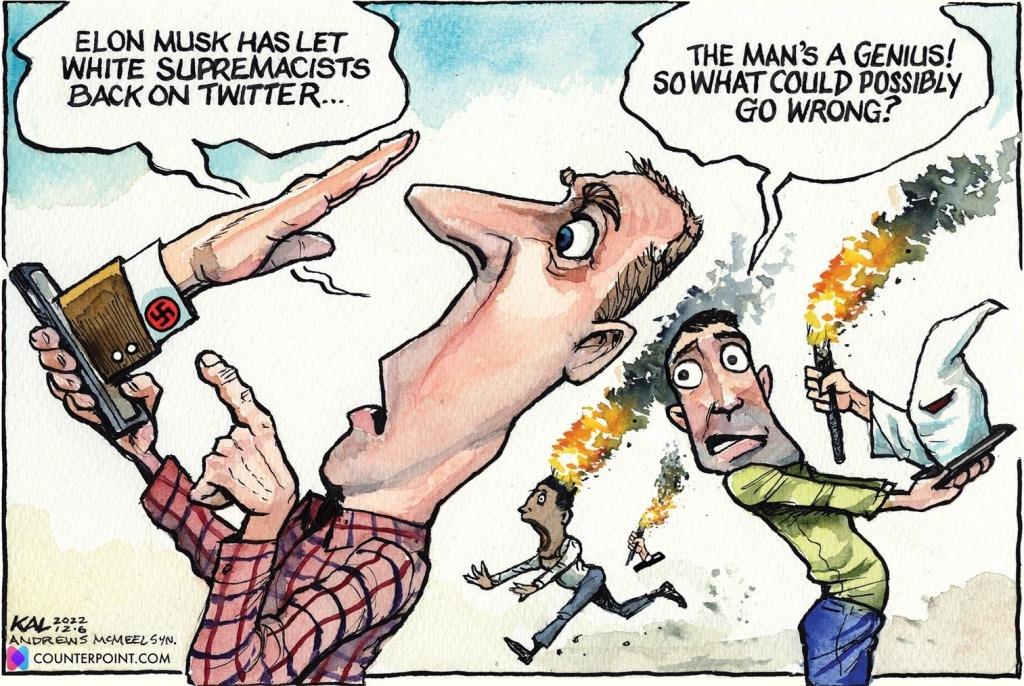 Many who find him as odious as I have sought alt­ern­at­ives to the platform in recent weeks, like the European Movement:





That's right, Mastodon looks like the leading contender for the esc­ap­ee, and makes the claim itself:





Both of the above tweets were of course made on ... Twitter, an irony not lost on the QI research team:





Well, I've managed to set myself up on Mastodon after some initial frus­tration. It wasn't entirely straight­forward, and I'm reas­onably tech-savvy. A very dif­ferent process, driven mostly by the tech­nical arch­itect­ure. Cur­iously, I succeeded by installing the Mastodon app from the Google Play Store on my Android smart­phone after failing to get anywhere on a PC. Once I'd done that I could make some headway on my regular computer. Anyway, I'm pleased to report that I can still hear from many of my favourite sources, like the Political Cartoon people. Wouldn't want to be cut off from them, would I? Although, sad to say, confirming the trend mentioned by QI above I haven't yet ditched Twitter for ever.

Mastodon is a different beast to Twitter. The platform was created by Rus­sian-born German software developer Eugen Rochko and launched in 2016, when Rochko was 23. It's based on free and open-source software, on dist­rib­uted servers called "instances". You can sign up to a server or node which suits your preference, whether that be for a particular geography or social policy. Each node can set out its own rules, and indeed decide whether to com­mun­icate with other servers at all. One small thing I like ... messages were originally known as "toots" - you may still press a "Toot" button to submit a message - although they are now also called by the standard term "posts".

In the video below (2 minutes 16 seconds), Mastodon explains itself:




As the narrator says: "Mastodon is a social network which puts the user first. Unlike traditional social media Mastodon can't go bankrupt, it can't be sold, and it can't be completely blocked by governments."

Twitter is owned by one man who paid $44 billion for the privilege.

So, I'm looking forward to trying something new. A bit of fun. I have only one res­erv­at­ion at the moment. Mast­od­on is somehow an un­fort­un­ate name, even in German. It res­onates badly, un­wel­come ass­oc­iat­ions lurk­ing in the back­ground. I expect I'll get over it.

Wednesday 7th December


I sense a pre-Christmas "phoney war" period in UK politics, at least with the two traditional leading parties. Not the eyewatering meltdown of Boris sleaze and bonehead Trussonomics, less intense. Broken and misguided none­the­less. To borrow the "Word of the Year 2022" from Collins, maybe a low-grade expression of "permacrisis".

I'll illustrate with cartoons; it has been at least five days since I've used one. Click to enlarge any.

Martin Rowson has this mildly apocalyptic - if that isn't oxymoronic - view of Britain. If you need help with the German, it says: "Actually we come from some­where in the Black Forest."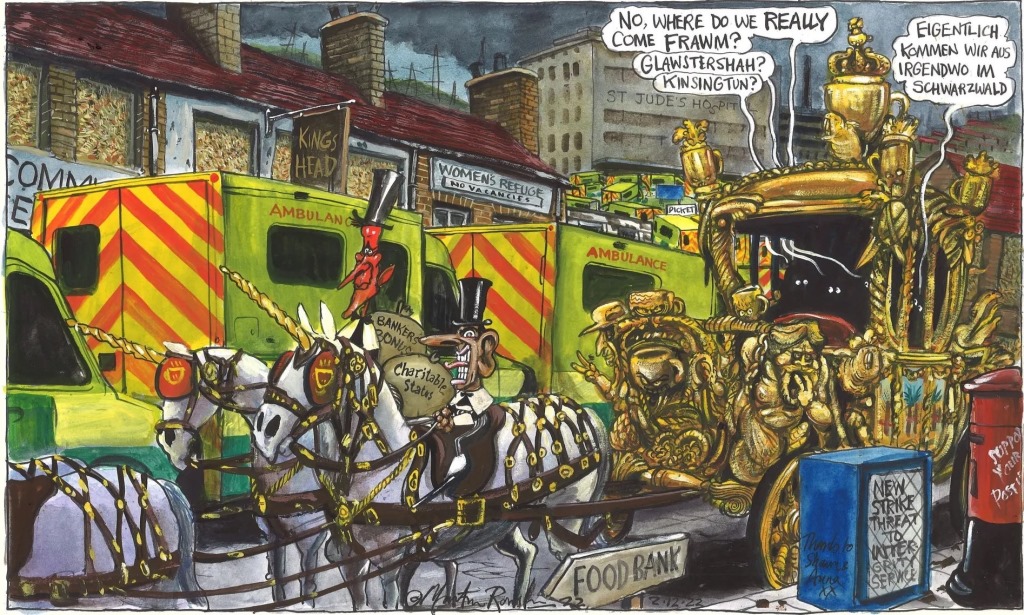 Davey, Brown, Bandeira, Jennings and Morland have Sunak in trouble, under siege, out of his depth, not in con­trol of his own party, weak and in­dec­is­ive: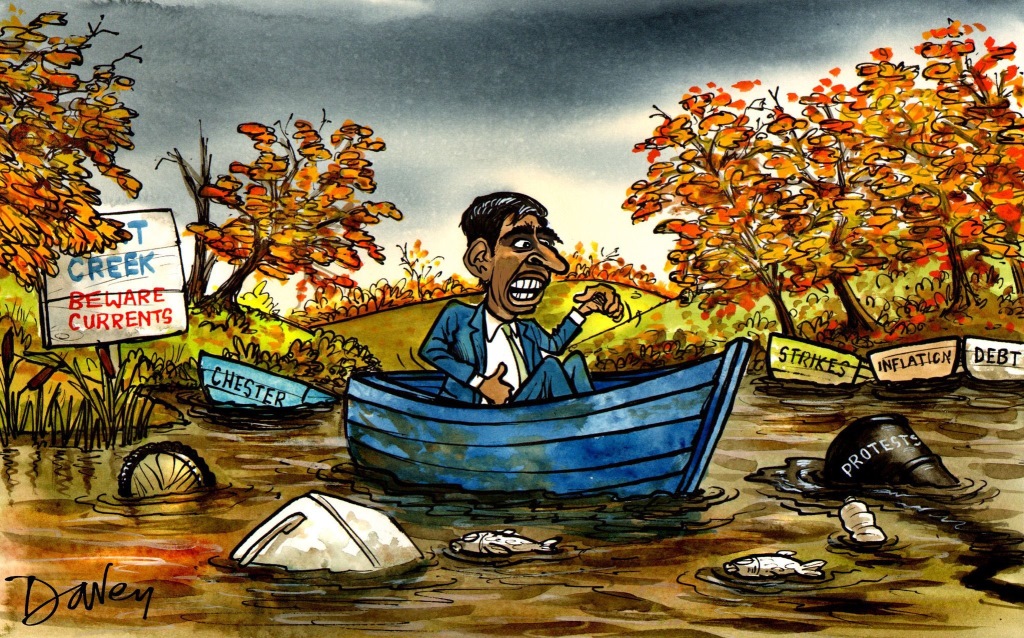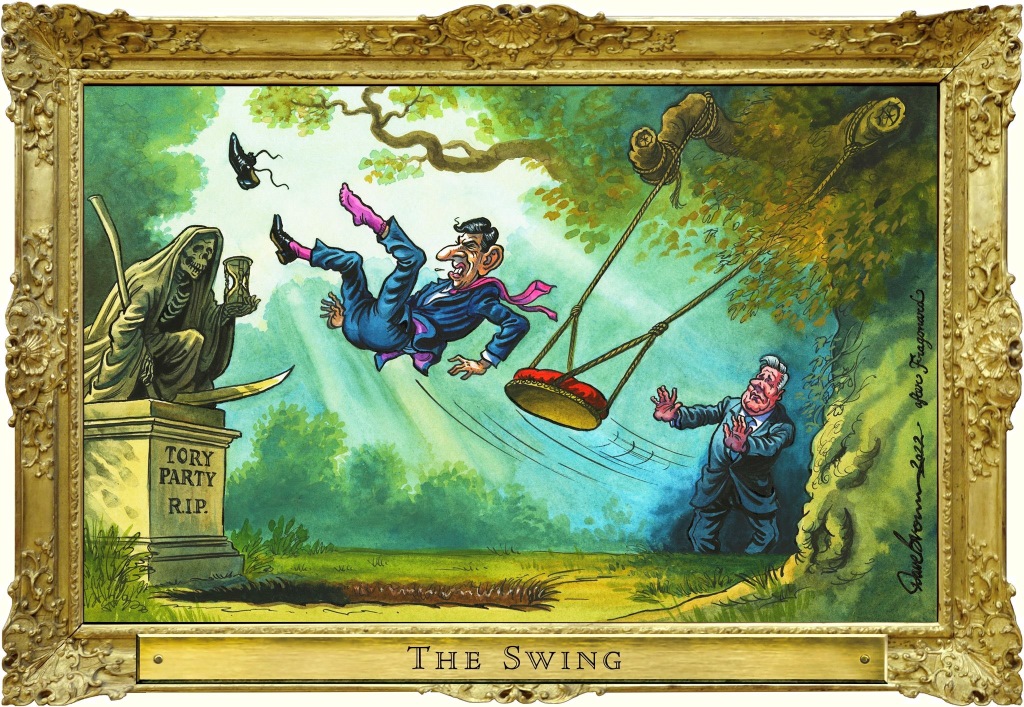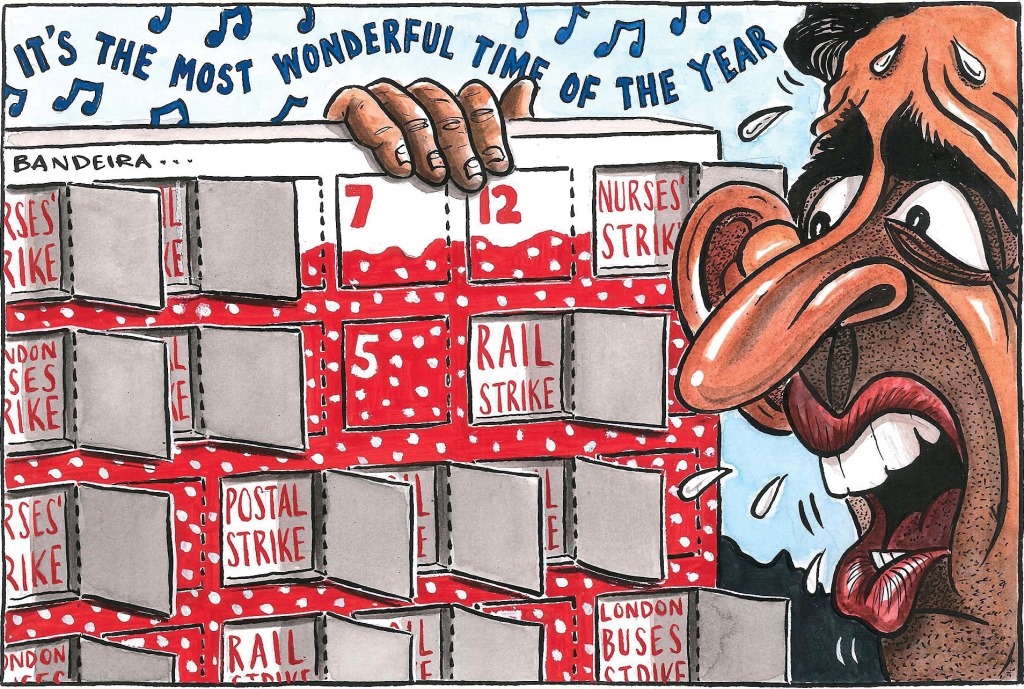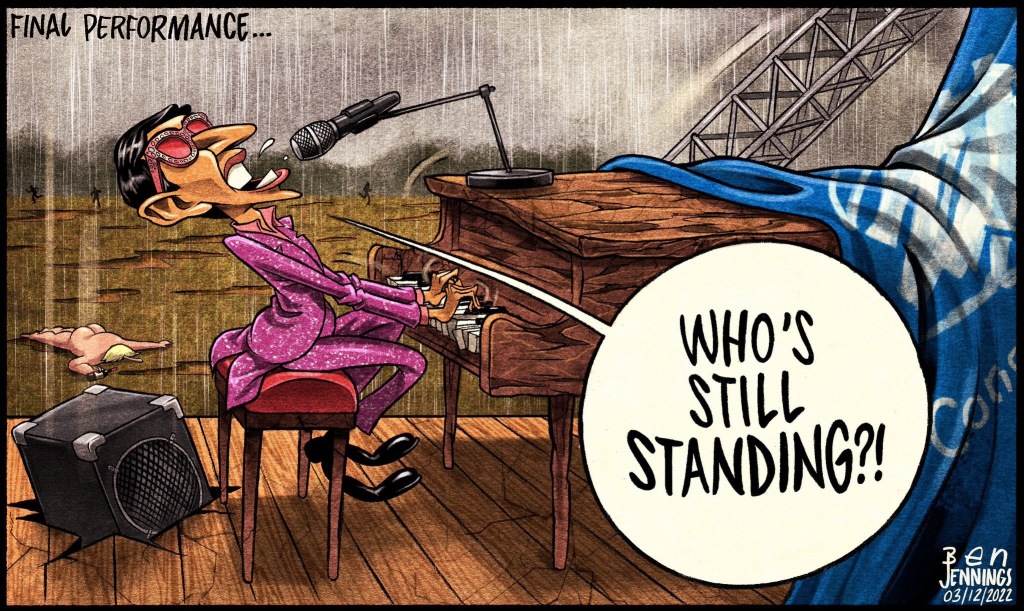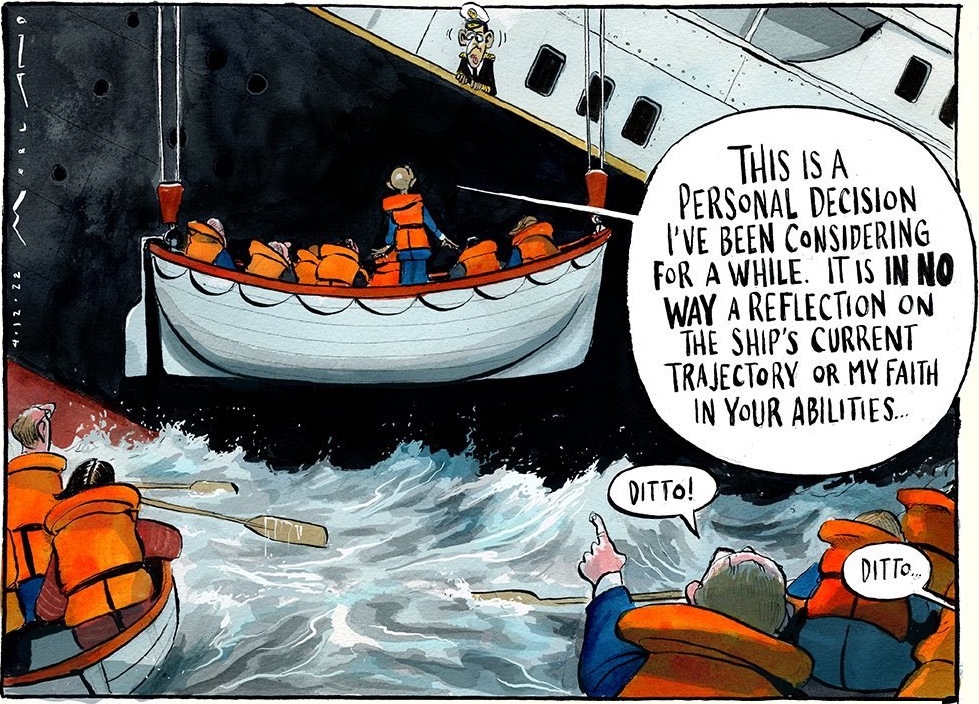 Meanwhile, Starmer looks at risk of missing the target, of squandering the open goal, creating his own distraction. Does he HAVE to take on the House of Lords right now, make a pre-election promise? Is that a vote-winner? Does he need rem­ind­ers of Labour ad­min­ist­rat­ions past? Bell, Adams, Blower and Morland have their doubts too: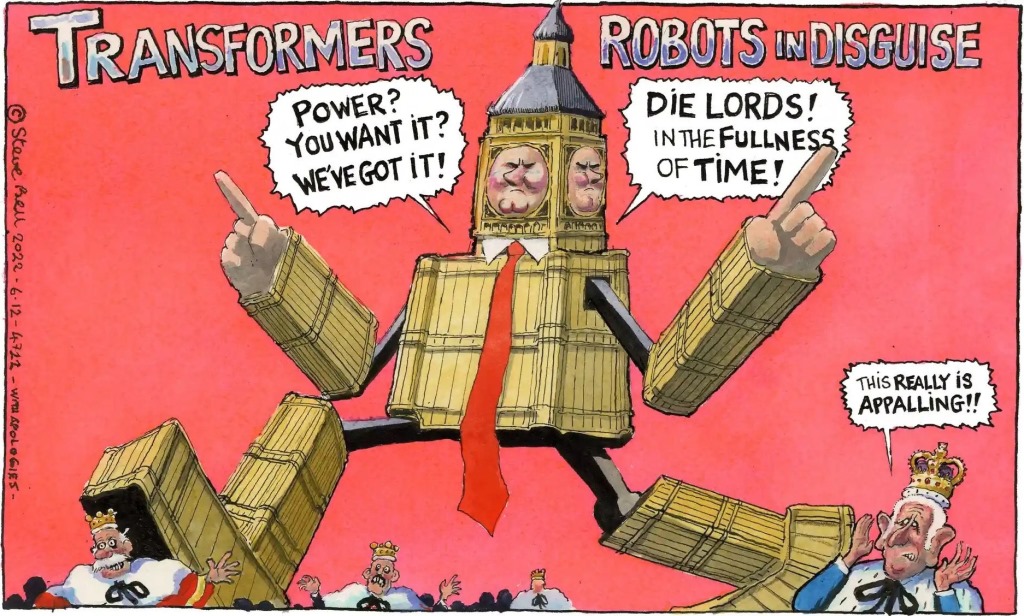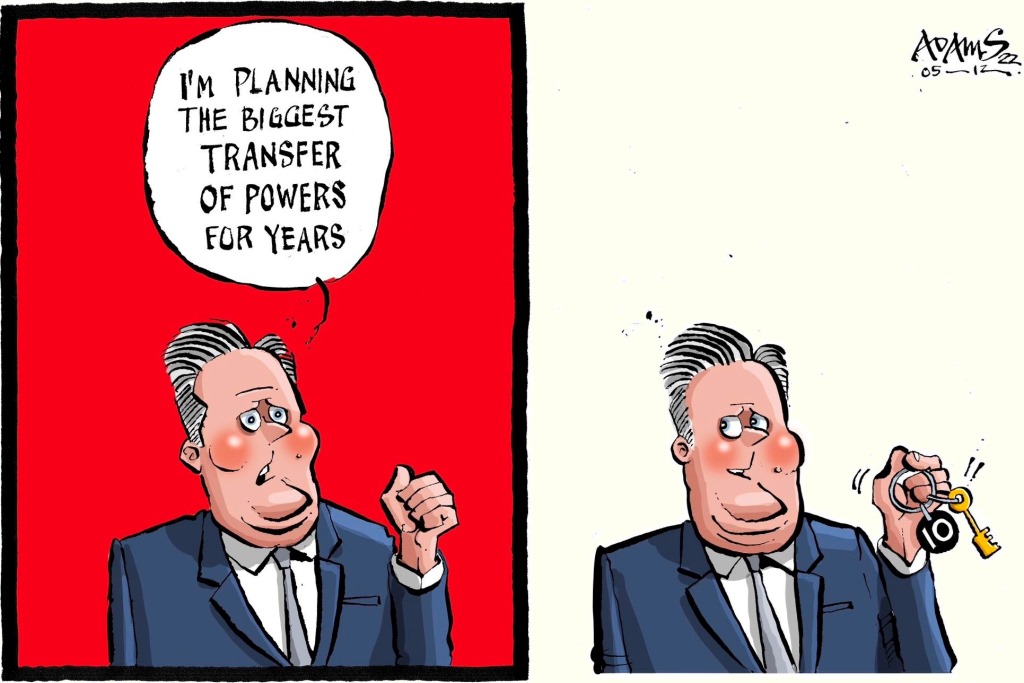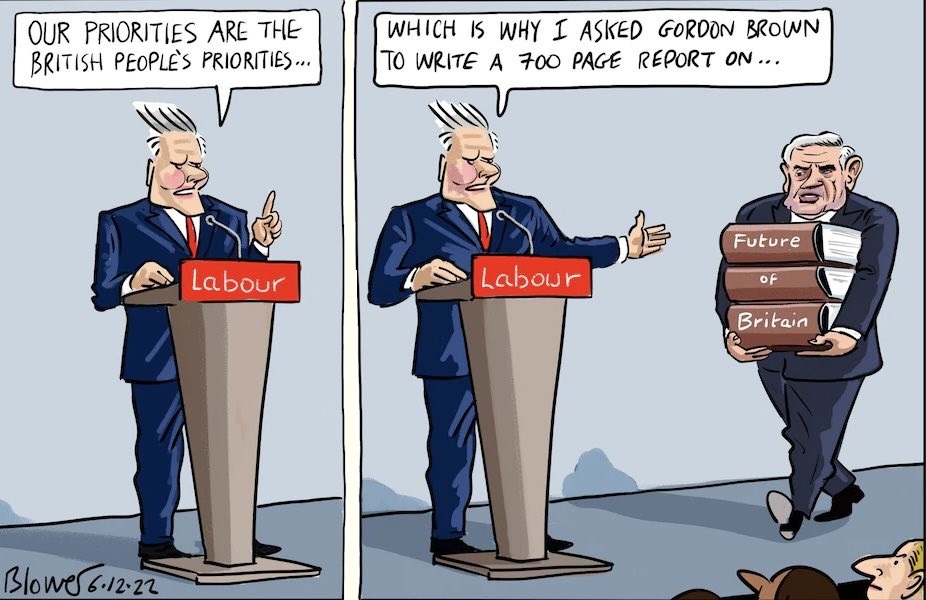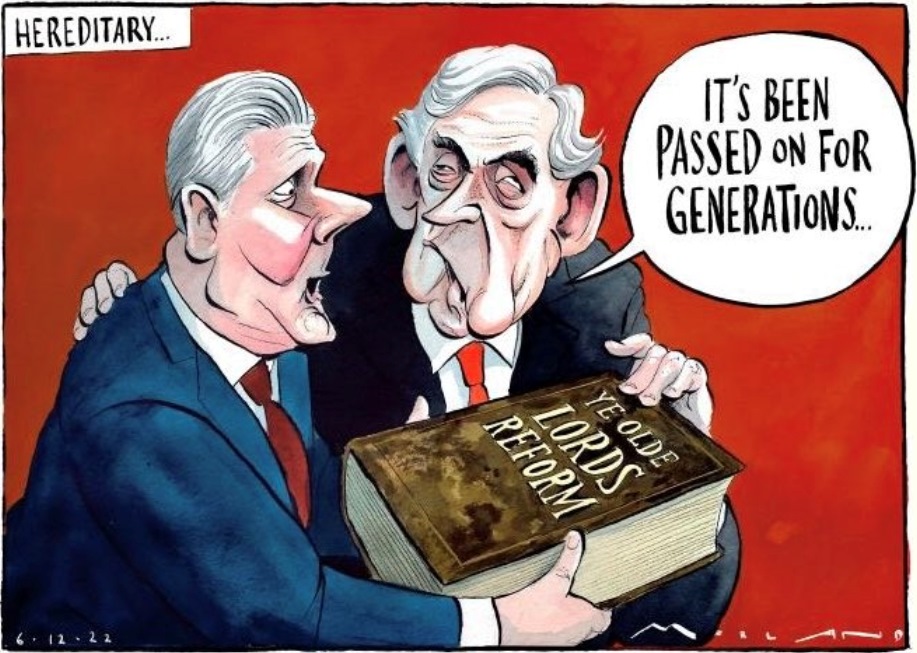 Let's see what PMQs bring today.

Tuesday 6th December


Just over a year ago I had a run-in with the local anti-vax community (see my comments here: 👉), represented by the Stroud Info Hub - I prefer Misinfo Hub - which frequently has a stall in the High Street. They pressed a copy of The Light free newspaper on me, in which I was particularly struck by an advert for an e-book by the pernicious Vernon Coleman, "Covid-19: The Greatest Hoax in History". He identified a predictable source of blame for the pandemic fiction: "The usual suspects are, of course, the Rothschilds, the Rockefellers, the Bliderbergers and the Jesuits."

It appears that I'm not alone in my opposition. Stroud District Com­mun­ity Solidarity and Stroud Against Racism have circulated a number of counter-leaflets. By the end of October well over 300 people had signed a petition titled "Stop sharing The Light in Stroud" - and now so have I.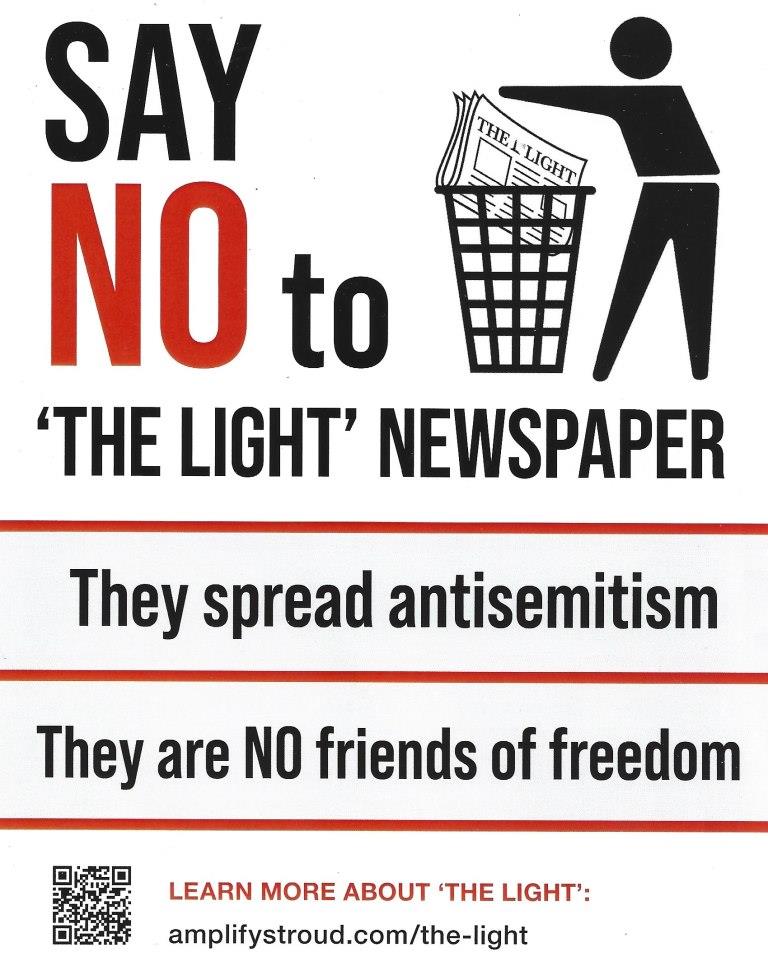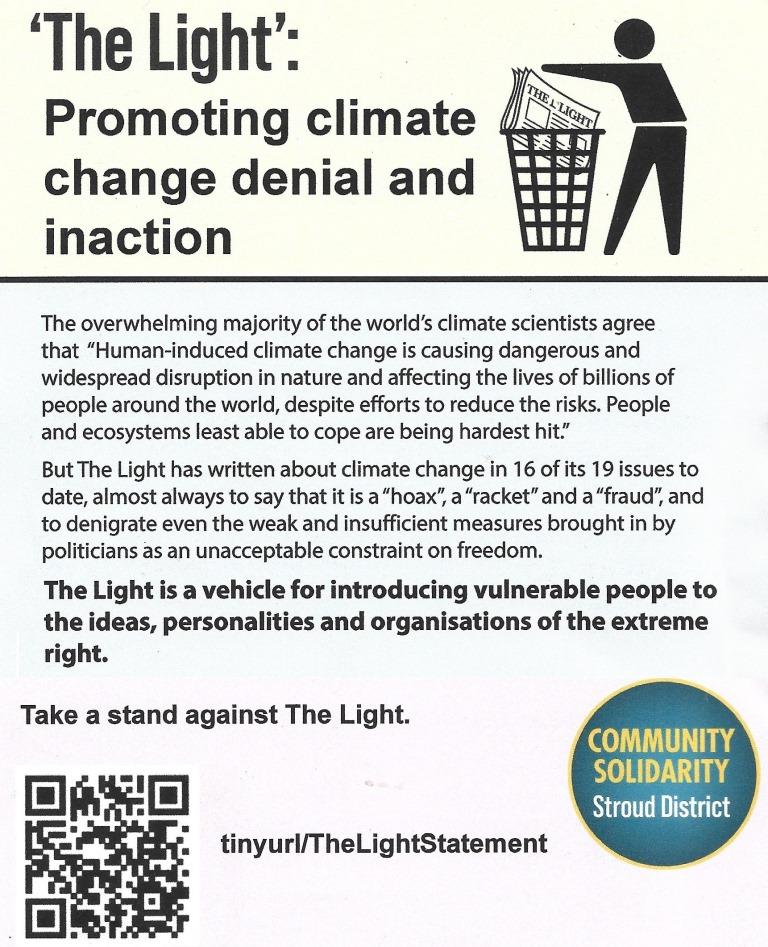 Read more about objections to The Light on the Amplify Stroud web­site: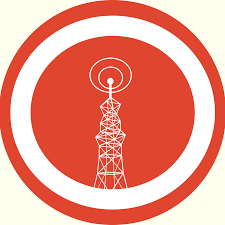 You'll know that I have banged on disparagingly about Siobhan Baillie, Stroud's Conservative MP, accusing her of never being around. In town yes­ter­day afternoon I saw that she's taken up residence in the refurbished building that used to house Woolworths: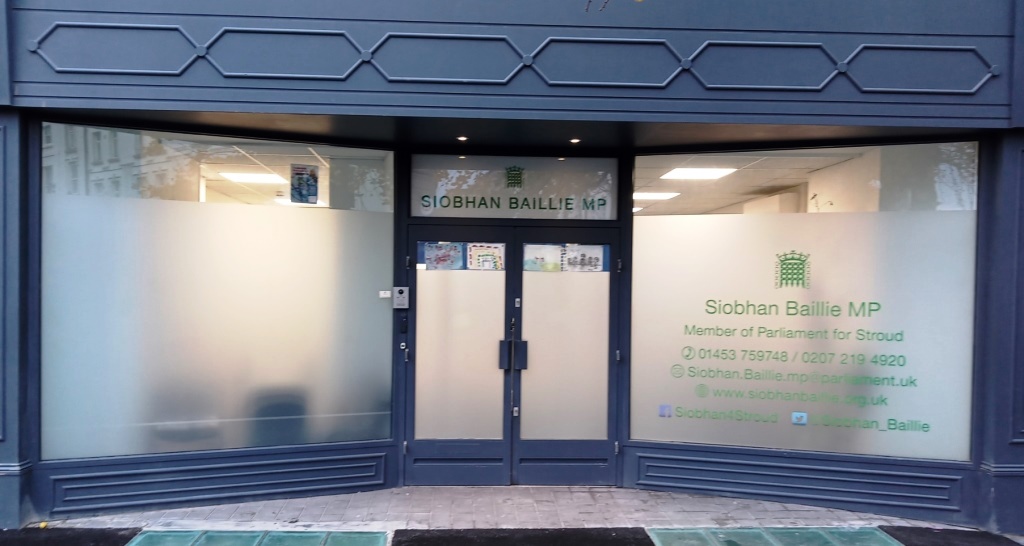 I trust that she has signed an extremely short-term tenancy agreement.

Monday 5th December


So, as promised, the Earthshot Prize. For those of you that haven't come across it, this is Prince William's brainchild, first celebrated and awarded last year (see my review here: 👉). It's his positive and hopeful response to the climate emergency. The event in Boston on Friday night was the second incarnation.


"I believe that the Earthshot solutions you have seen this evening prove we can overcome our planet's greatest challenges. And by supporting and scaling them we can change our future. Alongside tonight's winners and finalists, and those to be discovered over the years to come, it's my hope the Earthshot legacy will continue to grow, helping our communities and our planet to thrive."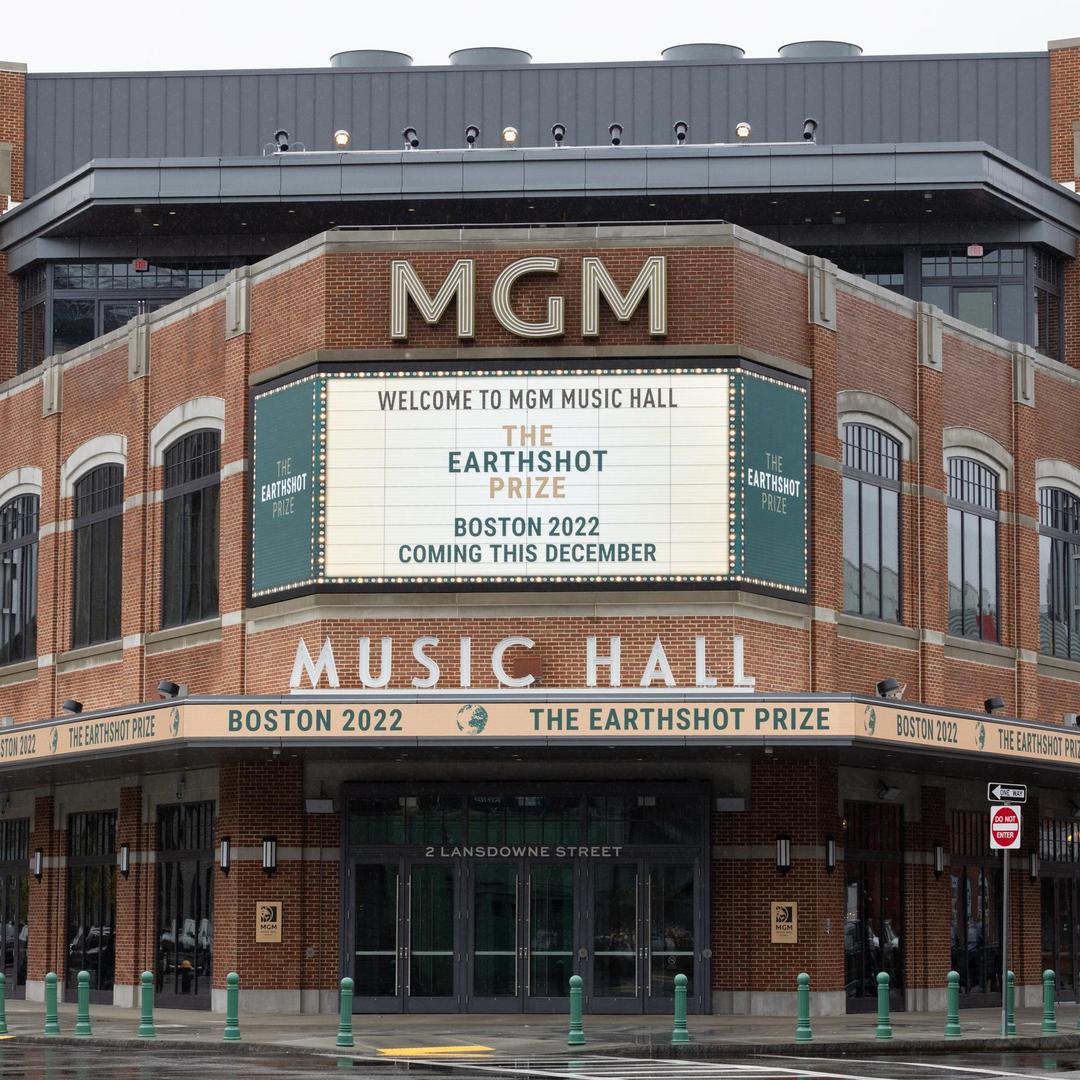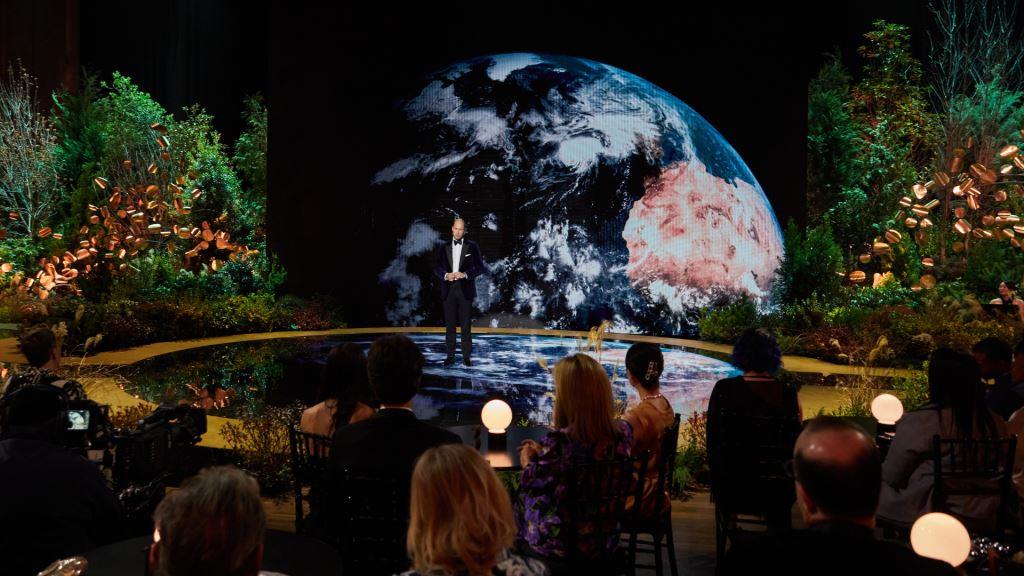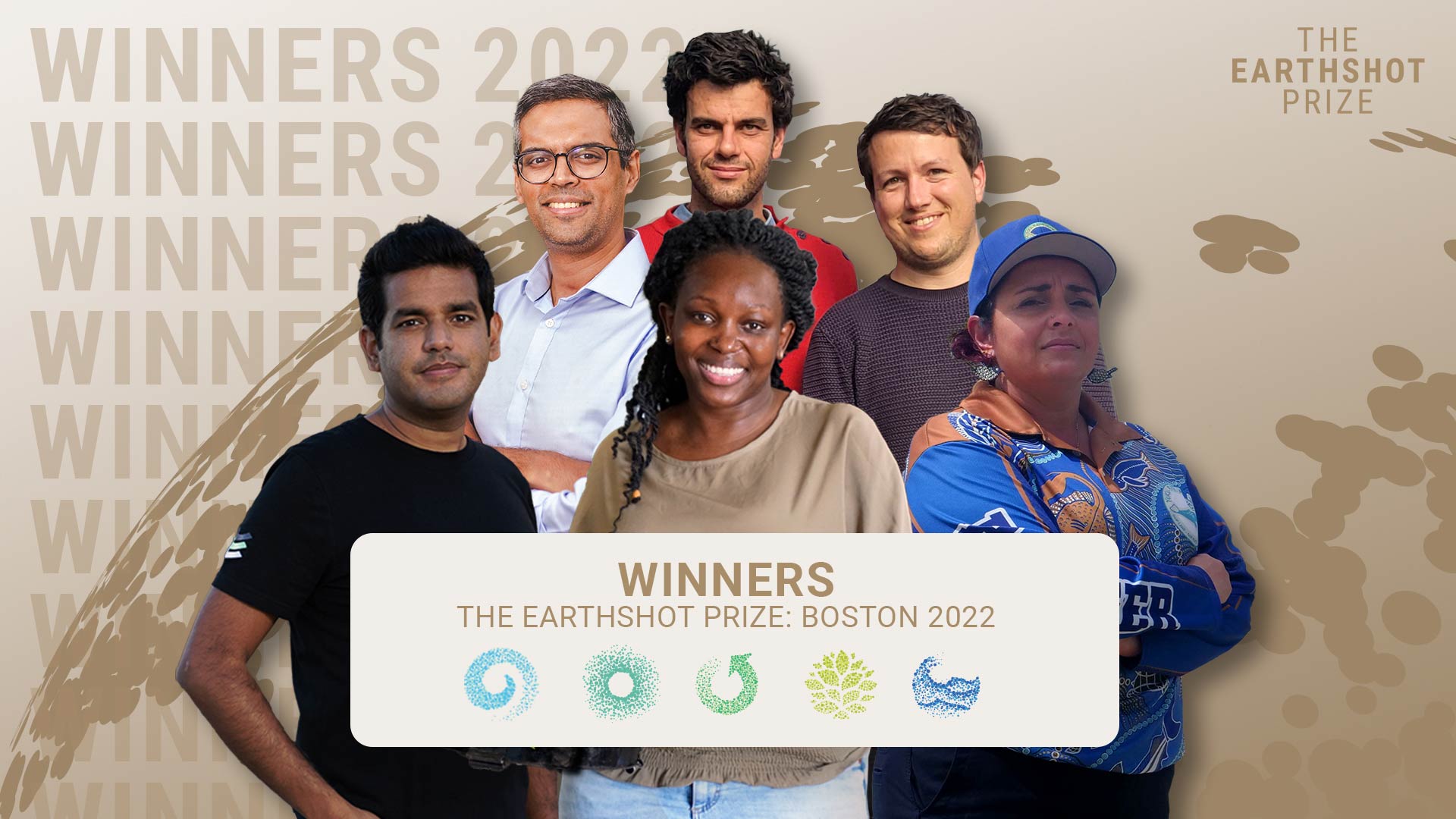 Here's more detail from the prize website:

"Prince William and The Earthshot Prize revealed the 2022 Earthshot Prize winners - an accomplished group of entrepreneurs and innovators spear­head­ing ground-breaking solutions to repair and regenerate the planet. Each winner was awarded a £1 million prize at the second-annual Earthshot Prize awards ceremony.





"Inspired by President John F. Kennedy's Moonshot challenge in the 1960s, which united millions of people around the goal of putting a person on the moon within a decade, The Earthshot Prize aims to discover and help scale innovative solutions that put the world firmly on a trajectory toward a stable climate by 2030 - a world in which communities, oceans and biodiversity can thrive in harmony.





"Each year over the course of this critical decade for the planet, five winners will be chosen for their ground-breaking solutions to five of the greatest environmental challenges facing our planet. These five Earthshots are: Protect and Restore Nature; Clean our Air; Revive our Oceans; Build a Waste-free World; and Fix our Climate."


What do I think? I wrote about the prize at length last year and don't prop­ose to do quite the same this time. You can see that detail via the 👉 link above. All the ins-and-outs of initiatives and pointers to the Boston cer­em­ony media playback sources are on the website:

. For the UK here's the iPlayer link: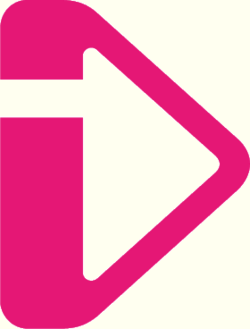 I welcome the positivity, the emphasis on solutions rather than problems - we are battered by plentiful coverage of the latter. I appreciate that William is using his platform of influence to raise awareness, to stimulate remedial action.

My concern is that the prize lets government and politicians off the hook. The climate emergency requires clear, co-ordinated, committed and urgent action from them, of a kind shamefully missing at COP27. It may be that the necessary change can come from the bottom up rather than top down, from the multiplier efforts of individuals and groups across the globe. Yet we still need government to wise up and step up.

I'm uneasy about the glitz of the prize-giving occasion. It seems at odds with the experience of those suffering right now from climate damage. The guests in their glossy garb sat at jazz-club tables. I suppose you have to dress these things up to get them noticed.

What about funding? That's covered on the website:


"The Global Alliance Founding Partners are a group of leading global organisations and philanthropists which act as strategic funding partners to The Earthshot Prize. These partners include: Aga Khan Development Network, Bezos Earth Fund, Bloomberg Philanthropies, Breakthrough Energy Foundation, Coleman Family Ventures, DP World in partnership with Dubai EXPO 2020, Eleven Eleven Foundation, Holch Povlsen Foundation, Jack Ma Foundation, Legado Para A Juventude, Marc and Lynne Benioff, Paul G. Allen Family Foundation and Rob & Melani Walton Foundation."


Aren't some of these people part of the problem? It looks like conscience money.

The hope is that the constructive achievements of the winners will enc­our­age others - indeed all of us - to do more for the planet.

Sunday 4th December


I'm going to take a close look at the innovative green initiatives showcased in the Earthshot Prize competition, but not today. I'll wait until I've watched the BBC's coverage of the presentation ceremony this evening at 5:30pm. In the meantime ...

Rightmove, the UK's largest online real estate property portal, has revealed its list of "The 10 happiest areas to live" in Britain (along with house prices, which strikes me as a bit vulgar, although I suppose that's their job). It's the 11th annual survey, with over 21,000 respondents. Criteria included: community spirit, access to nature and green spaces, artistic and cultural activities, local shops.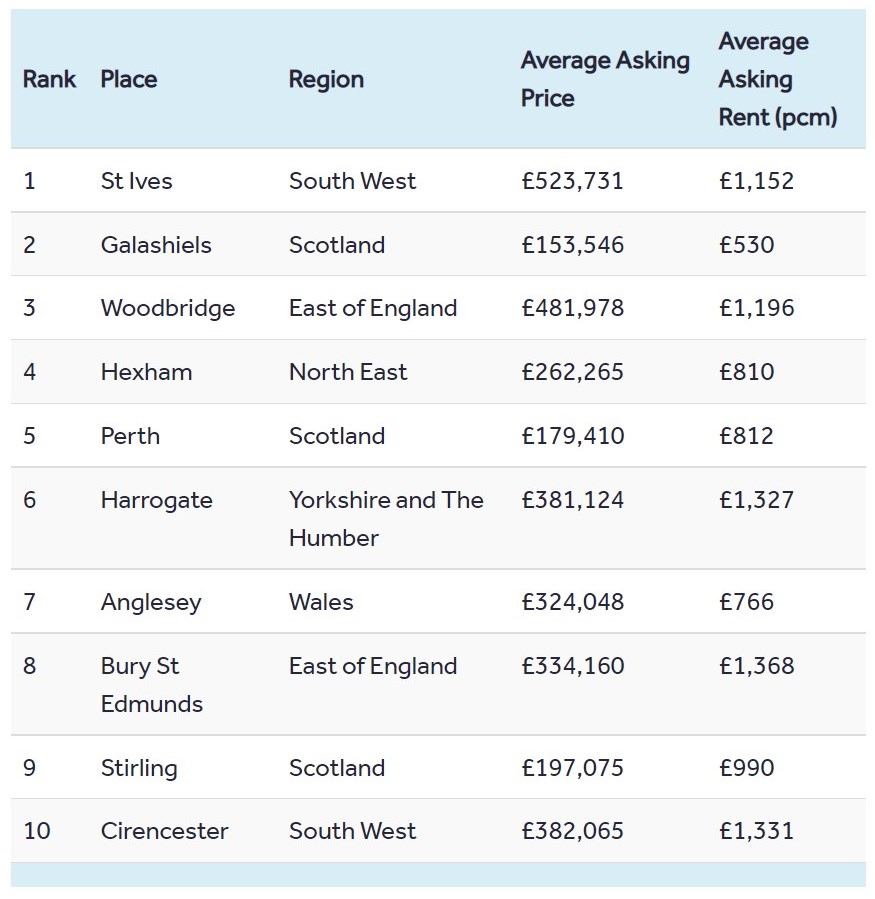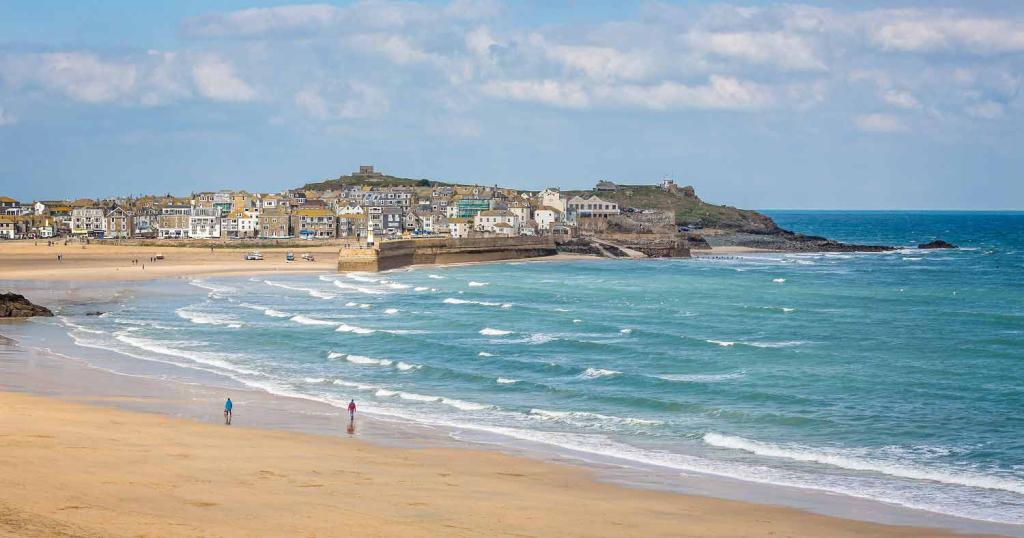 What, Stroud not up there, after The Sunday Times put us top of its "Best Place to Live 2021" (see my report here: 👉)? Well, Cirencester is only 12 miles away and I worked there for a decade.

The BBC extended this list to include the next ten, using Rightmove data. I wonder why Rightmove didn't do the same. Here they are:





11. Richmond-upon-Thames, London; 12. Falmouth, Cornwall; 13. Monmouth, Wales; 14. Leamington Spa, West Midlands; 15. Worcester, West Midlands; 16. Northwich, Cheshire; 17. Altrincham, Manchester; 18. Macclesfield, Cheshire; 19. Newbury, Berkshire; 20. Llandudno, Wales





I've notched up a few more here, to varying degrees. Worcester was my home town. Son and daughter spent their first years in Richmond-upon-Thames. I've holidayed in Falmouth, day-tripped to Monmouth. In the top ten, Llandonna beach in Anglesey was where I spent childhood summer breaks and finally returned over sixty years later in 2021, initially thwarted by Covid staycation demand 👉. My memories of all corroborate the survey findings.

Saturday 3rd December


At bedtime last night Prince William's environmental Earth­shot Prize win­ners were being ann­ounced in Boston, Mass­ach­us­etts. No time today to dis­cuss impact and impl­ic­at­ions. The event will be shown on the BBC tom­or­row even­ing at 17:30pm GMT.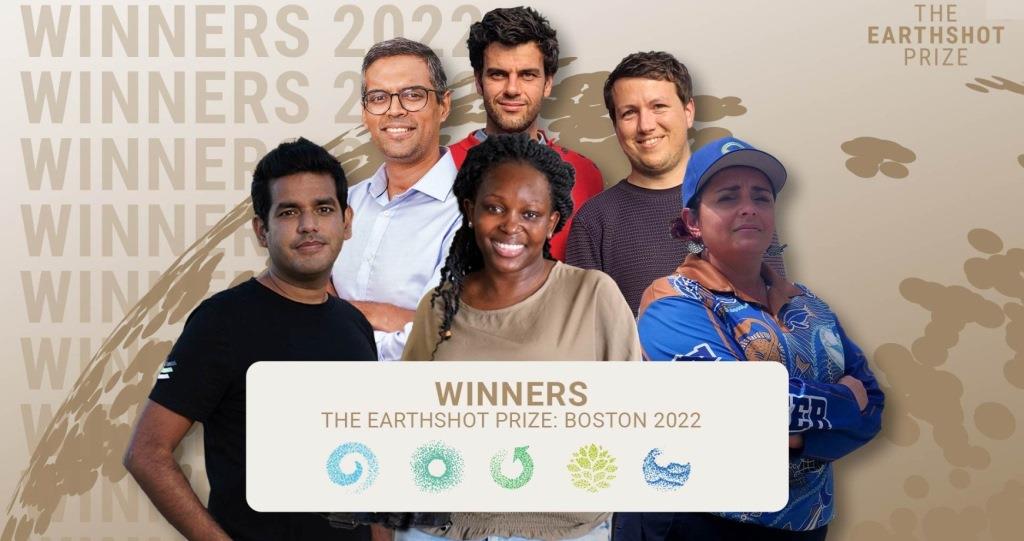 Twitter "stop press" pre-event coverage focused on Catherine, Princess of Wales, her green dress and choker, the latter previously worn by Diana, a wedding gift from Queen Elizabeth II.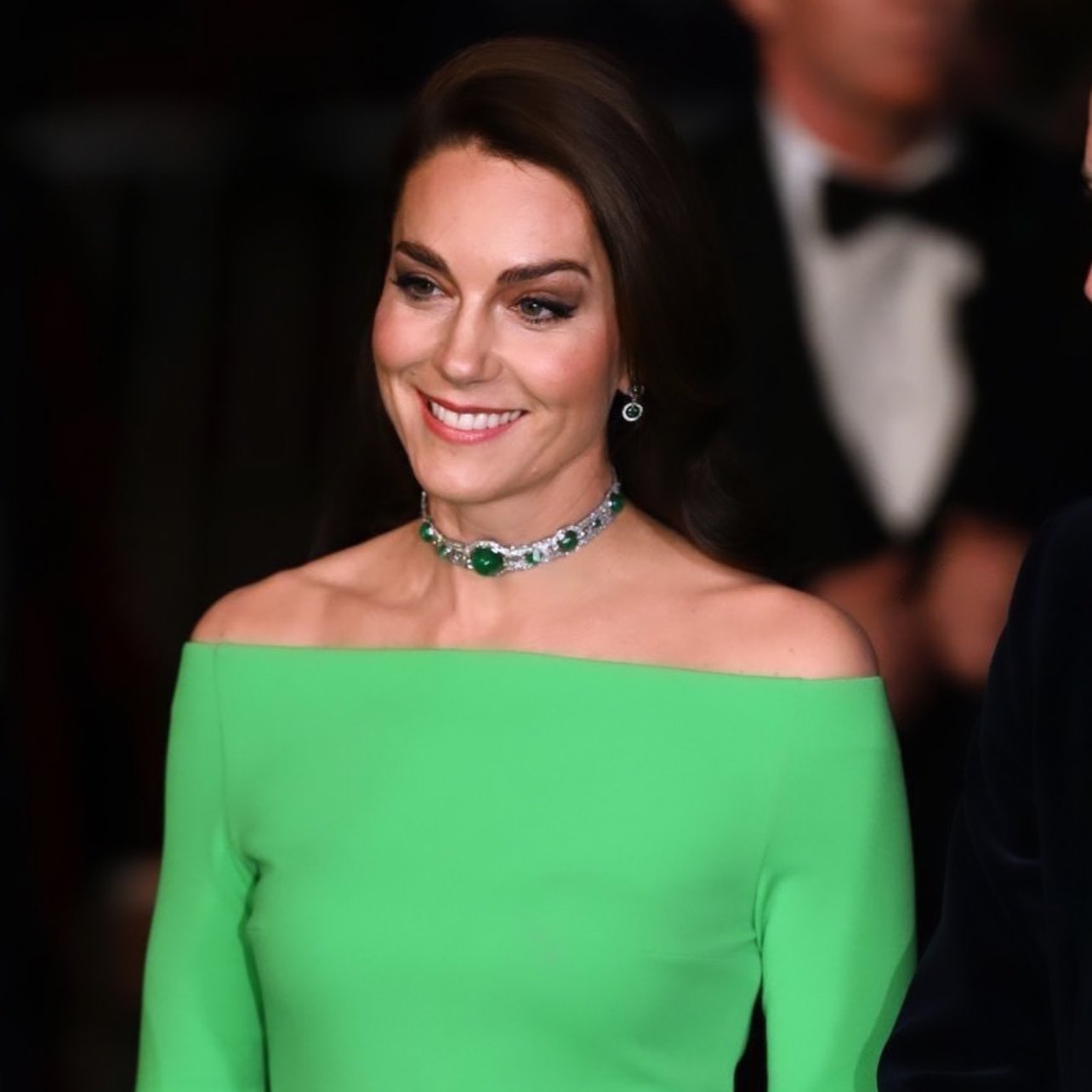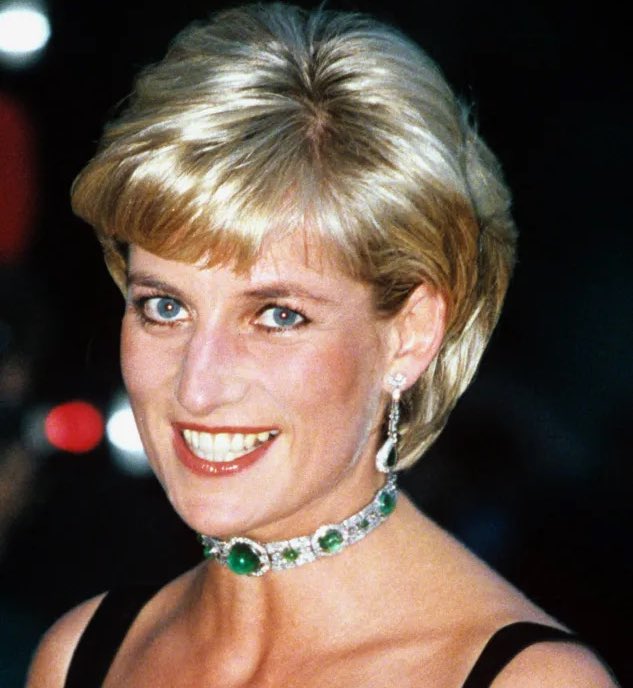 Hmmm. I hope to look at the serious side later.

Friday 2nd December


The details of the Political Cartoon of the Year Awards that I mentioned yes­ter­day have now been announced on the event hosts Ellwood Atfield's web­site. Am I likely to post examples of the main winners' work? Is the Pope a Catholic?

The awards are named after past leading lights of the cartoon or illustration world. Some I recognise, others I don't - or didn't, as I've looked them up now: Sir David Low (1891-1963), Sidney Strube (1891-1956), Sir Osbert Lancaster (1908-1986), James Gillray (1756-1815), Sir John Tenniel (1820-1914), Melville "Mel" Calman (1931-1994). The last named died in the Odeon Cinema, Leicester Square.

The first group of four awards are for the year's body of work, rather than for a single cartoon. I've noted, where relevant or known, the publications with which the artists are most frequently associated. The cartoons shown are either their most recent or one I liked earlier in 2022.

Ben Jennings - Guardian, New Statesman - Political Cartoonist of the Year - The Low Trophy: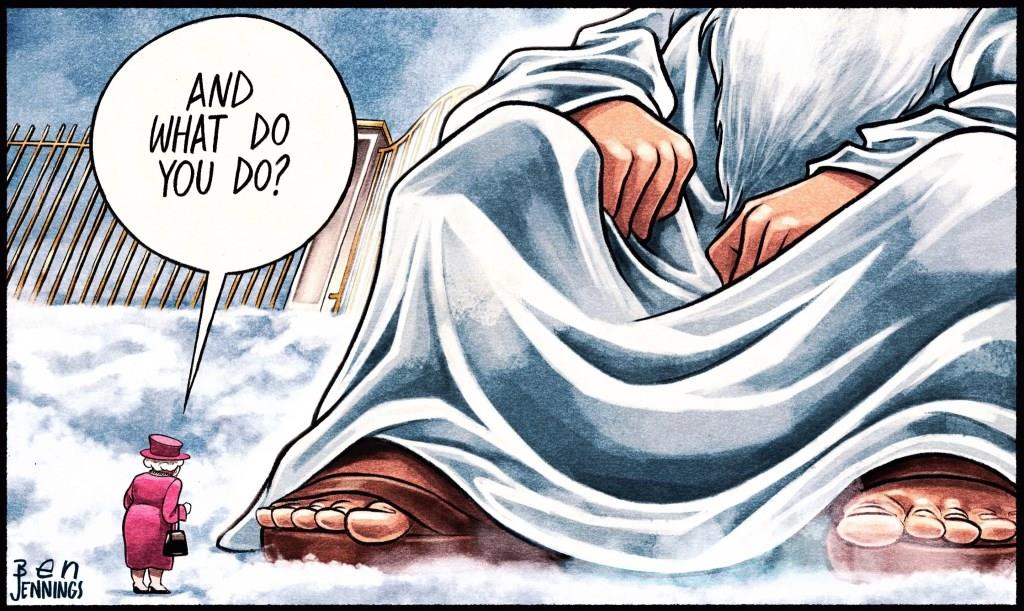 Christian Adams - Evening Standard - Runner Up Political Cartoonist of the Year - The Strube Spoon: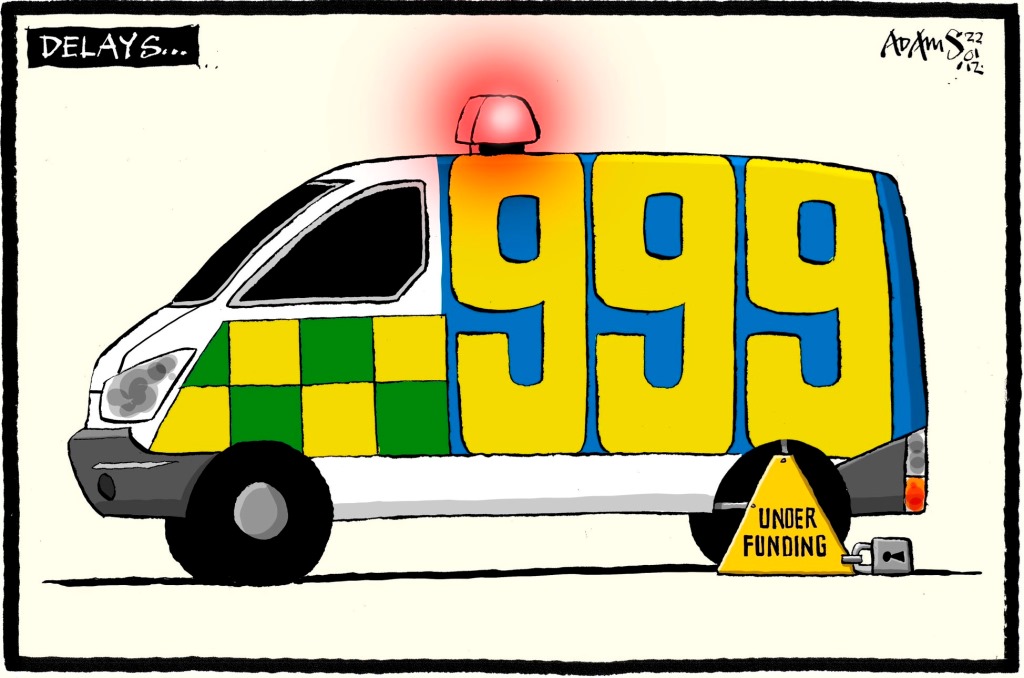 Nick Newman - Private Eye, Sunday Times - Best Pocket Cartoonist - The Sir Osbert Lancaster Award: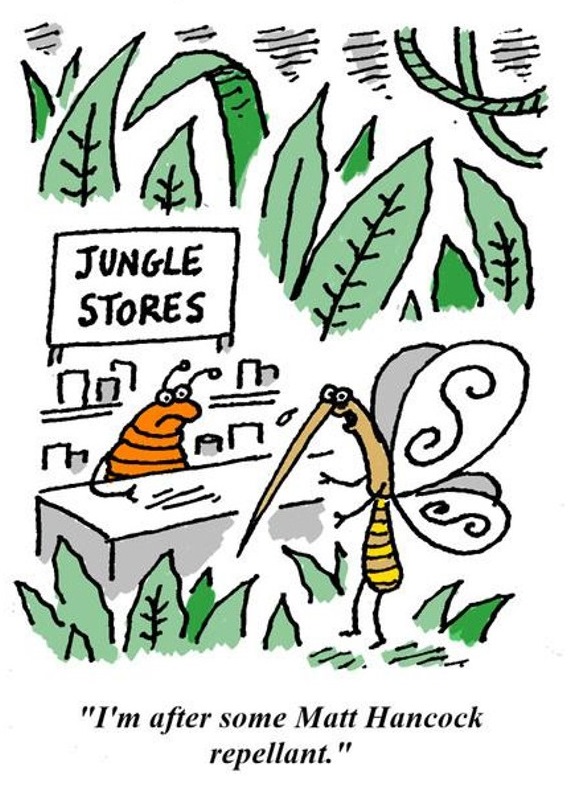 Vladimir Kazanevsky - Ukraine - Political Cartoonist Solidarity Award: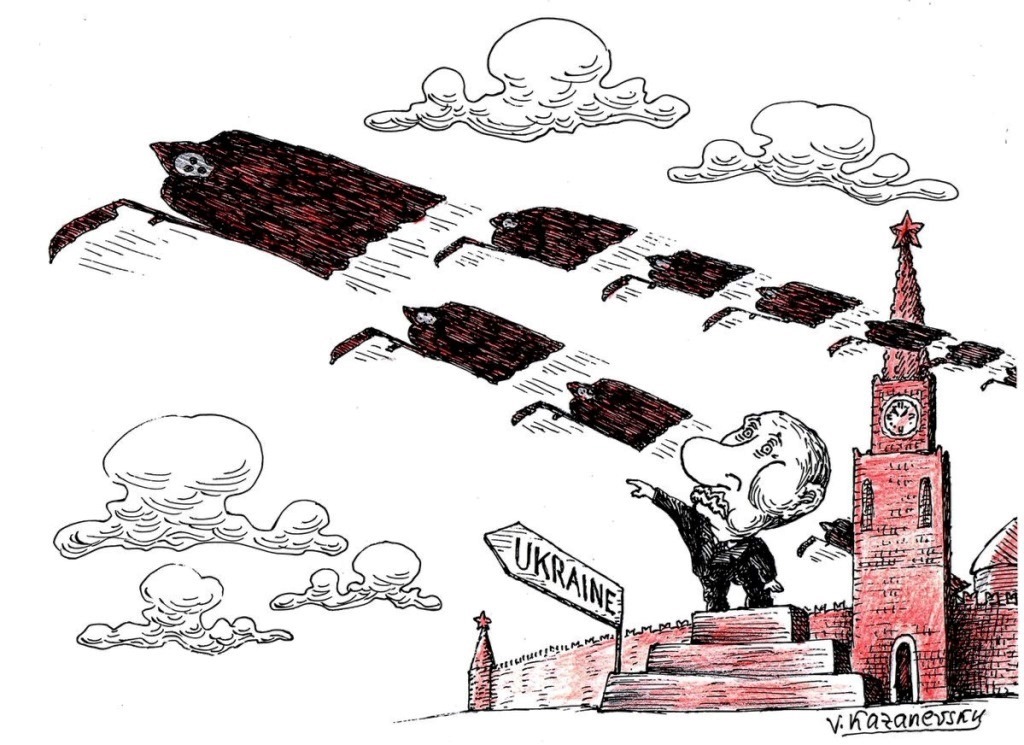 The next group of three are for an individual cartoon.

Steve Bright ("Brighty") - Best Political Cartoon of the Year - The Gillray Goblet: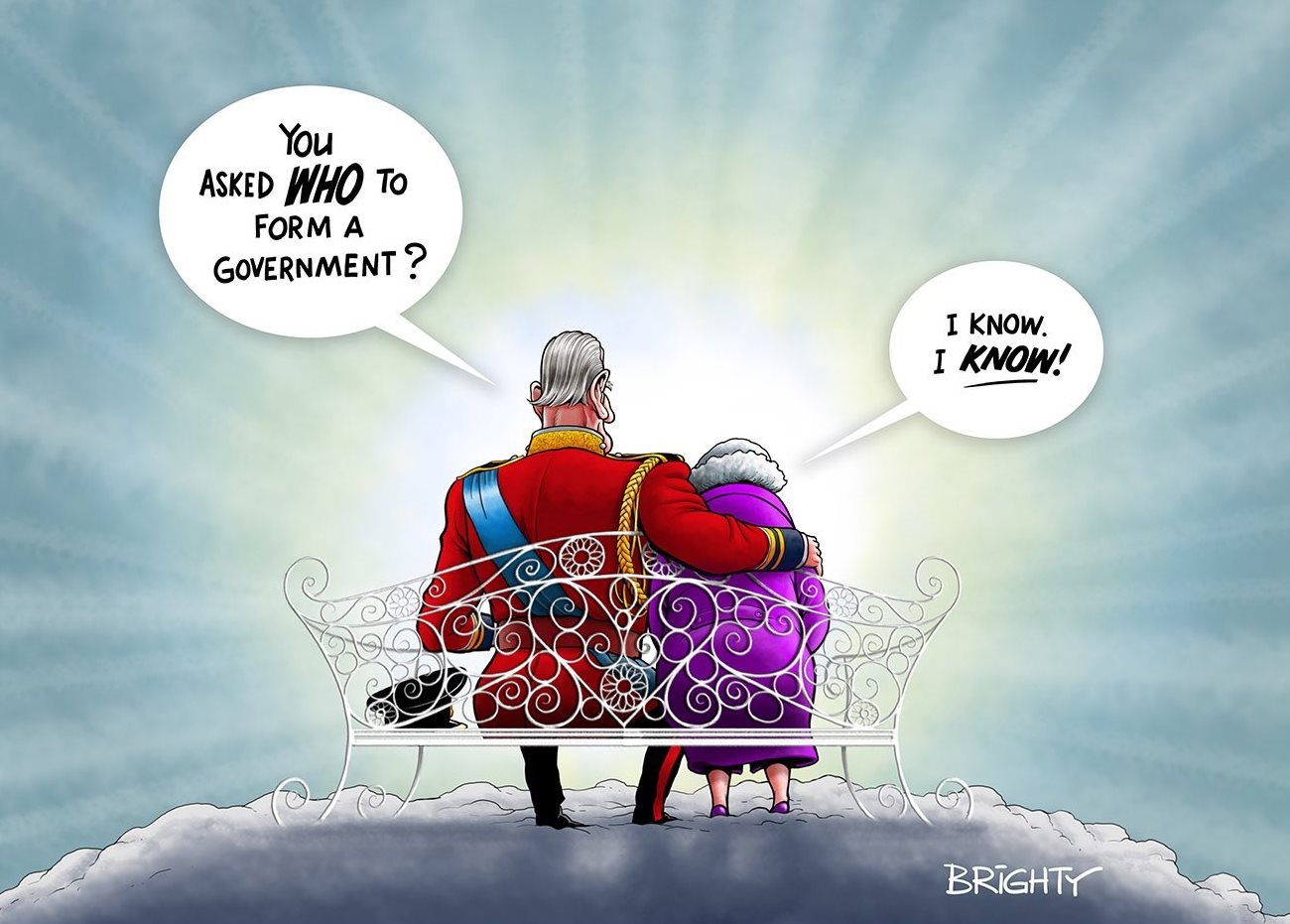 Lyndon Wall - West Dorset Magazine, New Blackmore Vale Magazine and Stour & Avon Magazine - Runner Up Political Cartoon - The Tenniel Tankard: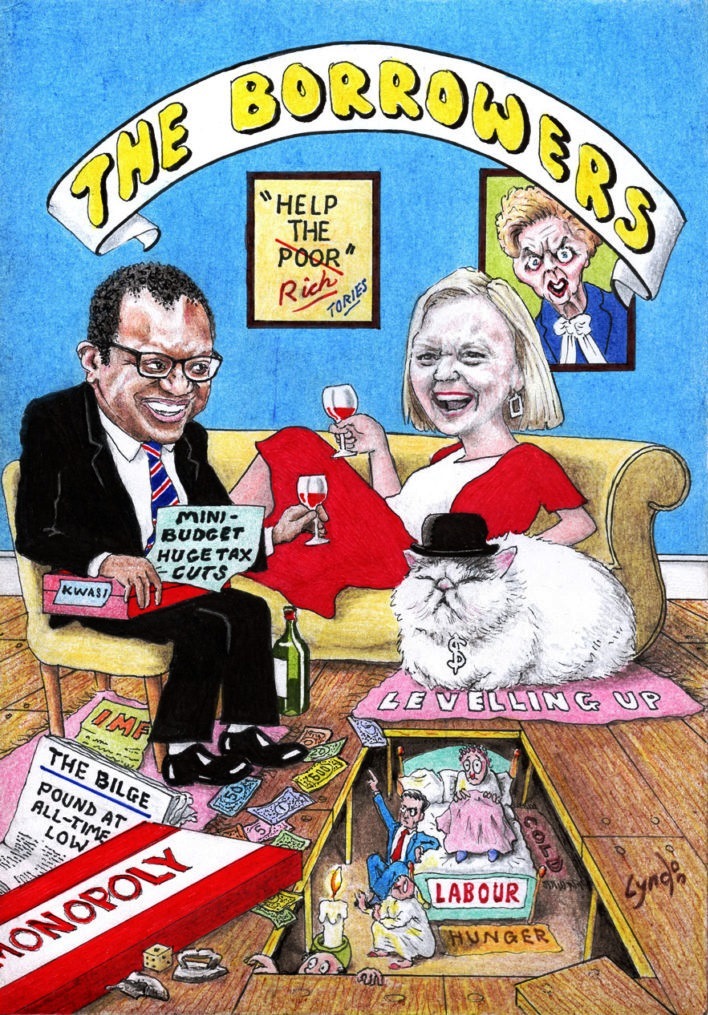 Clive Goddard - Private Eye - Pocket Cartoon of the Year - The Mel Calman Award: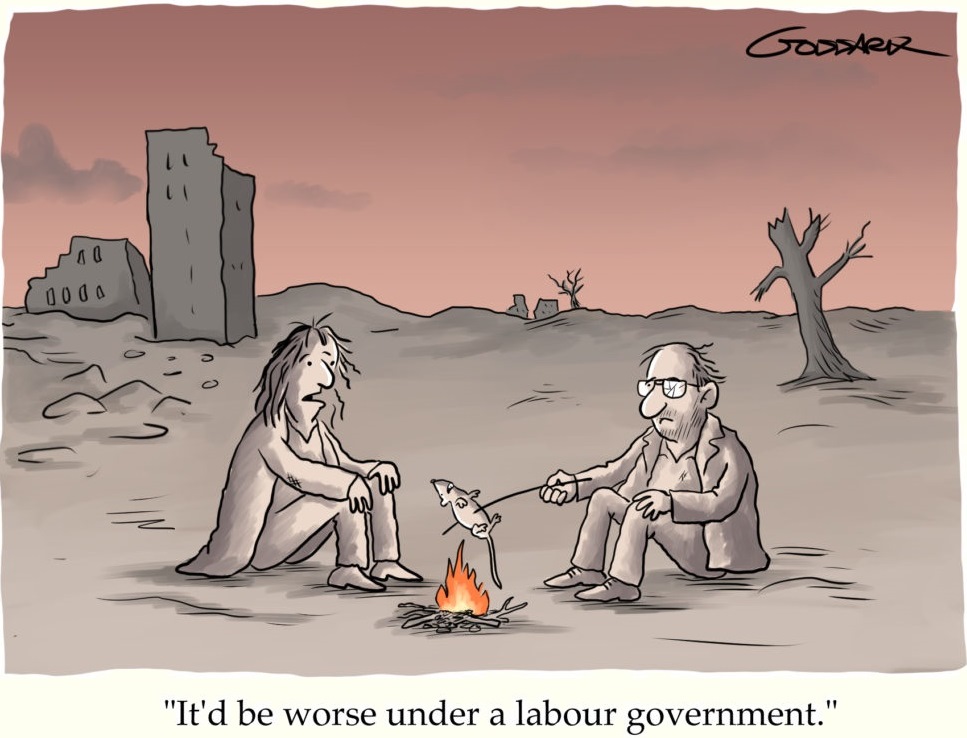 Those who missed out may have earned an honourable mention on one of these: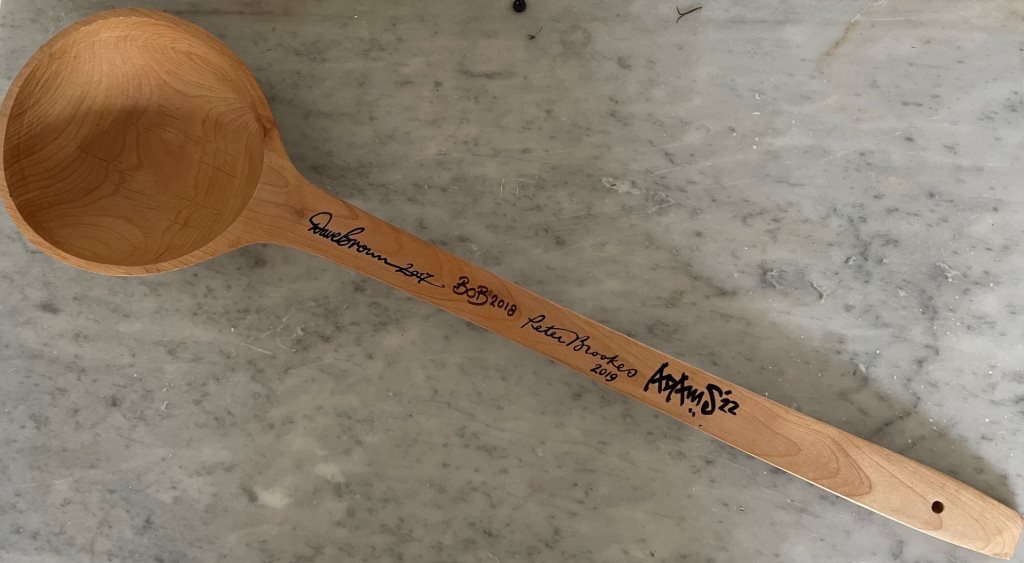 Some of my favourites who have appeared frequently on these pages are notable omissions: Dave Brown, Peter Brookes, Martin Rowson, Steve Bell, Patrick Blower, Guy Venables, Peter Schrank. I'm pleased by the presence of Lyndon Wall of Dorset, as a regional cartoonist bucking the trend of London-based national publications. The "about" page of his website reads: "He lives in Blandford, and divides his time between his art work, teaching singing and piano at local schools, playing the organ at Moreton (the church where Lawrence of Arabia is buried) and bagpiping wherever he is asked. He has appeared on BBC South Today, piping for the NHS, during the first lockdown."

That's enough, eh? No apologies. These astute commentators have helped me through the privations of lockdown, the shamefulness of UK political life since Brexit. In the face of madness, a dose of amusement. A chance to celebrate a great British tradition. How rarely have I been able to say that over the last five years? The phrase is typically the preserve of the other half.

A final observation. Are only men admitted to this club? Very unusual in the modern West.

Thursday 1st December


You know I like cartoons. Last night was the annual ceremony of the Political Cartoon of the Year Awards, held at St. John's, Smith Square.

Look closely at the gathering here (click to enlarge). Pick out two well-known politicians: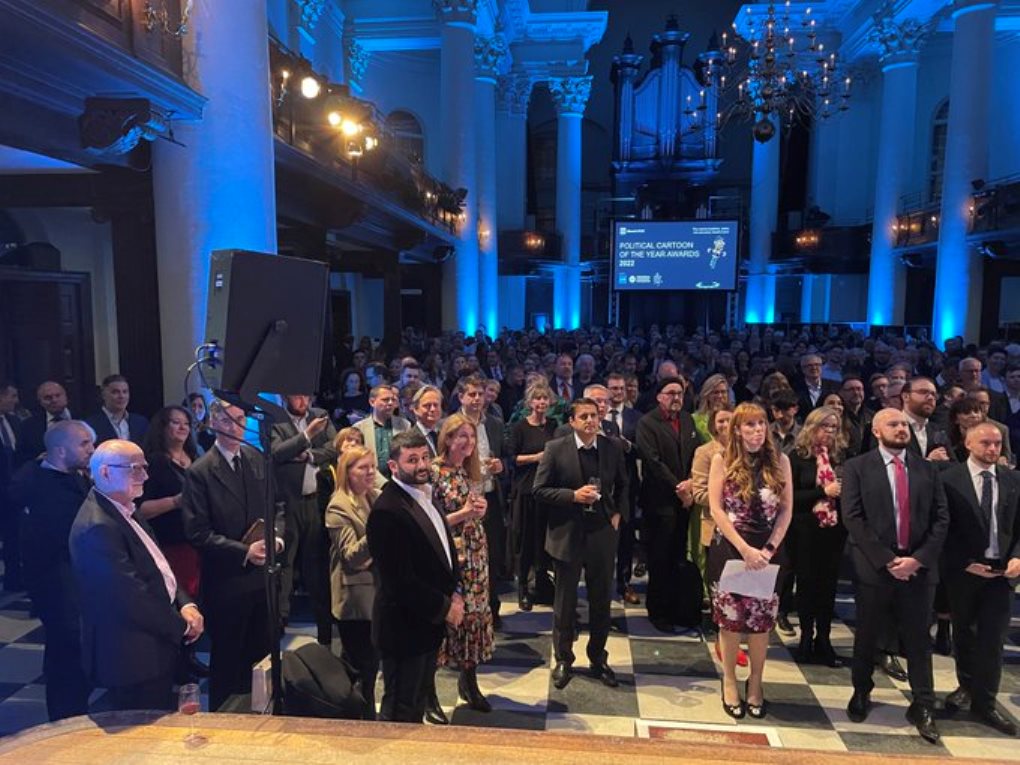 Yes, prizes were handed out by Jacob Rees-Mogg and Angela Rayner. What a pair. It suggests to me that, however uncomfortable an experience, the Westminster bubble can't take its eye off the cartoonists' daily output. Better to suffer mocking treatment than not to be noticed at all, like with Spitting Image.

There are too many winners to post here, and anyway I'm struggling to dec­ipher the results. They're still coming in via the Twitter feed of Ellwood Atfield, the headhunter firm which hosted the event.

The overall winner, as voted for by fellow cartoonists, taking home the Low Trophy, was Ben Jennings of The Guardian. Here's his latest: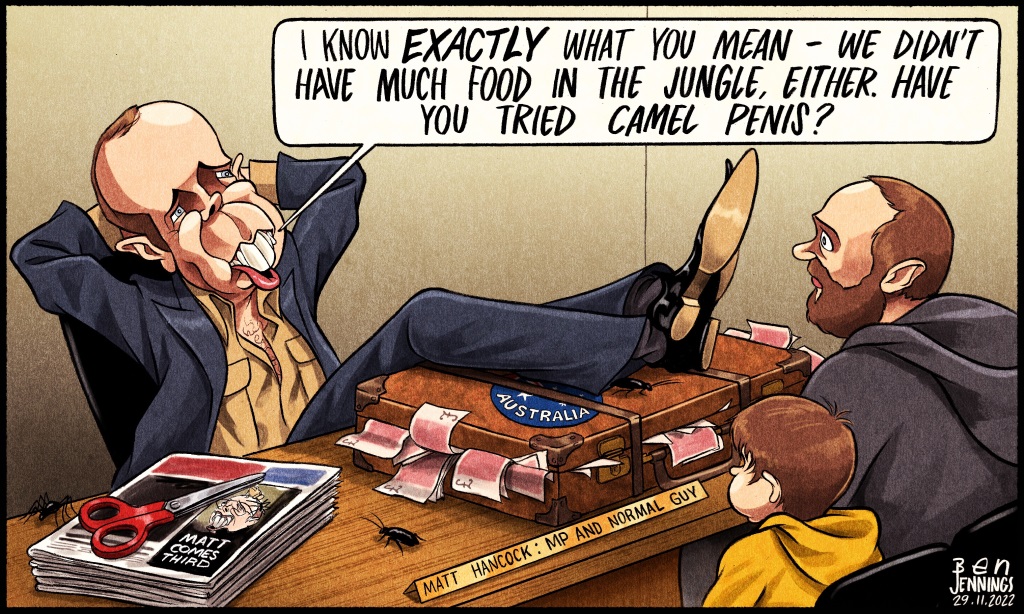 Wednesday 30th November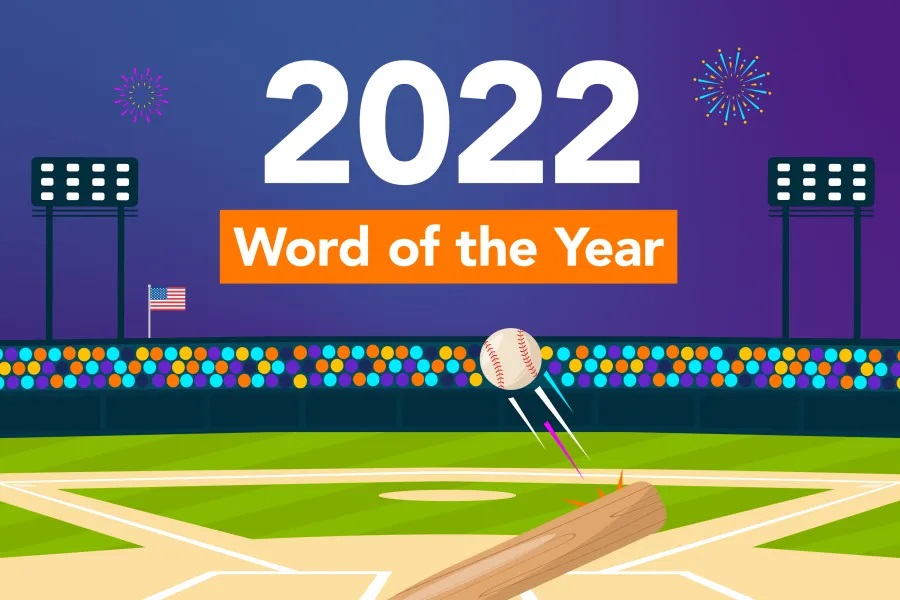 It's the season for dictionaries to declare their "Word of the Year 2022". All reveal a winner, and then vary in how many other contenders they disclose.

I would have expected that the leading words would be indicative of the times through which we have just lived, like "climate", "Brexit" (OK, Collins chose this in 2016), "cost-of-living", "energy" or "incompetent". Not nec­ess­ar­ily so. They're a mixture. Some are representative of 2022, the common words or phrases you might anticipate. Most must be the ones whose meaning people have had to check. We live in the Internet Age, so the selections are, as far as I can tell, det­erm­ined by the number of web look-ups or by direct online voting. An odd bunch. Why would so many people have been hunting down the definition of these particular words? The majority would not be on my list of either words/phrases I don't know - agreed, how could they be on my list if I don't know them? - or those I consider ref­lect­ive of this last year. How often do you come across "loamy"? "Knoll" - who is still enquiring about the ass­ass­in­ation of JFK?

Here are the results from 5 dictionaries. The jury is still out for Oxford, whose competition closes at midnight on Friday. How many would you need to look up? I've posted a few def­in­it­ions/ex­plan­at­ions (click to enlarge) after the findings.



Merriam-Webster (top 10):




gaslighting (winner), oligarch, Omicron, codify, Queen Consort, raid, sentient, cancel culture, LGBTQIA, loamy




Collins (top 10):




permacrisis (winner), Kyiv, Partygate, splooting, warm bank, Carolean, lawfare, quiet quitting, sportswashing, vibe shift




Cambridge (top 6):




homer (winner), humor (US spelling), tacit, bayou, trope, knoll




Macquarie (winner and runner-up):




Oxford (shortlist of 3, voting closes 2nd December):




metaverse, #IStandWith, goblin mode


Glasgow's Daily Record reported on the victory for Cambridge's "homer", the sub­ject of the picture at the top:


"The Cambridge Dictionary has announced its word of the year is 'homer' - much to the anger of Wordle fans. Earlier this year, many players of the popular word game had their winning streaks ended when the unfamiliar American English word, meaning a home run in baseball, was thrown up. It was searched for over 75,000 times during the first week in May, becoming the dictionary's highest-spiking word of the year. The vast majority of searches for homer (95 per cent) were from outside North America, as frustrated Wordle players turned to the Cambridge Dictionary to learn what it meant."


Here is Macquarie's "teal":





Merriam-Webster "gaslighting":





Collins "splooting":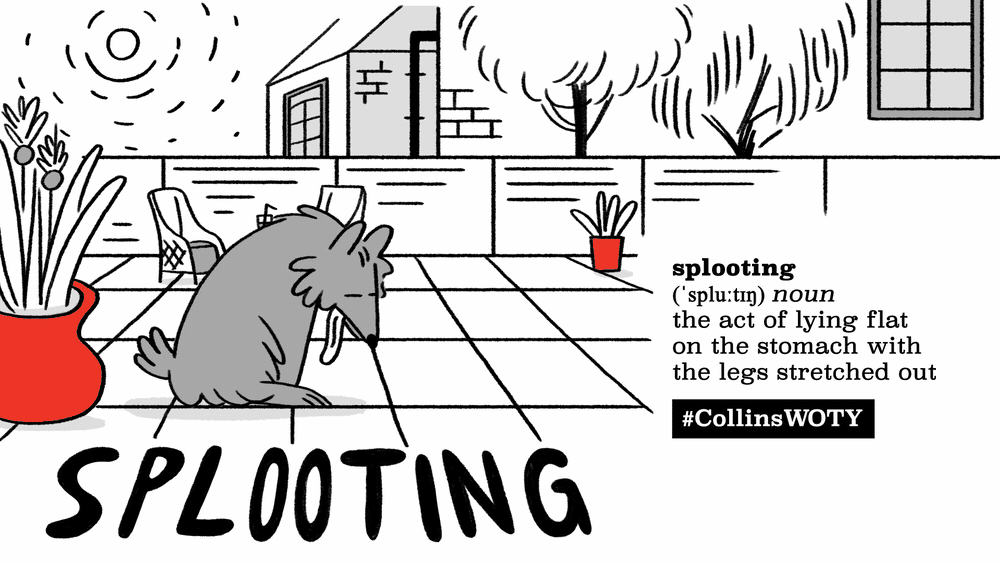 The Collins results page is particularly entertaining:


Tuesday 29th November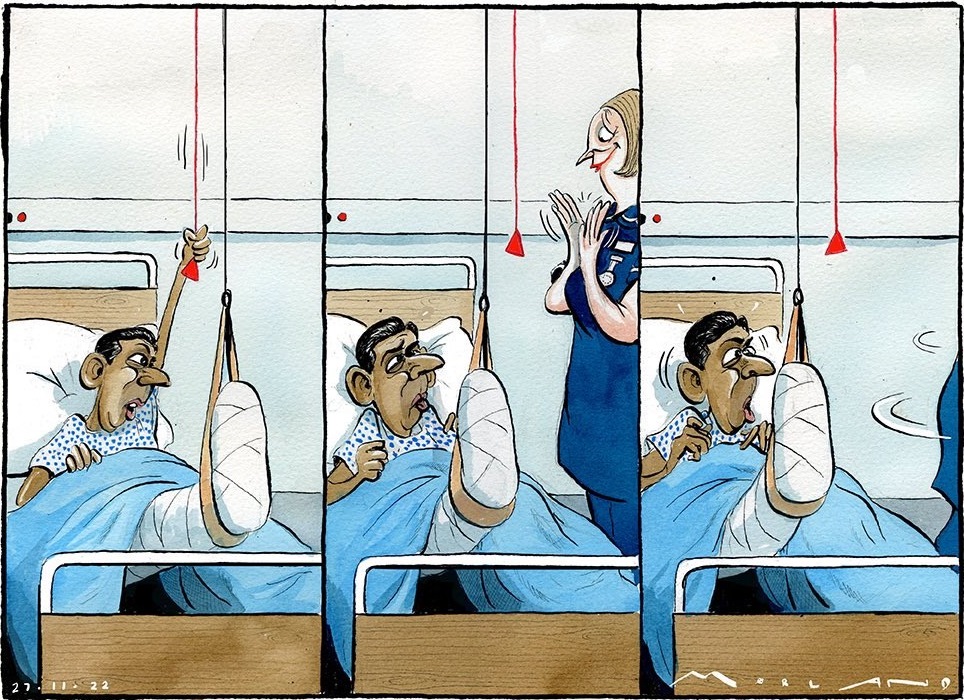 I'd never heard of Harry Leslie Smith until I stumbled across a Jeremy Corbyn tweet last night. Born in Barnsley in 1923, after his retirement he divided his time between Ontario (where he had emigrated in 1953) and Yorkshire. A fierce Labour party supporter and defender of the NHS, he wrote regularly for The Guardian.

Here is his speech at the 2014 Labour Party conference. It's a tear-jerker - many of the delegates succumb - and sometimes ornate in its language, but also a compelling reminder of why the NHS came into being, and its value today in a society of such differences in wealth. Just under four minutes.



Monday 28th November


23rd October 2021: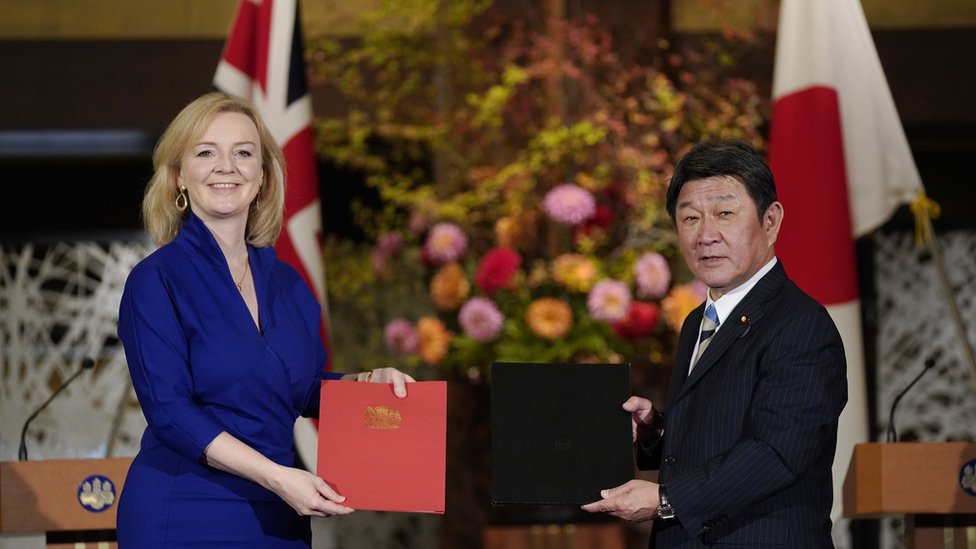 18th November 2022: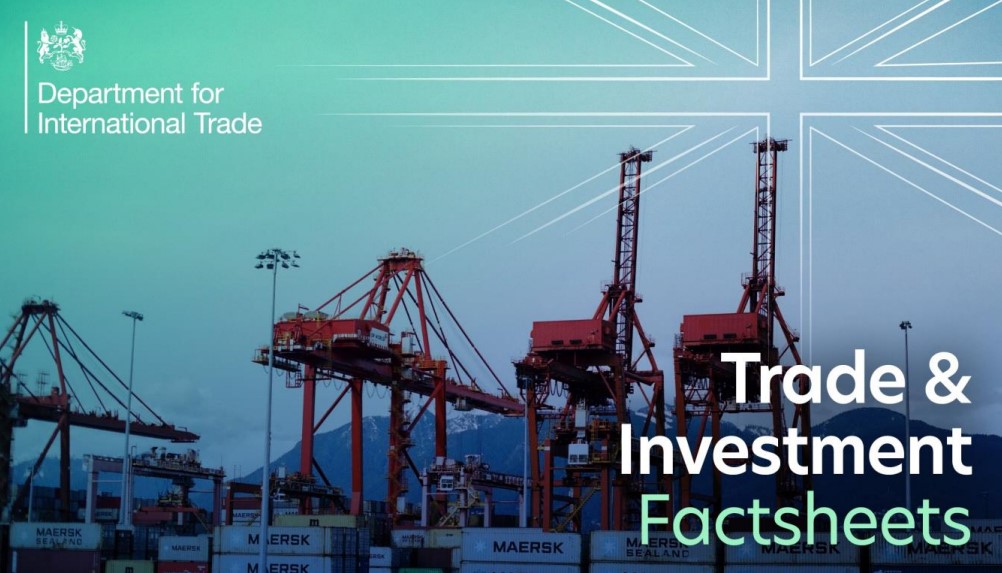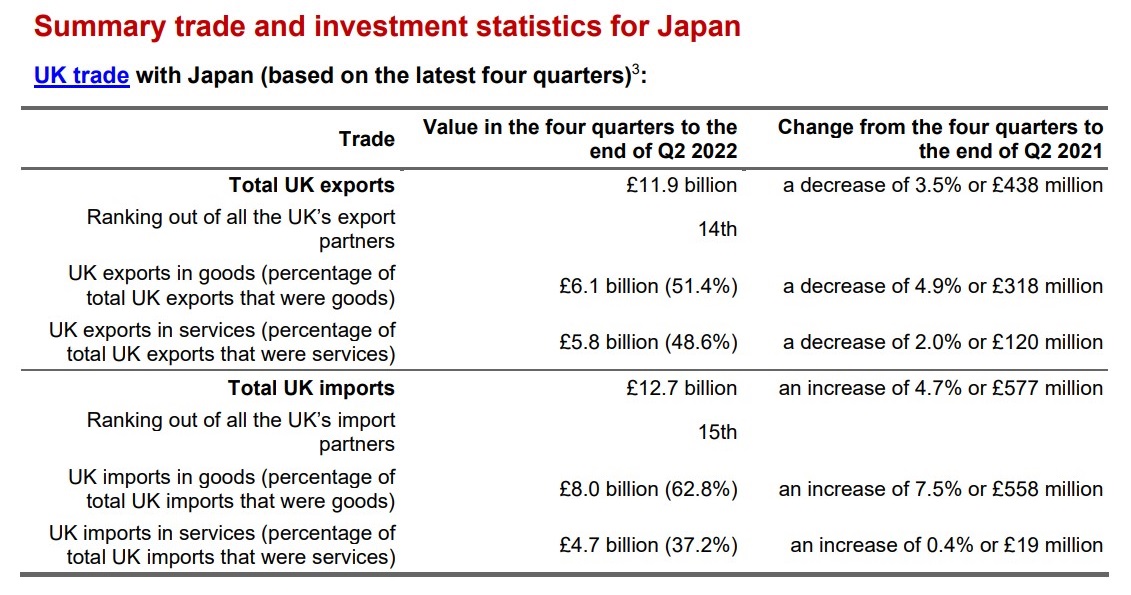 Sunday 27th November


Forget that unprincipled nonsense going on in Qatar. Let's turn our attention to the important stuff, yesterday's FA Cup Round 2 and the eco-"Pride of Gloucestershire", Forest Green Rovers.

FGR is not having a great time in League One, following joyful promotion last season:





So this came as some respite, victory against Worcestershire minnows Alve­church from English football's 7th tier, Southern League Premier Div­is­ion Central:





BBC showed the whole game. ITV at the same time inflicted on us France v. Denmark in Doha. No contest for this viewer.

At half-time, BBC ran a feature on FGR's green credentials: background, an interview with chairman Dale Vince and reaction from the studio pun­dits. Four minutes 33 seconds.




I commented a few days ago on the woeful lack of action displayed at COP27. FGR's stance is proper money-where-your-mouth-is behaviour.

Who else would have pitchside signs like these? Apparently the FA forbade the wearing of "Just Stop Oil" warm-up T-shirts in the first round of the cup.




Saturday 26th November


Family day. Fishing with grandson Marlie. I bought a rod from angling treasure trove Lobby's Tackle in Stonehouse. 60 years after my first.





This song has been ringing round my head: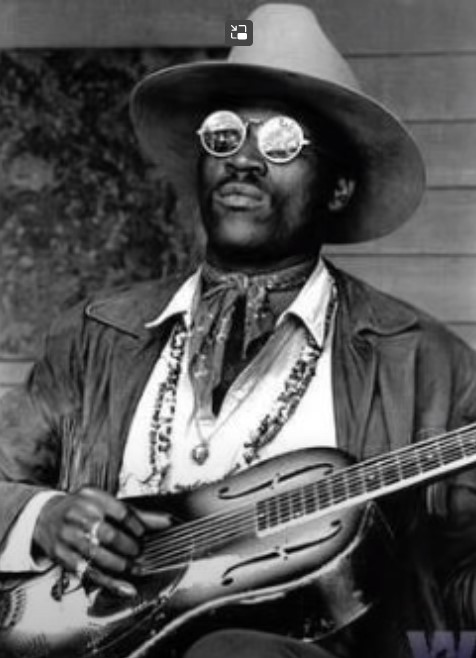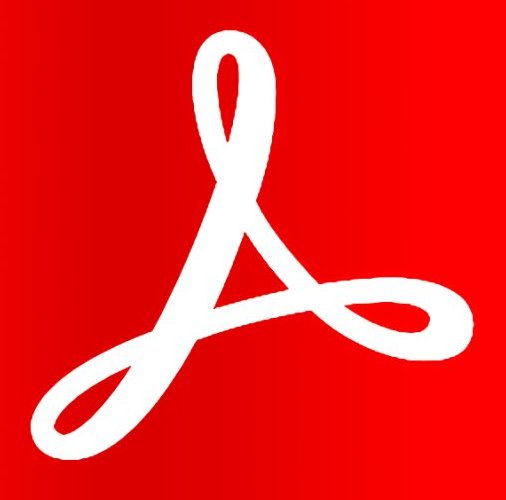 Taj Mahal - Fishin' Blues
(Giant Step/De Ole Folks at Home 1969)
Written 1911 by Chris Smith
First recorded 1928 by "Ragtime Texas" Henry Thomas

Friday 25th November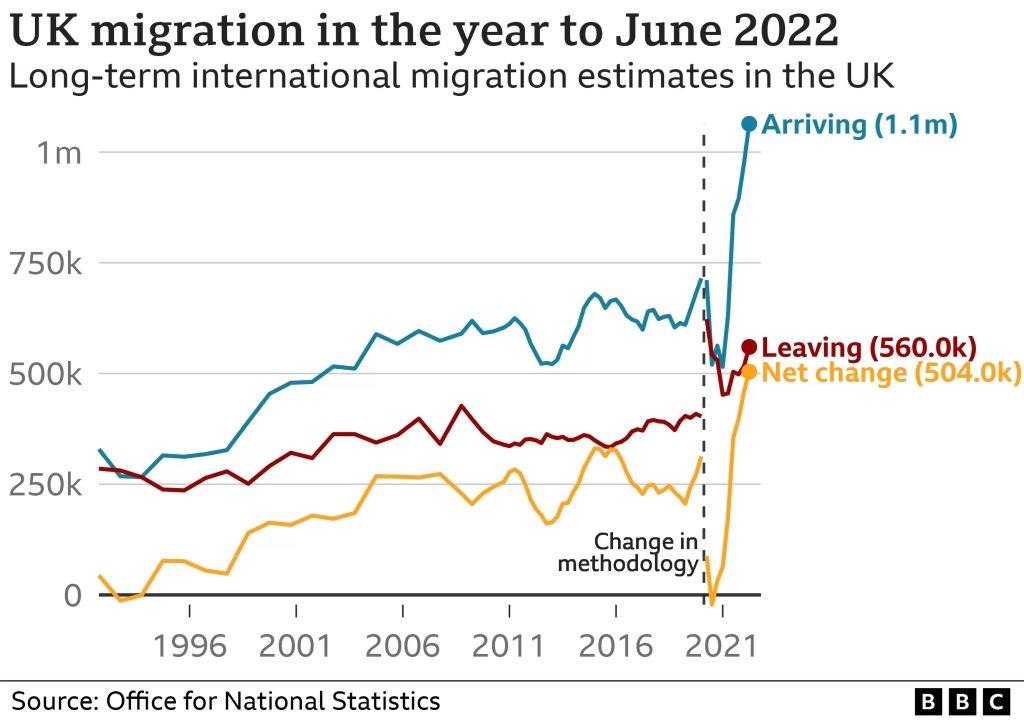 Here's the ONS long-term migration provisional report (21 pages):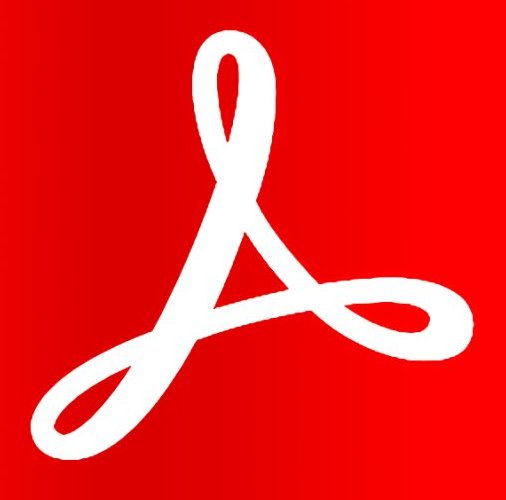 .

This is the ONS headline chart: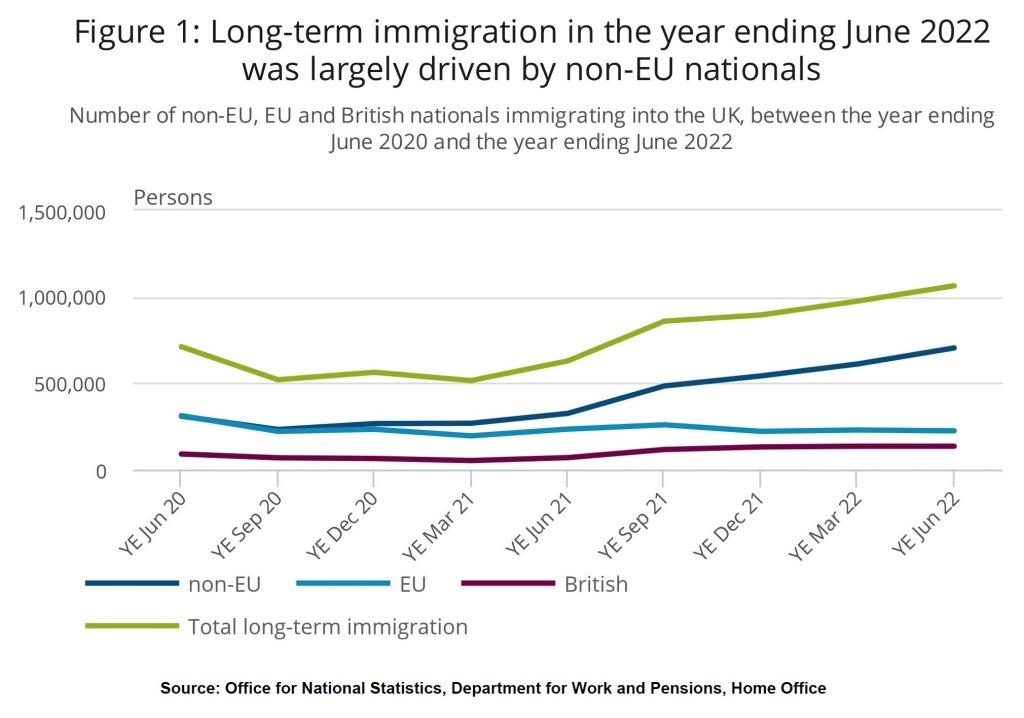 An estimated year-on-year immigration increase of 472,000 (the report says 435,000 - not according to my calculator, but still a big number), from 628,000 to 1.1 million, or 75%, of which two-thirds were non-EU nationals.

Now, you think that I'm going to bring up the roaring success in reducing the channel crossings, the triumph of the Rwanda scheme, don't you? Well, here's the statement on page 8 (Section 4: Migration Events):


"These estimates do not include people who arrived via clandestine irregular migration routes, such as the estimated 35,000 people arriving by small boats in the YE June 2022."


The boats account for a small proportion of inward migration. Their pass­engers add only 3% to the overall ONS "legal" numbers. So, it's not just that this government has failed to deter the people-smugglers - whose seaborne traffic more than doubled January-June 2022 com­pared with the same 2021 period, from 5,917 souls to 12,747 (GOV.UK figures: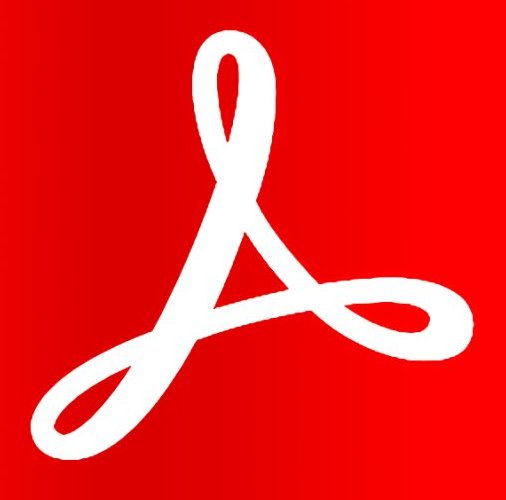 ) - it has also failed spectacularly to manage the bigger picture.

Fortunately, this woman is in charge. Watch her deft handling, aided and abet­ted by the incisive Home Office permanent secretary Matthew Rycroft, of questions (in this exchange they are about safe routes and legality) from a member of her own party, Tim Loughton, MP for East Worthing and Shoreham:



Thursday 24th November


"We don't want anything more to do with you."





"Oh, why's that?"





"We don't like you. We want to control our own lives. For loads of reasons. We'd like to be part of the EU, but you won't let us. We've got all this wind for our energy, but you're still farting around with fossil fuels. We had loads of gas for years, but you screwed that up too. We haven't forgotten Culloden. The list goes on and on. We've had enough."





"So what are you going to do?"





"We're off. Going it alone."





"No, you're not."





"Eh?"





"The judges say we're in charge. You'll do what we say."





"How's that? A bunch of corrupt self-seeking incompetents down in London can say what we do, how we live? Last time out, 85% of our people voted for the national party. 6% opted for your mob. But you decide? Have I got that right?"





"Yep."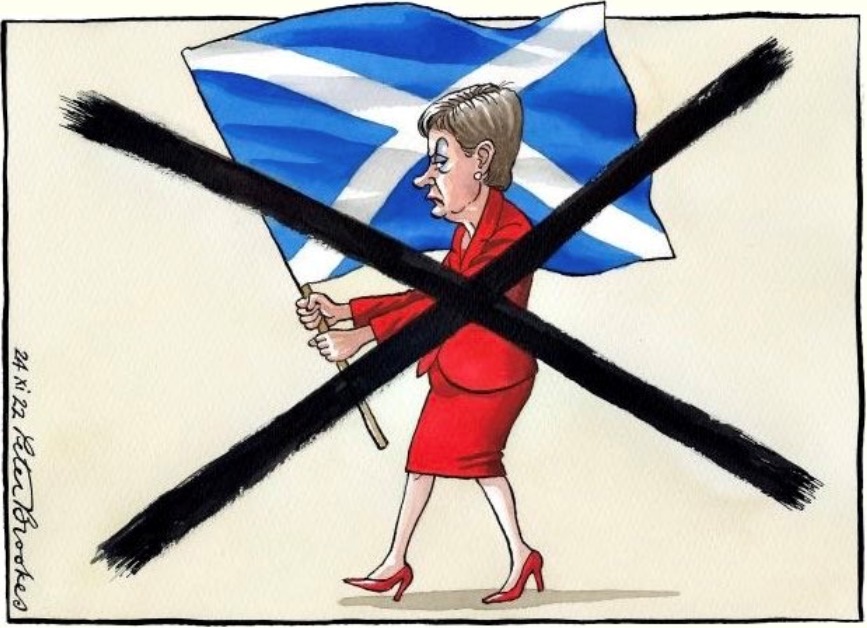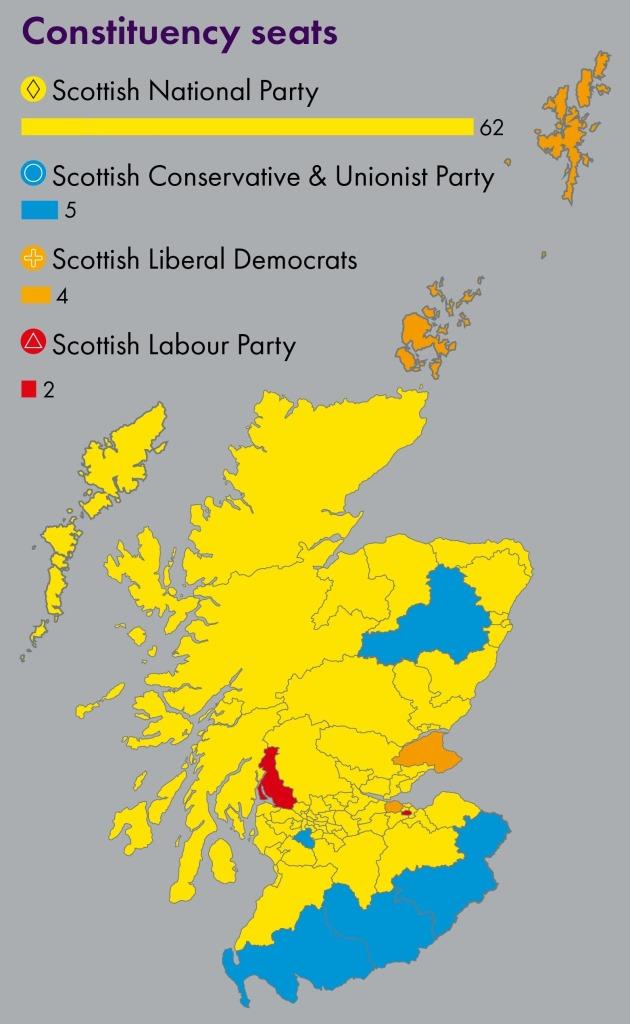 What do you reckon? My bet is that Scotland will have attained inde­pend­ence within 5-10 years, in principle if not full implementation. It's now a desire of real substance, not just a whimsy supported by Sean Connery. You can't quash such a spirit of self-determination.

Wednesday 23rd November


I broke out of my long-lockdown habits yesterday and went for lunch with friend Martyn at the Horse and Groom in Bourton-on-the-Hill.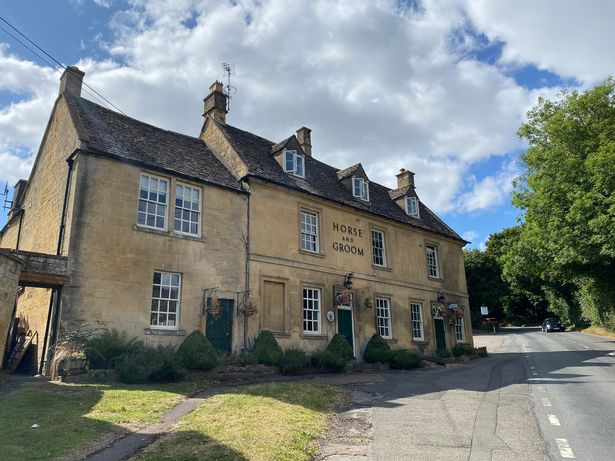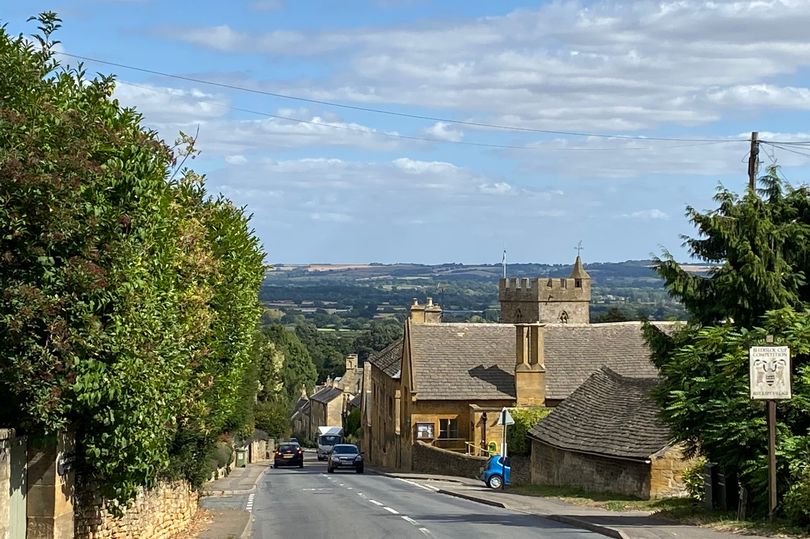 Delicious food. Prices have gone up since I last ventured out like this, and portions have got smaller. Is this a response to the cost-of-living crisis? A "First World Problem", right? With me bang in the middle of it. The satnav route took me down charming back roads, flanked by classic Cotswold stone walls protecting huge country estates, old money and oligarchs. I found out this morning that estate agent Savills published in August a list of the 58 poshest villages in Britain - and Bourton-on-the-Hill is one of them. Average house price £800,000. For the record, here's the list; do you know any of them?


Avebury, Wiltshire; Barston, West Midlands; Beaulieu, Hampshire; Bosbury, Herefordshire; Bourton-on-the-hill, Gloucestershire; Brancepeth, County Durham; Burley, Rutland; Burnham Market, Norfolk; Cawthorne, South Yorkshire; Church with Chapel Brampton, Northamptonshire; Colston Bassett, Nottinghamshire; Cound, Shropshire; Dinnington, Tyne & Wear; Edensor, Derbyshire; Elie, Fife; Fishbourne, Isle of Wight; Great Eccleston, Lancashire; Gullane, East Lothian; Haigh, Greater Manchester; Harpsden, Oxfordshire; Hawkshead, Cumbria; Hemingford Abbots, Cambridgeshire; Hightown, Merseyside; Ightham, Kent; Killearn, Stirling and Falkirk; Kingston-near-Lewes, East Sussex; Kirkby Overblow, North Yorkshire; Little Gaddesden, Hertfordshire; Llanarmon-yn-lal, Denbighshire; Newgale and Roch, Pembrokeshire; Newton Linford, Leicestershire; Ombersley, Worcestershire; Oxwich, West Glamorgan; Ramsden Bellhouse, Essex; Rock, Cornwall; Rowen, Clwyd; Scarcroft, West Yorkshire; Shackleford, Surrey; Shenstone, Staffordshire; Shirenewton, Monmouthshire; South Pool, Devon; Strathtay, Perthshire; Studham, Bedfordshire; Studland, Dorset; Sunningdale, Berkshire; Sutton upon Derwent, East Riding of Yorkshire; The Alderleys, Cheshire; The Lurgashall, Lodsworth and Lickfold Triangle, West Sussex; Turville, Buckinghamshire; Uffington, Lincolnshire; Walberswick, Suffolk; Warkworth, Northumberland; Wellow, Somerset; Whichford, Warwickshire


Then it was off to Stroud Film Society to see Ali & Ava, a charming love story filmed and set in Bradford. Talk about "Two Nations". Or "levelling up".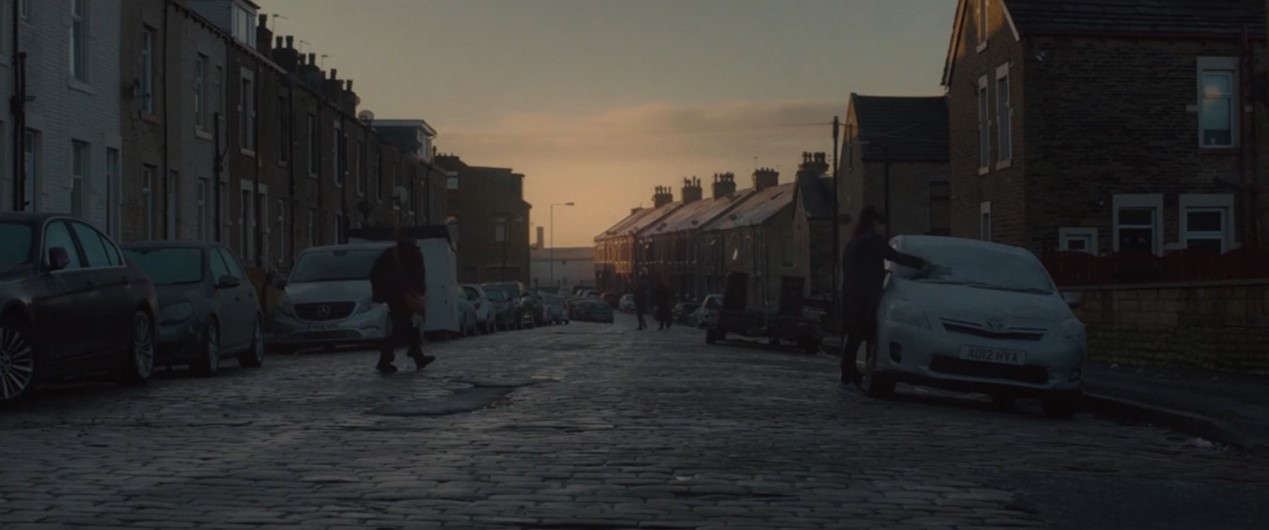 Tuesday 22nd November


Just as I thought. I knew I couldn't yet abandon the blog altogether. But I am going to treat it differently. Rather than the first thing I do any day, make it the last. Indulge myself after I've addressed other more life-affirming, health-inducing, important-job-tackling stuff. Miss days when a promising trip beckons.

I'll make an exception when something really cheers me up. Which is what happened with this yesterday: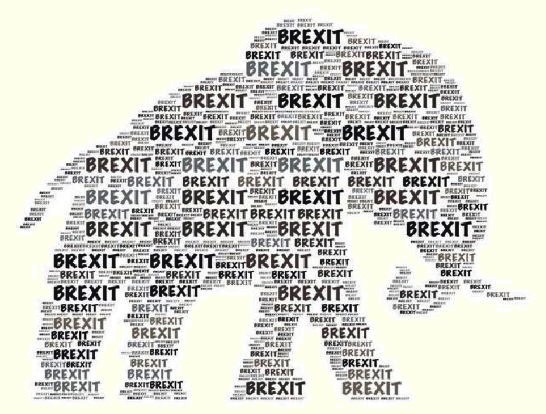 Some shift must be happening if the right-of-centre media are beginning to report dissatisfaction with Brexit. GB News - most recognisable presenter Nigel Farage - yesterday tweeted the result of its own poll and a chart of economic forecasts [for the eyes of my Irish corr­esp­ondent ... look at the country on the right]: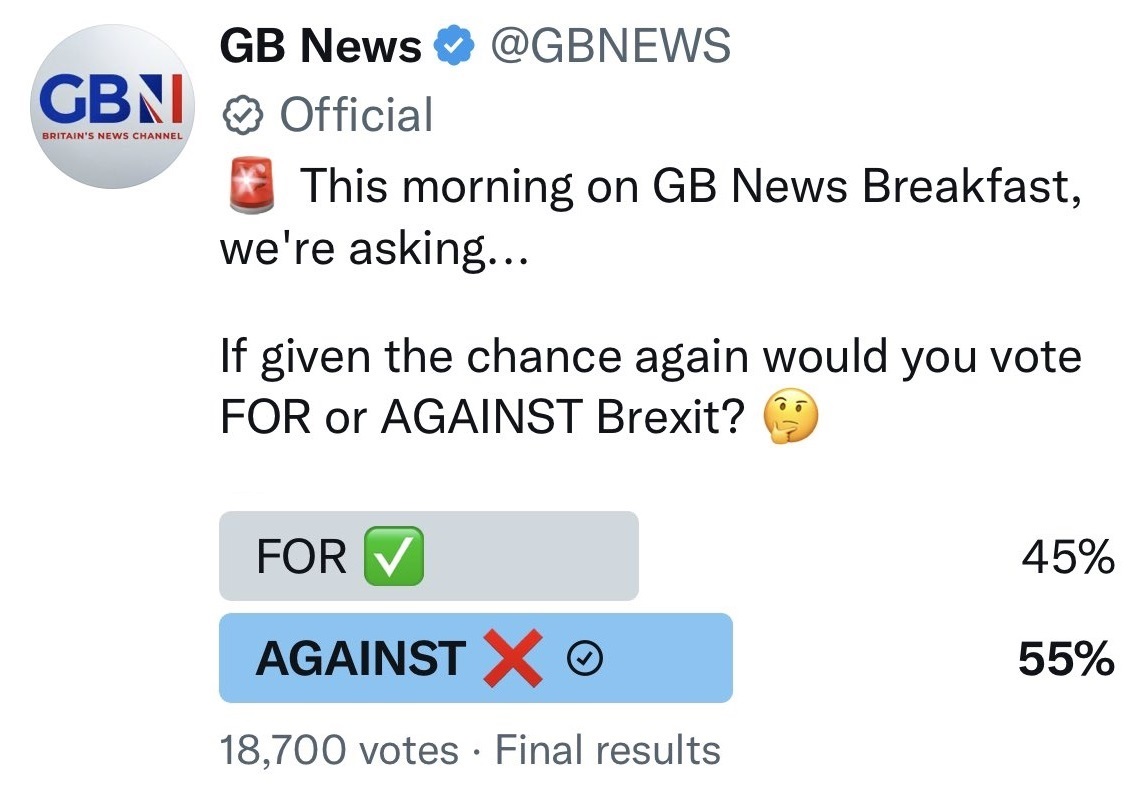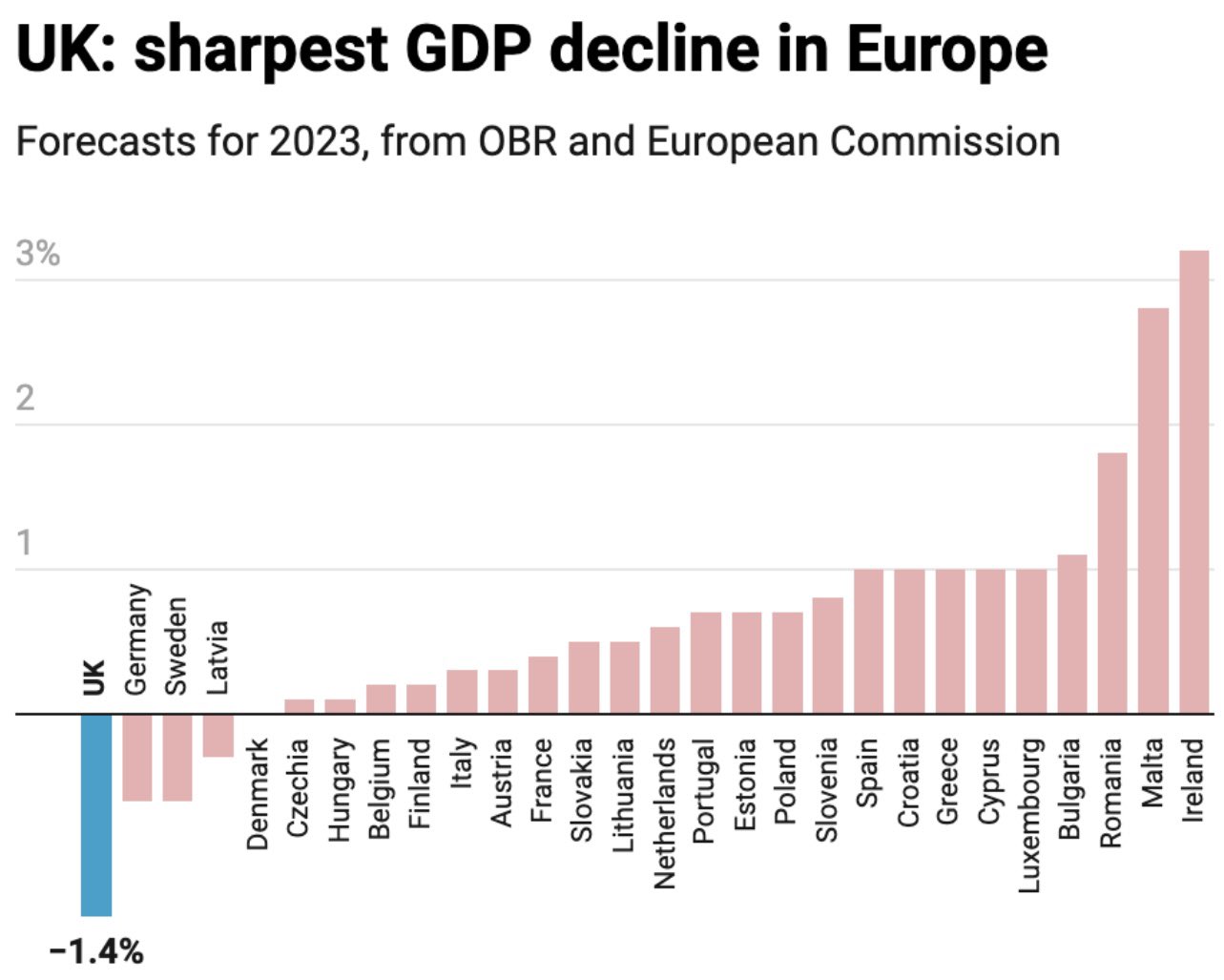 It'll take time for people to come across. One of the slowing factors is that the Remain/Rejoin narrative char­act­er­ises Brexit and the Brexiteer as stupid. Who wants to admit to being dim, particularly to the chattering-class, year-in-Provence, Tuscan-holiday, polenta-munching Remoaner?

Sunak is holding firm, as he said in his CBI speech yesterday: "We're abs­ol­utely committed to using our new Brexit freedoms."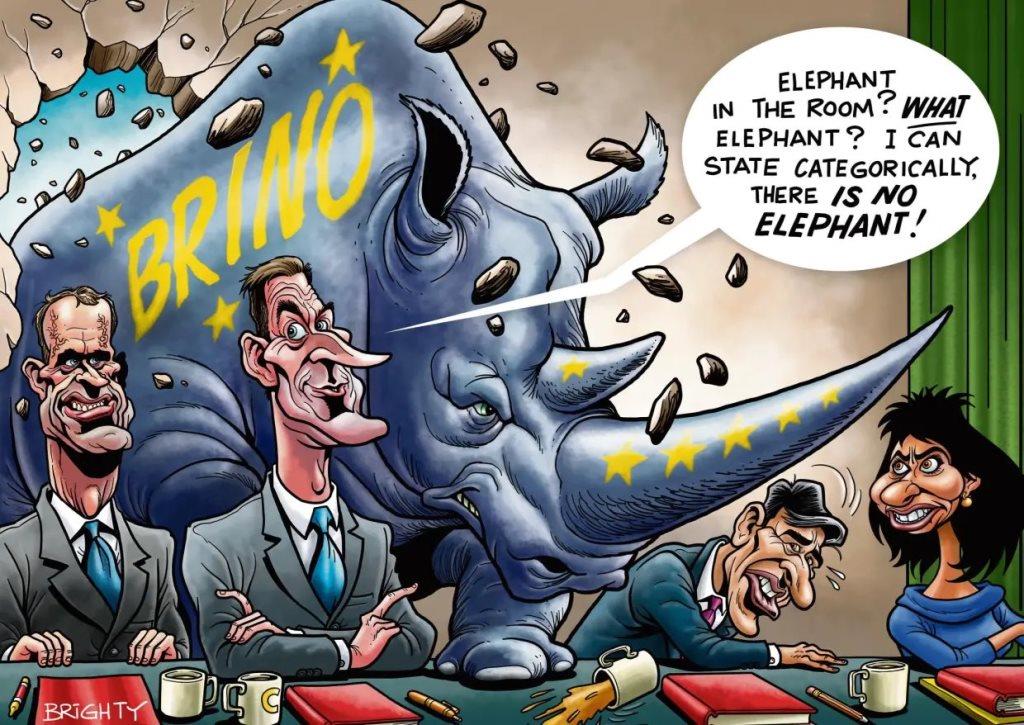 I'm amused by this other blatant vote-gathering populist move. He has been tweeting his support for our representatives in Doha (with mixed success in their first matches):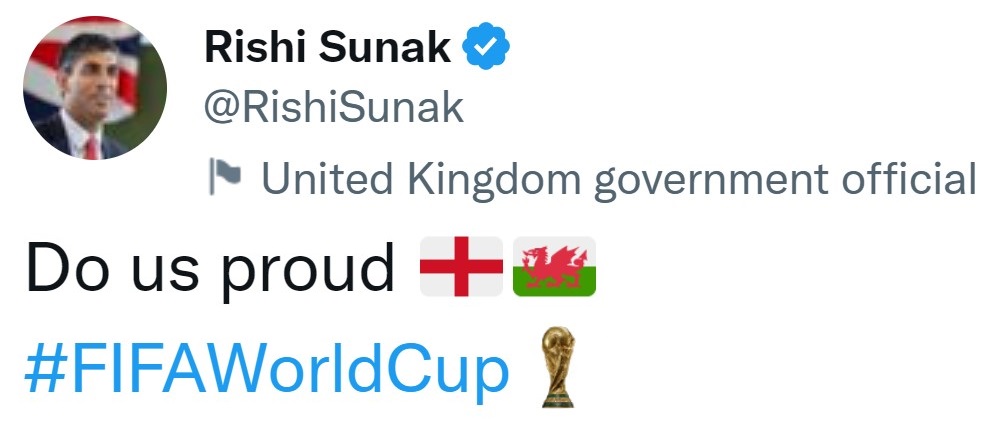 Oh Rishi, you "Man of the People". I can see you having a kick-around with Akshata on the sumptuous lawn of one of your estates. And what's this false humility ... "United Kingdom government official"? We're not fooled.

Monday 21st November


After mild optimism yesterday about re-entry to the single market, no such joy today, I'm afraid.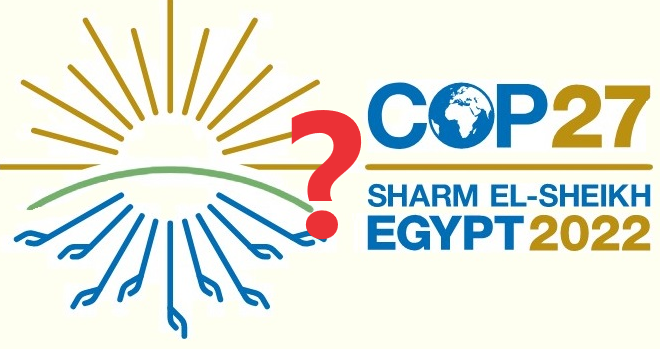 At the outset two weeks ago I expressed the wish to be proved wrong, but I haven't been. Around 34,000 participants (has anyone calculated the carbon footprint?) to achieve precious little. Some late progress on loss and damage, but anything significant on emissions? No.

This summation has been published:





Read it if you wish (10 pages):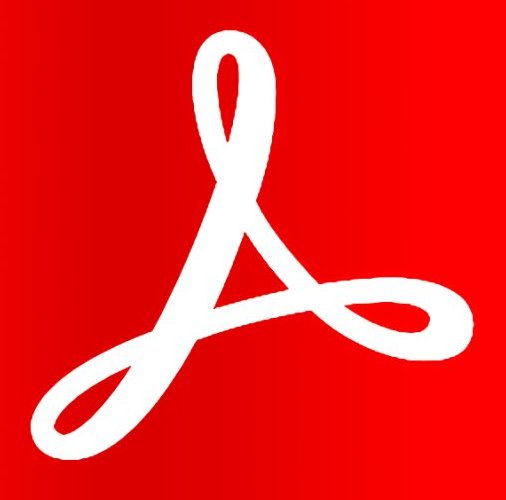 .

Verbs are "doing words", signifying action, right? In the above plan there are 16 sections comprising 62 statements of intent, each of which begins with a verb. I've extracted all of them (several are repeated):


acknowledges, affirms, calls upon, emphasizes, encourages, expresses, high­lights, invites, notes, recalls, recognizes, reiterates, resolves, stresses, takes note, urges, welcomes


Not much "doing" there.

George Monbiot of The Guardian and cartoonist Christian Adams agree: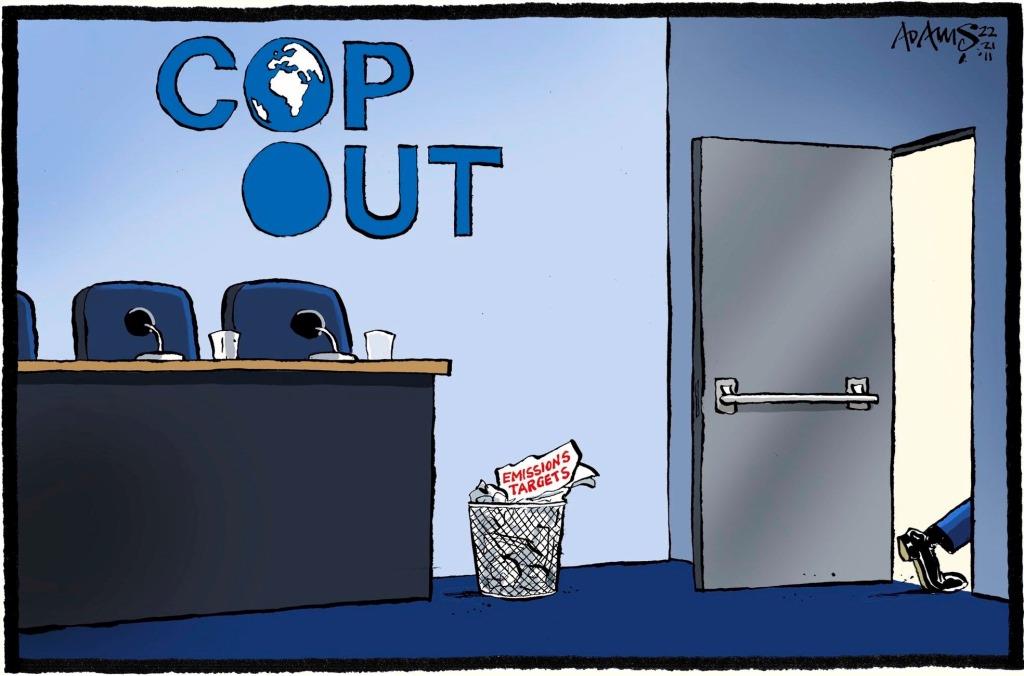 Now we have the FIFA World Cup for a month: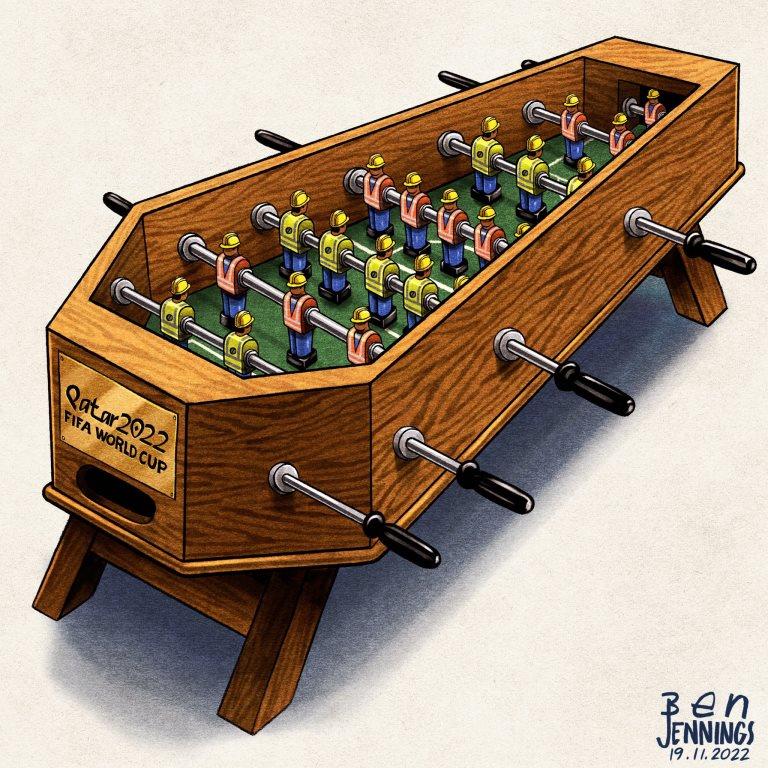 And with that, Dear Reader, I may have to call a halt to this blog. I haven't fully decided yet, but I sense that it no longer does for me what was originally intended, namely help navigate the madness of coronavirus and lockdown. Keeping an eye on and digesting world news is to witness an endless catalogue of human aberration. Not good for the soul. I feel the need to wander on the hillsides and marvel at the view. It can't be great either to read my extra take on the gloom. I'm sure you have enough of it already. We'll see. Such is the compulsion to observe and write, I may well change my mind by tomorrow morning.

Sunday 20th November


A reason to be modestly cheerful, courtesy of YouGov two days ago: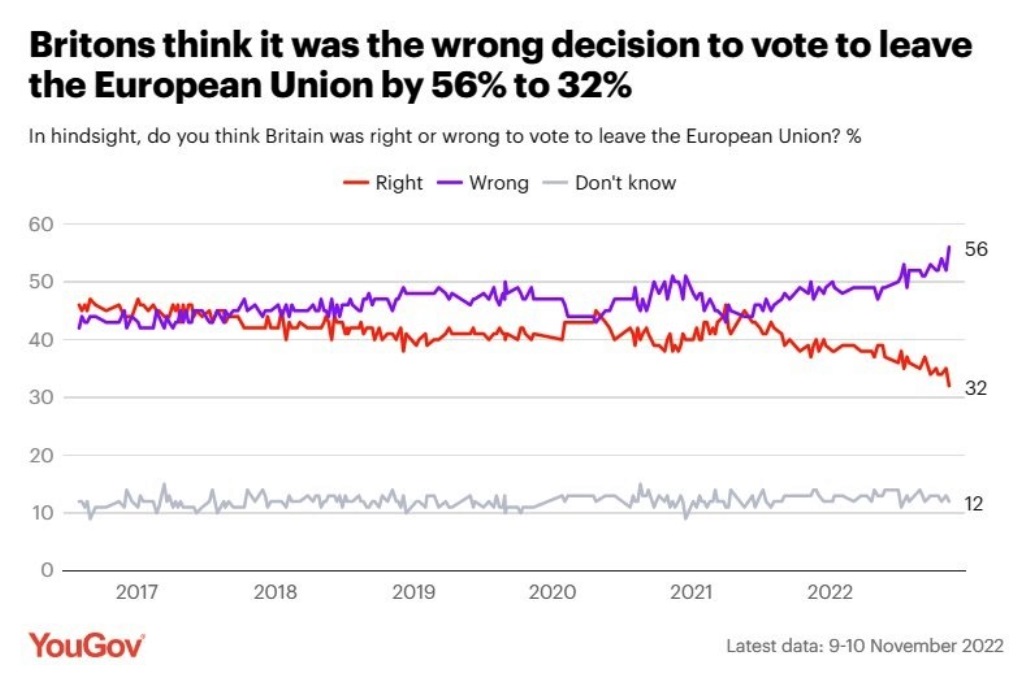 There is a route back, Article 49 of the 1992 Treaty on European Union, which outlines the process and conditions for joining - or re-joining - the EU. Some hoops through which to jump, not least a commitment under Article 2 to EU values and institutions like the ECHR. Here's the Institute for Govern­ment's explainer from July 2020 (under 2 pages):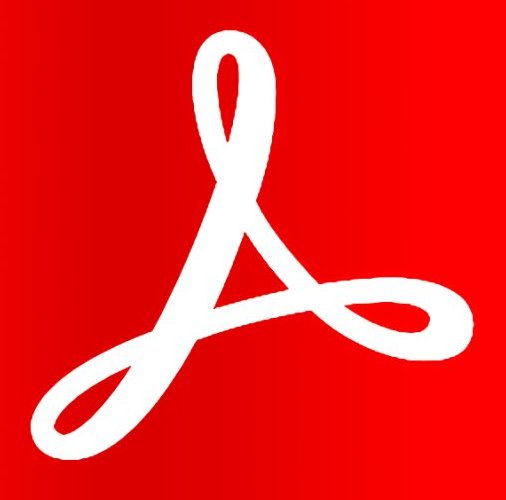 .

The Brexit proposition was founded on the idea of "better without Europe". The Leaver has never really accepted the connection with the continent - that damned stretch of water - and how Britain's fate is intertwined with our neighbours. The Ukraine conflict may have shifted that view. The unsett­ling missile incident in Poland triggered memories of why we went to war against Hitler. Sunak - and Johnson before him - flies off to Kyiv. NATO, the core European defence structure which even Leavers accept, has to show at least some teeth. Not so separate after all, eh? That's what Churchill always said.

Saturday 19th November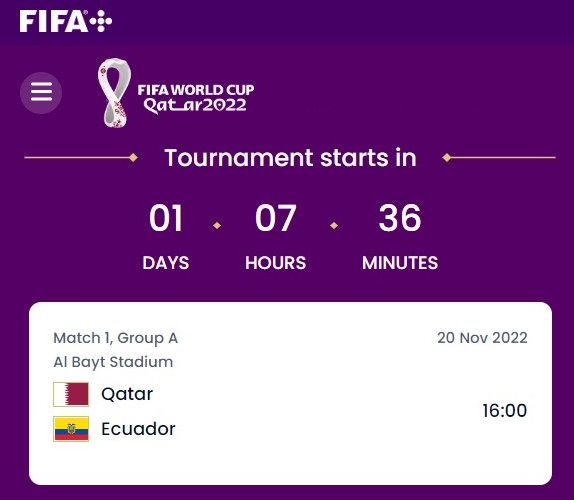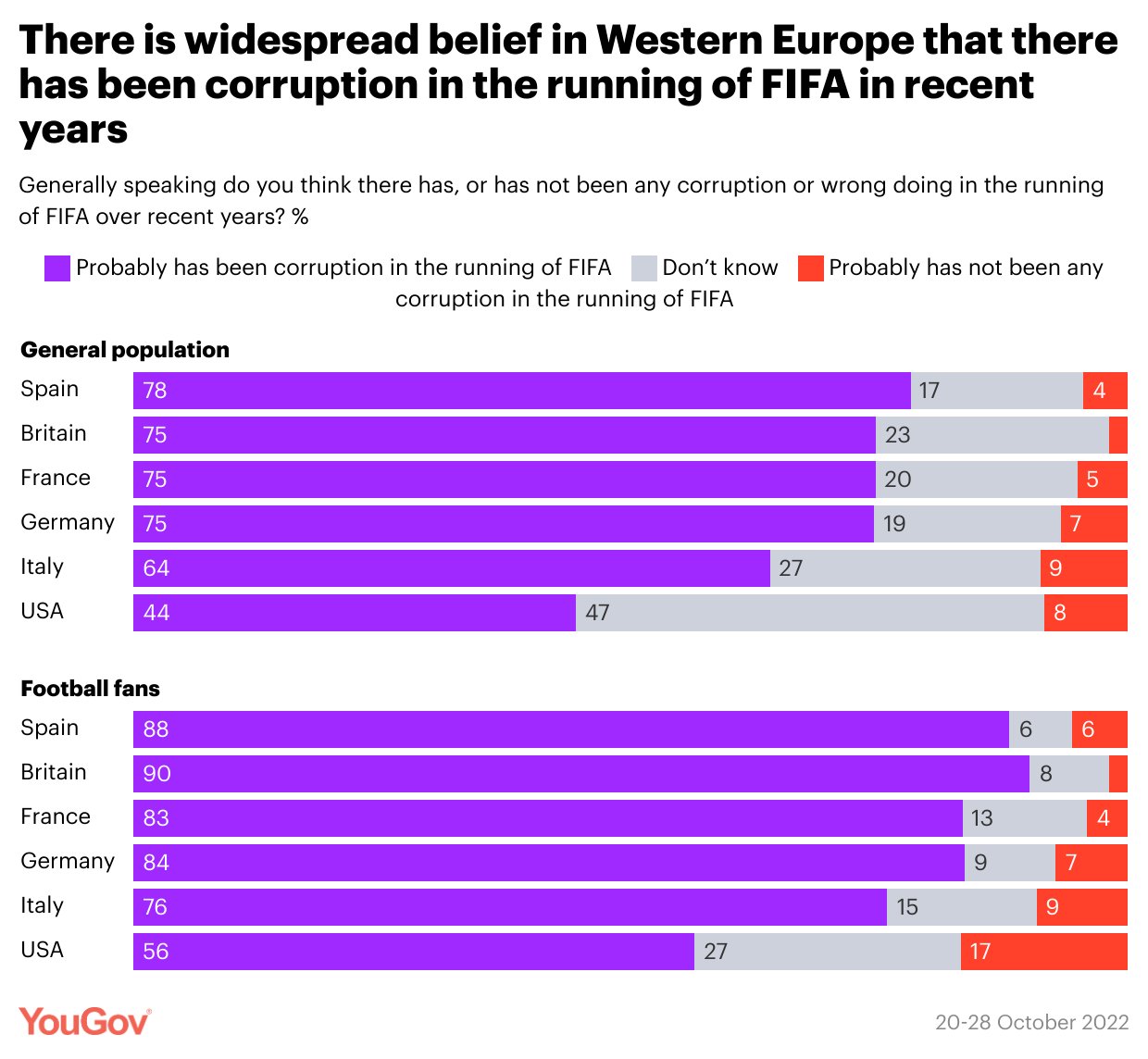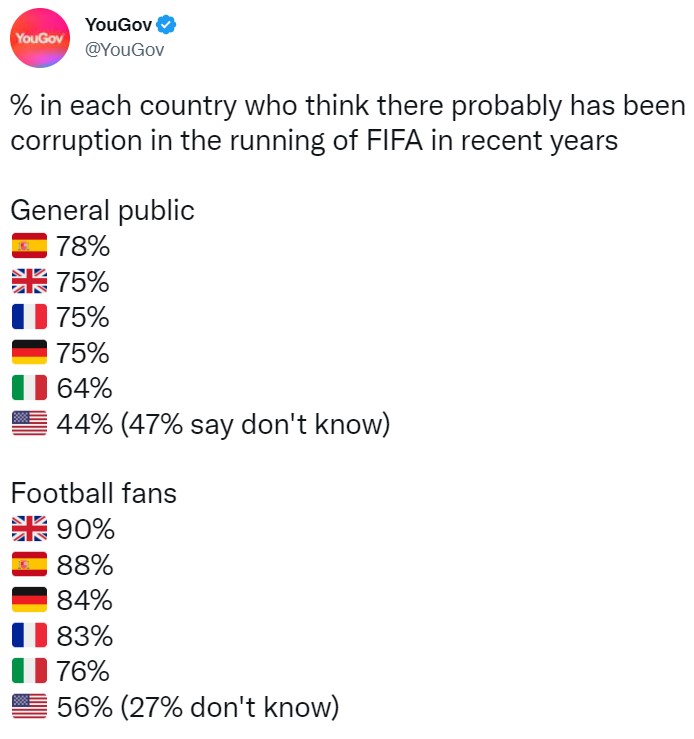 Friday 18th November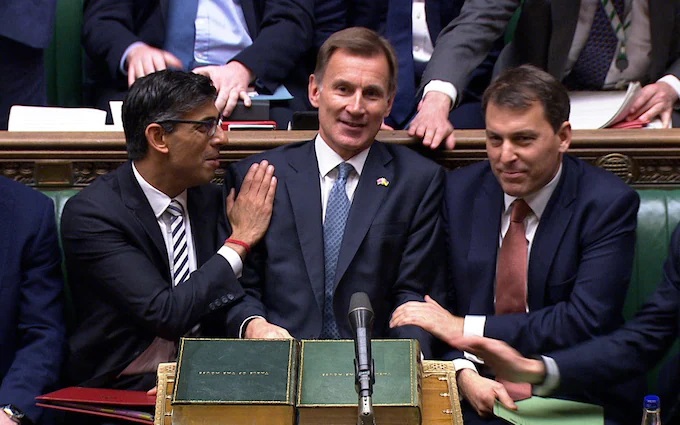 Did I hear a Tory chancellor say this?


"We ask those with more to contribute more."


Might these measures have appeared in a Labour budget?
The top 45% additional rate of income tax will be paid on earnings over £125,140 ... instead of £150,000.
State pension payments and means-tested and disability benefits to increase by 10.1%, in line with inflation.
Legally-enforceable minimum wage for people aged over 23 to increase from £9.50 to £10.42 an hour from next April.
The autumn statement was certainly a far cry from the Truss and Kwarteng mini-budget all-mouth-and-no-trousers omnishambles. Very detailed, with great care taken to acknowledge and highlight OBR rubber-stamping. Philip Dunne, Cons­erv­ative MP for Ludlow - there's always support from the home team - com­mented: "I congratulate my right hon. Friend on the excep­tion­ally skilful delivery and content of his statement." I'm loath to do so, but I'm tempted to agree.

For the record, and should you really wish to dig, here is the Hansard tran­script of the session, including both the chancellor's statement and others' responses: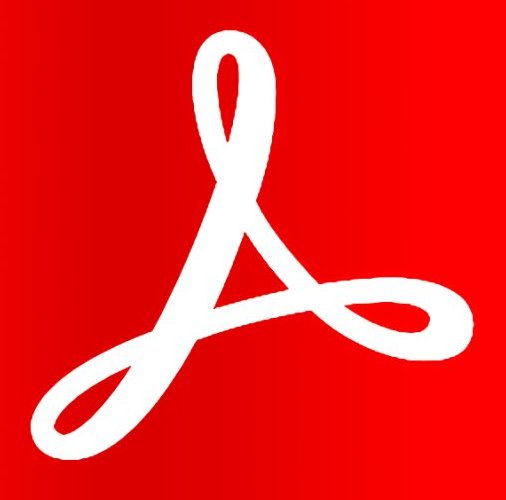 . Yes, all 68 pages. At the despatch box for three hours and 5 minutes. Again, I hate to say it, Hunt was calm, in command of detail, resp­ect­ful, with firm but polite rebuttals of those with whom he disagreed.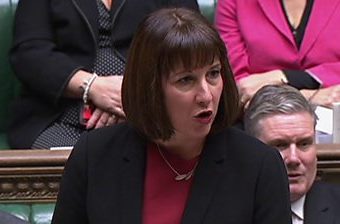 No wonder that Shadow Chancellor Rachel Reeves was raking over the past:


"The mess we are in is the result of 12 weeks of Conservative chaos and 12 years of Conservative economic failure."


I quite liked this:


"It has been clear for weeks what the Government want to do. Step one: blame global factors. Step two: pretend the mini-Budget has nothing to do with any of them. Step three: portray the Chancellor and the Prime Minister as the people who can clear up the mess of their party's own making. And step four: attempt to lay some so-called traps for the Labour party. They have even had George Osborne in to advise them on how to party like it is 2010."


Did her colourful little story work? Or was it desperation in the face of the Hunt announcements?


"As I was coming into Westminster today, I read a timely warning from the police about pickpockets in the area. They warn: 'You may have an idea of what a pickpocket looks like but they're far less likely to stand out in a crowd than you might think ... they may work in teams to distract the target ... One of their tactics is ... where a thief will appear to be over-friendly ... while pickpocketing you.' I must report that in the last hour the Conservatives have picked the pockets, purses and wallets of the entire country."


There were skirmishes around Brexit, although not instigated by Labour, who dare not speak its name. Digs from the Green Party and the SNP, who rarely miss a chance to mention independence.

Caroline Lucas (Brighton, Pavilion) (Green):


"It is frankly extraordinary that he could speak for almost an hour without once acknowledging the economic catastrophe of Brexit. According to the OBR, it will slash productivity by 4%; it has delivered a 15% drop in trade; there will be a 14% drop in investment; it will increase food prices by 6%; and it will deliver lower wages, workforce shortages and the highest inflation in the G7. When will he name the elephant in the room? When will he start to address that and reverse some of the damage that it is doing?"


Alison Thewliss (Glasgow Central) (SNP):

"Finally, I come to the policy that unites all the Unionist parties in this House: Brexit. The Tories, Labour, the Lib Dems - all Brexiteers now, fully committed to this futile project of deliberate self-destruction.





"Dr Swati Dhingra of the Bank of England's Monetary Policy Committee told the Treasury Committee yesterday: 'It's undeniable now that we're seeing a much bigger slowdown in trade in the UK [than in the rest of the world].' Wages are lower, business investment is lower, and the UK is underperforming in both imports and exports. That political choice has brought us here today, to the Chancellor's decisions, which will affect us all but will hit the least well off the very hardest.





"The economist Michael Saunders said this week: 'If we hadn't had Brexit, we probably wouldn't be talking about an austerity budget.' Put that on the side of a bus.





"Scotland did not vote for this. We did not choose austerity and we did not choose Brexit. The OBR says that living standards are to fall by 7% over the next two years. It ought to be of no surprise to anybody that just shy of half of Scots think the UK will not exist in its current form in the next five years. This is a UK so weak that no one would wish to join it. Scotland cannot be forced to stay in broke, broken Brexit Britain."


Here are some of the takes from cartoonists: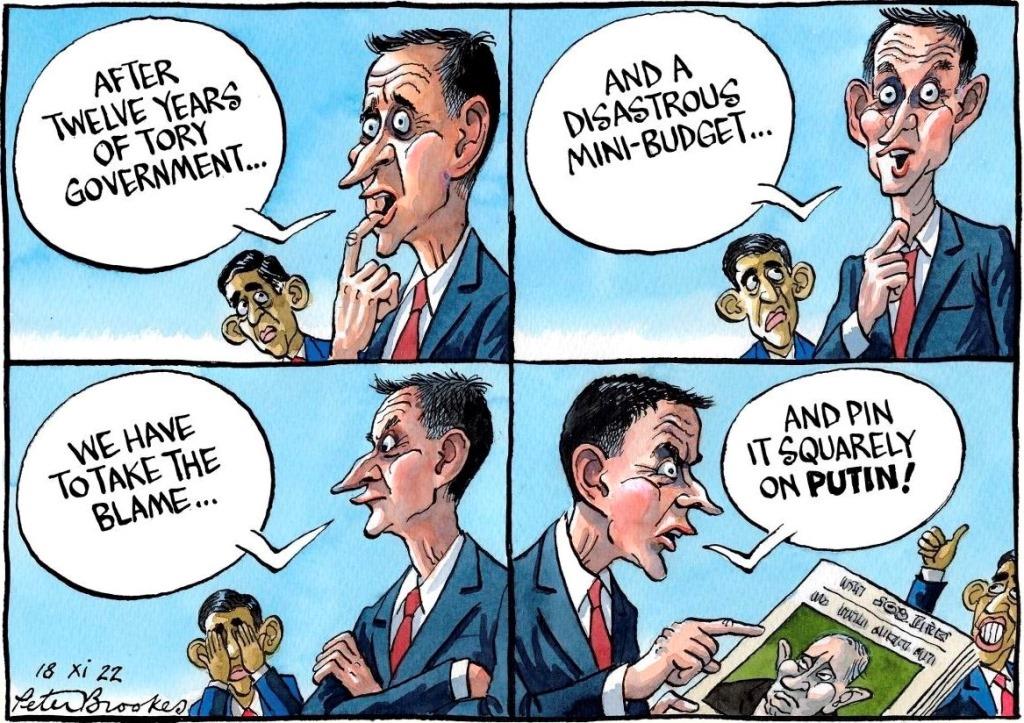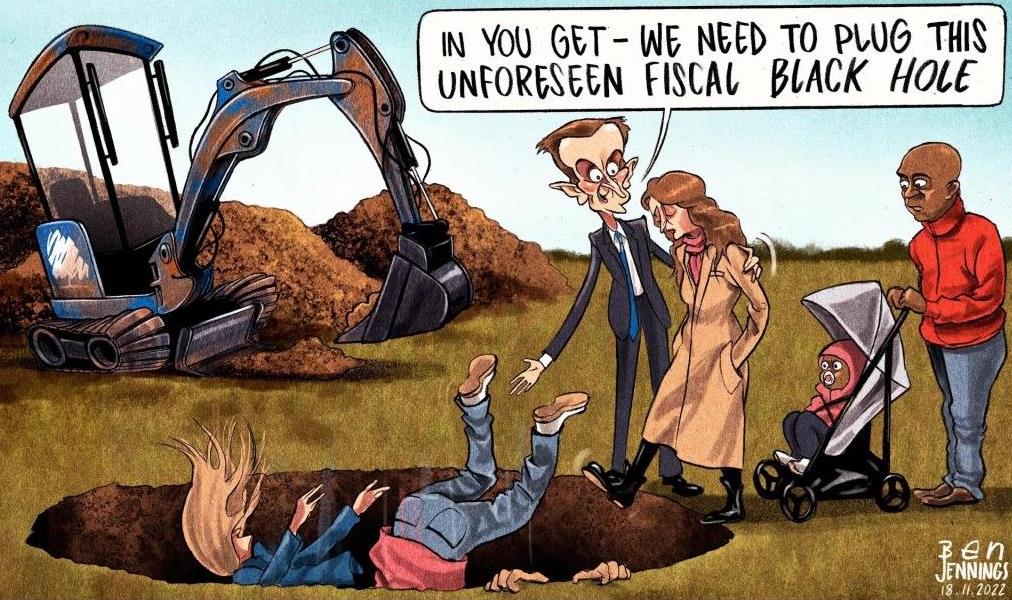 I'm not sure I get this rather smutty contribution from Dave Brown. OK, yes, the Grim Reaper, but disguising a skeleton from the closet, the ghost of George Osborne? Austerity 2.0?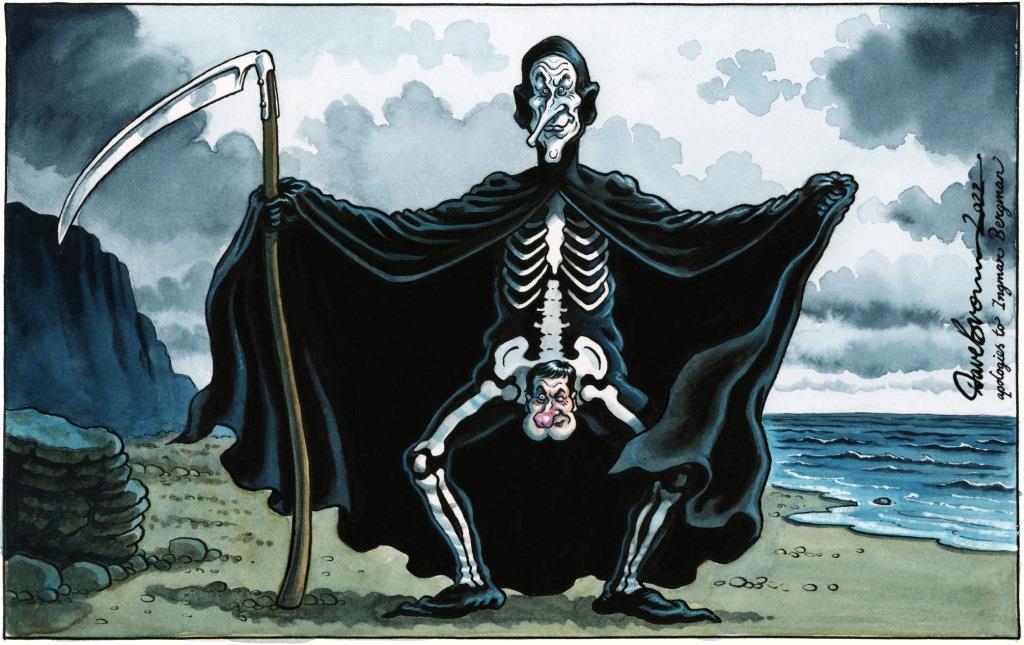 One final observation. Hunt seems very comfortable in this job. From recent interviews I've seen, not so Sunak. Where the chancellor is calm and meas­ured, the PM appears fretful and spiky. Who's in charge?

Wednesday 16th November


On Monday I went with my friend Alastair to view the "See Monster" retired North Sea platform at Weston-super-Mare, beached within the derelict remains of the famous "Tropicana" Lido. Opening in 1937, the venue once hosted Hollywood's Laurel and Hardy - in 1947, to judge a beauty pageant - and our very own Diana Dors, the "Siren of Swindon". Alastair and I made an earlier trip to Weston for Banksy's estimable "Dismaland: a Bemusement Park" in 2015, also in the Lido. The swimming pool closed in 2000.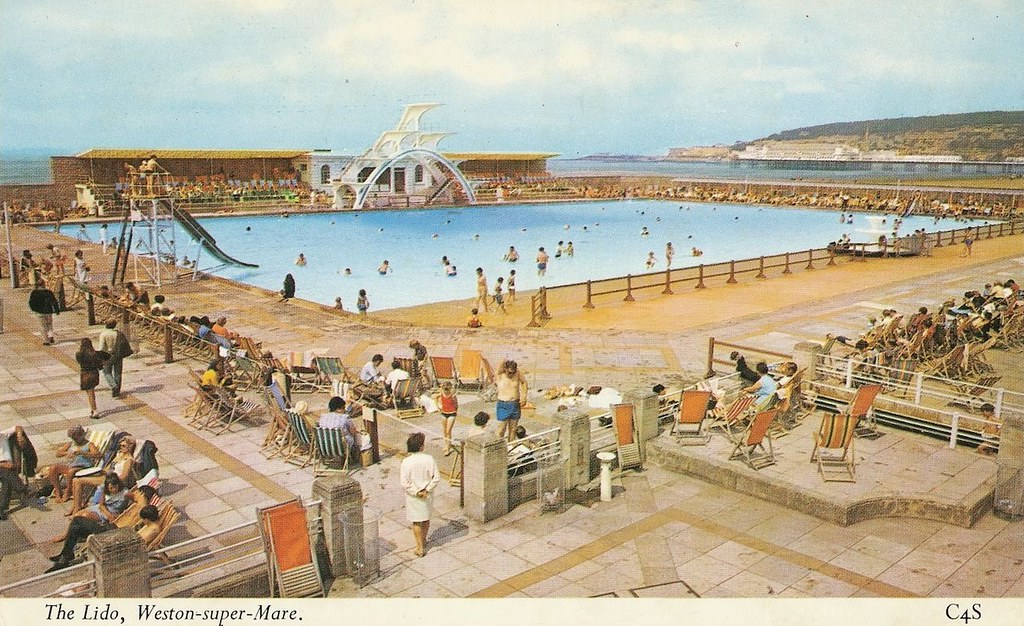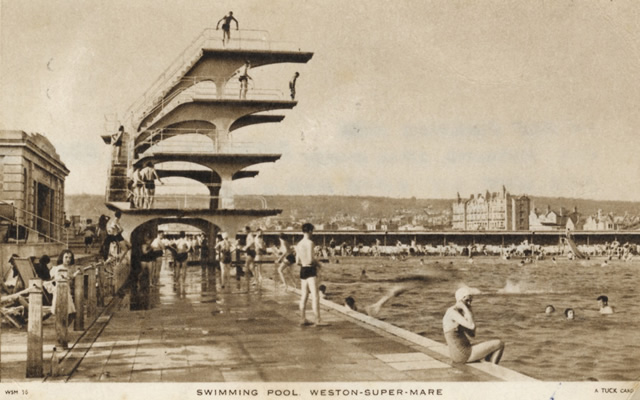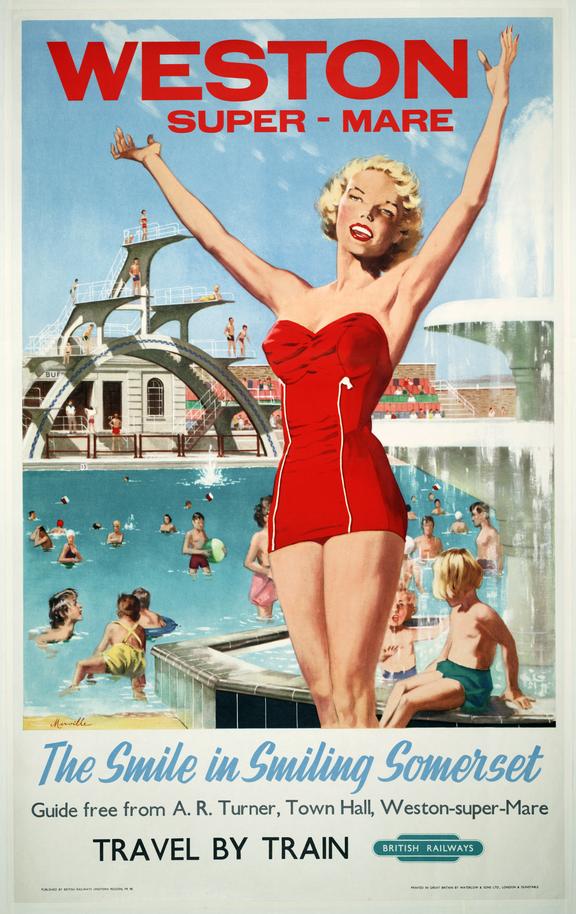 See Monster is part of the "UNBOXED: Creativity in the UK" programme now drawing to a close. The festival has comprised ten projects "shaped across science, technology, engineering, the arts and mathematics". First ann­oun­ced in 2018 by the Conservative government following the Brexit ref­er­endum, the concept was proposed as a Festival of Great Britain and Northern Ireland, and referred to by Jacob Rees-Mogg, later minister for Brexit opportunities, as the Festival of Brexit - a nickname which became widely used - but was rebranded as Unboxed and all mention of Brexit was avoided. A DCMS (Digital, Culture, Media and Sport Committee) report pub­lished in March concluded: "The desire ... to seemingly cater to everyone, everywhere, is a recipe for failure and investing £120 million in something when the Government, by their own admission, 'did not know what it was' is an irresponsible use of public money."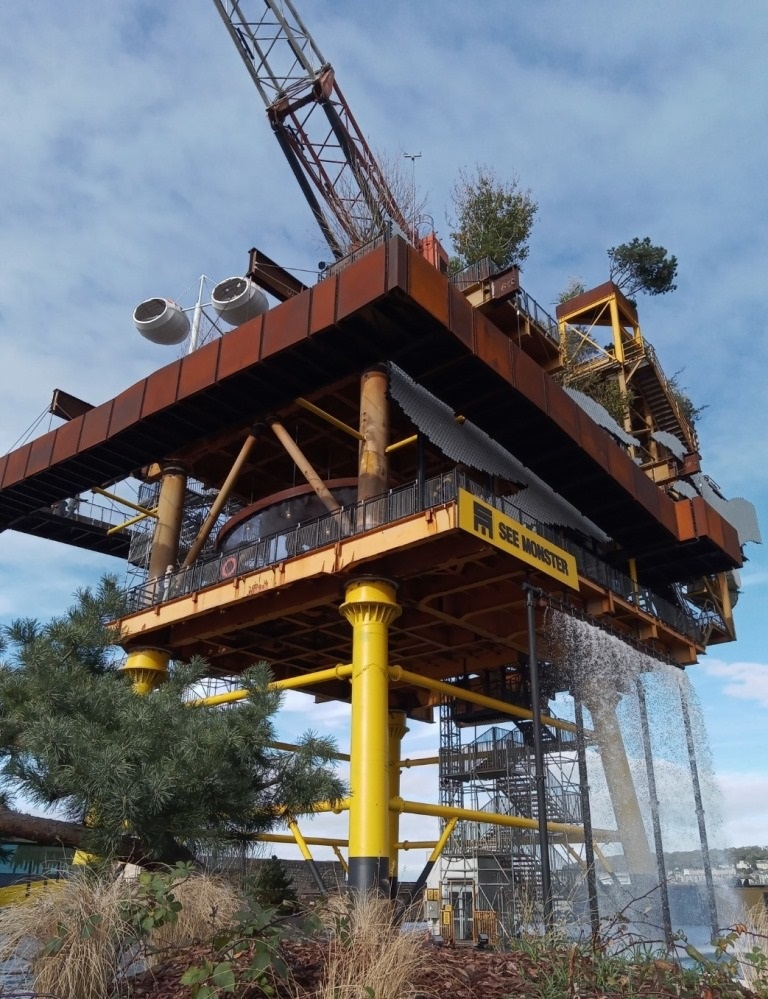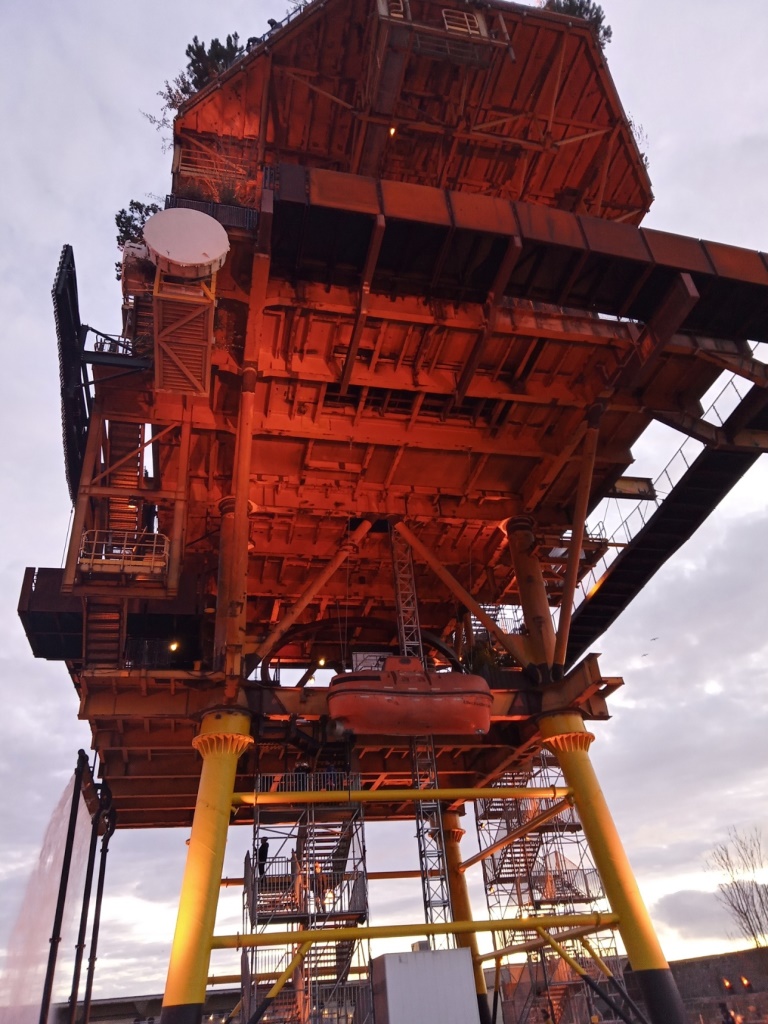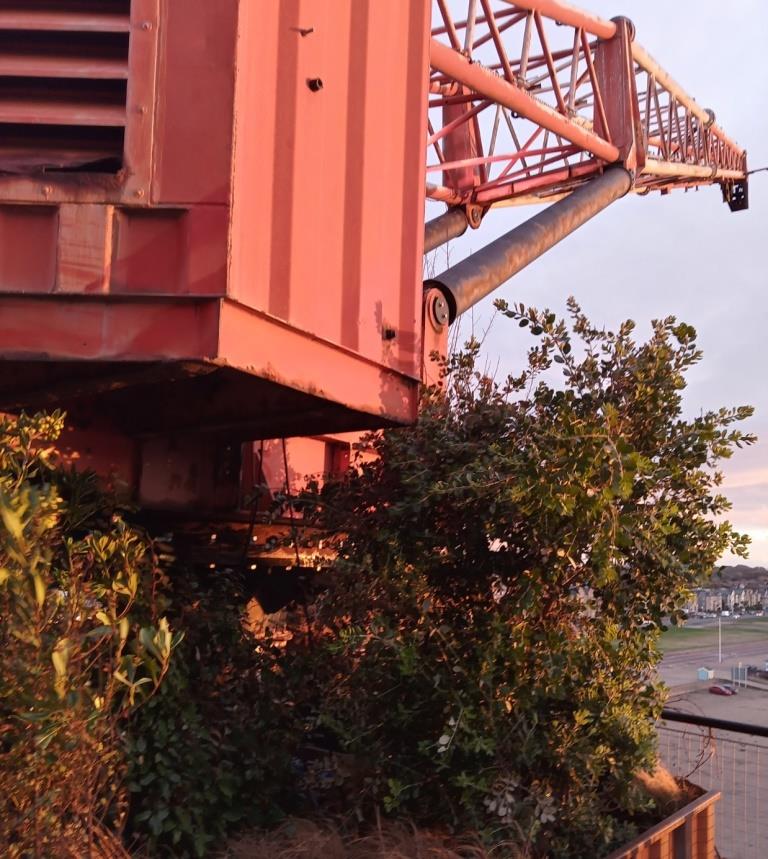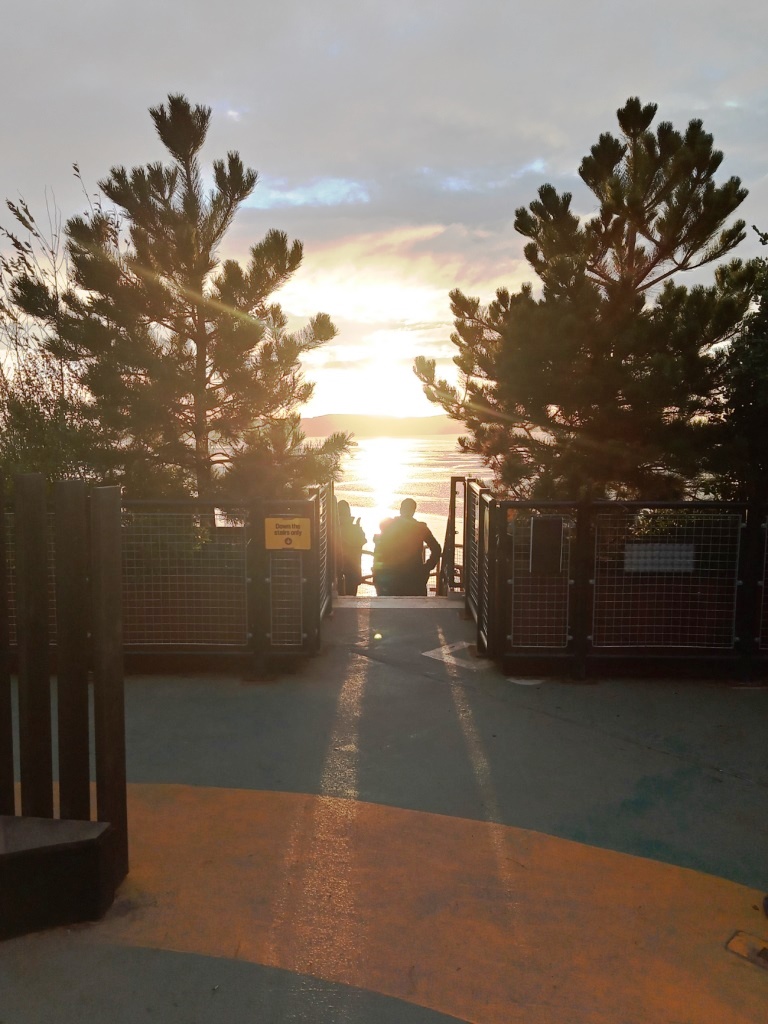 A big chunk of metal, although my friend Mark who wrote and installed control software on North Sea BP rigs off Shetland and Amoco sites east of Norfolk has commented: "That one at Weston is a baby."

With COP27 in its final death throes, I did experience some guilt. It felt somewhat like a pilgrimage to honour the extraction of fossil fuels. I was pleased to see a protest on the beach below. A friendly SM volunteer told us that when the tide washed it away somebody always came back to redraw the text and mandala. He also pointed out the marks made by a car driver who had performed F1 "donuts", partly obscuring the writing.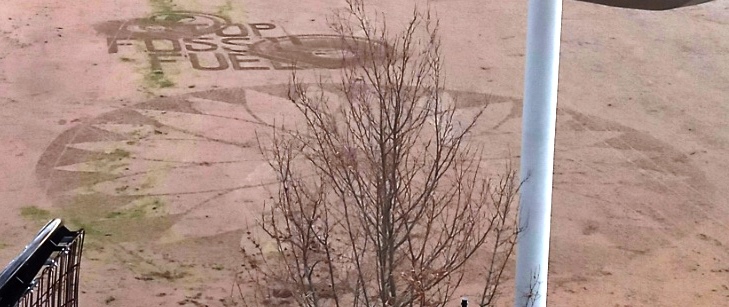 I was amused by one eery feature reminiscent of Dismaland's edginess. Hidden behind fencing and foliage there are small speakers which broadcast a recording of the shipping forecast. I'm not sure that it's a genuine version. To my ear the voice is wrong and some of the sea areas are incorrect (Rockwell? Mawlin?). But that may be because my memory of the broad­casts dates back to the 1970s when we used to sail in the Western Isles of Scotland and the first job of the day (from my bunk, still in a sleeping bag) was to transcribe the relevant warnings onto a specially designed chart of British waters.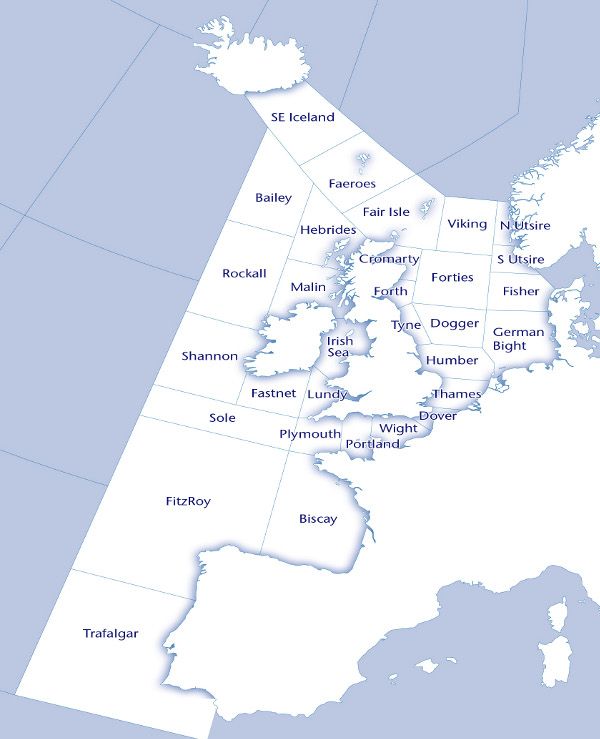 Tuesday 15th November


My father would have been 104 today (sadly, we lost him 40 years ago).

The UN has chosen his birthday to suggest that the world's population has reached 8 billion. That's nearly 4.5 times what it was in 1918, the year of his birth, when it is estimated to have been 1.8 billion. It's now just over 3 times what it was when I was born in 1952, then 2.6 billion.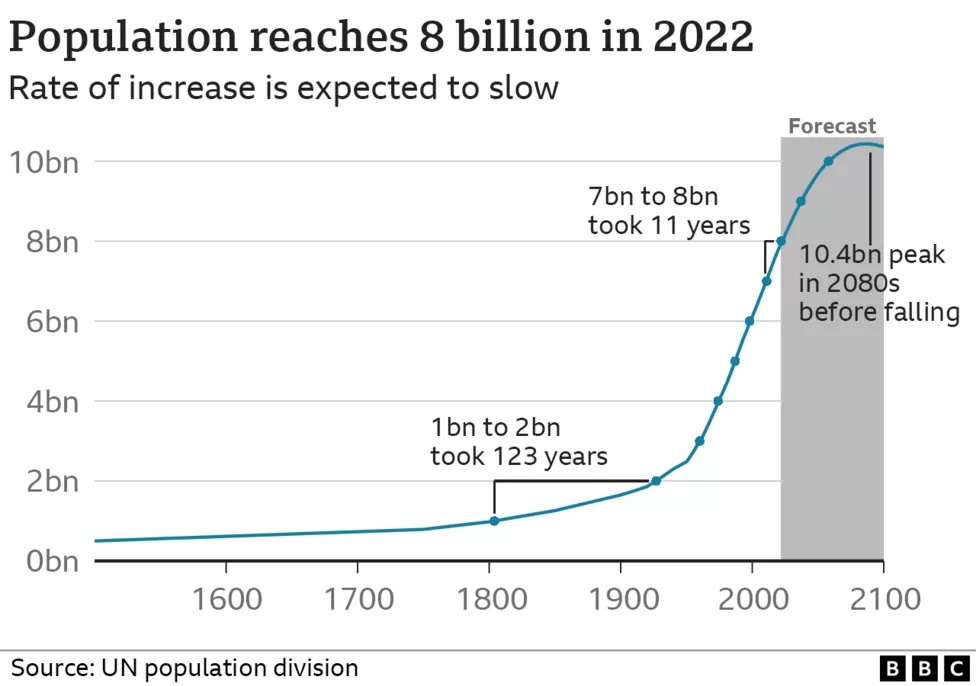 Towards the end of the 1950s my mother began a long and successful career in the Family Planning Association; she finished in the eighties as organiser of the service for a large chunk of the West Midlands. She gave frequent talks to community and professional groups about the importance of birth control - I'm sure she also used the term "population control" - not only to improve the quality of women's lives but also for the future of the planet. I suspect she would have been disappointed in today's number.

Monday 14th November


My happy picture of the day. England won the cricket T20 World Cup in Melbourne yesterday.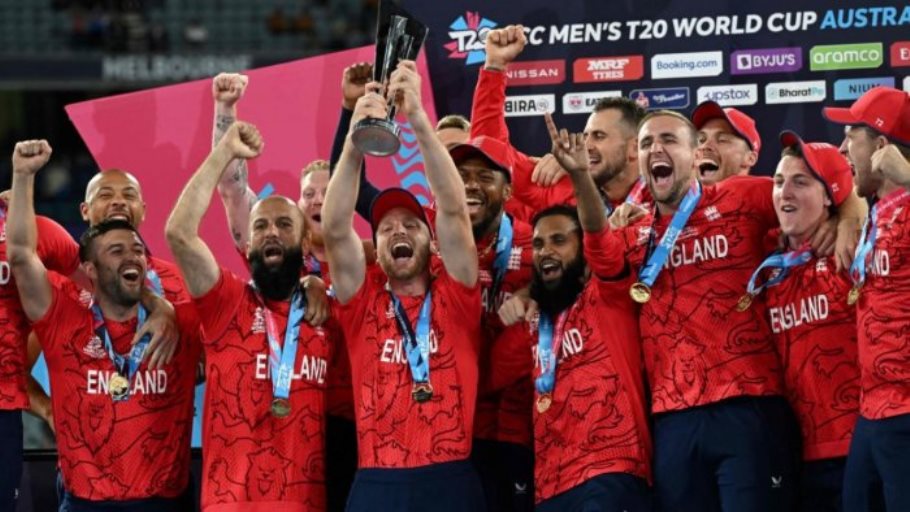 Just a game, I know, largely irrelevant in a world of woes, of absolutely no interest to all of you who don't follow cricket, the wrong form of the sport for a traditionalist ... but I don't care. A team which has re-invented itself after many lows, led by a quietly spoken and innovative captain, Jos Buttler. Flanked by two stars of migrant origin, Moeen Ali (born in Birm­ing­ham) and Adil Rashid (Bradford). Propelled to victory, beating giants of the sub-con­tin­ent India and Pakistan, by among others an exceptional competitor, Ben Stokes, in yet another display of redemption following a Bristol night club brawl five years ago.

Respite, for a moment, from the other news I read this morning.

Sunday 13th November


Here's a change of scene from the recent gloomy news, maybe even some pleasure. A bit of history, a couple of animated videos for you Europeans out there. You can watch them full-screen by clicking on the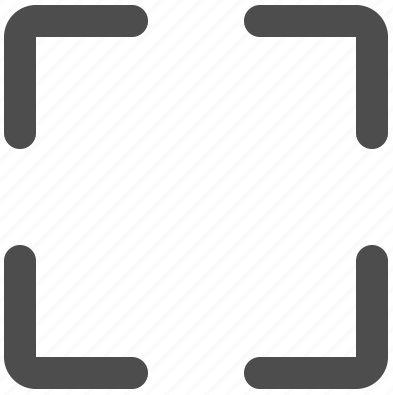 button within the video player.

The first - the longer of the two at just under 7 minutes - uses "country balls" to represent the nations of Europe from 1500 to 2022, their growth and decline, the major conflicts, interventions by the USA. Text boxes present key historical mile­stones. The date's displayed at the bottom.




The second - 3 minutes 20 seconds, sadly not quite as clear - maps European border changes from 1140 to 2012. Lots to watch out for: how Italy becomes a united nation; the establishment of Germany out of many fragmented states; the explosion of Russia out into the Soviet Union and back again (evident also in the first video). And much more - don't let me restrict you to just those.




The thing that strikes me most in both animations is how England, and later the United Kingdom, has not been the biggest player in town, in Europe, despite what the Leaver may think. France, Germany, Russia, the Ottoman Empire ... all have had far more influence and impact at different moments. The British "pink" on the map has dominated elsewhere in the world.

This, I regret to say, has led me to reflect on Brexit Britain, or more accurately, England. However, I'm not going to reveal my train of thought because 1) I promised above not to spoil the day with our current woes and 2) my rant is all-too-predictably that of an ardent Remainer. If you insist that I publish, send me an email (to the address at the very bottom of this page).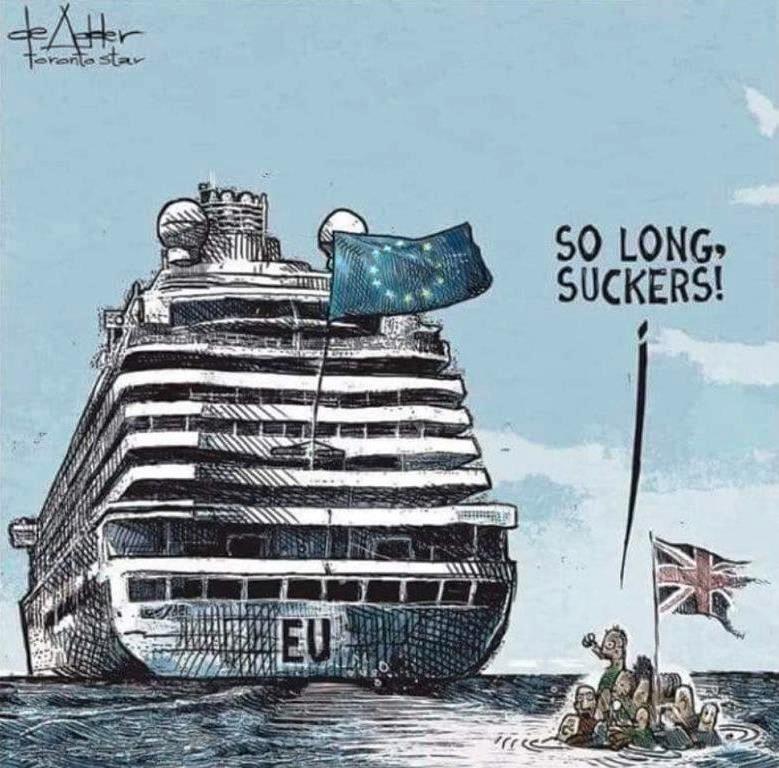 Saturday 12th November


I'm not sure I can continue scrutinising this summit. "636 fossil fuel lobbyists granted access to COP27".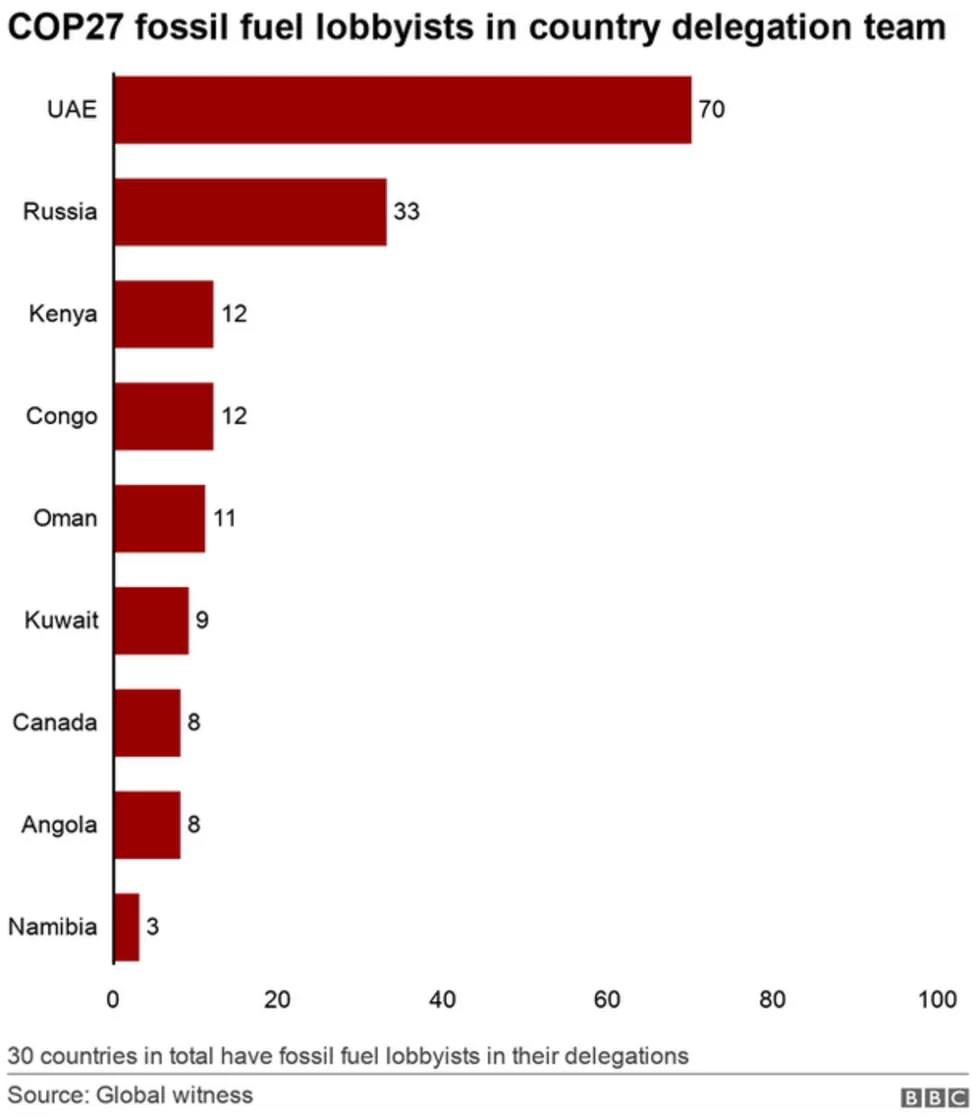 The BBC acknowledged Global Witness as its source. I'm not going to inflict any more detail on you. Here's the website if you want to see the report: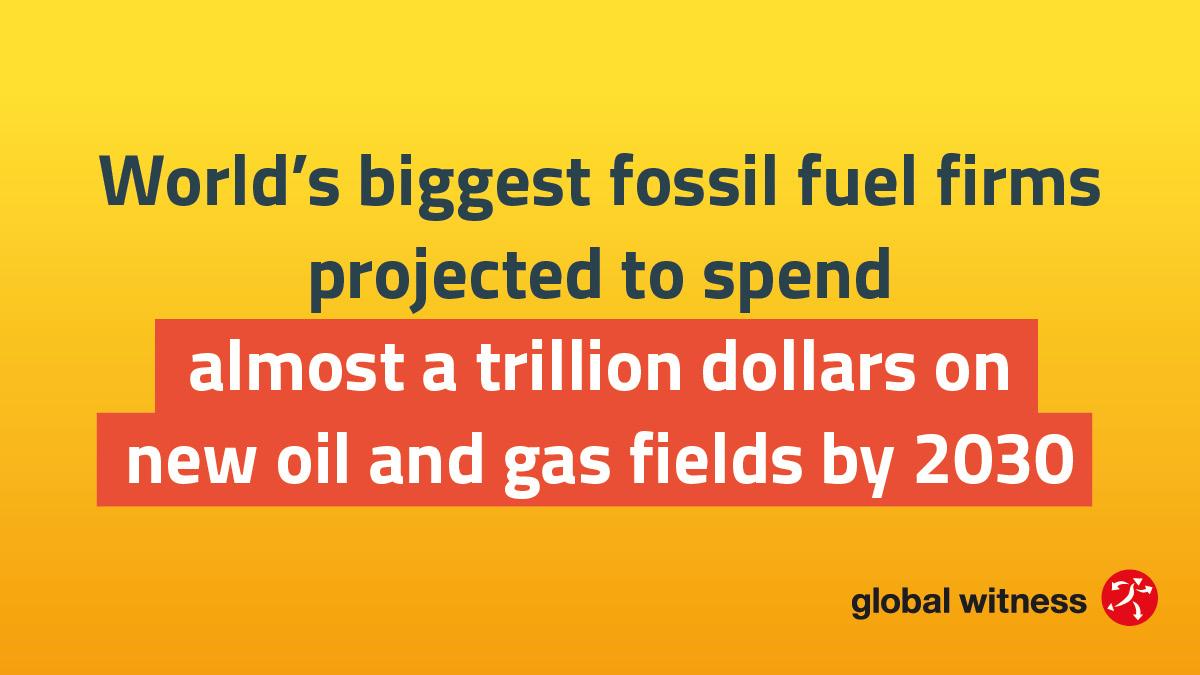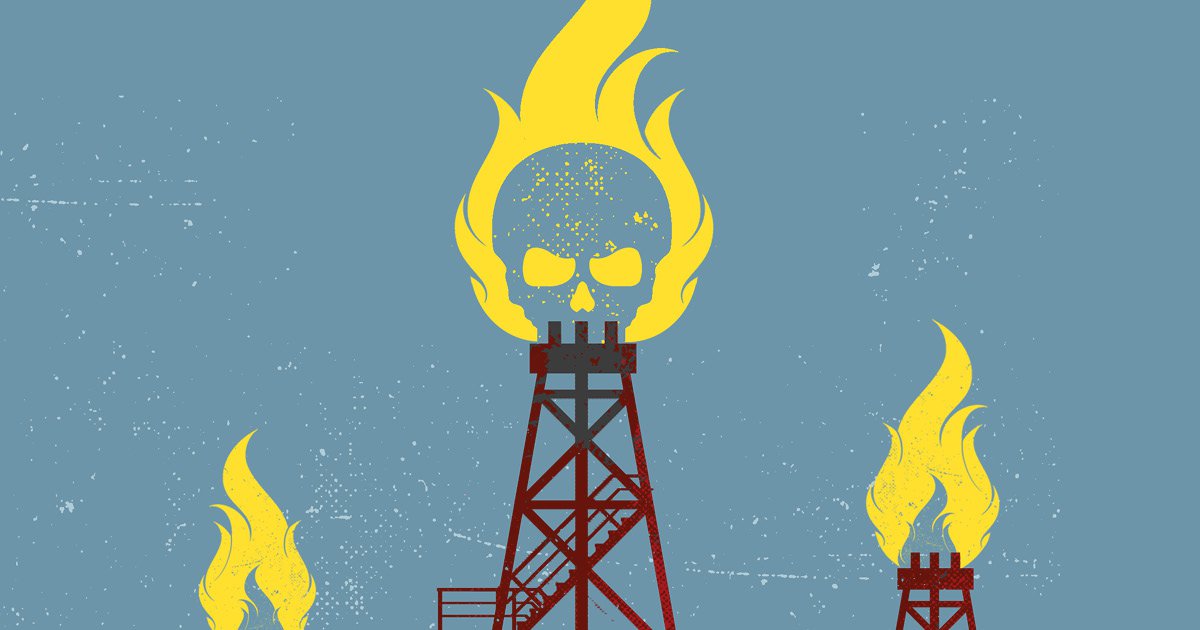 I will allow myself one document (1,739 pages!) of detail, the provisional (pub­lish­ed before the conference, to be updated to reflect any changes before 16th November) list of registered COP27 participants: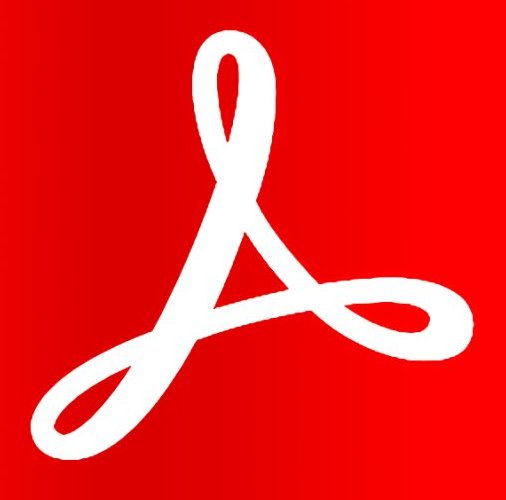 . A total of 33,449 delegates. Summary on first page.

Friday 11th November


I've been watching out for news from COP27, searching for evidence of det­erm­ined action to avert environmental disaster. There's almost none. The only noteworthy UK media coverage of the conference in the last two days was on Channel 4 News, which hinted at little progress, a vacuum of activity. Reference was also made to the China-USA climate working group stand-off following Nancy Pelosi's visit to Taiwan.

One British newspaper alone has deemed eco-issues worthy of its front page. Here is the Daily Mail yesterday and this morning: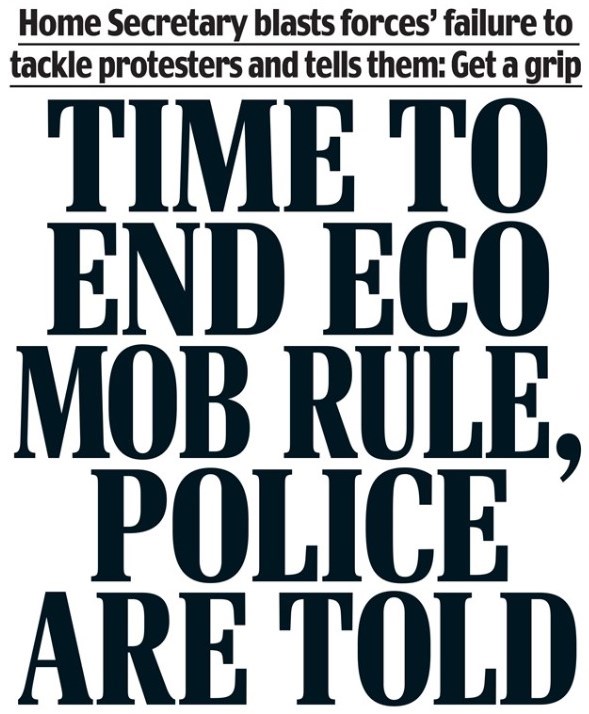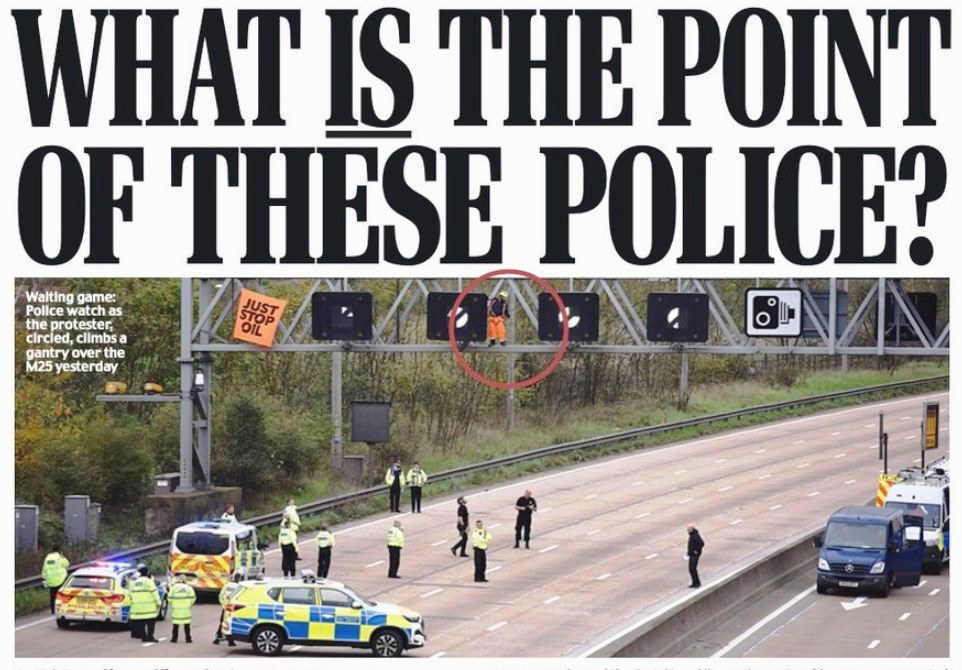 104 years ago Germany and the Allies signed the Armistice near Compiègne, France. My father was born four days later and named Victor, his second name - the first was Frederick. Two days before the signing the defeated Kaiser Wilhelm II had abdicated. Wilhelm was the Kaiser's second name, the third was Viktor, the first Frederick (or Friedrich). How very odd. I'd never noticed until today.




Thursday 10th November


Never mind the US mid-term elections, this 4-page pamphlet dropped on our doormat two days ago: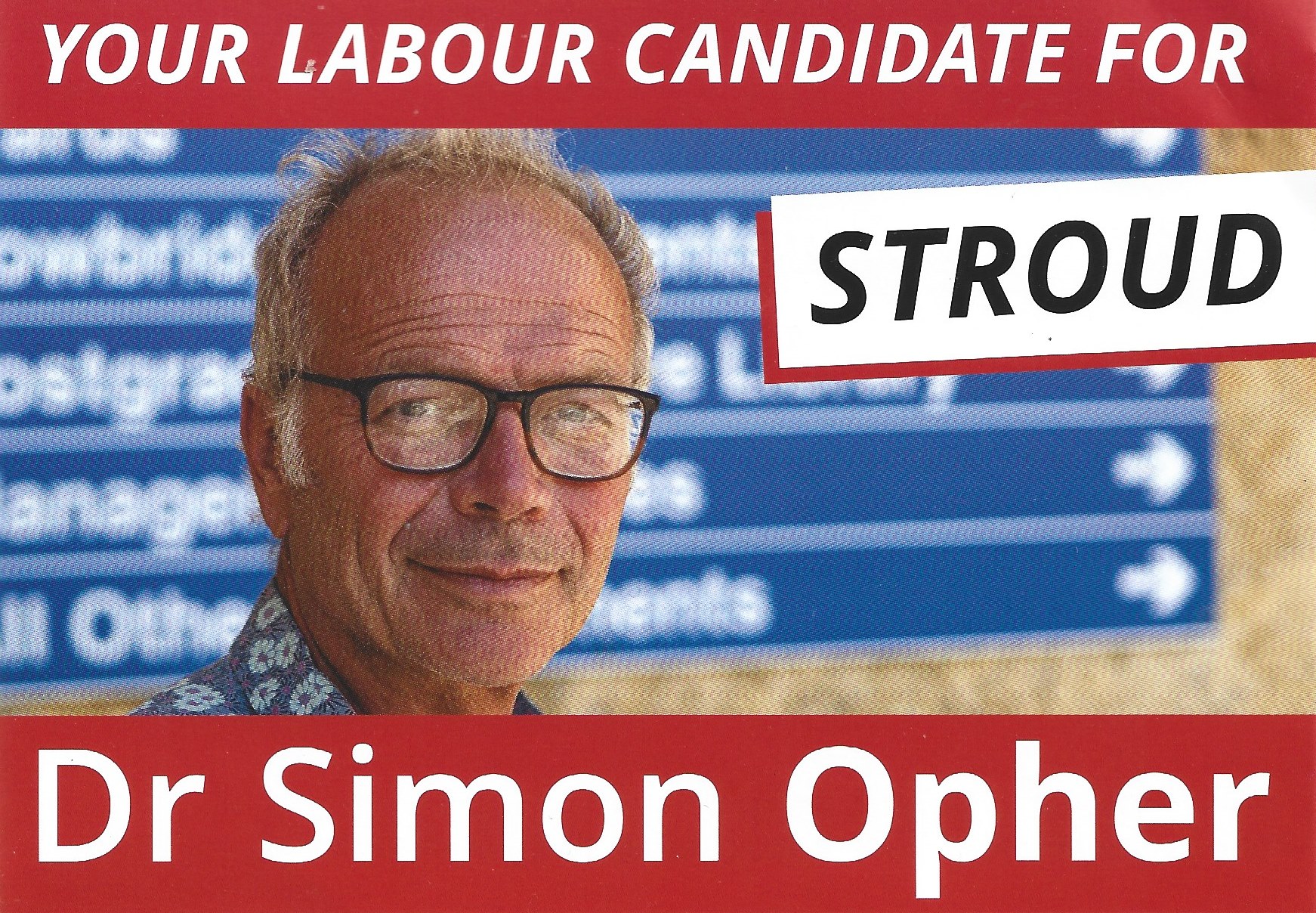 He will have to win my trust. I was furious that Labour HQ rejected the can­didacy of erstwhile district council leader Doina Cornell in early July (see my report here: 👉).

Here's the flyer top-level headline:




I don't dispute the message.

His personal motivation and appeal?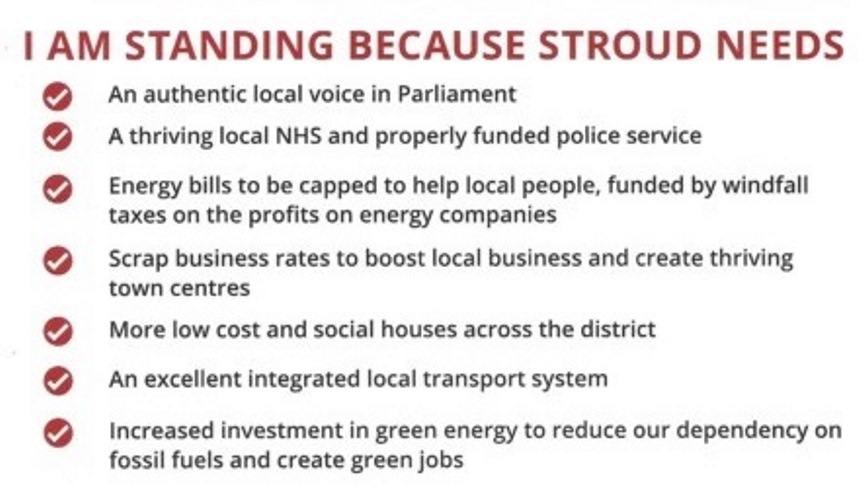 I'm with you, Simon.

He's playing the Stroudie card (well, nearly). We all know why. Since 2019 we've had the Tory incomer Siobhan Baillie. I've still never seen her at any event in town. Opher's been a local Dursley GP for 30 years.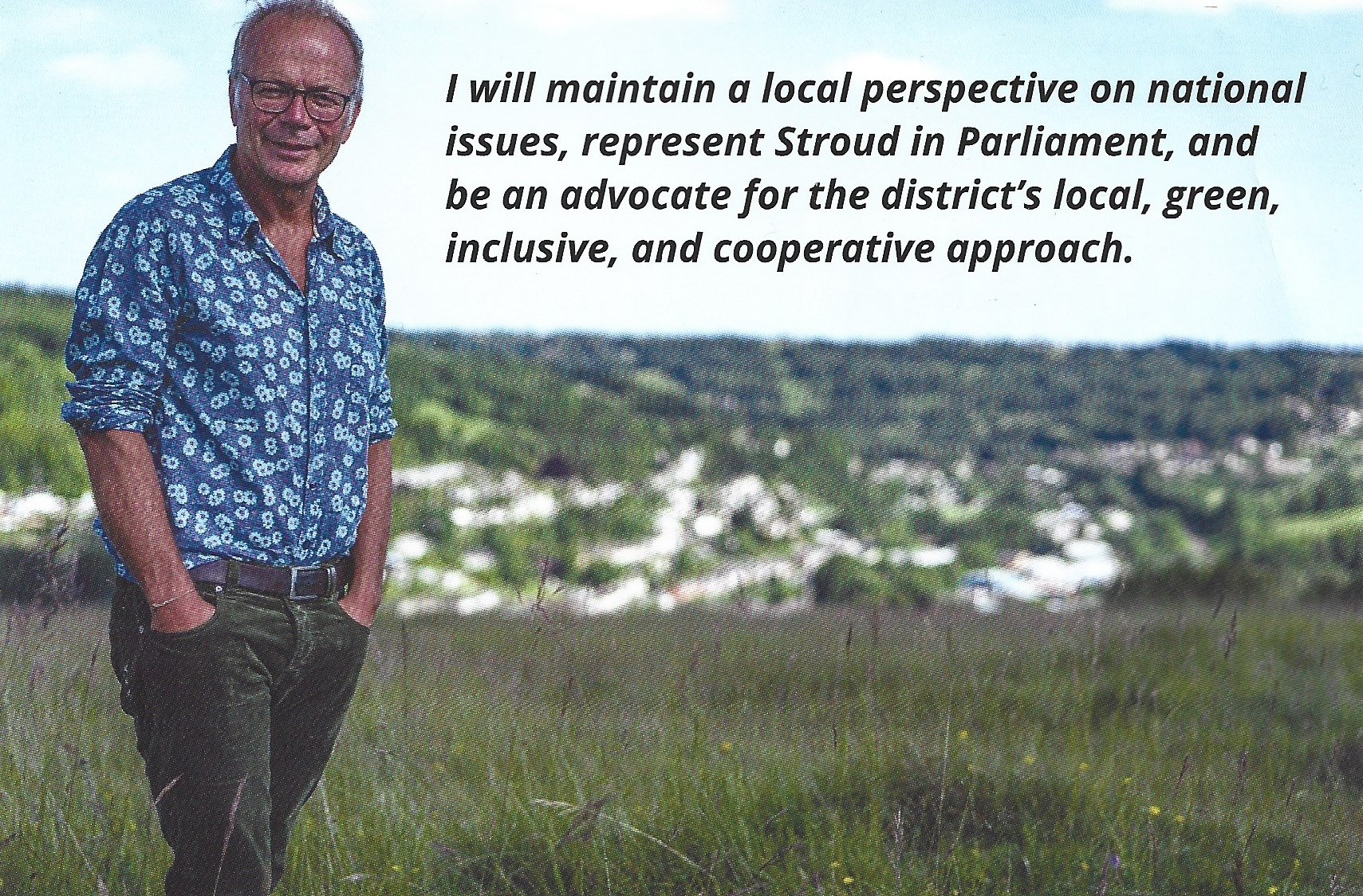 It never hurts to have the backing of our respected former long-serving Labour MP, still a Gloucestershire county councillor.





I was mildly surprised to get this campaigning document right now. The clamour for a General Election has died down since Sunak took office; I'd welcome its noisy return. Legally there doesn't have to be an election until January 2025 (parliament will automatically dissolve on Tuesday 17 Dec­em­ber 2024, unless it has been dissolved earlier by the King). It's no bad thing, however, to learn about the Labour candidate well ahead of then. It implies that the party is ready, a government-in-waiting ... should further Tory banana skins materialise.

Wednesday 9th November


Cartoon mid-week round-up. COP27, US mid-terms, Sunak judgment and Tory sleaze (farewell, Sir Gav ... Hancock down under). Click to enlarge any.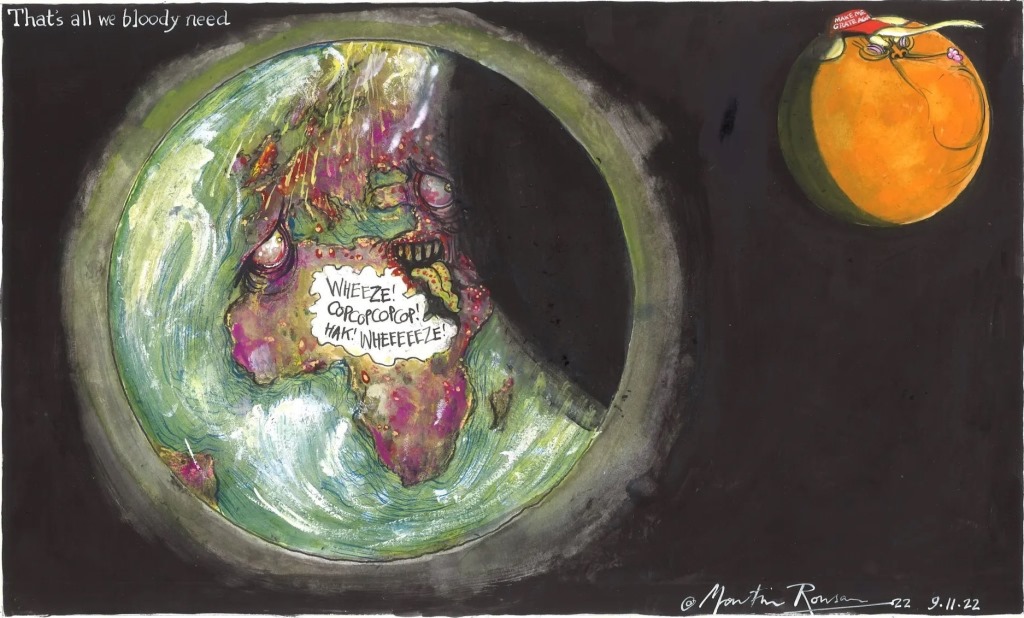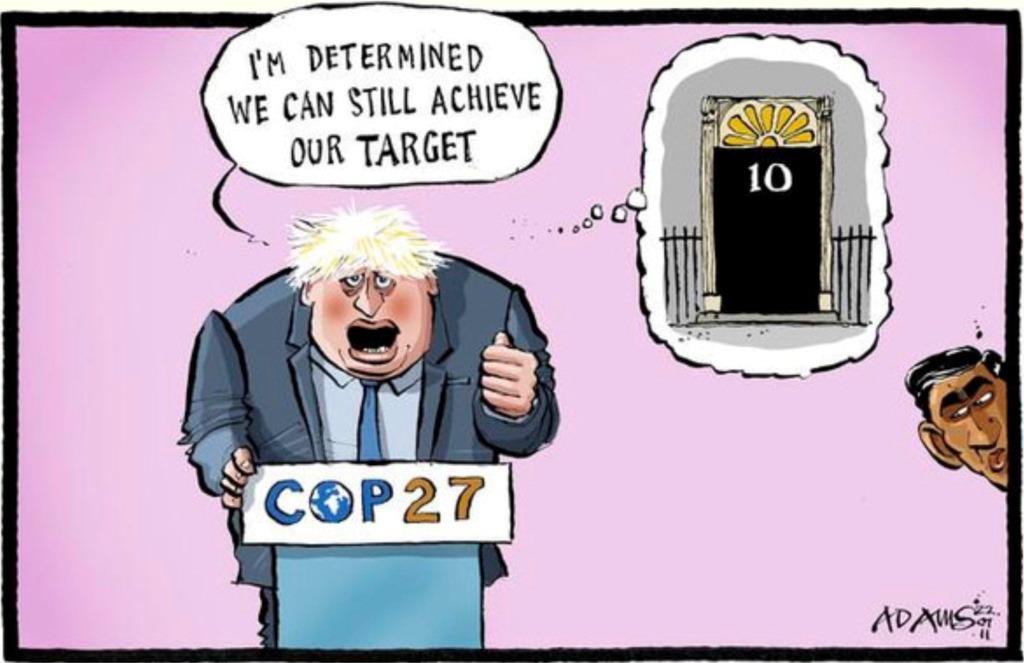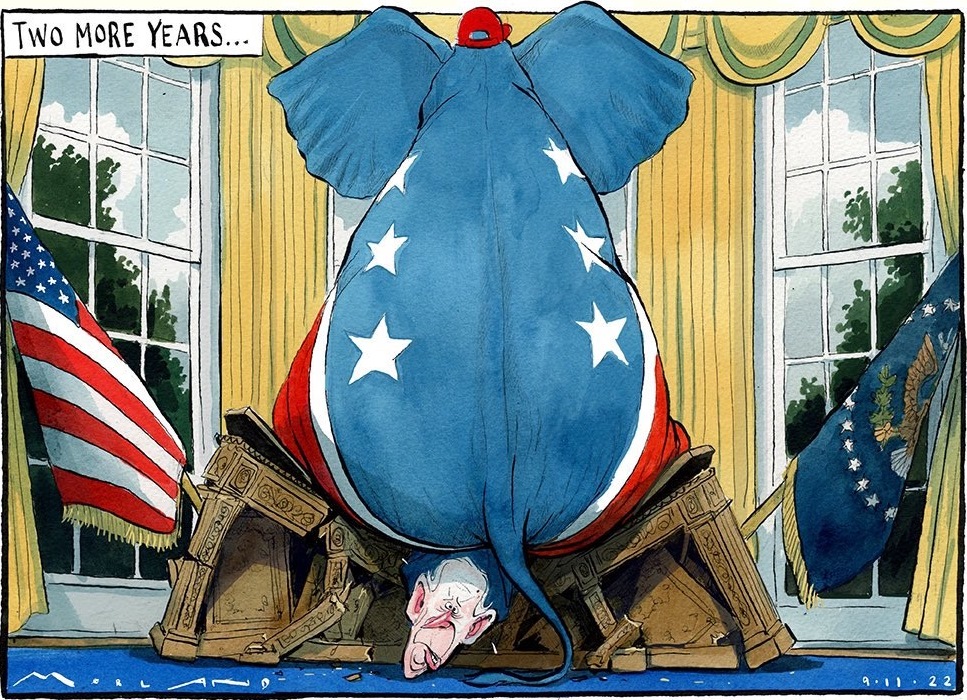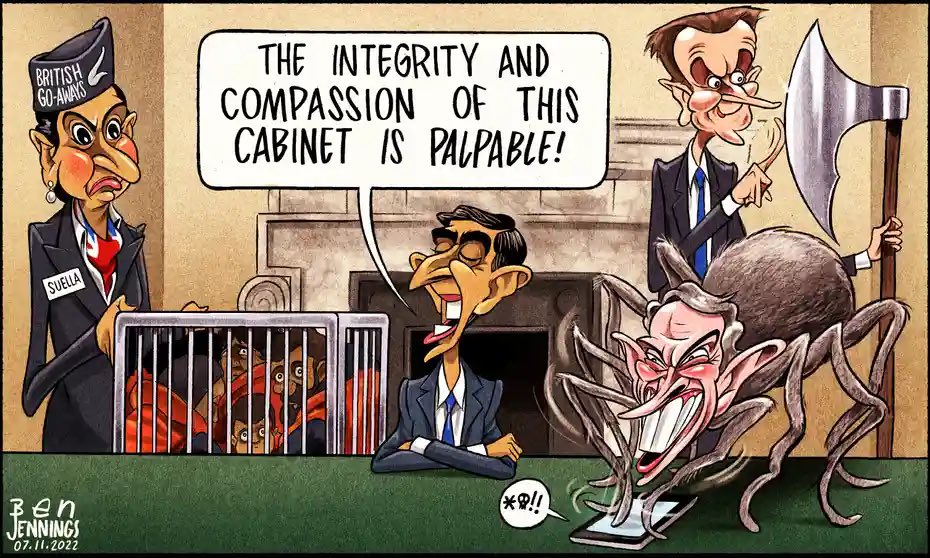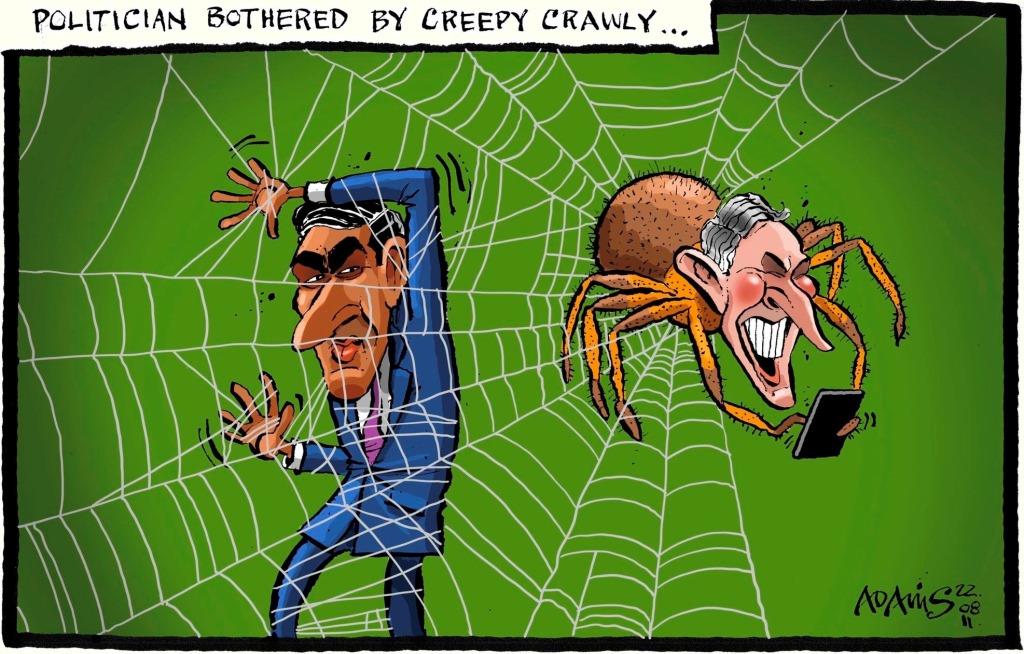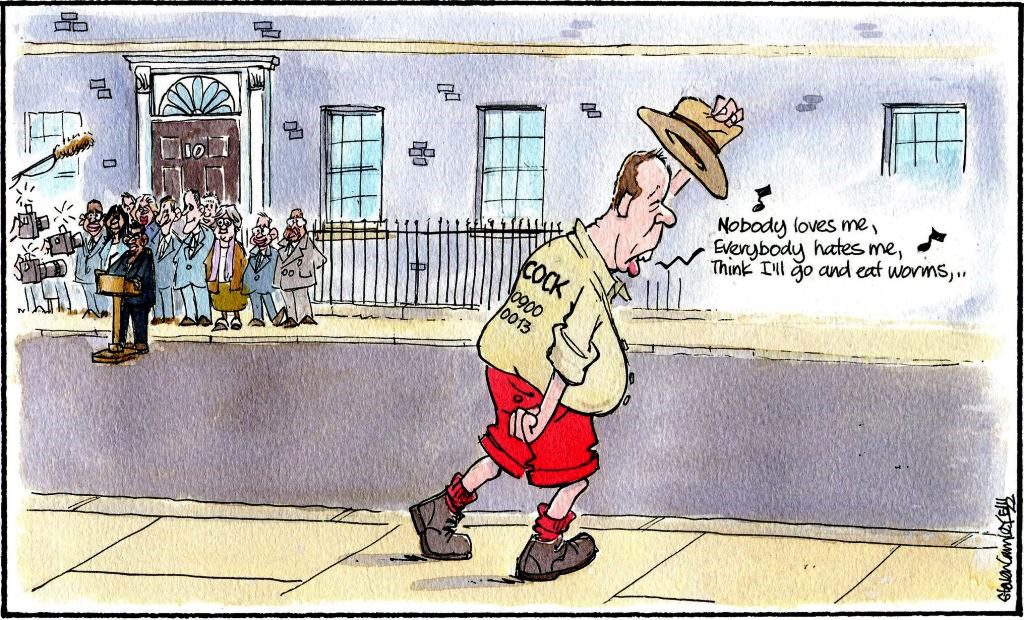 Tuesday 8th November


It's going to be very difficult to follow COP27 with any hope.

Yesterday I watched the live stream from the main conference chamber as world leaders, mostly from the global south, outlined the current and future threats to their countries, frequently not of their own making.

I've collated several charts from the BBC website as its live coverage has int­ensified. So much history, such meagre government commitment. We've been trashing the planet for so long, now we have almost no time to halt the runaway truck. Meanwhile, Johnson arrives and tries to big up the successes of the UK COP pres­id­ency, says he's the "spirit of COP26". Damn right he is, effing useless. Blah, blah, blah.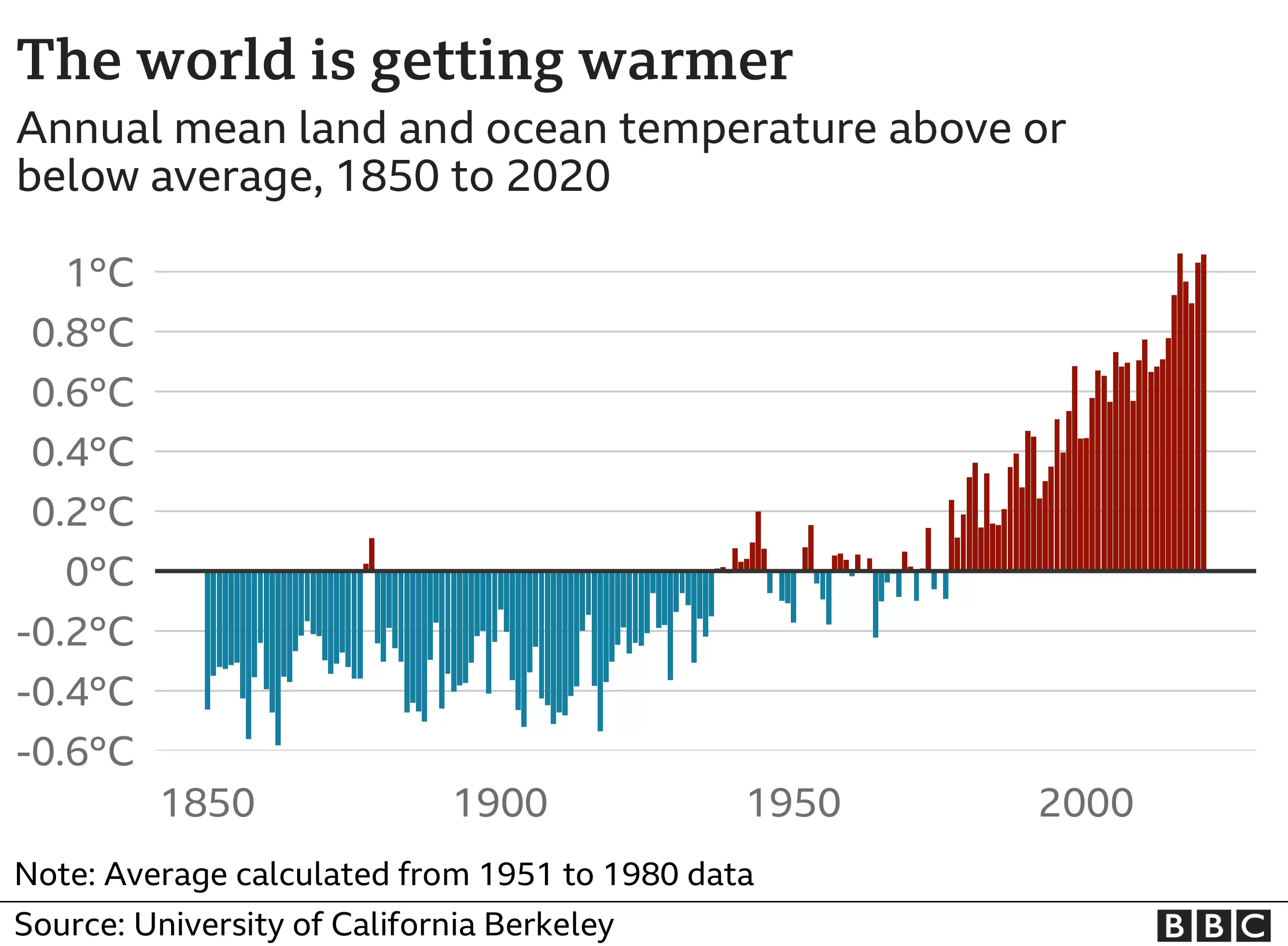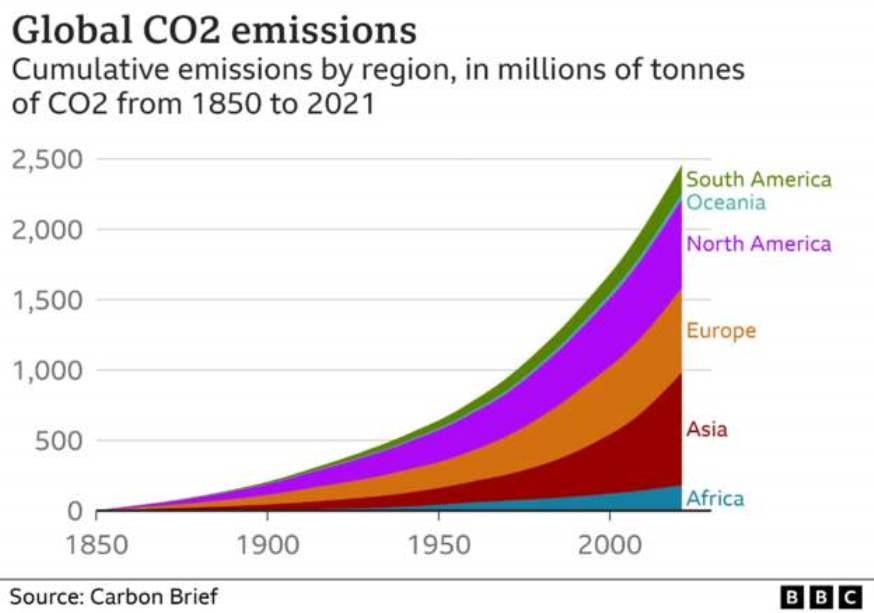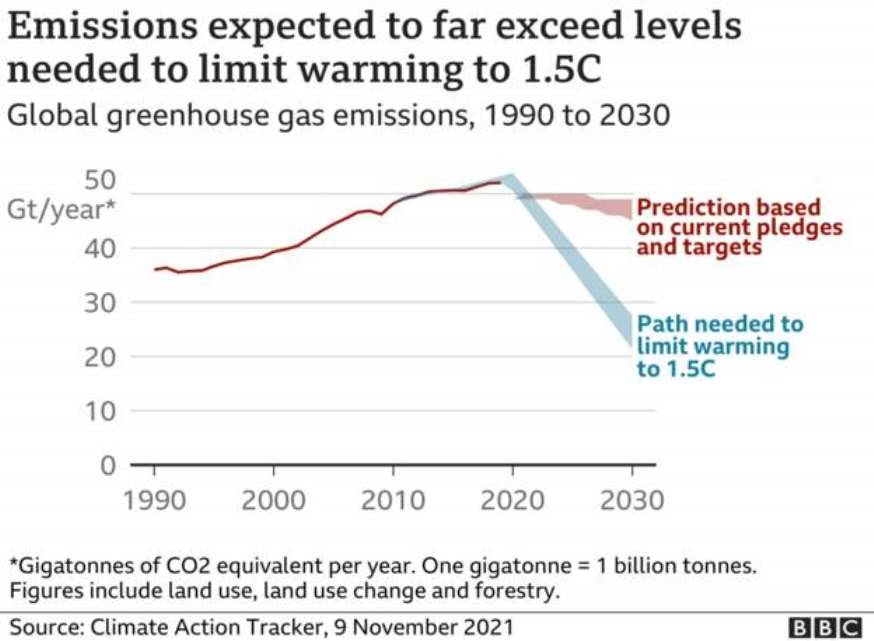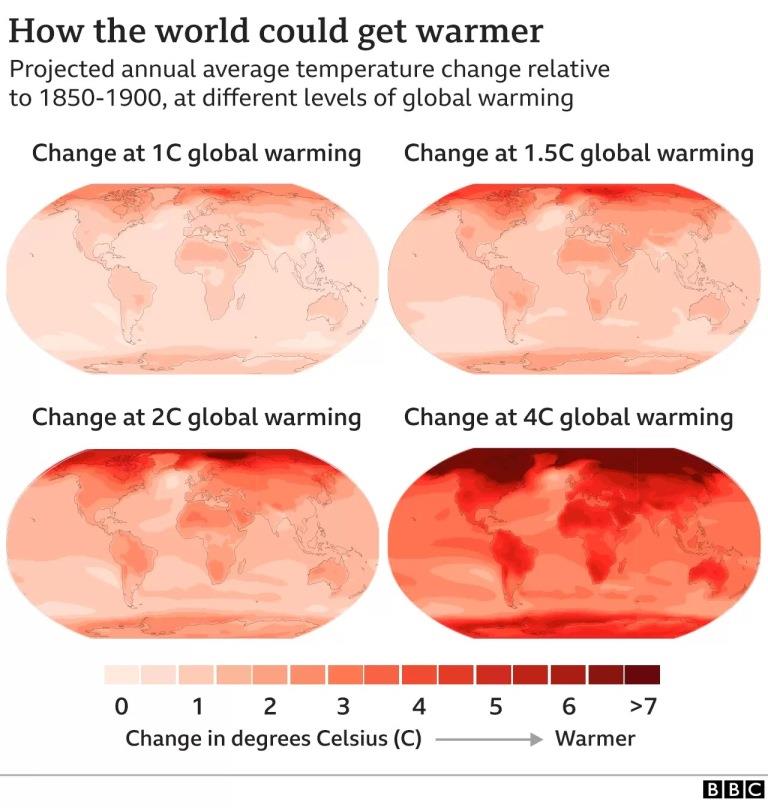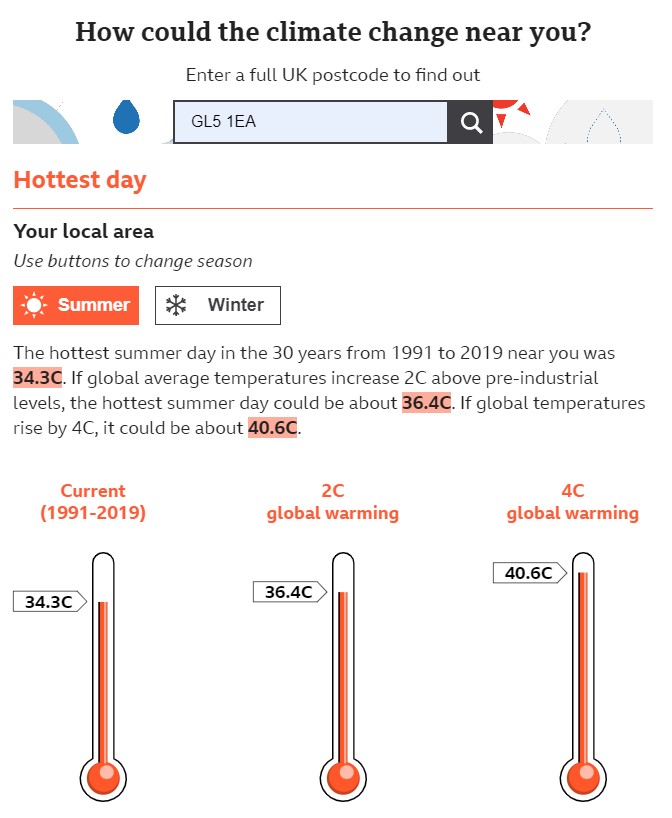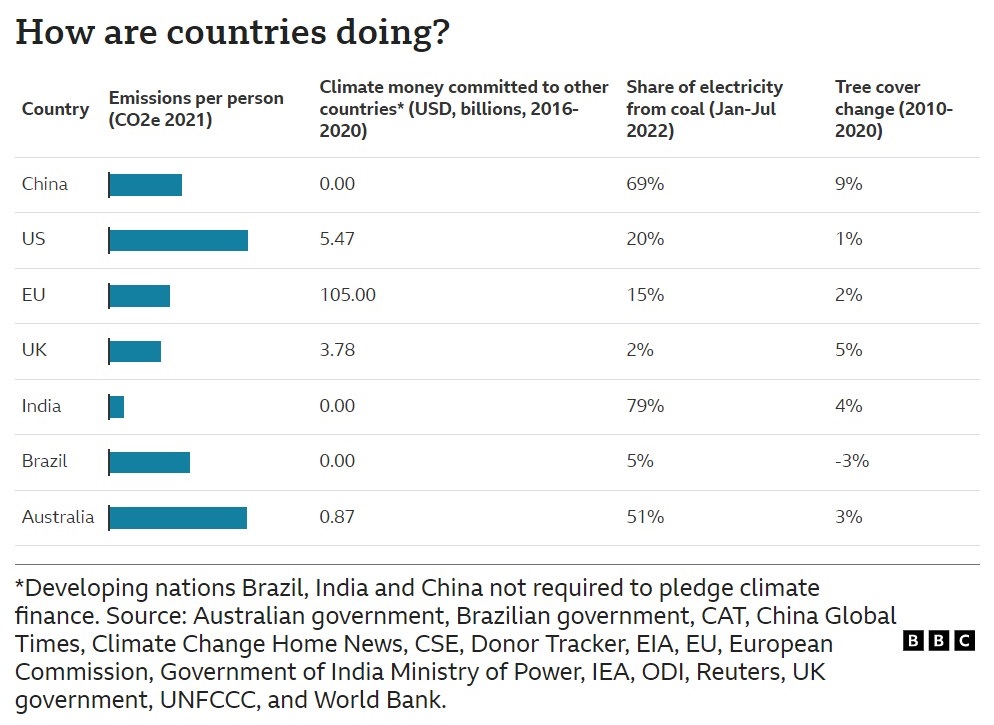 "Developing nations Brazil, India and China not required to pledge climate finance". I get it, we know why. But Akshata Murthy's Dad could chip in a few bob, couldn't he?

This summit has got to me very early on. I understand the "distractions" - global economic challenges, cost-of-living, US mid-terms and the threat of Trump, the Cruella migrant obscenity, conflict in Ukraine. But - at the risk of trivialising such compelling issues - surely, on the world political agenda, they are down the list from the future of the planet. They have little meaning in a world that is not fit for human habitation, nor indeed other forms of life. I hate the sight of all the suits in their comfy chairs at the conference plenaries, quibbling on points of procedure. Some­body, everybody ... needs to stand up, cut through the bullshit. Thunberg's not there; she has expressed her disdain and frustration. Hasn't any of them realised the significance of that? Her absence ought to be an almighty kick up the back­side. For the summit to have any value, it should provoke a response in Greta like: "Well done, great job!"

The Conference of the Parties (COP) is the name given to the meetings of sign­at­or­ies to the United Nations Framework Convention on Climate Change (UNFCCC). They have been held since 1995. That's 27 years since the first ... in the last century. Are we slow learners?

There's one positive from another COP. The climate discussion is prominent in the news again after a long absence. For a couple of weeks at least I could restore "Climate Blog" to the top of this page.

Monday 7th November


I'm still fretting about the Musk purchase.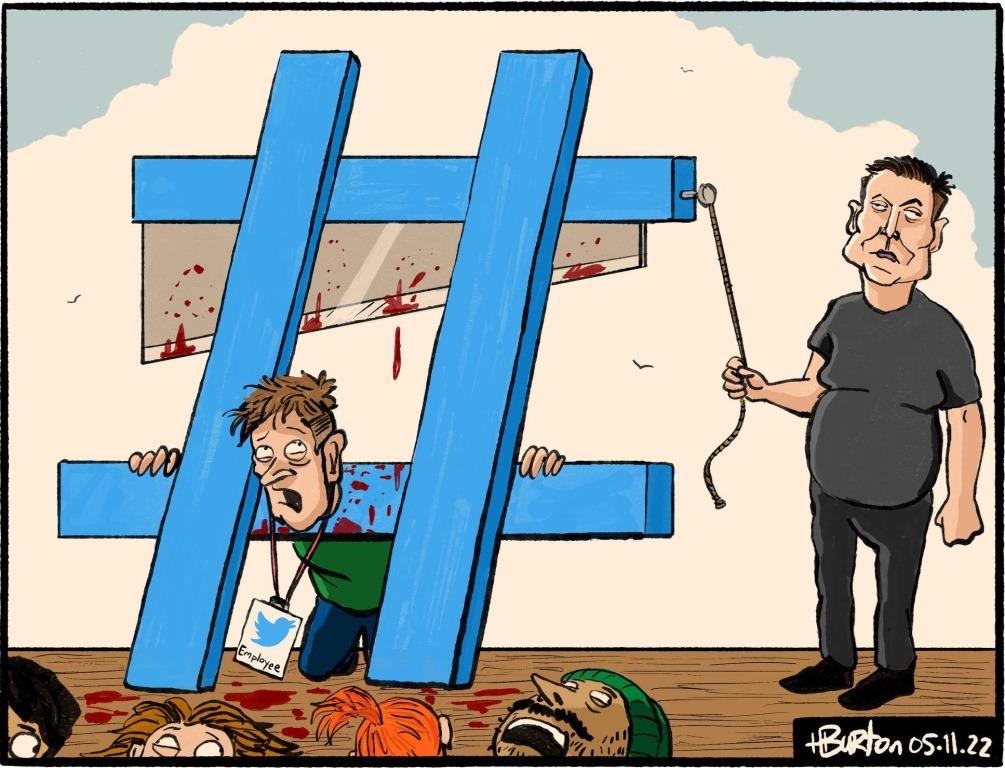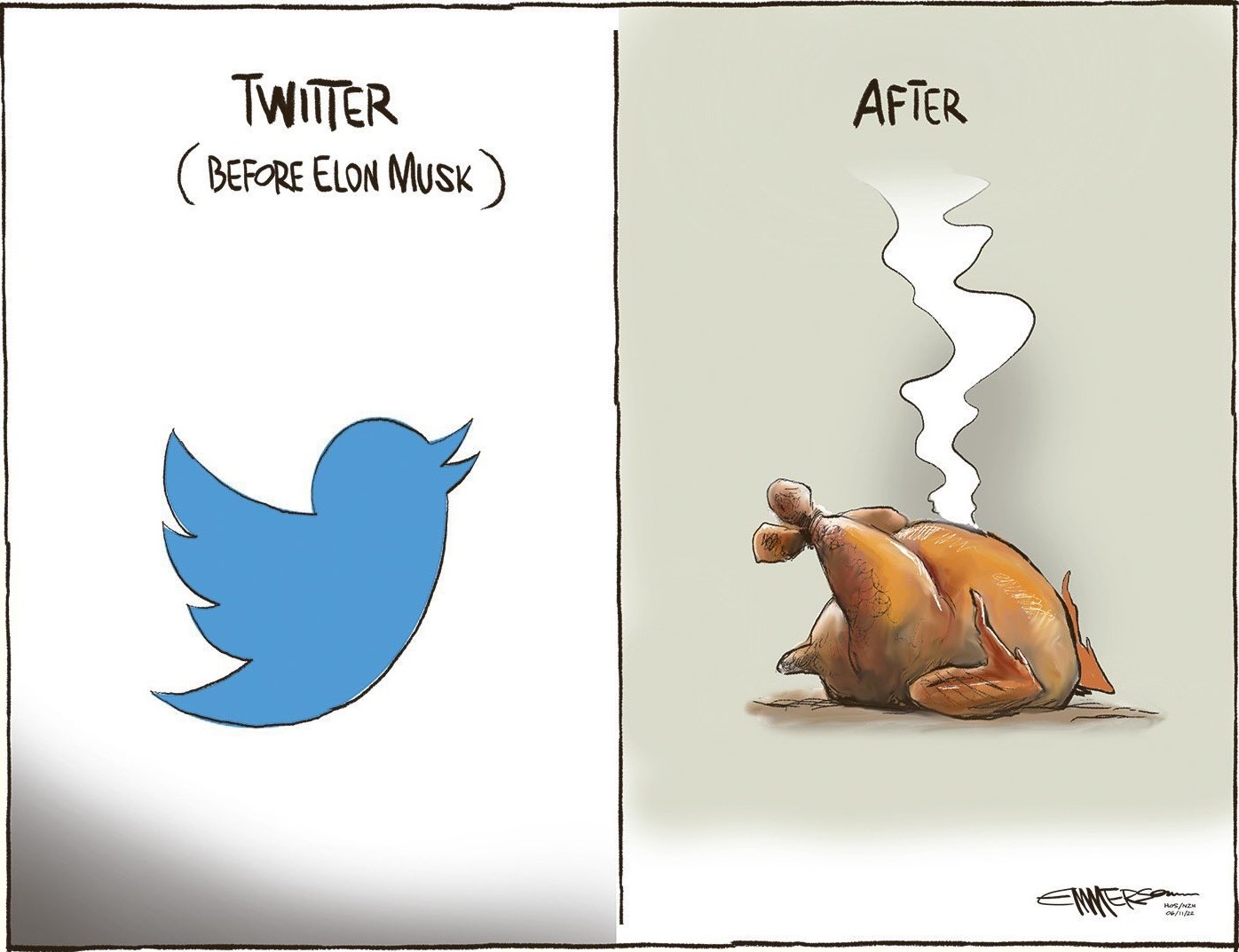 On Saturday evening, I went to an inspirational Stroud Book Festival session on "The Power of Protest". Coincidentally, the chair, author and broad­caster Sarah Dunant, declared to the audience that she had de-activated her Twitter account. A heart thump of guilt, made me feel like an indecisive colluder. I've wanted to do the same, but fear I would be cutting myself off from a key source of observation and comment. Not to mention all the cartoons like the above. I'm comforted that George Monbiot of The Guardian has similar misgivings, as I found out via ... Twitter:





I'm with you, George ... I'm looking too.

COP27 gets under way in earnest today. I would like to be full of optimism about its outcomes, but I'm not. I wrote extensively about COP26 last year. I thought it was an abject failure, concluding with the woefully thin Glasgow Pact. I've scoured the COP27 website and am dismayed by the over­whelm­ing volume of procedure, opaque wording, costly infrastructure, photo-op show­boating by airmile-heavy visiting dignitaries and politicians.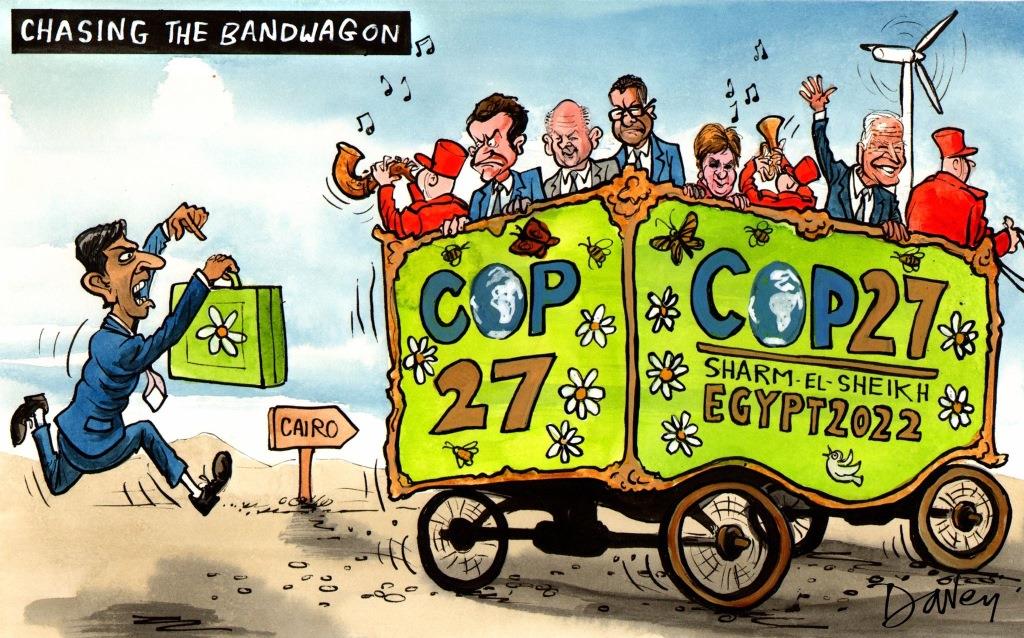 Once again, George Monbiot echoed my thoughts:






I want to be proved wrong.

Sunday 6th November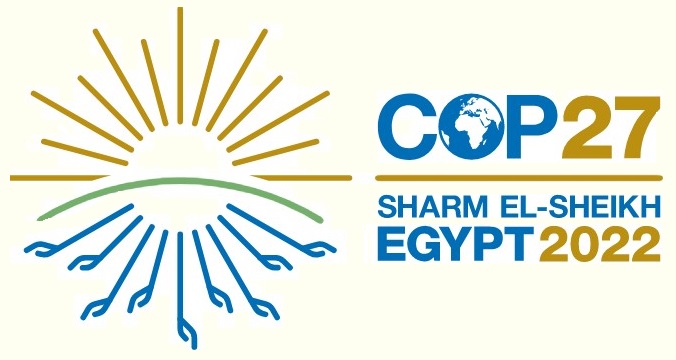 9:45am GMT, watching the opening ceremony: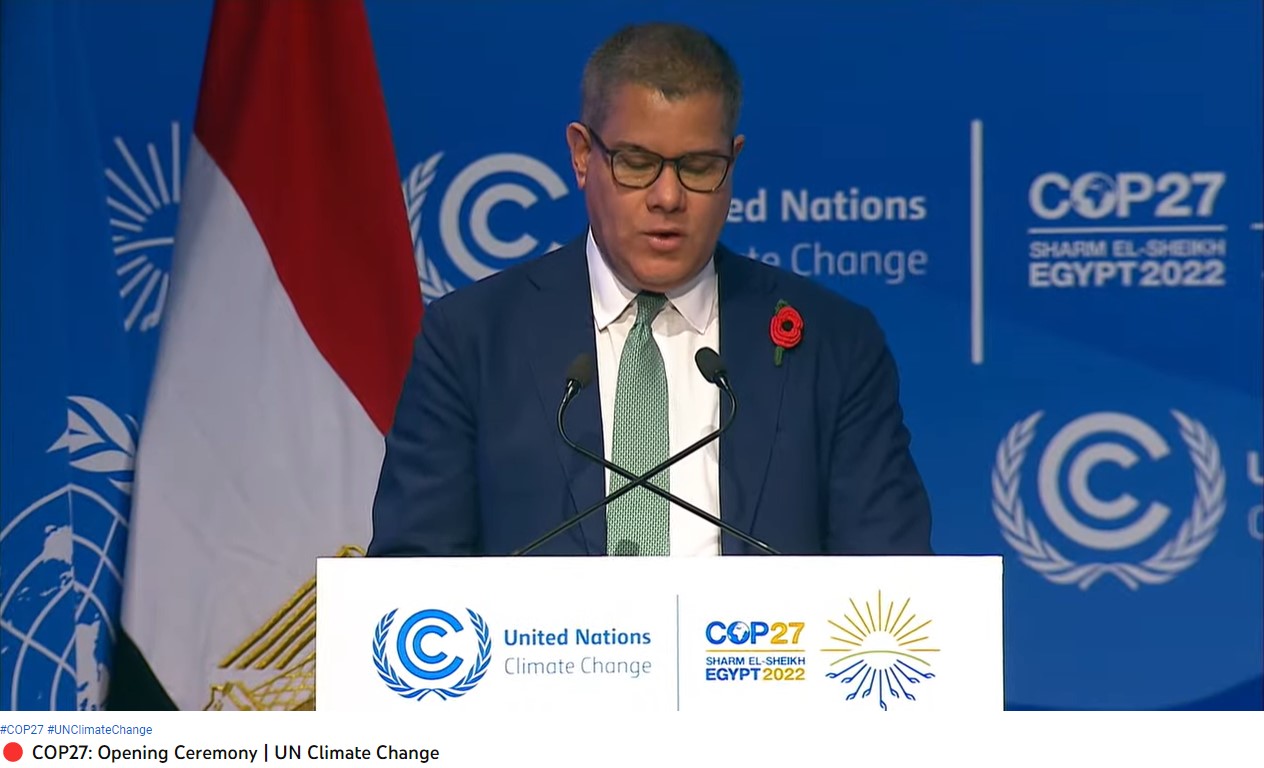 Alok Sharma doing his darndest to find shreds of positivity in the UK COP26 presidency. A tough ask. Before handing over to Dr. Sameh Shoukry for COP27: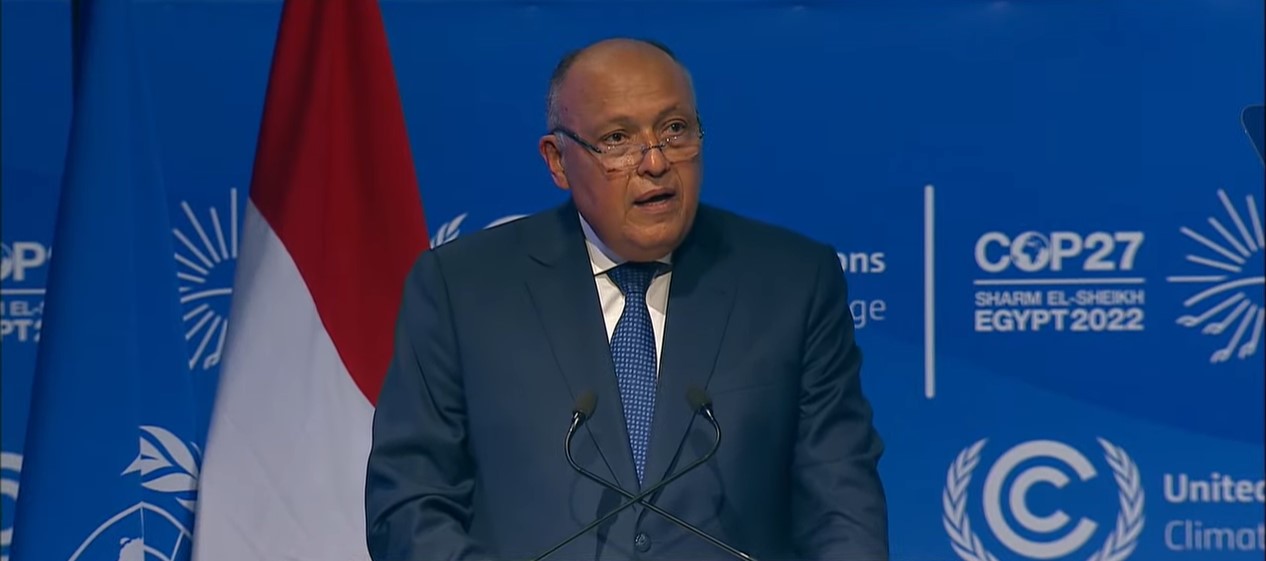 Saturday 5th November


Happy birthday to daughter Ellie!
💖🌼🍾🎂🐕🥂

And talking of family and (loosely) social media, we rely heavily like many on WhatsApp. We're spread out ... Stroud, Bristol, Bilbao, Vienna. Very useful, but I have some guilt about it. WhatsApp is owned by Meta Platforms Inc. and that means Mark Zuckerberg. I don't like him very much.

For this blog I lean on Twitter. I get content and views directly from the people and organisations from whom I really want to hear. Now we have Musk. I like him even less. A feeling shared by many Twitter ex-employees: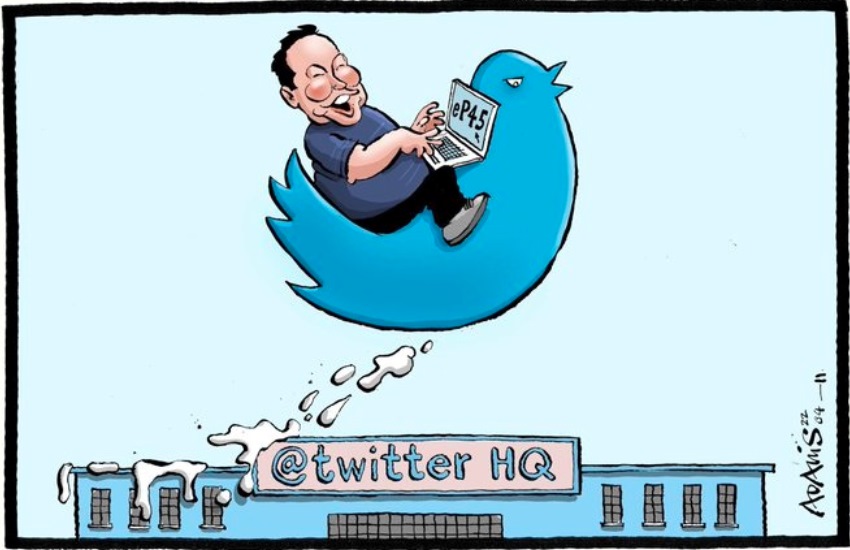 I remember the pleasure in seeing this on 9th January 2021, three days after the invasion of the US Capitol: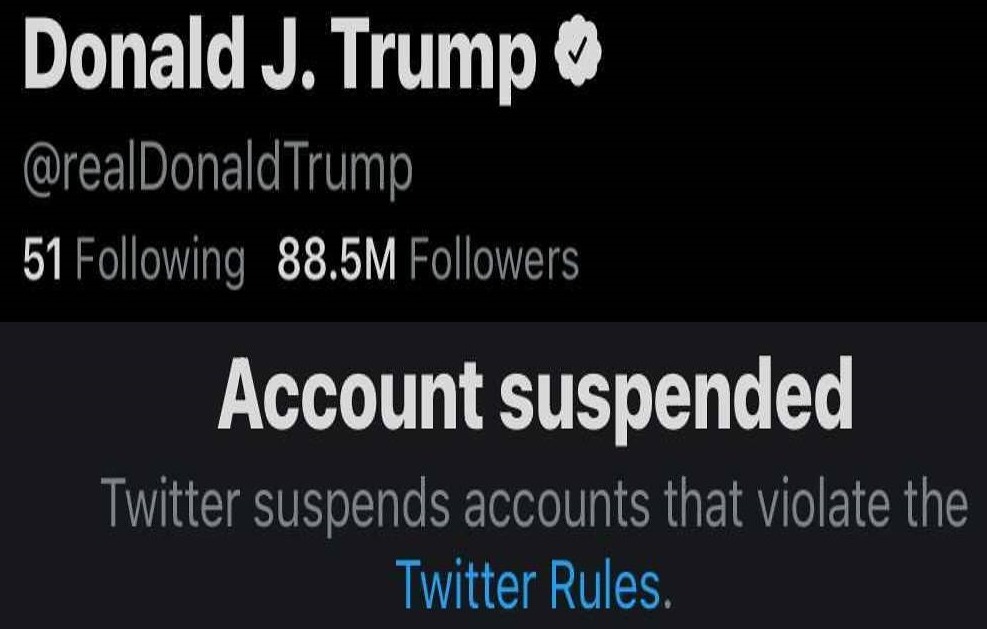 With Musk in charge?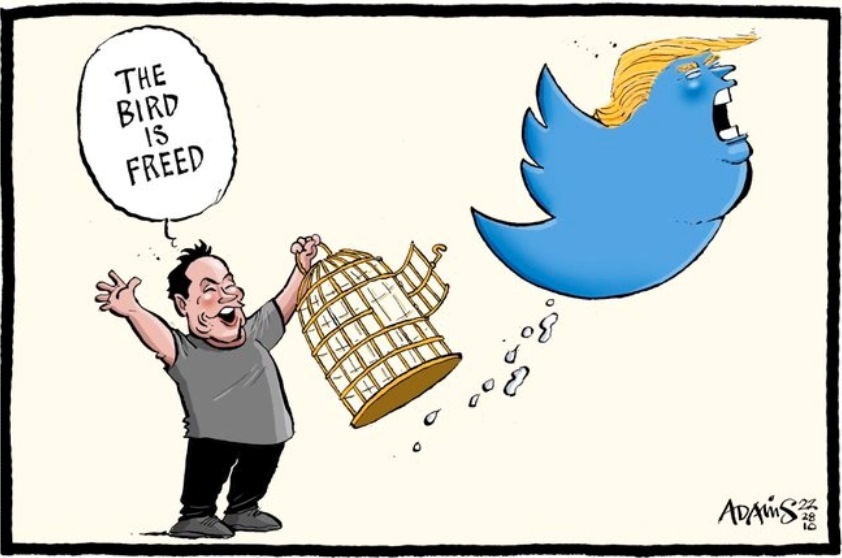 I haven't yet concluded what I should do about this. Plenty of other users are considering a switch to other apps. I've started the research. Discord and Mastodon appear to be the most popular options.

Friday 4th November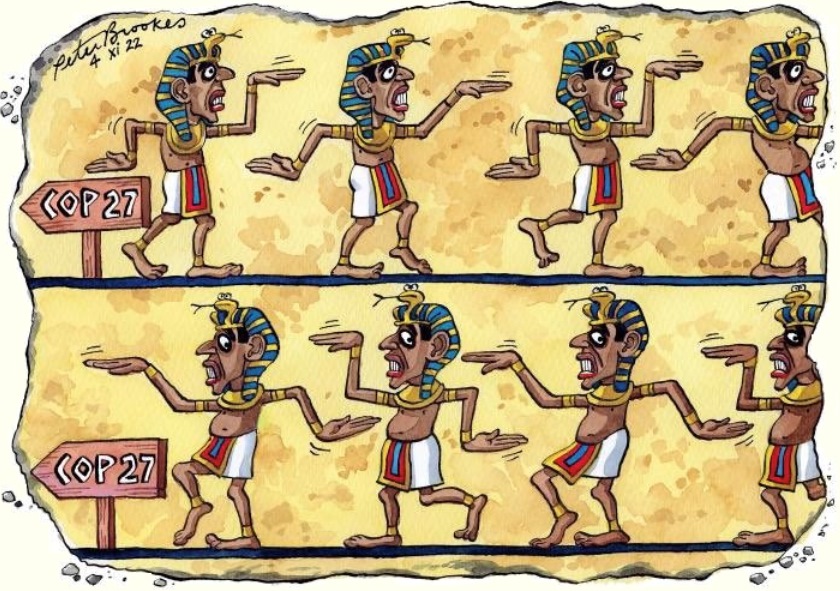 Two days to go. What can COP27 achieve?

The science paints a truly grim picture. Last Sunday I posted the main docu­ments from the UN's Emissions Gap Report 2022 👉. I've now found ano­ther document, possibly more accessible than the others, namely the report FAQs (3-and-a-bit pages):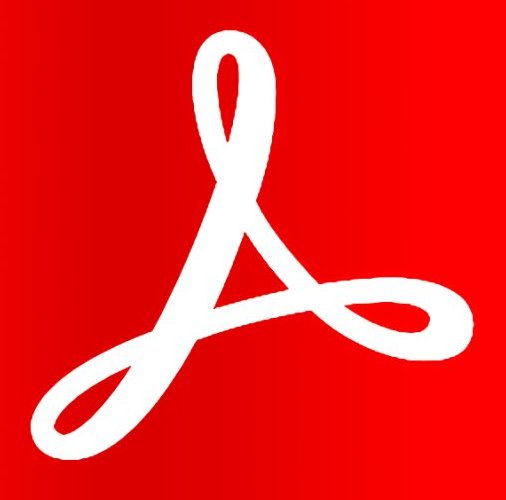 Here's its devastating summary of the challenge, under the heading "What's the bottom line?":
Every year for 11 years, this report has shown the gap between where greenhouse gas emissions are heading against where they should be. This gap is still not closing.
In 2019, total greenhouse gas emissions, including land-use change, reached a new high of 59.1 gigatonnes of CO2 equivalent (GtCO2e).
To have a likely chance of hitting the 2°C target, emissions need to be 41 GtCO2e in 2030. For the 1.5°C target, the figure is 25 GtCO2e.
Based on policies in place pre-COVID, 2030 emissions are predicted to reach 59 GtCO2e, implying a 3.5°C temperature rise this century.
Even if all unconditional NDCs were fully implemented, emissions are predicted to reach 56 GtCO2e in 2030, implying a 3.2°C increase this century.
Carbon dioxide emissions are predicted to fall up to 7 per cent in 2020 as result of the pandemic. However, long-term, this dip means only a 0.01°C reduction of global warming by 2050.
The levels of ambition in the Paris Agreement must be roughly tripled for the 2°C pathway and increased at least fivefold for the 1.5°C pathway.
How do you harness nations, citizens, leaders to combat this - at a conf­erence that our own PM has flip-flopped on attending? Well, one approach might be that you don't, or at least not within the usual timeframes. It's going to happen, so plan for the change. Yesterday evening, as part of the Stroud Book Festival, I went to a talk/interview by/with Gaia Vince (yes, that name again associated with eco-issues), research fellow at UCL, science writer and journalist, the first woman to win the Royal Society Winton Prize for Science Books, in 2015 for her debut "Adventures in the Anthropocene: A Journey to the Heart of the Planet We Made". The SBF event discussion focus was on her new book, "Nomad Century: How to Survive the Climate Upheaval".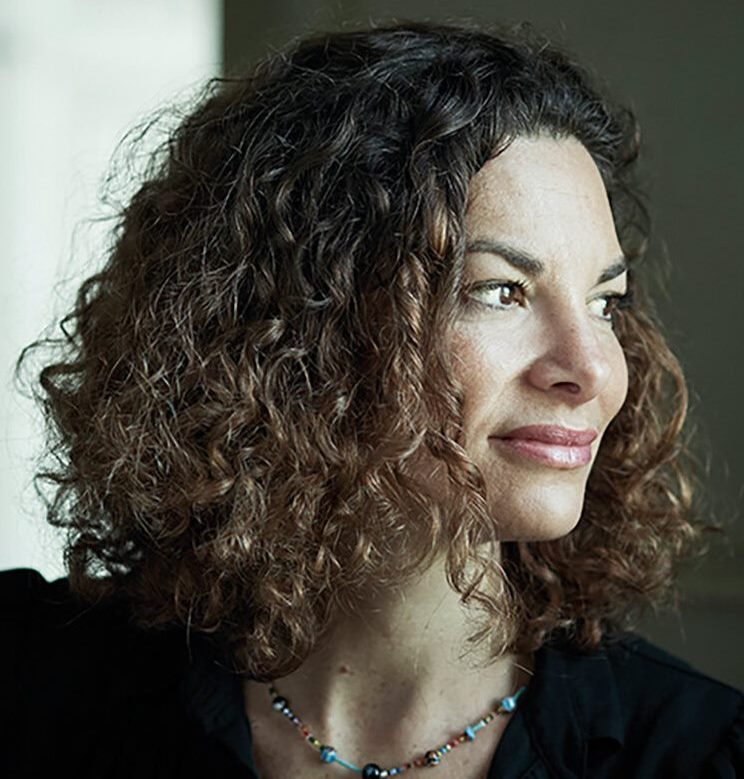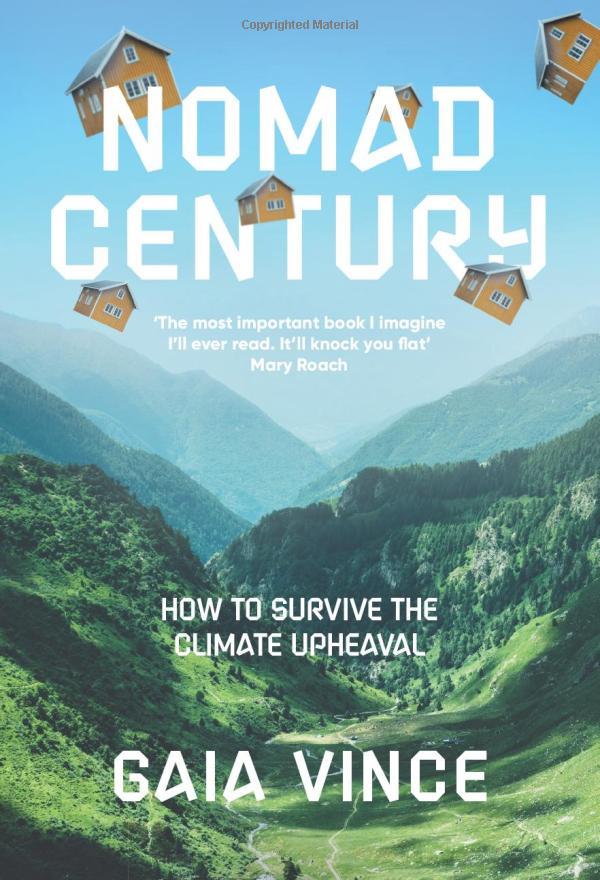 Her thesis - I bought the book but haven't read it (not in the intervening sleep-reserved hours, right?), so I'm going on what I heard last night and a couple of reviews - is that inevitable climate change will trigger massive migration and we need to make the most of it. The inside sleeve of the book dustcover (I've got that far) declares:


"We can plan for and manage this unavoidable climate migration while we restore the planet to a fully habitable state. The vital message of this book is that migration is not the problem - it's the solution."


It's a boldly different message to those we most often hear of climate panic and immigration threat. I understand - but don't know right now - that the book confronts the pain that awaits, yet envisions a positive outcome. You can see that in the quotation above, with "restore the planet to a fully habitable state". The final chapter is titled "Restoration", and the fifth is called "Wealth of Migrants". It's not that Vince has rejected the need for drastic changes to mitigate climate disaster, but acknowledges the reality that we have started very late.

I'll let you know.

Thursday 3rd November


Maybe the coronation of Sunak doesn't present quite the challenge that Labour fears.

Errors of judgment? Statesmanship? U-turns?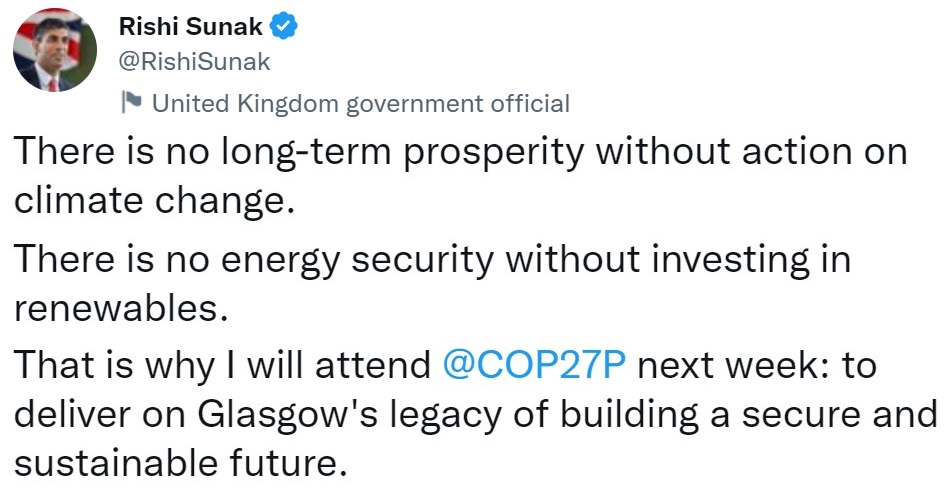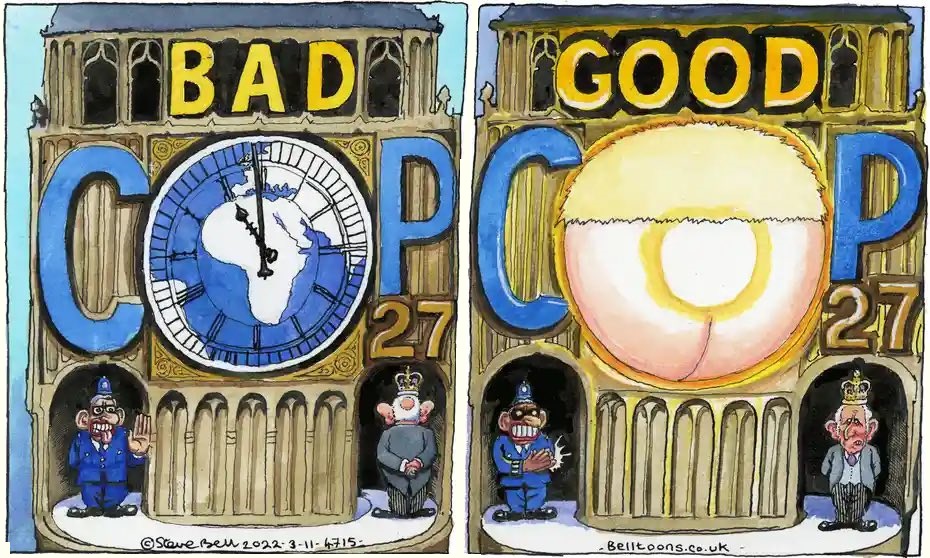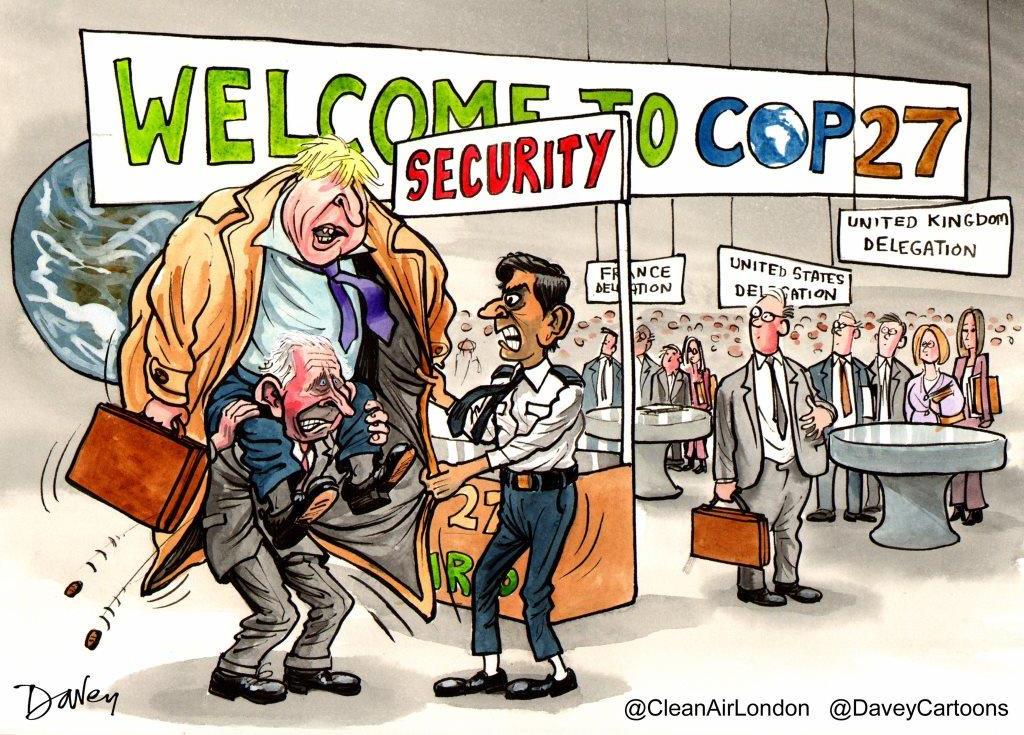 You need to surround yourself with intelligent people, make good app­oint­ments. People who understand complexity. Preferably with some humanity.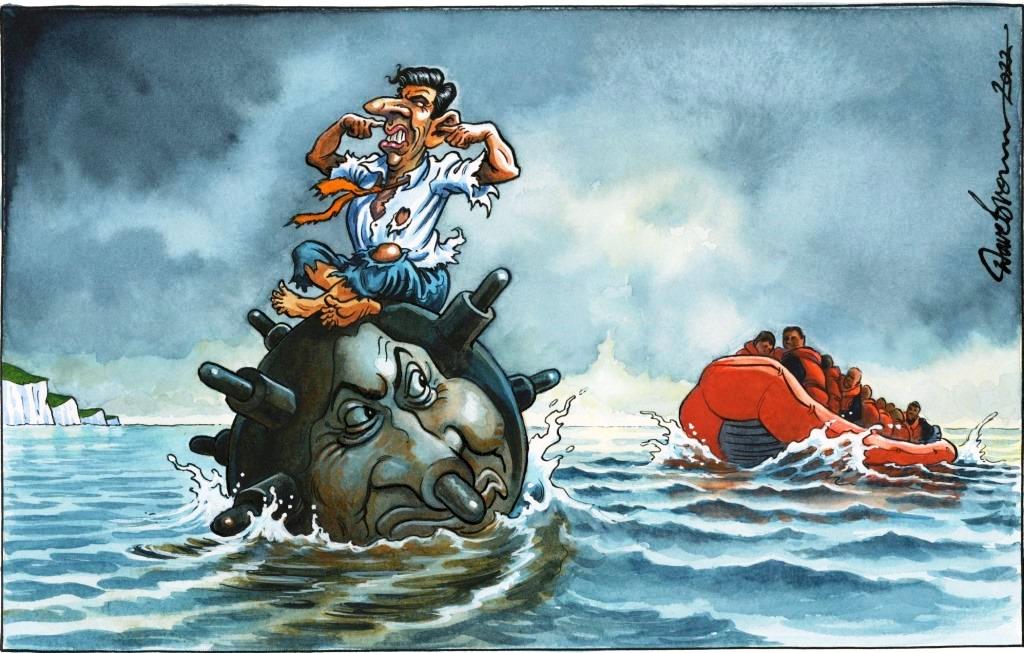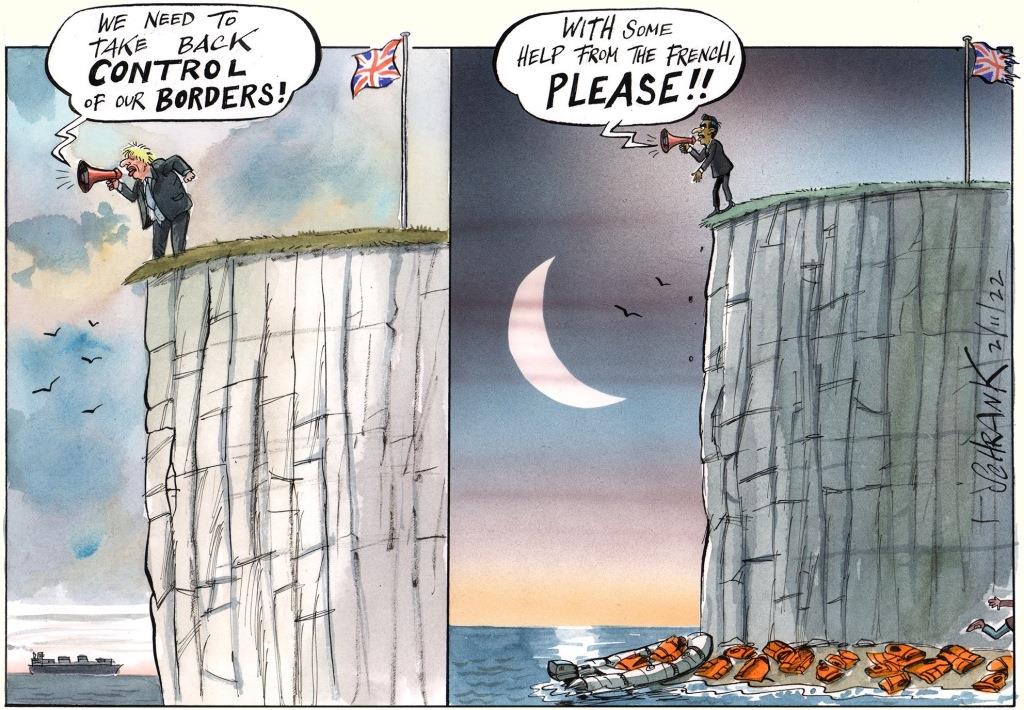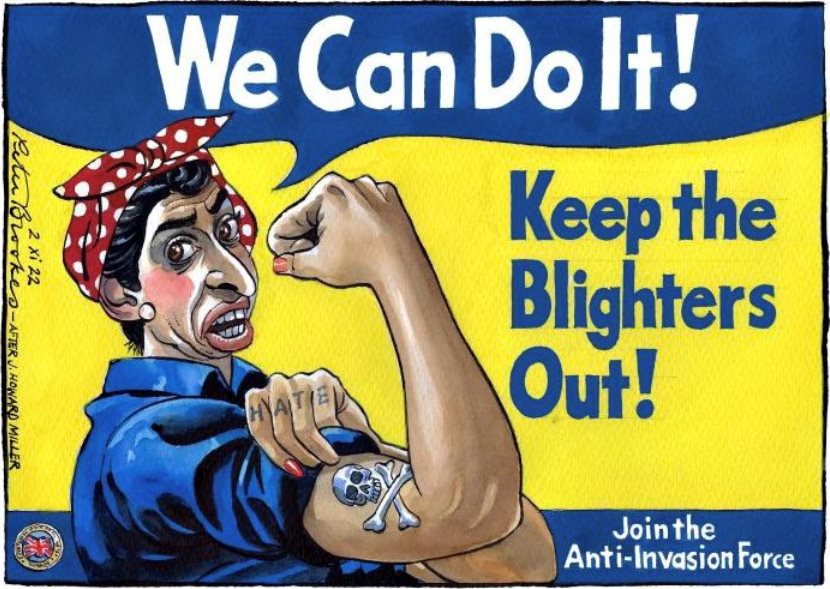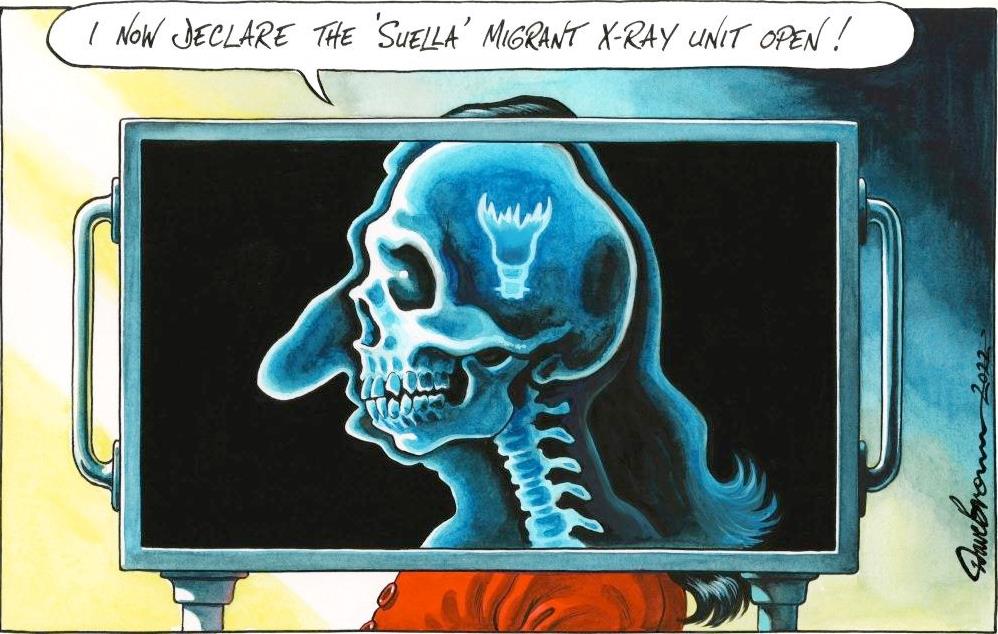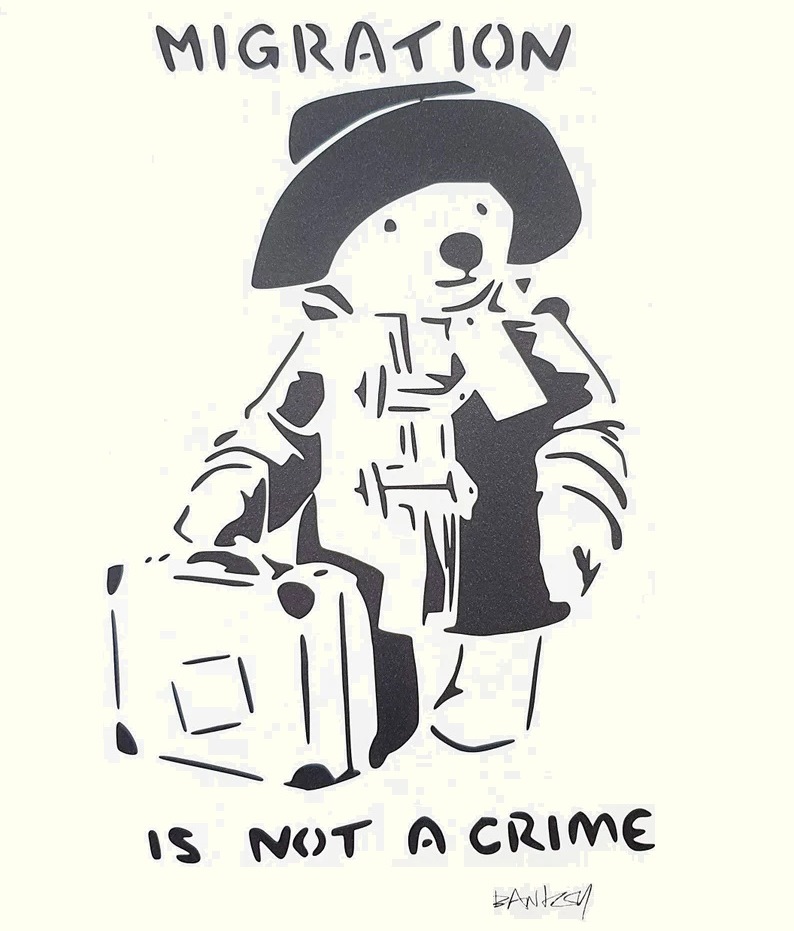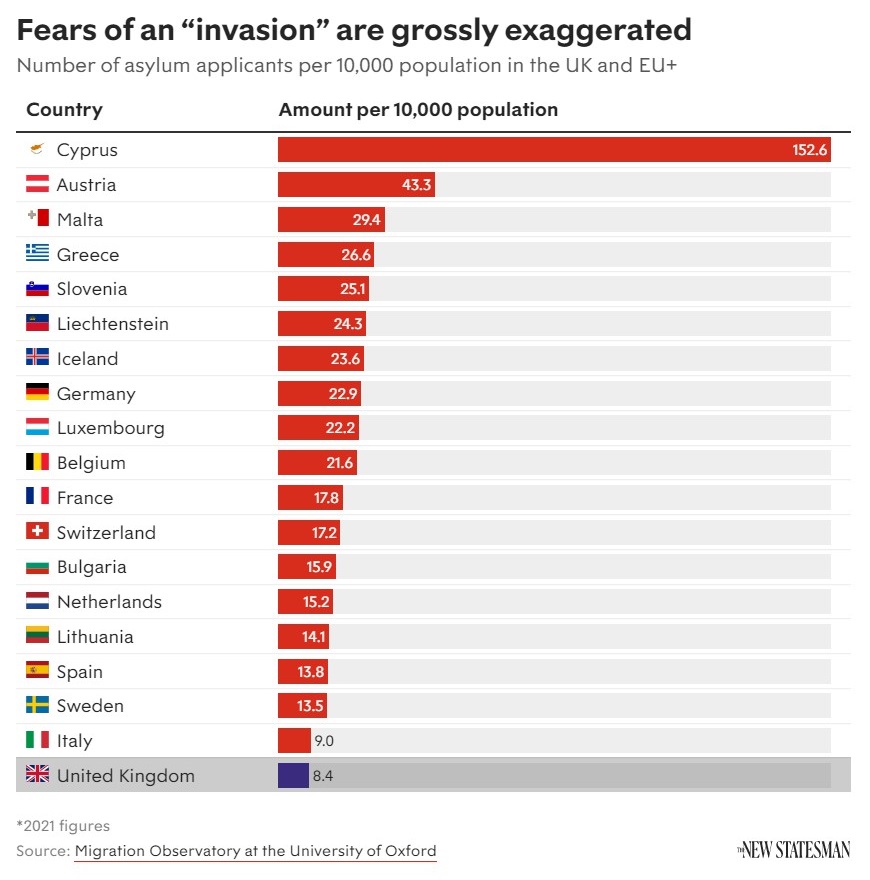 You don't need this ...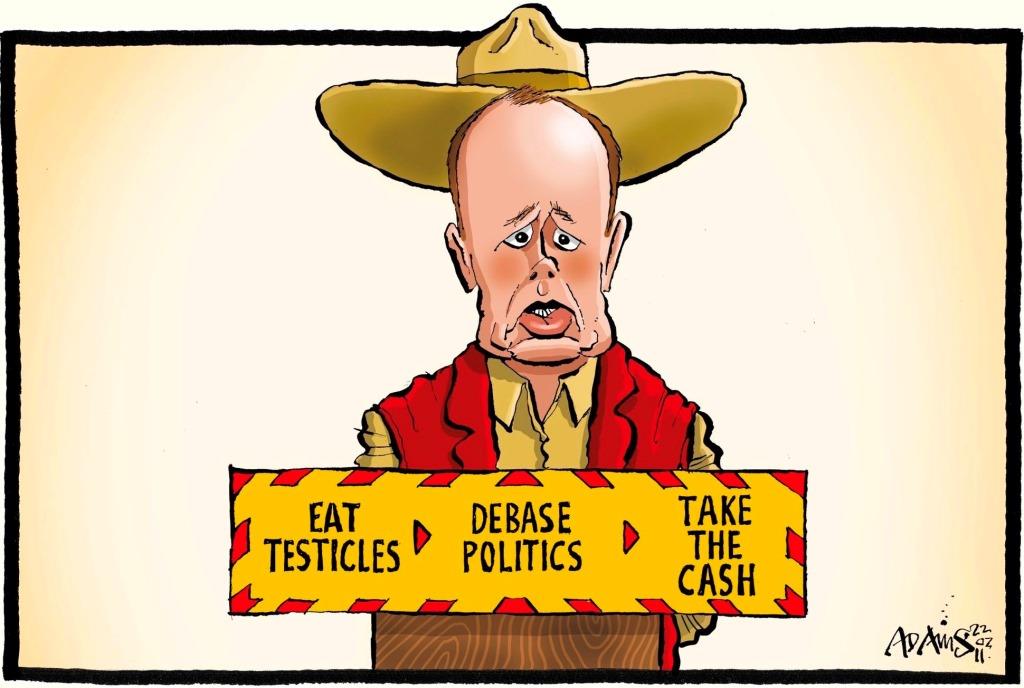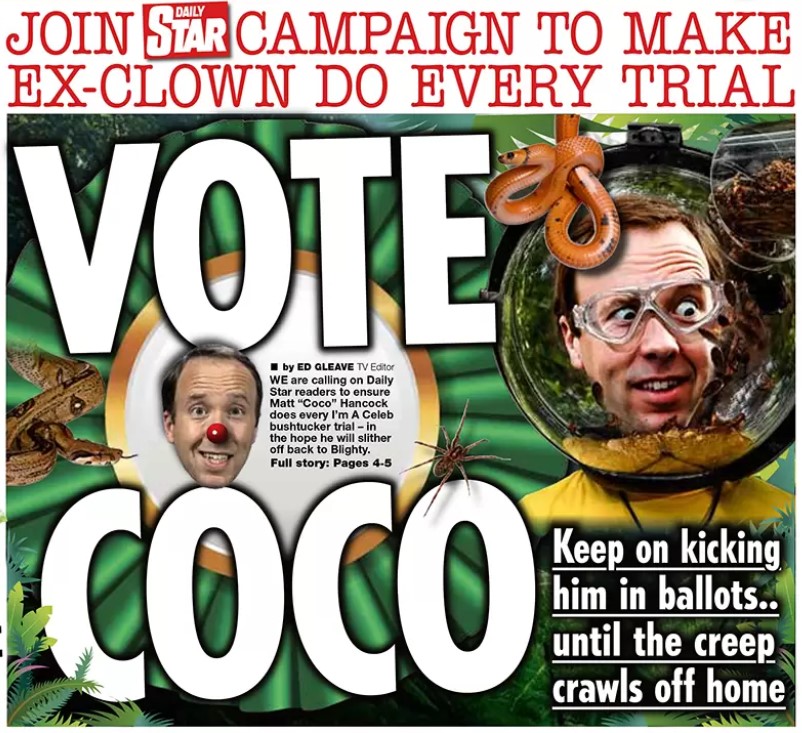 Wednesday 2nd November


Yes, it's another Stroud festival. We're so blessed. Starts today, fin­ishes on Sunday: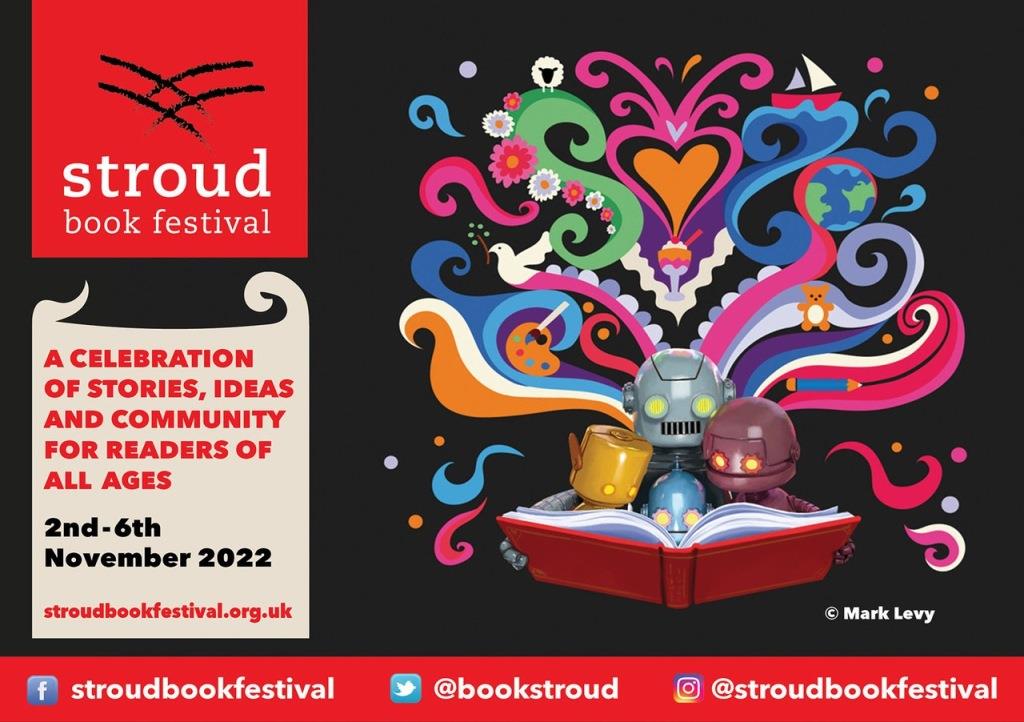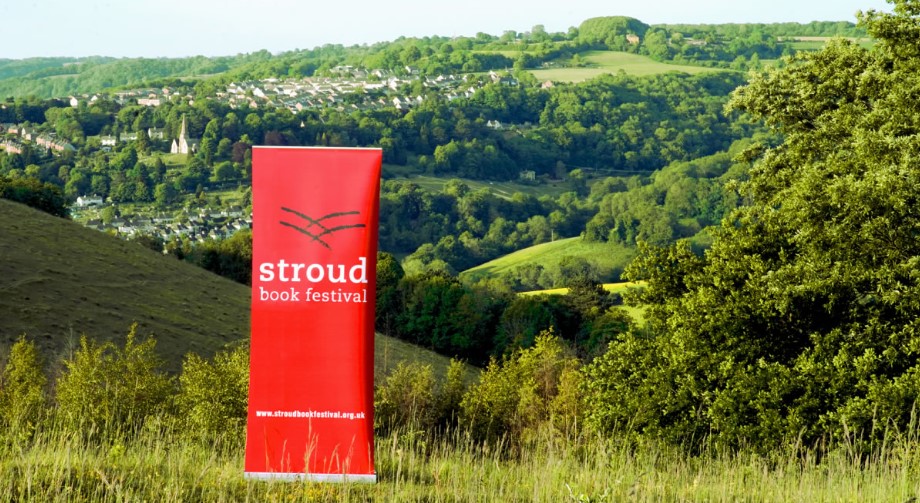 Here's the brochure: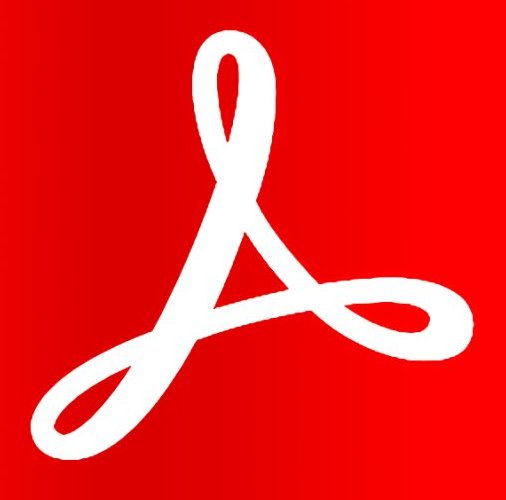 Visit the website (and buy tickets):



I've picked out a few events that have caught my eye, with brochure quotes. Not laugh-a-minute material, but challenging stimulation.

One for the run-up to COP27, the importance of sustainability in bus­in­ess and commerce:
With Suella Braverman all over the news (for the wrong reasons), here's a different and welcome take on migration:
Super-relevant to the current conflict in Ukraine, the UK's inter­nat­ional rep­ut­at­ion, the future of the Commonwealth:
Friends Jane Harris and Jimmy Edmonds lost their son Josh (one of our son Ben's best mates) over 10 years ago to a motorcycle acc­id­ent in Vietnam. They return to Stroud to present their new book:
With the present prominence of direct action (see my post about Just Stop Oil yesterday), here are three authors and experts on the sub­ject, two with connections to Stroud:
There's celebrity stuff too, with contributions from festival patron Ian McEwan and Pulp frontman Jarvis Cocker. Lots of kids' events.

Plus the big reveal this evening:
The judging panel met at The Woolpack in Slad. Where else?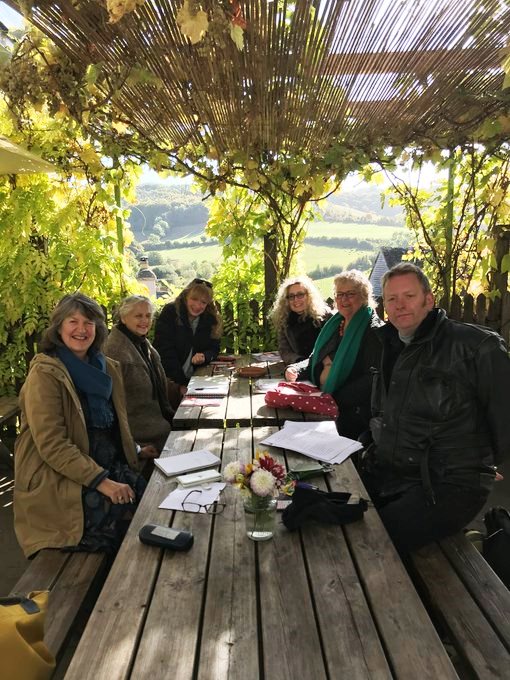 Tuesday 1st November


Here is the scale of the problem. The chart below (click to enlarge) from the UN's Emissions Gap Report spells out how far off target we are. Loads of implicit jargon and science here, but the simple interpretation can be taken from the target temperatures on the left and the emissions gap ranges on the right, the shortfall. 1.5° is a fantasy, 2° also. Look at where "Current policies scenario" sits. Country commitments since COP26 - the new and updated nationally determined contributions (NDCs), of which a shame­fully low proportion has been delivered - don't cut the mustard.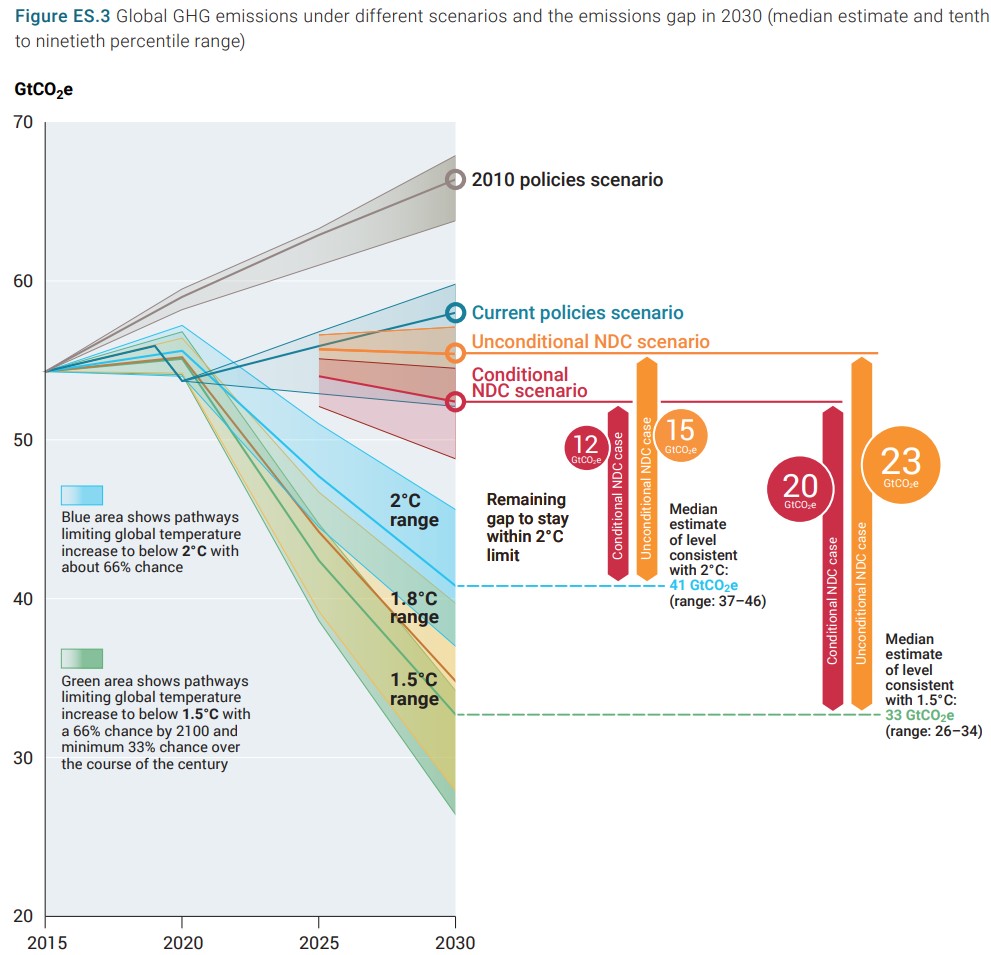 No wonder that Just Stop Oil has been busy. Sense the frustration.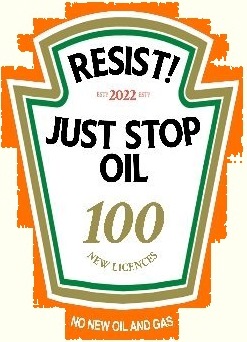 Monday 31st October


Such is the enormity of the issues confronting COP27 that it's difficult to know where to start.

I'll ease into it with reflections on the coronation of Sunak as PM and the problems that may pose for Labour. Trust me (lettuce jokes thankfully no longer required), I will get to the climate issue.

Jonathan Freedland in Saturday's Guardian also started there:


"Whatever the outward show, the truth is Labour got the Conservative leader that, at first glance, they had good reason to dread. The evidence has been swift. On Thursday a poll showed that Sunak is more trusted on the economy, as well as on taxes and business, than Keir Starmer. When asked who they'd prefer as prime minister, it was close, but more voters went for Sunak. Never mind that the survey had Labour comfortably ahead of the Conservatives overall: the economy and leadership are reliably the two key determinants of general elections - and on both measures Sunak has the edge."


Freedland then suggested that there are reasons for Labour not to panic:


"It's clear that however flattering the contrast between Sunak and his immed­iate pred­ec­essor - and Starmer did well to note that, in his only competitive election, the new prime minister was "trounced by someone who was then beaten by a lettuce" - Sunak himself has weaknesses aplenty."


One is a facility for errors of judgment: Braverman and Williamson re-appointed, the folly of "Eat out to help out", favouring leafy Tunbridge Wells over deprived urban areas ... and his decision not to attend COP27.

I'm pleased to see that the cartoonists have decided to have a go at this last, and are warming up (no wisecrack intended) for the climate summit: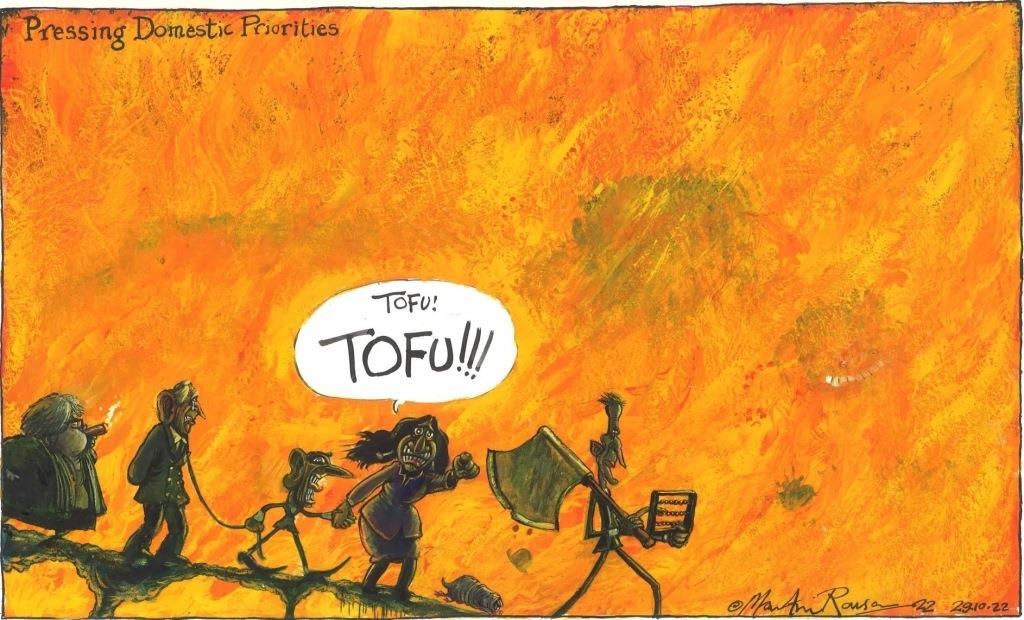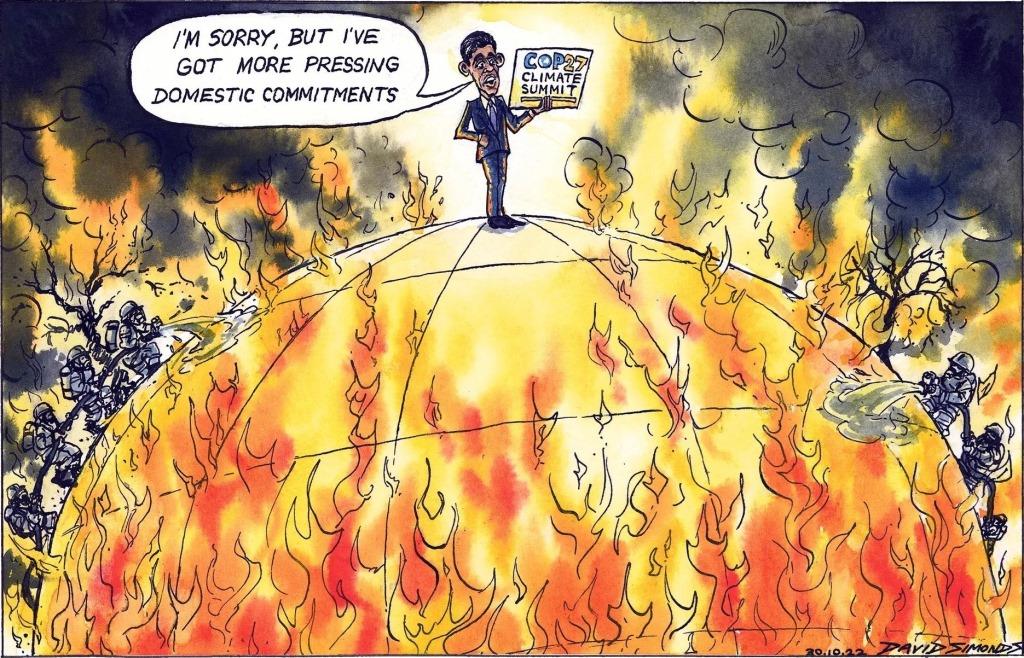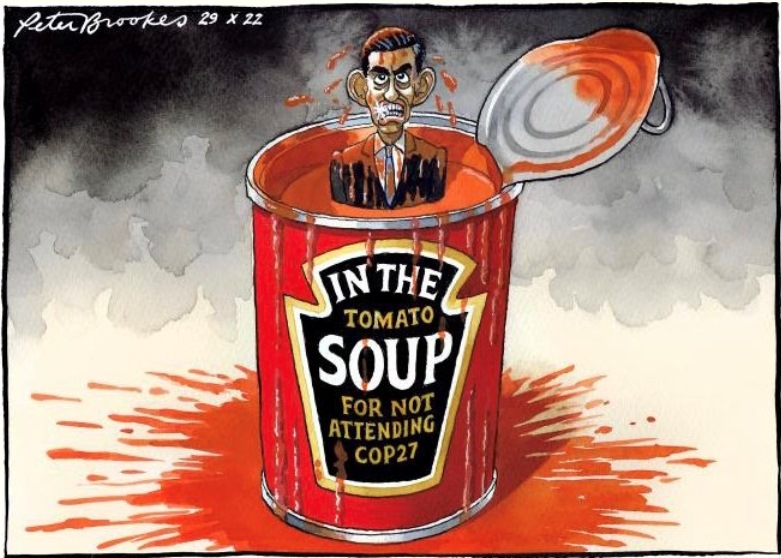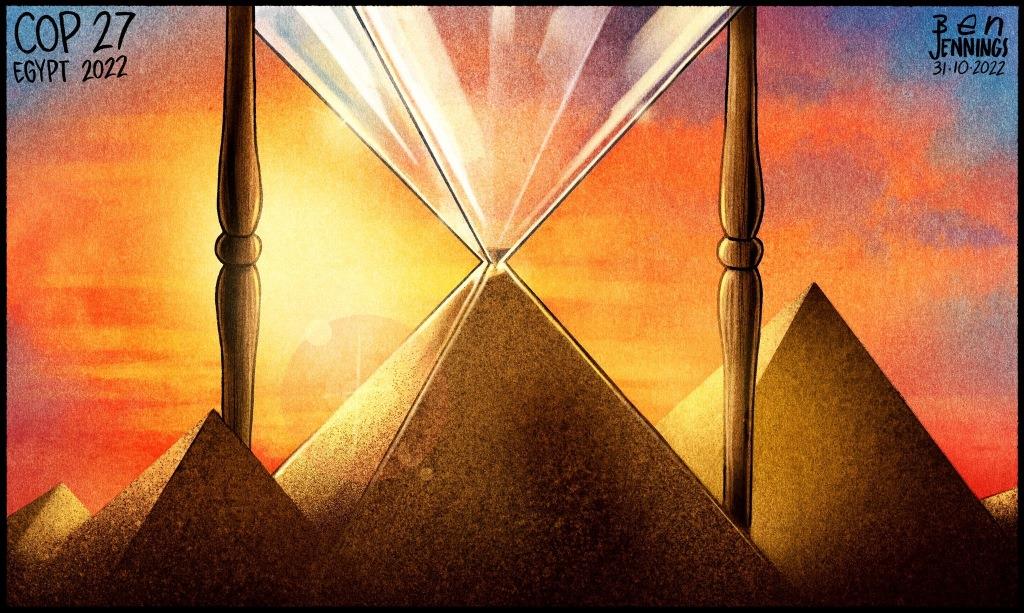 Sunak is concentrating on short-term temporal rather than long-term existential issues. We all get that. However, many of us are crying out for behaviour that embodies a statesmanlike view of the world and Britain's place in it. Not the sqalour of party in-fighting, inward-looking isolation, the demonisation of refugees as a threat to our shores. Attending COP27 would be a signal that the UK can take up a leadership position on climate. That's why Labour's Great British Energy promises so much if it can become a reality: driving the critical changes we must make, a contribution and example to the planet, and at the same time building a national green econ­omy that can achieve energy independence from the tyrants of fossil fuels.

STOP PRESS 7:30am. Or is Sunak contemplating making the trip? We're get­ting used to these changes of heart. Might he also reverse Truss's inst­ruct­ion to King Charles to stay away? I think it would be a great state­ment to the world if both were there. At least some video-link pres­ence should be possible. The i news­paper reports: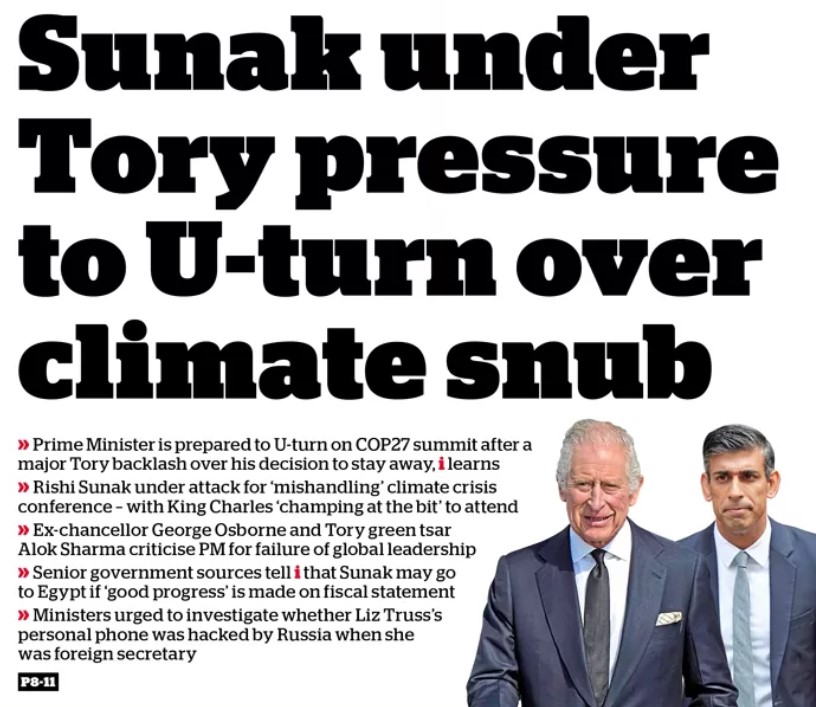 I desperately hope we can get away from the mean spirit of the last five years (at least) of Tory rule, the moral self-seeking emptiness that cul­min­ated in Truss's calamitous tenure - for which I post one last cartoon: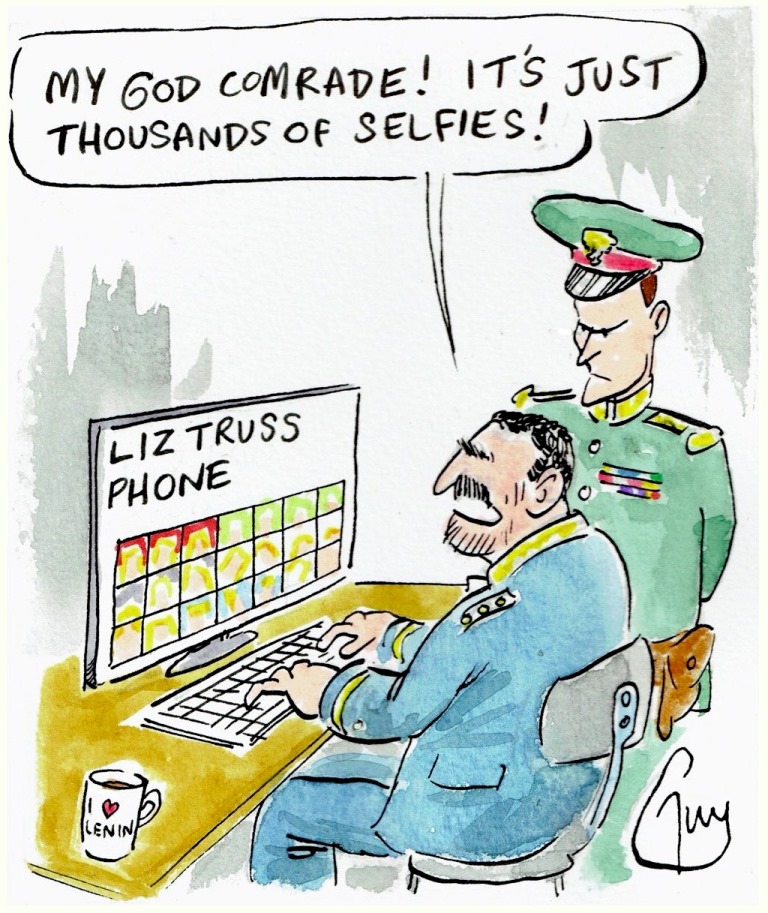 Sunday 30th October


The Daily Star can't give up on its recent triumph. We enjoyed the joke, right? I admit it, I still like the lettuce word­plays. But it's time to move on.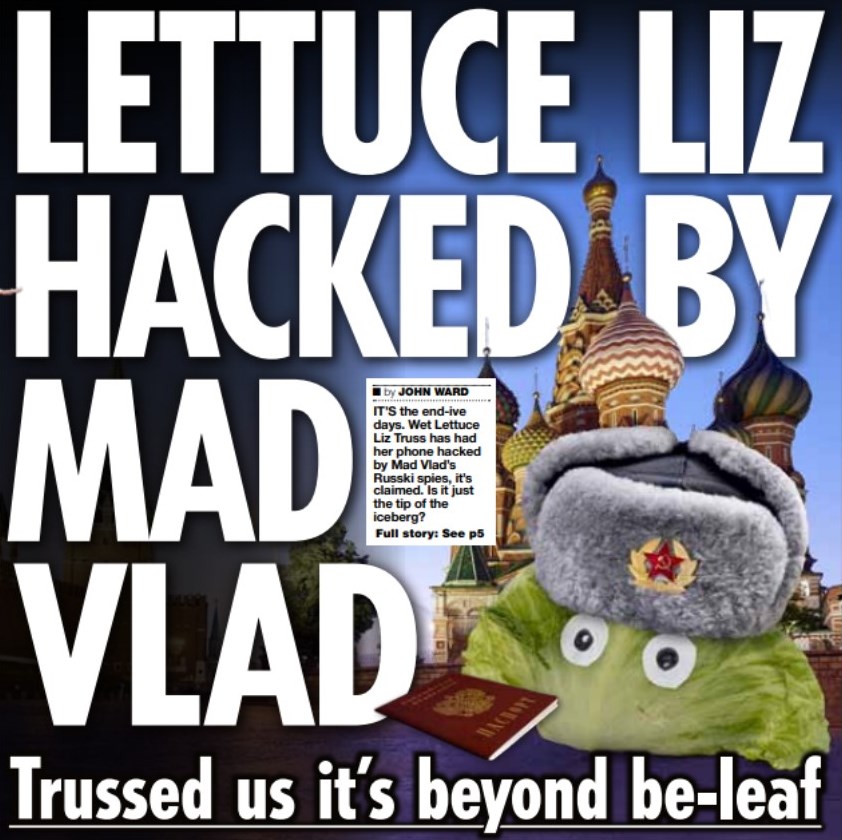 Where else for this blog but COP27? It starts a week today in Sharm El-Sheikh. Sunak isn't going. Boris is threatening to attend. King Charles wants to go but has been asked to stay at home. Apparently he's going to make do with a climate rec­ept­ion at Buck House.

Here's the background reading, the UN's Emissions Gap Report 2022 - "The Closing Window":
Visit the COP27 official website here:


Saturday 29th October


A day off with a trip to my cousin Peter's 70th birthday party on Ravens Ait Island at Kingston-upon-Thames.

Then Halloween weekend on Middle Street. Danny at the Bisley House pub across the road has entered into the spirit: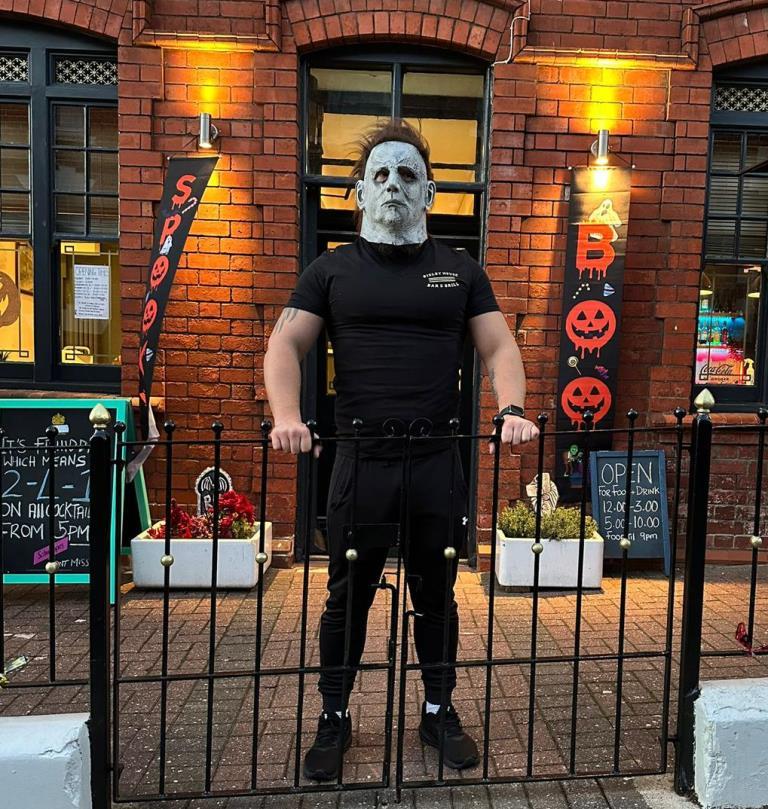 Friday 28th October


Are we seeing a national shift of opinion on Brexit? There has been sub­stantial mention of the B-word during the recent period of Tory chaos. It was standing-room-only for the European Movement's side session with its president Lord Heseltine at the Tory party conference. David Yelland, former editor of The Sun, argued in the interview with PoliticsJOE that I posted just over a week ago 👉 that the Truss mess could be traced straight back to Brexit. The cartoonists have been busy with the theme (click for detail):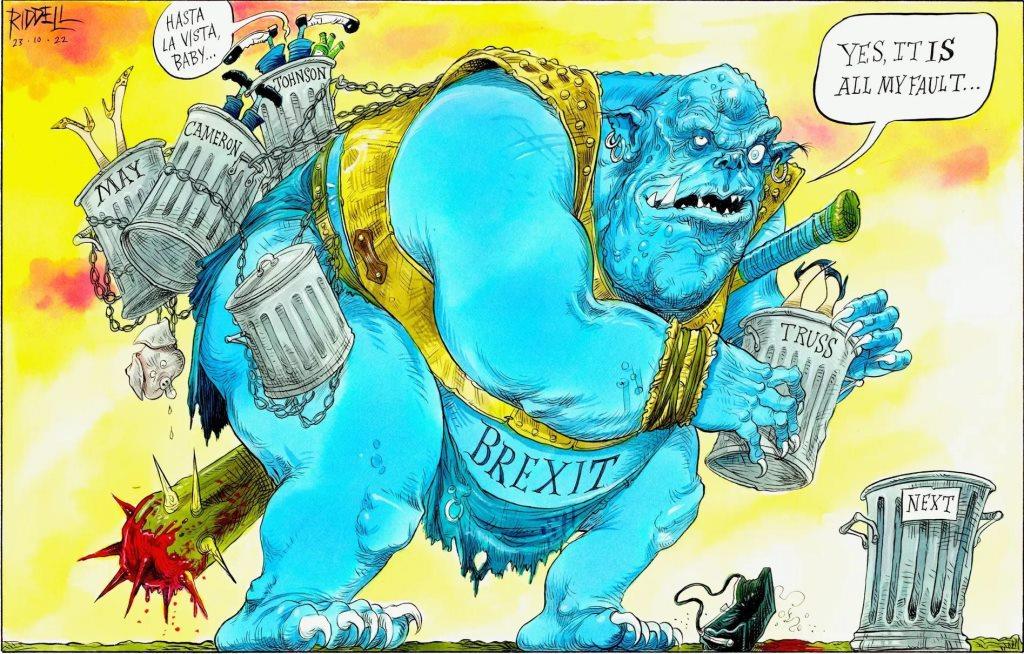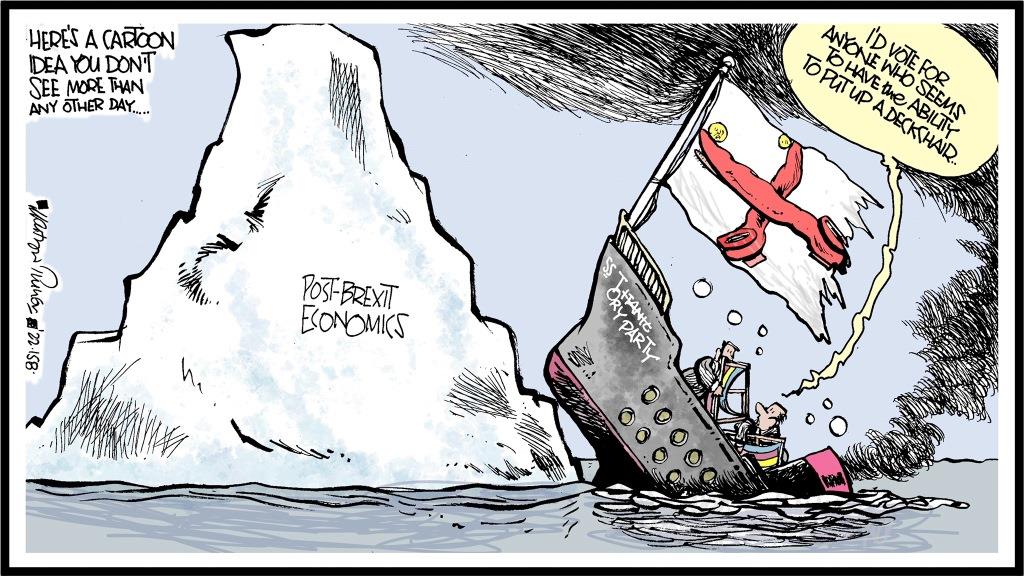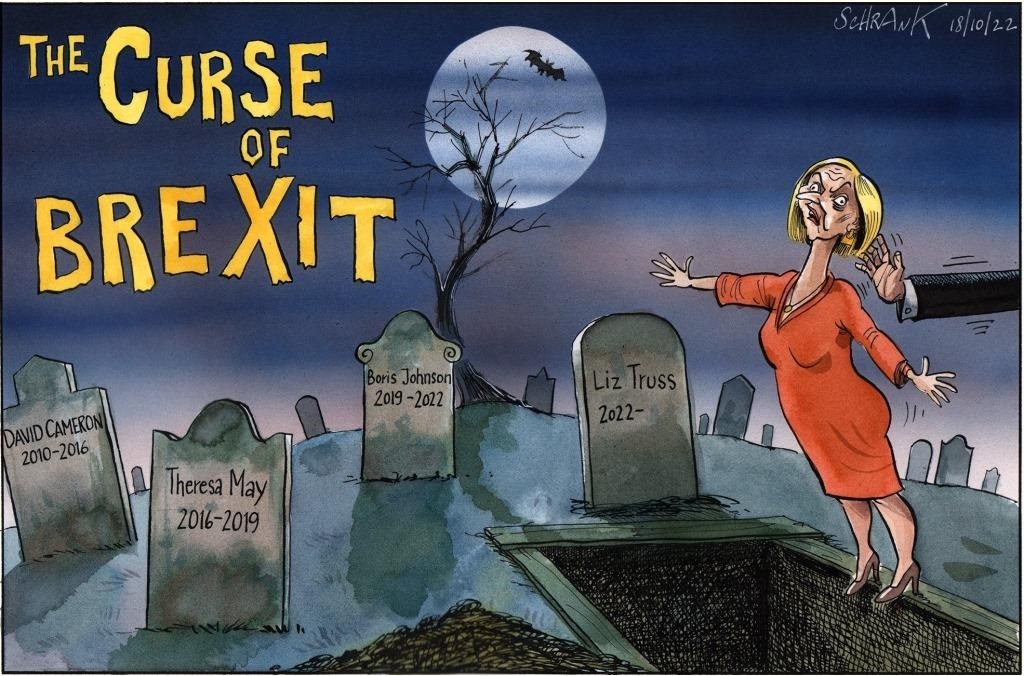 Truss, of course, has now fallen into her political grave. Interesting that all the headstones are of Conservative PMs. OK, only the Tory party has provided prime ministers in the Brexit era, but nonetheless ...

There are a lot of Remainers still around in parliament, and indeed gov­ern­ment. On the eve of the June 2016 referendum, the voting position of MPs in the most represented parties looked like this: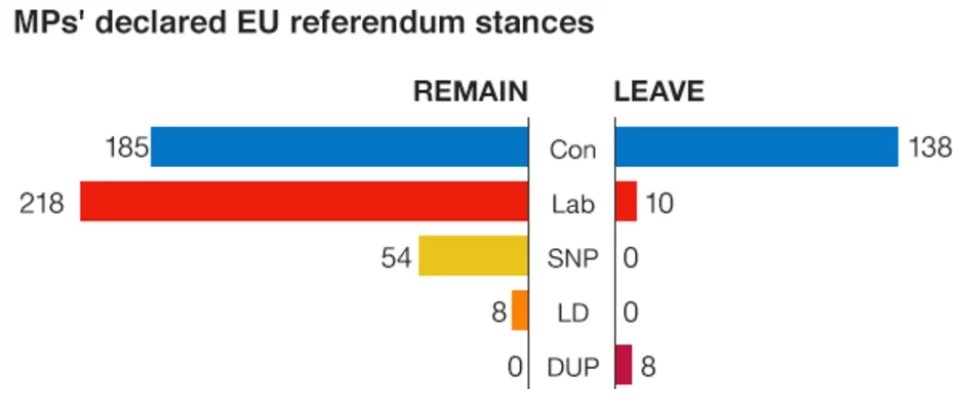 The same bias was even more pronounced in Cameron's cabinet on the same day: 24 Remain (only two have survived into Sunak's cabinet, Jeremy Hunt and Mark Harper, then Chief Whip and now Transport Secretary) and 6 Leave (Michael Gove is still with us).

Sunak's top team has 17 who backed Remain (or would have done had they been MPs) and 11 Leavers, including the PM. I've been unable to establish the allegiance of three as they had not yet been elected in 2016, or, as in the case of Baron True, were in the Lords. But Brexiteers are outnumbered.

What UK Thinks/EU just published this poll-of-polls: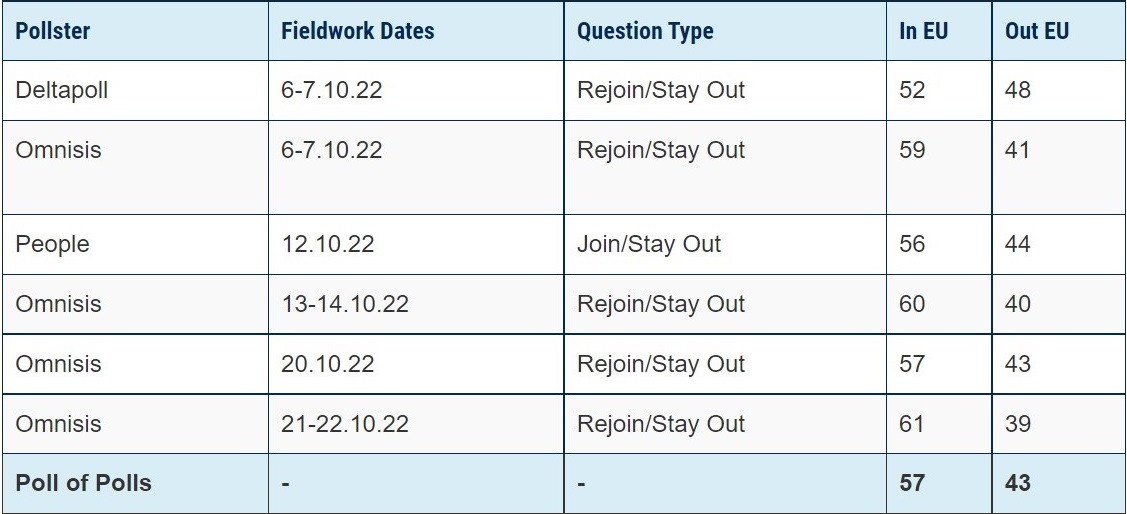 What UK Thinks/EU claims to be a non-partisan project run by NatCen Social Research in partnership with King's College London-based UK in a Changing Europe (UKICE), funded by the Economic and Social Research Council (ESRC) of UK Research and Innovation, which is sponsored by the government Department for Business, Energy and Industrial Strategy (BEIS) (phew!)


As a committed Leaver, Sunak will favour world trade deals. Braverman shafted the prospects of the Indian one; the PM may be the ideal person to revive it. However, many commentators - like David Yelland mentioned above - see the possibility of re-entry to the single market. If you want growth, you can recover a handsome chunk right there. It'll be called something different, as nobody can mention the B-word - certainly not Labour if they want to win an election. I may be naïve, but I'm going to nurture a little sapling of hope.

Thursday 27th October


I missed this earlier in the month. I must stick closer to The Sun.

It's Sue-Ellen, not Suella.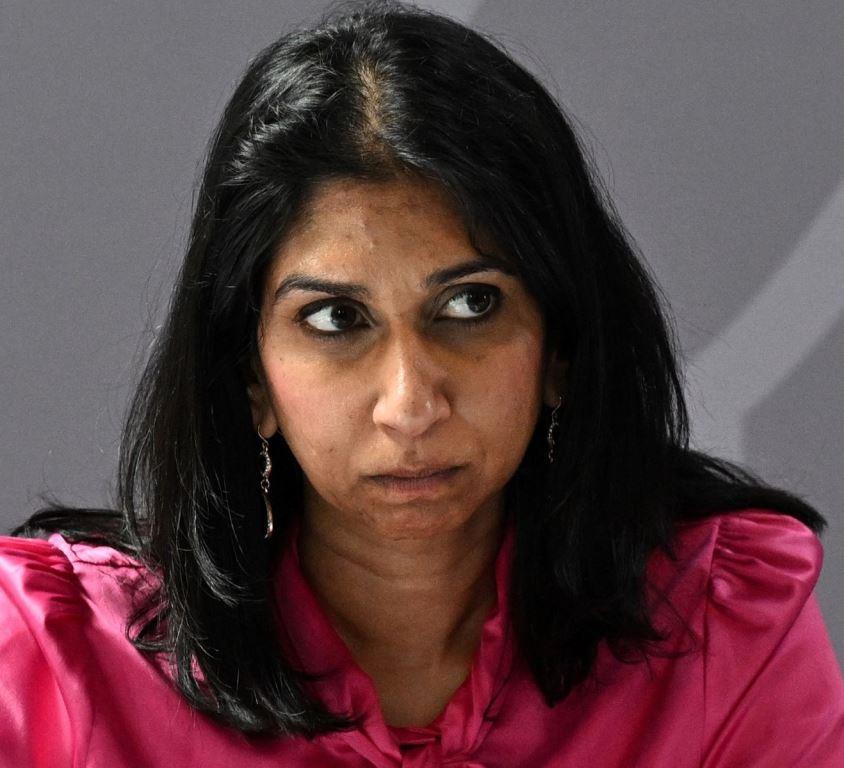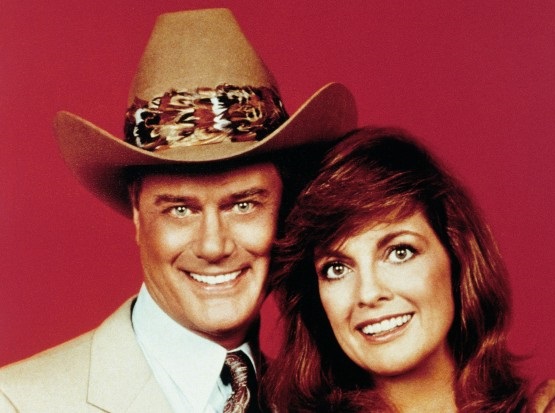 Braverman told The Sun in an interview with its political editor Kate Ferguson published on 1st October:


"My name is actually Sue-Ellen, because my mum was a fan of Dallas and thought this would be a great name for her daughter. I've been plagued ever since. But my primary school teachers didn't like the hyphen. So they came up with Suella on my little tag for my coat and that stuck. I was actually more of a Dynasty fan - but that might be controversial."


Childhood trauma, eh? Her teachers responsible for the attitudes we witness today? Prompted by dislike of a punctuation mark? Did Suella have to stick with it ... surely she could have taken back control?

There had been some relief on the Stroud Together With Refugees email group after her resignation, alongside the news that Spanish charter airline Privilege Style had pulled out of the Rwanda flight scheme after pressure from camp­aigners.

But now she's back. Or ... is further trouble brewing ... rumours of more transgressions while attorney general ... is Sunak going to regret her appointment?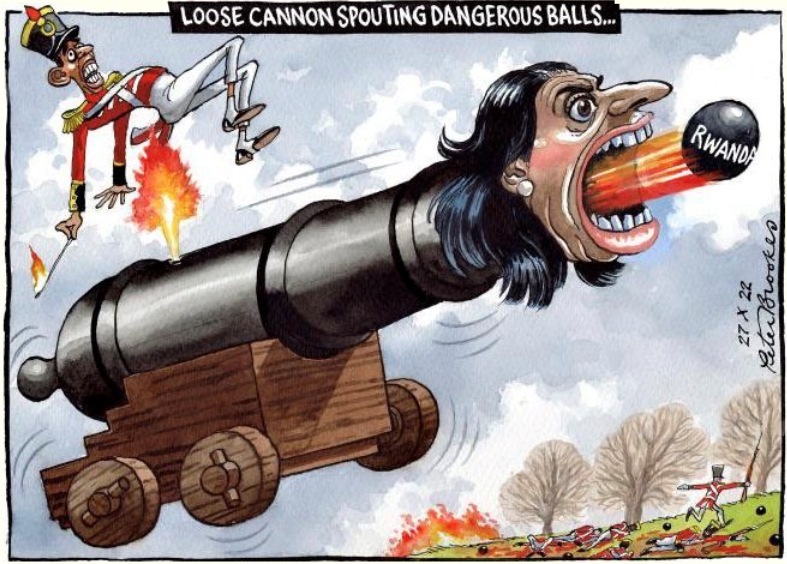 Wednesday 26th October


Cruella ... Nutella ... whatever her name is, the re-appointment of some­one so evidently poisonous speaks volumes. Sunak can be bought.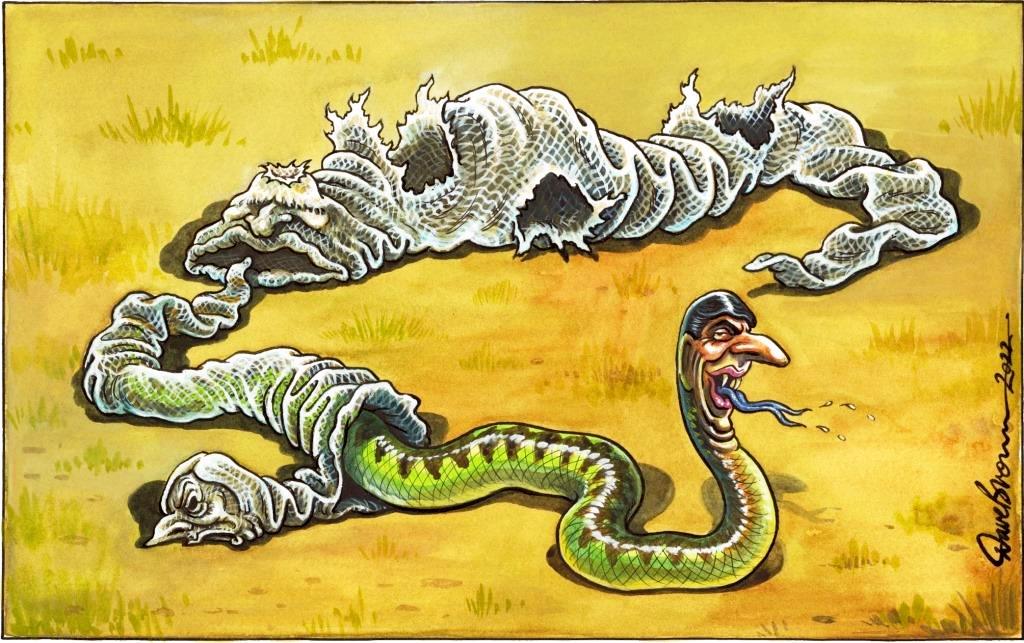 Sunak is also handy with the long knife. I shed no tears here: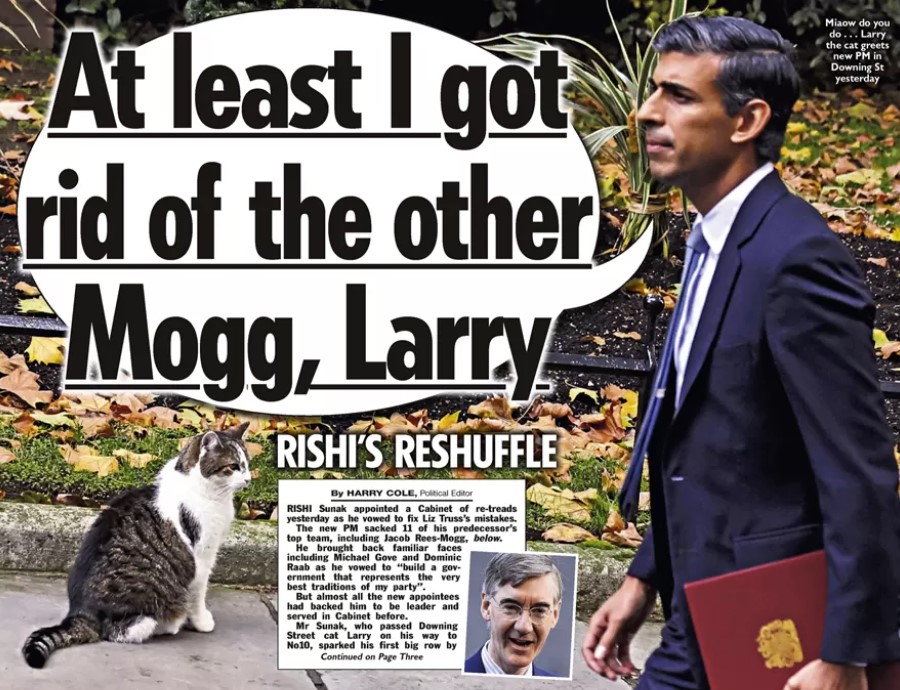 Tuesday 25th October


One coronation down, one to go.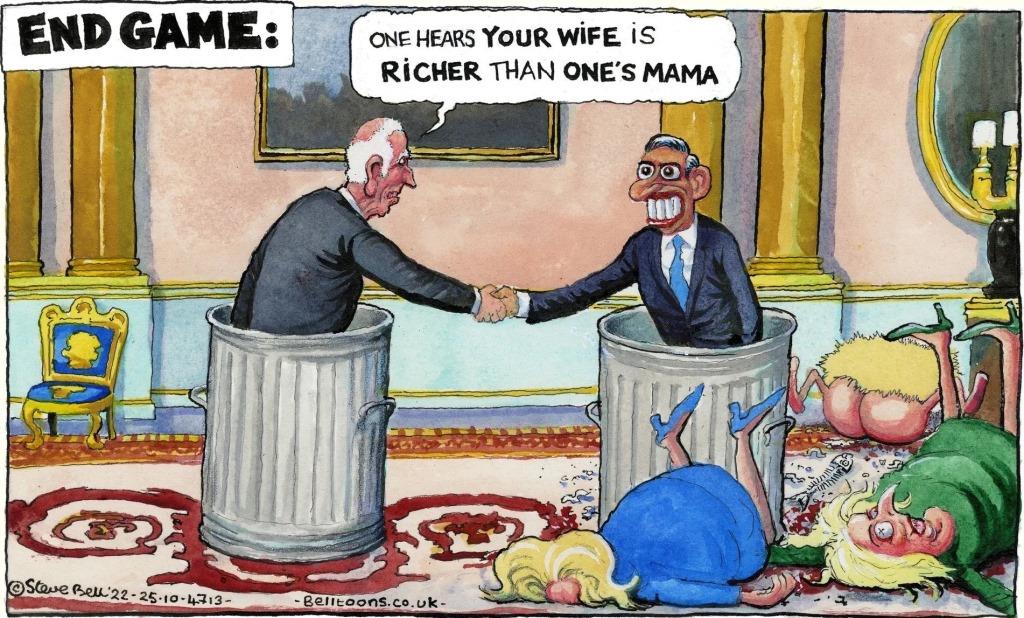 If you're keen to see the back of the Conservative party, this result is a little disappointing. There has been grim delight in witnessing the idiocy and shame of Boris and Truss, the Tory implosion, the prospect that Labour is a government-in-waiting. If Sunak can display even minimal competence, we may have to wait, and Starmer could have a considerably harder time at the next general election.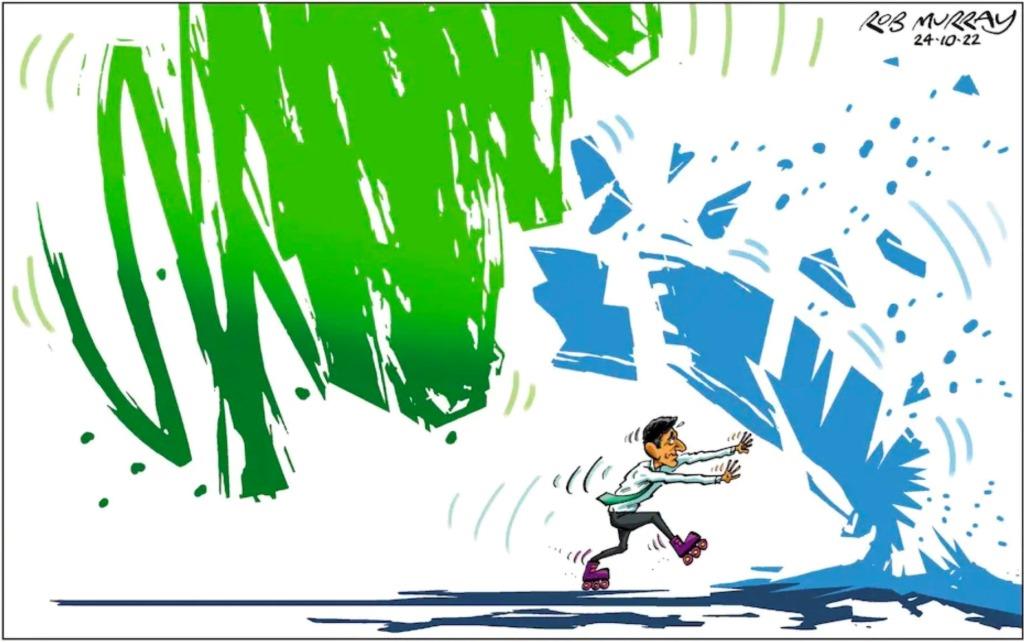 The Twittersphere has been lively over the last 24 hours. A hotch-potch of angles. Not every Conservative is happy, but more than would have been with another outcome. Rishi has been PM-to-be for some time, hasn't he?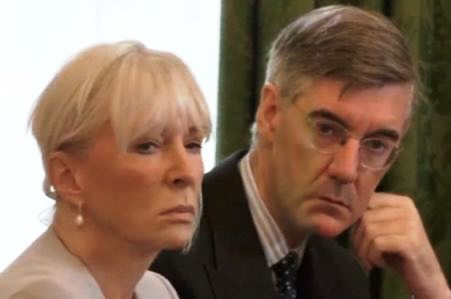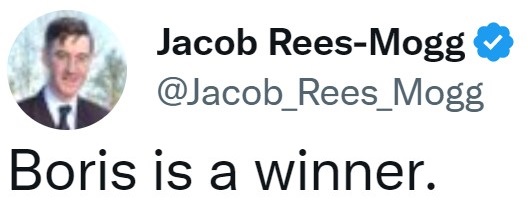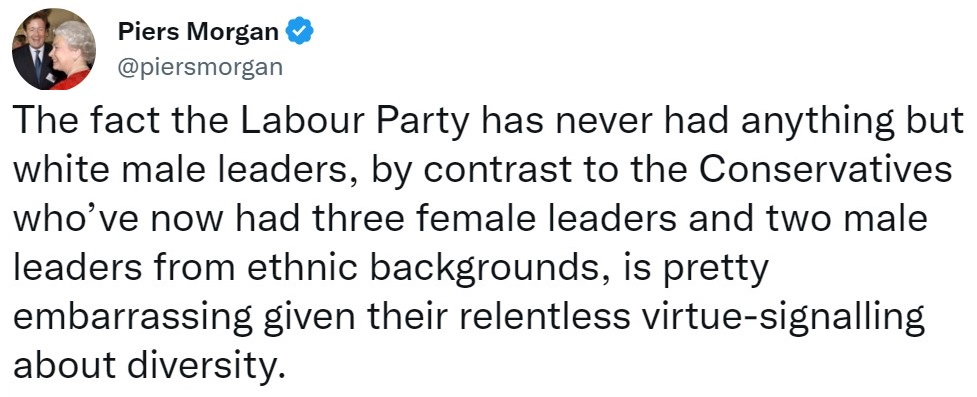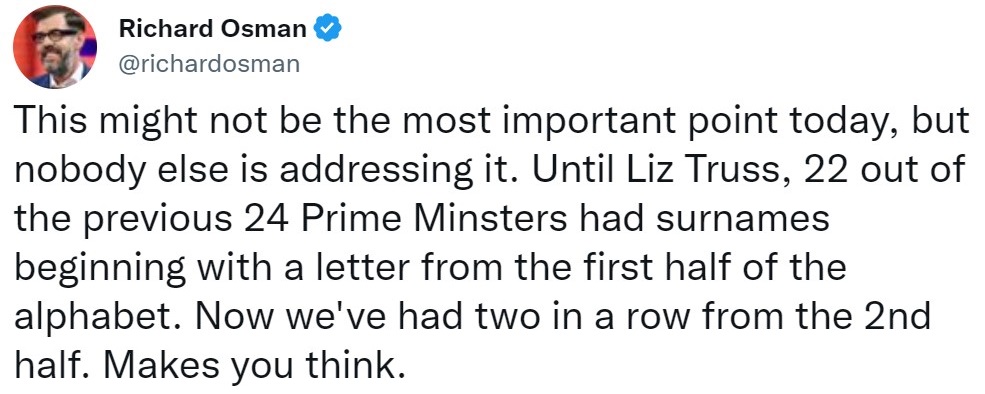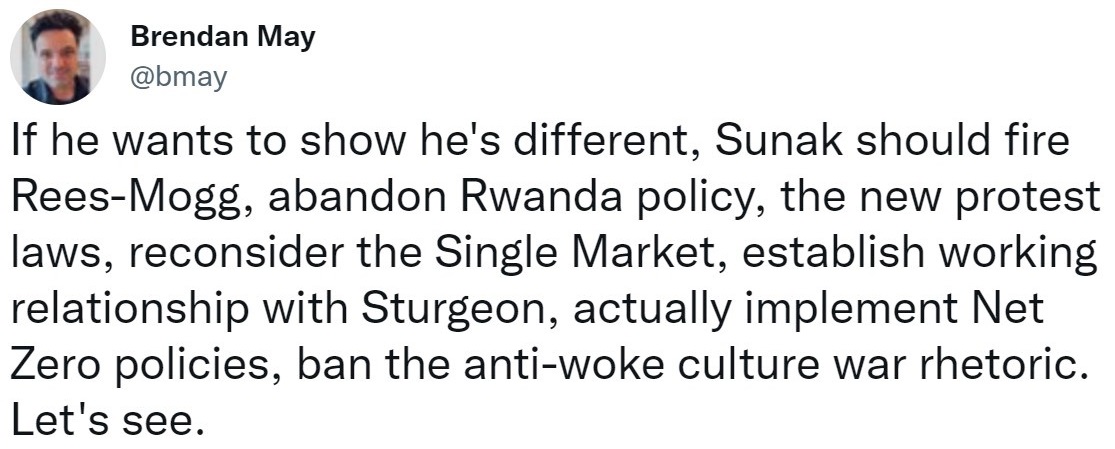 Most of the talk of "unity" has been about the Conservative party, its salvation. There has been mention of saving the nation from its current woes, but somehow that has seemed secondary in Tory circles. The real fear has been about losing to Labour; the "unity" is a requirement to defeat them - and for individuals to hang on to their seats. How successful can Sunak be in quietening the factions?




The other prominent word in the leadership malarkey has been "stability". Most of us would like to see an end to the Number 10 revolving door syndrome. I'd simply prefer to see Keir Starmer in the house as the door stops spinning. "The economy, stupid" may be everybody's priority at the moment, but that's not all. The Rwanda deportation scheme? There's celebration that a Hindu man of colour gets the top post - on the stroke of Diwali, eh? - but considerable concern about how he may handle immigration. On balance, I suspect that Runak will get a reasonable run at the job - and we'll be denied an early general election.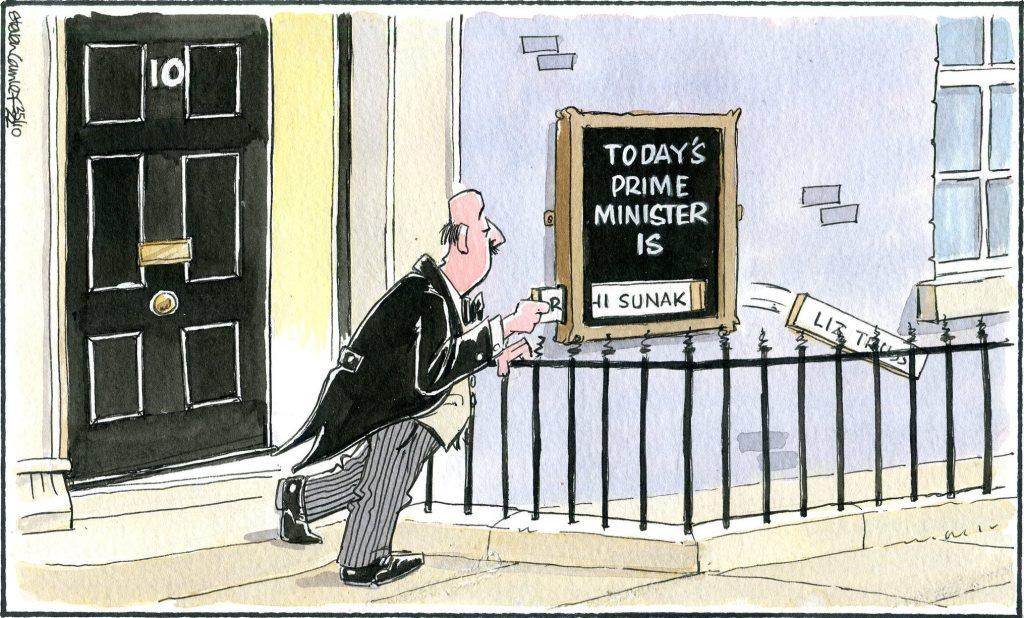 One final thought for the day. These pages still have the strap-line Climate Blog. Where has that been in recent days? We're been re-arranging deck chairs. Mea culpa as much as anybody's. In terms of potential alternatives to this government, does anybody have a better idea than Starmer's Great British Energy?

Monday 24th October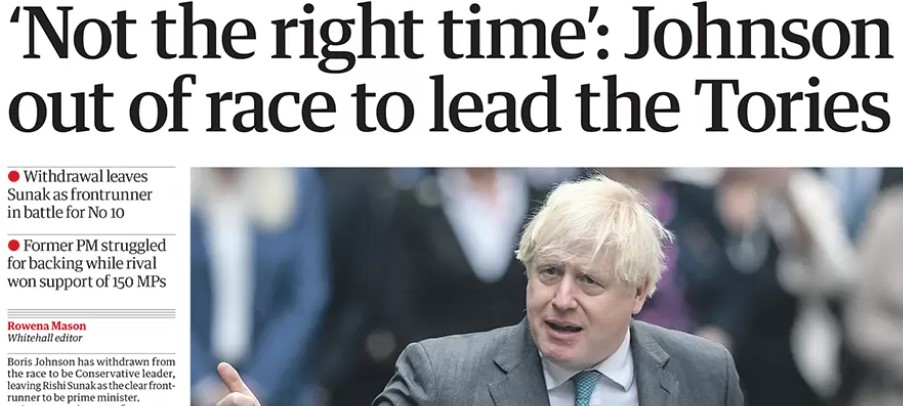 With any luck, it never will be.

Rishi to call on King Charles by nightfall? Surely Mordaunt can't grab enough Boris-backing Sunak-haters by 2pm? Two coronations beckon. Neither the result of a public vote.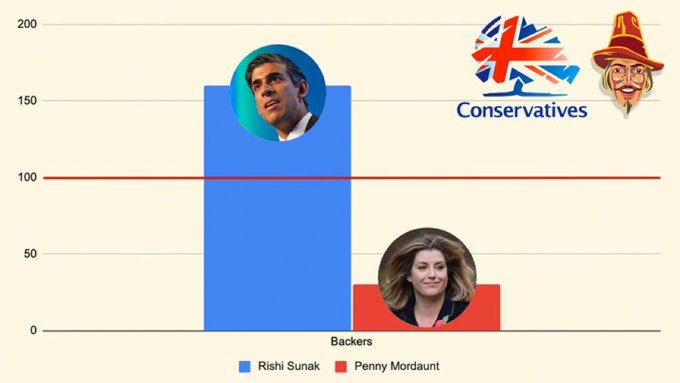 Sunday 23rd October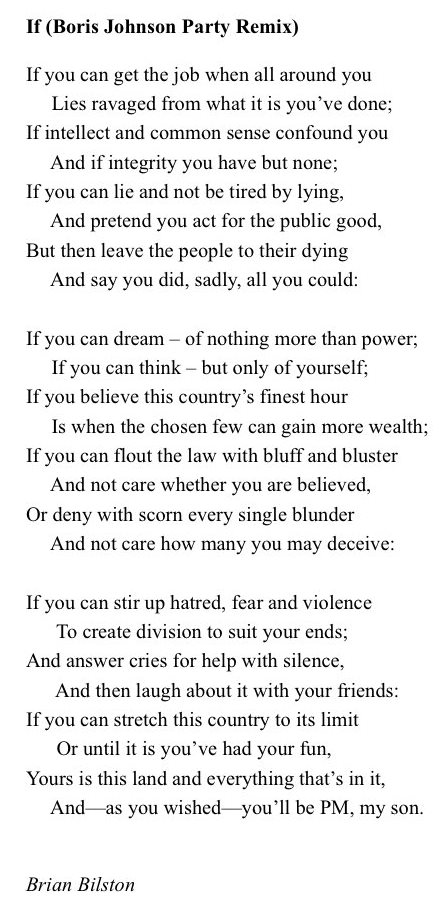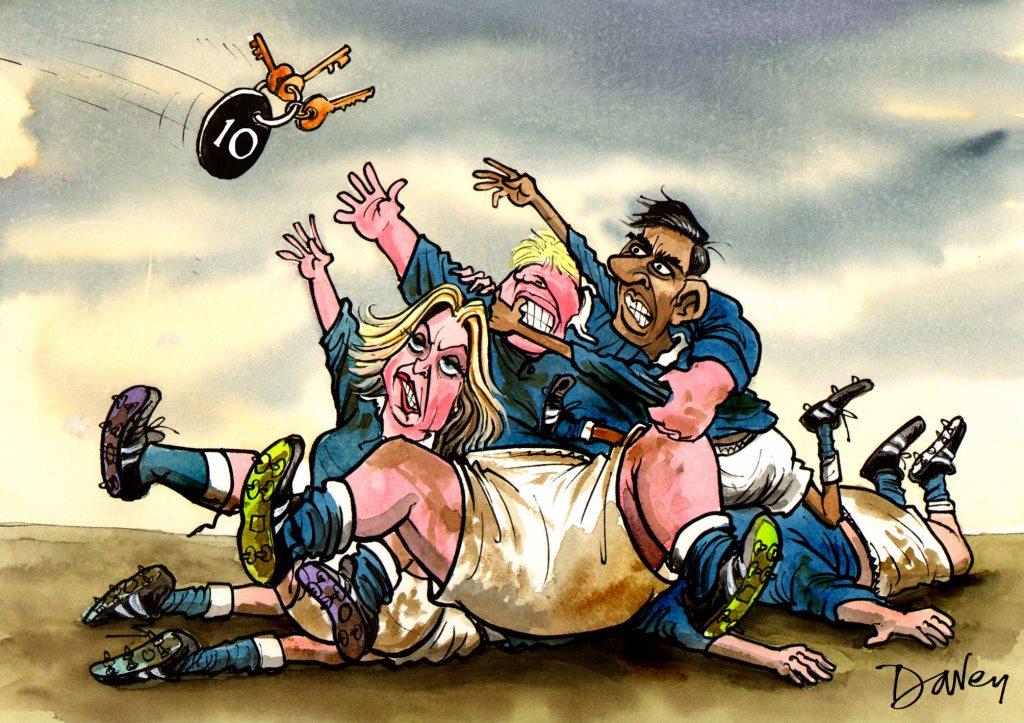 Saturday 22nd October


It's just as well that there is greater emphasis on mental health these days, as this country - I mean England, and in particular Westminster - has gone stark raving mad. After a Tory leadership election in the summer, we've got another. The same private affair as before. It will finish once again, should the contest run its full course, with the people who put Truss in power, the "pale, male and stale".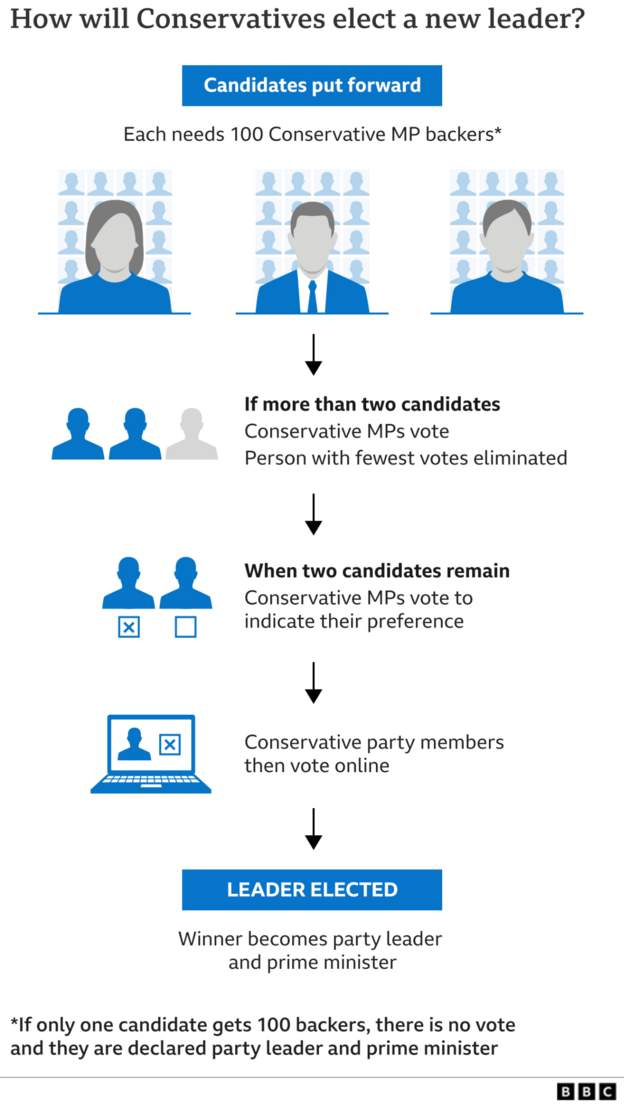 As John McEnroe said 41 years ago, "You cannot be serious." Tories jostling for jobs, a cabinet minister backing a disgraced former PM fresh from a sun­bed in the Dominican Republic.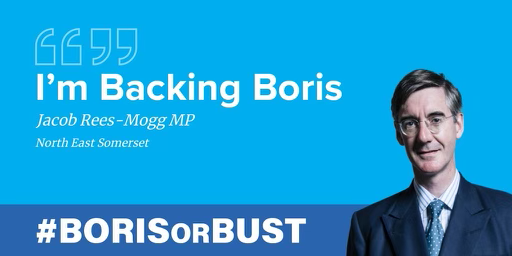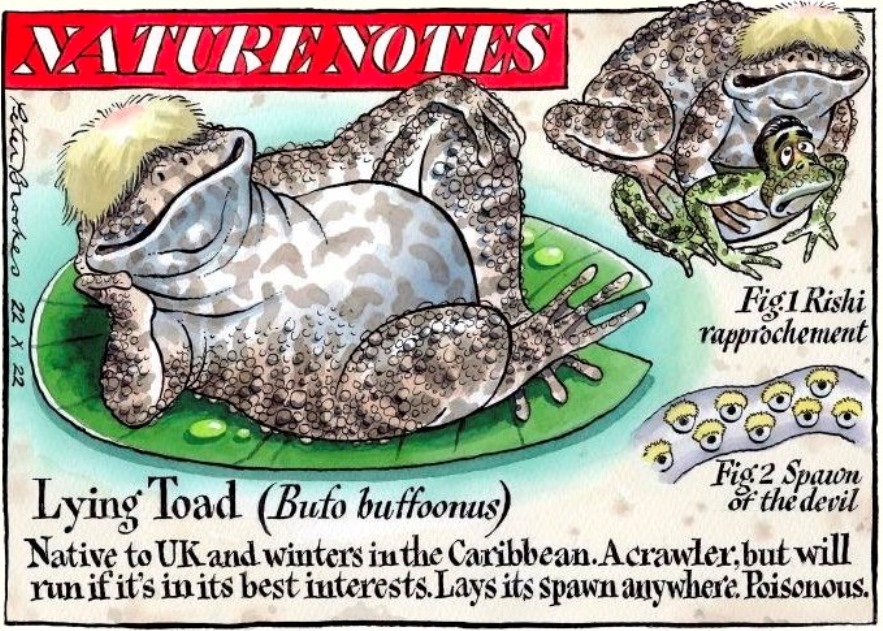 Right now, the head of government can only hide or go out for a jog. She won't be on air explaining policy or reassuring the nation, will she? No tele­phone calls to other world leaders, unless they ring up to offer sympathy or a recuperative holiday in some luxurious hideaway.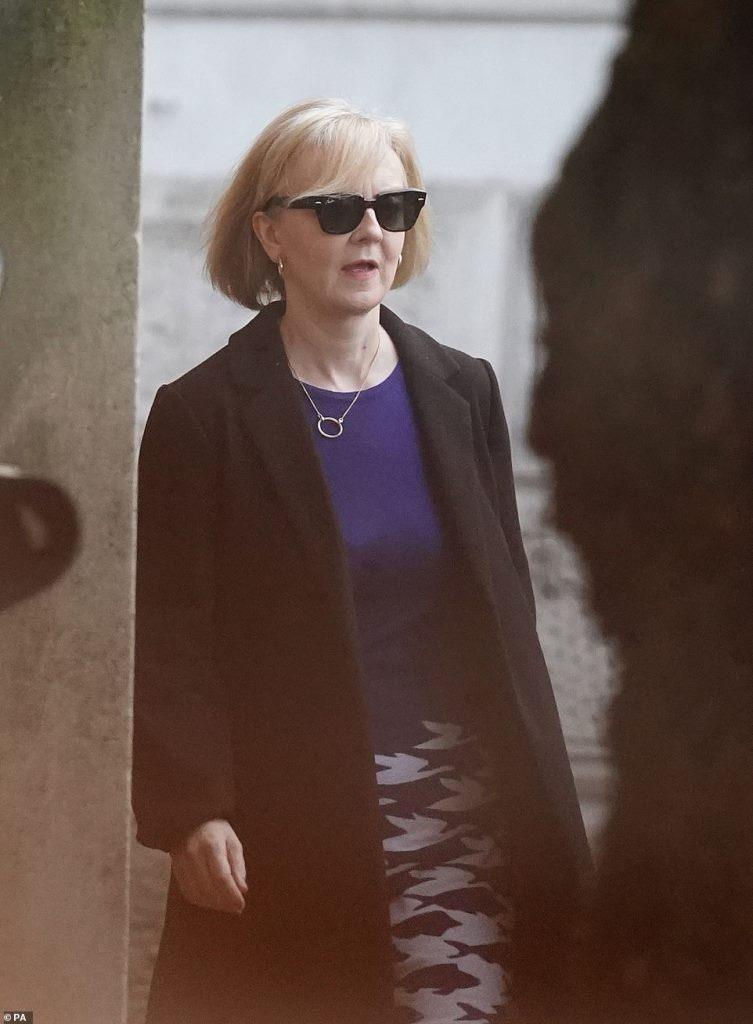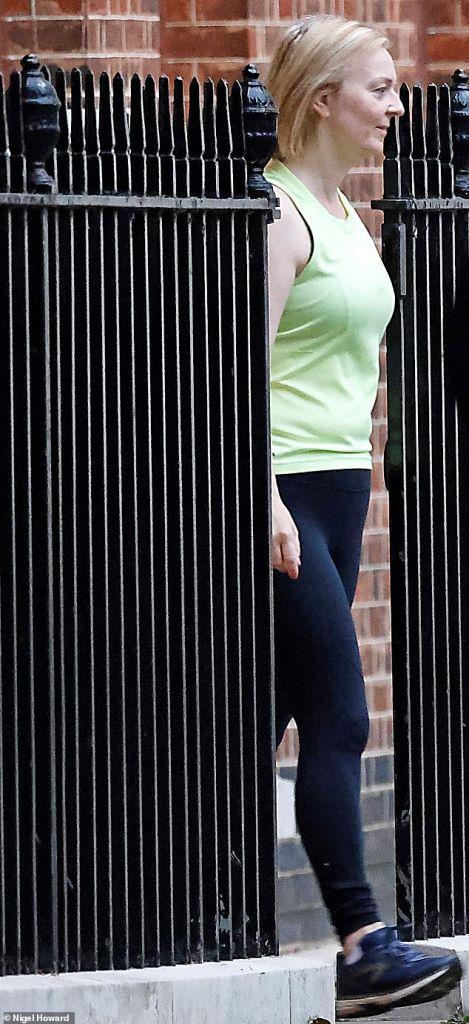 Friday 21st October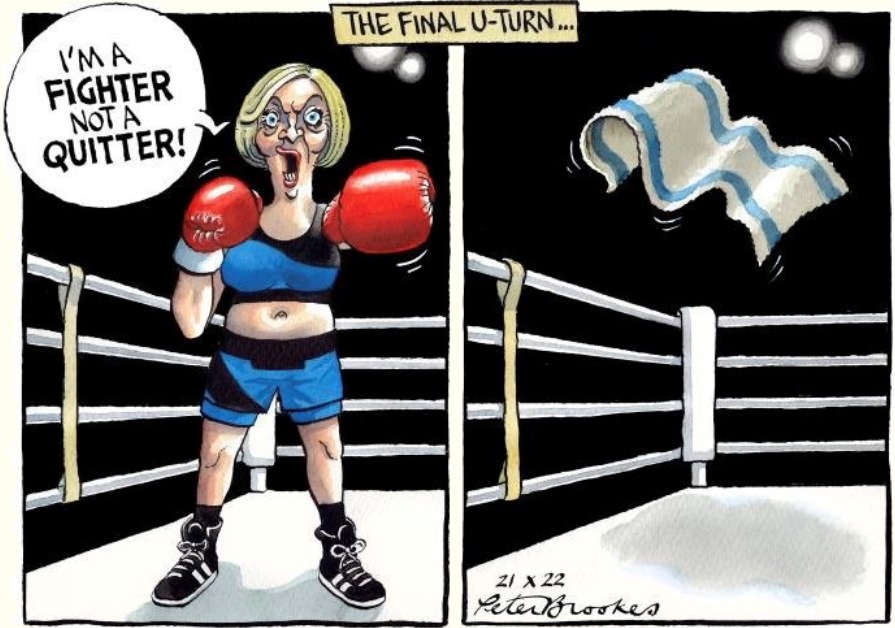 Thursday 20th October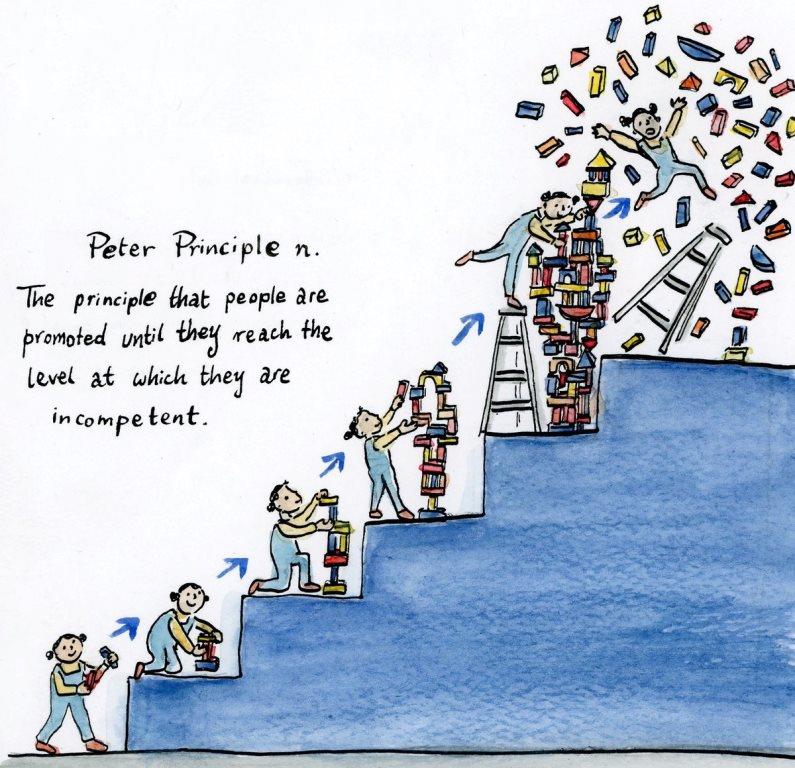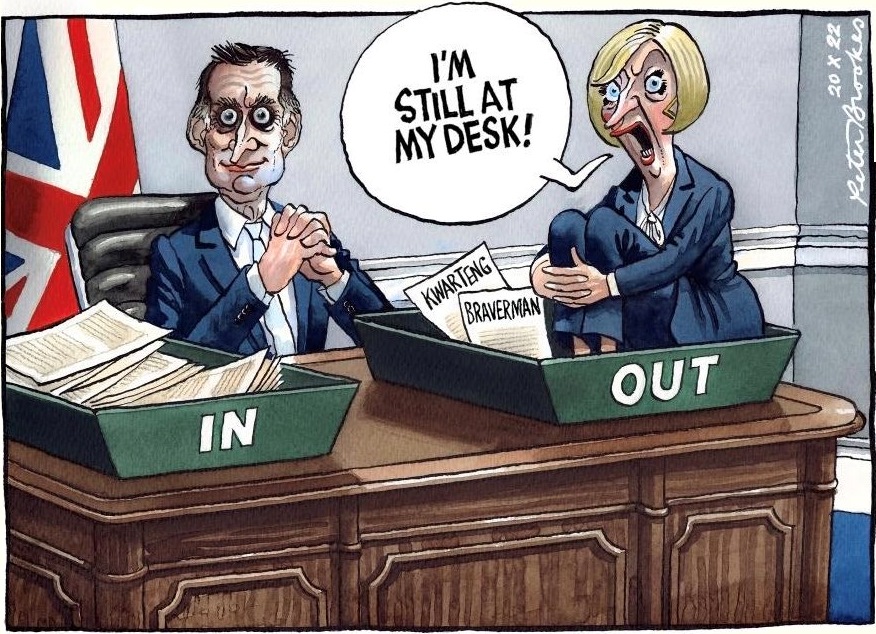 Wednesday 19th October


Is she still there this morning? Since Liz Truss has reneged on her promise to protect pensioners as inflation exceeds 10% [in PMQs today, she U-U-turned and committed again ... but I'll carry on ...], I'm going to unleash the dogs of war.

A heavy video day, so I'm not expecting anybody to sit through it all. A whiff of conspiracy theory, but I reckon the demolitions hold water. One int­er­est­ing aspect is that two of the commentaries come from former not­ables of the right-of-centre press. Pick and choose, watch in idle moments.

The first is a two-week-old interview by PoliticsJOE's Oli Dugmore with erst­while editor of The Sun David Yelland, who explains how we arrived at "bottom of the barrel" #TrussGate, disc­ourses on the role of the con­serv­at­ive press, blames Brexit - and argues that we will re-enter the single market under the Labour government that must surely return. 24 minutes.




Next up is Peter Oborne, once of the Daily Telegraph. He explores Truss's ass­ocia­tion with the super-rich, particularly her love of exclusive Mayfair private members club 5 Hertford Street. 9 minutes.




Finally, from the estimable Led by Donkeys, another street story, namely the undue influence of lobbyists based around Tufton Street. 8 minutes.



Tuesday 18th October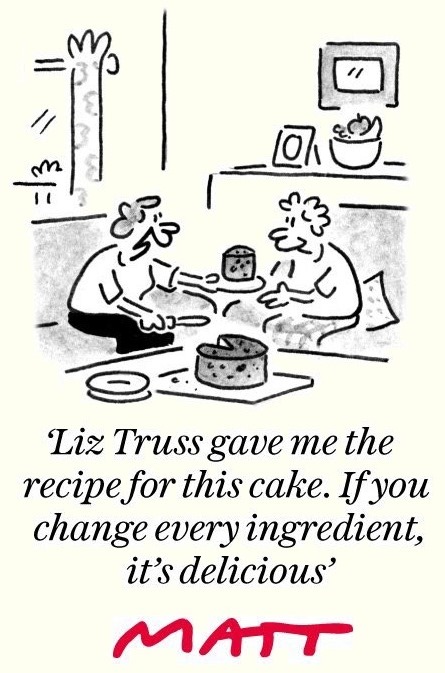 Liz Truss can't get anything right. If she thought her position would be imp­roved by staying away from the Commons rather than face up to Keir Starmer's emerg­ency question, she certainly shouldn't have given Penny Mordaunt a chance to rep­res­ent her. It was like backing a plot to replace her as PM. I hate to say, but Mordaunt did an impressive job in what could have been a very testing situation, for well over an hour. Handled it all with remarkable confidence and calm. Some neat quips. Persistent repetition that the debate on Starmer's question was simply delaying the much more important pres­ent­ation scheduled from the new chancellor. Mordaunt insisted that Truss's absence was for reasons, possibly personal, that could not be disclosed, covering the PM's omission with a decent and empathetic touch. (OK ... she might have been lying.) She nearly managed to convince us that the U-turns have been acts of brave statesmanship, not the result of incompetence and ill-conceived policy. By the end, I wonder if Sir Keir reg­ret­ted putting the question. Did he hand the leader of the house a chance to shine?

Truss turned up just at the conclusion of the Mordaunt hour. Where had she been? Nursing a nasty attack of the runs? (I hope I don't come to regret that suggestion.) Indeed, she rushed off only half-an-hour after her arrival. For that period, she was the most uncomfortable person in the chamber, frozen on the front bench, isolated, unwelcome, punctured - shrunken, in an unhappy contrast with robust Penny. Truss behaved like she didn't even belong in the Commons, far less be fit to lead her country.

Hunt delivered a measured, believable speech. He looked at home. Rachel Reeves ripped into him. He replied with considerable soothing aplomb. Cleverly asserting that the shadow chancellor agreed with him on most of his actions. "Iron-clad fiscal responsibility in a velvet glove", commented one MP. "A grown-up and sensible approach", said another. So, he too took a step up in the parliamentary and public eye. Any more performances like these and Labour will have to think about shedding the smugness that comes with leadership in the polls.

A Tory recovery after the wreckage of Trussonomics? For the party, a mild improvement. Not in any way for lonely Liz. Silent and withdrawn as cont­end­ers for her job did all the work.

As I experience some creeping sympathy, I have to remember that she sacrificed her friend Kwasi. To save her own skin - or, as she maintained in the interview with the BBC's Chris Mason later yesterday, "in the national interest"? Future friendships are going to be harder to come by, aren't they? And what sort of prime ministerial authority can she exercise at the Cabinet table? If she posits an opinion or plan, won't Jeremy or some other say, "I don't think so, Liz. What we're going to do is this." How long can such a humiliation last, such an inversion of power and control? She said to Chris Mason that she would lead the Conservatives into the next election. How? I've rarely heard such a delusional claim. To do that would require ministers, parliamentary colleagues, party members, a good proportion of the voting public and Larry the Cat to be on her side. It's ... not ... going ... to ... happen. Many would like her to resign right now.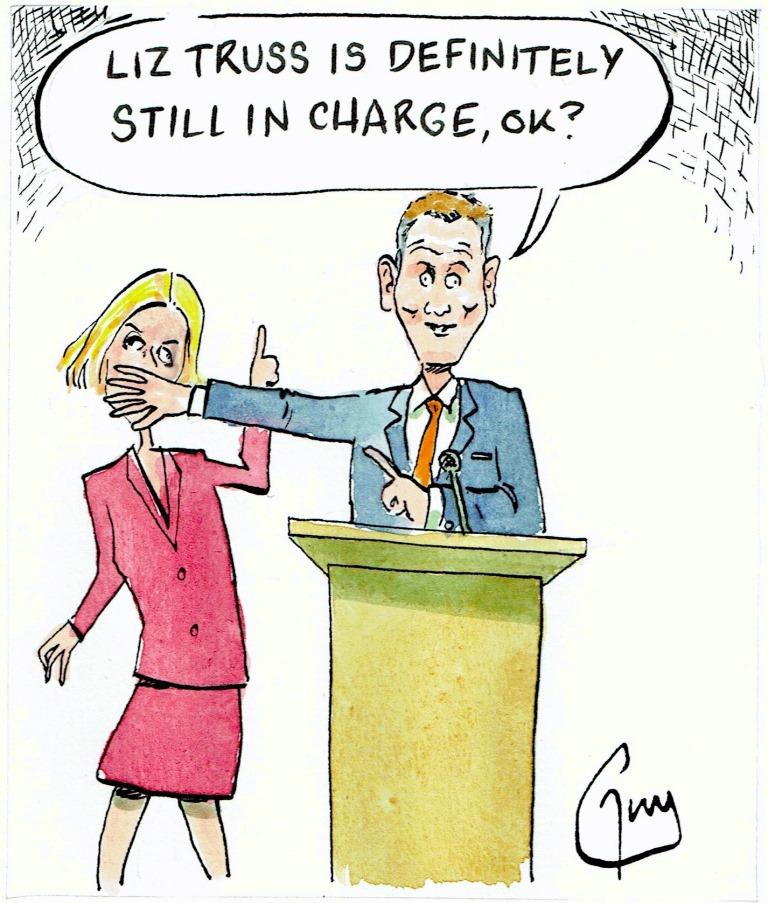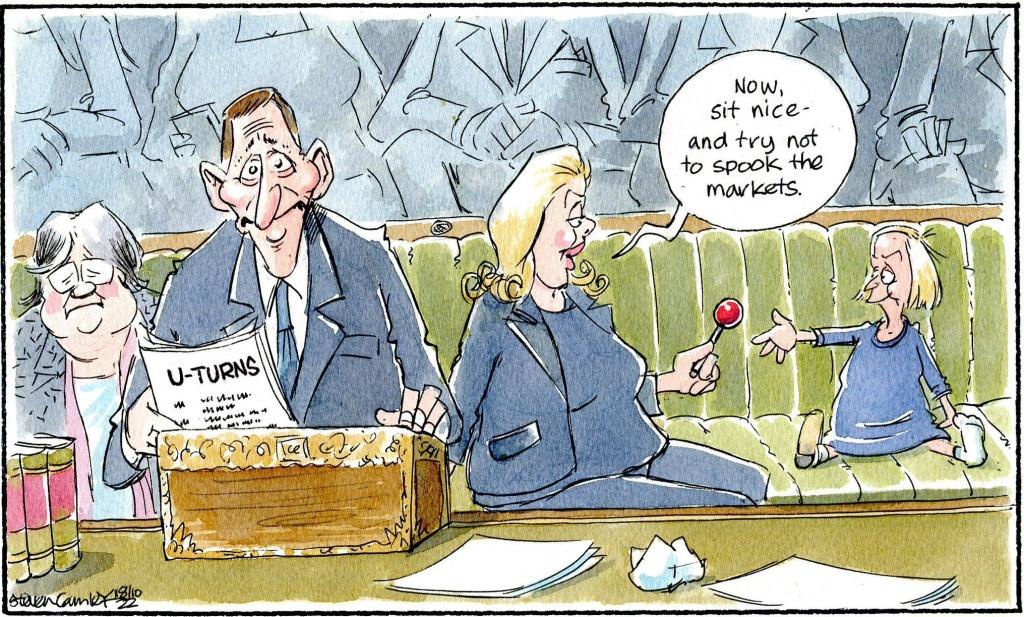 Monday 17th October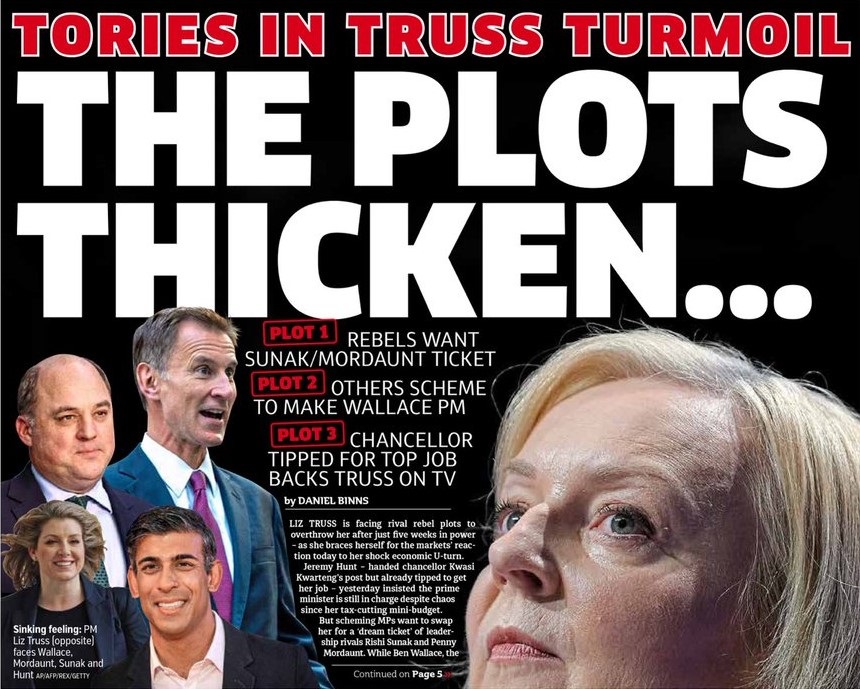 7:30am. I spent some time last night trying to get a good price on Truss resigning today, but to no avail. Will she come out of her Chequers bunker this morning, turn up at Number 10? It can't have been her best weekend ever. I hope she chooses a few mementos to nick before leaving.

Hunt will make a statement today. A message to the markets from our de facto PM.

I suppose Truss has to stay until a successor has been found, or can they make do with an interim deputy? How embarrassing to stick around. What can she possibly say in public? No more sticking-to-the-mission growth-today comp­reh­ens­ive-school flannel. If the country gets back on track, it won't be one of her making.

The Tory rabble are mostly concerned about losing their seats in the next general election, rather than expressing contrition for the country's pre­dic­ament, the effect on ordinary people. For months now, since Boris was forced to leave (probably earlier) and we had to endure the navel-gazing leadership contest, we haven't had a government.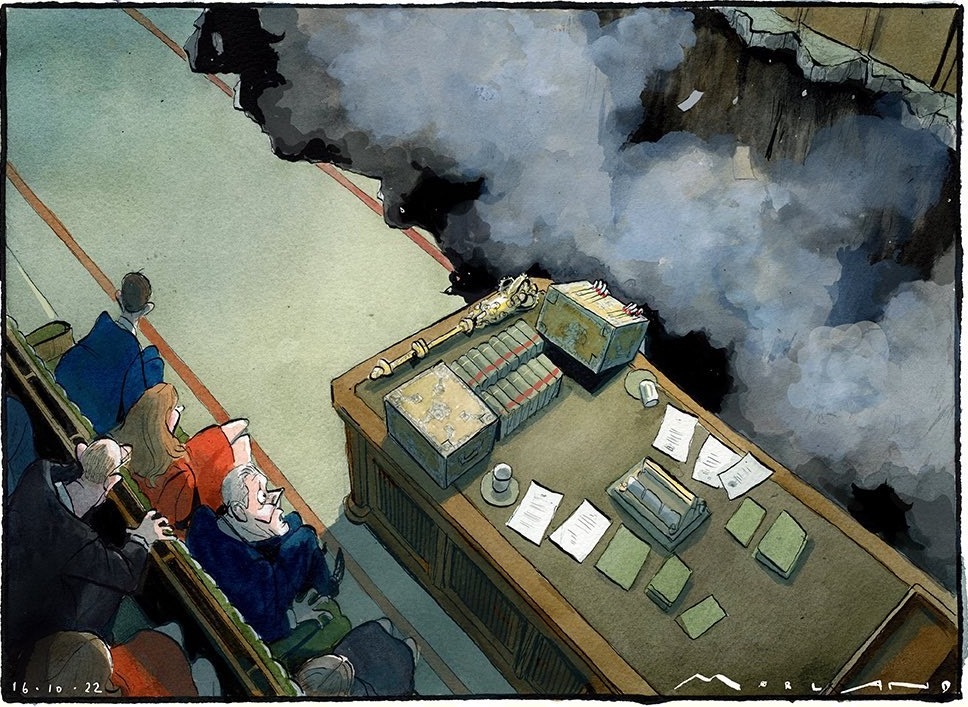 Sunday 16th October



Saturday 15th October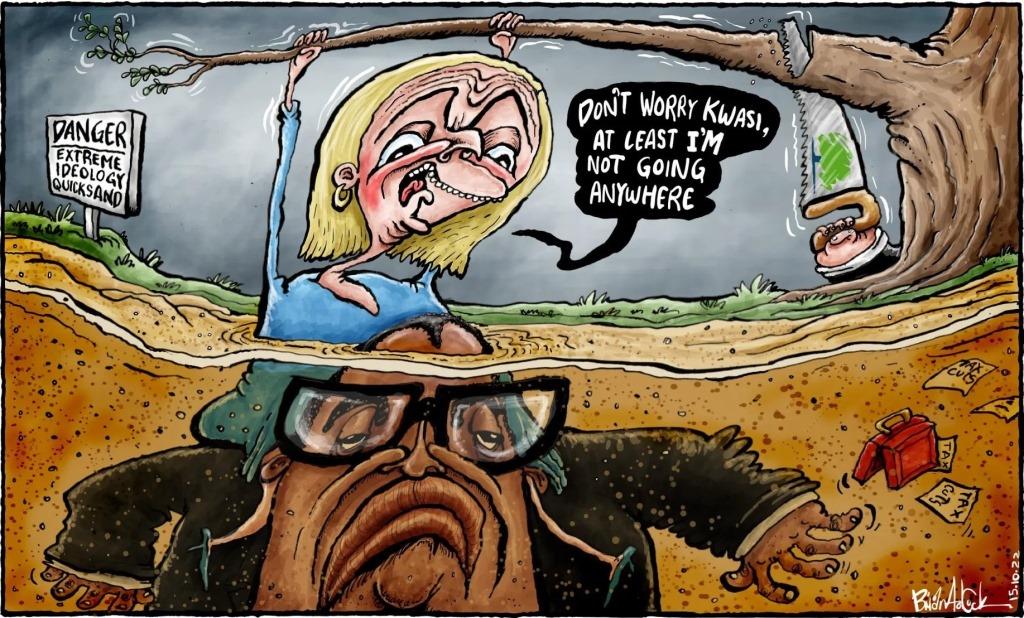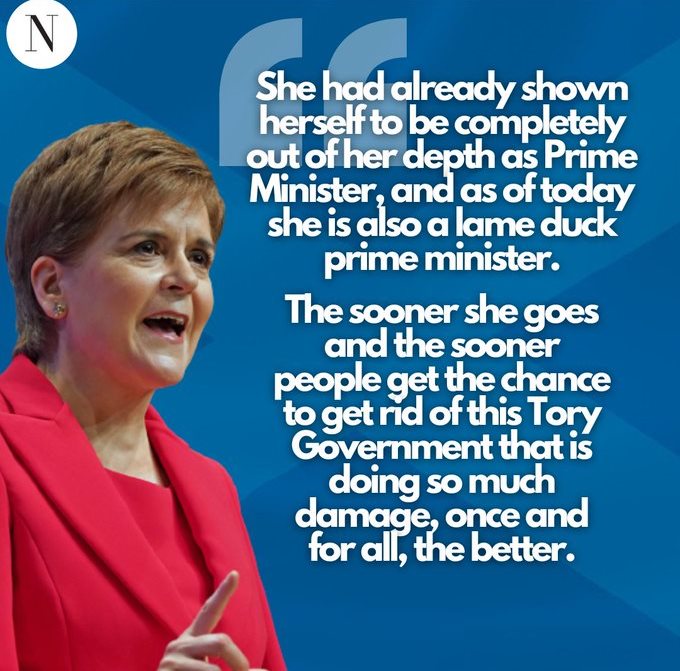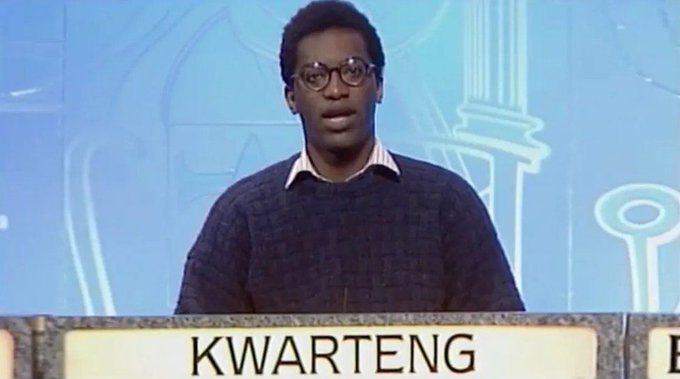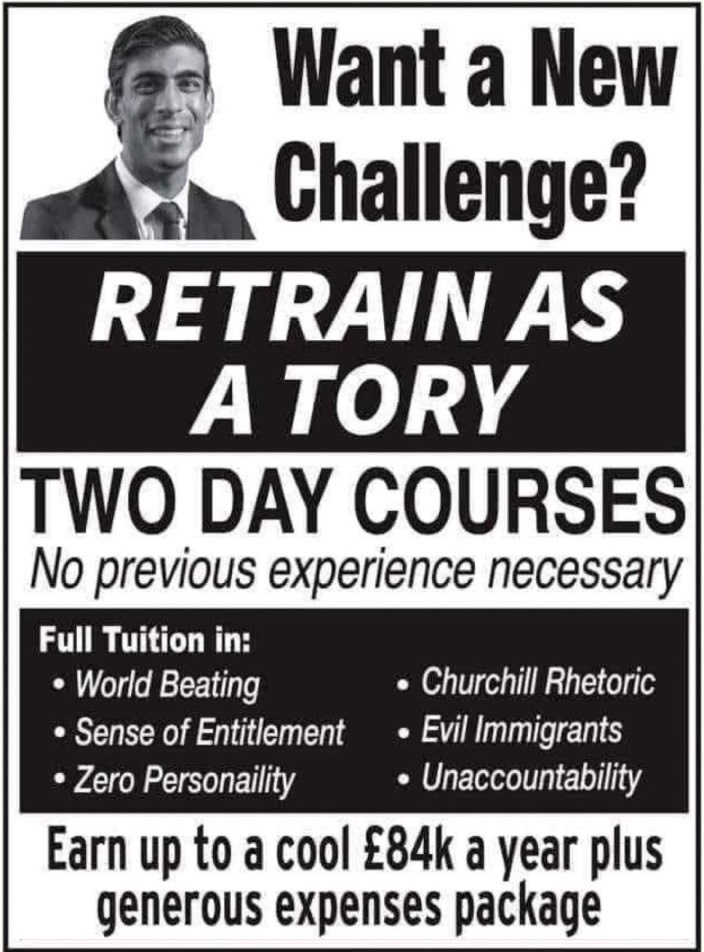 We've witnessed some extraordinary events since I started this blog 937 days ago. Yesterday was special.

It's personal. Coronavirus and lockdown affected us all, but my immediate circle less than many who suffered loss and deprivation. Climate change may still knacker the planet for future generations, but (a selfish position, I know) I won't see it. However, retirement, pension stashes and the like don't mix with inflation and collapse of the bond markets. Year-on-year, I calculate a shrinkage (thus far) of 8% with some pots.

The flip side is ... this must be the end (or the end's beginning) of Tory mismanagement and incompetence. I don't really see how Truss can go into work on Monday. She'd better take advantage of Chequers over the week­end. That's personal too. A glimmer of light at the end of a tunnel, after years of the Tories hacking away chunks of what I hold dear.

A sustaining facet of witnessing the chaos of the last month - and longer - has been a high degree of amusement. You can barely believe the stupidity. Why would you think it possible to turn on growth like a tap? It's a trans­form­ation with natural built-in turbo-lag. Who thought it a good idea - OK, Truss and Kwarteng - to quench the welcome light of energy bill relief with the dark greed of high-earners' tax cuts, when they could have waited months for the latter? Not a dash for growth, but a race to the bottom. How would you decide to alienate institutions like the OBR and the Bank of England? Launch a huge fiscal package without their val­id­ation of the num­bers? Fail to make even a courtesy call to Sturgeon and Drakeford? And, just yesterday, which bright spark thought that dragging the chancellor out of a prestigious meeting with colleagues at the IMF just to sack him was going to impress the markets? Doesn't it say the very opposite of stability, of a steady hand on the tiller? The actions of a woman so obsessed with proving her commitment to move fast, "deliver" and act decisively that she esch­ewed basic principles of careful and well-researched consideration, planning and persuasion.

Friday 14th October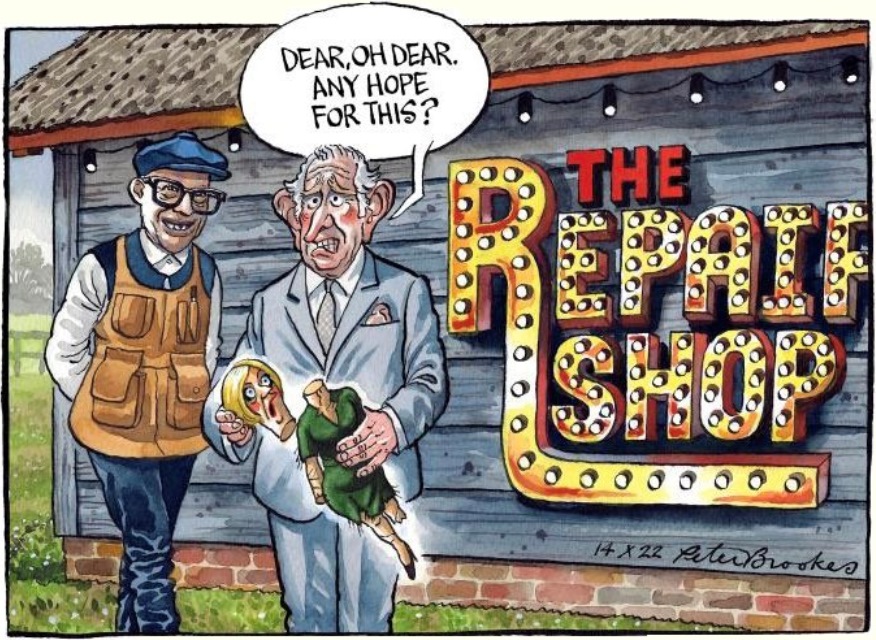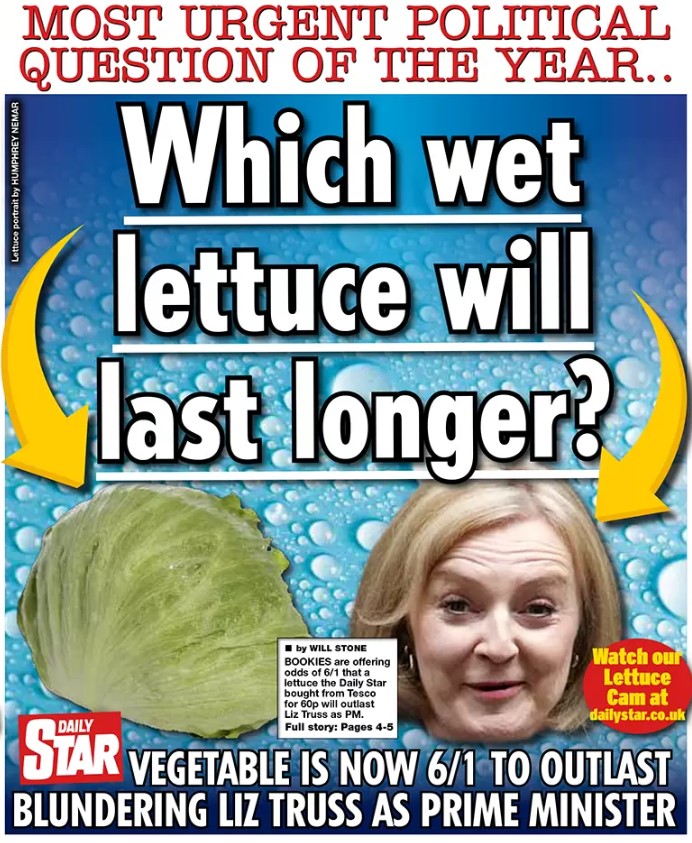 Thursday 13th October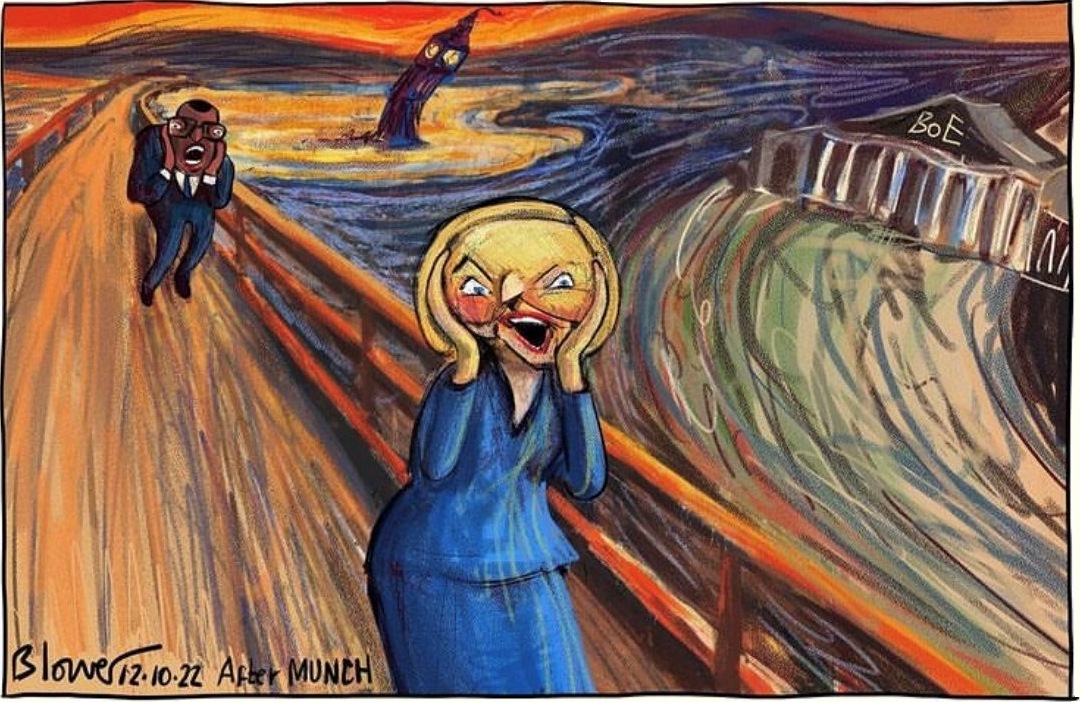 Friday 7th October


At least we're part of the new European Political Community (EPC) and Truss has decided Macron is a friend.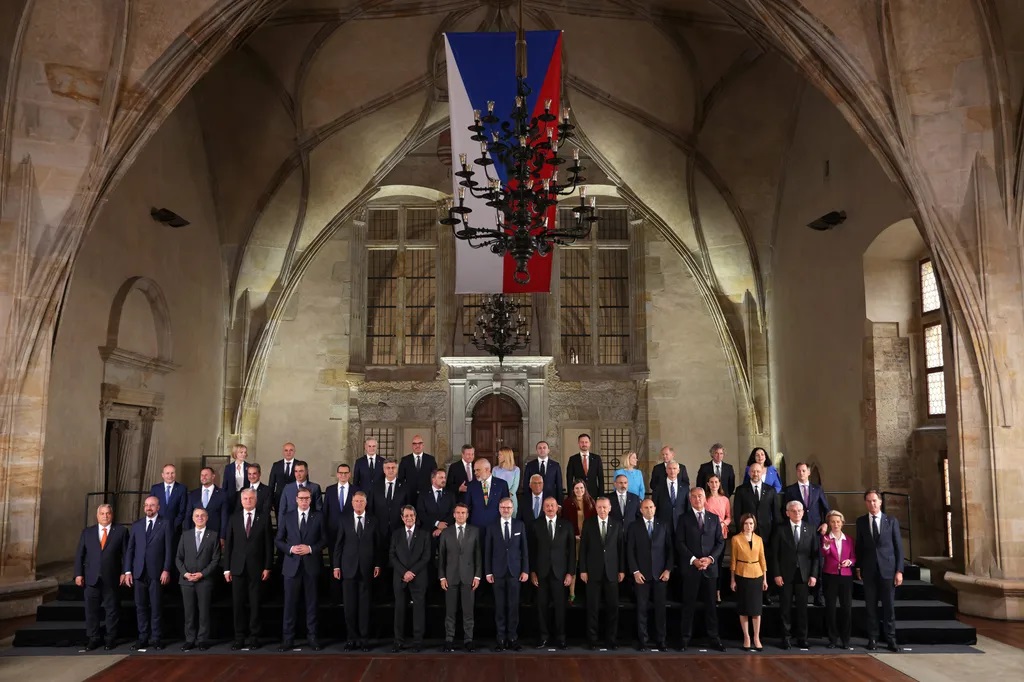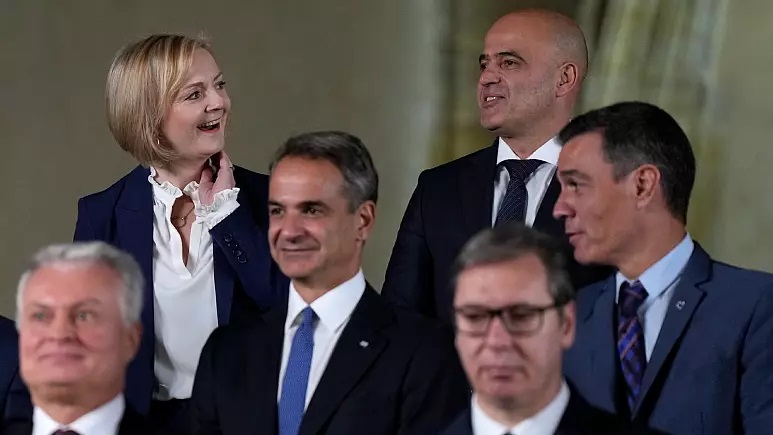 This counts as a U-turn, doesn't it? While pressing for the Remain vote in June 2016, she said:

"I would rather be at the table making decisions with other countries than walking away and not having a say."





"What people in the Leave campaign are saying is 'We can have our cake and eat it'. We can't."


How right you were, Liz. Top-left back row. Not front-and-central like Macr­on. A bit-player now. Very little cake at all. Just crumbs.

Thursday 6th October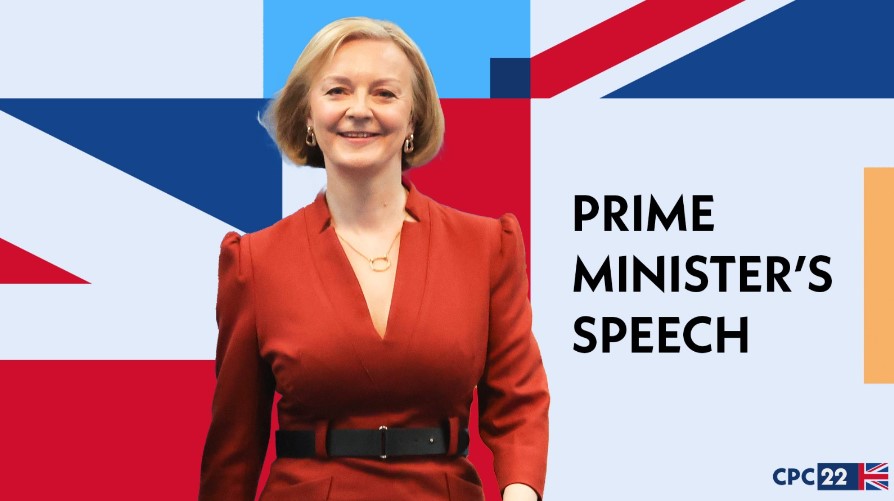 It was a rescue job, a recovery from largely self-inflicted wounds. She had to see off threats on different fronts ... the spooked markets, dissenters in her own party, outraged public opinion, the political opponents that have gained traction in recent days.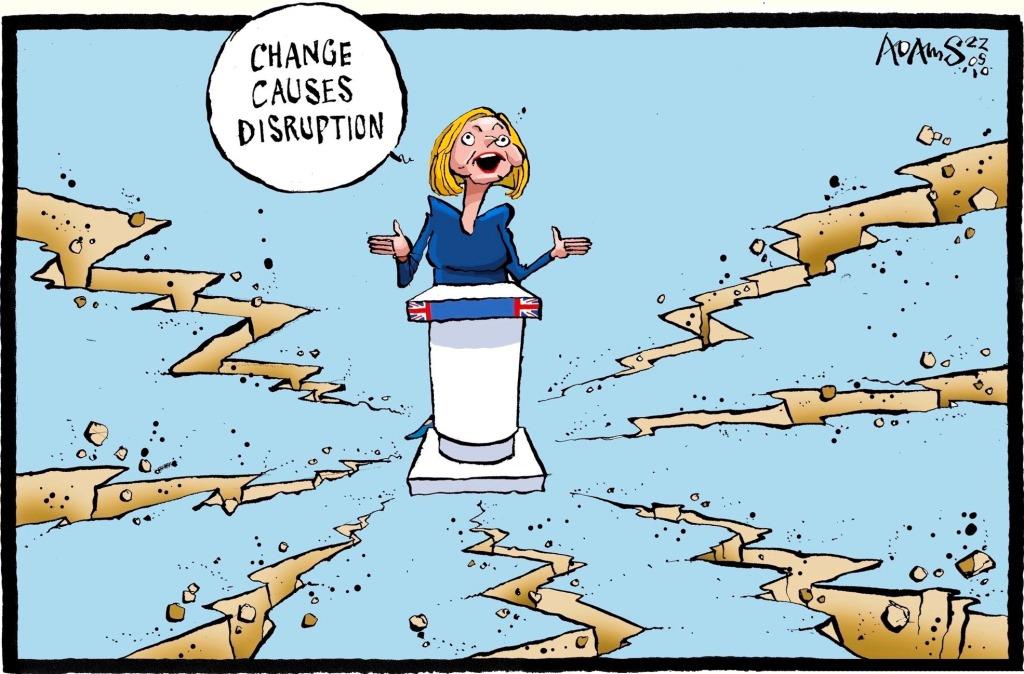 I was dismayed for the first half. Hmmm, this is clever, I thought. Cunning speech-writers. Re-establishing her personal credentials. Reminding people of - demanding gratitude for? - the energy bill support. Arguing the case for aspiration, opportunity, enterprise, vigour. Using - too transparently? - the Birmingham ploy. The eye-contact engagement with her cabinet arrayed below the podium, validating the wider team:

"It's fantastic to see the cranes across the skyline building new buildings ... the busy trams coursing down the streets ... and the bull standing proudly at the heart of Birmingham. My friends, this is what a city with a Tory Mayor looks like - it's positive, it's enterprising, it's successful. And Andy Street is a human dynamo, delivering for the people of Birmingham.





"Our dynamic new Chancellor ... our brilliant new Home Secretary ...





"My friends ..."


The latter portion turned into an "anti-growth coalition" rant - indeed, she seemed galvanised by the Greenpeace intervention. For "anti-growth" read "anyone who disagrees". With anything, not just growth. A strong whiff of Project Fear. Objections to be summarily overruled. These people will de-rail your future. Wasters all.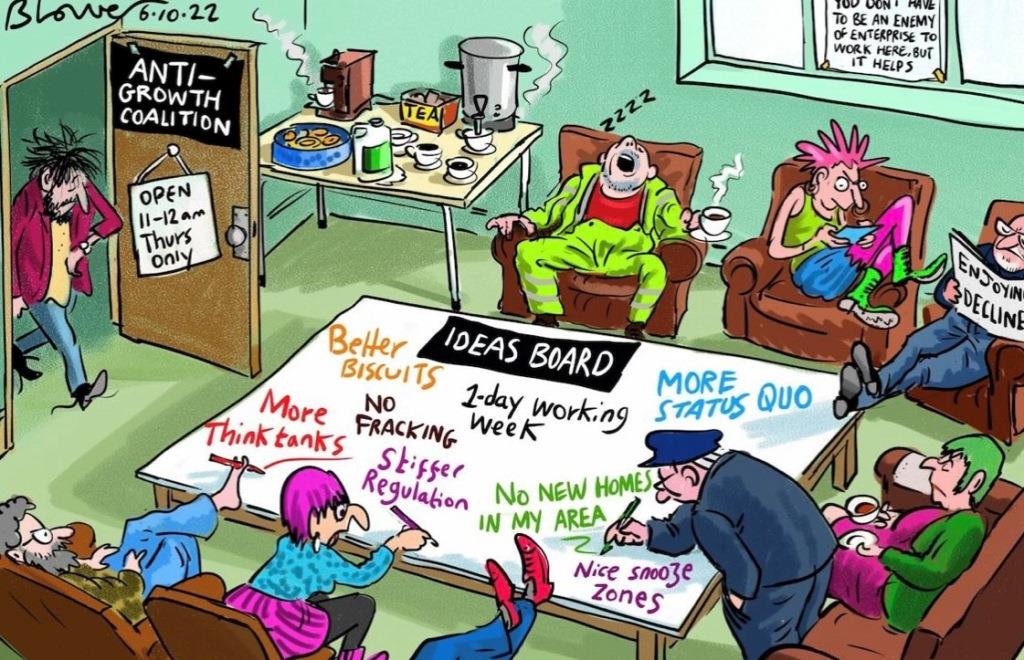 The conference and her speech had nowhere near the triumphant mood and reception of the preceding Labour Party event, but she probably bought herself some time. Which may see some shifts that will help. If she manages to "go long" into 2024 for a general election, what might have changed? An end to the war in Ukraine? Energy independence improved? Covid after­shocks eased? Inflation under control? Growth?

Or there may be further pitfalls and errors.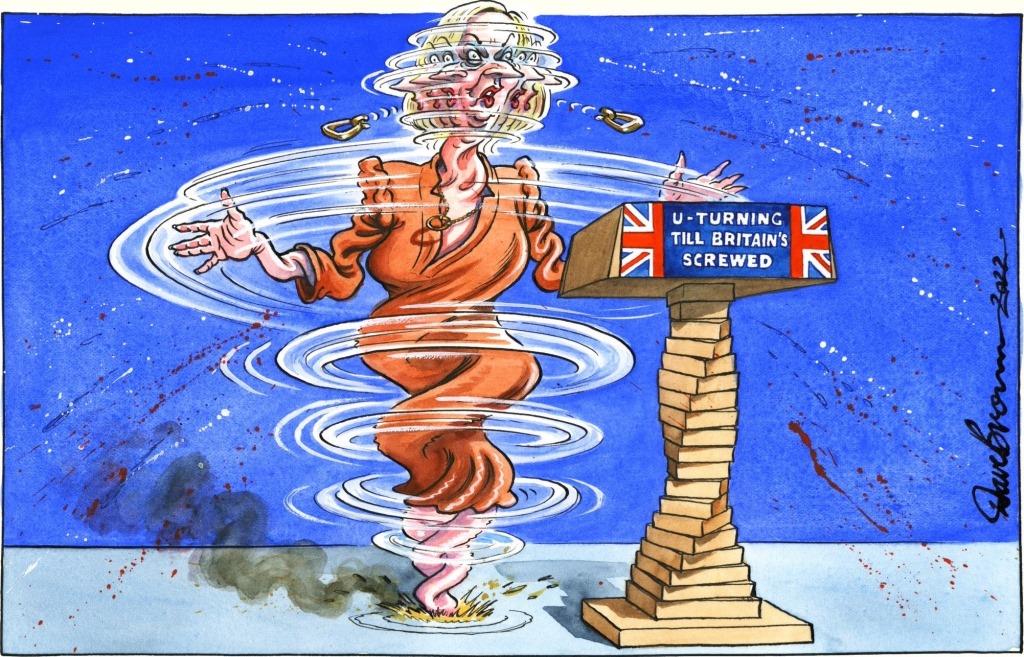 For the record, here's the official Conservative Party transcript of the speech (19 pages, but heavily spaced to allow for applause from the faithful, which on occasion was rather hesitant):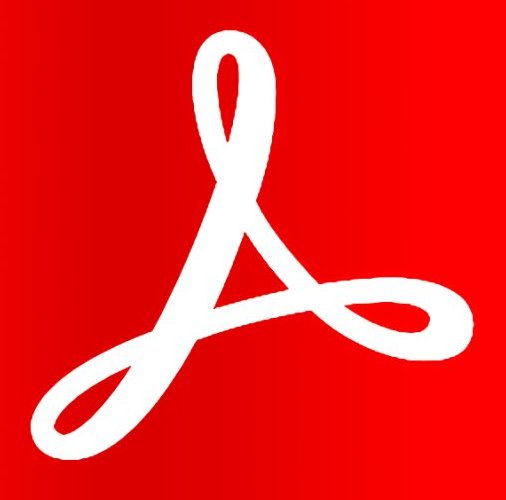 Wednesday 5th October


Why is Liz Truss so fond of wearing a hard hat?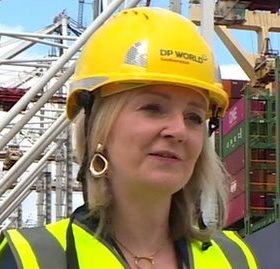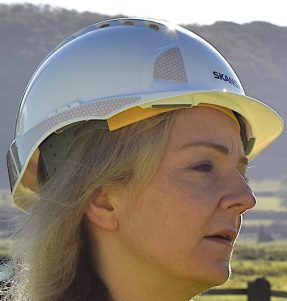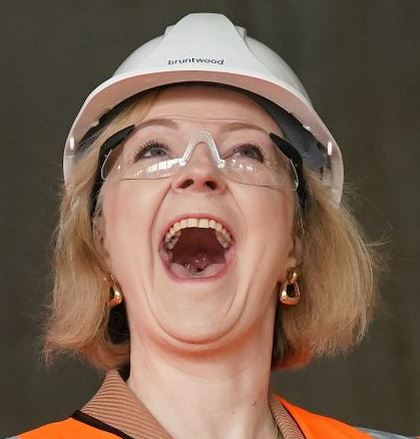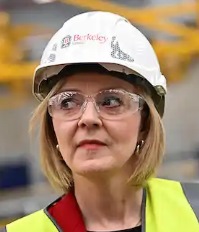 She's not the first. They all do it. Thatcher was a fan, Boris too. It must be the most popular photo-op theme involving headgear. We know it's an image they want to project, but what image is that? Something like: "We're doers, delivering action; not just Old Etonian toffs (for Boris and his ilk); in touch with working people; close to business and industry; practical; competent; strong; safe; informed; hands-on; builders; generating wealth; out-and-about, mixing with the people; not hiding in our ivory tower."

Does anyone believe them? I suspect it works, provided you can suspend dis­belief - as if any of them has exper­ience of a building site or operated heavy machinery, engaged in Truss's cherished "graft". Convinces many that they're decent, solid leaders worthy of our trust (really, no pun intended, as in Miss Trust), rather than a chaotic rabble of arrogant self-seeking in­comp­etents.

Observers have noted that Truss should be wearing a protective hel­met at the conference. Tory dysfunction, conflict and misconceived policy rage all around her. I'll be watching her speech this morning with interest.

On a completely different and much cheerier note, yesterday evening we went to the private view (or PV as we art fanciers call them) of our friend Clare's latest exhibition: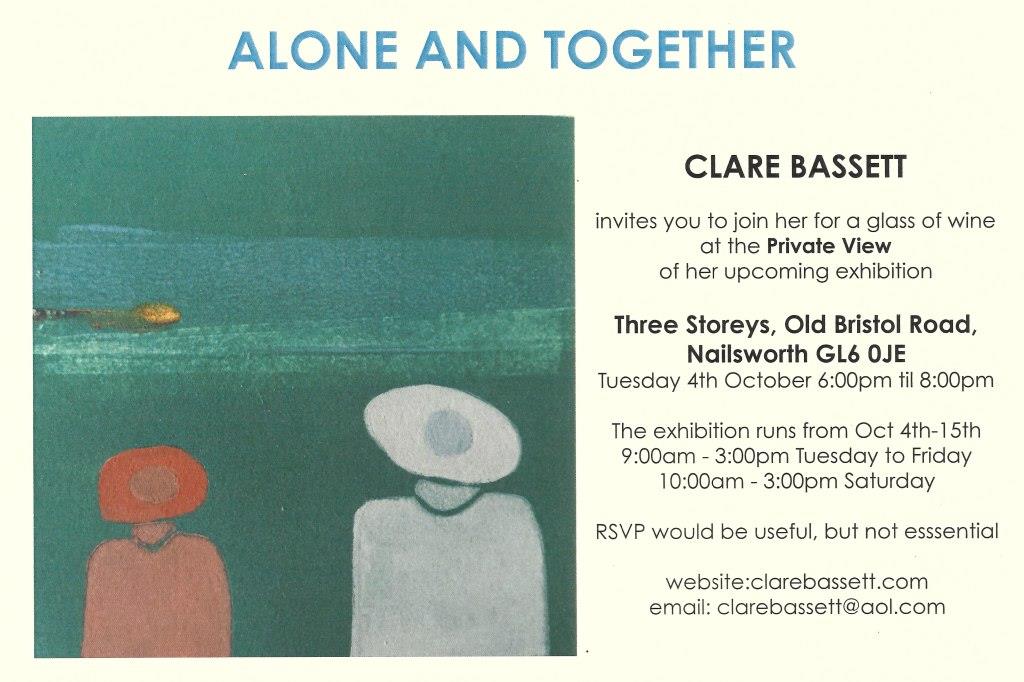 Stroudies, as you can see from the details above (click to enlarge), the show is on until 15th October. It's lovely. There's jewellery too.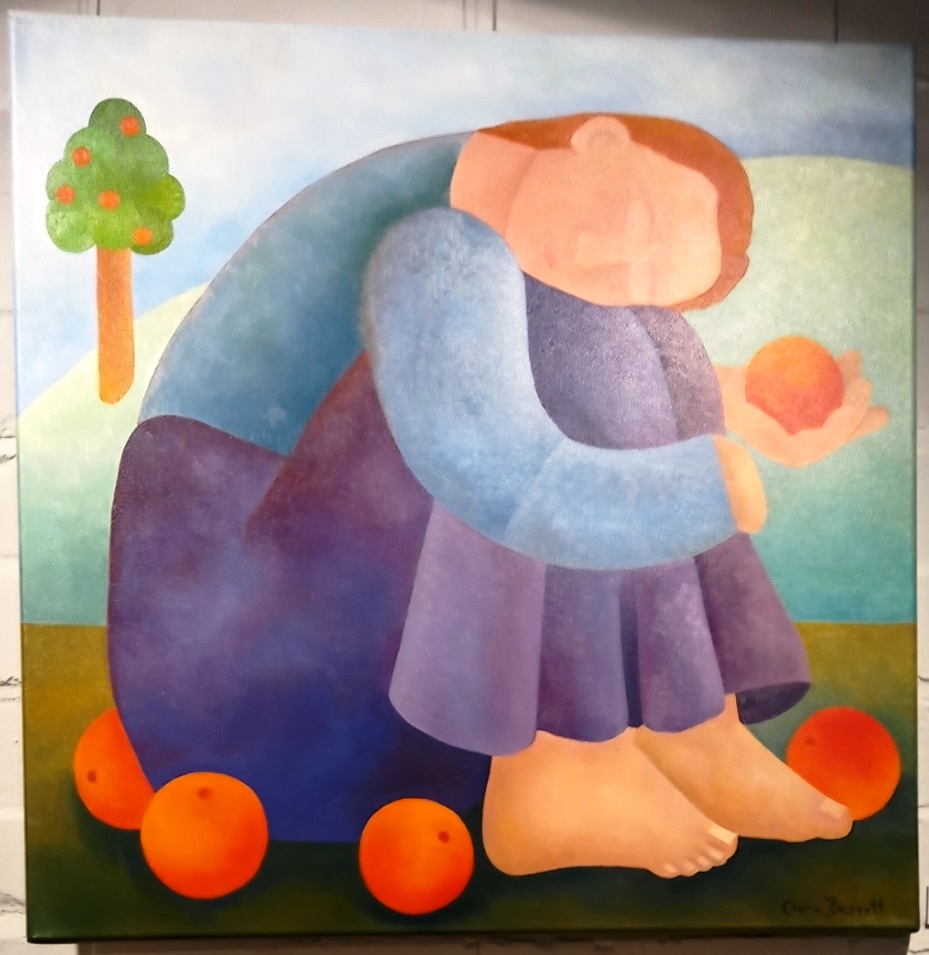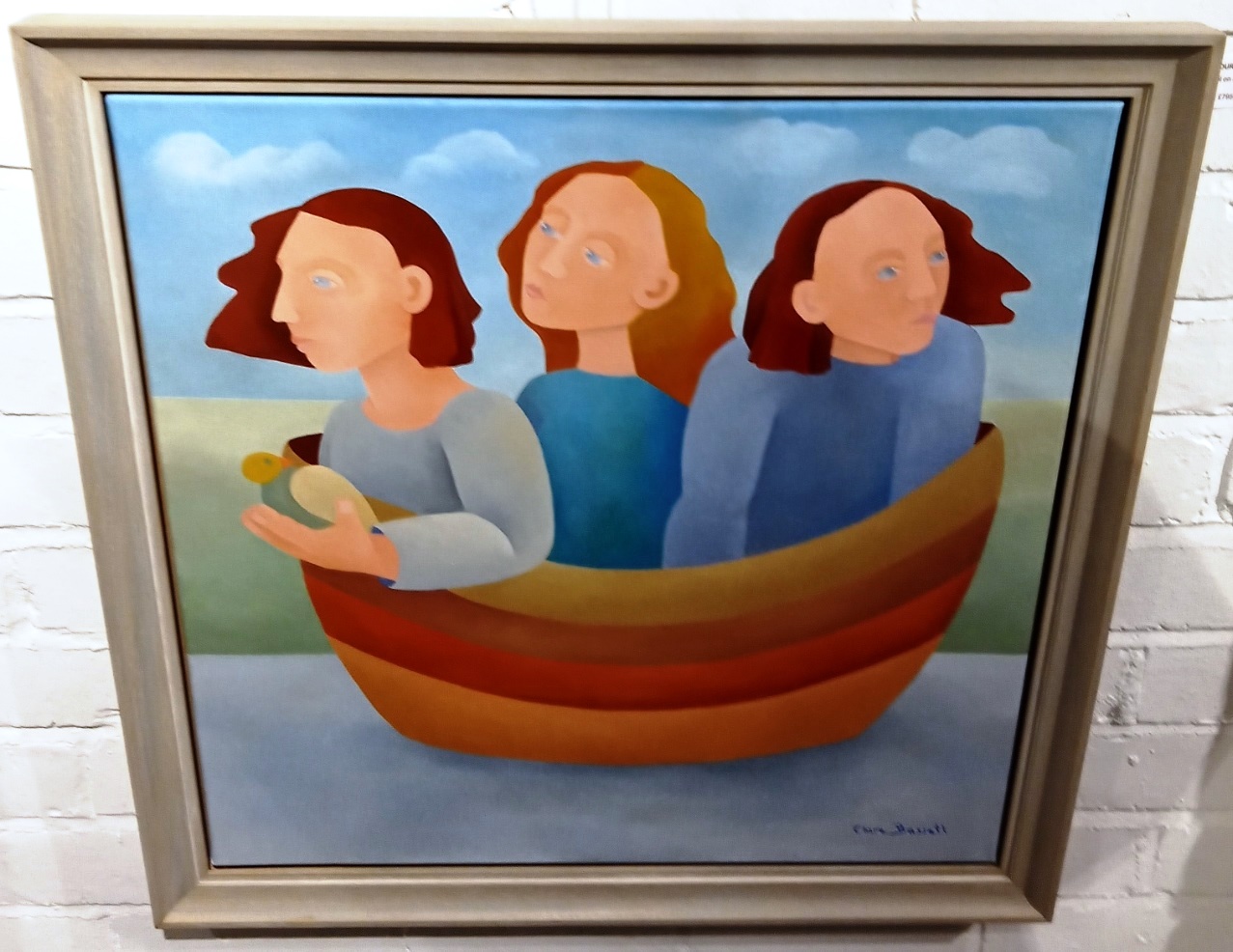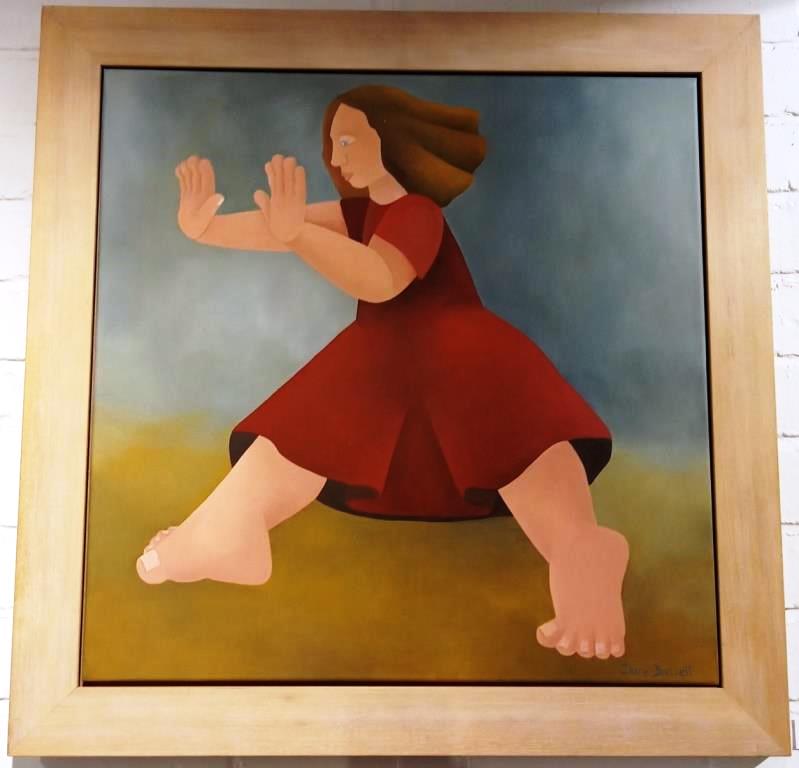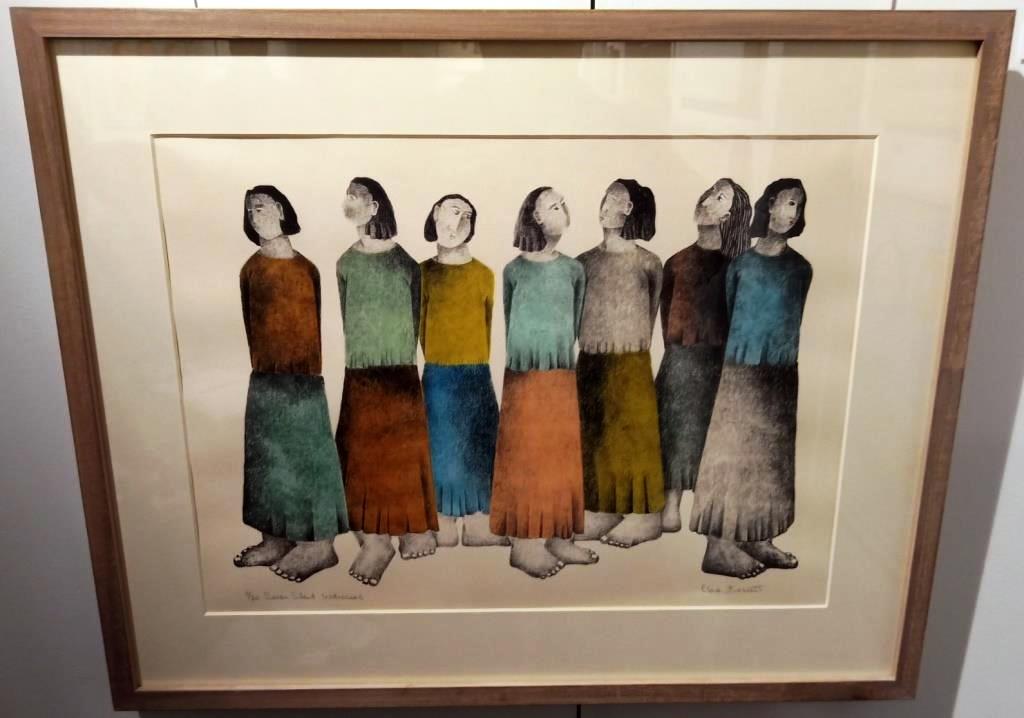 Tuesday 4th October


And so it came to pass ...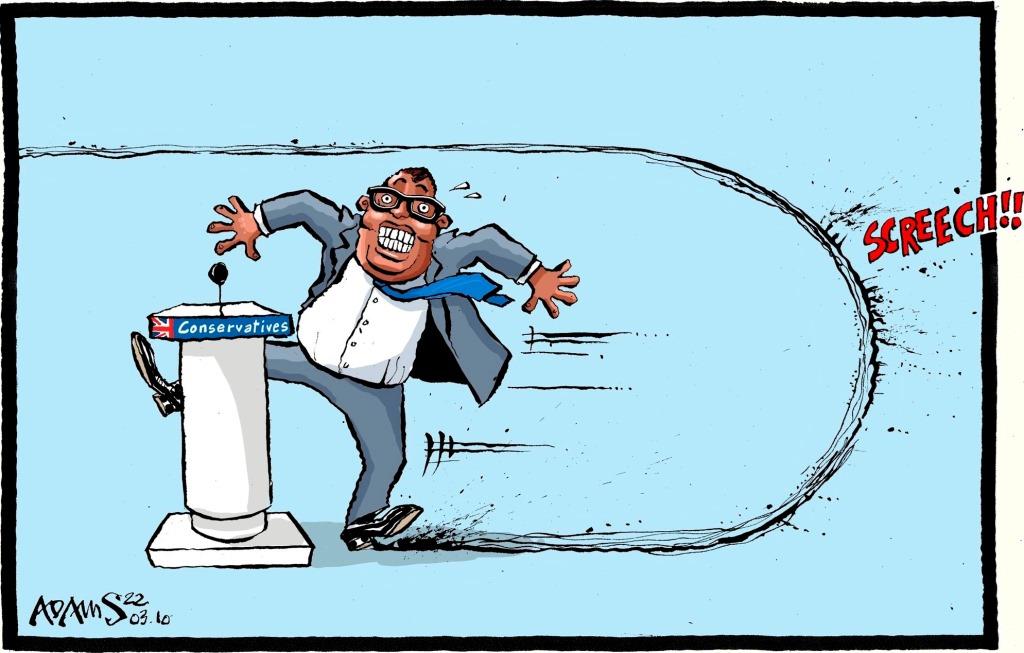 Boris had a sense of humour, if mostly Bullingdon-flavoured. This lot are unfunny - Kwarteng's "a little turbulence" was a poor and ill-judged attempt - AND incompetent. With last week's "fiscal event", they even reverse-bungled the "good day to bury bad news" trick by burying good news under bad, ann­ounc­ing support for the nation's energy bills - punter delight - and sim­ult­an­eously abolishing the 45p tax rate and bankers' bonus cap - public fury.

And more dangerous than Johnson? Here is a Financial Times graphic of the econ­omic pos­it­ion­ing of world political parties. The two main sources cred­ited are: Professor R. Daniel Kelemen, political science professor at the School of Arts and Sciences of Rutgers University, New Brunswick, New Jersey; and the Global Party Survey, an independent academic research project based at Harvard University.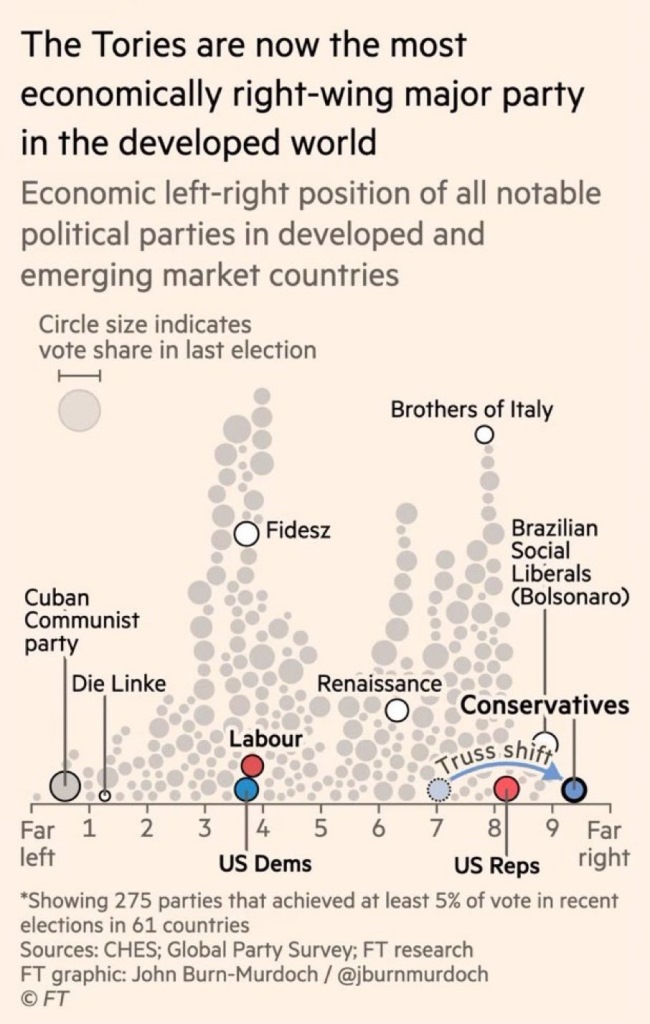 That's right, Truss and her new team have taken the UK to the right - albeit economic - of both Fratelli d'Italia and Bolsonaro, leapfrogging US Rep­ub­lic­ans on the way.

She has continued a commitment to the cherished three-word slogan. Now it's "Getting Britain Moving". To an offshore tax haven, I presume, having rest­ored the 45p band. Not so silly apparently. I listened to investment and bus­iness commentator Justin Urquhart Stewart on BBC Radio 5 Live yest­erday afternoon. He argued that reducing tax on the less well-off meant they would spend more, because they have to, whereas the rich can sit on their extra cash, because they don't. Or indeed they may spend it outside the UK.

Can Labour capitalise? They'd better get cracking before Truss unveils her Houdini act. Kwarteng may well be a goner - he was sweating uneasily at the pod­ium - but the PM might have some time. The Tory party won't want an­other leadership contest.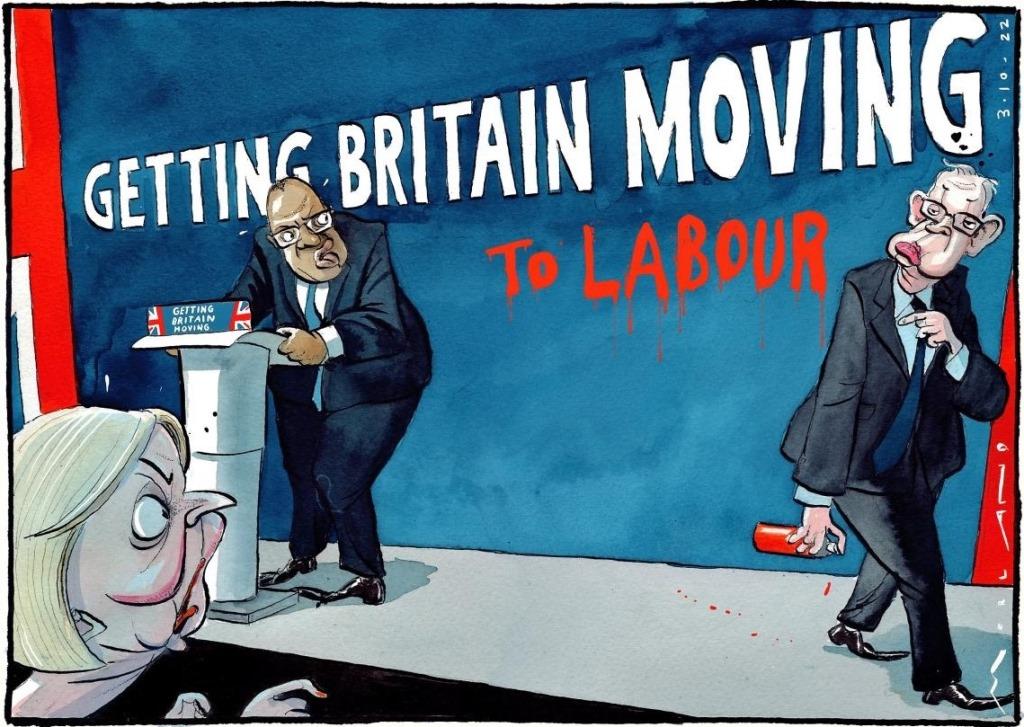 Of course, we may enjoy further U-turns. The scrap-45p component of the mini-budget accounted for £2bn of projected borrowing. There's an est­im­ated further £43bn required to fund cuts that Kwarteng insists will still go ahead. Can he convince the markets that's OK?

I'm tickled by one remote possibility. There's a mood among her critics that Truss should broaden the base of the top team, reach out to others in the party who did not support her summer campaign. If Kwasi fails to improve on his disastrous start, there's a former chancellor available. Rishi is not at the conference, staying away ostensibly to allow Liz to "own the moment". The difficulty is that he clearly stated his opposition to her policies during the leadership contest:

"For someone working really hard on a national living wage, in the care sector, [the] tax cut is worth about £1 a week. For a pensioner, who is not working, that tax cut is worth precisely zero. That's not a plan that I think is right for our country.





"I don't think the responsible thing to do right now is to launch into some unfunded spree of borrowing and more debt, that will just make inflation worse, it will make the problem longer."


It would take a lot more pressure from the markets, anger from the public and many more U-turns to pull Truss into alignment with this thinking. She's not averse to volte-face, but think of the shame, the climb-down. Could she continue to govern - not a word she can legitimately claim for her prime ministerial tenancy yet - after such a change of direction, the adoption of her opponent's stance?

Who knows? These are strange and unstable times.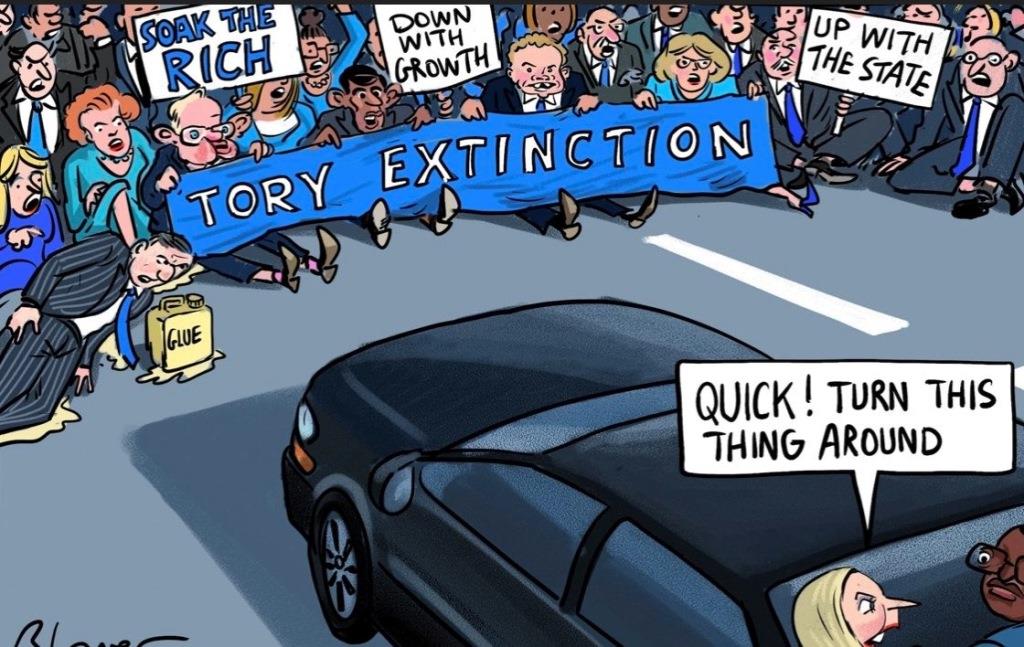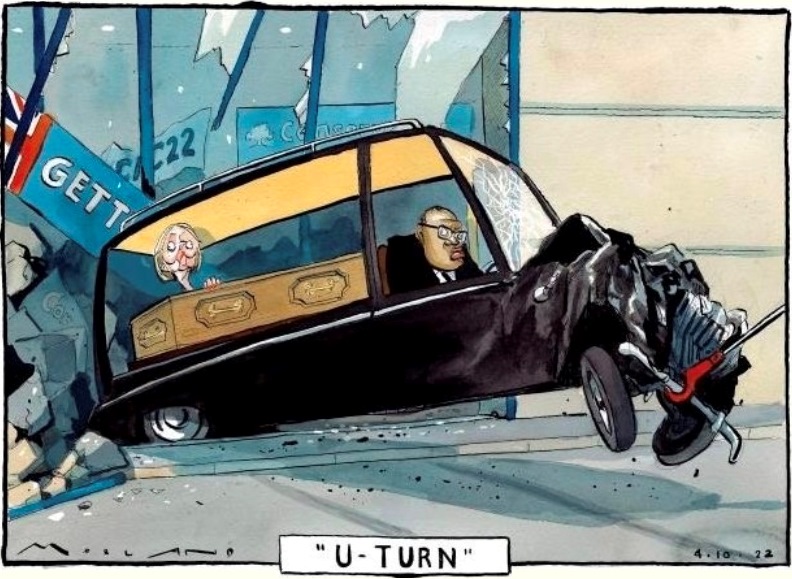 Monday 3rd October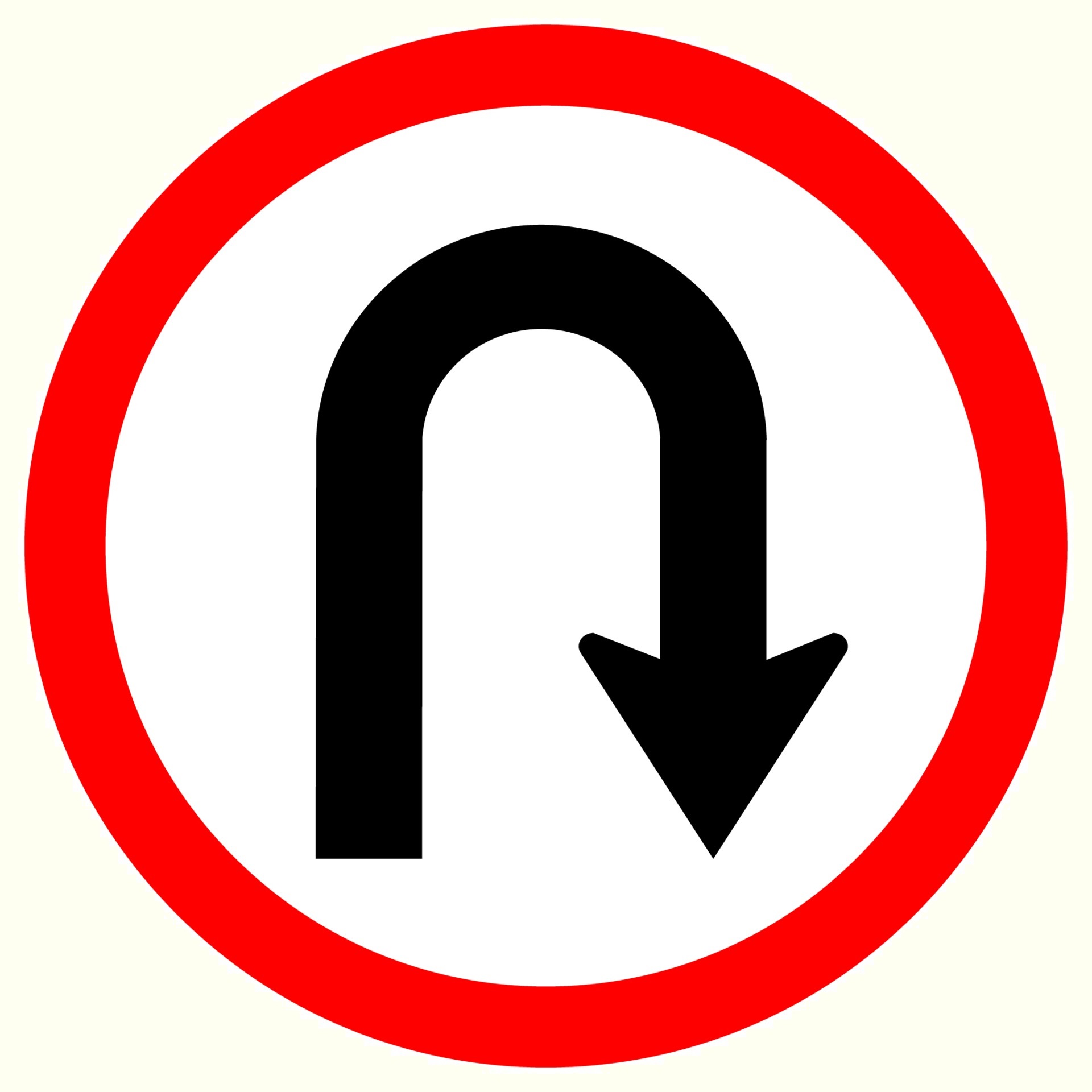 Friday 30th September


Taking three days off. Back in time for Kwasi Kwarteng's speech at the Cons­erv­ative party conference on Monday. But will he still be chancellor?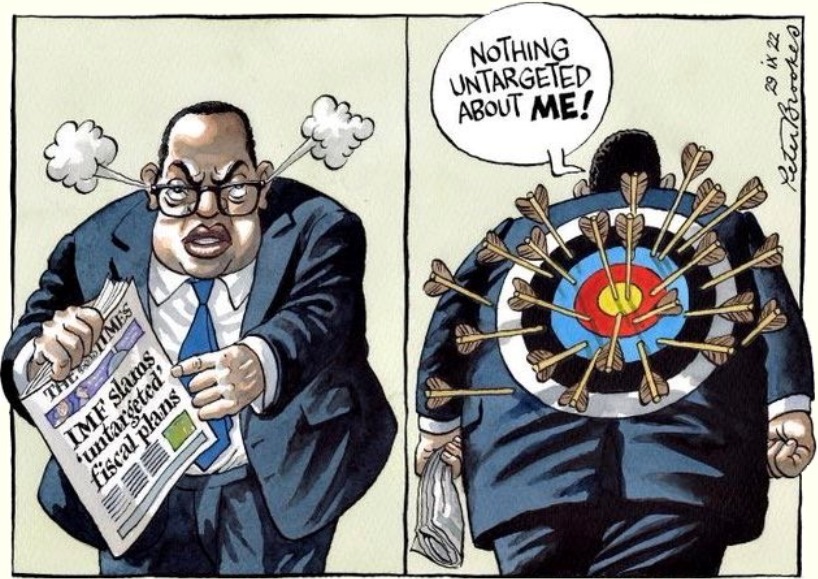 Would Truss sack him to save her own neck? If she has one skill, it's political in-fighting, and I'm sure she is no stranger to the long knife. A minister for 10 years, isn't she the only surviving cabinet member from Cameron's 2014 re-shuffle? However, there's a risk. The mutters are spreading like plague through Conservative ranks, and she had a relatively slender winning margin in the leadership contest. Jobs have been awarded to her backers, not across the party. If Kwarteng goes, she has nobody else but herself to blame. The target will be on her back.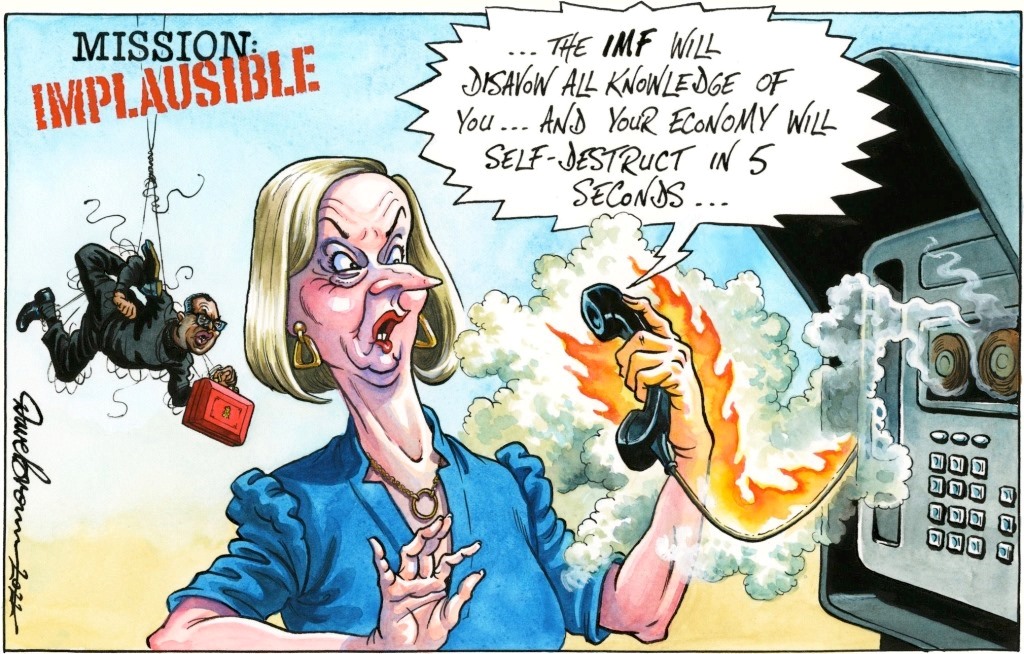 I read that one (un-named, of course) Tory MP commented: "Kwasi is a clever man but economic theory has just collided with political and market reality."

Rubbish. Rank incompetence has just collided with overweening arrogance.

It's a super-flaky start to the bright new Trussian age. The Guardian reported yesterday: "A shock YouGov poll put Labour a record 33 points ahead, on 54%, to the Tories' 21%, doubling their lead from only four days ago." The PM and her chancellor, both debutantes, are obliged to meet today with the head of the Office of Budget Responsibility, whose offer to issue a forecast based on the mini-budget was rejected. Mel Stride MP, Financial Secretary to the Treasury under Theresa May, has said that the failure to publish the forecast led to the "unfortunate impression that the gov­ern­ment may be seeking to avoid scrutiny". Surely not?

Rishi, don't give up yet.

Toodle-pip!

Thurday 29th September


A few cartoonists had a go at Labour yesterday. I can see their point, but I think they were wide of the mark.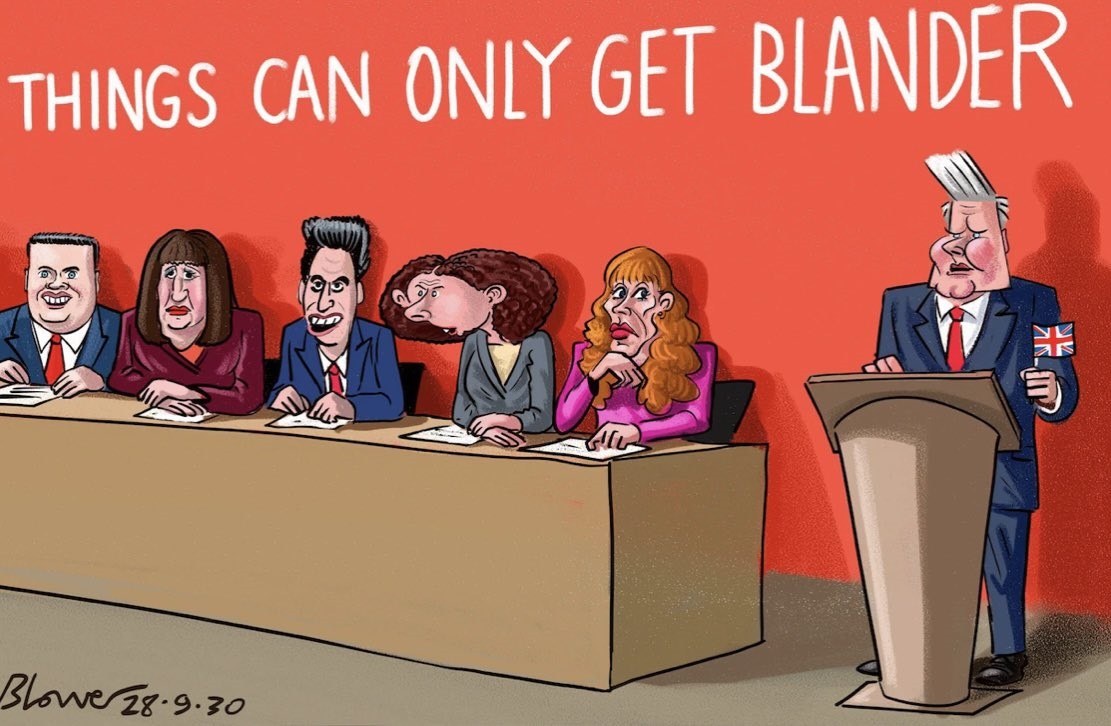 The standard accusation is suddenly proving out-dated, isn't it? We've heard proper fighting talk this week. Angela Rayner certainly produced some in her closing speech yesterday. You can read the full text here: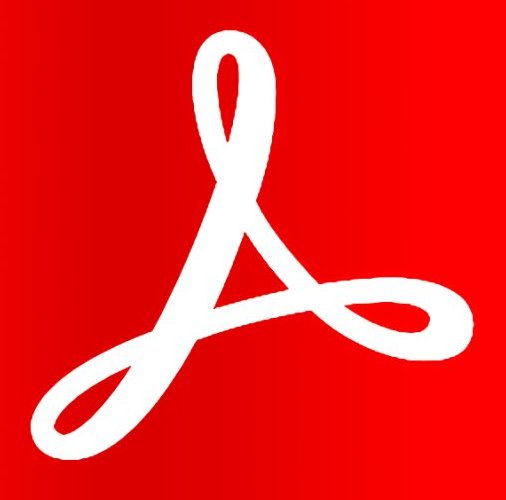 "The Conservative Party are no longer pretending to be competent and stable. Today's Tories will plunge us into chaos in pursuit of their dogma. Divide the country to rule it and regards rules as for you, and not for them. Tough on crime? They brought crime to Number 10. Defenders of the free market? The market's in free fall. England's green and pleasant land? Frack it. From the party of stability to causing earthquakes. From the party of business, to a slap down from the IMF. From the party of serious government to the party of parties. Liz Truss has even crashed the pork market. Now ... That. Is. A. Disgrace. You'd think that snouts in the trough was the one thing they could manage.





"To think this was the party that claimed they were for sound money. That's what one high-flying new Tory MP certainly thought in 2012. He wrote a pamphlet demanding a balanced budget every year. He said 'Fiscal prudence is the very least we should expect from a Chancellor.' And if they failed, they should face a 20% pay cut. That Tory MP must be absolutely furious with the new Tory Chancellor, except he is the new Tory Chancellor. I've got a funny feeling he won't be taking that pay cut either. Pay cuts are for other people."


More than this would be abusive, wouldn't it? And we're tired of that in politics.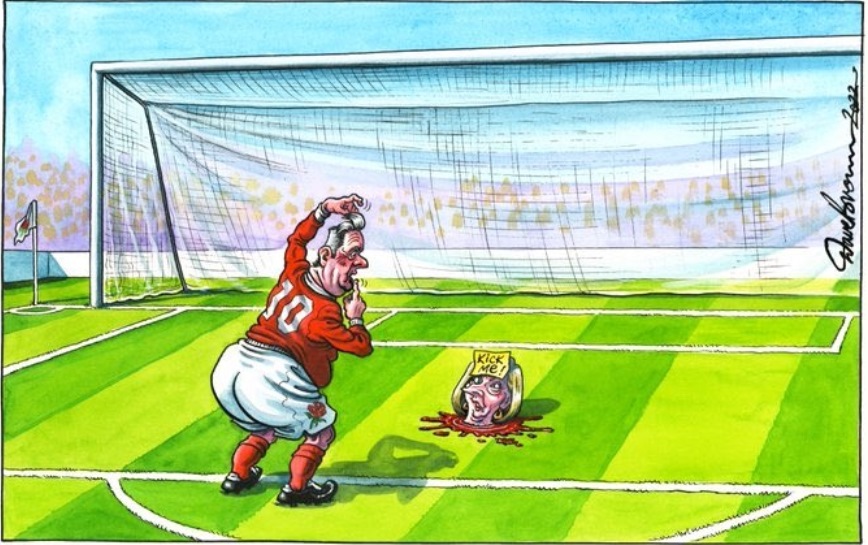 This has been a justifiable criticism in the last 12 years. Corbyn could have driven the proverbial "coach-and-horses" through the whole Brexit prop­os­it­ion - but he was a Euro-sceptic. Starmer struggled to make an impact when Johnson was such an obvious target, despite valiant and repeated int­erv­entions at the dispatch box. In the end it was the Conservative party itself who pulled the rug. However, there were mitigating circumstances that would have drawn the fire of any opposition. Covid and Ukraine provided Boris with protection that was difficult to challenge; it was hard to find counter-policies when the nation required a united response. Maybe Sir Keir lacks a ruthless streak. But is that such a bad thing?

I don't think Starmer and his team are wondering any longer how to attack. It helps that the pound has slumped, the IMF has tossed in its two-penn'orth, the Bank of England has intervened, debt is ready to spiral out of control and market confidence is shot. The removal of the bankers' bonus cap is blatantly immoral, so hugely insensitive as millions feel the cost-of-living pinch. The Rwanda scheme beggars belief and has failed to achieve anything - no flight has left, small boat numbers have already exceeded those of 2021. Most people can see that Suella Braverman is even more unpleasant than Priti Patel. Labour has, it appears, got the bit between its teeth. The party seems more aligned against the Tories, more determined not to fight itself. The shape of policies to upend Conservative doctrine has emerged in this con­fer­ence. Labour has begun to rediscover its voice. Most importantly, that voice comes from a spirit of decency. For which we all long, and which Keir Starmer exemplifies.

Things can still go wrong. There is the union and strike issue to manage. Never easy for Labour.

There's also the Tory conference in three days' time. Although I see that Lib Dems leader Ed Davey has demanded it be cancelled, and for Parliament to be recalled instead.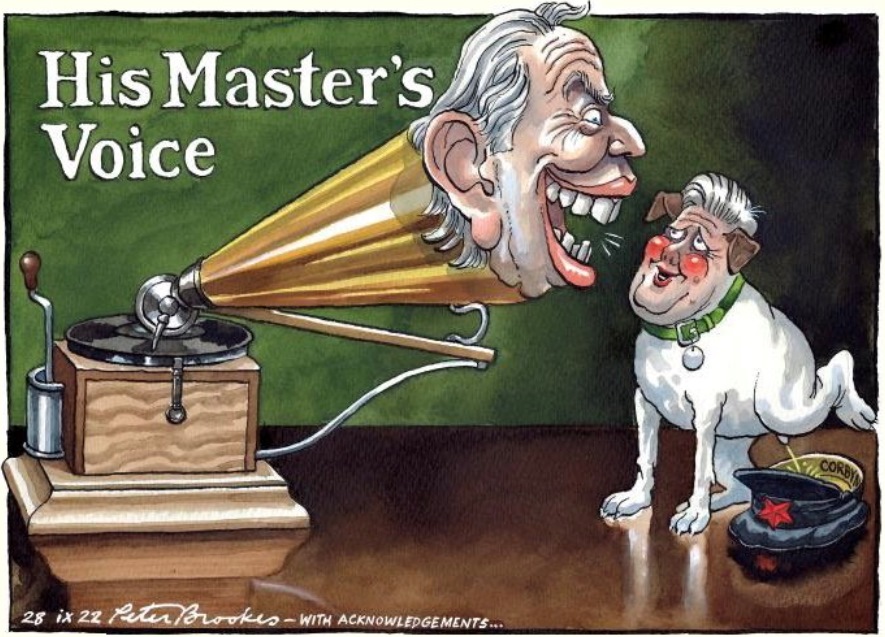 Yes, but so what? Is this the making-Labour-electable question again? That's always a challenge and one that has to be faced. It is now fashionable to diss Tony Blair, but we forget how much good was done by his admin­ist­rat­ion until he lost the plot with weapons of mass destruction. Is it wrong for Starmer to distance himself from Jeremy Corbyn? I was a big fan and thought the 2019 Labour manifesto was a cracker. But there were issues, and it was a resounding defeat. Who wouldn't hanker after the 1997 landslide?

Again, this Labour conference has seen Starmer begin to sharpen his own image.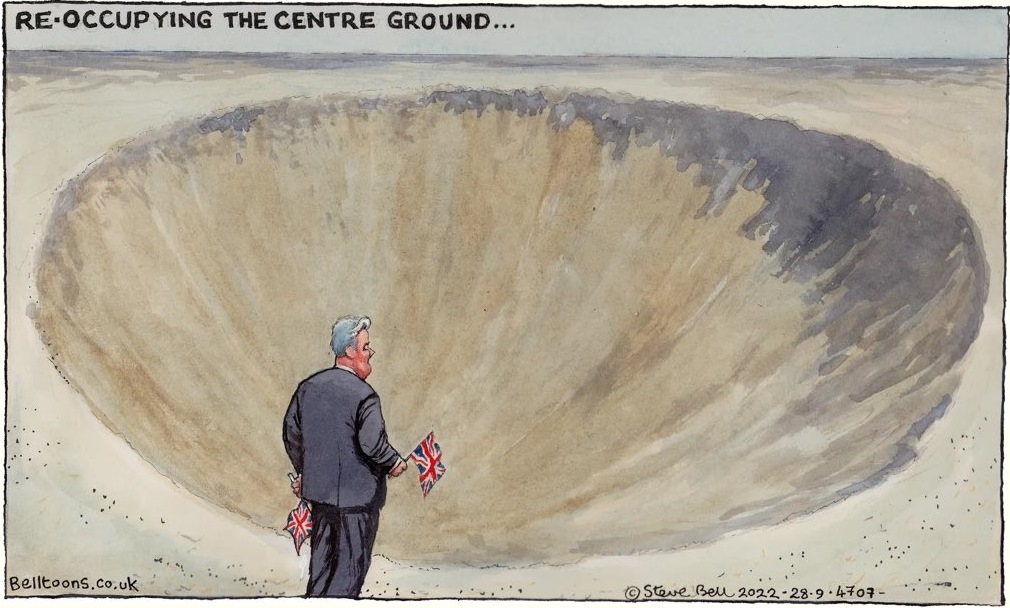 Help me. I don't think I even get this one. Centre ground, OK. Is it about an asteroid hitting the planet, or the size of the shit-hole in which we find ourselves - with Starmer feebly waving the patriotic Union flag in response? Or some existential expression of the emptiness of a centrist stance? Answers on a postcard, please.

I'll finish with a different angle. Is this what we'll see shortly from the Truss­mobile?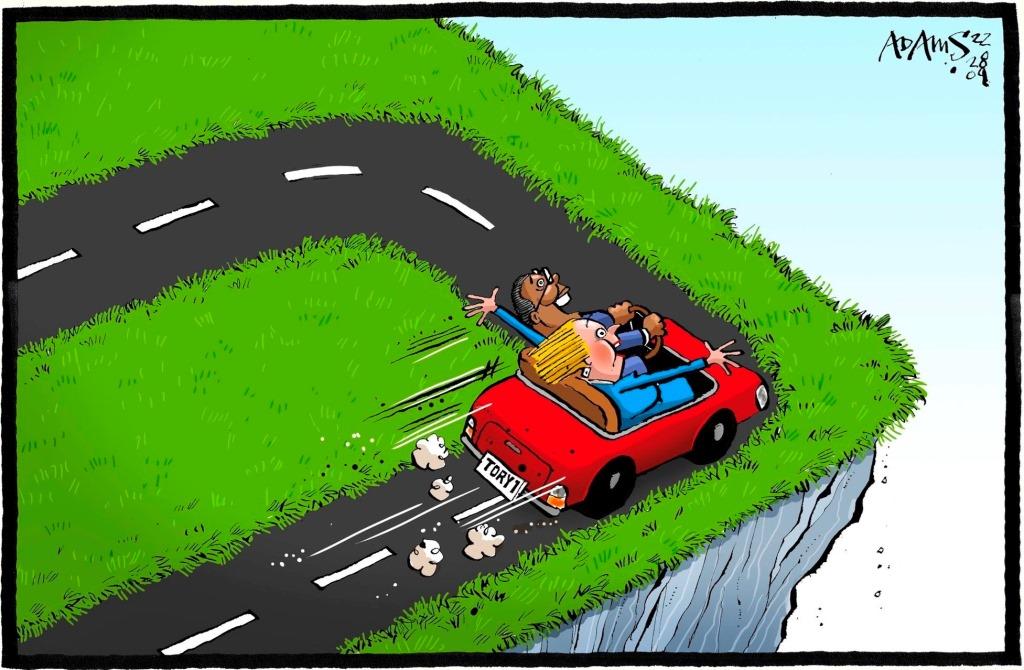 Wednesday 28th September


Am I right to be encouraged by the Labour Party Con­fer­ence? As reported else­where, it exhibited new-found confidence. Something resembling an opp­os­ition, even - dare I say it, as the main speakers all did - a govern­ment-in-waiting. Plans and policies - not all but most - to which I could say "Yes!"

The first ploy, of course, was to appropriate the recent public mood of mourning for and celebration of Queen Elizabeth II. Indeed, Starmer opened the proceedings with a eulogy tuned for Labour:


"Conference, as we enter a new era, let's commit to honouring the late Queen's memory. Let's turn our collar up and face the storm, keep alive the spirit of public service she embodied and let it drive us towards a better future. For seventy years, Queen Elizabeth II stood as head of our country. But, in spirit, she stood amongst us. So please join me in paying tribute to the Late Queen."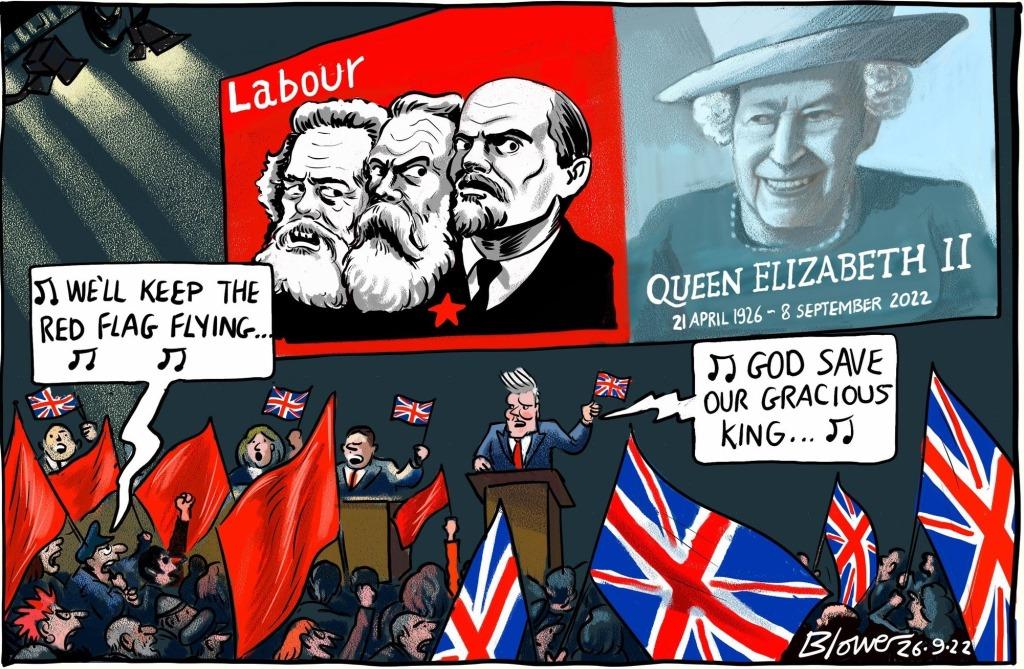 As well as saluting the monarchy, he has had to turn to the thorny task of making Labour electable. Aha, someone did that 25 years ago through a process of cleansing the Augean stables. Starmer needs his own cypher: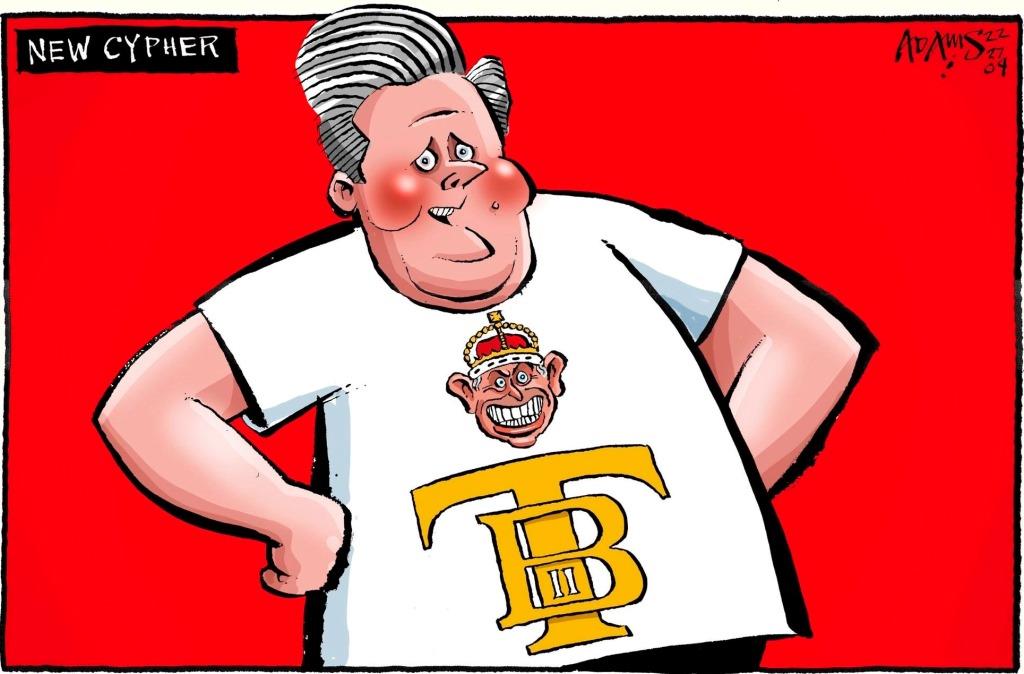 Armed with this, he could say, as he did yesterday afternoon: "We are the party of the centre-ground."

Yards of speech transcripts documented on the Labour website

. I'll stick to a few selected extracts. Here is the full text of Starmer's keynote (18 pages, although heavily spaced to allow for applause from the faithful) should you wish to examine it further: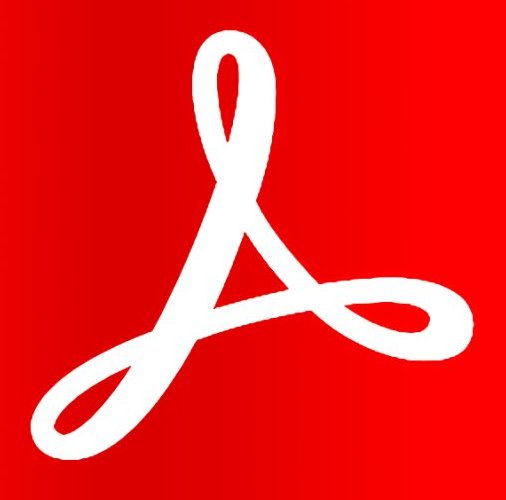 There was some self-deprecating humour, always a sign of assurance ...

Emily Thornberry:


"I must start with an apology. The last time I stood here in 2018, I was shadowing Boris Johnson. When our conference was cancelled in 2020, I was shadowing Liz Truss. So, I don't know what this curse is, but I apologise in advance for the catastrophic period in our national history that will be the premiership of Suella Braverman. It could get worse though. We may need an emergency motion stating that Keir cannot under any circumstances make me shadow Jacob Rees-Mogg."


David Lammy:


"My parents would never have believed that their skinny son in NHS prescription glasses who got stopped and searched on the streets of Tottenham would have ended up as Shadow Foreign Secretary. Surprised not only because MPs at that time didn't look like me. Surprised not only because I had barely travelled beyond London's Zone 3. They would have been surprised because our ancestors knew what it was like to have their freedom taken away."


Angela Rayner took a comprehensive pop at recent Tory ach­ieve­ments:

"Just look at this government's record since we last gathered in Liverpool just four years ago: three different leaders; a catalogue of sleaze, waste and lies; Cummings, Paterson and Pincher backed to the hilt; Chris Grayling, Grant Shapps, and too much Matt Hancock, far too much Matt Hancock; green cards and non-doms; treehouses and even tractor porn; breaking the law; queues at the airports; chaos at the borders; mountains of PPE unfit for use; billions in fraud written off; sewage in the rivers; a Prime Minister hiding in a fridge; three sleaze watchdogs out in the cold; the Barnard Castle eye test; the Downing Street crime scene; broken swings, wine stains, sick on the walls; 126 fines; rules made, rules broken; Partygate, Wallpapergate, too many gates.





"Too little, too late mate. And now a Prime Minister who says people don't work hard enough. Well, enough is enough."


To a European shamed by Brexit Britain's insularity, and an opponent of the un­speak­able Rwanda scheme, David Lammy's speech brought cheer (with orch­est­rated part­icip­ation of the conf­er­ence audience on the "we won't do it" refrains):

"I'm proud that my parents arrived in the UK as part of the Windrush generation. They taught me that Britain at its best is an outward looking nation. We are all here today because we share in that belief.





"So when the Conservatives say they want to trash our human rights we say no, we won't do it. When the Conservatives say they want to start rows with Europe for the sake of it we say no, we won't do it. When the Conservatives say they want to slash international aid we say no, we won't do it. When the Conservatives say they want to sell weapons to dictators and despots we say no, we won't do it. When the Conservatives say they want to deport refugees to Rwanda we say no, we won't do it.





"The Conservatives' ideology does not represent our country. Their time is up. A Labour government will forge a different path for our foreign policy. A United Kingdom that looks outwards instead of inwards. A voice for peace, dev­el­op­ment and freedom across the globe."


These pages have clung on to the title of "Climate Blog" for a long time, so Starmer's big green reveal was welcome (and I hope real, not just a fanc­iful elect­ion­eer­ing device):

"Some nation is going to lead the world in offshore wind. Why not this one? Some nation will win the race for electric vehicles. Why not us? Some nation will be the first to harness new hydrogen power. Why not Britain?





"That's why today I'm so proud to launch our Green Prosperity Plan. A plan that will turn the UK into a green growth superpower. And driving the plan forward is a goal that will put us ahead of any major economy in the world: 100 percent clean power by 2030.





"A huge national effort. An effort that will: double Britain's onshore wind capacity, treble solar power, quadruple offshore wind, invest in tidal, hydrogen, nuclear

[Ed: Oops!]

.





"We won't make the mistake the Tories made with North Sea oil and gas back in the 1980s where they frittered away the wealth from our national resources.





"Just look at what's happening at the moment. The largest onshore wind farm in Wales. Who owns it? Sweden. Energy bills in Swansea are paying for schools and hospitals in Stockholm. The Chinese Communist Party has a stake in our nuclear industry. And five million people in Britain pay their bills to an energy company owned by France.





"So we will set up Great British Energy within the first year of a Labour government. A new company that takes advantage of the opportunities in clean British power and because it's right for jobs, because it's right for growth, because it's right for energy independence from tyrants like Putin.





"Yes Conference, Great British Energy will be publicly owned."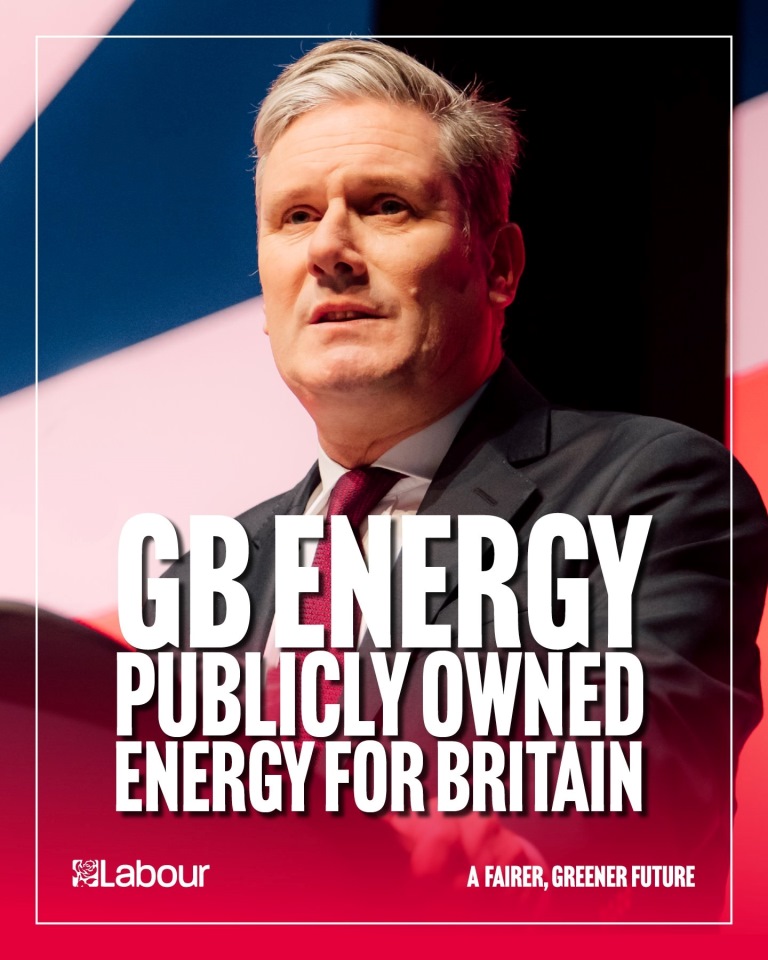 Dale Vince approves:





Has Keir Starmer got a CEO in mind? Does anyone know the market and its oper­ation better than Vince? 25 years in the bus­iness, grew Eco­tri­city from scratch, the first not­able indep­end­ent green energy entre­pren­eur. Now in the process of selling the com­pany, he's looking for his next challenge and has already stated that it will be in the political realm, that the next general election is the most imp­ort­ant of his lifetime. Dale's wealthy enough not to be susceptible to a back-hander, never been troubled by the demands and influence of vested interests. He's attended the conference - a chance for informal discussions?

The shadow top team looks more promising than the Truss mob. Cooper and Miliband, veterans of the Blair and Brown years, have ret­urned to the opp­os­ition limelight after licking earlier political wounds - but I don't doubt their commitment to the Labour cause. Hover - if your device permits - over a photo to see name and job title(s).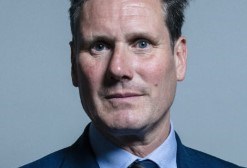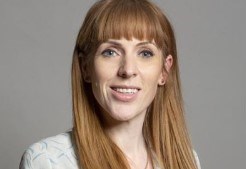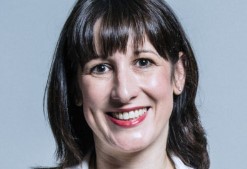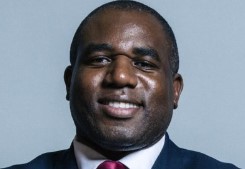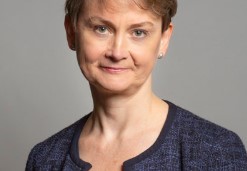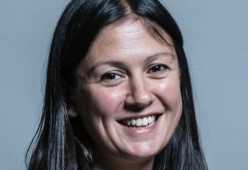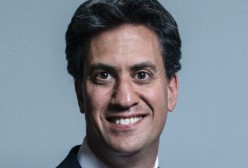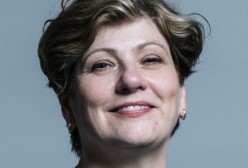 There is one major disappointment for me. Labour doesn't intend to over­turn Brexit, just to mitigate the disaster. Lammy's words:


"We are outside of the European Union but we are still a part of Europe. And unlike Liz Truss who could not say if France is a friend or a foe, we know that European nations are among our closest allies. Liz Truss's protocol Bill is a shameless breach of international law. Labour will ditch it, get round the negotiating table and fix the Tories' damaging deal. And we will strengthen cooperation with the European Union with a new security pact to complement NATO's role."

Tuesday 27th September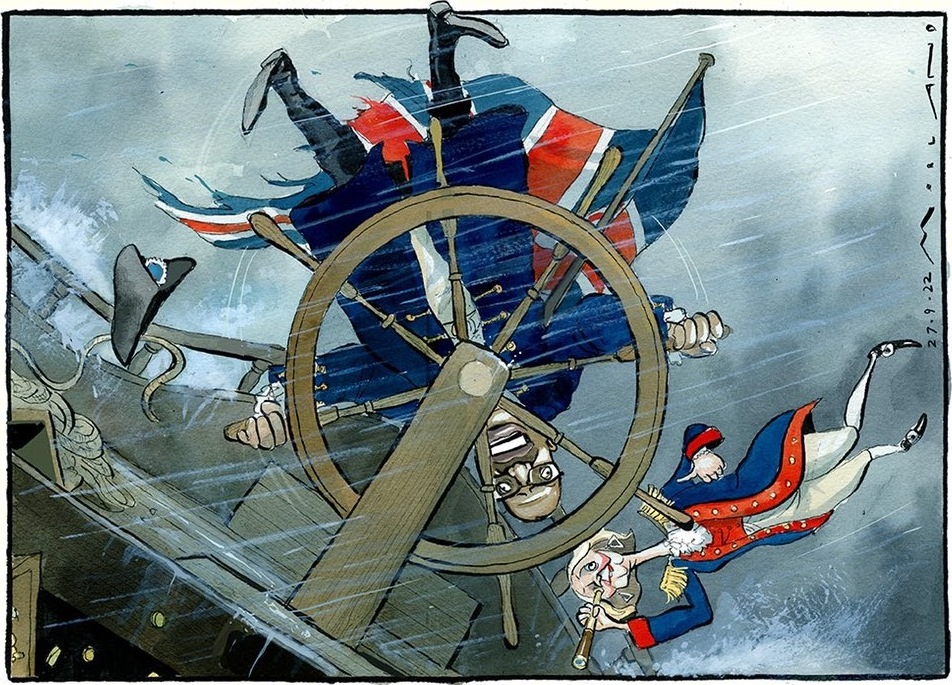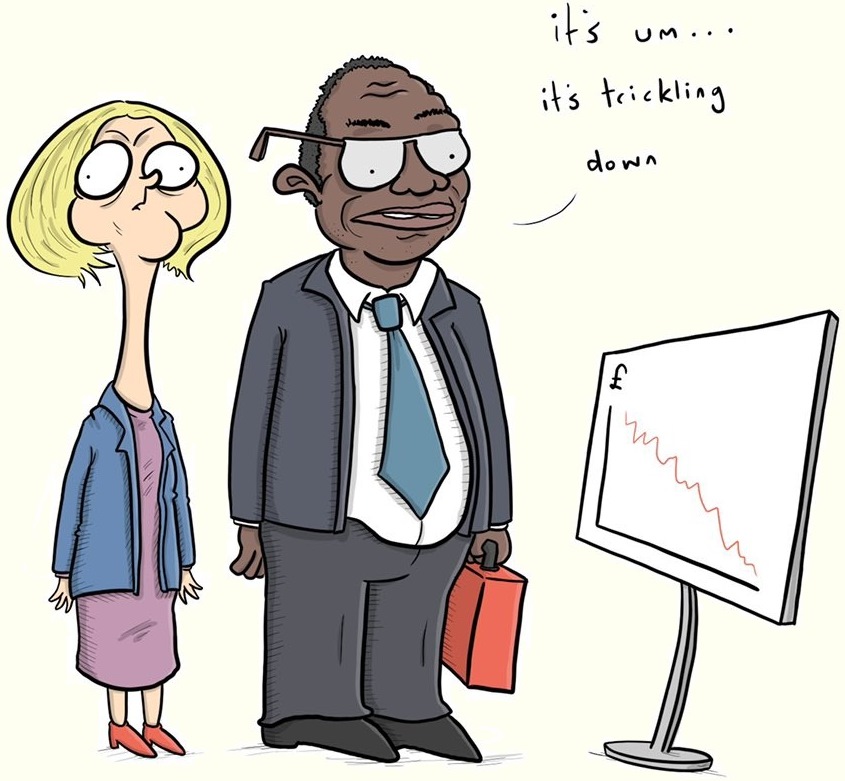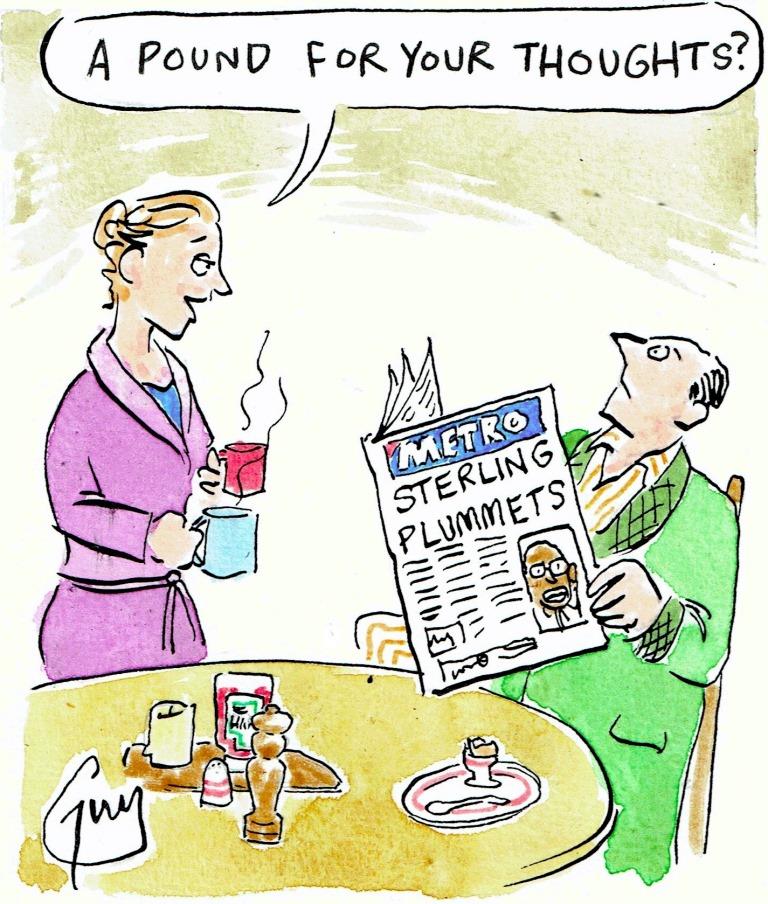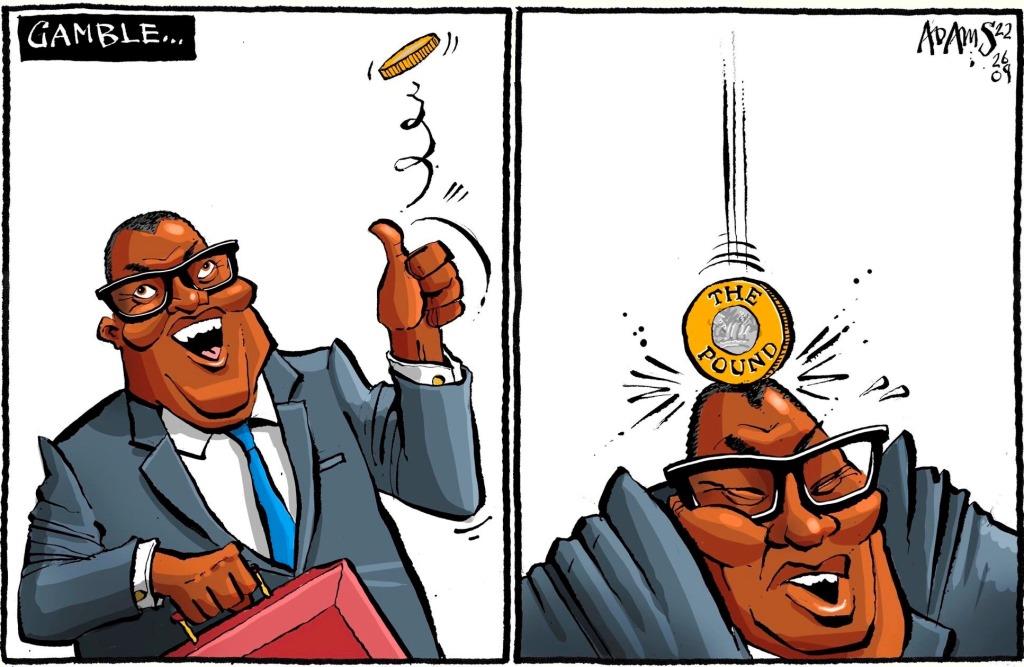 Monday 26th September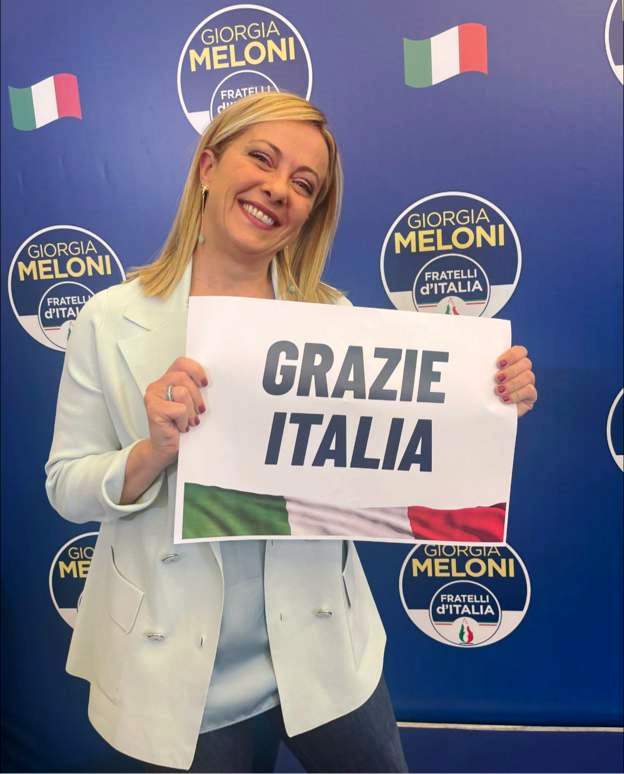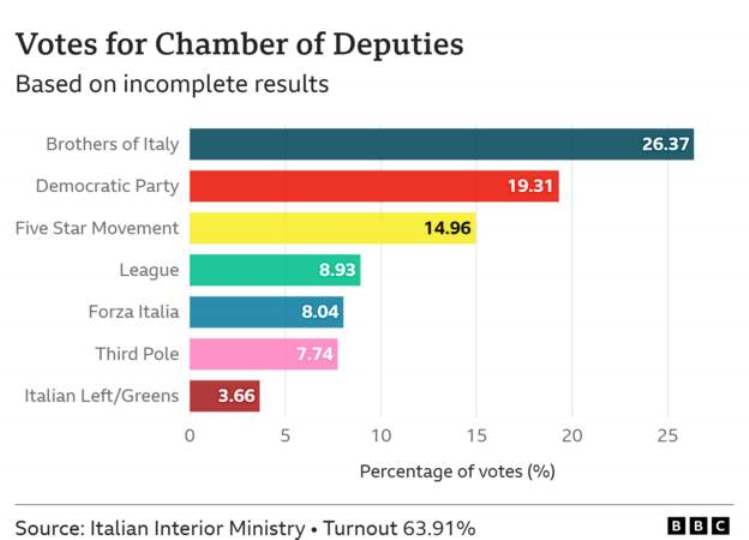 My correspondent Chris Taylor in Udine reported first thing:

"Well, it's the worst outcome possible. Everything started to go pear-shaped when the excellent Mario Draghi was ousted by the far right (Meloni, Salvini) and the far left (the Five Star Movement aka the Silly Party).





"Why have so many people voted for these oiks? There are shades of Brexit here - the thorny question of immigration. Meloni wants the navy to blockade north African ports! Then there is Meloni herself - a firebrand who excites her audience with burning rhetoric aimed at establishment reactionaries and a disillusioned working class. It works. And of course, she'll be the first woman prime minister.





"The left are also largely to blame, falling out among themselves and forming stupid little individual parties.





"I did my democratic duty and voted Partito Democratico (read Labour Party), a party with similar problems as to who they represent, the working classes or the educated middle class.





"The only consolation is that, if the past is anything to go by, even this government won't last long once inflation and energy prices begin to bite.





"What has the world come to?





"Pazienza!"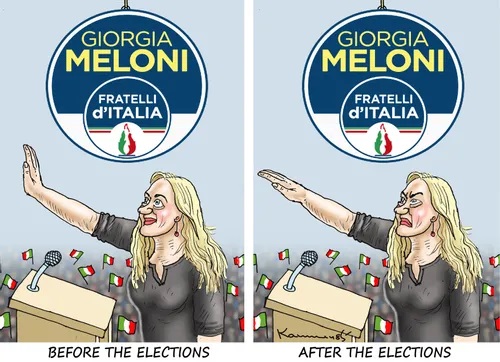 Sunday 25th September




Jonathan Freedland in The Guardian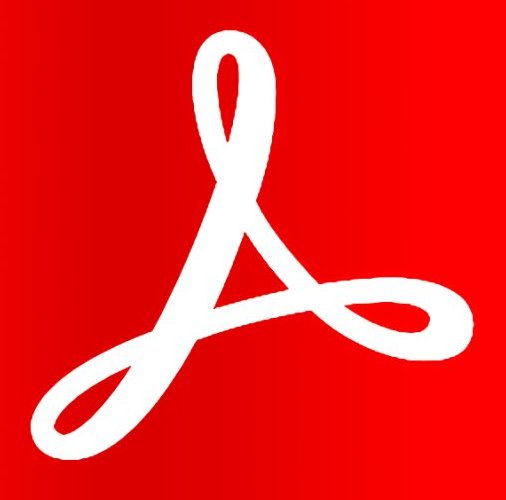 :

"She makes Margaret Thatcher look like a moderate and Ronald Reagan seem positively wet. Liz Truss has embarked on an ideological project so extreme that the de facto budget announced by her chancellor today amounts to a declaration of class war. It was a reverse Robin Hood: taking from those who have least, lavishing gifts on those who have most. It is morally indefensible, economically reckless and so politically risky as to suggest a death wish.





"Trussonomics rests on a simple article of faith: that by rewarding the already wealthy, life will improve for everyone else. Trickle-down economics ... back in a form more stark, more extravagant, than even its most ardent apostles ever dared contemplate.





"The generosity towards the amply blessed was breathtaking. Kwasi Kwarteng's totemic move was the removal of the cap on bankers' bonuses - as if the number one problem confronting Britain today was that bankers aren't rich enough. The Conservative predecessors of Truss and Kwarteng had no principled objection to letting bankers receive telephone-number bonuses, but held off because they knew the optics were so screamingly awful. The new duo has no such restraint.





"Class war is never just about looking after your own. It's also about hurting the enemy. So the chancellor made sure to announce that the unemployed will see their benefits slashed if they can't prove they're searching for more work. And even though the trade unions have a fraction of their former strength, Kwarteng promised legislation to shrink workers' ability to act together yet further. No matter how little cash or power the neediest have held on to, the sheriff of Nottingham is after it."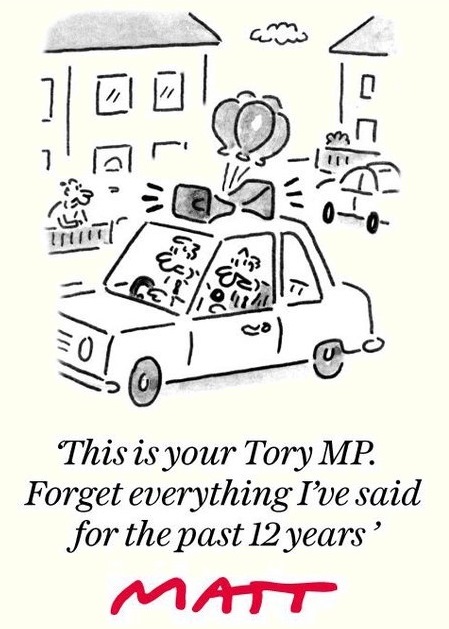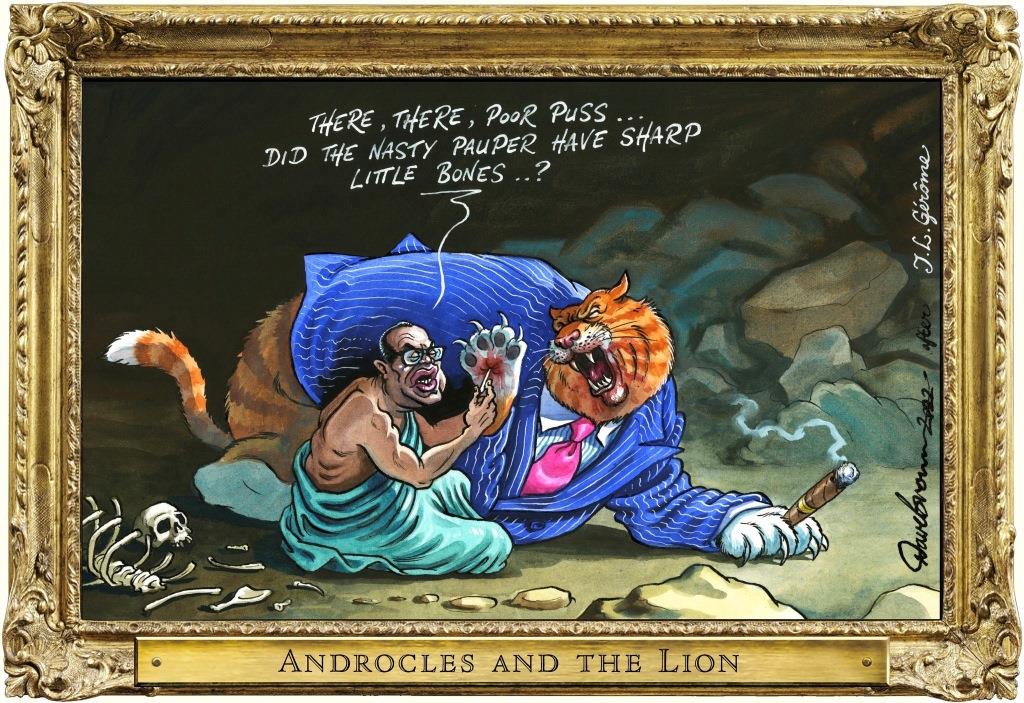 Saturday 24th September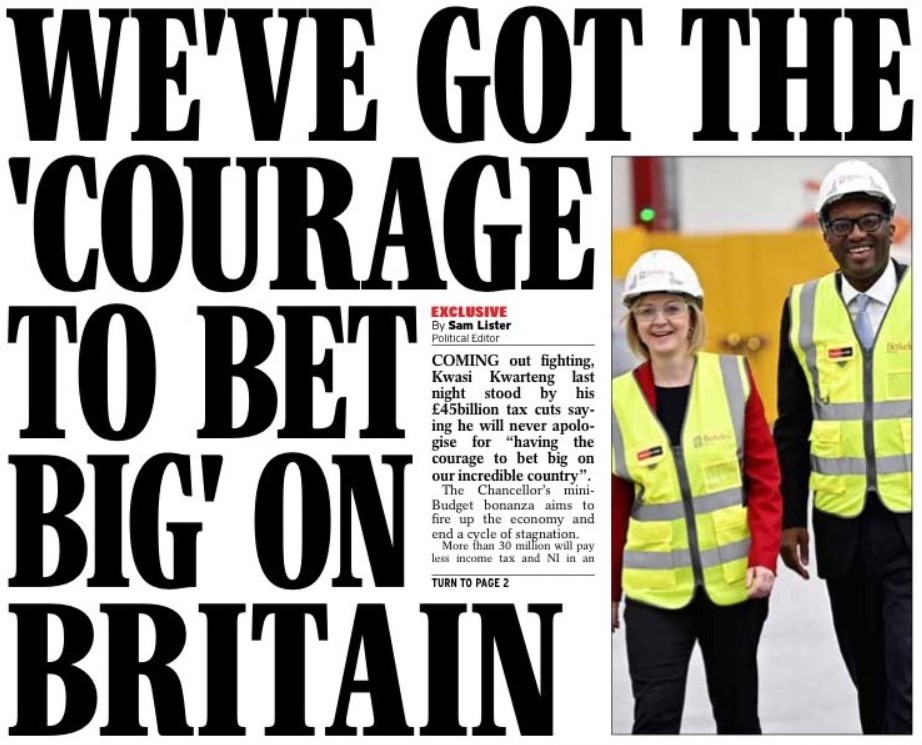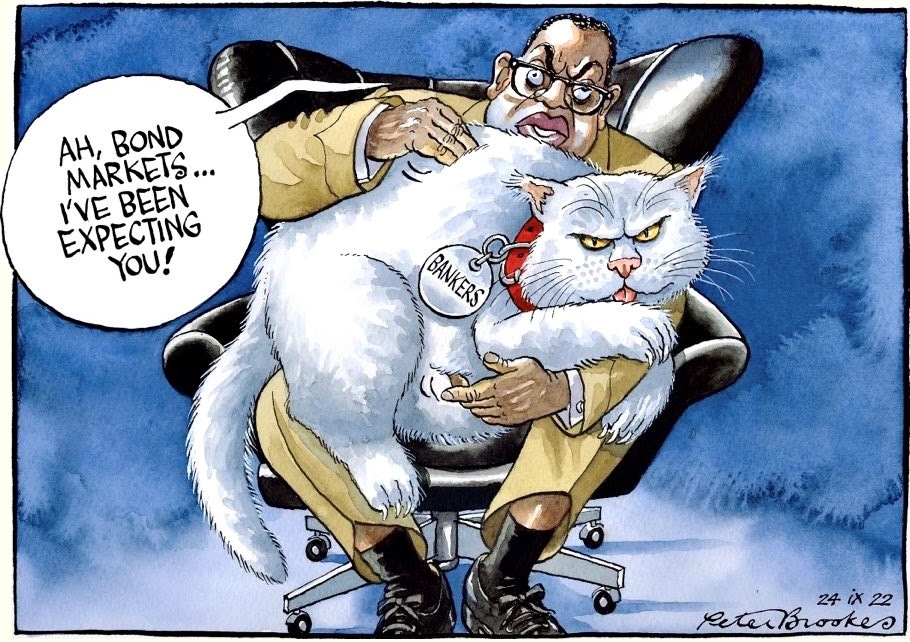 Friday 23rd September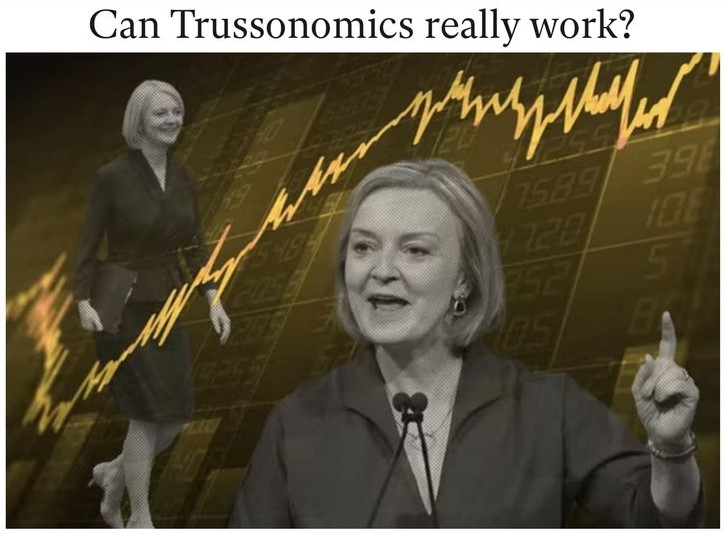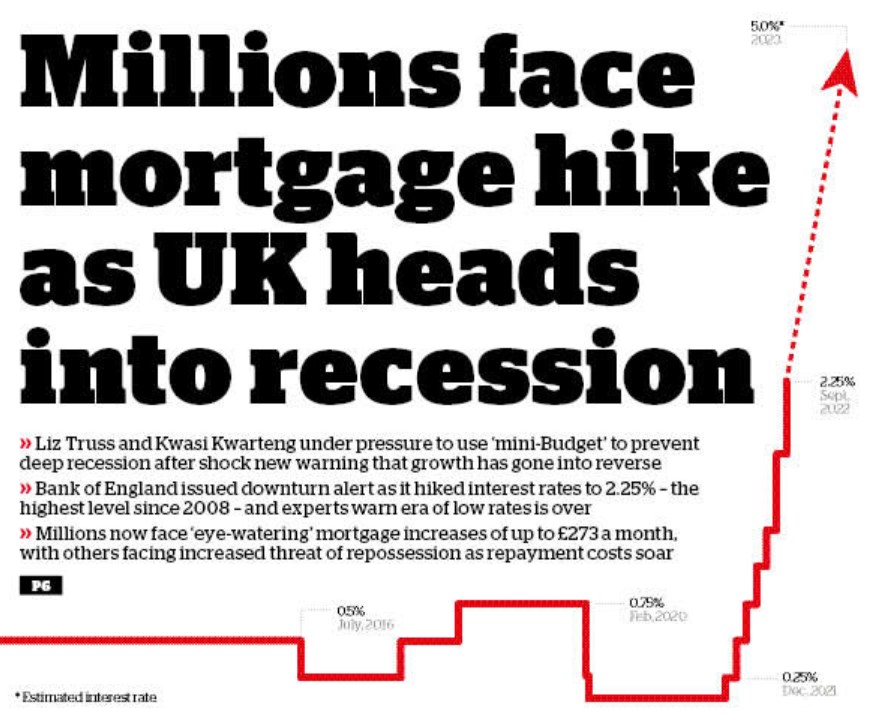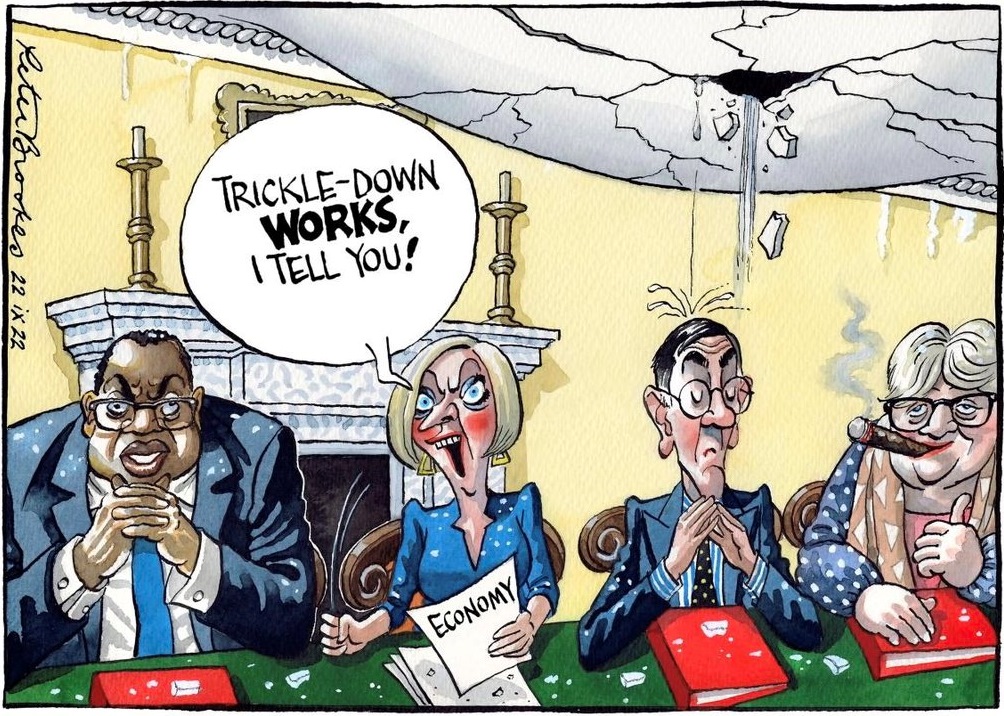 Thursday 22nd September


Boris splashed the cash on Covid and Ukraine. Truss is opening her wallet for energy bill caps. What's not to like? Unless you're Keir Starmer looking for an angle. However, in the last twelve years of Conservative Prime Ministers, they haven't worried too much about getting debt under control, have they? Alas, poor Rishi. Is this now the Tory way? Spend-and-no-tax?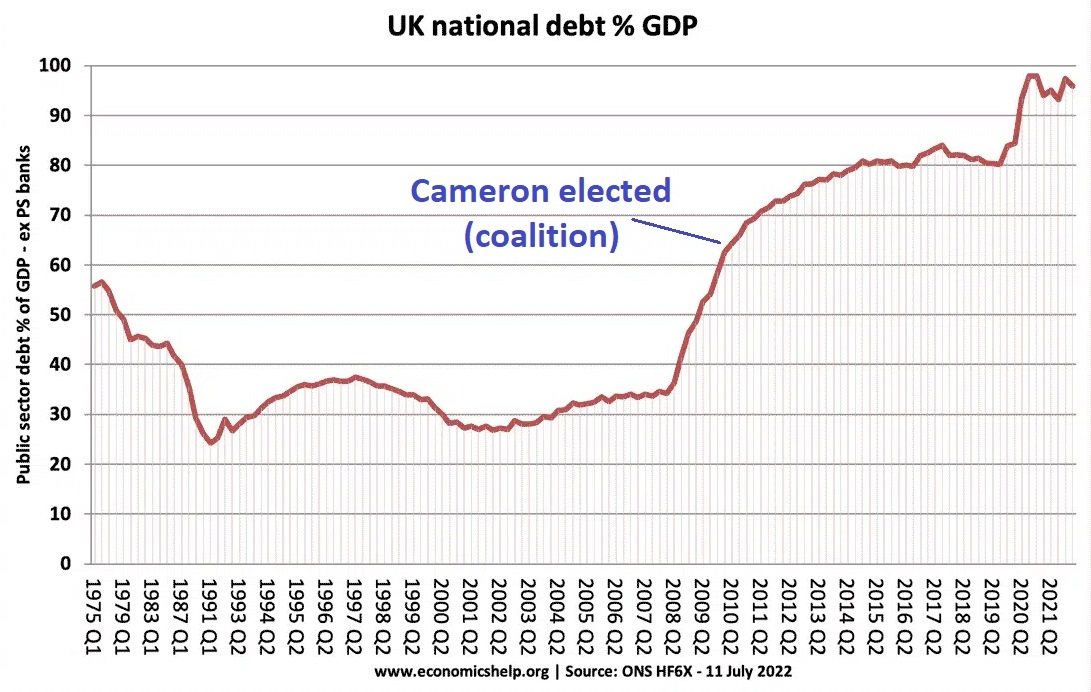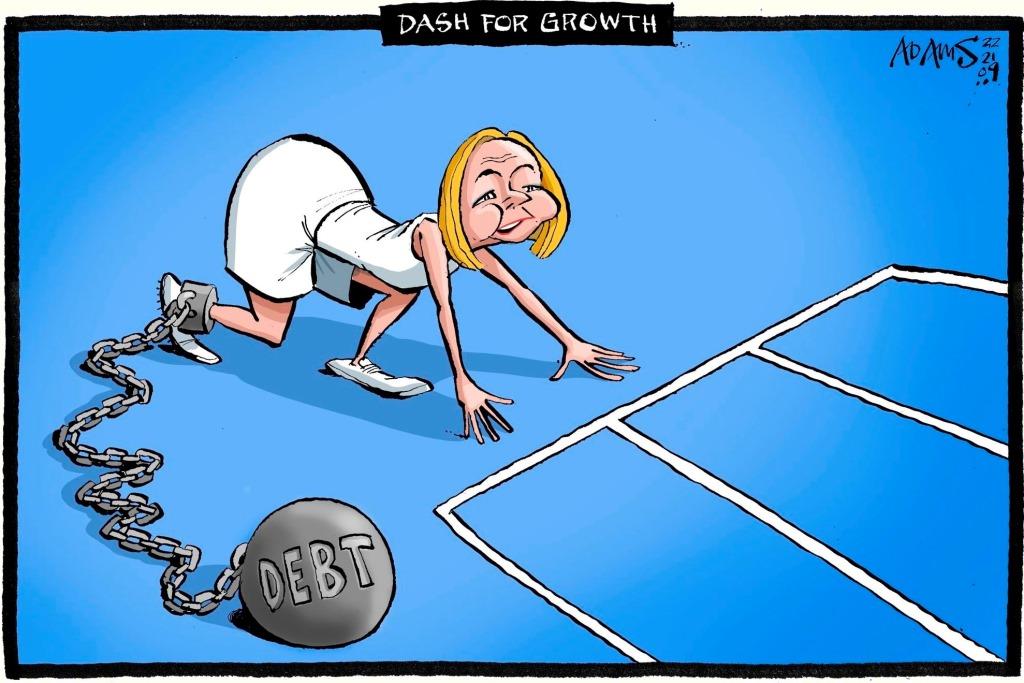 Meanwhile, the fat cats ...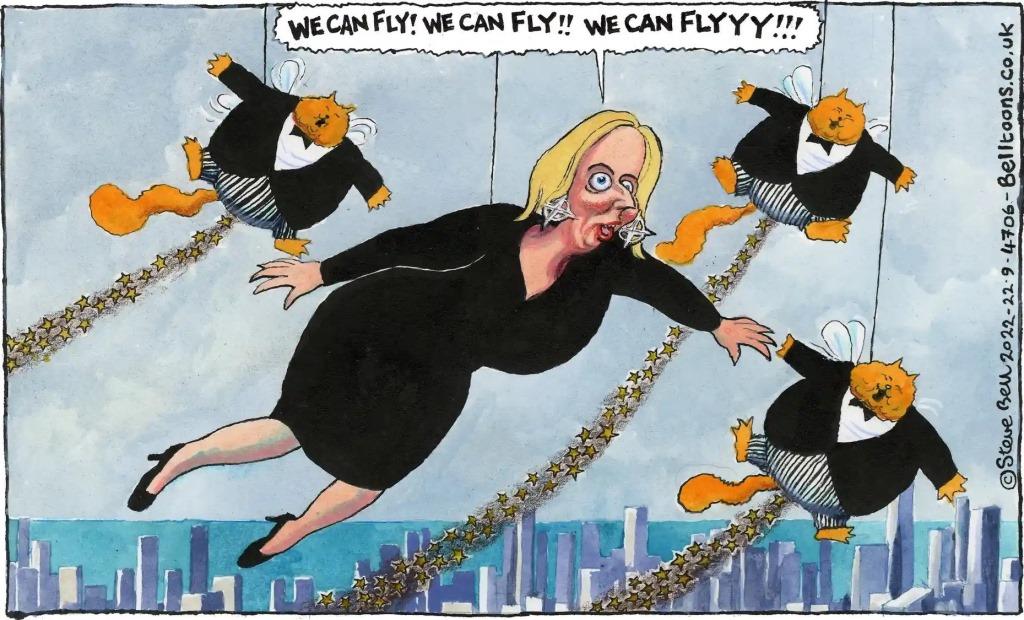 Wednesday 21st September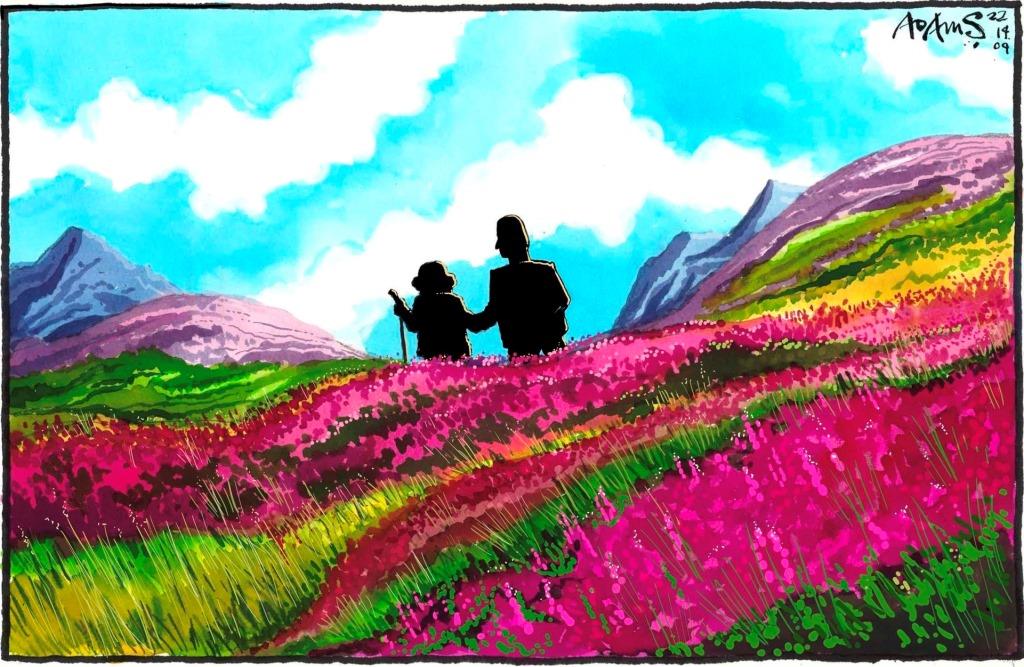 I thought there was a sense of release and quiet yesterday after the pomp and ceremony of the Queen's send-off. (An alternative take, of course, might be: thank goodness it's all over.) I suppose that's what the form­al­ity of mourning is about, calling a halt, processing loss, thanks, reflection, moving on. Whatever your political persuasion, it has been an unsettling period. Thoughts of mortality, nationhood, past and future, what's next. A difficult but contemplative pause.

Stop all the clocks, cut off the telephone,

Prevent the dog from barking with a juicy bone,

Silence the pianos and with muffled drum

Bring out the coffin, let the mourners come.





W. H. Auden, 1936


Silence and stillness were a big part of last week's experience. Now we return to the fray: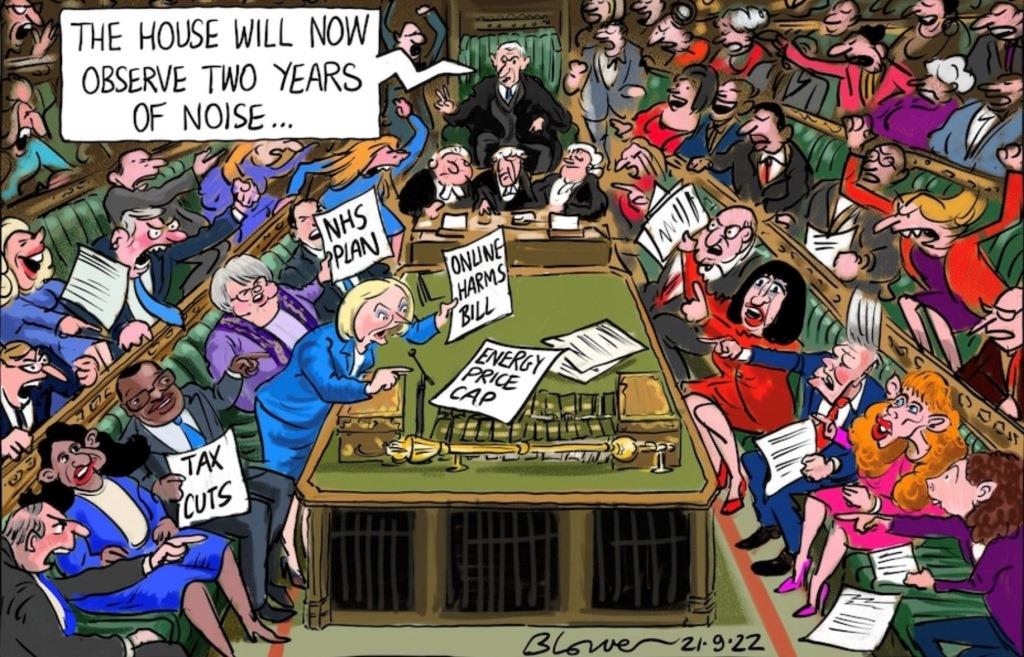 I'm not looking forward to the noise. Above all, it will be the sound of greed. So distant from the 'phrase coined by George Monbiot, "private sufficiency, public wealth".

Luckily, we have some local initiatives that counter Truss's mantra of growth and acquisition. I've always felt that the residents of old Stroud are rich not in money but in spirit. A neigh­bour put this poster on our WhatsApp group, an offering in the same place round the corner that hosts a food bank and the Stroudco organic and eth­ical grocery store.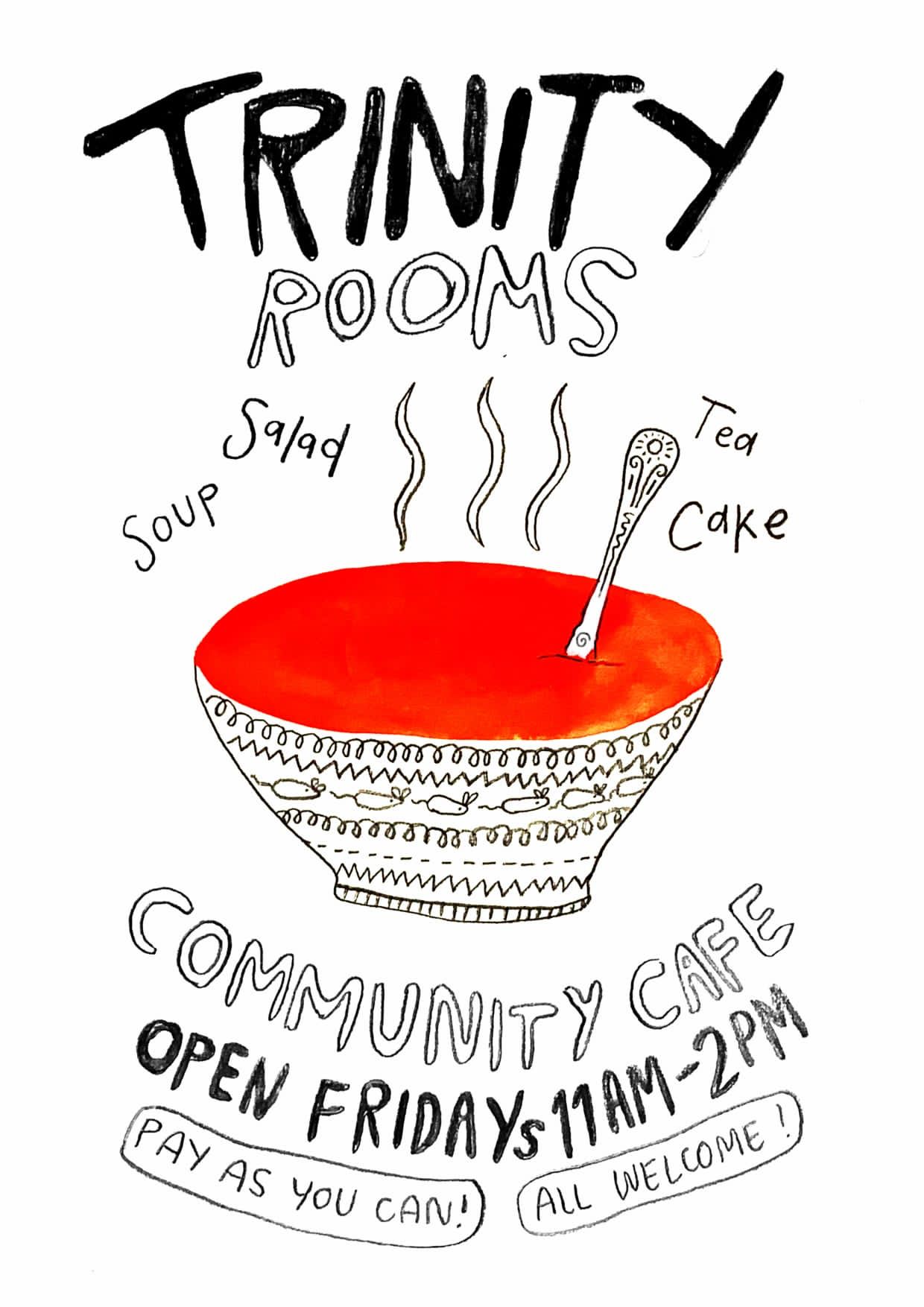 Tuesday 20th September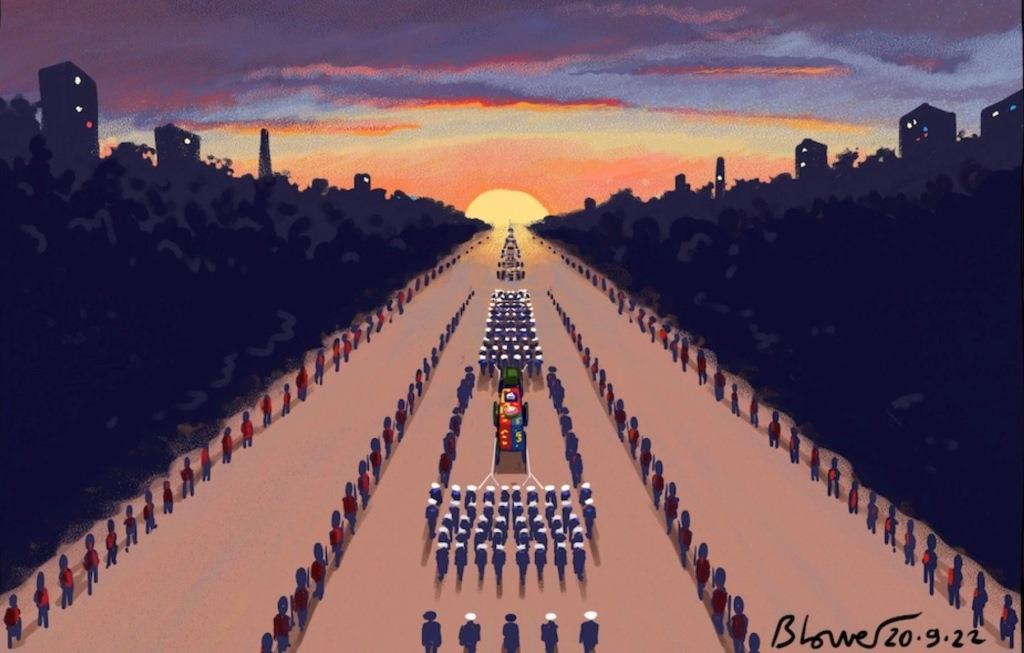 It's all over. Now I can write down my reactions to the last ten days. Some of them may be unpopular. I have been in the minority (albeit sometimes quite large) most of my life. Thatcher, the Falklands War, Johnson, Brexit. Since becoming eligible to vote, I have never sup­port­ed a Cons­erv­ative prime minister. I'm a democrat and parlia­ment­arian, however flawed the current in­carn­ation, not a roy­alist. My eye, often dis­mayed, has been on gov­ern­ment, not mon­archy.

I'm going large on cartoons from around the world gat­her­ed during the mour­ning period - what a surprise.

I'll start by saying that I thought the Queen was a good egg. Monarch by accident of birth, wealth inherited, owner of far too much land and too many large houses, propped up by privilege - but a decent human being who did her very best.

I acknowledge the grief felt by her family: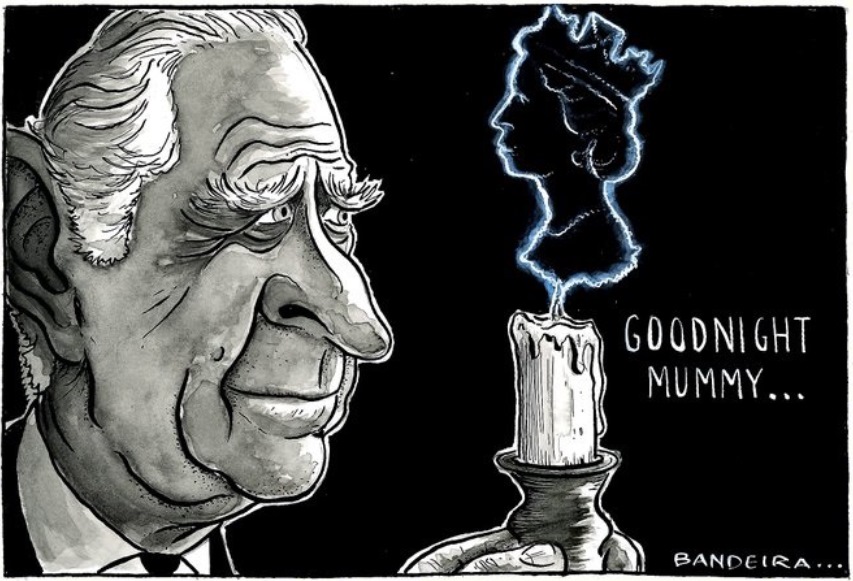 I can't deny the expressions of sadness from around the globe, nor the pres­ence of so many world leaders at the state funeral, although some notables were missing: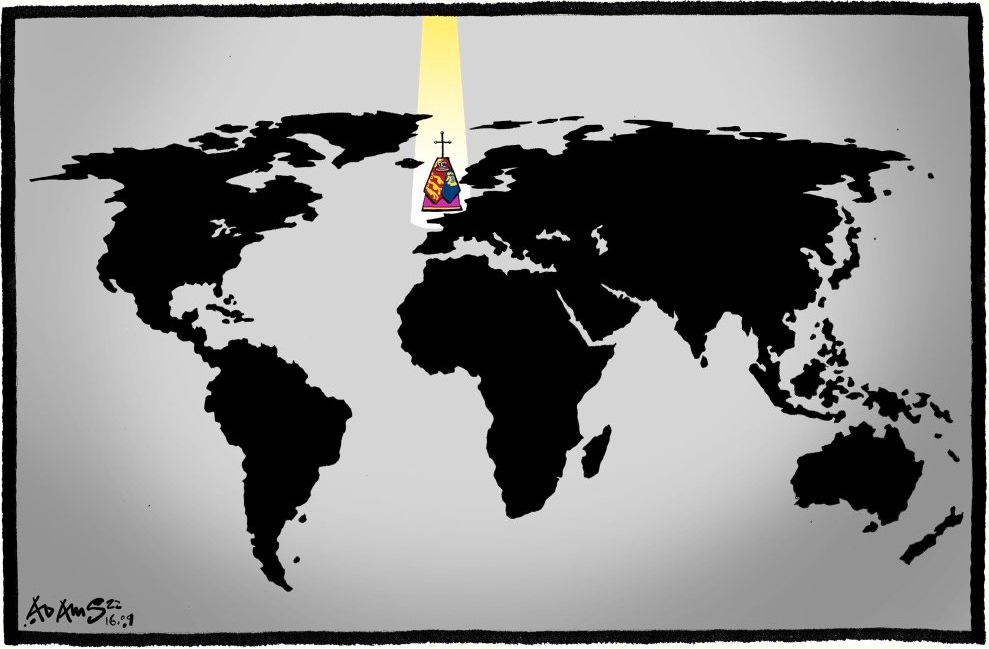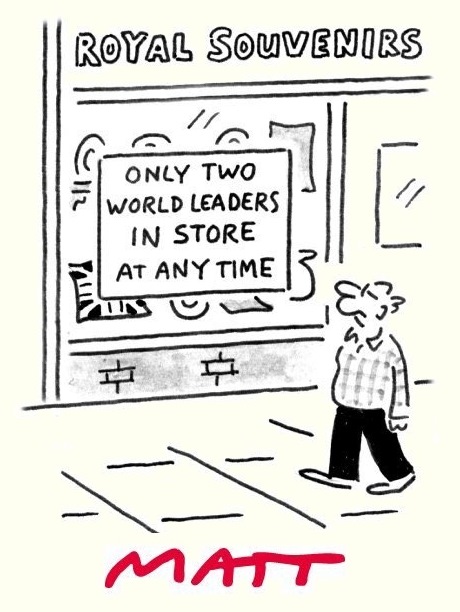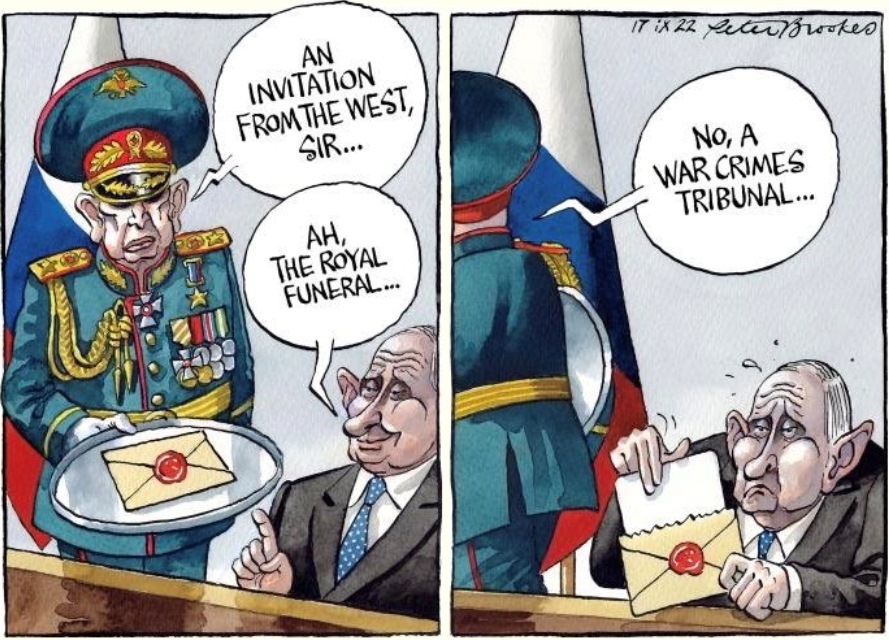 I respected the Queen's ability to adapt in a changing world. Her acceptance of former subject nations attaining their independence, the UK shift from a (primarily) mono- to multi-cultural society. Her visit to the Republic of Ire­land in 2011 - the first by a reigning British monarch for a century, that of her grandfather King George V - was applauded by the majority of Irish people, seen as an act of healing and reconciliation.

The public event has impressed, probably the envy of the world. Col­our, trad­ition, pomp, orb and sceptre, hymn and psalm, pipers ... his­tory - the Queen laid to rest along with other monarchs at Windsor, stret­ching back to Henry VI in 1471.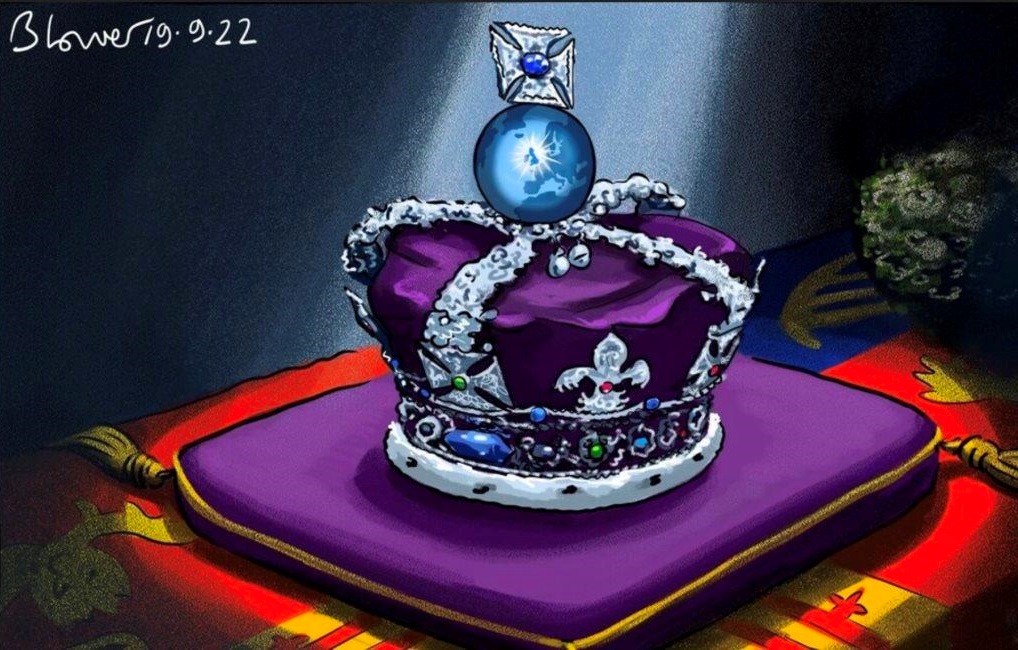 Grand military organisation and precision. Much of which comp­et­ence and funding - here I go - I'd like to see applied to other issues, from the erad­ication of global inequality and hunger right down to the road surfaces that plague my cycle progress through Stroud. A country that boasts majestic finery and opulence for a day when most of the time it exhibits dog-eared neglect - of both places and people.

There, I've started, so I'll finish.

I'm bemused by, but won't presume to judge, the magnitude and int­ens­ity of the public outpouring of sorrow and the pers­onal con­nect­ions strongly felt with the Queen. I know I need to be careful here. Rachel Cooke wrote in The Observer last Sunday:


"When some talk of their bewildered distaste for the flower-bearing masses outside our royal palaces - all this, for a woman you didn't know? - their tone, to my ears, is similar to the way those who voted for Brexit are sometimes spoken of. I think this is unwise, but I also think they want for empathy."


I make no apologies for anything I say about Brexit, its architects and dev­ot­ees, but I'll take heed of the suggestion to exercise empathy with the royal mourner.

There is talk of the nation having been brought together, but there are dis­sent­ing voices, there has been protest: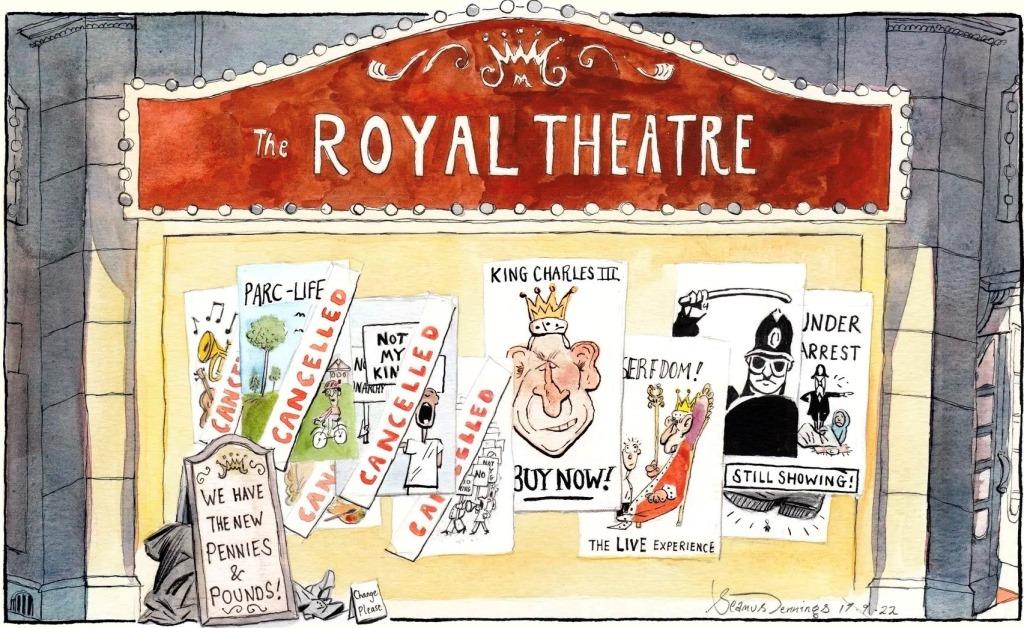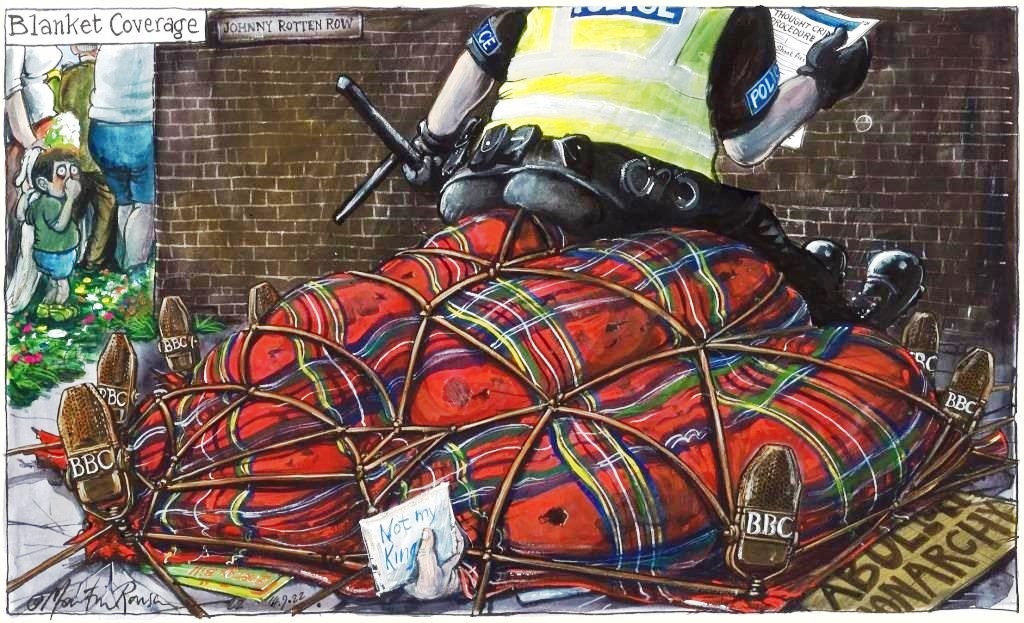 Timothy Parker, a 21-year-old modern languages student from Mor­ton, Lin­coln­shire, was quoted in The Observer:


"It pains me to see any attempt to discuss the role of the monarchy shut down as if it's treasonous and horribly disrespectful."


Sarah Davies, a 39-year-old public health worker from Walthamstow, was reported in the same article:


"I have always been proud to live in London, and to live somewhere where free speech is celebrated. But I have felt this week that I cannot say what I think. I'm worried I might offend someone, even friends and workmates. I've felt oppressed in a way that I never thought I would living in London."


I'm surprised by the level of mourning witnessed in Scotland, Wales and Ireland. There have been some objecting scuffles during Charles's visits, but overall the mood has been one of great sadness for the Queen's passing and support for the monarchy. All of these nations have a right to resent the treatment visited upon them by England and its rulers.

One abiding aspect of the last week's events has been the con­sid­eration of their place in history. What changes will we see? Surely one will be in the continuance or otherwise of the Union. Over what Kingdom will Charles III reign? Just England? No Scotland - independent? A united Ireland? Wales to follow? Then there are the "Realms" and countries of the Commonwealth: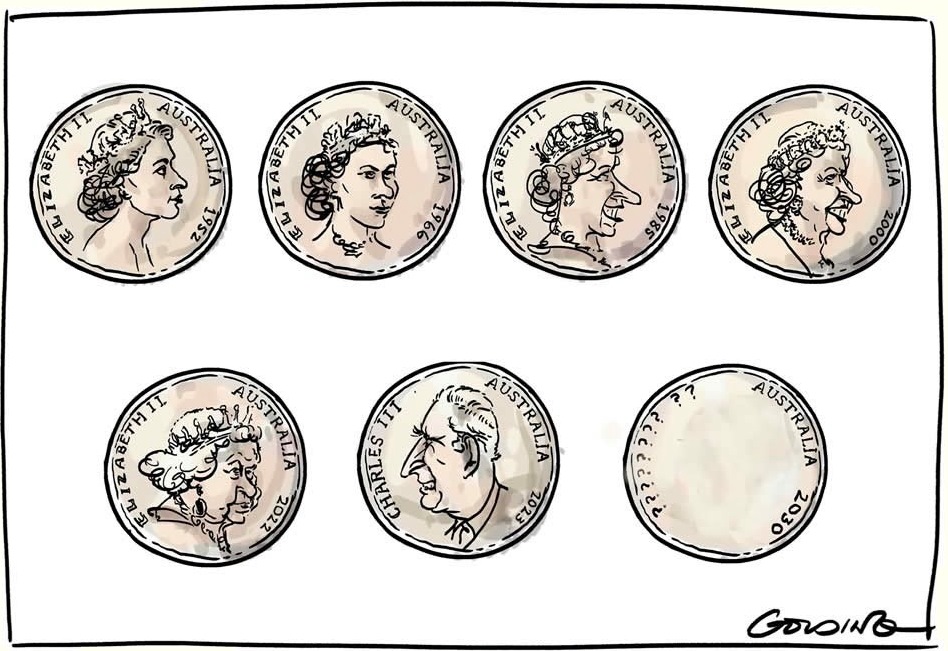 The new King has a hard act to follow, and it's a difficult time to do so. Can he match the steadfastness and continuity achieved by his mother? He knows that he cannot be as forthright as he might wish in his new role. Will he seek to influence in pursuit of what he considers to be the greater good?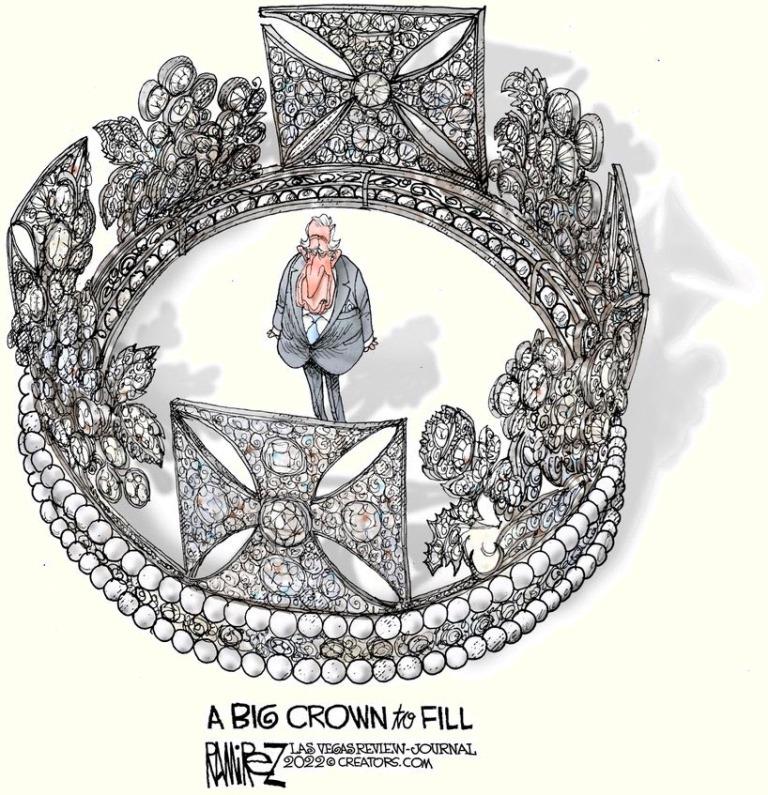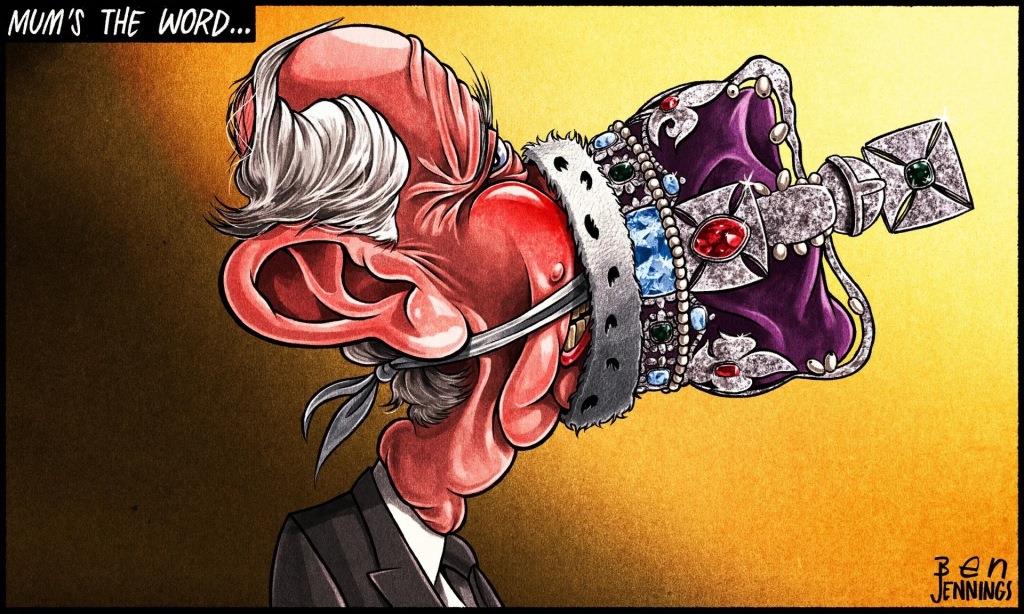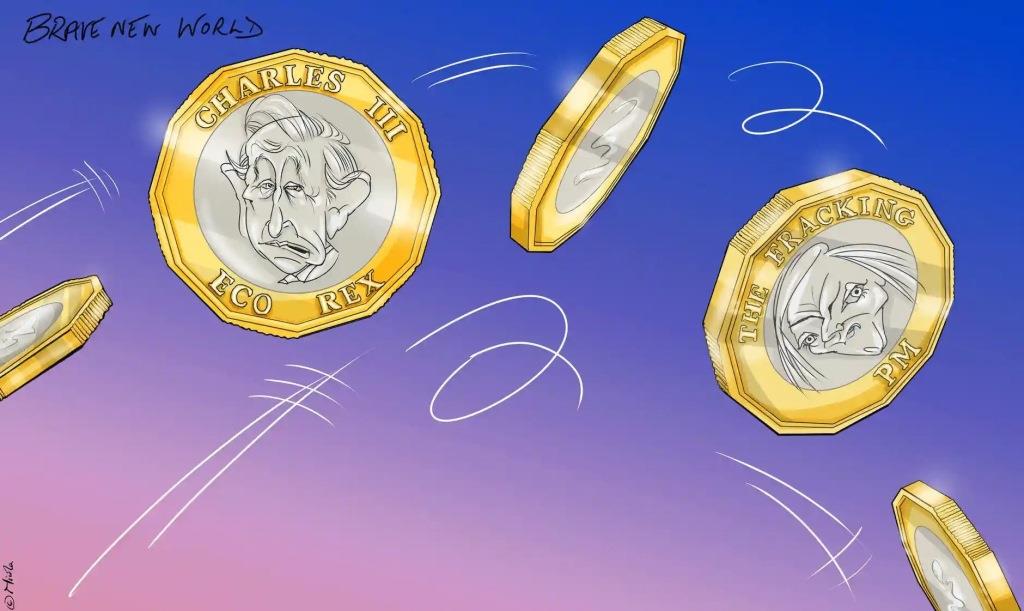 Yes, Liz Truss will be back front-and-centre today. Her timing has been imp­ec­cable, bagging her that twin-trophy of the last (prime ministerial, at least) aud­ience with Queen Elizabeth II and the first with King Charles III. She can crack on with plans the execution of which was interrupted. What other shocks has she in store for us?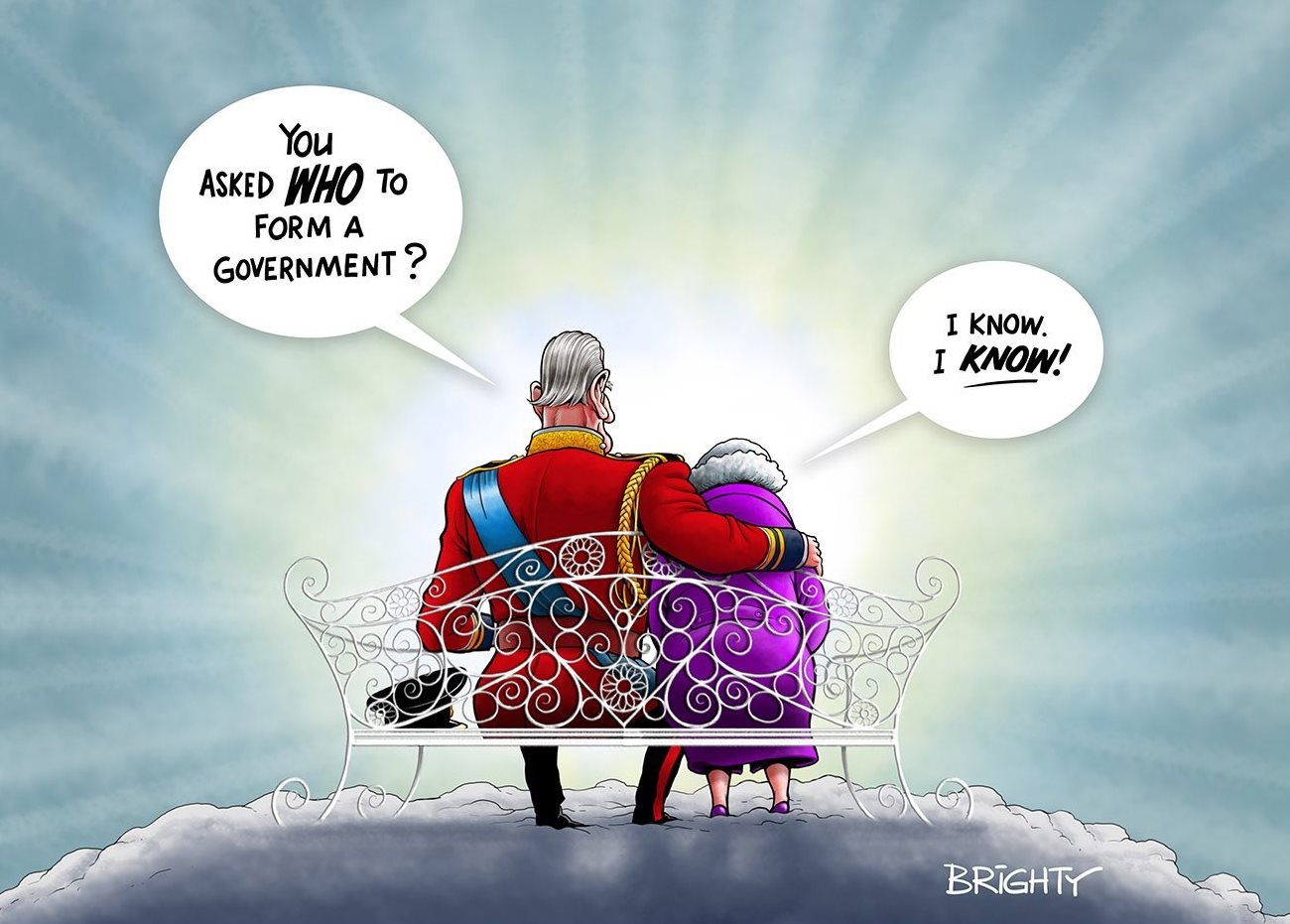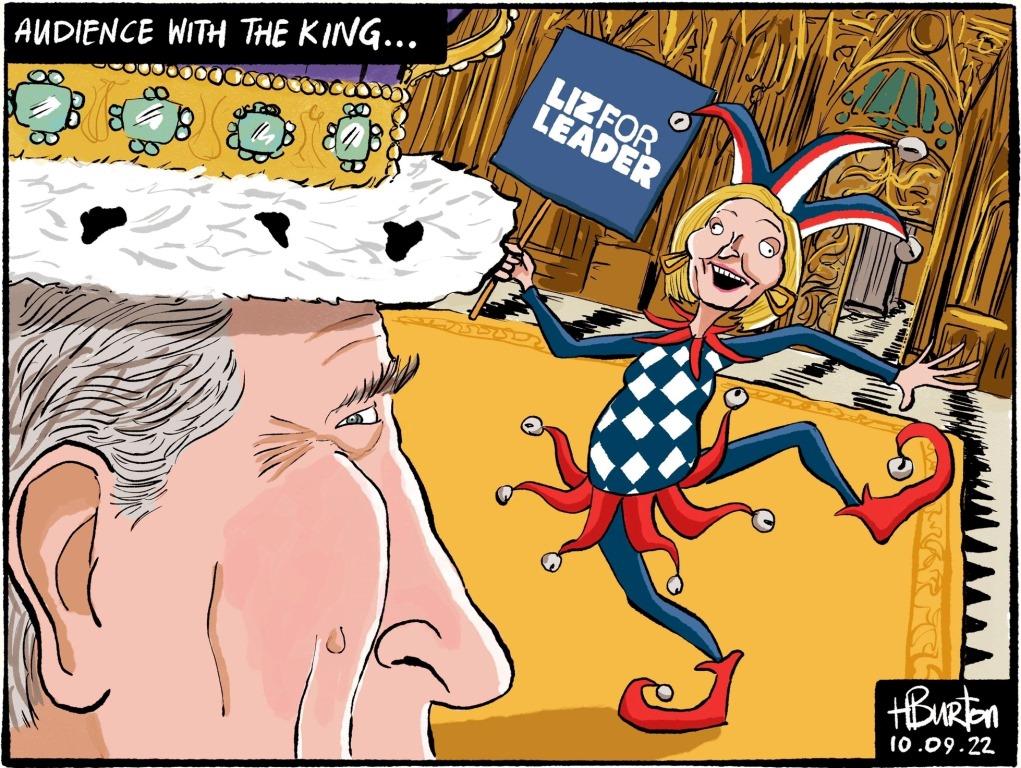 After the glow of a surprising shared experience, cold (no pun int­ended) real­ity beckons: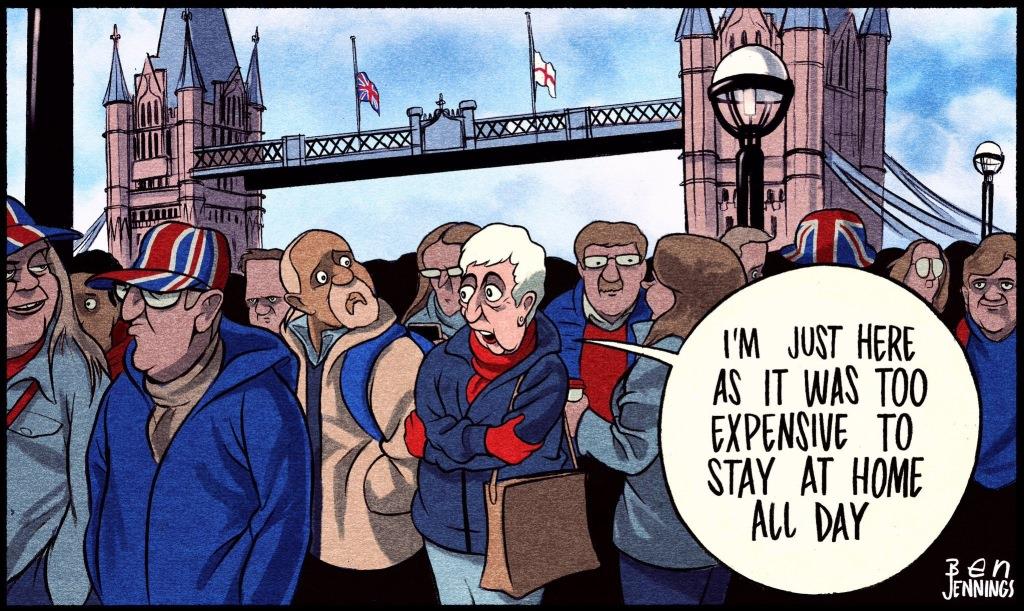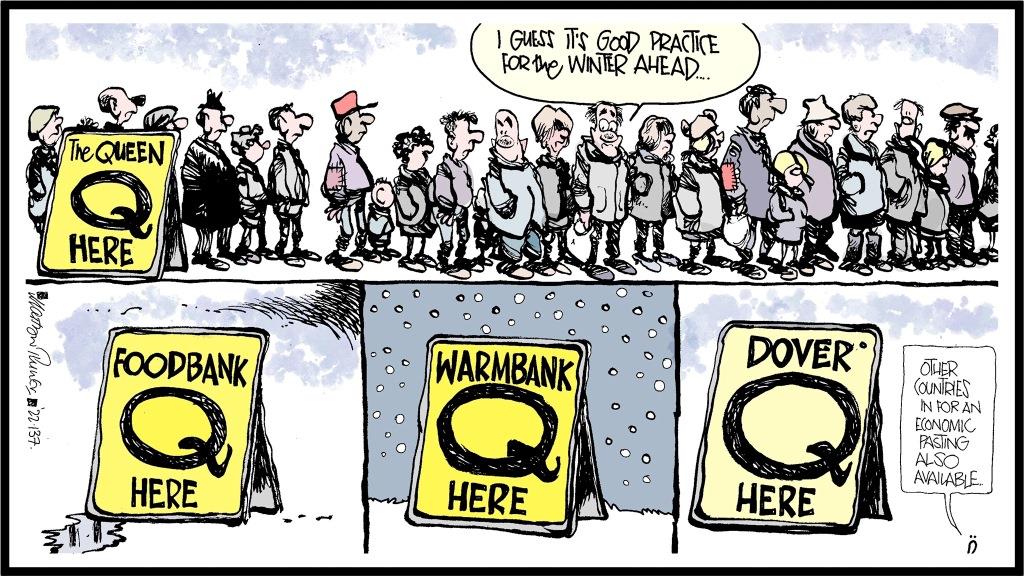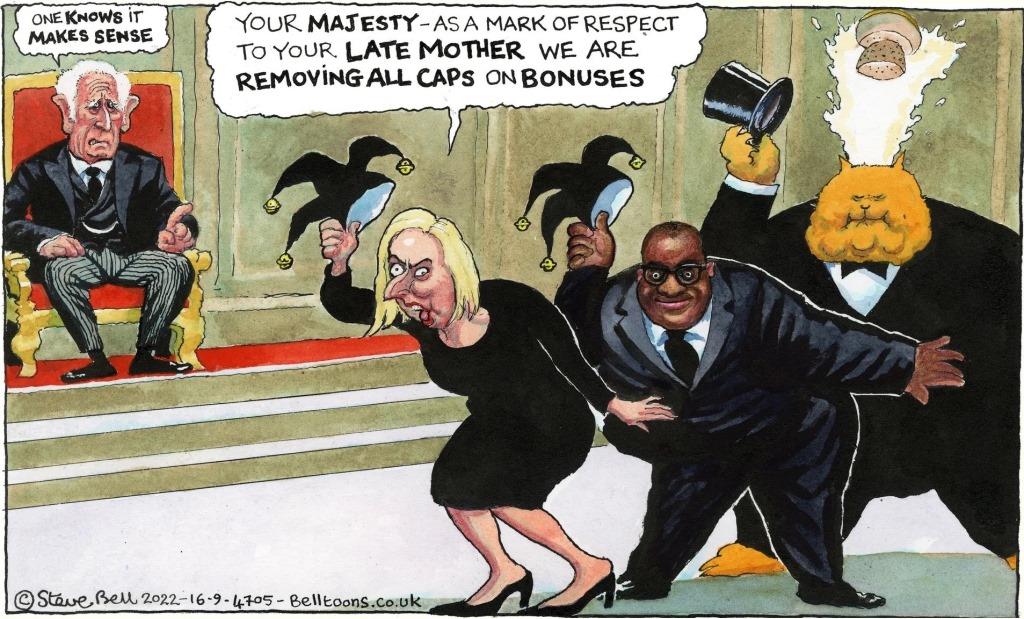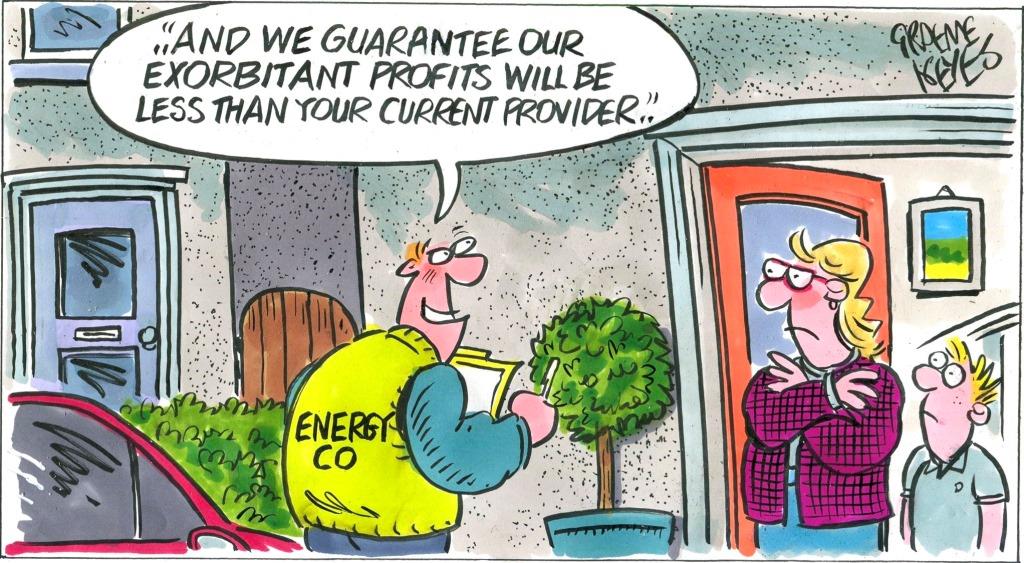 Has the reaction been out of proportion? Wall-to-wall television? The BBC too solicitous? Channel 4 a touch disrespectful? Some may think so: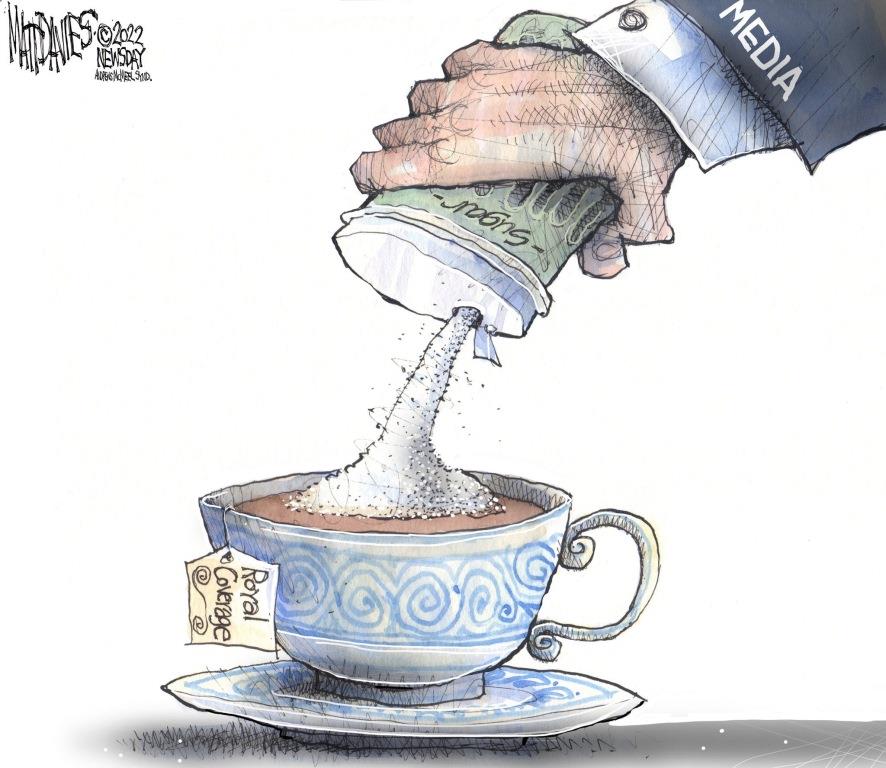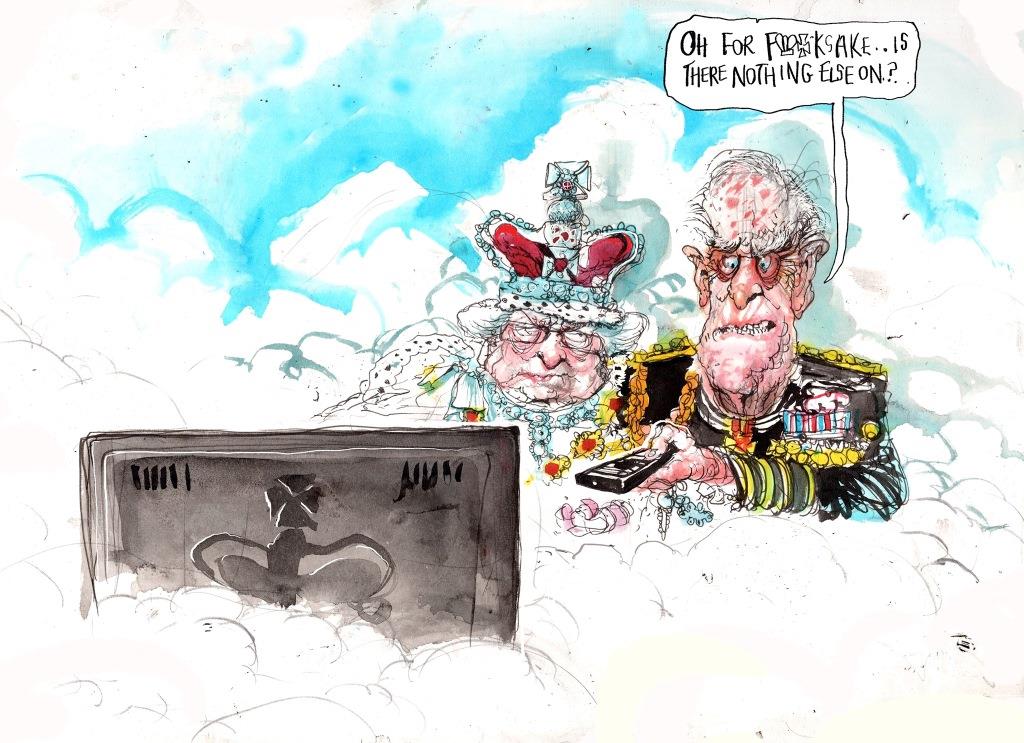 I can't really nail down the impact made by the Queen's death. Why did we see such a response? I may be unqualified to judge. Reg­ard­less, I'll make a stab, in a kind of stream-of-consciousness:

She was a good woman; a role model; a unifying figurehead for the nation; a rallying point in times of dur­ess and threat; an un­swer­ving sense of duty; a ready laugh, a twink­le in the eye; grat­itude; admir­ation; pride; res­pect; aff­ect­ion; love; good­bye; every­body's grand­mother; a ver­sion of our bet­ter selves; a blue­print for Brit­ish­ness; above the mire of pol­it­ics; his­tory; trad­it­ion; her loss triggers uncer­tain­ty about the future; a re­ass­uring presence, a safe haven gone; the Union will dissolve; the Com­mon­wealth will shrink; she rep­res­ented old values - courtesy, good man­ners, resp­ect­ful­ness and more - that many fear we have lost; a link to the past, part­icul­arly WWII for some; han­ker­ing for the 'good old days', nost­al­gia; a year­ning for the infl­uence of Emp­ire, pink on the map; cov­et­ed abroad; the not­ion of perm­an­ence punc­tured; fam­iliar­ity dented; mem­or­ies of dep­arted others; our own mort­ality brought into focus.


I leave the final observation to my friend Alf Florio's family:

Luke (Alf's son): "

It's a national holiday today because it's the Queen's funeral. We might watch some of it on the iPad.

"





Isaac (grandson, aged 4): "

Maybe we can watch them digging the hole.

"


Out of the mouth of a babe, pragmatism. We need to get on with our lives. Fighting for a better, fairer, kinder Britain. Or England.

Monday 19th September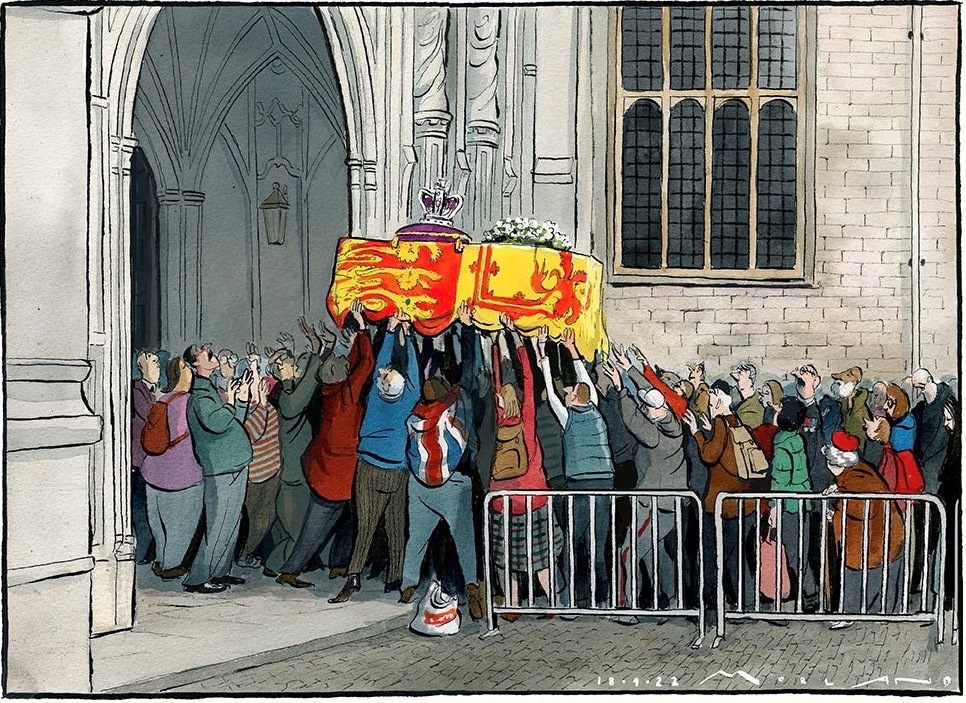 Sunday 18th September


A darker side to Stroud - a recent spate of sexual assaults and rapes. Grim news - offset by the resilient reaction reported further down this page.

Five days ago the police posted this update on Facebook about a rape that took place in May - a delay in resolution that's depressing enough in itself - just up the road from Middle Street.

Officers investigating a rape in Stroud Cemetery in May have released CCTV images of four people they would like to identify and speak to. Those pictured are being treated as witnesses, and had been in the area that evening.
On Saturday 7 May a man raped a woman at the cemetery which is on Bisley Road between around 10.15pm and 11 pm. The woman, aged in her 20s, did not know the man. The offender fled the scene and was described as being a white man, aged between 20 and 40.
Following extensive enquiries, officers are now asking for help from the public to identify the four people pictured who had been in the area either prior to or after the incident. Temp Det Supt Richard Pegler said: "The investigating officers have reviewed hours of CCTV footage to track the route the victim took from Stroud Train Station to the scene of the rape at the cemetery, and beyond. This has resulted in images of four people being released who we want to speak to, as it is thought they may have witnessed something due to being in the same area at a similar time. They may have information which they previously thought wasn't beneficial, or didn't see our initial appeal for witnesses to come forward, and therefore we're keen to speak to them in case they saw anything which could help us with our enquiries.
"We do not underestimate the fear and concern this incident, and others recently in Stroud, have caused in the community. We continue to do every­thing we can to locate the men responsible."
Anyone who recognises those pictured is asked to provide this information to police online by completing the following form and quoting incident 126 of 11 May:

. You can also call police on 101 or give information anonymously to independent crime-fighting charity Crimestoppers by calling 0800 555 111 or online at

.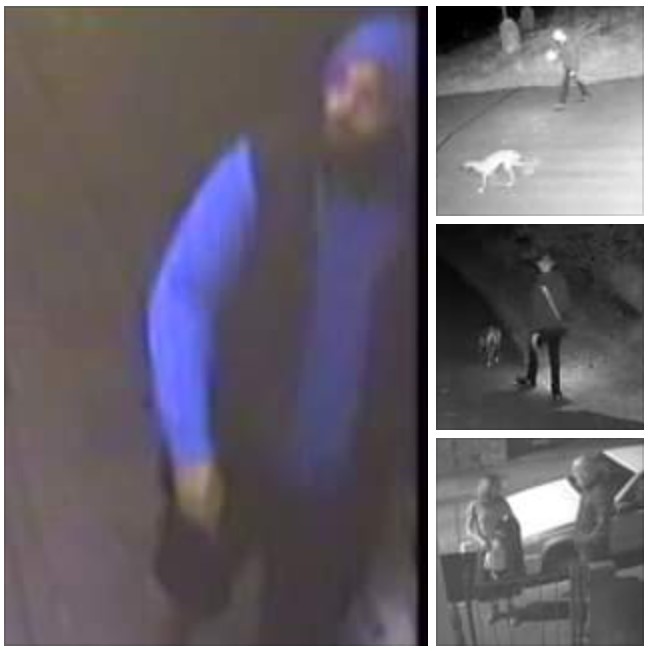 Yesterday we joined a march organised in response: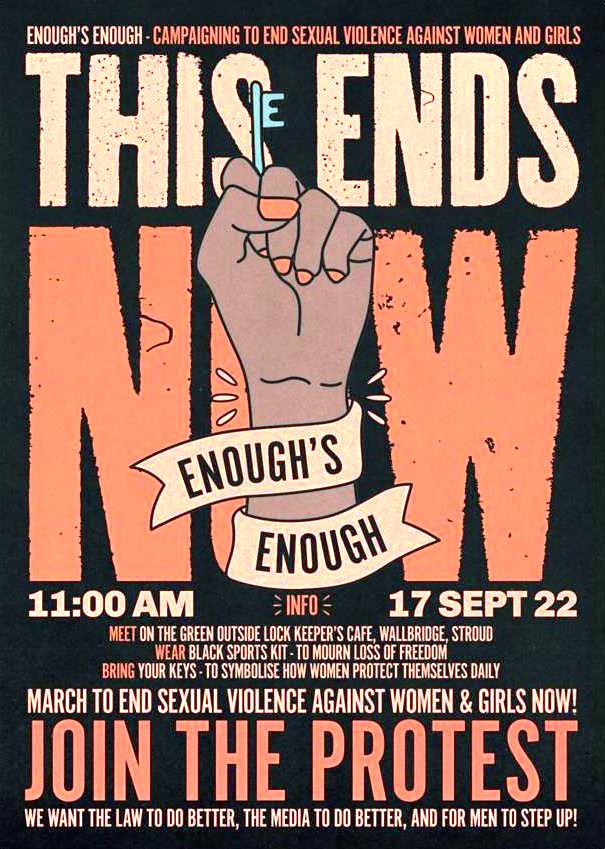 The march from the green at Wallbridge through town and back for a rally, well-attended and lively, was covered by Stroud Times. Here is the video from the paper's web­site:




There was a small confrontational "agitprop" presence: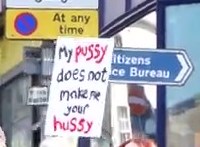 The anger is entirely justifiable, although I'm not sure that this gets people onside. It was, however, a minority expression; the atmosphere was mostly one of broad solidarity, all ages, men as well as women. If any man does take offence, he'd be well-advised to consider how it feels to be raped. As a partner, friend, brother, father and grandfather to women, I'm appalled that they run the risk of such violence in their daily lives in 2022.

Saturday 17th September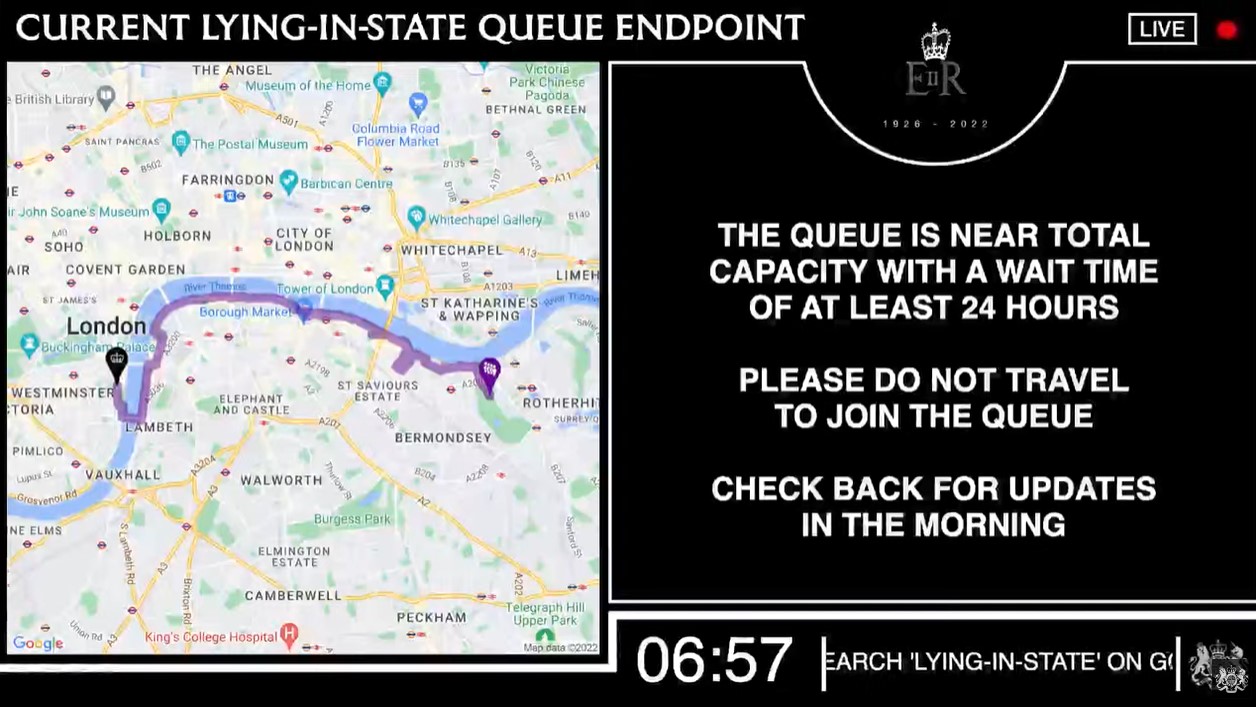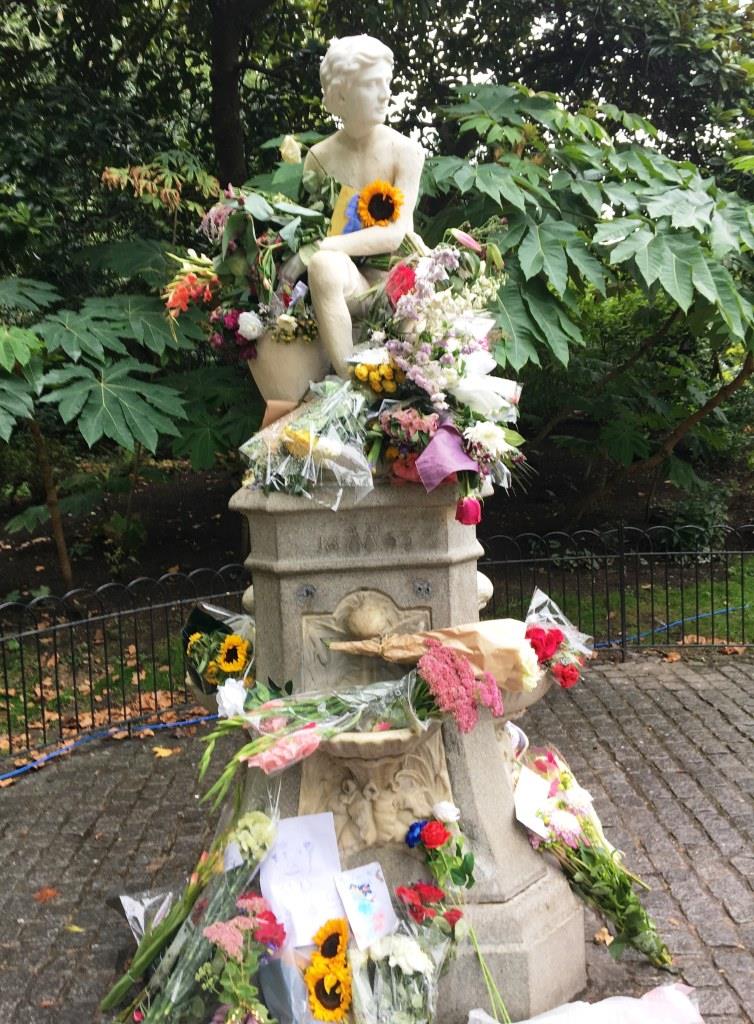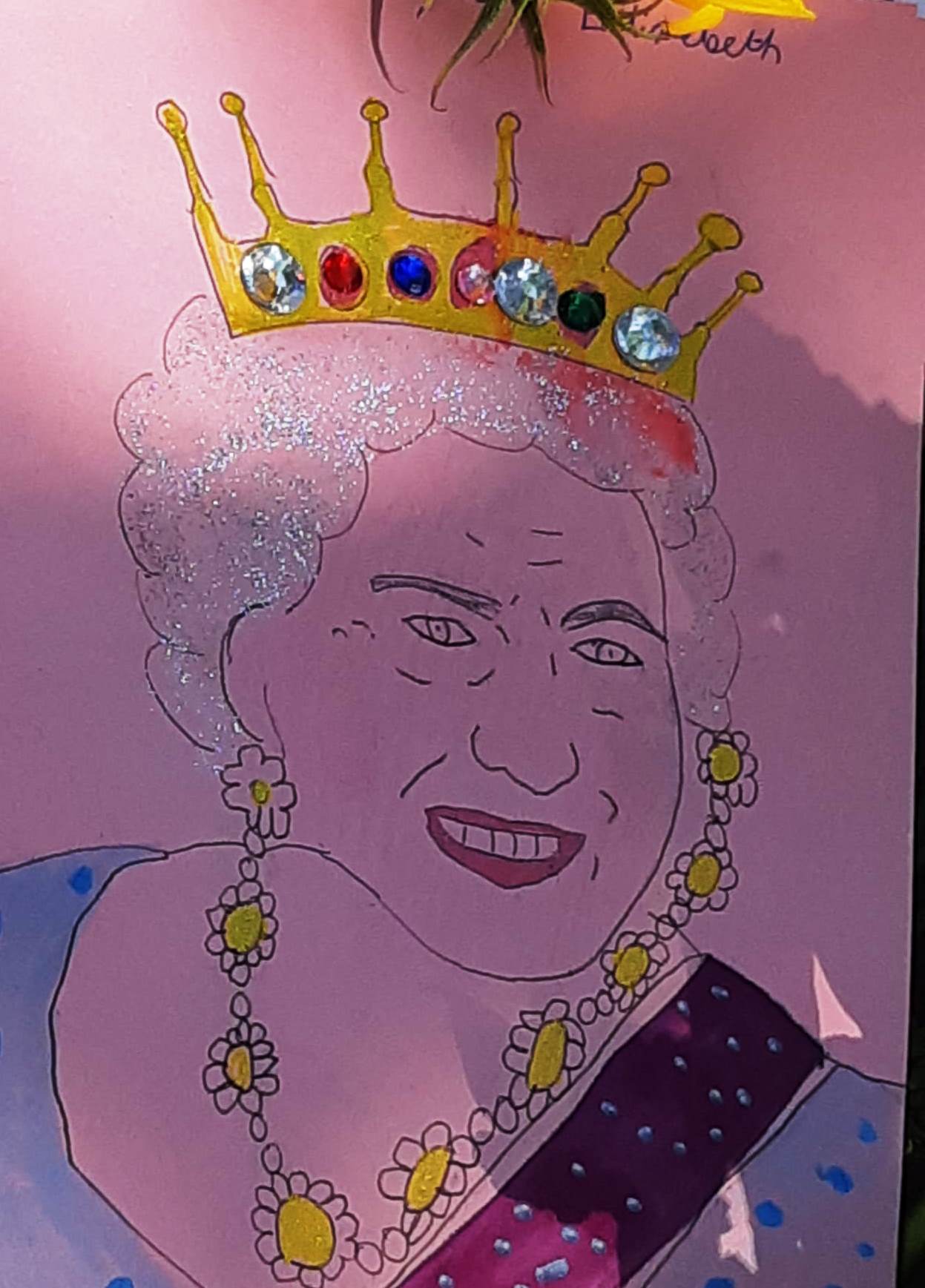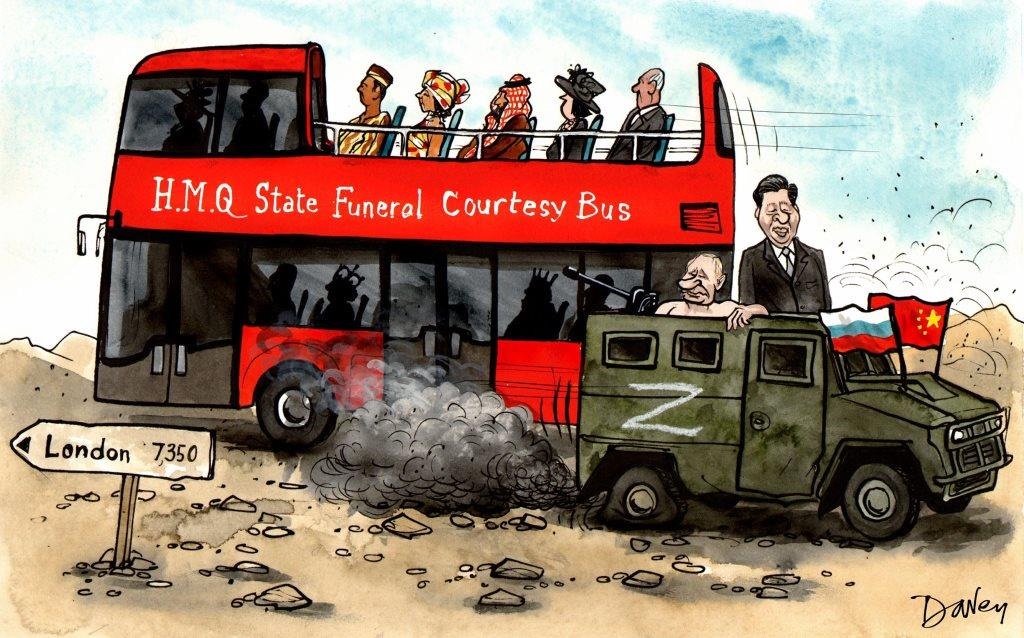 Friday 16th September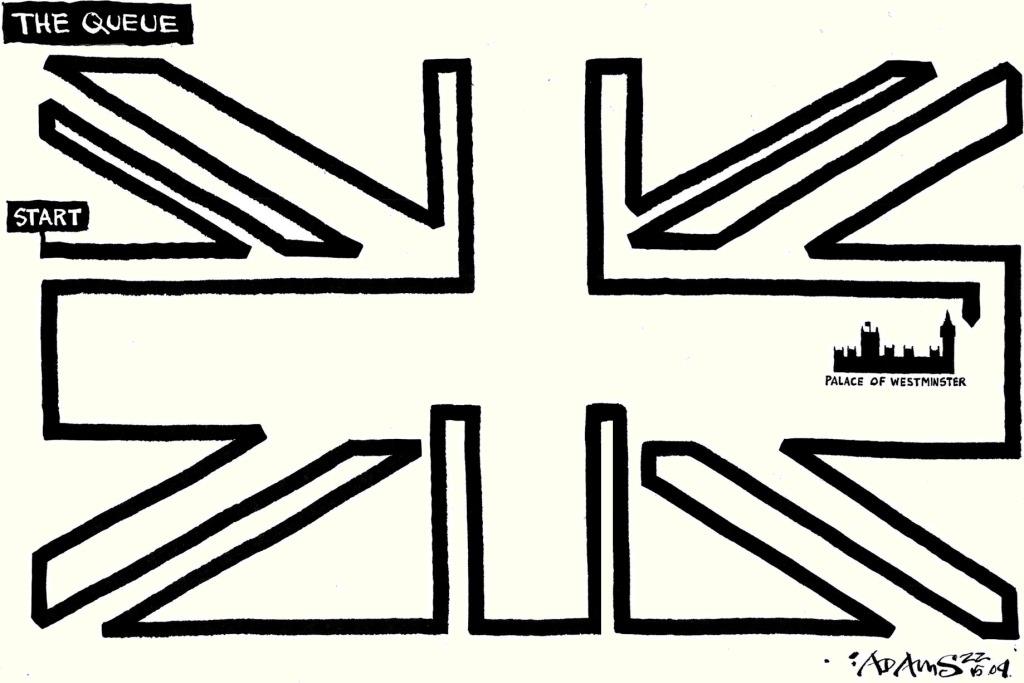 Below is the official Lying-in-State Queue Tracker from the Department for Dig­it­al, Culture, Media & Sport. Started streaming 21 hours ago. 7,118 wat­ch­ing at 6:45am this morning.

It got shorter overnight. Still nine hours' wait.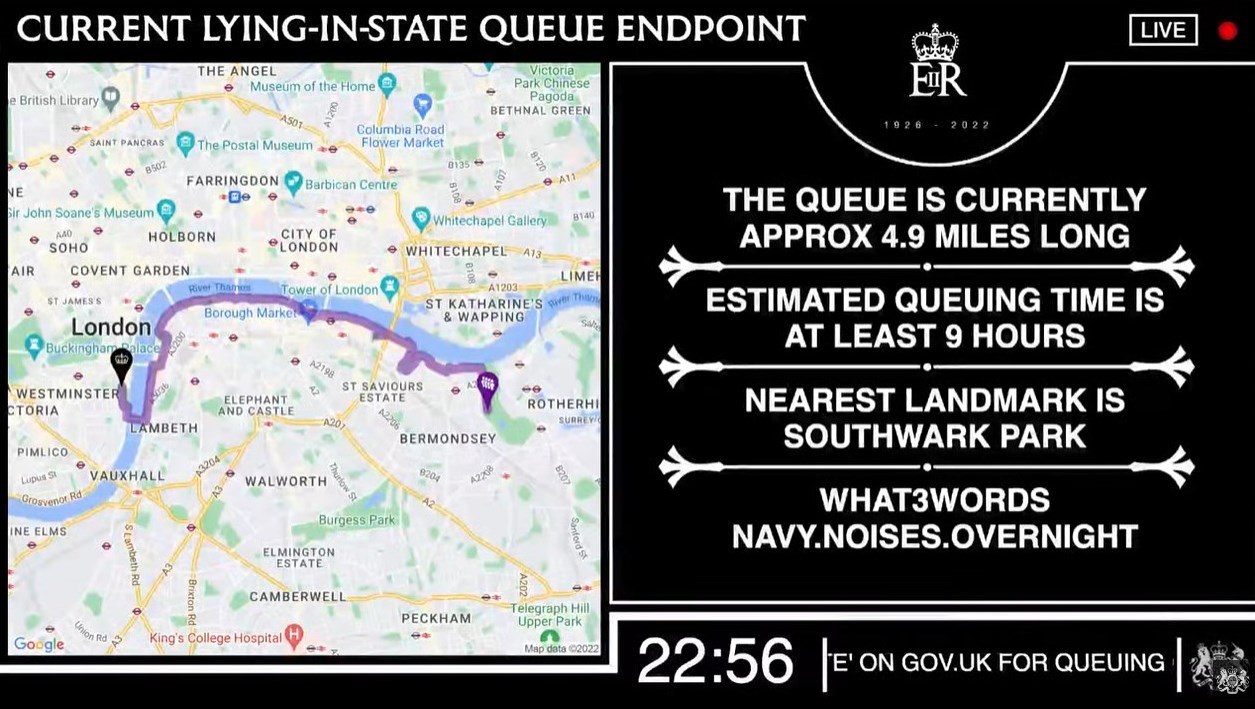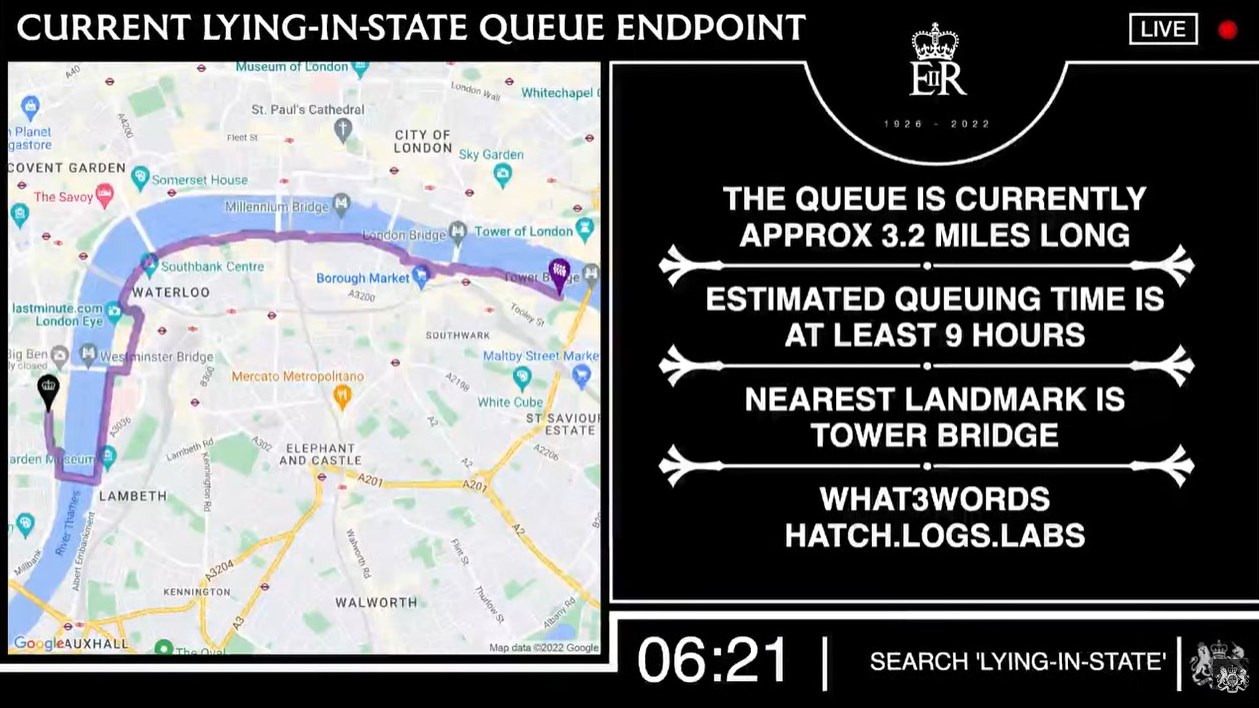 8:30am. It's got longer again. 11.5 hours. 8,826 watching the tracker.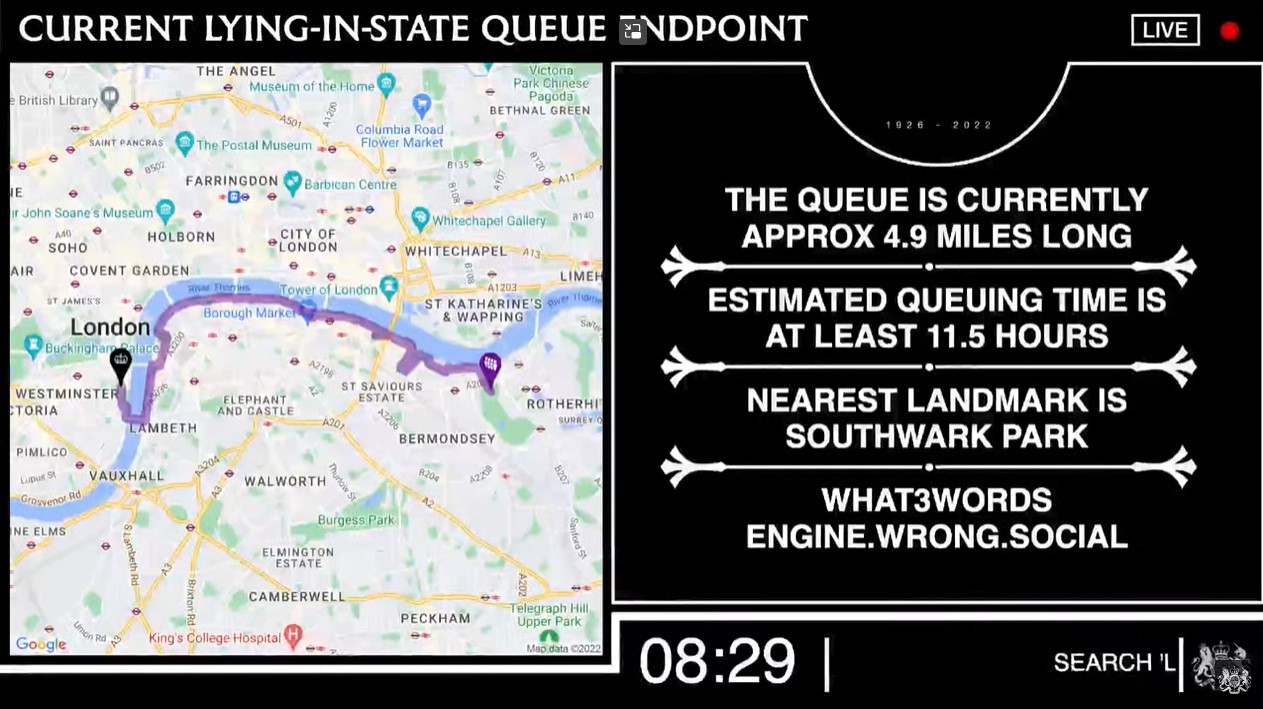 Enough. Ordinary life calls. Car MOT.

Thursday 15th September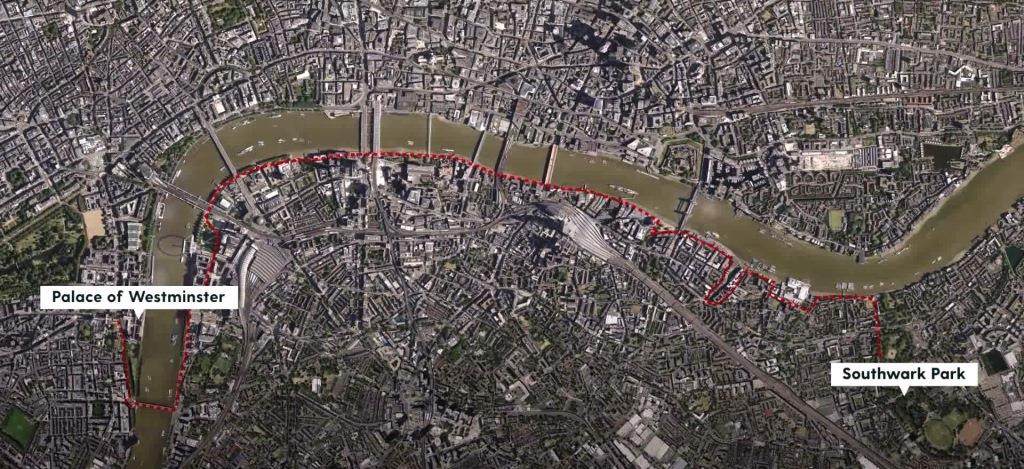 Wednesday 14th September


Another local event to enjoy this weekend: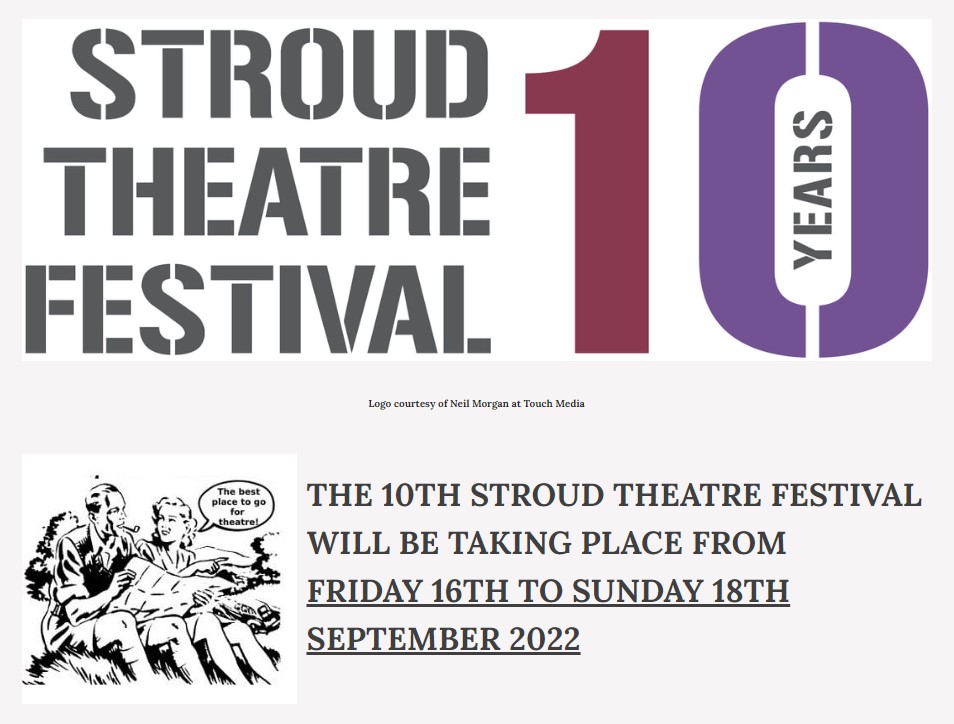 Most of the shows are just under an hour long, arranged with half-an-hour between so that you can get from one venue to another, nearly all of them in or close to the town centre: the British School at Star Anise, the Little Vic, the Museum in the Park and Stratford Park Bandstand (both a slight trek), Lansdown Hall, St Laurence Church, Congregational Church and Hall, Stroud Valley Arts (SVA) Bar/Cafe.

There will be four food and drink trucks in King Street 6:30pm-10:00pm (Sunday 4:30pm-8:00pm).

You can browse the programme and book tickets (click on individual perf­orm­ances and then "Book online by clicking here", which takes you to the Everyman Theatre's system) via the festival website here:


Tuesday 13th September


I need to go back just over a week to report on the Stroud silent vigil against the Rwanda deportations. I've held off in the interim in deference to the passing of the Queen.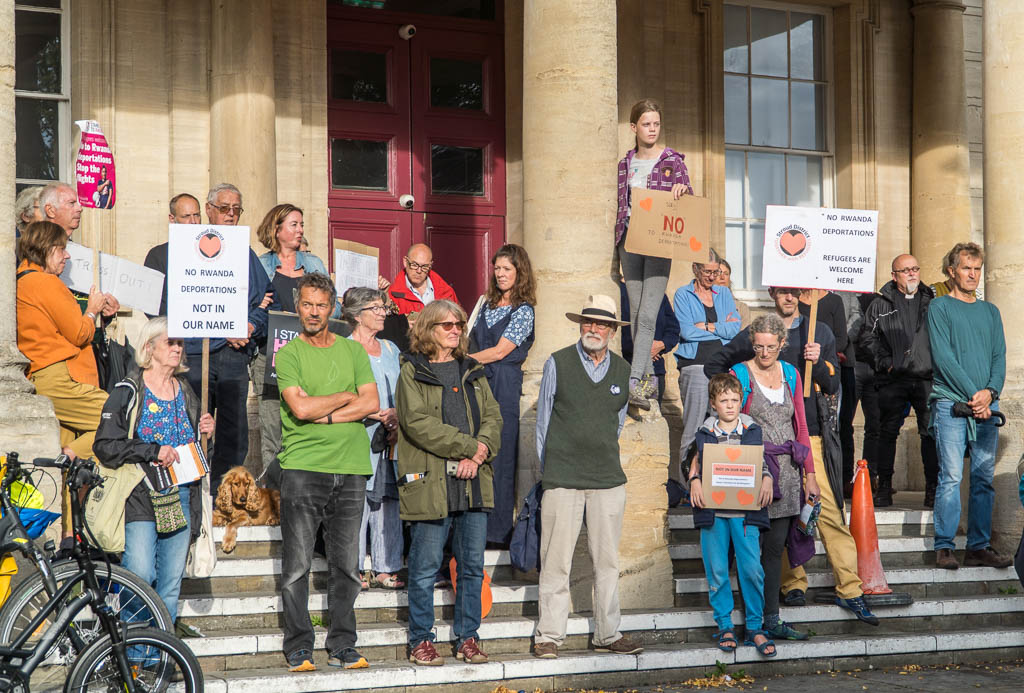 It's not an issue that will go away with the new PM and her cabinet app­oint­ments once normal government activity is resumed. Priti Patel has gone only to be replaced by Suella Braverman, whose statement you may rem­em­ber from her own campaign in the leadership race: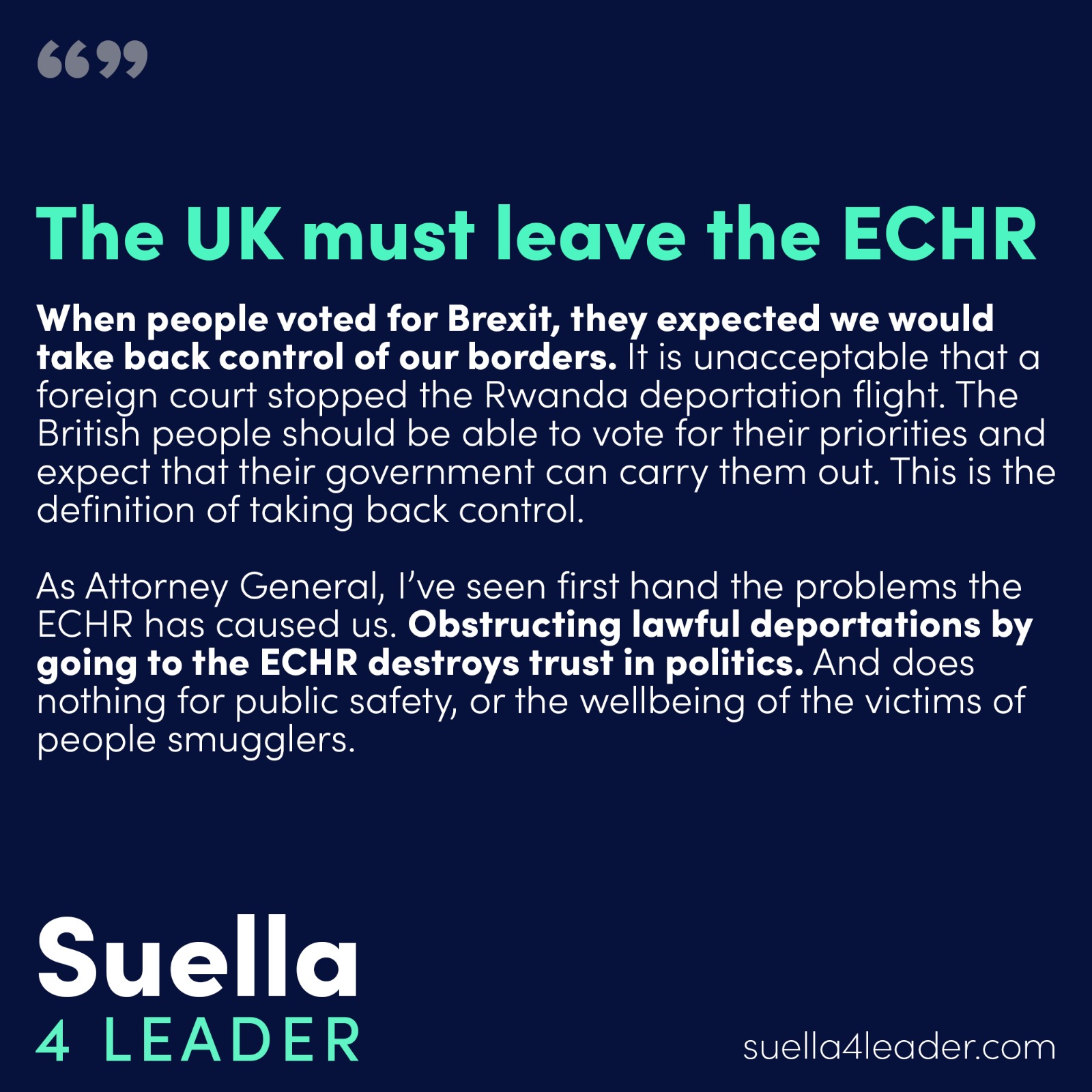 We also know that the new King expressed his concerns about the scheme - "appalling" - when Prince of Wales, and to a different Prime Minister: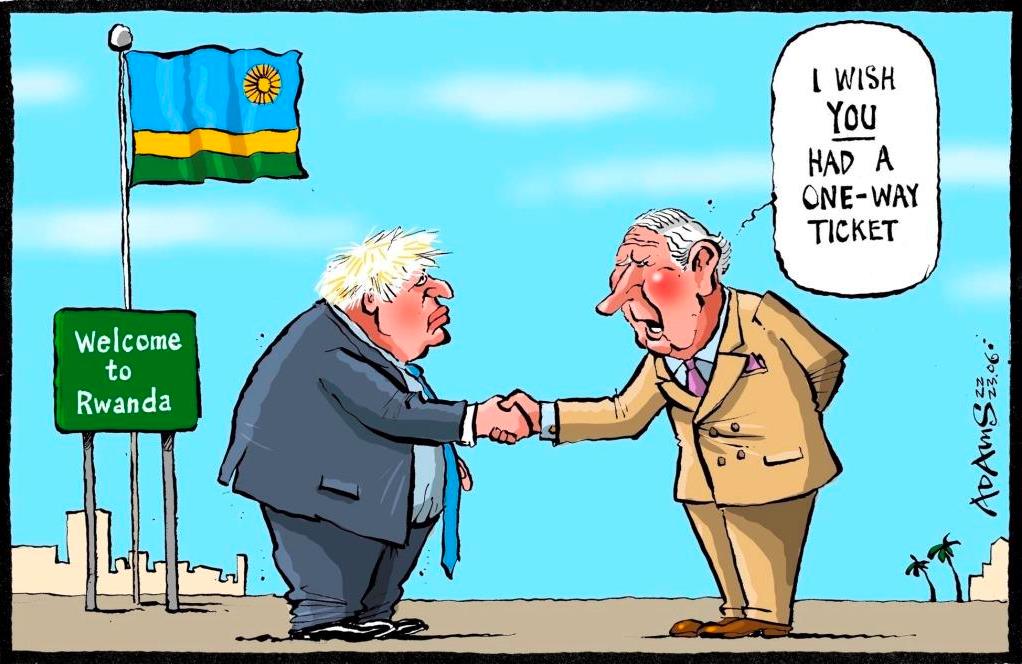 The vigil was well covered in the Stroud Times. Councillor Catherine Braun, leader of Stroud District Coun­cil, spoke after the half-hour of silence:




She added:

"I think the policy is horrendous and there are no legal and safe ways for people to claim asylum in the UK and if legal and safe routes existed, desperate people who are fleeing violence, conflict and persecution would take them and they would not risk their lives embarking on dangerous journeys like crossing the channel, so the most important thing is that the government sets up safe and legal ways for people who are in need of refuge to come to the United Kingdom.





"People feel very strongly about it. I think the Conservative Party have really timed this wrong. They haven't captured the mood of the country. People want to welcome refugees to our country and to provide them with safe and legal routes to apply - we see how people have opened their homes to Ukrainian refugees during the war."


Caroline Beatty, one of the organisers of Stroud Together With Refugees and prime mover behind Amberley's Hill House Retreats, also spoke:

"We are holding this vigil today because it's the first day of the High Court hearing to decide the legality of the government policy to transport people to Rwanda. It's going to take five days as far as we know and then there'll be a second hearing in October. We're horrified that they appear to be going ahead without even knowing if it's legal or not.





"There will be people all over the country who are showing their deep concern about this. I think it needs to be exposed for what it is, and I was looking at the definitions of smuggling and trafficking - people smuggling is the action or practise of illegally transporting people from one country to another and that is what the government policy may well turn out to be, a form of people smuggling - nationally and internationally sanctioned.





"I think the government is playing a very strange game and it's horrible, but they're kind of legitimising the very behaviour that they claim to be trying to stop."


Stroud Together With Refugees handed out this leaflet: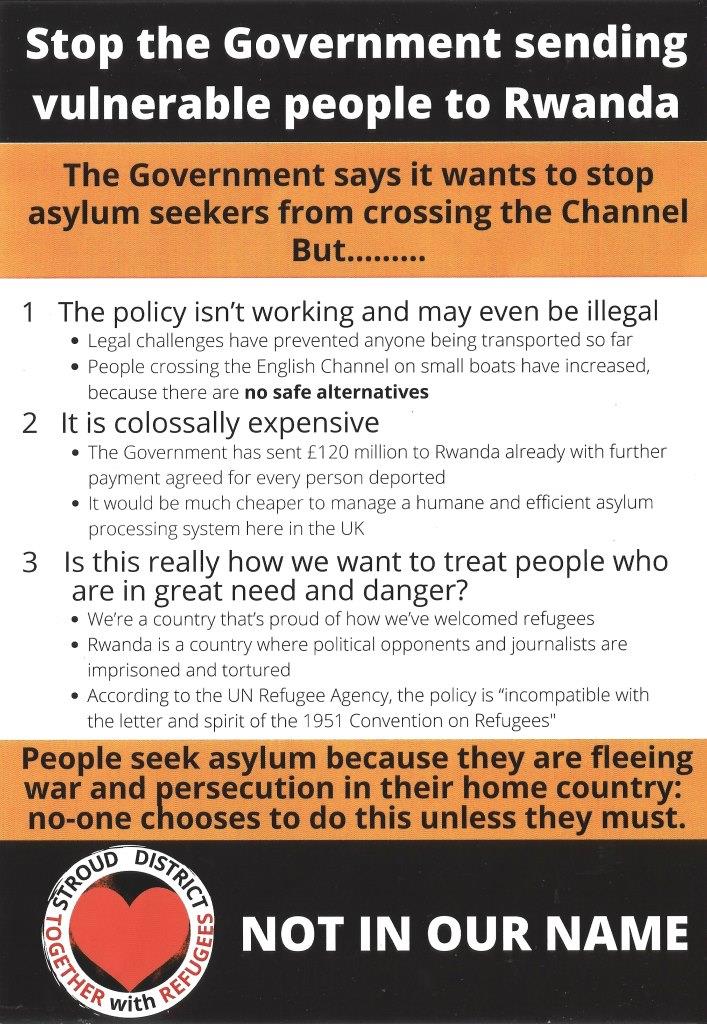 Monday 12th September


A cracking Sunday afternoon in Middle Street: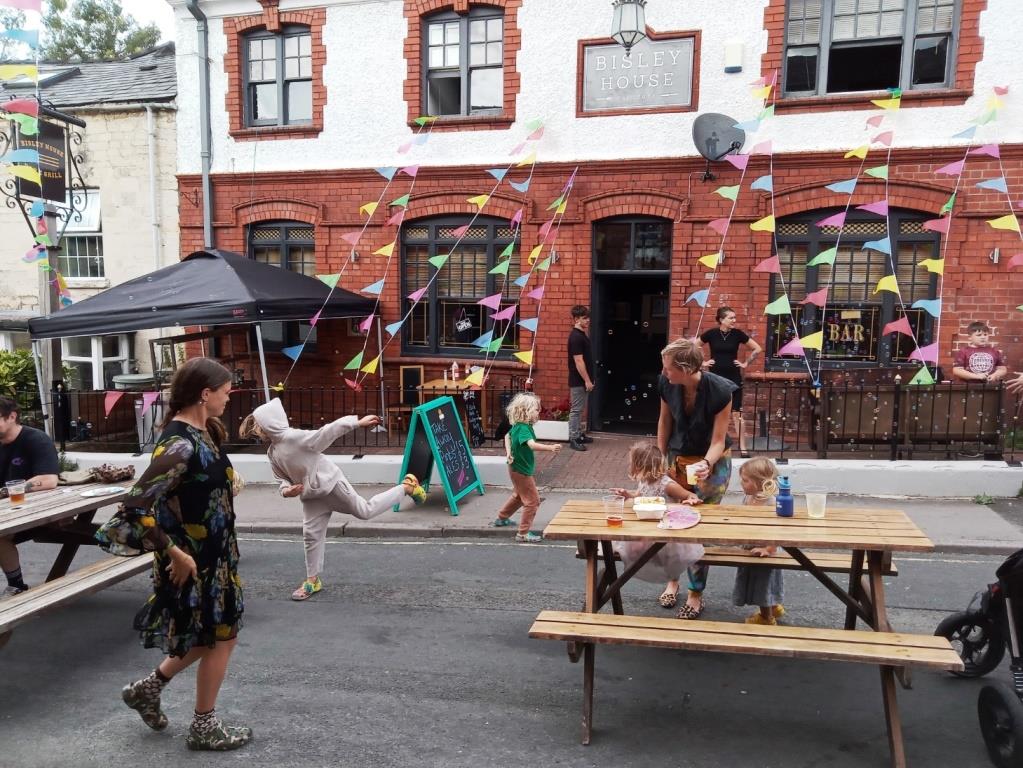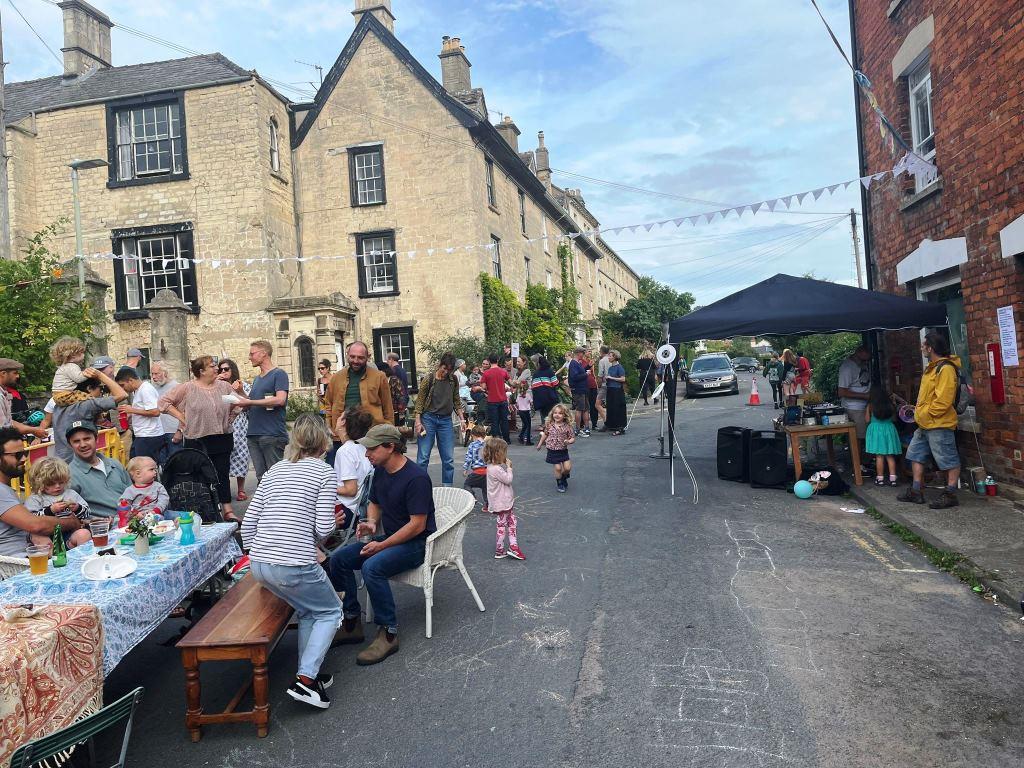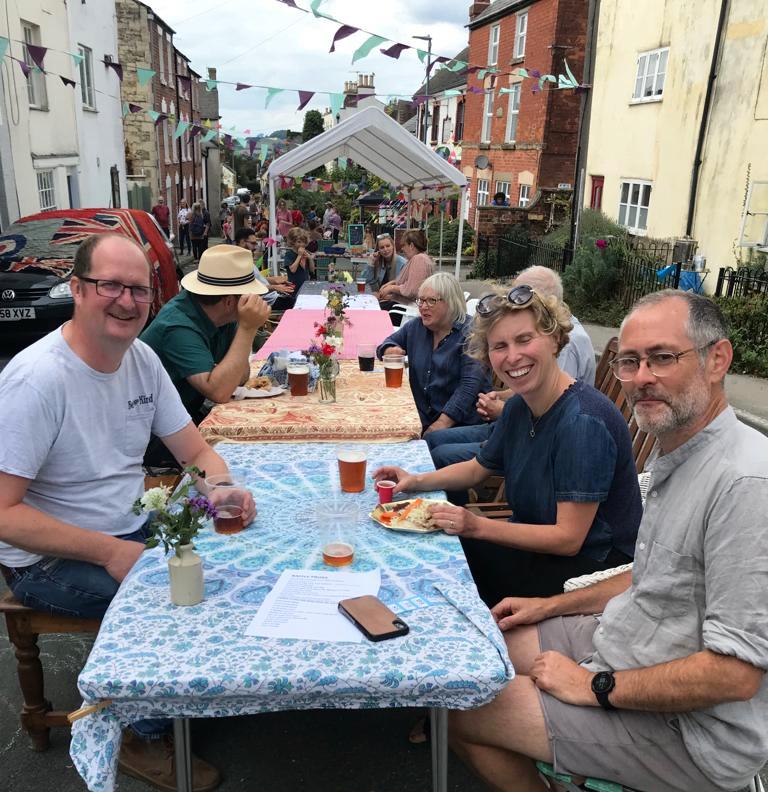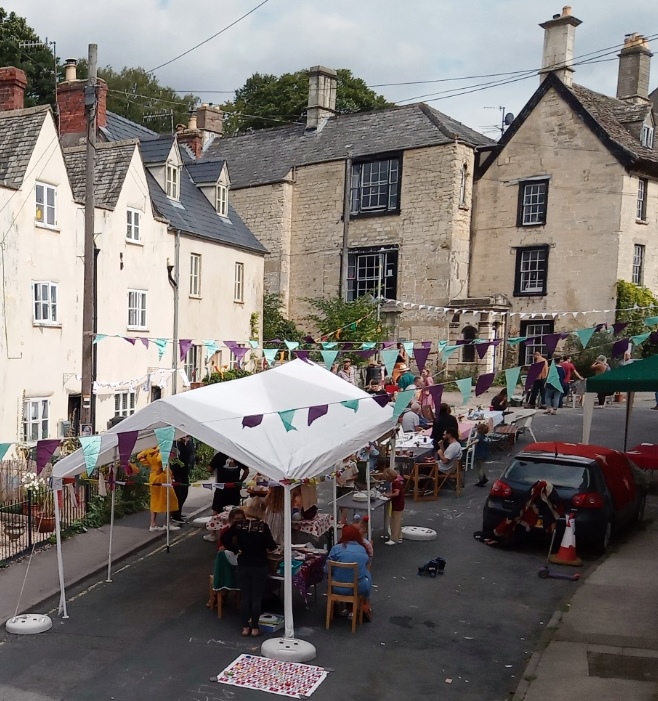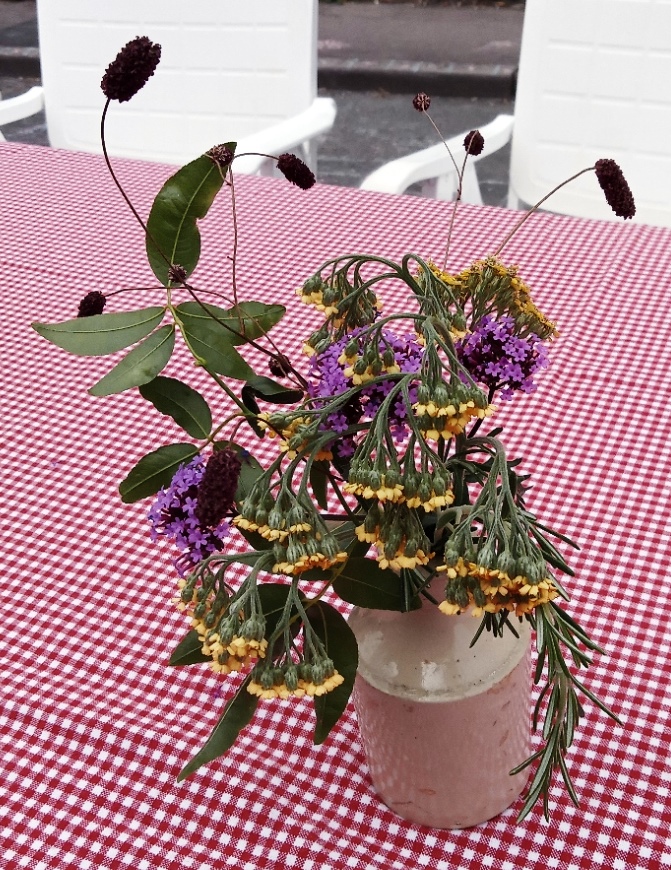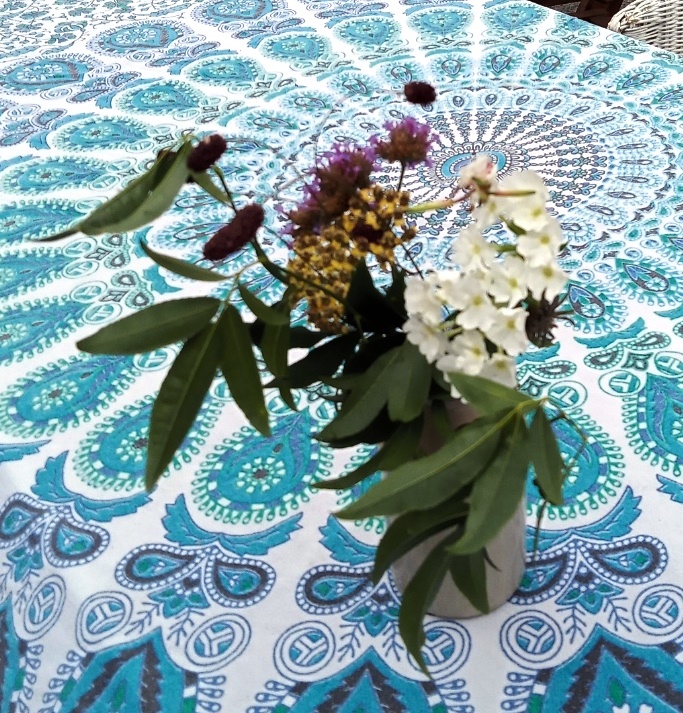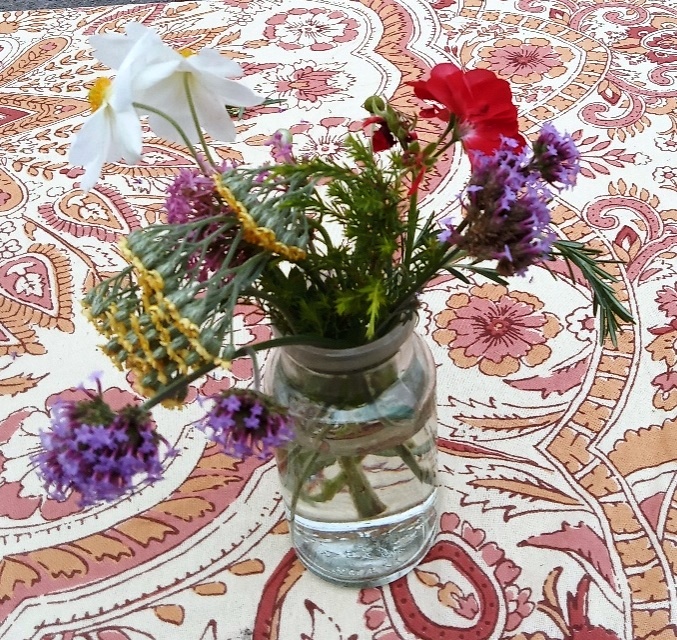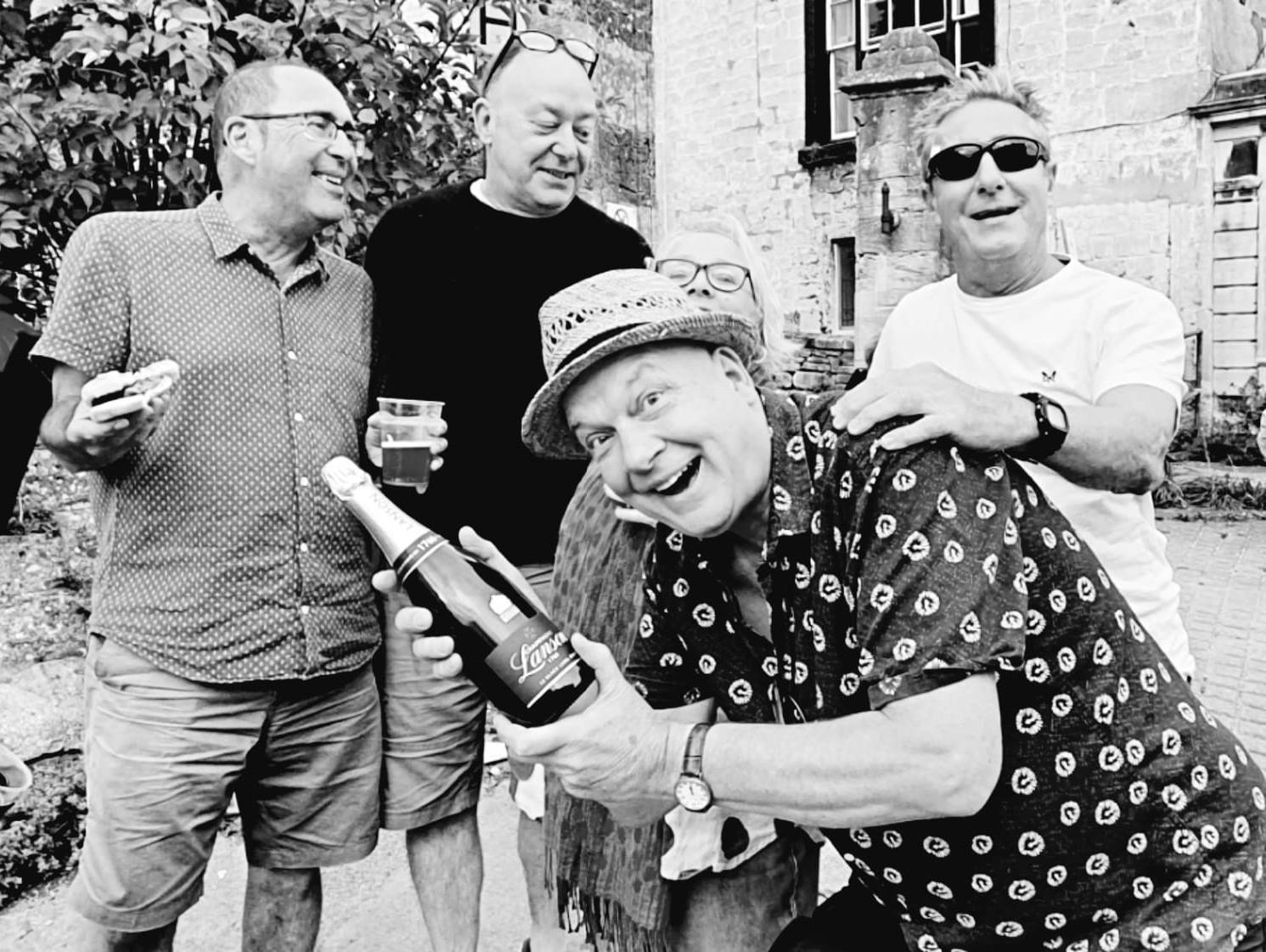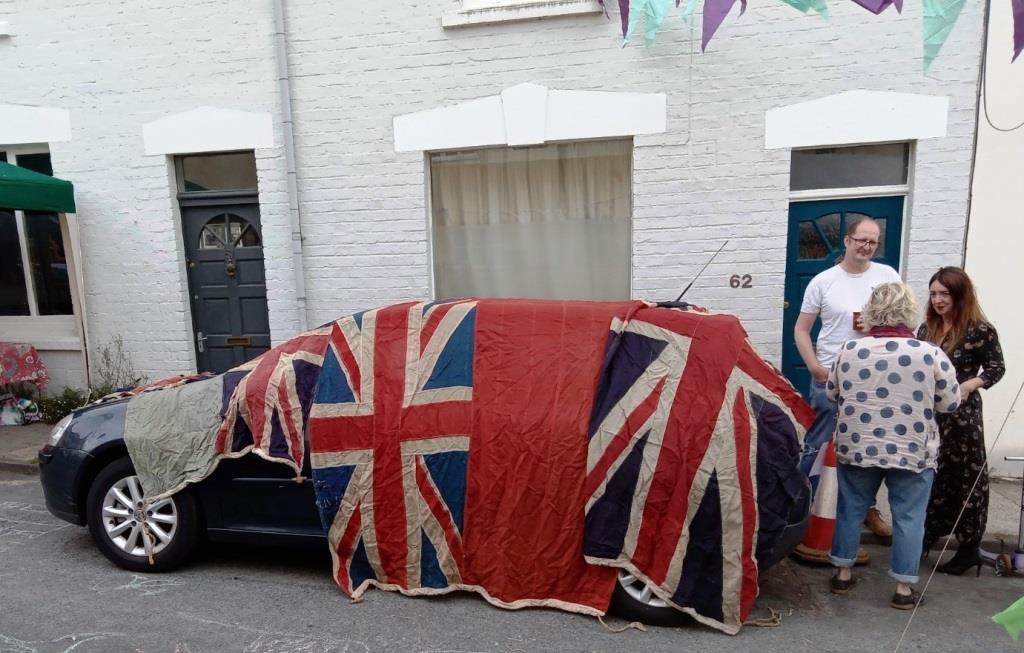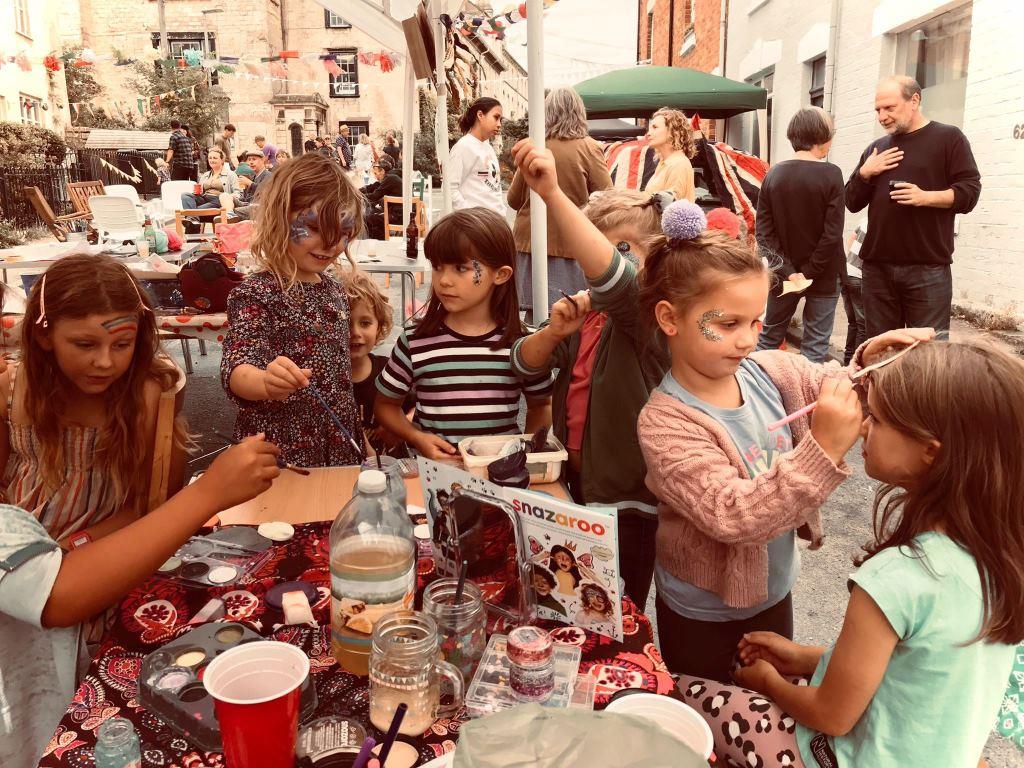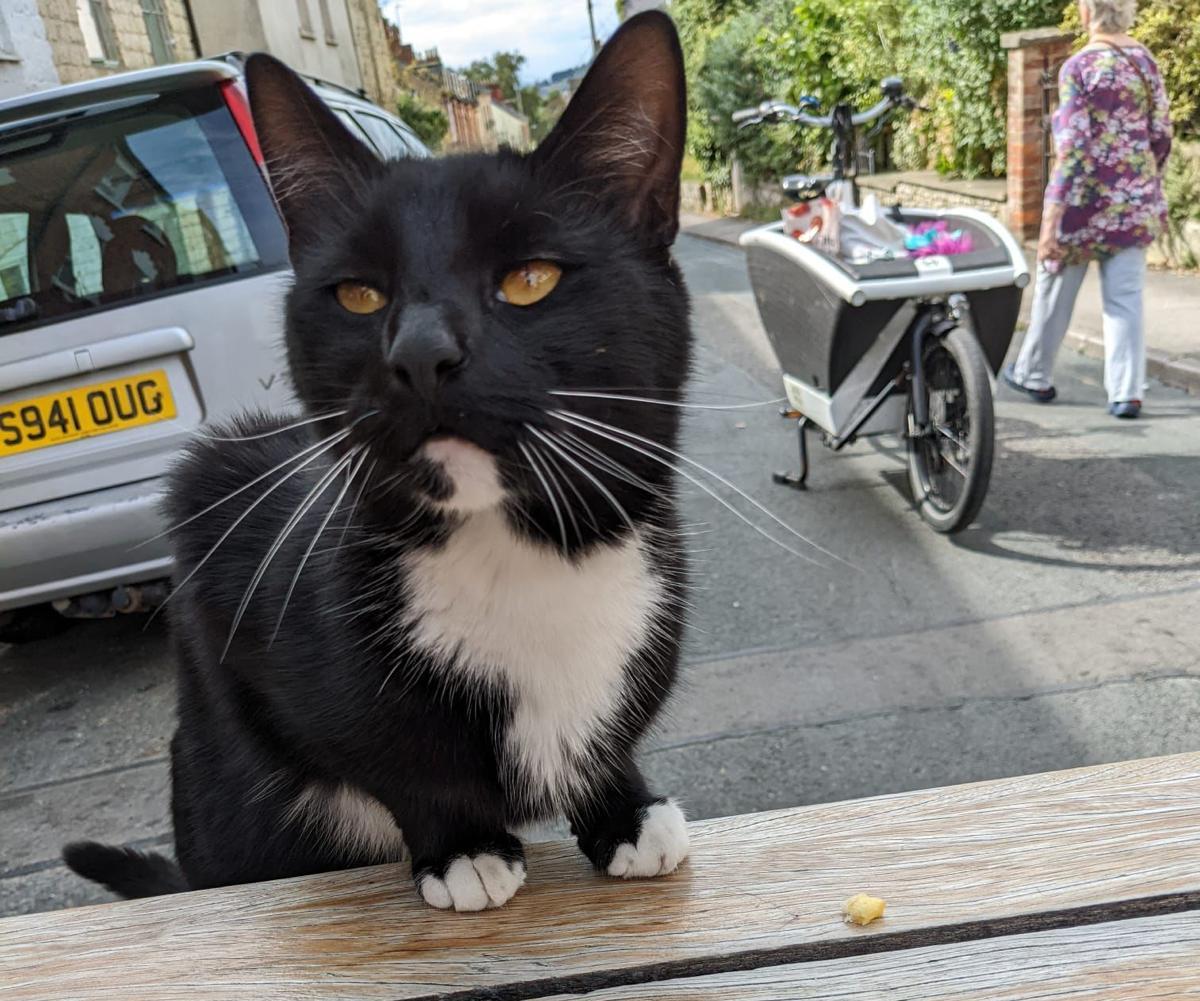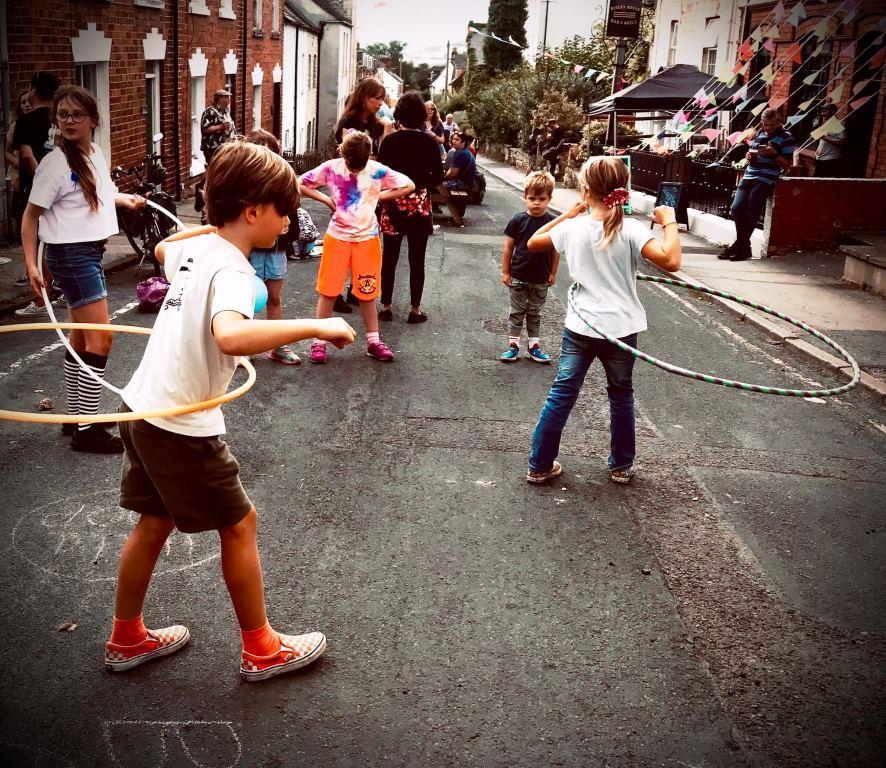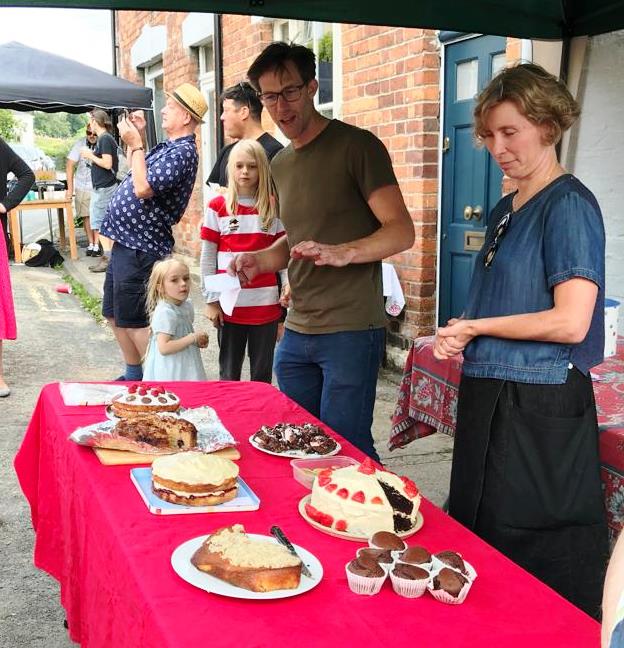 Sunday 11th September


Although it's understood that there is a period of mourning for the Queen until after the state funeral, Middle Street has decided to go ahead with this - as a celebration of her life.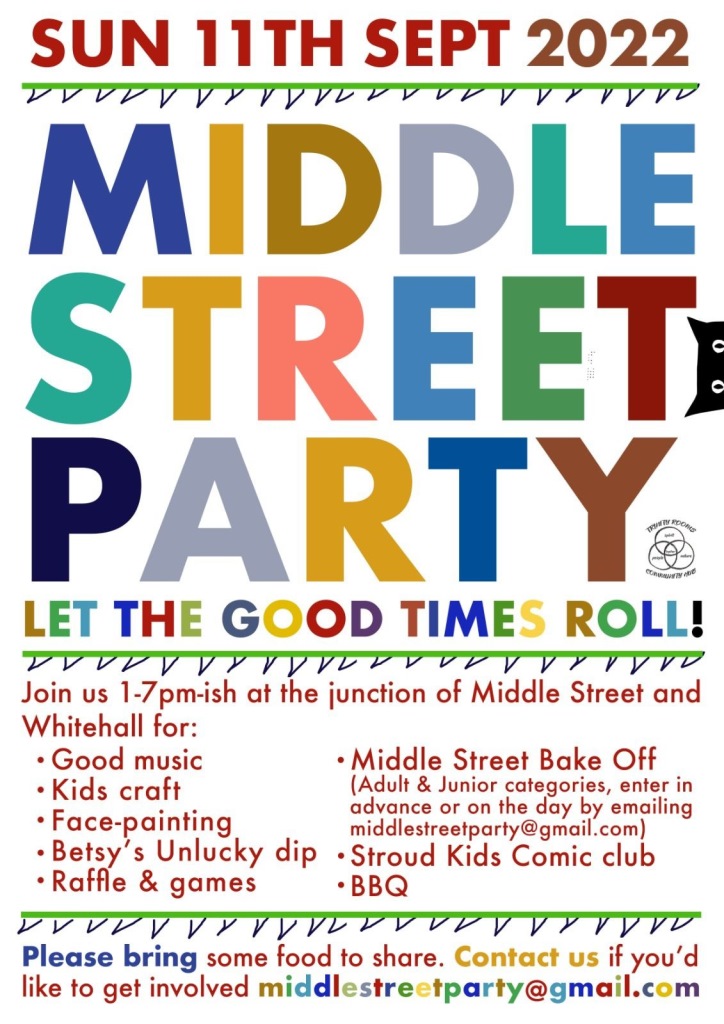 A couple of tributes, possibly the last for this period, to the Queen.

BBC Moscow correspondent Steve Rosenberg posted a message from his newsagent friend Valentina, "Queen of the Kiosk":




This is a charming little story, told earlier this year:




And spare a thought for the 21st anniversary: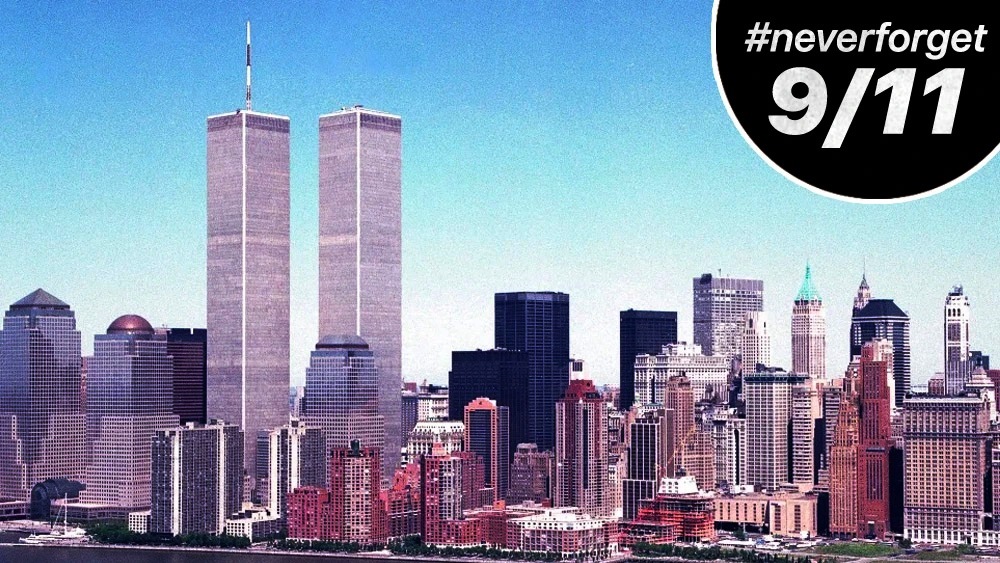 Saturday 10th September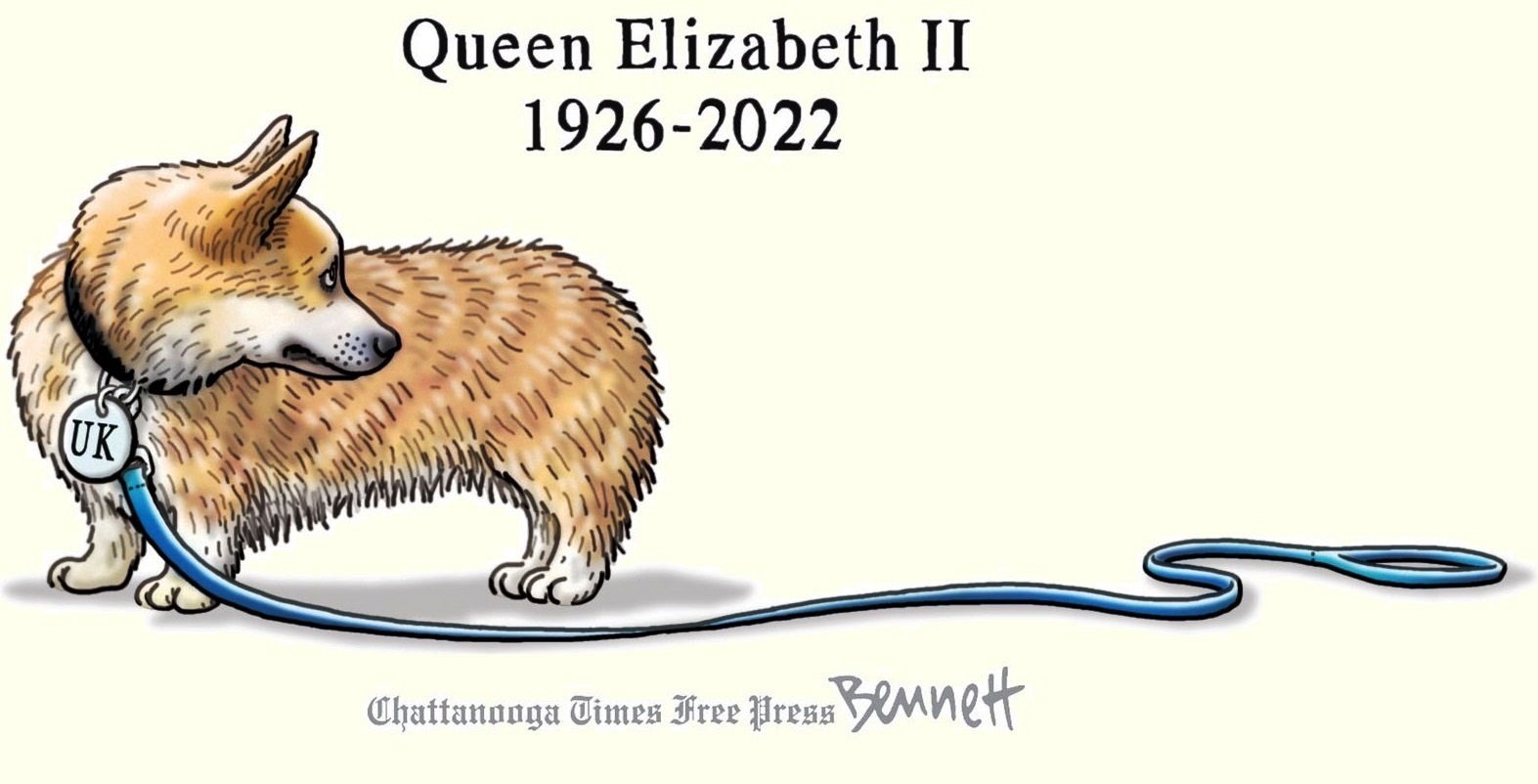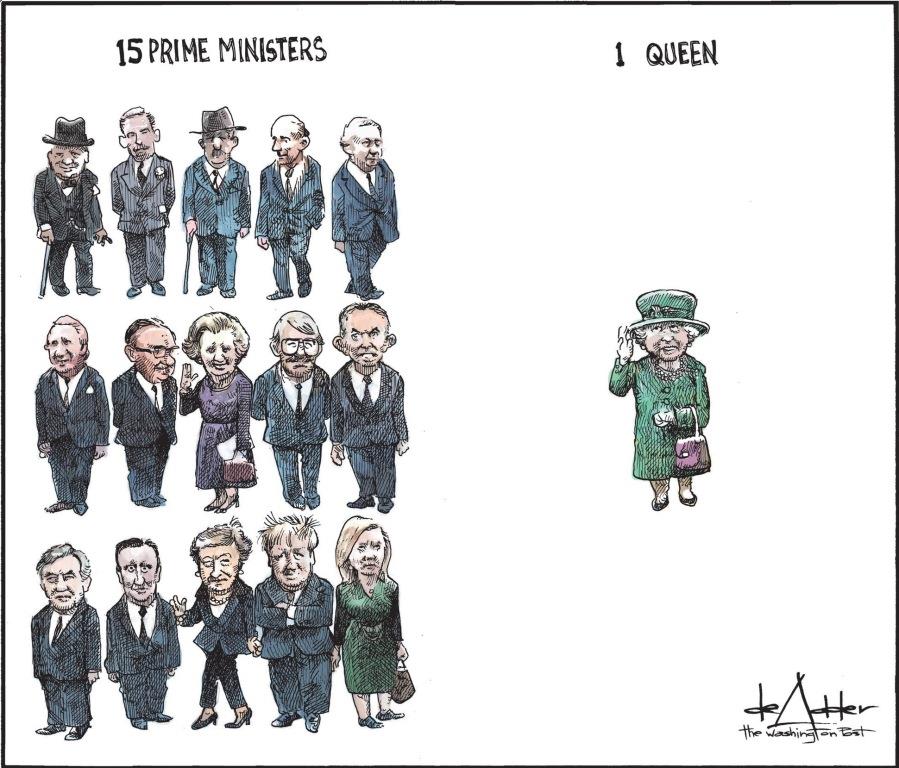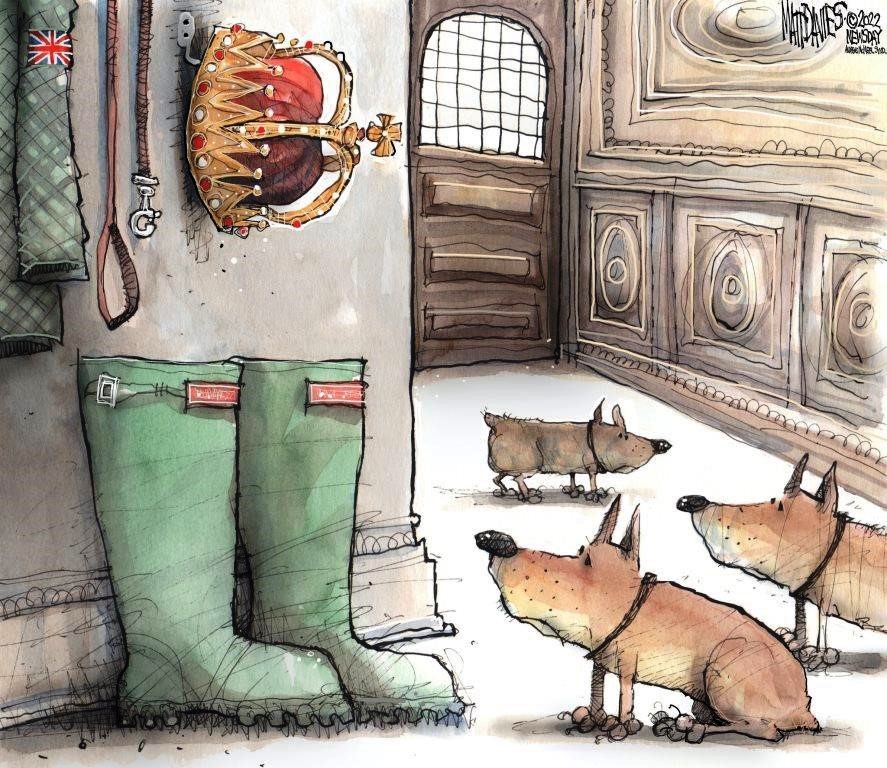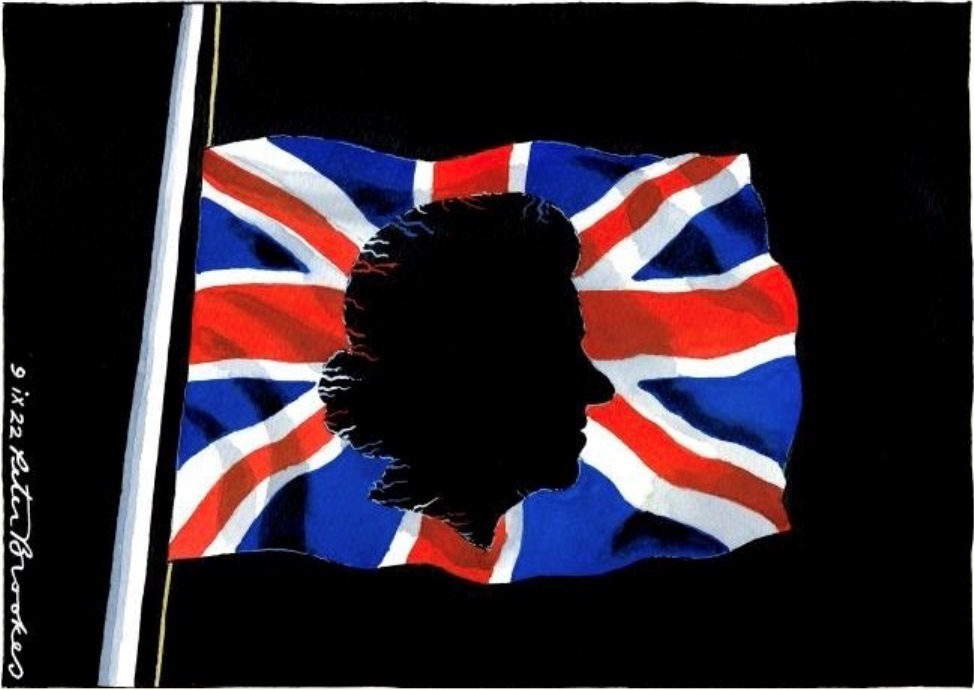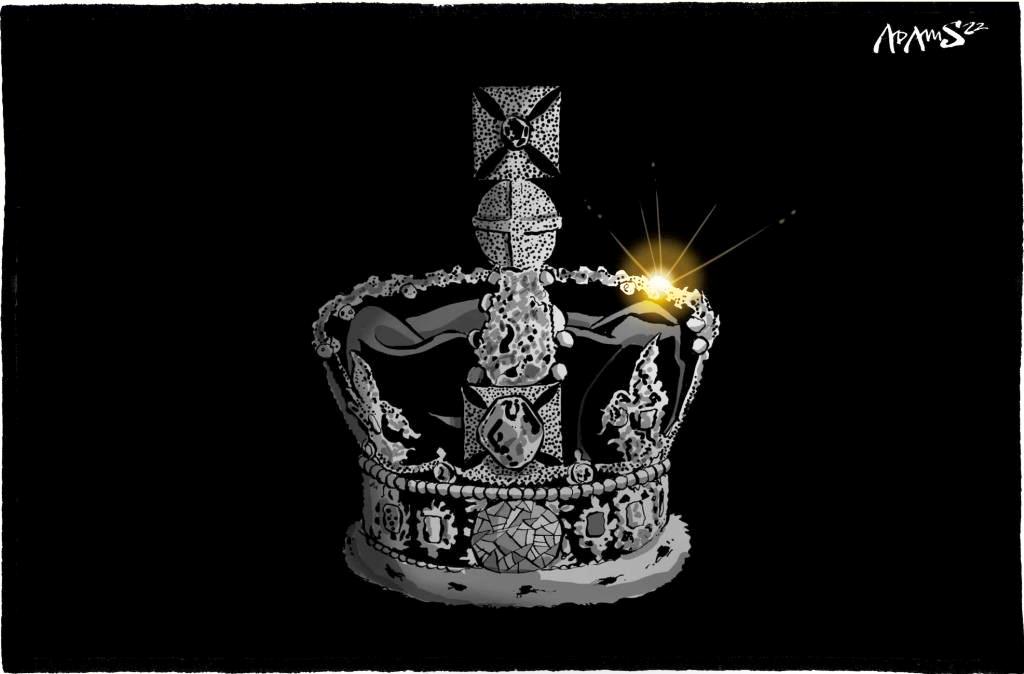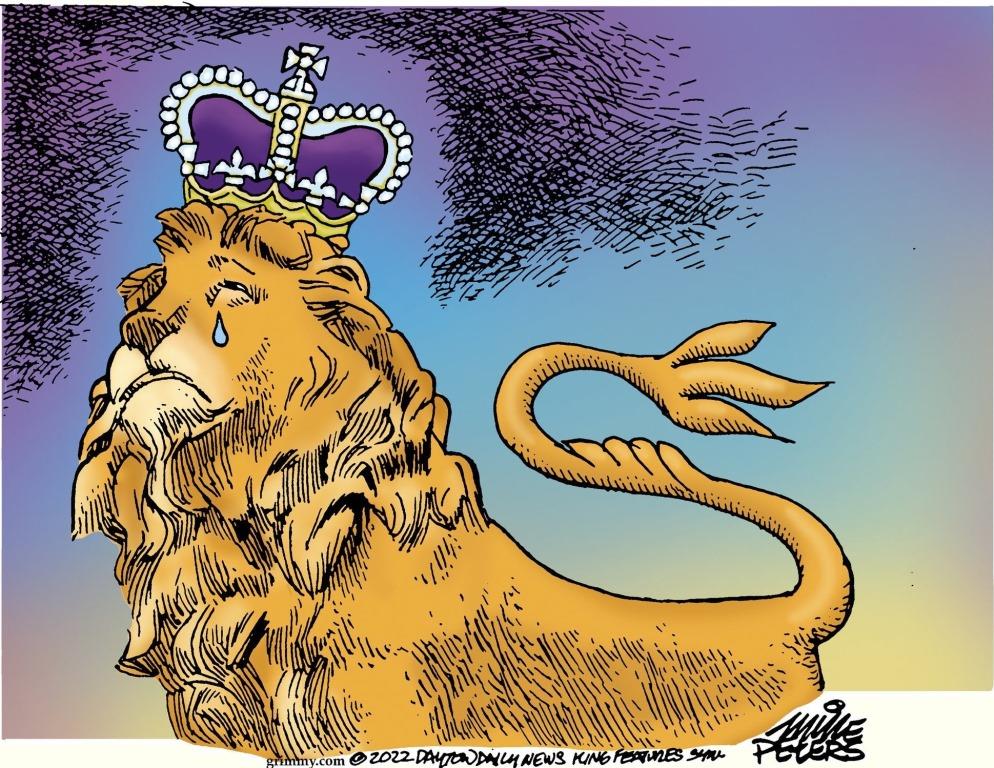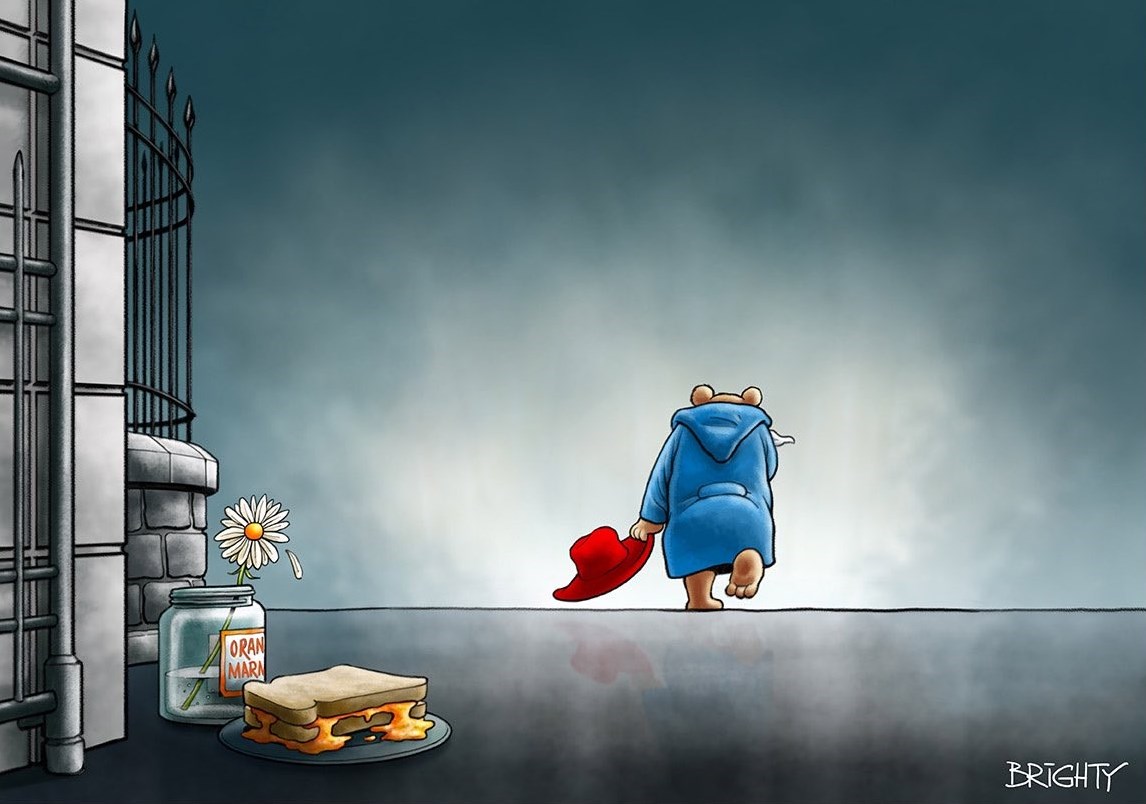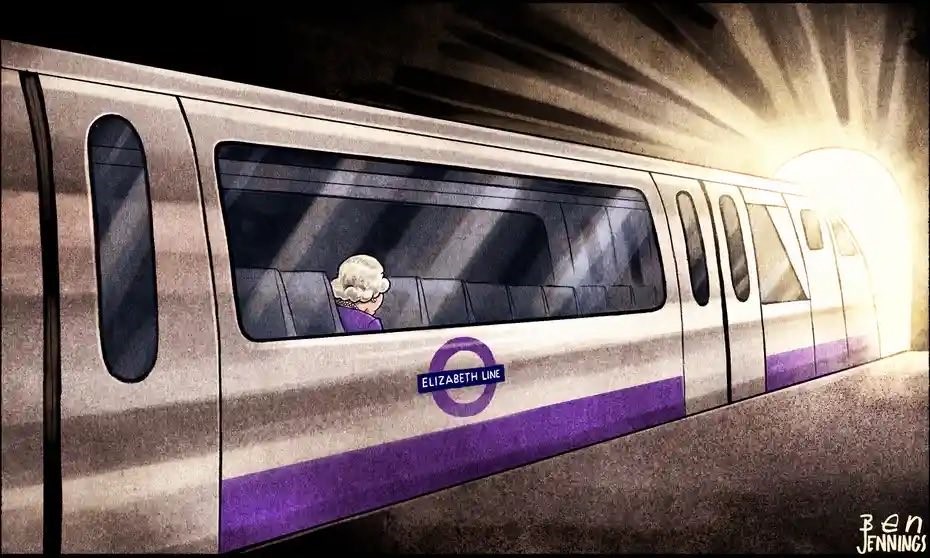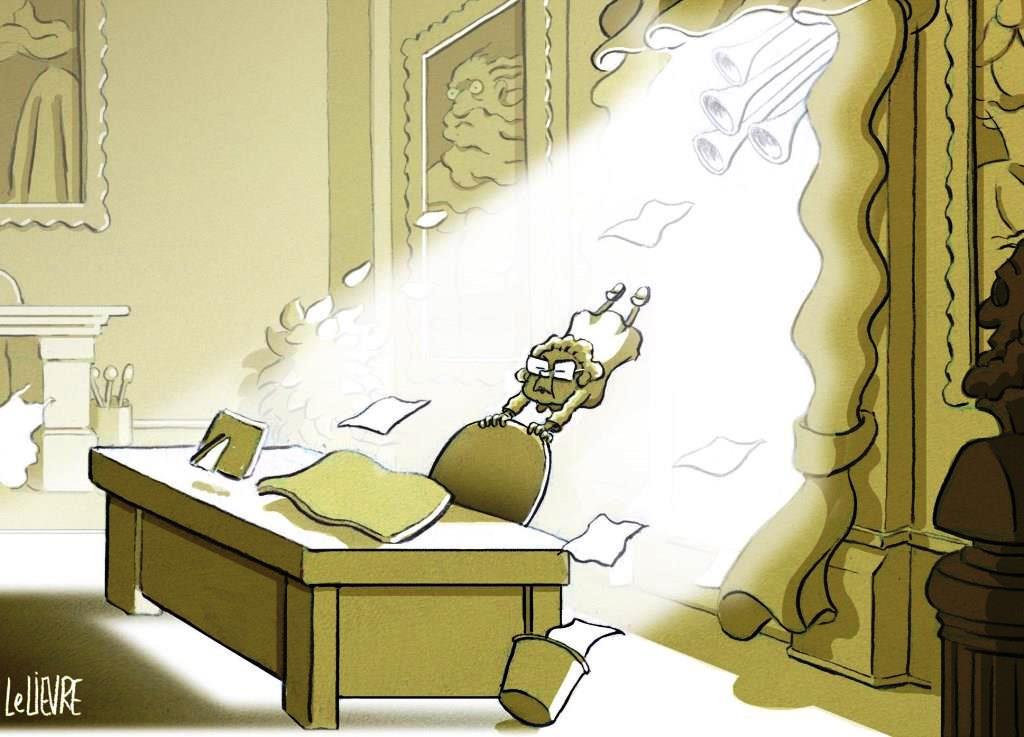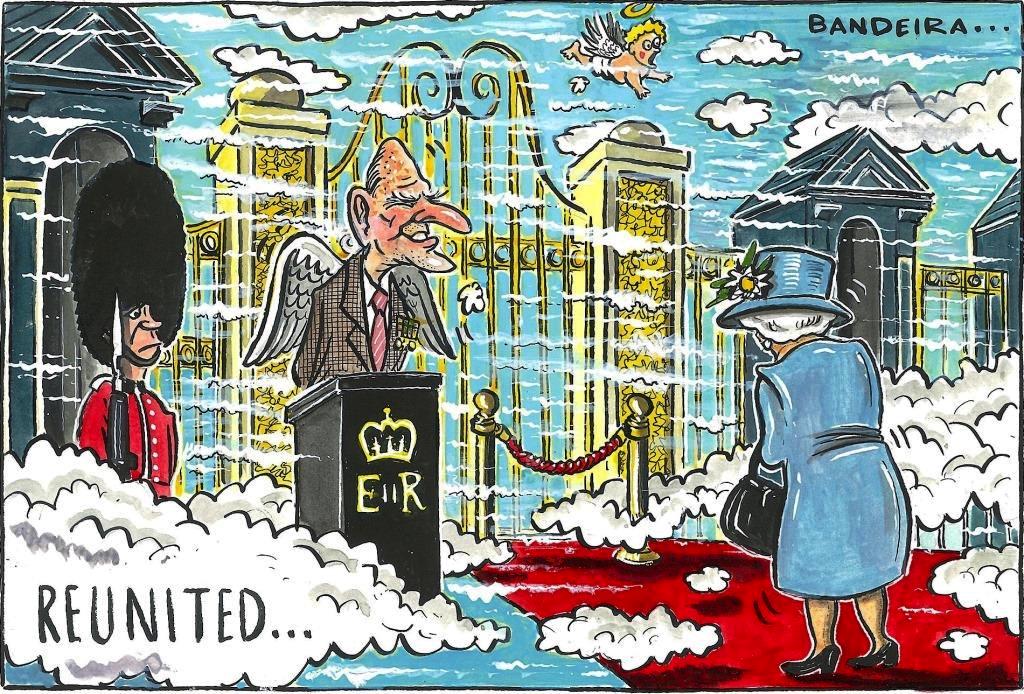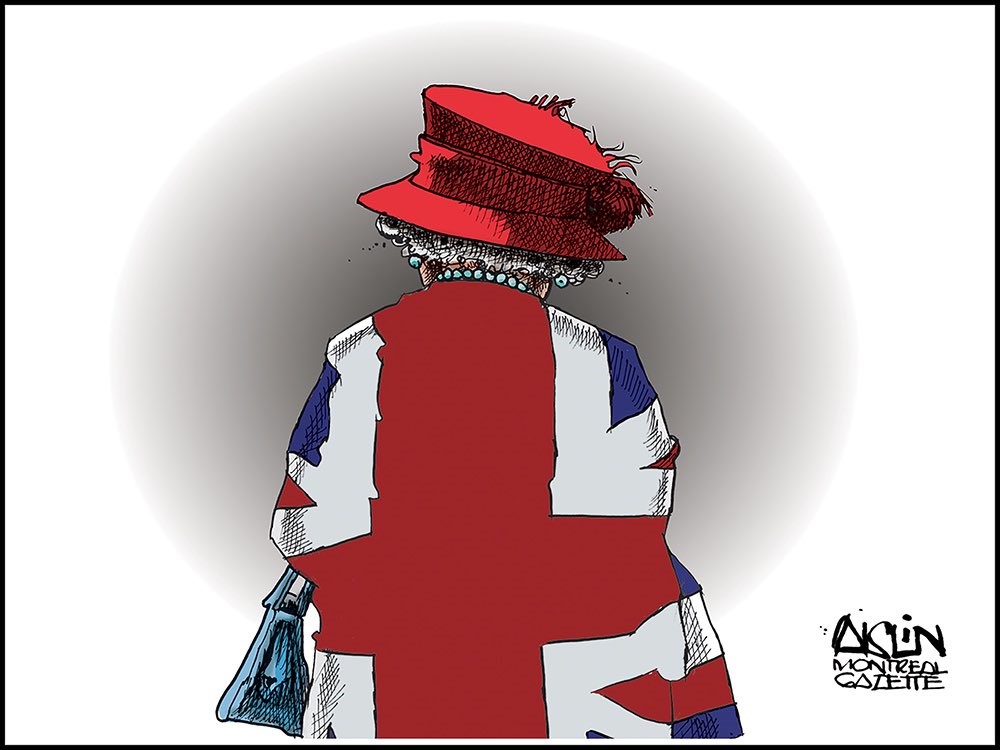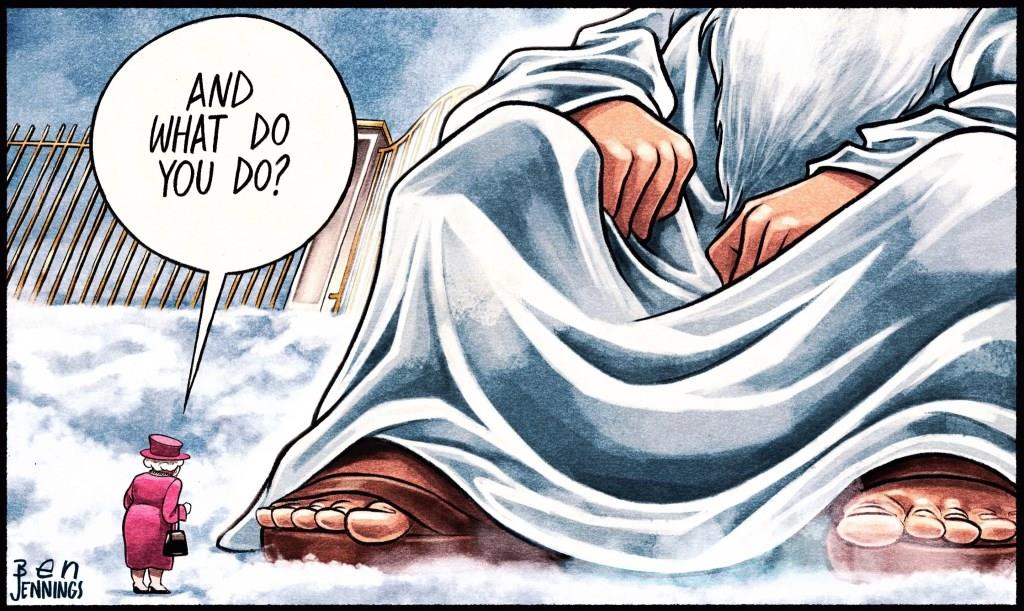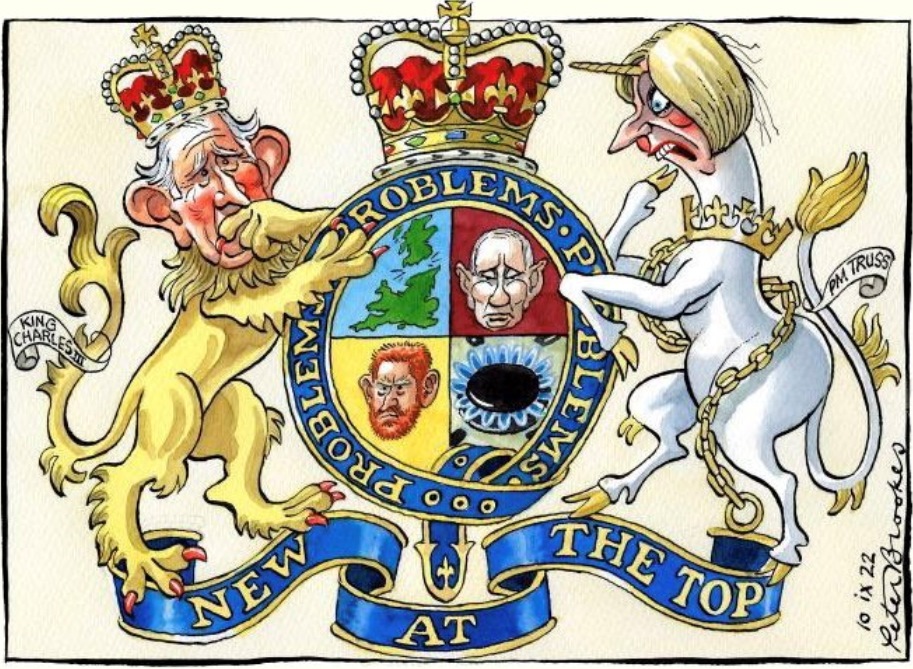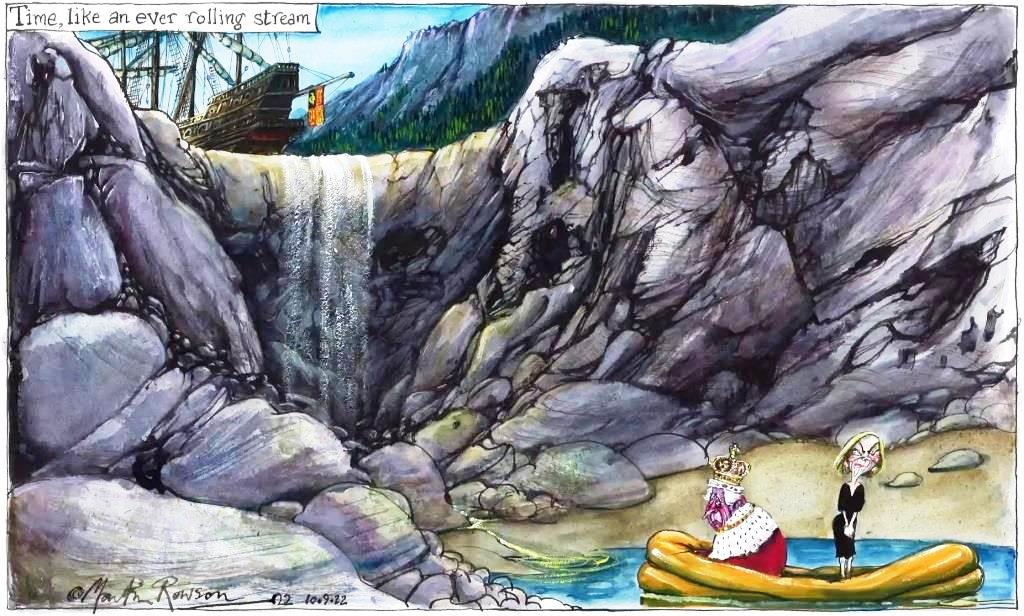 Friday 9th September



Thursday 8th September


"I am against a windfall tax."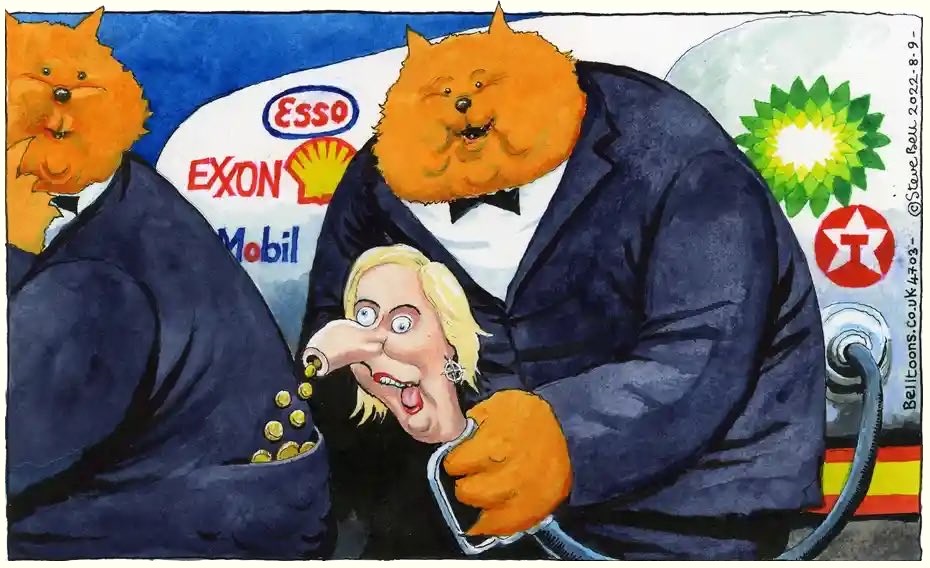 Curiously, an unlikely ally said something nice about her in an unlikely news­paper. Yes, Dale Vince - green evangelist, energy supremo, Labour sup­porter, Stroudie😉 - writes a column in the Daily Express. He argues that if he can get to that audience then he's making headway. In this instance he was talking only about energy bills, not the environmental sustainability of energy sources.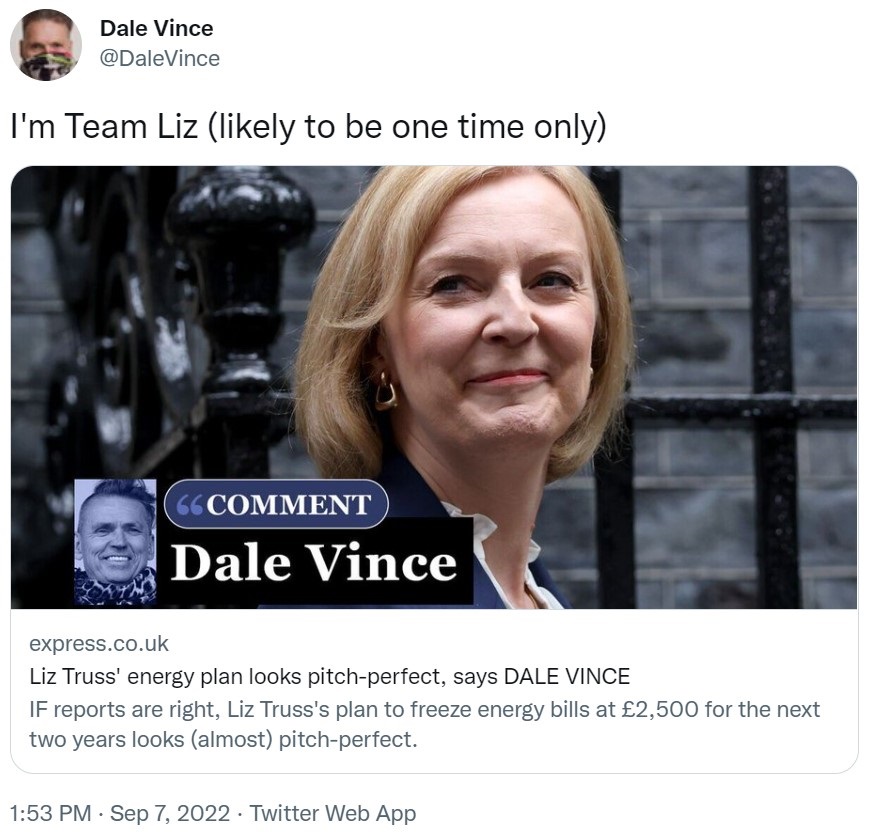 Let's see what announcement is made today.

Last Friday Vince offered advice to the incoming PM in his Express col­umn, titled "We need to change energy market rules to slash crisis levels". Worth a read, so I haven't edited or trimmed it. The advice comes in two main chunks about halfway down. Not sure about his comment on the 1970s crisis.

"We are in the middle of our worst energy crisis ever. I include the power cuts of the Seventies during the miners' strike, because they were just an inconven-ience. In fact, as a kid I found the evenings with candles rather fun.





By contrast this energy crisis is delivering widespread misery, runaway inflation, unaffordable energy bills for millions - and it will certainly cause deaths. It could even bring the Government down if they fail to properly get a grip of it - and until now they have failed. They like to claim this energy crisis is caused by Russia's invasion of Ukraine. That's not true.





It certainly added a new level of craziness to things, but the crisis itself started months before the invasion. Back then the Government blamed the pandemic.





Its proper roots 'though are much further back - with the handing over of our national energy supply to unfettered free markets.





So, for example, we have 10 percent of Europe's population but just one percent of its gas storage, because we let the markets decide how much we need. When it's not needed it's not economic so it gets shut down. Now we need it and don't have it. That's a real problem.





It is part of the reason why the energy crisis has hit Britain harder than Europe generally. But only part.





Consider this: in France energy bills have gone up by three percent, in Germany 30 percent while over here it is 300 percent.





Why is that? It's because our Government has not moved yet to intervene prop­erly in this crisis. Not remotely.





Ministers have been paralysed, like rabbits in the headlights. And more recently by the inordinately long leadership contest.





A new PM will finally be here in a few more days 'though - so here's some advice that I hope they might take.





The first thing to do is to break the link between the price of gas and the price of electricity - only 40 percent of Britain's electricity is made from gas, but we allow the price of gas to set the price of all our electricity, including the 60 percent we get from nuclear and renewable energy.





It makes no sense. If we stop that we could avoid the price cap going up in October altogether.





That would be a massive and immediate relief to millions - and of course, reduce inflation.





The second thing is to price cap North Sea gas. Half of Britain's gas is produced there but it has not saved us a single penny during this crisis because we allow the global energy market to set the price that we pay for our North Sea gas.





That also makes no sense. And it is the root cause of the obscene profits of the oil and gas producers.





If we control that wholesale price in the same way we have the retail price, allowing a simple two percent profit margin - we could reduce the price of half of our gas back to pre-crisis levels.





And that takes away half of the price rise since last October ... call it £1k per home. It would also stop windfall profits from occurring - at source. In combination we could return our energy bills to last October's level.





We only need to change market rules to make this happen - nothing else.





But it can't be done overnight, so for this winter the Government needs to step in and fund the gap. It will take just 10 percent of pandemic funding to get the country through this exceptional event. Not doing so will be a false economy.





A proper windfall tax in the meantime could help reduce that cost substantially.





We can make this energy crisis the last one we ever have if we take control of the situation."


Will the Express readers have got on the 'phone to Liz? What she won't do, surely, is alter her view on taxing oil and gas companies. Yet? She has been known to change her mind.

Did you watch Truss's first PMQs yesterday? Apart from her commitment to big money, growth and relieving the tax burden to stimulate it, there was more than enough to make the blood of Greens and climate activists boil.


"We will open up more supply in the North Sea ... we will build more nuclear power stations."


As ever, for the record I post Hansard's transcript (15 pages):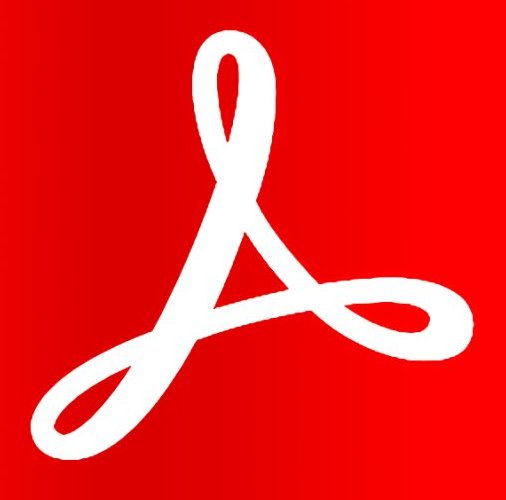 . The exch­anges with Keir Starmer are on pages 2-5, those with Ian Blackford of the SNP (as second-largest opposition party in the Commons, they get the right to two questions) on pages 5-6.

Wednesday 7th September


It's the Great Tory Reset. Starting over again with the promises of the 2019 elec­tion victory. Forget #Partygate, embrace #AmbitionBritain. One Brit-optimist leaves, another arrives. Few jokes this time around, and maybe fewer ban­ana skins. Precious little tolerance of the gain­sayers up ahead.

Tributes were paid to the Johnson trinity of alleged success: Brexit, Covid, Ukraine. A trio of Truss priorities to replace them: economic growth, energy, NHS.

The most disappointing aspect of the day for me, a fierce opponent of this government, was the competence of the organisation. Plus the effectiveness of the speeches; Johnson was fluent and ent­ert­aining in that Bullingdon buffoon manner, Truss brief and focused. The air of fresh confidence was dismaying. Johnson seemed rel­at­ive­ly unbothered by his departure, Truss calmly smug on her arrival.

Even worse was the evidence of canny quick-thinking when the Truss motor­cade, returning from RAF Northolt after the Balmoral handover, took a spurious southerly time-wasting detour over Lambeth Bridge to avert Truss having to get out of her Range Rover in front of Number 10 during a sharp biblical downpour. The imagery of the new PM making her key first address-to-the-nation drenched in an om­in­ous rain-on-my-parade moment was avoided. Damnit.

You'll have watched/read/listened to the coverage already. I'm just going to post four items "for the record". I've enjoyed (not the right word) watching and reading the det­ail, extracting the speech-writers' messages, full of bluster about the Truss future for Britain, and creating a story of the past, the Boris legacy. A Tory picture seen through-the-windscreen and in-the-rearview-mirror. Gritting my teeth all the while.



Boris Johnson makes his final PM speech and leaves Downing Street
Liz Truss arrives in Downing Street and 'delivers' her first PM speech

Transcript of Johnson speech (3 pages):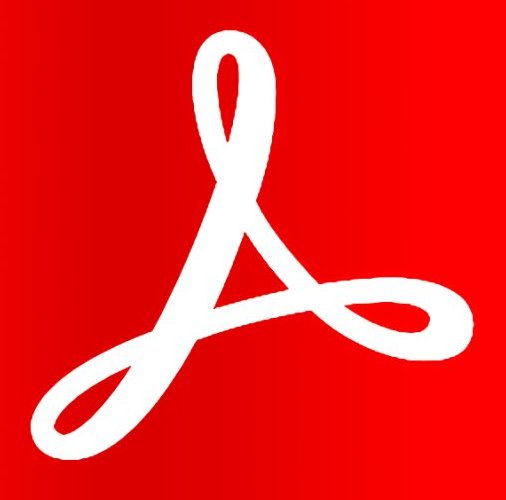 Transcript of Truss speech (2 pages):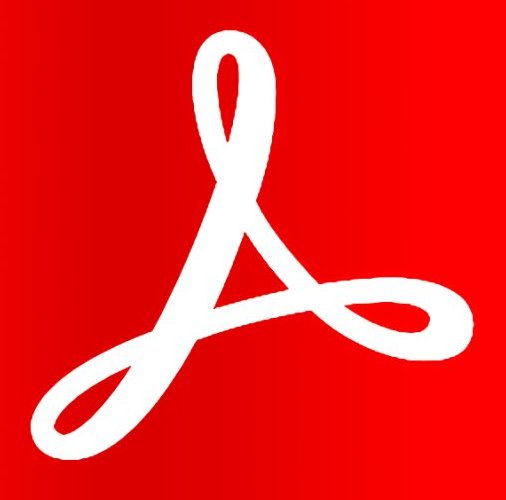 And plenty of scope for the cartoonists: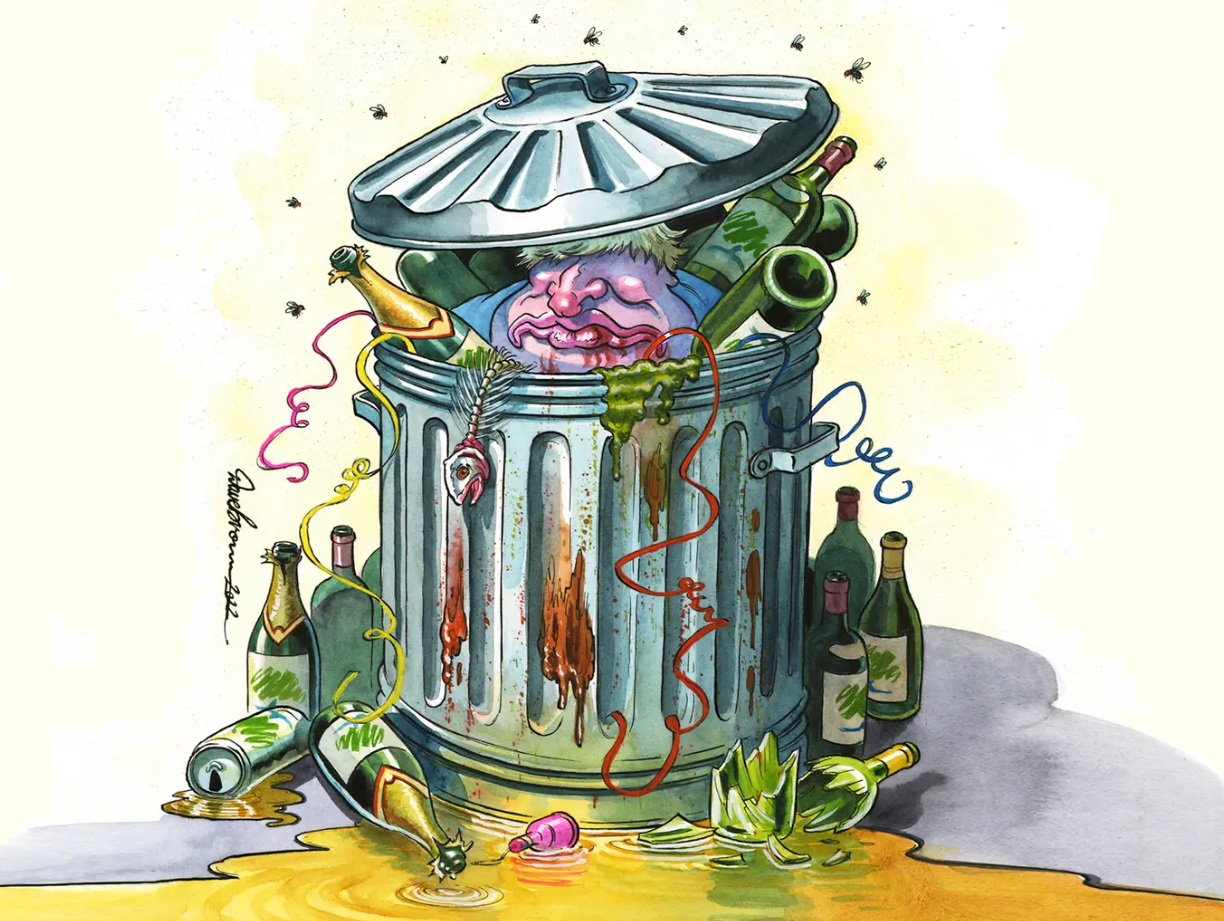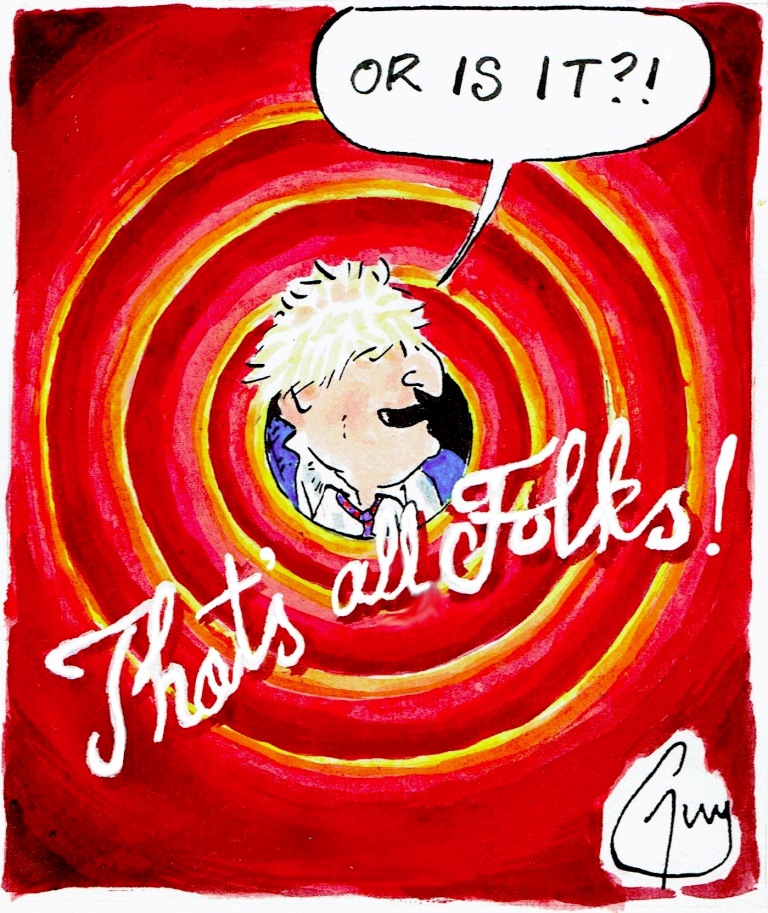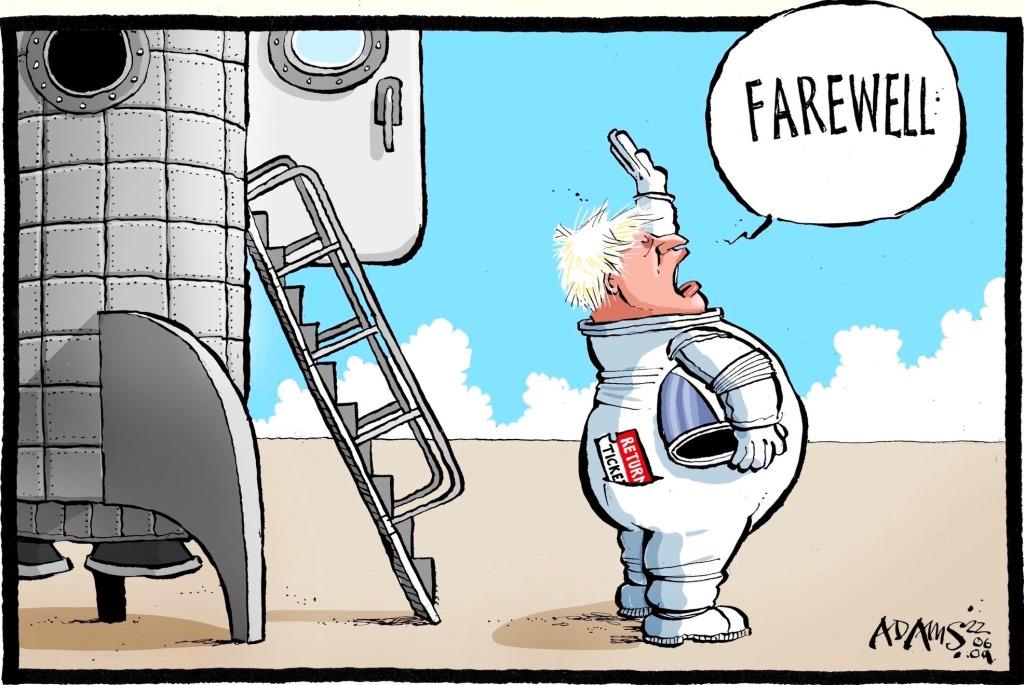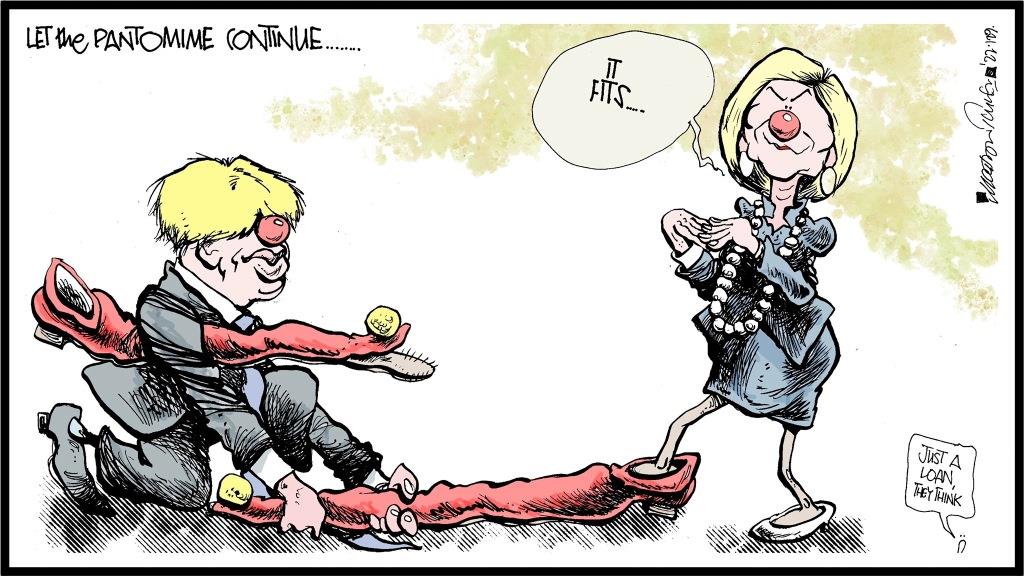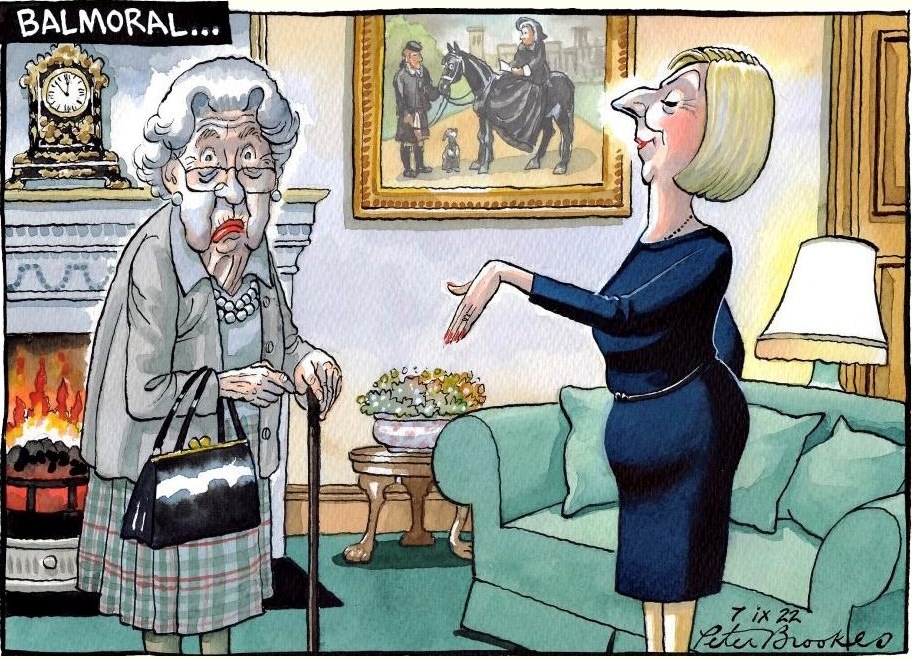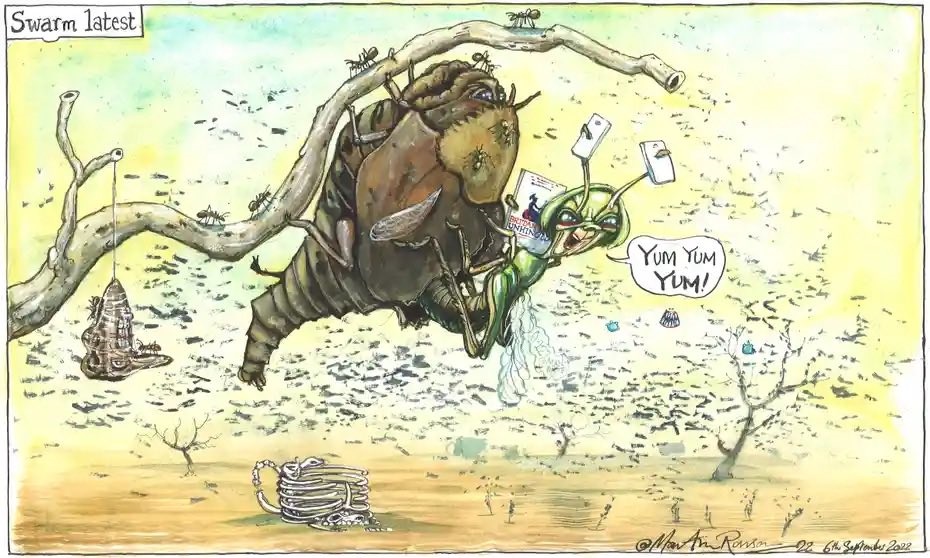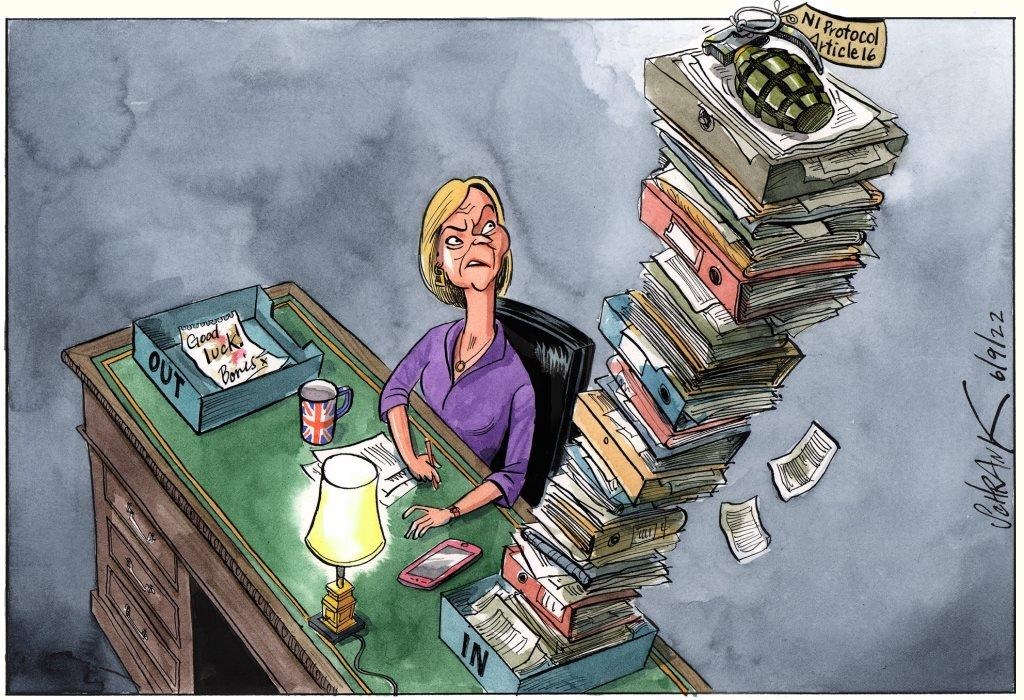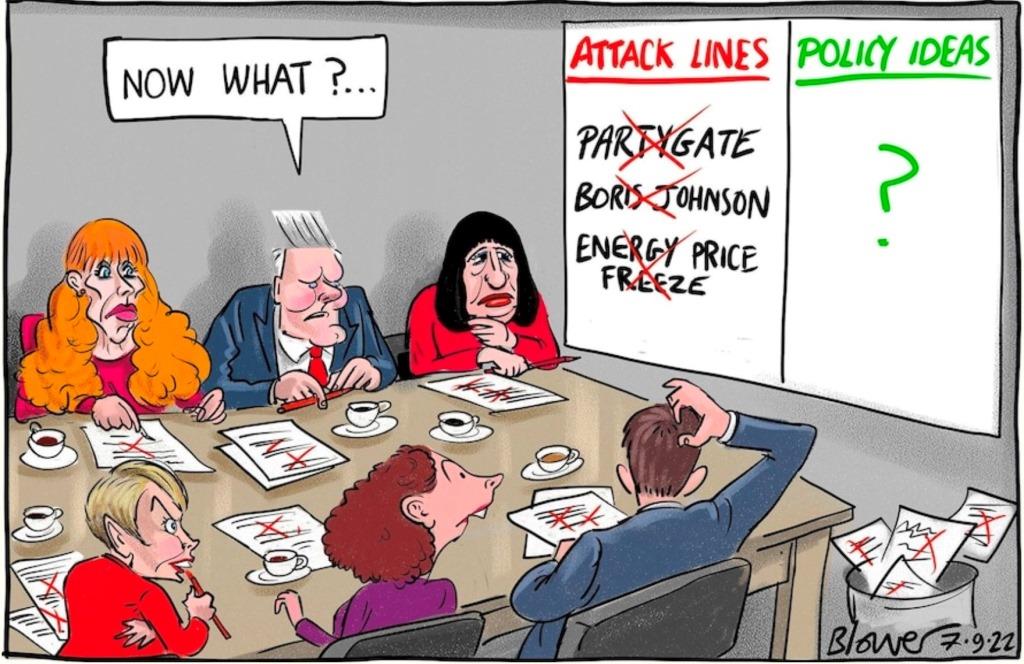 Tuesday 6th September


Votes: 81,326. Percentage of UK electorate: 0.17%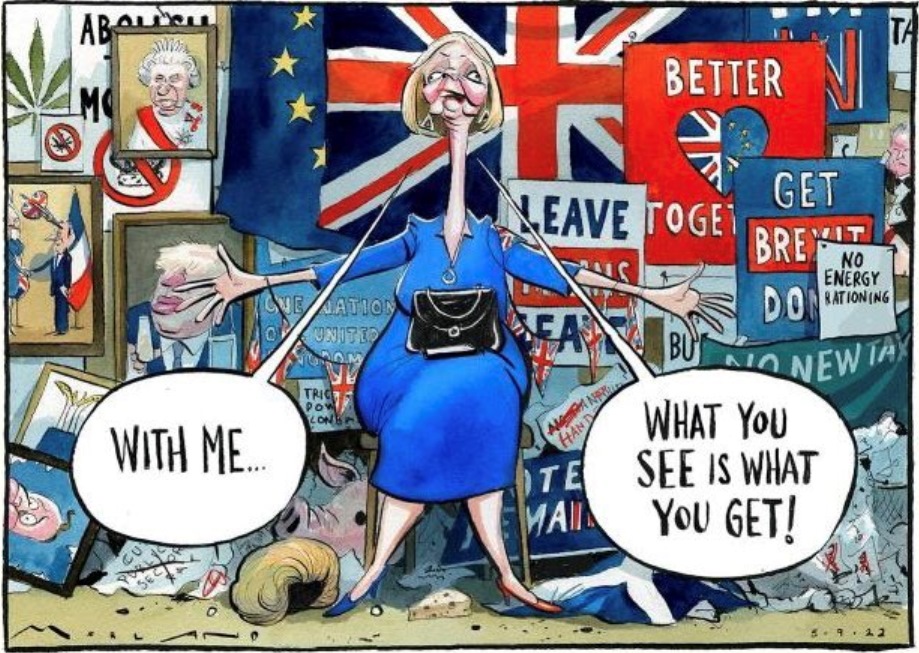 "EU membership brings economic security, peace and stability."





"What people in the Leave campaign are saying is 'We can have our cake and eat it'. We can't."





"I would rather be at the table making decisions with other countries than walking away and not having a say."





"I don't want my daughters to grow up in a world where they need a visa or permit to work in Europe, or where they are hampered from growing a business because of extortionate call costs and barriers to trade. Every parent wants their children to grow up in a healthy environment with clean water, fresh air and thriving natural wonders. Being part of the EU helps protect these precious resources and spaces."





"We're trendsetters, first to welcome brilliant inventions into our lives, from the microwave meal to Instagram. Britain is a nation of Uber-riding, Deliveroo-eating, Airbnb-ing freedom fighters."





"Tyrrells crisps are one of the top sellers in France. I don't know if you've tasted crisps in other countries, but I really think British crisps are world leaders. I went to China and they told me there is only one type of potato available there."





"I want our children to grow up enjoying the taste of British apples as well as Cornish sardines, Norfolk turkey, Melton Mowbray pork pies, Wensleydale cheese, Herefordshire pears and of course black pudding."





"I campaigned as a conservative and I will govern as a conservative."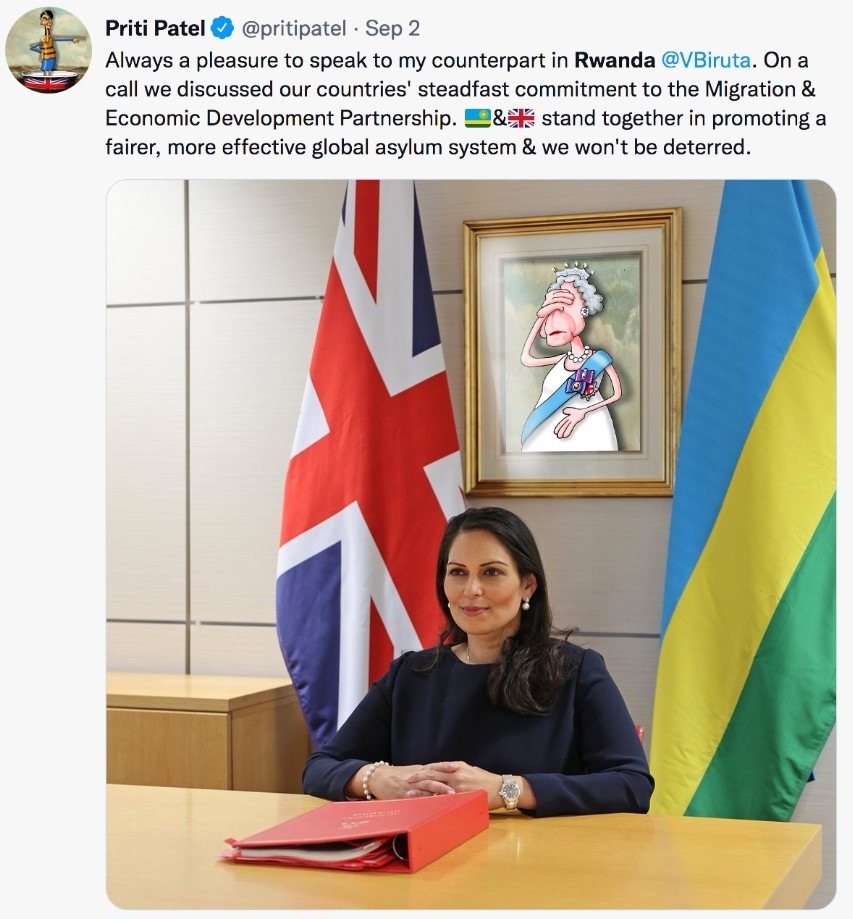 "Britain had always been a beacon for freedom and democracy and I have been proud to work with you [Boris Johnson] over the last three years to make that light shine brighter. All this has been achieved despite the rel­ent­less efforts of our political opponents and left-wing activists, lawyers and cam­paigners."

Monday 5th September


***** #STOPRWANDA DAY OF PROTEST *****

It's the day for a message, loud and clear, to the PM-elect.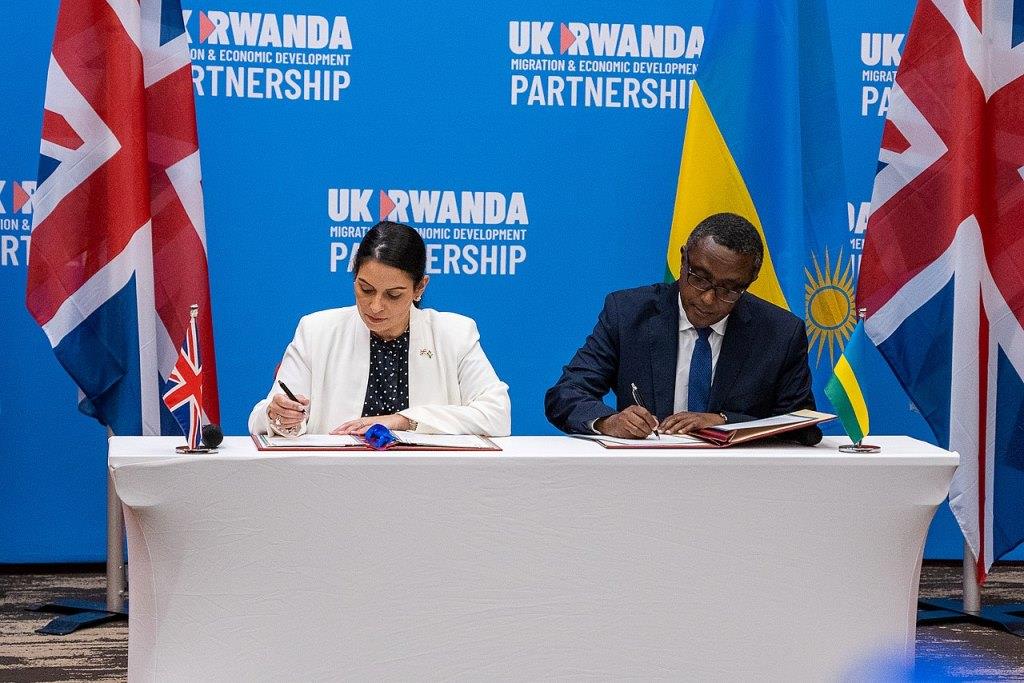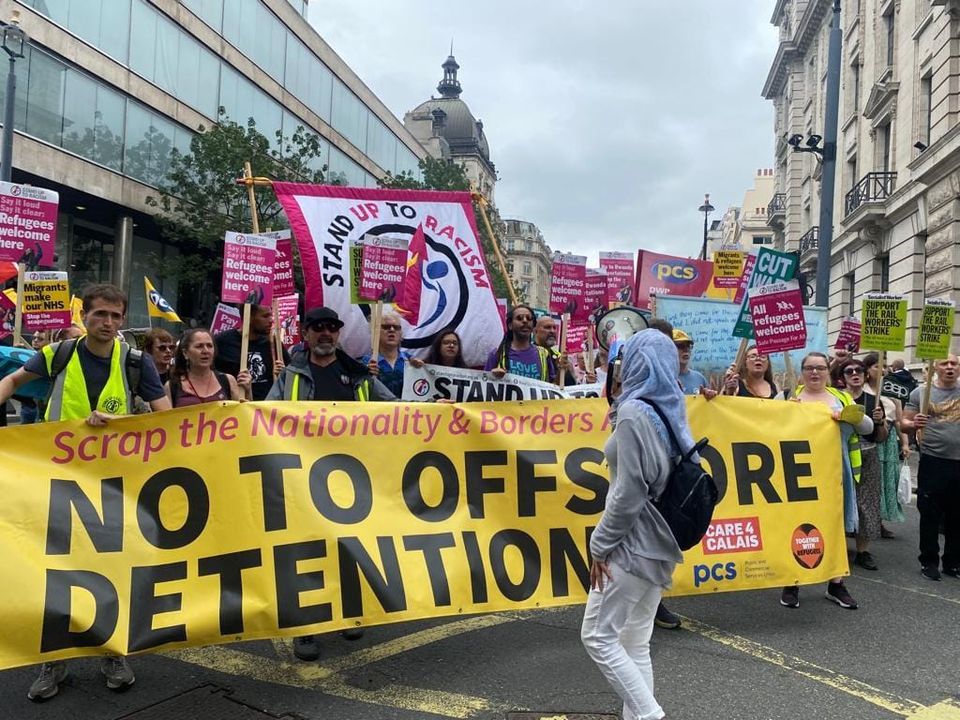 A reminder for Stroudies: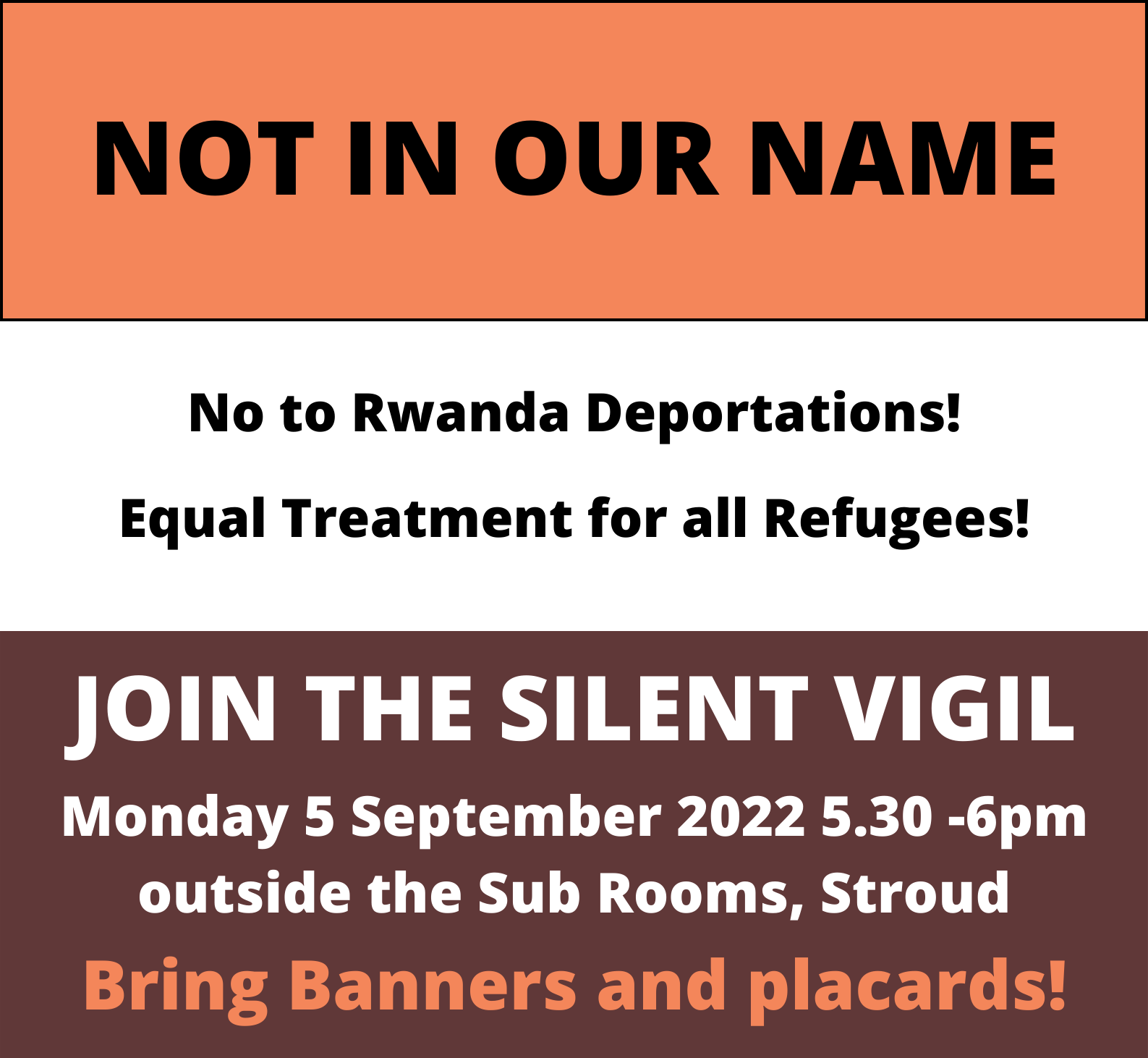 The major central London rally will be at the Royal Courts of Justice, the key time 1pm-2pm, although there will be a presence from 9am onwards.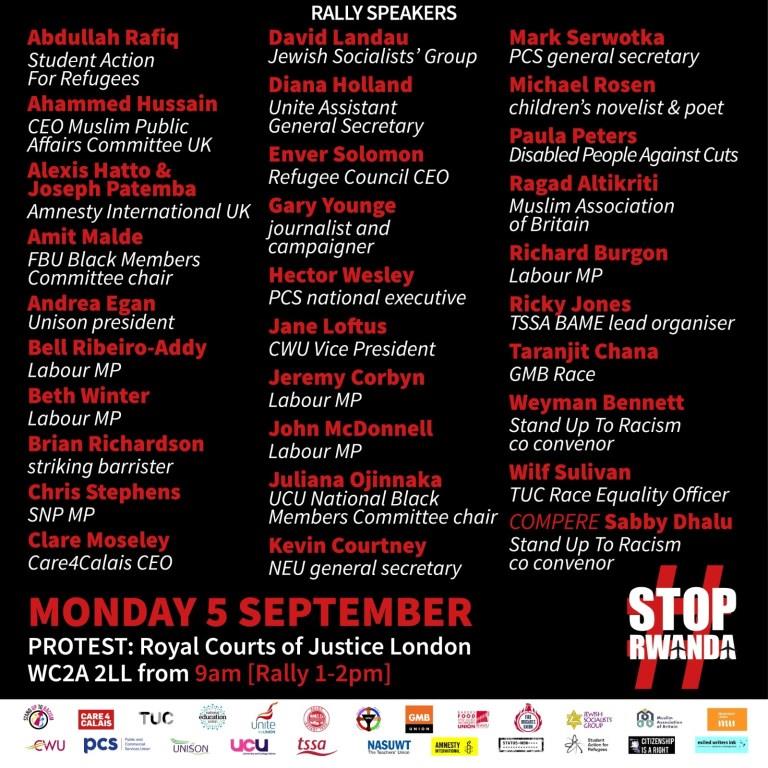 If you use Twitter, Stand Up To Racism (SUTR) is encouraging a Twitter­storm from 11am to 12 noon to voice your individual protests with these hash­tags:


#StopRwanda #NoOffshoreDetention #AllRefugeesWelcome #StopTheFlights

.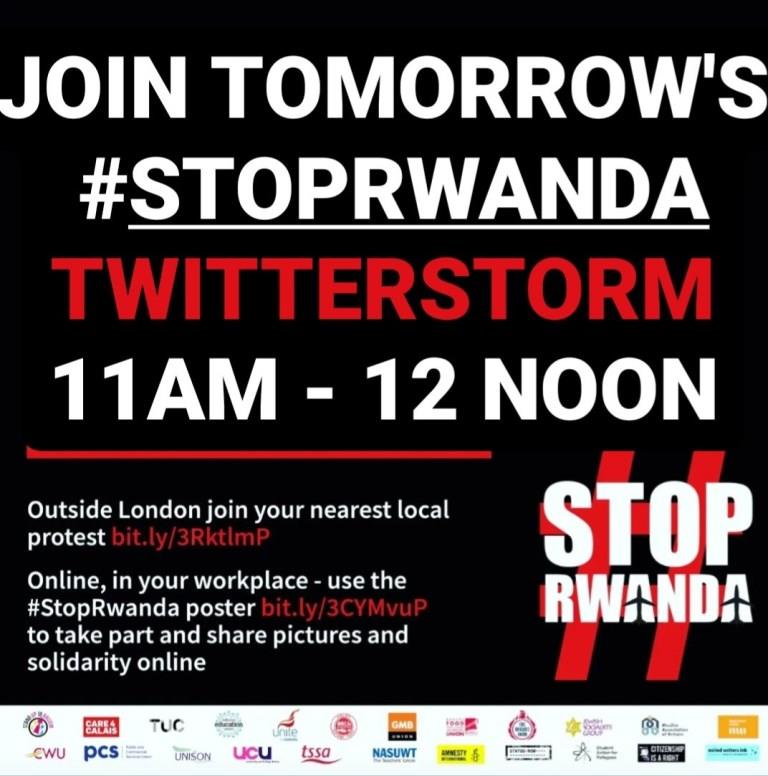 You might attach the SUTR image to the tweet; right-click and 'Save image as' to download (if you're using Windows):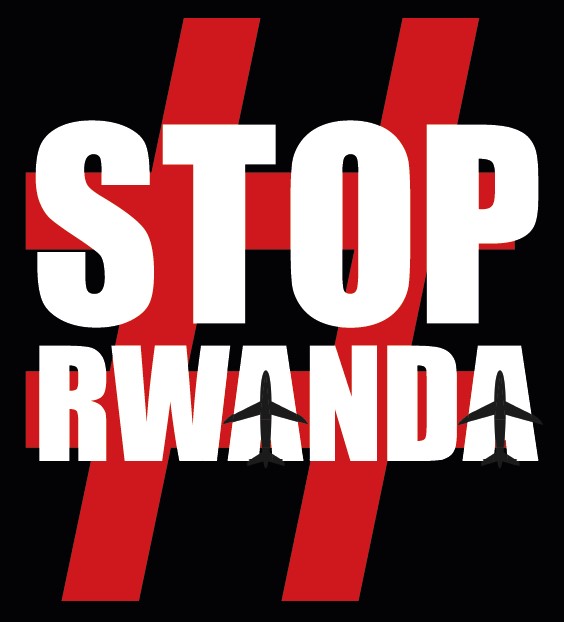 Sunday 4th September


Tractors. Yes, I've completely lost it.

Son Ben, who's over here from Bilbao for a month, very generously (and courageously, in my view) took his nephew Marlie down to the farm in Devon run by friends Ollie and Eve. Marlie had a ride (click photos to enl­arge):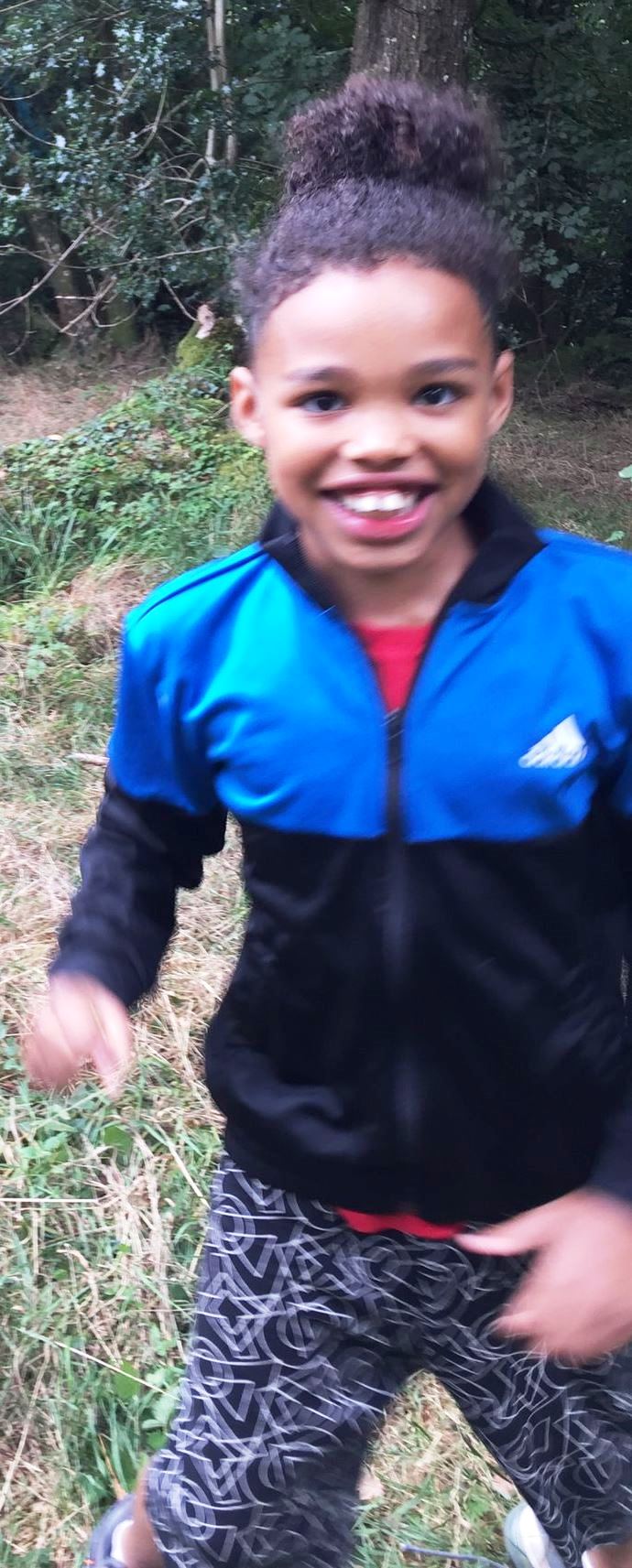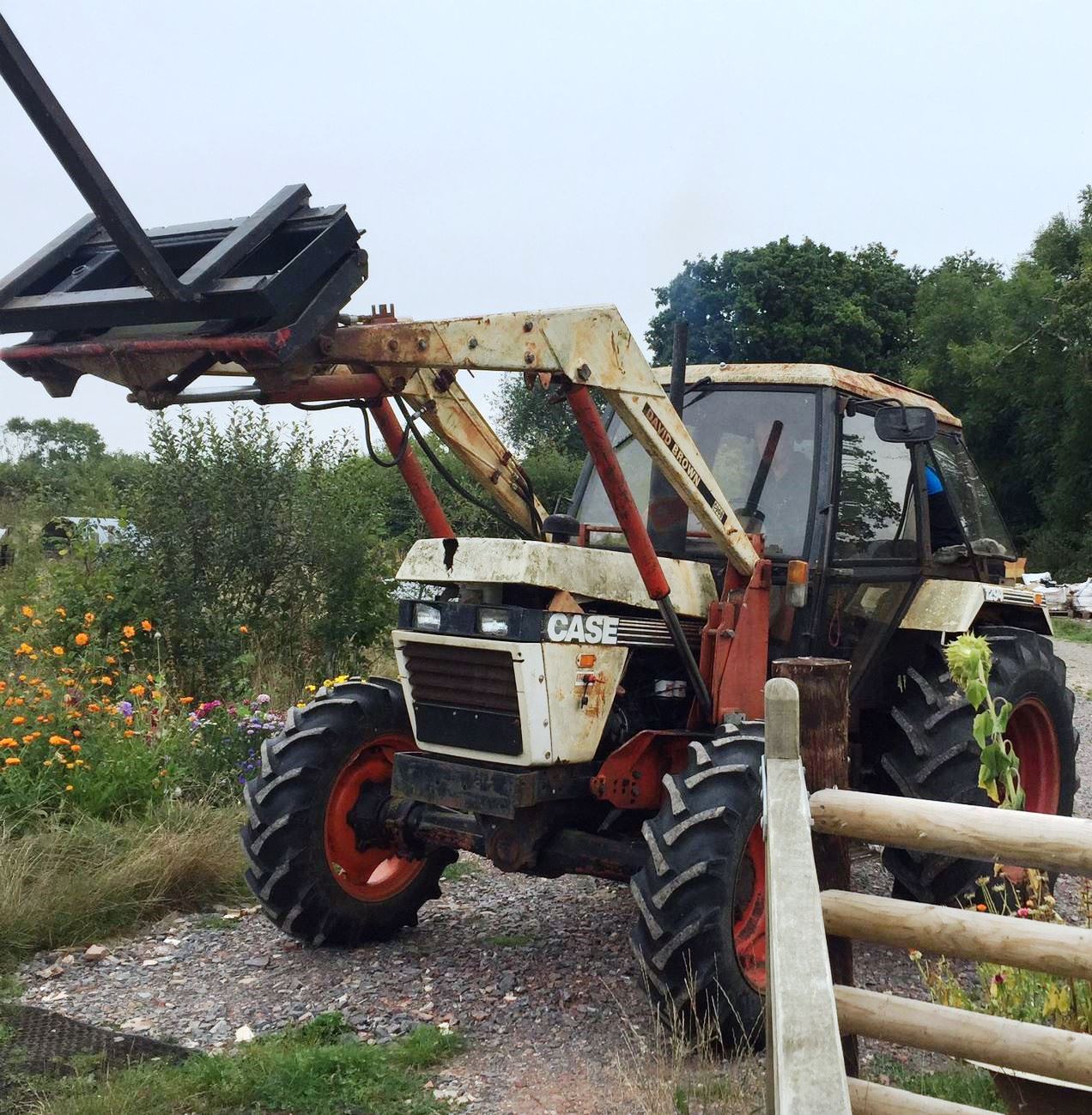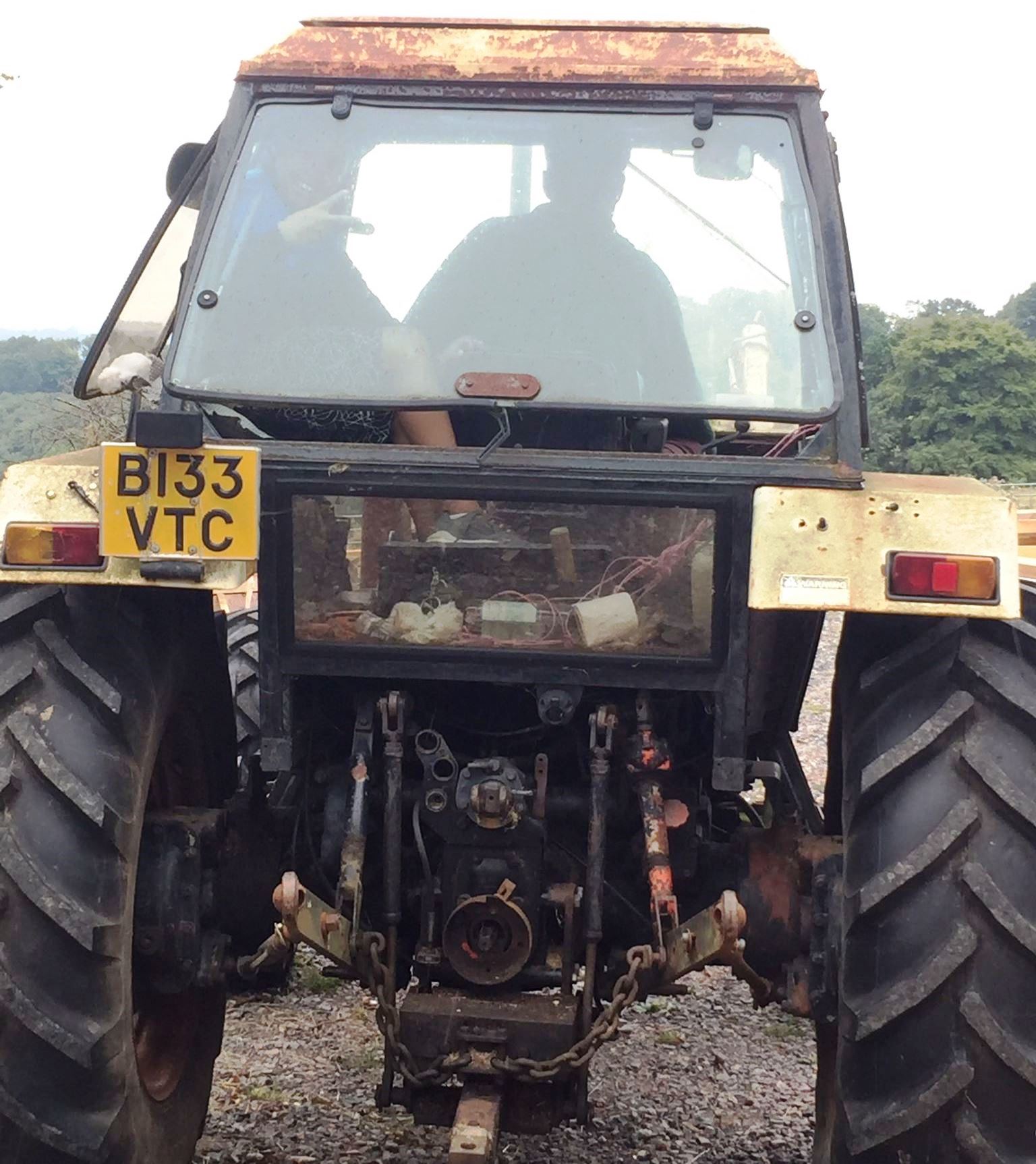 Now for my tractor bit.

I went up to Stancombe Beech Farm near Bisley three days ago to do my regular weekly veg shop.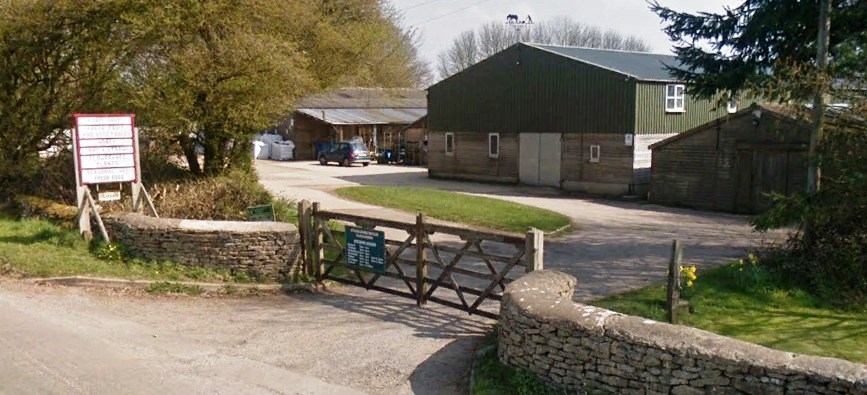 In the yard there was one of these, a Fendt 942 Vario: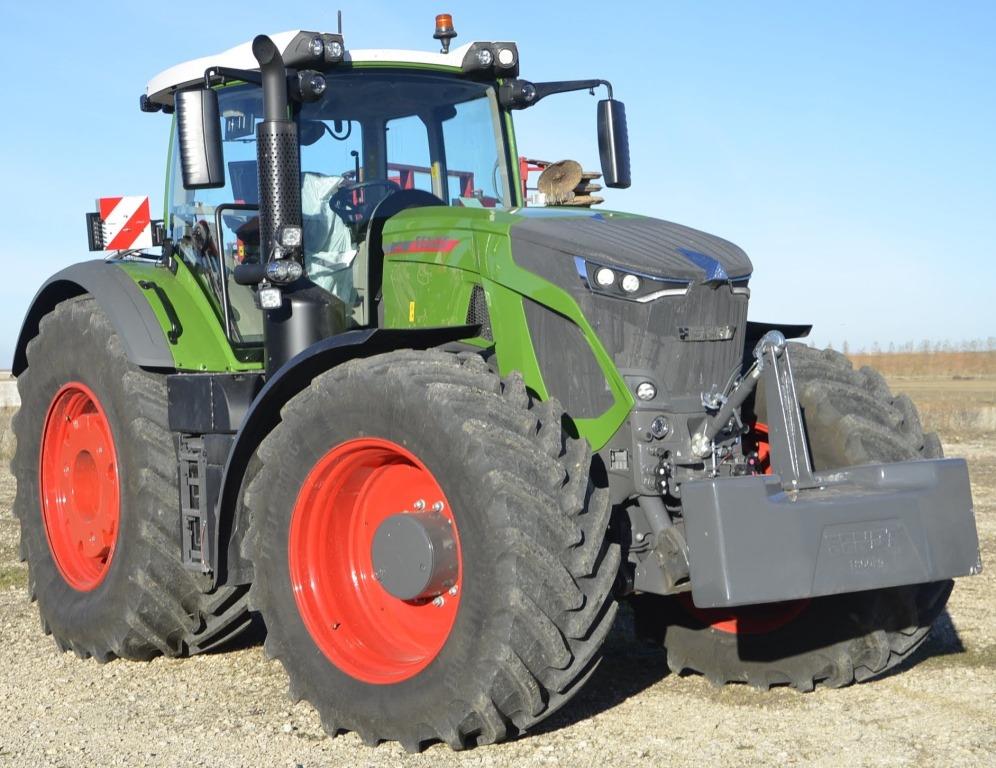 When I was little, tractors looked like this, although perhaps less lovingly maint­ained than the 1957 Massey Ferguson FE35 pictured here:




How did they get so big? You probably can't tell from the photos, but the Fendt is roughly four times the size of the Massey Ferguson. 415 horse­power rather than 44.5, nearly a tenfold increase. I asked Farmer Dickinson how much they cost, and he told me to guess. I suggested £80,000. Out by a factor of over four. The newest model list price: £340,000. He said that you could however get them for more like £250,000. "Yep, a-quarter-of-million just to sit on that. If you've got one for £80k I'll take it." How on earth does that fit into the economics of running a relatively modest Gloucestershire farm? My weekly veg bill rarely exceeds £20. You'd need 12,500 such visits to pay for the tractor at the lower price.

Back to Devon and the family visit to the farm. Ben really does get Marlie eng­aged. Here are pictures of their pizza-and-aubergine-supper-making ses­sion (click photos to enlarge):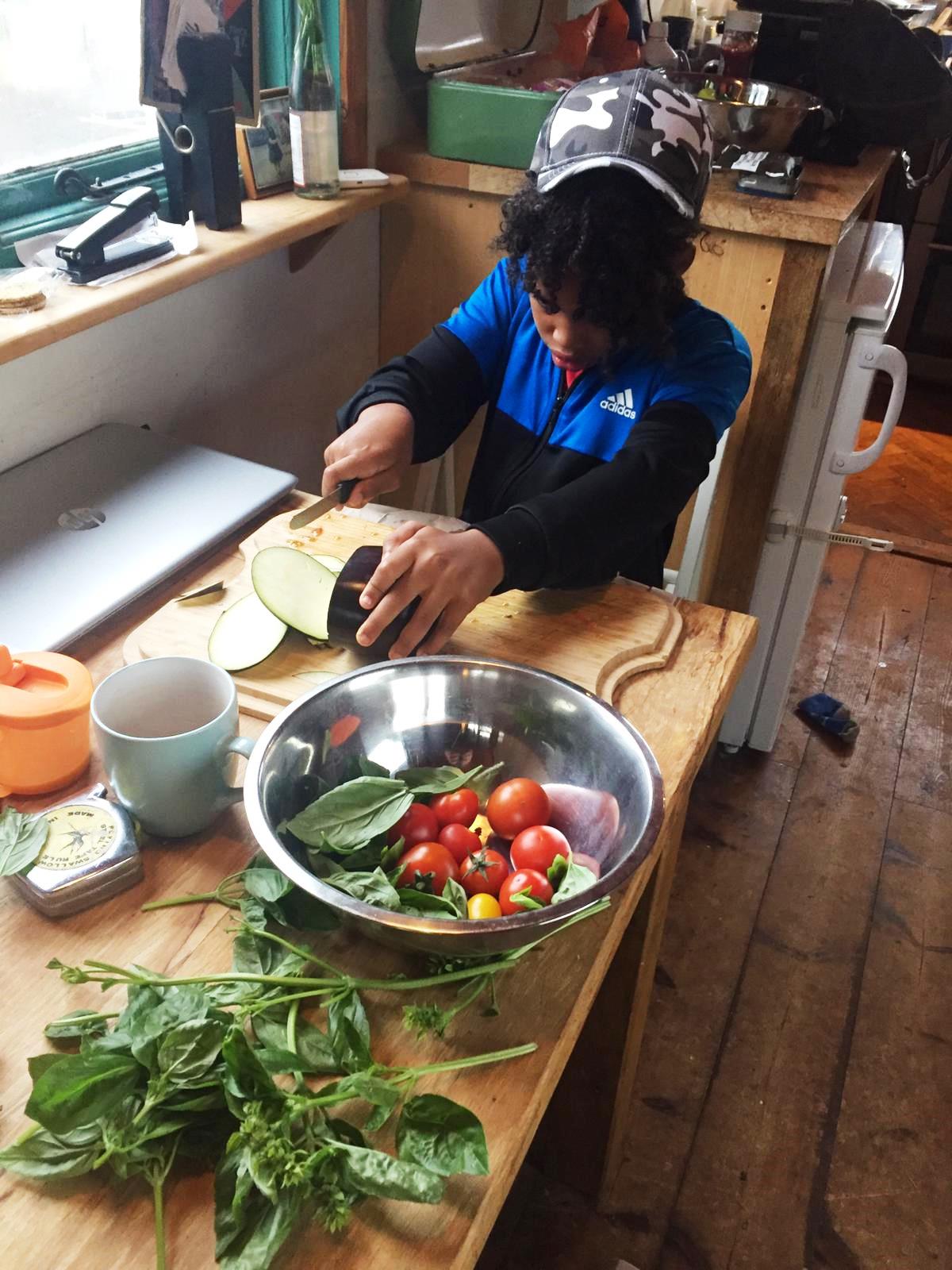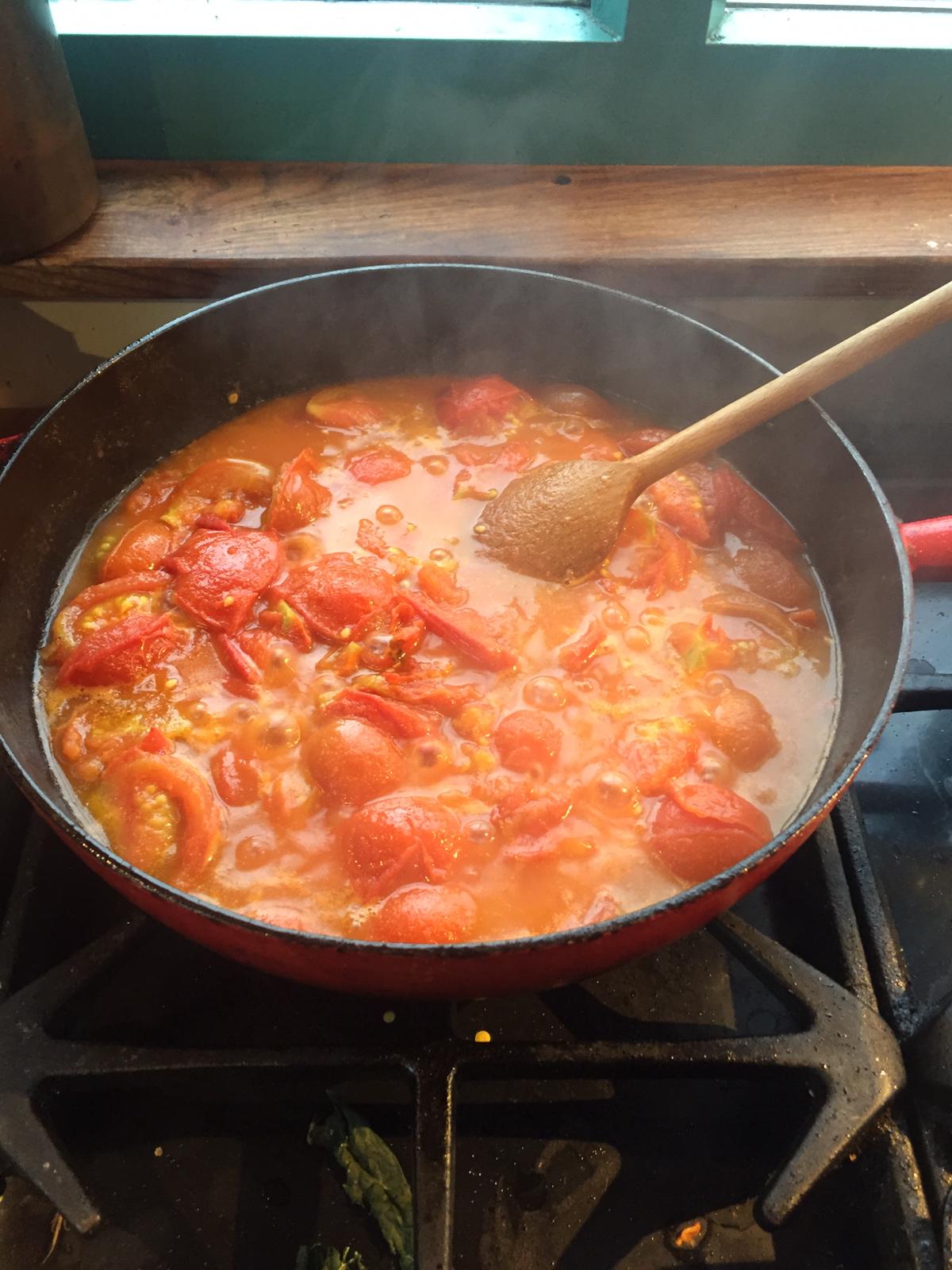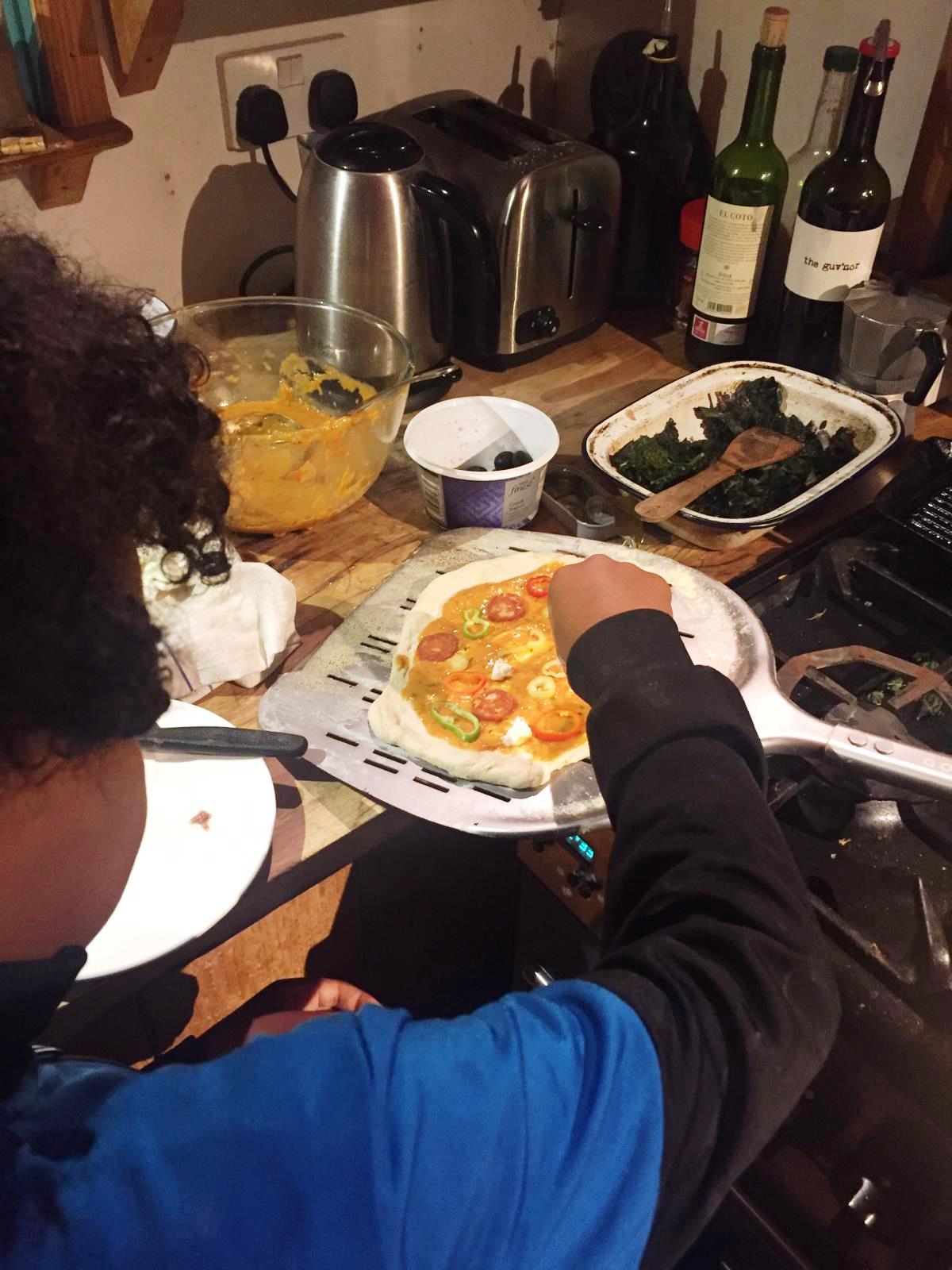 And a couple of production videos:




What an uncle! Devoted to our grandson.

Saturday 3rd September


I've decided to ditch the trivia I'd written for today after watching the news of the floods in Pakistan. Completely inappropriate.

Friday 2nd September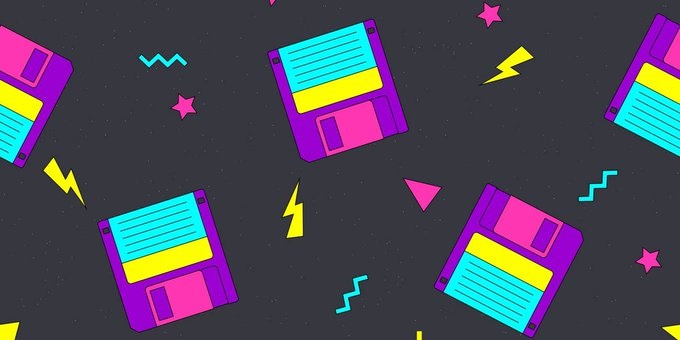 I was tickled by the news that Taro Kono, Digital Minister of Japan - giant of innovative electronic gadgetry, but apparently prone to hanging on to out­dated tech­nology - has declared that floppy disks will no longer be used in government. "Where does one even buy a floppy disk these days?", he asked. Indeed, I'd struggle to explain them to my tech-savvy grandchildren. The first 8-inch floppies bec­ame available in 1972, 5¼" in 1976 and 3½" in 1982. Oh dear, I rem­em­ber the new-found conven­ience of slipping the 3½" into my shirt breast pocket ... 40 years ago.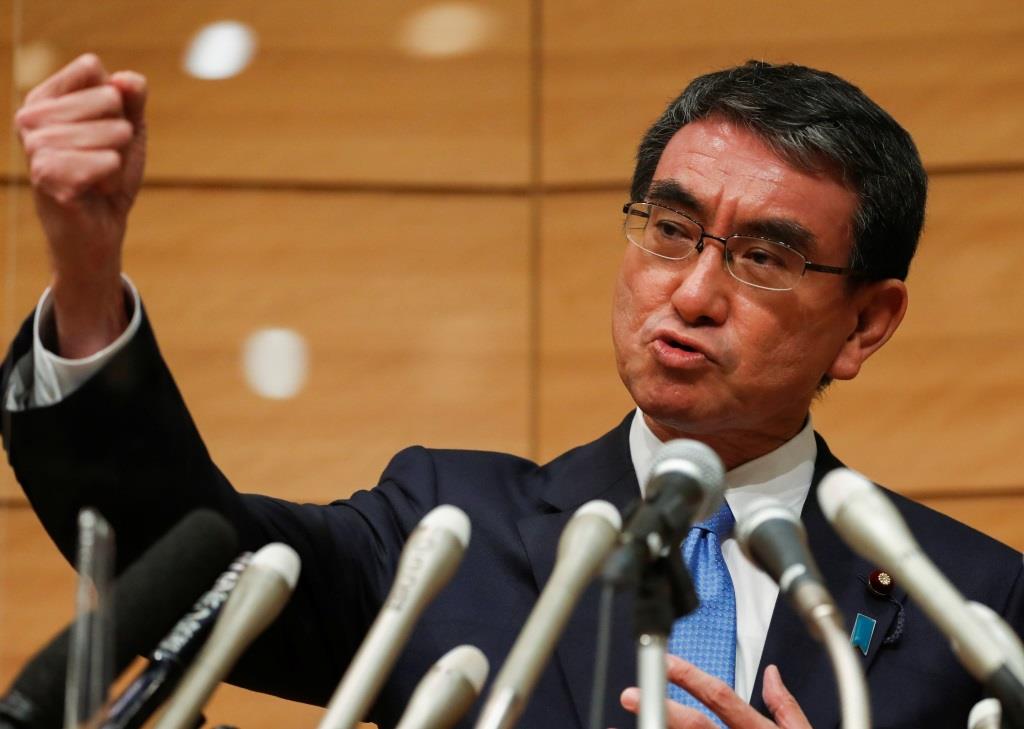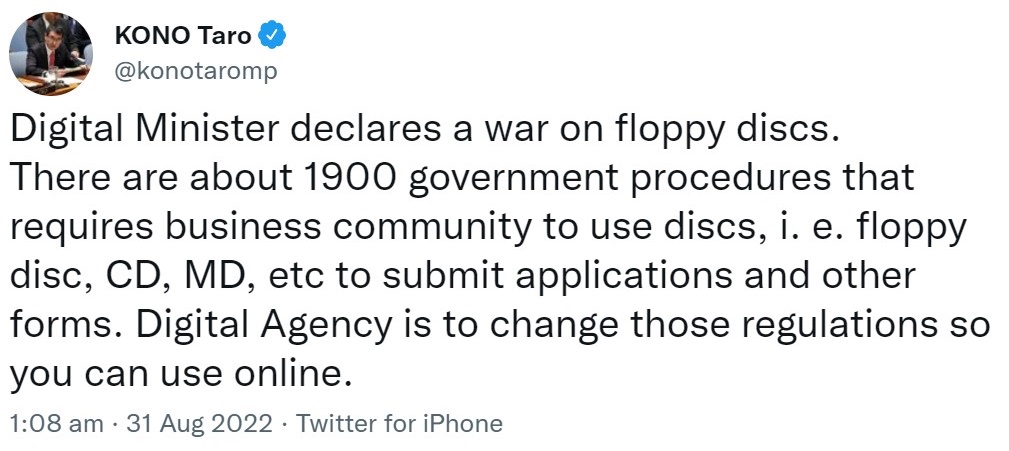 Even better is the older story, now re-surfaced, of Yoshitaka Sak­ur­ada, who was appointed as cyber-security minister in October 2018. The then 68-year-old revealed: "I have never used a computer in my life. I have instr­ucted my staff and secretaries."

This has prompted me to compile a list of responsible posts with which the potential holders' CVs are at odds, or lack evidence of rel­ev­ant exper­ience/­aptitude, rendering them ill-suited or -equipped. My first stab:
Pope - never been to church
F1 boss - can't drive
Armed Forces Chief of Staff - lifelong pacifist
Lord Chancellor - prison sentence for GBH
Ethics adviser - former porn magnate
Archbishop of Canterbury - atheist
Astronaut - fear of heights
England cricket captain - no hand-eye coordination
Surgeon - haemophobic
Philharmonic conductor - tone deaf
Booker Prize judge - unable to read
Monarch - republican
This, of course, is how government works. Cabinet ministers may hold briefs in which they have no expertise. What has qualified Liz Truss to command a top or senior post in these varied departments: Childcare and Education, Envir­onment, Justice, the Treasury, Inter­nat­ional Trade, Foreign Office? Jill-of-all-trades, mistress-of-none. Now she's about to become the greatest gen­er­alist in the land. No matter. I'm sure she will dish up a fine pig's break­fast for us, sup­er­ior hogwash.

Thursday 1st September


I'm trying to enjoy this smug moment while I can. It could be short-lived ... but not if enough of us make a challenge.

The grand plan, trumpeted as a "world-leading partnership", hatched by Boris Johnson and Priti Patel to send refugees to Rwanda should have delivered its first deportation on Tuesday 14th June. Not a single flight left that day, nor has any since. The 'plane from carrier Privilege Style sat on the Boscombe Down tarmac for hours and then returned to its home base at Madrid-Barajas Airport. All paid for, the fiasco no fault of the airline (which you could certainly condemn for accepting the contract in the first place). Of course, it was the silent vigil in Stroud the evening before 👉 that tipped the balance, right?

With the bright new dawn of our next democratically-elected prime minister due next Monday, a drive to re-start the programme will surely come, given how successful the deterrent threat to small-boaters (a new record of almost 1,300 made the Channel crossing on 22nd August) and people smug­glers has proven to date: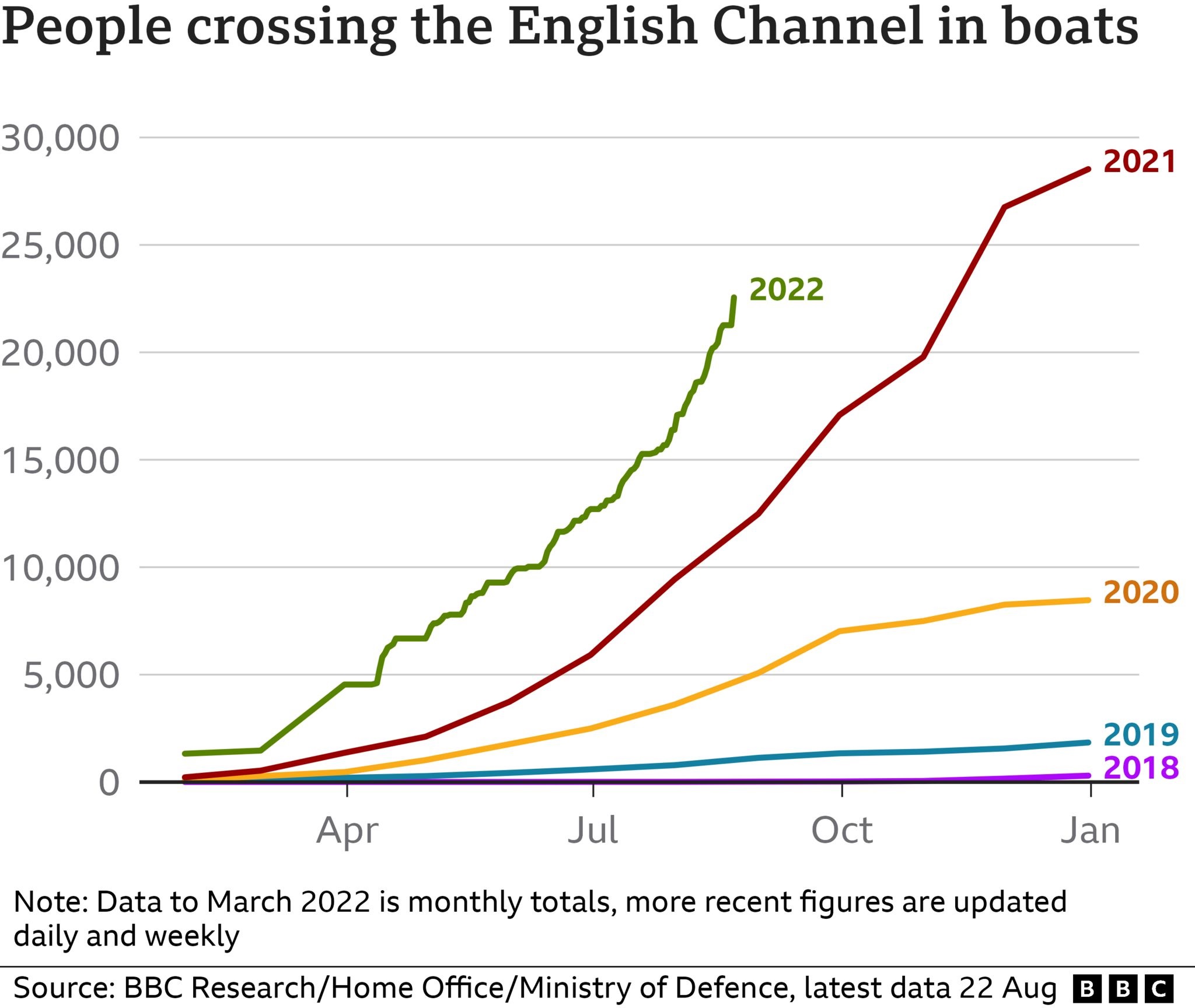 Dear Stroudies ... there will be another vigil next Monday 5th Sep­tember from 5:30pm to 6:00pm outside the Sub Rooms. Here's the flyer produced by Stroud District Together With Refugees (SDTWR):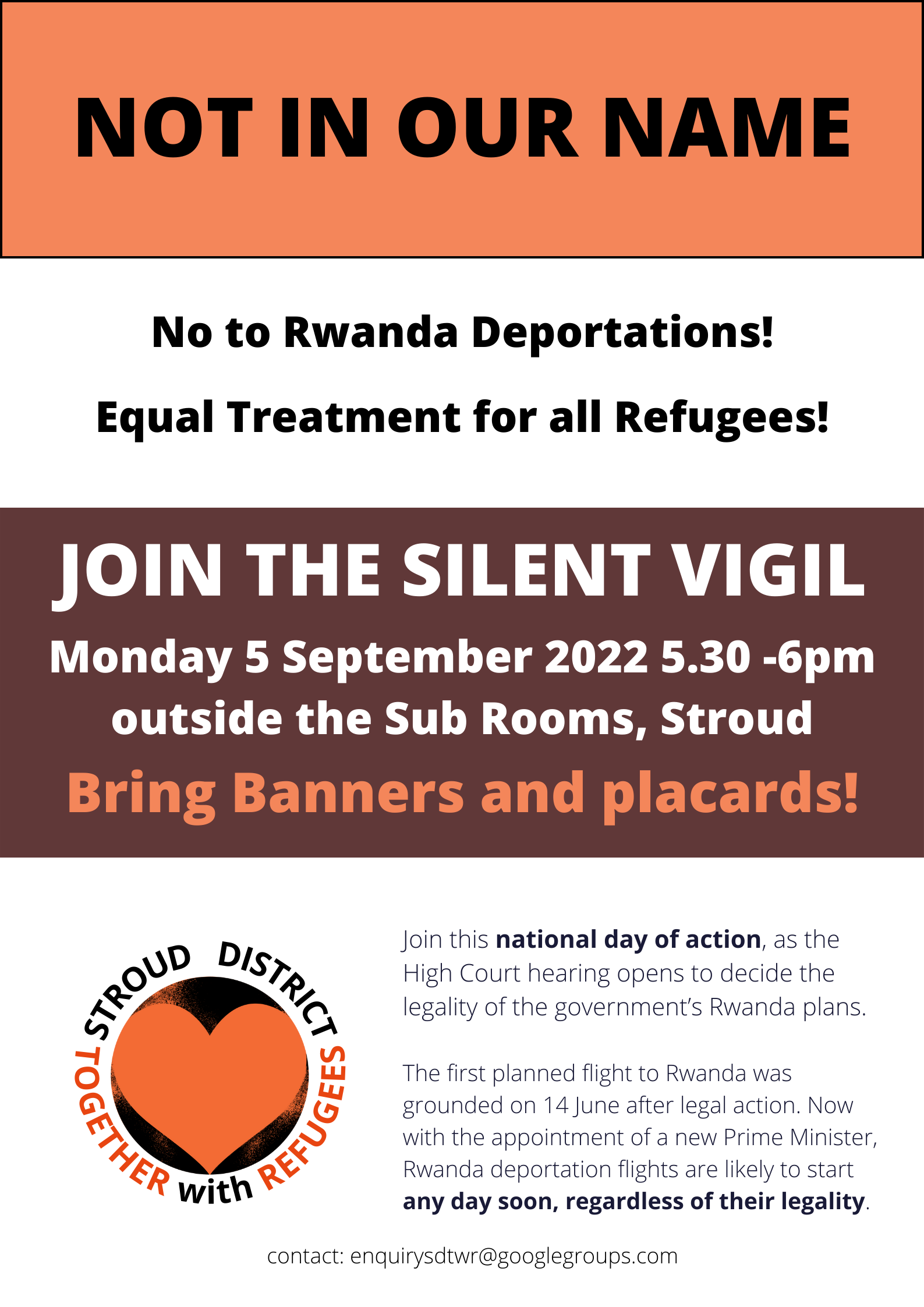 Plus a PDF version: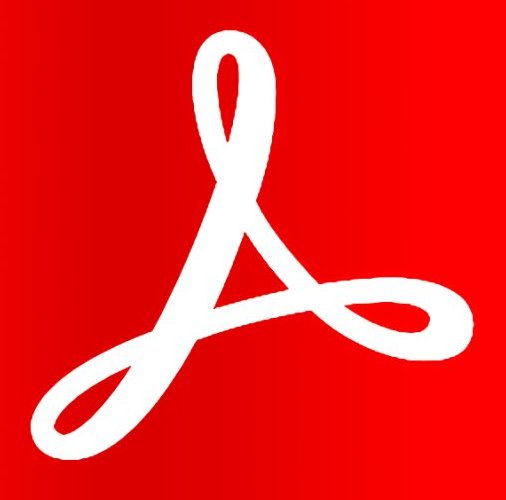 There will also be a SDTWR stall this Saturday 3rd September from 10am until 12 noon in the Stroud Farmers' Market near the Rasma­chaz refugee aid thrift shop in Kendrick Street. Leaflets, stickers, books and infor­mation on, for exam­ple, Glouc­est­er­shire Action for Refugees and Asylum Seekers (GARAS)

and Hill House Retreats

.

The vigil is one of many national protests. A member of the SDTWR group circulated a model-letter-to-local-newspapers service from Care4Calais, with the argument: "Research has shown that people trust their local papers and this is a more friendly way to reach audiences than the national media. And in turn, support from local papers can put pressure on MPs who we need to act." Here's the link to the online template process: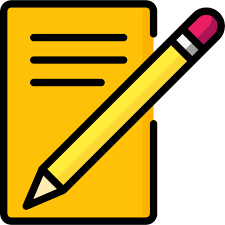 Wednesday 31st August


Five days to go. Can you believe it?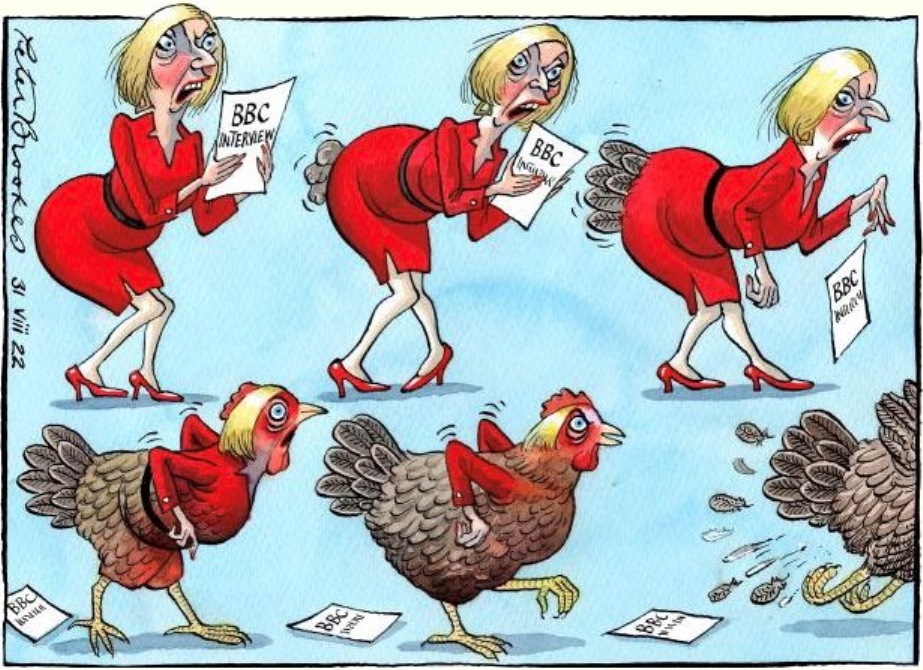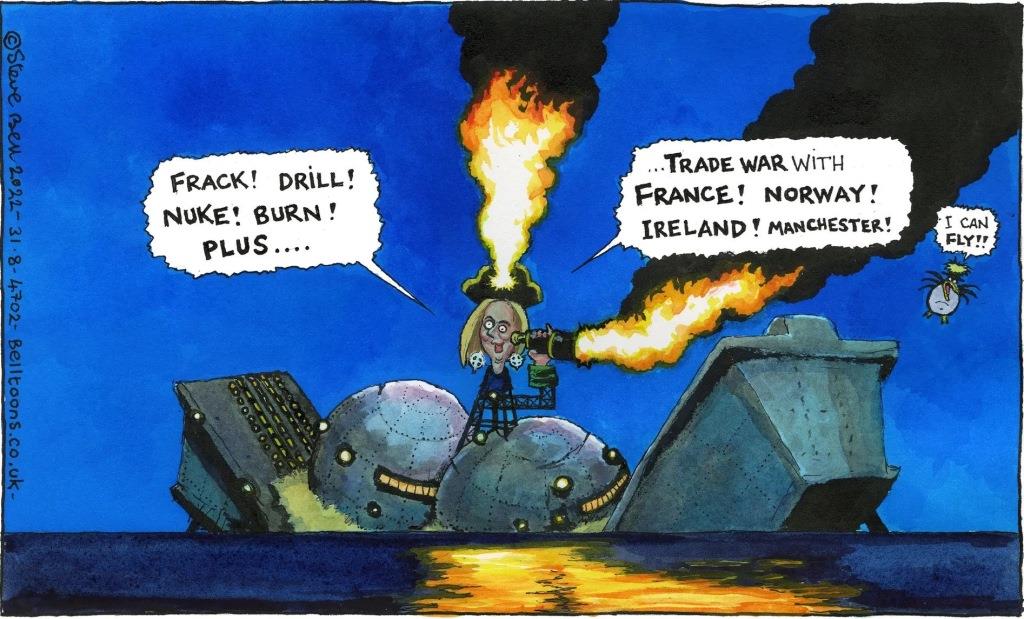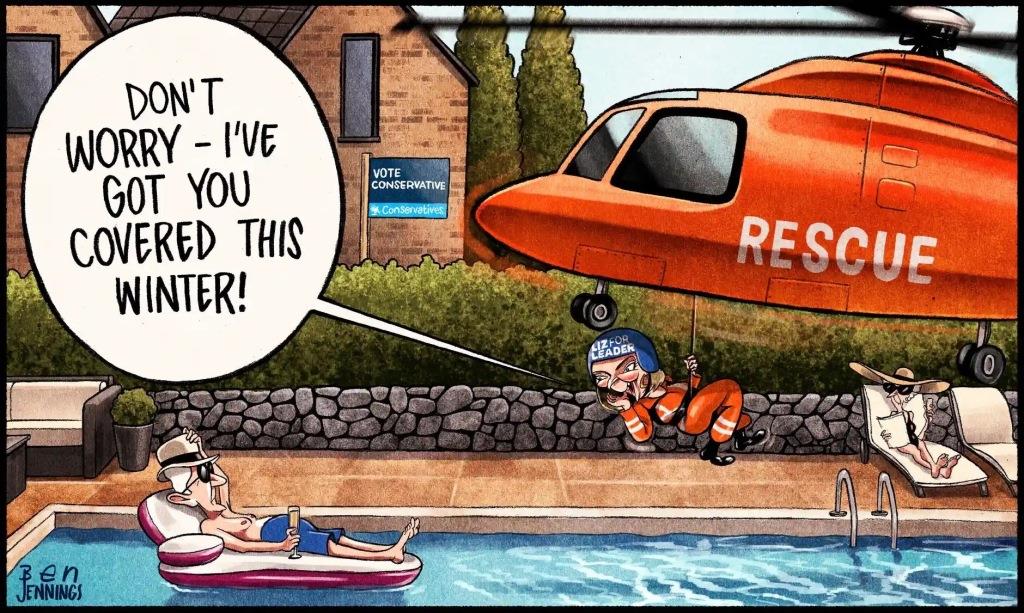 Tuesday 30th August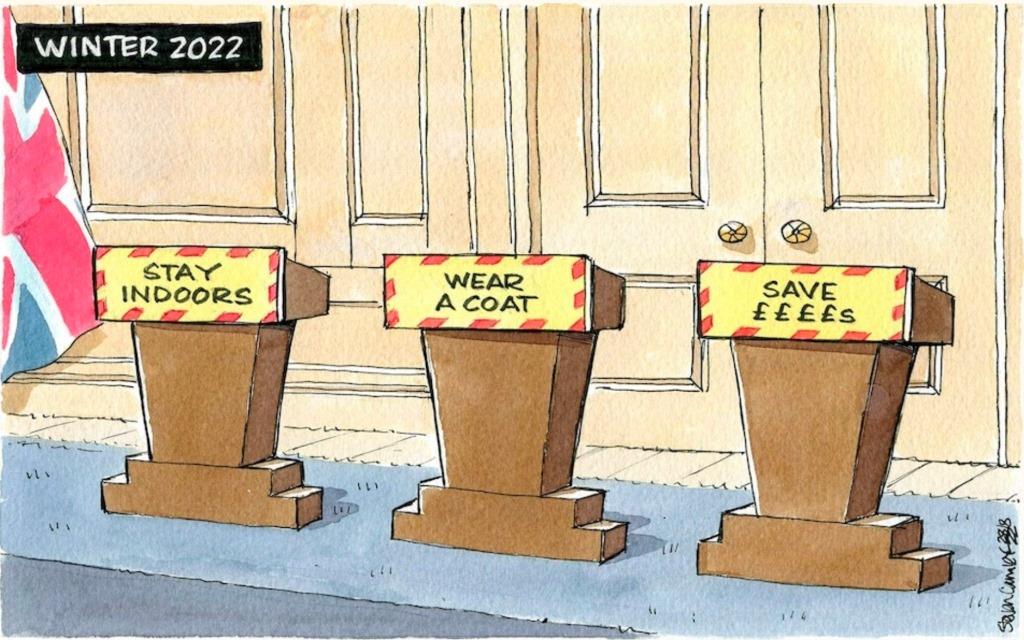 Who will be at the podia this autumn? An economist? A counsellor? Money Saving Expert's Martin Lewis?

Rishi disses the Covid scientists and medics. Is it envy, as his leadership bid falters, of their erstwhile rock-star status? His face has never appeared on a mug: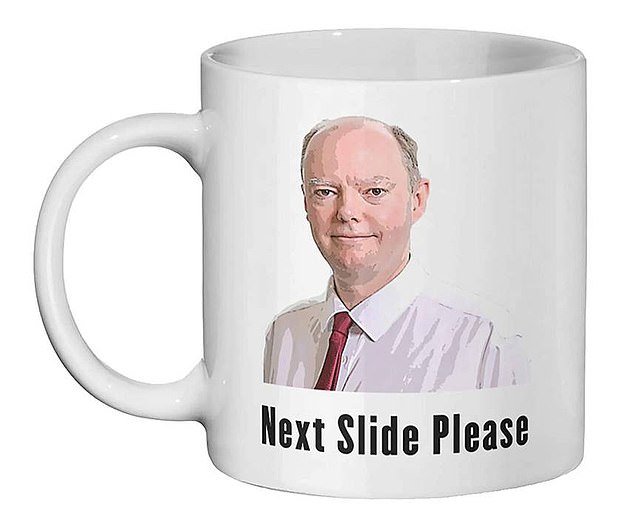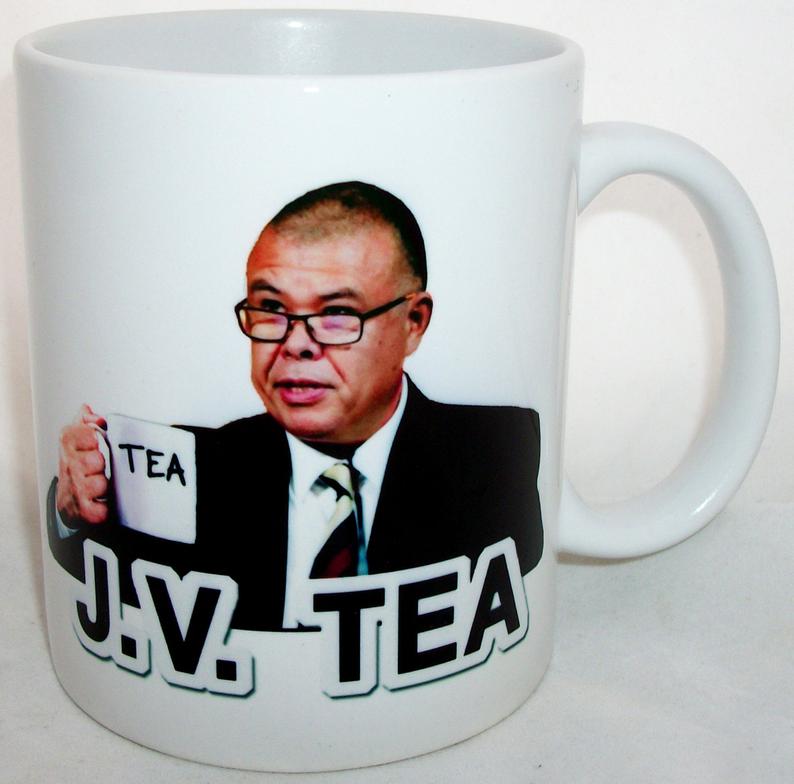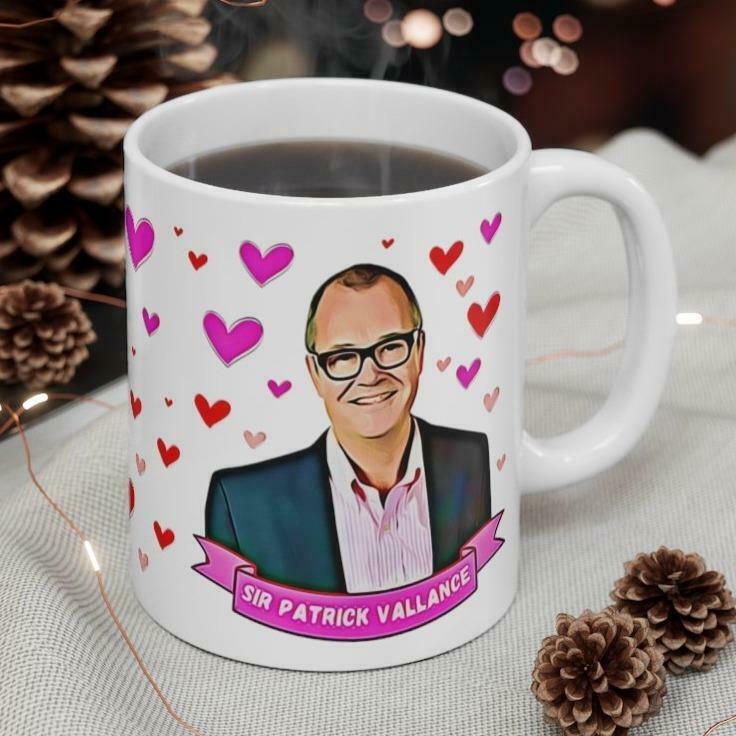 Indeed, his mug usually pops up on the front pages these days for unf­lat­ter­ing reasons.

We're witnessing a re-write of recent history, the assertion that the pand­emic lockdowns - and more besides - were wrong. Sunak's revelations were reported in an article three days ago in The Spectator by its editor Fraser Nelson, titled "The lockdown files: Rishi Sunak on what we weren't told" (full article, 9 pages: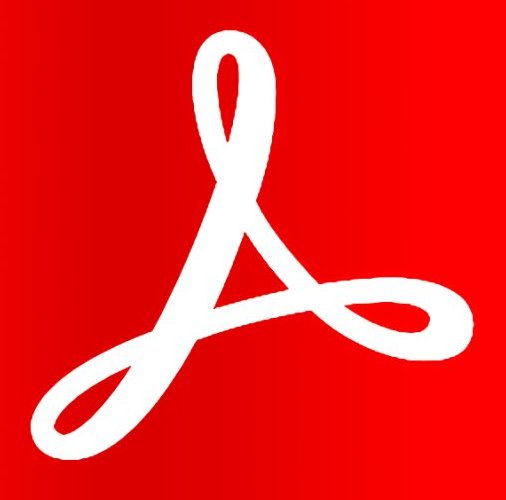 ), from which I quote below.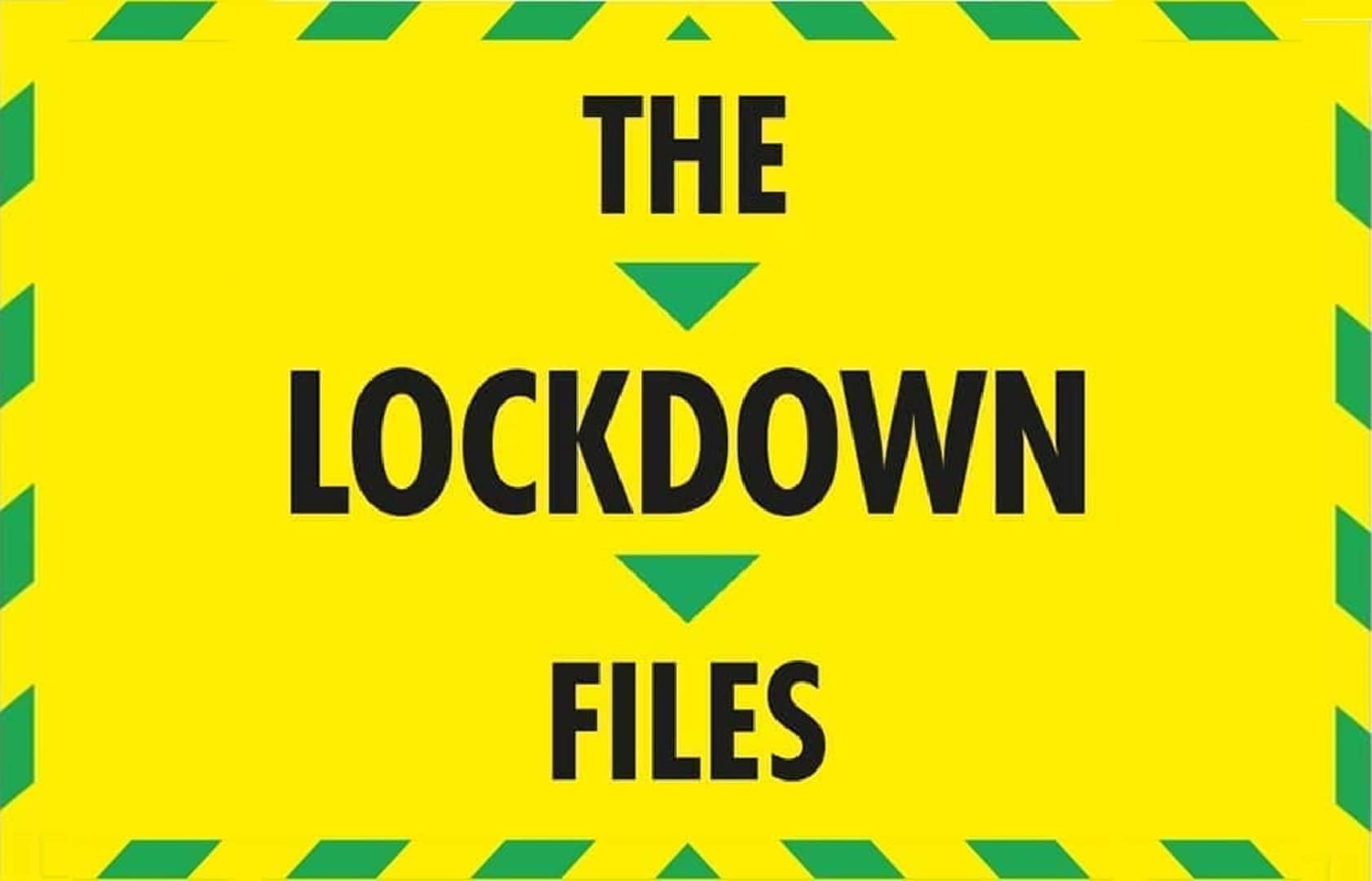 Sunak's central criticism is not that the scientists' views, nor the concept of lock­down, were flawed per se. It's that Boris and his cabinet acted on advice without proper scrutiny, the far-reaching consequences inad­equ­ately anal­ysed, then hid behind the recom­mend­ations as restraints were imp­osed on the public.

The statement that has caught the eye is:


"We shouldn't have empowered the scientists in the way we did."


He of course was a lone voice:


"If frank discussion was being suppressed externally, Sunak thought it all the more important that it took place internally. But that was not his experience. 'I felt like no one talked,' he says. 'We didn't talk at all about missed [doctor's] appointments, or the backlog building in the NHS in a massive way. That was never part of it.' When he did try to raise concerns, he met a brick wall. 'Those meetings were literally me around that table, just fighting. It was incredibly uncomfortable every single time.' He recalls one meeting where he raised education. 'I was very emotional about it. I was like: "Forget about the econ­omy. Surely we can all agree that kids not being in school is a major night­mare" or something like that. There was a big silence afterwards. It was the first time someone had said it. I was so furious.'"


A specific objection is the use of shock tactics to mob­ilise pub­lic res­ponse:

"One of Sunak's big concerns was about the fear messaging, which his Treasury team worried could have long-lasting effects. 'In every brief, we tried to say: let's stop the "fear" narrative. It was always wrong from the beginning. I const­antly said it was wrong.' The posters showing Covid patients on vent­ilators, he said, were the worst. 'It was wrong to scare people like that.' The closest he came to defying this was in a September 2020 speech saying that it was time to learn to 'live without fear' - a direct response to the Cabinet Office's messaging. 'They were very upset about that.'"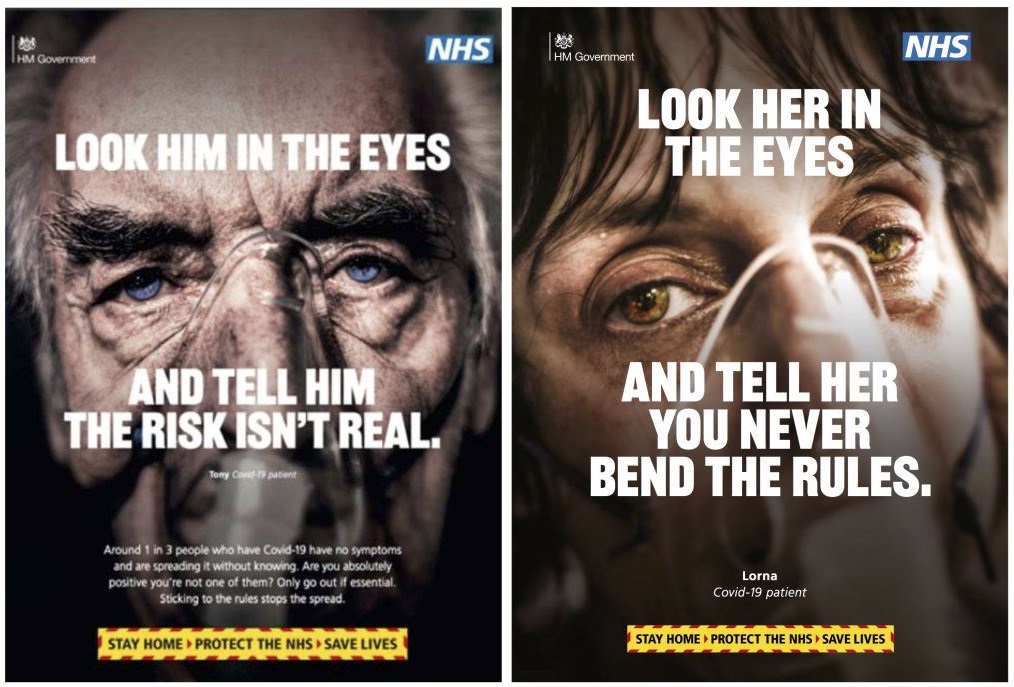 Fraser Nelson has used Twitter to promote his article. He quotes Jonathan Sumption in The Sunday Times:

"Little by little the truth of lockdown is being admitted; it was a disaster. Public fear was deliberately stoked to justify decisions made on the hoof and based on questionable advice.





"Lockdown was an extreme and unprecedented response to an ancient problem, the challenge of epidemic disease. It was also something else. It marked one of the gravest governmental failures of modern times. In a remarkably candid interview with The Spectator, Rishi Sunak has blown the gaff on the sheer superficiality of the decision-making process of which he was himself part. The fundamental rule of good government is not to make radical decisions without understanding the likely consequences. It seems obvious. Yet it is at that most basic level that the Johnson government failed. The tragedy is that this is only now being acknowledged."


The Wall Street Journal:


"Rishi Sunak may not become the United Kingdom's next Prime Minister, but he's doing the country a favor by lifting the veil on how Britain went into dest­ructive pandemic lockdowns."


A letter to The Daily Telegraph: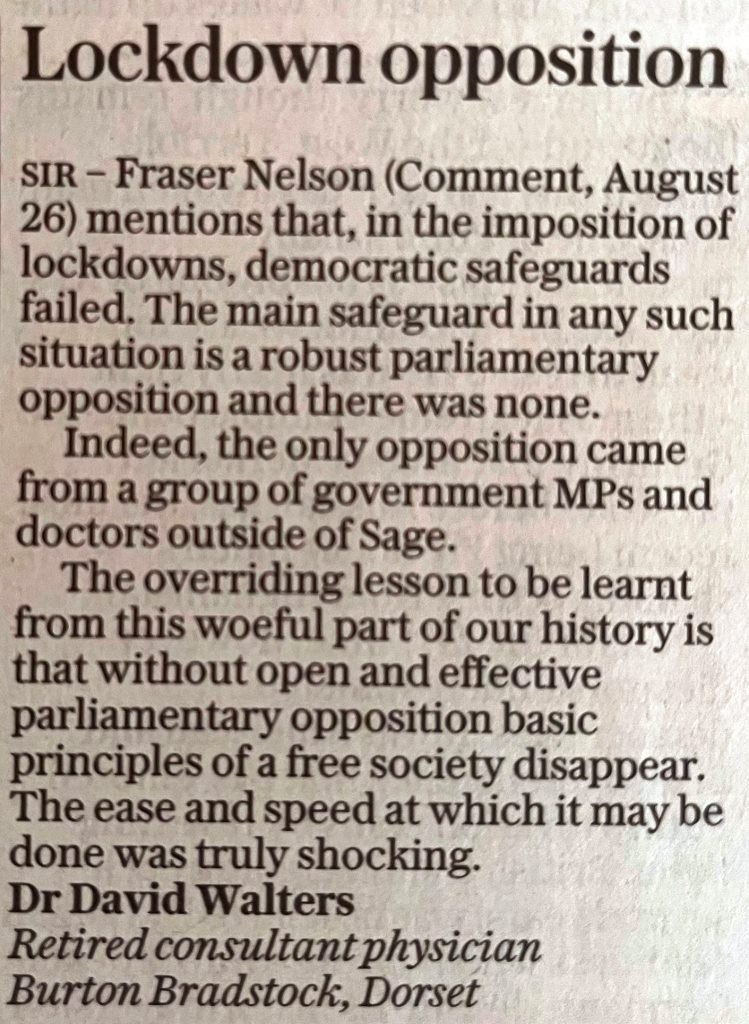 Amen to the need for a "robust parliamentary opposition".

I'd not heard of Fraser Nelson until two days ago. He is a supporter of the Con­serv­ative Party. In favour of immigration ("The British Muslim is truly one among us - and proud to be so") and Europe ("I am a soppy Europhile who speaks a second language at home [wife Linda is Swedish]. The idea of a united Europe was one that really excited me when I was younger, and which I love now [2014]").

Sunday 28th August


A lovely card from friend Helen - although it breaks my heart: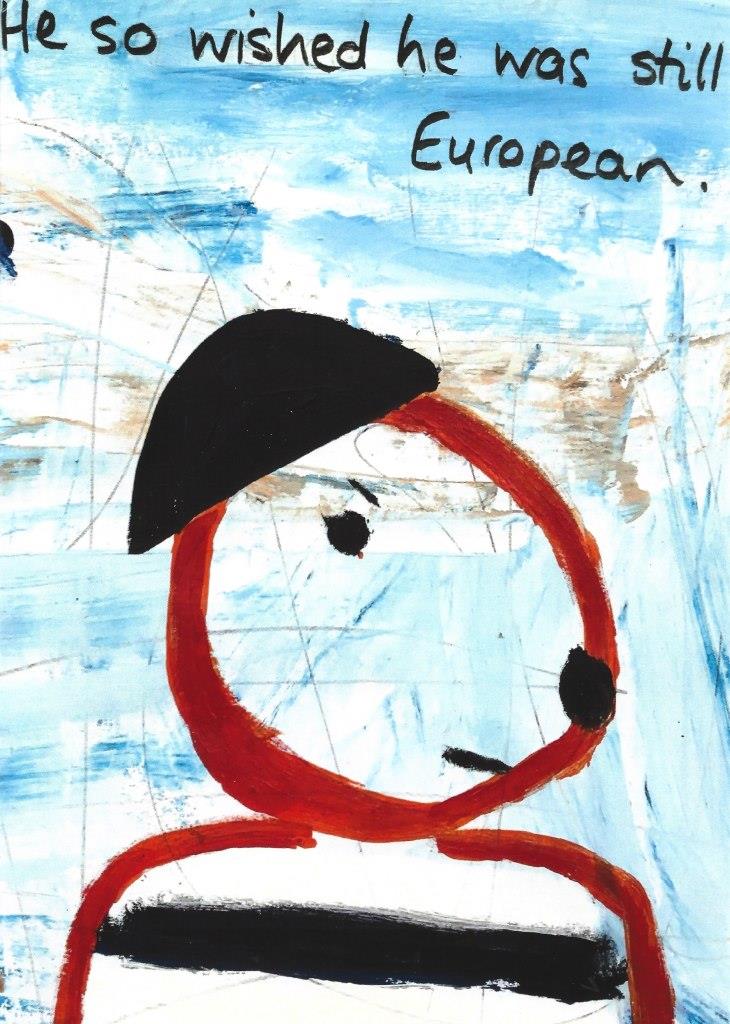 It's not only the abandonment of union, harmony, goodwill, gen­ero­sity, hist­ory, philosophy, literature, music, art, arch­itect­ure, lang­uage, land­scape ... but also the incom­petence and stupidity: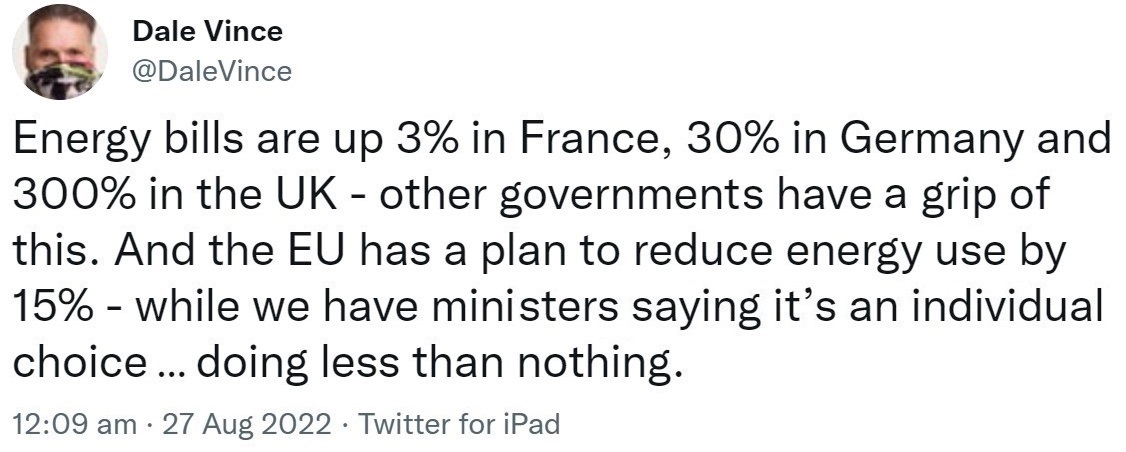 But hang on ... I AM European, damnit! It's the government - plus a sadly high pro­portion of my compatriots - that isn't. None of them can take away my aff­ect­ion for and attachment to Europe, the sense of belonging.

Saturday 27th August


Full house for the bank holiday weekend, no time for blogging. Picked up son Nikko and little Ellie last night; they flew into Gatwick from Vienna. Big Ellie, Lola and Marlie up from Bristol. Niece Emma, partner Nick and kids Freya and Leon arrive tonight on their way back from France. Cousins galore, two dogs and three cats in the Tardis. A chance to forget #ToryMadness.

Friday 26th August


It's lucky that I had three days banging on about 5G, because when I stop­ped I was confronted by a vacuum. Our country - the UK as a whole is aff­ect­ed, but it stems from the moral bankruptcy of England - is in crisis: political, econ­omic, social, international. Yet ... we - haven't - got - a - government. At least not in Westminster. The prime minister has all but vanished. The cont­enders to replace him, so strident in their earlier frenzied squabbling, have even gone silent, as if they'd heard the enraged cries of those trapped in Christian Adam's tunnel below.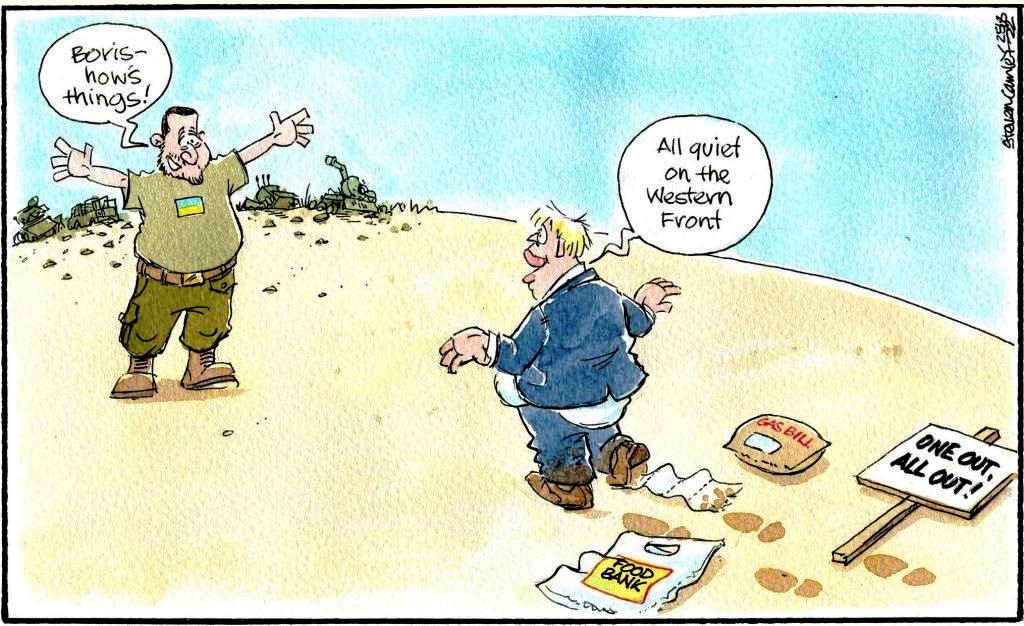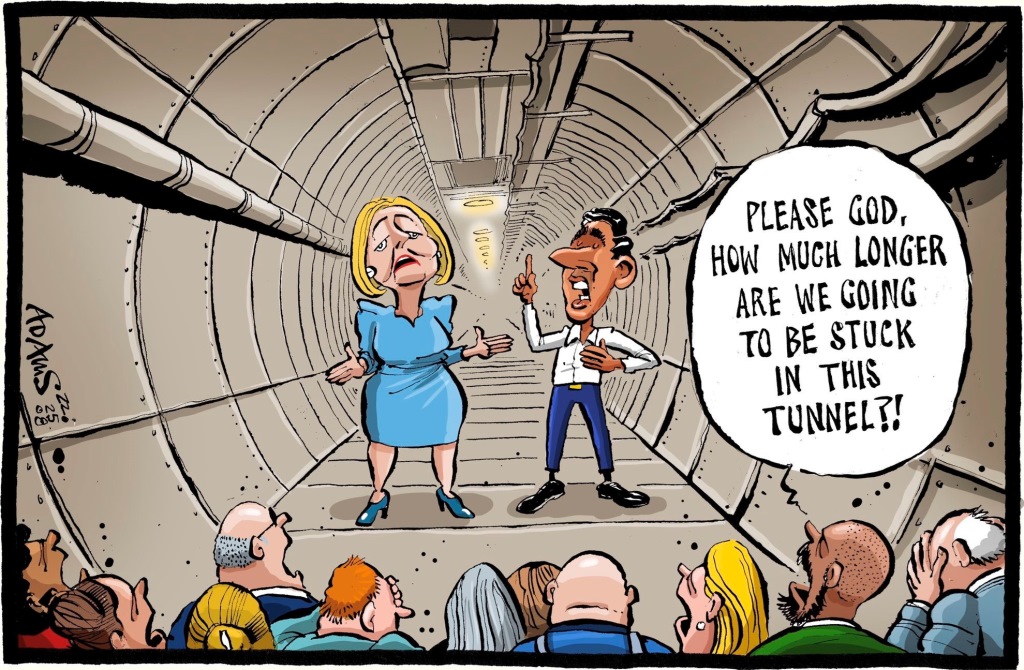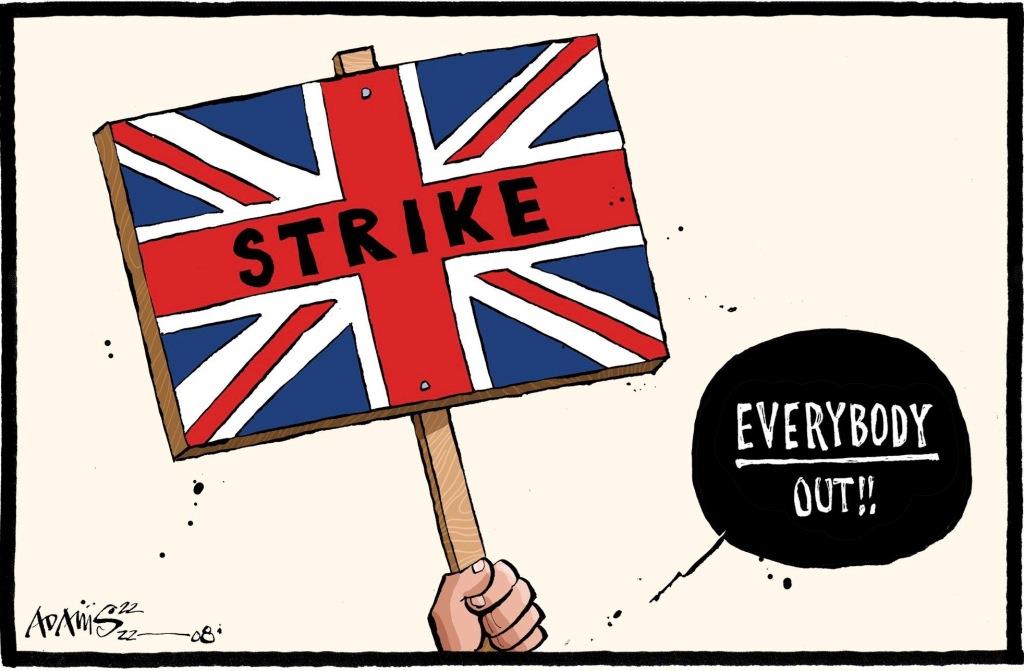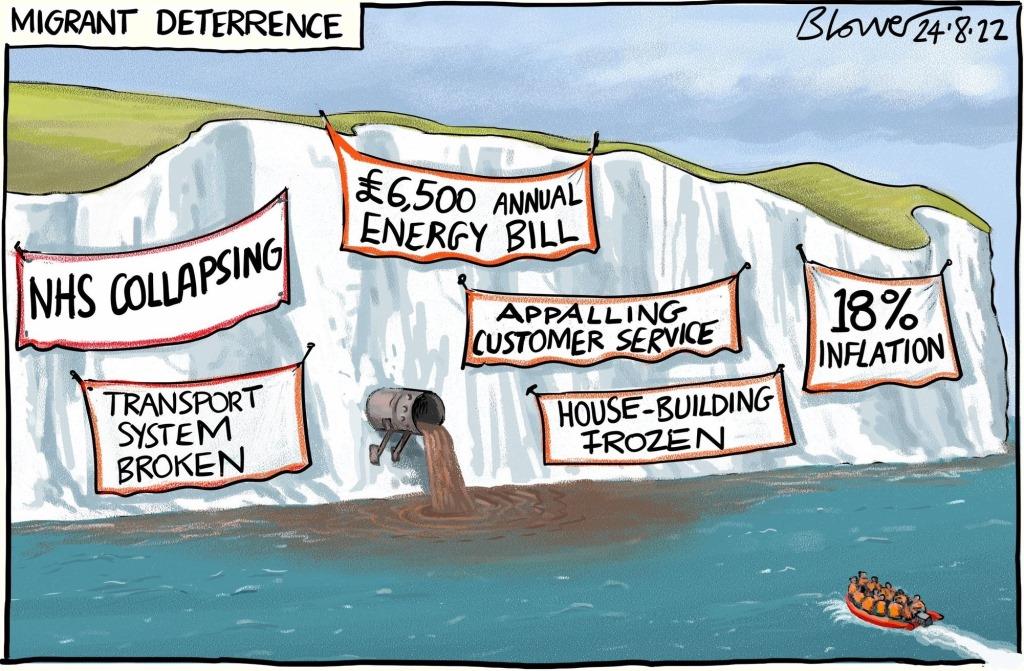 Fortunately, a cheering breath of European civilisation reached me in the form of late birthday greetings from friend Eddy in Luxembourg: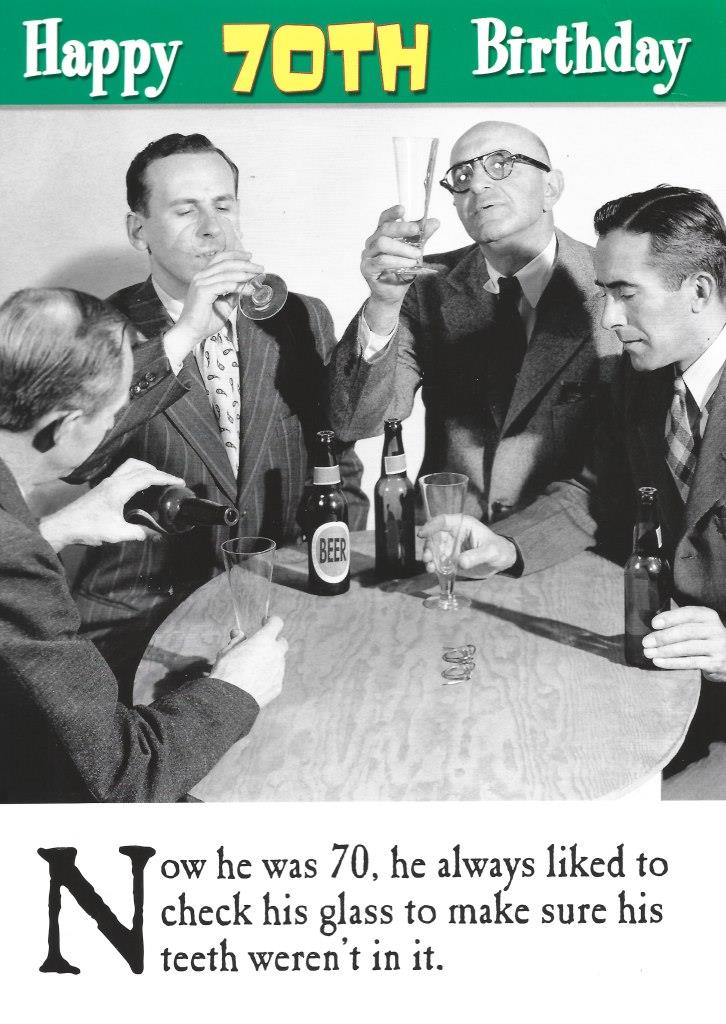 Thursday 25th August


I need to finish off this 5G piece before you all fall asleep. Today is quite a long haul, but then it's over.

Let's renew the enquiry by looking at the local detail, the planning appli­ca­tion submitted to Stroud District Council.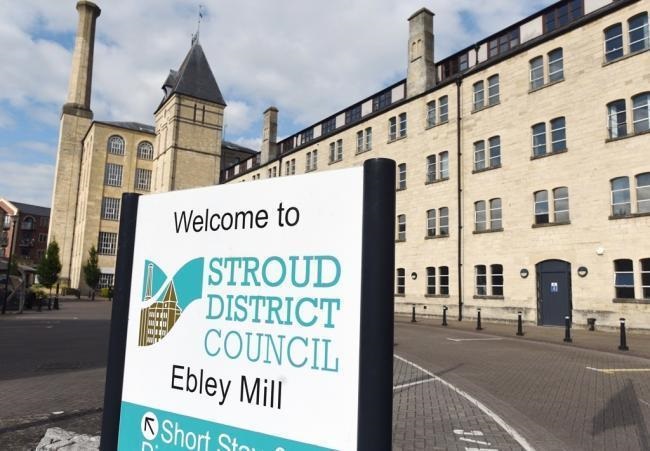 Here's the applicant's drawing of what we'll see on the 1931 Art Deco buil­ding at the bottom of Nelson Street, above the Silver Rooms café and neigh­bouring laun­derette (click to enlarge):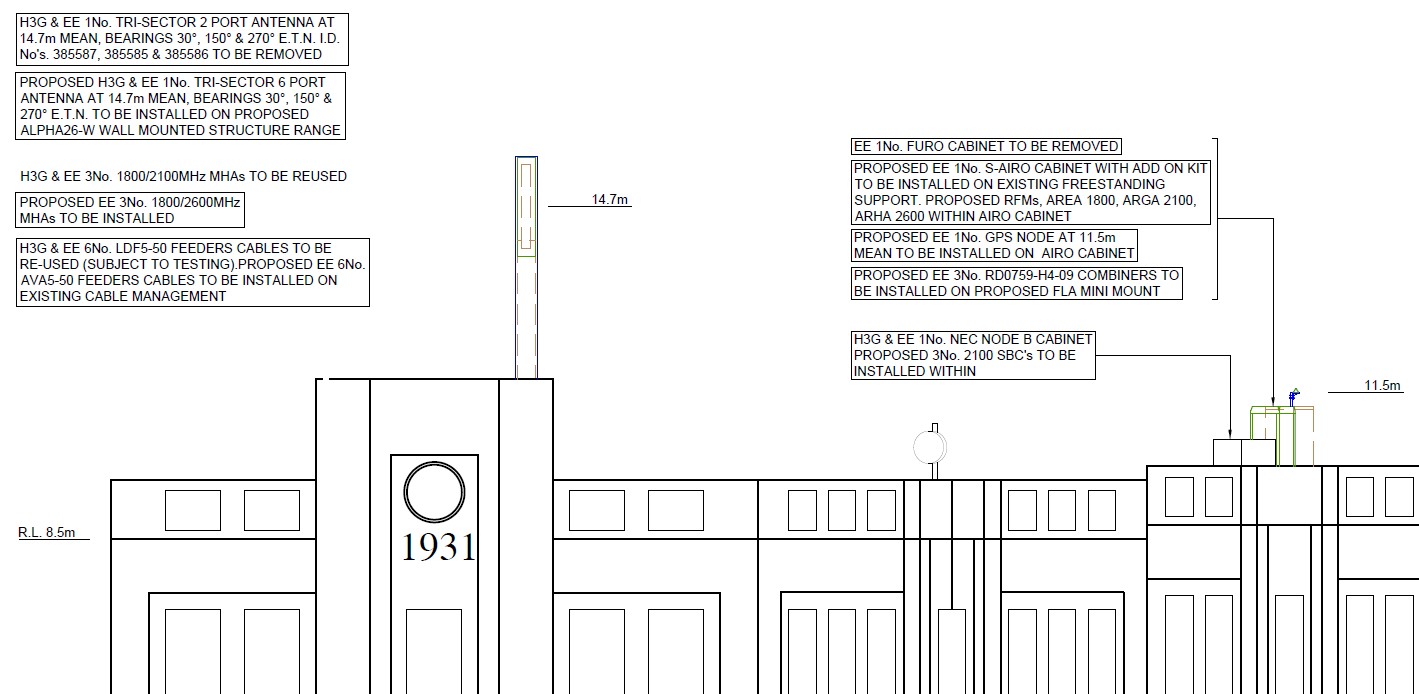 That's right, there's going to be an enlarged antenna (2-port becomes 6-port) and a revamped comms cabinet. In the barely comp­reh­ens­ible words of the application summary:


S.22/1680/FUL | Removal of 1no. existing wall mounted tri-sector 2 port antenna and support pole, 1no. existing equipment cabinet and other ancillary apparatus and the installation of 1no. replacement tri-sector 6 port antenna on proposed alpha wall mounted structure, 3no. mhas, 2no. equipment cabinets and 1no. gps node with all other ancillary apparatus | Communication Station (Hutchinson GL0114) The Cross Nelson Street Stroud Gloucestershire


The anticipated visual intrusion has prompted comment under the first rec­om­mended category of objection, "appearance".

"Aesthetics. I have seen 5G masts in Gloucester and in my opinion they are an absolute eyesore. Even quite sinister looking. They are certainly not something in fitting with the appearance of the historical and beautiful town of Stroud."





"This proposed upgrade will be a monstrous infrastructure development, viewable from a long way off, that is both unsightly and sinister."


I'm all in favour of protecting the remaining prettiness of Stroud, although I reckon that a lot of damage has already been done in previous periods of care­less­ness or disdain, such as during the "white heat" of Harold Wilson's 1960s technological revolution. Cellnex, the installation contractor, has this current photo taken from up the hill. I'm not sure how many will have ever noticed what's on the roof of Soap & Suds, largely unrelated clutter.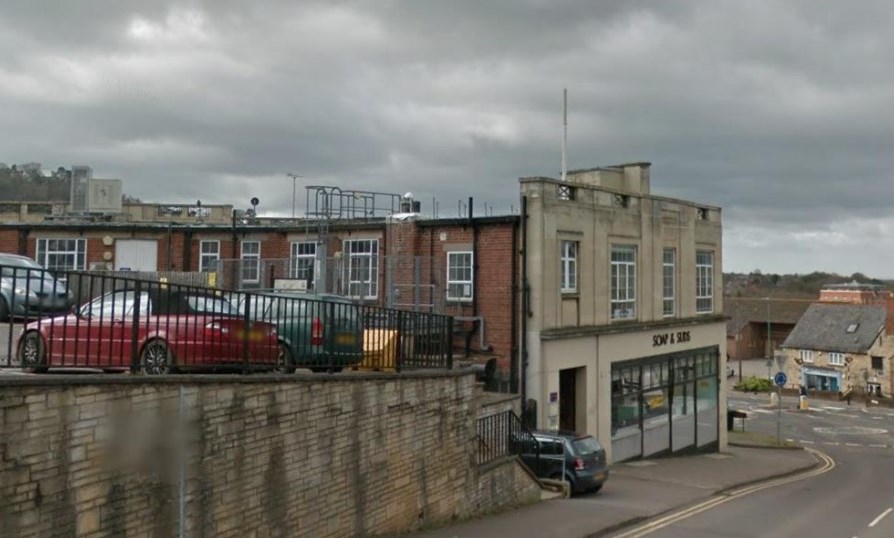 My eye is drawn more to the car park (which replaced the demolished old terrace of stone town houses) and the police station (with its own sig­nif­icantly larger comms tower) across the road, out of shot to the right, both Cotswold treasures: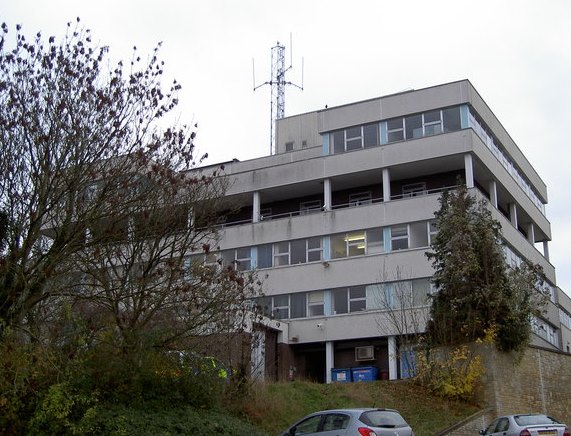 Next, and more important, there are the well-being objections - the second cat­eg­ory, "health and environmental concerns" - on the app­li­ca­tion site, four of them here:

"There is a large body of evidence from national and international scientists and doctors that identifies serious concerns regarding the safety of this technology on humans, animals, insects, (particularly on bees & other pollinators) as well as plants and trees. Can the council confirm that ALL evidence (both for and against) has been reviewed to inform permitted development of this type and if not, explain why the 'precautionary principle' has not been applied until this has been undertaken?"





"HEALTH OF BABIES, CHILDREN, THE ELDERLY, AND THE VULNERABLE ARE MORE IMPORTANT THAN BEING ABLE TO DOWNLOAD VIDEOS AND SUCH LIKE!"





"In 2003 I was involved in a protest against a 3G mast in a 'burb of Oxford, where one neighbour, an Oxford physics professor who wrote to the council, a paper outlining the dangers of microwaves from masts and use of mobile phones to human health. We won. The mast was not put up in a residential area with a school nearby. Nowadays we have 4G, even worse than 3G, especially to children and those who are EMF and EMR sensitive including myself and many friends. I have stuck with a 3G mobile phone and use the internet sparingly at home on a laptop by ethernet. No smart phone or other smart devices at home. This has helped to reduce the occurrence of (daily) migraines."





"The British Medical Journal in 2021 reported on convincing evidence that the transmitter density required for 5G means that more people will be exposed to radio frequency electromagnetic fields (RF-EMFs), and at levels that emerging evidence suggests are potentially harmful to health. The evidence on potential health risks associated with the higher frequencies used by 5G is inconsistent and mixed, but mixed evidence - which includes the International Agency for Research on Cancer (IARC) stating that the electro-magnetic fields of the kind associated with 5G are 'possibly carcinogenic' to humans - should be enough for the planning authority to apply a precautionary approach and refuse permission until such time as there is positive evidence of the absence of any such risks. The NPPF makes clear it is incumbent on the planning authority to evaluate such potential adverse impact and to take it into account in determining the planning application. Para 185 states that 'decisions should also ensure that new development is appropriate for its location taking into account the likely effects (including cumulative effects) of pollution on health, living conditions and the natural environment.'"


Interestingly, the author of the final comment had clearly visited two of the websites to which I had been led by Google, healthline.com and the BMJ. Hunting, like me, for substantive evidence? I should point out that the BMJ only reported the views of one "expert", John William Frank, a physician-epidemiologist and Emeritus Professor at the University of Edin­burgh. An opinion piece, not the official BMJ - or British Medical Association (BMA) - stance.

I have some sympathy with health concerns. On an admittedly unsc­ientific level, I've always wondered if the sheer volume (just stop to think how much ... all those films, returns from Google searches, financial dealings, posted WhatApp images, not just yours but everybody else's as well, transactions and communication from every commercial office - all of it out in the ether) of data transmitted through the airwaves has the capacity to fry our brains, and affect other parts of the body.

I support the call for due diligence and disclosure by Stroud District Council. I'd welcome a thorough published ass­ess­ment of the risks from them, and from an authoritative national source as well. This issue shouldn't be hanging out there with the level of uncertainty that currently exists.

The UK Health Security Agency (UKHSA) did publish this on GOV.UK:





It starts with broad statements:

Over the decades, since the networks were first introduced, there has been a general trend towards increasing numbers of smaller trans­mitters that individually provide services to smaller geo­graph­ical areas and have reducing radiated powers.





Against this background, many measurements have been made and these continue to show that exposures of the general public to radio waves are well within the international health-related guideline levels that are used in the UK. These guidelines are from the International Commission on Non-Ionizing Radiation Protection (ICNIRP) and underpin health protection policies at UK and European levels.





In relation to the implementation of 5G devices and networks, this technology is at an early stage and reflects the latest evolution in mobile communications technology. Current technical standards that draw on the ICNIRP guidelines will apply to the products that are developed. UK network operators are already committed to complying with the ICNIRP guidelines.


There are words of encouragement for the anxious - don't worry, ye who doubt, it won't be too bad - in an explanation of how the frequencies to be implemented in the UK will not reach the upper limit described in the New York Times diagram I posted two days ago 👉, namely 300 GHz:


The highest frequencies being discussed for future use by 5G are around 10 times higher than those used by current network technologies, up to a few tens of gigahertz (GHz). Their use is not new, and they have been used for point-to-point microwave links and some other types of transmitters that have been present in the environment for many years. ICNIRP guidelines apply up to 300 GHz, well beyond the maximum (few tens of GHz) frequencies proposed for 5G.


Hmmm, does that help the fearful? Bit-by-bit, we're cranking up the wave compression, nowhere near the levels universally deemed dangerous, but nonetheless ...

The overall summary is bland, but I suppose it's reassuring:


It is possible that there may be a small increase in overall exposure to radio waves when 5G is added to an existing network or in a new area. However, the overall exposure is expected to remain low relative to guidelines and, as such, there should be no consequences for public health.


Where do I stand on the matter? A mixed bag of reactions.

The final category of objection is "justification of need". The third health comment above raises this point. Do we really need 5G? Haven't we already got enough? As usual with tech progress, that's in one sense true, although we typically don't know at the outset how we will come to appreciate - and indeed rely on - the changes that innovation brings. 5G will present many benefits that we haven't yet foreseen. There'll be more of what we've witnessed over the recent past, but even more mind-blowingly remarkable. Looking now at 4G ... how would many companies and employees have withstood the pandemic without remote com­mun­ications? What would it be like not to have contact with our children and grandchildren who live in other parts of the globe, via WhatsApp, FaceTime, Zoom, email? Do I want to go back to writing cheques? Looking forward, I'm sure I'll be making similar comments about future enablers as yet unknown.

At the same time, I have a Luddite streak that resents the inexorable advance of technology. How many simple but fulfilling aspects of human life will be brushed away? I don't relish the development of the metaverse. In the particular case of 5G, it's going to be a pred­omin­antly urban phen­omenon at first due to transmitter lim­ita­tions, and may disenfranchise rural areas. Most of all, money will be made in 5G, and it will be concentrated in the hands of the few.

On the health concerns, the jury's probably still out in terms of clearly art­iculated judgment, but on balance the objections - anecdotal, an "expert" here, a natural doubter there - don't appear solid enough, and the scientific assessment just about sufficient. As with many topics that trouble us, we may be looking in the wrong place for the big threats.

Whatever the outcome of the application process - I suspect there will be only one, although I'd be tickled by the other - it'll be (in time, dependent on the rate of adoption) a step-change in our area, for good or ill. No prov­ider has an offering right now.





That's enough - I'm sure you agree. I'm relieved. I've been meaning to look into 5G for a long time.

Wednesday 24th August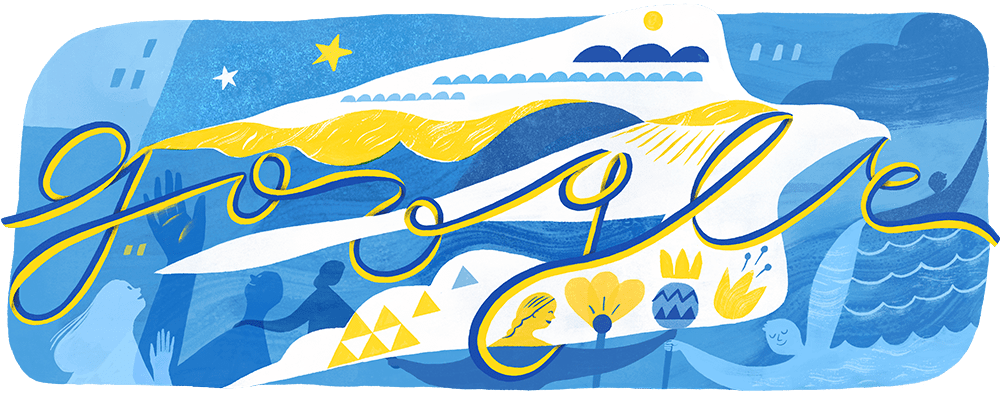 Doodle for Ukraine Independence Day by illustrator Olga Shtonda of Kharkiv


I'll continue from yesterday with the 5G debate.

Perhaps I should have asked the question earlier: why would we want to adopt 5G?

As usual, it's about speed (20 times?) and capacity (100 times?).

Verizon, the American mult­inat­ional tel­ecom­mun­icat­ions con­glom­erate, exp­lains (well, it would be a fan, wouldn't it?):


"[5G] can provide higher speed, lower latency and greater capacity than 4G networks. That means quicker downloads, much lower lag and a significant impact on how we live, work and play. 5G speed and other connectivity benefits are expected to make businesses more efficient and give consumers access to more information faster than ever before."


The Verizon website gives a brief history for context:

"The first generation of mobile technology, 1G, was about voice - the ability to use a phone in a car, or away from home really took root here. The advent of 2G introduced a short-messaging layer - pieces of which can still be seen in today's texting features. The move to 3G provided the core network speeds needed to launch smartphones. 4G, with its high data-transfer rates, gave us video with minimal buffering and gave rise to many of the connected devices and services that we rely on and enjoy today. 5G has the potential to reach 20 Gbps speeds based on 3GPP

[3rd Generation Partnership Project, an umbrella term for a number of standards organizations which develop protocols for mobile telecommunications]

industry specifications."


Here's a graphical illustration of the above timeline from Micron: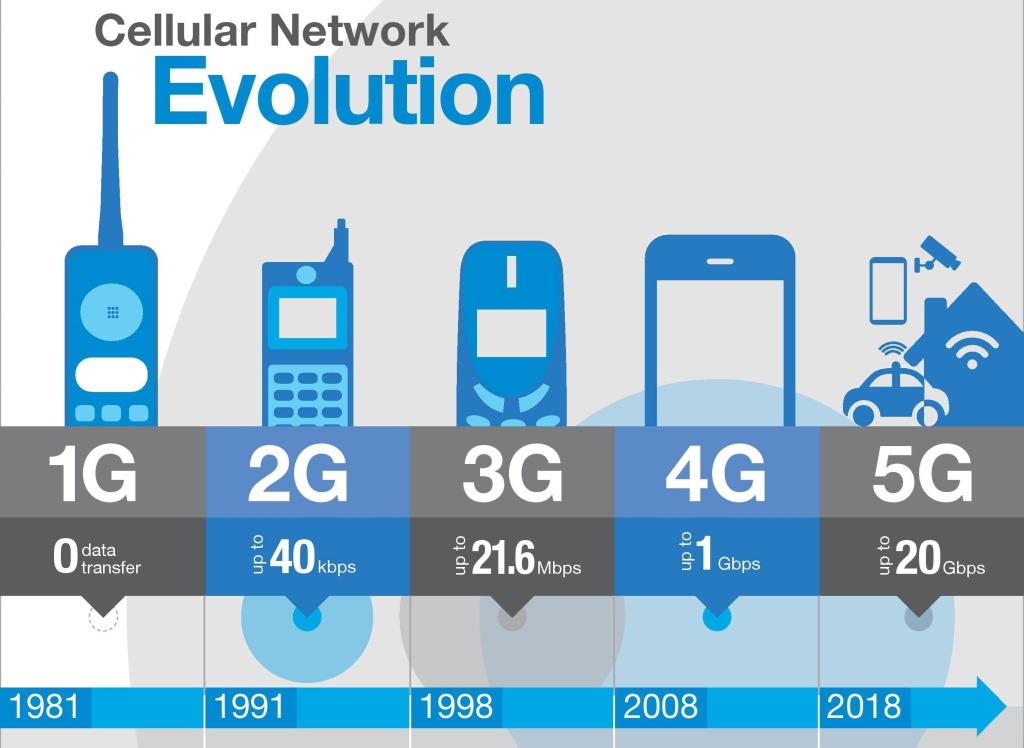 It's progress, innit? We now take for granted video streaming, Zoom calls, online shopping, Google research - in short, access to infor­mation, enter­tain­ment and services. 5G simply extends these capa­bil­ities, adding overall speed, quicker response and richer complexity. One benefit frequently quoted is the potential in medicine, such as remote surgical operations and improvement in social care. The Internet of Things becomes a reality. Then there's the driverless car: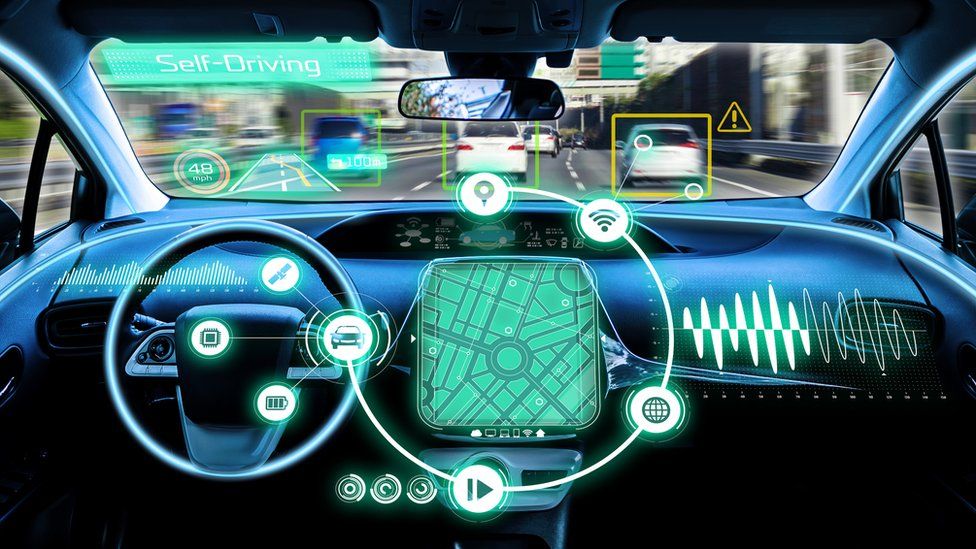 So, will it affect our health? You can find any number of claims that it will, often personal and anecdotal, but I haven't discovered any explicit or outright condemnation from a major health organisation. Here is the current statement from the WHO:

What are the potential health risks from 5G?





To date, and after much research performed, no adverse health effect has been causally linked with exposure to wireless technologies. Health-related conclusions are drawn from studies performed across the entire radio spectrum but, so far, only a few studies have been carried out at the frequencies to be used by 5G.





Tissue heating is the main mechanism of interaction between radiofrequency fields and the human body. Radiofrequency exposure levels from current technologies result in negligible temperature rise in the human body.





As the frequency increases, there is less penetration into the body tissues and absorption of the energy becomes more confined to the surface of the body (skin and eye). Provided that the overall exposure remains below international guidelines, no consequences for public health are anticipated.


No drama then, but there is still uncertainty, as reflected in the WHO admission above: "only a few studies have been carried out at the frequencies to be used by 5G." To pick a specific issue, one requirement of 5G is a proli­feration of masts, a greater density, as trans­mission is hampered by tall buildings, trees, even rain. We don't yet know the impli­cat­ions of this.

[Continued above, Thursday 25th August ...]

Tuesday 23rd August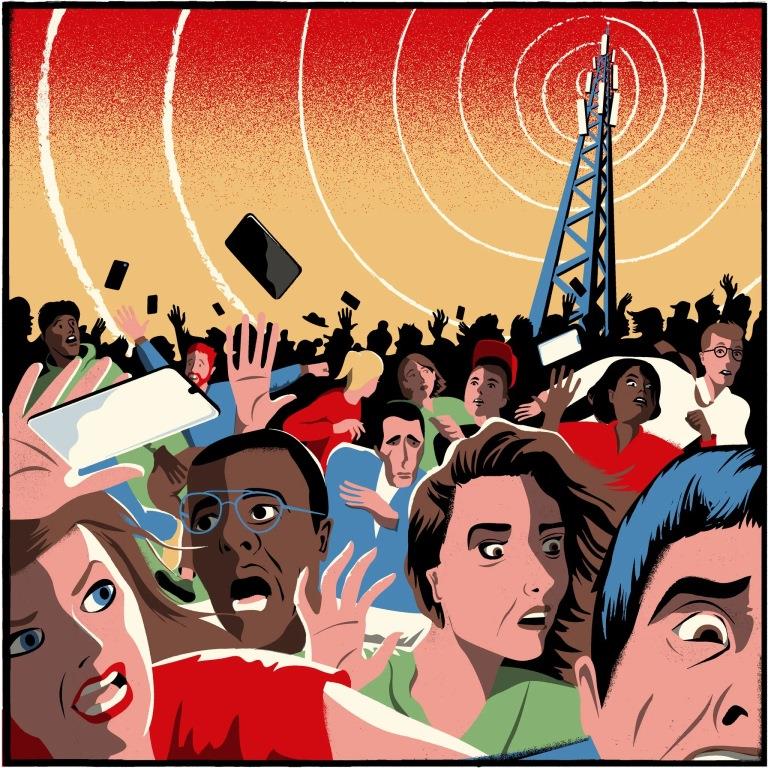 Here in the Trinity Ward of old Stroud, we're at the green politics heart of Glou­cest­er­shire. The centre of the anti-vax community. 5G (5th generation mobile network) prot­ests. I was therefore not surprised to find this flyer on our doormat two days ago: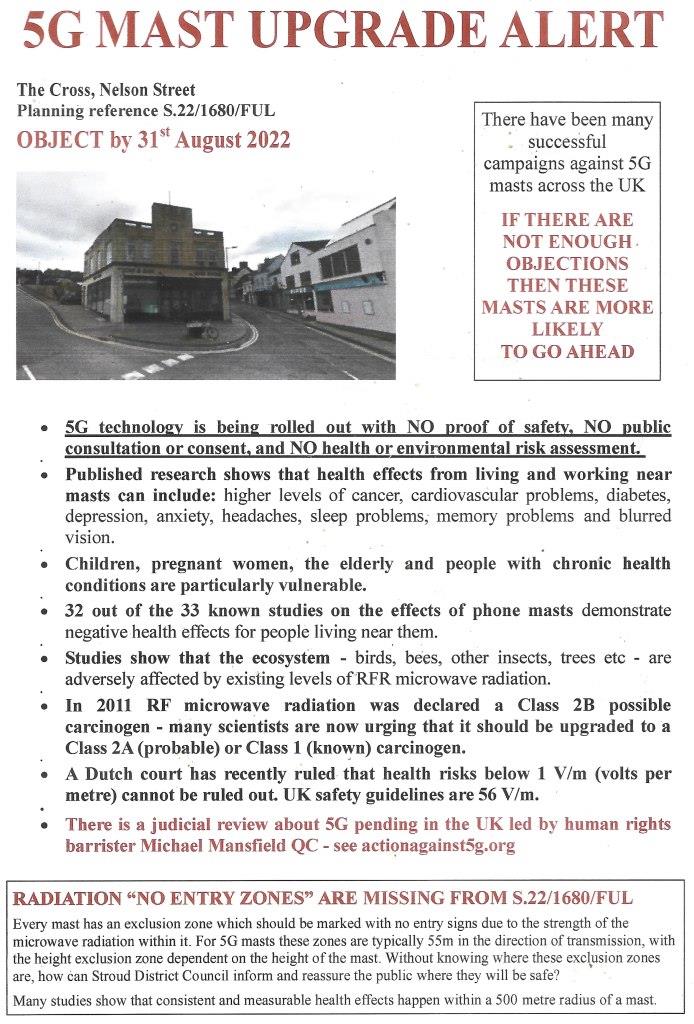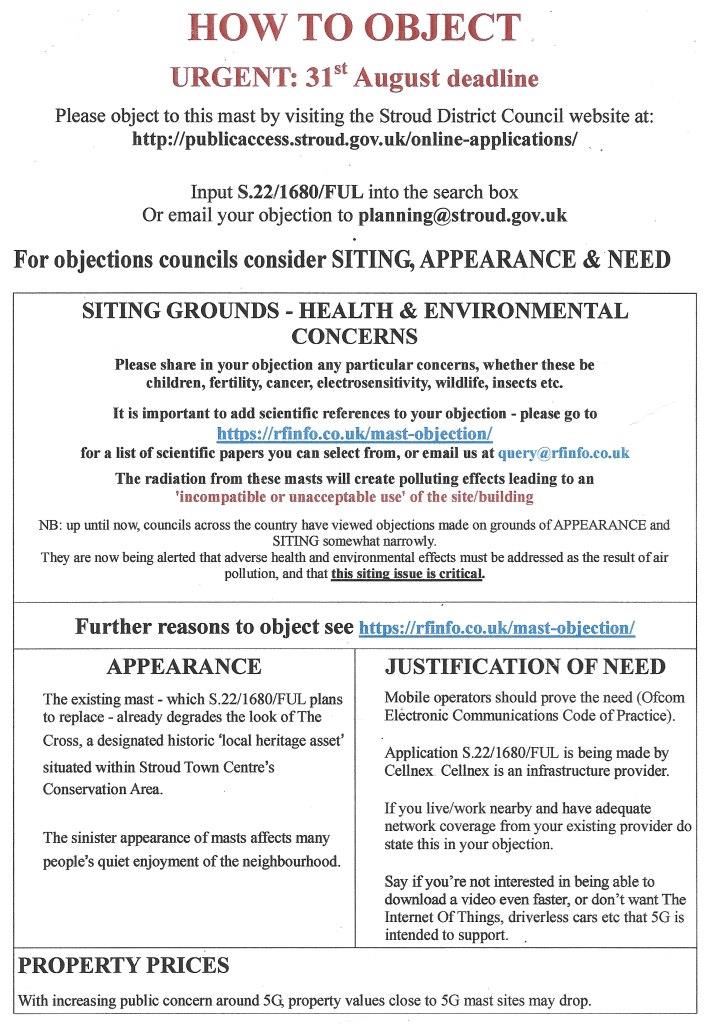 That's right on top of Lynn Backen's charming Silver Rooms café on The Cross junction at the bottom of Nelson Steet, just above the High Street, handily placed on our way to and from town: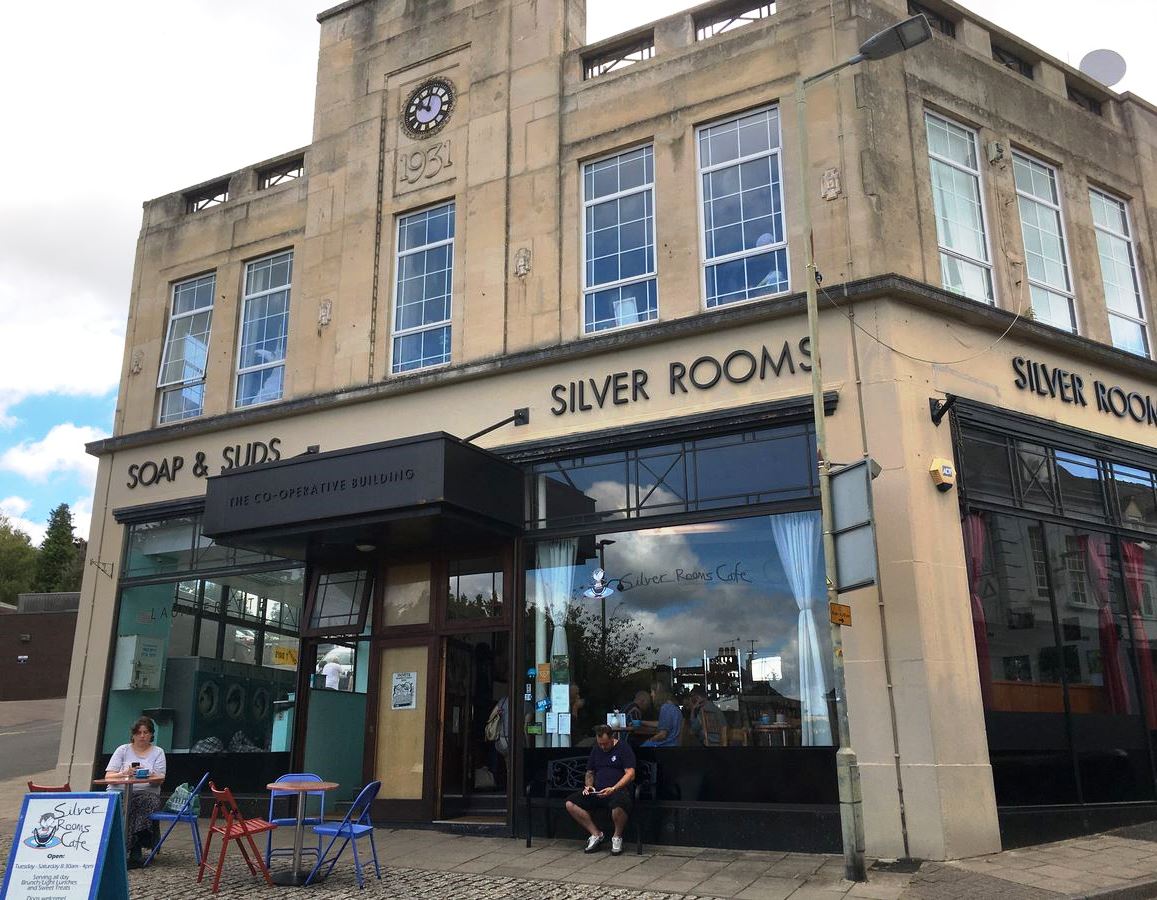 Now, you will know from these pages that I am normally scornful of the conspiracy theorist body of thought, but I can't resist in this instance taking some time to scour the sources in the 5G debate. There are so many that I can't possibly work through them today, but I'll make a start. I checked out the "RF Info" site (a partisan but in-depth exploration of the main issues surrounding radiofrequency radiation, or RFR) mentioned in the flyer ... and then got led all over the Internet.

Let's kick off with the "spectrum". This is where 5G sits: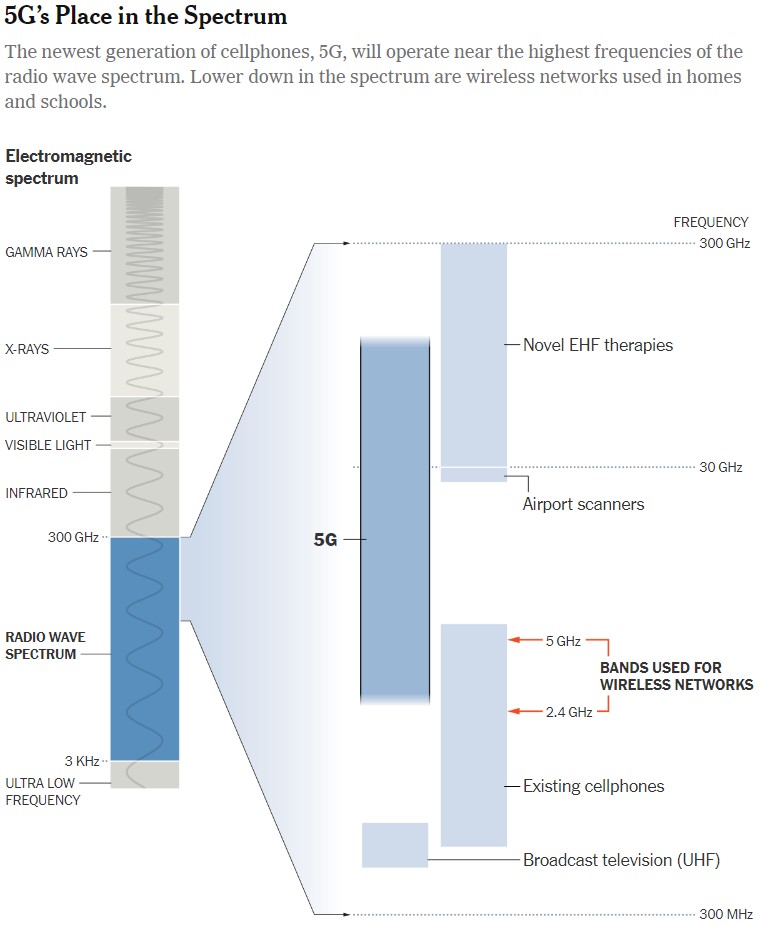 5G involves an intensification of frequency. You can see from the repres­entation of wave forms on the left that frequencies compress as you go up the spectrum. The exploded part of the diagram on the right, the top end of the radio wave band, shows the scale rising from 300MHz to 300GHz, a thousand-fold increase. 5G falls into the category of "next generation" millimeter wave (mmWave) networks.

What is the perceived threat? RF Info has this chart describing the dangers as you crank up the frequency. We all know about the risks at the right hand end.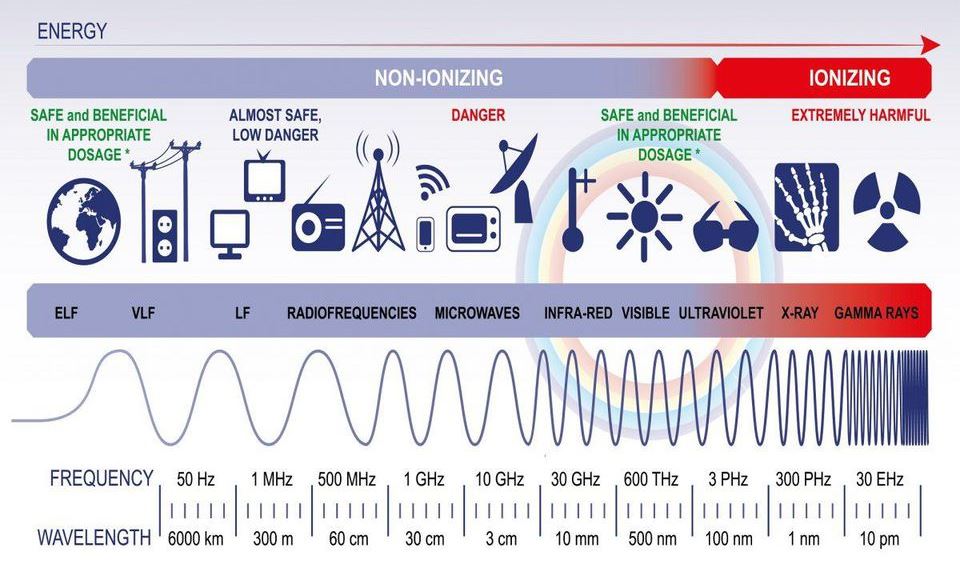 [Continued above, Wednesday 24th August ...]

Monday 22nd August


Another soundtrack of our lives. Last night I watched the iPlayer docu­mentary "When Bob Marley Came to Britain". It's a detailed and affec­tionate account of how his international career was launched by visits to this country in the early 1970s, his huge importance to young black people here and the influence of the music ever since. I remember my friend John Dyer telling me I really had to listen to this band, playing an early long-player in the front room of my parents' house in Worcester. Together we watched the Wailers' ground-breaking appearance on The Old Grey Whistle Test. 40 years later I was lucky enough to sing covers of his songs in our Bristol band; I now see that as a real privilege. When son Ben was little, he first referred to the 1984 compilation album as "Leg End". Grandson Marlie (almost) bears his name, and the most popular cat in our street actually does.

Here's the programme introduction (2 minutes):




Here are stills from the above. Marley in the tour Transit van, performing (with Johnny Nash) for the kids at Peckham Manor school and playing football with them afterwards: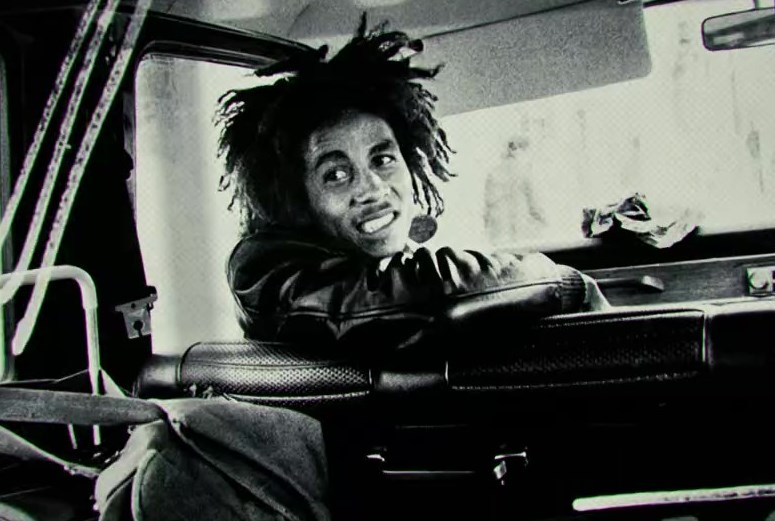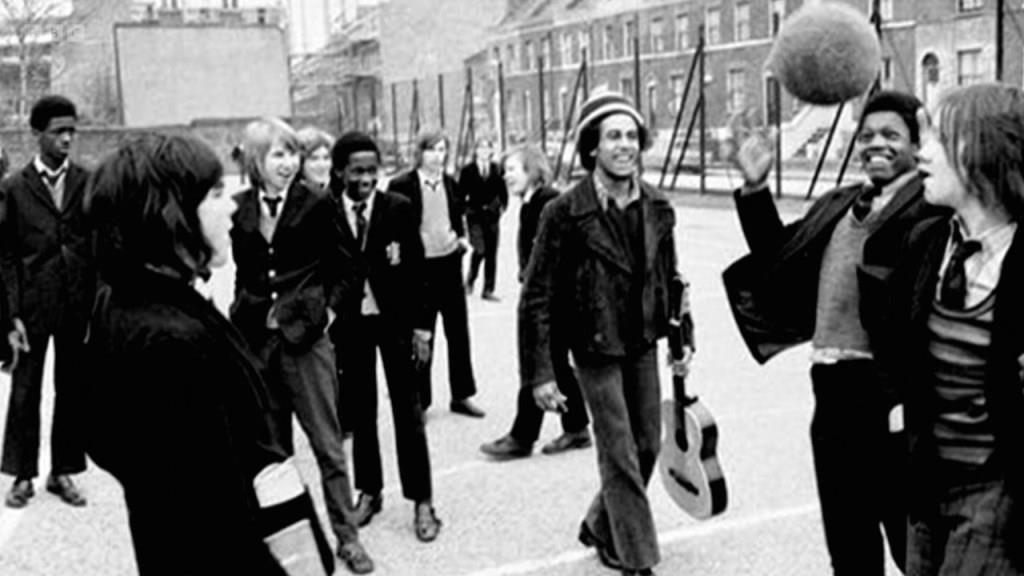 Watch the whole thing (59 minutes, geographical rights permitting) - it's a joyful treat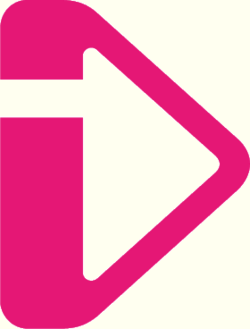 Sunday 21st August


Rest day. Just a cheery little reminder of the value of acknowledging people, however small their contribution may seem. Look at the smiles.



Saturday 20th August


Another lovely morning in old Stroud. Clear blue sky, bright sunshine, a cool breeze. I'm enjoying these days.

A busy bank holiday weekend coming up. We'll have a full house: son Nikko and little Ellie from Vienna, daughter big Ellie and kids from Bristol, niece Emma and family returning from France. Very thoughtfully, our local landlord Rodda and team have organised the annual beer and music festival at the Crown & Sceptre for our entertainment.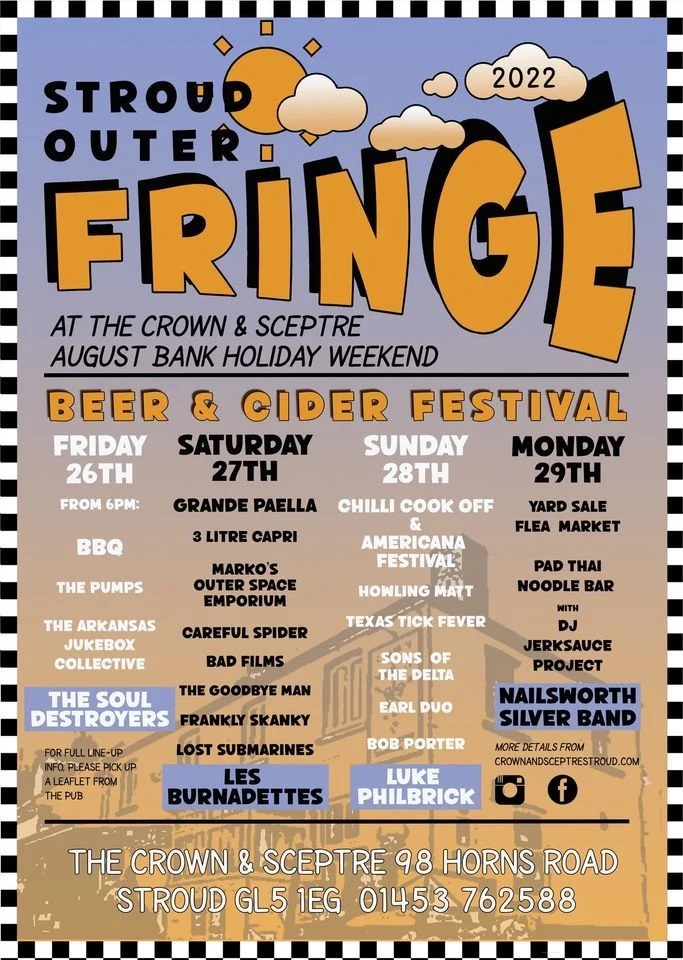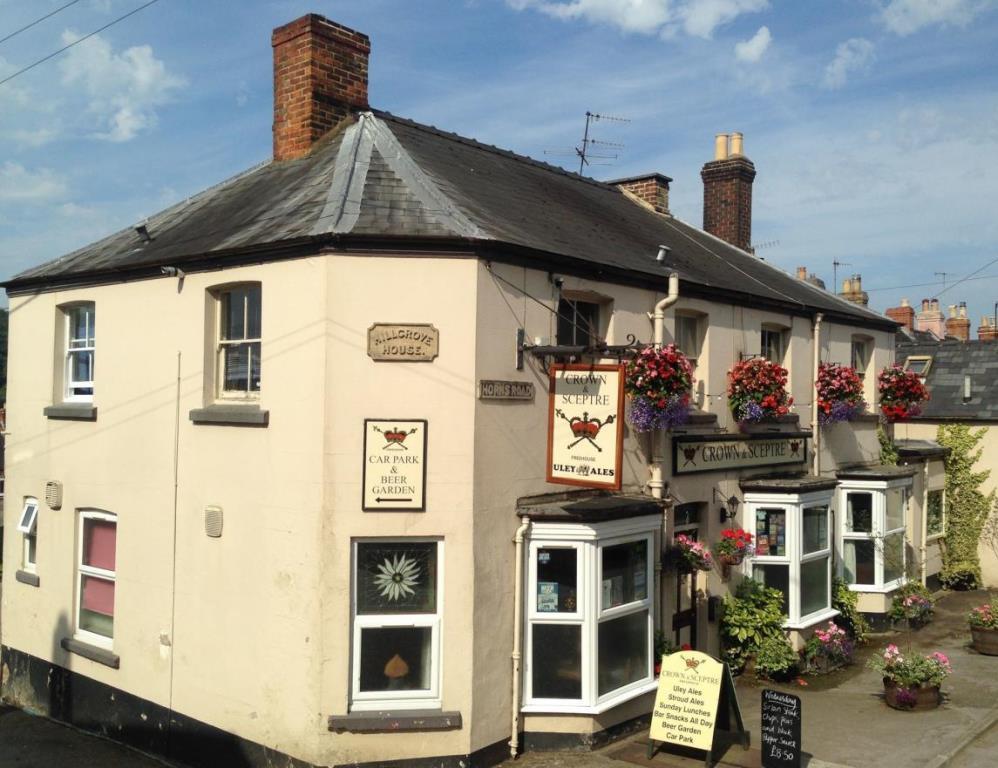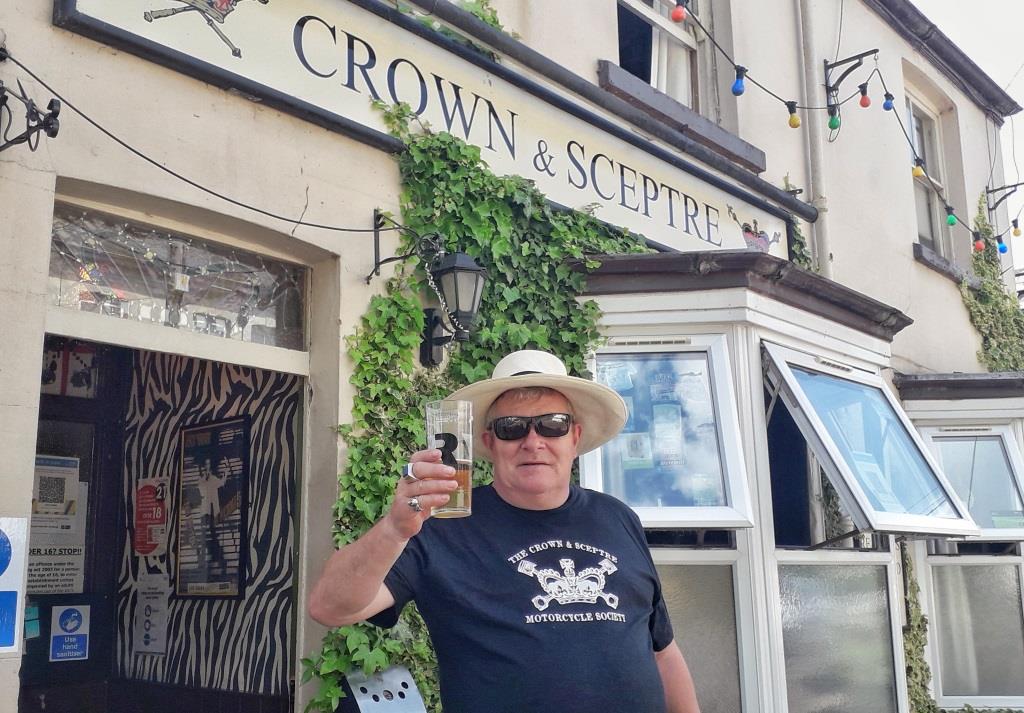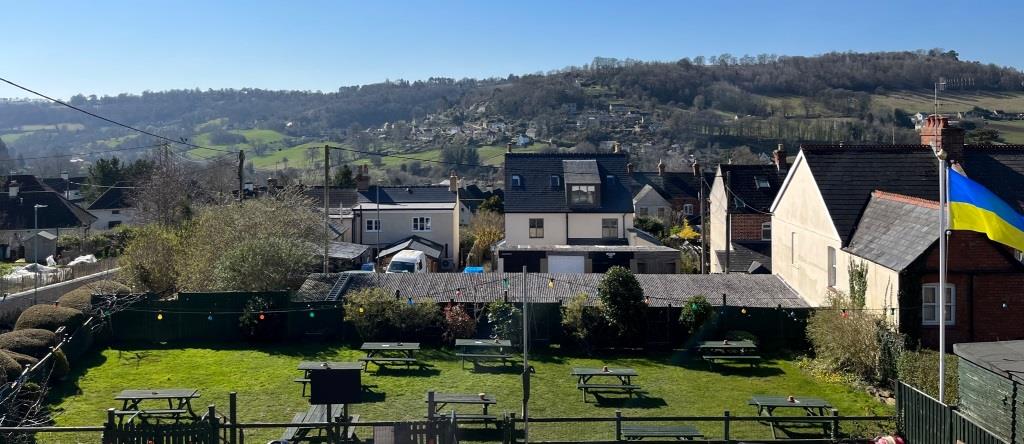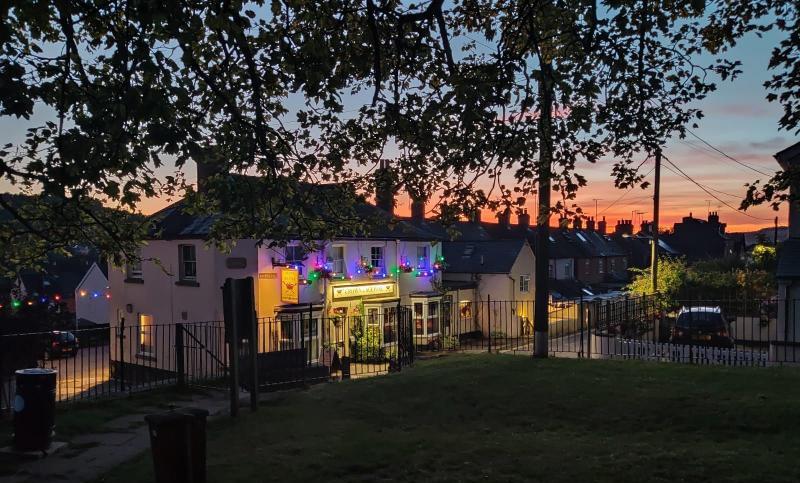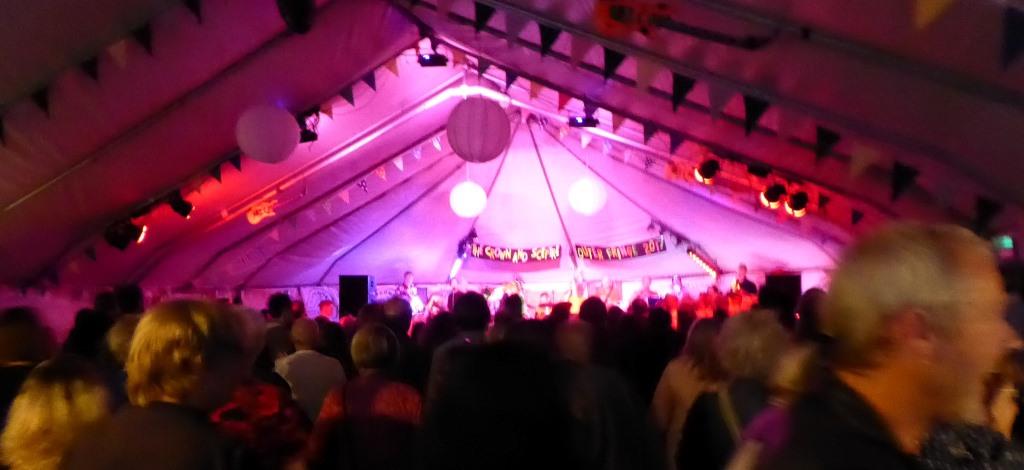 Friday 19th August


With friends staying for a couple of days, I've had no time to blog, so I'll turn as I frequently do to cartoons. I've wondered if I should feel guilty that I post them so much, but have decided not. A picture tells ... they say so succinctly what many of us are feeling. And there's humour to help us through the rage.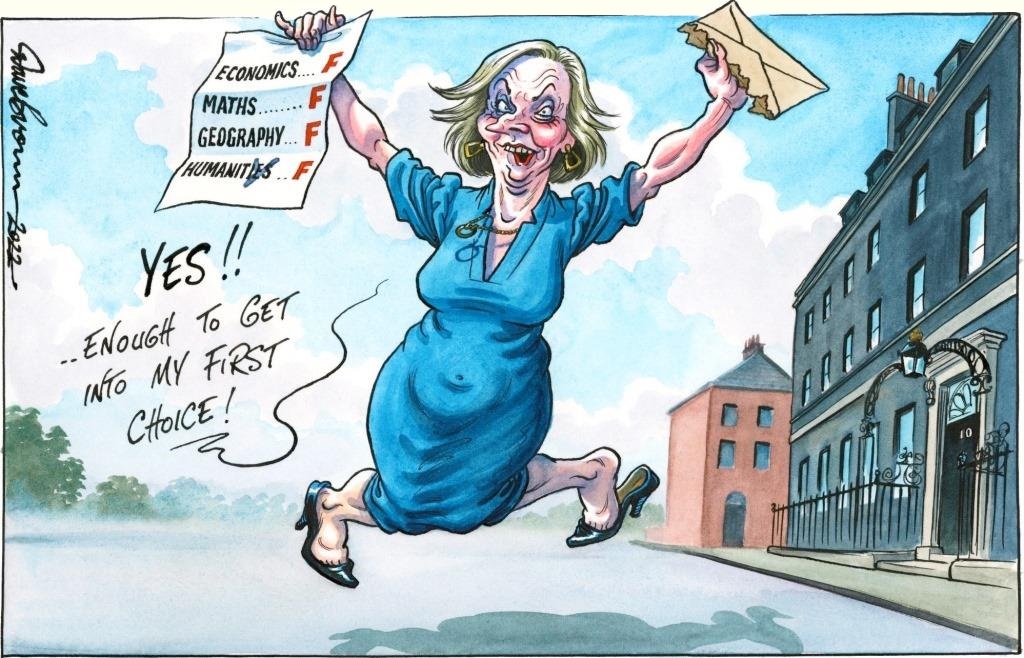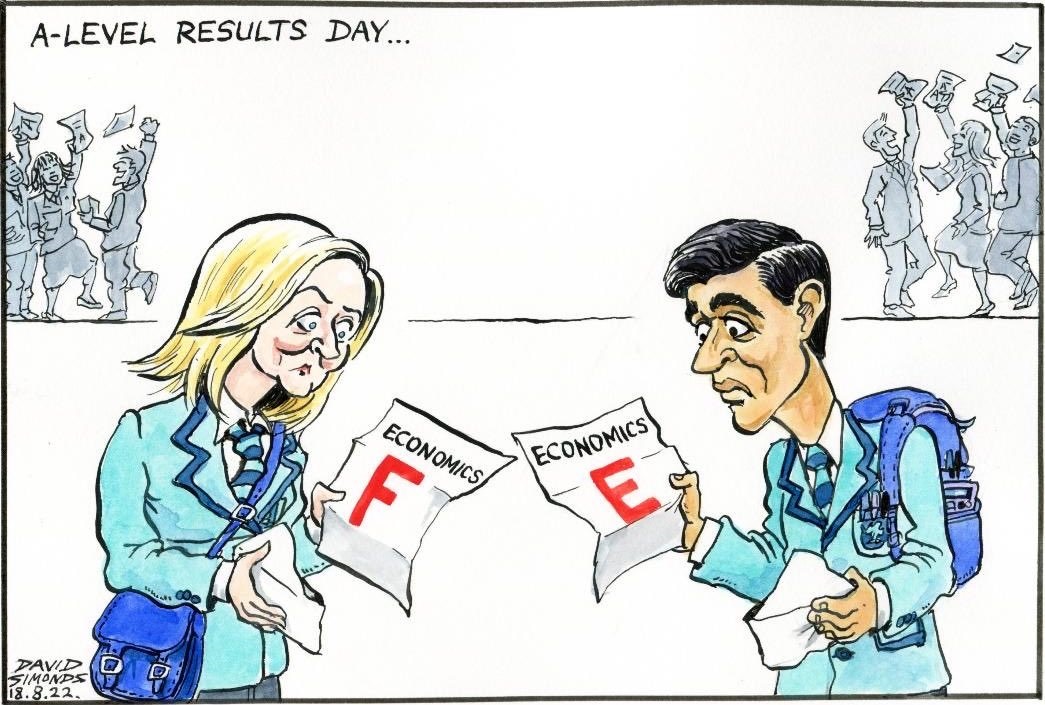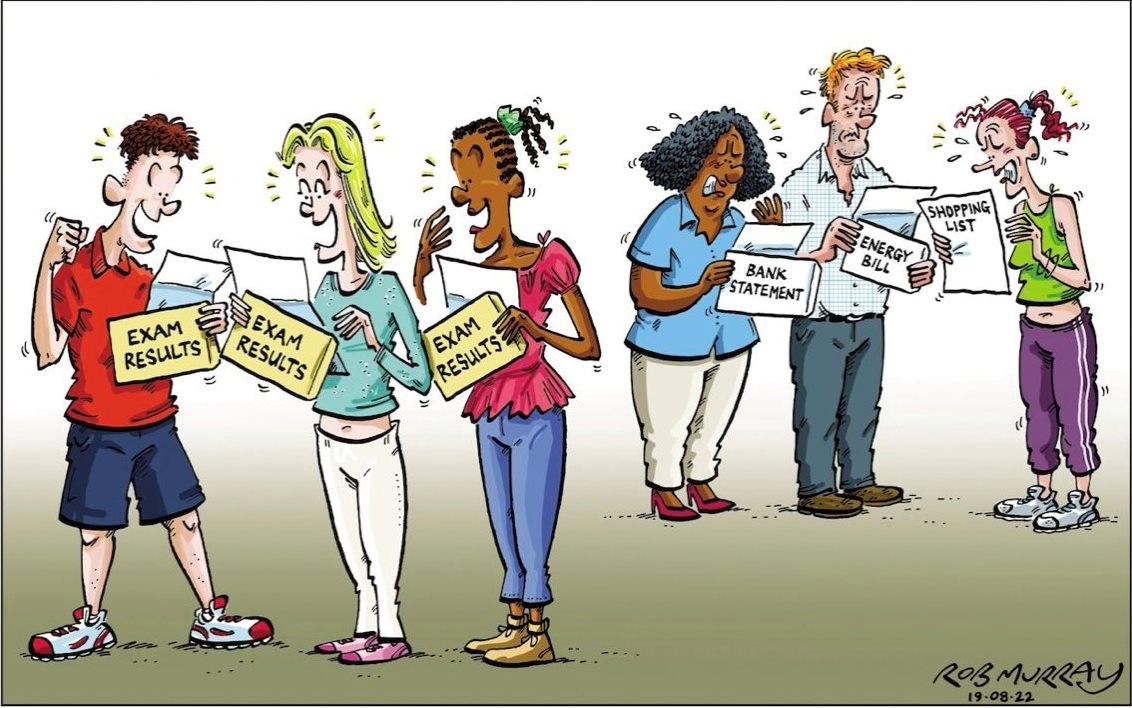 Thursday 18th August


Let's pick the issues that really matter, eh?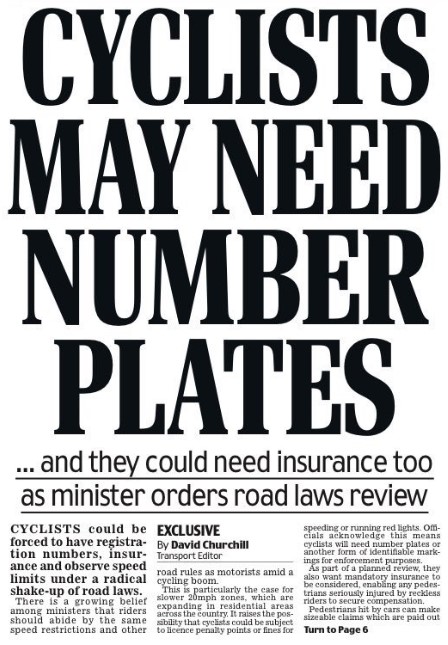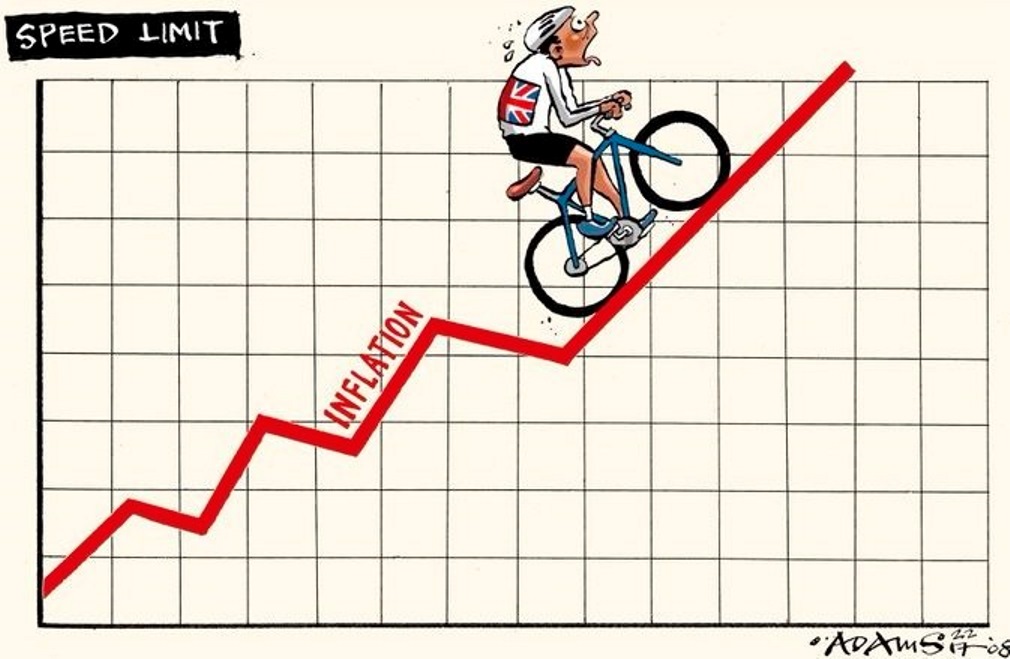 And blame anyone but ourselves (while "levelling up"):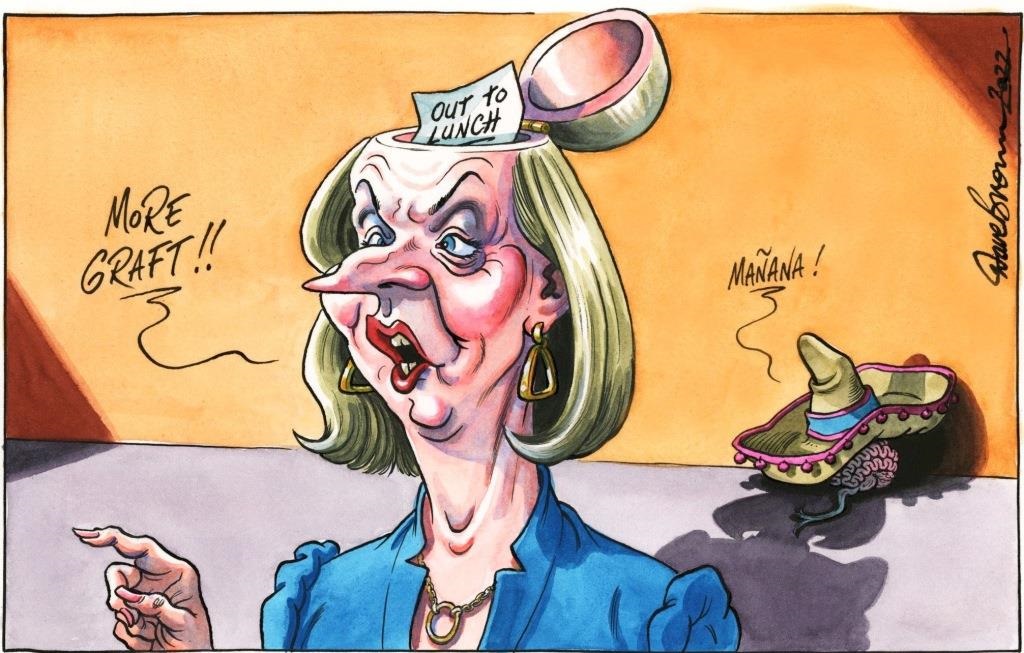 Wednesday 17th August


Following the invitations from Ireland in response to Steve "Stop Brexit Man" Bray's tweeted enquiry about political asylum from the UK two days ago 👉 in which reference was made to the opport­uni­ties offered by the Common Travel Area, and given the growing related discussion on my old mates' WhatsApp group, I decided to dig.

Here is what GOV.UK told me:

The

Common Travel Area (CTA) is a long-standing arrangement between the UK

, the Crown Dependencies (Bailiwick of Jersey, Bailiwick of Guernsey and the Isle of Man)

and Ireland that pre-dates both British and Irish membership of the EU and is not dependent on it.





Under the CTA, British and Irish citizens can move freely and reside in either jurisdiction and enjoy associated rights and privileges, including the right to work, study and vote in certain elections, as well as to access social welfare benefits and health services.





The UK and Irish governments signed a Memorandum of Understanding (MoU) in May 2019 reaffirming our commitment to maintain the CTA, and the associated rights and privileges, in all circumstances. On signing the MoU, both governments released a Joint Statement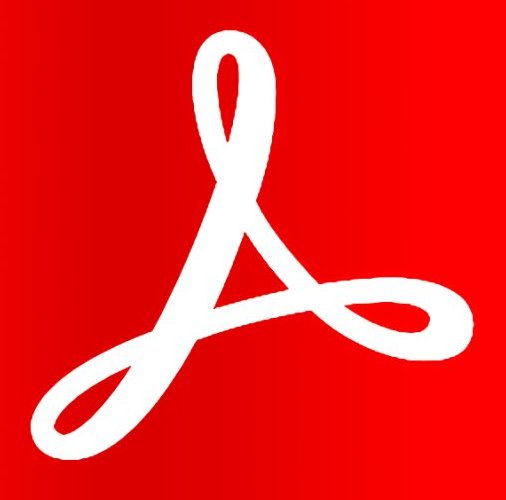 .


Damnit! Another agreement not derailed by Brexit. Once again, I'm robbed of a chance to get really cross.

My friend Ron now lives - at least some of the time - in Ballydehob, near Bantry, County Cork.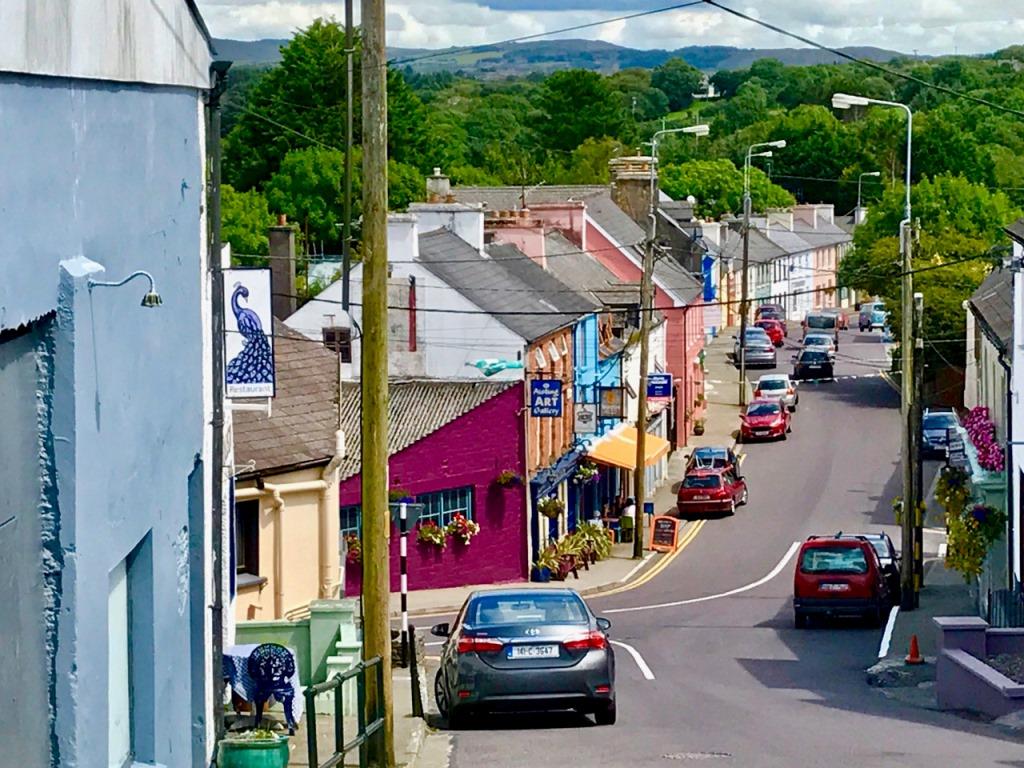 He added his comments yesterday:


"One further benefit of the CTA is that it enables your car to be insured under your UK policy which means you can drive to visit us in west Cork. The ferry costs a bit over £200 for car + 2 [occupants]. When you come and are bewitched by the place, you will bring the dog, liquidise your assets and spend your Euros on a post-Brexit therapeutic treat."


This is promising ... for visitors. But what of permanent escape?

My Irish correspondent, who has long considered a return to ancestral roots, notes a particular disincentive:


"The one big drawback with Ireland is the inadequate healthcare system. Only the very poorest qualify for free medical care. Everyone else has to take out a private health insurance. Every visit to the GP costs 60 to 80 euros, and prescription medicines have to be paid in full. Doctors there enjoy high status and high earnings. I imagine they would be very reluctant to give that up for an NHS-style system. And if I were an NI citizen, losing the NHS would be the one thing that I would not be prepared to sacrifice however much I wanted reunification with the Republic."


Indeed, full eligibility for healthcare is granted to medical card holders only. The Irish Citizens Information site informs me:


To qualify for a medical card, your weekly income must be below a certain figure for your family size. Cash income, savings, investments and property (except for your own home) are taken into account in the means test.


I discovered an article in The Guardian dated 7th June 2011:

Funding for healthcare in Ireland is made through a Universal Social Charge, normally deducted from wages at 2% for the first 10,000 euros a year, 4% on the next 6,000 euros and 7% above that.





Hospital stays cost 100 euros per night, capped at 1,000 euros each year, with A&E visits charged at 100 to 120 euros a time, although GP referrals to emergency departments are normally given rebates of between 25% and 50%. Maternity care is free, up to the point where baby reaches six months of age.





GP visits are subsidised, but chargeable at the point of care, typically 60 euros per visit. There is a GP visit card system, with income limits of around 300 euro a week, and which offers free GP treatment. Prescriptions are 50% subsidised, subject to a complex means-tested (sliding scale) monthly cap per family.


As a beneficiary of our wonderful NHS to the monetary tune of tens of £thousands, not to mention the recipient of consistently great service, this gives me pause.

Tuesday 16th August


Friend Nell gave me a late birthday present on Sunday, a slim volume by Alan Bennett, "House Arrest: Pandemic Diaries". It covers the period February 2020 to March 2021, "a year in and out of lockdown."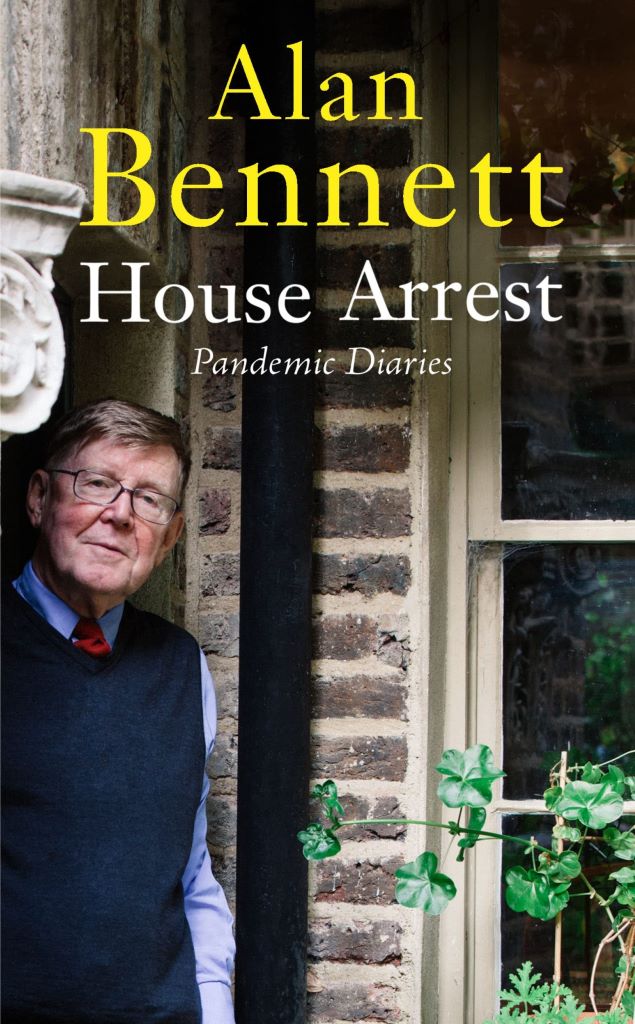 A blast from the past, eh? Where this blog started. Here are some snippets. They trigger memory of our not-too-distant history, not only of Covid but also of other events in the same period.

Thanks to arthritis I'm now much less mobile than I was. Gone are the days when I could jump on my bike to pop down to the shops, so static self-isolation is scarcely a hardship or even a disruption of my routine.





As an over-seventy, I am officially exhorted to remain isolated and indoors which is to say that my usual going-on now has governmental endorsement.





With Rupert

[Thomas, former editor of The World of Interiors magazine and Bennett's partner]

now working from home my life is much easier, as I get regular cups of tea and a lovely hot lunch.





The most one can hope from a reader is that he or she should think: "Here is somebody who knows what it is like to be me." It's not what E.M. Forster meant by "only connect", but it's what I mean. These days "only connect" means bumping elbows.





A rare plane passes. Rupert is upstairs on a Zoom call with his office who, like him, are now all at home.





London Live TV

has a "War Week"

[75th anniversary of VE Day]

, with a good deal about how the nation stood together 1939-45, which can't help sound ironic in the dawning realisation of how inadequately the government has managed the response to the virus.





Boris Johnson's address to the nation in the evening pretty pointless. "Stay alert" meaning nothing. He's such a poor orator and speaker generally, one almost feels sorry for him, with the plainness of Keir Starmer a relief.





George Fenton

[composer, best known for his work writing film scores and music for television]

rings. Asks where I am. "On the sofa." "Position normal?"





There are many depressing items of news in today's

Observer

but the most lowering is that, on account of his support for Brexit, Ian Botham is thought likely to be raised to the peerage.





One phone call today, a woman enquiring if I've made arrangements for my funeral yet. At least it isn't a recorded voice.





Much missed these shameful days is Tom Bingham, the ex-Lord Chief Justice and legal philosopher, who would have had Johnson scuttling for cover. Both from Balliol, one a credit to the college, the other not.





Some time in the afternoon, Rupert shouts down that Joe Biden has passed the line and been declared the winner in the Presidential Election and that the scourge of Trump has been lifted. Though Trump does not agree. Lynn Wagenknecht

[friend and restauranteur]

texts from New York saying there is dancing in the street and holds up the phone to let us hear the rejoicing. It should put a smile on people's faces here but there are few people about. Such relief.





Johnson never fails to call it "our NHS", though this offers no assurance that he won't sell it off, but one hopes that now he's lost his chum across the water there may be less of that.





There were those in 1914 who believed that war was just what was needed - as a cleanser and a salutary shock. England would be the better for it. As we wait for the result of the final Brexit talks, the heirs of those fools are still with us.


Do you remember how we thought everything would be better once Covid ceased to be such a threat, when Trump was gone, Boris named and shamed?

Alan Bennett is a curious national treasure, a contradictory mix. Monarchist and socialist, fan of HMQ [his abbreviation] and a Corbynista. Lugubrious and light-hearted. Shy and a show-off. During his National Service he was acknowledged as handy with a machine-gun.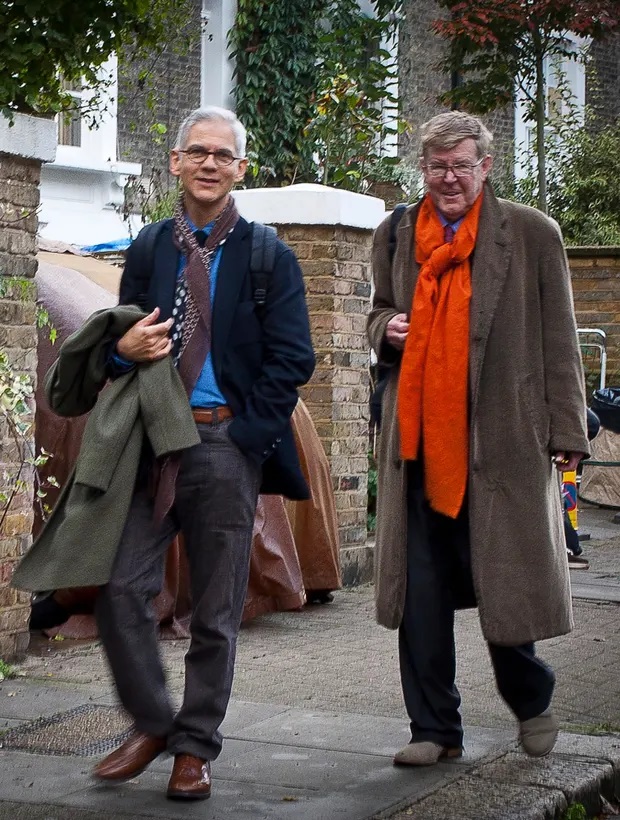 Monday 15th August




So tired of this stupidity, embedded in the #ToryLeadershipFarce. Many of us look to European countries for respite. Indeed, in increasing numbers, for permanent escape. OK, nobody likes bureaucracy, but most EU legislation has been well-intended, a furtherance of the common good, in the spirit of union. And let's not forget that great British conservative Winston Churchill was a passionate prime-mover of the European project - see some of my previous scribblings here: 👉

Steve Bray, aka Stop Brexit Man, a notable activist from Port Talbot in South Wales, has kept up a solo protest for years on College Green, Westminster: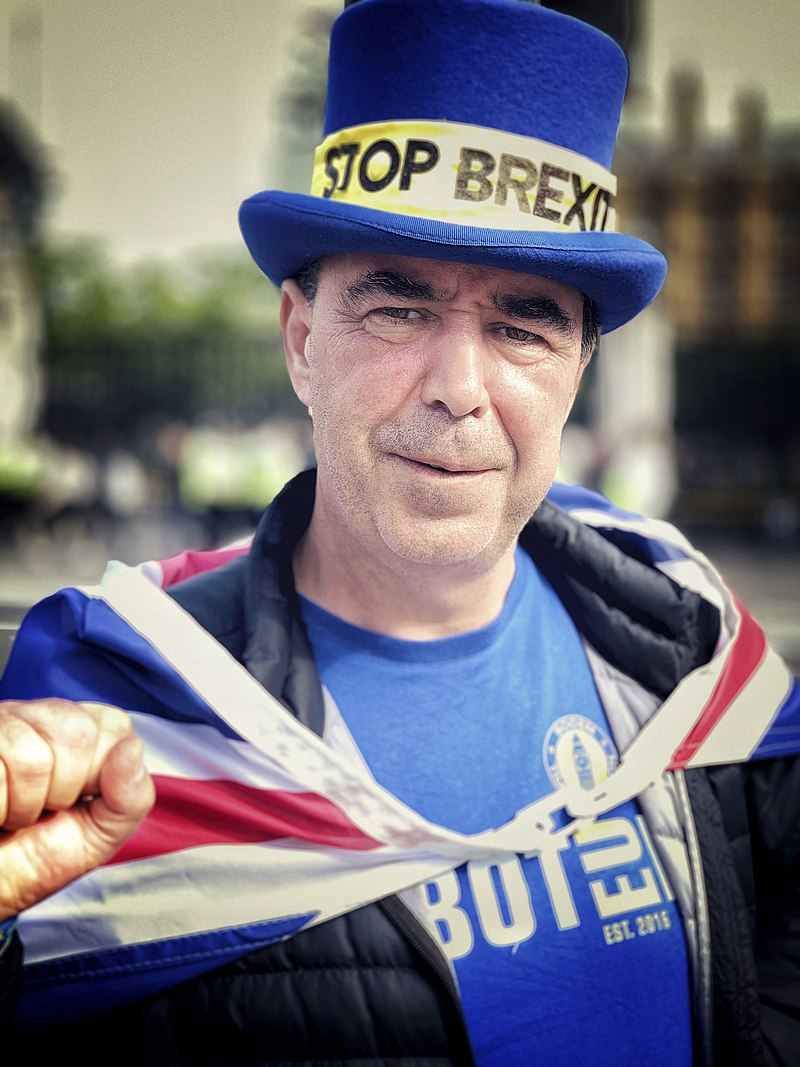 He recently tweeted:





There has been no shortage of replies:












Is there a growing UK-wide disappointment in Brexit, across both Leave and Remain camps? An Ipsos survey of late June suggests so. But how much can you trust a poll based on 1,023 respondents?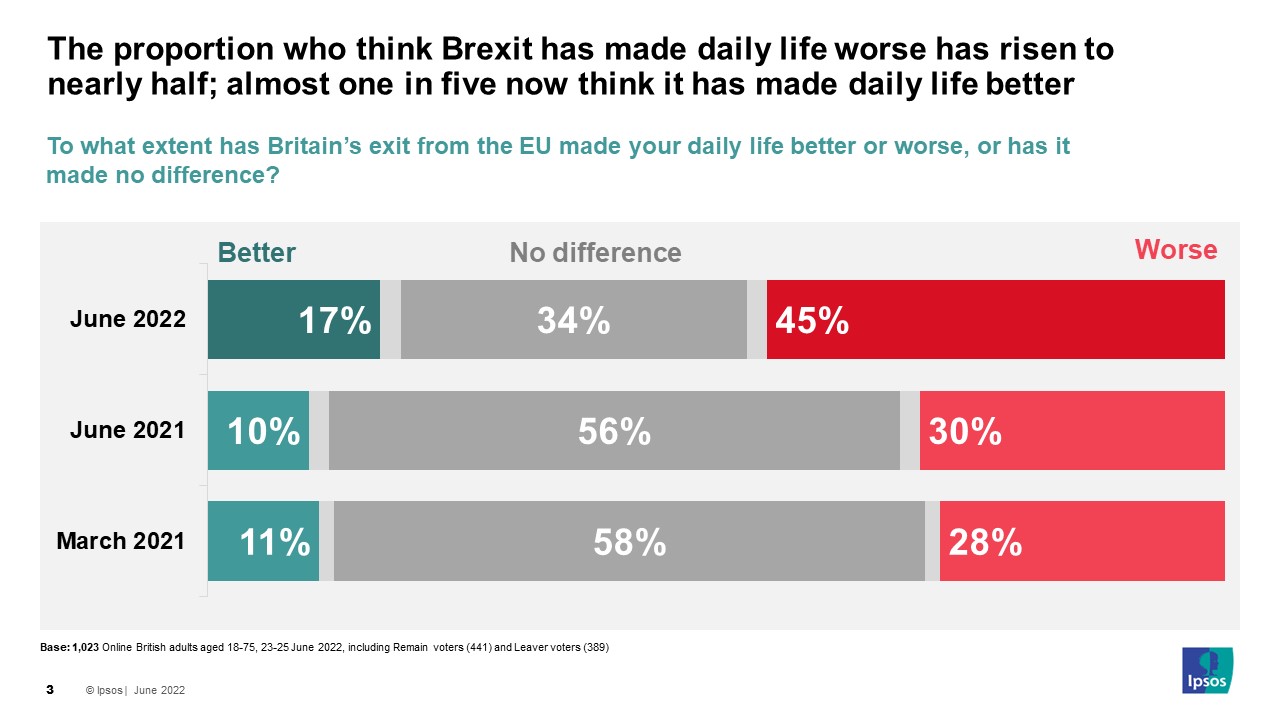 I'm ready to give up on the daily depressant of Brexit. Not the battle against all that it represents, but the degree to which it overshadows my day. The misguided insular aberration cannot prohibit my connection to Europe, my freedom to embrace its charms. Ireland appears in the tweets above. My Irish correspondent sent me some details about the joys of Achill Island in Co Mayo, specifically Keem Strand, just voted the best "wild swimming spot" in Ireland and Britain in a survey by reusable container company Ocean Bottle. Nothing to stop me making a visit. Could go by boat.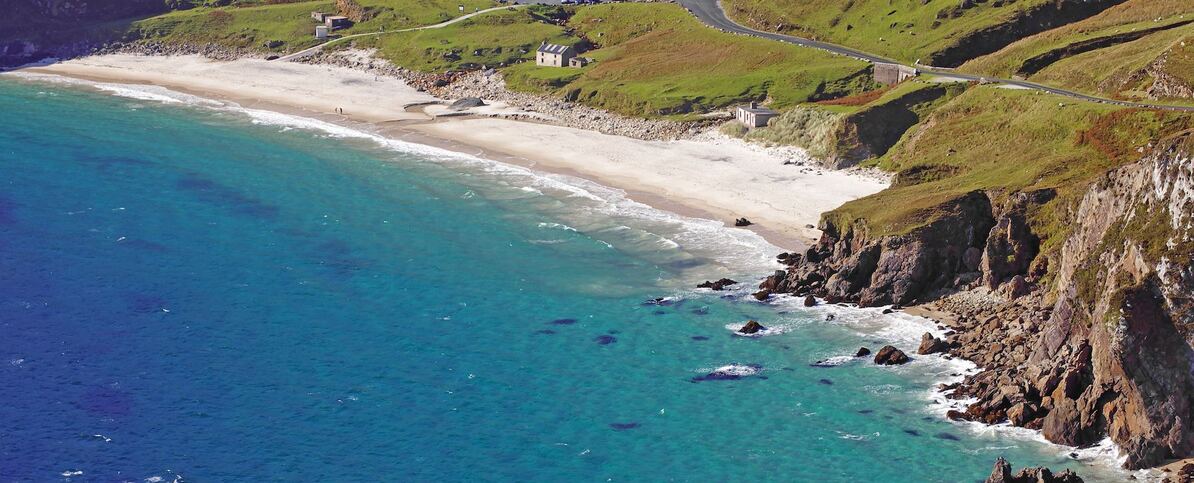 Sunday 14th August


I like this. Members of Green New Deal Rising make their opinions felt at a Liz Truss hustings. Watch how they do it. Yes, they get thrown out but ...



Saturday 13th August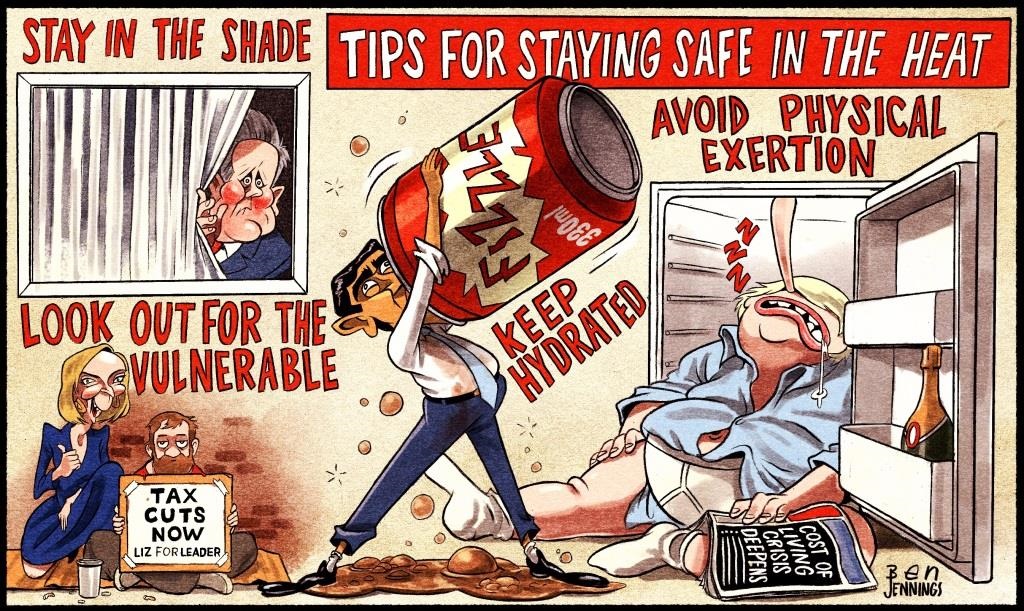 Friday 12th August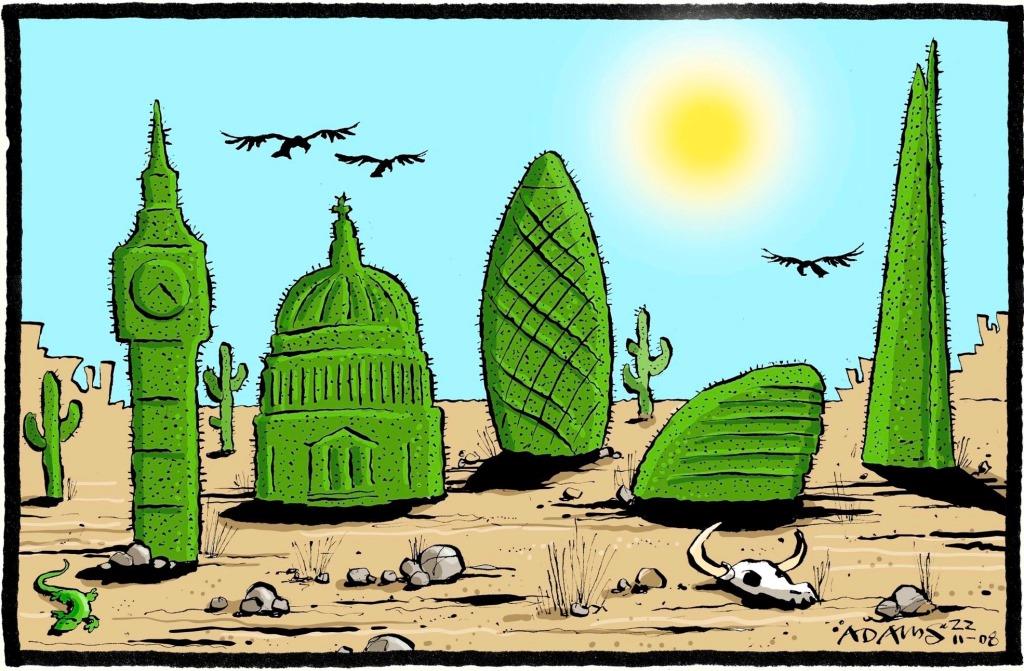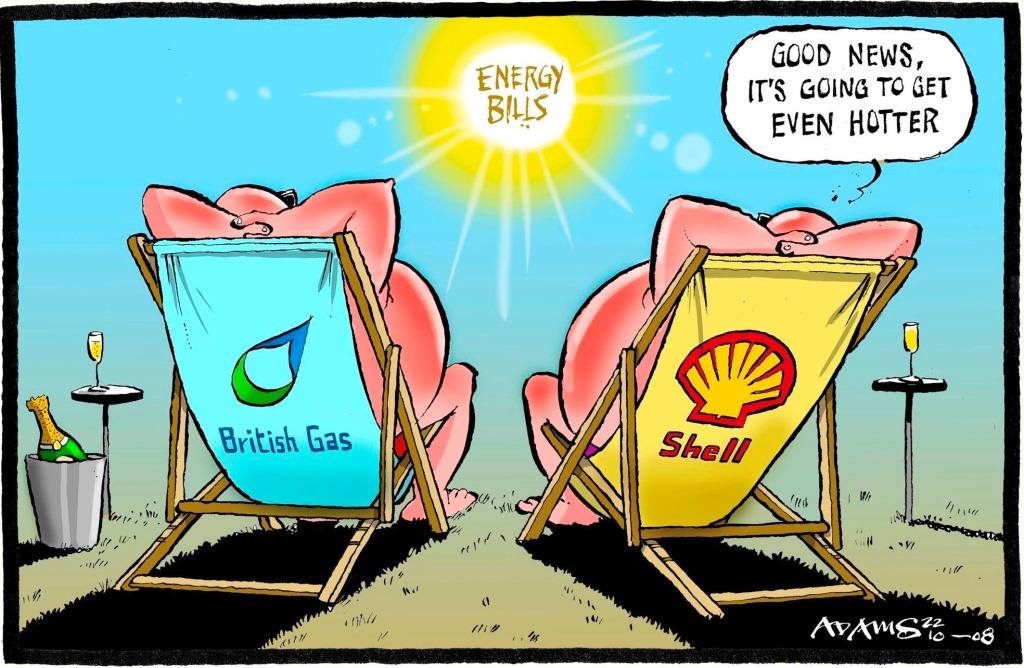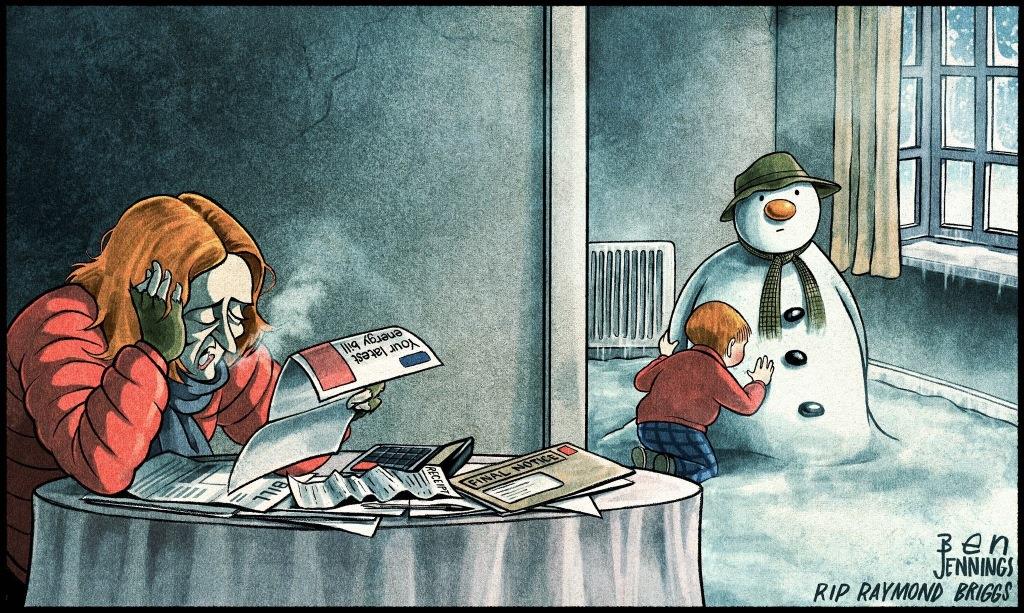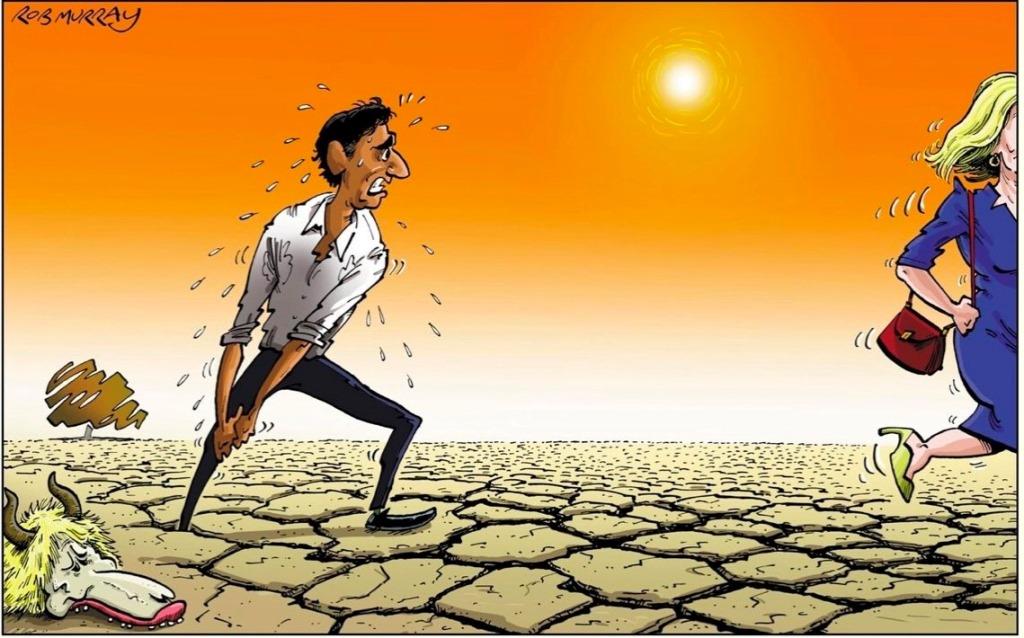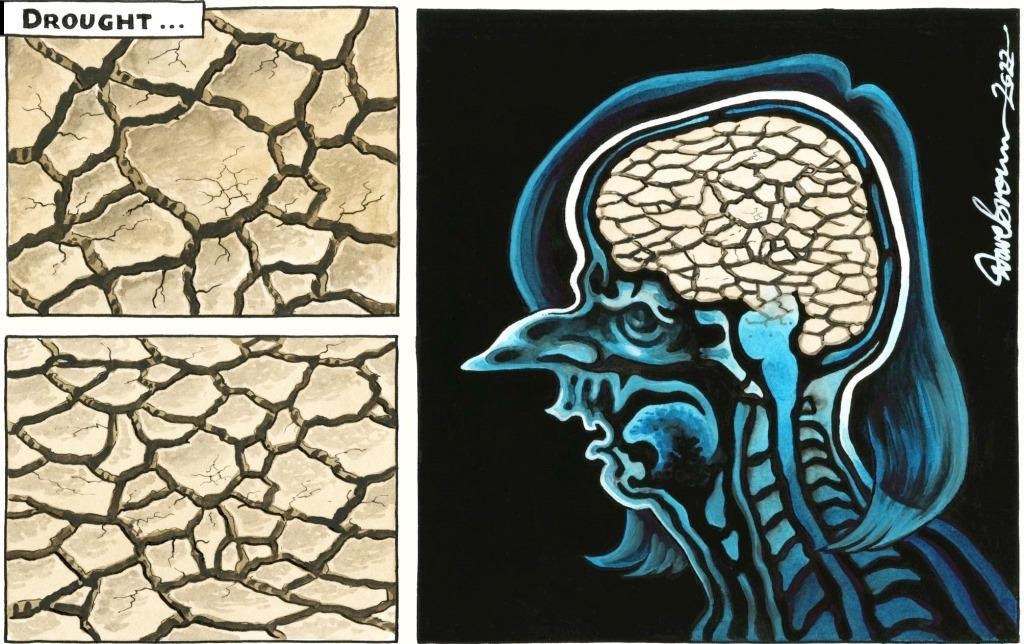 Thursday 11th August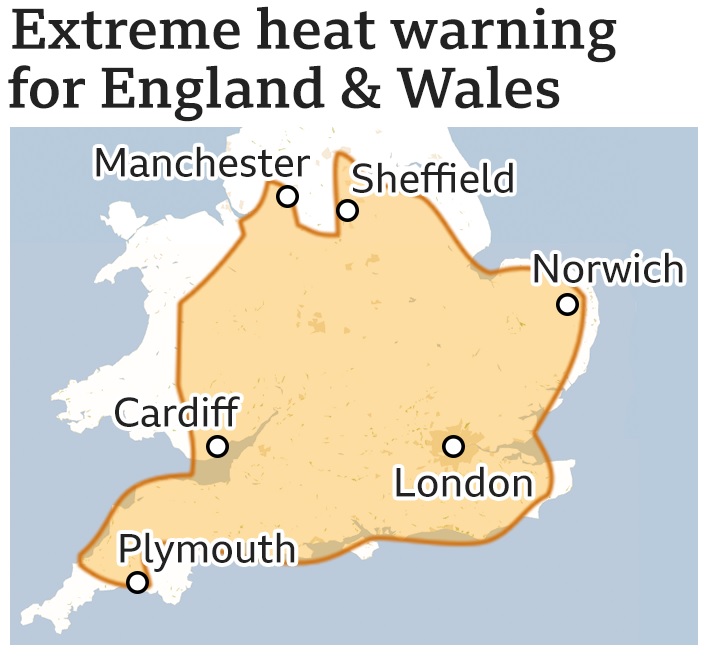 Isn't it an irony that while we catastrophise about the heatwave, we haven't yet fully committed, with some urgency, to the adoption of renewable solar energy sources? Fossil fuel bills rise as the sun beats down. The answer above in a clear blue sky. Gigawatts for the taking.

A glance out of the window from the seat of government might encourage you to get on with it. Unless you're farting around with a Tories-only leadership contest, arguing the toss on tax cuts and small boats in the Channel, or sipping chilled rosé on a Sardinian sun-lounger during the summer recess. Nero, where are you?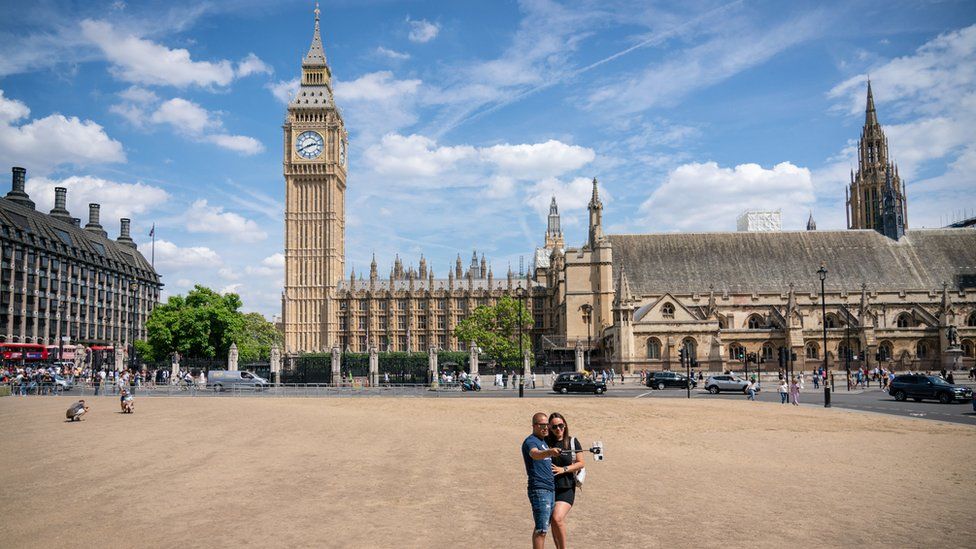 Wednesday 10th August


Once again, I'm pleased to note that Irish cartoonist Graeme Keyes felt the same about the "silly season":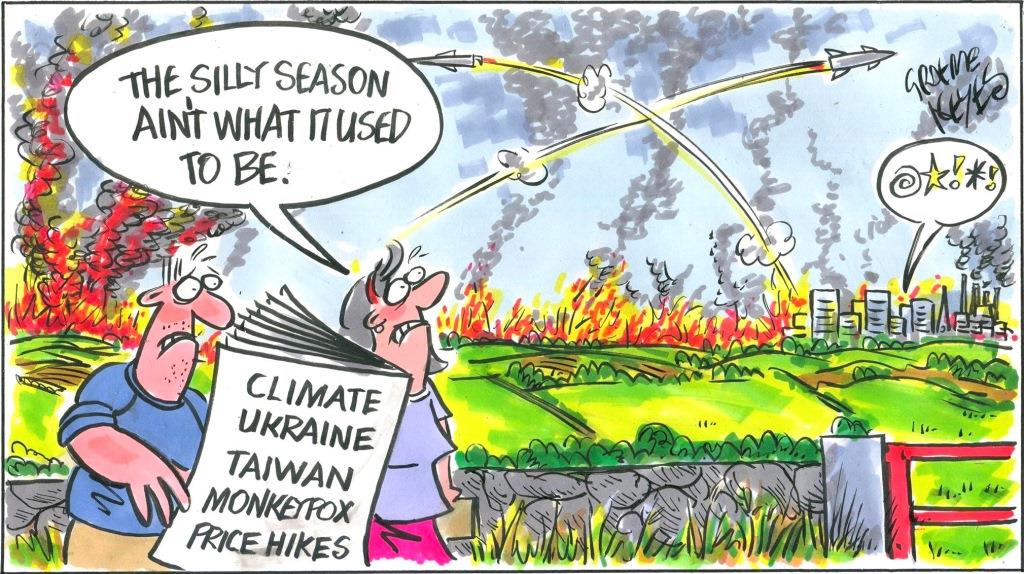 Nope, it's the usual shit show with the usual shits: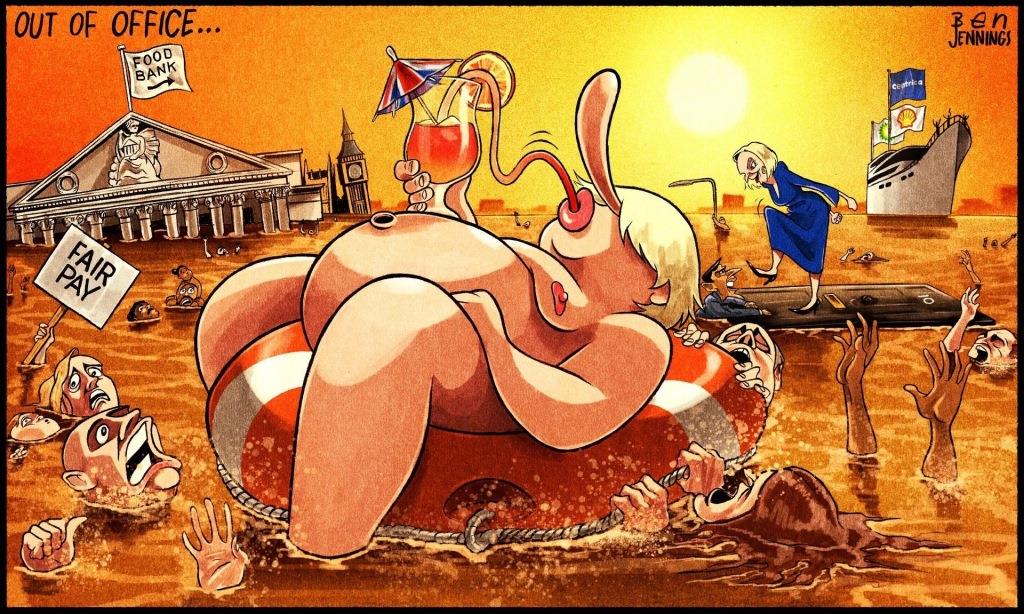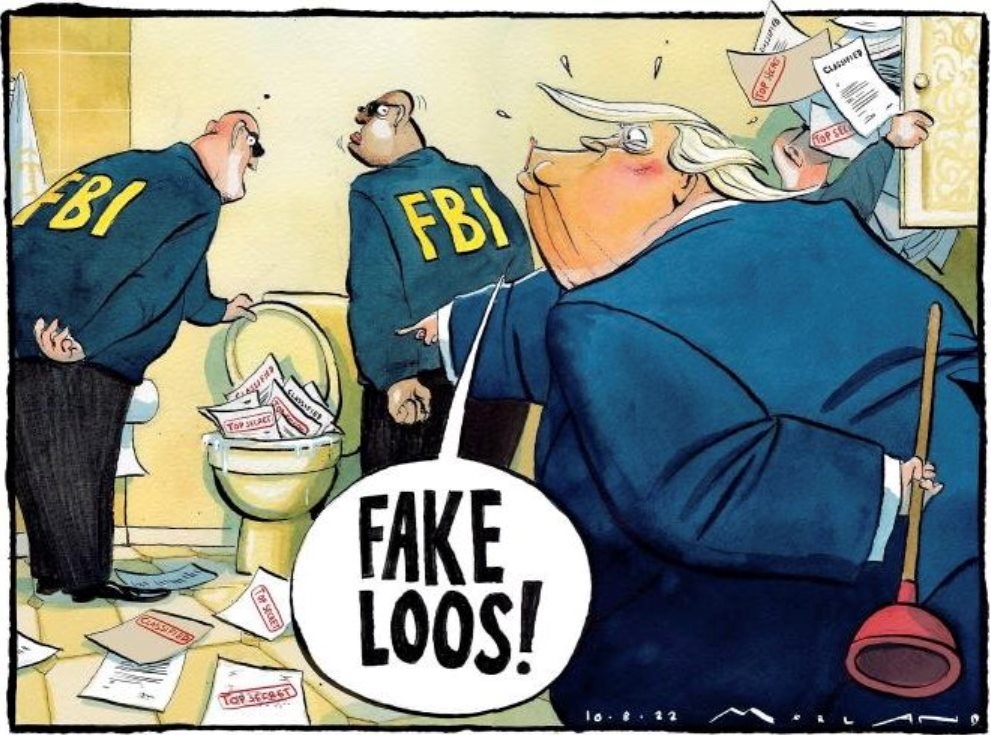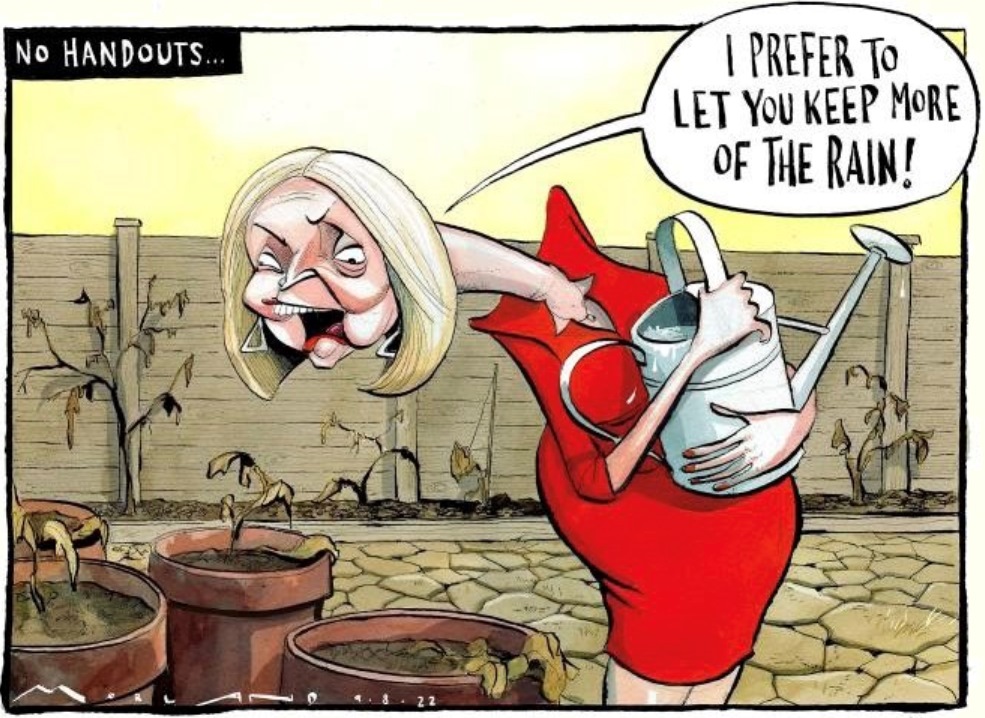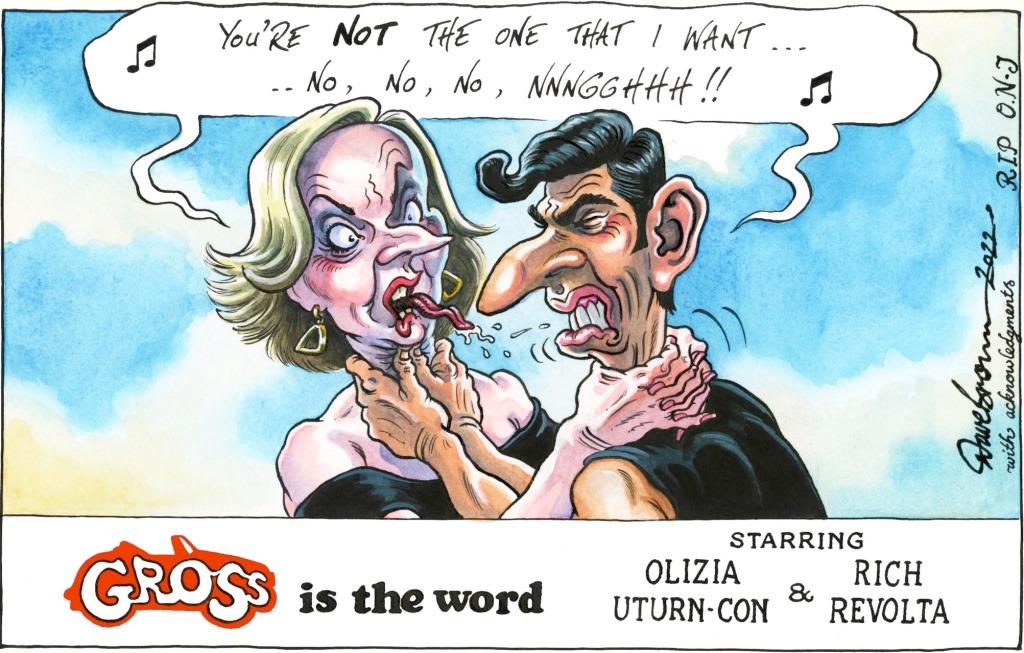 Tuesday 9th August


I'm on a 100% roll at the gym. OK, I admit it's not much, a mere 4 days out of 4 since I joined up.

A familiar voice tries to dissuade me. "You're too tired today, go tomorrow. Have a nice cup of tea instead." That's the first challenge - turning up. Why is this devious saboteur in my ear? I know that this new direction will be good for me ... how come I have to subdue the cunning whisper? It's not as if the bike ride there and back is unpleasant; indeed, in this weather it's a delight.

Then there are the actual routines. So-o-o-o boring. From the outset I have to resist the lure of a hot chocolate in the café. The solution seems to be to just start the first one, then the others follow. An "in the present" approach. Don't think about the other exercises up ahead. In fact, don't think about anything at all, let the mind float.

I don't have difficulty in tackling all sorts of task. I almost enjoy the process of paying bills online. For forty years I have planned, bought, prepared, cooked and served our evening meals without breaking stride, except for a regular 3-monthly hissy-fit when I stamp my feet, shout "I can't f***ing do this anymore" - then calm down and get on with it.

I even experience resistance to things I enjoy, like going up to Minchin­hampton Common to hack a golf ball around. Why on earth? Big skies and long views, sun - at the moment - on my back, the pleasure of executing an occasional effortless and accurate chip. Incomprehensible self-denial.

After a career in which I organised plenty of staff training, particularly time management, lots of tips and tricks litter my mind. "Open the file" - simply commit to starting a task and see where it takes you. "Do the first 5 minutes" - and you may find yourself spending a lot longer. Above all, I really can't escape "just do it". I haven't even got the excuse of being busy. No challenge of finding space in my day, no management required of the hours available. I am abundantly time-rich.

It's a bewildering defect. Early this morning the Grundon refuse lorry stop­ped to empty waste containers from the Bisley House opposite. There was a sign on its nearside, low down below wing mirror view. I need to carry something similar. And even accept the advice to go easy on myself.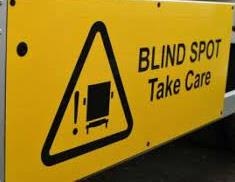 I understand that many enjoy this gym malarkey. Some are even addicted. I'd settle for the latter.

By the way, and talking of commons, Stroud District Council has issued this advisory:




And here it is, Minchinhampton Savannah: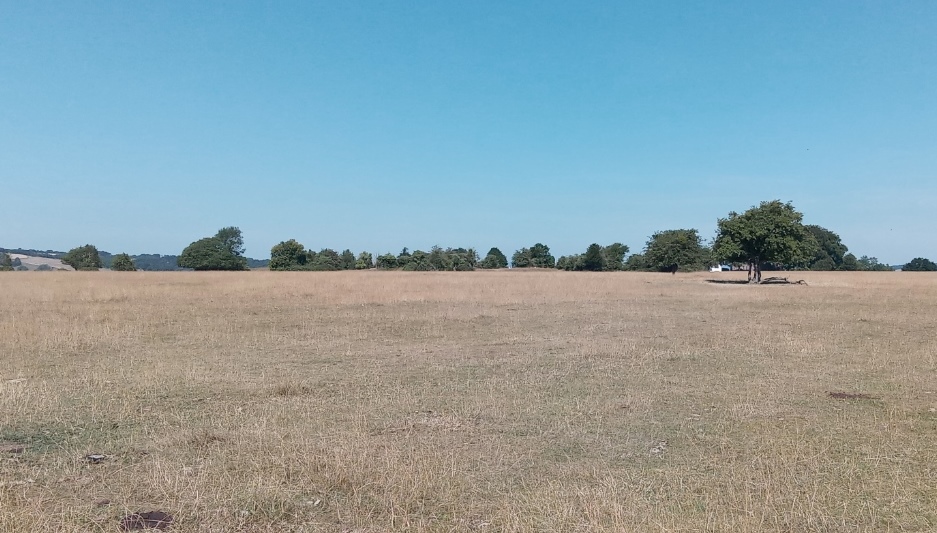 Sunday 7th August


This is annoying. Something that appears not to have been adversely affected by Brexit.

Here's my old European Health Insurance Card (EHIC):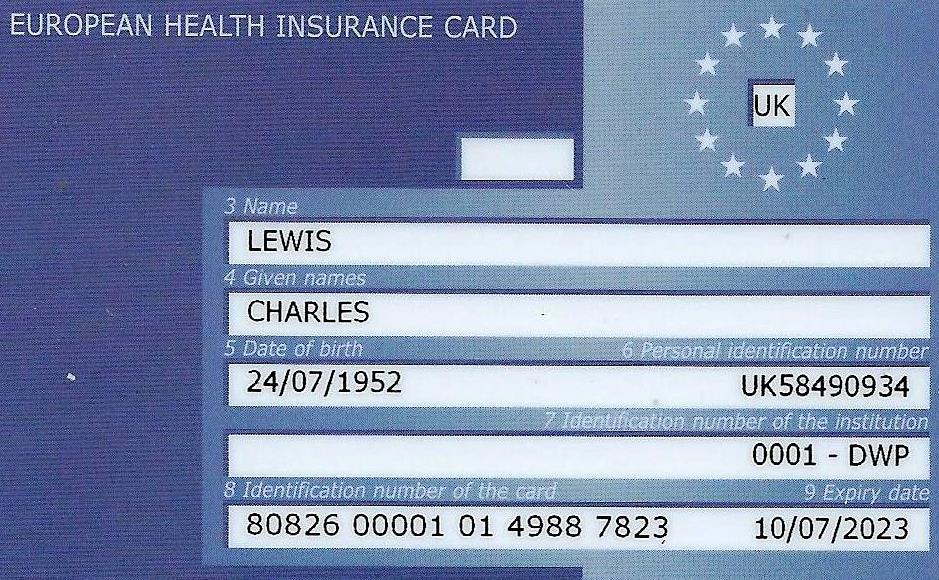 Before going on holiday to the south of France, I assumed that it would have been rendered invalid by withdrawal, so applied for the replacement UK Global Health Insurance Card (GHIC). It didn't turn up in time for our trip - we were heavily insured anyway, and in the event didn't need any medical help - but now it has: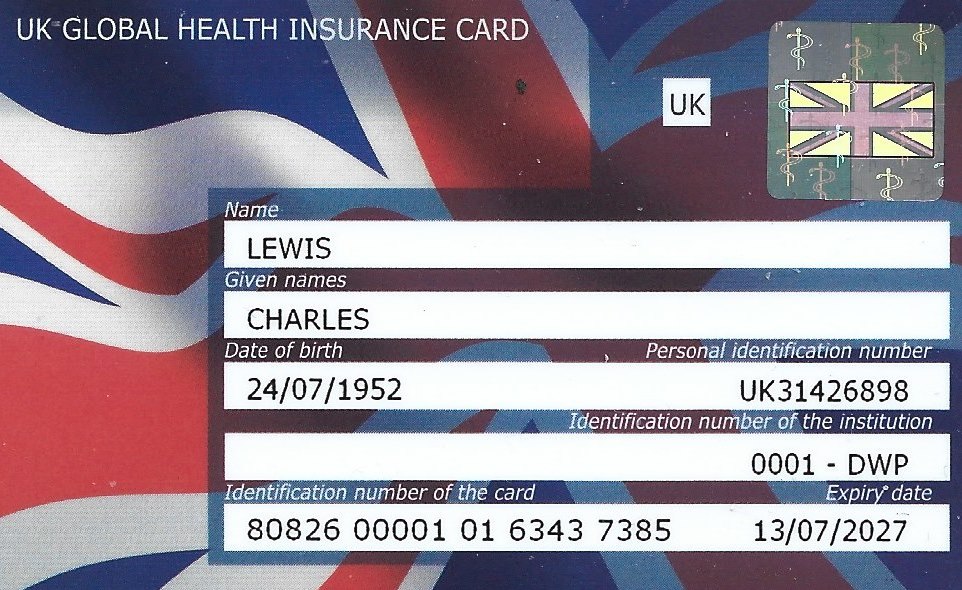 I've dug around to clarify my entitlement. The GHIC behaves almost exactly like the EHIC. What's more, apparently I didn't really need to get a GHIC for the recent visit, as the EHIC is valid until its expiry date, in my case 10th July 2023.

What's wrong with it? No EU symbol, now the inevitable Union Jack background. It's called "global", but actually still applies primarily only to EU countries; we're presumably waiting for the world-wide recognition that the Brexit "opportunity" will bring.

It has its limitations, the main one being:


"Your UK GHIC is not a substitute for travel insurance. You should take out private travel insurance before your trip. It may not cover all health costs and never covers being flown back to the UK (medical repatriation)."


But this was always the case. In fact, I've never presented my EHIC card in anger, so have no idea of its worth.

Most old reciprocal arrangements outside Europe, particularly with British Overseas Territories like the Turks and Caicos Islands, have predictably been rolled over into GHIC.

Galling. I'm denied the opportunity to get properly cross. And a complete non-story for you.

Saturday 6th August


We usually call this period the "silly season", don't we? Parliament in recess, summer holidays, the papers fill up the column inches with trivial and out­landish stories.

I woke up early this morning - a very lovely one, clear sky above the hills, a fresh and hopeful time of day - with the thought that there's nothing at all silly about the present season. Instead, it's dysfunctional and frightening. Sabres rattled in the Taiwan Strait. Obscene oil profits as ordinary people face rising fuel bills and the erosive effect of inflation. Johnson and chancellor Zahawi on holiday as the Bank of England makes dire predictions of economic meltdown. Government in paralysis. With nobody at the UK helm, Sunak and Truss trade blows in a feverish handbag-scrap of U-turns and "misrepresentation" which will, it now seems, result in Truss becoming Prime Minister without any democratic participation by most of us. The green grass of home turns brown as the climate emergency has all but vanished from the political agenda. It's beyond "silly".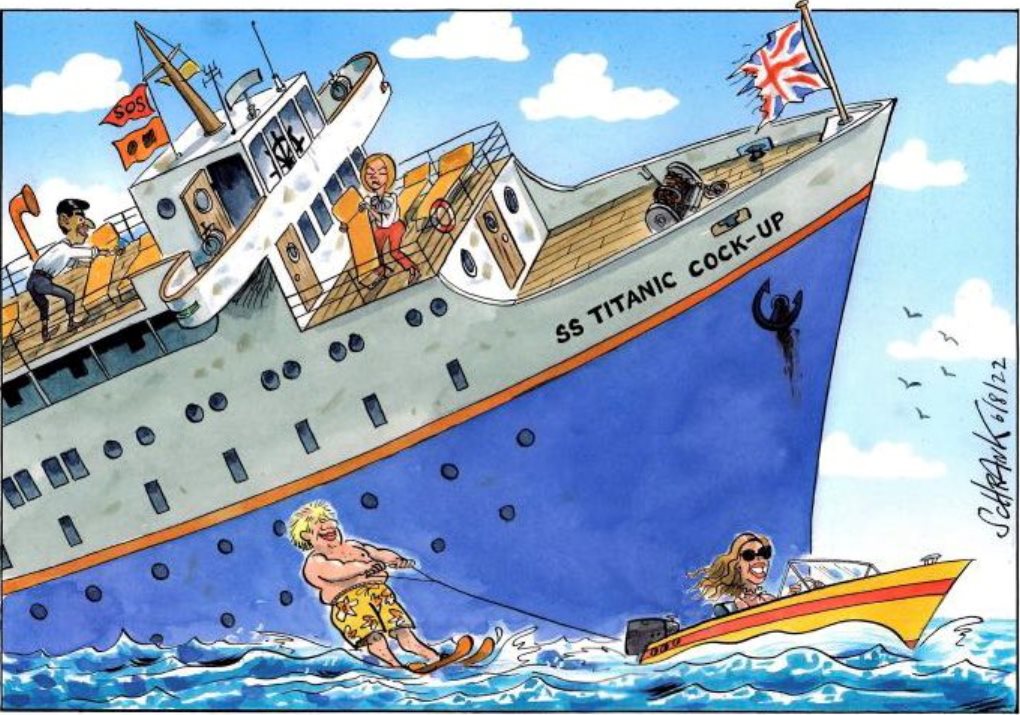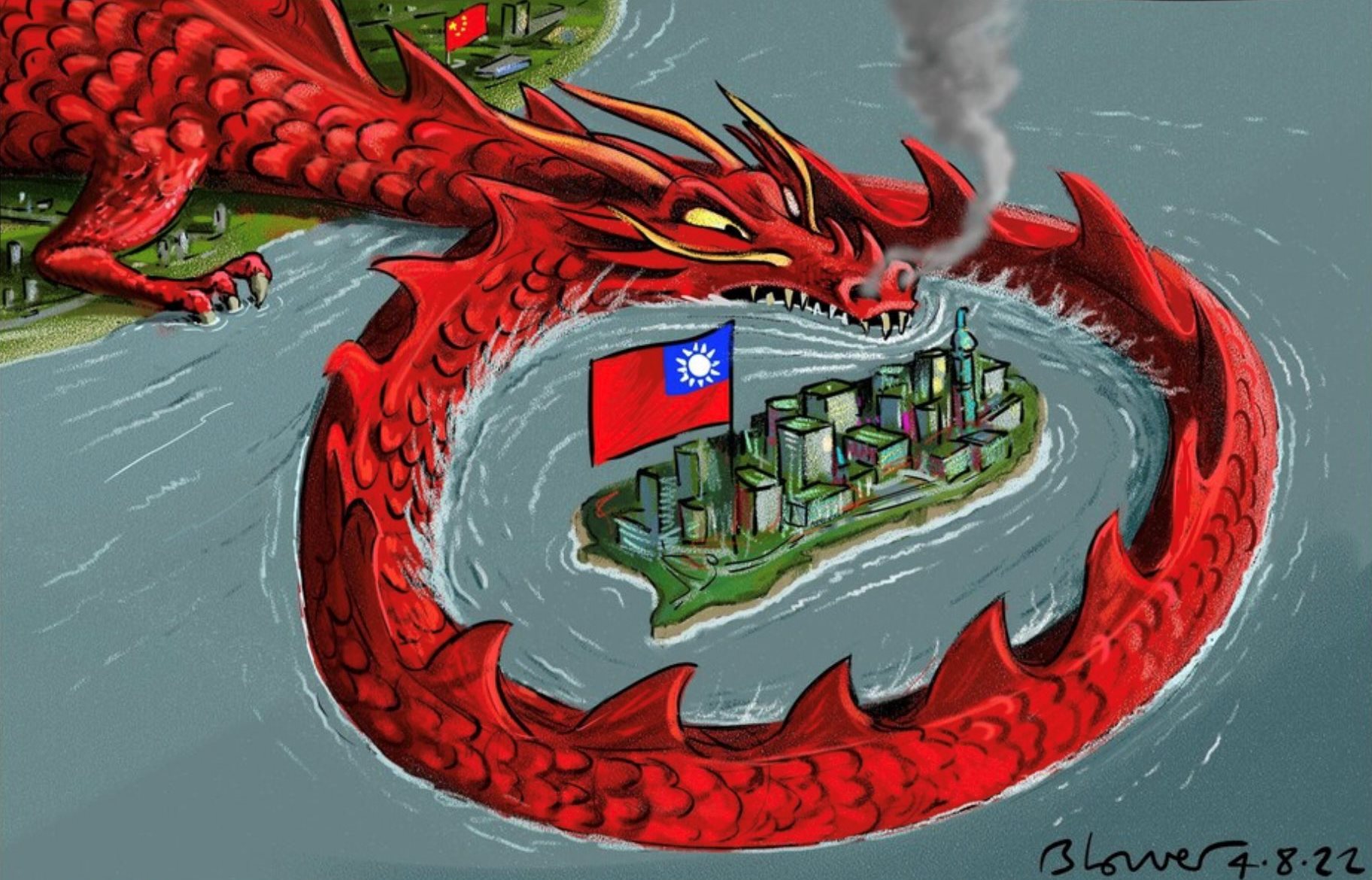 Friday 5th August


Having turned 70, a milestone I never expected to reach, I've decided to change the habit of an adult lifetime. Or, more accurately, a non-habit. Taking regular exercise. Signed up at Stroud Leisure Centre. I've never been able to do the exercise-for-exercise's-sake thing, preferring that it should be part of daily life. When I first went to Italy in 1975, I didn't own a car, so walked - or ran - everywhere, and in winter skied at the weekend. On returning to live in London, I became a keen cyclist and for five years would ride 20 miles a day just to go to work or get to social occasions. This ended with the birth of our daughter Ellie, the purchase of our first car and subsequently moving to the countryside of Gloucestershire (oddly much less convenient for cycling than the capital city). That was about 35 years ago, a long time for exercise not to be included in "daily life". Change is well overdue. Probably the only way I'll make it to the next big birthday. I'm slightly concerned about mentioning the plan here, wary of declaring the intent publicly only to admit failure later, but maybe that will add to the motivation.

I received a push yesterday in the form of a newsletter from The Good Grief Project, an organisation founded by local - although they've now moved from Chalford to Totnes - friends Jane Harris and Jimmy Edmonds.

I'll explain. At 3am one morning in 2011 I was woken by a telephone call from son Ben. "Dad, Cocksnout is dead." "What??" He went on to say that his great friend Josh (who had a snubby nose) had been killed in a motorcycle accident while travelling in Vietnam, aged 22.

His parents, Jane and Jimmy, confronted their grief head-on and have since done an extraordinary amount of work on bereavement, which you can explore here

. In the newsletter, Jimmy posted a video about his upcoming River Dart 10k swim, in which he will be accompanied by his friend Pam Shepherd, with whom I served on the Minchinhampton primary school PTA. Jane is the interviewer.




Jimmy comments on his passion for wild swimming:


"There's a Zen-like feeling when I get into the rhythm of my swim, stroke after stroke, breath after breath. I can achieve a kind of serenity. There's a peace here, where alone in this watery world I feel I am as close to Josh as I'll ever be while I still breathe."


An entirely different context to my own, but I still draw inspiration.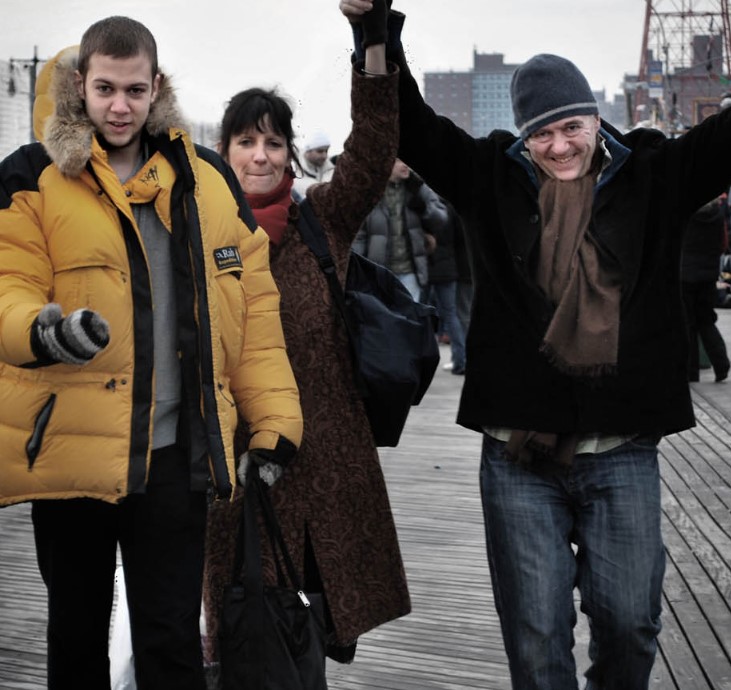 Thursday 4th August


As I've said a couple of times already, one of the grim facets of the Tory leadership debate fraud is the underlying acceptance of policies and laws that I oppose. Brexit is a given, only ever mentioned in conjunction with the word "opportunity". Deportation to Rwanda is another.

Here are the video and accompanying text I received from Refugee Action yesterday. Choose the medium you prefer:




"Priti Patel says her plan to deport people seeking asylum to Rwanda is the only answer. Both Rishi Sunak and Liz Truss support the plan, so we know our next Prime Minister agrees.





But hang on a minute. If the Rwanda plan is the answer, what's the question?





Let's indulge this idea that 'the Rwanda plan is the only answer' for a moment (which is a moment longer than it deserves).





Is the question:





How do we prevent people crossing the Channel in small boats?





Or is it ...





How do we prevent people seeking asylum in the UK?





If it's 'how do we prevent the boats?', the answer is that you stop people crossing the Channel by giving them a safe alternative route to the UK. That means permission to enter the country to apply for asylum, expanded refugee resettlement schemes - even just a ferry ticket! Job done!





Unless ... it's the other question, 'how do we prevent people seeking asylum in the UK?'





Well, the answer to that is: we don't want to and we don't need to. The public wants the UK to be a place of sanctuary where refugees can rebuild their lives. It's the right thing to do and we can afford it.





The Government is deliberately muddying these two questions because they think it wins them votes and provides cover for the horrendous abuse the deportations entail.





But here's the thing. Deportations to Rwanda aren't even the answer to either question. Because deterrents don't work. The crossings continue.





Many refugees have family here in the UK. Imagine you'd lost everything, travelled thousands of miles and been separated from your loved ones by war. If all that kept you apart was a few miles of water, and every safe way of crossing it was denied to you, then even if you knew about the risk of being sent to Rwanda, what would you do?





So if, through the Rwanda plan, the Government is refusing to protect refugees and trying, but failing, to prevent refugees arriving - what is it actually achieving?





It's not protection, it's not prevention. It's just punishment.





And that's the answer to another question: what is the Rwanda plan?





It's a punishment for asking for help.





Thank you for believing in a different plan: becoming a country that chooses to protect refugees."


This is in my case, of course, preaching to the converted. I don't need the email. How might it be received by those not of my persuasion? "The public wants the UK to be a place of sanctuary." Is that true? Which public? I consider Brexit a stupid and misguided decision, but that's a view not shared by the 2016 majority, whom I suspect not even the Dover border queues can shake into a change of heart. I want the UK to be welcoming, but the prominence of the immigration issue in the 2019 Tory manifesto suggests that there is a broad antipathy to accommodating foreign nationals - unless they're blond and blue-eyed. What would it take to make people see sense (my sense, naturally)? What would persuade them that kindness and humanity are better instincts than the fear of being overrun, of polluting that precious ideal of Britishness? It's a shaming paradox that we will allow an overseas oligarchic moneyed elite to acquire property and businesses, but not accept ordinary people in need (however worthy, I see the Ukraine response as a blip) who will in time make a significant contribution to our society, as they have over centuries. As Obama said at COP26, we have to convince those who don't agree with us.

Nothing in what Sunak and Truss say suggests a commitment to developing what I would consider a better, kinder, more generous country. What did I expect? They're not speaking to me. And anyway I should probably reduce that pair to only Truss if the YouGov polls are to be believed: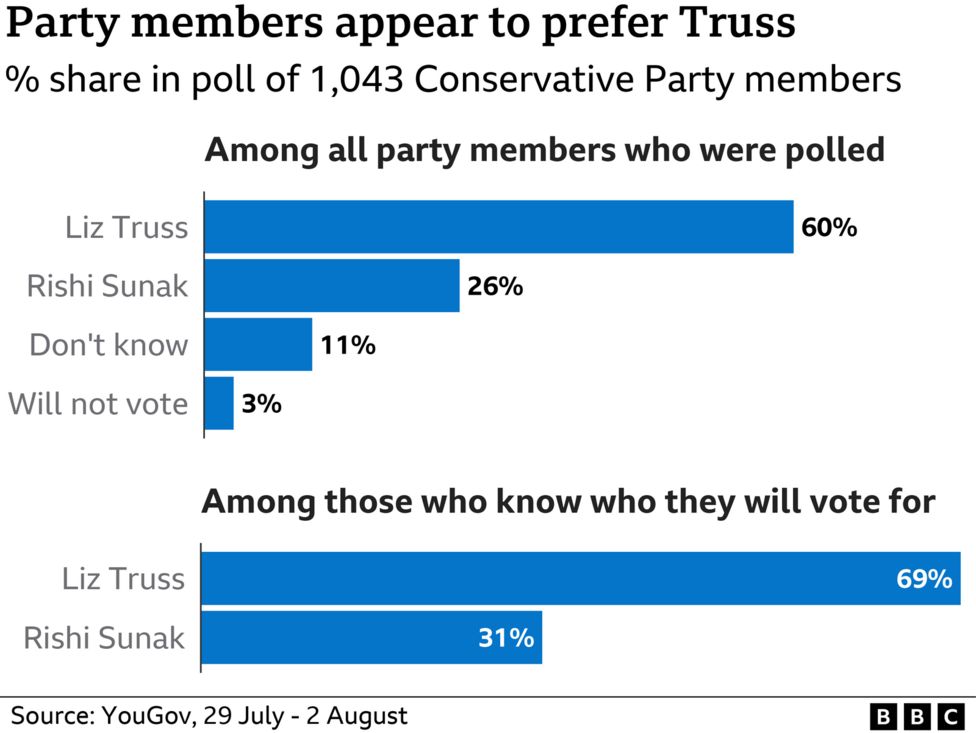 Wednesday 3rd August


This is a scandal that anybody can understand.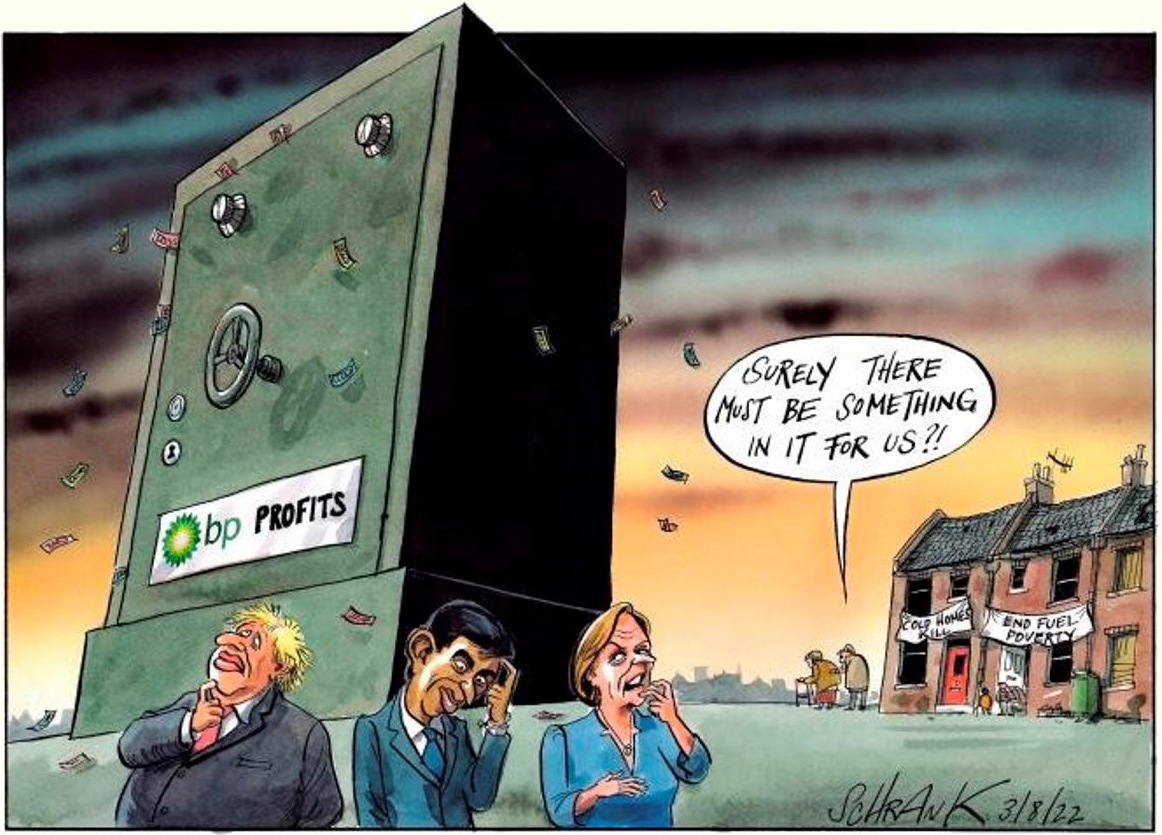 But she won't take action. Nor will the rest of them.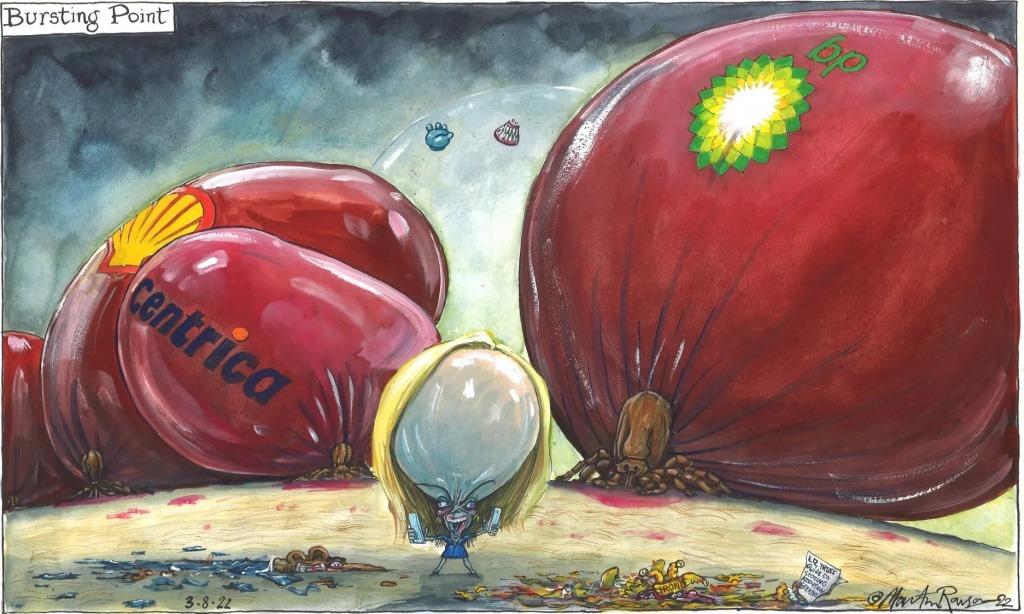 Tuesday 2nd August


Traditional outing to the cricket today at New Road Worcester. Not so much about the cricket, more a chance to catch up with old mates and enjoy a picnic. We've been doing it for over 40 years.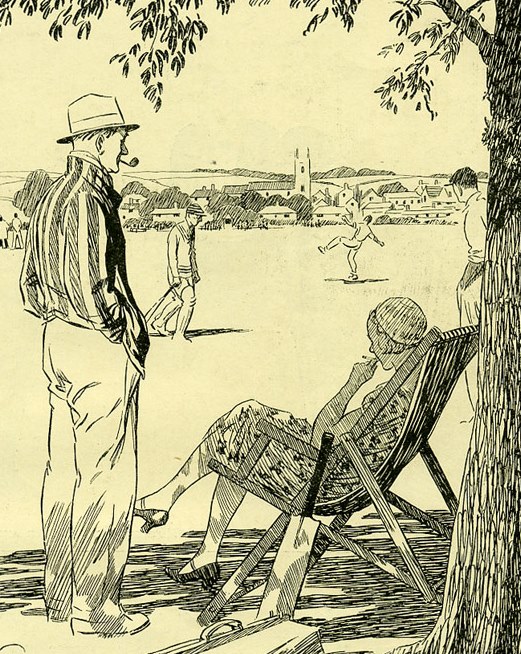 Monday 1st August


I went with the flow: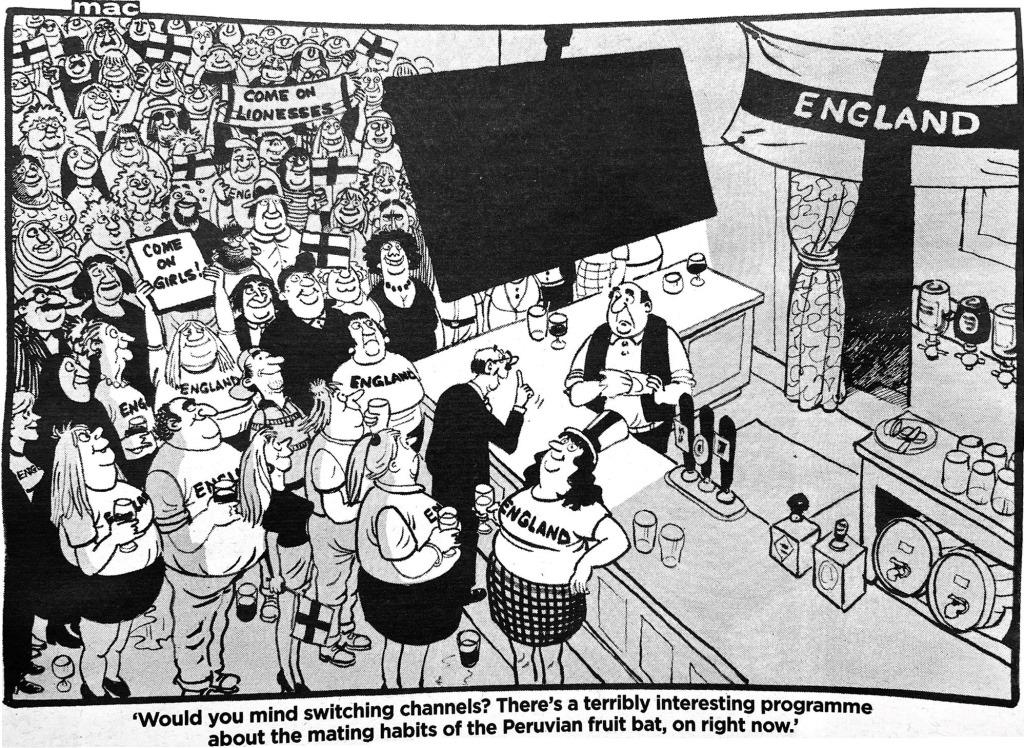 Watched the first half on TV, then listened to the rest on the car radio as I drove grandson Marlie home to Bristol. The latter was much better, more atmospheric. Caught up with the celebrations and interviews on TV again after getting back to Stroud.

A win at Wembley in a major competition for an England football team? Unimaginable. I had one unworthy thought - must you have a ponytail, preferably blonde, to play for this team? - but otherwise what a triumph of talent, hard work and determination from a bunch of women none of whom comes from a background of privilege or wealth.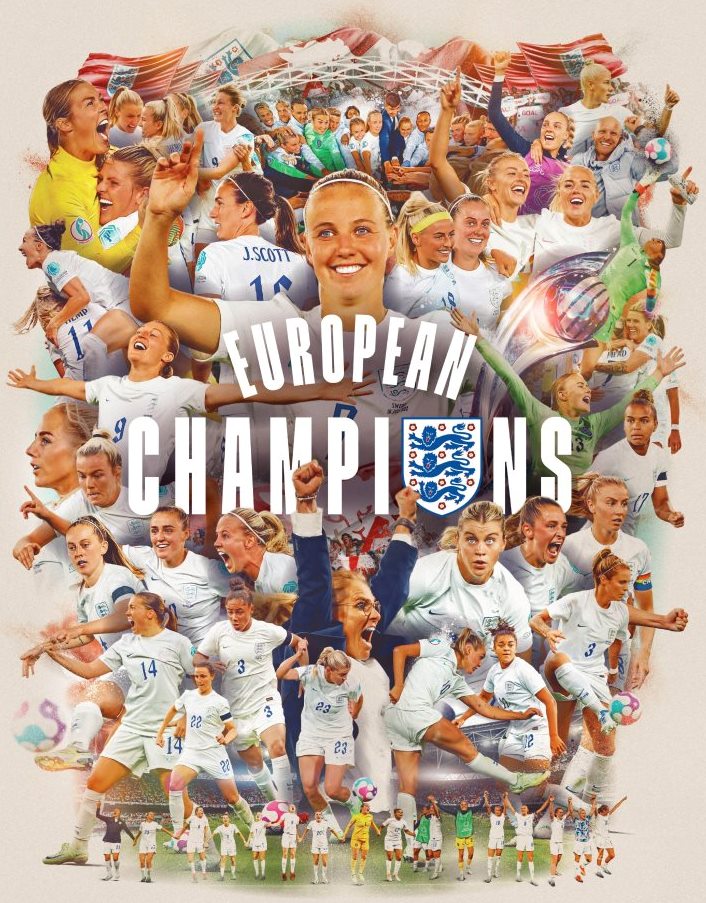 A shame that the win will be appropriated by the wrong people, like the loathsome GB News ToryBoy political correspondent Tom Harwood: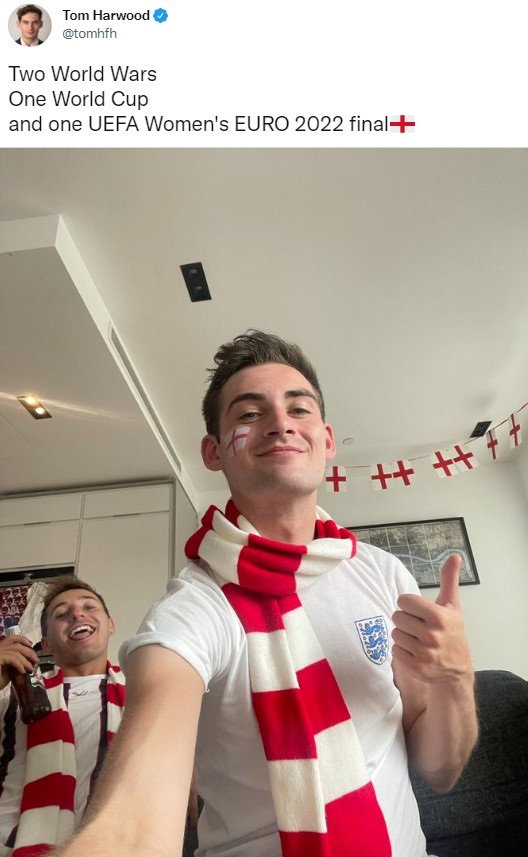 He should stick to the squalour of his natural habitat: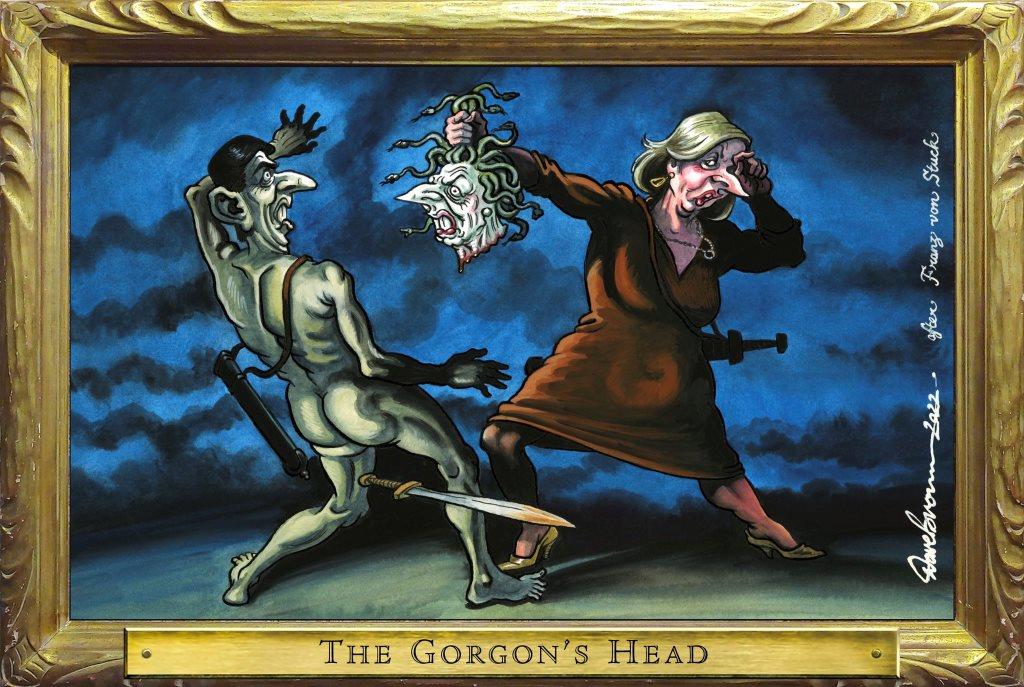 As an afterthought, there was one moment in the match radio coverage that tickled my fancy. England went 2-1 up after 110 minutes, ten before the end of the second period of extra time. The commentator observed that the remaining phase would drag interminably for England, but vanish all too quickly for Germany. Exactly the same chunk of time, experienced so differently by the two groups of participants. The human mind, eh? Context and perception.

Sunday 31st July


Here's a little post-Brexit story, a potential bone of contention.

I received a newsletter from the RAC yesterday (I used their insurance services for our holiday, so now they're all over my email inbox) about Intelligent Speed Assistance (ISA):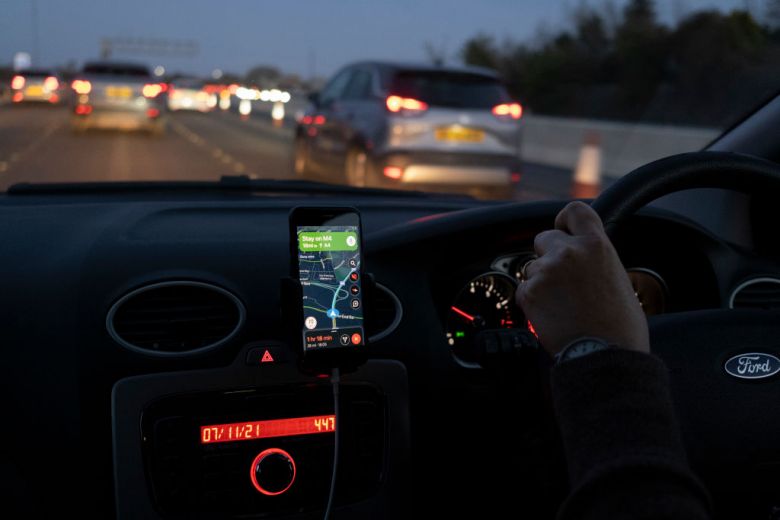 "Speed limiters must now be added to new vehicles made in Europe as part of new continent-wide plans to reduce road traffic accidents. The technology will be added to cars sold in the European Union (EU) and the Department for Transport here in the UK was involved in development of the plans.

"ISA is designed to inform the driver when they are speeding and reduce the speed of the vehicle. The car receives a speed limit via its GPS, which then notifies the driver over the dashboard (some cars come with sound or vibration indicators for the person behind the wheel), meaning the driver can then not exceed the speed limit."


This seems like a perfect example of how Brexit releases us from smothering EU legislation, a chance to express our regained sovereignty on the roads. I don't mind a speed limit. I'm retired, rarely in any hurry. Find it relaxing. In contrast, our one dear Tory Leaver friend is enraged by the 20mph restriction on the Bisley Road leading in to the top of Stroud: "It's bloody stupid. I have to change down into second gear, apply the brakes every 100 yards."

I'm in favour of the limit. Much safer for the residents (lots of families and kids) on each side of road. The EU motivation for ISA seems sound:


"The European Transport Safety Council announced that the technology will reduce road collisions by 30% and deaths by 20%. It is also part of the EU's goal to have zero road deaths by 2050."


It looks like the technology will creep in by stealth regardless, given that our national motor manufacturing industry has all but disappeared and left us dependent on VW, Renault, Fiat and the like:


"Currently, no decision has been made by the government to follow in the footsteps of the EU to introduce Intelligent Speed Assistance (ISA) and make it a legal requirement for manufacturers to include them, however, since most cars made in Europe are sold in the UK too, just with right-hand drive, the tech will be widespread here as well."


Even so, there is an opt-out route for the driver who insists on the right to make a personal decision about speed limit conformance:

"The technology can be overridden at the start of every journey when the car is first turned on. If this isn't done, then the ISA automatically kicks in."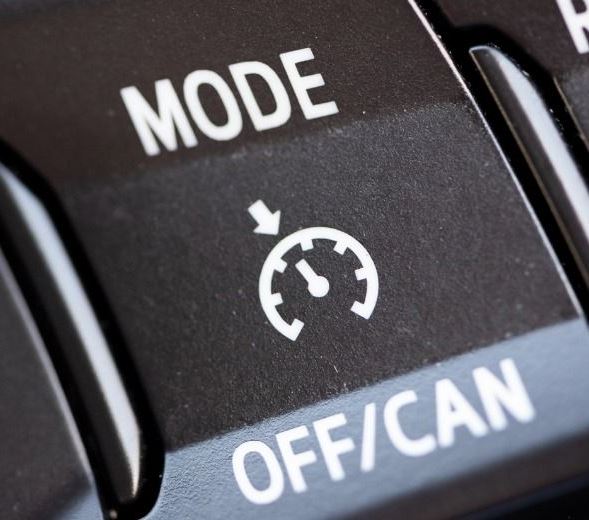 What's your take? Happy to have escaped the restrictions on individual freedom imposed by the bureaucratic EU nanny state? Or dismayed that we are no longer officially part of a scheme that will save lives? Discuss.

Saturday 30th July


I'm gratified to see that The Independent's Dave Brown shared my sus­pic­ions about Kate McCann's fainting episode: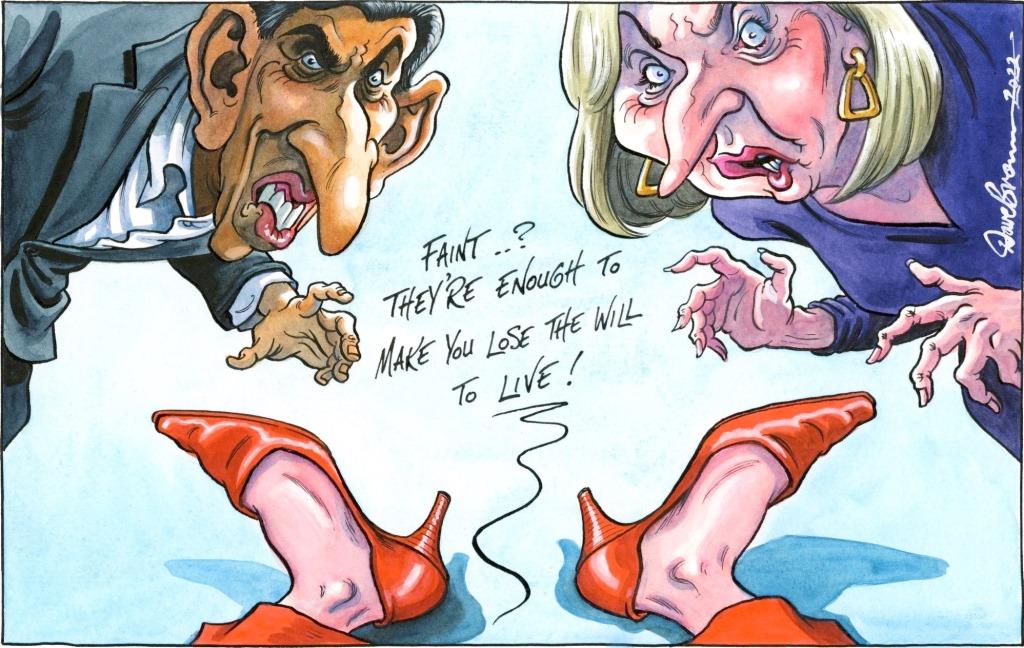 With the door wide open, where, oh where do we look for hope?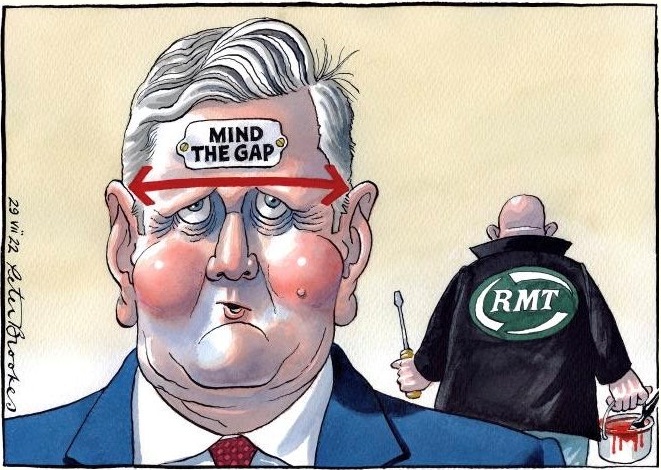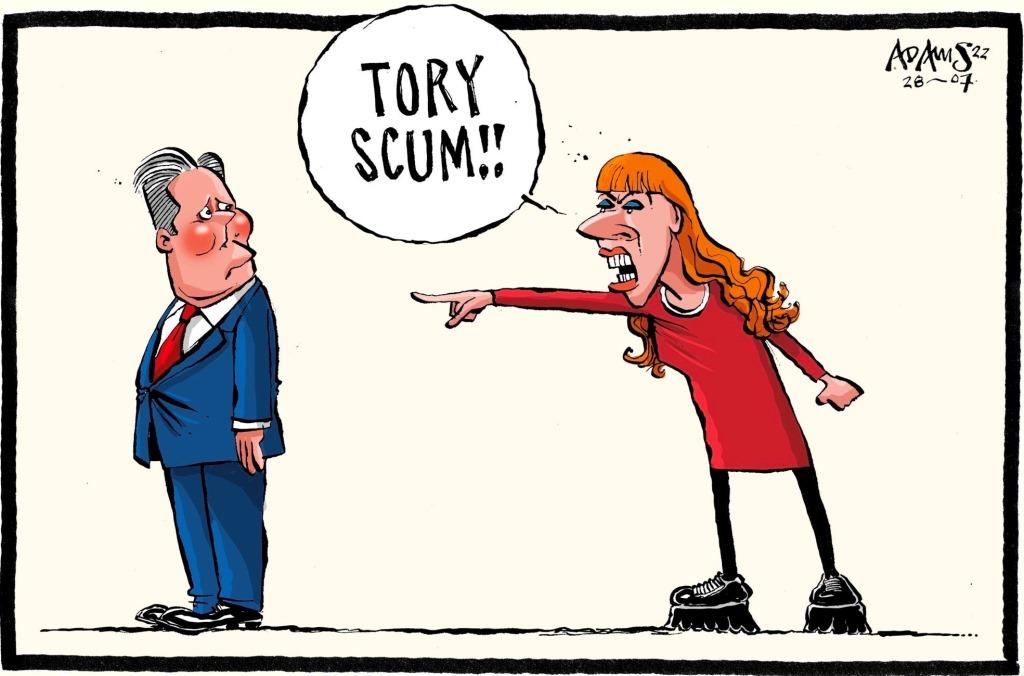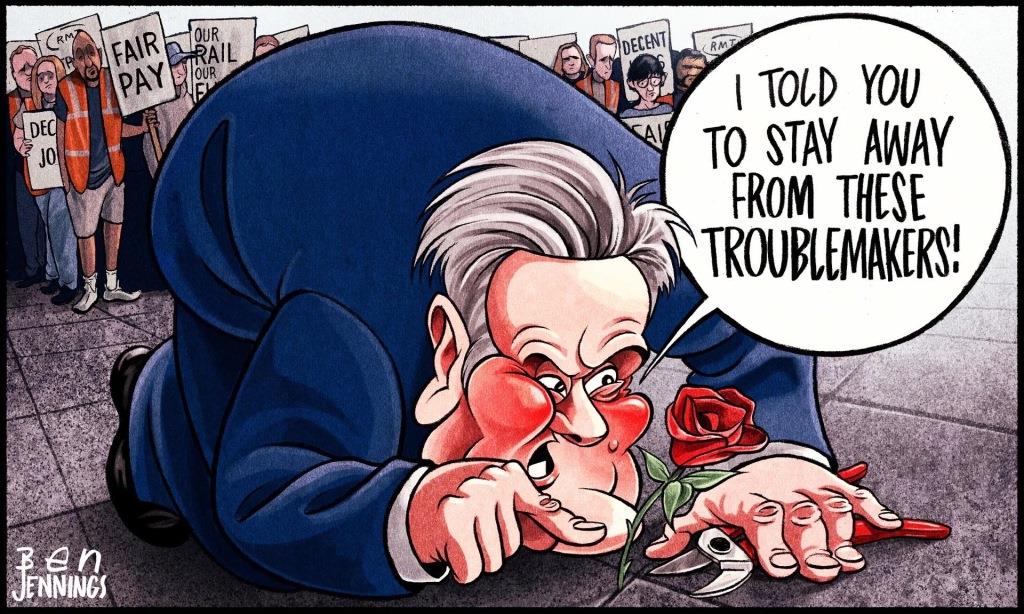 Meanwhile, if Rebekah has any dosh left in her Givenchy tote, she must be con­sid­ering a case against the courtroom artist:



Friday 29th July


Son Ben just sent a little climate reminder, a snippet of stand-up from Camden-born comedian Simon Brodkin:




Guilty as charged. Just back from an easyJet trip to Marseille. On this occasion it was hotter here in Stroud, but the choice of destination was all about heat guaranteed for the grandchildren's beach holiday. My preference of travelling to Brittany by boat was overruled. Weather not reliable enough. Not that it wasn't a great holiday in the deep south (my account here👉).

Climate change has dropped off the agenda. A year ago it was headline news. On 11th August 2021 I wrote a piece about the Intergovernmental Panel on Climate Change (IPCC) report 👉. Last November I reviewed the (dismal) outcomes of COP26 👉.

"Only ten years left" was the universal cry.

We've spent recent weeks obsessed with the hot weather:





Yards of newsprint on how to keep cool and minimise health risks. Put your bed linen in the freezer. Close the curtains. Don't walk dogs in the midday sun.

The latest Russian squeeze on gas supply has forced prices up again. The reaction has been about cost-of-living:




All short-term, the immediate threat. Very understandable, but what about the future of the planet? Truss has proposed a moratorium on green levies. Surely the only way out of our difficulties on every level is the acceleration of sustainable renewable energy independence?

Someone asked me yesterday: "Is Liz Truss married?" It occurred to me - a border control irony - that he might be French. Serge. Short for "Surgical".

Thursday 28th July


Here's the moment when TV presenter Kate McCann fainted during the second Tory stitch-up-the-rest-of-us debate on Tuesday:




Bit of a startled rabbit reaction from Truss, not quite the calm she has been trying to project. In her defence, she regained composure and walked round to the site of McCann's collapse. Although I'm not sure that she was actually going to help - or leave the scene to save her own skin. And did you see the look she gave Rishi?

Poor Kate. She's OK, back on air yesterday morning, "a little embarrassed, a little bit bruised". I suspect she was overwhelmed by the claptrap dished up in front of her. Or rendered senseless by the repetitive tedium of the why-you-should-make-me-the-next-PM mantras.

The Sun "Showdown Fight for No. 10"? Impeccable journalistic credentials. Give me strength. And a big thank-you, Kate, for bringing the event to an early close.

On a brighter note, we're riding on a wave of euphoria and expectation as the Lionesses, England women's football team, have reached the final on Sunday of Euros 2022. Wembley is sold out. TV captured the celebrations of young fan Tess after the victory over Sweden at Sheffield's Bramall Lane. She was inter­viewed by Gooner legend Ian Wright on BBC Breakfast yesterday morning, accompanied by her grandmother Susan, live from Wakefield:




From last night we know that England will face Germany in the final. Extra time, penalty shoot-out, right?

Wednesday 27th July


I know that the it's-the-first-Saturday-of-the-school-holidays-so-let's-all-go-to-France madness at the south coast ports is now behind us (for the moment), but having recently crossed the Channel (fortunately in the other direction, high above the Dover mayhem, on time, courtesy of my favourite airline) I'm going to allow myself a light Brexit rant.

In which of these two passports are there the most European border control stamps, my old ten-year EU document on the left, or my spanking new one on the right?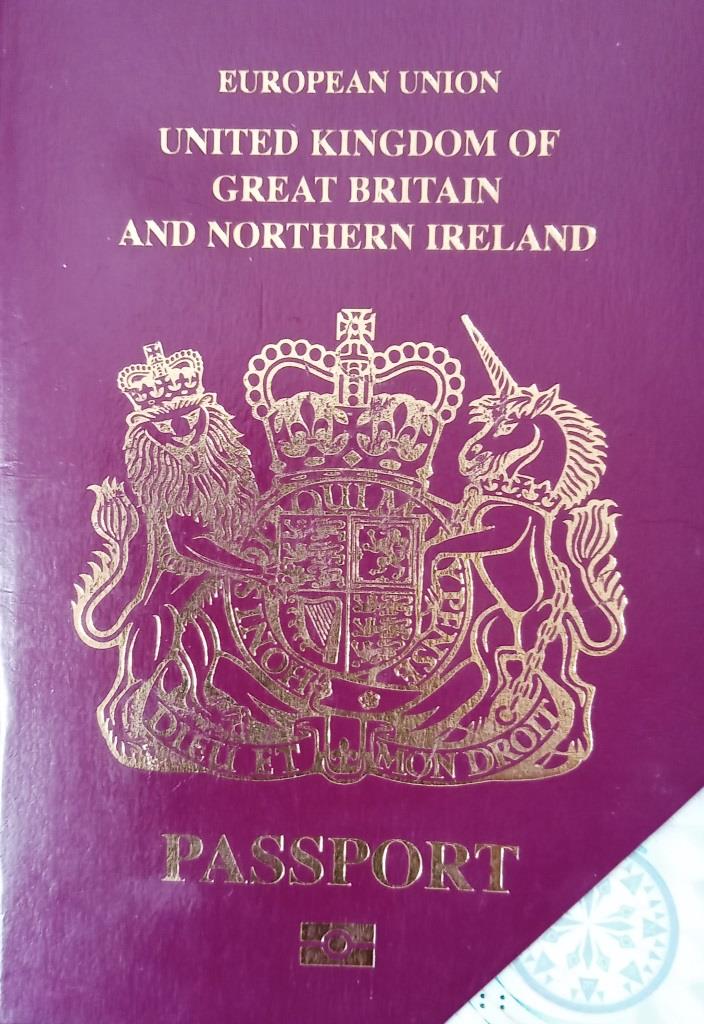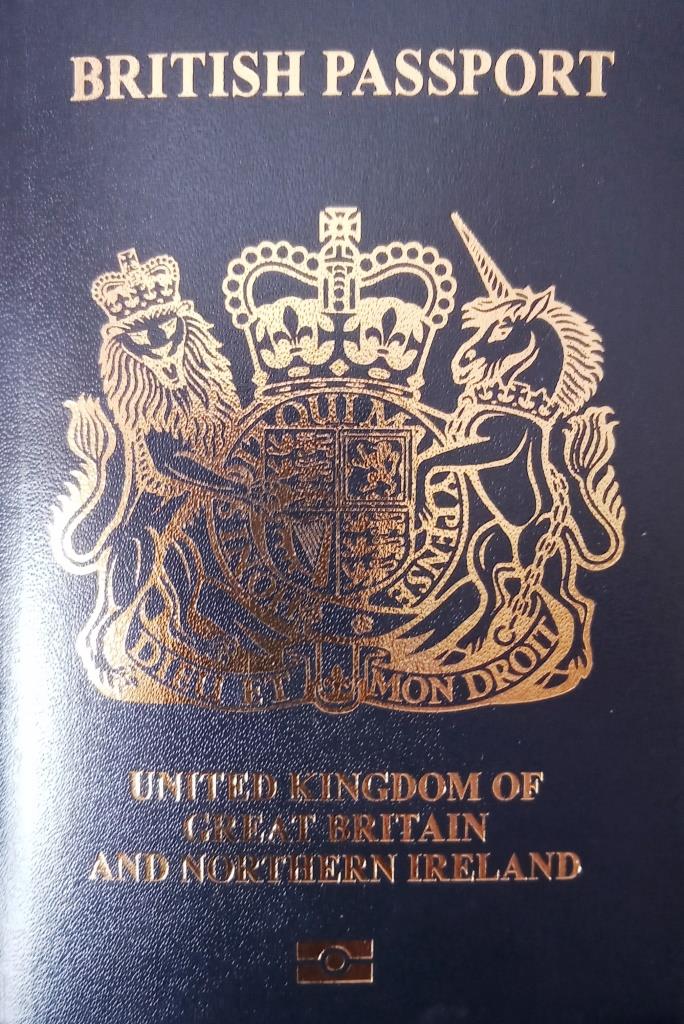 Yep, you got it, the new one. A single stamp, this last week: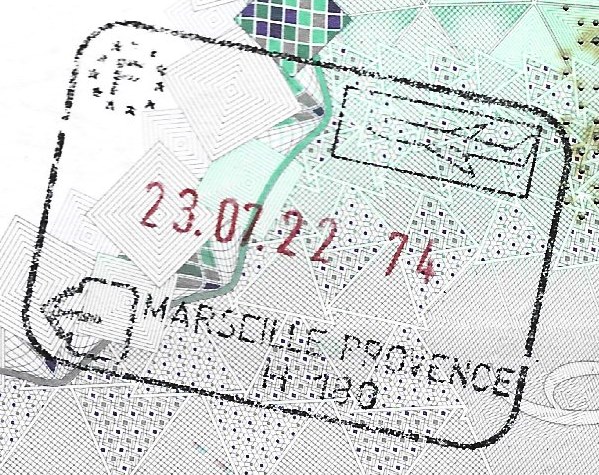 The Brexiteer, I'm sure, is proud to have this new blue "British Passport". I'm not. I liked the red "European Union" one. It made me feel that I belonged to a bigger human family, harmonious, generous, engaged in the common pursuit of a better life for all.

On arrival in Marseille, there was a huge queue to get through the control channel for UK passports, almost everybody who had got off flight EZY6107. The automated channel for EU documents was empty. I had a strong urge to shout: "Which of you voted Leave? Happy now? Got what you wanted?" I regret that I passed up the opportunity, although it was probably wiser not to start the holiday with a barney.

So, here's the terrific practical benefit of regaining sovereignty and taking back control, demonstrated by our border with France and the French crossing into Spain: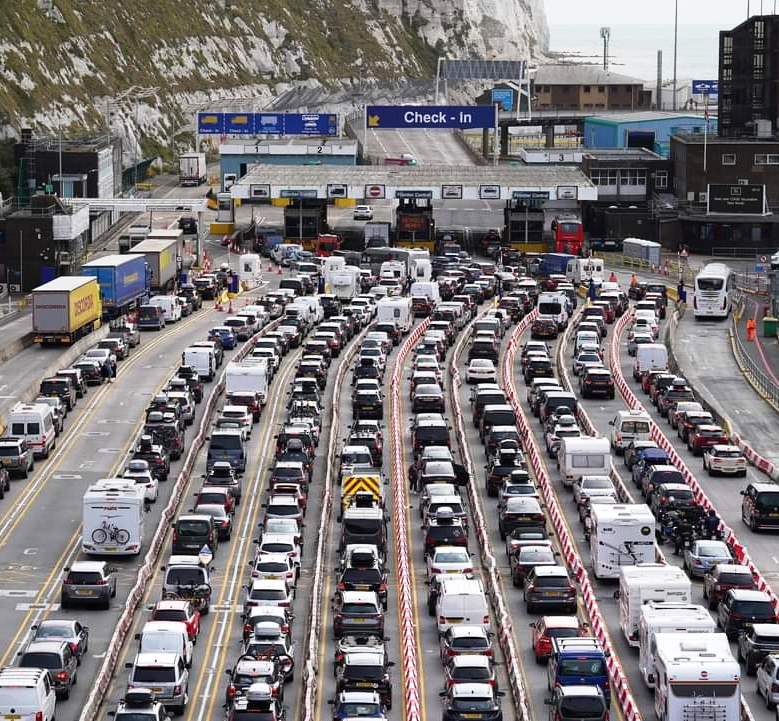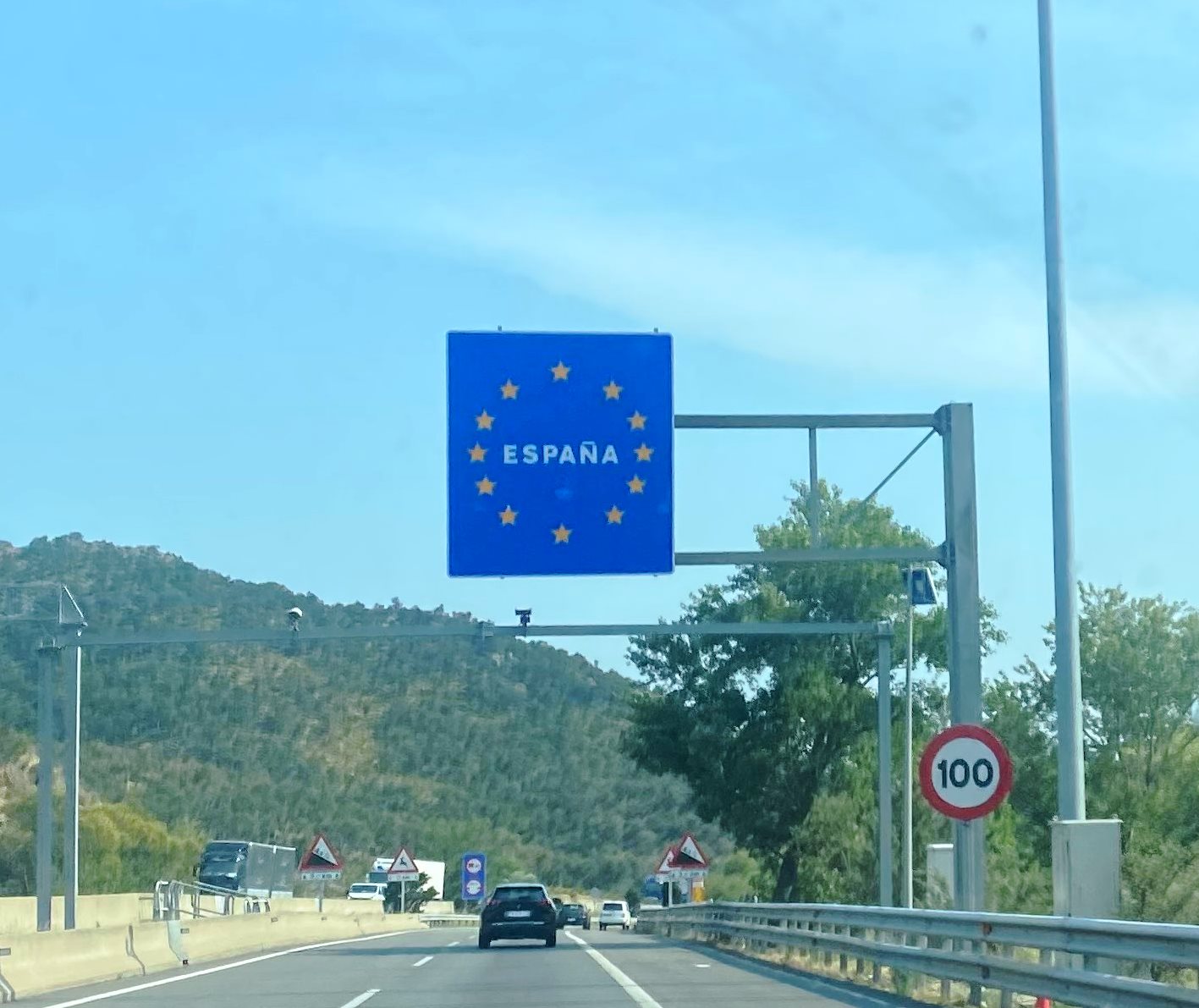 This was all of our own doing, but of course it's the fault of somebody else: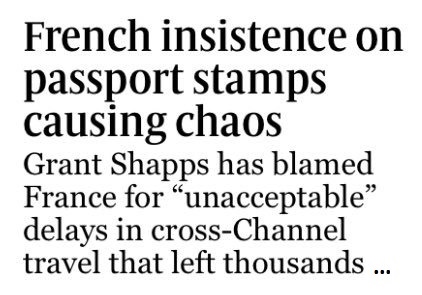 As I've said before, one of the most depressing things about the current Tories-only next-PM contest is that celebrating Brexit and realising its "opportunities" are seen as key vote-winners among the party faithful.

The two contenders join Shapps in the blame game. Sunak: "They need to stop blaming Brexit and start getting the staff required to match demand." Truss: "The French authorities have not put enough people on the border."

Truss even seeks to make capital out of her - don't forget, she's the senior diplomat now - efforts to get the obstructive Frenchies to stop making life so difficult for us Brits: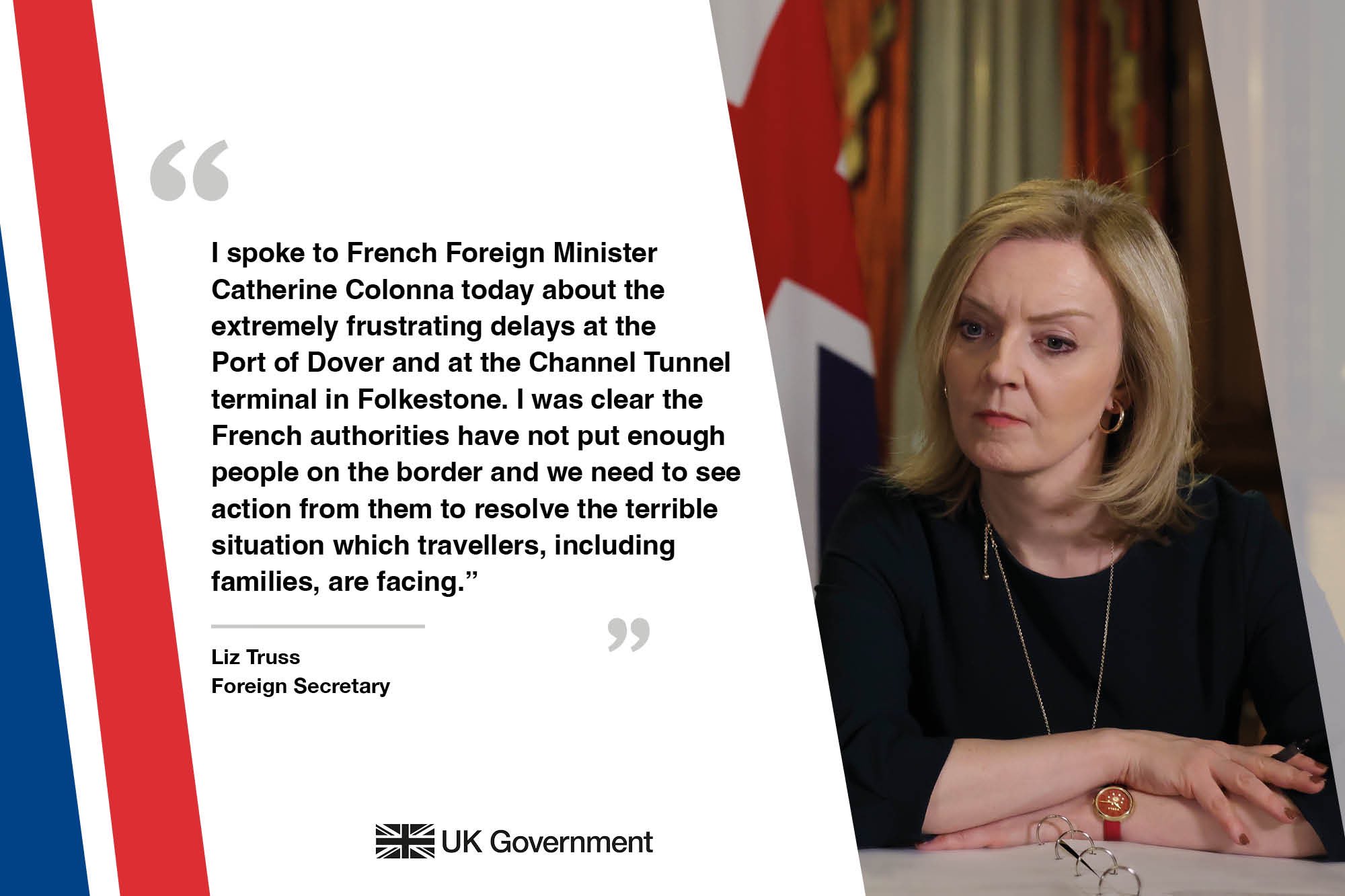 Understandably, the member of the French National Assembly for the port of Calais is having none of it: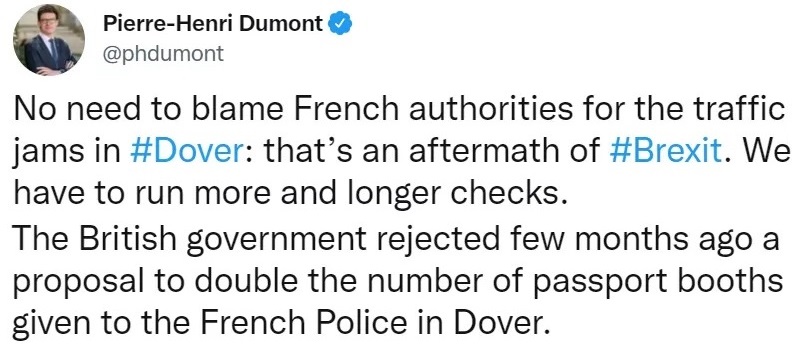 He's right. The French didn't make the decision to increase the scrutiny of UK passports. We did. It didn't come from age-old French hostility to the British, it's the result of our own 2016 national vote, the desire to withdraw from European political, economic and social life. It's our law. By the way, one of the best aspects of our holiday was the unfailing charm and helpfulness of the French. And not even Brexit could deny me the pleasure of speaking the language.

Another little niggle, or maybe not so insignificant if you are seriously disab­led. This doesn't work reliably any more. A negotiation process is under way to have it recognised in EU countries, but several are "undecided". France is one of them.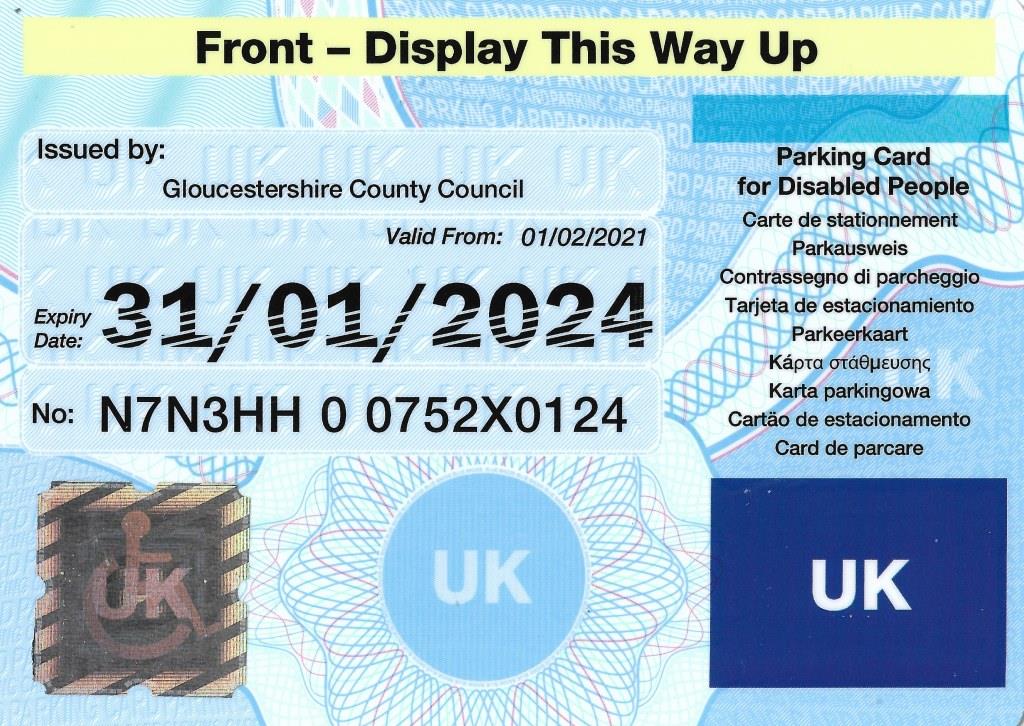 I'm reminded of an email a friend sent to me early on in the preparations for lorry parks on the roads to Dover: "Charlie, do you know of any other country that is disaster planning for something it has chosen to do?"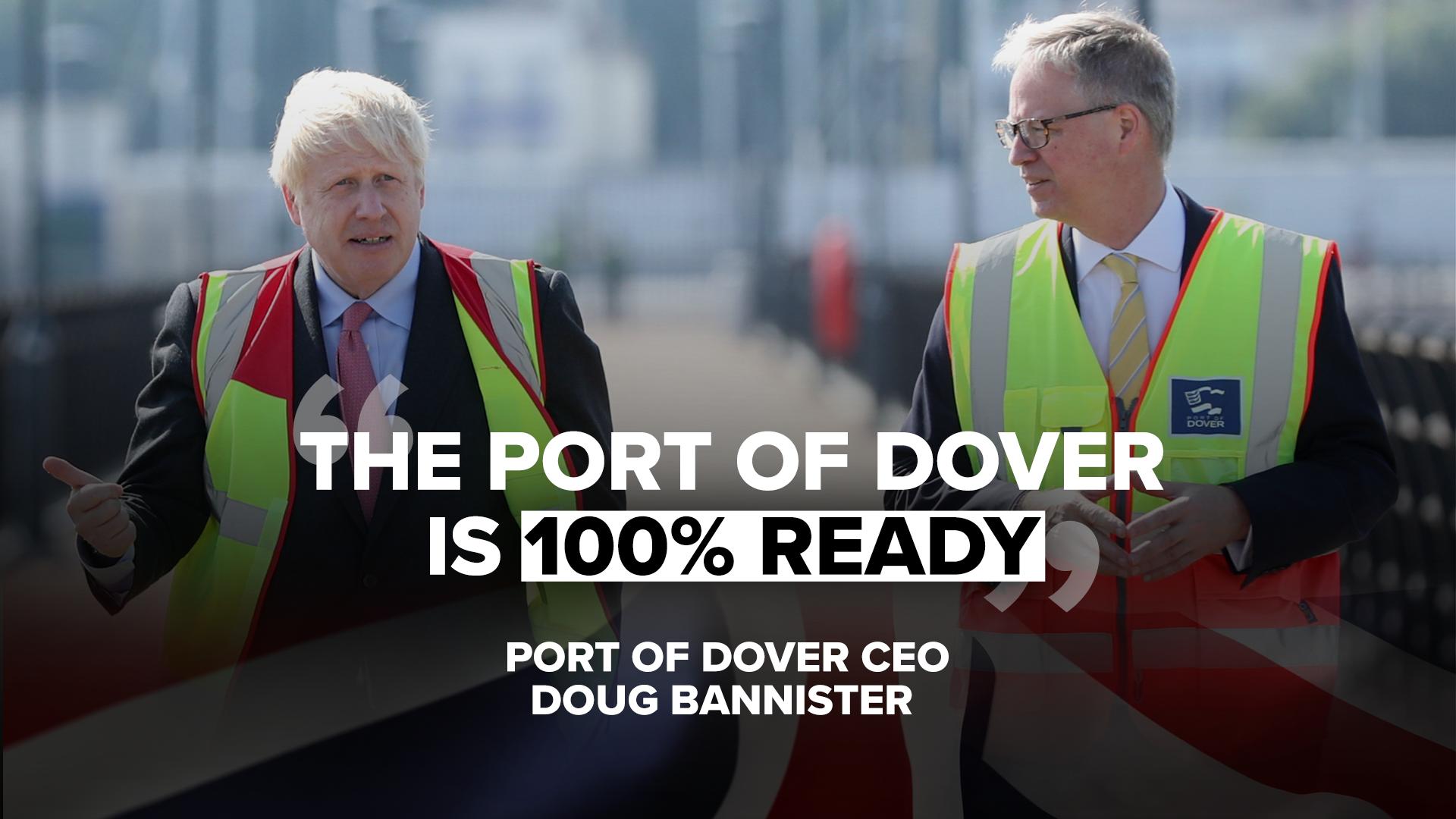 I leave you with commentary from the incomparable Led by Donkeys:




And small boats crossing the Channel: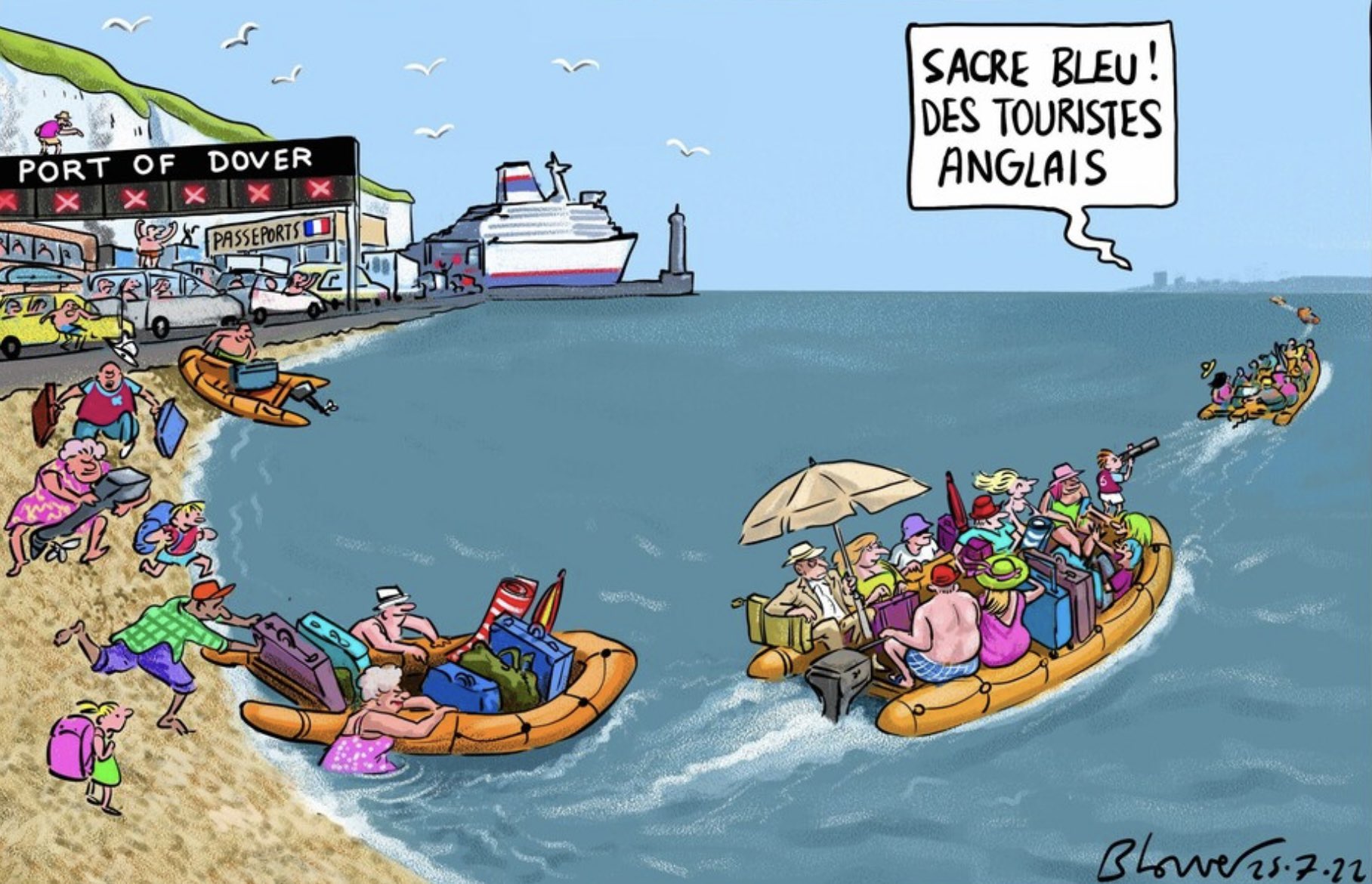 Tuesday 26th July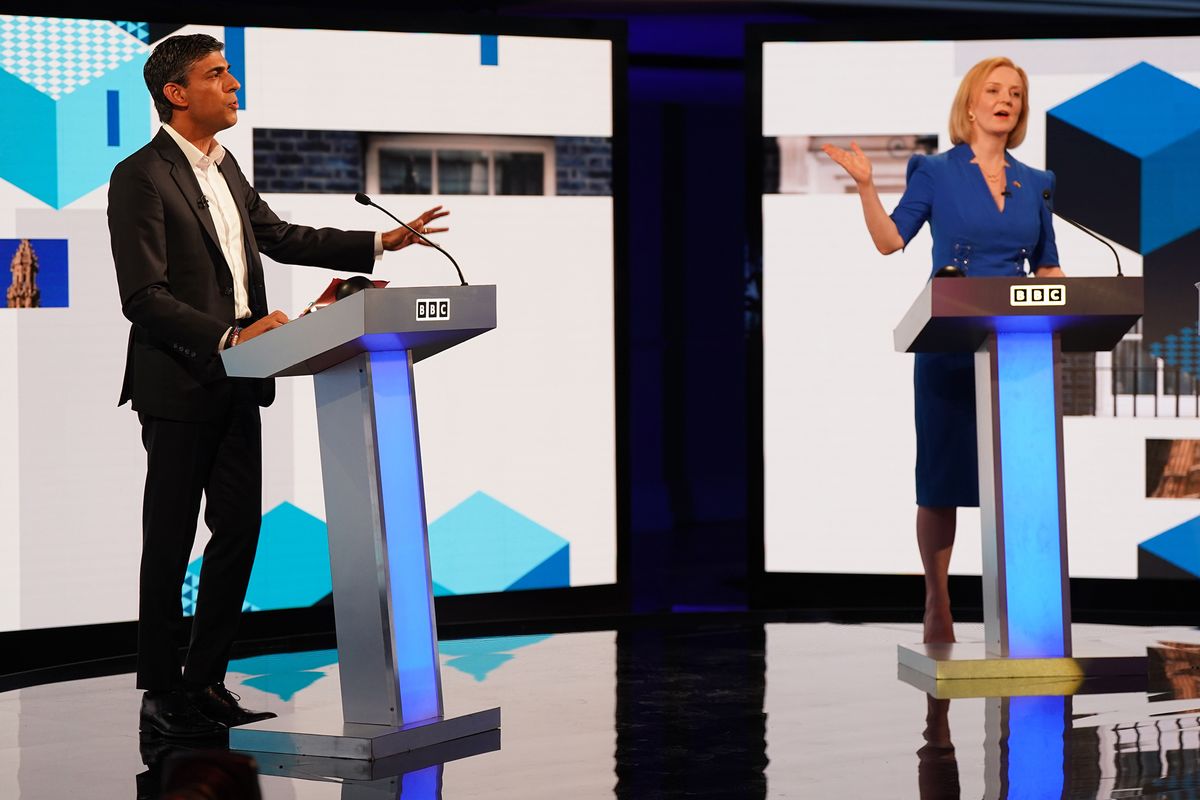 Why did I watch this unedifying spectacle? Drawn like a moth to the flame. Two people for whom I never voted in the first place scrabbling for the right to lead our country, trading blows in a public debate that will conclude in six weeks' time with a choice made by 0.0024 of the population.

Who came out on top? Within five minutes of the start, it looked to me like Sunak had blown his chances. A series of feverish interruptions while Truss remained at least outwardly calm - which must have been her predeter­mined game plan. Was Rishi on speed? Is he running scared? Not a great demonstration of prime ministerial cool.

The whole charade beggars democratic belief. A private slugfest which exc­ludes 99.7% of the people it will affect. With the same mob in control at the end. And Boris is still PM.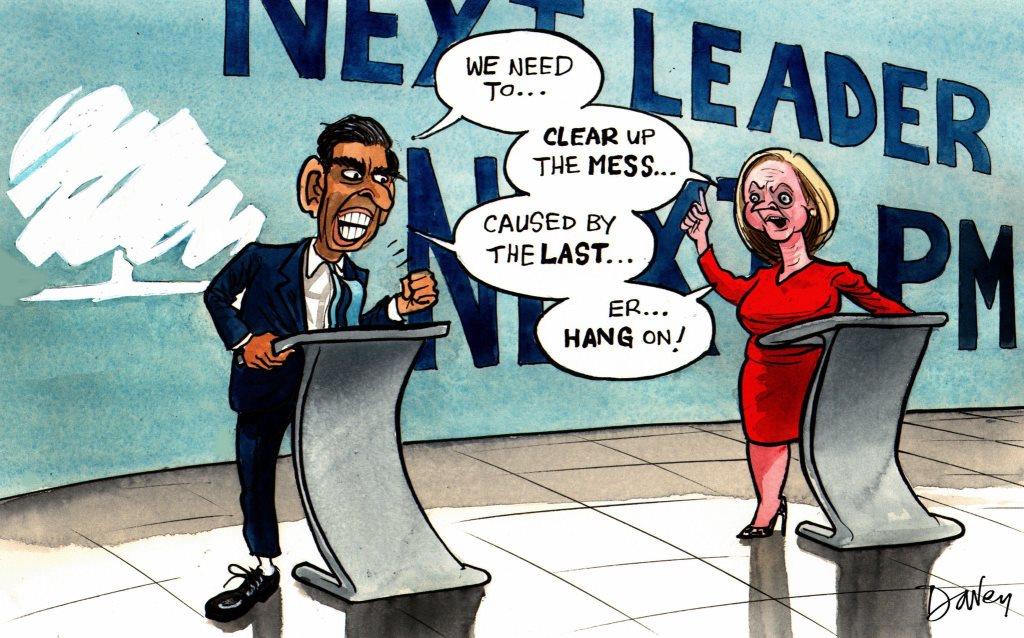 Monday 25th July


Final indulgence of my 70th birthday. Gifts from our sweet neighbours Hugh and Roger: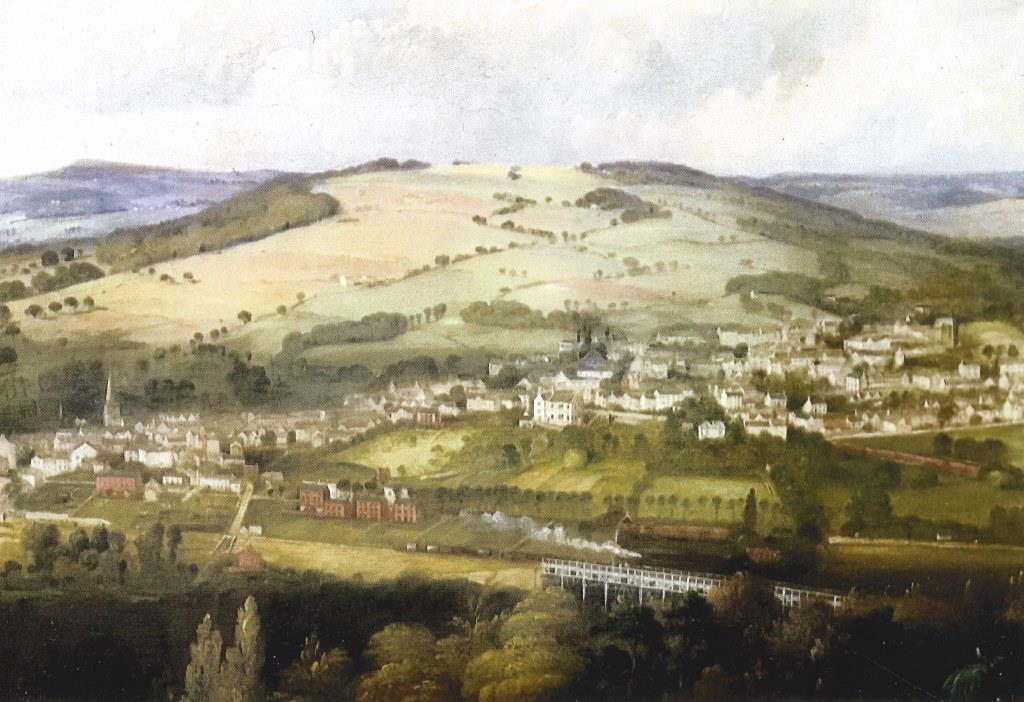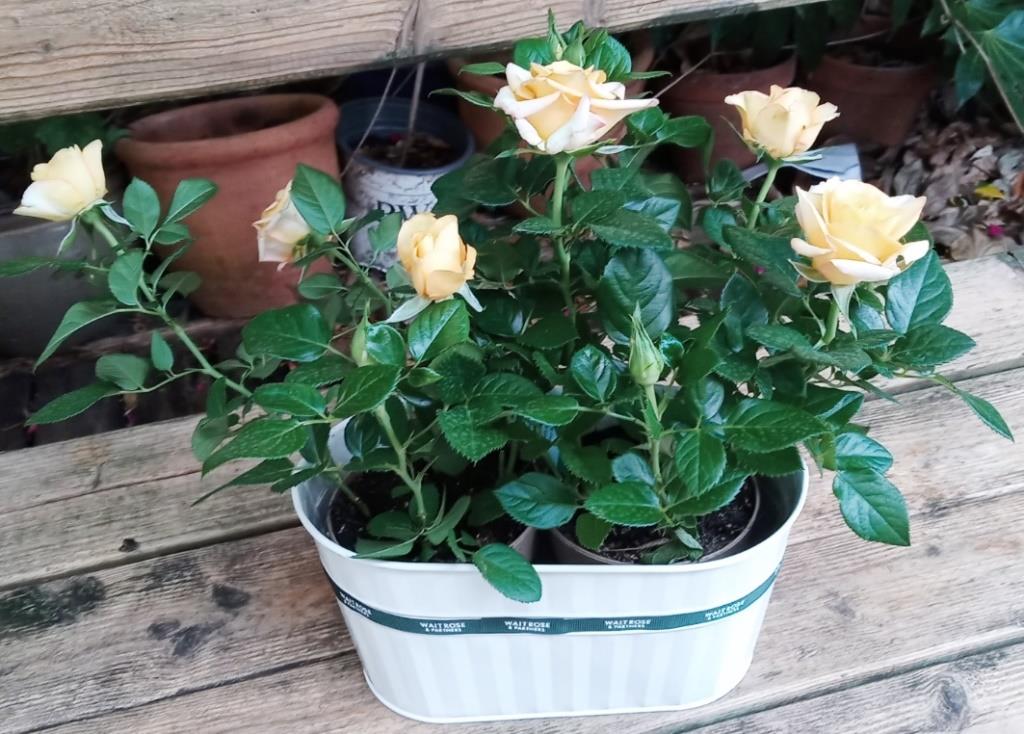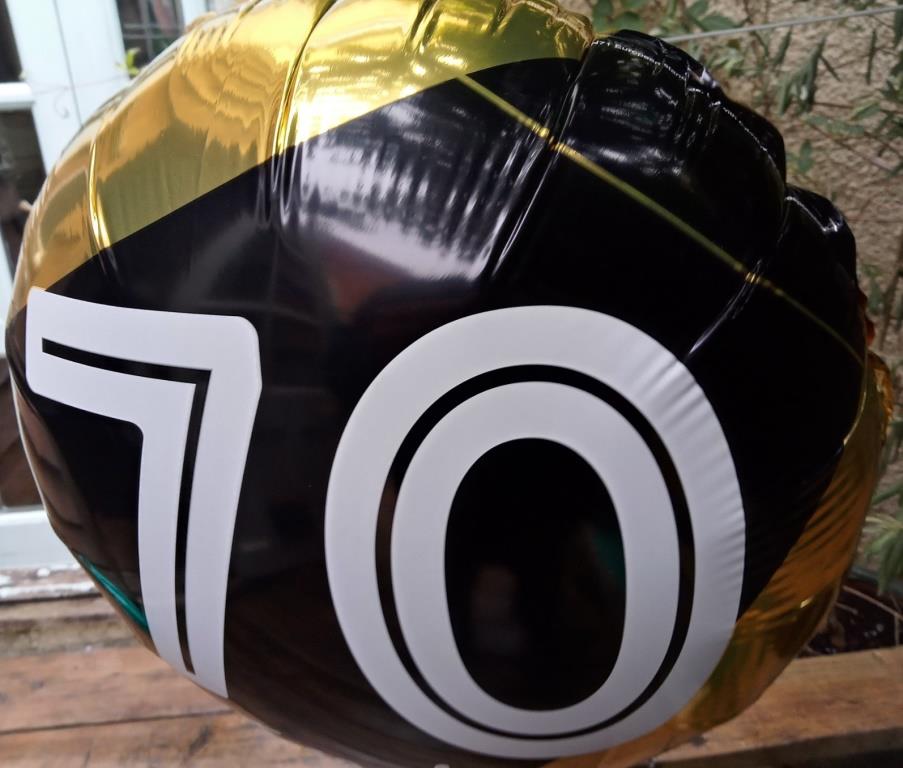 Why must we suffer this debate tonight? We haven't got a vote.





Simon Jenkins in The Guardian five days ago:


"The decision of Truss versus Rishi Sunak now goes to a bizarre 'selectorate' of the Tory party members. As of 2017, their average age was 57. More than half are over 60 and more than 70% are male. They live predominantly in the south of England. That the nation's leadership should hang on this tiny unrepre­sen­tative group is a perversion of parliamentary democracy."

Sunday 24th July


Back with a jolt in the land of Truss, I'll indulge myself with a photo-record (click to enlarge any image) of the last week spent in the south of France, nine of us, three generations. Today is my 70th, I'm allowed.

Survived the challenge of easyJet with no alarums. Which is more than can be said of the return trip to Vienna suffered by son Nikko and his 3-year-old daughter Ellie at the hands of Ryanair, a delay of more than five hours: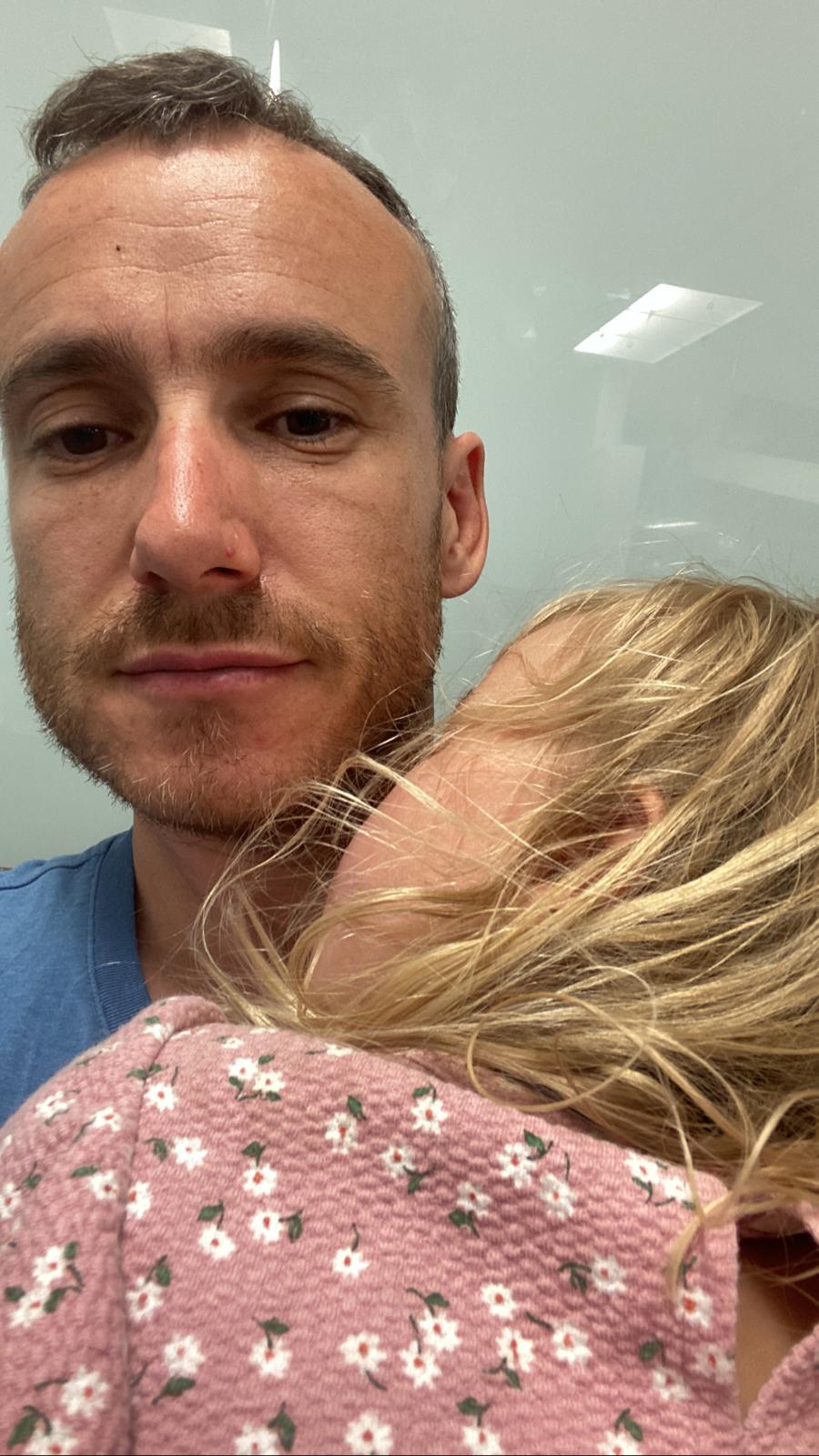 We were in a house on a hillside near the coast: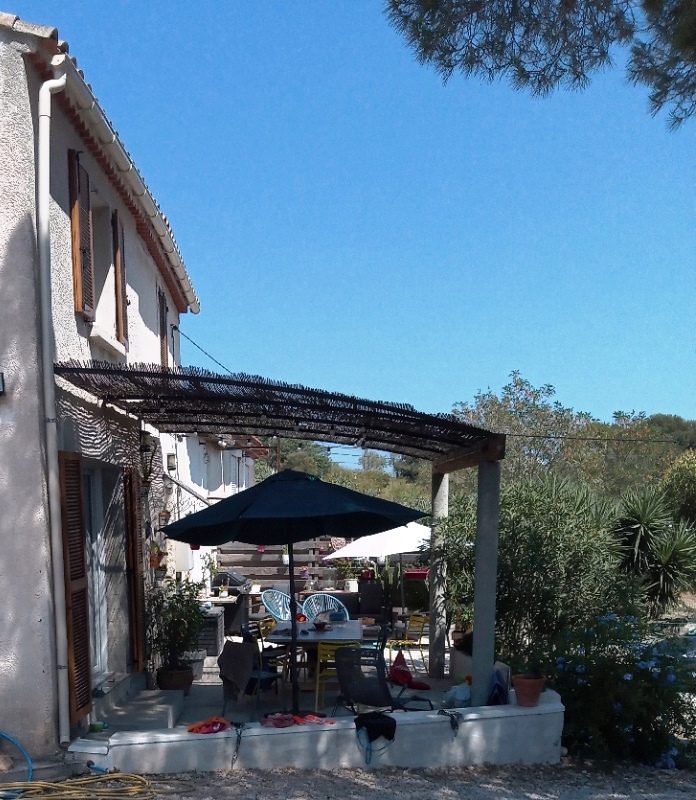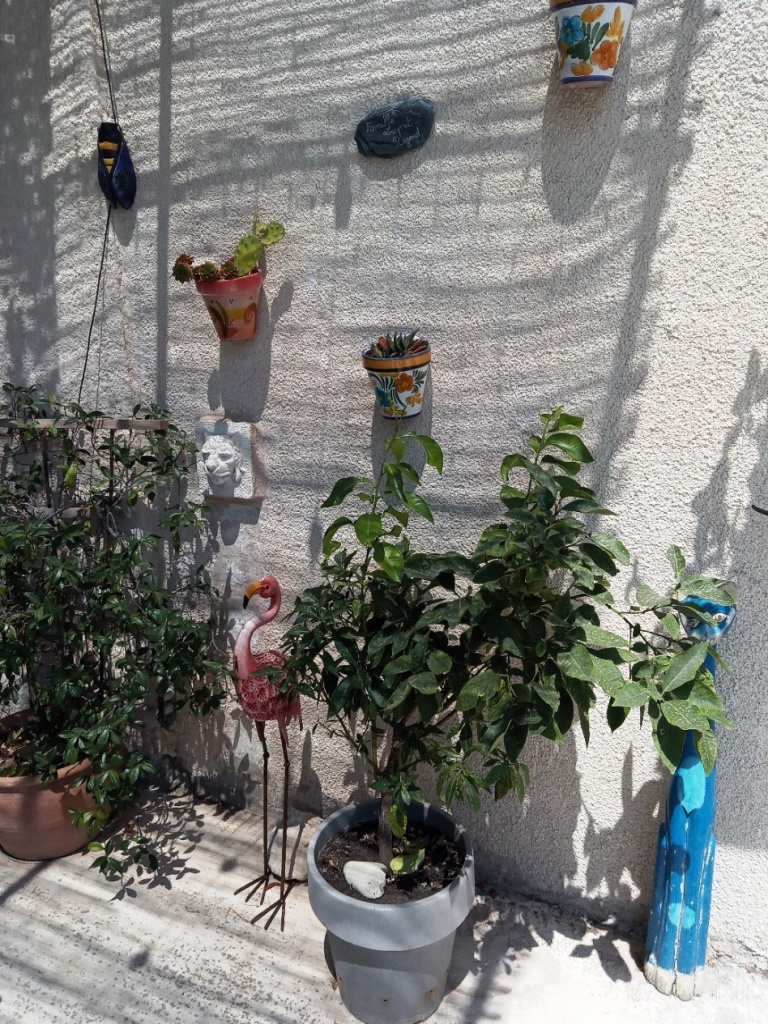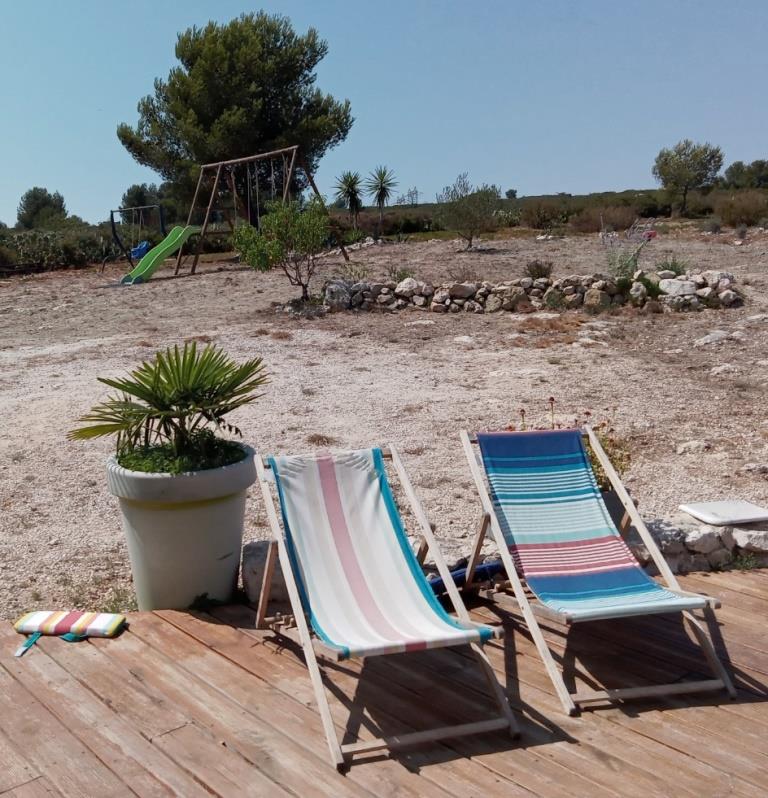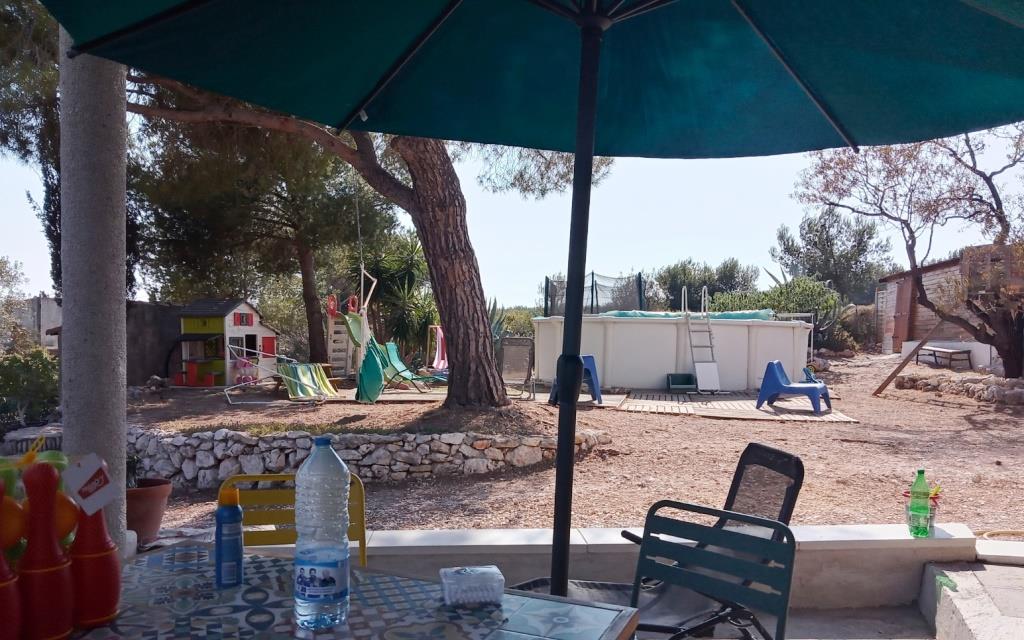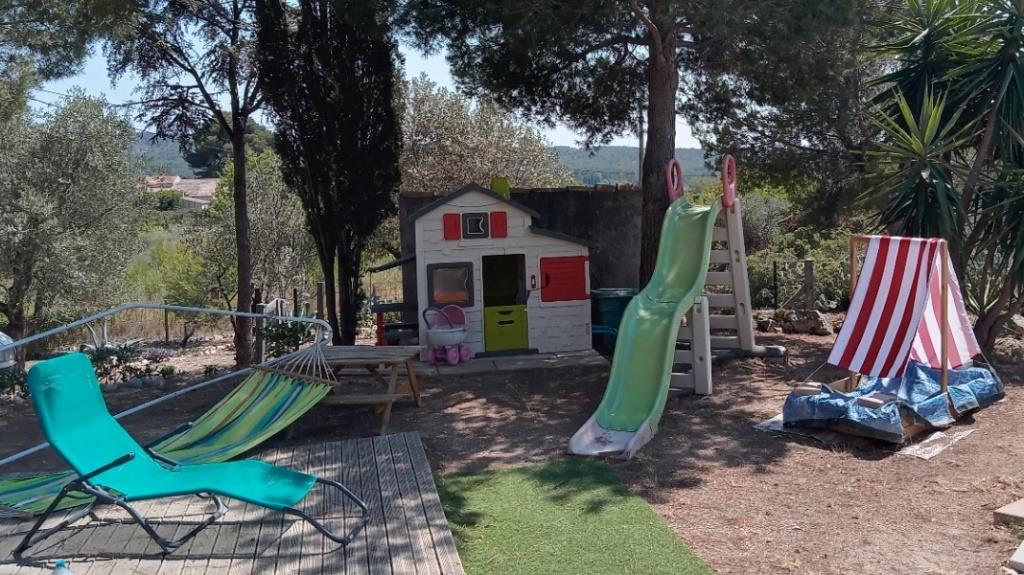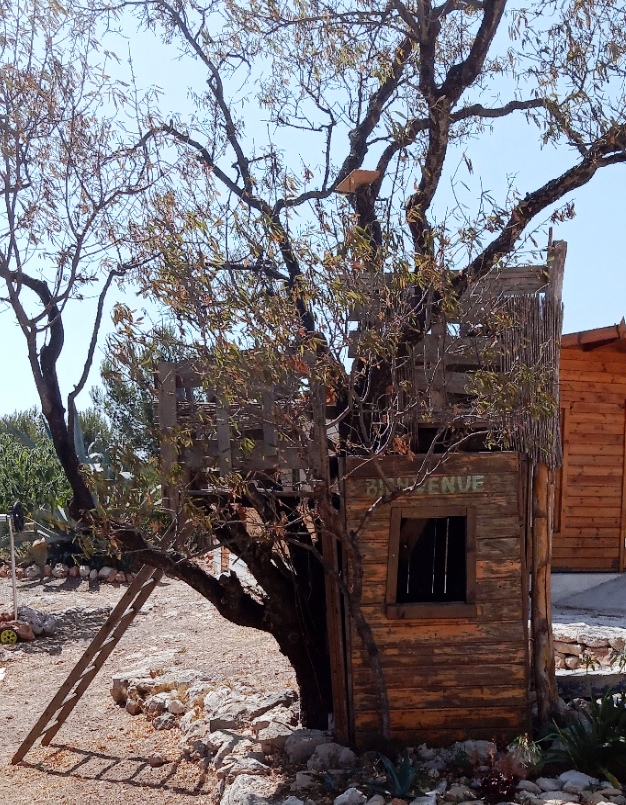 Joys of the early morning foray to the boulangerie in nearby La Couronne, then back home for the team breakfast. The batch of croissants below was baked just for us 😁 Madame invited us to sit outside until they were ready. After four days, she'd slip an extra loaf into the bag as a regular's reward.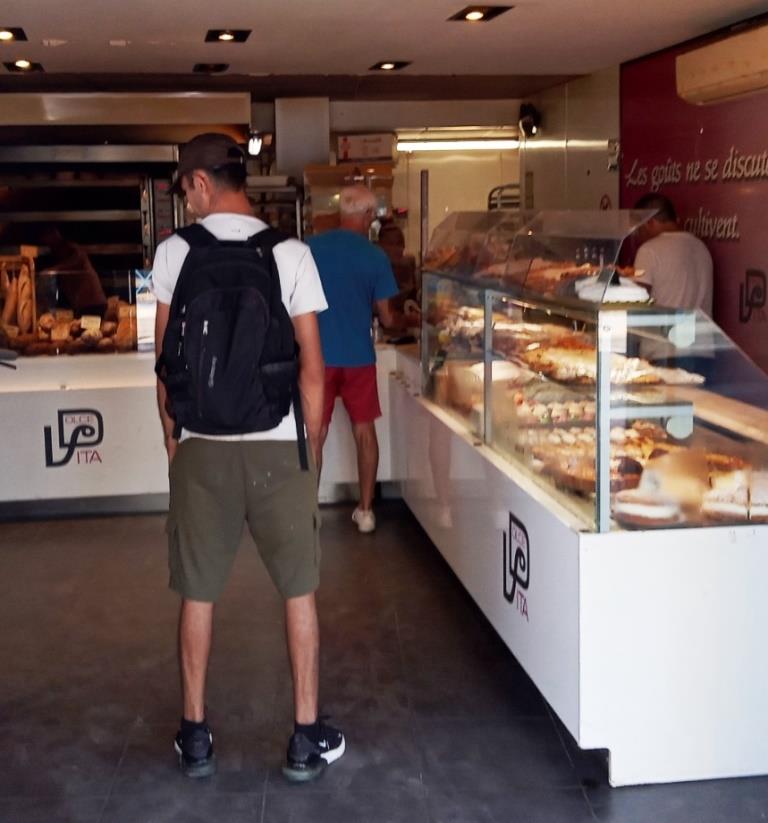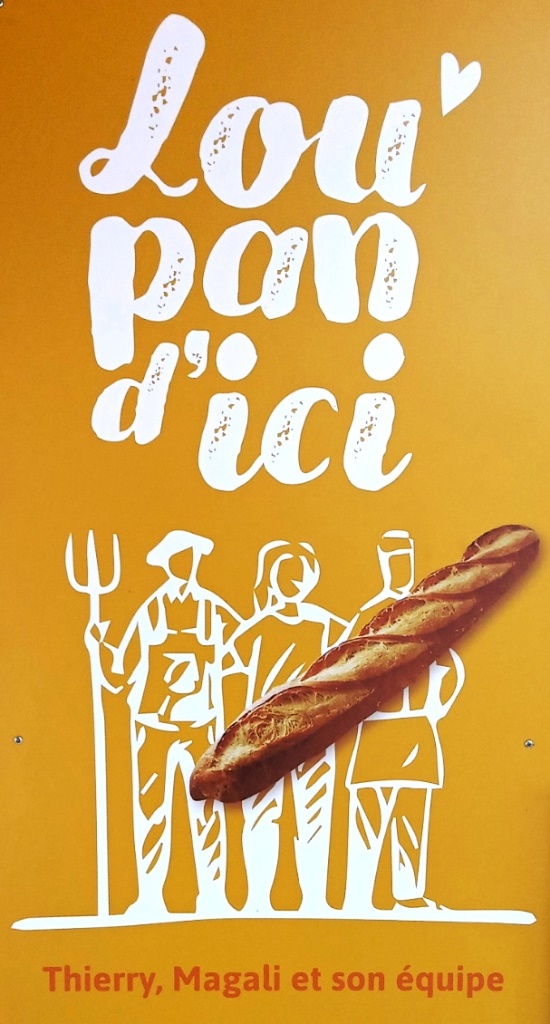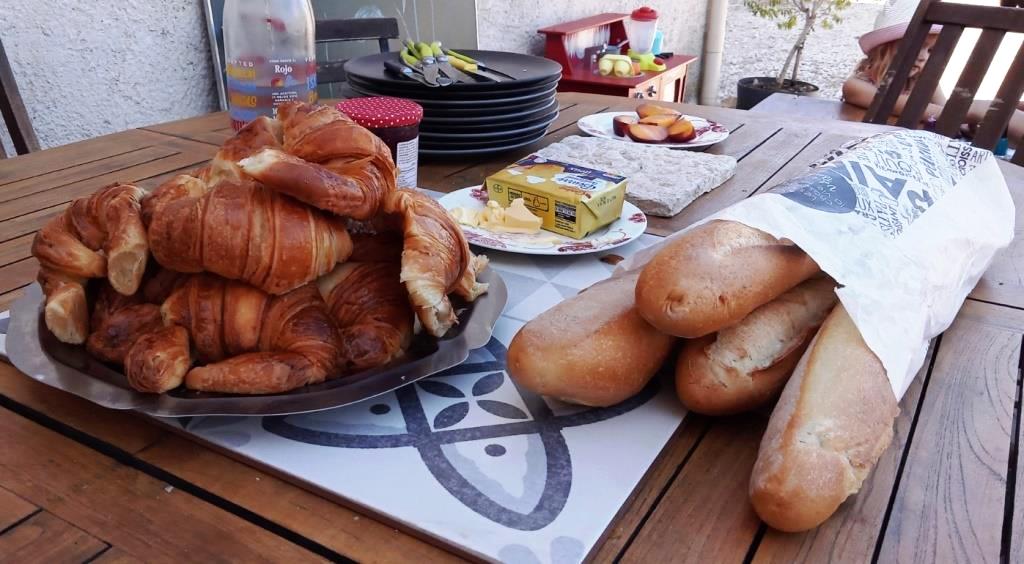 Opposite the bakery is the village café. I do like a Bar Tabac, a welcoming sanctuary for those with a guilty habit. Having foresworn coffee and alcohol, here was my tipple of the week. A promotional label promises: "Vivez des moments intenses". Hmmm, up to a point.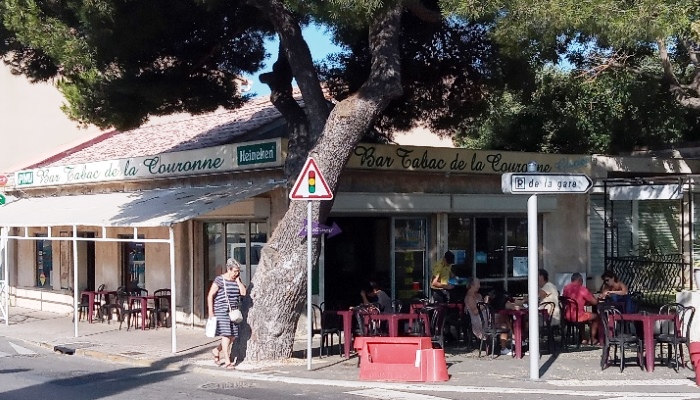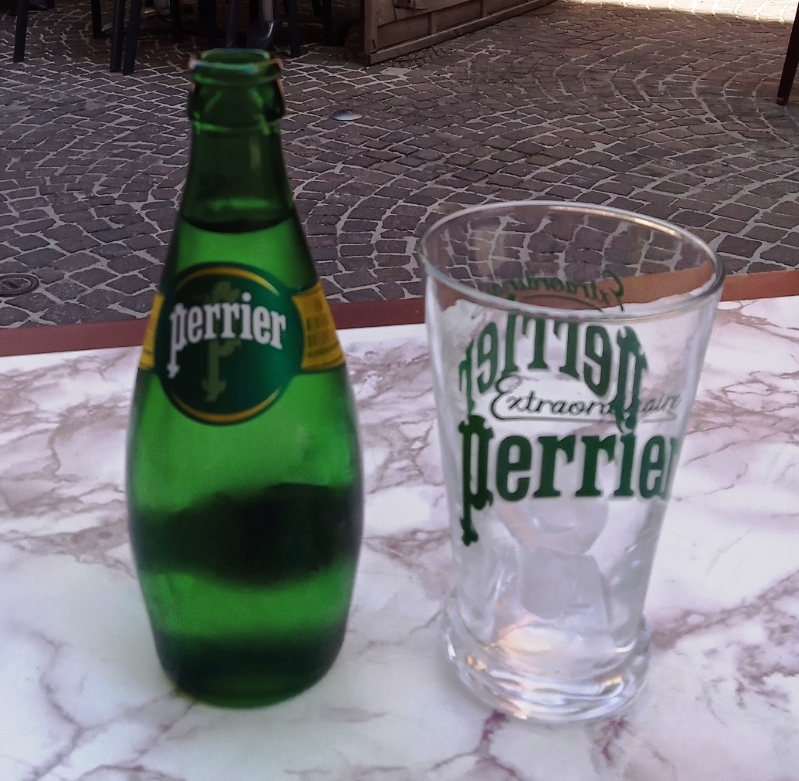 There's a little war memorial, a reminder of a time when the French expres­sed their appreciation of a pre-Brexit Britain. I particularly liked the final insc­ription for "Sippin Victor", which would have been a good nickname for my Dad, who enjoyed a snifter. The Fouque family took a hit.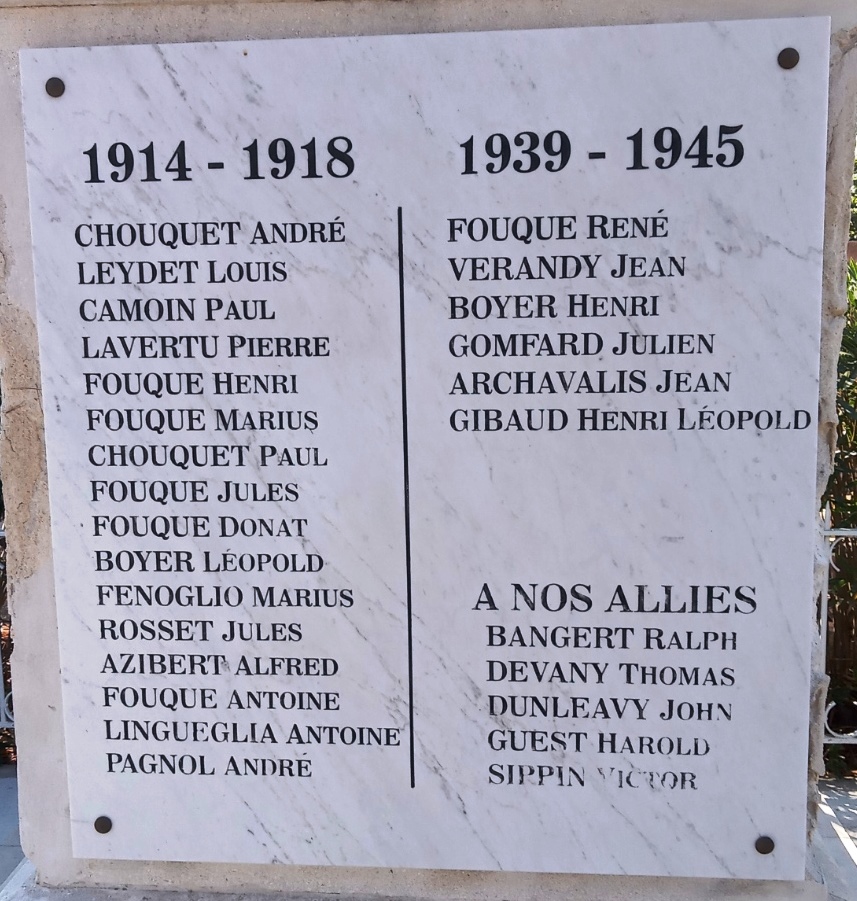 A bustling market on the Wednesday morning. Here's one stall that prov­ided a key ingredient of our week's diet: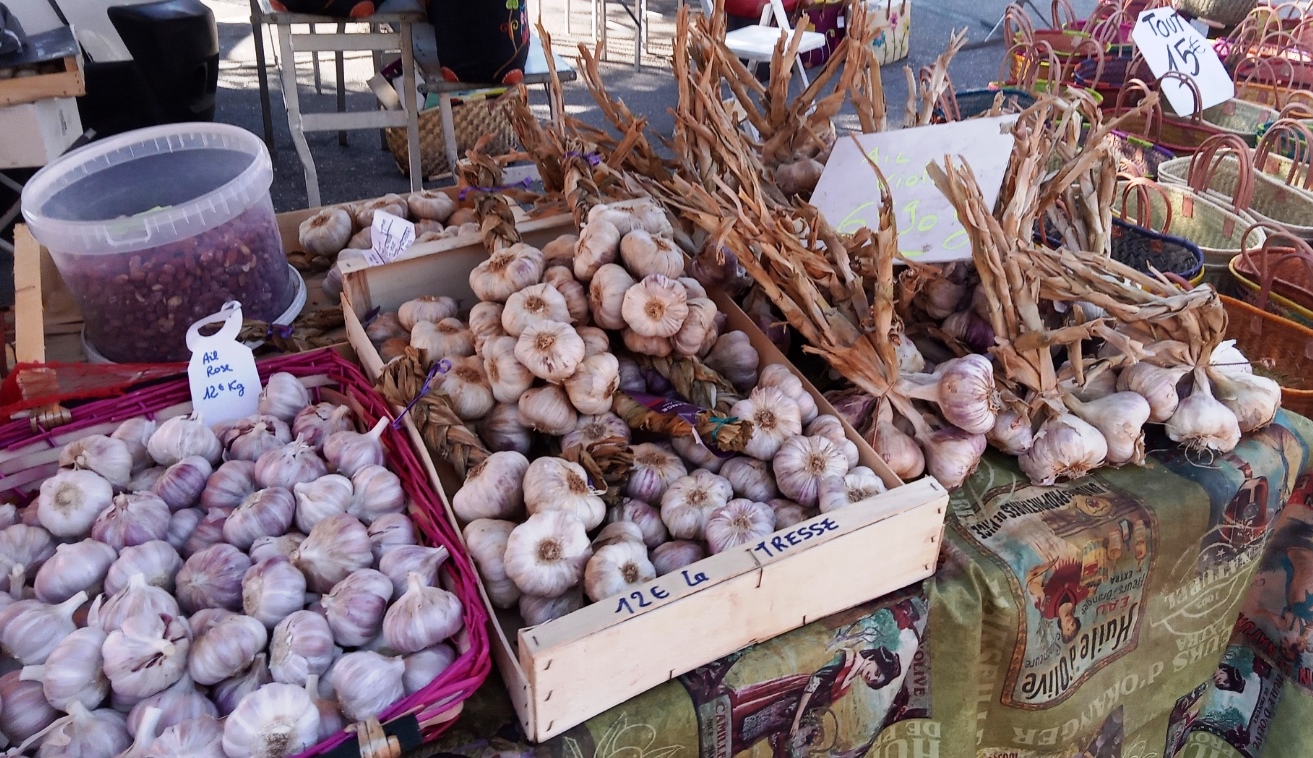 Talking of diet, with so many cooks in our number we were treated to delicious variety, including a traditional soupe de poissons provençale (daily fish market in Carro), classic pasticcio, an array of salads (veg and fruit from our neighbour Rudi's huge allotment), home-made hummus. Grand­daughter Lola made tagliatelle from scratch, served with a creamy mush­room sauce, garlic bread, chick peas and fresh tomatoes.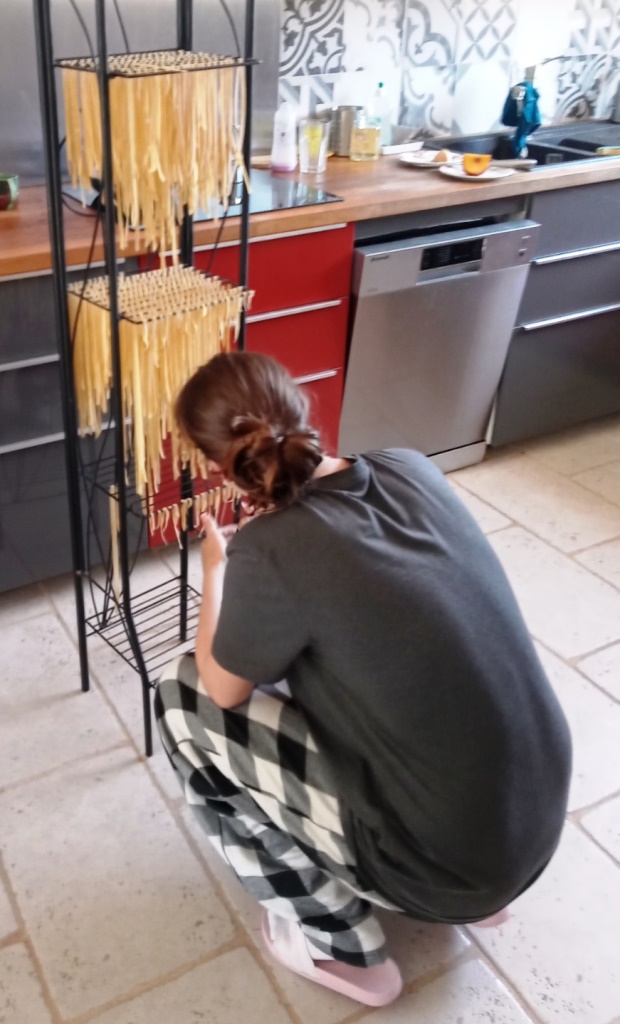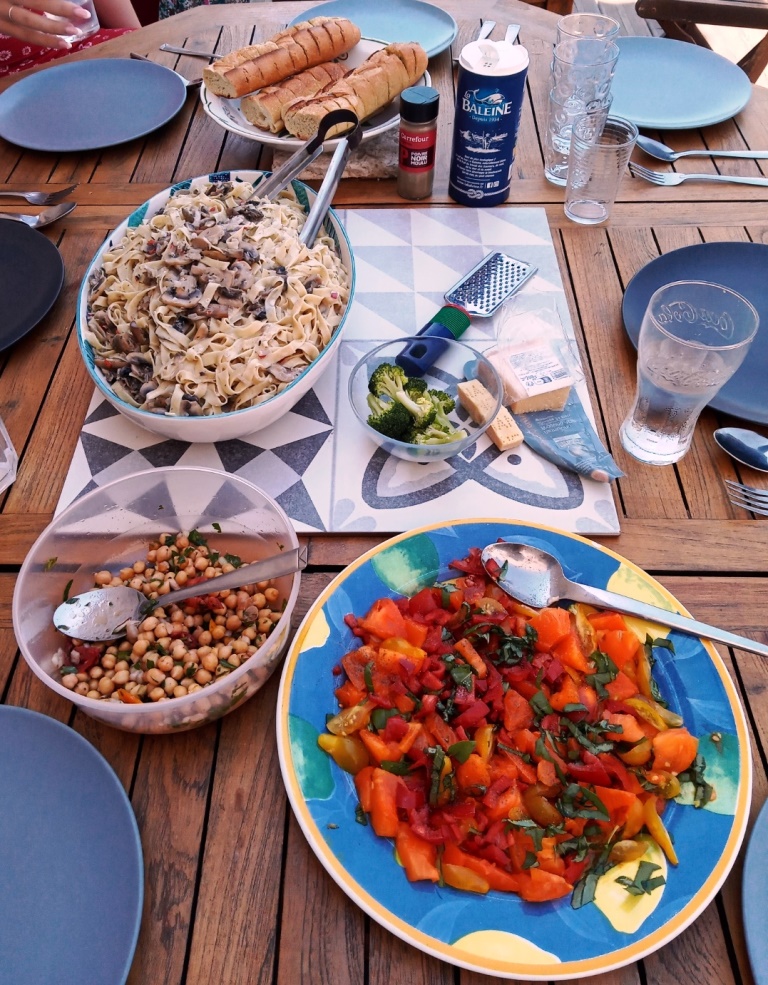 Strolls in Martigues, the "Venice of Provence":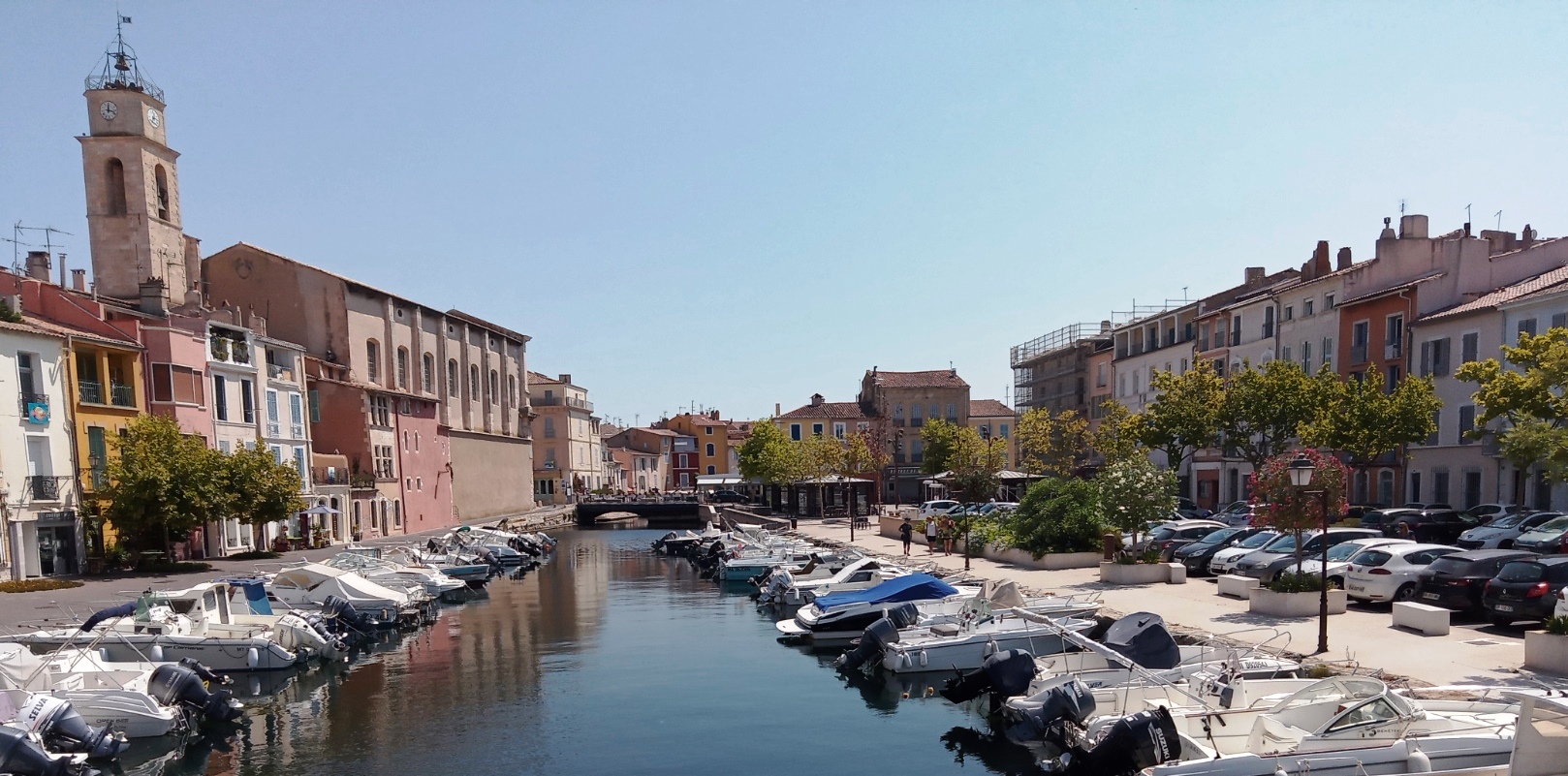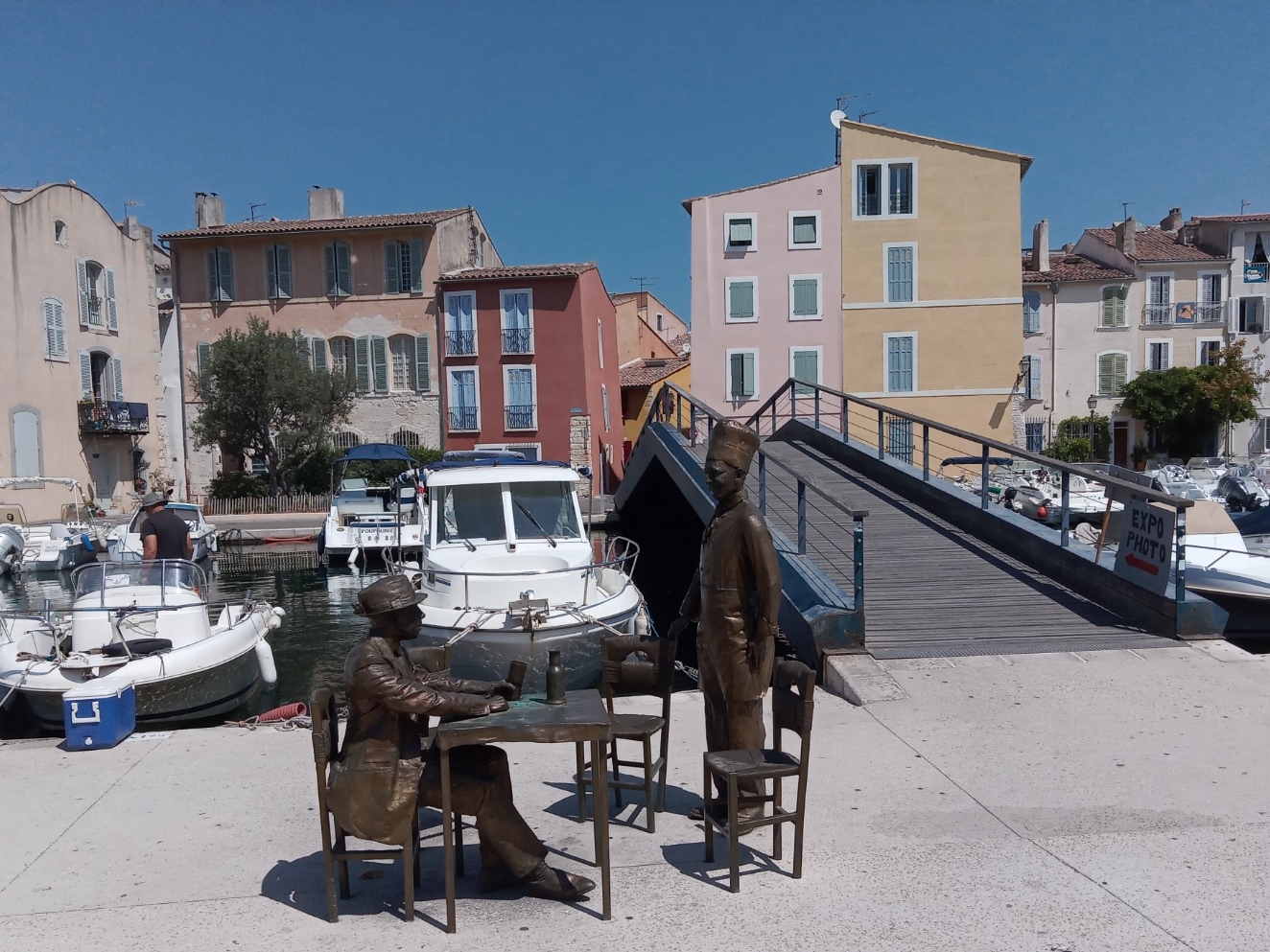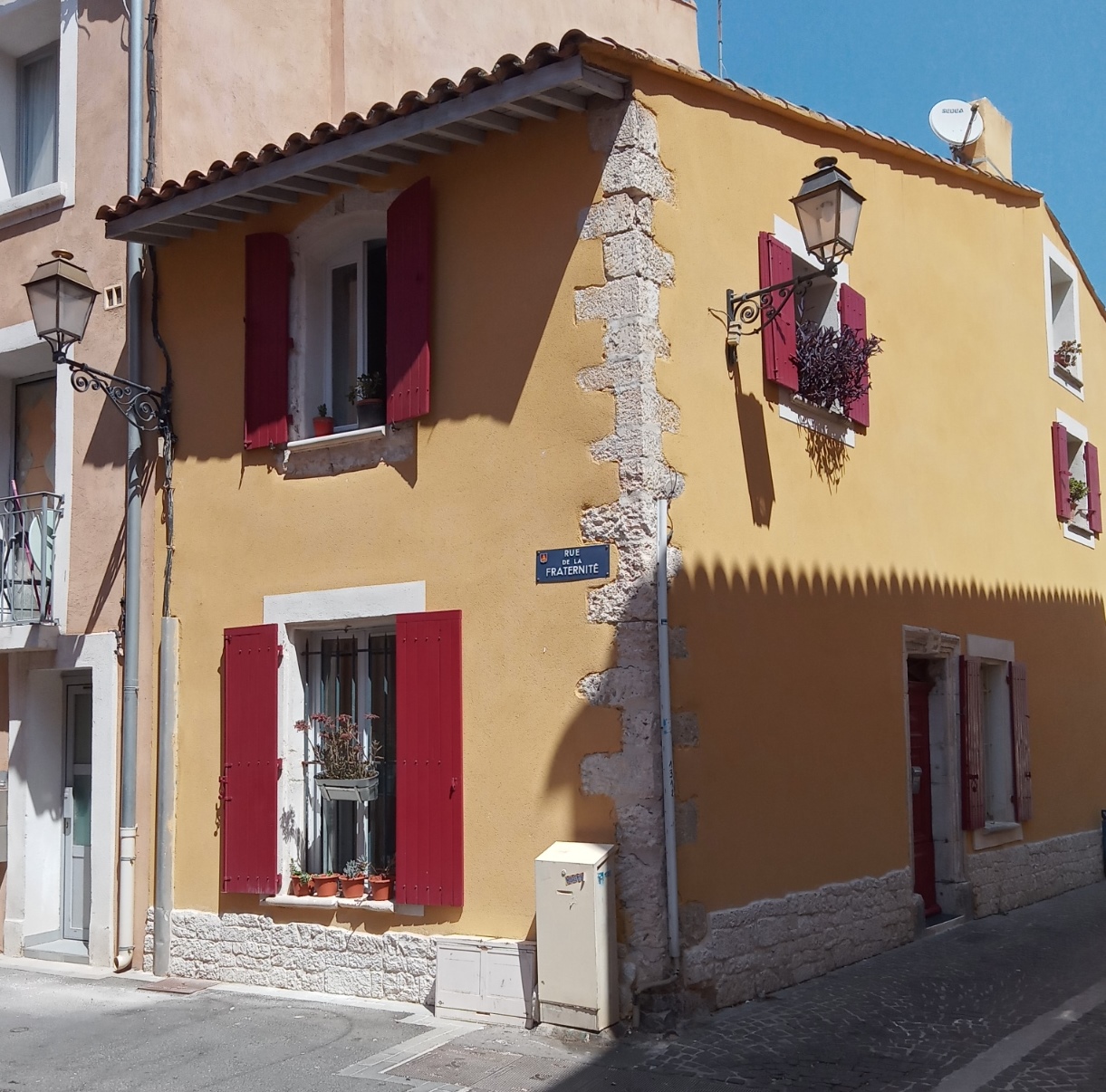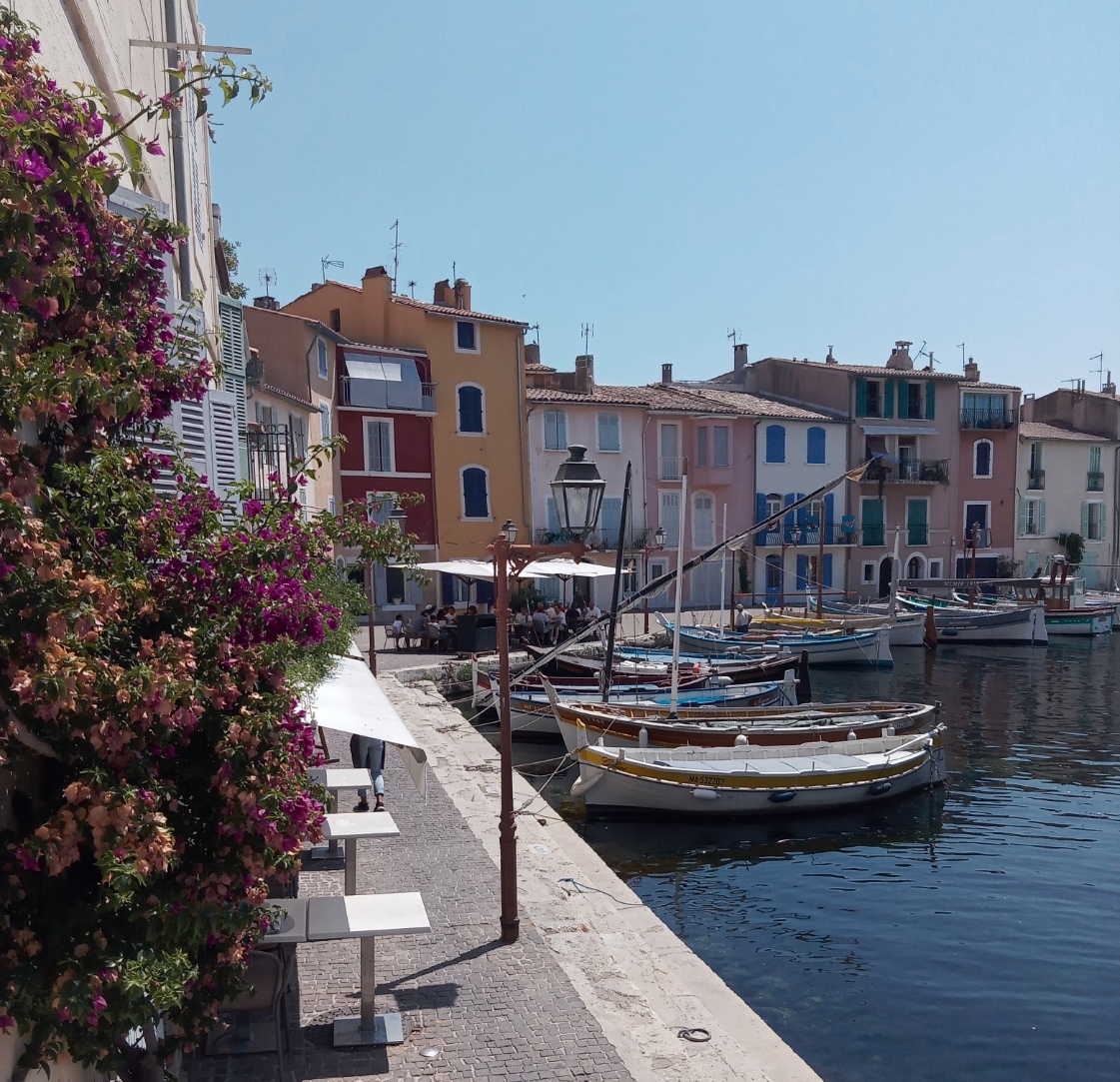 And, of course, pool and beach for the kids: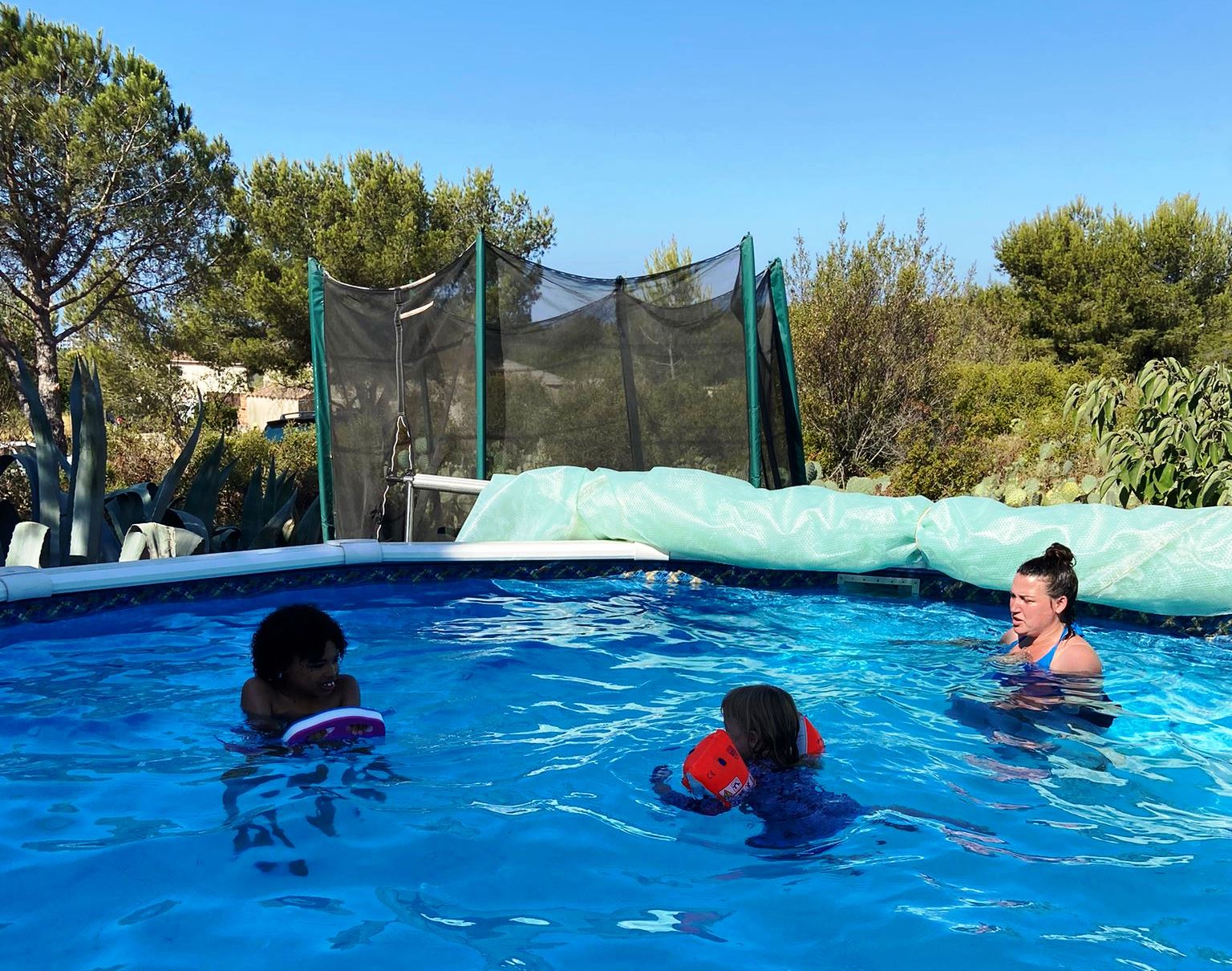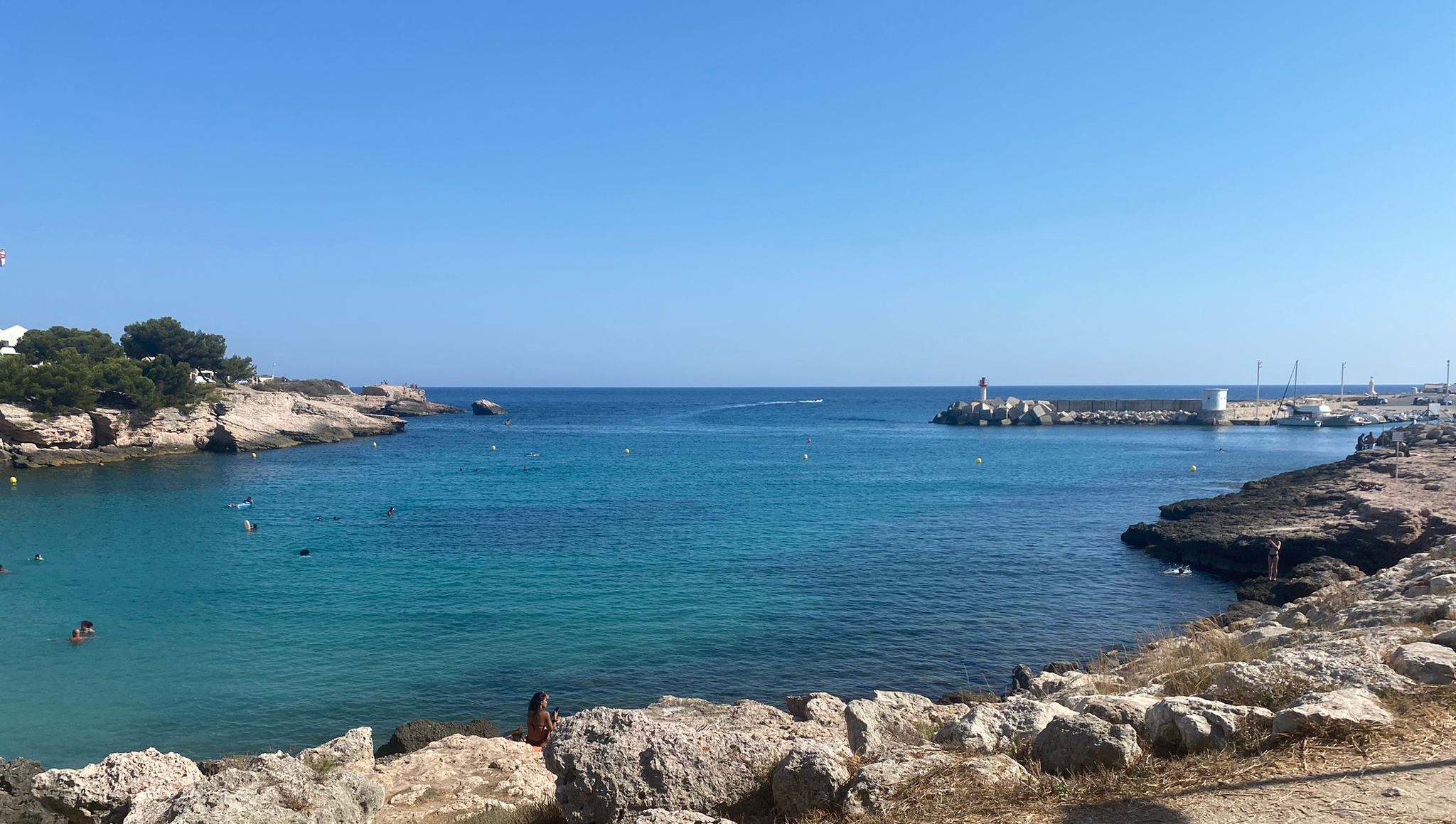 Saturday 16th July


Taking a few days off.

Good luck with this lot while I'm away: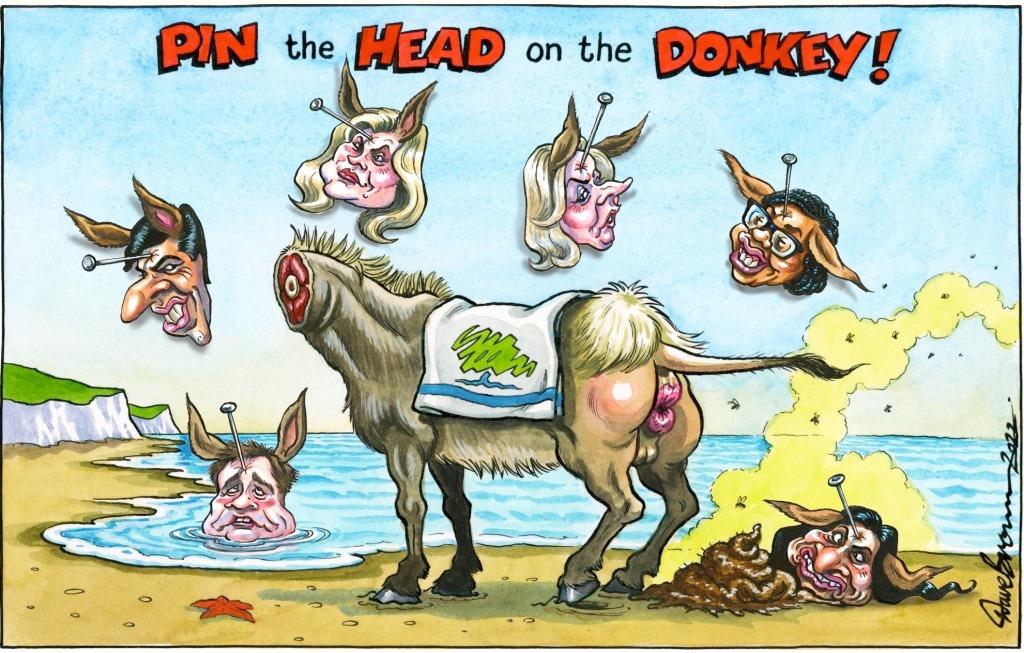 Friday 15th July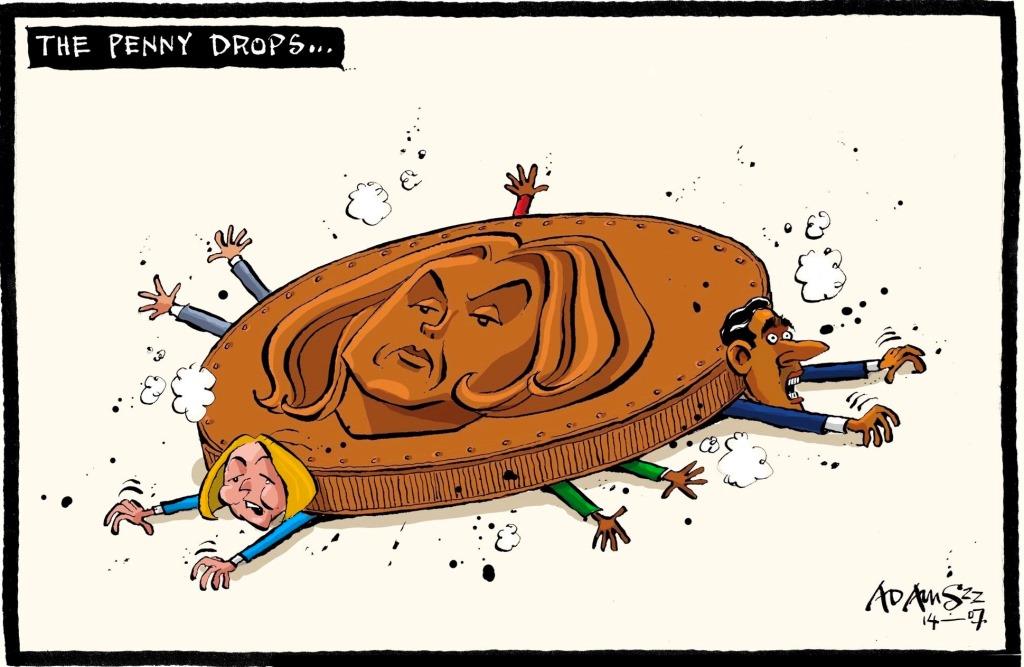 How did this purveyor of trite Little Englander claptrap get here?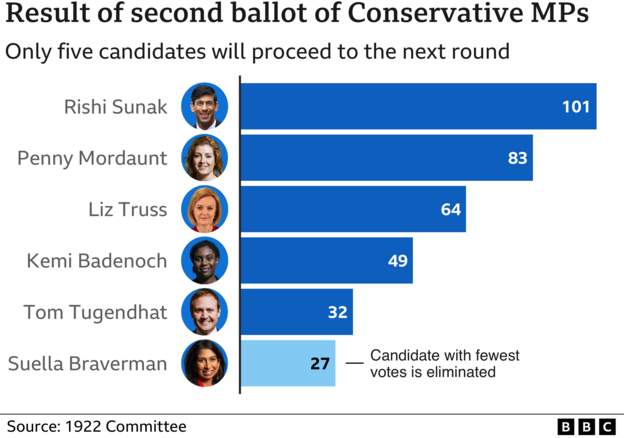 She maintains that it's her vision and sincerity: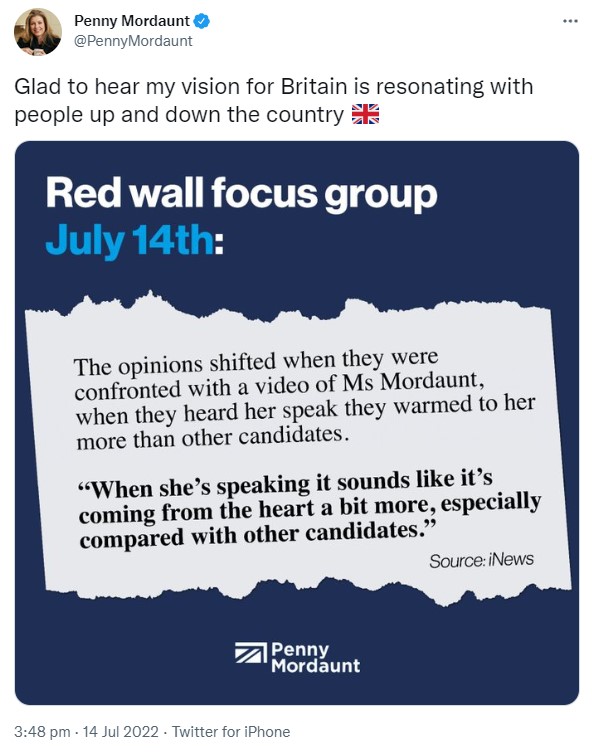 Maybe it's a shire thing, an out-of-town distrust of players like urbane Rishi. This is borne out by polls illustrating how the broader conservative mem­ber­ship will behave at the final count: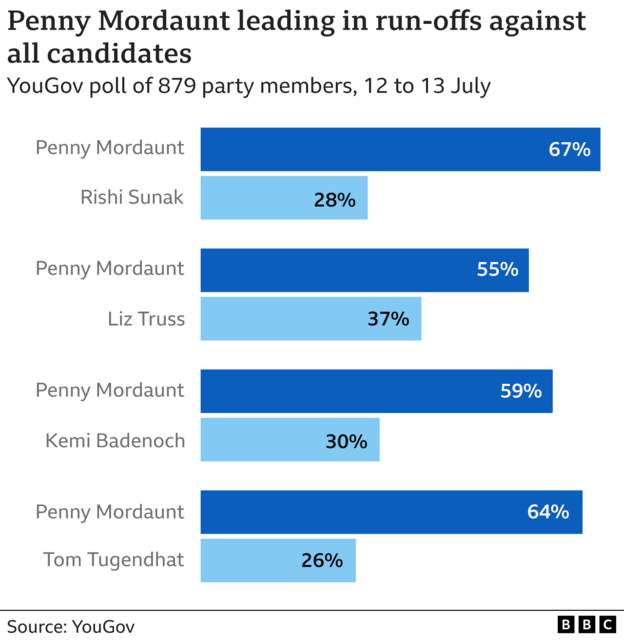 But not Prime Minister, surely? Propelled into the top job with­out any inv­olve­ment of the public?

At least the loathsome ECHR-basher Suella Braverman has gone.

Meanwhile, as these lightweights arse about with the future of our country, a global philanthropist - unmired in petty party politics, who definitely had a vision, is now committed to add­ressing the woes of the less fortunate world­-wide and really does have a money tree - has confirmed that he is going to share the rest (well, most - I expect he'll keep a small stash) of his riches:





He and Warren Buffett have long promised to do this. No comment on how they might have accumulated all the loot. Click to enlarge: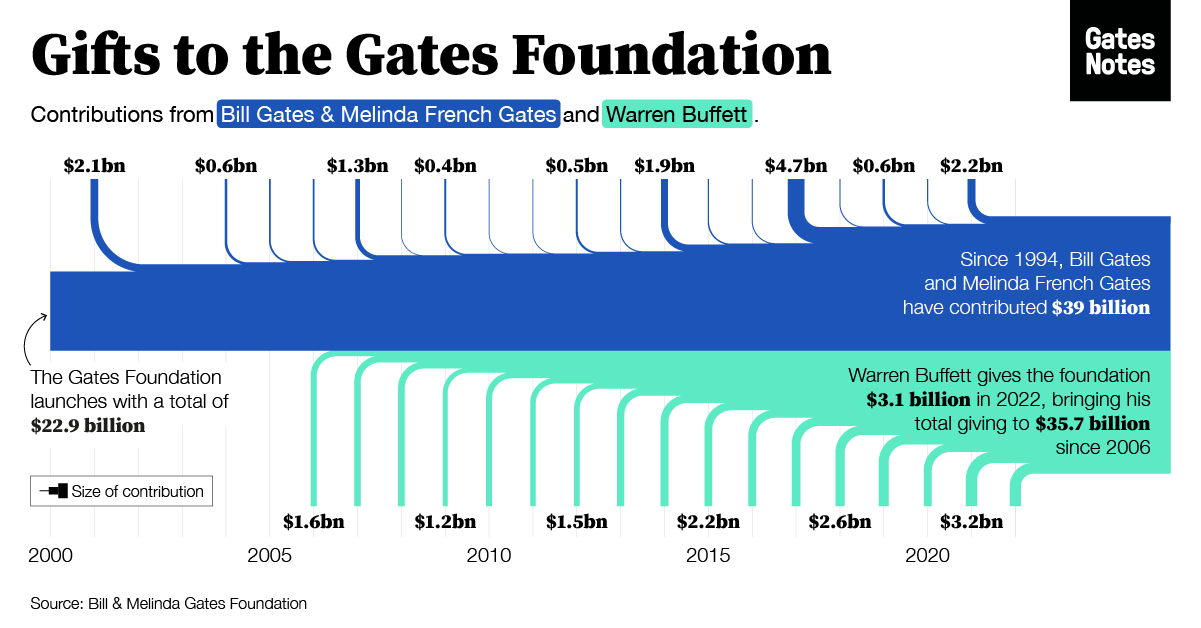 Thursday 14th July


One of the pleasures of our imminent visit to the south of France must be the break we'll get from this farce: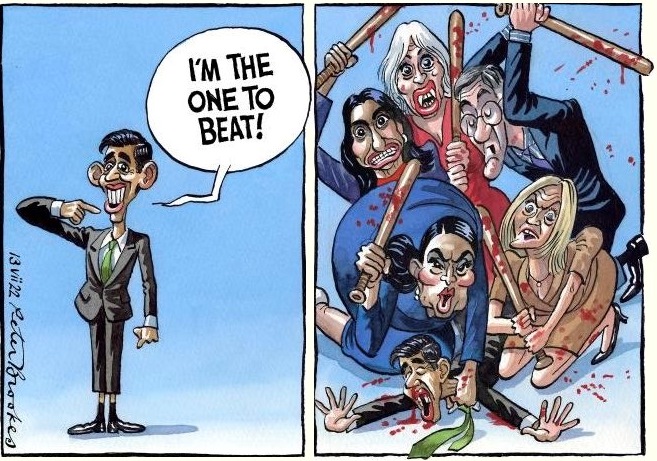 Half-a-minute of the jingoistic tripe dished up by Penny Mordaunt, strong contender to make it to the last two, in her launch video 👉 was enough to tell us that the bar has been lowered to depths even more profound than those plumbed by Boris.

The diseased core of the party was revealed in a tweet from Kathy Gyngell, editor of The Conservative Woman, in response to Mo Farah's brave and moving account of his trafficked arrival in this country: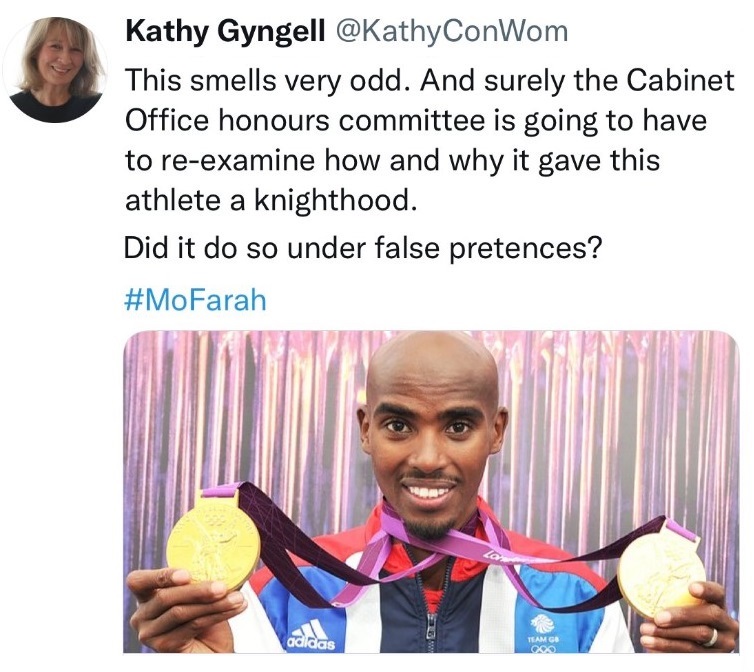 That's right, Sir Mo, she's got you booked (despite Home Office assurances) on the next flight to Rwanda. At least you'll be on the same continent as your relatives in Somaliland.

One seriously depressing feature of the leadership contest so far is the number of challengers who proclaim a deep commitment to Brexit as the trump (oh no, not him as well) card in their campaign hand. With Starmer refusing to engage, it looks like a long road back to any decent participation in Europe.

Talking of Sir Keir, in PMQs yesterday Boris called him "Captain Crasheroonie Snoozefest". Where did he dig up that turn-of-phrase? From his jolly Bulling­don pals?

On holiday, it will be interesting to look back at Brexit Britain from an EU shore. Mind you, we'll be deep in Marine Le Pen country, another story altogether.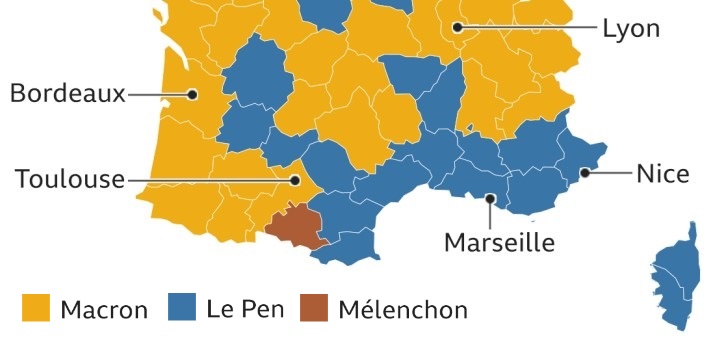 Wednesday 13th July


I've just been putting the finishing touches to arrangements for our family visit to the south of France. It has to be the last time I go near easyJet. Do you remember when you simply bought a ticket and handed your bags in at check-in? Long gone.

Here are prices of two available options, specific to our flights. Extras, over-and-above the original cost of the tickets.





Seating? Three 'offers': 'extra legroom' £33; 'up front' £28; standard (in the front part of the plane) £4. Yes, there's even a charge for a standard seat. What might be included in the basic price, then? A patch of carpet? And this is for one-way only, so double it up for the full trip.




Luggage? One bag (recently reduced in size: 45 x 36 x 20 cm) under your seat free. I hear that if you want to use overhead lockers now, you have to buy a more expensive ticket, via one of the afore-mentioned 'extra legroom' or 'up front' seats. A large cabin bag (max. 56 x 45 x 25 cm) is £58 per person/bag one way (I'm getting confused now - where does it go, under your seat or in an overhead locker, in which case do you add the locker fee on top?) Want to put your bag in the hold (remember I said at the top that we used to do this as a matter of course,

gratis

)? Up to 15kg - £91 for both ways per case. Up to 23kg - £105 for both ways. £7 extra per individual transaction if you buy the, ahem, service at the airport.





easyJet argues that it's being much fairer to passengers with this kind of ... flexibility. Check out the explanatory video:




"Open and up front", eh? Nothing to do with grabbing every last cent they can via a bewildering array of choices? They've broken up the flying expe­rience into small chunks, each of which is subject to a sliding (upward) fee scale. Taking the zero no-thank-you option is hard. I can imagine people gnawing at their fingernails, agonising over what horror might befall them if they don't accept the easyJet offer.

By the way, as the house we're renting has a washing machine (we'd even be prepared to wash by hand) and clothes will dry in minutes in the heat, we're packing a minimal change into our tiniest cases. And we've chosen the back of the plane because standard seats incur no extra charge there. I'm prepared to pay for good service - but not surrender to these scandalous and extortionate tricks.

Never has Fascinating Aïda's song "Cheap Flights" felt so appropriate. Enjoy. With apologies to Irish sensibilities for the cod accents - they have to be a dig at Ryanair.




Overnight thoughts. I'm being churlish, aren't I? This holiday is the delightful brainchild of son Ben, fruit of his determination to get the whole family together in a location that can be reached from the three different home bases of the UK south-west, Austria and Spain. Beaches for the grandchildren, open-air markets and harbourside bars for the adults, our favourite southern European food dished up by three cooks. At the same time, I can't help wondering about the context, given everything I've written in the last two years. Heading for even greater heat in a world of increasing temperatures. Flying to do so, with its climate implications - and the prac­tical threats of cancellation and airport congestion. Navigating the modern online booking detail of air transport, car hire (and separate excess insurance), Airbnb accommodation, medical cover (no EHIC now, had to apply for the new GHIC), Covid certification (which may not be required despite rising numbers), post-Brexit niggles. The digital age enables all this organisation from one's desktop - and somehow seems to intensify the com­p­lications.

Oh dear. Sorry. Grumpy old man behaviour. Gloomy ramblings in the face of privileged opportunity. But I am at least partly right.

Time to get positive and look forward to the trip.

Tuesday 12th July


Good and bad of the last few days ...

Reasons to despair: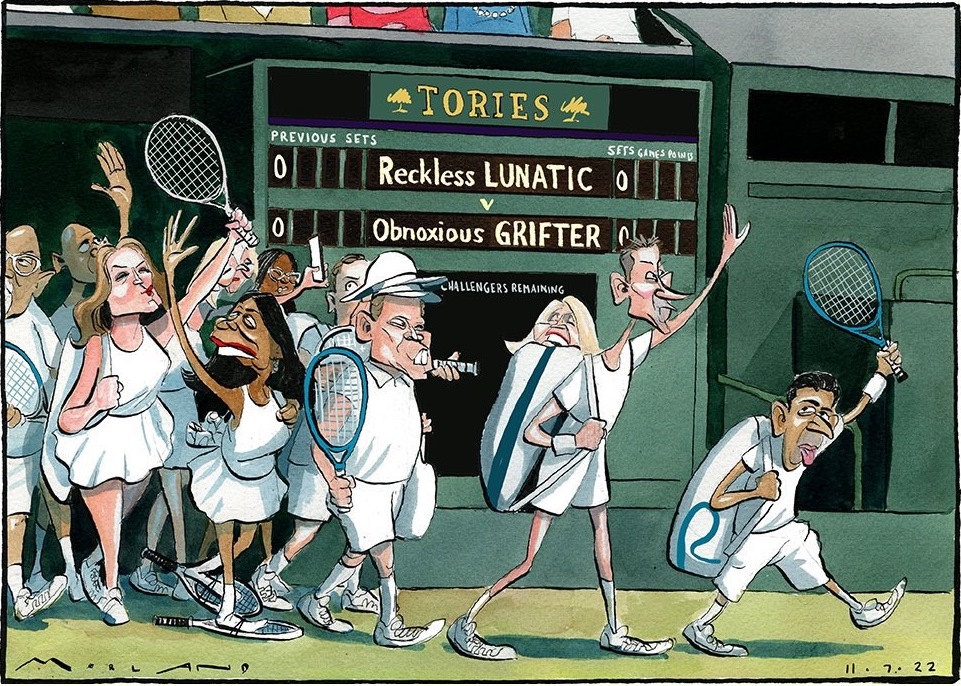 Reasons to be cheerful: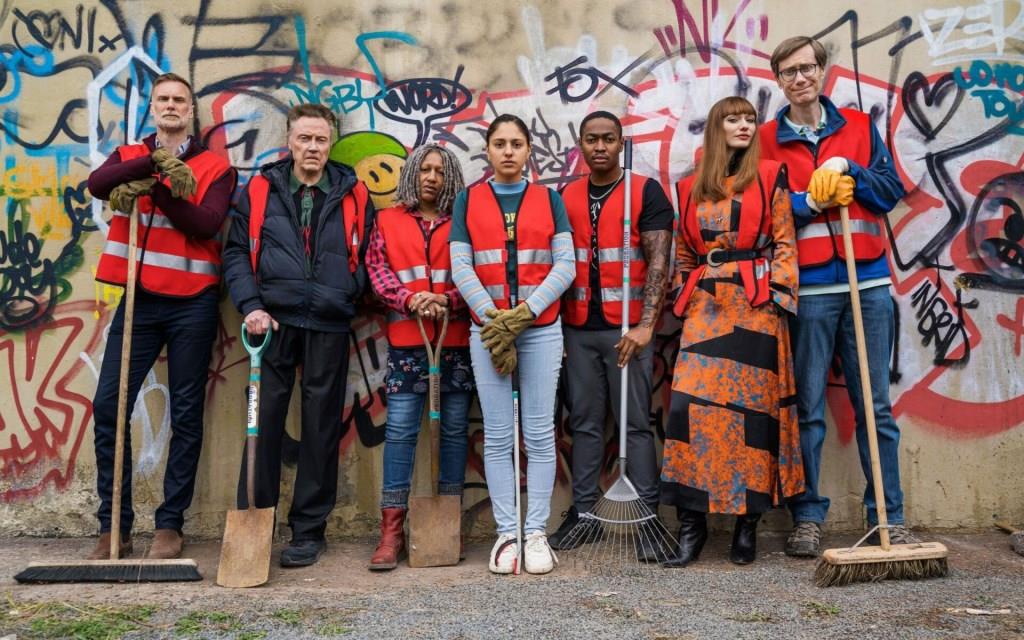 Our challenge is how to substitute the mean-spirited, cruel, self-seeking, entitled, incompetent first mob with the sensitivity, craft, intelligence, humour, decency, respect for ordinary people, feelgood-ness on show in Stephen Merchant's 'The Outlaws'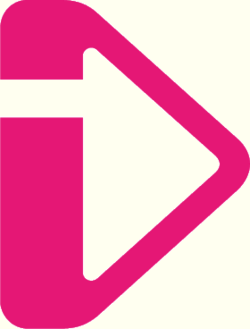 . Where the promise implied in the latter's bright fiction (at which we are very good) begins to dissipate the cloud of current political and social dysfunction.

Monday 11th July


I admit it, I hadn't anticipated quite this level of promotional drivel in the Tory leader­ship race-to-the-bottom. Thankfully, it's directed at the private audience of voting party members - although still leaking out into the public domain via Twitter et al.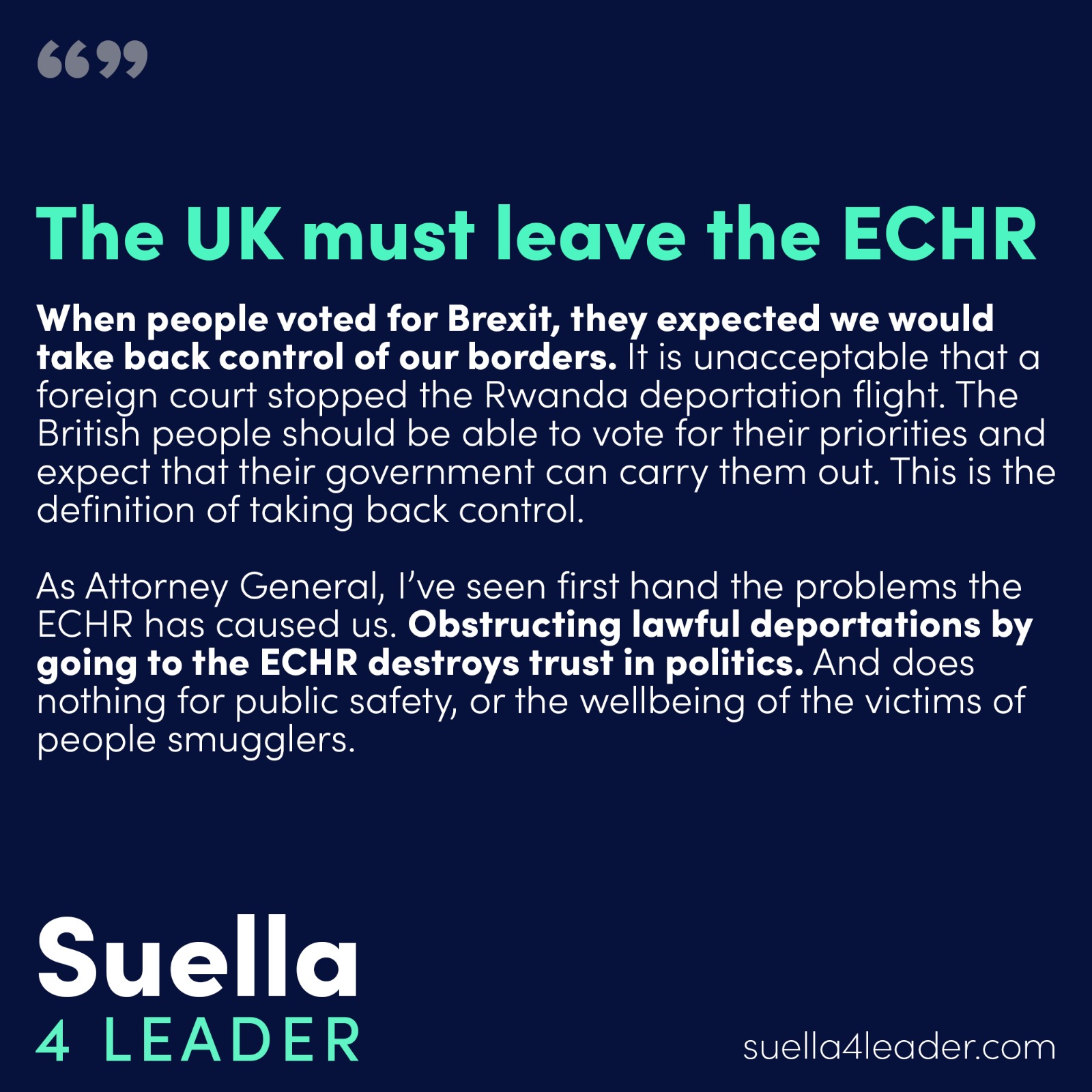 I'll borrow the words of a softly-spoken and restrained Jonathan Pie:



Sunday 10th July


As we enter a period of national political hiatus, what news of the local Stroud scene?

Incumbent Tory MP Siobhan Baillie spoke out just prior to Boris's time­lagged demise in a statement to the Stroud News & Journal:


"Many people will have seen that the Prime Minister has suffered a number of high-profile resignations from his government. Some have asked whether I will be resigning too but as I resigned from my junior government PPS position a long time ago, I have nothing to resign from at this stage. It is no secret that I have grappled with what has been happening in Downing Street and with the Prime Minister. I continue to refuse to defend indefensible behaviour and have listened to my constituents throughout. The recent handling of sexual allegations concerning the Deputy Chief Whip have clearly been the catalyst for many other MPs and Ministers. Local people know where I am on these issues, my approach to working in politics generally and that I vote against the government where I believe it is necessary to do so ... I hope the Prime Minister will now consider his position in the face of these resignations and allow someone else to lead the country without delay ... views will continue to be mixed about whether the Prime Minister should stay or go and it is not without regret that I have felt the need to write this statement."


Et tu, Bruta. But typically lightweight, a tentative stab. The woman who crept into office on the coat-tails of Boris's 2019 "Get Brexit Done" campaign will have to choose a new leader to drag her through the next election. "Local people know where I am on these issues"? Not a clue, Siobhan. Never seen you, no idea what you do every day. OK, right now there's this:


"On a separate note, I would also like to thank everybody who has got in touch to wish my family well with our new arrival. We feel really blessed. Please note that I am not giving media interviews or a running commentary on this fast-moving situation as I am on my few weeks' maternity leave."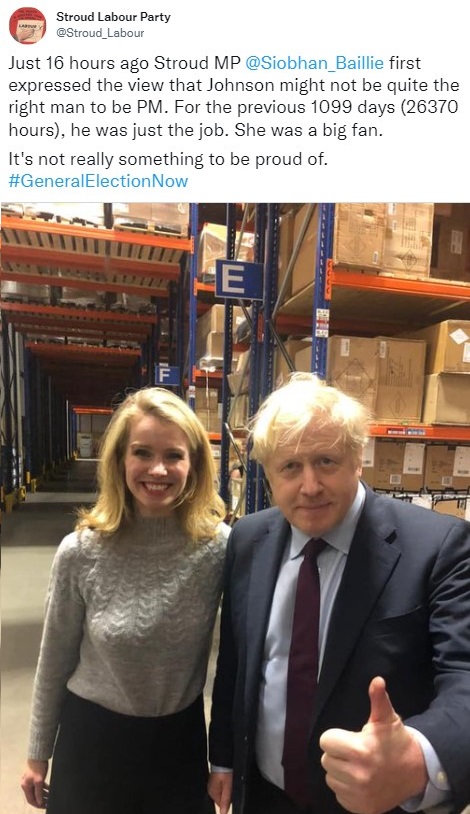 Keir Starmer survives as Labour Party leader. In Stroud, he blocked the MP candidacy of district council leader Doina Cornell (see here👉). She ann­oun­ced her plan earlier in the week:

"STROUD DISTRICT COUNCILLORS TO FORM NEW GROUP ON COUNCIL





With the greatest regret we have taken the hard decision to leave the Labour Party.





We will continue to serve the communities that elected us as Community Independent Councillors on Stroud District Council. We are immensely grateful to our friends and colleagues in the local Labour Party, the trade union movement, the Co-operative Alliance itself and the wider community for your support following this difficult decision.





As Community Independents we will be free to focus on the local issues that matter, without being part of a centralised party whose leadership does not connect with our values. Our top priority will remain as it has always been, from the moment we were elected, to serve the residents of our wards, to support and uphold the Cooperative Alliance that has successfully run Stroud District council for ten years, and to assist in the delivery of the council plan for the benefit of local residents with its focus on community, the environment and the local economy. Above all we are committed to ensuring that local support can be provided to those struggling most with the cost of living crisis.





Councillors Doina Cornell, Trevor Hall, Robin Layfield and Colin Fryer

Community Independents"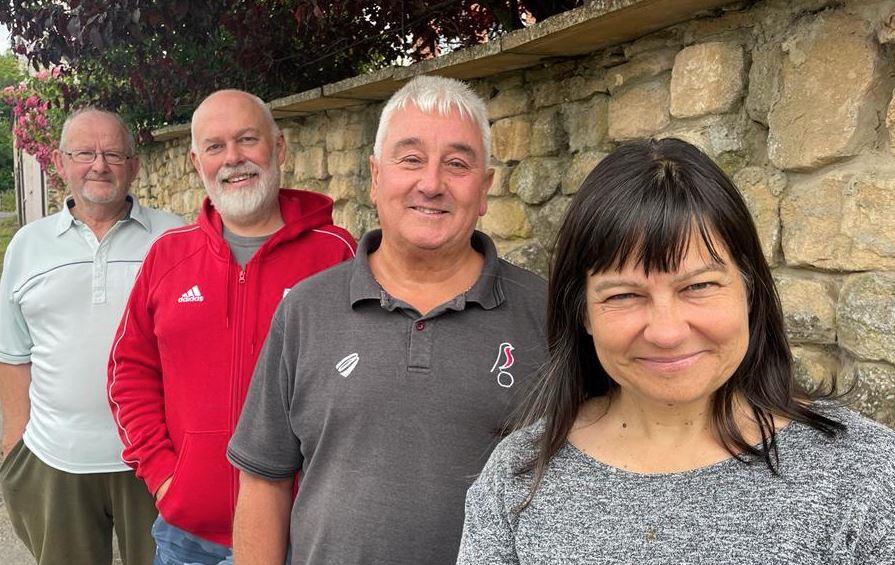 The Conservative Party tackles the critical national issues of the day by casting around for a Boris replacement. With the door wide open, Labour in Stroud ditches its most convincing opposition candidate. Is nobody capable of making sensible decisions?

Saturday 9th July


Little time to blog, as Sarah's brother is here for the weekend.

I get a sense of après le deluge since Boris spoke outside Number 10. He hasn't gone - is that why he didn't use the resign-word in his speech? - but he's going. It feels like a pressure-valve releasing. There's no further requirement to demand his exit, it will happen. Or so we think for now; who knows what Boris can invent as his next ploy?

Starmer's off the #Beergate hook. But, as observed by the BBC's Chris Mason, has his job just got harder? Will the new Conservative leader be more difficult to mock?

Meanwhile, we have a weird semi-interregnum, with a PM whose authority and freedom to act is hog-tied. He has to negotiate a couple of PMQs before the Commons summer recess. Party members on the back benches who have resigned from office, lobbied for his removal and entered the contest to replace him. Sunak and Javid not by his side, but behind. Prime Minister he may still be, but not Conservative Party leader.

It's no way to run a country.

Friday 8th July


Finally. Or not so finally?

Yards of column inches written, hours of TV and radio coverage, so I'll be brief. For the record and in case you missed it, I post the 6-minute speech. Here's the transcript: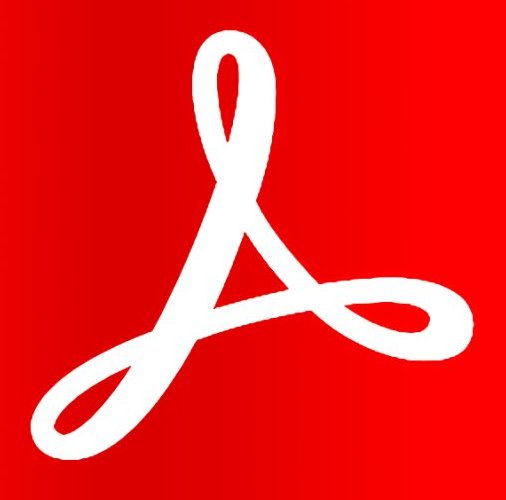 Weasel words. As my Irish correspondent commented, "no contrition, and he even failed to use the word 'resign'." Dismissed his party members as "the herd". Thanked the "prop force" detectives, "the one group, by the way, who never leak." Declared that to change government would be "eccentric". The jovial quip: "But them's the breaks". Right, Boris, you've just been unfortunate, haven't you? How very Bullingdon.

If you have time (just under 9 minutes of it), here is a reminder of Boris's journey, courtesy of Led By Donkeys:




As ever, a couple of cartoons: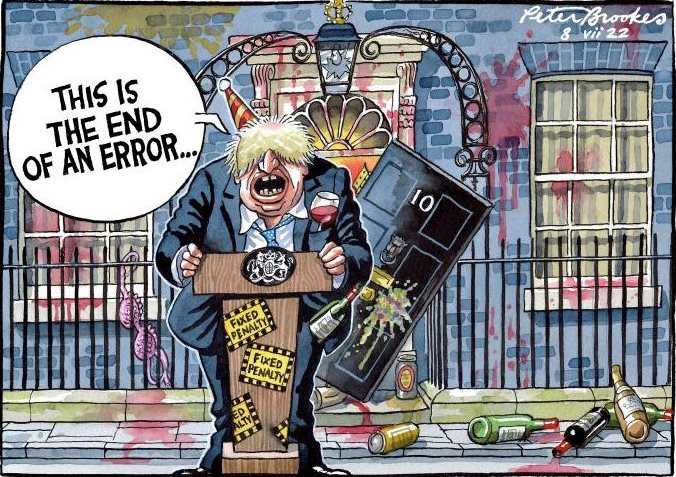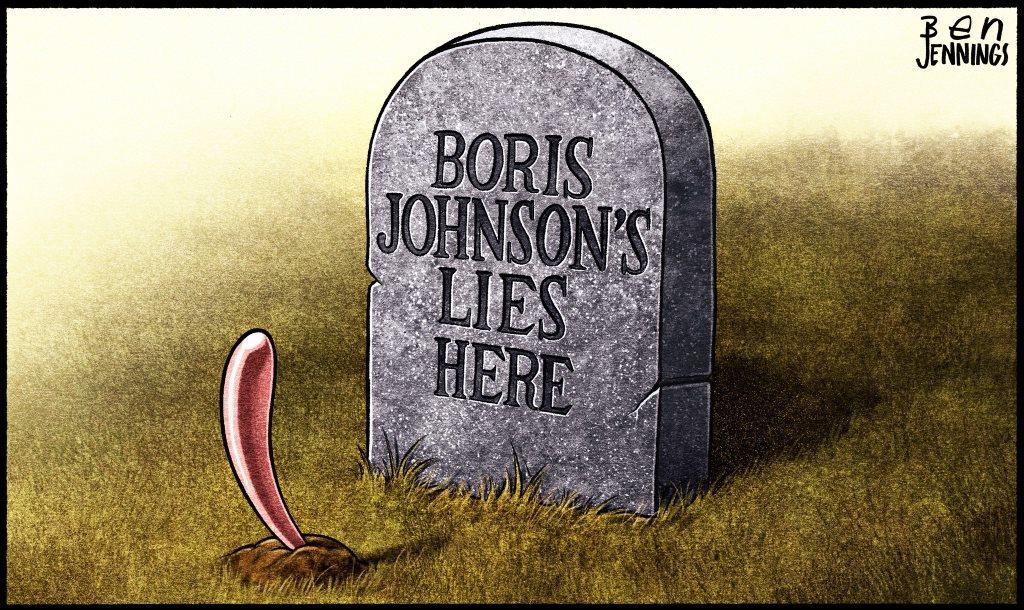 Thursday 7th July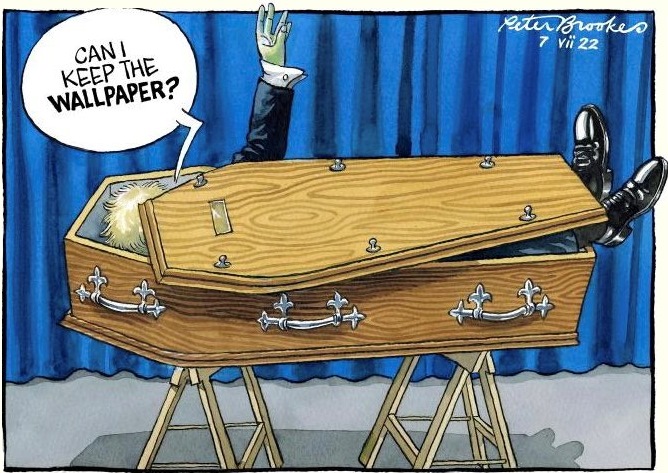 Wednesday 6th July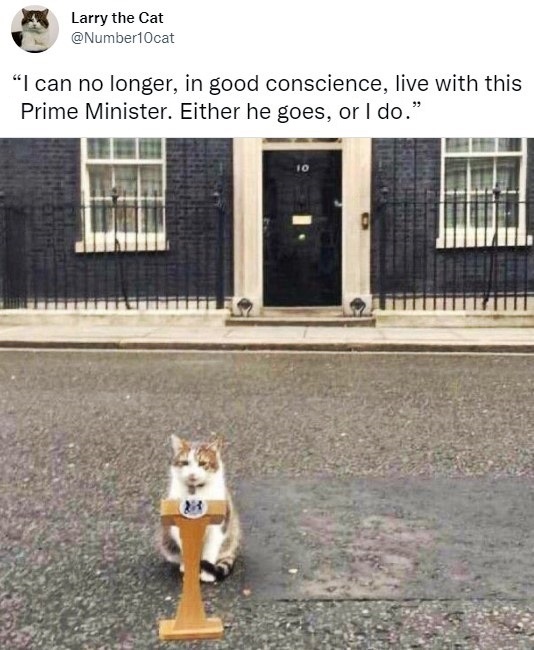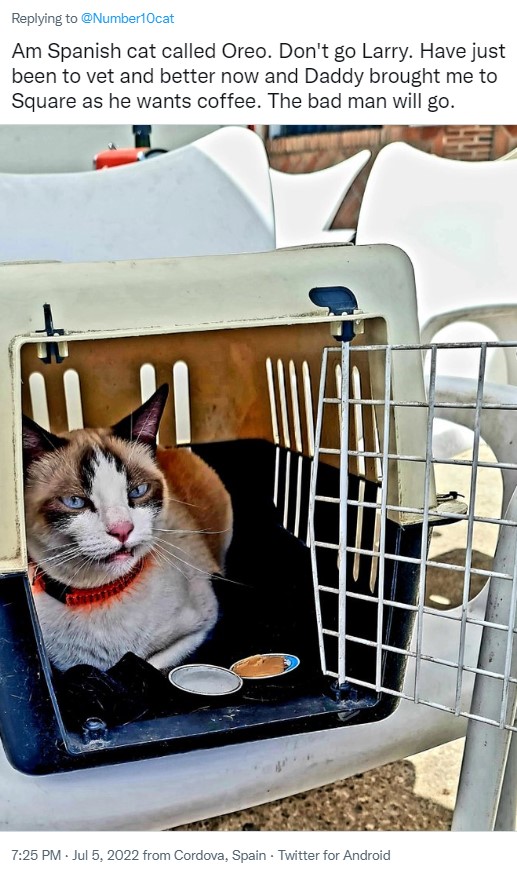 Tuesday 5th July


"No case for rejoining the EU"

"We've arrived at a treaty and now we've got to make that treaty work."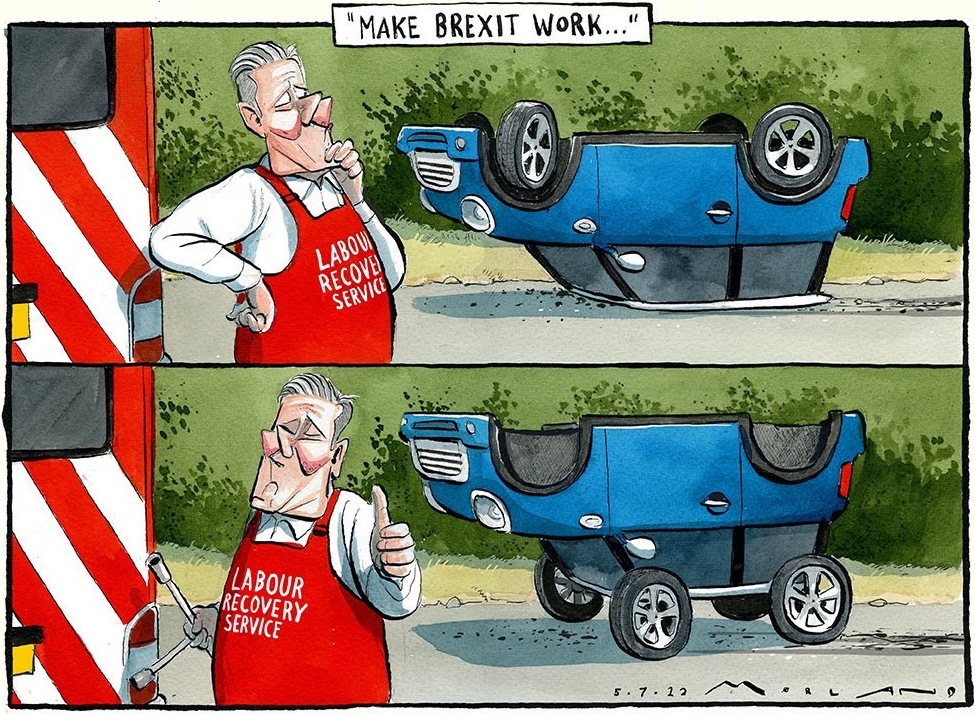 How far is Starmer prepared to go to lose my vote?

Which is hanging by a thread after his NEC rejected our district council leader Doina Cornell as Stroud's Labour candidate at the next election.

She just posted her letter of resignation from the party on Twitter. I make no apology for repeating it in full. It tells an important - and dismal - story.

"Dear David

[Ed: I assume that's General Secretary David Evans]

and Keir,

With the greatest regret I am leaving the Labour party.





I have served the party for 12 years, ten as an elected representative, and four as council leader.





I know that I've been a great asset for Labour in Stroud constituency. No one has done more to build back trust for Labour among local voters after our 2019 defeat. Under my leadership the council's reputation has grown, and I'm proud to have led the district through the pandemic keeping people safe and helping the local economy recover.





My local track record is why many voters and party members encouraged me to put myself forward for the parliamentary selection.





However, none of this was taken into consideration by the central panel appointed to determine the longlist of candidates, who ruled that I did not meet the 'high bar' required for prospective candidates and that I was not fit to be put on the longlist, a decision made without any consultation with local party members.





The party leadership clearly has no respect for local democracy, or for the local understanding of party members and voters, as to who might be the best candidate to win back vital trust in what will be a hard fight in a politically diverse, marginal constituency. Sadly we are seeing local members, activists, and councillors leave the party because of this, damaging what was a united local party and harming our chances of success at the local and national elections to come.





But above all, my decision to leave is a personal one.





A year ago David Evans emailed all Labour party members and said: 'When I first became General Secretary of the Labour party, I made my priorities clear. I want to ensure that our party is a welcoming environment for all our members.'





The longlisting panel interview was far from welcoming. The issues which the party chose to question me on, and the conclusions of the panel that my answers were not 'satisfactory', show a clear disregard for the profound influence on me of the shared trauma of my family, victims of extremism from both the Nazis and the Communists, and how this has shaped me as a politician.





The panellists queried that I was a politician with strong principles and asked me to justify a course of action inspired by one of the people who has influenced me the most, my Romanian grandfather, who was tortured to death in a communist prison for daring to speak out against repression and censorship.





Out of respect for his memory, out of respect for my family, out of respect for myself, I cannot remain in a party when your leadership condones this.





The 'high bar' which the Party claims I have not reached seems to me no bar at all if Labour politicians like myself are deemed fit to lead a district of 120,000 people, but not fit to stand for parliamentary selection. Throughout my political career I have adhered to the highest standards, and to have my integrity questioned by the panel, and their decision communicated without my permission to every member of our local party, has ensured that the party is no longer a 'welcoming environment' for me.





Joining the Labour Party was one of the best decisions I ever made, and leaving is one of the hardest decisions to take. I never set out with any ambitions for office but I'm proud of what I have achieved. I'm grateful for the support I've had from my fellow councillors, local party members and many other people in our community and beyond. I'm honoured to have been nominated for the selection process by my union Unite, as well as ASLEF, CWU, FBIU, GMB, TSSA and USDAW. The traditions of our great Labour and trade union movements have achieved so much for this country, and I hope somehow the Party leadership can reconnect with our core values, our commitment to democracy, fairness, and fighting for working people against the powerful.

Yours,





Councillor Doina Cornell"


How is it so possible to screw up a challenge to this man?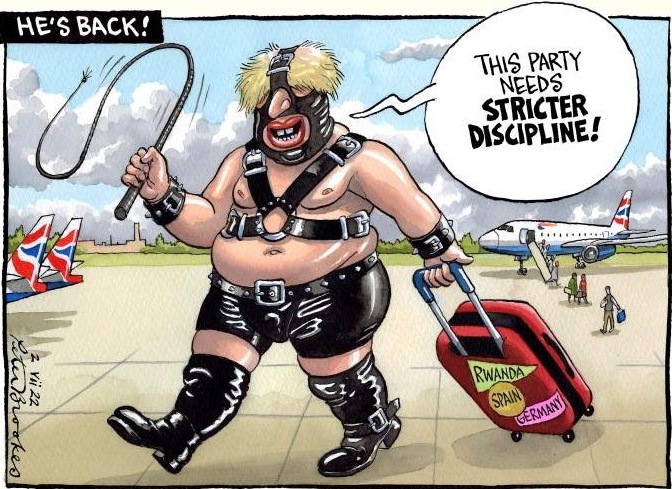 Monday 4th July


I should be writing about Ukraine today, given the news that we hear about the fall of Lysychansk, after 130 days of war - but I'm sure you've read/­heard/watched enough already. So I'm going to post something cheerier - an indulgence, I know, but it's how I need to start the week - a little more on the Rolling Stones "Live at the Fonda" programme of Saturday night. If music is not your thing - at least not theirs - or they seem like an elderly irrelevance in a modern world full of more serious issues, just skip the blog today.

I've chosen another number from the Fonda Theatre show, "Can't You Hear Me Knocking?". It's prefaced by two minutes of comments from the band about the origins and development of the song, started by Ronnie Wood admitting his anxiety, and acknowledging his debt to Mick Taylor, the guitarist whom he replaced in 1975. Then the music, a compelling groove. Seven minutes long. It's up to you if you want to spend the time. Best through proper speakers, bass up, full screen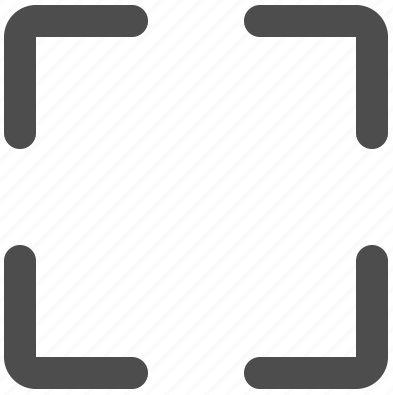 - although you'll get the idea without.

Jagger has been a phenomenon. The weird gyrations, strange stepping gait, nasal twang, Dartford/American accent ... somehow they work. Whippet-thin, he commands the audience and owns the stage. They're all at the top of their game, comfortable and confident in what they can do.




Seven years later, they're still touring - sadly without Charlie.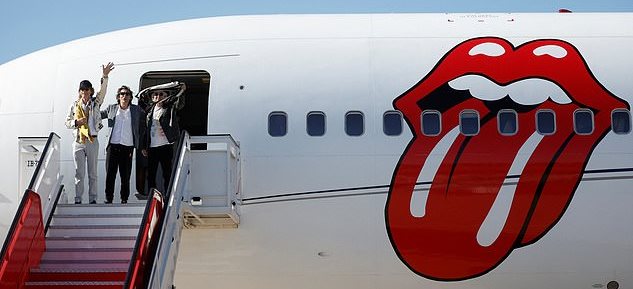 Sunday 3rd July


After suggesting in this blog on Thursday that our aging rock stars should hang up their boots, I still couldn't help watching Rolling Stones night on BBC2. I need to eat some of my words.

First up was the initial episode of the "My Life as a Rolling Stone" series: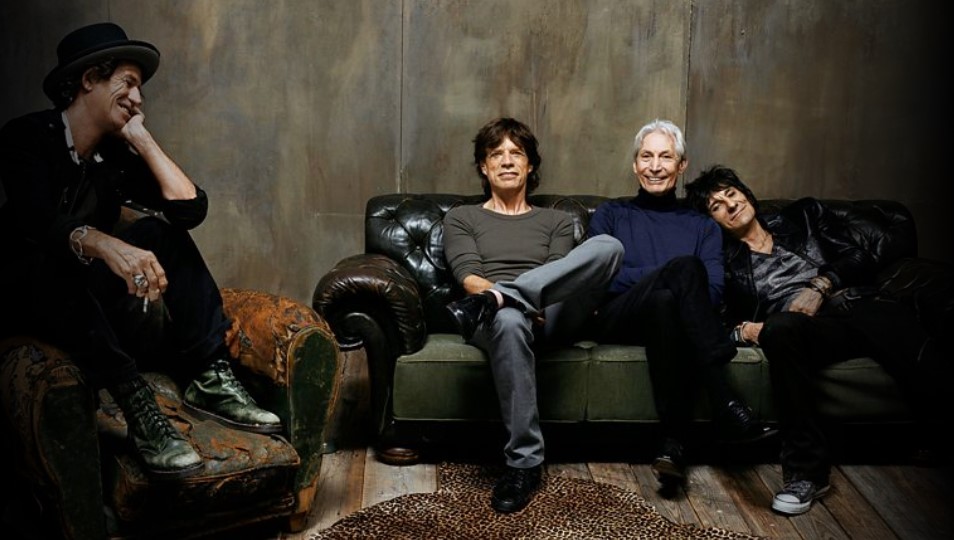 ... starting with: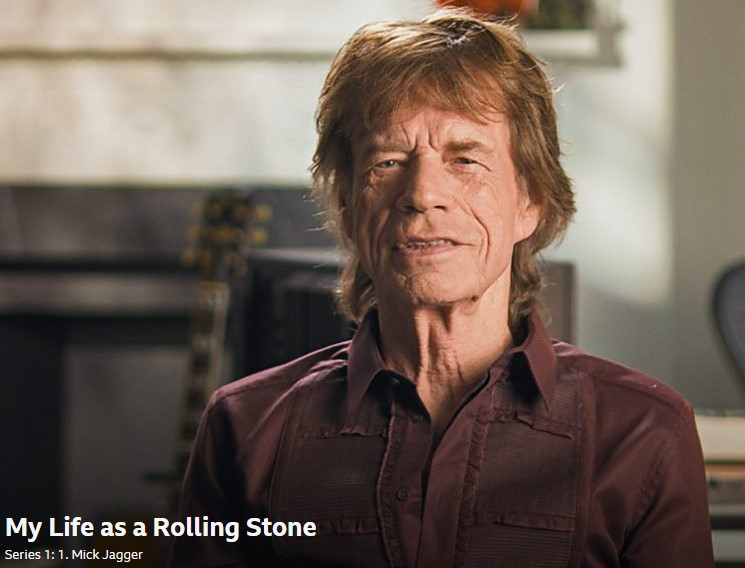 Intelligent, witty, sharp, articulate. Lots of insight into the Stones' deve­lopment. He really knew what he was doing, particularly his under­standing of what a front man should be, how to get noticed. He's often been accused of being a control freak, but as Rod Stewart observed, the band didn't "know how lucky they were". Now they do - and all have admitted it.

I can look forward to these (already up on iPlayer) instead of hunting through the dross of most television served up every evening:





The main treat was "Live at the Fonda". On the 20th May 2015 (so not bang-up-to-date - Charlie Watts is no longer with us - but only seven years ago) at the Fonda Theatre in Hollywood, California, the band performed the entire Sticky Fingers album live in concert for the first and so far only time in their career. I've always thought that the Stones would be best seen in a small(-ish) venue, and this proves it. And, as you can see from the response of the many youthful and delighted fans, their age doesn't diminish the appeal.

They know how to play. Jagger's voice - reference my recent comments on McCartney, Stewart and Ross - holds up. Above all, it's clear from both the performance and the interspersed interviews that they're in love with the music (particularly Richards and Watts), respectful of the influences that shaped them and fond of the musicians who have played alongside. They have fun.

I've picked one number, "Dead Flowers". Not the most obvious choice, just a neat 4-minute song. In rock n' roll, I've always been drawn to the roll in preference to the rock. Jagger and Richards have long had a soft spot for country music, and this is homage.


Take me down little Susie won't you take me down
I know you think you're the Queen of the Underground
You can send me dead flowers every morning
Send me dead flowers by the mail
Send me dead flowers to my wedding
And I won't forget to put roses on your grave

Saturday 2nd July


The original title for these pages was Coronavirus Blog. For the first time in a long while, the virus has returned to the headlines, the upturn driven by variants BA.4 and BA.5: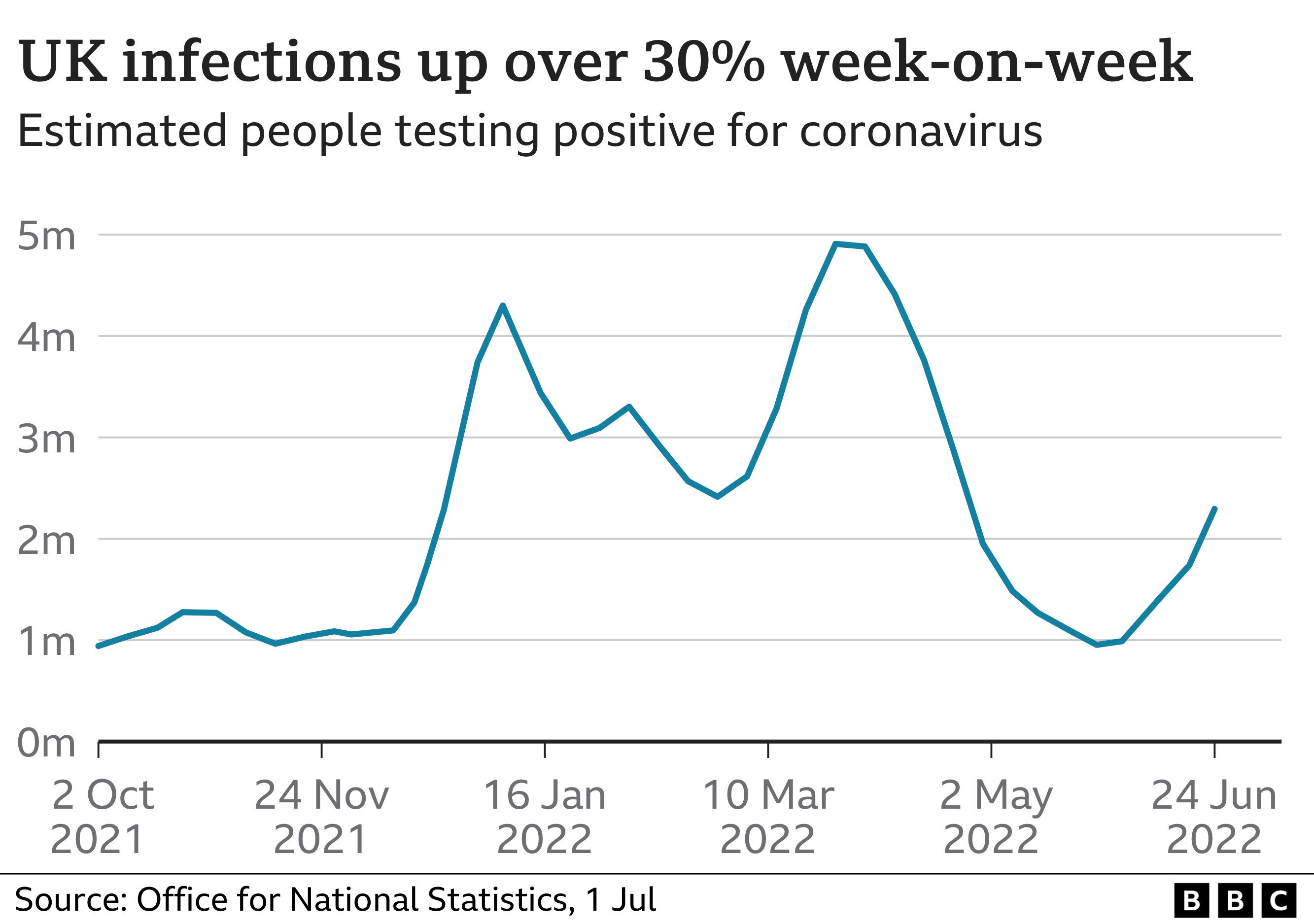 Our whole family is due to head off to the south of France in a fortnight. Is the surge going to have an impact on our holiday? I've heavily insured the trip, including Covid cover, but any disruption would be an enormous drag (and this on top of the risk of EasyJet cancellations).

A quick check of the Financial Times/Johns Hopkins coronavirus infection charts shows a problem in France too (I don't yet understand why the UK reporting appears to have halted in mid-May):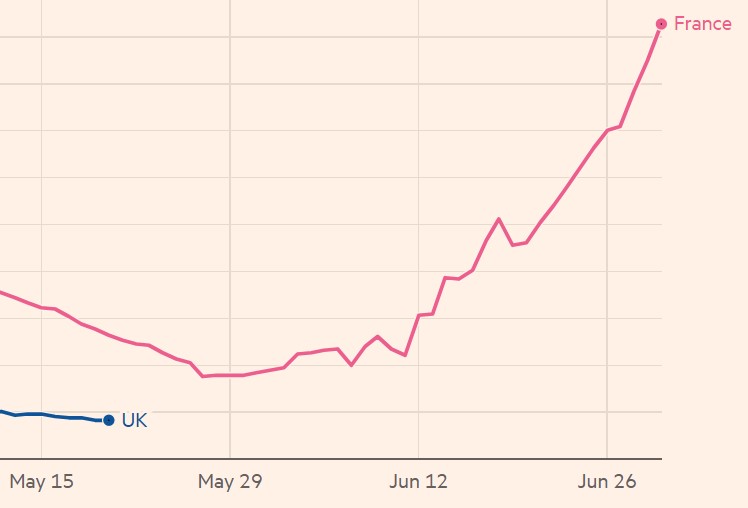 Meanwhile, my desire to get involved in active efforts to oust the toxic Tory government at the next general election has taken a knock here in Stroud. Council leader Doina Cornell (see this blog on 28th May 👉) has decided to leave the Labour Party, following her removal from the longlist of MP candi­dates for our constituency.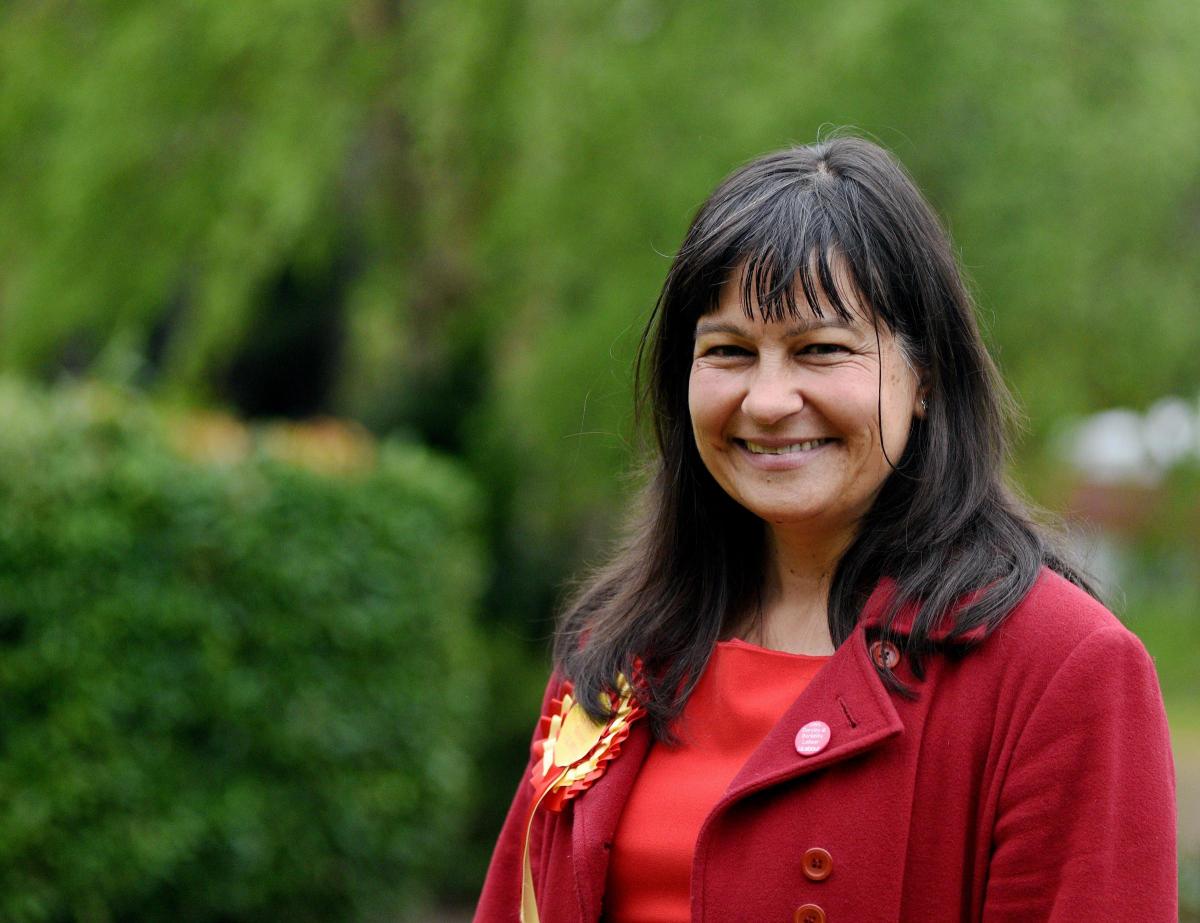 She has written about her non-selection here:




Just when we need a coherent opposition to the incumbent mob, the Labour party has ditched a popular and committed local politician. It looks like she has been a casualty of the de-Corbyn-isation process, suspected by the party National Executive Committee (NEC) of harbouring views deemed unwelcome in a Starmer-led cleansing of unelectable tendencies. In one irony, if anti-Semitism is a shadow hanging over Labour, Doina has Jewish heritage, family who died in the Holocaust.

At least the chosen candidate has now been revealed as a local, Dursley GP Dr. Simon Opher. It might have been out-of-towner former South West MEP Clare Moody.

However, I've just received (8:00am) a WhatsApp message from a nearby (gleefully Green) political informant: "Four district councillors have now resigned from the Labour Party. They're imploding."

Dr. Opher said: "I know we can follow in David Drew's footsteps and turn Stroud red again." I wonder. Or, with Labour either in turmoil or ineffective, the Libdems resurgent after Tiverton (they withdrew in 2019), the Greens refusing tactical deals ... the opposition vote is split and Tory inter­loper Siobhan Baillie is returned. No, no, please - banish the thought.

Friday 1st July


Another topic that I need to close off. The sixth and final episode of Sherwood brought the series to an end earlier this week. [Spoiler alert if you haven't yet watched it all on iPlayer.] The killer, whose identity we knew throughout, was caught. It turned out that his motivation had nothing to do with the community's bitter divisions triggered by the 1984 miners' strike, which is also true of the actual crimes of 2004. He just felt left out, excluded from life without any prospects - and vented his anger, big-time, on those around him.

The economic background still played a part in the story. Here is some bor­rowed real-life footage followed by a clip of one of the miners in his new job:




From factories to warehouses, a manufacturing nation transformed into a retail theme park. Every time I drive to Bristol from Stroud, I pass the site of Redler, closed seven years ago after over a century of making bulk material handling equipment.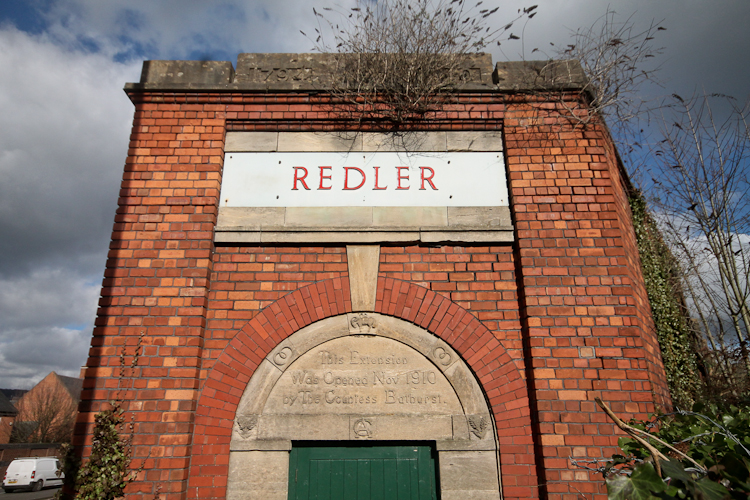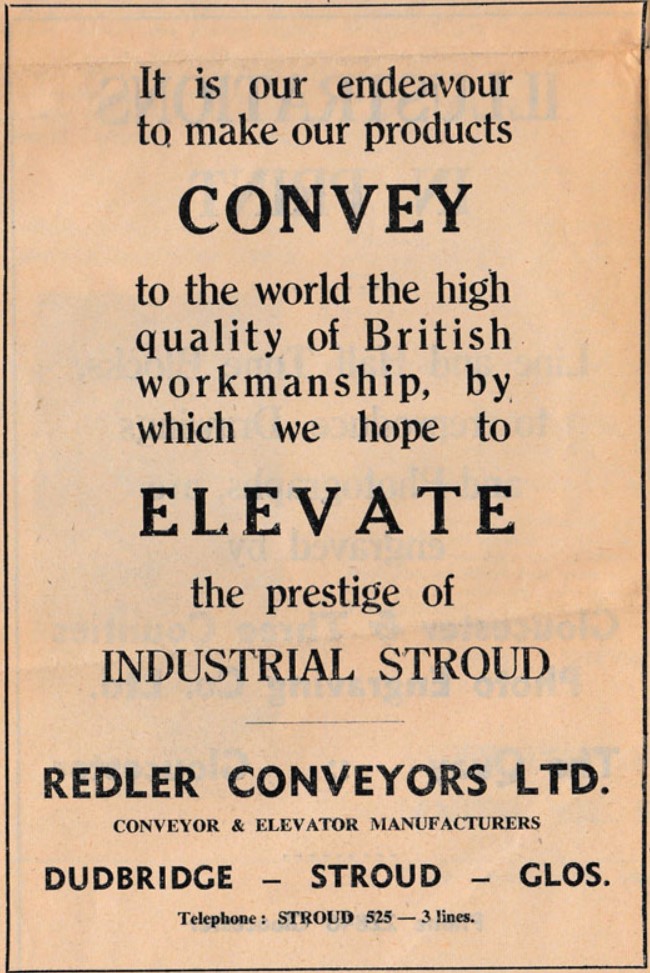 On part of the site we have this instead: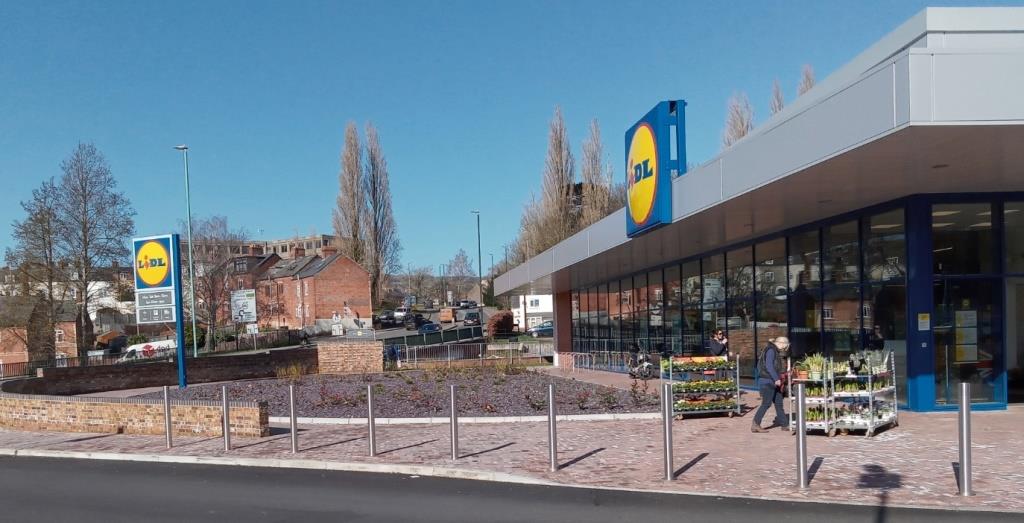 Sherwood approached its conclusion with the town's own "truth and recon­ci­liation" meeting in the local club. The wife of murdered NUM miner Gary, Julie Jackson (played by Lesley Manville - I think she deli­vered the strongest performance in the drama), spoke out:






"[This] is exactly what they want, int'it? Blame each other rather than them. We're still bloody doin' it. They didn't care about us then, they don't care about us now, they just use us. Look at what they still call us, what we call ourselves - a former mining town. Why? Post-industrial. How the hell are we meant to move on from that when even the way we talk about ourselves is by what we aren't any more? How are my grandkids meant to imagine a future beyond that?"


I, like many of my friends and contemporaries, was enraged and appalled by Thatcher. I'm as angry again today with Johnson, or more specifically Brexit. As Julie said, "so f***ing tired". Two political aberrations that altered the course of this country. Julie's reference to her grandkids' future resonated. During the Thatcher era, I was furious on my own account. Now the anger is for my children, and their children. I'm glad that sons Ben and Nikko have pointed two fingers at the madness and live in Europe. But I wish they could have the same experience here.

What to do? There's only one option. Fight the bastards. No use looking back with regret. We have to remove them from government. "Build Back Better" - but not their way.

Nicola Sturgeon is preparing for the fray: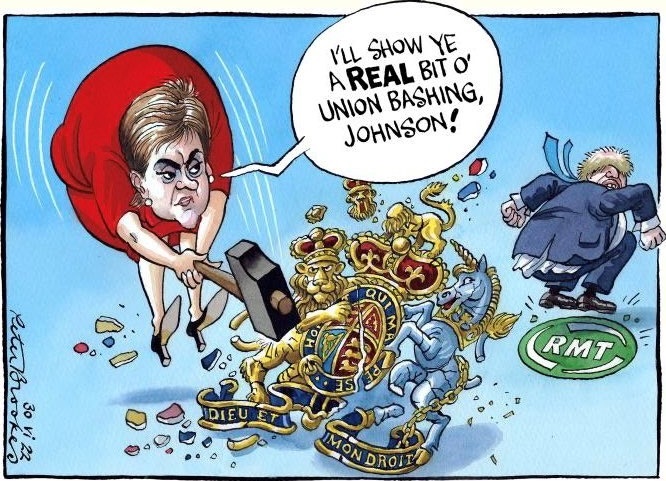 Thursday 30th June


I promise this is my last post on the McCartney gig. I thought I was done with it, but my Irish correspondent pointed out that his was not the only "aging voice" of recent performances. At the Platinum Jubilee party Rod Stewart's vocal delivery was weak. I swear that Diana Ross, both in front of Buckingham Palace and at Glastonbury, was out-of-tune at times. My heart was in my mouth when at the former she struggled down the steps to get closer to the crowd. "Diana, don't do it", I cried at the television, "stay where you are." Why are they still exposing themselves like this? It can't be money. McCartney's estimated net worth is $1.2 billion, Stewart's $250 million, Ross the same. Do they still crave adulation? Or, as Paul said recently, "It's what I do." Surely, at 80, 77 and 78 respectively, they should consider putting their feet up, at least for the sake of the rest of us.

There are more old lags on show this weekend:




Here's the BBC2 Saturday evening line-up: 9:30pm "My Life as a Rolling Stone" (first - featuring Mick Jagger - of 4 programmes); 10:30pm "The Rolling Stones - Live at the Fonda" (on 20th May 2015, at the Fonda Theatre in Hollywood, the band performed the entire Sticky Fingers album live); 11:55pm "The Rolling Stones: Totally Stripped" (originally broadcast in 1995, a fly-on-the-wall account of band).

I can see the attraction of having a "Legends" slot at Glastonbury, but couldn't we rely on extensive archives of audio and film to remind ourselves of them? That's what I've done, even in these pages, with the likes of Robert Johnson and Nat King Cole, who, of course, are no longer available for live gigs. The above-mentioned oldies don't need to go on stage and embarrass themselves - or us - any more. Charlie Watts, bless him, has had the decency to call it a day.

My final thought on the matter: why do we return to these elderly performers? A large part has to be old gits living in the past, harking back to the favourites of their youth. Yet the age profile of McCartney's audience at Glastonbury, singing along to the lyrics, might suggest otherwise. Perhaps - I'll risk accusations of old-gittery - it's simply because they were very good, and have deserved their longevity. I can think of only a few others - who are your choices? - that have matched the stature of the Beatles and the Rolling Stones. But they don't have to take to the stage again to prove it to me.

I'll leave you with the unkind Daily Mail front page picture of 1st July 2013: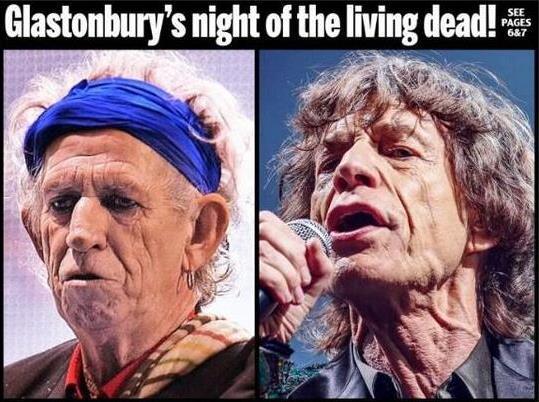 Wednesday 29th June


I need to put this one to bed. Two days ago I said that as Paul McCartney's Glastonbury set had finally made it up onto iPlayer, I could have a proper re-look - and maybe adjust my opinions. So ...

I still think it was a mixed bag; and many have said far worse on Twitter. His voice was strained at times, and the sound engineers really didn't mike him up enough. But overall it was an astonishing event, nearly three hours long, a reminder of the contribution he has made to our musical history over 60 years. He is 80. And he'd only just completed the "Got Back" tour of 13 North American cities, 16 arena performances. Which is a lot of singing.

I've picked two numbers, both of which I mentioned on Sunday. Not his greatest hits, but the pair that carried the most emotion.

First, a song I'd never heard, "Here Today", written to John Lennon. McCartney on his own at the end of the stage walkway in front of the massed thousands with an acoustic guitar. Hardly the best of his singing - or playing - but a touching glimpse of the personal. He gave an explanation at the start, and after, back at the piano, added his take-away advice.




The other was "I've Got a Feeling", famously recorded on 30th January 1969 during the concert on the rooftop of the Beatles' Apple Corps head­quarters at 3 Savile Row. A second tribute to Lennon. Paul topped and tailed the performance with more commentary.




"That is so special for me. Come on, man, I know it's virtual, but there I am singing with John again, we're back together."

[Question: Just over two minutes in, why did he look rather sternly at some­one out front, and waggle an admonishing finger? The McCartney hard, cont­rolling edge.]

Tuesday 28th June


We have this morning two bits of news that illustrate how the UK govern­ment is prepared to step outside international agreements to which it signed up.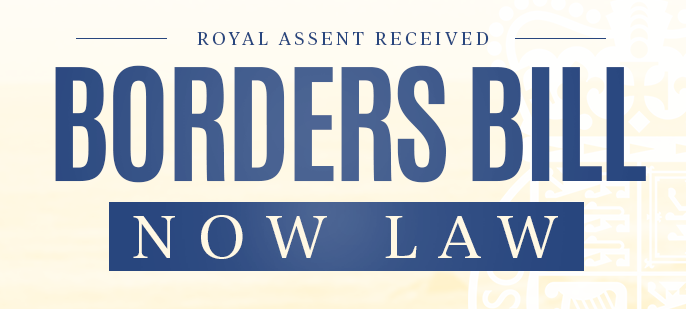 The Schedule 1 provisions ("statutory instruments") of the 2022 Nationality and Borders Act, which received royal assent on 28th April, come into force today. The schedule covers around a third of the Act's sections. I can't begin to summarise all the detail; indeed, others have already done so better than I might. I'm just going to post original documents, for the record, and should you wish to study source material.

This is the Act as passed in April (117 pages):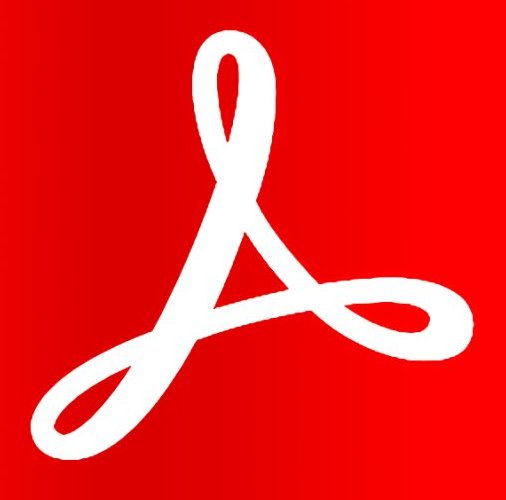 Even the Act's table of contents is quite daunting (6 pages), but it gives an idea of scope: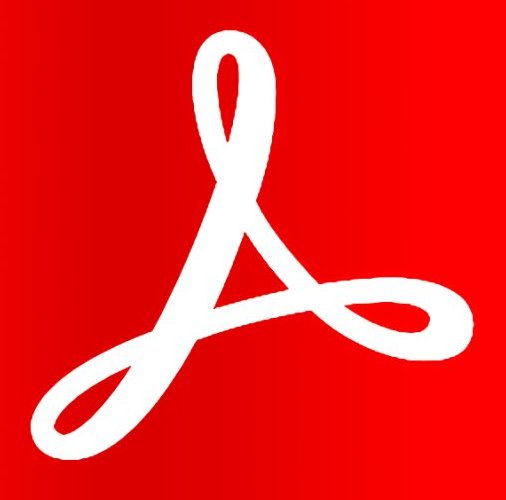 Here is the official schedule of what applies from today (7 pages)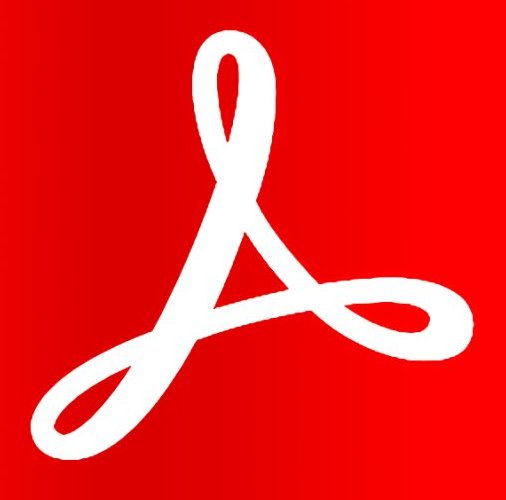 and my extracted summary list (2 pages):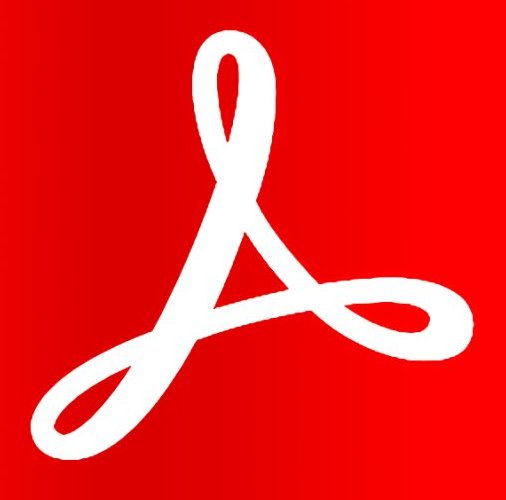 What arrogance impels the government to be different, to diverge from an international consensus, to claim a special case? How much effort, time and money has gone into this separation, all of which could have been better spent on addressing the global challenges of migration, in partnership with other nations?

Why is the stimulus to action the perceived threat of small boats arriving on our shores rather than the actual plight of those so desperate that they will risk such perilous modes of transport? Priti Patel crows about her world-first targeting of criminal gangs. She's missing the point by a country mile. Bad people will always seek to profit from those in distress. Our ingenuity and deter­mination should be directed at the root problem.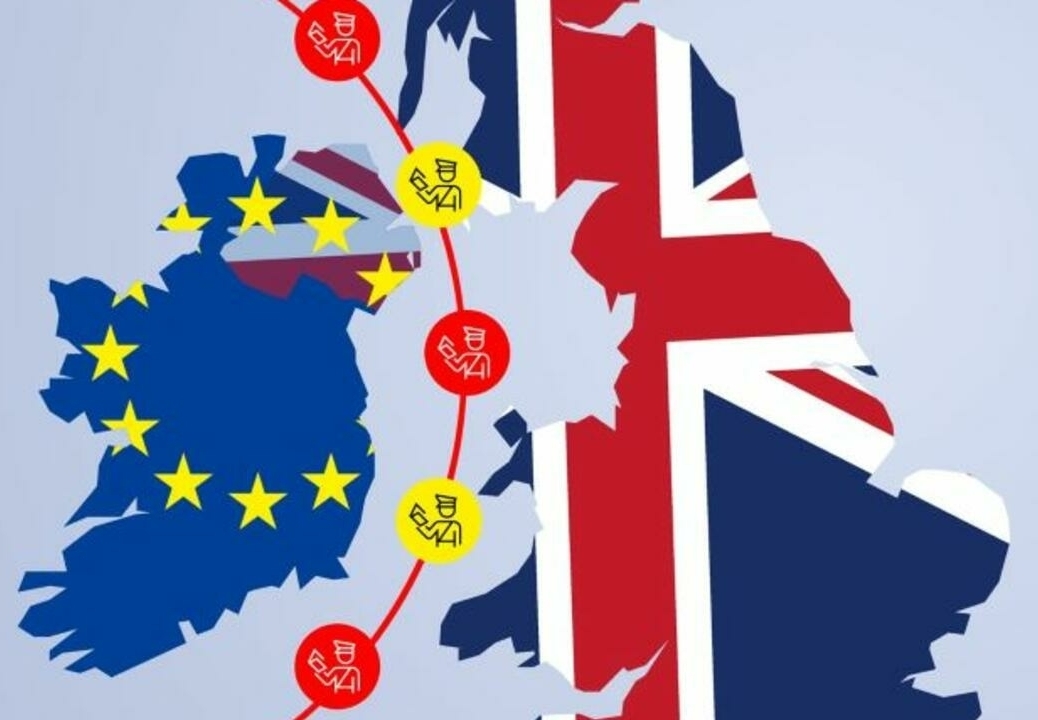 Yesterday, by 295 votes to 221, MPs gave initial approval to the controversial bill allowing ministers to scrap parts of the Northern Ireland Protocol, to change the elements of the 2019 deal that introduced post-Brexit checks on goods sent from Great Britain to Northern Ireland.

Once again, Westminster wants to alter an agreement made in good faith with international partners. During the debate, Theresa May asserted that the bill's intent was "not legal", and would "diminish the standing of the United Kingdom in the eyes of the world". Tory MP Simon Hoare, who chairs the Commons Northern Ireland Committee, said the bill represented "playing fast and loose with our international reputation". Former Tory international development secretary Andrew Mitchell said it "brazenly breaks" the UK's obligations.

Yes, Brexit introduced problems that simply didn't exist before. We chose - well, not me, guv - to get into this mess.

Monday 27th June


No time to write yesterday - grandson Marlie visiting and a refugee fund­raiser all afternoon - so let's have a cartoon (click any to enlarge) stab at Boris, who says he is "actively thinking about a third term - mid 2030s" and has no plans to undergo a "psychological transformation".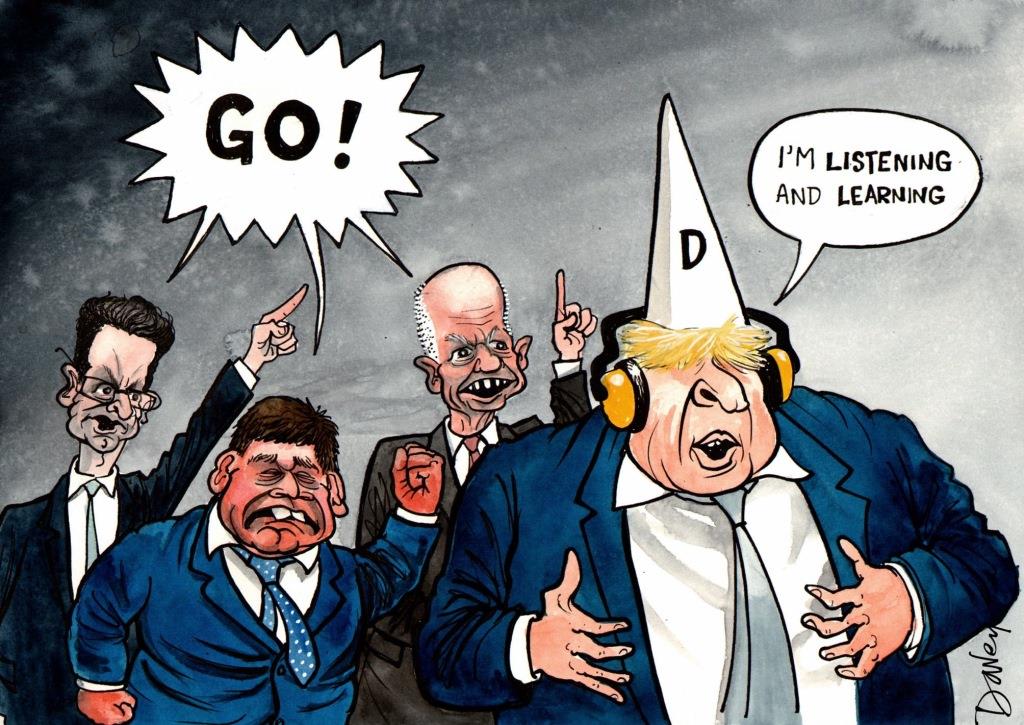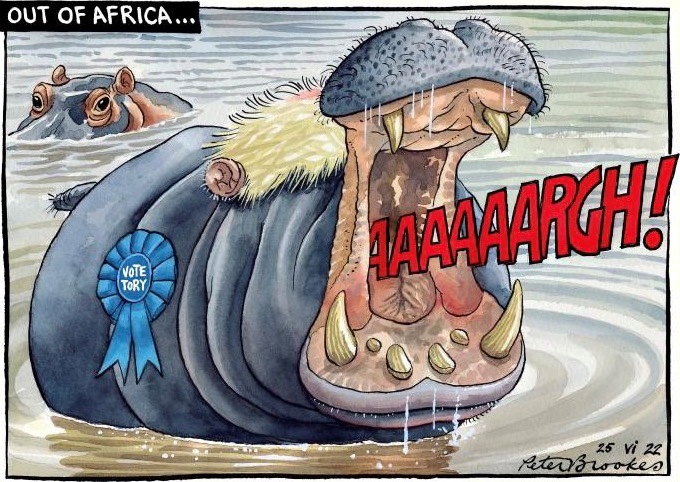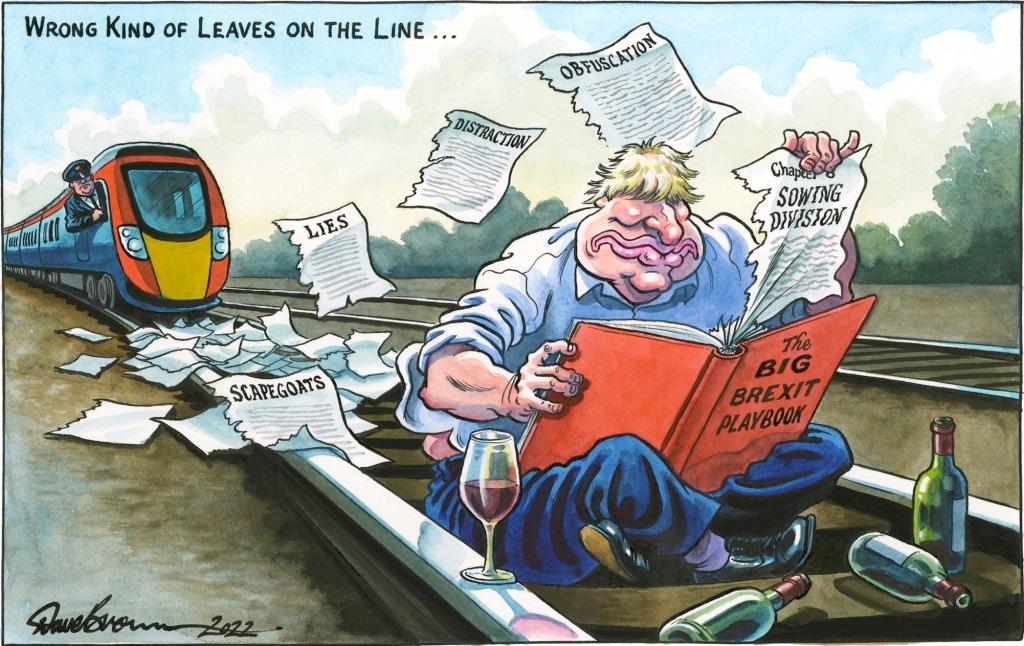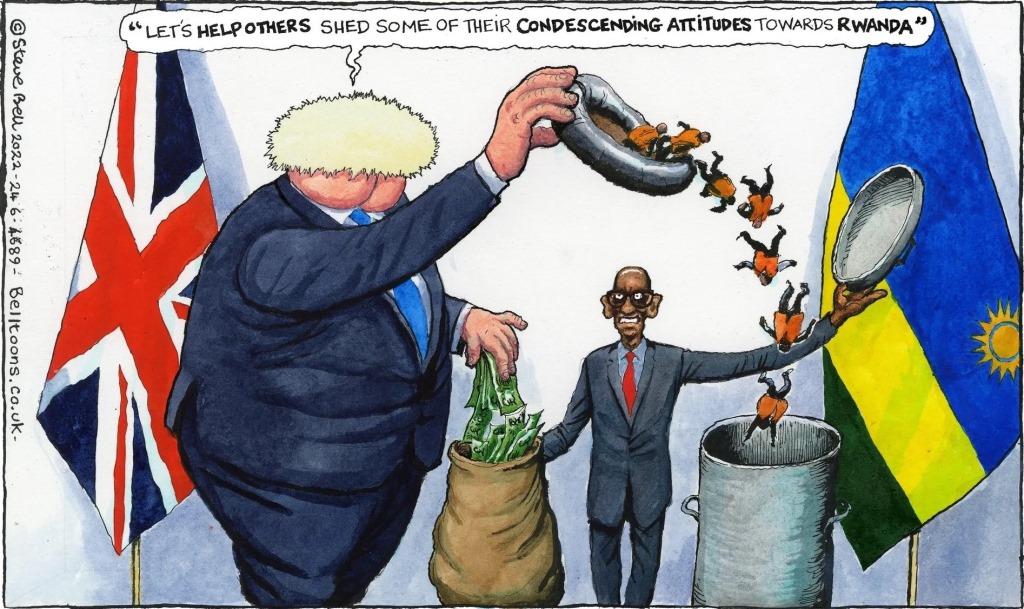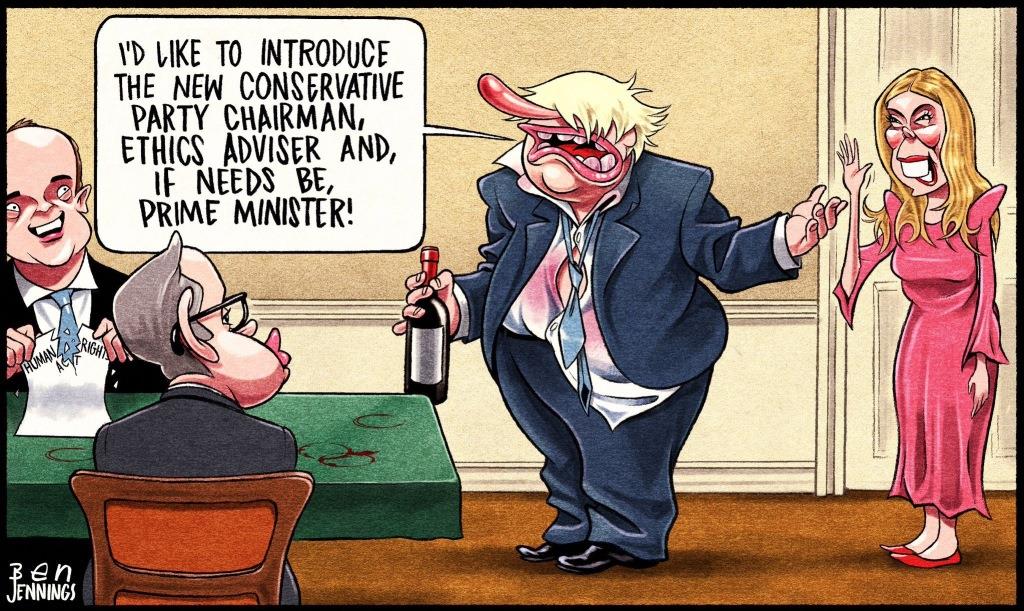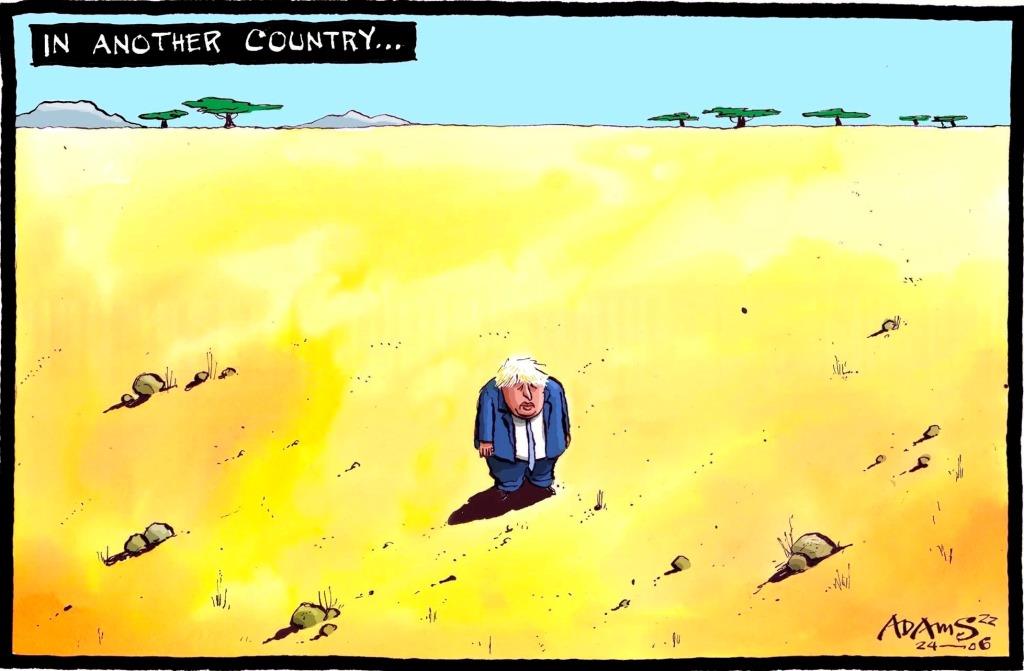 A brief afterword on yesterday's blog. Paul McCartney's Glastonbury set is now up on iPlayer, all 2 hour and 45 minutes. At first look/listen the sound seems much better than on Saturday evening's TV coverage. Maybe they tweaked it before posting online. Or my telly didn't do its job properly. Or my ears. Whatever, I can now dissect the performance some more, at my leisure. Watch the half-hour I missed by going to bed. I might have adjusted my opinions by tomorrow.

Sunday 26th June


I stayed up to watch Paul McCartney headlining at Glastonbury.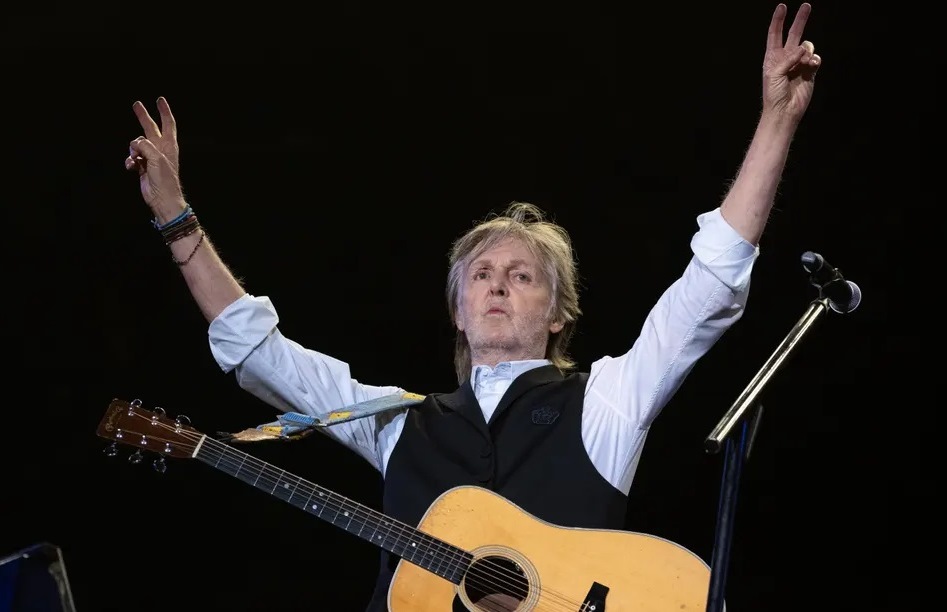 A curate's egg. Before I go on, I have to apologise immediately for looking up - and documenting here - the origin of the expression. Most sources assert that it comes from George du Maurier's cartoon "True Humility" published in Punch on 9th November 1895 (see below, click to enlarge). In fact, the same joke was made earlier that year in another drawn by the artist Wilkerson and printed in Judy. OK, it really doesn't matter.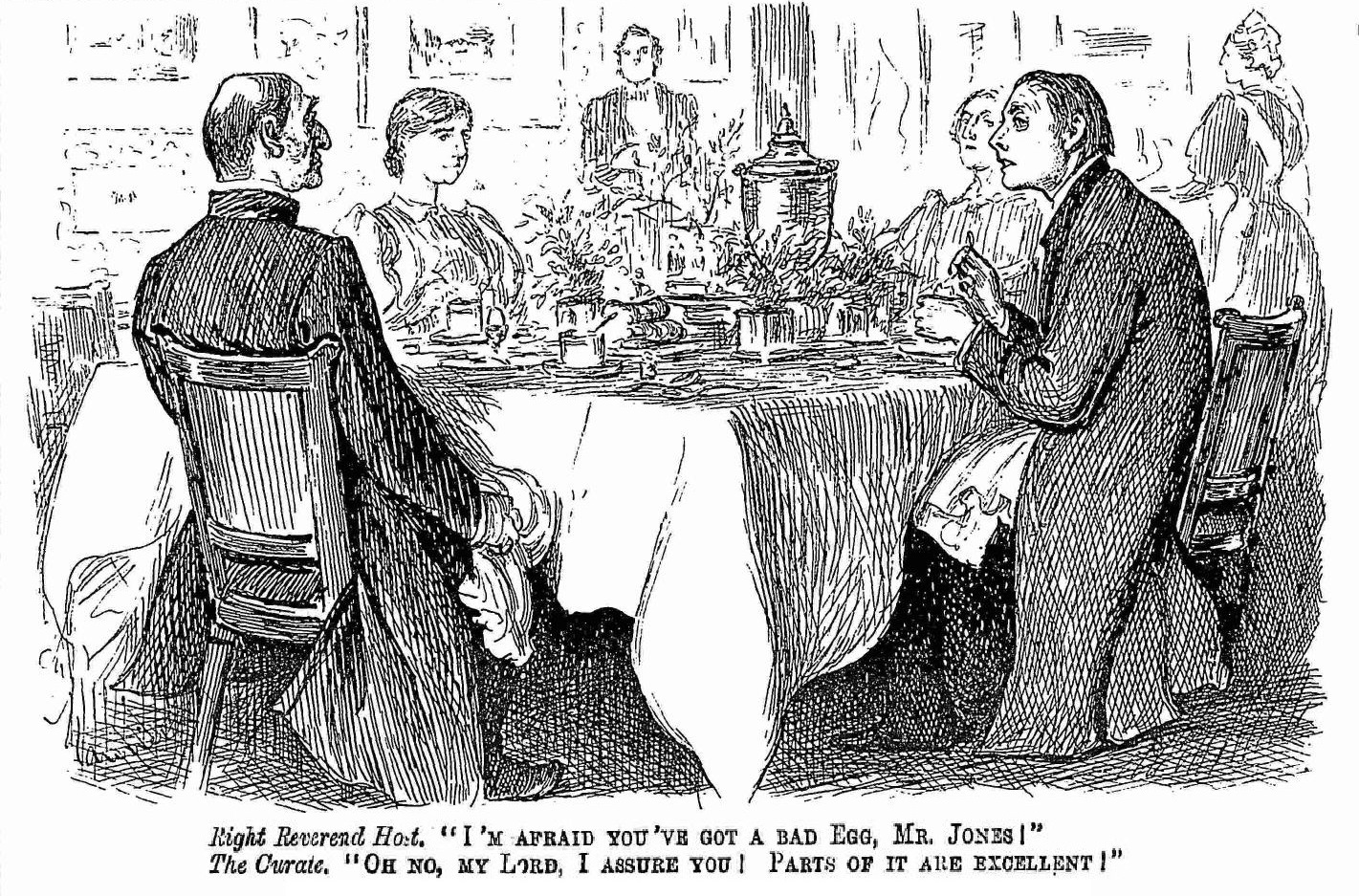 I'm missing the point. I went to bed before the end of a 3-hour set. He didn't, performing without a break at the age of 80. Not to mention the back catalogue of extraordinary music that has delighted fans and influen­ced musicians for over a generation.

Like his two surprise guests, Dave Grohl and Bruce Springsteen, flown in from the US west and east coasts respectively. On stage for a handful of songs, both as happy as puppies. McCartney didn't smile much during the evening; Springsteen wore a wide grin throughout his appearance. Was it my imagination, or did the energy level ramp up when his two mates came on?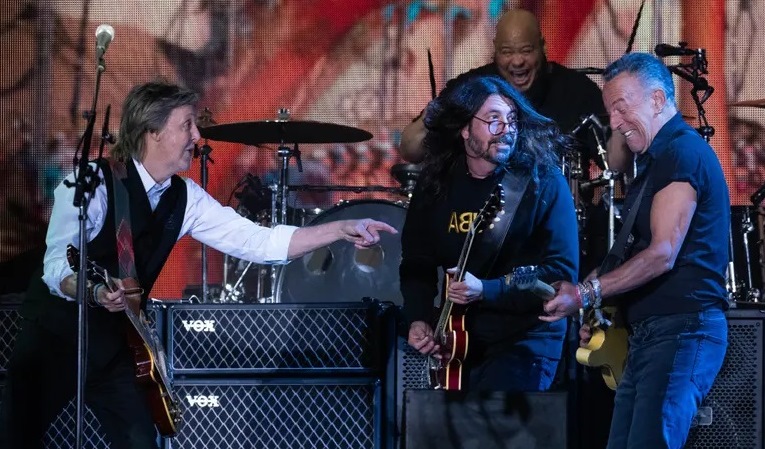 It was touching and clever for him to pay tribute to producer George Martin and former band members in stories (real insights to past collaboration) and song, and get the crowd to acknowledge them. He started George Harrison's "Something" with a ukulele; George was a good player, he said. I'd never heard "Here Today", an acoustic rendering of the song-letter he'd written to John after his death. Near the end he duetted with a virtual Lennon on "I've Got A Feeling", John's part extracted from the rooftop concert by Peter Jackson, director of "The Beatles: Get Back". I'd like to post some of the songs here, but his set hasn't yet appeared on the Glastonbury iPlayer site. Maybe it never will.

"You had one job." With all the talented sound engineers employed and expensive equipment on show, why didn't they have his microphone turned up? His voice is not as strong as it once was, so he needed help. The band instruments and backing vocals were spot on, so why not for Paul? FFS😡, he was the headliner. By the way, it's an excellent band.




I mostly like his stories. However, some of the chat can be a little off-key, always has been. At one point he said to the audience:


"We know when you like songs and when you don't. When you like it, when we do an old Beatles song, your 'phones all light up. And the whole place looks like a galaxy of stars. Then when we do a new song, it's a black hole. But we don't care. We're going to do them anyway."


Why did he say that? Was it irritation? He has a track record, a prickly haugh­tiness.

Enough of my carping. The event was like a review of our lifetimes. I'd be happy to have written one good song, but as many as McCartney? Over a period of 60 years?

Saturday 25th June


I wrote on Wednesday about the déjà vu of 1970s inflation and 1980s strikes, and mentioned the current BBC thriller Sherwood. It has stimulated me to look further, to contemplate the legacy of those times and echoes in the present day.

Sherwood is based on the real-life murders in 2004 around the Ashfield district of Nottinghamshire where the writer James Graham (amazingly, he's only 39, at the time of the crimes 21, and less than two at the start of the miners' strike), was brought up. The killings took place against a background of lingering hostilities between the National Union of Mineworkers (NUM) and the breakaway Union of Democratic Mineworkers (UDM), formed mostly by miners in Nottinghamshire and South Derbyshire. The first murder in the drama is of a passionate ex-NUM-miner, who is at odds with his many ex-UDM neighbours, who continued to work and whom he therefore considers, even at a distance of 30 years (the series is set in 2014), "scabs".

I've extracted one 2-minute scene from Episode 4. [There are two more to come, unusually not already available on iPlayer, so we are still in the dark about the true motivation for the murders.]

The senior investigating officer DCS Ian St Clair (David Morrissey) and his colleague from the Met, DI Kevin Salisbury (Robert Glenister), are visiting Newstead Abbey, best known as the ancestral home of Lord Byron, where a pheasant has been shot with an arrow - the primary murder weapon of choice so far. They've decided to try to understand the implications of the miners' conflict - one issue is that of "spy-cops" embedded in the community - from "somebody who knows what they're talking about", and are met at the abbey by a pro bono NUM lawyer, Jennifer Hale (Lindsay Duncan).




Here's a transcript of the scene:


"God, we're an old country. Look at this place. So much past, which means, unfortunately, quite a lot of mistakes. But it's not the getting things wrong that's the problem. It's the sweeping under the carpet of it all and refusing to just bloody look at it, and learn from it.

"When the Thatcher government's cabinet papers were released under the 30-year rule, even I, the mad cynic, needed a stiff drink. It's all there, in black-and-white, the Ridley Report, by a future Tory Secretary of State. They wanted that strike. They wanted to change the political landscape of this country away from collectivism towards deregulated market forces. And reasonable people can agree or disagree with that shift. The point is in order to achieve it they needed a war, they needed to, and I quote, 'provoke a strike in nationalised industries'. And they picked coal. And they won. And this country changed, forever. And Christ, if they used spies to stir up trouble, tear people apart, well, you never stood a chance. Hillsborough, the miners' strike, 'phone hacking, Stephen Lawrence, some of the most unsavoury aspects of British policing over the last half-a-century that we are managing to drag out of the darkness and into the light - it all demands justice."


I'm ashamed to say that I didn't know about the Ridley Report (aka Ridley Plan). Here it is, a photocopy of the type-written document delivered to the shadow cabinet, dated 30th June 1977 (28 pages):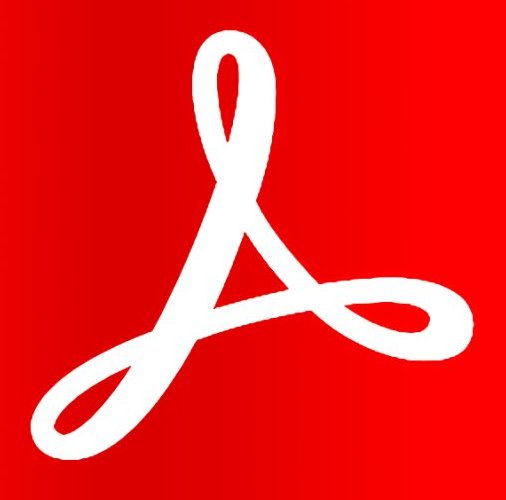 Thatcher was then leader of the opposition, becoming prime minister on 4th May 1979. You may remember her words on arrival at Number 10:


"Where there is discord, may we bring harmony; where there is error, may we bring truth; where there is doubt, may we bring faith; and where there is despair, may we bring hope."


Here is the first page of the document: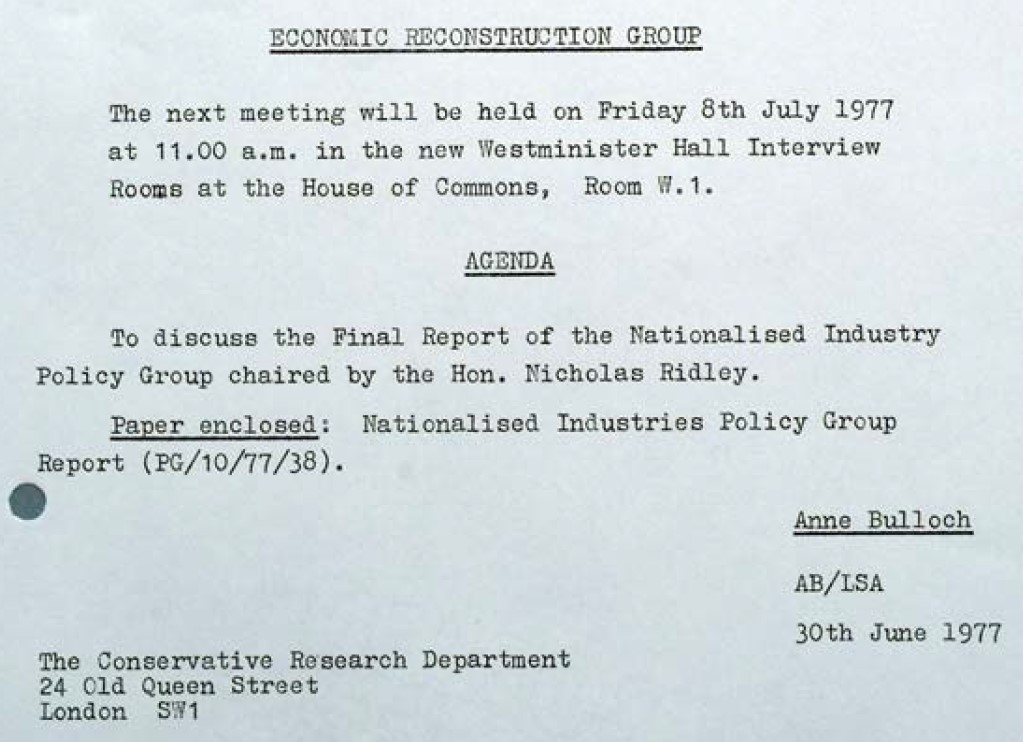 What Jennifer Hale says in the video clip is true, except perhaps the implied timing of the report, in reality just under two years before Thatcher took office. Well, she was ready to get started, wasn't she?

Nicholas Ridley was indeed a future Secretary of State: for Transport (16th October 1983 - 21st May 1986); for the Environment (21st May 1986 - 24th July 1989); and for Trade and Industry (24th July 1989 - 13th July 1990).

Here are some snippets (click on any to enlarge).

Yes, the clear intent was to de-nationalise:





There was deep distrust of the industries:




A review of the potential targets had been carried out:





Coal became the target:





Difficulties were anticipated:






As Jennifer Hale says in the video scene ... all there in black-and-white(-ish).

There is a whiff of conspiracy theory in the programme. We have plenty of that tendency here in the heart of old Stroud; you can see it on High Street stalls at the Saturday market. My question in response has always been, "why would you obsess with conspiracies - it must be exhausting - when the reality is bleak enough already?" In defence of the theorists, digging has clarified what went on in the Thatcher era, things we didn't know at the time. The assertion in Sherwood is that the Ridley Report - I had no knowledge of it in the 1970s - was a secret internal document, only revealed later under the 30-year (now 20-year) rule. Mind you, in Boris's Britain today, there's little need to search. The answer is hiding (not) in plain sight.

A brighter thought occurs to me. We have a vibrant tradition of investigative journalism in this country, and of private determination to "drag [the truth] out of the darkness and into the light". Private Eye has never let up on the Post Office scandal, the miscarriage of justice involving the wrongful prosecutions of sub-postmasters for theft and false accounting. The Hillsborough families have persisted heroically in their battle for justice. Is it only in my imagination that this quality is intensifying, or is the old adage "ours not to reason why" genuinely becoming a thing of the past? I hope so.

Friday 24th June


We're nearing the end of this:





So we went to see Little Amal on her visit to Cheltenham yesterday. She was serenaded by primary school children outside the Everyman Theatre:




If you don't know her, here's an intro from the "Walk with Amal" website:


"One little girl. One BIG hope.

"Last year Amal, a ten year old refugee, embarked on a remarkable journey that took her from the Syrian border across Turkey, across Europe. In search of her mother. To get back to school. To start a new life. Now she takes her next steps.

"Amal is a 3.5 meter puppet. From July to November 2021, representing all displaced children, many separated from their families, Amal travelled over 8,000km embodying the urgent message 'Don't forget about us'.

"Since the beginning of her journey in 2021, Little Amal has travelled through over 70 cities and been welcomed at more than 160 unique events, reaching 875,000 people in the 12 countries she has already visited, and millions more online. In June 2022, one year on from leaving Syria she will take part in World Refugee Week by visiting 10 towns and cities across England meeting old friends and making new ones. In September 2022, Amal will travel to New York City. After arriving at JFK Airport, she will travel through all five boroughs, meeting artists, civic leaders, community groups, and young New Yorkers of all backgrounds."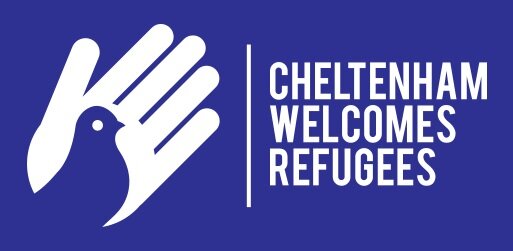 And here's a late promotional call to Stroudies and neighbours. Hill House in Amberley, which offers "sanctuary retreats for refugees, asylum seekers and survivors of trafficking and torture", is holding its annual fundraiser this Sunday 26th June. Proceeds will go to the Bristol Hospitality Network, which supports destitute asylum seekers, and to Hill House. Ticket sales - you can buy via the website stated in the flyer below (click to enlarge) - close today.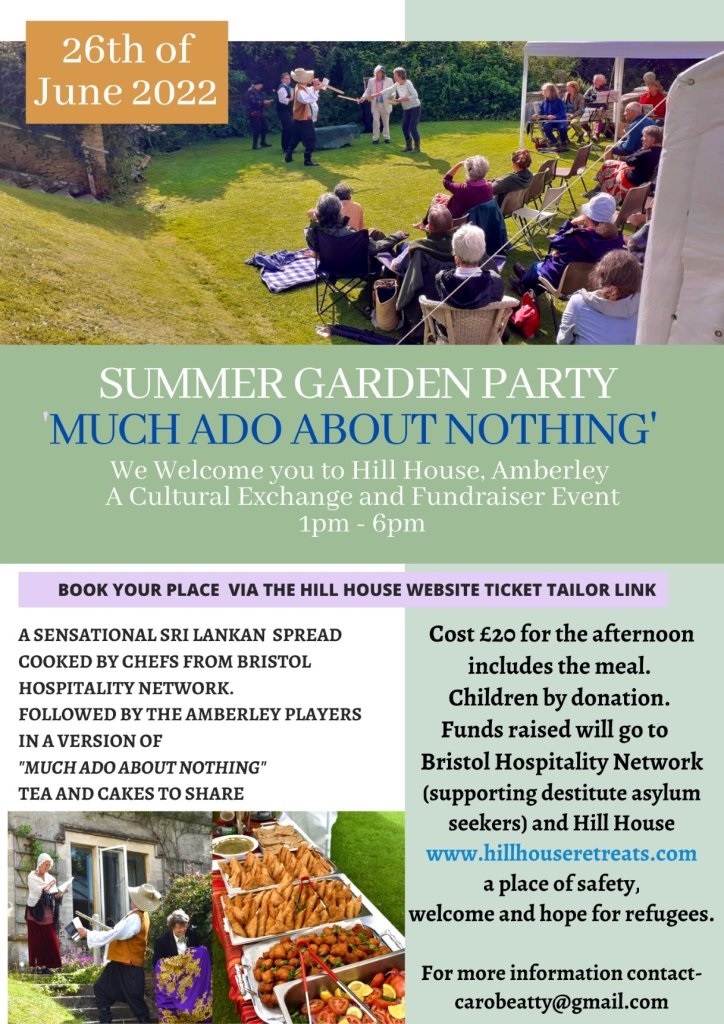 Plus "Reasons to be Cheerful":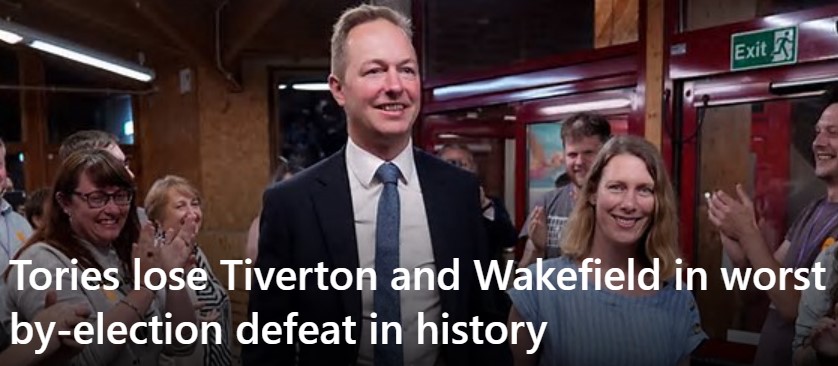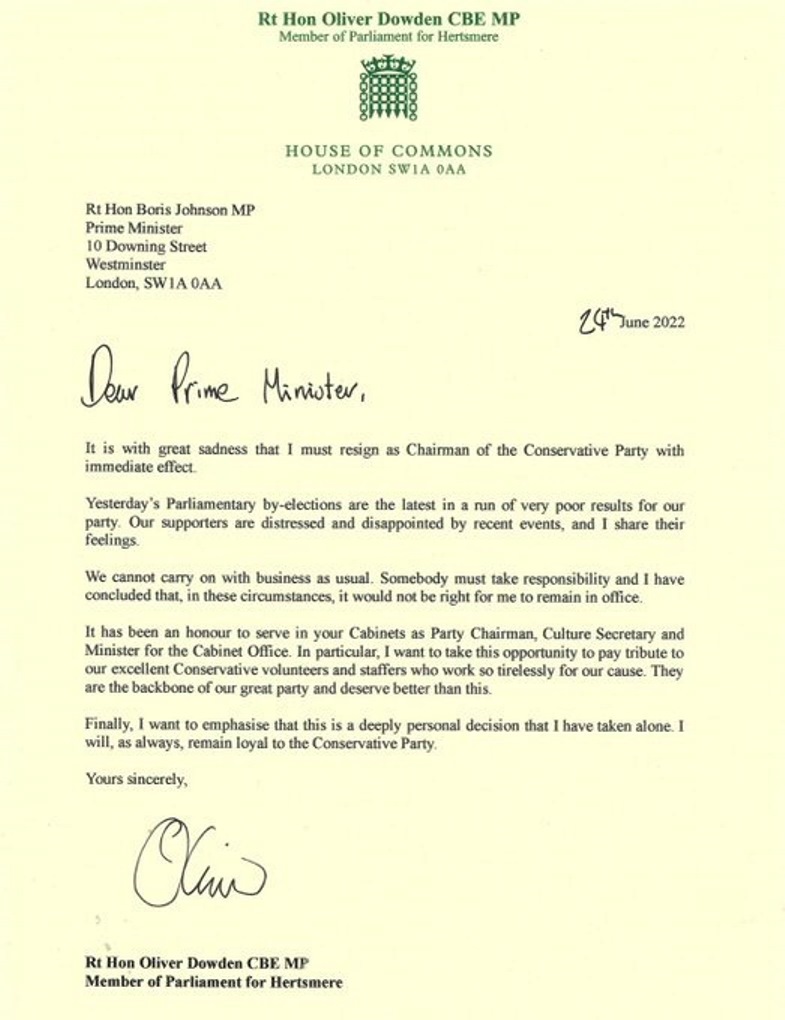 Boris is in Rwanda. He can stay there.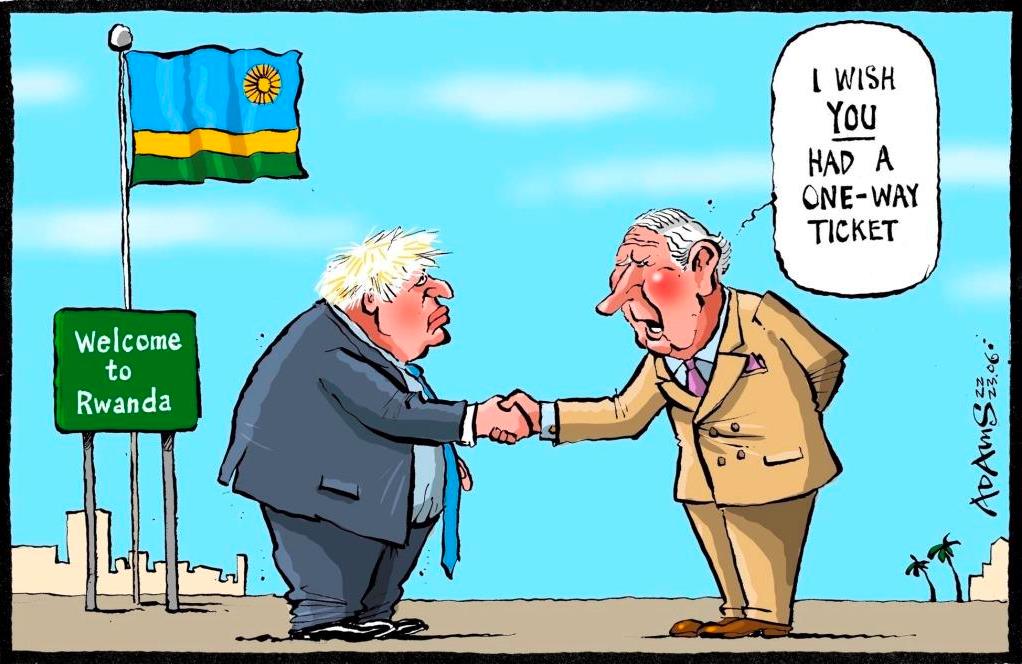 Wednesday 22nd June


Inflation? It's a generational thing.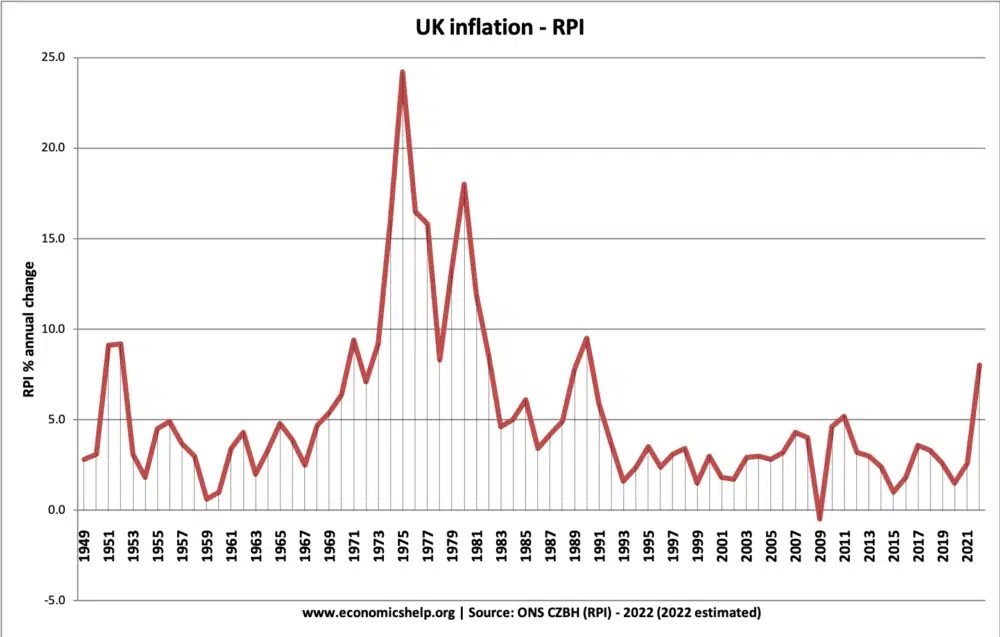 When the Organization of Arab Petroleum Exporting Countries (OPEC) declared an embargo in 1973 leading to the "Oil Crisis" - which saw the price of oil rise nearly 300% by the end of the sanction in March 1974 - I had just left university. I remember hunting and queuing for diesel for the truck I drove at the time. My father implemented the "Three-Day Week" - com­mer­cial users of electricity were limited to three specified consecutive days' consumption each week and prohibited from working longer hours on those days - at his factory in Worcester.

At the time of the 1975 inflation peak of 26.9% - please just pause to con­sider that number - I was 23. I left the UK for Italy at the end of Novem­ber that year. I returned after the "Winter of Discontent", in August 1979.

In almost every way, the crisis passed me by. I had no money then - none to lose. A job when I wanted one. What money I earned, I spent - in Italy, on a "life of Riley": visiting its beautiful regions, skiing every weekend in winter, seriously com­mit­ted to a love of Italian food, renting the summer wing of a 13th century Venetian villa in the foothills near the Prosecco vineyards (long before British adoption of the wine as the girls-night-out drink of choice😉).

This didn't seem to apply:




Now, 40+ years on, it looks different. I have some money - and no job.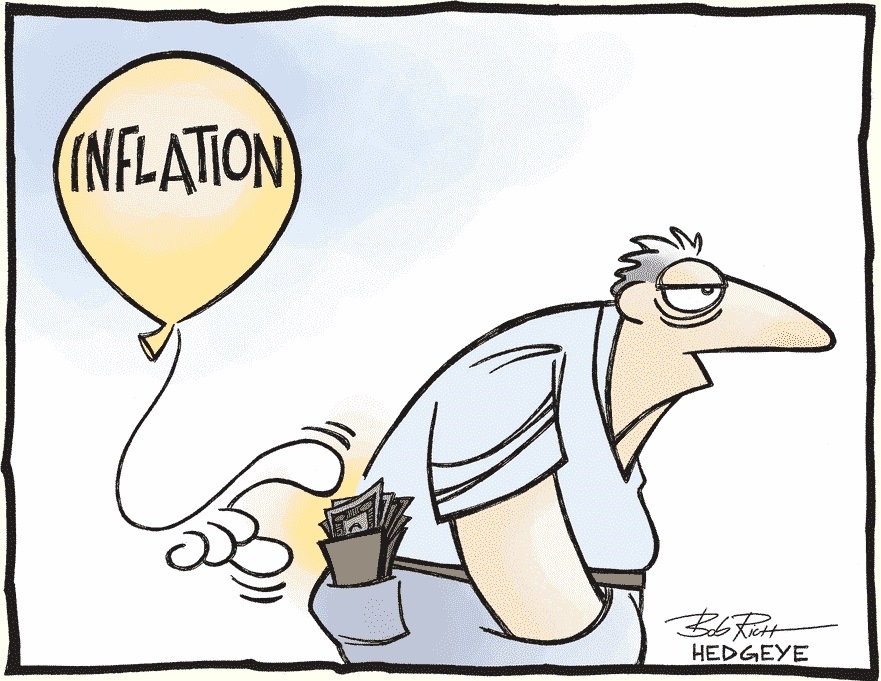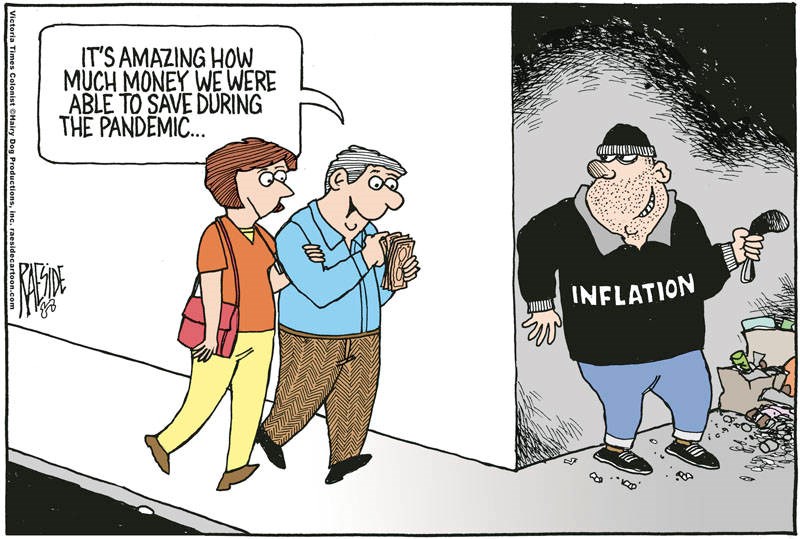 Inflation, strikes - for anyone over 60, it's déjà vu. They did for Heath, Wilson and Callaghan. We ended up with Thatcher, her determination to break the unions, and in time witnessed the dismantling of British industry. Are you watching Sherwood, the BBC thriller about murders in a Nottinghamshire village still plagued by the 1984-85 miners' strike? Compulsory viewing.

Now we have Johnson: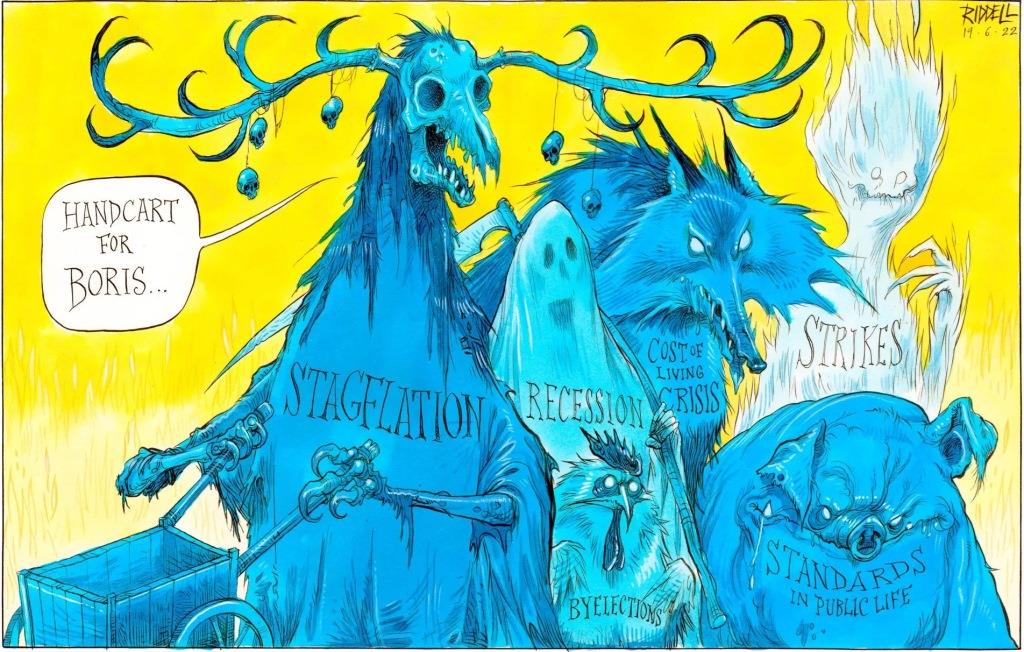 I'd like to end on a cheerier note.

"Now is the winter of our discontent", spoken by Gloucester, Richard III. In the early 1970s I used to visit a camping shop just east of Worcester. At January sales time, they had a sign on the road at the entrance which read: "Now is the discount of our winter tents."

Tuesday 21st June


As you will know from these pages, the desire to campaign actively against the noxious Westminster government has been growing in me. I'm begin­ning to feel that it's one of the things that I want to do with my time in the next two years. Rather than recoil in dismay at the actions of Boris and his cronies, take the fight to the perps.

Brexit has been a personal affront. Our family is European. Son Nikko lives in Vienna, son Ben in the Basque Country. We have strong ties to Italy, Spain and Greece. I don't feel particularly British - at the moment I mostly expe­rience shame. My heart is in Europe. I dream of reversing Brexit's catas­trophic spirit and effect.

Can this be more than an idle whimsy? My Irish correspondent pointed me at this organisation yesterday:



I'm surprised to read that the Movement has "history" in the European debate. Its origins lie in the aftermath of WWII - see last Saturday's blog on Churchill and the Council of Europe 👉. It campaigned strongly for the 'Yes' vote in the 1975 EU membership referendum, pressed for direct elections to the European Parliament in the 1970s and promoted the benefits of the single market in the run-up to 1992. No prizes for guessing which side it took in 2016.

Michael Heseltine, former Conservative deputy Prime Minister and leader­ship challenger to Thatcher in 1990, is president. Andrew Adonis, Labour peer and cabinet minister under Blair and Brown, is chair. Our local Stroud luminary Molly Scott Cato of the Green Party (her MEP seat was stolen by Brexit, along with 72 others) is senior vice chair. The CEO is Anna Bird, formerly Head of Research and Public Policy at the disability equality charity Scope, and Deputy Chief Executive of the Fawcett Society, campaigning charity for gender equality and women's rights.

So, there's a cross-party and "good cause" feel to the venture that could well allay my natural suspicion of any group with a rich old Tory property developer and landowner as its figurehead.

I can't quibble with Heseltine's introductory remarks in the welcome - and invitation to membership and donation - email (full text here: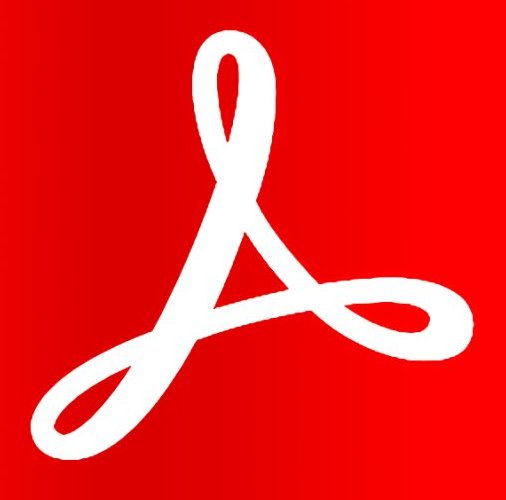 ) to interes­ted parties:


"What a week it has been in politics. Far from the promise of "no border in the Irish Sea", we are now threatened with a trade war over Boris Johnson's government's decision to overturn its own treaty commitments on Northern Ireland.

"The plan to send asylum seekers to Rwanda is unravelling, bringing with it the usual Brexiter reaction that this country should abandon the post-war European Convention on Human Rights, based on democracy, individual freedom and the rule of law and set up in part as a beacon of hope to the countless millions enslaved under communist dictatorship.

"Queues are back. Thanks to Brexit, there are queues to see doctors, queues at A&E departments, queues at airports, queues at ports, queues at passport offices. Farmers turn their crops unharvested back into the soil.

"Meanwhile the Organisation for Economic Co-operation and Development has predicted that the UK will grind to a halt in 2023. Only Russia is performing worse out of the G20 group of wealthy nations."


On 10th June he wrote an article in The Guardian titled: "Even the Murdoch press is now waking up to the truth: Brexit was an act of self-harm". I agree wholeheartedly with the second statement. I hope the first is true.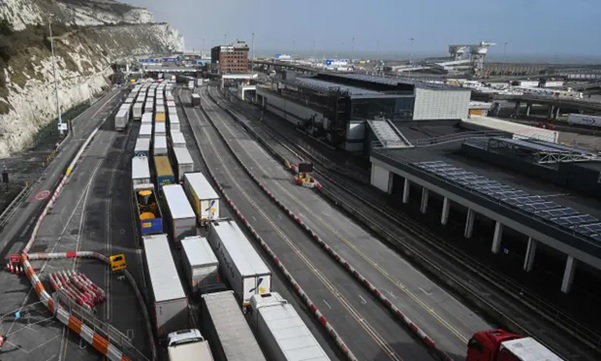 Here are the full article (4 pages)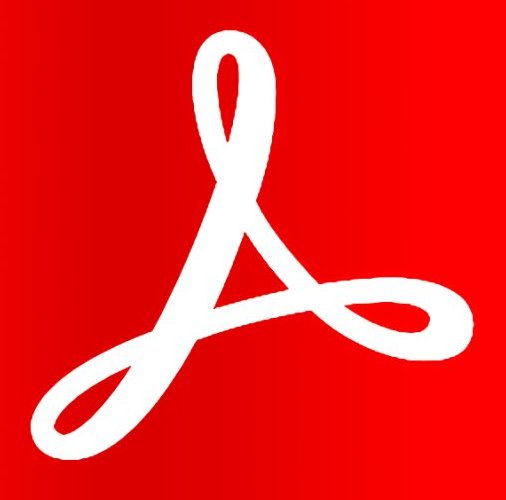 and two extracted paragraphs, the first quoting the right-of-centre press and reiterating the economic conse­quen­ces outlined in his welcome email, the second a call to action:


"Brexit was meant to be a 'new beginning for the Tory party,' Jeremy Warner wrote this week in the Daily Telegraph, 'but by making trade with Europe more difficult and costly it has so far only added to the country's travails'. In its coverage of recent OECD warnings, the Daily Mail reported that the UK economy 'is set to flatline next year - performing worse than every other G20 country except for sanctions-crippled Russia'. Most of these countries have also felt the consequences of the war in Ukraine and the Covid epidemic - but not, of course, Brexit.

"I say to all those who have supported the European vision of prime ministers from Churchill through to Cameron: now is the time to restore this vision of our country as a major European partner in one of the world's most powerful and influential organisations. We owe that to generations that are yet to come."


The movement's Twitter feed is lively: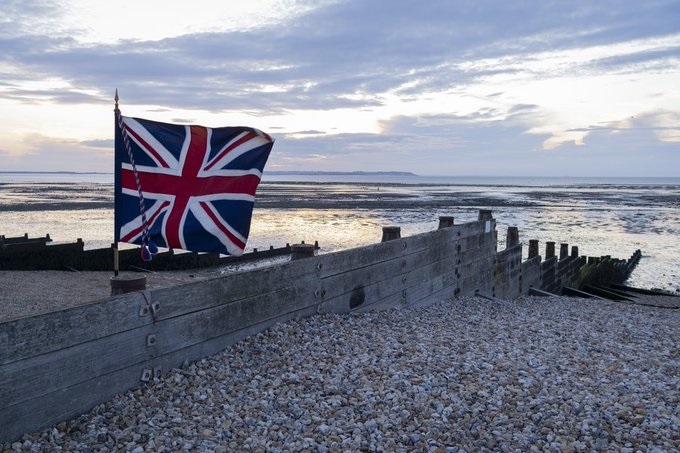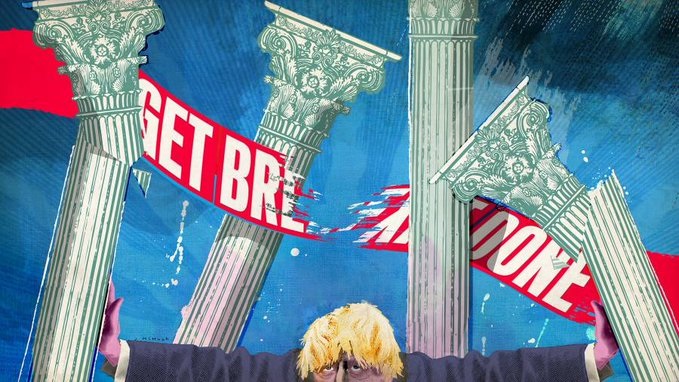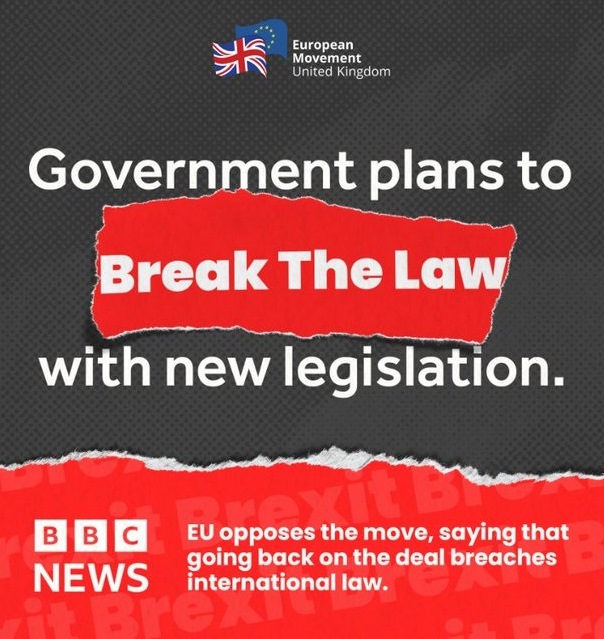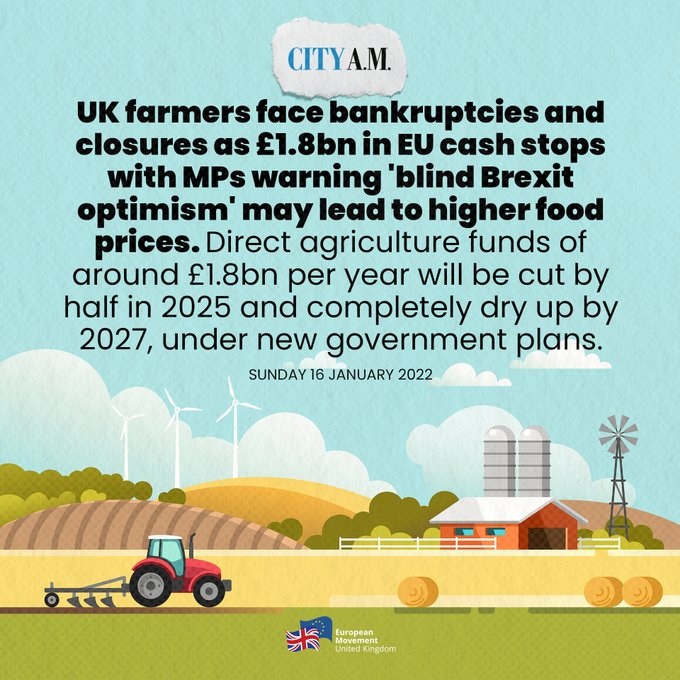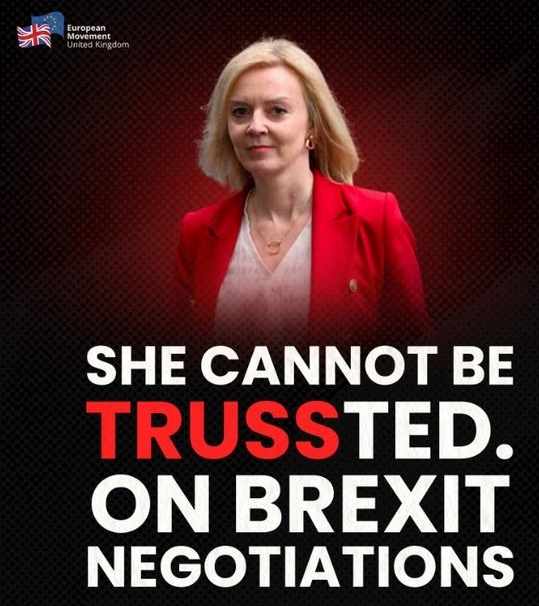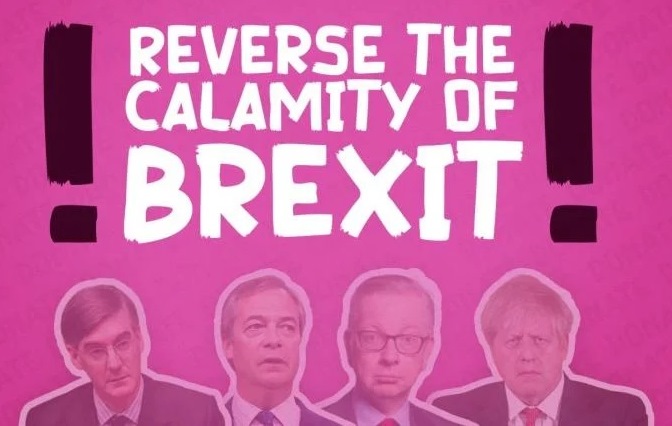 Is this going to have an effect? Is it for me? I certainly warm to its fierce con­demnation of Brexit. Will it convince the people who don't agree with us? The movement's track record (see above) is encouraging, 2016 aside. Heseltine's assertion that the Tory press is turning, well ... if the Daily Mail and its ilk switch sides, then we're getting somewhere.

There used to be a Stroud4Europe group, from the dates of its most recent Facebook and Twitter activity now defunct. Maybe it's time to revive it.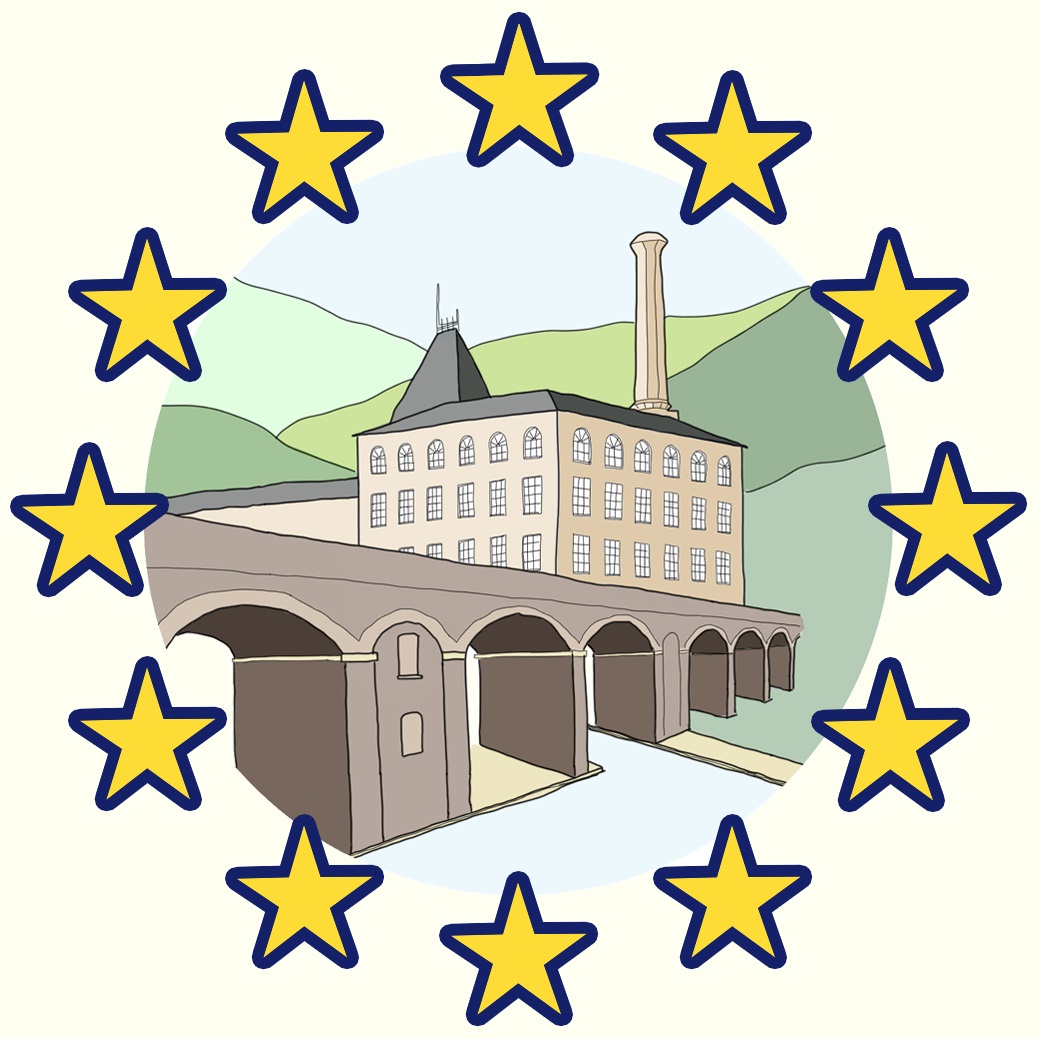 Monday 20th June


Recovering from yesterday's 7-hour round-road-trip, in very comfortable temperatures here.

Son Ben, who is not a fan of extreme heat, has had to cope with this in the Basque Country: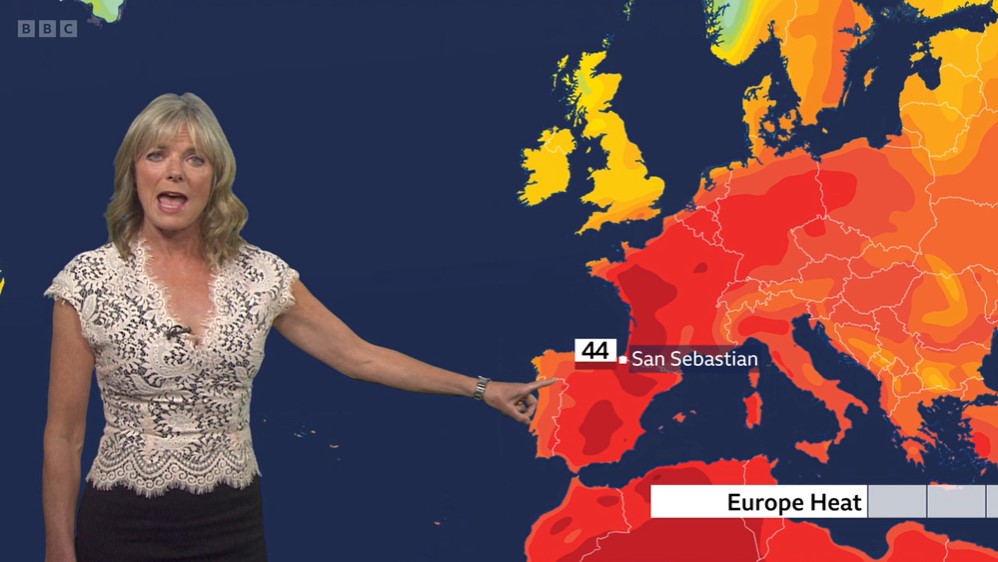 Better now: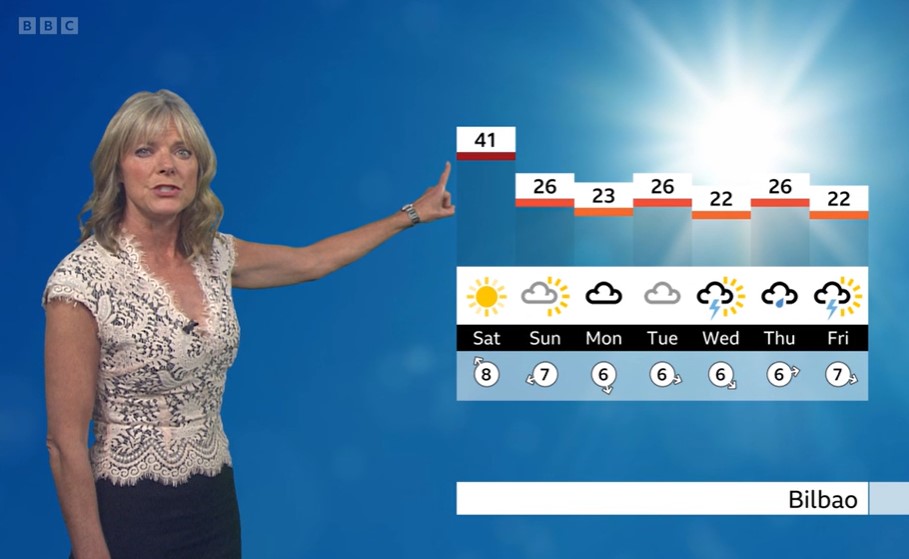 Sunday 19th June


Rest day. Actually, it's going to be a very busy one. We're driving for most of it, off to an event, on Fathers Day, where there will be no other fathers and none of my children. No matter, just a bit weird.

A few minutes to reflect on the pros-and-cons of social media interaction. Two people whom I have noted and quoted in these pages, Dale Vince of Ecotricity and George Monbiot of The Guardian, have been going at it hammer-and-tongs on Twitter.

It's all about Dale's Green Gas proposal, of which I wrote here 👉. George - I extolled his essay on capitalism here 👉 - is not impressed.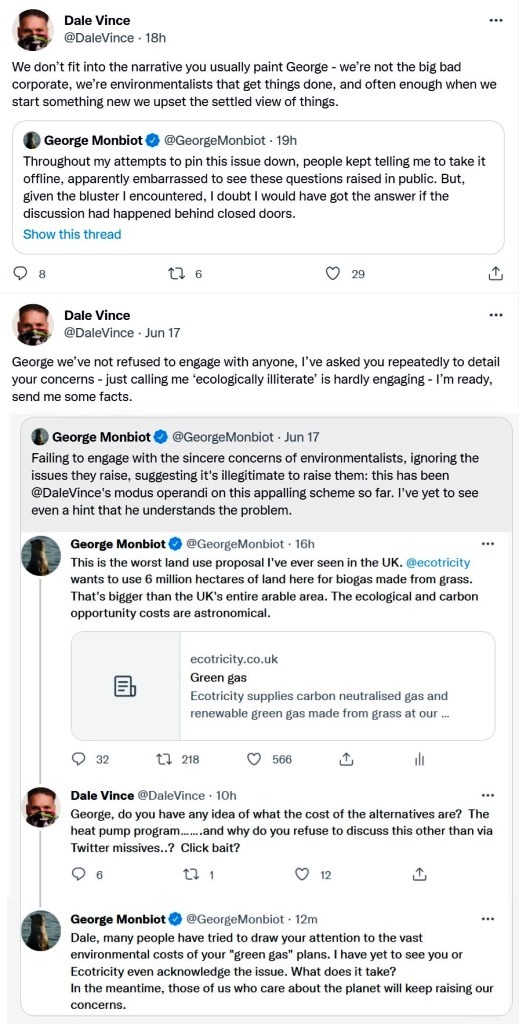 Dale makes the point: "Why do you refuse to discuss this other than via Twitter missives?" George says: "I doubt I would have got the answer if the discussion had happened behind closed doors."

I rely on Twitter a lot as a source for this blog. Dale and George are significant contributors. It has its place. But not as a forum for serious, balanced debate? Many of the responses to this exchange by other tweeters certainly don't fit into that category. That said, it's a conversation that should be had, and this Twitter thread has stimulated me to look deeper.

Saturday 18th June


I caught ten minutes of the BBC's "Any Answers?" on Radio 4 yesterday evening, at the point where the panellists were putting forward their views on withdrawal from the European Convention on Human Rights (ECHR). The views were split, predictably and for radio effect, between "that's why we chose Brexit, to take back control of our laws" and "it would be a disgrace to abandon an international buffer against discrimination and the abuse of power, conceived in the aftermath of the Holocaust".

The ECHR is not a function of the EU. The Council of Europe (CoE) - the ECHR was its first convention, the cornerstone of all its activities, drafted in 1950 and applied from 1953 - is not the European Union. The two organisations are quite distinct, although the 27 European Union states are all members of the Council of Europe, which now has 46 member states. The 10 countries involved in its original development were: Belgium, Denmark, France, Ireland, Italy, Luxembourg, Netherlands, Norway, Sweden - and the United Kingdom. [The Russian Federation was excluded from the Council in an extraordinary meeting of Ministers on 16th March 2022, after 26 years of membership. On 17th March, the Committee of Ministers suspended the rights of Belarus to participate in all meetings and activities of the Council.]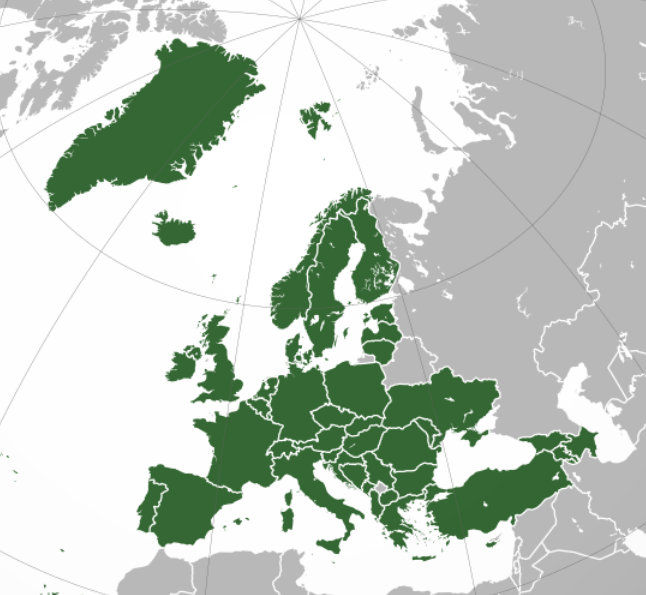 Winston Churchill was a prime mover in its establishment. Earlier this year I quoted the speech he delivered at the University of Zurich on 19th September 1946:


"We must re-create the European family in a regional structure called, it may be, the United States of Europe, and the first practical step will be to form a Council of Europe. If at first all the States of Europe are not willing or able to join a union we must nevertheless proceed to assemble and combine those who will and who can. The salvation of the common people of every race and every land from war and servitude must be established on solid foundations, and must be created by the readiness of all men and women to die rather than to submit to tyranny."


There is an obvious irony here. Boris Johnson published the book "The Churchill Factor: How One Man Made History" in 2014. He is clearly a fan. Critics questioned his motivation. Sonia Purnell said in The Independent: "The book says perhaps less about Churchill than it does about the ambition and self-image of Boris." In The Daily Telegraph, Con Coughlin wrote: "The obvious subtext, of course, is that Johnson is seeking to compare his own reputation as a political maverick with that of Churchill."

Here is grainy newsreel footage of the first parliamentary assembly of the Council in August 1949. Churchill afterwards addresses the crowd in Place Kléber, Strasbourg (there's that loathed name again). He warns that he is going to speak in French: "Prenez garde! Je vais parler français." He doesn't warn of his accent, which would shatter a crystal glass at a thousand paces.




Here is the full text of his address (3 pages) - in French: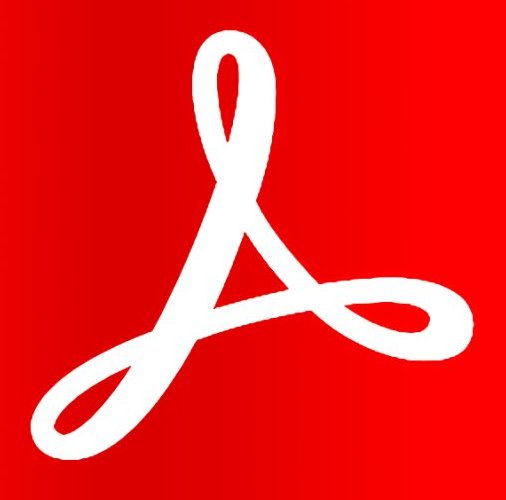 I've extracted the paragraph heard in the film clip:


"Pour ma part, je ne suis l'ennemi d'aucune race et d'aucune nation du monde. Ce n'est pas contre une race, ce n'est pas contre une nation quelconque que nous nous rassemblons. C'est contre la tyrannie sous toutes ses forms, anciennes ou modernes, que nous nous dressons résolument. La tyrannie reste toujours la même, quelles que soient ses fausses promesses, quel que soit le nom qu'elle adopte, quels que soient les déguisements dont elle habille ses valets."

"For my part, I am not the enemy of any race or nation in the world. It's not against any race, it's not against any nation that we come together. It is against tyranny in all its forms, ancient or modern, that we stand resolutely. Tyranny always remains the same, whatever its false promises, whatever name it adopts, whatever the disguises in which it dresses its henchmen."


Nuff said.

Friday 17th June


No deportation flights to Rwanda are planned for today 😁

I'm still tickled by the fact that a European humanitarian institution and agree­ment should have tipped the balance on Tuesday evening.






Boris and Priti must be hopping mad, which fills me with delight. They'll be planning yet more feverishly to withdraw from the European Convention of Human Rights (ECHR), to which the UK still belongs post-Brexit. The court is based in Strasbourg (horror!), named also in French, Cour Européenne des Droits de l'Homme (how absolutely dreadful, although now acceptable to Boris's dad). According to The Conversation, no state has withdrawn from the convention in the past 50 years. The last withdrawal was Greece, which did so temporarily under the rule of the military junta in 1967.

Should you wish to dig deeper, here is the convention document (34 pages):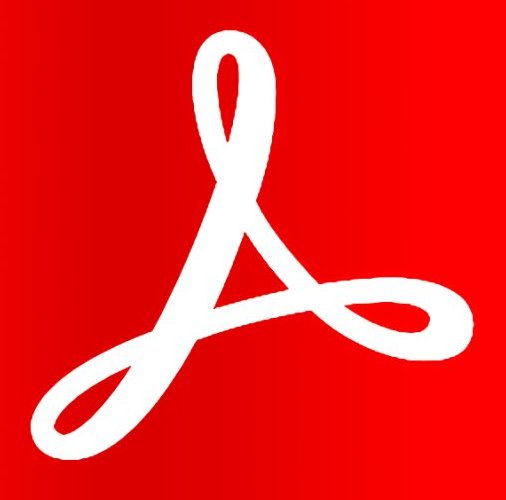 . Plus Tuesday's interim measure press release (2 pages):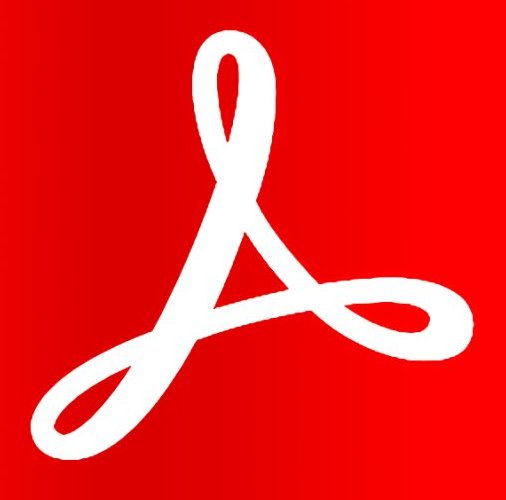 .

Browsing the ECHR website, I was interested to see that Taoiseach Micheál Martin paid a visit earlier this month, when he was welcomed by President Robert Spano and Vice-President Síofra O'Leary: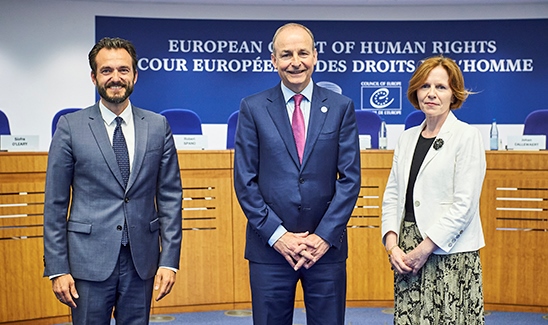 Not a trip that Boris is likely to make, eh? Unless it's to hand in our notice.

My Irish correspondent has reminded me of the marvellous Sir Patrick Stewart sketch:




On a personal family note, my sister Vicky sent me this email two days ago:


"Over two months ago we offered rooms to a Ukrainian family (two adults and their two year old). The accommodation we have offered was checked and approved 5 weeks ago by our local council and the family put in their visa requests over two months ago and yet they haven't heard anything despite two requests from our MP to the home office (on our behalf as we seem to have no access to the process). Easy for us to carry on with our lives here but theirs are on hold. I feel so sorry for them but we're helpless and they're understandably thinking of seeking a home in another country. Makes me embarrassed to be British. And cross. It's all blather."


Makes you weep. And even more determined to get rid of this toxic incompetent mob at the next election.

Thursday 16th June


Covid, Ukraine, cost-of-living crisis, Rwanda plan ... and now, to challenge Boris yet further, Scottish independence is properly back on the agenda - at least north of the border.

First Minister Nicola Sturgeon has re-launched the process that should culminate in Indyref2, supported by associated documents that bear the title:





Here is the full initial paper (72 pages)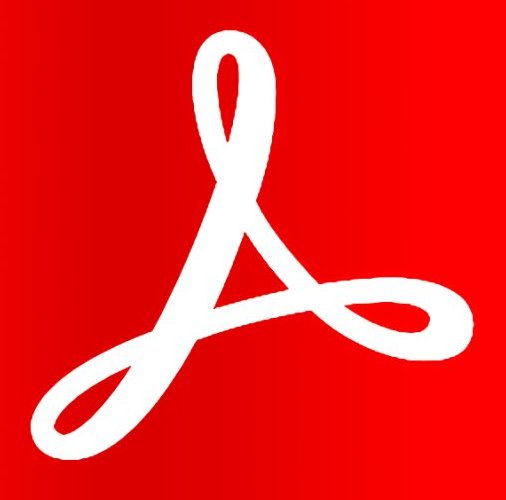 and an "easy read" version (4 pages)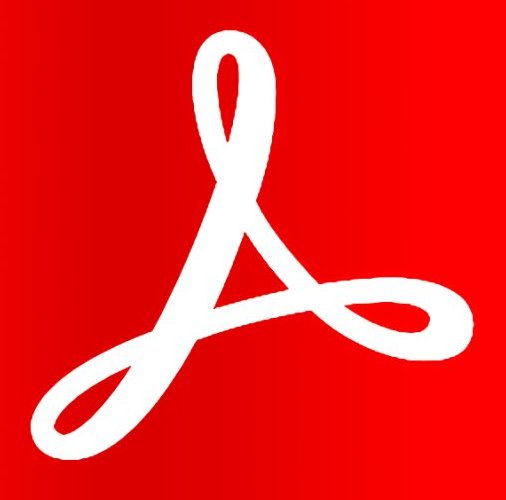 .

Sturgeon explains the rationale in her foreword to the main document: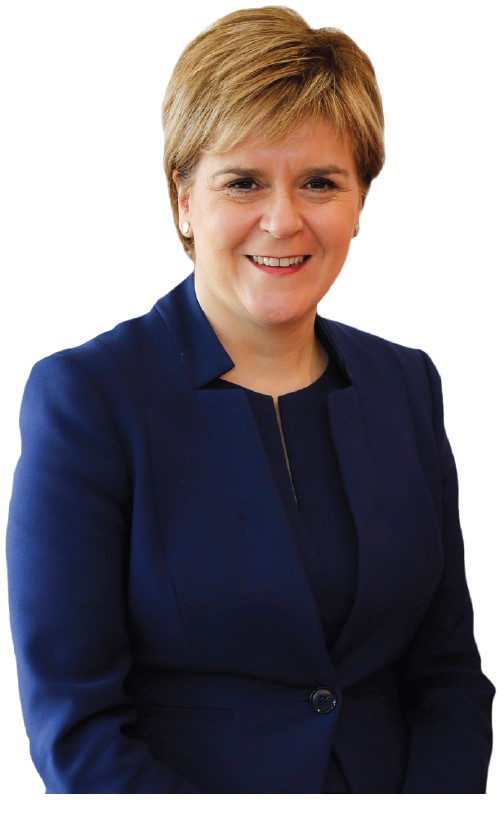 "Since May last year, the Scottish Parliament has had a clear majority of Members who are in favour of independence and committed to giving the people of Scotland that choice in a referendum.

"The Scottish Government is determined that the choice people make on independence will be an informed one.

"To that end, this is the first in a series of 'Building a New Scotland' papers designed to contribute to a full, frank and constructive debate on Scotland's future.

"Independence in itself does not guarantee success for any country. For Scotland, the aspiration of a wealthier, fairer and more successful country will depend on democratic decisions made post-independence and the good stewardship of governments elected.

"But the point is this: in an independent Scotland, crucial decision-making power will rest with the people who live here - not with Westminster governments that do not command the support of people in Scotland, and which pursue policies, for example, Brexit, that are deeply damaging to Scotland's interests."


The core premise is that Scotland can do better. The papers draw compa­risons with other nations:





Some simple first conclusions are: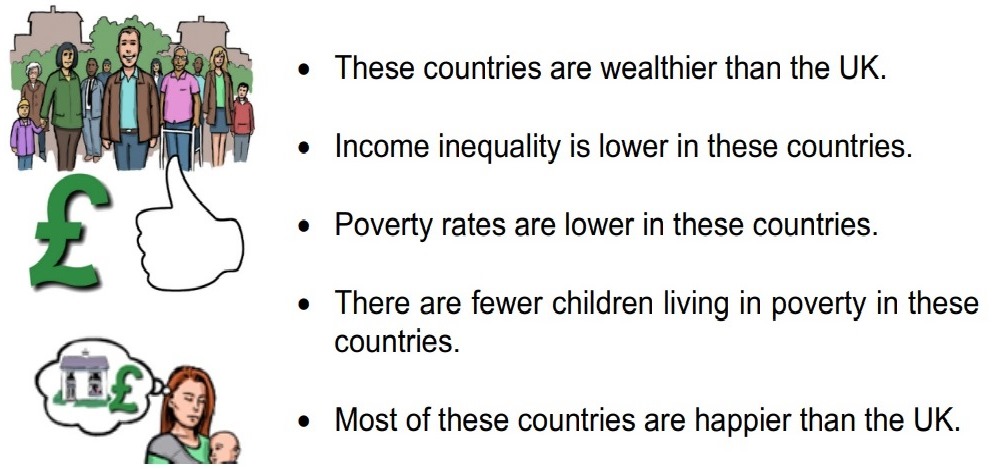 The main paper presents a series of charts (click to enlarge any) to illustrate the UK/Europe comparisons, which make uncomfortable reading for defen­ders of the Union. Here's a selection: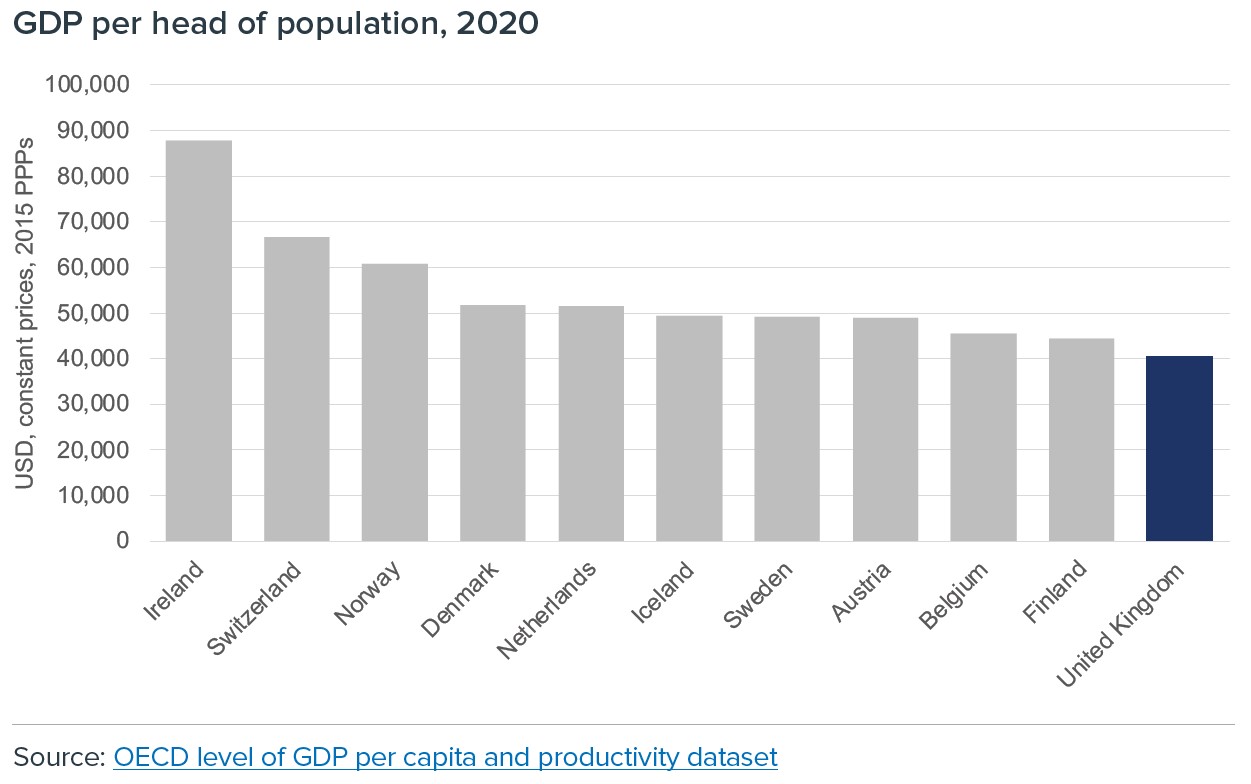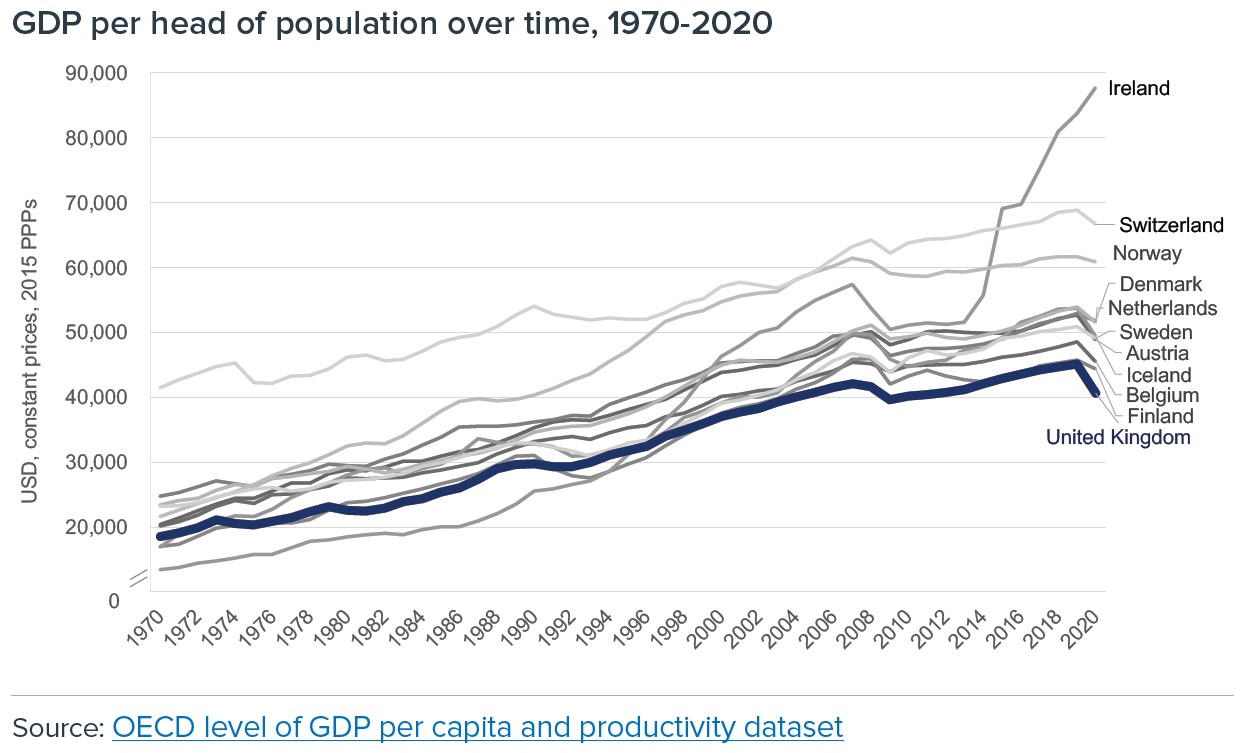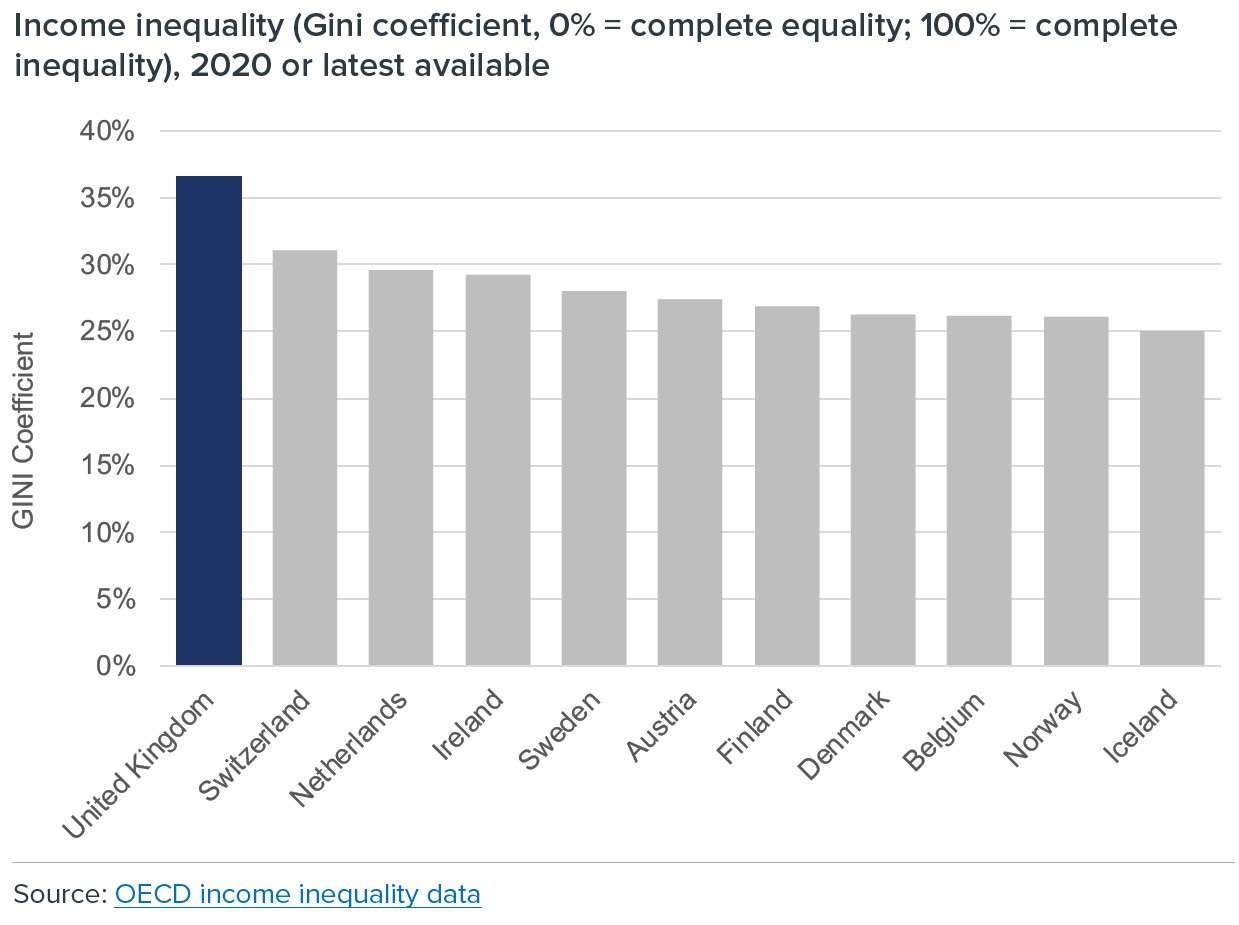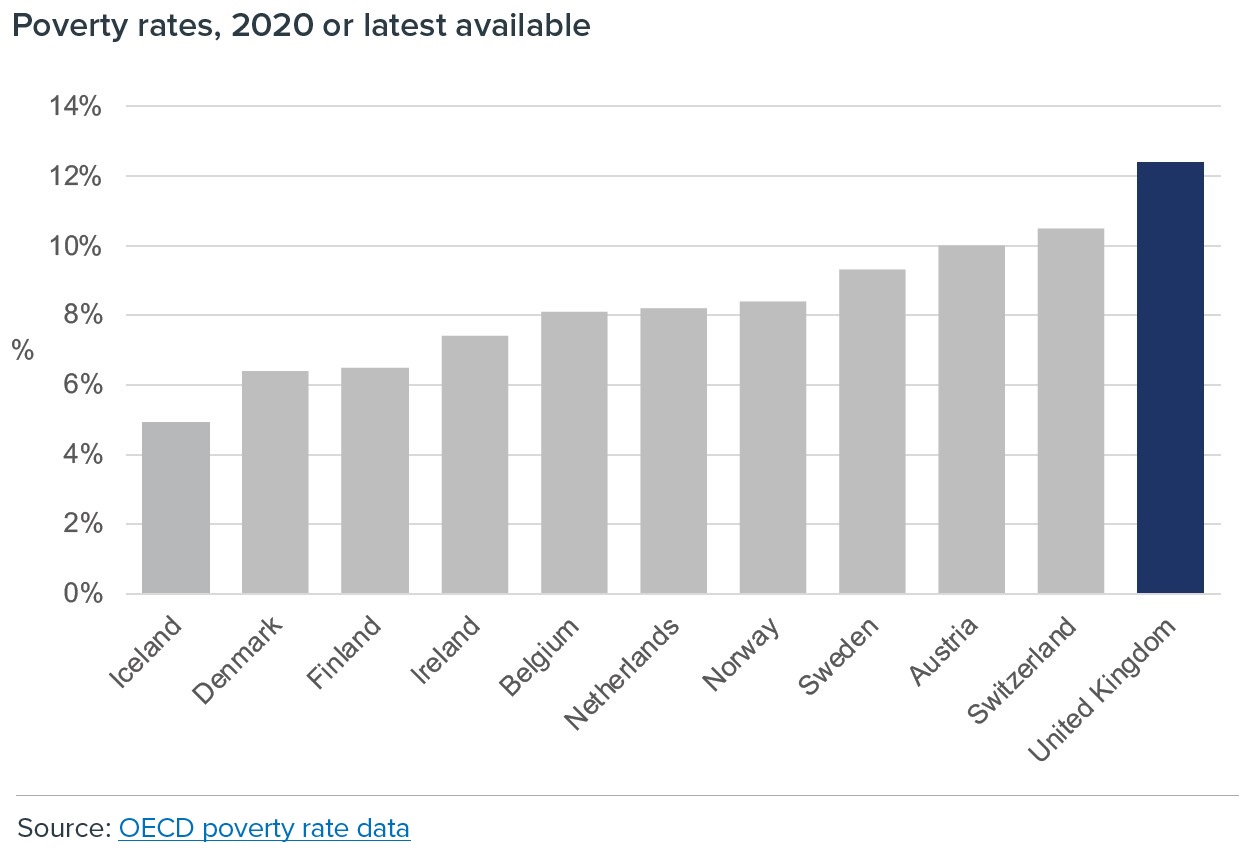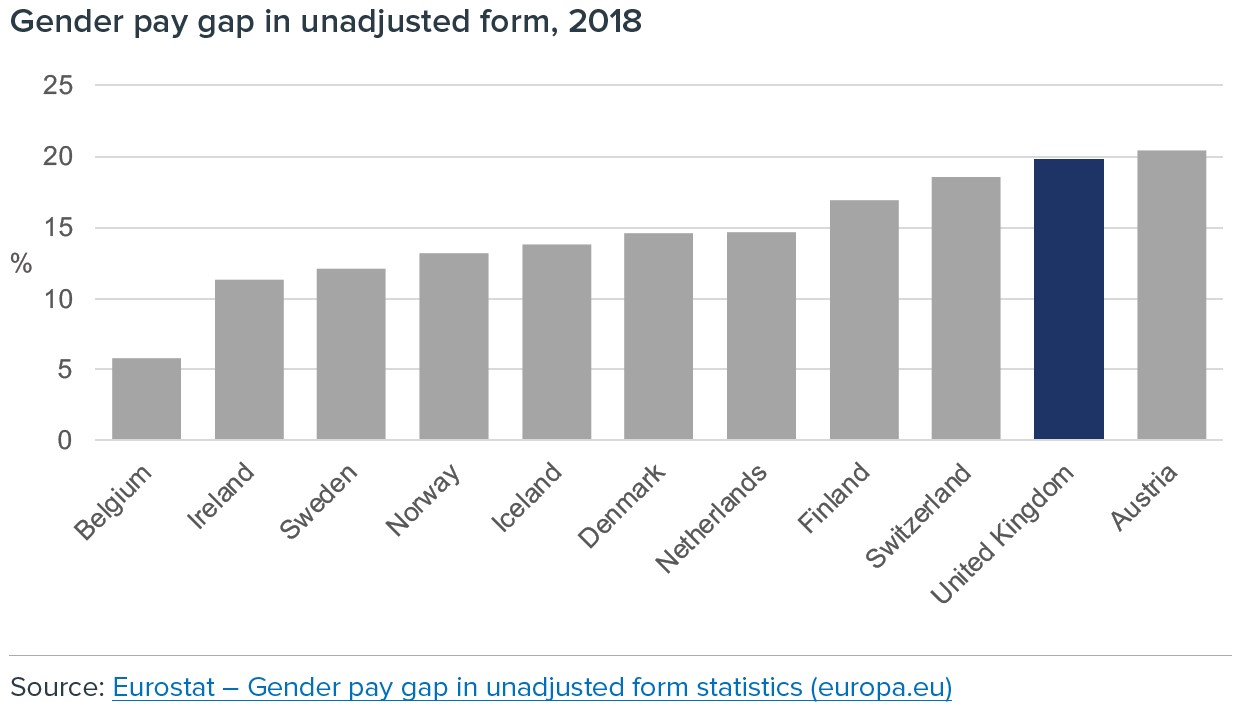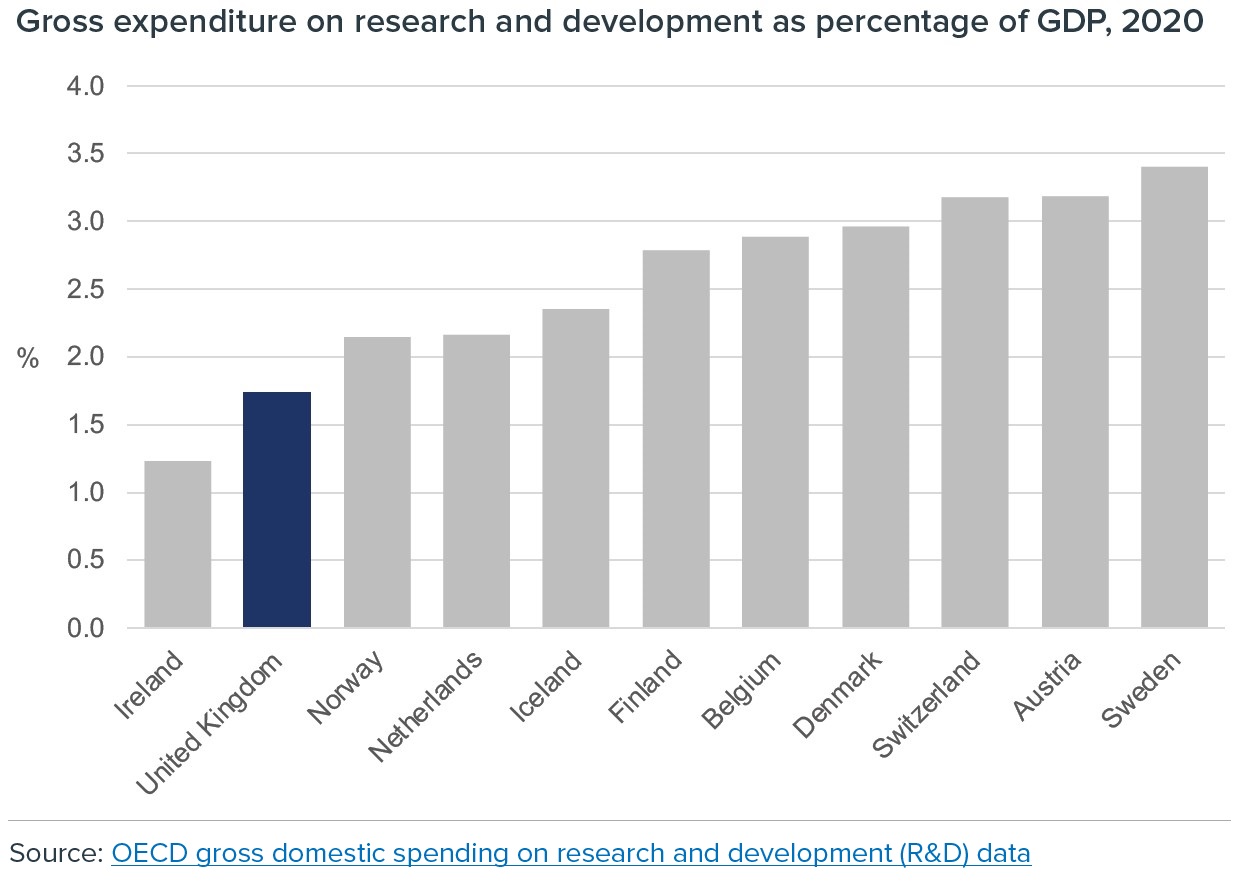 It's a fair question: "Why not Scotland?" I have an old instinctive reaction to the break-up of the Union, one of dismay, a sense of loss. But whose loss? I'm a pushover for an autonomous or separatist region, such as my beloved Friuli in Italy and the Basque Country where son Ben lives. The Little Englander bemoans the loss of Empire, but isn't it just that those former colonies should have their independence, should govern themselves? What right did we have to be there in the first place? There was nothing truly noble about our presence, although you might argue that there were some benefits absorbed from British rule (and now India usually beats England at cricket, and hosts the big money events). Mostly it was about global power, captive markets and cheap raw materials. Ireland, Scotland and Wales, given the treatment meted out by the English over centuries, can justifiably yearn to be apart - and in Ireland's case be proud and grateful that they already are. And aren't we lauding a Ukraine that wishes to remain independent of Russia?

Who wouldn't want to be free of the current Westminster cabal? I'm at the head of the queue.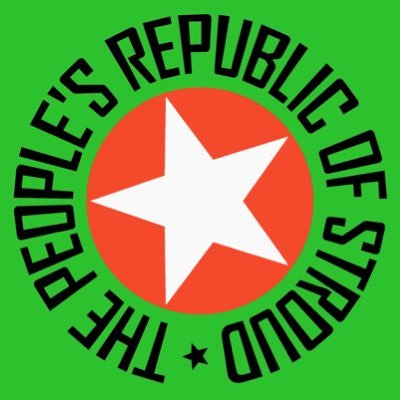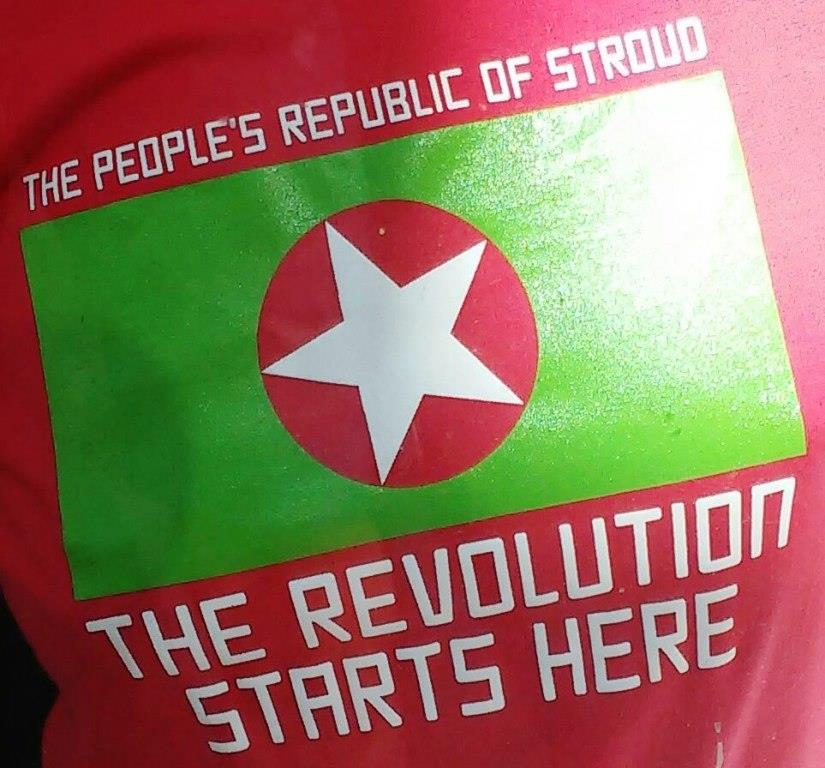 Wednesday 15th June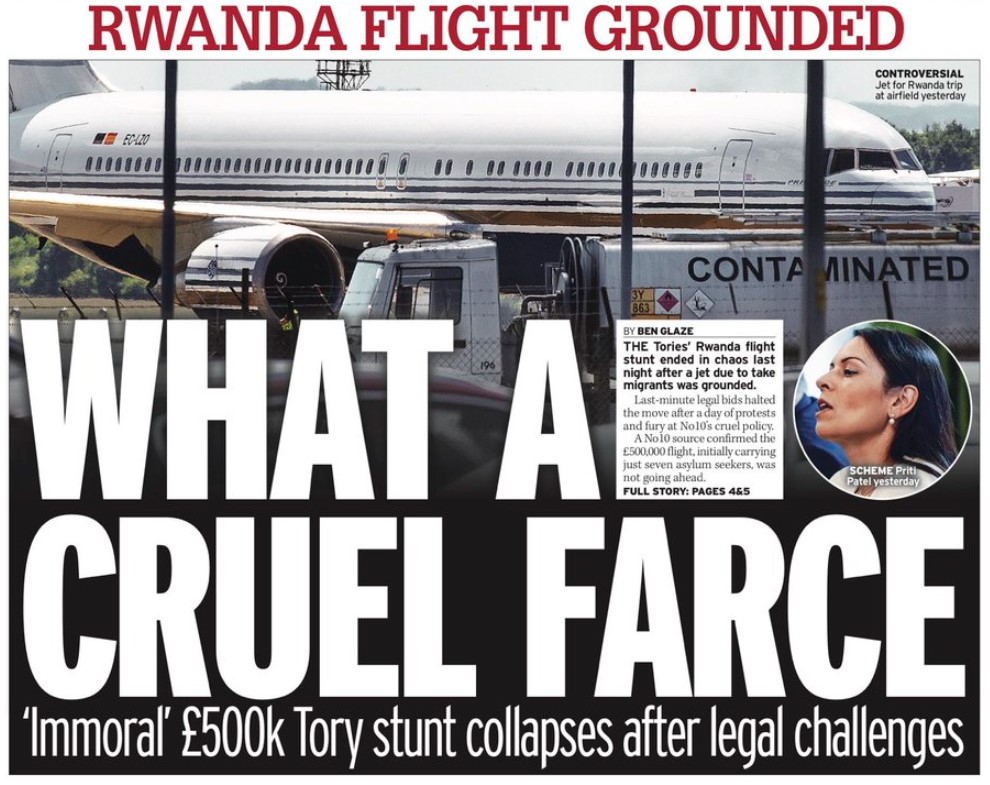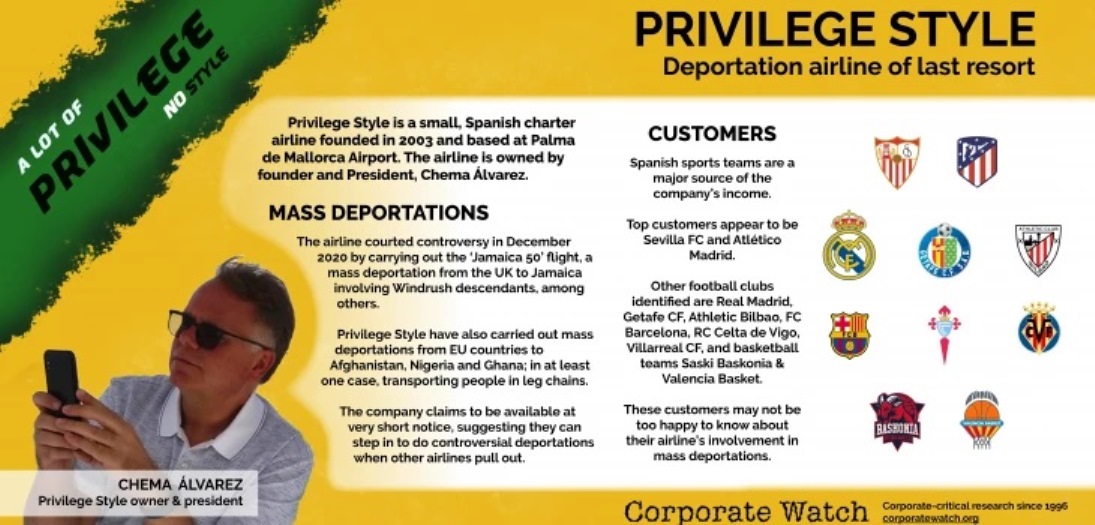 It's reported that the £££m-hire Privilege Style (Privilege Líneas Aéreas S.A. - click on the Corporate Watch summary above to see the detail) 'plane - allegedly (Daily Express) a 27-year-old ex-Polish Airlines Boeing 767-300 - returned from MOD Boscombe Down late last night to its home base in Palma de Mallorca.

The débâcle is an in-a-nutshell snapshot of many qualities of this Wes­tmin­ster government: incompetent, dodgy, muddy-thinking, wasteful - remem­ber PPE? - morally bank­rupt, callous.

On the issue of morality, one of the most telling indicators is the letter to The Times yesterday from senior Church of England clerics, the so-called "Lords Spiritual":


"Whether or not the first deportation flight leaves Britain today for Rwanda, this policy should shame us as a nation. Rwanda is a brave country recovering from catastrophic genocide. The shame is our own, because our Christian heritage should inspire us to treat asylum seekers with compassion, fairness and justice, as we have for centuries. Those to be deported to Rwanda have had no chance to appeal, or reunite with family in Britain. They have had no consideration of their asylum claim, recognition of their medical or other needs, or any attempt to understand their predicament.

"Many are desperate people fleeing unspeakable horrors. Many are Iranians, Eritreans and Sudanese citizens, who have an asylum grant rate of at least 88 per cent. These are people Jesus had in mind as he said when we offer hospitality to a stranger, we do it for him. They are the vulnerable that the Old Testament calls us to value. We cannot offer asylum to everyone, but we must not outsource our ethical responsibilities, or discard international law - which protects the right to claim asylum.

"We must end the evil trafficking; many churches are involved in fighting this evil. This needs global co-operation across every level of society. To reduce dangerous journeys to the UK we need safe routes: the church will continue to advocate for them. But deportations - and the potential forced return of asylum seekers to their home countries - are not the way. This immoral policy shames Britain."

Justin Welby, Archbishop of Canterbury
Stephen Cottrell, Archbishop of York
Dame Sarah Mullally, Bishop of London
Paul Butler, Bishop of Durham
David Urquhart, Bishop of Birmingham
John Inge, Bishop of Worcester
Christopher Cocksworth, Bishop of Coventry
Steven Croft, Bishop of Oxford
James Newcome, Bishop of Carlisle
Alan Smith, Bishop of St Albans
Donald Allister, Bishop of Peterborough
Stephen Conway, Bishop of Ely
Christopher Chessun, Bishop of Southwark
Nicholas Baines, Bishop of Leeds
Rachel Treweek, Bishop of Gloucester
Martin Warner, Bishop of Chichester
Vivienne Faull, Bishop of Bristol
Libby Lane, Bishop of Derby
Julian Henderson, Bishop of Blackburn
David Walker, Bishop of Manchester
Guli Francis-Dehqani, Bishop of Chelmsford
Robert Atwell, Bishop of Exeter
Andrew Watson, Bishop of Guildford
Martin Seeley, Bishop of St Edmundsbury & Ipswich
Paul Williams, Bishop of Southwell & Nottingham

Tuesday 14th June


The 6am questions: will the Rwanda flight take off, and with how many on board?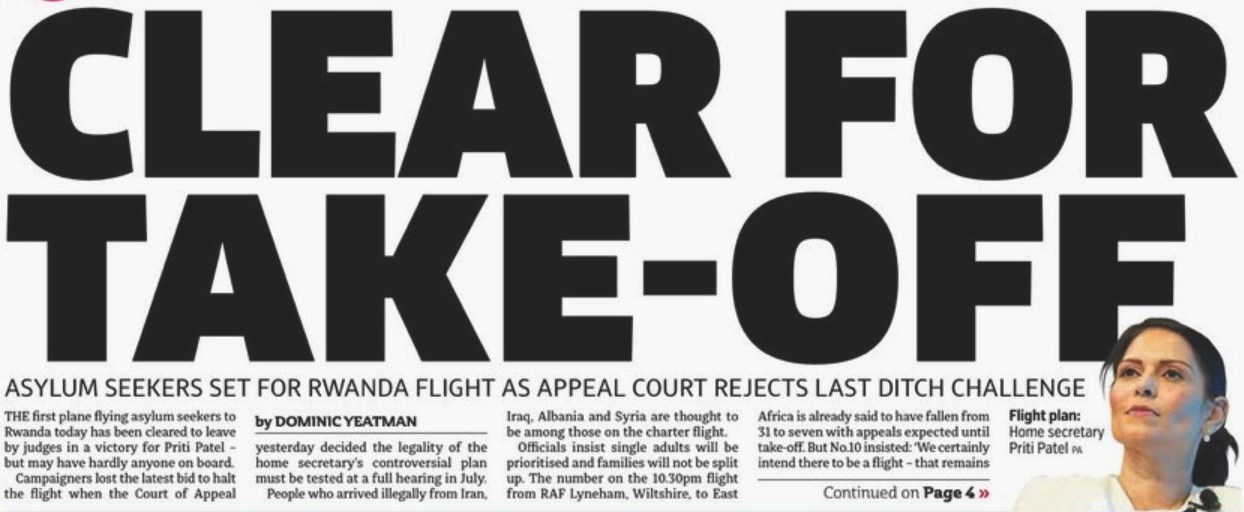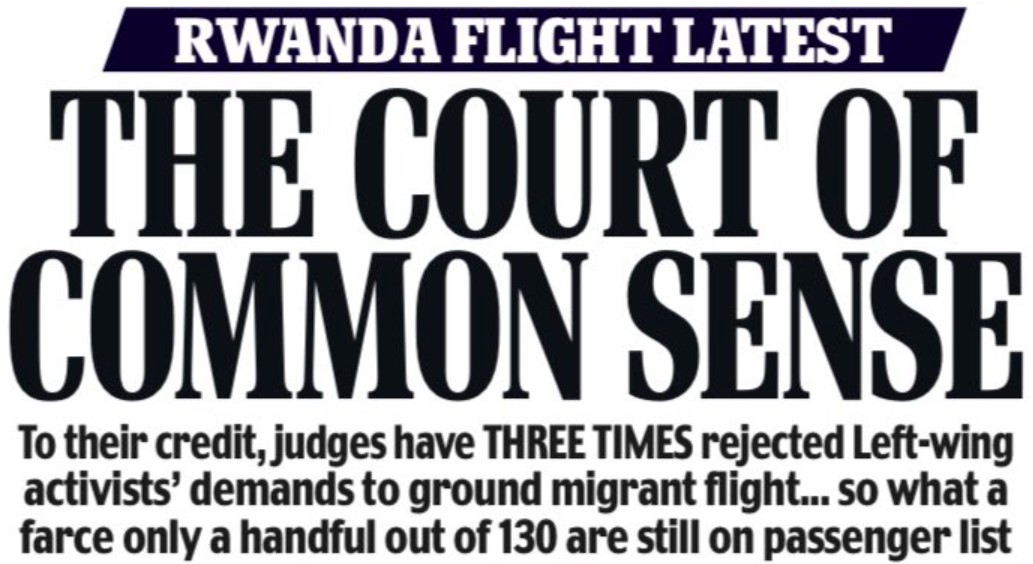 Eighty of us turned up in front of Stroud Subscription Rooms yesterday at 5:30pm for a half-hour silent vigil: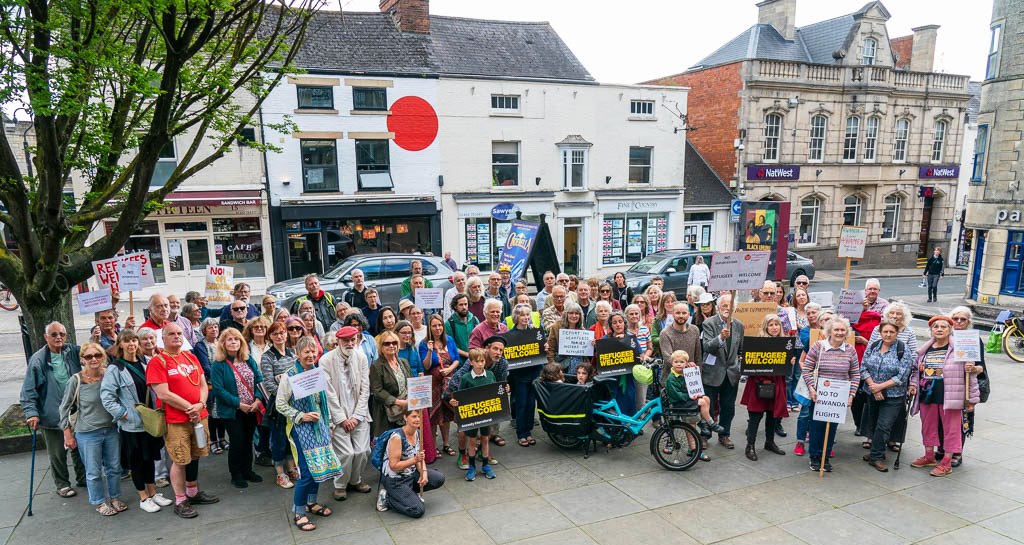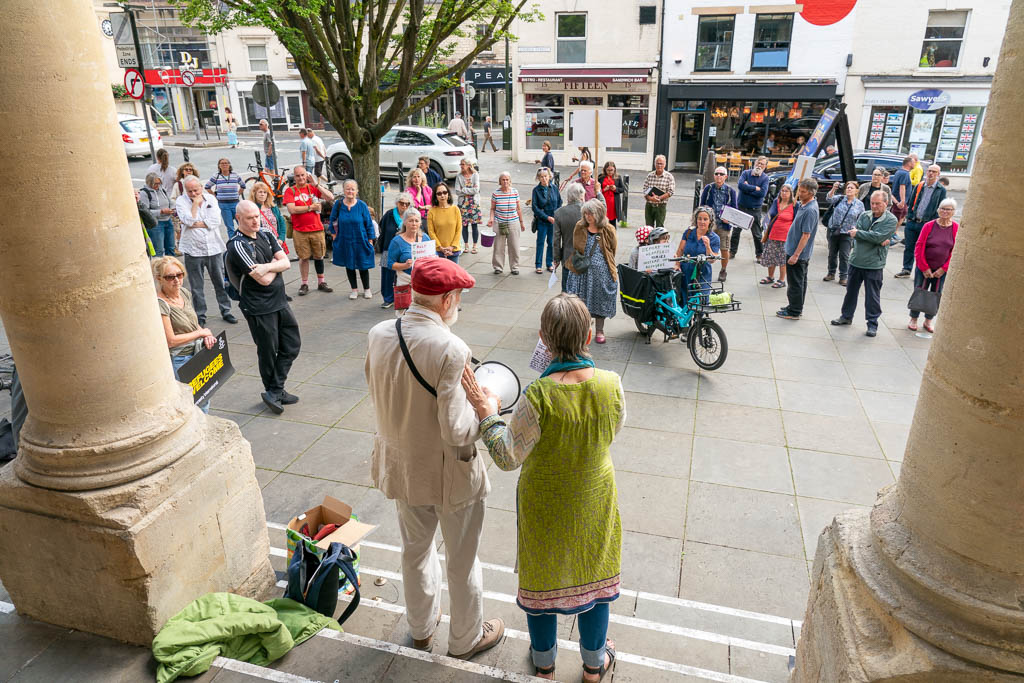 What were my thoughts?

Silence is very powerful, in many ways much more so than loud declaratory protest. I was acutely aware of my own interior conversation, reflecting on the plight of those at risk in this grim moment, trying to understand how our country has come to this point, wondering how we can make change for the better. There were one or two objecting toots from passing motorists, and a rant from a sad deranged woman familiar to residents of Middle Street - which said far more about them than the vigil participants.

It was largely a gathering of "the usual suspects" [Question to self: is that what I have now become?]. A recognisable representation of the anti-vax conspiracy theorists with whom I have clashed in the past. Last night I was moved by a less critical thought. Many of these people have stood up for matters of principle all their lives, often in the face of hostile opposition and at a personal cost. Former mayor John Marjoram was present, as ever on such occasions, still at the age of 82 carrying a placard for justice and humanity. Our friend Martin Whiteside was there with members of his family; he has made a huge contribution to the green agenda in Stroud. If we are to halt the toxic drift of the current government, we are going to need a lot more of that kind of commitment and tenacity.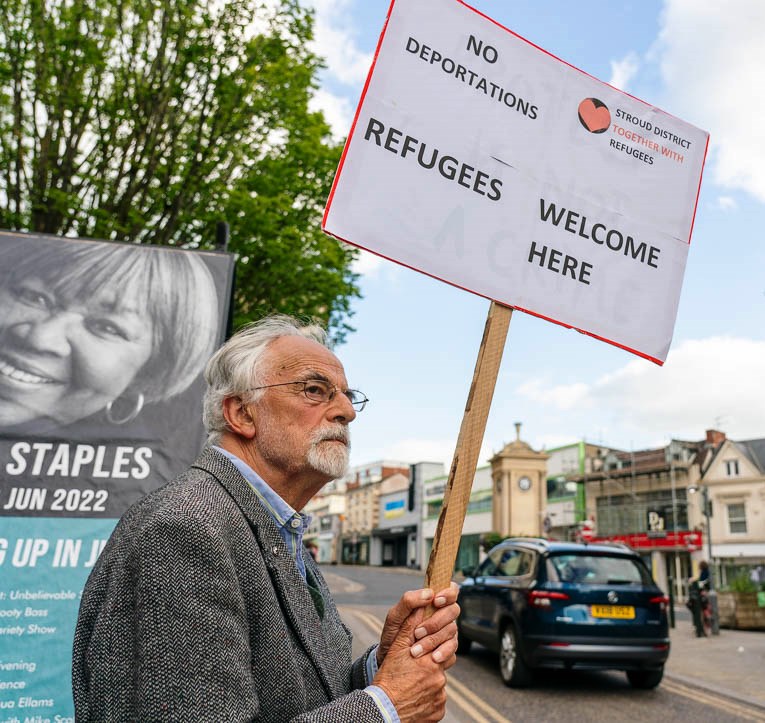 The age and social profile was unsurprising. Preaching to the converted? Our real challenge, as Obama said at COP26, is to convince those who don't agree with us. As the Brexit madness rolls on, how much of the Leave-voting population still believes? It was an act of such xenophobic entrenchment that it's difficult to see how those attitudes can be given up or changed. Who wants to admit that they were wrong? Or stupid? Or mean? And will we achieve the dream of a kinder society, a Britain (or just an England if that's what is left of the union) of which we can be proud rather than ashamed ... if we think of the Brexiteer - and indeed the Tory diehard - in those dismissive terms?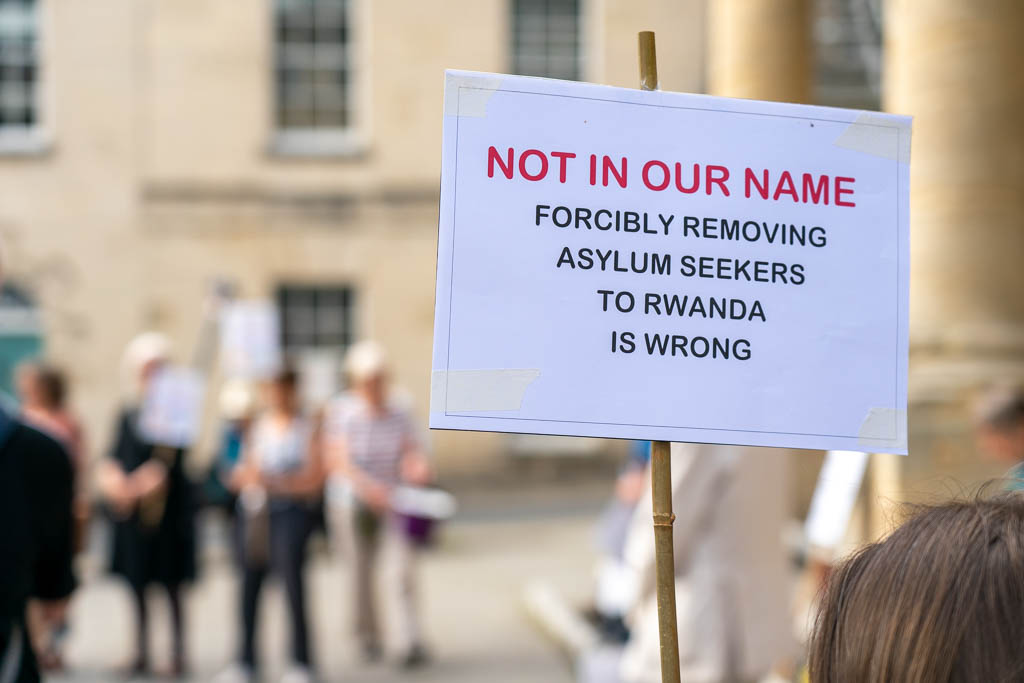 How do we create a generous future in all our names?

Monday 13th June


The Twittersphere is awash with anti-flight sentiment today, including: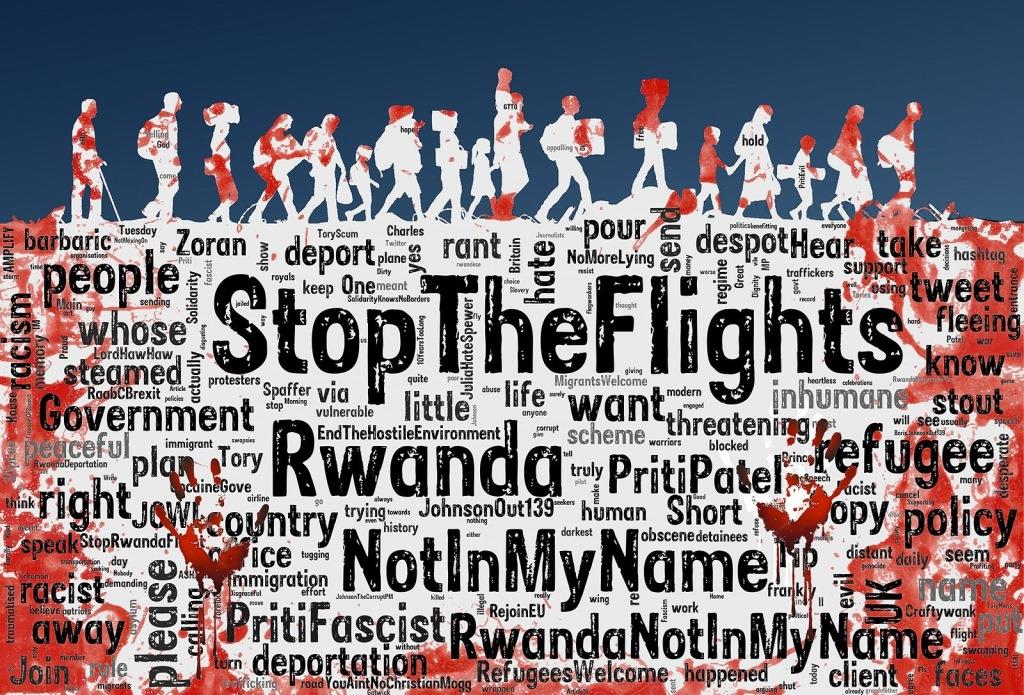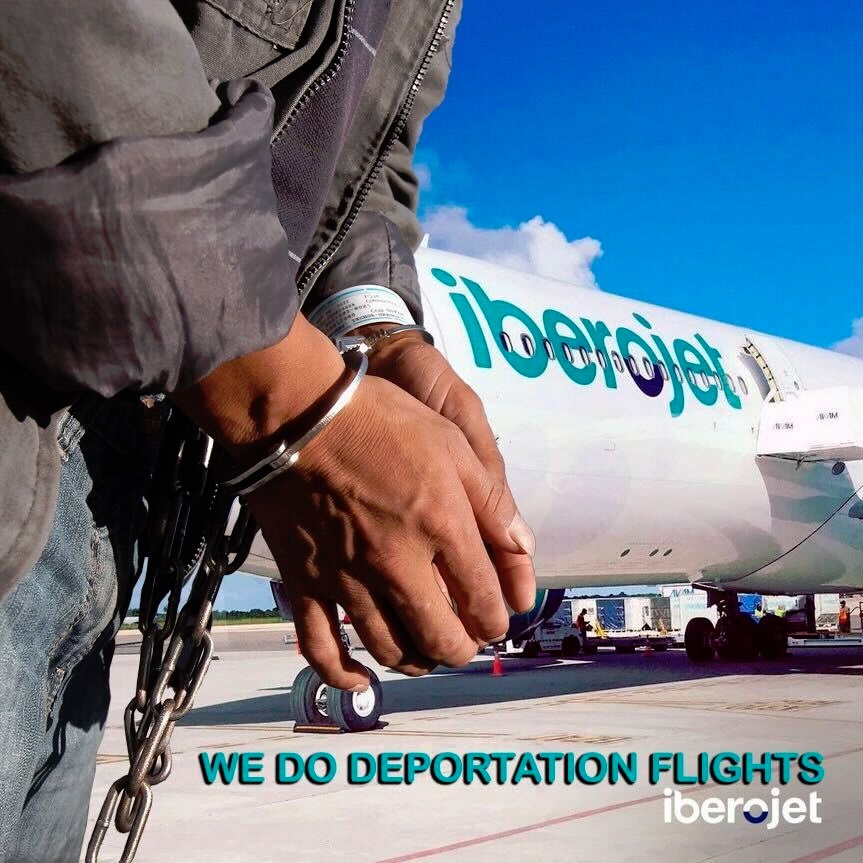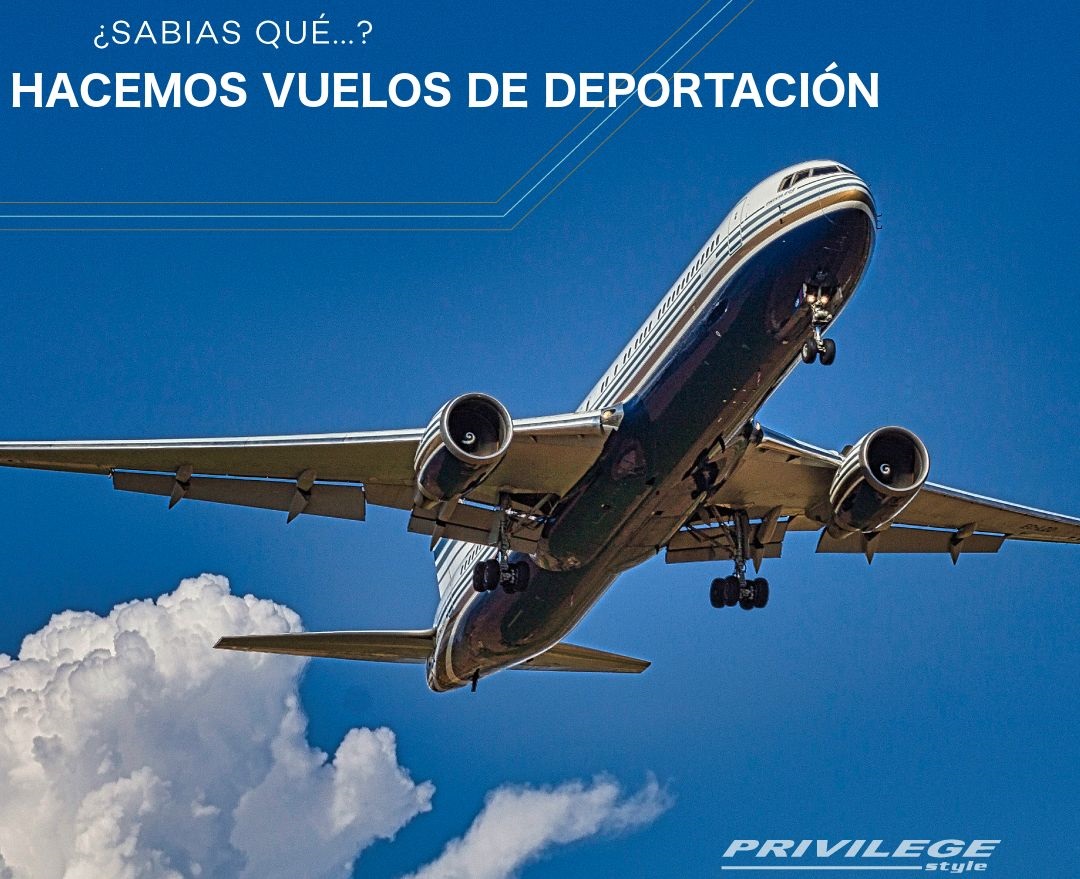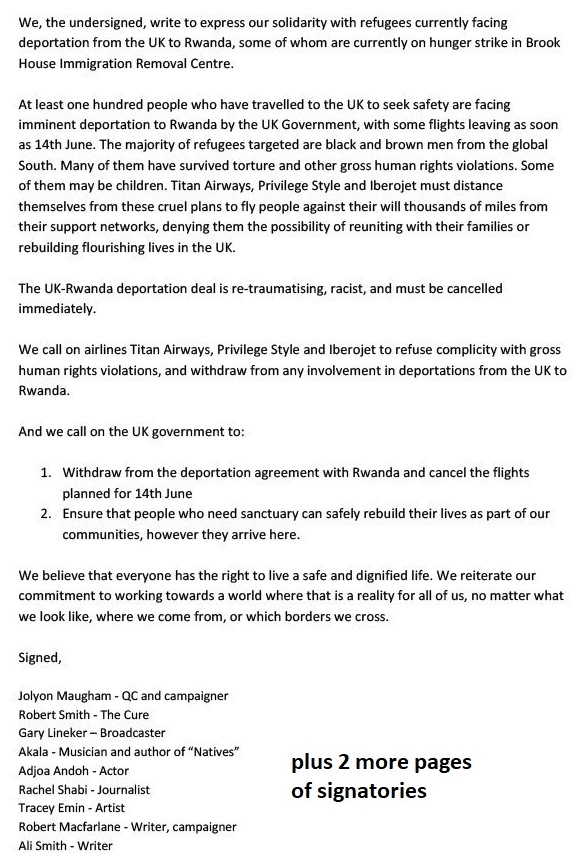 Stroudies, don't forget: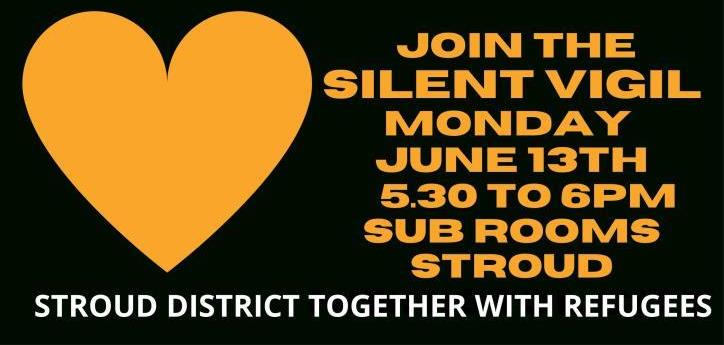 Sunday 12th June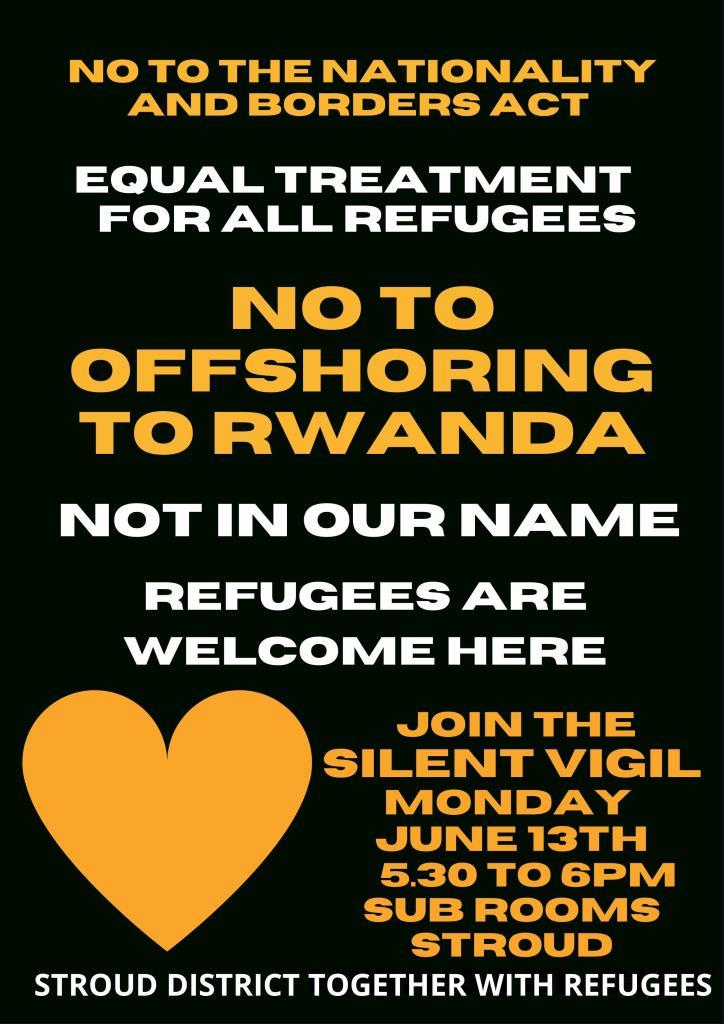 Full printable PDF for display: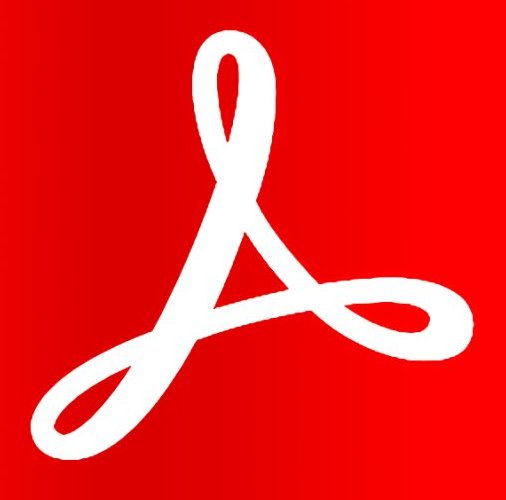 Saturday 11th June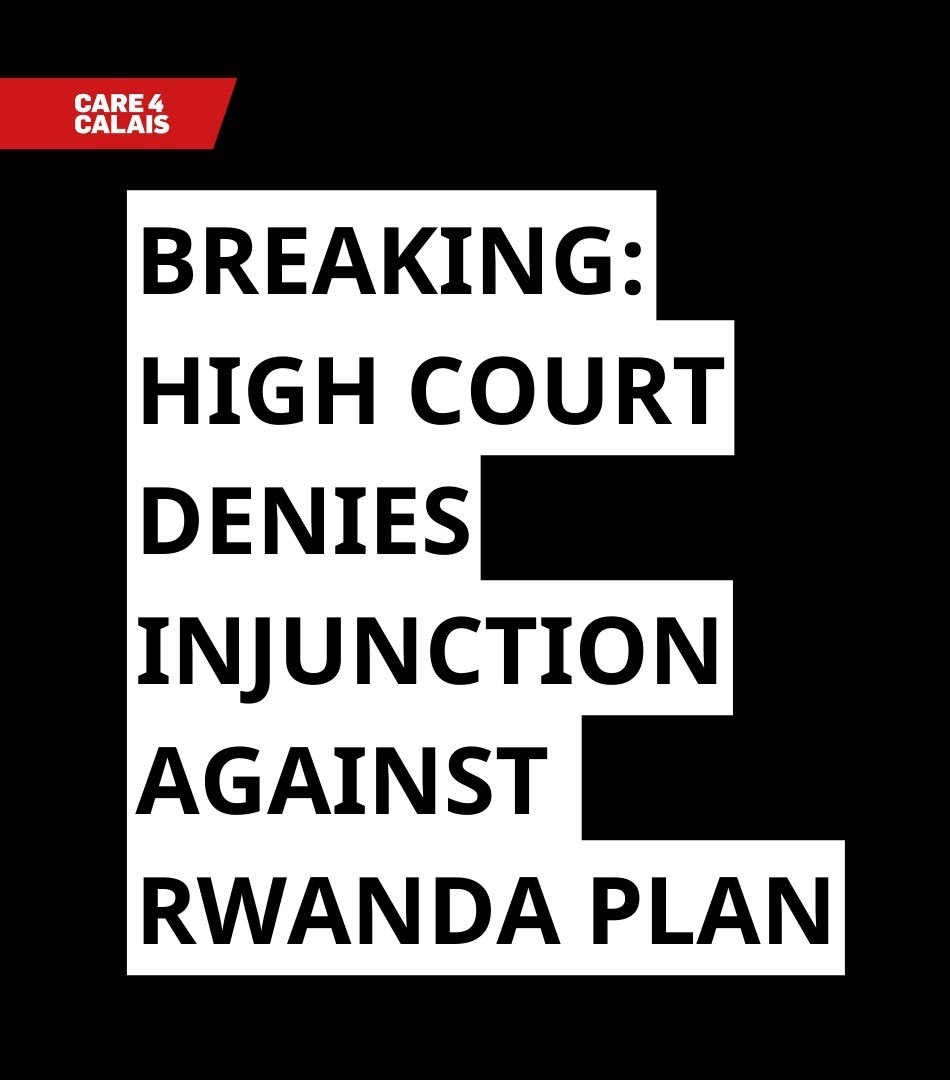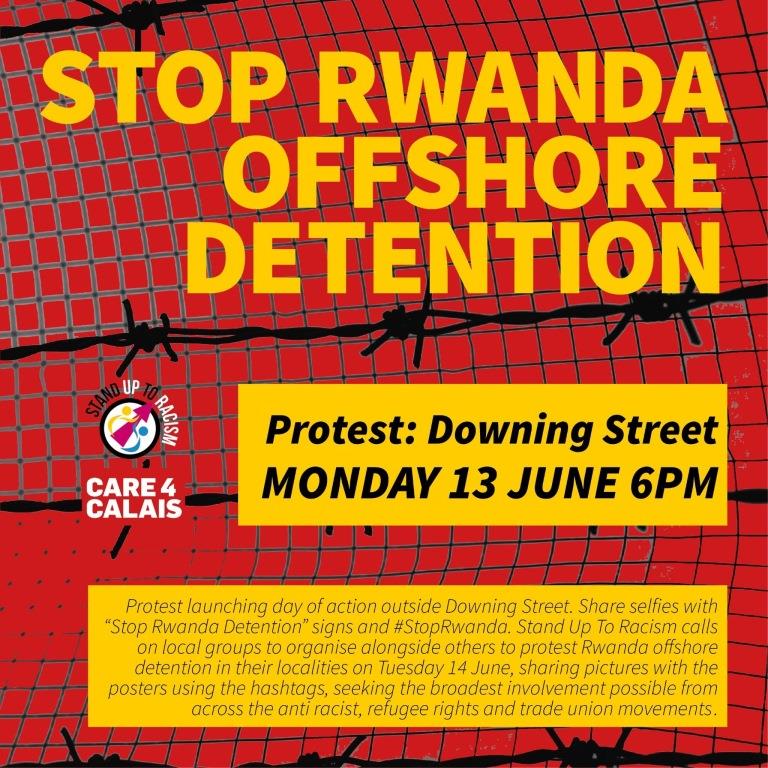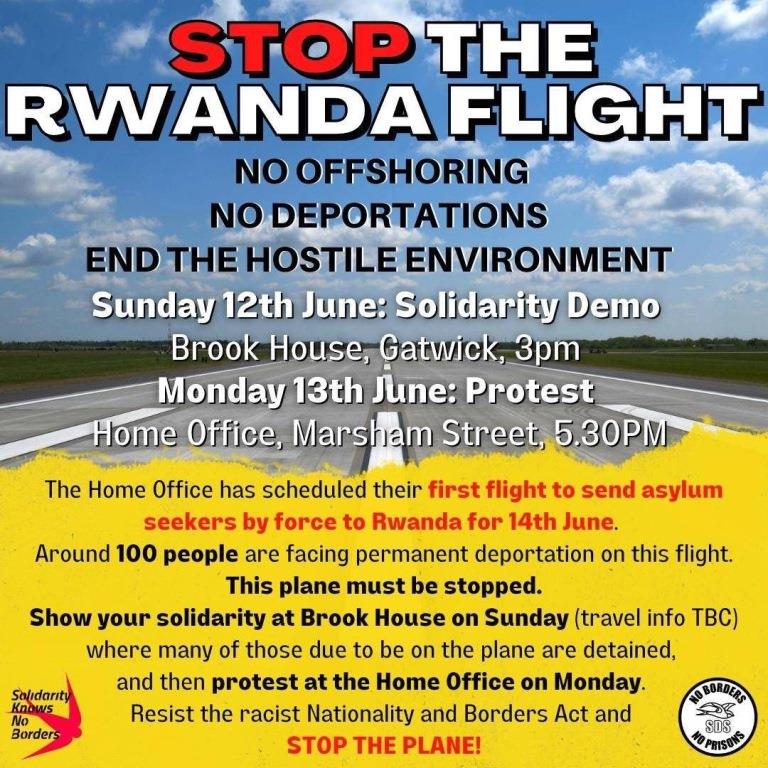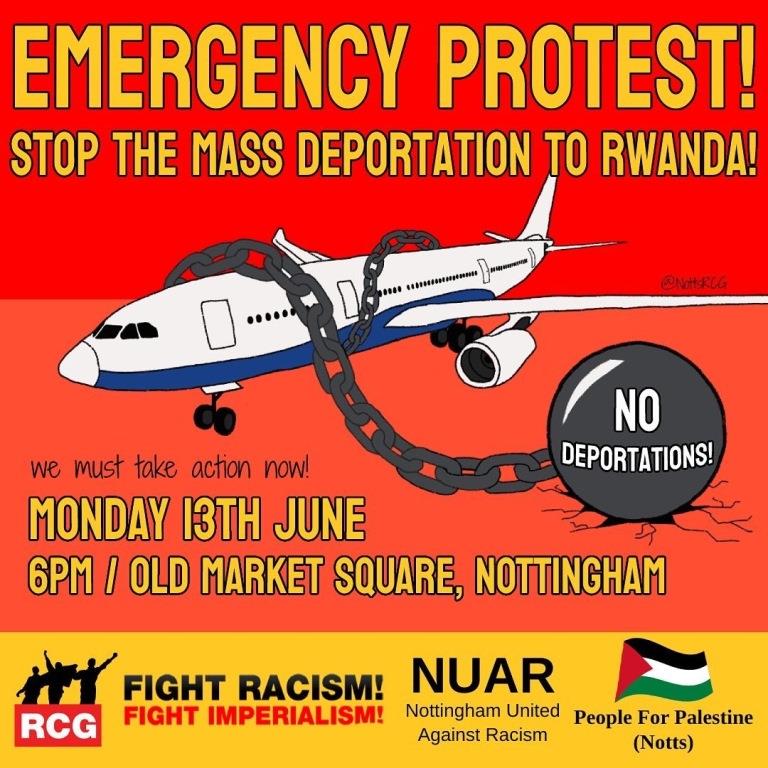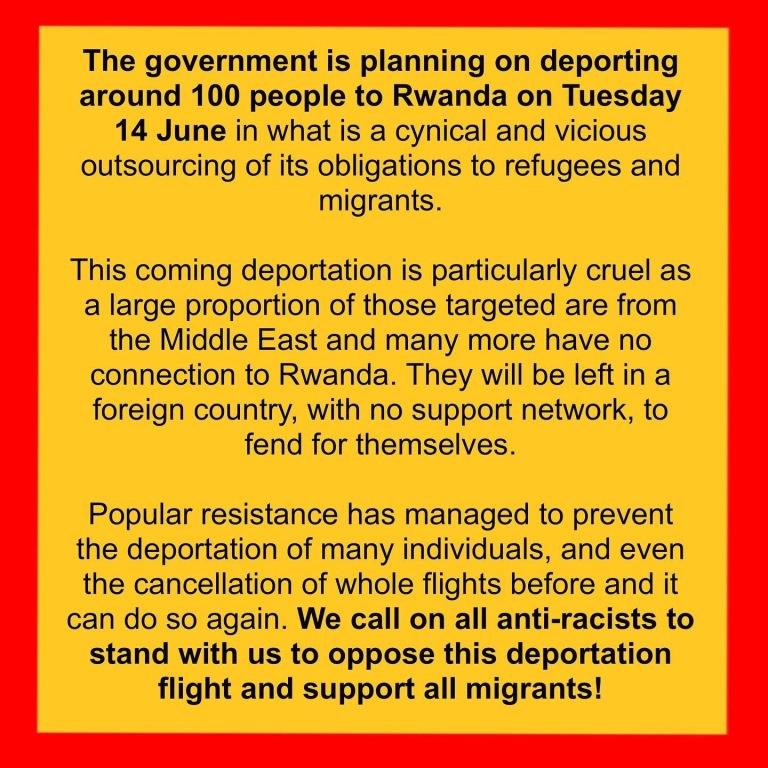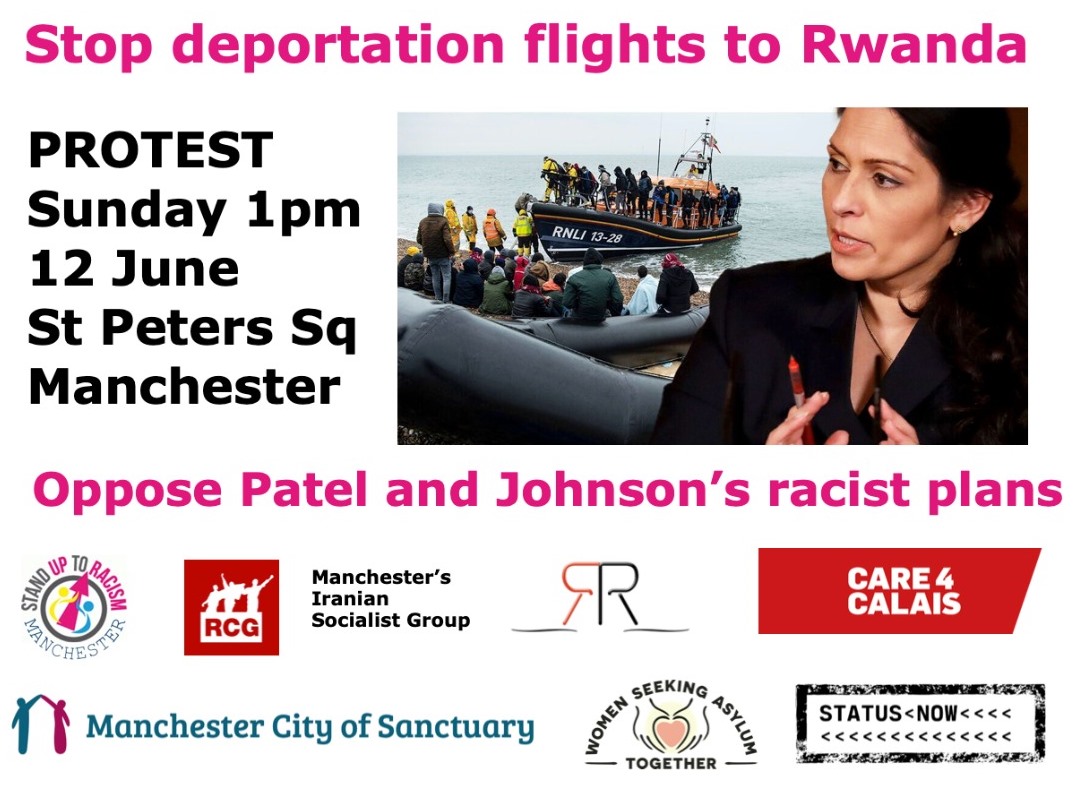 Why not write - if you're a UK voter, and find the Rwanda plan as stupid and callous as I do - an email immediately (the flight is scheduled for Tuesday) to your MP?
Via the Care4Calais Rwanda web page, which has info about protests and routes you to the WriteToThem service - go to the "Write to your MP" section:
Pick, and then email, your MP from the House of Commons member list:
If you're in Stroud, DIY an email to: siobhan.baillie.mp@parliament.uk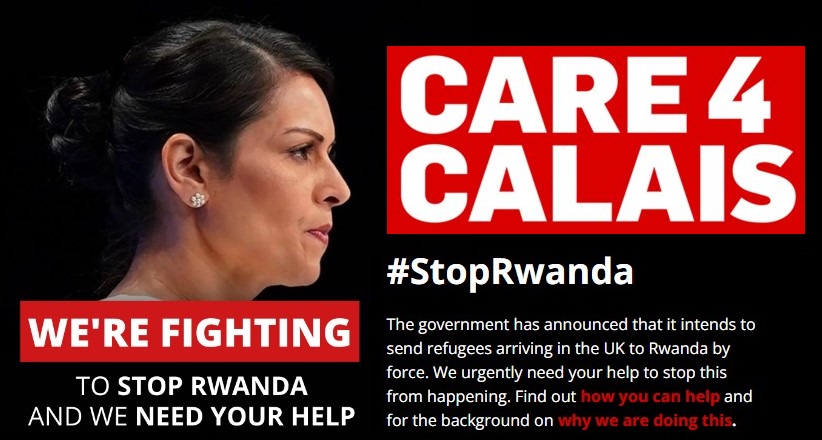 Even the heir to the throne objects (allegedly) - and the second headline comes from none other than the Daily Mail: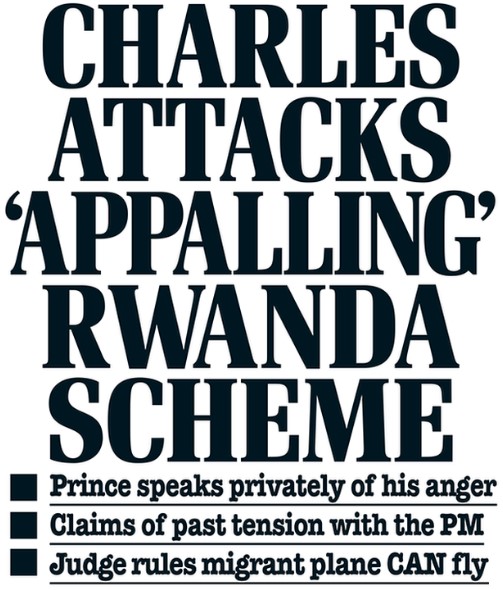 Friday 10th June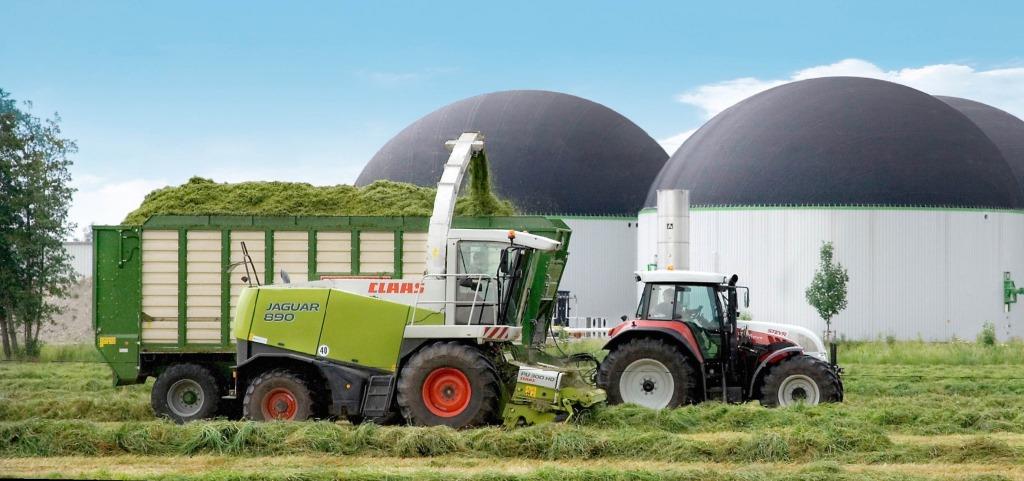 Dale Vince's Green Gas project - dismissed by many as bonkers - has been gaining traction. Here's a recent interview with TalkTV (2 minutes):




His company website explained:


Ecotricity has begun construction of its latest renewable energy innovation - a green gas mill, which will make gas from grass. Its first-of-a-kind gas mill is now being built near Reading in Berkshire. Once fully operational in early 2023, it will provide all the gas needs of 4000 local homes - every year. Traditional methods of making green gas involve use of food waste or energy crops - both have sustainability issues and problems with a lack of scale. Grass is a breakthrough alternative.

Ecotricity's green gas mill will be fed by herbal lays - a mix of grass and herbs, sown and grown on farmland next to the plant. Green gas mills do not require agricultural land and do not compete with food production. Costing £11 million to build, Ecotricity's first green gas mill will create 30 jobs and directly contribute £3m into the rural economy.

Ecotricity has also released a new white paper on the potential for Green Gas in Britain. Authored by independent academics from Imperial College London Consultants, the report reveals the potential that a national Green Gas program would have:
There is enough grassland in Britain not involved in food production to provide gas for all homes
A national program to achieve this would create 160k jobs in the rural economy and contribute £15bn annually
The UK could make all the gas it needs for home and business use - if meat production was reduced by 10% and land was used to grow grass. Such a reduction would be well under the historical trend and targets set by government advisors to enable transition to net zero
Green gas made this way can reduce greenhouse gas emissions by nearly 90% when compared to the current use of North Sea gas and synthetic fertilisers. Green gas mills produce a natural fertiliser as a by-product.
Green gas can be used to simply replace fossil gas in the grid - far more efficiently, quickly and cost effectively. And it will work for all homes - no exceptions.
What about heat pumps? Not a good idea, it would seem:


The report also highlights the significant shortcomings of the government's national air source heat pump roll-out - it's alternative plan for heating homes without carbon emissions. Such a plan would cost six times as much as a green gas roll out - partly due to the need to triple renewable electricity generation, and significantly upgrade the grid to deliver it. The plan would also require the scrapping of millions of gas devices - boilers and cookers, as well as the UK gas grid. Currently, it costs £8,000 per home to install a heat pump - which also adds more than 40% to the overall energy bill of each household that uses one instead of gas. The report also flags that heat pumps will not work for 20% of British homes at all - while a further 20% of homes will need significant upgrades.


Here's the full report - a serious document, full of detail and tech­nical back­ground (56 pages):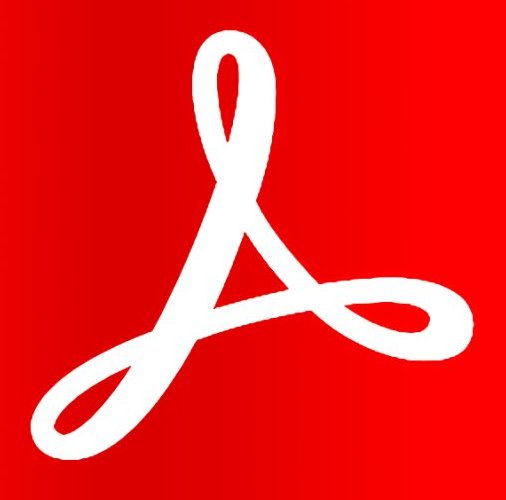 I've extracted two brief chunks of text and a map of available UK grassland (click to enlarge):

Green Gas can immediately contribute significantly to meeting the UK's Net Zero target. We assessed that the UK has 6.46 million hectares of suitable grassland. This is enough suitable grassland for around 5,400 Green Gas Mills to be built. This would provide up to 236.5 TWh - enough energy to heat 98.8% of British homes if made energy efficient - while also boosting the rural economy by nearly 162,000 jobs and generating £16 billion for the rural economy.

Green Gas Mills also save nearly 87% of greenhouse gas (GHG) emissions when compared to usage and generation of natural gas and synthetic fertiliser, as business-as usual scenarios, which could be further reduced with proper automation and well monitored systems by 2050 to emission saving up to 99%.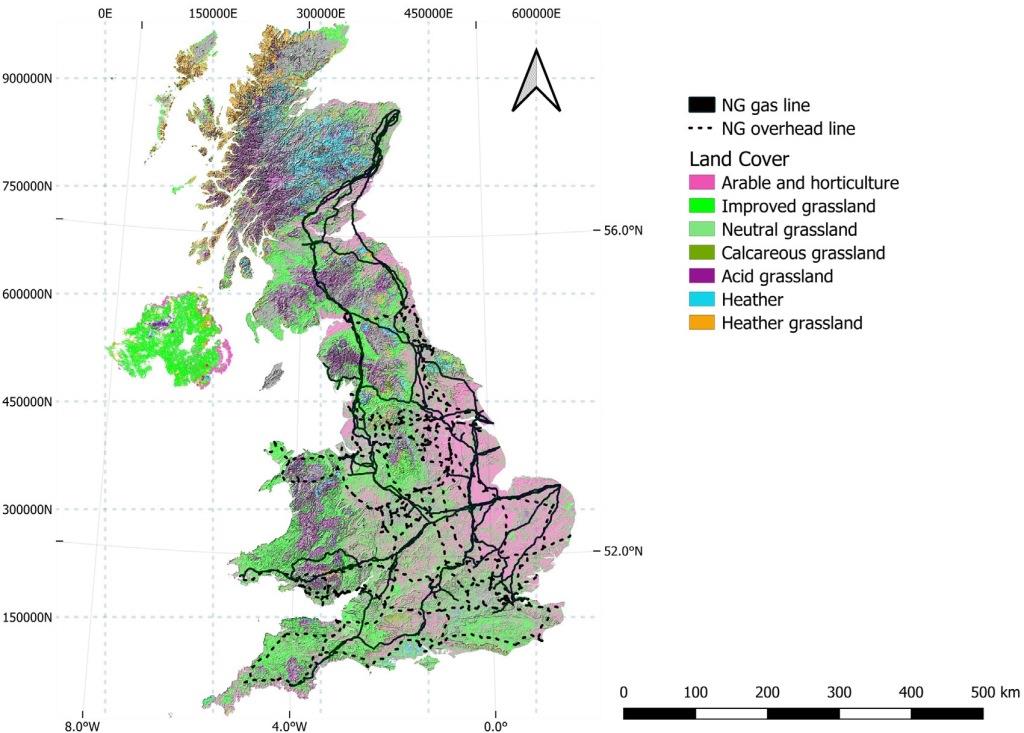 What's not to like? Well, to go with my politically incorrect dislike of wind and solar farms - I must get some counselling - there are 5,400 mills to be built. I'll have to apply a dose of Hans Rosling "factfulness" to help me with that number.

To finish off, here's a video of the Reading mill under const­ruction (3 minutes):



Thursday 9th June


You'd be forgiven for thinking that I've lost my marbles today. I'm posting maps (click to enlarge any for the smaller details, you really have to look closely for some) by Jakub Marian, according to his website a "Czech data scientist, linguist, geographer, and musician"

. Why? Because they popped up when I was looking for something else. I love maps. They're European. Quirky. There are nuggets of interest in them all. Search for the minorities; I reckon the Basque Country is the winner.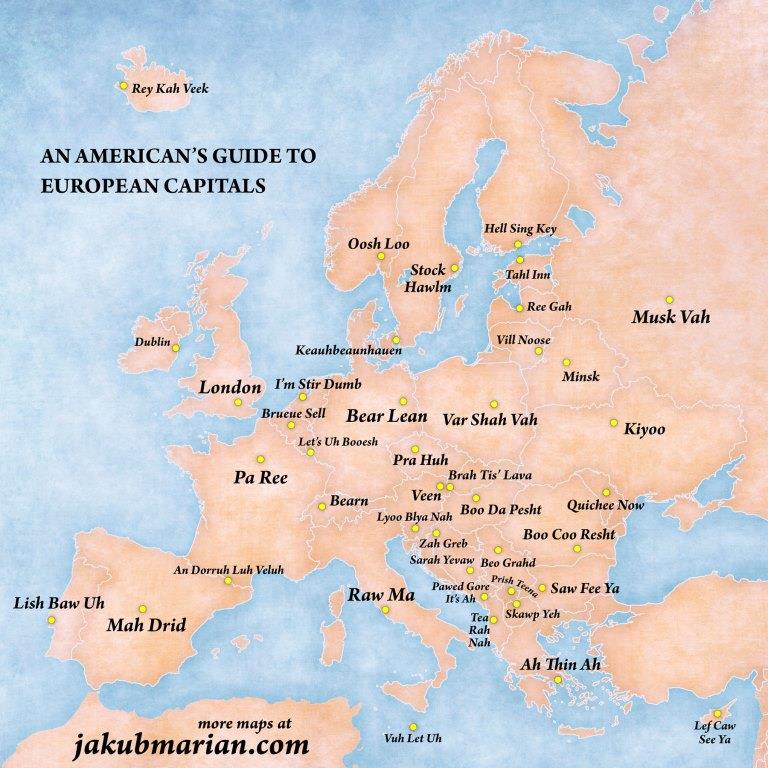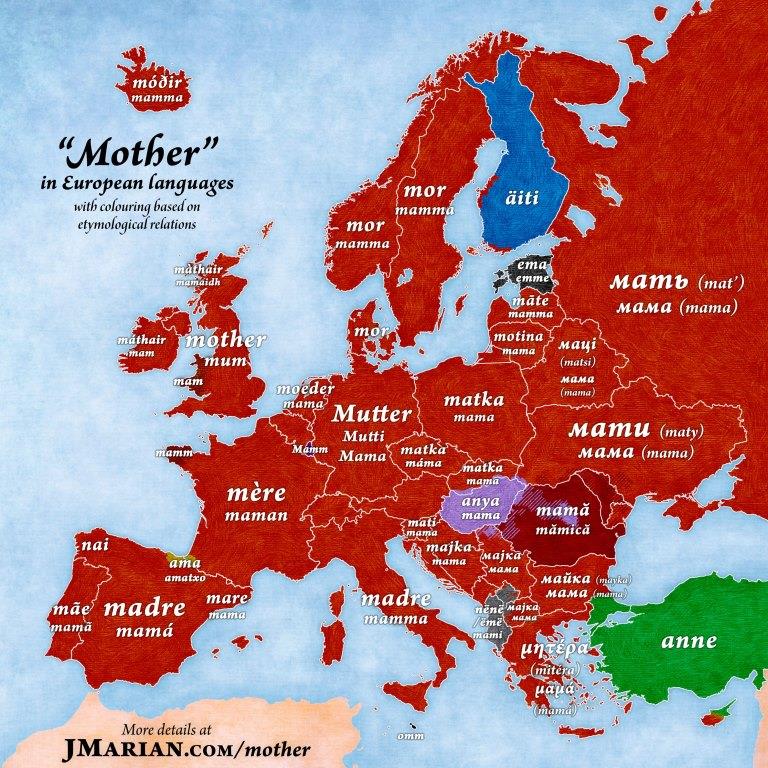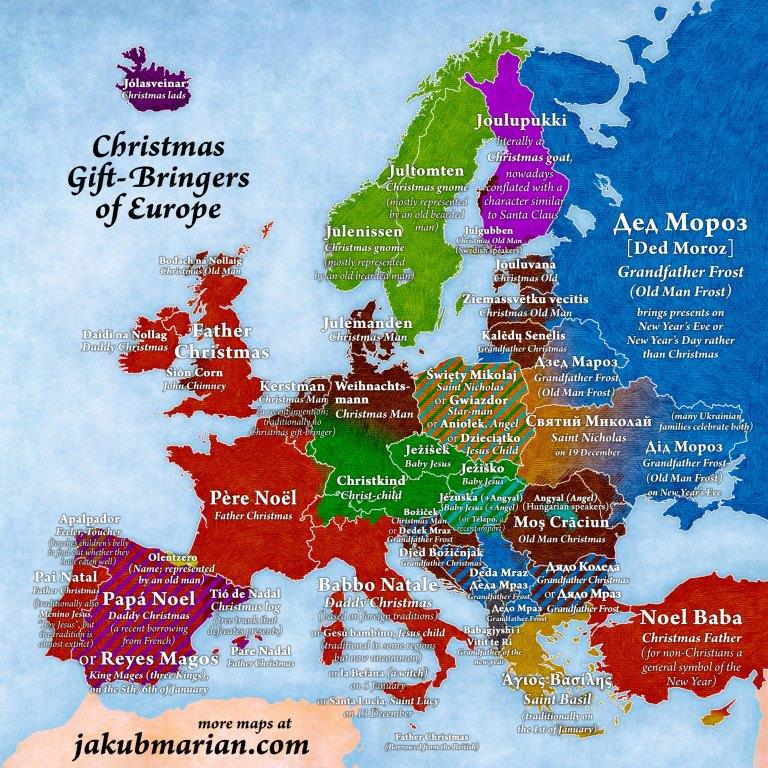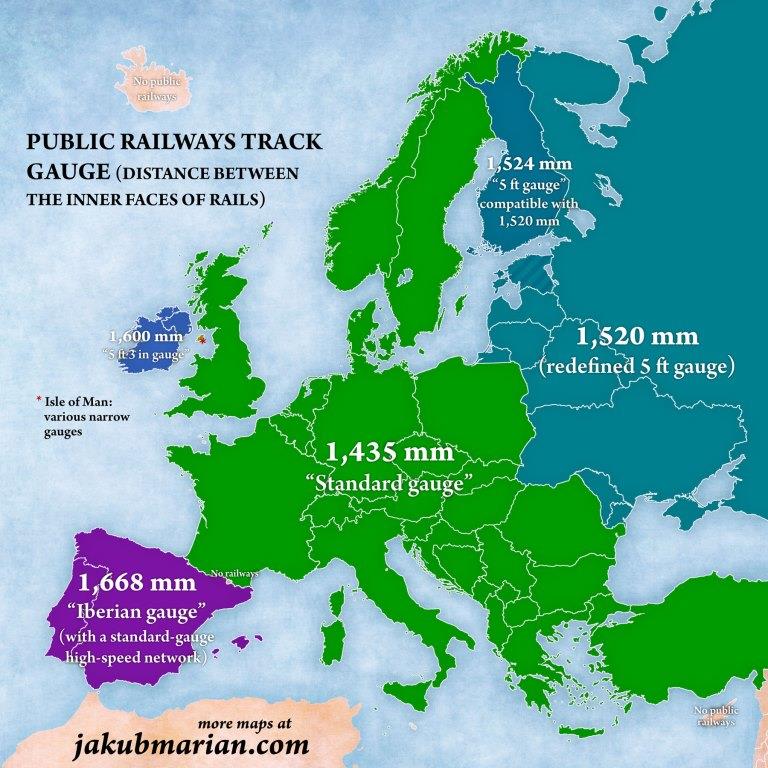 Here are three old maps that he has digitally restored:


Map of Europe - Abraham Ortelius, 1571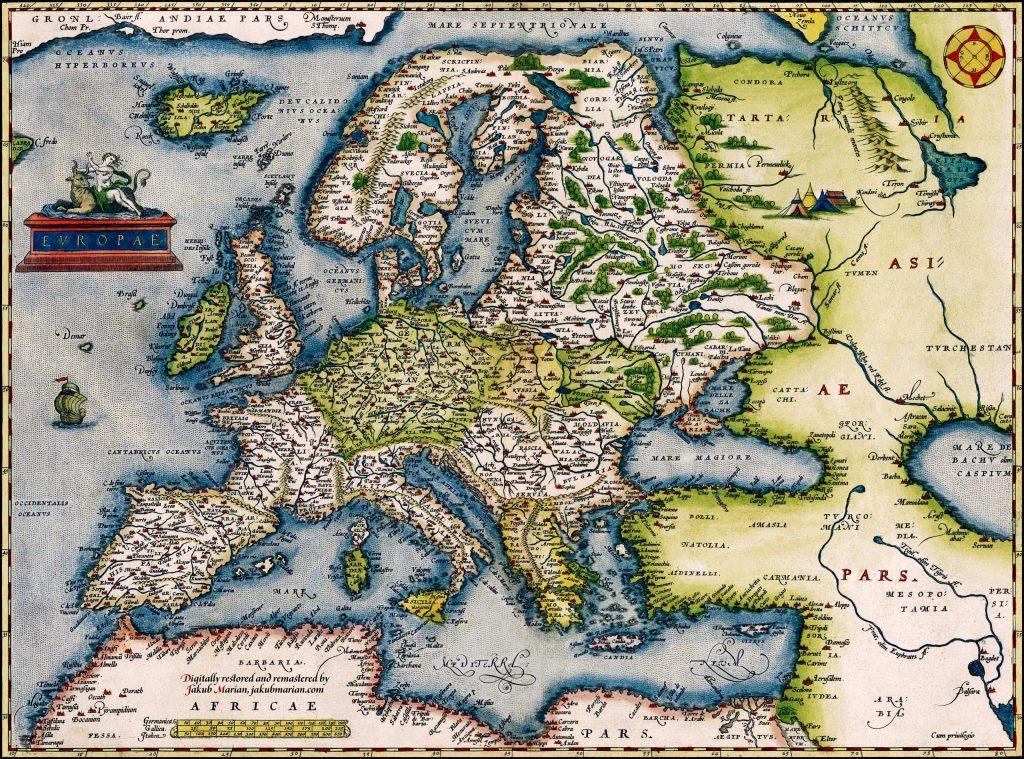 Linguistic map of Europe - Gottfried Hensel (1687-1765)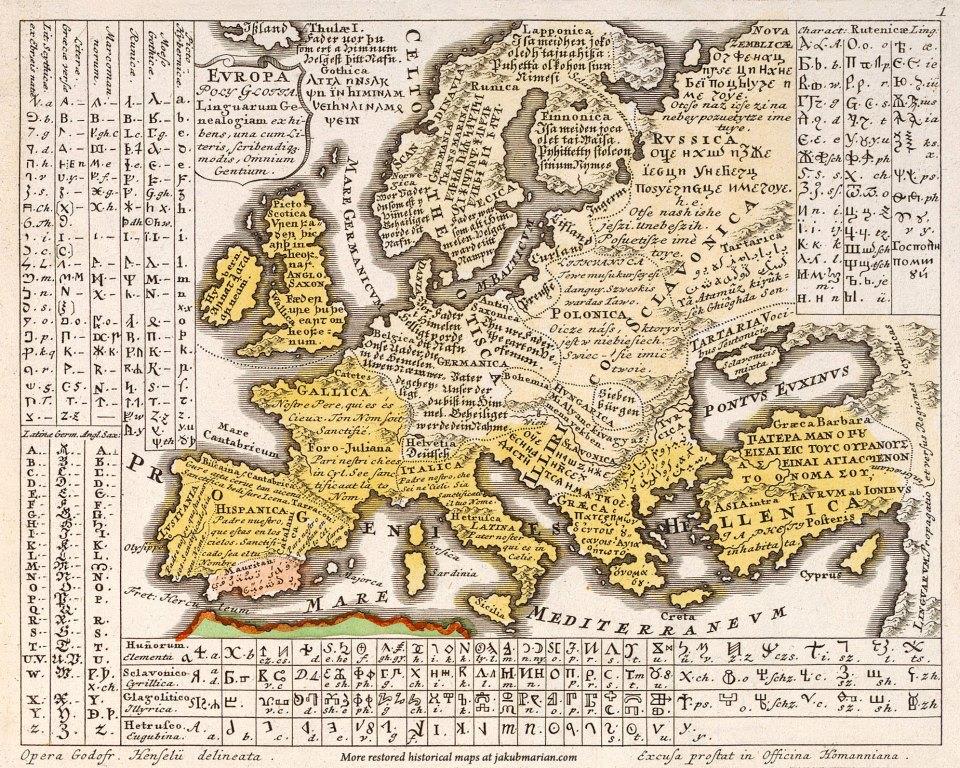 Vintage map of Italy - Litografia Corbetta, 19th century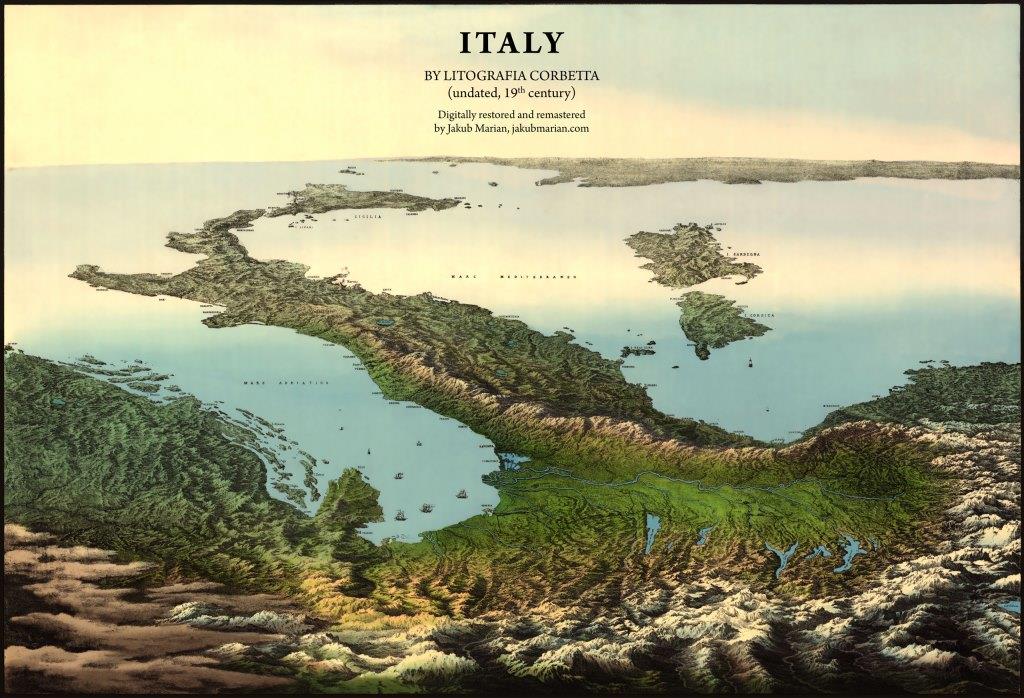 And, I suspect, a small private statistical joke: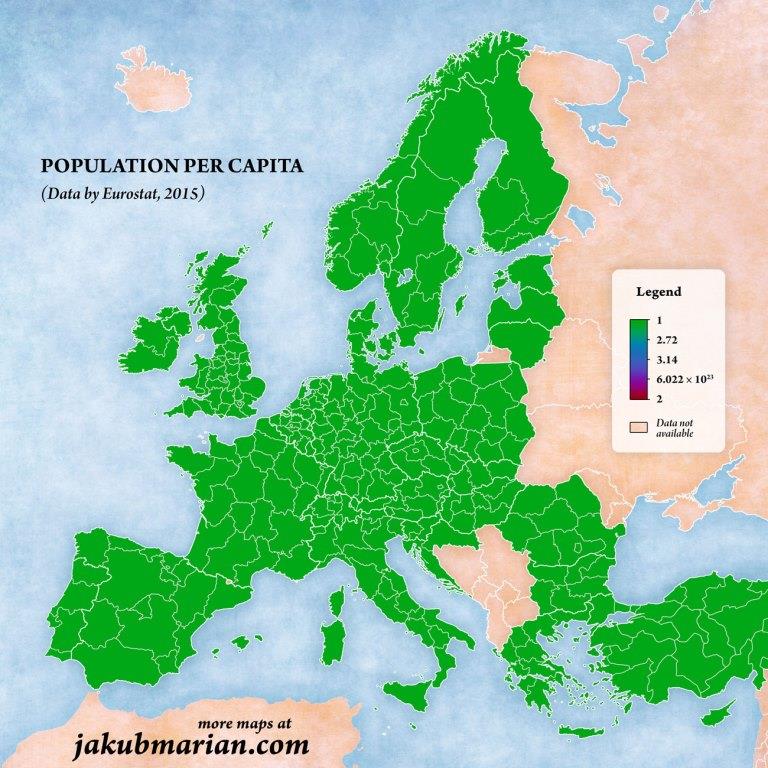 Wednesday 8th June


The Platinum Jubilee is over, we are "moving on" from #PartyGate. I'm going back to Hans Rosling's good news. Be aware that it's at least five years old.

In chapter two of Factfulness, he lists some simple graphs of "bad things decreasing". Click on any chart to enlarge.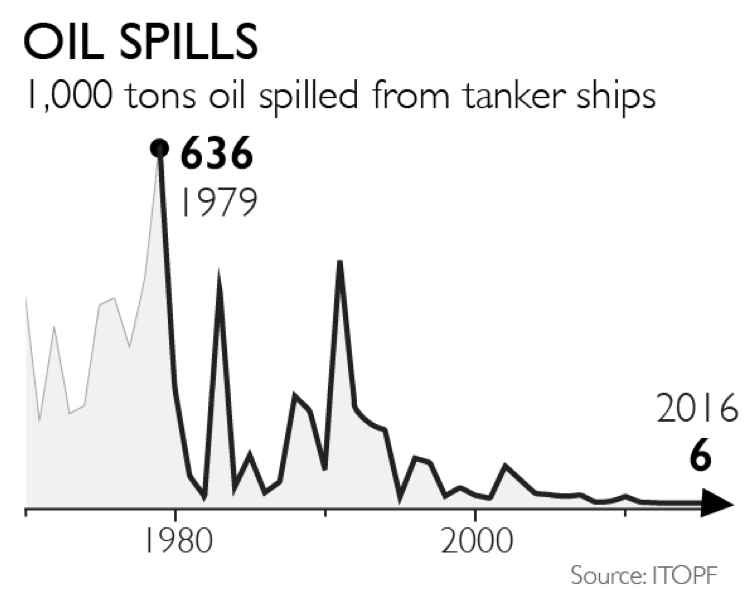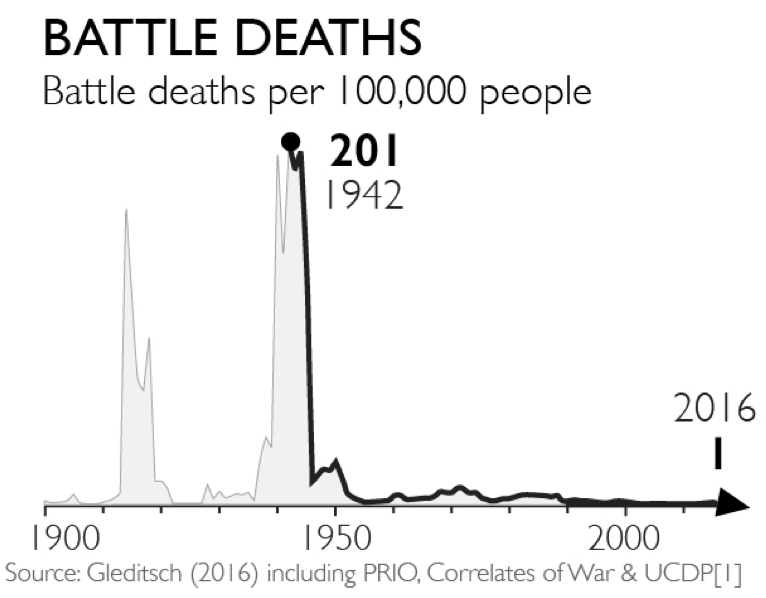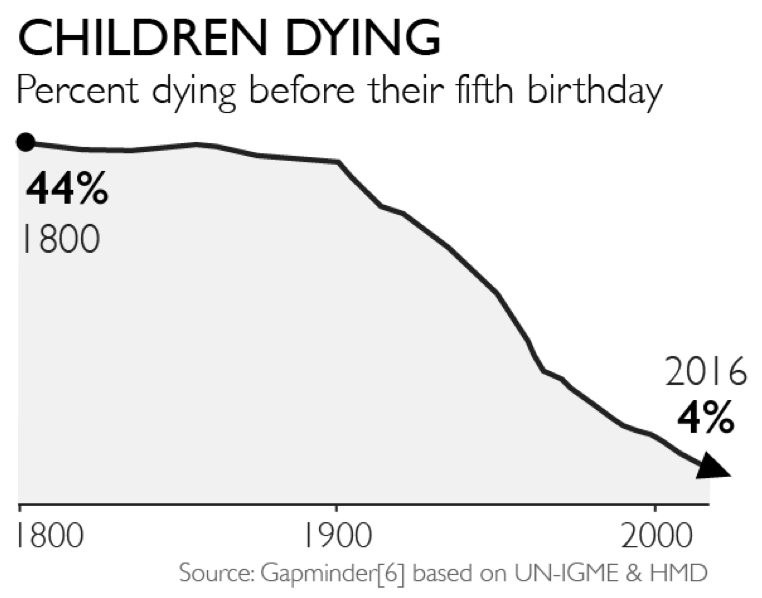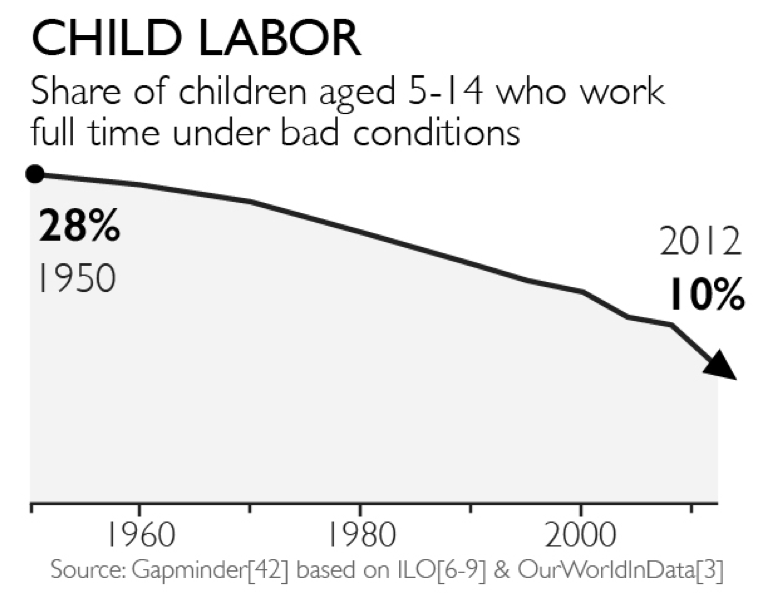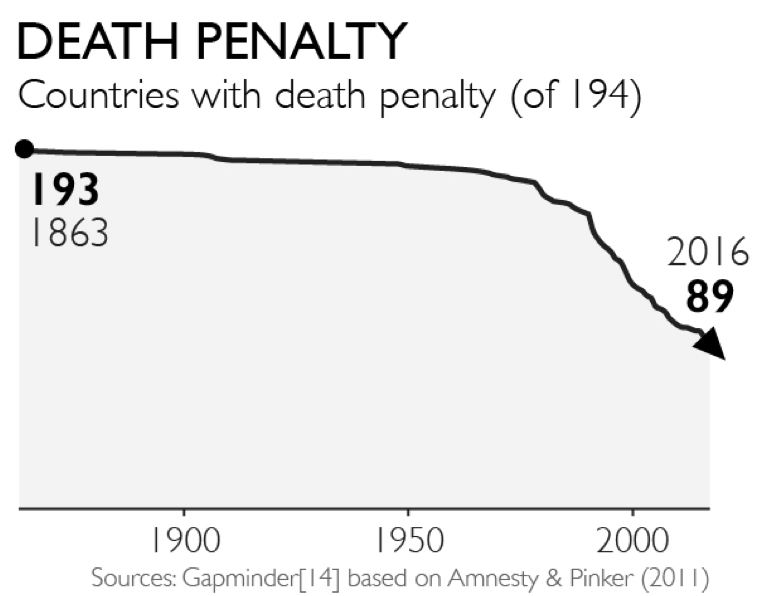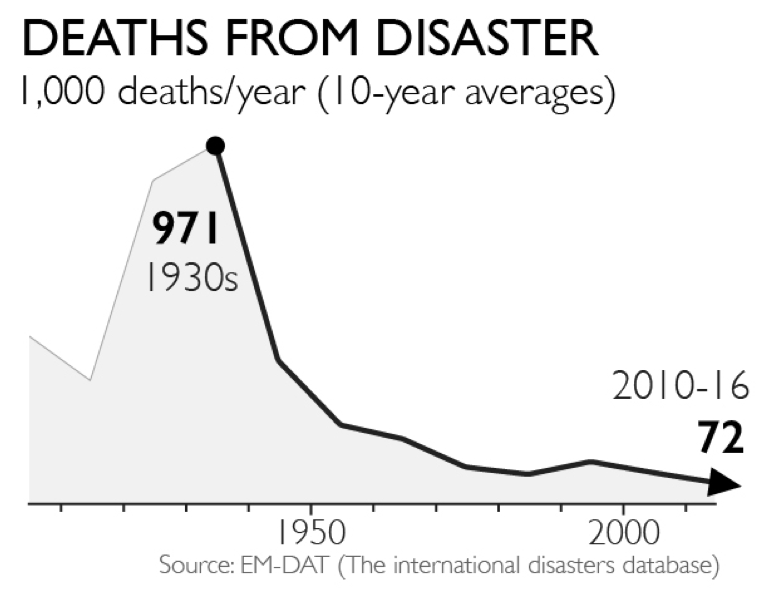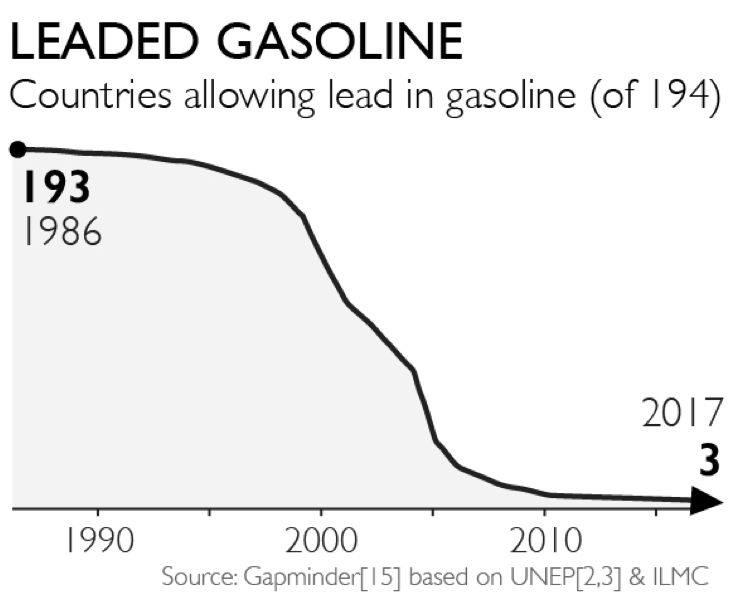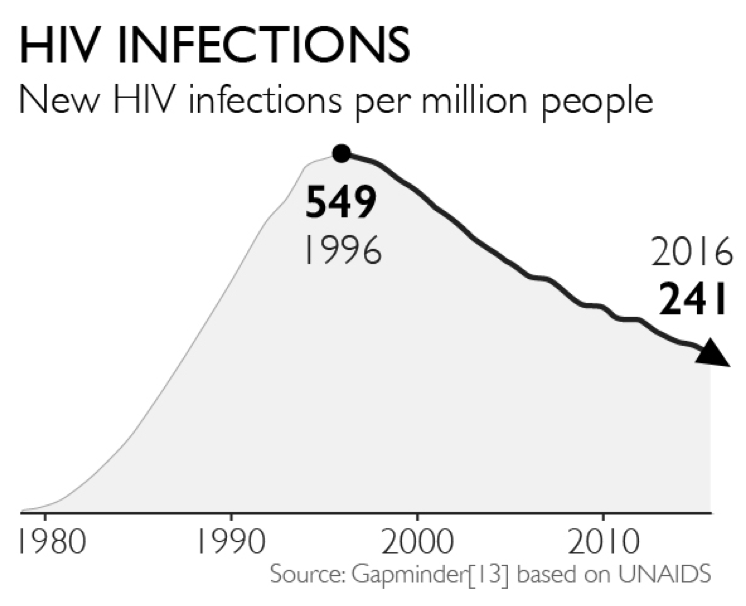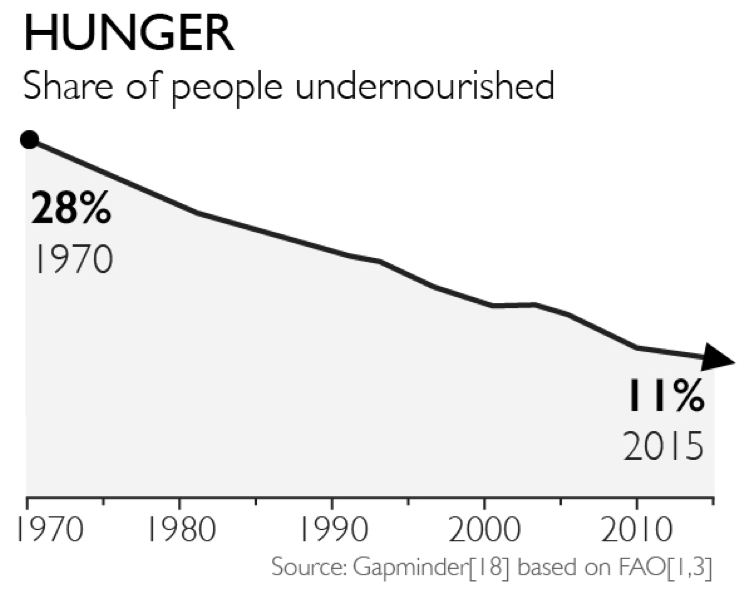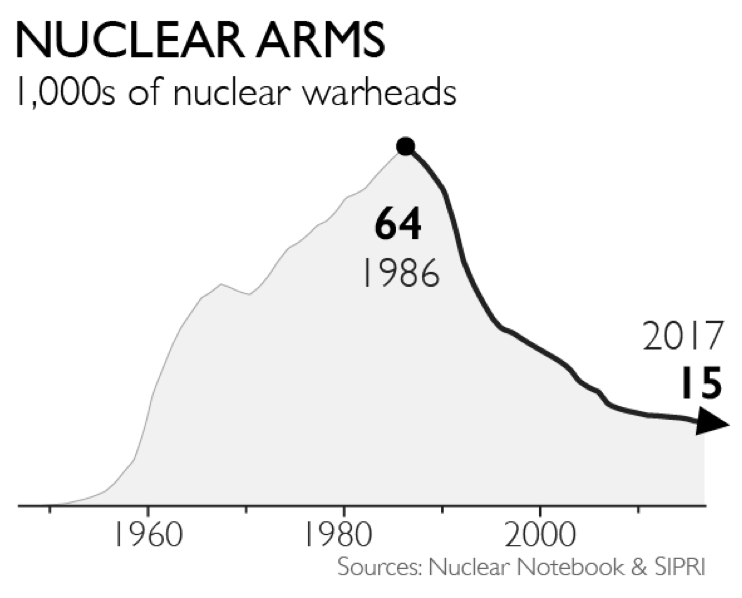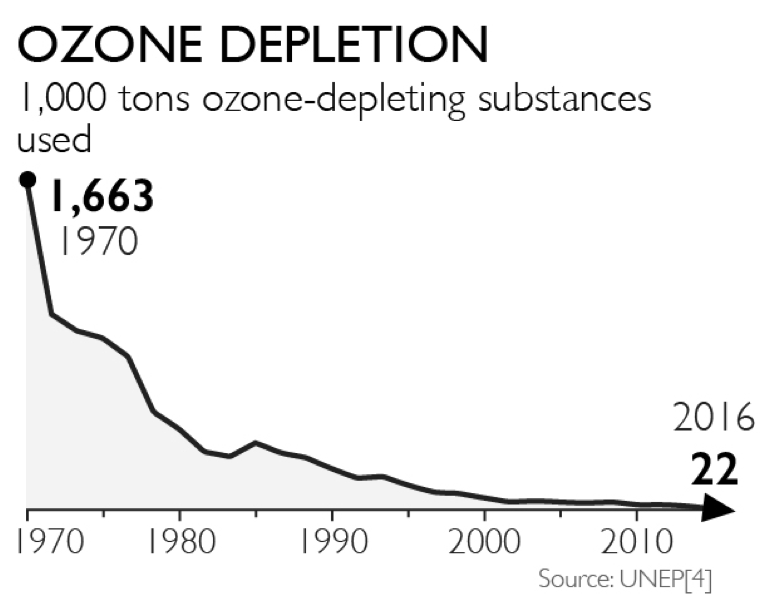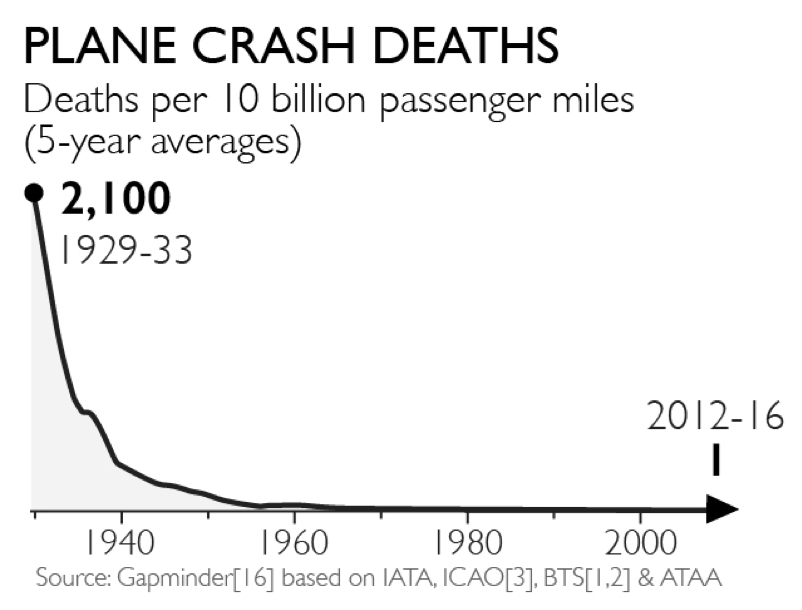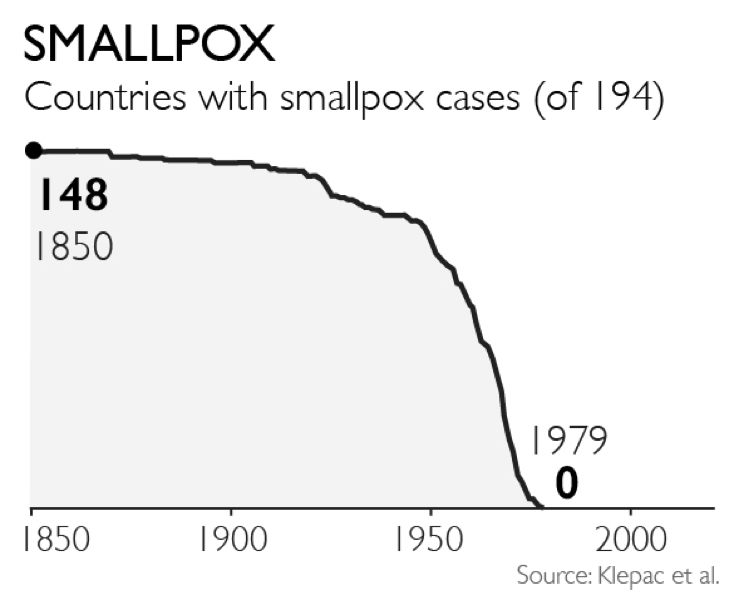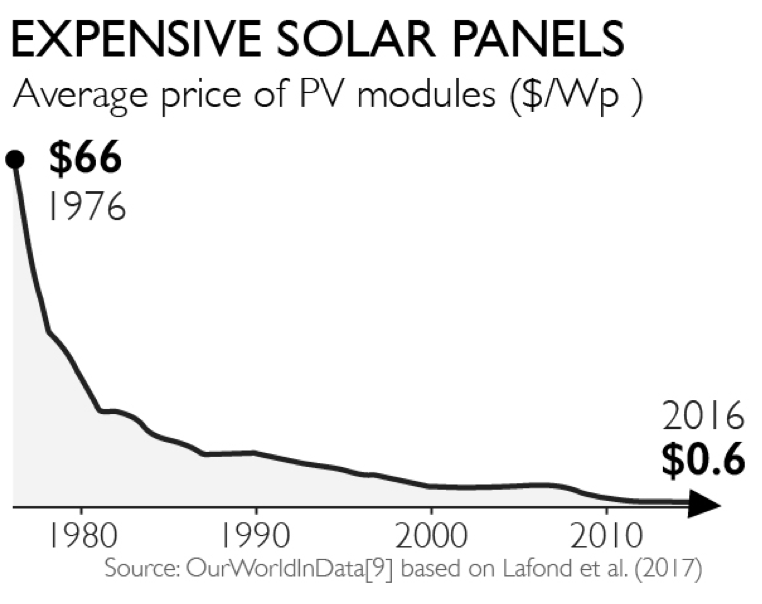 He goes on to the reverse set, "good things increasing". You may question the "goodness" of some of these, such as the growth of the internet and the proliferation of mobile 'phones, or the value of more recorded music and feature films.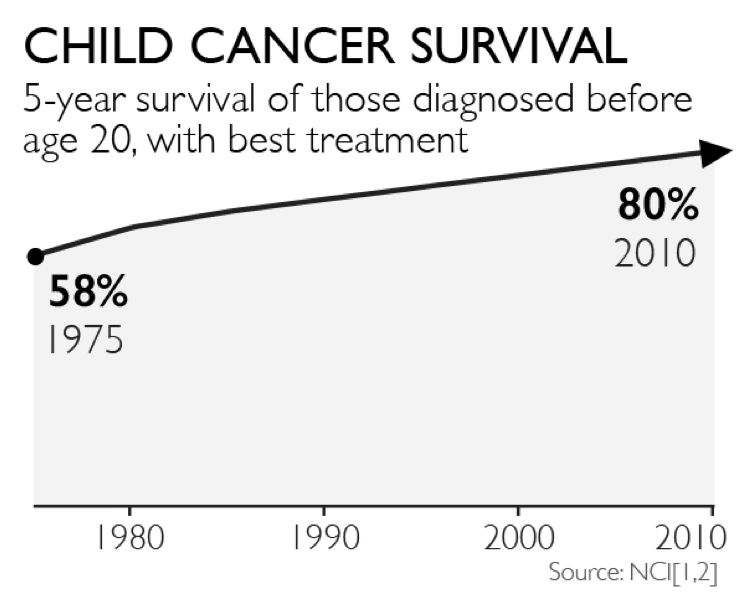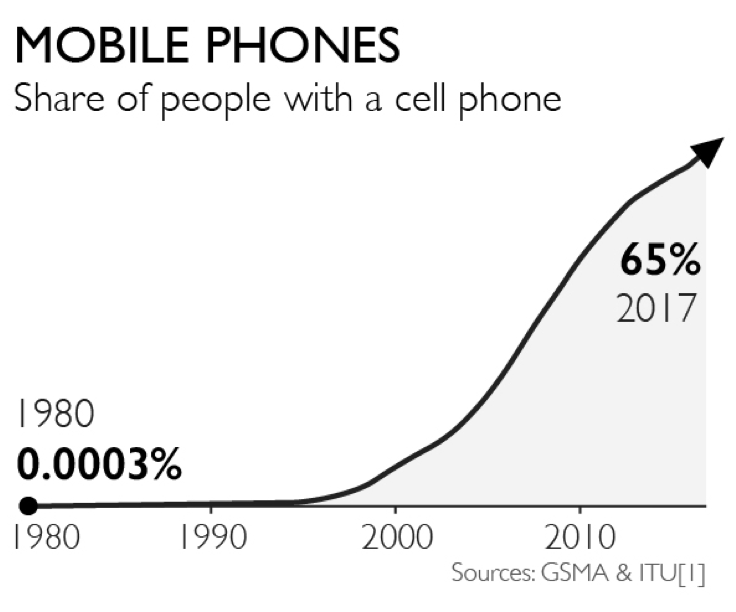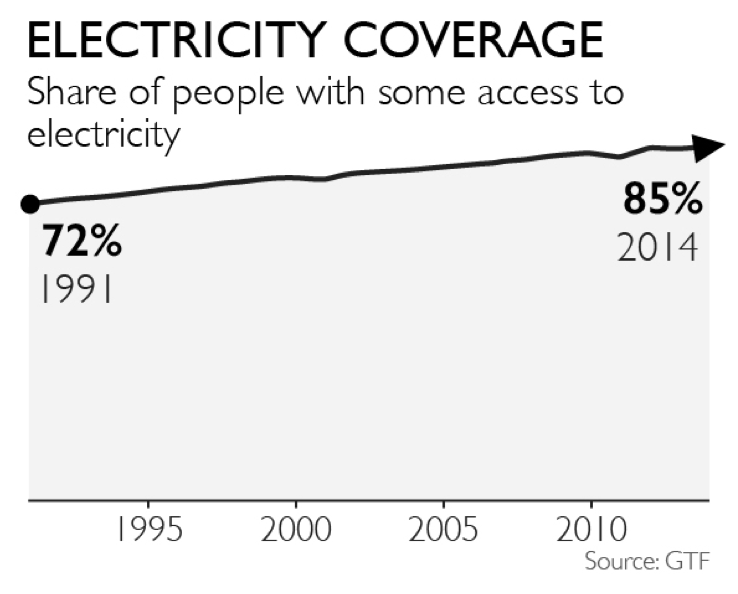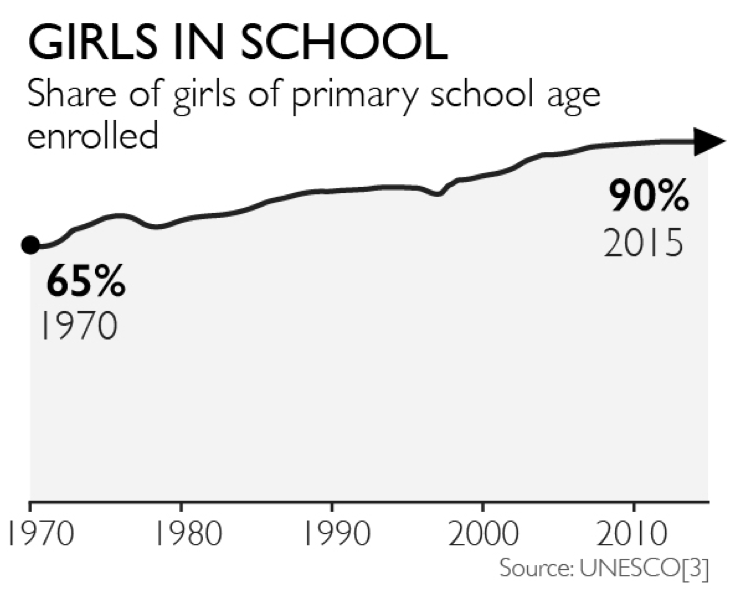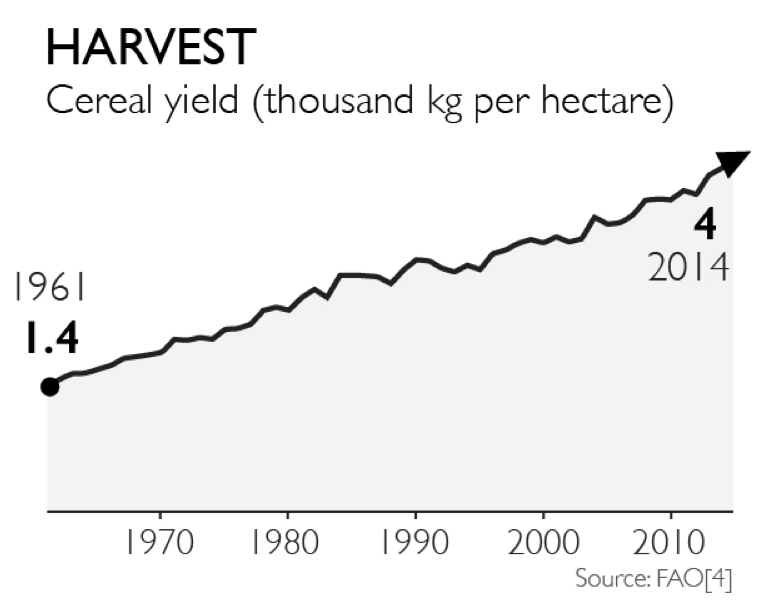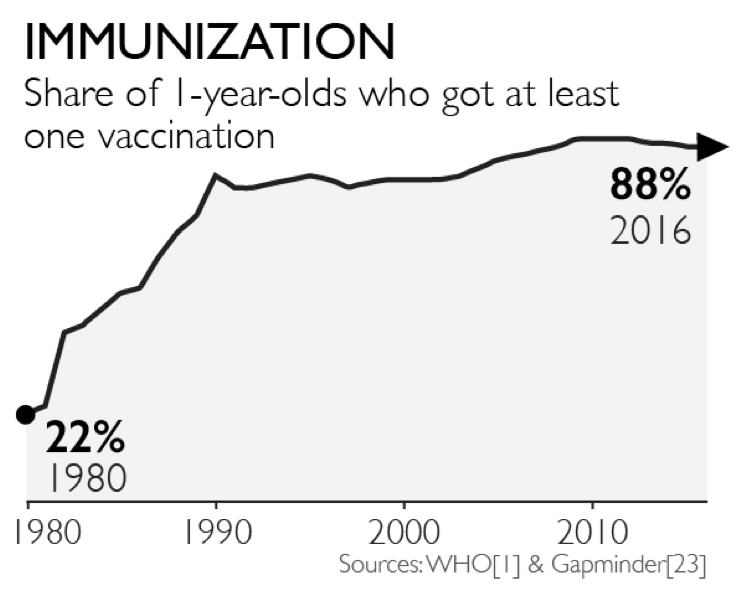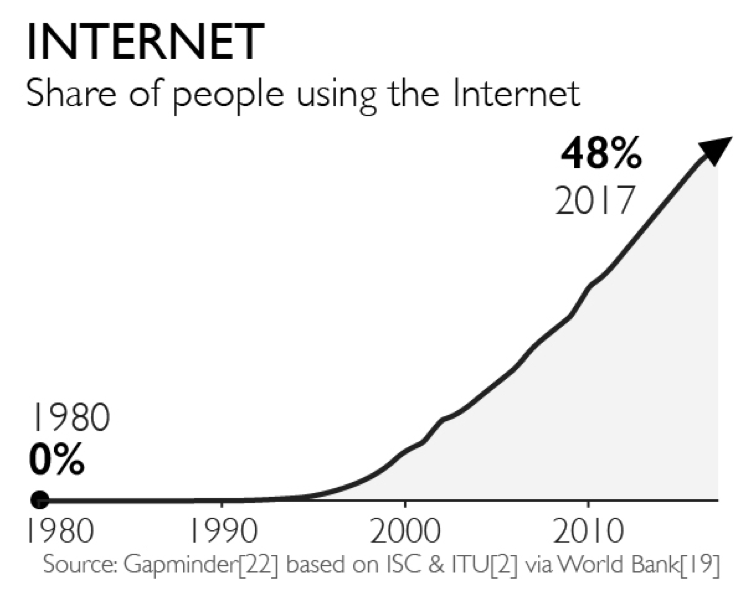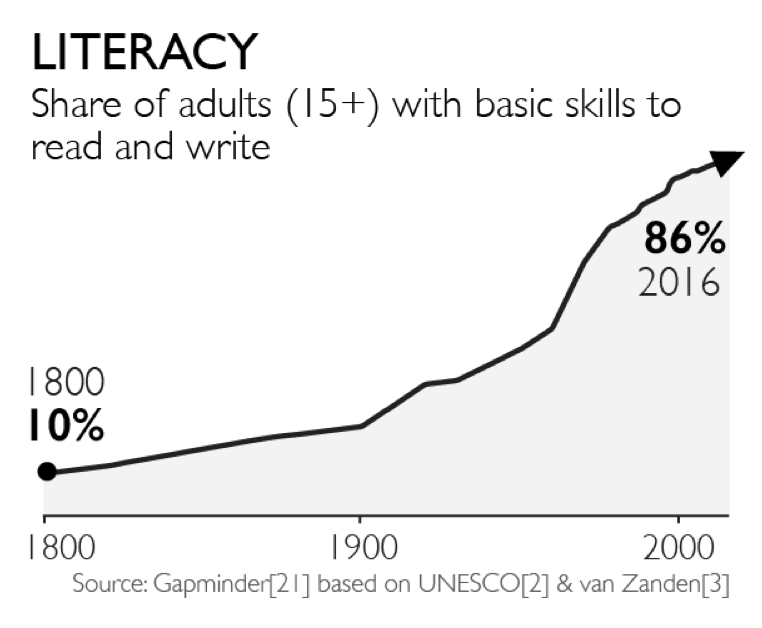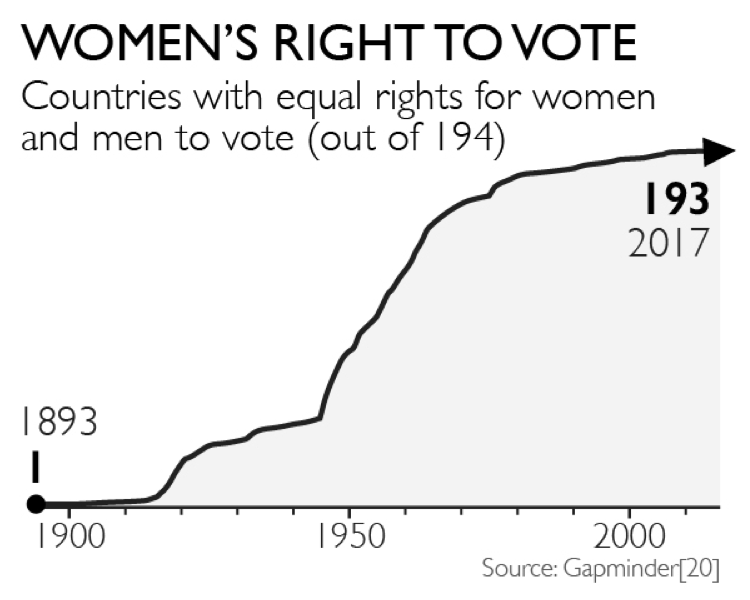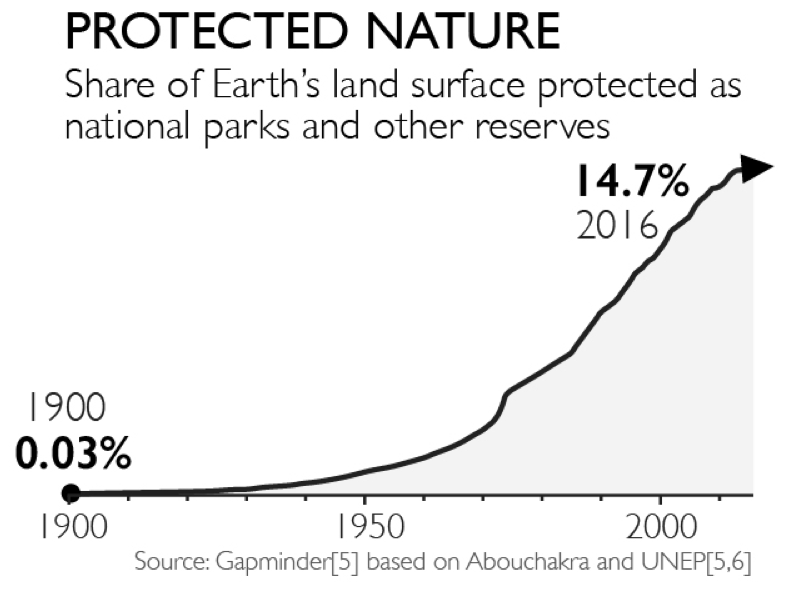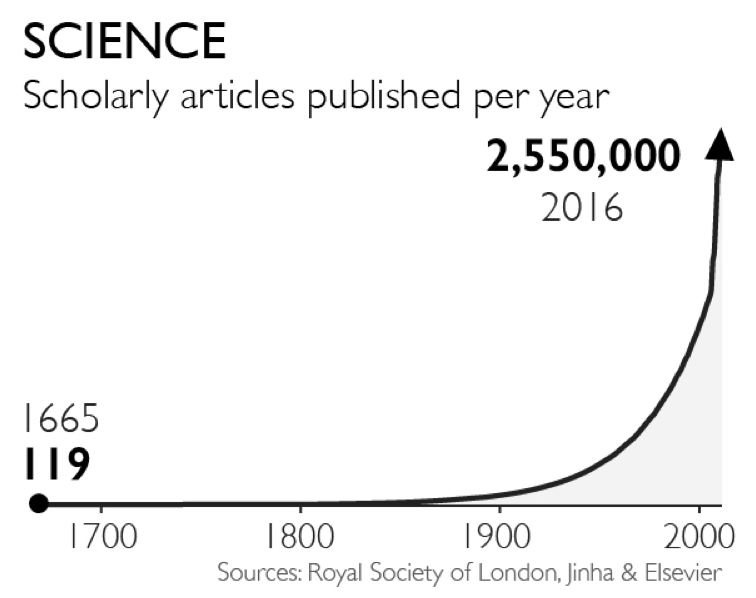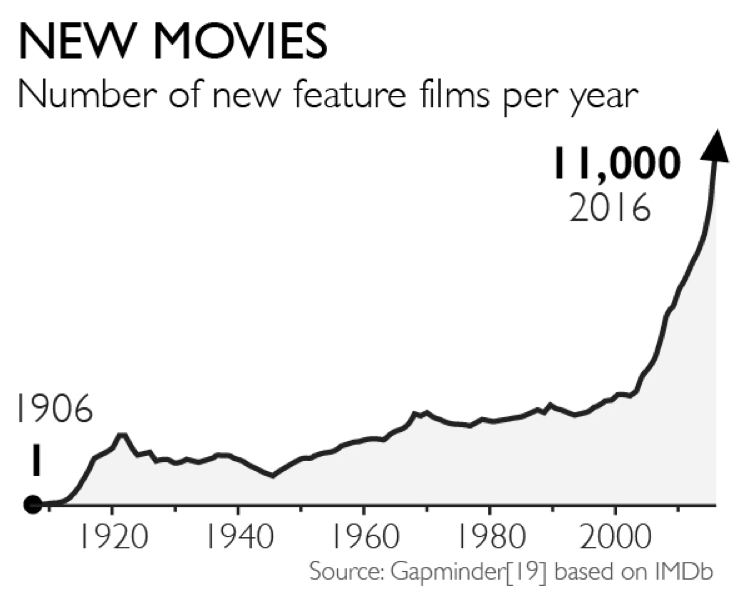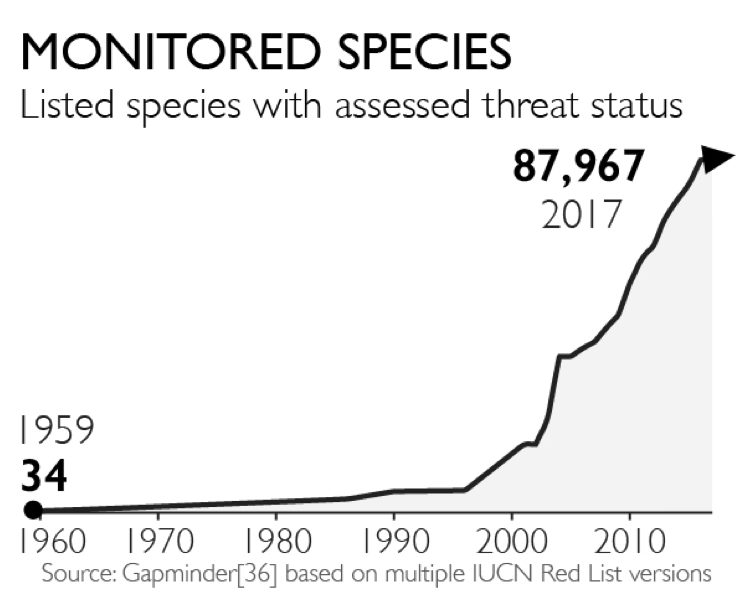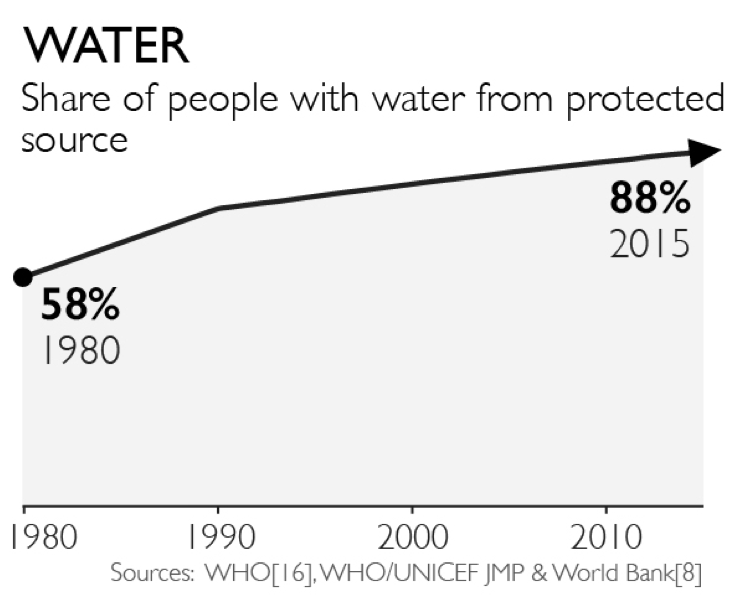 I hope that cheers you up a bit.

Or these?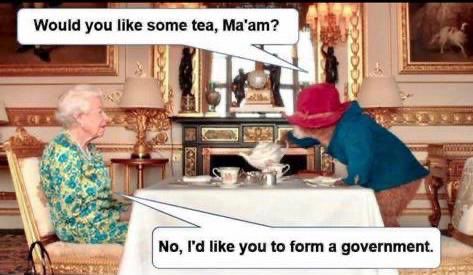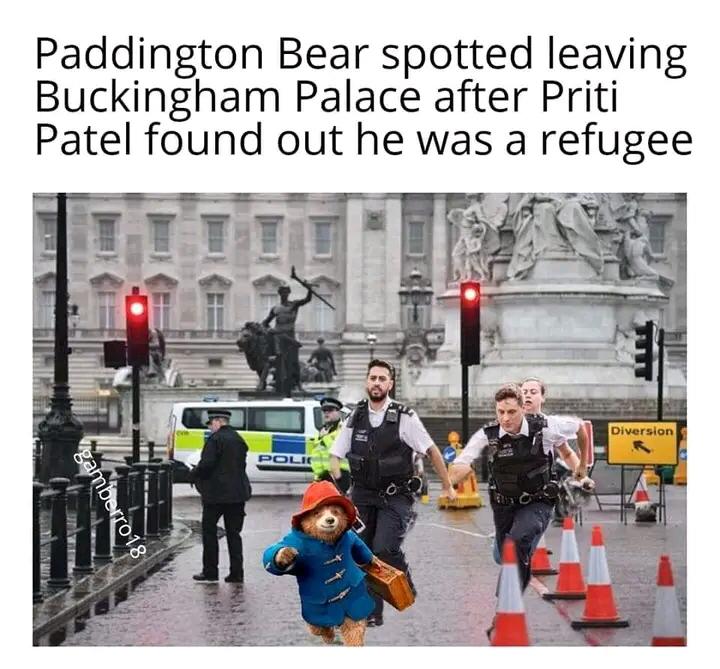 Tuesday 7th June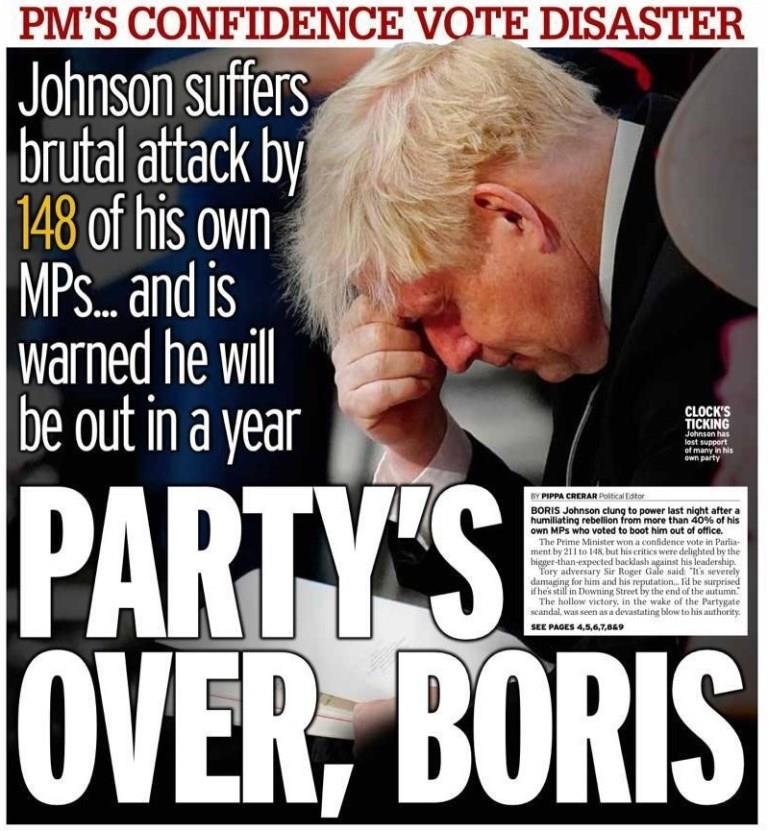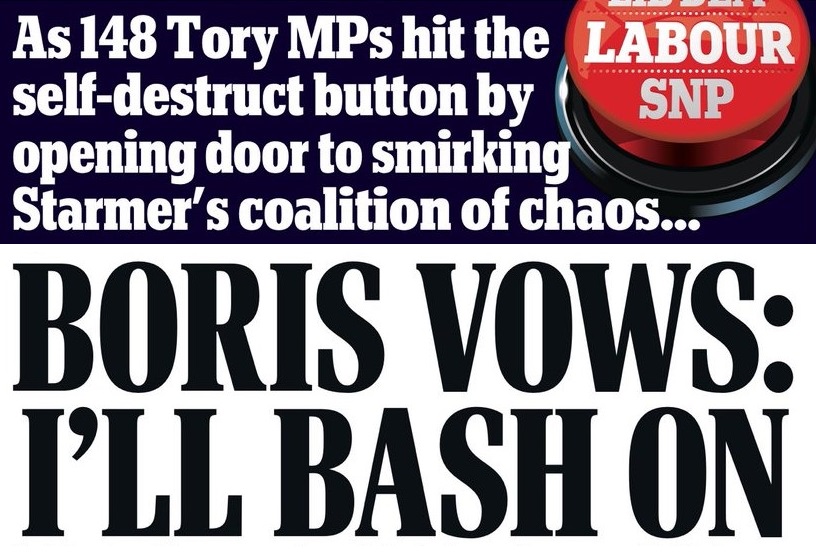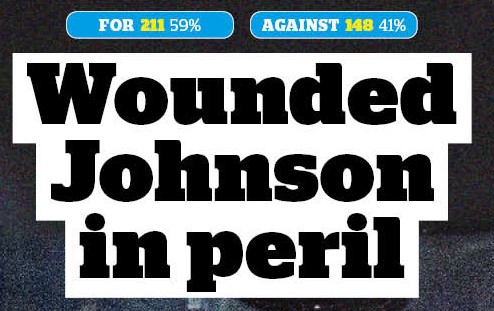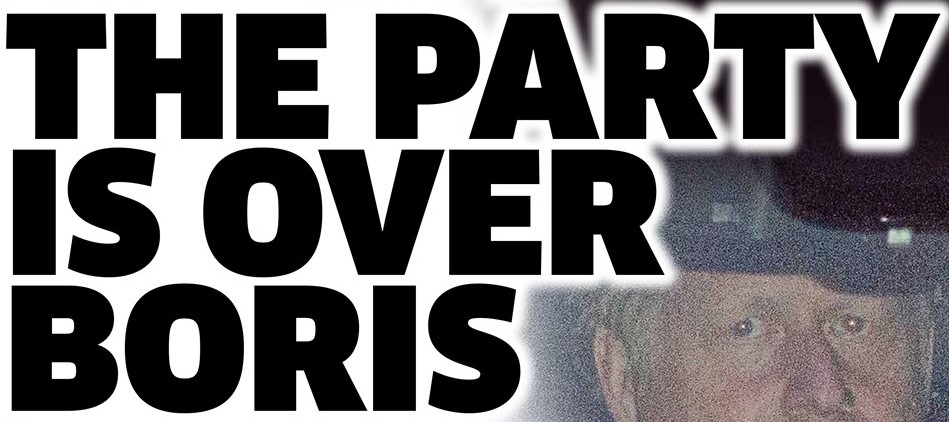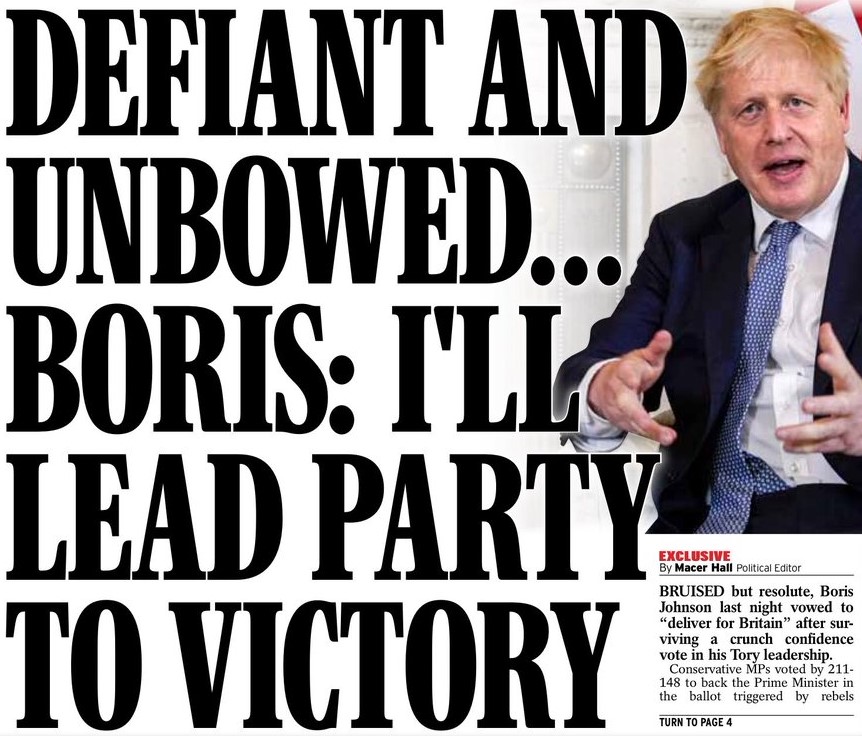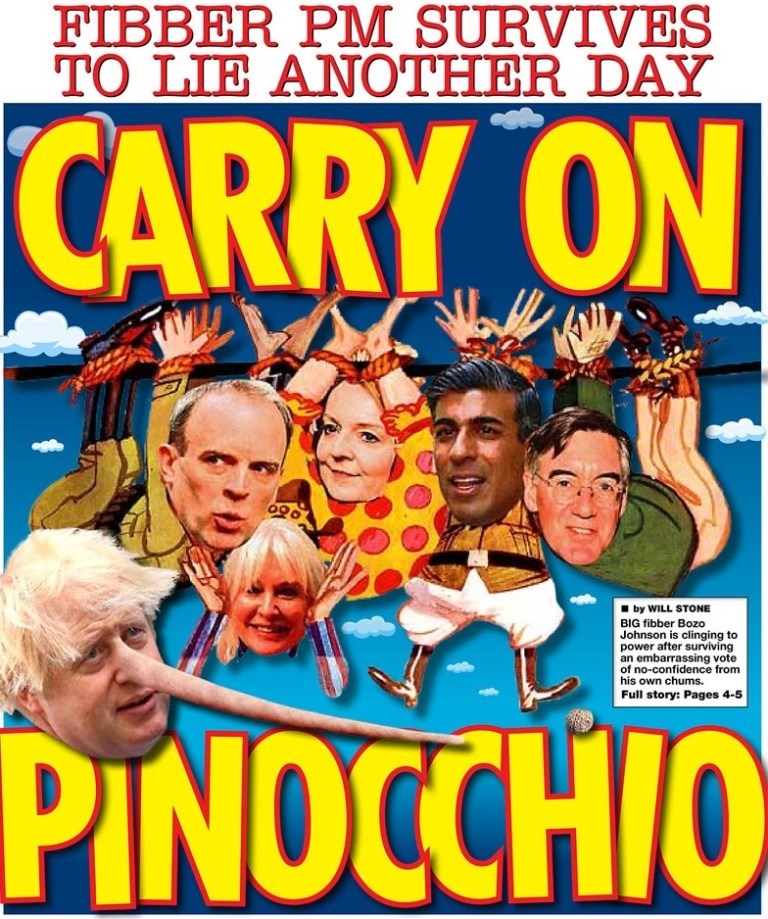 It's a start. Or is it?

Monday 6th June


STOP PRESS

Everything further down was written before this announcement: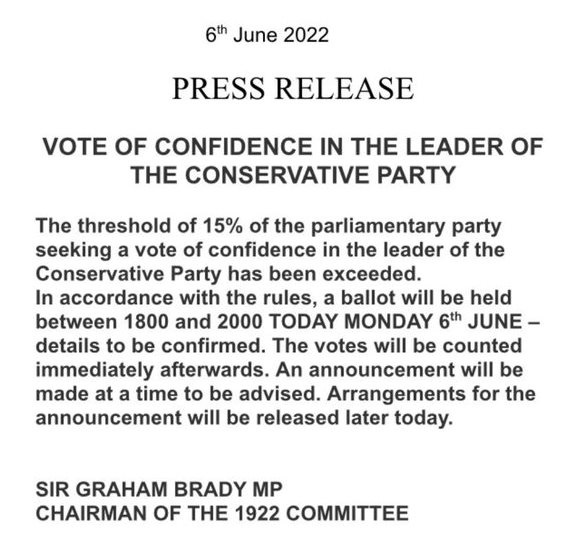 Johnson's team have sent this document to Conservative MPs arguing his case (click to enlarge):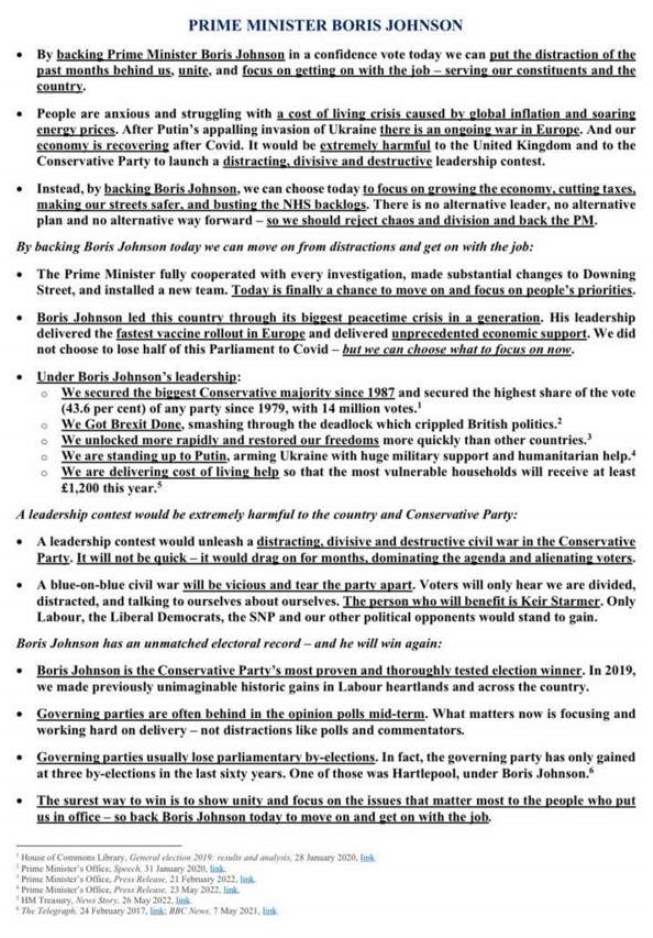 So, before that news ...

A bit of cricket - skip if it's not your thing. The England team actually brought some Jubilee - there, I've finally managed to mention it - cheer by beating New Zealand, a welcome change after winning only one match in the previous seventeen. Joe Root picked the party Sunday to score a century at Lords, hit the winning stroke and pass 10,000 test career runs along the way, the 14th player in history. In reaching the milestone, he equalled former captain Alastair Cook's record of being the youngest player in the world to do so, at 31 years and 157 days. They will have to argue over the minutes that separate them. After resigning as captain following a poor eighteen months of results, Root has his smile back. So do I.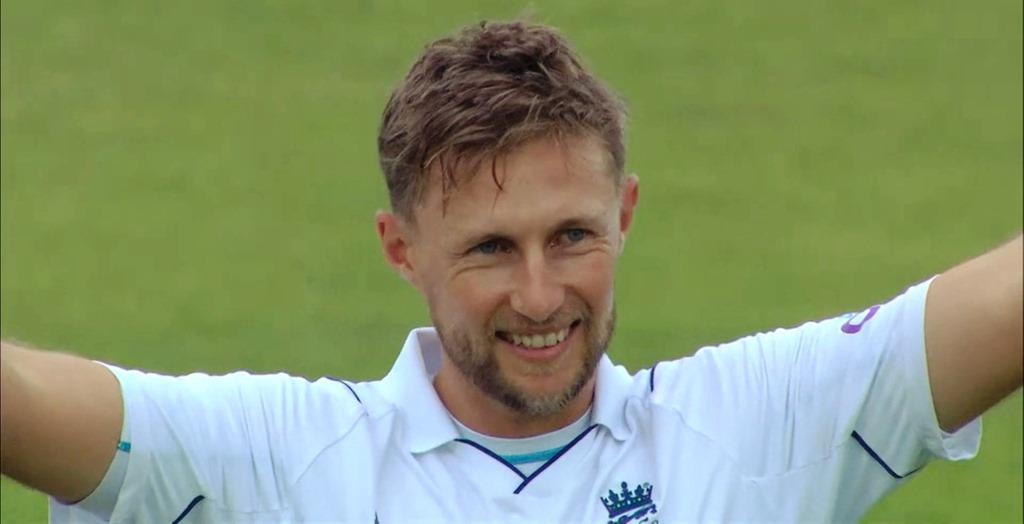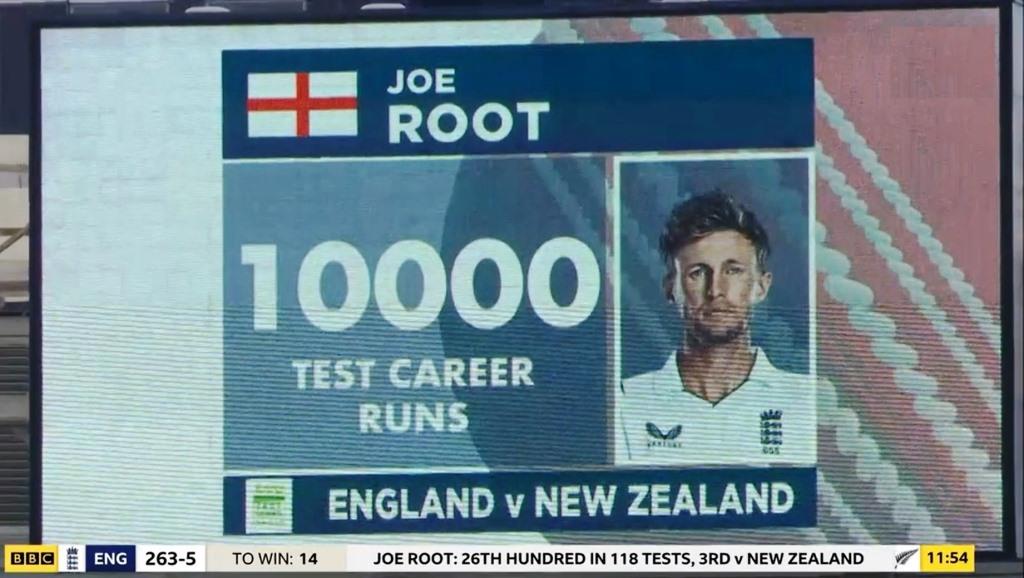 Talking of the Jubilee, the Queen can be pleased with the extent of the celebrations, the gratitude and respect expressed.

Recent political events took a back seat. I'm sure Boris wishes the, ahem, party could go on for longer.

Comedian Lee Mack couldn't resist a sly reference in his introduction to the #PlatinumPartyAtThePalace:




Members of the audience at the event welcomed the Prime Minister:




The most charming tribute, and comment on the Ukraine war, came from BBC Moscow correspondent Steve Rosenberg's piece (6 minutes, so heart-warming) with Valentina "Queen of the Kiosk" on the occasion of her birthday:




The technology used to display images on the front of Buckingham Palace was impressive. But I don't remember this one: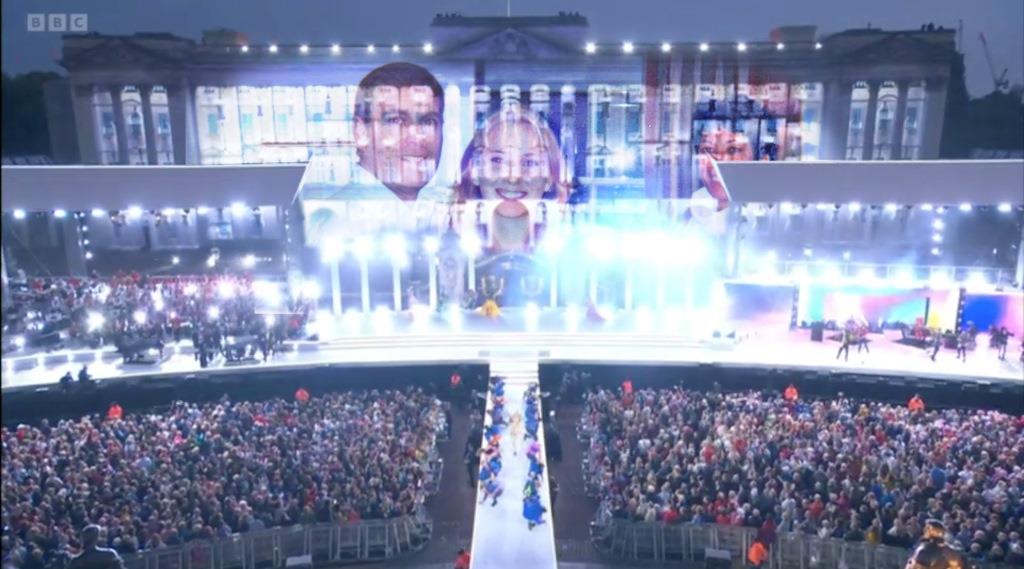 Just a couple of questions. Wasn't it a little weird to hear a 73-year-old man refer in front of millions to our 96-year-old monarch as "Mummy"? And whose cruel idea was it to drag poor 78-year-old Diana Ross - hardly a Brit national treasure - on stage for the concert finale?

Saturday 4th June


I had intended to extract detail from the Rosling family's theories, but overnight - it often happens - I decided this would be overkill. Maybe wait until I have finished their book Factfulness.

I'll limit myself to a few examples. Their very attractive premise, if the news gets you down, is that things are not as bad as they seem. This is, admirably, based on large-scale analysis of data of reputable origin - Factfulness has 5 pages of acknowledgements, 26 pages of sources - presented in simple but compelling ways. Ola argues that we have a tendency to be guided by misconceptions, while instead we should apply certain positive rules of thumb to our conclusions.

Key to all their arguments is our ability to overlook the majority. Typical evidence of this can be found in the Hans Rosling video I posted on Thursday👉. We know that there is a huge gap between the very rich and very poor. But over the last fifty years most of the world has moved into the middle ground between the two extremes.

Here's the first misconception, the most basic, paired with its accompanying rule of thumb: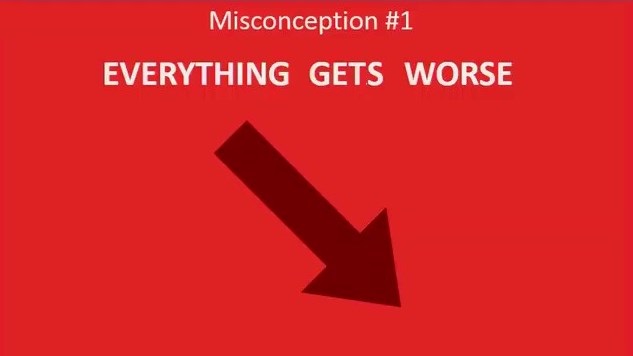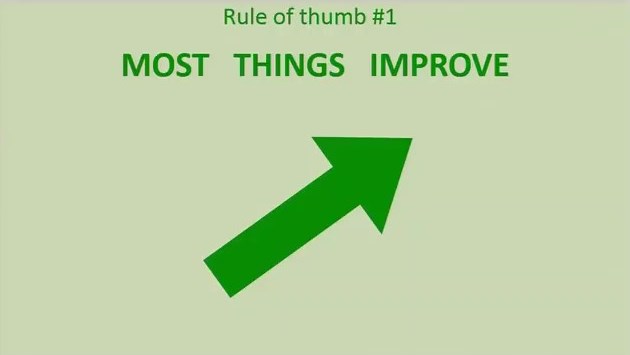 If we have an impulse to catastrophise, here's the fourth pair: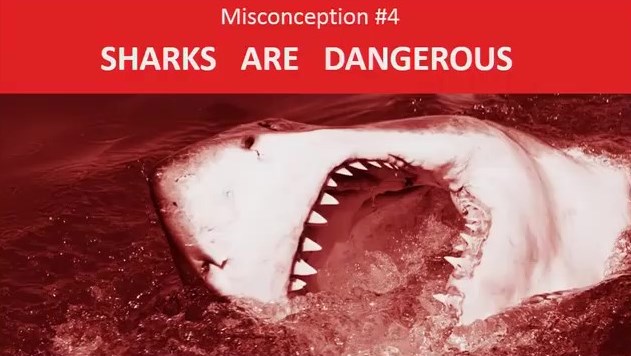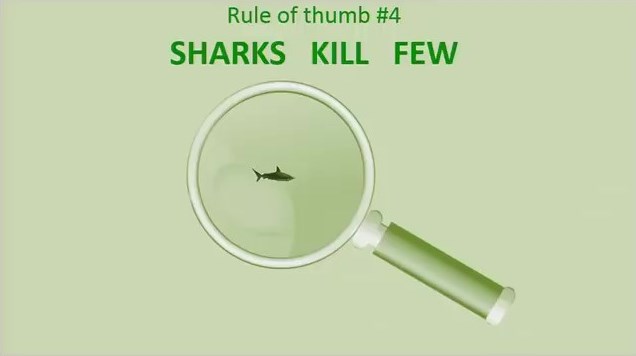 Hans Rosling was a brilliant enthusiast. I can't resist another video from an earlier TED talk of 2006 (6 minutes) which concentrates on changes in child mortality. It shows his ability to present data in a way that challenges established views - with great energy, self-deprecating humour and humility.




In some ways this bigger-picture approach doesn't quite wash. We are witnessing a brutal war between two nations in Europe. That means there are 42 other countries in the region who are not engaged directly in major conflict. The overwhelming majority is at peace. See what I mean?

Friday 3rd June


I promised at the end of yesterday's post that I wouldn't leave you high and dry with Hans Rosling's questions about "How not to be ignorant about the world". In the 2014 TED talk he handed over to son and collaborator Ola. Here are his answers (just over 10 minutes):




Here's the transcript (4 pages):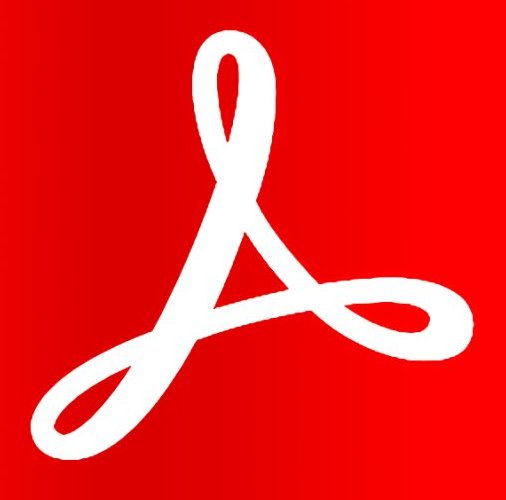 I'll extract some summary graphics and notes when I have time ... probably for tomorrow ...

Thursday 2nd June


You will know from these pages how I, like most people, struggle to digest the news in all its grimness.

Two weeks ago I met my children's secondary school Maths teacher in the street, Mr. (Roger) Dixon. When I told son Ben, he wrote: "Good old Tricky Dicky. Probably the coolest teacher I ever had.". Roger and I discussed how overwhelming the media coverage can be, how difficult life has been for young people over recent years. He recommended this book: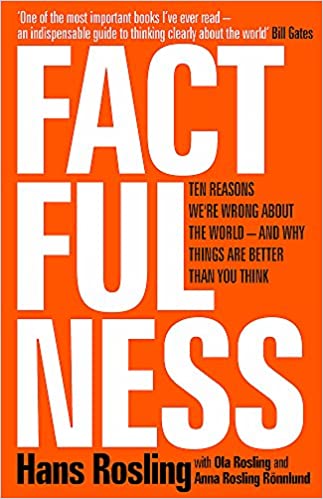 I've barely started it, so I can't yet pass judgment, but I have now watched several of Hans Rosling's TED talks. How did I - someone who is a pushover for data and charts - miss this guy?

He was a professor of international health at Sweden's Karolinska Institute and co-founder with his son Ola and daughter-in-law Anna Rosling Rönnlund of the Gapminder Foundation (named after the recorded announcement on certain London Underground stations, "Mind the Gap") which developed Trendalyzer, software to animate data compiled by the UN and the World Bank.

Factfulness ("the stress-reducing habit of only carrying opinions for which you have strong supporting facts"), written with Ola and Anna, was published after his death in 2017.

The introduction starts with these words: "I love the circus." On the second page, "I decided to become a sword swallower."

"Sword swallowing has always shown that the seemingly impossible can be possible, and inspired people to think beyond the obvious. Occasionally I demonstrate this ancient Indian art at the end of one of my lectures on global development. I step up onto a table and rip off my professorial checked shirt to reveal a black vest top decorated with a gold sequined lightning bolt. I call for complete silence, and to the swirling beat of a snare drum I slowly slide an army bayonet down my throat. I stretch out my arms. The audience goes wild."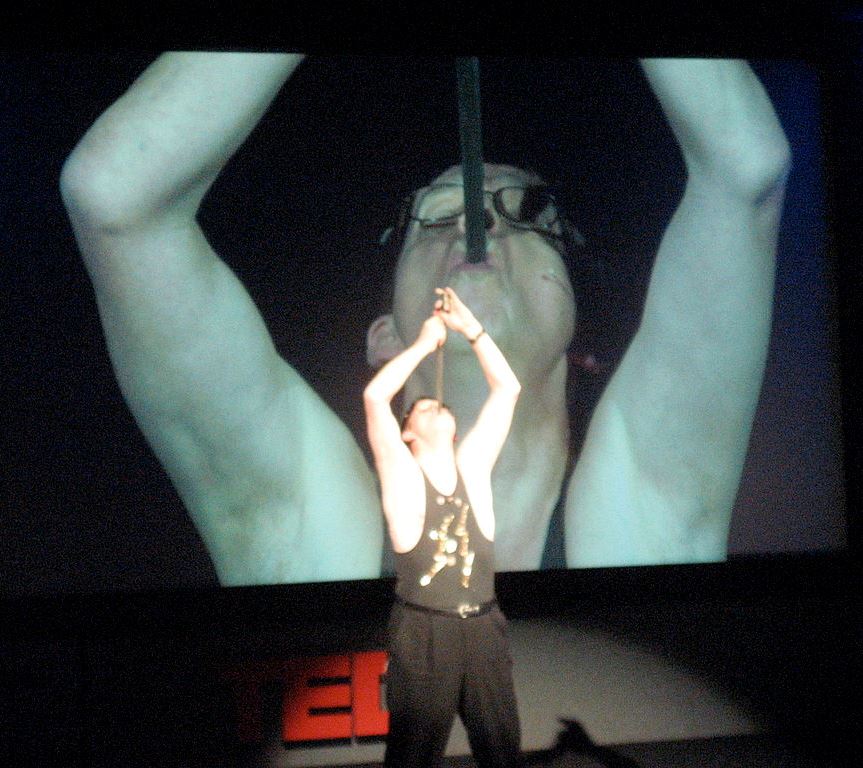 This should be an intriguing read, I thought.

Here is the first half of the TED talk he gave with Ola in 2014, titled "How not to be ignorant about the world". It's genuinely worth eight minutes of your time.




Here's the transcript (3 pages):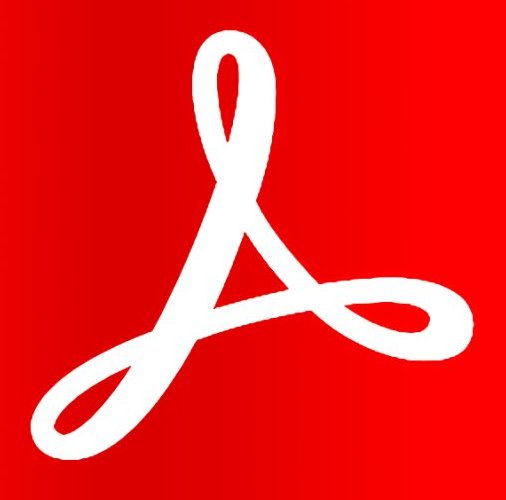 I really shouldn't leave you there. Maybe I'll post Ola's answers tomorrow ...

Wednesday 1st June


Nothing but beer deliveries outside my office window today. The Bisley House is warming up - or cooling down? - for the Platinum Jubilee.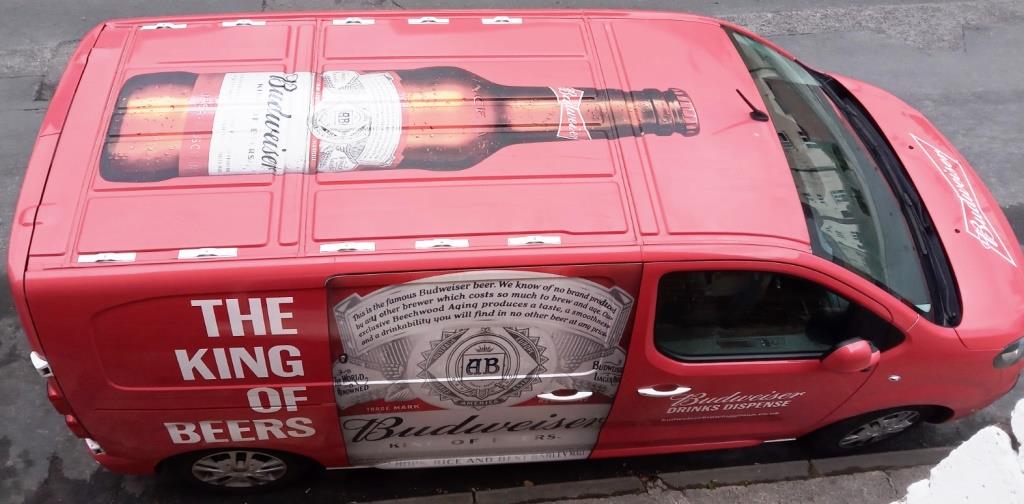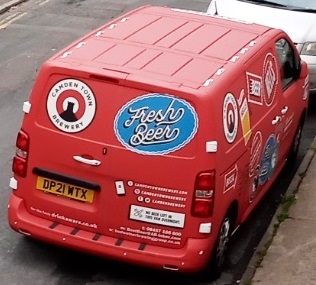 Yet another Stroud festival starts today. Click on the image below to visit the Stroud Nature website: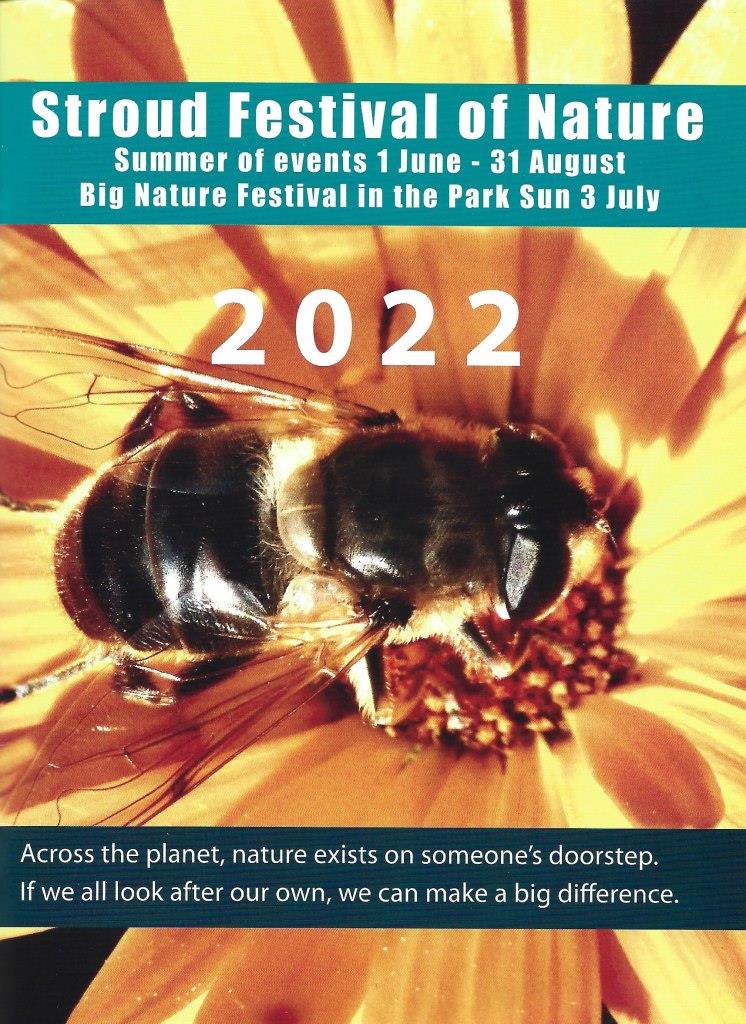 Tuesday 31st May


Bristol mayor Marvin Rees has taken some flak for flying to Vancouver to give a 14-minute TED talk on the role of cities in fighting climate change.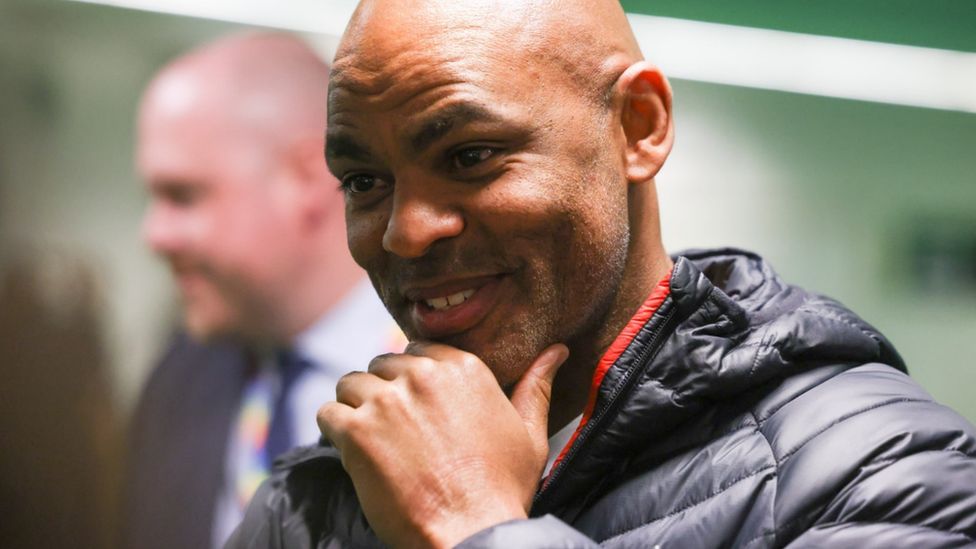 Climate campaigners Flight Free UK calculated the trip of 4,600 miles (7,402km) each way created 2.016 tonnes (2,016kg) of CO2 per passenger and was at odds with his message. UK director Anna Hughes said:


"Bristol was the first place in the UK to declare a climate emergency, yet the mayor is acting completely at odds with this declaration. Faced with such a precarious climate situation, we need our leaders to demonstrate the kind of action we should all be taking, not flying to another continent to speak, ironically, about the climate emergency. Actions always speak louder than words, and in this post-pandemic age of online interactions, it would have been a much more powerful and effective statement to appear on screen."


What about the talk? Marvin argued that cities play an essential role in the climate emergency:


"Consider these four numbers: three, 55, 75, 80. Cities occupy less than three percent of the Earth's land surface. Cities are home to over half, 55 percent, of the world's population. Cities are responsible for around 75 percent of CO2 emissions. Cities consume 80 percent of the world's energy.

"But think about this. It's the characteristics of cities - their reach, their size, their density, close proximity of the leadership to the people, their adaptability and their capacity for reinvention - that mean that we can actually plan to manage those numbers. That means through our cities, we can actually plan to do more, for more people, with less. And it's why I say cities are one of the most effective tools we have at our disposal for leveraging efficiency into our relationships with land, energy and waste."


There's a lot of international cooperation already happening. He mentioned three organisations of which I had hitherto heard absolutely nothing (text detail from a variety of sources):
The Global Covenant of Mayors for Climate and Energy is a network of around 12,000 cities which comprise over 376 million people and 5.19% of the global population.
The C40 Cities Climate Leadership Group is an association of nearly 100 mayors from the world's biggest cities - a quarter of the global economy. It was started in October 2005 when London mayor Ken Livingstone invited representatives from 18 'megacities' to develop an agreement on cooperatively reducing climate pollution.
The UK Cities Climate Investment Commission seeks to address funding issues behind city climate challenges, to drive investment into low and net zero carbon projects across all of the UK's largest cities, as a whole rather than individually. If city plans can be brought together they generate greater scale, volume and predictability, which is more attractive to investors.
So, was the trip justified? His office said:


"He has been clear - the fight against climate change will be won or lost in cities, which generate three-quarters of global carbon emissions. And it is therefore the duty of city leaders to come together, lobby for change and influence each other to make a collective impact. The mayor's visit to Vancouver was not just to deliver the talk. He had a full agenda [including the chance to network with other influential speakers and attract future funding and inward investment]."


Here's the talk (14 minutes):




Here's the transcript (5 pages):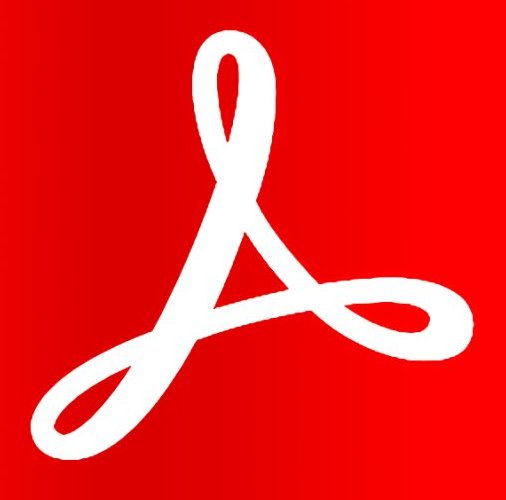 Monday 30th May


BBC Politics West belatedly caught up with some news yesterday - covered in these pages on 2nd April 👉 - with a discussion on the cost-of-living crisis and the role of renewable energy, starting with a pre-recorded piece on Dale Vince, his planned sale of Ecotricity and a move into politics. Here it is (just over 4 minutes long). In defence of BBC West, it adds additional rounded context to what I've posted already.




Stroud Conservative MP Siobhan Baillie was on the programme in person, and offered her two penn'orth:




"OUR town centre"? Has she ever graced us with her presence? I swear she barely campaigned in Stroud during the 2019 election - won the seat on the back of Boris's Big Lie - and the Politics West appearance was the first I've seen of her since. Contrast that with the involvement of David Drew, our former Labour MP and current county councillor. I've seen him regularly in the last six months: at Forest Green Rovers, a meeting at the Crown & Sceptre about local parking, the refugee campaign launch at Stroud Brewery last week.

Sunday 29th May


No serious comments today. Just a thank-you note from friend Eddy - time-honoured postcard format, the familiar handwriting. Two indicators of our times added by the postal system: "Ukraine Humanitarian Appeal: donate now at DEC.ORG.UK" and "Royal Mail Jubilee Mail Centre". Plus a traditional "wish you were here".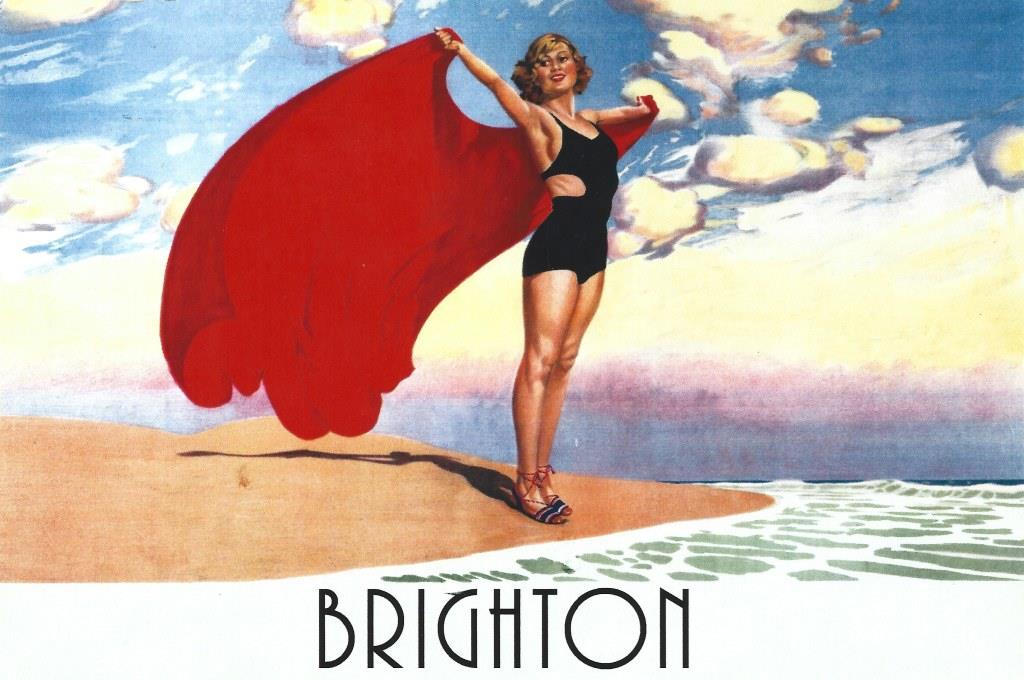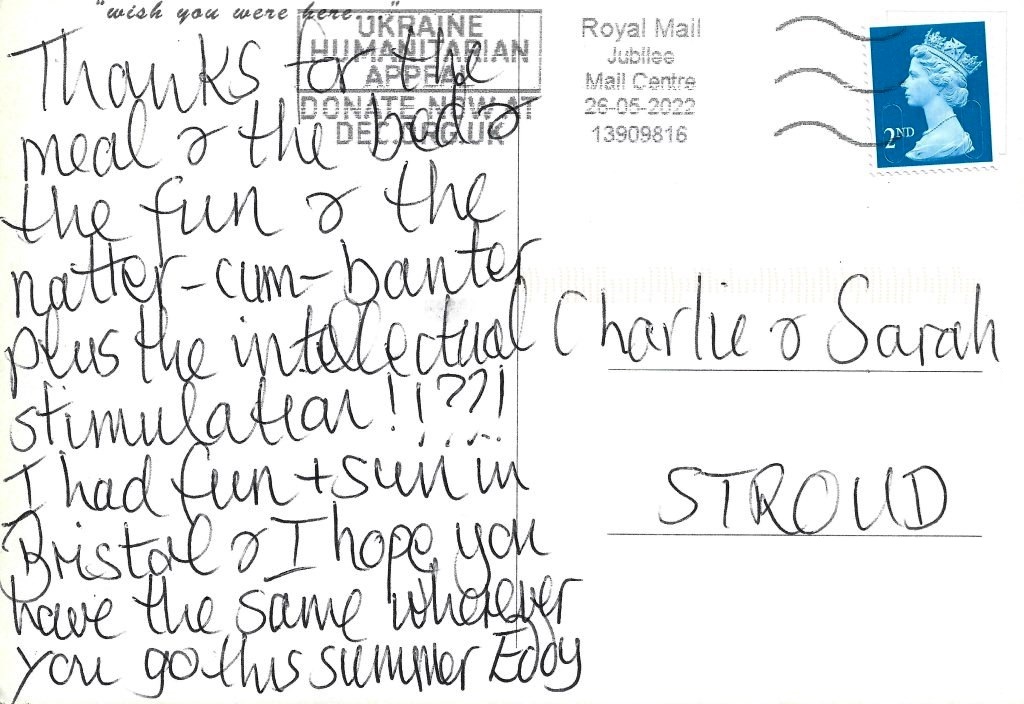 Saturday 28th May


Here's a local snippet.

On Thursday evening, we attended a meeting at Stroud Brewery for the public launch of "Stroud Together with Refugees", a new campaigning group triggered in part by Priti Patel's disgraceful Rwandan scheme: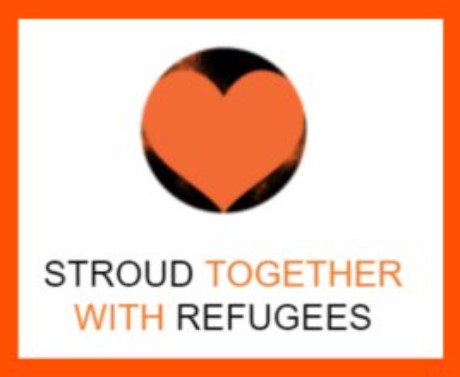 "How does our country fit into the bigger picture of global transformation and upheaval, climate change, war and political violence? Britain was one of the first countries to ratify the Refugee Convention in 1951, so how can schemes like criminalising desperate people on arrival, or offloading them to Rwanda, even be considered? Yet now they are more than schemes - they have become law. Refugees have been scapegoats for countries' problems throughout history. But never until now have there been such starkly different policies for different people, according to how they travel instead of why they have fled."


There were four speakers: Judith Large, Senior Fellow at Kent University, adviser on Forced Migration at the Conflict Analysis Research Centre; Adele Owen, Director of GARAS (Gloucestershire Action for Refugees and Asylum Seekers); John Patrick Njau, Participation Officer for BRASP (Bristol Refugee Asylum Seeker Partnership), with lived experience of seeking sanctuary in the UK for nearly two decades; and Doina Cornell, Leader of Stroud District Council.

Doina was elected in 2012 as a Labour and Cooperative district councillor for Dursley and has been leader of Stroud District Council since January 2018.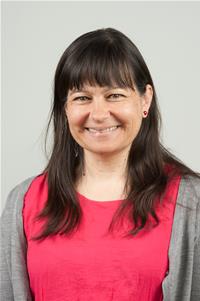 She works with her family business Cornell Sailing, publishers of nautical books and guides: father Jimmy, mother Gwenda and brother Ivan. Here is Doina's "about" entry on the website: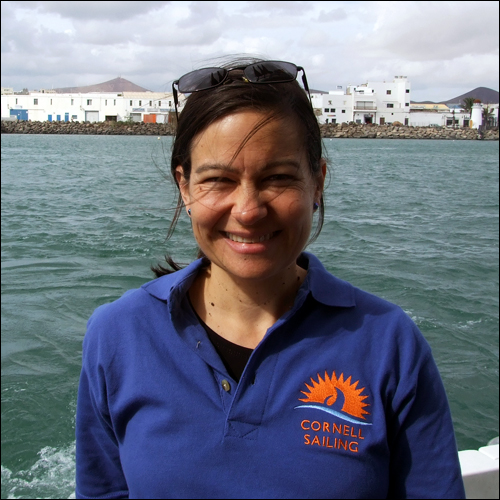 "Having two travel-obsessed parents, by the age of fourteen Doina had covered thousands of miles over land and sea, most memorably spending seven years circumnavigating the world with her family on a 36-foot yacht. Her memoir of this time, 'Child of the Sea', was published in 2012.

"Since then she has been mostly land-based but continues to sail whenever possible, including to Antarctica with father Jimmy and brother Ivan. As part of the Blue Planet Odyssey (a round-the-world sailing rally from 2014-17 aiming to raise awareness of climate change and the most urgent issues facing our oceans), she sailed to the Arctic and Tuvalu in the South Pacific to raise awareness of the risks of climate change to these parts of the world. In the summer of 2014 she sailed to the Arctic with Jimmy and her daughter Nera. In 2015 she joined the Blue Planet Odyssey on board Australian yacht Drina with her son Dan and sailed to Samoa, Tuvalu and Vanuatu."


Only in Stroud, eh?

There is a discussion meeting hosted by "Stroud Together with Refugees" at Star Anis Café on Monday 20th June at 7.30pm.

Friday 27th May


Number 10 flat, 25th May, 8:20pm
| | |
| --- | --- |
| BJ: | That was an awful day, Rishi. |
| RS: | Indeed it was, Prime Minister. The plebs really don't like you, do they? |
| BJ: | What am I going to do? |
| RS: | Stop lying? Show some real contrition? |
| BJ: | Out of the question, Rishi. Not on my watch. No, it's up to you. |
| RS: | Me? |
| BJ: | Yes, you've got to buy them off. Give them some wonga. |
| RS: | But we're broke, Prime Minister. It's all gone on Covid. |
| BJ: | Well, find some more. Never stopped you before. Have you spoken to your pal at BP yet? |
| RS: | He's sunning himself at Branson's pad on Necker. |
| BJ: | Get him on the blower. Tell him he's got to stump up. |
| RS: | He won't like it. |
| BJ: | Oh, invite him to your next party. Promise a knighthood. |
| RS: | Hmm ... I can try ... |
| BJ: | You can do better than that. Tomorrow you'll tell the great unwashed that they're getting something towards their bloody bills. |
| RS: | What about fiscal responsibility, Prime Minister? |
| BJ: | Bugger that. Just do it. Otherwise I'm a goner, Rishi. Toast. |
| RS: | What's in it for me? |
| BJ: | I'll buy you a pint. |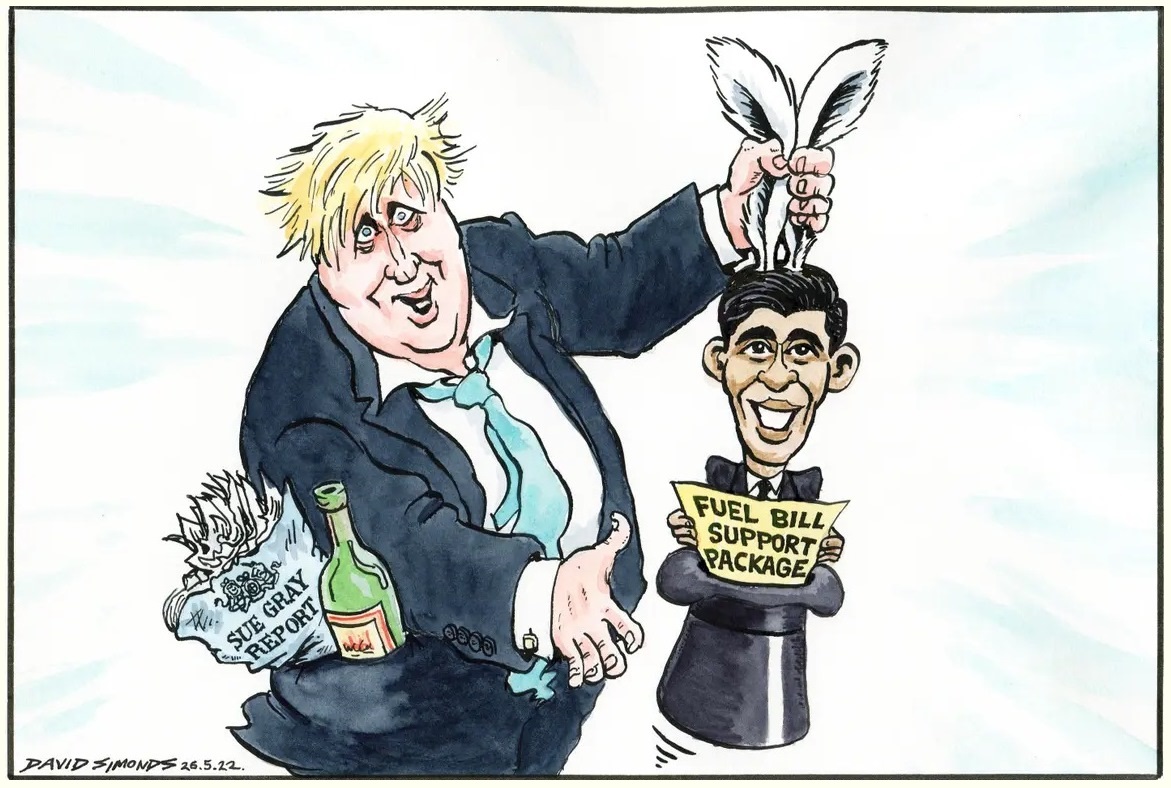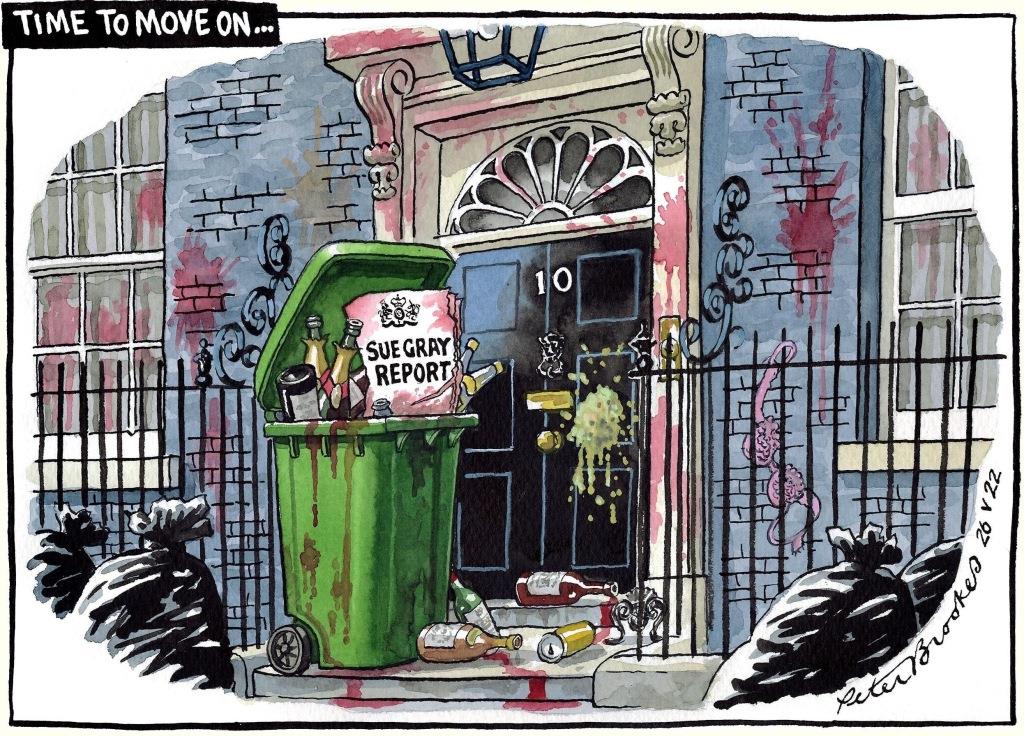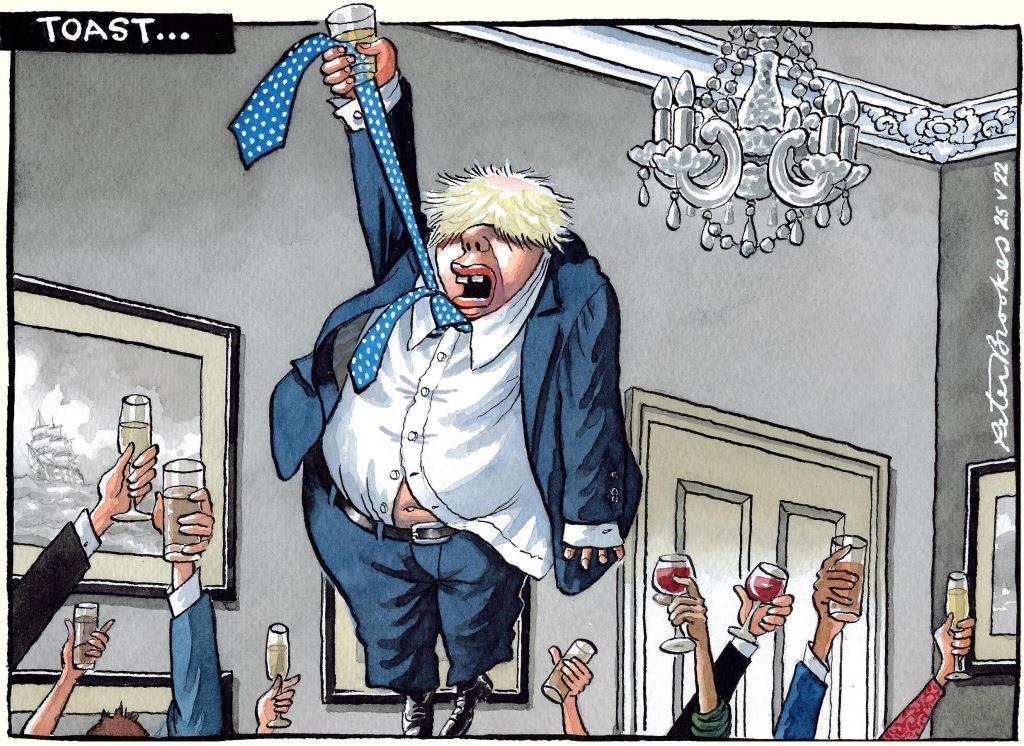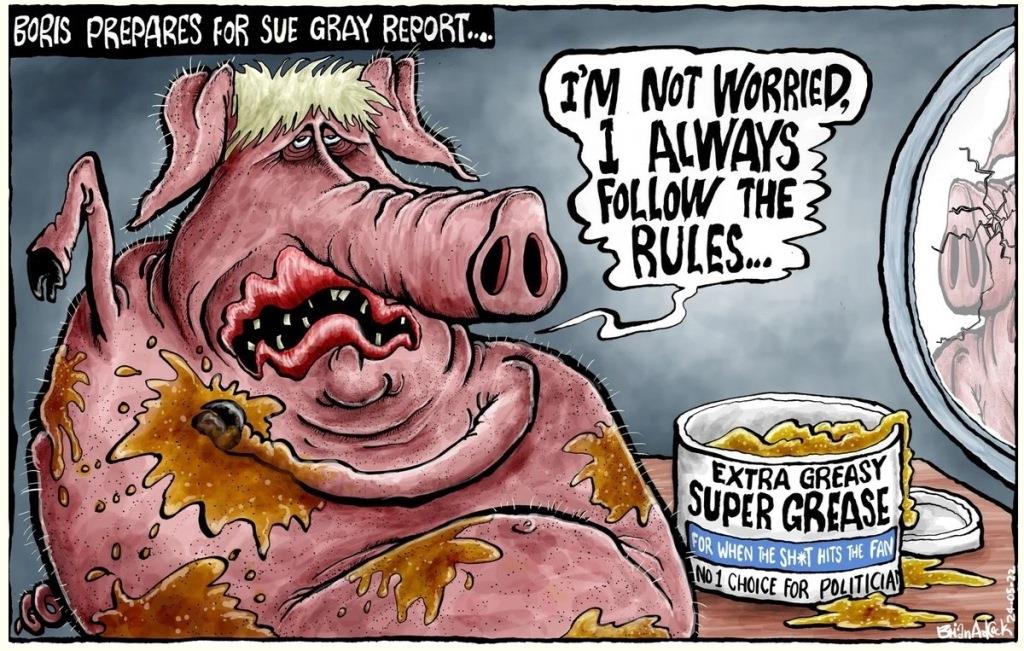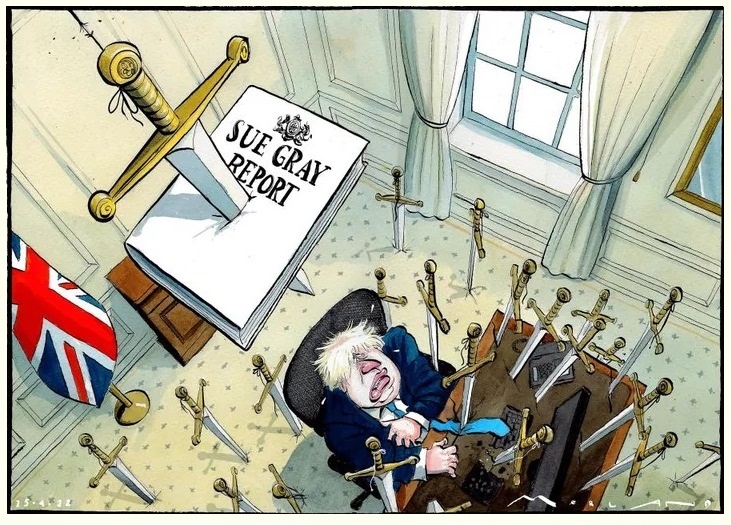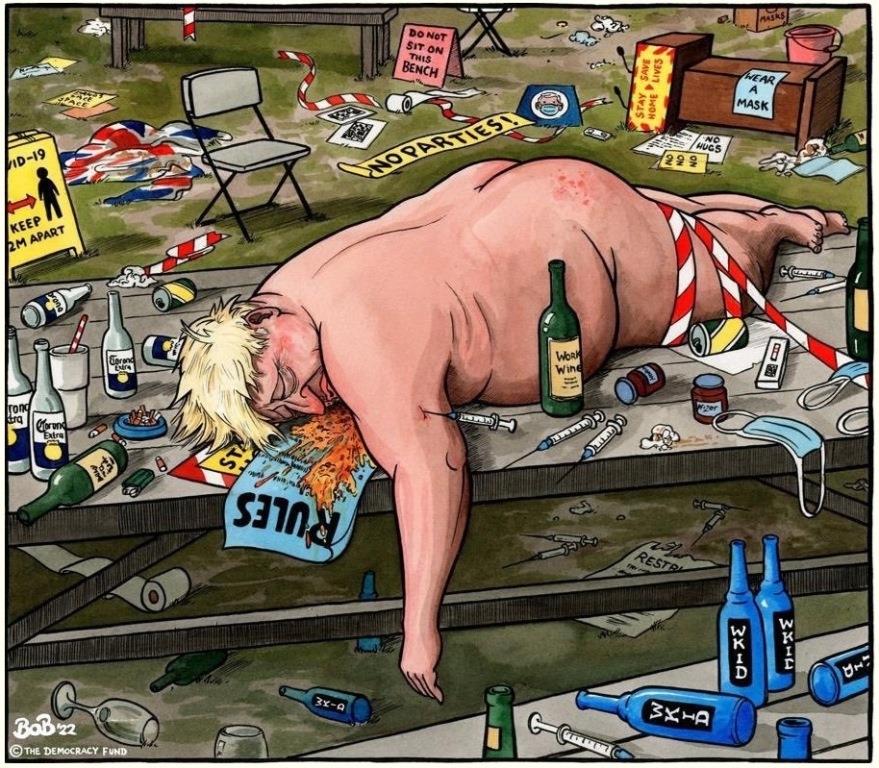 Thursday 26th May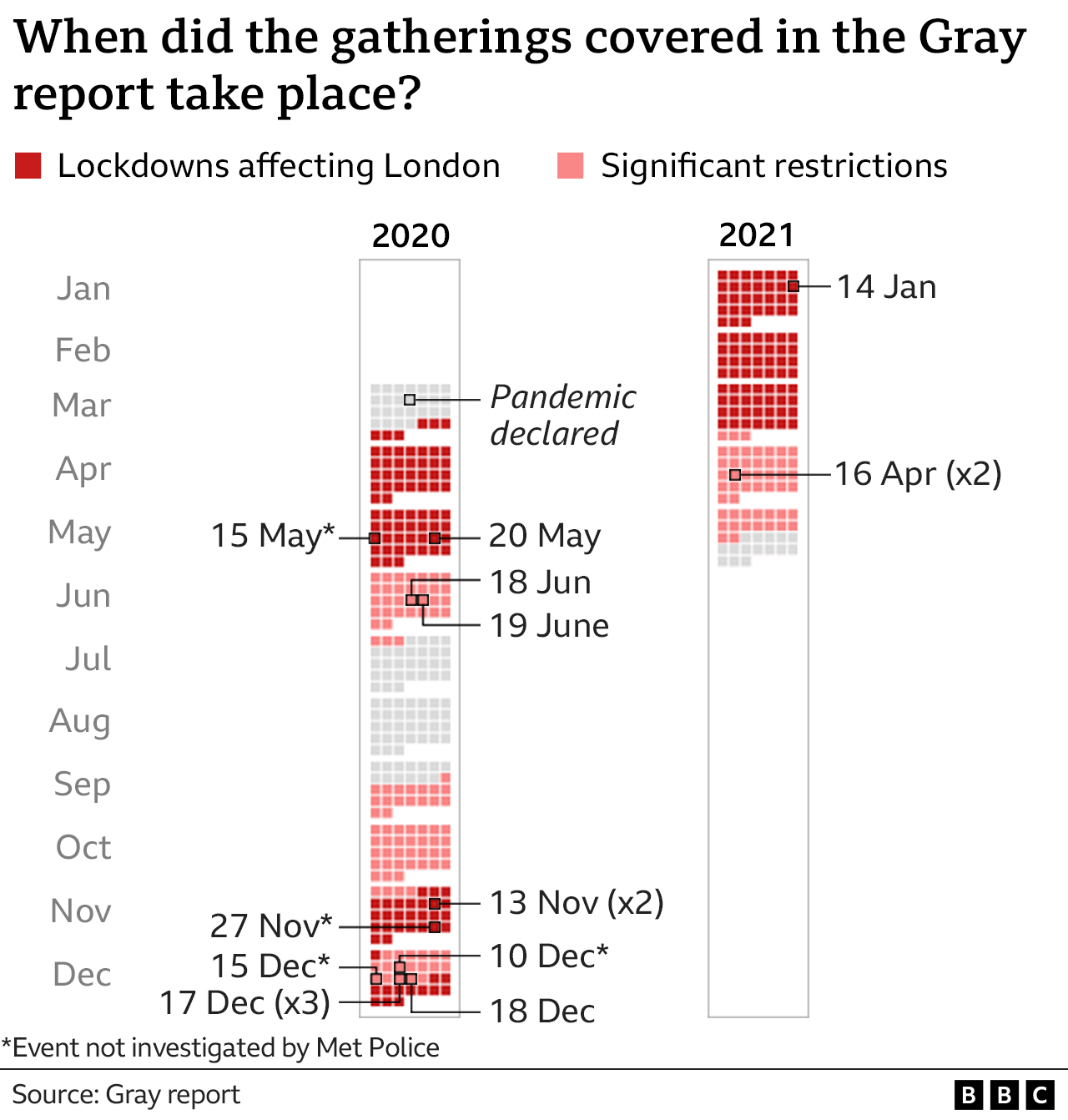 Boris still refuses to resign after the release of the Sue Gray report. Here it is (60 pages, which include her earlier January update):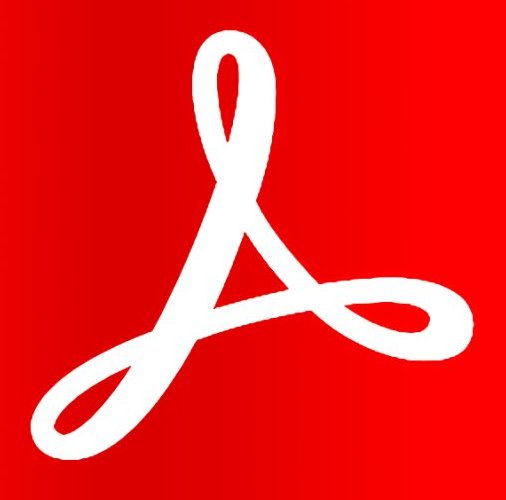 For me, his press conference had clear Bullingdon undertones, echoes of a club unfettered by standards of decency accepted by the rest of society. If you have time and access, Netflix's Anatomy of a Scandal is a relevant and compelling watch, exploring the link between the Westminster power elite and a university society called the Libertines. In both the Netflix fiction and today's real-life #Partygate, there is no genuine regret, other than for being caught.

I've extracted short clips from the press conference. Boris displays three attributes - they leak out, involuntarily, from beneath a surface attempt at contrition - that smack of the Bullingdon link: irritation (that anybody should question his behaviour), disdain (for his critics) and a light-heartedness (which implies that it's really just a bit of fun, not serious at all).

First, watch him get miffed with Beth Rigby of Sky News, who dares to attempt a second question:




Next, he gives short shrift to Andrew Marr, representing LBC:




Towards the end he tries to leave, but is persuaded to answer three more questions:




In the Netflix drama, the over-entitled undergraduates commit acts of excess and abuse, then chant "Omertà of the Libertines!", which is both a rallying cry and a vow of silence. They are answerable only to themselves. The suffering of others is ignored.

Some snippets from the report. First, 20th May 2020:


"No 10 Official (2) responded 'Great! Could you also suggest they bring their own booze! Not sure we will have enough but hopefully there aren't that many people in the building!'

"The same No 10 special adviser sent a message to Martin Reynolds [Principal Private Secretary to Boris Johnson] by WhatsApp: 'Drinks this eve is a lovely idea. Just to flag that the press conference will probably be finishing around that time, so helpful if people can be mindful of that as speakers and cameras are leaving, not walking around waving bottles of wine etc.'

"Lee Cain [Downing Street Director of Communications]: 'I think it's your decision my friend, not mine! But it obviously comes with rather substantial comms risks.'"


13 November 2020: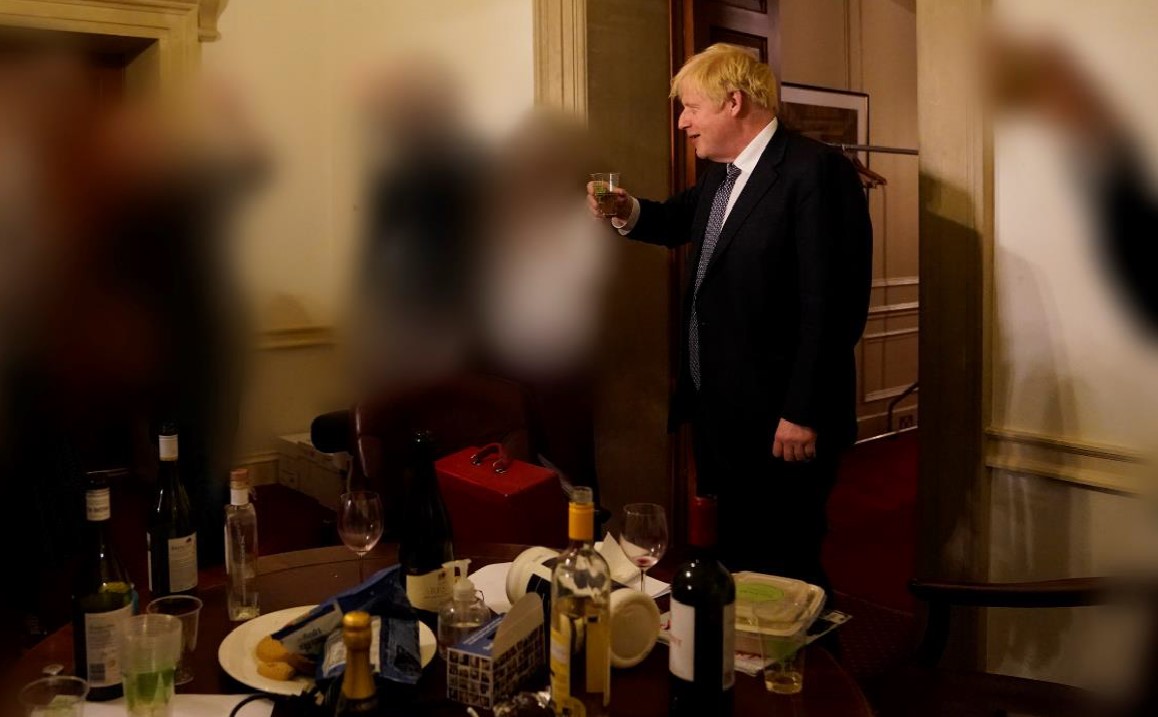 18 December 2020:


"There was food and alcohol available which had been bought and brought in by staff. Some members of staff drank excessively. The event was crowded and noisy such that some people working elsewhere in the No 10 building that evening heard significant levels of noise coming from what they characterised as a "party" in the Press Office. A cleaner who attended the room the next morning noted that there had been red wine spilled on one wall and on a number of boxes of photocopier paper.

"The event lasted for several hours, with varying levels of attendance throughout, including because officials left to attend official meetings. Attendance peaked during the awards ceremony. No 10 exit logs show a number of members of staff remaining in the office until after midnight."


The most unsavoury of all:


"I was made aware of multiple examples of a lack of respect and poor treatment of security and cleaning staff."


No discussion of whether these events might be wrong, indeed a booze-gathering is "a lovely idea", caution is advised only to avoid being found out. Breaking of the rules is reduced to a "comms" issue. Contempt for the humble cleaner.

Tuesday 24th May


A delightful reunion with my friend Eddy yesterday. As fit as a fiddle at 74 from his beloved cycling; he told me that as recently as 3 years ago he was clocking up an annual 10,000km - that's an average of 27.4km every day, or 192.3km each week.

It was interesting - and difficult - to hear his coruscating view-from-Luxembourg of Westminster corruption and the Brexit catastrophe.

He still reads (print) newspapers voraciously, with Le Monde a clear favourite. Along with Private Eye.

I have talked in this blog of his firm rejection of computer and internet technology. I was amused that to purchase a ticket at Cam & Dursley station for the onward trip to Bristol, he was obliged to interact with a screen.

The final picture is a private hommage to a moment in northern Italy 45 years ago. We were waiting at a railway station to catch a train to Venice when one of our number muttered: "Come on, little train."

We can't risk a delay of another 15 years to meet again.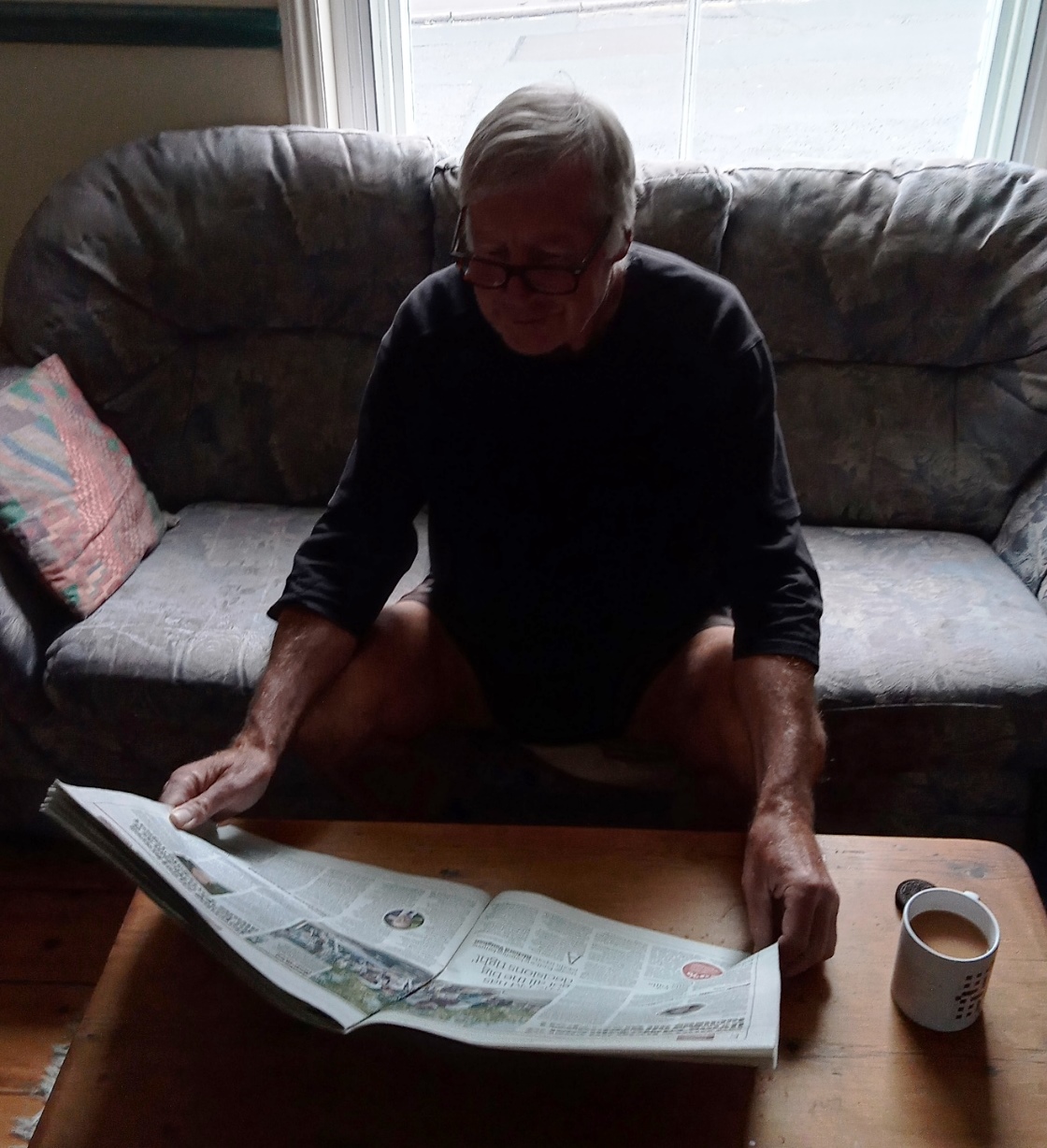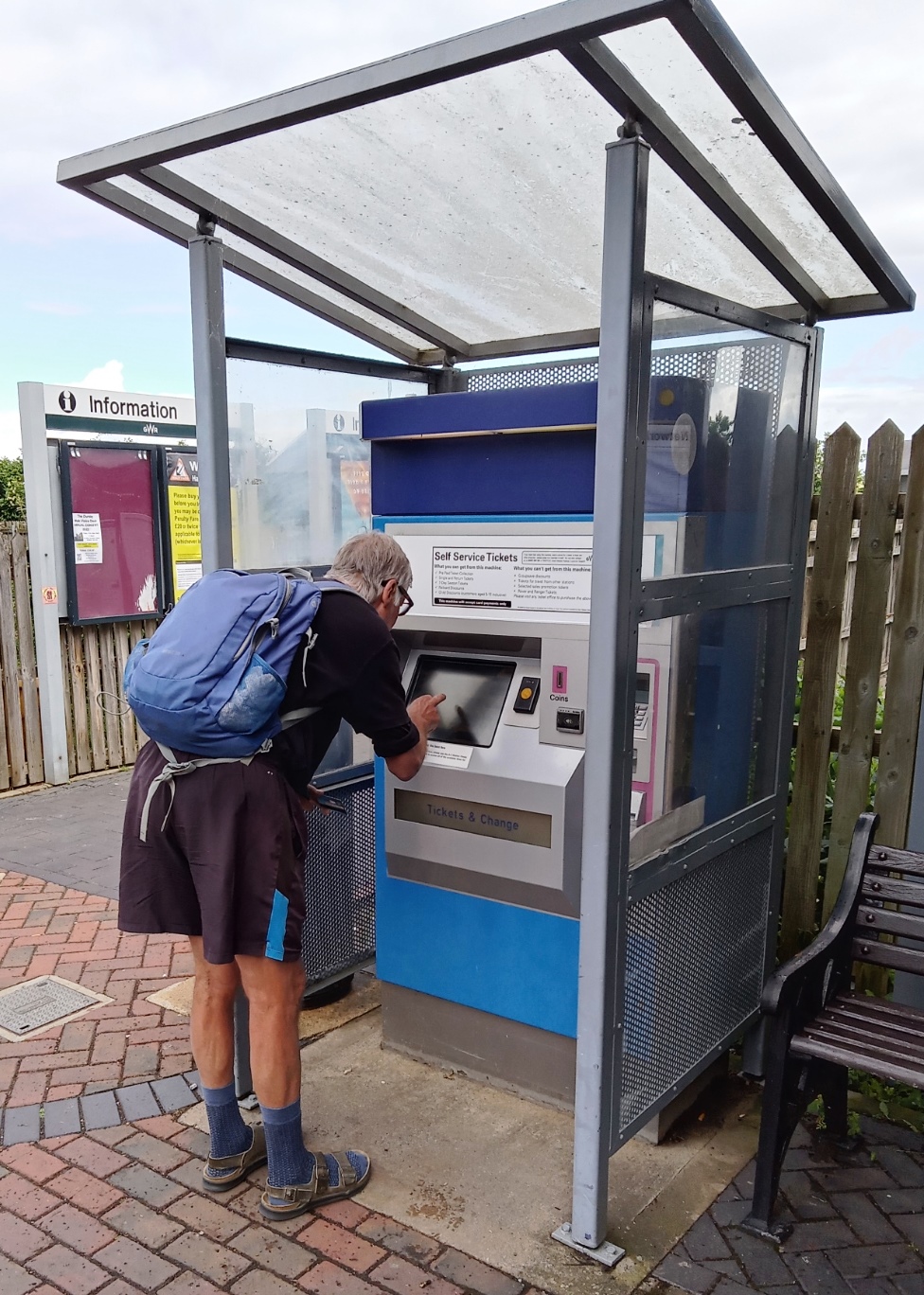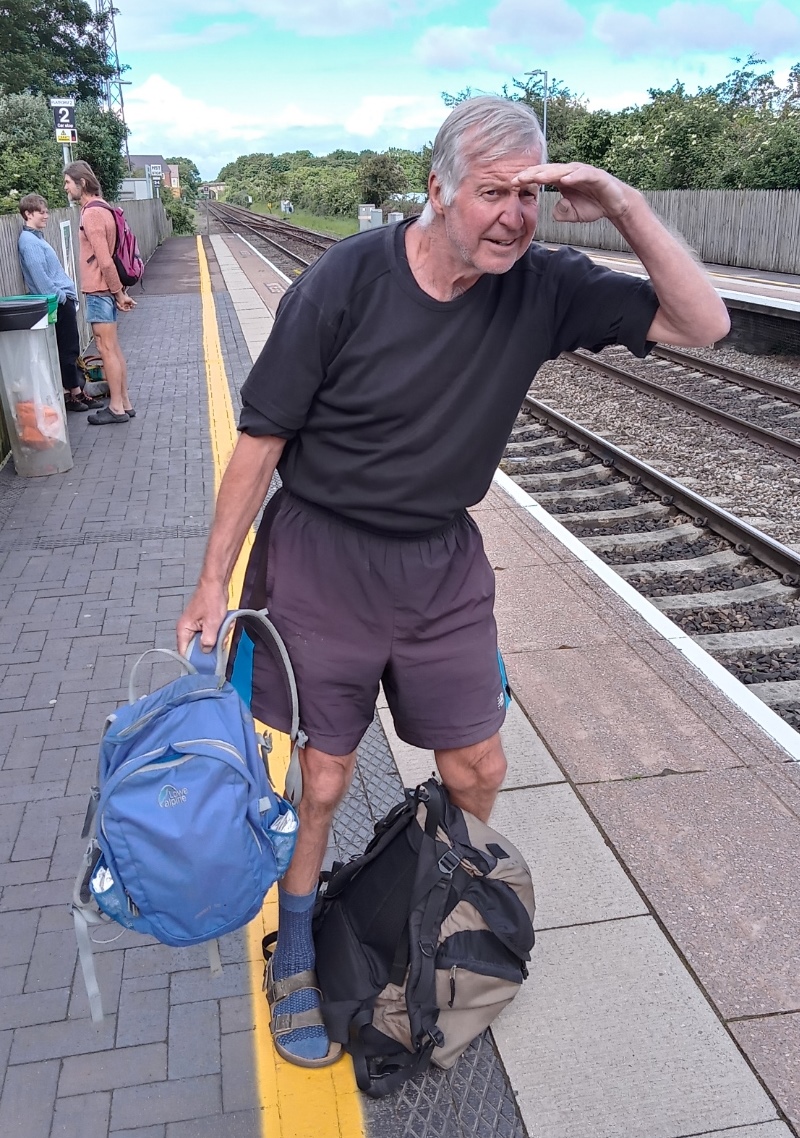 Monday 23rd May


Suspension of blog today for a very special event. My friend Eddy from Luxembourg is arriving at midday. You may have read about him in these pages. We met 50 years ago and have not lived in the same country since 1975. This is our first meeting in 15 years, when we stayed chez him and Diana on the way to Berlin.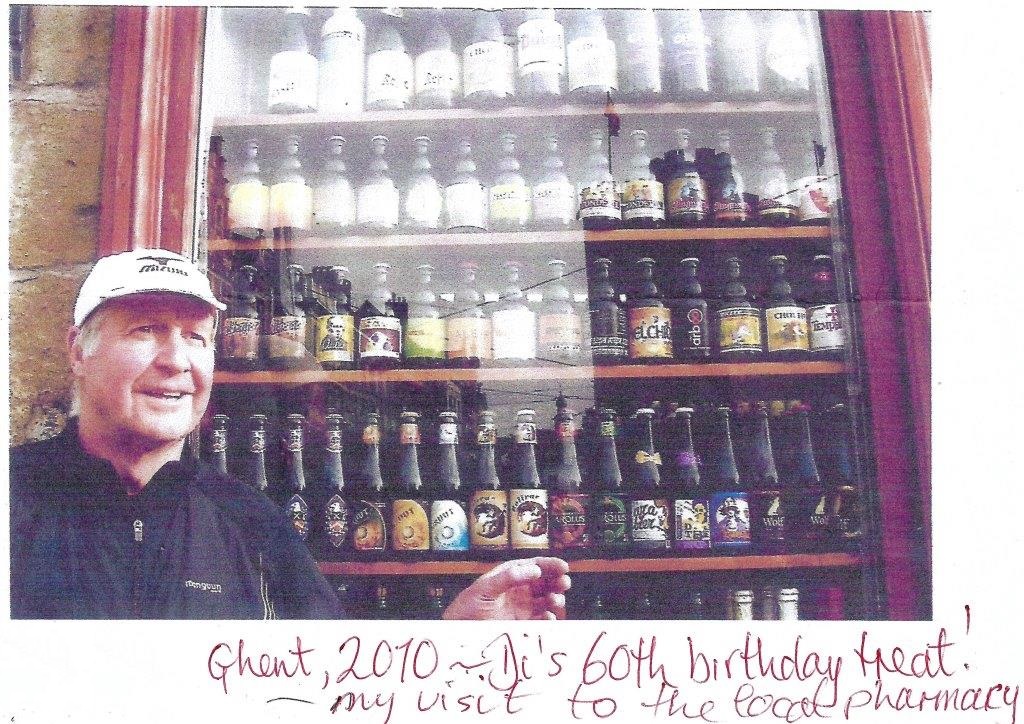 Sunday 22nd May


It's the final day of the weekend's Stroud Festival of Food & Drink, a new venture this year, the website promising talks, masterclasses, tastings, workshops, family entertainment, culinary games, live music brunches and street markets.

As with most Stroud events, there's a town map (click to enlarge) of goings-on, this time designed by local illustrator Ruth Hickson: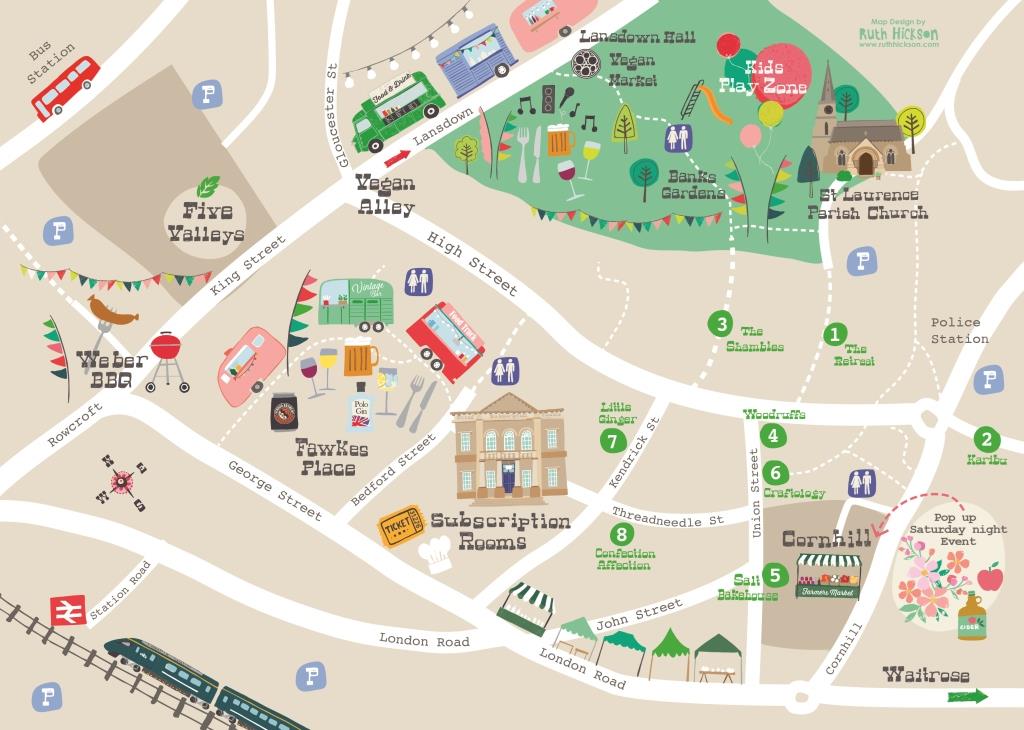 Granddaughter Lola and her friend Ava have been staying while our daughter Ellie has been at a hen party in Dorset. Yesterday we went down to try out the Food Trucks in Fawkes Place behind the Subscription Rooms, an unlikely venue, I thought, as it is a featureless space flanked on one side by the main public toilets. Thankfully, it was transformed. Lola and Ava fell on the varied offerings despite their recent and perfectly adequate breakfast. OK, I admit that I succumbed to the densest chocolate brownie I've ever eaten.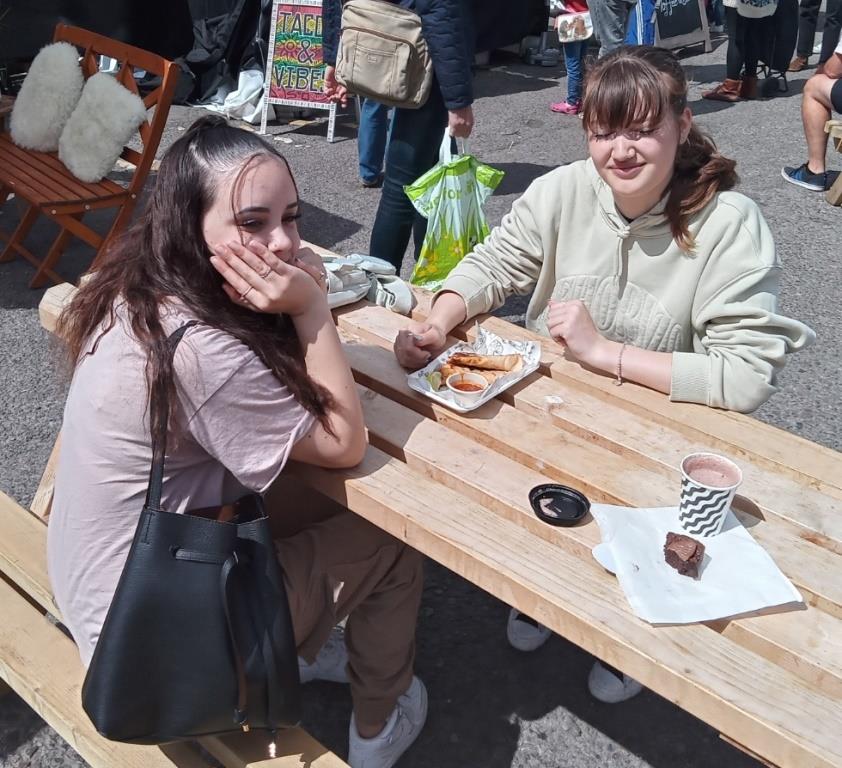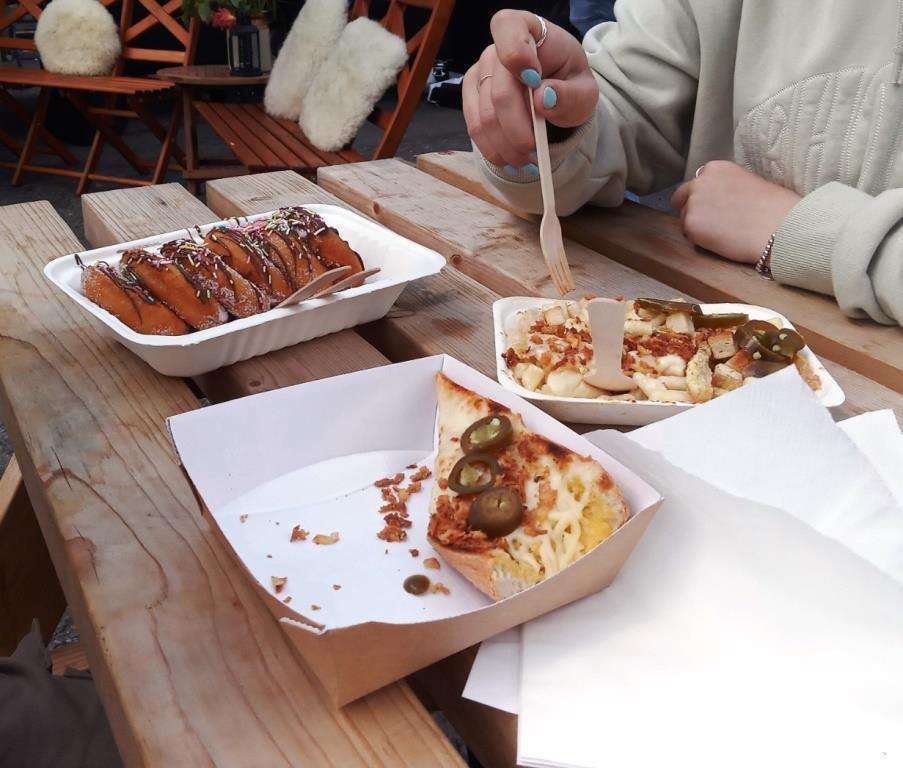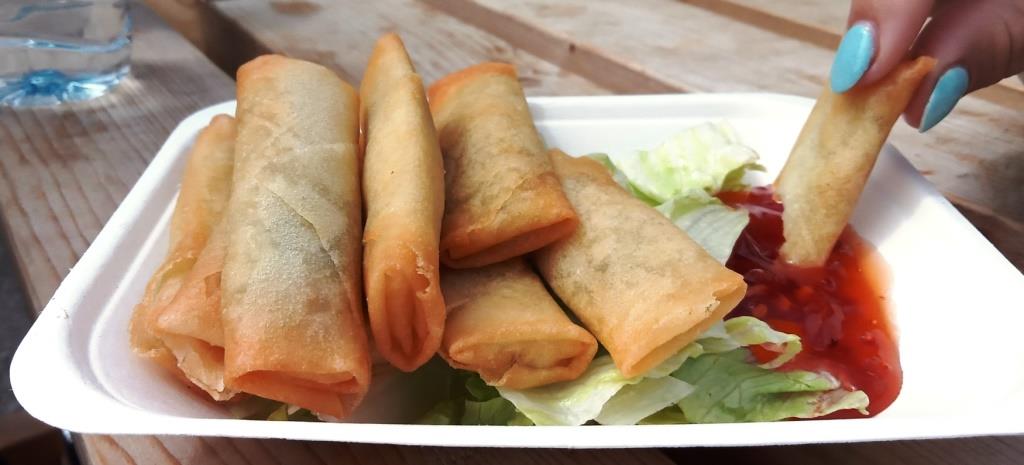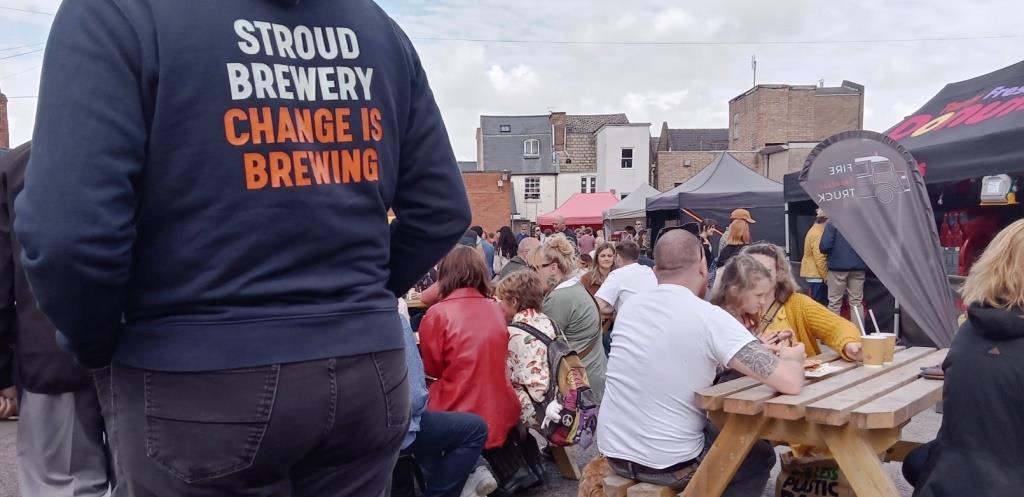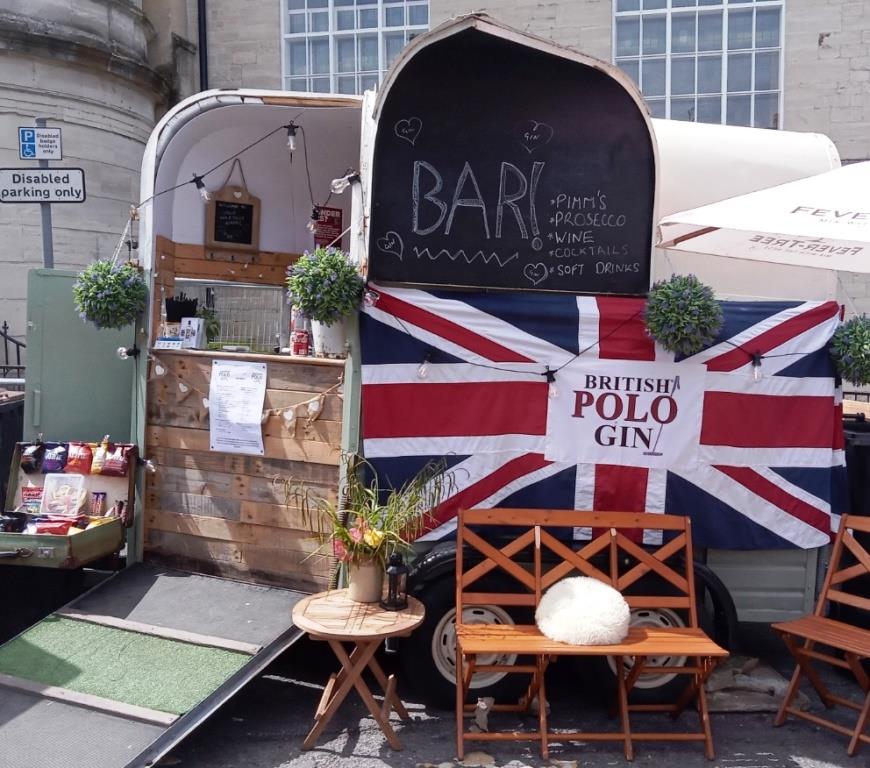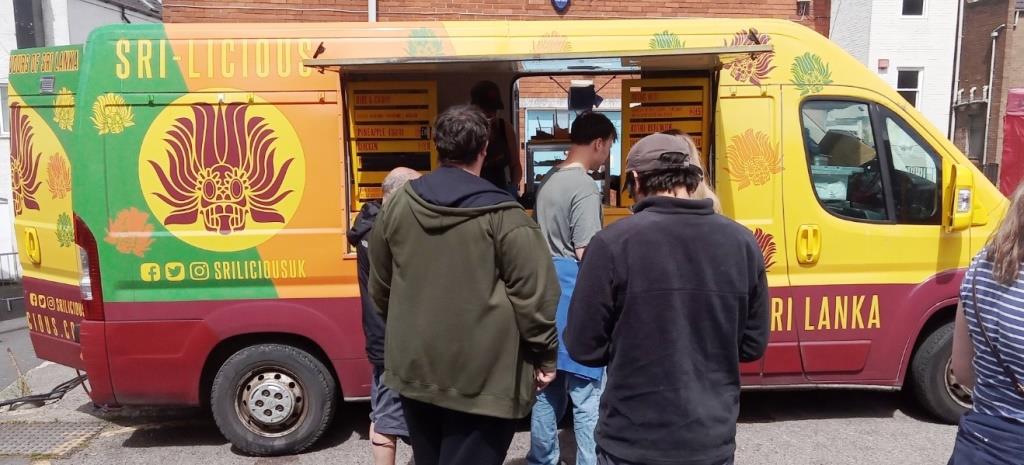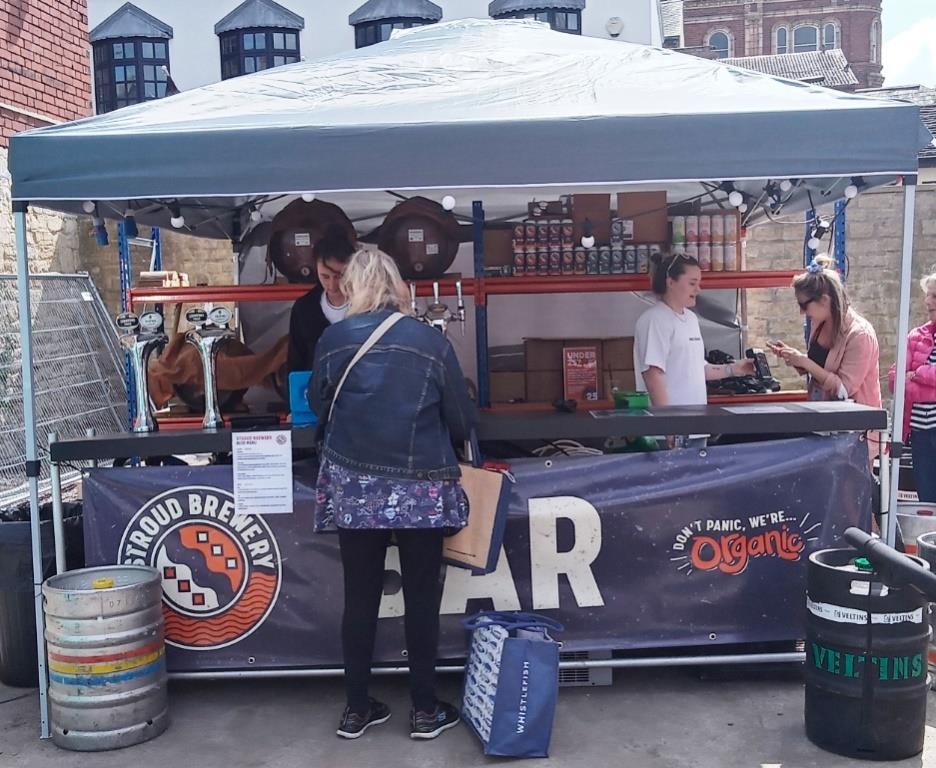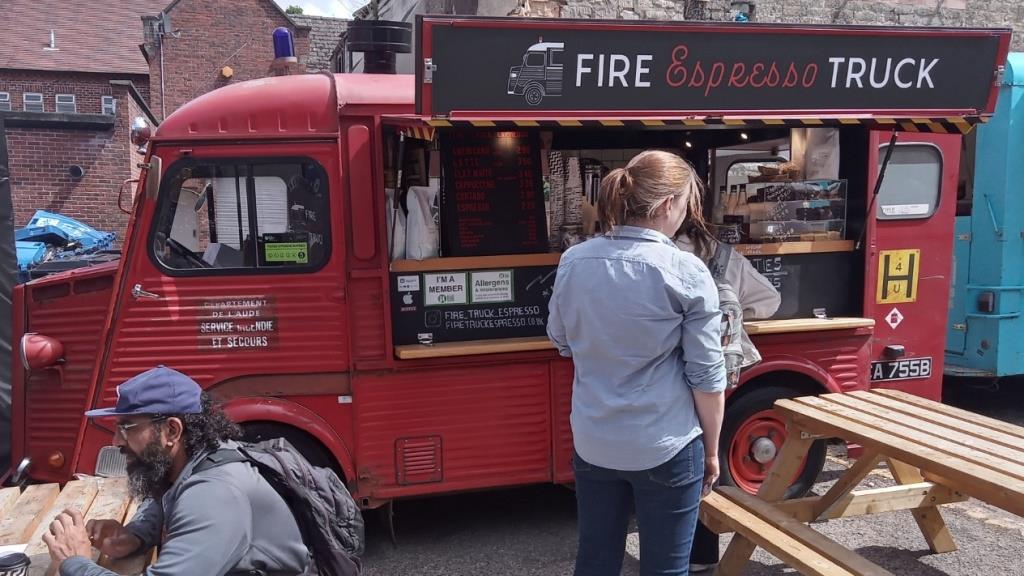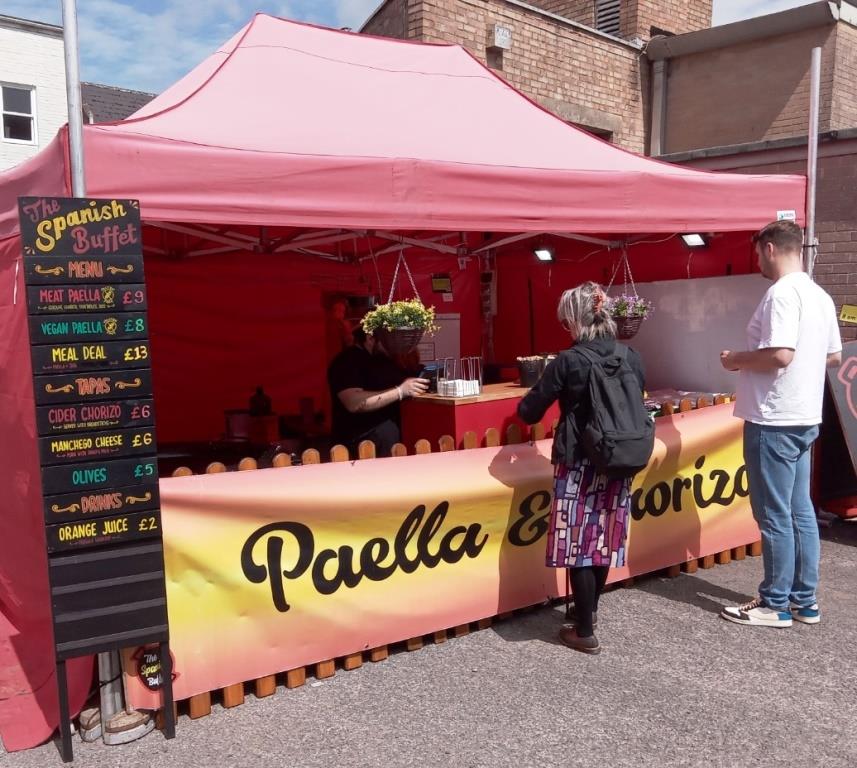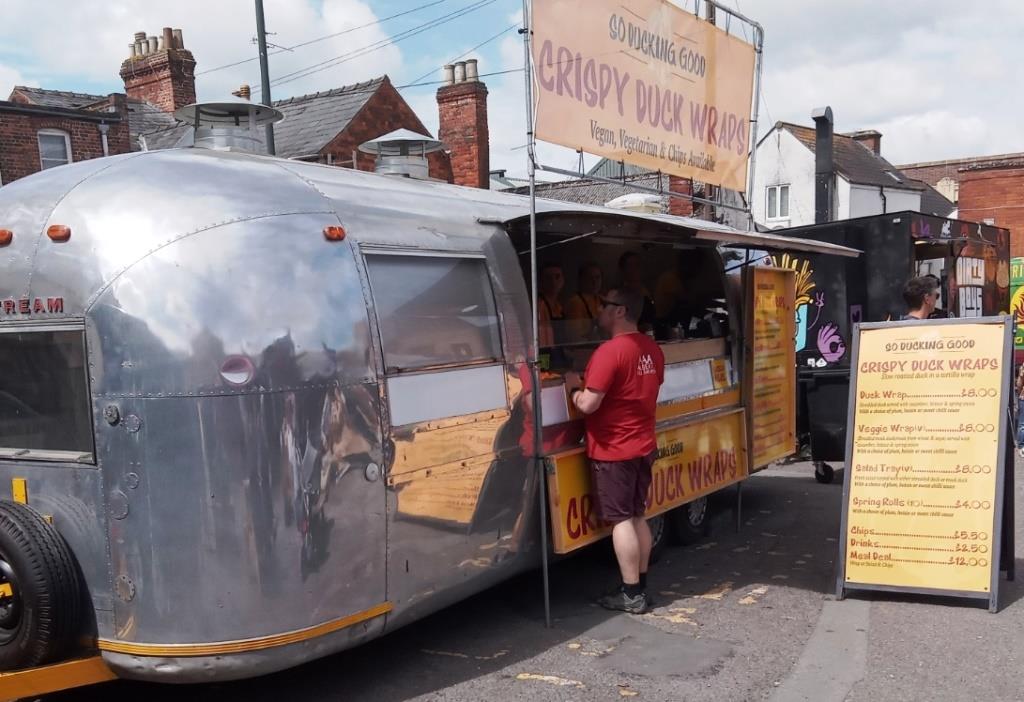 Cost-of-living crisis? A crispy duck wrap for £8? Well, it was Middle-Class Saturday, a Farmers-Market-plus. It's a different story mid-week, when the High Street is populated with homeless begging from their sleeping bags. A tale of two towns ... of two Englands.

To satisfy the Grauniad readership, a number of celebrities have contributed, among them Jack Stein (son of Rick), Loyd Grossman (Through the Keyhole peeper and purveyor of sauces), Rustie Lee (80's favourite and owner of an infectious laugh) and topping the bill Jay Rayner (son of Claire, Observer food critic and habitué of MasterChef).

Rayner had a double gig on Friday. He presented a talk titled "My Last Supper", describing what would be on his menu were he a condemned man. This was followed by performance from the Jay Rayner Quartet, interpreting material from the Great American Songbook. £24 + £16.50 = £40.50. Those feeling the pinch would have stayed away.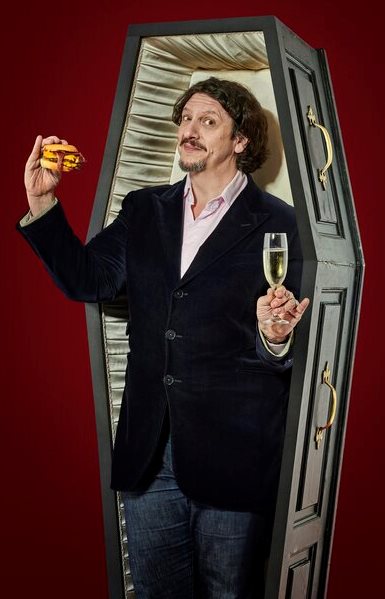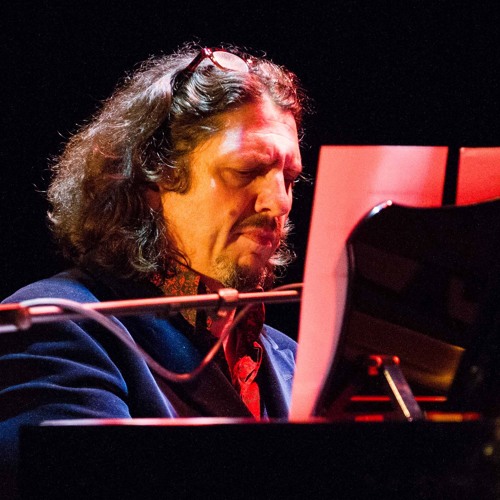 For the fatter wallet, a charming festival. I watch MasterChef, but a voice whispers in my ear: "Why all this 'fine dining' food titivation? Don't we just need wholesome affordable meals for all?"

Saturday 21st May


Weekend quiz. What's the story? Answers below.

1.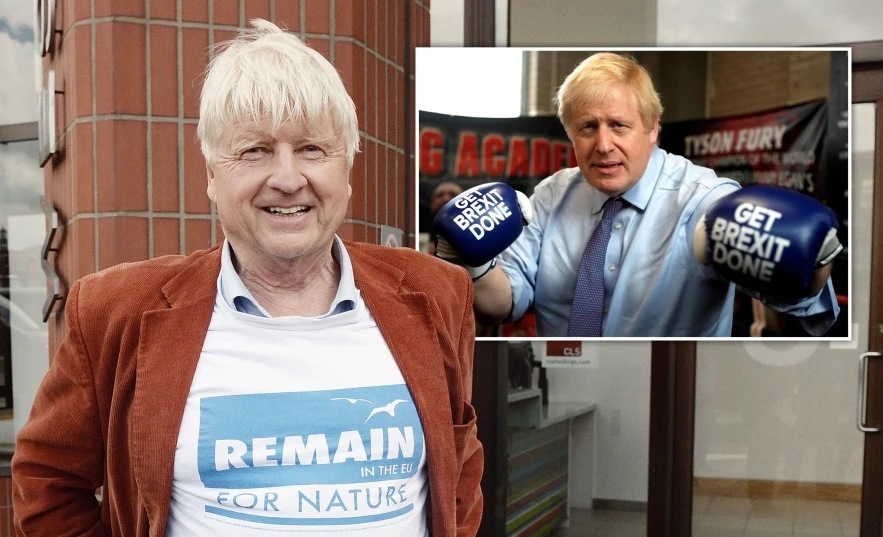 2.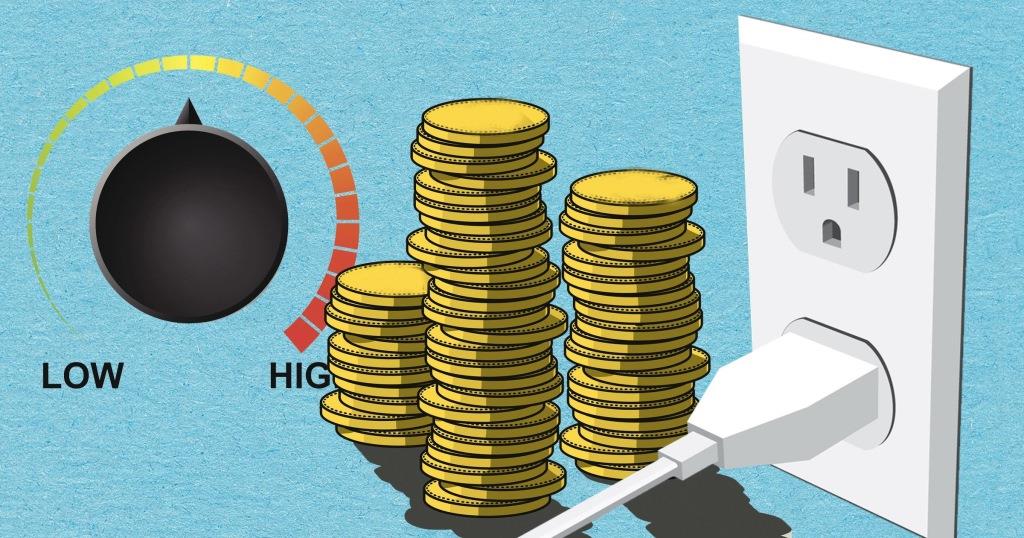 3.


4.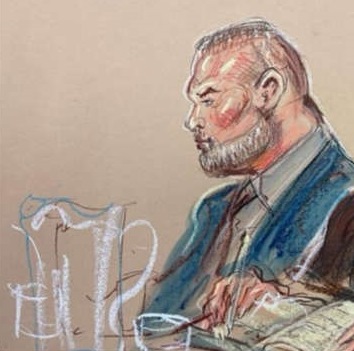 5.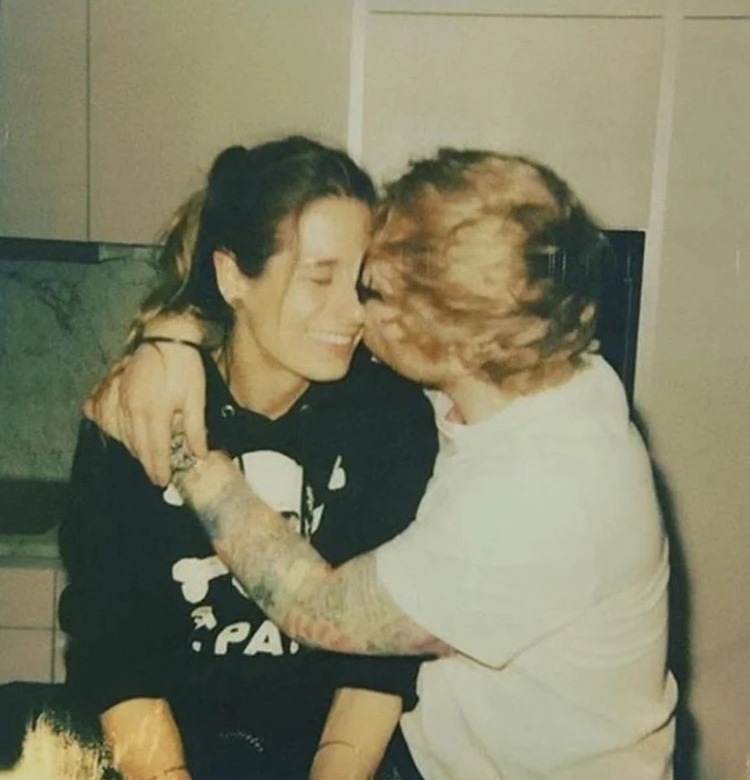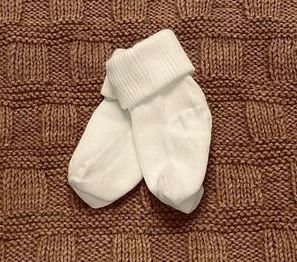 6.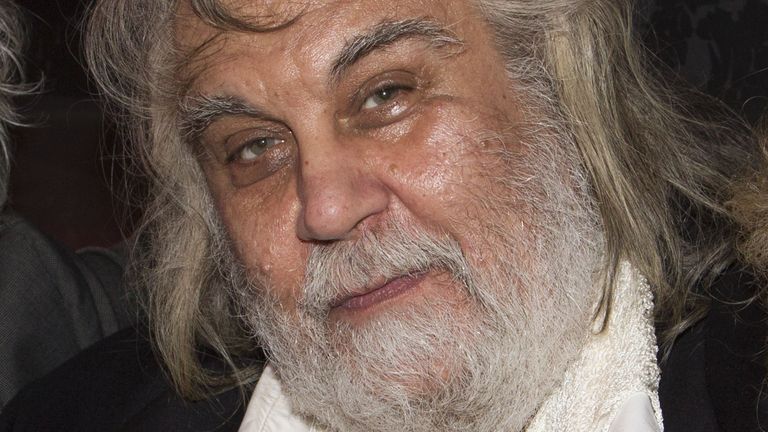 7.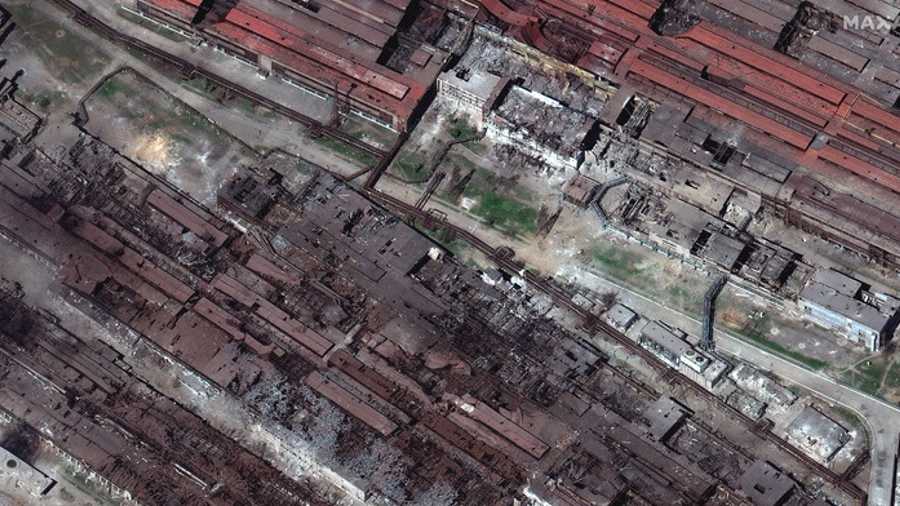 8.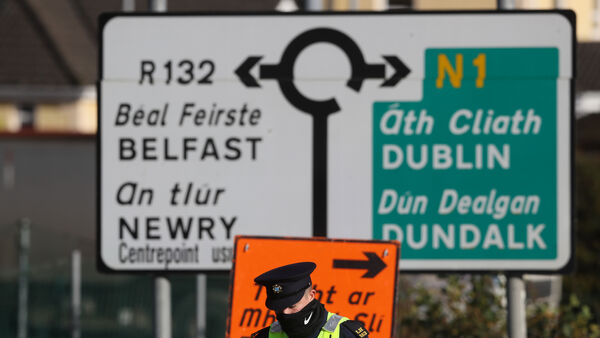 9.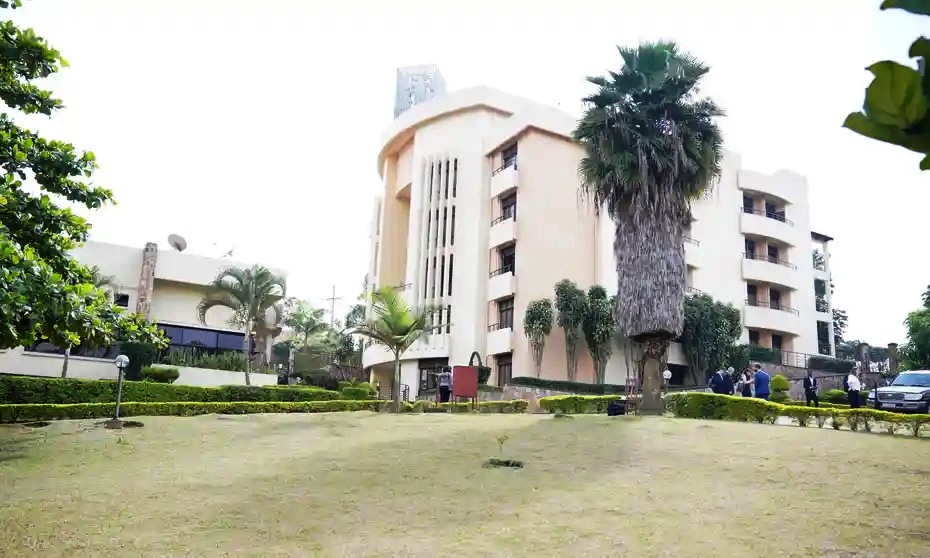 1. Stanley Johnson takes French citizenship.
2. Energy - or cost-of-living - crisis.
3. Covid breaks loose in North Korea.
4. Wayne-Wagatha Rooney in court. Should he sue the artist?
5. Ed Sheeran and Cherry Seaborn announce second baby.
6. "Chariots of Fire" composer Vangelis dies aged 79.
7. Russia declares victory at Mariupol steel plant.
8. Plans for Northern Ireland Protocol threaten Belfast Agreement.
9. Hotel in Rwanda awaits first refugees.

Friday 20th May


Having worked in IT for many years, I still get updates from the computer press. I don't read them as avidly as I once did, but my attention was drawn yesterday to an article in IT Pro about Russia, which led me to another published earlier about Ukraine.

The first was titled "Google Russia files for bankruptcy, ends operations in the country":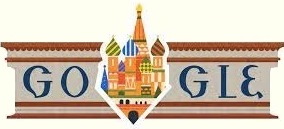 "Google's Russia-based business unit has filed for bankruptcy following the country's decision to seize its bank account in late March. The move made it impossible for the Google subsidiary to continue paying its employees, suppliers, and vendors, making it 'untenable' for the tech giant to 'function', according to a statement given to Reuters.

"It has also made it increasingly difficult for Google to move its remaining employees out of Russia. The company had been helping its staff transfer to other EMEA offices since Russia invaded Ukraine on 24 February. Googlers who had chosen to remain in Russia have now been let go.

"In March, Russia banned Google News for promoting 'inauthentic information' about the invasion of Ukraine after Google paused all advertising for Russian state-funded media in late February.

"The asset seizure by Russian authorities is the latest development in Google's soured relations with Putin's government. In late 2021, Google was fined 9 million roubles (£94,400) as a penalty for failing to delete content deemed illegal by the Russian state."


The second article was "How Telegram became Ukraine's biggest digital ally in the war". Telegram is an online messaging app that works like WhatsApp and Facebook Messenger. It was founded by Russian Pavel Durov, who was also behind Russia's largest social network VKontakte (VK).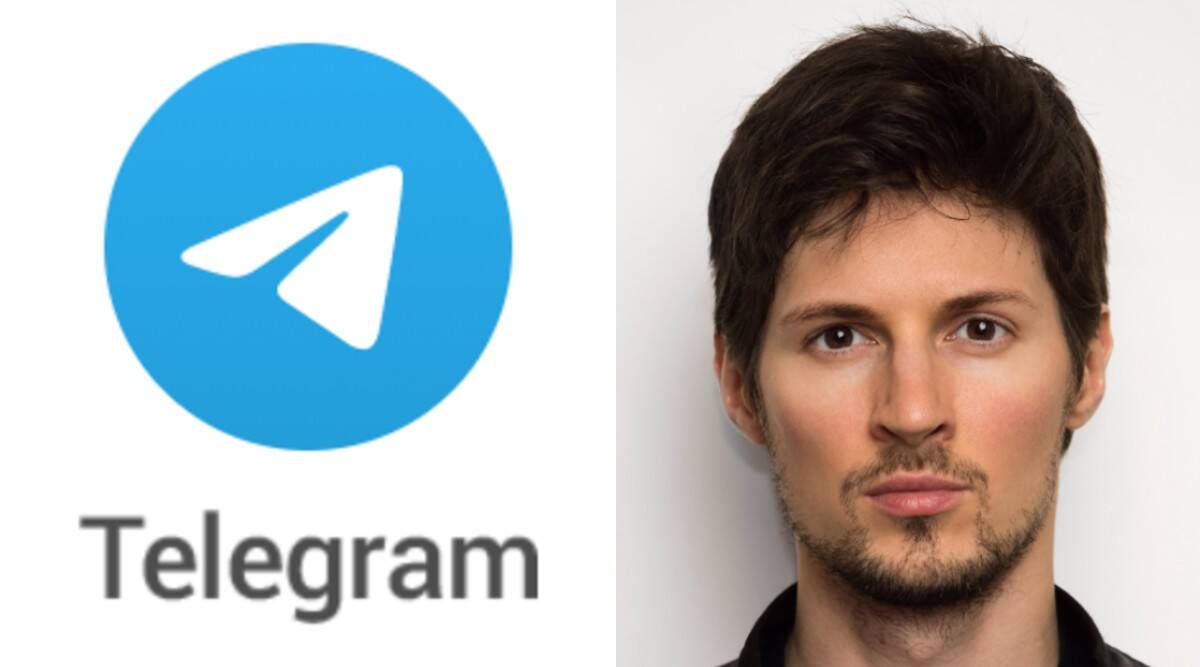 In 2014, Durov publicly refused to hand over the personal data of Ukrainian protesters to Russia's security agencies and block Alexei Navalny's page on VK. He was ousted as VK CEO, claimed the company had been effectively taken over by Vladimir Putin's allies, left Russia and stated that he had "no plans to go back". He then started Telegram, which was headquartered first in Berlin and later moved to Dubai, as did Durov. In April 2021, he received United Arab Emirates citizenship. Forbes reports that he has a net worth of $15.1 billion, based mostly on his ownership of Telegram.

The IT Pro article stated:


"The messaging app has experienced a surge in demand as users flock to the platform for news and instructions on how to participate in the effort to thwart Russia's invasion. Researchers have observed rapid growth of Ukrainian groups turning to various Telegram channels with the purpose of organising offensive efforts against Russia.

"The highly publicised 'IT Army of Ukraine' group, set up by Oleksandr Bornyakov, Ukraine's deputy minister for digital transformation, is among the most populated with more than 277,000 members [in March 2022]. The group posted its "top priority" targets, which included GLONASS, Russia's space-based satellite navigation system; the Belarusian railway, which hacktivists previously targeted prior to the conflict; Russian telecoms providers; the National Bank of Russia, and ATM processors."

Thursday 19th May


Mission accomplished on Tuesday. Grandson Marlie will receive his new passport within a week. Phew! All that time scrutinising the form paid off. I had been dreading the drive all the way to Peterborough only for daughter Ellie to be told, "Sorry, that won't do." In fact, the staff at the Passport Office, far from inflicting on us an anticipated - by my cynical suspicion of government bureaucracy - display of jobsworth-ness, were charming and helpful. Prompt, quick and efficient. Ellie was seen early and out of her appointment within twenty minutes.

The downside of the experience was the ten hours spent in the car. It was a full house: me, Sarah, Ellie, Marlie and two dogs. Quite why we were all making the journey, on a day that touched an unseasonal 25℃, beats me. A round trip of 386 miles, including the preliminary (and concluding) hop from Stroud to Bristol to pick up our passengers. After taking the M32 and M4 to Swindon, we went across country via Oxford and Northampton, returning the same way.

The most striking observation for me was how much the driving - or road - experience has changed in my lifetime. When I was a five-year-old child, we used to travel in our black Morris Eight from Worcester to Cornwall, the majority of the journey down the A38. There were no motorways, barely a hint of a bypass. We went through the centres of cities, towns and villages.

On our Tuesday route we did not see a single one of these, except for a brief tour, deliberately leaving the A605, of the pretty market town of Oundle, where I went to school and to which I have never returned in 50 years. All you see now of towns like Brackley are retail parks, massive distribution centres, out-of-town Aldi and Lidl supermarkets, drive-through outlets of McDonald's and Costa, all bordering the ubiquitous ring-road. Nothing of the individual and regional characteristics of each county, a church or town hall, the distinctive local stone or brick. The architecture is marked by national, even global, design and branding - presumably so that you can easily spot a well-known food stop or retail branch. There's nothing - apart from signs, but certainly not in the buildings or landscape - round the towns or on the connecting trunk routes that would tell you where you were, although that might also be a function of the predominantly flat East Midlands.

Of course, it's better that the centres of population are not cursed with high volumes of traffic. Even in the late 1960's, lorries plagued the old narrow streets of Oundle.

Another feature that struck me was how many of the new roads and bypasses are flanked by abundant trees, blocking any view of the surrounding countryside. Were they planted at the time of construction, intentionally, and have now grown to maturity?

By early evening, coming home, I had grown heartily sick of roundabouts, a frustrating impediment to progress on a ring-road. They're inevitable and necessary, if you think about it, as the roads that radiate out of any town have to cross your path as you circumnavigate the centre, usually without the benefit of a fly-over or underpass. You pick up speed on the relatively short sections between junctions and then have to slow down to negotiate each roundabout. There was a tell-tale smell of brake-pad burning after an intense series of these encounters. I never imagined I'd be relieved to get back on the M4.

I have always thought that the M1 was the first motorway in England. In that it was conceived explicitly as a complete motorway, that's true. The first section between Watford and Rugby opened on 2 November 1959. However, I read that the pioneer road embracing now familiar motorway regulations was the Preston Bypass, opened in 1958 by Harold Macmillan and later subsumed into the M6. The initiative was made possible by the Special Roads Act 1949, which, as the name implies, authorised the construction of special roads which could be restricted to specific types of traffic. The motorway, as we know, was not to be used by pedestrians, cyclists, animals and more - only by, yes, motor vehicles.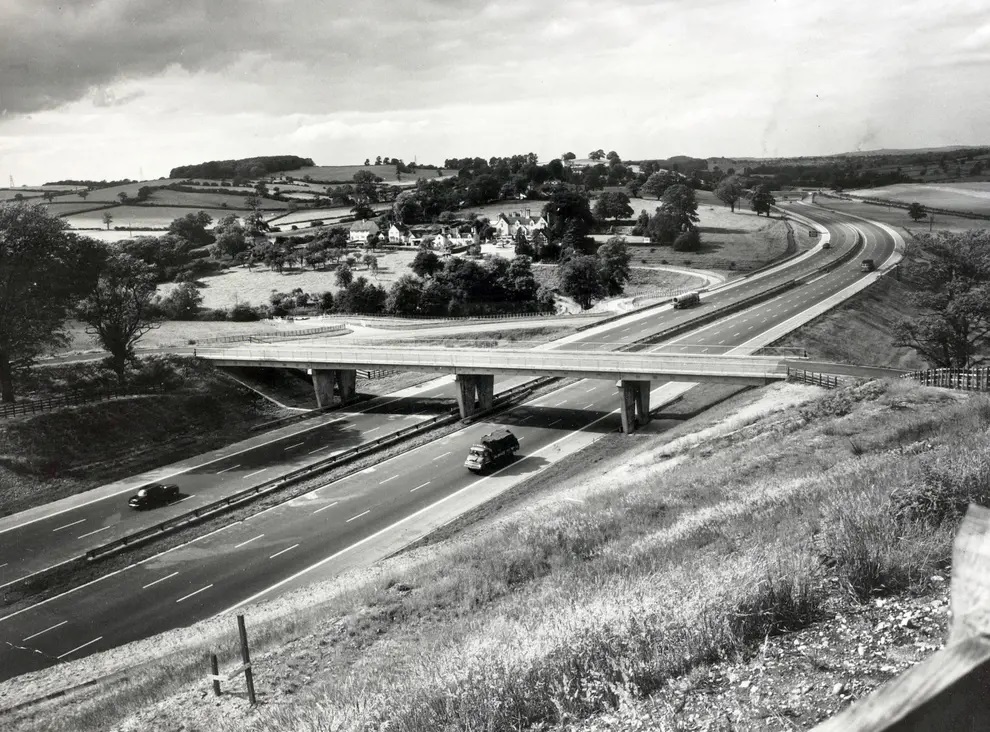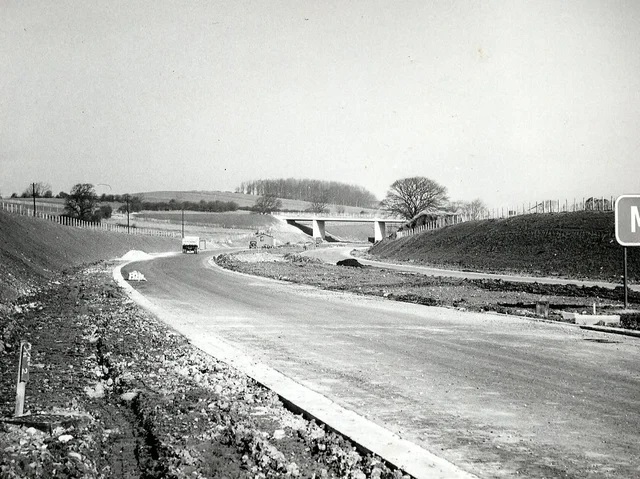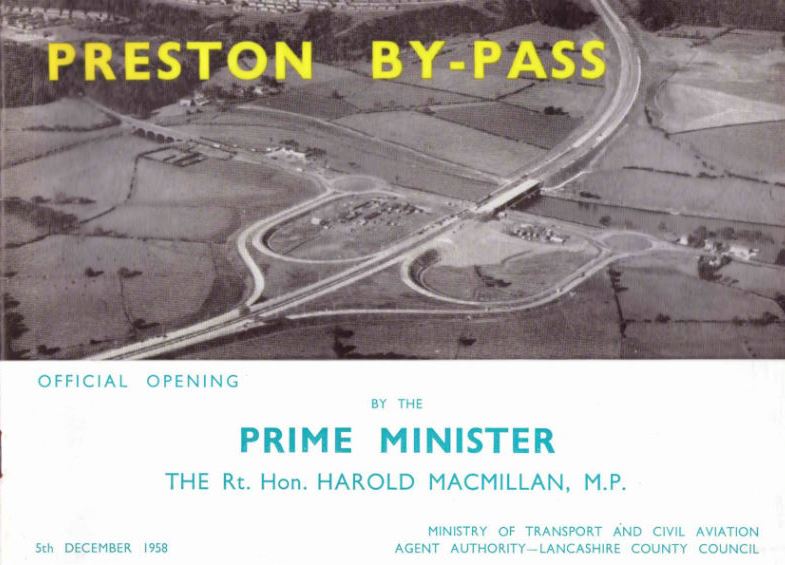 I still have one question outstanding from the passport adventure. Why is section 7 of the form "intentionally blank"? The guidance booklet merely repeats the advice on the form: "Don't write in this section." The passport services website doesn't help much more: "Section 7 consists of a blank space. This is entirely intentional, and applicants should be careful to leave this space blank and not write anything on it." I've only found one suggestion on the internet, namely that the section used to be for no-longer-required grandparent information and has been retained to avoid renumbering, which I assume might cause incompatibility issues with other referring documents and systems. Really? I'm surprised that there has been such scant discussion. Are we just to roll over and accept this absurdity? I need to know the answer. Who will tell me?

Wednesday 18th May


Recovering from 11 hours in the car yesterday. Reflecting on a road trip across Middle England. Thoughts tomorrow.

How does that fit with 80 days of Mariupol? I'm still unsure how to square such suffering with my daily life.

Tuesday 17th May


Little time to blog. Yesterday was grandson Marlie's 8th birthday🎂, and today we're off to Peterborough (via Bristol) to renew his passport. I estimate a total of eight hours in the car. It was either there or Glasgow. The system is so clogged up that we can't risk the advised delivery time of 10-12 weeks if we want to be sure of Marlie being allowed into France for our family holiday in July, so we're using the "fast track" service. You have to book a face-to-face appointment to take advantage. Harder to nail down than a ticket to Glastonbury. Similar price.

OK, I'll admit that this is mainly triggered by his passport having been lost. I'm amused by section 3c of the form, details of the lost or stolen passport:





Isn't it in the nature of losing something that you don't know where and when it happened? Would you write "Dropped out of my bag, Bristol Temple Meads station, platform 4, October 23rd 2020, 4:21pm, waiting for the train to Taunton"?

There is also the mysterious section 7, a large box occupying roughly a third of page 3: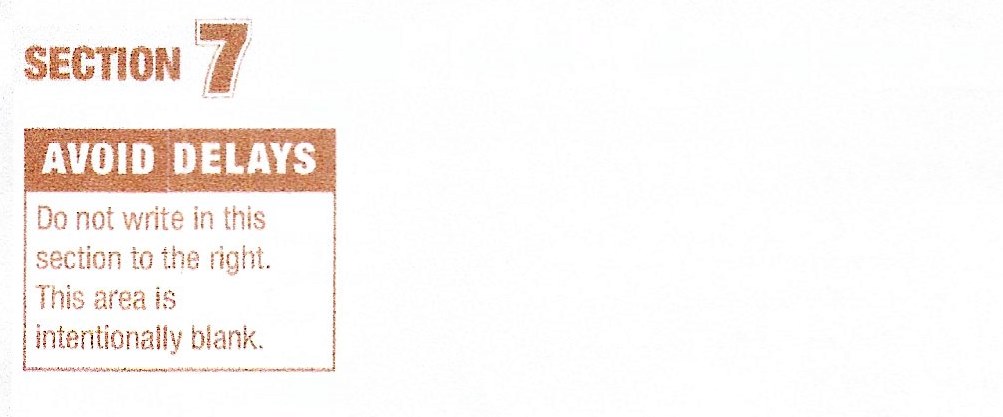 Ours not to reason why.

Sunday 15th May


As expected, Ukraine won the Eurovision Song Contest with Kalush Orchestra's "Stefania", riding the wave of European support. Perhaps more remarkably the UK, with Sam Ryder's entry "Space Man", came second - evading the humiliation of "nul points". Can it be that the rest of Europe doesn't hate us quite so much? Russia was denied participation. It's a measure of our troubled times that a much-derided show, once hosted by a very tongue-in-cheek Terry Wogan, should now be a platform for political empathy or condemnation. I still couldn't bring myself to watch it.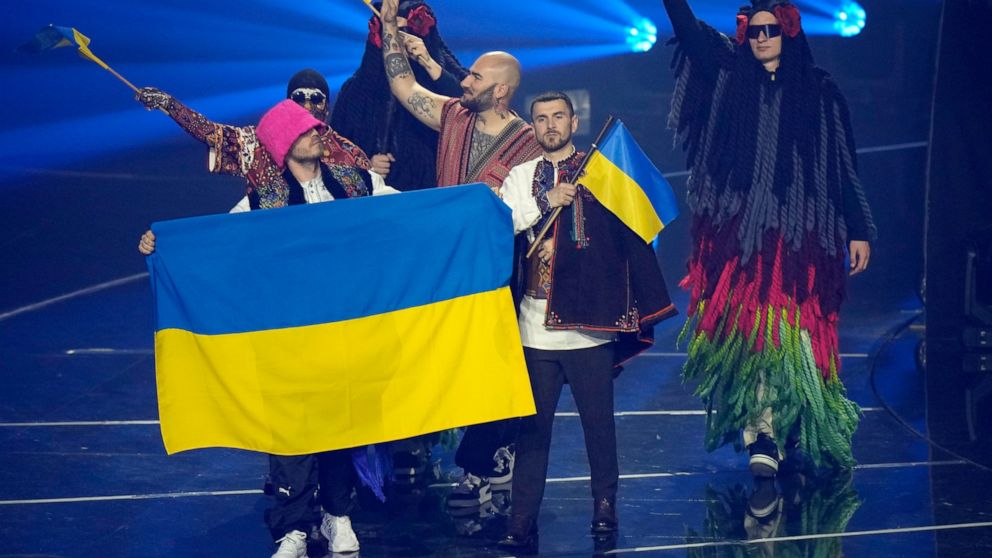 I was pleased, following my piece yesterday, that Jürgen Klopp and Liverpool won the FA Cup Final, adding a second trophy this season to the Carabao Cup - or League Cup, now sponsored by a Thai energy drink company - they claimed back in February. Both against Chelsea, embroiled in Russian sanction woes. However, I was reminded of why I don't watch much football. It's a game defined by goals; you win if you score more than the opposition, right? Adding together the "normal" and extra time played in both finals, neither side scored during 240 minutes of open play, the games decided by penalty shoot-outs. I should have expected the scoreline, on account of the Lewis Footie Curse, mentioned before in these pages. World Cup Italia '90? I was back in Udine and saw the Spain-Uruguay game: 0-0. The only match I attended at Forest Green Rovers this season just gone? Goalless. I must be a slow learner.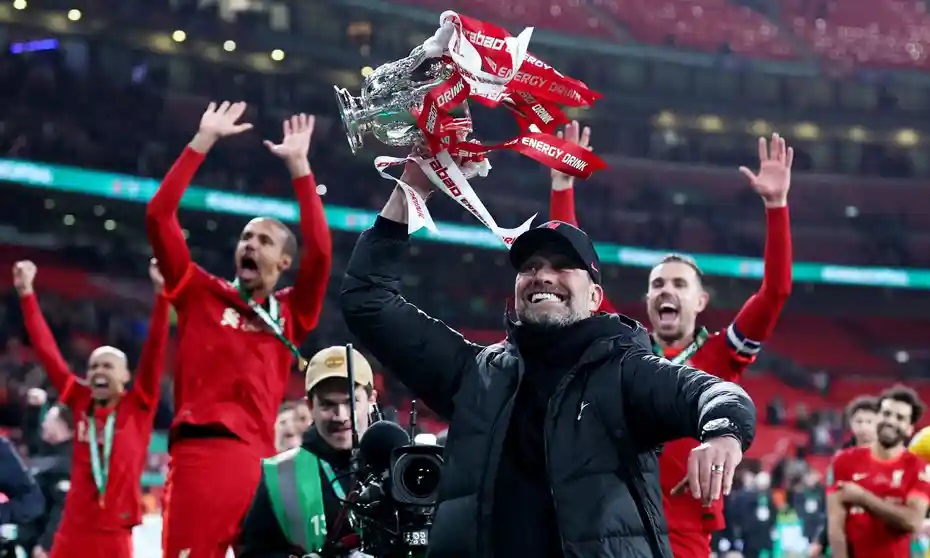 We're into the second day of the first weekend of another Stroud delight, the Select Arts Trail (14-15 and 21-22 May), where local creatives open their homes and studios to the public. Here's the brochure - designed by our neighbour Chris Bailey - front page and trail map (click to enlarge):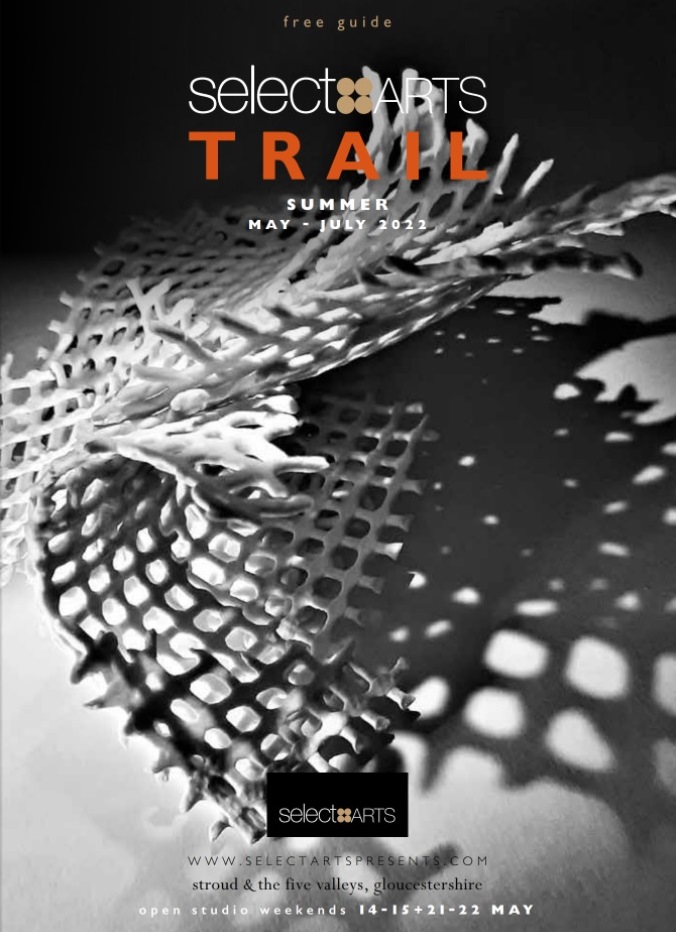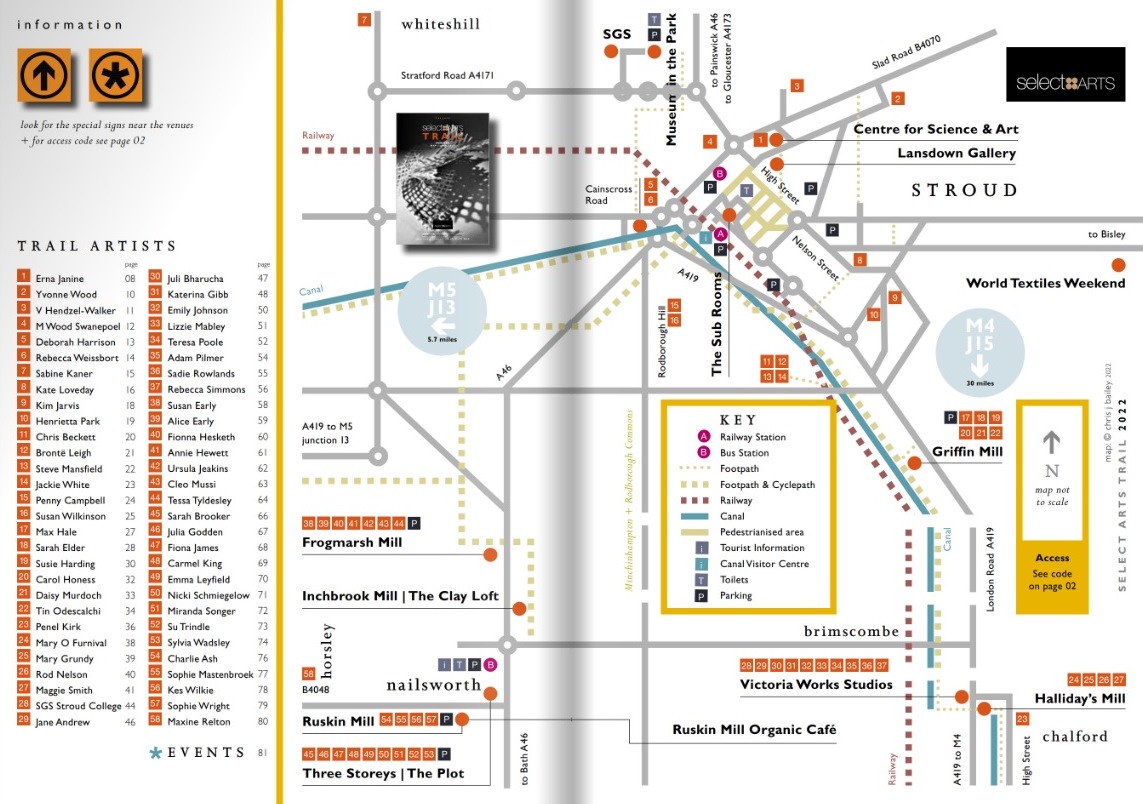 There's also an interactive guide online:



We went yesterday to see the work of potter friend Penny Campbell, who has provided most of our serving bowls.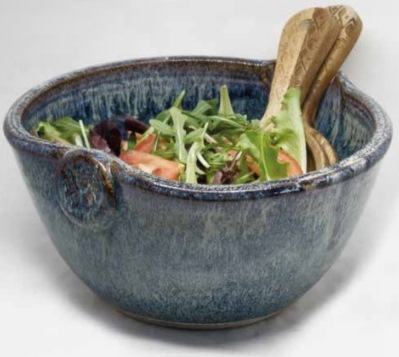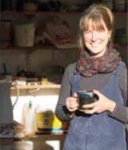 Saturday 14th May


I can't face the gloom of the news again today. Truss says she's going to rip up the Northern Ireland Protocol, Putin cuts off electricity to Finland, the first 50 migrants are chosen to be sent to Rwanda, the Wag Wars ... it's not good for anybody's health. Much worse, of course, for those suffering.

It's a lovely morning, and further brightened by the prospect of watching Liverpool in the FA Cup Final this evening. I'm really not that keen on football - which might surprise you from the space I devote to Forest Green Rovers in these pages - but I do like manager Jürgen Klopp. Passionate, positive, decent - and he understands the city of Liverpool, home town of my father's side of the family. So, the cheery piece for the day is the time he spent shortly after joining the club in 2015 with a kid teaching him Scouse.



Friday 13th May


Forest Green Rovers again. This time there's been ... trouble at t' mill.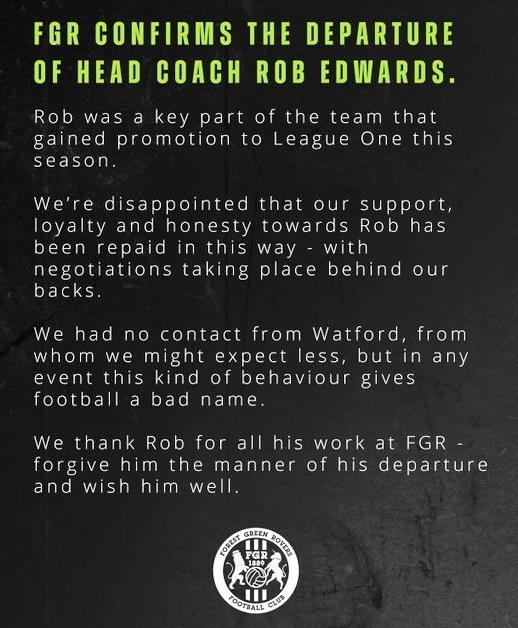 Here are two interviews with chairman Dale Vince. Take your pick. The first, with BBC Radio Gloucestershire, is brief at 1 minute 20 seconds. The second, with Sky Sports TV, is 6 minutes 40 seconds - and so provides a more complete reaction.




He seems pretty stoical about the setback. Looking to the future. "Over­whel­mingly disappointed"? I wonder if there were a few stronger words. He's not impressed with Watford FC: "Deceit is part of a culture that comes from the top."

Meanwhile, son Ben discovered Los Canónigos restaurant in Valpuesta, a village in the hills an hour south of Bilbao. Treated himself to the set meal:

MENÚ DEL DÍA. Disponemos de un menú desgustación de 35€, que consta de aperitivo, entrante, pescado, carne, prepostre y postre. Incluye bebida, café.

TODAY'S MENU. We have a €35 tasting menu, consisting of an aperitif, starter, fish, meat, pre-dessert and dessert. Includes drink, coffee.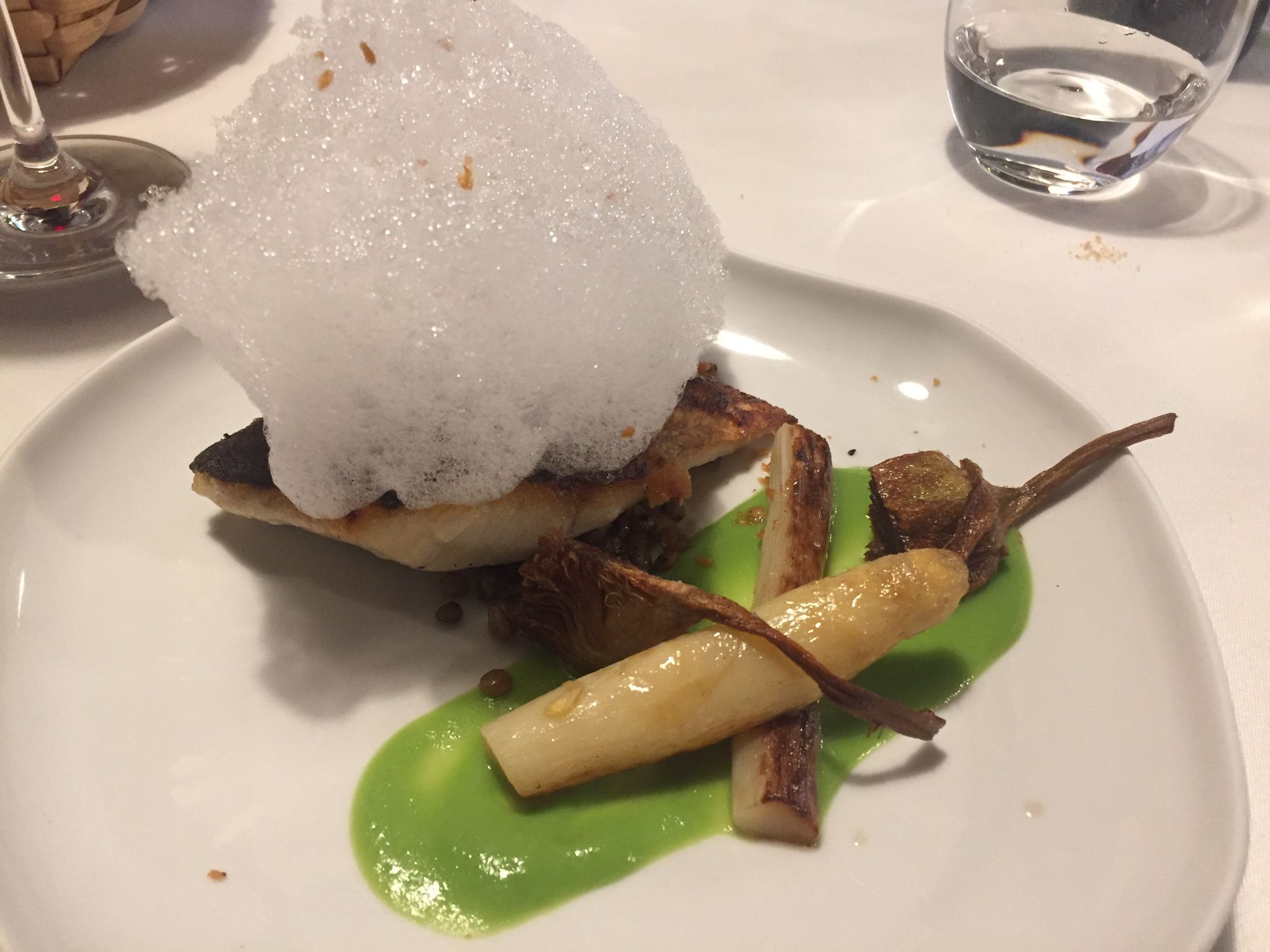 A bit "Master Chef" for me, I said, but Ben commented:


"It is fine dining but for a 4 course menu including wine for €35 a head, I'll tolerate the ponce. Sea bass, lemon foam, pea puree, white asparagus and globe artichokes. Tasty stuff, although the foam was a bit OTT. Best place I've found to eat in the Basque Country. Run by a couple and they're the only two workers."


Ok, I admit it, I'd love to be have been there with him.

Got to get through Friday 13th May now. Tricky. It was the day and date on which my father suffered a fatal burst aorta while on holiday in Norway, 39 years ago. RIP.

Thursday 12th May


The Wag Wars, dontcha luv 'em?

Conflict and suffering in Ukraine. Climate emergency. Cost-of-living crisis. Northern Ireland Protocol.

But this pair have gone to court: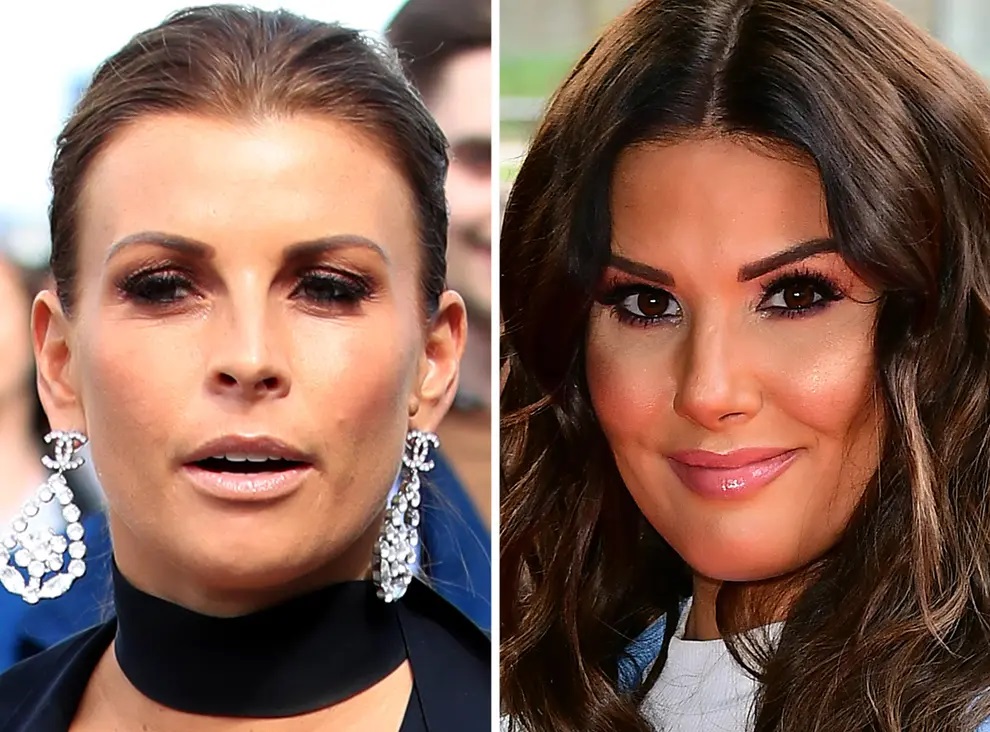 Many are feeling the pinch. Rebekah turned up in a black high-neck £1,780 Prada dress with a matching £1,245 blazer from Alexander McQueen.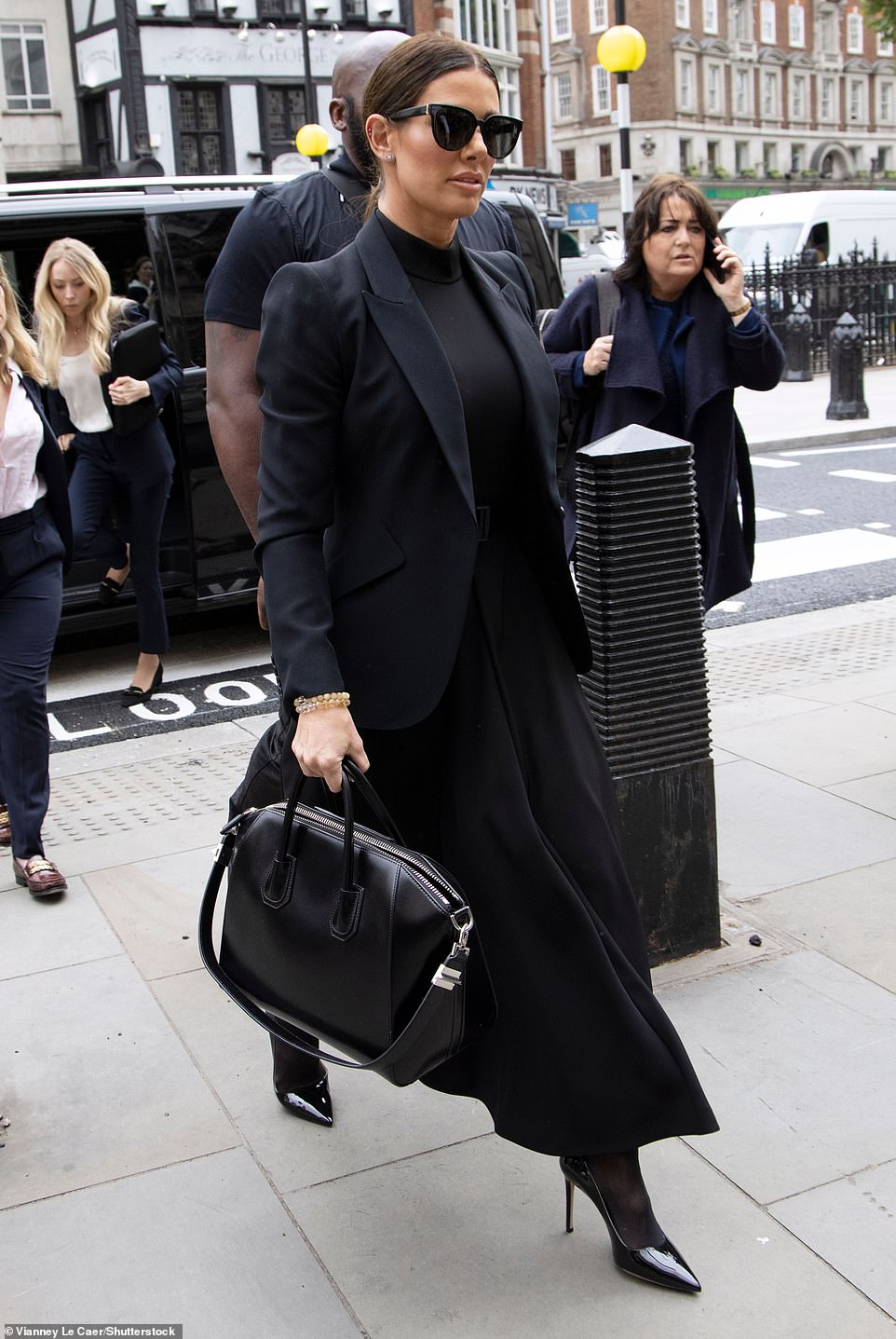 It seems to be all about reputation. What reputation is that, then? Why would you want to protect it? Fuelled by alleged press leaks and social media misdemeanours. "Vital" evidence was lost when a 'phone was dropped in the North Sea.

Oh well, it must help to keep the mind off lesser world events.

Wednesday 11th May


Sarah's back from Vienna after a safe flight 😮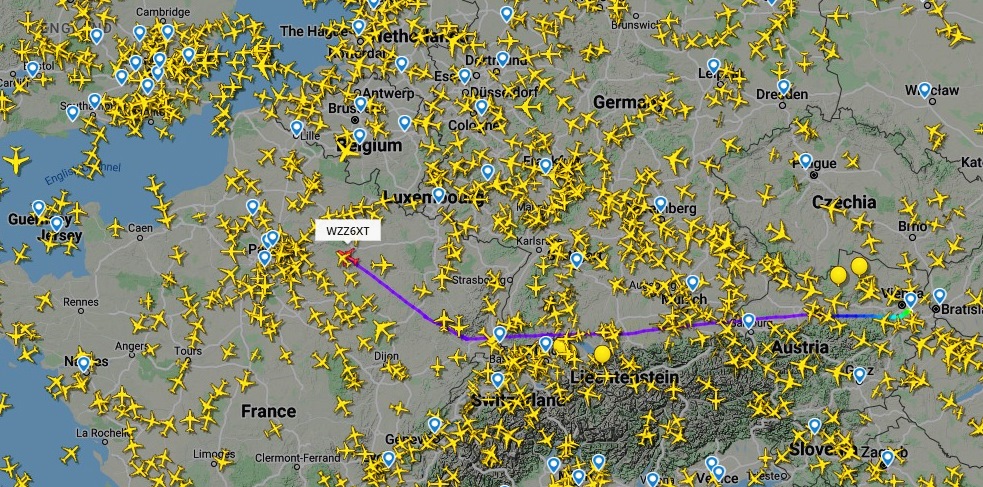 The Queen's Speech. Here's the Hansard transcript (3 pages):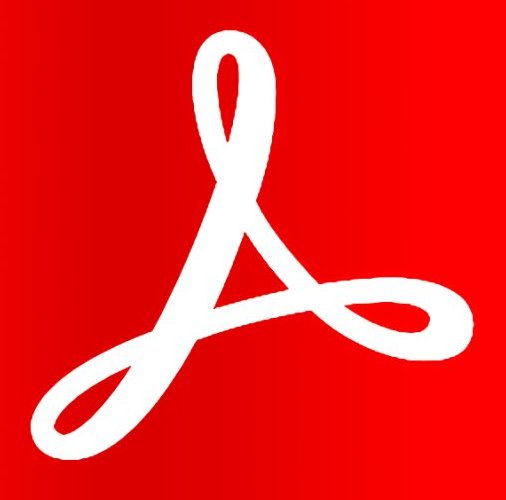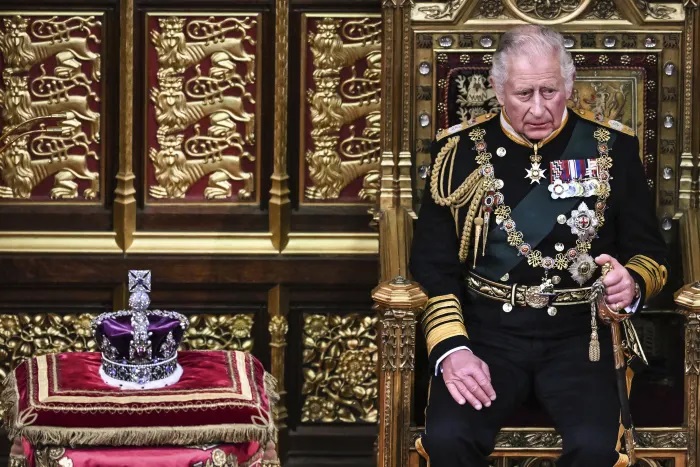 I've extracted a few gems:


"Her Majesty's Ministers will bring forward an Energy Bill to deliver the transition to cheaper, cleaner, and more secure energy. This will build on the success of the COP26 Summit in Glasgow last year."


Oh, come on. COP26 was a shambles, a feeble apology for action. The key word is "secure". The stimulus to change comes from the Ukraine war and the need to rid ourselves of dependence on Russian energy. Money. Nothing to do with saving the planet.


"Her Majesty's Government will continue to seize the opportunities of the United Kingdom's departure from the European Union, to support economic growth."


What opportunities would those be? Please tell Northern Ireland. Ask the dock workers at Holyhead. And here's another little example. The Royal College of Veterinary Surgeons (RCVS) has revealed that the annual number of registrants coming to work in the UK fell by 68 per cent from 1,132 in 2019 to just 364 in 2021. The additional paperwork required to ship British meat to the EU has increased vet workload by 1,200%. OK, right ... there are loads of job opportunities for vets.


"Legislation will be introduced to enable the implementation of the United Kingdom's first new Free Trade Agreements since leaving the European Union."


The "first" agreements? The Brexit referendum took place nearly six years ago. The UK left the EU on 31st January 2020. These liberating, prosperity-generating deals are coming in a rush, aren't they?


"Her Majesty's Ministers will take action to prevent dangerous and illegal Channel crossings and tackle the criminal gangs who profit from facilitating them."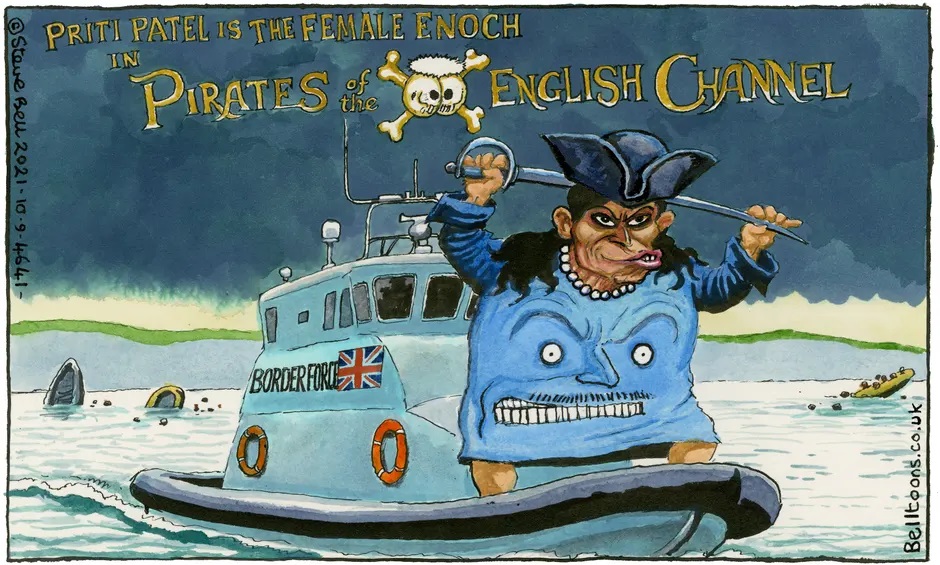 No wonder the Queen stayed away.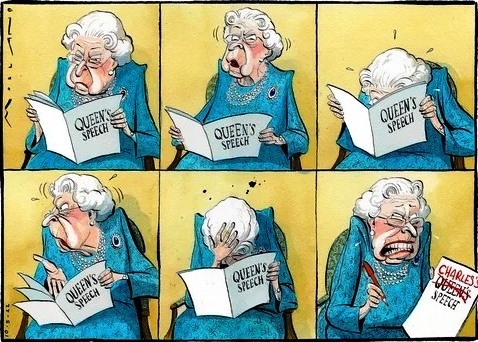 Tuesday 10th May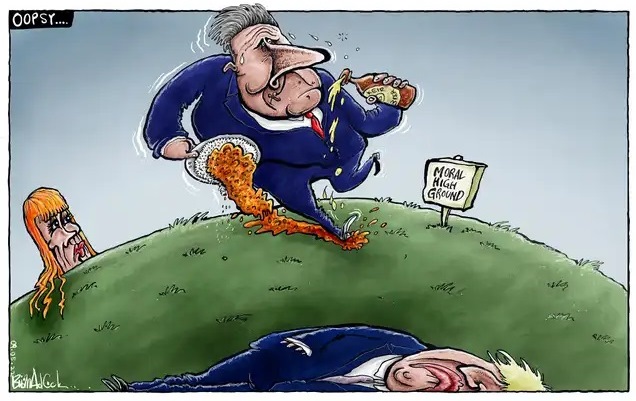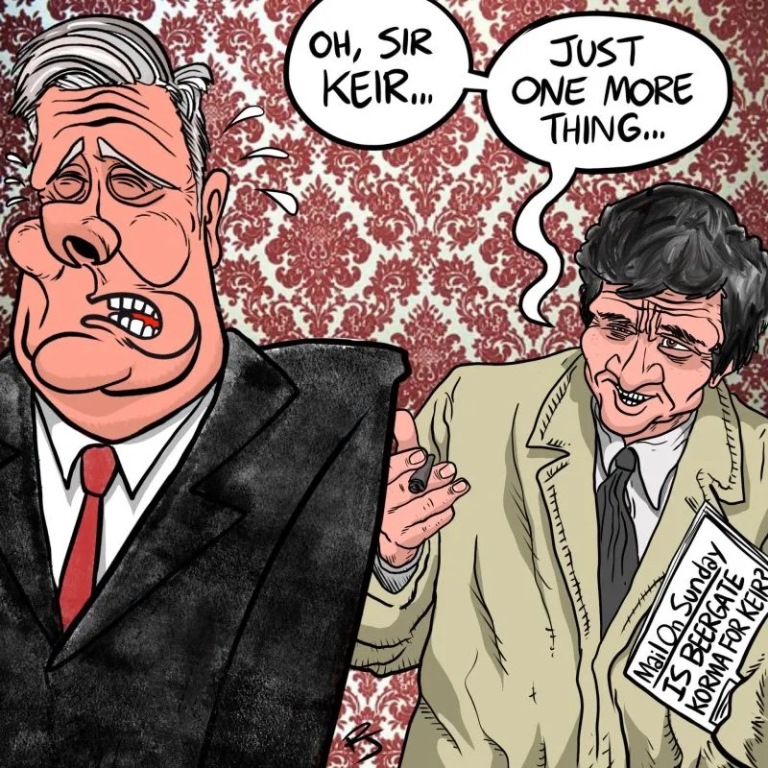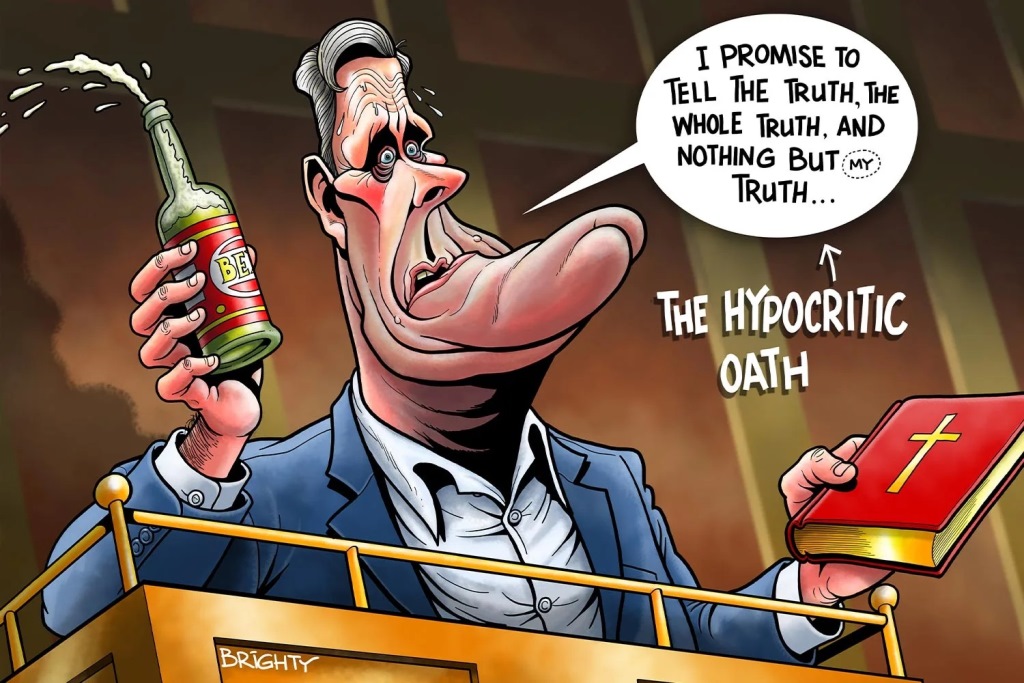 Monday 9th May


Sunshine on a family lunch at our local Crown & Sceptre yesterday, enhan­ced by an impromptu appearance of the Red Rock Ceilidh Band:




Jigs seemed appropriate after the Sinn Féin results. United Irish Jigs? The Northern Ireland Protocol bedevils Stormont. Good old Brexit. Thankfully not given much house room in our committedly European pub.

Sunday 8th May


A West Country news day. Click to enlarge any bits that are difficult to read.

Footballing delight as three teams from the west move up to League One. Forest Green Rovers grabbed the League Two title by a whisker, squeezing out a season-ending away draw after a wobbly run. Chairman Dale Vince tweeted something about a tattoo.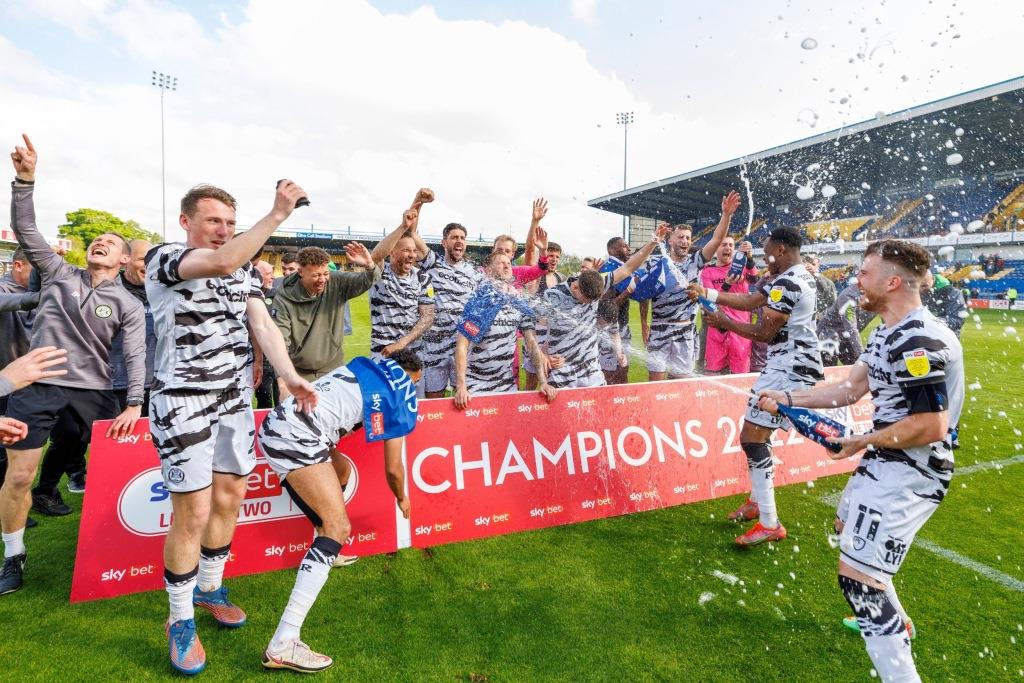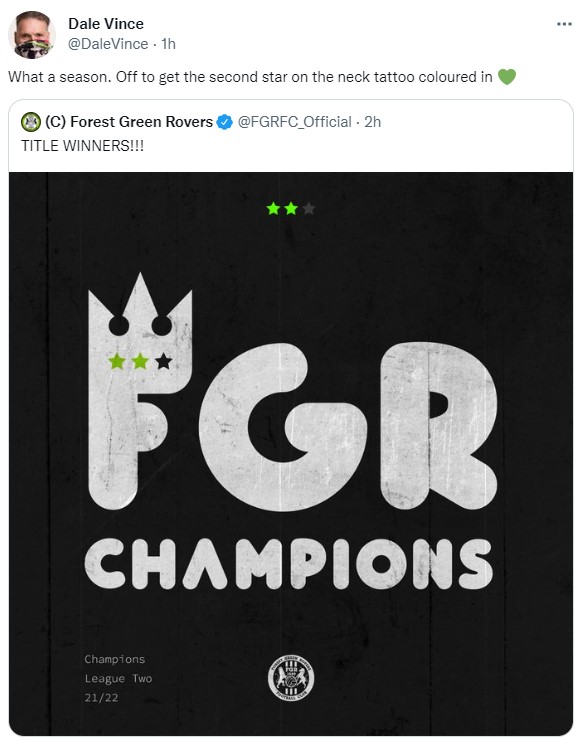 It would have been a great day to be at my childhood home cricket ground of New Road Worcester on Friday. Newly-appointed England captain Ben Stokes hit eight fours and 17 sixes in an 88-ball innings of 161 for Durham. I might even have swallowed my loyalty to Worcestershire for the duration.




Marvin Rees has been gracious - if concerned - as the Bristol mayoral system gives way to committees. He still has two years to serve, and was never intending to stand again. I wonder what he's going to do next. Will the national Labour party call on him? I'll have to get daughter Ellie to do some digging.





The Bisley House opposite re-opens any day soon. Its incarnation as the excellent Toni's Kitchen Italian restaurant succumbed to the economics of lockdown. The new venture is going to be a pub-cum-burgerbar. Quite why anybody would want to buy - or sell - a burger in a quiet street with scant parking away from town, I can't imagine. A handy pub now holds little attraction for me; I've just celebrated my first alcohol-free anniversary. The sanding and varnishing of the tables out in front, below my office window, has disturbed me. I'd much prefer drinkers to be in the delightful garden behind, although residents in the next street may disagree. Platinum Jubilee weekend will be a litmus test, as licensing hours are extended to 1am. I'll wait to pass judgment.

Saturday 7th May


The message from the local elections - while remembering that these only concerned a third of councils, and that people vote differently than in general elections - is clear. Voters are sick of the Westminster bubble: Tory sleaze, dishonesty, privilege, cronyism, incompetence, Johnson himself.

There is also some tiredness overall with the two main parties, witness the gains by LibDems and Greens. Despite the victories in Barnet, Wandsworth and West­minster, Labour's showing was not definitive.

Starmer remains an issue, as Have I Got News For You indicated last night with a two-edged quote from The Times:





The Sun front-paged #Currygate: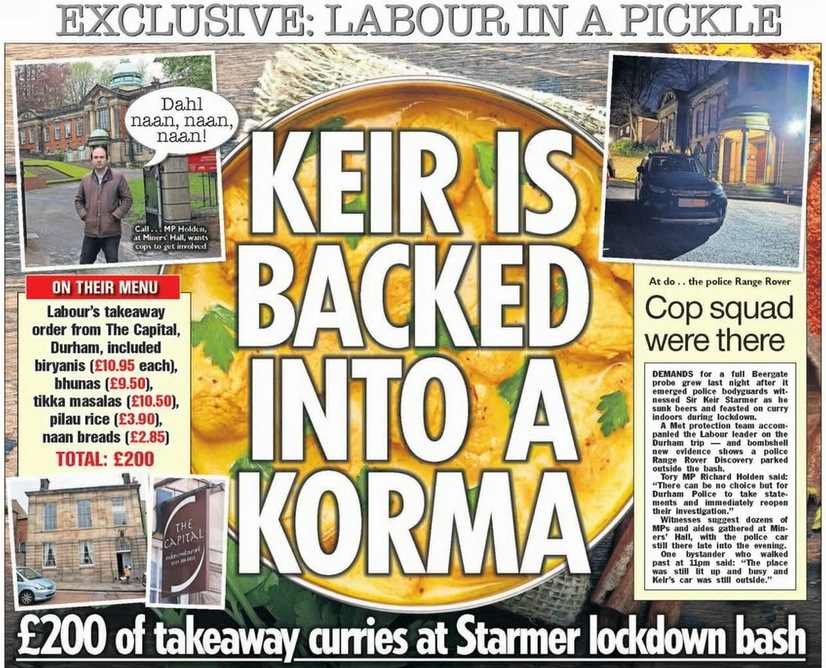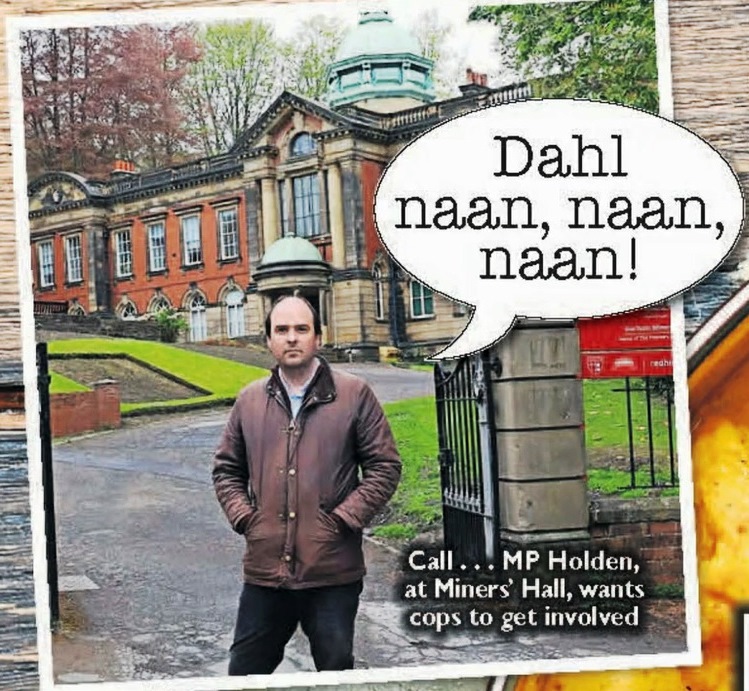 What of the Union? The SNP and Sinn Féin results presage its break-up. Wrapping in the Cambridge fiasco in the Caribbean, over what will our next monarch reign? It's lucky that the Platinum Jubilee celebrations are only days away. I was pleased to see that Mattel, makers of Barbie, have come up trumps (not that one):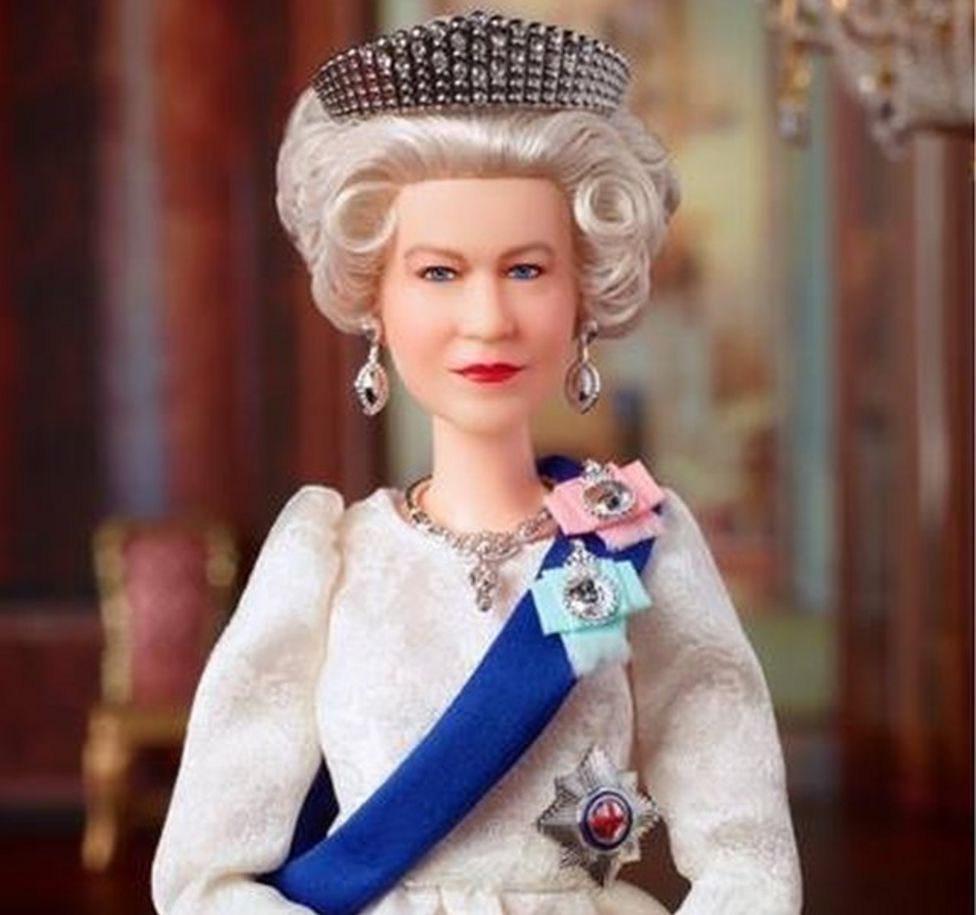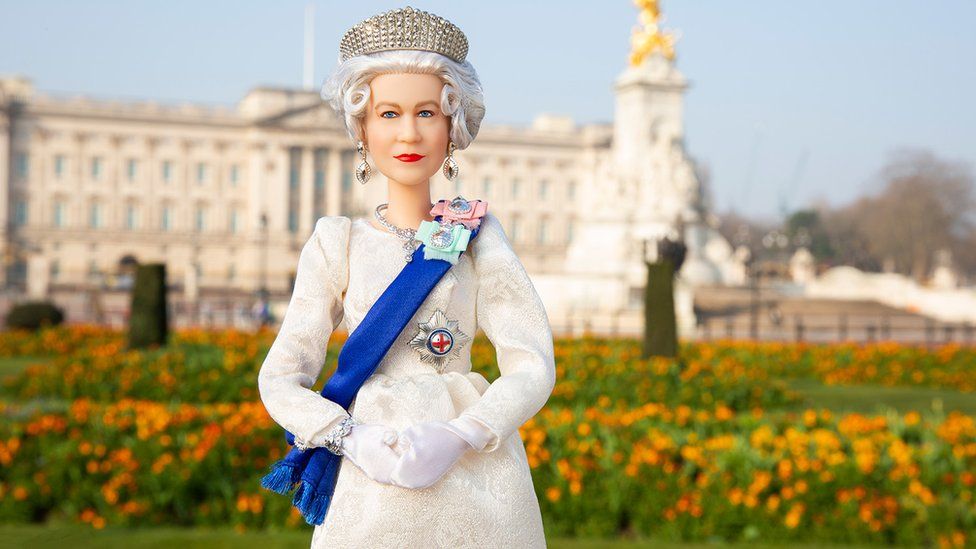 On a personal and completely different note, yesterday was the 46th anniversary of the earthquake in Friuli, north-east Italy. My friend Carletto in the village of Talmassons, where I was teaching that night, sent me a thank-you for our help in the aftermath of the "6 maggio" event in 1976. We didn't do much - we were just there and bore witness.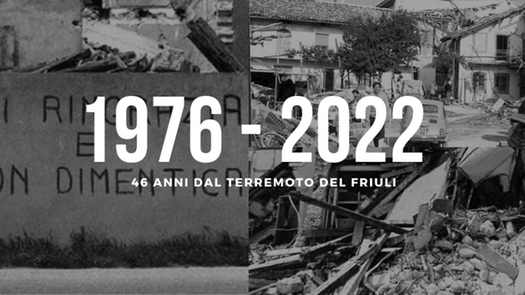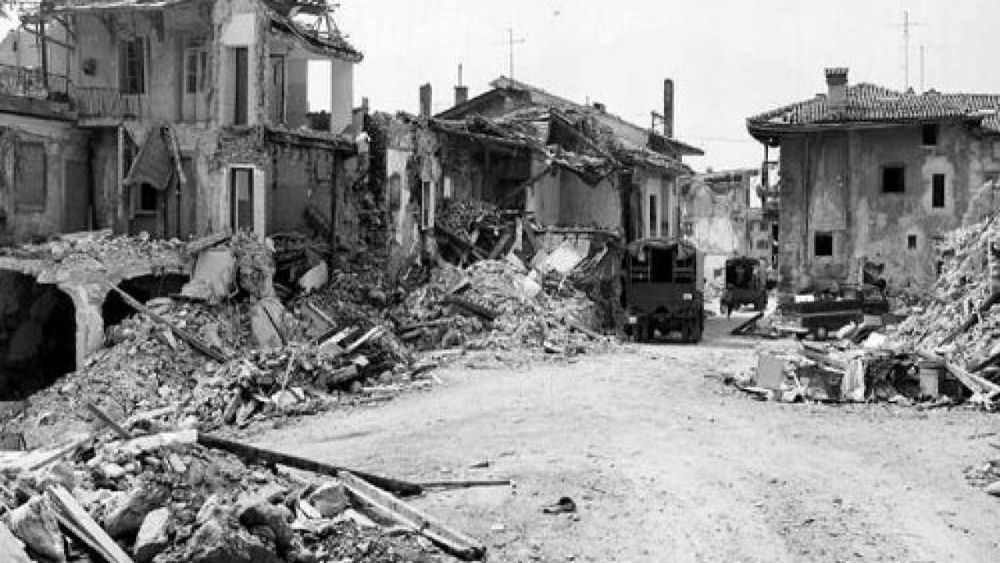 You can read my account of the terremoto here:


Friday 6th May


Bright sunny day.

Bright sunny local election results around 6am: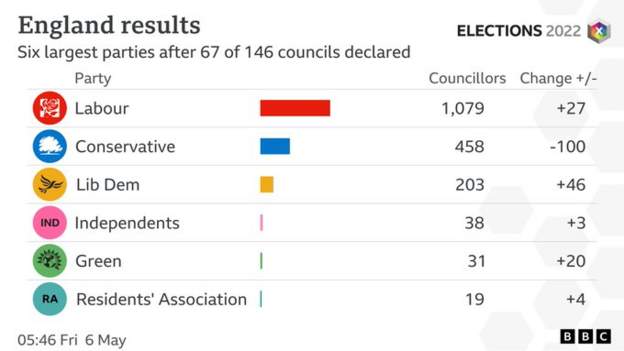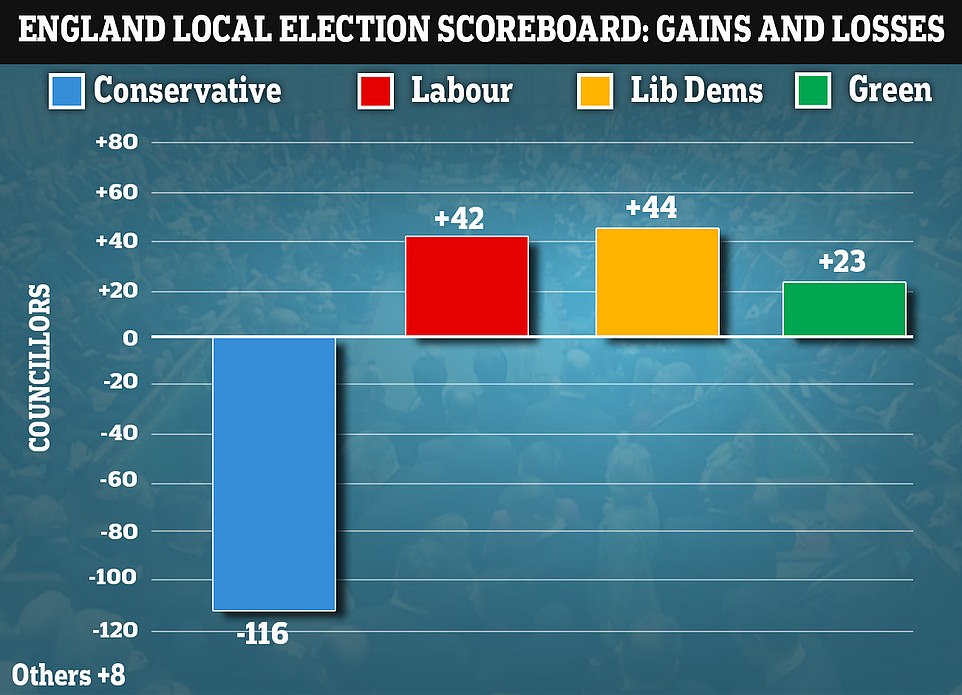 Chuckle for the day: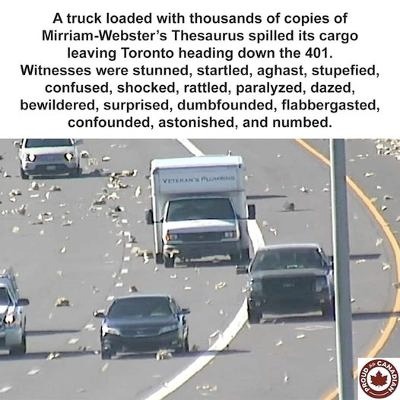 Thursday 5th May


I have little desire to dwell on the main news items today, so I'll choose something altogether more trivial. It's the time of year when thoughts - in truth, not many of them in the current climate - turn to the summer game. If you have no interest in cricket, please ignore.

National treasure and top luvvie Stephen Fry will take over as the next president of the Marylebone Cricket Club from 1st October 2022. Quite an appointment for a sport-loathing (cricket excepted) thespian.

Here is his 2021 MCC Cowdrey Lecture. As you would expect, it's an extremely articulate tour de force, 40 minutes delivered, as far as I can tell, with barely a note. In many ways, it's not really about cricket - although his grasp of the game's detail is impressive - but about change in our society. The content may well have been uncomfortable for the egg-and-bacon brigade. If you have time and inclination, it's a good watch. Also in parts pretty rude.




His admission of unsuitability to be giving the lecture made me grin widely, so Fry-clever: "I am a non-cricketer. As non as there can be. So non. Non-ner than an Italian grandmother."

I had just finished posting the above when I spotted an article by Peter Wilby in this week's New Statesman titled "The long shadows over English cricket". He deals with the racism exposed by Azeem Rafiq at Yorkshire County Cricket Club last year, a theme picked up by Fry in his Cowdrey speech. Once again, if you can spare a few minutes, here's the article (4 pages):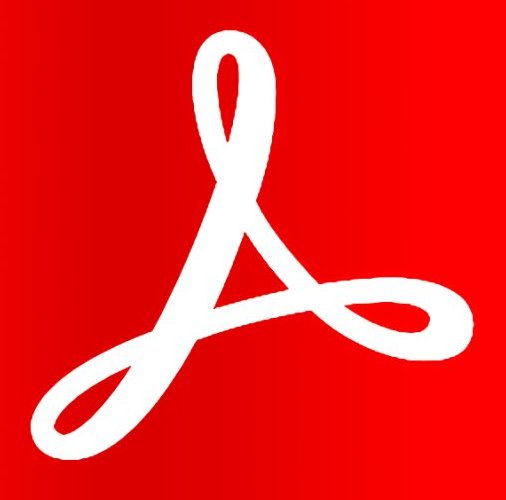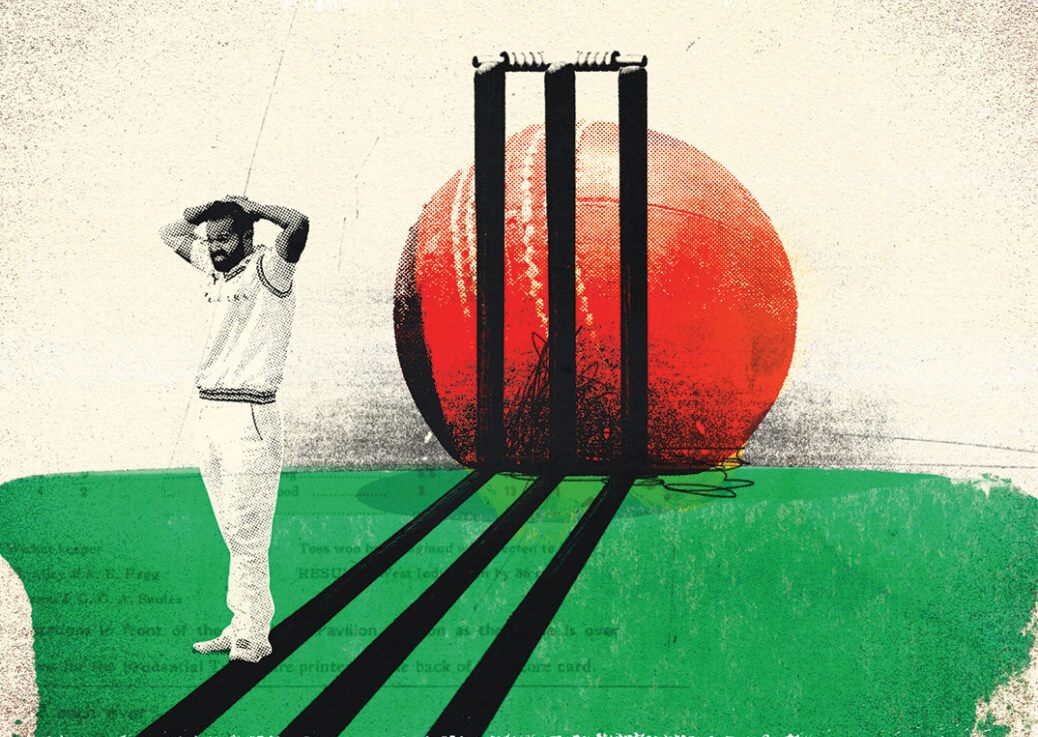 Wednesday 4th May


Back to the blog after a few days of family business. A quick review of the newspaper front pages doesn't bring much joy, sad to say. Mind you, what did I expect? You have to look elsewhere to feed the soul.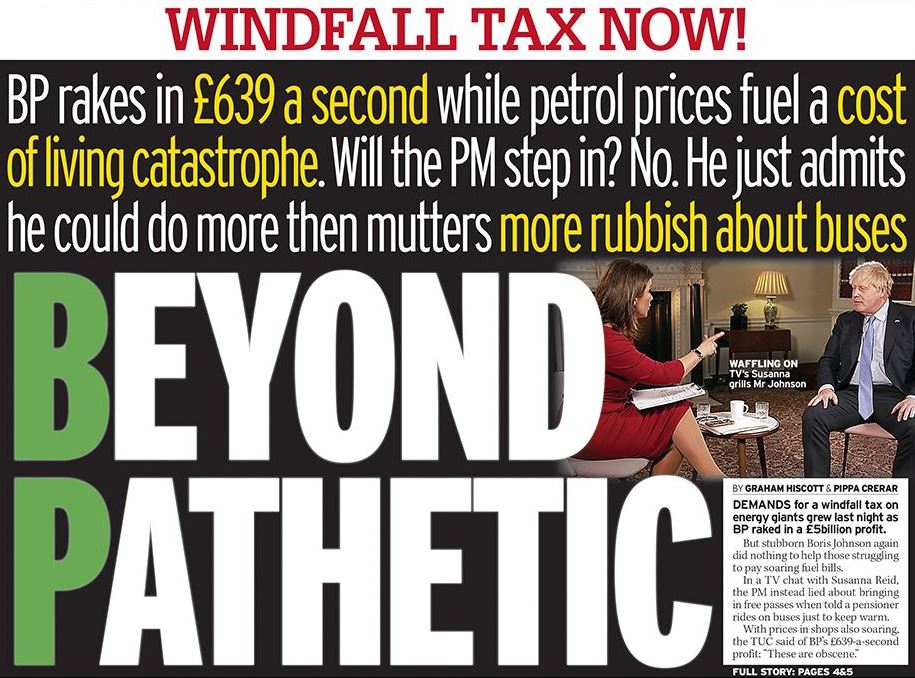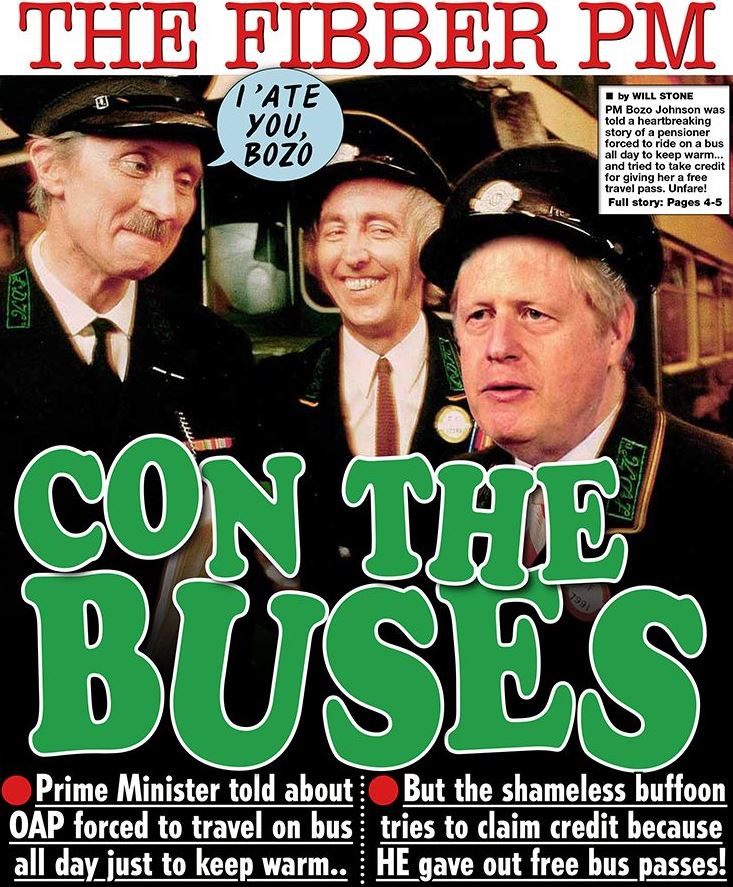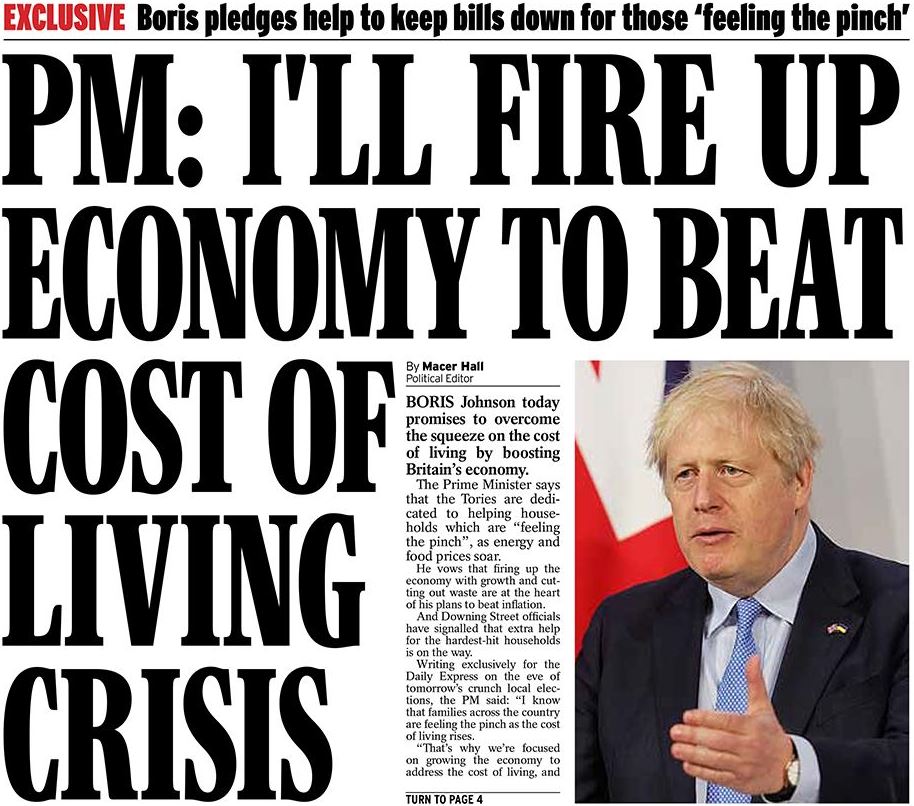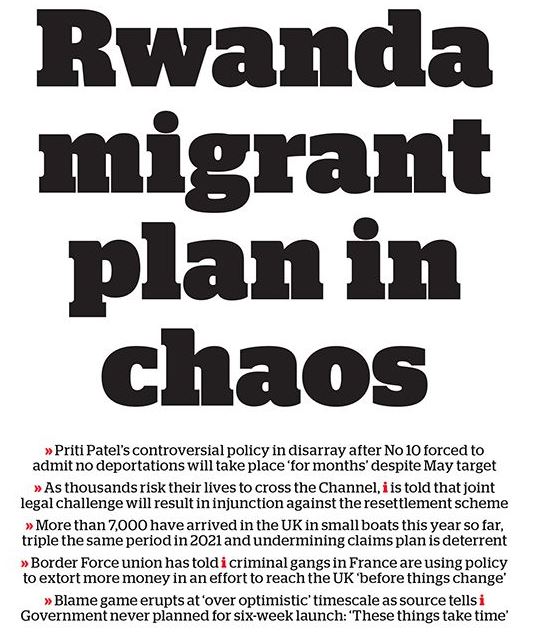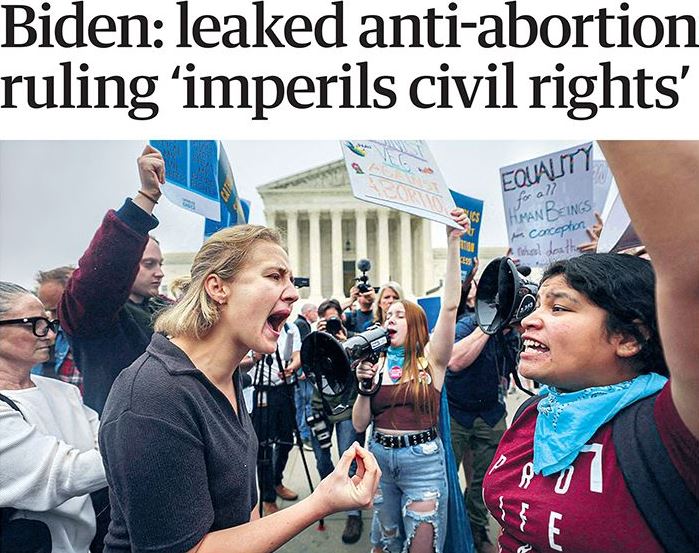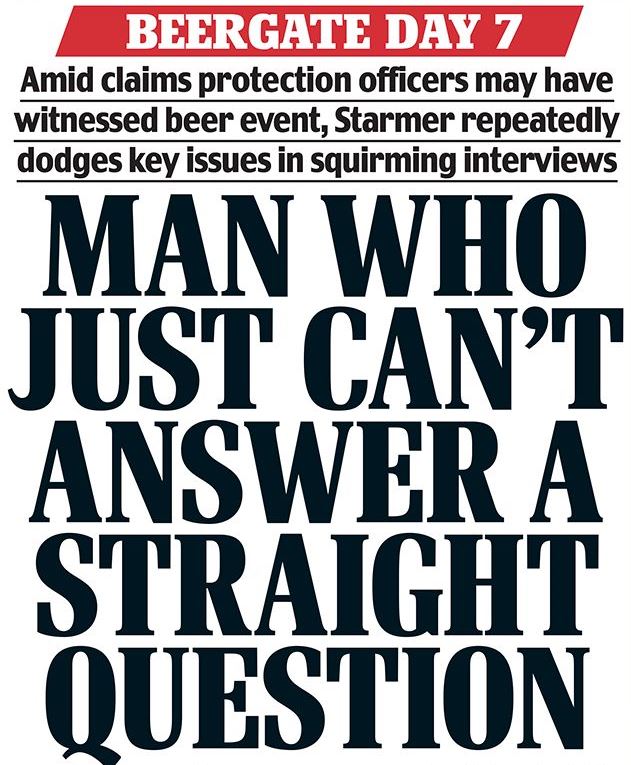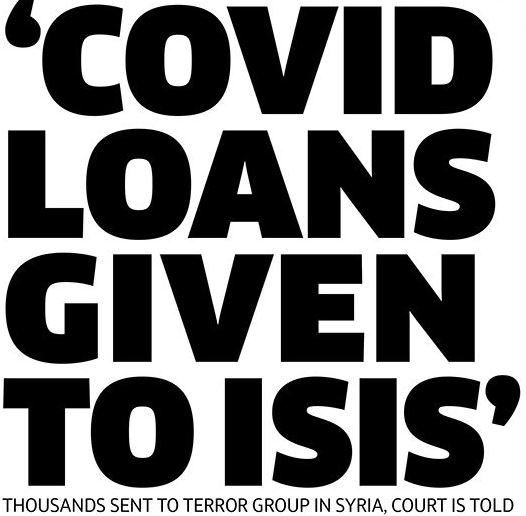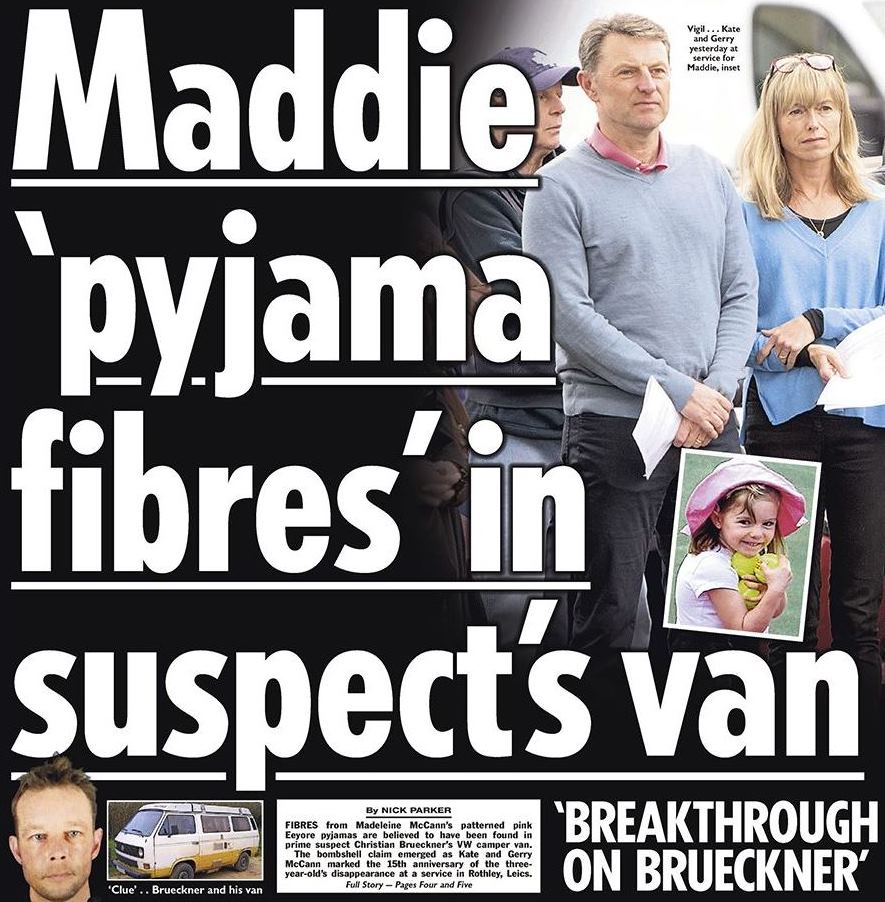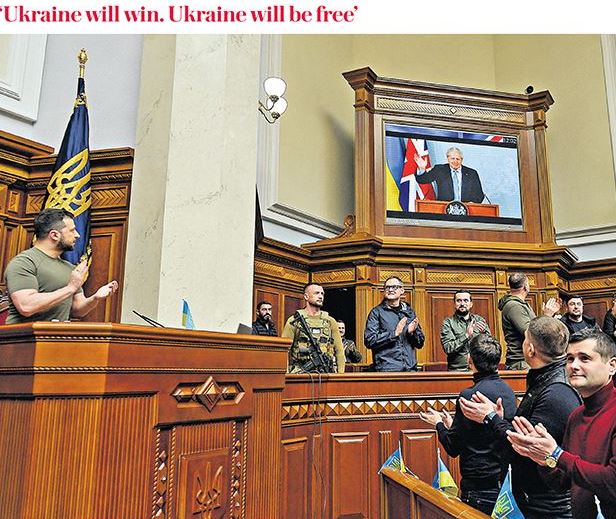 There's often relief in music. Here is Ed Sheeran's collaboration with Ukrainian band Antytila on his song "2step". Members of the band are now on the front line. I wish I understood their lyrics.



Saturday 30th April


Today marks 96 years since the route name "US 66" was first proposed. It was assigned to the Chicago-to-Los Angeles route on April 30th 1926 in Springfield, Missouri. Click to enlarge the map below.

"(Get Your Kicks on) Route 66" was composed in 1946 by American songwriter Bobby Troup. Nat King Cole made the first recording in the same year.




Friday 29th April


I suspect there will be scant opportunity for blogging over the next four days as Sarah's brother Kevin is with us for a spring visit.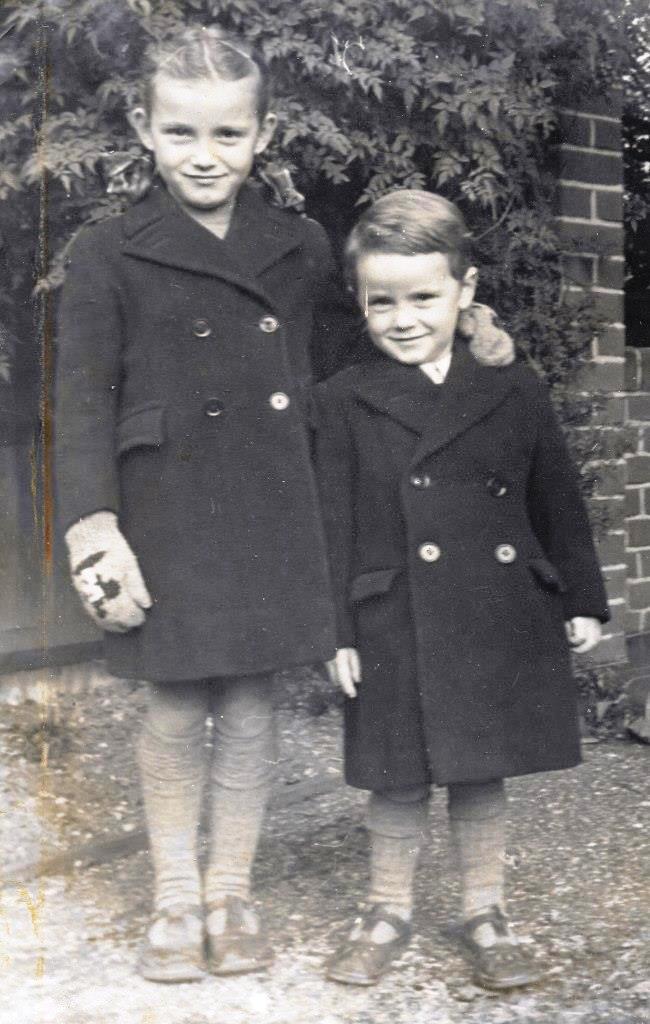 Thursday 28th April


Out and about round Gloucestershire again yesterday, breaking free of the lingering lockdown habit.

In preparation for the visit of Sarah's brother Kevin at the weekend, we went to check out "The Ionian", a quirky establishment southwest of Stroud between Dursley and Berkeley Castle. Its website says:


"Located on a working farm on the A38 we're a family-run farm shop and restaurant. Our humble beginnings began 5 years ago selling our wood fired pizza out of a truck. We've now expanded with indoor and outdoor seating, surrounded by our pasture-fed lambs, two Belted Galloways - Grace and Frankie - and our rescue chickens. The menu is constantly evolving, from hand stretched pizza and antipasti, to traditional Greek sweets and our lamb souvlaki, in order to bring a taste of the Mediterranean to the local community. Like the Ionian Sea, our kitchen fuses Greek and Italian influences creating a wave of flavour throughout our menu."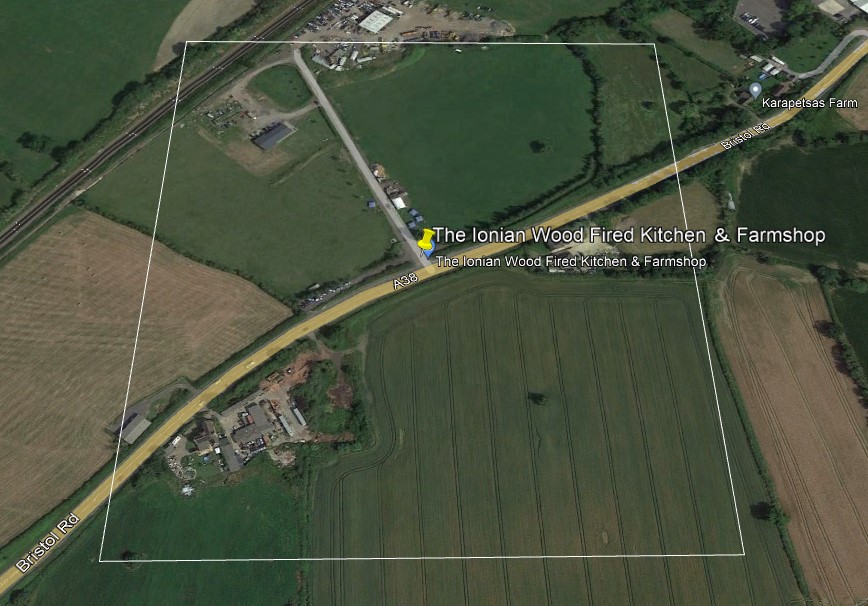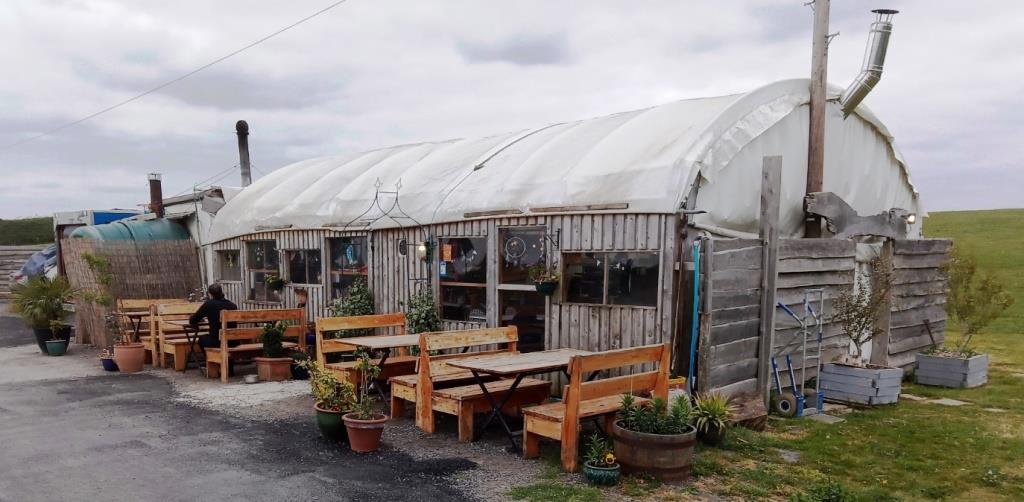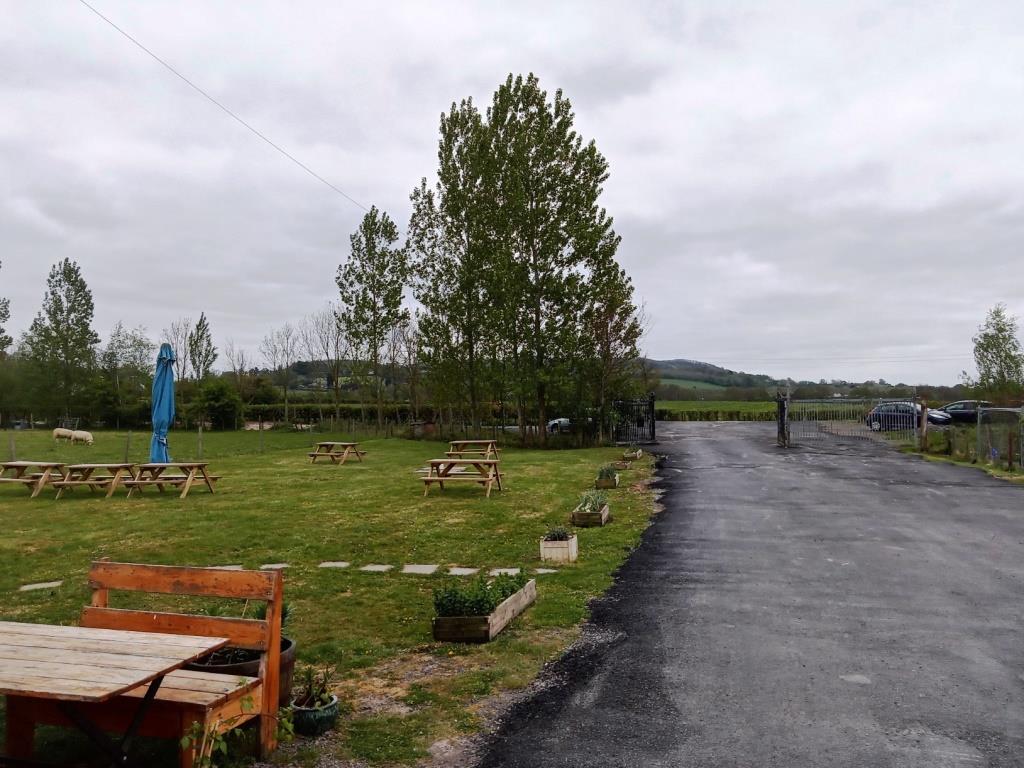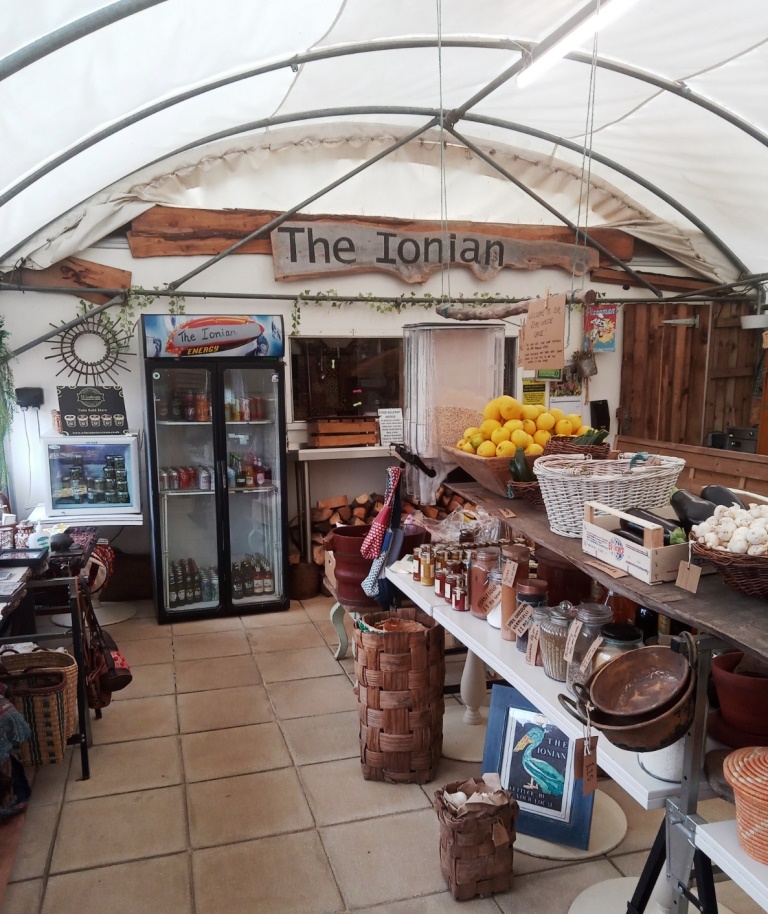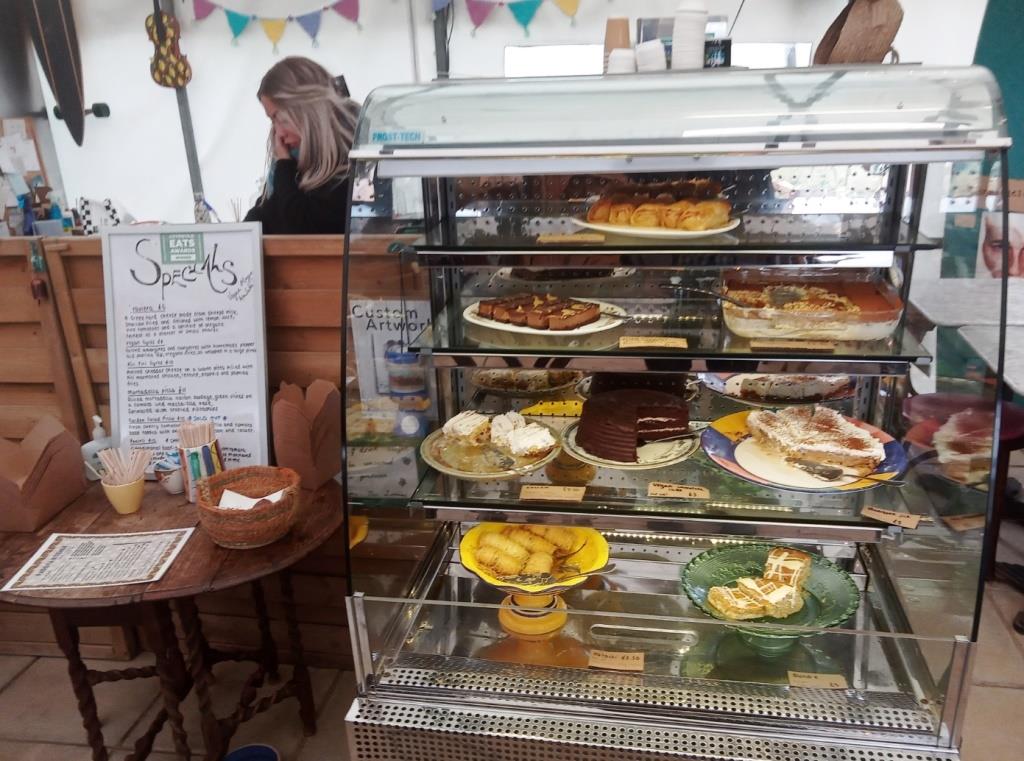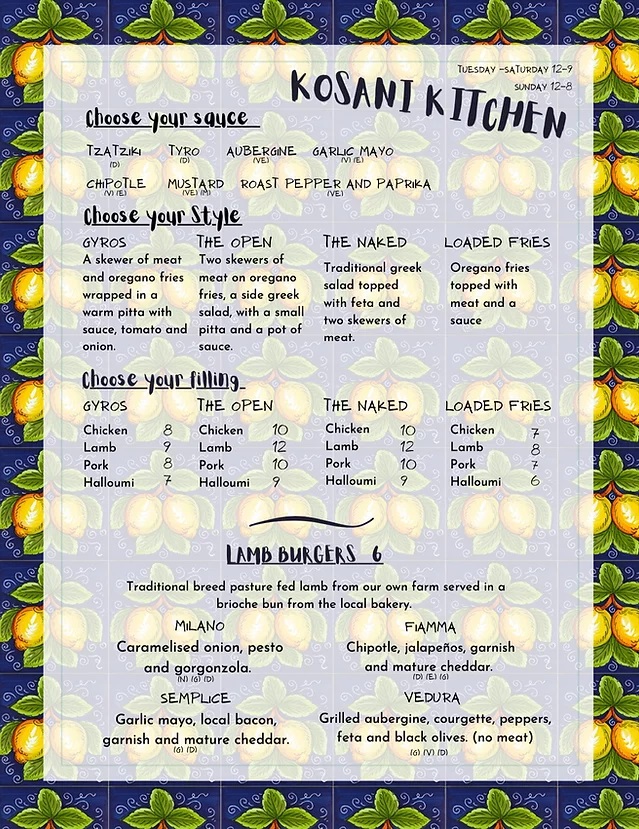 There is uncertainty hanging over the Ionian's future. Here's their petition on change.org:

"We are The Ionian! Mother from Padova, Italy and father from Kozani, Greece - our brother and sister team formed the sea in between.

"Five years ago our family began the woodfired kitchen on an Iveco truck on our farm, as many of you may remember. Since then, we have worked hard on our farm diversification project to bring Mediterranean food to the local community, and serving you with healthy fresh food. We promote seasonal eating, sustainability and creativity, with the help of our amazing team! Unfortunately, since we started the Ionian our local council have not been so supportive of us. Over the years, we have put three planning applications forward to ask for a small wooden building to ensure we can trade easier during the winter months. However, Stroud District Council have informed us they no longer want us to continue The Ionian on our farm at all, despite the unique product we bring to our community along with a love and passion for what we do.

"We would appreciate all of your kindness and support from old customers to new. It would mean a lot to us if you could sign this petition to help us on our case, which will determine if we are allowed to continue the Farmshop & Kitchen on our farm.

"Big love, The Ionian"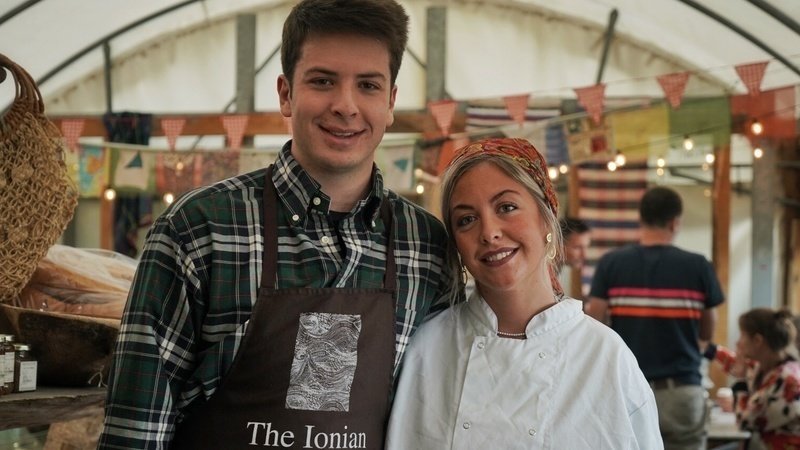 Shame on you, SDC. I've signed the petition

and so have 7,553 others😁. It's such a different place, not the usual burger van you find by the side of the A38. What objection can the council possibly have? Food too good? Too much fun?

Wednesday 27th April


Patchy posting over the last few days as I try to shake off what I on Friday called "Long Lockdown", the habits of postponing action and hiding away from the real world triggered by the pandemic. In other words, getting out more. As I said at the outset of Coronavirus Blog, I started writing these pages as a means of navigating an unprecedented and threatening event. But, in the UK at least, it's over. Still here, but no longer the dominant feature of our lives - the "learn to live with it" vapour trail. One of the effects of having had Covid in the last month is a sense of relief. It didn't kill me. Eighteen months ago, many of us feared exactly that fate.

So the blog has become not a survival tool but an inhibitor to living. Not that I intend to stop, as it's something I enjoy doing. But I need to be careful. In those dark isolated days it was a perfectly acceptable use of time. Now it feels a little dangerous, an excuse for not tackling the activities and projects that I really should - or simply being out and about.

Last weekend I had some success. We were blessed with fine weather and the goodness to be found here in Gloucestershire. Of course, the now-drawn-out conflict in Ukraine casts a shadow, but it's not directly over us. Which should make us appreciate even more what we have.

It started on Saturday morning when the Stroud Town newsletter dropped on our mat. The front page is all about a project to develop the space in front of the Subscription Rooms, a grand building in the centre erected in 1833 which provides a venue for music, dance, theatre, visual arts, spoken word, exhibitions and workshops. The Beatles performed there on 31st March 1962. Paul McCartney famously described the gig in an interview with the BBC as one of the group's worst ever performances: "Stroud was pretty bad. We'd never heard of it, but we went there and I think about three people showed up."

Here are two architect impressions of how it will look: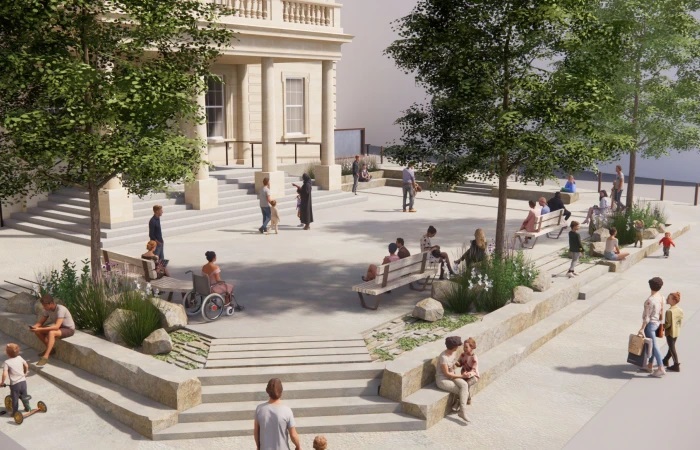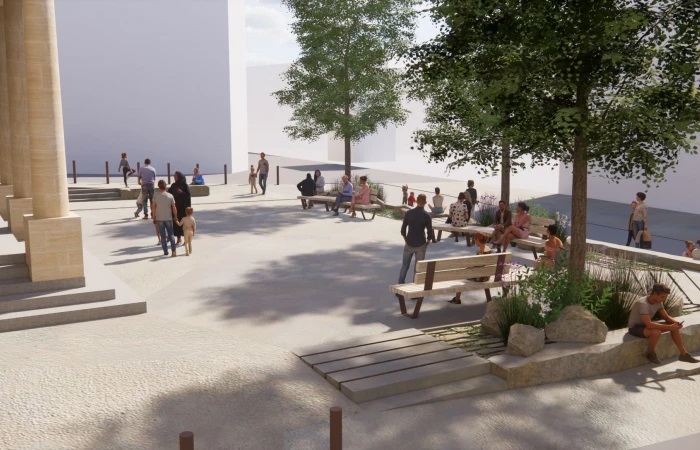 There we have it - the new Town Square. An improvement initiative, not rebuilding after destruction. Too fortunate for words.

The next experience was a play, "Between Severn Tides", performed down on the "flatlands" by the river in St. Peter's Church, Framilode: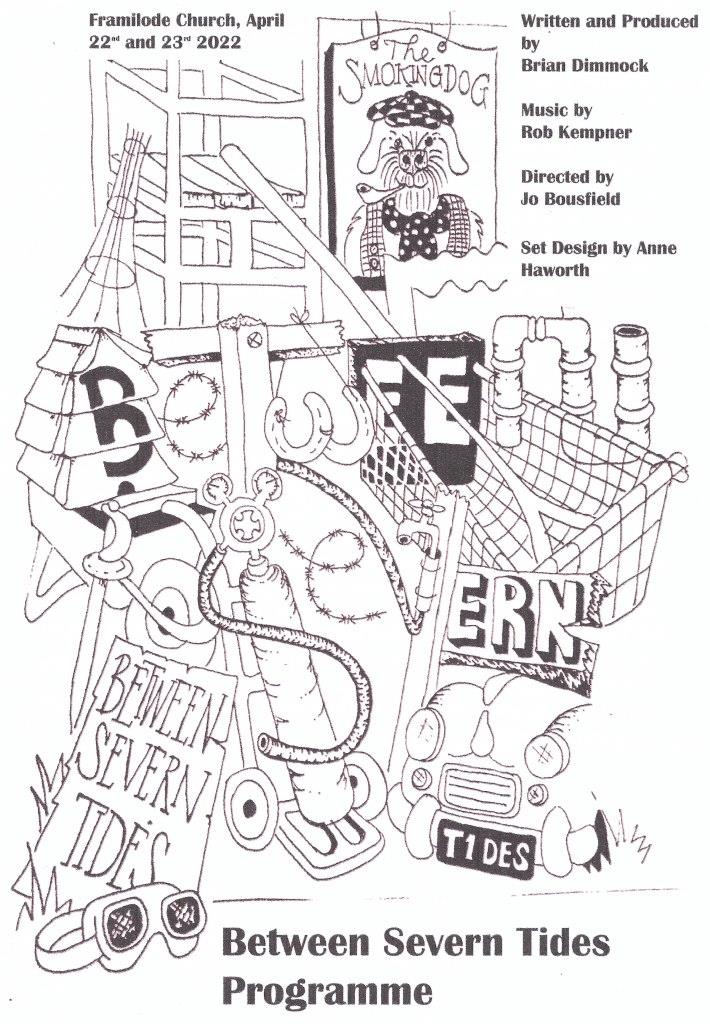 It was a charming all-local affair - as good as anything I've seen in recent years - written by Brian Dimmock and performed by amateur actors from around Framilode, a cast of 26, all on stage for the whole show, and directed by Stroud theatrical luminary Jo Bousfield. We went because our friend Susi was one of the co-narrators. The play was written during lockdown and inspired by Dimmock's re-reading of Dylan Thomas's "Under Milk Wood".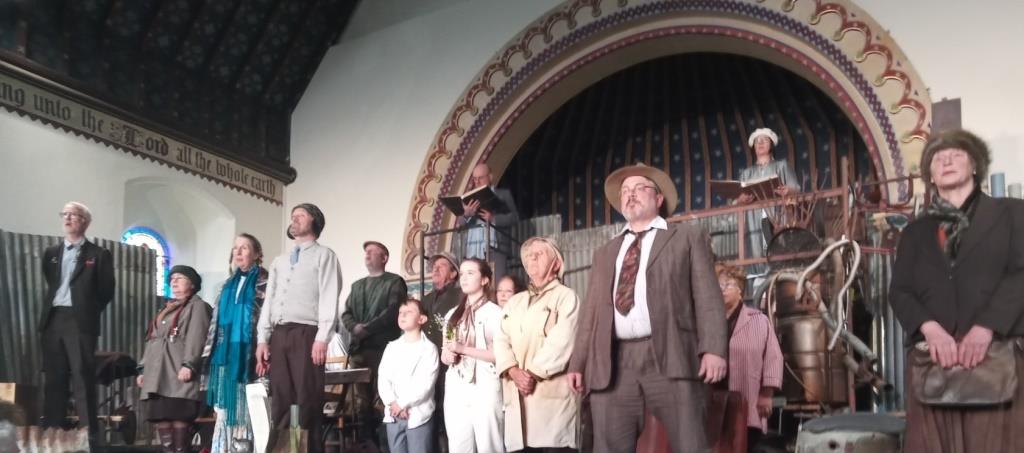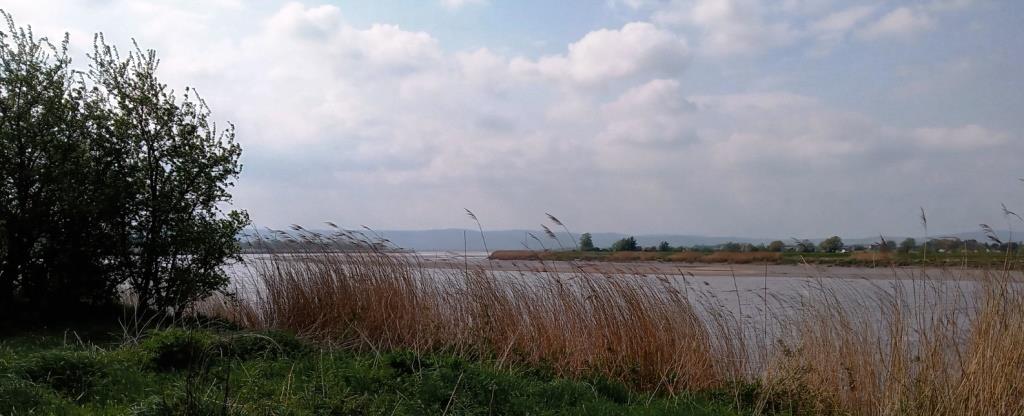 On Sunday we discovered another hitherto-unknown gem, the old railway Goods Shed in Tetbury, now restored as a community and events centre, with an excellent café: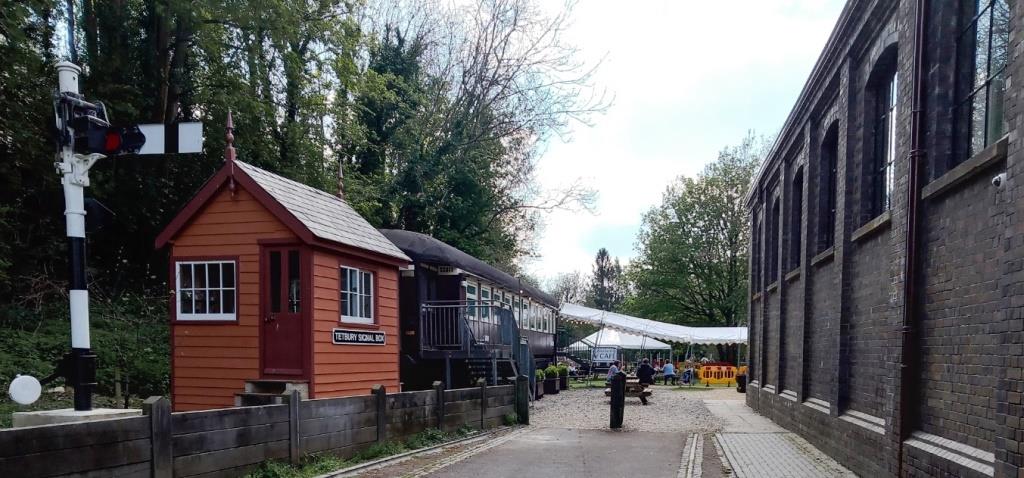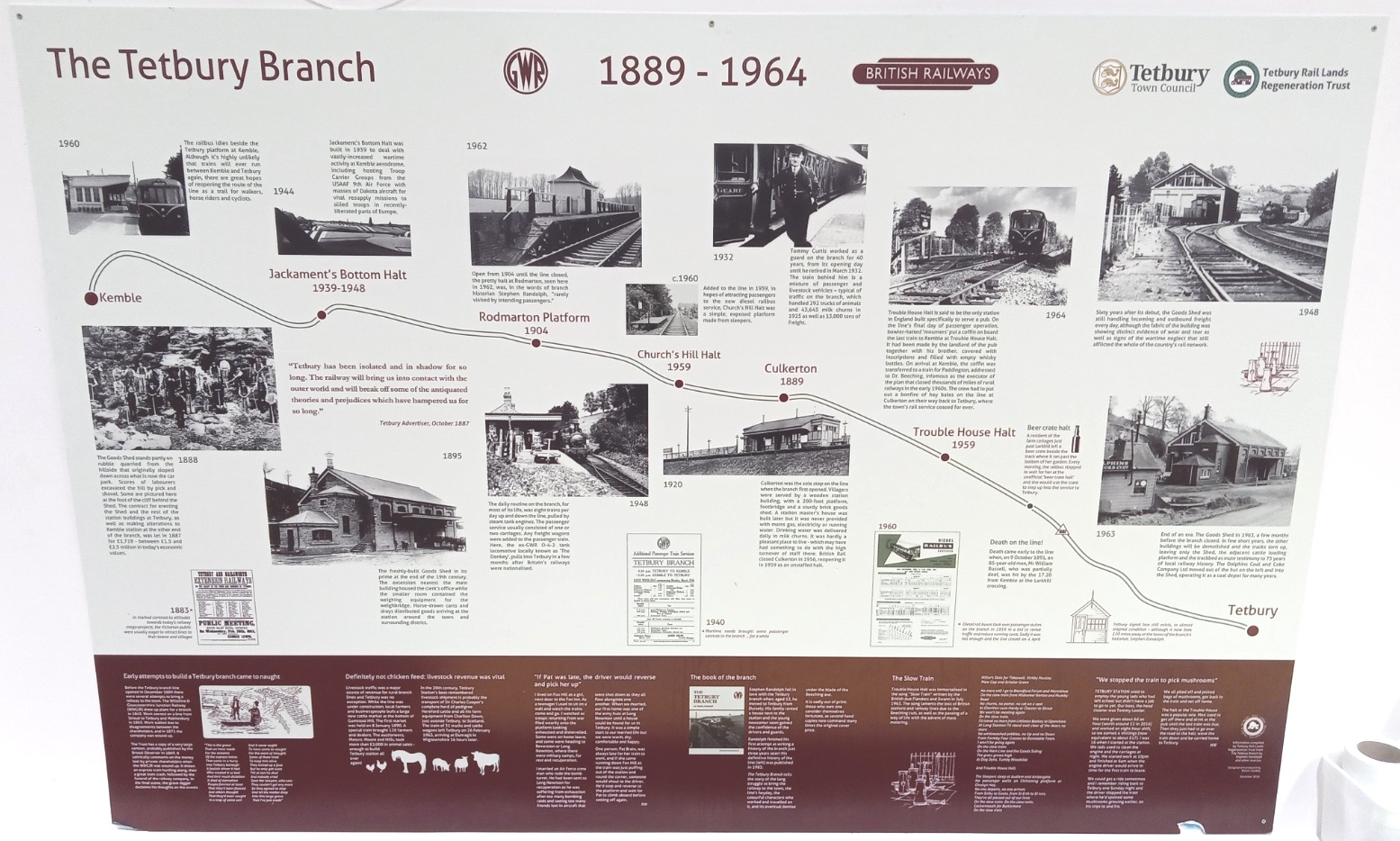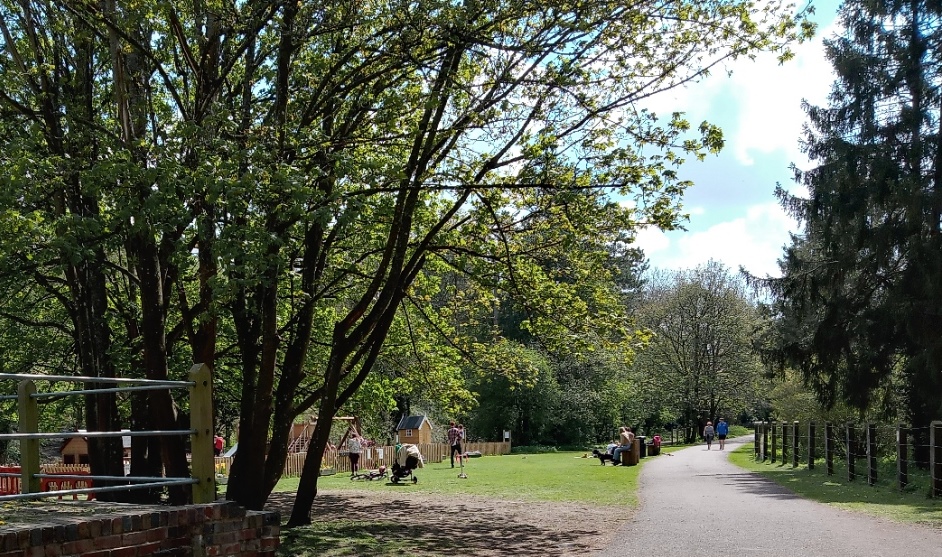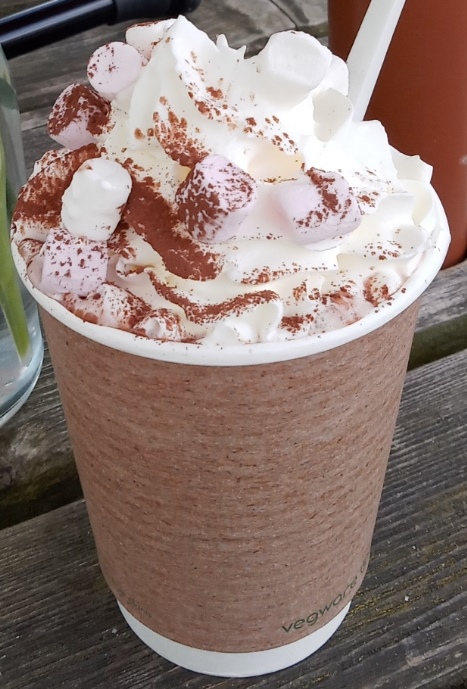 I finished off with a trip up to the cemetery at the top of Stroud on Yellie the electric bike: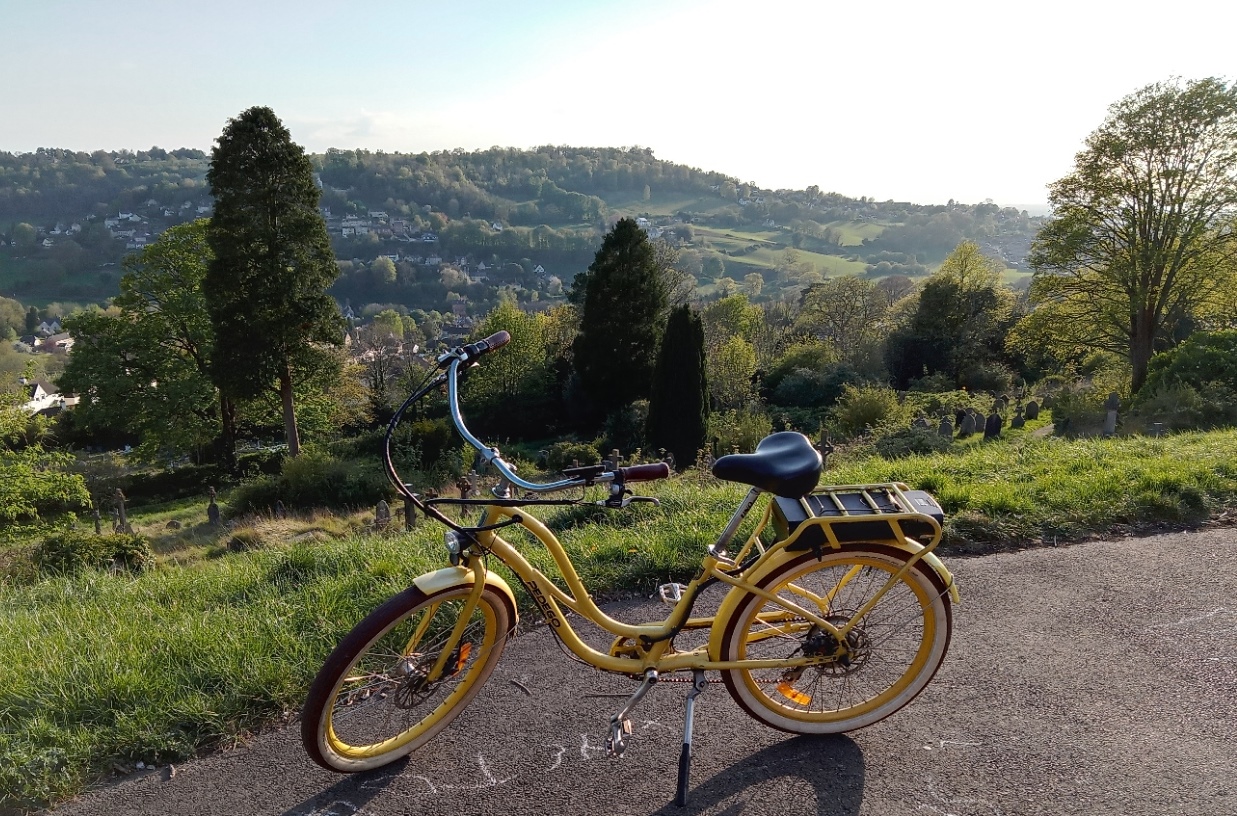 Yep, better than sitting in front of a computer.

Monday 25th April


What a relief. Let's hope "Nous tous" becomes a reality. Maybe we have to thank Marine Le Pen for giving him a shock?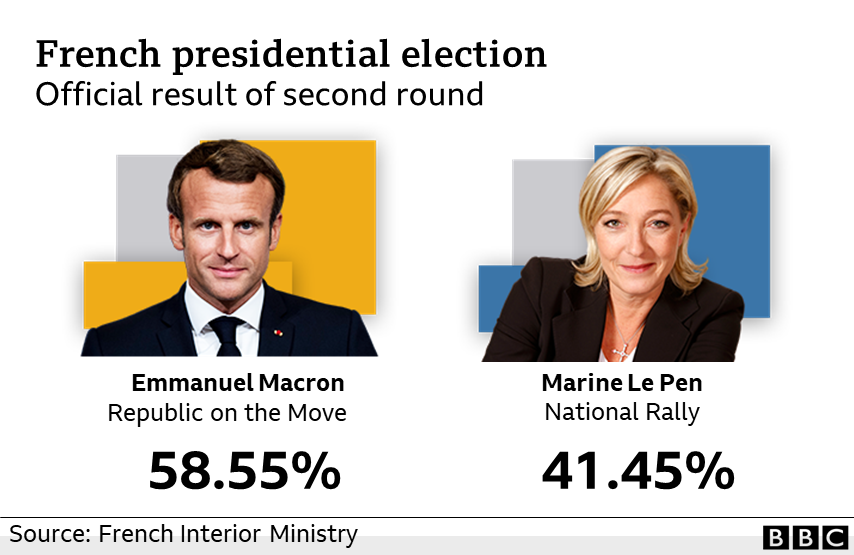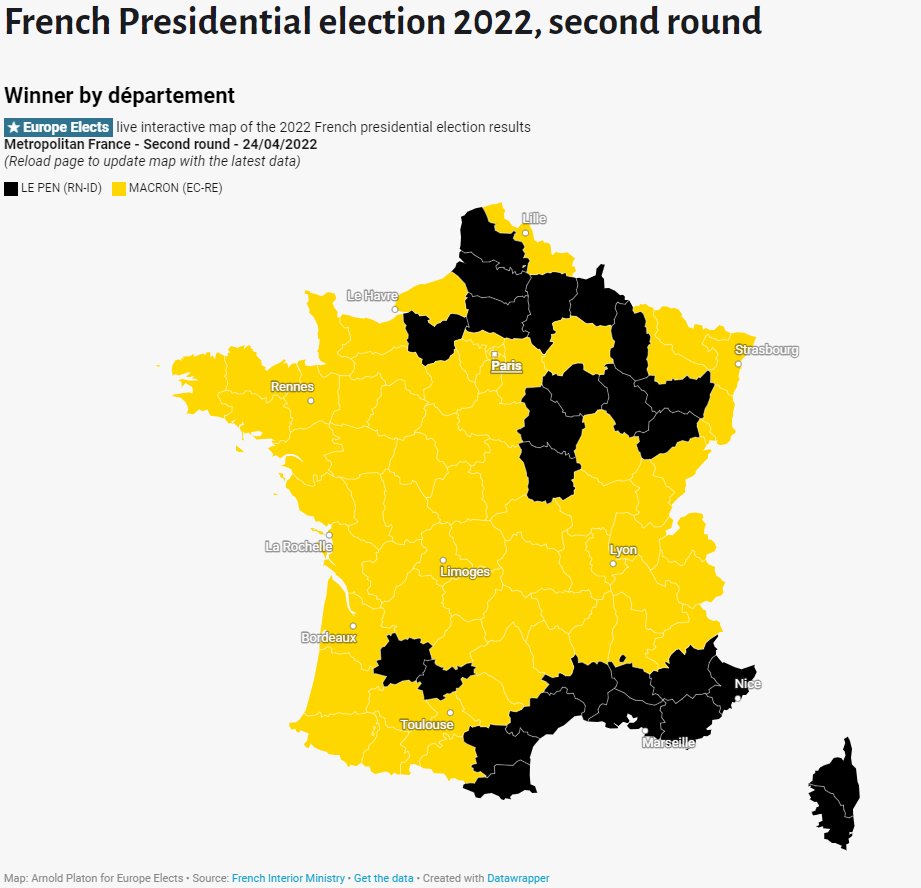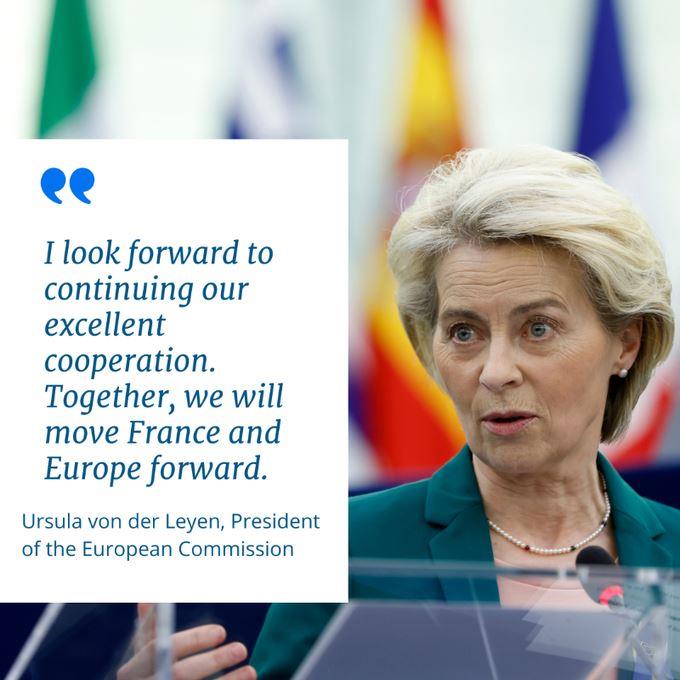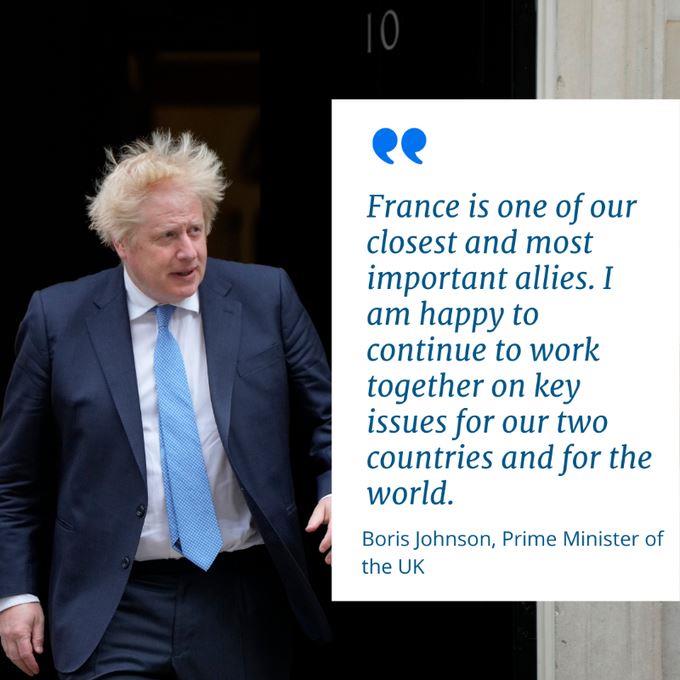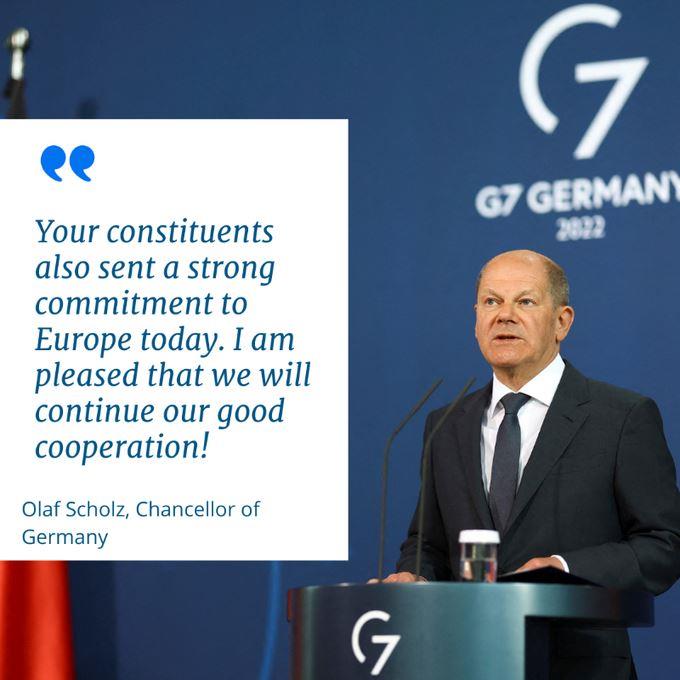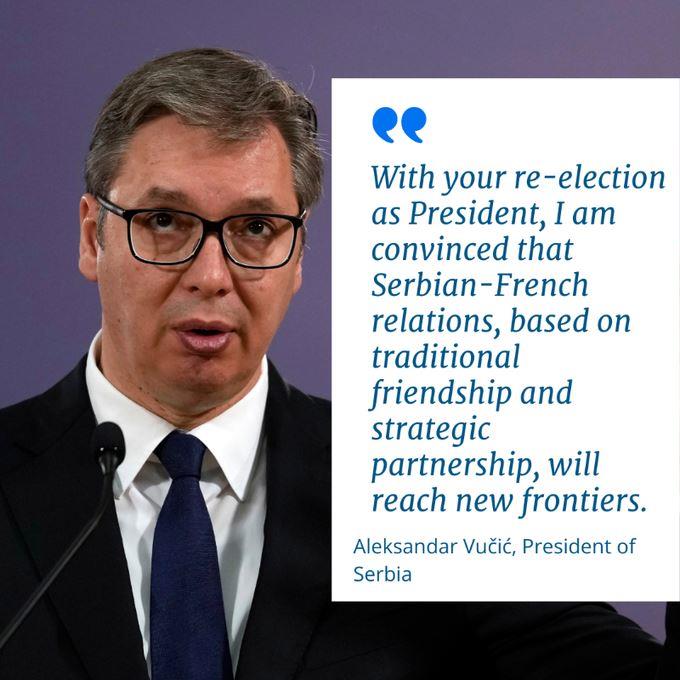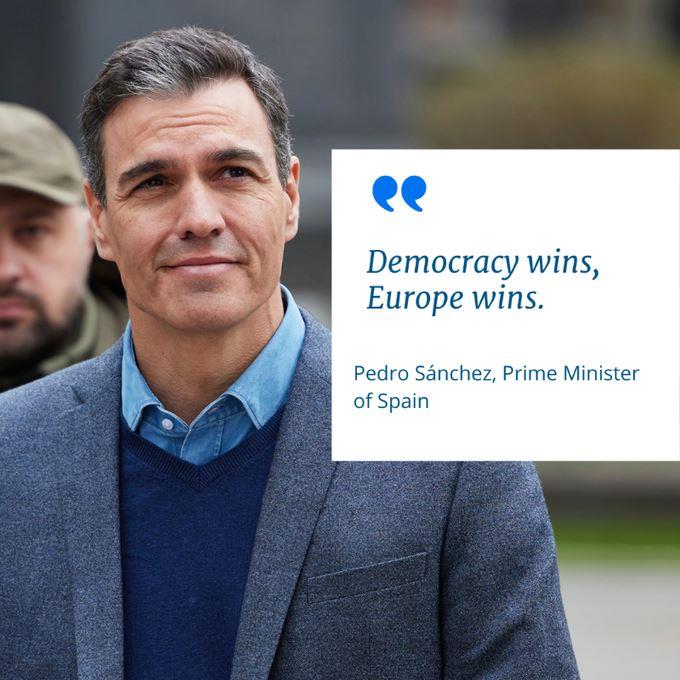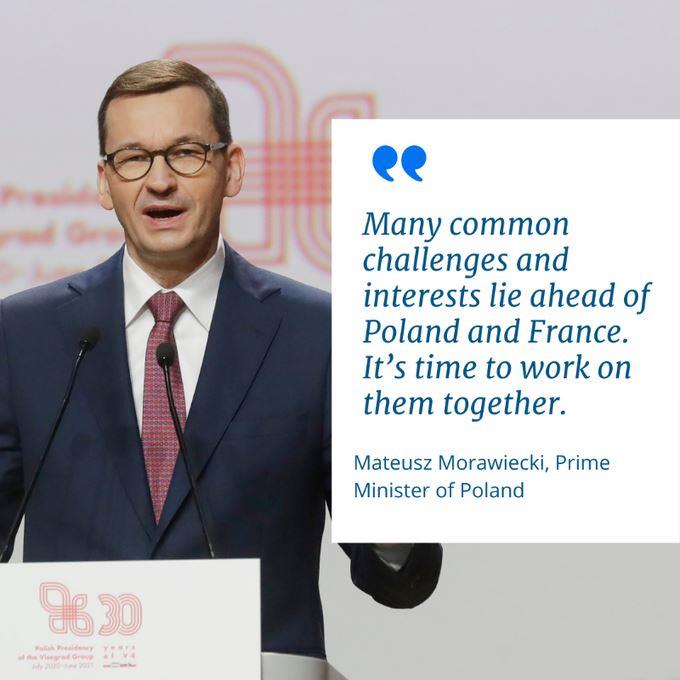 Friday 22nd April


Having written yesterday at some length about blogger Tim Urban and his principle of making more time for treasured friends and family, I'll try to be briefer today. I will again draw on Urban's thoughts, on a related topic. It resonates strongly with me as I find my favourite time of year hurtling by with only a faltering stab at my list of goals; indeed, some projects haven't even got started. It's a condition I call "Long Lockdown", the extended hangover from putting things off in the name of Covid. For heaven's sake, it's a month since the equinox, and ...

I'm going to post his TED talk delivered in Vancouver in February 2016 titled "Inside the mind of a master procrastinator".

It's a predicament familiar to most of us, a story amusingly told by Urban. He introduces three characters. Typically two of them are pitted against one another:




A third comes into play when the effect of procrastination becomes critical: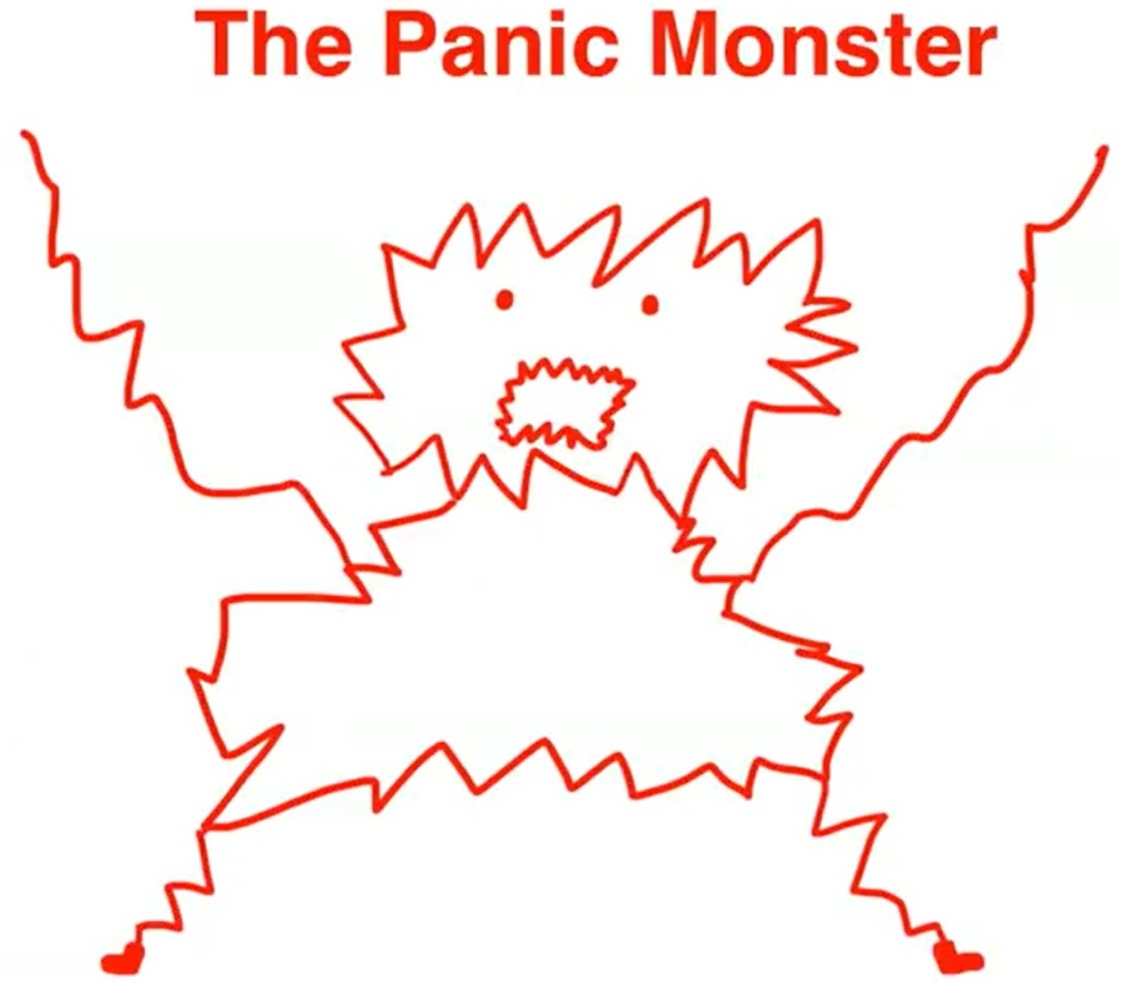 Here's the video of the talk. It's standard TED length, around 14 minutes - time well spent watching.



Thursday 21st April


This weekend is the 50th Reunion of the Class of 1970, Phillips Exeter Academy, New Hampshire, USA - delayed for two years because of Covid. I was an exchange student there from January to June 1970. If it's of interest, you can read my account of the experience and subsequent tour of the States and Canada here: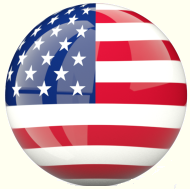 I'm not going. School wasn't my thing, not Exeter nor the English one I had just left. I have no desire to be re-united with either. There's only one person attending that I would like to see, my dear friend Don McBride. But I couldn't expect him to devote all his company to me.

There has, however, been some interesting correspondence in the drawn-out process of invitation and cajoling encouragement to attend. Last week John Barry, whom I don't remember, sent a final email plea:

"The attachment

[to the email, see below]

, sent to me by my son Matthew, quantifies an important reality I had not reflected on adequately. The attachment states better than I can why attending reunions is important and good for you. Think of how many hours we spent together at Exeter, and how many hours we have spent together since then. For me, less than one hour since graduating for every thousand hours while at Exeter. For every thousand hours I spent building important life relationships with now longstanding friends, I have spent less than one hour enjoying those relationships since graduating. Would I spend 1,000 hours planting seeds and then only one hour harvesting?

"Two weeks ago, John Emerson (who may have never yet before attended an Exeter reunion I can remember) emailed me and others asking if we are attending the reunion, and if he would see us there. John's email triggered more reflection on my part, which triggered a lively email chain discussion on the importance of longstanding friends, memories, comradery, and just getting together with classmates, for our individual and collective benefit."


I applaud John's sentiments, the expression of value in old friendships and the reminder to nurture them. I just don't see the point of returning to a place I didn't like - indeed, I fell out big-time with the powers-that-be, all recorded in my account - to rub shoulders with people (all but one) with whom I had no connection at the time. On the other hand, there is a quiet voice whispering in my ear: "Maybe you could go back and make new friends at this late stage, with contemporaries who will have done interesting things in their lives." But I couldn't bank on it. I'd get annoyed all over again with that smug elite, infuriated with the self-satisfied celebration of a privileged and disproportionately powerful institution and club. The risk is too great.

As John notes above, the attachment takes his view further. It's a guest essay published in the New York Times on 25th February by Tim Urban, author of the blog Wait But Why (visit the site here: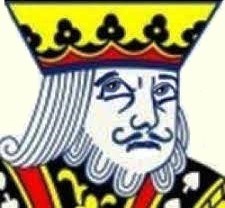 ) titled "How Covid Stole Our Time and How We Can Get It Back":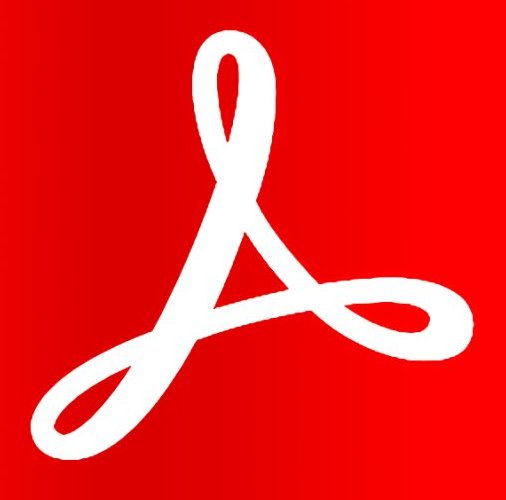 I'll extract some core thoughts from the essay. It's all about the time to foster relationships available to us in our lives and how we need to be more pro-active in using it. He calls the concept "Depressing Math":


"Depressing Math reveals a cold truth. While you may not be anywhere near the end of your life, you may very well be nearing the end of your time spent with some of the most important people in your life."


The idea echoes John Barry's reflection on how much time he spent early in his life with good friends at Exeter, only to see it shrink later. Urban uses a "Parent Time" diagram to illustrate the change: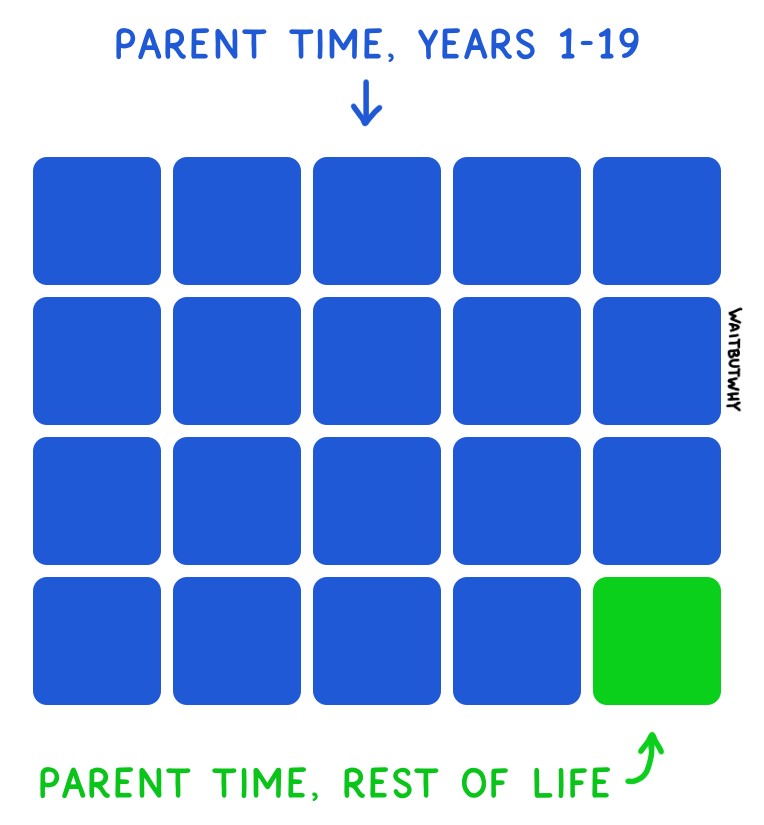 He explains:


"Perhaps the hardest math to process - and, in turn, the hardest Covid pill to swallow - has to do with our relationships. I grew up spending some time with my parents almost every day. Since turning 19 and moving away for good, I've averaged about 10 to 15 days a year with them. If I'm one of the lucky ones, I'll have quality time with my parents until I'm 60. That means that the day I headed off to college, I had something like 350 remaining parent days total - the amount of time I had with them every year of my childhood. What it boils down to is this: my life, in the best-case scenario, will consist of around 20 years of in-person parent time. The first 19 happened over the course of my first 19 years. The final year is spread out over the rest of my life. When I left for college, I had many decades left with living parents, but only about one year of time left to spend with them."


He adds the concept of regret into the discussion, starting with this diagram: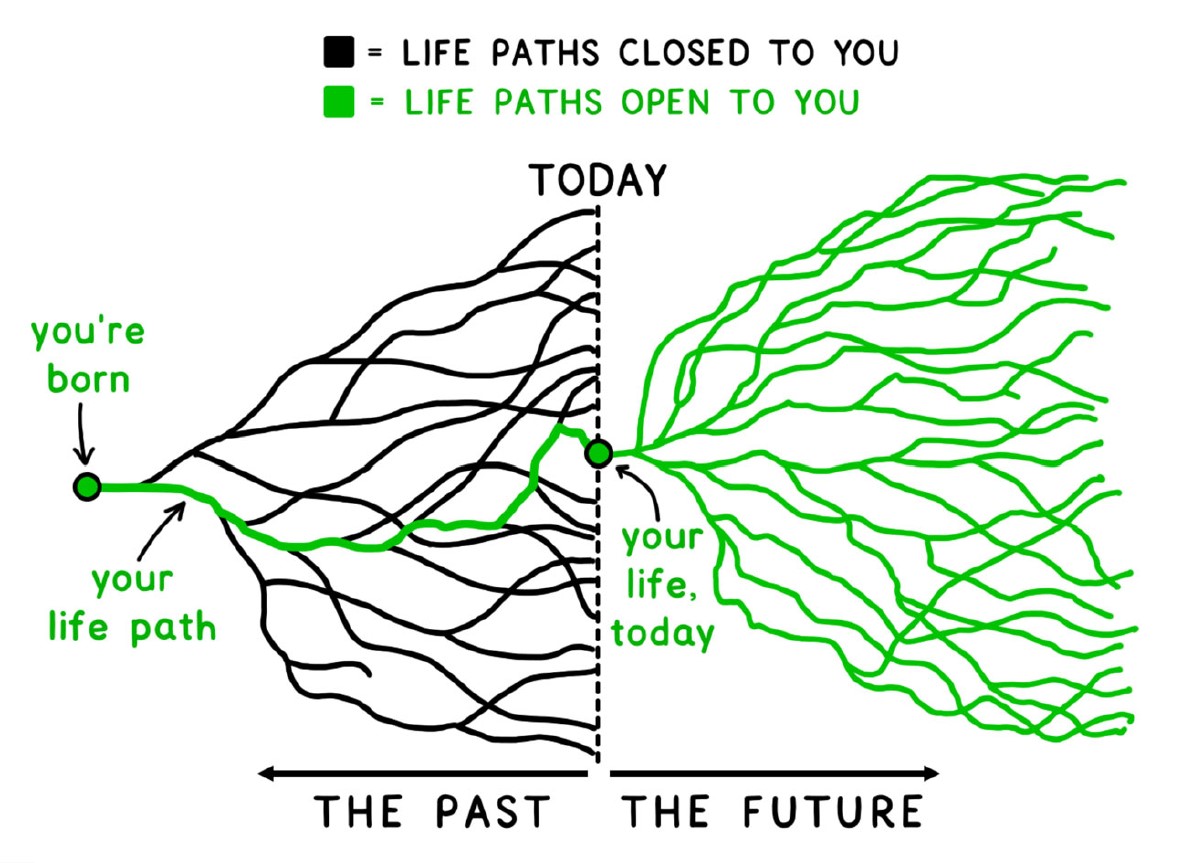 There's bad news in this picture - but also good:


"We think a lot about those black lines: the roads not taken, the opportunities missed, the ones that got away. But most of us greatly underestimate the size of the lush green tree of possibilities that lie ahead of us. We underestimate future possibilities for the same reason we overestimate the time we have left with those we love; our intuition is not very imaginative. It's a human instinct to believe the life we're used to is how things will always be, both the good parts and the bad. Wallowing in regret carries an implicit assumption that we had agency in the past - that we could have had those other life paths if only we had made better decisions. When we think about the future, though, that feeling of agency often disappears, which can leave us feeling resigned and even hopeless. But the life we'll be living 10 years from now will largely be determined not by our past selves but by our present and future selves. If we imagine what we might regret down the road, it's very much in our hands to do something about it now."


I reckon there's a flaw in the theory, if I've grasped its meaning correctly. In the same way that we might rue all those black lines on the left, the paths we didn't take, we can only choose one green line on the right, a small fraction of the possibilities on offer. At the end of it all there will remain a collection of lost experiences.

But I quibble. The message is clear. Don't waste energy regretting the missed chances of the past. Pay attention to opportunities presented in the future. Seize as many moments with friends and family as you can. There's not much I can do about my parents; they are long gone, bless 'em. Urban's advice is naturally, given his age, aimed at a younger readership. But there's still everybody else, and every other dream, to choose and cherish.

He concludes thus:


"At our current pace of 10 to 15 days per year, my parents and I have at best a couple of hundred days left to hang out. But there's nothing stopping us from changing that equation. Agreeing upon an additional annual family week each summer would almost double our remaining time together, while moving to the same city could multiply it by 10. Getting together with my friends one weekend a year would triple our pace and leave us with 15 percent of our total hangout time ahead, instead of just 5 percent.

"That big green tree is a reminder that we have the power to change so much of what seems set in stone. The two delusions - that we have countless time ahead of us and that we can't change our course - are a recipe for compla­cency. We can actually go a step further and make up for the missed experiences, flipping the deficit into a surplus. If Covid has given us anything, it's a rare chance for a reset. Let's take it."

Tuesday 19th April


Echoing my Easter Sunday acknowledgement of being blessed in Stroud, our neighbour Amy circulated this review from the Sunday Times of 10th April (click to enlarge). Ilkley gets front page billing, but inside is our town and even our street: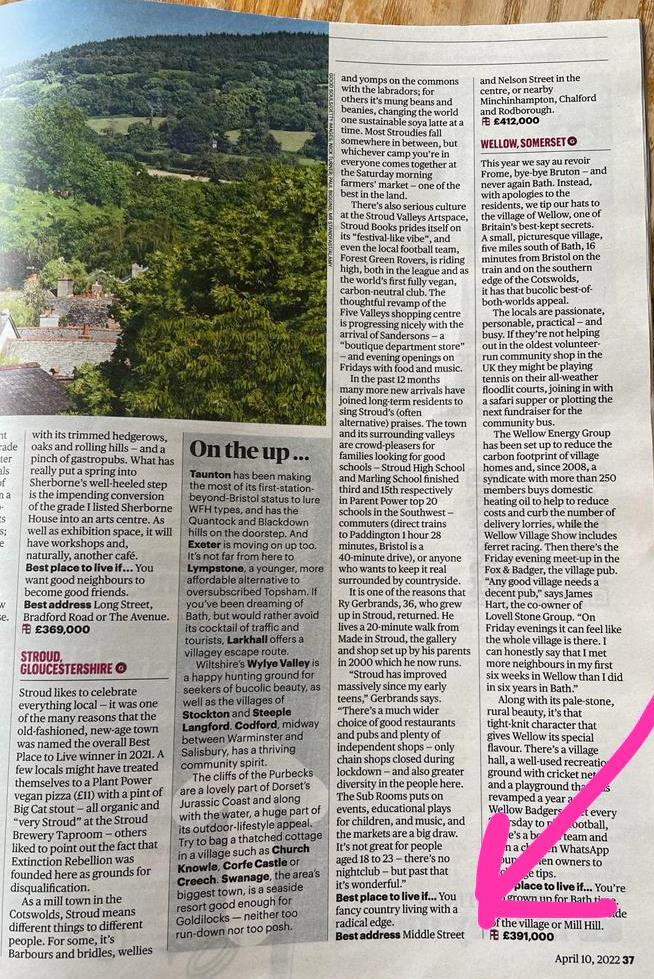 Here is the text extracted from the description. I think it's quite a faithful summary.


"Stroud likes to celebrate everything local. It was one of the many reasons that the old-fashioned, new-age town was named the overall Best Place to Live winner in 2021. A few locals might have treated themselves to a Plant Power vegan pizza (£11) with a pint of Big Cat stout, all organic and "very Stroud" at the Stroud Brewery Tap Room. Others liked to point out the fact that Extinction Rebellion was founded here as grounds for disqualification.

"As a mill town in the Cotswolds, Stroud means different things to different people. For some, it's Barbours and bridles, wellies and yomps on the commons with the labradors; for others it's mung beans and beanies, changing the world one sustainable soya latte at a time. Most Stroudies fall somewhere in between, but whichever camp you're in everyone comes together at the Saturday morning farmers' market - one of the best in the land.

"There's also serious culture at the Stroud Valleys Artspace, Stroud Books prides itself on its 'festival-like vibe', and even the local football team, Forest Green Rovers, is riding high, both in the league and as the world's fully vegan, carbon-neutral club. The thoughtful revamp of the Five Valleys shopping centre is progressing nicely with the arrival of Sandersons - a 'boutique department store' - and evening openings on Fridays with food and music.

"In the past 12 months many more new arrivals have joined Iong-term resi­dents to sing Stroud's (often alternative) praises. The town and its surrounding valleys are crowd-pleasers for families Iooking for good schools - Stroud High School and Marling School finished third and 15th respectively in Parent Power top 20 schools in the Southwest - commuters (direct trains to Paddington 1 hour 28 minutes, Bristol is a 40-minute drive), or anyone who wants to keep it real surrounded by countryside.

"It is one of the reasons that Ry Gerbrands, 36, who grew up in Stroud, retur­ned. He lives a 20-minute walk from Made in Stroud, the gallery and shop set up by his parents in 2000 which he now runs. 'Stroud has improved massively since my early teens,' Gerbrands says. 'There's a much wider choice of good restaurants and pubs and plenty of independent shops - only chain shops closed during lockdown - and also greater diversity in the people here. The Sub Rooms puts on events, educational plays for children, and music, and the markets are a big draw. It's not great for people aged 18 to 23 - there's no nightclub - but past that it's wonderful.'

"Best place to live if... You fancy country living with a radical edge.

"Best address: Middle Street and Nelson Street in the centre, or nearby Minch­inhampton, Chalford and Rodborough."


Also blessed is the Bilbao wing of the family. Son Ben and partner Soph have been on tour again, this time to the south of Spain, passing through Valdepeñas in the province of Ciudad Real on the way to Andalucia, last seen staying at a house in Pinos Genil just east of Granada.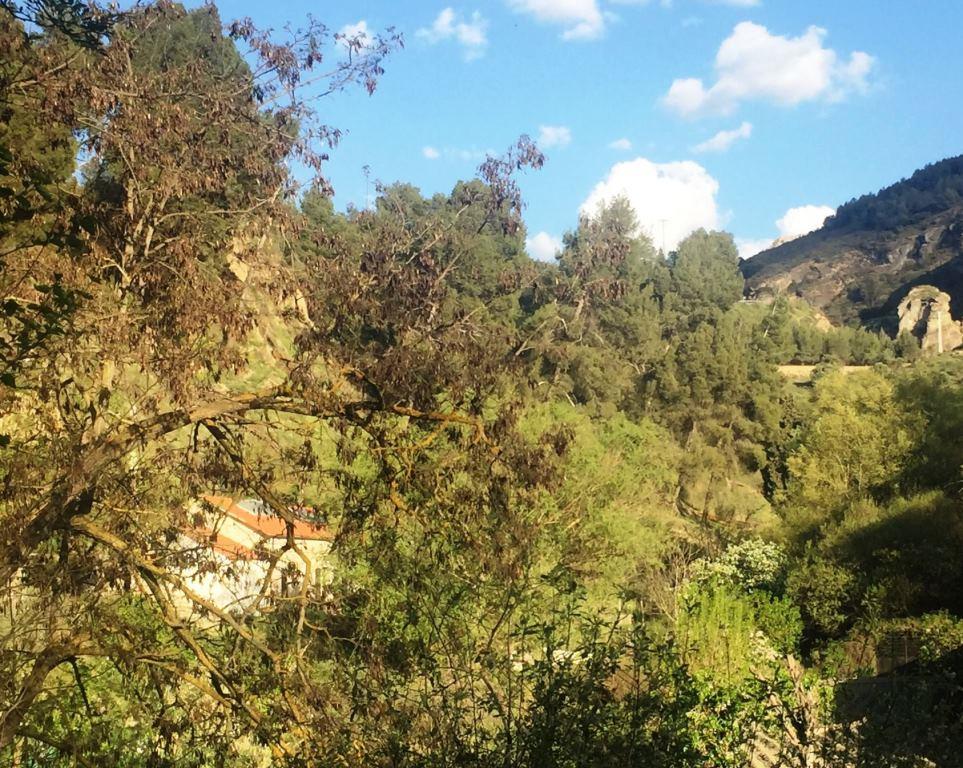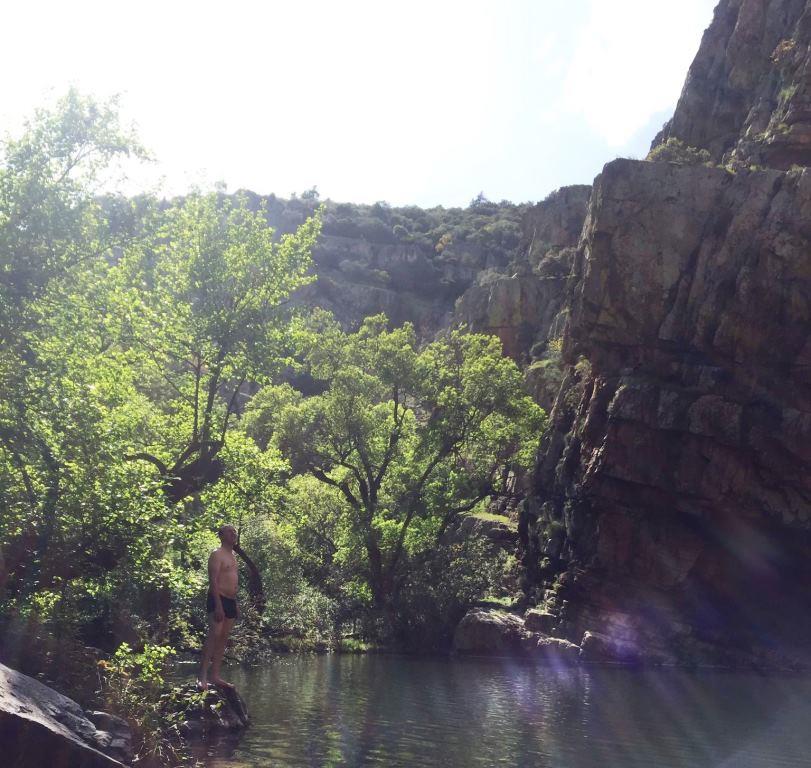 Sunday 17th April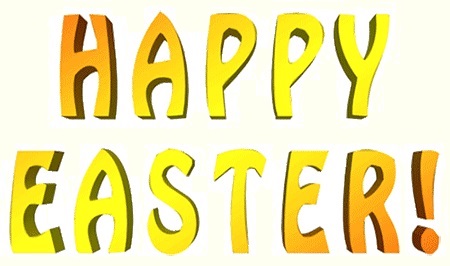 How blessed we are here in Stroud: family together (missing the Bilbao contingent), the bustling Farmers' Market on a sunny day, spring in bloom, food abundant. In peace.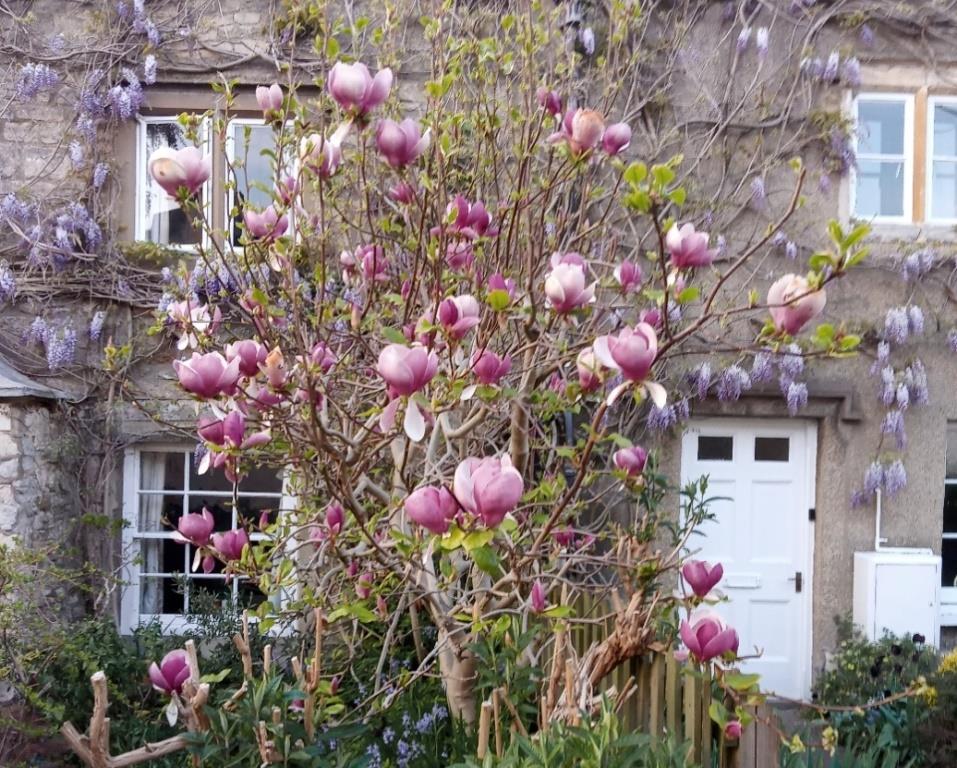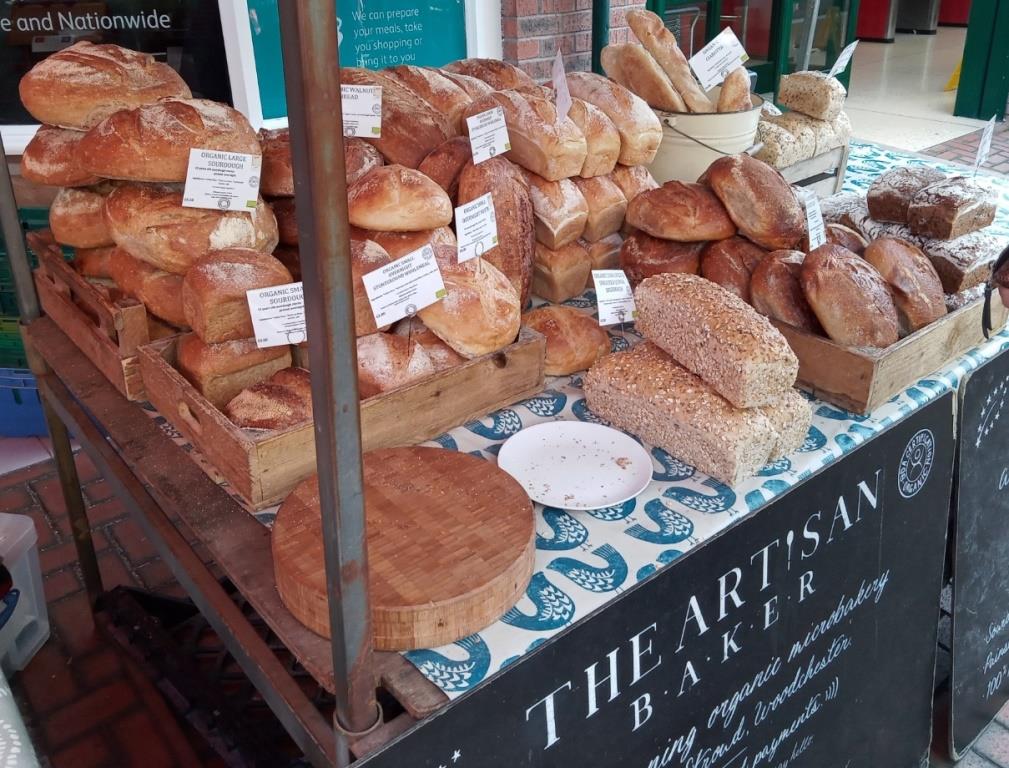 "Pretty Good Day" - Loudon Wainwright III

Saturday 16th April


A break from blogging, probably for the whole weekend. A full house here: four adults, three kids, two dogs and three cats.

Friday 15th April



"Memorandum of Understanding between the government of the United Kingdom of Great Britain and Northern Ireland and the government of the Republic of Rwanda for the provision of an asylum partnership arrangement - Published 14 April 2022":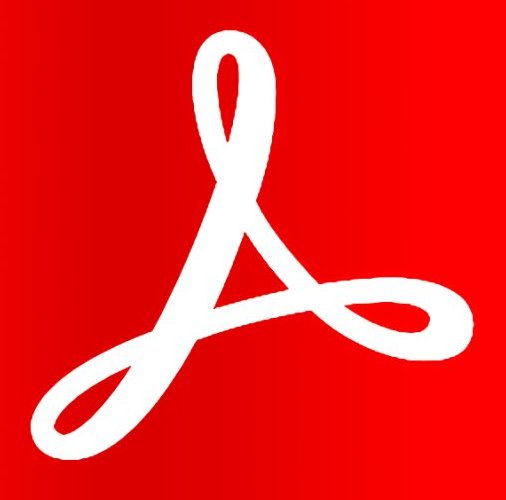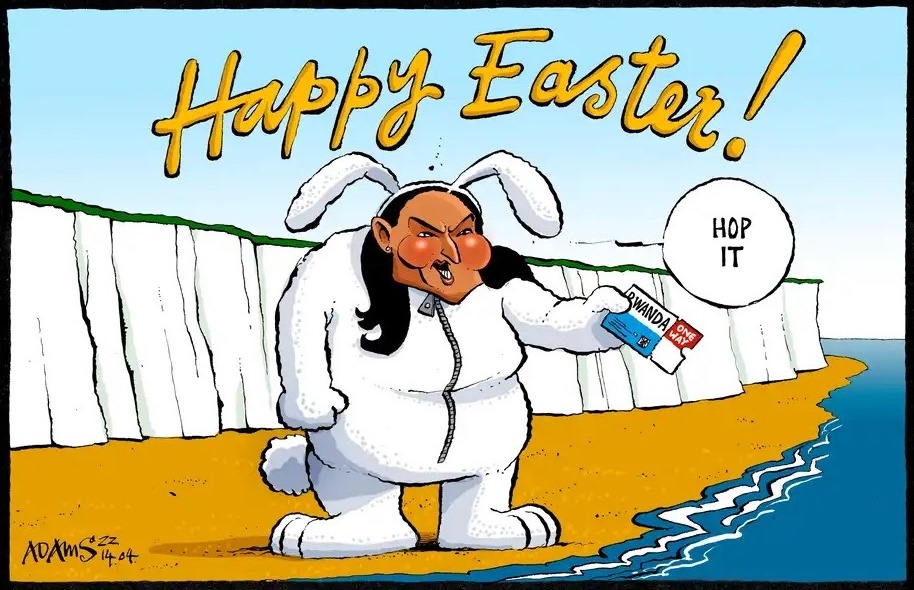 Thursday 14th April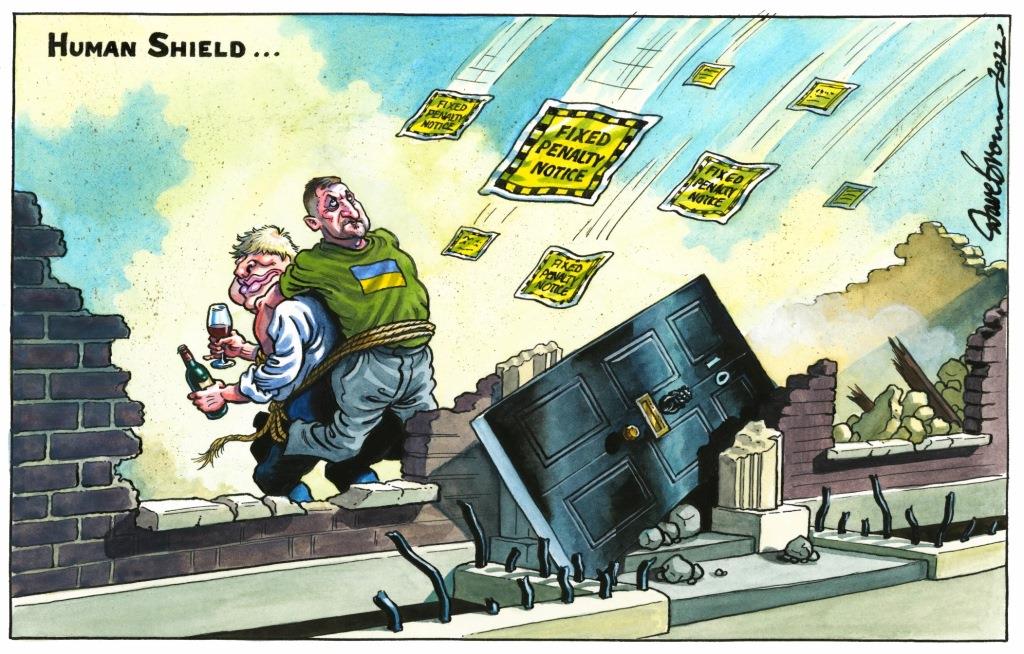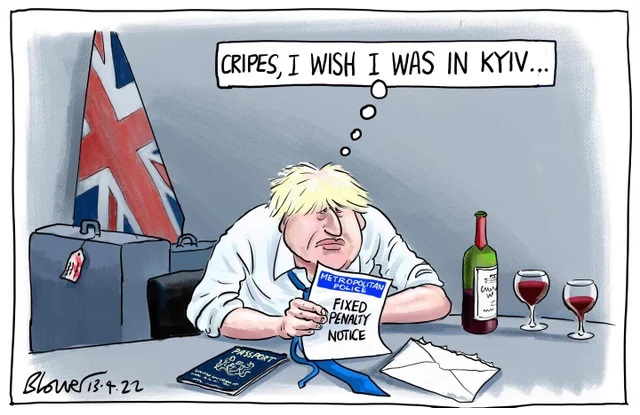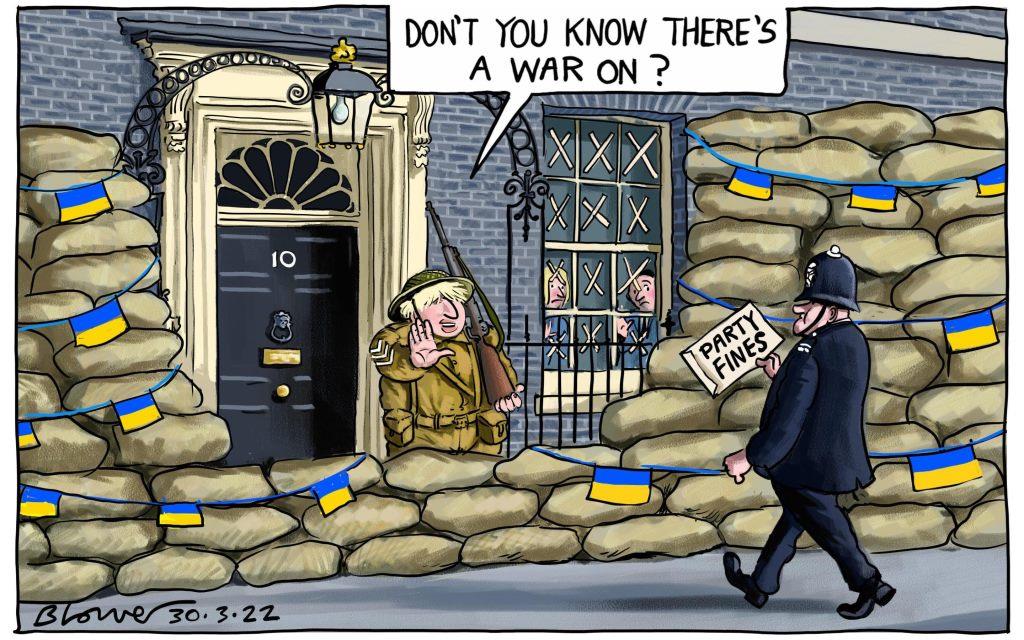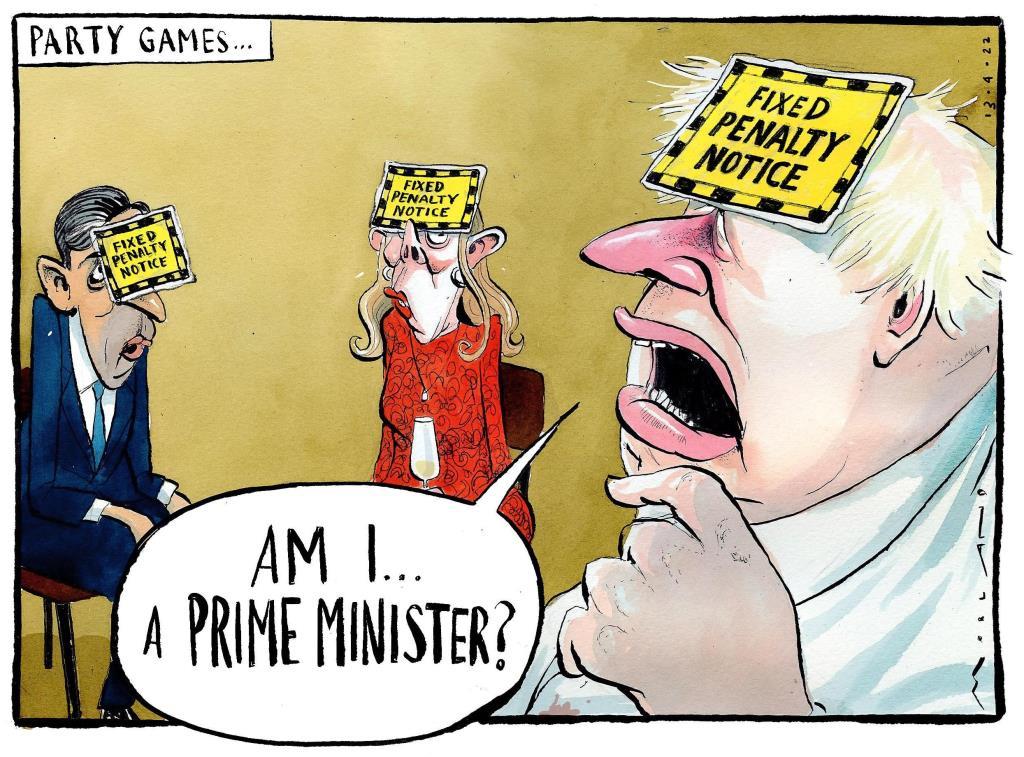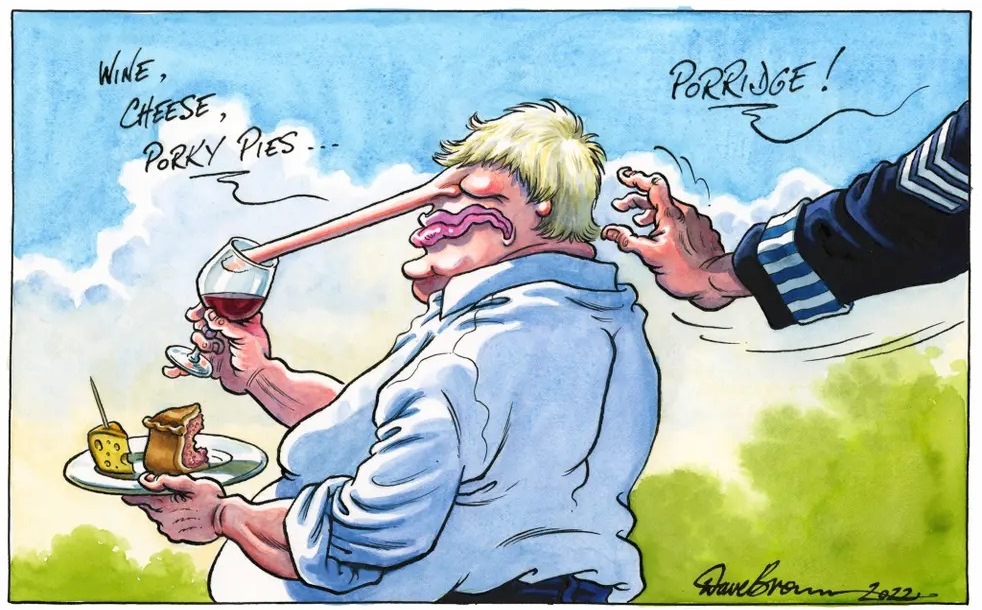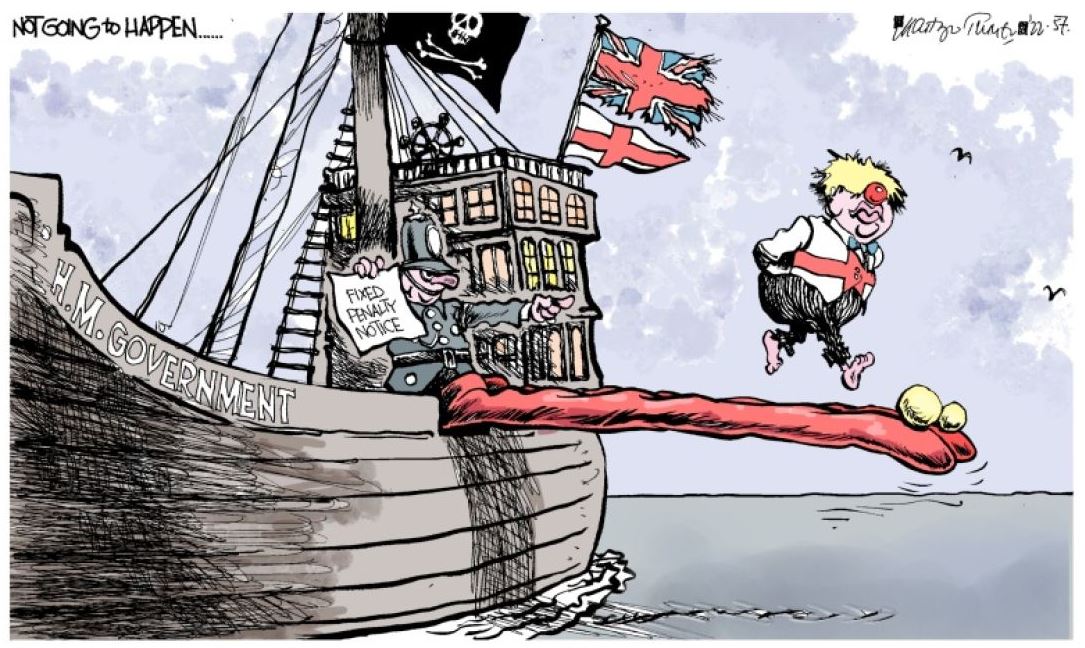 Wednesday 13th April


Most of us watch with a sense of helplessness as events unfold in Ukraine, while doing our best to contribute. Many have donated money. Others are perhaps hesitant, lacking confidence in where their donation goes. My friend Jude sent me an email yesterday about an appeal from a friend of hers. She's a direct contact with unfiltered access to people in need on the ground, inclu­ding in Mariupol. Jude's message is below, and all the necessary details. If you know of anybody who might want to participate, please point them at this blog.


"Dr Hana Josticova is a friend of ours who is Slovakian by birth but did her PhD at the University of Birmingham on Eastern Ukraine. As a result, she has many personal contacts within Ukraine - especially in the east - and a few weeks ago, she returned home to help refugees on the border and those still in Ukraine who are so very much in need. You, like me, have probably already donated money via one of the larger charities or aid organisations, to mitigate some of the sickening impacts of this hellish, barbaric war but if you feel you would also like to donate directly and immediately via someone who has close contacts in dire straits, please read what she has just sent me (below) about how she is using targeted funds:"


'For those who wish to donate, I have been collecting money to help displaced people and refugees from Ukraine. The interest to help personally derived from my closeness to Ukrainians - I have stayed in eastern Ukraine for six months as part of my PhD fieldwork. The people I met through my research ranged from ordinary people, to activists and fighters. Over the four years of ethnographic research, many of these people became my friends. Most of the fieldwork took place in Mariupol but I travelled extensively across all near-frontline towns and cities in Donetsk and Luhansk regions. My contact network exceeds two hundred people from across Ukraine.

'I have donated personally to my friends and acquaintances, but also others' friends upon request, and volunteer hubs in Ukraine that my friends established as they fled war zones. While they were forced to flee their homes, they chose to stay as close as possible to help others. This is how I know exactly where the money is needed and where it ends. Refugees we support usually flee from most-affected areas, namely Mariupol and Donetsk and Luhansk regions. First aid is needed in Zaporizhzhya and Dnipro and this is where my friends' volunteer hubs are centred.

'So far I've raised just over £500 but even £20 enables people to buy medication, food, petrol or shelter for the night as they flee. These people have literally nothing.

'First I donated my own money. The first donation went to my friends, a family of four, to survive the first few days before they got governmental support from Poland where they fled. They are optimistic; they wish to go back to their home in Sievierodonetsk as soon as the war ends. My second donation went to my friends from Mariupol who have nothing to come back to, yet they are staying in Ukraine in hope of rebuilding their beloved home. Since then, my friends' donations helped other Mariupol families either settle temporarily through my friends' volunteer hubs, or move to start a new life in Poland.

'As I have Wise, I am able to send money to Ukrainian cards, which takes minutes, as opposed to international bank transfers that take days. And as I've been doing with each donation, I send a message with a screenshot detailing the money transfer and a description of where the money went and why. Knowing the story of people I donate to makes donating more personal and, I believe, more rewarding. I cover the fees which means that Ukrainians receive 100% of all donations.

'Thanks for helping Ukraine, Hana'


Hana's details are:

Hana Josticova

Bank: Wise, 56 Shoreditch High Street, London E1 6JJ

Sort code: 231470

Account: 37887357


[This is a UK pre-paid card so no IBAN number is required for the transaction and payments are in £sterling for ease and speed.]


Here are two of Hana's university affiliations and her Twitter biog (click to enlarge any):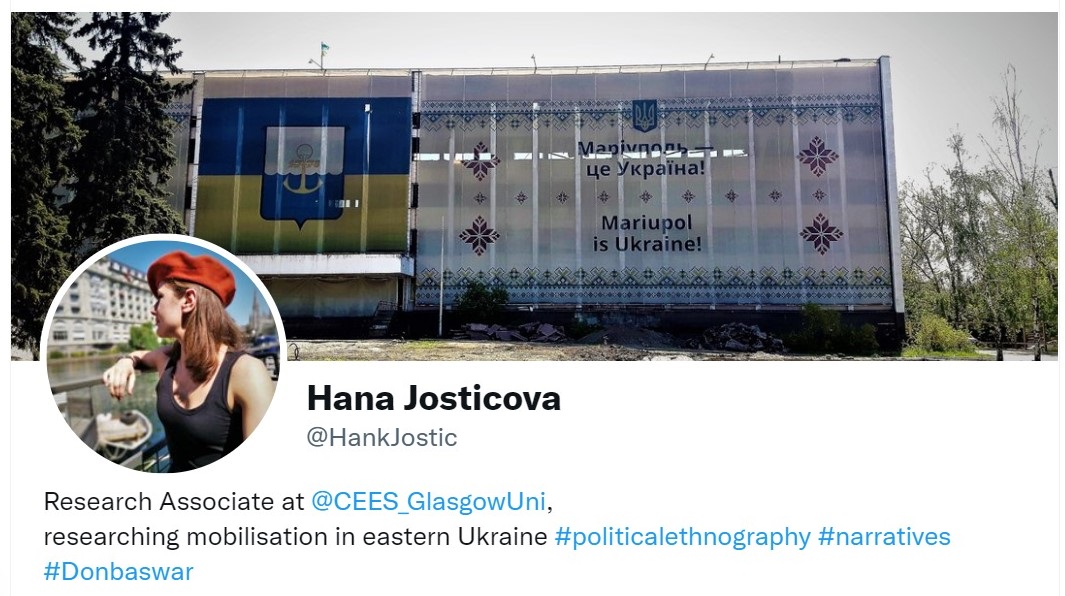 Here's a later update from Jude:

"I sent some money to Hana this morning and she e-mailed (as below) this afternoon."


'Jude, your money has just arrived. And it is going straight to a military chaplain who helps evacuate people from the Luhansk region, namely from Severodonetsk. Another friend of mine has sent £250, so together with your money, we have enough to hire a bus and a driver for one whole day of evacuations.'

Tuesday 12th April


After watching the opening report from Ukraine on the BBC ten o'clock news last night, I again wonder what right I have to drivel on about other matters. But I'll press on with the trivia.

I've never liked Airbnb. It seems like a vehicle for chancers to hack an inappropriate chunk out of a property, post photos of a distant beach, call it a holiday home and make a quick buck off hopeful punters. We once stayed in a flat in Bilbao, perfectly comfortable - but the view from the living room window was a concrete wall, ten yards away, so high you had to crane your neck out to see the top of it, natural light at a premium. Son Ben stayed in another in Lugo, Galicia, over last New Year. It was unbelievably dirty, the oven didn't work, the cupboard doors were hanging off.

Last Saturday I posted photos of the charming house son Nikko booked for us all in Provence this coming July.

Not any more.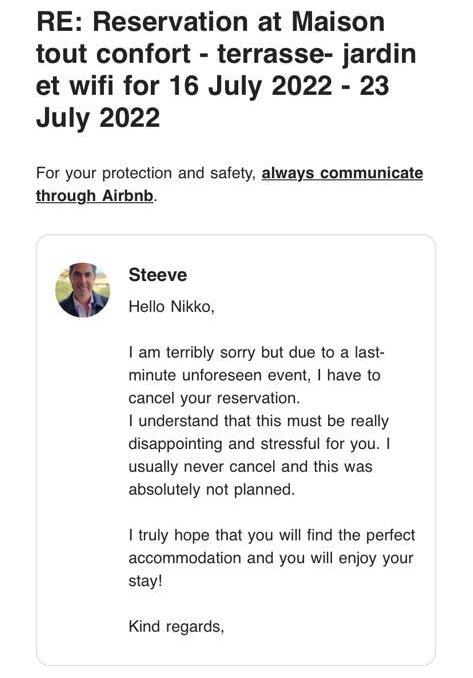 Enjoy our stay?! What about the dosh we've already forked out on flights from Bristol and Vienna? We should have guessed from the English-French mix in the title. What breed of Steve has two Es in the middle of his name?

Not that we know what kind of France we will find by then. Here's a poster photographed by my Irish correspondent's son in Paris last week: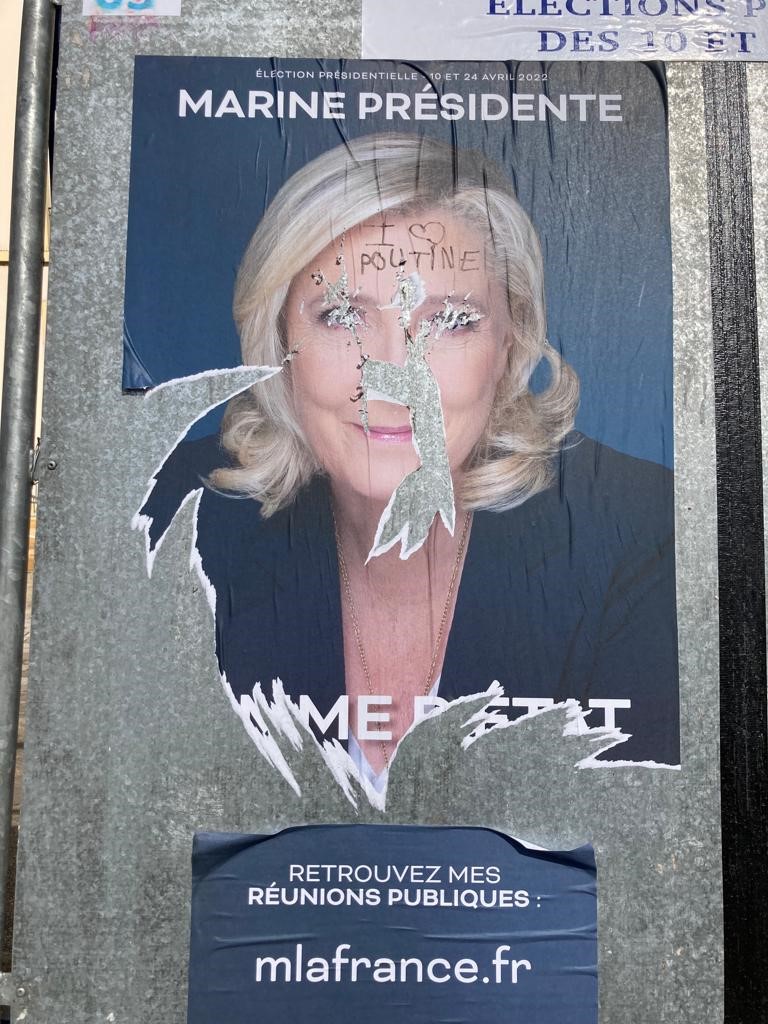 "I🧡POUTINE" inscribed on her forehead. The French pronunciation of Putin, I understand. Desig­ned to avoid confusion with putain? Why bother? Except that not to do so would be disrespectful to the latter. I also read that poutine is a dish of French fries and cheese curds topped with brown gravy which emer­ged in Quebec in the late 1950s.

Monday 11th April


A brief blog today. Mixed Covid status - Sarah's still negative, I'm positive. Plumber Charlie has bravely decided to come to finish off our bathroom. Windows wide open, masks on in shared spaces, I'm locked in the office.

A welcome update from Chris Taylor in Friuli:


"Some Covid news from Italy. At more or less the same time as you, perhaps a little earlier, I tested positive, to be followed two days later by Daniela. Symptoms in both cases were those of a heavy cold. As regards the rest of the country, the general trend continues to be downward but by no means insignificant. Lots of people here have picked up this latest strain 'though symptoms are not worrying. We are now negative and life goes on as we prepare for an Easter break on a tour of Germany. Things are not so rosy further east. Can no-one rid us of this grotesque individual?"


I asked him about the Easter tour:


"The Germany trip. Flight to Berlin and two days there. I've been there lots of times, also for the university, but always glad to revisit. Then we basically return to Udine by coach via the island of Rugen in the Baltic, Stralsund, Magdeburg, Erfurt, Bamberg, Rothenburg, Augsburg and Chiemsee, plus a number of smaller places. These are all places I have never been to and hence the interest in the trip. The downside will be long hours on the coach, but we mustn't grumble."


A lot has changed since Chris gave me an Udine perspective at the beginning of Coronavirus Blog. The diminished impact of BA.2, foreign travel allowed - and Ukraine.

Talking of which, and acknowledging Chris's question in his first email, here is a poster in Kyiv main railway station. I wish I could translate the captions.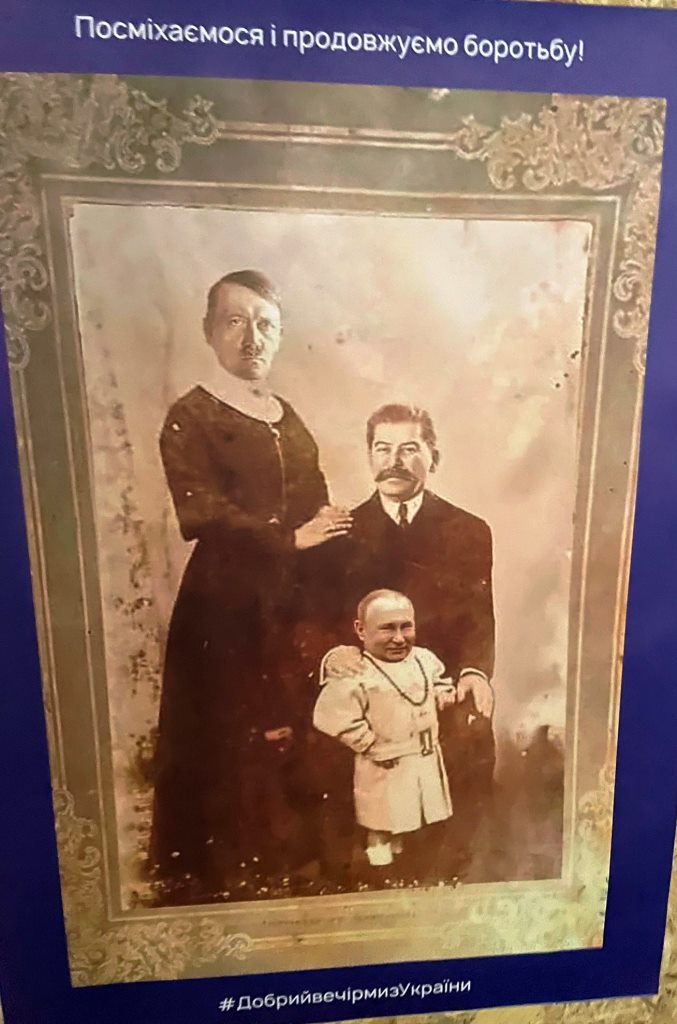 Sunday 10th April


Covid update. Sarah tested negative this morning (hurrah!) but I'm still positive, which is a drag because we shall have to cancel our continuing bathroom renovations tomorrow. They'll probably stretch into next month now, as plumber Charlie has other work starting the following week. This in turn is inconvenient as son Nikko is arriving from Vienna with his daughter for Easter. Still, we have a new shower and toilet - but no bath for 3-year-old Ellie. One other small matter is that I have an incipient tooth infection, but presumably can't present myself to a dentist until I'm clear. It's not the actual Covid - very mild - that is the problem, but the knock-on effects.

An email from the New Statesman yesterday alerted me to an article by Bruno Maçães titled "Russia cannot afford to lose, so we need a kind of a victory: Sergey Karaganov on what Putin wants". It's essentially the transcript - maybe edited - of an interview conducted on 28th March.

What's interesting is that it's an assessment by a Russian, one who has been very close to Putin as an adviser - not an interpretation put forward by a European or American journalist. Karaganov formulated many of the ideas that led to the war in Ukraine - although he has also expressed disagreement with the idea of a long-term occupation of the country. He has promoted the concept of "Greater Eurasia", has defended a closer partnership with China and has argued that the long reign of the West in world politics is now at an end.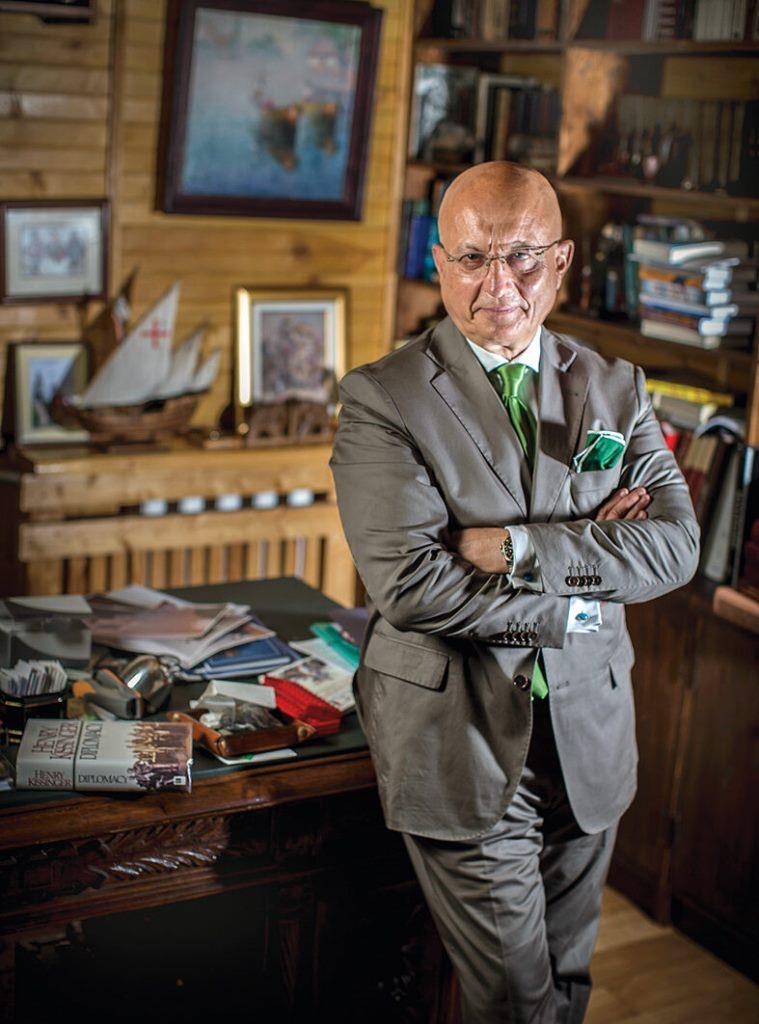 So, the views are not from a source that I would normally count as within my natural habitat. As a result there are glimpses of a different angle on the conflict, some not so surprising nor unheard before, just not what most western leaders and commentators are saying. At times merely the odd word, phrase or sentence, an extra dimension. The same issues, but from a different perspective. And from the "horse's mouth".

Here's the article: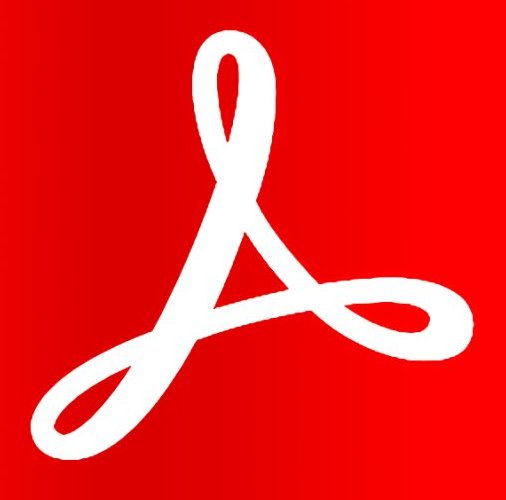 . It's quite a long read at nine pages, so I've extracted several of his comments as a summary, and shortened Bruno Maçães's questions. See what you think.



Why did Russia invade Ukraine?




The first objective is to end Nato's expansion. Two other objectives have been added: one is the demilitarisation of Ukraine; the other is denazification - [Russia] thinks [Ukraine] is beginning to resemble Germany in the 1930s. There is also an aim to free the Donbas republics of eight years of constant bombardment. But the real war is against the Western expansion.




In the Kremlin, what would be considered a successful result for the invasion?




I don't know what the outcome of this war will be, but I think it will involve the partition of Ukraine, one way or another. Hopefully there would still be something called Ukraine left at the end. But Russia cannot afford to "lose", so we need a kind of a victory. And if there is a sense that we are losing the war, then I think there is a definite possibility of escalation. This war is a kind of proxy war between the West and the rest - Russia being, as it has been in history, the pinnacle of "the rest" - for a future world order. The stakes of the Russian elite are very high - for them it is an existential war.




What will be the outcome for Ukraine?




I don't know whether Ukraine will survive, because it has a very limited, if any, history of statehood, and it doesn't have a state-building elite. Maybe the Ukrainian nation will be born. I will be happy if Ukrainians have an effective, viable government - unlike the situation during the last 30 years. They were the absolute losers after the Soviet Union because of their lack of a state-building elite.

My judgement would be that some of Ukraine will become a friendly state to Russia, other parts may be partitioned. Poland will gladly take back some of parts in the west, maybe Romanians and Hungarians will, too, because the Hungarian minority in Ukraine has been suppressed along with other minorities.




Are you worried that this could be the start of a "Chinese century" for Russia?




One answer to your question is that China's economic influence in Russia and over Russia will grow. China has most of the technologies we need, and it has a lot of capital, so there is no question about that. Whether Russia would become a kind of a satellite country, according to the Chinese tradition of their Middle Kingdom, I doubt it. We had years of Western domination here. It was almost overwhelming. And nevertheless, you see what has happened: Russia revolted against all that. So I am not afraid of Russia becoming a part of a great China. If you asked me how I would describe Russia in one word, it is "sovereignty". We defeated those who sought to rule us.




Who are the winners and losers?




I think the biggest loser will be Ukraine; a loser will be Russia; a great loser will be Europe; the United States will lose somewhat, but still it could very well survive as a huge island over the ocean; and the big victor is China.




What would qualify as defeat?




I do not know. That is the question. We need victory. I don't think that, even if we conquered all of Ukraine and all the military forces of Ukraine surrendered, it would be a victory, because then we will be left with the burden of a devastated country, one devastated by 30 years of inept elite rule, and then of course devastation from our military operation. So I think at one point we need a kind of a solution which would be called peace, and which would include de facto the creation of some kind of a viable, pro-Russian government on the territory of Ukraine, and real security for the Donbas republics.




How do you feel personally?




We all feel like we are part of a huge event in history, and it's not just about war in Ukraine; it's about the final crash of the international system that was created after the Second World War and then, in a different way, was recreated after the collapse of the Soviet Union. So, we are witnessing the collapse of an economic system - of the world economic system - globalisation in this form is finished. Whatever we have had in the past is gone. And out of this we have a build-up of many crises that, because of Covid-19, we pretended did not exist. For two years, the pandemic replaced decision-making. Covid was bad enough, but now everybody has forgotten about Covid and we can see that everything is collapsing. Personally, I'm tremendously saddened. I worked for the creation of a viable and fair system. But I am part of Russia, so I only wish that we win, whatever that means.

Saturday 9th April


The gulf in fortune between lives in the UK and Ukraine was brought home to me yesterday by photographs on the BBC website. How the world of ordinary people in Ukraine has been turned upside down in the grimmest way imaginable, their normal everyday existence transformed within two months into - literally - a matter of life and death.

The first photo is of Katrine and her 18-month-old son Nikita. Six weeks ago a mother with a toddler. Now she's a sniper.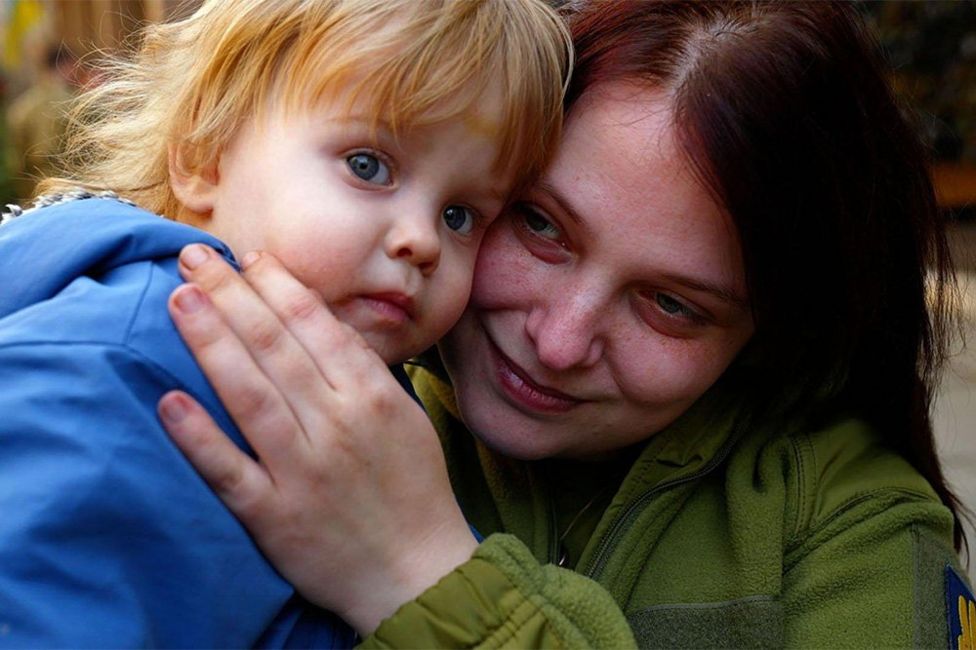 The second pair is of two university students, Dmytro Kisilenko (18) and Maksym Lutsyk (19). They're not studying any more. They're fighting, have already been to the front.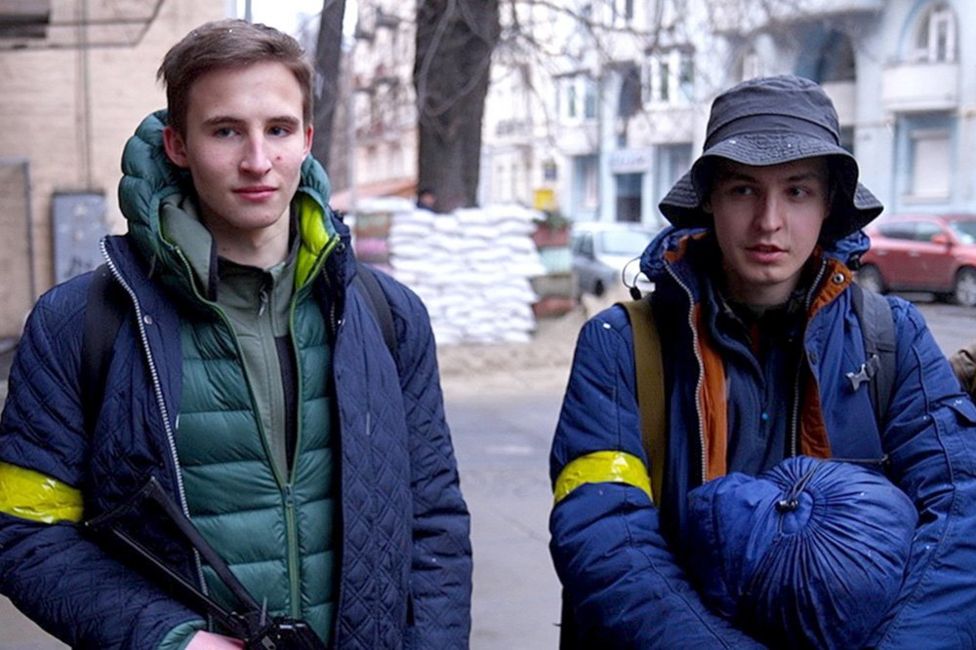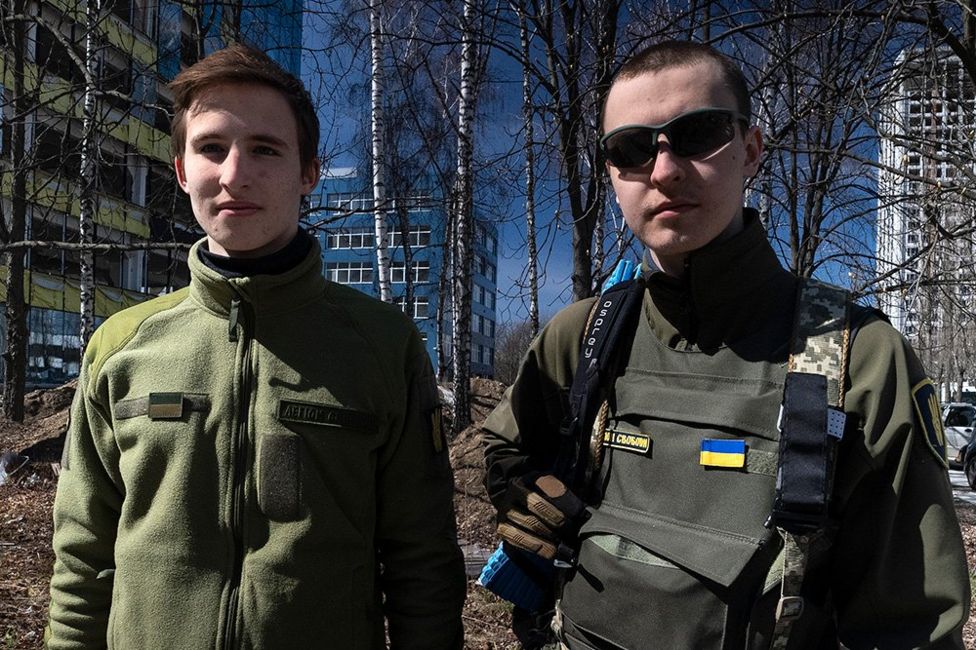 Here's the brutal contrast.

Last year son Ben decided that we should have a family holiday this summer. After much cat-herding, we're all set to stay in a house east of Marseille in July. Nine of us, three generations.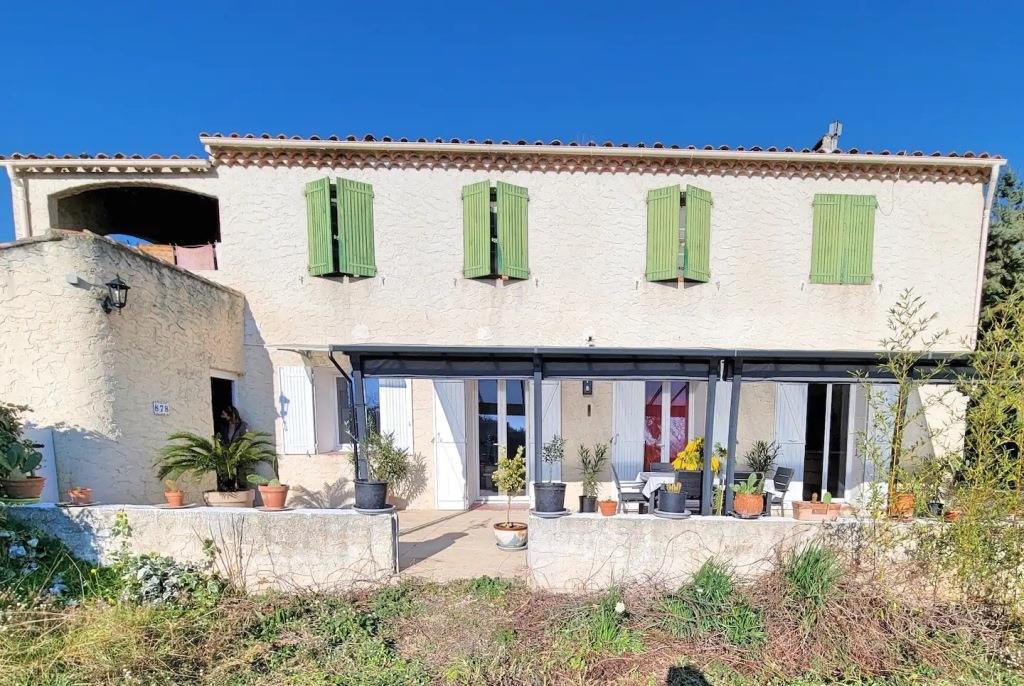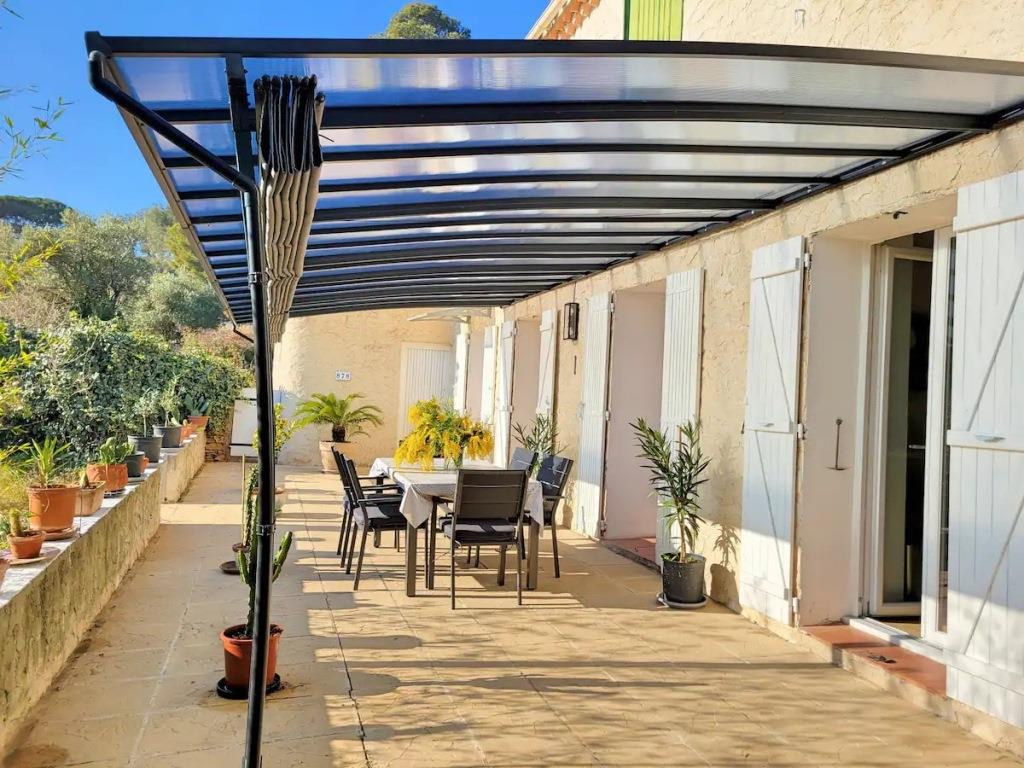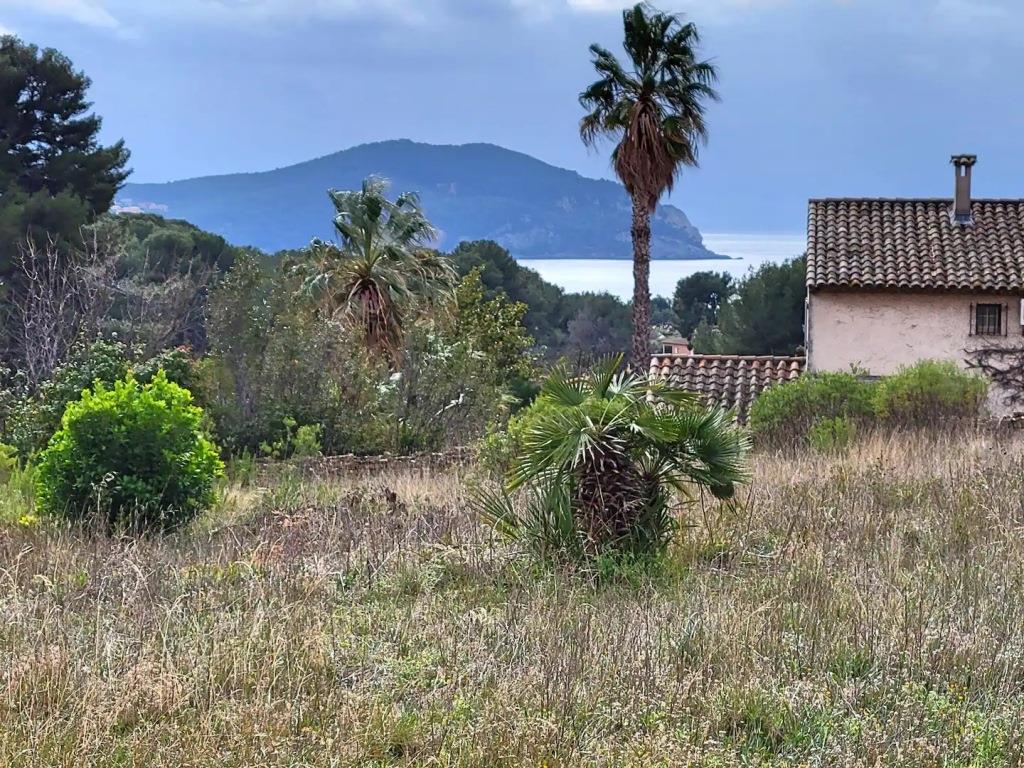 We'll be going to the beach, to the market, cooking and eating in the sun­shine of Provence, hopefully tucking into bouillabaisse at a harbourside restaurant. Ukrainians will - at best - be rebuil­ding after the destruc­tion of their homes.

How can our futures look so different?

[7:30am update. Once again, I wrote the above last night. I may have to give up doing so. That kind of question running through your head doesn't help - poor me - with a decent night's sleep.]

I can't shake off this answer: it's the work of one man. You can search for all kinds of contributory factors to the conflict - NATO enlargement, Ukraine's previous identity as part of the Soviet Union, the west's baiting of the Russian bear - but this stands out above all others. It's not an original thought, but a conclusion shared by many, not difficult to find among the views of world leaders and international press commentators. The war in Ukraine is the brainchild of Putin's lifelong resentment, damaged psycho­logy and cruel autocratic spirit.

No wonder the Latvians put this poster on the facade of a museum opposite the Russian embassy in Riga: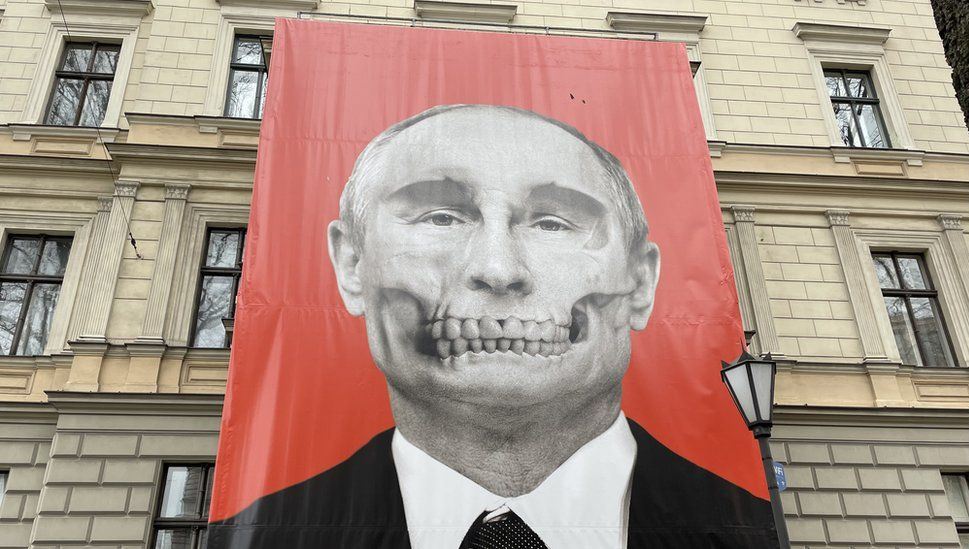 Friday 8th April








My Irish correspondent has done most of the work today ...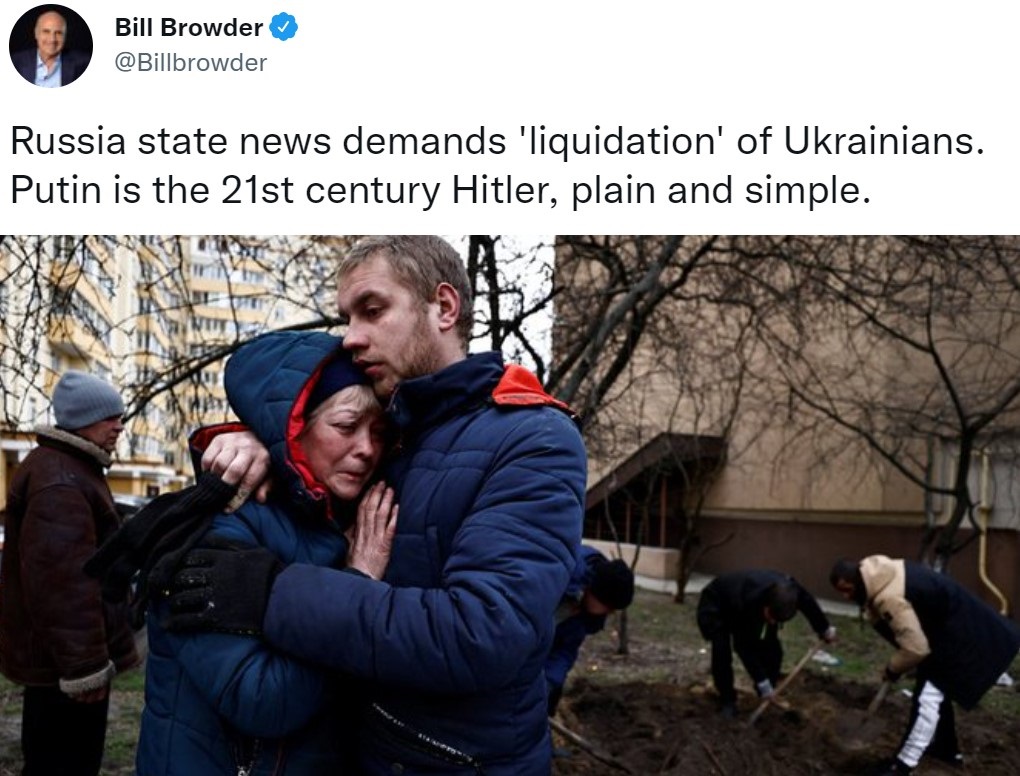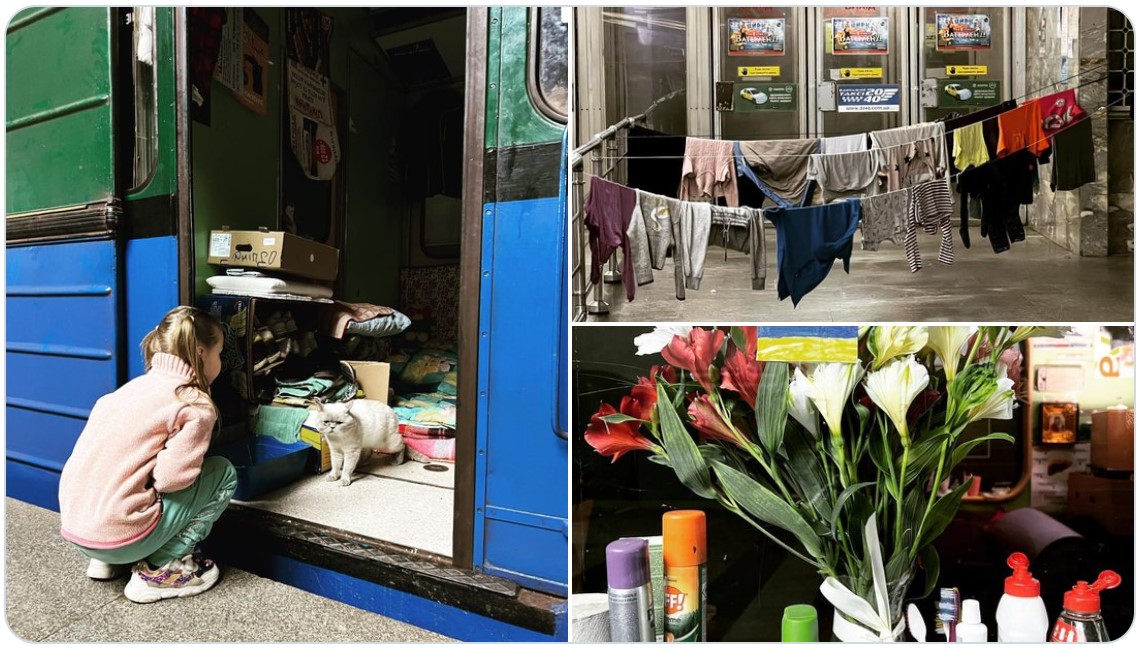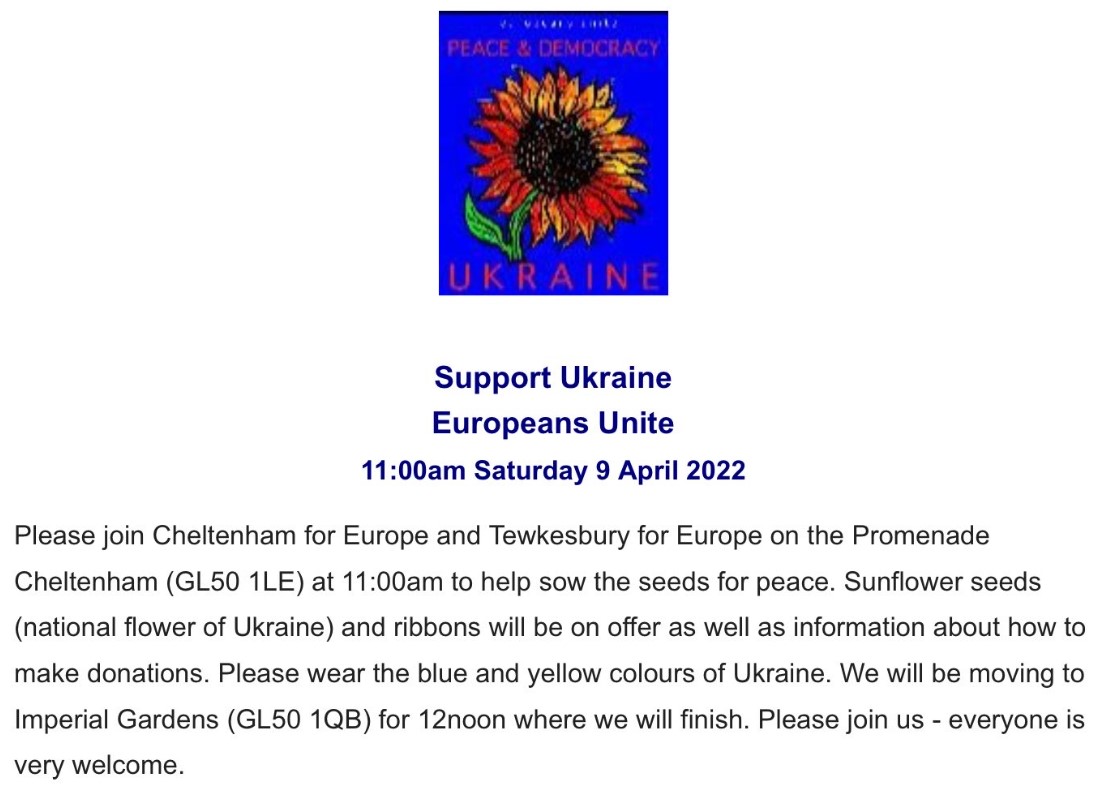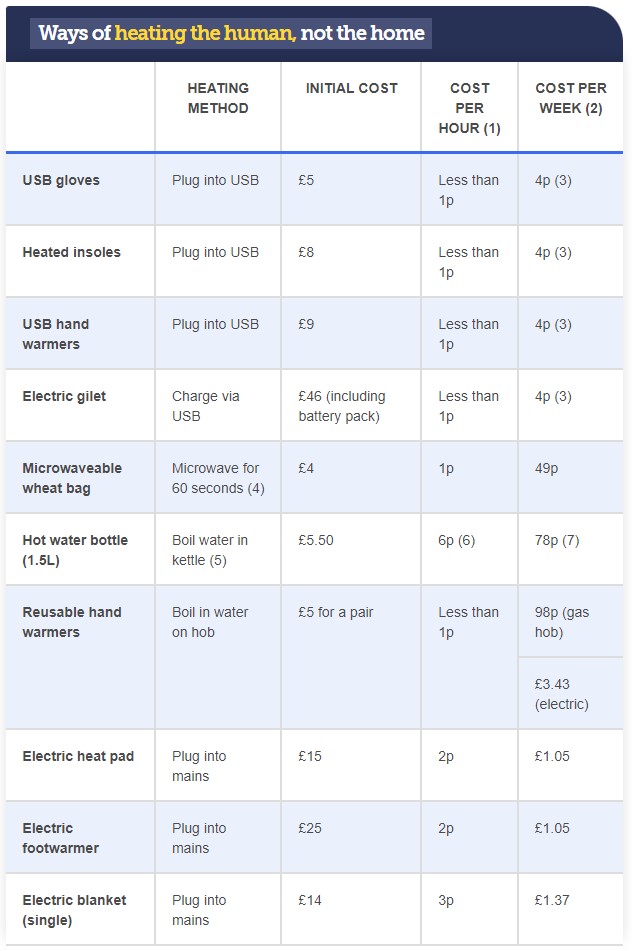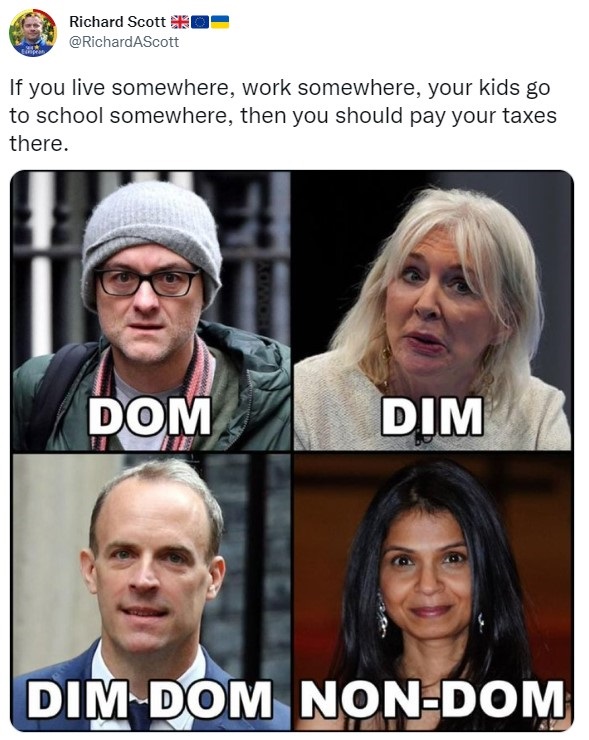 ... and three from me: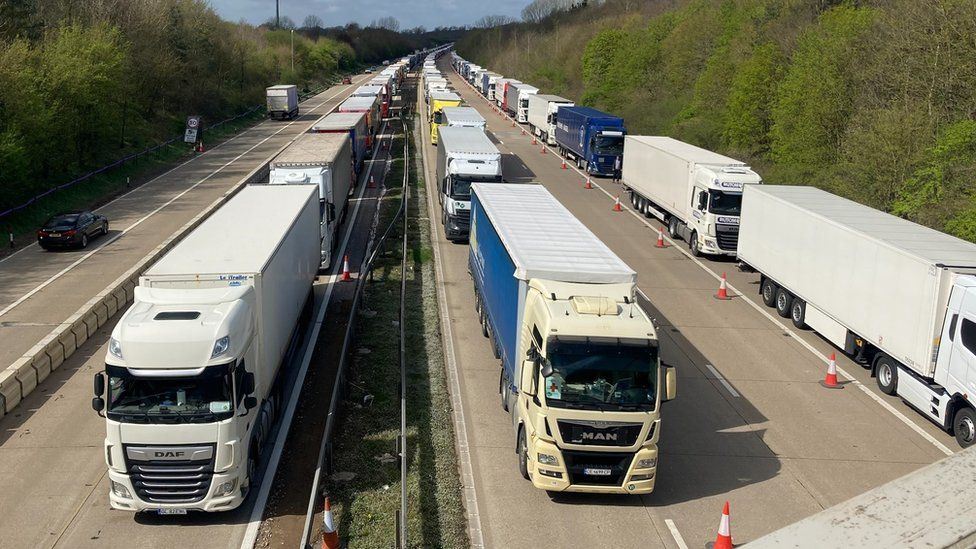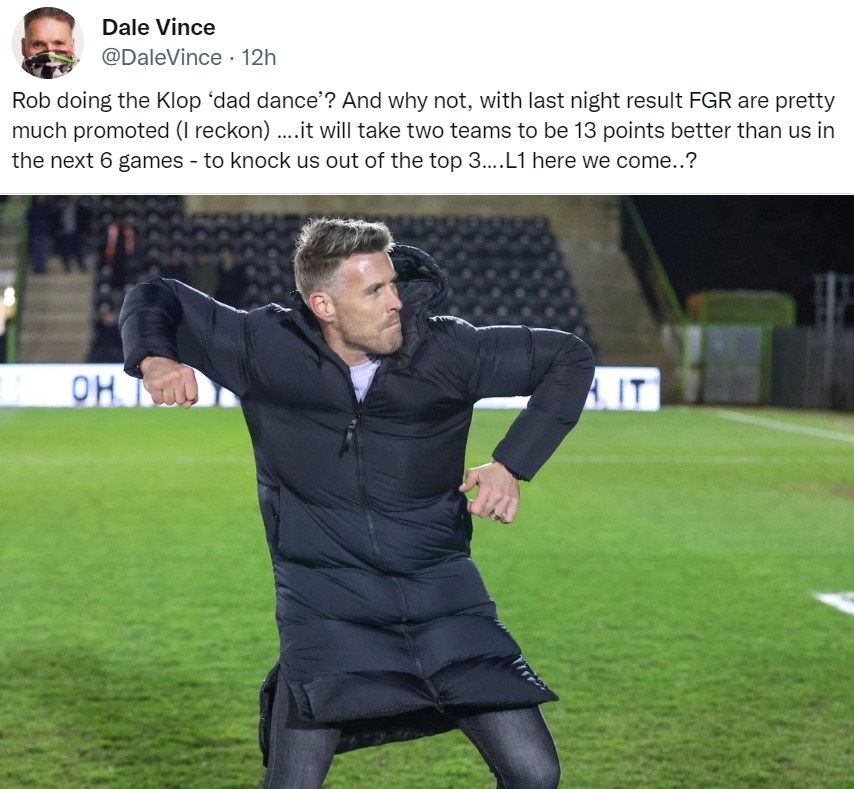 Thursday 7th April


Covid update. Still testing positive. Continuing slight cold and sore throat.

I'm finding it hard to write about Ukraine. There is little I can add to the media reports. It seems to me that the war is becoming increasingly attritional. I see no prospect of conclusion, certainly none that we might consider positive.

One worry is that we who are not involved in the physical battle may be reaching what you might call UWF - Ukraine War Fatigue. If it continues for long, will front page reporting dwindle and thin, to be replaced by parochial issues? There appeared to be much more time for other topics on the national TV news yesterday. Will coverage fade, like that of the conflicts in Syria and Yemen? I suspect that there are certain factors to sustain interest. It's happening on our doorstep, in Europe. Nobody is safe while Putin is the adversary. We're worried about the prospect of NATO being drawn into direct confrontation with Russia. And, of course, the big red button.

I'll turn, guiltily, to lighter matters. It's difficult to smooth such a transition.

I need to complete the story of contributions from Luxembourg of the last two days. What I failed to say explicitly is that almost all of Eddy's commu­nication comes by traditional post, has done for half-a-century. He doesn't do computers. I have never received an email, nor a word generated by typing. We have the occasional telephone conversation. He now owns a mobile 'phone so that we can exchange text messages. But his preferred choice of technology is the photocopier, the output from which is trans­ferred into an envelope bedecked with pretty stamps.

It's impossible to miss the arrival of his letters. Here is the corner of an envelope which I cut off and pinned to the noticeboard above my desk years ago (click to enlarge):





Diana - who cheers me up with the emails and videos that you may have seen in recent days - responded to my posting yesterday of Eddy's remar­kable selection of architectural photos:


"Eddy appreciates your nominating him for protected heritage status in the Handwritten Communications category, and the recognition belatedly conferred on his contribution to sustaining this traditional approach to performing/relativising the constraints of geographical and social distancing while offsetting the normative orthogonality of his preferred medium via the referencing and eclectic recycling of materials and, be it admitted, jokes.

"My client has requested me to inquire discreetly about a possible future nomination in the 'Unrecognised Genius' category, but meanwhile looks forward to collecting his award in person, together with commemorative multicoloured biro. He foresees a window of availability in early May.

"Eddy has yet to read any of your blog due to his continued resistance to post-Enlightenment communications media and his full schedule of outside engagements (currently, for example, 'just popping out to get L'Équipe'), but is kept updated about it and has been familiarised with emergency procedures for accessing his own email (the 'nuclear option', not yet activated)."


My Irish correspondent has alerted me to reports of the Census 2022:


"Last weekend people in Ireland were completing their 2022 census form. It included a 'time capsule' section in which one could leave a message for those reading it a hundred years from now."


Here are some "time capsules" published in the Irish Mirror. You may also have seen them in The Guardian. The instructions given on the form include: "This space is for handwritten messages only. Photographs or other attachments will be removed and cannot be returned."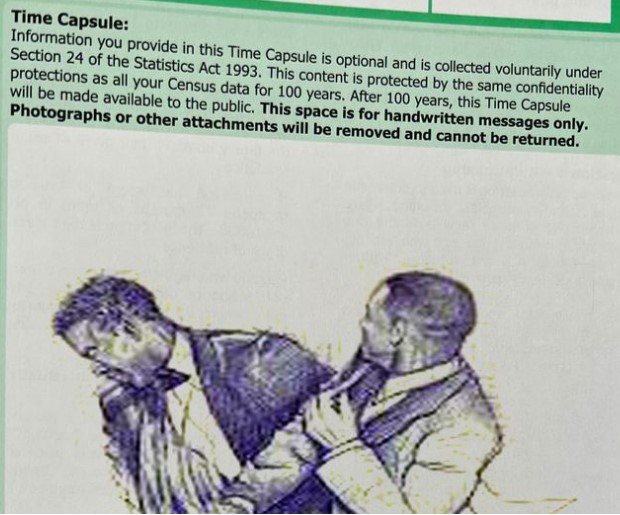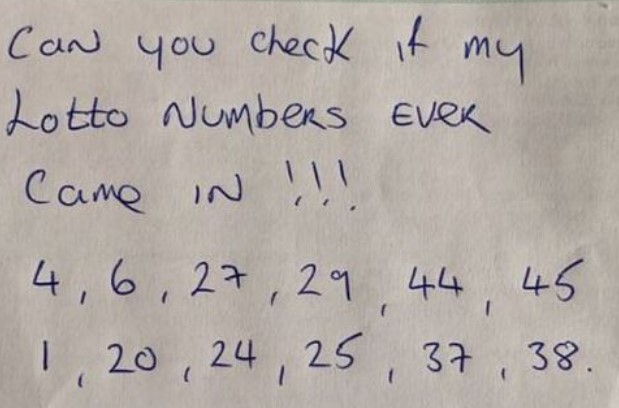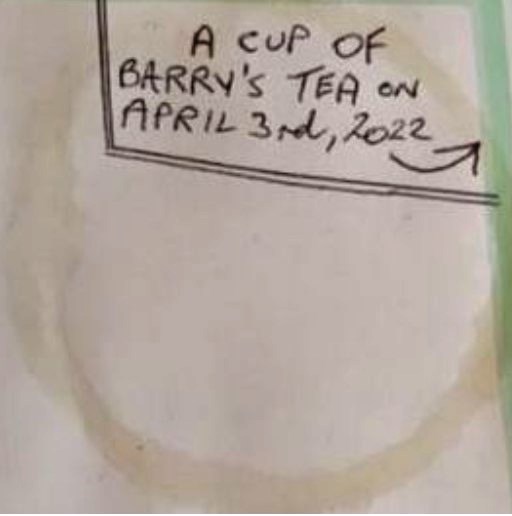 To understand the reference to "Mayo All-Ireland" in the last entry above, please read my blog explanation here: 👉

Wednesday 6th April


Another day thinking of Ukraine, watching in horror. I'm not going to write about it; I have nothing to add to the media reports.

Still testing positive this morning. Thankfully no Covid symptoms apart from just one out of the newly extended official list of 12 - a sniffle, almost vani­shed last night, slightly thick this AM.

Restricted as I am to a Plague House, I can't help reflecting on how things have changed.

I learnt via email that I may be eligible for treatments that didn't exist at the start of the blog: nirmatrelvir and ritonavir (Paxlovid); sotrovimab (Xevudy); remdesivir (Veklury); molnupiravir (Lagevrio). To justify my eligibility, I have to take lateral flow tests for three consecutive mornings; the positive test of yesterday counts as the first, today's the second. Presumably I will get treatment only if my condition worsens. I'm told that I should get a 'phone call from the NHS. Really? With the current level of infections in the UK?

Actually, I'm nowhere near as restricted as I would have been 18 months ago. Only by a volun­tary sense of social responsibility, which was of course what Boris encouraged all along at the time of rules relaxation. No-one will arrest me if I go out. I can nip into Waitrose with impunity, even without a mask. It's all about others. I run no risk of catching the virus; I've already got it.

Where do we stand with vaccination? Has the efficacy of my three jabs waned? Will I get a fourth? Have the drugs mentioned above replaced vaccines as the defence/treatment of choice? Are the anti-vaxxers out in the clear?

More relief from Luxembourg. Diana's husband Eddy is the most loyal of corres­pondents. I have an accumulation of missives going back 50 years: post­cards documenting his travels; photocopied articles, cartoons, artworks; quirky snaps from foreign residencies - all adorned with his dramatic larger-than-life script. He has showered me in the last few days with a selection of New Brutalist architecture from his collection:



Tourist Information Centre, Fort William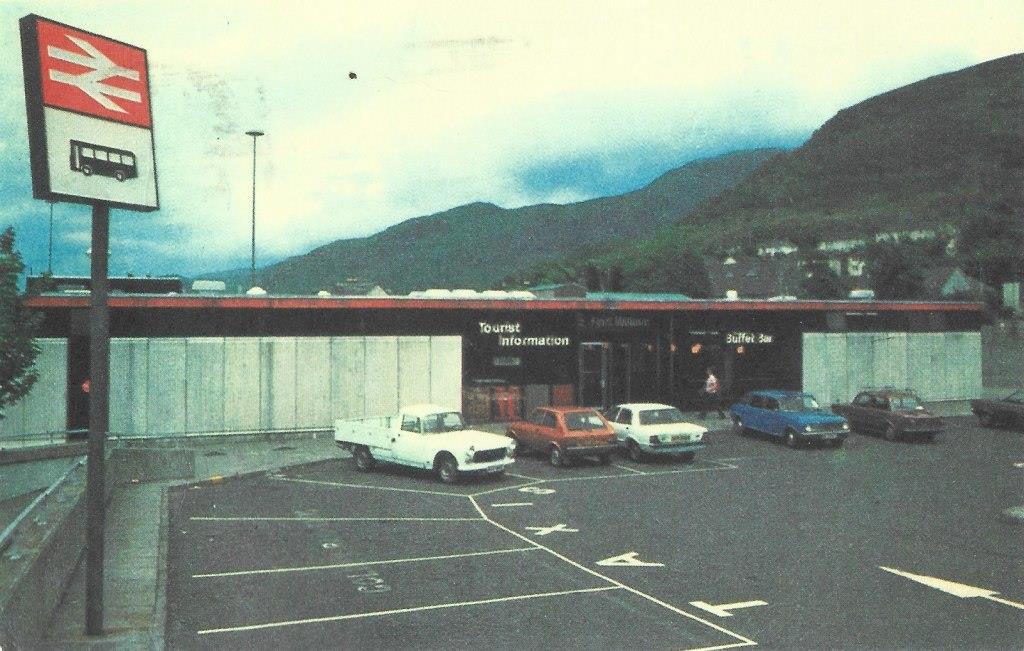 Bus Station, Exeter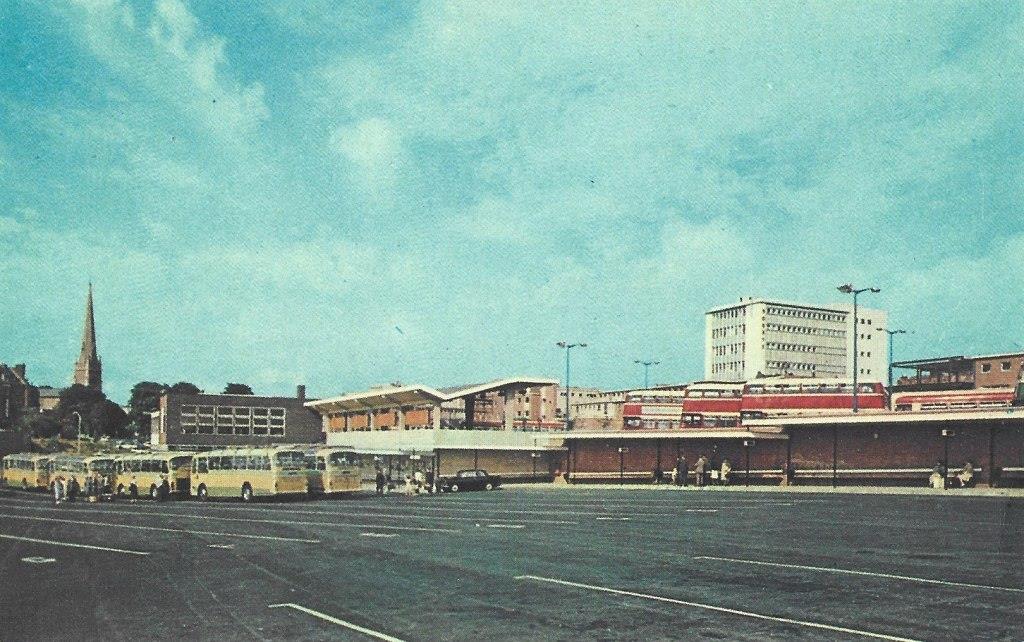 Nylon Factory, Pontypool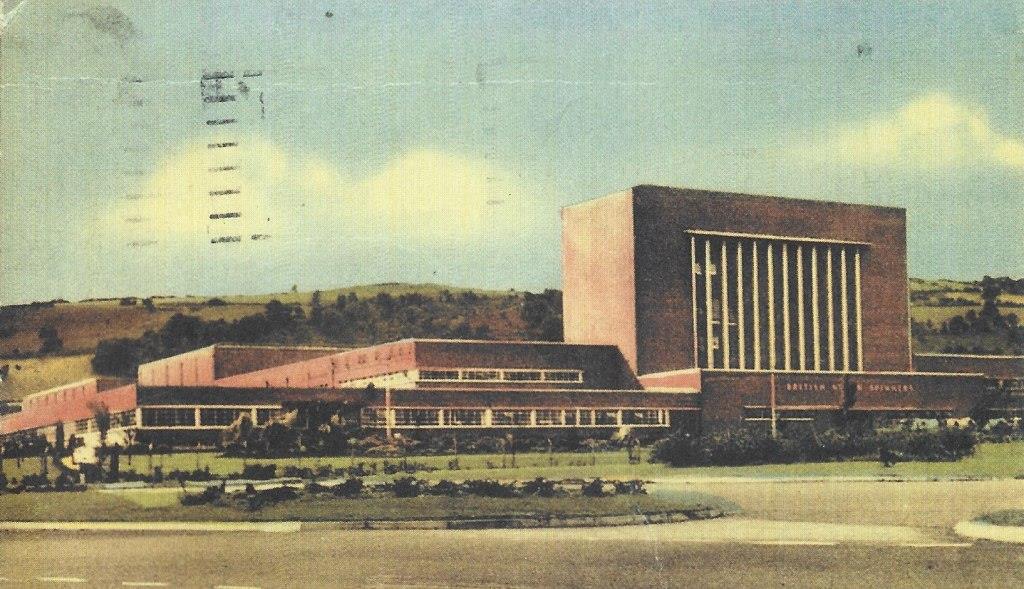 Thomas Cook International Headquarters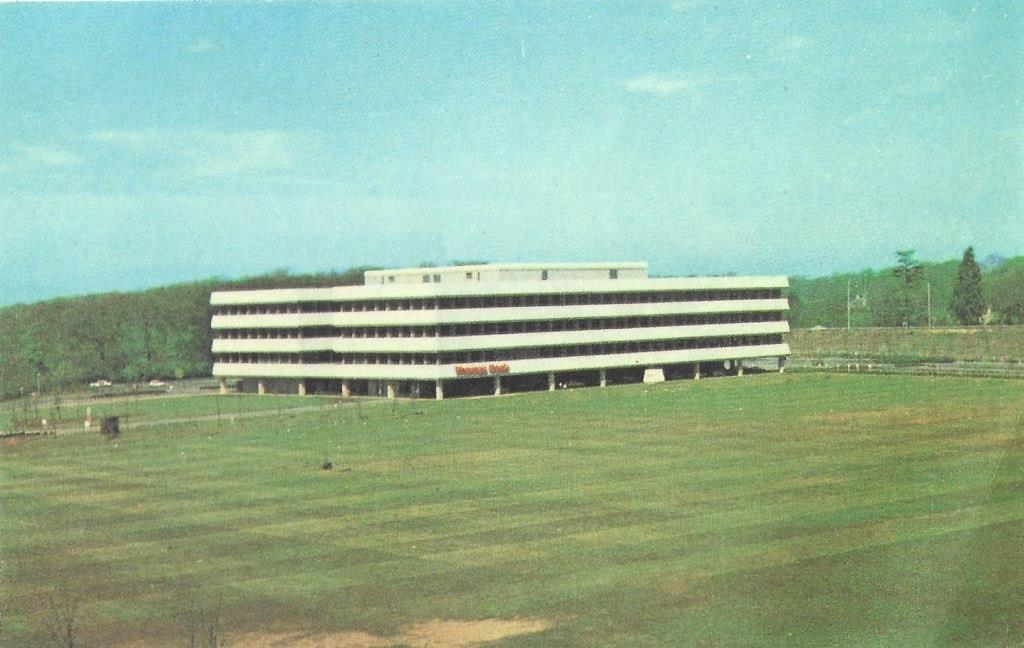 Bus Station and Shopping Centre, Hanley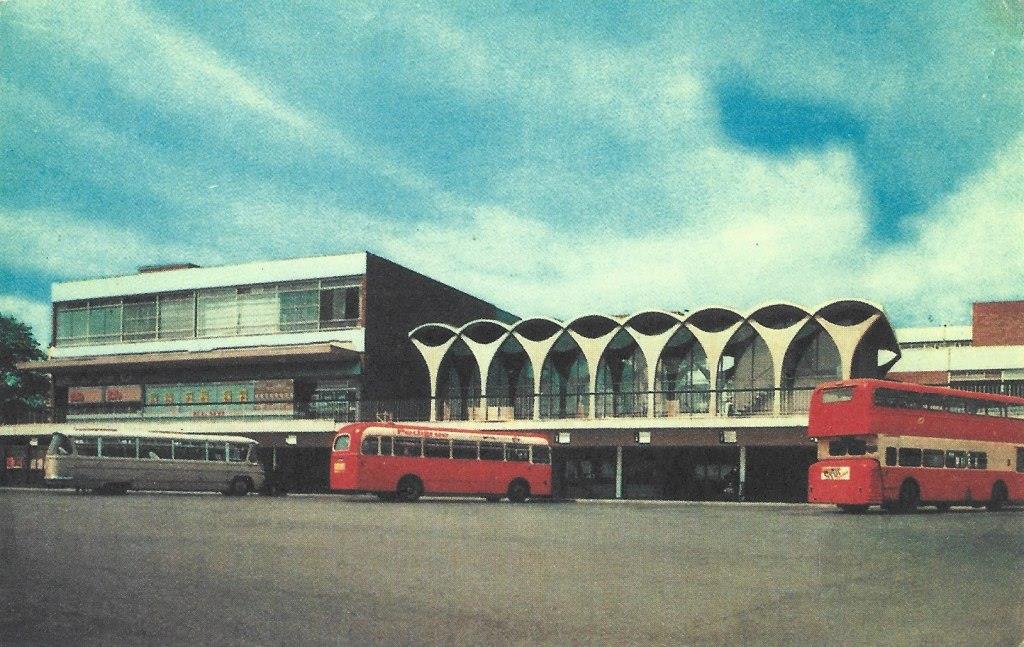 Sun Lounge, Butlins, Bognor Regis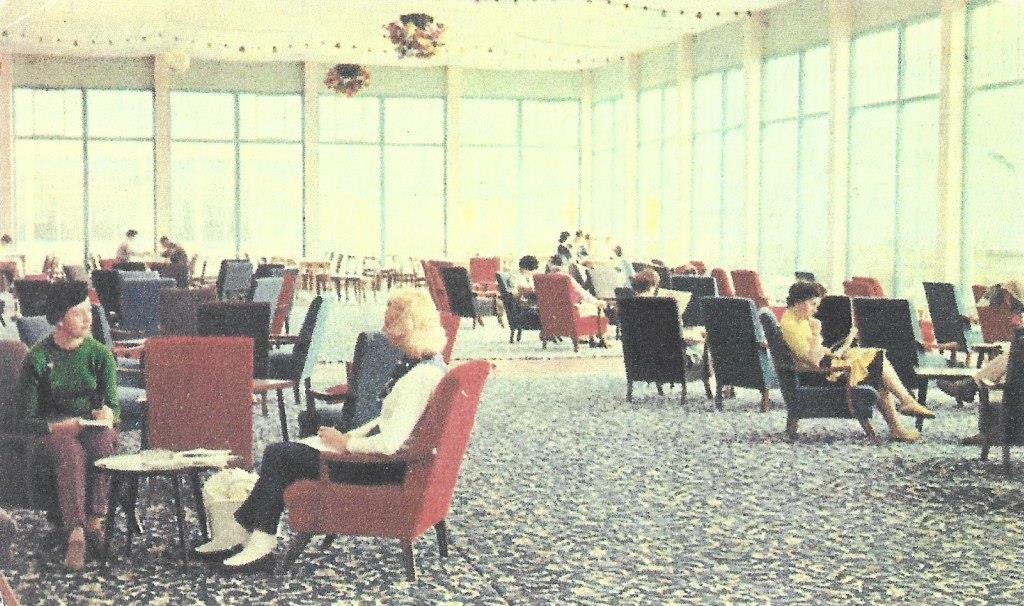 At the top of the High Street in Stroud - a town with its share of pretty Cots­wold stone and Victorian brick buildings - we have our own fine example, the police station: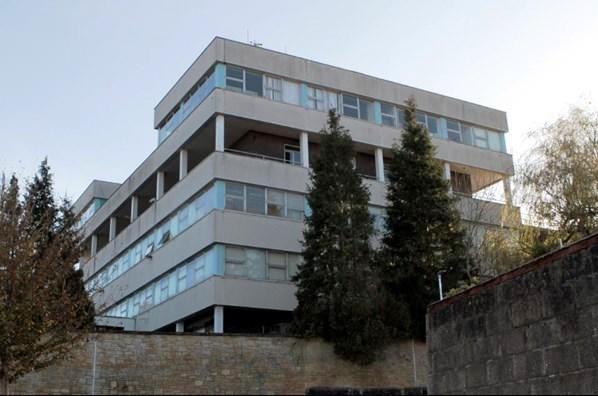 Here is a report extract - allegedly - from local organ This Is Gloucestershire titled "Listing Nomination":


"Stroud Civic Society's vice chairman, Tim Mars, announced that Stroud's noto­riously ugly police station may be in line for Grade II listed building status.

"Tim said, 'It's about time Stroud police station got the recognition it deserves. Its etiolated horizontality offers an elegant geometric counterpoint to the heterorthogonality of the topography'."


Article dated April 1st 2009.

My friend Mark makes Christmas cards for all of those who attend our annual old mates' get-together, a tradition going back several decades. In an accident of juxtaposition, Eddy (see above) is one of the founding members of the group - called "The Maxes" (I won't explain, it's all too embarrassing) - but has sadly always (nearly always?) been in another country at the time of the festive occasion.

Aidan, another friend in the group, just sent me one of Mark's cards appro­priate for today:



Happy New Financial Year
from The Unusually Tall Sheep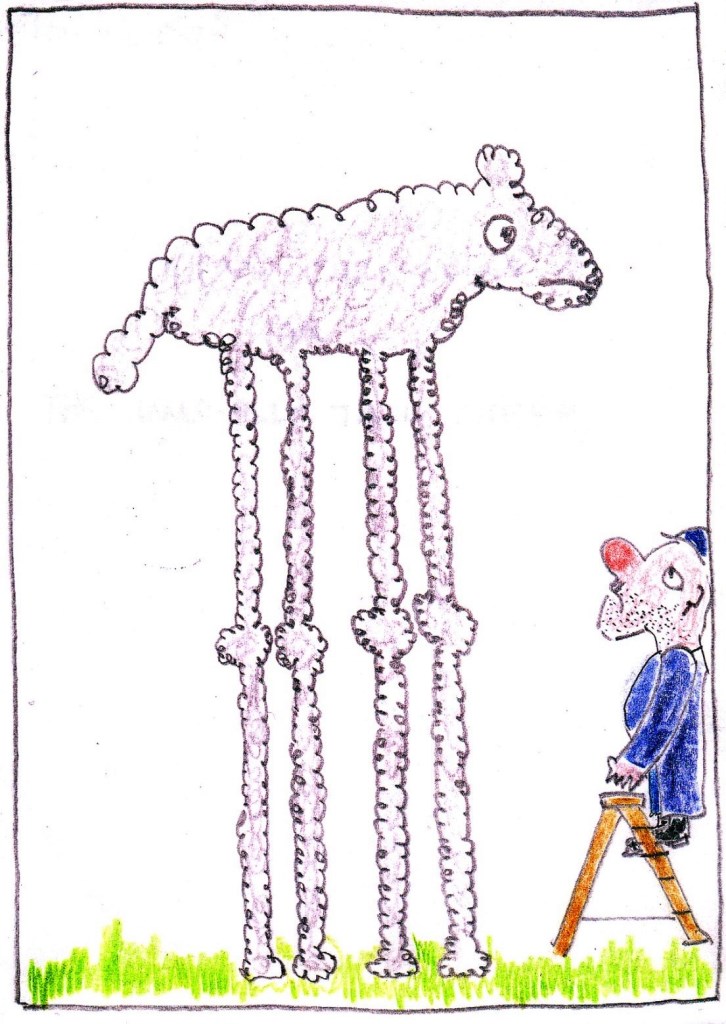 Tuesday 5th April


[9:15am update. I wrote everything below last night. I've just tested positive. Not feeling bad, just a slight sore throat and a blocked nose. A bummer all the same. I'll start the process of re-arranging plans. First job is to put a requested selection of plumber Charlie's tools by the back gate. Then cancel weekend visitors.]

A miscellany today. I haven't the will to write about Ukraine.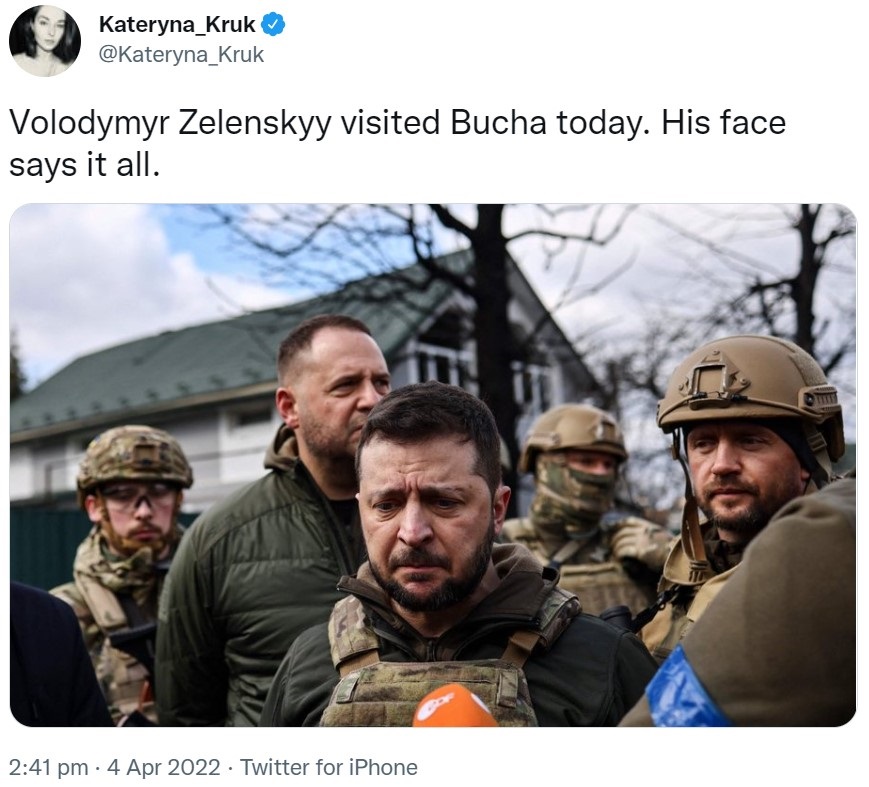 A bit of Coronavirus Blog, with a new case chart (click to enlarge) from the ZOE COVID Study: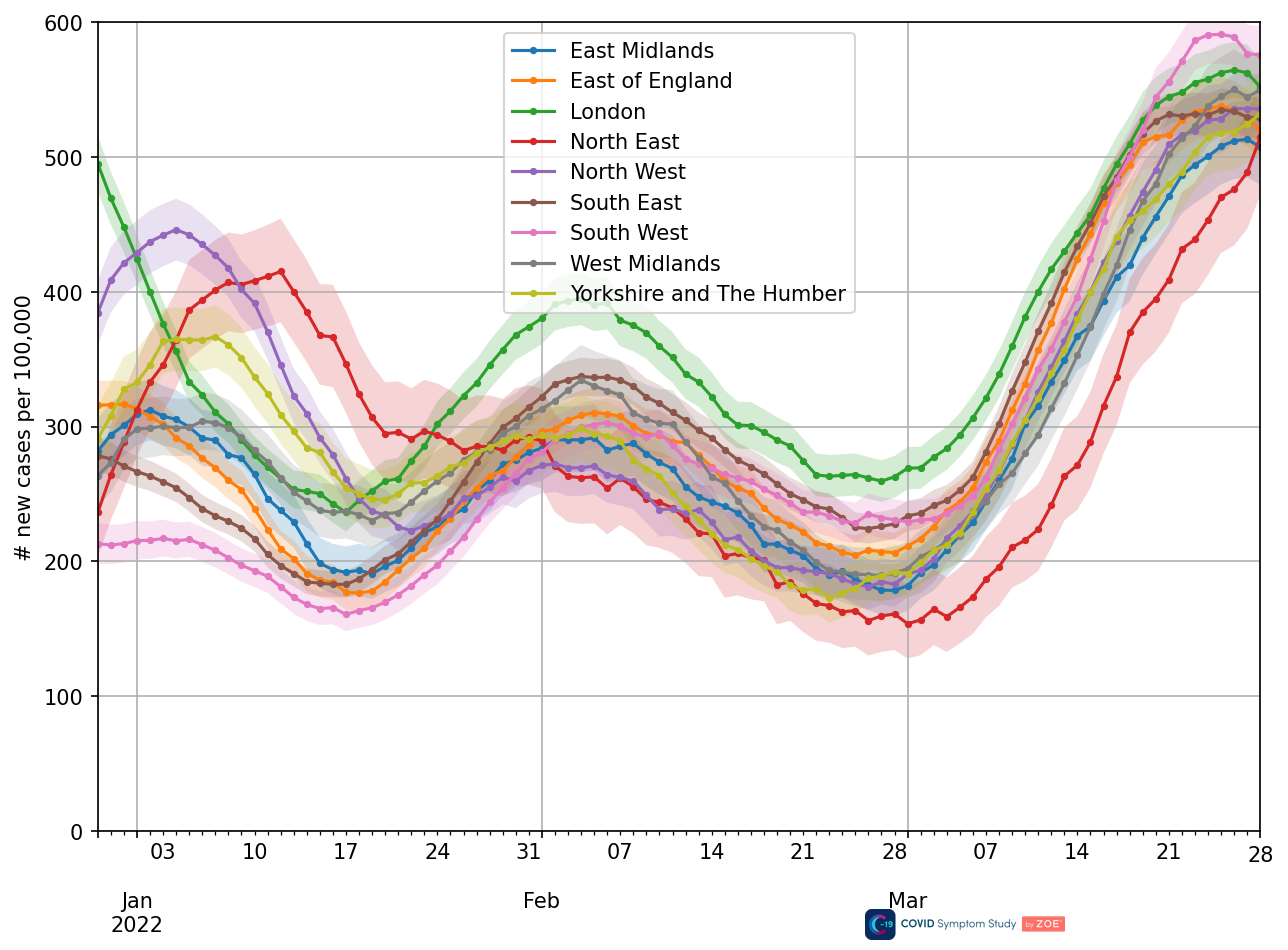 Our region is top of the list. Caution is not common in Stroud. I went into a 'phone shop in the High Street yesterday, struggling with my mask. "Don't bother with that", said the shop owner. "My partner's got Covid", I replied. He nodded: "Fair enough". Without metaphorically breaking step.

ZOE project principal Professor Tim Spector of King's College London has been celebrating:





The original signs of a Covid infection that were recognised in the UK were: fever; new continuous cough; loss of sense of smell or taste. A further nine have been added: shortness of breath; feeling tired or exhausted; aching body; headache; sore throat; blocked or runny nose; loss of appetite; diarrhoea; feeling sick or being sick.

These symptoms could indicate many other conditions, couldn't they?

Some Climate Blog. Greta Thunberg tweeted this remarkable chart yester­day, "Country Overshoot Days 2022" (click to enlarge). Earth Overshoot Day marks the date when humanity's demand for ecological resources and services in a given year exceeds what Earth can regenerate in that year. Baddies - the resource greedy - are at the top right, goodies the top left. (Take note please, friend Diana in Luxembourg😉I think I might have an answer, but please give me your explanation). Have I got this right? I can't quite believe the order. By the way, in 2021 we - all of humanity - overshot on July 29th.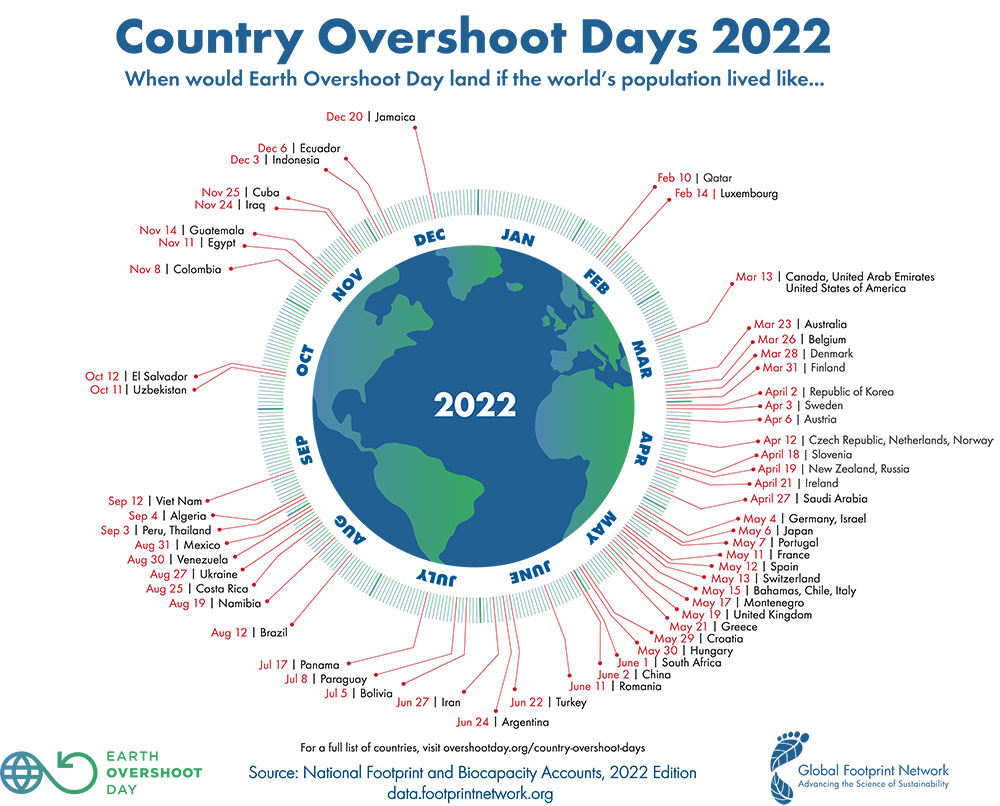 Now for Whatever I Fancy Blog.

First, more of the family adventures in northern Spain. Son Ben, partner Soph and friend Carmine walked the Ruta del Cares in Asturias at the weekend: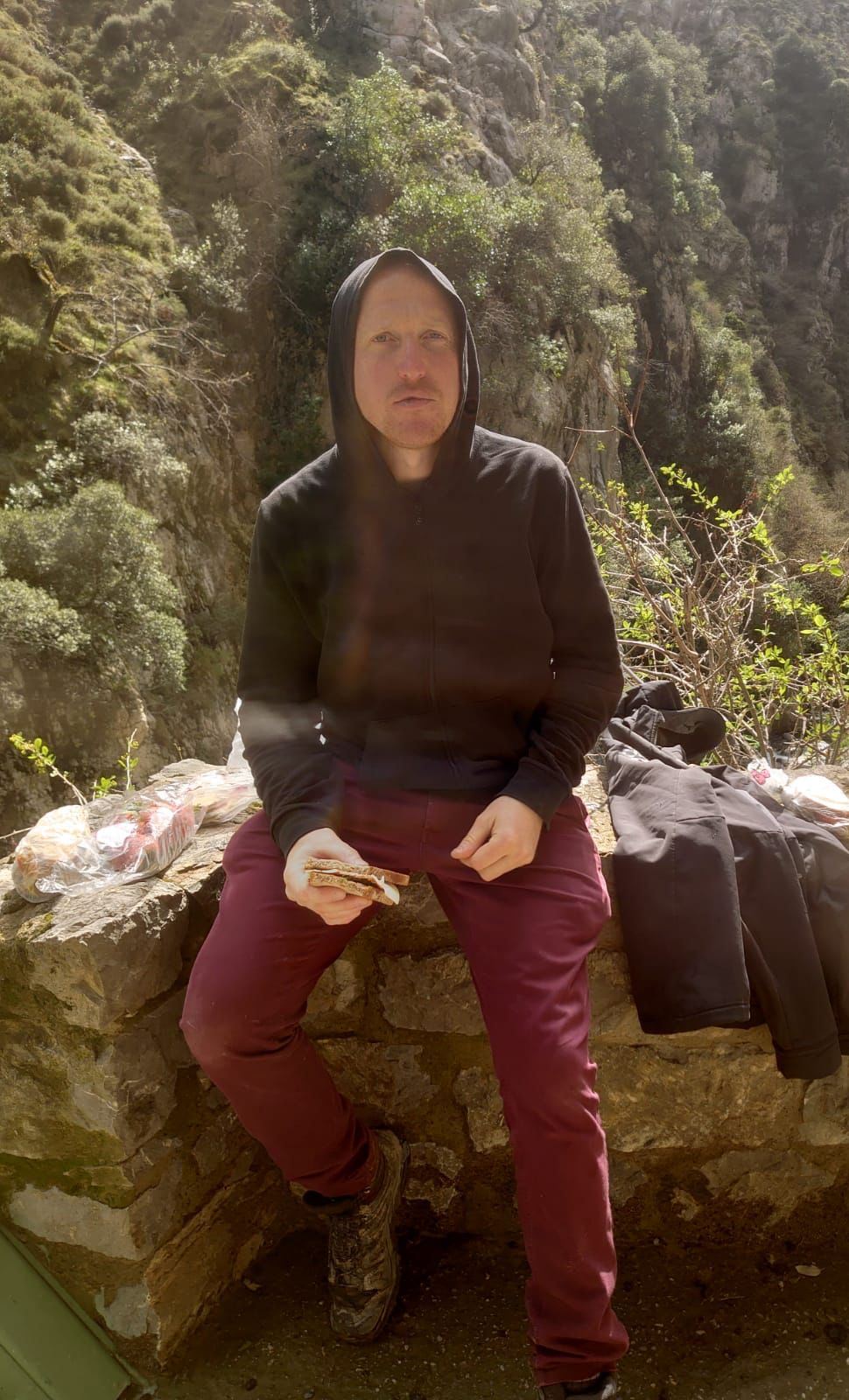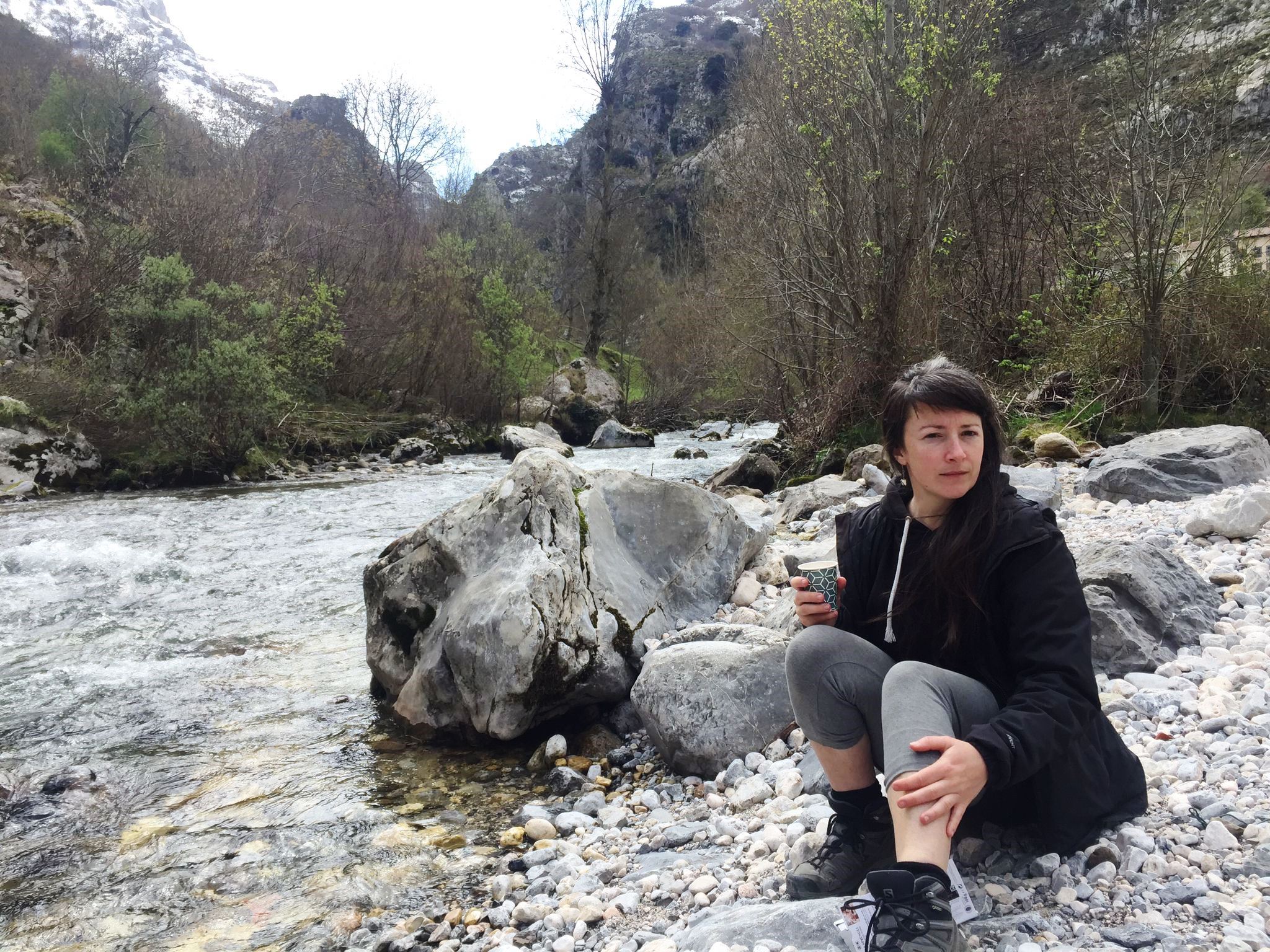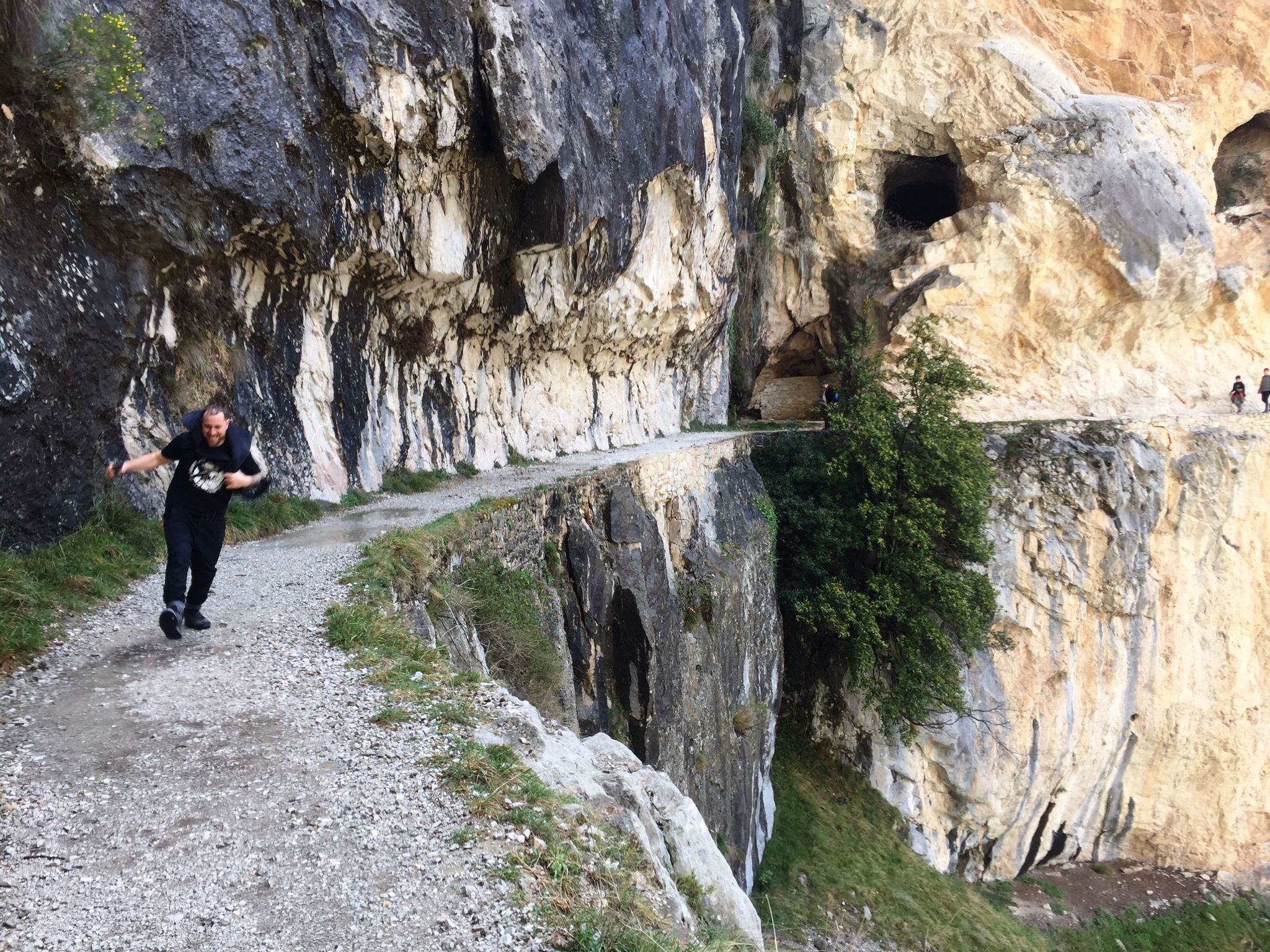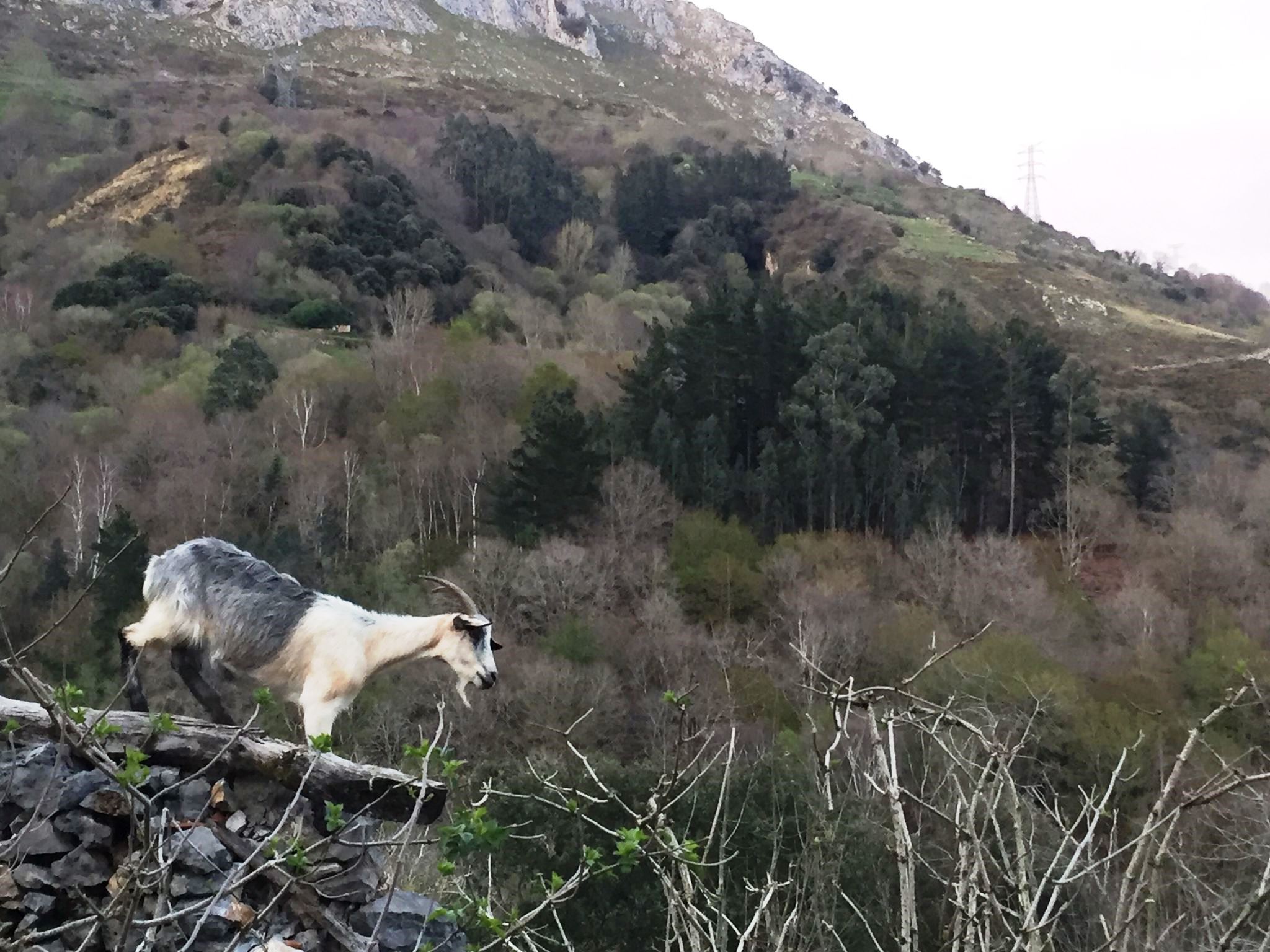 Finally, more uplifting video from friend Diana. It's of Pam Ayres reciting her poem "They Should Have Asked My Husband", a moral tale for (mostly) men - I don't exclude myself - who might be too overbearing in our opinions:



Monday 4th April


Household Covid update. Sarah has still got a cough and cold. I've tested negative again this morning. We're leading a curious intra-dwelling distanced existence - thanks to my Irish correspondent for advice on ways to do this. Sarah uses the living room - sofa for reading, television for entertainment - and I occupy the office upstairs - internet for this blog, ITV Hub last night for The Ipcress File. I cook in the kitchen, then vacate it for her to wash up. I go out to shop, she isolates at home. After she uses the office computer, we ventilate the room and I sanitise the keyboard and mouse. I wear a mask as I move through shared spaces. It seems mad, but necessary.

In the outside world, there has been widespread condemnation of the horrors revealed in Ukraine. President Zelensky has said that Russia's actions constitute genocide, describing the invasion as "the torture of the whole nation".

Here is a selection of tweets.

António Guterres, Secretary-General of the United Nations:





Charles Michel, President of the European Council: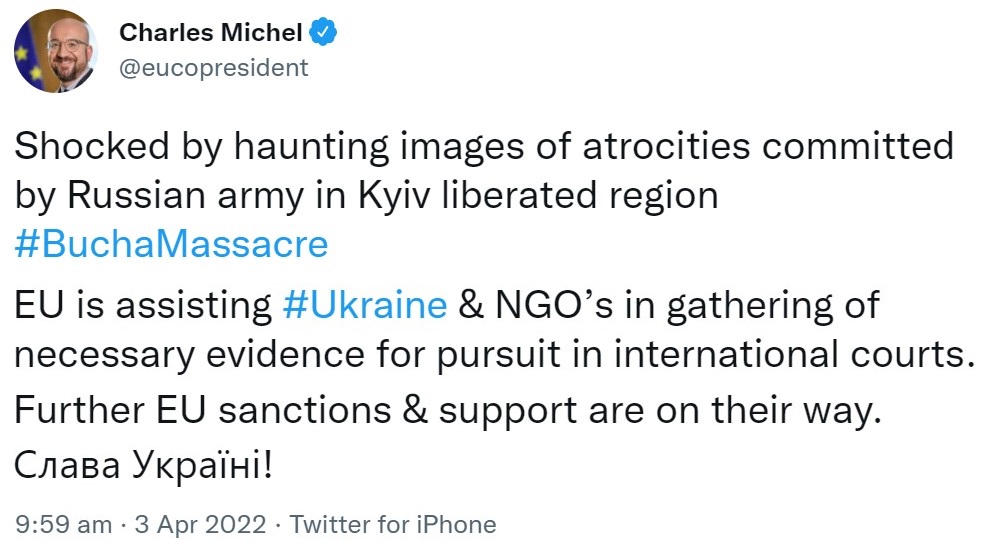 Anthony Blinken, United States Secretary of State: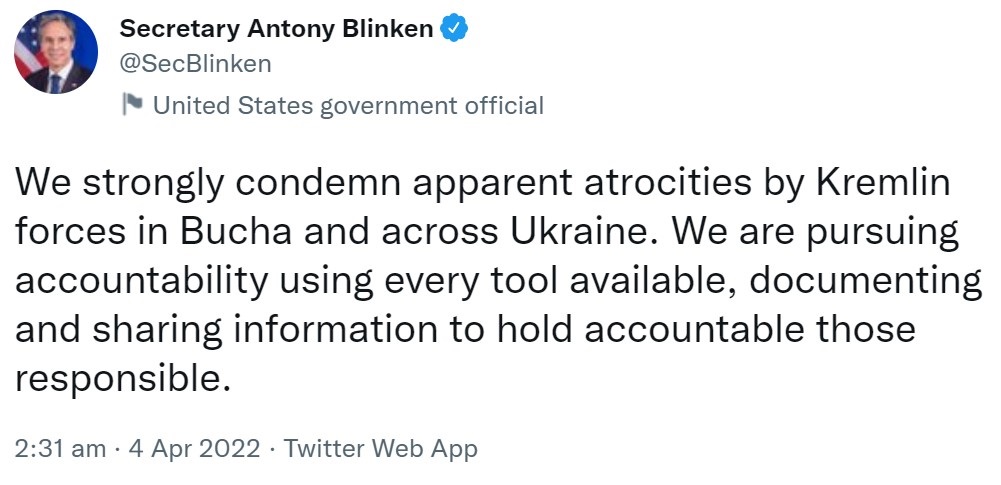 Melinda Simmons, non-resident Ambassador of the United Kingdom in Ukraine (she left Kyiv on 19th February and Ukraine altogether on 7th March):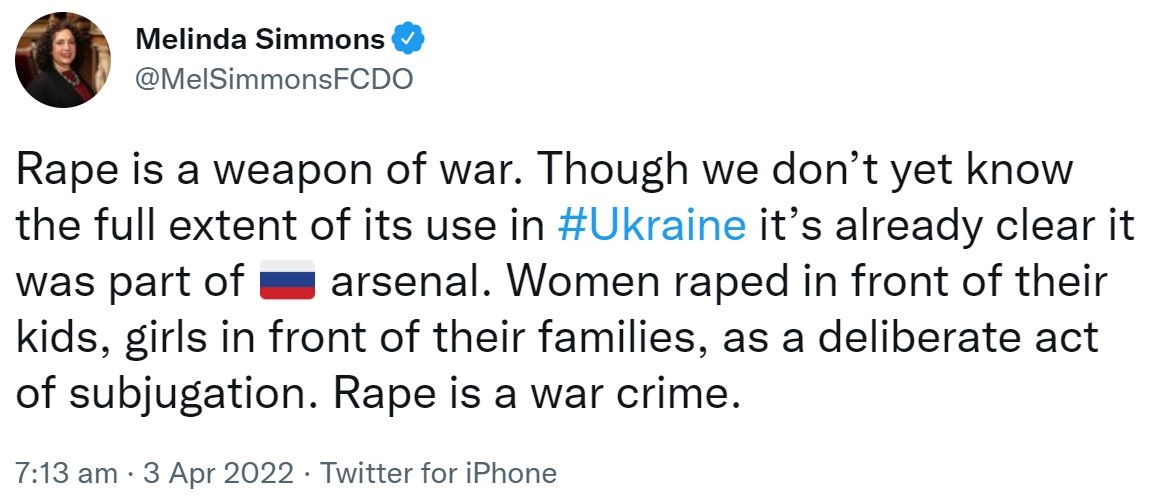 Then we come to this: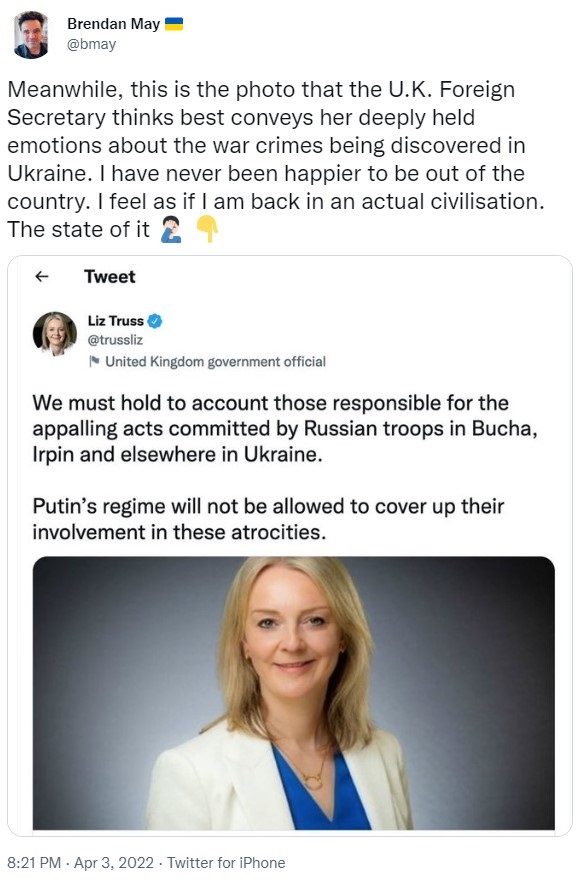 Yes, that's right, the Westminster Foreign Secretary, while expressing criti­cism of actions in Ukraine, takes the opportunity to include a self-promoting snap. So appropriate to atrocity. Bright blue top, smart white jacket - ideal. Ever mindful of a Tory leadership contest, I'm sure.

On the home front, emails have come in from friends, get-well-soon wishes and advice on seeking light relief from all the bad news.

My friend Diana sent me a wealth of uplifting material from Luxembourg yesterday, starting with this message:

"To limit my contact with the horrible news reports coming out of Ukraine, I have read mainly unrelated items in today's Observer. These include an article on Ofsted's 'pop quiz' method of assessing/disparaging schools' overall performance. The article referred to a recent Ofsted inspection of Coalwood Community School in the Forest of Dean, which was downgraded from outstanding last November. Kids of 7 and under were found to be unable to sequence historical events in the right order because of gaps in their knowledge. To fill in some gaps in mine, I googled and downloaded the Ofsted report, which by the way is full of praise for the environment created by the school and the fact that the children, as well as feeling - and being - safe, supported and happy there, loved reading. The inspectors nevertheless downgraded the school, partly on the basis of children's less than total recall of all the topics covered in the curriculum. They do not seem to have taken into consideration the fact that there have been officially-endorsed and factored-in gaps in all school students' grasp of the curriculum over the last 2 plague years.

"I can't remember doing any formal history lessons until secondary school. At seven I expect I was still under the impression that dinosaurs, cavemen, the Romans, Henry VIII and my grandparents had coexisted in the olden days - i.e. the period up to 1955. The all-important and priceless 'love of reading' my school and parents imparted has enabled me to fill in some of the gaps since then, without necessarily achieving Ofsted-standard certainty about the correct sequence of events.

"This rant is not intended for inclusion in your news round-up, by the way

[Ed: I have gained permission from Diana to include it 😃]

. I just thought you might be interested in some home-produced idiocy as an alternative to brooding on the savagery unleashed elsewhere. Have you ever heard Fascinating Aida's wonderful Ofsted Song? I'll forward it to you.

"On a more hopeful note: Ceasefire in Yemen! A little bit of hell on Earth may be in retreat."


So, for your escapist delight, here is Fascinating Aïda's OFSTED Song. If you are or have ever been a teacher, this is for you. I sincerely hope that my dear friend Alastair, ex-inspector for OFSTED, is not reading today's blog 😉



Sunday 3rd April


The reporting from Ukraine, which includes hitherto unseen historical video footage, has reached new levels of intensity and ugliness - hardly adequate words, horror and atrocity are closer. It's all there in world media coverage. You will have seen the images and film, so there's little I can add. Yes, the Ukrainian forces appear to have had success around Kyiv, but we also have reports of civilian killings at Bucha and elsewhere, people with their hands tied, shot in the back of the head, the mayor Anatoly Fedoruk stating that they have buried close to 300 in mass graves. Pictures of suburban streets transformed into graveyards of Russian armour. Barely thinkable six weeks ago. I didn't fully imagine then that I might be writing such words today. It's a shock seeing them on the page as I review before posting.

Meanwile - almost too trivial to mention, but it's the news in this house - here at home Coronavirus Blog is back. Sarah tested positive yesterday. I tested negative. As I did again first thing this morning, despite a mild sore throat and slight sniffles.

Sarah has been feeling poorly for a couple of days and now has a nagging cough. Thankfully nothing more severe. It means of course that she has been busy with 'phone/text/WhatsApp telling friends and family with whom she has been in contact in the recent past. Also, sadly, cancelling a trip to London today to see son Nikko who's here on a flying visit from Vienna with his new girlfriend. Plus appointments in the coming week.

I have postponed arrangements too. Our bathroom renovations go on hold as the plumber needs to stay away. I guess we'll be leading separate lives for the duration, ventilating shared spaces well, wiping down surfaces, sticking to our own tea mugs.

I haven't posted coronavirus charts for a long while. The second shows the Stroud rates.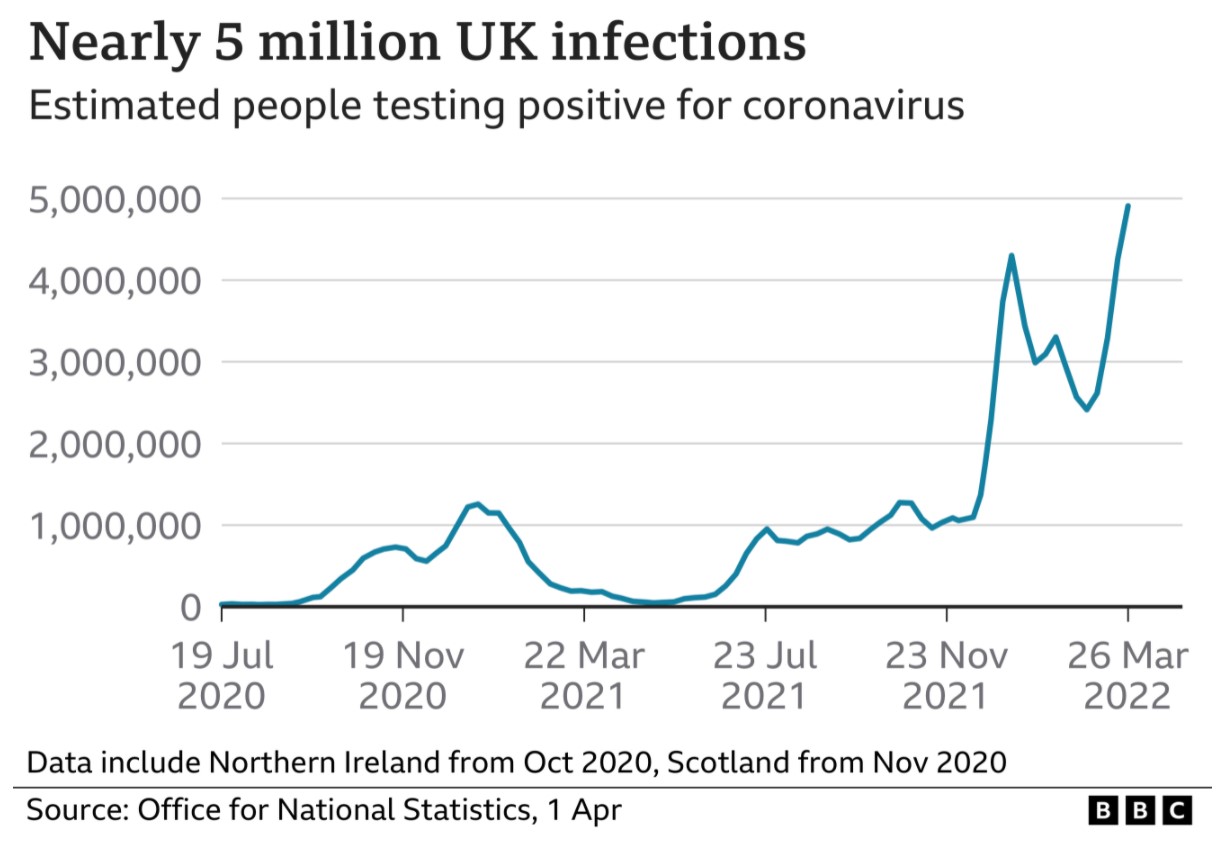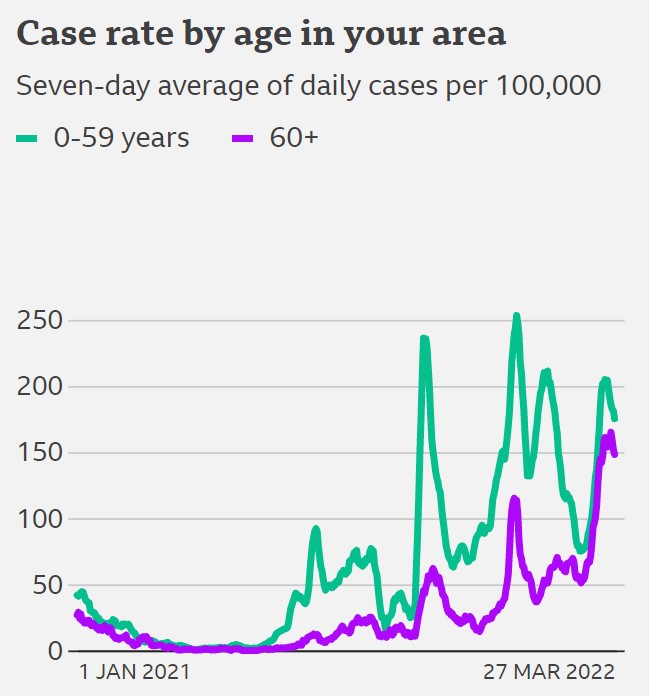 Back in Boris's triumphant vaccination programme glory days, the 60+ purple line was nowhere near to tracking the 0-59 green. It looks like this household is now contributing to that change of statistic.

I was in town yesterday, later than the busiest peak of the Saturday farmers' market, but there were still plenty of people around, more than on a typical weekday. I was among a tiny minority of mask-wearers. Indeed, I only saw one other in the three shops I entered.

Saturday 2nd April


It wasn't an April Fool. Dale Vince is leaving Ecotricity, primarily to get involved in the next general election. He will also continue with other ventures such as Forest Green Rovers football club, the vegan food company Devil's Kitchen, and Skydiamond.

I'm going to devote today to an interview he gave to Mark Owen, editor of Gloucestershire's Punchl!ne News. It's 11 minutes long - worth watching - so I've added my own shortened transcript below should you prefer to read rather than watch. I've concentrated on the first two-thirds, the more political content. It's tidied up. I've simplified Mark Owen's questions, but Dale's answers are close to verbatim, with the ums-and-ahs edited out.






Why are you selling?




I've been doing it for 25 years. We were the only company in the world selling green electricity back then. Today everybody's selling it. It's a proper global mainstream business. That means there's a relative lack of impact I can have by spending more time here. Ecotricity has a pipeline of projects to build new green energy which will cost about 2 billion pounds of investment, money that we don't have. I can have more impact somewhere else. Ecotricity can do more with a new owner. And that's a good combination. Sometimes you can achieve more by letting go.




What sort of owner are you looking for?




I'm looking for commitment, the same commitment that I have to green energy, to my team here, to our base here in Stroud, someone with deep pockets that can take our pipeline of projects forward and build them rapidly, because this is what the country needs.




What about the 800 staff here in Stroud?




The most important thing is the choice that I make, who I choose to buy the company. I'm blessed by independence, I own Ecotricity wholly, so I make my own decisions, I'm not driven by money. I'm looking for the best outcome for Ecotricity, which will mean the best outcome for the staff.




Has the Ukraine situation and the energy crisis had a big impact on your thoughts?




The energy crisis has been badly handled by the government and is hurting an awful lot of people, and enriching a few people. The big oil companies have made 50 billion this winter with windfall profits which the government refuses to tax. They refuse to take that money and put it back to where it came from, into the hands of energy bill payers. That is a big problem and lends weight to my feeling that politics is the missing bit of the jigsaw now. We've got renewable energy technology, economics is on our side, people are on our side and we have the urgent need to get to net zero. What we don't have are politicians with all the policies that can get us there. This is what I want to pivot into now, to move out of green energy, which is something that we founded and have proven over 25 years - to get to where we now need to be, politics needs a nudge.




You've given money to David Drew

[Labour MP in Stroud for many years, replaced by Conservative Siobhan Baillie in 2019, fervent supporter of Forest Green Rovers, former chairman and vice-chairman]

- do your politics lean that way? Will you stand in Stroud?




I genuinely don't know, I haven't decided how to get involved in politics. I don't want to be a politician, but I want to get involved in the next election. It's the most important of my lifetime, of all of our lifetimes, of all of us that are alive today. There will be no more important election. I've given money to Dave Drew, I've supported the LibDems, the Labour Party, the Green Party, all kinds of people, not the Conservative Party funnily enough. That tells you what my politics are. I'm about the environment, social justice - that's the direction of travel I'll take.




If you got into Parliament you could do a lot as a member of the club.




That's possibly so. There's a lot of power currently in the hands of some very incompetent unworthy people that have done nothing in life, that are in politics out of self-interest, with those second and third jobs. People that are not honest with themselves or us, and making bad choices. They're ruining our country. That bothers me.


He was then asked about Forest Green Rovers and reaffirmed his stewardship of the club, to take it up two more leagues, to develop the Eco Park at M5 J13 with its injection of green jobs and £millions into the local economy. He'll also be busy with his vegan food company Devil's Kitchen (FGR are nicknamed the Green Devils) and Skydiamond. I'm sure there'll be plenty of other new initiatives.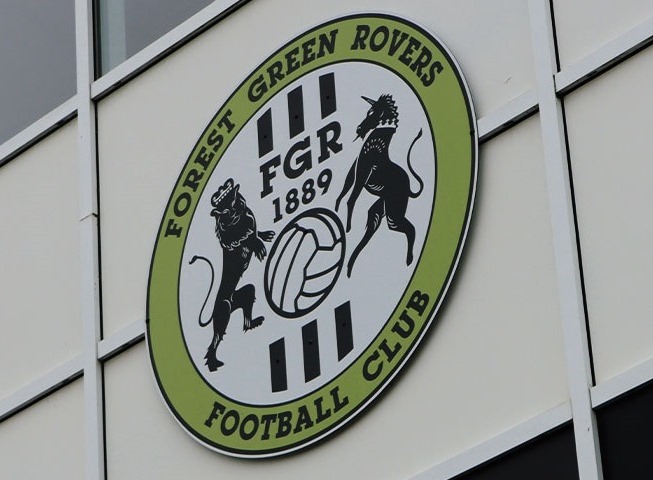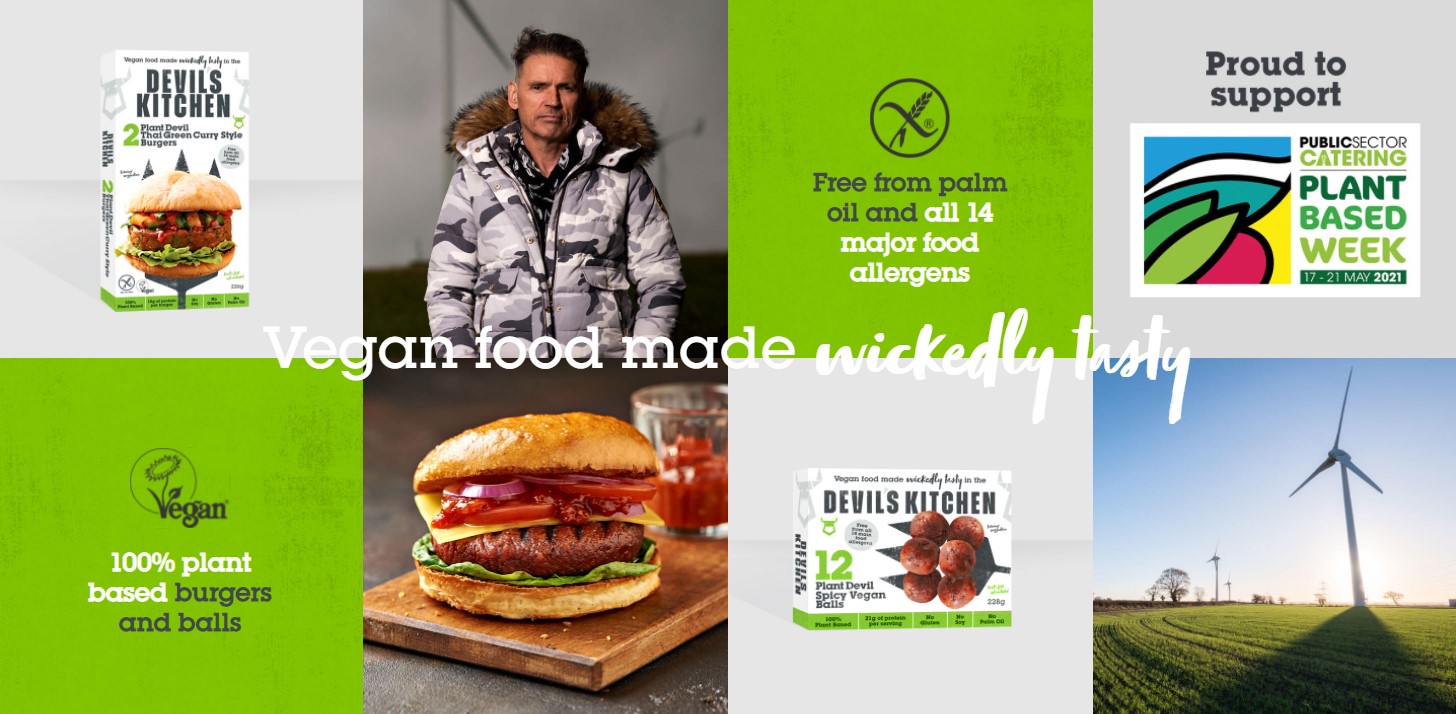 He told accounting consultancy KPMG, who are handling the selling process, to take the iconic green "Union Jack" out of the "deal perimeter". It's not for sale.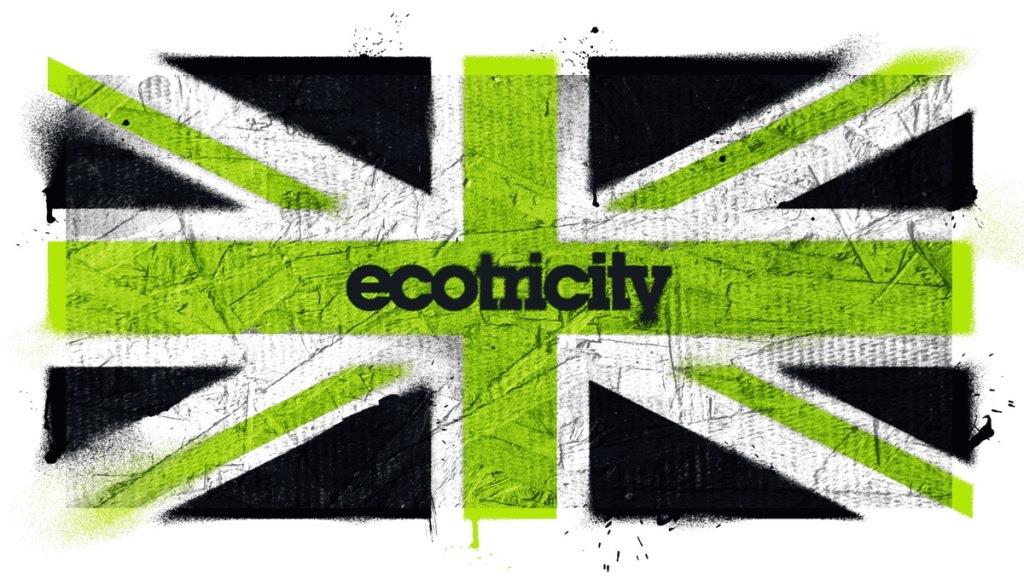 I share his dislike of the present Westminster government. I blogged the 2019 general election with a growing sense of despair. Brexit, #Partygate, gongs for oligarchs, cronyism - I'm sick of the mean-spirited self-seeking buffoons. So maybe here's a new project for the next couple of years. Perhaps I'll offer my support to Dale in the run-up to the next election. Anything I can do to help turn England into a kinder, more generous place to live - worthy of admiration in Europe, not a pariah.

Still waiting for a reply from Ecotricity to my three emails about the effect of the price cap increase on my bills 😉

Friday 1st April


We had snow yesterday. Not so good for the spaghetti crop:




It's full-speed-ahead with the cost-of-living crisis and energy price rises. And it's no joke. The cap goes up by 54%.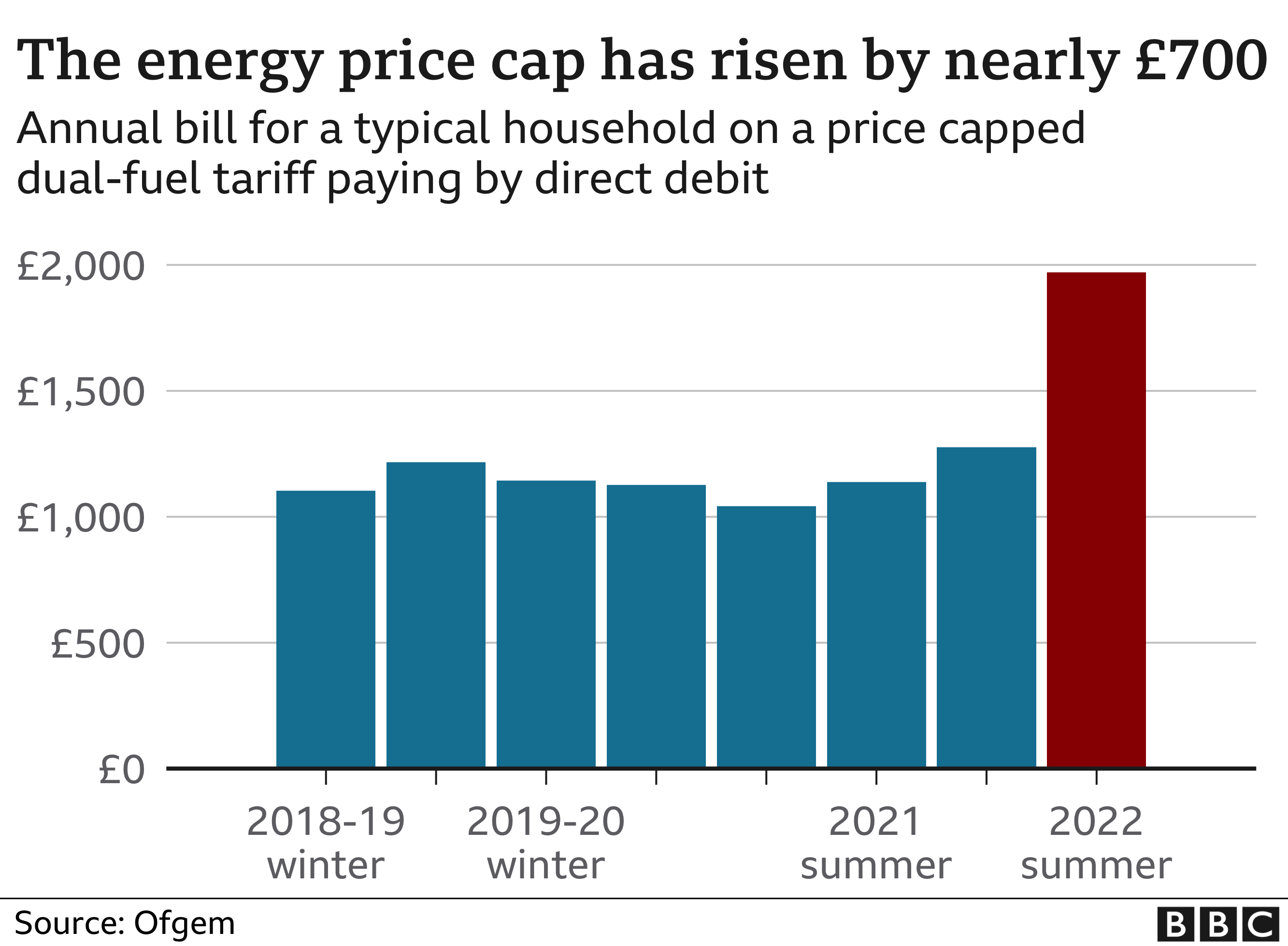 I had a go at Dale Vince last night: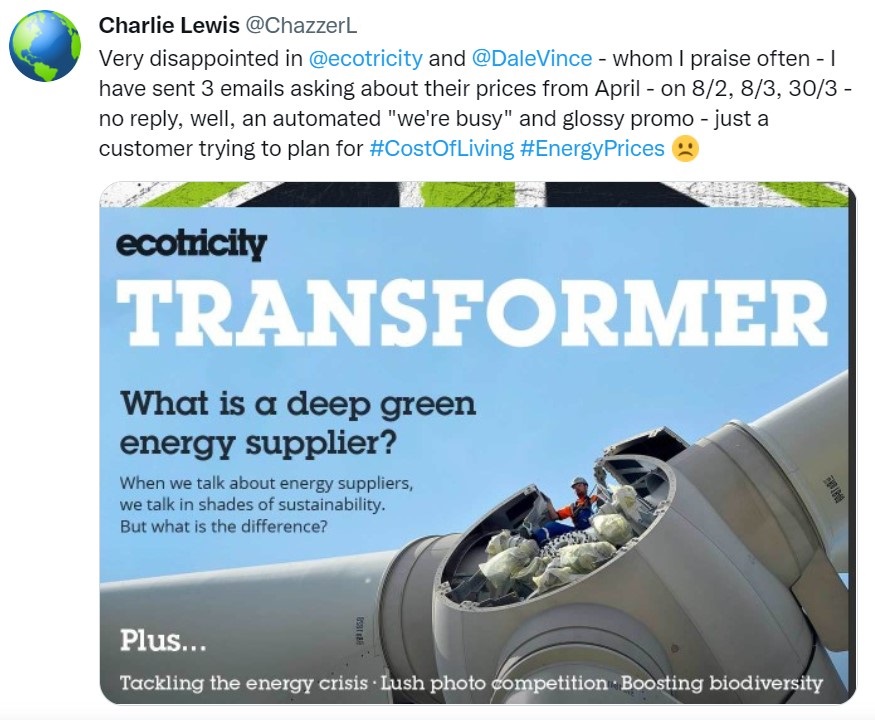 He has other things on his mind. It's a good date for this announcement: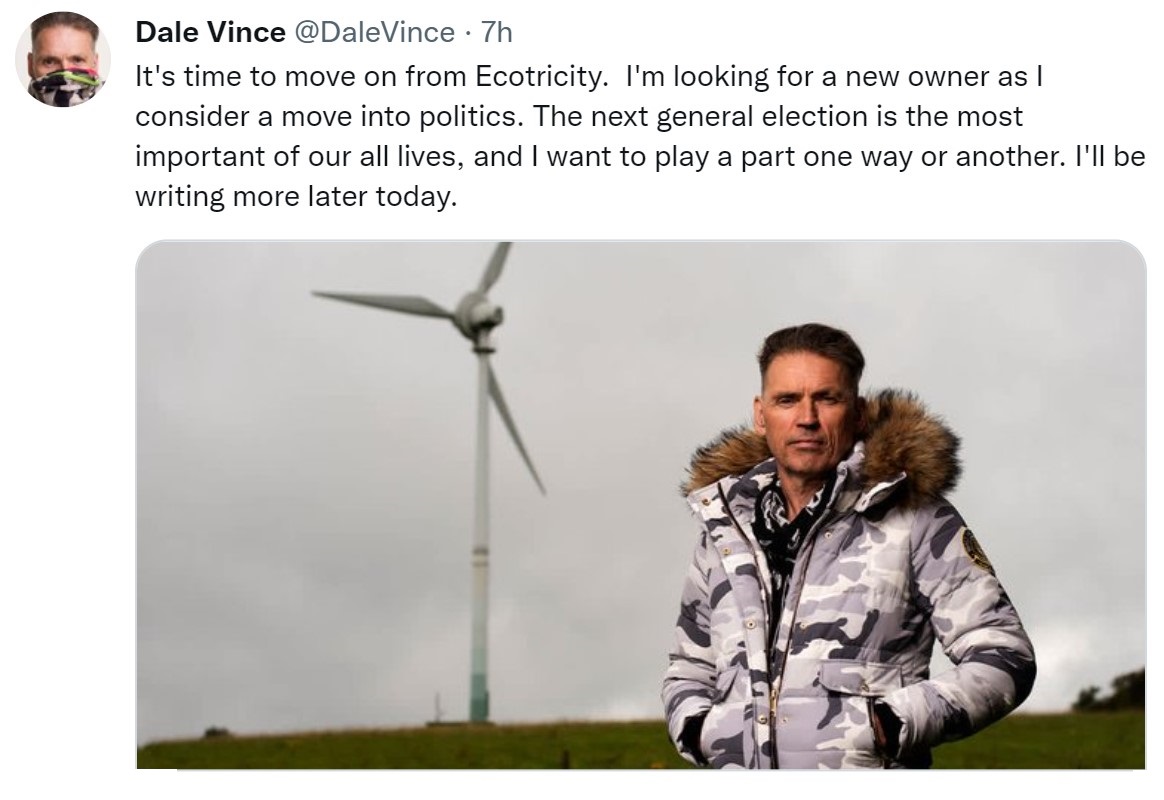 From the company website this morning:

"This is a huge decision - it's been my life for a long time and is arguably my life's work. But it's the right decision at the right time - our pipeline of green energy projects is way beyond what we can fund ourselves, while at the same time, the country's need for new sources of renewable energy has never been bigger.

"Or more urgent - we're halfway through the vital last decade, the UN said we had to avoid the worst of climate change, and little has changed in that time. The good news is that the war in Europe has finally brought the attention of our government to this issue, through the risk to energy supplies and the newfound interest in Energy Independence.

"By passing the baton now to a new owner, Ecotricity will be able to play a big role in the accelerated shift to 100% green energy on the grid. And I will be able to play a part in the next general election in some way or another. We have everything we need to get to net zero as a country, we have the technology, economics is on our side, as are the public - we clearly have the need, what we lack are politicians that get it and the policies that will help make it happen - faster.

"I believe this will be the most important election of our lives."


His decision is covered in The Times newspaper this morning. Interviews with BBC Gloucestershire and Greatest Hits Radio Gloucester.

I'm waiting for 12 noon. Isn't that when we find out that we've been had?

The Stroud Times is sceptical:




Thursday 31st March


So, the promise to the Chernihiv region didn't herald much peace. And Putin says he won't stop shelling Mariupol until the city surrenders.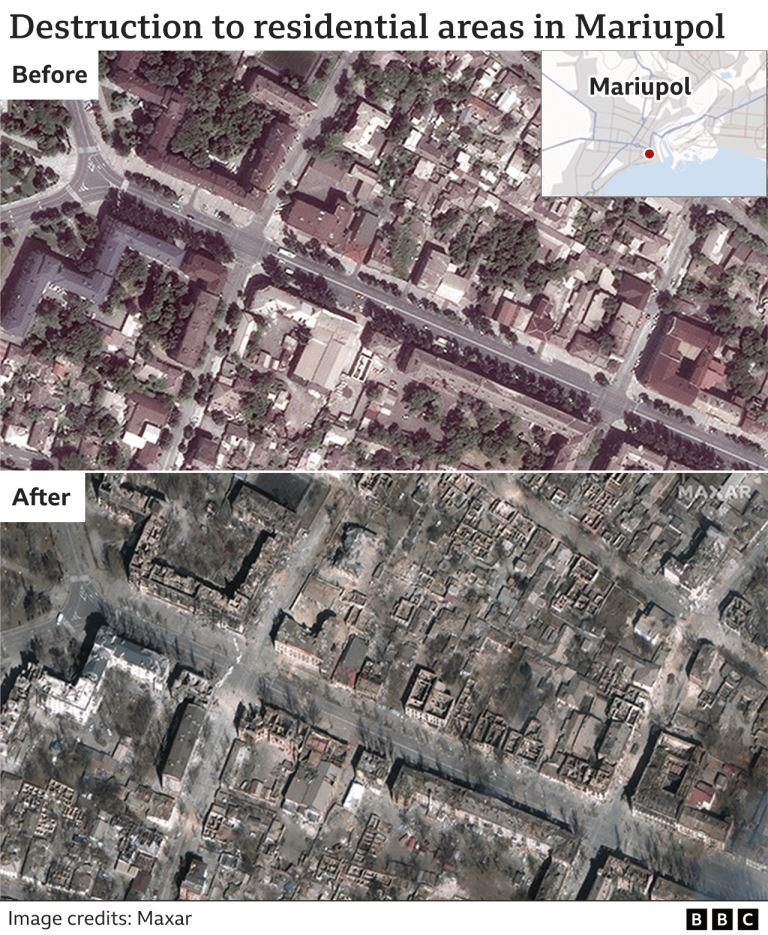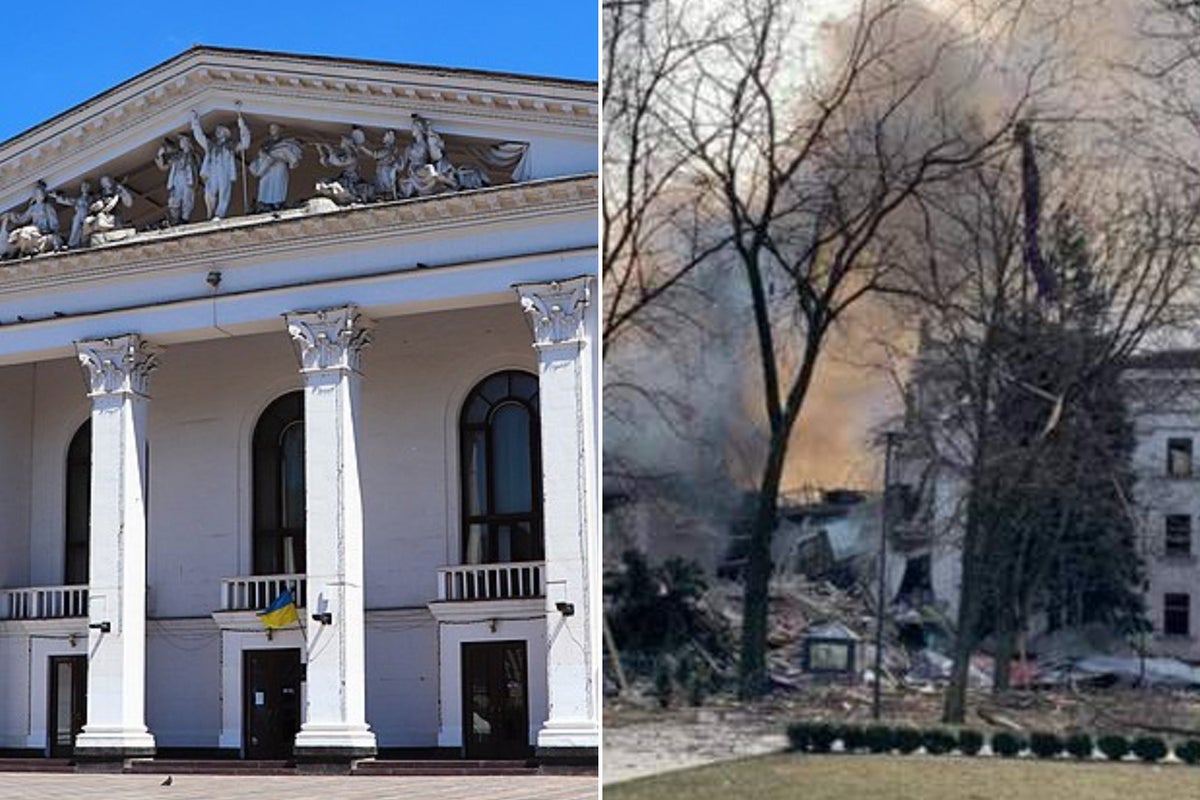 This is not an original thought, but the pictures of flattened non-military targets in Mariupol particularly shocked me yesterday. Why would you destroy a city and kill many of its inhabitants as part of your strategy to bring a country back into the fold? Even if Ukraine does eventually surrender, the memory and pain of such suffering will live forever in the nation's soul. A fierce resistance movement will operate as long as Russian control persists. It won't be a safe place for a Putin-ite to live. Vladimir Vladimirovich himself will surely never be able to set foot on Ukrainian soil.

This beggars belief too. Extracted from a BBC report, detail derived from Russian state-owned Zvezda TV, on recruitment of mercenaries:

"Russia says it has signed up around 16,000 recruits from the Middle East, with social media in Syria flooded with requests for people to join Russian troops. Soldiers are being offered up to £5,000 a month to fight on the front line for Russia in Ukraine. Syria's economy, already ravaged by civil war, now faces a spike in the price of essentials like wheat, much of which comes from Ukraine and Russia - making the Russian offer look all the more tempting."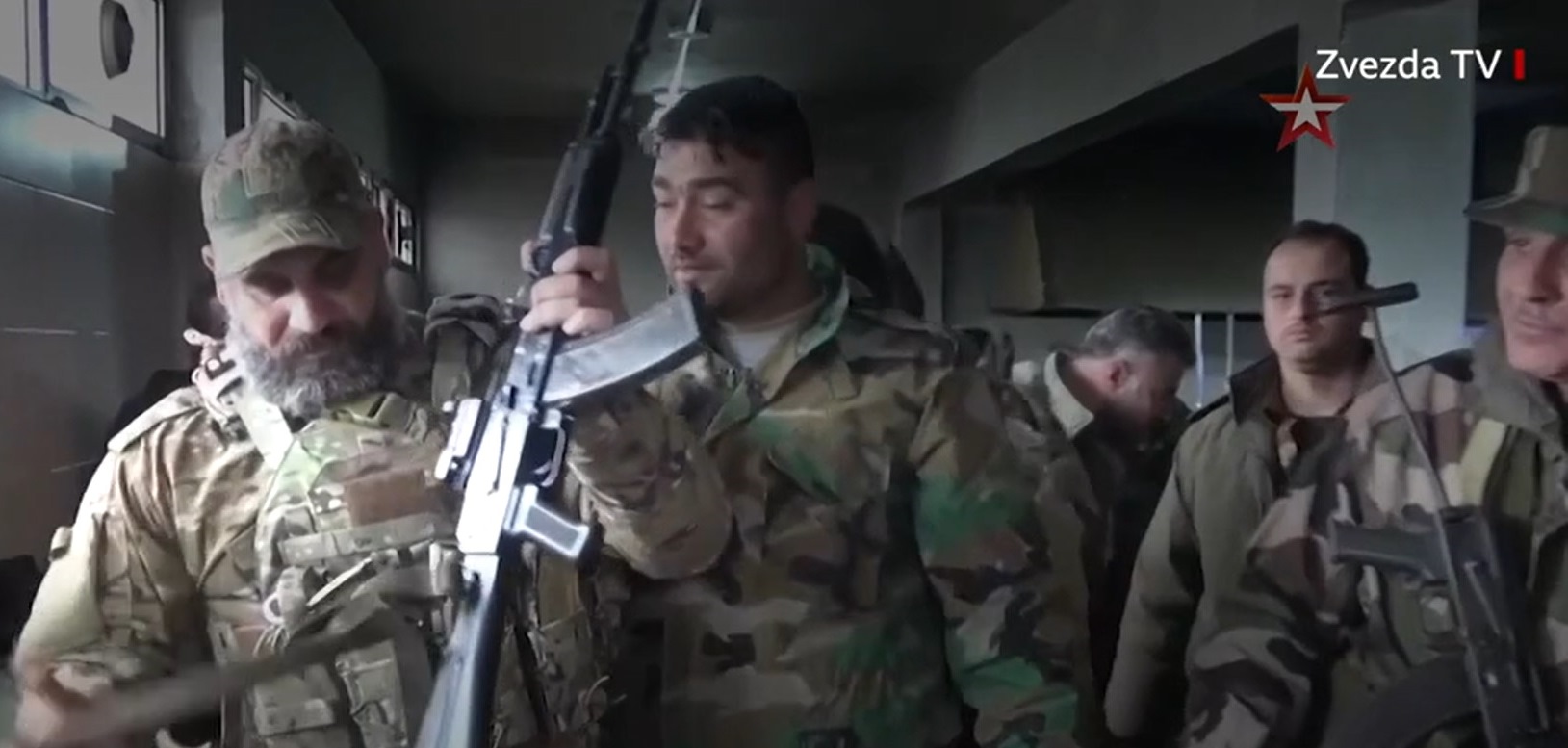 How does anybody come up with this idea? To seduce people from a suffering nation in one part of the globe to participate in a humanitarian crisis elsewhere. With money.

Sorry folks, not a cheerful morning. At least somebody took the trouble a few days ago to dress up as a cute bunny to entertain children at a Kharkiv metro station: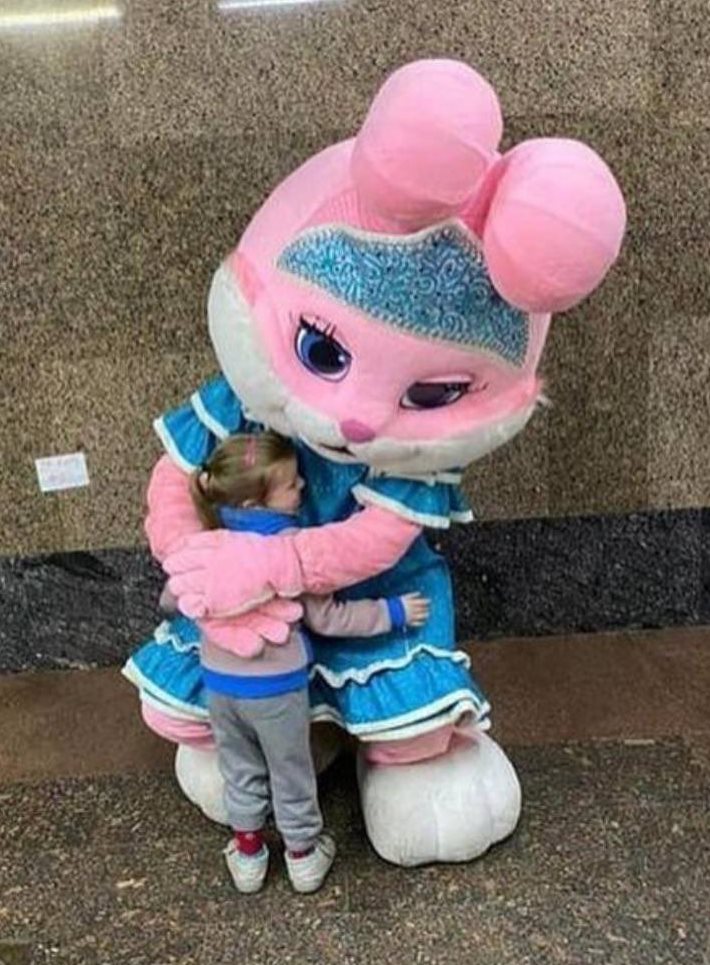 Here's central Prague during the Zelensky address. Inspiring. Yes, those are the EU and Ukraine flags together.



Wednesday 30th March


I've been surprised and heartened - warily - by a number of reports from Ukraine in the last 24 hours, mostly courtesy of the BBC, which even as a brainwashed consumer of the western press I hope I can trust more than Russian state TV.

First, an update from the Institute for the Study of War (ISW):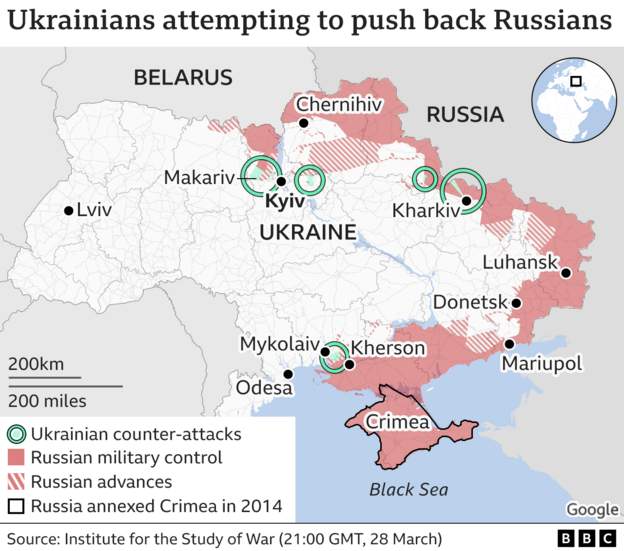 Yes, there are large amounts of red. However, the green circles indicate where Ukraine may actually be reversing the invader's progress. Didn't you imagine as I did that Russia would steamroller unopposed over the entire country, certainly within the first month of war?

Peace talks resumed in Istanbul. I never dreamt that they'd happen in the first place.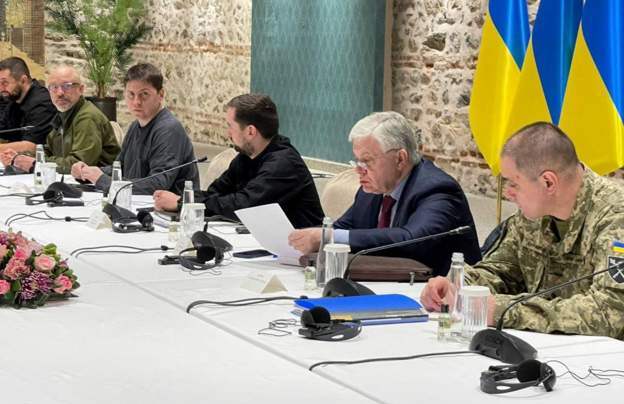 Russia's deputy defence minister Alexander Fomin said:


"Due to the fact that negotiations over an agreement on Ukraine's neutrality and non-nuclear status and security guarantees (for Ukraine) are moving into a practical stage, and taking into consideration the principles discussed during today's meeting, the Ministry of Defence of the Russian Federation has taken the decision to drastically reduce combat operations in the Kyiv and Chernihiv areas in order to boost mutual trust and create the necessary conditions for further negotiations and for the signing of the aforementioned agreement."


I really didn't expect to hear words like these from a Russian minister: "mutual trust" ... "reduce combat operations" ... "further negotiations" ... "agreement".

[10:50am update. Too soon, I fear. Renewed attacks in Chernihiv region. Governor Viacheslav Chaus scoffed at Russia's promise: "Do we believe in it? Of course not." - adding that Russia had bombarded Chernihiv "all night long".]

Unbelievably, there appears to be a lightening mood in Odesa, with bars and music venues re-opening. Drummer Alexander Hodosevich, after finishing a set at the More Music club, claimed:

"The city is coming alive, I feel. I think the fear is going away a bit. People believe in our army, which is protecting us, and feel comfortable, feel safe. I don't think the Russian army is winning."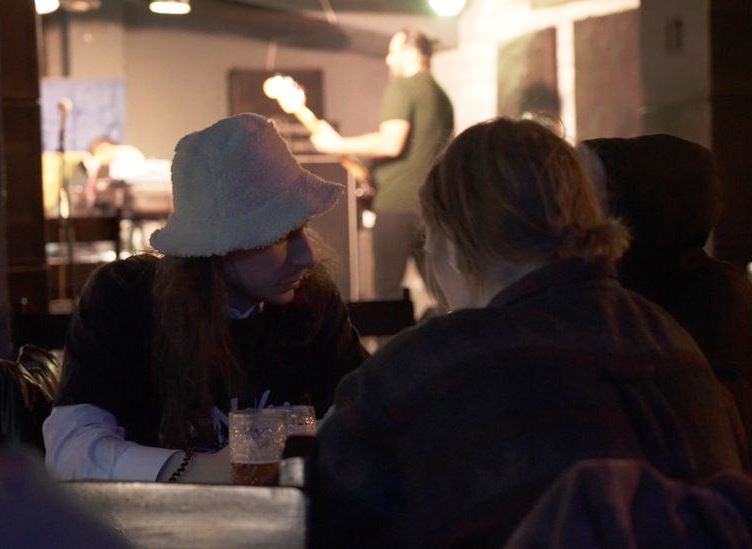 There's room for humour too. Here are clips of Ukrainian tractors stealing enemy armour, courtesy of the Russian-language TV channel Current Time (a collaboration between US-funded organs Radio Free Europe/Radio Liberty and Voice of America, editorial office in Prague), tweeted by a ... hmmm, "government organization":




Tuesday 29th March


Some responses to balance my post yesterday on Biden's regime change remarks. First, a couple of tweets: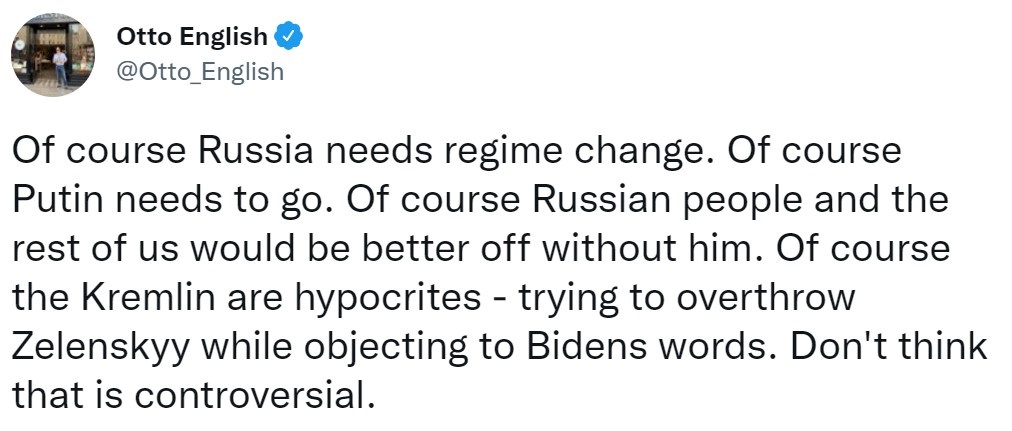 Canadian journalist Ali Velshi on MSNBC: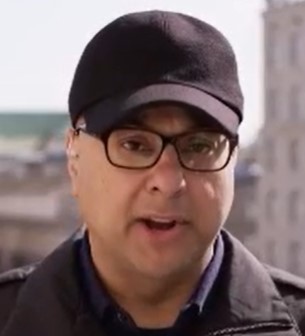 I get it ... but I'd like to stick with Desmond Tutu.

Monday 28th March


Doesn't Joe Biden read this blog? Hasn't he understood the words of Desmond Tutu, whom I've quoted twice, that we should "consider using more temperate language when describing those with whom [we] disagree". From a man who witnessed oppression and genocide but could still come up with reconciliation.

Others share my concern.

Richard Haass, president of the US think-tank Council on Foreign Relations, previously Director of Policy Planning for the United States Department of State and a close advisor to Secretary of State Colin Powell, tweeted: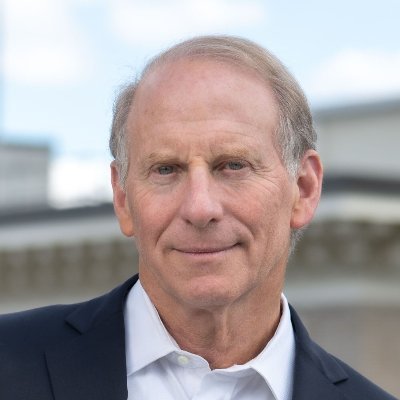 Emmanuel Macron warned:


"We want to stop the war that Russia has launched in Ukraine without escalation. If this is what we want to do, we should not escalate things - neither with words or actions."


Jim Risch, the senior Republican on the Senate foreign relations committee, commented:


"My gosh, I wish they would keep him on script. Any time you say or even, as he did, suggest that the policy was regime change, it's going to cause a huge problem. This administration has done everything they can to stop escalating. There's not a whole lot more you can do to escalate than to call for regime change."


Biden might even learn from our cat Peewee. This weekend she steadfastly refused to be provoked by the invasive aggression of daughter Ellie's Patterdale terrier Kode: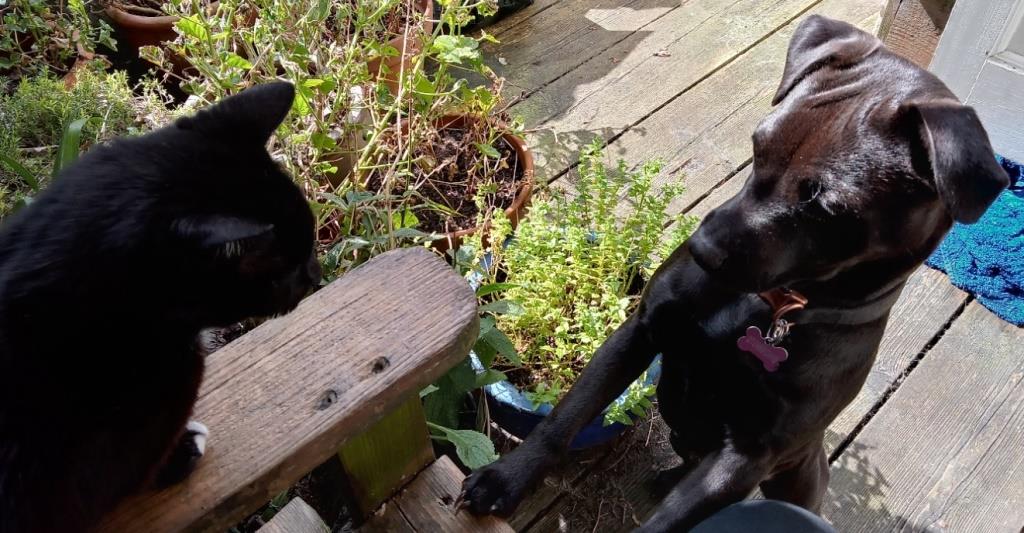 No hissing, no raised hackles. Result: one puzzled ratter rendered harmless, an ugly back yard skirmish avoided.

Sunday 27th March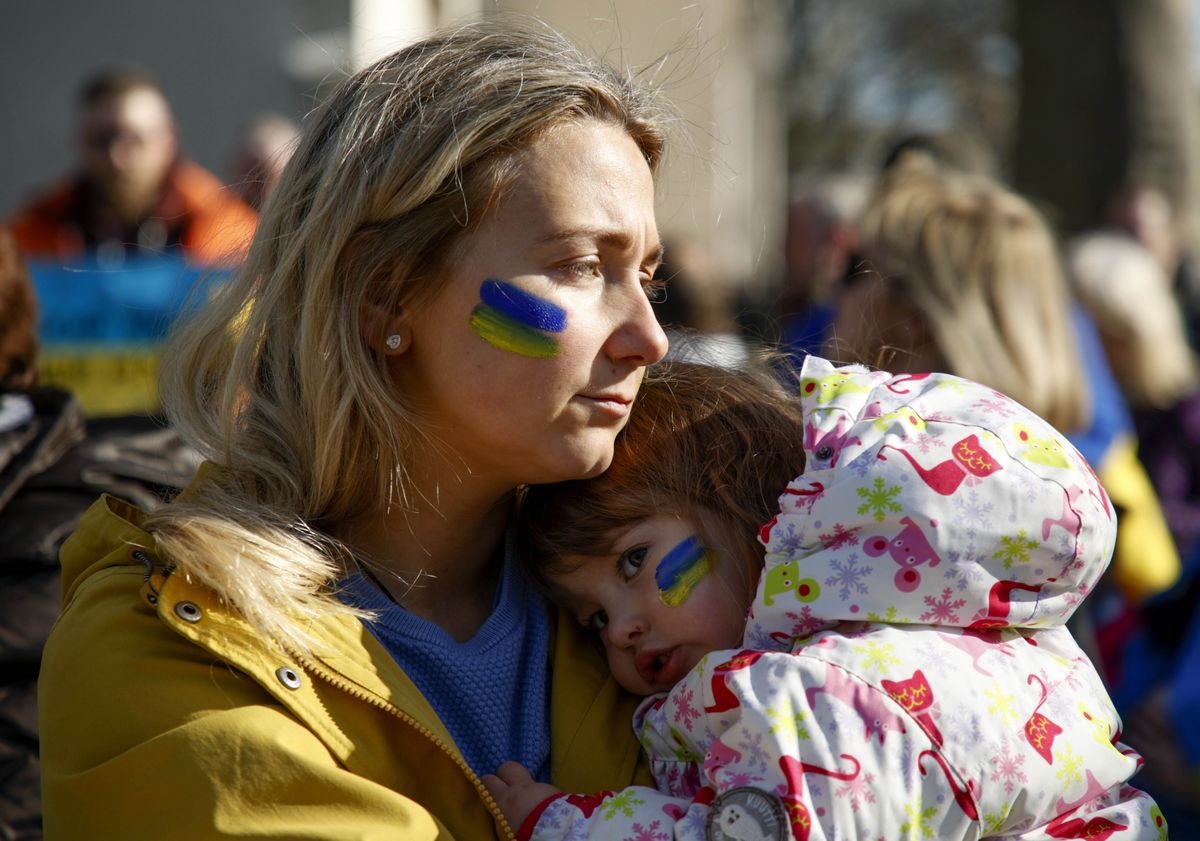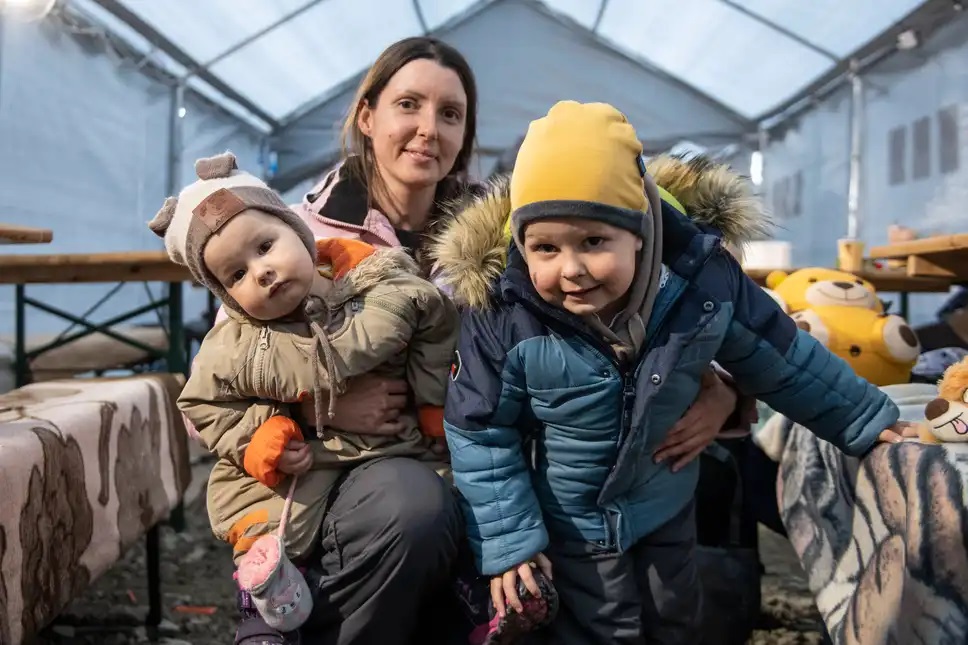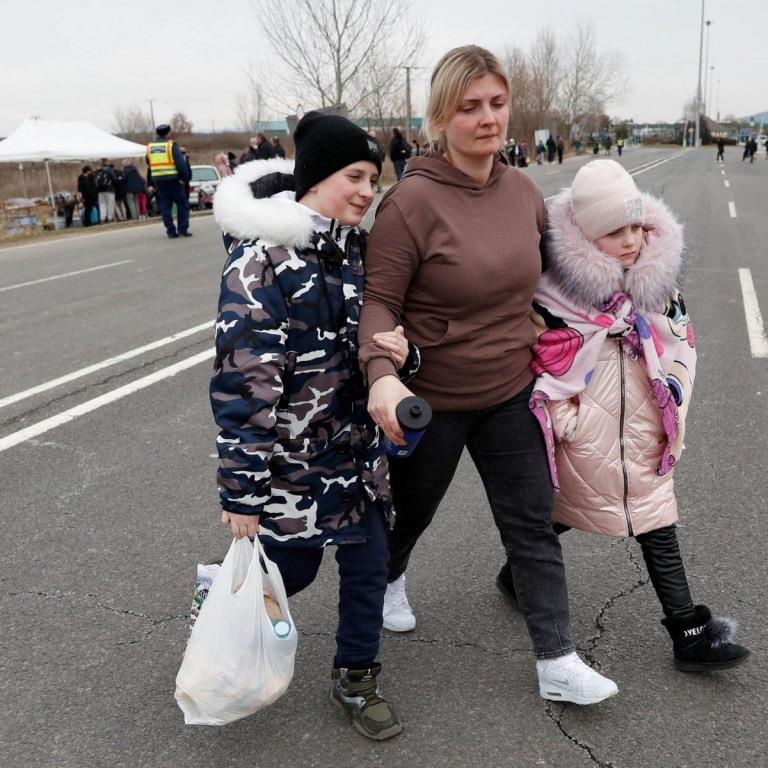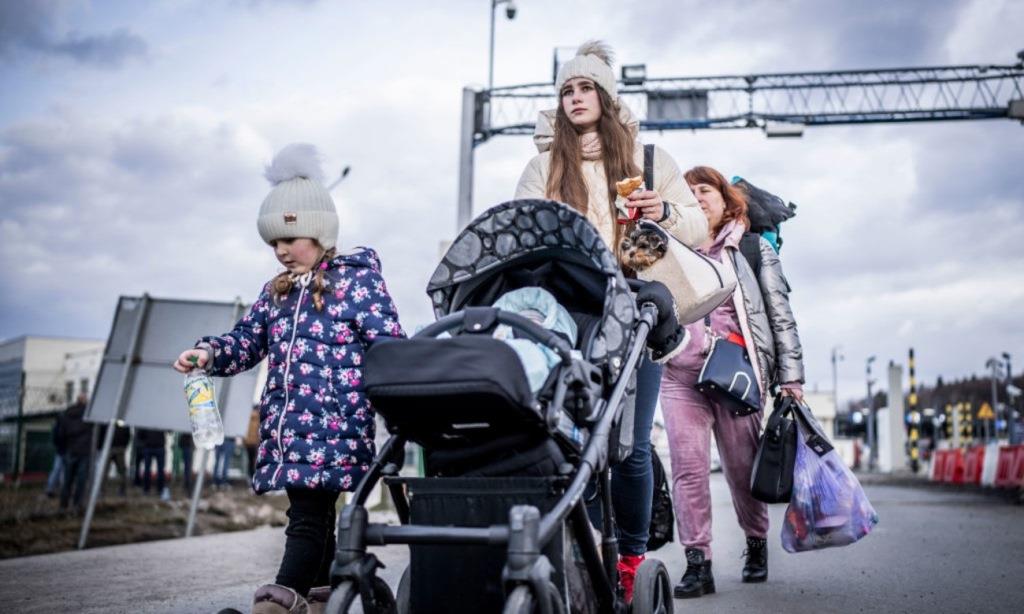 Saturday 26th March


A postscript to yesterday's piece on kindness in Ireland.

My correspondent accepted my theory that suffering at the hands of the English had contributed to this spirit, but went further:


"Occupation, land seizure, suffering, discrimination and serfdom under the English down the centuries did strengthen the bonds of solidarity in adversity amongst the people of Ireland, but the spirit of generosity would appear to pre-date that. The Celtic Brehon Laws (7th century to 17th century) even stipulated that offering hospitality to the stranger was a duty of all Irish people, and anyone who refused would be shunned by society. Christianity would have reinforced the message of kindness to others."


Although ...


"I would like to think it is the nature of Irish people to be kind and generous to others, not just related to any laws or religious beliefs."


Raidió Teilifís Éireann (RTÉ) picks up and extends the thread:


"Life in medieval Ireland was governed by laws, just as it is today. Readers may be familiar with the term Brehon Laws, which represent a collection of references to instructions, traditions and customs that originate in the 7th and 8th centuries and survive in later medieval manuscripts. It is within these texts that we find evidence of the importance of hospitality in medieval Irish law.

"According to these laws, a householder was required to offer food and lodging to any traveller passing through a neighbourhood. In addition, householders were bound by religious morals to give to the poor.

"Warm welcomes were not just reserved for the upper classes. Several records in the folklore collection tell of the hospitality for 'beggars' and 'travelling folk'. In the townland of Rashinagh, Co. Offaly, it was recorded that 'beggars used to be received in certain homes in the country districts with hospitality'."


Following on from the tweet I posted about the link between Ireland and the Native American Choctaw Nation (the third-largest federally recognised tribe in the United States), here's an article from a 13th June 2017 Irish Times article:

"The Choctaw Nation of the south-eastern states of America were so moved by the plight of the Irish people during the Famine that in 1847 they raised $170 - worth tens of thousands of dollars today - from their meagre resources to aid those starving in Ireland.

"Now the generosity of the Choctaw people, which came when they were suffering great penury and hardship after thousands perished on the forced migration that was the Trail of Tears, is to be remembered at a ceremony in Midleton, Co Cork.

"Choctaw Nation chief Gary Batton and a delegation of representatives from the Choctaw Nation of Oklahoma will attend the unveiling of a piece of sculpture entitled 'Kindred Spirits' by Cork-based sculptor Alex Pentek.

"According to Cork County Council East Cork municipal officer Joe McCarthy, the sculpture was commissioned in 2013 by the former Midleton Town Council in recognition of the Choctaw's extraordinary generosity towards the people of Ireland."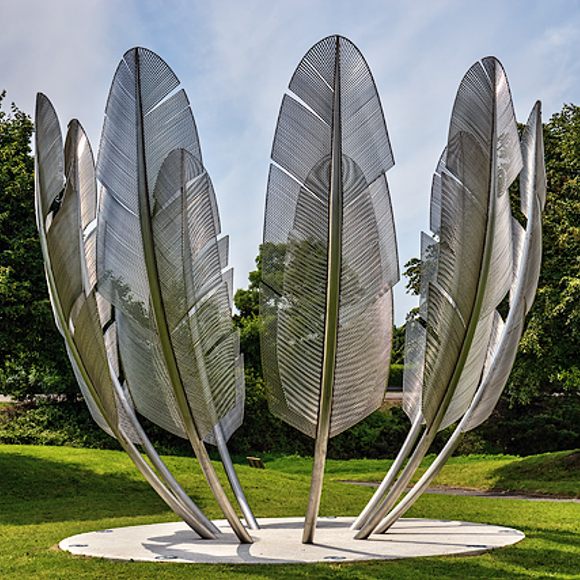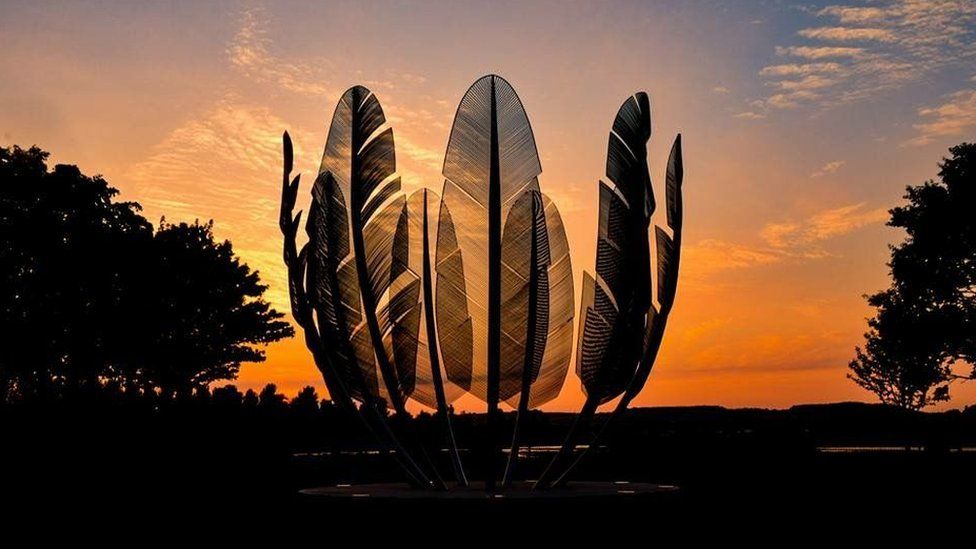 My correspondent added: "One Irish proverb that I am fond of is: 'Wide is the door of the little cottage' - no matter how small and humble your abode, there is always a welcome for everyone."

Boris's cabal and its Little Englander following has much to learn from this. EU countries like Ireland and Poland have received Ukrainians with open arms. The first instinct of post-Brexit Westminster is to do the opposite, to construct barriers to keep people out. Not "you're in need, come in and I'll help you" but "you could be a security risk, let me check you out". Fear and suspicion, not empathy and welcome.

I sincerely wish that we can change such an attitude in coming years, that Brexiteers may grow to realise what they have lost. If you abandon kindness, what have you got left?

Friday 25th March


With our bathroom out of action, yesterday I had a shower courtesy of friends Fod and Clare at their house on the Amberley hillside just off Minchinhampton Common above Stroud. A beautiful clear evening, views over the valley towards the Forest of Dean, the sun going down in the west.

Sadly, it was also a moment of unwelcome realisation. A shock in the shower. I don't like England very much at the moment. Even if the spring flowers usher in my best time of year.

It's mostly to do with the shaming bureaucratic Westminster response to Ukrainian refugees. A natural corollary to the mean spirit of Brexit.

Why are our neighbours so much kinder? Ireland in particular. My unwilling conclusion is that they have suffered invasion and oppression - usually at the hands of the English - whereas England has escaped, at least since the Normans. From that comes an empathy with those who are down-trodden, who have suffered loss and displacement. Ireland had to withstand, broadly, 800 years of English oppression. Only in 1949 did the country leave the British Commonwealth and formally become a republic.

Kindness is part of the fabric of Irish society, a basis for action.

Here's a report from the Irish Times in December 2019:


"A primary school in County Cork has decided to do away with all homework for the entire month of December, replacing it instead with 'acts of kindness'. Instead of spending the dark winter evenings memorising times tables or reciting the Modh Coinníollach, schoolchildren in Clonakilty's Gaelscoil Mhichíl Uí Choileáin will be spreading the true meaning of Christmas by performing acts of kindness for friends, family and the community. It's the third year in a row the school has replaced homework with something unique. Last year it was gratitude, where the children and their families recorded all the things they were grateful for in a Dialann Buíochas (Gratitude Diary). This year, the children are asked to record their acts of kindness - either in writing or pictures - in their Dialann Cineáltais (Kindness Diary). The school suggests doing something nice for an elderly neighbour, or performing an act of kindness for a relative or friend who may be feeling lonely, but the act can be anything as long as it brightens someone's day."


This is an entirely different lesson for children, isn't it, to the teaching of "control", and the desire to be separate from a union which, as we see in the generosity of EU nations today, has kindness enshrined in its laws?

As the Irish Times article above notes, kindness goes hand-in-hand with gratitude. Which often has a long memory.

GoFundMe said in 2020 that Ireland made the most donations per capita in that year, making it the most generous country in the world on the 10-year-old crowdfunding site. Here's a tweet: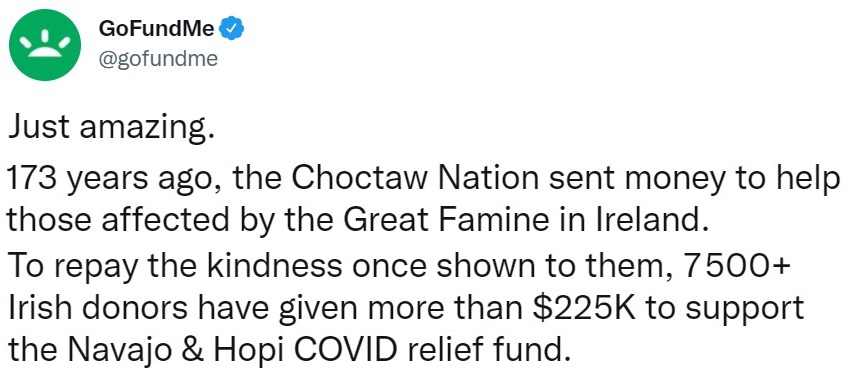 Beyond matters of the spirit, there are the economic impacts: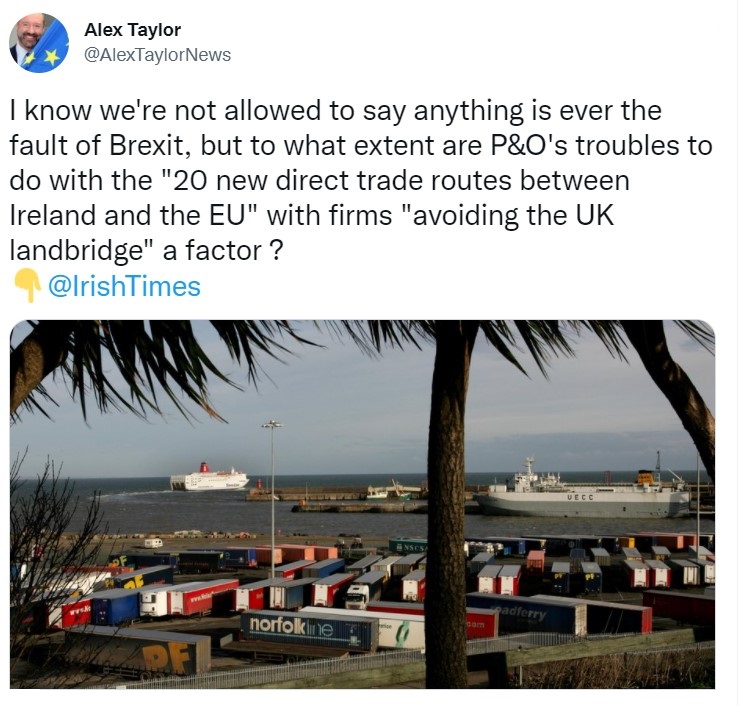 And reassuring that Boris is so welcome among Western leaders ...



Thursday 24th March


My mother Bette would have been 101 today. I've been checking family history with sister Vicky.

She was born in 1921 to Mancunian parents Albert and Edith. By the time of her birth they had moved to London, as Albert had risen from humble beginnings in an accountancy firm to the point where he was sent to the big smoke to open an office. Bette grew up in a large house in Strawberry Hill. When she was nine Albert died, aged only 44. She supported Edith - who later lived with us in our family home in Worcester - for the rest of her days, until she too passed in her early nineties.

She courted and married my father when Britain was last embroiled in a global conflict. The story is that Victor - V for short, born four days after the end of WWI - was working as a metallurgist on Spitfire airframes in a Slough factory where Bette was the in-house nurse. He would reputedly and repeatedly cut his finger so that he could visit her as often as possible. There is also talk of their performing together in Farnham amateur dramatics.

Bette drove an ambulance during the Blitz. An idiosyncratic driver, she would have put the fear of God into the Germans had they arrived in Piccadilly.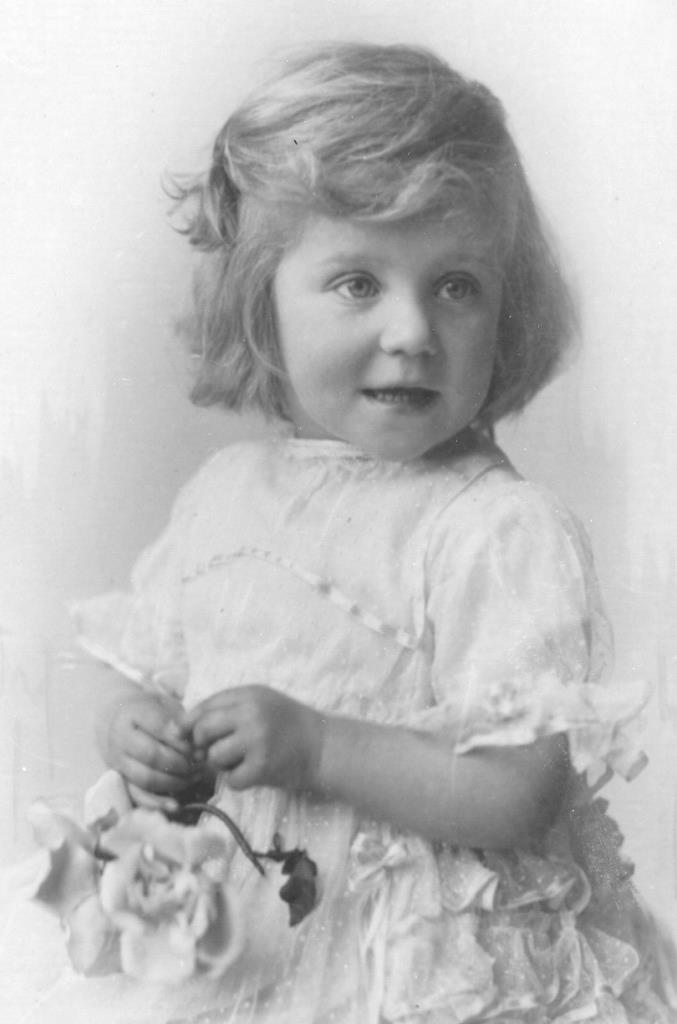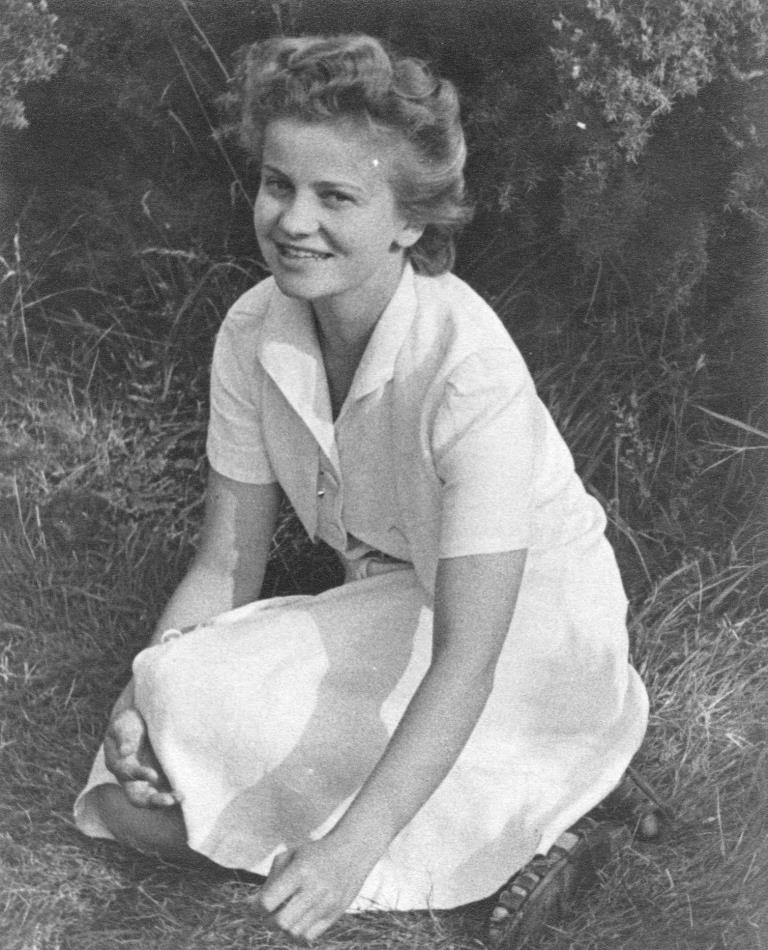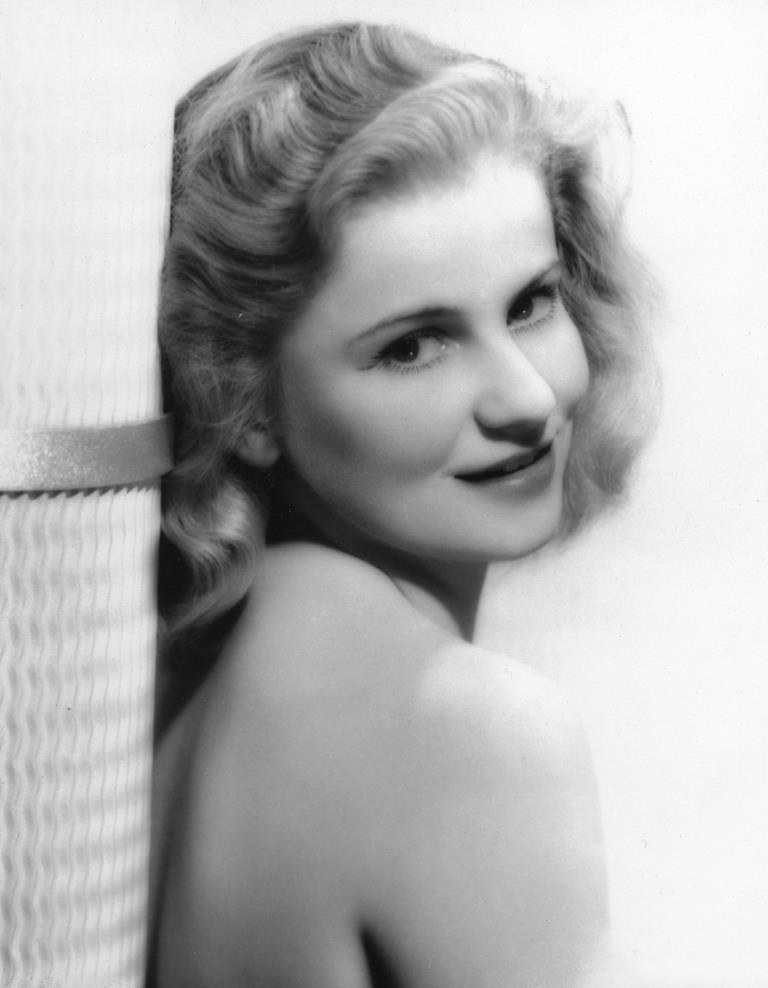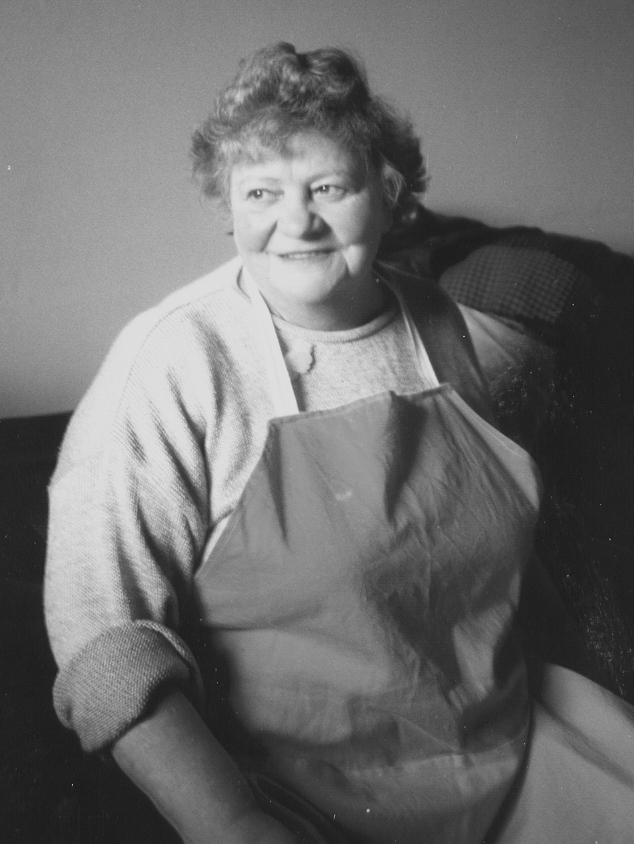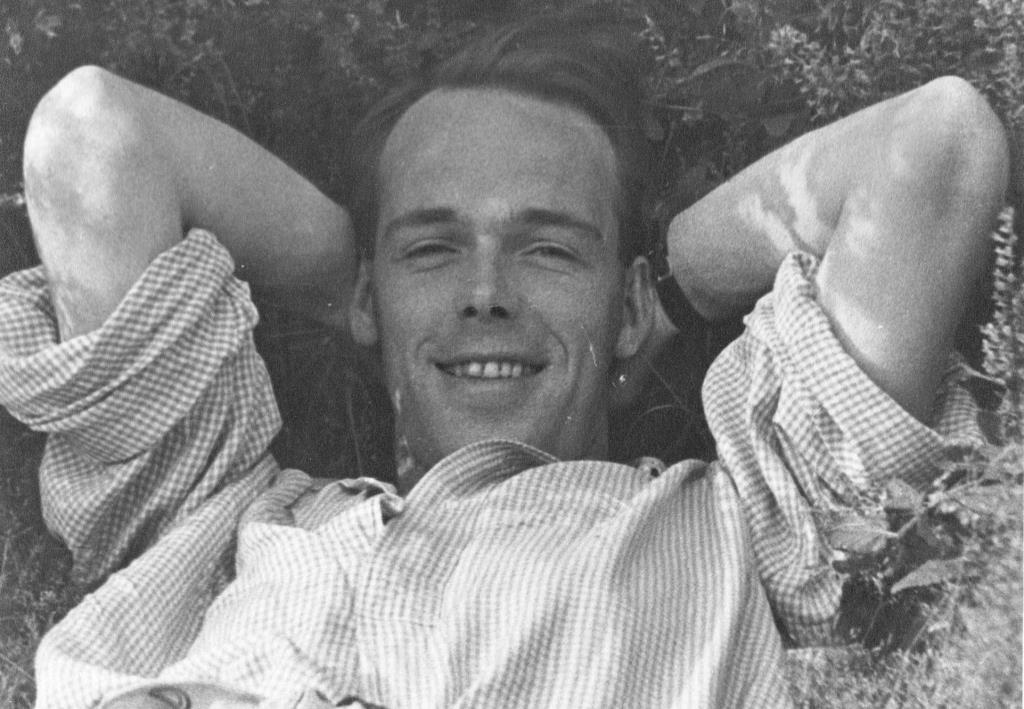 Bette was a woman of boundless empathy and compassion, with a talent for connecting to people regardless of status or background. She would have been much distressed by the current hardships undergone by the less fortunate in our society, and moved to action by the suffering in Ukraine.

I remember one telling conversation at the grand party held in her honour when she retired from a distinguished career running the Family Planning Association in the West Midlands. A young clinic nurse took me aside and said: "Charlie, I have to tell you this. When your mother speaks to me, I feel like I'm the only person in the world." Some gift.

Wednesday 23rd March


Our bathroom reconstruction is under way, mostly aimed at installing a new walk-in shower. I'm having to share blog time with supporting the plumber. He's also called Charlie, which is causing some confusion with tea offer cries coming upstairs. I suppose we both just say yes.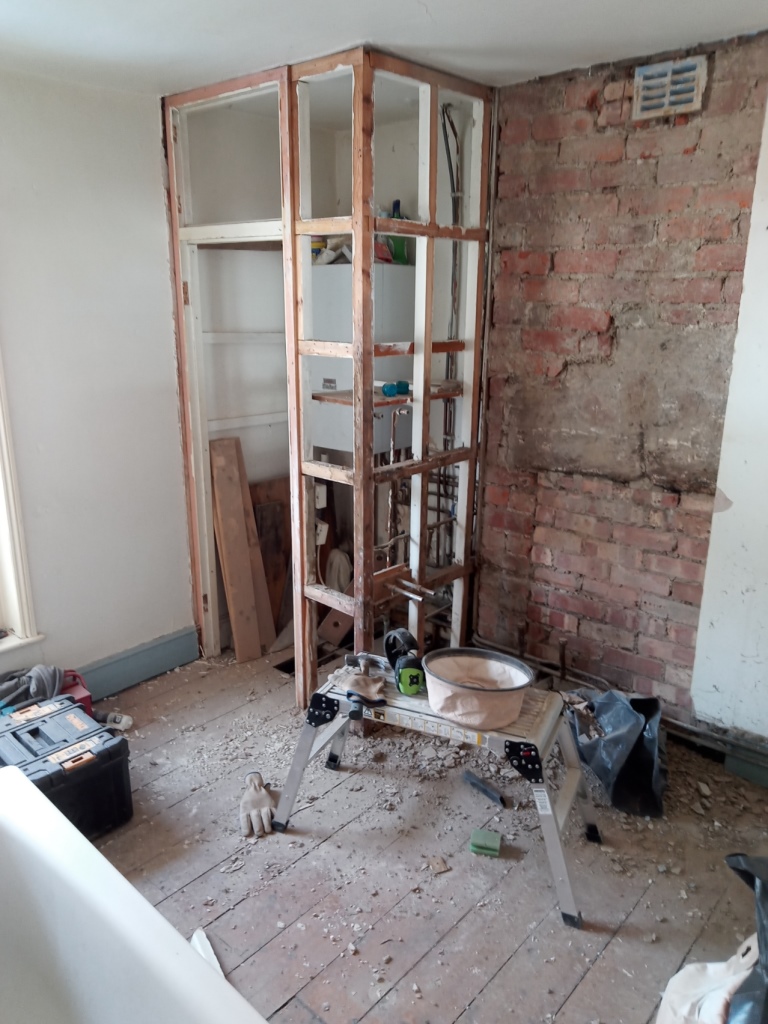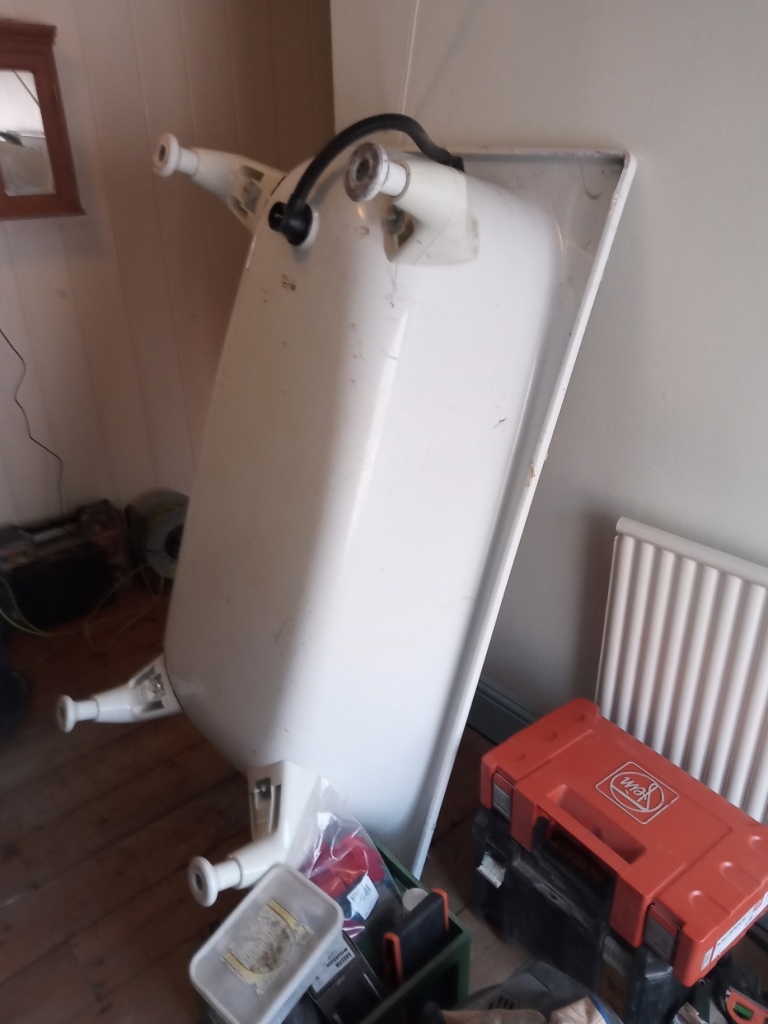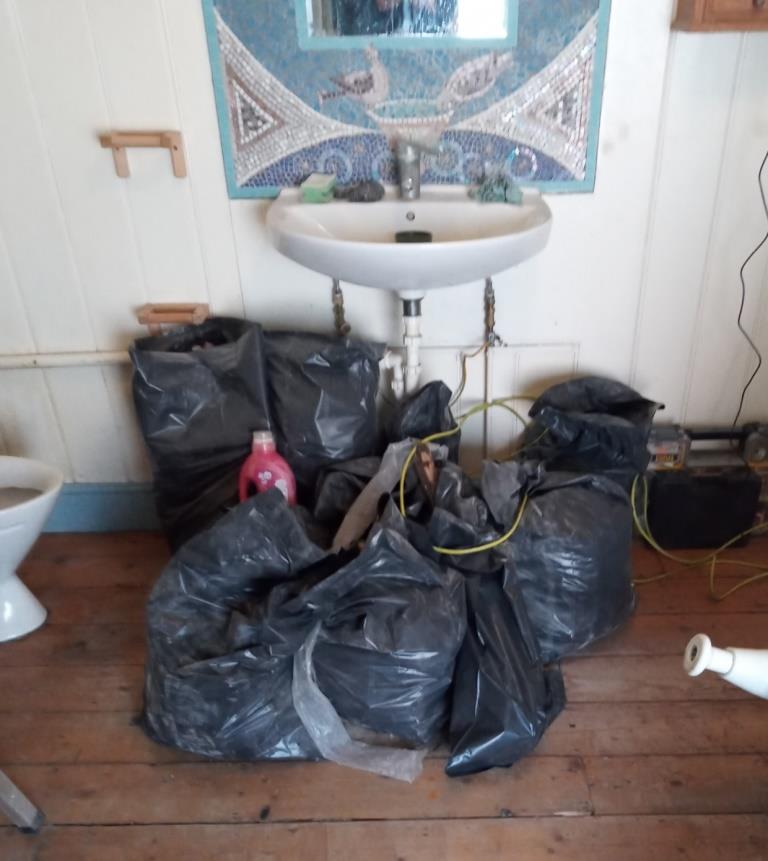 A typical response to friend and neighbour enquiries about progress might be, "Oh, it looks like a bomb site." Not appropriate in current times. How fortunate we are. It's planned, not inflicted. And Charlie is very tidy and considerate, not an evaluation to be linked with invading Russian forces.

A month of war in Ukraine. My thoughts overnight turned once again to how it might stop. Who will discover the "golden bridge" that allows Putin to halt the destruction and killing? We've had a number of candidates jostling for the vacant position of Prince of Peace, some of them unlikely: Zelensky himself, Pope Francis, Erdoğan, Arnold Schwarzenegger. Who or what can unlock and neutralise Putin's motivation?

I see two-time Olympic gold medal Russian swimmer Evgeny Rylov has been stripped of his Speedos after attending Putin's rally at the Luzhniki Stadium in Moscow. Is this the exposing catalyst we need?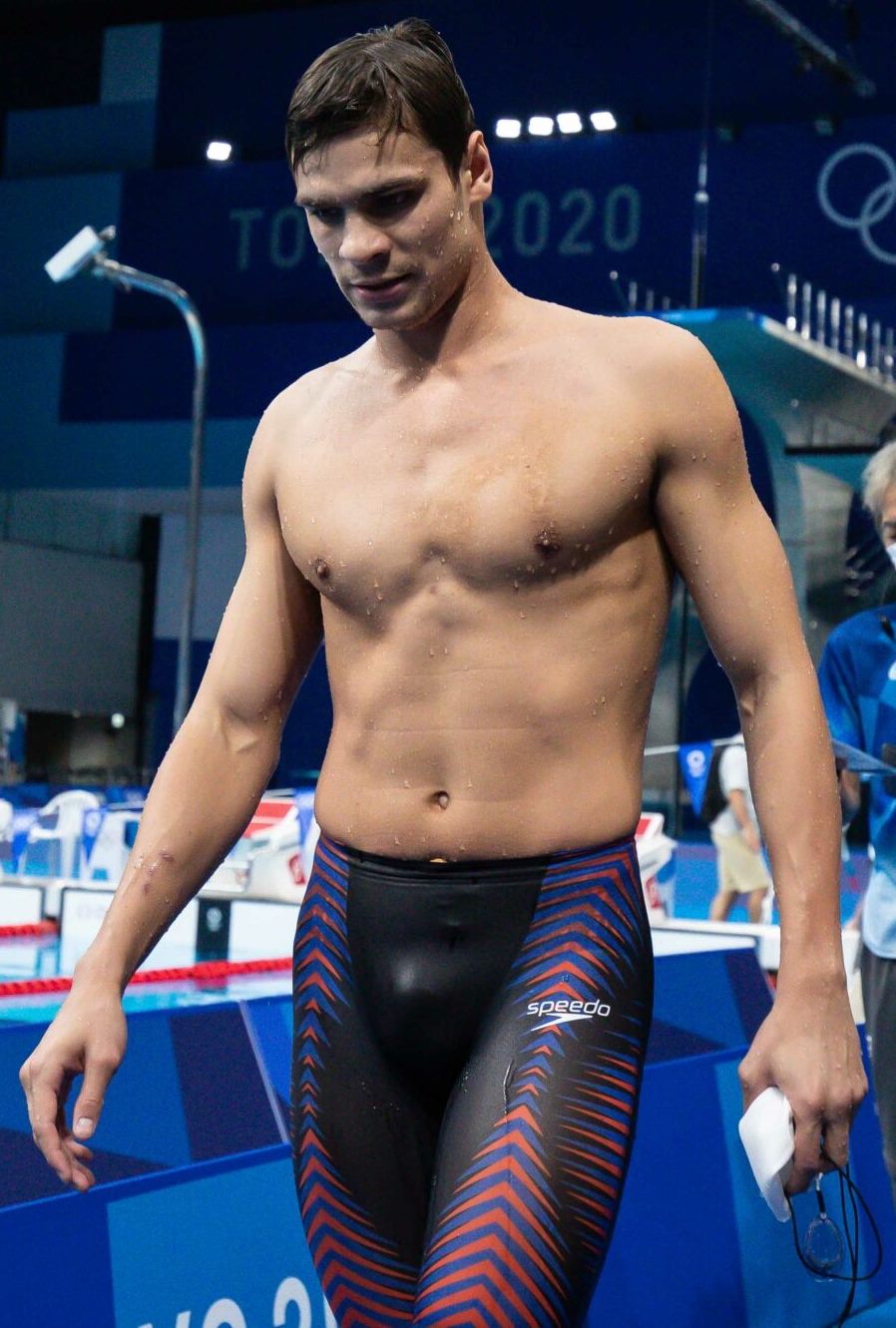 Tuesday 22nd March


It's the 2-year anniversary of starting this blog.

230,000 words. Not all mine, as apart from my own comments and opinions I've tried to be an "aggregator of content", to reflect others' views. Over 2,000 external documents, images, videos and audio recordings posted. More than 5 gigabytes of data.

I began blogging before 22nd March 2020 with my account of the UK General Election, the first comments written on 30th October 2019. Another 15,000 words.

It's not been a great period, has it? A sizeable majority that launched Boris and his cronies, Brexit and the abandonment of goodwill, the divisive blight of Trump, the shocking murder of George Floyd, a pandemic claiming 6 million deaths worldwide, the woeful under-achievement of COP26, corruption and incompetence in Westminster, a burgeoning cost-of-living crisis and now the tragic crime of the Ukraine invasion. If I were to make a self-pitying assessment of the last two-and-a-half years, I'd say that someone upstairs has been intent on buggering up my retirement.

On the other hand, our sons lead rewarding European lives, Trump has gone (for now), awareness of racism has been raised by the Colston statue events, I have neither had Covid nor lost loved ones to the virus, I still witness people committed with passion and integrity to the pursuit of good in the world, I'm not short of cash and nobody is bombing me at night. We've even passed through the vernal equinox into my favourite time of year. I wish better times upon people and planet. The immediate priority is for peace in Ukraine.

An uplifting moment from yesterday was Nazanin Zaghari-Ratcliffe's press conference. As her husband Richard acknowledged, such grace. A family full of love and resilience. No false delight either, a realistic honesty about what they have lost - six years that should never have been - and the path, the "baby steps", to recovery. Nazanin emphasised the issues of those who remain in detention. She broached the big unanswered question of how many Foreign Secretaries it takes to gain a release, why it took so long to pay off a debt. A truly class act: human, balanced and positive. Radiant.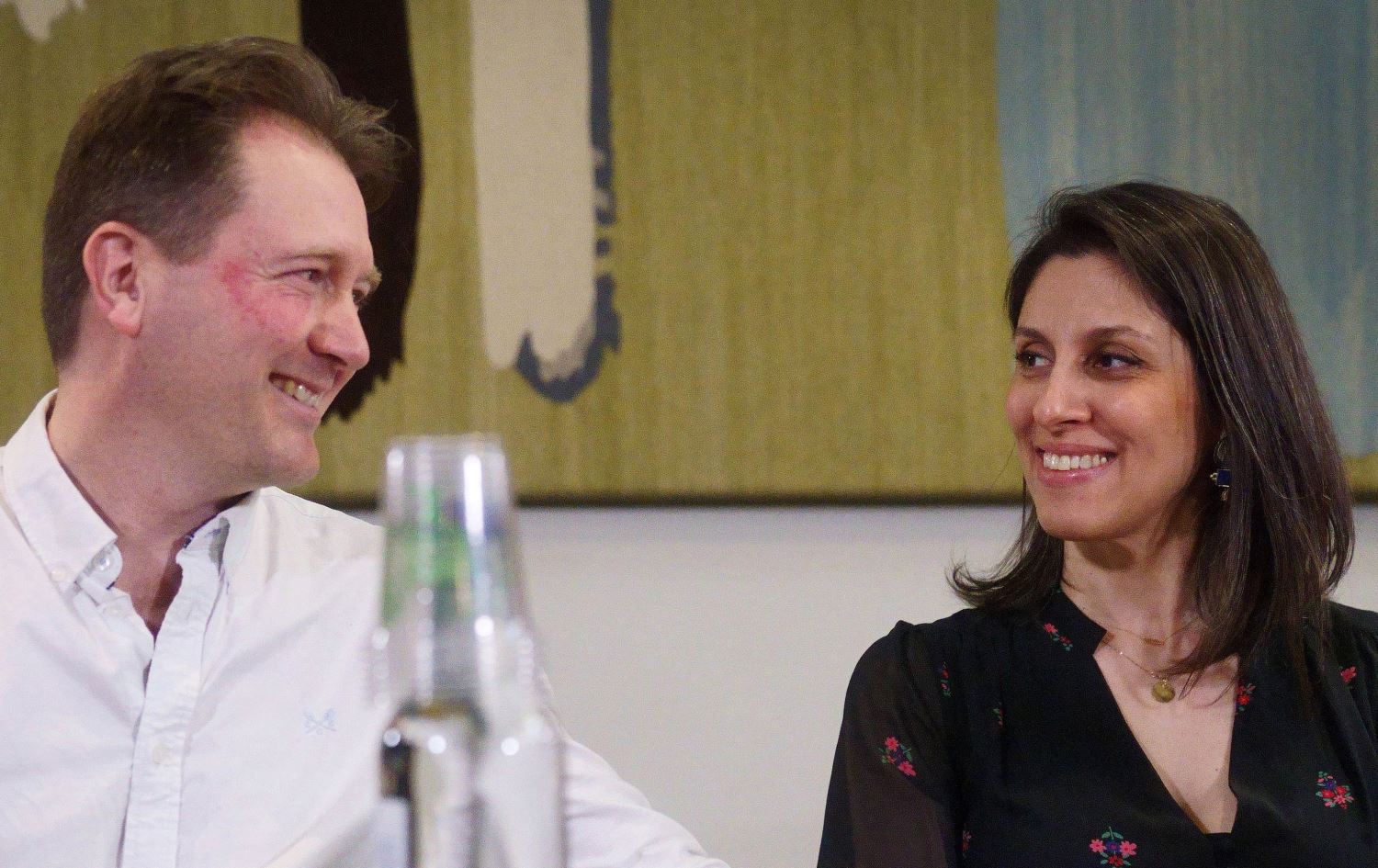 To mark the 874 days that have passed since the calling of the General Election and the commencement of my daily scribbles, I'm going to re-post a selection of videos and add a couple that I omitted at the time.

Brexit and the Boris cronies:




Trump and his disinfectant blather, courtesy of Sarah Cooper:




Italian social distancing brindisi (toast):




The best explanation of climate targets:




A joke from Dublin:




Absent friends. Old mate Ken Robinson, who died in August 2020, and daughter Ellie's partner Martin, who passed in November of the same year:




A song, Van Morrison's "Days like This":




Huge thanks to all my loyal contributors. A special mention for my Irish correspondent.

Monday 21st March


Cartoon by Patrick Chappatte in a Swiss Le Temp article "Guerre en Ukraine: comme un air de déjà vu" - "Do you see anything coming? The past."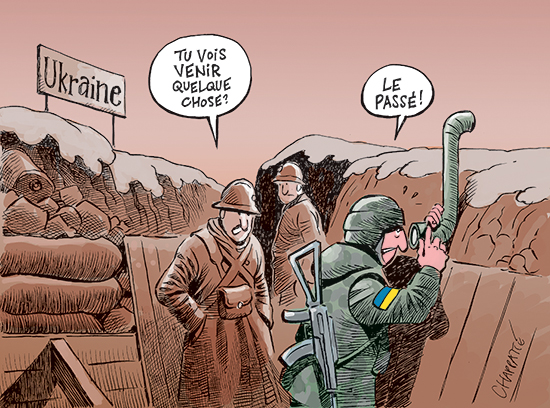 A helpful page (click to enlarge) for Ukrainian visitors from the French daily Nice Matin: advice on accomodation, residence and work rights, care access, children's schooling. I like the handy scissor mark in the left margin - cut out and keep.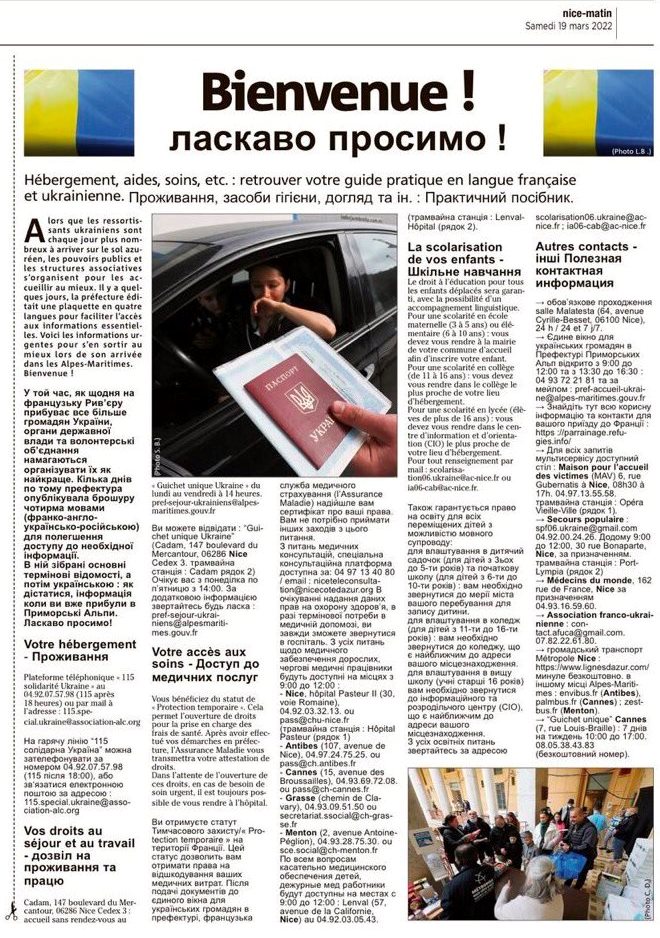 Ukraine flag projected onto the Russian Embassy in London ...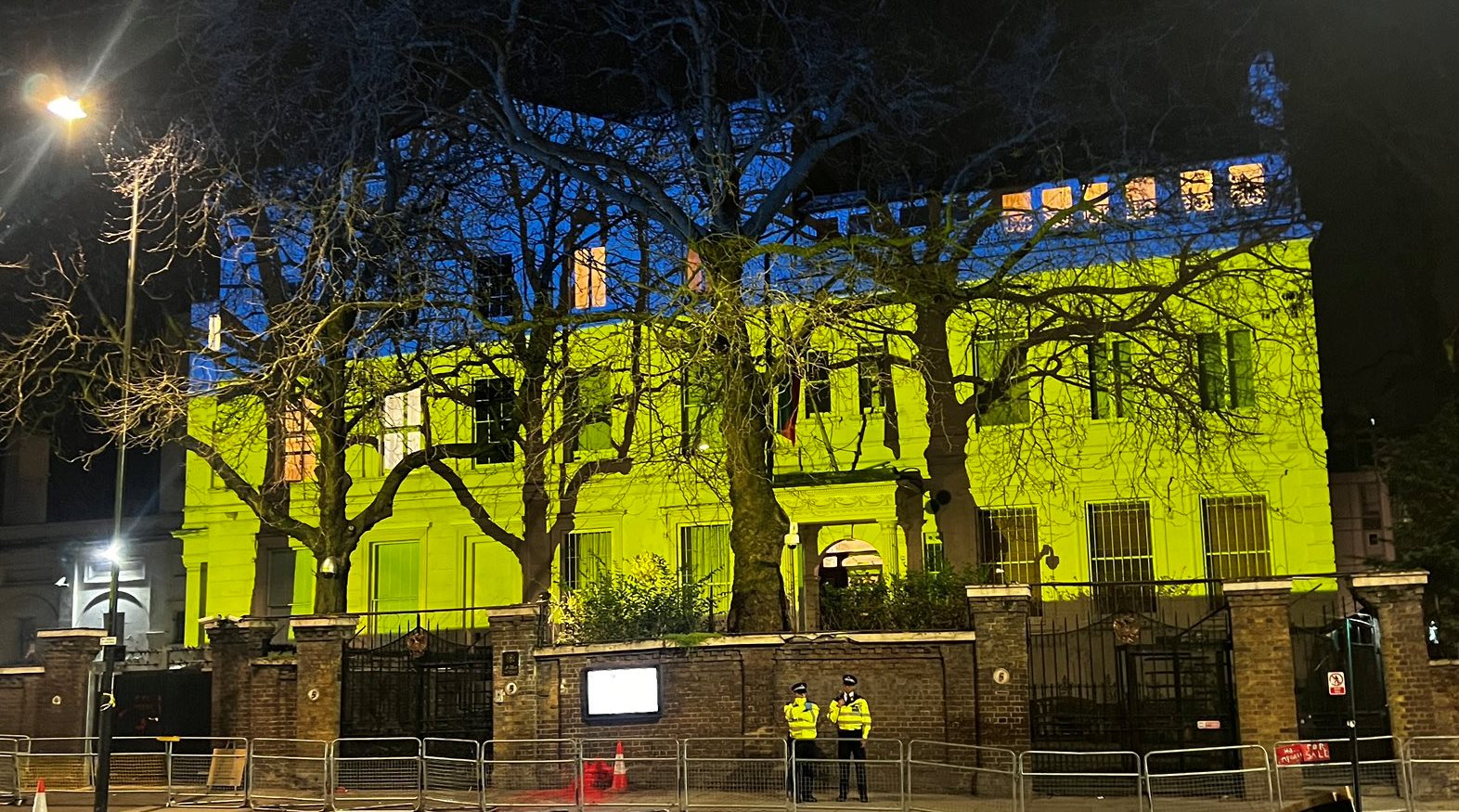 ... and in Lisbon ...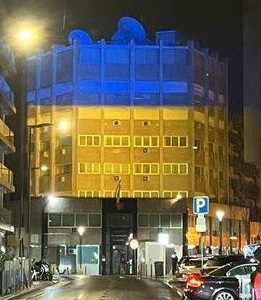 ... and in Tbilisi ...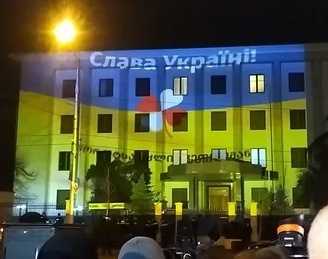 A message from Alexandre's Bar in Dallas: "Removing all Russian spirits and introducing the F*** Putin shot, we'll be bringing in Ukrainian vodka next week to replace."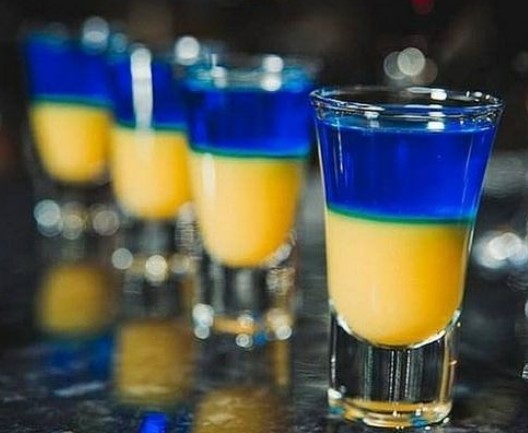 Sunday 20th March




"I know that it's the instinct of the people of this country, like the people of Ukraine, to choose freedom, every time ... When the British people voted for Brexit in such large numbers, I don't believe it was because they were remotely hostile to foreigners. It's because they wanted to be free to do things differently and for this country to be able to run itself."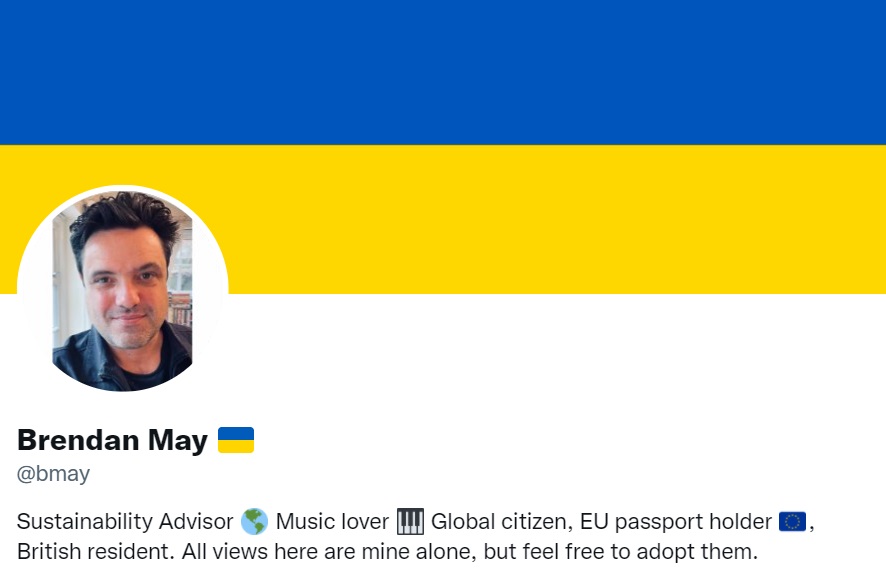 Liberal Democrat leader Sir Ed Davey: "To compare a referendum to women and children fleeing Putin's bombs is an insult to every Ukrainian. He is no Churchill; he is Basil Fawlty."

Former Downing Street Chief of Staff Baron Barwell: "Apart from the bit where voting in a free and fair referendum isn't in any way comparable with risking your life to defend your country against invasion, and the awkward fact the Ukrainians are fighting for the freedom to join the EU, this comparison is bang on."

Saturday 19th March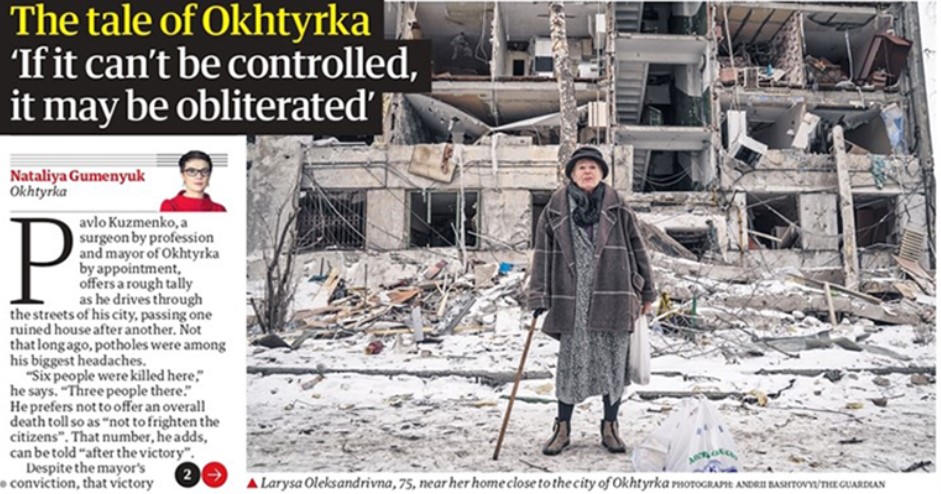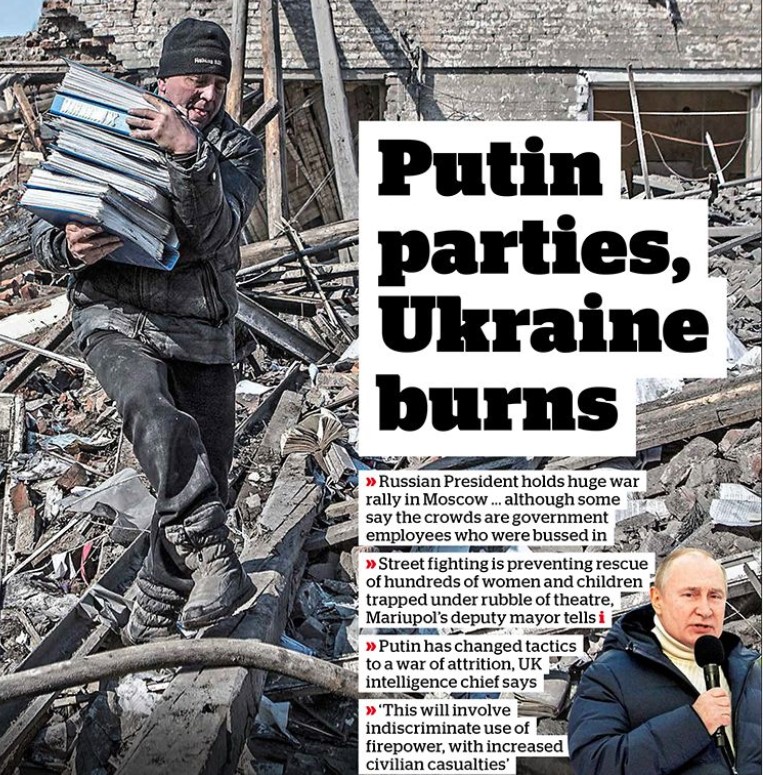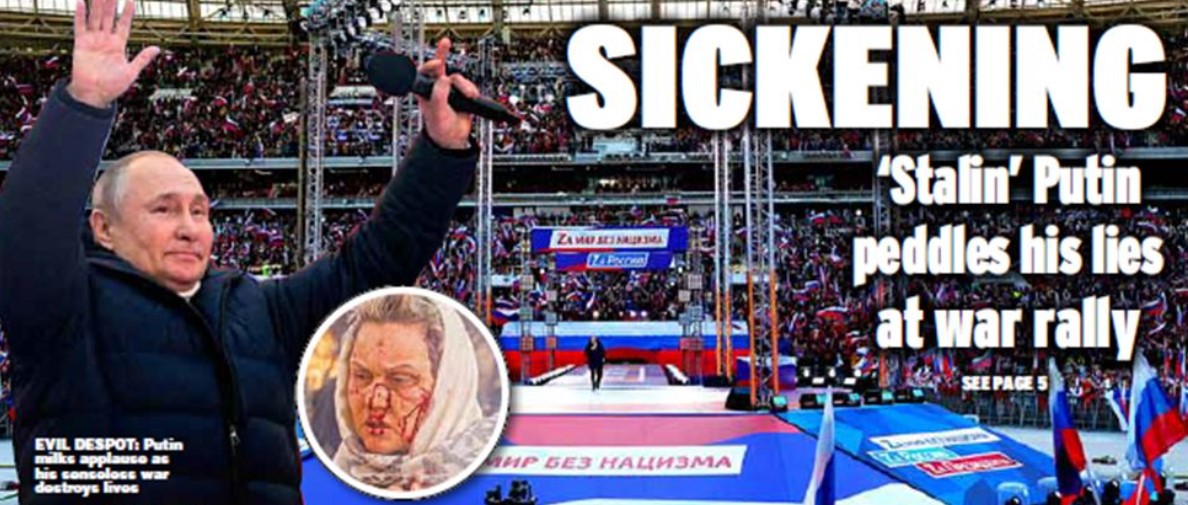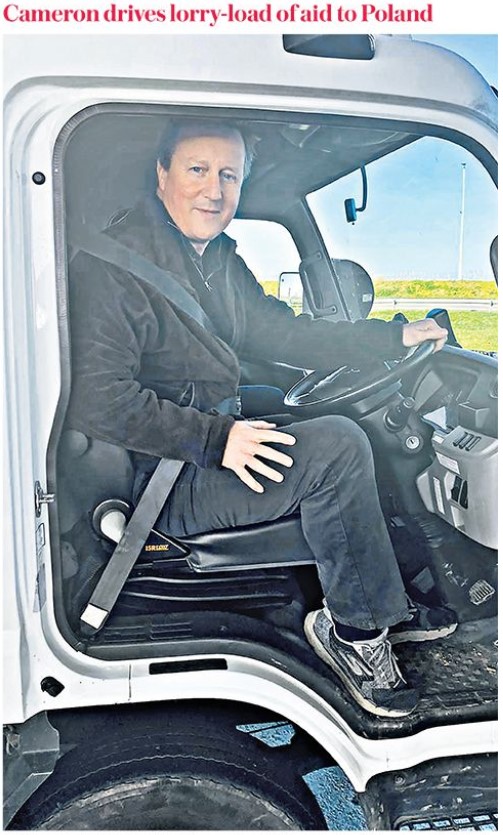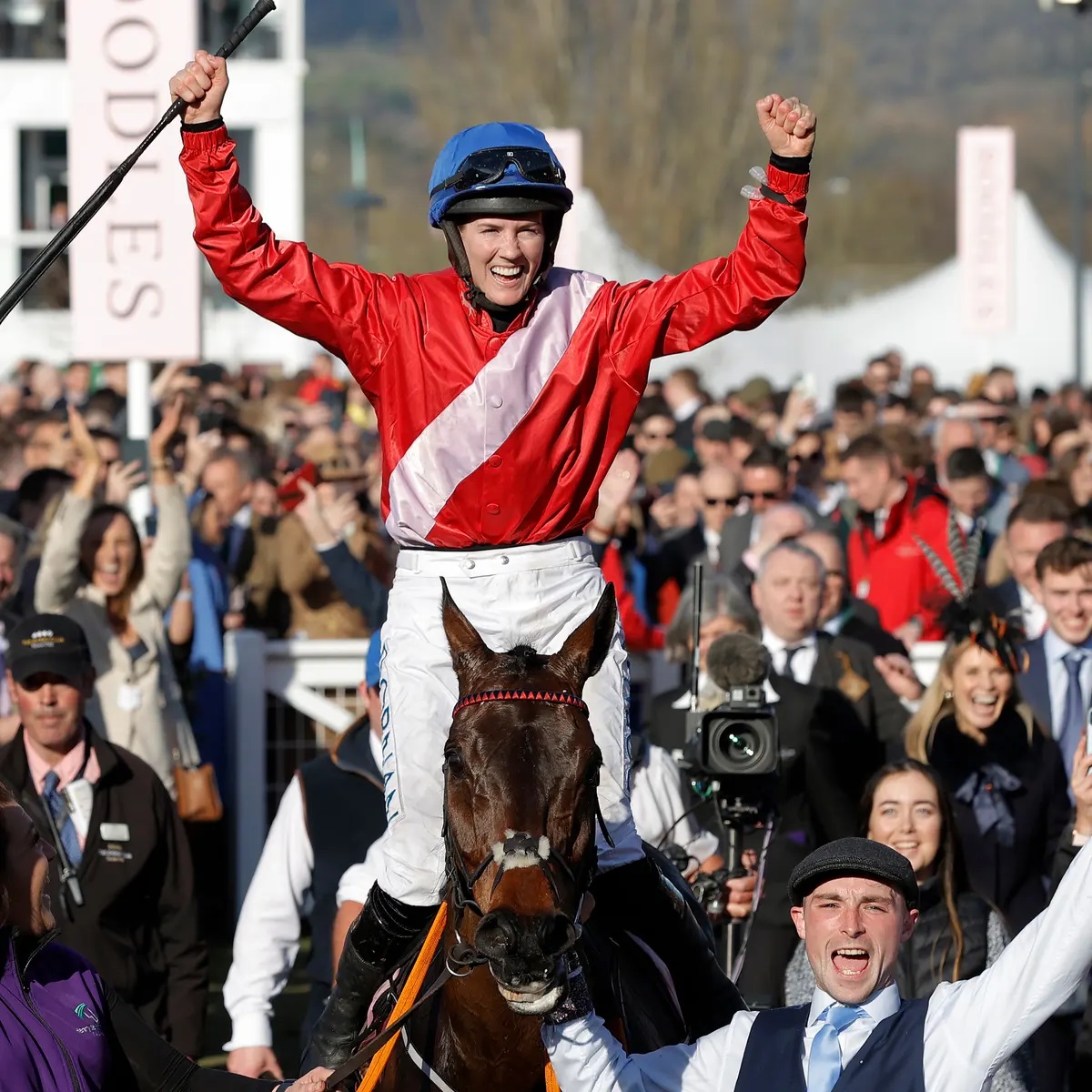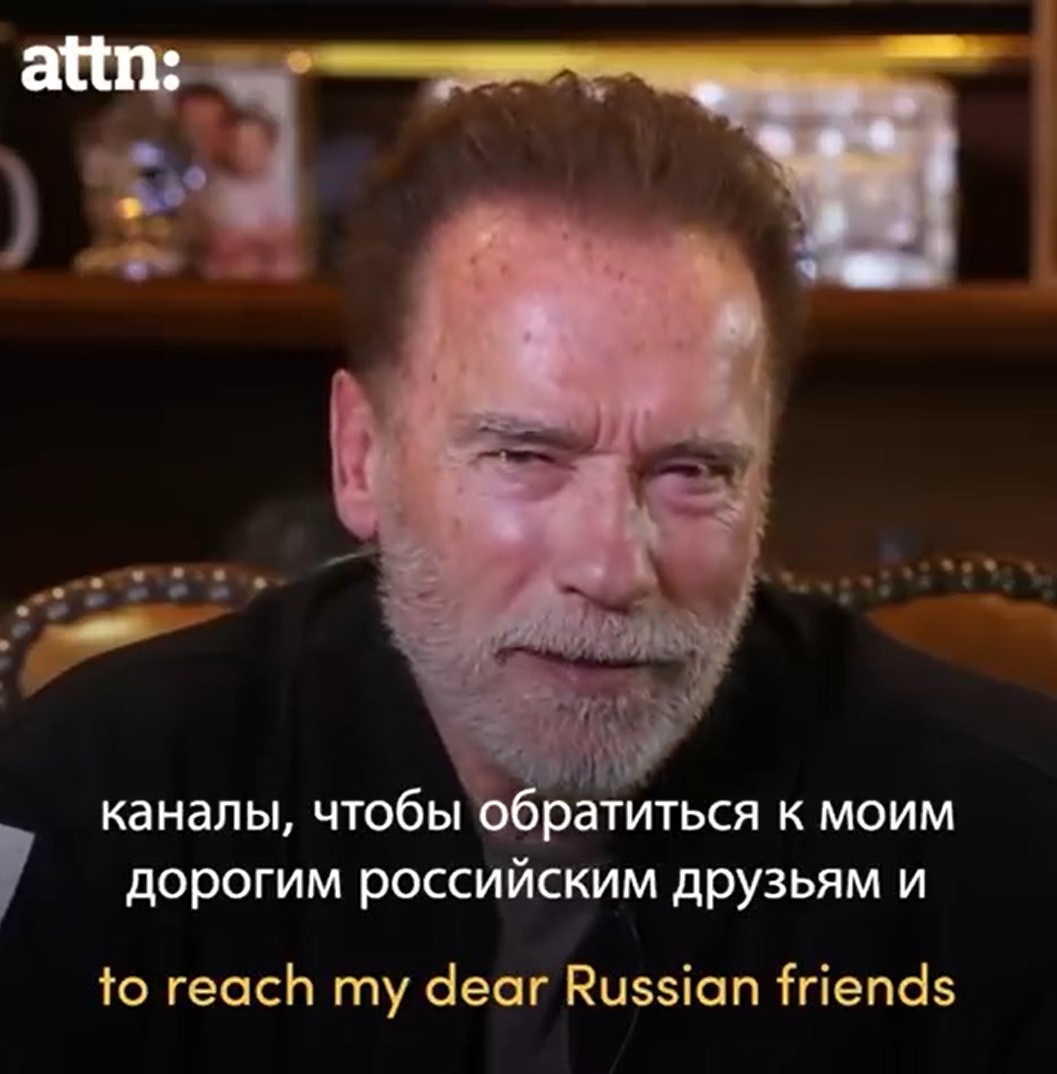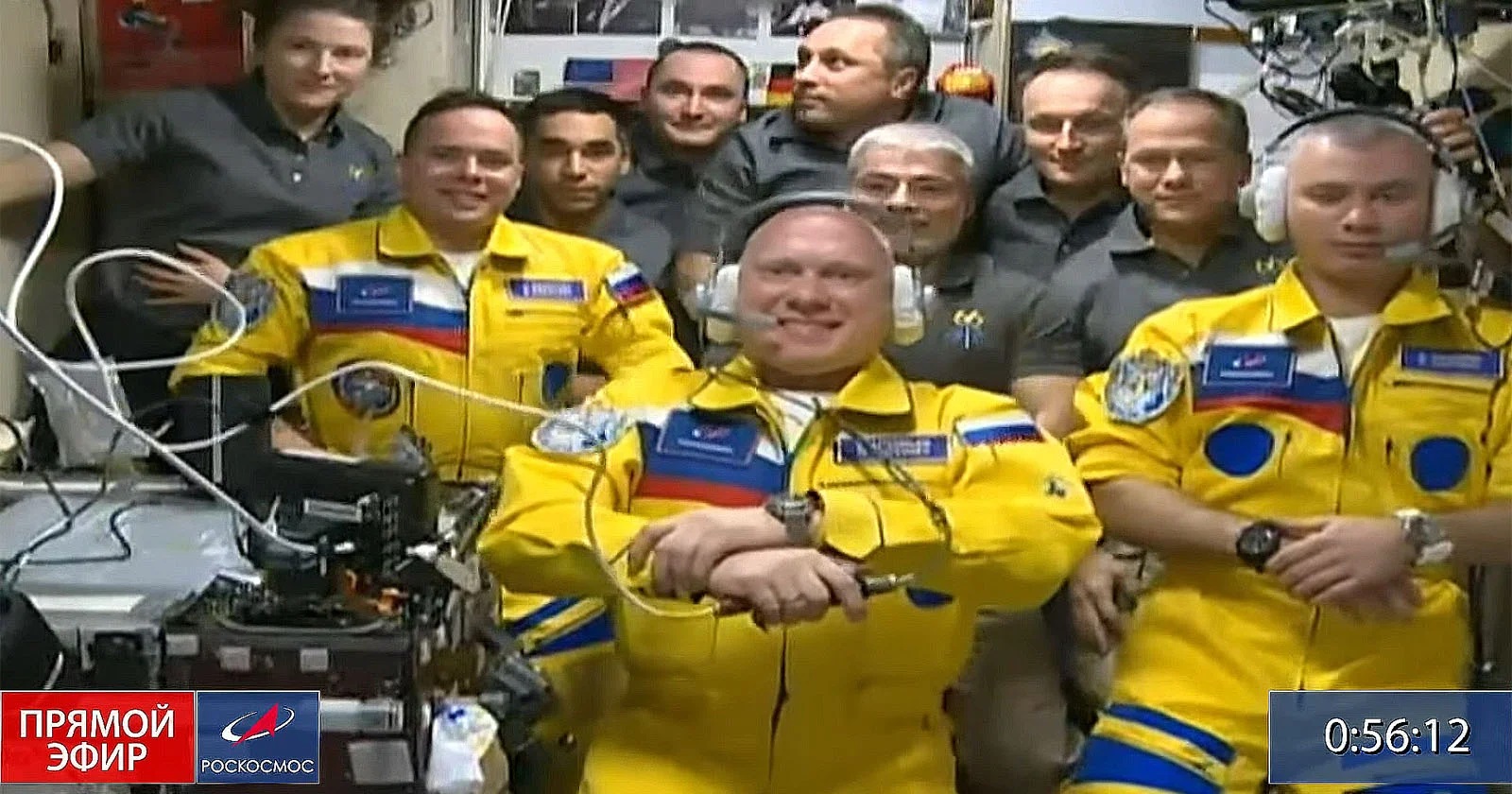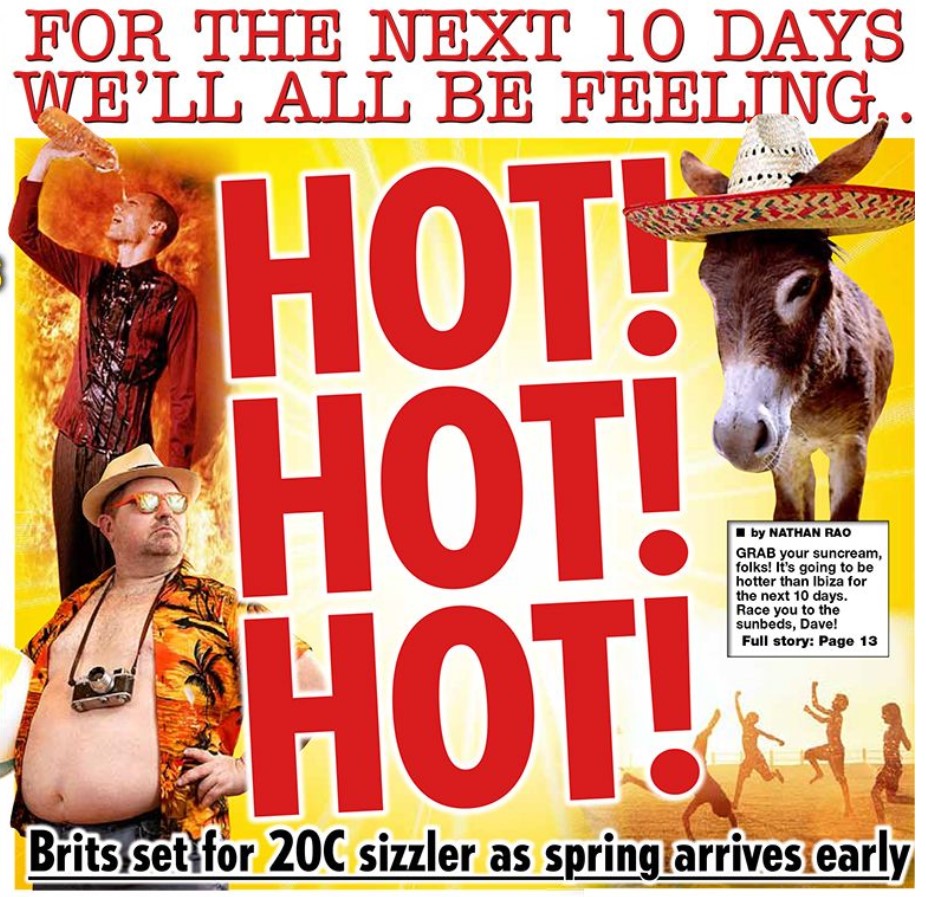 Friday 18th March


The news doesn't get any easier to watch, does it? Yes, I'm aware that sounds shamefully "poor me". It's the Ukrainians who experience the spreading devastation and loss.

As I've said before, I look at the early morning reports and wonder why I wrote what I did last night. How does it have connection to the flattening of Kharkiv and Mariupol, the growing threat to Lviv? In truth, it barely does.

Once again, I'm going to leave the scribblings here. Maybe because there's a little lightness in them.

First, I had to finish off St. Patrick's Day events ...

The Irish Office of Public Works kept its word on the change to "Global Greening":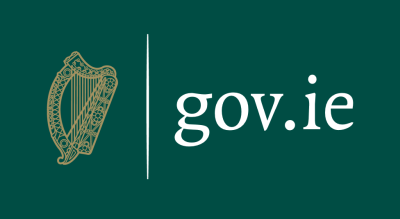 "In Ireland and abroad, we take pride in the wearing and displaying of the green on St Patrick's Day. The colour is an intrinsic part of our pride in our roots and the joint celebration of Irishness on our national holiday. Over many years, the Office of Public Works has set the mood for this important day by symbolically 'greening' our most iconic heritage sites, government buildings and national cultural institutions.
"This year is different, however, and even as we look forward to marking St Patrick's Day with our friends and loved ones, we think of the people of Ukraine whose lives, safety and sovereignty are at risk. For them and for the eyes of the world, we send a message of solidarity by illuminating 41 Irish landmarks across the country in the colours of Ukraine tonight and over the St Patrick's Day weekend to underline that the people of Ireland stand with Ukraine."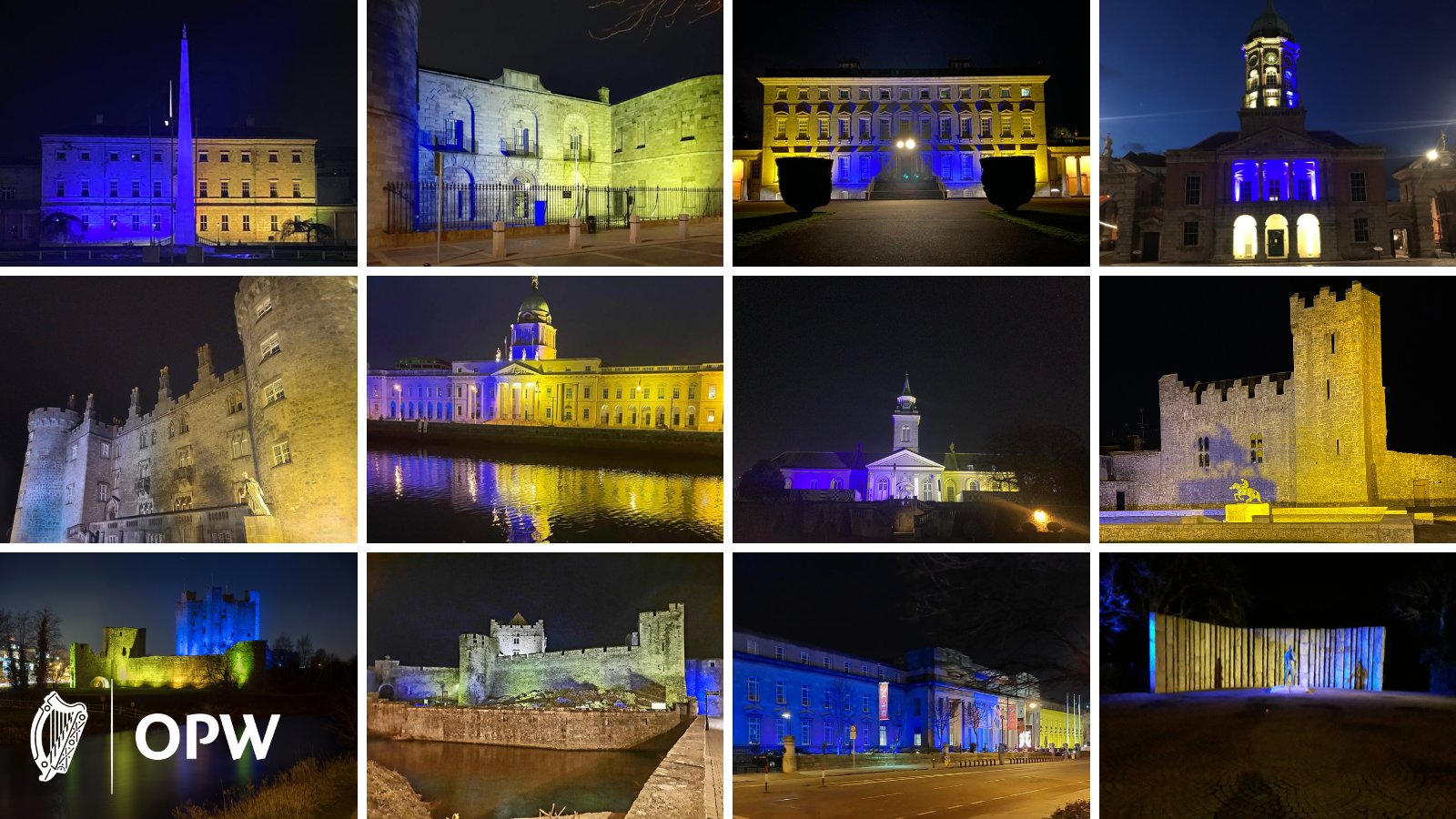 Shan Blue, my pick - sporting Ukrainian colours - in yesterday's Cheltenham Ryanair Chase started promisingly and then faded. Never mind. The compensation was that Michael O'Leary's horse Conflated fell and didn't finish - in his owner's race. Schadenfreude indeed. That'll teach him to scrimp on legroom, payback for all those extra charges. However, I wish no ill to horse and jockey - hope they're OK.

Isa Clee, one of our Stroud District Green Party councillors, has created a Ukraine poster which is free to print and display.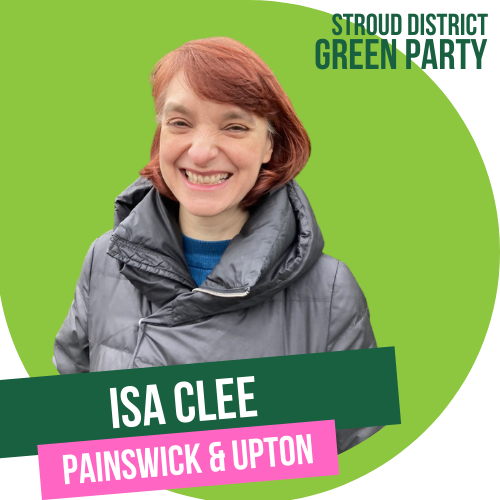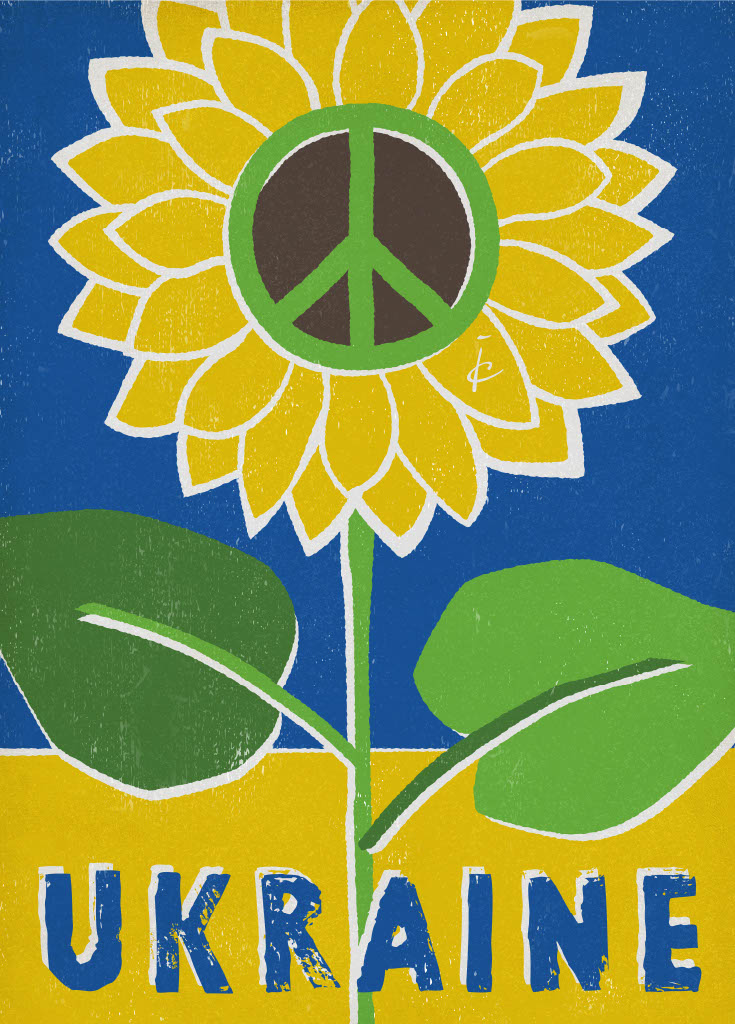 Here's the full-size original PDF: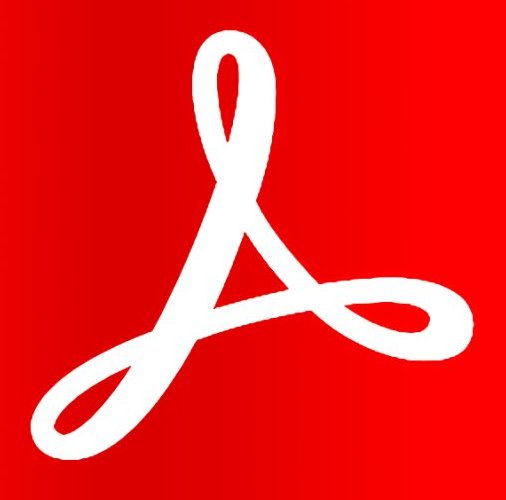 Recep Tayyip Erdoğan has popped into view again, this time in a 'phone call with Putin. Is he really going to be the Prince of Peace?

Thursday 17th March


It's St. Patrick's Day. We're lucky enough to to be able to celebrate. The usual thanks are due for un-usual contributions ...

With its customary kindness, Ireland has acknowledged Ukraine. Report from thejournal.ie a week ago:


"The Global Greening campaign will not take place this year so monuments can be lit in Ukraine's colours. Taoiseach Micheál Martin has written to all Irish embassies asking that embassies, monuments and other sites typically lit up green for St Patrick's Day should instead be lit up in yellow and blue."

Berlin has responded: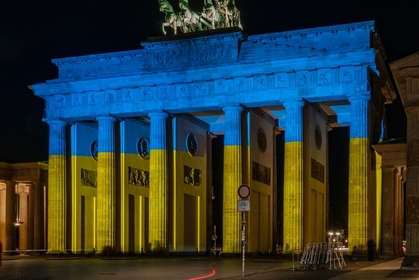 The Cheltenham Festival is in full swing up the road from here. Thursday is traditionally Irish Day. I couldn't resist putting a small wager on this appropriately-clad bay in the 14:50 Ryanair Chase:





What about this for an indulgence? Black Velvet cake. Guinness, champagne AND chocolate. Here's the recipe: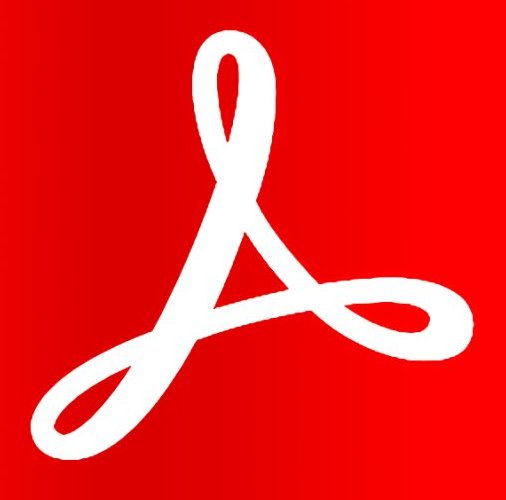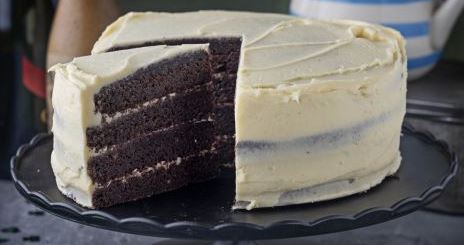 Why not make some traditional soda bread? Watch this charming instructional video. Looks fool-proof.




Fancy a dance? Shamrock Bhangra fuse dhol beats and Irish jigs for St. Patrick at Castletown House in County Kildare - with Ukrainian headgear:




I'll chuck in some topical tweets: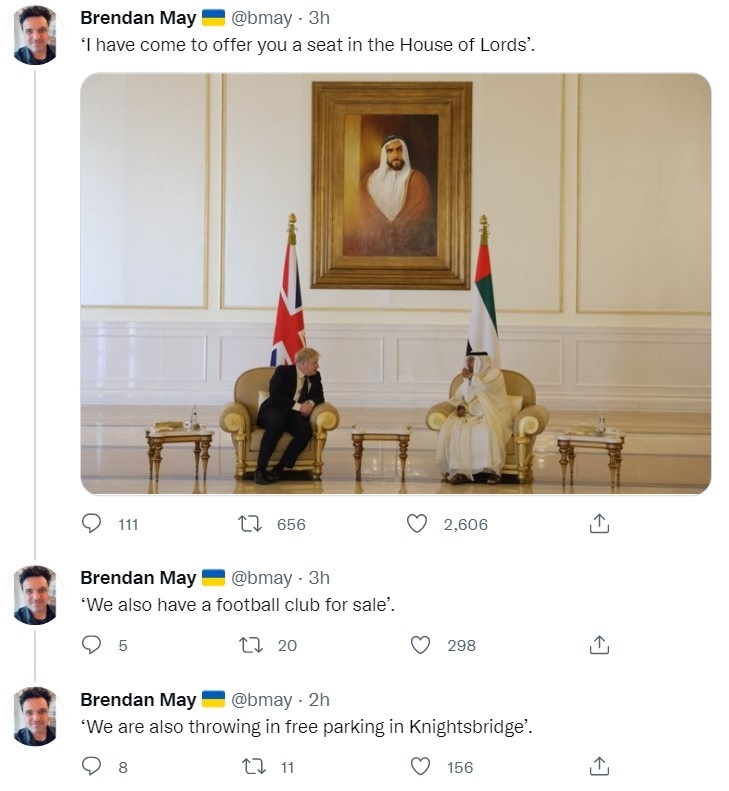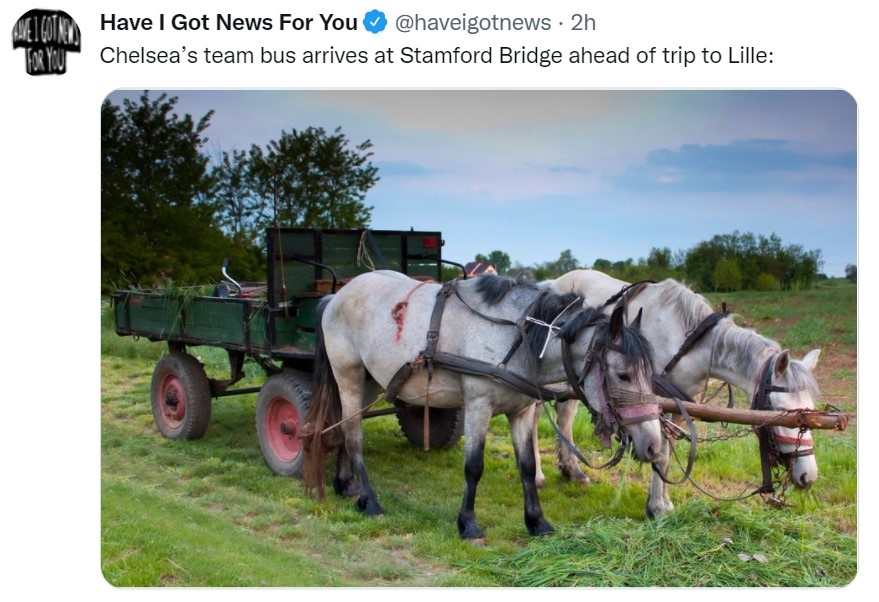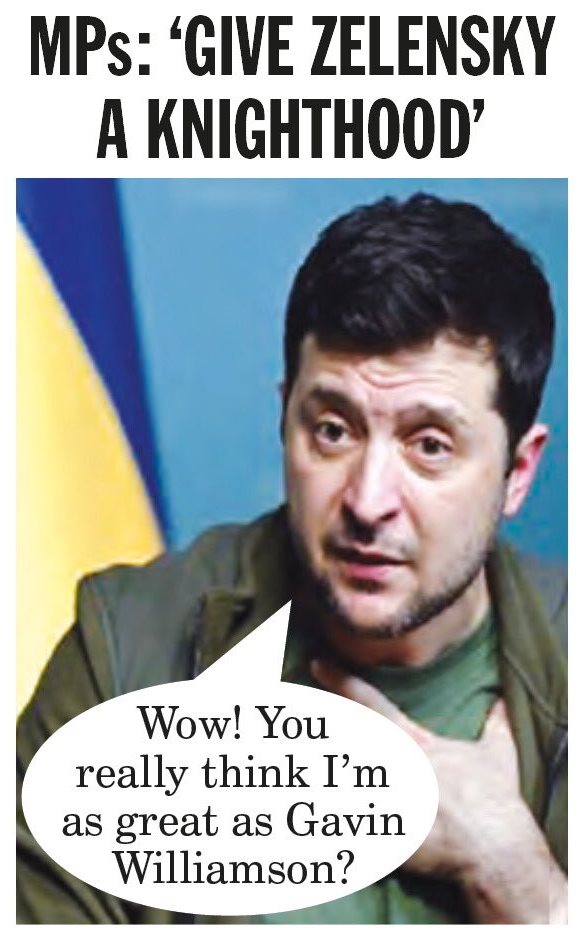 And finish with this: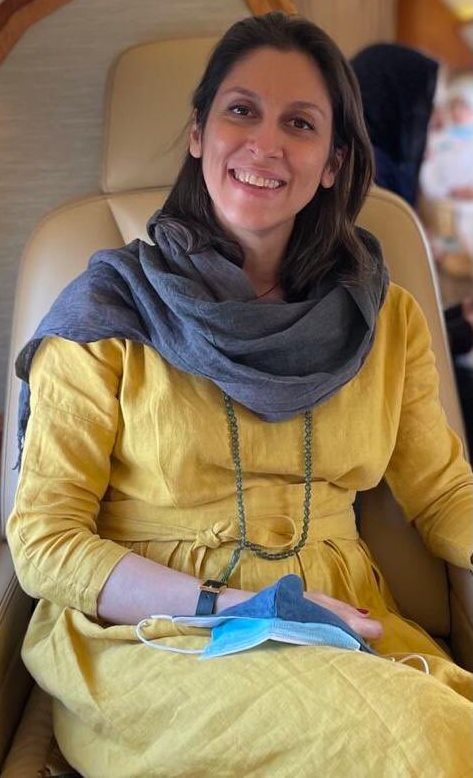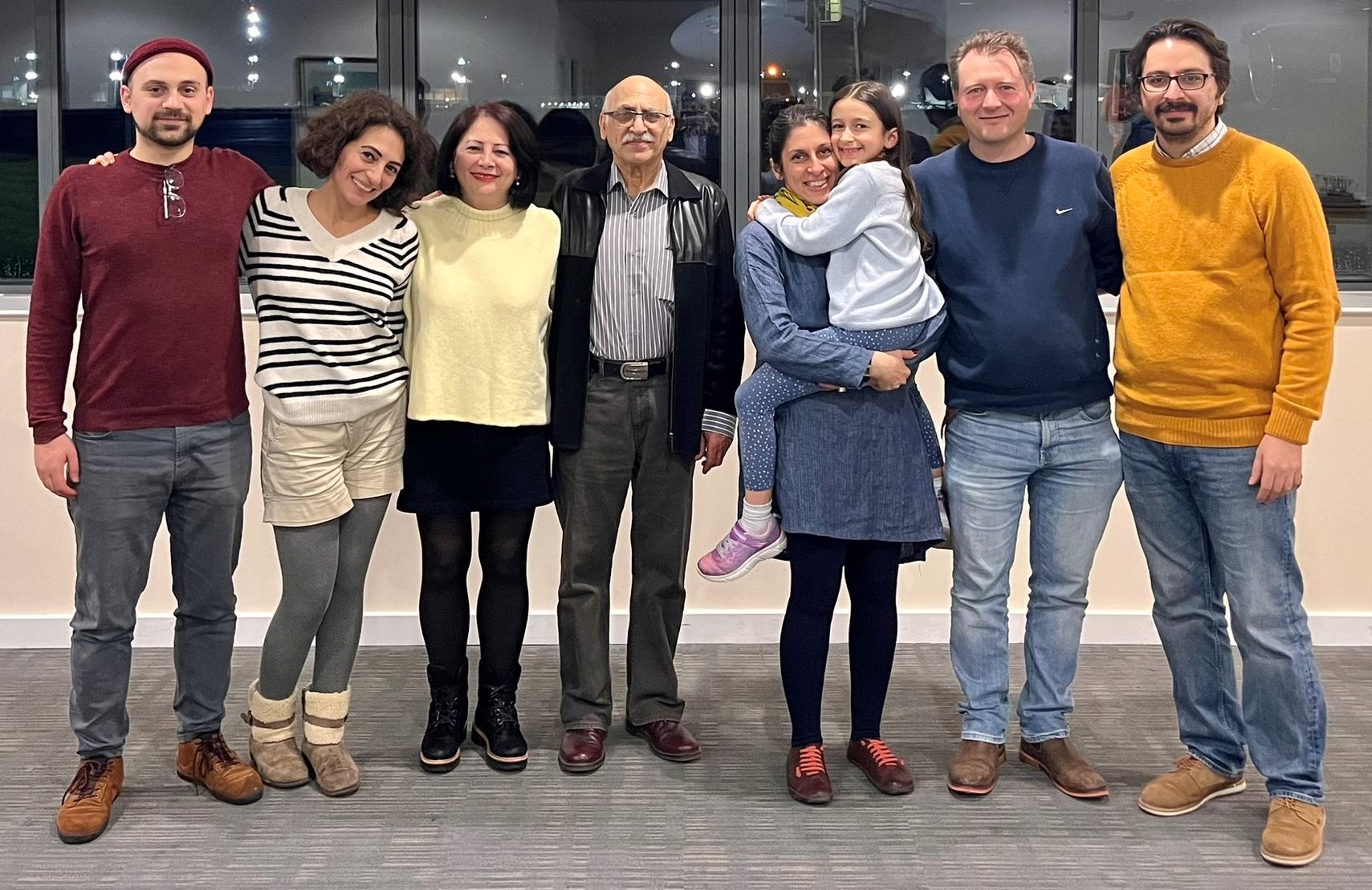 Wednesday 16th March


I have to attend to other matters today, so just time for a few snapshots courtesy of the BBC website.

The map has more red.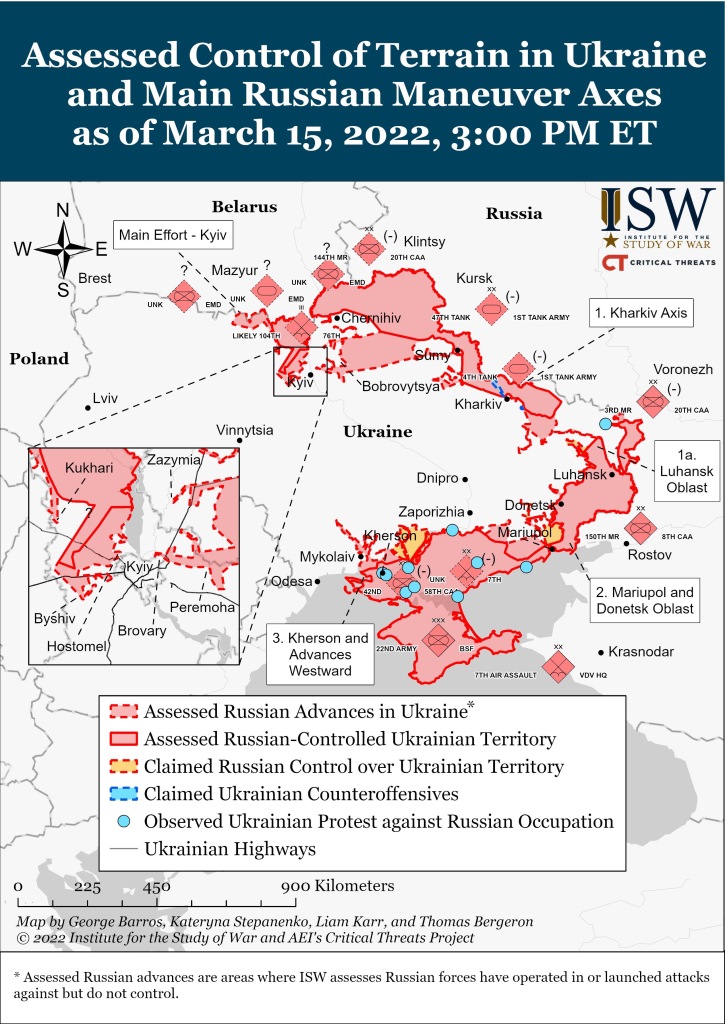 Yet the Russian advance has been impeded by Ukrainian resistance.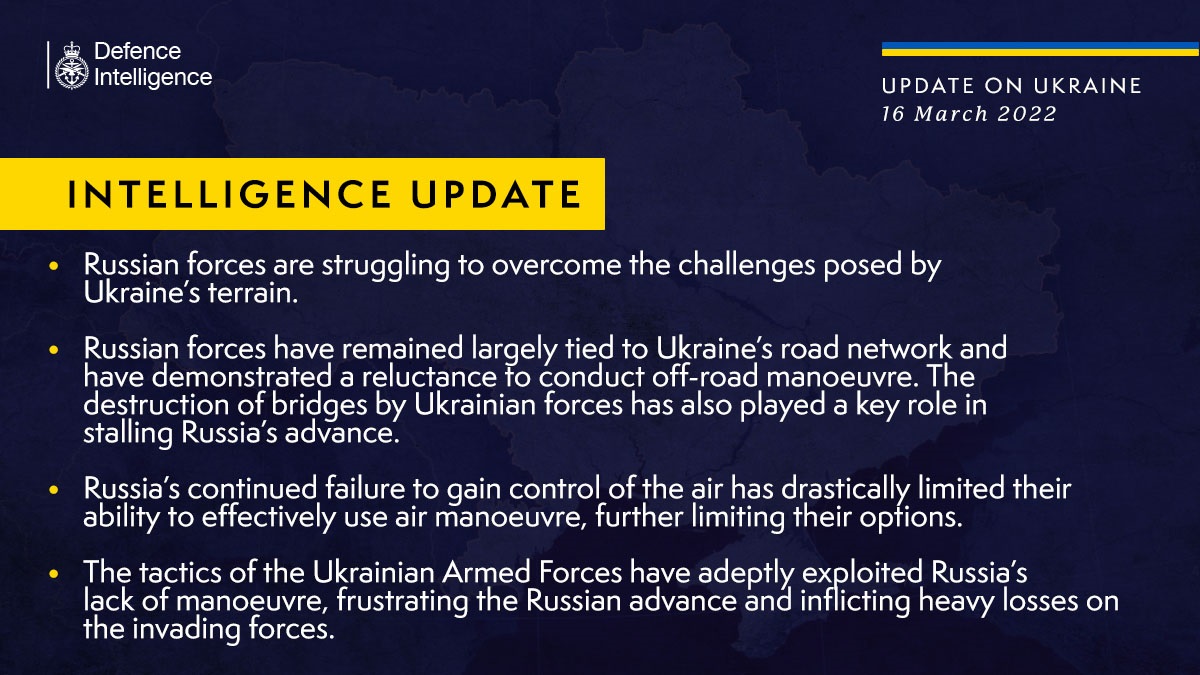 Trains are vital in moving millions to safety. 37-year-old chairman of Ukraine's railway network Oleksandr Kamyshin keeps on the move, believing he is a target for the Russians.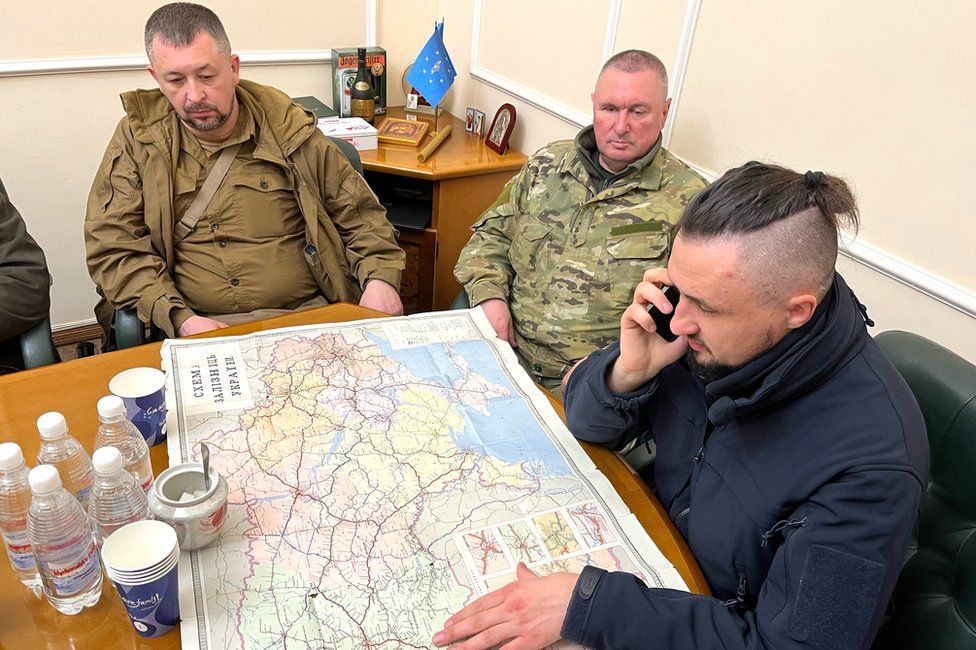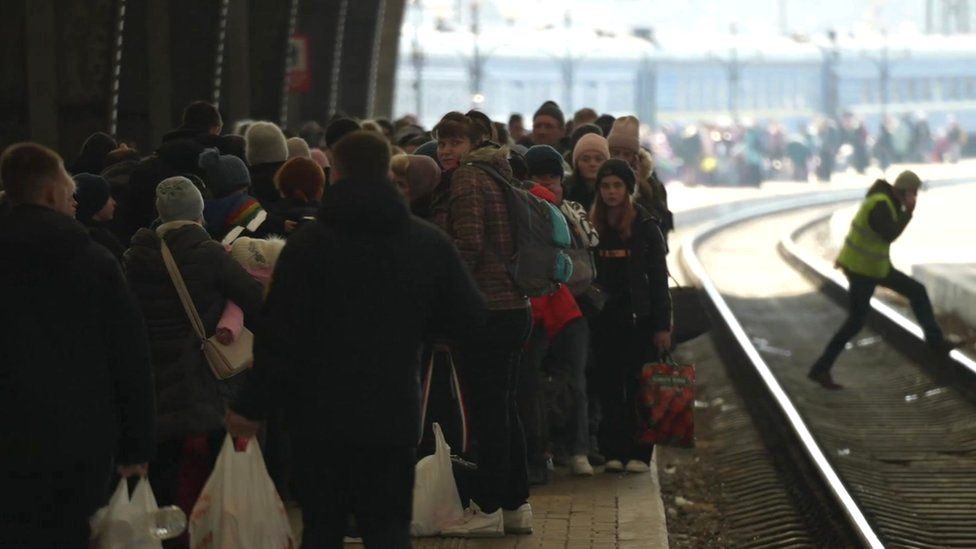 There's an echo here of historian A.J.P. Taylor's famous theory on the importance of railway timetables to the beginning of WWI, how their inflexibility in relation to mobilisation precipitated the onset of hostilities.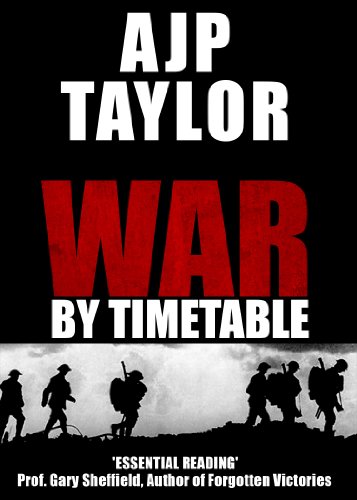 "The Austrian declaration of war on Serbia was pure theory; no action followed it. Now this gives the essential factor in the outbreak of the First World War. All the great powers, of whom there were five, or six counting Italy, had vast conscript armies. These armies of course were not maintained in peace time. They were brought together by mobilisation. This factor had already counted before in the Austro-Prussian war of 1866, but this time there was a further complication.
"All mobilisation plans depended on railways. At that time the automobile was hardly used, certainly not as an instrument of mass transport, and railways demand time tables. All the mobilisation plans had been timed to the minute, months or even years before and they could not be changed. Modification in one direction would ruin them in every other direction. Any attempt for instance by the Austrians to mobilise against Serbia would mean that they could not then mobilise against Russian because two lots of trains would be running against each other. The same problem was to arise later for the Russians and in the end for the Germans who, having a plan to mobilise against France, could not switch round and mobilise again against Russia. Any alteration in the mobilisation plan meant not a delay for 24 hours but for at least six months before the next lot of timetables were ready."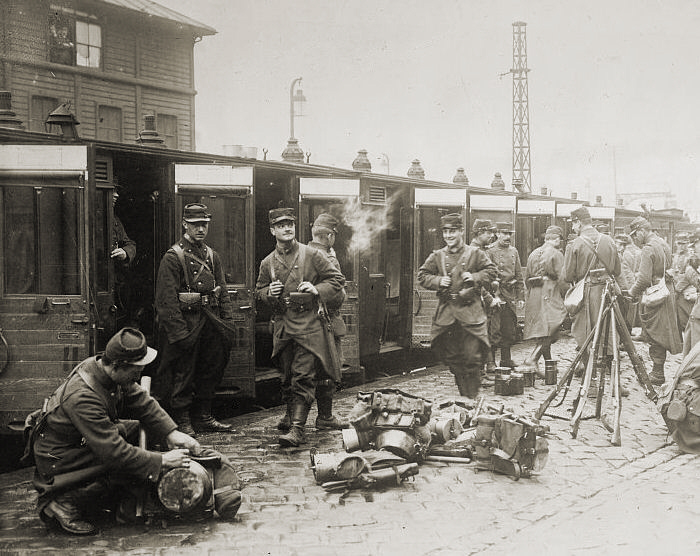 Meanwhile, Covid lingers - and prospers? Here are the NHS numbers of UK hospital admissions showing the recent spike.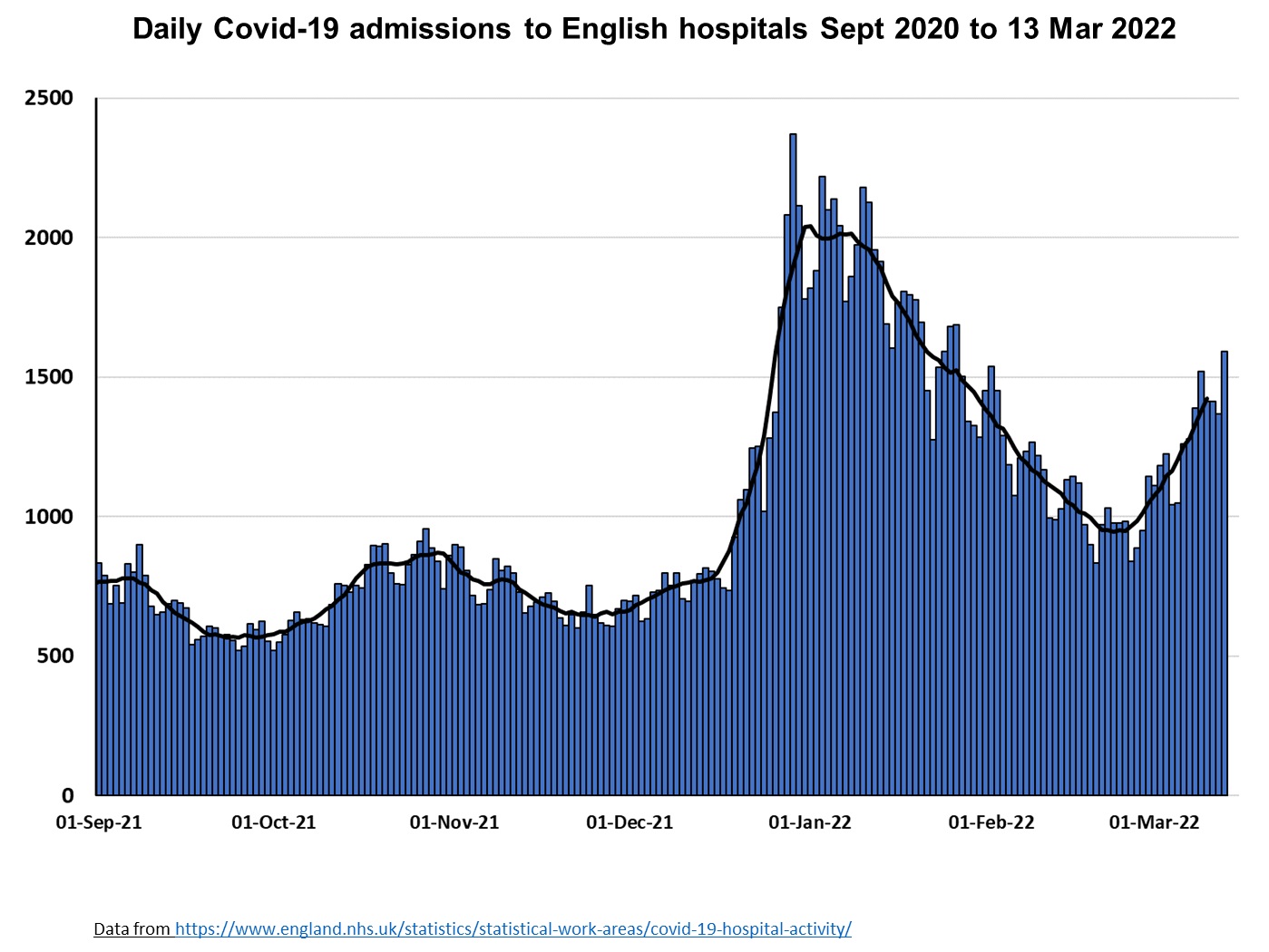 Tuesday 15th March


Finally. The UK government has launched the "Homes for Ukraine" scheme. 25,000 Brits registered to host a refugee within the first three hours.

This is good. However, I'm now going to fall foul of the Secretary of State for Levelling Up, Michael Gove. He lost his rag in the House of Commons yesterday: "I've had it up to here with people trying to suggest that this country is not generous."

Why am I going to quibble? Because it's not all done and dusted yet. And it didn't have to be like this. Until Brexit.

EU countries haven't taken so long. Look at this welcome for Ukrainian children in an Italian school. This is already happening, has happened for days.




Irish Taoiseach Micheál Martin was interviewed by the BBC yesterday:




There's a key point in what he said. He'd just been honouring the European Union's Temporary Protection Directive.

From the EU website:


During the 1990s, conflicts in the former Yugoslavia, in Kosovo and elsewhere demonstrated the need for special procedures to deal with mass influxes of displaced persons. The 2001 Temporary Protection Directive provides a tool for the EU to address such situations.

The provisions within this Directive, based on solidarity between EU Member States, have been triggered for the first time to offer quick and effective assistance to people fleeing the war in Ukraine. On 4 March 2022, the Council adopted unanimously the implementing decision introducing temporary protection due to mass influx of persons fleeing Ukraine as a consequence of the war.

The Temporary Protection Directive defines the decision-making procedure needed to trigger, extend or end temporary protection. It foresees harmonised rights for the beneficiaries of temporary protection, including:
a residence permit for the entire duration of the protection (which can last from one year to three years)
appropriate information on temporary protection
access to employment
access to accommodation or housing
access to social welfare or means of subsistence
access to medical treatment
access to education for minors
opportunities for families to reunite in certain circumstances
guarantees for access to the normal asylum procedure
Should you wish to take a look, here's the full directive of 20 July 2001 "on minimum standards for giving temporary protection in the event of a mass influx of displaced persons and on measures promoting a balance of efforts between Member States in receiving such persons and bearing the consequences thereof", 12 pages of closely-worded legalese, including a "model pass for the transfer of persons enjoying temporary protection":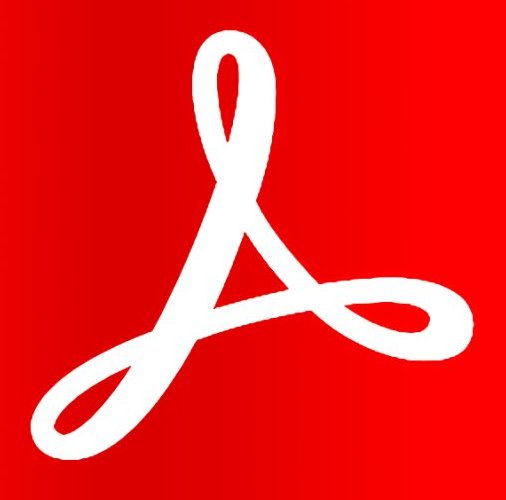 England abandoned this kind of humane commitment with Brexit. None of the EU countries has had to think twice about accepting refugees, to contrive new schemes. THE ANSWER WAS ALREADY THERE. In 2001. No scheme to invent.

Even with the UK announcement, there are hoops through which to jump, caveats revealed in the Homes for Ukraine website wording:


If you have a named person who you wish to sponsor you should get in contact with them directly and prepare to fill in a visa application with all their details and yours. The visa application will go live on Friday 18 March. Someone is eligible for the scheme if they are a Ukrainian national or the immediate family member of a Ukrainian national, and were resident in Ukraine prior to 1 January 2022. We will welcome as many arrivals as possible, based on the number of sponsors.


Named person ... visa application ... 18 March ...

Shadow Secretary of State Lisa Nandy commented:


"On his [Gove's] tour of the TV studios, he suggested several times that people who are willing to sponsor a Ukrainian family need to come to the government with the name of that family who will then rubber stamp it. He can't seriously be asking Ukrainian families who are fleeing Vladimir Putin, who have left their homes with nothing, to get on to Instagram and advertise themselves in the hope a British family might notice them."


Applicants, she said, still faced a 50-page form requiring them to upload water bills and mortgage documents and other things you might not grab when you flee for your life.

Oh well, at least we've got back control. And become very mean indeed.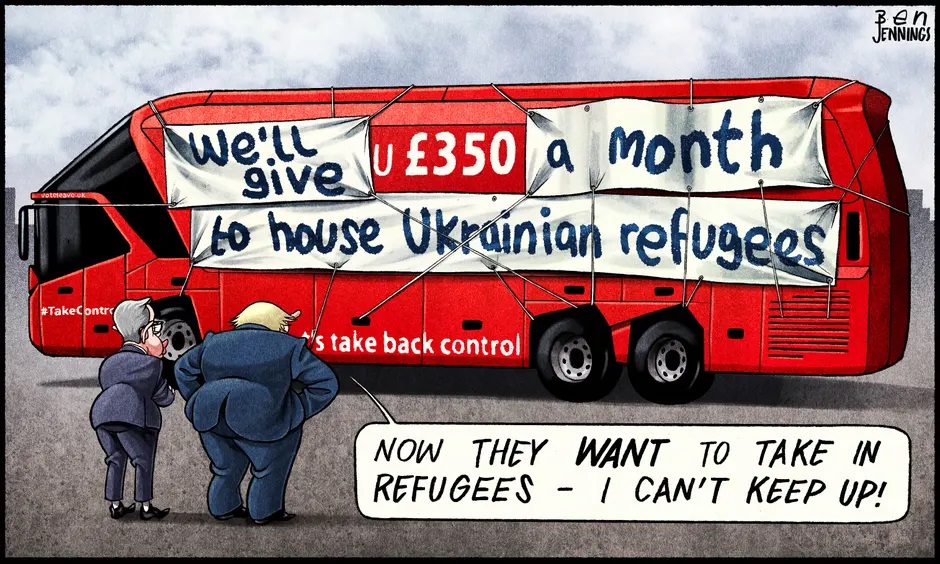 7:00am postscript: As often happens, I have overnight thoughts to add.

The one possible defence of our government that I can come up with is that it has been seeking to create a system that is sustainable, that can function into the future. Poland, for example, is close to being overwhelmed by the numbers of Ukrainians seeking sanctuary.

That said, it still doesn't wash. What have EU countries said? "Sorry, you can't come in, we're not ready. Please wait patiently in your cities as the Russians advance until we've got sorted. Some of you will have to stay there because there's not enough room." No, they haven't. They've said, "Come in, welcome, we'll fix the problems later. We want you to be safe right now. Not just from March 18th."

Why have they been able to behave in such a way? Because a humanitarian framework - an agreed response - already existed in EU law, rights enshrined in the Temporary Protection Directive, enabling timely action. As Micheál Martin stressed in the interview at the top of today's post: "Speed is important in a situation like this."

The spirit of kindness lives in British hearts and minds, I don't doubt. What enrages me - in recent days I've got cardiac-risk angry - is that Brexit was a formal turning-away from principles of humanity and union, the rejection of harmony, goodwill and co-operation, rubber-stamped in an act of government, binding on us all. Not in my name.

I had thought for a long time before the Brexit imposition of insularity that if there were regrets about the loss of empire - not mine - we had instead, joyfully, gained Europe. Then the "sovereignty and control" monkeys ditched a beautiful idea.

Monday 14th March


I have usually quoted the World Health Organisation in these pages on matters related to coronavirus and vaccination. Yesterday it published this statement, "Stop attacks on health care in Ukraine" (2 pages):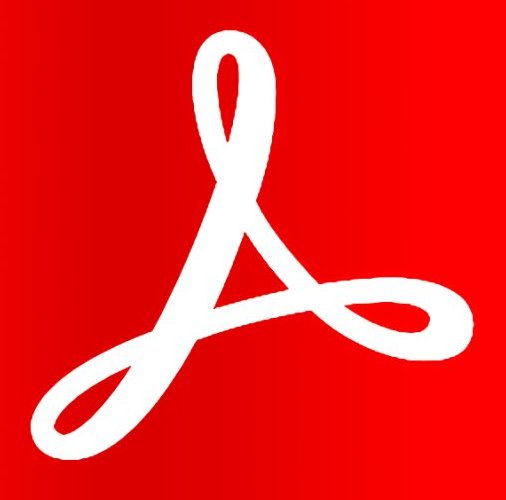 "Today, we call for an immediate cessation of all attacks on health care in Ukraine. These horrific attacks are killing and causing serious injuries to patients and health workers, destroying vital health infrastructure and forcing thousands to forgo accessing health services despite catastrophic needs.

"To attack the most vulnerable - babies, children, pregnant women, and those already suffering from illness and disease, and health workers risking their own lives to save lives - is an act of unconscionable cruelty.

"In Ukraine, since the start of the war, 31 attacks on health care have been documented via the WHO's Surveillance System for Attacks on Health Care (SSA). According to these reports, in 24 incidents health care facilities were damaged or destroyed, while in five cases ambulances were damaged or destroyed. These attacks have led to at least 12 deaths and 34 injuries, and affected access to and availability of essential health services. WHO is verifying further reports, as attacks continue to be reported despite the calls for protection of health care."


In a cruel twist, one effect of the war is that western - primarily, but not exclusively - nations will have to pay more attention to their sources of energy.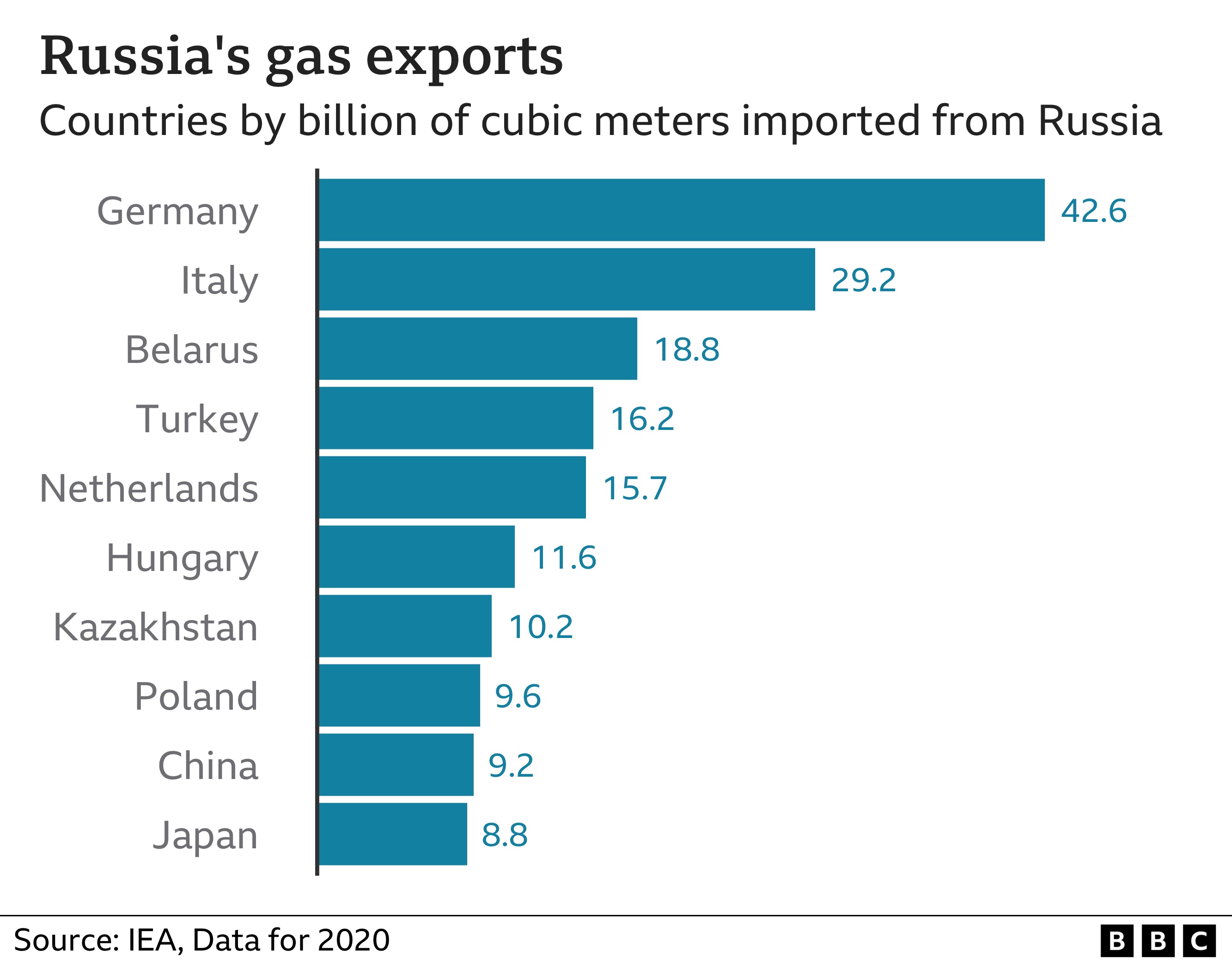 Presumably Belarus will see no change. Nor China.

Any reawakening we now see of the desire for energy independence is pretty shameful, isn't it? Not a response to others' suffering, but about the pain we will feel in our wallets. There's nothing in it to alleviate the plight of the Ukrainian people. We're just worried about our household bills.

On 3rd March the International Energy Agency (IEA), the 28-government organisation (Russia is not a member) established within the framework of the Organisation for Economic Co-operation and Development (OECD) in 1974 in the wake of the 1973 oil crisis, issued its "10-Point Plan to Reduce the European Union's Reliance on Russian Natural Gas" (12 pages):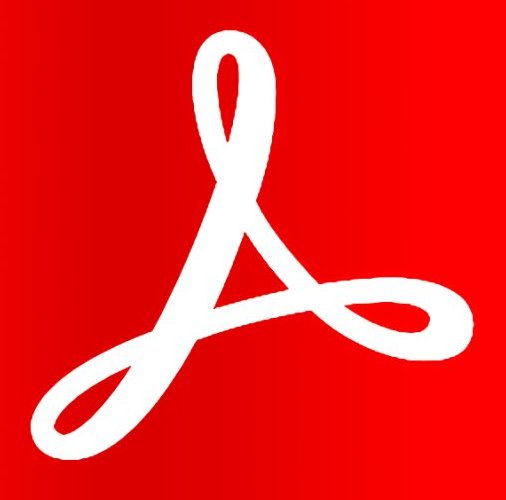 Barbara Pompili, Minister for Ecological Transition of France, which currently holds the EU Presidency, said:


"More than ever, getting rid of Russian fossil fuels and of fossil fuels in general, is essential. What is at stake is both the need to accelerate the fight against climate change, and, as we can see now, the short-term energy security of the European continent."


Here is the plan summarised in an infographic below (click to enlarge). You can download the same image in PDF format (1 page)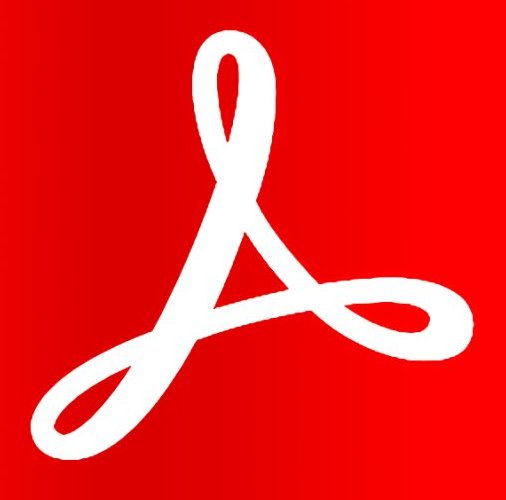 and a list of actions and impacts in text format (1 page)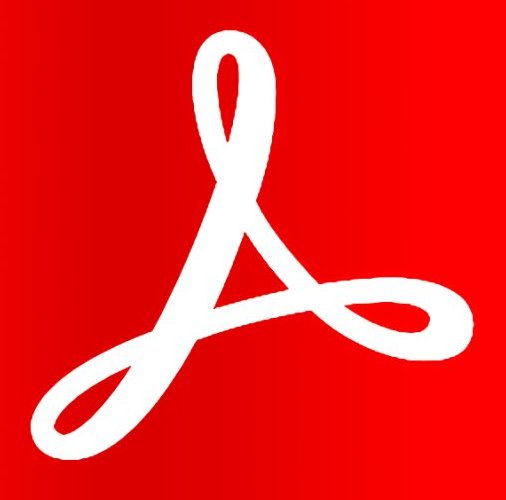 .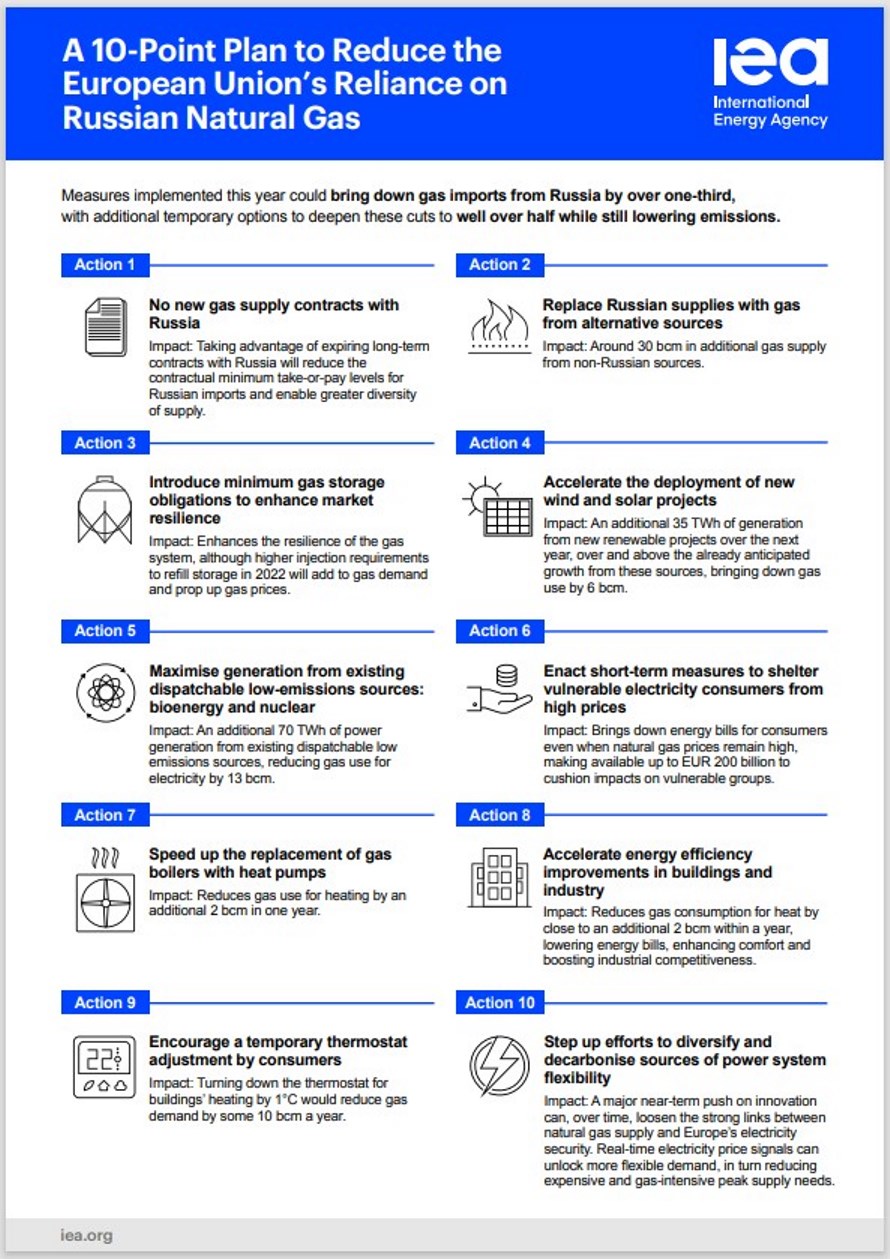 As Barbara Pompili said, there are short term aims, which include the maximisation of bioenergy, nuclear and alternative gas sources. The green energy purist/radical is going to be frustrated/appalled by the direction taken in this early phase. New life for the Cambo oil field off Shetland, the west Cumbria coal mine? Fracking back on the agenda? On this last, the Warwick Business School study of March 2020 calculated that UK production of shale gas could meet between 17 and 22 per cent of UK cumulative gas consumption between 2020 and 2050: "Its role will be to mask the declining production of the UK continental shelf and displace a limited quantity of imports ... an exercise in slowing the increase in import dependence."

Here is the IEA's projected reduction in gas reliance on Russia in the first year (click to enlarge):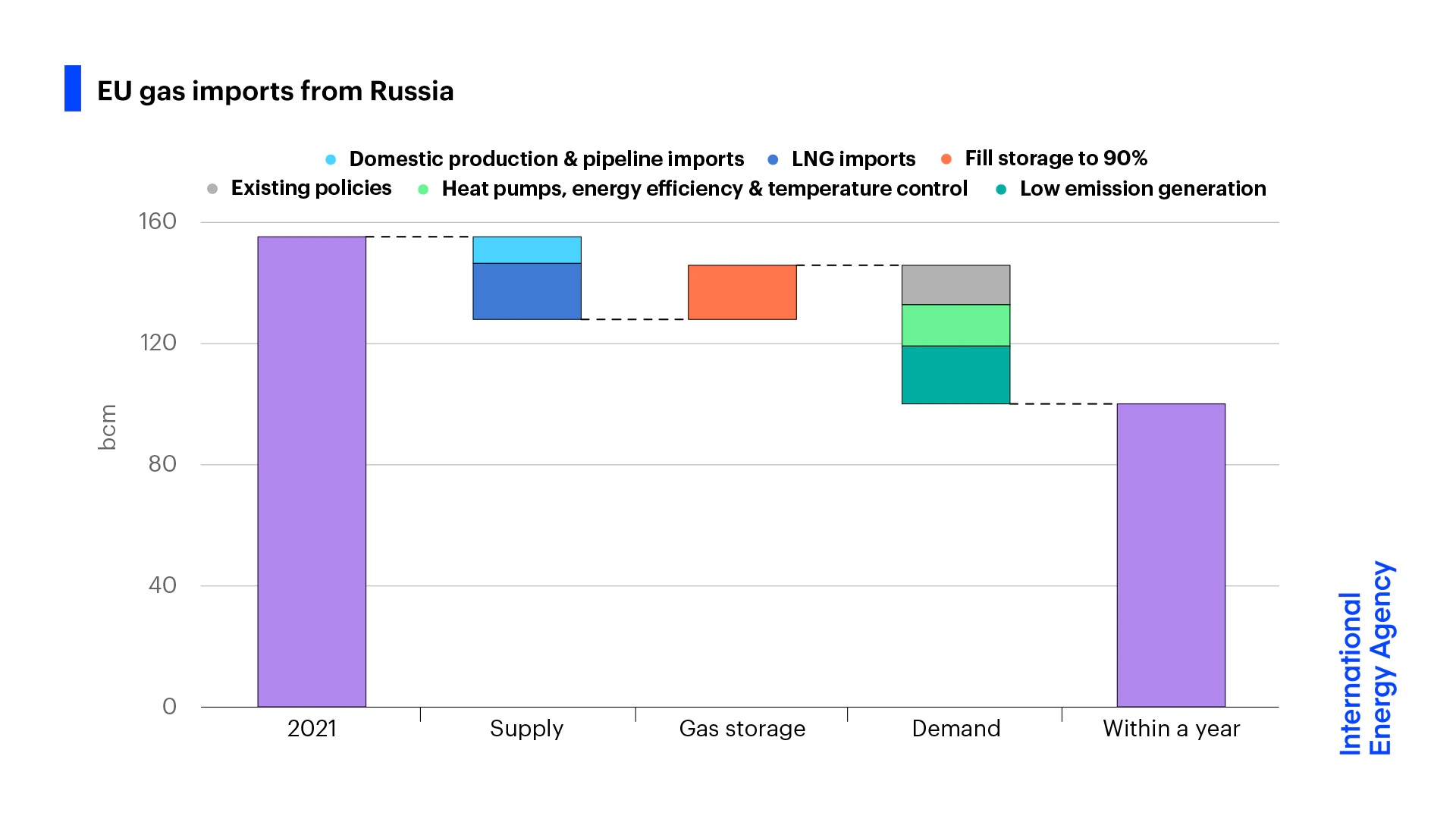 This leaves 5 points that truly encourage the development of sustainable energy:
Accelerate the deployment of new wind and solar projects
Speed up the replacement of gas boilers with heat pumps
Accelerate energy efficiency improvements in buildings and industry
Encourage a temporary thermostat reduction of 1 °C by consumers
Step up efforts to diversify and decarbonise sources of power system flexibility
Unlike the woeful COP26 Glasgow Climate Pact, there are plenty of target numbers in the main document (and some outline numerical benefits in the action/impact text summary and infographic) above for which to aim. Next ... reach the targets. Who will enforce them? No need perhaps, as we can surely rely on the power of self-interest.

The amount of media coverage - reflected in this blog, I admit - on climate change has dropped to near zero. It takes a war and its associated financial threats to re-stimulate action. Money talks.

All of this assumes we haven't blown ourselves up before we put the finishing touches to climate catastrophe.

Sorry, folks, I never meant to get this gloomy. But I'm bound to repeat the Have I Got News For You tweet that I posted earlier in the month:





Overwhelmingly so for Ukrainians. Who were minding their own business three weeks ago.

Which is why I haven't called this impetus for renewable energy self-sufficiency a "silver lining".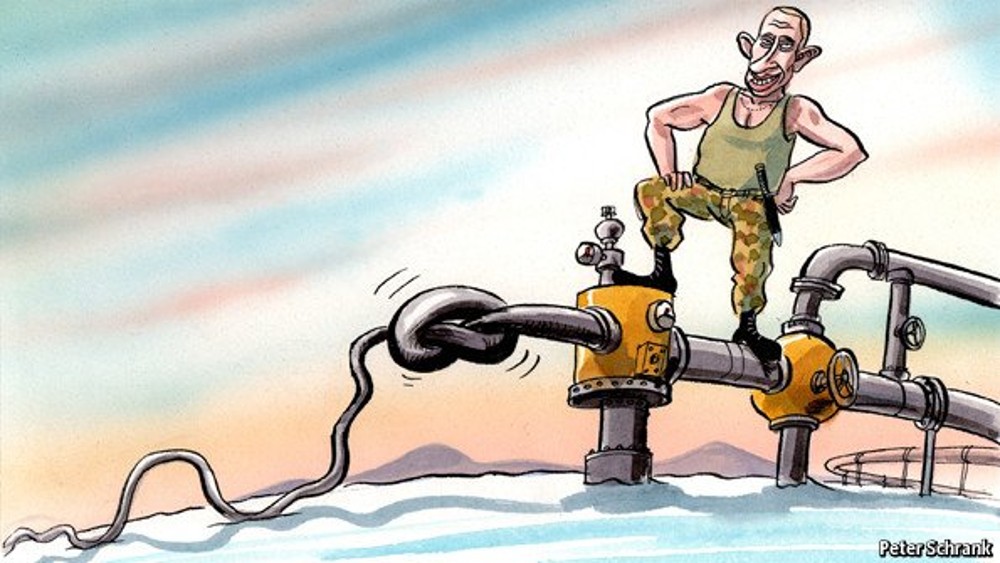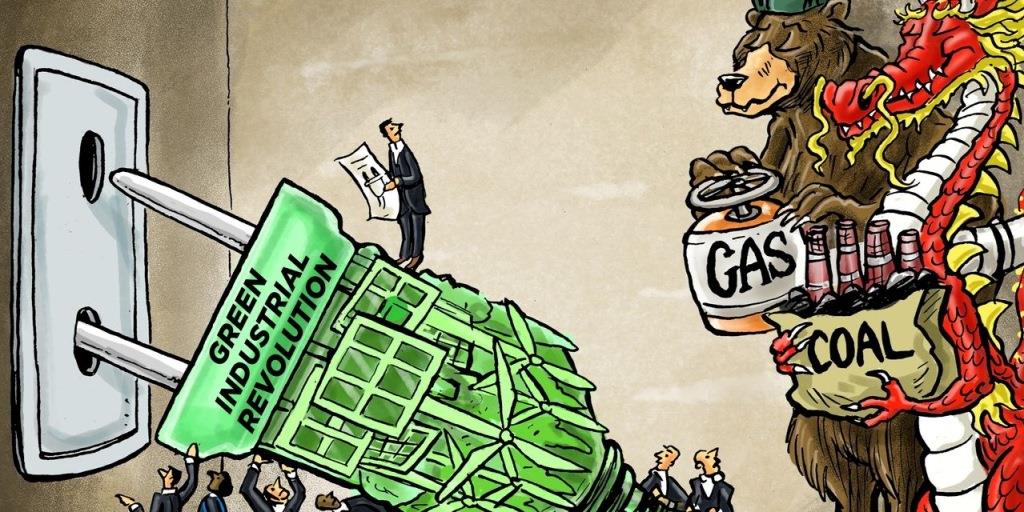 To finish on a brave and brighter note, here's a video clip just sent by my Irish correspondent of a choir in Odessa singing "Va, Pensiero" ("Chorus of the Hebrew Slaves") from Verdi's opera "Nabucco":



Sunday 13th March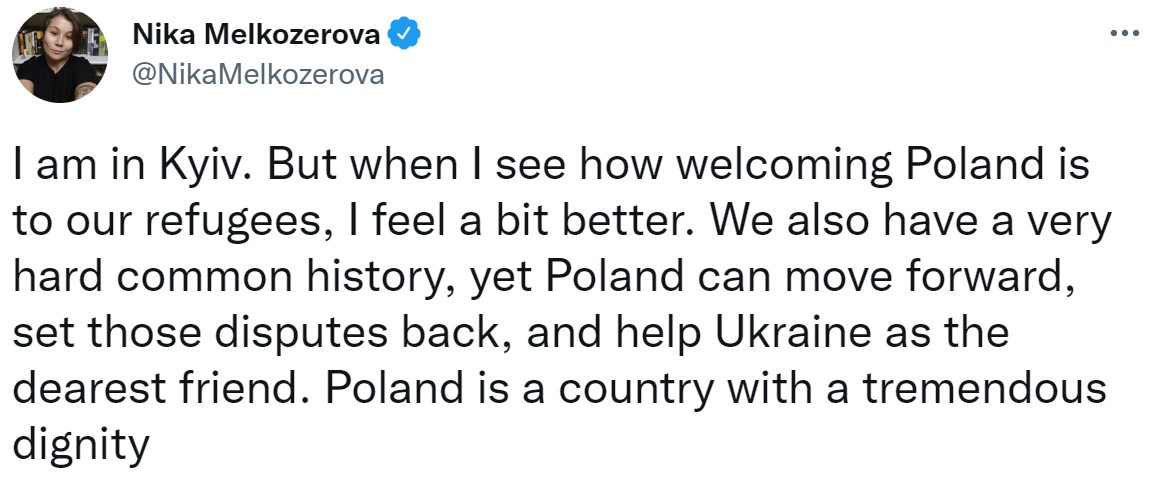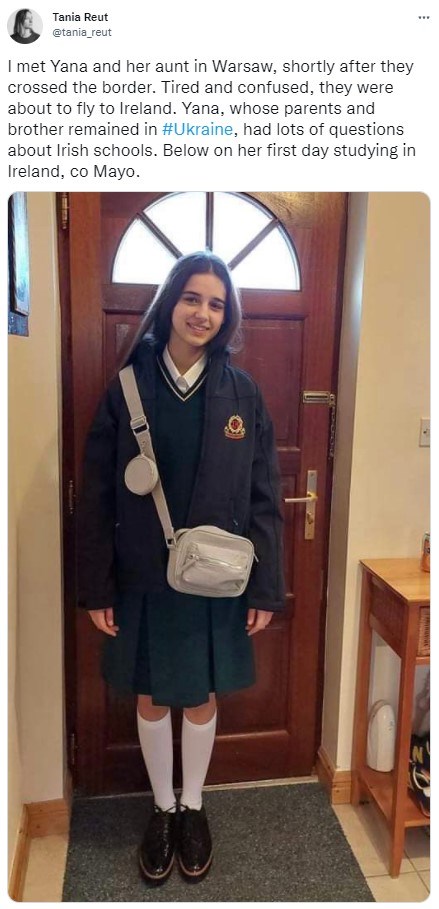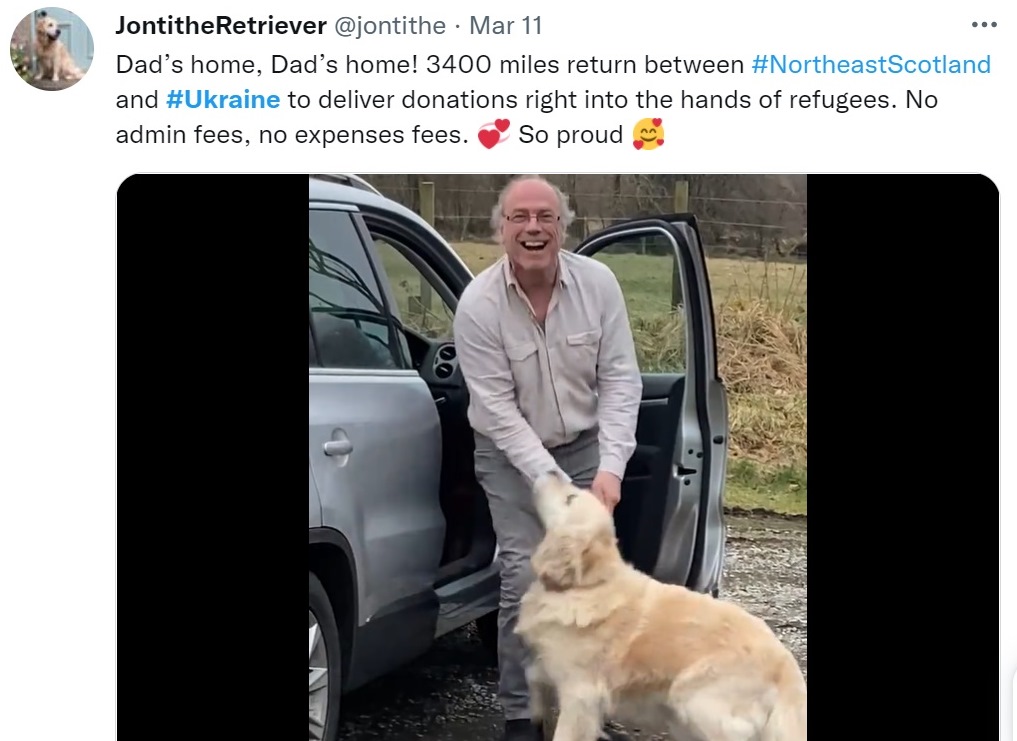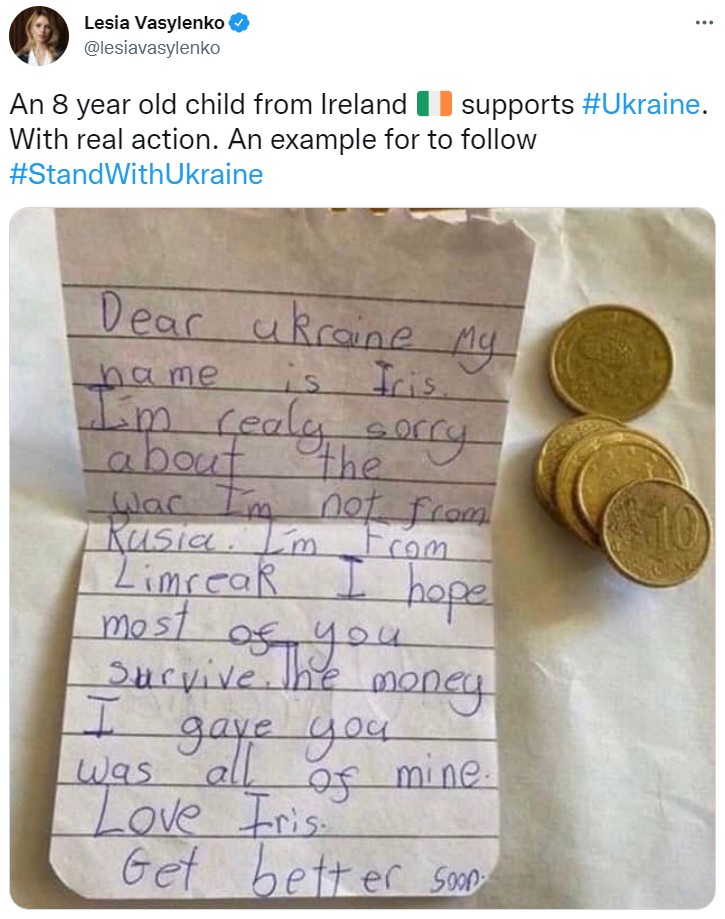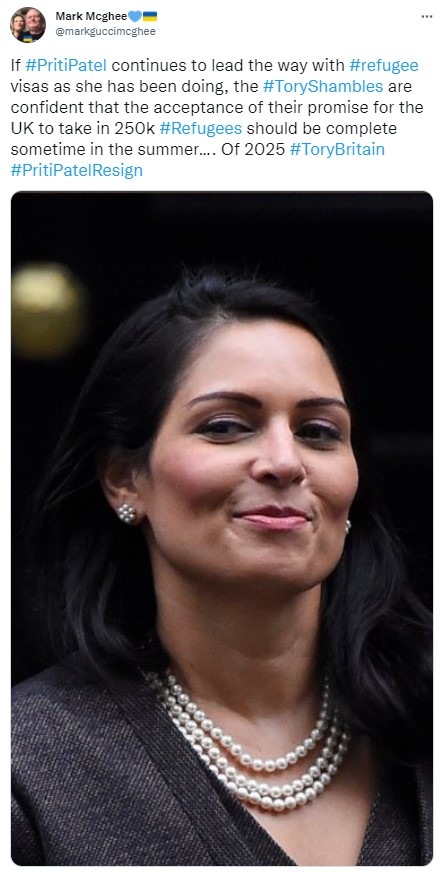 Saturday 12th March


Every day there are fewer words to describe the situation in Ukraine. Every day the Russian red spreads across the map. Every day the refugee numbers grow.

Here are screenshots I took of BBC live news shortly after 7:30am this morning: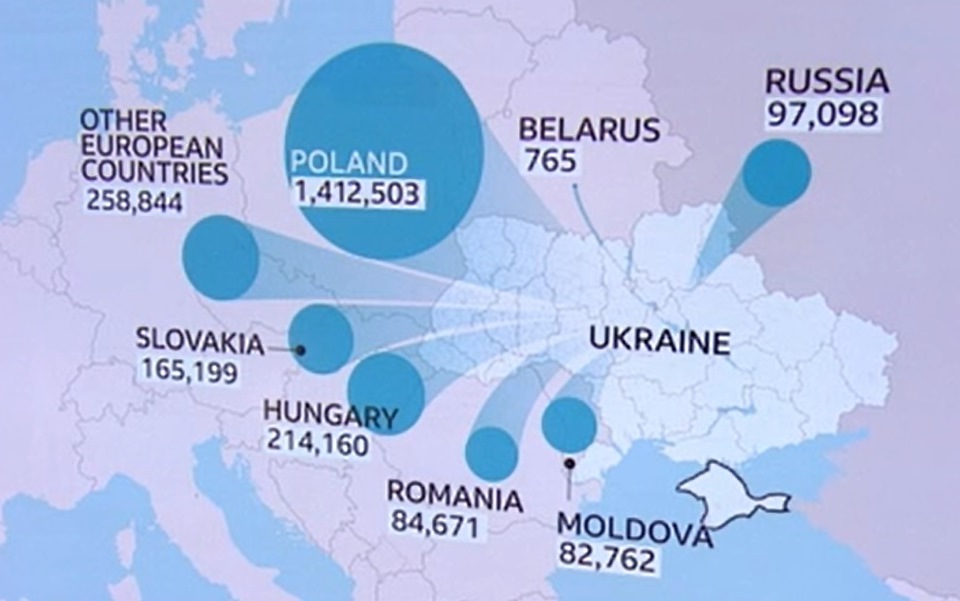 The Westminster refugee response is buried in red tape. The "community sponsorship scheme" has yet to be finalised; further announcements are due on Monday.

This is wilful government-led throttling of humanitarian support, a malign and punitive obsession with "due process". It's not reflected in local communities in England, where individual towns and villages have made direct connections to assist, for example, their counterparts in Poland and Moldova.

Contrast the leadership across the Irish Sea.

Raidió Teilifís Éireann (RTÉ) has reported:


"There have been almost 12,000 pledges of accommodation from Irish people to refugees from Ukraine. On Monday, the Government announced an accommodation pledge register through the Irish Red Cross website. The highest number of accommodation pledges by county is 2,149 in Dublin, followed by 1,327 in Cork, and 663 in Galway. The Government is said to be setting up an Irish presence in Polish airports to facilitate people fleeing the war in Ukraine."


From the Irish Examiner:

"Ireland is rolling out a series of extraordinary measures, including a plan to shelter up to 80,000 refugees from Ukraine. Farmers will receive extra State payments to grow crops on their land to counteract the economic and financial impact of the Ukrainian crisis. Emergency plans to house up to 80,000 Ukrainian refugees, which could involve constructing modular homes on State land such as the Curragh, are being drawn up with officials from the Department of Children working throughout the weekend with several hundred hotels being acquired from next week. With thousands of families now expected to arrive here, the Department of Education is working on meeting the demand for extra school places, while psychological supports and counselling are also being looked at. Meanwhile, a reduction in excise and an increase in the hauliers' fuel rebate is on the cards to help ease soaring petrol, diesel and home heating costs.

"Measures such as compulsory tillage orders were used in Ireland in extreme circumstances such as 'The Emergency' (WWII) including at the Ford car factory on Centre Park Rd, Cork City, pictured in 1940:"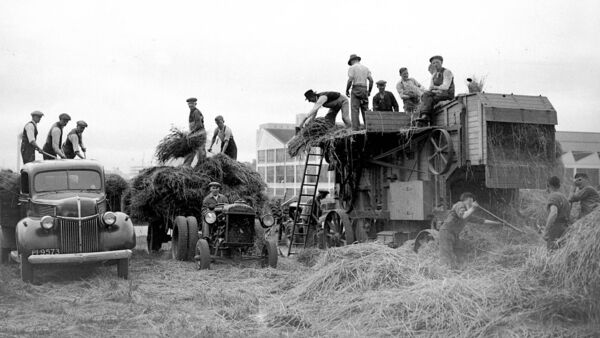 We're all watching. Here's a Greek cartoon: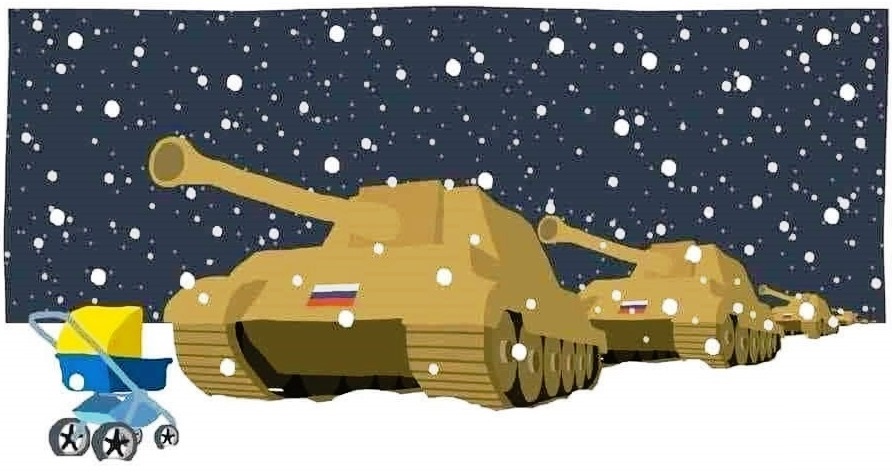 Boris and Priti don't get the message. Too busy with parties and bullying.

Friday 11th March


Random snippets today. I'm sure you've seen plenty of news already.

Daughter Ellie sent a photo of some house-painting near her home in St Werburghs, Bristol.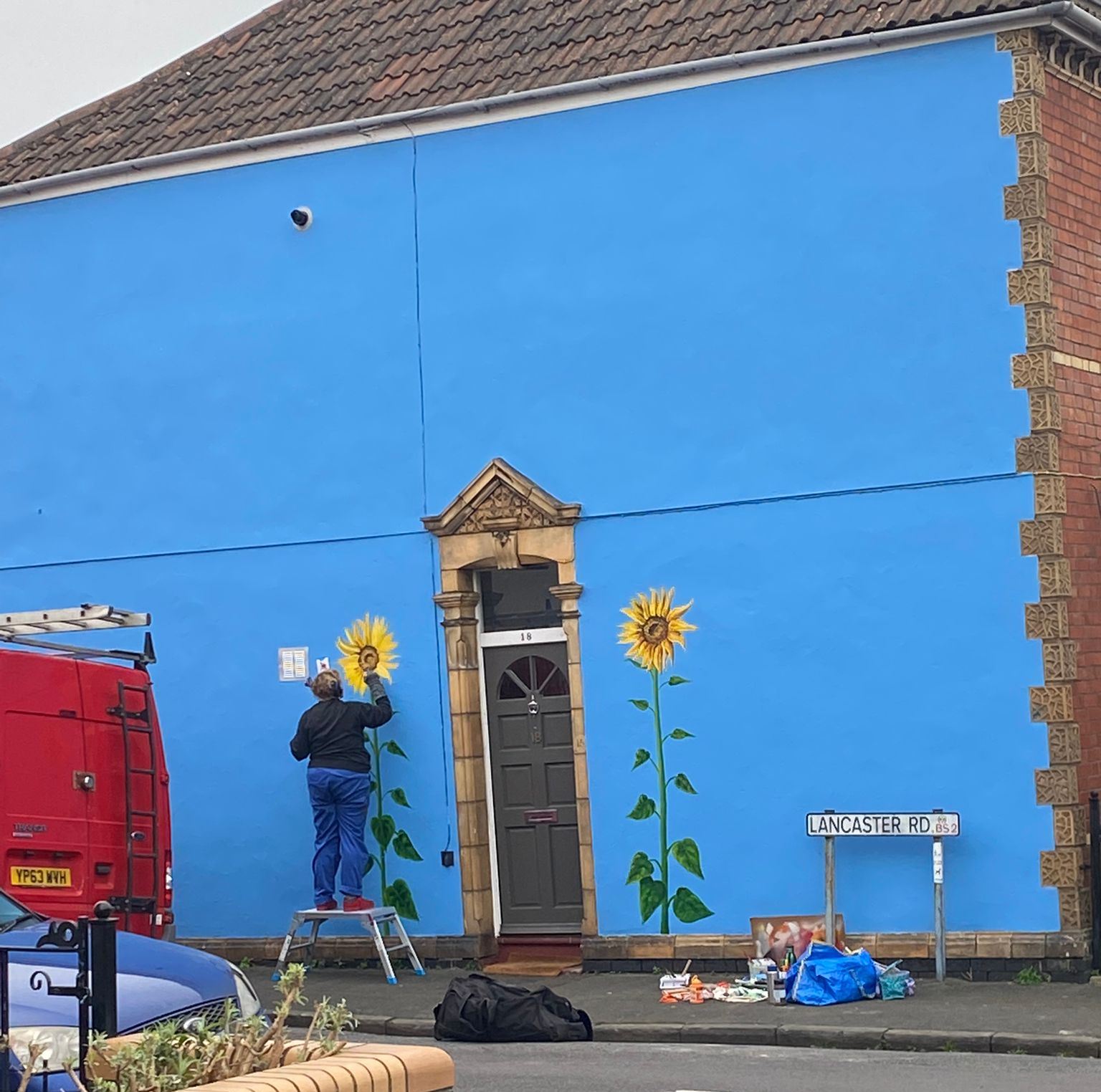 My alma mater sent me this email. So proud that they are in tune with world events and sticking to the important things in life. That they'd guessed what was really on my mind.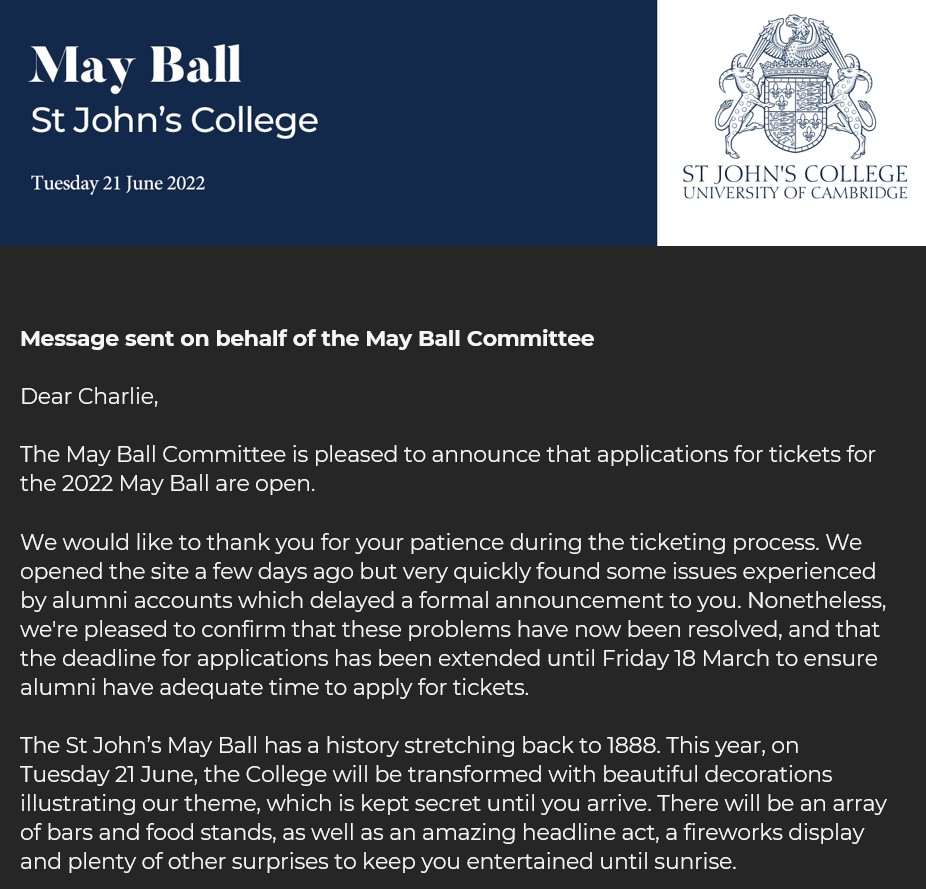 "We would like to thank you for your patience during the ticketing process." Damn right. I've been so frustrated by the delay in securing my May Ball admission.

Two days ago President Kelensky denounced the bombing of the maternity hospital in Mariupol as an atrocity. At about the same time, the Russian Foreign Minister Sergei Lavrov held a press conference in Antalya, Turkey, during which he claimed that the hospital had been taken over prior to the attack by the right-wing, neo-Nazi Azov militia battalion. "All the mothers that were about to give birth were chased out of there."

Of course, this led me to questions of truth, and then to George Orwell's "1984". I had never read the appendix to the book, "The Principles of Newspeak" - the fictional language of totalitarian Oceania - but I have now. What a commanding piece of invention, a beautifully-crafted treatise on the manipulation of language in pursuit of power and control. If you have the time, and you're interested in language, here it is (11 pages):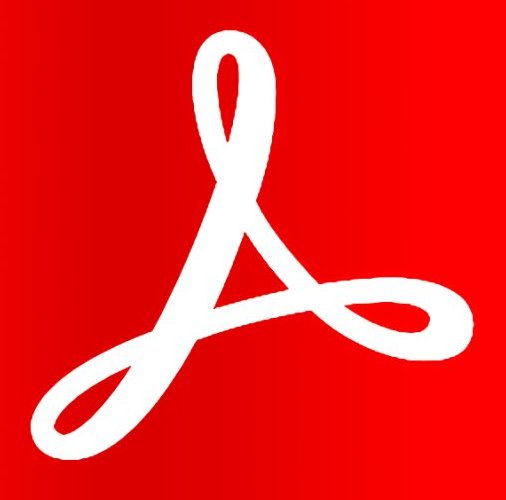 . As a taste, this is the second paragraph:


"The purpose of Newspeak was not only to provide a medium of expression for the world-view and mental habits proper to the devotees of Ingsoc, but to make all other modes of thought impossible. It was intended that when Newspeak had been adopted once and for all and Oldspeak forgotten, a heretical thought - that is, a thought diverging from the principles of Ingsoc - should be literally unthinkable, at least so far as thought is dependent on words. Its vocabulary was so constructed as to give exact and often very subtle expression to every meaning that a Party member could properly wish to express, while excluding all other meanings and also the possibility of arriving at them by indirect methods. This was done partly by the invention of new words, but chiefly by eliminating undesirable words and by stripping such words as remained of unorthodox meanings, and so far as possible of all secondary meanings whatever. To give a single example. The word free still existed in Newspeak, but it could only be used in such statements as 'This dog is free from lice' or 'This field is free from weeds'. It could not be used in its old sense of 'politically free' or 'intellectually free' since political and intellectual freedom no longer existed even as concepts, and were therefore of necessity nameless. Quite apart from the suppression of definitely heretical words, reduction of vocabulary was regarded as an end in itself, and no word that could be dispensed with was allowed to survive. Newspeak was designed not to extend but to diminish the range of thought, and this purpose was indirectly assisted by cutting the choice of words down to a minimum."


So, they held the trilateral meeting in Turkey. You're not telling me that Erdoğan sees himself as a peacemaker? I never spotted him as the recipient of my proposed Nobel Prize.

A Meta spokesperson has said: "In light of the ongoing invasion of Ukraine, we made a temporary exception for those affected by the war, to express violent sentiments toward invading armed forces." A permissible example: "Death to the Russian invaders." Somebody asked me yesterday why I wasn't prepared to use Facebook. Here's one reason. Fits with Mark Zuckerberg's mission statement "Give people the power to build community and bring the world closer together", doesn't it?

Thursday 10th March


Every day I experience more of a sense of guilt at being a bystander, mainly as we in the West insist that the Ukrainians' big request must be denied.

Here is the president's tweet from yesterday: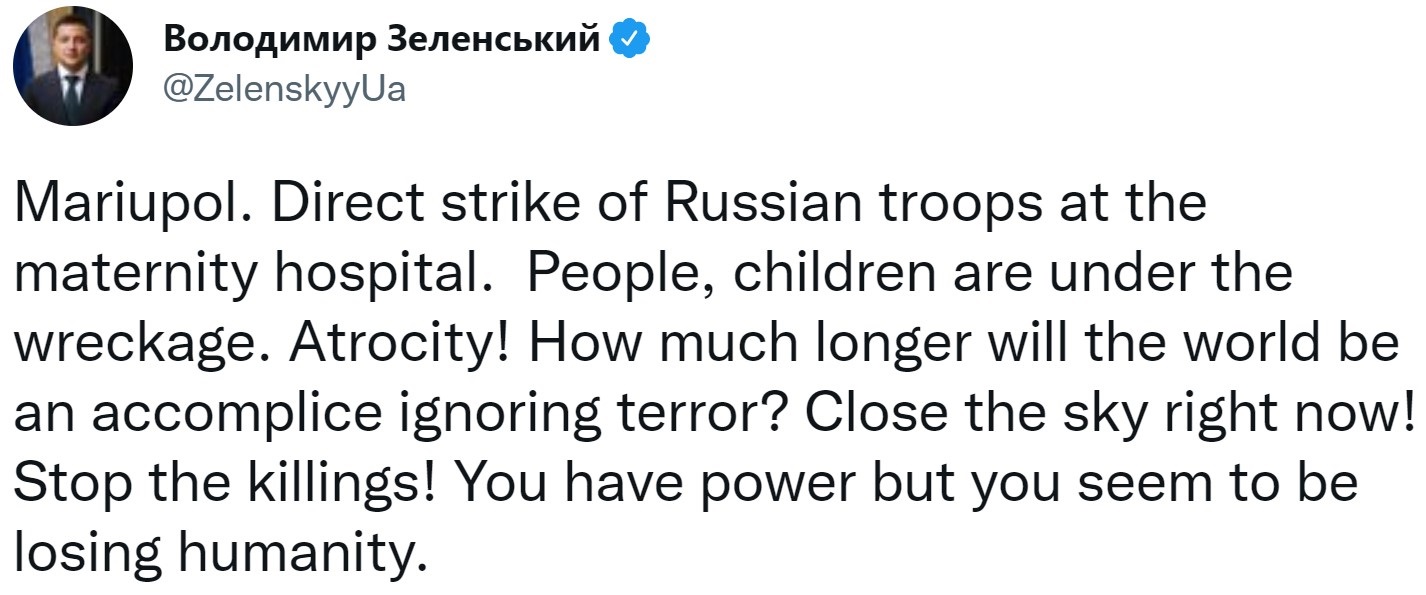 This was echoed by his wife in her recent open letter to the world's press: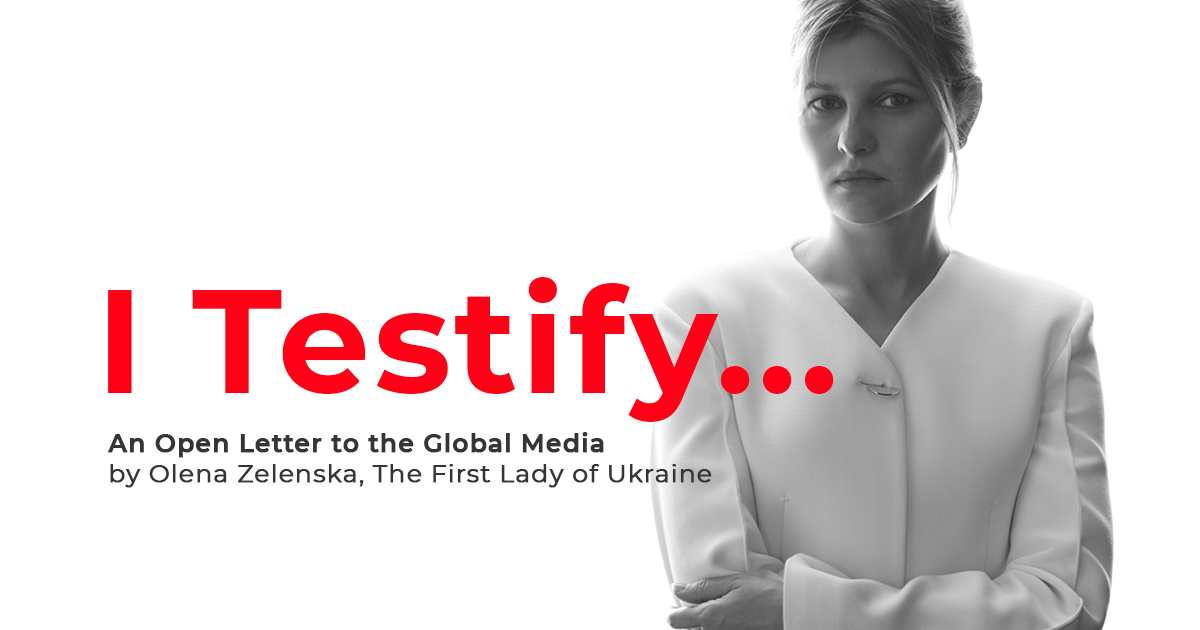 It's not the kind of picture you'd expect in a humanitarian appeal, is it? Super-glam. I assume it's intentional, quite why I'm not sure.

Our response to the refugees continues to shame me. I was surprised to find this cartoon on the front page of the upcoming issue of The Spectator, an organ once edited by Boris.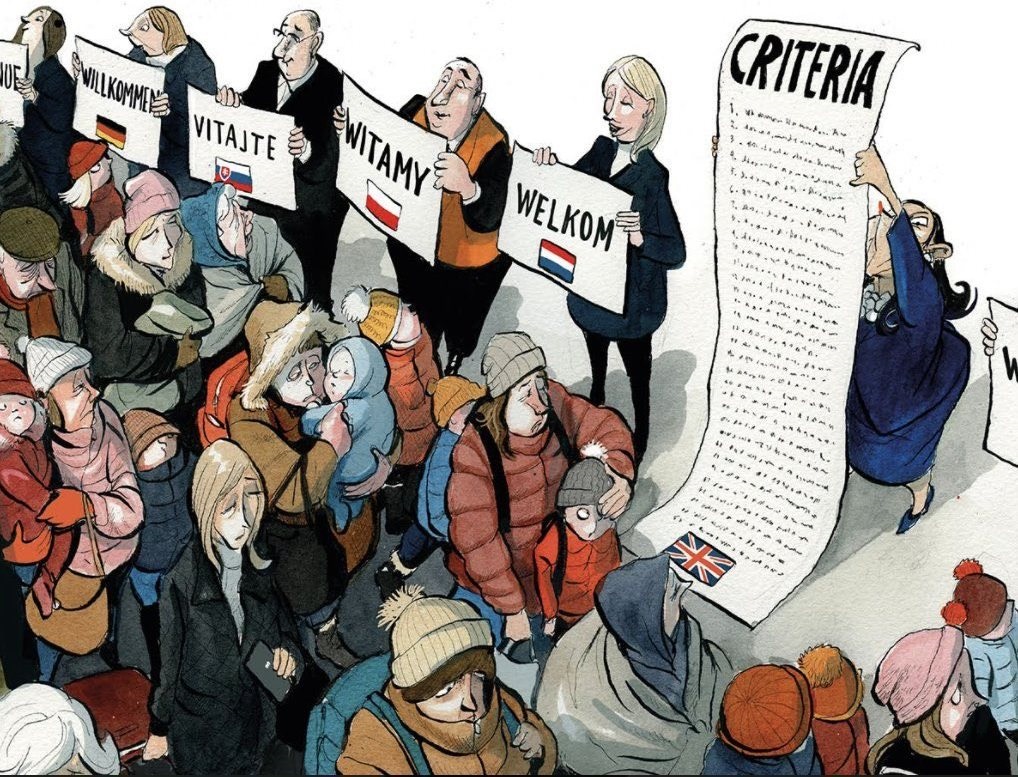 The "how will it end?" question persists. Here's one idea: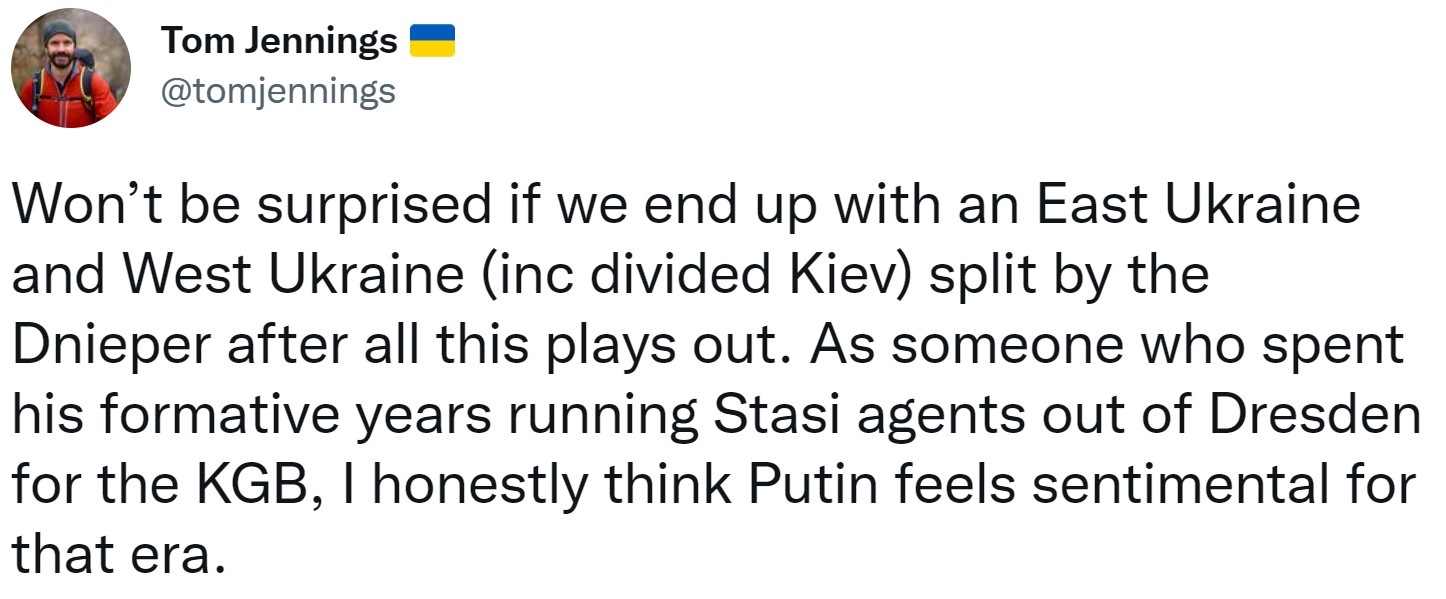 A minor quibble. Tom needs to be more careful with subtleties of grammar. Who was running the Stasi agents?

I've wrestled with the one remaining question presented to me by daughter Ellie's friend H. It's about issues of race and colour in the crisis, particularly her perception of news coverage and treatment of black and Asian people in Ukraine. I've written yards on the topic, but have decided that it's not appropriate to post right now, even if the photo of Olena Zelenska above might have some bearing on the matter. Fear and death are pigment-neutral - although people of colour may arguably experience more (Yemen, Ruanda). Instead, I'll stick with this comment from the South African comedian and television host Trevor Noah: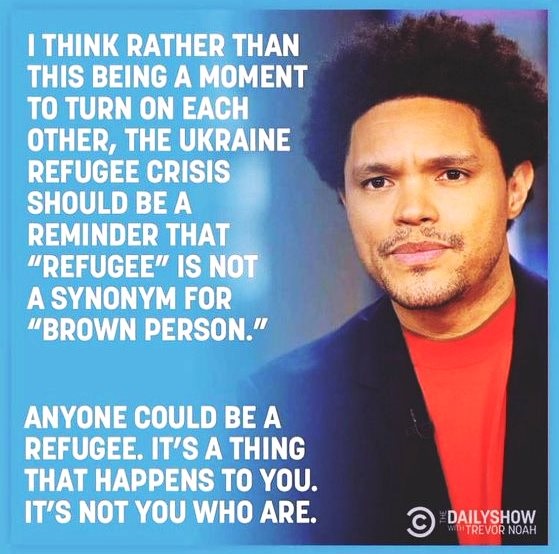 Wednesday 9th March


Volodymyr Zelensky spoke to a packed House of Commons, to a standing ovation.

An indicator of extraordinary times.

The first foreign head of state to be heard, albeit virtually, in the chamber. 46 other leaders have addressed members of parliament since 1939, but in other venues, most frequently the Royal Gallery and Westminster Hall. Daniel Ortega, President of Nicaragua, spoke in Committee Room 14.

Five Russians (one of them twice) have given speeches: Nikolai Bulganin (Premier of the Soviet Union) and Nikita Khruschev (First Secretary of the Communist Party), both on 24th April 1956; Alexei Kosygin (Premier), 1967; Mikhail Gorbachev (General Secretary of the Communist Party, President), 1984; Boris Yeltsin (President of the Russian Federation), 1992; Mikhail Gorbachev again (when out of office after the official end of the Soviet Union), 1993.

Zelensky expressed personal thanks to Boris, but sadly for the Ukrainian president he still hasn't got the no-fly zone he really wants. I suspect he's after even more, namely for NATO, the organisation he's accused by Putin of wishing to join, to stand alongside his forces to fight the Russians - although he must surely understand the implications. His speech was full of praise for the West's support - but there was definitely an elephant in the room.

My friend Alf Florio, who was curate of St Patrick's Catholic church in Soho from 1954 to 1965 (he has some tales to tell), emailed yesterday:


"What about a Damascene conversion for Vladimir? Without it Saul would have been a bloodthirsty nobody. Putin said 'God forbid ...'. Is he a Russian Orthodox believer? A sudden cessation of the war because he repents would make him a universal saint for all time! Miracles aside, what does the Russian church say about the war? The Pope has made a clear condemnation. Surely there must be many orthodox Christian clerics bursting with horror. Maybe we are not allowed to hear of them, given the control of information. Given also that he only appears to talk to his subordinates at five metre table lengths, perhaps no senior cleric can get anywhere close to him. It is very difficult to have reasonable hope."


I'm heartily sick of our mean-spirited, red-tape-obsessed Home Office: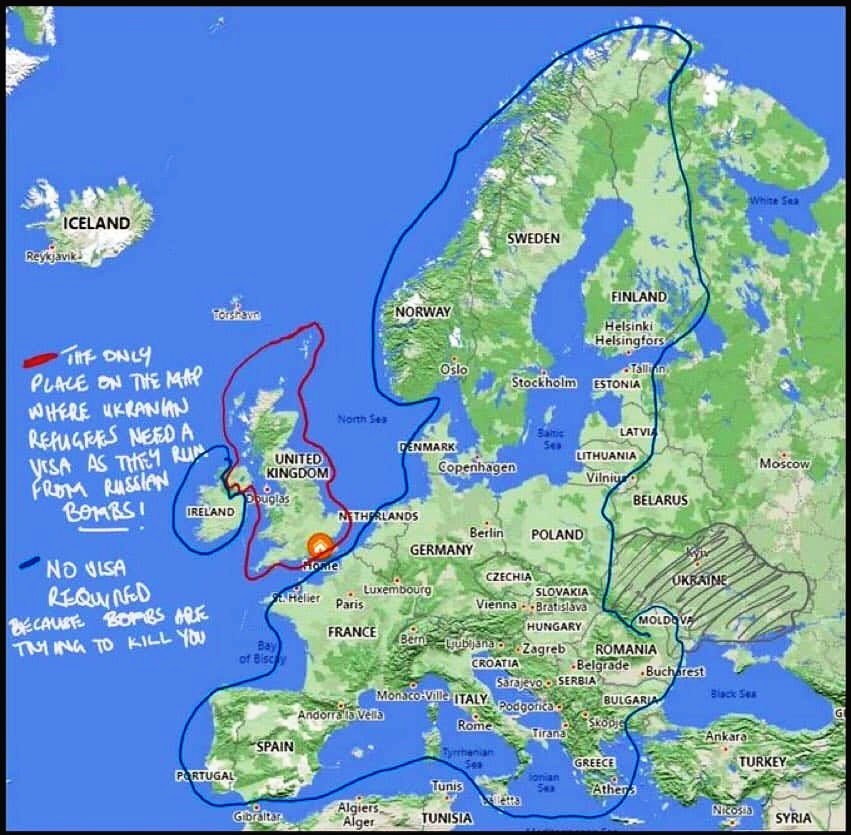 Which leads me to the whole pack of rouble-grabbing Westminster toffs. Ben Elliot is Co-Chairman of the Conservative Party. He's a member of 5 Hertford Street, a secretive private members' club in Mayfair owned by "committed Leaver" Robin Birley. Political figures allegedly - yes, I've learnt from Private Eye - associated with the club include Priti Patel, Nigel Farage, Michael Gove, David Cameron, Arron Banks and Liz Truss. Elliot co-founded the "concierge" Quintessentially Group - fixers for the rich. The group posted this promotional material on its website, rapidly taken down (but lingering on the Twittersphere) after the Ukraine invasion: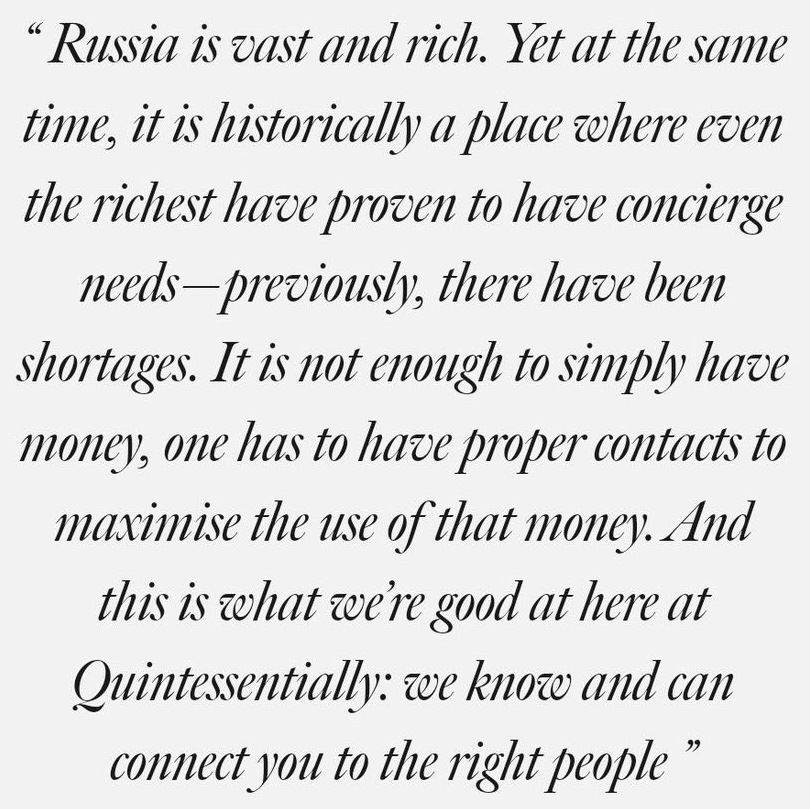 OK, so that's gone, but not forgotten, I'm sure. You can still find this on the site:




It's not exactly levelling-up, is it? Not surprising when the Secretary of State for Levelling Up (that really is the official job title - it must be a jolly private joke, although to me it sounds distinctly Orwellian) is no stranger - allegedly - to 5 Hertford Street.

Tuesday 8th March


Nearly two weeks of war.

The question in all our minds must be: How will it end?

There is no sign of Putin abandoning his plan. Indeed, what is the plan? Will he stop when he has crushed the Ukrainian armed resistance? What would happen after that? Dissolve the border, absorb the country into Russia? Install a puppet regime? Maintain a military presence?

Or press on into other ex-Soviet satellites? Only those who are not members of NATO, such as Moldova? Or beyond, perhaps to the Baltic states? Then surely we face the unthinkable.

Might the Ukraine, unable to sustain further intolerable wounds, agree to a political compromise? Fall back from fight-to-the-death?

Could Putin be convinced to call a halt? By impoverished oligarch, gymnast lover or weary general? By Ivan Public? By the threat of prosecution for war crimes?

Will he be removed from power? Bumped off by disillusioned countryman or foreign adversary?

I'm still waiting for the "golden bridge".

What could NATO do?

My friend Dave Lovegrove yesterday pointed me at a Guardian article that I'd missed a week ago by Ted Galen Carpenter, senior fellow for defence and foreign policy studies at the Cato Institute, the Washington-based think tank, titled: "Many predicted NATO expansion would lead to war; those warnings were ignored". He opened with:


"Russia's military offensive against Ukraine is an act of aggression that will make already worrisome tensions between NATO and Moscow even more dangerous. The west's new cold war with Russia has turned hot. Vladimir Putin bears primary responsibility for this latest development, but NATO's arrogant, tone-deaf policy toward Russia over the past quarter-century deserves a large share as well. Analysts committed to a US foreign policy of realism and restraint have warned that continuing to expand the most powerful military alliance in history toward another major power would not end well. The war in Ukraine provides definitive confirmation that it did not."


The Clinton administration invited Poland, the Czech Republic and Hungary to become members. Madeleine Albright, then US Secretary of State, conceded in her memoir:


"Yeltsin and his countrymen were strongly opposed to enlargement, seeing it as a strategy for exploiting their vulnerability and moving Europe's dividing line to the east, leaving them isolated."


Strobe Talbott, Deputy Secretary of State, said:


"Many Russians see NATO as a vestige of the cold war, inherently directed against their country. They point out that they have disbanded the Warsaw Pact, their military alliance, and ask why the west should not do the same."


George Kennan, American diplomat and historian, warned in a May 1998 New York Times interview of what the US Senate's ratification of NATO's first round of expansion might set in motion.


"I think it is the beginning of a new cold war. The Russians will gradually react quite adversely and it will affect their policies. I think it is a tragic mistake. There was no reason for this whatsoever. No one was threatening anybody else."


We rubbed our hands with glee at the dissolution of the Soviet Union, and gloated as the Eastern Bloc adopted western economics. "Communism, pah! - we knew it wouldn't work." The Cold War was over. The Russian threat had gone away. Nobody considered that the hurt might grow to be less to do with ideology, more with power, status, territory - and revenge. Humiliation bred resolve. The bear retreated with its tail between its legs. Now it's back.

We of the NATO alliance have as great a duty as any other party to the crisis to unearth a creative route to resolution.

Meanwhile, we have the privilege of continuing daily family life free from fear of attack.

Son Ben has had a break from Bilbao in Barcelona. Here's his wee snack in a café near Parc Güell: "Morcilla, chorizo and baby squid. Everything deep fried with plenty of white bread. Welcome to Spain." Plus a glass of vermouth. I'm green with envy, but happy to avoid the cardiac risk.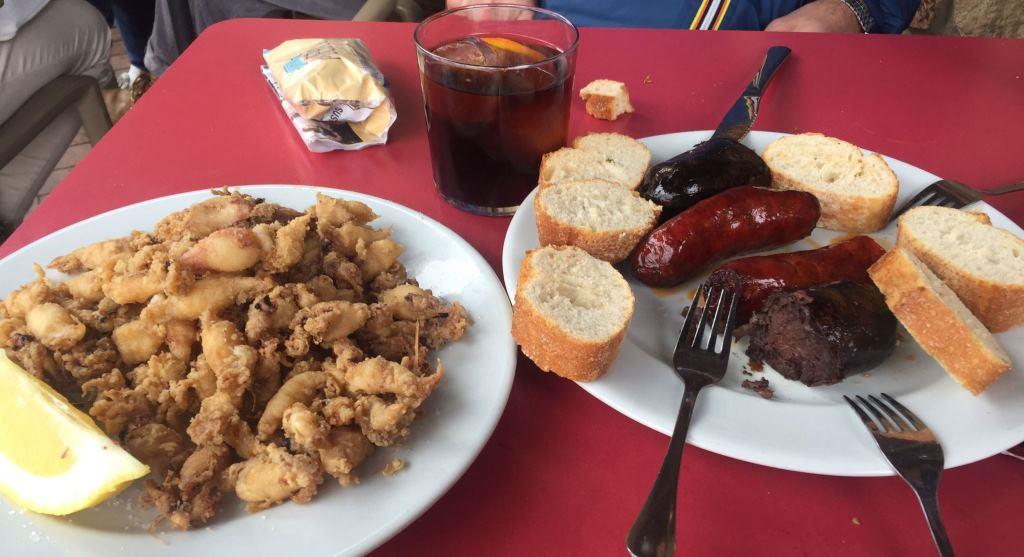 Grandson Marlie has been praised at school for his musical contributions, even with violin. So a friend of daughter Ellie bought one for him.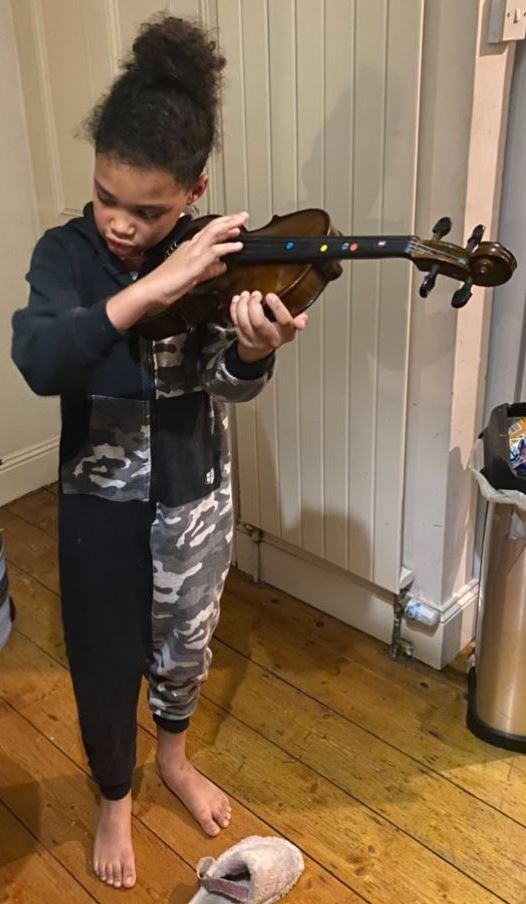 And not forgetting, happy ...




Monday 7th March


Hats off to Poland.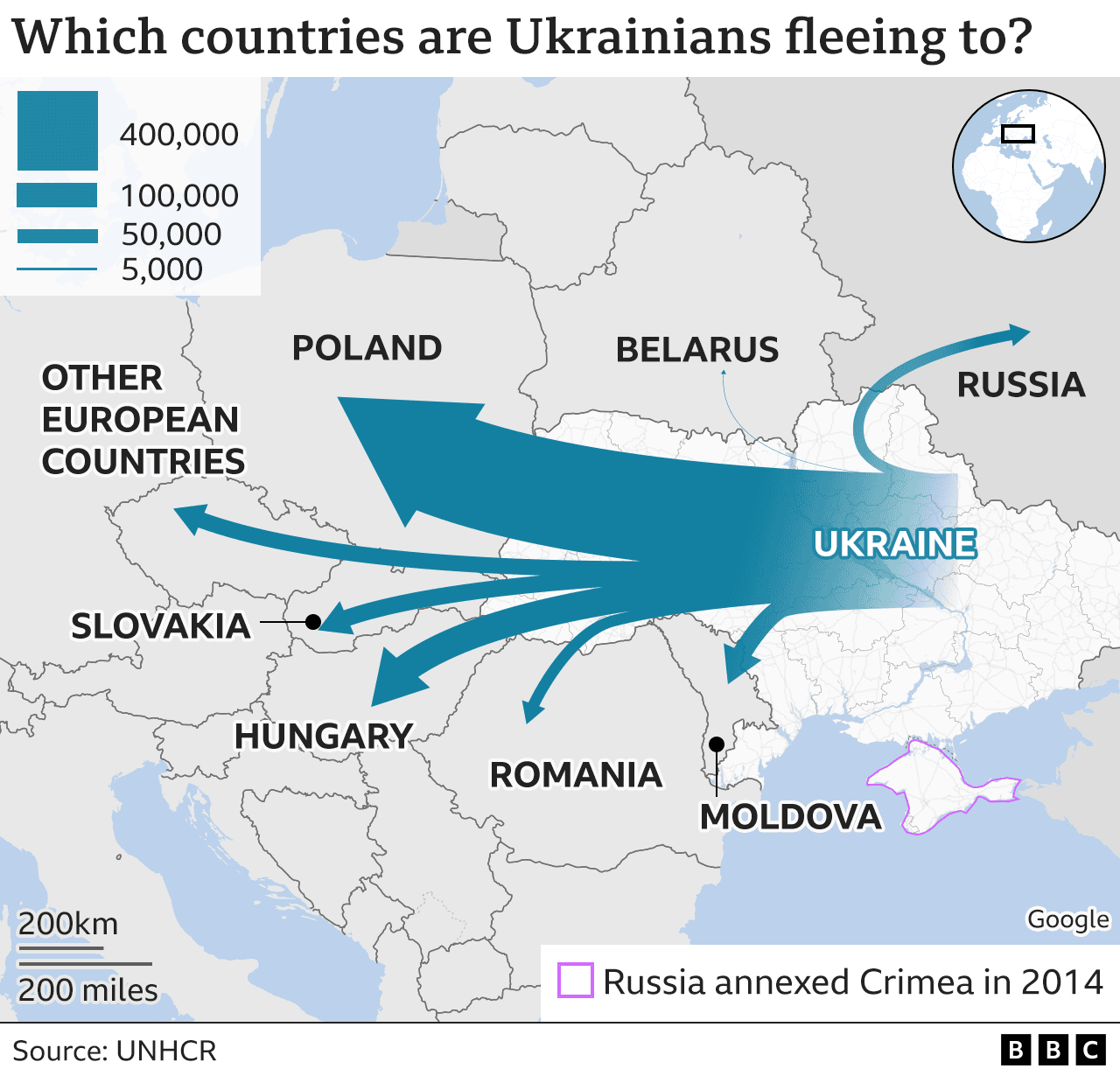 According to the BBC, the United Nations has reported these numbers so far: Poland 1,027,603; Hungary 180,163; Slovakia 128,169; Moldova 82,762; Romania 78,977; Russia 53,300; Belarus 406.

50 Ukrainians have been granted visas under a scheme for refugees with family links to the UK, the Home Office has announced. That is about 1% of the 5,535 people who have applied since the programme launched 48 hours ago. Priti Patel said that it is ...


"... the first scheme in the world that's up and running in this short period of time. This is an incredible scheme and we are doing everything possible, surging capacity across every single application centre across the EU."


Przemysl is a city in southeastern Poland with 60,442 inhabitants as of June 2020. It has seen 180,000 arrivals in 10 days.

Sunday 6th March


Worrying news that Putin has declared that sanctions are an act of war. We're miles from rapprochement, from the prospect of a "golden bridge". As my friend Diana said this morning, "the Ukraine situation is beyond comment or understanding."

And today I'm not going to try. Lunch in Bath with friends. A privilege we still enjoy.

Saturday 5th March


Day off. A luxury not afforded to Ukraine. Except for the marginally brighter news that Russia has agreed to a ceasefire allowing civilians to leave Mariupol and Volnovakha (13:00 - Now reported to have been broken).

Time for a trivial observation on the home front. Sir Gavin Williamson? Should you ever need an illustration of the shortcomings of the Westminster government - incompetence, insensitivity to the public's experience of the pandemic, execrable timing (did Boris think he'd slip the award in under the cover of war?), cronyism and gongs for goons - here it is. What an insult. To jog your memory ...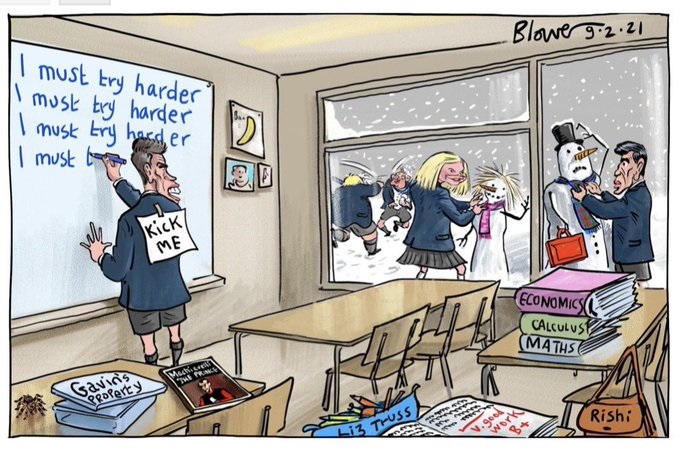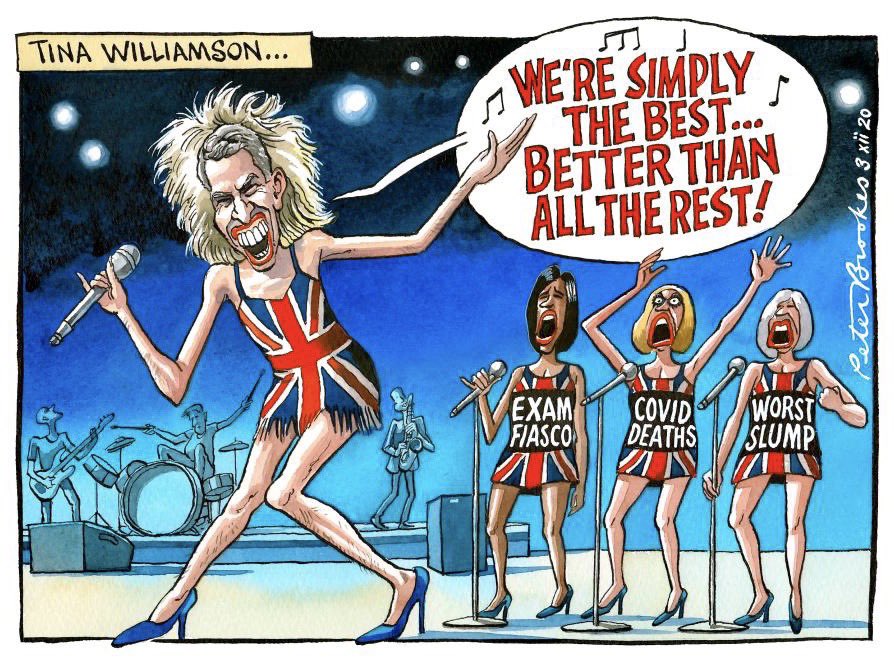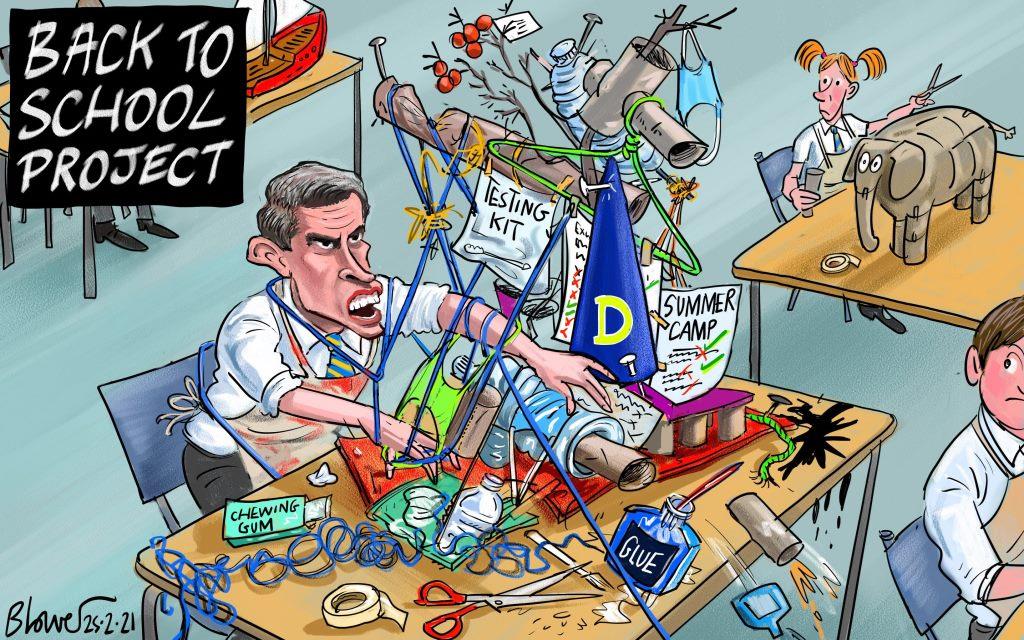 I like the redheaded girl with the perfect model elephant. Job done properly. Tidy and organised. No mess. Completed with success as designed.

Friday 4th March


News of the war in Ukraine is as grim as ever - no, grimmer if you consider the deepening humanitarian crisis in places like the port city of Mariupol. Not to mention the risks of shelling a nuclear power plant.

I have however noticed, with gratitude, that the desire to find ways to unlock the situation is growing. The search for the holy grail of "getting inside Putin's head". The idea posited by Mary Sarotte two days ago: "Give your enemy a golden bridge to retreat across". I said yesterday that a reward should be given for imaginative solutions that will give us the key; I've upgraded that to a Nobel Peace Prize.

What it requires is an understanding of complexity, and a willingness to hear disparate views. As Barack Obama said in an entirely different context: "We have to persuade people who ... currently don't agree with us. We actually have to listen to their objections." I'm still trying to find the right answers to the questions posed by daughter Ellie's friend (I'll call her H for anonymity), and I'll try to address them in what follows. Some of what I'm going to write may be unpalatable.

H challenged what has become the conventional wisdom: "It's so one-sided. I want to know more about Putin and what he wants because I think they're all just as evil as each other."

[Gulp. Deep breath.] OK, let's give it a go.

First, is Putin evil? Is the West evil? We believe the first, Putin believes the second. My gut instinct - from cultural background, upbringing, education, received wisdom - is that the first is true, the second not. But that doesn't help. The use of the word pours fuel on the fire, incites greater hostility. We have to find the parts of Putin that are not evil. The Quakers' "grain of goodness". Not easy, not our first inclination when faced with his undeniably belligerent and inhuman traits, but ultimately the only approach that will lead us away from confrontation.

H went on: "What is so wrong with Putin not wanting any more of his neighbouring countries to be part of NATO? Doesn't he have a point when he says that could be a threat to Russia?"

This goes back a long way. History that I'm probably not qualified to verify, so forgive my conjecture, my stab at it.

At the end of WWII, there were many contributing factors that led to the cooling of the West-Russia relationship, a process that was evident at both the 1945 conferences intended to establish the post-war direction of Europe, held in Yalta (Crimea, early February) and Potsdam (near Berlin, late July into early August). The enmity between Joseph Stalin and the other two world leaders - Franklin Roosevelt and Winston Churchill at Yalta, Harry Truman and Churchill at Potsdam - was becoming entrenched.

The Russians felt let down in the latter years of the war; they believed that the Allies had delayed the Normandy landings and invasion of Italy, leaving the Soviet army to struggle alone against Nazi Germany.

Straight after Potsdam, the USA dropped atom bombs on Hiroshima and Nagasaki, on 6th and 9th August respectively. At the outset of the Cold War, the United States was the only nation in the world with the bomb, and had with the attacks on Japan effectively initiated the era of nuclear weapons and the nuclear arms race. Two years ago, in an interview with the estimable British journalist Steve Rosenberg, Mikhail Gorbachev - the last leader of the Soviet Union, instrumental in ending the Cold War, winner of a Nobel Peace Prize, later derided in Russia for accelerating the Soviet collapse and ushering in economic chaos - said:


"Why did the Americans do that? As a warning to everyone. Obey us, or we'll drop a little bomb on you, like we did on Japan. That's how I see it. Why else would they drop a bomb?"


There was also the divide between capitalism and communism. The core tenet of the Truman Doctrine, enshrined in that president's 1947 speech to the US Congress, was that the United States should attempt to contain the Soviet sphere of influence and the spread of communism, hence the later Berlin Blockade (and Airlift), Korean War and Vietnam War. The Republican senator Joseph McCarthy was the most public face of the ugly political and social drive - termed "McCarthyism" - to suppress communism in the USA in the early 1950s.

In the west, the main manifestation of the breakdown of relations was NATO - the North Atlantic Treaty Organization, in French Organisation du traité de l'Atlantique nord or OTAN, which implements the North Atlantic Treaty signed on 4th April 1949. The initial members were: France, United Kingdom, United States, Canada, Portugal, Italy, Norway, Denmark, Iceland, Belgium, Netherlands and Luxembourg. NATO embodies a system of collective security, whereby its independent member states agree to mutual defence in response to an attack by any external party. Since its foundation, the admission of new member states has increased the alliance from the original 12 countries to 30. Despite the assurances given by several western leaders to Mikhail Gorbachev in 1990 that NATO would not expand further east, "enlargement" has proceeded apace.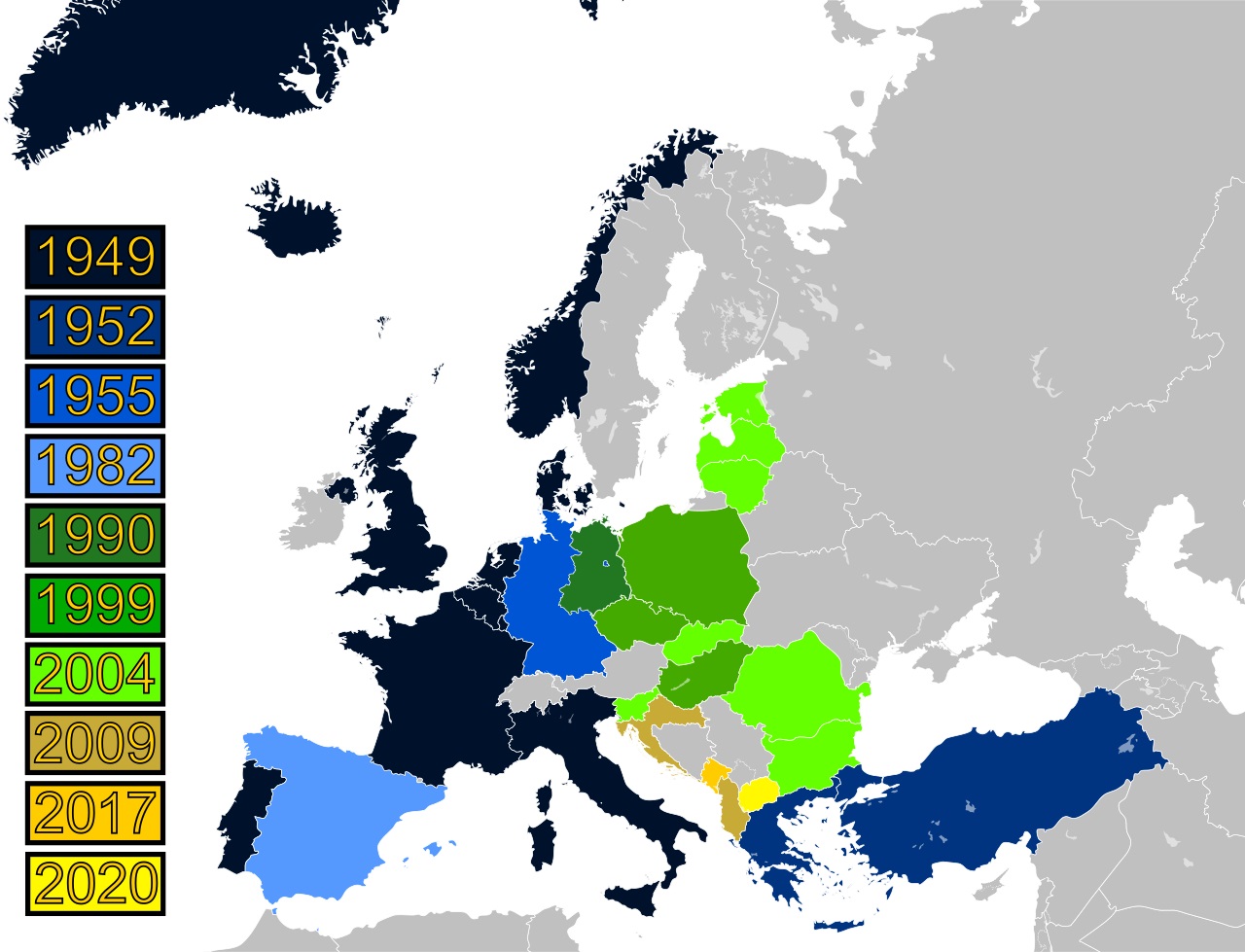 Joe Biden said last week that the military alliance would maintain its "open door" policy to European states who share its values and may someday seek to join.

At the time of NATO's inception, the Soviet Union had no comparable partnerships, until the birth of the Warsaw Treaty Organisation (WTO), officially the Treaty of Friendship, Cooperation and Mutual Assistance, commonly known as the Warsaw Pact. Established in 1955, the initial membership included: the Soviet Union, Poland, East Germany, Czechoslovakia, Hungary, Romania, Bulgaria, and Albania.

All seven of the Eastern Bloc nations have since become independent of Russia. All of them are now members of NATO.

You can see how it must look to Putin. However, as far as I know, none of these countries has been coerced into joining the EU or NATO. The growth was the natural extension of the dissolution of the Soviet Union, the desire to be free of its controlling shackles. The benefits of belonging to the West appealed. I remember on our first visit to Berlin around 10 years ago, when we drove son Nikko to start living there, having a sense of how it must have looked to East Germans. We dropped Nikko near the zoo, amidst glittering glass buildings under the iconic revolving Mercedes sign. On the other side of the wall they had been driving Trabants. They must have looked west in the night sky and thought, "I want some of that."

H's next question was: "Did America add any fuel to this fire before it actually blew up?"

I need to substitute "the West" for "America". My answer is more subjective than in the NATO section above - it's my opinion.

Yes, we did. Putin's actions are despicable, the suffering is horrific, but we have indeed helped to stoke the conflagration, although not in the form of armed aggression. Biden and Boris have used language that can only incite the adversary. Maybe that's a show of strength - which is arguably the only thing that Putin understands - but unless we want to go to war and risk annihilation, we have to find a way to - and I'll quote Desmond Tutu's words again - "consider using more temperate language when describing those with whom [we] disagree". If that sounds feeble, let's remember that Tutu knew far more than most of us about oppression, armed conflict and genocide, and still came up with reconciliation.

We have failed to understand the direction in which Putin has been heading, and instead of taking a stand earlier, have cosied up to his regime.

We are guilty of collusion.

The UK has trousered deep pocketfuls of the Russian rouble. The Tory party has accepted donations in the millions (£ sterling) for some time. To name but two donors: Lubov Chernukhin, the wife of a former Russian deputy finance minister, has given more than £450,000 in the last year; former arms tycoon Alexander Temerko has gifted over £1.2 million in the past seven years.

It's laudable that the oligarchs are finally being squeezed, but why did we ever allow them to hold such sway in the first place? Our own greed. There has been little resistance to Russian acquisition of British businesses and property. Chelsea football club has happily accepted Roman Abramovich funding for nearly twenty years. New details of Russian ownership are revealed every day as the hunt goes on. I was astonished to hear that health and wellbeing specialist Holland & Barrett was acquired in 2017 by companies controlled by billionaire Mikhail Fridman.

It's an irony that the original cold war western fear of communism is now groundless. Putin is neither defending nor promoting the ideology of Karl Marx. Russia represents hyper-capitalism, the concentration of vast wealth in the hands of few. There is nothing egalitarian about Alisher Usmanov's megayacht Dilbar, seized on Wednesday by German authorities.





Right, that will do for now. I still have more H questions to consider, but I'm sure you've read enough for today.

I'll turn to cheerier topics, stories of resistance and generosity.

High up the list is 77-year-old Yelena Osipova protesting in Moscow. She's alleged to be a survivor of the siege of Leningrad, but that ended just over 78 years ago. Never mind, close enough. I'm sure it wasn't a great place to be born in the aftermath of the siege. Or maybe she's actually much older than reported?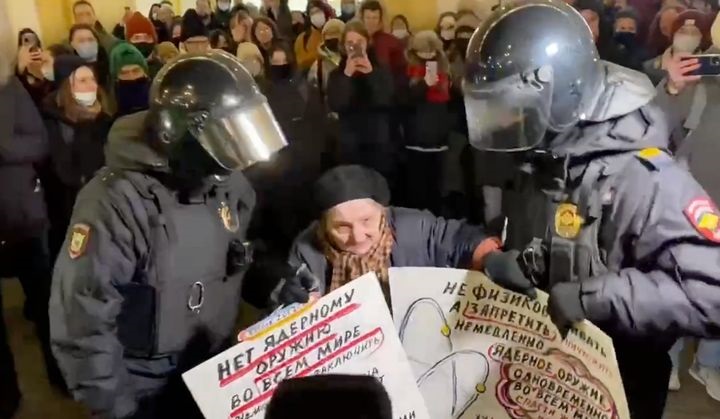 The open-armed welcome extended to Ukrainian refugees has been moving. Daughter Ellie posted this on Instagram: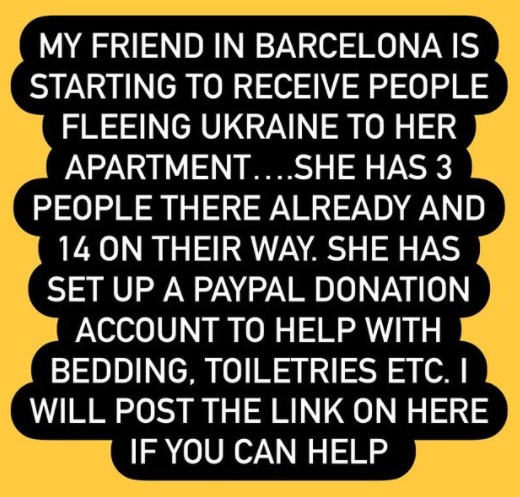 Thursday 3rd March


Last night I gave up on the idea of posting anything today. I'd been wrestling with some challenging questions about the crisis posed to me by a friend of daughter Ellie, with whom I'd had a long conversation the day before as she sought assistance in unpicking the historical and political context of the conflict - Putin's fear of an encroaching NATO, the west's role in inflaming confrontation, issues of colour and race.

I simply lost the will to carry on scribbling - although I intend to return to the questions - in the face of the growing human cost of the invasion. Shameful really, as Ukrainians have to find the strength every day to resist the crushing might of Russia.

At 6am this morning I got up to encouraging emails, and that's why I'm posting now. My friend Diana emailed me a note titled "Small ray of hope, maybe" - "Lavrov and China are alarmed by the prospect of nuclear war, and will perhaps be able to find the formula for a climb-down." My Irish correspondent sent me reports of heart-warming responses from across the Muir Éireann.

Great kindness breathes out of Ireland, in contrast to the chill empathetic parsimony of Boris's Westminster cronies. Raidió Teilifís Éireann (RTÉ) published this story yesterday:

"A mural has been unveiled in Letterkenny, Co Donegal to show solidarity with the people of Ukraine. The painting by street artist Ciarán Dunlevy was displayed for the first time at a vigil, organised by the local community, this evening. The mural was inspired by a report in the New York Times, he said, which showed people in Ukraine taking up arms to defend their nation. Mr Dunlevy said the artwork is a 'declaration of our support for the Ukrainian people. It is an honouring of their exceptional courage, strength, humanity and power. We want them to know that the Irish people stand with them in solidarity and love.'

"'The last mural I painted was of Ireland's great mythical hero Fionn Mac Cumhaill. Fionn's warriorship was one of integrity, truth, courage and love. Fionn and the Fianna were fierce protectors of their tribe. This is what I saw in the faces of the Ukrainian people. This new mural depicts the face of one of these people; a young Ukrainian civilian-warrior named Zakhar Nechypor who has the power and protection of their sovereignty Goddess Berehynia emanating through him.'"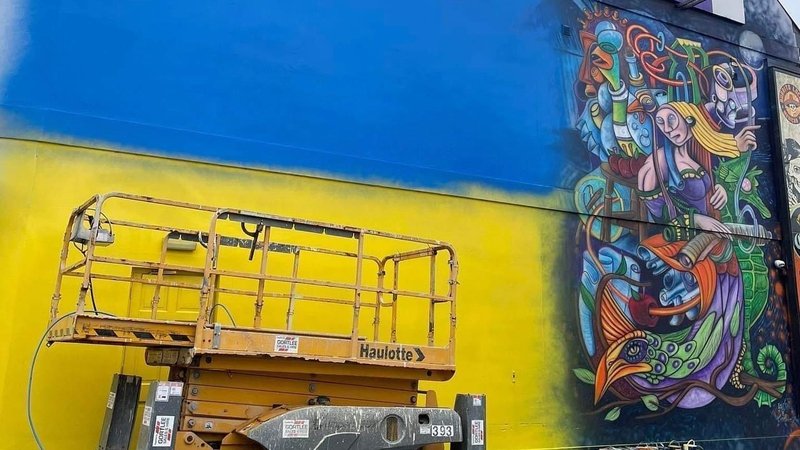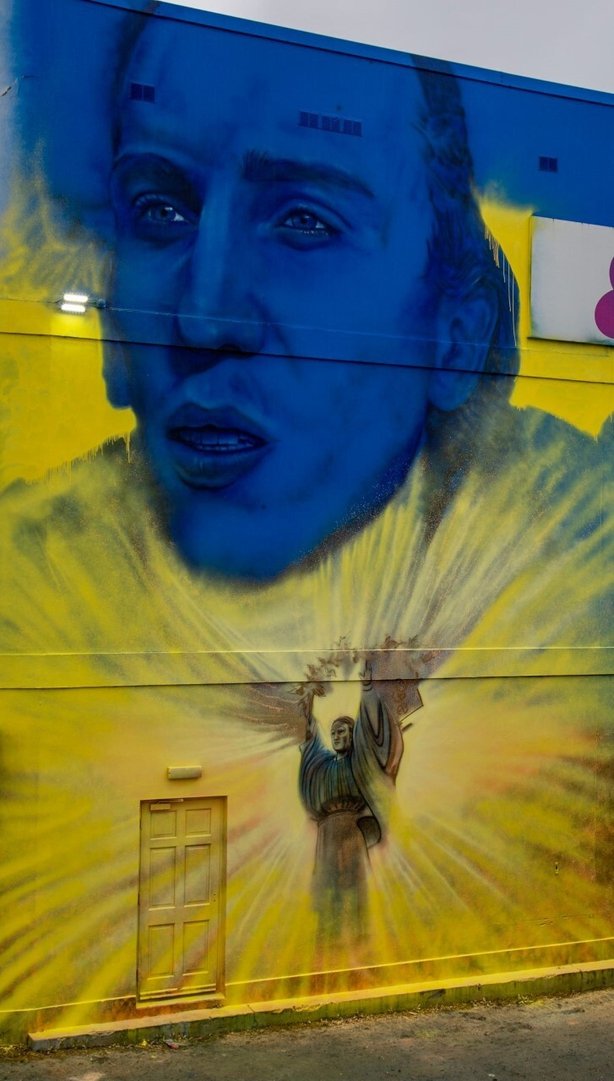 I saw a tweeted photo yesterday of the Prague statue of Sir Nicholas Winton, the British banker and humanitarian who established an organisation to rescue children at risk from Czechoslovakia on the eve of World War II.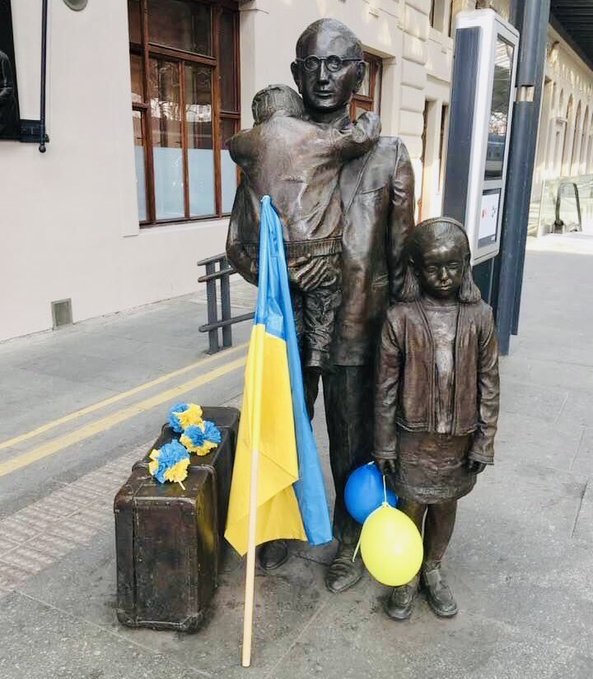 Back to the Westminster dolts and curmudgeons ...

Defence Secretary Ben Wallace, in response to the mooted Swedish invitation to Russian deserters, said:


"I take the view that the best thing that Russian deserters can do is go back to Russia, tell the Russian people they are being deceived, tell the Russian people that their military leaders are causing huge amounts of unnecessary suffering and losses because of either incompetence or arrogance, and they can go back and tell the mothers, who are wondering where their thousands of disappeared sons are."


That's right, Ben, they'll be welcomed with open arms, won't they? Why not a tickertape parade? How stupid can you be?

A related tweet ...





... and a limerick from the Daily Mirror, in reference to Wallace's retrospective quip about the Scots Guards' "drubbing" of Tsar Nicholas I in 1853:


As ministers try to ignore
Donations from Russians galore,
Defence Sec Ben Wallace
Attempts to seek solace
By citing the Crimean War.


Wednesday 2nd March


07:30am

This now happens every morning. Wake up, have to check the news. How far has that convoy got? And I'm sitting in a quiet street 1,600 miles away. Not a handful of kilometres, or right on my doorstep. No missile strikes in Stroud. No tanks rumbling up the A46. In Ukraine, having to face each morning and the day ahead must be beyond awful. What has to be endured there is light-years from our experience here.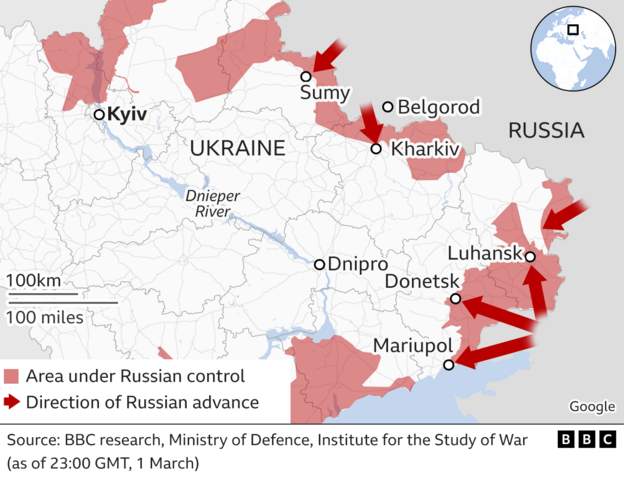 Once again, I got up and decided to scrap what I wrote last night. It seems to miss the point. A luxury of observation, even reflection, not permitted in Kyiv. As before, I'm going to leave it here, because ... well, it's what I was thinking. Maybe it has some value. Feel free to skip if you wish.

So ...

This is the moment when I'm going to, for the most part, say goodbye to Coronavirus Blog. When I posted my Covid update and summary nine days ago, I had a sense of farewell. The virus has not gone away (the 7-day rolling average of related deaths in the UK was 106 yesterday), the global vaccine roll-out is far from complete (Mali, for example, still has only 3.8% of its population fully vaccinated), long Covid casts a shadow, we don't know what else lies ahead with future mutations - but it seems that "learn to live with it" has now taken hold, at least in the UK. We have other concerns, not least the one below.

I have repeatedly quoted in these pages Bill Gates's 2015 TED speech (the first time was on Easter Sunday 12th April 2020👉) in which he warned of potential virus pandemics as the major threat to the world's future, and the need to prepare, advice that we failed to heed.

He walked on to the stage wheeling a drum of survival supplies: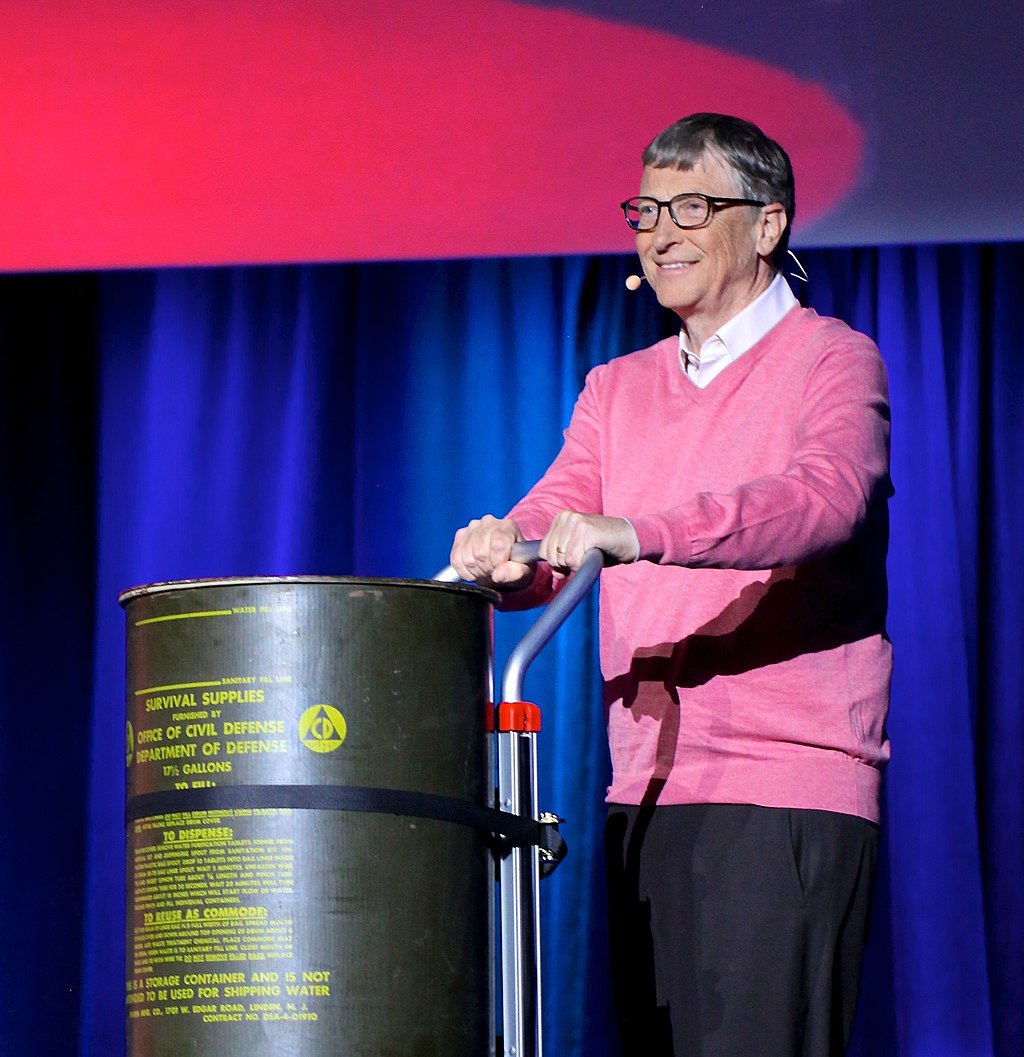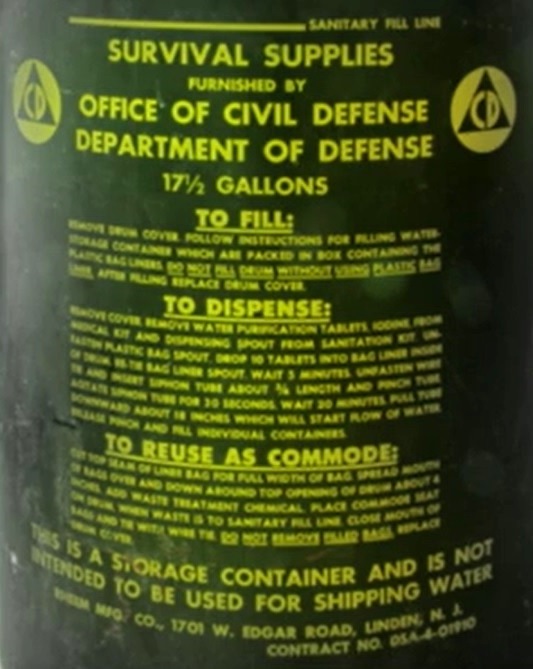 Here are his opening remarks:

"When I was a kid the disaster we worried about most was a nuclear war. That's why we had a barrel like this down in our basement, filled with cans of food and water. When the nuclear attack came, we were supposed to go downstairs, hunker down and eat out of that barrel [audience laughs]. Today the greatest risk of global catastrophe doesn't look like this [shows mushroom cloud]. Instead, it looks like this [influenza virus]. If anything kills over 10 million people in the next few decades, it's most likely to be a highly infectious virus rather than a war. Not missiles, but microbes."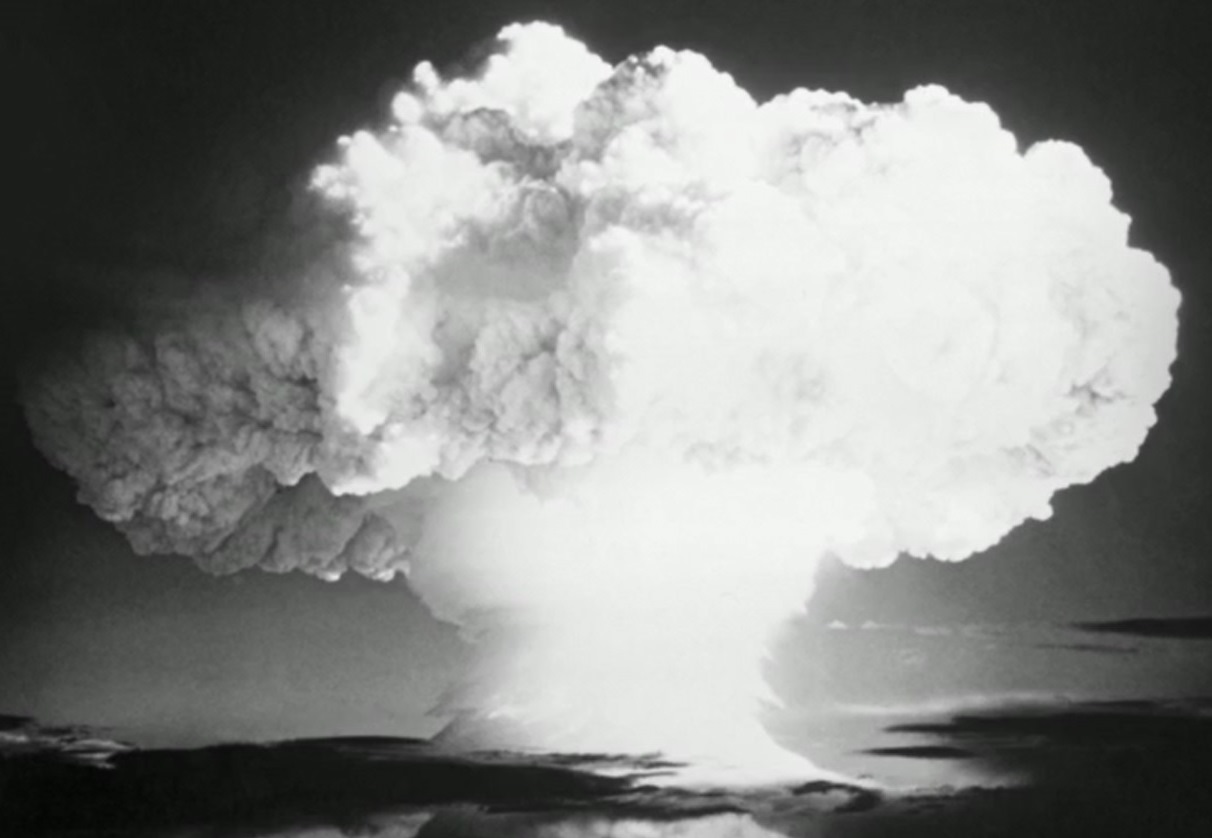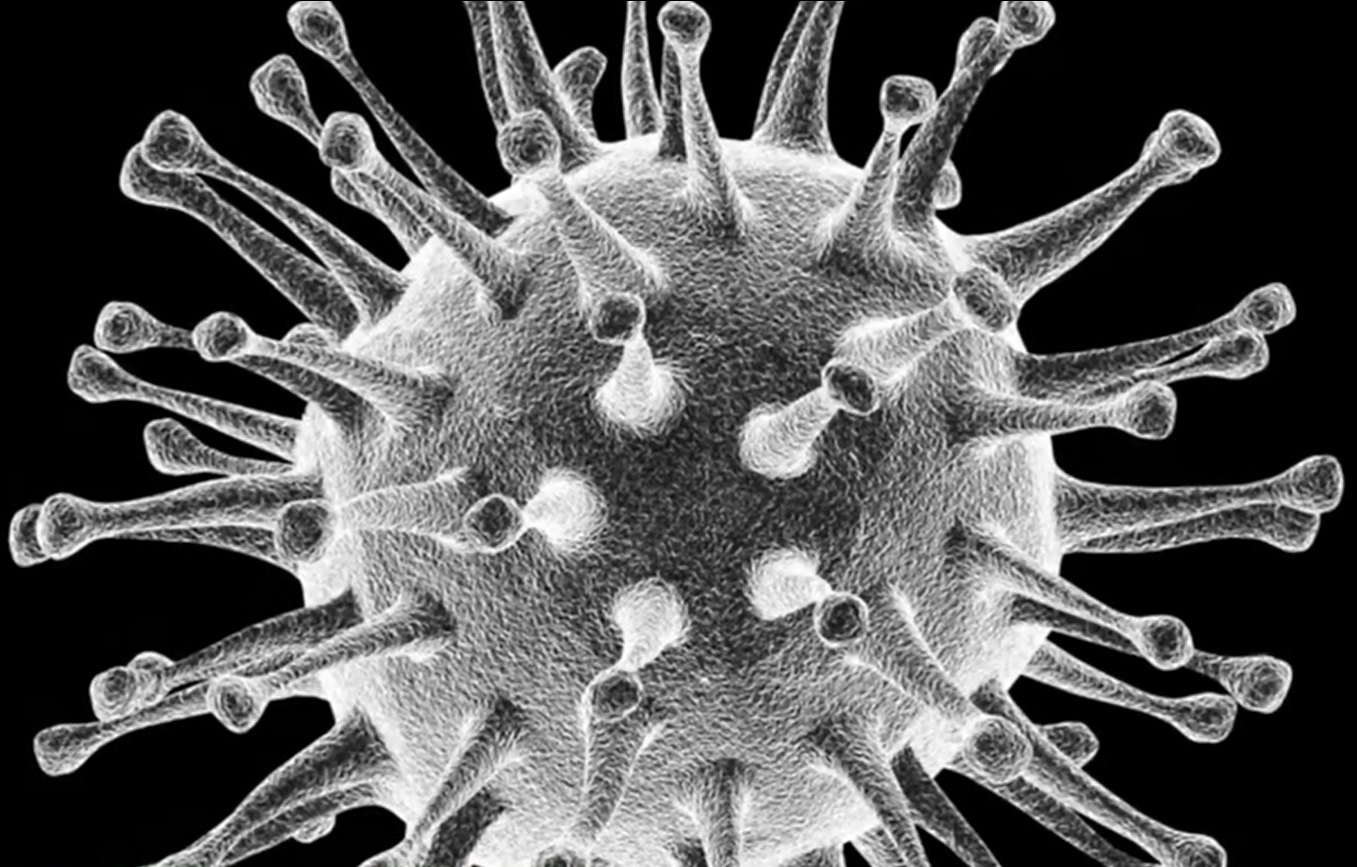 Bet you didn't think it would be the other way round, Bill, did you?

The people sheltering underground in Ukraine could do with a consignment of those barrels now.

Have I Got News For You (see yesterday too) tweeted:




Laugh? I nearly cried. The biggest question for all of us must be: "How do we get Putin to STOP?" Isolation seems to be current tactic number one. But Putin himself has told the story of being attacked by a cornered rat. Mary Sarotte, Professor of Historical Studies at the Henry Kissinger Center for Global Affairs, Johns Hopkins, said on Channel 4 News last night:


"I would recommend the saying of Sun Tzu, 'Give your enemy a golden bridge to retreat across', meaning make backing down attractive for your enemy. My gut feeling is that it's not to him we need to give this golden bridge, it's to the people around him."


Will it be sanctioned oligarchs, rich mates who see their fortunes threatened, who convince him to call a halt? Will it be his own people as the dollars and euros run out at the ATMs? It won't be, as used to be the case, others in the Politburo, because it doesn't exist any more.

You can now read any number of analyses of the workings of Putin's brain and how they got us into this mess. What I haven't yet seen is how we might lead him - and all the rest of us, but primarily the Ukrainians - out of it. If ever a massive prize needed to be awarded for creative and imaginative solutions, however apparently counter-intuitive, it's now. Answers on a postcard, please.

Tuesday 1st March


Once again, I was unable to sleep after 5am. I put it down to watching the extended BBC news last night. It's difficult to witness the unfolding tragedy in Ukraine: the queues for trains, families separated, children in underground paediatric hospitals. And, of course, immeasurably harder for the Ukrainians themselves to experience. I was struck in the night by the silence and darkness in our street, in contrast to the noise and flash of explosions in beleaguered cities to the east.

I wrote - collated - a lot yesterday for today's blog that involved witty observations from a variety of sources, often posted on Twitter. This morning, I wasn't sure whether to post it. As I've said before, I'm very uneasy about the place of humour in the midst of a humanitarian crisis. At the same time, satire has long been used in Britain as a means to expose the truth, a sideways incisive look at current mores and events, in a tradition going back to cartoonist William Hogarth and poet/satirist Alexander Pope. So I'm going to use the material - because it informs our understanding of the present context.

It started with a tweet from Have I Got News For You, which sits firmly within the satirical tradition, particularly as team captain Ian Hislop is editor of Private Eye.






Brexit, then the pandemic, Tory sleaze, the dire unhinged threat of Putin, Ukrainian suffering - and the IPCC report.

HIGNFY went on:







I'm tired of, shamed by the mean-spirited nature of the Westminster government. Here are some differing reactions to the needs of refugees.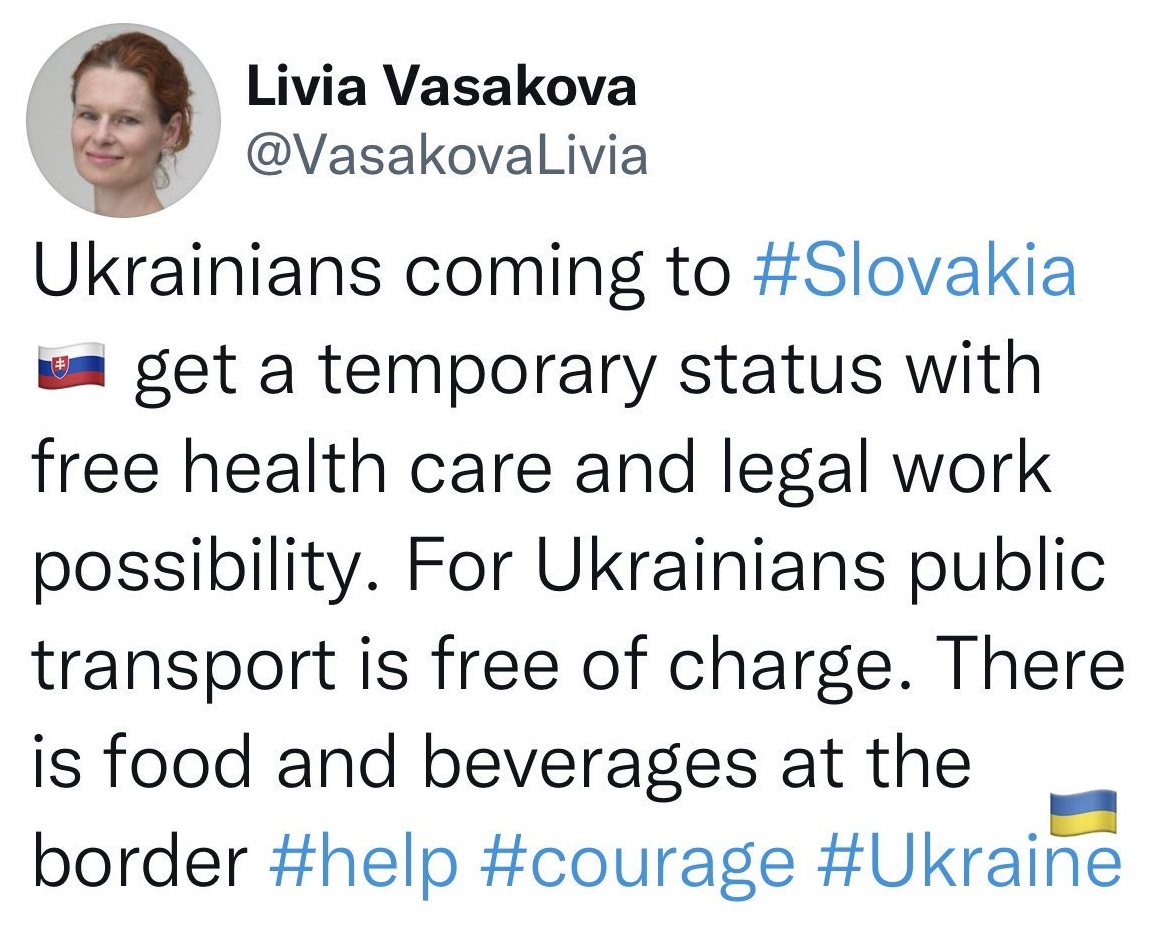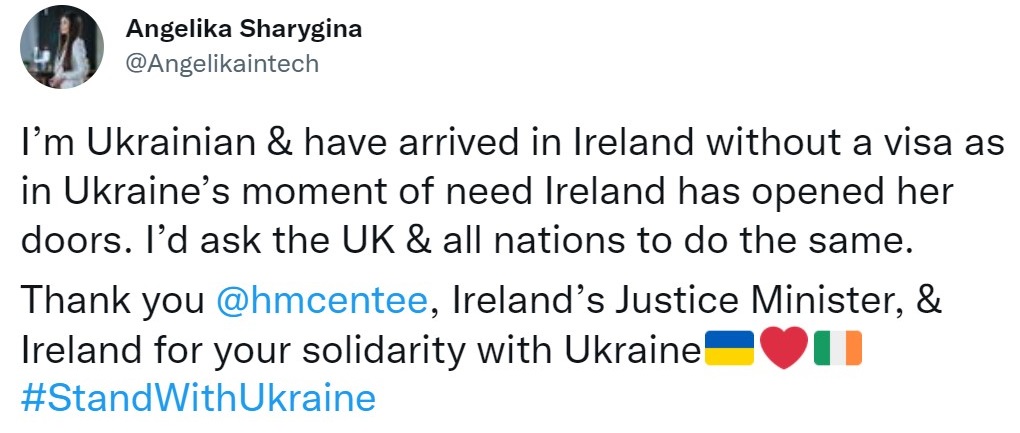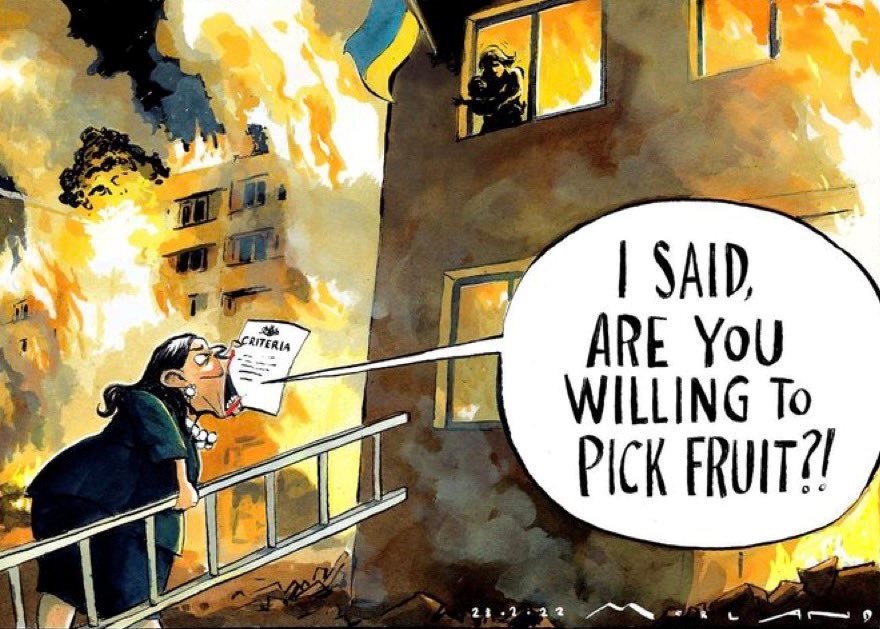 You have to question the motivation and fitness of Tory leaders in the crisis. Truss spends more time at photoshoots than in problem resolution as she eyes up the door to Number 10. Boris seeks his Falklands moment to escape the fallout from #PartyGate, the attentions of Sue Gray and the Met.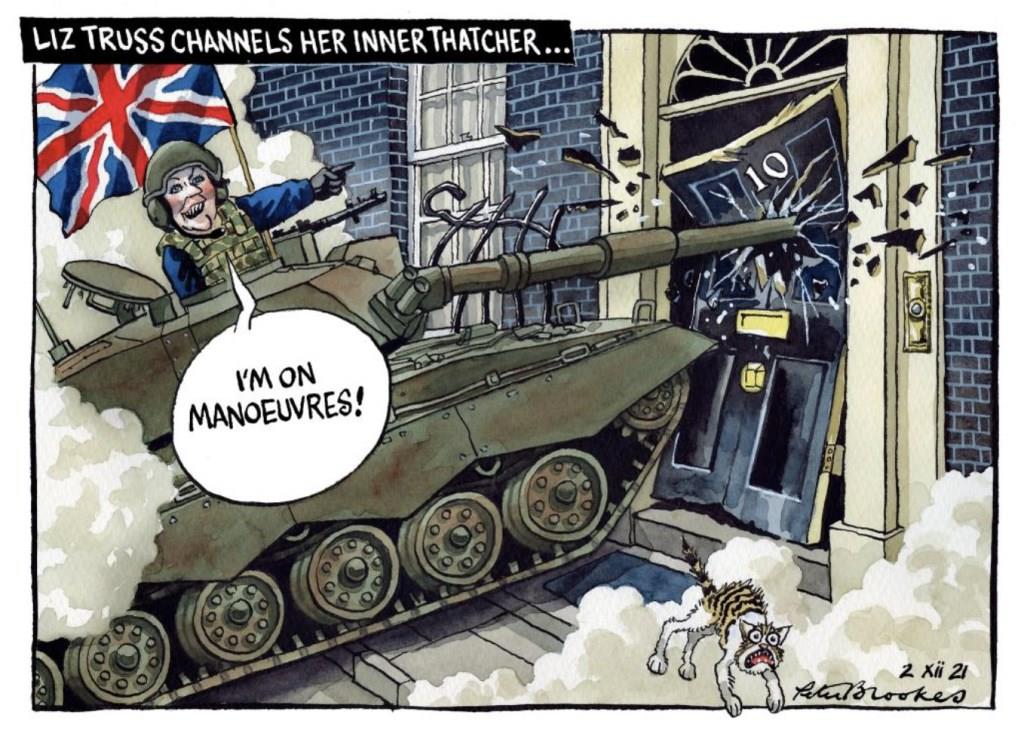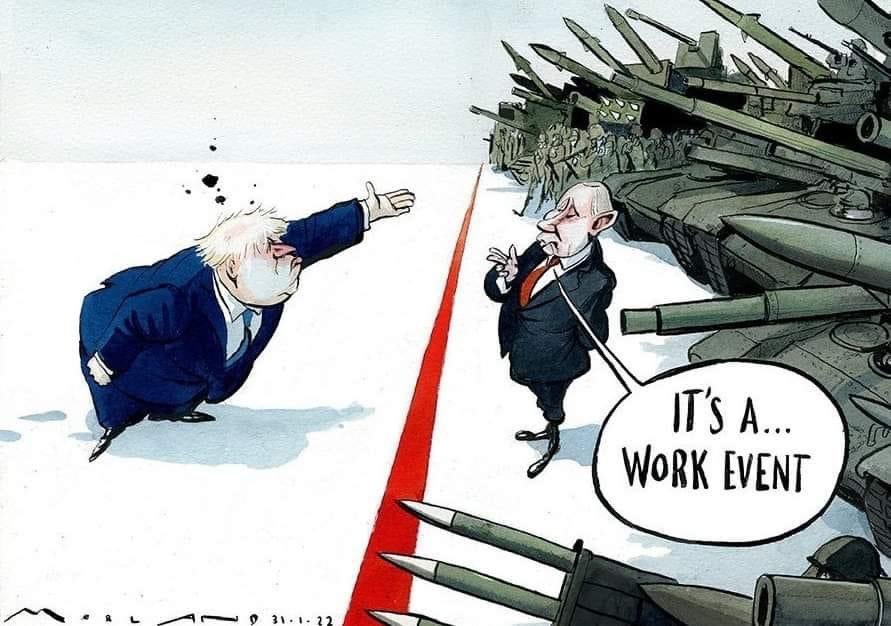 In spirit-lifting contrast, there are myriad initiatives to support Ukraine. My Irish correspondent has sent me one example in Dublin, an appeal by The Art of Coffee chain of 14 cafés: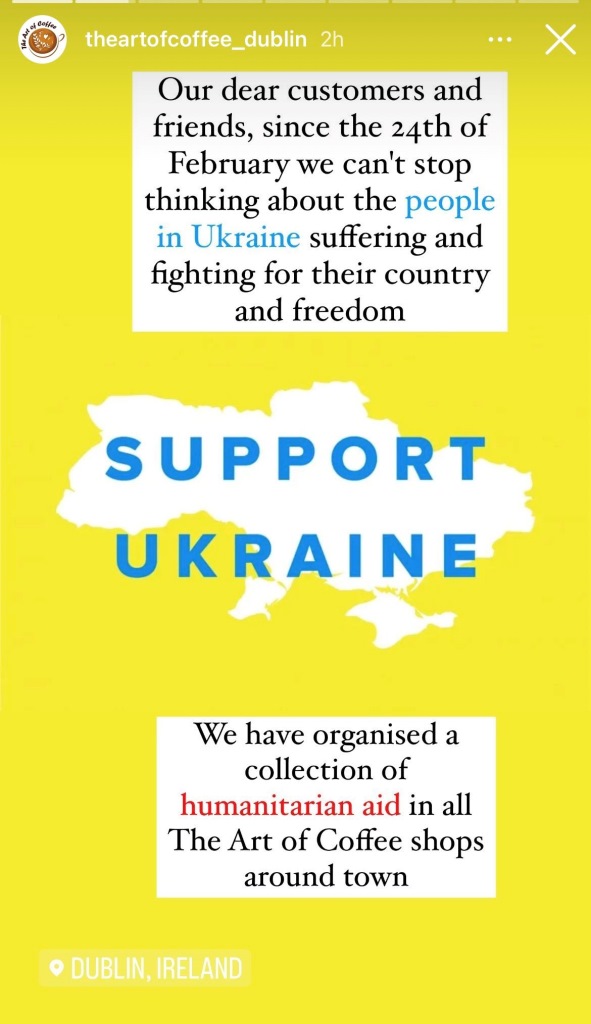 Monday 28th February


I woke up yesterday - as I'm sure we all did - to thoughts full of dread and dismay at the unfolding events in Ukraine.

This is Europe in 2022. My generation didn't expect - or at least hoped not - to see a modern war on the continent. Much of post-WWII political energy was directed at ensuring that no such conflict should occur again. There have been some tragic blips, although nothing quite as threatening as today's situation. It's worth remembering the concluding words spoken by Winston Churchill in a speech delivered at the University of Zurich on 19th September 1946:


"We must re-create the European family in a regional structure called, it may be, the United States of Europe, and the first practical step will be to form a Council of Europe. If at first all the States of Europe are not willing or able to join a union we must nevertheless proceed to assemble and combine those who will and who can. The salvation of the common people of every race and every land from war and servitude must be established on solid foundations, and must be created by the readiness of all men and women to die rather than to submit to tyranny. In this urgent work France and Germany must take the lead together. Great Britain, the British Commonwealth of Nations, mighty America - and, I trust, Soviet Russia, for then indeed all would be well - must be the friends and sponsors of the new Europe and must champion its right to live. Therefore I say to you 'Let Europe arise!'"


Shame about Russia.

As an aside, have you noticed that Boris has gone all European again? Having led us into isolation, he now refers to his "friends and partners".

Putin has uttered the N word. He talks of a "special alert". His use of the adjective is disturbing. The invasion started with a "special military operation". Again, Churchill's warning in the Zurich speech was prescient:


"In these present days we dwell strangely and precariously under the shield, and I even say protection, of the atomic bomb. The atomic bomb is still only in the hands of a nation which, we know, will never use it except in the cause of right and freedom, but it may well be that in a few years this awful agency of destruction will be widespread and that the catastrophe following from its use by several warring nations will not only bring to an end all that we call civilisation but may possibly disintegrate the globe itself."


The response of other nations to the displacement of an estimated 4 million Ukrainians, close to 400,000 refugees in flight to adjacent countries, has been welcoming.

Sadly, the UK stance on existing Ukrainian residents has disappointed, with a strong odour of red tape: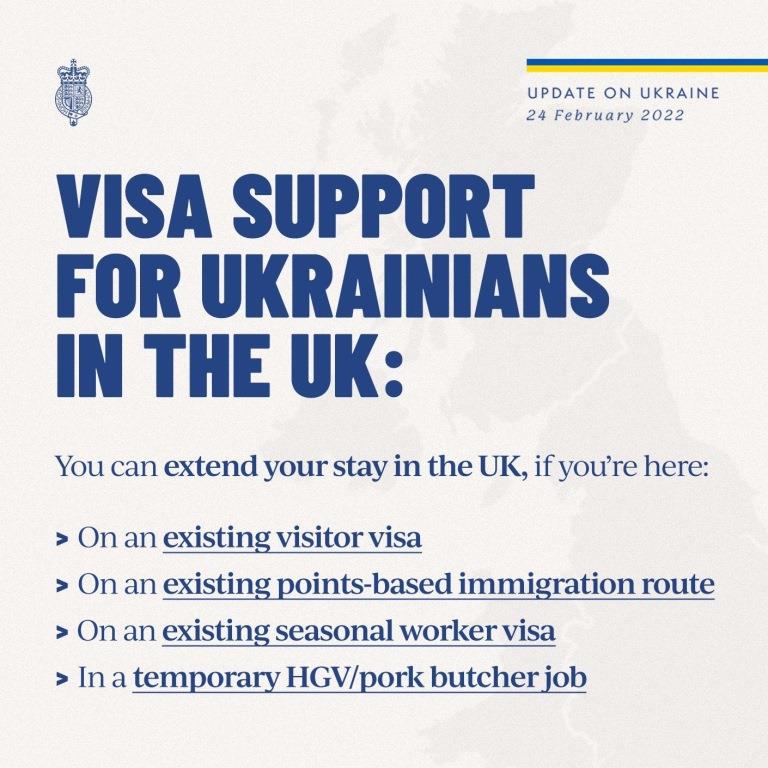 Pork butcher? Give me strength.

The Twittersphere has offered comment: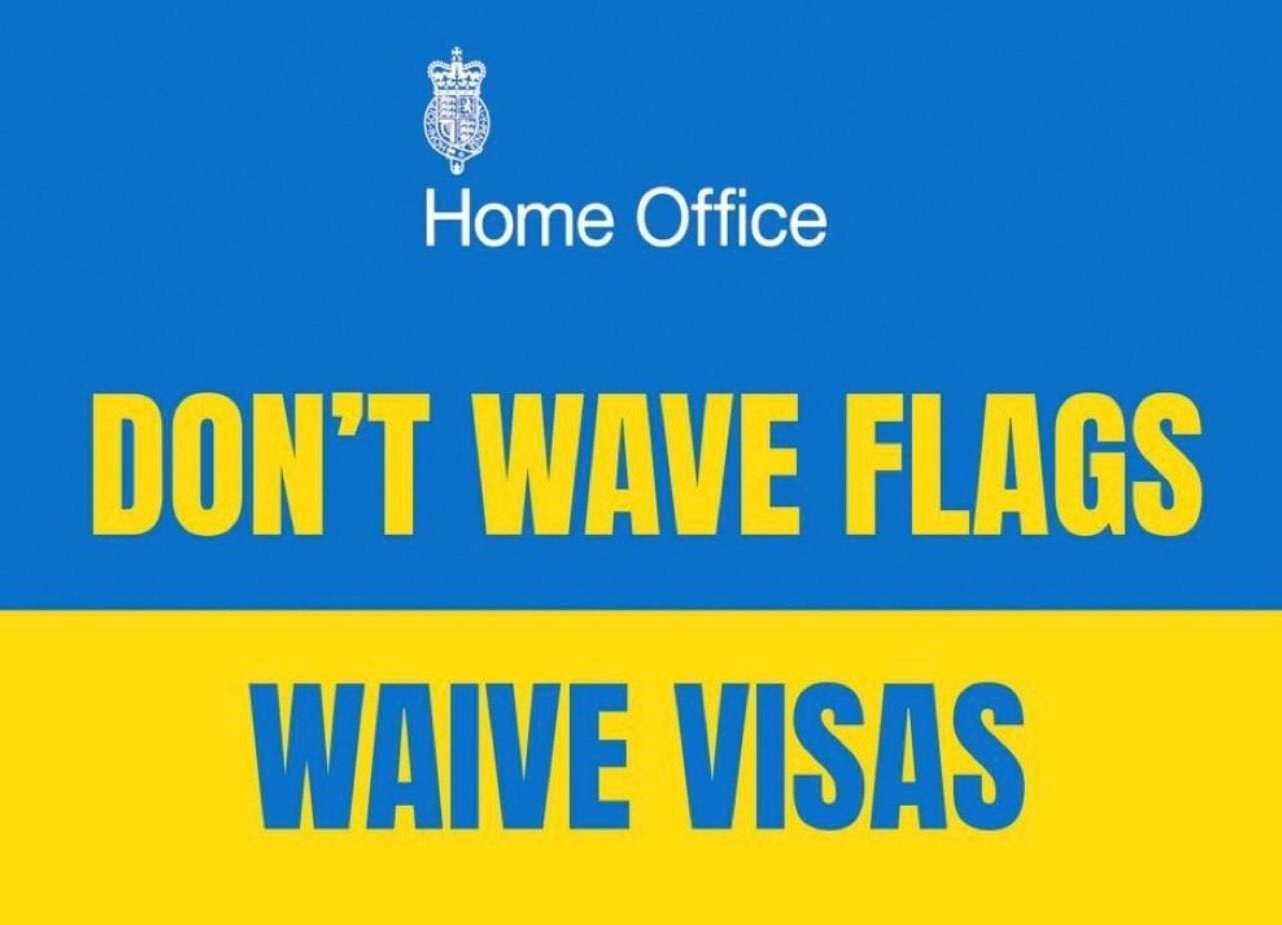 A contrasting, decisive declaration from Ireland's Minister for Foreign Affairs Simon Coveney and Minister for Justice Helen McEntee: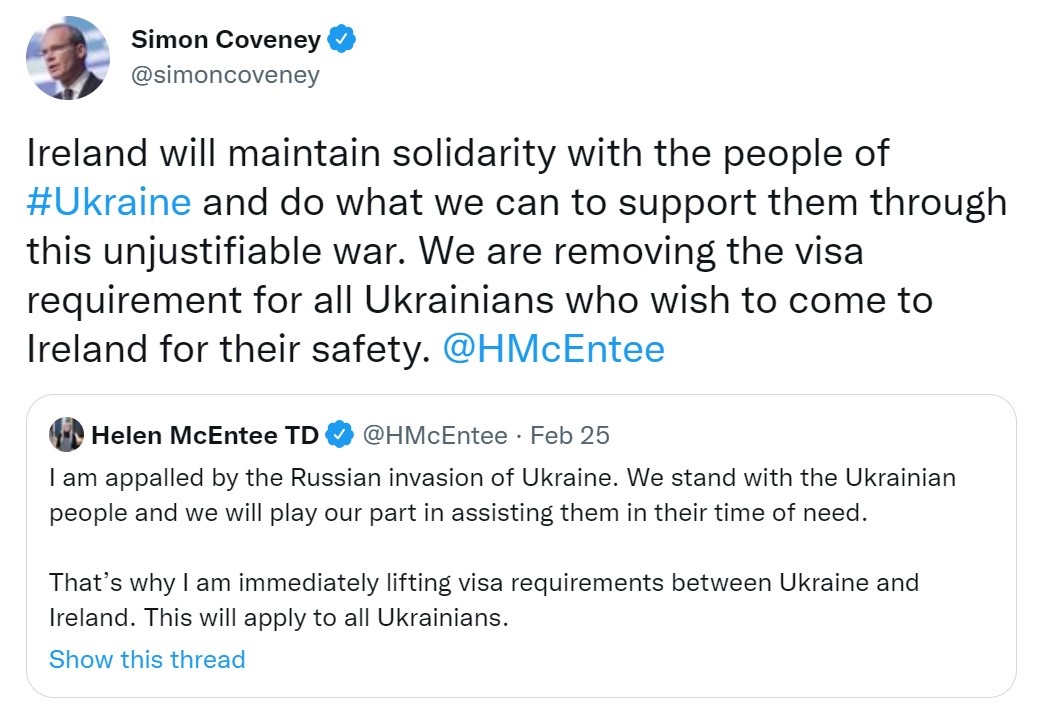 While praying that Putin can keep his finger off the Big Button, I am warmed by global acts of opposition solidarity, not least in the world of sport. Here are players at the Everton-Manchester City Premier League game and the big screen at the Ireland-Italy rugby test in Dublin.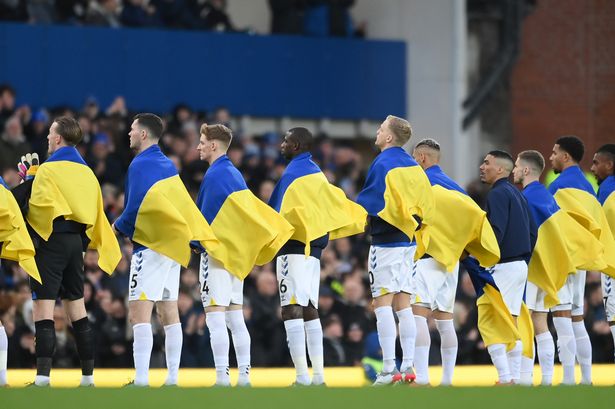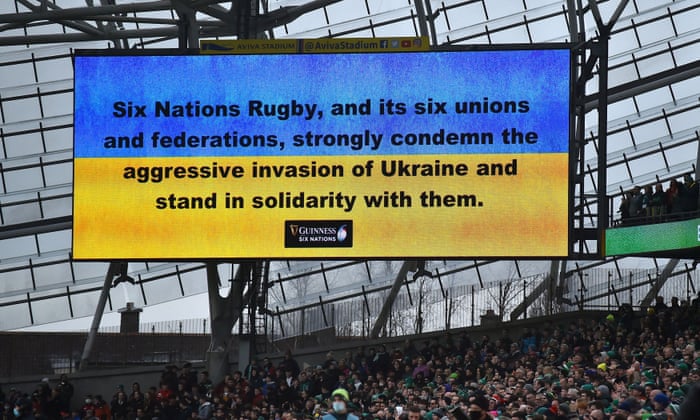 My friend Diana sent me the link to another Playing for Change song. It was in fact the first I saw from the foundation, more than ten years ago: a cover interpretation of Ben E. King's "Stand By Me". At the time I was attending to the computer needs of the vicar of Nailsworth, and I sent it to him. He played it to his congregation.



When the night has come
And the land is dark
And the moon is the only light we'll see
No, I won't be afraid
No, I won't shed a tear
Just as long as you stand, stand by me


Did you spot the Russian cellist?

Saturday 26th February


I'm tempted to abandon the Tutu-inspired thoughts of peace and understanding I posted yesterday. They simply don't marry with the workings of Putin's brain. Getting inside his head is the dissection of psychosis. Tutu's words would find no houseroom there. What can you do with a man who first urges Ukrainian troops to lay down their arms, then later to turn them on their own leaders, the "drug addicts" and "Nazis"? I'd join those who argue that the only solution is a bullet to his head - except that would mean I'd become like him.

I watch the Russian entry into Kyiv with guilt. The forlorn brave defiance of Zelensky: "When you attack us, you will see our faces. Not our backs. We're all here [pictured with his top aides]. And it will stay this way." The Ukrainians cry abandonment, compelled to stand alone in the face of Russian might as world powers apply political and economic sanctions - but not force. What they really want, surely, is for NATO to fight alongside them - yet we all know where that would lead.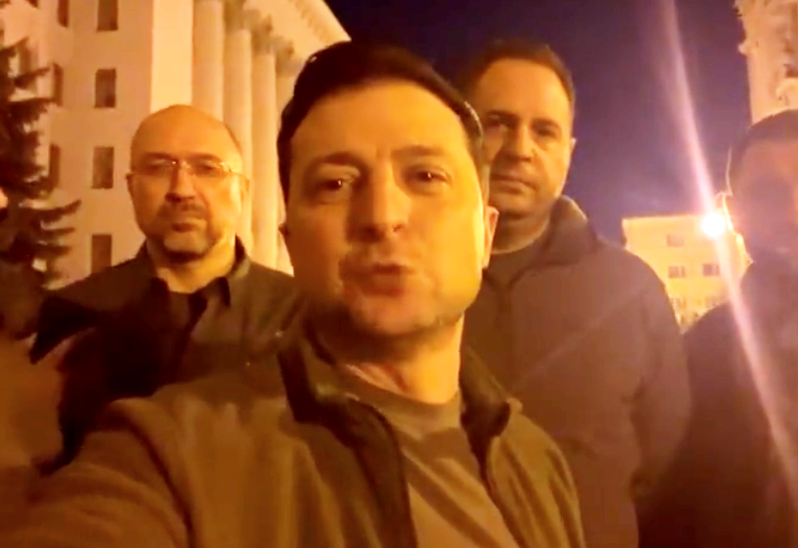 This Putin invasion has been long in the planning, hasn't it? Probably since the 1991 dissolution of the Soviet Union. Was it a shameful moment for him, one that seeded his current action? "Watch me", I can hear him say, "One day I'll get all this back."

The conflict is an unequal contest. Untrained, volunteer citizens picking up guns to defend their country against the massed armoury of the invader. The NATO-Russia confrontation is committee - who must agree and follow international law - versus dictator - who will do whatever he wants.

I still need to find ideas that counterbalance the ugliness of these events, antidote to this worst expression of (in)humanity, to believe in something better, even if I feel undeserving in the shadow of the Ukrainian people's plight. My friend Dave Lovegrove sent me a thing of beauty yesterday. It's from Playing for Change, the foundation that brings musicians together from around the world to perform great, healing songs.

The video below is of their cover of the Rolling Stones' "Gimme Shelter".

It's prefaced with the Irish proverb: Ar scáth a chéile a mhaireann na daoine - translated here as "It is in the shelter of each other that the people live".




The lyrics - a selection here - resonate, one line in particular:


Ooh, a storm is threatening
My very life today
If I don't get some shelter
Ooh yeah I'm gonna fade away

War, children
It's just a shot away

Ooh, see the fire is sweepin'
Our streets today
Burns like a red coal carpet
Mad bull lost its way

Gimme, gimme shelter
Or I'm gonna fade away

I tell you love, sister
It's just a kiss away


Friday 25th February


Sanctions - who will they hurt?

Yes, Russian stocks took a hit yesterday, including the state-owned energy corporation Gazprom and banking/financial services company Sberbank: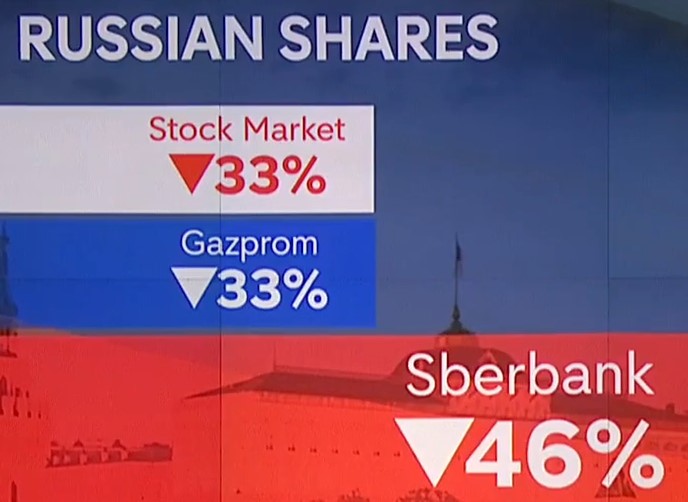 But look at how the UK is affected by gas supply and the predicted impact on the energy price cap: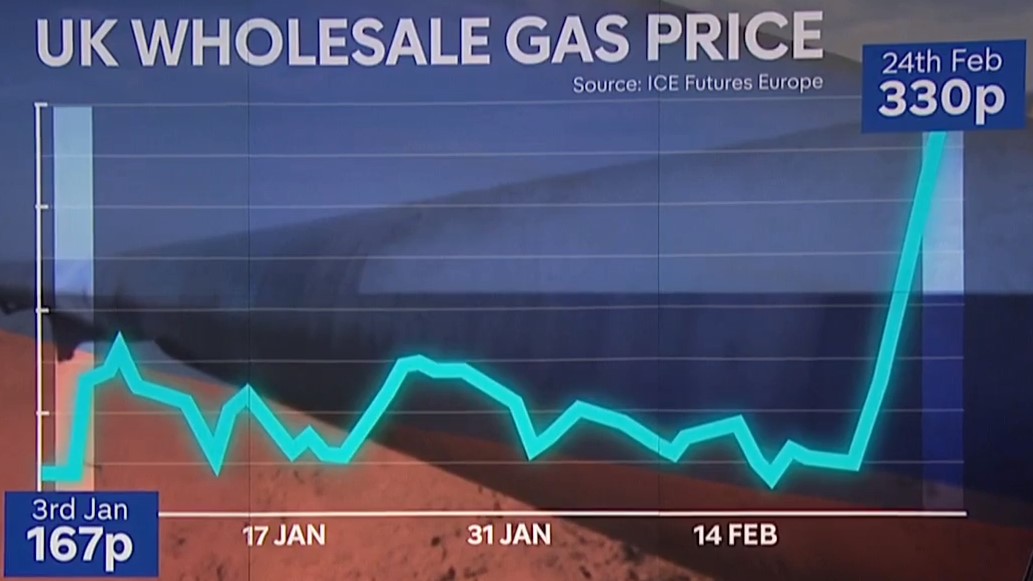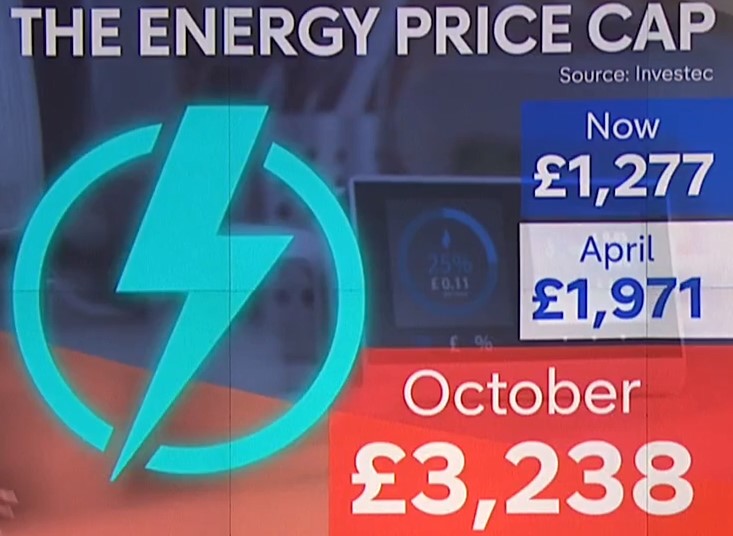 Putin has other markets. China won't stop buying. Pakistan ex-cricketer and prime minister Imran Khan has been doing deals: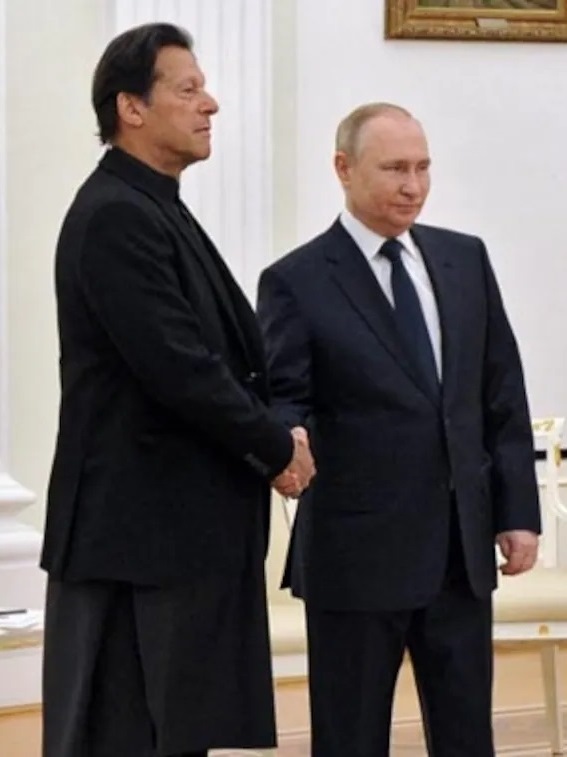 I'm now going to post quite a long quotation, but I think it's worth it. Two days ago I said that I was reading Desmond Tutu's "No Future Without Forgiveness", published in 1999. I've now finished it. On the one hand it's very appropriate reading for today, on the other horribly ill-timed. In this Ukrainian conflict, we are so at the wrong end of a journey that might lead to truth and reconciliation. Negotiation has fallen off the table. We are in the first flush of trying to inflict hurt. Nonetheless, I think these 3 paragraphs are useful. They are in happy contrast to the current face-off.


"I hope that those who are at this moment enemies around the world might consider using more temperate language when describing those with whom they disagree. Today's 'terrorist' could very well be tomorrow's president. That has happened in South Africa. Most of those who were vilified as terrorists are today our cabinet ministers and others sit in the government benches of our national assembly. If those we disagree with today are possibly going to be our colleagues tomorrow, we might begin by trying to describe them in language that won't be an embarrassment when that time of change does come.

"It is crucial too that we keep remembering that negotiations, peace talks, forgiveness and reconciliation happen most frequently not between friends, not between those who like one another. They happen precisely because people are at loggerheads, and detest one another as only enemies can. But enemies are potential allies, friends, colleagues and collaborators. This is not just utopian idealism. The first democratically elected government of South Africa was a Government of National Unity made up of members of political parties that were engaged in a life-and-death struggle. The man who headed it had been incarcerated for twenty-seven years as a dangerous terrorist. If it could happen there, surely it can happen in other places. Perhaps God chose such an unlikely place deliberately, to show the world that it can be done anywhere.

"Peace is possible, especially if today's adversaries were to imagine themselves becoming friends and begin acting in ways that will promote such a friendship developing in reality. It would be wonderful if, as they negotiated, they tried to find ways of accommodating each other's needs. A readiness to make concessions is a sign of strength, not weakness. And it can be worthwhile sometimes to lose a battle in order in the end to win the war. Those who are engaged in negotiations for peace and prosperity are striving after such a splendid, such a priceless goal, that it should be easier to find ways where all are winners than to fight; where negotiators make it a point that no one loses face, that no one emerges empty-handed, with nothing to place before his or her constituency. How one wishes that negotiators would avoid having bottom lines and too many preconditions. In negotiations we are, as in the process of forgiveness, seeking to give all the chance to begin again. The rigid will have a tough time. The flexible, those who are ready to make principled compromises, end up being the victors."


Tragically, I don't think Vladimir Putin is ready for this - and may never be. The reports this morning, the attacks on Kyiv and elsewhere, the mounting death toll, indicate that he is intent only on assault, the crushing of Ukraine into submission. It's bashing-time, full-on attack mode, nowhere near any idea of peaceful resolution. I just need to feel that there is some hope.

I do think Tutu's point about temperate language is well made. Biden and Boris have both used terminology that demonises Putin - and so have I. That makes him more determined, backs him into a hole, no room to compromise. Yes, he is naturally belligerent and dangerously flawed, but if we feed those characteristics we will also have some responsibility for that old Cold War endgame concept of "Mutually Assured Destruction" - indeed, for a truly MAD conclusion.

Thurday 24th February


15:00pm - Time to stop watching any more news.

As with any conflict, part of the process is an intractable war of words. I'm reminded of the statement: "One person's terrorist is another's freedom fighter". NATO talks of defending democracy and a sovereign state. Putin talks of liberating Ukraine from "Nazification" and genocide. Both parties believe their view is correct.

06:00am - Sleep over, I reckon.

Russian missile strikes this morning on Kyiv. Tanks entered Ukraine via the Belarus border.

Our Secretary of State for Defence Ben Wallace was yesterday filmed declaring to a group of British soldiers that "busy" Putin had gone "full Tonto", while claiming that his old Scots Guards regiment had "kicked the backside" of Tsar Nicholas I in 1853 and that now we could send in the Gurkhas to "do it again".




Thank goodness we're in such safe hands.

04:00am - Woke up and checked the news.

Putin has launched a "special military operation" in Ukraine.

Biden has responded:


"President Putin has chosen a premeditated war that will bring a catastrophic loss of life and human suffering. Russia alone is responsible for the death and destruction this attack will bring, and the United States and its allies and partners will respond in a united and decisive way. The world will hold Russia accountable."


Two days ago, Trump was interviewed. You always knew he'd pop up as the madness broke.


"I went in yesterday and there was a television screen, and I said, 'This is genius.' Putin declares a big portion of the Ukraine ... Putin declares it as independent. Oh, that's wonderful. So, Putin is now saying, 'It's independent', a large section of Ukraine. I said, 'How smart is that?' And he's gonna go in and be a peacekeeper. We could use that on our southern border. That's the strongest peace force I've ever seen. Here's a guy who's very savvy ... I know him very well. Very, very well. Here's a guy that says, you know, 'I'm gonna declare a big portion of Ukraine independent and we're gonna go out and we're gonna go in and we're gonna help keep peace.' You gotta say that's pretty savvy."


I collated these cartoons yesterday evening. I recognise that now is hardly a time for humour; however, I'll leave them here because they inform the context as we blunder into conflict.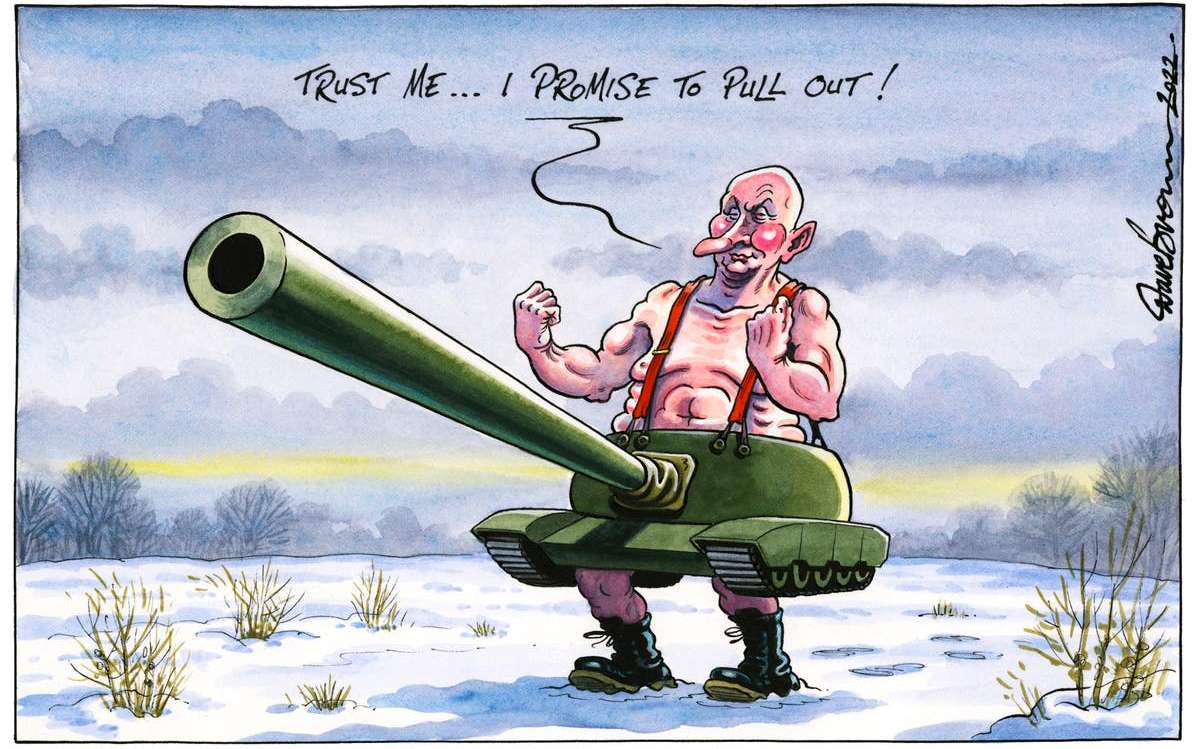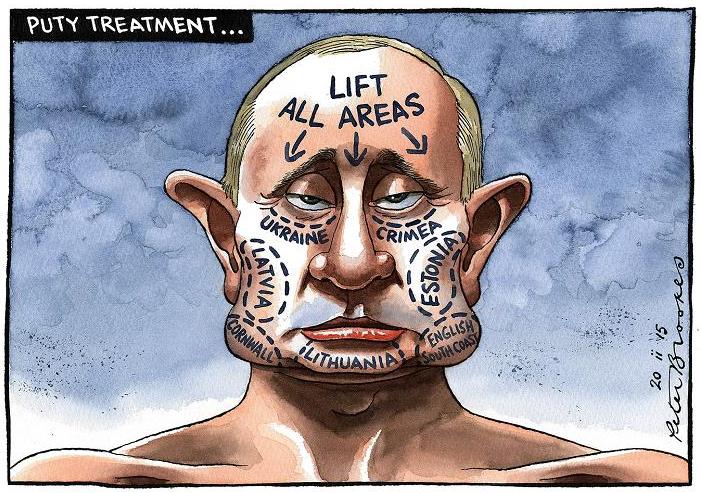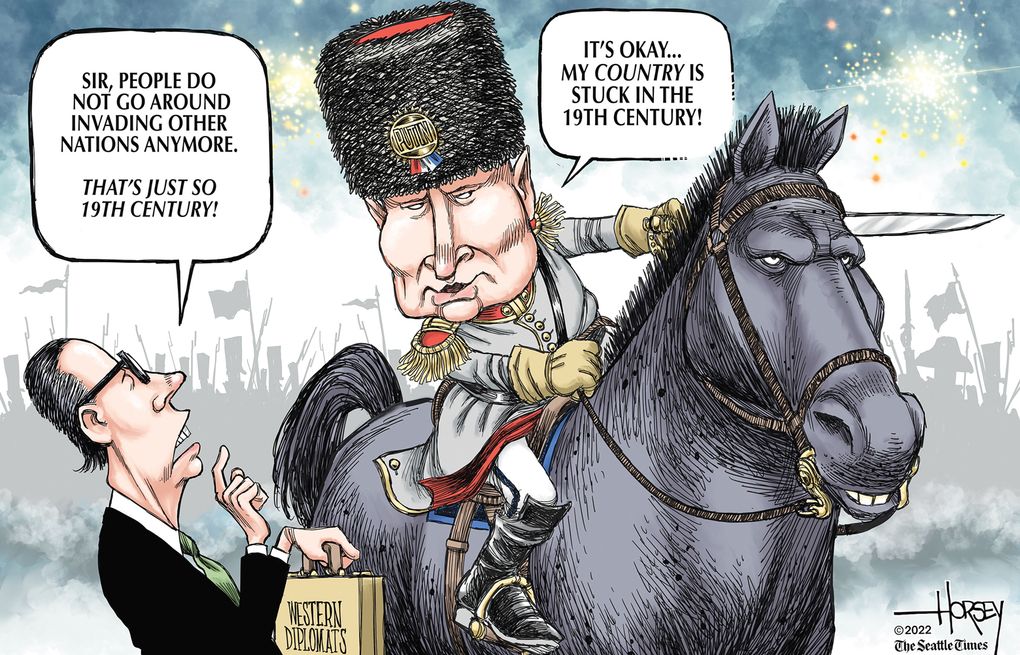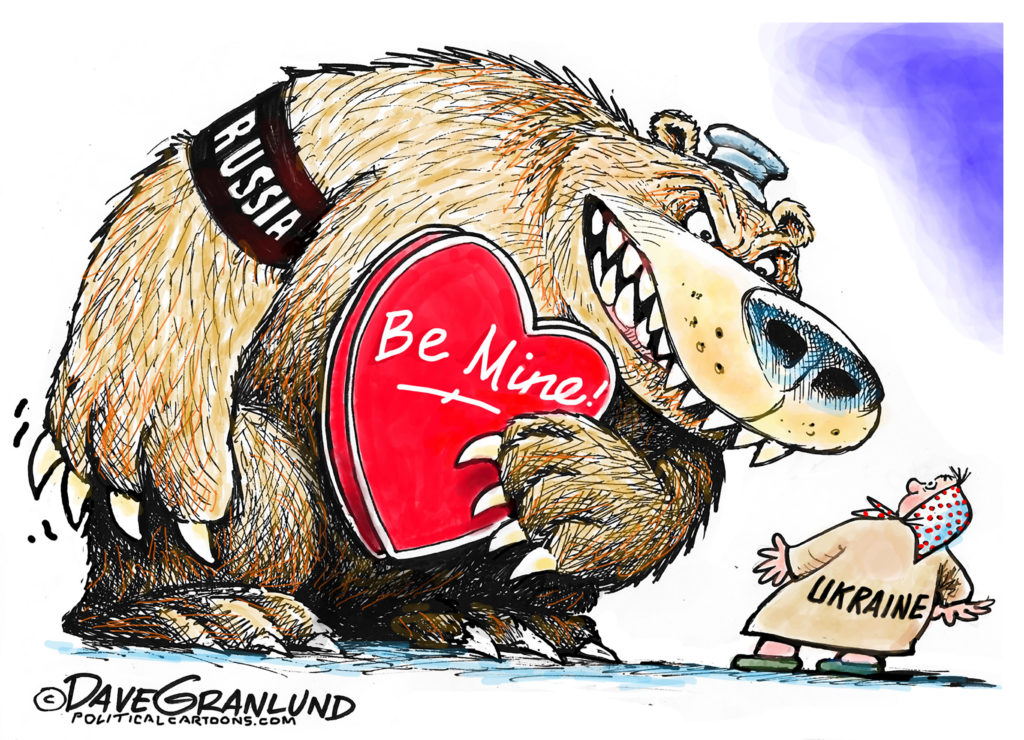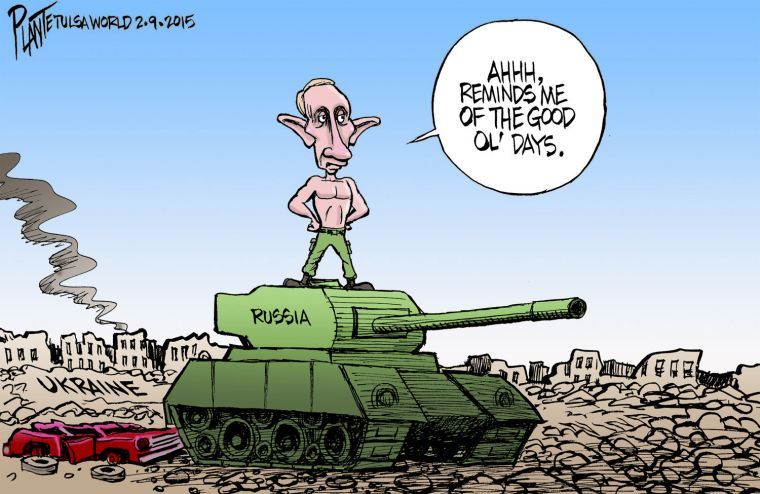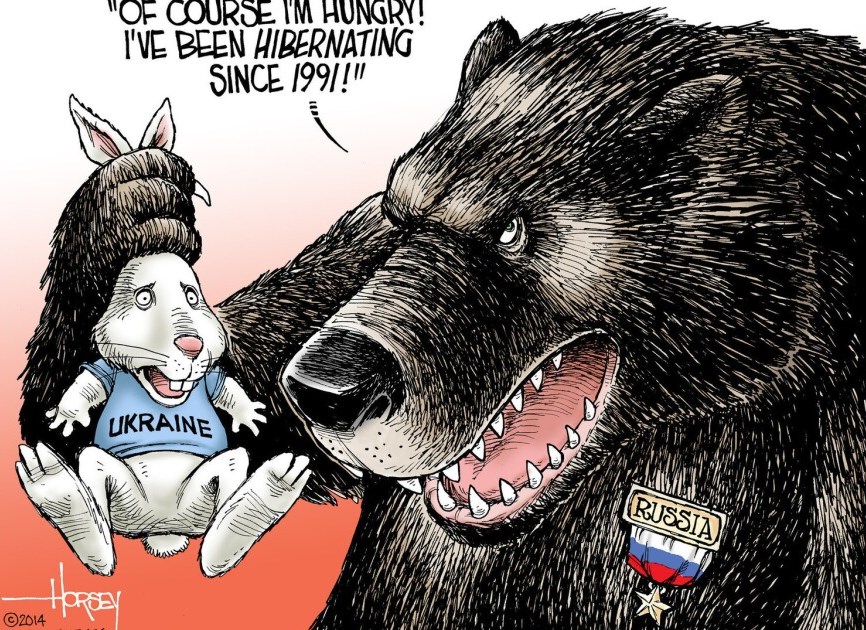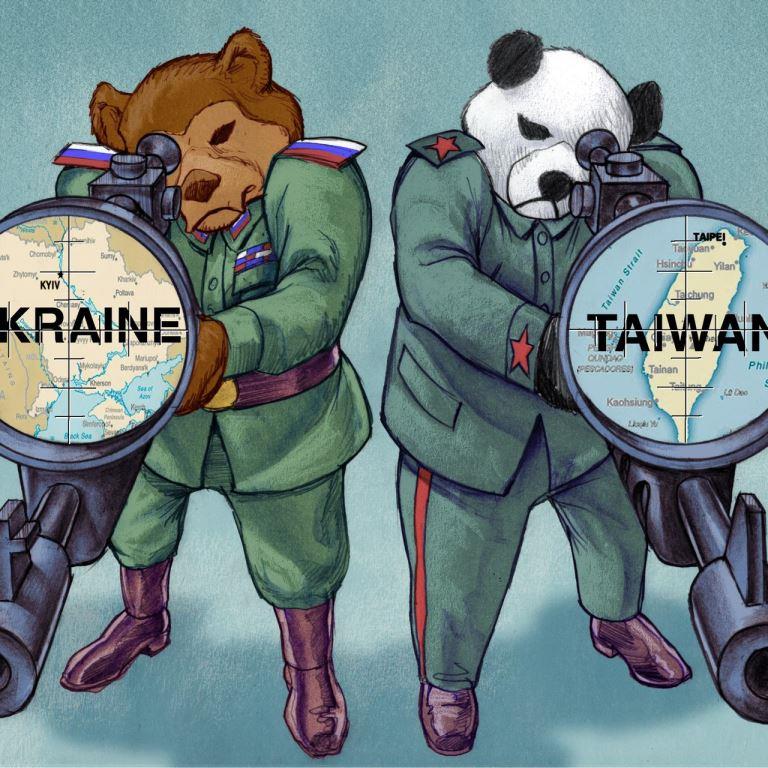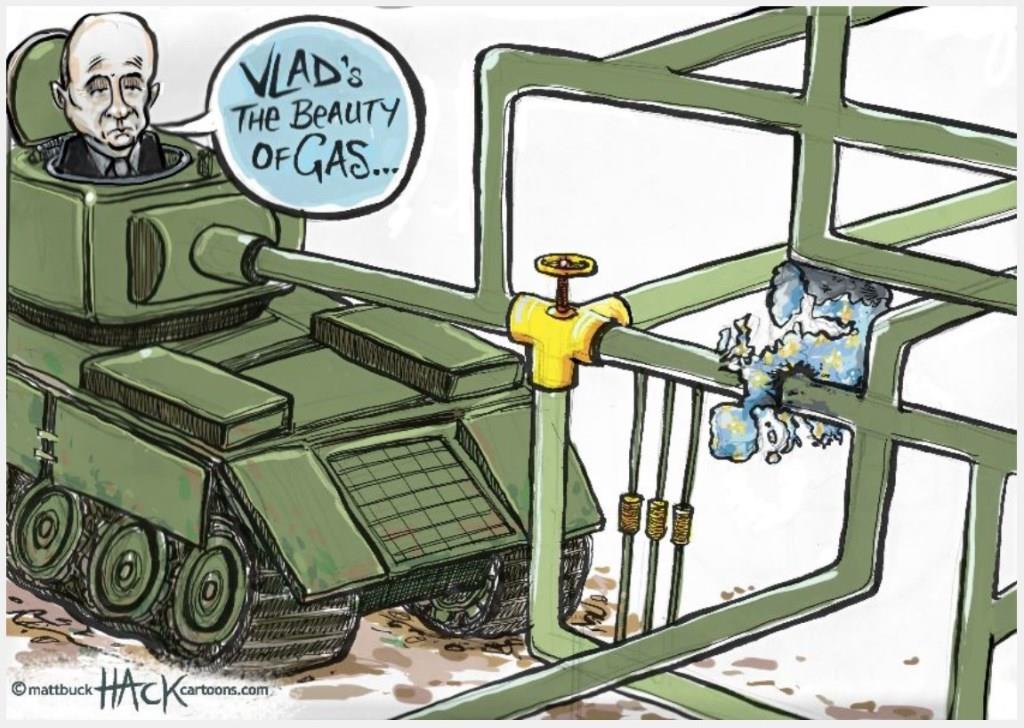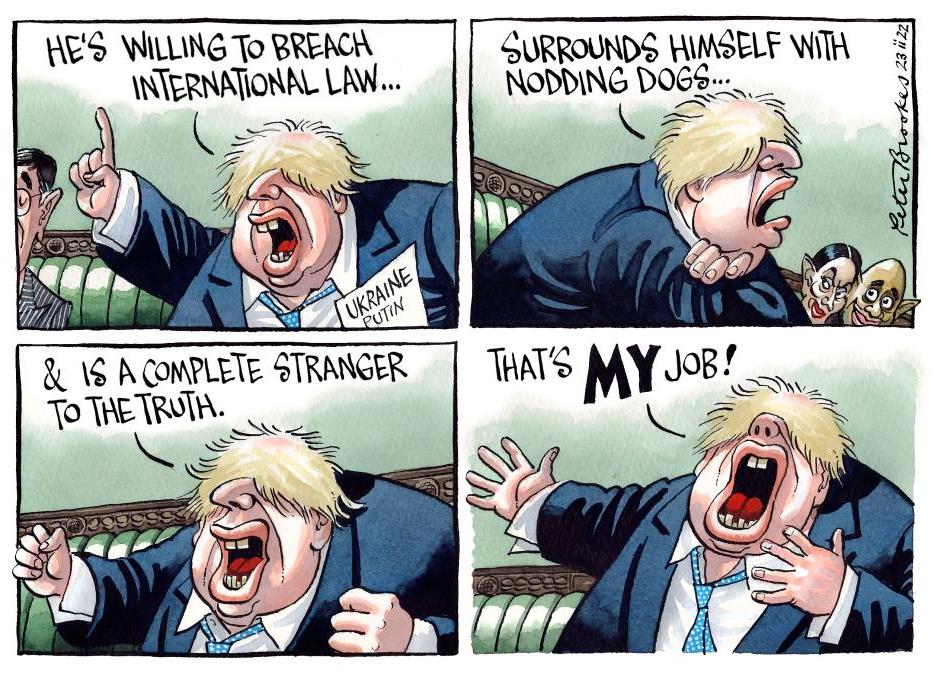 Wednesday 23rd February


This is scary. The exchange between Putin and Sergei Naryshkin, director of the Russian Foreign Intelligence Service, Putin's "spy chief". Video courtesy of The Guardian.




The grand setting of a colonnaded hall. Putin comfortable and imperious at his large desk. The array of officials on simple upright chairs. Poor Sergei - OK, as my friend Diana says, "I can't say there are many circumstances in which I would sympathise with anyone who had made it to the top of Russia's intelligence service" - breathless, anxious, browbeaten into his final "yes". Then given permission to sit down.

It doesn't look like the politics of consensus, does it? How do you negotiate with that?

Sanctions, eh? They can work both ways. All that Russian gas. Dale Vince's arguments for the end of fossil fuels and energy independence have never looked more valid. Nor have, as a related aside, his views on the scandal of the North Sea windfall profits.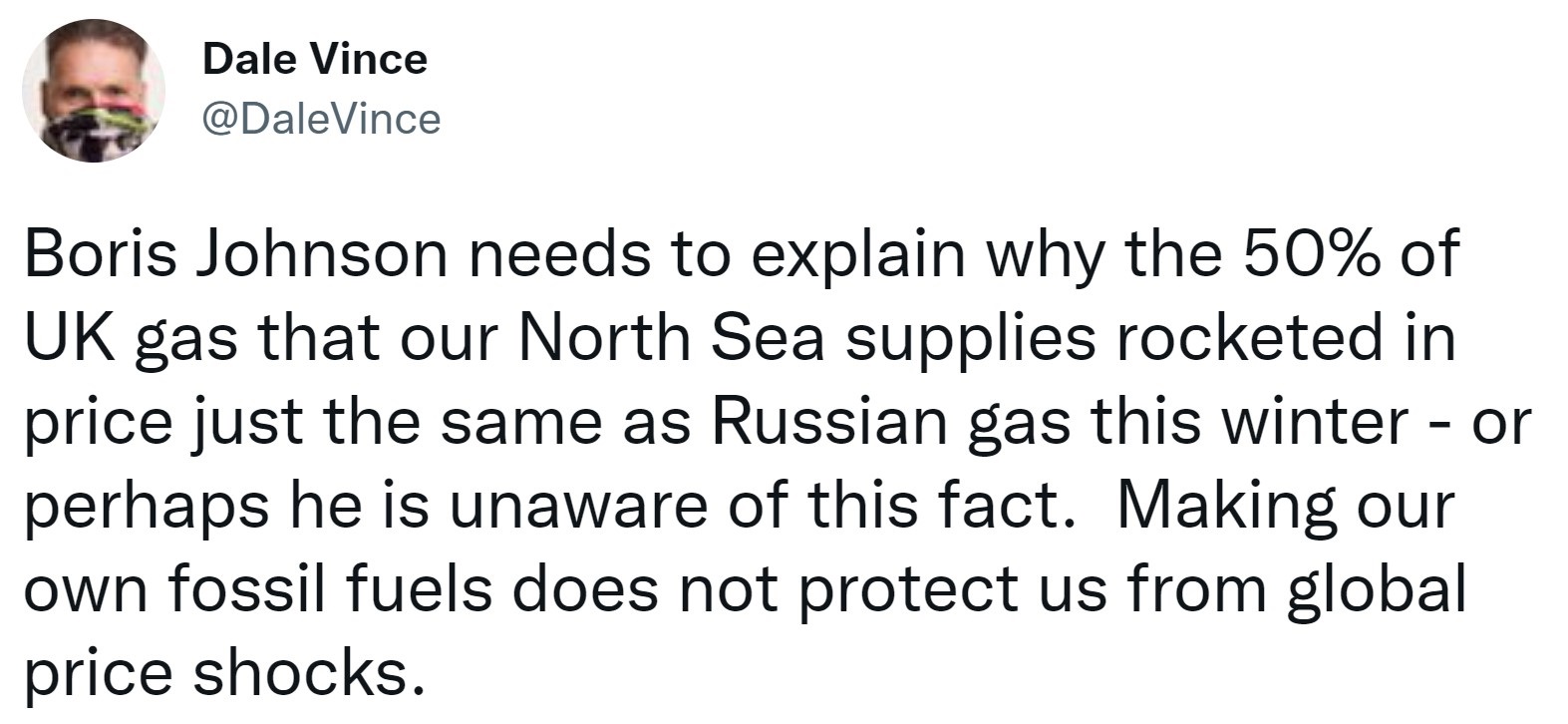 Tuesday 22nd February


Lost for words today. Putin says Ukraine was never a proper country. Russian troops are mobilised to support the newly recognised Donetsk and Luhansk. UK and US sanctions are announced.

I'm reading Desmond Tutu's "No Future Without Forgiveness" at the moment. Scant evidence of that spirit among the protagonists of this crisis. Putin is hell-bent on regaining the Soviet Union of his youth. Biden and Boris crank up their response. Precious little respect or understanding for the adversary's view. Too much loss of face in compromise, retraction, a negotiated settlement.

Sad to say, I feel the grim sense of inexorability that must have filled the air in 1939. Where the prospects and plans for the coming day seem unreal, trivial, irrelevant.

Let's hope I'm over-egging the gloom.

Monday 21st February


The Beijing Winter Olympics are over. There has been some speculation that this would be the moment for Putin to launch a full invasion of Ukraine. Well, he wouldn't want to have rained on the parade of his mate Xi Jinping, would he? We watch and wait. Will the Biden-Putin summit happen?

While there's still time, I thought I'd return to the original trigger for this blog, the onset of the coronavirus pandemic, and reflect on the last two years.

There's quite a lot of detail in this post. I feel that it's justified by the extraordinary once-in-a-lifetime - I hope - journey we have travelled. If stats and charts are not your thing, you may want to skip to the two sets of bullet-point observations, or restrict yourself to the last chart in each series of four.

We are in a different place today.

The Queen has tested positive, but is only suffering "mild cold-like symptoms" and plans to continue with "light duties".

England is expected to end all virus restrictions in the coming days. Boris said yesterday: "Now is the moment for everybody to get their confidence back".

Others are less sure. Dr. Chaand Nagpaul, chair of the British Medical Association, said: "You have at the moment more people dying, more people in the hospital, than you had before Plan B was introduced. It does appear as if the government is trying to pretend that Covid doesn't exist in the day-to-day lives of so many people."

I'm going to review the pandemic with the help of my old friends, the charts derived from the Financial Times analysis of data from the Coronavirus Resource Center (CRC) of the Johns Hopkins Center for Systems Science and Engineering (CSSE) in Baltimore, Maryland, USA.

I'll start from 1st January 2020. The Wuhan Municipal Health Commission reported a cluster of cases of pneumonia in Wuhan, Hubei Province, China on 31st December 2019; a novel coronavirus was eventually identified. The World Health Organization (WHO) set up its Incident Management Support Team (IMST) the next day, establishing an emergency footing for dealing with the outbreak. On 5th January WHO published its first "Disease Outbreak News" on the new virus.

The FT/Johns Hopkins website allows me to select 6 countries or regions. I've chosen the USA, the United Kingdom, the European Union, India, Brazil and China. Click to enlarge each of the charts.

First, 4 charts of cases: cumulative and new, raw numbers and per 100k.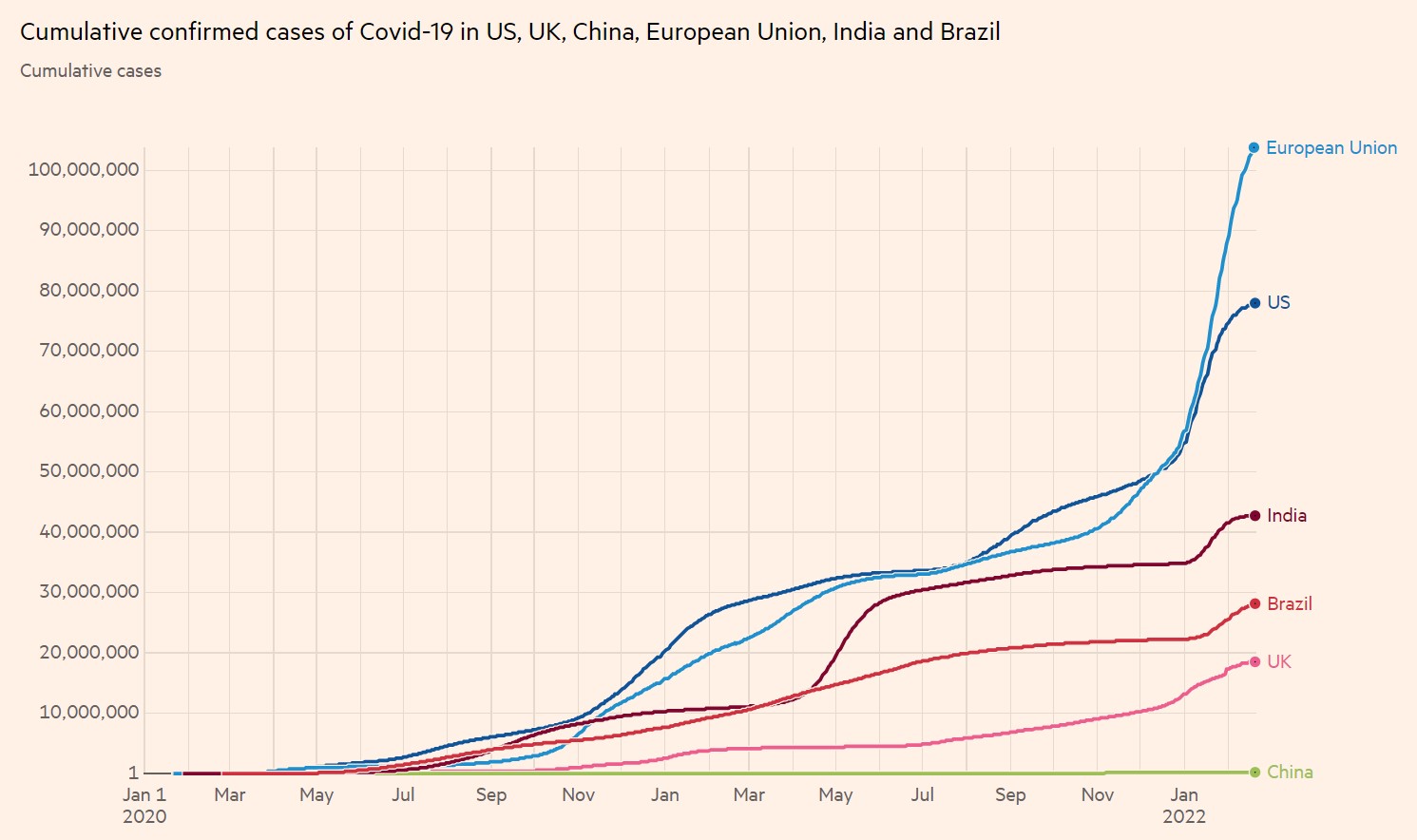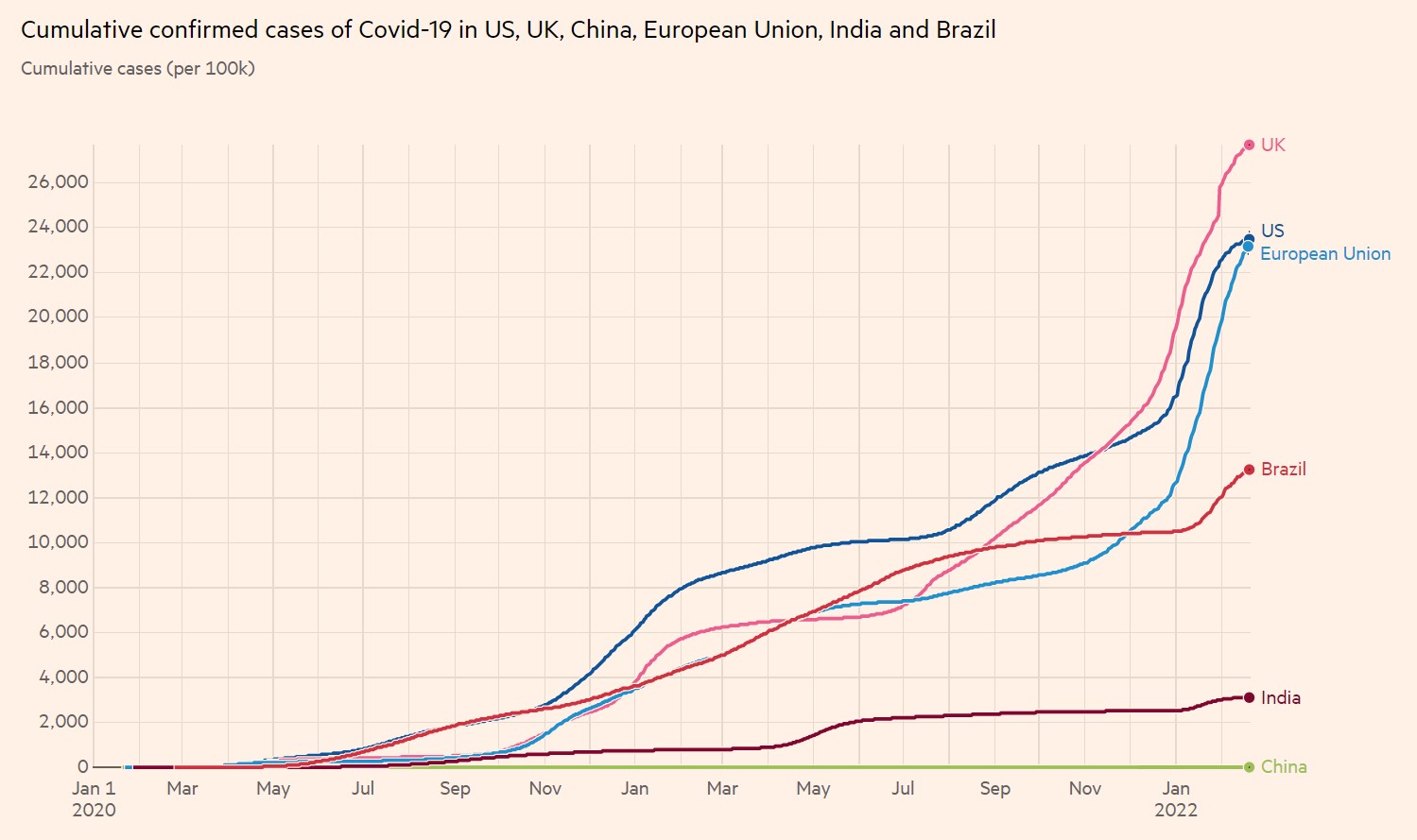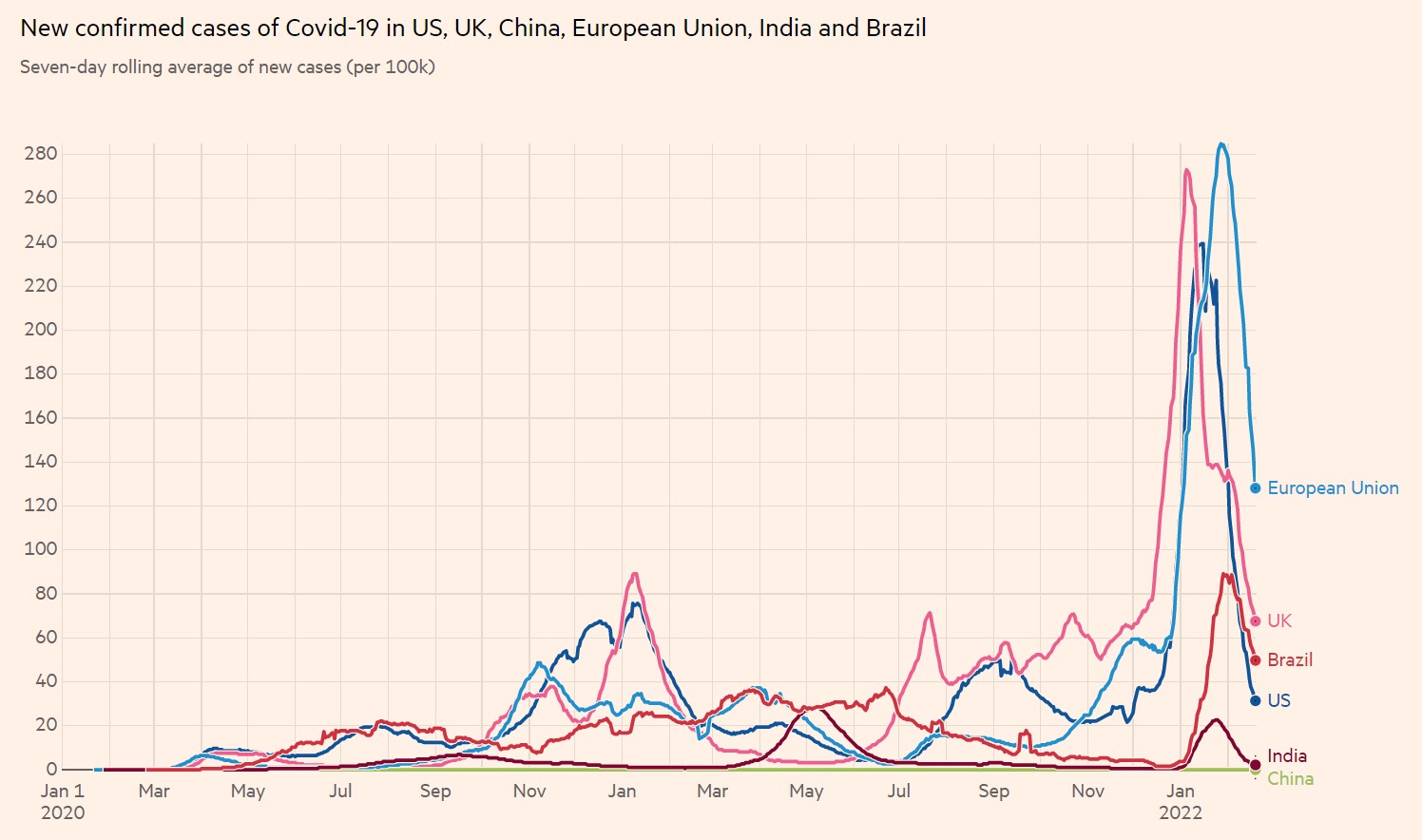 I'm struck by these points:
There are plenty of big numbers here. For example, over 100,000,000 cases in the European Union, nearly 80,000,000 in the USA. That's a lot of people affected by this virus.
The incidence of infections has been greatest in the USA and Europe.
The number of cases has been startling high in the last 3 months, three times higher than the January 2021 peak, presumably because of the Omicron effect with its extra transmissibility.
However, numbers have been falling everywhere during this period after the initial spike.
In cumulative per-100k terms, the UK tops the list.
China - where it all started - has been glued to the X-axis throughout.
Next, 4 charts of deaths: cumulative and new, raw numbers and per 100k.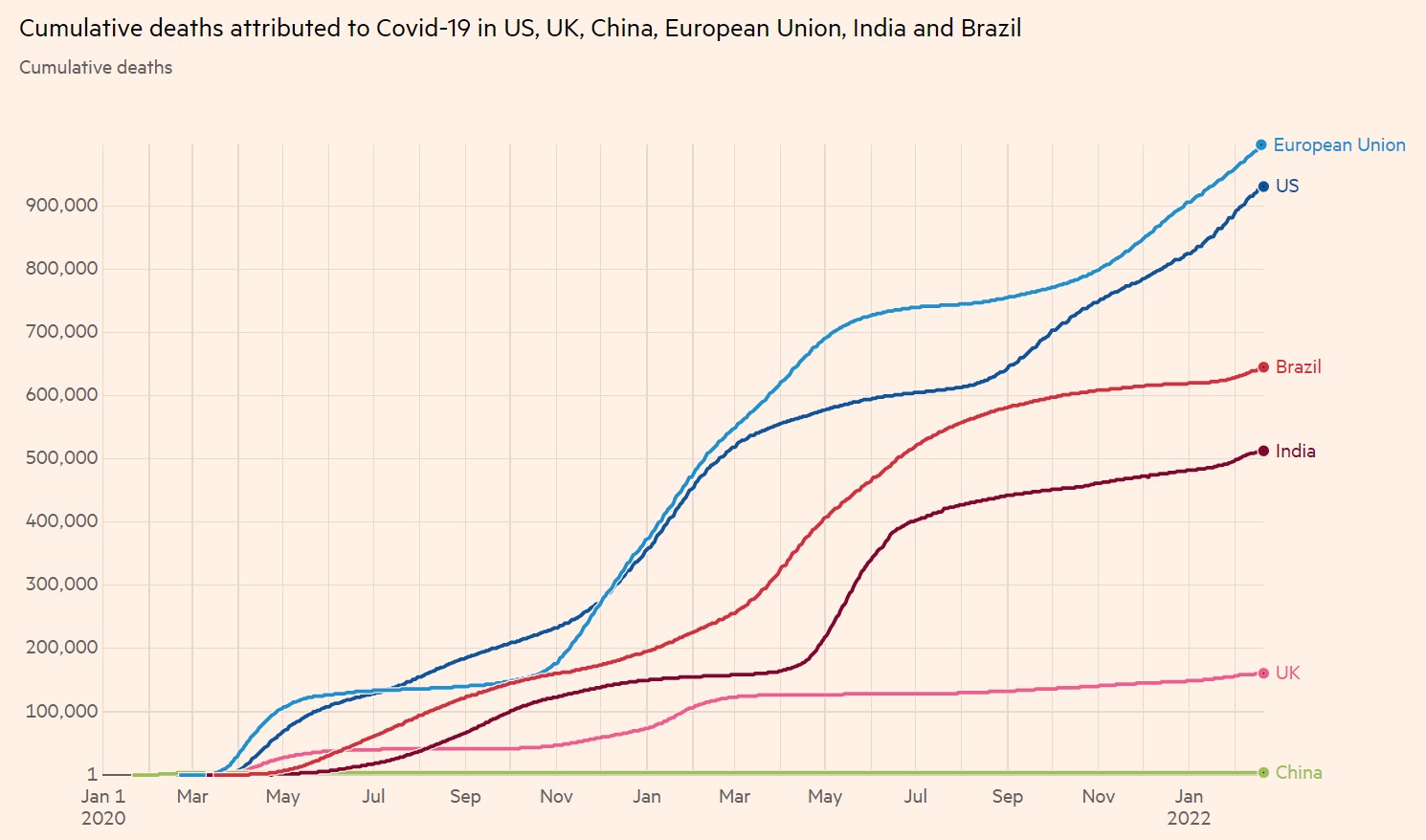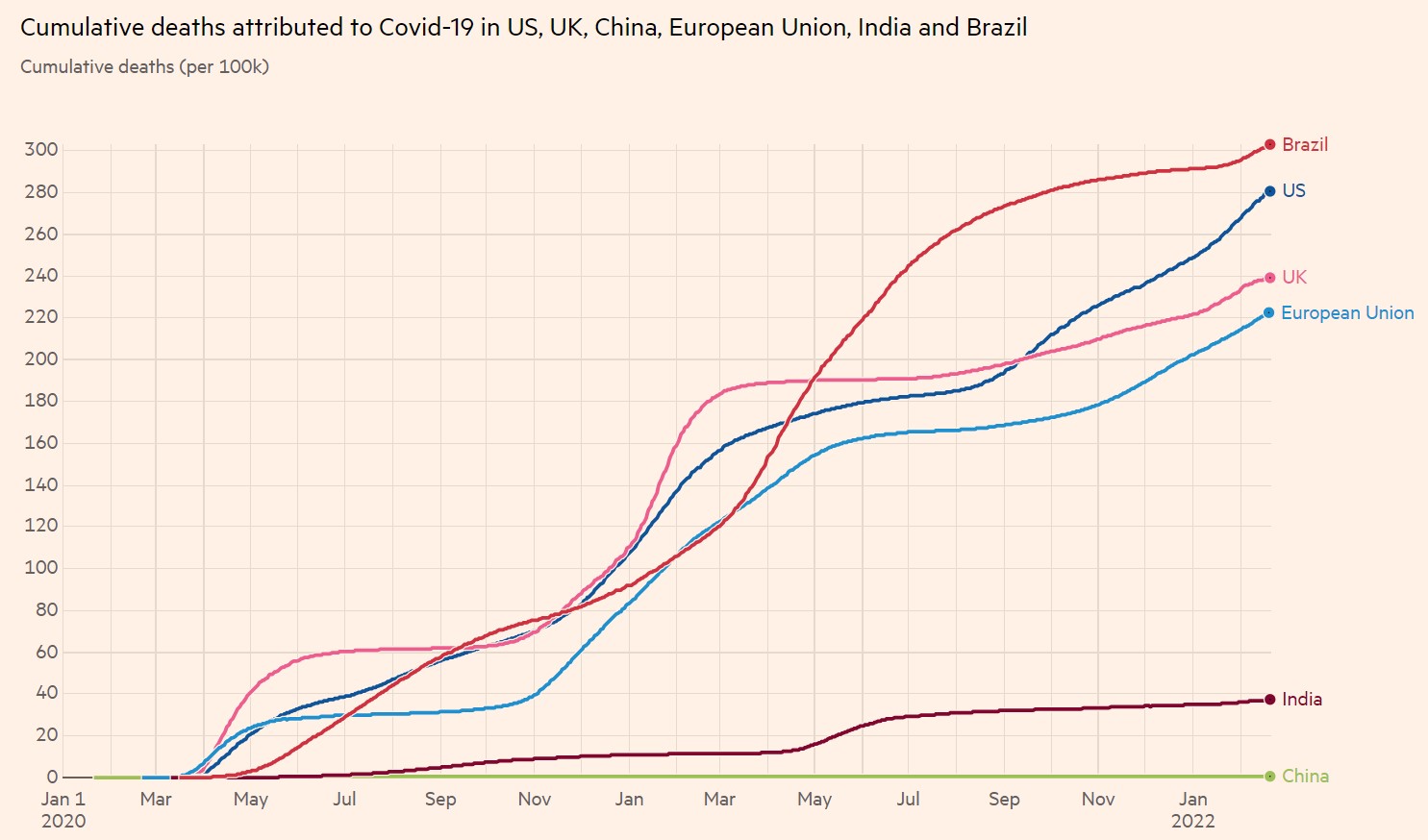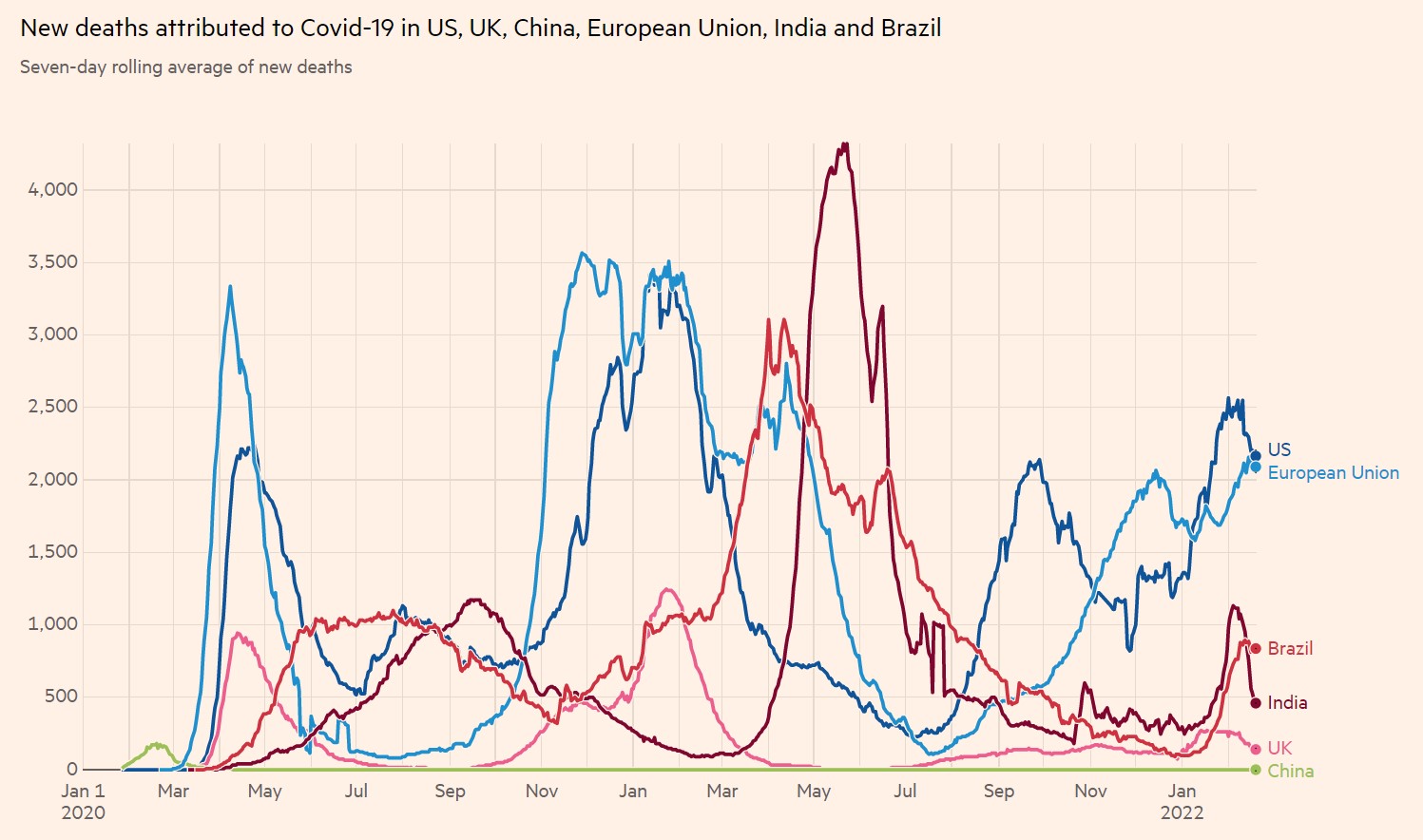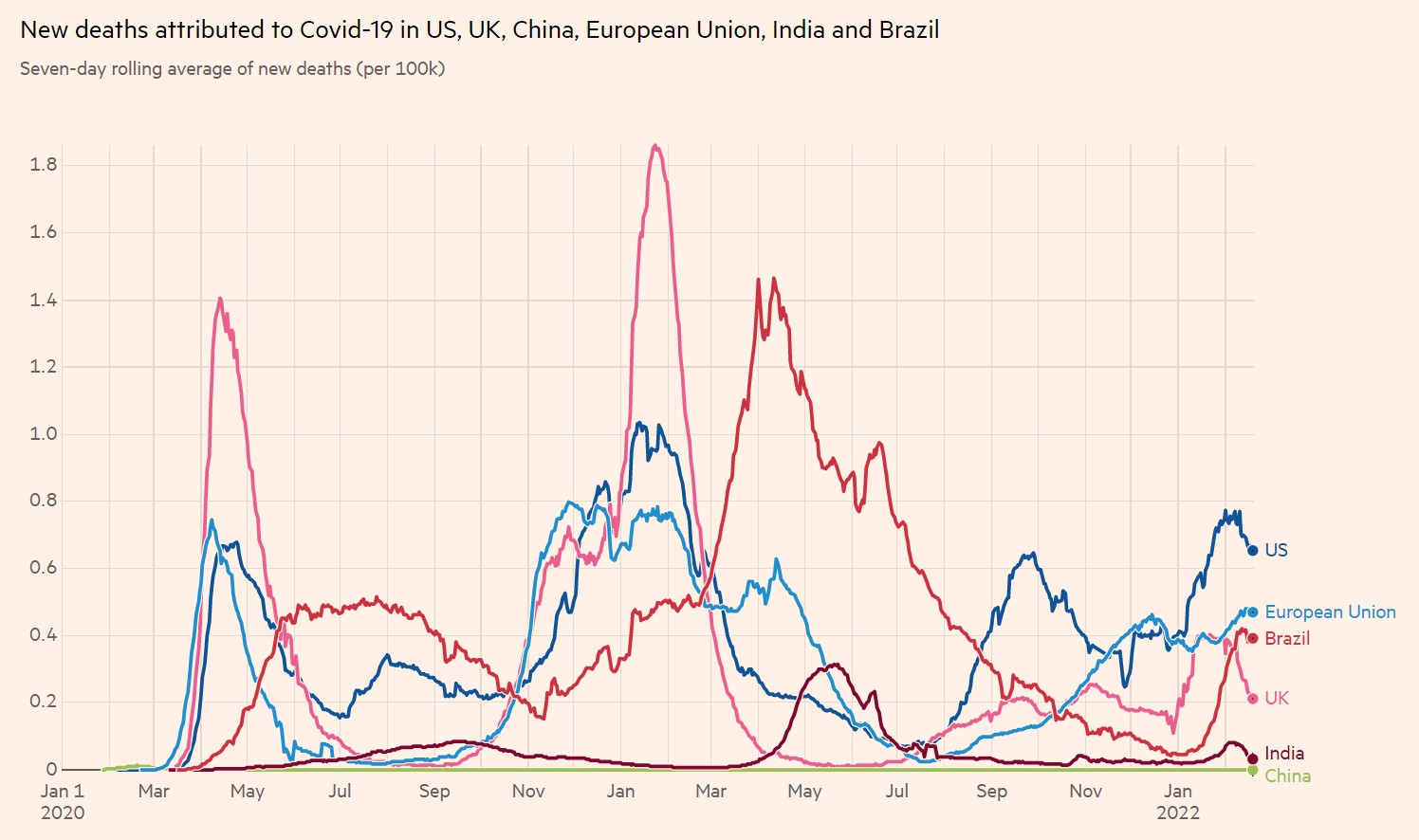 Some stand-out points for me from this set of charts are:
Quite simply, a lot of people have died from Covid-19 in the last two years. Close to the million mark in both the USA and the European Union.
In March 2020 Patrick Vallance said, "If we can get this [the number of UK deaths] down to 20,000 and below, that is a good outcome." Today the total is over 160,000.
Brazil tops the list of cumulative deaths per 100k of population. Bolsonaro called the virus "a little flu". He said: "The people will soon see that they were tricked by the governors [of key states] and by the large part of the media."
In contrast to the number of cases, deaths are currently substantially lower than at previous peaks, although both the USA and the European Union have seen a steady trend of increases over the last six months. The effect of vaccines and social restrictions has kicked in.
In per-100k terms deaths in the UK are now 1/7 of April 2020 levels and 1/9 of late January 2021. That's the "learn to live with it" difference.
These are just the statistics. The human experience has been genuinely tough: loss of loved ones, long Covid, interruptions to schooling, business closures, restrictions to our movement, separation from family, isolation.

Just as we appear to be emerging from the pandemic, the last thing we need is a war in Europe - if that's where it stops.

I think I'll watch the women's curling again on iPlayer.

Or maybe focus on the positives that have emerged from this period. The astonishing performance of scientists in unravelling the epidemiology of coronavirus. The rapid development of vaccines, and more recently of anti-viral treatments. The brilliance of the NHS, and the renewed recognition of its value, even by a Tory government. The lessons learnt about the need for preparedness. The public response, with the exception of a dissident or feckless minority. Our ability to withstand such a threat.

Sunday 20th February


Saved by curling - and Scotland - in the wee hours. 2 medals total - 1 gold, 1 silver, 0 bronze.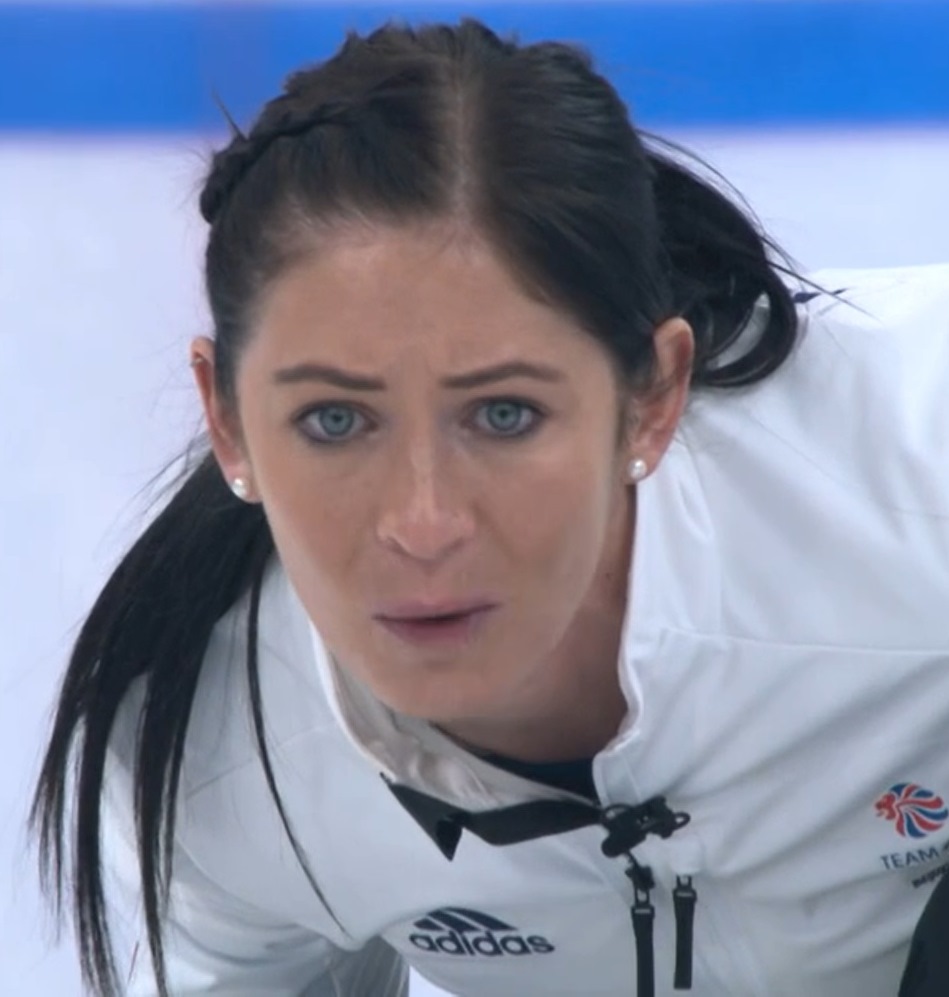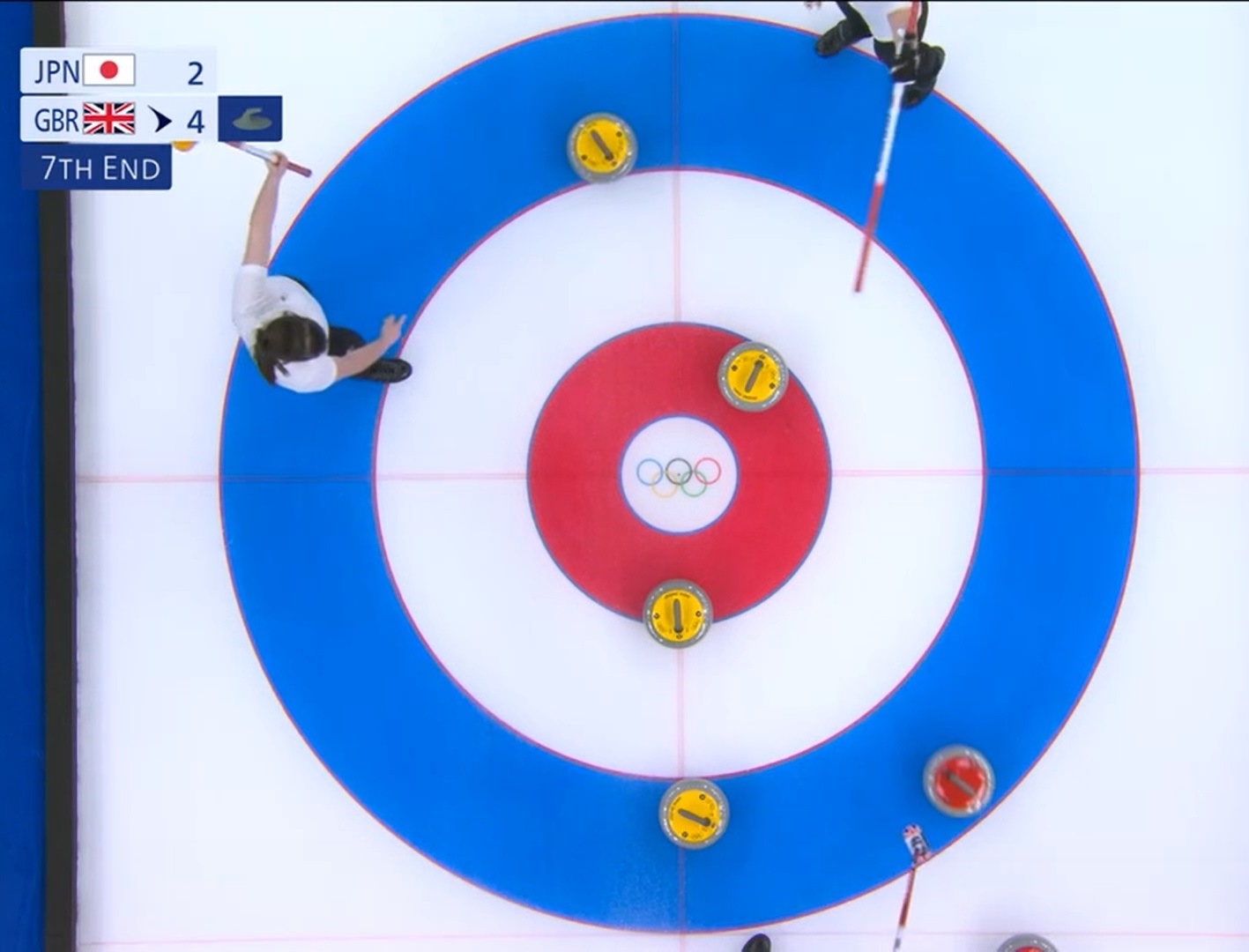 Before this week, I'd only been aware of "curlers" in one context. Team USA could have used some.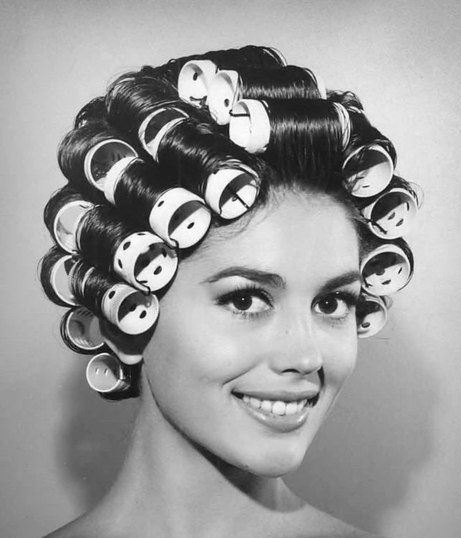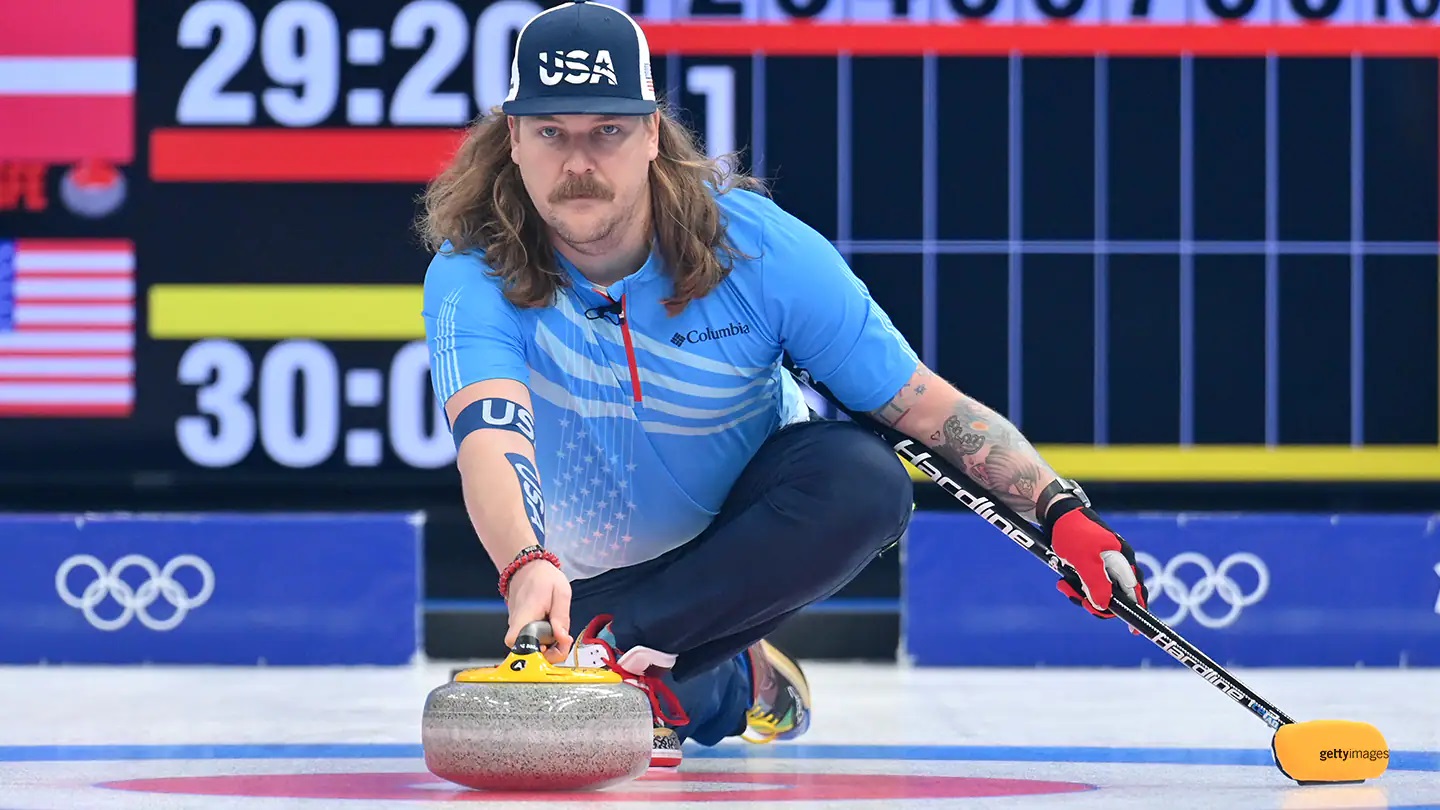 Enough of my dissing. Yesterday I expressed an interest in curling shoes. Here's a description from news and information website HITC:

"Curling shoes actually feature different soles on each shoe - and both are equally as important. One sole is known as a 'gripper.' As it might suggest, the rubbery material is designed to give athletes traction and grip on the ice sheet to ensure they don't fall over. The other sole is known as a 'slider'. Here the idea is to give athletes the ability to glide over the ice with the minimal effort. It is made from a Teflon material. Left-handed players generally use the gripper on the left foot and slider on the right, the opposite for those players who use their right hand to deliver a stone."


And the technique of sweeping? This explanation is from USA-based CurlTech, using North American terminology like "rock" (stone):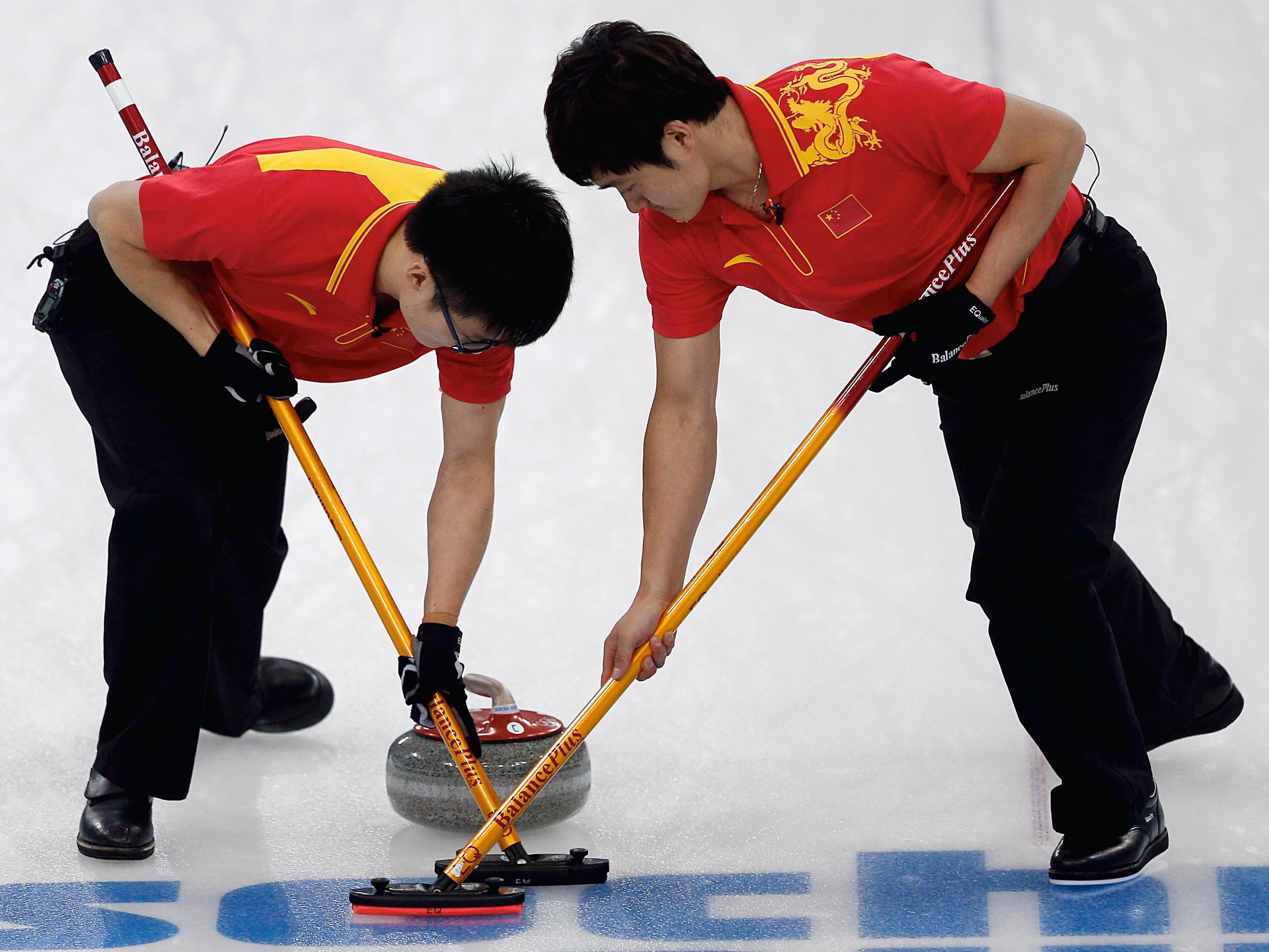 "Sweeping the ice in front of the running surface as the rock travels changes the ice surface by warming it slightly, affecting the distance travelled. The friction of the broom also creates small grooves in the ice, affecting direction. One sweeper lightly sweeps the area to remove debris. The amount of pressure necessary for this is tricky. A very light sweep (one or two pounds of pressure) may be counterproductive. In this case, debris may "roll under" the broom head. Greater pressure (10 pounds) will be much more effective in cleaning the area. Directional sweeping is used to keep rocks straight as well as to increase the curl. In order to get rocks to curl more, the "high side" sweeper (on the opposite side of the curl direction) sweeps/scratches the path at angle up to 45 degrees in the direction of the intended curl. The directional results will come from only one side. If two sweepers are scratching on opposite sides, they will nullify the desired outcome."


There you have it, more information about curling than you ever thought you needed.

Saturday 19th February


Storm Eunice didn't happen here beyond a stiffish breeze. Annoyingly all the trains were still cancelled. But I'm thankful to have been spared what has happened in other regions.

The Winter Olympics really aren't our thing, are they? We don't feature in the top 25 ranked nations. Belgium has won more medals than the UK (see STOP PRESS below). Not that I mind that much. I'm unimpressed by watching events hosted by a government that invited Vladimir Putin as an honoured guest to the opening ceremony, and used the equivalent of a day's worth of drinking water for 900 million people to create fake snow.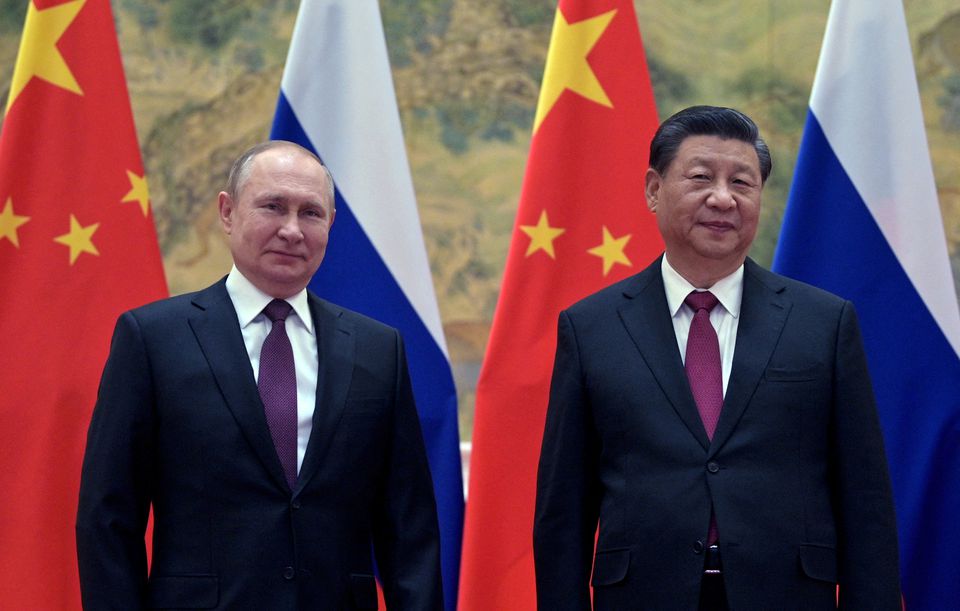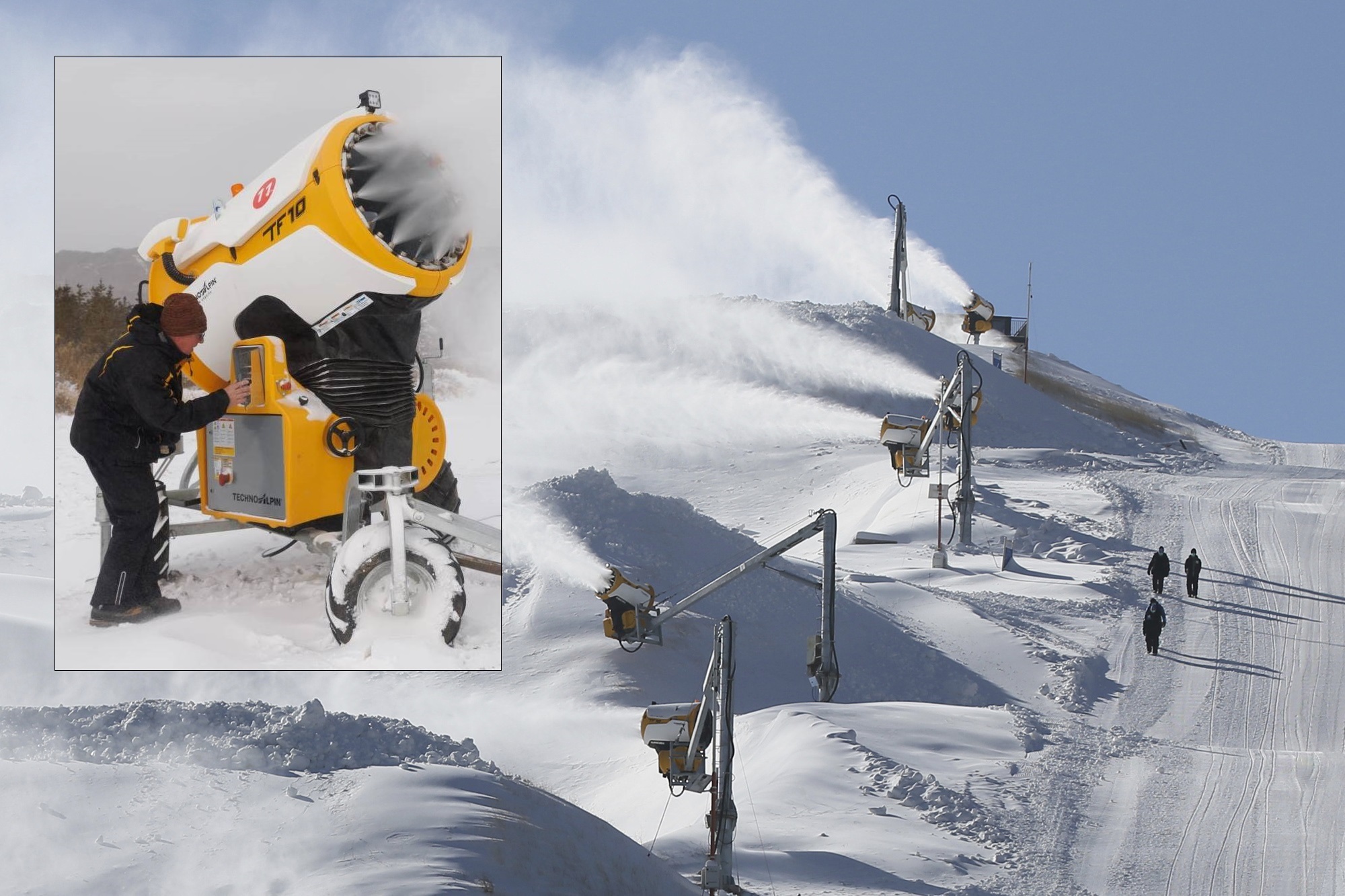 Suddenly we're all fans of curling now that GB has reached the finals of both men's and women's competitions (the men started at around 7am GMT today [9:50am STOP PRESS: Men win curling silver, losing to Sweden. GB 24= in medal table. Still behind Belgium]). The spike in interest is similar to the way non-gamblers once a year stick a pin in the newspaper to pick the winner of the Grand National. With apologies to Scotland, Switzerland, Sweden and others, I remain unconvinced by a sport which has the pundits saying, "The girls have been sweeping really well." Is it based on a domestic science curriculum? That said, I do admire the slippy shoes the curlers wear, gliding frictionlessly towards the red line where they release the stones. How come they never fall over?

I am intrigued by the back-story of the curling stone itself - or rock as it may be called in North America. The Guardian published an article on 2nd February about the primary source of the granite and a leading stone maker:

"The uninhabited island of Ailsa Craig is situated in the Firth of Clyde, about 10 miles from the Scottish mainland. Known to locals as 'Paddy's Milestone' for being a resting spot across the sea between Glasgow and Belfast, it was a haven for Catholics fleeing persecution by Protestants during the Scottish Reformation in the 16th century.

"The tough, hard properties of the island's micro-granite make it the ideal material from which to make curling stones. Founded in 1851, Kays Curling manufactures and exports the unique Ailsa Craig stones around the world."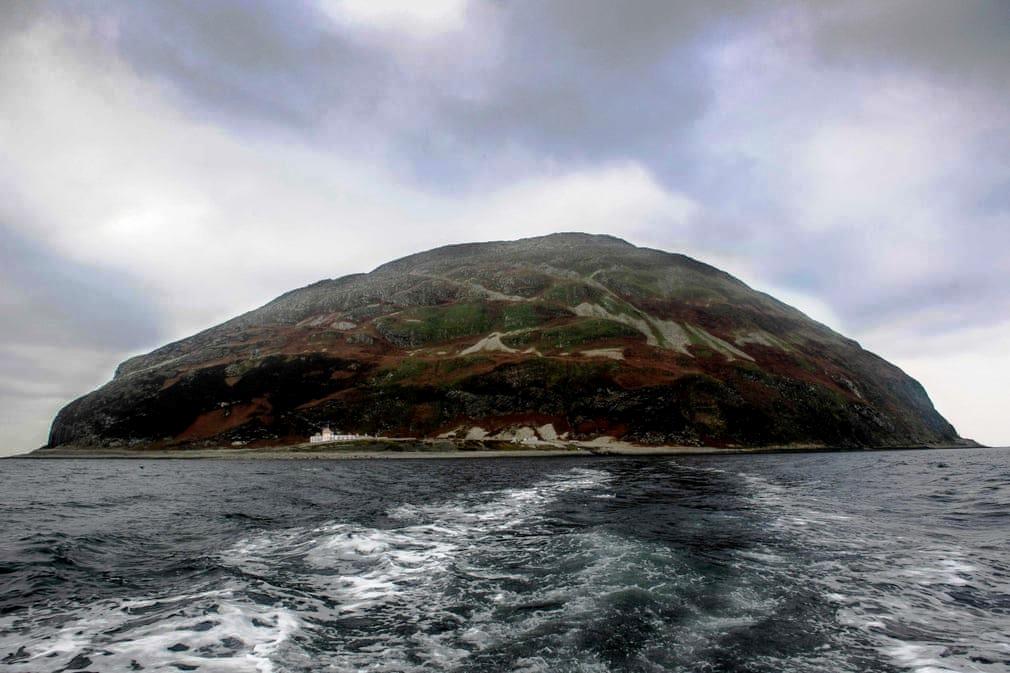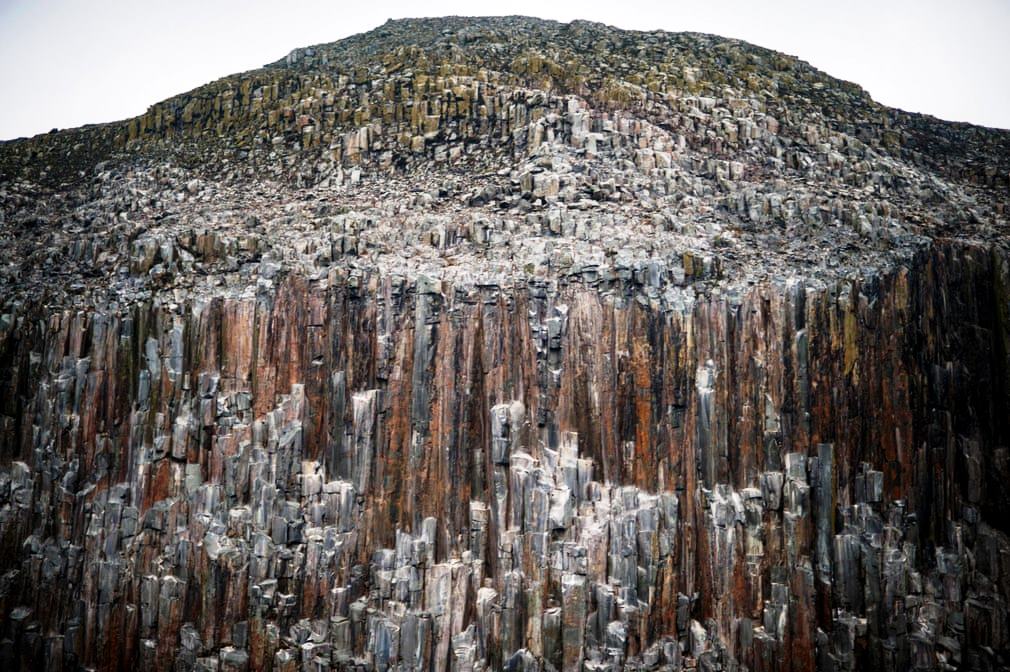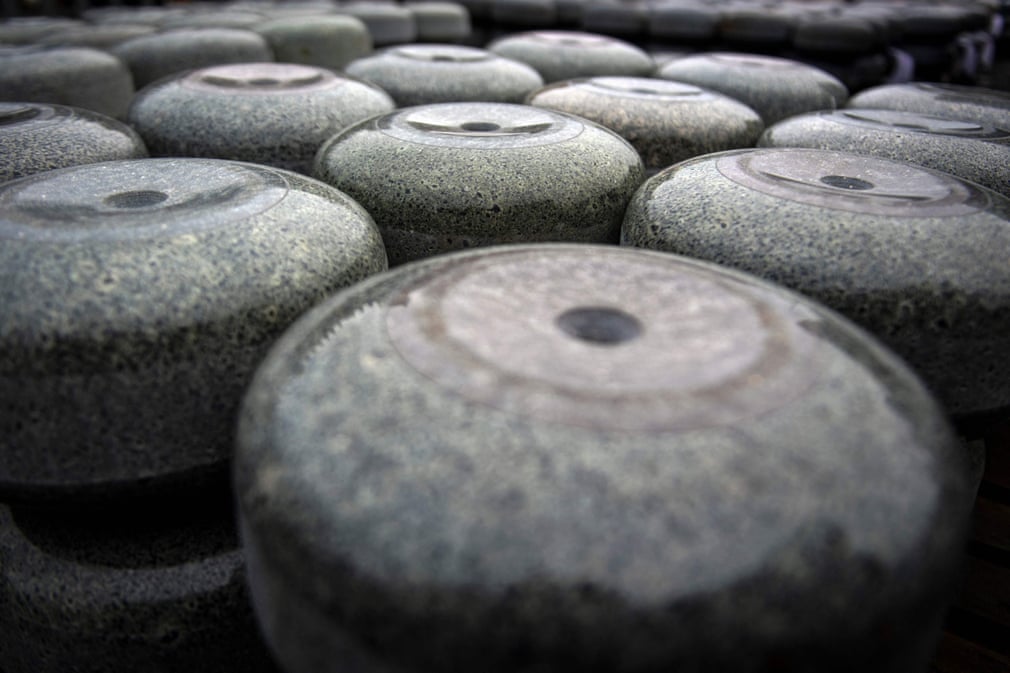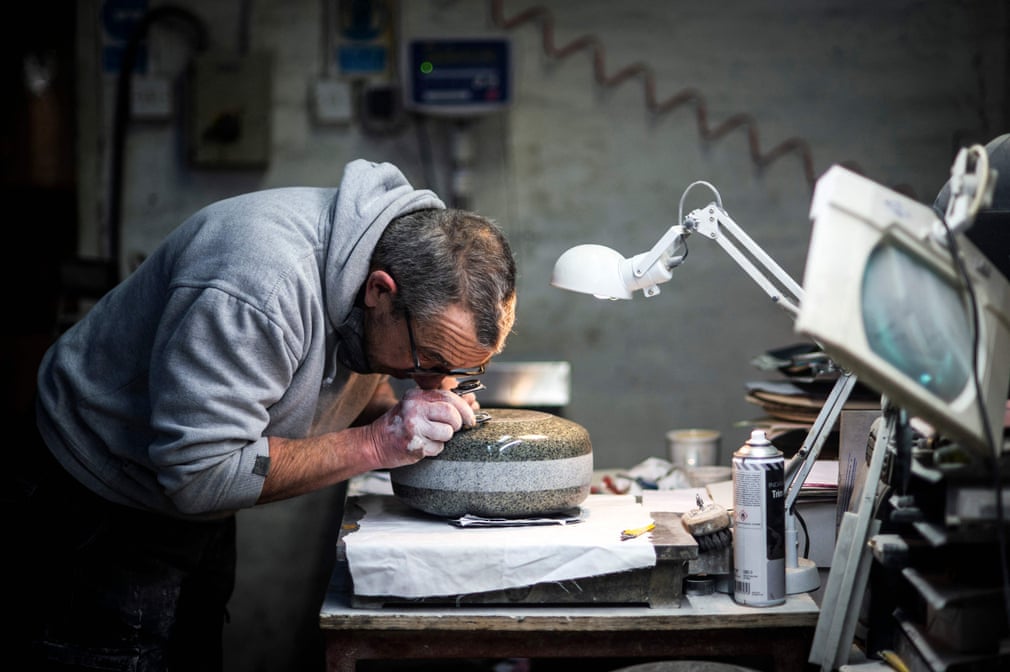 Kays Curling produced the stones that feature in this picture of the British team at the 1924 Chamonix games: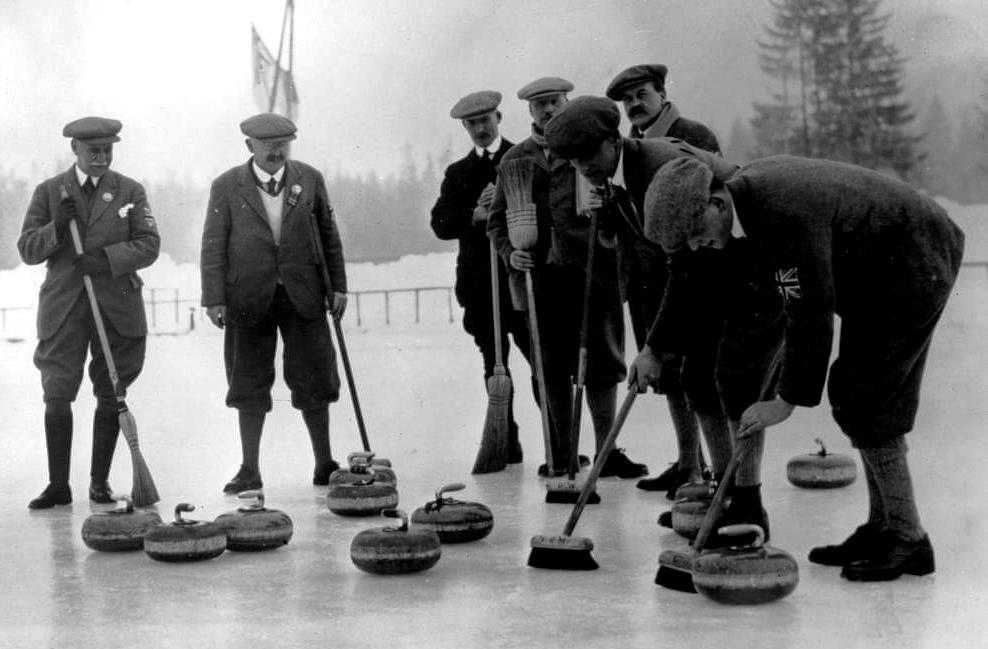 I have a personal interest in the stone production. Last September we stayed in a cottage on the cliffs outside the village of Trefor on the Llŷn Peninsula in north Wales (see my account here: 👉). Rising steeply behind the cottage is Yr Eifl and its neighbouring hills. You can see in the upper centre of the picture below the Trefor or Yr Eifl Granite Quarry, opened in 1850 and later managed by a distant relative-by-marriage. The granite was used - not exclusively, as it paved much of Liverpool and Manchester - to make curling stones. I doubt that is still the case, because the quarry closed in 1965.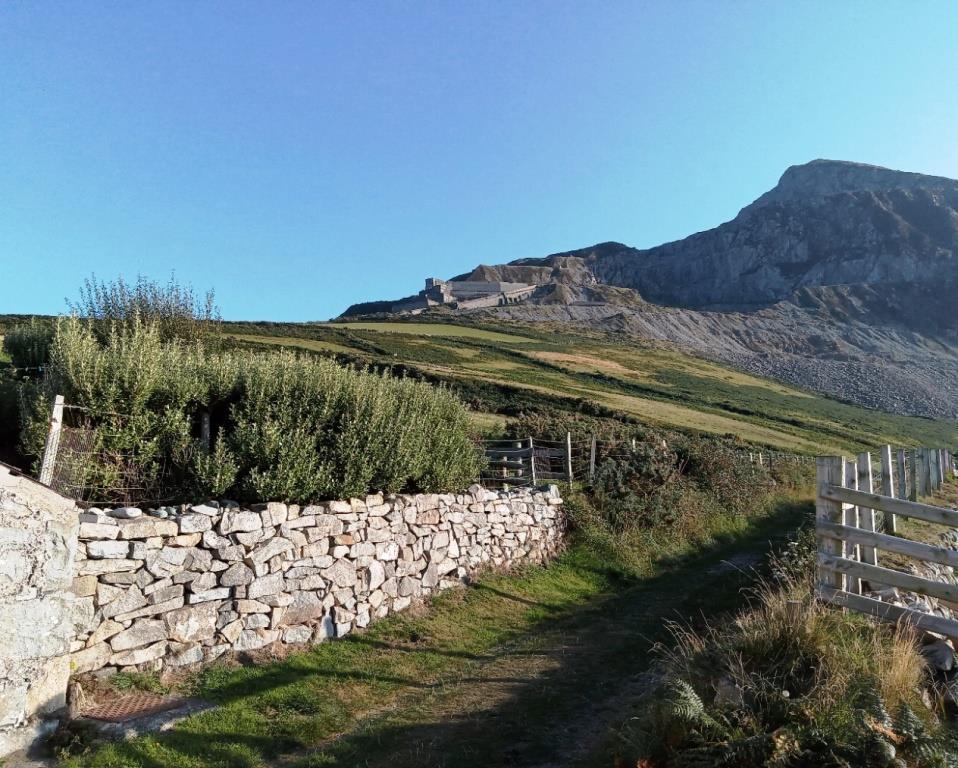 Friday 18th February


08:00 Waiting for Storm Eunice to hit. Clear skies and just a light breeze at the moment.

Looks like Sarah's visit to brother Kevin in London is unlikely:






Daughter Ellie warned her Bristol dog-owner customers yesterday: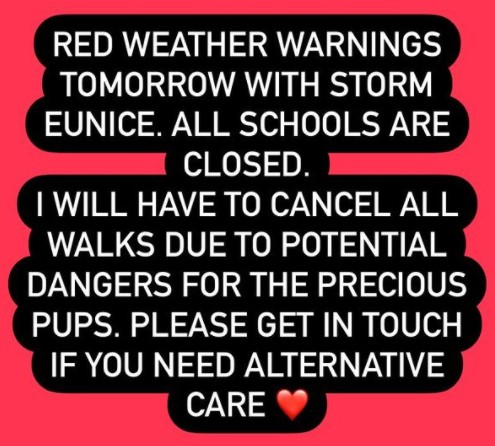 Met Éireann earlier predicted weather chaos across Ireland. The news and media website Galway Beo suggested that the local nuns might be inspired to repeat their "Sister Frosty", created after Storm Emma in 2018.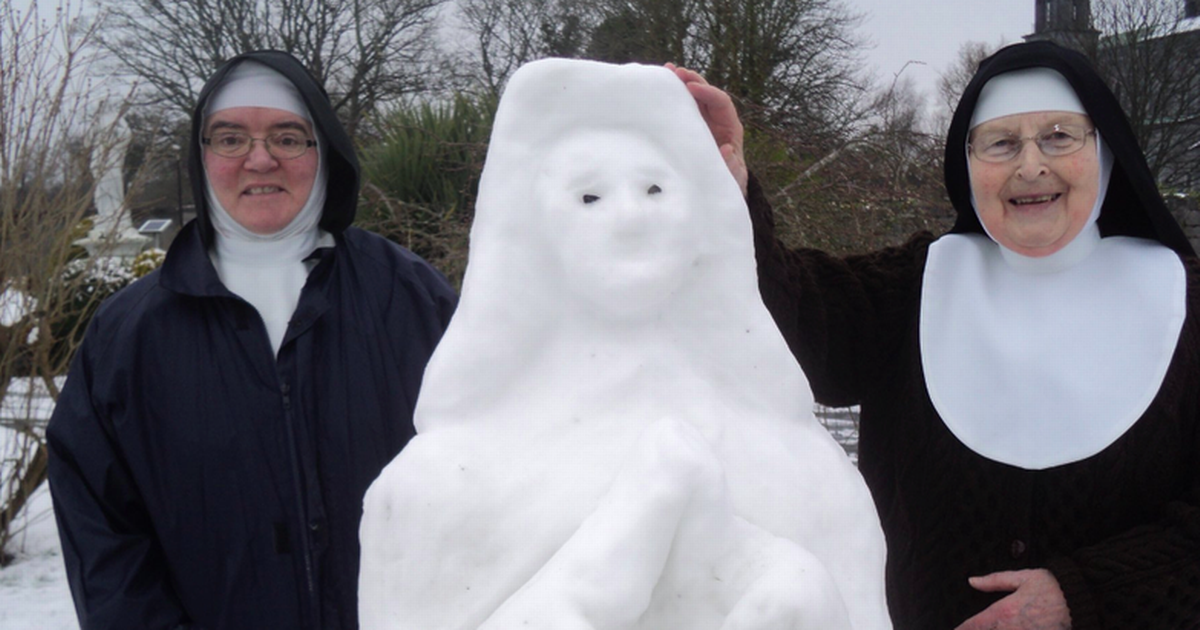 Thursday 17th February


The "whiff of Munich".




Do you wake up thinking, "I must check: has Putin invaded Ukraine yet?" That must have been what people were doing 80-odd years ago, with different protagonists of course. Hopefully you're not as pessimistic as I am.

"Peace FOR our time". Not "in" as widely quoted. On 30th September 1938, PM Neville Chamberlain addressed the crowd outside 10 Downing Street:


"My good friends, for the second time in our history, a British Prime Minister has returned from Germany bringing peace with honour. I believe it is peace for our time. We thank you from the bottom of our hearts. Go home and get a nice quiet sleep."


Earlier, after landing at Heston Aerodrome with a copy of the Munich Agreement in his hand, he had said:


"The settlement of the Czechoslovakian problem which has now been achieved is, in my view, only the prelude to a larger settlement in which all Europe may find peace. This morning I had another talk with the German Chancellor, Herr Hitler, and here is the paper which bears his name upon it as well as mine [waves document]. Some of you, perhaps, have already heard what it contains but I would just like to read it to you: '... We regard the agreement signed last night and the Anglo-German Naval Agreement as symbolic of the desire of our two peoples never to go to war with one another again'."


Oh dear.

Apparently the current threat is the "new normal", according to NATO Secretary General Jens Stoltenberg's assessment during the first day of the meeting of NATO Ministers of Defence: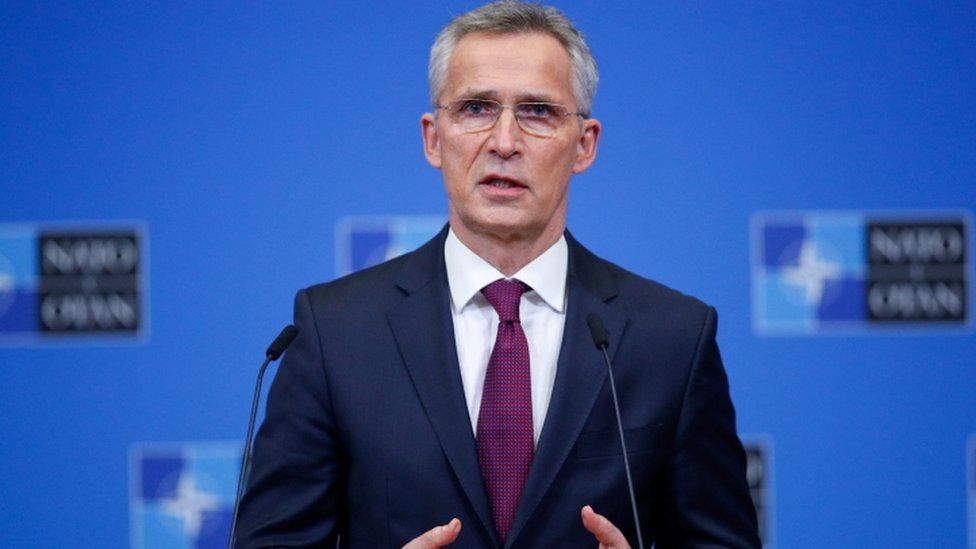 "NATO will not compromise on core principles: the right of each nation to choose its own path and our ability to protect and defend all Allies. We have already enhanced our deterrence and defence with more troops, planes and ships, and higher readiness of the NATO Response Force. These steps are defensive. NATO is not a threat to Russia. We do not know what will happen in Ukraine but the situation has already demonstrated we face a crisis in European security. Moscow has made it clear that it is prepared to contest the fundamental principles that have underpinned our security for decades and to do so by using force.

"I regret to say that this is the new normal in Europe."


So, not the triumphal declaration of 1938, but I bet he hopes his picture doesn't become as infamous as that of Chamberlain.

Following the discussion yesterday of Putin's mindset and motives, I attach an edited article - it originally included Trump as well, but I took him out as irrelevant (how pleasant to be able to say that, for now) - published on Soapboxie, a political and social commentary website, in late 2020. If you've been reading this blog in the last couple of days, no prizes for guessing who directed me to the site. The article is arguably from the school of "home-grown psychology", but it provides a more detailed analysis of Putin, the "Hubris Syndrome" - the term is explained - and the arrogance of power, much of which is worth a look. Here you are (7 pages):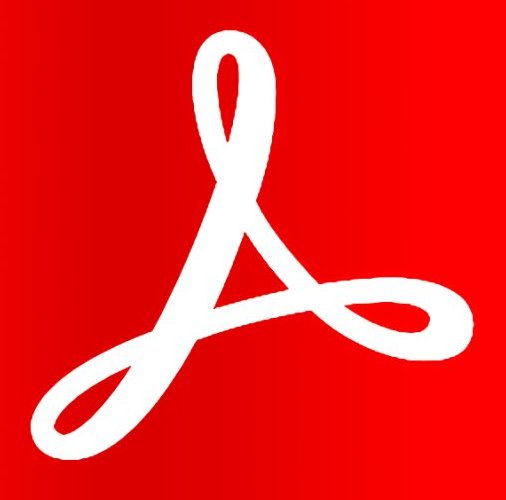 Times cartoonist Peter Brookes's made this observation yesterday: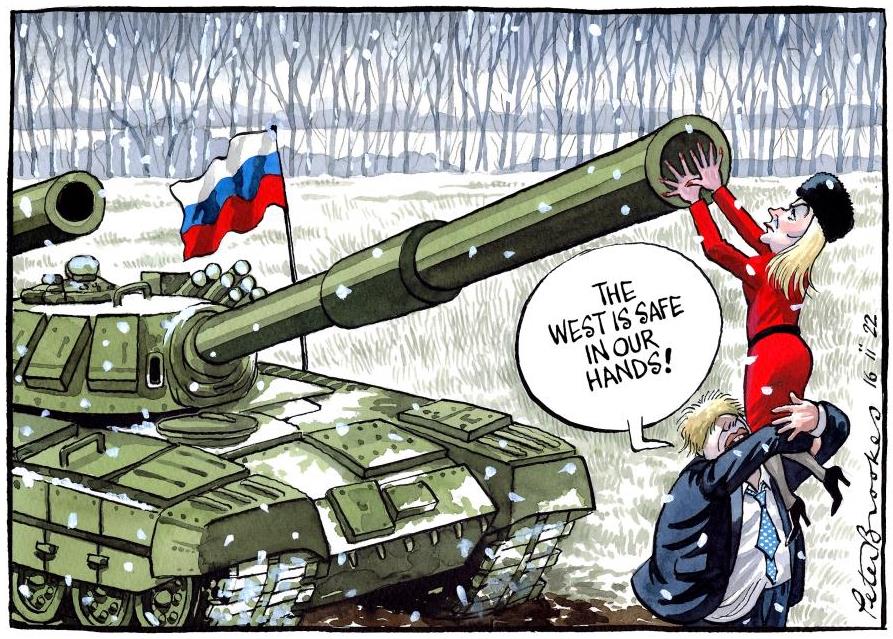 Russia has expressed concern about the growth of NATO. You can see why. Putin must have watched it happen with dismay - no, probably rage. Ukraine is another big chunk.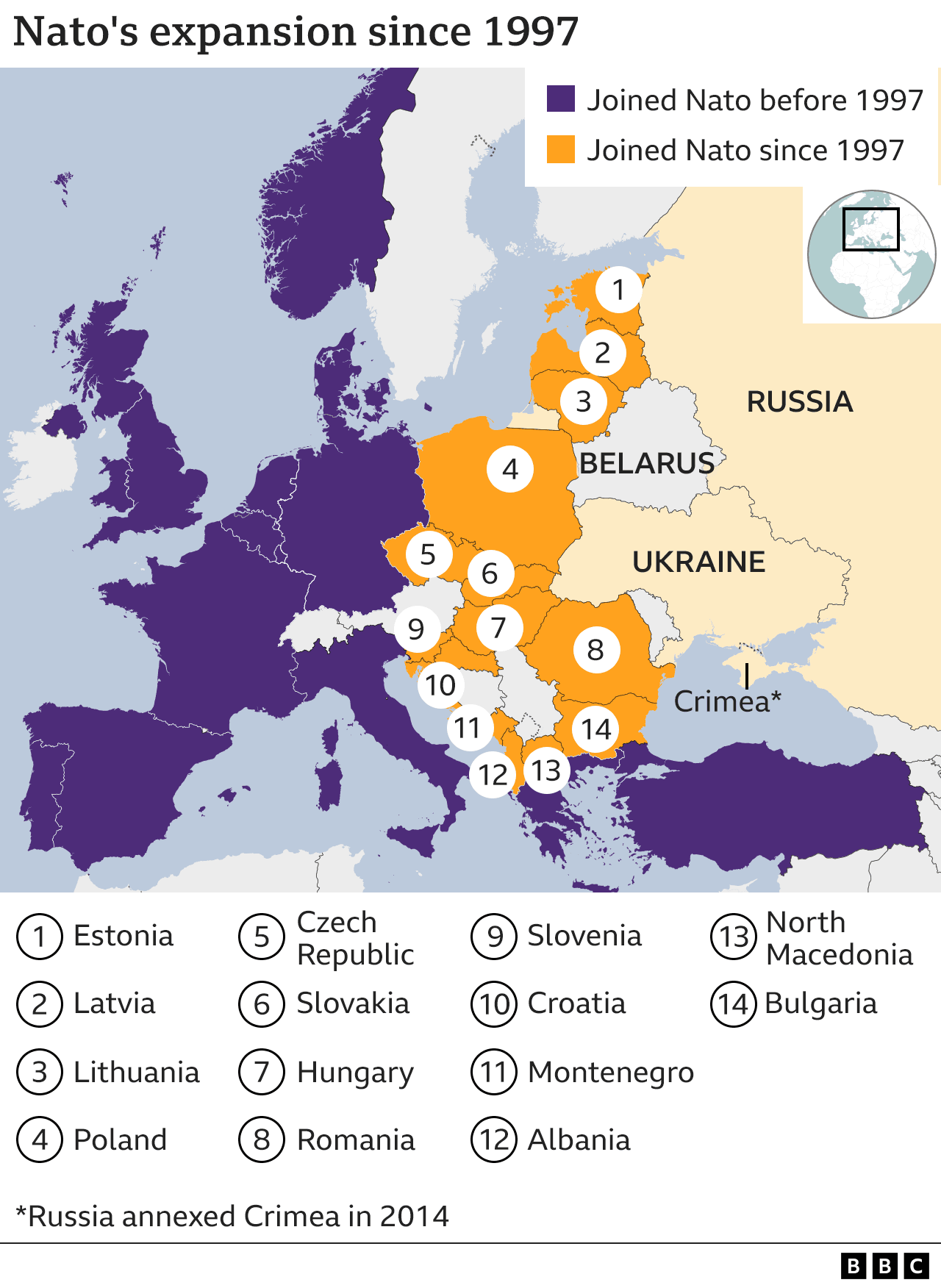 Wednesday 16th February


Some ramblings on Putin in response to my Irish correspondent's question, with reference to Putin, Xi, Stalin, Lukashenko, Mussolini, Franco, Saddam Hussein, Pinochet, "to name but a few" - "What is it in their upbringing that produces these monsters of men?"

Vladimir Vladimirovich Putin is two-and-a-half months younger than me; he was born on 7th October 1952. He was a child of the Cold War, which is generally considered to span the period from the 1947 Truman Doctrine (12th March 1947) to the 1991 dissolution of the Soviet Union (26th December 1991, when Putin was about to turn 40).

Truman said in his 18-minute speech to Congress:


"I believe it must be the policy of the United States to support free peoples who are resisting attempted subjugation by armed minorities or by outside pressures ... that we must assist free peoples to work out their own destinies in their own way ... [and] that our help should be primarily through economic and financial aid which is essential to economic stability and orderly political processes."


Sounds familiar. A red rag to the Russian bull.

Putin was 8 when Yuri Gagarin orbited the earth, 10 at the time of the Cuban Missile Crisis, 15 when the Warsaw Pact countries invaded Czechoslovakia and - it must have been a bitter blow - 16 when the Apollo 11 Eagle module landed on the moon. He can have had little doubt in his formative years of the identity of his natural enemy.

He worked as a KGB foreign intelligence officer for 16 years, rising to the rank of lieutenant colonel. The Komitet Gosudarstvennoy Bezopasnosti or "Committee for State Security" had among its responsibilities foreign intelligence, counter-espionage, guarding the state border of the USSR and combating nationalist, dissident, religious and anti-Soviet activities.

Here's the KGB emblem, a sword - attack? - in front of a shield - defence? - bearing the hammer-and-sickle: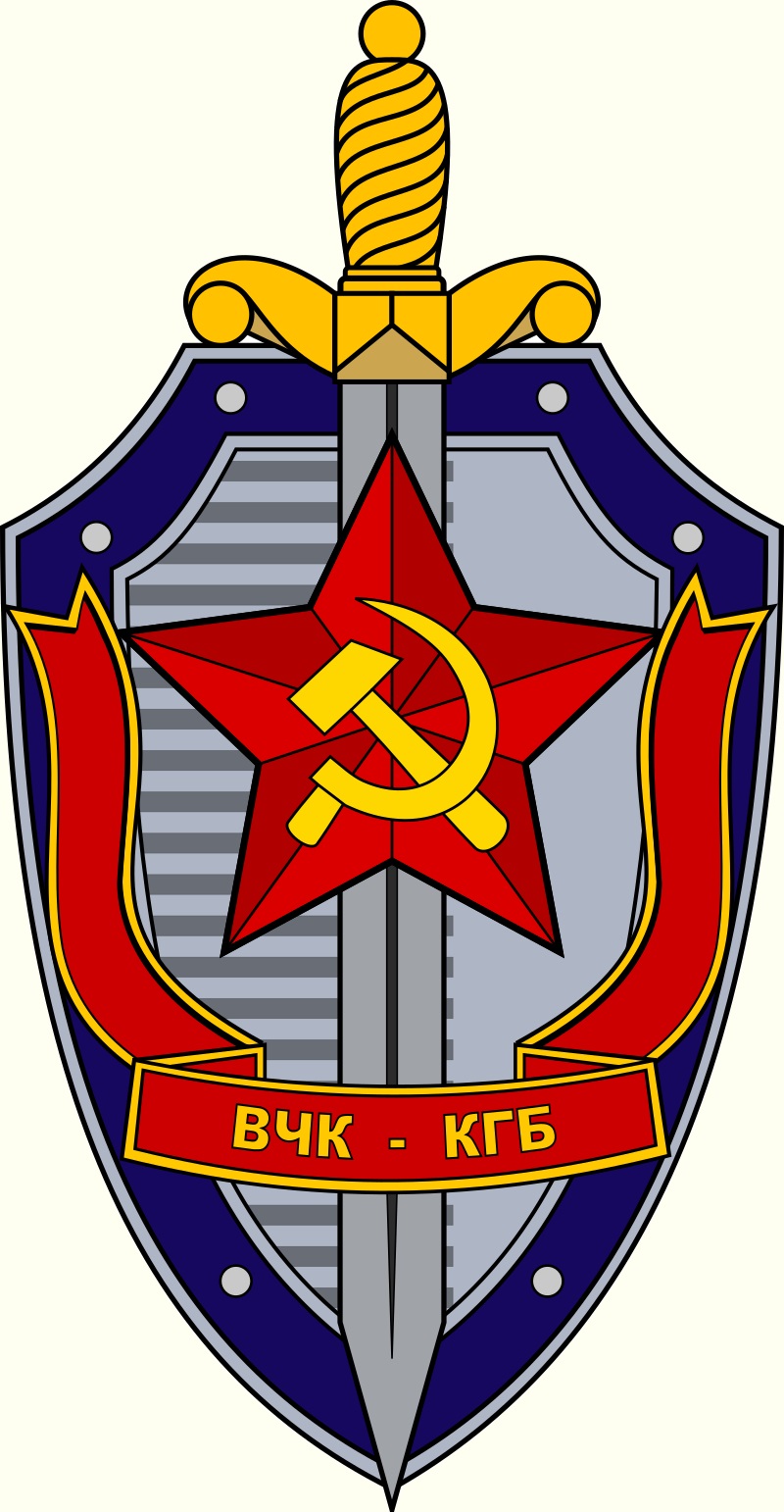 Then there's the manly pursuit of riding, fishing and shooting: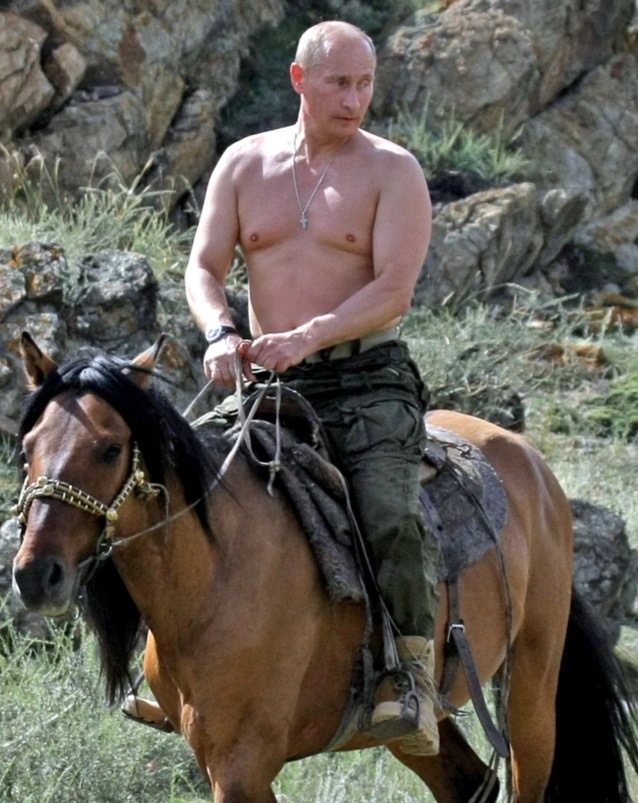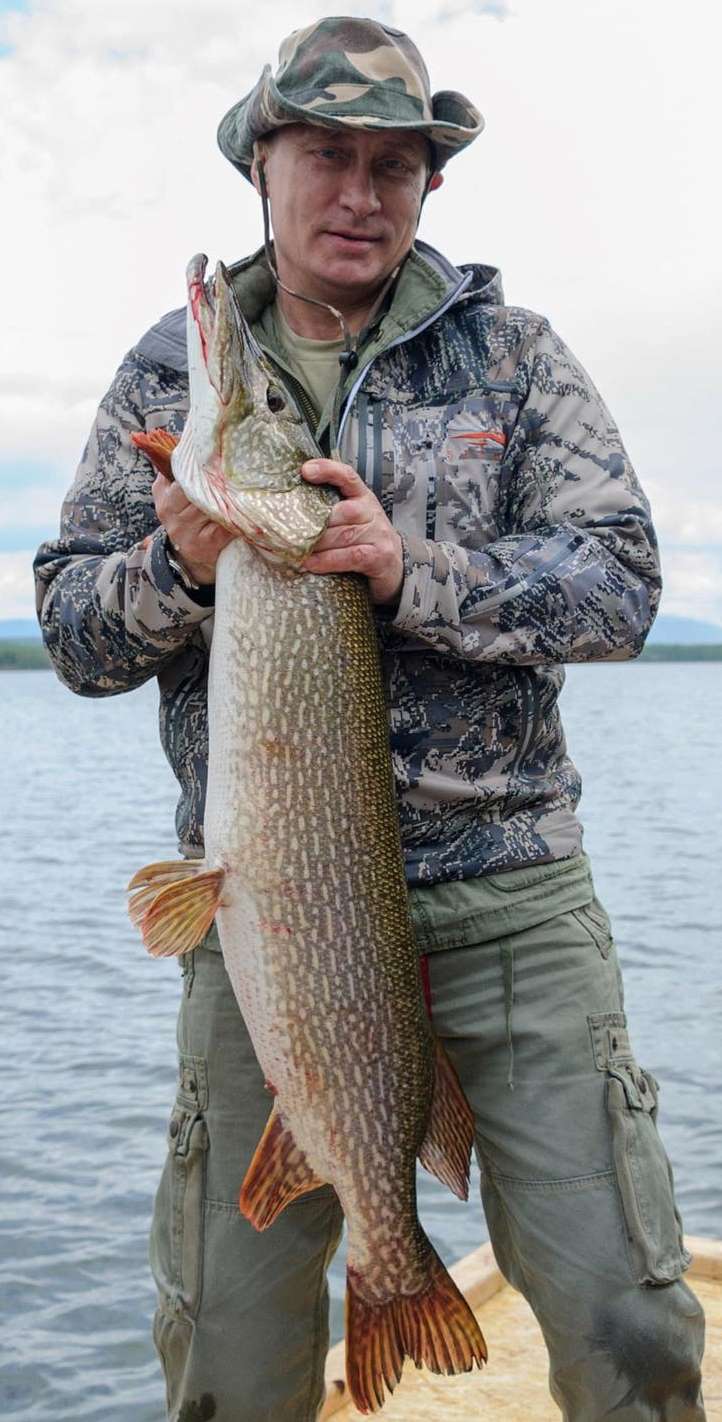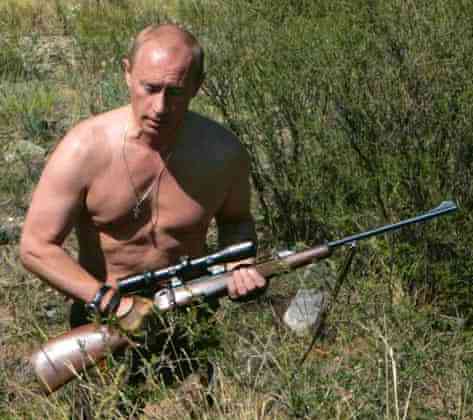 So, in his heart must lie a hankering for the old Soviet regime and its extended federation, the obligation to defend and promote its status, a deep-seated distrust of the West, the impulse to suppress any deviation from his world view, a warrior instinct to bear arms, and the vanity to flaunt his Alpha-male self-image.

Naturally peaceful and conciliatory tendencies, eh?

I'm loath to borrow from The Sun newspaper, but I can't resist this drawing of Putin's brain published yesterday (click to enlarge), just brought to my attention - I'm indebted again - by my Irish correspondent. In my words above I decided to leave out his relationship with gymnast Alina Kabaeva.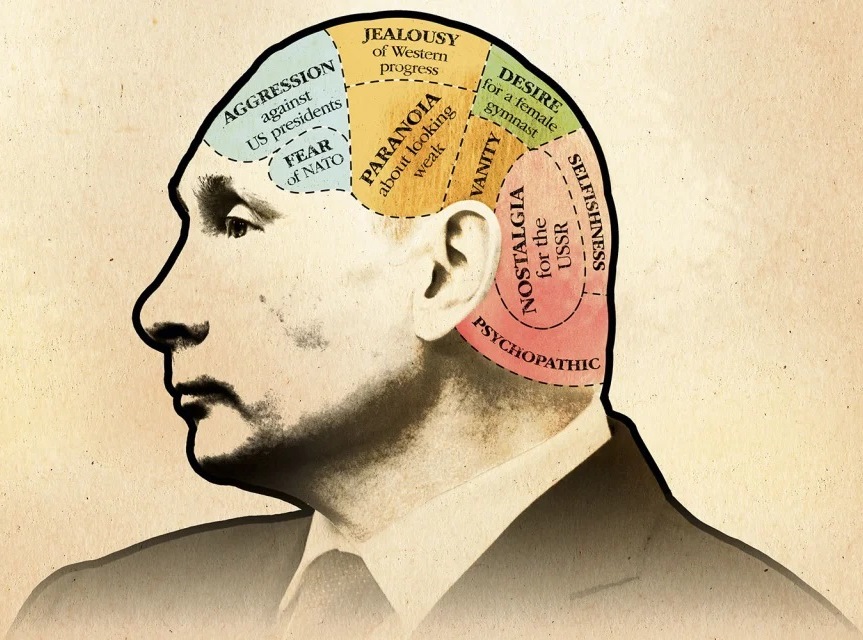 Tuesday 15th February


Power down again over the weekend, so no blog posted. It really does bring home our dependence on electricity. Fortunately, it's only been one circuit causing the problems, so we've had central heating, the cooker and main lights all functioning. But no Wi-Fi, TV and landline.

What was the main sensation induced by this? Feeling cut off, I think. So much of our experience, information and capability travels up and down the wire.

But we do have smartphones in reserve now, allowing us to catch up on news, make 'phone calls, do WhatsApp, send texts. I even watched 2 episodes of ITV's "Triggerpoint", the bomb disposal drama starring Vicky McClure of "Line of Duty" renown, as I couldn't sleep. At a potential extra cost. Virgin Media sent me this text at 3:07am on Monday morning:


"Hello! You've used up 75% of your Inclusive data for this month. If you slip over you'll pay out-of-allowance rates. For details of these or to change your tariff or buy an add-on go to www.virginmedia.com/rates."


Here are some Oldie reflections. At university we didn't have 'phones where we lived, of any kind. Remember reversed charges to long-suffering parents? When I first lived in London, I'd travel across town to see friends, and after I found they weren't at home was obliged to spend the evening all alone in the local pub. To meet up with others on European travels, you had to make arrangements beforehand and stick to them. Did you use Poste Restante? On reaching Italy in 1975, I sent a telegram to my family to let them know I had arrived safely. Here it is, retrieved from my mother's possessions after her death:




They struggled to get our surname right, didn't they? Must have been the "w", not present in the original proper Italian alphabet, available only in "loan" words like "weekend". And I promised to write a letter. Haven't done that for years, I'd struggle not to litter the text with crossings-out in the absence of a digital editing tool.

Our electrician arrived before close-of-play yesterday, having admirably responded to my text over the weekend. He couldn't detect any single culprit and came to the conclusion that the Big Switch, the RCD (Residual Current Device), was at fault. So he has removed it for a bench-test at his workshop today. It's the same story with my car. I drive it - permitted by our mechanic - with all manner of dashboard alarms lighting up in random sequence, sometimes not at all: airbags, seatbelts, service due. There's an expensive alert monitor in the steering wheel which has already been replaced once, but it's started misbehaving all over again. The specific presumed-guilty components are fine - it's the warning system that's broken.

Still, there are greater threats hovering over Europe. When I picked up my 'phone this morning, it decided to broadcast loudly a bulletin about the imminence of a Ukraine invasion, unsolicited by me. I couldn't silence the damn thing. Had to turn the 'phone off completely. Which may be an answer to our woes. Much Ukrainian opinion holds that the crisis is part-fuelled by the sheer volume of speculation circulating on the airwaves. The wolf that grows is the one you feed. Not that 130,000 troops are an illusion.

There was a very good article in last Friday's New Statesman by Jeremy Cliffe titled "How Russia's neighbours are turning against Putin", analysing the - relatively recent - historical and geographical context. Here it is: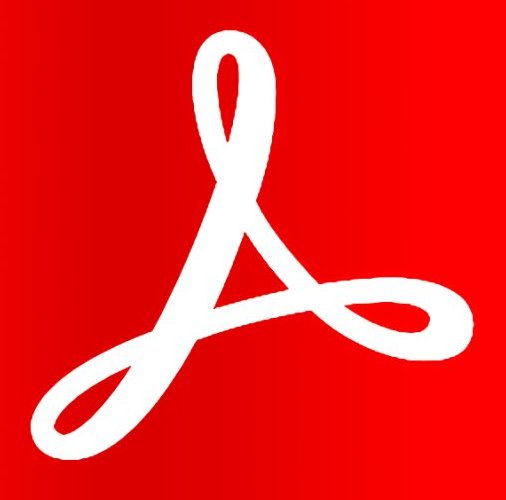 .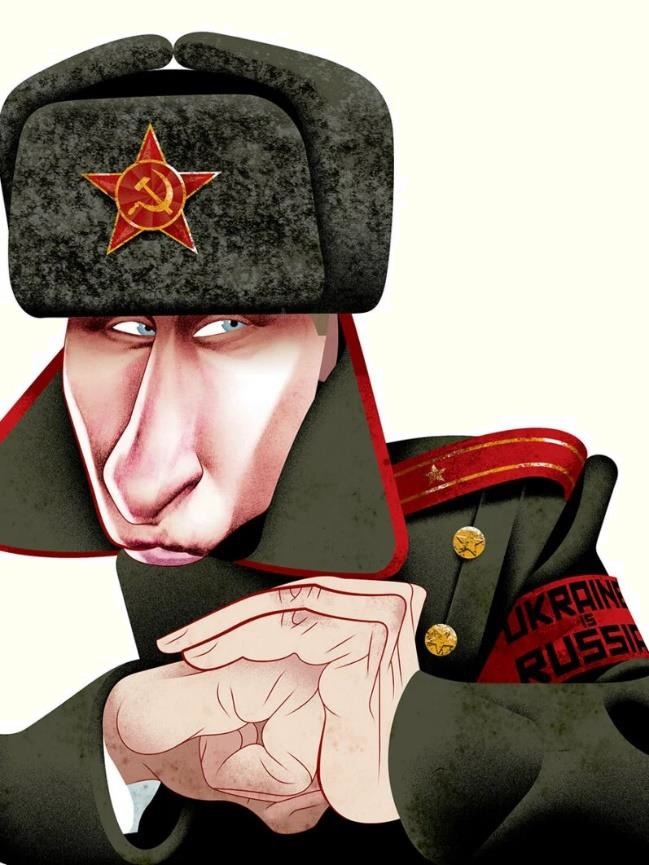 Saturday 12th February


I was gobsmacked.






Dale's tweets show that he recognises the improbability of this conversation. If you've watched the video now, what do you think? There's something strangely balanced about Farage in this exchange. Although he challenges conventional wisdom about electric cars and the renewables industry - I've written in these pages about our continuing and growing greed for things electrical - it feels like he's trying to do a proper job as a dispassionate interviewer. He even acknowledges that he has interrupted Vince and invites him to carry on. I've not seen that before.

The Zerocarbonista will talk to anybody who's prepared to listen. He has already partnered with the Daily Express to promote grass gas - see this blog's coverage here 👉. I have some sympathy for such an approach - open-minded, innit? As Obama said at COP26 (his speech was one of the few good things to come out of that event): "We have to persuade people who either currently don't agree with us or are indifferent to the issue."

Fun for the day: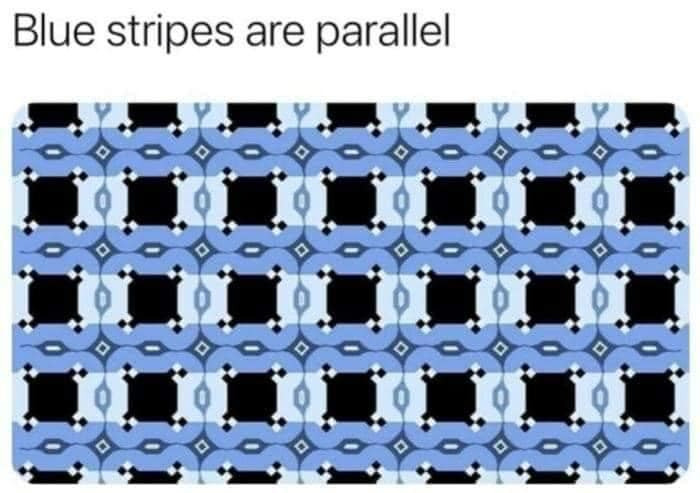 Friday 11th February


So Cressida Dick is standing down. The second casualty of this blog, I think, after Trump. My loyal readers must have influence well beyond their numbers. But I was going to write about something else ...

One of the ways I get through the second half of the British winter, and begin to anticipate the arrival of my favourite season, is by following the rugby union Six Nations championship.

This year it has started badly for England as they lost to Scotland last Saturday in a nailbiter at Murrayfield, indeed possibly threw the game away with an act of indiscretion. I did however, as I always do to mitigate the potential pain of defeat, place a bet on Scotland and hence won the princely sum of £12.50.

In contrast, Ireland enjoyed a handsome victory over Wales in Dublin. Which brings me to the nub of this post.

In 1972 the Five Nations - as it then was before the admittance of Italy - was never completed, the first and only time in its history. In the aftermath of Bloody Sunday on 30th January, the decision by Scotland and Wales not to play in Ireland meant not all the fixtures were fulfilled.

The following season, on 10th February 1973, England played in Dublin despite continuing concerns and threats, and received heartfelt praise from the Irish, including a standing ovation at the start of the game.

Ireland won 18-9. At the post-match dinner, England captain John Pullin said in his speech: "We may not be very good, but at least we turn up." The second ovation of the day.

Tom Grace, who played in the game and was Honorary Treasurer of the Irish Rugby Football Union (IRFU) for 13 years before retiring in 2020, said: "It will never be forgotten, because on that day they probably saved the future of Irish Rugby". Syd Millar, former President of the IRFU and once Chairman of the International Rugby Board (IRB), added: "I don't know we could ever repay them for it."

Filmmaker Luke McManus released a documentary about the game in 2019, titled "The Team That Turned Up". Here is an introductory snippet:




Always an honest man, Pullin later confessed in a 2007 speech at the Ireland Funds Gala Evening to a less altruistic reason for his presence in Dublin that day:




The remark never left his side. He died a year ago last weekend on 5th February 2021. Here's the cover of his biography published in 2019.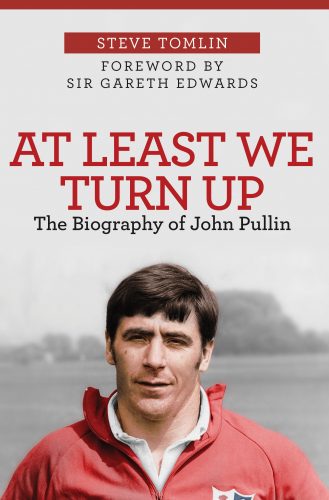 At this point I'm going to leave the beaten snow and ramble off-piste, drawn by local connections and personal whimsy. If rugby's not your thing, nor my affection for the A38, you may want to leave now. But if you've got time, feel free to read on. I do get back to today's main theme at the end.

Pullin combined farming and rugby in those amateur days. He played for Bristol, although his family livestock farm was in the village of Aust on what the BBC's Chris Howells (BBC Sport Wales website yesterday) called the "Gloucestershire coast". Eh? The Severn Estuary, perhaps, leading to the Bristol Channel, but it's still the River Severn at Aust, isn't it? It's certainly not seaside, or at least not any that I'd pick for my summer holiday. Un-Mediterranean bathing, and a genuine risk of perishing in the mud. I've read somewhere that the Pullin farm was (is?) on the Welsh side of the water, although still in Gloucestershire - but I can't confirm that, and can't find evidence of the village on both sides. There was a car ferry at Aust before the Severn Bridge was opened in 1966 by the Queen. Here's a picture of it, and the bridge under construction in 1964, with no roadway yet.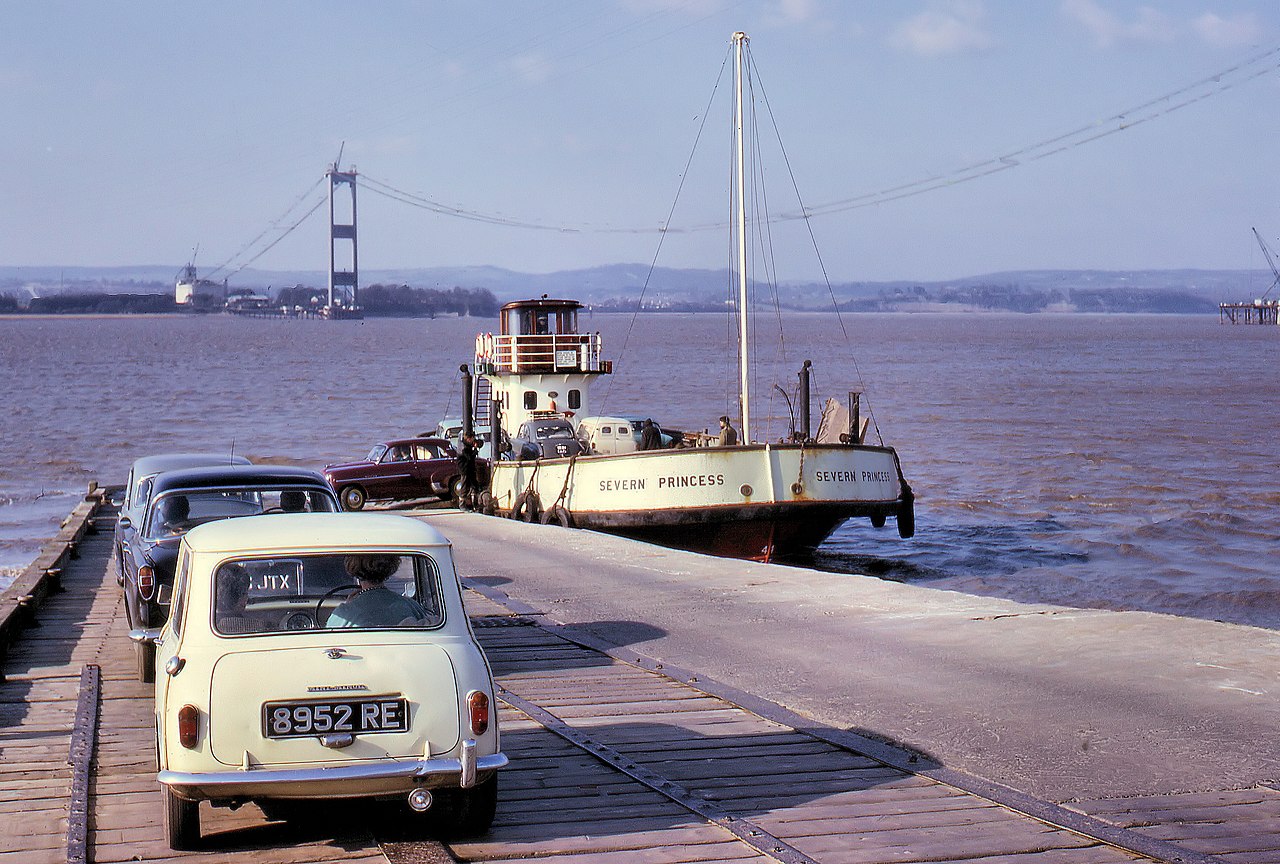 I wonder if the ferry crew had started applying for other jobs.

I always like to go to South Wales or the Forest of Dean via Aust and this old bridge, down the back roads from the A38. That's partly because I think of the A38 as "my road". I was born just off it in Edgbaston. It passes - I mean the real original thoroughfare, as you're now routed round endless ring roads - fewer than 100 yards from my childhood home in the centre of Worcester. Then on it goes through the hearts of Gloucester, Bristol, Taunton, Exeter, Plymouth. There was no M5 - as far as I know, the only motorway built primarily for holiday traffic, conceived to alleviate the volume of Brummies heading to Devon and Cornwall during the summer months - that far south until the mid-seventies. When I was very young, younger than memory really permits, we would drive down the A38 through the night in our black Morris 8 to Cornwall. My father - a skilled carpenter - had built bunk beds for my sister Vicky and me, which replaced the front passenger seat. Our mother sat behind father, Indian file.

Right, back to John Pullin. He had turned up only two weeks before the Ireland encounter representing the Barbarians against the New Zealand All Blacks - and featured in the extraordinary passing movement within minutes of kick-off that led to "That Try", the only Englishman to do so. Here it is, acknowledged widely as the greatest ever scored.




Did Phil Bennett manage to sidestep you? Not only did he bamboozle the onrushing Kiwi forwards, but also the cameraman - and certainly me. The Barbarian matches are usually played in Corinthian spirit, set apart from the deadly seriousness of international rugby. Bennett has acknowledged this, saying than in any ordinary Test match, had he been playing for Wales, he would have kicked the ball into touch, hopefully around the half-way line. Gareth Edwards, who arrived like a train to score the try, said he was only running that fast because he was trying to catch up with play. The game had started at a frenetic pace, Gareth said they were all "blowing a bit", and they could have done with a rest - which a Bennett kick into touch would have provided. In fact, you can see John Pullin delay his pass to John Dawes because Edwards is in the way, standing still, facing in the wrong direction. So when Gareth saw the movement gathering pace up field, he thought he'd better get cracking and chase after the rest of them in case he was needed.

And back to the 1973 England visit to Ireland. Here's the legendary Irish and British Lions captain Willie John McBride:


"They were horrible days here in Northern Ireland. You just didn't know what was going to crop up next. There were murders, there were people disappearing, there was great unrest everywhere. They were ugly, ugly years. It was 30 years of my life that really were destroyed and I'm not the only one who could say that. It's something that still stirs up a lot of feeling in some rugby corners that those two games in 1972 were never played. Even outside rugby, people would tell you how disappointed they were. Everybody was so keen that England came and we were absolutely thrilled. I think it was very, very important for the whole country."

Thursday 10th February


After enjoying a diversion from the declared (sub-)themes of this blog, I feel refreshed enough to look at a big issue of the day. Something to do with climate - or related, namely the energy crisis. Probably because it makes me cross.

Three headlines from yesterday: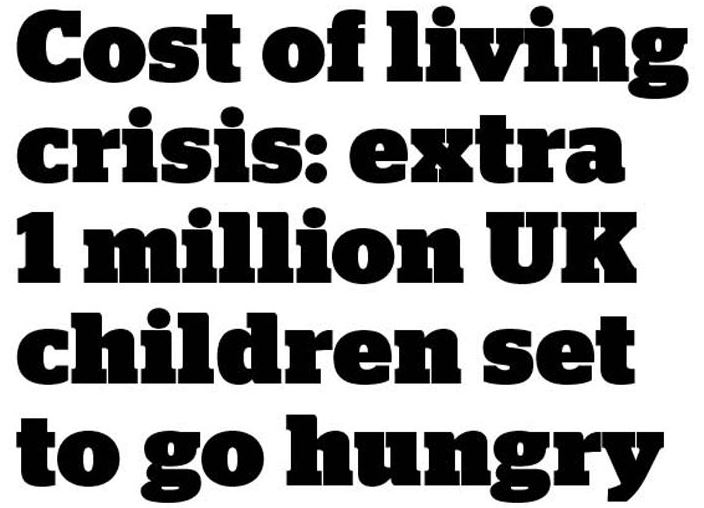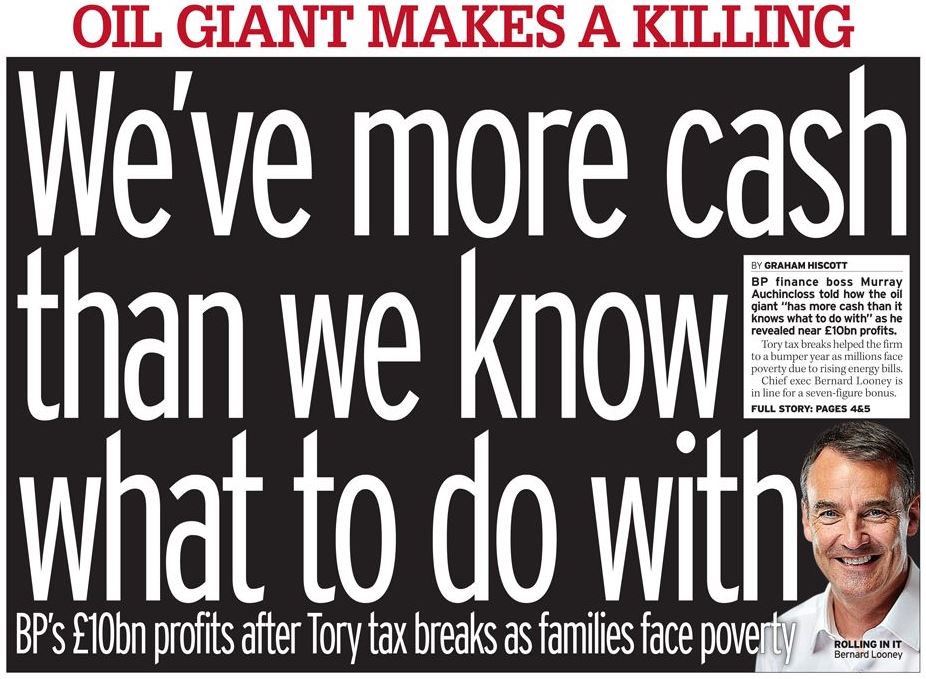 Meanwhile, I can't resist noting what the Daily Star - as ever, finger on the pulse - judges to be important. Mind you, if such concerns are at the top of your list, maybe everyday life is less troubling.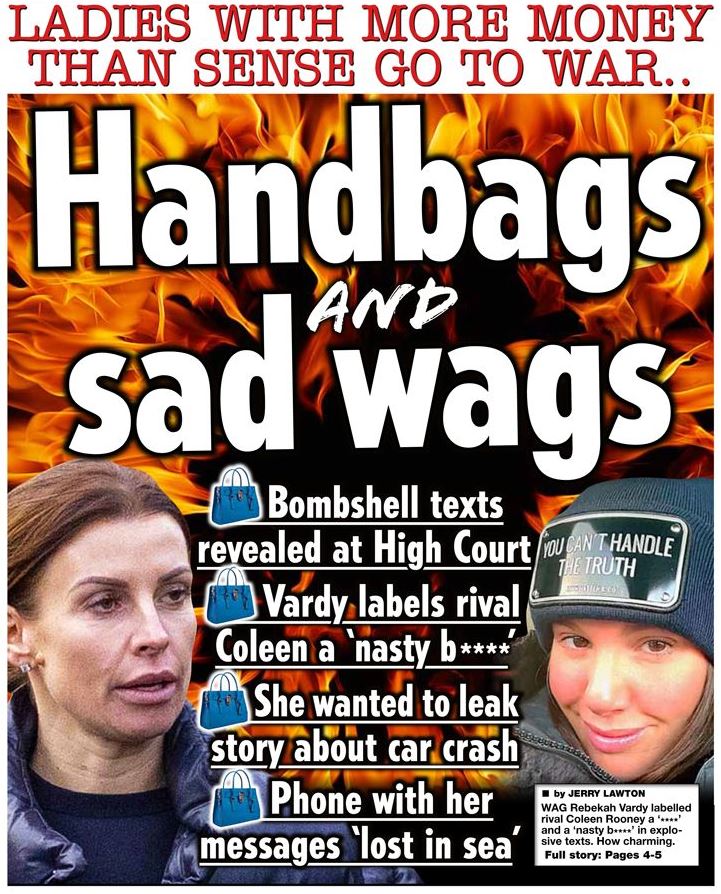 Whether windfall or wag, it's all out of whack, isn't it?

Plenty of comment from Stroud's Dale Vince, highly critical of the North Sea bonanza and overall government strategy.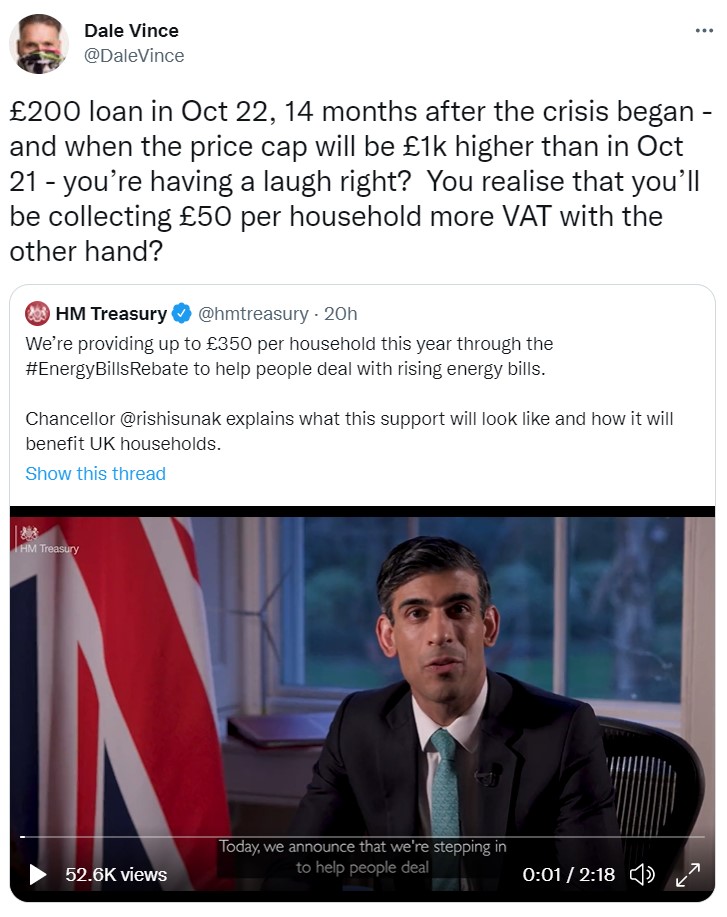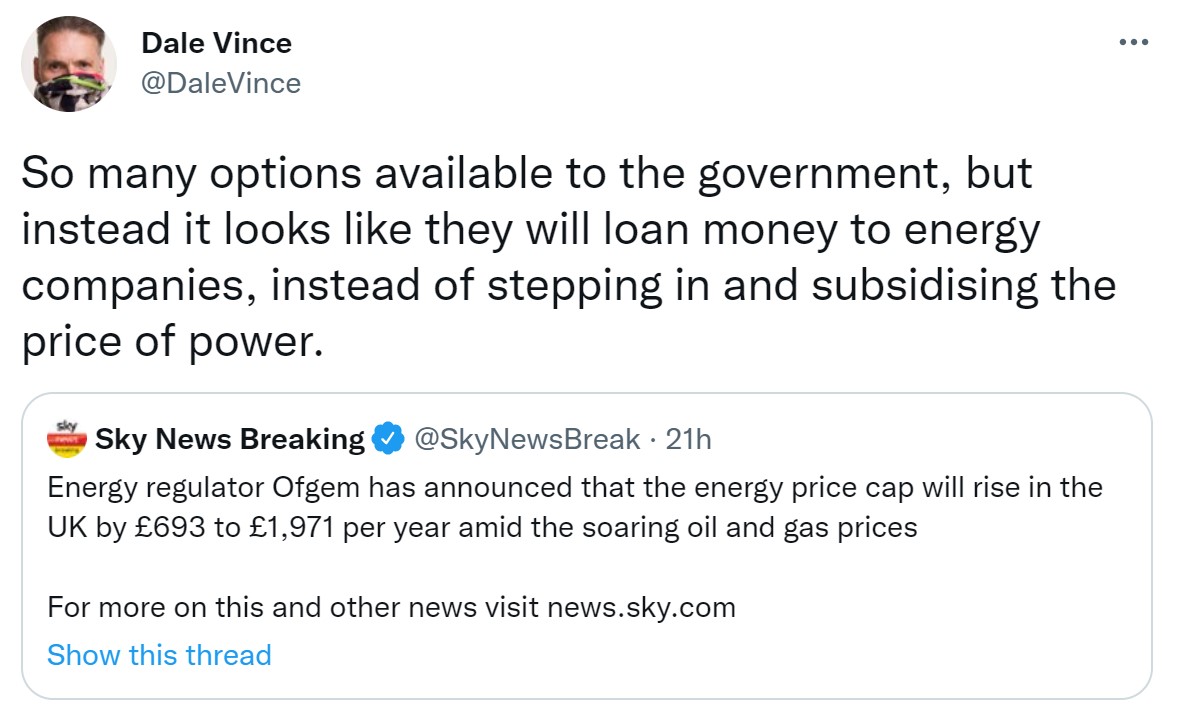 What about my energy bill, Dale? I sent an enquiry to his company two days ago:


"What will happen to our Ecotricity bills in April? What price increases do you have planned?"


Here's the reply:


"Thanks for your email. We'll get back to you as soon as we can. We're sorry if this takes us a little longer than normal. With the energy sector being so much in the news recently, we've received a lot more contact than usual."


Everybody seems busy these days. How often are you not in a 'phone queue?

Wednesday 9th February


Yesterday was odd, but also illuminating in how I spent my time. I didn't go out until 10pm - which I can't explain - to drive down to the Stroud Subscription Rooms to pick Sarah up and meet friends in the bar after they'd attended a film that I didn't want to see.

There's no hope of conducting a full life in this way. I did however have some very enjoyable moments. All experienced in a lingering lockdown virtual world, enabled by those ever-present technologies: email - fading now; do you use it as much? - WhatsApp, YouTube, Instagram, SMS (also fading), the general sharing of internet URLs and digital images. I was acutely aware on Sunday following our domestic electricity failure how much I rely on them all. I was stripped of habitual communication when the power went down, particularly the ability to research the questions rattling round my head. My still-functioning smartphone rescued me to a degree, but I felt short of the full toolkit. No surprises here - we know about our dependence on energy sources - but I was surprised by the almost physical sense of loss.

The other difference to yesterday was that I didn't consume any news at all until a brief engagement with Channel 4 around 7:15pm. Very refreshing. I actually felt released from all the emotional challenges that news brings: anger, dismay, sadness, disbelief, sometimes delight. Not that this approach can continue for very long - in fact, it's over - as I also had a sense of growing disconnection as the hours passed.

I've picked three pleasure points.

Our Middle Street WhatsApp group delivered this message:

"Would anyone like a bottle of pink cherry gin? Unwanted Christmas present. Can leave outside hidden for collection."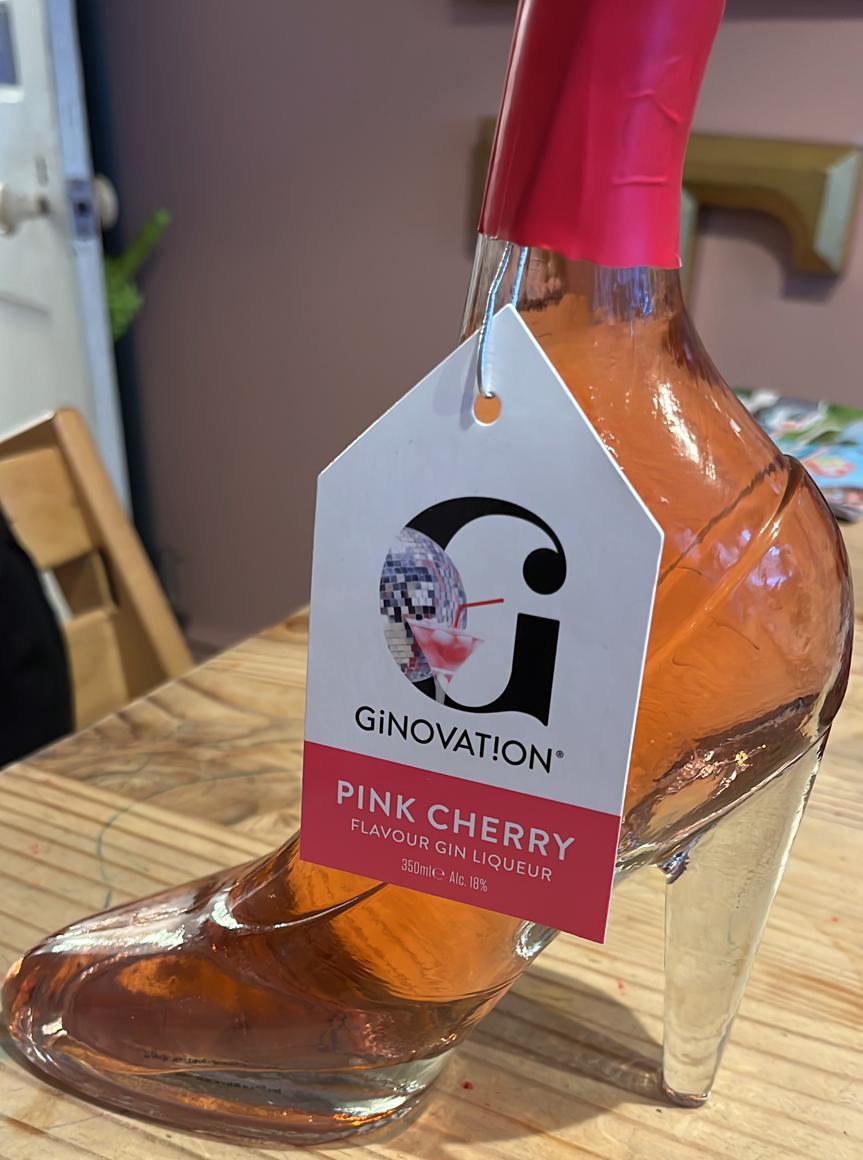 So far, nobody has taken up the offer. What sort of mind would devise this? As a commercial proposition? Or just at all?

My exchange with friend Aidan about Tom Waits extended - over WhatsApp - to other musical passions, mostly connected to the blues. I've written about the late BB King here: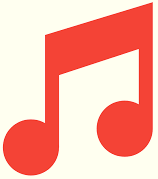 . Aidan shared a delightful tribute to the great man, a biog-strip by Sussex friend, designer and illustrator Michael Munday.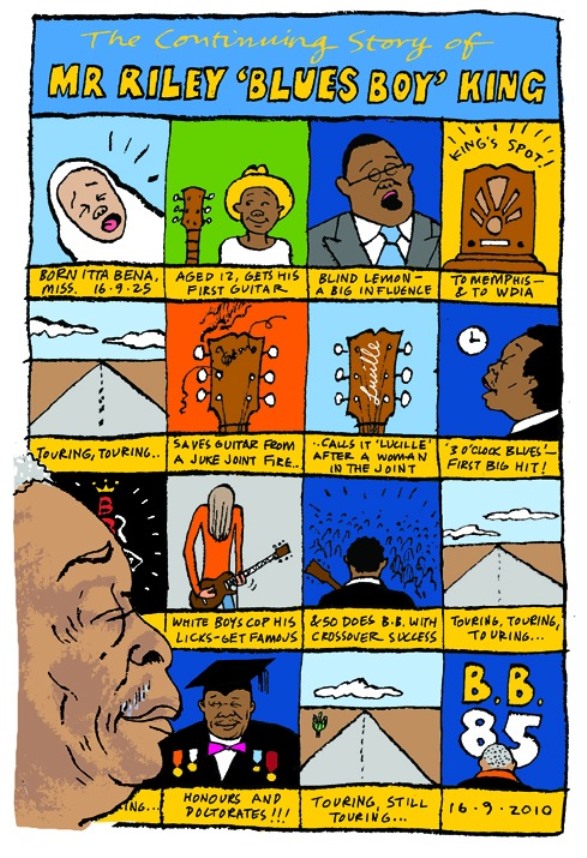 Lovely. One final frame remains, of course, BB's passing on 14 May 2015. So sadly not continuing.

My Irish correspondent sent me a link to an article by County Wicklow comedian Dara Ó Briain (Mock the Week) in the Irish Examiner. Titled "Culture That Made Me", it reviewed the influences on his life and work. Eddie Izzard is one. Ó Briain wrote:


"I remember the first time I saw Eddie Izzard do 'le singe est sur la branche' (the monkey is on the branch) at the Montreal Just for Laughs, a routine about how he learned that phrase. The whole thing is about: how can I contrive a situation where I could use that phrase? Would I have to bring a monkey with me and place a monkey in the tree and then, say, go to the guy in the hotel reception: 'Yeah, yeah, that's my name and by the way, 'le singe est sur la branche'?'"


Here's a video of the routine:




My correspondent commented:


"As a French teacher who started learning the language from textbooks that had been written in the 1920s, I have always loved that Eddie Izzard clip. I confess that when teaching French prepositions, I used 'le chat est sur/sous/devant etc la table', partly because a cat is one of the few animals I could draw on my worksheets, and I did demonstrate with a black furry toy cat and the teacher's table."


Back to the top of this post. In the Subscription Rooms bar I was talking to friend Dave. He's a loyal reader of the blog. I realised I was telling him stories or expressing views that I had already written here - and so he'd heard them before. I'll say it again - it's time to get out more.

Tuesday 8th February


More digressional stuff. It's the birthday of my loyal reader, dear friend and neighbour Alf Florio. Happy birthday, Alf 🍾🎂🎈 This lot is for you - a bit mad, but I hope it provides some interest.

My friend Aidan directed me to this collection of interview snippets with the great Tom Waits, American musician, composer, songwriter, actor and perfect nutter.




A touch contrived, Tom? He's a Marmite Man. I do like: "Reality is for people who can't face drugs." You wouldn't want more than one Tom Waits, but the one we have is a treasure. I forgive him everything.

Here is "Way down in the Hole" - bonkers, an almost unhinged homage to gospel blues. I was inspired to sing it in our band The Love Vultures some years ago. Our version was OK, but it never came close to this.



When you walk through the garden
You gotta watch your back
Well I beg your pardon
Walk the straight and narrow track
If you walk with Jesus
He's gonna save your soul
You gotta keep the devil
Way down in the hole

He's got the fire and the fury
At his command
Well you don't have to worry
If you hold on to Jesus hand
We'll all be safe from Satan
When the thunder rolls
Just gotta help me keep the devil
Way down in the hole ...

... All the angels sing
About Jesus's mighty sword
And they'll shield you with their wings
And keep you close to the Lord
Don't pay heed to temptation
For his hands are so cold
You gotta help me keep the devil
Way down in the hole ...


He can do tender as well. Here's "Jersey Girl":



I got no time for the corner boys
Down in the street making all that noise
Or the girls on 8th Avenue
'Cause tonight I want to be with you

Tonight I'm gonna take that ride
Across the river to the Jersey side
Take my baby to the carnival
And I'll take her on all the rides

Down the shore everything's all right
You and your baby on a Saturday night
Don't you know all my dreams come true
When I'm walking down the street with you ...

... Nothing else matters in this whole wide world
When you're in love with a Jersey girl ...


Much of his image is stage persona. He keeps his personal life very private. He has been married to Kathleen for 42 years and they have three children: Kellisimone (39), Casey (37) and Sullivan (29). I wonder how they've replied to the question: "What does your Dad do?"

Monday 7th February


An enforced rest yesterday as an electrical circuit tripped constantly and knocked out computers and Wi-Fi.

This is what I would have posted, lighter material to offset our normal daily fare:

Congratulations to the Queen on the 70th anniversary of her accession to the throne. She has worked with 14 Prime Ministers (Harold Wilson twice, so 15 in separate office). I have known only one monarch - which she became 6 months before I was born.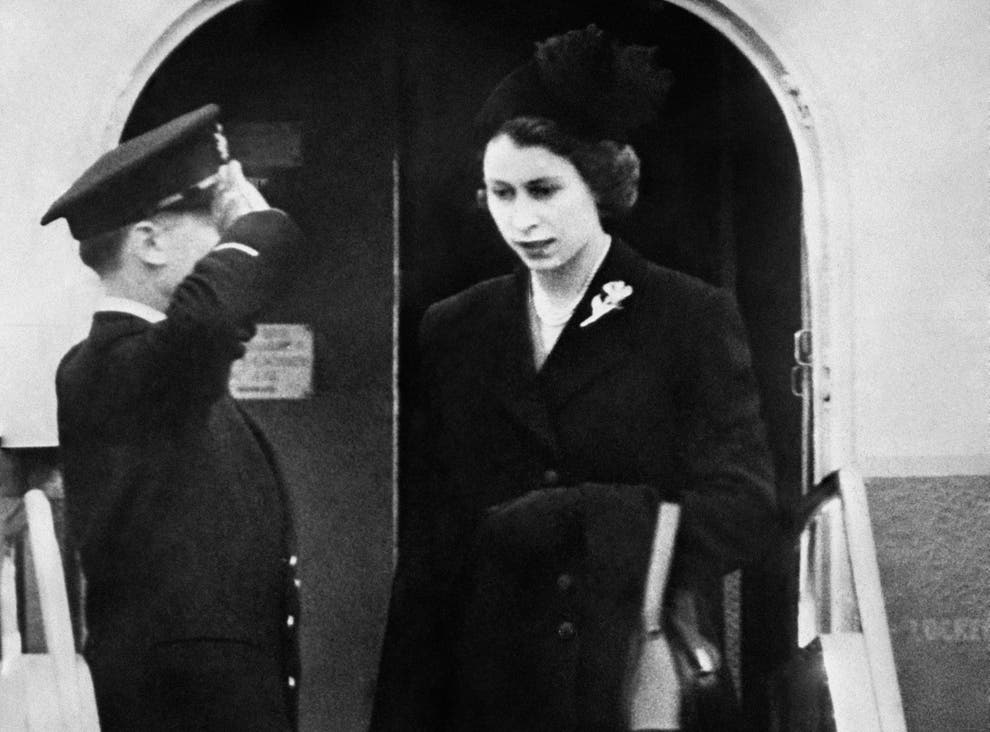 My Irish correspondent drew my attention last week to St. Brigid's Day, Lá Fhéile Bríde, commenting: "Her feast is going to be a public holiday in Ireland from next year [on 1st February]. High time St. Patrick had a female challenger."

Here's a picture of the iconic Brigid's cross, Cros Bríde. Usually woven from rushes, it typically has four arms tied at the ends and a woven square in the middle; there are also three-armed versions. They were often set over doorways and windows to protect the home from any kind of harm.




Raidió Teilifís Éireann (Radio Television of Ireland) reported:


"To celebrate the creativity and talent of women on St. Brigid's Day 2022, the Irish Traditional Music Archive and the Department of Foreign Affairs have collaborated to commission three talented and emerging traditional musicians to compose new works inspired by lore relating to St. Brigid.

"Síle Denvir, Cailtín Nic Gabhann and Louise Mulcahy spent time in ITMA's library researching music, history and folklore relating to Brigid. They also visited places associated with Brigid in Kildare. Once sufficient creative impetus was found, they set about composing a new song, melody and dance."


Here's a charming pipe piece, with an introduction by composer and player:


"Uilleann piper/flute player Louise Mulcahy's new composition, Port Naomh Bríd/St. Brigid's Jig, celebrates St. Brigid, her legacy and her important connection with nature and the environment."




Saturday 5th February


The AC-12 team interview Boris ...




... and Cressida Dick ...




"Change is good", says Boris. First Peppa Pig, now philosopher monkey Rafiki. Unimpeachable sources of inspiration for our leader.

Friday 4th February


It's hard to believe what a mess Downing Street has become. Its greatest current value - as the cartoons I've posted on these pages testify - would appear to be comedic. Gallows humour. And the world knows it.

The PM, after apologising twice in the House of Commons, clearly felt that another sorry was one too many. His latest perceived transgression came in Monday's debate on Sue Gray's report with the dig at Keir Starmer, when he said:


"This Leader of the Opposition, a former Director of Public Prosecutions ... spent most of his time prosecuting journalists and failing to prosecute Jimmy Savile, as far as I can make out."


So yesterday his head of policy Munira Mirza, a loyal Johnsonian of 14 years' service, resigned and wrote:


"I believe it was wrong for you to imply this week that Keir Starmer was personally responsible for allowing Jimmy Savile to escape justice. There was no fair or reasonable basis for that assertion. This was not the usual cut and thrust of politics; it was an inappropriate and partisan reference to a horrendous case of child sex abuse. You tried to clarify your position today but, despite my urging, you did not apologise for the misleading impression you gave.

"Even now, I hope you find it in yourself to apologise for a grave error of judgement made under huge pressure. I appreciate that our political culture is not forgiving when people say sorry, but regardless, it is the right thing to do. It is not too late for you but, I'm sorry to say, it is too late for me."


Mirza is married to Dougie Smith, who has also worked in Downing Street as a strategist and researcher. In an earlier life he was co-founder of Fever Parties, an agency which organised swingers' orgies for up to 50 couples at a time from London's fast set, often in Mayfair town houses. Oh dear, now I've become a scurrilous tabloid commentator.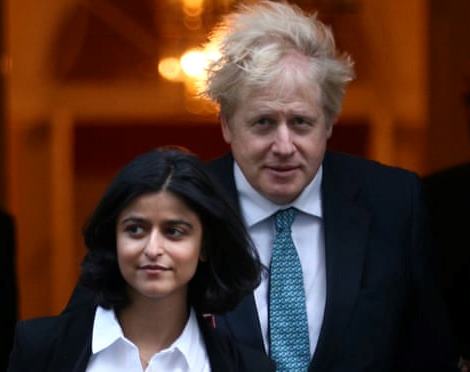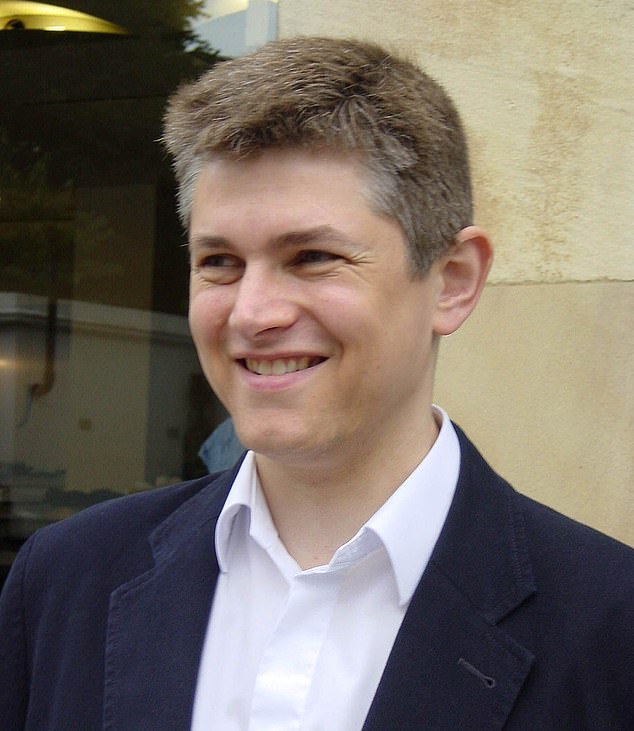 Are the qualifications for landing a job at Number 10 substantially different to those normally required for posts of civil responsibility and probity? #PartyGate doesn't seem so surprising any more.

Heads rolled yesterday behind the famous black front door, but guess who's staying?

Thursday 3rd February


There's plenty more to come on #PartyGate, but I'll go easy today.

It's not just the British poking fun at Boris. European cartoonists are enjoying themselves too.

Here's one from Patrick Chappatte, a Lebanese-Swiss illustrator known for his work in Le Temps and Der Spiegel. The PM is saying: "We have always worn masks in Downing Street."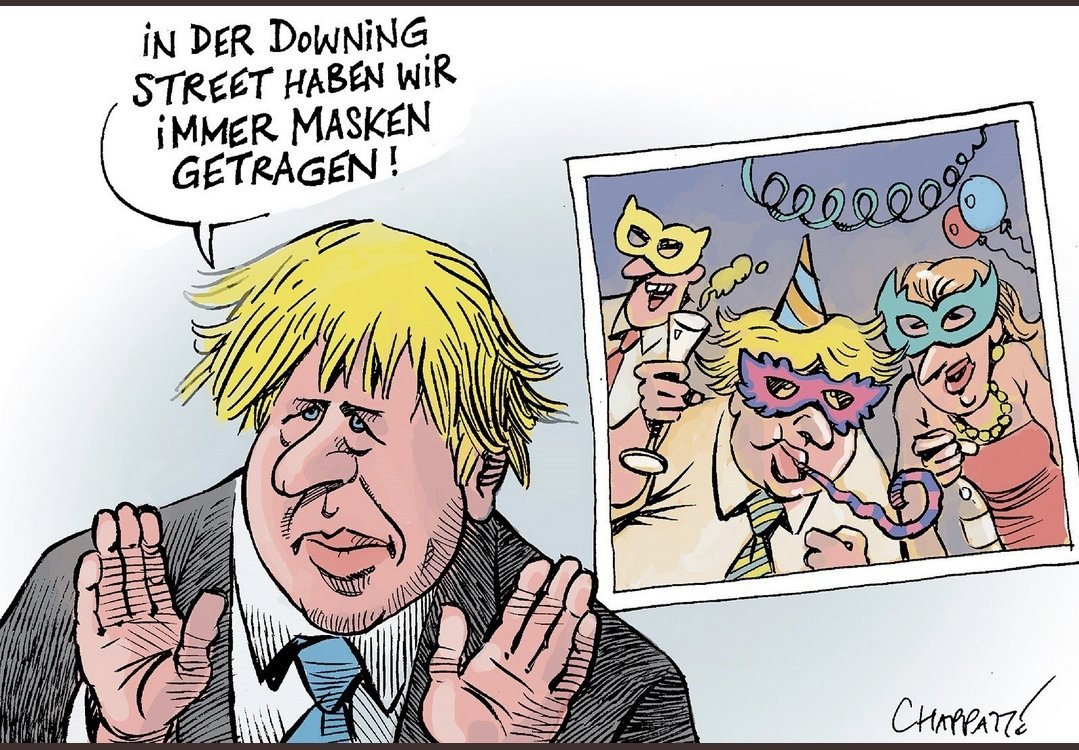 And from Vincent Di Silvestro in the Swiss Le Courrier. "British Police are investigating the parties at Downing Street. 'Could you come back later? We're in a business meeting.'"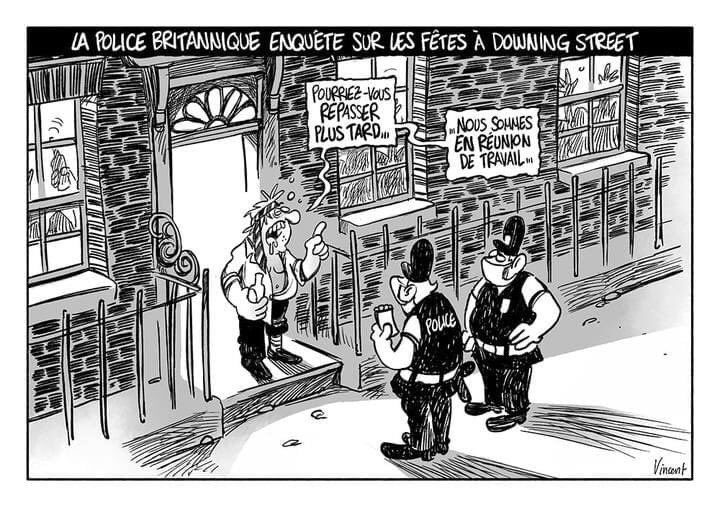 I know I post a lot of cartoons. In my defence, there is a reason. They get right to the heart of #AmbushedByCake and other absurdities, and at least allow me a giggle in the face of what appears to be a disturbing parallel universe.

If you want words on the topic, and you didn't watch the TV coverage, go no further than the Hansard transcript of last Monday's House of Commons debate on the Sue Gray report: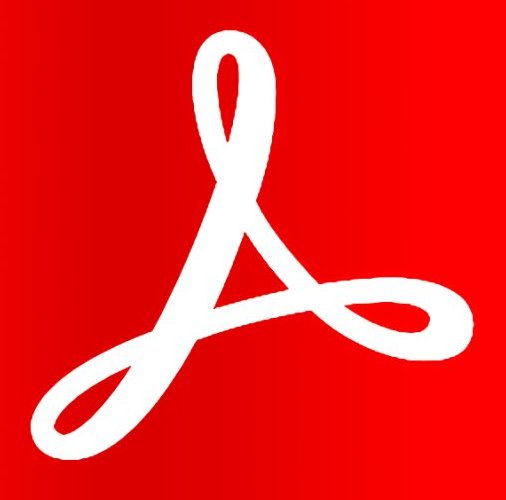 . You won't want to read all 50 pages ... I have, and I need to get a life ... but maybe Boris's opening statement - hmm, we all know there's a problem with apologising too often - and Keir Starmer's vigorous character demolition of the PM.

I'll allow myself one snippet from the proceedings, as Boris responded to criticism and promised change:


"Mr Speaker, I get it and I will fix it. I want to say to the people of this country: I know what the issue is. [Hon. Members: "No!"] Yes. [Hon. Members: "You!"]"


And one more cartoon, from Brian Adcock in The Independent: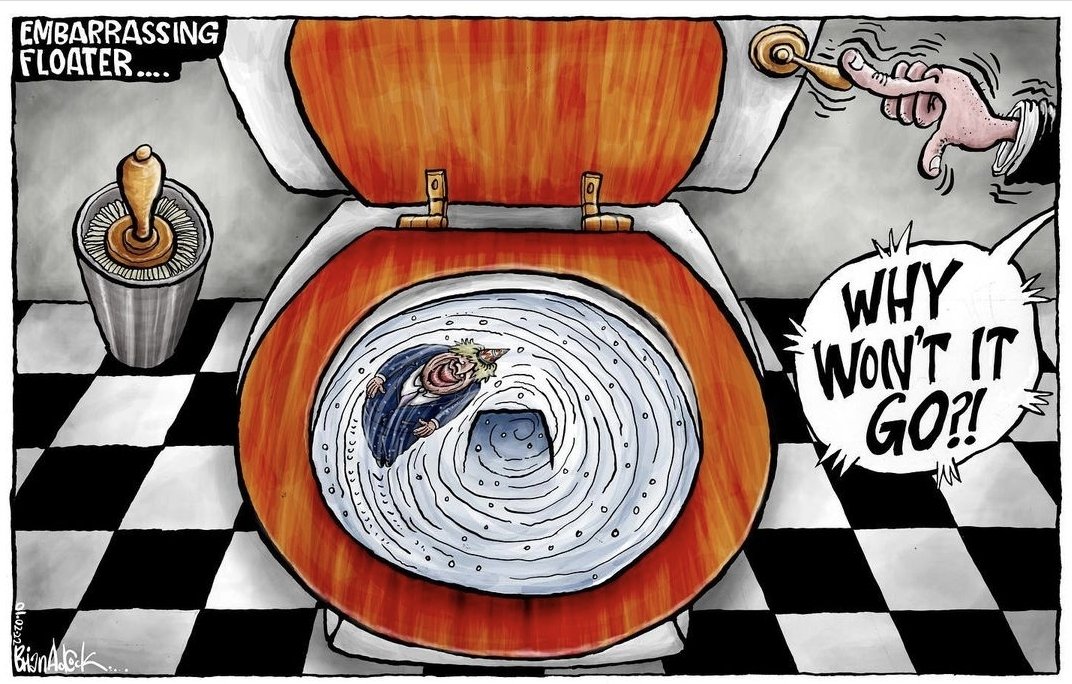 Tuesday 1st February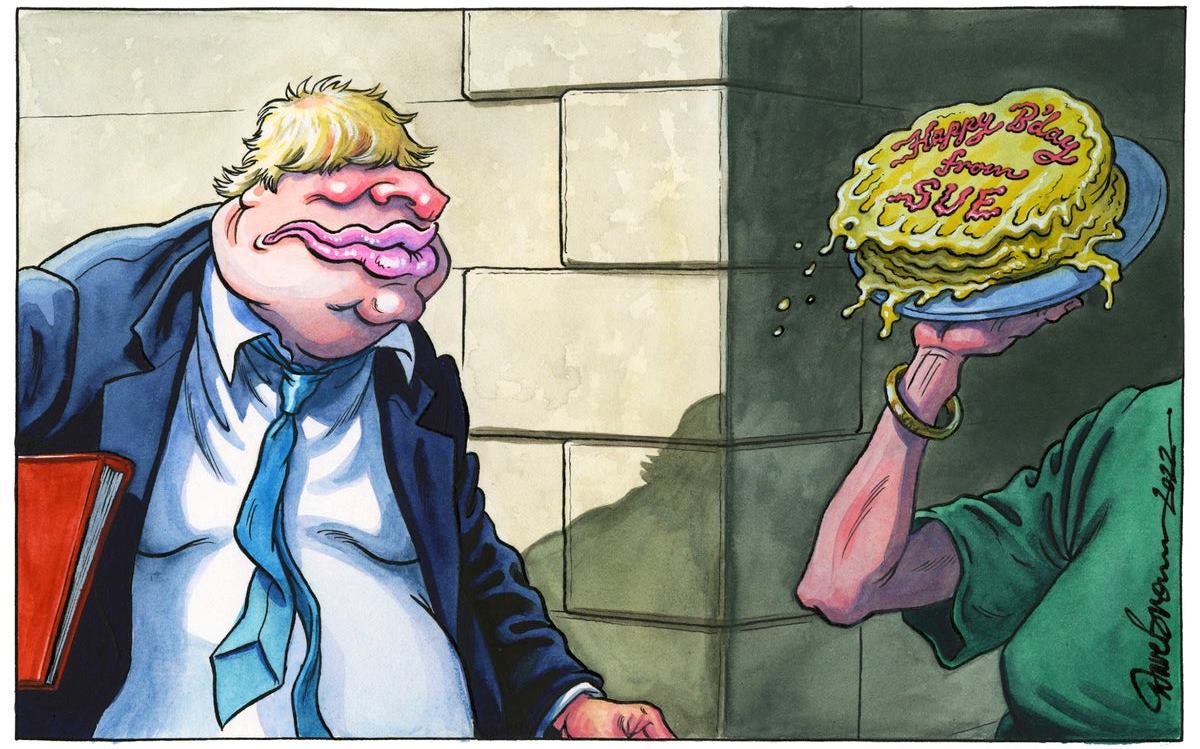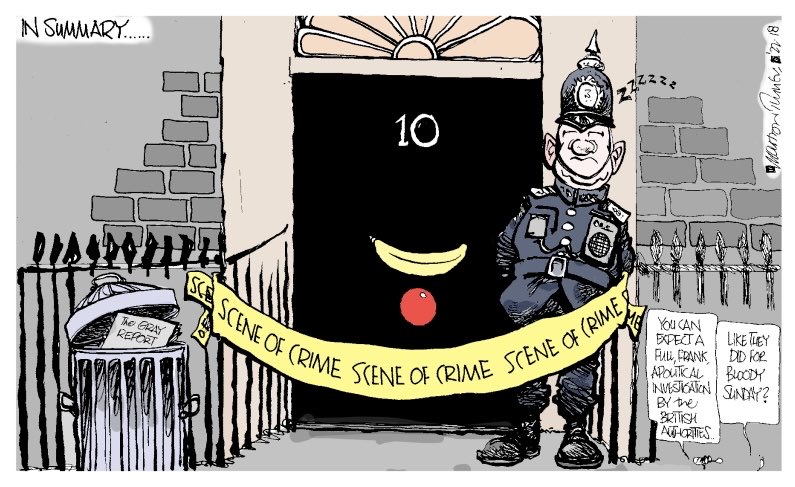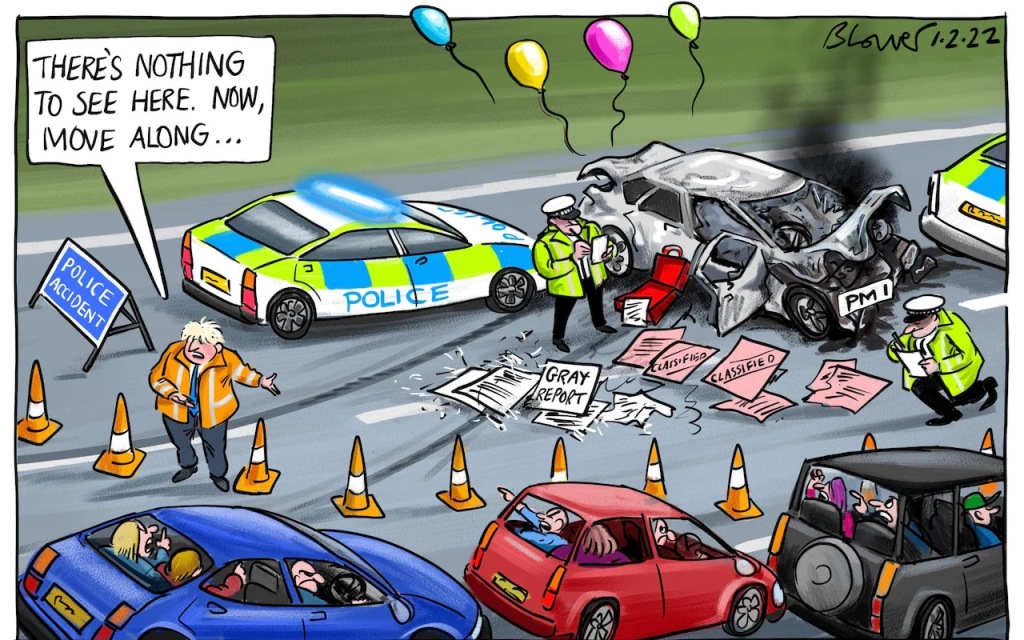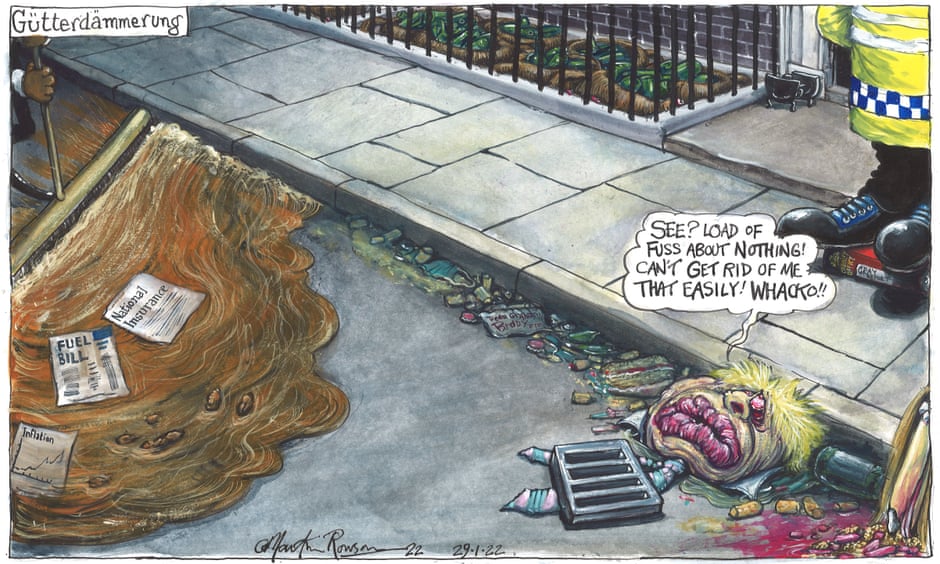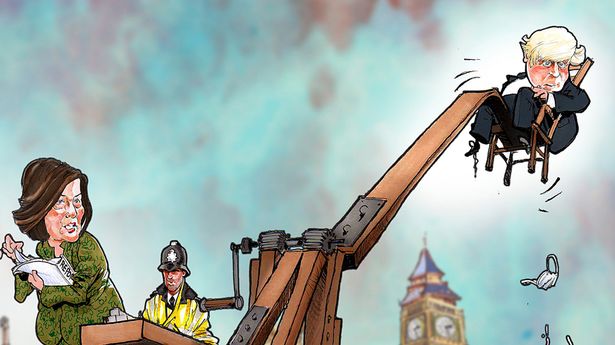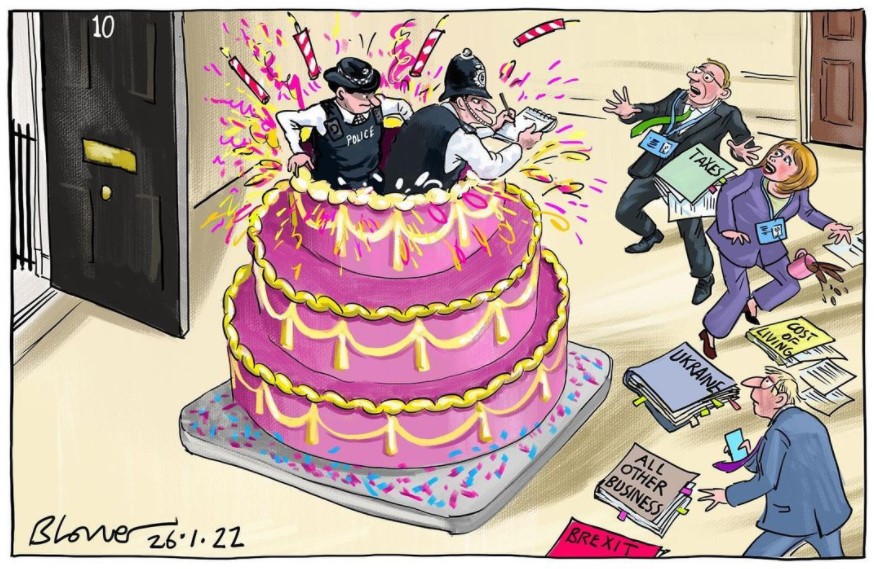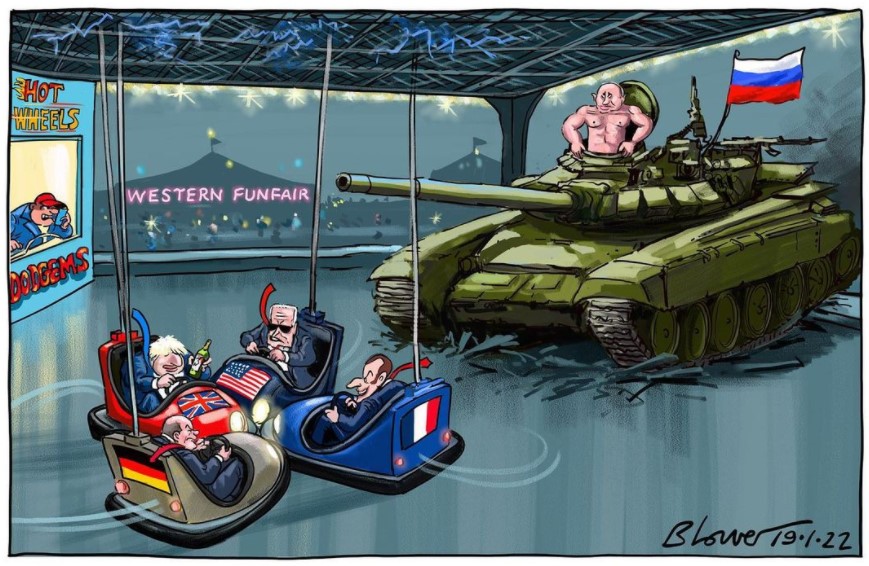 Here is yesterday's Sue Gray ... err ... "update" (12 pages, one "intentionally blank" and another just blank, so 10):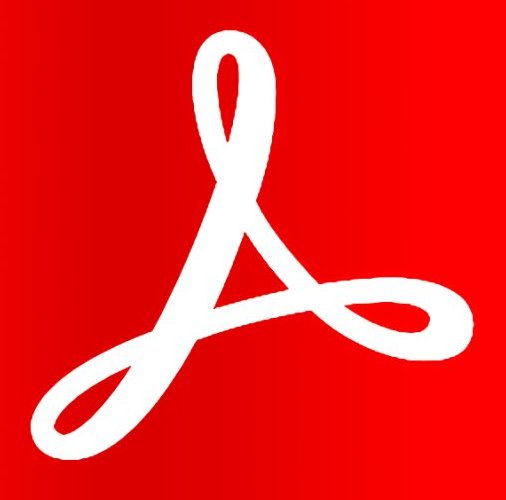 She itemised 16 events that were "in scope" according to the terms of reference for the investigation. However,


"As a result of the Metropolitan Police's investigations, and so as not to prejudice the police investigative process, they have told me that it would only be appropriate to make minimal reference to the gatherings on the dates they are investigating. Unfortunately, this necessarily means that I am extremely limited in what I can say about those events and it is not possible at present to provide a meaningful report setting out and analysing the extensive factual information I have been able to gather."


Gray was therefore free to comment on only 4 of those events.

Despite the thinning of her material, she managed to come up with these conclusions:
"Some of the behaviour surrounding these gatherings is difficult to justify."
"Some of the gatherings in question represent a serious failure to observe not just the high standards expected of those working at the heart of Government but also of the standards expected of the entire British population at the time."
"There were failures of leadership and judgment by different parts of No 10 and the Cabinet Office at different times."
"Some of the events should not have been allowed to take place."
"The excessive consumption of alcohol is not appropriate in a professional workplace at any time."
"The garden was ... used for gatherings without clear authorisation or oversight. This was not appropriate."
"Some staff wanted to raise concerns about behaviours they witnessed at work but at times felt unable to do so."
"The leadership structures [in Downing Street] are fragmented and complicated and this has sometimes led to the blurring of lines of accountability."
Monday 31st January


Sons in the mountains last week.

Nikko in Gerlos in the Austrian Tyrol ...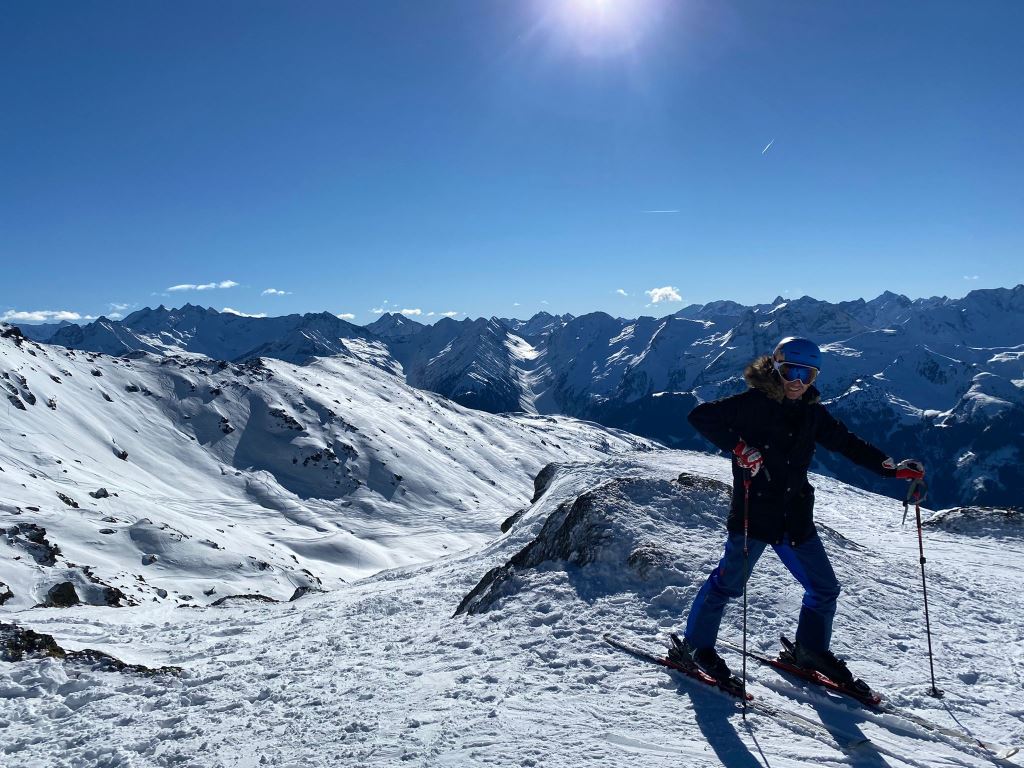 ... Ben on Fuente Dé in the Picos de Europa, Cantabria ...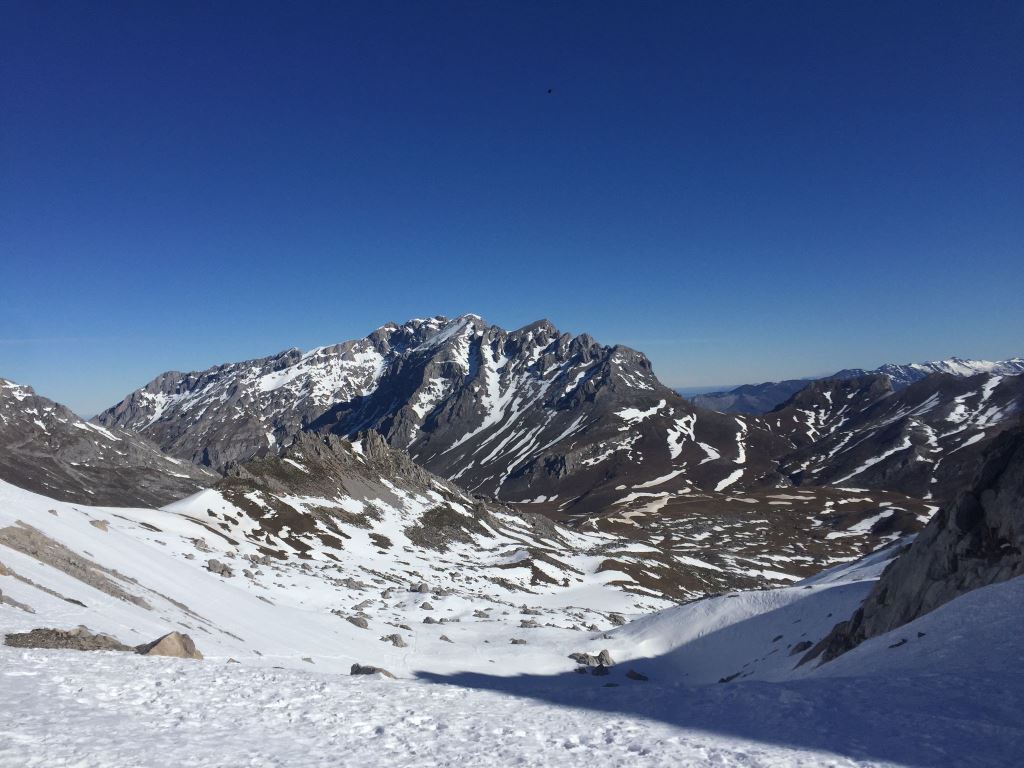 ... while he and Soph were staying in Asturias ...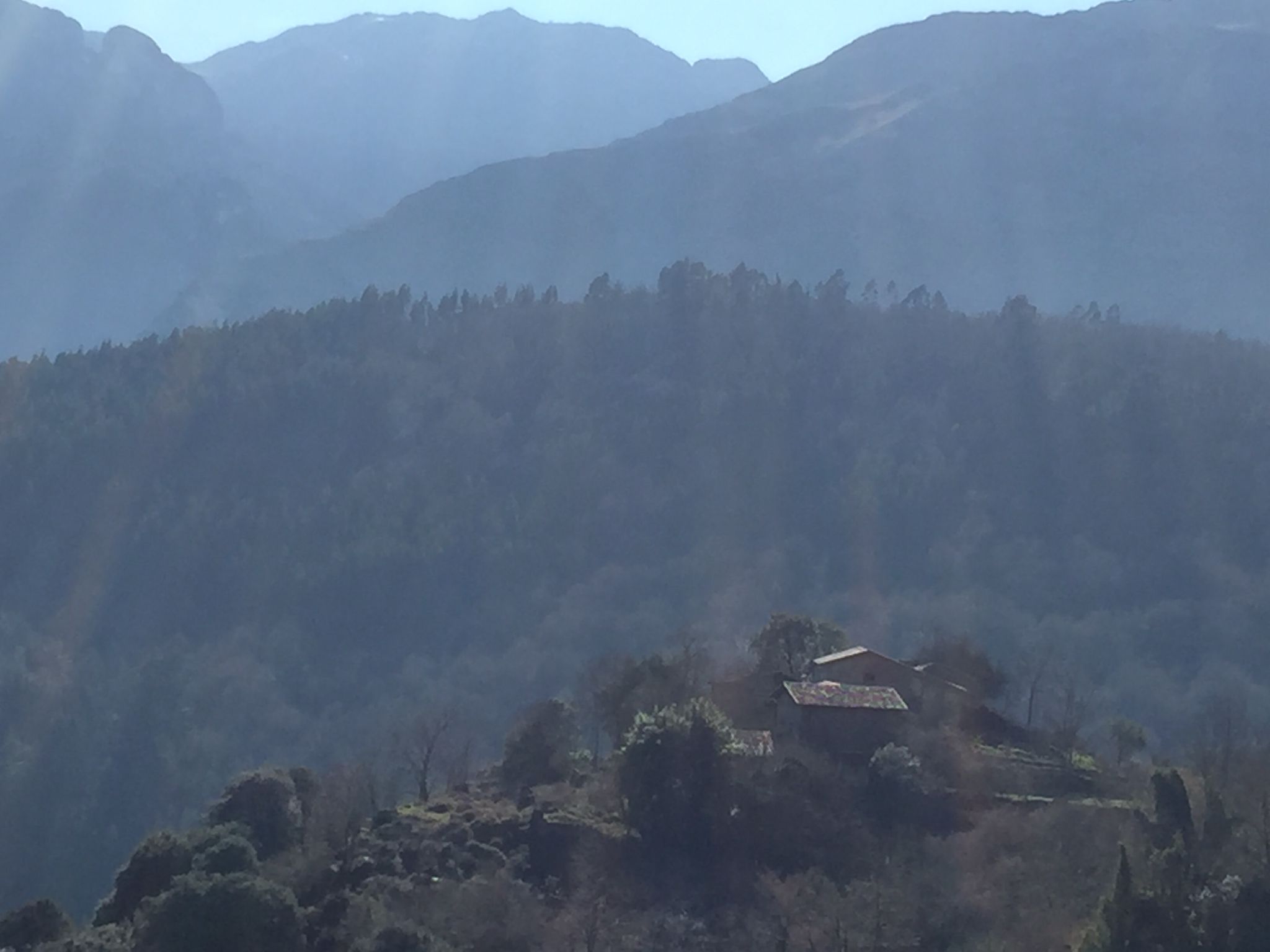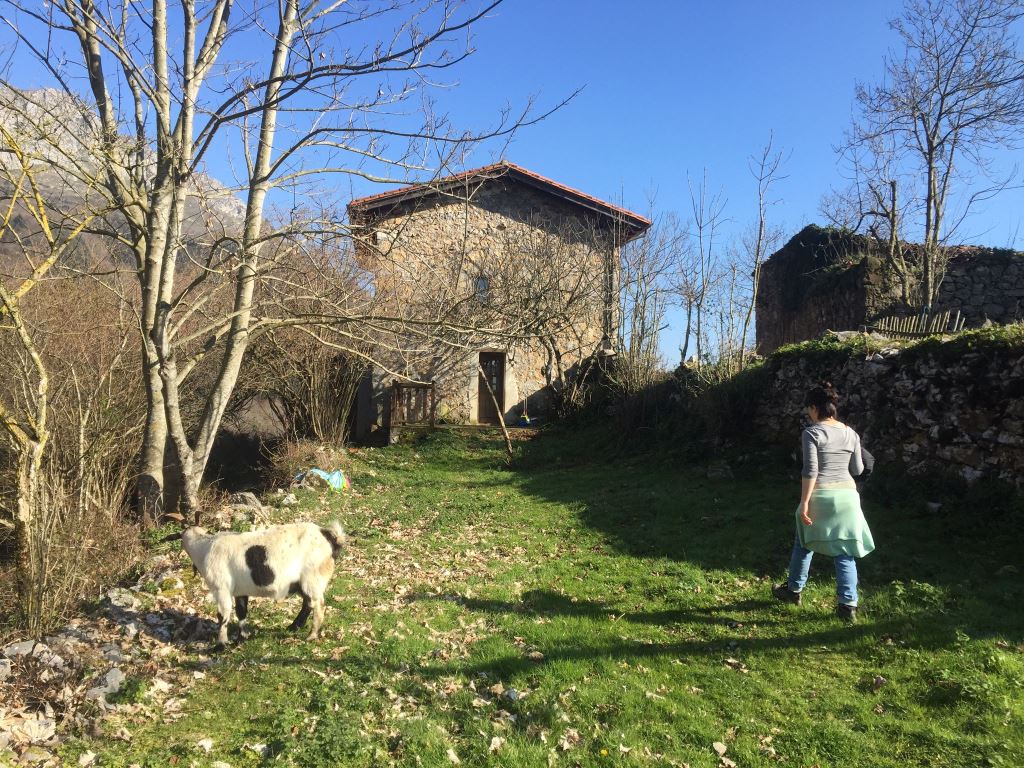 No parties ... sorry, work events. No Brexit border queues. No ventilation issues. No troops. No storms.

Sunday 30th January


Rest day. Although as a relief from #PartyGate I have been trying to understand the labyrinthine process of the Italian presidential elections, aided by my friend Chris Taylor in Udine. At the centre have been two respected politicians, 80-year-old Sergio Mattarella, re-elected as president for another term, and Prime Minister Mario Draghi. Not just one decent leader, but two. How remarkable.

Saturday 29th January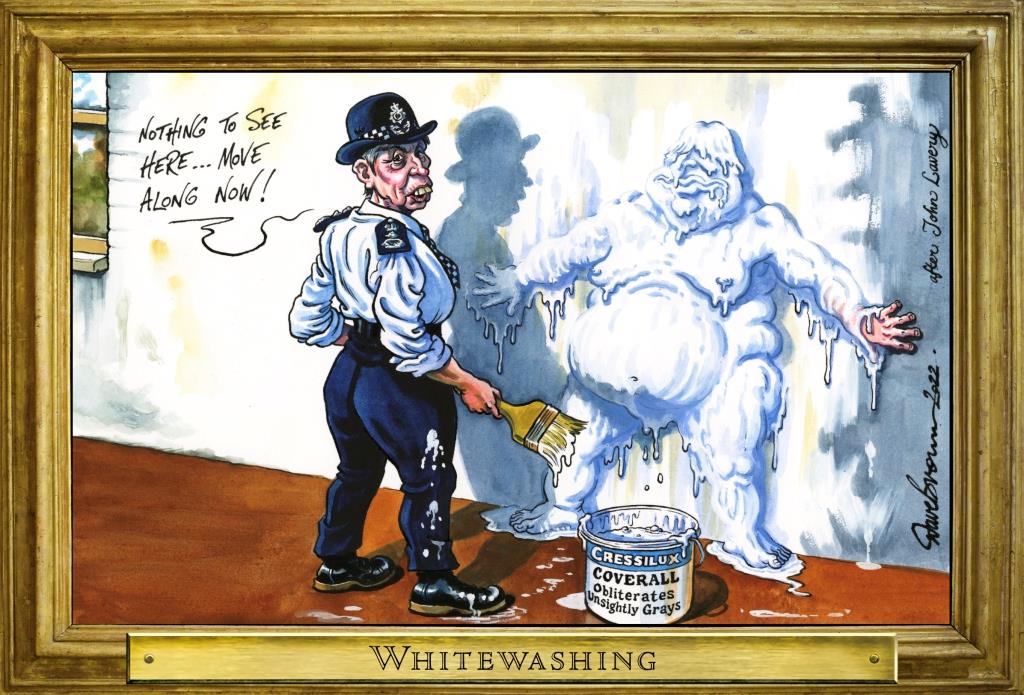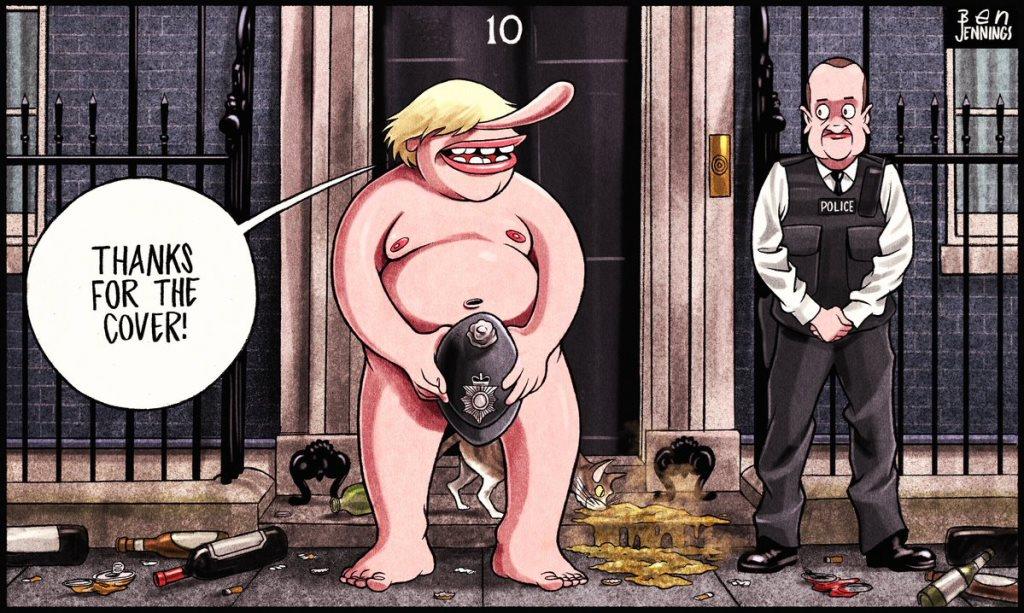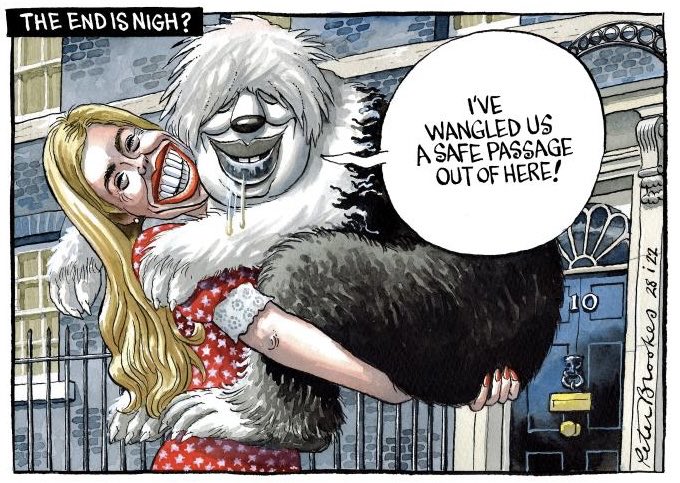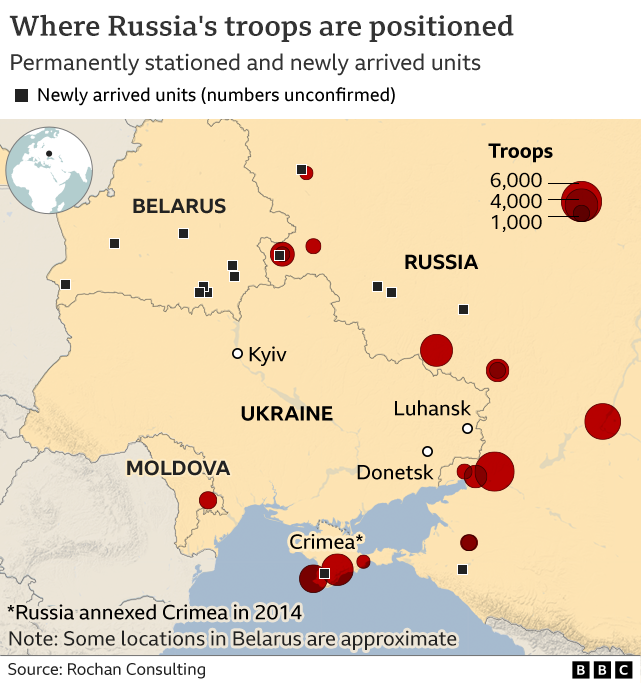 Friday 28th January


Junction 13 on the M5 could look very different in a few years.

Green energy supplier Ecotricity founder and chair of Forest Green Rovers Dale Vince tweeted this week:


"Eco Park takes a step forward today, quite a big one.

"We gained outline planning permission for the all-wooden stadium about two years ago - after six years in planning.

"Then we got a new MP (from out of town) that tried and failed to stop it, then the pandemic hit - so it's not been without its challenges :)

"We stayed busy, working with the council to align our plans with the Local Plan Review that was underway - and also the canal re-instatement.

"As a result we've submitted a new planning application today that supports the Local Plan Review - which identifies Eco Park as land suitable for sport and business use.

"That review should complete around autumn time and if we're lucky we'll have outline permission for the whole thing this time next year.

"It's a lot of progress actually - back in the day our biggest issue was the land was outside of the Local Plan, now smack bang in it.

"Some amazing opportunities for Stroud and the wider area - the sport and green tech biz park combo will bring about £150m annual benefit to the region and £2m of biz rates to Stroud District. We're talking about 5k or so jobs in the green economy.

"FGR will have an amazing new home and a new training facility where we can bring all elements of the club together for the first time - youth, academy, women and first teams.

"The new wetland area is exciting as is the chance to push the boundaries of sustainable development. We need to build stuff, we need places to work and to live - the question is not if to build such things but how. At Eco Park we'll get the chance to set new standards. We'll build places to live and to work and make room for nature - with a 12% biodiversity increase on what's there today. And at the New Lawn - we hope to build low carbon affordable housing.

"Lot's still to do, hurdles to overcome - but we've come a long way."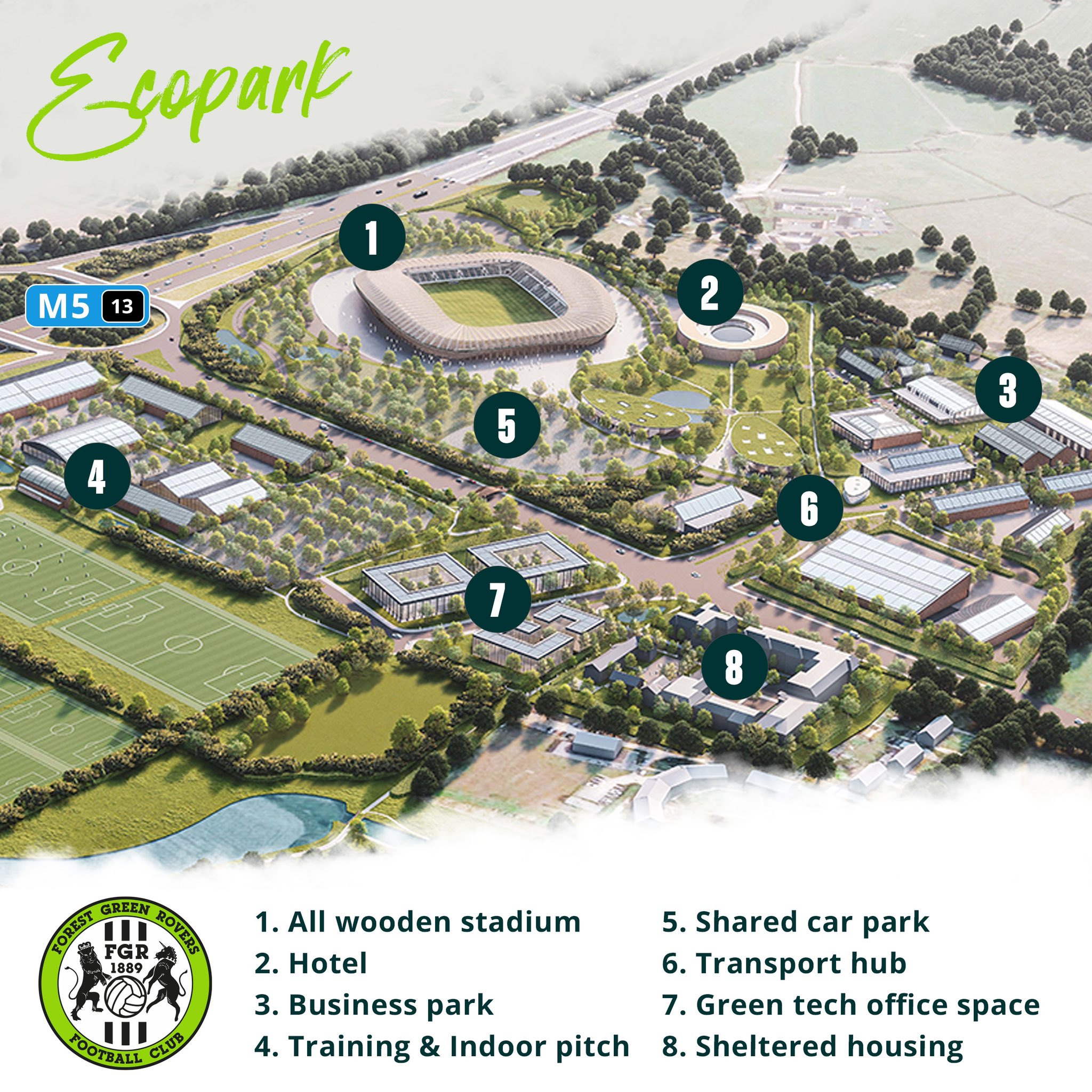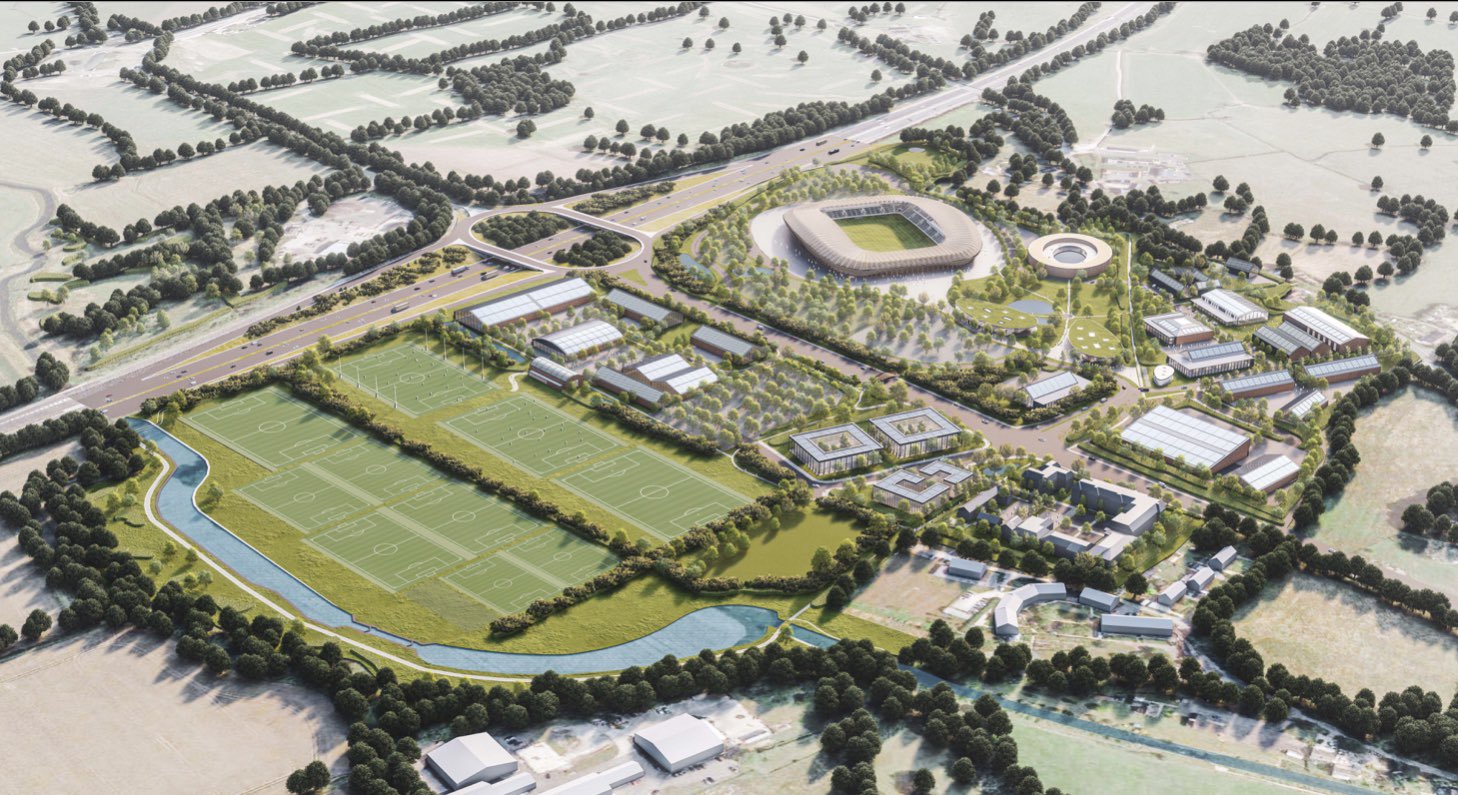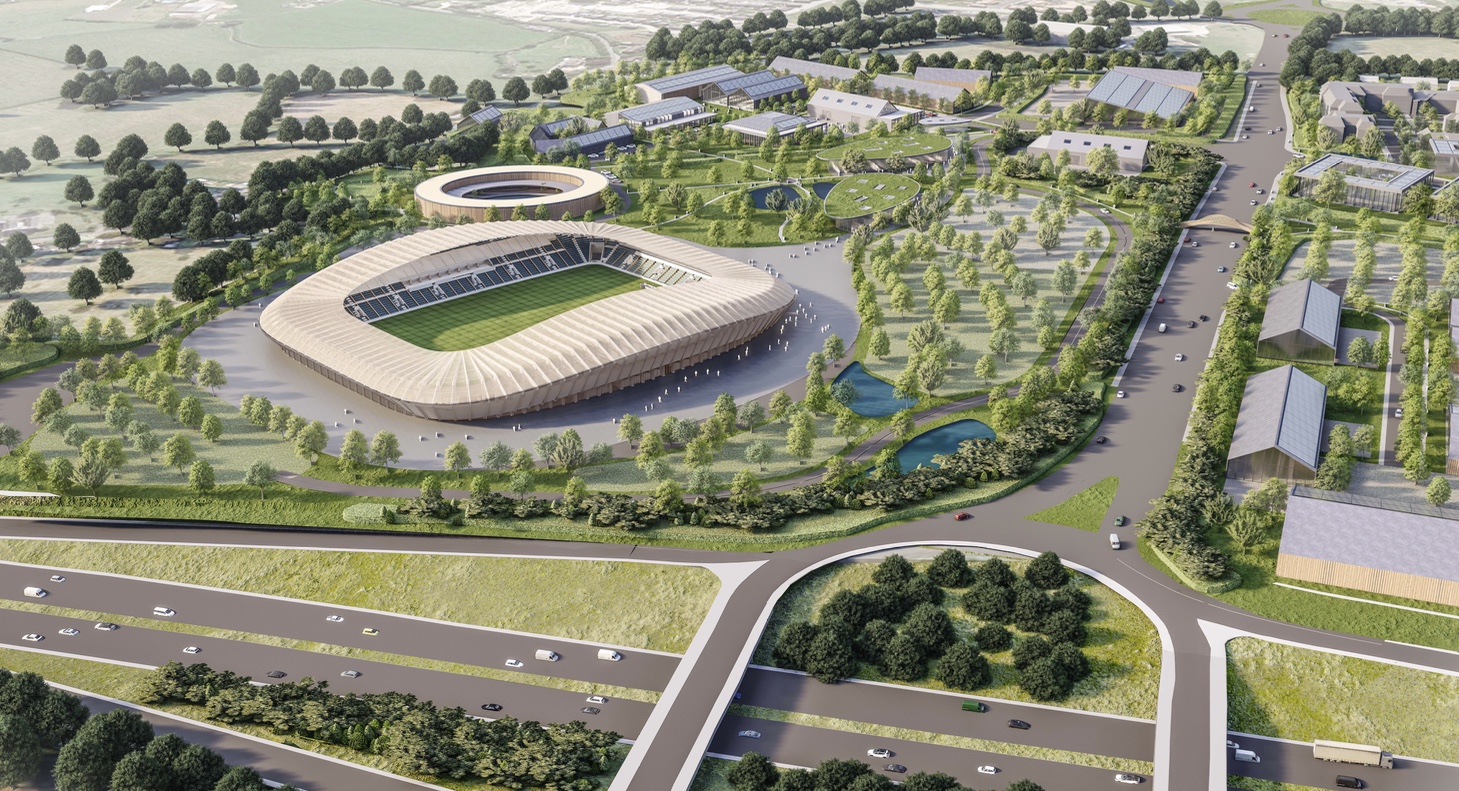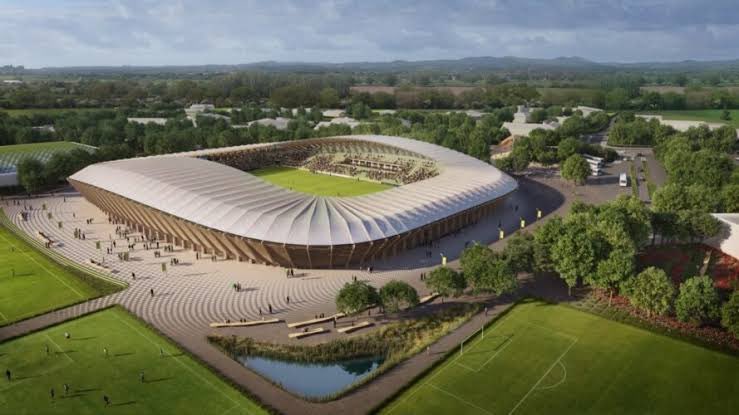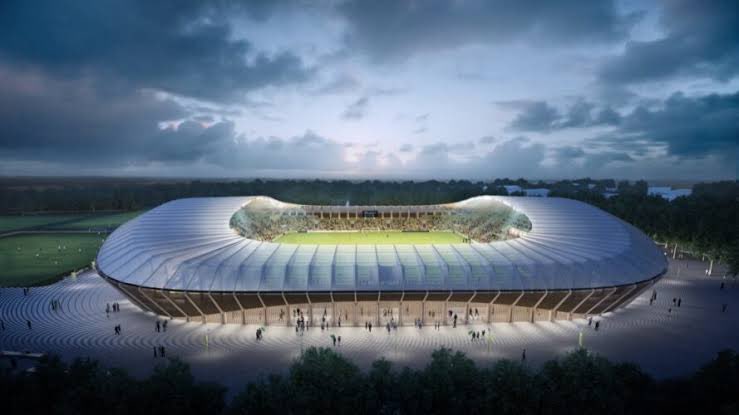 Here's a local news report:




It's all very inspiring and sustainable. It's great to see the progress of Forest Green Rovers under Vince's stewardship, a far cry from our - remembered with great fondness - visits to the old Lawn twenty years ago, when we endured nail-biting conclusions to each season in the Conference as FGR fought to avoid relegation. Now seven points clear at the top of League Two with a game in hand over second-placed Tranmere Rovers. A football club widely respected for its approach and principles.

Now for the moaning-minny side of my reaction. The club's going to be nowhere near Nailsworth. It should be renamed J13 United. I suppose it's becoming "the pride of Gloucestershire" rather than a smile-inducing oddity at the top of the hill above the small town near which we used to live.

It's still an extension of the built environment. Fields turned into a "park" of human-made construction. Dale says in the interview above: "the question isn't 'should we build things", it's 'how do we build things'." Is it? I wrote in these pages about my dislike of wind farms, a laudable replacement for fossil fuels which nevertheless don't disguise our continued and growing greed for energy, while majestically polluting erstwhile pristine landscapes. We've been hunting for a holiday destination for our whole family this summer and I've been reminded of the degree to which the Spanish coastline has altered in my lifetime, the relentless drive of urbanización. The issue at the heart of it all (although the curve is flattening out) is this: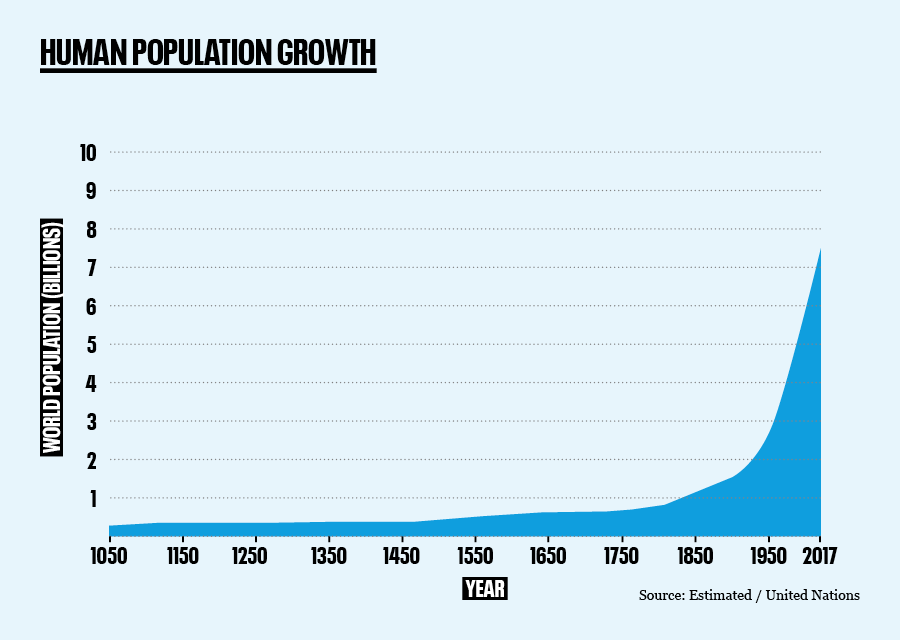 The dreaded G-word. The new FGR home may be green, but it's "growth" nonetheless.

I also have one question as an Ecotricity bill-payer. Where's all the money coming from?

Dear me, enough negativity, enough regret and guilt. I look forward to visiting the Eco Park, and welcome the economic benefits it will bring to the county.

Thursday 27th January


Although son Ben is in Bilbao, we celebrated his birthday with a Burns supper, one day late. Haggis, tatties, neeps, intruder sprouts just for Sarah and a whisky sauce, the first time I've ever made it. Accompanied by a nod to the traditional pageantry. I used a YouTube recording to pipe in the haggis and recited the Selkirk Grace before stabbing the "wee beastie". Some unexpected low-level anxiety compelled me to do this, a mild worry that the absence of proper form might invite bad luck had I not.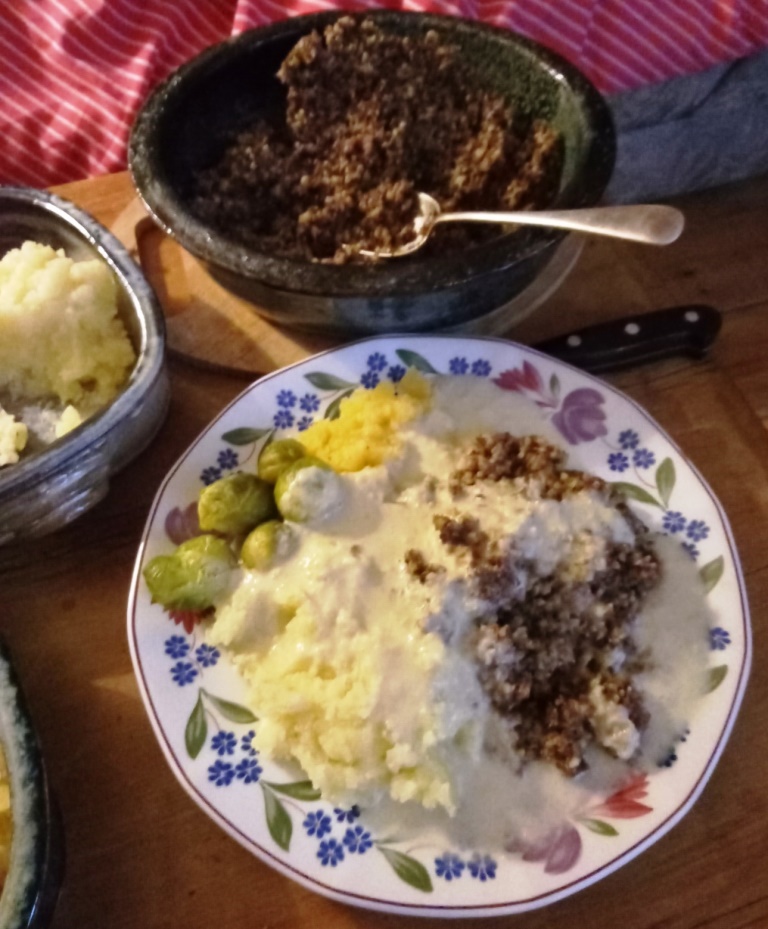 I remember a similar - rather more justified - unease at the age of 10. I was transfixed, in front of a tiny black-and-white television, as President Kennedy addressed the world during the 1962 Cuban missile crisis. My father sought to reassure me.




Sixty years ago. Different times and geography, same old story.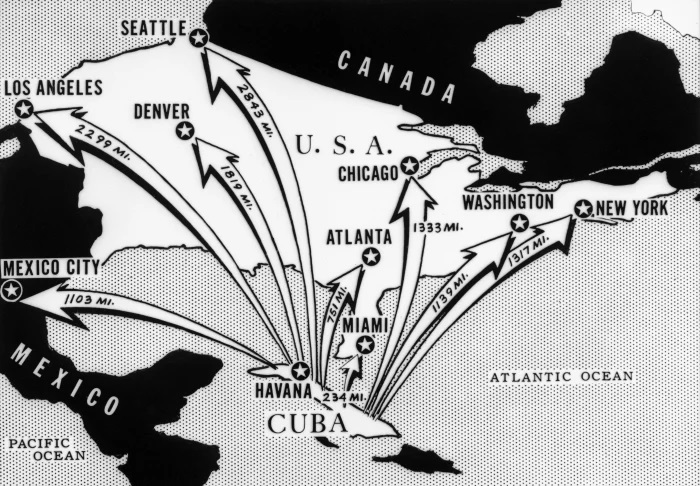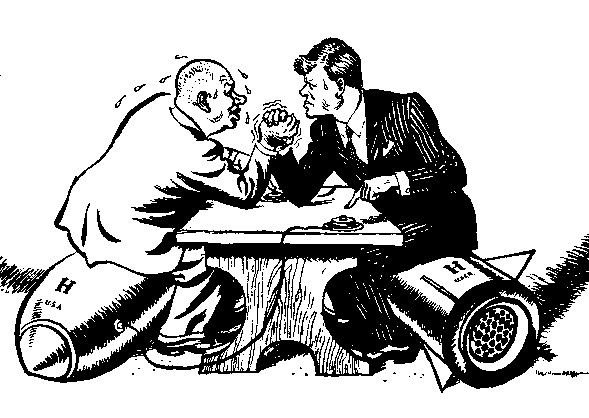 I'm sure Boris would love his JFK moment, to draw our attention from cake.

Wednesday 26th January


Happy Birthday to our son Ben 🍾🎂🎸💖

I've got yards more #PartyGate material. But somehow I can't bring myself to post it as we have, among other things, the threat of war in the Ukraine, the potential for, in Biden's words, "the largest invasion since World War II".

Or maybe I should. It's a measure of the Boris shambles that while troops assemble in central Europe all the focus is on cake in the UK. Has the PM engaged Putin to divert attention from Downing Street festivities?

So I will. As a reminder of how Boris - ironic that he should be a huge fan of war leader Churchill - gains the trust and respect of the nation.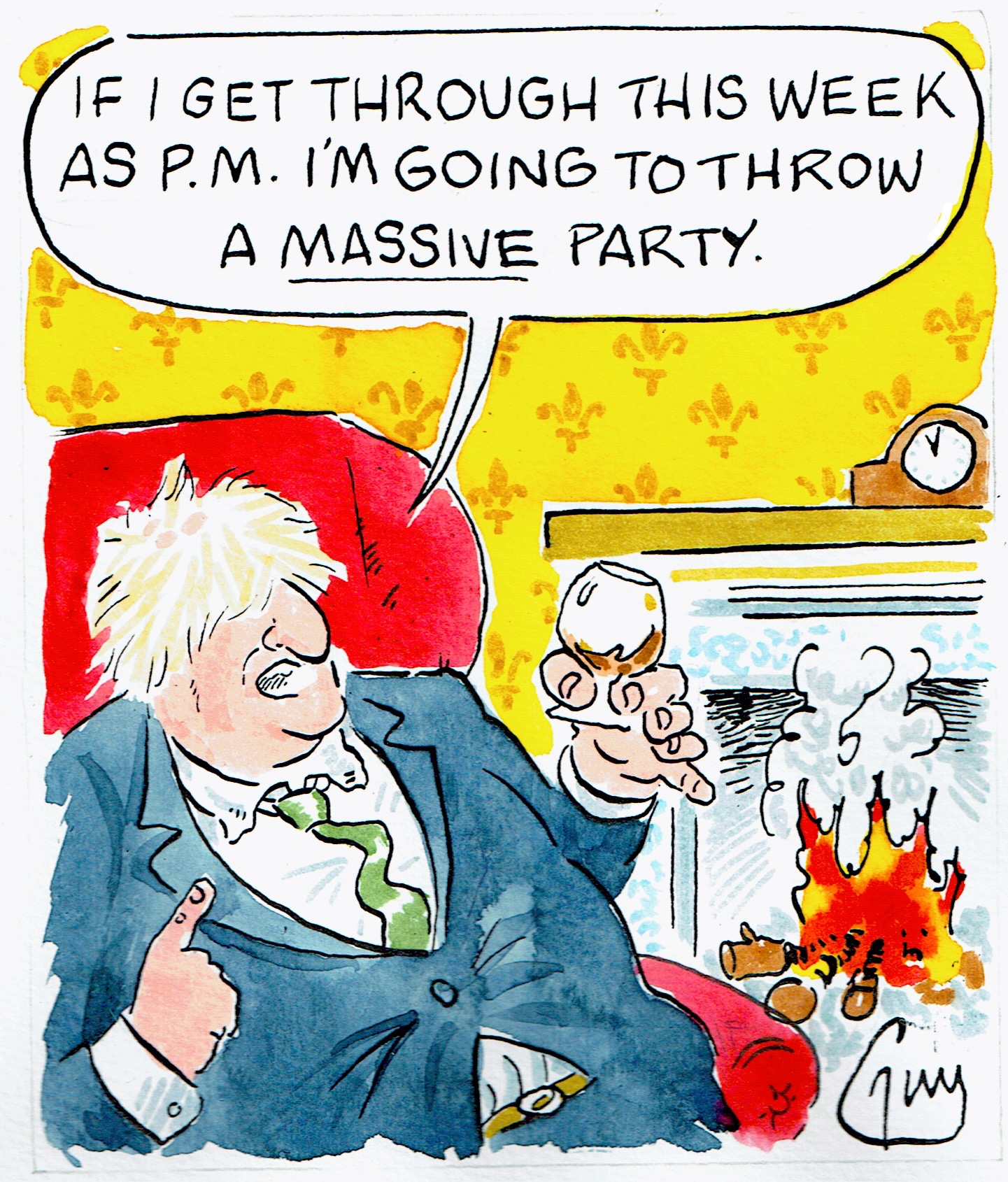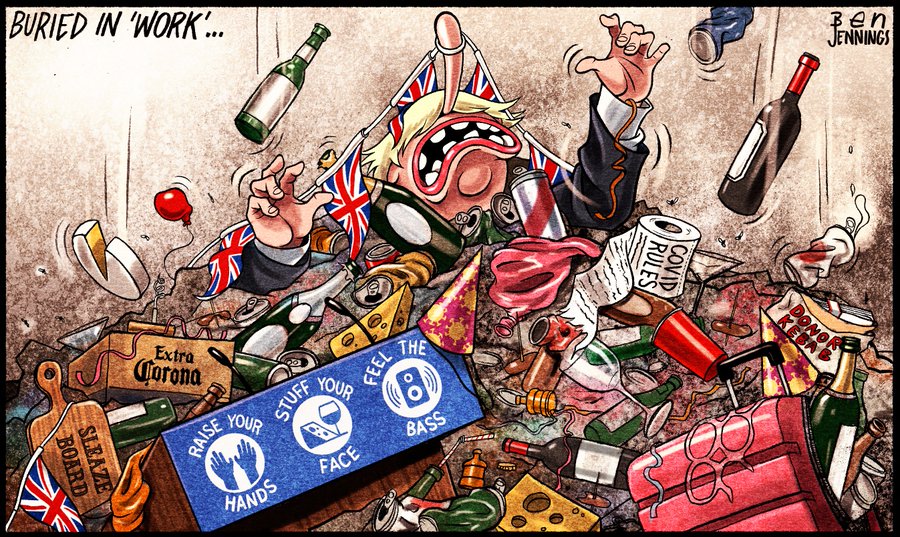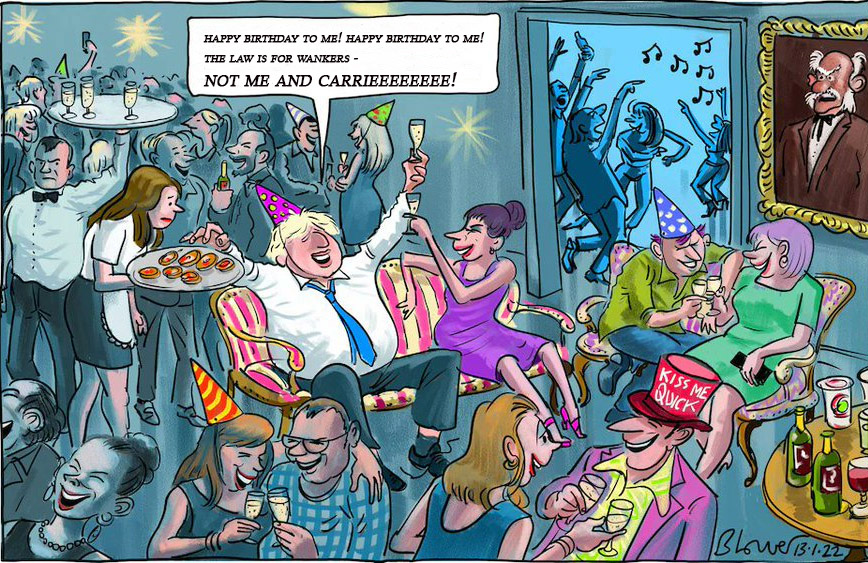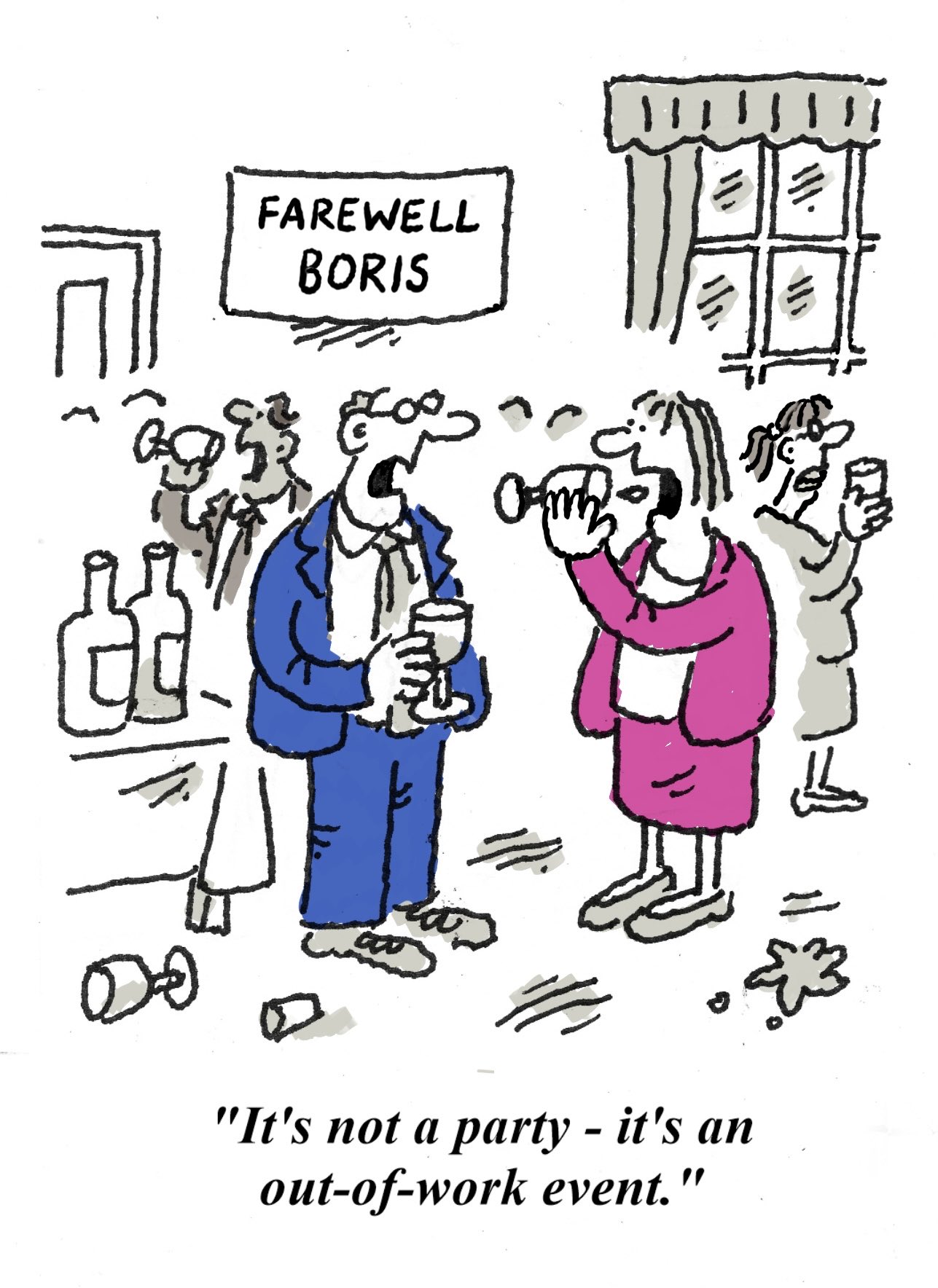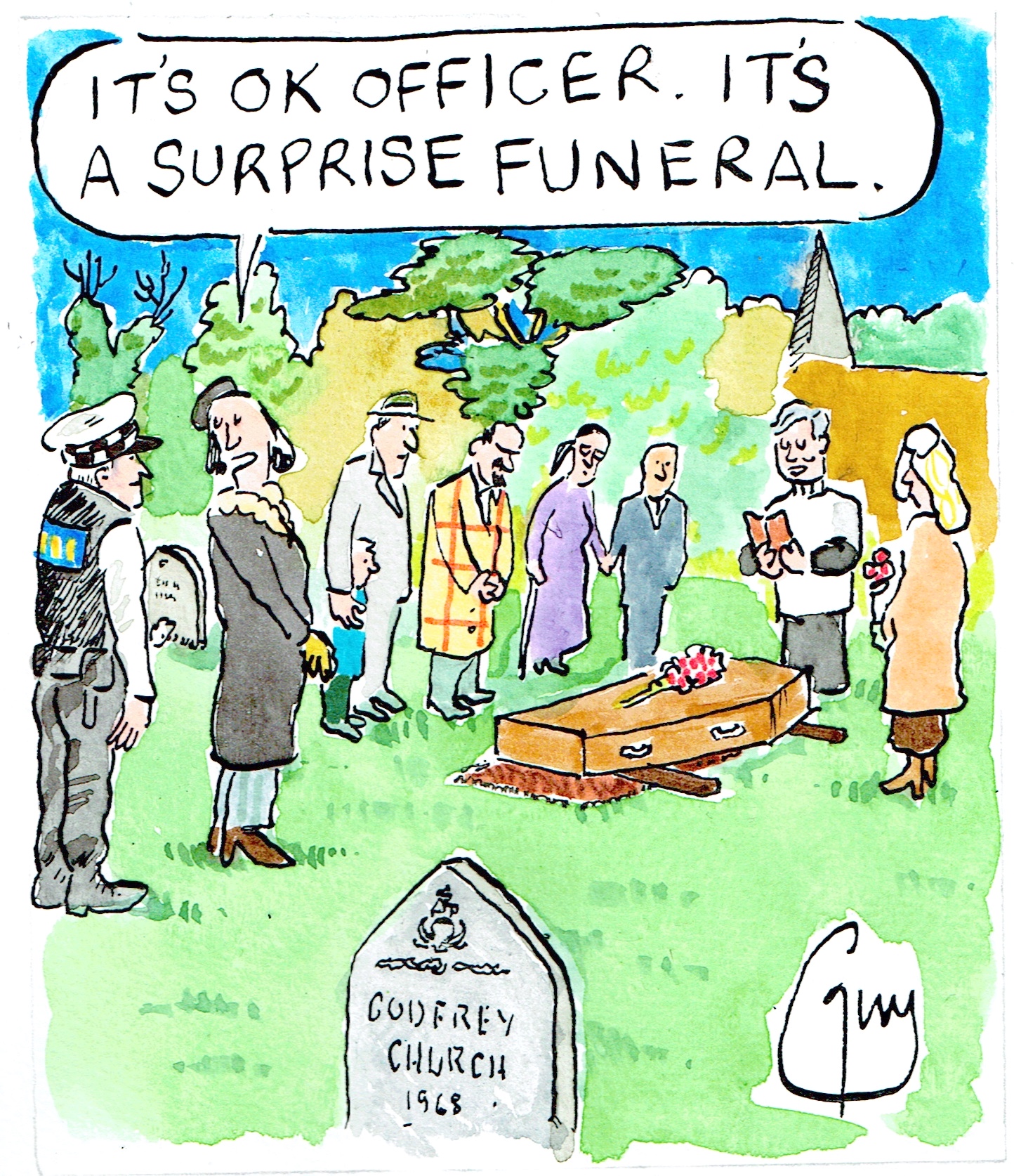 Tuesday 25th January


New Zealand Prime Minister Jacinda Ardern has postponed her wedding. Video courtesy of The Guardian:


"I am no different to, dare I say it, thousands of other New Zealanders who have had much more devastating impacts felt by the pandemic, the most gutting of which is the inability to be with a loved one sometimes when they are gravely ill. That will far, far outstrip any sadness I experience.

"Such is life."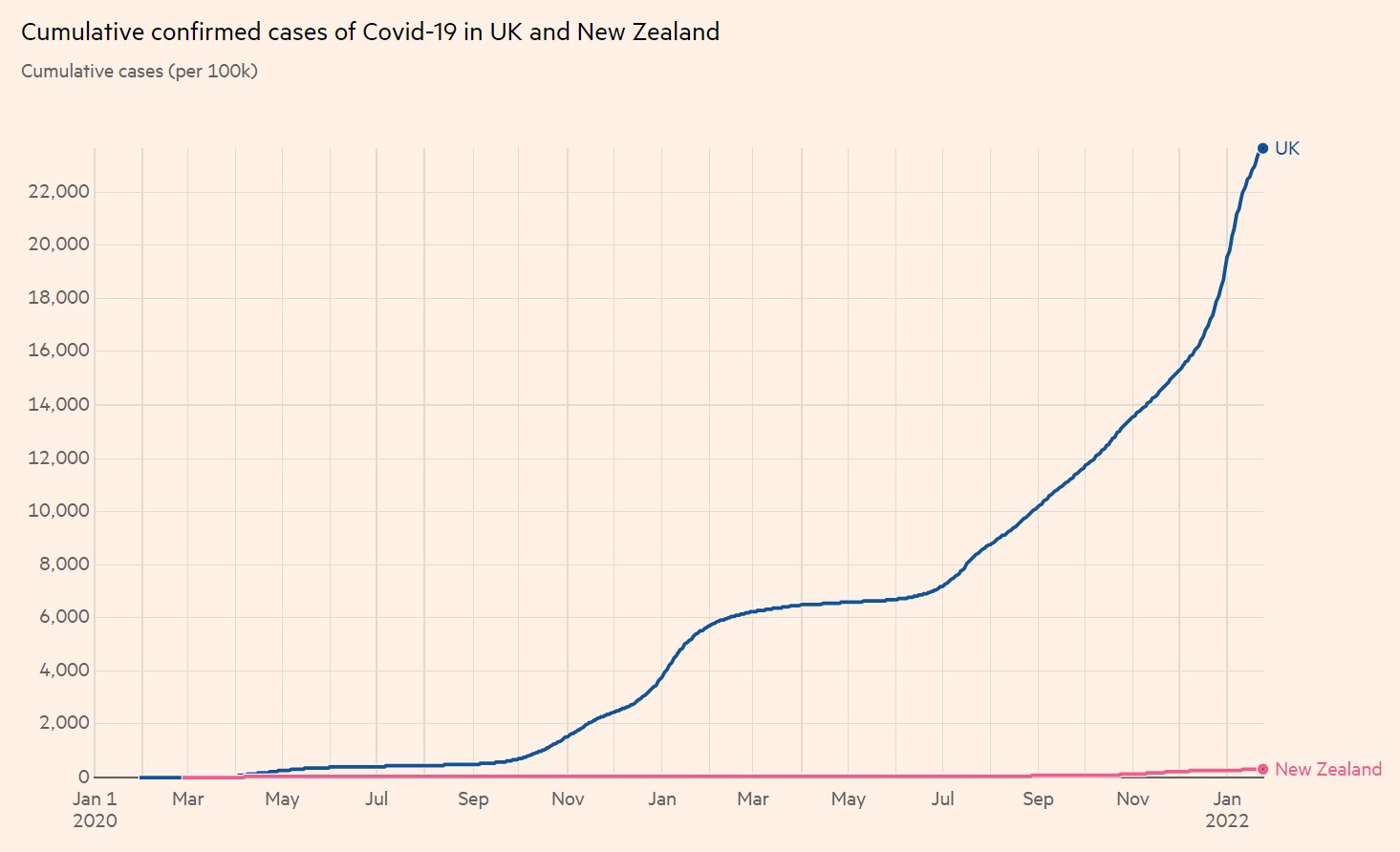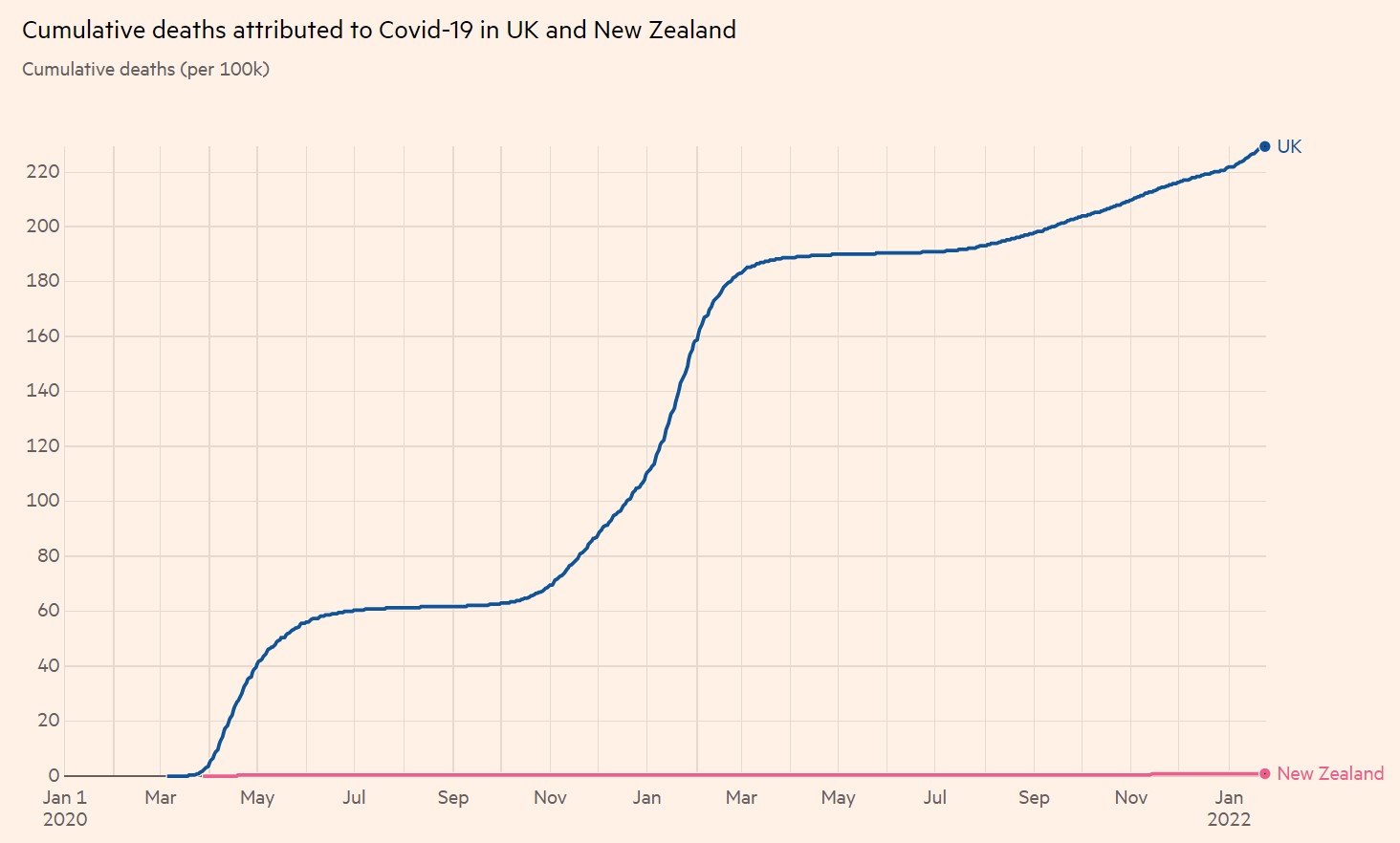 Leadership, eh? Same rules for all. No parties. "We're doing this for one another." With a smile.

Monday 24th January


Despite my declaration of blog change yesterday, there are some things I won't abandon. Jokes. Is it a British trait that we mitigate grim news with humour? Not tragic or evil events, of course, but scandal, hypocrisy, inept government? No, it must be universal. We don't have exclusive rights to irony and satire. But we are good at it.

Here's a post-Brexit comment on our new isolationism:



Sunday 23rd January


Today I'm serving notice - to the select band of my loyal readers - that I'm scaling back on this blog, at least in its current focus, or lack of it.

I have some other things to do. It's a change of emphasis, how I spend my time, for survival, although that sounds too dramatic.

I started blogging on 30th October 2019 with my take on the UK General Election, 816 days ago. Then the pandemic hit, followed by the rise in climate awareness, culminating in the Glasgow COP26 summit. Hmmm. What a shambles that turned out to be. Check out the column-inches or air-time currently devoted to the future of the planet. Negligible.

The blog was a way for me to process, perhaps even withstand, the events of the day: the madness of Brexit - "Take Back Control" 🤬; the squalor and divisiveness of the Corbyn-Johnson electoral contest - "Get Brexit Done" 😡; the unprecedented global grip of a virus; and the urgency of a response to environmental catastrophe.

For long periods we were shut indoors. It seemed perfectly acceptable, even useful, to pass significant amounts of time devouring national and world events via a computer screen, making sense of them.

But two years, and a bit more, are enough. The pandemic is becoming endemic. "Learn to live with it". I need to get out more. There are projects that can't wait any longer.

I'm not going to stop the blog. There's too much happening in the world for me to ignore. But maybe I'll skip more days if I need to get on with something else.

The consumption of news is a predominantly gloomy business. I need a break from the cloud. More sunshine, at least metaphorically. It's now over a month since the shortest day. The chill of winter will pass.

Saturday 22nd January


An email from Open Britain arrived in my inbox yesterday: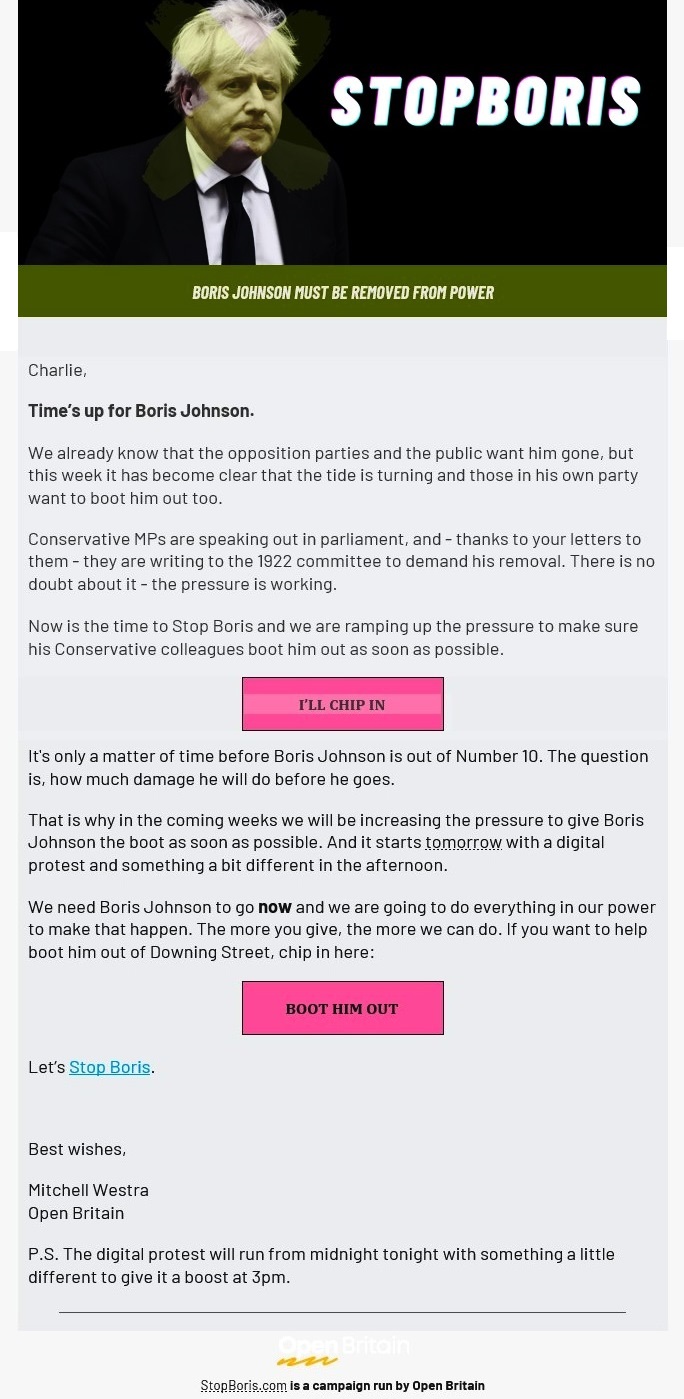 At 7:15am this morning the website StopBoris.com displayed signatures so far under an enlarged snap of the beleaguered and cancelled PM: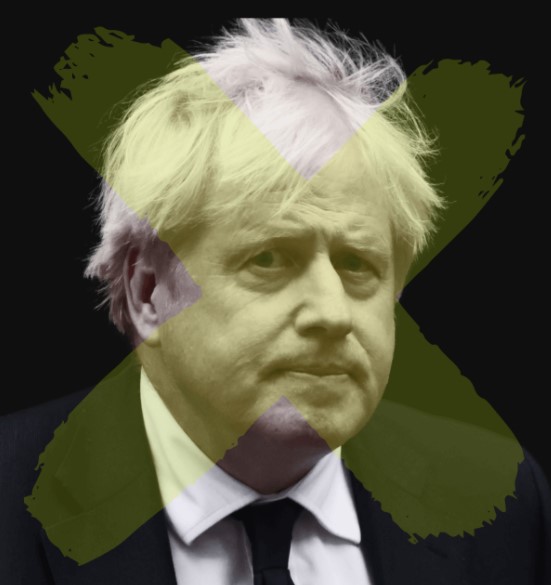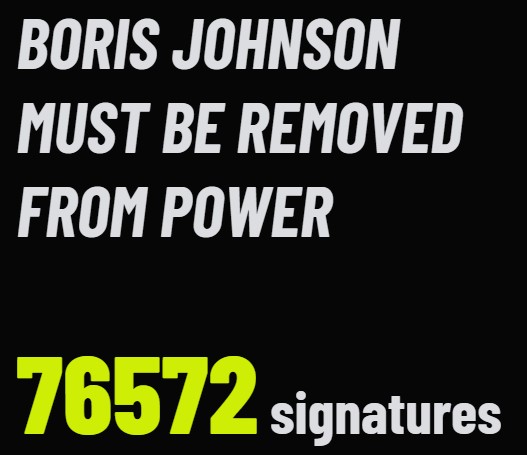 Do campaigns like this have any effect? To date, that's 1.6% of those registered to vote in the UK. Will the Tories plotting in the bars and restaurants of Westminster take note? Meanwhile, we have no idea if the 1922 Committee has received anywhere near to the 54 letters required to trigger a confidence vote; chair Sir Graham Brady is keeping shtum. We're waiting on Sue Gray. And Conservative backbencher William Wragg's blackmail meeting with the Met Police next week.

Is this really how our elected representatives should be spending their time? Fiddling while Rome burns?

Friday 21st January


I don't quite know how I can ignore the sabre-rattling in Ukraine, but that's what I'm going to do for another day.

I also reckon I must stop promising that I've finished with a particular topic, because I've still got some more on "After Life". Oh yawn, I hear you say - and you're right - but please bear with me for a little while longer. There is some element of broader generality in what follows.

Netflix and the suicide prevention charity Campaign Against Living Miserably (CALM) have donated 25 "After Life" benches to local councils round the UK, each engraved with a quote from the show: "Hope is Everything".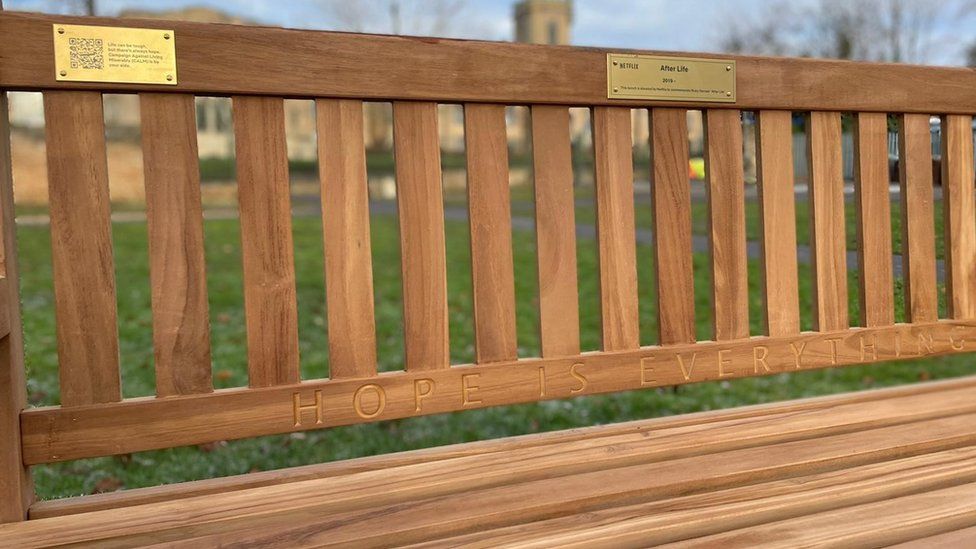 Ricky Gervais said:


"We hope the benches will create a lasting legacy for After Life, as well as become a place for people to visit."


Eddie Curry of Nottingham City Council said:


"We are delighted to be chosen to take not one but two of the Benches of Hope. We know people have really relied on our open spaces during lockdown - for exercise, for wellbeing and for their mental health. These benches will provide even more opportunities to sit, be still, chat as well as giving you a chance to reflect."


Really? Part of me thinks it's a lovely idea. I'm a pushover for a good bench. Here's one of my favourites at the top of our High Street, a place where you can pause to day-dream and watch Stroudies as they toil up the hill.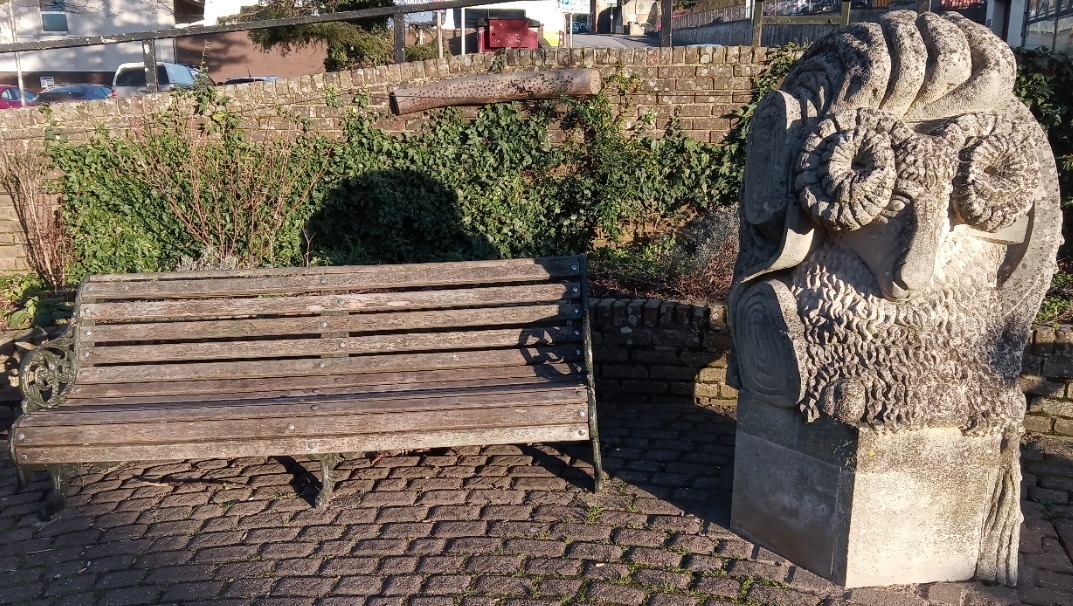 But is there perhaps a hint of brazen marketing from Netflix? Surely not, what a base notion.

I stumbled upon an NME (New Musical Express) interview with Gervais from March 2018. It's mostly about his approach to comedy, but also reveals his embracing of on-demand television. Here are the edited relevant two minutes:




I've selected key snippets:


"I'd have been living under a rock not to have seen Netflix happening. They've pandered to the way people watch things, which is binge-watching. The last two or three years, I haven't watched terrestrial TV. There's no reason to sit and flick, going 'This is all rubbish'. I don't turn the telly on unless it's to go to Netflix. Netflix is now, Netflix is TV."


He's become a very rich man through following this route. There's a point in the interview when he makes a joke about artistic integrity while rubbing his fingers together in a filthy-lucre gesture, as if caressing dollar bills.

I have to admit that I've recently been dragged into the 21st century and watched some great quality material - while still a fuddy-duddy bemoaning the demise of scheduled public service broadcasting. There's something squalid about what Gervais calls the "deep pockets" of Netflix. Where money and profit skulk beneath our viewing habits.

We've always refused to buy the services of Sky, mostly through loathing of Murdoch. Now Pay-TV and sport walk hand-in-hand. I have a distant memory of following test cricket on a black-and-white set. Long summer afternoons glued to ball-by-ball BBC coverage of Australian or West Indian series. At close of play we'd go outside with bat, ball and a couple of stumps and re-enact what we'd seen, mimicking our heroes.

Oh dear, that's enough "jumpers for goal posts".

Thursday 20th January


I'm feeling drawn back to the big - and inevitably gloomy - news of the moment, but I think I'll have at least one more day of digression.

You'll recognise the first verse of this Dylan Thomas poem:


"Do not go gentle into that good night,
Old age should burn and rave at close of day;
Rage, rage against the dying of the light."


My friend Aidan sent some photos of senior citizens living the poet's words: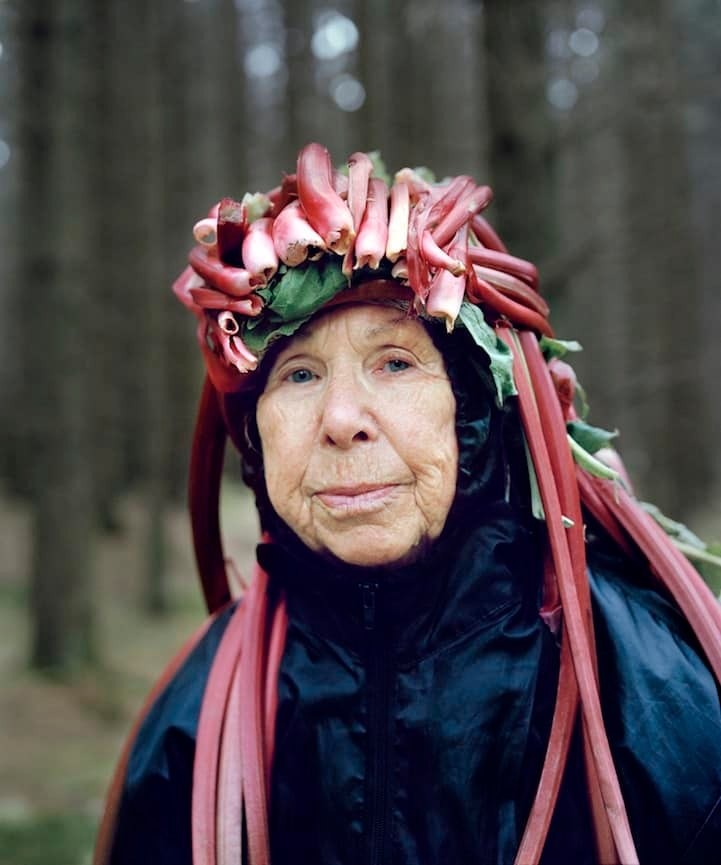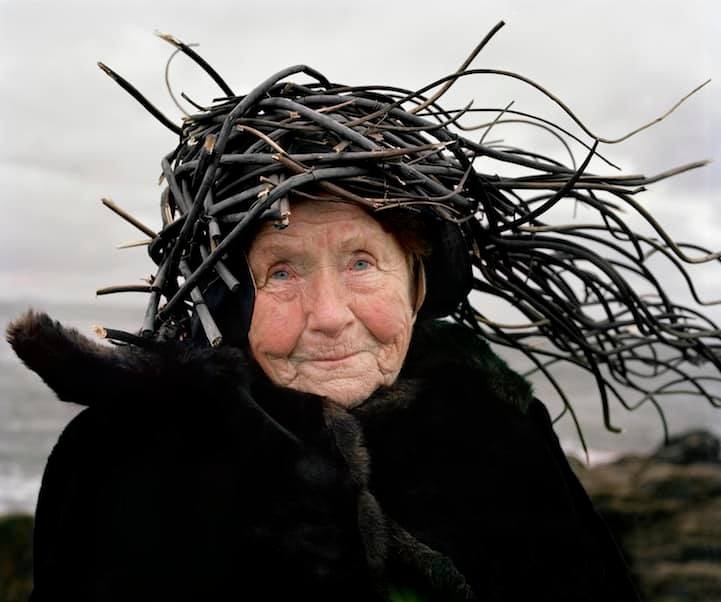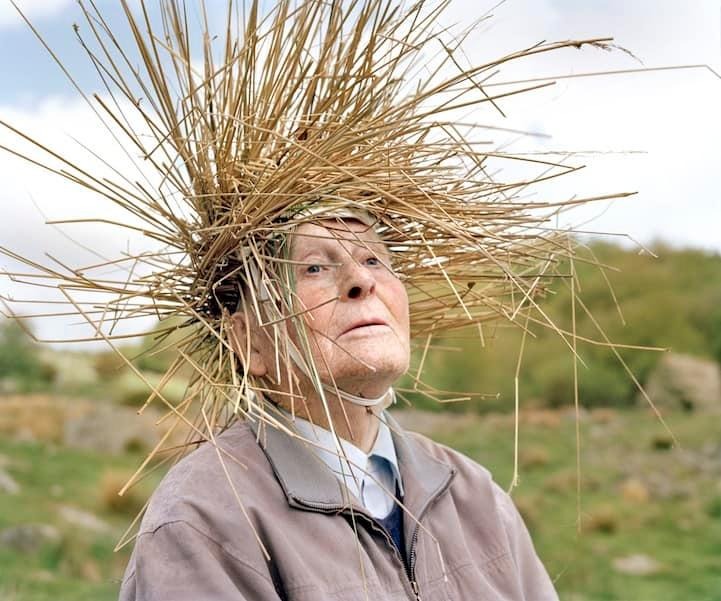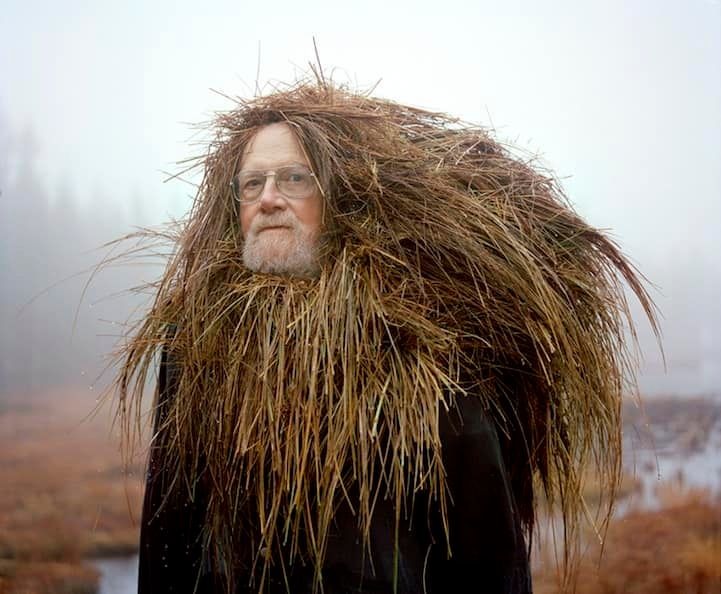 Back to "After Life", I promise for the last time. I'm not alone in my enjoyment. Footballer turned pundit and national treasure Gary Lineker tweeted his appreciation, echoing my questions about on-demand versus scheduled television. First ...





... and then he changed his mind.





While I was there, I browsed his comments on the current BBC debate. He approves.





Well, they say you should never bite the hand that feeds you, even if you've taken a pay cut.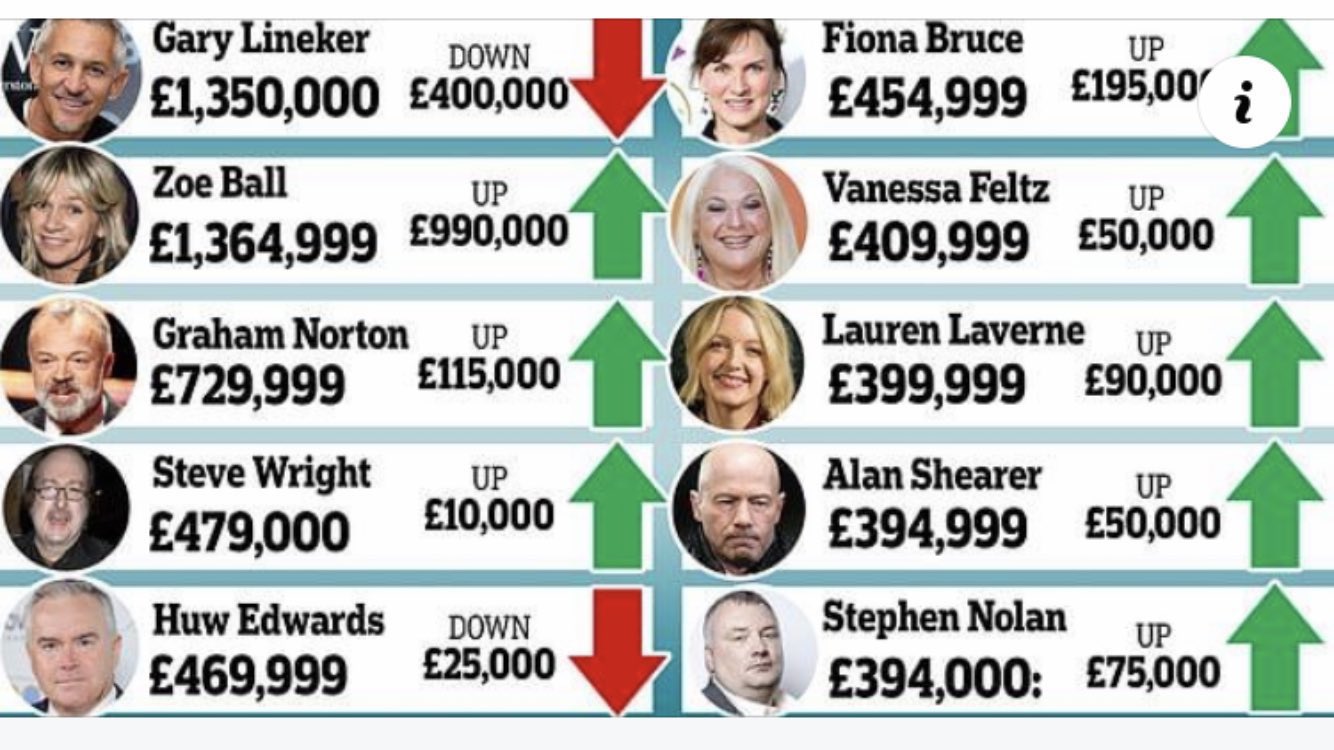 He posted an elderly - judging by the amount of hair John Cleese had, and the cost - celeb justification of the licence fee. Count those who are no longer with us, and at least one who has since been disgraced.




Even better, here is Kirsty Wark's Newsnight response to the call for the National Anthem to be played.




At least Lineker has a nice line in self-deprecation. Here is his Twitter mini-bio:





I liked his reference to the No-vax Djokovic visa affair:




Wednesday 19th January


The latest WhatsApp report from son Ben in the Brexit-defying, Covid-avoiding, #PartyGate-free Spanish adventure. His partner Soph ran a yoga retreat last weekend in the remote hamlet of Villabasil between Bilbao and Burgos. Ben did the catering. Here's a team photo, Ben third from left, Soph kneeling on the right: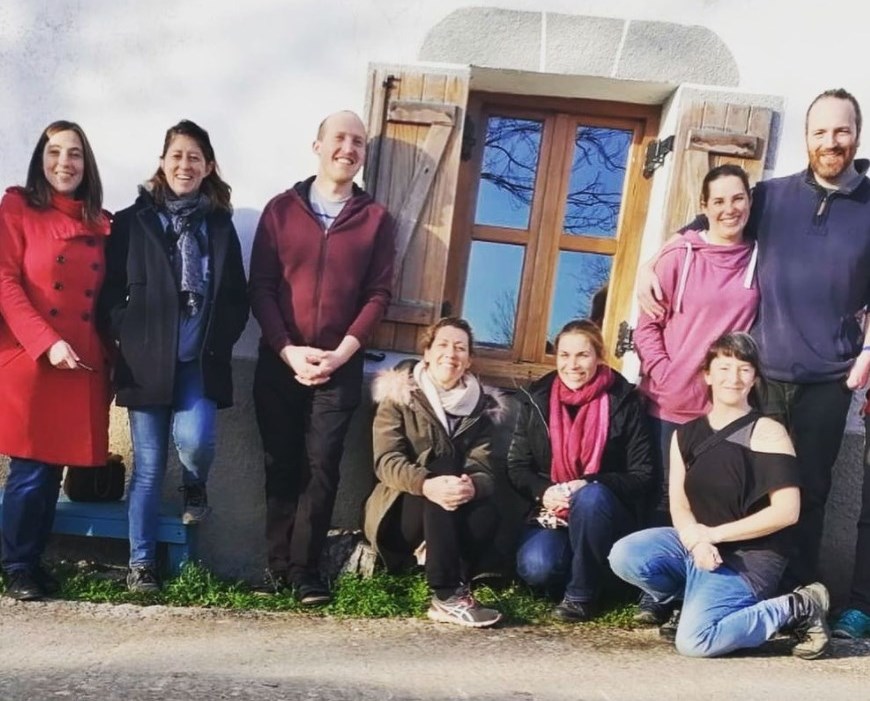 Bitterly cold, but sunny clear skies: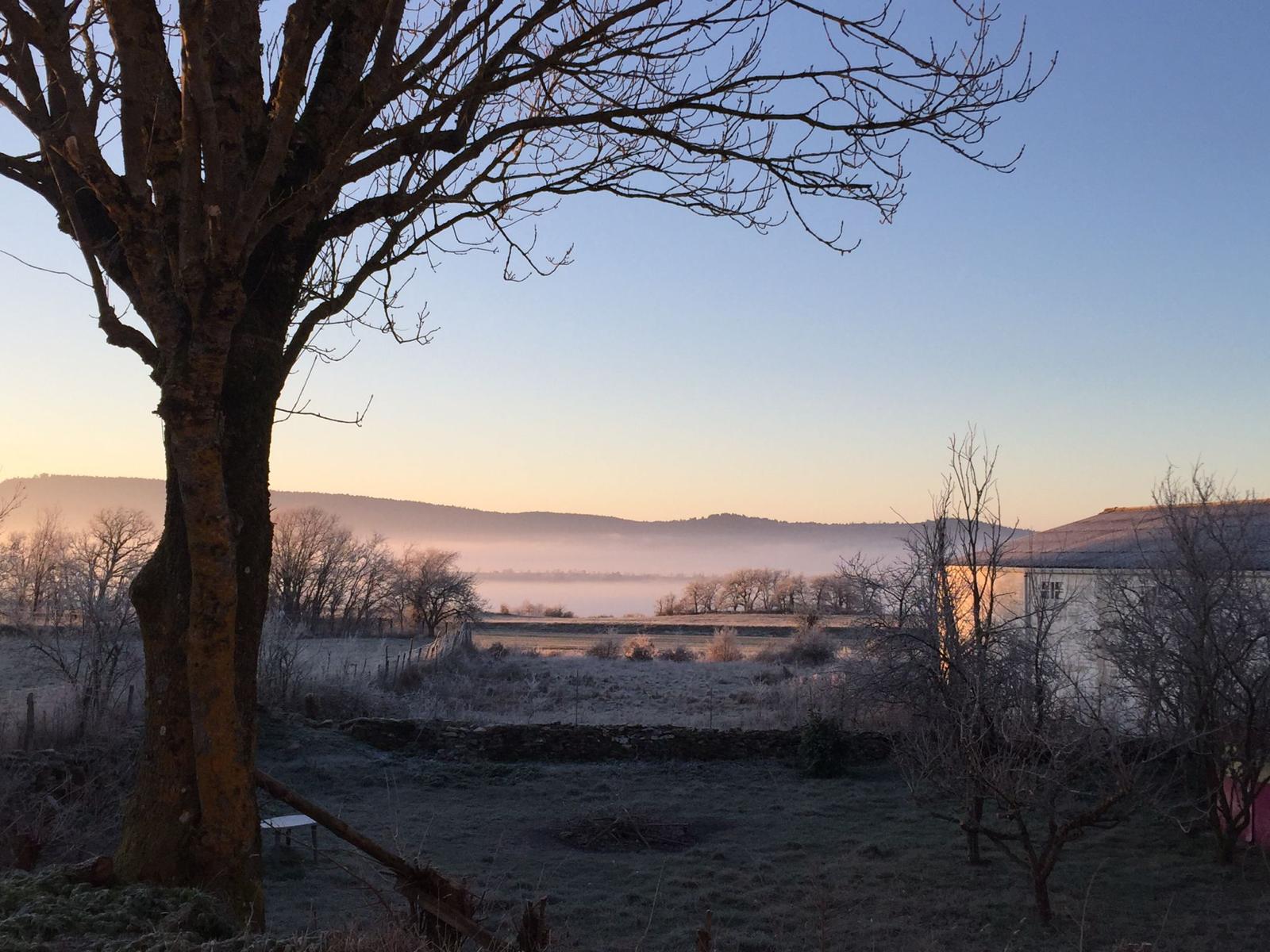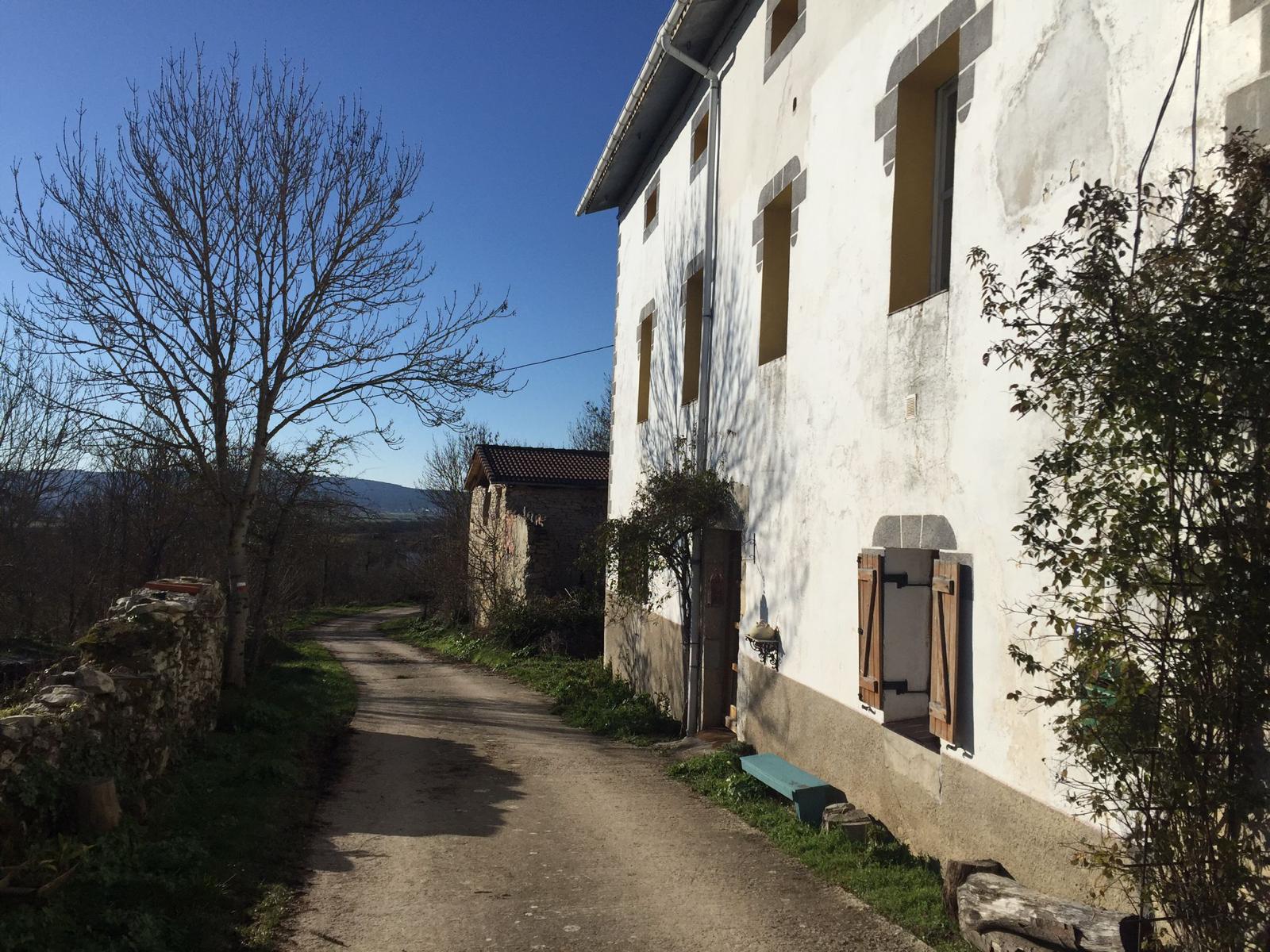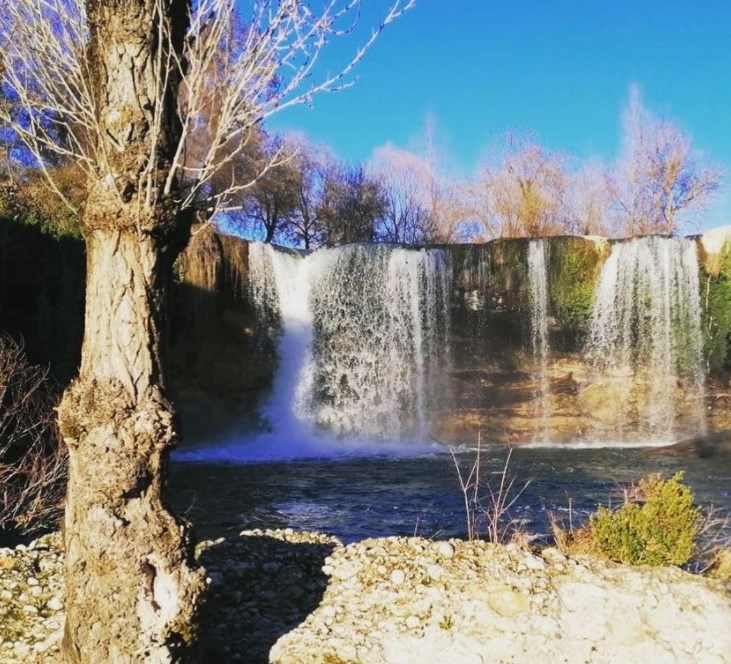 Ben provided all vegetarian food. Here's an onion soup with cheesy crouton and three dips: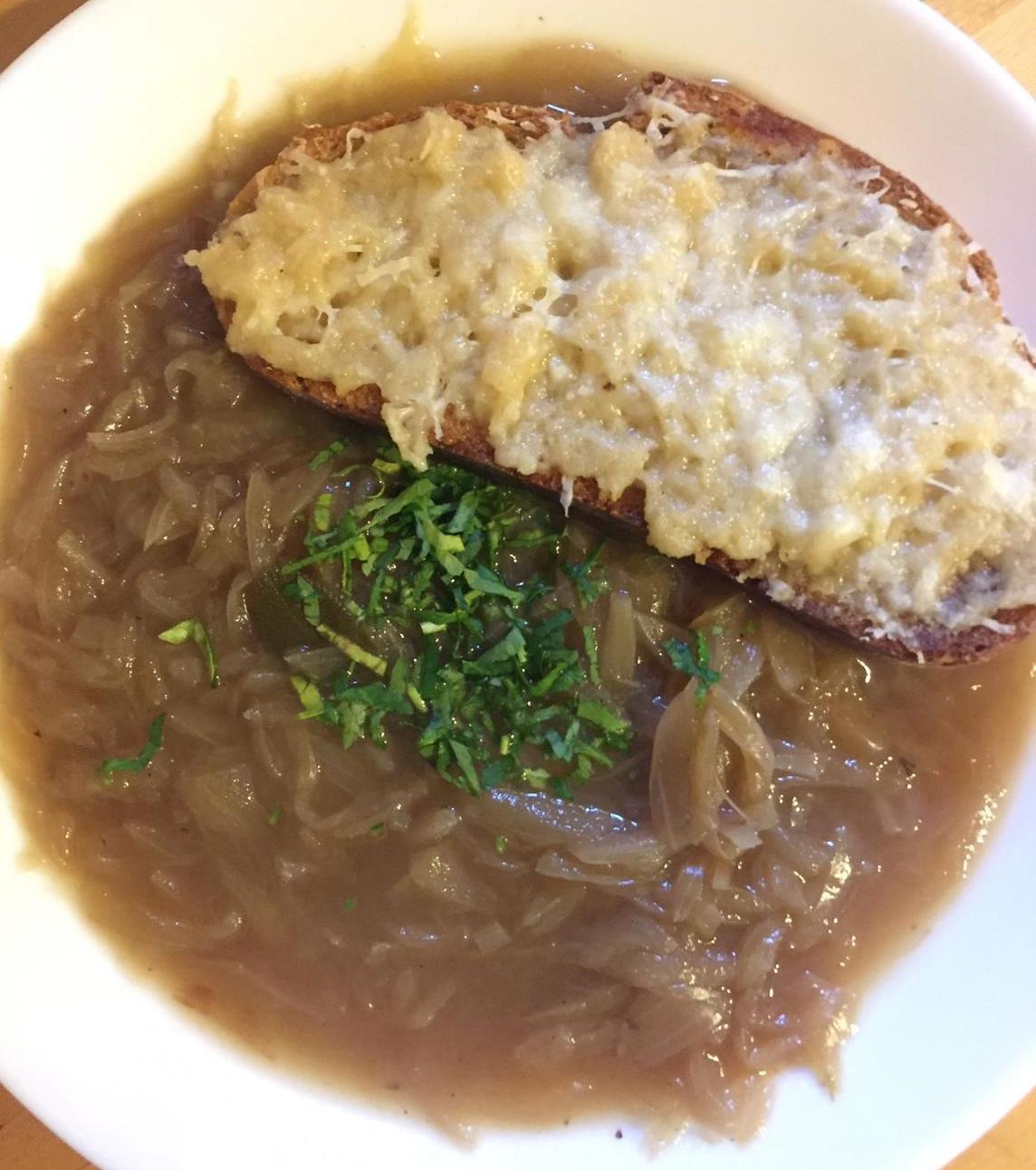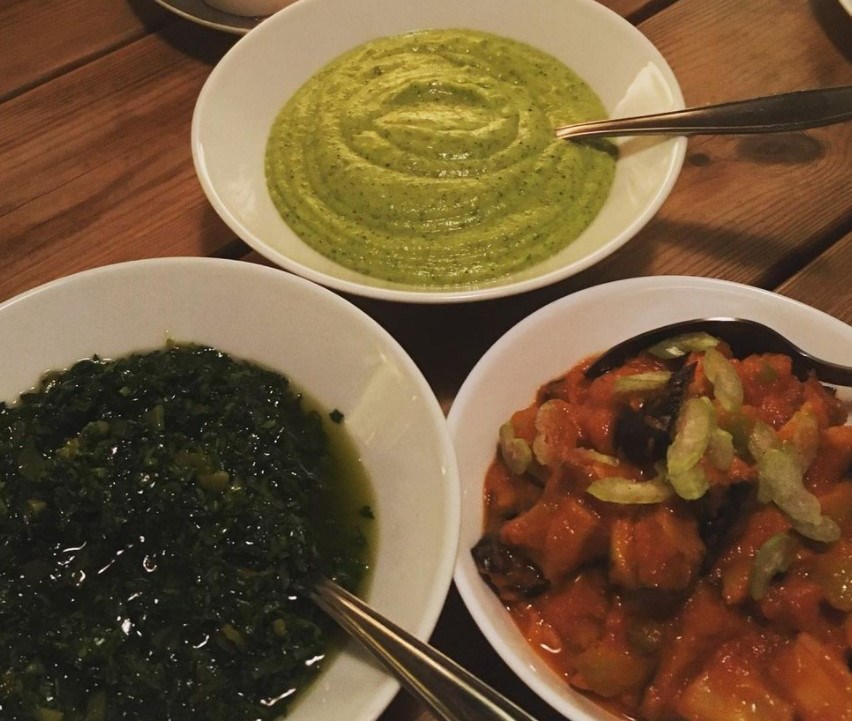 And it wasn't bad in Bristol's Ashton Court when daughter Ellie was walking her dogs:



Tuesday 18th January


Yesterday I sang the praises of "After Life", written and directed by and starring Ricky Gervais.

Punters like me have loved it. The critics, not so much. Hugo Rifkind of The Times called it "mawkish." Harsh, I thought. Some syrupy passages - it is after all a tear-jerker about a man surviving the death of his beloved wife - but not quite that far.

After watching the last instalment, we had said, "Five episodes? That's an unusual number."

Correct. Because there are six. Somehow, Netflix hadn't revealed the final one to us. The reviews made me check and sure enough there it was. Substantially more sentimental than all the others that preceded it. I can now understand the negative critics. Gervais's character Tony - committedly grumpy and angrily foul-mouthed - has something of a lovey-dovey epiphany. I won't say more, spoiler-averse. Except that I'm still a fan.

This is the kind of pickle into which on-demand television can take you. It wouldn't have happened had I been following a published schedule. "Last episode tonight, fancy coming round to my place?"

Which brings me back to the question I posed to myself yesterday, about why a broadcaster like the BBC offers both scheduled and on-demand access to a new popular series. I felt pretty old-school as I asked the question - and I'm guilty as charged. It's a response to how the modern viewer wants to consume content. Talking about "After Life" is off the point, really, as Netflix is one of the key threats to the BBC. Tony Hall, Director-General of the BBC between April 2013 and August 2020, outlined a shift in direction a while back in a speech to BBC staff in Birmingham in 2017:


"This is my challenge: over the next few years, I want us to reinvent public service broadcasting for a new generation. Let me say straight away: this does not mean somehow forsaking our existing audiences - that would be stupid. We have to ride two horses: doing brilliant things on our existing channels and services, but also innovating in the digital space. Our task is to reinvent public service broadcasting so that it works for all audiences.

"Audiences continue to value what we do - in fact, they value it more than ever. And - Ofcom's research shows - young people value public service broadcasting as much as all of us - a really crucial point to remember. But if young people value what we do, reaching them is a whole different matter. In fact, it's one of the single biggest strategic issues we now face. Why? Well, first, because there's so much competition for their time. Adults spend eight percent of their media time on social media and messaging. For 16-24 year-olds, it's 25 percent. Across the whole of the TV market, time spent with young audiences has fallen by 20 to 30 percent. It's the same story with radio. Increasingly, younger audiences and older audiences are consuming media in different ways. So we have to respond.

"I think the second big issue is that the media landscape has changed beyond recognition. It is hugely more global and more competitive. We're now in an environment where Amazon, Netflix, and others are willing to invest huge amounts of money with no certain return in an attempt to capture market share where Facebook is looking at commissioning its own TV programmes, and Twitter is buying up sports rights and where moves such as the Fox-Sky merger are making the very biggest players even bigger."


He summarised the transition thus in describing the role of iPlayer: "We need it to make the leap from a catch-up service to a must-visit destination in its own right."

This was five years ago. All pretty obvious. The change in viewing habits and content consumption has accelerated since then. Partly driven by the pandemic? More people at home, not necessarily at traditional peak hours, wanting to access favourite material there and then, intolerant of the wait for scheduled delivery? Also, not restricted to the television in the corner of the sitting room, but available across multiple devices. Wi-fi internet delivery, not just via the old-fashioned airwaves. Watching a YouTube channel on the bus home?

Monday 17th January


On-demand television is a strange thing to a child of the 1950s. I don't know if it's my self-imposed lockdown-lite, January blues, cold grey weather or just sloth, but I've indulged in some mild binge viewing over the first two weeks of the year.

I polished off all four episodes of Ruth Fowler's "Rules of the Game" in two evenings, three of them last Wednesday when the Middle Street book group banished me to my office upstairs. Netflix only released Series 3 of the Ricky Gervais dark comedy "After Life" on Friday; I've already consumed the five half-hour episodes.

This is a very new approach for me. I watched the relatively recent "Bodyguard" and "Vigil" thrillers at their published weekly times although I could have got ahead of myself on iPlayer, certainly with the latter. The same with "Line of Duty". With "Vigil", I even had reminders in my diary.

That's how we used to do things, isn't it? Look forward to the next instalment and wait for it. The technology wasn't available with "The Forsyte Saga" or "Brideshead Revisited" - OK, you have to be of a certain age to remember those.

Whatever happened to deferred gratification? I've suppressed a quiet guilt in gobbling up "After Life" so rapidly. I'm not complaining. Gervais's latest offering is excellent. You may not like him, but he's clever, an original and acute observer. While dark, sad and very rude, the brilliance lit up these winter Covid days.

There was a kind of anticipatory ritual in days gone by, governed by fixed-time broadcasting. You might plan to watch with friends or family. Then review with colleagues the day after: "Did you see 'Monty Python' last night?"

I don't know why the production or distribution companies now give us this option. It alters the whole concept of audience attraction, the traditional dynamic of viewing figures. Is it a recognition of "I want it now" greed? Are we no longer prepared to wait?

If you subscribe to the Netflix service, I can't recommend "After Life" too highly. We may not be able to contend with Australia at cricket, but we really do have some astonishing creative talent in this country.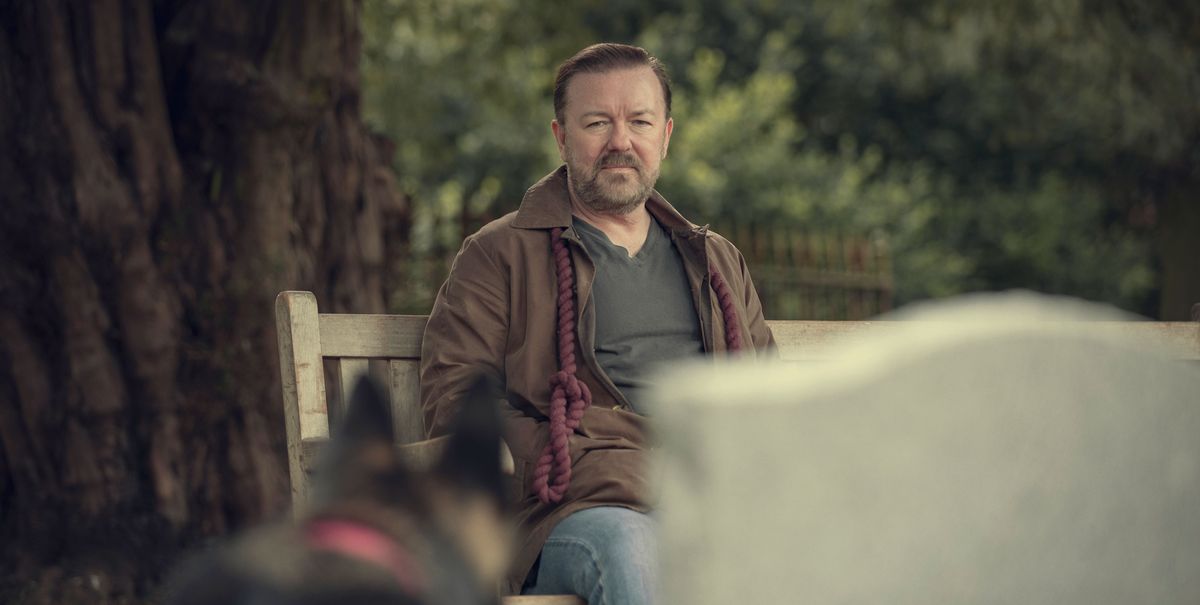 Sunday 16th January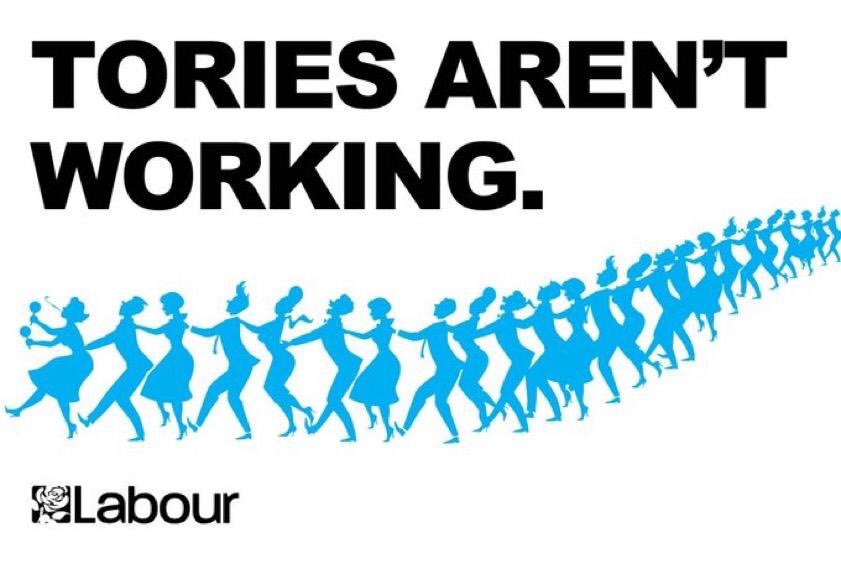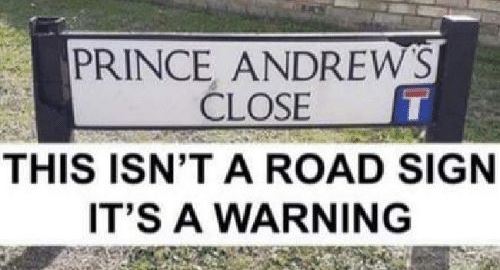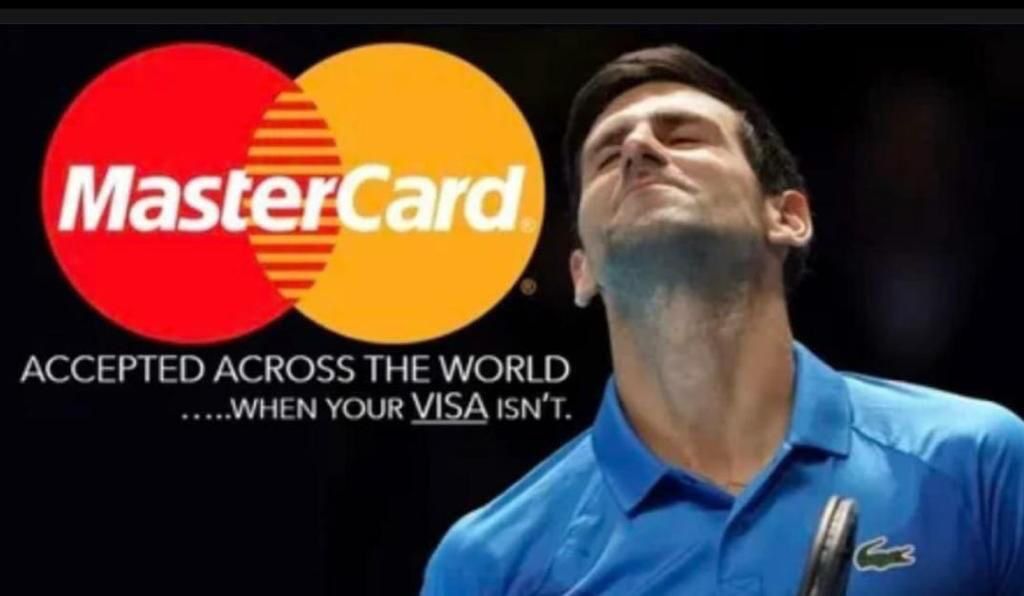 Saturday 15th January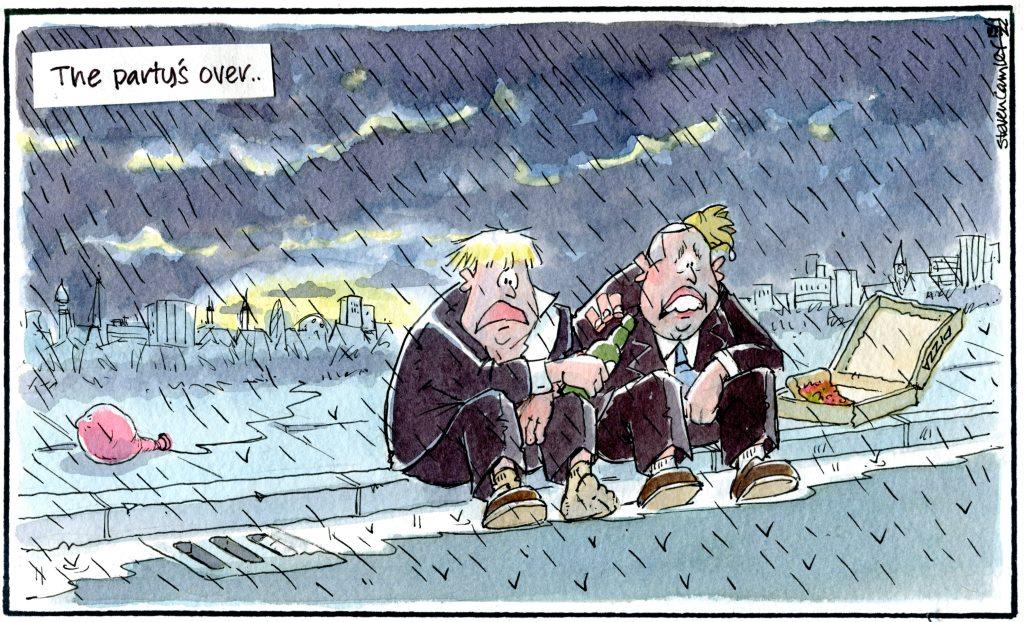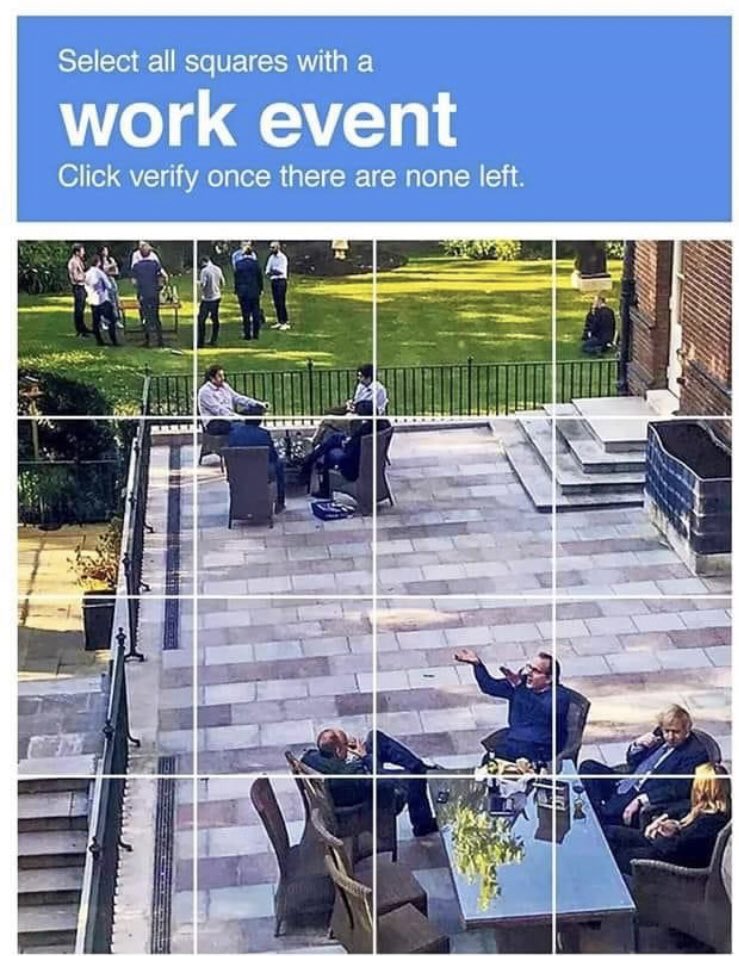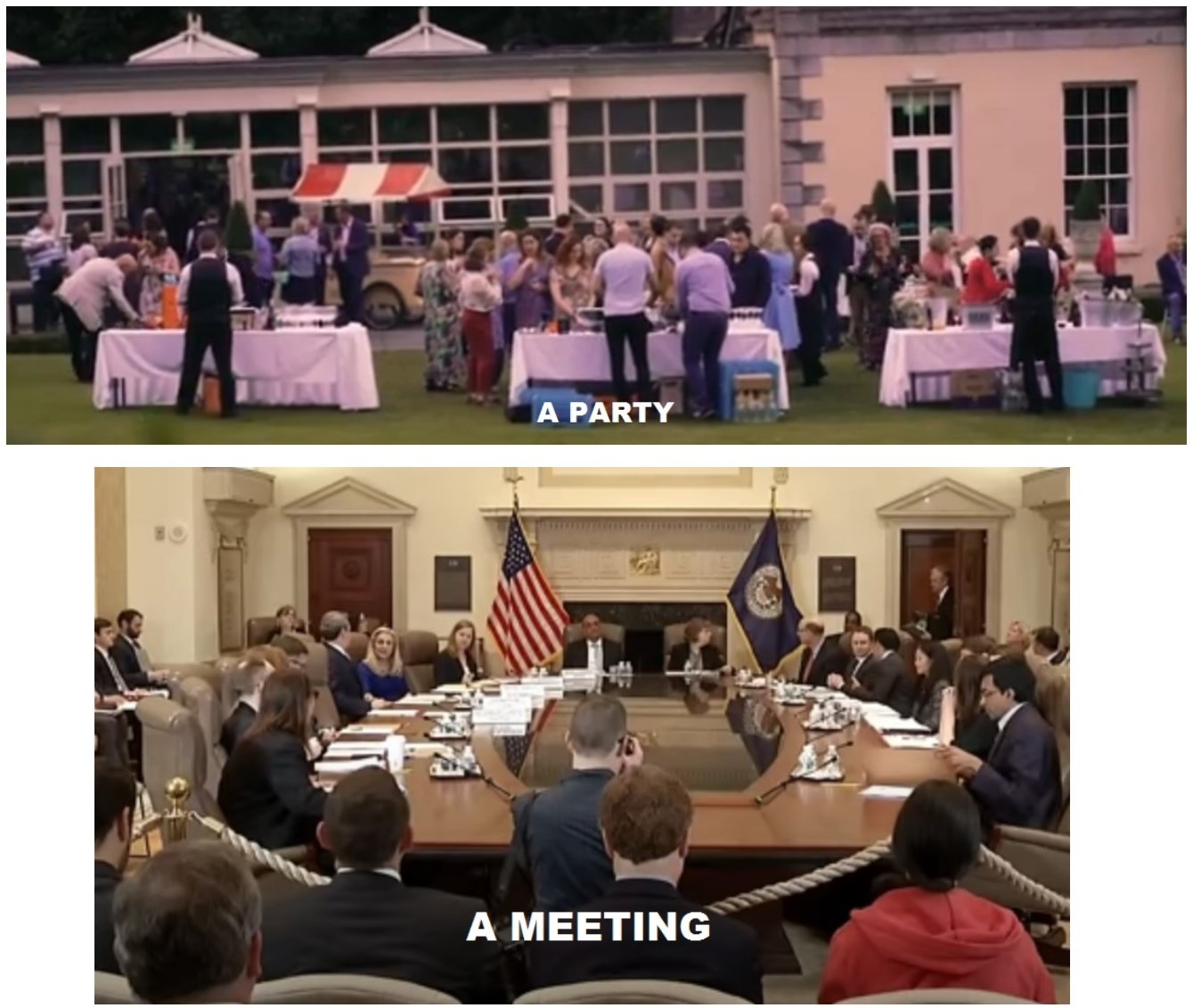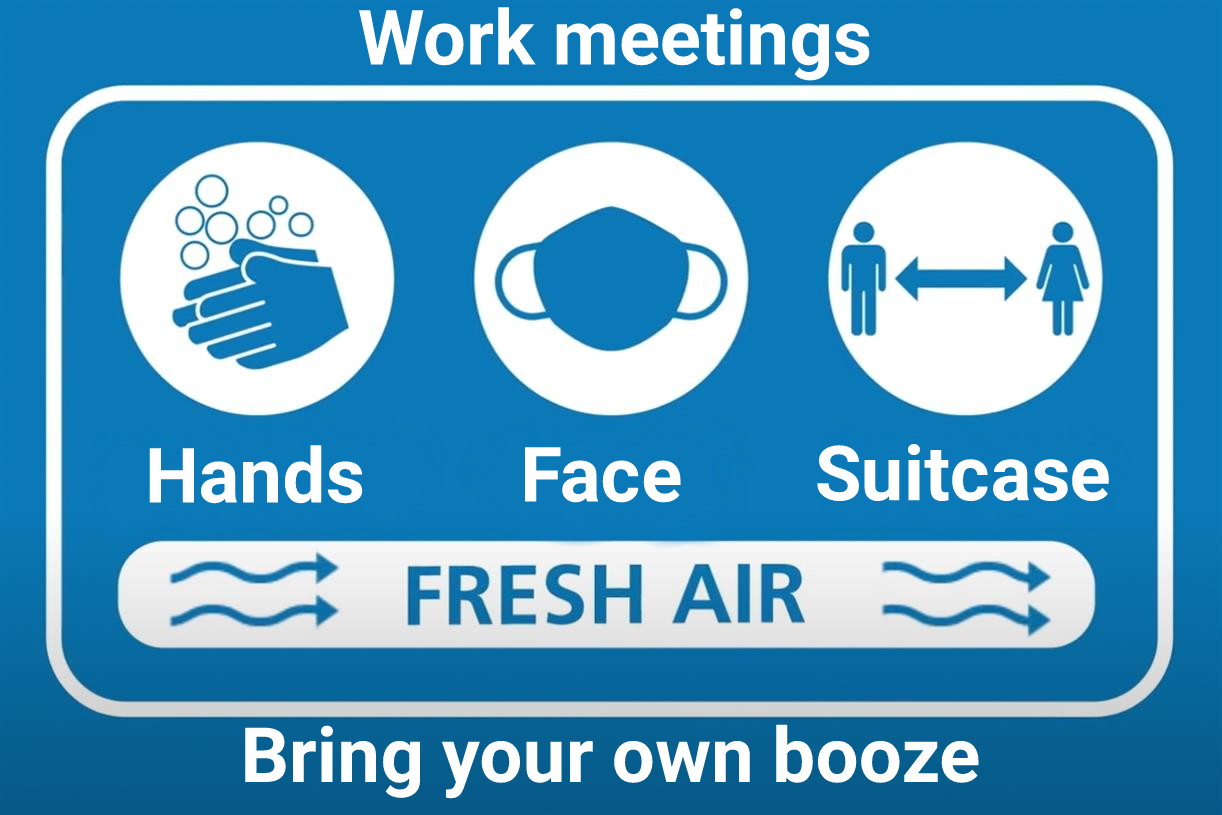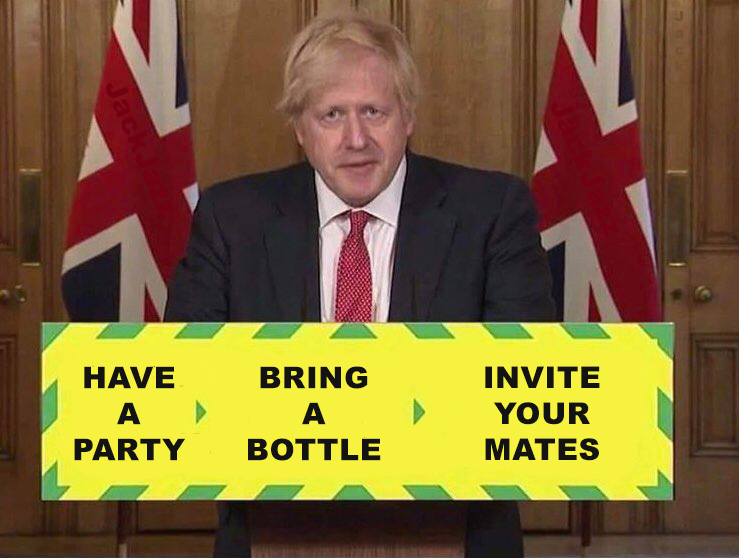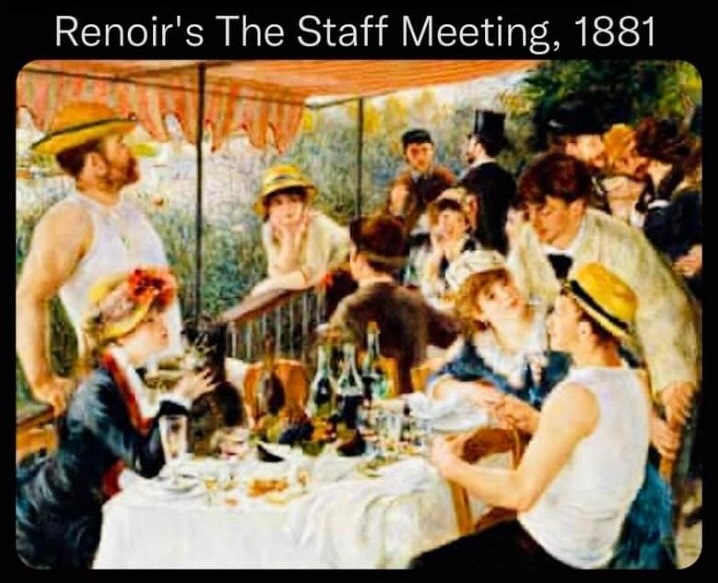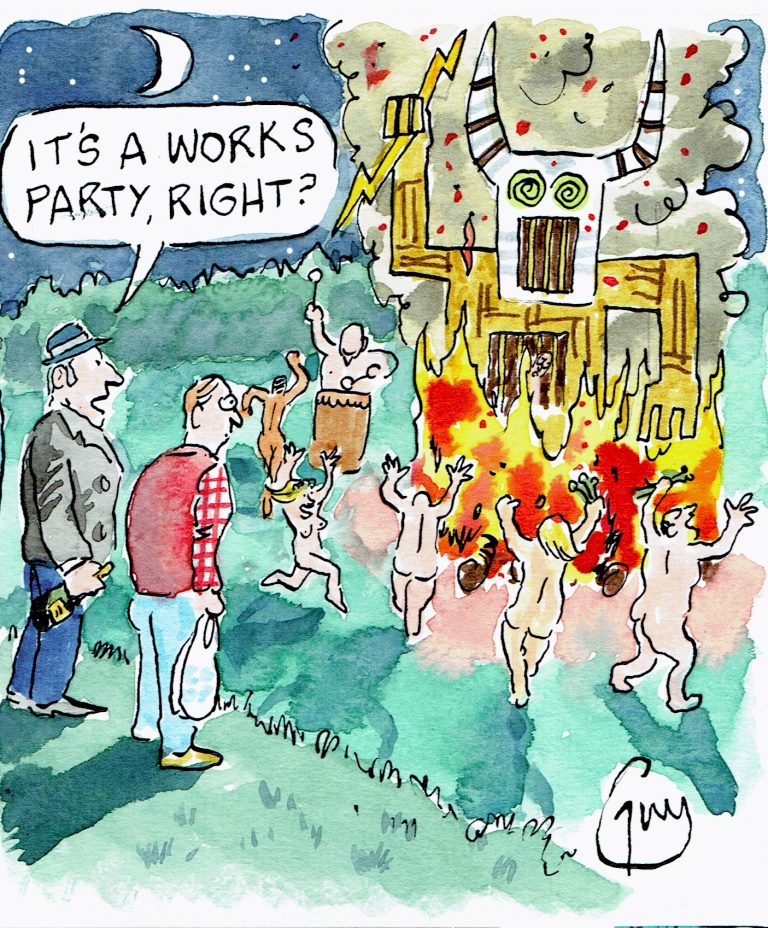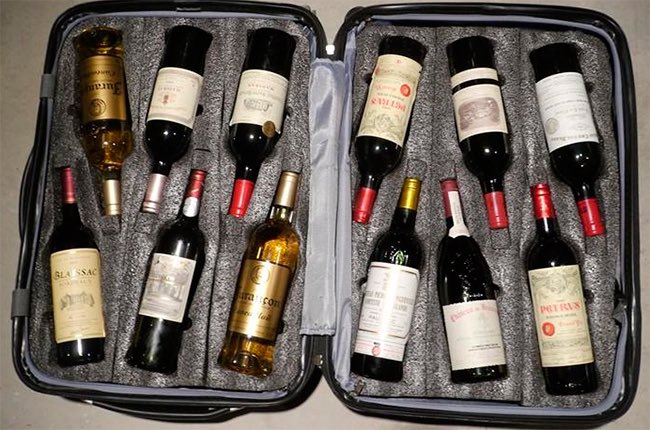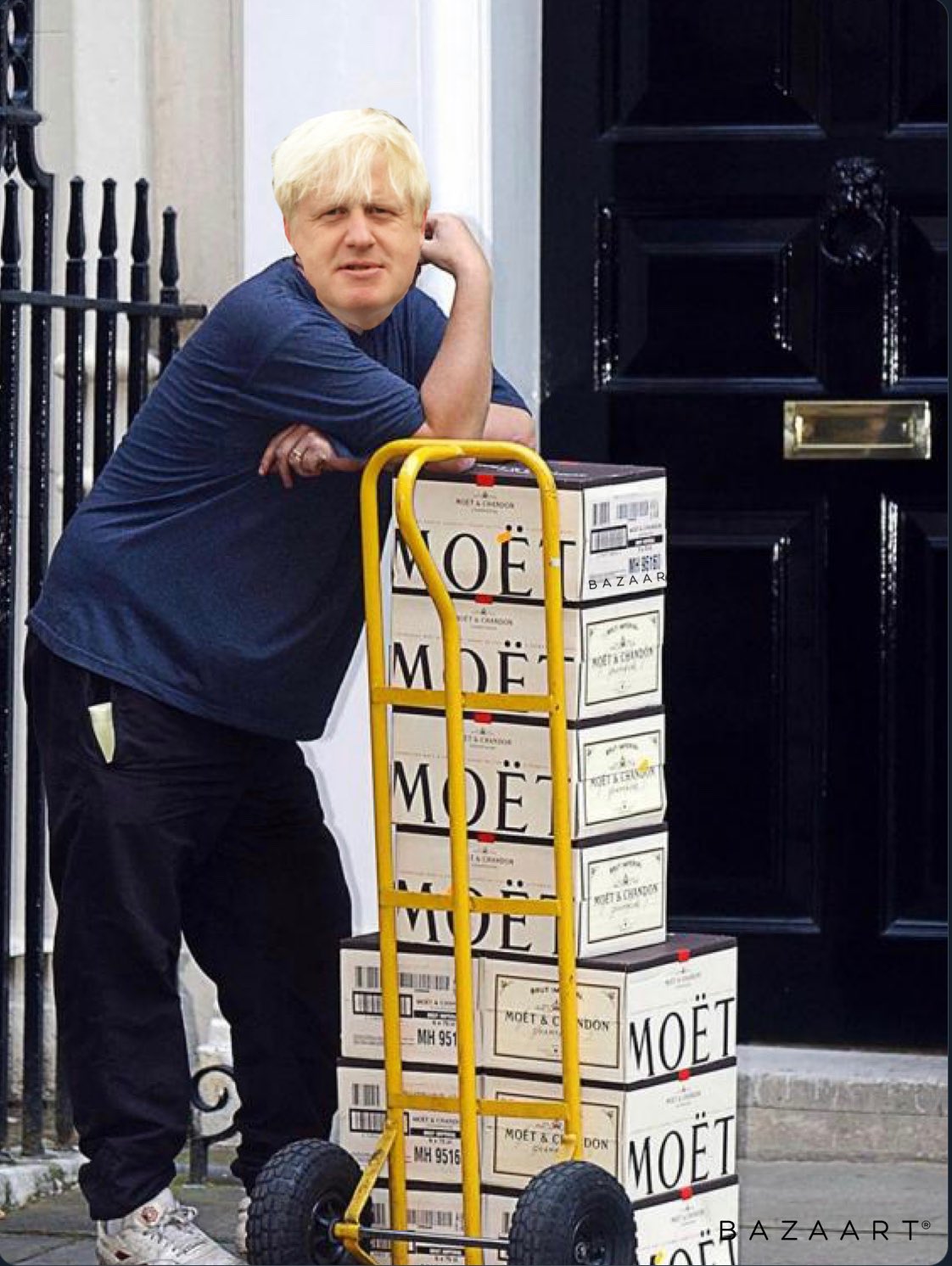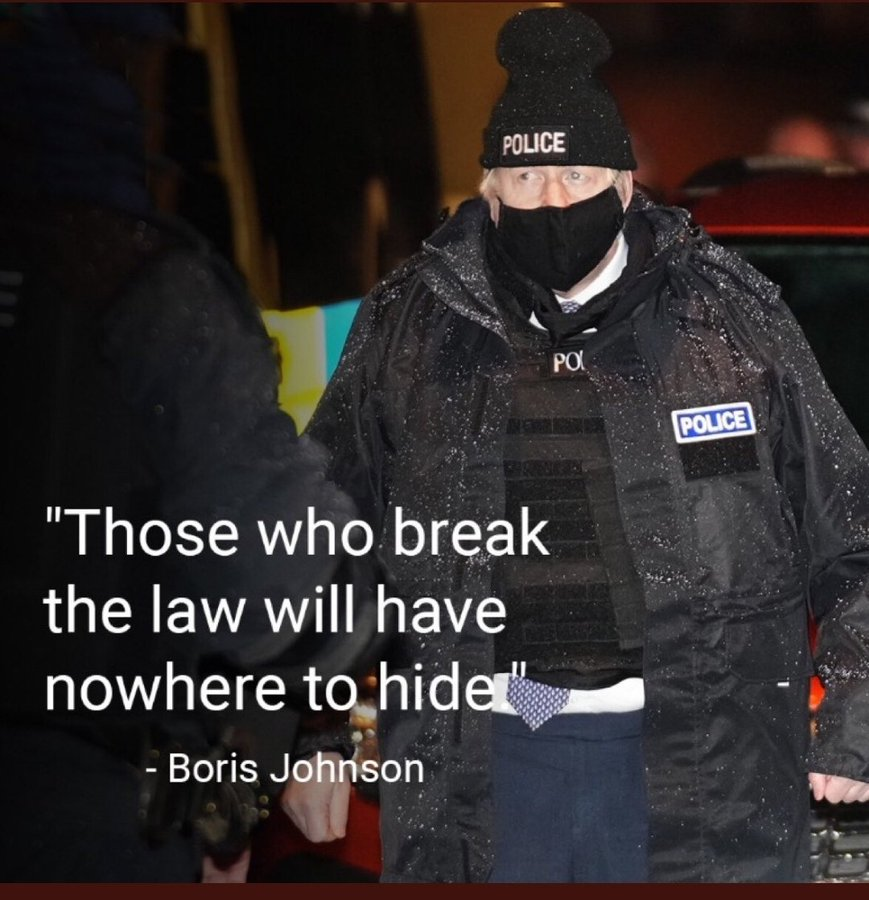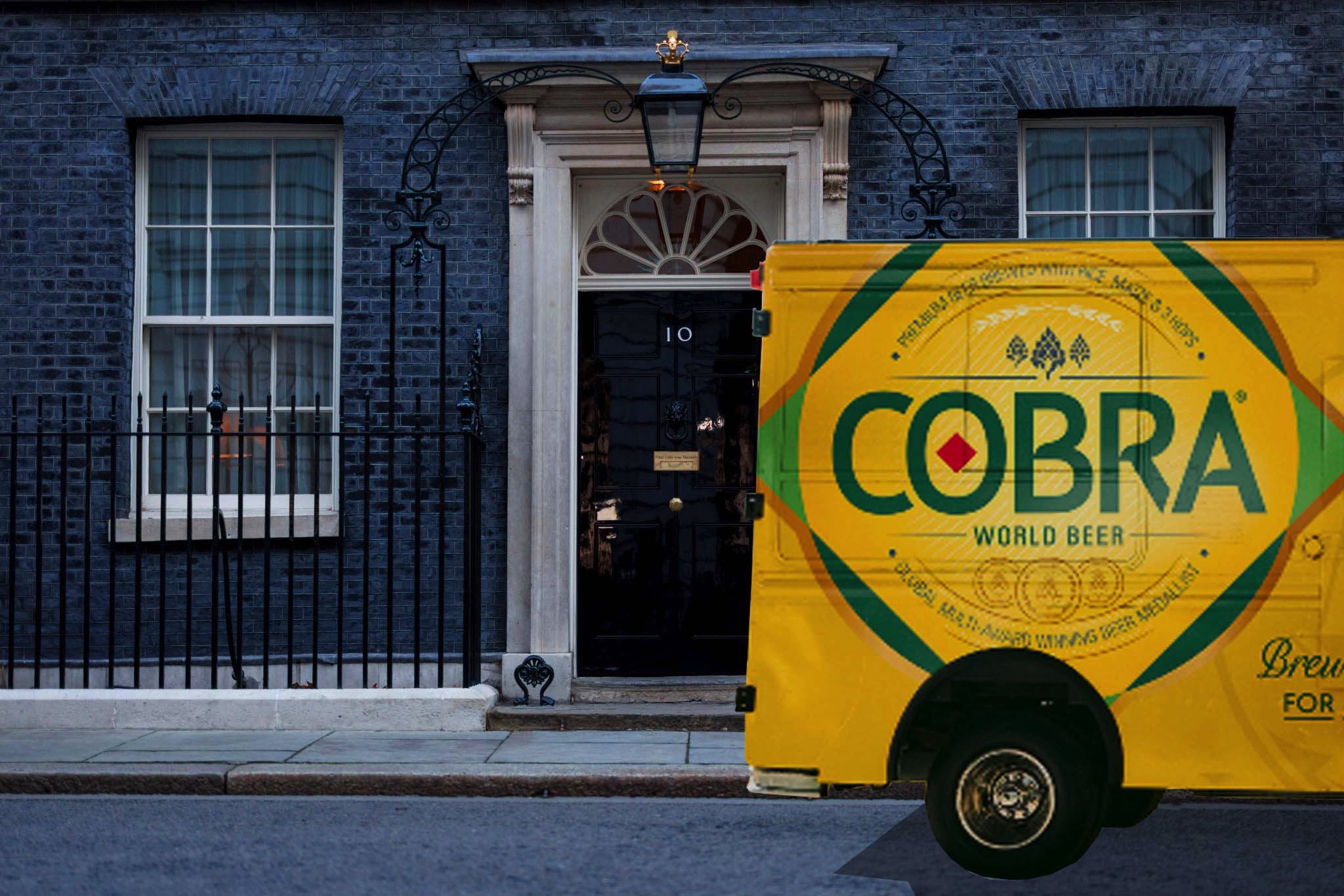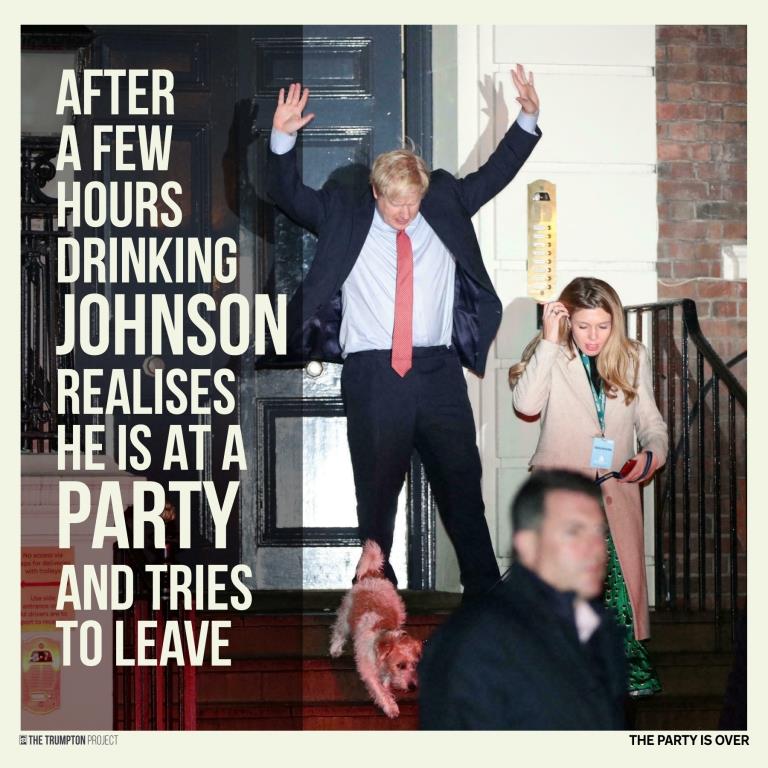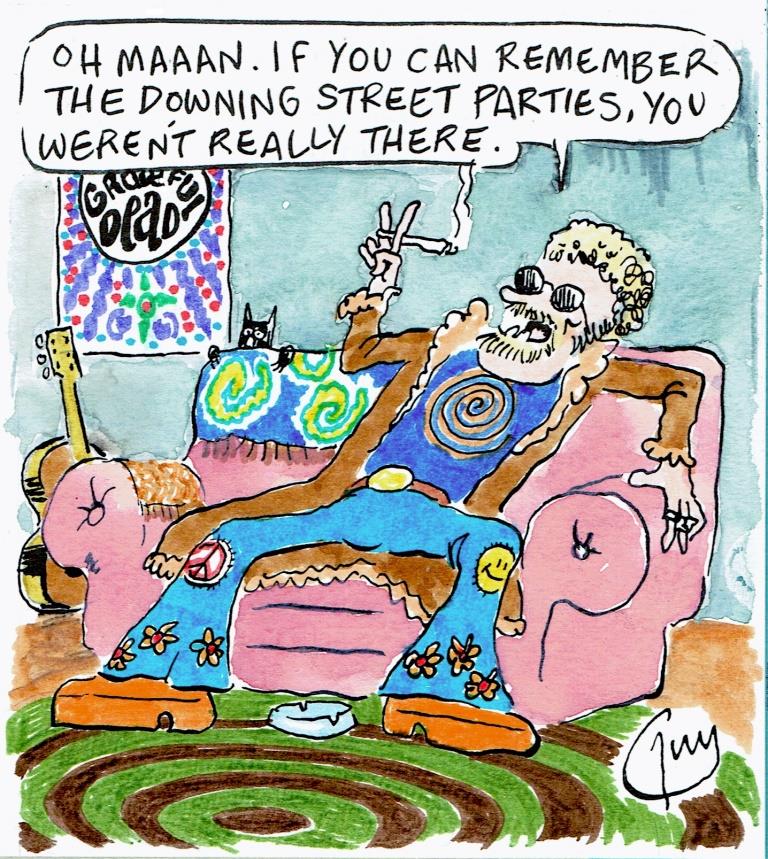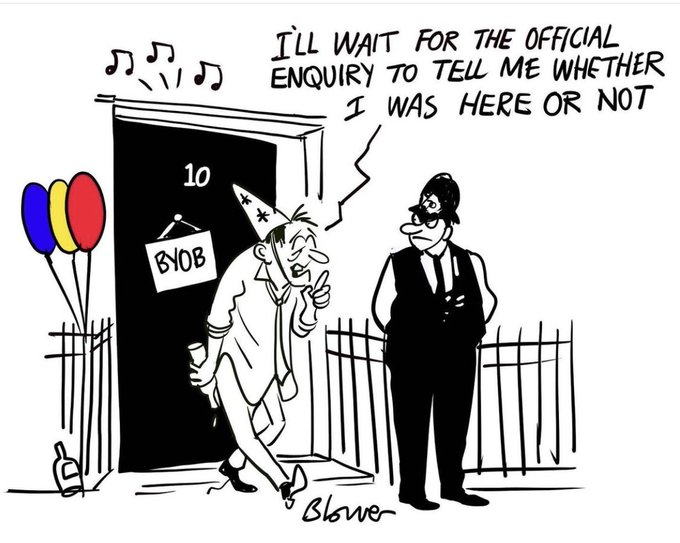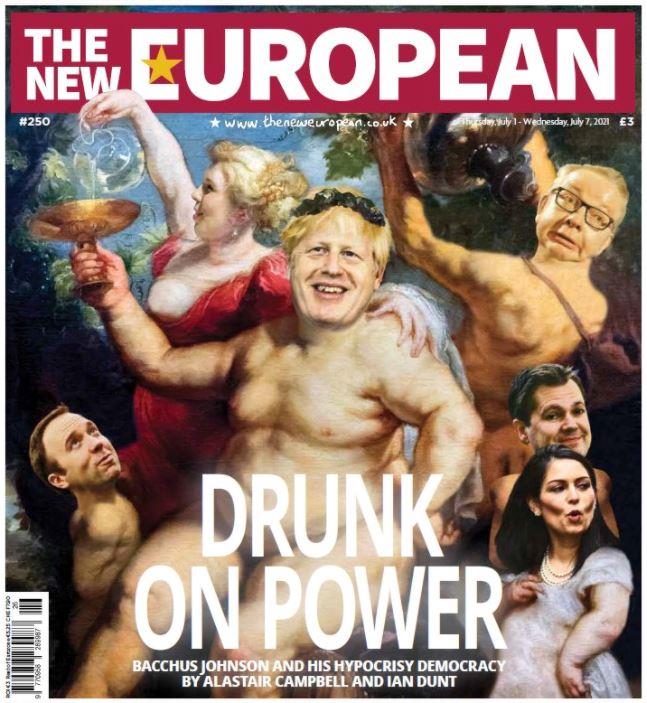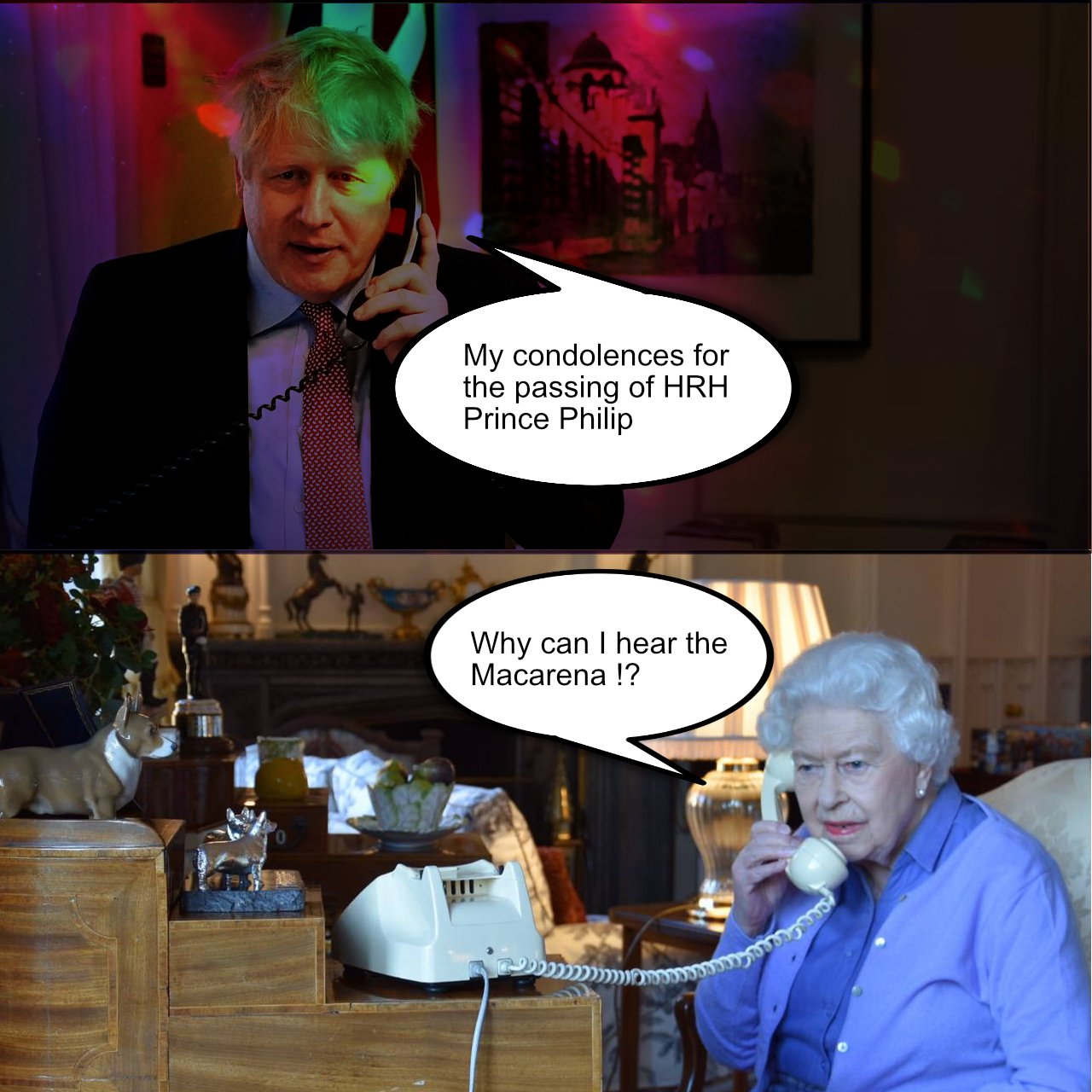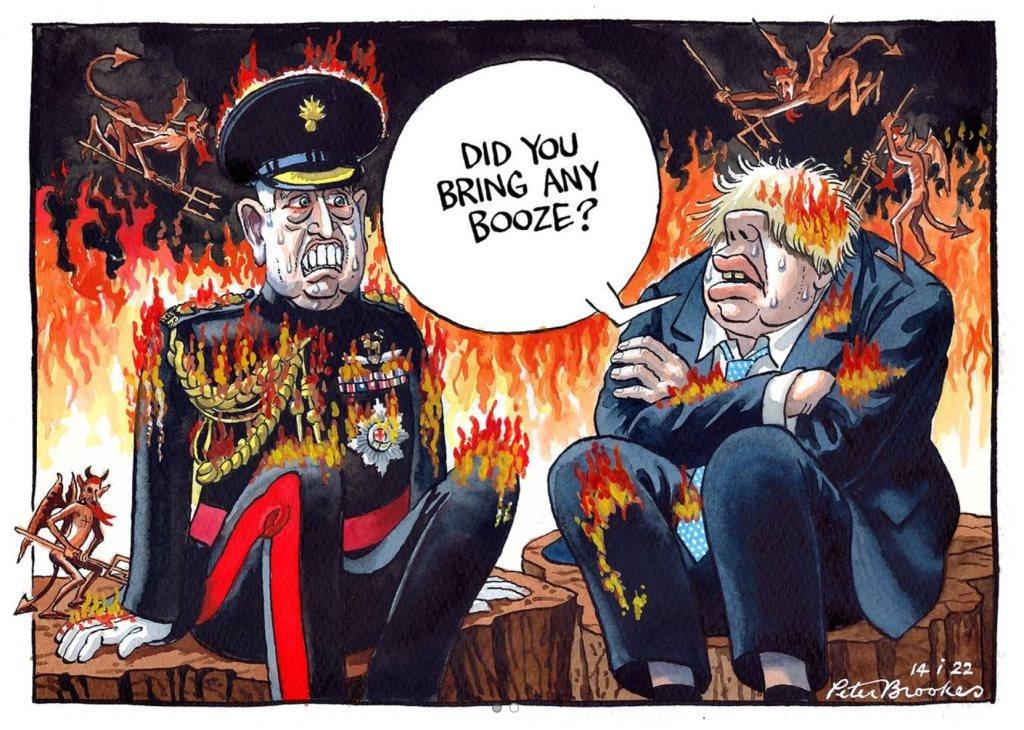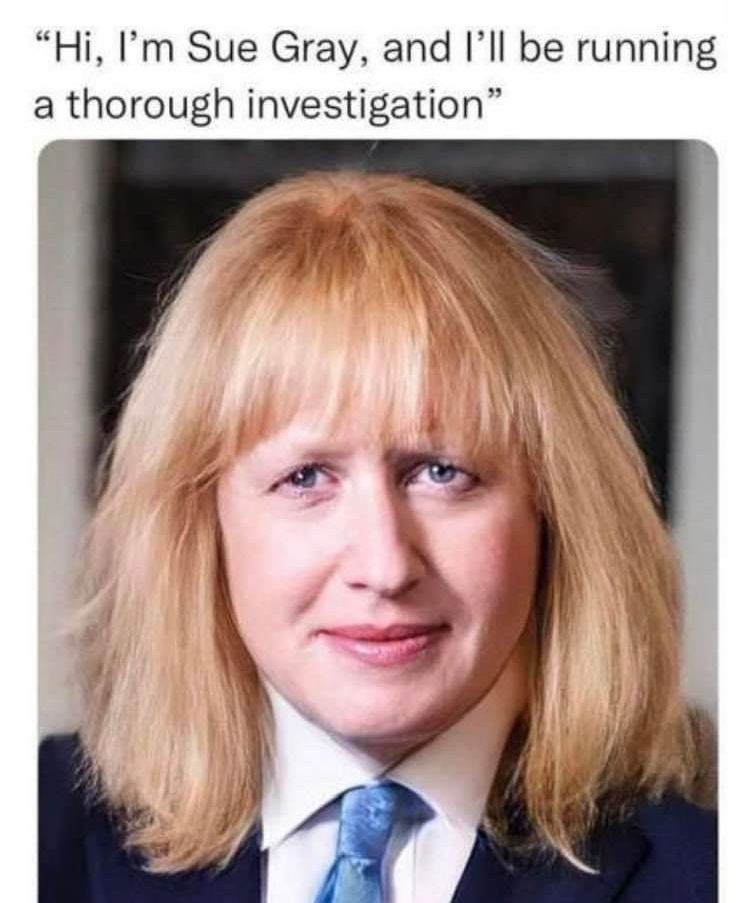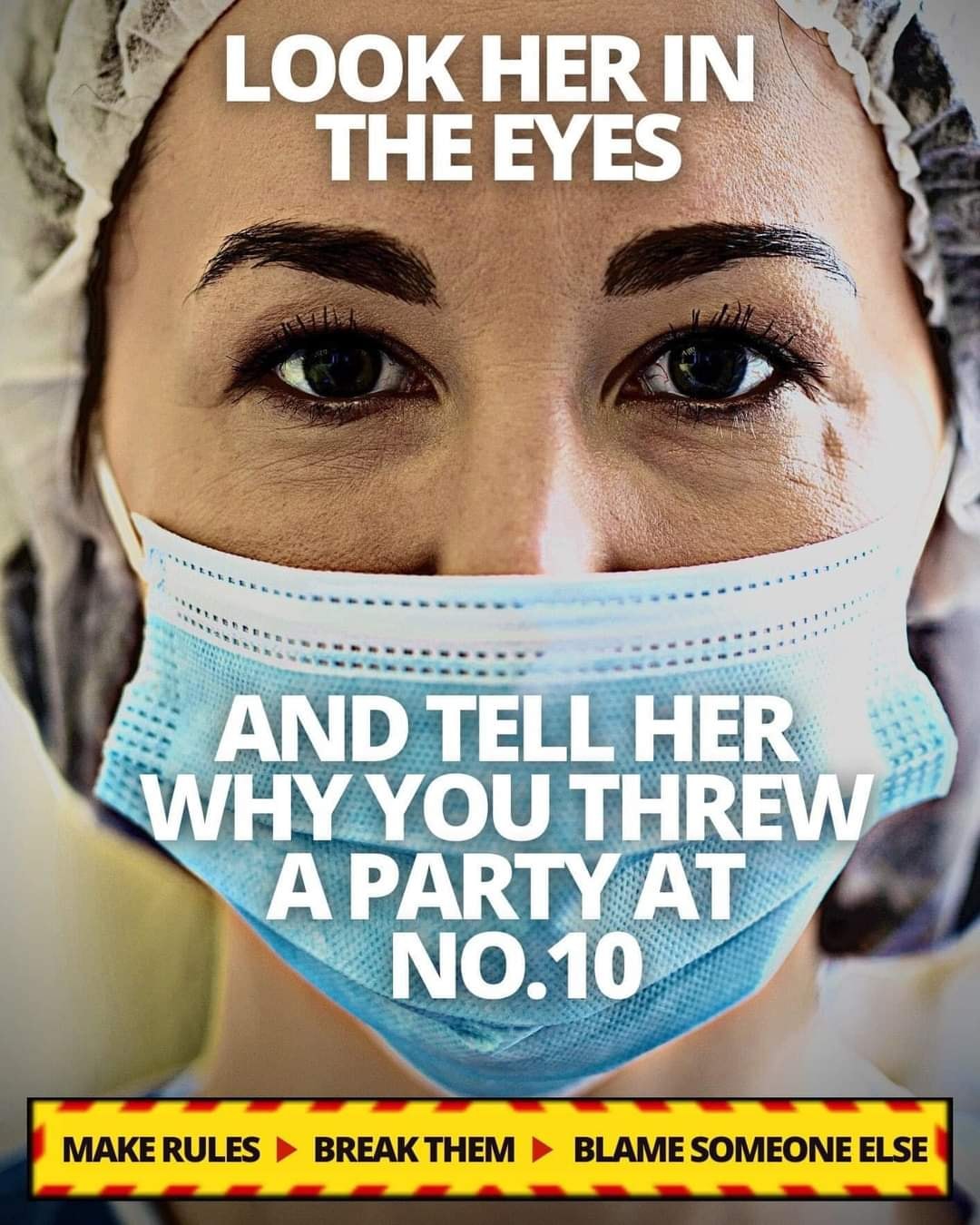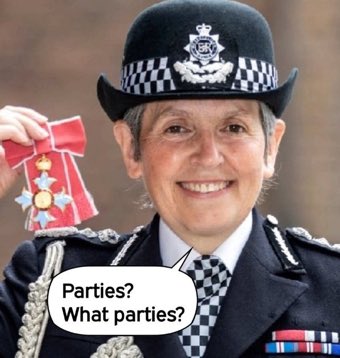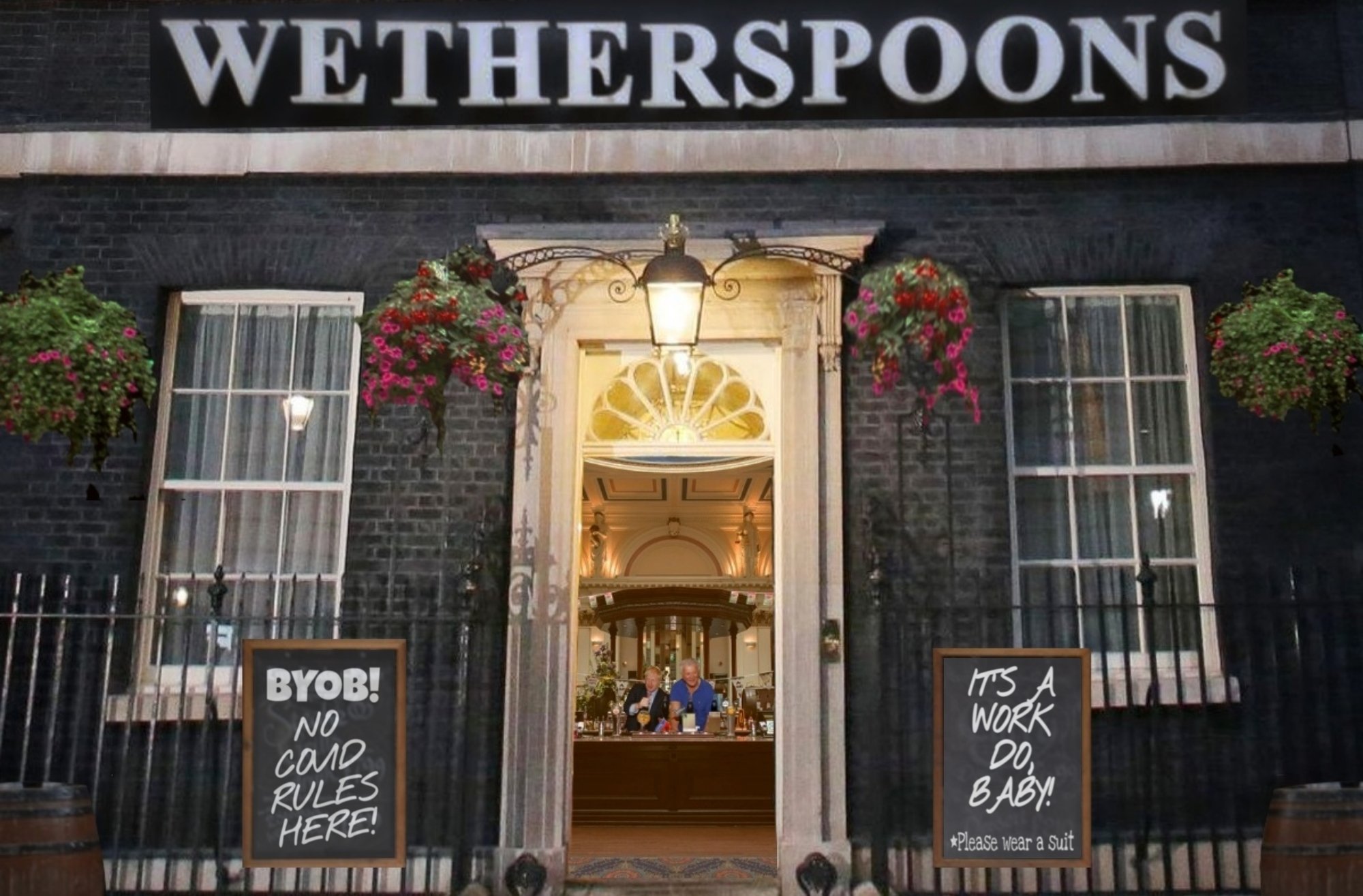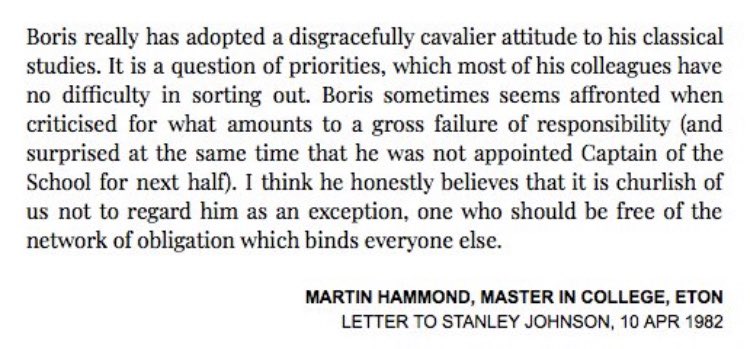 Friday 14th January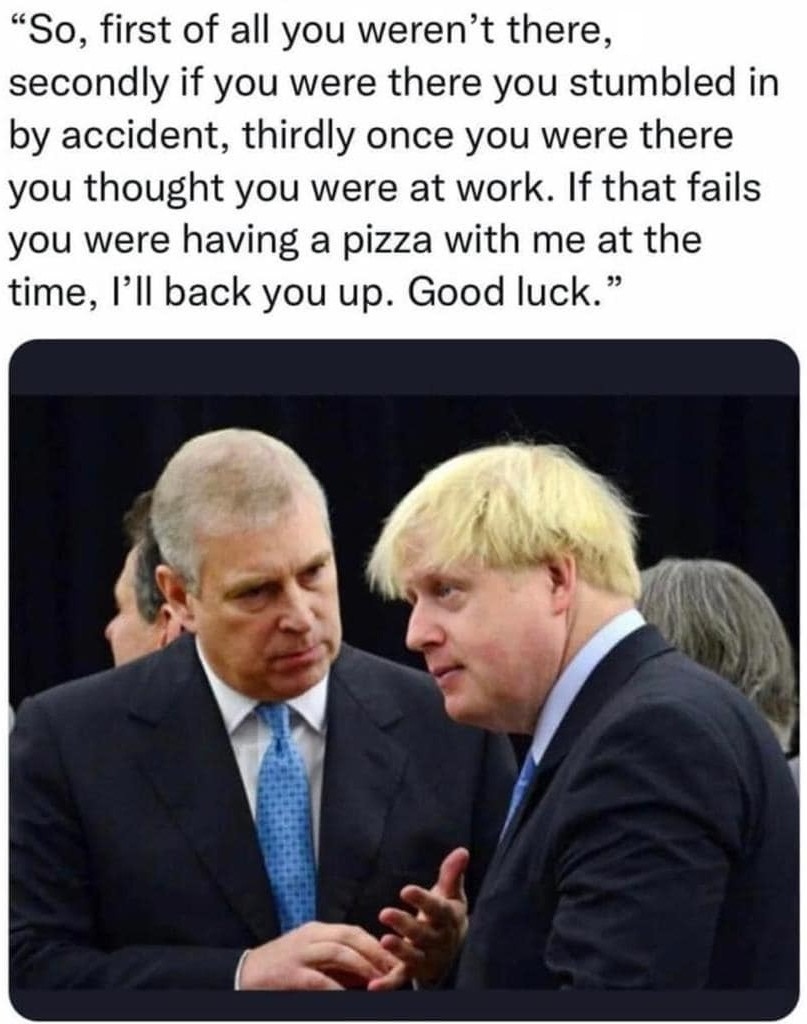 Thursday 13th January


"End of the road", they said. "The party's over." Hmmm ... we'll see.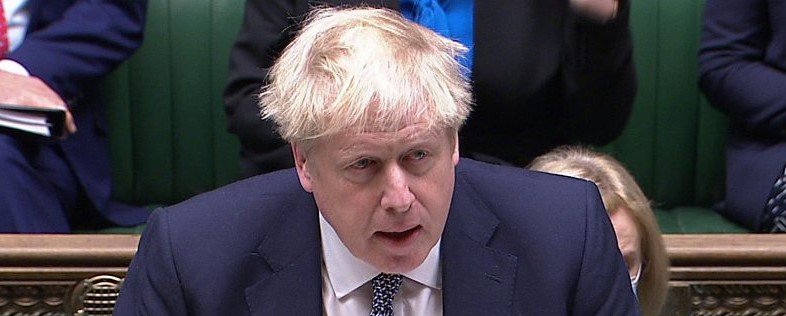 Conservative MP Christopher Chope commented:


"I've never heard such an abject apology from a government minister in my 30-plus years in this place."


What did his advisers tell him? "Boris, this is it. Apologise or you're a goner. No jokes, no snappy catchphrases or soundbites - none of that 'we vaccinate, they vacillate' stuff. No poking fun at Starmer. Try to look like you mean it. Just say sorry. And don't smile."

What did you think? Have you ever heard words such as these from a British Prime Minister?


"Mr Speaker, I want to apologise. I know that millions of people across this country have made extraordinary sacrifices over the last 18 months. I know the anguish that they have been through - unable to mourn their relatives, unable to live their lives as they want or do the things they love. And I know the rage they feel with me and with the government I lead, when they think that in Downing Street itself the rules are not being properly followed by the people who make the rules.

"And though I cannot anticipate the conclusions of the current inquiry I have learned enough to know there were things we simply did not get right and I must take responsibility. Number 10 is a big department with the garden as an extension of the office - which has been in constant use because of the role of fresh air in stopping the virus. And when I went into that garden just after six on the 20th of May 2020, to thank groups of staff before going back into my office 25 minutes later to continue working, I believed implicitly that this was a work event.

"But, Mr Speaker, with hindsight I should have sent everyone back inside, I should have found some other way to thank them and I should have recognised that even if it could be said technically to fall within the guidance, there would be millions and millions of people who simply would not see it that way. People who suffered terribly - people who were forbidden from meeting loved ones at all, inside or outside. And to them and to this house I offer my heartfelt apologies. And all I ask is that Sue Gray be allowed to complete her inquiry into that day and several others so that the full facts can be established."


His answer to every question faced finished with that request, except for a brief rally at the end of Keir Starmer's fierce examination when he resorted to his habitual promotional bluster about the Great Vax Job.

He still tried to wriggle a bit. That garden was well-used "because of the role of fresh air". Hanging on to the "work event" claim.

Sue Gray, it's over to you. Or maybe the 1922 committee and 54+ Conservative MPs.




Wednesday 12th January


I watched the BBC news and scanned stories on the CNN website last night, and found that I really didn't want to reflect or comment on any of them. Too wearing.

A contrasting shaft of light came from a local source. Our Middle Street WhatsApp group (I hate that the platform is owned by Zuckerberg's Meta) really has enhanced the life of our community during the pandemic, like countless others round the world, I'm sure. Yesterday a new baby was welcomed, a neighbour was able to borrow scaffolding planks, the Crown & Sceptre alerted us to Katie's Famous Chicken and Mushroom Pie at the weekly Up The Workers cheap supper evening, a resident borrowed a guitar to help her through Covid isolation, a mis-delivered letter found its rightful recipient - and the Adventures of Marley the Cat continued.

Marley goes missing. The group has frequently been called upon to help find him. Then at Christmas his owner bought him a digital Cat Tracker. Yesterday evening he revealed himself at a favourite watering hole in town.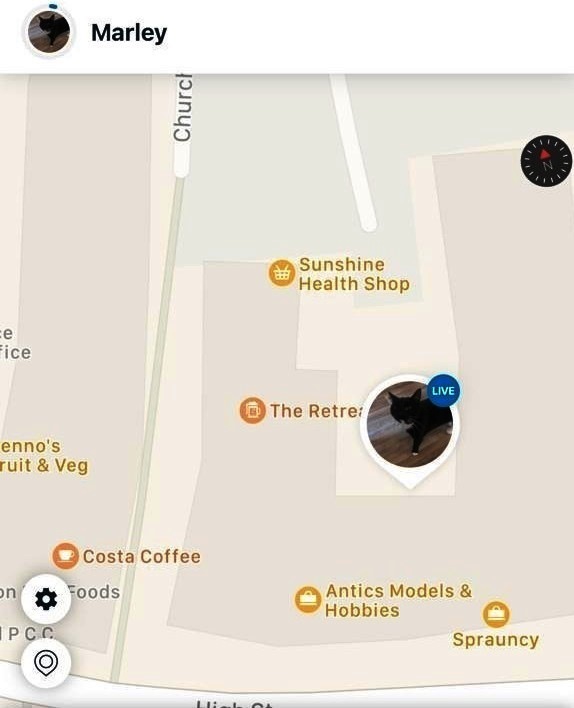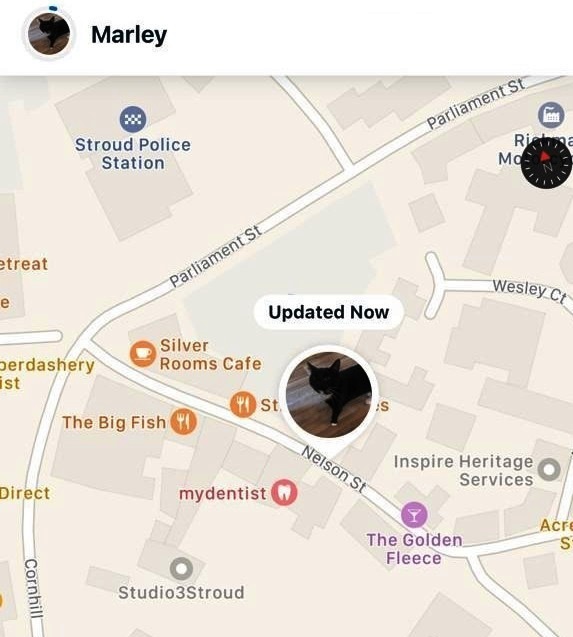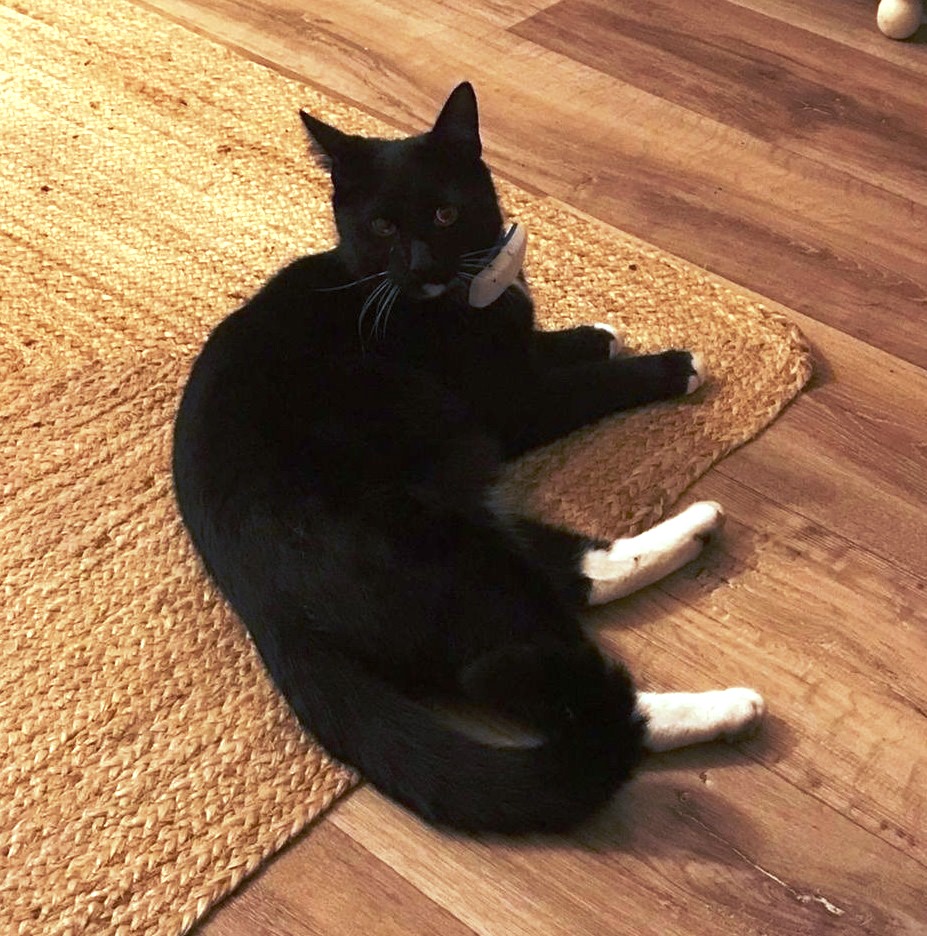 Tuesday 11th January


I was up at 5:30am this morning. The birds were singing outside my office window as I sat down to write. A welcome portent - OK, maybe I'm jumping the gun - of spring. We're heading for my favourite time of year. The darkest dawn is well behind us, 21 days ago.

One of the benefits of Boris's let's-pretend-it's-business-as-usual Plan B is that our local cinema is open. At the weekend we saw Steven Spielberg's re-make of "West Side Story". An absolute joy, radiance in a damp and dreary coronavirus January. It's a cheesy story of doomed passion - so was "Romeo and Juliet" - and Spielberg can lay it on with a trowel, but I loved it, as much as the original film made in 1961 - oh dear, sixty-one years ago. It seemed appropriate to watch the film so soon after the passing of lyricist Stephen Sondheim. What's more, as it had been showing for some time and we went on a Sunday afternoon, I could choose a seat at a safe distance from the few other people present.

Oh, those songs: "Tonight", "Maria", "Somewhere", "America", "I Feel Pretty", "Gee, Officer Krupke". The New York background - in this version amidst the demolition of the old neighbourhood to make way for new development. The Puerto Rican and Latino flavour, criticised by some as a perpetuation of stereotypes, but come on, it's an old musical. The colour of the girls' flared skirts in those exuberant flowing ensemble dances. Charming performances by the two young leads. Maria was played by 20-year-old Rachel Zegler, cast in the role at age 17 while still in high school, three years later a Golden Globe winner. A nice symmetry in that executive producer Rita Moreno, now 90, took the part of Valentina six decades after she portrayed Anita, Sharks leader Bernardo's girlfriend - and rescued Anita from the Jets towards the end of this 2021 reprise. Spielberg dedicated the film to his father, Arnold, who died during production at age 103.

If you haven't seen it, here's the studio publicity:



Monday 10th January


I'm startled by today's FT/Johns Hopkins new cases per 100k chart (click to enlarge) for selected European countries covering the entire period of the pandemic: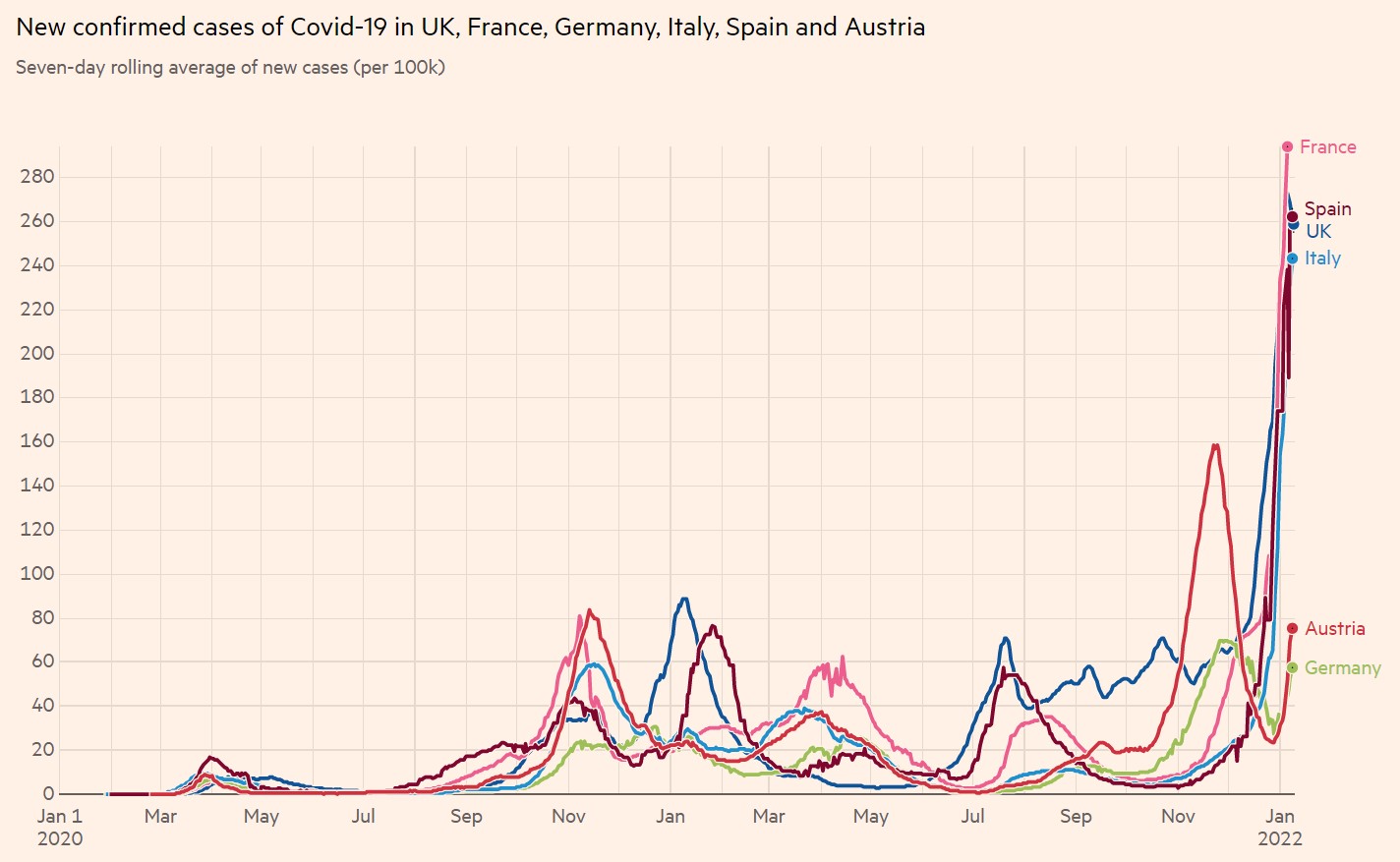 Compare with last January, when we were in a state of alarm, even panic. Nearly 3 times higher in the UK now.

We're trying to press on with "normality", aren't we? This morning I watched the kids going off to school from my office window. Parking spaces appeared in Middle Street as people went to work. Sarah went to a volunteer meeting in Gloucester, having done a lateral flow test.

I'm still erring on the side of caution. Passed on an exercise class today. I have only cooked one meal for friends in the last year. We received close family visitors over the festive period, but no others. I had New Year 'phone chats with three friends yesterday - they're doing the same.

I just don't want to get Covid. The evidence is that it wouldn't be as severe an experience as last year. The assumption then was that you might die. However, I'm not keen to find out.

Sunday 9th January


England the "global outlier", eh? This statement - video clip courtesy of The Guardian - by Welsh First Minister Mark Drakeford is quite a comment on leadership in Britain.




Somehow the sign language emphasises the madness.

Drakeford's not a party animal, is he? Just as well. Parties can get you into trouble - quite rightly if they're held in Downing Street.

It's disappointing if you're a supporter of the Union. Good sense exhibited in the Celtic fringe while confusion and sleaze reign in Whitehall. Mind you, it's an advert for devolution. The Welsh get the kind of steady-handed leadership missing in Boris's corridors of power.

You may have another view of course, particularly if you're a Welsh rugby fan or a Cardiff publican who would normally be expecting the windfall - £15,000 to the City Arms on match day - influx of fans for three contests at the Principality Stadium. There is a bitter irony in the Welsh Rugby Union's consideration of moving their Six Nations home games to English venues.

I've been looking at another source of coronavirus data - I generally rely on NHS and ONS statistics - namely that of the ZOE Covid Study, prompted by a Christmas telephone conversation with my cousin's wife. There's an app to allow you to report all your test results, and even just your general health. ZOE - from the Greek meaning "life" - states on its website that it


"is a not-for-profit initiative that was launched at the end of March 2020 to support vital COVID-19 research. The app was launched by health science company ZOE with scientific analysis provided by King's College London. With over 4 million contributors globally, the Study is the world's largest ongoing study of COVID-19 and is led by ZOE Co-Founder, Tim Spector [Professor of Genetic Epidemiology at King's College]."


Here are a couple of the study's latest charts (click to enlarge): 1) new cases, with a separate line for double-vaccinated people; 2) daily cases, detail of regions (notes: too few participants in Northern Ireland to generate a good estimate, care homes excluded as there is not enough data from the app to estimate this population).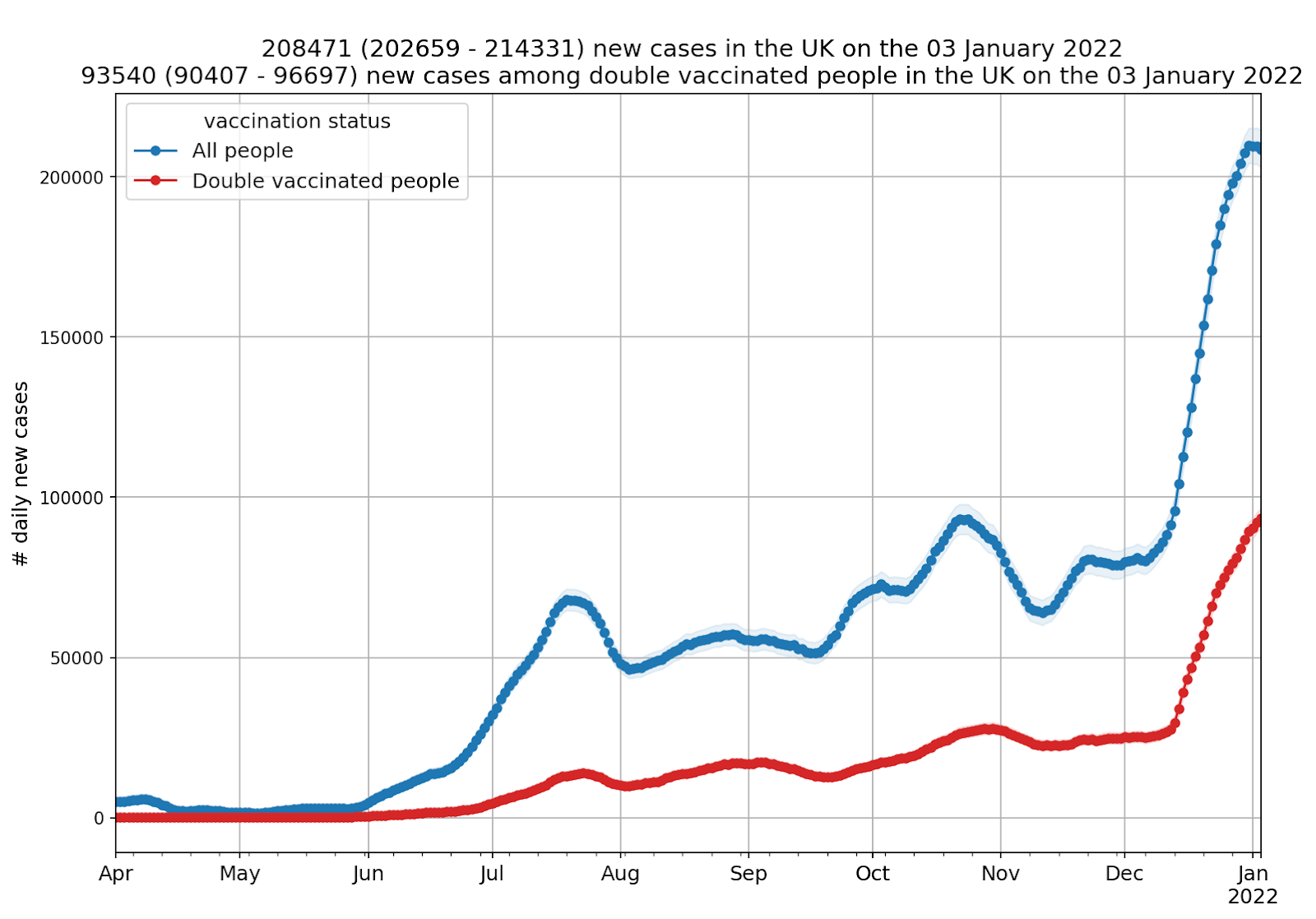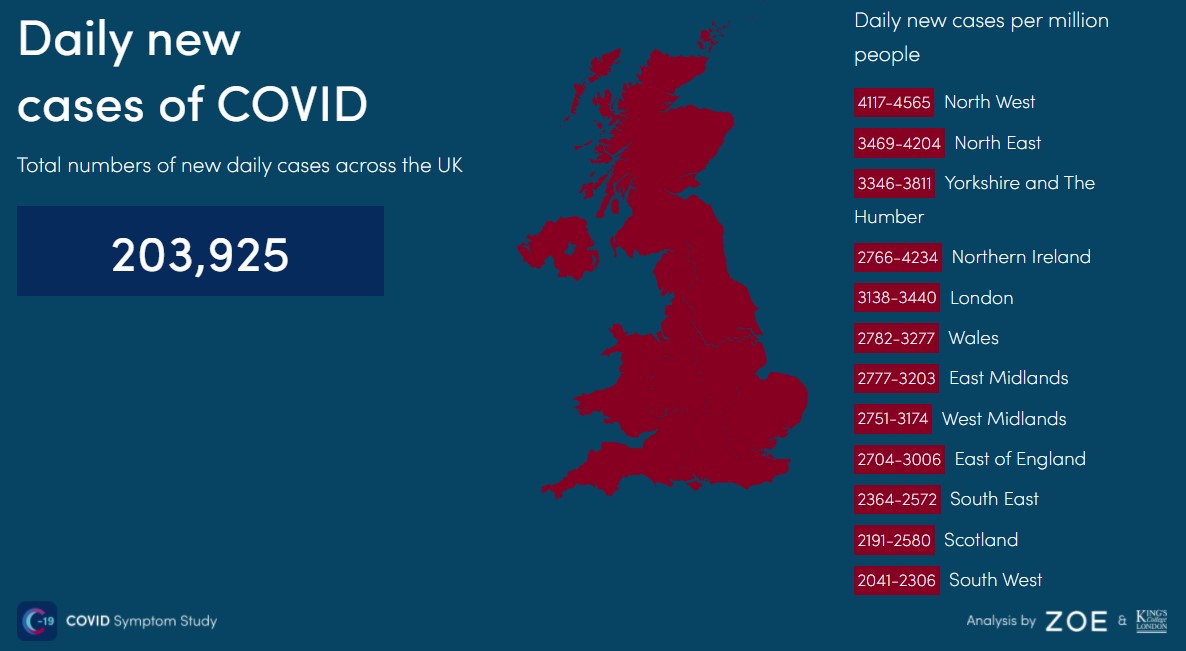 Dr Claire Steves, scientist on the ZOE COVID Study app and Reader at King's College, comments on the latest data:


"It's good news that the number of daily new cases has slowed for now. ZOE COVID Study data shows that this slowdown is being driven by cases falling in London and in younger age groups. However, it's worrying to see cases increasing in the over 75 age group. This is the group we need to protect as they are the most likely to be hospitalised as a result of a COVID infection. It's too early to know if cases have truly peaked in London, as schools reopen after the holidays. We've seen school terms driving infection waves throughout the pandemic. The health and care systems are already under huge pressure, so we all need to take personal responsibility for limiting the spread of COVID. This could be in the form of regular testing, wearing masks, staying away from busy crowded places, meeting up outside and getting booster vaccines."


I'm on board. And, yep, worn down by it all. That's before you think about the families close to the 150,000 who have died in the UK - and 5.47 million worldwide.

Still - trivial and meaningless in comparison - I'm trying to press on with positive projects. As promised last Thursday, I retrieved the harmonica that had fallen down the back of my desk. Now I'm working through Blues Harp 101 tutorials on YouTube.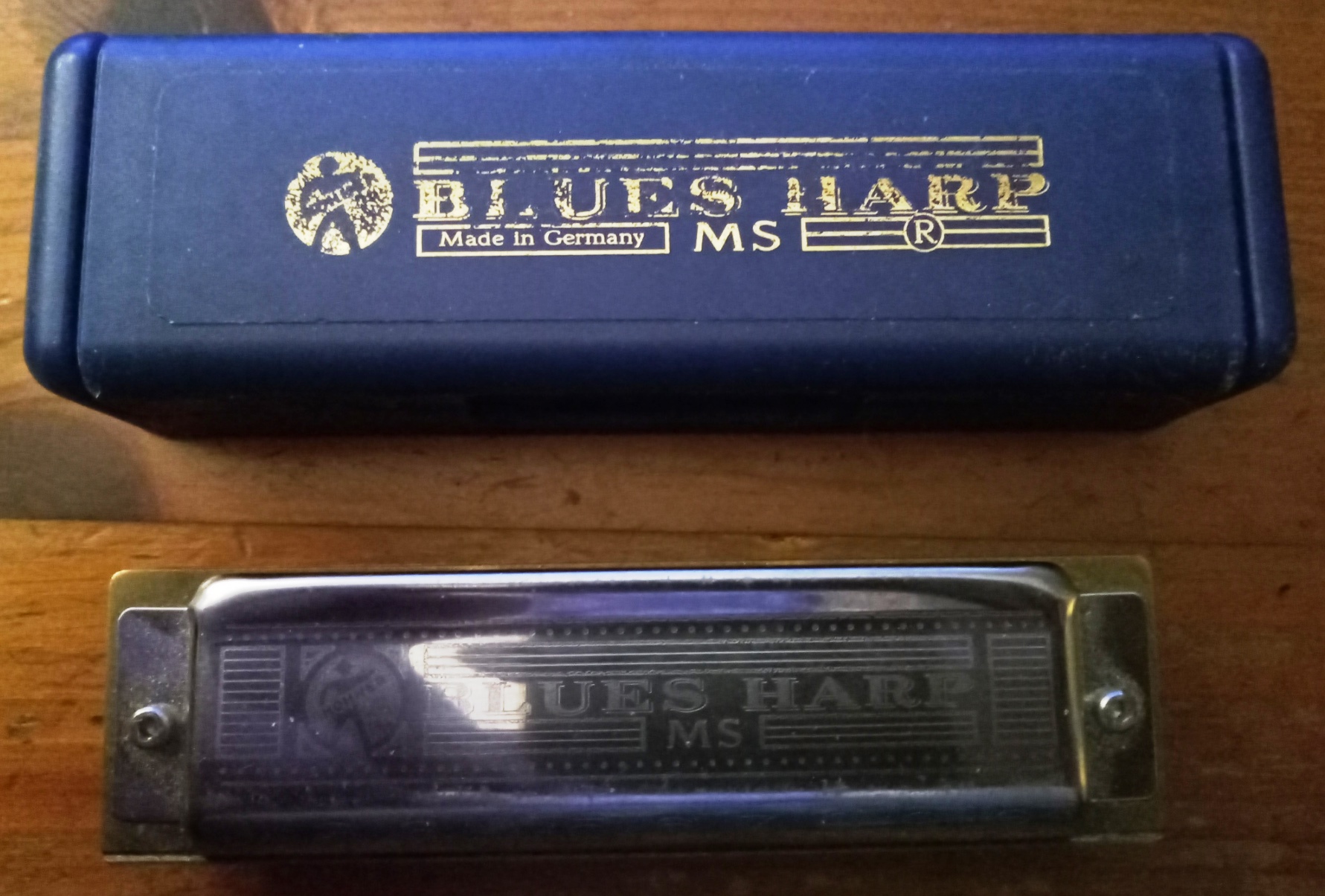 One last thing. I write this at 7:55am. England have held on for a draw at the Sydney Cricket Ground, five minutes ago, with only one wicket in hand. 39-year-old fast bowler Jimmy Anderson - not out 0 - blocked the last six balls to prevent Australia going 4-0 up in the Ashes, eliminating the prospect of a series whitewash. Hardly a triumph, but it's something 😅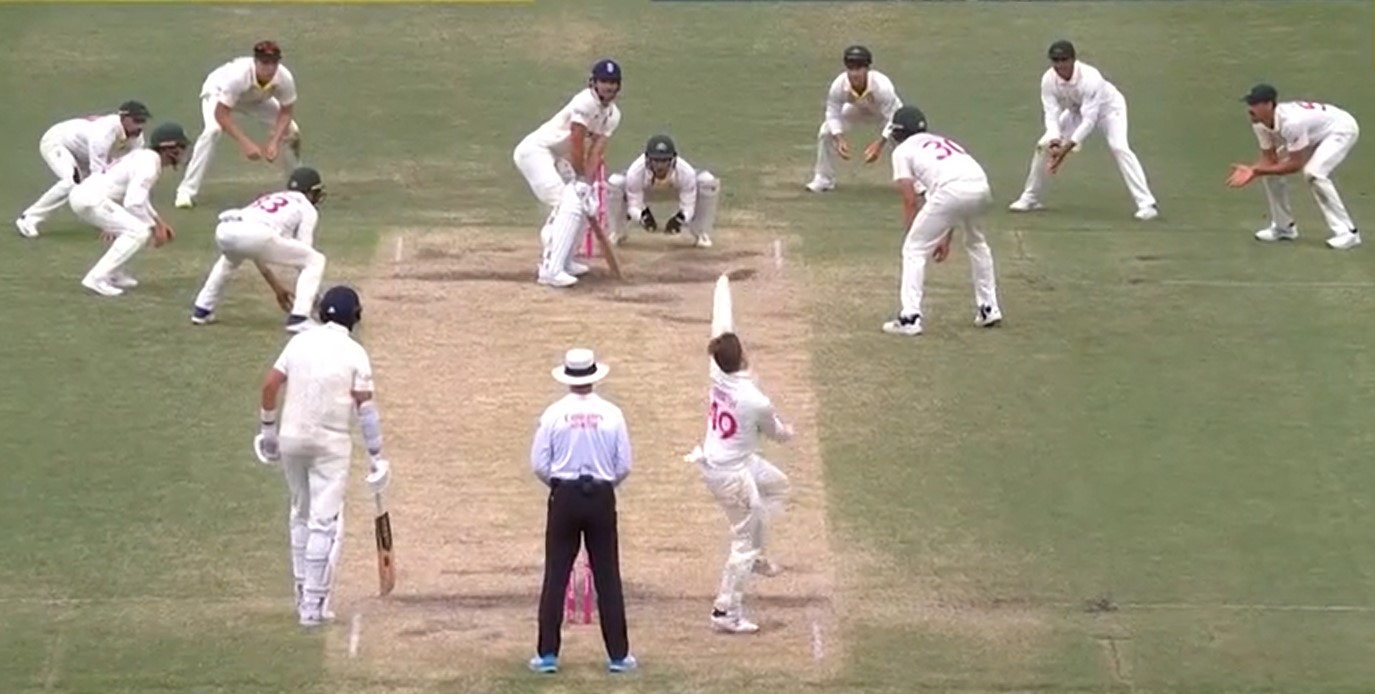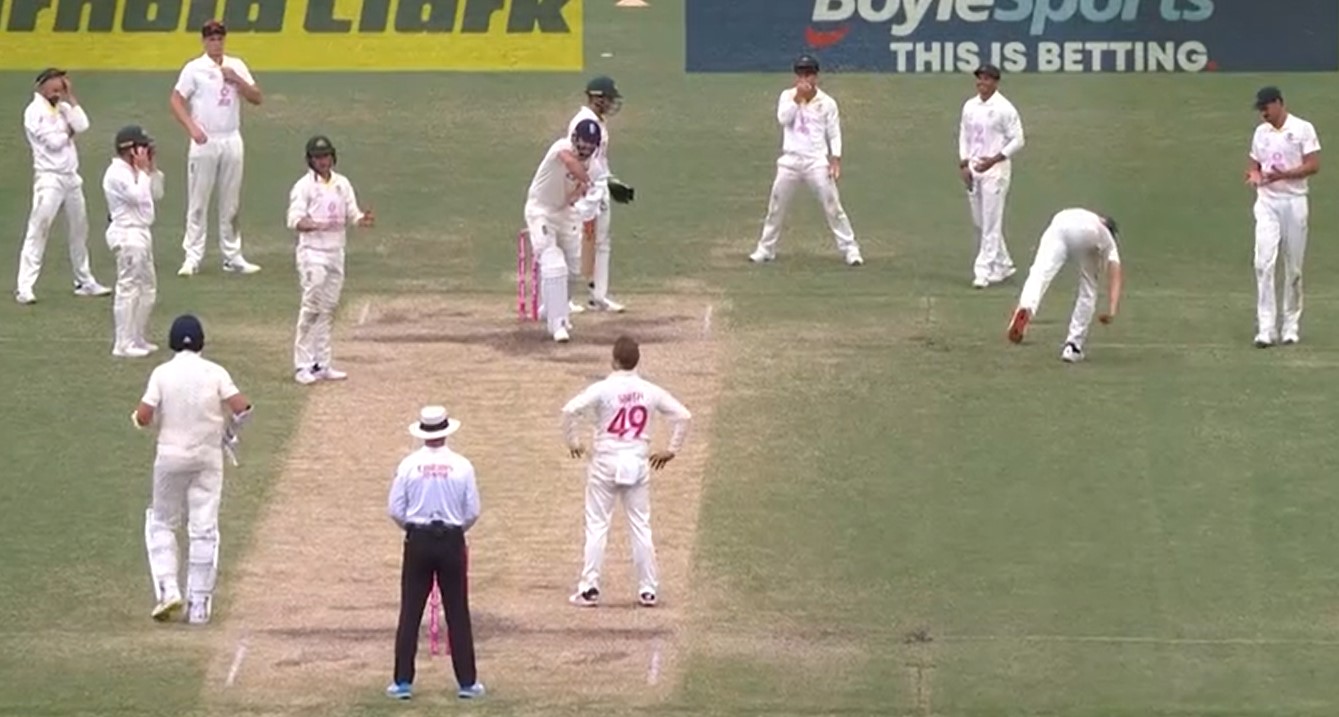 Friday 7th January


The daily email I've received from the WHO has me thinking about the relationship between private and public - or global - responses to the pandemic. The main content of the email is Director-General Dr. Tedros's New Year Covid briefing.

What is my personal reaction to the present status of Omicron? I'm still adjusting my behaviour away from pre-pandemic "normal". I don't go into crowded places. I always wear a mask in the local small shops, even if there are no other customers. We have the annual 'feast' celebration of our local walkers' group on Saturday - but I won't be going.

Son Ben has been eager to get the family together for a summer holiday. One possibility is a return to Algajola in Corsica, courtesy of our friends Ian and Ali. How realistic is that? What travel rules will be in force by mid-summer? Will the efficacy of our boosters have waned by then?

Dr. Tedros's briefing remarks are all about the imperative of vaccine equity. Here's the full text (5 pages):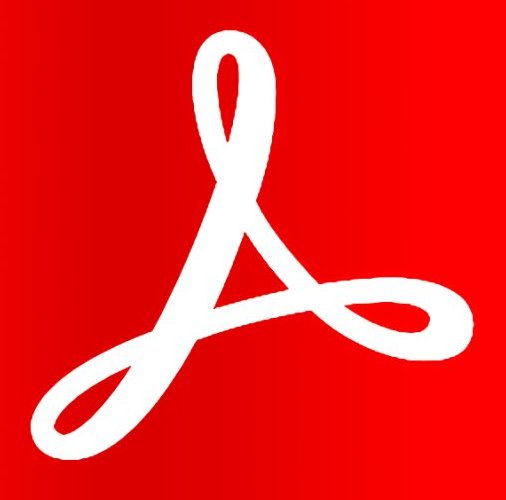 "While some countries have had enough personal protective equipment, tests and vaccines to stockpile throughout this pandemic, many countries do not have enough to meet basic baseline needs or modest targets, which no rich country would have been satisfied with. Vaccine inequity is a killer of people and jobs and it undermines a global economic recovery.

"At the current pace of vaccine rollout, 109 countries would miss out on fully vaccinating 70% of their populations by the start of July 2022. The essence of the disparity is that some countries are moving toward vaccinating citizens a fourth time, while others haven't even had enough regular supply to vaccinate their health workers and those at most risk. Booster after booster in a small number of countries will not end a pandemic while billions remain completely unprotected."


We can take care to protect ourselves and our community. How do we engage in the world-wide battle? Because that is what will free us all from coronavirus.

Thursday 6th January


There are many things I could write about today: Boris's adherence to Plan B, the easing of Covid testing rules, the Colston Four acquittal - I am tempted by that - Tony Blair's knighthood, No-vax Djokovic's Australian visa. But I'm going to give them all a miss. I'm sure you've seen the coverage.

Instead, I'll concentrate on 2 minutes 35 seconds of delight. Mostly the 35 seconds.

My Irish correspondent asked me yesterday, "How is the harmonica coming along?" A fair question. We're six days into January and it's on the 2022 list, but I'm slow out of the blocks. With a twinge of guilt, I had to admit that I hadn't started. In fact, the said blues harp is stuck down the back of my desk.

Today I will dig it out.

My inspiration is one record above all others: "My Babe" by Little Walter, real name Marion Walter Jacobs (May 1, 1930 - February 15, 1968). The song was written by Willie Dixon, released by Walter in 1955.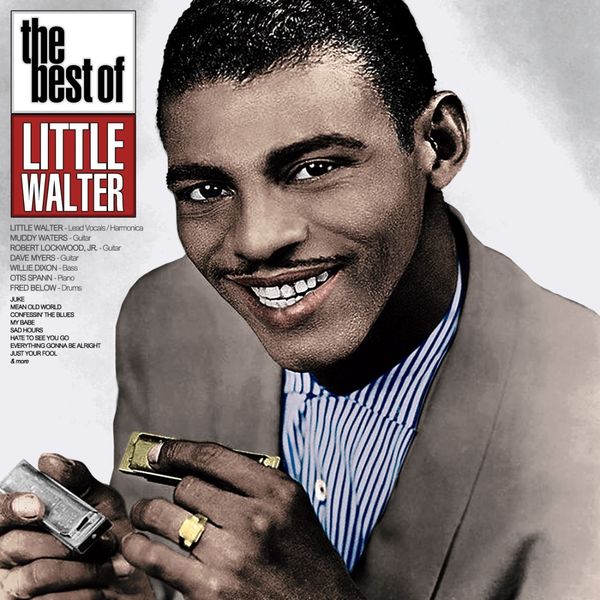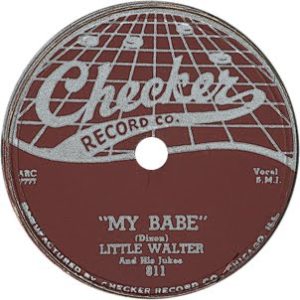 After just under a minute, there's the solo. Everything I love in the best blues: sparse yet complete, intricate but un-showy, tuneful, rhythmic, small-but-perfectly-formed. The world in a few bars.



Wednesday 5th January


With many football clubs affected by adverse Covid results, spare a thought for one beleaguered manager: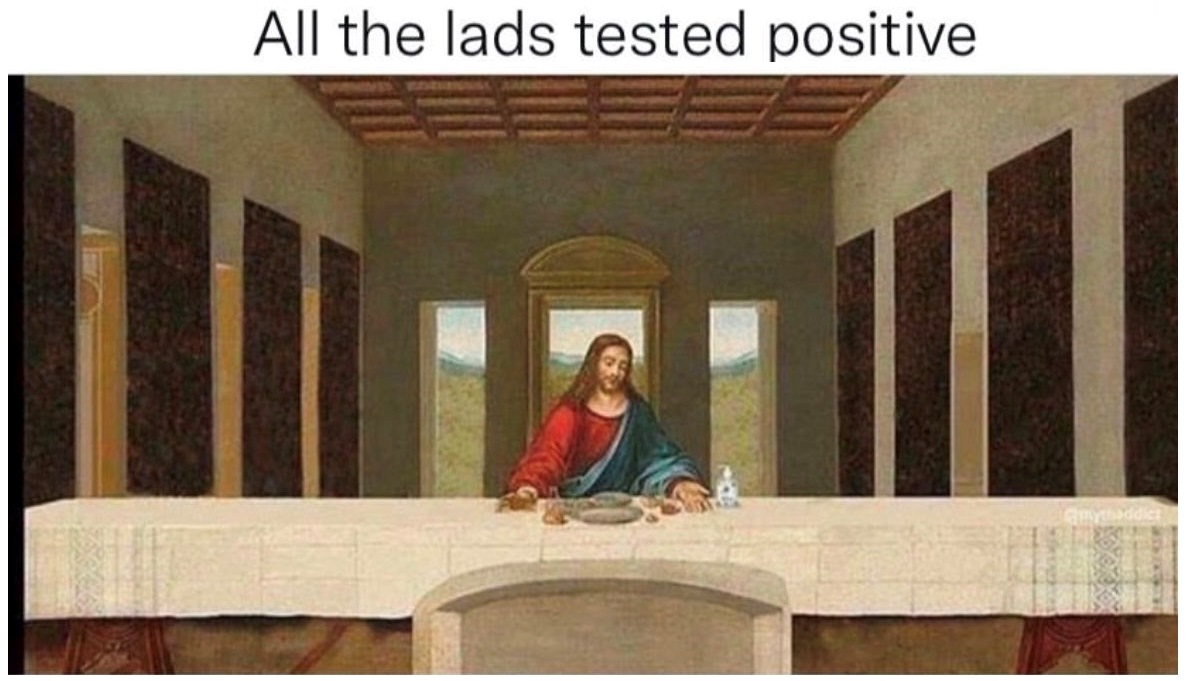 In response to criticism about test scarcity, Boris's team has launched a cheap quick-and-easy supply-chain-free solution: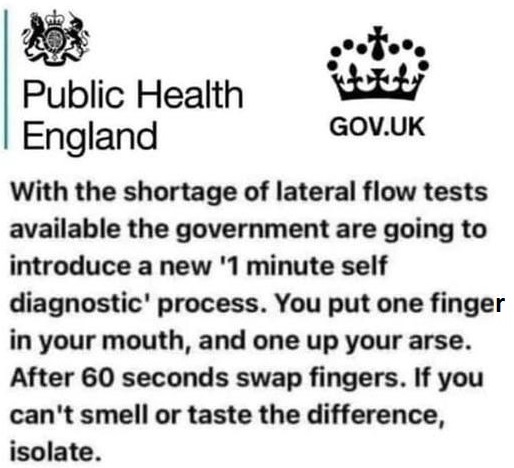 Tuesday 4th January


I said on New Year's Day that I was going to pay less attention to Covid. Hmmm. It's difficult to avoid. Omicron numbers rise. The effects may be milder, but the pressure on the NHS increases.

However, these two charts tell a better story than a year ago: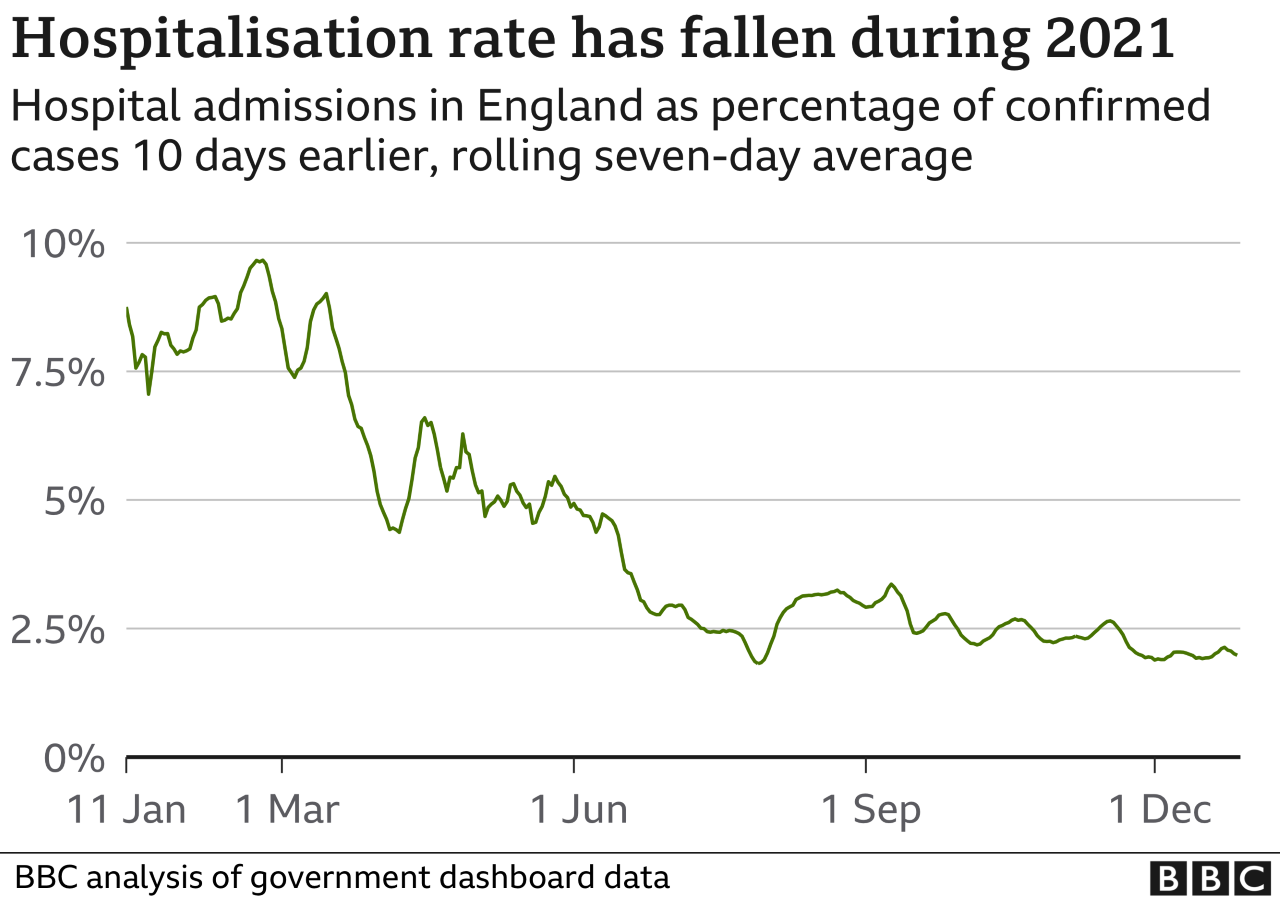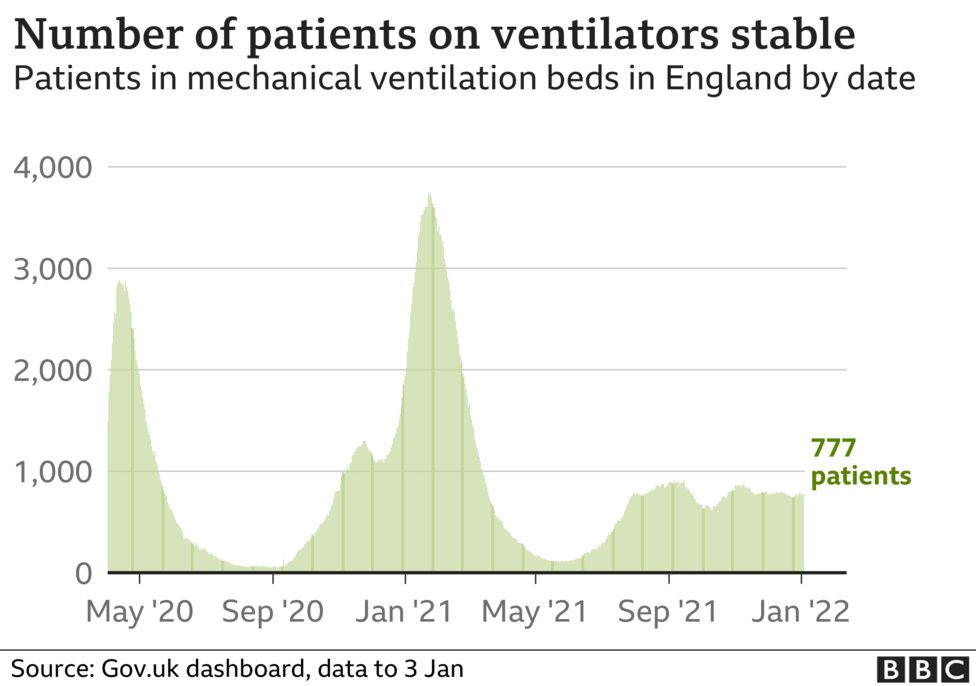 This is surely down to vaccinations, isn't it? Despite the pernicious peddling of misinformation by the anti-vaxxers.

In Stroud, we see a reflection of the national statistics. A marked rise in infections, but fewer deaths than in previous periods of the pandemic.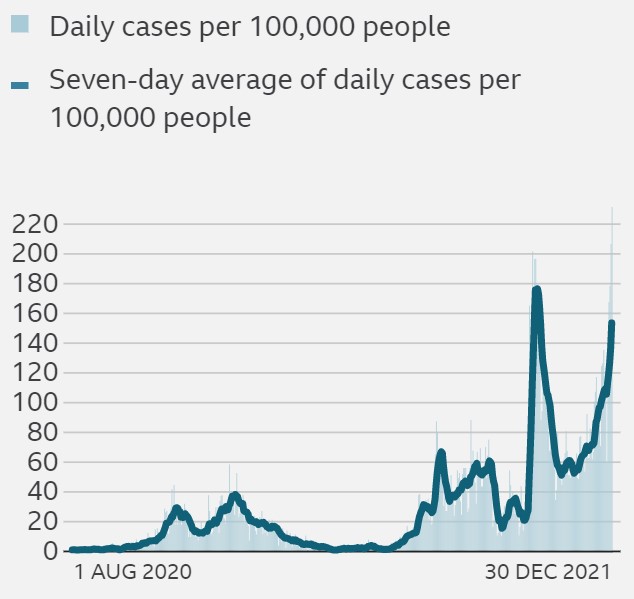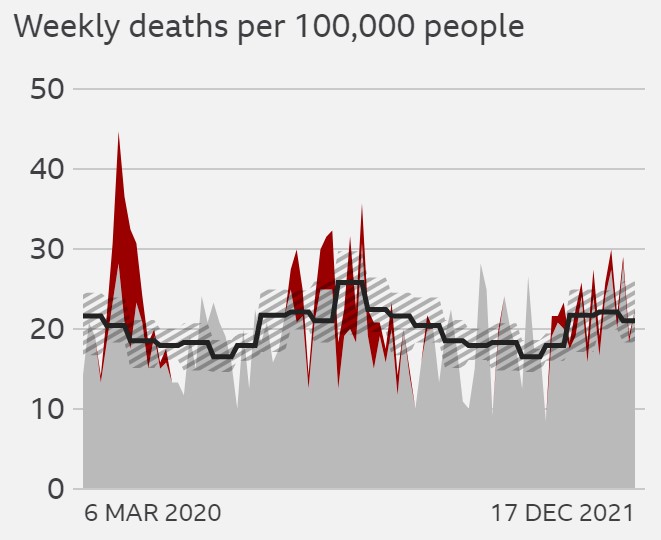 Endemic? Learn to live with it? As a retired person - I can. But with an increase expected in absences from work, the NHS pressures, hospitality businesses still impeded - the country cannot operate at anywhere near full throttle.

Is it any kind of normal? An unsettling background to attempts to lead a regular everyday life. Kids having to wear masks in schools? How helpful to learning is that? I can't do anything useful while wearing one. Breathing impeded, glasses steaming up. I still haven't ventured into any crowded space.

Still, for two weeks the days have been getting longer.

Monday 3rd January


WHO Director General Dr. Tedros Adhanom Ghebreyesus issued a New Year message last Thursday titled "My hope for ending the COVID-19 pandemic in 2022". It started:


"With the curtain closing on 2021, we are faced by a sombre milestone, and a stark choice. This New Year's Eve marks the second anniversary of the COVID-19 pandemic, serving as a poignant reminder of what we have achieved, gained and lost, as a global community, in our collective response to a truly global crisis. It offers a moment for pause, reflection and, I urge, renewed action to end the pandemic in 2022.

"The power is in our hands to change the course of this crisis once and for all. We have all the tools, the resources and the reasons ... to end this calamity."


He pointed out, as he always has, the immorality - "narrow nationalism, me-first approaches, vaccine hoarding" - of global vaccination inequity. He also celebrated positive progress:


"1) the unparalleled scientific collaboration that has led to 10 vaccines receiving WHO Emergency Use Listing to protect people from serious illness and death; 2) over 8.5 billion doses of vaccine have been administered globally, saving millions of lives and reducing untold suffering; 3) new treatments have been developed that can boost access and reduce deaths."


Here is the full text of Dr. Tedros's message: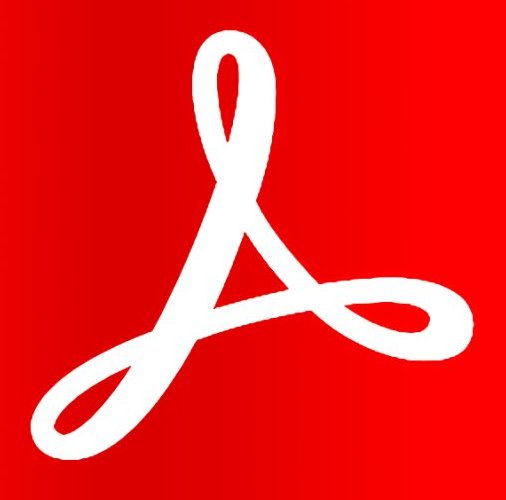 I remain, like most not in the anti-vax camp, dazzled by and thankful for the work of scientists over the last year. The rapidity of vaccine development ... they said it couldn't be done, even the über-evangelist Bill Gates. Last week we saw the approval of yet another - I mentioned three on 3rd December👉- antiviral treatment, Paxlovid, designed to block an enzyme the virus needs in order to multiply. Clinical trials showed that it reduced the risk of hospitalisation or death by 89% in vulnerable adults.

The scientists have done their bit. Can we expect the politicians and Big Pharma to do theirs? As Tedros said, "it comes down to a matter of will."

Sunday 2nd January


I'm heartened that son Ben still defies the obstacles that Brexit places in his path. He and partner Soph spent Christmas in Galicia. The European adventure continues.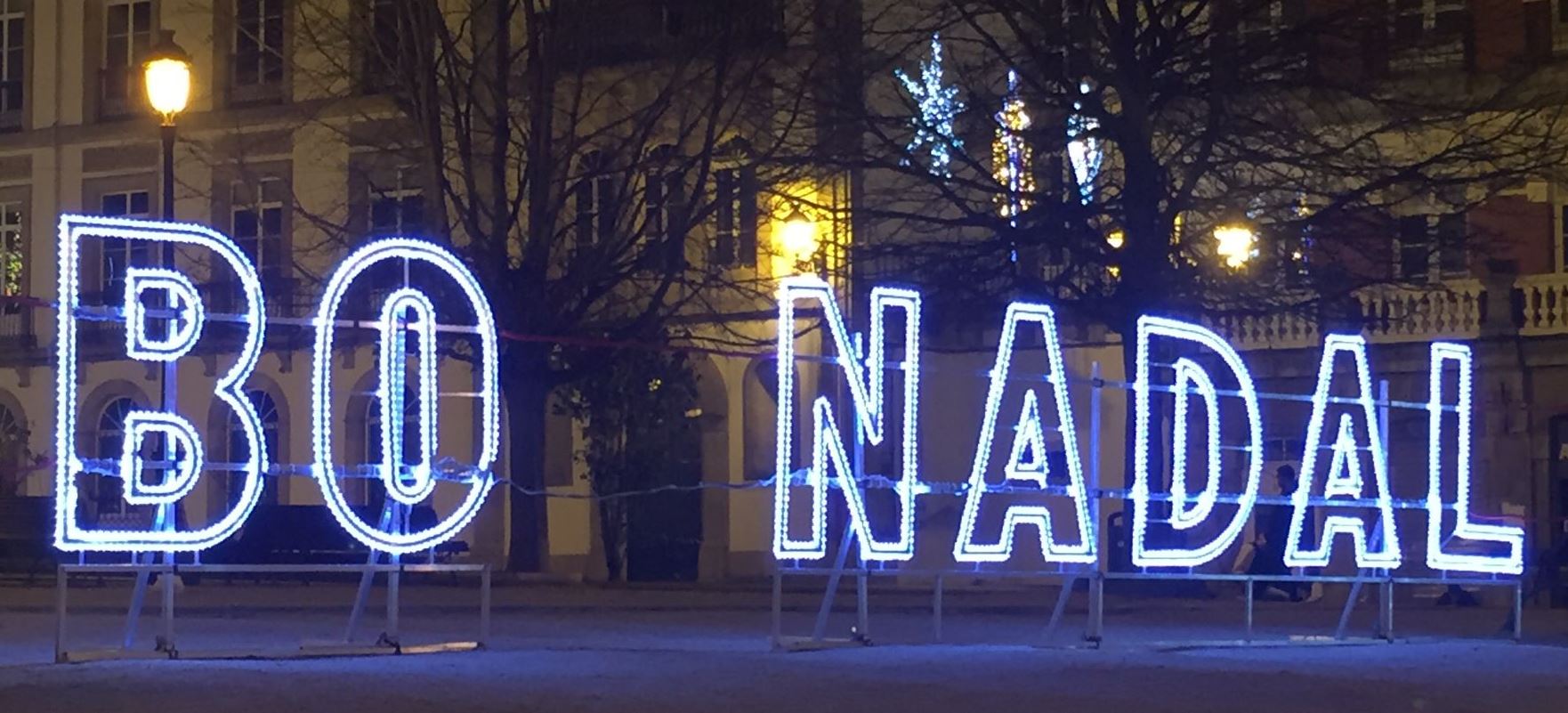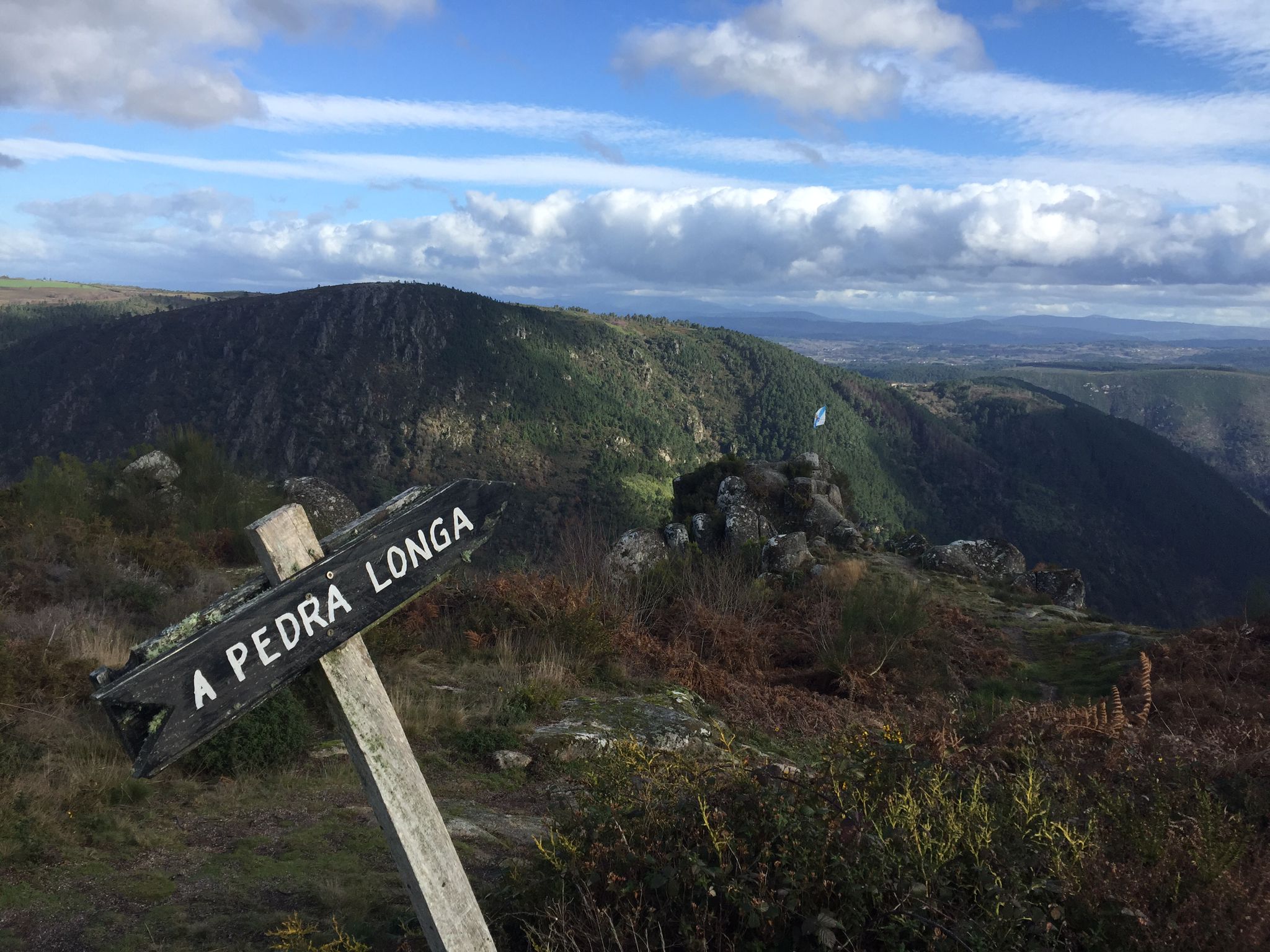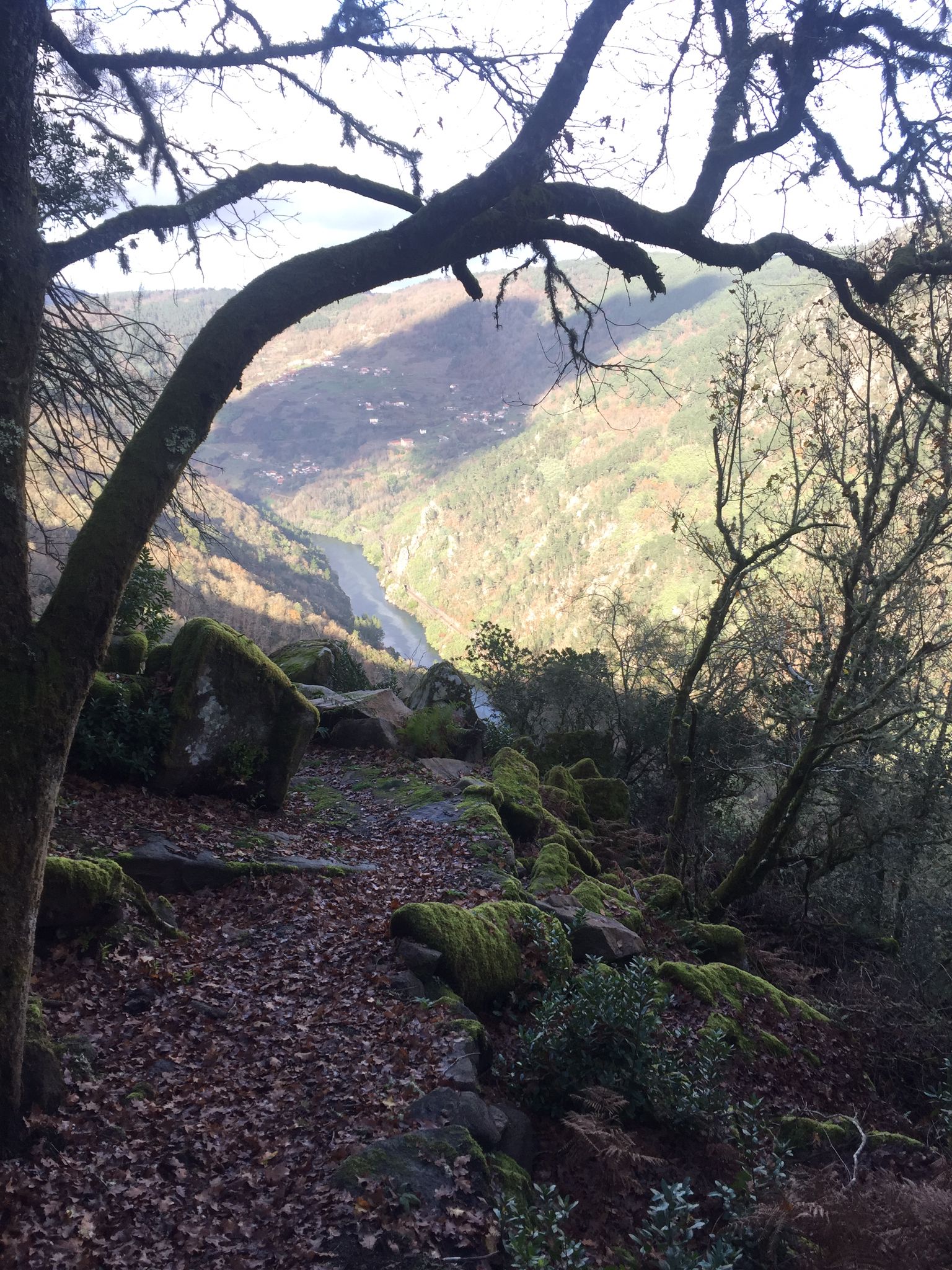 Saturday 1st January




650 days have passed since I started this blog. Difficult days for the world.

You may have noticed that "Whatever I Fancy" now has pride of place at the top.

Climate and Covid haven't gone away. I'm just not going to pay them such singular attention. I've always allowed myself a licence to digress; this is different, it's more deliberate, not merely surrendering passively to casual distraction.

It's partly an act of self-preservation. How much can anybody take? And I say that with the acknowledgement that the NHS in particular has no choice. I began the blog as a way of navigating through the pandemic, to digest and dissipate the experience by digging into detail and analysis. The problem is that the process - of questions, research, understanding - has meant that I feel over-exposed to very gloomy material. I'm sure it will be impossible to avoid dark news - it's the default media output - but I aim to seek out the light as well.

My New Year resolutions reflect that intent - and recognise the shrinking commodity of time. This summer I will enter my eighth decade. The catchphrase rattles in my head: "If not now, when?" If there's anything I want to do, it's time to get cracking. If there are changes to be made, the moment has arrived.

2022 isn't starting well - Omicron pervades, Brexit casts a shadow, the global response to climate change is perilously incomplete and slow, significant cost-of-living increases are in the pipeline. The challenge is how to combat rather than succumb to the pessimism.

I'm planning to practise what you could call "active inversion". Instead of regret, concentrate - as a matter of course, a self-imposed mandatory counter-thought - on what's gone right. How might it be possible to switch to the positive flipside of bad stuff? I think of the smothering British winter weather. Well, we're threatened neither by drought nor famine. Start with gratitude.

With the big challenges, what influence can we possibly have? About the only way we can respond in the face of political immorality, government corruption, corporate greed, billionaire wealth, wilful climate damage - is to do the right thing ourselves, in the hope that there is a multiplying effect which ripples outwards. I'll borrow the words of the recently departed "Arch":